You are currently browsing the tag archive for the '2021' tag.
Last week, I wrote about the global transport crisis.
This week, I saw two more items on the subject about the situation in Britain.
Michael Crick, a journalist who used to work for Channel 4 News and now writes for Mail+, stopped at a lorry park in Staffordshire, England, to chat with HGV (heavy goods vehicles) drivers.
The page with his article includes a video featuring brief interviews with drivers who stopped in at the Hollies Truck Stop for a bite to eat and a bit of a rest. He also interviewed Ian Wright from the Food and Drink Federation and a dairy farmer.
Despite the long hours, the drivers' salaries are going up. One said that his hourly wage went up 50%, from £13 to £18. Crick browsed the job adverts in Transport News and found many paying from £40,000 to £50,000 per annum.
He asked one driver why younger people aren't seeking these jobs. The driver replied that many younger people are 'bone idle'.
Crick included a summary of his other interviews in his article. They were less positive (emphases mine):
… few drivers I met this week would recommend the job to their children or grandchildren. The job nowadays is overloaded with bureaucracy, they say. Drivers are treated with no respect wherever they go, and sometimes get lumbered with fines their employers won't pay.
He discovered that some HGV drivers are switching to making customer deliveries, whether for supermarkets or Amazon:
Many HGV men (and the occasional woman) decided it's simpler to drive for Sainsburys, Tesco or Amazon. The distances are shorter, the hours are more sociable, and the pay is sometimes better. Yet unless British firms can recruit more lorry drivers, the economy will be in serious trouble.
As for dairy farmers, in August, there were not enough drivers to take their milk to market:
In the area round the Hollies Truck Stop, around 30 dairy farmers were told one day last month to drain away their milk because the buyer didn't have enough drivers to do the daily milk collection.
The farmer Crick interviewed says he was able to arrange a work around for his milk delivery but said that the other farmers were unable to do so.
The other item I saw was posted online in a comments section. I do not know the provenance of this first-hand experience of a former lorry driver, but it is well worth reading: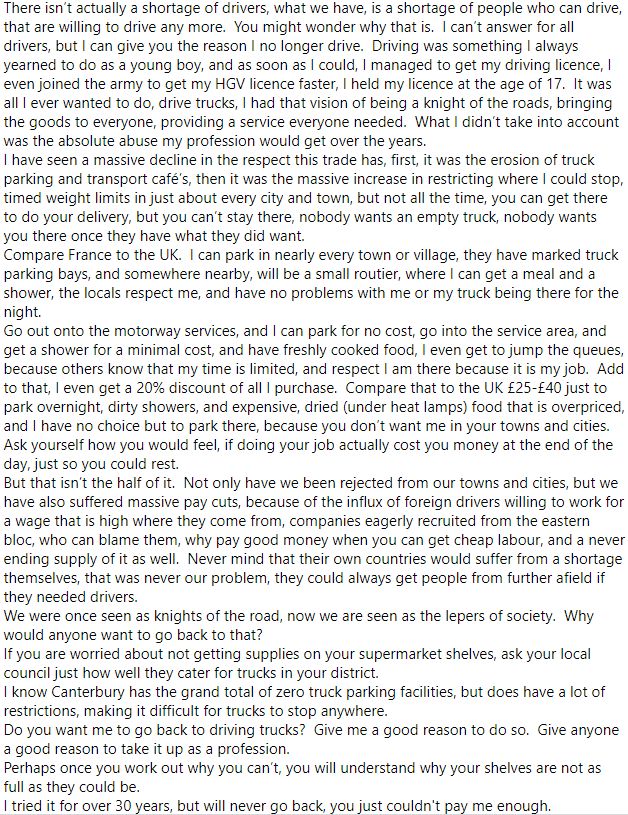 Judging from his testimony, the government and local councils need to ensure that drivers can circulate and make their stops more freely in town and city centres. Canterbury, I'm looking at you.
Local councils could also appropriate a brownfield site for a truck stop. These men and women need places where they can eat and rest.
The industry is starting to pay better wages. Of course, that will be passed along to consumers, but do we care? Driving a lorry these days is no treat. And, as the driver says, to make things worse, he and his associates are seen as:
the lepers of society.
That's odd, given that the pandemic has made us more dependent on lorry drivers than ever.
Unlike the other essential workers so many Britons applauded every Thursday in 2020, lorry drivers don't take time off for stress. They don't star in dancing videos, either. They are always there for us, until we make their occupation so unbearable for them that they quit.
This was a big week for Britain's Good Law Project, as they were able to persuade a court to scrutinise former Health Secretary Matt Hancock and former health minister Lord Bethell on their handling of coronavirus contracts in 2020.
Matt Hancock resigned in June 2021 and Lord Bethell was removed from his ministerial post in the House of Lords at last week's reshuffle.
The Good Law Project doesn't always win their cases, but this will be one to watch.
I do not often agree with their views but, in this case, I wish them well.
Lord Bethell
Having seen enough proceedings in the Lords, I thought that Lord Bethell was doing a competent job representing the Government.
However, during the summer, questions were asked about the mobile phone he was using last year when the pandemic was raging. Bethell gave various answers as to the whereabouts of the phone:
He allegedly used WhatsApp to communicate with potential suppliers:
His phone was taxpayer funded. As such, it seems he should have returned it to Procurement:
The accompanying article from the Good Law Project states (emphases in purple mine):
You will recall in our hearing in July Government admitted that some of Health Minister Lord Bethell's dealings in relation to the controversial £87.5 million testing contracts to Abingdon Health had been conducted via WhatsApp or text message, and were held only on his private mobile phone.
We wrote to Government to ask for the messages to be retrieved and preserved.
We were stunned to receive this response from Government in which Health Minister Lord Bethell changes his story, again, on why he can't hand over the texts and What's App messages. 
This is now the Minister's third different version of events:
First, he claimed his phone was "lost" so he couldn't hand it over. 
Then, a few weeks later he abandoned his tale that the phone had been "lost" and provided an entirely new explanation as to why he was no longer using it, claiming the phone was "broken".
Now, unbelievably, he says the phone isn't lost. Or broken. He actually passed the phone on to a family member … 
It's far from clear that personal phones used extensively for Government business can safely be handed over to family members – one assumes children. What steps did Lord Bethell take, for example, to ensure that highly sensitive material couldn't be retrieved by a specialist? And if he did delete it, did he ensure he'd passed on all the relevant information to the Department of Health before doing so? 
And the extraordinary change of story doesn't stop there. 
Back in June, No 10 issued a blanket denial that Ministers ever used private email accounts for Government business. But now their own lawyers have confirmed searches of Lord Bethell's three private email addresses using keywords relating to Covid contracts turned up hits of between 18,000 and 36,000 separate documents that may be relevant to the case. 
How on earth do we move from a blanket denial by No 10 that Ministers were using private email accounts for Government business, to an admission that a single Minister may in fact have used his private email for tens of thousands of official emails? Do they ever tell the truth?
We are fighting to get our hands on these messages. We will be able to reveal further twists in this extraordinary tale soon.
On Tuesday, September 21, the Good Law Project was in court to pursue the case:
The Government conceded that Bethell would have to provide a witness statement. The court hearing was to stipulate the content of that statement:
The accompanying article from crowdjustice gives more information on what happened in 2020:
The Government suppressed an official report that proved there were issues with rapid antibody tests purchased by the Department of Health. Leaked emails reveal the Government blocked Public Health England from publishing their findings until after they could make an announcement that they had purchased one million antibody tests from Abingdon Health.
The purchase of one million antibody tests from Abingdon Health has been shrouded in mystery, but what we do know lays bare serious failings in Government procurement.
The Government supported the creation of the UK Rapid Test Consortium (UK-RTC) back in April. The idea was that the companies and institutions involved, including Abingdon Health, would create a rapid antibody test. On 2nd June, Government awarded a contract worth £10million to Abingdon Health for the materials needed to produce the test. On 14th August, they handed Abingdon Health another contract worth a staggering £75million.
Despite these huge sums of money, Government seems to have ignored widely held concerns that these tests were not fit for purpose. So a £75million contract was awarded without competition, on the basis of profoundly flawed research. And when confronted with evidence of these flaws Government tried to suppress publication of that evidence.
These are serious charges and we have set out the publicly available evidence in this chronology, which we will update as more evidence is published.
Judge agrees
The judge hearing the case on September 21 agreed with the Good Law Project:
The Good Law Project's article says:
… Yesterday we took Government to Court to fight for this evidence – and we had a good day. 
The Judge ordered the search of Matt Hancock's WhatsApp messages and personal email accounts. We believe this is the first time a Judge has ordered a Minister, or ex-minister, to hand over their personal WhatsApps and text messages.
In fact, the Judge seemed to share our view more generally that Government's explanations for why they haven't recovered information from Ministers' devices simply do not stack up, and he ruled as follows:
Lord Bethell must provide a Witness Statement to the Court to explain – once and for all – what happened to his phone

.

Government needs to provide a Witness Statement to the Court explaining how they are going to ensure they recover all the necessary data from Bethell's phone

.
In addition to coughing up Lord Bethell's private emails,

Government must also trawl Matt Hancock's personal emails and WhatsApps for relevant information as to how these contracts came to be awarded with no competition

. 
We will now get to see previously hidden messages from the Ministers involved in awarding these lucrative contracts. We will also issue an application against Professor Sir John Bell in respect of his documents (to cover WhatsApp, University of Oxford emails and personal emails). He has previously refused to share any of his records, despite his hugely significant role in the contract awards. 
Matt Hancock
Following this announcement, the story received quite a lot of coverage in the media, with photos of Matt Hancock splashed all over Twitter.
The London Economic had this:
Their article said:
Former health secretary Matt Hancock will have his personal WhatsApp and emails searched as part of a High Court battle over millions of pounds' worth of antibody test contracts.
The Good Law Project has brought legal action against the Department of Health and Social Care (DHSC), claiming that more than £80 million in contracts for antibody tests were awarded unlawfully.
The bid covers three contracts awarded to Abingdon Health which the group claims were given in April, June and August 2020 but were not published until October 2020.
"The contracts were awarded directly, and secretly, without any advertisement or competition," the Good Law Project's barrister Joseph Barrett said in written arguments.
The group also argues that the contracts "comprise very substantial unlawful public subsidies".
The Daily Mail had more:
Claiming Mr Hancock was the "ultimate decision-maker" in awarding the contract to Abingdon Health, Mr Barrett told the court that Mr Hancock had used multiple non-government emails for Government business. However, no searches had been conducted and no documents had been disclosed.
Mr Barrett alleged that DHSC had "either destroyed or otherwise put beyond recovery or refused to search or disclose almost all of the repositories and documents of the four most senior and important individuals in the case".
Philip Moser QC, for DHSC which is contesting the claim, argued Mr Hancock had a "limited" role in the contracts.
"There is no reasonable basis on which to seek such disclosure, because Mr Hancock's involvement in the matters which are in issue in these proceedings was limited and, in any event, any communications from the then Secretary of State would have been caught by the existing disclosure exercise," he said.
Mr Justice Fraser ordered that both Mr Hancock's Government and non-Government communications that were used for Government business should be searched for relevant material.
The judge said: "It seems to me that even though his involvement has been described as 'limited', 'limited' can still be quite significant."
CityA.M.'s coverage says that Lord Bethell's phone is now with 'disclosure consultants':
Government lawyers previously said the old phone had been "broken" six months ago and that data held on it was not contained on the replacement.
The lost information was reported to have included WhatsApp and SMS messages.
The court also heard that Lord Bethell's phone is currently with "disclosure consultants" to determine whether his WhatsApp messages can be retrieved.
A spokesperson for the former health secretary said: "Hancock had no involvement in the awarding of this contract, or indeed any other contracts. They were all awarded through formal processes, as the National Audit Office has confirmed.
"At the time, everyone in the Department of Health and Social Care was working every hour to respond to the pandemic and boost testing capacity. Any suggestion of wrongdoing is completely false."
The full trial is due to take place from December 6.
Scotland's The National reported on the to-ing and fro-ing between the judge and the Government's legal counsel, Philip Moser QC:
Philip Moser QC, for DHSC which is contesting the claim, argued Hancock had a "limited" role in the contracts.
"There is no reasonable basis on which to seek such disclosure, because Mr Hancock's involvement in the matters which are in issue in these proceedings was limited and, in any event, any communications from the then Secretary of State would have been caught by the existing disclosure exercise," he said.
Justice Fraser ordered that both Hancock's Government and non-Government communications that were used for Government business should be searched for relevant material.
On the topic of disclosure, The Mirror's tweet alleges that the Department for Health and Social Care (DHSC) had previously refused to pursue it:
And there's more
The Government has always claimed that there were no fast-track routes to winning a contract.
However, on Thursday, September 23, The Guardian reported about emails referring to a 'VIP route' for coronavirus testing contracts:
The Guardian reported:
… internal emails between DHSC civil servants, discussing the Rapid Testing Consortium (RTC), a group of companies led by York-based Abingdon Health, which was awarded huge government contracts without a competitive tender, did describe the process as "the VIP route". The then health minister, Lord Bethell, was described by officials as a "sponsor" of the consortium.
The DHSC disclosed the June 2020 emails during a legal challenge brought by the Good Law Project (GLP), which argues there was "apparent bias" in the award of the contracts to Abingdon Health, and that the government "failed to undertake any transparent or lawful process". The DHSC is defending the case, arguing that the emergency of the pandemic justified it making direct contract awards.
In the email exchanges, one civil servant, discussing how to process the RTC companies, said a person in authority, whose name is redacted, "would like them to go through the VIP route". The official asked: "Who should they name as their sponsor?"
A colleague replied: "Are the sponsors usually ministers? I would imagine RTC can name Lord Bethell?"
In a further email referring to the RTC, another official wrote: "This is usually for the VIP route which comes via ministers."
Asked by the Guardian about these references to a VIP route, the DHSC did not maintain its previous denial. Instead a government spokesperson said: "All offers of testing supplies that were evaluated by DHSC went through the same clinical evaluation process. Every application went through robust assessment checks, and decisions were based on merit."
As for Abingdon Health, founded in 2008:
The company has emphasised that it and its directors did not have Conservative party membership or connections, that the government asked them to contribute to the Covid response, and they were not aware if there was a fast track process.
Having been first contacted on 22 March 2020 by an adviser to Public Health England, Abingdon said they were asked to email the general DHSC and NHS Covid testing and research email addresses. On 1 April, the company was contacted by Prof John Bell, a senior government adviser on testing, and on the same day asked to join a conference call with the then health secretary, Matt Hancock. Following discussions with Bethell and other senior government figures, Abingdon then formed the RTC and were initially given a £3m research contract.
The other contracts followed on from there.
It is fortuitous for the Government that Parliament is in conference recess from 5 p.m. today until late October. Otherwise, a few Urgent Questions would probably have been scheduled.
As they say in journalism: 'The case continues'.
The full trial starts on December 6.
On Tuesday, September 21, 2021, Prime Minister Boris Johnson met Joe Biden at the White House:
He and Foreign Secretary Liz Truss arrived in the United States on Monday for discussions about trade and climate change.
The two spent a day in New York then travelled by Amtrak to Washington, DC:
New York
On Monday, Boris gave a speech at the UN Climate Roundtable in advance of COP26 to be held in Glasgow in November:
The full text of his speech is here.
This short video shows Boris summarising his message to world leaders:
COP26 will be the biggest single political event that the UK has ever hosted. I hope that Glasgow is ready:
The Prime Minister met with President Bolsonaro of Brazil and President Moon of South Korea. He also met with Martin Griffiths of the UN Office for the Coordination of Humanitarian Affairs (UNOCHA) and, for whatever reason, with Jeff Bezos of Amazon:
There was speculation on what Boris and Bezos discussed:
In fact, they did discuss tax as well as the Bezos Earth Fund:
They discussed the upcoming COP26 Summit and agreed that there was an urgent need to mobilise more public and private money to help developing countries protect biodiversity, including through the LEAF Coalition.
The Prime Minister welcomed the Bezos Earth Fund's commitment, announced tonight, to give $1 billion to protect forests and remove carbon from the air. The Prime Minister and Mr Bezos agreed to work together to see what more could be done in the run up to and at COP26.
The Prime Minister raised the issue of taxation, and hoped progress could be in implementing the G7 agreement on tax.
Beth Rigby from Sky News was in New York to interview Boris. They talked over each other for two minutes:
I wish he had mentioned her suspension from Sky for flouting coronavirus rules last December:
Boris's interview for the Today show went much better. He was diplomatic about Joe Biden's withdrawal from Afghanistan, even when Savannah Guthrie pressed him on the subject:
Guthrie asked Boris about President Trump. Again, Boris was diplomatic, saying that prime ministers have to get along with US presidents. In fact, Trump was mentioned very little in Parliament, including by Boris. I do not get the impression that Boris was sorry Trump lost the election. In fact, he has said in the Commons — as he does in the clip below — that he considers Biden a 'breath of fresh air'. Biden's name gets mentioned quite a lot in Parliament, by the way:
Boris also discussed family life and his unwavering belief in American ideals:
The Sun's Harry Cole was on hand to broadcast for Sky News from New York:
He said that New York hasn't yet bounced back from coronavirus:
The British press pack then travelled to Washington DC:
Washington DC
On Tuesday, the day that she and Boris went to Washington, Liz Truss's office issued the following tweet about the special relationship between the US and the UK:
Hmm.
Truss held a press huddle on the train:
While Truss met with her American counterpart Secretary of State Antony Blinken, Boris met with Kamala Harris at the Eisenhower Building:
Downing Street issued this summary of their meeting. Topics included the new AUKUS alliance, climate change and humanitarian efforts. Boris also expressed his gratitude to the US military for their leadership in withdrawing from Afghanistan.
British journalist Hugo Gye objected to the Eisenhower Building's architecture:
Then it was time to meet with Joe Biden.
Biden arrived by helicopter, no doubt from Delaware:
Unlike the Trumps, the Bidens do not greet their guests at the door:
Liz Truss accompanied the Prime Minister:
Hugo Gye has a summary of the meeting and brief press conference in the Oval Office. Anne Sacoolas is an American 'diplomat' who was in a road accident in England leading to the death of a young man, Harry Dunn:
My American readers will be very familiar with the Amtrak anecdote, which Biden used on the campaign trail last year:
In the end, the chances of a trade deal appear slim. Trump would have definitely been open to one.
Boris took two questions from the media, one from Harry Cole and the other from Beth Rigby.
Biden pointed to Harry Cole first:
Biden and Boris gave this answer on the Harry Dunn case:
Biden did not solicit questions, even though there were plenty of reporters in the Oval Office. When the session adjourned, they started shouting various questions at him. He apparently answered a question about the southern border, but the reporter could not hear the answer over the din. The reporters filed a complaint with Jen Psaki, who once again replied that the president takes questions 'several times a week':
Downing Street issued a summary of the private meeting which followed:
… The President and Prime Minister agreed that the new AUKUS alliance, announced last week, was a clear articulation of the UK and America's shared values and approach to the world. They underscored the important role the alliance will play in promoting peace and stability around the world, harnessing British, American and Australian expertise to solve future challenges.
The leaders welcomed the close cooperation between our countries during the NATO withdrawal from Afghanistan. The Prime Minister expressed his condolences for the American servicepeople killed during the operation. The Prime Minister and President Biden agreed that the best way to honour all those who gave their lives to make Afghanistan a better place will be to use all the diplomatic and humanitarian tools at our disposal to prevent a humanitarian crisis and preserve the gains made in Afghanistan.
To that end, they discussed the progress made since the G7 meeting last month to coordinate international action on Afghanistan. They agreed that any international recognition of the Taliban must be coordinated and contingent on the group respecting human rights.
The Prime Minister welcomed President Biden's leadership on the issue of climate, and his announcement today that the US would double its climate finance commitment. The leaders agreed on the need for G7 countries to deliver on the promises made in Carbis Bay, particularly with regard to phasing out the use of coal and supporting developing countries to grow cleanly. They agreed the Build Back Better World Initiative would be crucial in achieving this. The Prime Minister said he looks forward to welcoming the President to the COP26 Summit in Glasgow.
The Prime Minster and President Biden also agreed on the need to increase international vaccine access to deliver on the commitment made in Cornwall to vaccinate the world by the end of next year. They noted that the success of the British and American vaccine rollouts has been instrumental in allowing UK-US travel to resume. The Prime Minister welcomed the US announcement that they will allow double vaccinated British nationals to enter the country from November, a move which will allow families and friends to reunite and will help stimulate our economies.
The Prime Minister updated President Biden on the developments with respect to the Northern Ireland Protocol since they last met in June. The leaders agreed on the importance of protecting peace in Northern Ireland …
Not surprisingly, it is unlikely we will get a trade deal with the US. Biden is concerned about the post-Brexit Northern Ireland protocol disturbing the peace agreement between that nation and the Republic of Ireland:
Return to New York
The Telegraph reports Boris Johnson remained in Washington on Wednesday to meet with:
US politicians at Capitol Hill, including senators Chuck Schumer and Mitch McConnell, US Speaker of the House Nancy Pelosi and House minority leader Kevin McCarthy.
Afterwards, he visited Arlington Cemetery before returning to New York to deliver his climate change speech at the UN:
He will then travel to Arlington Cemetery to lay a wreath at the Tomb of the Unknown Soldier, before returning to New York, where he will give his climate change speech to the UN General Assembly in the early hours of the morning UK time.
Liz Truss was in New York on Wednesday to address her counterparts on the UN Security Council:
Sky News reported:
She will chair talks with foreign ministers from the US, France, China, and Russia – the countries that, along with the UK, make up the five permanent members of the United Nations security council – in New York later.
UN Secretary-General Antonio Guterres is also expected to join the discussions.
Ms Truss's aides say she will be promoting greater cooperation among the so-called P5.
This will include encouraging Beijing and Moscow to "act as one" with other international military forces to prevent Afghanistan from once again becoming a home for global terrorists following the Taliban's takeover last month.
But "un peu riche" (a little rich) may be the French retort as the diplomatic rift deepens over a new security pact between Australia, the UK and the US that leaves France out in the cold and China smarting.
Trade might be off the table for now, but, no doubt, both Boris Johnson and Liz Truss will make progress in other areas.
The Taliban never change, except that they have allowed themselves a bit of fun.
During the past week, I saw several tweets of the Taliban on pedalos. It was unclear whether the images were photoshopped.
However, on September 19, the Mail on Sunday posted similar photos of the armed misogynists on pedalos which were taken at Band-e Amir National Park, which used to be a tourist attraction.
Interestingly, the park is 45 miles away from Bamiyan, formerly the home of the Buddhas of Bamiyan, which the Taliban destroyed in 2001.
The Mail's article also gave an update on the Taliban's treatment of girls and women.
The Women's Affairs Ministry is now the Ministry for the Propagation of Virtue and the Prevention of Vice, which, if I recall correctly, was in existence in 2001. It is designed to repress women severely. Once again, no more lipstick, visible hair or legs.
For the moment, girls are allowed to attend primary school only, under the pretext of security reasons. They might be allowed to attend secondary school at some point.
Women are allowed to attend private universities:
but with harsh restrictions on their clothes and movement.
There is some resistance to the new education policy (emphases mine):
A statement from the education ministry last Friday demanded: 'All male teachers and students should attend their educational institutions.' It made no mention of female teachers or pupils.
Some Afghan women are now protesting the return to repression, with boys also refusing to attend class in solidarity. One boy was pictured in a Twitter post holding a sign that says: 'We don't go to school without our sisters'. 
Afghans voiced their support for the child in the post's replies, with one saying: 'Education is the right of every Afghan. We hope that the Taliban will allow our sisters to open schools as well.' 
How sad for the Afghans.
UNICEF have issued a statement condemning the policy. It is unlikely the Taliban will be worried about that.
As for the ladies who worked at the Women's Affairs Ministry:
Videos posted to social media showed female ministry workers protesting outside after losing their jobs.
What a pathetic state of affairs.
The Times was able to interview former president Hamid Karzai, who wore the exquisite long silk jackets. He spoke out from his home in Kabul.
He told the paper that he is in regular discussions with the Taliban, especially on the egregious education policy, making Afghanistan:
the only country on earth to exclude girls from secondary education.
He said that he despairs of the current situation in Afghanistan:
Afghanistan's former president Hamid Karzai has spoken out against the Taliban for the first time, decrying their restrictions on girls' education and revealing his despair at seeing so many talented young Afghans fleeing the country.
"Education of girls is extremely important," he told The Sunday Times in an interview at his house in Kabul, now guarded by the Taliban. "There is no other way. This will not be a country which stands on its own feet without education, especially for girls."
He has three daughters:
Karzai, 63, ran the country's western-backed government for 13 years after the Taliban was toppled in 2001. He has three daughters, aged 4, 7 and 9, and said that one of his proudest achievements from his time in office was that millions of girls returned to school.
… many believe that Karzai is courting danger by criticising the country's new masters now.
He intends to "continue to speak out and speak out strongly", he said from his library, where the shelves are lined with photos of himself with the likes of Prince Charles and President George W Bush. "I stayed because I love my country and wanted to reassure people. We need a government that brings development and delivers services, has good relations with the rest of the world and where people live happily without fear or repression, and we must keep working for it" …

"The fact is this is a society which has changed massively in the last 20 years. It's the responsibility of the Taliban to make sure young educated Afghans stay for the wellbeing of our country."
He shared his sadness at knowing that so many women MPs, judges and activists are now in hiding. "People are fearful. The Taliban should work to remove this environment of fear and create an environment both physically and psychologically that's conducive for people to stay."
That seems rather unlikely.
Karzai was known for criticising the West and foreign military over night raids and airstrikes that killed civilians.
As such, he was happy to see the departure of troops:
"I am not unhappy the foreign troops have gone," said Karzai. "They were not respecting our culture, and this country needs to stand on its own."
However, to date, his discussions with the Taliban have been less than successful, and the whole country, including Panjshir province, is under their control:
He helped to mediate an end to the fighting in Panjshir, the region which held out the longest against the Taliban, and was initially positive about his negotiations with the victorious Islamists. Now, however, he admits he is disappointed. "From the very beginning in all our talks we emphasised three fundamentals: education and education for girls, inclusivity in government, and the place of women in our society. We also spoke of the importance of the national flag and values of the country.
"They fully agreed and said all the right things, but so far things didn't happen that way. We need their actions to match their words or Afghanistan will again be cut off from the world."
Any one of us could have told him that much.
And to think that Biden considers this disaster of his will be forgotten in time for the 2022 mid-term elections. I certainly hope not.
Boris Johnson is now into his third year as Prime Minister.
On Wednesday and Thursday, September 15 and 16, he reshuffled some of his cabinet and ministerial posts, signalling that he is more than halfway through his premiership. In other words, this will be the major reshuffle to lead the Conservatives into the next general election.
I hope that Boris does not go for a 2023 election, unless it is late in the year. The coronavirus crisis will have put much of the Conservative manifesto agenda on hold for two years. As such, not much has been accomplished to date, as Andrew Neil, who recently resigned from GB News, says:
Boris has appointed more Leave ministers as well as more minority and female ministers, which will not matter to most small-c conservatives:
Highlights of the reshuffle follow.
Dominic Raab no longer Foreign Secretary
It looks as if dithering over Afghanistan while holidaying in Crete has finished Dominic Raab's days as Foreign Secretary. He had to do the walk of shame after his demotion:
That said, Boris has found a new job for him as Justice Secretary.
Raab will also continue to be Deputy Prime Minister, a role he handled extremely well in April 2020, when Boris was hospitalised with coronavirus.
Defence Secretary Ben Wallace defended his fellow MP and the move in an interview with BBC Breakfast:
Wallace said of Raab: "Dominic is by trade a lawyer, he started his life in the Foreign Office as a human rights lawyer and he's gone to the Ministry of Justice, which is actually a very, very important role and a role he desperately understands."
Liz Truss becomes new Foreign Secretary
Former Trade Secretary Liz Truss replaces Dominic Raab as Foreign Secretary, with Anne-Marie Trevelyan taking her place.
Post-Brexit, Truss has made various trade deals with other nations, notably Australia and Japan.
She also remains minister for women and equalities.
Truss is popular with grassroots conservatives and her name has often been mentioned as a future party leader and Prime Minister.
She succeeded not only in trade but also in refusing wokery in 2020 …
… and in 2021, as Guido Fawkes reported on June 16 (emphases mine):
Liz Truss tells Times Radio most people aren't interested in the culture war…
"My role as equality minister is to make sure everybody in Britain is treated equally regardless of their sex, their sexuality and their race. What we have seen over the past few years is the development of identity politics where there has been division created. People are described as being members of a group rather than for their own personal, individual humanity and dignity… We have just launched for example a big data project looking where are the gaps in education, employment and enterprise across the country, and how we can fix those. That is the approach we need to take… I think some of the identity politics we have seen focus on symbolism over real results has been divisive… I think most people aren't interested in this so–called culture war, what they're interested in is, "Am I being given a fair chance? Do I have a good chance of getting a job? Am I treated fairly by public services?" And that's why I think our equality agenda should focus on, those bread and butter issues that are of concern to everyone in the country."
She is consistently among the most popular of the Cabinet members. This survey is from March 2021:
She can even ably dodge camera equipment during an interview:
Nadine Dorries moves from Health and Social Care to Culture Secretary
In what is hoped to please grassroots small-c conservative voters, Nadine Dorries now heads Digital, Culture, Media and Sport (DCMS), replacing Oliver Dowden, who, as new co-chairman of the Conservative Party, will formulate a strategy for the next general election.
Most of these grassroots supporters are fed up with the BBC. Will Dorries take on Auntie Beeb?
I do not put much stock in that possibility. Resurrecting Dorries's tweets from several years ago are no indication of her current willingness to oppose the BBC on anything much:
The BBC have just appointed a firmly left-wing executive editor of BBC News, Jess Brammar. At least one Conservative MP, Brendan Clarke-Smith, was unhappy about the possibility of her appointment back in August:
I will not be holding my breath for Dorries to take her on, although others in the left-wing and anti-Brexit political establishment are angry about Dorries's appointment, as Guido Fawkes reports; he has screenshots of her past tweets (emphasis in the original):
She's been in the job for 17 hours and is already annoying all the right people… 
John Whittingdale returns to backbenches
I have doubts about Dorries because one of the DCMS ministers, John Whittingdale, was supposed to take on the BBC in 2016 and never did. He also washed his hands of removing free TV licences for most over-75s, saying it was a decision for the BBC. Is this why he got the sack?
During the Euro 2020 soccer tournament this year, Whittingdale told Kay Burley of Sky News that travel restrictions were lifted for 'important' people associated with the matches:
Speaking on Sky News, John Whittingdale was asked why players, officials and others coming to London for the Euros final on 11 July should be allowed in without self-isolating.
He said: "We've always said that for some people who are important, players, for instance …"
The presenter, Kay Burley, interrupted him, saying: "So people who want to go on holiday are not important. Is that what you're saying?"
Whittingdale's last pronouncement, standing in for his boss Oliver Dowden, was about a proposed mandate to make all BBC and ITV output 'distinctively British'. That was on September 16. It will be interesting to see whether Nadine Dorries will insist on it.
Newsnight argument over Dorries
Nadine Dorries was the subject of an argument between Conservative MP Charles Walker and former Conservative MP, Remainer Anna Soubry, who lost her seat in December 2019.
By the way, this was Anna Soubry with Nigel Farage either just before or just after the Brexit referendum in June 2016: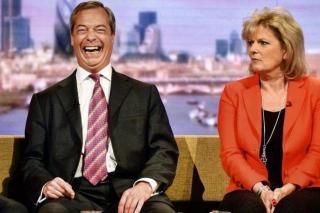 But I digress.
The discussion between Soubry and Charles Walker took place on the BBC's Newsnight on September 15:
Here's the video, with Labour MP Peter Kyle sitting at the desk with presenter Emily Maitlis:
Guido Fawkes has the highlights:
Nadine Dorries provided the biggest clash, as the eternally bitter Soubry ranted that her appointment "actually says everything that's wrong and rotten about this prime minister's stewardship of this country". Charles Walker had some thoughts:
"Nadine Dorries has been a health minister, a minister of state, at an incredibly difficult time for the department of health; has been an extremely good minister for mental health; and really to come onto this programme and just trash her like that is just not a very nice thing to do to be perfectly honest"
Responding to Soubry's claim that people don't really care about reshuffles in the real world, Walker pointed out "Why is it the lead story on Newsnight, and why are you appearing on Newsnight?" Why indeed…
However, there is a personal reason why Anna Soubry is angry with Nadine Dorries.
On July 1, 2016, one week after David Cameron stood down as Prime Minister and Conservative Party leader because of the Brexit referendum result, tensions were running high not only in the Commons but also among the public.
Soubry went out near Parliament to address her fellow Remain supporters. Dorries tweeted that Soubry was under the influence. Soubry demanded that Dorries retract the tweet. The Times has the full story, which ends with this:
Update (25.07.2016): Following publication of this article, Nadine Dorries MP has withdrawn her tweet about passing Anna Soubry MP leaving the bar before she attended a rally of Remain supporters in central London. Ms Soubry has confirmed that she had not drunk any alcohol before speaking at the event.
Another reason why I am doubtful about Nadine Dorries is because she did not question the Government's coronavirus restrictions when she was at Health and Social Care. Does she really believe everything she hears? Here she responds to Conservative Woman's co-founder Kathy Gyngell. Dorries and her mother had the virus at the same time, and her mother recovered first. Even so, not questioning lockdown earns her a black mark from me:
At least she supported Brexit.
Michael Gove moves to Housing, no longer Chancellor of the Duchy of Lancaster
Michael Gove, who is in the process of a divorce and was a recent party boy in an Aberdeen nightclub, is no longer the Chancellor of the Duchy of Lancaster.
Stephen Barclay, formerly Chief Secretary to the Treasury, replaces him in that post. Simon Clarke replaces Barclay in the Treasury role.
Michael Gove replaces Robert Jenrick at the Ministry of Housing, Communities and Local Government and is in charge of Boris's 'levelling up' agenda.
A first attempt at a new acronym for the department has produced DULL:
Guido reports on the problems with acronyms for government departments in general:
The Sun's Harry Cole reports the initial proposal for a new "Department for the Union and Levelling Up" is no longer a flyer after realisations its acronym, 'DULU', sounds too much like "Dull". It's a shame a change was needed, given it was pointed out yesterday that Michael Gove the first MHCLG Secretary with all the letters of the department in his name…
Guido will leave it up to cleverer minds to work out an acronym that includes all the letters of Gove's new remit (MHCLG + Union + Levelling Up + Elections) though it's not the worst reshuffle acronym problem encountered by a PM. As Alan Johnson recounts, in 2005 Tony Blair came up with a plan to rename the department for Trade and Industry as the "Department of Productivity, Energy, Industry and Science". Thankfully Johnson was used to it by that point however – he'd already been Minister for Higher Education and Lifelong Learning, and headed up the Sexual Health Advisory Group…
Although this looks like a demotion for Gove, it involves a hefty budget with pan-govermental reach, something that should definitely appeal to him:
New Education Secretary
Nadhim Zahawi, formerly in charge of the coronavirus vaccine rollout, is the new Education Secretary, replacing Gavin Williamson, who likely got the sack because of the school exams fiasco during the coronavirus crisis.
Zahawi has achieved the British dream, having arrived in the UK as a child refugee who could not speak English:
Other appointments
Guido Fawkes has full reshuffle information for September 15 and 16.
Some MPs have transferred to other departments:
Others will be returning to the backbenches:
Jesse Norman tweeted that he was happy to return to the backbenches:
The new role for Nigel Adams is said to be a 'fixer' appointment in order to get things done:
More information and analysis can be found at The Guardian, The Telegraph, GB News , The Spectator and The Times (here, here and here).
House of Lords
Reshuffles can affect the House of Lords, too.
Fortunately, two of the stars there are still in place.
Baroness Evans
Baroness Evans, composed and competent, will remain as Leader of the House of Lords.
Lord Frost
Lord Frost will remain Cabinet Office Minister for Europe, in charge of EU negotiations and changes to relevant legislation:
On September 16, Guido wrote about Frost's plans to rid the UK of EU laws (emphases in the original):
Lord Frost has announced the government's plans to finally capitalise on the freedoms of Brexit and remove the "special status" of all individual EU laws still on the UK's statute books. There are also plans to invest heavily artificial intelligence, transport, and farming over the Parliament. Now if we just pair deregulation with lower taxes we may actually get somewhere…
Speaking on the reforms this afternoon, Lord Frost said:
"From rules on data storage to the ability of businesses to develop new green technologies, overbearing regulations were often conceived and agreed in Brussels with little consideration of the UK national interest.
"We now have the opportunity to do things differently and ensure that Brexit freedoms are used to help businesses and citizens get on and succeed."
Lord Frost will begin with a review of so-called "retained EU law" – the huge amount of EU legislation still on the UK's statute books; removing its special status so it's no longer a distinct category of UK domestic law, and ensuring all courts have the full ability to depart from EU case law. He describes it as finalising the process of "restoring this sovereign Parliament". There's a reason he's popular with the Tory membership…
Guido's post has more detail, much of which involves digitalising everything from share (stock) certificates and driving licences.
Hmm. I hope that when his proposals reach MPs that they are not taken too far. First, not everyone is online. Secondly, think of the hacking opportunities this could provide. Finally, and perhaps most importantly, digitalisation can lead quickly to establishing a Chinese-style social credit score.
One thing I did like was this:
Permitting the voluntary printing of the Crown Stamp on pint glasses and reviewing the EU ban on markings and sales in imperial units and legislating in due course, none of which were possible within the EU.
Robert Peston's misguided predictions
Sometimes, it is better to wait for the final outcome rather than tweet silly predictions:
On September 16, Guido noted witheringly of ITV's Robert Peston:
While yesterday may not have been great for Dominic Raab, at least he can take solace in the fact he had a better reshuffle than Robert Peston. ITV's senile senior political reporter spent all day tweeting every thought process, speculation and briefing with the acumen and insight of a first-year politics student.
Guido's article lists Peston's tweets. Perhaps ITV should buy him a new crystal ball.
Conclusion
I still think that most Conservative MPs are half-hearted. It's a shame that Boris did not promote any of the 2019 intake, especially the feisty ones from the North of England.
Fortunately, last week's horrible poll results have been reversed. Participants were polled during the reshuffle days of September 15 and 16:
Onwards and upwards to Boris's promised 'sunlit uplands', I hope.
From the beginning of the coronavirus crisis, anyone who doubted Big Media's narrative was branded a conspiracy theorist.
Strangely, most of what notional conspiracy theorists spoke and wrote about in 2020 has come true.
Last week, I read two articles of interest about the virus, the New York Times (NYT) and China.
The NYT, China and the virus
On August 2, 2021, Ashley Rindsberg, the author of The Gray Lady Winked: How the New York Times' Misreporting, Distortions and Fabrications Radically Alter History, wrote an article for UnHerd: 'Did the New York Times stifle lab leak debate?'
What an eye-opener it is. Excerpts follow, emphases mine.
Rindsberg has done a lot of research into the history of the paper, nicknamed The Gray Lady in the United States.
He says that the paper's relationship with China has been going on for over a decade and explores its dubious ties with totalitarian regimes of the 20th century:
Researching and writing my new book, I discovered that the Times has a dark history of inadvertently helping authoritarian regimes with its reporting, including the Nazis, the Soviet Union and Fidel Castro.
In the case of China, this appears true to an alarming degree. For over a decade, the Times has nurtured a special relationship with the CCP — though we can only speculate as to whether this influenced its editorial output. Still, the Times certainly appeared unconcerned about the appearance of impropriety as it took millions of dollars from Chinese propaganda outlets, most prominently China Daily. In exchange for this badly needed revenue, the Times has published hundreds of "advertorials" written by Chinese propaganda outlets, including China Daily, which promote CCP messaging on the most serious topics, such as a double-page spread on the hotly contested Diaoyu Islands brazenly titled: "Diaoyu Islands Belong to China".
But the paper's advertising relationship with Chinese state outlets is only the visible part of the iceberg. In 2012, seeking to capitalise on China's burgeoning middle and upper classes, the Times launched a Chinese edition of its daily paper followed by the launch of a luxury lifestyle magazine. "The appetite for New York Times journalism in Chinese has never been stronger," a company press release stated at the time.
In investing so heavily in China, the Times unintentionally handed the rapacious CCP an editorial lever to sway coverage. The Times learned this first-hand when, in 2012, the CCP blocked Chinese access to the Times online in retaliation for an unfavourable article on the family finances of China's outgoing premier, Wen Jiabao. The Times set out on a year-long "lobbying" effort to restore coverage that included meetings with Xinhua, the parent of China Daily.
In early 2020, the lab leak hypothesis was roundly condemned in Big Media, especially the NYT.
Rindsberg leads us through the timeline and the narrative:
Of course, over the past year newspapers across the world have fallen for the CCP's distorted Covid-19 narrative. And there is no evidence to suggest that the CCP did put pressure on the Times. But when it came to the lab leak debate, the Times was relentless. Starting in early 2020, when little was known about the virus — and nothing about its origins — the Times adopted a stridently anti-lab leak stance. In its first report on the topic, a February 17, 2020 article covering comments made by Sen. Tom Cotton, the Times stigmatised lab leak as a "fringe theory". Once the story was published, its reporter took to Twitter to describe it as "the kind of conspiracy once reserved for the tinfoil hatters".
Only one week prior, another outlet made strikingly similar claims. In an editorial, the CCP-owned China Daily thundered that Cotton's decision to spread "malicious rumors" shows "how irresponsible some are in their haste to attack China". The Times, echoing China Daily, also cast the lab leak hypothesis as a "rumor".
Over the months, the Times's coverage grew even more strident — and more in line with Chinese propaganda. In February 2020, it gave a platform to zoologist Peter Daszak, publishing an opinion piece by him which claimed that the pandemic was caused by "road-building, deforestation, land clearing and agricultural development". Daszak argued that "discovering and sequencing" viruses like Covid-19 in labs like the one in Wuhan should be a priority.
The Times, which used Daszak as a key source in over a dozen articles, has never mentioned that Daszak's organisation funded the Wuhan lab, in particular research into bats and coronaviruses, a flagrant conflict of interest. Crucially, there was no mention of this when a reporter interviewed Daszak this February, following his return from a heavily criticised WHO investigation into the virus's origins. (Danszak later recused himself from the investigation because of the conflict of interest.)
But the Times also never revealed that Daszak was a favoured source for another outlet: China Daily. The state-owned media organisation, along with Xinhua and sister outlet Global Times, repeatedly quoted Daszak to assure readers of China's full cooperation in the search for the virus's origins — and to discredit the possibility of a lab leak.
The NYT's coverage was so supportive of China that Chinese publications began quoting it:
In April 2020, for instance, the Times published an article claiming the Trump Administration's investigation into a lab leak "has echoes of the Bush administration's 2002 push for assessments saying that Iraq had weapons of mass of destruction." Within minutes, a China Daily columnist retweeted the story and parroted its central claim.
With more information coming out about a possible lab leak, the NYT has changed tack:
Today, however, just as the tide is turning on the lab leak debate, so too is the Times's approach to the subject. Last summer, the Times abruptly ended its advertising relationship with Chinese state media outlets and scrubbed all trace of the advertorials from its archive. And in recent months, it has published a handful of articles quoting scientists who believe we should take seriously the prospect of a lab leak.
But does this excuse the paper's behaviour at the start of the pandemic?
I do not think so. The NYT is one of the world's most influential newspapers. Everyone takes what it says as gospel truth. It is hard to disagree with Ashley Rindsberg on his conclusion:
Only time will tell whether the lab leak hypothesis is true or false. But whatever the result, what a tragedy it would be if the Times's coverage delayed that verdict.
Lab leak update
On Friday, September 10, 2021, UnHerd posted the latest on a possible lab leak in Ian Birrell's article, 'Is this proof of lab leak lies?' Birrell is an award-winning foreign reporter and columnist.
Over the past several years, the United States, Britain's Peter Daszak and France were all involved at some point with the Wuhan labs.
Birrell tells us:
… we do know one thing now beyond debate: speculative "gain-of-function" experiments on mutant bat viruses were taking place in Wuhan laboratories.
This research, carried out in labs that did not have maximum level of biosafety, was increasing the infectivity of laboratory-created diseases by constructing chimeric coronaviruses — despite strong denial of such practices by the key Chinese scientists. And the bio-engineering was being funded by United States taxpayers — channelled through a charity run by a British scientist — despite similar denials from America's most senior public health officials that they supported such science fiction activities in Chinese labs.
This information was uncovered via freedom of information requests made in the United States by The Intercept, which is devoted to investigative reporting:
The Intercept obtained 900 pages of documents detailing two research grants in 2014 and 2019 from the National Institutes of Health (NIH) to EcoHealth Alliance. This is the charity headed by Peter Daszak, the controversial Briton who led efforts to squash "conspiracy theories" about a possible lab incident after spending years hunting viruses with Shi Zhengli, the now-famous "Batwoman" expert at Wuhan Institute of Virology (WIV).
While some of this information was already circulating, The Intercept was able to obtain updates on the relevant projects:
… these documents include the original proposals along with project updates, so significantly flesh out what we knew. They highlight how US funding bodies outsourced risky gain-of-function research to China, even over a three-year period between 2014 and 2017 when it was banned in their own nation. They also show, with new clarity, the kind of work taking place in secretive Wuhan labs. These disclosures fuel the mystery over the pandemic origins, while also sparking fresh concerns over top scientists in both China and the West who sought to suppress inquiries into the lab leak hypothesis.
The NYT had a role to play here in defending the Wuhan Institute of Virology (WIV):
A $3.1m grant, according to the documents, was awarded to understand "the risk of bat coronavirus emergence" through screening thousands of samples collected from the nocturnal creatures. This included a chunk of funding worth $599,000 for WIV. Bear in mind that three months ago, Shi, director of its Centre for Emerging Infectious Diseases, angrily protested over the world "pouring filth on an innocent scientist" when emphatically refuting that they carried out gain-of-function work. "My lab has never conducted or co-operated in conducting GOF experiments that enhance the virulence of viruses" she told the New York Times.
Birrell gives us the NIH's definition for 'gain of function' (GOF):
the term gain-of-function research describes a type of research that modifies a biological agent so that it confers new or enhanced activity to that agent.
The following are real life examples of GOF:
Analysis of these papers show US funds supported construction of new chimeric Sars-related coronaviruses, which combined a spike gene from one with genetic material from another — and then showed the resulting creation could infect human cells and mice engineered to display human-type receptors on their cells.
One new virus had increased pathogenicity over the original virus and three new viruses increased viral load in lung tissues up to ten thousandfold, which is most definitely "enhanced activity." As scientists pointed out to me, these results demonstrated increased pathogenicity of SARSr-CoVs with different spike proteins in humanised mouse models. And similar construction work was proposed to be done with another type of deadly pathogen — the Middle Eastern Respiratory Syndrome coronavirus, which first flared up in Jordan nine years ago after spilling over from camels and has since cropped up in 27 countries, causing 858 deaths.
Dr Fauci is also involved:
Anthony Fauci, the US infectious diseases expert and presidential adviser, insisted earlier this year that his country "has not ever and does not now fund gain-of-function research in the Wuhan Institute of Virology". His stance led to a furious clash in Congress with Senator Rand Paul, who gleefully tweeted after The Intercept published its article on the papers: "Surprise surprise – Fauci lied again. And I was right about his agency funding novel coronavirus research at Wuhan."
Paul was backed by Richard Ebright, the bio-security expert and professor of chemical biology at Rutgers University, who has long been a fierce critic of such work since he argues that the risks of creating new diseases in laboratories vastly outweigh any potential benefits. "The documents make it clear that assertions by Anthony Fauci and the NIH Director, Francis Collins that the NIH did not support gain-of-function research or potential pandemic pathogen enhancement at WIV are untruthful," he said.
Birrell discusses France's involvement with Wuhan:
Buried in the documents are two more intriguing details. First, the experimental work creating mutant chimeric coronaviruses was carried out at WIV's biosafety level 2 lab and then the work analysing them in humanised mice performed at the biosafety level 3 Wuhan University Center for Animal Experiment, not at the new maximum level 4 WIV lab built with French assistance. The cluster of labs at the university hospital, incidentally, includes a breeding centre that created at least 1,000 types of genetically engineered animals from mice to monkeys. So this means the details in the papers accord with a previous statement by Shi that their coronavirus research is "conducted in BSL-2 or BSL-3 laboratories" — although a level 2 lab has, some say, barely higher safety standards than a dental clinic and certainly few safeguards against an lethal airborne virus.
As for Daszak, while he defended China, his charity warned about viral infections from animals encountered in fieldwork:
… while Daszak has been condemning supposed conspiracy theories and defending his friends in China with whom he has collected thousands of samples, his own charity was pointing out the major risk of accidental infection faced by researchers when collecting such specimens in a project he led. "Fieldwork involves the highest risk of exposure to SARS or other CoVs, while working in caves with high bat density overhead and the potential for fecal dust to be inhaled. There is also some risk of exposure to pathogens …while handling bats, civets, rodents or other animals, their blood samples or their excreta."
Accidental viral infection via animals was another point mentioned early last year which the media summarily dismissed.
The story of the origins of COVID-19 continues to unfold.
I look forward to reading more in future and covering it here.
For several months now, Britain has been experiencing a supply chain problem with transport.
Detractors from the corporate world, such as IKEA, say that this is because of Brexit.
Wrong!
A shortage of lorry drivers is affecting deliveries worldwide.
Shipping problems have also been occurring.
On Thursday, September 9, Guido Fawkes posted an item whereby IKEA tried to blame the UK's transport problems on Brexit (emphases in the original):
In a recent BBC article on IKEA's supply shortages, the Swedish furniture giant went all in on blaming Brexit for their inventory issues:
"What we are seeing is a perfect storm of issues, including the disruption of global trade flows and a shortage of drivers, which have been exacerbated by the pandemic and Brexit."
However, IKEA tells a different story to EU countries, e.g. the Netherlands (emphases in purple mine):
The firm goes on to say that "10% of its stock, or around 1,000 product lines" have supposedly been affected by the Brexit-related shortage. In a separate statement given two days later to Dutch newspaper Dagblad van het Noorden, however, an IKEA spokesperson instead cited the exact same product shortage with a different excuse featuring one notable omission:
"There are major logistical problems worldwide. For example, there is a great scarcity of containers and container ships on important sea routes because the economic recovery from the corona pandemic is proceeding faster than expected. There are also congestion in ports due to the crowds and Chinese terminals were temporarily closed due to local corona outbreaks. Many IKEA products are made in China."
Both articles list the same 10% stock shortage figure, only one mentions Brexit.
Guido points out that the problem is global:
Remainers – and some parts of the media enjoying spinning the narrative on their behalf – are refusing to accept the lorry driver shortage is global: iron ore struggles to reach Australian ports; US petrol stations have run out of supplies after a 35,000 fall in lorry drivers; Asia reports a 20% fall in drivers …
Guido's article says that the only place where there is not a driver shortage is Africa.
Talk radio host Howie Carr has been talking about shortages and higher prices in the United States since the 2020 election. Lumber products had skyrocketed at the end of last year. Howie has also mentioned the petrol prices and shortages at the pump which started at the same time.
On August 21, 2021, Global Cold Chain News posted an excellent article on the European situation with regard to lorry drivers, including individual country profiles.
It puts paid to the misguided suggestions in the British commentariat that we should allow a few hundred thousand EU nationals to drive lorries for UK hauliers.
There are two reasons why such reasoning is faulty.
First, over six million EU nationals have been allowed by the Government to remain in the UK post-Brexit. If we cannot find our lorry drivers from among that group, then something is very wrong.
Secondly, as Global Cold Chain News explains, there are lorry driver shortages in most EU countries.
Excerpts follow, emphases mine:
Poland: According to Ti estimates, the shortage in Poland in 2020 is around 124,000 drivers. According to IRU, Poland is one of the most heavily impacted European countries and driver shortage in 2020 stands at around 37%.
Germany: Between 45,000 and 60,000 truck drivers are 'missing' in 2020 in the German market alone, according to the DSLV and BGL, and this number is only increasing. The IRU predicts a gap of 185,000 drivers by 2027 in Germany.
France: In 2019 it has been reported by several news outlets that France is experiencing a shortage of approximately 43,000 drivers.
Ukraine: The deficit of drivers in Ukraine in 2019 ranged from 12,000 to 120,000 depending on the region.
The article explains that HGV (heavy goods vehicle) shortages began years before coronavirus took hold — and, I would add, before Brexit:
The driver shortages have been affecting the global road freight market for around 15 years. The issue comes as the pool of truck drivers is contracting but demand for transport is rising. The COVID-19 pandemic has further exacerbated the already alarming issue of driver shortages as new drivers have been unable to train and take their tests and Covid restrictions make the job even less attractive.
Even before the pandemic a serious cause for concern in the industry, the lack of drivers in the road transport industry was at an all-time high, with many of its underlying issues being long-term challenges. Factors such as an aging workforce and insufficient numbers of new recruits, due to working conditions and image issues of the profession, have been plaguing the industry for many years.
The pandemic affected lorry drivers in the UK and the EU at its height in 2020. On France's talk radio station, RMC, a number of drivers rang in to complain that shower and toilet facilities at truck stops were closed. British drivers experienced the same inconveniences when delivering around the UK.
However, not every company is affected by product shortages.
Pub chain owner Tim Martin of Wetherspoons says that his supplies are at 2019 levels and that Brexit has not affected his business. In fact, it was strike action from a major brewer that caused a temporary shortage.
Guido Fawkes has the story:
Wetherspoon chairman Tim Martin has now pushed back to say these claims are all untrue. The reality is that beer supplies actually remain at 2019 (i.e. pre-pandemic) levels, and that the shortage of a few products over the last two weeks is the result of strike action from one major brewer. Martin added:
"There is clearly a shortage of HGV drivers, both in the UK and in mainland Europe- where, some reports say, there is a shortage of 400,000 drivers. Following the pandemic, there are supply chain issues in many other parts of the world also. In the light of the undoubted problems, it is important that the public is provided with accurate information. Factual inaccuracies and partisan Brexit politics will not assist in finding solutions."
Fake news about Brexit will not solve the transport problem.
Another factor is that another British organisation went on strike this year. The DVLA (Driver and Vehicle Licensing Agency), based in Wales, went on strike in August 2021, specifically the Drivers Medical Department. This is because coronavirus cases rose quickly at the DVLA site.
The strike has caused a backlog of delays surrounding licences and other driver certifications, including those for HGVs.
In conclusion, a number of factors are causing or exacerbating a shortage of HGV drivers — not only in Britain but around the world.
On Thursday, September 9, the Scottish parliament voted in a motion to implement vaccine passports for the nation, beginning October 1:
Patrick Harvie's Greens, who are in a new alliance with the governing SNP, changed their minds about vaccine passports and decided to vote in favour of them:
Some of the MSPs lost their internet connection during the vote. That does not matter, because they, along with MSPs voting from home, can let the moderator know and she will allow them to cast their vote in person or over the telephone. Those votes are broadcast in the chamber.
The incident gives me a chance to show you the interior of Holyrood, where MSPs meet:
The day before the Holyrood vote, MPs in Westminster debated the implemention vaccine passports for England.
Nadhim Zahawi, the vaccines minister, gave a statement about the plans. It did not go well for him.
MPs — including his fellow Conservatives — quoted his previous statements in which he said the passports would not be implemented domestically.
William Wragg (Con), a member of the awkward squad of backbenchers, chided Zahawi (emphases mine):
What a load of rubbish. I do not believe that my hon. Friend believes a word he just uttered, because I remember him stating very persuasively my position, which we shared at the time, that this measure would be discriminatory. Yet he is sent to the Dispatch Box to defend the indefensible. We in this House seem prepared to have a needless fight over this issue. It is completely unnecessary. We all agree that people should be encouraged to have the vaccine, and I again encourage everybody to do so, but to go down this route, which is overtly discriminatory, will be utterly damaging to the fabric of society.
Zahawi replied:
I am grateful to my hon. Friend, who has made his view clear to me on many occasions. It pains me to have to take a step like this, which we do not take lightly, but the flipside to that is that if we do not and the virus causes super-spreader events in nightclubs and I have to stand at the Dispatch Box and announce to the House that we have to close the sector, that would be much more painful to me.
Mark Harper, another Conservative who has opposed coronavirus restrictions, voiced his disapproval:
I have to say that I agree with the Chairman of the Public Administration and Constitutional Affairs Committee, my hon. Friend the Member for Hazel Grove (Mr Wragg). The Minister set out earlier this year that this policy was discriminatory. He was right then and that remains the case. It is a discriminatory policy. The vaccines are fantastically effective at reducing hospitalisation and death. They are very much less effective in reducing transmission of the Delta variant. This is a pointless policy with damaging effects. I am afraid that the Minister is picking an unnecessary fight with his own colleagues. I say to him that the Government should think again. The Leader of the House has been clear that we do not believe—the Government do not believe—that this policy is necessary for us to meet here in a crowded place. Let us not have one rule for Members of Parliament and another rule for everybody else. Drop this policy.
Zahawi replied, saying he hoped the vaccine passports would be temporary:
This is not something that we enter into lightly, but it is part of our armoury to help us transition over the winter months from pandemic to endemic status. I hope to be able to stand at this Dispatch Box very soon after that and be able to share with the House that we do not need to do this any more as we will be dealing with the virus through an annual vaccination programme.
An SNP MP hoped there would be proportionality:
I pay tribute to all those involved in the vaccination programme. It has been extraordinary. In Scotland, we have 4.1 million adults with a first dose and almost 4 million with a second dose, which means that north of 90% of all adults have had at least one dose. It is a fantastic result across the UK since last December, but the pandemic is not over. Lives are still at risk and the pressures on the NHS are very real, so we in Scotland are introducing a vaccine passport, but, broadly, it will be limited to nightclubs, outdoor standing events with more than 4,000 people and any event with more than 10,000 people. While the rules in England may be slightly different, I hope that they are as proportionate as that.
Zahawi said that more details would be forthcoming.
Zahawi's voice faltered several times during the debate:
It pains me to have to stand at the Dispatch Box and implement something that goes against the DNA of this Minister and his Prime Minister, but we are living through difficult and unprecedented times. As one of the major economies of the world, our four nations have done an incredible job of implementing the vaccination programme. This is a precautionary measure to ensure that we can sustainably maintain the opening of all sectors of the economy.
A Liberal Democrat MP, Munira Wilson, picked up on Zahawi's delivery:
I almost feel sorry for the Minister because he really is struggling to defend this policy. However, he has failed to answer the fundamental question posed by my right hon. Friend the Member for Orkney and Shetland (Mr Carmichael) about this deeply illiberal, discriminatory and unnecessary policy: will this House get a vote on the implementation of covid vaccine passports—yes or no?
Zahawi answered:
There will be appropriate parliamentary scrutiny, as I have said today and in the past.
Not one MP approved of the proposed policy measure in the debate.
On Friday, September 10, news emerged that, if implemented, vaccine passports could open the way for sweeping powers. They could eventually become a national ID 'card'. The Telegraph's Madeline Grant tweeted:
The Telegraph's news that day cited an article from The Sun saying that we might have to have a vaccine passport to go to the pub:
Britons could be required to show vaccine passports at more businesses, the Culture Secretary has suggested amid reports the Prime Minister is preparing to unleash a "toolbox" of contingency measures. 
The Government is set to push ahead with mandatory Covid certification for nightclubs at the end of the month.
But The Sun reports that this will be widened to include other venues such as stadiums and pubs, which will be announced next week by Boris Johnson as part of plans to control the virus through the autumn and winter. 
Oliver Dowden told Sky News: "We will be looking at bringing in certification for nightclubs at end of the month.
"If there is a need to further extend that certification according to the public health need, we will look at doing so but we're always reluctant to impose more restrictions on businesses unless we really need to."
However, having voted in the unpopular increase in National Insurance contributions and the poll result showing a Labour lead for the first time since January, the Government reconsidered their stance on vaccine passports.
On Sunday, September 12, Health Secretary Sajid Javid appeared on the BBC's Andrew Marr Show to say that vaccine passports in England will not be going ahead. I would add 'for now', because this Government is on a right merry-go-round with regard to coronavirus policies:
Mark Harper MP welcomed the news:
Even Public Health England (PHE) statistics show two inoculations (I use the term advisedly) offer little protection:
TalkRADIO's Julia Hartley-Brewer points out that vaccine passports cannot save lives and are discriminatory:
Yet, Scotland's First Minister Nicola Sturgeon insists the decision to implement them north of the border is the right thing to do:
However, one of Scotland's coronavirus advisers, behavioural psychologist Stephen Reicher implied that England, not Scotland, made the right decision:
Guido Fawkes has a quote from Reicher (emphases in the original):
They are a double edged sword. Passports accelerate uptake in the willing but accentuate opposition in the sceptical. They increase safety but can increase complacency.
Quite a departure from Sturgeon's claim that they "have part to play". At least she insisted they were "a very limited scheme"…
Scotland could still backtrack on vaccine passports, as their September 9 vote was on a motion only, not legislation:
It is good to see that politicians are taking note of the public mood — for once.
The Taliban are up to their old tricks, with a twist.
They have redefined the word 'advice', which now means a severe, life-threatening beating.
This video shows a journalist after what is known as a 'physical and cable advice'. He can barely walk:
On September 9, The Telegraph posted an article on the Taliban's 'advice', which comes swiftly with no questions asked.
It comes with a horrific photo. Anyone who doubts what damage a flogging can do should look at it. I've never seen anything like it.
'Advice' is currently being given to journalists who are reporting on anti-Taliban protests.
Excerpts follow, emphases mine:
An Afghan journalist has described "looking death in the face" as he was brutally beaten by the Taliban for three hours with cables and pipes …
Severe welts were inflicted on the backs of numerous Afghan journalists on Wednesday after they covered protests in the country's capital.
Khadim Karimi, Editor-in-Chief of Kabul daily Etillaat Roz, said ten Taliban members beat him "by boxing, kicking, cables, pipes and everything that was available".
"I was looking death in the face. I was thinking about my family, because I thought that I would be killed."
This was the background to the beating:
Mr Karimi had been arrested by the Taliban within minutes of attempting to secure the release of his reporter and cameraman.
Nematullah Naqdi and his colleague Taqi Daryabi were detained earlier in the day after reporting on a demonstration by women demanding the right to work and education.
"I felt the responsibility to try and release them," Mr Karimi said. "When we arrived there in front of the police station door, suddenly Taliban fighters arrested us by force.
The Taliban did not allow any discussion:
"They didn't give us a second and chance to talk and say details. Their response was hitting, boxing and violence."
Mr Karimi's colleagues were released shortly after him. Mr Naqdi and Mr Daryabi "were tortured to near death", he said. "They lost consciousness at least four times during torture."
An 18-year-old journalist told his story. He:
was thrown into a room of other young men after being arrested and whipped for so long he "forgot to keep track of the time".
"I was terrified and did not know what would happen. But I suspected they were going to shoot at us," he said.
"When it was my turn, two big, bearded men came… They laid me on the floor and started beating with a stick, cord and whip. This hurt a lot and there is no word to describe that feeling."
He managed to escape after hiding behind other protestors, despite being too injured to run.
"I tried to hide my injuries and bruise so that no one suspects me… This was my scariest day of my life that ended. But memories remain for the rest of my life."
I don't doubt that for a second.
The article says that Afghan journalists are the Taliban's main targets. 'Advice' is given less to foreign journalists.
Does Joe Biden know exactly what havoc he wreaked by leaving Afghanistan so suddenly? Does he care? Is he even awake today?
For the past 20 years, England's front gardens have been vanishing bit by bit.
The culprit is the automobile.
More households have cars and a number of them have two.
Most people do not have garages and must park on the street. The number of available parking spaces makes coming home from work or a day out challenging in our hunt for a place to park.
Another reason for the vanishing front garden is the restriction by local councils on the number of parking permits granted per household.
Therefore, the practical solution is to get rid of the front garden, guaranteeing that one will always have a place to put at least one car.
The problem with this is that, with heavy rain excess water has nowhere to go, because there is no longer any soil to absorb it.
Harry Mount, writing for The Telegraph, points out that paved-over front gardens contribute to damaging urban floods (emphases mine):
Where earth absorbs water, concrete sends it pouring into your basement. This summer, intense rainstorms produced extensive basement flooding in Walthamstow, north-east London, and Holland Park, in the capital's west. The rain that would once have soaked into the deep earth of the front garden sloshes instead into the new subterranean cinema, leading, literally, to a perfect storm when the heavens open.
Gardening expert Bunny Guinness says that, in Peterborough, she was surprised to learn that "people in residential streets were only allowed two residents' permits per house. That meant anyone who went over their allocation had to pave over their front garden to squeeze in another car."
I first noticed the disappearance of the front garden when I lived in northwest London.
Now I see it in the Home Counties.
It is an unfortunate development which goes against the current ecological trend, as Mount explains:
However small your front garden is, it can accommodate a huge range of plants, as long as you don't give in to the four-wheeled invaders.
In Wildlife of a Garden: A Thirty-Year Study, Dr Jennifer Owen described the species she has found in her garden in Leicester. In those three decades, she has counted 474 plant species, 80 types of spider, 183 bug species, 375 types of moth and 442 kinds of beetle. All in all, the retired ecology lecturer and zoology museum curator has found 2,673 different species of flora and fauna.
And that's only the tip of the iceberg. In the average British garden, the total number of insect species is thought to be around 10,000. Pouring concrete over your front lawn, then, is tantamount to insecticide.
We might imagine the front gardens of Blighty are fairly unexotic, but we mess around with our unique legacy at our peril: in fact, thanks to our temperate climate that can accommodate northern and southern species, they are more ecologically diverse than the lushest rainforest.
Sadly, as Mount points out, the loss of the front garden is likely to increase with the use of notionally eco-friendly electric cars:
In the eternal battle between front lawns and our love of the car, it seems, the automobile is winning. And, in a strange paradox, supposedly green electric cars are killing off more front gardens than ever, with eco-conscious drivers needing to park close to their front door in order to keep their motor charged.
The green lobby have been complaining for years about the loss of our English flora and fauna.
Their championing of the electric car is partly to blame.