You are currently browsing the tag archive for the '2022' tag.
Many GB News viewers will have been deeply disappointed that Mark Steyn has left GB News over the channel's alleged attempts to make him liable for any Ofcom fines resulting from his show for talking about coronavirus vaccines.
Yesterday's post discusses that and has a variety of Mark's output for the channel, with plenty on people who suffered adverse effects from said vaccines.
Today's post continues with more content from his excellent show.
Don't mention the vaccines (continued)
I covered a lot of Steyn's segments on the coronavirus vaccines yesterday.
Here are others I had bookmarked.
On June 16, 2022, Steyn rightly took issue with a Scottish Parliament member who sent a derisory tweet about people posing questions about the vaccines. Apparently, John Mason MSP has form:
Steyn was committed to covering the coronavirus vaccine issue because no other channel was. He discussed this with Dan Wootton on July 4:
In this clip from the same interview, he says that he isn't going anywhere because he enjoys the editorial freedom that GB News allows its presenters:
It's a shame that the channel seems to be changing tack. It would be disappointing indeed if its other presenters were muzzled accordingly. That said, Dan Wootton was the only other presenter to talk about the pandemic on a regular basis, and I haven't heard him do that for several months now.
On July 13, Steyn had a remarkable show about Britons who were either victims of the vaccine or whose relatives died from it. It was one of the best programmes I've seen in some time:
Here is the full hour-long video:
Highlights follow.
At the time, the British government was only just starting to pay out to vaccine victims. The Government only give £120,000 lump sum if the vaccine is the cause of death on the coroner's report or if a living person has been 60% disabled as a result. A Conservative MP, Sir Christopher Chope, was given an adjournment debate on the matter, because payouts were painfully slow.
It was a shame that the House of Commons benches were nearly empty when he spoke. Then again, nearly all MPs think the vaccines have been a godsend. This is why the Government have been suppressing any opposing views and monitoring prominent social media accounts, as Big Brother Watch uncovered last week. Accordingly, Ofcom are all over this on the airwaves, hence GB News's skittishness over broadcasting such stories, as Mark Steyn had been doing so fearlessly.
Mark began by celebrating the first person to receive Government compensation:
That person is Vikki Spit, whose fiancé died from the vaccine. They were a rock'n'roll duo who loved each other deeply:
The mother and wife of NHS doctor Stephen Wright mourned on air:
GB News presenter Neil 'the Coast guy' Oliver joined Mark. He's sitting on the right in the video:
Michelle Dewberry, whose weeknight show is on at 6 p.m., also joined Mark:
Dan Wootton, who was also interested in every aspect of the pandemic debacle at the time, thanked him on his show, which followed at 9 p.m.:
As the response to this tweet indicates, only GB News was covering this topic:
Now they have pretty much stopped, falling into line with every other news outlet.
As you can see in the following video, the victims were young — thirty-somethings:
On July 27, Professor Richard Ennos joined Mark to discuss the excess deaths from the beginning of the pandemic to the present. He said that the early deaths were comprised of elderly people. Increasingly, the age cohort has been decreasing to include much younger Britons:
On August 8, Steyn interviewed Alex Antic, Senator for South Australia, about the commonality of Western countries to link politics with science. So many nations did the same thing at the same time. No one is allowed to ask questions about pandemic policies:
On Tuesday, August 16, Mark welcomed Dr Aseem Malhotra to the show. Dr Malhotra, a cardiologist, was a big supporter of coronavirus vaccines in the beginning but changed his mind. Later in the year, his healthy father, a physician in his 70s, took the vaccine and died.
You can find the video at this GB News link. The accompanying article says, in part (emphases mine):
A leading consultant cardiologist who was one of the first people in the UK to take two doses of the Covid-19 vaccine and promote them on television has called for an end to all remaining vaccine mandates.
Dr Aseem Malhotra has written an open letter to Prime Minister Boris Johnson and US President Joe Biden calling for the immediate release of the raw data from Pfizer's original Covid-19 vaccine trial.
Speaking exclusively to GB News' Mark Steyn show, Dr Malhotra said: "When the vaccines were first released we were told they were 95% effective against infection.
"This is not true. This is based on relative risk reduction. In absolute terms, they provided 0.84 percent protection which means only one in 119 people would be protected from infection.
"This statistic was the pretence under which vaccine mandates were implemented.
"The latest data reveals that once infected there is no significant difference in transmission rates between the vaccinated and unvaccinated, which makes any scientific case for mandates illegitimate.
"As newer and thankfully, less lethal, mutated strains became dominant, any protection against infection at the very least became less effective and likely completely ineffective, even if there is some significant (as yet to be fully determined in absolute individual terms) protection against serious illness and death" …
Dr Malhotra also wrote: "Rather than encourage transparent debate about the true benefits and potential harms of the Covid vaccine as new evidence emerges, those that encourage more critical thinking and adding to the database of relevant knowledge are smeared."
This comes in light of investigative journalist Paul Thacker's investigation into Pfizer's trial data published in the British Medical Journal (BMJ) last year being branded "false information" by independent fact-checkers …
Dr Malhotra argues "global vaccine mandates for Covid-19 must stop until we have the full data on efficacy of all available vaccines."
Writing in praise of Dr Malhotra's findings, Dr Amir Hannan said "[Dr Malhotra] raises some important questions about the validity of the assertions made, asking for all data to be made available so that an in depth analysis can be developed and proper conclusions identified to help restore trust in doctors, the pharmaceutical industry, the research community, the regulatory bodies, the press and governments."
Dr Malhotra's letter has been published in the European Scientist.
Pfizer/BioNTech have been contacted for comment.
On September 2, Dr Matthew Sweet, who appears on the BBC, took issue with Steyn and proved to be a thorn in his side. Steyn mentioned him frequently in the autumn:
On October 4, feminist author Naomi Wolf, who received her doctorate from Oxford University, appeared on Steyn's show to say that she had been pointing out menstrual abnormalities from the vaccine since 2020:
On October 11, Mark interviewed Robert Roos MEP, Vice-Chair of the European Conservatives and Reformists group, one of the MEPs who questioned Pfizer directors about their vaccine. One of the directors intimated that they had no real data to say that the vaccines would stop transmission of the virus. Roos wants to know more, because in some EU countries, unvaccinated people could not go to the supermarket and people lost their jobs because the vaccine was mandated. Overall, the social cost was too great for an ineffective jab:
On Monday, February 6, 2023, Robert Roos voiced his concerns in the European Parliament, stating that, for the most part, parliamentary questions about the effect of pandemic measures on EU citizens were not posed, either in Brussels or in individual member countries' parliaments:
On October 29, 2022, The Conservative Woman's Kathy Gyngell, who was no stranger to the Steyn show, called our attention to his October 27 show, beginning at the 35-minute mark:
She went so far as to include a transcript, which can be found here.
The segment Kathy Gyngell points to is an interview with Mark Sharman, who, during his career, headed the News and Sport division at ITV as well as being the Director of News at Sky.
Sharman made a documentary about the vaccines, Safe and Effective: A Second Opinion. He posted it on YouTube.
Steyn said:
And so Mr Sharman's documentary has just been taken down at YouTube for the following reasons. Big exclamation – 'Medical Misinformation. YouTube doesn't allow claims about Covid-19 vaccinations that contradict expert consensus from local health authorities or the World Health Organisation.' Ooh! No contradicting the World Health Organisation. Mark Sharman joins me now. Mark, as I said, you've been in British broadcasting for a very long time. Have you ever just had a piece of work, such as your documentary, just – boom! – vaporise in the way that YouTube just did it to you?
Sharman replied:
MARK SHARMAN: No, not at all. Mark, I'm not surprised that it's been cut, but as an old-school journalist who believes in reporting both sides of a story, I'm dismayed about what's happening. You know, we are being controlled. The narrative on many, many things is being controlled, and the evidence is growing. I mean, the governments, the Big Pharma companies, Big Tech media companies, they've all decided what the line is and they're sticking to that line come what may. And as you showed earlier in the programme, there are more and more pieces of research from around the world which proves there is something seriously wrong with these vaccines, they're clearly not totally safe and effective. They're clearly not safe, and that don't appear to be effective. And all we're asking for, Mark, is some proper open scientific debate. You know, if there's something wrong, it should be looked at and stopped before more people are hurt …
Sharman echoed other findings exposed on Steyn's show:
You know, there have been 25,000 excess deaths in this country since April. Across Europe, the death rates, excess death rates, are running at 16 per cent higher than usual. And strangely, they're higher in the countries that have been most vaccinated. The authorities come up with all kinds of reasons, including lockdown and the heatwave and changing your bed or whatever. But they won't put the vaccine injury on the list. Now, any investigator worth his salt is going to look at every suspect, if only to rule them out. And there is absolutely no excuse whatsoever to not put vaccine injury on that list. And as I said before, I'm not on one side or the other, I would just love to see a proper open debate where somebody can look at what is happening to these vaccine-injured and deaths around the world. You know, there are other questions as well about the whole reproductive system, but that's another matter. But again, reports are coming in that should be causing concern to the authorities, but they resolutely won't listen, and won't debate it, and cut scientists off and have cut our film off. By the way, it was just about to hit a million views on YouTube alone. And it's interesting that it's been three weeks and not been touched.
More at the link.
On February 6, 2023, The Conservative Woman posted a brief notice about the demise of the Mark Steyn Show. They, too, found the news on Guido Fawkes, as had I:
This is more than 'a shame because he beat Piers Morgan', as Guido puts it. It is a terrible loss for us all and not just all at TCW, but for the country. It is a tragedy for free speech that his style of fearless, moral and uncompromising broadcasting has been brought to an abrupt end. For a year he threw light on dark, he ridiculed the shameless, for a year he raised our hopes that sanity, reason and truth might prevail. Now he is gone and it is shocking and sad. That is how we feel at TCW.
Hundreds of comments followed their post, nearly all of which lamented Steyn's departure.
Professor Norman Fenton was also very sorry to learn that one of GB News's best hosts had left:
However, there might be hope. Bev Turner, who hosts the channel's weekday mid-morning show, is also concerned about coronavirus vaccine safety.
On Monday, February 6, she interviewed a lady from UsForThem, which campaigns for the right of children not to have a vaccine mandate. Molly Kingsley says that the group has won a claim against Pfizer on marketing the vaccine without presenting the risks involved:
Grooming gangs
Another no-go area where only Steyn ventured in depth involved grooming gangs, which have been operating around England for decades.
Samantha Smith, a grooming gang victim who blossomed into an articulate young woman, lives in Telford, Shropshire. She appeared often on Steyn during the summer, then she got a visit from the police on July 6:
Although other channels might say that grooming gangs are in the past — e.g. Oldham, Rotherham — they are still taking advantage of young girls:
On July 11, she returned to London to speak with Mark about her ordeal with the police. The first tweet has an accompanying article:
Here is the full video:
Would that the police had been so interested when she was undergoing sexual abuse from local predators.
In July, the Conservative Party race to replace Boris as leader was in full flow. On July 13, Samantha tweeted that over 1,000 girls have been sexually abused and exploited in Telford alone — a more urgent matter:
On August 10, The Mail+ gave her a voice in a first-person article about her years of abuse:
An excerpt follows:
For years, between the ages of five and 14, I was abused by successive men who left a devastating legacy.
As my life fell apart, I found myself homeless by the age of 16, and there were many nights when I would lie there — racked by visceral self-loathing — wishing I would simply disappear.
How could I not hate myself?
Of course, I had tried to seek help. I eventually reported my abuse and was interviewed by a police child sexual exploitation team. But they did absolutely nothing to bring my abusers to justice.
In fact, I was made to feel unworthy of help or support, as though the abuse I experienced was my fault. My social workers even spelled it out. 'Your behaviour and actions have led you to where you are today,' they told me.
Isolated as I was, I had no idea that I was not alone, but one of more than a thousand children in Telford who had been sexually exploited over decades while the police and youth workers whose job it is to protect us not only failed to act but all too often blamed us as the architects of our own trauma.
Indeed, that's not just my opinion, but the conclusive judgment of a devastating independent report issued last month following an extensive three-year inquiry into sexual exploitation and abuse in my home town stretching back to the seventies.
The authors' verdict could not have been more damning, concluding that generations of children had been subjected to unnecessary suffering because of the abject failures of West Mercia Police, their wilful neglect damning children to years of unnecessary suffering and cruelty.
In some cases, like that of 16-year-old Lucy Lowe, victims were murdered by their abusers.
Echoing conclusions drawn by investigations into similar scandals in Rotherham, Rochdale and Oxford, the report laid bare the scale of systemic failures, highlighting how many perpetrators — predominantly Asian men — were not investigated because of nervousness about appearing racist.
Meanwhile the largely working-class white victims were treated as no-hope cases who were destined to fall into a life of crime, branded 'troublemakers' or even 'child prostitutes' by police. Teachers and social workers were found to have been actively dissuaded from reporting abuse, while offenders were 'emboldened' as police efforts to stop them were scaled down 'to virtual zero'.
It is little wonder the report has been greeted with widespread fury and disgust. My reaction was one of bittersweet vindication — and an anger that reduced me to tears.
Much of the inquiry focused on gang-related cases but many — as I experienced — were perpetrated by individual men.
And while my case was not one of those featured in the report, I am one of hundreds of victims of child sexual abuse and grooming in Telford whose suffering was brushed under the carpet as part of a deeply engrained cover-up culture.
Even now, it is hard to confront the scale of abuse in the leafy Shropshire town I once called home which — on the outside at least — is a world away from the former mining communities that have more commonly been associated with child sexual abuse scandals.
Statistics do not lie, however: while incidents of child sexual abuse number 7.9 per 10,000 nationwide, in Telford that figure jumps to 16.4.
Samantha also appeared on Steyn's October 27 show, just before the aforementioned documentary maker Mark Sharman appeared.
Sharman praised her eloquence when talking to Steyn:
You know, if there's something wrong, it should be looked at and stopped before more people are hurt. And interesting listening to Samantha talk previously – and by the way, what a wonderful spokesperson she is for victims of sexual abuse – but there are real parallels there. You know, the vaccine injured and the public in general don't seem to be as important as the authorities. They'd rather protect their own line and their own story than look at what's going on. You know, it just isn't right.
No, it isn't right.
Kudos to Mark Steyn for discussing this regularly. Until I saw Samantha, I had no idea that this had even been going on in Telford!
More to come
Steyn also had regular segments on other topics, which I shall cover on Friday.
Stay tuned …
In December 2022, the then-GB News presenter Mark Steyn suffered two heart attacks within days of each other.
The first one he ignored, because he had never suffered a heart attack and didn't recognise the symptoms.
The second occurred when he and a female friend were in France. Fortunately, he got to the hospital just in time. Fifteen minutes more and he would have died.
While he recuperated in France — there was no chance of his returning to Canada, doctors said — some of GB News's sharpest hosts stepped in to sub for him between 8 and 9 p.m. They told viewers that Mark was on the mend, until the end of January, at which point they mentioned him no more.
Don't mention the vaccines
Then, late on Monday, February 6, 2023, Guido Fawkes posted that Mark would not be returning to GB News. The news channel's CEO wanted to make Steyn liable for any Ofcom fines they received over his segments that criticised the coronavirus vaccine:
Guido tells us, complete with the relevant video clip (emphases in red his):
Mark Steyn has quit GB News on fairly bad terms after a protracted leave of absence owing to his health. A few weeks ago Guido picked up that the channel had been trying to formalise Steyn's contract, having operated on a fairly ad hoc basis since starting his show. Part of trying to get him on board as a properly contracted presenter was also an attempt to rein in his output, given that in a rather short space of time he'd managed to spark two separate Ofcom investigations into claims made on his show.
GBN offered him a new contract to sign, otherwise he'd face termination. It now looks like Steyn is declining to sign the new contract, so he's out.
In a video put out on his website today, Mark doesn't hold back on his opinion of the channel's CEO Angelos Frangopoulos, ranting about the terms of the new contract that would have made him financially liable for any fines imposed on GB News by Ofcom because of his show's output. He also calls Frangopoulos an "habitual liar". Shame – Steyn managed to consistently beat Piers's view count…
After a few months, Mark Steyn Show regularly trounced Piers Morgan's TalkTV show Monday through Thursday in the same time slot.
GB News has been scrupulous about offering both sides of any story on their shows in order to avoid censure from Ofcom. This entails having a left-wing guest oppose the host's centrist or conservative perspective.
In 2022, Press Gazette reported on the channel's potential Ofcom violations. I'll start with the story from August 8, with the communications regulator's examination of two segments, one on Nigel Farage's evening show and one from a morning show with Patrick Christys, who now hosts a three-hour afternoon slot Monday through Friday:
The first two investigations by broadcast regulator Ofcom into GB News have ended with no rebukes, keeping the TV channel's record clean as it enters its 15th month.
Critics feared the opinion-led news channel would rub up poorly against the UK's strict impartiality rules, a problem not faced by broadcasters in the US such as Fox News.
But by balancing views from presenters and guests across its schedule, GB News has avoid any Ofcom rebukes despite airing some strident views on Covid-19 lockdowns and vaccines. Two Ofcom investigations into GB News TV and radio broadcasts remain ongoing.
In October 2022, complaints about Mark Steyn's show were still ongoing:
Ofcom has opened an investigation into an episode of Mark Steyn's 4 October programme on GB News after it received 411 complaints from viewers about comments made by author and journalist Dr Naomi Wolf in relation to Covid-19 vaccines.
Ofcom said: "Specifically, our investigation will consider whether this programme broke our rules designed to protect viewers from harmful material."
Wolf was banned from Twitter last year for spreading unfounded theories about vaccines.
Ofcom is already investigating Steyn's show for a potential breach of standards on 21 April when he claimed people who had a Covid-19 booster vaccine were three times more likely to die than those who had two doses or fewer.
Press Gazette says that the April 21 episode was removed from YouTube:
In a monologue that day, Steyn said: "Why aren't we talking about this? It seems, if the booster shot is making it thrice as likely that you're going to be deadsville, that they're going to carrying you out by the handles, why aren't we talking about that?"
Fact-checking charity Full Fact said the figures used by Steyn were "broadly accurate" but that he was "wrong to claim the booster 'increases your chances of hospitalisation and death'".
Interestingly:
No Ofcom investigations have yet been started into rival TalkTV, which Rupert Murdoch's News UK launched in April.
The Guardian had more, especially about Dr Matthew Sweet, who was interviewed on the BBC and had been monitoring Steyn's show for soundbites that criticised the vaccines. Steyn often mentioned Sweet:
The latest investigation relates to an interview with the author Naomi Wolf in which she claimed women were being harmed by Covid-19 vaccines as part of an effort to "to destroy British civil society".
Ofcom said it would investigate whether the programme broke "rules designed to protect viewers from harmful material" after receiving more than 400 complaints from members of the public.
In the interview, which was originally broadcast on 4 October, Wolf also compared doctors' support for the vaccine rollout to the behaviour of the medical profession in Nazi Germany and described herself as the "last remaining independent journalist" willing to question this.
She was being interviewed on the Mark Steyn Show, which has repeatedly raised doubts over the safety of vaccines. Steyn's claims that the jabs cause "every conceivable kind of damage" have been disputed by factchecking websites. He is already the subject of a separate Ofcom investigation over previous comments about vaccination.
Wolf began as a prominent feminist writer but in recent years her career has taken a hit after she wrote a book partly based on a misunderstanding of English court records. Since then she has veered into the world of conspiracy theories about the impact of 5G telephone masts and the coronavirus vaccine.
Presenter Matthew Sweet, whose BBC interview exposed the flaw in Wolf's book, has since kept tabs on her work and GB News's coverage of the pandemic and accused the channel of repeatedly "broadcasting misinformation about vaccines and presenting conspiracy theorists as legitimate experts on medical matters".
In a letter to Sweet tweeted last month, GB News insisted that at no point had Steyn's programme adopted an "anti-vax" approach. Instead it said he was conducting probing journalism in the face of people who want GB News to be "more supportive of government policy".
As I wrote in my post last week on Big Brother Watch's exposé of Government departments' surveillance of politicians' and journalists' Twitter accounts during the pandemic, the one thing one cannot do is criticise the vaccines.
The best of Mark Steyn's GB News output
Having watched nearly every Mark Steyn show once he began broadcasting weeknights in January 2022, I bookmarked the most notable ones.
Any interested readers should view the videos sooner rather than later. YouTube have already removed some of Steyn's GB News output.
Ratings
It took a while for people to tune into Steyn, which was no fault of his. He did a memorable series in March 2022 in Ukraine and told us that he was partly of Ukranian descent. He hoped to return when the war was over. You can read more about those programmes here.
At the end of that month, he had a special edition on the second anniversary of the first coronavirus lockdown, March 23, 2020. It's a good thing I described the content, because YouTube removed the video for the usual reasons.
Then on Monday, May 16, Mark hit the jackpot, beating TalkTV's Piers Morgan for the first time in the 8 to 9 p.m. slot. Mark wasn't the only ratings star that night — all the GB News evening shows beat TalkTV's:
The following day, Guido wrote:
The slow motion collapse in ratings of Talk TV is astounding. Until now, Piers Morgan has always held his lead in his slot against Mark Steyn on GB News. Last night Steyn beat Morgan for the first time…
And it would not be the last time, either. In fact, it became a regular occurrence.
Coronavirus
On Wednesday, January 12, 2022, Steyn interviewed Lord Ridley — Matt Ridley — about the coronavirus lab leak (30:00 – 40:00):
In February, he covered the Canadian truckers' protest in Ottawa against mandated vaccines:
He also interviewed a Canadian policewoman about the protests:
On April 21, he cited UK government data which said that people over 50 who had three jabs were five times more likely to get the virus: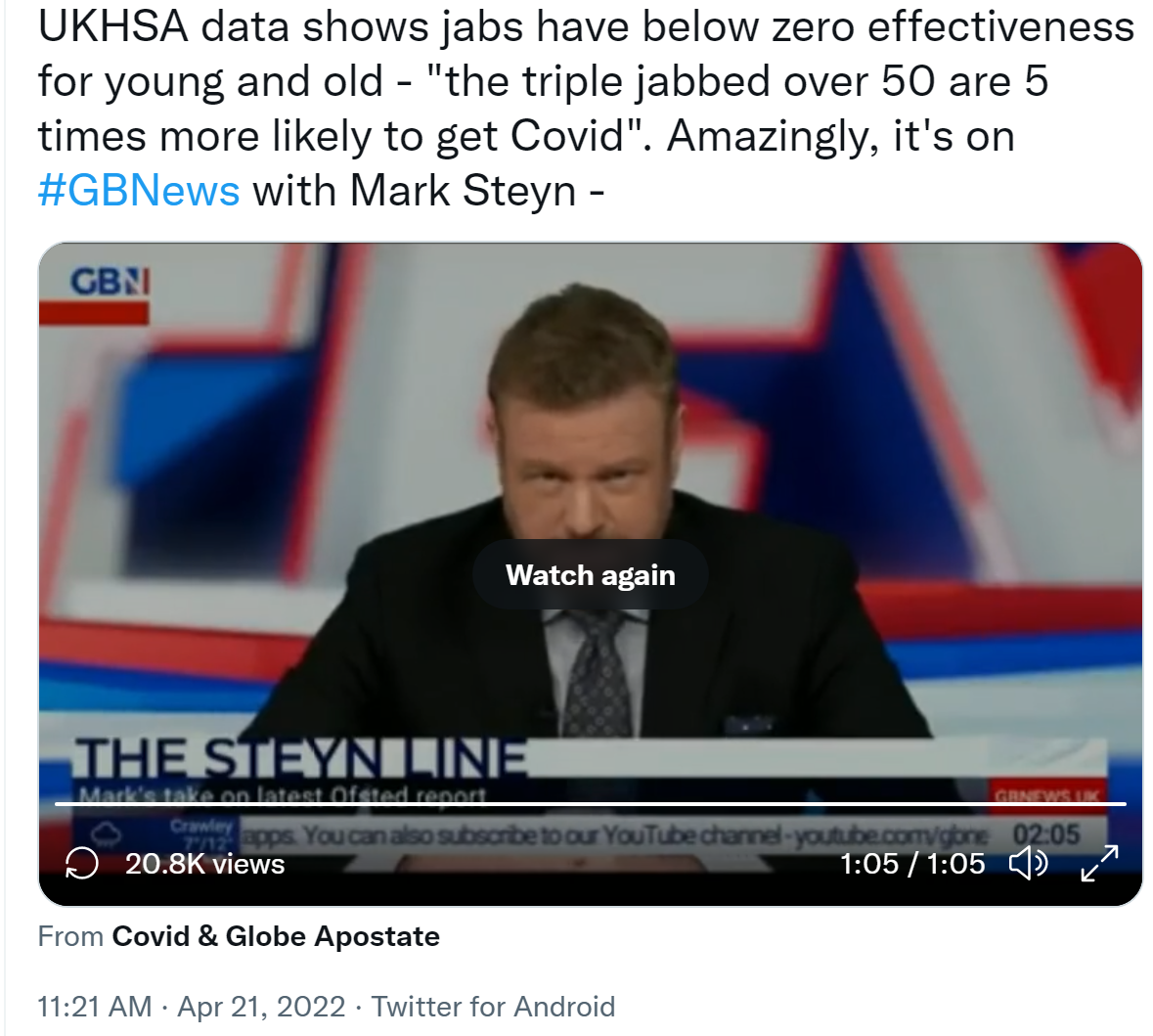 On Monday, May 9, he interviewed vaccine victims:
On May 11, he interviewed people who became seriously ill after taking the Astra Zeneca vaccine. No wonder it's no longer on the Government's vaccine list.
This man got a blood clot on the brain:
This lady suffered blood clots on her liver and lungs:
That day, Laura Perrins from The Conservative Woman waxed lyrical about Steyn's show. I, too, was a bit ambivalent about him many years ago, but as she pointed out:
It is true that a few decades ago he was considered an Establishment journalist; he has written for all your mainstream Right-wing publications. But he had long left that scene by the time I had my political awakening.
Anyway, somehow I stumbled across him, Praise be the Lord. The more I started listening, the more I read, I thought: 'Goodness gracious, hold the phone, shut the front door, this guy is the Real Deal.' This guy knows that we are being had by the political and media establishment and he is not afraid to say it …
Not only is Steyn the best-dressed, most-polished, most-sophisticated of all the presenters on TV, he says what you are thinking. For the last week or two he has been giving a voice to those the MSM have shamefully ignored – families who have lost loved ones through the 'safe and effective' non-vaccine vaccine.
… While Piers 'Lock Me Down Harder, Daddy' Morgan is interviewing Bruce Jenner, Steyn is pointing out that the lockdown has caused economic damage and inflation that the MPs like to ignore.
He also points out that when the Conservatives tell you they are getting a hold on illegal immigration, they are lying to you, they are lying to your face, dear reader.
So, do yourself a favour and watch Mark Steyn, Monday-Thursday, 8pm on GB News.
You can also catch up on YouTube when they haven't censored him for 'disinformation'. This is not a man who could ever be bought or sold for any price. I say again, Mark Steyn is the Real Deal.
The following day, news emerged that the WHO wanted nations to sign up to their pandemic treaty which would supercede national sovereignty. Unbelievable. Steyn said, 'The permanent abnormal staggers on':
On Tuesday, May 17, he talked about the WHO's involvement in the pandemic:
One week later, he interviewed a fellow broadcaster, Andrew Griffiths, who experienced serious side effects after getting the vaccine:
The Powers That Be tried to stir up fear over what is now called MPOX. On May 25, Steyn discussed Natalie Winters' findings for the National Pulse about an alleged link to the Wuhan lab:
Steyn had more on that and other topics on June 1, calling it 'the controlled demolition of the free world':
That was an exceptional show. Former ONS statistician Jamie Jenkins, one of Mark's regulars, alleged that the UK government had not collected any official statistics on vaccine injuries:
Claire Hibbs returned to discuss her injuries and the lack of compensation from the Government:
On June 16, he discussed the disastrous economic results of lockdown with Leilani Dowding:
Other Steyn broadcasts of note
In May 2022, he tapped into Canada's Rebel News output on Davos: excellent and entertaining.
On July 12, he was the only broadcaster to cover the July 12 celebrations in Northern Ireland in a non-confrontational way.
He interviewed Baroness Hoey — former Labour MP Kate Hoey — on her love for Northern Ireland and the United Kingdom:
He also spoke at length with the former leader of the Democratic Unionist Party, now-Baroness, Dame Arlene Foster:
These are just tasters. More to follow tomorrow.
No stranger to controversy
Mark Steyn has never been a stranger to controversy. Thank goodness.
Going way back in my Mark Steyn bookmarks, in 2004, he reviewed Mel Gibson's The Passion of the Christ, an incredible but much-criticised film, for The Spectator (full text here):
… Those who believe in Christ the Redeemer are booming, and Mel Gibson has made a movie for them. If Hollywood was as savvy as it thinks it is, it would have beaten him to it. But it isn't so it didn't. And as most studio execs have never seen an evangelical Christian except in films where they turn out to be paedophiles or serial killers, it's no wonder they're baffled by The Passion's success …
… Mel Gibson was driven by his own passion to make a movie that speaks to millions of people. As I said a couple of weeks back, if it's not the Jesus movie you'd have made, then go make your own. I saw it on a Monday night full house – a rare event in itself – and the crowd was rapt and eerily hushed, except for the occasional sob. It's true that if you don't believe that Christ's death on the cross is the central event in His time on earth then Mel's telling won't convince you and the film will look, as it does to Christopher Hitchens, like an S&M flayfest. One can regard this as a criticism of Gibson. On the other hand, all manner of movies – Star Wars, X-Men – leave you cold if you're not already a devotee. For millions of people, Mel Gibson shows them their Jesus and their salvation.
In 2009, Steyn wrote an article for Canada's Macleans about the danger that political correctness and censorship (i.e. 'hate speech') pose to human lives — the Fort Hood massacre (full text here):
… the old refrain echoes through the corridors of power: vigorous honest free speech will lead to mass murder unless we subject it to "reasonable limits."
Actually, the opposite is true: a constrained and regulated culture policed by politically correct enforcers leads to slaughter. I'm not being speculative here, as Commissar Lynch [Jennifer Lynch, Q.C., Canada's censor at the time] is about my murderous prose style. It's already happened, just a couple of weeks back. Thirteen men and women plus an unborn baby were gunned down at Fort Hood by a major in the U.S. Army. Nidal Hasan was the perpetrator, but political correctness was his enabler, every step of the way. In the days that followed, the near parodically absurd revelations piled up like an overripe satire …

Instead, asked "Who ya gonna believe—The Celebrate Diversity Handbook or your lyin' eyes?", more and more of us plump for the former, if only for a quiet life. Commissar Lynch has it exactly backwards: it's the craven submission to political correctness, the willingness to leave your marbles with the Diversity Café hat-check girl, that leads to death—real death, with real corpses, from Texas to Ontario.
It's amazing that the hot topics really have not changed since the Millennium. It's been the same-old, same-old for over 20 years now.
To be continued tomorrow
January 31, 2023 marks the third anniversary of Brexit:
As I have written before, those parliamentary debates early in 2020 were splendid. Newly and re-elected Conservative MPs, giving the Government a majority of 80 thanks to Boris Johnson's 2019 'Get Brexit Done' campaign slogan, were full of optimism about how Britain could — and would — be transformed.
Unfortunately, the pandemic put paid to those dreams in mid-March. We couldn't move past it. Even now, we are still suffering financially from the decisions the Government made, forced to do so by Opposition MPs. If Boris had just not given into SAGE, we probably could have stuck to the Swedish policy of no lockdown and minimal restrictions, which would have saved us hundreds of billions of pounds. Then again, Boris got coronavirus and had to be hospitalised for a week in early April. He came back a different man. SAGE were able to exercise power over him.
Even in 2022, once England finally returned to normal, the Government seemed to be treading water. We had three Prime Ministers and four Chancellors of the Exchequer last year. Very little of the optimistic legislation from the 2019 manifesto got started. Instead, Net Zero seemed to take over. It was in the manifesto, but as the final point, not the main one. The Online Safety Bill is a piece of intrusive legislation. The Conservatives are only getting started on pushing legislation through to get rid of thousands of EU laws on our books. Taxes are at a 70-year high. We have tens of thousands of migrants crossing the Channel in small boats. The possibility of any real progress for the Brexit agenda between now and the end of 2024 or January 2025 looks dim.
That said, Guido Fawkes reminds us (emphases his):
… we've signed about 71 new trade deals, led the European response to Putin's war in Ukraine and saved countless British lives with an independent vaccine rollout. And that's without any politicians actually making a concerted effort to capitalise on independence…
Of course, there is always a dismal economic forecast with which to deal. We must remember that Brexit was never about the economy but taking back control of our own national destiny.
Still, here is the latest dismal economic forecast and the danger ahead for Brexit in late 2024 or early 2025:
… even today's IMF report on growth forecasts couldn't bring itself to attribute any faults in the UK economy to our decision to leave the bloc. Now preparations must be made to save Brexit from a Starmer-led Labour government…
Because the IMF is the IMF, its forecasts receive undue attention. It is important to look back on the IMF's track record. They did a terrible job in predicting 2022:
Guido points out:
The 'good' news is the IMF has upped its forecast for 2024, now predicting 0.9% growth from 0.6%. It is also worth bearing in mind the IMF's analysis isn't gospel; it underestimated 2021's growth by 2 points. Chancellor Jeremy Hunt is doing his best to remind everyone of that:
Short-term challenges should not obscure our long-term prospects — the U.K. outperformed many forecasts last year.
A number of these forecasts are shaped to comply with political narratives. One of Guido's readers commented (purple emphases mine):
Rather a lot of years ago, I worked with a fellow who had, in previous employment, worked at the Board of Trade. He told me that every month, their top guy would get together with some other top guy from the Treasury and they would concoct the monthly trade figures to broadcast to the media. T'was all mainly fiction, of course, depending on what political message was required. I doubt if anything much has changed in the intervening years.
Here is another forecast gone wrong: Germany's. Keep in mind that Germany is at the heart of the EU, so we cannot blame Brexit for their woes:
Going back to August 2022, Germany and France joined the UK in having either flat or negative GDP:
Opposition MPs of all flavours, except for Northern Ireland's DUP, tell us that if we were still an EU member country, we wouldn't have inflation.
Yet, on January 26, 2023, Euronews informed us that food prices continue to rise across the EU:
Food prices have continued to rise across Europe despite inflation dropping for a second consecutive month in December, according to data shared on Wednesday by Eurostat, the European statistics agency.
The inflation of food prices in the EU was 18.2 per cent, and 16.2 per cent in the eurozone in December, which is a slight decrease compared to November on average. But some basic food items like sugar, milk cheese and eggs, oils, and fats prices are still going up.
One month earlier, Euronews reported on the plight of French university students who were forced to use food banks:
20% of students in France live below the poverty line. Rising food prices and energy bills soaring are exacerbating their situation. And yet, France gives more financial aid to students than many other European countries …
The government has recently allocated 10 millions euros to support the associations that organise food distributions for students. A consultation between the governement and student unions on the reform of the student grant system is ongoing, but concrete change is not expected anytime soon.
Our Opposition MPs also tell us that if we were still part of the EU, we would not be experiencing the multi-sector strikes that have been plaguing us.
However, let us look at France. Today, January 31, Euronews reported:
A new wave of strikes on Tuesday to protest French government plans to raise the retirement age to 64 has already impacted transport links and electricity production. 
TotalEnegies says between 75% and 100% of workers at its refineries and fuel depots are on strike, while electricity supplier EDF said they're monitoring a drop in power to the national grid equivalent to three nuclear power plants. 
"Following the call for a strike, shipments of products from TotalEnergies sites are interrupted today but TotalEnergies will continue to ensure supplies to its service station network and its customers," the group's management said.
In EDF power stations, strikers reduced loads by "nearly 3,000 MW" on Monday night, but without causing any cuts, the company said.
Hundreds of thousands of workers are expected to take to the streets across France on Tuesday, for a second day of industrial action that unions hope will be even more massive than the first, earlier this month … 
The government had warned in advance of Tuesday's strike about likely disruption to France's transport network. 
In the Paris region the metro and local rail services are "very disrupted" say officials. Long distance TGV train services are also impacted, as are regional trains with intercity services almost at a standstill. 
Rail operator SNCF said only one in three high-speed TGV trains will operate on Tuesday while disruptions are also expected at French airports and on transnational rail services …
French doctors were on an extended strike on January 2: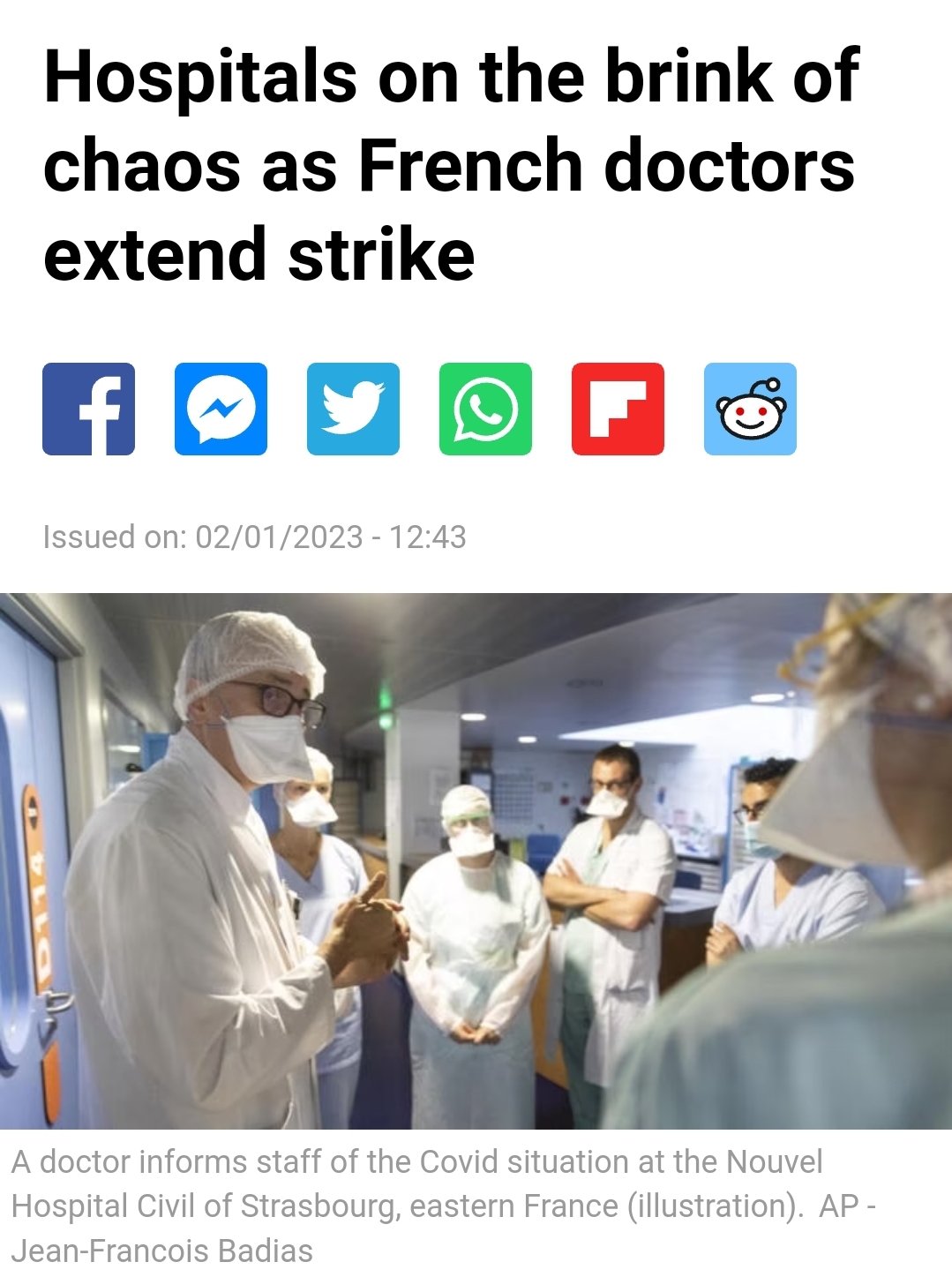 Then there is Ukraine. Nearly a year ago, Remainers told Leavers that Vladimir Putin would use Brexit to his advantage — an entirely erroneous talking point, as Boris was the first Western leader to champion Ukraine. If we had been part of the EU, he would not have been able to do so. By contrast, Germany was buying Russian gas and Italy was sending handbags to Russia:
Then there was the pandemic. In May 2022, the WHO published excess death statistics for 2020 and 2021. The UK had lower excess deaths than Spain, Italy and Germany, although France had fewer excess deaths than we did:
As for migration, France still has as much of a problem as we do, yet our Opposition MPs tell us that if we were still part of the EU, we would not have a Channel crossing issue.
On December 26, 2022, The Times reported that the French government opened the Château de Grignon to house them, which isn't too different to our policy, egregious as it is, of opening hotels to those coming nearly daily across the Channel:
A row has broken out in France over a government decision to shelter homeless families, notably migrants, on the estate of a Renaissance château …
Under a plan to provide shelter for the homeless during the winter, up to 200 people are to be housed in the château estate until March. The first 62, including 37 children, arrived this week.
Officially, they are classified as people of no fixed abode who have been sleeping rough. In practice, most are migrants unable to find shelter upon their arrival in France and often forced to live in squalid, makeshift camps around the Paris ring road.
In conclusion, EU nations share many of the major problems that the UK has.
Brexit has nothing to do with it. In fact, Brexit will probably help us get out of these issues more quickly than EU nations will.
Therefore, Happy Brexit Day! May many more follow!
On Wednesday, January 11, 2023, the outspoken Conservative MP Andrew Bridgen had the whip removed for remarks he tweeted about the coronavirus vaccines.
He now sits as an Independent.
Before going into that news, let us look at Bridgen's past history in Parliament.
Watchdog
Bridgen, who has represented North West Leicestershire since 2010, has always been a watchdog, in and out of Parliament.
Holding his own on Brexit
On April 8, 2019, when Theresa May and Parliament were at loggerheads on how to proceed with Brexit, Bridgen appeared on the BBC's Politics Live to say that most voters would prefer No Deal. He was the only Leave supporter on a panel of four. Everyone else was a Remainer, including the host, Jo Coburn. They piled in on Bridgen, but the MP was correct. He had cited a poll from YouGov which said that 44% of Britons preferred No Deal. By contrast 42% wanted to remain in the EU.
One month later, he rightly objected to MPs who wanted to have a customs union with the EU instead of a full exit:
The impasse in the House of Commons worsened as the months dragged on. On September 10, Bridgen supported Boris's prorogation, which ended up being overturned. He talked with talkRADIO's Julia Hartley-Brewer just before that prorogation:
In late November, The Sun tweeted an excellent video of Bridgen canvassing North West Leicestershire voters before the general election on December 12 that year. They had strong opinions on Brexit, Labour and Boris. Incidentally, North West Leicestershire is the happiest place to live in the East Midlands:
Pointing out 'modern slavery' in Leicester
In January 2020, Bridgen called to the Government's attention the working conditions at certain women's garment factories in Leicester. They would be considered sweatshops in the United States.
The city of Leicester is not in Bridgen's constituency, but he was concerned enough to call the companies out, directing a question to Kelly Tolhurst MP, the then-BEIS (Department for Business, Energy and Industrial Strategy) in Parliament:
Will the Minister agree to meet me to discuss the situation in Leicester, where I believe that approximately 10,000 people in the clothing industry are being paid £3 to £4 an hour in conditions of modern slavery?
Guido Fawkes reported that nothing was done until July that year, when Leicester showed unusually high rates of coronavirus (emphases in the original):
What happened at the meeting months ago?
The Labour Behind the Label campaign has a report out alleging there is evidence which indicates that conditions in Leicester's factories, primarily producing for Boohoo, are putting workers at risk of COVID-19 infection. Grim reading…
Leicester's rates remained high throughout the rest of 2020. By contrast, North West Leicestershire — Bridgen's constitutency — had the lowest rates in Leicestershire. On October 12, he debated the knotty problem of full lockdowns with talkRADIO's Julia Hartley-Brewer, who advocated sequestration of the vulnerable only:
Calling out West Midlands mayoral candidate
In the week before the 2021 local elections in England, he asked IPSA (the Independent Parliamentary Standards Authority) to investigate Labour MP Liam Byrne's alleged use of parliamentary expenses to fund his campaign for the mayoralty of the West Midlands. Byrne fired back that Bridgen put his own London accommodation on expenses, which is what every other MP, including Byrne, does. Then Byrne accused Bridgen of having one of the worst voting attendance records in Parliament. Byrne was wrong there, too, as records show that Bridgen voted 88% of the time, whereas Byrne voted only 63% of the time between 2010 and 2019.
Calling out the BBC
On May 21, 2021, Bridgen complained about the BBC in a tweet, saying that Britons are forced to pay for it, while the organisation shows inadequate accountability in the face of broadcasting scandals it hid under the carpet.
Objecting to coronavirus vaccine passports
On July 22, 2021, Bridgen told GB News that showing a vaccine passport upon entry to various places was 'unworkable', saying that most people were already vaccinated and that it would take too much extra time to check everyone's vaccine status:
2022 signalled big trouble ahead
In 2022, Andrew Bridgen became known as an MP with a reputation.
Initially, his letters of no confidence in previous Prime Ministers became clear, all the way from David Cameron's time through to Liz Truss:
However, later on, his relationship with his family's potato business would begin to bring matters to a head, affecting his standing as a Conservative MP.
On September 3, The Times reported (purple emphases mine):
A Conservative MP branded "dishonest" by a judge has been ordered to pay £800,000 and evicted from his luxurious country home after a dispute involving his family potato business.
Andrew Bridgen, 57, has spent years suing his family business, AB Produce, which supplies potatoes and other vegetables to catering companies and supermarkets.
In March, a High Court judge ruled that he "lied" under oath, behaved in an "abusive", "arrogant" and "aggressive" way, and was so dishonest that nothing he said about the dispute could be taken at face value.
The North West Leicestershire MP had accused the firm of forcing him out of a £93,000-a-year second job, which required him to attend a monthly board meeting. The judge found that, rather than being bullied out of the job as he alleged, Bridgen resigned in order to reduce the amount he might owe his first wife, Jackie, in divorce proceedings.
Judge Brian Rawlings also found that Bridgen pressured the police inspector in his parliamentary constituency to launch a costly one-year investigation into vexatious allegations against his estranged younger brother, Paul Bridgen, 55, who runs AB Produce, which is based in Derbyshire.
In a later judgment in June, which came to light only last week, the MP has been forced by the judge to vacate the Old Vicarage, a five-room property reportedly valued at about £1.5 million. He was given a final deadline of August 24 and Bridgen, his wife and their child complied with the deadline. It is not known where they now live …
Bridgen and his second wife, Nevena, 42, a Serbian blogger and former opera singer, had lived in the restored 18th-century home without charge since 2015. During this period, it is understood that he refused to pay rent, or bills for water and electricity, according to court filings.
Bridgen was told to pay in excess of £800,000 in legal costs to three shareholders at his family's firm, of which one is his brother, Paul, after bringing claims of unfair treatment. He could yet be ordered to pay £244,000 in rent arrears.
It is understood that Bridgen, who earns a basic salary of £84,144 as an MP, has paid the money he already owes, although the source of the funds is unknown and is likely to come under scrutiny …
Parliamentary rules stipulate that MPs who are declared bankrupt must step down if a bankruptcy restrictions order is made against them. He is also vulnerable to another referral to the parliamentary commissioner for standards as he failed to declare AB Produce as the entity paying his rent and utility bills.
According to the guide to the rules relating to the MPs' code of conduct, MPs must declare "taxable expenses, allowances and benefits such as company cars", as well as "financial support and sponsorship" and "gifts of property".
On November 3, Guido reported that the Commons Committee on Standards recommended that Bridgen be suspended from Parliament for five sitting days for the aforementioned controversy:
They also describe an email he sent to the Standards Commissioner Kathryn Stone as "completely unacceptable behaviour" as he 'sought assurance' about a rumour that Stone was shortly to be ennobled provided she arrived "at the 'right' outcomes when conducting parliamentary standards investigation[s]".
The full list of aggravating factors are as follows:
Mr Bridgen breached the rules of the House on registration, declaration and paid lobbying on multiple occasions and in multiple ways. (The Committee noted that each of these breaches could have led it to recommend a suspension from the service of the House);
Mr Bridgen has demonstrated a very cavalier attitude to the rules on registration and declaration of interests, including repeatedly saying that he did not check his own entry in the register;
Mr Bridgen is an established Member of the House, having been elected in 2010;
Mr Bridgen's email to the Commissioner called her integrity into question on the basis of wholly unsubstantiated and false allegations, and attempted improperly to influence the House's standards processes …
For Andrew's clarification, no you cannot submit a letter of no confidence in the Standards Committee…
But, by then, Bridgen had already turned his attention to the coronavirus vaccines, saying that, if there is an investigation in the EU Commission, there should be one in the UK, too:
On Tuesday, December 13, Bridgen was granted an adjournment debate in which he criticised the vaccines and cited Dr Aseem Malhotra, a cardiologist who saw his own father, a healthy man, die of unusual heart problems after taking one of the vaccines. Bridgen, like Malhotra, wanted the mRNA vaccines stopped and offered evidence as to why. As I wrote on December 22, Maria Caulfield, the Government minister and a practising nurse, did not approve of Bridgen's speech. Danny Kruger, another Conservative MP, supported Bridgen's statements, but Caulfield reiterated the Government's line on vaccines.
On Wednesday, December 28, the British Heart Foundation disparaged Bridgen's claims in the adjournment debate, which I also wrote about the following day.
2023 can make or break Bridgen
On Monday, January 9, 2023, Bridgen began the day by tweeting the link to a discussion about alleged lies told during the pandemic and the response to coronavirus:
Later that day, The Guardian reported that Bridgen had been suspended for five working days for lobbying and undeclared interests, matters unrelated to coronavirus:
The MP for north-west Leicestershire was found to have repeatedly broken the MPs' code of conduct by a cross-party committee, which endorsed findings from Kathryn Stone, the parliamentary commissioner for standards.
He was unsuccessful in an attempt to overturn the recommendation in December and a motion was approved by parliament on Monday.
The suspension is due to start on Tuesday 10 January, and will run for five sitting days.
Bridgen was found to have approached ministers and officials on behalf of a forestry company, Mere Plantations, that had given him a donation, a visit to Ghana and the offer of an advisory contract, a role that ended up being unpaid.
Two of the days were recommended by the committee for the breaches of rules on advocacy and interests. The other three days of suspension were advised in response to what the committee said was a "completely unacceptable" attempt by Bridgen to put pressure on Stone.
Bridgen attempted to appeal against the decision, criticising the investigation as "flawed" and arguing that it had not fully considered the motivations of the person who had made the initial complaint.
He argued that he was just helping a local company that worked with Mere, and that it was thus simply a "constituency interest" that brought him no personal benefits. The committee disagreed with this, saying the MP had breached lobbying rules.
The committee, chaired by the Labour MP Chris Bryant, found that Bridgen breached the rules "on multiple occasions and in multiple ways".
Meanwhile, Bridgen continued to sound the alarm about coronavirus vaccines.
On Tuesday afternoon, January 10, he tweeted a Project Veritas interview with a Pfizer scientist who alleges that they were aware that their vaccine was responsible for the unusual spike in cases of myocarditis. This is short, subtitled and well worth watching:
That afternoon, Bridgen tweeted a video featuring Dr Peter McCullough, who alleges that the vaccines are responsible for myocarditis cases and deaths. This, too, is a short video well worth watching:
On the morning of Wednesday, January 11, Bridgen retweeted a message from Dr Malhotra which included a video of Tucker Carlson and vaccine watchdog Robert F Kennedy Jr discussing the omerta on coronavirus vaccines:
Bridgen followed up with his own tweet about the alleged dangers of the vaccines, including a quote from Robert F Kennedy Jr:
Worse news than a five-day suspension came later that morning, after Bridgen had tweeted a cardiologist's comment that the global rollout of coronavirus vaccines will have been the worst human rights violation since the Holocaust. Bridgen later deleted the tweet, but other MPs saw it and strongly objected to it. Pictured along with Bridgen is Conservative MP Simon Clarke:
It then came to the attention of the Conservative Chief Whip Simon Hart, who withdrew the whip from the MP:
On Wednesday morning, Guido reported what Simon Hart had said in defending his decision:
Andrew Bridgen has crossed a line, causing great offence in the process. As a nation we should be very proud of what has been achieved through the vaccine programme. The vaccine is the best defence against Covid that we have. Misinformation about the vaccine causes harm and costs lives. I am therefore removing the Whip from Andrew Bridgen with immediate effect, pending a formal investigation.
However, that afternoon, the Daily Sceptic reported that a Jewish academic in Israel came to Bridgen's defence:
Andrew Bridgen, the British politician suspended as a Conservative MP over allegations of being anti-Semitic in a tweet criticising the Covid vaccines, has been defended by the Jewish Israeli academic whose article he linked to in the tweet in question.
Dr. Josh Guetzkow, a senior lecturer in criminology and sociology at the Hebrew University of Jerusalem, told the Daily Sceptic that as a Jew living in Israel he was "surprised" by the accusations against Mr. Bridgen, because "there is nothing at all anti-Semitic about his statement" …
John Mann, the Government's independent anti-Semitism adviser, was unequivocal, saying: "There is no possibility that Bridgen can be allowed to stand at the next election. He cannot claim that he didn't realise the level of offence that his remarks cause."
Prime Minister Rishi Sunak said that he "completely condemn[ed] those types of comments in the strongest possible terms".
"Obviously it is utterly unacceptable to make linkages and use language like that and I'm determined that the scourge of antisemitism is eradicated," he told the Commons on Wednesday …
However, Dr. Guetzkow, whose tweeted article details the alarming, recently-released analysis of vaccine adverse event data from the U.S. CDC, said this is a "tempest in a teapot".
"The hollow accusations against him only distract from genuine examples of anti-Semitism and ultimately hinder attempts to draw attention to them, much like the boy who cried wolf," he said.
It is clear from the statement by the Chief Whip that Mr. Bridgen's chief sin is to have criticised the vaccines. Mr. Hart's statement notably does not mention anti-Semitism, but rather says that Mr. Bridgen is having the whip removed for "misinformation about the vaccine", which "causes harm and costs lives", adding only that he had caused "great offence in process".
The allegations of anti-Semitism therefore appear to be just the opportunity party chiefs needed to mete out the punishment to the vaccine heretic …
Stop Press: Dr. Guetzkow has pointed out that Holocaust survivor Vera Sharav has been drawing parallels between the extreme and discriminatory public health measures during the pandemic and the Holocaust throughout the the last three years.
Rishi Sunak's comment came up during Wednesday's PMQs (Prime Minister's Questions), the first of 2023, which I watched on BBC Parliament.
One might well ask who asked the question.
None other than Matt Hancock, who has just returned from a short holiday in Turkey, which seemed to involve shopping.
The Daily Sceptic reported:
Matt Hancock, the disgraced lockdown Health Secretary, hit out at Mr. Bridgen's "disgusting, antisemitic, anti-vax conspiracy theories" at Prime Minister's Questions on Wednesday. He said the comments were "deeply offensive" and "have no place in this House or in our wider society".
Prime Minister Rishi Sunak replied that he joined Mr Hancock in "completely condemning those types of comments in the strongest possible terms".
In closing, the Daily Sceptic calls to readers' attentions Andrew Bridgen's qualifications:
Mr. Bridgen, who has a science background, has become Parliament's most vocal critic of the Covid vaccines. He thus made himself a big target for the pro-vaccine zealots who will have been looking for an excuse to punish and cancel him, and who have predictably leapt on the first 'offensive' thing they could find.
Wikipedia states that Bridgen studied genetics and behaviour at the University of Nottingham and graduated with a degree in biological sciences.
The Government does not want their big achievement of the past three years — the vaccine rollout, Europe's first — to be tainted in any way.
However, judging from the comments, Daily Sceptic readers are supportive of Andrew Bridgen and look forward to hearing more from him on the vaccines this year, which is more than can be said of Matt Hancock, who, as of December 28, was still searching for a celebrity agent to kickstart his new career in reality television.
—————————————————————————————————-
UPDATE — Guido Fawkes has reported Andrew Bridgen's statement on having lost the Conservative whip, complete with video:
The fact I have been suspended over this matter says a lot about the current state of our democracy, the right to free speech, and the apparent suspension of scientific method of analysis of medicines being administered to billions of people.
My better half and I know someone who owns an electric car.
He feels virtuous for so doing.
We wonder how he and his family are enjoying their EV, because on Friday, January 6, 2023, The Times journalist and food critic Giles Coren wrote about his own experience, 'Why I've pulled the plug on my electric car'.
It makes for illuminating reading.
Excerpts follow, emphases mine.
He described his and his family's New Year's Eve return from Cornwall in the car:
As I watch my family strike out on foot across the fields into driving rain and gathering darkness, my wife holding each child's hand, our new year plans in ruins, while I do what I can to make our dead car safe before abandoning it a mile short of home, full of luggage on a country lane, it occurs to me not for the first time that if we are going to save the planet we will have to find another way. Because electric cars are not the answer.
Yes, it's the Jaguar again. My doomed bloody £65,000 iPace that has done nothing but fail at everything it was supposed to do for more than two years now, completely dead this time, its lifeless corpse blocking the single-track road.
I can't even roll it to a safer spot because it can't be put in neutral. For when an electric car dies, it dies hard.
Coren bought his EV in 2020 and, like so many, made the purchase for environmental reasons.
Since then:
it has spent more time off the road than on it, beached at the dealership for months at a time on account of innumerable electrical calamities, while I galumph around in the big diesel "courtesy cars" they send me under the terms of the warranty.
He says he does not want his broken down car back once it's fixed:
I have asked the guys who sold it to me to sell it again, as soon as it is fixed, to the first mug who walks into the shop. Because I am going back to petrol while there is still time.
And if the government really does ban new wet fuel cars after 2030, then we will eventually have to go back to horses … The cars are useless, the infrastructure is not there and you're honestly better off walking. Even on the really long journeys. In fact, especially on the long journeys. The short ones they can just about manage. It's no wonder Tesla shares are down 71 per cent. It's all a huge fraud. And, for me, it's over.
Coren says that the mileage range is clearly not as stated, yet anyone who buys his car will find out soon enough:
He will be over the moon to learn that it has "a range of up to 292 miles". No need to tell him what that really means is "220 miles". Why electric carmakers are allowed to tell these lies is a mystery to me. As it soon will be to him.
Then there is the lack of sufficient working charge points:
He'll think he can just nip into a fuel station and charge it up again. Ho ho ho. No need to tell him that two out of three roadside chargers in this country are broken or busy at any one time. Or that the built-in "find my nearest charge point" function doesn't work, has never worked, and isn't meant to work.
Or that apps like Zap-Map don't work either because the chargers they send you to are always either busy or broken or require a membership card you don't have or an app you can't download because there's no 5G here, in the middle of nowhere, where you will now probably die.
Or that the Society of Motor Manufacturers said this week that only 23 new chargers are being installed nationwide each day, of the 100 per day that were promised (as a proud early adopter, I told myself that charging would become easier as the network grew, but it hasn't grown, while the number of e-drivers has tripled, so it's actually harder now than it was two years ago).
The only bright spot is making friends with strangers at petrol stations while waiting for a charge point:
There are, of course, plus sides to electric ownership. Such as the camaraderie when we encounter each other, tired and weeping at yet another service station with only two chargers, one of which still has the "this fault has been reported" sign on it from when you were here last August, and the other is of the measly 3kWh variety, which means you will have to spend the night in a Travelodge while your stupid drum lazily inhales enough juice to get home.
Together, in the benighted charging zone, we leccy drivers laugh about what fools we are and drool over the diesel hatchbacks nonchalantly filling up across the way ("imagine getting to a fuel station and knowing for sure you will be able to refuel!") and talk in the hour-long queue at Exeter services about the petrol car we will buy as soon as we get home.
Coren's car has caused marital tension:
We filled up [in Exeter] last week on the way back from Cornwall, adding two hours to our four-hour journey, by which time Esther wasn't speaking to me. She's been telling me to get rid of the iPace since it ruined last summer's holidays in both Wales and Devon ("If you won't let us fly any more, at least buy a car that can get us to the places we're still allowed to go!").
New Year's Eve 2022 was one that will be long remembered in the Coren household:
… as I inched off the dual carriageway at our turnoff, begging it to make the last mile, children weeping at the scary noises coming from both car and father: "Gearbox fault detected." CLUNK. WHIRRR. CRACK.
And dead. Nothing. Poached elephant. I called Jaguar Assist (there is a button in the roof that does it directly — most useful feature on the car) who told me they could have a mechanic there in four hours (who would laugh and say, "Can't help you, pal. You've got a software issue there. I'm just a car mechanic. And this isn't a car, it's a laptop on wheels.")
So Esther and the kids headed for home across the sleety wastes, a vision of post-apocalyptic misery like something out of Cormac McCarthy, while I saw out 2022 waiting for a tow-truck. Again.
How awful.
The other big environmental thing is heat pumps. We know another chap who has installed one at his home in the countryside. He has enough land to accommodate the installation. However, his house is rather large. I wonder what his wife and family think of a tepid house in the middle of winter.
There must be a better way. Meanwhile, these environmental innovations seem to be some of the devil's finest work.
Those who missed my retrospective on Pope Benedict XVI's papacy can read parts 1 and 2.
Today's post, the last one about this holy man, looks back at lesser known facts about his life.
N.B.: This is a lengthy post!
Let's start with Charles Moore's January 3 article for The Telegraph, 'Pope Benedict XVI was the last of the generation of leaders that knew war'.
Conversations about the Second World War with John Paul II
Charles Moore met Benedict only once, about 20 years ago. At that time, he was Joseph Cardinal Ratzinger, Prefect of the Congregation for the Doctrine of the Faith, popularly known as God's rottweiler.
Moore says that (emphases mine):
the bit of the job he enjoyed the most was each Friday evening when he, a German (who had been forced into the Hitler Youth, aged 12) would spend an hour or more in informal conversation with the Polish pope (who had endured the Nazi persecution of his church about an hour's drive from Auschwitz).
These two men, both born in the 1920s, had experienced Germany's disgraceful assault on Poland, which plunged the world into violence. They had seen Hitler's diabolical destructiveness followed by Stalin's reign of atheistic tyranny over eastern Europe. Yet here in Rome, half a century later, the German and the Pole were friends, co-workers and men of God, talking about theology, in a world largely at peace.
I think this shared experience, from unwillingly opposite sides, gave the two popes a depth of understanding which those of us brought up in easier times tend to lack. The passing of their generation should be acknowledged as a loss. There are many lessons to be learnt from them … and indeed from their entire age-cohort.
John Paul II and the future Benedict XVI agreed on most things, but had different emphases. The Pole, a philosopher by training, was obsessed by the possibilities of human love, which he saw fulfilled in Jesus Christ. This made him full of optimism and courage. "Be not afraid" was the text of his great inaugural sermon as pope, which inspired millions suffering behind the Iron Curtain.
The German agreed but, being a theologian and an official of the Curia, he thought more specifically about the Church. He had a strong sense of the depth and continuity of Christian civilisation, particularly in Europe. This made him passionately interested in liturgy. It should not be rendered "flatter" in order to improve superficial comprehension, he argued, because liturgy is not "like a lecture": it works "in a manifold way, with all the senses, and by being drawn into a celebration that isn't invented by some commission but that comes to me … from the depth of the millennia and, ultimately, of eternity".
Benedict also, perhaps, had more cultural pessimism than John Paul II. Living in the post-war West, he witnessed not tyranny but consumerism, triviality and boredom. The Church's duty to understand the spirit of the age did not mean it had to accept it. It had to shelter truth, as well as proclaiming it.
Being Prefect of the Congregation for the Doctrine of the Faith
The then-Cardinal Ratzinger told Moore that, as Prefect of the Congregation for the Doctrine of the Faith under John Paul II:
it was his job to "help the Pope with the necessary Noes", given that John Paul II was temperamentally inclined to say "Yes".
Margaret Thatcher met two Popes
Margaret Thatcher and her husband Denis were Protestant but, for whatever reason, were among the couples who received a papal blessing from Paul VI in June 1977, some years after they had married.
Moore has the story, which she related to him when they met Benedict XVI:
When Margaret Thatcher was old, a kind friend, Carla Powell, invited her to stay with her near Rome and meet Pope Benedict in the Vatican. I was asked to accompany the party. By this stage, Lady Thatcher had poor short-term memory. I felt I should remind her of what was happening. "Isn't it exciting?" I said to her. "We're going to see the Pope tomorrow." "Yes," she replied, "but what does one say to a pope?"
It was a reasonable question. I must admit that I had no answer to it, and still don't. The formalities of a brief audience leave no time to ask for useful tips about the secrets of the universe. Besides, Benedict XVI was a shy man and Lady Thatcher had become, as I say, rather vague.
I need not have worried. Even in old age, she was a tremendous actress, and once she was on the dais and recognised by the crowds, she behaved with perfect poise as pope and ex-prime minister exchanged pleasantries. As we descended, I pointed out to her the pen in which newly married couples, in their finery, always gather for a papal blessing. Lady T rushed up to them, "We did that a long time ago," she announced, recalling her wedding with Denis nearly 60 years earlier, "and it's a wonderful thing to do."
Joseph Ratzinger's childhood dream
Melanie McDonagh's New Year's Day column for The Telegraph tells us that young Joseph Ratzinger's childhood dream was to be a priest.
I was somewhat envious reading the following, as I, too, wanted to be a priest in my childhood but, unlike the young Bavarian, had to make do with my grandmother's green silk scarf for a vestment and the coffee table as an altar:
The death of Pope Benedict has left me desolate, not least because I muffed a chance to have a last interview with him. I thought I could postpone a meeting until I was properly prepared, which is always stupid when you're talking about a 95-year-old. Yep. I am an idiot. But his death led me back to Peter Seewald's biography, which is revelatory about his early life. It recalls little Joseph's Christmas letter to the Christ Child at the age of seven, asking for a green vestment to play at saying mass with his brother and sister. Back then in Bavaria, you could get tiny altars, with all the kit, for the purpose. In later life, Pope Benedict would recall that playacting at saying mass somehow made the future come to life. But the real giveaway about his direction of travel was that when people asked the little boy what he wanted to be when he grew up. He would answer solemnly: "A cardinal". He went one better than that though.
Amazing. Childhood really can influence our adult lives.
Rosamund Urwin's obituary of the late Pope for The Sunday Times was excellent. It also includes a photograph of young Joseph Ratzinger in his Luftwaffe uniform. Excerpts follow in the next several sections.
Childhood
Urwin tells us that the Ratzinger household was a devout one:
Born Joseph Ratzinger in 1927 in Bavaria, the son of a policeman, his pious parents had him baptised four hours after delivery. He was a child when Adolf Hitler came to power in 1933.
The home atmosphere also influenced his brother Georg. I wonder if Joseph shared his Mass kit with him:
In 1951, he was ordained alongside his brother, who died in 2020.
The Guardian has more:
Born in the village of Marktl am Inn, Bavaria, Joseph was the third child of three and second son of a former hotel cook, Maria (nee Peintner) and a police commissioner, also Joseph, both devout Catholics. His childhood was unusual because of the extraordinary piety of the family, which separated him from his contemporaries. There was never, it seems, a time when young Joseph did not want to be a priest.
His father's opposition to the Nazis is reported to have curtailed his police career. A lasting memory for Joseph was, as a boy, seeing Nazi supporters beat up his local parish priest in Traunstein, near the Austrian border. On another occasion, in 1941, a younger cousin who had Down's syndrome was taken away by Nazi officials under their eugenics programme to perish with many others.
Membership of the Hitler Youth was compulsory for the two Ratzinger boys.
Wartime
Returning to Rosamund Urwin's article, it is hard to imagine what serving a sick despot must have been like:
The family opposed fascism and the Nazi party, but he was forced to join the Hitler Youth at 14 when it became compulsory, and was later drafted into the German military, serving on the auxiliary staff in the Luftwaffe and then digging trenches on the Hungarian border. After Hitler's death, he deserted, risking being shot if captured.
His horror at Nazi Germany and the bloodshed was part of the inspiration for his becoming a priest after the war ended, when he found consolation in the sight of Ulm Cathedral. When he arrived home, he said: "The heavenly Jerusalem itself could not have appeared more beautiful to me."
The aforementioned Guardian obituary has more about his wartime service:
Like other 16-year-olds, Joseph was called up in 1943, serving first with an anti-aircraft battery in Munich and then with an infantry unit on the Hungarian border, before finding himself for six weeks in an American prisoner of war camp.
Ministry
Rosamund Urwin says that the Revd Joseph Ratzinger did not spend much time as a pastor. Academia took him to the top:
His time in parish ministry was limited: he preferred academia, becoming a professor of theology at Bonn University. In 1977, he became archbishop of Munich and Freising, and then a cardinal. This allowed him to vote in the conclave to elect the new pope after the deaths of Paul VI and John Paul I.
In Rome, Ratzinger met the charismatic Polish cardinal Karol Wojtyla, on whose behalf he campaigned and who became Pope John Paul II. The pair grew close and Ratzinger became the pontiff's right-hand man, their partnership shaping the church for the next three decades.
However, it appears that Cardinal Ratzinger wanted to retire but John Paul II refused his request:
Benedict did not appear to want to be Pope before he was elected in 2005. Then simply Cardinal Ratzinger, he was already 78 and had previously stated that he would like to retire to his house in Bavaria and write books. The historian Michael Hesemann, who interviewed Ratzinger's older brother Georg at length, said the brothers, who were close, had intended to travel together. After a number of mini-strokes in the 1990s, the cardinal asked the man he would succeed as pope, John Paul II, if he could retire from his position, but was turned down.
It was his leadership of John Paul II's funeral that put him in the media spotlight and made cardinals see him as John Paul II's natural successor, and he became the first German to be elected pope in almost a thousand years.
It was a good funeral. The BBC televised it, and I ran across many non-Christians who watched it with great interest, glued to the screen. I was happy to answer their questions.
From progressive to conservative
When I was growing up, my mother found Ratzinger's pronouncements appalling. This was before he was put in charge of the Congregation of the Doctrine of the Faith. She went so far as to vent her frustration to the nuns at my school. Unfortunately for her, the nuns were on Ratzinger's side of the argument. Those were the days of the later and looser implementations of Vatican II in parish churches.
By the time he became Benedict XVI, she was too ill to notice, but she would have been pleased to know that he became theologically conservative over the years:
In his younger years, Ratzinger had been viewed as a progressive, but he became a resolute theological conservative as he aged, earning the nickname "God's rottweiler".
The aforementioned Guardian obituary states that Ratzinger's views on Vatican II began to change in 1968:
His personal Road to Damascus came in 1968 at Tübingen, which had embraced the Europe-wide outbreak of student unrest of that period. It profoundly disturbed Ratzinger and caused him to decamp the following year for the more traditionally minded Regensburg, and, more significantly, prompted a wholesale re-evaluation of his commitment to the reform movement in the church.
In Catholic circles, he began to voice his disillusion at the effects of the modernisation ushered in by the council, and at the constant demand for change and innovation. He started to advocate a reinvigorated central church government to hold the line against liberals, and to defend the traditions of Catholicism that he came to see increasingly as its strength. As a symbol of this change of heart, in 1972 Ratzinger defected from Concilium to the group of conservative-minded theologians who were founding a rival journal, Communio.
The need to halt the reform process was fast becoming mainstream thought in the European Catholic church. When, in 1977, Ratzinger was appointed by the Vatican as cardinal archbishop of Munich, he used his new platform to attack progressive theologians, such as his former academic colleague and friend the Swiss theologian Father Hans Küng.
Such a stance chimed well with the incoming regime of Karol Wojtyła, elected in 1978 as Pope John Paul II. He was another second Vatican council figure who was also now wary of what it had set in train. In 1981, Ratzinger was named head of the Congregation for the Doctrine of the Faith, one of the most senior positions in the Roman curia. He worked closely and harmoniously with John Paul, notably to rein in the radical liberation theologians of Latin America, whom both suspected of importing Marxist thought into Catholicism by the back door, and to silence dissenters such as the distinguished American scholar Father Charles Curran, who had publicly questioned official teaching on sexual morality …
It was often easier for otherwise loyal Catholics concerned by the draconian actions of the Vatican in regard to popular, liberal theologians to blame Ratzinger rather than John Paul II. The pope managed to evade any sort of categorisation within his lifetime, not least by dint of his personal charisma, while, as his right-hand man, the apparently dour, inflexible Ratzinger was a more convenient target. But, as pope, Benedict largely avoided such targeting of individuals. The attack on dissidents was, it seems, his master's bidding.
I am not surprised. I never liked John Paul II, having always suspected there was something else behind his ever-present smile. It was during his tenure that I left the Catholic Church and became an Episcopalian.
The Guardian has more on this topic:
In September 2005, soon after his election, he spent four hours in discussion with his former friend Küng. Under John Paul II, Küng had been banned from teaching in Catholic universities. Yet at the end of their meeting, Benedict put out a statement praising Küng's work on dialogue between religions. His guest remained to be convinced. "His stances on church policy," Küng remarked, "are not my own."
Benedict was also rather better than John Paul II at giving the impression of listening and consulting. Some spoke of him having a "big tent" approach to the church, wanting to restore harmony to what had become a fractured and fractious world Catholic family. His decision in 2007 to relax restrictions on the use of the Tridentine Rite, a 16th-century form of the mass that had been largely withdrawn, to the distress of many elderly and traditionally minded Catholics in the late 1960s, was another aspect of the same all-inclusive approach (though his move was later reversed by Pope Francis).
He was also the first Pope in years to don traditional papal garb, engaging in:
the occasional bout of dressing up in long-discarded items from the wardrobes of medieval popes such as the camauro, a red bonnet trimmed with white fur. He may not have had charisma, like his predecessor, the former actor John Paul II, but he undeniably had charm.
Fanta, cats and a pilot's licence
Urwin tells us how Ratzinger enjoyed spending his free time:
Those around him described him as warm but shy. A bibliophile, he was reported to have told visitors: "My true friends are the books." He played the piano and loved classical music, especially Mozart and Beethoven, his pet cats and Fanta — having a can of the fizzy drink every day.
Benedict held a pilot's licence and when he was younger used to fly a helicopter from the Vatican to the Pope's summer residence, Castel Gandolfo. He had an interest in style too, wearing fashionable sunglasses and slip-on shoes that many thought were made by Prada (they weren't).
A clerical outfitters near the Vatican supplies all the Popes with their clothing and shoes. Pope Benedict opted for the traditional garments, including papal slippers, which are made of the softest leather.
Benedict was the first Pope to adopt social media:
Though traditional, he — or his advisers — did embrace social media, joining Twitter a decade ago using the handle @Pontifex, which Francis has since inherited.
By the way, the 2019 film about him and his successor Francis has a fictitious scene in it:
The 2019 film The Two Popes, which starred Anthony Hopkins as Benedict and Jonathan Pryce as Francis, fuelled wider interest in their relationship. It was a heavily fictionalised account, ending with the pair watching football as Francis tried to teach Benedict the joys of the sport. Its director later admitted the bromance-style denouement was made up — Benedict was more of a Formula One fan.
Papal problems
Benedict had many problems to face during his time as Pope:
It would not be an easy eight years: accusations of child sexual abuse by priests and a broader cover-up by the church dogged his tenure.
He repeatedly spoke out against misconduct, demanded investigations and issued new rules to make it easier to discipline predatory priests, but was criticised for seeming unwilling to hold the wider church hierarchy to account. The sexual abuse scandals threatened to overshadow his trip to the UK in September 2010, but in the end it was deemed a success and Benedict was applauded for his warmth and for urging Britain to work for the common good of society.
As head of the Congregation for the Doctrine of the Faith under John Paul II, it had been his responsibility to read dossiers compiled about priests accused of child abuse, and many, even among the faithful, felt he should have done more to stem and to punish abuse.
He later became the first pope to meet victims of clerical paedophiles. In February, he asked for forgiveness from victims of sexual abuse, but denied accusations that he was involved in concealing cases while he was Archbishop of Munich and Freising.
However, as I wrote, a group of French men and women stated in a 2010 letter that Benedict XVI was, in their words:
the first pope to address head-on, without compromise, the problem. Paradoxically, he is the subject of undermining and personal attacks, attacks relayed with a certain complacency on the part of the press.
Even The Guardian agrees with that assessment. John Paul II, the darling of everyone everywhere, did not even look at it:
He was the first pope to look the abuse scandal in the eye and attempt to tackle it. He may have made only a start, but his predecessor had simply swept it under the carpet and even given sanctuary to known abusers. Benedict withdrew that protection and promised a thorough review that would stop such a betrayal happening again. Delivery of the promise, though, was patchy …
Benedict, to his credit, did not try to bury his head in the sand over the scandal. When details had first emerged in the late 1980s in the US and Canada, some reports ended up on the desk of Cardinal Ratzinger at the Congregation for the Doctrine of the Faith.
Later, it was alleged that he had failed to acknowledge them, but the cardinal archbishop of Vienna, Christoph Schönborn, presented a different picture – of Ratzinger wanting to set up full investigations into accusations against a number of senior clerics – including Schönborn's own predecessor, Cardinal Hans Groër, later exposed as a paedophile – but being blocked by other senior figures around the now grievously ailing John Paul II, notably the secretary of state, Cardinal Angelo Sodano.
By 2001, the reports of abuse and cover-up had grown so serious and so widespread that Ratzinger was placed in charge of coordinating the church's response. His first act was to demand that every accusation be reported to him – in an effort to stop local bishops sweeping reports of abuse under the carpet, paying off victims with out-of-court settlements that bought their silence, and then reassigning the culprits to new parishes where they could carry on preying on the young. However, John Paul's inner circle continued to limit Ratzinger's ability to act in his new role.
It is possible that he was too elderly by the time he became pope to effect any real change:
His efforts, though sustained, were insufficient in their scope. There remained a tendency – clearly expressed in his letter to the Irish – to lay the blame on the local bishops and therefore to distance the Vatican from any responsibility. In such a centralised, hierarchical structure as world Catholicism, the buck should always end up in Rome.
Try as he undoubtedly did, with sincerity and anguish, Benedict was perhaps too old and too set in the ways of the church he had grown up with to contemplate more radical change.
Returning to Urwin's article, ill health continued to dog him, and his retirement paved the way for Francis to take a similar decision, should he wish to do so:
When he was asked why he had chosen to resign, Benedict explained that the decision had come about during a mystical experience: "God told me to do it."
It is likely that he has set a helpful precedent for his successor: Francis, who had half of his colon removed in 2021, has repeatedly said that he too would step down if his health became a barrier to serving as pope.
Benedict's death makes the possibility of retirement for Francis less contentious, as it would mean there would be only two popes — one serving and one emeritus — rather than three. However, his retirement plans would again expose their differences: the humble Francis has said he would call himself the emeritus bishop of Rome and would not live in the Vatican — instead choosing a home for retired priests in the Italian capital "because it is my diocese".
'The devil worked against him'
In my second post, I said that I had read years ago that the devil was plaguing Benedict and there were certain rooms in the Vatican that he no longer felt comfortable entering because he felt a deep spiritual attack in those places.
I was relieved to find a new article on the subject to share with you. On January 2, Crux posted 'Personal secretary to Benedict XVI says "the devil worked against him"':
Retired Pope Benedict XVI's longtime personal secretary has given an interview in which he says he believes the devil was working against Benedict throughout his papacy, but the scandals which erupted during his reign had nothing to do with his historic resignation.
Speaking to the Italian newspaper La Reppublica, German Archbishop Georg Gänswein said the word "scandal" was perhaps "a bit strong" to describe the many crises that erupted during Benedict XVI's papacy, but that "it's true that during the pontificate there were many problems" …
"It's clear, he always tries to touch, to hit where the nerves are exposed and do the most damage," he said, saying he could often feel the devil at work, and, "I felt him very against Pope Benedict."
Gänswein, 66, currently serves as Prefect of the Papal Household and was Benedict XVI's personal secretary since before his election to the papacy in 2005, meaning he accompanied the late pontiff throughout his eight-year reign and remained with him after his historic resignation and the nearly 10 years since.
Gänswein recalled the moment when Cardinal Ratzinger became Pope Benedict XVI. He found it unusual, even portentous:
Gänswein said the large doors to the Sistine Chapel swung open and he entered the chapel, but didn't know that his boss had been elected until "I saw him, down at the end. He was all white, even his face. His hair was already white."
Benedict, he said, was already wearing the white papal zucchetto and his white cassock,
"But he was pallid, very pallid. And there, in that moment, he looked at me," Gänswein said, saying his response was, "Holy Father, I don't know what to say, congratulations or prayers."
He then pledged his life to serve the newly elected pope, in life and "until or also in death."
Gänswein said that his experience of his boss's resignation was far from straightforward:
Reflecting on the day Benedict's historic resignation went into effect, Gänswein said the first thing that comes to mind is the moment they left the apostolic palace to board the helicopter for Castel Gandolfo.
"I turned out the lights, and this for me was already a very emotional act, but also very sad," he said, saying he tried to hold himself together, "but the pressure was too big," and he began to weep, describing the feeling as "a type of tsunami above, under, around. I no longer knew who I was."
Benedict, he said, "was in a state of incredible calm, as he was in the days preceding."
Gänswein said Benedict XVI had first confided his decision to resign several months prior, in September 2012, and that his first reaction was "Holy Father it's impossible. We can think of reducing your commitments, this yes, but to leave, to renounce, it's impossible."
He said Benedict let him speak, but responded saying, "you can imagine that I have thought well about this choice, I have reflected, I have prayed, I have fought, and now I communicate to you a decision made, not a thesis to be discussed. It is not a quaestio disputanda, it is decided."
From that moment, Gänswein said he was sworn to silence.
In hindsight, Gänswein said he recalled that Benedict had been "very closed, very pensive," since the summer of 2012, which he thought was because the late pontiff was concentrated on finishing the last in his Jesus of Nazareth book series.
"When he revealed his decision to me, I understood that I was mistaken: it was not the book that worried him, but it was the internal battle of this decision, a challenge," he said, saying things went ahead like normal for the next few months.
Gänswein said that the child abuse scandals affected Benedict deeply. He began dealing with them as Prefect of the Congregation for the Doctrine of the Faith and was the first senior prelate so to do:
Asked if Benedict XVI was referring to the clerical abuse scandals when, shortly after his election, he denounced "filth in the church" while presiding over the Via Crucis at the Colosseum during Holy Week in 2005, Gänswein said, "It must not be forgotten that as prefect he was the first, one of the first, to come into contact with this terrible scourge of abuse."
"It's obvious that that experience couldn't not be present in the Via Crucis of 2005," he said, recalling how Benedict at the beginning of his papacy asked for prayers so that "I may not flee for fear of the wolves."
Gänswein said he is unaware of what exactly, or who, Benedict was referring to, but the image of the wolf in that context "means it is not easy to be coherent, counter-current, and maintain this direction if many are of another opinion."
Gänswein also said that Benedict's visit to Celestine V's tomb in 2009 had nothing to do with his resignation, either. Celestine V was the last pope to retire. He retired 600 years before Benedict did.
Furthermore, the other problems during Benedict's papacy did not influence his decision to retire:
Gänswein also rejected rumors that the crises which erupted during Benedict's papacy, and the intense criticism he endured, were factors in his decision to resign. He said he once asked Benedict about it, and the response was, "No, the question never influenced my resignation."
"Feb. 11, 2013, I said my motives: I lacked the strength to govern. To guide the church, today, strength is needed, otherwise it doesn't work," was Benedict's response, Gänswein said …
Responding to critics who frowned on Benedict's decision to resign while his predecessor, John Paul II, continued to reign while openly afflicted by the effects of Parkinson's, Gänswein said Benedict was never bothered by the comparison.
"He told me once: I cannot and do not want to copy the model of John Paul II in sickness, because I have to face my life, my choices, my strengths. This is why the pope allowed himself to make this decision, which to me required not only a lot of courage, but also a lot of humility," he said.
Gänswein said the decision to announce Benedict's resignation on Feb. 11 was made to coincide with the feast of Our Lady of Lourdes …
He and Benedict were together that morning but, outside of praying, they were silent.
Gänswein described the atmosphere in the room when Benedict announced his retirement to the cardinals:
Benedict chose to make his announcement in Latin, Gänswein said, because he insisted that "an announcement like that must be made in the language of the church, the mother tongue."
"You heard from his voice that the pope was moved and tired, both things," he said, saying he began to notice "movement" among the cardinals when Benedict began to speak in Latin, and that some understood "there was something strange" happening faster than others.
By the time the former dean of the College of Cardinals, Italian Cardinal Angelo Sodano, who passed away last year, got up and responded to Benedict, saying his announcement came like lightening in a clear blue sky, "everyone realized what was happening," Gänswein said.
In terms of Benedict's post-retirement title of "pope emeritus," Gänswein said it was chosen by Benedict himself.
"I think that faced with a decision so exceptional, to return to cardinal would not have been natural. But there is no doubt that there was always only one pope, and he is called Francis," he said.
Benedict's resignation, he said, shows that "the sacred is sacred, and it also has human aspects."
"I believe that with his resignation Pope Benedict also demonstrated that the pope, if he is always the successor of Peter, remains a human person with all of their strengths, but also with their weaknesses," he said, saying, "one is needed, but you must also live the other. Because strength is needed to accept one's own weakness."
Defender of celibacy in the priesthood
The Guardian's obituary tells us that Benedict felt strongly about Catholic priests remaining celibate:
In January 2020, Benedict publicly defended clerical celibacy, as Francis was considering allowing married men to become priests in limited circumstances. "I cannot keep silent," he wrote in a book, From the Depths of Our Hearts: Priesthood, Celibacy and the Crisis of the Catholic Church, arguing that priestly celibacy protected the mystery of the church.
An atheist's apologia for Benedict
Brendan O'Neill, an atheist, wrote a moving post for Spiked on the day Benedict died, December 31, 2022.
In it, he explored the late Pope's understanding of freedom and the Enlightenment:
In the 2000s, both before and during his papacy, Benedict devoted his brilliant mind to doing battle with moral relativism. He viewed relativism, where the very 'concept of truth has become suspect', as the great scourge of our times. He railed against 'the massive presence in our society and culture of [a] relativism which, recognising nothing as definitive, leaves as the ultimate criterion only the self with its desires'. He said that the cultural elites' dismantling of truth, even of reality itself (witness transgenderism's war on biology), might present itself as 'freedom' but it actually has severely atomising and authoritarian consequences. The postmodern assault on truth is pursued under the 'semblance of freedom', he said, but 'it becomes a prison for each one, for it separates people from one another, locking each person into his or her own ego'.
In short, absent any notion of universal truth, devoid of social standards we might define ourselves by (or against), we're left with just the individual, playing around in his own prison of identity. 'A large proportion of contemporary philosophies… consist of saying that man is not capable of truth', said Benedict. 'But viewed in that way, man would not be capable of ethical values, either. Then he would have no standards. Then he would only have to consider how he arranged things reasonably for himself…' Relativism means letting oneself be 'tossed here and there, carried about by every wind of doctrine', he said. We're in that moment now. The march of moral relativism has not made a freer, more content society but an agitated, uncertain one. Post-truth, post-reality, even post-biology, the individual is not liberated, but lost, left utterly alone to 'arrange things reasonably for himself'.
Perhaps Benedict's most important insight was that this dictatorship of relativism represented a negation of the Enlightenment.Too many right-wingers and 'Trad Caths'– youthful influencers who take refuge from wokeness in the incense-fused safe space of the Catholic Church – blame every ill on the Enlightenment. Technocracy, scientism, the pseudo-rational deconstruction of language and reality – it's all apparently a logical consequence of man's grave folly of believing he could master nature and shape the future.
Benedict knew better. What we are witnessing is a 'radical detachment of the Enlightenment philosophy from its roots', he said. Modern rationalists tell us that 'man, deep down, has no freedom', and also that he 'must not think that he is something more than all other living beings', Benedict noted. This is proof, he said, that those who pose as the contemporary guardians of Enlightenment thought have in fact come to be 'separated from the roots of humanity's historical memory'. Enlightenment thinkers did believe man was higher than beasts. They did believe man was capable of freedom. Today's supposed rationalists act 'in total contradiction with the starting point of [Enlightenment thought]', Benedict said.
It should not be surprising that Benedict had a deeper, more subtle understanding of the Enlightenment than many of the coarse rationalists in the New Atheist set did. For he was a critical student of Enlightenment thought, as Maurice Ashley Agbaw-Ebai outlined in his excellent study of Benedict published last year: Light of Reason, Light of Faith: Joseph Ratzinger and the German Enlightenment. Agbaw-Ebai argues that Benedict's theology was one steeped in rationality, speaking to his decades-long engagement with Enlightenment thinkers.
Indeed, Benedict held that Christianity was a 'religion according to reason'. He argued, rightly, that the Enlightenment sprung from the traditions and tensions within Christianity itself – 'the Enlightenment is of Christian origin', he said. One of his most striking utterances was to say that the Enlightenment had 'given back reason its own voice'. That is, it took ideas of reason from Christianity and expressed those ideas in the voice of reason alone …
Benedict's beef was not with reason, then, as his ill-read critics would have us believe, but with what he referred to as 'purely functional rationality'. Or scientism, as others call it: the modern creed of evidence-based politics that judges everything by experiment rather than morality. Ours is a 'world based on calculation', Benedict lamented. '[It] is the calculation of consequences that determines what must or must not be considered moral. And thus the category of good… disappears [my emphasis]. Nothing is good or bad in itself, everything depends on the consequences that an action allows one to foresee.'
We see this cult of calculation everywhere today. Industry and growth are judged not according to whether they will be good for us, but through the pseudo-science of calculating their impact on the planet. Human activity is likewise measured, and reprimanded, by calculating the carbon footprint it allegedly leaves. Parenting has been reduced from a moral endeavour to a scientific one – you must now follow the calculations of parenting experts and gurus if you don't want your kids to be messed up. Benedict was right about our world of calculation – it chases out questions of morality, truth and freedom in preference for only doing what the calculating classes deem to be low-risk in terms of consequences. When everything is devised for us by a calculating elite, freedom suffers, said Benedict – for 'our freedom and our dignity cannot come… from technical systems of control, but can, specifically, spring only from man's moral strength'.
Benedict was most concerned with defending the specialness of humankind against the claim of the 'functional rationalists' that man is essentially little more than a clever animal. This is why he agitated so firmly against the calculating classes' belief that 'man must not think that he is something more than all other living beings'. He'd be branded a speciesist if he said this today – how dare you assume that polluting, marauding mankind is superior, more important, than the beasts of the Earth? One of my favourite comments from Benedict was made at his installation Mass as pope in April 2005. He said: 'We are not some casual and meaningless product of evolution. Each of us is the result of a thought of God. Each of us is willed, each of us is loved, each of us is necessary.'
No, I do not share Benedict's belief in God. I am an atheist. But Benedict's agitation against the idea that humanity is a consequence of evolution alone was a profoundly important one. A key part of today's functional rationalism is evolutionary psychology, a science particularly beloved of Dawkinites and the so-called Intellectual Dark Web. It holds that virtually everything human beings think and do can be explained by evolutionary processes, as if we are indistinguishable from those monkeys that first came down from the trees; as if we are propelled into tribal affiliations and warfare and sex by traits stamped into us by the ceaseless march of nature. This, too, chases out the small matter of morality, the small matter that we have risen above our nature and now really are 'more than all other living beings', in Benedict's words. We are capable of choice, we are capable of good. Good – a terribly old-fashioned concept, I know.
A life in pictures
The Guardian has a marvellous selection of photographs of Joseph Ratzinger throughout his life, including a family photo and one of the joint ordination with his brother Georg, who predeceased him in 2020.
Benedict's legacy
Commonweal's obituary states that opinion will be divided on Benedict's papacy:
After the "long nineteenth century" (as characterized by John O'Malley) of the Catholic Church was brought to an end by the calling of the council in 1959, Benedict XVI was in some ways the last pope of the delayed conclusion of the twentieth-century Catholic Church, a short century beginning with John XXIII and Vatican II and ending in 2013 with the election of the first non-European and non-Mediterranean pope. Joseph Ratzinger was a brilliant theologian and public intellectual, but also a provocative cleric who as pope had the courage to risk unpopularity. He will remain one of the most widely published and widely read popes in Church history, and likely one of the most controversial. Few committed Catholics will be indifferent or dispassionate about him.
Lying in state and funeral
On New Year's Day 2023, the day after Benedict's death, the Vatican issued an announcement about his funeral. The Sunday Telegraph reported:
Pope Emeritus Benedict XVI will have a "solemn but simple" funeral this week, the Vatican said, in a ceremony that will be presided over by a sitting pope for the first time in centuries.
The funeral on Thursday will be in accordance with the former pontiff's wishes and will be led by Pope Francis.
The unusual circumstances will mean the Vatican is navigating uncharted waters as it hammers out the finer details of the event.
I am certain that everything worked out well. His funeral was held today, Thursday, January 5.
The article has a photo of him lying in state privately at the Vatican in a chapel. That was taken before he was moved to St Peter's Basilica for public viewing:
The Vatican released the first photos of Benedict following his death on Saturday at the age of 95, showing him resting on a catafalque in the chapel of the former convent inside the Vatican city state where he spent his retirement.
His head resting on a pillow, the former pope was dressed in red vestments and a cream-coloured mitre, his hands clutching a rosary.
The corpse was flanked on one side by a Christmas tree and on the other by a Nativity scene.
On Monday morning, Benedict's body will be transferred to St Peter's Basilica, where the faithful will be able to pay their respects.
After the funeral, he will be buried in the papal tombs under St Peter's Basilica.
On Monday, January 2, the Mail reported on the crowds paying their respects at St Peter's. The paper included many moving photographs:
Catholics bowed their heads and say prayers as they fill up St Peter's Basilica to pay their respects to Pope Emeritus Benedict XVI – this is where he will lie in state for three days before a 'simple' funeral at the Vatican on Thursday.
The doors of the basilica were swung open just after 9am today so the public, some of whom had waited for hours, could visit the late pontiff …
His body – dressed in a mitre, the headgear of a bishop, and a red cloak-like vestment in preparation – was placed on a simple dais, with two Swiss guards standing on either side as mourners walked by … 
Before the rank-and-file faithful were allowed into the basilica, prayers were intoned and a small cloud of incense was released near the body, its hands clasped on its chest.
By mid-morning the queue to enter the basilica snaked around St Peter's Square.
Once allowed to enter, the public filed up the centre aisle to pass by the bier with its cloth draping.
While the number of visitors was large, there were no signs of the huge crowds who came to pay their respects to Pope John Paul II in 2005, when millions waited for hours to enter the basilica. 
Last night, Benedict's long-time secretary, Archbishop Georg Gaenswein, and a handful of consecrated laywomen who served in his household, followed a van by foot in a silent procession toward the basilica. 
Some of the women stretched out a hand to touch the body with respect.
The Catholic News Agency has the prayers for Benedict's funeral Mass, some of which were read in Latin.
Francis's future
News reports have been circulating that Pope Francis could retire.
On the day that Benedict died, The Guardian reported:
For the first time in almost 10 years, there will be only one pope. But that may be temporary.
Pope Benedict XVI's death, nine years and 10 months after he unexpectedly stepped down, eases the way for his successor, Francis, to follow suit. It is a move he has long suggested he wants to make.
Benedict was the first pontiff for 600 years to retire rather than die in office – a shock move that was a gamechanger, according to Vatican experts.
Soon after Francis greeted hundreds of thousands of followers gathered in St Peter's Square following his election, Benedict's successor began hinting at the possibility of his own retirement.
He said he would like to see the resignation of popes become normalised, and later said he had a feeling his pontificate would be brief, describing his predecessor's decision to step down as "courageous".
Last summer, he raised the prospect again. On his return to Rome after a papal visit to Canada, he told reporters the "door is open" to his retirement. It would not be "a catastrophe", he said …
The Vatican is a deeply factional place. There are many enemies of Pope Francis's relatively progressive agenda with its focus on poverty, refugees and the climate crisis. This Christmas, he criticised "hunger for wealth and power".
Some of Francis's opponents have tried to rally support for conservative values around Benedict as an alternative figurehead.
In thinking about the possibility of retirement, Francis – who turned 86 earlier this month – will have considered the impact of two retired popes on his own successor.
With Benedict's death, the path to retirement becomes a little easier. 13 March will be the 10th anniversary of Francis's election as the Roman Catholic church's 266th pontiff. Some time around then, or in the following months, perhaps after a key synod of bishops in the autumn, may seem an appropriate time for an announcement.
The veteran Catholic journalist Catherine Pepinster gave us more of a picture for the paper, 'It's a papal version of Succession: at Benedict XVI's funeral, the plotting will begin':
Airlines usually upgrade cardinals to first class and offer them champagne. But when the leaders of the Roman Catholic church fly into Rome's Fiumicino airport this week for the funeral of the former pope Benedict XVI, they may well forgo the fizz as a sign of their mourning. It's hard to imagine, though, that they will refrain from engaging in the whispers and the politicking that is so typical of a gathering of top Catholic prelates. The funeral will be a time to remember and mourn Benedict – but the plotting that will take place may resemble an episode of Succession …
When a pope dies in office, cardinals come from across the globe to bury him and elect his successor. This time, of course, there is no need to do so. There is already a pope – Francis, the man picked in 2013 to succeed him. But when he leads Benedict's funeral on 5 January, the cardinals may well wonder if they will be back in Rome soon for another conclave. At 86, Francis himself is already physically frail …
There are some in the Roman Catholic church who would dearly love another pope to be elected very soon …
Certain followers of Benedict who asserted that all Catholics should be utterly loyal to a pope when he sat on the throne of Peter have shown no such fidelity to Francis, and have constantly criticised his efforts at reform …
In 2005, when John Paul II died, the conservatives were well-organised and encouraged the voting members of the College of Cardinals ­– those under 80 – to pick Joseph Ratzinger, who took the name Pope Benedict XVI. When Benedict quit eight years later, the liberals were better organised …
Who will the cardinals elect next time? We Catholics in the pew, whether conservatives or progressives, have to accept that cardinals are as human as the rest of us, and not averse to plotting. But maybe we should offer a prayer that the Holy Spirit may, on the next occasion, help them find someone who could be what a pope always used to be – a unifying figure.
On January 3, The Times reported that the conservatives are gearing up:
The death of Pope Emeritus Benedict XVI could deepen divisions at the top of the Catholic Church by both "removing a brake" from Pope Francis and emboldening his conservative critics to try to succeed him, analysts said today.
Giuseppe Rusconi, a leading Vatican journalist, said the death of Benedict, formerly Joseph Ratzinger, at the age of 95 would have consequences for his conservative followers and his more progressive successor.
"The conservatives have been weakened by Ratzinger's death but they will now feel authorised to be more openly critical of Pope Francis, while Francis will no longer feel overshadowed by Pope Benedict and be free to cross new boundaries in his reforms," Rusconi said. "A brake has been removed, both as regards the conservatives' criticisms and the radical quality of Francis' reforms" …
Sandro Magister, another veteran Vatican observer, noted there was a void on the conservative wing of the church, and predicted a competitive "free for all" in the Vatican, with different agendas jostling for influence. Magister said Benedict's continued presence in the Vatican after his retirement had acted as a check on Francis and his supporters. "[Now] there's likely to be a free for all, without any clear guidelines. We are in a phase of confusion now, the opposite of the clear, limpid, rational thought of Pope Benedict," he added.
Of the 132 cardinals aged under 80, and therefore eligible to vote in a conclave to elect a new pope, 83 were appointed by Francis. About a dozen cardinals, mainly senior conservatives, will also lose the right to vote this year.
Unlike other commentators, these two journalists do not think Francis will retire any time soon:
Rusconi does not expect Francis, born Jorge Mario Bergoglio in Buenos Aires, to follow Ratzinger's example any time soon …
Magister said Francis was unpredictable but was unlikely to resign soon. "His resignation is more practicable now, but I don't see it as imminent," he said. "His activism is remarkable for a man of his age. His diary is packed with engagements."
However, the editor of the Catholic paper La Croix International said that Francis's health is very poor:
Robert Mickens, the editor-in-chief of La Croix International, a Catholic newspaper, said he expected Francis to resign as early as this year, possibly after the October synod. Mickens said the Pope was having difficulty with unscripted speech, sometimes slipping into Spanish expressions and rambling. "He's way overweight, which doesn't help his knee problem," he added …
Mickens said there would be a gathering of ultra-conservative political leaders and representatives of European royalty at Benedict's funeral on Thursday. "Ratzinger represents a Europe that is no longer or is slipping away. His funeral brings down the curtain on an era."
Although Francis may have stacked the deck in favour of church liberals with his appointments to the college of cardinals, it was impossible to predict who might emerge as Pope from the next conclave, he said. "I know conservatives are working right now, trying to influence the succession. Bergoglio has opened a Pandora's box with synodality [increased democratic debate] and conservatives are alarmed that it could result in radical changes that can't be undone," Mickens added.
Talk about the end of an era, which is where I began this post.
Fortunately, Joseph Ratzinger is now at rest with such temporal worries behind him. I hope to meet him one day in eternity.
Even though we're in the fallow period between Christmas and New Year, newspapers still have a few items of interest, especially when it comes to following up on stories from the past 12 months.
Theresa May supports Scottish trans law
On Tuesday, December 27, former Prime Minister Theresa May, the MP for Maidenhead, said she supports the Gender Recognition Reform bill that the Scottish parliament passed last week.
The former prime minister broke ranks with fellow Tories in offering her support for the legislation, passed by Holyrood last week, which simplifies the process for trans people to obtain a gender recognition certificate without a medical diagnosis …
Rishi Sunak, the prime minister, confirmed that his government was contemplating the "appropriate course of action", claiming there were concerns about the bill's impact on the safety of women and children …
"We have different legal systems," she told Radio 4. "Obviously, there's a different system in Scotland, but I think it is important when any part of the UK is looking at legislation that only affects that part of the UK, that thought is given to what the impact would be on the Union. At the end of the day it is about people, and it's about the impact it would have on people."
During her tenure May gave her support to allowing people to change gender without medical checks, stating: "Being trans is not an illness and it should not be treated as such."
Her successors have distanced themselves from her stance. May said this week: "The very fact that I put the proposal forward shows that that was something that I thought was important to do, particularly to take some of the medical aspects out of this. But the [UK] government has looked again at it and has taken the decision that it has."
It is difficult to understand why Theresa May does not understand why so many Scots object to this new law. Perhaps she needs to find herself in a changing room with a random man claiming to be a woman. Then again, she is quite tall so she probably would not feel intimidated. What about shorter women, though? And what about girls? Shouldn't Mrs May want to protect her sisters?
British Heart Foundation upset at MP's claims about coronavirus vaccine
On Tuesday, December 13, the Conservative MP Andrew Bridgen was granted an adjournment debate in the House of Commons in which he stated why the coronavirus vaccine roll out should be halted.
On Wednesday, December 28, The Times reported that the British Heart Foundation is unhappy with Bridgen's claims:
The British Heart Foundation has called on the Conservative MP Andrew Bridgen to provide evidence for his claim that a senior member of the charity was suppressing data on vaccine harms …
Bridgen said he had information that someone in a "prominent leadership role" in the foundation was "covering up clear data that reveals that the mRNA vaccine increases inflammation of the heart arteries".
The charity said in a statement that it strongly denied the allegations, adding that its advice on the safety of the vaccines was "based on rigorous scrutiny of the latest evidence" and "we would encourage those making these allegations to share specific, credible information with us that supports them" …
Some of the MP's claims, including about senior figures in the foundation, seem to be based on analyses by Aseem Malhotra, a controversial cardiologist who opposes the vaccines and whose dietary advice has been criticised by the organisation in the past. When in 2016 Malhotra authored a report that claimed eating fatty foods did not make you fat, the foundation issued a rebuttal in which senior academics described the claims as "absurd and plain wrong".
Bridgen told parliament that "the benefits of the vaccine are close to non-existent", and there was a "clear case for complete suspension of these emergency use authorisation vaccines" …
In a statement to The Times, the foundation said: "The scientific consensus is that the benefits of Covid-19 vaccination, including a reduced risk of severe illness or death, far outweigh the very small risk of rare side effects like myocarditis or pericarditis for the vast majority of people, especially as people get older.
"Scientific evidence shows that Covid-19 itself is much more likely to cause myocarditis than the vaccine is, and people who are vaccinated have a much lower risk of getting other serious complications caused by Covid-19.
"We employ a small leadership team of senior scientists and cardiologists to oversee and administer our research funding programmes, who also continue to undertake some of their own research. We can categorically say that nobody within this leadership team has acted in the way claimed by Mr Bridgen."
In time, Dr Malhotra and Andrew Bridgen will be found on the right side of history. Furthermore, Dr Malhotra is right in saying that eating fatty foods do not make you fat. What makes people fat is combining fat with carbohydrate. One imagines that the British Heart Foundation also push a carb-heavy diet, when one can live a perfectly healthy life without starches and sugars.
Former political prisoner misses being locked up in Iran
For years, Labour MPs asked the Leader of the House and the Foreign Secretary at least weekly about Nazanin Zaghari-Ratcliffe, a journalist and charity worker who had been imprisoned in Iran from 2016 until her release in March this year.
It always struck me as interesting that no Conservative MP ever asked about her.
Zaghari-Ratcliffe took British citizenship while retaining her Iranian citizenship. Iran does not recognise dual nationality. She returned to visit her parents in 2016 and was arrested on her way back to the UK.
Liz Truss, then Foreign Secretary, managed to secure the woman's release. Money was involved, compensation for an unrelated matter between the UK and Iran.
On March 16, former US Secretary of State Mike Pompeo condemned the move:
The following day, Zaghari-Ratcliffe was released into her family's care:
On March 21, having returned to the UK and reunited with her husband Richard Ratcliffe and their seven-year-old daughter Gabriella, she gave a press conference. What mother voluntarily leaves a one-year-old to take a long-distance journey?
The Mail reported:
Freed Nazanin Zaghari-Ratcliffe has today revealed her difficult path back to normality after being held captive in Iran for six years – while also taking aim at Government for taking more than half a decade to bring her home. 
In her first televised press conference since returning to the UK, the British-Iranian national admitted she was still getting to know her family 'better' again following 'six years of hell' in Tehran. 
In an emotional press conference, she praised her 'amazing' husband Richard's tireless campaigning efforts and said her reunion with him and daughter Gabriella had been 'precious' and 'glorious'.
Mr Ratcliffe meanwhile said their family needed time to 'heal' after a traumatic six years, but that he was 'immensely pleased and proud' that his wife was home.
He also joked with reporters that he was 'negotiating' with his wife about the pair sharing the same bed once again, revealing that she had been sleeping alongside their young seven-year-old Gabriella following her return on Thursday. 
The charity worker, 44, who has been held as a prisoner in Iran since 2016, was flown back to the UK last week after the Government settled a historical £400million debt owed to Iran over a cancelled 1970s order for British tanks. 
Mr Ratcliffe, who has campaigned tirelessly for her release over the last six years, praised the efforts of the Government in helping secure her return.
But sitting beside her husband, Mrs Zaghari-Ratcliffe, who turned up to the media briefing wearing yellow and blue, the colours of Ukraine, questioned why it had taken so long.
'The journey back was tough. I grant what Richard said about the Foreign Secretary, but I don't really agree with him on that level,' she told journalists.
'I have seen five foreign secretaries over the course of six years. That is unprecedented given the politics of the UK.
'I love you Richard, I respect what you believe. But I was told many many times: "Oh, we are going to get you home". That never happened.
The Mail has a screenshot from BBC News of the press conference. It was clear that her husband really loves her. He gazed at her as he reached over to put his hand on hers. Check out the hateful look she gave him in return.
He said that:
it would be 'baby steps' for him and his family, revealing he was not yet 'allowed' to sleep alongside his wife and daughter Gabriella.
Mr Ratcliffe said: 'It is baby steps for us. I'm super proud of her, he strength, her grace. 
'We are still negotiating whether daddy is allowed in the same bed as Gabriella and Nazanin.
'We'll get there. I think we'll do this (interview) and then we will disappear off and heal a bit.'
He also said it was 'nice to be retiring' from the public-eye after six years of campaigning, including a 21-day hunger strike.
On March 22, The Conservative Woman had a photo of Ratcliffe on the hunger strike for his wife and a post, 'What aren't we being told about petulant Nazanin's release by Iran?'
Excerpts follow:
First, some facts. Mrs Zaghari-Ratcliffe was born in Iran. She lived there until she was 28, during which time she was employed by the World Health Organisation, the International Federation of the Red Cross and Red Crescent Societies, and the Japan International Co-operation Agency.  
She moved to the UK in 2007 to undertake a Master's degree at London Metropolitan University. Having completed her degree, she worked for various British charities in London, including the Centre for Public Innovation, BBC Media Action and the Thomson Reuters Foundation (TRF). 
A legal opinion prepared in 2017 by Professor John Dugard and Tatyana Eatwell, of Doughty Street Chambers, and Alison Macdonald QC, of Matrix Chambers, claimed that her work for the TRF involved 'managing journalism training abroad (not in Iran); managing TRF's partnership with the Westminster Foundation for Democracy and other members of the Westminster Consortium, including the Department for International Development and the Foreign and Commonwealth Office (FCO), on a project aimed at strengthening the parliaments of other States, at those States' invitation.  
'Such States included Lebanon; fundraising for and managing FCO-funded projects in Morocco, Jordan and the Turks and Caicos Islands.'
Mrs Zaghari-Ratcliffe is clearly very bright, ambitious and well-connected. She met her husband, Richard Ratcliffe, in November 2007. They got engaged in June 2009 and married at Winchester Register Office in August 2009.  
She became a British citizen in March 2013, though she remains a citizen of Iran. She would make regular trips to Iran to visit her parents. During one such trip, on April 3, 2016, she was arrested and detained by the Revolutionary Guard at Tehran airport on security grounds. 
Iran does not recognise anybody with dual nationality – a fact Mrs Zaghari-Ratcliffe knew, because she entered the country of her birth using her Iranian passport, in keeping with Iranian law.
Presumably she knew the risk she was taking by going there. She also knew her status immediately made Britain's negotiating position extremely challenging: Whatever the rights and wrongs of the case, the British government, which has not enjoyed strong relations with Iran in recent years, was in no position to dictate terms to Iran over the release of a person whom the Iranian regime considered to be one of its own.  
I am surprised that Mrs Zaghari-Ratcliffe did not acknowledge this more clearly yesterday. She has spent most of her life in Iran, after all, rather than in Britain. 
After much lobbying at an official level, Mrs Zaghari-Ratcliffe was released after Britain agreed to repay a £400million debt for some tanks which were ordered by the Iranians in the 1970s but never delivered by the British.  
This is considered by some politicians to have been a bad move. For example, President Trump's former Secretary of State, Mike Pompeo, has called the debt repayment 'blood money' …

Lastly, I am struck by how well Mrs Zaghari-Ratcliffe looks. Indeed, while her husband appears pale and drained, she seems on the surface to be in pretty good health, perfectly strong and capable. This is to be welcomed, of course, but the contrast between her and her husband is noteworthy nonetheless. 
This episode sits uneasily with me. Something about it is not right. Certainly, it seems that we British are not being told something about this case, even while that £400million debt is repaid via public funds.  
I am certain that we will never learn the full truth of this matter and that no amount of inquiry by the Foreign Affairs select committee will bring us the truth. 
All I do know is that in years gone by, other hostages have been freed under very different circumstances and have not complained publicly about why it took so long within days of returning to Britain.  
Indeed, I know someone who was imprisoned by a dictatorship on trumped-up charges in the 1980s and held for longer than Mrs Zaghari-Ratcliffe was. When he was eventually released, he never said a word against the British government. He was just glad to be home. 
A week later, Labour MPs appealed to have Zaghari-Ratcliffe made a peer in the House of Lords. Look at the love in her husband's eyes:
Why? On what merits? In any event, it never happened.
On Wednesday, December 28, The Times reported that she told tennis star Andy Murray that she misses prison:
Nazanin Zaghari-Ratcliffe told an emotional Sir Andy Murray that she sometimes missed prison and the strong friendships she made during her six years of incarceration in Iran.
She was interviewing the two-time Wimbledon champion on BBC Radio 4's Today programme, which she guest-edited today.
Sir Andy teared up and had to pause while the pair discussed her experiences and her joy at being able to watch him win Wimbledon in 2016.
When asked whether she did anything positive with her time in prison, she said: "When I came out, there were times when I felt like I really missed my friends and missed prison.
"It's a very odd thing to say. But then you get used to your space in prison and then, I don't know whether people can actually say they missed prison, but I sometimes think I miss the environment and my friendships."
She told Sir Andy of the "joyful" feeling of being able to watch him win the Wimbledon title in 2016 on one of the only two channels she was allowed to watch from solitary confinement …
She told him that she taught other inmates his name while playing an Iranian version of charades and that watching him win felt like being "close to home all of a sudden" …
Zaghari-Ratcliffe, 44, who has dual British-Iranian citizenship, was detained in 2016 as she was about to fly home after visiting family in Iran. She was released in March following a long campaign by her British husband, Richard Ratcliffe.
Oh, my days! Words fail me. Actually, they don't. So I will think Pauline thoughts instead.
Mrs Sunak is on the cover of Tatler
The Sunaks opened the doors of No. 10 Downing Street to Britain's oldest magazine, Tatler.
Akshata Murty is the cover lady for the society magazine's February 2023 issue: 'No. 10's chatelaine: Inside the secret world of Mrs Sunak'.
It is a rather secret world, because the Prime Minister's wife declined to give the magazine an interview. She authorised friends to speak on her behalf.
On December 28, The Times reported:
Murty, the daughter of an Indian billionaire who met the future prime minister at university in California, has never given an interview but authorised her friends to speak to Tatler. They describe a passionate Brexiteer who loves Yorkshire, rarely lets friends leave without food to take home and wants Downing Street to "open up" …
Murty is said to want to bring "more of the north to Downing Street". Allegra Stratton, Sunak's ex-head of communications and the wife of James Forsyth, his new political secretary, said: "Yorkshire has looked after Akshata." She added: "Over the summer, during the first leadership campaign, it was bruising for her, and the entire family hunkered down in the constituency, and it put its arm around them."
There's a lot about interiors in the article.
Of course, we want to know if they live in No. 10 or No. 11:
The couple have opted to live in the flat above 10 Downing Street, which they used when Sunak was chancellor, rather than the larger flat above No 11, used by prime ministers since 1997.
Sunak and Murty, both 42, carried out an extensive refurbishment of the flat when he was chancellor, spending their own money, in contrast to the convoluted arrangement that landed Johnson in trouble.
Could Boris make a comeback in 2023?
Speaking of Downing Street, could next year see a Boris comeback?
The Telegraph's political editor Ben Riley-Smith thinks so:
The former prime minister will take opportunities to push his case for being the best-placed Tory to win the next election.
What occasions will these be? There are expected to be plenty. Perhaps it will be one of the (many) paid speaking events Boris is likely to take on next year. He is attempting – as friends have said publicly – to put 'hay in the loft'. A recent appearance for the Council of Insurance Agents & Brokers in Washington, DC alone brought in £276,130. There will be speeches on the world stage, too. Johnson dropped into the COP27 UN climate change conference in October, joking unusual summer heat had played a part in his ouster, and has vowed to keep championing Ukraine. 
The news of his COP attendance dropped before Sunak, the victor of their leadership tussle, had announced he was attending. It was a sign he is happy to be a thorn in his successor's side. Speeches from the Commons backbenches can be expected too. The former prime minister has indicated he is willing to defend his legacy. Translated: he will speak out if his policies and manifesto promises are watered down or ditched.
Could we also get an appearance at next autumn's Tory conference? He sat this year's one out, but that was just after he left office. A return would be like slipping on an old pair of slippers, Johnson re-adopting the role that helped make his political name – the darling of delegates, tweaking the nose of the current leader.
It's unlikely that Labour MP Sir Lindsay Hoyle, the Speaker of the House of Commons, would relish it, however. He told BBC Radio 4 that 2022 has been a 'disaster'. The Times has more:
Sir Lindsay Hoyle said he had "never ever seen anything like it before" when reflecting on a tumultuous year in Westminster. He told PM on BBC Radio 4: "The whole thing has been the strangest of strangest of years."
He added: "Brexit divided the country, divided families, and people's respect for democracy has struggled — and of course we didn't help this year with what went on." Hoyle described as a "disaster" how the Conservatives were unable to unite round a prime minister. He said Boris Johnson had "the biggest majority we've seen for [the] Conservatives" but "it all fell apart".
He said: "When you get to a point where one minister who's meant to be answering questions has resigned, the next minister comes in . . . I've never seen anything like it, it was bizarre. We never knew who was going to be at the dispatch box."
What a year it's been. I hope that 2023 will be an improvement.
More news tomorrow.
Once upon a time, civil servants wearing tweed jackets and ties used to check passports of people flying into the UK from abroad.
Since 2008 we have had Border Force, whose men and women are uniformed and look like every other nation's passport control officers. I preferred the civil servants, quite honestly. Seeing someone in a jacket and tie who looked like a secondary school teacher was rather refreshing, as it was so out of the norm.
However, these days, people with an e-passport can avoid human contact entirely by using an electronic scanner.
On December 20, The Times posted an anonymous article on passport control: 'What it's really like to be a Border Force officer'.
These are his — or her — top tips for getting through easily:
1. Expect longer queues before and after Christmas, during school holidays and in September, when the international students arrive
2. Take your headphones off and put your phone away before you go through the e-gates — and certainly don't take pictures in the arrivals hall
3. Do not ask us about your baggage — we don't know where it is or what it's doing
4. Bring a birth certificate or letter from the other parent if your child has a different surname
5. Pull your luggage close to you in the e-gates because it can cause delays if it thinks there are two of you in there
6. It might be Christmas — but don't be drunk and disorderly either
7. Be nice, even if the flight was stressful — that's the airline's fault, not ours
He/She has more on getting through the e-gate:
take your glasses off, remove the facemask, scrap the hat and the headphones, and for goodness sake, once you have pushed that passport into the e-gate scanner, keep it there until the doors open.
Don't shuffle about (that applies to you and the passport), pull your luggage close to you …
We're also tasked to help with the e-gates, simply because so many people get them wrong. If they won't work for you, then it's either an issue with the chip or your name. Passengers with universally popular names will have a harder time at the e-gates, since it's having to trawl through more data.
My problem a few years ago was that I didn't push my passport up to the furthest point in the scanner. A pleasant Border Force employee helped me position it correctly.
Here is the issue with common surnames and differing surnames in the same family:
It can be particularly difficult for Sikhs, for instance, since they tend to adopt two designated surnames: Singh, which translates to lion; and Kaur, which translates to princess. The system pits against each other those with the same name, similar names, the same birthdays or similar birthdays; and while officers are trained to siphon through hundreds of similar names on our screens; the gates aren't always so adaptable …
Parents don't always have the smoothest time with us either. Under the Immigration Act of 1952 we have to safeguard those under 18, so if you're travelling with a minor who doesn't share your surname, we have to ask that child: who is this person you're travelling with? Who are they to you?
Parents don't always like that, but it's our responsibility to make sure a child isn't being trafficked or otherwise. It's even more difficult with babies and young children who can't talk. I've also had instances of the man, woman and child all having different surnames, and that needs explaining. Bring a copy of the child's birth certificate or a letter of explanation from the other parent to be safe.
Queueing is the worst part of the whole thing.
It is interesting that, since the military have been substituting for Border Force officers on strike this month, passport control has never been smoother. Perhaps 'lessons can be learned' once BF return to work.
Before June 2022, the last time an ordination was shown on British television was when the first female Anglican priests were ordained in 1994.
I did not cover this at the time, as Boris stood down as Conservative Party leader. The news onslaught surrounding the contest for his successor, Liz Truss, lasted for the rest of the summer. Then the Queen died, sadly. It was not long after that when Truss had to stand down to make way for Rishi Sunak.
Having been refused ordination by the Church of England, Calvin Robinson was ordained a deacon on Saturday, June 25, 2022, at Christ Church Harlesden, a Free Church of England parish in north west London which is part of GAFCON:
The Global Fellowship of Confessing Anglicans — GAFCON — is a global network of conservative Anglican churches that formed in 2008 in response to an ongoing theological crisis in the worldwide Anglican Communion. Thankfully, they took in their brother Calvin and recognised his calling:
GB News was on hand to film the ceremony and broadcast it that weekend:
Calvin's GB News colleagues offered their heartfelt congratulations, such as the Conservative life peer Baroness Foster:
Some of his colleagues attended the ceremony …
… and stayed for lunch afterwards:
Those who were unable to attend also sent their best wishes. Every one of them recognised the CofE's rejection of a godly man called to Holy Orders:
Always evangelising, whether indirectly or, as is the case here, directly, Calvin never misses out an opportunity to exhort people to experience the truth and light of Christ Jesus, as he did with GB News contributor Dominique Samuels:
Other conservative media personalities who are Calvin's friends also offered their congratulations for his ministry, such as the Reform Party leader Richard Tice …
… and Margaret Thatcher's former aide Nile Gardiner:
Calvin's friends from his radio days also wished him well:
Politicians also chimed in, from former London Assembly member and Conservative candidate for Mayor of London (2021) Shaun Bailey …
… and Conservative MP Steve Baker, who has not hesitated to mention his own faith in House of Commons debates:
I'll leave the closing word to the head of the conservative think tank The Bow Group. Ben Harris-Quinney discusses choosing principle over power and achieving both:
As Calvin replied:
For the greater glory of God!
Indeed!
The Revd Calvin Robinson has his own GB News show every Sunday at 2 p.m.
He also appears as a contributor on several other of the channel's programmes throughout the day and evening.
May God's grace and the wisdom of the Holy Spirit continue to guide Calvin in his ministry for Jesus Christ, our only mediator and advocate:
Deo gratias! Thanks be to God!
December 26 in the UK and parts of the Commonwealth is Boxing Day.
The day, however, is the feast day of St Stephen, our first martyr, whose story is told in Acts 6 and 7:
The next posts have more about St Stephen's Day and Boxing Day:
December 26 — St Stephen's Day, Boxing Day and more (the money box, details on St Stephen and Good King Wenceslas (2017)
Here is a reminder that the Christmas season is not one day, but 12, as celebrated in the Church:
The Christmas season is 12 days long (2021, GB News)
GB News has done a spectacular job in discussing Christmas on its programmes, especially the Revd Calvin Robinson's hour-long special, A Message of Hope, filmed at the Brompton Oratory this year. For the second year running, Robinson has explored the Christian faith in light of the Christ Child. This video includes excellent carol renditions:
Highlights follow.
This is part of the Anglican deacon's introduction on the meaning of Christmas, which is one of hope and the greatest story ever told:
In these days, especially when Christianity is on a downward trend in the West, it is more important than ever that those of us who live in the developed world spread the Good News so that people really understand what Jesus came to earth to accomplish. Doctor Gavin Ashenden, now a Catholic, but formerly an Anglican priest and one of the late Queen's chaplains, explains more:
Ashenden told Neil Oliver on Christmas Eve that it is regrettable that Christianity, based on non-violence, is seen as such an easy touch for secularists:
Nonetheless, the message of Christianity's forgiveness and redemption still gets through. The Most Revd Robert Barron, a Catholic bishop from the United States, told Calvin Robinson how actor Shia LaBoeuf converted to Christianity. For him, knowing that God forgave his sins was a huge factor. The bishop gives a great summary of the effectual call. He says that God pursues and pursues those whom He has chosen, regardless of how awful our past trespasses were:
Religious Studies professor Dr John Milbank gave a lovely apologetic for Father Christmas, inspired by St Nicholas of Myra, a bishop, who gave anonymous gifts that saved people's lives. By giving gifts of gold to three young women's families, St Nicholas saved them from a life of prostitution. Milbank says it is good for young children to believe in Father Christmas and anonymous gifts. As they get older, he says, the belief in God's gifts of grace from heaven is an easier concept to appreciate and makes more sense to them:
One of the fascinating things about GB News's programmes over the past few days is the universality of Christmas celebrations in the UK. We are living proof that one does not need to be Christian in order to enjoy Christmas. I'm not talking about secularists but those of other faiths.
I have heard a Sikh, a Hindu — and now a Muslim — discuss how they celebrate Christmas. This imam, whose wife is from a non-Muslim background, says that their sons go to his in-laws' house on December 25. On Eid, his parents invite them over to celebrate that feast. This interview took place on the Christmas Day morning show. He said that, afterwards, he would be going to his in-laws for the day:
Neil Oliver also had a good editorial on his show about the meaning of Christmas. He began by discussing the Penlee Disaster, a 1981 shipwreck that took place near Mousehole, Cornwall. He described the selflessness of the men from Mousehole who rushed to the ship to rescue those on board. He then explored this selflessness in light of the Nativity story. He ended with a socio-political commentary:
An excerpt from his editorial follows (emphases mine):
I think about the Penlee lifeboatmen every year at this time. They say Greater love hath no man than this, but that he lay down his life for his friends. I say there is a greater love, and that it was revealed in the willingness of those eight Mousehole men who were ready to lay down their lives for people they had never met and would never know.
I often remind myself of the Penlee lifeboatmen, in fact, throughout the year – and I think about selfless acts of courage that declare in the strongest possible terms what it truly means to be human and alive. I think about what people are capable of, how much they have to give … and how much some of them WILL give. The Penlee lifeboatmen gave everything they had.
At Christmas we think about the birth of a child – Jesus Christ. He is God's gift to the world. Every child is a gift precious beyond description. It is also an act of immeasurable bravery by every woman who bears a child – because every child is, she knows, at the mercy of the world and every mother must understand, without needing to think about it, that her child is ultimately surrendered to life itself.
Mary gave birth to Jesus – the son of God – and even she would not be spared the ultimate loss. All our lives are forfeit – a debt that must be repaid, willingly or unwillingly.
Christmas is the time to think about all this – to think about what it means to give – and to acknowledge the meaning of the gift of the child … of every child.
The selfless courage of the Penlee lifeboatmen and the message of the Christmas story can be the antidote to much of the madness that is all around us now. It is a time to remember what we have, to value our loved ones and be thankful they are with us.
Rather than our hollow, spineless leaders, it is the courage and sacrifice of our fellow citizens that should capture and hold our attention, and not just now but all through the year.
It often feels like we are supposed to be focus all our attention on those who are not worthy. Those whose faces we see every day, the politicians in parliament, the leaders around the world, their preferred experts … whose names we hear over and over – they have nothing to give that is of any use to us now, that much as been made painfully obvious in recent years. I have long since stopped paying them any attention at all. Instead I look for heroes elsewhere.
We are supposed to believe our leaders mean to rescue us – from whatever Covid was, from the warmongers, from climate change, from the cost of lockdown crisis – but they had, and have, no such intentions as far as I can see. If they have plans to make anything better, it is certainly not our lives, or the lives of our children.
There is no cavalry coming to rescue us. If we are to be saved – and we surely will be – then we must look to one another for the necessary effort. We are more than capable of the task. We must save ourselves and each other by setting aside old broken ways, and finding new.
We should turn away from those who have failed us, lied to us, deceived us and left us to our fates and see that it is time to take the initiative, to shape and build something new, something untouched by those who have betrayed us and let us down.
Just because the help and leadership we need is not yet clearly in view … the seeds of it are there among us already, nonetheless. We must come to our own rescue in the year and years ahead because there's no one else.
The Christmas story tells us that 2000 and more years ago, a baby boy was born into poverty and into obscurity. During the 33 years of the life of the man he became, he was recognised for what he really was, his true value, by relatively few. He died as he had lived, in obscurity. He was executed for standing up to, and challenging, the establishment, but by his actions the world was changed for ever, for the better.
Sometimes the most obvious people change the world. At other times, it's the people the world does not notice, that the world thinks nothing of and so ignores, who end up making all the difference.
I hope and also trust that this is one of those times. I have no faith in the obvious, loud people with their hands on the levers of power. We will be saved by our own actions in defiance of those who care for us not a jot and who prioritise only those they serve – which is to say the already rich and the already powerful, the banks, the markets and the global corporations. I say we should ignore the whole lot of them.
Heres's the thing: together, right now, we already have everything we will ever need, which is to say each other. We can share food and warmth and light.
We are free people. It's Christmas and the Christmas message is that hope is here. Light in the dark.
Merry Christmas.
Incidentally, in 2022, December 25 is the seventh and final day of Hanukkah, which GB News also explored. It isn't often when these two religious feasts coincide:
Moving away from GB News, the Revd Giles Fraser, the vicar of St Anne's in Kew, west London, wrote an excellent editorial for The Telegraph. The paper has also included a list of religious belief in every county of England and Wales. Find out if yours is still Christian.
Of Christianity's influence on Western society, Fraser says:
So what, people may ask? Christianity has had its day. But, actually, Judeo-Christian assumptions have underpinned every aspect of life in the West for roughly the past thousand years, shaping the way we think about everything – from art to law, morality to freedom. Our constitution makes no sense without it; our intellectual traditions are incomprehensible without it; even the very idea of the secular is a Christian idea. 
It doesn't matter if you are a fully paid-up believer or not; it doesn't even matter if you dislike religion and consider yourself an atheist – if you are European, you probably still have a broadly Christian imagination. 
But, just like the fish who ask "What is water?" in David Foster Wallace's famous commencement address at his old college in 2005, some things can be so ubiquitous as to be almost invisible. We think in a Christian way even if we have abandoned any sort of specific belief. The very idea of human rights, for instance, is a classic example of a Christian perspective that has been secularised … 
… Indeed, the very act of cultural self-criticism that drives secularism is itself a Christian speciality. There is no more robustly self-critical book than the New Testament. The pious and priestly class are subjected to constant critique for their lack of understanding. The parable of the Good Samaritan is not just an encouragement to look after the vulnerable and stranded, it is a subversive dig at the failure of those who should have been first to help. The Samaritan is the New Testament's representative "other", disliked for being culturally and theologically different. To make a Samaritan the hero of the story is a withering critique of the established religious order. 
The Reformation was a perfect example of this permanent revolution from below – a religious self-critique that, to its proponents, attacked abuses of heteronomous power and relocated learning and authority to the people in the pews, spreading literacy to the ploughboy and fiery encouragement to the dispossessed.
Within education, family life, capitalism, pop music, the welfare state, no area of our common life has been untouched by these cycles of Christian renewal. Christian influence on Western culture cannot be simply measured by the number of virgins on display in the National Gallery, or the fact that you can't even begin to understand European literature without having first read the Bible.  
Nowhere will this be more evident than when King Charles is crowned next year. The Coronation is an inherently Christian ceremony. He will be anointed with oil in the same way that King David from Bethlehem was a thousand years before the first Christmas. Monarchy remains a religious business or it is nothing. The birth of the new king of Bethlehem, the king of kings, redefines monarchy as stripped of its power and glamour. Born in a shed with cattle as courtiers, this is authority without the armies. 
As the historian Tom Holland has argued in his brilliant exploration, Dominion, the story of the Christian engagement with the Roman empire is one of a clash of diametrically opposed systems. What attracted the young Holland to the Romans was all their glamour and cruelty. With Christianity, the weak triumph over the strong. The cross that was used by the Romans as an instrument of public humiliation turned into a universal symbol of human liberation. Which is why it will be the king who was crowned with thorns that will preside over the Coronation, not the history book king of the Roman eagle.
… I can only reflect that the story of God divesting himself of his celestial authority and coming amongst us as a vulnerable child has proved remarkably resilient, despite being banned, dismissed and ignored. 
And as the church places a small plaster representation of the baby into a pile of straw, hope is renewed. It is not hope as optimism, but hope as defiance: at the darkest time of the year, the light comes into the dark and the dark does not overcome it. No, we are not done yet. 
… Christmas is not about our love for Him but His love for us. And for that, Alleluia. Glory to the new born king. Happy Christmas.
Even though the UK is now a non-Christian country, according to the latest census, Christmas 2022 brought much considered thought from those who do acknowledge and believe that Jesus Christ is our Saviour and Redeemer.
Forbidden Bible Verses will appear tomorrow.