You are currently browsing the tag archive for the '2022' tag.
In December 2022, I wrote about the UK's 2021 census that revealed we haven't had such a high number of non-Christians since the Dark Ages.
My post included this tweet:
Since then, the news in Britain seems to be worsening by the day.
Scotland has realised it has a behavioural problem in the classroom. The Times's 'End of school punishments blamed for pupil disorder' reveals that all hell is breaking loose (emphases mine):
Teachers and parents have become increasingly alarmed by a decline in classroom behaviour since the end of the pandemic — and a method imported from the justice system is being blamed.
Restorative practice, involving "constructive conversations" with unruly youngsters in an attempt to make them understand what they have done wrong, is taking the place of more traditional sanctions such as detentions or withdrawal from activities.
But members of the Scottish Secondary Teachers' Association (SSTA) have unanimously backed a motion that warns the approach is time-consuming and if mishandled can result in "severe damage to teachers' classroom authority".
Apparently, teachers are not properly trained in class discipline and even less in 'restorative practice'. It is amazing that detentions are out of fashion. The article continues:
Seamus Searson, general secretary of the SSTA, said restorative practice seemed to be "flavour of the month" when it came to managing challenging behaviour in schools …
He warned pupils were taken out of class supposedly to have restorative conversations but would then be returned to lessons without the discussion genuinely taking place …
"The youngsters in class, they see things black and white, it is either right or it is wrong. There is no half-way. They expect that if a child misbehaves something happens. If they think for one second that so-and-so can get away with that, [then they think] why can't I do it?"
This is an issue upon which all political parties north of the border agree: something must be done.
These are a few of the things going on.
First, the school bully:
One parent recalled how her six-year-old boy had come home from school and told her: "You will not believe what they have done. The teachers have taken the nastiest, most horrible boy in the class and have put him in charge of looking after the new pupil who started today."
The manoeuvre had somewhat backfired when the young delinquent began teaching his classmate how to hurl items at other kids.
Teachers thought that by shepherding the new boy, the bully would learn empathy, but the article said that no discussion about that took place.
Secondly, the reward for bad behaviour:
Other parents have described unruly children being rewarded with trips to a local café. A deputy head said one pupil with extreme problems "came into school with fast food".
The senior teacher explained: "He had been taken out for the day. He went in and rubbed it in the face of every single child around him. It alienated him from other people in the school, it alienated the child from his peers. His teacher was saying: 'What is going on?'"
I'm not sure what 'it' in the second sentence of the previous paragraph means. On first reading, I thought 'it' might mean the fast food from the local café. It would not surprise me.
Thirdly, the threat at home:
[A mother, Ms] Green describes her son being involved in a playground tussle started by another boy. They were called inside for a restorative conversation and her son was asked to understand why the boy was having a bad day. "No one asked why my son was upset," she said.
Two days after the "restorative chat", she says the aggressor appeared at her house and said to her son "when you are not in school I am going to jump you and kill you".
The article says that restorative practices are being rolled out in other British nations, which is a pathetic development:
They have crossed to education from the justice system after projects found it could reduce the chance of reoffending if criminals were put in touch with their victims.
Violent incidents are rising in primary (!) schools:
Figures uncovered by the Scottish Liberal Democrats earlier this month show 10,852 incidents of violence were recorded in primary schools in 2021-22 compared with 10,772 in 2018-19. For the secondary sector they have increased from 2951 from 2728.
Good grief. That wouldn't have happened in my day.
This is another thing that wouldn't have happened when I was at school:
Refusal to work, mobile phone misuse, disrespect and wandering around are the most common issues reported. Three quarters said they had experienced verbal aggression.
We never thought of 'wandering around'.
Not surprisingly, students often give the following excuse as the reason for misbehaving:
"because I can!"
Also:
"That child will not be short on telling people: 'nothing happened to me, I have just been put in another room'."
Furthermore, children will band together to confront a teacher:
Stuart Hunter, president of the SSTA, said he had seen restorative conversations carried out badly. In one situation, he said, two pupils raised a complaint about work they had been set. When the teacher was called into an office for the restorative discussion, she found the girls had friends with them for support. The implication, he says, was the teacher was in the wrong.
Nothing much happens to wrongdoers at all. I didn't bookmark it, but I recently read that the UK is a criminal's paradise because the police are so soft.
In fact, whether real or staged, misbehaviour is rewarded. Take the case of Bacari-Bronze O'Garro, 18 and father of one, better known as Mizzy. Within the matter of a month, the Londoner has even been on television being interviewed about his exploits, which, in some cases, were criminal:
In May 2022, O'Garro was given a community protection notice prohibiting him from trespassing on private property.[9] On 24 May 2023, he was fined £200 plus costs and surcharge (£365 in all) after admitting breaching that community protection order on 15 May and was issued with a two-year criminal behaviour order (CBO).[5][10] The next day, O'Garro was interviewed by journalist Piers Morgan on Piers Morgan Uncensored[11] who called him "an idiot" … Former politician and journalist Patrick O'Flynn praised O'Garro's entrepreneurial spirit, noting his ability to grab the media spotlight and convert it into social media fans.[13]
Remind me not to cite any further articles by Patrick O'Flynn.
At least his TikTok and YouTube accounts, on which his exploits appeared, have been terminated. Social media companies go where police and the justice system fear to tread.
What has Mizzy learned? That criminal acts have propelled him to fame:
Our political class is no better. They would rather ruin the UK than make the necessary effort to restore it to its former greatness. Pictured below are two Labour MPs Sir Lindsay Hoyle (Speaker of the House) and Keir Starmer (Labour leader) with the Conservative Prime Minister Rishi Sunak:
The Telegraph's Sherelle Jacobs tells us:
There is no delicate way of putting it: the British governing class has completely lost the plot. It would rather risk some kind of economic collapse or populist backlash than actually deal with any of the country's problems. Bereft of values and captured by institutional pessimism, our politicians are incapable of decisive action. Numbed by groupthink, and poisoned by ever-expanding managerial surveillance and ministerial turf wars, the Civil Service has been rendered inoperable. The British governing machine is broken; we are heading for total systems failure …
How did Britain end up like this? Blairite Third Way politics, devoid of principle beyond "capturing the centre ground", has a lot to answer for. It is hard to imagine a Tory party with a confident philosophy on free markets contemplating price caps; nor a Labour Party committed to a high-wage economy proving so bashful about the country's addiction to mass migration. Institutionalised back-covering, and a total breakdown in trust between ministers and officials, meanwhile, mean that any policy that is difficult or controversial is increasingly impossible to deliver.
A Ground Zero moment of implosion may now be unavoidable. At that point, we can only hope that at least one of the two major parties rediscovers its core beliefs, and regains the stomach to fight for them. Big messy wars will need to be fought – starting with a breakup of the Treasury, bringing an end to its reign of terror.
For now, though, things look pretty bleak. In complex systems theory, a system becomes pathological when it gets to the point where measures being taken to maintain equilibrium are actually destroying the system. A system is also classed as fatally neurotic when it deems the psychological cost of detaching from the status quo to be too great, even if failure to adapt threatens its own destruction. There is little doubt that the British ruling class strongly exhibits both of these symptoms. And things will get a lot worse before they get better.
Sherelle Jacobs is not wrong.
But — and it's a big BUT — two glimmers of hope have emerged.
In September 2022, two months before Britain's post-Christian census figures appeared, The Guardian published '"God gives me reason to hope": why young Britons are turning to prayer'.
Six of the paper's readers gave their reasons for praying in response to a survey which found:
More young people in the UK are turning to prayer compared with 20 years ago, with one in three 18- to 36-year-olds saying they had prayed within the past month.
… spirituality in its many forms are thought to be behind the increase.
Three of the responses are from Christians. Two of them follow.
A 32-year-old midwife says:
Since getting pregnant, I've come back to prayer. I was raised Christian and have come back to it from time to time. But this time things feel different. With the world crumbling, God has given me a reason to hope and see beyond the hopelessness of our current political and financial landscape. It's quite a scary time to be bringing a baby into the world with all the uncertainty – the financial situation and working out what kind of world he's going to be born into is quite scary. Prayer has really helped me to take myself out of those world problems and see things in a broader context.
An 18-year-old student explains:
I used to go to church with the Scouts when I was six or seven but it was never regular – I didn't really understand what was happening when I was that young. I wasn't brought up in a religious family and I didn't have a relationship with faith until recently, when I started seeing videos by priests on TikTok. After I saw that and became interested, I could understand it a bit more. I wanted to connect with faith because I wasn't happy with the way my life was going, and I wanted to be better to other people. Developing my spiritual health has made me feel happier. I pray because it's a way I can speak to God and give him my worries or concerns. I'm not involved with a particular church – I'm just trying to find my place at the moment.
Even more surprising is that nearly one-third of Britons under the age of 40 believe in the afterlife and hell, compared with 18 per cent between the ages of 60 and 77.
On May 23, 2023, The Guardian reported on these findings from the World Values Study, conducted by King's College London:
You may think the idea of hellfire belongs to an age when people's lives were shaped by the threat of eternal damnation.
Wrong, it seems: generation Z and millennials in the UK are significantly more likely to believe in hell than baby boomers, according to a new study by the Policy Institute at King's College London.
Younger people are also more likely to believe in life after death than older generations, despite being less religious generally.
The findings are part of the World Values Study, one of the largest academic social surveys in the world, which has been running for more than 40 years.
According to its data, just under half (49%) of Britons said they believed in God, down from 75% in 1981. Only five countries – Norway, South Korea, Japan, Sweden and China – are less likely to believe in God than the UK. The Philippines topped the league table [in religious belief], scoring 100%.
Good for the Philippines!
Here are the stats on heaven, hell and the afterlife:
Belief in heaven among the UK public has also fallen, from 57% in 1981 to 41% last year. But belief in hell and in life after death has remained largely consistent, at 26% and 46% respectively.
When broken down by age, 32% of those under the age of about 40 said they believed in hell, compared with 18% of those aged between 59 and 77. Belief in life after death was 51-53% for younger generations, compared with 35-39% for older people.
"Our cultural attachment to organised religion has continued to decline in the UK – but our belief that there is something beyond this life is holding strong, including among the youngest generations," said Bobby Duffy, director of the Policy Institute.
"While the youngest generations continue to have lower attachment to formal religion, many of them have similar or even greater need to believe that there is 'more than this'."
The article has international graphs to explore, which are fascinating.
Also of interest is that Britons have a newly increased confidence in religious institutions:
Another unexpected finding is that confidence in religious institutions had rebounded. Between 1981 and 2018, Britons' confidence in churches and religious organisations fell from 49% to 31%, but by 2022 had risen again to 42%.
A possible explanation is the provision by churches and other religious institutions of essential social services such as food banks, social hubs, warm spots and debt counselling as the cost of living crisis has escalated.
Duffy said religious belief in the UK was unlikely to disappear, but would keep eroding. "It looks like a slow but inevitable decline, unless organised religions can engage with that broader sense of wanting something else beyond this life," he said.
One week after this article appeared, the rector of St Bartholomew's in London, the Revd Marcus Walker, posted a series of adverts from the Episcopal Church in the United States, which seem to come from the 1980s. I don't remember these at all. I would have, too, had I seen them, as I had become an Episcopalian during that decade.
These are really powerful, especially the one about Holy Communion:
As Jesus said (John 6:47-48):
47 Very truly I tell you, the one who believes has eternal life. 48 I am the bread of life.
Everyone responding to Marcus Walker was surprised:
Someone from the Church of England should ask for permission to repurpose these. In Scotland, they could use the text as it is, because the denomination is known as The Episcopal Church there and it's not doing well.
If not, something similar can be done throughout the UK.
Let's go, clergy. What are we waiting for? Carpe diem!
My posts might be sporadic in the coming days. I hope to post every day, but I am heading into an onerous Spring clean which will involve a lot of time.
Part of my time in Easter Week 2023 has been devoted to clearing my backlog of magazines which began during lockdown. My hope at the time was to get on top of everything beginning in March 2020, but with more news coming out about coronavirus every day, followed by an onslaught of British politics and the Queen's death, the past three years have put me behind in my reading.
I began by reading 18 months' worth of Marianne magazines in two days. Marianne is a reputable publication, albeit a bit of a cult classic, among French newsweeklies. I began subscribing to it shortly after it first appeared in 1997.
As it is left-of-centre, I do not agree with everything it says, but, unlike other French publications, it offers articles and perspectives one cannot get elsewhere.
I did not have time to date and page every discovery about the similarities between France and the UK.
Suffice it to say that Brexit has nothing to do with the UK's woes, whatever they are. France — a nation firmly rooted in the EU — has the same problems.
Healthcare
France has the same healthcare shortages that the UK does. Doctors have retired over the past 30-40 years, leaving a lower number of younger physicians to pick up the workload. More foreign doctors from Africa are being recruited; there is no other alternative.
Physicians and nurses are suffering from increasing mental health problems, just like their British counterparts.
Social care for the elderly is also a problem. Some regions, such as the north of France, with its high number of elderly, are doing well. Others have yet to find a way to co-ordinate with hospitals and other health-oriented organisations on how to find that balance for more demand with a low number of available staff.
Inflation
Yes, everything costs more in France, just as it does in the UK. Families are having to scrimp and save in ways they never anticipated.
Fuel, both for transport and home use, is increasingly expensive. The same goes for electricity.
First-time home buyers are finding it difficult to get on the housing ladder, which is also true in Britain. To say that the French want to rent all their lives, as the left-wing UK politicians say, is wide of the mark. Most new French housing builds are not available to first-time buyers because they simply cannot afford it.
Consequently, the French have to put off starting a family, just as in the UK.
Furthermore, bakeries and restaurants have had to close because of the high cost of fuel and electricity.
Food security
Food costs are sky high. Tomatoes and cucumbers are also in short supply as I write.
Food security is an issue as is the quality of food production. Demand for meat, especially beef, outstrips supply, hence imported meat has become the mainstay in supermarkets as well as in schools and social care institutions.
The EU has also weakened food standards. Allegedly, in a bow to Germany, the EU has ruled that packaging labels can now say 'farm-grown' and 'field-reared' when no inspection of the kind takes place to ensure that such claims are met.
Incidentally, some generations-old wine producers in Bordeaux cannot afford to keep going, either. They can no longer afford it.
Much of the farm labour has to come from countries other than France, which even for them as an EU country is not always easy to arrange with regard to seasonal visas. Ergo, Britain is not unique — and Brexit is not the problem.
Immigration and employment
France is having problems deporting certain persons who arrive without their papers. In principle, they can deport someone within 90 days. In reality, it does not work to plan and there is a backlog forming. People lose their papers and it is difficult for the immigration authorities to determine who has a right to stay and who must leave. Untruths and difficult stories, including mental health problems, emerge which require further investigation.
Some who have been granted asylum go on to commit crimes. In the latter part of 2022, three men in Angers, which used to be a quiet city (Maine-et-Loire), were knifed to death by a Sudanese man who was granted asylum. It turns out he has severe mental health problems. The Frenchmen were defending two women whom the Sudanese was threatening with violence. There have been other serious criminal incidents involving those granted asylum.
The mental health problem among asylum seekers is an issue, one which authorities are continuing to investigate.
Mental health in general
Since lockdown in 2020, the mental health of French men and women has become an issue, especially among adolescents and young adults.
Performance at work and in schools as well as universities has deteriorated.
Education
Lockdown has also produced its problems among students in the secondary and tertiary education sectors. Teachers and professors have had to 'curve' grades, because the standards have decreased considerably.
Students have difficulties writing essays, partly because they can no longer write in longhand and also because they cannot put reasoned thoughts to paper. Fewer are entering the Bac with a Philosophy examination, formerly a mainstay of French secondary education.
Sexual assault
The French have also been shocked by reports of serious habitual sexual assault in families over the past few years.
Most of these involve a pater familias who skilfully drugs his wife and/or daughter for gang rape by himself and his friends.
That, admittedly, is not something rampant in the UK, although we have our own problems of another nature with regard to crimes of this type.
Family highly regarded, work less so
Young adults still give family and friends high priority in their lives — 91% and 90%, respectively.
The value of work ranks lower down the scale, in the 80-percentile range, with some young French employees saying they do enough to get by, and that's all their time is worth. They simply are not being paid enough.
That is certainly similar to what is happening in the UK, with many young people wondering what the point of work is if the pay is so low. It is hard to disagree with that, as a number of cynical British employers are purposely lowering salaries so that they do not have to pay much. They figure that someone in a low-paid position can get Universal Credit as a top-up to their salary.
France is 'Eurosceptic'
And, finally, a few Marianne articles said that France was the most Eurosceptic of the EU nations.
The French still do not trust the Germans. They also wonder why the EU is working against the individual nations in attempting to create a supranational structure, ignoring national cultures and borders.
Conclusion
It is unlikely that France is an outlier in the EU.
Having read Marianne's articles, from late 2021 to the present, I am convinced that Brexit was the right thing to do. Vox populi, vox Dei.
Brexit is more of a process rather than an event. We shall prevail, of that I am certain — just not tomorrow or next year.
On Thursday, April 6, 2023, The Guardian's head of editorial innovation, Chris Moran, wrote 'ChatGPT is making up fake Guardian articles. Here's how we're responding'.
I arrived to that news a bit late on Easter Tuesday. The article had 619 comments, none of which I had time to read.
I returned to the article on Easter Wednesday, by which time the comment section had been deleted in its entirety. On that basis, I can assume only that the feedback was negative.
Perhaps the comments were ChatGPT-generated? We'll probably never know.
In any event, the paper is considering the merits or otherwise of this computer-generated text, which has seen a meteoric rise since November 2022.
Chris Moran tells us that the paper's interest was sparked by two ChatGPT articles with the byline of two of its journalists that appeared online and then went missing (emphases mine):
… A researcher had come across mention of a Guardian article, written by the journalist on a specific subject from a few years before. But the piece was proving elusive on our website and in search …
The reporter couldn't remember writing the specific piece, but the headline certainly sounded like something they would have written. It was a subject they were identified with and had a record of covering. Worried that there may have been some mistake at our end, they asked colleagues to go back through our systems to track it down. Despite the detailed records we keep of all our content, and especially around deletions or legal issues, they could find no trace of its existence.
Why? Because it had never been written.
Luckily the researcher had told us that they had carried out their research using ChatGPT. In response to being asked about articles on this subject, the AI had simply made some up. Its fluency, and the vast training data it is built on, meant that the existence of the invented piece even seemed believable to the person who absolutely hadn't written it …
Two days ago our archives team was contacted by a student asking about another missing article from a named journalist. There was again no trace of the article in our systems. The source? ChatGPT.
This raises questions of ethics and transparency:
… for readers and the wider information ecosystem, it opens up whole new questions about whether citations can be trusted in any way, and could well feed conspiracy theories about the mysterious removal of articles on sensitive issues that never existed in the first place.
It's clear that ChatGPT and its variants are here to stay — for everyone:
… it's important to note that ChatGPT, from a cold start in November, registered 100 million monthly users in January. TikTok, unquestionably a digital phenomenon, took nine months to hit the same level. Since that point we've seen Microsoft implement the same technology in Bing, putting pressure on Google to follow suit with Bard.
They are now implementing these systems into Google Workspace and Microsoft 365, which have a 90% plus share of the market between them. A recent study of 1,000 students in the US found that 89% have used ChatGPT to help with a homework assignment. The technology, with all its faults, has been normalised at incredible speed, and is now at the heart of systems that act as the key point of discovery and creativity for a significant portion of the world …
… the technology is developing rapidly, and companies with huge existing market shares are integrating it as fast as they can to gain competitive advantages, disrupt each other and above all satisfy shareholders.
But the question for responsible news organisations is simple, and urgent: what can this technology do right now, and how can it benefit responsible reporting at a time when the wider information ecosystem is already under pressure from misinformation, polarisation and bad actors.
This is the question we are currently grappling with at the Guardian. And it's why we haven't yet announced a new format or product built on generative AI. Instead, we've created a working group and small engineering team to focus on learning about the technology, considering the public policy and IP questions around it, listening to academics and practitioners, talking to other organisations, consulting and training our staff, and exploring safely and responsibly how the technology performs when applied to journalistic use.
In the next few weeks we'll be publishing a clear and concise explanation of how we plan to employ generative AI. In the simplest terms, we will continue to hold ourselves to the highest journalistic standards and remain accountable to our readers and the world for the journalism we publish. While so much has changed in the last six months, in this crucial respect, nothing has changed at all.
I still wonder why the comments to Chris Moran's article were deleted. After all, it was posted in the well-known Guardian/Observer section 'Comment is Free'.
More importantly, one wonders how long we will need junior reporters or editorial writers. Does another occupation — journalism/copywriting — bite the dust? We shall see.
We might also see the death of actual photography and graphic arts. Algorithms can do the job so much better.
Dear, oh dear.
Those who missed my first post on Red Wall MP Miriam Cates can find it here.
Today's post continues a profile of the MP for Penistone and Stocksbridge in South Yorkshire.
Levelling up
Miriam Cates is interested in giving the more rural parts of Britain the same advantages as the more urban areas. This is what levelling up means.
On Wednesday, November 9, 2022, she spoke in the Levelling Up Rural Britain debate with a focus on public transport. An excerpt follows, emphases mine:
My constituents share many of the challenges of urban areas, such as the rising cost of living and access to affordable family housing, but we also face some unique disadvantages that highlight the pressing need to include rural Britain in the levelling-up agenda. To state the obvious, and as other Members have said, the lower population density of rural places means that service models that work in urban areas are much less viable in our communities. My right hon. Friend the Member for Ludlow (Philip Dunne) and the hon. Member for Westmorland and Lonsdale (Tim Farron) put this eloquently. The metrics that are used to describe the viability of urban services just do not work in rural areas; they have to have special cases.
I want to speak particularly about bus services, which over recent months have declined significantly in my constituency. Residents of Stocksbridge, Grenoside, Chapeltown, High Green, Ecclesfield, Wharncliffe Side, Oughtibridge and other villages have seen services reduced or even disappearing altogether, cutting people off from jobs, education, training, healthcare and leisure.
The impact on everyday life cannot be overstated. The old are left stranded at bus stops, the young arrive late for school and workers are forced to pay for taxis to get to work. Local employers offering good jobs have told me of their difficulty in recruiting because their premises are no longer served by bus. The vision of levelling up is to spread opportunity evenly around the country, but it really does not matter how much opportunity there is if people cannot get to it.
What has gone wrong in South Yorkshire, particularly rural South Yorkshire, and how can we fix it? Services were struggling even before covid, but the post-pandemic environment has been a perfect storm for rural bus services in South Yorkshire. From my meetings with Stagecoach and First Bus, it is clear that patronage has fallen sharply at the same time as fuel costs have increased.
I was pleased to be successful over the summer in persuading the Government to release a third round of the covid bus recovery grant. But, crucially, the South Yorkshire Mayoral Combined Authority's bus service improvement plan bid failed completely, which resulted in our region's receiving not a single penny while neighbouring authorities in Manchester, Derbyshire and Nottinghamshire received tens of millions of pounds.
I am grateful to the Bus Minister, my hon. Friend the Member for North West Durham (Mr Holden), for meeting me this morning to discuss the issue, but I urge the Minister responding to this debate, my hon. Friend the Member for North East Derbyshire (Lee Rowley), to press this matter with his Government colleagues. My constituents pay the same taxes as everybody else. It is not their fault that our combined authority's bid did not meet an acceptable standard.
Things may look bleak, but I believe there are some glimmers of hope. We have had local successes with the new No. 25 and No. 26 routes around Penistone and a new service connecting Northern College with Barnsley. Those services have reconnected isolated villages and are based on an innovative small bus model pioneered by the excellent South Pennine Community Transport.
In Stocksbridge and Deepcar, we have plans to use our towns fund to commission new buses to help residents to travel around our towns—for anyone who has not been there, Stocksbridge is incredibly steep and people absolutely need a bus to get back up the hill. We are also progressing with plans to restore a passenger rail service along the Upper Don valley and we have a levelling-up fund bid to improve the Penistone line.
However, we need to accept that a one-size-fits-all approach to public transport just does not work. Rural services will never be as profitable as urban routes, but, if they are designed sensibly around what communities actually want, if they are regular and reliable with easy-to-understand timetables, they can be self-sustaining, as we have seen with our new routes. Ultimately, levelling up rural transport requires a localism agenda, putting commissioning in the hands of local people—our town, parish and local councils—and with a funding model that recognises the unique challenges of rural life.
Considering that levelling up was in the 2019 Conservative Party manifesto, Lee Rowley, representing the Government, provided a somewhat disappointing response at the end of the debate:
… My hon. Friend the Member for North Devon (Selaine Saxby), along with my hon. Friends the Members for Witney (Robert Courts), for Redditch (Rachel Maclean), for Penistone and Stocksbridge (Miriam Cates), for Penrith and The Border (Dr Hudson) and for Meon Valley (Mrs Drummond), among others, raised the point about connectivity, be it of the physical kind, in terms of buses and public transport, or the virtual kind, in terms of broadband. They are absolutely right to advocate on the challenges that this brings. We all know that there have been challenges associated with buses in the past few years. When the level of decrease of passenger use is so profound as it has been with covid, of course we want to try to work through how we can support rural communities. That is no different in my constituency. We have to try to look at the innovative solutions that my hon. Friend the Member for Redditch highlighted with regards to a demand response to travel, while also ensuring that people have good quality bus services over the long term …
Sex education
Lately, Miriam Cates has been outspoken about sex education in English schools. She has put up with a lot for rightly pointing out that children are learning things at school that should be off limits.
On Thursday, June 30, she was granted a backbench business debate on relationship and sex education [RSE] materials in schools:
I beg to move,
That this House has considered relationship and sex education materials in schools …
Let me start with a health warning: my speech is not suitable for children. That is sadly ironic, given that all of the extreme and inappropriate material I am about to share has already been shared with children in our schools. As a former biology teacher, I have delivered my fair share of sex education. Teaching the facts of life often comes with more than a little embarrassment for teachers and pupils alike. I remember teaching about reproduction when I was about 30 weeks pregnant with my first baby. One child asked me if my husband knew I was pregnant. Another, having watched a video on labour and birth, commented, "Miss, that's really gonna hurt, you know."
Just as children do not know about photosynthesis or the digestive system without being taught, neither do they know the facts of reproduction. Thus, it is important that children are taught clearly and truthfully about sex. Of course, there is a lot more to sexual relationships than just anatomy. Many people believe that parents should take the leading role in teaching children about relationships, since one of the main duties of parenting is to pass on wisdom and values to children. Nevertheless, in some families parents cannot or do not teach children about relationships, and it is also sadly the case that the internet now presents children with a vast array of false and damaging information about sex.
There is widespread consensus that schools do have a role to play in relationships and sex education. That is why the Government chose to make the teaching of relationships and sex education compulsory in all secondary schools from September 2020. According to the guidance, the aim was to help children
"manage their academic, personal and social lives in a positive way."
Less than two years later, my right hon. Friend the Education Secretary has written to the Children's Commissioner asking her for help in supporting schools to teach RSE because we know that the quality of RSE is inconsistent.
The Education Secretary is right that the teaching of sex education is inconsistent. Unlike maths, science or history, there are no widely adopted schemes of work or examinations, so the subject matter and materials vary widely between schools. However, inconsistency should be the least of the Education Secretary's concerns when we look at the reality of what is being taught. Despite its good intentions, the new RSE framework has opened the floodgates to a whole host of external providers who offer sex education materials to schools. Now, children across the country are being exposed to a plethora of deeply inappropriate, wildly inaccurate, sexually explicit and damaging materials in the name of sex education. That is extremely concerning for a number of reasons.
First, if we fail to teach children clearly and factually about relationships, sex and the law they will be exposed to all sorts of risks. For example, if sex is defined as, "anything that makes you horny or aroused"—the definition offered by the sex education provider, School of Sexuality Education—how does a child understand the link between sex and pregnancy? Sex Education Forum tells children they fall into one of two groups: menstruators or non-menstruators. If a teenage girl's periods do not start, what will she think? How does she know that is not normal? How does she know to consult a doctor? How will she know she is not pregnant? Will she just assume she is one of the non-menstruators?
The book for teachers, "Great Relationships and Sex Education", suggests an activity for 15-year-olds in which children are given prompt cards and have to say whether they think certain types of sexual acts are good or bad. How do the children know what acts come with health risks, or the risk of pregnancy or sexually transmitted infections? If we tell children that, "love has no age"—the slogan used in a Diversity Role Models resource—do we undermine their understanding of the legal age of consent? Sex education provider Bish Training informs children that:
"Most people would say that they had a penis and testicles or a clitoris and vagina, however many people are in the middle of this spectrum with how their bodies are configured."
As a former biology teacher, I do not even know where to start with that one.
As adults, we often fail to remember what it is like to be a child and we make the mistake of assuming that children know more than they do. Children have all sorts of misconceptions. That is why it is our responsibility to teach them factually, truthfully and in age-appropriate ways, so that they can make informed decisions.
Another concern relates to the teaching of consent. Of course it is vital to teach about consent. The Everyone's Invited revelations make that abundantly clear. But we must remember that, under the law, children cannot consent to sex. Sex education classes conducted by the group It Happens Education told boys of 13 and 14 that the law
"is not there to…punish young people for having consensual sex"
and said:
"It's just two 14 year olds who want to have sex with each other who are consensually having sex."
It is not hard to see the risks of this approach, which normalises and legitimises under-age sex. Not only are children legally not able to consent; they also do not have the developmental maturity or capacity to consent to sexual activity—that is the point of the age of consent.
The introduction of graphic or extreme sexual material in sex education lessons also reinforces the porn culture that is damaging our children in such a devastating way. Of course it is not the fault of schools that half of all 14-year-olds have seen pornography online—much of it violent and degrading—but some RSE lessons are actively contributing to the sexualisation and adultification of children. The Proud Trust has produced a dice game encouraging children to discuss explicit sexual acts, based on the roll of a dice. The six sides of the dice name different body parts—such as anus, vulva, penis and mouth—and objects. Two dice are thrown and children must name a pleasurable sexual act that can take place between the two body parts. The game is aimed at children of 13 and over.
Sexwise is a website run and funded by the Department of Health and Social Care and recommended in the Department for Education's RSE guidance. The website is promoted in schools and contains the following advice:
"Maybe you read a really hot bit of erotica while looking up Dominance and Submission…Remember, sharing is caring".
Sex education materials produced by Bish Training involve discussion of a wide range of sexual practices—some of them violent. This includes rough sex, spanking, choking, BDSM and kink. Bish is aimed at young people of 14 and over and provides training materials for teachers.
Even when materials are not extreme, we must still be careful not to sexualise children prematurely. I spoke to a mother who told me how her 11-year-old son had been shown a PowerPoint presentation in a lesson on sexuality. It was setting out characteristics and behaviours and asking children to read through the lists and decide whether they were straight, gay or bisexual. Pre-pubescent 11-year-olds are not straight, gay or bisexual—they are children.
Even School Diversity Week, a celebration of LGBTQIA+ promoted by the Just Like Us group, leads to the sexualisation of children. Of course schools should celebrate diversity and promote tolerance, but why are we doing that by asking pre-sexual children to align themselves with adult sexual liberation campaigns? Let us not forget that the + includes kink, BDSM and fetish …
Even primary schools are not immune from using inappropriate materials. An "All About Me" programme developed by Warwickshire County Council's Respect Yourself team introduces six and seven-year-olds to "rules about touching yourself". I recently spoke to a mother in my constituency who was distraught that her six-year-old had been taught in school about masturbation. Sexualising children and encouraging them to talk about intimate details with adults breaks down important boundaries and makes them more susceptible and available to sexual predators, both on and offline.
Another significant concern is the use of RSE to push extreme gender ideology. Gender ideology is a belief system that claims that we all have an innate gender, which may or may not align with our biological sex. Gender ideology claims that, rather than sex being determined at conception and observed at birth, it is assigned at birth, and that doctors sometimes get it wrong.
Gender theory sadly has sexist and homophobic undertones, pushing outdated gender stereotypes and suggesting to same-sex-attracted adolescents that, instead of being gay or lesbian, they may in fact be the opposite sex. Gender theory says that if someone feels like a woman, they are a woman, regardless of their chromosomes, their genitals, or, in fact, reality.
Gender ideology is highly contested. It does not have a basis in science, and no one had heard of it in this country just 10 years ago. Yet, it is being pushed on children in some schools under the guise of RSE, with what can only be described as a religious fervour. Department for Education guidance states that schools should
"not reinforce harmful stereotypes, for instance by suggesting that children might be a different gender",
and that:
"Resources used in teaching about this topic must…be…evidence based."
Yet a video produced by AMAZE and used in schools suggests that boys who wear nail varnish or girls who like weight lifting might actually be the opposite sex. Resources by Brook claim:
"'man' and 'woman' are genders. They are social ideas about how people who have vulvas and vaginas, and people who have penises and testicles should behave".
Split Banana offers workshops to schools where children learn ideas of how gender is socially constructed and explore links between the gender binary and colonialism. A Gendered Intelligence workshop tells children that:
"A woman is still a woman, even if she enjoys getting blow jobs."
Just Like Us tells children that their biological sex can be changed. PSHE Association resources inform children that people whose gender matches the sex they were assigned at birth are described as cisgender.
Gender theory is even being taught to our very youngest children. Pop'n'Olly tells children that gender is male, female, both or neither. The Introducing Teddy book, aimed at primary school children, tells the story of Teddy, who changes sex, illustrated by the transformation of his bow tie into a hair bow. The Diversity Role Models primary training workshop uses the "Gender Unicorn", a cartoon unicorn who explains that there is an additional biological sex category called "other".
Numerous resources from numerous sex education providers present gender theory as fact, contrary to DFE guidance. However, it is not just factually incorrect resources that are making their ways into schools; visitors from external agencies are invited in to talk to children about sex and relationships, sometimes even without a teacher present in the room.
Guidance says that, when using external agencies, schools should check their material in advance and
"conduct a basic online search".
However, a social media search of organisations such as Diversity Role Models reveals links to drag queens with highly sexualised, porn-inspired names, or in the case of Mermaids, the promotion of political activism, which breaches political impartiality guidelines.
In some cases, children are disadvantaged when they show signs of dissent from gender ideology, as we saw in the recent case, reported in the press, of a girl who was bullied out of school for questioning gender theory. I have spoken to parents of children who have been threatened with detention if they misgender a trans-identifying child or complain about a child of the opposite sex in their changing rooms. I have heard from parents whose child's RSE homework was marked down for not adhering to this new creed. 
Children believe what adults tell them. They are biologically programmed to do so; how else does a child learn the knowledge and skills they need to grow, develop and be prepared for adult life? It is therefore the duty of those responsible for raising children—particularly parents and teachers—to tell them the truth. Those who teach a child that there are 64 different genders, that they may actually be a different gender to their birth sex, or that they may have been born in the wrong body, are not telling the truth. It is a tragedy that the RSE curriculum, which should help children to develop confidence and self-respect, is instead being used to undermine reality and ultimately put children in danger. 
Some may ask what harm is being done by presenting those ideas to children, and, of course, it is right to teach children to be tolerant, kind and accepting of others. However, it is not compassionate, wise, or legal to teach children that contested ideologies are facts. That is indoctrination, and it is becoming evident that that has some concerning consequences …
There has been a more than 4,000% rise in the referrals of girls to gender services over the last decade, and a recent poll of teachers suggests that at least 79% of schools now have trans-identifying children. That is not a biological phenomenon. It is social contagion, driven by the internet and reinforced in schools.
The Bayswater Support Group, which provides advice and support for parents of trans-identifying children, reports a surge of parents contacting them after their children are exposed to gender content in RSE lessons and in assemblies. A large proportion of parents say their child showed no sign of gender distress until either a school assembly or RSE lessons on those topics. Children who are autistic, who are same-sex attracted, who do not conform to traditional gender stereotypes, or who have mental health conditions are disproportionately likely to identify as trans or non-binary.
In fact, children who tell a teacher at school that they are suffering from gender distress are then often excluded from normal safeguarding procedures. Instead of involving parents and considering wider causes for what the child is feeling and the best course of action, some schools actively hide the information from parents, secretly changing a child's name and pronouns in school, but using birth names and pronouns in communications with parents.
One parent of a 15-year-old with a diagnosis of Asperger's syndrome said she discovered that without her knowledge, her daughter's school had started the process of socially transitioning her child, and has continued to do so despite the mother's objections. Another mother said:
"It's all happened very quickly and very unexpectedly after teaching at school during year seven and eight. As far as I can understand the children were encouraged to question the boundaries of their sexual identity as well as their gender identity. Her friendship group of eight girls all adopted some form of LGBTQ identity—either sexual identity or gender identity. My daughter's mental health has deteriorated so quickly, to the point of self harm and some of the blame is put on me for not being encouraging enough of my daughter's desire to flatten her breasts and for puberty blockers."
As my hon. Friend the Member for East Worthing and Shoreham (Tim Loughton) said, some parents have been referred to social services when they have questioned the wisdom of treating their son as a girl or their daughter as a boy.
Socially transitioning a child—changing their name and pronouns, and treating them in public as a member of the opposite sex—is not a neutral act. In her interim report on gender services for children, paediatrician Dr Hilary Cass remarks that although social transition
"may not be thought of as an intervention or treatment,"
it is
"an active intervention because it may have significant effects on a child or young person's psychological functioning."
The majority of adolescents who suffer from gender dysphoria grow out of it, but instead of safeguarding vulnerable children, schools are actively leading children down a path of transition. If a child presented with anorexia and a teacher's response was to hide that from parents, celebrate the body dysmorphia and encourage the child to stop eating, that would be a gross safeguarding failure. For a non-medical professional to make a diagnosis of gender dysphoria, exclude the child's parents and encourage the child to transition is just such a failure.
In some schools, children are not only taught about the concept of gender theory but signposted to information about physical interventions. Last year, sixth-formers at a grammar school sent a newsletter to girls as young as 11, detailing how to bind their breasts to "look more masculine" and outlining how surgery can remove tissue if it hurts too much. Also, schools have played a major role in referrals to gender identity clinics, where children are sometimes set on a path to medical and surgical transition.
I was really pleased to see the Health Secretary announce today that he is commissioning a more robust study of whether treatment at such clinics improves children's lives or leads to later problems or regret, because schools may think that they are being kind, but the consequences of full transition—permanent infertility, loss of sexual function and lifelong health problems—are devastating, as has become clear following the case of Keira Bell.
Anyone hearing for the first time what is going on in schools might reasonably ask, "How can this be allowed?" The answer is that it is not allowed. DFE guidance tells schools:
"Resources used in teaching about this topic must always be age-appropriate and evidence-based. Materials which suggest that non-conformity to gender stereotypes should be seen as synonymous with having a different gender identity should not be used and you should not work with external agencies or organisations that produce such material."
However, many teachers just do not have the time to look into the background of every group that provides sex education resources, and when faced with teaching such difficult and sensitive topics, they understandably reach for ready-made materials, without investigating their source.
Furthermore, those teachers who are aware of the harms are sometimes afraid to share their concerns. A lot of teachers have written to me about this situation, with one writing:
"I left my job in a Primary School after we were asked to be complicit in the 'social transitioning' of a 7 year old boy. This was after Gendered Intelligence came into the school and delivered training."
Relationship and sex education in this country has become a Wild West. Anyone can set themselves up as a sex education provider and offer resources and advice to schools. Imagine if someone with no qualifications could set themselves up as a geography resource provider, insert their own political beliefs on to a map of the world—perhaps they would put Ukraine inside the Russian border—and then sell those materials for use in schools. I do not believe that some of these sex education groups should have any place in our educational system.
Indeed, the guidance says that schools should exercise extreme caution when working with external agencies:
"Schools should not under any circumstances work with external agencies that take or promote extreme political positions or use materials produced by such agencies."
Yet all the organisations that I have mentioned today, and many others, fall foul of the guidance. What is more, the Government are actually funding some of these organisations with taxpayers' money. For example, The Proud Trust received money from the tampon tax, and EqualiTeach and Diversity Role Models have received money from the DFE as part of anti-bullying schemes. We have created the perfect conditions for a safeguarding disaster, whereby anyone can set up as an RSE provider and be given access to children, either through lesson materials or through direct access to classrooms.
Yet parents—those who love a child most and who are most invested in their welfare—are being cut out. In many cases, parents are refused access to the teaching materials being used by their children in school. This was highlighted by the case of Clare Page, which was reported at the weekend. She complained about sex education lessons that were being taught in her child's school by an organisation called the School of Sexuality Education. Until this year, that organisation's website linked to a commercial website that promoted pornography. Mrs Page's daughter's school refused to allow the family to have a copy of the material provided in lessons, saying it was commercially sensitive.
Schools are in loco parentis. Their authority to teach children comes not from the state and not from the teaching unions, but from parents. Parents should have full access to the RSE materials being used by their children. We have created this safeguarding disaster and we will have to find the courage to deal with it for the sake of our children …
… there are strong parallels here with grooming practices, and I have no doubt that children will be more susceptible to being groomed as a result of the materials they are being exposed to.
How have we gone so wrong? We seem to have abandoned childhood. Just as in the covid pandemic when we sacrificed young for old, our approach to sex education is sacrificing the welfare and innocence of children in the interests of adults' sexual liberation. In 2022, our children are physically overprotected. They have too little opportunity to play unsupervised, to take responsibility and to mature and grow wise, yet at the same time they are being exposed to adult ideologies, being used as pawns in adults' political agendas and at risk of permanent harm. What kind of society have we created where teachers need to undertake a risk assessment to take pupils to a local park, but a drag queen wearing a dildo is invited into a library to teach pre-school children?
Parents do not know where to turn, and many I have spoken to tell me how they complain to schools and get nowhere. Even the response from the DFE comes back the same every time telling parents that, "Where an individual has concerns, the quickest and most effective route to take is to raise the issue directly with the school." The complaints system is circular and schools are left to mark their own homework.
Ofsted does not seem willing or able to uphold the DFE's guidance. Indeed, it may be contributing to the problem. It was reported last week that Ofsted cites lack of gender identity teaching in primary schools as a factor in whether schools are downgraded. There is a statutory duty on the Department to review the RSE curriculum every three years, so the first review is due next year. I urge the Minister to bring forward that review and conduct it urgently. I understand that the Department is in the process of producing guidance for schools on sex and gender, so will Minister tell us when that will be available? …

The DFE should consider creating a set of accredited resources, with regulatory oversight by Ofqual, and mandating that RSE be taught only by subject specialists. The Department has previously said in correspondence that it is
"investing in a central package to help all schools to increase the confidence and quality of their teaching practice in these subjects, including guidance and training resources to provide comprehensive teaching in these areas in an age-appropriate way."
Can the Minister say when that package will be ready?
In the light of the Cass review interim report, the Department must write to schools with clear guidance about socially transitioning children, the law on single-sex facilities and the imperative to include parents in issues of safeguarding. The Department should also conduct a deep dive into the materials being used in schools, the groups that provide such materials and their funding sources …
… it is the Department for Education that imposed the mandatory requirement for schools to deliver RSE, so it is fundamentally the responsibility of the Department to ensure that schools are equipped and held accountable to deliver it well.
I look forward to hearing from the Minister how the Department plans to clean up this mess and give our children the protection they deserve.
Afterwards, Labour MP Lloyd Russell-Moyle (Brighton Kemptown) spoke. Keep his name in mind, because this was the start of an unheard-of incident in another debate in January 2023:
… Where I disagree, I am afraid, is on some of the hon. Member's examples. I did not plan to say this, but during the pandemic, my second cousin—a 15-year-old boy—died in a tragic accident of auto-asphyxiation. It devastated the family, as can be imagined, and happened in the pandemic when we were only allowed six people at the funeral. If he had been taught about risky sex acts—he was 15, not a pre-pubescent child—and how to make sure he did things safely, rather than just learning something from the internet that then led to the end of his life, he might still be around and his family might not be devastated. So, actually, because of that personal experience I do have a problem with saying that we should not teach any of this to our children.
The hon. Member picks out examples of the dice or whatever that might sound frivolous, and I cannot judge how exactly things played out in those schools—she might well be right that it was played out by some teachers incorrectly—but the principle of learning about things before people are legally able to do them but when they are physically able to engage in them, which 15-year-olds are, I am afraid, could have been lifesaving.
My sister, who is a teacher in Essex, has worked hard to try and incorporate some of those teaching methods into the school's RSHE, focused on an age-specific approach and on stories of people such as my cousin and others, so we can talk about the dangers of some of these things. We cannot know about the dangers of things if we do not talk about them, or if we say that they are just things that families need to talk about. I am afraid most families will not do that because those kinds of things are darn embarrassing to talk about—but also because you never think your child will do something like that. I disagree with that element of what we heard today. I do agree that there needs to be oversight and I do agree that there need to be checks to make sure that we are not just promoting risky activities; we need to be talking about the risks of risky activities. Then, when people are of age, they can make their own choices.
I want to reflect on the things I was planning to say in this debate in the last few seconds I have. The UK Youth Parliament ran a campaign for years to try to get RSHE better taught. Elements of the campaign were about emotions and relationships, and it was also about LGBT inclusive education—and that does include T. We have seen the Fédération Internationale de Natation ruling that competitors will not be able to swim unless they transitioned before they were 12, so we are in a difficult and complex world that we have to navigate. Broad-brush bans from the Department are unhelpful; we need to be content specific and school specific. The Department needs to show more leadership, but we cannot exclude talking about trans people or these complex issues in schools because that, I am afraid, would be very dangerous.
Later on, Northern Ireland's Jim Shannon (Democratic Unionist Party, Strangford) sided with Miriam Cates:
… Relationships and sex education is an essential issue, and a crucial topic for young people to understand. We must all realise that there is a time and a place for relationships and sex education in schools. However, underpinning that is the right of a family to pass on their morals and values, and not to be undermined by teachers who do not know individual children and cannot understand the family dynamic.
I am clear about what I want to see when it comes to sex education: no young person should be unaware of how their body works, but similarly, no teacher nor programme should seek to circumnavigate the right of a family to sow into their child's life what they see is needed. That is especially the case in primary school children—I think of innocence lost …
… a worrying number of schools across the United Kingdom have felt it necessary to teach children not only about sex, but about gender identity and trans issues. Conservatives for Women has said that children are being encouraged from as young as primary school to consider whether they have gender identity issues that differ from their biology—being male or female—as the hon. Member for Penistone and Stocksbridge outlined. That leaves children confused for no other reason than the misunderstanding, and it makes them believe that they should be looking at their own gender issues. My humble opinion—I am putting it clearly on the record—is that children in primary schools are too young to be taught sex education at that level …
It is crucial that we do not unduly influence young people or pupils' innocent minds by teaching extreme sex and gender legislation. I have seen some material taught in Northern Ireland, such an English book that refers to glory holes, sexual abuse of animals and oral sex. That book was taught to a 13-year-old boy, whose parents were mortified whenever they saw it, and the young boy had little to no understanding of what was going on. I wrote to the Education Minister in Northern Ireland, asking how that book could ever be on a curriculum and what possible literary benefit—there is none—could ever outweigh the introduction of such concepts.
There needs to be a greater emphasis on the line between what is appropriate to be taught at school and at home, and a greater respect for parents and what they want their children to be taught. Family values should be at the core of a child's adolescence education, as it is of a sensitive nature and needs to be treated carefully, with respect and compassion.
Robin Walker replied for the Government:
I congratulate my hon. Friend the Member for Penistone and Stocksbridge (Miriam Cates), along with my hon. Friend the Member for Thurrock (Jackie Doyle-Price) and the hon. Member for Canterbury (Rosie Duffield), on securing today's debate …
I have listened carefully to some of the examples that have been given by Conservative and Opposition Members, in particular those cited by my hon. Friend the Member for Penistone and Stocksbridge. There is no doubt that some of those things are totally unsuitable for school-age children: "age is only a number" is clearly an unsuitable phrase to be used in the context of consent, and the Department has been clear that the Proud Trust's dice game is unacceptable for use as a school resource. I have to say that, despite a lot of coverage of that particular issue, we are unaware of any individual cases in which that game has been used in schools.
… To support teachers to deliver in the classroom, we have run expert-led teacher training webinars that covered pornography, domestic abuse and sexual exploitation—topics that teachers told us they find difficult to teach. We also published additional guidance to schools on tackling abuse, harassment, and other sensitive topics.
It has been almost three years since the Department published statutory guidance on relationship, sex and health education, and almost two years since relationship education became a compulsory subject for all schools and relationship and sex education became a compulsory subject for all secondary schools. As has been acknowledged, primary schools can choose to teach sex education in order to meet the needs of their pupils, but if they do so, they must consult with parents on their policy and grant parents an automatic right to withdraw their child from sex education lessons …
At the heart of RSHE is the need to keep children healthy, happy and safe. The hon. Member for Brighton, Kemptown (Lloyd Russell-Moyle) gave a very powerful example of where more education could make a difference in terms of safety. I sympathise with his deep hurt …
The Ofsted review of sexual abuse in schools and colleges found that online forms of sexual abuse are increasingly prevalent, with 88% of girls and 49% of boys reporting being sent unwanted sexual images and 80% of girls and 40% of boys pressured to provide sexual images of themselves. The review also showed that children, even in primary schools, are accessing pornography and sharing nude images. We want to make sure that children receive appropriate teaching in schools on topics that are relevant to their lived experience, rather than going online to educate themselves. Through the RSHE curriculum, pupils will be taught about online relationships, the implications of sharing private or personal data—including images—online, harmful content and contact, cyber bullying, an overreliance on social media and where to get help and support for issues that unfortunately occur online. Through the topic of internet safety and harms, pupils will be taught to become discerning customers of information and to understand how comparing oneself with others online can have an impact on one's own body image. The Department is reviewing its guidance on teaching online safety in schools, which supports teachers to embed teaching about online safety into subjects such as computing, RSHE and citizenship. The guidance will be published in the autumn of this year. The Online Safety Bill will also ensure that children are better protected from pornographic content, wherever it appears online.
The statutory RSHE guidance sets out the content that we expect children to know before they complete each phase of education. We have, however, been clear that our guiding principles for the development of the statutory guidance were that all the compulsory subject content must be age-appropriate and developmentally appropriate. It must be taught sensitively and inclusively, with respect for the backgrounds and beliefs of pupils and parents, while always with the aim of providing pupils with the knowledge they need. Given the need for a differentiated approach and the sensitive and personal nature of many of the topics within the RSHE curriculum, it is important that schools have the flexibility to design their own curricula, so that it is relevant and appropriate to the context of their pupils. The Department's policy, therefore, has been to trust the expertise of schools to decide the detail of the content that they teach and what resources they use.
As mentioned previously, we have made a commitment in the White Paper to strengthen our guidance in this respect. We will also review and update that guidance regularly—at least every three years. We are confident that the majority of schools are capable of doing this well and have been successful in developing a high-quality RSHE curriculum that is appropriate to the needs of their pupils, but, in the context of this debate, it is clear that that is not always the case and that there are genuine concerns about many of the materials that have been used.
I stress that allowing schools the flexibility to make their own decisions about their curricula does not mean that they should be unaccountable for what they teach. Schools are required by law to publish their RSHE policies and to consult parents on them. As their children's primary educators, parents should be given every opportunity to understand the purpose and content of what their children are being taught. In the RSHE statutory guidance, which all schools must have regard to, we have set out a clear expectation for schools to share examples of resources with parents. Schools are also bound by other legal duties with regard to the delivery of the wider curriculum. All local authority maintained schools are required to publish the content of their school curriculum, including the details of how parents or other members of the public can find out more about the curriculum that the school is following. There is a parallel requirement in academy trust model funding agreements for each academy to publish the same information on its website. It is our intention that that should form part of the new standards for academies.
… We are clear that schools can show parents curriculum materials, including resources provided by external organisations, without infringing an external provider's copyright in the resource. For example, it is perfectly possible for a school to invite parents into the school to view materials on the premises. Although of course we have to be mindful of not overburdening schools with repeated requests, we do expect schools to respond positively to all reasonable requests from parents to share curriculum material. We therefore expect schools to share RSHE content and materials with parents openly and transparently, where requested. We are clear that they should not enter into any contracts with third parties that seek to restrict them from sharing RSHE resources with parents.
… To help schools to make the best choices, the Department published the non-statutory guidance, "Plan your relationships, sex and health curriculum". That sets out practical advice for schools on a number of topics, including using externally produced resources. Indeed, my hon. Friend the Member for Penistone and Stocksbridge quoted from it.
… We are working with the Equality and Human Rights Commission to ensure that we are giving the clearest possible guidance to schools on transgender issues. We will hold a full public consultation on the draft guidance later this year. Given the complexity of the subject, we need to get this right and we want to take full account of the review being conducted by Dr Hilary Cass.
I realise that my hon. Friend the Member for Penistone and Stocksbridge will need time to respond, so I conclude by saying that I hear very clearly the concerns that have been expressed. As a parent of both a girl and a boy, I know that we need to address these issues and to do so in a way that can reassure parents but continue to deliver high-quality relationships, sex and health education.
Miriam Cates concluded:
I thank the Minister for his response. I am looking forward to seeing the consultation on the guidance. I thank everybody who contributed today. This has been a very good debate. We have had some surprising areas of agreement. I think that most of us have agreed that this is a very important topic. The key phrase that has come out is "age appropriate". I personally do not think that it should be up to schools, teachers or, potentially, parents to have to decide that. I think that we need child development experts on the case to determine which materials are suitable for which time.
I will conclude by reflecting on the speech from my hon. Friend the Member for Thurrock (Jackie Doyle-Price). Family is key to this, and parents' values and parents' choice are so important. We must never teach relationships and sex education in schools outside the context of respecting parents' choice and parents' values. Parents are the people who love and are most invested in children, and theirs are the views that we should most take into account.
I saw that debate on BBC Parliament. My shock at the time has not diminished, even when sharing the Hansard transcript with you.
As for Lloyd Russell-Moyle, things came to a head between him and Miriam Cates in January. More on that next week.
Yesterday's post on The Telegraph's Lockdown Files series focused on top civil servant Simon Case and how Government ministers and advisers brought about the first lockdown in 2020 after pressure from the media.
Today's post looks at The Telegraph's revelations about the then-Secretary of State for Health and Social Care Matt Hancock.
He had a deep hunger for absolute control and brooked little opposition.
Grudge against NHS chief Simon Stevens
It is unclear exactly why Hancock bore a grudge against Simon Stevens, who headed the NHS at the time of pandemic and resigned in 2021. Stevens was later elevated to the Lords.
On March 4, The Telegraph published 'Matt Hancock's campaign to remove NHS chief revealed' (emphases mine):
Ministers tried to remove the head of the NHS just five days after the first Covid-19 case was detected in the UK.
The Lockdown Files reveal the animosity shown towards Lord Stevens of Birmingham, the chief executive of NHS England. 
Six months into the pandemic, Matt Hancock, the then health secretary, declared "removing SS [Simon Stevens] will be a massive improvement".
On another occasion, Mr Hancock was so visibly angered by the NHS chief that his own advisers warned him: "Simon needs a kick… don't make yourself look bad in the process".
The messages between ministers and officials disclose the lack of regard both in Downing Street and the Department of Health for Lord Stevens, despite widespread praise of his stewardship of the NHS for seven years. 
The private messages also appear at odds with the Government's support for the NHS during Covid, while belittling its boss behind the scenes.
Lord Stevens finally retired from the post in July 2021 and was made a life peer in recognition of his services to the NHS.
But the messages reveal that Mr Hancock and Dominic Cummings, Boris Johnson's chief adviser, were conspiring to get rid of him for at least 18 months before he finally stepped down.
Nine days after Chinese authorities first shared the genetic sequence of Covid-19, Mr Hancock messaged Mr Cummings explaining he was approaching Lord Ara Darzi, an eminent professor of surgery, to "persuade" Lord Stevens to quit.
The article has screenshots of various WhatsApp conversations, excerpted below.
On February 3, 2020, Dominic Cummings was eager for Stevens to leave and messaged Hancock:
We must get on with it now. Announce next week as part of reshuffle frenzy and it will all get lost in that
Cummings was out of luck. It did not happen.
In the early weeks of the pandemic in April 2020, Hancock seemed to be overly exercised by Stevens:
Mr Hancock criticised Lord Stevens in a Downing Street meeting, during which he was so visibly angered that his special adviser Allan Nixon remarked by WhatsApp: "You look like you're losing grip in front of No 10 by having a go at Simon like that. Simon needs a kick but don't make yourself look bad in the process."
Mr Hancock responded: "It's ok – he needs to know he is massively f——g up. And I'll tell the room what happened once the video is off."
Mr Nixon replied: "Ok but be aware from afar it looks like you're cracking under pressure."
The article states:
It's unclear precisely why Lord Stevens irritated Mr Hancock so much, but when he quit, NHS sources said his successor was likely to be someone "less outspoken and less willing to challenge Government".
Lord Stevens had clashed with successive Tory administrations over NHS funding, and The Lockdown Files also show clashes over tackling the virus and the rolling out of the vaccines.
Dentistry became an issue in May 2020:
Mr Hancock was again furious with Lord Stevens, this time over the NHS chief executive's issuing of guidance allowing dentists to reopen in June. Mr Johnson complained he had not been aware of the guidance being changed.
Boris WhatsApped Hancock:
I told Simon Stevens he should have warned us and he grovelled
Hancock replied:
I hit the roof with him. Unbelievable. Have you read the letter I've sent about the future of the NHS? We need to get cracking…
Their disagreement continued:
The files also contain text messages between Mr Hancock and Lord Stevens, in which they argue over whether the NHS chief executive had permission to make the announcement on dentists reopening, which the Government had wanted held back for its televised press conference.
In August, Hancock sent a message to Cummings about possible new legislation which would give government ministers more control over the NHS. It ended with this:
Removing SS will be a massive improvement — but we still need a Bill to do it properly.
In December 2020, Hancock and Stevens disagreed about the vaccine rollout:
Lord Stevens was angered in December 2020 about a claim being briefed to the media that millions of people were due to receive the jab by Christmas.
On December 13, he WhatsApped Hancock and a group of senior health officials and advisers:
There is no version of reality whereby "several million people will receive the vaccine before Christmas" so whoever briefed that might want to urgently undertake some course correction before that inevitably becomes clear
When Stevens announced his resignation in 2021, public pronouncements differed considerably from private conversations:
Even after Lord Stevens announced that he was stepping down, Mr Hancock continued to be irked by him.
The three health secretaries he had served alongside – Mr Hancock, Jeremy Hunt and Sajid Javid – had jointly signed a letter praising Lord Stevens.
The letter included a statement saying his "tireless efforts to improve patient safety, and secure access to innovative medicines like Orkambi, have had a huge impact on the lives of so many".
But after he was shown the letter, Mr Hancock – who had by then been forced to resign over an affair in his office – asked for the reference to the drug Orkambi to be removed. 
The NHS uses Orkambi in treating cystic fibrosis.
Hancock complained in a message to his Spad (special adviser) Allan Nixon. Nixon asked what he should say to Sajid Javid, Hancock's successor at Health and Social Care.
Hancock replied:
Because it was really you and me
He did make the move on opening up to more meds, but only did this one with huge arm twisting
How petty.
Hancock chose to save reputation over cutting quarantine
This was The Telegraph's front page on Monday, March 6, 2023:
He did not want to cut self-isolation time because it would:
imply we've been getting it wrong.
Clearly they had got it wrong.
Doesn't admitting a mistake show the measure of a person or an organisation, including a government? Personally, I respect that.
It would have been easy enough to rationalise, too. Hancock could have said that medical experts now know more about the virus, which the data from Test and Trace supported.
But no.
Hancock was too weak — and power-hungry — a man to admit a mistake.
Excerpts follow from that day's lead article, 'The leaked messages that reveal how Matt Hancock chose saving face over cutting Covid quarantine', which concerns England:
At points during the pandemic, more than 600,000 people a week who had been in close proximity to a Covid case were told to quarantine for 10 days.
In total, the policy resulted in more than 20 million people – a third of the entire population – being told to self-isolate, regardless of whether they had symptoms.
Now, WhatsApp messages seen by The Telegraph show that a proposal to replace that with five days of testing had been discussed as early as November 2020 – but was not put in place.
The Lockdown Files show that Matt Hancock, the then health secretary, was told by England's Chief Medical Officer [Chris Whitty] that they could change the policy in "favour of testing for 5 days in lieu of isolation". At that stage, the self-isolation period was 14 days.
But instead of taking Prof Sir Chris Whitty's advice, Mr Hancock rejected the idea – fearing that it would "imply we'd been getting it wrong".
Switching to a five-day testing regime would have transformed the way the country was able to operate during the pandemic.
A month after Sir Chris gave his advice, isolation was reduced to 10 days – a length which continued to wreak havoc on businesses and services.
Having heard every coronavirus briefing, I suspected this all along. It is good to see confirmation of it now.
Things got worse in 2021 with the 'pingdemic'. You couldn't make this up:
By the summer of 2021, so many people were sent automated "pings" by the NHS Test and Trace app telling them to stay at home that restaurants and other businesses were forced to close through lack of staff.
The app proved to be so sensitive that neighbours were being pinged through walls, causing large numbers of people to delete the app in frustration. The Government ended up having to exempt some key workers from self-isolating to prevent the NHS and critical food supply chains from collapsing.
Some relief came in August that year:
those who were under the age of 18 years and six months and those who were fully vaccinated no longer had to isolate if they were a close contact.
Self-isolation policies lasted nearly two years:
… it took until Feb 2022 for self-isolation guidance for contacts of positive Covid cases to be scrapped altogether, by which time NHS Test and Trace had cost the taxpayer around £26 billion.
Discriminatory quarantine exemptions proposed
In August 2020, a 14-day quarantine period was in place for Covid case contacts and travellers returning to the UK from abroad:
The policy caused havoc for holidaymakers and split up families for months, with most people unable to take an extra fortnight off work to quarantine on return.
On Aug 5, messages from the then health secretary to the "MH Top Team" WhatsApp group appear primarily concerned with the self-isolation restrictions placed on people returning to the UK from abroad, rather than those on close contacts of people infected with the virus. The group included his aides and officials from his private office.
Mr Hancock asked: "Where are we up to on test & release and also high net worth quarantine exemptions?"
Replying to this point, a senior civil servant said: "On test and release expecting update today – on high net worth BEIS [Department for Business, Energy and Industrial Strategy] lead but we've asked for it."
When Mr Hancock returned to the issue two weeks later, this time he asked only about the policy that applied to "high net worth" business people …
At this point Emma Dean, one of his aides, interjected to ask Mr Hancock to "clear" a quote on Leicester, which was only just being released from lockdown because of higher rates of the virus in the area … 
Having approved the statement, Mr Hancock returned to the issue at hand – lifting travel restrictions for "high net worth individuals". The former health secretary appeared surprised to hear that the policy had not been given the green light by the business department …
Ms Dean's concern that there might be a "comms risk" associated with the policy to release only wealthy business travellers from self-isolation proved to be correct.
When news leaked in November 2020 that the Government planned to exempt City dealmakers, hedge fund managers and company bosses flying to the UK from the 14-day quarantine rule, the public was furious …
… on Nov 17 2020, Mr Hancock did receive some scientific advice in favour of loosening restrictions on self-isolation for people contacted by NHS Test and Trace.
Mr Hancock, however, was worried about how the move would play out with the public.
I wonder. By then, he was clearly enjoying his control over the public.
On a related topic, another Telegraph article, 'Ministers feared "racist" label if they spoke about Covid spread', discusses the problem with locking down cities such as Leicester and some in the north of England. To make it look more equitable, nearby areas with low rates of infection were also locked down, which brought complaints from several MPs. The Government also worried about getting their messages across to areas with high minority populations.
Pingdemic 'crippled' economy
Also in March 6's Telegraph was an article by one of their business columnists, Matthew Lynn: 'Hancock's overzealous "pingdemic" crippled Britain's economy — and we're still paying the price'.
Hancock was not alone in developing policy, however, his was the face we saw most often, whether on television or at the despatch box. He had a huge role to play in the parlous state of the economy during and after the pandemic:
It was, for several months at least, the most dreaded sound in any factory, warehouse, shop or cafe. Ping. The NHS app notifying a colleague they had been in contact with someone who had tested positive for Covid-19. In a flash, workers would depart, and schedules would have to be hastily re-organised.
For months, businesses were barely able to operate normally, output collapsed, and a culture of absenteeism was created that the UK is still struggling with three years later.
And yet, it now appears the isolation rules were for some time far stricter than they needed to be. The "pingdemic" may have been unnecessary – and so too the damage to businesses that it caused …
In November 2020, during the second lockdown, the Chief Medical Officer advised first that 14 days of isolation was only marginally safer than 10 days, and that even that could be replaced with five days of daily testing. It was rejected by Matt Hancock, the then health secretary. 
In fairness, tweaks to the rules were made. In mid-December 2020, the 14-day rule was cut to 10. Then in August 2021, after the 'pingdemic' reached its height, the isolation rule was lifted if you were under 18 or fully vaccinated.
However, the important point is this: for a long stretch of 2021 we may not have needed such rigid isolation rules for contacts of those with Covid.
And yet at that time, it was already clear to everyone that isolation was having a devastating impact on the economy. It was hard enough for anyone to operate any kind of a business during the chaos of lockdown, with its bewildering mess of constantly changing rules on what you could and couldn't sell, to whom, and under what conditions.
To make a bad situation even worse, however, the pingdemic meant any kind of commercial operation was constantly crippled by staff shortages.
Looking back at the news stories from the time, businesses were pleading for something to be done …
 … very big companies could shift staff around so that at least their most crucial operations could continue.
Yet small companies didn't have that option, and with 20 per cent or more of their employees pinged, they often had no choice but to close down completely.
Isolation hit the productive heartlands of the economy – manufacturing, construction and distribution – hardest of all. And the smaller the business, the more it suffered …
First, the UK lost a huge amount of output. The near 10 per cent drop in GDP during the pandemic was the worst in British economic history.
… even if it was only a couple of percentage points that could have been saved, that would have made a huge difference to the final cost of Covid-19.
Next, it created a culture of absenteeism. If you wanted to take a few days off work, there was never an easier time. Simply report that you had been pinged and few questions would ever be asked. 
That has carried on, even after the virus has disappeared. The Office for National Statistics reports that days off for sickness are running at the highest level for more than a decade, while a more recent survey by Fruitful Research found a 29 per cent increase in absenteeism since the pandemic ended.
The UK already had a dreadful record on productivity, but the pandemic made it a whole lot worse.
Finally, we have been left with a legacy of debt. Companies had to borrow money or dip into their reserves to cope with closures, while the Government was forced to borrow far more to deal with higher costs on the back of lower tax revenues. It will take generations to pay all that back.
… We could have cut the time much earlier than we did and saved the economy a huge amount of pain.
I couldn't agree more.
I have been writing about the pandemic for three years now. You can read every entry on my Marxism/Communism page under Coronavirus. With each new post on the subject, I experience the same thoughts and emotions about how much the policies devised to notionally combat this virus caused havoc not only in the UK, but also other Western nations.
I will have more on Matt Hancock tomorrow. Some will wonder how much more there is to write about him. There is still more, so much more.
On February 4, 2023, Liz Truss wrote an exclusive 4,000 word article for The Telegraph: 'I assumed upon entering Downing Street my mandate would be respected. How wrong I was'.
The date matters as it had been around 100 days since she left office as Prime Minister.
Excerpts follow, emphases mine.
She reflected on where she was at this point in 2022. February 24, the date of this post, is the first anniversary of the Russia-Ukraine conflict:
One year ago this week, I went to Moscow as foreign secretary to warn my Russian counterpart of the grave consequences that would result from any invasion of Ukraine. Had anyone told me then that, 12 months later, I would be a backbench MP following a 49-day term as prime minister, I would not have believed it.
Since my departure from Downing Street just over 100 days ago, I've spent many hours reflecting on what happened during my time there, what went wrong and what I might have done differently. This soul-searching has not been easy.
Now I want to set out, from my perspective, what happened and what I have learned.
Urgency
When Boris stood down as Conservative Party leader on July 7, Truss was in Bali at a G20 meeting of foreign ministers:
I watched his speech live in my hotel room. It struck me as crazy to be deposing a leader who had secured an 80-seat Commons majority for the Conservative Party less than three years ago.
I had always assumed that Boris would fight the next general election in 2024. Standing for the leadership myself was a faraway prospect and, as a result, I didn't have any kind of infrastructure in place for the contest on which the starting gun had just been fired.
All I had in that hotel room, nearly 8,000 miles from Westminster, was a series of messages urging me to return to London – including one from a fellow foreign minister that simply read: "Get back home woman and start hustling."
That's what I felt compelled to do.
She thought that boldness was the way forward:
I feared the consequences of high energy prices, high taxes and a slowing global economy without bold action. What we really needed was a change in policy direction and mindset in order to kick-start a return to sustainable economic growth.
As it was, the Government's economic policy platform included raising National Insurance (imposing the so-called Health and Social Care Levy) and increasing corporation tax to the same level as France – positions which I had vigorously challenged around the Cabinet table. Meanwhile, I sensed increasing resistance within the Government to the essential proposals to diverge from EU rules.
Sounds familiar, doesn't it, under Rishi Sunak and Jeremy Hunt? No wonder she had to go.
She felt a sense of urgency:
As I started piecing together my nascent leadership campaign, I was struck – not for the last time – with a sense that there was a vast amount to do and very little time in which to do it …

My party agreed that we needed to stop drifting in the direction of a higher-tax, higher-spend economy being choked by ever more regulation, which was causing sluggish growth, low productivity and a dampening of enterprise and innovation. My plan to get Britain back on the right trajectory was popular.
Her husband warned her about throwing her hat into the ring:
… my husband warned me that it would be awful – I could not duck the challenge. I knew that if I didn't step up, I would regret it …
The leadership campaign turned out to be as brutal as my husband had feared. I was called everything from immoral to insane – and that was just some of the "friendly fire" I encountered.
As Prime Minister:
Instinctively, I was determined to act with maximum speed. I knew this risked mistakes being made, but the normal pace of the Whitehall machine would be nowhere near sufficient to tackle the immediate emergencies we were facing, let alone to attempt to get the British economy onto a path to growth with barely two years left until the next election.
As a matter of urgency, I dealt with the issue of energy bills, which were projected to rise as high as an annual £6,000 for British families as a consequence of Vladimir Putin's invasion of Ukraine.  
Designing a targeted scheme was impossible given the urgency of the situation, so it had to be universal. Families and businesses would not be able to cope for much longer without assistance. I was also working on ways of mitigating the costs, in particular by signing up to longer-term energy supply agreements as well as through enabling more North Sea production, fracking and renewable energy. We urgently needed to move away from the short-termist approach that had left the UK dependent on global energy prices and vulnerable to the actions of a hostile state with strategic energy interests.
The benefits to the economy of the package were clear: it was set to reduce peak inflation by five per cent and contribute to our primary economic objective of boosting trend growth to 2.5 per cent. It's no exaggeration to say that there are firms which remain in business today only because of the action we took. This intervention prevented a major economic crisis. The markets welcomed my intervention, reducing the sky-high levels of uncertainty and anxiety.
The mini-Budget
The Queen's death and the consequent suspension of Parliament for two weeks did not help Truss's time in Downing Street.
Still, she had to press on, regardless:
… because of the expected size of the energy package (albeit dwarfed by the money spent on Covid-19 pandemic measures), it was going to be necessary for us to make a fiscal statement very soon.
The date of what inevitably became known as the mini-Budget was set for Sept 23. In hindsight, perhaps we could have delayed it for a few days. However, much longer than that would have meant not sticking to our commitments.
There were concerns in some quarters that the announcement would not be accompanied by forecasts from the Office for Budget Responsibility (OBR). However, the OBR's core purpose is to produce twice-yearly forecasts on whether the Government is on track to meet its fiscal targets. Commissioning a report at that juncture would not have been appropriate, given that the forecast would have been unable to take into consideration the future spending decisions we planned to outline in the Medium Term Fiscal Plan a few weeks later.
It's also worth recalling that no OBR forecast has accompanied many other fiscal announcements, not least the Covid-19 furlough scheme, which cost £70 billion.
As I had spelled out during the leadership campaign, I wanted to go for growth by reversing the proposed rises to corporation tax and National Insurance and implementing a programme of economic reform in order to prevent recession and stagnation and put the UK on a positive path.
Treasury opposition
She described how the civil servants at the Treasury think:
I saw first-hand during my two years as chief secretary to the Treasury that pessimism and scepticism about the growth potential of the British economy are sadly endemic at the Treasury: serious planning reform was dismissed as not politically deliverable; discussing monetary policy was a taboo; deregulation of financial services and other industries was viewed as undermining the prospects of a deal with the EU; and Brexit was seen as a damage-limitation exercise rather than a once-in-a-generation opportunity.
Instead, the focus from the Treasury was on micro, top-down tinkering such as productivity initiatives trying to encourage firms to become more efficient, along with government intervention.
Favourable reception
Truss called our attention to the favourable reception of the mini-Budget:
Following the announcement on Sept 23, the National Institute of Economic and Social Research came out and forecast that our energy support guarantee, coupled with the tax cuts announced, would lead to positive GDP growth in the fourth quarter of 2022, shortening the recession and raising annual GDP growth to around two per cent over 2023-24.
There were positive reactions from many quarters. Kitty Ussher, a Treasury minister in Gordon Brown's government and now chief economist at the Institute of Directors, declared it "a good news day for British business", adding that "in a time of low confidence and economic uncertainty, the new chancellor's emphasis on going for growth will be very welcome to firms of all sizes across the UK".
Tony Danker, director-general of the Confederation of British Industry (CBI), hailed it as "a turning point for our economy" and "day one of a new UK growth approach", recognising that "a simpler, smarter approach to tax can pay dividends".
There were some concerns about the abolition of the 45p tax rate, a small measure and virtually the only one I had not trailed during the leadership campaign. We were simply returning to the top rate that was in place for the vast majority of the 1997-2010 Labour government, although clearly the political sands had shifted.
Nonetheless, as the chancellor and I travelled to Kent to visit a factory that afternoon, we were positive that we had done the right thing for the country and felt optimistic about the future.
Pensions debacle a surprise
Truss explained why she was unaware of the effect of the mini-Budget on pension funds:
At no point during any of the preparations for the mini-Budget had any concerns about liability-driven investments (LDIs) and the risk they posed to bond markets been mentioned at all to me, the chancellor or any of our teams by officials at the Treasury. But then, late on the Sunday night, came the jitters from the Asian markets as they opened. I was alerted to this on the Monday morning, at which point the Bank of England governor was wanting to make a statement on LDIs.
Readers will not be surprised that, given their impact on events, since leaving office I have spent some time looking into LDIs. I was shocked by what I discovered.
In the early 2000s, pension funds were heavily underfunded. To increase their returns, they used LDIs – which use bond derivatives – freeing up cash for the pension funds to invest in other assets. This works when markets are calm but becomes problematic when the price of government bonds falls within a short timeframe. As LDIs entered the financial mainstream, with The Pensions Regulator seemingly encouraging their uptake, warnings started to be issued on the risks they could pose to financial markets – all unbeknownst to me at the time.
Astonishingly, it turns out that the value of total assets in LDI strategies is equivalent to around 60 per cent of the UK's GDP.
The day before the mini-Budget, the Bank of England raised interest rates by 0.5 per cent, whereas the US Federal Reserve had just announced a third successive rate rise of 0.75 per cent. In addition, the Bank simultaneously confirmed plans for a bond-selling programme. Bond prices fell sharply, putting pension funds under pressure.
Dramatic movements in the bond market had already begun, meaning the mini-Budget faced a very difficult environment. Only now can I appreciate what a delicate tinderbox we were dealing with in respect of the LDIs.
Admitting mistakes
In retrospect, Truss admitted that she made mistakes:
Regrettably, the Government became a useful scapegoat for problems that had been brewing over a number of months. Interest rates had been rising internationally and mortgage costs had been forecast to go up for some time.
I fully admit that our communication could have been better. As I said during the leadership campaign, I am not the slickest communicator. In addition, we did not have a system that was enthusiastic about communicating messages contrary to its orthodoxy and, so early in my premiership, I had not established the infrastructure inside No 10 to best explain all that we were doing.
In hindsight, maybe I should not have headed to New York after the late Queen's funeral to attend the UN General Assembly and instead supervised the final preparation of our announcements more closely.
Knowing what I know now, undoubtedly I would have handled things differently. I underestimated the extent to which the market was on edge and, like many others, was not aware of how fragile our system had become.
But, frankly, we were also pushing water uphill. Large parts of the media and the wider public sphere had become unfamiliar with key arguments about tax and economic policy and over time sentiment had shifted Left-wards. This is partly because we Conservatives had failed to make these arguments enough since 2010 – instead triangulating with Labour policy. It was also clear that, internal disagreements within my own party aside, there was a broader consensus in favour of raising taxes.
How the system operates
Truss explained how the system operates and how it fails long-term economic vision:
The process operates at arms-length, based on models which rely on a wide range of assumptions, including on the delivery of policies. In my view, this static modelling tends to undervalue the benefits of low taxes and supply-side reforms for economic growth, and overvalue the benefits of public spending. This inevitably puts pressure on a higher-tax and higher-spend outcome – hence the inexorable tax rises we are now seeing.
In the medium term, I believed my policies would have increased growth and therefore reduced debt.
Five-year forecasts are treated as accurate predictions and therefore filling the "gap" becomes the imperative of government policy. This leads to policies being adjusted to fit those forecasts, only for those forecasts to be revised with each new iteration of the figures, forcing further policy change down the line.
As a result, the Government is forced to make economically detrimental decisions, such as raising corporation tax, based on uncertain forecasts that may not come to fruition. For example, in September the energy package was set to cost £60 billion and by November it was forecast to be £43 billion, yet the latest projections are considerably lower.
Global opposition
With Truss at the helm, the UK was out of step with the rest of the Western nations. Conservative Party members might have liked her policies, but TPTB clearly did not:
We were also swimming against the international tide. There was a concerted effort by international actors to challenge our Plan for Growth. The IMF commented on distributional aspects rather than market stability which it is hard to conclude was anything but politically motivated.
Then there was the intervention from President Biden, who publicly voiced his disagreement with our economic policy, stating: "I wasn't the only one that thought it was a mistake."
These interventions were, sadly, in tune with growing efforts on the world stage to limit competition between G7 economies, as evidenced by the proposed global minimum tax rates.
Facing the headwinds we did, I could not allow the markets – backed by this economic consensus – to keep betting against the UK. Before long, I was given the starkest of warnings by senior officials that further market turmoil could leave the UK unable to fund its own debt. This is why I reluctantly concluded I had no option but to remove the chancellor and change the policy.
I was deeply disturbed by having to do this. Kwasi Kwarteng had put together a brave package that was genuinely transformative – he is an original thinker and a great advocate for Conservative ideas. But at this point, it was clear that the policy agenda could not survive and my priority had to be avoiding a serious meltdown for the UK. I still believe that seeking to deliver the original policy prescription on which I had fought the leadership election was the right thing to do, but the forces against it were too great.
I am very pleased that elements of it did survive – the reversal of the National Insurance rise and the cuts to stamp duty – and those measures have eased the burden a little on hard-working families and those buying their own home. But it was obviously going to be difficult to remain as prime minister after abandoning the thrust of the platform on which I had been elected, and it was already clear that elements of the parliamentary party were not prepared to allow me to stay.
I am not claiming to be blameless in what happened, but fundamentally I was not given a realistic chance to enact my policies by a very powerful economic establishment, coupled with a lack of political support.
Party opposition
Both Truss and Conservative Party members learned something about their MPs:
I underestimated the resistance inside the Conservative parliamentary party to move to a lower-tax, less-regulated economy. The furore over the reduction of the top rate of income tax was testament to this. In the overall package of measures, it was – in fiscal terms – little more than a rounding error, equivalent to 0.2 per cent of government spending. Even though the measure was economically sound, I underestimated the political backlash I would face, which focused almost entirely on the "optics" …
As a result:
We have ended up in a situation as a country where fiscal policy is in a straitjacket. Moreover, there is a worrying economic consensus – both at a national and, increasingly, international level – that is preventing economic dynamism and growth.
Median incomes here in the UK are now well below those in the US, Switzerland or Norway and the average in developed countries. If we are to succeed in putting our country on a path to high growth, rising wages and becoming internationally more competitive, things need to change.
We have not done enough over the past decade to make the arguments for a lower-tax, more deregulated economy, which meant that the groundwork had not been laid for what I sought to do …
And while I saw the power of "the blob of vested interests" within many a Whitehall department during my more than 10 years in ministerial office, I seriously underestimated the strength of the economic orthodoxy and its influence on the market.
Nonetheless, the average Joe and Jane are on Truss's side:
I have lost track of how many people have written to me or approached me since leaving Downing Street to say that they believe my diagnosis of the problems causing our country's economic lethargy was correct and that they shared my enthusiasm for the solutions I was proposing.
Ultimately, she still has hope that the UK can turn itself around. Millions of us hope so.
Pundits' views
On February 6, The Telegraph's Tim Stanley concluded that 'undemocratic forces prevailed'.
He says that she was not given a chance, whereas Theresa May was:
Theresa May nearly lost an election and bungled Brexit, yet the Tories stuck with her for three years. In 2023, by contrast, we got through three PMs in one year.
Was this really the reason May survived and Truss did not?
That's because our economy and society were upended by a pandemic that stoked demands for more government while injecting wild anxiety into our political culture.
Perhaps it was.
The most pathological thing is that the IMF is now advocating Trussonomics:
… last week the IMF said British recovery would be limited by its tax rises. And that, you silly people, was Truss's entire point.
CapX's Jon Moynihan says that the Bank of England was at least partly responsible for Truss's fall. He notes that no one has bothered to investigate their role in what happened in late September 2022 (green emphases his):
The Bank of England's Governor, Andrew Bailey, offered a classic of the 'not me guv' genre of explanations, telling the Treasury Committee that the movement in gilt rates had been 'outside historical experience'. But this was no bolt from the blue: the movement was a self-feeding one, caused by the leverage that regulators had permitted. Moreover, there are plenty of 'historical experiences' of industries with risky financial structures provoking market chaos. Remarkably, Bailey also claimed the Bank's later bond sales didn't move the markets. That's an odd claim, given that their promise to purchase £65bn of bonds was responsible for stopping the gilts rout: both claims can't be correct.
Of course, it suits the Bank to blame politicians for its own failings, particularly when the relationship between Bailey and Truss was never a particularly warm one to begin with. But there's a much broader failure here of the regulatory system to do anything about LDI funds – one that cannot plausibly be laid at Truss or Kwarteng's door.
Equally striking, however, is how little political scrutiny we've had of the whole affair. The consensus view that 'the mini budget blew up the bond market' seems to have been swallowed whole. But Parliament, via the Treasury and Work and Pensions committees, should be asking a long list of questions about why this situation was allowed to develop, what regulators did and didn't know, why there seemed to be such pervasive ignorance of LDIs and how the Bank misjudged its calls on interest rates and the jump  to QT immediately before the mini budget.
This is not just about identifying the mistakes of the past, however. There are still huge questions about the state of the UK's pensions funds that we need to get to the bottom of. At the very least, we should be told the state of the funds that have not recovered from September's rout and how big the overall hole is (Bailey told the Treasury Committee he didn't know the answer to that question). There is also the question of which players in the market aggressively sold this high-risk strategy to pension funds, and whether they deserve sanction.
There is a separate but important set of questions about the Bank's management of its own £5bn pension pot, which until June was 100% invested in a single Blackrock LDI fund (it was subsequently reduced to 82%).
Given the reports that this Blackrock fund took a hammering last September, we ought to know what the status of the Bank's own pension scheme now is. The Blackrock fund was reportedly under unsustainable pressure during the bond rout, and at one point was alleged to have lost an amount in the high tens of billions of pounds, threatening complete collapse. The Bank's Pension Fund's share of that loss was, some claim, around £1.5bn (out of its original £5bn).
If so, all of the bank's employees, from Andrew Bailey down, were under threat of losing much of the value of their gold-plated pensions. And imagine if the loss had not been recovered, it would have meant the Bank either reneging on its vast pension obligations to its employees, or finding £1.5bn from elsewhere, most likely you and me, the taxpayers. All of which suggests a serious potential conflict of interest concerning the Bank's interventions in the bond markets and of its own employees' pensions.
Yet so far we've had no real investigation of what the position of the Bank's fund is, whether the money has been recovered or how much is needed to return its members to fully funded status. Likewise, there has been no discussion of whether members of the Bank's Employee Pension Board (some on the Court of the Bank) are going to receive any criticism, sanction or blame for having acceded to what now appears an extremely naïve and dangerous investment strategy. (Indeed, today the FT reports that pension schemes are being told to sell their holdings in LDI funds, particularly Blackrock).
Former Brexit Party MEP and property developer Ben Habib blames the Bank of England — as well as Conservative MPs and the Treasury. On February 6, The Express reported their interview with him:
"Tory socialists, Michael Gove leading the charge, immediately moved to bring her down. The Treasury openly undermined her thesis. And even the Bank of England briefed and acted against her."
The day before former Chancellor Kwasi Kwarteng's now-infamous mini-budget, the BoE had forecast a recession, Mr Habib said.
He added: "It had been selling government bonds already putting pressure on their value. As values fell, pension funds, which had overleveraged themselves buying this rubbish were forced to dump it in order to remain solvent.
"The markets smelt a collapse and capitalised on the opportunity. Sterling was shorted. Having set-off these collapses, the Bank of England and all those who feast on state largesse laid the blame at Truss's door."
Within days Ms Truss had been ousted and replaced with Mr Sunak, "someone it could trust not to unsettle the status quo", Mr Habib argued.
He continued: "Sunak (supported fully by the Bank of England) is the man responsible for increasing national debt by a whopping £500 billion, or 33 percent in just two years.
"He has borrowed more money than any Chancellor in history but the establishment saw fit to give him the keys to the country.
"The new Prime Minister is not short of self-confidence. He believes he knows best how to spend our money. To him, those of us who think otherwise are idiots.
"Liz Truss offered the nation an opportunity to reverse our managed decline. Instead, failed orthodoxy prevailed."
Political commentator Tom Harwood also blames the Bank of England and says that Trussonomics was never tried:
In reality Truss implemented virtually none of her pro-agenda. In fact she had barely announced any of it before the men in grey suits came knocking.
But didn't she cost us £65 billion? So say reputable sources like the Have I Got News For You twitter account, French TV's 'Mr Europe', and Afghan dog rescue enthusiast Dominic Dyer. In reality, however £65 billion was not lost due to the mini budget. That was the amount that the Bank of England said it was willing to commit to stabilise the gilt market. As the independent economist Julian Jessop notes, in reality about £19 billion was spent by the bank, which – crucially – ended up delivering a profit of about £4 billion. But again, this was all before anyone had even got to the real point of Trussism.
The framework of what could have been is found throughout a document that the Rishi Sunak promptly ripped to shreds upon entering number ten. And no, it's not all about tax cuts. In fact, the most important parts – the most interesting bits too – are the other areas of supply side reform. Cheap or free to do, and potentially transformational. It was all laid out, albeit not in full detail, in The Growth Plan.
Harwood contends that the IMF was criticising Truss's blanket energy support plan, not the rest of her economic policy (green emphasis his):
It might be useful to explore what the IMF actually said in its press statement, the primary focus of which regarded the UK's "aims at helping families and businesses deal with the energy shock", going on to say that "we do not recommend large and untargeted fiscal packages at this juncture". It's talking about the energy price freeze. The least controversial part of the mini budget, pushed for by Labour – that free market think tanks like the Institute of Economic Affairs heavily criticised.
The IMF rightly points out that the energy price freeze would increase inequality – the plan devised by Labour and implemented by the Tories subsidises those who use more energy more than those who use less. Millionaires heating their swimming pools receive more taxpayer support than low income families in small houses or flats. And yet there was almost absolute political consensus on this enormous untargeted intervention.
Indeed, reading the IMF's press statement in full, before any mention of tax cuts, the primary concern is clearly the energy package. A package that could have cost up to £200 billion. As the numerate will recognise, hundreds of billions of pounds is a larger amount than £8 billion. Perhaps it makes sense that this is what the IMF's statement focussed on, ahead of new tax cuts.
Ultimately, Truss implemented a Labour plan for energy bills:
The biggest problem with the mini budget – other than a perceived disrespect for institutions like the Office for Budget Responsibility in delaying its report until months after the mini-budget – was the extra and uncertain spending the government committed to. The energy price guarantee was estimated to cost anywhere between 100bn and 200bn, although these estimates were in and of themselves guesses, as the guarantee committed the state to cover the cost of energy above a guaranteed unit price, however high it got. This was a functionally limitless commitment, made at a time of uncertainty in the international energy market. A decision clearly far more dangerous than the reversal of a handful of recent tax rises.
It was bad policy, and it was in no way free market. This element of government's plan – pushed for by all opposition parties – was the opposite of a libertarian experiment. It was socialist.
If Conservative MPs should be angry about the Truss administration for anything, it was its capitulation to the Labour Party's policy team and their ill thought through, indiscriminate, untargeted intervention that cost far more than the entirity of furlough.
Even the Labourite magazine The New Statesman said that Truss was not to blame for 'crashing the economy', something the Party's MPs still repeat with nauseating regularity:
Too much anger about Truss's time at No 10 has focused on the "unhappy" rather than the "brief".  There are reasonably hard limits as to what even a determined wrecker of civilisation can achieve in 49 days, particularly in an economy as large and complex as the UK's.
To do truly lasting damage you need more time – perhaps a decade, which is roughly how long we were subjected to the fiscal insanity of austerity. The social consequences of this are too obvious to ignore: the queues at the food banks, the rough sleepers, the crumbling schools, the collapsing National Health Service. Average life expectancy, for the first time since 1900, has stalled.
But the economic impacts have been more subtle, and too little discussed. By draining demand out of the economy, spending cuts depressed growth. By slashing government investment, they undermined future productivity. The combination of both together is the primary cause of the UK's economic malaise – more so than Brexit, and far more so than Truss.
… it wasn't ideologues such as Truss or Kwasi Kwarteng that condemned the UK to this fate. It was dead-eyed Sensibles like George Osborne who calmly shredded our prosperity, and affable former bureaucrats who justified those decisions. As a BBC review found last week, we suffer from a corps of political journalists who lack an understanding of "basic economics", relying instead on a limited selection of assumed authorities who, in turn, never deviate far from the Treasury view. The result was what the Confederation of British Industry head Tony Danker has called a "doom loop": as austerity failed, its failures justified more austerity to deal with the failures. Jeremy Hunt's response to Truss's implosion was to insist on a new round of spending cuts, was another crank of the handle.
Did Truss cause harm while she was in office? Yes, of course. The combination of radicalism and ineptitude in the mini-Budget led to a spike in government borrowing costs, triggering unexploded bombs in our pension funds, and rising mortgage rates. But the removal of Kwarteng as chancellor and then the prime minister herself rapidly (if not quite entirely) unwound that financial damage, leaving us much as we would have been without Truss – that is to say, in dire economic straits …
Truss is a sideshow. The more we focus on her, the less attention we are paying to the primary causes of our unmistakable economic decline – which means, above all, the austerity programme of the 2010s. Britain's economic woes have not been caused by its messiahs, but by its managers. The problem isn't the [libertarian] Institute of Economic Affairs. It's the Institute for Fiscal Studies.
There are several other commentators along with Conservative MPs who think that Trussonomics is not quite yet dead.
More on them next week.
Readers who missed them might wish to read Parts 1 and 2 in this series on Scotland's First Minister, Nicola Sturgeon, who announced her resignation as SNP leader on Wednesday, February 15, 2023.
She will remain First Minister until the SNP membership elect a new leader. Afterwards, she will remain an MSP for Govanhill in Glasgow, which you can view in the first 11 minutes of this video:
The saga about her last few years in office continues.
Independence
Scotland held an indepence referendum in September 2014. Alex Salmond was First Minister at the time. A slim majority of Scots voted to remain part of the UK.
At the time, the SNP said that it would be a 'once in a lifetime' referendum. However, since then, it quickly became apparent that the Party hoped to increase the momentum for Yes in the years that followed.
Neither Salmond nor Sturgeon, who succeeded him in 2014 post-referendum, ever put forward a detailed, phased plan of how independence would actually work.
A Reddit thread from May 9, 2021 illustrates that independence would raise complicated issues and future arrangements. Three contributors' comments follow:
1/ … the plan is to use the pound for several years which, I'm not sure is a great plan.
2/ Weird question but what qualifies as an asset? Sometimes, some independent supporters like to say that if we have a clean break, we'd have no assets but we'd also have no debts but aren't some assets inevitable like the Scottish Parliament building, public infrastructure and all the Crown Territories etc?
3/ There will absolutely not be a clean break. HMRC will almost certainly have to collect tax on our behalf for a number of years.
I also expect us to remain part of the UK single market and customs Union immediately after independence, until something is sorted out with regards to the EU.
The first day of independence will be all about making everything exactly the same as the day before, not one thing should change, that doesn't absolutely have to. Then there should be a gradual parting of the ways over several years, where it is beneficial to do so.
Four months later, on September 9 that year, The Express reported that Sturgeon was keen on another referendum with a 'detailed prospectus' beforehand, even though polling showed that Scots weren't that interested:
The First Minister used her Programme for Government statement on Tuesday to re-pledge her desire to have a second vote on leaving the UK by the end of 2023. Ms Sturgeon argued "at this juncture in history, it is essential that we consider the kind of country we want to be, and how best to secure it".
Putting independence at the heart of her government, she ordered work to once again begin of a "detailed prospectus" outlining the case for going it alone.
But a Survation poll found only 38 percent of voters believe there should be another referendum within two years.
In another damning blow to the SNP's independence dreams, the survey also found support for remaining in the UK stood at 57 percent, with 43 percent backing independence.
The findings are in stark contrast to last December when support for quitting the UK was supported by a record high of 58 percent of Scots.
Just over a year ago, on February 10, 2022, The Spectator pointed out the difficulty with State pensions in the event of independence (emphases mine):
In an interview last night with ITV's Representing Borders programme, the First Minister said that, while she accepts 'on an ongoing basis it will be for the Scottish government to fund Scottish pensions' … she believes that 'historic assets and liabilities' will be a 'matter for negotiation.' Unfortunately, there are no historic assets and liabilities in the pensions system; the state pension is not some great historic pot but rather paid from current taxation.
Sturgeon claims such a negotiation would take account of 'the historical position in terms of National Insurance contributions, paid by Scots.' But the truth is that there is no collective National Insurance 'fund': it's effectively a convenient government myth to raise taxes by the back door. There is no legal claim on an NI fund, with no-one paying in and nothing to pay into. Is Sturgeon trying to deliberately conflate pensions with other assets and liabilities to try to trick the electorate? Or is she herself unaware about how the state pension system actually operates?

Here is a clip from the programme:
The Bow Group think tank crunched numbers for Scotland a few weeks later. On February 28, 2022, The Scottish Daily Express reported that the results were dire:
Scotland would be poorer than countries like Romania and the Czech Republic if the nation separated from the UK, a leading political expert has warned.
… Ben-Harris Quinney, chairman of the Bow Group think tank, says Scotland's economy would take a massive hit.
In the event of separation from the UK, Scotland would need to take on its share of the UK's national debt while other assets and liabilities would need to be divided.
Speaking to the Express.co.uk, Mr Quinney said: "The costs of Scotland having its own currency, splitting assets, and having a trade border with the UK is impossible to predict with any specific accuracy because the variables are too great.
"It is likely however that the costs of these shifts to the Scottish economy will be very high.
"Scotland, separated from the UK, is a relatively poor country based on its economic performance.
"Twenty per cent of Scottish citizens are considered to be living in poverty, and its total national economy of £150 billion is worth less than a quarter of London's economy.
"As an individual nation it would likely be poorer than countries like Romania or the Czech Republic."
In 2020, Romania was only the 18th richest European country with its economy valued at £182billion, contracting by just 3.9 percent and recovering strongly at 6.5 percent in the first half of 2021.
Mr Quinney also warned Scotland could be left footing a bill worth hundreds of billions of pounds if it decides to become an independent country, as it would have to take on a large chunk of the UK high national debt.
While the UK is set to pay the EU nearly £40billion over a number of years as part of a Brexit divorce settlement, Scotland could be left footing a much higher bill.
Mr Harris-Quinney further warned: "Scotland has a significant share of UK national debt, and there are several major UK assets in Scottish territory like North Sea oil and gas, military bases, and Crown territory.
"At a minimum there would have to be a negotiation on ownership of property and payments in either direction to unbind these areas.
"Scotland would likely want to keep tariff free trade with the UK, and a liberal border arrangement with the UK.
"It would rely heavily on imported goods, the majority of which coming from the UK initially, and perhaps for the foreseeable future."
Russia's invasion of Ukraine began on February 24, 2022.
On March 18, a poll found that 59% wanted independence talks halted because of the situation in Ukraine. Boris Johnson was the first world leader to step up to the plate in that regard:
On June 28, Sturgeon announced the next referendum date would be October 19, 2023. Deputy SNP leader John Swinney is walking with her at Holyrood:
The Scots were not interested. This time, rather than Ukraine, they said that the parlous state of the NHS and the police service were a national priority.
On June 30, The Times reported:
Nicola Sturgeon has been accused of neglecting Scotland's NHS and police force with her push for independence as new polls showed voters do not want another referendum on her timetable.
Surveys by YouGov and Savanta ComRes both found that more than half of people asked were against another constitutional ballot taking place on October 19, 2023 …
The Savanta ComRes poll for The Scotsman found that 53 per cent of people did not believe a referendum should take place next October, while 40 per cent said it should and the remainder were undecided.
It also found that 44 per cent of those questioned supported independence, while 46 per cent were opposed, both down one point from a survey last month. Ten per cent were undecided, which was up three percentage points.
The YouGov research, for the Scotland In Union, the anti-independence group, found that 55 per cent of people did not think a referendum should be held before the end of 2023, with 34 per cent in favour and 11 per cent unsure.
The same survey found that voters ranked it fifth in their list of priorities, with 20 per cent of people putting in the top three issues they believed the Scottish government should prioritise over the next two years.
This put a referendum behind the NHS (59 per cent), the economy (57 per cent), education (23 per cent) and climate change and the environment (21 per cent).
On July 20, Sturgeon's new prospectus for independence appeared online. Unfortunately, its cover showed an English wind farm. Admittedly, it was soon changed to a Scottish one, but, considering how the SNP despise the English, the irony was not lost on those of us south of the border:
The Conservative Party leadership contest was in full swing in July and August. Liz Truss called Nicola Sturgeon 'attention-seeking', and, as such, best left ignored.
GB News's Dan Wootton asked The Telegraph's Scottish Editor Alan Cochrane if Truss's remark would damage independence hopes. He said that the SNP was already in enough trouble already:
On Tuesday, August 9, The Express reported that Scotland's Advocate General, a Law Officer of the Crown who advises on Scots law:
submitted the UK Government's argument that constitutional matters are reserved for Westminster and a referendum on Scotland's future cannot be held without the consent of Westminster.
It comes after the SNP-led Holyrood Government claimed last month that its plans for IndyRef2 fall within the scope of its powers as the ballot would be "advisory" and have no legal effect on the union. A full hearing on the case is set to be heard by the Supreme Court in October.
UK law officers have argued that the constitution is reserved to Westminster.
Last month, the Scottish government published its case, stating the referendum is "advisory" and would have no legal effect on the union.
A spokeswoman for the UK government said: "People across Scotland want both their governments to be working together on the issues that matter to them and their families, not talking about another independence referendum.
"We have today submitted our written case to the Supreme Court, in accordance with its timetable …"
The hearing is set to take place on October 11 and 12 in London.
In the submission last month, the Scottish government said any referendum would not be "self-executing", meaning it would be advisory and only used as a way to discover the views of the Scottish people.
On Thursday, August 25, GB News reported that Sturgeon appeared at an Edinburgh Fringe venue to talk and tell the audience that an independent Scotland would remain at the heart of the British Isles:
Nicola Sturgeon has told an audience in Edinburgh that still considers herself to be British, despite the long-running campaign for Scottish independence …
Speaking at 'In Conversation with Nicola Sturgeon' at the Fringe, she said: "So, this might surprise people, but do you know I consider myself British as well as Scottish.
"British is an identity that comes from being part of the British Isles.
"We'll still be part of the British Isles. An independent Scotland would still be part of the British–Irish Council that I go to right now as First Minister.
"Identity is a complex thing. Many people live in Scotland, are as Scottish as I am, but will have a very proud Pakistani or Indian or African identity."
Speaking at a hustings in Perth on Tuesday, Ms Truss told Tory members she would "not allow" another vote on independence if she was elected as prime minister on September 5.
But former chancellor Rishi Sunak – Ms Truss's opponent in the leadership race – was less steadfast in his rejection of another vote, saying he accepted the union was "by consent" but saying he did not think "now or any time in the near future" was the time to consider another vote.
On Wednesday, November 23, The Guardian reported that the UK's Supreme Court blocked a new Scottish independence referendum:
The Scottish parliament cannot hold a second independence referendum without Westminster approval, the UK supreme court has ruled, in a unanimous judgment likely to anger Scottish nationalists who say the country's future is for Scottish voters to decide.
The first minister, Nicola Sturgeon, said immediately after the ruling: "Scottish democracy will not be denied."
She said: "Today's ruling blocks one route to Scotland's voice being heard on independence – but in a democracy our voice cannot and will not be silenced."
Sturgeon said she respected the ruling, but accused Westminster of showing "contempt" for Scotland's democratic will.
"This ruling confirms that the notion of the UK as a voluntary partnership of nations, if it ever was a reality, is no longer a reality," she told a news conference.
Sturgeon said her government would look to use the next general election as a "de facto referendum" on separating from the rest of the UK after more than 300 years.
Insisting that the SNP "is not abandoning the referendum route, Westminster is blocking it", she said: "We must and we will find another democratic, lawful and constitutional means by which the Scottish people can express their will. In my view, that can only be an election."
Scottish 'embassies'
Did you know that Scotland has notional embassies in Canada, China, America, France, Ireland, Germany, Belgium and Denmark?
On August 27, 2022, The Times told us:
Offices include a £2.5 million base in Brussels, the heart of the European Union, which employs about 20 people.
Scottish government officials said hubs increase visibility for Scotland and create new economic and trading opportunities. However, the Scottish Conservatives have accused the first minister of being "caught asleep at the country's wheel while rubbish is piling up on [our] streets".
A Scottish government spokesman said: "The first minister is visiting Denmark for a series of trade, investment and policy engagements, including meeting representatives of the Danish government" …
However, that visit did not go quite as planned.
Sturgeon planned to meet the new Danish prime minister, Mette Frederiksen, who arranged a meeting for her with Denmark's foreign minister Jeppe Kofod, instead. Good for Ms Frederiksen.
The Times said:
The pair "discussed how Scotland and Denmark can work together on issues such as the cost of living crisis, energy and the climate emergency," according to the Scottish government.
Sturgeon has been criticised for travelling to open the "Nordic Office" — which is based inside the UK embassy — with waste piling up on Scotland's streets and workers across the public sector threatening to strike …
Oh, dear. She got the early breakfast slot with Kofod:
Sturgeon met Kofod around 7am before hosting a roundtable with State of Green, a group pushing for a transition towards renewables, business and energy leaders to discuss "how Scotland and the Nordic region can work together to accelerate decarbonisation and share expertise".
That said, afterwards, there was time for Sturgeon to go fully international:
She then visited a Unicef supply warehouse in Copenhagen this afternoon to see how it is supporting children impacted by the war in Ukraine before opening the office with an official reception.
Watch for a global post for her sometime in the future.
Meanwhile, it should be noted that:
Foreign affairs are reserved powers with the UK government, but the Scottish government spends about £6 million a year on a network of overseas offices.
Thank goodness Nicola Sturgeon will no longer be First Minister. It is understood that the leadership contest will be brief.
Scotland should have a new leader by this time in March 2023, if not before.
End of series
Many GB News viewers will have been deeply disappointed that Mark Steyn has left GB News over the channel's alleged attempts to make him liable for any Ofcom fines resulting from his show for talking about coronavirus vaccines.
Yesterday's post discusses that and has a variety of Mark's output for the channel, with plenty on people who suffered adverse effects from said vaccines.
Today's post continues with more content from his excellent show.
Don't mention the vaccines (continued)
I covered a lot of Steyn's segments on the coronavirus vaccines yesterday.
Here are others I had bookmarked.
On June 16, 2022, Steyn rightly took issue with a Scottish Parliament member who sent a derisory tweet about people posing questions about the vaccines. Apparently, John Mason MSP has form:
Steyn was committed to covering the coronavirus vaccine issue because no other channel was. He discussed this with Dan Wootton on July 4:
In this clip from the same interview, he says that he isn't going anywhere because he enjoys the editorial freedom that GB News allows its presenters:
It's a shame that the channel seems to be changing tack. It would be disappointing indeed if its other presenters were muzzled accordingly. That said, Dan Wootton was the only other presenter to talk about the pandemic on a regular basis, and I haven't heard him do that for several months now.
On July 13, Steyn had a remarkable show about Britons who were either victims of the vaccine or whose relatives died from it. It was one of the best programmes I've seen in some time:
Here is the full hour-long video:
Highlights follow.
At the time, the British government was only just starting to pay out to vaccine victims. The Government only give £120,000 lump sum if the vaccine is the cause of death on the coroner's report or if a living person has been 60% disabled as a result. A Conservative MP, Sir Christopher Chope, was given an adjournment debate on the matter, because payouts were painfully slow.
It was a shame that the House of Commons benches were nearly empty when he spoke. Then again, nearly all MPs think the vaccines have been a godsend. This is why the Government have been suppressing any opposing views and monitoring prominent social media accounts, as Big Brother Watch uncovered last week. Accordingly, Ofcom are all over this on the airwaves, hence GB News's skittishness over broadcasting such stories, as Mark Steyn had been doing so fearlessly.
Mark began by celebrating the first person to receive Government compensation:
That person is Vikki Spit, whose fiancé died from the vaccine. They were a rock'n'roll duo who loved each other deeply:
The mother and wife of NHS doctor Stephen Wright mourned on air:
GB News presenter Neil 'the Coast guy' Oliver joined Mark. He's sitting on the right in the video:
Michelle Dewberry, whose weeknight show is on at 6 p.m., also joined Mark:
Dan Wootton, who was also interested in every aspect of the pandemic debacle at the time, thanked him on his show, which followed at 9 p.m.:
As the response to this tweet indicates, only GB News was covering this topic:
Now they have pretty much stopped, falling into line with every other news outlet.
As you can see in the following video, the victims were young — thirty-somethings:
On July 27, Professor Richard Ennos joined Mark to discuss the excess deaths from the beginning of the pandemic to the present. He said that the early deaths were comprised of elderly people. Increasingly, the age cohort has been decreasing to include much younger Britons:
On August 8, Steyn interviewed Alex Antic, Senator for South Australia, about the commonality of Western countries to link politics with science. So many nations did the same thing at the same time. No one is allowed to ask questions about pandemic policies:
On Tuesday, August 16, Mark welcomed Dr Aseem Malhotra to the show. Dr Malhotra, a cardiologist, was a big supporter of coronavirus vaccines in the beginning but changed his mind. Later in the year, his healthy father, a physician in his 70s, took the vaccine and died.
You can find the video at this GB News link. The accompanying article says, in part (emphases mine):
A leading consultant cardiologist who was one of the first people in the UK to take two doses of the Covid-19 vaccine and promote them on television has called for an end to all remaining vaccine mandates.
Dr Aseem Malhotra has written an open letter to Prime Minister Boris Johnson and US President Joe Biden calling for the immediate release of the raw data from Pfizer's original Covid-19 vaccine trial.
Speaking exclusively to GB News' Mark Steyn show, Dr Malhotra said: "When the vaccines were first released we were told they were 95% effective against infection.
"This is not true. This is based on relative risk reduction. In absolute terms, they provided 0.84 percent protection which means only one in 119 people would be protected from infection.
"This statistic was the pretence under which vaccine mandates were implemented.
"The latest data reveals that once infected there is no significant difference in transmission rates between the vaccinated and unvaccinated, which makes any scientific case for mandates illegitimate.
"As newer and thankfully, less lethal, mutated strains became dominant, any protection against infection at the very least became less effective and likely completely ineffective, even if there is some significant (as yet to be fully determined in absolute individual terms) protection against serious illness and death" …
Dr Malhotra also wrote: "Rather than encourage transparent debate about the true benefits and potential harms of the Covid vaccine as new evidence emerges, those that encourage more critical thinking and adding to the database of relevant knowledge are smeared."
This comes in light of investigative journalist Paul Thacker's investigation into Pfizer's trial data published in the British Medical Journal (BMJ) last year being branded "false information" by independent fact-checkers …
Dr Malhotra argues "global vaccine mandates for Covid-19 must stop until we have the full data on efficacy of all available vaccines."
Writing in praise of Dr Malhotra's findings, Dr Amir Hannan said "[Dr Malhotra] raises some important questions about the validity of the assertions made, asking for all data to be made available so that an in depth analysis can be developed and proper conclusions identified to help restore trust in doctors, the pharmaceutical industry, the research community, the regulatory bodies, the press and governments."
Dr Malhotra's letter has been published in the European Scientist.
Pfizer/BioNTech have been contacted for comment.
On September 2, Dr Matthew Sweet, who appears on the BBC, took issue with Steyn and proved to be a thorn in his side. Steyn mentioned him frequently in the autumn:
On October 4, feminist author Naomi Wolf, who received her doctorate from Oxford University, appeared on Steyn's show to say that she had been pointing out menstrual abnormalities from the vaccine since 2020:
On October 11, Mark interviewed Robert Roos MEP, Vice-Chair of the European Conservatives and Reformists group, one of the MEPs who questioned Pfizer directors about their vaccine. One of the directors intimated that they had no real data to say that the vaccines would stop transmission of the virus. Roos wants to know more, because in some EU countries, unvaccinated people could not go to the supermarket and people lost their jobs because the vaccine was mandated. Overall, the social cost was too great for an ineffective jab:
On Monday, February 6, 2023, Robert Roos voiced his concerns in the European Parliament, stating that, for the most part, parliamentary questions about the effect of pandemic measures on EU citizens were not posed, either in Brussels or in individual member countries' parliaments:
On October 29, 2022, The Conservative Woman's Kathy Gyngell, who was no stranger to the Steyn show, called our attention to his October 27 show, beginning at the 35-minute mark:
She went so far as to include a transcript, which can be found here.
The segment Kathy Gyngell points to is an interview with Mark Sharman, who, during his career, headed the News and Sport division at ITV as well as being the Director of News at Sky.
Sharman made a documentary about the vaccines, Safe and Effective: A Second Opinion. He posted it on YouTube.
Steyn said:
And so Mr Sharman's documentary has just been taken down at YouTube for the following reasons. Big exclamation – 'Medical Misinformation. YouTube doesn't allow claims about Covid-19 vaccinations that contradict expert consensus from local health authorities or the World Health Organisation.' Ooh! No contradicting the World Health Organisation. Mark Sharman joins me now. Mark, as I said, you've been in British broadcasting for a very long time. Have you ever just had a piece of work, such as your documentary, just – boom! – vaporise in the way that YouTube just did it to you?
Sharman replied:
MARK SHARMAN: No, not at all. Mark, I'm not surprised that it's been cut, but as an old-school journalist who believes in reporting both sides of a story, I'm dismayed about what's happening. You know, we are being controlled. The narrative on many, many things is being controlled, and the evidence is growing. I mean, the governments, the Big Pharma companies, Big Tech media companies, they've all decided what the line is and they're sticking to that line come what may. And as you showed earlier in the programme, there are more and more pieces of research from around the world which proves there is something seriously wrong with these vaccines, they're clearly not totally safe and effective. They're clearly not safe, and that don't appear to be effective. And all we're asking for, Mark, is some proper open scientific debate. You know, if there's something wrong, it should be looked at and stopped before more people are hurt …
Sharman echoed other findings exposed on Steyn's show:
You know, there have been 25,000 excess deaths in this country since April. Across Europe, the death rates, excess death rates, are running at 16 per cent higher than usual. And strangely, they're higher in the countries that have been most vaccinated. The authorities come up with all kinds of reasons, including lockdown and the heatwave and changing your bed or whatever. But they won't put the vaccine injury on the list. Now, any investigator worth his salt is going to look at every suspect, if only to rule them out. And there is absolutely no excuse whatsoever to not put vaccine injury on that list. And as I said before, I'm not on one side or the other, I would just love to see a proper open debate where somebody can look at what is happening to these vaccine-injured and deaths around the world. You know, there are other questions as well about the whole reproductive system, but that's another matter. But again, reports are coming in that should be causing concern to the authorities, but they resolutely won't listen, and won't debate it, and cut scientists off and have cut our film off. By the way, it was just about to hit a million views on YouTube alone. And it's interesting that it's been three weeks and not been touched.
More at the link.
On February 6, 2023, The Conservative Woman posted a brief notice about the demise of the Mark Steyn Show. They, too, found the news on Guido Fawkes, as had I:
This is more than 'a shame because he beat Piers Morgan', as Guido puts it. It is a terrible loss for us all and not just all at TCW, but for the country. It is a tragedy for free speech that his style of fearless, moral and uncompromising broadcasting has been brought to an abrupt end. For a year he threw light on dark, he ridiculed the shameless, for a year he raised our hopes that sanity, reason and truth might prevail. Now he is gone and it is shocking and sad. That is how we feel at TCW.
Hundreds of comments followed their post, nearly all of which lamented Steyn's departure.
Professor Norman Fenton was also very sorry to learn that one of GB News's best hosts had left:
However, there might be hope. Bev Turner, who hosts the channel's weekday mid-morning show, is also concerned about coronavirus vaccine safety.
On Monday, February 6, she interviewed a lady from UsForThem, which campaigns for the right of children not to have a vaccine mandate. Molly Kingsley says that the group has won a claim against Pfizer on marketing the vaccine without presenting the risks involved:
Grooming gangs
Another no-go area where only Steyn ventured in depth involved grooming gangs, which have been operating around England for decades.
Samantha Smith, a grooming gang victim who blossomed into an articulate young woman, lives in Telford, Shropshire. She appeared often on Steyn during the summer, then she got a visit from the police on July 6:
Although other channels might say that grooming gangs are in the past — e.g. Oldham, Rotherham — they are still taking advantage of young girls:
On July 11, she returned to London to speak with Mark about her ordeal with the police. The first tweet has an accompanying article:
Here is the full video:
Would that the police had been so interested when she was undergoing sexual abuse from local predators.
In July, the Conservative Party race to replace Boris as leader was in full flow. On July 13, Samantha tweeted that over 1,000 girls have been sexually abused and exploited in Telford alone — a more urgent matter:
On August 10, The Mail+ gave her a voice in a first-person article about her years of abuse:
An excerpt follows:
For years, between the ages of five and 14, I was abused by successive men who left a devastating legacy.
As my life fell apart, I found myself homeless by the age of 16, and there were many nights when I would lie there — racked by visceral self-loathing — wishing I would simply disappear.
How could I not hate myself?
Of course, I had tried to seek help. I eventually reported my abuse and was interviewed by a police child sexual exploitation team. But they did absolutely nothing to bring my abusers to justice.
In fact, I was made to feel unworthy of help or support, as though the abuse I experienced was my fault. My social workers even spelled it out. 'Your behaviour and actions have led you to where you are today,' they told me.
Isolated as I was, I had no idea that I was not alone, but one of more than a thousand children in Telford who had been sexually exploited over decades while the police and youth workers whose job it is to protect us not only failed to act but all too often blamed us as the architects of our own trauma.
Indeed, that's not just my opinion, but the conclusive judgment of a devastating independent report issued last month following an extensive three-year inquiry into sexual exploitation and abuse in my home town stretching back to the seventies.
The authors' verdict could not have been more damning, concluding that generations of children had been subjected to unnecessary suffering because of the abject failures of West Mercia Police, their wilful neglect damning children to years of unnecessary suffering and cruelty.
In some cases, like that of 16-year-old Lucy Lowe, victims were murdered by their abusers.
Echoing conclusions drawn by investigations into similar scandals in Rotherham, Rochdale and Oxford, the report laid bare the scale of systemic failures, highlighting how many perpetrators — predominantly Asian men — were not investigated because of nervousness about appearing racist.
Meanwhile the largely working-class white victims were treated as no-hope cases who were destined to fall into a life of crime, branded 'troublemakers' or even 'child prostitutes' by police. Teachers and social workers were found to have been actively dissuaded from reporting abuse, while offenders were 'emboldened' as police efforts to stop them were scaled down 'to virtual zero'.
It is little wonder the report has been greeted with widespread fury and disgust. My reaction was one of bittersweet vindication — and an anger that reduced me to tears.
Much of the inquiry focused on gang-related cases but many — as I experienced — were perpetrated by individual men.
And while my case was not one of those featured in the report, I am one of hundreds of victims of child sexual abuse and grooming in Telford whose suffering was brushed under the carpet as part of a deeply engrained cover-up culture.
Even now, it is hard to confront the scale of abuse in the leafy Shropshire town I once called home which — on the outside at least — is a world away from the former mining communities that have more commonly been associated with child sexual abuse scandals.
Statistics do not lie, however: while incidents of child sexual abuse number 7.9 per 10,000 nationwide, in Telford that figure jumps to 16.4.
Samantha also appeared on Steyn's October 27 show, just before the aforementioned documentary maker Mark Sharman appeared.
Sharman praised her eloquence when talking to Steyn:
You know, if there's something wrong, it should be looked at and stopped before more people are hurt. And interesting listening to Samantha talk previously – and by the way, what a wonderful spokesperson she is for victims of sexual abuse – but there are real parallels there. You know, the vaccine injured and the public in general don't seem to be as important as the authorities. They'd rather protect their own line and their own story than look at what's going on. You know, it just isn't right.
No, it isn't right.
Kudos to Mark Steyn for discussing this regularly. Until I saw Samantha, I had no idea that this had even been going on in Telford!
More to come
Steyn also had regular segments on other topics, which I shall cover on Friday.
Stay tuned …
In December 2022, the then-GB News presenter Mark Steyn suffered two heart attacks within days of each other.
The first one he ignored, because he had never suffered a heart attack and didn't recognise the symptoms.
The second occurred when he and a female friend were in France. Fortunately, he got to the hospital just in time. Fifteen minutes more and he would have died.
While he recuperated in France — there was no chance of his returning to Canada, doctors said — some of GB News's sharpest hosts stepped in to sub for him between 8 and 9 p.m. They told viewers that Mark was on the mend, until the end of January, at which point they mentioned him no more.
Don't mention the vaccines
Then, late on Monday, February 6, 2023, Guido Fawkes posted that Mark would not be returning to GB News. The news channel's CEO wanted to make Steyn liable for any Ofcom fines they received over his segments that criticised the coronavirus vaccine:
Guido tells us, complete with the relevant video clip (emphases in red his):
Mark Steyn has quit GB News on fairly bad terms after a protracted leave of absence owing to his health. A few weeks ago Guido picked up that the channel had been trying to formalise Steyn's contract, having operated on a fairly ad hoc basis since starting his show. Part of trying to get him on board as a properly contracted presenter was also an attempt to rein in his output, given that in a rather short space of time he'd managed to spark two separate Ofcom investigations into claims made on his show.
GBN offered him a new contract to sign, otherwise he'd face termination. It now looks like Steyn is declining to sign the new contract, so he's out.
In a video put out on his website today, Mark doesn't hold back on his opinion of the channel's CEO Angelos Frangopoulos, ranting about the terms of the new contract that would have made him financially liable for any fines imposed on GB News by Ofcom because of his show's output. He also calls Frangopoulos an "habitual liar". Shame – Steyn managed to consistently beat Piers's view count…
After a few months, Mark Steyn Show regularly trounced Piers Morgan's TalkTV show Monday through Thursday in the same time slot.
GB News has been scrupulous about offering both sides of any story on their shows in order to avoid censure from Ofcom. This entails having a left-wing guest oppose the host's centrist or conservative perspective.
In 2022, Press Gazette reported on the channel's potential Ofcom violations. I'll start with the story from August 8, with the communications regulator's examination of two segments, one on Nigel Farage's evening show and one from a morning show with Patrick Christys, who now hosts a three-hour afternoon slot Monday through Friday:
The first two investigations by broadcast regulator Ofcom into GB News have ended with no rebukes, keeping the TV channel's record clean as it enters its 15th month.
Critics feared the opinion-led news channel would rub up poorly against the UK's strict impartiality rules, a problem not faced by broadcasters in the US such as Fox News.
But by balancing views from presenters and guests across its schedule, GB News has avoid any Ofcom rebukes despite airing some strident views on Covid-19 lockdowns and vaccines. Two Ofcom investigations into GB News TV and radio broadcasts remain ongoing.
In October 2022, complaints about Mark Steyn's show were still ongoing:
Ofcom has opened an investigation into an episode of Mark Steyn's 4 October programme on GB News after it received 411 complaints from viewers about comments made by author and journalist Dr Naomi Wolf in relation to Covid-19 vaccines.
Ofcom said: "Specifically, our investigation will consider whether this programme broke our rules designed to protect viewers from harmful material."
Wolf was banned from Twitter last year for spreading unfounded theories about vaccines.
Ofcom is already investigating Steyn's show for a potential breach of standards on 21 April when he claimed people who had a Covid-19 booster vaccine were three times more likely to die than those who had two doses or fewer.
Press Gazette says that the April 21 episode was removed from YouTube:
In a monologue that day, Steyn said: "Why aren't we talking about this? It seems, if the booster shot is making it thrice as likely that you're going to be deadsville, that they're going to carrying you out by the handles, why aren't we talking about that?"
Fact-checking charity Full Fact said the figures used by Steyn were "broadly accurate" but that he was "wrong to claim the booster 'increases your chances of hospitalisation and death'".
Interestingly:
No Ofcom investigations have yet been started into rival TalkTV, which Rupert Murdoch's News UK launched in April.
The Guardian had more, especially about Dr Matthew Sweet, who was interviewed on the BBC and had been monitoring Steyn's show for soundbites that criticised the vaccines. Steyn often mentioned Sweet:
The latest investigation relates to an interview with the author Naomi Wolf in which she claimed women were being harmed by Covid-19 vaccines as part of an effort to "to destroy British civil society".
Ofcom said it would investigate whether the programme broke "rules designed to protect viewers from harmful material" after receiving more than 400 complaints from members of the public.
In the interview, which was originally broadcast on 4 October, Wolf also compared doctors' support for the vaccine rollout to the behaviour of the medical profession in Nazi Germany and described herself as the "last remaining independent journalist" willing to question this.
She was being interviewed on the Mark Steyn Show, which has repeatedly raised doubts over the safety of vaccines. Steyn's claims that the jabs cause "every conceivable kind of damage" have been disputed by factchecking websites. He is already the subject of a separate Ofcom investigation over previous comments about vaccination.
Wolf began as a prominent feminist writer but in recent years her career has taken a hit after she wrote a book partly based on a misunderstanding of English court records. Since then she has veered into the world of conspiracy theories about the impact of 5G telephone masts and the coronavirus vaccine.
Presenter Matthew Sweet, whose BBC interview exposed the flaw in Wolf's book, has since kept tabs on her work and GB News's coverage of the pandemic and accused the channel of repeatedly "broadcasting misinformation about vaccines and presenting conspiracy theorists as legitimate experts on medical matters".
In a letter to Sweet tweeted last month, GB News insisted that at no point had Steyn's programme adopted an "anti-vax" approach. Instead it said he was conducting probing journalism in the face of people who want GB News to be "more supportive of government policy".
As I wrote in my post last week on Big Brother Watch's exposé of Government departments' surveillance of politicians' and journalists' Twitter accounts during the pandemic, the one thing one cannot do is criticise the vaccines.
The best of Mark Steyn's GB News output
Having watched nearly every Mark Steyn show once he began broadcasting weeknights in January 2022, I bookmarked the most notable ones.
Any interested readers should view the videos sooner rather than later. YouTube have already removed some of Steyn's GB News output.
Ratings
It took a while for people to tune into Steyn, which was no fault of his. He did a memorable series in March 2022 in Ukraine and told us that he was partly of Ukranian descent. He hoped to return when the war was over. You can read more about those programmes here.
At the end of that month, he had a special edition on the second anniversary of the first coronavirus lockdown, March 23, 2020. It's a good thing I described the content, because YouTube removed the video for the usual reasons.
Then on Monday, May 16, Mark hit the jackpot, beating TalkTV's Piers Morgan for the first time in the 8 to 9 p.m. slot. Mark wasn't the only ratings star that night — all the GB News evening shows beat TalkTV's:
The following day, Guido wrote:
The slow motion collapse in ratings of Talk TV is astounding. Until now, Piers Morgan has always held his lead in his slot against Mark Steyn on GB News. Last night Steyn beat Morgan for the first time…
And it would not be the last time, either. In fact, it became a regular occurrence.
Coronavirus
On Wednesday, January 12, 2022, Steyn interviewed Lord Ridley — Matt Ridley — about the coronavirus lab leak (30:00 – 40:00):
In February, he covered the Canadian truckers' protest in Ottawa against mandated vaccines:
He also interviewed a Canadian policewoman about the protests:
On April 21, he cited UK government data which said that people over 50 who had three jabs were five times more likely to get the virus: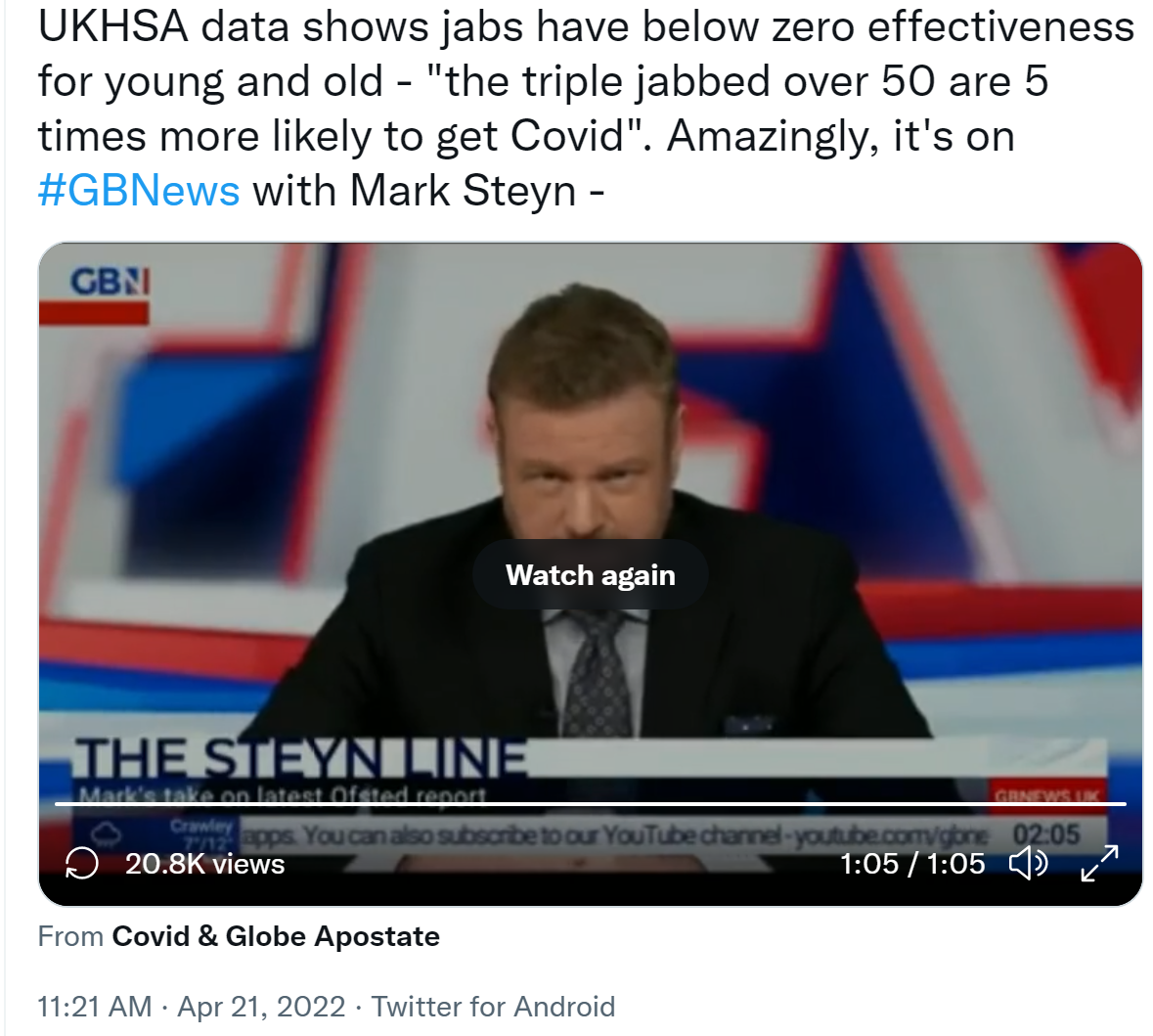 On Monday, May 9, he interviewed vaccine victims:
On May 11, he interviewed people who became seriously ill after taking the Astra Zeneca vaccine. No wonder it's no longer on the Government's vaccine list.
This man got a blood clot on the brain:
This lady suffered blood clots on her liver and lungs:
That day, Laura Perrins from The Conservative Woman waxed lyrical about Steyn's show. I, too, was a bit ambivalent about him many years ago, but as she pointed out:
It is true that a few decades ago he was considered an Establishment journalist; he has written for all your mainstream Right-wing publications. But he had long left that scene by the time I had my political awakening.
Anyway, somehow I stumbled across him, Praise be the Lord. The more I started listening, the more I read, I thought: 'Goodness gracious, hold the phone, shut the front door, this guy is the Real Deal.' This guy knows that we are being had by the political and media establishment and he is not afraid to say it …
Not only is Steyn the best-dressed, most-polished, most-sophisticated of all the presenters on TV, he says what you are thinking. For the last week or two he has been giving a voice to those the MSM have shamefully ignored – families who have lost loved ones through the 'safe and effective' non-vaccine vaccine.
… While Piers 'Lock Me Down Harder, Daddy' Morgan is interviewing Bruce Jenner, Steyn is pointing out that the lockdown has caused economic damage and inflation that the MPs like to ignore.
He also points out that when the Conservatives tell you they are getting a hold on illegal immigration, they are lying to you, they are lying to your face, dear reader.
So, do yourself a favour and watch Mark Steyn, Monday-Thursday, 8pm on GB News.
You can also catch up on YouTube when they haven't censored him for 'disinformation'. This is not a man who could ever be bought or sold for any price. I say again, Mark Steyn is the Real Deal.
The following day, news emerged that the WHO wanted nations to sign up to their pandemic treaty which would supercede national sovereignty. Unbelievable. Steyn said, 'The permanent abnormal staggers on':
On Tuesday, May 17, he talked about the WHO's involvement in the pandemic:
One week later, he interviewed a fellow broadcaster, Andrew Griffiths, who experienced serious side effects after getting the vaccine:
The Powers That Be tried to stir up fear over what is now called MPOX. On May 25, Steyn discussed Natalie Winters' findings for the National Pulse about an alleged link to the Wuhan lab:
Steyn had more on that and other topics on June 1, calling it 'the controlled demolition of the free world':
That was an exceptional show. Former ONS statistician Jamie Jenkins, one of Mark's regulars, alleged that the UK government had not collected any official statistics on vaccine injuries:
Claire Hibbs returned to discuss her injuries and the lack of compensation from the Government:
On June 16, he discussed the disastrous economic results of lockdown with Leilani Dowding:
Other Steyn broadcasts of note
In May 2022, he tapped into Canada's Rebel News output on Davos: excellent and entertaining.
On July 12, he was the only broadcaster to cover the July 12 celebrations in Northern Ireland in a non-confrontational way.
He interviewed Baroness Hoey — former Labour MP Kate Hoey — on her love for Northern Ireland and the United Kingdom:
He also spoke at length with the former leader of the Democratic Unionist Party, now-Baroness, Dame Arlene Foster:
These are just tasters. More to follow tomorrow.
No stranger to controversy
Mark Steyn has never been a stranger to controversy. Thank goodness.
Going way back in my Mark Steyn bookmarks, in 2004, he reviewed Mel Gibson's The Passion of the Christ, an incredible but much-criticised film, for The Spectator (full text here):
… Those who believe in Christ the Redeemer are booming, and Mel Gibson has made a movie for them. If Hollywood was as savvy as it thinks it is, it would have beaten him to it. But it isn't so it didn't. And as most studio execs have never seen an evangelical Christian except in films where they turn out to be paedophiles or serial killers, it's no wonder they're baffled by The Passion's success …
… Mel Gibson was driven by his own passion to make a movie that speaks to millions of people. As I said a couple of weeks back, if it's not the Jesus movie you'd have made, then go make your own. I saw it on a Monday night full house – a rare event in itself – and the crowd was rapt and eerily hushed, except for the occasional sob. It's true that if you don't believe that Christ's death on the cross is the central event in His time on earth then Mel's telling won't convince you and the film will look, as it does to Christopher Hitchens, like an S&M flayfest. One can regard this as a criticism of Gibson. On the other hand, all manner of movies – Star Wars, X-Men – leave you cold if you're not already a devotee. For millions of people, Mel Gibson shows them their Jesus and their salvation.
In 2009, Steyn wrote an article for Canada's Macleans about the danger that political correctness and censorship (i.e. 'hate speech') pose to human lives — the Fort Hood massacre (full text here):
… the old refrain echoes through the corridors of power: vigorous honest free speech will lead to mass murder unless we subject it to "reasonable limits."
Actually, the opposite is true: a constrained and regulated culture policed by politically correct enforcers leads to slaughter. I'm not being speculative here, as Commissar Lynch [Jennifer Lynch, Q.C., Canada's censor at the time] is about my murderous prose style. It's already happened, just a couple of weeks back. Thirteen men and women plus an unborn baby were gunned down at Fort Hood by a major in the U.S. Army. Nidal Hasan was the perpetrator, but political correctness was his enabler, every step of the way. In the days that followed, the near parodically absurd revelations piled up like an overripe satire …

Instead, asked "Who ya gonna believe—The Celebrate Diversity Handbook or your lyin' eyes?", more and more of us plump for the former, if only for a quiet life. Commissar Lynch has it exactly backwards: it's the craven submission to political correctness, the willingness to leave your marbles with the Diversity Café hat-check girl, that leads to death—real death, with real corpses, from Texas to Ontario.
It's amazing that the hot topics really have not changed since the Millennium. It's been the same-old, same-old for over 20 years now.
To be continued tomorrow
January 31, 2023 marks the third anniversary of Brexit:
As I have written before, those parliamentary debates early in 2020 were splendid. Newly and re-elected Conservative MPs, giving the Government a majority of 80 thanks to Boris Johnson's 2019 'Get Brexit Done' campaign slogan, were full of optimism about how Britain could — and would — be transformed.
Unfortunately, the pandemic put paid to those dreams in mid-March. We couldn't move past it. Even now, we are still suffering financially from the decisions the Government made, forced to do so by Opposition MPs. If Boris had just not given into SAGE, we probably could have stuck to the Swedish policy of no lockdown and minimal restrictions, which would have saved us hundreds of billions of pounds. Then again, Boris got coronavirus and had to be hospitalised for a week in early April. He came back a different man. SAGE were able to exercise power over him.
Even in 2022, once England finally returned to normal, the Government seemed to be treading water. We had three Prime Ministers and four Chancellors of the Exchequer last year. Very little of the optimistic legislation from the 2019 manifesto got started. Instead, Net Zero seemed to take over. It was in the manifesto, but as the final point, not the main one. The Online Safety Bill is a piece of intrusive legislation. The Conservatives are only getting started on pushing legislation through to get rid of thousands of EU laws on our books. Taxes are at a 70-year high. We have tens of thousands of migrants crossing the Channel in small boats. The possibility of any real progress for the Brexit agenda between now and the end of 2024 or January 2025 looks dim.
That said, Guido Fawkes reminds us (emphases his):
… we've signed about 71 new trade deals, led the European response to Putin's war in Ukraine and saved countless British lives with an independent vaccine rollout. And that's without any politicians actually making a concerted effort to capitalise on independence…
Of course, there is always a dismal economic forecast with which to deal. We must remember that Brexit was never about the economy but taking back control of our own national destiny.
Still, here is the latest dismal economic forecast and the danger ahead for Brexit in late 2024 or early 2025:
… even today's IMF report on growth forecasts couldn't bring itself to attribute any faults in the UK economy to our decision to leave the bloc. Now preparations must be made to save Brexit from a Starmer-led Labour government…
Because the IMF is the IMF, its forecasts receive undue attention. It is important to look back on the IMF's track record. They did a terrible job in predicting 2022:
Guido points out:
The 'good' news is the IMF has upped its forecast for 2024, now predicting 0.9% growth from 0.6%. It is also worth bearing in mind the IMF's analysis isn't gospel; it underestimated 2021's growth by 2 points. Chancellor Jeremy Hunt is doing his best to remind everyone of that:
Short-term challenges should not obscure our long-term prospects — the U.K. outperformed many forecasts last year.
A number of these forecasts are shaped to comply with political narratives. One of Guido's readers commented (purple emphases mine):
Rather a lot of years ago, I worked with a fellow who had, in previous employment, worked at the Board of Trade. He told me that every month, their top guy would get together with some other top guy from the Treasury and they would concoct the monthly trade figures to broadcast to the media. T'was all mainly fiction, of course, depending on what political message was required. I doubt if anything much has changed in the intervening years.
Here is another forecast gone wrong: Germany's. Keep in mind that Germany is at the heart of the EU, so we cannot blame Brexit for their woes:
Going back to August 2022, Germany and France joined the UK in having either flat or negative GDP:
Opposition MPs of all flavours, except for Northern Ireland's DUP, tell us that if we were still an EU member country, we wouldn't have inflation.
Yet, on January 26, 2023, Euronews informed us that food prices continue to rise across the EU:
Food prices have continued to rise across Europe despite inflation dropping for a second consecutive month in December, according to data shared on Wednesday by Eurostat, the European statistics agency.
The inflation of food prices in the EU was 18.2 per cent, and 16.2 per cent in the eurozone in December, which is a slight decrease compared to November on average. But some basic food items like sugar, milk cheese and eggs, oils, and fats prices are still going up.
One month earlier, Euronews reported on the plight of French university students who were forced to use food banks:
20% of students in France live below the poverty line. Rising food prices and energy bills soaring are exacerbating their situation. And yet, France gives more financial aid to students than many other European countries …
The government has recently allocated 10 millions euros to support the associations that organise food distributions for students. A consultation between the governement and student unions on the reform of the student grant system is ongoing, but concrete change is not expected anytime soon.
Our Opposition MPs also tell us that if we were still part of the EU, we would not be experiencing the multi-sector strikes that have been plaguing us.
However, let us look at France. Today, January 31, Euronews reported:
A new wave of strikes on Tuesday to protest French government plans to raise the retirement age to 64 has already impacted transport links and electricity production. 
TotalEnegies says between 75% and 100% of workers at its refineries and fuel depots are on strike, while electricity supplier EDF said they're monitoring a drop in power to the national grid equivalent to three nuclear power plants. 
"Following the call for a strike, shipments of products from TotalEnergies sites are interrupted today but TotalEnergies will continue to ensure supplies to its service station network and its customers," the group's management said.
In EDF power stations, strikers reduced loads by "nearly 3,000 MW" on Monday night, but without causing any cuts, the company said.
Hundreds of thousands of workers are expected to take to the streets across France on Tuesday, for a second day of industrial action that unions hope will be even more massive than the first, earlier this month … 
The government had warned in advance of Tuesday's strike about likely disruption to France's transport network. 
In the Paris region the metro and local rail services are "very disrupted" say officials. Long distance TGV train services are also impacted, as are regional trains with intercity services almost at a standstill. 
Rail operator SNCF said only one in three high-speed TGV trains will operate on Tuesday while disruptions are also expected at French airports and on transnational rail services …
French doctors were on an extended strike on January 2: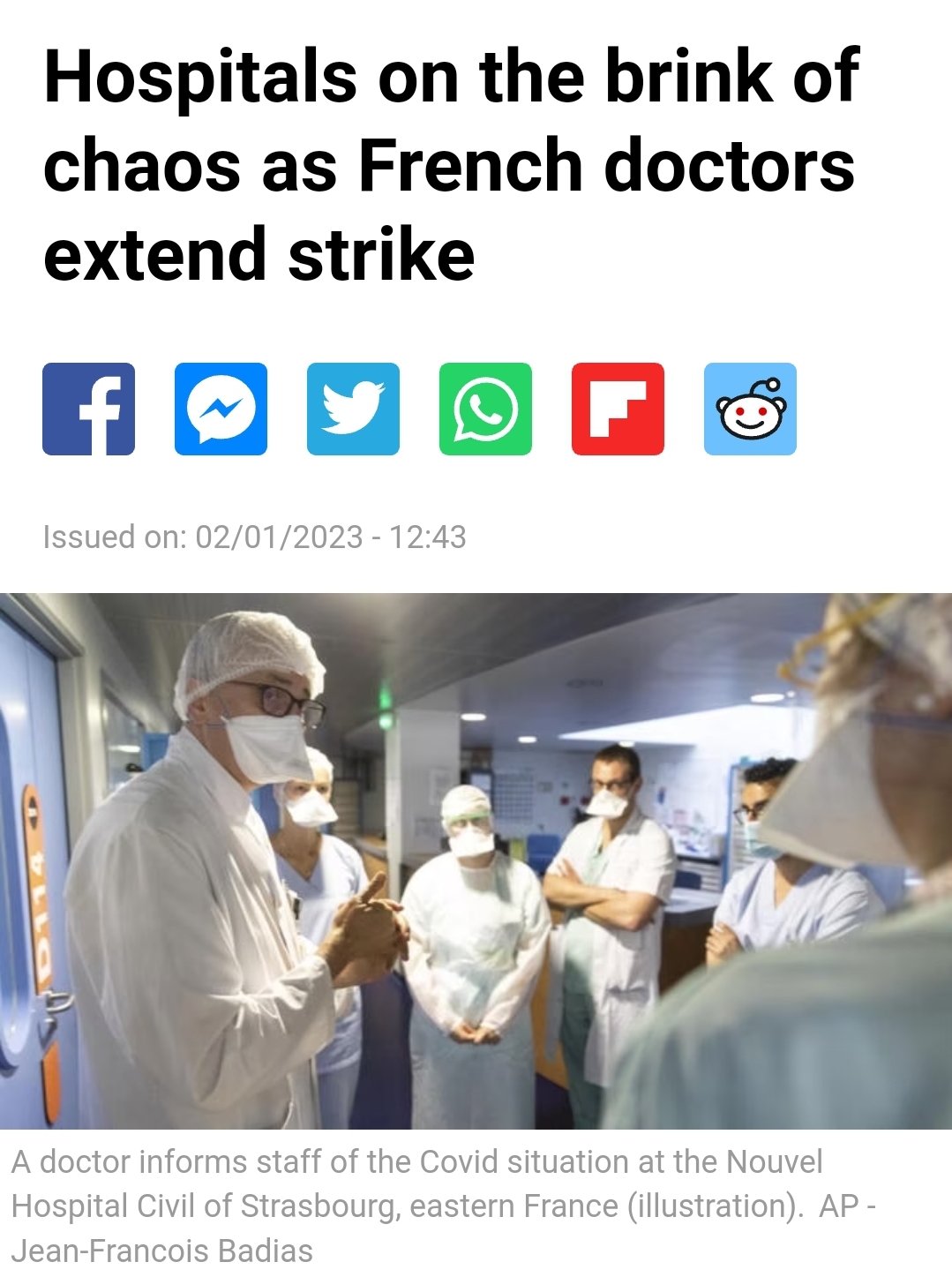 Then there is Ukraine. Nearly a year ago, Remainers told Leavers that Vladimir Putin would use Brexit to his advantage — an entirely erroneous talking point, as Boris was the first Western leader to champion Ukraine. If we had been part of the EU, he would not have been able to do so. By contrast, Germany was buying Russian gas and Italy was sending handbags to Russia:
Then there was the pandemic. In May 2022, the WHO published excess death statistics for 2020 and 2021. The UK had lower excess deaths than Spain, Italy and Germany, although France had fewer excess deaths than we did:
As for migration, France still has as much of a problem as we do, yet our Opposition MPs tell us that if we were still part of the EU, we would not have a Channel crossing issue.
On December 26, 2022, The Times reported that the French government opened the Château de Grignon to house them, which isn't too different to our policy, egregious as it is, of opening hotels to those coming nearly daily across the Channel:
A row has broken out in France over a government decision to shelter homeless families, notably migrants, on the estate of a Renaissance château …
Under a plan to provide shelter for the homeless during the winter, up to 200 people are to be housed in the château estate until March. The first 62, including 37 children, arrived this week.
Officially, they are classified as people of no fixed abode who have been sleeping rough. In practice, most are migrants unable to find shelter upon their arrival in France and often forced to live in squalid, makeshift camps around the Paris ring road.
In conclusion, EU nations share many of the major problems that the UK has.
Brexit has nothing to do with it. In fact, Brexit will probably help us get out of these issues more quickly than EU nations will.
Therefore, Happy Brexit Day! May many more follow!