You are currently browsing the tag archive for the 'ABC' tag.
There's time only for a quick post today.
James Clapper has served in various intelligence positions in the United States government, most recently as DNI — Director of National Intelligence — from August 2010 to January 2017.
Last week, he appeared on the women's television programme The View (ABC) to say this (image courtesy of USA Carry forums):
I hope people can see through Clapper's questionable logic.
When will this ever end?
Perhaps when President Trump gets a yuge win in North Korea.
On a brighter note, best wishes to my British readers for an enjoyable Spring Bank Holiday and to my American readers for an equally pleasant Memorial Day.
On Wednesday, January 17, 2017, President Donald Trump announced his first ever Fake News Awards.
He did not announce them by voice, but RSBN did a great job going through every item:
On Monday, January 15, Politico quoted 'experts' — including Republicans — who said that Fake News Awards could violate White House and ethics rules.
That's rich. Big Media are violating ethics rules every day by reporting falsehoods lies.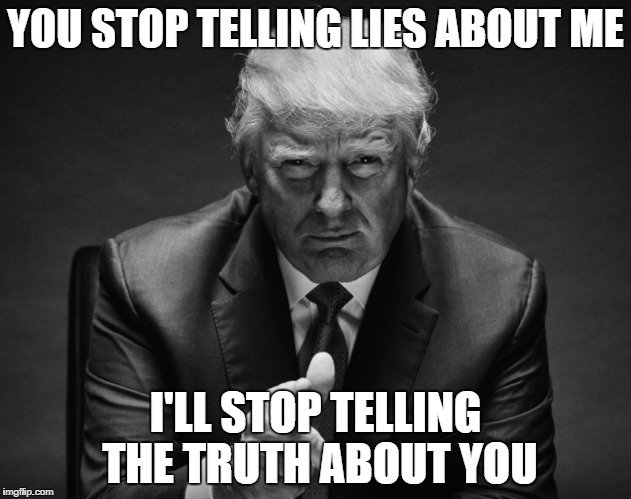 The president's tweet appeared later than scheduled. The Washington Post was quick to pounce before …
… and after …
But, once again, Fakey winner WaPo was wrong.
The GOP (Republican Party) page crashed from all the traffic:
This generated a greater American buzz than big-ticket award ceremonies:
Gateway Pundit reported (emphases mine):
Internet giants Google, Twitter and AOL publish the most popular trending subjects. And Wednesday night the most popular subject on all three sites was Trump's Fake News Awards.
Even the trendy celeb news site TMZ covered it:
President Donald Trump came through on presenting "The Fakies" … his 2017 Fake News Awards. He teased it up as "The Most Dishonest and Corrupt Media Awards of the Year" … and here are the HUGE winners (losers?) in his words. No shocker, CNN took the most trophies. 
The tweet below has a screenshot of the winners, as posted on Legal Insurrection:
The GOP rightly introduced the results — including sources — with this:
2017 was a year of unrelenting bias, unfair news coverage, and even downright fake news. Studies have shown that over 90% of the media's coverage of President Trump is negative.
That is true.
Paul Krugman discredited
How wrong could Paul Krugman be? This is what happens when personal bias obliterates objectivity:
Donald J Thump — of Thump: The First Bundred Days — tweeted:
Here's a page from the book, for children — and adults — alike:
Nothing for CNN's Acosta
CNN's Jim Acosta did not receive a Fakey:
He was told to leave after a press briefing in the Oval Office the other day in front of President Nursultan Nazarbayev of Kazakhstan.
Of course, Acosta paints himself to be a victim:
That was far from his first offence against Trump and his administration, which dates back to the post-election transition period in 2016.
Regarding this incident and Acosta's history, The Conservative Treehouse sums it up perfectly:
CNN Chief White House Correspondent Jim Acosta has a history of rude journalistic behavior and disrespect that has never before been allowed in the White House.
… the CNN journalist exhibited a level of disrespectful behavior that should lead to his White House press credentials being revoked permanently.
In a lesser offence, last year, Acosta insisted that CNN reports the truth:
This is how Big Media see themselves:
How public sees media
This is the most accurate description summing up the media:
Praying Medic has a good take on Big Media stories from the past year, starting at No. 12:
Someone replied with this item about MSNBC's Rachel Maddow:
Fake news remembered
Many of us remember not only the fake news but also the omissions from the news cycle in 2016:
Fake news can cost lives.
What will it take for these ridiculously overpaid so-and-sos to stop it?
In November 2017, CBS dumped Charlie Rose from CBS This Morning and NBC sacked Matt Lauer from Today.
It's ironic that two sex pests hosted breakfast shows — designed for family viewing.
Both Rose and Lauer were long-time media legends. As such, they came with a high price tag.
On January 5, Fox News reported that NBC has since found better breakfast broadcasting ratings for less money. NBC is leading ABC's Good Morning America (GMA) since Hoda Kotb has moved into Lauer's spot on Today and Savannah Guthrie co-hosts with her:
Kotb will make roughly $18 million per year less than her disgraced male predecessor — reportedly earning $7 million per year while Lauer pulled in $25 million, according to the New York Post. 
In fact, Kotb's co-anchor Savannah Guthrie also is believed to earn around $7 million per year …
The Fox article focussed on another highly-paid personality, ABC's GMA host, George Stephanopolous. He makes between $15 million and $18 million per year. His co-host Robin Roberts reportedly earns the same salary.
The Fox article points out:
With "GMA" now trailing "Today" in viewership, ABC will be under increased pressure to justify its hosts' exorbitant salaries to ABC's notoriously parsimonious owner, Disney.
A media analyst agrees:
Media analyst Jeff McCall told Fox News that NBC's success in recent week proves that the high-paid Lauer wasn't necessarily the reason people tuned in to the "Today" show. In Kotb, NBC may have a more popular host while saving the network roughly $18 million per year.
"I think a similar case could be made now for George Stephanopoulos at 'GMA.' The show can be successful whether George is on the set or not," McCall said. "'GMA' is really not a serious news program anyway, and George's supposed D.C. insider persona just isn't that essential for a show that wants to focus on fads, entertainment and emotion."
A network insider agrees:
"He doesn't bring much to the table anymore," said an ABC insider, who noted that "'GMA' covers barely any news. It's not clear why he's sitting there."
Another insider:
called Stephanopoulos "merely a fig leaf for the ugly truth that ABC no longer covers news." The insider pointed not only to "GMA's" soft focus, but also to "World News Tonight" frequently leading with weather stories, "20/20" rarely covering news and "Nightline" – increasingly the last bastion for news coverage at ABC – now occupying the graveyard shift at 12:35 a.m. "when nobody watches."
McCall, the media analyst, says that no one will ever mistake Stephanopoulos for a journalist. Indeed. The man President Donald Trump dubbed 'Little George' — the GMA desk had to be modified for him — rose to fame as Bill Clinton's White House Director of Communications and as his senior adviser.
Ultimately, McCall says:
ABC, and all the morning shows for that matter, should stop throwing huge money at personalities and simply find relatable anchors who have some journalistic instincts and a sense of the nation's mood.
Indeed.
Even if he were to get bumped from GMA, Stephanopoulos still has his roles as ABC's chief news anchor and host of the Sunday morning news show, This Week.
What astounds me is the high salaries these people get. Why not take early retirement and spend time with family instead? What about volunteer work? Oh, I forgot: that would put them in touch with ordinary Americans. Never mind.