You are currently browsing the tag archive for the 'ABC' tag.
On Tuesday, November 5, 2019, James O'Keefe's Project Veritas team posted a 'hot mic' video about ABC's 2016 cover-up of Jeffrey Epstein. This is a must-watch:
In August 2019, ABC's Amy Robach expressed her frustration to an ABC colleague about the network's spiking the news story. Project Veritas has more (emphases mine):
Newly revealed footage leaked by an ABC insider has exposed how network executives rejected allegations against Jeffrey Epstein years ago, even though there was content regarding the merit of those claims in-hand.
Amy Robach, 'Good Morning America' Co-Host and Breaking News Anchor at ABC, explains how a witness came forward years ago with information pertaining to Epstein, but Disney-owned ABC News refused to air the material for years. Robach vents her anger in a "hot mic" moment with an off-camera producer, explaining that ABC quashed the story in its early stages. "I've had this interview with Virginia Roberts (Now Virginia Guiffre) [alleged Epstein victim]. We would not put it on the air. Um, first of all, I was told "Who's Jeffrey Epstein. No one knows who that is. This is a stupid story."
This was in 2016, during the presidential election campaign. Hillary Clinton was the Democrat candidate, and the footage, Robach says, would have implicated former president Bill Clinton. If aired, that could well have put an end to Hillary's campaign. We all know she was supposed to win.
Robach says she and her team encouraged Virginia Roberts Giuffre to come out of the shadows and discuss her horrific years with Epstein, which she did.
At this point in 2016, ABC was weeks away from getting an interview with the Duke and Duchess of Cambridge — Wills and Kate:
She continues, "The Palace found out that we had her whole allegations about Prince Andrew and threatened us a million different ways."
Robach does not think Epstein committed suicide, as was widely reported:
Robach goes on to express she believes that Epstein was killed in prison saying, "So do I think he was killed? 100% Yes, I do…He made his whole living blackmailing people… Yup, there were a lot of men in those planes. A lot of men who visited that Island, a lot of powerful men who came into that apartment."
Robach repeats a prophetic statement purportedly made by Attorney Brad Edwards "…[T]here will come a day when we will realize Jeffrey Epstein was the most prolific pedophile this country has ever known," and [d]isgustedly Robach states "I had it all three years ago."
Later on November 5, Robach and ABC issued their own statements. The images below come courtesy of Project Veritas:
The Project Veritas went viral that day:
There were another 500,000 views three hours later:
This exposé might not have been covered in much of the Western world that day, but at least it made Australia's news …
… and Fox News in the US:
It's hard to disagree with that.
Former Arkansas governor Mike Huckabee, Sarah Sanders's father, adds:
Later, CNN covered the story but without a reference to Project Veritas, only 'an activist group'.
On November 6, The Daily Caller reported that ABC was looking for the person who leaked the video. The article explains how CBS could be connected:
ABC News has launched an investigation to determine who leaked the video of anchor Amy Robach alleging that the network killed her story on Jeffrey Epstein, it said in a statement Wednesday …
ABC News is trying to determine who leaked the video to Project Veritas, according to a statement from the outlet, journalist Yashar Ali wrote Wednesday.
"We take violations of company policy very seriously, and we're pursuing all avenues to determine the source of the leak," a spokesperson for ABC News said according to Ali.
ABC News also allegedly knows the former employee who had access to the video of Robach, two sources with knowledge of the situation told Ali. The outlet is still unsure if that person leaked the footage to Project Veritas or if they shared it with others who leaked it.
The former employee is now allegedly working at CBS News, the sources said, according to Ali. CBS News did not immediately respond to a request for comment.
The Daily Caller article includes part of Ali's Twitter thread on the developing story:
Not only is there a possible CBS connection but a possible Disney one, too:
The petition is gathering strength:
I wish James O'Keefe and his team the best of luck with this and other exposés:
We know if conservatives were covering up major news stories about highly corrupt and destructive people, it would be all over the news 24/7 for months — and worse:
This story is developing:
Again, best wishes to all concerned who are helping Project Veritas.
Well, well, well, on Tuesday, February 12, 2019, the Senate Intelligence Committee has concluded there is 'no direct evidence of a conspiracy between the Trump campaign and Russia'.
NBC News intelligence and national security correspondent Reporter Ken Dilanian broke the story in his article, 'Senate has uncovered no direct evidence of conspiracy between Trump campaign and Russia'.
This is a bipartisan finding, by the way.
Later, MSNBC interviewed Dilanian:
NBC has a summary on Twitter:
This finding comes after the Senate Intelligence Committee spent two years on an investigation involving 200 interviews and 300,000 documents.
Their investigation has not yet concluded, but its end is nigh, according to Senator Richard Burr (R-North Carolina), the chairman. Dilanian's article tells us:
"We know we're getting to the bottom of the barrel because there're not new questions that we're searching for answers to," Burr said.
On Tuesday, Burr doubled down, telling NBC News, "There is no factual evidence of collusion between the Trump campaign and Russia."
It could take the committee several more months to produce a written report of their findings, which, even with this news, could be inconclusive:
The final Senate report may not reach a conclusion on whether the contacts added up to collusion or coordination with Russia, Burr said.
Democrats told NBC News that's a distinct possibility.
"What I'm telling you is that I'm going to present, as best we can, the facts to you and to the American people," Burr told CBS. "And you'll have to draw your own conclusion as to whether you think that, by whatever definition, that's collusion."
The Senate investigation is separate from the Mueller probe, which trundles along.
Also, the House of Representatives, now Democrat-controlled, is planning to conduct a separate investigation:
that will go beyond the 2016 election to examine whether any foreign government has undue financial influence on Trump or his family. And New York federal prosecutors are pursuing their own criminal inquiry related to hush-money payments to women. The investigations into Donald Trump, therefore, are far from over.
Nonetheless, the Senate news puts a dent in Big Media's anti-Trump narrative.
ZeroHedge reports that when Dilanian appeared on MSNBC (see video above, bold emphases in the original, those in purple mine):
MSNBC anchor Hallie Jackson and her guest panelists' faces looked visibly confused and uncomfortable as they learned the Senate report is going in the opposite direction of everything MSNBC and other mainstream outlets have been breathlessly reporting on a near 24/7 basis. 
More importantly, if this is a precursor of what the Mueller report concludes in a few weeks/months, the TV station that built its current reputation on the premise of Russian collusion, may have no option but to go on indefinite hiatus.
Watch the segment … with host Hallie Jackson appearing to grow exasperated by the 2:20 mark:"If and when the president, as he may inevitably do, points to these conclusions and says look, the Senate intelligence committee found I am not guilty of conspiracy… he would be correct in saying that?"
Dilanian noted that while the Republican chair of the committee made what he characterized as "partisan" comments the week prior, it turned out be unanimous fact. "What I found," he said, "is that Democrats don't dispute that characterization."
But perhaps sensing how "contrary" to the network's own hysterical 'Russiagate' coverage his reporting was, he tried to soften the blow, saying, "But, again, no direct proof of a conspiracy. As one democratic aide said to me, 'we never thought we were going to find a Democrat between Trump and Vladimir Putin saying let's collude, but the question is how do we interpret all these various contacts between the Trump campaign and Russia.'"
Hallie Jackson followed with further probing: "Not to put too fine a point on it, but I want to make sure I'm understanding this…" and asked "If and when the president, as he may inevitably do, points to these conclusions and says look, the Senate intelligence committee found I'm not guilty of conspiracy… he would be correct in saying that?"
Her face looking rather incredulous at this point, Dilanian responded by invoking the Meuller investigation, reassuring her his inquiry is not complete and likely could uncover more information. But then the bottom line: "That said, Trump will claim vindication through this, and he'll be partially right," he said.
President Trump tweeted his thanks:
Some readers might be sceptical.
However, an investigative journalist who has no ties to Trump and is not a supporter — Glenn Greenwald of The Intercept — agrees with him:
Greenwald's readers were not happy.
On another tweet, Greenwald still had to repeat himself:
More angry readers tweeted here.
Let's remind ourselves of what Big Media have been foisting on us since 2017: 'bombshell', 'tipping point', 'beginning of the end', 'Trump will resign':
Big Media's narrative is 'too big to fail':
Trump supporters, understandably, are sick and tired of it all, because the Democrats started this narrative shortly before the 2016 election:
This chap meant 'wielded', but his point still stands. I hope he is correct:
Here are a few suggestions for President Trump on how to wield that hammer:
As for Robert Mueller and his team, the same day NBC's Ken Dilanian filed his report, President Trump's former attorney John Dowd gave an interview to ABC News (full transcript).
John Dowd does not believe the report of Mueller's findings will be released to the public. He thinks there will simply be an announcement that the two-year investigation has ended.
Dowd says that Mueller had all the information he needed nearly a year ago (emphases mine):
In my opinion, on March 5th, we were done. He had everything. He said he had everything. He told me that no one had lied. He told me they had every document we asked for. He told me that it was nothing more. He told me that the president was not a target. That is, he did not have any exposure, that he was a witness subject, which is perfectly normal for someone's conduct you're looking at, but they don't have exposure.
Dowd later said the same thing and says Mueller should have admitted that he was being pressured to find something by a 'cabal in the FBI':
There's no exposure. It's been a terrible waste of time. What's worse is let's get on the other side of this, how it all happened. This is one of the greatest frauds this country's ever seen. And I'm just shocked that Bob Mueller didn't call it that way and say, "I'm being used." I would've done that. If I were in his shoes in this thing, I'd have gone to the– I'd have gone to Sessions and Rosenstein and said, "Look. This is nonsense. We are being used by a cabal in the F.B.I. to get even."
President Trump has co-operated with Mueller, responding to requests that no other president has never had to endure (source):
Note the third paragraph in that last tweet. Had Trump agreed to an interview with Mueller:
it would set a precedent that would open the current president and future presidents to this kind of interview.
Given the Senate Intelligence Committee's findings, it will be interesting to see how much longer the Mueller probe lasts.
There's time only for a quick post today.
James Clapper has served in various intelligence positions in the United States government, most recently as DNI — Director of National Intelligence — from August 2010 to January 2017.
Last week, he appeared on the women's television programme The View (ABC) to say this (image courtesy of USA Carry forums):
I hope people can see through Clapper's questionable logic.
When will this ever end?
Perhaps when President Trump gets a yuge win in North Korea.
On a brighter note, best wishes to my British readers for an enjoyable Spring Bank Holiday and to my American readers for an equally pleasant Memorial Day.
On Wednesday, January 17, 2017, President Donald Trump announced his first ever Fake News Awards.
He did not announce them by voice, but RSBN did a great job going through every item:
On Monday, January 15, Politico quoted 'experts' — including Republicans — who said that Fake News Awards could violate White House and ethics rules.
That's rich. Big Media are violating ethics rules every day by reporting falsehoods lies.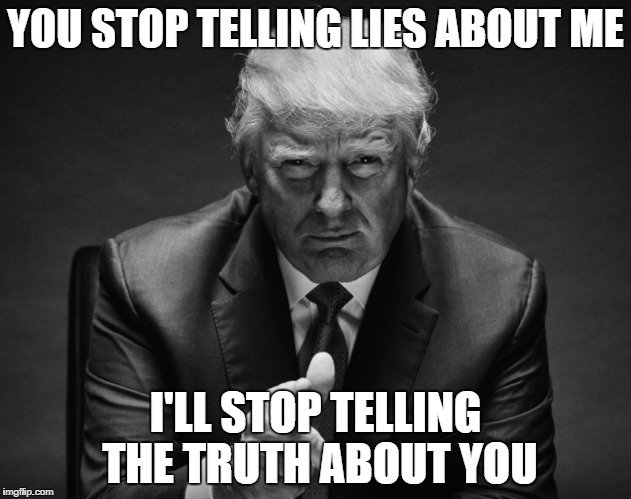 The president's tweet appeared later than scheduled. The Washington Post was quick to pounce before …
… and after …
But, once again, Fakey winner WaPo was wrong.
The GOP (Republican Party) page crashed from all the traffic:
This generated a greater American buzz than big-ticket award ceremonies:
Gateway Pundit reported (emphases mine):
Internet giants Google, Twitter and AOL publish the most popular trending subjects. And Wednesday night the most popular subject on all three sites was Trump's Fake News Awards.
Even the trendy celeb news site TMZ covered it:
President Donald Trump came through on presenting "The Fakies" … his 2017 Fake News Awards. He teased it up as "The Most Dishonest and Corrupt Media Awards of the Year" … and here are the HUGE winners (losers?) in his words. No shocker, CNN took the most trophies. 
The tweet below has a screenshot of the winners, as posted on Legal Insurrection:
The GOP rightly introduced the results — including sources — with this:
2017 was a year of unrelenting bias, unfair news coverage, and even downright fake news. Studies have shown that over 90% of the media's coverage of President Trump is negative.
That is true.
Paul Krugman discredited
How wrong could Paul Krugman be? This is what happens when personal bias obliterates objectivity:
Donald J Thump — of Thump: The First Bundred Days — tweeted:
Here's a page from the book, for children — and adults — alike:
Nothing for CNN's Acosta
CNN's Jim Acosta did not receive a Fakey:
He was told to leave after a press briefing in the Oval Office the other day in front of President Nursultan Nazarbayev of Kazakhstan.
Of course, Acosta paints himself to be a victim:
That was far from his first offence against Trump and his administration, which dates back to the post-election transition period in 2016.
Regarding this incident and Acosta's history, The Conservative Treehouse sums it up perfectly:
CNN Chief White House Correspondent Jim Acosta has a history of rude journalistic behavior and disrespect that has never before been allowed in the White House.
… the CNN journalist exhibited a level of disrespectful behavior that should lead to his White House press credentials being revoked permanently.
In a lesser offence, last year, Acosta insisted that CNN reports the truth:
This is how Big Media see themselves:
How public sees media
This is the most accurate description summing up the media:
Praying Medic has a good take on Big Media stories from the past year, starting at No. 12:
Someone replied with this item about MSNBC's Rachel Maddow:
Fake news remembered
Many of us remember not only the fake news but also the omissions from the news cycle in 2016:
Fake news can cost lives.
What will it take for these ridiculously overpaid so-and-sos to stop it?
In November 2017, CBS dumped Charlie Rose from CBS This Morning and NBC sacked Matt Lauer from Today.
It's ironic that two sex pests hosted breakfast shows — designed for family viewing.
Both Rose and Lauer were long-time media legends. As such, they came with a high price tag.
On January 5, Fox News reported that NBC has since found better breakfast broadcasting ratings for less money. NBC is leading ABC's Good Morning America (GMA) since Hoda Kotb has moved into Lauer's spot on Today and Savannah Guthrie co-hosts with her:
Kotb will make roughly $18 million per year less than her disgraced male predecessor — reportedly earning $7 million per year while Lauer pulled in $25 million, according to the New York Post. 
In fact, Kotb's co-anchor Savannah Guthrie also is believed to earn around $7 million per year …
The Fox article focussed on another highly-paid personality, ABC's GMA host, George Stephanopolous. He makes between $15 million and $18 million per year. His co-host Robin Roberts reportedly earns the same salary.
The Fox article points out:
With "GMA" now trailing "Today" in viewership, ABC will be under increased pressure to justify its hosts' exorbitant salaries to ABC's notoriously parsimonious owner, Disney.
A media analyst agrees:
Media analyst Jeff McCall told Fox News that NBC's success in recent week proves that the high-paid Lauer wasn't necessarily the reason people tuned in to the "Today" show. In Kotb, NBC may have a more popular host while saving the network roughly $18 million per year.
"I think a similar case could be made now for George Stephanopoulos at 'GMA.' The show can be successful whether George is on the set or not," McCall said. "'GMA' is really not a serious news program anyway, and George's supposed D.C. insider persona just isn't that essential for a show that wants to focus on fads, entertainment and emotion."
A network insider agrees:
"He doesn't bring much to the table anymore," said an ABC insider, who noted that "'GMA' covers barely any news. It's not clear why he's sitting there."
Another insider:
called Stephanopoulos "merely a fig leaf for the ugly truth that ABC no longer covers news." The insider pointed not only to "GMA's" soft focus, but also to "World News Tonight" frequently leading with weather stories, "20/20" rarely covering news and "Nightline" – increasingly the last bastion for news coverage at ABC – now occupying the graveyard shift at 12:35 a.m. "when nobody watches."
McCall, the media analyst, says that no one will ever mistake Stephanopoulos for a journalist. Indeed. The man President Donald Trump dubbed 'Little George' — the GMA desk had to be modified for him — rose to fame as Bill Clinton's White House Director of Communications and as his senior adviser.
Ultimately, McCall says:
ABC, and all the morning shows for that matter, should stop throwing huge money at personalities and simply find relatable anchors who have some journalistic instincts and a sense of the nation's mood.
Indeed.
Even if he were to get bumped from GMA, Stephanopoulos still has his roles as ABC's chief news anchor and host of the Sunday morning news show, This Week.
What astounds me is the high salaries these people get. Why not take early retirement and spend time with family instead? What about volunteer work? Oh, I forgot: that would put them in touch with ordinary Americans. Never mind.