You are currently browsing the tag archive for the 'Africa' tag.
It used to be that vaccines prevented infection.
Coronavirus has changed all that. The double-vaxxed are ending up infected:
Andrew Doyle, who hosts Free Speech Nation for GB News, has it, and he's taken his shots.
ITV's Robert Peston, also double-vaxxed, has it, too:
Peston was supposed to be in Aberdeenshire in Scotland but had to cancel:
I hope he recovers soon.
Meanwhile, in the UK, the debate rages on as to whether children over the age of 12 should receive the vaccine and whether older adults should have a booster shot this autumn.
British supporters of vaccines for children say that such programmes in the United States and France have been highly successful. Hmm.
Dr Robert W Malone is an American physician as well as an inventor of mRNA vaccines and RNA as a drug. He directs his readers to an article in LifeSiteNews about possible coercion being used in high schools:
Meanwhile, the WHO is urging countries wishing to vaccinate their children to donate those doses to Covax instead for wider use around the world. The reply to this tweet includes a statement from Britain's JCVI (Joint Committee on Vaccines and Immunisation) which recommended against children's vaccinations on Friday, September 3:
The WHO also disagrees with booster shots in Western countries, again recommending donating those doses to poorer countries:
The UK also wants to roll out vaccine passports by the end of the month. If we can catch the virus despite two jabs, what is the point? It seems as if we are all back at Square One, only that we are susceptible to milder cases rather than death.
Speaking of deaths, the UK figures for 2021 are on a par with other years since the vaccine rollout began. I saw this graphic on another site with no attribution. Note the bright green line up to Week 33: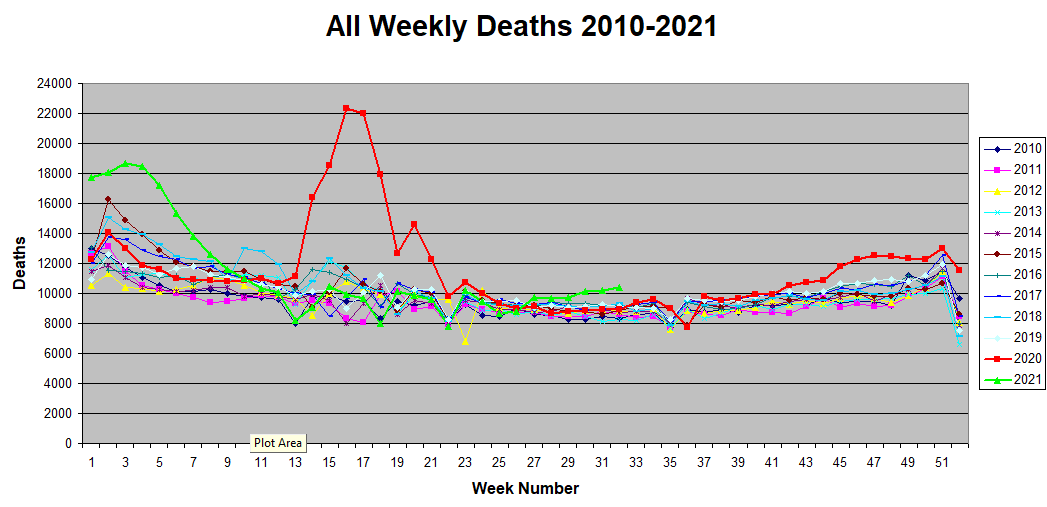 Moving to poorer countries now, not every nation has shown signs of infection or deaths:
Dr Malone says that Peru had a preventive programme of giving its citizens doses of ivermectin until a new president scrapped it. At that point, fatal infections began rising dramatically:
Since the pandemic began, ivermectin for humans has been taken off the market in several Western countries or is restricted on a prescription-only basis for certain conditions, excluding the virus. In many first-world countries, ivermectin is now used solely on animals for various diseases. The current formulation is made for their consumption.
Yet, in Peru and Africa, the formulation for humans is still available. It is inexpensive and is used to cure a variety of diseases as the following Twitter thread about Africa tells us.
The countries in blue are where ivermectin is used on humans. Note the differences in coronavirus cases and deaths:
Ivermectin, sold under the trade name Mectizan, is used to treat river blindness, a common and highly painful disease. It is not unusual to see people with a pair of eyebrow tweezers on a chain around their necks. Among other things, river blindness inflames the eyelash follicles. The only way to relieve the intense pain is to carefully pluck the offending eyelash. It is an ongoing pain until the disease is cured:
The Japanese have looked at sub-Saharan data and have recommended ivermectin to the government as a treatment for coronavirus:
It seems that the Japanese government rejected the use of ivermectin in combatting coronavirus. The updated statistics for Africa are in the second tweet:
Another big supporter of ivermectin is Karl Denninger of The Market Ticker.
On December 18, 2020, he wrote that by giving Americans two tablets of ivermectin, coronavirus could be stopped in one week in the United States. Two tablets in total is all it would take (emphases in the original):
… Why the hell are you not only letting them get away with it but willing to stand in line and take a not-fully-tested shot when a $2 alternative that does the same thing and has been proved safe over more than 30 years of time is available, and it also has a remarkable record of preventing serious disease and death.   This has been known for months.
We can stop Covid-19 in ONE WEEK.
One.  Not five, six, eight or ten as promised by Dr. Redfield with his "masks" who, I remind you, lied.  Covid-19 did not stop even though he got what he wanted.
The science and the CDC's own data says this will work in ONE WEEK.
And the risk if it doesn't work as the science and math says it will?
STATISTICALLY NONE; the drug in question has had over 3.5 billion doses dispensed worldwide and, on the data, is safer than Tylenol and the number of pills you must take is two.
Not two per day.
Two.
Ivermectin will receive broad media coverage only when it's too late. What a pity.
Yesterday's post looked at the beginning of today's modern Conservative Party in the late 20th and early 21st century, including Boris Johnson's diverse family history.
Since 2010, the Conservatives have added to their number of accomplished MPs, people who have really achieved something in their lives before they entered Parliament.
The list of MPs whose immediate ancestry includes parents from Asia and Africa continues below.
The Cameron years: May 2010 – June 2016
In the 2010 election, when David Cameron became Prime Minister, several more Conservative MPs of colour took their places in Parliament.
Most are still serving today, listed below.
Rehman Chishti (Gillingham and Rainham)
Rehman Chishti was born in Pakistan on October 4, 1978.
At the time, his father, Abdul Rehman Chishti, was Federal Adviser on religious affairs to the Prime Minister of Azad Kashmir, the region where the Chishtis lived. This was during the time when Zulfikar Ali Bhutto was Pakistan's prime minister. In 1978, Chishti's father left Pakistan for the UK, where he became an imam. Shortly afterwards, a military coup overthrew the Bhutto government. General Zia-uk-Haq led the coup and later executed Bhutto.
It was not until 1984 that Mrs Chishti was able to join her husband in Kent, taking with her their elder daughter and young Rehman. From that point, life resumed a sense of normality for the family. Rehman Chisti attended local schools, then read law at University of Wales Aberystwyth. He supplemented his income by working summer jobs in retail in Kent.
In 2001, he became a barrister, having been called to the Bar of England and Wales by Lincoln's Inn in London. He prosecuted and defended cases in Magistrates' and Crown courts.
During the years when Labour was in power, he worked as an advisor for Zulfikar Ali Bhutto's daughter, Benazir Bhutto, after her tumultuous term as Pakistan's prime minister had ended. Chishti held this position between 1999 and 2007.
In 2006, he decided to switch his affiliation from Labour to Conservative and served as advisor on diversity to Francis Maude, who led the Conservatives at that time.
He won his first election as MP for Gillingham and Rainham in 2010, having been lauded by both Labour and Conservative publications as being a rising star in Parliament.
Since then, he has held three notable appointments: Vice Chairman of the Conservative Party for Communities (2018), Prime Ministerial Trade Envoy to Pakistan (2017-2018) and Prime Minister's Special Envoy for Freedom of Religion or Belief (2019-2020).
Helen Grant (Maidstone and The Weald)
Another MP serving Kent is Helen Grant.
Helen Grant was born in Willesden (London) in 1961. Her mother is English and her father a Nigerian, an orthopaedic surgeon.
Helen's parents split up when she was a young child. Her father later emigrated to the United States. Helen and her mother moved to Carlisle, in the north-West of England, where she was raised by her mother, her grandmother and her great-grandmother. They lived on a council estate.
She excelled in sports at secondary school and decided to read law at university. She later opened her own law practice, Grants Solicitors, which specialises in family law.
She was a member of the Labour Party between 2004 and 2006, but quickly grew disillusioned:
It was almost looking in the biscuit barrel, not liking the look of the biscuits, and slamming the lid shut.[6]
In 2006, she joined the Conservative Party. That year, she helped the Conservatives devise a policy on family breakdown, co-authoring the Social Justice Policy Group Report 'State of the Nation – Fractured Families' published in December 2006, and the follow-up solutions report 'Breakthrough Britain' published in July 2007.[8]
Grant became the first mixed-race/black female MP, succeeding the formidable Anne Widdecombe, who stood down for the 2010 election.
Helen Grant married her husband Simon in 1991. They have two sons, one of whom served in the Royal Marines.
Kwasi Kwarteng (Spelthorne)
Kwasi Kwarteng, who represents Spelthorne in Surrey, is familiar to anyone who has followed Brexit and the Government department BEIS (Business, Energy and Industrial Strategy).
Kwasi Kwarteng's parents emigrated from Ghana in the 1960s when both of them were students. His mother became a barrister and his father an economist in the Commonwealth Secretariat.
Kwarteng was a brilliant student. As a boy, he attended Colet Court, the feeder school for St Paul's School. Kwarteng went one better. He attended Eton.
At Eton, he was a King's Scholar and received the school's most prestigious award: the Newcastle Scholarship. He read classics and history at Trinity College, Cambridge, earning a First in both subjects.
During his time at Cambridge, he appeared on University Challenge during the first season when the BBC resurrected the show in 1994. I saw it. The episode that he was on aired in 1995 and raised eyebrows. Kwarteng pressed the buzzer to answer the question, then forgot the answer. Exasperated, he spontaneously uttered the 'f-word'. The production team was unable to censor it in time.
Guido Fawkes has the details:
This photo of a resulting newspaper article comes from Guido. Moderator Jeremy Paxman is pictured:
After earning his degree at Cambridge, Kwarteng was awarded a Kennedy Scholarship from Harvard. After studying there, he returned to Cambridge to earn a PhD in economic history.
He then had a busy career, combining work with journalism. He was a columnist for The Daily Telegraph and worked at investment banks, among them JPMorgan Chase. He also wrote and co-authored books on history and business.
At the time he won his first election as MP for Spelthorne, a local paper described him as a:
black Boris.
Kwarteng was an ardent supporter of Brexit and Boris Johnson. He also thinks that Britain's welfare state needs to be pared back.
Kwarteng has held a variety of positions in Government and is the first black MP — and the first Conservative MP — to be appointed as a Secretary of State.
He is also a member of the Privy Council.
Priti Patel (Witham)
Priti Patel has been Home Secretary since Boris Johnson became Prime Minister in 2019.
She held various Government posts prior to that appointment.
Priti Patel was born in London in 1972. Her paternal grandparents were from Gujurat, India, then emigrated to Uganda. They owned a shop in Kampala.
In the 1960s, the Patels' son and his wife — Priti's parents — emigrated to England, settling in Hertfordshire, where they built up a successful chain of newsagents. The family are Hindu.
Unlike a few of the other MPs profiled above, Priti never flirted with the Labour Party. She was a firm fan of Margaret Thatcher, who, in her words:
had a unique ability to understand what made people tick, households tick and businesses tick. Managing the economy, balancing the books and making decisions—not purchasing things the country couldn't afford".[8]
Patel was always interested in politics. After completing her degree in economics at Keele University in Staffordshire, she studied British government and politics at the University of Essex.
She began her career working in the Conservative Central Office. As she was interested in seeing the UK leave the EU, she left for two years to head the office of the Referendum Party, headed by the late tycoon Sir James Goldsmith. That was between 1995 and 1997. Goldsmith's party did not win many votes. We still have the campaign video tape, which Goldsmith's campaigners sent to certain constituencies he had hoped to carry. Goldsmith died two months after the election.
Patel returned to the Conservatives, working for party leader William Hague in his press office.
In 2006, she became the Prospective Parliamentary Candidate for the staunchly Conservative constituency of Witham in Essex. By 2010, she was well known and won election handily.
She became part of the 'class of 2010', also known as 'the new Right'. She and her fellow 'classmates' Kwasi Kwarteng, Liz Truss, Dominic Raab and Chris Skidmore co-authored Britannia Unchained, which took strong exception to the welfare state. One of the book's more controversial statements is:
once they enter the workplace, the British are among the worst idlers in the world.
I don't fully agree with that, but I do worry about the effect that lockdown and furlough are having on our collective psyche in that regard.
Priti Patel is married and has one child, a son.
Alok Sharma (Reading West)
In 2010, Alok Sharma won Reading West with a majority of 6,004 after Labour MP, Martin Salter retired.
Alok Sharma was born to a Hindu family in Agra, India, in 1967. Five years later, he and his parents settled in Reading, Berkshire, where Alok's father became very involved in Conservative Party politics and helped to establish the Conservative Parliamentary Friends of India.
The Sharmas sent their son to local schools, including the well-respected Reading Blue Coat School in Sonning, Berkshire. Alok moved to the north-West for university, earning a BSc in Applied Physics with Electronics in 1988.
However, Alok's interests extended beyond science. He later qualified as a chartered accountant with Deloitte, Haskins & Sells in Manchester. He went on to work as a corporate financial advisor for other firms, leading to posts not only on London but also in Stockholm and Frankfurt. He advised clients on cross-border mergers and acquisitions, listings and restructurings.[8]
Sharma has held several posts as Minister of State and Secretary of State.
He is currently the President for the climate change conference COP26, which the UK will host in 2021. Sharma is currently a full member of Boris Johnson's Cabinet Office.
Sharma married a Swedish lady, with whom he has two daughters.
Nadhim Zahawi (Stratford-on-Avon)
Nadhim Zahawi is best known for his current post as Parliamentary Under-Secretary for COVID-19 Vaccine Deployment in the UK.
He is second-best known for co-founding the international polling company YouGov with Stephan Shakespeare. Zahawi served as YouGov's CEO from 2005 to 2010.
Zahawi was born to Iraqi Kurdish parents in Bagdad in 1967. In 1976, when Saddam Hussein began his rule over Iraq, the Zahawis moved to London, where Nadhim attended independent day schools.
Nadhim earned a BSc in Chemical Engineering from the University of London.
However, immediately after university, Zahawi's interests lay with the Kurds. He worked on their behalf from 1991 to 1994.
In 1994, he was elected as a local Conservative councillor for Putney in south-West London. He held that post until 2006.
In 2010, he gained the attention of the local Conservative association in Stratford-on-Avon and became their prospective parliamentary candidate. He has been re-elected three times since: 2015, 2017 and 2019.
Zadawi has held two Parliamentary Under-Secretary of State posts, the first for Children and Families and the second for Business and Industry.
Zadawi and his wife are keen horse riders. They co-own a riding school. Their children attend university in the United States.
Sajid Javid
Sajid Javid was also among the 2010 intake. I will cover his life story this week, as it is worth a separate post.
Conclusion
Had I not been watching BBC Parliament so often, I would not have read the life experiences of many of our MPs.
I had watched the maiden speeches of those who entered Parliament in 2019, however, I had missed those of the MPs who came before them.
One can imagine that Boris, given that his paternal great-grandfather was lynched in Turkey, would appreciate every element of life experience and intelligence that this intake of MPs brings to the House of Commons.
In reading about Hurricanes Harvey and Irma last week, I was surprised to find that they originated in West Africa.
So have 85% of other US hurricanes.
I wondered why I missed that in my primary and secondary school science classes in the late 1960s through the mid-1970s. Surely, I would have remembered such a strange fact.
If you are like me and in this same age group, the discovery was made after our time.
How hurricanes develop
Researchers did not discover the African origin until sometime in the 1970s. It probably took another several years for it to be verified and included in the science textbooks.
NASA states that several factors must be in place for tropical storms and hurricanes to occur:
For hurricanes to develop, specific environmental conditions must be present: warm ocean water, high humidity and favorable atmospheric and upward spiraling wind patterns off the ocean surface. Atlantic hurricanes usually start as weak tropical disturbances off the West African coast and intensify into rotating storms with weak winds, called tropical depressions. If the depressions reach wind speeds of at least 63 kilometers (39 miles) per hour, they are classified as tropical storms. Hurricanes have winds greater than 117 kilometers (73 miles) per hour.
The African connection
More recently, over the past decade, research has continued into West African storms. This helps not only Africans but also people from countries in the western Atlantic affected by these deadly events as they travel across the ocean.
In 2002, the international African Monsoon Multidisciplinary Analysis (AMMA) project began. In 2006, NASA announced their research in West Africa between August and September that year, part of the AMMA effort:
in the Cape Verde Islands, 563 kilometers (350 miles) off the coast of Senegal in West Africa. This campaign is a component of a much broader international project, called the African Monsoon Multidisciplinary Analyses, aimed at improving the knowledge and understanding of the West African Monsoon.
Researchers will use satellite data, weather station information, computer models and aircraft to provide scientists with better insight into all the conditions that enhance the development of tropical cyclones, the general name given to tropical depressions, storms and hurricanes. This research will help hurricane forecasters better understand the behavior of these deadly storms.
"Scientists recognize the hurricane development process when they see it, but our skill in forecasting which weak system will intensify into a major cyclone is not great," said Dr. Edward Zipser, mission chief scientist, of the University of Utah, Salt Lake City. "That is why NASA and its partners place a high priority on obtaining high-quality data for weak disturbances, as well as those already showing signs of intensification."
In August 2007, the Herald Tribune followed up on the research:
"We're still in that exploratory phase but I think it's a gold mine," said Jeffrey Halverson, an associate science professor at the University of Maryland.
About 70 "waves" are born off the coast of Africa every season, but only about 10 to 15 of them become tropical storms or hurricanes. Among them were hurricanes Andrew and Katrina.
"One of the questions that has haunted meteorologists is why some of these waves turn into hurricanes and others don't," said Halverson, who worked with NASA on an Africa project last fall.
"It's one of nature's last little secrets with regards to hurricanes. We were given lots of clues."
The Herald Tribune explains more about NASA's activities (emphases mine):
NASA set up weather stations on Cape Verde, just off the coast of western Africa, and followed the storms in airplanes across the Atlantic Ocean, using new instruments to gauge moisture and air flow.
The team worked with scientists from the National Hurricane Center, who used airplanes to trace the effect of African dust clouds on storms. The dust clouds are thought to stop storm formation but are still not factored into forecasts.
Another group of scientists launched into the air hundreds of tiny balloons, each filled with a sack of weather meters engineered to drop over the storm twice a day and take readings over more days than ever before.
The experiments, completed last fall, uncovered data that scientists are just beginning to mine for conclusions. The first discoveries are expected to be published in the next six months, but a preliminary look is promising.
The balloons, called "driftsondes," proved for the first time a deeper layer of moisture in the storms. It was something scientists had a hunch about, but did not know for sure until now. Knowing the information is reliable will allow them to make a more accurate forecast.
"The middle of the ocean has been an area where we haven't been able to check models, so sometimes there's a high false alarm rate," said David Parsons, a scientist from the National Center for Atmospheric Research who worked on the project. "In this case we found out that the model was pretty good."
Remember driftsondes, because they have been showing up in tweets and forecasts about Irma.
This research is just as important to Africa as it is North America. West Africa has suffered its share of hurricanes over the years. Wikipedia has a full list, divided into 20-year periods.
Interestingly, the number of the storms was approximately the same in every period, which should (but won't) put paid to climate change hysteria.
Some of the storms that affect West Africa, like Hurricane Beryl (1982), also cross the Atlantic.
The Sahara — sand and dust
Along with the moist climate of West Africa is the Sahara Desert factor. The combination of the moisture and dryness can affect hurricanes.
Before I get to that, did you know that African sand can travel across the Atlantic and create sandstorms in Florida? Talk about a small world!
As for dust, the 2006 NASA announcement stated:
During the field campaign, scientists hope to get a better understanding of the role of the Saharan Air Layer and how its dry air, strong embedded winds and dust influence cyclone development. The layer is a mass of very dry, often dusty air that forms over the Sahara Desert during the late spring, summer, and early fall and usually moves out over the tropical Atlantic Ocean.
As part of looking at the Saharan Air Layer, scientists want to better understand dust's effect on clouds. Some evidence indicates that dust makes it more difficult for rain to form. Cloud models need to account for any such effect, so measurements of cloud-droplet concentrations and size in clean ocean air and dusty air from the Sahara need to be made.
The Herald Tribune spoke with:
Jason Dunion, a meteorologist at the National Hurricane Center who is studying the effects of African dust on storms, calls it "learning what makes hurricanes tick."
In 2014, the NOAA (National Oceanic and Atmospheric Administration) explained how the Sahara Desert contributes to storm formation.
It sounds paradoxical to connect a desert with intense rainfall, but:
The role the Sahara Desert plays in hurricane development is related to the easterly winds (coming from the east) generated from the differences between the hot, dry desert in north Africa and the cooler, wetter, and forested coastal environment directly south and surrounding the Gulf of Guinea in west Africa. The result is a strong area of high altitude winds commonly called the African Easterly Jet. If these winds were constant, we would also experience fewer hurricanes.
However, the African Easterly Jet is unstable, resulting in undulations in a north-south direction, often forming a corresponding north to south trough, or wave, that moves westward off the West African Coast. When these waves of air have enough moisture, lift, and instability, they readily form clusters of thunderstorms, sometimes becoming correlated with a center of air circulation. When this happens, a tropical cyclone may form as the areas of disturbed weather move westward across the Atlantic.
The NOAA says that the waves from the African Easterly Jet occur all year round at two- to three-day intervals, however, it is only in the late summer and early autumn when they turn into cyclones. That is the time frame for hurricane season.
Furthermore:
Not all hurricanes that form in the Atlantic originate near Cape Verde, but this has been the case for most of the major hurricanes that have impacted the continental United States.
The Weather Channel site has an article from 2014 accompanied by illustrations of the African Easterly Jet and tropical waves. The article says:
During summer there is a persistent temperature contrast between the deep warmth over the Sahara and the cooler atmosphere over the forest and ocean to the south along the Gulf of Guinea Coast.
The result is a mid-level jet stream, strongest at about 10,000 feet, blowing from east to west toward the tropical eastern Atlantic Ocean.
Some hurricanes originating in Africa can reach the Pacific:
Hurricane Iselle, which hit the Big Island of Hawaii on August 8, 2014, was likely part of a wave that formed more than 8,000 miles away off of the West Coast of Africa and an example of the far-reaching influence the Sahara Desert has on our planet's weather.
Please check out the NOAA map of the reach of these hurricanes starting off of Cape Verde.
The NOAA article concludes:
When it comes to hurricanes and hurricane preparedness, it's interesting to know how a desert half a world away can influence the formation of severe weather on our coasts—and even parts of the Pacific Ocean.
A 2015 article from Nature World News has more:
Hurricanes form from three main ingredients: moisture, warm ocean temperatures, and the rotation of Earth. But what causes a hurricane to go from a few storm cells and atmospheric disturbances to a full blown storm? According to new findings published in the journal Geophysical Research Letters, intense thunderstorms in Western Africa are actually in part to blame.
"85 percent of the most intense hurricanes affecting the US and Canada start off as disturbances in the atmosphere over Western Africa," researcher Colin Price from Tel Aviv University said in a statement. "We found that the larger the area covered by the disturbances, the higher the chance they would develop into hurricanes only one to two weeks later."
Focusing on hurricane season (June through November), Price and his team analyzed images taken by geostationary satellites, which orbit Earth at the precise speed of Earth's rotation and take pictures of cloud cover every 15 minutes. Cloud cover is a good indicator if a hurricane is going to occur – the more clouds in an area, the larger the atmospheric disturbance.
Of course, not all of these weather disturbances turn into hurricanes:
only 10 percent of the 60 disturbances originating in Africa every year turn into hurricanes. And while there are around 90 hurricanes globally every year, only 10 develop in the Atlantic Ocean.
Pacific cyclones also have African origins
I was further amazed to read the Weather Channel article which says that nearly all Pacific cyclones originate in West Africa.
Incredibly, these waves pick up steam as they travel across Central America:
Not all tropical waves lead to development soon after they depart Africa. In fact, nearly all eastern Pacific tropical cyclones originate, at least in part, from African easterly waves. Many of these waves traverse the entire Atlantic Ocean and Caribbean Sea without causing development until after crossing Central America.
You would think that crossing land would break their power, but this can increase it.
Why the Pacific coast of North America has fewer hurricanes
The Pacific coast of North America has very few hurricanes. Whilst there are exceptions, such as the aforementioned Iselle — which originated in Africa — the conditions for those originating off the Pacific coast are largely absent.
First, the climate is cooler. Secondly, the wind direction — east to west — obviates such an event. Thirdly, the water temperatures off North America's Pacific coast are much cooler than those in the Atlantic.
The Scientific American asked NOAA researcher Chris W Landsea (appropriate name) about this. He replied:
Hurricanes form both in the Atlantic basin, to the east of the continental U.S. (that is, in the Atlantic Ocean, the Gulf of Mexico and the Caribbean Sea), and in the Northeast Pacific basin, to the west of the U.S. The hurricanes in the Northeast Pacific almost never hit the U.S., however, whereas the ones in the Atlantic basin strike the U.S. mainland just less than twice a year on average.
There are two main reasons for this disparity. The first is that hurricanes in the northern hemisphere form at tropical and subtropical latitudes and then tend to move toward the west-northwest. In the Atlantic, such a motion often brings the hurricane into the vicinity of the East Coast of the U.S. In the Northeast Pacific, the same west-northwest track carries hurricanes farther offshore, well away from the U.S. West Coast.
The second factor is the difference in water temperatures along the U.S. East and West coasts. Along the East Coast, the Gulf Stream provides a source of warm (above 80 degrees Fahrenheit, or 26.5 degrees Celsius) waters, which helps to maintain the hurricane. Along the West Coast, however, ocean-surface temperatures rarely rise above the lower 70s F. (the low 20s C.), even in the middle of summer. Such relatively cool temperatures do not provide enough thermal energy to sustain a hurricane's strength. So the occasional Northeast Pacific hurricane that does track back toward the U.S. encounters the cooler waters of the Pacific, which can quickly reduce the storm's strength.
The magazine asked Kerry Emanuel from MIT's Center for Meteorology and Physical Oceanography, who added this information about central Mexico:
In the eastern Pacific region, one has to go all the way down to the central Mexico coastline to find water warm enough to sustain hurricanes. This warm water lies well within the belt of easterly winds, so almost all the storms that form there move away from the coast, toward the west. By the time those storms recurve, they are usually many thousands of kilometers west of the coast of North America.
A few storms recurve right next to the coast. Some of these make it as far north as Baja California and can strike land with hurricane-force winds. But to make it all the way to the U.S. West Coast, the storms have to traverse a long stretch of ocean water that is far too cold to sustain hurricanes. Occasionally, tropical storms do strike coastal southern California. By the time they do, they have lost their hurricane-force winds, although they may still bring with them very heavy rainfall that can cause extensive flooding.
More on hurricanes tomorrow from a 2017 article.
Yesterday's post featured FBI Anon's July 2 conversation with members of 4chan.
The background to an anonymous agent communicating with a group of young, interested and informed people is in that post.
This post covers his conversation about the Clinton case as of September 25, just before the first presidential debate that evening.
One more will follow — from October 17 — which is the subject of tomorrow's post.
N.B.: Take or leave this information. It's up to you. People tend to dismiss it because they are decent souls who find it too incredible. However, this is what one of the 4chan members says (two-thirds of the way through the thread):
A lot of stuff has been correct, some stuff is wrong. Just look up the first two threads and you'll see what I mean. I'd say about a 10% incorrect rate. Since he admits he mixes in deliberately wrong [stuff] and also fully admits he of course doesn't know everything and is giving some things educated guesses, this doesn't necessarily disprove him. If he's a roleplay[er], he's a good one, and he's pointed diggers in some useful directions.
To make it readable, I have again divided the information into topics. I have also taken out the salty language, corrected spelling and added explanatory notes where necessary. Emphases mine below.
Angry FBI agents
Most senior Intel guys are furious with Comey and the DOJ in general. Grunts at the bottom are confused and do not know enough.
So much of my faith in the system has been destroyed this past year.
Rigged polls
If the election were held today, the result would be ~15% HRC and 50% DJT. The other 35% are independent/undecided. So yes, HRC will try to rig the polls, which is why Russia is getting blamed for messing with our election. Of course they are meddling, but they have no real effect. We will simply blame them so Microsoft can gain total control over the machines and make sure the vote is counted "properly".
Voting — in person or by mail?
It is better to go in person, but it ultimately does not matter because the votes are machine counted.
What are the chances of voter intimidation involving La Raza and/or BLM?
100%
Trump's safety
Assassinating major figures is very difficult and very dangerous, especially today. There are eyes everywhere, so the best way to kill someone is to assassinate their character, which is why the MSM constantly goes hard after Trump.
Black markets are betting in favor of his assassination, I don't see it happening.
Trump's chances of winning
95% probable Trump victory.
College is not a representative sample of the voting populace. The voting public is not even representative of the general public. Among people who are voting or have voting histories, Trump is winning, and he's adding way more people who have never voted. A Trump victory is baked in.
If Trump wins
DJT will put her in jail.
I cannot say for sure, but I expect it will be a major issue at the forefront of his presidency.
The Fed will be a main target of Trump I am sure, since they manipulate so much economic activity in favor of the wealthy.
If globalism dies out in the US, what is the next targeted country?
Try China
WikiLeaks
We suspect they have something big. Before I thought they were blowhards with no information, but now I am starting to think they got a hold of something damaging.
I do not know what WikiLeaks has, and am very much looking forward to reading their material.
Russian involvement
We know the Russians got a hold of something in her servers. Tbh, I believe she was planning to start a war with Russia, and that the Russians have given select info to Wikileaks to help destroy her campaign. Russia is not the greatest country on earth, but they do not want to be at war with us. The world is weary of conflict.
Any war started with Russia will involve a false flag.
[If Hillary is elected] I expect within one to two years.
Muslim Brotherhood involvement
They are involved, but not as much as people think. They are dangerous, and they do want to subvert US to Islam.
Iran
Iran's actions are the focal point of what is coming next. Saudi Arabia will collapse, as they've been [mess]ing around with oil prices too long to recover. Good riddance.
Enemy countries with nuclear capabilities
They want world domination. Our ICBM defense is very substandard compared to China and Russia.
Hide-outs in case of World War III
The US will probably be the safest place, given the large mountainous regions with plenty of hiding places/natural resources.
World War III will largely be fought 'on the plains of Africa'
Sub Saharan Africa
Credibility of 'insider' information
The "insiders" are giving out information. Not all of it is correct, some is just fun to think about, others are clearly trying to help me point you in the right direction.
What about the plausibility of Clinton Foundation (CF) and child trafficking?
The CF always operates in countries where birth records are difficult to maintain. Let that sink in for a moment.
Or the CF and missing persons?
Haiti was a disaster for a number of reasons, but as regards to the CF, a number of people went missing in [the Bahamas] shortly after the CGI [Clinton Global Initiative] set up shop. Maybe someone can find out why.
[Original statement said 'Haiti', which he later changed to the Bahamas.]
Anywhere the CF is peddling their HIV/AIDS solutions, inevitably missing people and questionable organizations with enormous cash flows appear.
Did Obama really use a pseudonym in his emails?
We leaked this. It just goes to show how corrupt the whole of government is.
[Politico has the story from 2015. Those were State Department email leaks.]
Was stonetear trying to wipe Obama's email headers?
Yes
[Stonetear actually went on to a Reddit forum to ask how to do this for a 'VIP' customer of his. The comment below relates to how anyone could be so stupid.]
You are under the false impression that our government is competent in anything.
Could Obama be implicated in the Clinton investigation?
Obama would be impeached if the truth were out. Unfortunately, the entire government would collapse, and Americans would revolt tomorrow, assuming most people believe the truth. Once you know what the real deal is, it is hard to have faith in people anymore.
Obama's final months and foreign policy
The president is doing last-minute stuff to try and convince world leaders that America will remain as it is. The problem is, no one wants America's policies to continue.
More on Obama
Obama is an atheist liberal with Muslim sympathies. He was born in the US, but spent a good portion of his childhood overseas. He also has Chicago mob connections through his father.
[His father — Frank Marshall Davis of Chicago??]
Hillary's health
We believe she has Parkinson's.
Hillary influenced by the Rothschilds
Their relationship is mentor/protege
The Billary marriage
Theirs is a political marriage, they barely spend any real time together.
Stories about Hillary and Moloch
Disinfo
Gary Johnson (Libertarian)
Gary Johnson's true support is hovering around 1%. No one cares about that idiot. I actually have met him at a party one time, and he is actually incredibly cringy. My wife thought he was gay.
Is the NSA competent?
Not really. Do they have a … ton of info? Yes. Do they share it? No. Do they even know what they have? No.
CIA in the media
[Anderson] Cooper and [Wolf] Blitzer are both former CIA
Americans and the media
Right now we know the public no longer trusts the media, so when they report on things people fact-check, which is why they dropped the "Pepe is bad" story this week. As soon as they reported it, people started flocking here en masse.
[Pepe is the unofficial Trump campaign mascot. He is a comic book frog. Read more in my post about the Deplorables, near the end.]
The financial papers are usually better reads because they are written for businesspeople, and usually big money decisions require solid info. Stay away from politically oriented sources though. I like to read Investor's Business Daily, the Wall Street Journal, Drudge Report, Mish's Global Economic Trends, Al-Monitor, Government Executive, The Hill, and Asia Times. Those are just a few of the sites I read though. I use Feedly to aggregate all my news.
What about attacks and bombings going on in the US last summer?
Bombings were false flags, everything else is media hype. BLM is a waste of time. The crime rate among blacks is virtually unchanged, it has always been high, the only thing different is the media attention.
Was the Alabama gas pipeline break an attack?
Yes
Clintons' involvement with immigration
I do know they helped push immigrants through the border, just like every other politician, but that is the least of their sins.
The latest smoking gun
The latest FBI doc dumps. The redactions aren't hard to figure out if you're putting 2+2 together
Why and how FBI investigation stalled at that time
Imagine I have three guys working on a project. It's in the purple or SAP [Special Access Program]-[above top-secret] level, and none of them know who is working on said project with them or what the big picture looks like. They're isolated from one another. I tell two to pause and one to stop completely, the project never gets finished and no one knows why. That's the type of stuff going on in the department right now. because I am a big picture guy, I know it's to stall so HRC can run out the clock.
Why the immunity agreements?
They can take the 5th or get immunity from us. We grant it because we want to know how deep this [hell]hole goes, and they take it because they believe they will be pardoned. We can terminate immunity agreements if the information prosecutes someone without an immunity agreement, i.e. HRC.
Why doesn't FBI Anon do something himself?
I have tried explaining this, but since some of you are too dense, I will try again.
I could go into my office, pull all the docs (though I would get arrested shortly after), come home to my pc and upload tons of dirt on HRC right here. But do you know what will happen?
Google will remove it, and then this website will be shut down. It will go down with no reason, no explanation, the founders will all be investigated by the DOJ, and though they may not be found guilty the harassment will be long enough to stop them in their tracks. Nothing will get done.
Instead, I layer the truth with just enough [nonsense] to make my story believeable. Now, people are looking at in, some don't care, others doubt me, but the bottom line is this board has become a place where anti-Hillary sentiment reigns supreme. And because the anti-hillary sentiment is so strong, the MSM is attacking this very board because it knows people are coming to see what is going on, and what is going on does nothing for HRC's campaign.
FBI Anon's safety
Last time I made a thread (which was a few months ago, I don't remember exactly) things got a bit too close. People started asking questions, but most people from all over the government don't suspect anyone because I make sure to post enough nonsense that no one will believe or take seriously. Nuggets of truth.
My wife is well, though she doesn't like when I do these anymore. She doesn't want me to get suicidal.
I don't need recognition, I just don't need Hillary Rodham Clinton to become president of the United States. It's gotten to the point where my wife and I have made a suicide pact if she actually gets elected and serves enough time to do damage.
I came back [to 4chan] because I left you guys in the fog, and though it's tempting to think I am doing some secret stuff, I'm really a normal guy with a family and stuff to do.
My wife is a housewife, and she knows how to handle herself. She's a great woman.
Jason Chaffetz (Republican congressman for Utah, head of House Oversight Committee and hearings on Clinton investigation)
I know him personally. He is furious over what has happened, but is constrained by the DC beltway groupthink. If DJT gets elected, expect him to unleash his full fury on HRC.
Victoria Nuland (Assistant Secretary of State, career dating back to Bill Clinton's presidency)
You are on the right track.
Mysterious deaths, including Justice Antonin Scalia's
Not sure about Scalia, the Clinton Kill List is very, very legit. Some are natural causes, but the ones that seem too outrageous, actually are. I forget his name, but the one who claimed to be investigating the Octopus who ended up in a duffel bag locked from the inside [happened in London], he was investigating the Clintons.
4chan /pol/ (political threads)
I do my part by coming here and answering questions. It has been a while, and unfortunately the investigations have stalled so I am not very helpful, but you guys collectively are fighting against the negative perceptions. Everyone thought they couldn't make a difference, now the MSM is openly trying to frame this board and others as right wing extremists to discredit us. That should send a clear message as to how threatening this board actually is.
Keep making noise and bringing people on the board.
Many of my colleagues openly discuss 4chan. We share our thoughts in private, but most of us know what she did was illegal. Even basic intel people have briefings that can last for 10 hours telling us what we can and cannot do with information. You do not need intent to prosecute. We are told this every day, we can be negligent and still get [messed about].
They [the media] know you won't find anything concrete, they are worried that you are creating negative perceptions of HRC that cannot be whitewashed (which was the whole point).
We have no moles in her campaign.
I am on /pol/ pretty much every day. I don't always browse every thread, but I keep up (mostly). I spend a lot of time on /fit/, /wsg/, /wg/, and /b/ though. My wife loves /fa/ and /v/.
Sign off for the thread
Unfortunately it's bedtime, my friends. I have a long day of cooking and watching Trump beat the [heck] out of Hillary in the debates tomorrow. If you were in this thread, be sure to take a few shots for me.
What the general public can do
In my opinion, the topics which you should focus on … should take priority in reverse order. Details of the Clinton's dirty dealings in China and Haiti are icing on the cake, details which most Americans could care less about because they have no perception of these countries.
Hillary's health is huge, but the best topic to my mind is her intimidation and silencing of the women Bill has raped/assaulted. These women are numerous, yet few have managed to tell their story, let alone have anyone care. You all can make that happen.
Like I said, keep doing what you are doing. Countering the psychological narrative being pushed on people is having an effect.
Volunteer to be a Trump election watcher. Try to set up an organization which will conduct independent exit polls (many states no longer require them since most of them showed the Democrat primaries were rigged).
FBI Anon's prediction that Trump's victory is 'baked in' comes true only if everyone votes. Make it a Monster Vote to defeat voter fraud and vote flipping, which is happening now.
Tomorrow: FBI Anon's latest thread from October
—————————————————————————————
Hillary related:
This one is from The People's Cube:
Two years ago, the Revd Conrad Mbewe, pastor of Kabwata Baptist Church in Zambia, spoke at John MacArthur's Strange Fire conference.
Pastor Mbewe spoke about the Charismatic movement in Africa for the conference. The Grace to You ministry team has published an article he wrote on the same subject.
A summary and excerpts follow, emphases mine. Please also read the comments. This movement is popular on other continents where shamanism is popular, e.g. some Asian countries (Korea) and South America.
Why the Charismatic movement is popular in Africa
Mbewe introduces his article by saying that the Pentecostalism practised in Africa is not the traditional, old fashioned one, but a syncretic one which merges with ancient animist beliefs.
Let me explain what I mean. The African spiritual worldview consists of four tiers.
1. God
2. Angels and demons
3. Ancestral spirits
4. Human beings
It is because of this reality that Africans do not question the existence of God, as is the case with many people in the Western world. To an African, God is there. He is the Creator and ultimate Governor and Benefactor of the whole universe …
So, although God is a benevolent, loving, and caring Being, unless the beings that dwell in these two layers that lie between him and us are appeased, his blessings cannot reach us. It is, therefore, important to appease the ancestral spirits and defeat the demons. Only after that will God's blessings come upon us.
Christians practising a Westernised form of the faith rely on private prayer, Bible study and structured worship, with a focus on Jesus Christ as our only Mediator and Advocate. However, many churchgoers in Africa look for a 'holy' man living among them who can accomplish this mediation. Historically, this was the witchdoctor.
The witchdoctor was the key to relieving health problems, difficult relationships and ridding demons from people's lives:
So, a person who is beset with perennial illnesses, failing to get a job, failing to find a spouse or to have children, whose business is failing to thrive, etc., simply goes to the witchdoctor who alone has the key to look into the spirit world. He is told that it is either a deceased person or an evil spirit who is frustrating him.
Sometimes the enemy is a person who is alive. However, the reason why this living individual seems to have a mysterious hold over your life is because he has plugged into those two layers (of either dead ancestors or evil spirits) and you have not. With the help of a powerful witchdoctor you can outsmart him in those two layers, and the blessings of God can once again begin to flow into your life.
Mbewe makes two important observations:
Whichever way, the power of the witchdoctor is not in explaining truth but in mindless frenzy.
Of course, this is never done by benevolence. You pay for his services.
In many African churches, a 'man of God' has replaced the witchdoctor but not completely:
I do not mean to be unkind, but what the modern Charismatic movement in Africa has done is to simply take this entire erroneous superstructure of African religious worldview and baptise it with wrongly applied Bible verses and Christian language. The only difference is that the layer of dead ancestors and evil spirits is now one hotchpotch of confusion. This is why the nonsense of demons becoming spirit husbands and wives, and wrecking havoc in marriages, is taken for granted! This is also why the heresy of generation curses has become so popular. In our minds, bad luck can be passed on from that layer of dead ancestors.
Africans are flocking to church not because of salvation as much as resolving personal issues via the pastor:
So, when blessings are not flowing our way despite our prayers, we make a beeline to his quarters or his church for help. This explains the throngs in these circles. The crowds are not looking for someone to explain to them the way to find pardon with God. No! They want the "man of God" to pray for them …
This also explains why the answer to almost any problem that you take to these "men of God" is "deliverance" and "breakthrough". God wants to bless you, but you need to break through these impregnable layers before those blessings can reach you. The prayers of the "man of God" will bring deliverance because at the overnight prayer meeting or on the hill he will bring about a breakthrough. Who can doubt that these two phrases have become the key words of this movement?
He warns us off 'prayer warriors' for this reason:
… prayer in the modern Charismatic movement in Africa is literally a fight. In fact, the people praying are called "prayer warriors". Although they begin by addressing God, within the first few seconds they divert from God and begin to fight the spirits in these impregnable layers with their bare knuckles. The language is almost always, "We bind every unclean spirit in Jesus' name! We loose the Spirit that breaks the yoke in Jesus' name!" 
At some point, they seemingly 'prevail' over the bad spirits:
That is when they reach through to God and his blessings begin to flow. This is nothing more than the African traditional religious worldview sprinkled with a thin layer of Christianity.
Another dangerous and false teaching is ignoring a proper explanation of the Bible and hammering home the same few verses out of context:
… teaching is not the strength of the modern Charismatic movement in Africa. Its chief proponents survive on a few, well-worn, tortured verses: "By his stripes we are healed," "We are not the tail but the head," etc. There is absolutely no effort to properly exegete Scripture. Rather, by chanting phrases and making people drop under some trance, in witchdoctor fashion, they are holding sway over the popular mind. The people love it and are paying for it! The "men of God" are becoming stinking rich as the crowds just keep on coming. 
Not Christianity
Mbewe says that we should discourage the expansion of this movement because it is not Christian but syncretic:
I know that this approach is filling our church buildings and classrooms to overflowing, until we have to multiply church services in order to accommodate the crowds. But this is not Christianity. It does not lead to heaven. It is a thin coating over the religion that has been on African soil for time immemorial, which Christianity was meant to replace. We have lost the Christian faith while we are holding the Bible in our hands and using some of its words. This is really sad.
He asks us to remember the central tenet of Christianity, one not preached in these 'churches':
The religion of the Bible does not teach a God who is so far away from us that unless some powerful humans come in and give us a breakthrough he cannot bless us. No! The Bible teaches a God who is near us. The only barrier between God and us is our sin, and Jesus has dealt with that by his death on the cross.
When we pray, we are in the throne room of divine grace talking directly to God. We do not need to address demons and ancestral spirits before we break through to him. We do not need to chant and jump around like witchdoctors around their fire under the midnight moonlight. God is our heavenly Father. Only our sin can hinder our prayers.
This is true. However, the truth does not 'tickle the ears'.
We can but pray for true men of God to spread the reality of the Gospel.
Witchcraft murders in the UK
Over the past several years, we have had a few violent, systematic deaths by torture in the UK. There have also been cases of abandonment. These have to do with witchcraft. Some of these crimes are possibly committed under animistic belief. Others, however, are related to Christian Africans.
Victoria Climbie's horrific torture and death in 2005 is probably the best known case. Authorities were reluctant to intervene because her guardians were African. The BBC has documented other cases. Ibidapo came to the UK from Nigeria at the age of ten to work for relatives:
Each time the children got sick my aunty would accuse me of being the one responsible for their illness, start calling me a witch, start beating me up, and there was a time that she took me down to church, to a pastor. They were calling me a witch, they were using a broom to beat me.
Sometimes my aunty would look into my eyes and call me a witch. It made me feel rejected, like I'm nobody.
Fortunately, a Nigerian neighbour helped her to escape a horrible situation.
Debbie Ariyo, founder of Africans Unite Against Child Abuse, told the BBC that stepchildren are often targets of abuse. It is not unusual for pastors to single them out during public worship. The object is to make money via 'deliverance':
She added that within churches there was often a financial motivation behind accusations.
"The pastor says there's a witch in this church today; looks around and points to a child.
"That means public humiliation for the family. The next step is exorcism which is not done for free. It's a money-making scam."
The Daily Mail also featured articles on African church-led child abuse. One of them described the violence a little girl from Angola endured:
In 2005, three people originally from Angola were found guilty at the Old Bailey of torturing an eight-year-old girl they thought was a witch. The cruelty started when a boy told his mother that the girl had been practising witchcraft.
The girl was starved, cut with a knife and hit with a belt and shoes to 'beat the Devil out of her'. She had chilli peppers rubbed in her eyes and, at one stage, was put into a laundry bag to be thrown into the river. She was saved from drowning only when one of the perpetrators warned that they would be sent to prison if caught and they decided against it.
This child, an orphan, was the victim of trafficking, like Adam [another horrifying case where his body was found dismembered in the Thames] — she was brought into the UK from Angola by her aunt, who had passed her off as her daughter.
A few years ago, we read of the death of Kirsty Bamu, a teenage boy tortured because a relative thought he was a witch. Tragically, this took place on Christmas Day 2010. The Huffington Post carried news of the trial in 2012:
A teenager begged to die after being tortured by relatives wielding hammers, pliers and chisels who were convinced he was a witch, a court heard on Thursday.
Kristy Bamu was subjected to a "prolonged attack of unspeakable savagery and brutality" by his older sister and her partner. The 15-year-old had suffered 101 injuries by the time he died on Christmas Day in 2010, jurors heard.
Kristy's brother-in-law Eric Bikubi his partner Magalie Bamu, both 28, forced Kristy's other siblings to join in with the horrific torture, according to prosecutors. Kristy's face and head were covered in deep cuts and bruises and his teeth had been removed, the court was told.
Brian Altman QC, prosecuting, accused Bamu and Bikubi of beating, torturing and drowning Kristy after they accused him of witchcraft and sorcery.
The Daily Mail also reported on some of the testimony given:
Kelly [Kristy's sister] said: 'They started talking about kindoki, witchcraft and this and that. It was as if they were obsessed by witchcraft and then it became absolutely unbearable.
'They asked if we were witches. I repeated again and again and again that we were not witches. I did not know what was going on in their minds. They decided we had come there to kill them.'
Kelly said they had been made to fast, pray all night to remove the kindoki and hold a vigil over the next few days. Then Bikubi had allegedly said he would get the truth out of them with a stick.
She said angrily: 'He began to hit Kristy while my sister was watching and didn't do anything.
'I begged him, we didn't do anything, we are innocent. She didn't argue at all. It was as if it was completely normal. She was just sitting there as a spectator.
'He hit and hit Kristy. He was not feeling well, He was having trouble breathing and he fell over. As far as Eric and Magalie were concerned, that was the kindoki coming out of him …'
Conclusion
These beliefs and practices — under the banner of Christianity — are un-Christian, dangerous and fatal both to the body and the soul.
Let us pray that African churches and congregations discover the truth of the Gospel and salvation through our only Mediator and Advocate, Christ Jesus.
Much to France's chagrin, the Tour de France has not had a French winner since Bernard Hinault in 1985.
This produced much negative media coverage concerning Britain's dominant Team Sky and the winner, their leader, Chris Froome.
This is Froome's second Tour victory. The first was in 2013. The British have now won the Tour de France three times since 2012, when Sir Bradley Wiggins became the first winner from the UK.
Target Froome
The French suspect Froome of doping. Yet, he won this year's Tour by only 1'12" over Colombia's Nairo Quintana (Movistar), who made no secret of his own desire to take first place on the podium in Paris.
Oliver Brown, writing for The Telegraph, explained:
Froome has found this race antithetical to any notion of comradeship. He has borne the brunt of outrageous attacks from spectators, endured the slurs arising from critical documentaries on French television, and waged public and unpleasant battles with his chief rivals – not least Vincenzo Nibali, who he accused of unsportsmanlike conduct for trying to exploit his mechanical failure on the descent from the Col du Croix. For 21 days, he has been a man besieged …
A climate of scepticism is perfectly legitimate in light of cycling's benighted recent heritage, captured by a bizarre appearance mid-tour by the attention-seeking Lance Armstrong. But for Froome to be belittled and excoriated without a shred of hard medical expertise has the feel of a sordid injustice. He would be within his rights if he refused to celebrate too conspicuously on Sunday. He ought to derive greatest pride, though, from having emerged unscathed from one of the most gruelling emotional ordeals that an athlete should ever have to endure.
Froome's Tour gave viewers a lesson in patience and doggedness. He was calm, quiet and determined on every stage. He refused to get unnerved by attacks from Quintana, Alejandro Valverde or Alberto Contador. His Sky teammates stayed cool, too, and were there for him every day. The climbs proved tough for some and, occasionally, Froome was on his own near the end, but he rode with aplomb, dedication and humility throughout.
In his victory speech, Froome alluded to the accusations he received this year. From The Sun:
In a victory speech laced with emotion, he said of the Yellow Jersey: "It is very special. I understand its history, good and bad, and I will always respect it, never dishonour it and I'll always be proud to have won it."
Team Sky ace Froome has been the victim of a vile campaign of doping slurs as well as physical and verbal abuse from sick fans.
But after swapping the urine and spit for champagne, he added: "Someone needs to speak up for the cyclists of 2015 and I'm happy to do that.
"Someone's got to take a stand, it's time."
Froome won not only the Tour but the polka dot 'king of the mountains' jersey which puts him on a par with the legendary Belgian Tour winner Eddy Merckx who won both in 1970.
Yet, even some Britons disparage the UK's latest sporting hero. The comments following one Telegraph article reveal that Froome isn't British enough. Not only was he born and raised in Africa, he now lives in Monaco. As a British citizen, how dare he?
Soon, Froome will become a father for the first time. I wish him and his wife Michelle all the very best.
The African Tour
Chris Froome was born in Nairobi, Kenya, and spent his formative years in South Africa. It was in Africa that he developed his love of cycling. His English parents emigrated from Gloucestershire to become arable farmers in Kenya. He was reading economics at the University of South Africa when, two years into his degree, he left to join the South African cycling team of Konica Minolta.
However, he was not the only reason the 2015 Tour was an African one.
A new wildcard African team entered this year's Tour: MTN-Qhubeka. Whilst the Tour has had African teams and riders before now, the Tour de France site tells us:
Rooted in South Africa since its creation in 1997 by Douglas Ryder, a professional cyclist until 2002 and still the manager of a team sponsored since 2007 by the telecoms operator present throughout the African continent, Qhubeka (a word that means "advance" in the Xhosa language) is a foundation that provides bicycles as a means of transport to underprivileged populations. It is a team with a strong identity and humanitarian calling that is set to write a fine page in the grand international history of the Tour de France. In its ranks, it boasts Eritrean Daniel Teklehaimanot, the best climber on this year's Critérium du Dauphiné, and his countryman Merhawi Kudus, who completed the Vuelta at the age of 20 years. The toughest runners on the planet come from this part of the world. Now it is cycling's turn to be enhanced by these exceptional athletes.
And it wasn't long before MTN-Qhubeka became a household word. On Stage 6, the aforementioned Daniel Teklehaimanot became the first black African to wear the Polka Dot jersey. All eyes were on him and his teammates thereafter.
Teklehaimanot's teammate, Steve Cummings, fittingly won Stage 14 on July 18 — Nelson Mandela Day.
Cummings was born and raised in Merseyside and was also on Team Sky before joining MTN-Qhubeka for the 2015 season.
We look forward to seeing more of MTN-Qhubeka next year, especially Teklehaimanot, a brilliant climber and marvellous to watch!
Hope for France
Spain's Movistar won the team prize this year.
In 2014, it was France's AG2R-La Mondiale. My hopes were high because their indefatiguable Jean-Christophe Peraud came in second place and Romain Bardet sixth.
This year, Bardet came in ninth place and Pierre Rolland (Europcar) came in tenth.
At least Bardet won the Super-Combative — Most Aggressive — rider prize. And he won Stage 18, his first Tour stage victory, a daunting Alpine challenge from Gap to Saint-Jean-de-Maurienne:
He built it from a long lasting breakaway and escaped near the top of col du Glandon and rode away solo in the downhill. He stayed away for 40 kilometres with an advantage of 40 seconds over his chasers. This is the second stage win for France and AG2R-La Mondiale at this year's Tour de France.
It was amazing to watch and one can only admire a young man who told interviewers he bought several books before the Tour de France just so he could distract himself from cycling during his limited free time.
Things looked much brighter for France last year. It will be an uphill struggle — no pun intended.
France Télévisions and ITV4 do it again
France Télévisions did a superb job of filming and broadcasting the Tour de France. Anyone who wouldn't want to visit France after seeing the beautiful countryside and monuments is, frankly, a bit off.
No other network can film cycling the way France2 and France 3 can. Nothing ever looked flat or one-dimensional as cycling races can in other countries. There must be something in the way French cameramen are trained. Everything is cinematic, eminently watchable.
Tour fans in the UK are grateful that ITV4 have the broadcast rights to free-to-view live coverage of every stage. It appears this will continue to 2019, thankfully.
July was indeed a beautiful month, enhanced by ITV4's broadcasts, including commentary from Tour veterans Jens Voigt and David Millar!
My thanks to reader and writer Lleweton who sent me news that Mariam Yahia Ibrahim Ishag — held in a Sudanese prison for so-called apostasy from Islam — is now a free woman.
Legislators from the Republican Party in the United States have managed to persuade Sudan's courts to liberate this young wife, mother and successful entrepreneur from prison. Ibrahim — despite her Muslim-sounding name — was deserted at a young age by her Islamic father and raised as Ethiopian Orthodox by her Christian mother. At no time was she a Muslim.
When I last wrote on the case on June 17, Oklahoma's Republican US senator Jim Inhofe led 20 of his peers in asking Secretary of State John Kerry, a Democrat, to grant her and her family asylum in the United States.
Ibrahim's husband, Daniel Wani, is also a Christian and has been an American citizen since 2005.
The Associated Press reports that Congressman Chris Smith would like to see Mariam, Daniel and their two children living in safety in the United States.
The Independent (UK) has a recent photo of an emaciated Ibrahim. With God's mercy, may she be restored to her former health and beauty.
The Christian Post (CP) reports that Sudan's appeals court threw the case out for insufficient evidence. Sudan's state news agency Suna confirms the decision.
The CP adds that Republican Congressmen Trent Franks (Arizona) and Frank Wolf (Virginia) have written as follows:
We request that the U.S. State Department, in partnership with the U.S. Department of Homeland Security, review granting Mrs. Ibrahim Significant Public Benefit Parole, asylum, or refugee status, as appropriate. In short, we urge that every legal means necessary be exhausted to ensure that she and her young children are provided safe haven.
I wholeheartedly agree, particularly as Wani is a longstanding American citizen.
God has heard the prayers of His faithful from around the world and has seen that justice be done.
Since my first post about the Sudanese Christian, Mariam Yahia Ibrahim Ishag, it transpires that she gave birth to a daughter, Maya, whilst shackled in prison at the end of May 2014.
In mid-May, Ms Ibrahim made world news. She is awaiting flogging and death for apostasy from Islam, despite the fact that her Muslim father deserted her and her mother years ago. He moved away, remarried and fathered more children. Ibrahim's mother, an Ethiopian, brought Mariam up as an Orthodox Christian from infancy. She was never raised as a Muslim.
Around the time of Maya's birth, a number of media outlets around the world reported that the Sudanese government was planning on freeing Ibrahim 'within days'. However, on May 27, Christianity Today reported that the words of a representative from the country's foreign ministry had been misinterpreted.
Meanwhile, a second Sudanese woman, Faiza Abdalla, has been arrested on the same charges. She has yet to be convicted.
Ibrahim's husband, Daniel Wani, also a Christian, has been frustrated by the lukewarm response from America's State Department. Wani has been an American citizen since 2005. US News and World Report says that Republican Senator Jim Inhofe (Oklahoma) is leading 20 other US senators in asking Secretary of State John Kerry to grant Wani, Mariam and their two children asylum.
The article points out:
The story of Meriam Ibrahim, whom the Sudanese government has decided was raised in a Muslim environment, meaning she must renounce her belief in the divinity of Jesus Christ or die, has not gotten the same level of attention as the abduction of more than 200 Nigerian schoolgirls by a terrorist group that objects to their receiving an education. Nonetheless it is, from an American perspective, just as if not more important because she is the wife of a U.S. citizen, and should, therefore, be a priority for the president and his national security team.
That they have failed to act may be due to the intense negotiations just concluded that produced the release of an American soldier allegedly being held captive in Afghanistan in exchange for the release of five high-ranking terrorist detainees who were being held at Guantanamo Bay, Cuba. As time passes, however, the story of Sgt. Bowe Bergdahl, who went missing nearly five years ago from his post in Afghanistan, becomes all the more mysterious.
Many who have read of Mariam's case wonder how the charges came about in the first place. If readers suspected money as the root of the problem, they were not be wrong.
On May 22, 2014, the Daily Mail reported (emphases mine):
Her half brother and half sister – who had not seen her for decades – tracked her down so they could get rid of her and take over her successful general store, Meriam's lawyers alleged.
The spokeswoman added that if Meriam is forced to leave Sudan then her half brother and half sister may well take over the business as well.
It is not clear if, under Sudanese law, such a scheme would work as intended, or if a business owner would be allowed to sell it on …
The Justice Centre Sudan spokeswoman said: 'When Meriam's father left her mother when she was six he went to another part of Sudan and had another family.
'Meriam did not know about this. She did not even know her father had died until many years after the event. Nor did she know he was a Muslim.
'Meriam's mother died in 2012 and by then she had still not heard from her half brothers and sisters.
'There were years and years that went by when that side of the family did not want a relationship with her.
'Recently Meriam has been running a successful business in Khartoum. It's a general store in a shopping mall and she has been selling some Ethiopian items as her mother was from there.
'They've been doing really well and the business was growing and Daniel has been helping her out.
'Her half brother and half sister must have heard about this and worked out she was a relative of theirs because of her name.
'The first thing Meriam knew about them was when her half brother and half sister filed the lawsuit.
'She was arrested from her home and thrown in jail with no warning.'
To cause their half sister to die because they want to take over her successful business and her money is appalling.
Let us continue praying for Mariam and her family that justice be done.
I often associate nanoparticles with troublesome products which invade privacy.
One such product in development are tablets encapsulated with nanoparticles which send signals back to a doctor or nurse who can monitor not only whether you are taking your medication but what your pulse rate and blood pressure are. Thankfully, this is still a few years away from reality.
Another possible product is a garment woven with nanoparticles that could serve as a camera. Oh, dear.
However, an exciting development in the world of nanoparticles has been Water Is Life's The Drinkable Book (videos and photos at the links). This book, targeted at the developing world, initially Kenya, contains multilingual instructions for use; its pages are actually water filters. The book comes in a presentation box which serves as a filtration tray.
CNET reported on May 13, 2014, that the water filters contain silver nanoparticles which actually kill bacteria in water passed through them into the filtration tray. (Silver is an ancient and natural disinfectant. One company in the UK makes antibacterial hand soap containing microscopic silver particles.)
Although the filters can do nothing with solid matter or chemicals in the water, in terms of purification under more ordinary circumstances, The Drinkable Book's filters can kill 99.9% of bacteria.
This helps reduce the incidence and spread of diseases such as cholera, typhoid and E.coli.
The French site l'Internaute says that one Drinkable Book costs only a few euros and has enough filters to give a person four years' worth of potable water.
This is an exciting development — thanks to nanoparticles — giving hope to many who have no access to clean water supplies.
It was appalling to read that a young  Ethiopian Orthodox Christian Sudanese wife and mother, Dr Mariam Yahia Ibrahim Ishag is about to face 100 lashes and the death penalty in Sudan.
One of Mariam's relatives turned her in to Sudanese authorities on the basis that she is an apostate.
When President Omar Al-Bashir seized power in a coup, he subjected Sudan to sharia law.  In 2011, the southern part of Sudan declared its independence.
Mariam Ibrahim, aged 26, has an Orthodox mother and a Muslim father. The father deserted the family when Mariam was a child. Not surprisingly, the mother raised her as a Christian. The relative who brought the charges contends that Ibrahim should have been brought up as a Muslim, following her father's religion. The Sudanese court agrees.
That would have been difficult as the father left the family home when she was a toddler.
President Al-Bashir staged his coup in 1989. Ibrahim was only two years old at the time.
Since the mischief making relative turned her in, Ibrahim underwent a Sharia trial. She was given three or four days (reports differ) to repent of her alleged apostasy and escape the death penalty. Ibrahim maintained that she had always been a Christian and was, therefore, not guilty.
To compound the issue, Ibrahim's husband, Daniel Wani, is also Christian. Because of his religion, under sharia law, he is not allowed to care for the couple's son, Martin, 18 months of age. Martin is with his mother in prison. He suffers ill health because of the institution's poor hygiene. Mr Wani is wheelchair-bound and had relied on his wife for his survival.
It is not clear when Ibrahim will be sentenced for flogging then death. The court ruling is up for appeal and has created diplomatic ructions between the US, the UK and Sudan.
Let us pray for our sister Mariam that she escapes both penalties. She is  in her final trimester of  pregnancy with hers and Daniel's second child. She is in ill health.
The flogging, by the way, is for having illicit sexual relations with a non-Muslim, despite the fact that they married within their own faith.
Let us also pray for her husband Daniel and young son Martin.
Despite what do-gooders say, sharia law affects everyone.
Incidentally, although I include the article from the Daily Mail below, it is more for the photos of the young couple rather than for the reporting. It appears from other sources that Ibrahim was always a Christian, not a recent convert (as the Mail says).
Further reading: