You are currently browsing the tag archive for the 'Allegra Stratton' tag.
Friday's post provided the background to the current turmoil in Boris Johnson's Government.
This is where we left off — a GB News tweet from November 22, before further events occurred:
The Christmas party — or parties
Last week, news emerged of an alleged Christmas party held on December 18, 2020, at No. 10 Downing Street.
Somehow, it took most of 12 months for this news to appear.
It surfaced with a video of Allegra Stratton, who was rehearsing for her new — ultimately unfulfilled — role as a televised press secretary, although she did remain press secretary.
On Tuesday, December 7, ITV News was able to obtain this video of her rehearsing for a press conference involving a fictitious Christmas party. The press corps are senior No. 10 employees:
According to this rehearsal, which Stratton did not take too seriously, we are looking at a party that never took place.
However, when one watches the video, one wonders: did it or did it not happen?
Allegra Stratton laughed and slumped over the podium. Hardly a professional look.
The Sun reported (emphases mine):
Senior members of the PM's top team were filmed laughing and referring to "cheese and wine" in a mock press conference held by Allegra Stratton in the No9 briefing room …
In footage of the fake presser, obtained by ITV, one of the PM's advisers asked: "I've just seen reports on Twitter that there was a Downing Street Christmas party on Friday night, do you recognise those reports?"
Ms Stratton joked: "I went home!" before she paused to consider how to respond.
The aide added: "Would the prime minister condone having a Christmas party?"
Ms Stratton, who was due to lead daily political press briefings in the £2.5million press room before the plan was ditched earlier this year, laughed and replied: "what's the answer?"
Another No10 staffer popped up to say: "It wasn't a party, it was cheese and wine."
Ms Stratton added: "Is cheese and wine alright? It was a business meeting…"
Business meetings were allowed under the restrictions at that time, as The Times explains:
People were allowed to gather if it was reasonably necessary for work purposes, but that would not have included holding a party.
The government's advice from the time said: "Although there are exemptions for work purposes, you must not have a work Christmas lunch or party, where that is a primarily social activity and is not otherwise permitted by the rules in your tier."
The Telegraph's Christopher 'Chopper' Hope reported that Downing Street might have been exempt from the party rule because it was a Crown property. However, Guido Fawkes pointed out that the Queen wore a mask earlier this year at Prince Philip's funeral on the grounds of Windsor Castle:
No. 10 responded to the Christmas party allegations. ITV News's UK Editor Paul Brand tweeted:
By Thursday, December 9, 2021, The Times revealed a catalogue of seven Christmas parties allegedly taking place in or near Downing Street last year during a time when London was, for the most part, under lockdown.
Excerpts follow, emphases mine.
The Times reports:
Insiders said that the No 10 Christmas party on December 18 began early, with officials and political advisers gathering in the press office shortly after 6pm.
Over the course of the evening some people made speeches, enjoyed a cheese board, drank together and exchanged Secret Santa gifts. By the time it ended shortly before 2am, several of those present were said to be "rat-arsed".
A few rooms away Boris Johnson was working in his office, where after consulting once more with government scientists, he was coming to a critical realisation that Christmas, as planned, could no longer go ahead. Less than 24 hours later the prime minister broke the news that millions of people could not see friends and family over the festive period if they lived in other households …
At the time London was under Tier 3 restrictions, banning indoor mixing with a narrow exemption for people whose jobs required them to be at work in the office. Was Johnson aware of the event, which included some of his most senior aides and was held yards from his office? …
The Christmas party, however, was different. A source said it had been organised days in advance on WhatsApp and with a follow-up email.
Originally it was intended for members of the press office who work together in the same large room on the ground floor …
It was not, they said, a party that had been organised by senior members of staff or indeed political special advisers. But in the close world of Downing Street some members of Johnson's media team were also invited. The most senior members were understood to be involved in the preparations for the impending new Christmas restrictions.
Other parties were alleged to have taken place:
At another point in December, sources say, a Christmas quiz was held for officials and Conservative advisers working in Downing Street. Invitations were sent out by email, with people asked to organise themselves into teams of about six. Many wore novelty Christmas jumpers on the day. One source said that the quiz took place in the "control centre" established in 70 Whitehall by Dominic Cummings, who had left his role as one of Johnson's most senior advisers in November. Another source said that people stayed late drinking, and that there was much discussion the next day about the unexpectedly strong knowledge displayed by the victors.
No 10 sources were adamant that the quiz was "entirely virtual", and denied that it took place in 70 Whitehall, but conceded that some people may have participated from desks in communal offices …
One party allegedly took place at Conservative Party headquarters in central London:
Another event took place at CCHQ a few days before the Christmas party. At least two dozen party aides and volunteers, who had helped Shaun Bailey, the Tories' London mayoral candidate, held a "raucous" bash involving drinking, Christmas hats and dancing that went on late into the night. Things were said to have got so rowdy that a door was damaged. London was in Tier 2 restrictions, with a ban on indoor mixing and the rule of six applying outdoors.
Some parties allegedly took place in November 2020:
Government staff are also said to have held informal leaving dos in November, when England was in a full lockdown, to mark the departures of the senior Downing Street aides Lee Cain and Cleo Watson. Christmas parties were also held at the Cabinet Office and the Department for Education.
Those are the seven alleged parties.
The timing of this leak could not have been worse for the Government.
At PMQs on Wednesday, December 8, Boris insisted that the Cabinet Secretary Simon Case would investigate the alleged December 18 party, which was the only known one at the time.
This is how he responded to Labour's Sir Keir Starmer at the despatch box:
… I apologise for the impression that has been given that staff in Downing Street take this less than seriously. I am sickened myself and furious about that, but I repeat what I have said to him: I have been repeatedly assured that the rules were not broken …
I have asked the Cabinet Secretary to investigate exactly what happened, and I repeat that there will be consequences for those involved if the rules were broken.
I have been repeatedly assured that no rules were broken. I understand public anxiety about this and I understand public indignation, but there is a risk of doing a grave injustice to people who were, frankly, obeying the rules. That is why the Cabinet Secretary will be conducting an investigation and that is why there will be the requisite disciplinary action if necessary.
Starmer brought up the story of a woman who died in hospital over Christmas and her aggrieved daughter who was not allowed to see her because of coronavirus restrictions.
Boris responded:
The first thing to say is that, in common with everybody in this House, I extend my sympathies to Trisha and her family. I understand the pain of everybody who has suffered throughout this pandemic.
I know the implication that the right hon. and learned Gentleman is trying to draw: that the case that we are now investigating should somehow undermine public confidence in the measures that we are taking. I think that is the point he is trying to make, but I say to him that I think it is a great mistake to try to play politics with this issue, and I think that is what he is doing. I do not think the public do want to see confidence in the measures undermined. We are taking—[Interruption.] I think they can see the difference. We are taking the steps necessary to protect the public, above all by rolling out the vaccinations. Rather than focusing on the events of a year ago, that is what we are focusing on and that is what I think the public will understand.
On the one hand, one could say that this is still a sour grapes ploy to get Boris, who got Brexit done.
On the other hand, The Times reported that the news caused some Cabinet ministers and backbench Conservative MPs to distance themselves from the allegations, especially as they were not directly involved with the events:
On Tuesday Sajid Javid, the health secretary, volunteered to do a broadcast round the next day to push the booster campaign. After a video was leaked in which Allegra Stratton, then a spokeswoman for Johnson, joked about the party, Javid is said to have made clear he would not defend the No 10 position.
One minister told The Times that the talk in the Commons tea room was of more letters of no confidence in Johnson going into Sir Graham Brady, the leader of the 1922 Committee of backbench Conservative MPs. They said that the party looks "divided, hypocritical, out-of-control, out-of-touch and all the other things that voters despise" …
A succession of Conservatives went on the record with concerns. Douglas Ross, the leader of the Scottish Tories, suggested that Johnson should quit if it emerged that he knew about the party.
This is how some members of the public view the revelations. As seen last week by someone in England: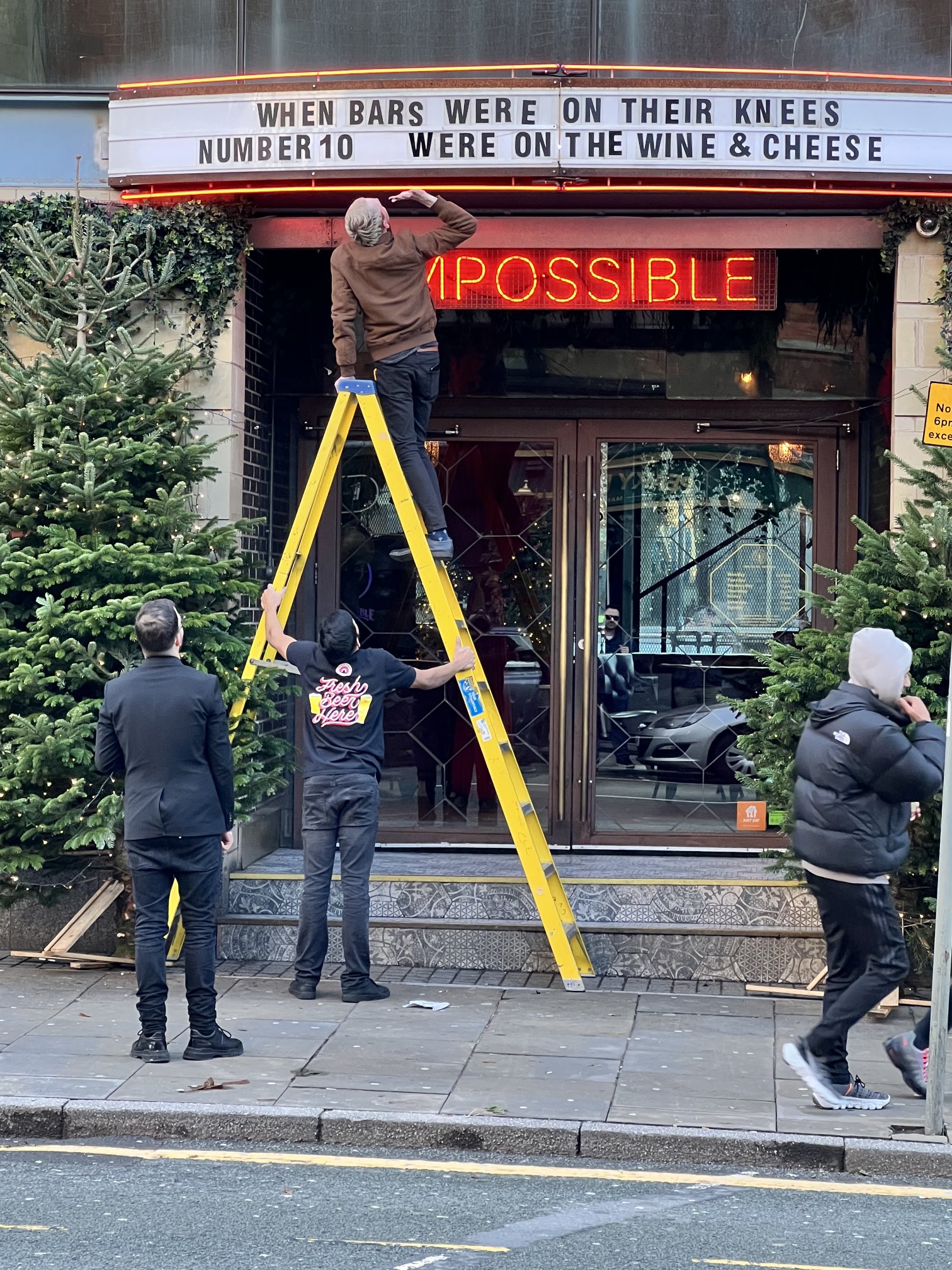 Allegra Stratton's resignation
Allegra Stratton, who appeared so insouciant a year earlier, tendered her resignation shortly after PMQs on Wednesday, December 8.
Tearful — or almost — she gave a brief statement to the press that afternoon:
Guido Fawkes quotes part of her statement:
My remarks seemed to make light of the rules, rules that people were doing everything to obey. That was never my intention. I will regret those remarks for the rest of my days and offer my profound apologies to all of you for them
[…]
To all of you who lost loved ones, endured intolerable loneliness and struggled with your business – I am truly sorry and this afternoon I have offered my resignation to Prime Minister.
This woman is media savvy and has a lot of important connections, shall we say. She'll get another job somewhere else by the New Year, most probably:
Allegra Stratton's televised daily press briefings, mimicking those of the White House, never saw the light of day. One wonders if someone informed on her after the aforementioned December 2020 dress rehearsal video:
She was never very good in No. 10, as our COP26 spokesperson, having explained at length why she didn't own an electric car and why people should join the Green Party! What planet is she on?
Further coronavirus restrictions for England
On the day of her resignation, the Daily Mail reported that No. 10 was desperately searching for the person who leaked Stratton's rehearsal video to ITV News.
But that was not all. Their article said that, in order to take the heat off the Christmas party story, Boris put England under Plan B — further coronavirus restrictions (masks, vaccine passports, travel quarantine) — in light of the Omicron variant, which he did on Wednesday, December 8, a few hours after PMQs and Allegra Stratton's resignation. What was — is — he thinking?
Within 24 hours of its broadcast, the toxic footage of No 10 staff giggling about a lockdown-busting party had detonated a bomb under the Government and led to the tearful resignation of its 'star' Allegra Stratton.
It also sparked an immediate hunt for the leaker, whose decision to pass the film to ITV News may even have prompted Boris Johnson to fast-track plans for tighter Covid restrictions.
So, Boris might have a Christmas party scandal on his hands from last year, therefore, in order to rectify that with the largest swathe of the British public — those living in England — he puts them under Plan B just before Christmas.
How is that a future vote winner?
Furthermore, Boris did not present the initiation of Plan B to Parliament first, which he should do. He had Health Secretary Sajid Javid present it to Parliament at the same time he was giving a press conference to the nation about it.
Wrong!
According to Parliamentary procedure, MPs must be allowed to debate and, if necessary, vote on these proposals before they are made public or enacted into law.
However, Boris has been doing this consistently since 2020 with coronavirus restrictions.
These restrictions will be in place by Monday, December 13. The Parliamentary debate and vote do not take place until Tuesday, December 14. Outrageous.
Omicron relatively weak, yet we have Plan B
As far as we know, Omicron is relatively mild:
Guido points out that the Government is going overboard about a variant whose symptoms resemble a common cold (emphasis in the original):
As the UK government hits the 'Plan B' button in a moment of epidemiological stringency, in the past 24 hours both the US Center for Disease Control and Prevention and the EU Medicine Agency have both said cases remain mild.
15 hours ago the CDC Chief said that of the more-than-40 people in the US have been infected with Omicron, "nearly all of them were only mildly ill" and the "the disease is mild". Just one person's been hospitalised.
… Meanwhile the UK government is preparing to hit the UK economy with a stay-at-home order, based on no hospitalisation or death data suggesting it's necessary.
In his press conference last Wednesday annoucing Plan B, to make things worse, Boris also said that we need to have 'a national conversation' as to whether the UK should implement mandatory vaccinations!
On December 9, The Telegraph's Andrew Lilico wrote (emphases mine):
… Omicron cases are currently doubling every two to two and a half days. Wearing a face mask in the cinema but not the pub isn't going to make a lot of difference to that.
If omicron is really going to grow as explosively as the Government suggests, Plan B isn't going to come remotely close to slowing it down or stopping it. Restricting people's lives in a way that makes no difference whatever to a problem is just as authoritarian as restricting people's lives when there is no problem at all. If the only point of restrictions is as a kind of virtual flag with "We're doing something" written on it, it'd be better not to restrict people's lives but instead to raise a literal physical flag saying that, outside 10 Downing Street …
There needs to be a high likelihood that some disaster will follow if restrictions are not imposed and a good chance that the restrictions would avert or at least mitigate that disaster.
The Government does not appear to believe it needs such a rationale. It seems to think that it's legitimate to restrict millions of people's lives on bases such as "on balance, that's wise" or "to reduce pressure on the NHS" (not to avoid its collapse – just to make life a bit easier). That is a serious departure that MPs of good conscience should vote against. Otherwise it would be legitimate to introduce a curfew every evening to "reduce pressure on the police" or restrictions every time a new flu strain is identified "just in case" it might lead to a pandemic …
We did our bit. We got vaccinated. That has meant that, since April, the infection fatality rate of Covid has only been perhaps 3 to 4 times that of flu. Covid will be with us forever, killing tens of thousands each year. But since April it has never again been possible for it to create the waves of 100,000 and more deaths at a time that we experienced last Winter and that would have been much worse had we not accepted restrictions from last Spring onwards.
… Everyone in the country was going to get delta over the next couple of years, as our immunity faded, unless we were willing to get boosters every few months forever. Why does it matter if we get omicron this Christmas instead? A vague sense that "Something must be done. This is Something. So let's do This." is not even close to an adequate basis on which to let Plan B proceed.
On Sunday evening, December 12, Boris gave a brief recorded address to those in the UK saying that there has been a 'surge' of hospital cases and that the coronavirus danger level has been ramped up to Stage 4 throughout the four nations. Again, he and his ministers just decided this with no input from MPs:
In a nutshell, this appears to be what is happening with Government policy and the media on Omicron:
That morning, Dr Susan Hopkins of the UK [England, actually] Health Security Agency was still among those experts waiting for something to happen with Omicron:
UPDATE — Monday, December 13: One patient in the UK has died 'with' Omicron.
Sadly, the Government and their scientists will consider that a success.
————————————————————————-
People living in England wonder whether Plan B will proceed to another full lockdown in 2022 as punishment for celebrating Christmas.
On Friday, December 10, The Telegraph's Julia Samuel said that, in light of the Christmas party allegations, the Government no longer has the moral authority to impose yet another lockdown:
It seems almost inconceivable and yet it's not. We could be headed for another lockdown, probably just after Christmas. No one really believes that the measures announced by Boris Johnson this week will stop the new Covid variant from spreading. The private reasoning of the officials recommending them and the ministers agreeing to them is that they need to prepare the public psychologically for the possibility of going back into lockdown …
They might tell us to stay at home, but they don't. They might have told us not to party, but Number 10 staffers clearly judged that since they had worked together in close quarters for weeks, a party couldn't really hurt. What stinks is not the logic of this decision; it's the rank hypocrisy of legislating for one thing and then doing another.
If the Government is considering another lockdown, then it needs to understand that it has exhausted consent for the type of policy it could enact before. It has no moral authority to ban fathers from being with their wives during childbirth or to confine people to their houses because an app says they shared a bus ride with a Covid case. If we are told to stay at home, it can only be conditional upon our nearest and dearest social obligations. If that makes enforcement difficult, so be it. Policing this mess fairly has been a fool's errand from the start …
With any luck, this will all end up with a dramatic anti-climax. Scientists are starting to sound increasingly confident that omicron hails Covid's transformation from a threat to a common cold.
By Christmas, we will know the score. But in the meantime, let's recognise the government's half-hearted and ineffective Covid measures for what they are: the start of a campaign to soften us up for another lockdown, if it's deemed necessary.
If that is what's coming down the track, we need to be clear: some things are too important to be sacrificed to Covid controls. The Government ought to recognise that and use the law sparingly.
But if it doesn't, people will have to use their own judgement and make decisions they can live with afterwards. We would only be following Number 10's example, after all.
Who can argue with that?
In Parliament, a rebellion has been brewing over the past week on coronavirus legislation. Although protest votes will not prevent Plan B from passing, they will send a signal to No. 10 that a growing number of Conservative backbench MPs are deeply unhappy.
More on that tomorrow.
In case you've missed the earlier posts in this series, here they are: parts 1, 2, 3 and 4.
The best known of the minority MPs from David Cameron's premiership — 2010 to 2016 — is Rishi Sunak, who is Chancellor of the Exchequer.
He represents the Richmond constituency in Yorkshire.
Early years
Rishi Sunak's grandparents moved from the Punjab province of India to East Africa. Rishi's mother Usha was born in Tanzania. His father Yashvir was born in Kenya. Both are Hindus.
Both sets of grandparents migrated to the UK in the 1960s.
After marriage, Usha and Yashvir settled in Southampton, on the southern coast of England. Usha worked locally as a pharmacist. Yashvir was a general practitioner.
The couple have three children: Rishi, another son Sanjay, who is a psychologist, and a daughter Raakhi, who works on COVID-19 strategy for the Foreign, Commonwealth and Development Office.
Rishi Sunak went to the renowned public (private) school Winchester College, founded in 1382, where he was head boy and editor of the student newspaper.
He then went to Lincoln College, Oxford, where he graduated with a First in 2001 in PPE, which is nothing to do with hospital gowns, rather Philosophy, Politics and Economics. Whilst at Oxford, he did a brief stint at Conservative Campaign Headquarters.
During summer holidays he worked at a curry house in Southampton.
Sunak began his career at Goldman Sachs, where he worked as an analyst from 2001 to 2004.
He then decided to study for an MBA at Stanford University in California, where he met his wife, Akshata Murthy, the daughter of the Indian billionaire N. R. Narayana Murthy, the man behind Infosys. The couple married in 2005. Sunak, a Fulbright Scholar, completed his MBA in 2006.
Sunak and his wife settled in England and have two young daughters.
Prior to entering politics, Sunak worked for two hedge funds and was also the director of one of his father-in-law's companies, Catamaran Ventures.
Political career
Former Conservative Party leader William Hague represented Richmond, which has been a safe seat for the party for over a century.
Rishi Sunak was elected comfortably to his first term with a majority of 19,550 (36.2%). Once in Parliament, he was appointed to the Environment, Food and Rural Affairs Select Committee.
Sunak was also committed to Brexit and was an early advocate of free ports, having written a report on the concept in 2016, the year of the referendum.
In 2017, with Theresa May as Prime Minister, Sunak won re-election with an even greater majority of 23,108 (40.5%). In Parliament, he continued to support Brexit, voting for Theresa May's deal and against a referendum on a final withdrawal agreement in 2019.
That year, Theresa May stood down as PM. Sunak supported Boris Johnson in the ensuing leadership contest.
That autumn, during the general election campaign, he appeared on a television debate, representing the Conservatives:
I am sure Sunak did better than Iain Dale gave him credit for:
He also participated in a seven-way debate on ITV.
On December 12, Sunak further increased his margin of victory at the polls to 27,210 (47.2%).
The coronavirus Chancellor — and some inside scoops
Then, in February 2020, Prime Minister Boris Johnson replaced Sajid Javid with Rishi Sunak as Chancellor:
He gave his first budget less than a month later, on Wednesday, March 11, which I wrote about at the time.
The following Monday, March 16, Boris announced social distancing rules and the closure of pubs, restaurants and events venues. Rishi spoke at one of Boris's televised coronavirus briefings with news of a generous financial package:
Guido Fawkes posted the full video and remarked (emphasis in the original):
You wouldn't guess he's only been in the job for five weeks…
Full details are here. Sunak also issued a Twitter thread with a summary:
Then lockdown came a week later on Monday, March 23.
A few days later, Boris was struggling with his bout of coronavirus, as was Health Secretary Matt Hancock:
The Conservatives soared to record approval ratings in the polls:
Early in April, Boris was quietly rushed to St Thomas' Hospital in London. Rishi did another coronavirus briefing to reassure an anxious nation:
The well-spoken, gentle Sunak appealed greatly to the folks at home. The Independent did not like that one bit.
Society magazine Tatler began running articles on Sunak in March. They could see he would quickly become a cult personality.
On March 18, the magazine posted an article by Annabel Sampson, 'Everything you need to know about Britain's new Chancellor, Rishi Sunak'.
It begins with this (emphases mine):
The virtues of 39-year-old Rishi Sunak have been extolled many times over; for his charming demeanour, his razor sharp brain and his acute financial sense. Now the man who has come to be recognised as the 'Maharaja of the Dales', thanks to his Indian ancestry and Yorkshire home, has been appointed to the highest office in the country, to Boris Johnson's Cabinet in the role of the Chancellor of the Exchequer, the second biggest government job; and the second youngest person ever to take the position.
The appointment follows the 'Cabinet Reshuffle' that occurred in February when Savid Javid, the former Chancellor, resigned when he was asked to get rid – reportedly a request linked to Dominic Cummings – of his closest aides. Rishi Sunak's star has been rising for some time now, so his appointment to the position will have baffled few.
The article has several photos, including one of Sunak in the Yorkshire countryside and one with his dog, which resembles Boris Johnson's Welsh rescue pup, Dilyn.
Sunak and his wife had a traditional Indian wedding:
Rishi and Akshata were married in her hometown of Bangalore, in a two-day ceremony attended by 1,000 guests.
Akshata is a working mother:
Akshata runs her own fashion label Akshata Designs and is also a director of a venture capital firm founded by her father in 2010. Her designs are wonderful; she's been profiled by Vogue India and been credited for creating clothes that are 'vehicles to discovering Indian culture' – comprised of chic silhouettes with bold, Indian design.
Did we know that the Sunaks throw great parties? We do now:
With their combined wealth, they understandably have a generously sized home in Northallerton, North Yorkshire (in Sunak's constituency). The Daily Mail reports that their annual summer garden party is a county highlight; where uniformed staff loft around serving ice cold champagne and canapés (no doubt prepared by the prestigious Yorkshire Party Company).
Sunak is a natural at politics:
According to the Daily Mail, 'While many MPs stutter and trundle their way through their maiden speech in the Commons, Mr Sunak's at-ease manner provided a glimmer of what was to come'. One ally in parliament told the Telegraph: 'He's ferociously intelligent and thoroughly decent at the same time' …
He was one of the few Conservatives who were let loose on the air waves (14 times in total) and allowed to make public appearances during the election campaign last year. He has even been dubbed the 'Prime Minister-in-waiting', we'll see. His first big challenge was the March budget; and now he is juggling the unprecedented complexity of the impact of the coronavirus on the economy. The UK are in safe hands.
The article also has a photo of him supporting Yorkshire County Cricket at Edgbaston.
Early in July, Tatler's Ben Judah travelled to Sunak's home town of Southampton and reported his findings in 'Inside the world of Rishi Sunak'.
Naturally, Judah went to the curry house where Sunak worked during his summer holidays:
The kitchen at Kuti's Brasserie, not far from Southampton docks, was not the sort of place, in August 1998, you would have gone looking for a future hedge funder, son-in-law of a billionaire and Conservative chancellor.
That summer – the summer of the France 98 World Cup and the Omagh bombing – Kuti Miah, the eponymous restaurateur behind the curry house, went to have a word with one of his waiters. 'You're going to be someone, Rishi,' he said. The future UK chancellor flashed his famous smile. He was, adds Miah, 'a brilliant talker'. Rishi Sunak, then 18, was about to go to Oxford, but that holiday he waited tables for Miah, a close family friend, to earn some pocket money. 'I saw him grow up,' says Miah. 'His father used to bring him in his carry cot.'
Miah was fast friends with Yashvir and Usha Sunak, both Hindu Punjabis born in colonial Kenya and Tanzania respectively, whose parents had migrated from India. After India's independence, both families left East Africa for Southampton in the mid-to-late 1960s. Yashvir and Usha met in Britain and married. He became a local GP and she ran a pharmacy. They were 'brilliant conversationalists' and 'very strong believers' who 'worked very, very hard', according to Miah, who also recalls that they were 'passionately British'.
Rishi, the eldest of their three children, was cut from the same patriotic cloth. Not only did the young Sunak fall in love with the game of cricket, he fervently supported England over India at any opportunity. His career, too, has followed one of the most traditional and storied of England's paths to power. Like five chancellors of the exchequer before him, Sunak was schooled at the ancient and distinguished Winchester College; and like three of those same Wykehamist chancellors, he went on, as was expected, to study at Oxford.
The article includes a photo of Sunak with his wife and in-laws.
Ben Judah had met Rishi Sunak before, in 2015, just before the general election that year. They met up in Northallerton, North Yorkshire:
We were a long way from London – from where Sunak had been 'parachuted in' for the seat. During the interview, I had a distinct sense of being the only person in the cafe who knew that this slight man in a Barbour jacket was running for parliament. 'I tell this story when I'm out and about,' he said, coffee in hand, 'that you can come to this country with very little… My grandparents came with very little from a village in northern India, and two generations on, their grandson has this enormous privilege of running as a candidate for parliament. For my family, the route was education.'
Well said.
Sunak's candidacy in 2015 raised some eyebrows:
He was vying for a seat once presided over by Tory grandees William Hague and Leon Brittan. But I had spent days in Richmond and the surrounding area, reporting on the resentment his sudden arrival had stirred up among certain local Tory notables, who felt the seat in the Dales was rightfully theirs. 'There was a very acrimonious constituency battle,' claimed one source, with a lot of hostility to an outsider coming in.
Sunak's wife had also met with some resistance on the campaign trail, says Judah.
However, Sunak's father-in-law enthusiastically flew to England where he helped to campaign:
Sunak's billionaire father-in-law, NR Narayana Murthy, however, has been so enthusiastic about Sunak's parliamentary career that he'd flown in, and had even been leafleting on his behalf, wearing a Rishi sweatshirt. 'To be honest,' said Sunak in Costa Coffee that day, 'I think it's patronising to assume minorities should only run in minority seats.'
The article discusses Sunak's property profile:
On 7 May 2015, Sunak won, with more than 50 per cent of the vote (a Ukip vote of 15 per cent had appeared from nowhere). He put down roots in his new constituency of Richmond, North Yorkshire, augmenting a £10 million property portfolio (metropolitan digs in London – a Kensington mews house, a flat on Old Brompton Road – and a place in California) with a £1.5 million Georgian manor in Yorkshire set across 12 acres, including an ornamental lake. Here, he now entertains the constituency membership with lavish summer parties at which uniformed staff serve champagne and canapés. He has been repeatedly dubbed by newspapers the 'Maharajah of the Yorkshire Dales'.
The general public know less about those details. Nonetheless, Rishi Sunak has become a household name:
In a swift few years, Sunak has become known as many things: Dishy Rishi to the tabloids; one of the richest MPs in Westminster; the second-youngest-ever chancellor of the exchequer, presiding over a £350 billion package to boost the economy (the largest ever recorded in peacetime); and a former hedge funder whose profile has risen faster than stocks in a vaccine manufacturer.
However dazzling all of this is now, things were very different when Sunak entered Winchester College as an adolescent:
… Winchester would come at a price for the Sunaks. No sooner was he accepted than Rishi's good fortune immediately foundered: he missed out on the expected scholarship. Desperate not to let the opportunity go to waste, his parents decided to take on the high fees themselves, picking up extra work and making what the chancellor has called considerable 'sacrifices'. His brother would later follow.
One of his classmates discussed Sunak and described Winchester in the mid- to late 1990s:
Tim Johnson, now a lawyer, was in the boarding house next door. 'Rishi was a good chap, in boarding-school idiom,' he recalled. Sunak, he said, was a 'reasonable cricketer', who stood out in friendliness; and he was a solid, but never number one, student. 'Rishi was always expected to do something,' Johnson remembered. But exactly what, beyond Winchester, was vague. 'He was always expected to be head boy as he was clever enough, reasonable enough and well behaved enough.' This became Sunak's thing – hard work and attainment, becoming the first Winchester head of school from an Indian background.
Sunak was different to other sixth formers in Winchester: a lifelong nondrinker, he wasn't distracted by the allure of the pub. But there was something else that marked him out from the herd. He was a conservative in every sense: not only in his outlook and demeanour but in his religious attitudes, too – a practising Hindu who avoided beef. At school, where few boys were political, Sunak was clearly 'associated with the Tories', said Johnson. It was 1997, The Chemical Brothers were topping the charts and the mood was rebellious. Counterculture, New Labour and ripped jeans were in; the Conservatives were out. 'That wasn't his intellectual jam. Rishi didn't play that game,' Johnson explained.
'Everyone was chipper about it when Blair won,' Johnson said. But not Rishi. His family's story was closer to Margaret Thatcher's than that of his bourgeois Labourite classmates. Watching the early results of the landslide on election night 1997, Sunak sat down to write a gloomy article for the school magazine, The Wykehamist, lamenting the news. His main complaint: Europe. 'He revels in the label of a patriot,' he complained of Tony Blair, 'but has plans for the possible break-up of the United Kingdom and membership of an eventual European Superstate.' The seeds of Brexit were already in his mind.
'Already,' fretted Sunak, 'the New Labour rhetoric sounds worryingly pro-European and avid pro-Europeans are being sent to Brussels' …
Later, at Oxford, Sunak had a low profile, unlike his predecessor as MP, William Hague:
He was nothing like the young William Hague, who arrived at Oxford fêted and almost a Tory celebrity, or the young Boris Johnson, the blond beast who tore apart the Oxford Union. At Oxford, Sunak was a nobody, much like Tony Blair.
He continued to eschew strong drink:
Oxford acquaintances remember him as a nerdy teetotaller who was 'just very clearly going into business'. He would 'make this big thing' out of drinking Coke in the pub. 'Rishi was unknown to the student politicians, that gossipy overlapping world, who all knew each other,' said Marcus Walker, then-president of the Oxford University Conservative Association, now a clergyman. Sunak was never a member.
It is hard to remember how irrelevant and demoralised Tory circles felt after 1997, but some do recall Sunak as a 'Thatcherite' and 'Eurosceptic'. 'That was absolutely par for the course,' said Walker. 'If you were still a Tory after 1997, you were a Eurosceptic. That was all you had left.'
Nevertheless, Sunak did develop a network from his Winchester College and Oxford days. Graduates from Winchester are called Old Wykehamists:
These days, socially, Sunak has been placed by some in Westminster's Spectator set. He was best man to his lifelong friend and fellow Old Wykehamist James Forsyth, political editor of The Spectator, at Forsyth's politician-studded wedding in 2011, to Allegra Stratton, the national editor at ITV News – and gave what one guest recalled was 'one of the most touching best man's speeches I've ever heard'. (In fact, Stratton has recently announced she's leaving ITV News for a job with Sunak at the Treasury. Some have seen this as very Cameron-esque in its 'chumocracy'.)
Allegra Stratton, also a good friend of ITV's Robert Peston, now works for Boris Johnson as his notional press secretary, although she has not yet begun to give press briefings, probably because of coronavirus.
Imagine the son of immigrants having ties to Britain's two oldest — ancient — magazines: The Spectator and Tatler. Wow.
Tatler's Ben Judah also spoke with people who had worked with Sunak during his hedge fund days. They painted a similar character portrait of the Chancellor:
After two years in California completing a CV-topping MBA, he returned to London and Mayfair in 2006, where a new type of boutique finance was booming: hedge funds. He was hired by Sir Chris Hohn at The Children's Investment Fund (TCI). It was a dream job: a big role at an activist firm off Berkeley Square at the peak of their fame. 'He appears to have been trusted,' said a source. Indeed, Sunak was made a partner two years later. Contemporaries remember him ever-ready to meet and greet; a mixture of a junior, deputy and a bag carrier; the perfect foil to Hohn's bolshy swagger. 'Ridiculously nice.' 'Affable.' 'Approachable.' 'Charming.' These are the words that come up again and again among Mayfair types who knew Sunak. The charm was of a particular kind: 'There are two kinds of people at hedge funds,' said one source. 'Handsome and thin smooth-talkers who are always on the phone or going out to lunch with clients, getting them to part with their money. And then quants in the back room with their shirts buttoned up badly.'
Sunak was one of the smooth-talkers, his charm honed on calls to investors, getting them on board with whatever drastic moves the fund wanted to make. The kind of charm that prizes clarity and persuades people to part with their money. It worked: but hedge-fund charm is designed to hide as much as it reveals. The atmosphere at TCI was buccaneering and bold; it both led and profited from a controversial banking raid that eventually meant a £45.5 billion public bailout of the Royal Bank of Scotland. (The Treasury and TCI say Sunak was not involved in the deal.) He left when TCI split in 2009, and joined the breakaway hedge fund Theleme Partners. His new firm's reputation took a knock when its founder was revealed to have used a notorious tax avoidance scheme. The Labour Party researched Sunak's past during the 2019 election. 'But he was too little known for us to use it,' said one source …
His reasons for entering Parliament are equally obscure. Those who know him have different opinions as to why. One thing that everyone agrees on is his penchant for order:
Many in Westminster see his motivation as status. 'He's not an ideologue,' said one Tory source. 'He wanted to enter politics in that old-fashioned way, because it was seen as the good thing to do.' Good, as in socially ambitious. Whether that's true is another matter, because first came a stint at Policy Exchange, leading a unit researching black and minority ethnic attitudes. The scruffy but influential Conservative think tank world is seen as a de facto holding pen for future special advisers, but it was nonetheless an unexpectedly technical way into Westminster for someone with means.
Sunak quickly made an impression. 'He's got that Blair-like ability to hold your eye,' says Nick Faith, who worked with him there. Sunak cut a snappy figure amid slovenly suits. 'He's into his clothing.' His is not the fusty establishment Rees-Mogg or Nicholas Soames style, but more the wiry Emmanuel Macron look. Everything Sunak wears, many remarked, is immaculate, even at the end of a Treasury work day, and fits perfectly. Faith says that 'everything, from how Rishi dresses to how he structures his life, is very well organised'. Sunak's elegant house in London, with a touch of Indian decor, reflects that. 'Nothing is out of place. For someone with two small kids, that's quite an achievement.'
Having learned from his background in finance, Sunak also knows how and when to place his bets:
'His mind works in Excel,' said one City contemporary. But like all hedge funders, it also works in bets: and the two biggest bets that Sunak has made in his career have paid off spectacularly – Brexit and Boris. David Cameron knew the gravity of his predicament when Sunak came out for Leave. 'If we've lost Rishi, we've lost the future of the party,' he reportedly said. The same thing played out in reverse in June 2019 when Sunak came out for Boris in The Times with two other MPs during the party leadership elections. This was widely seen in Westminster as a decisive turning point: the one where Johnson won over 'the sensibles' and pivoted the backbenchers. The PM seems to agree: all three have been handsomely rewarded.
In Parliament, he keeps a low profile but, to those who know him, is loyal:
'He's unknown in parliament,' said one MP. 'He doesn't play the parliamentary game at all.' Tory Remainers are sceptical of him. 'It's Star Wars,' said one MP, referring to the chancellor's strange and classically 'geek-chic' hobby for minutely detailed models of spaceships and video games. 'Most of his political philosophy comes out of the Star Wars trade wars that are about the independence of various kingdoms from the Empire. He's not someone intellectual.' Loyalty has been his strongest suit. Sunak is a No 10 man. 'He's a grown-up,' said one MP. 'The only grown-up in Downing Street, despite him being 20 years younger than them.'
… At the height of tensions over Brexit last year, he was cheerfully going around Westminster saying he would back 'no deal' if push came to shove. He struck the right note, in the right place, at the right time. Tensions between Boris Johnson and Sajid Javid's teams exploded in February, when the then-chancellor resigned after refusing to fire his own special advisers and submit to an unprecedented joint team with Downing Street, effectively under the stewardship of Dominic Cummings. It was Sunak, with high skills and no clear agenda or faction behind him in parliament, whom Downing Street turned to. He quickly agreed to the joint team, once again becoming the perfect foil for an outsized boss. 
Even now, it's still too early to say whether Rishi Sunak will become a future leader of the Conservative Party and, as such, a possible prime minister. A week is a long time in politics.
When Boris's erstwhile special adviser Dominic Cummings broke coronavirus rules in travelling from London to Durham and back during Boris's time in hospital, Sunak tried to calm the ever-turbulent waters surrounding Cummings, who was never popular with the Remainer media. He tweeted this after Cummings's lengthy press conference in May:
In June, Sunak was tactful about the reopening of shops and businesses in Britain after the first coronavirus lockdown:
He also warned that his generous financial package could not go on indefinitely:
A few weeks later, in early July, pubs were allowed to reopen:
The Government launched the Enjoy Summer Safely campaign. Pictured below is Piccadilly Circus:
On July 8, he issued a Summer Economic Update, with financial help continuing (more here):
This included the launch of his Eat Out To Help Out plan, which lasted to the end of August:
A lot of Labour MPs didn't like the plan. I don't know why. Leftists own restaurants, too.
He cut VAT for the hospitality industry, too.
He also issued a detailed jobs plan, including an apprentice scheme:
Some men in the media were taking a shine to Dishy Rishi, including the leftist Owen Jones of The Guardian and Channel 5's Jeremy Vine:
At that time, the attention being given to Sunak and Boris Johnson got the better of Conservative MP Caroline Dineage, a Culture minister, who was questioned on masks, which were strongly suggested (mandatory only on public transport) but still optional in what now look like heady days. This was from a BBC interview:
… asked why the Prime Minister and Chancellor Rishi Sunak had not worn one in public, she snapped: "You'd have to ask the Prime Minister and the Chancellor that, with respect.
"But it is something that is advised and we keep it under review."
At the end of September 2020, the coronavirus crisis dragged on. Talk intensified about a winter lockdown.
On September 24, Sunak issued a Winter Economy Plan, about which I wrote at the time. When he presented it in the House of Commons, he advised all MPs to live 'without fear'.
By October 6, Sunak was being blamed for an uptick in coronavirus 'cases' (positive test results, not necessarily hospital admissions) for the Eat Out to Help Out scheme:
A US study, which did not cover Britain, showed that hospitality venues were shown to be responsible. However, the study did not cover workplaces or hospitals. Nonetheless, it is still a contentious point even to this day.
The Sun's Harry Cole rightly, in my opinion, defended the Chancellor's restaurant promotion.
Then talk of hospitality curfews emerged. Fellow Conservative MP Matt Vickers defended the Chancellor's Eat Out to Help Out programme, which had come to an end five weeks earlier.
The calls for a winter lockdown grew. The Chancellor rightly opposed them:
By then, more areas of England had moved into tiers, indicating more coronavirus cases. Sunak increased financial support to those cities and counties. He also offered more help to businesses, including the self-employed.
By November, some thought a storm was truly brewing between Boris and Rishi. Despite all the talk from the Government about people being able to meet loved ones at Christmas — for the first time in months, for many — a pessimistic undercurrent, which turned out to be accurate, seemed to be part of every news cycle.
Rumours circulated that Sunak was ready to resign. However, on November 1, the Daily Mail reported:
A source said there was a 'collective decision' to back a second lockdown, and that Mr Sunak 'accepted it' – and he did not threaten to resign, as some whispers around Westminster were suggesting yesterday.
The November lockdown was supposed to prevent a Christmas lockdown, but that was not to be. There was a brief re-opening before Christmas, and on December 19, the hammer fell once more.
Interestingly, the minority MPs in Cabinet shared Sunak's concerns.
By the middle of December, Sunak was clearly worried about how long the borrowing could go on. On Saturday, December 19, the day when Boris announced Christmas was cancelled, The Spectator reported what the Chancellor said about borrowing and quantitative easing (QE):
'Are you or anyone else going to guarantee me that, for the duration of this parliament, rates might not go back to 1 per cent?' he asks, pointing out that this almost happened in March, before the Bank of England started printing money to bring rates back down. 'There is this very large QE thing that's going on. No one has done that before. There are plenty of smart investors who are also thinking about the risks of inflation over the next 12 months. Because we are now so levered, small changes have huge cash implications. If I have to come up with £10-£20 billion a year in a few years' time because things have changed — well, that's a lot of money.'
To Sunak, it's not just an economic problem but a political one. 'If we [Tories] think borrowing is the answer to everything, that debt rising is fine, then there's not much difference between us and the Labour party,' he says.
The media criticised him for going to his constituency of Richmond for Christmas. To be fair, he did work while he was there, visiting a local hospital and a vaccine centre. He did not rush back to London.
On February 3, 2021, Sunak rightly accused scientists advising the Government of shifting the goalposts regarding lockdown:
This might be causing a rift in Boris's Cabinet:
On a brighter note, Time magazine has included Rishi Sunak on its list of 100 'emerging leaders'. On February 17, the Daily Mail reported:
Under the 'leaders' category, Chancellor Rishi Sunak landed a spot on the list, being described as the 'benevolent face of the government's response to the COVID-19 pandemic' by Times reporter Billy Perrigo.
The Chancellor's profile piece discussed the furlough scheme, describing how he approved 'large handouts' for people whose jobs had been affected by coronavirus.
The piece also paid respect to Sunak's Eat Out to Help Out scheme, which the magazine described as an attempt to 'revive the economy' by subsidizing dining out at restaurants.  
Although his profile acknowledges that Sunak bears more responsibility than most for his calls to ease lockdown restrictions, Time's profile for the Chancellor admits he has earned himself a 'legion of fans'.
Sunak's accompanying profile points to a YouGov poll showing him to be the nation's most popular politician and even tips him to be the bookmakers' favourite as the next Prime Minister.  
Again, a week is a long time in politics. We shall see about the future as and when it happens.
For now, Sunak is focussing on the budget, to be delivered on March 3. He is asking industry leaders for their thoughts.
Michelin-starred chef Gordon Ramsay was one of those leaders:
If Rishi Sunak ever tires of being an MP or Chancellor, a job in media awaits.
He is an excellent interviewer and researched Gordon Ramsay well. The 15-minute video is worth watching.
The list of minority Conservative MPs continues. All being well, more tomorrow.
This week, a mini-rebellion erupted on the Conservative back benches over coronavirus.
More on that in a moment.
First, let's have a look at Friday's headlines.
As millions of Britons are worrying about their vanishing income, it is shameful that the Independent Parliamentary Standards Authority, an independent body which oversees the system of allowances and salaries for Members of Parliament, decided to give them a pay rise! Incidentally, a Labour MP is shown in the photograph below:
Unconscionable!
Although the economy was starting to recover earlier in the summer when lockdown was lifted, things are different today:
It's been a challenging year for Rishi Sunak, the Chancellor of the Exchequer, who replaced Sajid Javid in March, just a fortnight before lockdown. He delivered a brilliant budget for a bright year ahead, then coronavirus struck.
Sunak is one of the contrarians on coronavirus and is said to prefer letting Britons get back to work.
That said, he has given billions in financial aid to the nation and delivered a Winter Economic Plan. However, pressure is on now to not only find a way to boost the Treasury's coffers but also to provide extra financial support to the areas of the country which are under what seems to be permanent lockdown. The Huffington Post has more on today's new measures.
These are the highlights:
This is his latest tax plan:
Hmm:
It's a tough job, so I'm glad Rishi is in that post. He's doing the best he can.
Next door, at No. 10 Downing Street, Rishi's former aide Allegra Stratton has been named as Prime Minister Boris Johnson's new press secretary. Conservative men across the nation had hoped for a Kayleigh McEnany, but we will wish Ms Stratton well in her new job:
Note how media and politics intertwine. Stratton is connected not only to Nos. 10 and 11 Downing Street but also to top adviser Dominic Cummings as well as to The Spectator:
Guido Fawkes says (emphases in the original):
Widely anticipated and always the bookies favourite, Allegra Stratton has been confirmed as the new Downing Street Press Secretary. Her experience as a television reporter on Newsnight, ITV News and with Peston will stand her in good stead. 40 year-old Allegra is married to the Spectator's James Forsyth. They have one child. She has done a good job spinning for Rishi and he will miss her…
Bring on the briefings…
Stratton left ITV in April to work for Rishi:
I had bookmarked a tweet from ITV's political editor Robert Peston a few months ago when No. 10 announced its search for a press secretary. Unfortunately, I subsequently deleted it. Peston tweeted that he knew of a perfect candidate, someone who had worked for him and was now working for Rishi Sunak: Allegra Stratton.
And, lo, it came to pass.
Here's an interesting tweet from May, after Dominic Cummings had to give a press conference in the garden of No. 10 to apologise for his questionable trip up North to Barnard Castle (a town named for its castle) with his wife Mary Wakefield and their four-year-old son:
One of Cummings's goals was to clear out No. 10 of Remainers in senior positions. Cabinet Secretary Sir Mark Sedwill, the most senior Remainer and the man in charge of civil servants, resigned during the summer.
Sedwill's replacement is Simon Case, who used to work for Prince William:
Guido Fawkes has posted Case's email to civil servants, popularly referred to as 'mandarins', and says:
Simon Case, Sir Mark Sedwill's replacement as Cabinet Secretary, has got off to a strong start in the job by sending an email to all civil servants boasting of his 'profound sense of pride in our nation's history", telling Whitehall staff "We must maintain our dedication to honesty, integrity, impartiality and objectivity." Guido hopes counselling will be put in place for any distressed metropolitan mandarins at this time…
Now on to coronavirus.
Scotland's Nicola Sturgeon is putting much of that nation under a 16-day 'circuit-breaker' lockdown (pubs shut, no alcohol in restaurants, no visiting) during half-term (break for schools). Yet she is decommissioning the Nightingale hospital in Glasgow. Why?
In England and Wales, questions have been raised about the new contact-tracing app:
Today (Friday), the Telegraph's Chief Political Correspondent Christopher Hope interviewed the Conservative MP, Sir Iain Duncan Smith, who had a lot to say not only on coronavirus but also Brexit (he thinks large parts of the Withdrawal Agreement should be torn up if we want a Canada deal).
Excerpts follow (emphases mine):
Boris Johnson will never defeat the coronavirus pandemic, Sir Iain Duncan Smith has said, and instead must start to help Britons to learn to live with the disease.
The former Conservative leader told today's Chopper Politics podcast … : "'I've never been to a time like this where we have almost suspended all judgement on everything else as secondary to Covid.
"And the truth is that if we go on just trying to push these spikes down the whole time … then we could be in this for years because there are very few vaccines that have been completely effective against viruses."
Sir Iain said the focus on Covid meant that other risks were being completely ignored. He said that the problem was "we've lost the balance of risks. We now have only one risk. And if you think of only one risk, then you can damage everything around you".
He added that he thought the right course of action regarding coronavirus was "managing it but not expecting that, as people say, we can defeat this, because I honestly don't think we will actually."
YES!
The 30-minute podcast is here. Hope interviews other guests, too.
Conservative MPs are warning Boris not to take the votes of former Labour-supporting area lightly. Those areas, many of which now have Conservative MPs, are the ones most affected by semi-permanent lockdown:
Earlier in the week, the Government postponed a vote on the 10 p.m. curfew on pubs and restaurants in England. It has been rescheduled for next week:
Members of the public are understandably concerned. One summarised Boris's speech at the (virtual) Conservative Party conference this week:
But I digress.
The reason the Government are picking on the hospitality sector is because of this chart, which MPs on both sides of the aisle dispute:
Hospitality venues are at the top of the list.
Note that schools and workplaces are not mentioned.
This is the reality, and this is what dissenting MPs are going by. Hospitality is ranked at 4 per cent (see pie chart):
The hospitality sector had to put a lot of money into their businesses in order to reopen during the summer, yet the Government is targeting them. That is also true in France, but we'll stick with England for now:
I am very concerned about this eventuality:
Conservative MP Steve Baker talks a good game, but he voted with the Government this week to renew coronavirus restrictions.
ITV interviewed him yesterday:
ITV has excerpts of Baker's interview:
Speaking to the Acting Prime Minister podcast, the MP said the rule is "badly evidenced and appears to be counter-productive".
He said the rule, which forces pubs to close between 10pm and 5am, is "wrecking the hospitality industry, which we only just pumped lots of taxpayers money into through Eat Out to Help Out".
He claimed the "cost of lockdowns are worse than the cost of the disease" and suggested the PM is only imposing them because of hopes of a vaccine "turning up and solving all these problems".
He said he fears the UK is in "grave danger" of "jumping into a lobster pot here from which we can't emerge" if a vaccine is not forthcoming.
"The danger we're in at the moment is we'll destroy our economy," he told podcast host Paul Brand.
He said he supports Prime Minister Boris Johnson in his response to coronavirus, but questioned whether he is "betting the country on a vaccine turning up".
"If his strategy is based on a vaccine coming, I think there's going to be a problem," he said.
The Wycombe MP appeared to suggest the team around the prime minister was not allowing him to use his strengths …
Mr Baker, who was a prominent Brexit supporter, said he "deeply" regrets the way the UK divided over EU membership and said he can feel the same happening with coronavirus.
"I'm really worried that our society is polarising with hysterical arguments on both sides.
"What I am saying is I want us to have a radical spirit of concern for one another, a radical willingness to listen to one another and then be moderate in what we say and do to try and close all these, all these divides." 
I agree wholeheartedly with every word.
In closing, I really hope that Steve Baker and the other Conservative rebels vote against the Government on the hospitality curfew next week.
They won't win, but they will send a strong message to Boris and Matt Hancock.