You are currently browsing the tag archive for the 'Andrew Neil' tag.
My most recent post discussed Liz Truss's commitment to libertarianism and the part she played in her own downfall.
At the end, I mused whether she would still be in office were she a man. Having thought about it some more, I do believe that would have been the case. Truss has better morals than Boris Johnson and more integrity than Rishi Sunak. Furthermore, she is far more trustworthy than our de facto Prime Minister, Chancellor Jeremy Hunt. She has flaws. They have flaws.
It is curious that all of them, men, are given a pass. Truss, an honest woman, was not afforded that opportunity.
Let us look at who was out to finish Liz Truss's premiership.
The media
During the summer Conservative Party leadership campaign, most papers — right and left — came out in favour of Rishi Sunak.
Only the Daily Mail and The Telegraph consistently supported Truss. Truss also saw The Sun as a friendly paper, particularly its political editor Harry Cole.
Broadcast media also largely favoured Sunak. Only GB News supported Truss for the most part.
Why that was is unclear.
One could point to Truss's U-turns, evident as soon as the leadership campaign for Party members' votes started, but most of the media — print and broadcast — were already in the tank for Sunak when Conservative MPs were still voting in July.
On November 16, veteran columnist Andrew Gimson wrote about the media outlets covering Parliament, known as the 'lobby': 'Lobby journalism holds power to account. But it's often cruel, trivial — and unfair'.
Guido Fawkes liked what he had to say:
Gimson's article for ConservativeHome discussed the attacks on other Conservative ministers in Rishi Sunak's Cabinet. Suella Braverman, Home Secretary once again, is one of them and Justice Secretary/Deputy Prime Minister Dominic Raab is another.
Gimson says that journalists find their witch hunts as exhiliarating as blood sports (emphases mine):
Hunting is reckoned to improve the health of the fox population.
That is not, however, why people want to hunt them. They yearn to do so because it is a wonderful, exhilarating sport.
Forget for a moment any impulse to moralise. High-minded theories are all very well. Politics as actually practised is a blood sport.
Dominic Raab, Gavin Williamson and Suella Braverman are or were the most recent quarry, closely preceded by Liz Truss and Kwasi Kwarteng, before which a blond beast rampaged across the political landscape for three years with excited members of the Westminster lobby in close pursuit.
Four of the six were hunted down, while Raab and Braverman have so far (with intermissions) survived, but might at any moment find themselves once more in mortal danger.
The lobby is trained and ready at a moment's notice to follow any scent, no matter how faint, rival correspondents for different newspapers acting as a pack of hounds, each leaping at whichever politician is the hunted animal, drawing blood and emboldening the others to fresh frenzies of aggression …
It is impossible, if one is a lobby correspondent at Westminster, to stand aside from the full-blown crisis which rages, and any case, few experiences are more exhilarating than to be in at the death of a Prime Minister.
Every journalist, indeed everyone in the slightest bit interested in politics, will remember the first time he or she witnessed such a drama: in my case I was lucky enough in November 1990 to be in the Press Gallery to watch the fatal resignation speech delivered by Sir Geoffrey Howe, and 19 days later was in the crammed Committee Corridor on the evening it was announced amid almost unbearable excitement that Margaret Thatcher had fallen four votes – four votes! – short of beating Michael Heseltine by the necessary margin in the first round.
Such crises becomes all-consuming. You surrender yourself to the experience, and nothing else seems to matter. If you are a reporter, your news editor and editor demand constant reports from the front, and you want to distinguish yourself by revealing dramatic new charges, whether solid or flimsy, against the embattled minister, rather than just repeating what your rivals have said.
Such work requires the ruthless expertise to spot in an instant the two or three words in some dreary speech or answer which can be held to constitute a new development. The lobby are brilliant at this: they see the new angle, the incriminating admission, where a normal person would notice nothing.
News becomes an artificial commodity, an esoteric language only comprehensible to highly intelligent and practised correspondents, who translate it into the latest thrilling episode of a story which is intelligible to the dimmest of us, for it is as old as history: will the ruler live or die?
This question of life and death simplifies everything, and lends it a personal flavour. Does one like the look of whichever minister is just then being hunted, and hope he or she will get away? Or would one much rather see him or her bumped off?
The tyranny of the story extends to the comment pages. Leading articles and columns are written for or against the hunted person, most likely against, for it is much easier to write a vivid piece denouncing a politician for being disreputable than to compose a vivid defence.
In order to purify public life, the offending minister must be drummed out of it. Nothing which might serve this noble end is too cruel to be said; too piffling to be taken down and repeated.
Let the victim and his or her family cope as best they can. It would be wrong to spare them the full blast of public disgust. We find ourselves in a primitive world where human sacrifice is demanded; not in a rational one where events can be weighed and assigned their due importance, or unimportance …
There is a deep satisfaction to be derived from getting rid of a Prime Minister, so deep that we have in recent years got rid of three. For a short time, very short in the case of Liz Truss, we allow them to triumph, before restoring equality, for which all democracies have a deep yearning, by dragging them down with brutal abruptness to our own level …
What the lobby does, or helps Conservative politicians to do, is the modern version of an ancient and savage tradition. All else is forgotten while the tribe slays its chief.
And no tribe is better at slaying its chiefs than the Conservative Party.
Afterwards, some enemies of the prey express their empathy for the slain, such as Jenny Murray did for Truss on October 27 in The Mail. Murray's headline read 'I never expected to feel sorry for Liz Truss' and, upon closer inspection, she doesn't really feel sorry at all. She uses the piece to lick her own wounds after retiring from the BBC at the age of 70:
I was not sorry to see her go. Her short time in power was a disaster.
I'd known her professionally for a good few years and had often found her a bit weird with her oddly truncated speech patterns, bizarre facial expressions and apparent lack of emotional intelligence. She was no public speaker and I certainly never saw her as Prime Ministerial material.
In that I was right, but despite her self-serving, unapologetic final speech and her typically arrogant and selfish, 'Well at least I've been Prime Minister!' goodbye, I can't help sympathising with what she has to face next.
As an ordinary constituency MP, she'll join what I have dubbed, from bitter personal experience, the 'Once I Was Hot, But Now I'm Not,' club. I know she'll be asking herself, 'Who am I now?'
It's two years since I left the job that defined me for 33 years. I was Jenni Murray, presenter of Radio 4's Woman's Hour.
It had been my greatest ambition since childhood. I'd presented Newsnight and Today, but the moment I heard the announcer first say on Monday, September 14, 1987, 'And now Woman's Hour, with Jenni Murray' remains the most thrilling of my life.
I loved every minute of those 33 years and, unlike Liz Truss, I was not forced out of my position (though even when you leave a top job of your own volition, it doesn't stop others speculating). I made the choice to leave as my 70th birthday came and went.
So, nothing like Liz Truss after all. The rest of Murray's lengthy column is all about herself. Sickening.
On a positive note, I was surprised to read that Andrew Neil, normally a supporter of the status quo, supported Truss and Kwarteng's mini-budget just after it was announced in Parliament:
After 12 years of Tory government we finally get a Tory budget. Yesterday's not-so-mini-budget was a watershed event, taking the country in a new economic direction and creating clear blue water between government and opposition.
The Tory faithful couldn't quite believe it. Labour struggled to grapple with its implications. The political dividing lines will now be starker and fiercer than they've been for a generation.
No more tax rises by stealth (or, more recently, in plain sight). Or endless, futile tinkering with the minutiae of spending and taxation to give voters a false impression of constructive activity. Or the relentless doling out of taxpayers' dosh to whatever fashionable vested interests managed to catch ministers' attention.
Instead, Prime Minister Liz Truss and her Chancellor, Kwasi Kwarteng, junked all of that in favour of one overriding economic priority: higher economic growth. Many of the verities of Britain's economic establishment have been slaughtered in the process …
Scrapping next April's planned rise in corporation tax (on businesses' profits) won't win any popularity contests outside company boardrooms. But an essential part of Britain's post-Brexit future is surely to be a magnet for foreign investment. Whacking up the country's key business tax was a strange way of going about it …
New ways require new justifications. The Treasury estimates that abolishing the 45 per cent top rate of income tax will cost £2 billion a year.
This is a typically static official calculation. If it results in more top earners declaring their income in Britain, then it could soon more than pay for itself.
Ditto bankers' bonuses. The cap is a relic of EU regulation. Banks simply increased pay to compensate for reduced bonuses, thereby making their compensation costs more fixed and less flexible.
Frankfurt, Paris and Amsterdam have tried hard to lure our financial services away from the City since Brexit, with only limited success. Bonuses in those centres are still capped. London now has the advantage.
And, remember, with the new top rate of tax at an internationally competitive 40 per cent, every £1 million banker's bonus is £400,000 more for schools and hospitals …
… for more than a decade now I've watched chancellors take tough, painful decisions on tax and spending based on OBR borrowing forecasts that turned out to be huge over-estimates, so much so that in retrospect neither the tax rises nor spending cuts were necessary.
Indeed, as Truss attempts to take the country in a new, less orthodox direction, I'd argue that it's a blessing that she's been able to do so unencumbered by the OBR's dubious forecasting.
We'll get the OBR's latest workings in two months anyway, when it might have a better idea of what 2023 will look like. Nor are we entirely in the dark. The Treasury says the tax cuts and energy price cap measures will increase borrowing this year from £162 billion to £234 billion — an extra £72 billion.
The IFS thinks we'll still be borrowing £100 billion a year through the middle years of the decade.
These figures have spooked the markets. The pound continued its decline against the dollar after Kwarteng's statement and the yield (or interest rate) on short-term government debt rose to close to 4 per cent, making it a lot more expensive to borrow than only two years ago, when it was 0.4 per cent.
These are real constraints on the Government's ability to borrow even more. A falling pound merely fuels inflation, especially when it comes to imported energy, which is priced in dollars.
Interest rates are already rising. If excessive government borrowing forces them even higher, that will merely choke off the economic growth the Government so desperately seeks.
There's another factor at work here. The global currency and debt markets have had a 'down' on Britain for some time. It's not clear why. Britain's debt-to-GDP ratio is among the lowest in the G7 club of big economies. Our budget deficit is on a par with many other major economies. Economic growth is anaemic — as it is everywhere, from the Eurozone to America to China.
I suspect it's a Brexit hangover. The publications global market players read most closely include the New York Times, the Economist, the Financial Times and leading European papers such as Le Monde and the Frankfurter Allgemeine Zeitung. All — and others like them — have been relentlessly negative about Britain since the 2016 referendum …
It is said she's taking a great gamble. That's true. But sticking with the failed policies of the recent past was probably an even a bigger gamble. The stakes are certainly high.
If by this time next year the economy is still in the doldrums, then it's not just Truss who will be finished. So will any prospect of the Tories winning the next election.
Read it and weep. We are back to square one.
There is much that the media didn't tell us about the global picture of economic pandemonium.
Early in the week following Kwarteng's mini-budget, US mortgage rates went up to 7%:
The EU's average deficit is worse than the UK's: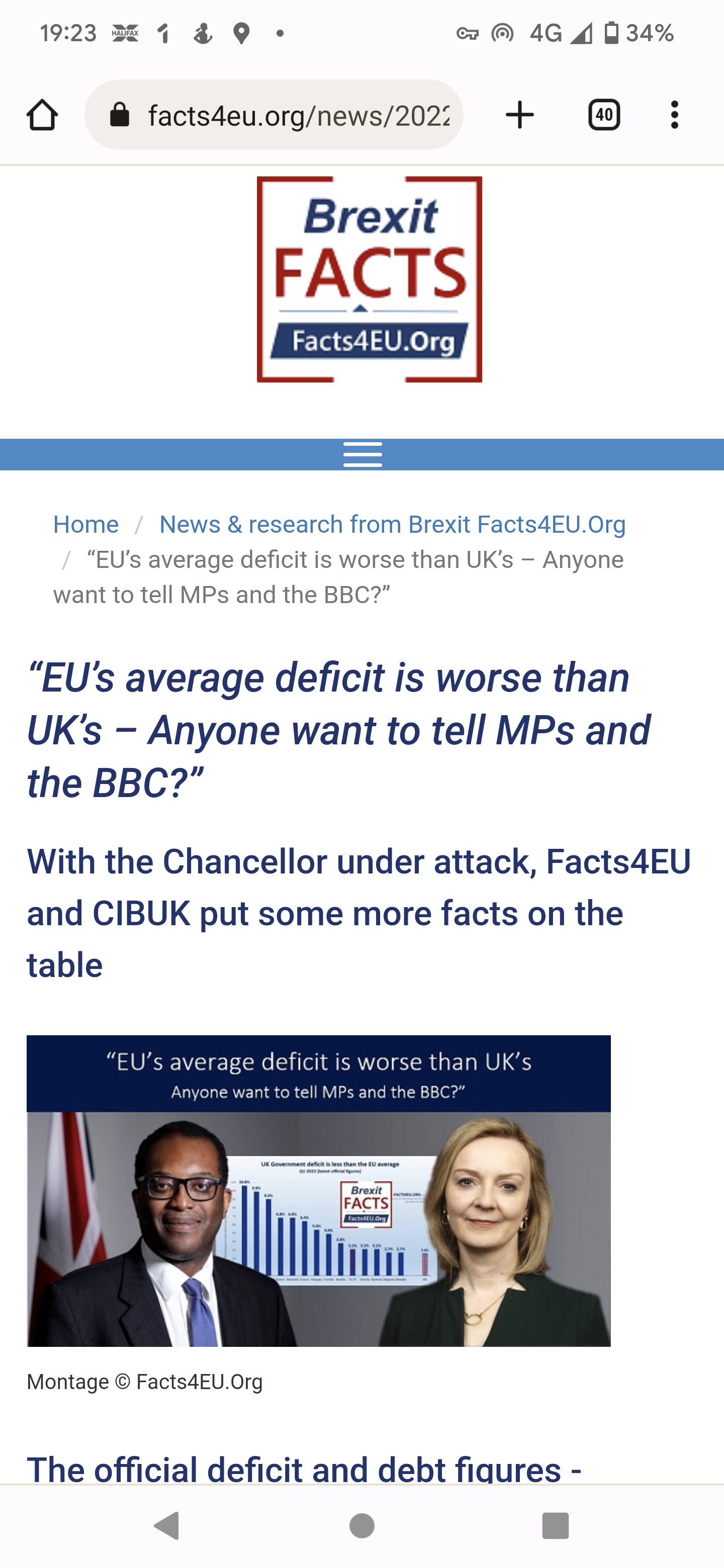 At the end of October, by which time Truss had gone, inflation in the Euro zone increased to 10.7% as growth slowed:
At the beginning of November, a Fed hike caused sterling to trade below £1.13 against the dollar:
And, finally, within three weeks of becoming Prime Minister, Rishi Sunak made new spending commitments, pledging billions to the world. This graphic appeared on November 7: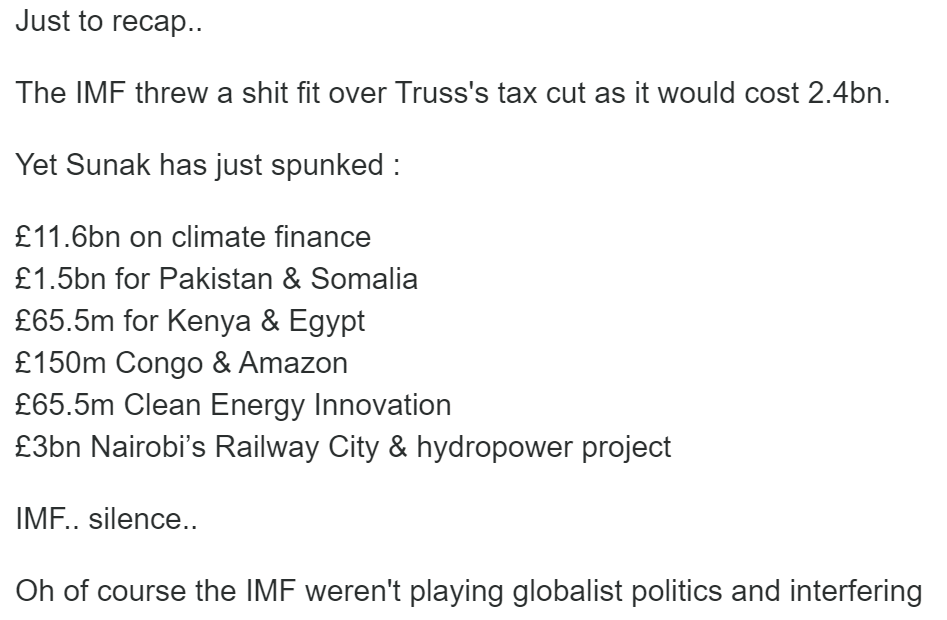 Objection from the media came none.
Conservative MPs
On October 20, in the immediate aftermath of Truss's stoic resignation, The Sun gave us the reaction from three Conservative MPs:
Responding to today's bombshell announcement, former minister and Red Wall poster boy Neil O'Brien tweeted: "The next PM must return to the national conservatism represented by our election winning 2019 manifesto and put us back on the side of normal working people."
If anyone was going to have done that, it would have been Truss, for whom Party members voted in the majority. Sunak and Hunt certainly aren't on the side of 'normal working people': tax 'em until the pips squeak.
Next up was Steve Baker, now an apologetic Northern Ireland Minister:
Brexit hardman Steve Baker urged colleagues that whatever the result, "we must accept and back the new Prime Minister".
Millions of us wish he had shown the same allegiance towards Truss.
The only one to say anything complimentary was Greg Hands, who served as an International Trade Minister:
He said:
A dignified exit as Prime Minister from Liz Truss. A difficult day for the country, the Party and for Liz personally.
She wasn't long as PM, but served at the Cabinet table longer than any of her three predecessors. She has long served the country – and I wish her very well.
At least Truss wasn't removed from the top table Chinese-style:
On October 27, one week after Truss's resignation, The Telegraph's Matthew Lynn said that backbench Conservatives just could not bring themselves to support Truss's economic plan, which Kwasi Kwarteng fronted.
In other words, Conservative MPs shy away from libertarianism, even though I think it would do the UK a lot of good:
The timing, to put it mildly, was unfortunate. It was a difficult transformation to pull off at the best of times, but against the backdrop of rising inflation and an out-of-control dollar, it was doubly difficult. 
Truss's programme did not have the necessary support within the Parliamentary Conservative Party either. Massive opposition from Labour, the Scottish Nationalists, and the Twitter mob was to be expected. 
But very few MPs were willing to support the plan, and without that backing it was always going to be hard to push through. Even before it got on to the genuinely difficult stuff – investment zones, planning reform, the green belt – the opposition was overwhelming. 
The Bank of England
Matthew Lynn points the finger of blame at the Bank of England (BoE):
… the real failure of Trussonmics may well have been the fault of the Bank of England. As Narayana Kocherlakota, a former President of the Minneapolis Fed, and now Professor of Economics at New York's Rochester University, argued in an opinion piece for Bloomberg this week, it was the Bank's failure to support the gilt market that killed the plan. 
"The way the Truss government collapsed should concern all who support democracy," he warned. 
In his Bloomberg article of October 26, Narayana Kocherlakota defended Truss and criticised the BoE:
Markets didn't oust Truss, the Bank of England did — through poor financial regulation and highly subjective crisis management.
… Truss won the leadership of the Conservative Party, which the UK electorate had voted into power, by promising a range of deep tax cuts and government spending increases. Whatever one might think of her policies, they were her mandate. I agree with the many observers who expected them to lead to higher inflation, higher interest rates and quite possibly higher unemployment. But such adverse outcomes take months and years to play out. Her government fell in a matter of weeks. How could this happen?
The common wisdom is that financial markets "punished" Truss's government for its fiscal profligacy. But the chastisement was far from universal. Over the three days starting Sept. 23, when the Truss government announced its mini-budget, the pound fell by 2.2% relative to the euro, and the FTSE 100 stock index declined by 2.2% — notable movements, but hardly enough to bring a government to its knees.
The big change came in the price of 30-year UK government bonds, also known as gilts, which experienced a shocking 23% drop. Most of this decline had nothing to do with rational investors revising their beliefs about the UK's long-run prospects. Rather, it stemmed from financial regulators' failure to limit leverage in UK pension funds. These funds had bought long-term gilts with borrowed money and entered derivative contracts to the same effect — positions that generated huge collateral demands when prices fell and yields rose. To raise the necessary cash, they had to sell more gilts, creating a doom loop in which declining prices and forced selling compounded one another.
The Bank of England, as the entity responsible for overseeing the financial system, bears at least part of the blame for this catastrophe. As a result of its regulatory failure, it was forced into an emergency intervention, buying gilts to put a floor on prices. But it refused to extend its support beyond Oct. 14 — even though its purchases of long-term government bonds were fully indemnified by the Treasury. It's hard to see how that decision aligned with the central bank's financial-stability mandate, and easy to see how it contributed to the government's demise.
The way the Truss government collapsed should concern all who support democracy. The prime minister was seeking to fulfill her campaign promises. She was thwarted not by markets, but by a hole in financial regulation — a hole that the Bank of England proved strangely unwilling to plug.
Two days before Truss resigned, Daniel Lacalle wrote an article for Mises Wire: 'The Bank of England Made Liz Truss a Scapegoat'.
Lacalle points out that economic turmoil was worldwide, something not reported widely in the British media. No surprise there:
I find it astonishing that not one of the so-called experts that have immediately placed the cause of the British market volatility on Liz Truss's budget have said anything about the collapse of the yen and the need for Bank of Japan intervention, which has been ongoing for two weeks.
Why did so many people assume the Truss minibudget was the cause of volatility when the euro, the yen, the Norwegian krone, and most emerging market currencies have suffered a similar or worse depreciation versus the US dollar this year? What about the bond market? This is the worst year since 1931 for bonds all over the world, and the collapse in prices of sovereign and private bonds in developed and emerging market economies is strikingly similar as those of the UK fixed income peers.
He blames British pension funds' liability-driven investing (LDI) strategies on the abuse of quantitative easing (QE) over the years. Who was in charge of that? The BoE.
Lacalle wrote while Truss was still Prime Minister:
British pension funds are not selling sovereign bonds because of lack of trust in this or another government's budget. They are selling negative-yielding sovereign bonds because they jumped wholeheartedly into the debt bubble created by artificially cheap money believing that central banks would keep fixed income prices elevated with constant repurchases.
British pension funds' unfunded liabilities are not a problem caused by the mini budget nor solely a UK problem. It was an enormous problem in 2019–20 disguised by insane currency printing. Unfunded global liabilities for state pension funds in the US were already $783 billion in 2021 and rose to $1.3 trillion in 2022 according to Reason Foundation. The funded ratio of state pensions was just 85 percent in 2021 and has fallen below 75 percent in 2022.
What happened in the years of negative rates and massive currency printing? Pension funds used liability-driven investing (LDI) strategies. Most LDI mandates used derivatives to hedge inflation and interest rate risk. And what happens when inflation kicks in and rates rise? "As interest rates have risen, the notional value of some of the derivatives held in LDI portfolios has fallen. The result: increased collateral calls. The speed at which rates have risen means some pension plans have had to liquidate portfolios to meet collateral calls" according to the Investment Association's latest report in September and Brian Croce at Pensions and Investment.
The total assets in LDI strategies almost quadrupled to £1.6 trillion ($1.8 trillion) in the ten years through 2021. Nearly two-thirds of Britain's defined benefit pension schemes use LDI funds, according to TPR and Reuters. Liz Truss and Kwasi Kwarteng are not to blame for this insanity. The policy of negative real rates and massive liquidity injection of the Bank of England is. Kwarteng and Truss are only to blame for believing that the party of policies of spending and printing defended by almost all mainstream Keynesian economists should work even when the music stopped …
Liz Truss and Kwasi Kwarteng are not to blame for the insanity of the past years or Rishi Sunak's ultra-Keynesian budgets. They are only to blame for believing that another dose of Keynesian deficit insanity would not harm.
Mr. Kwarteng's demise is just a casualty delivered by the modern monetary theory crowd and the monetary laughing gas city to justify that the problem was a ludicrous tax cut not years of currency printing and deficit increases.
What has happened in the UK or Japan is likely to happen soon in the eurozone, which accumulated more than twelve billion euro of negative-yielding bonds in the years of cheap money and reckless stimulus plans.
Liz Truss is not to blame for twenty years of monetary insanity and fiscal irresponsibility. She is to blame for a budget that increases spending without cutting unnecessary expenses.
The irony of it all is that the defenders of monster deficits and borrowing if it comes from bloating the size of government feel vindicated. It was the evil tax cuts!
The political analysis of the mini budget is astonishing. No one in the UK parliament sees any need to cut spending it seems, yet those expenses are consolidated and annualized, which means that any change in the economic cycle leads to larger fiscal imbalances as receipts are cyclical and, with it, more currency printing. The assumption that raising taxes will generate perennial annual increases in receipts no matter what happens to the economic cycle can only be defended by a bureaucrat.
Well, Rishi Sunak and Jeremy Hunt are those bureaucrats.
There are global players in pension fund management, BlackRock being one of them, as The Conservative Woman revealed on October 27:
BlackRock is heavily involved in the charity sector, managing over £4.5billion for more than 3,000 UK charities alone. 'Sustainability', food security and renewable energy rank very highly in their priorities in that sector.
The role of BlackRock in the recent selling off of derivatives by UK pension funds, said to be behind the triggering of a fall in sterling following the ill-fated Kwasi Kwarteng mini-Budget, is an intriguing one. BlackRock executives would defend their actions by stating they were merely protecting clients who were financially overcommitted in that sector and that pension fund managers ought to have known the risks involved in leveraged investment strategies in the first place, and that there is far more to that type of riskier investment than just following trends. Either way the political fallout was profound, triggering a chain of events which led to the fall of Prime Minister Liz Truss. BlackRock executive defends pensions strategy that fuelled UK crisis
Interestingly, Jeremy Hunt has appointed a BlackRock executive who is pro-Net Zero and anti-Brexit as one of his chief advisers:
A business with the financial resources of BlackRock will naturally attract well-connected people to its payroll. People such as Rupert Harrison, chief of staff to Chancellor George Osborne from 2006 to 2015. An opponent of Brexit, he tweeted in July 2017 that 'the rest of Europe is booming and we're not'.
Intriguingly, Harrison is now one of new Chancellor Jeremy Hunt's most senior advisers. On the surface, Hunt seemed to have been parachuted in from nowhere, having failed in two leadership elections and spending more than two years on the back benches, yet from the moment he was appointed he already had a highly expert team, including Harrison, ready to start at once and acting promptly with great self-assurance as though he knew he already had the backing of those who really matter.
However, Conservative Party members are unhappy with Hunt and Sunak's economic policy based on higher taxes, which are, in reality, much higher than they read on paper. This poll is from November 29:
Guido Fawkes wrote (emphases his):
The Tory membership doesn't support their own government's economic policy, according to the latest Conservative Home panel poll. Opposition stands at 48.78% and support at 41.87%. 9.35% don't know. 
It can't come as much surprise. As Rishi's supporters point out, he was warning of the consequences of Liz Truss's policies during the summer contest, and the membership still voted for Liz's low tax package. Support at 41.87 is actually 0.8% lower than Rishi received from the members during the summer…
Let us return to the BoE.
In the December 2022/January 2023 issue of The Critic, Jon Moynihan published 'How the Bank broke the Government', which refers to Narayana Kocherlakota's aforementioned article for Bloomberg and expands on the use of LDIs in pension fund management:
Kocherlakota's view was that the Bank of England was responsible for the crisis, through "poor financial regulation and highly subjective crisis management". Outside the UK chatterati, this view is widely supported.
The beef against the mini-budget was that it spooked the market. But virtually all of the policy announcements made by Kwasi Kwarteng on the day were not new; they had been pledged during the Truss campaign or — in the case of the energy price guarantee — confirmed shortly after her arrival in Downing Street. 
Sure, the mini-budget stated that clarifying how all the spending/lowered tax revenue would be paid for was to be put off until the later financial statement, due some weeks later. But the only new thing was the change to the top rate of income tax from 45 per cent to 40 per cent. 
Given the well-known dynamic impact of lowered tax rates, this change would arguably have been revenue neutral or even beneficial; even without any dynamic benefit, it could have cost at most £2 billion in tax revenue. That is a rounding error compared to the amounts already absorbed by the market and a fraction of the costs Rishi Sunak has accepted at COP 27 — to which the markets have reacted entirely complacently. It is just not credible to blame the mini-budget for the market turmoil.
Moynihan explains more about how LDIs work:
The prime obligation of a pension fund is to match its assets (the money it uses to make payments) to its liabilities (the payments it expects make to its pensioners over the years). For a fund to be as sure as it can that it will be able to pay its future pension liabilities, it buys assets whose coupons and maturity match its (actuarially expected) future pension payments.
So far, all well and good. The problem is with LDI funds. These, like so many pension funds these days, use gilts to accomplish that matching (in a popular meme of the past couple of decades, "gentlemen prefer bonds"). However, in addition the idea has been sold that they can goose up their returns a bit, to compensate for the low yields they are getting on their gilts. 
This little bit of extra profit is accomplished by borrowing some further money, short-term, and with it buying long, higher-yielding assets — either real assets, or derivatives. It's a well-known and always risky bet on interest rate movements; in some markets it's known as the "Carry Trade"; in the Japanese markets it's known as the "Widow Maker". It's entirely inappropriate for "safe" pension funds. 
If rates move against the bet, the bet sours. To cover the risk they are taking, the funds are required to give over their other assets (the gilts) as collateral to the bank that lent them the money. 
When the bet sours, the bank that lent them the money "calls the collateral", selling off the gilts in order to repay the borrowing … a wave of such sales can destabilise the gilts market and create a disorderly environment, as happened in late September 2022.

Some would say that the Bank of England should have known all of this and not allowed such risk to be taken by this huge market in LDI funds. Some would raise an eyebrow at the news that until the middle of 2022, the Bank of England itself held 100 per cent of its £5 billion pension fund in just one single LDI Fund, and therefore blithely seemed to believe it was OK for such risks to be taken (their 100 per cent recently was reduced to a scarcely less concerning 82 per cent).
For whatever reason, the Bank and other regulators did allow LDI funds to become more and more the fashion … The total value of liabilities hedged with LDI strategies was $1.8 trillion in 2021, around half of the total of LDI funds in the world, a sure sign that the Bank Of England had been far too lenient in allowing LDIs to flourish in the UK. That is Strike One.

Why then did the LDI funds start collapsing specifically in late September? It starts with the rapid appearance this year of inflation, caused in no small part — as the Bank has finally admitted — by the bank's excessive growth of the money supply in recent years. As inflation consequently shot up, so, all year, did gilt yields rise, putting increasing pressure on those rickety LDI funds. That is Strike Two against the BoE for its role in worsening inflation in the UK, leading to this instability.
Two days before Kwarteng delivered his mini-budget, Saxo Bank and Deutsche Bank correctly predicted a fall in sterling.
Saxo predicted:
"If the BoE fails to hike 75 basis points, let's shield our eyes for what is going to happen to the pound here." (They were predicting a fall in sterling, which duly happened. Low sterling leads to higher inflation leads to higher gilt yields.) 
Deutsche Bank said that the BoE needed a 'hawkish response'. It never materialised.
In the end:
Both Deutsche and Saxo were right. Only days after the Bank failed to step up to the 75 basis points mark, sterling momentarily dropped to $1.04, just as Deutsche had predicted — yet for reasons that remain to be explained, the drop was blamed on the mini-budget, not on the Bank's failure to sufficiently raise rates. The failure to raise rates enough, two days before the mini-budget, is Strike Three.
In addition, the BoE announced a fortnight-long programme of selling £40 billion of gilts, which ended in mid-October.
In other words, it moved from QE to QT, quantitative tightening.
Reuters noted the BoE was the first central bank to do that, at least in recent years. Bloomberg called the move 'historic' for the same reason:
In 2013, all it had taken was the Fed to announce it was doing less QE — not stopping, just doing less — for the markets to go into a "Taper Tantrum".
Ever since, most central banks have been cautious not to move too fast in shutting down their QE. But not the BoE. Why did it see itself as in a position to be the first in the world to take this very risky step, aware as they were that the mini-budget was about to be announced?
Not surprisingly, the markets responded:
… market participants move fast to get ahead: they quickly sell their own bonds before their value is hammered by the BoE sales. Yields immediately go up and the price of bonds immediately falls. Which is why it was — Strike Four — stupid for the central bank to announce its moves ahead of time: it's like the time that Gordon Brown announced he was selling all our gold, and the price collapsed so he made much less from the sale. But now the LDI pension funds started to get really hammered: as the market moved to dump gilts, the price of gilts fell and fell — this is still before the mini-budget — and collateral calls began to come thick and fast on the LDI funds.
The doom loop began:
And even more collateral calls then came in, and we were in an accelerating doom loop. All this was happening as the mini-budget was announced, and the lazy financial press, not seeing what had happened earlier, blamed the rout in the gilts market on the mini-budget. But it was started by the Bank of England's earlier decision to go full tonto QT. Strike Five.
Cue the headlines that Liz Truss 'crashed the economy', to borrow Labour's words, which they are still using in Parliament:
The Prime Minister is accused the following day of destroying the economy.
The BoE backtracked immediately, announcing it would move from QT back to QE:
The Bank of England, of course, immediately announces that it is not after all going to sell £40 billion of gilts — it is going to buy £60 billion of them — back from QT to QE in a blink of the eye. 
Of course, by then, it was too late for Truss and Kwarteng. Their collective goose was well and truly cooked:
… by now the gods of havoc have been unleashed. Truss's enemies in the Conservative party get to work, using the mini-budget narrative to undo the mini-budget, to oust the Chancellor, and finally to oust the Prime Minister herself. Job Done. 
The BoE defended its actions:
The post-mortem speech by the Bank's director for financial stability, entitled "Risks from leverage: how did a small corner of the financial industry threaten financial stability?" makes for interesting reading; in this telling, the Bank staved off a crisis from what, for anyone, would have been an unexpected direction, dealing more than adequately with the non-bank sector. If anything, the director claims, the UK was ahead of the curve!
As for the current Sunak-Hunt government, Jon Moynihan has also noted the presence of David Cameron's Chancellor and the former BlackRock executive:
George Osborne and Rupert Harrison, late of BlackRock, the UK's second largest provider of LDI funds, are now advising the new government.
Moynihan ends his article by pointing out that the BoE's governor, Andrew Bailey, has the nickname of 'Lullaby' because he tended to doze off during meetings in a prior position:
As head of the Financial Conduct Authority from 2016 to 2020, he saw first-hand the sort of shenanigans firms and funds will get up to if, pressed by smooth talking salesmen, they are given the freedom to act as they will.
It has been alleged that while in that role, Bailey "dozed off" during meetings over a pensions scandal. Now, the organisation he runs is accused of being asleep at the wheel on LDI pension funds, not to mention on inflation, the currency, the stability of markets.
It looks like the BoE's laxity led to the fall of a government:
All that led to the end of a government, in a way that will continue to reverberate, to the detriment of many people's view of democracy in this country, for decades to come.
What the British think
Only last week, on November 23, IPSOS published a poll saying that politicians are the least trustworthy of working Britons. Pictured alongside Rishi is a very young Piers Morgan when he edited The Mirror. Journalists have a trustworthiness rating of 29%, compared to politicians in general at 12%:
Guido has the full chart of occupations participants were asked to rank in order of trustworthiness:
Hardly unsurprisingly, public trust in politicians to tell the truth has fallen to its lowest level ever, according to the latest Ipsos poll. Just 12% of the public now trusts politicians to tell the truth, lower than advertising executives (14%) and government ministers (16%).
Unfortunately for journalists they don't fare much better, at just 29% – one percent above estate agents…
Nurses and doctors ranked the highest at 89% and 85%, respectively.
Television news readers ranked at 58%, above clergy/priests and the man in the street, both of which tied on 55%.
Conclusion
On November 22, roughly one month after Truss resigned, Dan Wootton did a follow up on GB News.
Nigel Farage told him:
Hunt was the coup. Sunak is little more than a puppet.
Wootton also interviewed Ranil Jayawardena, who served as Secretary of State for DEFRA, the Department of Environment, Food and Rural Affairs. He was very gracious and didn't want to get into any controversies. Wootton, who was a big Truss supporter, wanted to know how both of them were faring. He said that they were fine.
I'm including the nine-minute interview here just so you can hear Ranil Jayawardena's voice. He should record audio books in his retirement. Someone in the comments to the video said that he sounds like Boris. He sounds a thousand times better than Boris. This is received pronunciation, rarely heard today in such mellifluous tones:
The Liz Truss saga ends here.
I fear the worst, for the Conservative Party and for the British.
End of series
It's difficult winning against Andrew Neil, the longtime BBC political presenter who was the leading face of GB News for a month in 2021 and who currently has his own Friday evening show on Channel 4.
When it comes to grilling politicians, no one does it better than he.
Rishi Sunak agreed to subject himself to Neil's unfailing command of the facts. So far, Liz Truss — as did Boris Johnson — has not committed to the same.
Neil's interview
Sunak appeared with Neil on Friday, July 29, 2022, to put forth his case for becoming the next leader of the Conservative Party and, by extension, the United Kingdom's next Prime Minister.
Having watched the Q&A session, I thought that Rishi did a good job.
However, there was a real dissonance between what he said his policies involved and what Neil said they did.
As such, it made for awkward viewing. Who was telling the truth? I was left none the wiser.
At times, I was focusing on Neil's hair, which he has dyed a dark brown. His natural colour is ginger.
Rishi presented himself as the sensible, cautious candidate with regard to tax and the deficit:
Rishi defended raising taxes to fund the NHS. He did well in preventing his irritability from showing, but a vulnerability did slip out here:
Neil accused him of being 'consistently inconsistent' with regard to tax reform, but Rishi said that's how it works:
Hmm.
Neil asked Rishi about his wife's non-dom status. The former Chancellor gave a short reply, saying that she addressed it. This did not satisfy me, but then I don't have a vote in this contest:
Yes, there are family obligations here, it would seem. Those appear to involve his in-laws.
Neil was surprised at Rishi's answer about curbing the number of refugees. What Neil doesn't realise is that legal immigrants and their children take a much different view on migration than the British metropolitan elite.
Neil also managed to squeeze in Rishi's televised statement from his teenage years in 2001 in which he said he had no working class friends:
Neil concluded by reiterating that Liz Truss was still welcome to appear on his show.
I did not really know what to make of this half-hour broadcast.
Only the Mail had any commentary on it.
One article with more dialogue from the programme is 'Sunak is forced to deny he has shown a "lack of consistency" on VAT to Andrew Neil'.
An excerpt follows:
Veteran broadcaster Andrew Neil said Mr Sunak's approach of tightening fiscal policy risks recession in an interview on Channel 4.
The Tory leadership hopeful replied: 'No, if you look at what's happening around the world, it's inflation that is slowing economies down. It's rising interest rates that are already putting a brake on economic activity.
'And my concern is that I want to get to grips with inflation as quickly as possible because inflation makes everybody poorer. It erodes people's living standards.'
He also insisted his policy to hike national insurance thresholds was 'undoubtedly, objectively progressive' when Neil suggested it penalised workers.
'It's an entirely progressive measure,' Mr Sunak said. 'Raising thresholds means that those with the broadest shoulders contribute the most.'
The heated exchange resulted in Neil saying that the OECD has said that Mr Sunak's plans will result in a recession for the UK economy – which the former Chancellor disputed. 
It came as Mr Sunak sat down with the fearless interviewer Mr Neil on Channel Four – after frontrunner Liz Truss refused to do the same.
Mr Neil once again extended the hand to come on his show to the Foreign Secretary – saying the 'invitation is still open'.
The Southampton-born millionaire repeated his claims that tax rises were necessary for paying for Covid measures and said that he did not want to pass debt onto future generations.
He said that it would be the 'easiest thing in the world' to cut taxes to aide his leadership campaign but that he thought it was not the responsible thing to do.
Mr Neil hit out at Mr Sunak's wife's non-dom status which hit the papers earlier this year but the former Chancellor attempted to draw a line under the line of questioning, saying that he was the one running for office – not his partner.
The line of questioning made Mr Sunak visibly uncomfortable as he tried to move on from the scandal.
The tax cuts intended to fund the NHS were another line with Mr Neil used to attack Mr Sunak – as the interviewer quoted suggestions that the waiting lists on the NHS will reach 10 million in the next two years.
Mr Sunak attempted to distance himself from the Conservative's record on health after the fierce Scot tried to pin the NHS's problems on him – saying that he has left Government to change course on the NHS.
He added that he wanted to set up over 100 'elective surgery hubs' to bring down the backlog. 
Henry Deedes examined the optics of the interview: 'The ex-chancellor sat awkwardly, like a man about to undergo an enema'.
Excerpts follow:
We immediately saw Sunak sat behind a desk, his hands placed slightly awkwardly on top of each other. Across his mouth was smeared a distinctly uncomfortable grin. He looked like a man nervously waiting to undergo an enema …
Tax was the main topic, namely why Rishi as chancellor made us pay so much of it. Sunak said he wanted to pay down the cost of the pandemic rather than saddle our grandchildren with all that debt. 'I'd like to give people all these nice things – don't you think that'd make my life easier?' he pleaded.
Rishi kept calling Neil by his first name. Most of his replies began with a chummy 'look, Andrew'. Doubtless his spin doctors thought familiarity might soften the old brute. It didn't.
Neil kept coming at him over tax rises. A Bren gun with ceaseless ammunition. Pop, pop, pop. 
Why had he frozen the income tax threshold? Why had he left comfortable pensioners alone? Why were so many people paying the top rate? Unfortunately for Sunak, Neil is that rare thing in journalism – someone who actually understands economics …
Talk turned toward the NHS. Neil pointed out that waiting lists were up, despite the gazillions of pounds which get thrown at the Health Service every year. 'These are complex issues, Andrew,' Rishi mansplained.
Yes, yes, said Neil. But it had gotten worse on the Government's watch. 'Andrew, I left the Government,' pleaded Rishi. 
'Yes, but only a few days ago,' barked Neil. Sunak's answer to the NHS backlog was to set up a task force. Yes, that should do it!
There was mention of a recent video which surfaced of Sunak in which he told an interviewer he didn't know any working class people. 
Bit odd for someone who claims to come from such a modest background. 'I grew up working in my mother's pharmacy,' Sunak reasoned. 'We know all that,' sighed Neil witheringly.
He seemed to think Sunak's 'umble roots were a tad overplayed. Especially since he was schooled at Winchester. Neil's intellect of course was forged and honed at Paisley Grammar.
A brief tit-for-tat developed over Lady Sunak's non-dom tax status. 'I'm the one running for office, not my wife,' said Rishi. His voice lowered a bit at this point. He shot Neil a steely look as if to say 'Let's leave her out of this, shall we?' Respect.
We were now out of time. To be fair to Sunak he was still standing. But only just.
Incidentally, his opponent Liz Truss had given Neil's offer of an interview a wide swerve. 'Her choice, of course,' said Neil, voice laced with irritation. Chicken? Jolly wise, I'd say…
More scrutiny
Last week, Rishi's policies and personal life came under more scrutiny.
A Mail headline from April 24 resurfaced about his lavish Yorkshire home, which has a heated pool and will soon have a new gym and tennis courts. Incidentally, he has other homes, including a pricey mews house in London:

Just a little over a year ago, on July 2, 2021, Asia Financial reported that Rishi wanted more trade between the UK and China:
UK Chancellor of the Exchequer Rishi Sunak called for a "mature and balanced relationship" with China that helps British firms to exploit "the potential of a fast-growing financial services market with total assets worth £40 trillion" ($55 trillion) in a speech on Thursday July 1 …
Sunak set out alternative plans for an independent financial services policy for the UK and spent more time discussing opportunities in China than the US, which is the UK's most important bilateral partner.
He attempted to frame the opportunity to sell financial services to China within a context of maintaining principles such as openness and commitment to a rules-based order.
"Too often, the debate on China lacks nuance," Sunak said. "Some people on both sides argue either that we should sever all ties or focus solely on commercial opportunities at the expense of our values. Neither position adequately reflects the reality of our relationship with a vast, complex country, with a long history."
Sunak highlighted the appeal of China's financial services market for UK firms, as well as the need to cooperate on global issues like health, ageing, climate and biodiversity.
He seemed to effectively offer China the opportunity to agree different financial services terms with the UK than the EU, now that Brexit has arrived without a deal on mutual recognition of standards across Europe – which was the former target of "equivalence" of regulation.
Hmm. Interesting. His father-in-law's Infosys has an office in China.
A year later, on July 25, after China's Global Times endorsed him as the next Conservative Party leader, he walked back his support and claimed Liz Truss was the greater supporter of the Communist nation.
Guido Fawkes reported (red emphases his):
It's unsurprising, given his tacit endorsement from the Chinese propaganda arm Global Times, that Rishi has decided to go in hard on the country's security threat this morning. Declaring the Chinese Communist Party "the largest threat to Britain and the world's security and prosperity this century", Sunak attacks Liz for "[rolling] out the red carpet" and turning "a blind eye to China's nefarious activity and ambitions". He calls for a new NATO alliance to be set up to counter it the threat, and pledges to close all 30 Confucius centres, which teach Mandarin in the UK and are thought to be used as fronts by the Chinese intelligence services.
In response Team Truss returned fire last night, using Iain Duncan Smith to call the policy "surprising" and asking where Sinophobe Sunak has been for the last two years. Her team points to the above Sunak's endorsement by Global Times, and says he has been consistently soft on China …
In response, a Truss ally bluntly tells Guido that Sunak's team are "moronic", given not only was Truss responsible for childcare policy as an education minister, universities policy was run out of the business department at the time. David Willets was the BIS minister responsible, who – whilst yet to declare in this leadership election – has backed Sunak's tax rises. 
Guido also exposed the fact that the Artichoke Trust received £1,234,682 through Cultural Recovery Grants during the pandemic, when Rishi was Chancellor.
The Artichoke Trust puts out 'art' like this:
Clearly, not much scrutiny took place during the pandemic. No doubt, the Treasury were all in a rush to send out grants — taxpayers' money — to all and sundry.
On Tuesday, July 26, Rishi did a huge tax U-turn, imitating his rival Liz Truss.
Only days before, Rishi told Liz that it would be 'immoral' to lower taxes, yet, here he was at the beginning of last week reversing that to sound more like his rival:
Guido rightly asked why Rishi did not cut VAT on energy bills when he was Chancellor. Oddly, he now advocates the policy:
This is what the former Chancellor said in February 2022:
Guido has more on his February comments here.
On July 27, the Mail on Sunday had an article about his U-turn, saying he was 'under pressure' since the BBC debate of July 25 (emphases in purple mine):
This morning, Truss ally Kwasi Kwarteng, the Business secretary, welcomed Mr Sunak's 'late to the party' change on taxes.
He told Times Radio: 'I think he's under a lot of pressure. That's why we see all these statements: he was the person who said the VAT cut would disproportionately benefit rich families and now he's saying that a VAT cut on energy bills is the right thing.
'He was saying that tax cuts were a fairytale, now he is proposing an unfunded tax cut.
'There comes a time in campaigns when people are under a lot of pressure, he clearly felt under a lot of pressure in the debate and he wanted to get out on the front foot and interrupt Liz.'
But Transport Secretary Grant Shapps, an ally of Rishi Sunak, defended the former chancellor's plan. He rejected the suggestion that Mr Sunak is 'flip-flopping' and said the £4.3 billion policy is sensible as it would not add to inflation.
Put to him that it is a 'flip-flop', Mr Shapps said: 'If he hadn't produced £37 billion of support, about £1,200 to the hardest-up households already – if he hadn't done any of that and then suddenly did it then you would have a point.
'But he has, he has been providing all this support, now he is saying "Here's something that won't add to inflation that would save every person watching your programme £160 off their energy bills" – I think that's worthwhile.'
Last night No10 insiders told the Daily Mail that Mr Sunak's plan was something Boris Johnson tried to implement to ease the burden on consumers – but was blocked by his then chancellor.
'Boris begged him to do it – but he wouldn't budge', said the source. 'It's astonishing that he's now claiming it as his own policy.'
Meanwhile new polling shows that the rising cost of living and handling of the NHS could cost the Tories the most votes at the next election.
The Mail on Sunday's Anna Mikhailova pointed out that Rishi hardly had a long-term career in business, despite his own claims.
Nigel Farage picked up on her tweet and called Rishi 'a fraud':
Farage had elaborated on his GB News show the day before, Monday, July 25. He pointed out that Rishi included a clip of him in his campaign video on immigration. He doubted Sunak's sincerity on China and ended by saying, 'Well, I guess that leaves us with Liz Truss':
By July 27, the bookies gave Liz Truss an 83% chance of winning the leadership contest.
That night, Dan Wootton said that 'Fishy' Rishi's tax U-turn was 'too little, too late':
John Sergeant, who reported for the BBC for decades, said that the former Chancellor appeared 'rattled':
Political commentator Patrick O'Flynn said that many intelligent politicians weren't very good at politics, Rishi being a case in point:
On Thursday, July 28, Lord Ranger, a Rishi supporter, said that if the Conservative Party members do not choose the former Chancellor as leader, they are racists.
Dan Wootton responded by pointing out that this Conservative leadership contest has been the most diverse in history:
That includes Labour, too, by the way.
Wootton said, in part:
It was still only a matter of time before Team Rishi Sunak blamed his imploding campaign on racism.
Forget the fact that Kemi Badenoch was a surprise favourite among the party membership before being booted out by MPs for being too daring and different.
Forget the fact that Liz Truss is a woman who went to a Leeds comprehensive.
Nope, Sunak's failure is nothing to do with his big state/high tax agenda, which saw him increase our tax burden to the highest it's been in 70 years.
Nothing to do with his globalist posturing and desire to cosy up to China by making the Communist country our market of choice, as revealed in bombshell leaked Treasury documents reported in The Times today.
Nothing to do with the fact he backstabbed Boris Johnson – the man to whom he owes his career – plotting his leadership campaign, all the while pretending to be his loyal Chancellor.
No, no, no, no it's down to racism.
Conservative donor and Fishy Rishi supporter Lord Ranger told Indian news network Bharat Tak: "If people reject him, it will be a bad name for the party and the country because this will be perceived as racist.
"And so there is pressure on them to prove that here race does not matter.
"Calibre matters, and Rishi's calibre is above everyone. I am optimistic that people here will be fair and will not reject anyone on the basis of race."
Lord Ranger, I can assure you the Conservative members are not rejecting Rishi based on race.
They're rejecting him based on policies and a lack of loyalty too.
As my colleague and friend Calvin Robinson tweeted in response: "'Vote for me because I am brown,' is bad enough 'if you don't you're a racist' is even worse.
"This divisive, toxic rhetoric is straight from the Leftist guidebook on Critical Race Theory and should have no place in the Conservative Party or the government of this great nation."
Former Cabinet member Michael Gove's ex-wife Sarah Vine, who writes for the Daily Mail, said that Rishi stabbed Boris in the front:
On Friday, July 28, a Techne poll showed that Liz was gaining ground over Rishi:
That morning, Defence Secretary Ben Wallace put the boot into Rishi's decision to resign as Chancellor:
Wallace told Sky News:
Wallace: Let's look at that Friday afternoon – I think it was a Friday – what if the markets had crashed? What if the Home Secretary had done that and there was a terrorist attack? What would the public think, they would never forgive us for that… I don't think people needed to walk out, the public would see that as a government not thinking about the job in hand.
The multi-year settlement [for the Department of Defence] that we got was not what the Treasury had wanted, they wanted a one-year settlement – this was back in 2019 I think – and it was vital that we got a multi-year settlement, and the PM effectively asserted his authority and made all that to happen…
Interviewer: But Mr Sunak was not in support?
Wallace: Not that I remember.
Cut the right taxes like not proceed with corporation tax rises helps growth. When Rishi was Chancellor he cut entrepreneurial relief – he cut the relief we give to entrepreneurs who've invested in this country, invested in businesses – that's not a way to help create either wealth or indeed growth.
Wallace had more to say. He said that, as Secretary of State for Defence, he did not have the 'luxury' of resigning, a pointed barb at Rishi, who, he intimated, should have stayed on as Chancellor:
Wallace pledged his support for Liz Truss.
Meanwhile, Rishi's team claimed someone was leaking official documents:
Rishi allegedly asked Simon Case, the head of the civil service, to get involved.
Guido reported:
What leaks might Rishi be upset about? The Treasury documents which completely undermined his pledge to "scrap or reform EU laws in 100 days" is a strong bet. Earlier this month, just after promising to review all of the remaining 2,400 EU laws on the statute book, Bloomberg revealed the Treasury had – under Rishi's leadership – written to Liz Truss to claim that reforming EU taxes was desirable but probably not deliverable until 2026. Last time Guido checked, that wasn't quite within 100 days. Brexit Opportunities Minister Jacob Rees-Mogg even responded by claiming it was "a surprising promise as the Treasury under his leadership was insisting that taxation was exempt from the removal of EU law." What was it Rishi said about "fairytale promises"?
UPDATE: Now a spokesperson for Liz Truss says:
We condemn the leaking of Government documents and papers. Neither campaign condones leaks of material and will not use documents it receives. Furthermore, both campaigns will report any such leaks to the Cabinet Secretary who may take action directly, or via the Police, against the individuals involved in perpetrating such leaks or receiving and not reporting material. We understand leak investigations will be carried out without fear or favour.
Word around Whitehall is that Simon Case is livid, demanded both camps issue a statement and has called in police to investigate the China leaks.
On Saturday, July 30, things got worse for Team Rishi. He had to give away tickets to what had been a £20 per person hustings event:
Then, Tom Tugendhat, he of the military service, endorsed Liz Truss:
Oh, dear.
While all that was going on, staff at the Mail on Sunday (MoS) were preparing its copy.
Late on Saturday in one of the MoS pieces, Boris loyalist Nadine Dorries MP further reinforced the notion that Rishi is not a man of the people. She wrote about a tweet she'd sent out a few days before commenting on his expensive attire:
I wanted to highlight Rishi's misguided sartorial style in order to alert Tory members not to be taken in by appearances in the way that happened to many of us who served with the Chancellor in Cabinet. The assassin's gleaming smile, his gentle voice and even his diminutive stature had many of us well and truly fooled.
I wish to stress it's not the case that I believe a rich man or woman – even if their father-in-law is one of the richest men on an entire continent – cannot be Prime Minister of this great country. But they do have to possess good judgment, understand the lives of others, have empathy, compassion and know how to fill a car with petrol and pay for it at a till.
Rishi's father was a GP, his mother a pharmacist. He attended a public school where the annual fees are about £36,000. They were in the top two per cent income bracket of all earners in the UK. To describe his background as humble is yet another indication of poor judgment.
Rishi will never know what it is like to feel scared, broke and hopeless, without a safety net provided by wealthy parents. He has never had to lie awake at night, worrying about how to pay the bills. A bailiff will never knock on his door …
Too right.
Dorries said that Boris was not best pleased when he found out that Rishi is now pledging to cut VAT on energy bills, something she said Boris begged him to do as Chancellor:
… Rishi says he wants to cut VAT on energy bills. However, Boris had been pleading with him to introduce this measure for two years as the PM had been convinced that such a cut could provide immediate relief to families.
In a speech on Thursday, Boris commented with a hint of uncustomary sarcasm: 'Turns out it was easier than we thought!'
Rishi was the classic dog in the manger as Chancellor. Whenever Boris sought him out to discuss serious issues, Rishi was always polite but unforthcoming. Never a team player.
Another MoS article revealed photos of a young Rishi Sunak at an exclusive nightclub in London's fashionable Mayfair.
Reporter Michelle Bromley included photos, writing about the young man and his then-fiancée, now wife, the Infosys heiress Akshata Murty, who lived in California in 2008:
Despite living 5,400 miles apart, the couple regularly flew back and forth across the Atlantic.
These photographs show how they spent an evening with friends at the Whisky Mist nightclub in London.
Ms Murty is seen with a cocktail while Mr Sunak (who says he's teetotal and 'a total Coca-Cola addict') generously bought all the drinks that night for the couple's friends.
At the time, the club off Park Lane was popular with the young Prince Harry and celebrities such as Beyoncé and Leonardo DiCaprio. Many years later, Tesla tycoon Elon Musk met his second wife, actress Talulah Riley, there.
Whisky Mist was apparently named after an incident during which a tipsy Queen Victoria thought she'd spotted a stag in the fog from the window of Balmoral Castle.
Friends with Mr Sunak and his girlfriend that night recall how many of the guests were focused on Ms Murty because of her family's fabulous wealth.
Her father founded global IT giant Infosys.
Mr Sunak was described by a female reveller as 'the most attentive boyfriend you have ever seen' and as 'someone who would ask a lot of questions but not give too much away about himself'.
Not long before, he had been to Africa where he met some of Barack Obama's relatives. He was photographed with them while holding a copy of the future US president's book, Dreams From My Father: A Story Of Race And Inheritance.
The picture was posted on Mr Sunak's Facebook page. Mr Obama used his book as a primer to introduce himself to the American people as he campaigned in 2008 to become the first black US president.
Fourteen years on, the young Briton captivated by that book is campaigning to become Britain's first Prime Minister of Asian heritage – and of America's greatest ally.
Nadine Dorries is right. Rishi Sunak will never have to worry about anything significant in his life.
The Sunday Telegraph said that Conservative MPs criticised Dorries for retweeting a photoshopped image showing Rishi as Brutus wielding a knife at Johnson's Julius Caesar's back. The original tweet is at the link.
The MoS also reported that some of the MPs supporting Rishi have serious doubts about his campaign:
Conservative MPs backing Rishi Sunak have privately admitted 'It's over' as panic sets into his leadership campaign.
Insiders told The Mail on Sunday that some supporters were refusing to do campaigning events for the former Chancellor.
MPs are said to be getting cold feet after Defence Secretary Ben Wallace and former leadership rival Tom Tugendhat threw their support behind Liz Truss in quick succession.
However, other MPs backing Mr Sunak insisted he was doing well with Tory members, and said private polling showed Ms Truss's supporters had been easily convinced to switch their support to him.
As this week opened, Dan Wootton's Monday poll showed that GB News viewers thought that his tax U-turn was still too little, too late:
That polling ran while Rishi and Liz were at a hustings in Exeter, more about which tomorrow.
I hope the former Chancellor, whose mother owned a pharmacy, does not get anywhere near Downing Street, except as a visitor: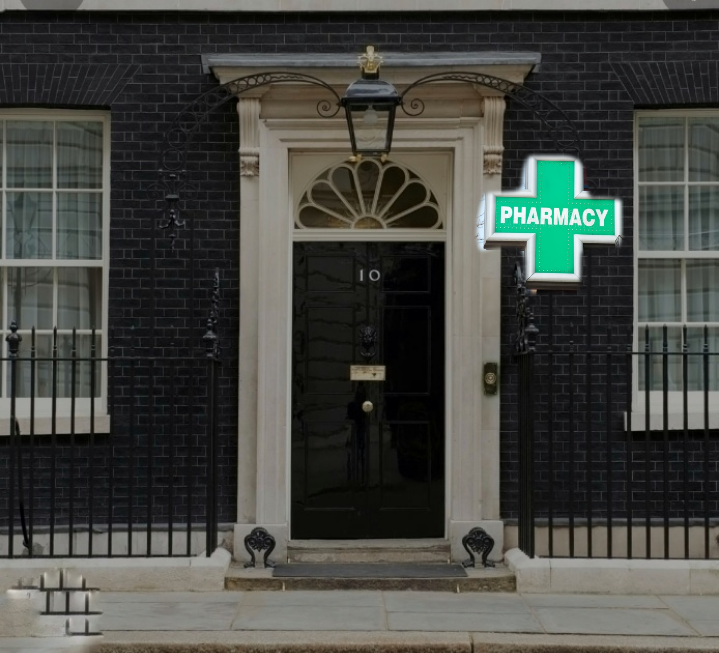 Why anyone wants Rishi to be the next occupant of No. 10 escapes me. Convince me — someone, anyone — why he should be our next Prime Minister.
Boris Johnson is now into his third year as Prime Minister.
On Wednesday and Thursday, September 15 and 16, he reshuffled some of his cabinet and ministerial posts, signalling that he is more than halfway through his premiership. In other words, this will be the major reshuffle to lead the Conservatives into the next general election.
I hope that Boris does not go for a 2023 election, unless it is late in the year. The coronavirus crisis will have put much of the Conservative manifesto agenda on hold for two years. As such, not much has been accomplished to date, as Andrew Neil, who recently resigned from GB News, says:
Boris has appointed more Leave ministers as well as more minority and female ministers, which will not matter to most small-c conservatives:
Highlights of the reshuffle follow.
Dominic Raab no longer Foreign Secretary
It looks as if dithering over Afghanistan while holidaying in Crete has finished Dominic Raab's days as Foreign Secretary. He had to do the walk of shame after his demotion:
That said, Boris has found a new job for him as Justice Secretary.
Raab will also continue to be Deputy Prime Minister, a role he handled extremely well in April 2020, when Boris was hospitalised with coronavirus.
Defence Secretary Ben Wallace defended his fellow MP and the move in an interview with BBC Breakfast:
Wallace said of Raab: "Dominic is by trade a lawyer, he started his life in the Foreign Office as a human rights lawyer and he's gone to the Ministry of Justice, which is actually a very, very important role and a role he desperately understands."
Liz Truss becomes new Foreign Secretary
Former Trade Secretary Liz Truss replaces Dominic Raab as Foreign Secretary, with Anne-Marie Trevelyan taking her place.
Post-Brexit, Truss has made various trade deals with other nations, notably Australia and Japan.
She also remains minister for women and equalities.
Truss is popular with grassroots conservatives and her name has often been mentioned as a future party leader and Prime Minister.
She succeeded not only in trade but also in refusing wokery in 2020 …
… and in 2021, as Guido Fawkes reported on June 16 (emphases mine):
Liz Truss tells Times Radio most people aren't interested in the culture war…
"My role as equality minister is to make sure everybody in Britain is treated equally regardless of their sex, their sexuality and their race. What we have seen over the past few years is the development of identity politics where there has been division created. People are described as being members of a group rather than for their own personal, individual humanity and dignity… We have just launched for example a big data project looking where are the gaps in education, employment and enterprise across the country, and how we can fix those. That is the approach we need to take… I think some of the identity politics we have seen focus on symbolism over real results has been divisive… I think most people aren't interested in this so–called culture war, what they're interested in is, "Am I being given a fair chance? Do I have a good chance of getting a job? Am I treated fairly by public services?" And that's why I think our equality agenda should focus on, those bread and butter issues that are of concern to everyone in the country."
She is consistently among the most popular of the Cabinet members. This survey is from March 2021:
She can even ably dodge camera equipment during an interview:
Nadine Dorries moves from Health and Social Care to Culture Secretary
In what is hoped to please grassroots small-c conservative voters, Nadine Dorries now heads Digital, Culture, Media and Sport (DCMS), replacing Oliver Dowden, who, as new co-chairman of the Conservative Party, will formulate a strategy for the next general election.
Most of these grassroots supporters are fed up with the BBC. Will Dorries take on Auntie Beeb?
I do not put much stock in that possibility. Resurrecting Dorries's tweets from several years ago are no indication of her current willingness to oppose the BBC on anything much:
The BBC have just appointed a firmly left-wing executive editor of BBC News, Jess Brammar. At least one Conservative MP, Brendan Clarke-Smith, was unhappy about the possibility of her appointment back in August:
I will not be holding my breath for Dorries to take her on, although others in the left-wing and anti-Brexit political establishment are angry about Dorries's appointment, as Guido Fawkes reports; he has screenshots of her past tweets (emphasis in the original):
She's been in the job for 17 hours and is already annoying all the right people… 
John Whittingdale returns to backbenches
I have doubts about Dorries because one of the DCMS ministers, John Whittingdale, was supposed to take on the BBC in 2016 and never did. He also washed his hands of removing free TV licences for most over-75s, saying it was a decision for the BBC. Is this why he got the sack?
During the Euro 2020 soccer tournament this year, Whittingdale told Kay Burley of Sky News that travel restrictions were lifted for 'important' people associated with the matches:
Speaking on Sky News, John Whittingdale was asked why players, officials and others coming to London for the Euros final on 11 July should be allowed in without self-isolating.
He said: "We've always said that for some people who are important, players, for instance …"
The presenter, Kay Burley, interrupted him, saying: "So people who want to go on holiday are not important. Is that what you're saying?"
Whittingdale's last pronouncement, standing in for his boss Oliver Dowden, was about a proposed mandate to make all BBC and ITV output 'distinctively British'. That was on September 16. It will be interesting to see whether Nadine Dorries will insist on it.
Newsnight argument over Dorries
Nadine Dorries was the subject of an argument between Conservative MP Charles Walker and former Conservative MP, Remainer Anna Soubry, who lost her seat in December 2019.
By the way, this was Anna Soubry with Nigel Farage either just before or just after the Brexit referendum in June 2016: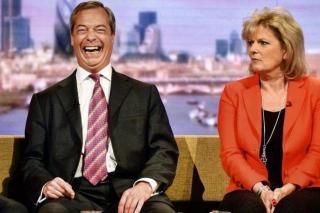 But I digress.
The discussion between Soubry and Charles Walker took place on the BBC's Newsnight on September 15:
Here's the video, with Labour MP Peter Kyle sitting at the desk with presenter Emily Maitlis:
Guido Fawkes has the highlights:
Nadine Dorries provided the biggest clash, as the eternally bitter Soubry ranted that her appointment "actually says everything that's wrong and rotten about this prime minister's stewardship of this country". Charles Walker had some thoughts:
"Nadine Dorries has been a health minister, a minister of state, at an incredibly difficult time for the department of health; has been an extremely good minister for mental health; and really to come onto this programme and just trash her like that is just not a very nice thing to do to be perfectly honest"
Responding to Soubry's claim that people don't really care about reshuffles in the real world, Walker pointed out "Why is it the lead story on Newsnight, and why are you appearing on Newsnight?" Why indeed…
However, there is a personal reason why Anna Soubry is angry with Nadine Dorries.
On July 1, 2016, one week after David Cameron stood down as Prime Minister and Conservative Party leader because of the Brexit referendum result, tensions were running high not only in the Commons but also among the public.
Soubry went out near Parliament to address her fellow Remain supporters. Dorries tweeted that Soubry was under the influence. Soubry demanded that Dorries retract the tweet. The Times has the full story, which ends with this:
Update (25.07.2016): Following publication of this article, Nadine Dorries MP has withdrawn her tweet about passing Anna Soubry MP leaving the bar before she attended a rally of Remain supporters in central London. Ms Soubry has confirmed that she had not drunk any alcohol before speaking at the event.
Another reason why I am doubtful about Nadine Dorries is because she did not question the Government's coronavirus restrictions when she was at Health and Social Care. Does she really believe everything she hears? Here she responds to Conservative Woman's co-founder Kathy Gyngell. Dorries and her mother had the virus at the same time, and her mother recovered first. Even so, not questioning lockdown earns her a black mark from me:
At least she supported Brexit.
Michael Gove moves to Housing, no longer Chancellor of the Duchy of Lancaster
Michael Gove, who is in the process of a divorce and was a recent party boy in an Aberdeen nightclub, is no longer the Chancellor of the Duchy of Lancaster.
Stephen Barclay, formerly Chief Secretary to the Treasury, replaces him in that post. Simon Clarke replaces Barclay in the Treasury role.
Michael Gove replaces Robert Jenrick at the Ministry of Housing, Communities and Local Government and is in charge of Boris's 'levelling up' agenda.
A first attempt at a new acronym for the department has produced DULL:
Guido reports on the problems with acronyms for government departments in general:
The Sun's Harry Cole reports the initial proposal for a new "Department for the Union and Levelling Up" is no longer a flyer after realisations its acronym, 'DULU', sounds too much like "Dull". It's a shame a change was needed, given it was pointed out yesterday that Michael Gove the first MHCLG Secretary with all the letters of the department in his name…
Guido will leave it up to cleverer minds to work out an acronym that includes all the letters of Gove's new remit (MHCLG + Union + Levelling Up + Elections) though it's not the worst reshuffle acronym problem encountered by a PM. As Alan Johnson recounts, in 2005 Tony Blair came up with a plan to rename the department for Trade and Industry as the "Department of Productivity, Energy, Industry and Science". Thankfully Johnson was used to it by that point however – he'd already been Minister for Higher Education and Lifelong Learning, and headed up the Sexual Health Advisory Group…
Although this looks like a demotion for Gove, it involves a hefty budget with pan-govermental reach, something that should definitely appeal to him:
New Education Secretary
Nadhim Zahawi, formerly in charge of the coronavirus vaccine rollout, is the new Education Secretary, replacing Gavin Williamson, who likely got the sack because of the school exams fiasco during the coronavirus crisis.
Zahawi has achieved the British dream, having arrived in the UK as a child refugee who could not speak English:
Other appointments
Guido Fawkes has full reshuffle information for September 15 and 16.
Some MPs have transferred to other departments:
Others will be returning to the backbenches:
Jesse Norman tweeted that he was happy to return to the backbenches:
The new role for Nigel Adams is said to be a 'fixer' appointment in order to get things done:
More information and analysis can be found at The Guardian, The Telegraph, GB News , The Spectator and The Times (here, here and here).
House of Lords
Reshuffles can affect the House of Lords, too.
Fortunately, two of the stars there are still in place.
Baroness Evans
Baroness Evans, composed and competent, will remain as Leader of the House of Lords.
Lord Frost
Lord Frost will remain Cabinet Office Minister for Europe, in charge of EU negotiations and changes to relevant legislation:
On September 16, Guido wrote about Frost's plans to rid the UK of EU laws (emphases in the original):
Lord Frost has announced the government's plans to finally capitalise on the freedoms of Brexit and remove the "special status" of all individual EU laws still on the UK's statute books. There are also plans to invest heavily artificial intelligence, transport, and farming over the Parliament. Now if we just pair deregulation with lower taxes we may actually get somewhere…
Speaking on the reforms this afternoon, Lord Frost said:
"From rules on data storage to the ability of businesses to develop new green technologies, overbearing regulations were often conceived and agreed in Brussels with little consideration of the UK national interest.
"We now have the opportunity to do things differently and ensure that Brexit freedoms are used to help businesses and citizens get on and succeed."
Lord Frost will begin with a review of so-called "retained EU law" – the huge amount of EU legislation still on the UK's statute books; removing its special status so it's no longer a distinct category of UK domestic law, and ensuring all courts have the full ability to depart from EU case law. He describes it as finalising the process of "restoring this sovereign Parliament". There's a reason he's popular with the Tory membership…
Guido's post has more detail, much of which involves digitalising everything from share (stock) certificates and driving licences.
Hmm. I hope that when his proposals reach MPs that they are not taken too far. First, not everyone is online. Secondly, think of the hacking opportunities this could provide. Finally, and perhaps most importantly, digitalisation can lead quickly to establishing a Chinese-style social credit score.
One thing I did like was this:
Permitting the voluntary printing of the Crown Stamp on pint glasses and reviewing the EU ban on markings and sales in imperial units and legislating in due course, none of which were possible within the EU.
Robert Peston's misguided predictions
Sometimes, it is better to wait for the final outcome rather than tweet silly predictions:
On September 16, Guido noted witheringly of ITV's Robert Peston:
While yesterday may not have been great for Dominic Raab, at least he can take solace in the fact he had a better reshuffle than Robert Peston. ITV's senile senior political reporter spent all day tweeting every thought process, speculation and briefing with the acumen and insight of a first-year politics student.
Guido's article lists Peston's tweets. Perhaps ITV should buy him a new crystal ball.
Conclusion
I still think that most Conservative MPs are half-hearted. It's a shame that Boris did not promote any of the 2019 intake, especially the feisty ones from the North of England.
Fortunately, last week's horrible poll results have been reversed. Participants were polled during the reshuffle days of September 15 and 16:
Onwards and upwards to Boris's promised 'sunlit uplands', I hope.
On Monday, June 14, 2021, I posted about the launch of GB News, a channel that offers balanced content.
On June 15, Guido Fawkes posted the new channel's preliminary ratings demographics — 70% male viewers and 62% middle and upper middle class viewers:
Guido wrote (emphasis in the original):
According to BARB figures for the first full day on air, GB News averaged over the 18-hour day 74,000 viewers, just behind Sky News' 78,000. BBC News was well ahead with 138,000. Andrew Neil's show drew 150,000 for his hour, down from Sunday's opening 262,000.  Let's see how things settles down in a few weeks. Today the audio technical problems were noticeably fewer… 
GB News has been taking some flak over the past few days. It must be over the target.
Someone in the media sniped at Andrew Neil, the channel's chairman, who has a weekday evening news roundup:
Unfortunately, advertisers are beginning to withdraw their sponsorship, claiming they had no idea their adverts were being shown on GB News. How can that be?
Kopparberg Cider (never heard of it) was the first:
Guido's post says that Koppaberg pulled their ads because of an appearance by Nigel Farage on Dan Wootton's first nightly show:
In a bizarre business move, Swedish cider company Kopparberg has suspended all their GB News advertising after a left-wing Twitter user complained they'd hosted Nigel Farage as a guest. Guido has no doubt Kopparberg will also be suspending ads for … ITV and Sky, who have all interviewed Nige' on numerous occasions… 
Nivea is another former sponsor:
Nivea has also apparently announced a boycott, though Guido's altogether less familiar with brands of moisturiser. Imperial Leather moisturiser seems an appropriate alternative brand…
Guido has contacted Kopparberg for comment.
Then came Ovo Energy:
The thread received this reply:
ITV News must have been rubbing their hands with glee. It's hard to discount the possibility that the main channels want GB News to fail:
ITV's article listed more former sponsors (emphases mine):
An Ikea spokesperson told iNews the company "has not knowingly advertised on GB News" and has suspended all paid display advertising while it investigates."We have safeguards in place to prevent our advertising from appearing on platforms that are not in line with our humanistic values and vision to side with the many people," they added.
"We are in the process of investigating how this may have occurred to ensure it won't happen again in future, and have suspended paid display advertising in the meantime."
Beer producer Grolsch said in response to a message from a campaigner it would "do everything we possibly can" to stop its adverts appearing on the channel.
The controversy comes from the channel's aims to fight "cancel culture" and present news to audiences that in their view are not reflected in the current British broadcast media landscape.
ITV says that a left-wing campaigning organisation is behind the boycott:
Stop Funding Hate, which has been campaigning to get businesses to pull adverts from GB News said OVO Energy, Ikea, Nivea, the Open University and Grolsh have also all reportedly stopped working with the channel.
Andrew Neil had a go at Ikea, as did one of his followers:
What is wrong with the content and 'values' of GB News?
Did advertisers object to the Who's Roger Daltrey's take on today's culture?
Were they upset with Andrew Neil's 'Woke Watch' which explored the new culture at the National Trust?
Neil did take issue with the anti-lockdown protesters who chased the BBC's Nick Watt in London on Monday afternoon:
The following are Wednesday's stories on GB News. What is objectionable?
There is a story on council tax hitting those in northern England more than those in London:
A Labour MP criticised the Home Secretary Priti Patel for not helping legal immigrants more:
Liz Truss MP talked about Britain's new trade deal with Australia:
Sajid Javid MP, former Chancellor of the Exchequer and former Home Secretary, explained why he would like to see the increase of the legal marriage age to 18:
Where is the problem?
Guido Fawkes alleges that an ex-BBC producer could be behind the advertising boycott:
Her company has allegedly created a website, Boycott GB News.
Guido's post says:
The website BoycottGBNews.org, which has spent the last 24 hours celebrating various corporate boycotts, says it is a "campaigning website from Ripples". A quick search of Companies House shows Ripples Campaigning was co-founded, and is run, by Louise Wikstrom. Louise, who appears to be their only employee, was a senior content producer at BBC Worldwide for three years.
He included a photo from her Facebook page indicating that she is a supporter of the former Labour leader Jeremy Corbyn.
Guido adds (emphases in the original):
Co-conspirators may have theories as to why someone closely linked to the BBC's commercial arm might want GB News to fail?
… Whilst Guido hadn't heard of Ripples, it's clearly a petition site exclusively for left-wingers and FBPEers. They laughably claim that due to their petitions, they prevented: a cut to universal credit; MPs receiving a £3,000 pay rise; an extension of the furlough scheme; and preventing the government from "breaking international law" on Brexit. These past claims are clearly absurd. Their latest busy-bodying attempt is far more malicious…
In closing, I have bought print advertising in the past. There is no way that anyone buying advertising doesn't know what is going on. It isn't done independently. I was told what publication to contact for my employer's ad and how to negotiate the price.
It is disingenuous for these sponsors to say that advertising was placed without their permission. That cannot happen. Yet, if you read their statements, they all claim they did not know they were advertising on GB News. 
No doubt Andrew Neil will know how to deal with this. I wish him all the best.
On Sunday evening, June 13, 2021, Andrew Neil's GB News channel (Freeview 236) launched in the UK.
Andrew Neil has had a long career in broadcast and print journalism, having helped launch Sky News in the UK. He presented political programmes for the BBC for many years and is also chairman of The Spectator.
The satirical magazine Private Eye refers to him as Brillo because of his hair.
The channel began broadcasting at 8 p.m., with a one-hour introduction from Neil laying out the agenda and introducing the viewing audience to its presenters and regional reporters:
Neil was broadcasting from London, rather than his home in the south of France, as he has done during the pandemic for Spectator TV.
My far better half and I watched this and one hour of Dan Wootton's show, which followed at 9 p.m.:
Dan Wootton's show had a few glitches, with guests' online connections dropping and a synch problem between video and audio.
Nonetheless, the channel's first night ratings were good:
Their audience share was treble that of Sky News:
Guido Fawkes posted a summary of the reviews in the press. Incidentally, Guido's Tom Harwood resigned a few months ago to become the Westminster correspondent for GB News.
Guido's post says, in part (emphases in the original):
It's all systems go for GB News. Opening with a one hour mission statement from Chairman Brillo (from a tiny, under-lit set which someone on Twitter described as looking like "the inside of a PlayStation"), the fledging news channel finally started broadcasting at 8pm last night. Inevitably, there were teething problems: dodgy cuts, out of sync audio, odd camera angles etc etc. Dark clothes against a dark set just doesn't work visually. Television is hard.
The aesthetic problems will undoubtedly be ironed out over time. For now, the initial reaction from social media and the punditry went about as you'd expect; Owen Jones tried to dunk on it, the Telegraph gave it four stars. Here's the full round-up:
The Guardian wasted no time in writing it off. No doubt reviewer Stuart Jeffries beamed ear-to-ear as he called it "utterly deadly stuff", and declared he "give[s] it a year" before it's taken off-air. He gave it one star, obviously.
The Times were

more generous

: three stars for a channel which "may yet bite", though marking it down for the obvious technical shortcomings. A running theme amongst most reviews…
The Telegraph's four star review praised its "no sneering" attitude, and that in spite of the glitches, "GB News is already speaking [the] language" of those frustrated by lockdown. They also made the point that opening with Dan Wootton was probably a mistake, given his opening diatribe about lockdown: "What the channel cried out for was the firmest hand on the tiller from the go. If you were unsure about GB News's claims of impartiality, you needed Brazier or McCoy to take your hand on the first night. Wootton will have scared a few nervous horses" …
GB News were pleased to say launch night saw them average 164,400 viewers with Sky News garnering only 57,000 viewers. Can they surpass Sky News regularly?
I hope so. My better half thought it was too amateurish. As Guido says, 'Television is hard', especially on launch night. I will definitely be tuning in when BBC Parliament is showing a rerun.
Speaking of Parliament, Conservative MP David Jones liked it:
The channel also has half-hourly weather forecasts from the Met Office:
A live stream is on their website. Selected videos are posted there and on YouTube.
GB News took well over a year to reach its launch:
Their signature tune came first:
Investors had to be found:
Britons were eager for a news channel that represents their interests:
On January 28, 2021, Dan Wooton left talkRADIO for GB News.
A week later, people were attempting to boycott a channel that hadn't even launched, including Jolyon Maugham, director of the Good Law Project:
This was Andrew Neil's response:
At that time, Neil wrote an article for The Express explaining why he was launching a new channel (emphases mine):
I'm proud to be the chairman of GB News and, as you may have read, I have left the BBC after 25 years to host a nightly programme on the channel.
I'm doing it because I believe the direction of news debate in Britain is increasingly woke and out of touch with the majority of its people.
I believe our national conversation has become too metropolitan, too southern and too middle-class.
Some journalists and commentators seem too confident that their liberal-left assumptions must surely be shared by every sensible person in the land.
But many of those same sensible people are fed up.
They feel left out and unheard.
There's a restlessness, a sense that they're being talked down to; that much of the media no longer reflects their values or shares their concerns.
GB News is aimed squarely at those people.
The Mail's Michael Crick empathised and had a go at Jolyon Maugham:
The channel began attracting broadcasting talent: Sky News's Colin Brazier, Channel 4's Liam Halligan, the BBC's Simon McCoy, conservative commentator Mercy Muroki and Times Radio's Gloria De Piero (also a former Labour MP and presenter on an ITV breakfast show).
By April 27, Rupert Murdoch decided not to launch a similar rival channel, News UK:
At least one journalist is rankled that GB News has overseas funding:
On May 21, Press Gazette revealed more about GB News:
The channel's director of news, John McAndrew, is a 25-year industry veteran who has worked for the BBC, Sky News, ITN and NBC.
Interviewed by Press Gazette three days ahead of the channel's launch, he said: "My view of our channel, and certainly how it's going to be, is that it will be a very warm, inclusive channel where disagreements will be had, tough subjects will absolutely be taken on, but they'll be taken on in a classy and courteous fashion.
"What this won't be is a hate-filled divisive shout-fest that some people seem to have characterised it as, which is 180 degrees away from where we want to be."
Speaking to the FT Future of News conference Neil revealed that GB News plans to launch in other countries after the UK and has been looking at Spain and Eastern Europe. He said: "They will be distinctive news channels for distinctive markets. We still believe news is national."
On May 25, Ryan Bourne from the Cato Institute wrote a column for Conservative Home about the channel:
… it's perfectly within the Ofcom rules to build a news channel that will run different stories or perspectives – and Neil wants to run "good news" stories and shift away from assuming every problem has a government solution. You are allowed to hire, as GB News has, card-carrying conservatives, ex-Labour MPs or people from outside of London with very different assumptions in thinking about what news is important. And, yes, you are free to have colourful presenters with attitude to liven up discussions, provided you still showcase various perspectives.
Why, then, are some on the left so afraid of this pluralism? Maybe they don't accept biases exist on other news channels (Channel 4 News, really?), and so think any stated attempt to counter them is retrogressive. Perhaps they simply fear a politically strengthened conservatism. For others, no doubt, there is a concern that the Government's mooted appointment of Paul Dacre to Ofcom is a precursor to watering down impartiality rules as well.
But given that no such policy has been signalled, and we have not yet seen GB News in action, we must judge them at their word. Neil himself thinks, rightly, that a "British Fox" riding roughshod over Ofcom rules just wouldn't be successful. "Overwhelmingly, Brits value impartiality and accuracy and, during recent years, in fact, the proportion of Brits thinking the BBC and ITV provide an impartial service has fallen." GB News is keen to harness that particular audience, yes. But having spoken to numerous staffers, they are determined to avoid political bias, and to be robust in providing respectful disagreement more broadly too.
The Evening Standard's Insider posted an in-depth article on June 10. Susannah Butter's piece covers a lot of ground, including on the channel's investors.
This seems to have been the initial title (h/t Guido Fawkes reader who posted it):

Susannah Butter interviewed Andrew Neil, who had returned from France and was quarantining:
Neil is speaking to me from quarantine in West London, having recently returned from his house in the Cote d'Azur where he has been for the past year with his wife, Swedish engineer and communications executive Susan Nilsson, 52. They married in 2015 and Neil has 14 godchildren but no children of his own. He is straight-talking if occasionally gently cantankerous, saying he only agreed to speak because I "caught him at a weak moment" – and he wants to get one thing clear: GB News is not the British Fox News. "That is an easy, inaccurate shorthand for what we are trying to do. In terms of format we are like Fox but we won't be like Fox in that they come from a hard right disinformation fake news conspiracy agenda. I have worked too long and hard to build up a journalistic reputation to consider going down that route." There is a "strong editorial charter written into everybody's contracts saying that if they spread fake news and conspiracy theories they will face disciplinary action". Neil's hope is not to destroy the other channels, more to provide variety and raise the bar. "We are in a competitive environment they know that. I suspect [our rival TV channels] will up their game, that's fine, the only winner is the viewer."
This is how the channel began:
GB News was not Neil's idea – the founders are Andrew Cole and Mark Schneider who both come from a business background – but Neil has been wanting to do something like this for a long time …
Cole and Schneider contacted Neil last summer when he was "in the middle of rather, err, meandering negotiations with the BBC". His interview show had been cancelled and Politics Live was taken off air; he has said that "what [the BBC] did was unnecessary and I left with a heavy heart… but what's done is done." By September he was convinced because he "rather liked the idea of being chairman as well as prime time presenter. At The Spectator, my pride and joy, I have a business angle too, as chairman".
Early hires include former Associate Editor of The Sun Dan Wootton and The Apprentice's Michelle Dewberry, who was a vocal Brexit supporter.
Piers Morgan will not be joining the GB News lineup, at least for now:
"It would be nice to have him," says Neil who is in discussions with Morgan about joining and adds diplomatically: "But he's got his own idea of what he is worth and we have a slightly different idea of what he's worth. He is in a lucky situation because ITV are continuing to pay him a tonne of money so he doesn't have to do anything in the short run. I don't think he's going to go anywhere else in the UK. If he has a huge American offer that's a different matter. No one in the UK can compete with that but if he's going to do more UK news TV I hope it will be with us."
The channel will have a regular five-minute feature called 'Woke Watch':
Neil enjoys its alliterative title and says while he is "poking fun", he is seriously concerned about its implications. "Cancel culture is insidious, it stands against everything we have stood for since the enlightenment onwards and that is why it is serious," he says. "The original meaning of woke was somebody who was aware of social justice issues and who can complain about that? But it is not about social justice anymore, it is about conformity of thinking and it exists in many of our elite institutions from NGOs to the National Trust and parts of our media. Of course it is making huge inroads into our places of higher education. It is not the view of the British people but if it is the view of all these elites in favour of it could become very powerful."
… He takes a breath. "Look this is a five minute segment in an hour long show but it will be an important part of the output. Humour is a good weapon especially when you are up against po-faced people who take themselves too seriously."
The channel's output will target those living outside Britain's metropolitan areas:
GB News aims to attract two kinds of viewers, people who already watch the news and "may be a bit unhappy with the existing channels" and people who have stopped watching or don't. "GB News will be more non-metropolitan than existing channels, more provincial which is a good thing. The provincial voice has not been powerful enough in Britain. We are for people who think the existing channels don't quite represent how they see things."
Neil discussed the channel's investors:
Neil says they were overwhelmed with offers of funding but were selective about which ones they accepted. He wants to talk about their leading investor, the Discovery Channel, but money has also come from Sir Paul Marshall, a Brexiteer hedge fund manager and founder of the Right-leaning opinion site UnHerd, and Legatum, a Dubai-based investment firm. Legatum's chairman Christopher Chandler, a New Zealand-born billionaire and international financier, is a partner of Legatum Group, a funder of the separate Legatum Institute, a Mayfair-based think tank which is dedicated to finding "pathways to prosperity" and was one of the most prominent advocates for a hard Brexit.
Neil will only say that he "didn't want any sovereign wealth fund money". "I didn't want stuff from Abu Dhabi or Qatar. I said I'd take Norwegian wealth fund money because I don't think we would be worrying about them but they weren't offering. And I was reluctant to take money from investors who see themselves as the next Rupert Murdoch because I have already had one Rupert Murdoch in my life. That ended 26 years ago and I have never seen him since. At this stage in my life I am not having another one."
Neil, quite rightly, does not understand why people would object to the name GB News:
"I am not sure why calling it GB News would be awkward," he says, responding to those who have objected to the name. "We are British, I am British; I don't think there is any embarrassment in it. Indeed it is the opposite, we are proud to be British. We will be fair and accurate but we won't start out from that default position among the incumbents that whatever Britain does must be useless. That was heightened by the Brexit debate and we don't want to reflect that. We will report all the faults and weaknesses of this country but we also take a certain pride in being British and our successes, the vaccine rollout being one example."
All this patriotism is well and good but doesn't Neil now live mainly in France? "This is my country, just because I don't live here full time anymore doesn't mean I don't care," he says.
Neil's regular one-hour show will also have a segment called 'Media Watch':
"All journalists get things wrong and it is important that we move to put them right quickly and put our hands up and apologise. We have a go at politicians for not admitting their mistakes and then we do the same thing." GB News will not be immune from Media Watch.
The channel will not be featuring a blockbuster interview immediately:
They have actually decided against launching with a big interview, "because then the story becomes the interview and I would much rather the story becomes the channel, we will get to the interview". "Times Radio launched with a big interview with Boris Johnson. We've decided not to go down that route."
Neil is not yet ready to retire:
It all sounds like a lot of work – does Neil ever want to retire? "You are right. Lockdown has made me appreciate the virtues of retirement or at least semi-retirement more than I thought I might. I thought I had one more big gig in me and this is it. If we can make a success of GB News that's when I'll declare victory and go home." I doubt he would disappear though. He says: "I would continue to do the odd bit of TV and writing and I certainly want to keep going with The Spectator. It's quite good at some stage to get to a situation where you can do whatever you want to do from wherever you want to be."
I ask Neil, one of the best interviewers in the business, if I have left anything out? "I think you know more than enough," he says. "Can I go now?"
Although Neil very much enjoyed his 25 years at the BBC and was particularly grateful to the help and support from the staffers there, he has objected to some of the recent programming output. On May 30, The Express reported:
Mr Neil has never shied away from controversy on or off screen during his time at the broadcaster.
Never was this more clear than when he called the BBC out – while working for the broadcaster – for airing a specially crafted version of Horrible Histories, using archive episodes to create a song to mark the day the UK left the EU …
Mr Neil commented: "This is anti-British drivel of a high order.
"Was any of the licence fee used to produce something purely designed to demean us?"
On June 11, Simon McCoy discussed his departure from the BBC and revealed that he voted Leave in the 2016 Brexit referendum. The Telegraph reported:
"People had whiplash by 2 o'clock. Because for three hours it was: 'Oh, he's leaving, the A4 Royal watcher, how sad.' And then, 'The b—–'s going to GB News! What a right-wing gammon.'" He gives a mock sigh. "I was rather enjoying a couple of hours of adulation."
Some valiantly tried to give McCoy the benefit of the doubt, but hang on: "I think it's interesting that people think: 'He's gone to GB News to balance it out because he's a leftie BBC journalist.' I'm certainly not." He's even willing to lay his cards on the table: yes, Simon McCoy voted Leave …
When he talks about Brexit, it's in measured tones. "We're a Brexit country. I do think we need to embrace it and, for all its faults, we've got to make it work."
He joined GB News partly because he fancied the challenge: "I loved the BBC; the job was great, but I just thought, 'Here I am, nearly 60 – do I want to stay here, probably not getting any further? Or do I want to try something new?'"
And he also has a conviction, after 15 years at Sky News and 17 years at the BBC, that those news providers are focusing on the wrong things. "If you watch other bulletins you'll know very much what's happening in Idlib or Tel Aviv or Washington. This is about the UK," he says.
"Rather than obsessing with what's happening abroad, let's just look at what's happening within the UK. While I don't want to sound jingoistic or insular or Little Englander, I think we could all benefit from just knowing about our own country a little more."
Neil Oliver, a Scot who presents television programmes on archaeology, is fiercely pro-Union and a vocal critic of the SNP's First Minister Nicola Sturgeon. He will have his own GB News show. The Express carried the story:
Last month, the BBC's veteran presenter of a string of history shows, Mr Oliver, was announced as having joined the lineup.
The archaeologist and historian has become a central voice in Scottish politics and, like Andrew Neil who he will work alongside, is a fierce critic of Nicola Sturgeon.
He has previously accused the Scottish First Minister of "making a fool of Scotland" and said she had made him "sick to my stomach"…
He talked of history being viewed as the lifetime of a person, and that people today are the children of this person, in this case, the British Isles.
This was vital to understanding how interwoven the devolved nations are, he argued, and explained: "More and more we dare to patronise the place, treat the person like a doddery old soul who cannot cope alone, who might even need to be taken into care.
"To me, the truth is altogether different. This place, these islands have taken care of us since a time beyond the reach of memory. Treated properly, they will continue to do so …
"The story of the British Isles is one every single one of us should know and give thanks for."
On June 2, The Express reported:
The freelance archaeologist will host a new weekly current affairs and interview programme. Mr Oliver's show will focus on "the people from all walks of life who make Britain great", according to the announcement put out by the broadcaster …
Commenting on joining GB News, Mr Oliver said: "My career has always been driven by my fascination with people, whether it's trying to understand ancient people through archaeology or living ones through journalism.
"Debate in this country has been stifled for so long that GB News feels like opening a window and letting some fresh air, fresh perspectives and fresh voices.
"I never imagined my career would take this turn but I'm hugely excited that it has" …

Before the 2014 independence referendum, Mr Oliver stated in an interview with The Herald, that he was "proud of Britain".
He also noted his dislike of the forthcoming referendum, saying he found "this kind of internecine squabbling puts my teeth on edge. I would rather that it would just go away – or that it had never happened".
He went on to say that he "liked the status quo".
As a result of his comments, when he was appointed President of the National Trust for Scotland, thousands signed petitions calling on him to resign.
In December 2020, Mr Oliver reasserted his apparent personal opposition to Scottish independence, describing the uncertainty caused by the prospect of a second referendum as a "cancerous presence".
Neil Oliver appeared on Sunday:
On the launch day of GB News, The Express reported that a spokesman for the channel alleged that the BBC was trying to restrict their access to news footage:
Britain's public service broadcaster was attempting to "ambush" and "damage" Sunday's launch of the right-leaning television channel, a spokesperson for GB News has claimed. A GB News spokesman said: "This is an ambush by the BBC designed to damage the launch of GB News. It is an attempt to protect their dominance of UK news broadcasting.
"We will fight it.
"And our launch continues."
This has happened before when the Press Association said in 2010 it was unable to access footage from "single-camera assignments" that were categorised as coming under the ownership of the UK Broadcast Pool.
The UK Broadcast Pool comprises the BBC, Sky News and ITN.
The launch was successful.
True to their pledge, GB News is focusing on what matters to Britons, such as this lady from Birmingham:
In closing, Tom Harwood says that GB News are aware of enhancements that need to be made, including the addition of a live stream on YouTube:
I'm thrilled to bits for GB News and do intend to become a regular viewer.
Episode 14 of Andrew Neil's Spectator TV was broadcast on Thursday, December 3, 2020.
He interviewed Trevor Phillips, past head of the Commission for Racial Equality and chairman of the Equality and Human Rights Commission (EHRC), the succeeding organisation. Since then, Phillips has held a number of other appointments in human rights, the arts and retail. He is currently managing director of Webber and Phillips, a data analytics provider.
Neil also interviewed Mark Harper, one of my favourite Conservative rebel MPs, who has spoken out against coronavirus lockdown and restrictions. Harper has served as the MP for the Forest of Dean constituency in Gloucestershire since 2005. He has also served as a junior minister in the Cabinet Office, an Immigration Minister and Minister for Disabled People. He was the Chief Whip for the Conservatives in the House of Commons between May 2015 and July 2016. His tenure as Chief Whip ended when Theresa May became Prime Minister.
Emily Gray, managing director of Ipsos MORI Scotland, also appeared on the programme:
By the time the show aired, the mass purchase of the BioNtech/Pfizer coronavirus vaccine was finalised, announced and is now on its way to the UK.
A vote on the new tier restrictions after England's second national lockdown was held on Tuesday, December 1. Mark Harper was one of the rebels who voted against the Government.
Conservative rebels
The Spectator's political editor James Forsyth said that the rebels' vote against the Government, while not toppling the final result, 'was the biggest of Boris Johnson's premiership'. Had the Opposition (i.e. Labour) not supported the Government, Boris and his Cabinet would have lost.
Forsyth pointed out that the number of Conservative rebels 'has been rising consistently'. There will be a vote in January on renewing the tier restrictions. Currently, many English constituencies that started out in Tier 1 before the national lockdown are now, arbitrarily, in Tier 2. (Kent is a good example: communities closer to London have higher coronavirus infection rates than those along the east coast of the county.) If these discrepancies are resolved for in a local way — splitting counties into two different tiers — Forsyth sees more Conservative MPs voting against the Government next year.
He said that vaccine roll out might help to quell the rebellion if it's efficient. However, if the roll out is 'bumpy' and restrictions persist, the rebellion will increase.
Deputy political editor Katy Balls came on next. She said the Government tried to reduce the rebellion, through a Zoom call asking for unity, but that did not succeed as Prime Minister Boris Johnson, who hosted the call, had hoped.
Economics editor Kate Andrews summarised the retail losses — up to £2 billion a week — coupled with retailers Debenhams and the Arcadia Group going into administration was a real problem. Pubs are in severe difficulty, too; only two per cent of them are in Tier 1.
Forsyth thought that the Government might make the tier classification more local but said post-Christmas restrictions present real concern, including the return of university students.
Forsyth did not see any easing of the rebellion until February or March 2021.
Mark Harper, leader of the Covid Recovery Group, was on next. He did not think that the Government had been as 'transparent and open' as they should have been. He has questions as to why hospitality was singled out as a danger sector but has received few answers. He wonders if it makes sense to have a lockdown, then a relaxation over Christmas only to be followed by further restrictions for a month.
Harper said that he wants to support the Government but cannot do so right now.
However, he has noted a change in the tone from the Prime Minister. Letters to the Covid Recovery Group have been more 'collegiate'.
That said, there is nothing of substance in them, e.g. clinical evidence and a 'coherent narrative'. He noted that the scientific experts' opinions differ to those of the Government.
Neil asked Harper what policy change he would like to see. Harper said that the impact of the first lockdown and the recession it caused would have a worse impact on quality of life years (QALYs) than the coronavirus deaths themselves.
Harper says he sees no balance from the Government between health and economic issues during the crisis.
While he appreciates that this is a difficult time with 'no easy answers', he is frustrated with the lack of openness from Government ministers on how they arrive at their decisions.
He hopes that the Government will start showing the criteria on which they base their decisions and 'a proper roadmap' by the end of January 2021.
Scottish independence
The latest support for Scottish independence has risen to 56%.
Emily Gray from IPSOS Mori showed a series of slides demonstrating that Nicola Sturgeon's Scottish National Party (SNP) is far and away the most popular of any political party north of the border.
While Scots admire Sturgeon's handling of the coronavirus crisis, Brexit is another factor in the preference for independence. Scots trust the SNP on all major issues, from the two that I named through to the NHS and education.
Conservatives and Unionists are not doing well in Scotland. Part of the reason for this, she said, was that they were not making a compelling argument for the Union, i.e. being better off together than as separate nations.
Neil pointed out that the SNP have not done well in terms of equality in health and education. Gray said that Sturgeon's ratings have remained high throughout the pandemic. She has calmed their fears; therefore, any shortcomings are not in the forefront of people's minds.
The Scots voted two-to-one to remain in the European Union. Brexit is deeply unpopular there. Neil said that some Scots would vote for independence as revenge for Brexit. Forsyth acknowledged that such a point of view is a problem.
Gray, however, made it clear that the pandemic was a greater factor in the yearning for independence than Brexit.
James Forsyth said that the SNP will win the local 2021 elections handily.
He added that Boris Johnson will have to address this issue of independence sooner or later. Perhaps the Unionists have to wait for 'something to turn up' in order for them to make their case. They would do well to 'buy time', he said.
Katy Balls agreed with Neil when he said that Boris does not 'poll well' north of the border, however, Rishi Sunak does. She said that a Labour government would have a easier time dissuading the Scots from voting for independence.
Forsyth said that a successful UK government vaccine roll out might change Scots' minds against independence. Visiting relatives in different parts of the UK this Christmas might also help to reinforce the benefits and commonality of the Union.
Equality
Equality was the last topic of conversation when Neil interviewed Trevor Phillips.
Critical race theory — yes, Neil used those exact words — was the topic of conversation.
Phillips did not deny the use of critical race theory and said that he, too, was sceptical of the term, saying that it serves only to feed white nationalism.
He also says that it downgrades education. It is, he said, based 'on anecdote, narrative, "my feelings" … none of which will change a single thing for people of colour'.
He called it a 'scam'.
He said it is wrong to make the issue of race 'entirely about white people' with people of colour as 'bystanders'.
Neil, somewhat apologising for his skin colour, pointed out that much progress has been made in race relations but that the theory does not acknowledge any of that progress.
Phillips said that Neil did 'not have to apologise for being white'.
Phillips said that the UK is not the United States. He noted that a number of families in Britain have bi-racial antecedents or parents since the Second World War. He said that no other nation in the world has that number of black and white familial unions. Britain, however, does.
Neil objected to the modern treatment of the telling of American independence, which he said purported to promote slavery. Phillips agreed, calling it 'complete drivel'. Phillips then brought up slavery in the US — tobacco and cotton-based — versus slavery on the Caribbean plantations, which he said was much larger, on a 'factory level'.
Phillips said we should think of the current movement as we do Extinction Rebellion. He noted that Cuba, with all its black residents, has never had a black leader. He said the current movement is a front to 'overthrow things as they are'. He said that, if they want to change things, 'do it honestly'.
Neil asked if Malcolm X would have been a supporter. Phillips doubted it, because he would have disliked 'the indiscipline of the movement'. However, he acknowledged that, he might have done in the middle of his life. Later, Phillips said, Malcolm X dropped the idea that 'whites are intrinsically bad'.
————————————————————–
Charles Stanley Wealth Managers sponsored the programme.
Episode 13 of Andrew Neil's Spectator TV aired on Thursday, November 26, 2020.
As you can see, the main topics were coronavirus and Brexit:
I haven't tuned into the episodes following the US election, because everyone is so anti-Trump.
The Chancellor's spending review
Andrew Neil opened the programme with the UK Government's spending review.
We are heading towards a national debt of £3 trillion and a budget deficit of nearly £420 billion.
There will be few spending cuts but tax rises will help to fill the gaps.
Kate Andrews gave us more information about Chancellor Rishi Sunak's statement. She had updated data from the Office for Budget Responsibility (OBR). The economy is set to contract by 11.3%, the biggest fall in 300 years. I wrote about that earlier this year, so it came as no surprise.
We will not even start to recover until 2022. Andrews said that some believe this is too pessimistic, even if the OBR says they took into account that we would have a vaccine. Well, we have that vaccine now (the week after the programme aired), which means that we could reopen our economy by the middle of next year. That said, we do not know how long the vaccine programme will take. Unemployment will rise by 3.5% to 7.5%, 2.5 million people.
Even by 2025, our deficit will still be around £100 billion. There will be a £15 billion increase in social spending, but Rishi will have to start to raise money. We won't find out how until early next year, possibly at the end of the year.
Andrew Neil said that, so far, the Chancellor has 'kept his powder dry'. James Forsyth, political editor of The Spectator, said there is too much up in the air right now to make any firm predictions.
Katy Balls, The Spectator's deputy political editor, said that a few areas of the statement have raised questions. However, Rishi's decisions might look more reasonable next year. Some cuts, e.g. foreign aid, will be popular with Conservative voters, including those in the North of England.
Forsyth said that as we spend more on defence, it is logical that something will have to be cut: foreign aid (which, in reality, is not being cut by that much).
The 2019 intake of Conservative MPs have formed the One Nation Caucus, who could rebel against the Government, but, as Katy Balls noted, there are various shades of conservatism that do not automatically amount to mass rebellion.
Andrew Neil asked Kate Andrews about the OBR's four scenarios, especially the most optimistic one. She said that we do not know how effective the vaccine will be and how quickly the roll out will go.
Neil asked her about the lack of specifics from the Treasury. Andrews said that he is probably looking at all the options, especially positive ones that might prevent higher unemployment next year.
Forsyth said we will know how much more we need to spend on COVID-19 compensation plans by March 2021, but the Chancellor will have to decide on policy by 2022, well in advance of the next election in 2024. He added that the Chancellor will have to put clear water between the Conservatives and Labour on spending. Currently, there isn't much difference.
Coronavirus tiers in England
Coronavirus tiers came up next. England was still in its final days of the second national lockdown, which ended on December 2.
Only Cornwall, the Isles of Scilly and the Isle of Wight are in Tier 1. That wasn't known at the time of broadcast, but it was already expected because of indications from the Prime Minister and our national medical experts who warned that most areas in Tier 1 before lockdown would end up in Tier 2.
Neil asked Forsyth whether a relaxation over Christmas for family celebrations wouldn't start bumping up contagion rates. Forsyth said that, in Canada, after their Thanksgiving in October, rates started to soar. He also mentioned the warnings going on in Scotland: be sensible and try not to take advantage of Christmas celebrations.
Katy Balls talked about the backbench Conservative rebels on lockdown, particularly about the new tier classification. Many counties with low rates are in Tier 2. However, those rebels are not of large enough number to cause the Government to lose a vote on further restrictions. That vote was held on Tuesday, December 1. Balls said that Boris has Labour's votes on his side, so he will win now and in future.
Coronavirus vaccines
Neil announced that the Government had pre-purchased doses of various vaccines so that two-thirds of the population could achieve 'herd immunity'. Dr Stuart Ritchie, a behavioural scientist at Kings College London, gave his views on the subject.
Neil asked Ritchie about vaccine scepticism. Ritchie said that more and more Britons were sceptical about taking a vaccine. He found the polls 'worrying'. He said that there is a new term replacing 'anti-vax', which is 'vaccine hesitancy'. He said that people are rightly worried, especially when they perceive a political element to vaccination. The rapidity of the vaccine development is one factor, the lack of information about it being another. He admitted that there are things we just do not know yet until the vaccine is rolled out.
Neil asked about mandatory vaccinations. Ritchie said that France has several vaccines that are mandatory, as do the US and Australia. Ritchie does not think this will be a question in the UK, because, despite the polls, there is still an eagerness among the public for vaccination. He thinks the Government should pay people around £200 to get vaccinated as an incentive.
Changing people's minds could be less successful, he admitted. Neil pushed Ritchie on no admittance to restaurants or on flights. Neil clearly is gung-ho on this, sadly. Ritchie agreed, saying that people would feel safer if mandates such as these were added to our everyday lives. (Pathetic.)
Forsyth said that the Government wants 75% of target groups to be vaccinated but added that scepticism would be a problem. Ritchie said making it compulsory would only make people more suspicious. That said, he purported that the vaccine was truly safe.
Ritchie looks very young to me and he was most enthusiastic on vaccination. I would like to see him as a 60+ giving such views.
Katy Balls said the vulnerable as well as front line health workers will be at the top of the vaccination priority list. However, she does not doubt that Conservative rebels will be on the case, depending on the vaccination issue of the day.
She said that one poll showed that the public would be more likely to take the vaccine if their MP took it first. (Excellent idea.)
Ritchie said that vaccine efficacy will determine future uptake.
Brexit
The final topic was Brexit. Neil spoke with Sir Ivan Rogers, the UK's permanent representative to the EU between 2013 and 2017. He worked closely with former Prime Ministers David Cameron and Theresa May on this issue. Neil asked Rogers about Brexit talks as they stand. Rogers said they were 'very fraught'. Time is running out, and decisions now have to be made. Rogers thought the markets were too optimistic on the EU and UK arriving at a deal.
Rogers said that Boris's government is not 'classically Conservative', meaning Thatcherite. He added that we are also in the coronavirus crisis, which has added another dimension to EU-UK negotiations.
Neil said that British politicians never considered how difficult Brexit would be to negotiate. Rogers said that ministers knew about the difficulty and discussed it privately during his time. He agreed that ministers did not have a vision as to how they wanted to negotiate an exit. He added that he had real doubts from the beginning about Theresa May's deal, which he never thought would succeed.
Then there were disagreements about what a 'Canada+' deal actually meant. He said there were 'huge misreadings' on both sides. He warned about the '++' element for that reason. The final deal will be much stronger on goods than on services, he thinks, which is a centuries-old priority.
Neil asked if these negotiations could go on and on in smaller ways, even with a deal. Rogers thinks there will be modifications in the years to come. Some of these are already under discussion, he said, which is making a final deal more evasive at this time.
After the interview, Forsyth said that fishing is the biggest issue right now, especially as the French — Emmanuel Macron, specifically — baulking at the UK's reclaiming our national territories.
Forsyth stated that, even with a deal, future EU-UK negotiations will continue 'for the rest of our lifetimes'. He said these will be a 'constant for the rest of our working lives'.
——————————————————————–
Thanks to Charles Stanley Wealth Managers for their sponsorship of the programme.
Below is Episode 10 of Spectator TV's The Week in 60 Minutes, broadcast on Thursday, November 5, 2020:
As per their YouTube blurb, Andrew Neil's special guests are:
David Spiegelhalter, Winton Professor of the Public Understanding of Risk at the University of Cambridge [and] Ece Temelkuran, a Turkish journalist who was fired from her publication for criticising the government.
Andrew Neil began with the US election. Neil clearly loathes Trump. This is why I have not listened to or posted the previous two broadcasts.
He did mention that the state legislatures have a big part to play in deciding whether their election counts are legal or if they can take other action. Political Editor James Forsyth said this was not the predicted Blue Wave Democrats and pollsters predicted. As such, the Republican-dominated Senate will put a check on how much Biden, should he become president, could do.
Economics Correspondent Kate Andrews, who is American, said that to Trump supporters, the incumbent represents 'normality'. She is not a Trump fan, by the way. She said that Trump will not go down without a fight in the courts, especially after the Democrats have dogged him since 2015. She also pointed out how wrong the polls were.
Neil said that the Democrats never seem to learn their lessons, beginning with Hillary Clinton in 2016. He also said that Biden made a mistake in offering a huge concert featuring Lady Gaga; it looked to 'Flyover Country' as if he were pandering to multi-millionaires.
Forsyth pointed out that there is still deep division in the way that Americans think. Neil mentioned the upcoming litigation from Team Trump and mentioned voter fraud, including mail-in ballots. Forsyth said that Establishment Republicans, e.g. Mitch McConnell, will not want him to move into the territory of 'vexatious lawsuits'.
Neil noted that Democrats are hardly triumphant, particularly because of Biden's age: 78. Kate Andrews replied that their mandate will be unclear for a one-term president. [They are both assuming Joe's going to last for four years.] She disagreed with Forsyth about coronavirus being the reason Trump didn't get more votes; she thinks that Trump came on too strong in the first debate. [The presidential debates are supposed to sway the undecided.]
Andrews think that Biden will 'work across the aisle' if he becomes president. However, she says there's a long road ahead before the president is decided.
Forsyth says that chances are good that Republicans will continue 'Trumpism without Trump', building more links with the working class and those on lower incomes. He thinks Democrats have more work to do here than Republicans.
Neil said that the Midwest could take the coastal areas over as the deciding region in future elections — for both parties. Andrews said that people there really appreciated the 2017 tax breaks. The economy, from what she has seen in exit poll issues, was much more important than coronavirus.
Neil said that if Biden becomes president, he will face a Republican-controlled Senate and a majority-conservative Supreme Court. [Neil and Andrews haven't allowed for him to stack the Supreme Court.]
At that point, both Neil and Forsyth started showing their vulnerabilities as pundits on US politics. So, I'll move on to the next topic.
The next topic of discussion was the second coronavirus lockdown in England, paralleling the one in Wales and something similar in Scotland. It started the day of the broadcast.
The Spectator's editor, Fraser Nelson, talked about the 'debacle' of spurious data from SAGE that appeared at the press conference on Saturday, October 31, which 15 million people watched. He pointed out that there are nowhere near 4,000 daily deaths from coronavirus. The magazine has been tracking the data daily.
Nelson also mentioned Sir Patrick Vallance's exaggerated projections from September, which were not at all true. Nelson said that it looks — even before lockdown — as if the Government's localised tier system is working. Liverpool's case numbers decreased by 48%, he said, in the second half of October. He concludes that the Government pushed lockdown based on modelling rather than reality, i.e. 'scary charts'. [I couldn't agree more.]
Prof David Spiegelhalter appeared remotely. Neil asked him about these strange statistics and scary scenarios. Spiegelhalter, a statistician, said that he would be speaking personally, not professionally. He said that the '4,000 deaths' were 'completely unnecessary' to make a case for a second lockdown. He pointed out that, in more moderate areas of the country, e.g. the south-West, cases are going up. He said that, even as R is decreasing, we are only stabilising the situation temporarily. The situation we are in now is still putting pressure on the NHS to carry out routine treatments. That could have been explained and that would have been reason enough for the public to accept a second lockdown.
Nelson broke in to say that he thought showing alarmist statistics to an early evening audience nationwide on a Saturday was irresponsible. Spiegelhalter agreed, saying that the graph was 'inappropriate'. He added that it had been produced under earlier, out-of-date assumptions — and was never part of an official document.
Nelson asked for a more balanced view with regard to public statistics. He was also concerned about false-positive test results. Spiegelhalter replied that the true false-positive result is very low. However, we are moving on from the PCR (swab) test we have been using. [A trial with a new test in Liverpool started a few days ago.] He said that the new tests would need to be further evaluated for false-positive rates.
Neil has been talking to the True Blue (Conservative) faithful and they have been growing increasingly 'hostile' towards Boris Johnson's premiership. James Forsyth said there could be a vote on a third lockdown later in the winter. He predicted that there would be an even bigger Conservative backbench rebellion than there was on Wednesday, November 4, when the new lockdown was voted in. Andrews said that the public have not seen enough done during the summer to prevent a further coronavirus crisis. They are also edgy and frustrated about an ever-extended furlough scheme, recently extended to the end of March 2021.
Talk then turned to the ongoing disagreement between France and Turkey, which saw two terrorist incidents in France recently. Ece Temelkuran, an award-winning Turkish journalist and author, was the final interviewee. Neil asked her if Turkey's President Erdogan was an 'authoritarian'. She replied, 'Definitely'. However, she added that the move away from secularism started in the 1980s with members of the military and went on from there. She explained that part of that move was against the Cold War. After the Berlin Wall fell, the military leaders were 'jobless' and looked for something with which they could occupy their time. Twenty years ago, after 9/11, Turkey became the 'model, the exemplar country' for 'moderate Islam', which emerged after 2001, and became stronger advocates for the cause.
She does not think that Erdogan has a plan, that he merely wants power. She says that Erdogan perceives — along with some Turks — that the 'West has lost its moral superiority' with the refugee crisis that began in 2015.
She said that Erdogan is increasing his control over various Turkish institutions, ongoing over the past four years. She said that things will get worse before they get better.
Charles Stanley Wealth Managers sponsored the programme.
Andrew Neil, veteran BBC journalist and chairman of The Spectator worldwide, hosted Episode 7 of The Week in 60 Minutes on Thursday, October 15, 2020:
A summary follows.
Not surprisingly, given events of the past week, coronavirus led the news.
Andrew Neil began with England's increasing number of regional lockdowns. It would seem that Prime Minister Boris Johnson is no longer following the science. The Labour and official Leader of the Opposition, Sir Keir Starmer, wants another national lockdown. The political editor of The Spectator, James Forsyth, said that, whatever coronavirus crisis measures Boris Johnson takes, he's 'damned if he does, damned if he doesn't' and has to deal with the damage of lockdowns.
Across the Channel in France, Emmanuel Macron has been following a similar strategy to that of Downing Street and is very concerned about COVID-19 in all respects. Neil asked about last week's contretemps in Ireland. Forsyth said that Ireland's dispute between their government and medical experts was played out in public; by contrast, in the UK, it was in private. In any event, he said that scientists are now in a position of 'negotiation'.
The magazine's deputy political editor, Katy Balls, was on next to discuss Labour's position on coronavirus. Labour MPs disagreed with Keir Starmer behind the scenes, a move which she said has united the Conservatives. That said, it seems England could well be heading towards a short 'circuit breaker', although that would be very difficult for Conservative MPs to stomach.
Forsyth said that this is a very dangerous time for the Government. Starmer could even emerge victorious. ('At some point', I might add, as Boris has a majority of 79 [from 80], and no general election is due before 2024.) At this stage, it's too soon to tell. He said that no one knows if a circuit breaker would actually work in England.
The Spectator's editor Fraser Nelson was up next. He said that Boris was pretty well on to the way to a national lockdown, adding that he lacks the way to fight off SAGE, having been  'outmanoeuvered'.
Neil asked about a recent poll showing approval for more coronavirus restrictions. Ben Page from IPSOS-Mori explained the polls, which showed that 62% of respondents thought that stricter measures should be taken. Page indicated that these were somewhat alarming results: 'quite astonishing in some ways … across the piece'.
Forsyth noted that 19% of Conservative voters in England oppose increased restrictions, which poses a problem for Boris because it creates a North-South divide. Ben Page countered that the polling support for Labour and Conservative has been fairly stable this year. Labour haven't been able to gain much ground since December 2019.
Jake Berry MP, a Conservative representing the northern constituency of Rossendale and Darwen in Lancashire, spoke next. He said that, although their regional lockdown had been relaxed recently, they are now on Tier 2. He said that people are largely ignoring the Government guidelines and will comply only with what they think is appropriate. He does not favour a national lockdown but supports a local circuit breaker 'based on the data', so that it becomes less political for the public. He believes that the Government could have 'handled the North better' and that recent weeks have proven a 'very dangerous moment for Parliament and the North'. That said, he added that Labour 'is in quite a lot of trouble over this as well' and said Starmer committed quite a big mistake this week when calling for a national circuit breaker.
Berry further advised that we need to give this new two-week regional lockdown the benefit of the doubt which might lead for in-and-out local lockdowns.
Neil then changed tack, moving across the Channel to France, with its local 10 p.m. coronavirus curfews (some of which are now at 9 p.m.) and a campaign against extremism.
Ayaan Hirsi Ali, speaking to the latter point, was the next guest. She was sceptical about any success against extremism. She said that extremists have convinced French immigrants they are living within another type of state to which they do not feel they naturally belong. She added that this is enough to subvert the French nation. She also said that the same narrative is going on in other Western nations, because leaders remain silent and refuse to admit what is really going on.
Talk then turned to Brexit arrangements, which were to have been concluded that day. James Forsyth said that the EU threw the ball into the UK's 'court'. That leaves the situation whereby Michel Barnier wants to carry on talks but neither side wants to back down.
Forsyth expects there will be a deal to be done 'but with a twist in the tail'. Fraser Nelson said that Boris and Macron communicate with each other quite closely and expected that Britain will budge over fishing rights. It will be, he predicted, one for revision: 'a process rather than an event'.
Forsyth said there could be a November deadline, even though neither side wants an early deadline because they do not want any changes to the deal. He predicted a last minute November 15 deal.
The last part of the programme concerned protecting the triple lock pension with Katy Balls affirming that Boris is 'committed to it'.
The panel noted Boris's 'unstrustworthiness' problem with voters. Questions from listeners followed for the last ten minutes. Ben Page said that the Labour Party is very unpopular even if Keir Starmer is popular in the polls.
Viewers are grateful to Charles Stanley Wealth Managers for sponsoring the programme.
Andrew Neil's Spectator TV posted its sixth episode of The Week in 60 Minutes on Thursday, October 8, 2020:
Guests included Prof David Nabarro, World Health Organization special envoy for Covid-19; Andy Preston, mayor of Middlesbrough; Pat Leahy, political editor of the Irish Times and a few Spectator journalists.
The programme began with the status of coronavirus measures in Ireland.
Pat Leahy, political editor of the Irish Times, says that the Irish government was surprised by the recent recommended lockdown which they ultimately rejected. The Irish government were highly critical of the proposed measures, privately and publicly. Leahy explained that the head of the public health advisers has been off work because of compassionate leave, then, last Sunday, he returned and recommended another lockdown. The Irish government took it as, he says, a 'power play'.
The government objected to the health experts' very quick meetings amongst themselves and with government officials. Leahy said that the government were 'annoyed'.
The government did not disagree with the recommended measures per se, but there was a fine balance to be achieved. The minister of finance warned of employment and social consequences, because a number of jobs would not be coming back. He and his staff needed to consider if other measures could be taken instead.
Neil mentioned today's minimal COVID-19 deaths in Ireland. Leahy agreed and said that the so-called second wave has much less severe than the first. That said, the admissions to hospitals have been rising dramatically. So, there is a question about whether the second wave is different from the first. The Irish government felt they could weigh the statistics, adopting a wait-and-see approach. Leahy said that Dr Leo Varadkar, a physician who was formerly the prime minister and is now the deputy prime minister, essentially threw the nation's chief medical officer Tony Holohan 'under the bus'.
Leahy said that the part of Ireland's problem was assigning decisions to scientists and doctors in the first wave earlier this year. Currently, scientific advice 'is only one factor' in the decision making process that the Irish government will take with regard to coronavirus measures. Leahy said that time will tell whether the public will back the government. The economic factors are such that things could change in the weeks to come.
Katy Balls was up next, advocating Swedish models that a number of Conservative MPs back. A number of backbenchers disapprove of Drs Whitty and Vallance.
Conversation then turned to the WHO's Prof David Nabarro who says we are still in a bit of the first wave and we're not over it, so we need to learn how to live with the virus without lockdown and the 'closing down of economies'. What he calls 'the middle path' requires holding the virus at bay while allowing the economy to resume in order to make certain we can put safeguards in place, so that we can stop the virus whilst getting local 'actors', as well as testing and tracing, involved as much as possible and a common commitment to each other to keep everything as safe as possible. He said that lockdowns serve only to give a health service some breathing space.
Nabarro said that is what South East Asian countries are doing, also Germany and Canada. As lockdown lifts, nations can deal with increased cases 'elegantly'.
As for Ireland, Nabarro sided halfway with the Irish government and halfway with the scientific advisors. He did caution that public buy-in was necessary for any success.
Nabarro predicted many more weeks of uncertainty but that we would feel 'much more comfortable' in the New Year.
Neil asked Nabarro about Prof Sunetra Gupta's views on a milder lockdown. Nabarro said that the WHO do not advocate lockdowns as an absolute principle. (UK government: please take note!) He cited the damage done to the Caribbean and Pacific tourist industry. As a result, many more people could lapse into poverty.
Neil brought up Scotland's coming lockdown and a possible one in the North of England.
Kate Andrews had current statistics, comparing them to Sir Patrick Vallance's alarming case graph from the third week of September. So far, we are not close to Vallance's projection, but the UK is higher than France's and Spain's cases, respectively.
The effect of local lockdowns showed a skyrocketing in positive tests ('cases').  According to statistics, it is possible that Leicester should have already been taken out of lockdown.
Kate Andrews showed graphs that revealed that hospitality was responsible for a very low number of cases: around four per cent, not dissimilar to this pie chart, which I cited last Friday.
Nabarro intervened, saying he preferred 'local integrated responses', because breaking the virus involves input from every institution, be it a factory or a house of worship. He praised Leicester for its diversity, holding it up as a model for the world.
The Spectator's political editor, James Forsyth, came on to comment about the former Labour 'Red Wall' in the North. Much of that Red Wall voted for Conservatives in December 2019. Forsyth said that lockdown will be viewed as flooding has been in recent years: even if measures taken are not political, they look as if they ARE political. Northerners see that London and the surrounding Home Counties will not be locked down, and, as a result, will suffer fewer socio-economic casualties.
Andy Preston, the Independent mayor of Middlesbrough, was the next guest. He has been positively incandescent about lockdown. The transmission is a bit choppy, but Preston said that many of his residents didn't personally know many people who had or died of COVID-19. He added that Middlesbrough's residents have paid more in tax whilst losing out locally. He felt that 'the Government is doing stuff to us'.
Preston has asked for a temporary ban on in-house socialising but supports frequenting restaurants. He said that local government and the UK government need to work together on measures.
Preston said that he thought there was an 'inside group' of advisers to the government, with no one from Middlesbrough involved.
He said that this type of decision making could go 'very badly wrong for the country'.
Talk then turned towards the American vice presidential debate. Freddy Gray covered this segment. He said that Mike Pence is 'a very accomplished performer', 'intelligent and he spoke very fluently'. He disclosed that he has never been a Pence fan but predicted that he could be the next Republican nominee in 2024.
Neil said that a Trump-Biden virtual debate would not be the first. Nixon broadcasted in 1960 from Los Angeles. Gray said that no one knew what is going on in Trump's mind and said that the American president had gone 'full gonzo'.
Viewers' questions came next.
The first had to do with successful measures against COVID-19. Nabarro commented on coronavirus success in South East Asia, which he attributed to community buy-in and no delay in taking action, which can result in more problems later.
Another viewer said that England's mayors needed to come together with regard to England's lockdown. Andy Preston said he would back Manchester's Andy Burnham, a former Labour MP.
A third viewer wondered about the vote coming up this week on England's 10 p.m. curfew. Katy Balls said she doubted whether Labour would oppose the vote, but Conservative rebels might have their chance in the weeks to come to succeed in voting against the Government. (Personally, I don't think it will happen. Most of the Opposition support lockdown measures and restricting civil liberties.)
James Forsyth says that half the Conservative MPs really detest the Government's coronavirus restrictions. He cited the communications surrounding them and questioned what the £12bn poured into the 'test and trace' programme has actually achieved. He said it was 'not delivering'.
Andrew Neil asked about the Great Barrington Declaration, which Prof Sunetra Gupta and many other physicians signed a week ago in Massachusetts. Kate Andrews said that Prime Minister Boris Johnson said there would be a 'game changer' with no social restrictions a year from now. As such, time is not a big deal for Boris. Neil said that Boris sounded like Chauncey Gardiner. I don't like saying this, but I tend to agree with his assessment. Boris seems off the rails right now.
Leahy had the final word, measuring the rising positive tests with closed pubs and other measures. The Irish government, he says, needs to give these new measures time to work, including buy-in from the public to avoid another lockdown. He predicts another two to three weeks.
The final question came to Nabarro about the origin of the virus. He said, in short, that there was no definitive answer. 'You [have to] bring in independent actors', therefore, the WHO would need 'to bring in other staff to help'.
Hmm. Interesting.
Then, in an abrupt change of tone, Nabarro sounded a blast at certain countries, including Belarus and Spain, saying that a second wave could come soon and that no nation should be complacent.
Hmm.
Charles Stanley Wealth Managers sponsored this week's programme. For that, we are most grateful. Agree or disagree, Spectator TV is manna in a desert of dry, one-way MSM broadcasts.