You are currently browsing the tag archive for the 'Angela Rayner' tag.
Picking up from where I left off yesterday with Dan Wootton's GB News poll on the next Conservative Party leader, 60,000 people responded and 49 per cent said that Boris Johnson should be the next one.
On Thursday, Wootton remarked:
The Prime Minister's swashbuckling and energetic PMQs farewell today just emphasised that point further.
Boris participated in his final Prime Minister's Questions on Wednesday, July 20, 2022, just under three years since he first stood behind the despatch box as Prime Minister.
It was one of Boris's best performances and can be viewed here. Hansard's transcript is here.
Highlights follow, emphases mine.
Labour's Sir Keir Starmer had a go at the leadership contest, particularly last week's debates and the refusal of a third debate on Sky News. The debates were a bit spiky at times, but pretty tame overall.
Boris replied:
I am not following this thing particularly closely, but my impression is that there has been quite a lot of debate already, and I think the public have ample opportunity to view the talent, any one of which—as I have said before—would, like some household detergent, wipe the floor with the right hon. and learned Gentleman. Today happens to be just about the anniversary of the exit from lockdown last year, and do you remember what he said? He said—[Interruption.] No, I am going to remind him. He said it was "reckless". It was because we were able to take that decision, supported by every single one of those Conservative candidates, opposed by him, that we had the fastest economic growth in the G7 and we are now able to help families up and down the country. If we had listened to him, it would not have been possible, and I do not think they will be listening to him either.
Starmer had a go at Rishi Sunak's accusation of Liz Truss's proposed tax cuts as 'fantasy economics'.
Boris said:
Well, Labour know all about fantasy economics, because they have already committed to £94 billion of extra tax and spending, which every household in this country would have to pay for to the tune of about £2,100. It is thanks to the former Chancellor's management of the economy—thanks to this Government's management of the economy—that we had growth in May of 0.5%. We have more people in paid employment than at any time in the history of this country. I am proud to be leaving office right now with unemployment at or near a 50-year low. When they left office, it was at 8%. That is the difference between them and us.
Then Starmer quoted Liz Truss's criticism of Rishi's economic policy for its lack of growth.
Boris answered:
I think that everybody would agree that what we saw in the last two and a half years was because of the pandemic, with the biggest fall in output for 300 years, which this Government dealt with and coped with magnificently by distributing vaccines faster than any other European Government—faster than any other major economy—which would not have been possible if we had listened to the right hon. and learned Gentleman. That is why we have the fiscal firepower that is necessary to help families up and down the country, making tax cuts for virtually everybody paying national insurance contributions. There is a crucial philosophical difference between Labour and the Conservatives: under Labour, families on low incomes get most of their income from benefits; under us, they get most of it from earnings, because we believe in jobs, jobs, jobs. That is the difference.
Starmer went on to quote Penny Mordaunt on Britain's sluggish public services.
Boris said:
… This is the Government who are investing £650 billion in infrastructure, skills and technology. He talks about public services; what really matters to people in this country right now is getting their appointments and their operations, fixing the covid backlogs—that is what we are doing—and fixing the ambulances. That is what he should be talking about. That is why we voted through and passed the £39 billion health and care levy, which Labour opposed. Every time something needs to be done, Labour Members try to oppose it. He is a great pointless human bollard. That is what he is.
Starmer referred to Kemi Badenoch's criticism of Rishi's handling of covid loans.
Boris replied:
This is one of the last blasts from Captain Hindsight, at least to me. They were the party, I remember, that was so desperate for us to be hiring their friends—they wanted a football agent and a theatrical costumier to supply personal protective equipment. Do you remember, Mr Speaker? We had to get that stuff at record speed. We produced £408 billion-worth of support for families and for businesses up and down the country. The only reason we were able to do it at such speed was that we managed the economy in a sensible and moderate way. Every time Labour has left office, unemployment has been higher. The Opposition are economically illiterate, and they would wreck the economy.
You can read more on Guido Fawkes about Labour's hilarious — well, it would be were it not so tragic — attempts to get the Government to employ their friends for pandemic related equipment.
Starmer went on for another few minutes about the nation being an utter shambles at the moment.
That is true in many instances, but Boris cited the good things that the Conservatives have accomplished over the past three years:
What does it say about the right hon. and learned Gentleman that no one can name a single policy, after three years, of the Opposition apart from putting up taxes? He is one of those pointless plastic bollards you find around a deserted roadworks on a motorway. We got Brexit done; he voted against it 48 times. We got this country fast out of covid, in spite of everything, when he would have kept us in lockdown. We are fixing social care, when the Opposition have no plan and no ideas of their own. We are now bringing forward measures, in the face of strikes, to outlaw wildcat strikes.
I can tell the House why the Leader of the Opposition does that funny wooden flapping gesture—it is because he has the union barons pulling his strings from beneath. That is the truth—£100 million.
We have restored our democracy and our independence. We have got this country through covid. I am proud to say that when it comes to tackling climate change or sticking up for Ukraine, we have led the world on the international stage. I want to thank my friends and colleagues on these Benches for everything they have done.
Guido posted the video of that portion, which is Boris at his best. Viewers will also get the mood of the Chamber, which was very noisy indeed:
After Starmer had finished, it was the turn of Ian Blackford from the Scottish National Party (SNP). As ever, he criticised the Government and put in yet another plug for a second independence referendum:
Boris said:
That is not what I observe. The right hon. Gentleman talks about records; I point to the fastest vaccine roll-out in Europe, the lowest unemployment for at or near 50 years as I have said, the lowest youth unemployment, and the fastest growth in the G7 last year, in spite of everything. As for the Scottish nationalists' record, look at where they are. I am afraid to say that Scottish school standards are not what they should be, because of the failure of the SNP. It is failing people who are tragically addicted to drugs in Scotland, and the people of Scotland are facing another £900 million in tax because of the mismanagement of the SNP.
True. All of it.
Blackford ranted once more on partygate. Incidentally, he is a multi-millionaire who likes to paint himself as a humble crofter.
Boris replied:
On the personal abuse stuff, I think the right hon. Gentleman is talking a load of tosh, but when he has retired to his croft—which may be all too soon—I hope that he will reflect on his long-running campaign to break up the greatest country in the world. I hope that he will reflect on the pointlessness of what he is trying to do, and think instead about the priorities of the people of Scotland, which are all the issues that he thought were trivial: education, crime, and the burden of taxation that the SNP is unnecessarily placing on the people of Scotland.
After Blackford sat down, Sir Ed Davey, leader of the Liberal Democrats, had his say. He indirectly accused Boris of being ambitious and 'tyrannical'. He asked whether Boris would now be devoting time to completing his book on Shakespeare. He also said there should be a general election.
Boris answered:
Polonius—that's who the right hon. Gentleman is; he needs more matter with less art. The only thing we need to know is that if there were to be a general election, the Liberal Democrats would rightly get thrashed, because that would be the moment when the public looked with horror at what the Liberal Democrats' policies really are and all those rural voters would discover the massive green taxes that they would like to apply. The only risk is that there could be some kind of crackpot coalition between those guys on the Labour Benches, the Lib Dems and the Scottish nationalists to put that into effect. That is what we must prevent.
Felicity Buchan, a Conservative who represents London's Kensington constituency, expressed her concerns about rising crime under the current Mayor of London (Sadiq Khan).
Referring to himself, Boris replied:
London once had a Mayor who cut crime by 25%, cut the murder rate by 30% and built twice as many affordable homes as the current incumbent. What London needs is another Conservative Mayor.
Another Liberal Democrat, Scotland's Jamie Stone (Caithness, Sutherland and Easter Ross) wanted a freeport in his Highlands constituency.
Boris said:
I can confirm that we are committed to funding two new green freeports in Scotland to the tune of £52 million. That would not be possible, of course, if the SNP got its way and we returned to the EU.
Boris defined levelling up:
It is not just inequality; it is inequality of opportunity, and that is what levelling up addresses.
A Labour MP moaned about the railways in the north of England.
Boris replied:
Actually, this Government are responsible for three new high-speed lines, including Northern Powerhouse Rail, which no previous Government have done.
Boris gave his advice with regard to hot weather when an MP asked about disposable barbeques and Chinese sky lanterns:
The key thing is for people to behave responsibly with the use of these things. It is clearly insane to take a disposable barbecue on to dry grass.
Another SNP MP, Dr Philippa Whitford, talked about poverty in Scotland, ending with a plug for independence.
Boris said:
Actually, we increased the living wage across the whole of the UK by £1,000, we made sure that people on universal credit got their tax bills cut by £1,000, and over the last couple of weeks we have cut national insurance contributions by an average of £330. It was because of the Union that we were able to support families up and down the country, in Scotland, with the furlough and other payments, to the tune of £408 billion.
One of the nicest contributions came from Conservative MP Andrew Bowie, who represents West Aberdeenshire and Kincardine:
May I thank my right hon. Friend for his commitment to Scotland and the entire United Kingdom over his years in Downing Street? I also thank him and my right hon. Friend the Secretary of State for Scotland for improving and increasing the visibility and involvement of the UK Government in Scotland over the past three years. Does my right hon. Friend the Prime Minister agree that whoever takes his job, and whatever comes next, the United Kingdom will always be stronger together than it ever would be apart?
Boris replied:
That was brilliantly put; I could not have put it better myself.
Then a young Labour MP asked about the slow compensation for Windrush victims.
Boris said:
Actually, I think more people have got compensation. I renew my apologies to the Windrush generation for what they have suffered, but we have greatly increased the compensation available. We have paid out, I think, more than £51 million. We are working with voluntary groups to ensure that people get what they are entitled to. I may say that Labour has never apologised for its own part in the Windrush scandal.
An MP from Northern Ireland accused the Government of ruining relationships between Ulster and the Republic.
Boris replied:
I completely disagree with that. The whole objective of the Northern Ireland (Protocol) Bill that we have passed is to support the balance and symmetry of the Belfast/Good Friday arrangements. I was very pleased that the Bill advanced to the House of Lords with no amendments.
GB News has more on the legislation:
A Conservative MP, Crispin Blunt, is not my favourite. However, here is where I agree with him. He paid a splendid tribute to Boris:
In recalling the situation that the Prime Minister inherited in July 2019, of a Parliament with a majority determined to frustrate the result of the 2016 referendum, led by a Speaker who was just slightly partial—the seemingly impossible situation he found—does my right hon. Friend understand that he has the gratitude of my constituents, who can identify the wood from the trees, and of myself, for his leadership over the last three years?
Boris replied:
I am very grateful to my hon. Friend. There is a fair amount of wood on the Opposition Benches and I think that is why we will prevail at the next general election.
Another SNP MP banged on about a second independence referendum.
Boris said:
This is the country that secured furlough and that delivered the vaccine across the whole of the UK, while the SNP gets on with overtaxing to the tune of £900 million—that is how much they are overtaxing in Scotland. And we had a referendum in 2014.
Another SNP MP complained spitefully about Boris being a nobody and about the honours list he might draw up before he leaves office.
Boris answered:
I am sure that everybody who has served this Government loyally and well deserves recognition of some kind, but as for the honours list, I am afraid the hon. Gentleman will have to contain his excitement.
Conservative MP Sir Edward Leigh was the last to speak. He, too, paid Boris tribute for the past three years:
On behalf of the House, may I thank the Prime Minister—[Interruption.] On behalf of the House, may I thank the Prime Minister for his three-year record of service? On behalf of some of the most vulnerable people in the country, can I thank him for his insistence on rolling out the AstraZeneca jab, which has saved thousands of lives around the world? On behalf of the 17.4 million people who voted Brexit, may I thank him for restoring people's faith in democracy? On behalf of northern towns, may I thank him for his commitment to levelling up? And most of all, on behalf of the people of Ukraine, may I thank him for holding high the torch of freedom and ensuring that that country is not a vassal state? For true grit and determination, keep going and thank you.
Boris replied, giving his closing remarks and advice for the future PM:
I thank my right hon. Friend, and I want to use the last few seconds to give some words of advice to my successor, whoever he or she may be.
No. 1: stay close to the Americans; stick up for the Ukrainians; stick up for freedom and democracy everywhere. Cut taxes and deregulate wherever you can to make this the greatest place to live and invest, which it is. I love the Treasury, but remember that if we had always listened to the Treasury, we would not have built the M25 or the Channel Tunnel. Focus on the road ahead, but always remember to check the rear-view mirror. And remember, above all, it is not Twitter that counts; it is the people that sent us here.
And yes, the last few years have been the greatest privilege of my life. It is true that I helped to get the biggest Tory majority for 40 years and a huge realignment in UK politics. We have transformed our democracy and restored our national independence, as my right hon. Friend says. We have helped—I have helped—to get this country through a pandemic and helped save another country from barbarism. Frankly, that is enough to be going on with. Mission largely accomplished—for now.
I want to thank you, Mr Speaker. I want to thank all the wonderful staff of the House of Commons. I want to thank all my friends and colleagues. I want to thank my right hon. Friend the Member for Ross, Skye and Lochaber (Ian Blackford). I want to thank everybody here. And hasta la vista, baby. [Applause.]
Here's the 'Hasta la vista, ba-by' video — a must-see:
The Conservatives gave him a standing ovation, with everyone applauding him, except for Theresa May, who merely stood.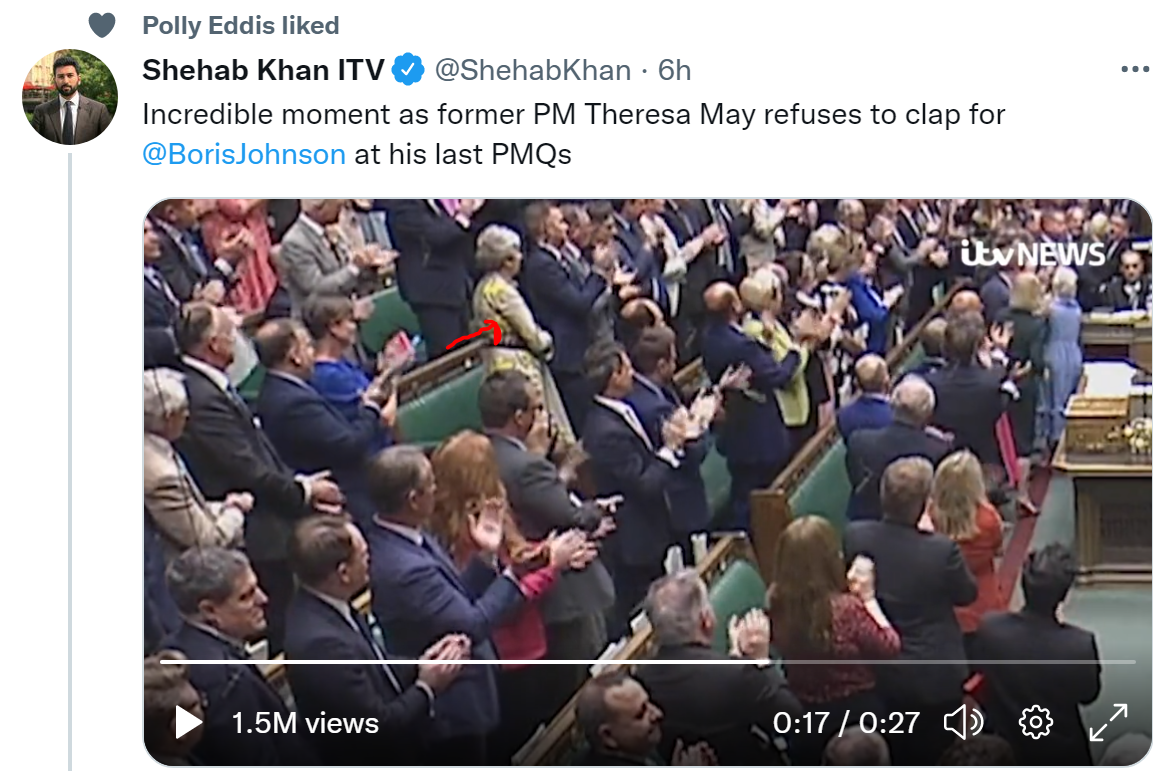 The Opposition either sat in silence or walked out.
One of Guido's readers wrote:
Lack of class from opposition MPs who can't possibly give a polite round of applause for a political opponent.
I agree. On the other hand, they hate Boris because he represents Brexit.
In Guido's comments on the same post, someone said that Boris was Britain's 'worst ever PM', which garnered this response, rightly pointing out the greater moral failings of Tony Blair, John Major and Theresa May as well as today's world leaders:
What, even worse than a Prime Minister who took the UK into an illegal war which resulted in the deaths of millions as well as thousands of UK soldiers and for which the UK is still feeling reverberations in the form of terrorist attacks? What a worse PM than a Prime Minister who signed the UK up to the Maastricht Treaty without putting it to the British people in the form of a referendum? What worse than a Prime Minister who put forward the idea of making the elderly sell their homes to pay for Health Care …
But instead listened to the people and secured an 80 seat majority to leave the EU (admittedly still leaving a lot to do). Invested in Vaccine development and procurement to ensure the UK had enough supplies for every citizen, and that the UK was at the front of the queue, and didnt go overboard on Covid restrictions, not when you look at what other countries got up to, namely Canada, China and France with Macron's "I want to punish those that won't get vaccinated" this after he was responsible for sowing Vaccine doubt simply because the Vaccine was developed in the UK – but then Johnson commited a crime so heinous – he had a piece of Birthday cake brought to him buy his wife – and that's 'your' worst Prime Minister, lol …
Journalist and former Conservative adviser Amanda Platell said she wept after PMQs:
Boris will be missed for his powerful performances at the despatch box …
… and Labour know it. One of their former advisers admits that's why Boris had to go:
Keir Starmer was often petty and unpleasant towards Boris:
That is because he knows Boris can win elections. In fact, earlier this week, Starmer was so frustrated with the Prime Minister that he insulted him on a podcast.
Starmer's deputy leader Angela Rayner said on Monday, July 18, that she would be happy with either Truss or Sunak as his successor. At the time she gave this interview, five candidates were still in the race:
I'm quite happy with any one of them. Because the one thing, and I kind of could see it… [Boris] had this, like, teflon coating… It's like a little magic. Where he was able to get through to the public and get through to the places that I actually don't see any of the five candidates that are standing having at the moment… Boris had so much going for him. He got an 80-seat majority and the country was really behind him… the five that we've got now I don't think have got that…
Here's the video:
Boris's former adviser Dominic Cummings thinks that Boris, like Arnie, will be back, if the next Conservative leader is too lacklustre:
As I wrote yesterday, thousands of voters do not want until then. Dan Wootton's viewers think that Boris's name should be on the ballot going out to Conservative Party members early in August:
Wootton's poll follows on from the ongoing petition by Party members to have Boris's name on the ballot:
The petition is being spearheaded by Lord Cruddas of Shoreditch, the Tory donor, and David Campbell Bannerman, a former Conservative Euro MP:
The Mail also has a report on the petition.
GB News interviewed David Campbell Bannerman on Thursday, July 21:
However, Labour are planning a rearguard action to prevent Boris from ever being Party leader again.
They hope to depose him as MP for Uxbridge and South Ruislip in west London:
On Thursday, July 21, GB News reported:
Boris Johnson could be forced to face a by-election if he is found to have lied to Parliament and is handed a suspension for 10 or more sitting days.
The Privileges Committee is examining whether the Prime Minister committed a contempt of Parliament by misleading MPs over the Partygate scandal.
Commons Speaker Sir Lindsay Hoyle [Labour] confirmed that the committee's findings would fall within the remit of the Recall of MPs Act, following advice from a leading lawyer.
That would mean that a suspension of 10 or more sitting days, or 14 calendar days, would trigger a recall petition.
If at least 10 percent of voters in Mr Johnson's Uxbridge and South Ruislip seat demand a by-election he would lose his place as an MP, but would be eligible to stand again in the contest.
The cross-party committee also published advice from the Clerk of the Journals, Eve Samson, the Commons' expert on parliamentary privilege, which suggested that whether or not Mr Johnson intended to mislead MPs was not a factor that needed to be considered.
But she said that intent could be seen as an "aggravating factor" when considering penalties …
The MPs intend to call Mr Johnson to give oral evidence in public in the autumn, under oath.
The committee has already said that whistleblowers will be able to give evidence about the Prime Minister anonymously.
Mr Johnson has also been ordered to hand over a cache of documents to the MPs investigating whether he lied to Parliament with his partygate denials.
The committee wrote to the Prime Minister and Cabinet Secretary Simon Case demanding details relevant to its inquiry.
On Friday, July 22, Guido posted on the upcoming inquiry, saying (emphases in red his):
While the committee will now disregard the PM's intent, the Clerk's report does say that can feed into deciding a sanction. This is all, in the understated words of The Telegraph, "a departure from precedent"…
It seems the Speaker's also got in on the act of changing rules. The Privileges Committee's announcement yesterday said Hoyle has ruled that "any suspension of the requisite length (10 sitting days or 14 calendar days) ) following on from a report from that Committee will attract the provisions of the Recall of MPs Act". Previously only recommendations of suspension from the Standards Committee would apply the recall act. Now the PM faces a by-election being forced by [Labour MP Harriet] Harman. Tory MPs are now having to fight back on his behalf, launching a petition to scrap the investigation altogether in light of his resignation…
For now, let's remember the happier times of earlier this week.
Boris held his final Cabinet meeting on Tuesday, July 19:
Despite the heat, Guido reports that there were no refreshments or food:
… there were a few presents, and a round of applause for the PM. Nigel Adams also gave a speech commending Boris's time in office, followed by a school photo.
Boris was gi[ven] a six-set first edition of Churchill's war books; surprisingly not something the ex-PM's biographer didn't already own. Guido also learns Boris was given wines that reflected significant dates in his life and political career: 1964, 2008, 2012 and 2019. He also got wine from other countries that mean a lot to him, including Ukraine and Greece …
Here's the Cabinet photo:

I hope all goes well for the Prime Minister in the weeks to come.
No doubt if Labour try to get at him, he'll find a way out.
All being well, I'll have a post next week on what really happened leading to his ouster.
Continuing my series on Red Wall MPs and, most recently, Lee Anderson, this post gives his positions on various topics in British life.
Those who missed previous instalments can read about his adventures and opinions in Parts 1, 2, 3 and 4.
Rail strikes
This week, England has been crippled by a series of rail strikes, one every other day, which means that on the days there are no strikes, it is still fruitless trying to travel by rail.
On Monday, June 20, 2022, the House of Commons held a debate, Industrial Action on the Railway.
Lee Anderson was the last MP called to speak. He asked the following question of Grant Shapps, Transport Secretary (emphases mine):
This strike is a real kick in the teeth for hard-working taxpayers, who have dug deep over the past 18 months to keep this industry alive. Does my right hon. Friend agree that the Labour party—the spineless party opposite—should grow a backbone and condemn these strikes?
Grant Shapps replied:
That is an appropriate place to end. My hon. Friend is absolutely right. People have dug deep—that is exactly what they have done; it was £600 per household. People are furious. They paid out that money to make sure that nobody lost their jobs, and what thanks have they got? Where is the reward? Where is the "thank you" for keeping the railway going? It is a strike that will put people out of pay and hit people's pockets once again, and Labour Members cannot even find their way to say, "We condemn the strikes." It is a disgrace.
Immigration
On Wednesday, June 15, Home Secretary Priti Patel made a statement about the fact that the June 14 flight to Rwanda with scheduled deportees never took off. There were originally 37 people who were to be deported. Because of last minute legal delays, only a handful boarded the charter flight and, by 11 p.m., even they were taken off.
The Opposition parties hate the idea of sending illegals to Rwanda for processing. Strange that, as it is called the Switzerland of Africa.
Labour, the Lib Dems and Scotland's SNP have all said during debates about illegal migration that people can legitimately come to the UK from France. Such a statement implies that France is not a safe country.
In the June 15 debate, Migration and Economic Development Partnership with Rwanda, Lee Anderson asked Priti Patel:
Just when you think this place cannot get any dafter, you turn up and listen to the rubbish that the Opposition are coming out with today. Is the Home Secretary aware of the sniggering, smugness and delight shown on the out-of-touch Opposition Benches about the cancelled Rwanda flight? Will she please advise me? I need some travel advice—I am going away this summer. Is France a safe country to go to?
Priti Patel replied:
For the benefit of the British people, the public, I have in my hand just four pages with a list of Opposition Members making exactly that point with glee—basically wanting the policy to fail, condemning it and saying all sorts of things without coming up with alternative solutions.
My hon. Friend is absolutely right about France as a safe country. This is a fundamental principle of working with our colleagues more broadly—[Interruption.] Those on the Opposition Front Bench have already had their chance to speak. These are safe countries and there are people who are effectively picking to come to the UK. That is something we have to stop by going after the people smugglers and breaking up their business model.
Moral failings of Tony Blair versus Boris Johnson
Also on June 15, Boris Johnson lost his latest ethics adviser, Lord Geidt, who suddenly resigned.
This month, for whatever reason, Tony Blair became a member of the prestigious Order of the Garter, an honour the Queen decides independently.
On GB News, Patrick Christys asked a panel who was less ethical, Boris or Blair. Lee Anderson was one of the participants. He said that he had canvassed his constituents in Ashfield, Northamptonshire, and all said that Blair was less ethical. Anderson said there is no comparison between a Prime Minister being presented with cake and one who got us into a highly costly war in Iraq. The second tweet shows Blair with his spin doctor Alastair Campbell at the time:
The full discussion follows:
Labour
Anderson was a member of the Labour Party until 2018, when he switched to the Conservatives.
He has no praise for Labour MPs, especially Deputy Leader Angela Rayner. On May 22, she was angry with Chancellor Rishi Sunak for giving more aid to Ukraine.
The Daily Mail reported:
The party's deputy leader sparked outrage after she told the Chancellor on Twitter to 'do one' – a slang insult meaning 'get lost'.
The message was posted in response to a weekly No 11 newsletter from Mr Sunak, in which he detailed an additional £40 million of aid for Ukraine.
It is not the first time the senior Labour figure has landed herself in hot water for her remarks about those on the other side of the Commons. The former care worker resorted to calling senior Conservatives 'a bunch of scum, homophobic, racist, misogynistic, absolute pile of… banana republic… Etonian … piece of scum' in a foul-mouthed tirade at last year's Labour party conference.
Lee Anderson made his views known:
Lee Anderson, Tory MP for Ashfield, accused Ms Rayner of behaving pathetically after the latest controversial outburst.
He said: 'I don't know what it is about Angela Rayner and the Left that have it in for successful people running the country, surely it's much better for successful people who are successes in business to hold the purse strings of the country rather than somebody whose only claim to fame is dishing out insults.
'She is someone throughout her career who has made childish insults against Conservative politicians and now she's having a go at Rishi, who by the way is one of the most polite politicians you'll ever wish to meet. He's a real gentleman, regardless of your politics.'
Green energy policies
As is the case in most European countries, the prices of home fuel and petrol have gone through the roof.
On January 3, Nigel Farage asked Anderson for his views on what the UK should do. Anderson said that while it was imperative that we leave the planet in better shape for the next generation, he and his Ashfield constituents think that some of Boris's Net Zero policies need to be wound back. Furthermore, he wants us, rightly, to use our own energy sources during our transition period to Net Zero:
Two months later, Anderson appeared on Farage's Talking Pints segment of his show. They discussed the necessity of energy independence, which the UK can easily achieve. Instead, the Government prefers a policy of importing coal and gas from Russia:
You can see the full interview here, where Anderson says:
We should be selling gas to the rest of Europe!
The BBC
Anderson remains a firm supporter of Boris Johnson and wants him to be allowed to get on with his job. He accuses the BBC of conducting a witch hunt against the Prime Minister.
This interview took place the day after Boris survived a Conservative vote of confidence. Anderson laid his dislike of the BBC's tactics on the line. This is short, sharp and to the point:
Guido Fawkes wrote (emphases in the original):
Lee Anderson provided daytime fireworks as he confronted the BBC over anti-Boris bias live on the channel. He also called them "quite sad" over their refusal to let the Boris leadership question drop, accusing them of spearheading a witchhunt. Agree or not, it was great TV…
Not surprisingly, it was Guido's most popular post that day:
That night, the question of a BBC witch hunt popped up on Dan Wootton's GB News show:
Wootton invited Anderson on to discuss the issue with left-wing pundit Nina Myskow, who defended the BBC. Anderson said that his constituents supported Boris. He invited Myskow to speak with his constituents to hear their views. She replied, although not in this clip, that she never travels north of Selfridges:
Russia
On April 27, Anderson was disappointed not to have made the list of 287 MPs that Russia sanctioned.
He wrote a letter to the Russian ambassador to the UK to ask that his name be added to the list:
Crime
Lee Anderson has been outspoken against crime. I posted some of his perspectives last week.
During his candidacy in the autumn of 2019, he proposed creating forced labour camps for noisy council tenants:
After Winston Churchill's statue was desecrated in June 2020, during the pandemic and 'mostly peaceful' protests, Anderson gave a brief interview to a young independent reporter. He ended by saying:
You wouldn't be stood here today, young man, talking to me if it wasn't for Churchill.
On March 16, 2021, Anderson participated in the Crime Bill debate. Highlights follow:
Here's another, courtesy of Guido:
Ashfield's straight-talking MP Lee Anderson gave the Labour Party both barrels last night in the Crime Bill debate. Effusively supporting the Bill, no-nonsense Anderson took aim at what he sees as Labour's hypocritical positions:
I find it strange that Labour are talking about tougher sentences for crimes against women, yet in December they were trying to stop us deporting foreign rapists. One Labour MP said we should not deport these criminals in December as it was too close to Christmas. I disagree. I thought it was a great Christmas present.
Guido is fairly sure that the residents of Ashfield will be in overwhelming agreement. For such a short speech, many shots were fired – rounding off on some Labour politicians' attitude to the law…
Seven months later, his fellow Conservative MP Robbie Moore led a debate on the sexual exploitation of young girls by a certain demographic. Sadly, the 'grooming gang' phenomenon is growing to the extent that it is said to be present in every town in the UK.
Moore focused his attention on Bradford.
Guido points out that none of the three Labour MPs for Bradford bothered to show up for the debate.
Anderson contributed and, as one would expect, has strong views on what should happen to such politicians:
Away from the noise of the Budget, earlier this week Conservative MP Robbie Moore led a Commons debate on child sexual exploitation across Bradford, calling for a "Rotherham-style inquiry" into the scandal and claiming it had been "swept under the carpet" by the local authorities. Although the debate only attracted small number of MPs – none of the three Labour MPs for Bradford bothered to appear, despite two previously claiming they would – there was one booming voice lending his support to Moore's campaign: the Honourable Member for Ashfield, Lee Anderson. Asking Moore to give way twice so he could give the Chamber a piece of his mind, Anderson said:
The only way that we know the full scale of these vile crimes in Bradford is for a full Rotherham-style… investigation, and would he also agree with me that certain local politicians on the council, and the mayor, should hang their heads in shame.
Once this inquiry takes place, and we get to the bottom of this, and these grooming gangs are put away where they rightly belong in prison, then the next call will be these lazy politicians – and they need locking up too.
Even Moore sounded a bit surprised by Lee's fury…
Guido has the video:
Anderson's no-nonsense speech might have been partly due to his appointment to the Women and Equalities Committee in May 2021:
Guido wrote:
Guido learns that parliament's wokest committee – the Women and Equalities Committee – is to welcome two new, perhaps unexpected, members: Philip Davies and Lee Anderson. Philip Davies is making a, no doubt, welcome return after having served on it in 2016 – where he made headlines calling for the word "women" to be removed from the Committee's name. Lee Anderson is a co-conspirator favourite: from saying nuisance tenants should be forced to live in tents; to recently ranting that he's torn up his licence fee. Confirming the appointment, Lee told Guido:
The great women of Ashfield have been the backbone of my community for hundreds of years with barely any recognition.
Yes the men have worked down the pits and gone off to war but its our women that have kept everything together.
The women in communities like Ashfield need a voice in Parliament and anyone who knows me will tell you that I am a firm believer in better rights for women. I am a modern man with a modern outlook who is keen to speak up for the women in my community.
They deserve to be on a level playing field with us men which is not always the case. I will still open doors for women and give up my seat on public transport as I am a gentleman first and a politician second, but you can be assured that I will be fighting on all fronts for the women of Ashfield.
Both men will no doubt relish the appointments, which they richly deserve. Guido sends his warmest congratulations to the pair. Chapeau to the 1922 Committee on the wit and wisdom of their appointments.
Returning to politicians, on November 9, he had a go at convicted Labour MPs and recommended that they should work as a condition of their licence:
This morning in Parliament, straight-talking Lee Anderson told Deputy Prime Minister Dominic Raab exactly how he thinks the government should solve labour shortages:
Prisoners and ex-offenders out on licence should help fill the labour shortage and […] on release, all prisoners – including ex-Labour MPs – should be ready for work and starting work should be a condition of their licence.
Guido has the video:
Nutritious meals on the cheap
As I wrote in my third post on Lee Anderson, he took a lot of unnecessary stick in May 2022 for saying that people can make nutritious meals for only 30 pence per portion.
He revealed that he, too, had been a single parent for many years and lived scrimping and saving. He still got pilloried.
On May 26, however, the Mail profiled a partnered mother of three who makes meals for 29 pence a portion.
Was there any criticism of her from other media outlets, such as the BBC? No, there was not.
Such double standards. Such hypocrisy.
Conclusion
Regrettably, I have run out of Lee Anderson anecdotes.
He is my favourite MP. I would love to see him as the next Conservative leader, if not Prime Minister.
Sadly, that will not happen. He is not Establishment enough and never will be.
I hope that he is re-elected as MP for Ashfield and wish him all the best in his Parliamentary career.
We need more MPs like him.
A profile of another Red Wall MP will appear next week.
Yesterday's post reviewed events surrounding Labour leader Sir Keir Starmer and other MPs connected with 2021's campaign meeting, forbidden under that year's coronavirus rules:
Keir Starmer defended Labour's indoor beer and korma event by saying that no other venue was serving food.
Well, they were. However, the problem was that service was outdoors only at that time.
The hotel where Starmer was staying, the Radisson Blu, provided room service, but that would have precluded any other persons gathering in an individual's room.
On the evening of Election Day, Thursday 5, 2022, GB News's Dan Wootton interviewed Red Wall MP Richard Holden, who had written to Durham Constabulary about properly investigating the event:
Holden said that the students who took the videos and photos offered to give Durham police a statement, but their kind offer was refused.
Holden suggested that evidence was being suppressed. He also questioned the fact that people involved had forgotten their diary details for that day.
As for dining, Holden said that, in order to comply with the rules, he had been part of a group eating a fish and chips supper outdoors in Hartlepool in windy conditions.
On Friday, May 6, Durham Constabulary finally issued a statement saying they would investigate the event held on April 30, 2021:
Labour MP Emily Thornberry dismissed the news and said all would be 'fine':
The BBC reported that Durham Constabulary waited until after the election to make an announcement (emphases in purple mine):
The force initially decided that no offence had occurred on 30 April last year, but said it had since received "significant new information".
It added that it had delayed announcing the investigation until after Thursday's local elections.
Sir Keir said he was confident he hadn't broken any Covid rules.
He has faced criticism since he was filmed drinking a bottle of beer while in the constituency office of City of Durham MP Mary Foy.
Speaking to reporters on Friday, he said he had "stopped for something to eat" during meetings, and there was "no party".
"The police obviously have go their job to do – we should let them get on with it," he added.
Starmer took no questions on the matter:
Guido Fawkes resurrected a Starmer tweet from January 31:
Priceless:
The Telegraph's Madeline Grant made an eloquent observation …
… which received these replies:
Later that day, Guido posted about the concerns that Starmer's advisers had with the upcoming investigation:
Guido's post says that a journalist, Ava Evans, heard that Labour MPs would not be doing media rounds for a few days (emphases in the original):
Ava also reports that one Labour MP told her they would not be participating in any media interviews for the next few days, for fear of being asked to defend Sir Keir. His actions were "indefensible" she reports them as saying. Which explains why we are only seeing Emily Thornberry abasing herself in studios…
On Saturday morning, news emerged that Starmer was taking legal advice from Lord Falconer, Tony Blair's close friend who served as Lord Chancellor and Secretary of State for Justice from 2003 to 2007:
Guido reported on the development, an exclusive:
An extremely worried Keir Starmer has tasked Charlie Falconer with putting together a Beergate legal defence team. Labour lawyers have told Starmer that there is a 60% chance that he will escape a fine, however the fining of Sunak over a cake has spooked Starmer that he too could be fined over a beer and curry. The irony of the legal and political situation is exquisitely painful for the barrister politician.
Guido later added an update:
UPDATE: In another irony, Falconer has publicly opined on the situation of politicians breaching laws they voted for in the Guardian:
… true accountability means facing justice in a criminal court. But not in this case – a fixed penalty notice does not bring any sense of justice done to those who paid what was very often a high price for obeying the rules.
Which appears to be a demand that Boris be tried in court for his birthday cake….
One of Guido's readers wondered if Falconer's involvement presented a conflict of interest, given his strong opinions on the matter:
That isn't the only conflict of interest, either. There's also Durham's Police and Crime Commissioner, Joy Allen. Starmer campaigned for her and she won her election to that post:
The Mail on Sunday was able to obtain a leaked memo, Starmer's itinerary for April 30, 2021:
This was the paper's front page: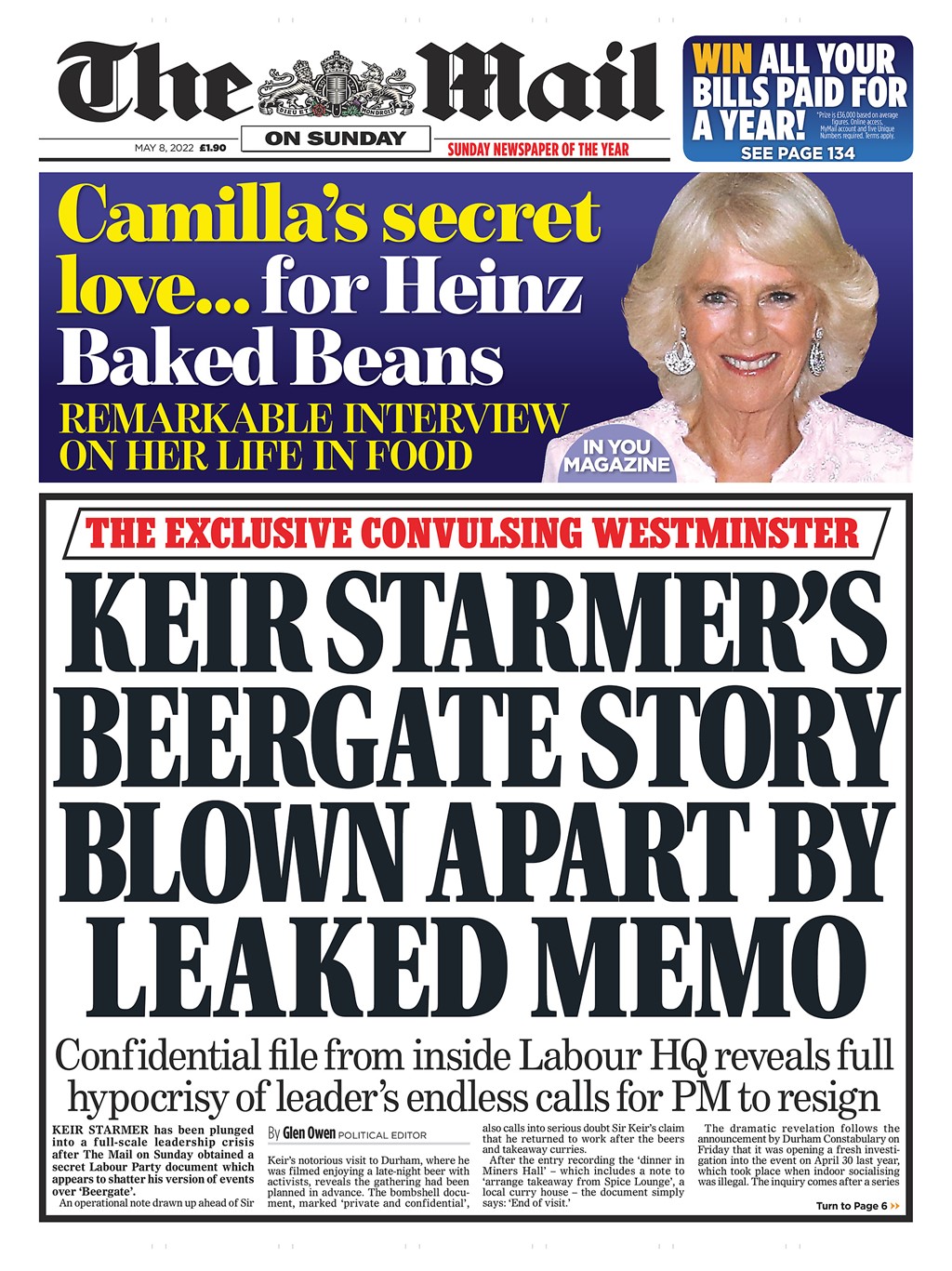 Glen Owen's exclusive for the MoS says:
The bombshell document, marked 'private and confidential', also calls into serious doubt Sir Keir's claim that he returned to work after the beers and takeaway curries.
After the entry recording the 'dinner in Miners Hall' – which includes a note to 'arrange takeaway from Spice Lounge', a local curry house – the document simply says: 'End of visit.'
Spice Lounge did not supply food for the event. Another curry house, The Capital, did.
The paper received the memo from a whistleblower. The itinerary reveals that Angela Rayner MP was scheduled to be present:
The memo – which was passed to this newspaper by a whistleblower – also further undermines Labour's claims that it made 'an honest mistake' when it denied that Deputy Leader Angela Rayner was at the event: it lists 'AR' alongside 'KS' as the two senior politicians anchoring the day's proceedings.
Labour had denied that this was a planned event, but the memo's existence proves that wrong:
… the note – a forward-planning logistics document which is referred to as an 'op note' – makes clear the beer and curries had been planned in advance.
The note says that after a day's campaigning in Hartlepool, Sir Keir's team were due to arrive at the Radisson Blu hotel in Durham at 6.31pm, leaving by 7pm to walk to the Miners Hall.
After recording clips for the media, the note says a 1hr 20mins slot was set aside for 'dinner in Miners Hall with Mary Foy', the local Durham MP. A side note reads: 'YS to arrange takeaway from Spice Lounge'. YS is the acronym for a member of Sir Keir's private office.
The Spice Lounge curry house was closed at the time, with callers being referred to the nearby Capital Indian restaurant. Last week, the Daily Mail spoke to one of the restaurant's delivery drivers, who said he had dropped off a 'big' order of food for at least 15 people, including four bags of curries, rice and naan bread …
The Mail on Sunday has established that the Radisson Blu was serving food when Sir Keir and his party checked in at 6.31pm and continued to do so until 9pm …
The document also refers to four members of the 'MPL' – Met Police Liaison – who were included in the trip, suggesting they are likely to have information useful to the investigation.
Also included on the op note is the line 'Covid Alert Level: National Lockdown', and 'important note: please maintain social distancing of 2m and wear face coverings whilst indoors at all time'.
The leaked document makes clear that Ms Rayner was to play a central role in the day's events …
A Labour source said: 'During a fast-moving campaign, the op note doesn't always keep up with events so it would be wrong to assume that activities occurred at the times originally planned. For example, it's been documented that the takeaway was late'.
This was Starmer's previous denial that the gathering had been planned:
The Sunday Times also had an incriminating article. A source told the paper that some staffers were there only to party and that no work was done afterwards. Pictured below is Mary Foy MP:
It is expected that the investigation will take between four and six weeks:
Allegedly, pictures from the event circulated on Twitter. Those have since been deleted.
Interesting, to say the least:
The aforementioned Sunday Times article said that the Durham Constabulary have opened a major incident room. Angela Rayner's presence appears to have triggered the investigation:
It was the discovery that Rayner had been at the event, despite Labour's original claims, that prompted Durham police to open their investigation. A source close to the force said: "It raises the question about what else we might not have been told the entire truth about."
Officers have set up a major incident room, and up to six detectives will spend the next four to six weeks looking at the potential lockdown breach. They are expected to use questionnaires — similar to the ones used by Scotland Yard to investigate Johnson and the Downing Street scandals — to interrogate those present at the event.
The force said, however, that it did not issue fines retrospectively. When Dominic Cummings was found to have made a 260-mile trip to Barnard Castle in 2020, the force said to take action against him would "amount to treating Mr Cummings differently from other members of the public".
It is unclear whether Scotland Yard's decision to issue retrospective fines over the Downing Street gatherings could force a change of stance.
Mary Foy said:
"Me and my team were working during a very busy period, including facilitating the leader's visit," she said. "I do not believe either I or my office broke any rules, and I will of course fully engage with any police investigation."
Dominic Raab, the Justice Secretary and Deputy Prime Minister, said:
"It's the rank double standards that drive people crazy," Raab told Sky News. "He needs to fess up and answer all of the holes in the account that he gave for that beer-and-curry event in Durham.
"Keir Starmer looks like, I'm afraid, someone who is engaged in complete hypocrisy, complete double standards and I don't think he is going to get past that until he gives a proper account of what happened in Durham."
Here's the video of Raab talking to Sky News:
Jacob Rees-Mogg MP, in charge of Brexit efficiency, told Channel 4's Andrew Neil that one should be extremely careful with hoisted petards:
He does have a way with words.
Guido took a look at what Lord Falconer might say in Starmer's defence:
That said, in February, The Mirror reported that Prime Minister Boris Johnson also hired lawyers over 'Partygate':
The Prime Minister has hired hot shot lawyers to deal with the Met's questions on Partygate.
The Mail reported that Starmer had cancelled his appearance on Monday, May 9, at an Institute for Government event in advance of the Queen's Speech on Tuesday.
Guido tweeted:
Guido's post says:
The public event was scheduled to have included questions from the press and public. This morning, when door-stepped outside his North London home by journalists, a grim faced Starmer refused to say anything and was bundled into a waiting Range Rover. Keir clearly realises that "the police have already investigated this matter and found nothing" will no longer work as a line.
The Institute for Government is funded by the billionaire David Sainsbury, a former Labour minister under Tony Blair, who has backed centrist Labour politicians financially in the past. A statement on the website says only that the event is cancelled, with no explanation given.
The cancellation made the front page of Monday's Daily Mail:
It was the start of another tense week for the Labour leader.
Meanwhile, Boris focused on the Queen's Speech and historic agreements between the UK, Sweden and Finland in case of Russian aggression as a knock-on effect of the Ukraine conflict.
More to follow tomorrow.
My last post on Labour's 2021 election campaign meeting in Durham is a week old.
The intrigue continues and so much more has happened.
It is important to reiterate that while many on social media say it did not break the coronavirus rules …
… there were specific rules for the 2021 election campaign, some of which differed from regulations for households.
Indoor campaign meetings were banned in 2021:
Let's recall how Labour told an untruth about Angela Rayner's not being at the April 30, 2021 event in Durham when she clearly was. Labour had to own up:
The Daily Mail reported that Labour claimed it was an honest mistake (emphases in purple mine):
Labour last night admitted it had lied about an event at which Sir Keir Starmer is alleged to have broken lockdown rules. 
In a sensational U-turn, Labour acknowledged that Angela Rayner was also at the event on April 30 last year at which Sir Keir was filmed enjoying a beer with officials at a time when indoor socialising was banned.
A Labour spokesman said last night: 'Angela was present.' A party source claimed the previous denials had been 'an honest mistake'. 
It directly contradicts assurances given to the Daily Mail over the past three months that Mrs Rayner was 'not there'. 
The admission came only after this newspaper confronted Labour officials with video evidence that Mrs Rayner had joined Sir Keir at an online rally for activists filmed in the Durham offices of Labour MP Mary Foy where the party leader was later seen drinking. 
The extraordinary revelation raises questions about whether Labour's deputy leader also broke lockdown rules.
Recall that, for months, Labour, including Sir Keir Starmer and Angela Rayner, have been braying for Boris Johnson to resign:
Incidentally, once given a fixed penalty notice (fine) for one of the Downing Street events, Boris paid his promptly as did Chancellor Rishi Sunak.
With regard to Durham, their only Conservative MP, Richard Holden, wrote to Durham Constabulary to enquire about Labour's indoor event.
Durham MP Mary Foy, who appears to have hosted the event in her office, took strong exception to Holden's letter. She accosted him in Parliament's Strangers' Bar at the end of April:
Guido Fawkes had the story (emphases in the original):
The pressures of beergate are obviously getting to Labour MPs more than they'd like to admit: Labour MP Mary Foy launched into a furious drunken tirade against Richard Holden in the Strangers' Bar on Tuesday night, after Holden asked Durham Police to reinvestigate Starmer for his lockdown beer drinking. Which isn't exactly surprising, given the infamous event took place in Foy's own constituency office…
Foy allegedly grabbed Holden's arm and hurled so much abuse at him that her staff had to pull her away. Having had a skinful, she growled "how dare you name me and my office in this?" as apologetic staffers tried to calm her down. A witness told the Daily Mail she was "feeling the pressure". Guido can't imagine this morning's revelations about Angela Rayner will do much to soothe her…
Holden threatened to take the matter to the Speaker unless she apologised the following morning. Lo and behold, on Wednesday morning Holden found "I unreservedly apologise for my behaviour on the terrace last night" in his inbox. Holden tells Guido she then went on to talk about how they could work together as Durham MPs …
The Daily Mail reported:
Three witnesses told the Daily Mail that Mary Foy vented her fury at Richard Holden on the Commons terrace on Tuesday night.
She is said to have verbally abused him for asking Durham Police to reopen the investigation into footage of the Labour leader having a beer with officials in her office on April 30, 2021.
Witnesses claim the City of Durham MP grabbed Mr Holden by the arm with both hands and tried to drag him across the terrace before staff restrained her.
Each witness said the former charity worker, 54, appeared to have been drinking heavily when the incident took place at around 10pm as MPs waited for late-night votes.
Goodness me. Being boozed up while waiting to vote on legislation? Unbelievable.
Anyway:
Mr Holden confirmed he had received a written apology from Mrs Foy the following morning. He said: 'Mary has apologised for her totally unacceptable, drunken behaviour on the terrace and I want to leave it at that.'
A Tory source said Mrs Foy's behaviour suggested the 'pressure is showing' on Labour as Durham Police face calls to finally launch a proper investigation into Sir Keir.
Mrs Foy declined to comment on the allegations when contacted yesterday and referred all questions to Labour's press office. A party source confirmed she issued a personal apology.
The source said the pair had been drinking together in a group where there was 'a bit of back and forth on politics generally'.
They added that it was 'incorrect' to say Mrs Foy had grabbed Mr Holden's arm, but did not comment on claims she was drunk.
But several witnesses said they were shocked by the ferocity of her tirade.
More happened that day, Friday, April 29.
BBC Breakfast's review of the newspapers left out the Daily Mail's aforementioned front page with Angela Rayner on it, although reporter Iain Watson later soft-pedalled Labour's claim that it was an honest mistake:
Guido rightly observed that the nation's broadcaster had not afforded the Conservatives such gracious treatment:
When they finally got around to discussing the exposé, political correspondent Iain Watson was at pains to emphasise Labour's absurd line that it was just an "honest mistake", incredibly kind framing Guido's sure Downing Street would not receive. The Metropolitan Police decided to U-turn and investigate No. 10's parties after months of media pressure; now Labour's been caught out, the establishment media is doing its best to downplay the rule-breaking. Labour must be thanking their lucky stars…
At lunchtime, Guido posted Sir Keir's detailed timeline, complete with photos and videos, up North in Hull and Durham:
At the end of the timeline, Guido reminded us of what Angela Rayner had said only a week earlier:
April 20, 2022: Angela Rayner is asked "If Keir Starmer, had been fined for the beer and sandwiches that he had or was perhaps it was just beer. Should he have resigned?" Rayner replies "If Keir Starmer had broken the law, then Yes."
This was the Mail's front page on Saturday, April 30. It was a newsy day, especially with disgraced now-former Conservative MP Neil Parish:
That was also the first anniversary of the event in Durham:
The next day, the Mail on Sunday called Starmer a hypocrite, something a Sky News presenter quizzed him about (video here):
Keir Starmer avoided the BBC that morning. Instead, one of his MPs, David Lammy, went on to chat with Sophie Raworth (videos here and here). By now, the public were catching on that Labour had been obfuscating for nearly five months:
On Tuesday, May 3, The Sun's political editor Harry Cole reported that Starmer's security detail from London's Metropolitan Police were in Durham on the night in question. Hmm:
Cole wrote, in part:
Witnesses suggest dozens of MPs and aides gathered at Miners' Hall, with the police car still there late into the evening.
One bystander who walked past at 11pm said: "The place was still lit up and busy and Keir's car was still outside."
The Sun has also revealed that £200 was spent on takeaway curry for dozens of MPs and aides at the bash.
That day, The Spectator's Patrick O'Flynn wrote that Starmer should be careful about his situation, given he has been running roughshod over Boris, clamouring constantly for his resignation:
… Starmer called for both Johnson and Sunak to quit over their fixed penalty notices despite knowing that the full truth about his own campaign-trail gathering had not come out.
For starters, Labour said its deputy leader Angela Rayner was not at the event when she was. This according to Starmer was a simple 'mistake' made in good faith. But has he ever conceded Johnson could have made simple mistakes in good faith about what constituted unlawful gatherings? Of course not …
Can Starmer be said to have 'come clean' about his own lockdown socialising? Hardly. He is still being evasive now about what exactly the 'work' was that his team supposedly returned to after beer and pizza had been consumed around 10 p.m. on a Friday night …
When Starmer was first questioned about beergate, back in January, he told the BBC's Sophie Raworth: 'If you're trying to persuade anyone that stopping to have some food when you're in the office all day working is a breach of the rules, it's just not going to wash.' Yet hasn't such thinking been at the heart of his own relentless attacks on Johnson?
Starmer the lawyer may think he has winning answers to these questions. Were he a better politician, he would see immediately that he does not. He has been hoisted by his own petard and may soon crash land against some particularly unforgiving ramparts.
The Mail's Stephen Pollard also posted an editorial on Starmer. Pollard, by the way, is a member of the Labour Party. However, he abhors the hypocrisy of Starmer's handling of the Durham event compared with his verbal harassment in the Commons of Boris and Rishi:
… the holes in his story get bigger by the day. Sir Keir also says he had no choice but to eat with his colleagues because he couldn't get a meal at the hotel he was staying in.
The Mail has shown this is nonsense – the hotel made a point of offering room service for law-abiding guests who were following the rules by eating alone in their room. Sir Keir could remove all doubt about the truth of his story if he gave a full account of what happened backed up by evidence. In the absence of such evidence, however, it looks to be no more and no less than a social meal and a drink with colleagues after work – and so not remotely 'necessary'. In other words, illegal under the Tier 2 rules.
The Chancellor, Rishi Sunak, was fined for turning up to a scheduled work meeting in the Cabinet room to find that a gathering was taking place, and not walking out. For that, Labour demanded his resignation. The hypocrisy is breathtaking.
Sir Keir plainly thinks he can keep saying nothing and the fuss will die down. But the one thing voters cannot stomach is a politician who lies – so Sir Keir needs to come clean. It is difficult to imagine why he would let this story fester if he really has done nothing wrong and can prove it by answering questions, so it may well be he is covering up his own lawbreaking.
If that is the case then – on his own merciless standards – surely he must resign.
Or does he believe that the rules don't apply to him?
Also on that day, we found out who took the videos and photos of the Durham event — students at Durham University. The Mail reported that the Met's vehicle piqued their curiosity:
Students who filmed the Labour leader drinking in the office of one of his MPs while indoor socialising was banned also photographed an unfamiliar black Land Rover Discovery parked outside.
If it was one of the official police protection vehicles issued to Sir Keir in his role as a senior politician, it would raise the prospect that officers guarding him can help definitively solve the questions which continue to swirl around the night's events.
One of the students who filmed the gathering at Durham Miners Hall on April 30 last year said: 'We had never seen a black Land Rover parked there before, it really stuck out. We took a picture of it because we were convinced it was the car in which he had been driven there.'
Last night a Metropolitan Police spokesman said: 'We do not comment on protection matters.' Labour did not respond to requests for comment.
Former Scotland Yard Commissioner Dame Cressida Dick was previously forced to defend officers on duty in Whitehall as questions were raised on how potentially lockdown-breaching gatherings were able to take place at a site with a heavy police presence.
Speaking in February, she said the officers were there to provide 'protective security' but refused to be drawn on 'anything they may have seen or heard'.
The Leader of the Opposition is one of a small number of senior politicians given round-the-clock protection by police …
Officers would know everywhere the 'principal' is going during a visit and have a rough idea of timings, a source said last night.
The Mail did not name the students, but Guido knew who one of them was back in January 2022:
On January 18, Guido revealed the student's identity once the images of the Durham event had reached The Sun, The Telegraph and The Mail:
… the person who snapped the incriminating footage – James Delingpole's son, Ivo – is just as angry with the Tories as anyone else. Taking to Instagram yesterday he reacted to the Mail's splash with pleasant surprise:
Bit strange to have a video I filmed… on the front cover of a newspaper. I didn't make any money from it and didn't send it to them, but glad the hypocrisy was outed nonetheless
However he followed up:
It was last year and just outside my university house… I hope this in no way helps the Prime Minister defend himself from critics, and that he gets no respite from the questioning and criticism [he] deserves …

But even that splash in three newspapers didn't stop Starmer. In fact, he doubled down, as we can see in this tweet from January 31:
Returning to last week, Wednesday, May 4, the day before the election, the Mail had the following front page on the seventh day of Beergate. Someone should write a song …
Starmer appeared on ITV1's Good Morning Britain that day. Susanna Reid and Richard Madeley interviewed him. Things did not go spectacularly well, even if Reid is left-of-centre politically:
Guido had the story and video:
For the seventh consecutive day, Starmer is battling the headlines over Beergate. This morning the Sun reports Starmer and Labour aides spent £200 on takeaway food on the night the infamous photo was taken – enough curry to feed 30 people for what Labour still insists was just a quick meal during important campaign work. That line is becoming increasingly untenable, as Starmer's appearance just now on Good Morning Britain attests…
Speaking to Susanna Reid and Richard Madeley, Starmer trotted out the boilerplate excuses Labour have been using for a week, much of which was irrelevant waffle about how many camera pieces he recorded that day. Not once did he deny reports it turned into a £200, 30-person feast …

He recorded some video messages on a laptop – doesn't require 30 people, beer and curry late on a Friday night to do that. When Susanna Reid asked why any of this was actually relevant, Starmer claimed:
We were on the road, at the end of the day, we were in the office preparing. Now, that evening, from memory, we were doing an online event for members… at some point, this was in the evening, everyone is hungry. A takeaway was ordered… in Durham all restaurants and pubs were closed.
Of course, that last part is untrue: hospitality reopened for outdoor service on April 12, and the Durham event took place on April 30. Still, at least Starmer confirmed the police haven't been in touch yet, something he couldn't say yesterday for some reason. If Starmer's finding all this scrutiny unnecessary, Guido would just remind him he called for Rishi to resign last month for singing 'happy birthday'. Or was that just pointless mudslinging?
Guido's tweet about Good Morning Britain had a response about why Labour might not have wanted to put Angela Rayner in the frame until they were forced to:
That day, the Mail's Andrew Pierce looked at the possible people helping Starmer obfuscate. We already know about Mary Foy MP and I covered Joy Allen, the head of Durham Constabulary, in a previous post. She was not at the event.
The others follow — Allen's deputy, the curry house and the other Labour MP for Durham:
PCC Allen's second-in-command is Nigel Bryson, who happens to be a long-standing friend of hers. They met, inevitably, through the Labour Party and she has attracted criticism for appointing him without advertising. Challenged over this failure to vet anyone else, she said: 'I've got somebody who knows everything about me as a candidate… I could go through the process but it would just be possibly going through the motions.' So that's all right then.
The Capital is one of Durham's finest Indian restaurants and this week it emerged its delivery driver had dropped off a '£200' feast for the gathering, including biryanis, tikka masalas, rice and naan breads. The driver initially told the Daily Mail there were '30 or so people' inside – but bizarrely later insisted he had no recollection of making the delivery.
Yet the curry house has been known to have friendly relations with Durham's Labour machine.
In May 2020, during the first lockdown, local MP Foy hailed it for supplying meals to NHS workers and posed for photographs with head chef Syed Islam.
Bordering Foy's constituency is North Durham, with MP Kevan Jones. He has also remained silent about the night in question – and this isn't surprising.
A leading figure in the local Labour community, Jones himself has broken lockdown laws – not once, but twice. The first breach came on May 7, 2020, when he took part in a group photo shoot in his constituency, promoting artwork in praise of the NHS. A noble cause – but the rules about socialising were clear. Jones committed another breach three days later.
A video shows him attending an indoor party for 100-year-old veteran Frederick Herron, allegedly attended by about 40 people. Who would begrudge a hero centenarian a fitting celebration? Nobody – except Starmer and Labour have consistently claimed that the law should have been upheld.
Asked yesterday about his lockdown breaches, Jones said he would 'rather not comment'.
The plot thickened and the intrigue continued.
More tomorrow, beginning with what the papers said on Election Day.
Considering that Parliament is currently prorogued and that this past weekend was the May bank holiday, one would think that nothing political happened.
One would be very wrong indeed.
In fact, a Conservative MP stood down and Labour's indoor 2021 election campaign meeting in Durham attracted more attention.
Labour's 2021 do in Durham
My April 29 post has the background to Labour's 2021 election campaign do in Durham.
April 30 was its one year anniversary:
I couldn't agree more.
The Mail on Sunday's Dan Hodges agrees on Labour's hypocrisy:
Many Labour supporters say that the Durham do did not break any rules, however, it probably did. Below are the rules for the 2021 election campaign:
Furthermore, it is possible that, despite the fines (fixed penalty notices), the Downing Street gatherings did not break the rules, as the address is part of the Crown Estates.
On April 27, the Conservative Post published an article on the lefty activist QC (Queen's Counsel) advising senior civil servant Sue Gray in her report on the gatherings. The article says that they were perfectly legal (emphases in the original):
One might ask is this QC holding an almighty grudge?
Is this why Sue Gray / the Met Police haven't looked at section 73 of the Public Health (Control of Disease) Act 1984? Do they even know about it?
Surely a bipartisan advisor would have pointed out this important law of the land?
The Act clearly states that pandemic regulations, at all times, never applied to Crown Land (which includes No.10). 
Granted, one rule for them and another for the rest of us seems a bit unfair but it also makes sense.
Steven Barrett, a leading barrister at Radcliffe Chambers who read law at Oxford and taught law at Cambridge explains:
In the eighties lawmakers decided that it would be better to allow the government to function during any future national pandemic without having to worry about being caught up in quarantine regulations. The thinking was that by making the government effectively exempt in law, the government could continue to function.
In addition to the 1984 Act, there were also specific regulations that applied at the time of the alleged "parties" the Health Protection (Coronavirus, Restrictions) (All Tiers) (England) Regulations 2020.
According to these rules, gatherings were allowed in all public buildings, or parts of them 'operated by a business, a charitable, benevolent or philanthropic institution or a public body.'
So whatever happened in Downing Street was legal. 
How has a QC / Civil Service Advisor not made this clear to Sue Gray? If he had surely no-one at Downing Street would have received a fine at all.  
One would also have thought the Civil Service would check who is advising them.
Can someone let Sue Gray and the Met Police know please before any more incorrect fines are issued out? It's important rules of the land are adhered to. 
But, but … and it's a BIG BUT:
The matter came up in the House of Lords on December 14, 2021, shortly after the controversy broke. Good grief, that is now six months ago.
Baroness Jones of Moulsecoomb (Jenny Jones, Green Party) asked:
whether Number 10 Downing Street is a Crown property; and, if so, whether regulations made under the Public Health (Control of Disease) Act 1984 apply there.
Lord True, replying for the Cabinet Office, said that the regulations would have applied to Downing Street, despite its being part of the Crown Estates (emphases mine below, except for Guido Fawkes posts):
No 10 Downing Street is a Crown property. Regulations under the Public Health (Control of Disease) Act 1984 which relate to the activities of people, apply regardless of whether those activities took place on Crown property or not.
Hmm.
Back to Labour's Durham do, which has been trending online as Beergate and Currygate:
Durham Constabulary said a long time ago that there was nothing to investigate. Durham is a Labour area, so no surprise there.
However, the clamour over the weekend thanks to Conservative MP Richard Holden's letter to them was such that perhaps the police have decided to have another look.
On Tuesday, May 3, in an interview with BBC Radio 4's Martha Kearney, Keir Starmer refused to say (audio here):
This leads pundits to assume that Durham Constabulary might have been in touch:
Another development over the weekend was confirmation that Labour's deputy leader, Angela Rayner, was also in attendance.
Guido Fawkes posted the following on Friday, April 29:
After months of questioning, it can finally be confirmed Angela Rayner was present at Starmer's lockdown beer party in Durham. Despite refusals to confirm, video evidence dug out yesterday morning reveals Angie's attendance, who shared a chair with Sir Keir for a "Get out the vote rally"  on Facebook an hour before the video of Starmer's unlawful socialising was filmed. Oh. Dear.
Rayner can be heard saying "And being here at the Miners Hall in Durham, I've got to start with, you know, the past we inherit, the future we build." She and Starmer sit in front of a window identical to that Starmer was filmed through an hour later swigging beer, contrary to Covid rules.
Earlier this week, Guido forced a denial from local Police & Crime Commissioner Joy Allen, who said she wasn't present at the 'essential campaign event' after social media rumours began circulating that the female head seen at the bottom of the Starmer beer frame was hers.
Labour claim that there was no other place to go for food and drink, however:
Also:
On Sunday evening, May 1, Mark Dolan of GB News rightly took aim at Labour's sanctimonious and hypocritical posturing:
However, things weren't going well for the Conservatives, either.
Neil Parish stands down as MP
Neil Parish stood down as MP for Tiverton and Honiton in Devon after admitting he was looking at indecent images on his phone while in the Palace of Westminster.
He claimed that he had been searching for tractors on the first occasion and accidentally arrived at an indecent website. On the second occasion, he confessed that he deliberately visited the same website again.
I was somewhere between surprised and shocked. He always seemed like such a level-headed individual.
This video clip is from March 14, 2019, around the time I began watching BBC Parliament regularly. Tension about Brexit had been ramping up since January that year:
In June 2020, he led a debate on the BBC's axeing of local and regional political coverage:
More importantly, he had headed the Environment, Food and Rural Affairs Select Committee since 2015. He came from a farming family and left school at the age of 16 to help run his family's farm.
Last week, rumours had been circulating about a Conservative MP looking at indecent images during parliamentary proceedings.
On Friday, April 29, Guido reported that the Conservatives removed the whip from Parish:
The hunt is over: Neil Parish, the Conservative MP for Tiverton and Honiton, has lost the whip this afternoon after being revealed as the Commons' mystery porn viewer. Following conversations with the Whips' office today, Parish has reported himself to the Standards Committee of the House of Commons for investigation. The Tories had previously referred the claims to the Independent Complaints and Grievance Scheme, so Parish is now under investigation by both bodies…
A spokesperson from the Chief Whip's office said:
Having spoken to the Chief Whip this afternoon, Neil Parish MP is reporting himself to the Parliamentary Commissioner for Standards. Mr Parish has been suspended from the Conservative Whip pending the outcome of that investigation.
Guido included an interview Parish had given to GB News that afternoon. It was clear Parish had no intentions of resigning at that time:
I think the whips' office will do a thorough investigation and we will wait and see that result… I think you've got some 650 Members of Parliament in what is a very intense area, you are going to get people that step over the line. I don't think there's necessarily a huge culture here, but I think it does have to be dealt with, and dealt with seriously. And that's what the whips will do in our whips' office.
There was a time when someone could be sacked on the spot for looking at indecent images at work. Granted, this was in the private sector.
I knew of one such individual in the mid-1990s. His dismissal was also shocking, as he was the last person I would have expected to engage in such activity and was a senior manager who was very good at what he did.
However, it seems that such behaviour is becoming normalised, according to The Telegraph. It extends to viewing such things on public transport. Ugh.
Early on Saturday, The Telegraph posted an exclusive interview with Parish:
Suspended from his party and facing public ridicule, Mr Parish is at the centre of a maelstrom. But now that the accusation is "out in the open," Mr Parish said on Friday night, "it's almost as if a weight is lifted off me" …

Over the course of the interview, conducted in Mr and Mrs Parish's sitting room in front of a warm hearth, the MP confirmed he had referred himself to the parliamentary standards committee, apologised to his constituents, and suggested that, even if cleared, he might step down.
It was late on Friday night when The Telegraph called. The couple's eight-year-old labrador, Kitty, was dozing in front of the fire. Mr Parish, after a long day, was wearing a dressing gown. The MP is a farmer by trade, and the couple's home is the family farmhouse. Their sitting room is bedecked with books and family photos. It is typical for MPs embroiled in scandal to flee their homes, but the Parishes, who have two adult children and two grandchildren, have stayed put …
Earlier in the day, Mr Parish, 65, said he had opened pornographic material "in error", but he declined to give further details. Asked what happened, Mr Parish said: "I think it's all going to have to go through the inquiry, and then I will give them all the evidence I have, and it'll be for them to make the decision. And then I will make my mind up as to what I do, whether I remain in Parliament or whether I leave."
He had not spoken to the Prime Minister, he said. Asked if he had a comment for his constituents, Mr Parish said: "That I very much enjoy being their MP, I've worked very hard, and I will continue working for them. I apologise for the situation – the whip is withdrawn – but I am still their MP. And at the moment I'm still the chair of the Environment, Food and Rural Affairs select committee, and I take that job very seriously. And I will carry it on for as long as I have it."
Mr Parish faces an ignominious end to a 12-year parliamentary career in which he has won increasingly large majorities and worked on a broad set of issues within farming and rural affairs. Local elections are coming up and he is now seen as a liability, with fellow MPs calling for his resignation …
Mrs Parish, 66, said she had first learnt of the allegations from a journalist who rang her for comment. "I didn't know anything about it until he rang and said, 'Oh, you know what I'm ringing about…'
"I didn't know who was more embarrassed, actually, me or him!" said Mrs Parish. "Poor chap."
It seemed that the couple had discussed the matter between them and that it had been explained to Mrs Parish's satisfaction.
"Yes," said Mrs Parish, without hesitation.
"My wife is amazingly loyal and better than I deserve," said Mr Parish.
"That's for sure," said Mrs Parish, chuckling.
At the end of the interview, Mr Parish took a phone call from his brother, Rod. They chatted briefly, with Mr Parish thanking his brother for what sounded like a supportive call. Mr Parish, having swapped his dressing gown for a shirt and jacket, then politely assented to having his picture taken …
By Saturday afternoon, Parish had resigned:
People did not believe the tractor excuse …
… but there is good reason to accidentally see something indecent when searching for tractors:
Guido wrote:
Neil Parish has told the BBC he's quitting after being accused of watching porn on two occasions while performing his MP duties in Parliament. With bizarre detail he claims "the first time was accidental after looking at tractors, but the second time was deliberate". 
24,239 majority in his seat of Tiverton and Honiton. If this by-election ends up being remotely interesting, the Tories are in deep trouble…
A by-election upset in a similar constituency took place in the staunchly Conservative North Shropshire which now has a Liberal Democrat MP after Owen Paterson was forced to stand down late last year.
On May 1, The Sunday Times confirmed that two female MPs had seen Parish looking at indecent material online:
Parish, 65, said the first time he had watched pornography was accidental, insisting he had been looking at tractors on his mobile phone before straying onto a website with a "very similar name". He said he watched the video "for a bit, which I shouldn't have done".
On the second occasion, however, the married father of two admitted he had looked at porn deliberately while waiting to vote at the side of the chamber. "What I did was absolutely wrong," he told the BBC.
Parish, who chaired the Commons environment, food and rural affairs committee, issued a "full apology" to the two female MPs who had seen him watching the pornography, but insisted it was "not my intention to intimidate".
It marked a significant U-turn in 24 hours. At first he had defied calls to quit and said he would await the findings of a parliamentary investigation. A growing number of Conservative MPs made clear that his position was untenable, however, and that he should resign immediately rather than prolong the controversy days before the local elections on Thursday …
His departure means that the Conservatives are now facing the prospect of having to defend two by-elections in short succession.
Imran Ahmad Khan, who was elected MP for Wakefield in 2019, tendered his resignation last week after being convicted of sexually assaulting a teenage boy. Labour is widely expected to win back the seat.
Conservative Party insiders are also braced for a third by-election. They are awaiting the outcome of the investigation into David Warburton, who had the Tory whip withdrawn last month after it was alleged that he sexually harassed three women.
Although Parish's constituency has returned a Conservative at every election since its creation in 1997 — and the party has a majority of 24,000 — Tory insiders fear that it shares parallels with North Shropshire, the seat lost to the Liberal Democrats in December after the resignation of the disgraced MP Owen Paterson.
Last night a Lib Dem source said: "As we saw in North Shropshire, there is a real backlash against Boris Johnson from rural communities who are fed up with being taken for granted."
What a shame.
Also on Sunday, The Telegraph confirmed rural communities' disillusionment with the Conservatives. One woman running for the local council in North Frome, Somerset, says that locals are tearing down her campaign posters and handing leaflets back to her.
The paper refers to these communities and counties as the Blue Wall, historically Conservative areas:
The election is a key test for Boris Johnson, who is facing a difficult mid-term contest after months of criticism of his leadership from Tory quarters over partygate, tax rises and the cost of living crisis.
Many of the English council areas, including Somerset, Hertfordshire and Hampshire, are places the Conservatives have traditionally considered to be strongholds.
Now, they are increasingly thought of as part of the "Blue Wall" – containing millions of wavering Tory voters who are disgruntled with Mr Johnson and could "flip" to Labour or the Liberal Democrats …
Voters in Somerset demonstrate what strategists in all parties have identified – that there has been a shift away from the Conservatives among people who live in the countryside.
New research from Parliament's all-party group for rural business and the "rural powerhouse" suggests the Government has a "chronic under-appreciation for the economic and social potential of the countryside," and that businesses in rural areas are on average 18 per cent less productive than the country at large.
Many voters who have always lent the Tories their trust feel that southern rural areas have suffered at the expense of "levelling up" – the Government's plan to improve high streets and fortunes in neglected Northern areas traditionally represented by Labour.
Meanwhile, a Conservative promise to deliver next-generation broadband speed by 2025 is unlikely to be met, the parliamentary spending watchdog has said.
Countryside voters, who are often keen to protect the natural beauty of their homes, say plans to rip up the planning system to build more houses and erect new onshore wind farms are a direct attack on their way of life.
Paul Moody, an antiques dealer who lives near Shepton Mallet, said his faith in the Conservatives' commitment to the countryside is being challenged by "horrendous" new "T pylons" near his home and the threat of solar panels carpeting the fields.
"They march across the countryside and stand out all across the Somerset Levels" he said.
"I would prefer more nuclear power stations than ruining the countryside."
Answering a survey conducted for The Telegraph by Redfield and Wilton Strategies this week, just 19 per cent of voters said the Conservatives cared about rural areas, while 28 per cent said Labour did. Almost half of voters (46 per cent) say "levelling up" does not inspire them.
Other national polling shows Labour has increased its lead over the Conservatives by three points since April 12, when Mr Johnson was fined over lockdown-busting parties in Downing Street.
While ministers have repeatedly suggested that the public does not care about partygate and would prefer to see the Government focus on making domestic policy, Tory sources admit privately that the polling shows that idea is "for the birds".
It's all falling apart for Boris at the moment.
Ukraine loves Boris
On Tuesday, May 3, Boris made history by becoming the world's first leader to address Ukraine's parliament:
Also on Tuesday morning, he gave an interview to Left-leaning Susanna Reid on ITV's Good Morning Britain.
It did not go well …
… and not knowing who ITV's queen of breakfast television, Lorraine Kelly, is unforgiveable. She's only been on the network for over three decades:
Maybe the man has a point, but it still helps to play to the audience, most of whom probably stay tuned for Lorraine's show, which follows Good Morning Britain.
It's a shame that Ukraine's enthusiasm for Boris doesn't translate here at the moment, but I cannot blame Conservative voters for being disillusioned.
The UK Parliament was prorogued early Thursday afternoon, April 28, 2022.
The new session will begin on Tuesday, May 10, with the Queen's Speech. One wonders if she will be there in person or delegate Prince Charles to deliver it for her.
We will have one news story to watch, however, besides local elections on Thursday, May 5. Durham Constabulary is said to be reconsidering re-examining their decision not to investigate Keir Starmer, who appeared indoors at the Labour offices at the end of April 2021 after election campaigning, when indoor election meetings were forbidden because of coronavirus.
This decision by the Durham Constabulary is in response to Conservative Red Wall MP Richard Holden's letter to the Chief Constable about the matter. Holden represents Durham North.
On Wednesday, April 26, Guido Fawkes tweeted about the re-examination and someone helpfully posted a video of Starmer, MP Mary Foy and other Labourites enjoying beer one evening:
And there's this further down in response to Guido's tweet about Starmer, whom his detractors call Keith rather than Keir, for whatever reason:
The letter from Durham Constabulary to Richard Holden is below. Based on the wording, one wonders exactly how much will be reconsidered:
If it weren't for Guido and Holden, this issue probably would have never resurfaced.
Guido has a great GIF compilation of Starmer on the campaign trail. It alleges that he might have committed as many as seven violations of the campaign restrictions last year. The second tweet features Labour's deputy leader, Angela Rayner MP. Hmm:
Twitter has a new trending topic, #durhampartygate :
Here is a selection of tweets on #durhampartygate :
In other Labour MP news, Liam Byrne has been suspended for two days, meaning he will lose pay for those days:
Now onto the prorogation. Thanks to Boris Johnson's premiership, I have seen three since 2019:
The order paper for the House of Commons was brief, in expectation of a Royal Commission, whereby Black Rod would officially summon the Commons to go to the House of Lords. All of that takes place in rather elegant language:
The mood around 11:30 a.m. was light, almost festive. Even the Speaker of the House, Sir Lindsay Hoyle, fluffed his lines:
One part of the proceedings is spoken in Norman French: 'La Reyne le veult', or 'The Queen wills it'. This tweet shows the five most senior Lords entering their chamber in formal robes:
Until 1967, every time a law was passed, proceedings in the Lords were briefly suspended to allow for an announcement of new legislation, followed by 'La Reyne le veult':
Since 1967, a simple announcement has been made to the Lords of Royal Assent to new legislation:
The King or Queen used to preside over prorogations in person. Queen Victoria was the last monarch to do so. That was in 1854:
You can see Black Rod coming in to summon the Commons at 12:27 p.m. on this video. The prorogation in the Lords starts at 12:30 p.m. on this video. Afterwards, MPs return to the Commons. Go back to the first video to find the Commons Speaker confirm to MPs what was read out in the Lords, even though they had heard everything there themselves minutes earlier. When he finishes, he instructs MPs to leave the chamber:
True. It finished at 12:52 p.m.
The Lords' business was thin on the ground. Their session began at 11:07 a.m.:
This thread summarises a prorogation:
In a time of emergency, the monarch can recall Parliament during prorogation.
It's a highly formal ceremony and well worth watching.
Now on to the May 5 council and Northern Ireland Assembly elections, which should be interesting.
As I discussed in Parts 1 and 2 last week, it is no accident that the Conservatives won the general elections of 2015 and 2019 thanks to the left-leaning metropolitan elite.
In 2015, this is what people wanted from MPs (emphases mine):
Here's what we require of our politicians:
(1) honesty
(2) probity
(3) the ability to listen to their constituents
(4) the ability to put the needs of their constituents before the interests of big business, the aristocracy or the establishment.
Tick all four boxes and I don't care where you were born, where you were schooled or where you live. The problem is finding anybody who'll tick those boxes.
The comment came from a Guardian article from May 20, 2015 on the metropolitan elite. It was published two weeks after the general election, which David Cameron won comfortably.
In my first two instalments of this series, I posted several comments from the article.
Here is one more of note, remarking that the metropolitan elite are driving Labour supporters into voting Conservative, or Tory:
The left just suffered the biggest defeat in a generation. A left largely run– in fact almost exclusively run- by university educated professional metropolitan people or "metropolitan elites".
You would have thought this would be a time for humility a moment of reflection on why they lost. Nope, just back to banging the same drum we were right everyone else was wrong. This is the kind of attitude that drives people into the arms of the Tory party, the under current of contempt for the people the left claim to speak out for.
And you call other people narrow minded.
It's this astonishing hubris which will drive the left into the ground over the coming years. If this election hasn't taught them a lesson nothing will.
By December 12, 2019, those two comments proved to be prophetic.
Something revolutionary happened: the transformation of the Red Wall (former Labour) seats, or constituencies, in England.
That transformation gave Prime Minister Boris Johnson a most unexpected 80-seat majority in the House of Commons.
It was so stunning that it caught the eye of at least one American commentator:
On Friday, December 13, the day after the election, the Daily Mail reported:
Boris Johnson hailed the political 'earthquake' that has given him a 'mandate to get Brexit done' today as he marched his new blue-collar Tory army towards a staggering election landslide.
After laying waste to Labour's 'red wall' of Leave-backing strongholds, the PM said he had been given a 'powerful' vote of confidence by the British people and vowed to 'rise to the challenge' …
In England the Conservatives polled 47.1 per cent to Labour's 34.3 per cent, and in Wales they were supported by an impressive 36.1 per cent.
By contrast Mr Corbyn [Jeremy Corbyn, Labour leader] looks to have stewarded his party to its worst performance since 1935 and plunged it into a seething civil war – despite his allies vainly claiming earlier that high turnout might have helped him pull off a surprise. 
In an address to staff at CCHQ afterwards, Mr Johnson said: 'We must understand now what an earthquake we have created. 
'The way in which we have changed the political map in this country. 
'We have to grapple with the consequences of that. We have to change our own party. We have to rise to the level of events. We have to rise to the challenge that the British people have given us.' 
The Conservatives pulled off a massive coup by securing the symbolic swing constituency of Workington, overturning a 3,000 majority to triumph by 4,000 votes with a 10 per cent swing. 
They also overturned an 8,000 majority to rip the former mining area of Blythe Valley in Northumberland from Labour's grip for the first time ever. The party's candidate won by 700 votes after securing an incredible 10.2 per cent swing in what was theoretically only 85th on the target list. 
There were jaw-dropping gains in Bishop Auckland – which had never elected a Conservative MP in 134 years – and Tony Blair's old stronghold of Sedgefield.
Left-wing 'Beast of Bolsover' Dennis Skinner was ejected from the seat he has held since 1970, as Mr Johnson flipped huge swathes of the country from deep red to Tory blue.  
Other fortresses to fall included Leigh, Darlington, Wakefield, Stockton South, Redcar – which saw a 15.5 per cent swing – Peterborough, Wrexham and the Vale of Clywd. 
As the political map was redrawn in a few tumultuous hours, places like Jarrow, Houghton & Sunderland South, Sunderland Central, and Newcastle Upon-Tyne Central saw enormous movements from Labour to the Conservatives – although the party clung on. 
A pattern was emerging of Brexit Party candidates draining votes from Labour in its northern heartlands, while Tory support held steady …

After the Blythe Valley result was declared, flabbergasted ex-chancellor George Osborne said: 'We never thought we'd get Blythe Valley …
'There's a Conservative candidate in Hexham who I heard a couple of days ago saying 'we are going to win Blythe valley' and I thought he was always a bit optimistic, this guy. But he was right and that is a pretty spectacular win.' 
Ian Levy, the mental health worker who won the seat for the Tories, said in his victory speech: 'I would like to thank Boris.' 
The first big Labour scalp claimed by the Tories was shadow environment secretary Sue Hayman, who lost Workington. 
Labour's Gareth Snell predicted his own defeat ahead of the result in another former stronghold, Stoke-on-Trent Central, saying: 'I'm going to lose badly and this is the start of 20 years of Tory rule.' 
All the Tory Remainer rebels who stood as independents, including David Gauke and Dominic Grieve, failed to win seats.
And Labour defectors to the Lib Dems Chuka Umunna and Luciana Berger fell short. 
Former Labour MP John Mann was correct when he said that his party had lost because they did not listen to their supporters. This is from The Sun:
Mr Mann said the Labour leader had "arrogantly" taken for granted Labour voters in the Red Wall of its traditional strongholds in the North and Midlands …
He said what happened in his old seat of Bassetlaw, a Labour seat since 1935 that now has a Tory MP, sums up what he claimed was the "arrogance" of those around Corbyn.
"They didn't let a local candidate stand, they then removed candidate that was selected, they imposed their own Corbynite candidate and he got humiliated – incredibly predictable.
"That sums up their arrogance – they've taken working class voters in the North and Midlands for granted."
Mr Mann said it was time for Labour to start listening and to elect a leader who understands the party's traditional voters.
"People have made their mind up and if Labour doesn't learn their lesson, the Labour party might as well not exist," he said.
"It's going to require a leader that understands where people are coming from and understands the issues and then starts talking to those people.
"If that doesn't go Labour is finished as a political force in this country and it needs a leader who understands that."
Very true. It is unclear as to whether Sir Keir Starmer is that leader.
Former Labour party member and current Mail on Sunday columnist Dan Hodges — the son of actress and former Labour MP Glenda Jackson — predicted a strong Conservative majority, even though pollsters had not. Hodges said, 'Labour lost because the Corbynites hated working Britain':
On Tuesday, December 17, a new electoral map appeared. Its caption says, 'The "Red Wall" is now a pile of rubble':
From the start, many of the Red Wall MPs showed how different they are from the conventional Conservative backbenchers. They are feisty, prepared to speak out and have a good memory for Labour disasters — local, regional or national.
Some of these new MPs grew up on council estates. None has an Oxbridge degree. Some were the first in their families to attend university.
Some have prior experience of running a business. Similarly, others worked in the private sector. Unlike the metropolitan elite, they did not go into politics or the civil service straight from university.
One thing has been clear from 2019 onward: they want to help their constituents by responding to their needs and concerns. Furthermore, they are local — not parachuted in from London.
One of the Red Wall MPs, Ben Bradley, who represents Mansfield — and was elected in the 2017 general election — explained why the Conservatives won so handily:
Bradley says that Labour have turned their attention from working for a living to giving handouts to their constituents, something that a lot of Britons don't want to see happen. Bradley is correct, because this is the line that Labour take in Parliament — nothing about jobs, only money:
Bradley is correct to say that people want hope — and, may I add, the dignity that goes with being self-sufficient in working for a living:
He also points out that Labour criticised Leavers in the Brexit referendum:
Bradley concludes by saying the Conservatives have a lot of work ahead of them to hold onto these votes:
The Red Wall seats defined a new source of Conservative support, more evidence that the English are moving away from Labour. A 2021 Intelligence Squared debate put forward the following proposal (H/T to one of my readers):
'We've lost the trust of working people.' Those were the words of Labour leader Keir Starmer in early May, neatly summing up the reason his party lost the Hartlepool by-election as well as many of the local elections across the country. Labour MP Khalid Mahmood promptly quit the front bench, complaining that the party has been captured by 'a London-based bourgeoisie'. Former Labour prime minister Tony Blair joined in the chorus of despair, saying that the party is being 'defined by the "woke" Left'. Labour, it is clear, is now completely out of touch with its traditional voters – older, working-class people without degrees, who live in small towns and industrial heartlands and want to see a more robust defence of their country, its history and culture. They feel Boris Johnson and the Tories better understand their values and concerns. Without the support of these voters Labour can never win power again.
Although Labour have been more popular in the polls over the past three months with Boris's lockdown parties at Downing Street, there is still no guarantee that people will actually vote for them in the next general election.
Voters should not forget this photo from June 2, 2020, showing Keir Starmer and his deputy Angela Rayner:
Millions of us would do well to remember that photo in future. Bookmark it and save it for the day when the next general election is declared in a couple of years' time.
Although this series ends here, I will have a separate set of posts on the most dynamic Red Wall MPs.
Stay tuned. They don't do boredom.
Last week proved to be another emotive and passionate one in the House of Commons with regard to coronavirus and Brexit.
This post concerns coronavirus.
On Monday, September 14, Prime Minister Boris Johnson's Rule of Six, which he announced on September 9, came into effect. It sounds rather Chinese.
It means that people living in England cannot meet in groups of greater than six, indoors or outdoors. If we do, according to him, we 'will be breaking the law'.
He also introduced a new platoon to keep us in line: COVID marshals, to remind us of existing coronavirus rules in England — 'hands, face, space'.
Recall that Boris said after the December 2019 election that we now have the People's Government. Hmm.
The UK government is copying a Belgian idea. The Rule of Six reduced their second spike.
Increasingly, Britons have been looking back at Sweden, which refused to lock down. Fraser Nelson is the editor of The Spectator. Chris Whitty is our Chief Medical Officer; in May, he said that coronavirus was harmless for most people and most of us would never get it:
Michael Gove MP, a Cabinet minister and Chancellor of the Duchy of Lancaster, made matters worse when he confirmed that under-12s were part of the Rule of Six, unlike in Scotland and Wales, where under-12s are not. With life getting back to normal as school has started again, this came as a blow to many families:
The Telegraph reported that the Cabinet was split on the proposals (emphases mine):
… one senior Tory source said that "half the Cabinet" had doubts about the so-called 'rule of six', and it was "pretty hard to find a Conservative member of Parliament who agrees with all of this".
The COVID marshals are also a problem for police and local councils:
Meanwhile, Mr Johnson's plan for coronavirus marshals to help enforce the six-person rule was unraveling as police derided them as "Covid Wombles" and councils said they were a "gimmick".
Downing Street admitted councils would not be given any money to pay for the marshals, suggesting volunteers could do the job, and said it would be up to individual local authorities to decide whether they actually wanted them.
It got worse, as curfews were mooted:
The Government has discussed going even further with new lockdown restrictions, and has drawn up "a well-developed proposal" for a nationwide curfew which was discussed at ministerial level.
My head spun.
Then the ministerial snitch crowd appeared on weekend news programmes to say that people must tell on their neighbours if they are seen to be violating the Rule of Six:
Political journalist Isabel Oakeshott rightly responded:
I couldn't agree more. This is supposed to be the People's Government, isn't it?
History will not look kindly on 2020 with regard to the measures taken to combat the virus:
I was wrong.
Home Secretary Priti Patel said that people should not even talk when they see friends in the street, even at a distance (audio here, thanks to Guido Fawkes, and there's video, too):
Yebbut, if you DO report what appears to be criminal activity, allegedly, the police do not want to know. Here is a printscreen of a set of comments on a Guido Fawkes thread. I call your attention to the last two. Police would rather pick on mums and their children. Ironically, that was posted on the anniversary of the Battle of Britain. Go figure.
A mild-mannered man from Buckingham called talkRADIO to say he would not comply with the Rule of Six because the Government had gone too far.
So did a lady from Brighton, saying that the Rule of Six was about:
control. They're trying to see how much they can get away with.
Another talkRADIO host, Julia Hartley-Brewer, had a go at Roy Lilley, former NHS Trust chairman. She said:
We are being scared into thinking we have to give up our civil liberties when that won't save lives. Being sensible will save lives.
The Telegraph's Salley Vickers wrote of the restrictions on her and her loved ones:
I would rather risk dying and have the joy of their company than lose that vital contribution to my own happiness.
With the festive season only several weeks away, the Daily Mail's Peter Hitchens told talkRADIO's Mike Graham that the Rule of Six has:
made Christmas an arrestable offence.
Another Daily Mail journalist, Bel Mooney, wrote an editorial for Conservative Woman saying that she was surprised at the amount of resistance she received when she wrote that she would be defying the Rule of Six at Christmas:
… in response to Matt Hancock's sudden, arbitrary and illogical 'rule of six' diktat, I wrote a strong opinion piece (at the request of my newspaper) headlined 'NO, NO, NO! I'm having Christmas for 14 – and no puffed-up Covid marshal will stop me'.
As you might expect, there was a huge response. I never look online, and am not on Twitter (I expect there was a lot of poison swilling around out there). I am talking about emails to me and the newspaper. What interested me was the fact that, if I am to be honest, the antis outnumbered the pros. I didn't expect that from Mail readers.
You can never tell with Mail readers, though. They're a tricky lot.
Oxford University's Professor Carl Heneghan and honorary research fellow Tom Jefferson wrote an article for The Spectator against the Rule of Six, saying that Boris must bin it:
At Oxford University's Centre for Evidence Based Medicine, we have spent years trawling through the scientific evidence on the effects of measures such as distancing on respiratory viral spread. We are not aware of any study pointing to the number six. If it's made up, why not five or seven? …
Northern Ireland has taken a more measured approach and not announced any changes to how many people can meet. These disagreements in policy reveal how decisions are being made without evidence. It seems that somebody in government sat in a cabinet office room and said six is a good idea and nobody disagreed …
The problems with policy stem from the current cabinet's vast inexperience: the Health Secretary has been in post for just over two years now; the PM and the Chief Medical Officer a year. The Joint Biosecurity Centre is overseen by a senior spy who monitors the spread of coronavirus and suppresses new outbreaks. Add to this mix the new chair of the National Institute for Health Protection, who similarly has little or no background in healthcare. Our leaders amount to little more than a Dad's Army of highly paid individuals with little or no experience of the job at hand.
This inexperience leads to rash decisions and arbitrary policies.
One example is that entire areas can be locked down if they have 50 cases per 100,000 people. Yet the recognised alert threshold for 'regular' acute respiratory infections is 400 cases per 100,000.
Lord Sumption, who has been speaking out against lockdown this year, said that the Rule of Six will be unenforceable. I hope he is right:
Tom Tugendhat (Tunbridge and Malling, Con) expressed his concerns about the new rule and rightly wanted MPs to vote on it and similar measures:
It's unlikely that the House of Lords can help, either. They already have a full schedule. We should thank Lord Lamont for raising the issue of consulting the public, however. 'SI' means 'statutory instrument':
Monday, September 14
Behind the scenes and well outside of Parliament, an email emerged dated May 23, wherein Chief Scientific Adviser Sir Patrick Vallance stated he had pushed the most for March's lockdown:
Guido Fawkes has the full text of the email. I am not sure how Sir Patrick thinks that a vaccine will achieve herd immunity, though.
In the first of the debates on the Brexit-related Internal Market Bill, Charles Walker MP (Broxbourne, Con) prefaced his comments by expressing his dismay about the Rule of Six, the lack of consultation with Parliament and the fining of Jeremy Corbyn's brother Piers at the anti-lockdown rally on Saturday, September 12.
Thank you, Charles Walker:
This is short and well worth watching:
Tuesday, September 15
Secretary of State for Health and Social Care Matt Hancock poled up to make a statement to MPs about the Rule of Six and testing.
Excerpts follow:
There are signs that the number of cases in care homes and the number of hospitalisations is starting to rise again, so last week we acted quickly, putting in place new measures—the rule of six, which came into force yesterday. We do not do this lightly, but the cost of doing nothing is much greater.
Testing also has a vital part to play. Everyone in this House knows that we are doing more testing per head of population than almost any other major nation, and I can tell the House that we have now carried out over 20 million tests for coronavirus in this country. As we expand capacity further, we are working round the clock to make sure that everyone who needs a test can get a test. The vast majority of people who use our testing service get a test that is close to home, and the average distance travelled to a test site is now just 5.8 miles —down from 6.4 miles last week; but the whole House knows that there are operational challenges, and we are working hard to fix them.
We have seen a sharp rise in people coming forward for a test, including those who are not eligible.
Jonathan Ashworth (Leicester South, Lab/Co-op), speaking for the opposition, said:
I am grateful for advance sight of the Secretary of State's answer. That was decent of him.​
Yesterday LBC revealed that there were no tests available in covid hotspots, including Rochdale, Pendle and Bradford. Over the weekend in Bolton, where infections are the highest in the country, a mobile testing centre failed to turn up. Meanwhile, in Bury hundreds queued for five hours for a test. In Walsall, a father with his sick child travelled 76 miles to an appointment in Wales, only to find on arrival that tests had run out. Increasing numbers of teachers and pupils are not in school. In hospitals, operations are cancelled while NHS staff are stuck in limbo, waiting for tests.
The Secretary of State blames increased demand, but when tracing consistently fails to reach 80% of contacts, when less than 20% of those with symptoms self-isolate properly and there is a lack of financial security, infections rise. When schools reopen and people return to workplaces and social distancing becomes harder, infections rise. Extra demand on the system was inevitable. Why did he not use the summer to significantly expand NHS lab capacity and fix contact tracing?
Just as demand is increasing, the ability to process tests is diminishing. Post-graduate students working in the Lighthouse labs are returning to university, so why did the Secretary of State not plan for the inevitable staff shortages in the Lighthouse labs? Those commercial pillar 2 labs, The Sunday Times revealed at the weekend, have a huge backlog of 185,000 tests. Thursday's data revealed that 65,709 test results were not returned by the end of the week. Care home residents now wait an average of 83 hours for their result. The Prime Minister promised us a 24-hour turnaround for results, so what is going on? What is the current backlog and what is the timeframe for clearing it?
We were promised a world-beating system, so why are we sending tests to Germany and Italy for processing? But, most importantly, people want to know when they will get a test and when this mess will be fixed. Today there will be thousands of ill people trying to book a test, only to be told none is available. When will people be able to book a test online again, or has the online booking system been deliberately disabled? When will ill people no longer have to travel hundreds of miles for a test that should be available on their doorstep? When will pupils and teachers out of school get access to testing, so they can get back to school? When will NHS staff have access to regular testing, so they can focus on their patients and not be sitting at home?
We are at a perilous moment. Imperial College estimates the virus is doubling every seven to eight days. We all want to avoid further restrictions or another national lockdown, but when testing and contact tracing break down, the growth of the virus cannot be tracked. The Prime Minister promised us whack-a-mole, but instead his mallet is broken. The Secretary of State is losing control of the virus; he needs to fix testing now.
Many MPs — from both Opposition and Conservative benches — said that their constituents could not get tests.
Even the Speaker of the House tweeted that his constituents were having similar problems:
The testing situation is shocking — as Terry-Thomas used to say in the Boulting Brothers films: 'An absolute shower!'
On the upside, the British coronavirus jobs situation is improving, thank goodness (more from Guido here):
Wednesday, September 16
Deputy Labour Leader Angela Rayner (Ashton-under-Lyne) stood at the Opposition despatch box for Prime Minister's Questions (PMQs), as Sir Keir Starmer was self-isolating:
She did a good job.
She began by saying:
Many people in the Chamber will think that the battle of Britain is today, but actually we marked the 80th anniversary of those veterans yesterday, and I want to put on record our thanks to all those who fought for our country in the past.
I want to start by reading to the Prime Minister a message that I have received from a man called Keir. Keir was not able to go to work today and his children could not go to school because his family had to wait for their coronavirus test results, despite the Prime Minister's promise of results within 24 hours. Keir was able to do the right thing and self-isolate and work from home, but other people are not in this position, and many of them are the very people who were getting us through this crisis, such as the care workers, who I used to work alongside before I was elected to this House. The Prime Minister once earned £2,300 an hour; can he tell us the average hourly rate of a care worker in this country?
Boris was singularly unimpressed, although he had a neutral expression on his face, even when discussing Starmer:
I congratulate the hon. Lady on her elevation. She speaks of the constituent Keir, and I can tell her that—allegedly, apparently—he has had a negative test, and I do not know quite why he is not here. But 89% of those who have in-person tests get them the next day, and we are working very fast to turn around all the test requests that we get. I think that most people looking at the record of this country in delivering tests across the nation will see that that compares extremely well with any other European country. We have conducted more testing than any other European country, and that is why we are able to deliver tests and results in 80% of cases where we know the contacts.
The hon. Lady asks about care homes, and I can tell the House that today we are launching the winter care home action plan. She is right to raise the issue of care homes, and we are concerned about infection rates in care homes, but we will do everything we can to ensure that care homes and their workers are protected.
On the hon. Lady's final point, I am proud that it is this Government who have instituted the national living wage to ensure that every worker in this country, including care home workers, is paid substantially more, thanks to the care and the work of the people of this country.
Boris listened attentively and responded sensitively to all the points that Angela Rayner raised until this point, which came several minutes in, when she said:
Infections are rising. The testing system is collapsing. When you are the Prime Minister, you cannot keep trying to blame other people for your own incompetence. We have the highest death toll in Europe, and we are on course for one of the worst recessions in the developed world. This winter, we are staring down the barrel of a second wave, with no plan for the looming crisis. People cannot say goodbye to their loved ones. Grandparents cannot see their grandchildren. Frontline staff cannot get the tests that they need. And what was the top priority for the covid war Cabinet this weekend? Restoring grouse shooting.
I suppose that is good news for people like the Prime Minister's friend who paid for a luxury Christmas getaway to a Caribbean island and funded his leadership campaign, and just so happens to own two grouse moor estates. So Prime Minister, is this really your top priority?
The Prime Minister answered:
While the Labour Opposition have been consistently carping from the sidelines throughout this crisis and raising, frankly, issues that are tangential, if not scare stories about what is going on, we are getting on with delivering for the British public. We are not only massively ramping up. She has not contested any of my statistics today about the extent to which this country is now testing more than any other European country.
She has not disputed the massive acceleration in our programme. [Interruption.] I will answer the substance of her question, thank you very much. We are getting on with delivering on the priorities of the British people: getting us through this covid crisis; delivering on making our country safer, bringing forward measures to stop the early release of dangerous sexual and violent offenders, which I hope she will support; strengthening our Union, which in principle Opposition Front Benchers should support; and building more homes across this country and more affordable homes across this country, which she should support. That is in addition to recruiting more doctors and more nurses, and building more hospitals.
I do not think anybody is in any doubt that this Government are facing some of the most difficult dilemmas that any modern Government have had to face, but every day we are helping to solve them, thanks to the massive common sense of the British people, who are getting on with delivering our programme and our fight against coronavirus. It is with the common sense of the British people that we will succeed, and build back better and stronger than ever before.
If only.
That day, news of an upcoming curfew in London emerged.
Apparently, the British people don't have much common sense, after all.
Currently, London has some of the fewest new coronavirus cases (i.e. positive tests, little hospitalisation):
Guido rightly wrote (emphases in the original here):
If this afternoon's splash from the Evening Standard is true, it is a step too far. The London director of Public Health England (yes, the organisation is still limping on for now, despite the Health Secretary announcing its abolition back in August) has issued a "curfew alert" to the capital through the newspaper, saying residents could face a mandatory curfew if Covid cases continue to rise. A ridiculous suggestion that should be forcefully opposed.
Shutting pubs, bars, restaurants, and just about everything else at an arbitrary hour will obviously do nothing to stop the spread of coronavirus. If anything, the move will be counter-productive – compressing the same number of customers into a shorter time and making social distancing harder still. Or pushing social gatherings into homes not bars, which are thought to be more likely to spread the virus. This no doubt ineffective PHE [Public Health England] nannying should have been dumped when the organisation was. The government need to remember there is a limit to people's compliance. This might just hit it.
As I write early on Tuesday, September 22, Boris is planning to bring in an England-wide curfew for pubs and restaurants on Thursday. As if the virus will know the difference between a 10 p.m. closing time versus the usual one of 11 p.m. The mind boggles.
Thursday, September 17
Matt Hancock appeared again with another update on coronavirus.
This time, it was about measures taken on lockdown in the North East of England. This includes strict adherence to household bubbles, table service only in hospitality venues and a curfew between 10 p.m. and 5 a.m.:
Once again, he was straining every sinew, an expression he has been using since March:
The battle against coronavirus is not over, and while we strain every sinew to spring free of its clutches, with winter on the horizon we must prepare, bolster our defences and come together once again against this common foe.
Then he announced upcoming plans to make everyone using A&E (Accident and Emergency) departments to make a booking! Good grief:
… we are working to get patients the right care in the right place, by expanding the role of NHS 111. During the peak of this pandemic, we saw millions of people using NHS 111, on the phone or online, to get the best possible advice on coronavirus, helping them to stay safe and, where possible, to stay out of hospital, where they could have unknowingly spread the virus. It is crucial that, ahead of winter, we use this window of opportunity to seek out what worked and build on it, so we provide a better service for patients and protect the NHS. Of course, no one will ever be turned away from our emergency departments in the most serious of cases; however, we have worked with the royal colleges, the NHS and others to develop a better, quicker and more clinically appropriate service for patients by using NHS 111 first.
This is how it works. We will invest £24 million to increase call-handling capacity and to make sure there are more clinicians on hand to provide expert advice and guidance, and we will build on our trials to make NHS 111 a gateway to the emergency care system, providing a first port of call for patients. In future, rather than having to queue in an emergency ward, we are testing that people should call NHS 111 first to book an appointment with whoever can give them the most appropriate care, whether it is a GP, a specialist consultant, a pharmacist, a nurse or community services. Of course if they need to go to the emergency department, NHS 111 will be able to book them into an appropriate time slot. We want to see this approach lead to shorter waiting times and better availability of appointments for patients. We will consult on how its performance is best measured, and, with successful pilots, we will roll out NHS 111 First to all trusts from December.
This is the bit that galled me the most:
The purpose of 111 First is to improve access, including in terms of inequalities in the NHS, by ensuring that people get the right treatment in the right place and easier access if they do need to go to an emergency department, because the emergency ​department will know that they are coming. It is commonplace now in almost every part of our life to let people know that we are coming. If we are going to do something as important as visit an emergency department, it will help both the patient seeking treatment and the NHS to let them know that they are coming first. That is the principle behind 111 First. It sits alongside 999, which anybody should call in a serious incident.
'People's government', my eye.
Nor is the NHS the people's health service.
If you have a serious injury, you or your loved ones could be losing life- or limb-saving time by calling 111 or 999.
Based on what I read during the March lockdown, calling 111 was life-threatening. Children calling on behalf of elderly parents were told, 'If your relative is not turning blue, do the best you can.'
Calling the ambulance service on 999 generally produced this result: 'We're overloaded. If you can take your relative to hospital yourself, please do so.'
Over the past few months, I have heard NHS senior executives give testimony to Select Committees. They do not want patients coming in to a hospital, to a GP surgery — anywhere on NHS property.
An absolute shower!
Speaking of absolute showers, Baroness Harding — Dido Harding, a former jockey and failed business consultant/corporate director — gave testimony to a Select Committee, the Commons Science and Technology Committee, led by Greg Clark MP (Tunbridge Wells, Con).
Wow. It was car-crash television on BBC Parliament.
Baroness Harding is, inexplicably, the director of NHS Test and Trace programme.
Greg Clark is no slouch. He pressed and pressed the same question. Did she not anticipate the increase of demand for tests after lockdown lifted?
Finally, she gave the answer.
The Independent reported:
Demand for coronavirus tests is three to four times the number available, the director of NHS test and trace has admitted.
Baroness Dido Harding, who told MPs there was capacity to carry out 242,817 tests a day, said the "sizeable" rise in demand had been unexpected.
Boris Johnson has pledged to raise capacity to 500,000 by next month – but Baroness Harding's estimates suggest that even that figure would not be enough to satisfy demand.
Even then:
despite images of queues outside Covid-19 drive-in centres, the testing tsar said: "I strongly refute that the system is failing."
She put the blame on SAGE …
Baroness Harding insisted current capacity had been based on modelling provided by the government's Scientific Advisory Group for Emergencies (Sage) and suggested that around a quarter of those seeking tests did not have symptoms.
… and the testing laboratories:
Quizzed by the committee chair and former Tory minister Greg Clark on the current issues in the system, she said that the "constraint" in the testing was in processing and laboratories.
On Friday, Sir Jeremy Farrar, a SAGE member and director of the Wellcome Trust, hit back.
The Telegraph reported:
Sir Jeremy Farrar, the director of the Wellcome Trust, who sits on the Government's Scientific Advisory Group for Emergencies, said the body had given "clear advice" that a fully functioning test, track and trace system should be in place …
Responding to her comments on social media, Sir Jeremy said he had personally warned that a growing testing crisis was looming.
"Interesting to be blaming Sage," he wrote on Twitter. "Has been clear, and in the advice, that the UK faced an inevitable increase in community transmission and cases after the summer and needed a fully functional and trusted test, track and trace in place."
Sir Jeremy posted his comments from a BBC interview with Andrew Marr in June, in which he warned of a "nasty rebound" if steps were not taken to improve testing. He also re-posted an article from May in which he warned that lifting restrictions was difficult even with a fully working testing programme in operation.
The testing crisis deepened on Friday when it emerged that children at four out of five schools are staying at home because they cannot get a test …
This coronavirus business will only get worse. Watch and wait.
Part 2 concerns the Brexit-related Internal Market Bill.