You are currently browsing the tag archive for the 'Anglican' tag.
Over the New Year, a few tweets from Anglican priests caught my eye.
The first is from the Revd William Pearson-Gee, vicar of Buckingham Parish Church, whose sermon about not closing church for coronavirus went viral on Sunday, December 19, 2021:
He has the following suggestions for 2022, which will serve us better than easily-broken resolutions:
The Revd Steve Collier encourages us to put away fear and embrace living:
As far as coronavirus is concerned, Mr Pearson-Gee would like a focus on meaningful data rather than scary statistics:
He was bemused by a panicked mother who drove her child from Kent to Milan for the vaccine:
On the deeply sad news that 400 Anglican churches have closed in England over the past decade alone, he made an unintentional yet inspired typo. He meant to say 'conversation':
I am pretty sure that the Church of England hierarchy is responsible for a number of those closures, as they advocate for online church and only a hub of actual buildings. Philistines! The laity are fighting back. We'll see who wins.
At least Mr Pearson-Gee's church is doing well:
People know that they need more human contact rather than online participation.
The Revd David Horrocks of Barkham Church in Wokingham …
… pointed out the late Revd John Stott's prediction 40 years ago about this sort of thing:
Stott also warned about the effect of television on children:
In closing, why do we persevere with our faith? Because our Lord and Saviour did. He set the example:
Jonathan Edwards, who was a Congregationalist, can teach us a few eternal truths from long ago. It's all in the Bible.
More's the pity that the Church of England isn't more rigorous in its seminary curriculum. At least Mr Horrocks reads a lot of solid theology books, such as this one by a Presbyterian, Sinclair Ferguson, in his own time:
There is a remnant of Anglican clergy who are truly devoted to Jesus Christ and, through Him, God the Father. We read so much about the irritating hierarchy and so little about the good local priests leading their flocks to light and truth.
I will pray that they continue to be faithful servants.
For at least ten years the Christians living in the Holy Land have been persecuted.
Over Christmas 2021, articles and interviews surfaced about their plight. Sadly, this is not new, but it does show how impossible a resolution to this situation seems.
In July 2011, The Sunday Times reported that the then-Archbishop of Canterbury Rowan Williams was launching an appeal for Christians suffering in the Holy Land (emphases mine below):
The Archbishop of Canterbury Dr Rowan Williams yesterday launched an appeal for "suffering" Christians in the Holy Land, calling for Anglicans to do more to help with community projects and job creation.
Dr Rowan Williams told the General Synod in York: "I returned from a visit to the Holy Land last year with a very, very strong sense that we had to do more to express our solidarity with the Christian communities there …
He said he hoped that Anglicans and others would give generously to help build a fund for projects that would contribute to the sustainability of the most vulnerable Christian communities, especially on the West Bank …
He launched the appeal prior to a joint conference on Christians in the Holy Land with England's Catholic Archbishop — now Cardinal — Vincent Nichols :
Dr Williams' appeal came ahead of a conference on Christians in the Holy Land which he and the Archbishop of Westminster Vincent Nichols are jointly hosting at Lambeth Palace in London next week.
In a video presentation to explain his appeal Dr Williams warns that the rate of Christian emigration from the Holy Land had reached the point of "haemorrhage" …
Archbishop Vincent Nichols says: "People are leaving, Christians are leaving, and we want to say the Christian presence in the Holy Land is important to its balance, to its — not just its historical reality but to its presence and future viability."
In January 2018, Patriarch Theophilos III, the Orthodox Patriarch of Jerusalem, wrote an article for The Guardian, 'Christians are at risk of being driven out of the Holy Land'.
The Patriarch is from the Holy Land and says that socio-political tension has been part of the problem:
Much attention has been paid recently to political decisions recognising Jerusalem in one light or another. The media attention highlights the seemingly intractable political struggle here. But as well as the threat to the political status quo, there is a threat also to the religious status quo, a threat instigated by radical settlers in and around Jerusalem, the heart of Christianity. And one group that has always been a pillar of society in the Holy Land – Christians – seems to have been rendered invisible in this standoff …
Now various sides want to claim the Holy Land, including Jerusalem, as the exclusive possession of only one people. This treats with contempt the mechanism that has maintained peace and our multi-religious landscape for generations.
A delegation of Christians had travelled to the UK only a short time before to discuss the seriousness of their plight:
Recently Christian communities from the Holy Land came to the UK to seek support for our plight in the face of legal and land threats to the Christian church in the Holy Land. We were moved that church leaders from across the UK came to our support. In meetings with Prince Charles and government ministers, as well as with church leaders, we highlighted a proposed "church lands" bill signed by 40 members of Israel's Knesset that would restrict the rights of churches to deal independently with their own land. We also discussed threats to church land around the Jaffa gate of the Old City of Jerusalem.
Cardinal Nichols was also there:
The UK's Catholic Cardinal Vincent Nichols summed up the view of many when he told us that the proposed bill represented "an intolerable infringement of the status quo and the legitimate rights of the churches, and should be recognised for what it is: an attack on the property rights of the Christian community".
'Radical settlers' added to the tension:
In addition to the church lands bill, one of the foremost threats to Christians in the Holy Land is the unacceptable activities of radical settler groups, which are attempting to establish control over properties around the Jaffa gate. The properties in question are in the heart of Jerusalem's Christian quarter, the seat of all the patriarchates and headquarters of the churches, and less than 500m from the Church of the Holy Sepulchre …
If the settler groups were to gain control of the properties, they would be able to pursue their aggressive campaign of removing non-Jews from the City and from these strategic centres at the heart of the Christian quarter, threatening the very presence of Christians in the Holy Land.
The Patriarch explains that the holy places are sacred because holiness is a divine characteristic, not a human one:
The Christian understanding of holy places is that all people have claims to the sanctity of their holy places, because holiness is a divine characteristic, not a human one. No party should ever be able to make an exclusive claim over a holy place – in this case, over the holy city of Jerusalem.
We shall continue the fight for this cause because it is right and because it is our basic pastoral duty.
Incidentally, in neighbouring Syria, in 2019, the Jerusalem Post featured a contrasting news story and a podcast: 'Muslims convert to Christianity in Syrian town once besieged by ISIS'.
This took place in the town of Kobani:
A community of Syrians who converted to Christianity from Islam is growing in Kobani, a town besieged by Islamic State for months, and where the tide turned against the militants four years ago.
The converts say the experience of war and the onslaught of a group claiming to fight for Islam pushed them towards their new faith. After a number of families converted, the Syrian-Turkish border town's first evangelical church opened last year.
Islamic State militants were beaten back by U.S. air strikes and Kurdish fighters at Kobani in early 2015, in a reversal of fortune after taking over swaths of Iraq and Syria. After years of fighting, U.S.-backed forces fully ended the group's control over populated territory last month …
Christianity is one of the region's minority faiths that was persecuted by Islamic State.
Critics view the new converts with suspicion, accusing them of seeking personal gain such as financial help from Christian organizations working in the region, jobs and enhanced prospects of emigration to European countries.
The newly-converted Christians of Kobani deny those accusations. They say their conversion was a matter of faith.
"After the war with Islamic State people were looking for the right path, and distancing themselves from Islam," said Omar Firas, the founder of Kobani's evangelical church. "People were scared and felt lost."
Firas works for a Christian aid group at a nearby camp for displaced people that helped set up the church …
The church's current pastor, Zani Bakr, 34, arrived last year from Afrin, a town in northern Syria. He converted in 2007.
That is a most positive step for the Good News.
Returning to Jerusalem, on Sunday, December 19, 2021, the current Archbishop of Canterbury, Justin Welby, and Hosam Naoum, the Anglican Archbishop in Jerusalem, co-authored an article for The Sunday Times: 'Let us pray for the Christians being driven from the Holy Land'.
The two men say that the radical settlers have increased their persecution of Christians in the Holy Land:
Last week church leaders in Jerusalem raised an unprecedented and urgent alarm call. In a joint statement they said Christians throughout the Holy Land had become the target of frequent and sustained attacks by fringe radical groups.
They described "countless incidents" of physical and verbal assaults against priests and other clergy, and attacks on Christian churches. They spoke of holy sites being regularly vandalised and desecrated, and the ongoing intimidation of local Christians as they go about their worship and daily lives.
The Romanian Orthodox monastery in Jerusalem was vandalised during Lent in March this year, the fourth attack in a month. During Advent last December, someone lit a fire in the Church of All Nations in the Garden of Gethsemane, the place where Jesus prayed the night before he was crucified. It is usually a place of pilgrimage for Christians from around the world, and the vandals are thought to have taken advantage of the lack of visitors due to the pandemic.
These tactics are being used by such radical groups "in a systematic attempt to drive the Christian community out of Jerusalem and other parts of the Holy Land", the Jerusalem church leaders said in their statement.
That is why, when you speak to Palestinian Christians in Jerusalem today, you will often hear this cry: "In 15 years' time, there'll be none of us left!"
This crisis takes place against a century-long decline in the Christian population in the Holy Land. In 1922, at the end of the Ottoman era, the number of Christians in the Holy Land was estimated at 73,000; about 10 per cent of the population. In 2019, Christians constituted less than 2 per cent of the population of the Holy Land: a massive drop in less than 100 years.
Elsewhere, in Jaffa, for example, there is good news, but not in Jerusalem:
In Israel, the overall number of Christians has risen. The imminent reopening of St Peter's Anglican Church in Jaffa, which has been closed for more than 70 years, is encouraging. But in east Jerusalem, the central place for pilgrimage and the site of the Church of the Holy Sepulchre — where Christ is believed to have been crucified — there is a steady decline. Church leaders believe that there are now fewer than 2,000 Christians left in the Old City of Jerusalem …
Christians in Israel enjoy democratic and religious freedoms that are a beacon in the region. But the escalation of physical and verbal abuse of Christian clergy, and the vandalism of holy sites by fringe radical groups, are a concerted attempt to intimidate and drive them away. Meanwhile, the growth of settler communities and travel restrictions brought about by the West Bank separation wall have deepened the isolation of Christian villages and curtailed economic and social possibilities.
All of these factors have contributed to a steady stream of Palestinian Christians leaving the Holy Land to seek lives and livelihoods elsewhere — a historic tragedy unfolding in real time.
What can be done?
This trend can be reversed — but action must be taken fast. We encourage governments and authorities in the region to listen to church leaders in their midst: to engage in the practical conversations that will lead to vital Christian culture and heritage being guarded and sustained. The time for action is now.
On Christmas Eve, Tom Harwood of GB News interviewed His Grace Bishop Dr Munib Younan from the Evangelical Lutheran Church of Palestine and Jordan:
He pleaded for the radicals to 'be brought to justice' and asked what Jerusalem would be like without its Christian community. He says that the city belongs to three faiths: Judaism, Christianity and Islam.
He said that love is at the heart of the Christian message and that those who are persecuted should pray for their attackers. He added that Christ died on the Cross to give us life and life abundantly.
He ended by saying that everyone has to work together to resolve this ongoing and desperate situation.
On Wednesday, 29 December, Janine di Giovanni, a journalist and Senior Fellow at Yale University's Jackson Institute for Global Affairs, wrote about this subject in a broader sense for The Telegraph: 'We need to talk about the persecution of Christians in the Middle East'.
She has reported from the Middle East for three decades and says:
I can tell you first hand, as a human rights reporter who spent three decades working in the Middle East, the situation there is urgent and it threatens to disrupt the entire demographic of the area. I made it my mission to work with embattled Christians, aiding them in their plight and trying to get the message out to the wider world: they are in peril. And so, I began in-depth field work on the most vulnerable Christian communities. I focused on four areas where I felt the risk was most prominent: Iraq, Syria, Egypt, and the minute group of Christians in the Gaza Strip. Their numbers are dwindling rapidly.
Social scientists estimate that some of them – such as the Iraqi Christians whose populations have plummeted from close to 1.5 million to an estimated 100,000 in 40 years – are in danger of extinction. It is unthinkable to me that Christianity in its birthplace, the land of the prophets where St. Thomas or Jonah had wandered, might disappear. Everywhere I went as a war reporter in my long career – Africa, Asia, the Balkans, Afghanistan – I always found a church. No matter where I was, these visits drew me back into a safe place where I found solace and freedom from gripping fear.
Even Kabul had a tiny Catholic chapel, Our Lady of Divine Providence, at the Italian Embassy, opened in 2002 after the fall of the Taliban. But unlike the Christians in the Middle East – whose ancestry can stretch back to the prophets two millenn[ia] ago – the tiny population of Afghan Christians were nearly all converts. Nonetheless, this month, Father Giovanni Scalese, the leader of that community, who has since fled, issued a plea that Christians need no "obstacles to religious freedom." Their situation is bad in Afghanistan, but even worse in the Middle East.
During lockdown, she began writing a book — The Vanishing: The Twilight of Christianity in the Middle East — based on journals of interviews that she has kept since the 1990s. Her article recounts some of what Christians are experiencing in that part of the world. It's a harrowing read.
However, one place stood out for her:
… it was the 800 Christian inhabitants of Gaza who perhaps touched me the most. Gaza was mostly Christian until the fourth Century. Today, the mainly Greek Orthodox Christians – but also Catholics, Lutherans Baptists – are sandwiched between Hamas, which is at war with the Palestinian Authority in Ramallah, and also with the Israelis.
The lives of these Christians (as all civilians in Gaza) are perhaps the most hellish on a day-to-day basis: the lack of electricity, fresh water and health services, the fear of more bombing and their inability to visit family in Bethlehem and Jerusalem during the holidays. They are isolated and abandoned. Last summer, I returned, my first trip since Covid – and the situation was the worst I had seen in 30 years.
Nonetheless, faith and love characterise the persecuted:
But faith somehow continues, even in these embattled communities. Throughout the hundreds of interviews I did for The Vanishing, there was one theme that was consistent: love. Whether it was Father Mario da Silva, an inspirational Portuguese priest who had left a comfortable posting in The Vatican to work in Gaza, or a family celebrating its existence after encountering Isil on a mountaintop near Mosul. These people continued to pray, to believe, to gain inner strength from something they could not see or even at times understand: their profound belief in God.
Their faith, in many ways, was more powerful than any of the forces that tried to destroy them.
Christians know that persecution is to be expected, but we can pray that God relieves believers in the Middle East of this daily scourge, a seemingly intractable — and tragic — situation.
For many, Christmas as they know it ended at midnight on December 26.
Most people will be heading back to work on Monday.
Yet, there is a reason for the old song The Twelve Days of Christmas, because that is how long the actual season is.
An Anglican priest of the High Church tradition explains to presenter Calvin Robinson in the following GB News video that, when many people think Christmas has ended, it has only just begun. This 45-minute programme, which includes carols from an Anglican church choir, explores the true religious meaning of the season. It's well worth watching:
Epiphany is on January 6, so there is still plenty of time to celebrate and contemplate our Saviour's birth until then.
Furthermore, we in the UK are blessed with a thoughtful Yuletide convention. Because Christmas Day fell on a Saturday this year, Monday, December 27, is a bank holiday. We get a long weekend of celebration and relaxation.
The Queen delivered her traditional address to the nation on December 25. This year, the theme was her loss of Prince Philip, who loved her dearly and was her best friend. The old film clips show her face light up when he joins her at various functions. It's a beautiful, spontaneous reaction. Our monarch said that she is looking forward to celebrating her Platinum Jubilee year in 2022:
The Queen always includes a Christian message. This year was one of enduring faith, one that promotes leadership:
Neil Oliver delivered a thoughtful Christmas message which will appeal to all, believers and non-believers alike. He reflects philosophically on the story of the Christ Child and the meaningful traditions that have emanated from it. This is a must-see:
Oliver also had a round-up of the Greatest Britons he interviewed in 2021. This will restore one's faith in humanity:
A few days ago, I wrote about the Revd William Pearson-Gee's impassioned video about keeping churches open during the Christmas period during the current coronavirus panic over Omicron. Watch his hands; the intensity is palpable:
Mr Pearson-Gee's Buckingham Parish Church has its own YouTube channel with all its main services.
Here is the church's Service of Nine Lessons and Carols for 2021:
The next video was one of their Christmas services which starts with a charming Christingle service and ends with the liturgy for Holy Communion. Mr Pearson-Gee includes Christmas prayers in the second service, making it all the more meaningful:
I hope that these videos, be they religious or secular, help us better appreciate the Christmas season.
On Sunday, December 19, 2021, the Revd Will Pearson-Gee gave a heartfelt extemporaneous sermon at his church in Buckingham, England, part of the Diocese of Oxford.
Last weekend, it was unclear whether some sort of Yuletide lockdown would be implemented in England, possibly including churches. In 2020, churches were closed for months. The Government deemed them to be 'non-essential services'. The Church of England hierarchy were complicit in that decision.
If lockdown were reimposed the way it had been last year, Mr Pearson-Gee clearly stated that he would not be playing that game again at Buckingham Parish Church.
This short must-see video went viral:
High Churchman Calvin Robinson responded:
I saw it on Wednesday, December 22, on GB News, thanks to Mark Steyn who was filling in for Nigel Farage. Steyn's introduction could be a sermon, too, as it directs us to the transcendent, the living God, something the Church of England should have done last year:
Steyn also interviewed Pearson-Gee (from 12:21 to 20:00). I highly recommend watching it:
The vicar said that Zoom worked well in the early months of the pandemic, but it was only ever a temporary solution.
Once churches were allowed to reopen, he said that the elderly spearheaded a renewed fellowship in the congregation.
He graciously did not criticise the Archbishop of Canterbury for last year's spiritual failings in the Church of England, saying that Justin Welby has a very hard job to do.
He also said that he knew Christians in Iraq who risked their lives going to worship, but they took that risk because their faith was so important:
If only we felt the same way.
Pearson-Gee has a lot going on at Buckingham Parish Church, including three different Sunday services — something to suit everyone's liturgical tastes:
His daughter helps him out with Twitter:
Was Will Pearson-Gee always a devout Christian?
No.
Incredibly, he returned to the Church after his first wife and son were killed in a car accident. Mark Steyn mentioned this after his interview with the vicar ended.
Such a tragic event would have put most people off church and God forever, but Pearson-Gee saw things differently.
In March 2014, he discussed his testimony with Premier Christianity. I would highly recommend that unbelievers and agnostics read about his journey of faith which led him to seek ordination.
Excerpts follow, emphases in purple mine:
It was back in 1996 that my world fell apart. My wife, Anna, had gone out with our two children, Eleanor (two) and Jamie (three). It was a really hot summer's day in July and she took them down to Bournemouth to the seaside.
On the way back (for reasons that we'll never know) her car crossed over the centre white line on a narrow bit of a road, and was hit head on by an articulated lorry carrying 40 tonnes of very large rocks. Anna and Jamie, who were on the same side of the car, were crushed and killed instantly. My daughter Eleanor, quite amazingly, was able to be removed from the car wreckage by a Royal Marine Officer travelling in the car behind. She was literally unmarked, which I've always thought was a little bit of a miracle considering the combined collision was about 90 miles an hour. But she survived. Obviously it was a devastating shock for me, but I had my little girl to look after.
I was confronted by their bodies in the mortuary some hours later. They were in quite a mess and it took the mortician a while to make them presentable for identification. They pulled back the white sheets and I ranted, and I screamed, and I wept. Then I looked at them, and I thought, 'This cannot be the end.' There was so much life, particularly in my little boy ? he was such a handful. I just couldn't believe it was the end of him and so I thought, 'Where have they gone? Where are they now?'
At the time I was definitely a 'nominal' Christian. I believed there was some higher power, some greater being beyond myself that I could call upon and might listen to me, but I really had no idea about God's character or whether he cared about me …
Then my eye was drawn to a very simple crucifix on the wall of the mortuary. It was a sign of the Christian faith to which I had been exposed since I was a child. It's like a penny dropped, and it suddenly became not just a cross, but a sign of hope for me. I then realised that if there was all this talk about resurrection and life after death, I needed to find out more about it. I managed to meet up with a Christian, also with my local vicar, and there was a Catholic priest who came into my life who had real expertise in helping people recover from child death. It was this cumulative effect that opened my eyes to the fact my wife and child were somewhere better, they were in heaven, and therefore if I wanted to see them again I needed to get myself right with God. That was a long process in itself.
This is why Pearson-Gee is not angry with God. It is an interesting perspective:
People sometimes ask me if I felt like blaming God. During my early time of grief, through counselling groups, I came across a lot of other people who were suffering and mainly they just blamed God. But to me it didn't make sense that God had just got out of bed one morning and said, 'Who am I going to strike down today?' … Where do you draw the line with him intervening and stopping things going on? In a way, you'd be expecting him to upturn the laws of nature every single nanosecond of the day around the world, and then what kind of world would we be living in? So I don't blame God.
I think God permitted that crash to take place, but 'in all things God works for the good', and I've really clung on to that. … in a funny sort of way the fact it has happened has brought me huge blessings … I've got a lovely wife, I've got three more kids including another son, I've got the most wonderful faith, my wife is a Christian. We know that whatever the world throws at us now, we have this wonderful eternal life waiting for us. Life is good. I know it's not always going to be great and there will be trials and tribulations, but following Jesus is just such an amazing adventure.
Pearson-Gee wrote a brief autobiography for the Buckingham Parish Church website, which is also interesting (emphases mine):
I arrived in Buckingham just in time for Easter 2010 having moved from Oxford where I did my theological training (at Wycliffe Hall) and served my curacy (at St Andrew's Church).
I enjoyed a full career in the Army serving all over the world as an infantry officer in the Coldstream Guards before leaving to join my brother's printing company where I spent 6 happy years.  During this time I started to go to a newly planted church which showed me something that I had never seen before: an Anglican church pulsating with life and growing in size and depth.  Intrigued, I became more and more involved in its incredibly exciting mission and began to sense that ordination might be what God wanted me to pursue.  I think I was the most surprised of all when I arrived at Wycliffe Hall to start my training!
He mentioned the fatal car accident, adding:
That dreadful event really did change my life in more ways that I could have imagined and illustrates the truth in Paul's words in Romans 8:28 "And we know that in all things God works for the good of those who love him, who have been called according to his purpose."  My story surrounding this tragedy is here if you'd like to read it – if you do, I hope you find it an encouragement. Also, here is an article in Christianity Magazine that tells the story.
I am now married to Lucia and between us we have 4 children – Eleanor from my first marriage – and 3 of our own. I must say that I feel a little like Job who lost so much but was then restored by the Lord and had even more. We even called one of our daughters Jemima (as did Job).
Jemima — Mimi — helps her father with Twitter.
This is what motivates Pearson-Gee's ministry:
I suppose what really motivates me in my ministry is sharing the good news that is Jesus Christ. It was this same, unchanging good news that pulled me out of the mire and gave me so much hope after my tragedy. I am passionate about making this good news accessible to everyone and will do all I can to make the Church (that is the people of God – Christians) welcoming to those who are – like I was once – lost.
That's so moving, especially as we approach Christmas.
————————————————————————————–
Normally, I would have ended the post there.
However, the next few posts will involve Christmas readings, so I will close with two secular news items.
The first concerns Northern Ireland, which will reimpose coronavirus restrictions on December 27. Sammy Wilson MP (DUP) is none too happy but turned his disappointment into a little take on 'Hark the Herald Angels Sing':
"Hark the herald angels ping," the East Antrim MP tweeted.
"Robin Swann won't let us do a thing. No more parties, work at home. In the streets you cannot roam
"Omni is far worse than the delta curse. Stay at home. Or they'll be far worse to come."
It upset a number of politicians in Northern Ireland, who branded him a 'moronic fool':
The second item is Neil Oliver's take on our covidian Christmas this year, wrapping lockdown and economic ruin into 'Twas the Night before Christmas and Dickens's A Christmas Carol. Wry, witty and pointed, it's worth watching:
With that — the spiritual and the secular — may I wish all my readers a very happy Christmas. May you be blessed despite State restrictions.
COP26? Oh, the hypocrisy of it all!
I watched the first hour of it on Monday, November 1 and nearly gagged but had to hear the actual speeches so that I would know exactly what the more prominent speakers actually said rather than read fake news regurgitations in the comment sections of the sites I read most frequently.
Air and limo travel: 'for me but not for thee'
The G20 summit in Rome closed on Monday, then it was time for the leaders to jet off to Glasgow for COP20.
While COP26 was scheduled to take place last year and couldn't go ahead because of the pandemic, it does seem as if these events, e.g. G20, could be better co-ordinated so that they took place in cities which are closer to each other.
But, you know, when it comes to our notional betters, no expense is spared. It's okay for them to fly then ride in limos all over the place, but it's not okay for us to go on a budget airline holiday with our family once a year:
In addition, Glaswegian women were made to walk down dark, unfamiliar thoroughfares while a COP26 VIP reception took place:
Let's take a closer look at the double standard that we, the great unwashed, are experiencing.
Ed Miliband MP
Ed Miliband used to lead the Labour Party. He is now in the Shadow (Opposition) cabinet.
On Sunday, October 31, he went on Andrew Marr's show on the BBC to object to Chancellor Rishi Sunak's lowering of passenger air duty on internal flights in the UK.
In fact, Miliband told Marr that domestic flights should be stopped 'as much as we possibly can'. However, in January 2020, Guido Fawkes revealed the MP's own air travel habits:
Guido's 2020 post said, in part (emphases mine below):
Last April, Guido reported on Ed Miliband's hypocrisy of constantly windbagging about the 'climate emergency' despite wracking up 19,000 air miles from his flights abroad, pumping out tonnes of carbon dioxide …
Green Ed's wracked up 12,000 air miles in 10 months – half the circumference of the globe.
Miliband is one of the North London elite who represents a working class city in the North of England, Doncaster. As one would expect, Miliband is more interested in promoting himself than Doncaster. This is what one of his constituents had to say:
Ed wants Britons to take the train, but that is not always possible within the United Kingdom, which includes Northern Ireland — and various islands:
One wonders if Miliband finally bought an electric car, the type of vehicle he insists the rest of us should have:
Miliband has complained about our rising energy prices which will be increasing by 20% per annum in 2022. However, he was the one who started the 'green tax' on energy when he was the energy secretary during Labour's last few years in power 10+ years ago:
Lorna Slater MSP
Another hypocrite is the Scottish Green MSP, deputy party leader Lorna Slater, originally from Canada.
She slammed G20 leaders for not going by train from Rome to Glasgow, which would have taken 28 hours:
However, Guido pointed out that, in 2019, Lorna Slater enjoyed a flight from Brussels to Sweden:
Couldn't she have gone by train?
As Guido points out:
According to Lorna's logic, Guido is outraged she didn't set an example by taking the 36-hour train from Glasgow Central via Euston, London St Pancras, Amsterdam and Berlin to Stockholm Central.
Joe Biden
As is customary for the leader of the free world, an American president has to have a ginormous motorcade for security purposes.
Apparently, in Rome, Joe Biden had to have more vehicles than usual because the city has social distancing laws during the coronavirus crisis. As such, he had an 85-car motorcade. The Daily Mail has the story along with numerous photos:
Biden at the upcoming environmental summit plans to tout $550 billion in new environmental programs in his Build Back Better framework, which he unveiled before jetting to Rome on Air Force One (another gas guzzler).
Here's the US motorcade leaving Edinburgh International Airport for Glasgow:
Here is his motorcade upon arrival in Glasgow:
Less hypocritical transport
Late last week and into the weekend, North West England and the South West of Scotland, including Glasgow, had a lot of heavy rain.
As a result, media reporters and other lesser beings found their trains from Euston to Glasgow Central cancelled:
CNN's Wolf Blitzer reports from … Edinburgh
Incredibly, CNN's veteran reporter, Wolf Blitzer, must have thought COP26 was taking place in Scotland's capital:
How does that happen?
Boris's opening speech
On Monday, as COP26 host, Prime Minister Boris Johnson was one of the first speakers welcoming everyone to the conference.
He laid out the purpose of this year's conference, which is to determine exactly how the Paris Agreement will work in practice:
The Daily Mail has a good summary of what he said:
The Prime Minister compared the situation facing the globe to the climax of a James Bond film where the hero has to thwart plans to blow up the planet.
But Mr Johnson said 'this is not a movie' and the 'doomsday device is real' as he urged his counterparts to do more to reduce harmful emissions.
The premier said the longer countries wait to take action then 'the higher the price when we are eventually forced by catastrophe to act'.
He said the world has 'long since run the clock down on climate change' and there is now just 'one minute to midnight', with action required immediately to prevent a global disaster.
The PM used his speech at the opening of the summit as a rallying cry to try to build momentum as he welcomed foreign leaders to Glasgow after securing only lukewarm climate commitments at the G20 summit in Rome over the weekend …
Mr Johnson pledged in his lunchtime speech to put another billion pounds into green finance – as long as the UK economy performs as expected in the coming years.
The PM repeated he wants global leaders to unveil steps on 'coal, cars, cash and trees' – the things he believes will make the most different in limiting temperature rises to 1.5 degrees.
Mr Johnson had set the tone as the G20 wrapped up last night by reading the riot act to his fellow world leaders, saying their promises on tackling climate change are starting to 'sound hollow'.
The PM said there are 'no compelling excuses for our procrastination' on reducing harmful emissions and action already taken amounts to 'drops in a rapidly warming ocean'.
Boris said that Glasgow was the site of the first steam engine, which James Watt invented. If I remember rightly from history class back in the mists of time, Britons called it the 'doomsday machine', because it was such a departure from anything anyone had known before.
In the event, it kicked off the Industrial Revolution which, despite its 'dark satanic mills' (William Blake), actually improved millions of people's lives not only in Britain but, with time, around the world:
As such, it seemed strange for Boris to refer to it at COP26. Was he inferring that Watt's steam engine was responsible for climate change?
Hmm. Look how GDP per capita has increased in England ever since the Industrial Revolution:
Tom Harwood of GB News nailed it, by pointing out how much Boris's views have changed:
This is what Boris wrote for The Telegraph in 2015, when we had a warm December. His editorial ends with this:
Scientists look at the data. But everyone else just looks at the weather – and it is the weather, therefore, that makes the psychological difference to the debate. Look at the recent summit in Paris, which ended in a good agreement to cut CO2, in contrast to the debacle at Copenhagen six years ago. What was the real difference? It was the weather. Paris was ridiculously warm for December. Six years ago, Copenhagen saw the biggest snowfalls anyone could remember. "Global warming?" everyone asked.
It is fantastic news that the world has agreed to cut pollution and help people save money, but I am sure that those global leaders were driven by a primitive fear that the present ambient warm weather is somehow caused by humanity; and that fear – as far as I understand the science – is equally without foundation.
There may be all kinds of reasons why I was sweating at ping-pong – but they don't include global warming.
Joe Biden and Boris — sleepy or just heads down?
The media are saying that Joe Biden fell asleep. It looks as if Boris did too.
Here are the photos and a video of Sleepy Joe:
The Queen's video message
In a recorded video message sent to the conference, the Queen expressed her wishes for COP26.
The message was aired on Monday evening at the aforementioned VIP reception in the centre of Glasgow.
She asked the world's leaders to rise above politics.
As ever, she had a photo on her desk that tied into the theme: a photo of Prince Philip surrounded by monarch butterflies.
The Mail's Robert Hardman reported:
Summoning the wisdom which comes with being the longest-serving head of state on the planet, the Queen distilled the monumental task facing this summit into just a few words.
'For more than 70 years, I have been lucky to meet and to know many of the world's great leaders,' she said.
'And I have perhaps come to understand a little about what made them special. It has sometimes been observed that what leaders do for their people today is government and politics. But what they do for the people of tomorrow – that is statesmanship.'
This was, she told them, their chance to be 'written in history books yet to be printed'. Big words from one who has already been written in to a few herself. But then the Monarch knows of what she speaks.
Though this was a speech she had wanted to make in person until her doctors decreed that it had to be delivered via video, it lost none of its punch. The poignancy of the setting only added to the power of her words.
There she was in the White Drawing Room at Windsor Castle, the same room in which delivered her historic address to a Covid-ravaged nation last year. At her side, was a favourite photo of the Duke of Edinburgh surrounded by butterflies during a 1988 visit to Mexico.
For years, she reminded us, she had watched him nurture a bright idea that turned in to a charity – the World Wildlife Fund – that, in turn, paved the way for so many of today's environmental organisations.
Between them, the couple had watched their eldest son and his eldest son embrace the same cause.
'I could not be more proud of them,' she said. And what was that on her lapel? Her much-loved butterfly brooch …
Another Mail article has more:
In her most personal speech to date, the monarch also paid tribute to Prince Philip and described how 'the impact of the environment on human progress' was a subject close to the heart of her 'dear late husband' – who in 1969 told a gathering: 'If we fail to cope with this challenge, all the other problems will pale into insignificance.'
The Queen's stern intervention, which was displayed on screens during a VVIP reception at Glasgow's Kelvingrove Museum, came hours after the Indian Prime Minister Narendra Modi pledged that India will target net-zero carbon emissions by 2070 – two decades later than the targets for the conference – disappointing many delegates.
It also comes after Boris Johnson kicked off the climate change summit by exhorting world leaders to back up their talk on climate change with action – warning it was 'one minute to midnight'.
A GB News panel thought that she had content and tone just right:
Archbishop of Canterbury apologises
The Anglican Communion is really into the impending doom and disaster of climate change.
To see that they are so wrapped up with the United Nations makes my skin crawl.
They sent a delegation to Glasgow:
Earlier on Monday, the Archbishop of Canterbury gave an interview to Radio 4's Today show. Later on, he had to apologise for his remarks in which he compared coming deaths from climate change to the Third Reich:
Coronavirus hypocrisy
As ever, delegates were expected to wear masks, but as the Daily Mail's photos show, world leaders took theirs off and defied social distancing.
How nice for the great and the good!
As for everyone else, it was masks or no admittance:
Public not interested
Thankfully, the general public are not interested in COP26. They have actual pressing issues with which to deal:
Guido's post says that a poll shows the British public are unwilling to shoulder the cost for any nonsense arising from COP26:
The lack of correlation between the BBC's output and what people want to read, and what it suggests about the British public's true feelings towards tackling climate change, seems to be backed up by a poll by Portland this morning. It found that while the public supports hypothetically punishing climate-damaging behaviour, or the government incentivising green behaviour, just 7% say "my family and me, and other families like me" should pay most of the cost. Just 36% are willing to pay more than £50 a month on top of existing bills to limit CO2 emissions.
I plan to feature more on climate change tomorrow.
The Church of England (CofE) has been undergoing a post-coronavirus exercise of church closures and consolidation.
Having been buoyed by Zoom worship in 2020 and 2021, Anglican bishops have decided to pull the plug on some of the world's most beautiful churches, a source of community and comfort to those who worship in them.
Last week, Emma Thompson, not the actress, but a journalist and member of Save the Parish, wrote an article for The Telegraph about this dispiriting and destructive plan.
She rightly wonders whether England's Anglican churches will still be there for her children. I share her view of the local church (emphases mine):
I love my rural village church. My vicar. My neighbours who attend. It's local. It is, somehow, intrinsic. I love the Church of England and what it has brought to our constitution, language, law, architecture, art and music. Yet, unfortunately, I am increasingly worried that this great institution of our national life may not survive for my children's old age.
At a time when the CofE could be offering comfort during a pandemic, it moved instead to championing political issues and the need to combat climate change. At the most senior levels of the Church, God has been sidelined.
In the last five months, three Anglican bishops have been received into the Roman Catholic Church. The latest is the former bishop of Rochester Michael Nazir-Ali, who, several years ago, was shortlisted to become the next Archbishop of Canterbury.
Thompson rightly points out that his crossing the Tiber should be a red alert to Anglican bishops:
The significance of Dr Nazir-Ali's decision should not be lost on those at the top of the CofE.
Bishops, now all nominated by the same appointments secretary, appear to prefer groupthink to diversity of thought. If no room exists for Dr Nazir-Ali – a theologically erudite, spiritually committed man who challenged the CofE's strategic direction – then it is clear that a form of cancel culture has invaded the Church. How strange if the concept of tough love – the idea that someone who cares enough to criticise might love you most – is not embraced by Christ's followers. Without extraordinary people, the institution will sink.
The new CofE strategy involves the closure of the local church, to be replaced by the diocesan office. How will that provide pastoral care for thousands of churchgoers?
Thompson reminds us that being the Good Shepherd to the flock is still part of the ordination vows:
… ordination vows reference being the Good Shepherd. The parish, the contact point with people providing local pastoral care, must be the basic unit.
Absolutely.
What is happening to CofE churches is nothing short of alarming:
Various dioceses announced morale-shattering parish clergy cuts. The Archbishop of York proposed the "Myriad" scheme to create 10,000 new lay-led "house churches". Leicester Diocese voted to consolidate 234 parishes into 20-25 huge groups, cutting local vicars.
This accompanies a third shift, the Church's loss of respect for its buildings, our shared national heritage. A green paper, nicknamed the Church Closers' Charter, has suggested empowering dioceses to dispossess vicars, close churches and sell parish-owned buildings more easily and quickly.
What are these bishops thinking? Thompson said that these decisions are being taken by a 'cabal' of 12 of them, deciding the future of the faithful, and not in a good way.
She says that the Methodist Church in England adopted a similar plan and is now a shadow of its former self.
In closing, she says that the only way to combat this is to give generously:
Some dioceses, by pledging not to cut parish clergy, have managed to increase giving. This shows that we need not despair.
Even so, this dire plan of the bishops is a dangerous path for an established (national) church to take. One can only pray that divine intervention thwarts it.
On Thursday, July 29, 2021, mindless vandals ruined St Mary Magdalene Church in Caldecote, Hertfordshire:
Hertfordshire is a quiet, leafy county in England, so this was a surprising and unhappy incident.
The church had just undergone nine months of renovation:
Fortunately, volunteers from Friendless Churches stepped in to clean up.
A heavy duty vacuum cleaner was needed:
Volunteers worked through the weekend:
By the end of the day on Sunday, August 1, it was presentable once again, although repairs must be redone:
The electricity supply also needs repair:
St Mary Magdalene, which dates from the 14th or 15th century, is one of 59 redundant — deconsecrated? — and ancient churches in England and Wales that Friendless Churches looks after. Some are open for visits and concerts, such as St Mary Magdalene:
Sadly, another St Mary Magdalene church in another part of the Home Counties — Boveney, Buckinghamshire, near Eton College — was vandalised last week, although not as badly:
It is unlikely that the poor box will be replaced:
Crimes such as these make it more likely that ancient treasures of worship could be under lock and key in future. Restoration is expensive, as is the installation of a security camera system.
It's hard to understand why anyone would want to vandalise such beautiful buildings. In any event, those who committed the crimes will one day have to answer to the ultimate Judge. Their defence of drug use or whatever other excuse will be pointless on that fateful day.
On Friday, I wrote about Sheffield's Nine O'Clock Service, a cause célèbre in 1995, adherents of which are now seeking financial compensation for the psychological abuse they endured.
I cited two articles from The Times as sources.
However, I have older Nine O'Clock Service (NOS) sources which present more nuanced information about the group which had between 300 and 500 members.
The first is an article in The Independent. It is dated 2011, however, the wording in it — e.g. 'last year' — indicates that it is from 1996.
The article contradicts some of what The Times alleged last week.
Brain's resignation
For a start, The Independent reported that the then-Bishop of Sheffield, the Right Revd David Lunn, wanted Chris Brain to stand down as vicar immediately when the scandal broke in August 1995 and that the Archbishop of York had already banned him from carrying out priestly duties (emphases mine):
The Bishop of Sheffield, the Rt Rev David Lunn, demanded Mr Brain resign after he confessed to having sexual relationships with young women in the congregation.
He quit last November after initially refusing to bow to the criticism heaped on him when the scandal broke.
The Archbishop of York had already banned Mr Brain from acting as an ordained priest.
Brain was quite fragile at the time and sought treatment:
Within days of the revelations Mr Brain checked himself into a psychiatric ward of Cheadle Royal Psychiatric Hospital, Cheshire.
Meanwhile, the women who were his victims could ring a telephone hotline:
Women who were manipulated by him and called a telephone hotline were told the matter would almost certainly be dealt with within the church and only be passed on to the police if there was an allegation of rape.
The Wikipedia entry for the NOS says that the Diocese of Sheffield tried to help the members — and Brain — to recover:
The Diocese of Sheffield, through a seconded pastoral team led by Rachel Ross, the Reverend Andrew Teal and the Reverend Peter Craig-Wild, attempted to manage the pastoral care both of Brain and members of the community wounded by the scandal.
Brain was originally a musician who played in night clubs. He then got involved with St Thomas's Church in Sheffield and was ordained for his success in leading NOS.
By early 1996, he was ready to re-establish his previous career:
In February, Mr Brain's solicitor announced the disgraced clergyman had left Britain for America, where he was hoping to make a comeback in music and the media.
NOS resurrected on Easter Day 1996
The Independent's article reported that the NOS held a service on Easter in 1996.
Members of the NOS were still getting together, even after the scandal broke.
The service was held in a chapel in Sheffield:
The Easter service was moved from the city's Ponds Forge complex, where priest Chris Brain once orchestrated rock concert-style gatherings in a basement room.
It was staged instead in a simple chapel in the city, without the lasers and rave music popularised by Mr Brain. The Archdeacon of Sheffield, the Ven Stephen Lowe, conducted a "meditative service".
There were doubts about restarting the group eight months after the Church of England was rocked by scandal when Mr Brain was accused of sexually abusing more than 20 women members.
Yesterday's congregation was drawn from remnants of the Nine O'Clock Service which broke up after women complained about being assaulted by Brain.
Diocesan communications officer Canon Roy Arnold said: "I can confirm that former members of the Nine O'Clock Service met together in a Sheffield church for a celebration of the Holy Communion. It was a quiet, meditative service.
"Since the activities of the Nine O'Clock Service came to an end last August following the disclosures about their leader Chris Brain, a number of members have continued to meet together for worship and other matters.
"They now have an elected church council and the Diocese of Sheffield is at present in the process of appointing a chaplain for the group," he said.
There were hopes at the time that the NOS could return to its original style of service without the psychological trauma:
Mr Arnold did not rule out the possibility that the rock-style services could be re-introduced. "The scandal was about Chris Brain and not about reaching out in a new and exciting way to a generation lost to the church," he said. Members of the Nine O'Clock Service have vowed to distance themselves from the controversy last year and have devised a new service.
Last month, alleged victims of Mr Brain held a bonfire ritual to help them overcome the trauma. They lit a fire in the middle of a church hall and set off fireworks in a "releasing ritual".
An advert in the Church Times for a chaplain for the group has drawn applications from all over the country. But according to churchwarden Alan Gibson, Mr Brain's successor would not be allowed the same powers he had enjoyed.
"We are not looking for a leader, we are not looking for a guru. We are looking for a facilitator who will tie us more closely with the Church of England," Mr Gibson said.
Wikipedia says:
A remnant of the community continued to meet, under different leadership, for some years afterwards in Sheffield.
The evolution of the NOS
Sometime in the 1980s, a group of 10 people from St Thomas's Church began organising NOS services. From there, it grew enormously.
Young, unchurched origins
Wikipedia states:
Beginning as a simple alternative format service under the leadership of Chris Brain, the group responsible for it developed a leadership structure that was endorsed by the leadership of St Thomas' Church. The average age of the members was 24 for much of NOS's life. The membership was significantly from non-church backgrounds.
Starting with about 10 people who worked on designing and creating the services, the congregation grew to almost 600 members while resident at St Thomas' Church. Main themes included care for the planet and concern about its abuse, simple lifestyle and development of relationships with non-churched people.
By 1988, Bishop Lunn authorised the group's move to Sheffield's Ponds Forge Rotunda, a sports complex that can accommodate 2,600 people.
The Planetary Mass
One of their big services at Ponds Forge was The Planetary Mass, also known as the Rave Mass:
The Planetary Mass at Pond's Forge was marked by both bold liturgical experimentation and naive hopefulness.
An unorthodox Dominican-turned-Episcopal priest, Matthew Fox, found out about the service and was eager to bring a form of it to San Francisco.
Matthew Fox also had his problems with the Church. He had been a professor at several Catholic colleges in the United States. When Pope Benedict was still Cardinal Ratzinger and head of the Congregation for the Doctrine of the Faith, he began delving into Fox's writings and asked the Dominicans to investigate. The Dominicans found nothing objectionable, even though Fox was not propagating Catholic teaching. However, because Fox did not believe in Original Sin, Ratzinger forbade him from teaching for a year. By 1993, the Dominicans changed their minds about Fox and dismissed him from the order for 'disobedience'. He became an Episcopal priest in 1994 and still practises in the Episcopal Diocese of California. He developed the Techno Cosmic Mass — now the Cosmic Mass — which made its debut in San Francisco and has since been performed 100 times since.
Before creating the Techno Cosmic Mass, Fox scheduled a performance of The Planetary Mass in 1994 in San Francisco.
The Christian Research Institute has an article about it. Fox invited 35 members of the NOS to fly in and participate.
The format is environmentalist and pagan:
Inside, at the center of the room was placed an oversized circular altar and a smaller crescent table. Surrounding the tables were a series of concentric circles, tracks marked off in tape, around which the Rave Mass team would walk and dance. Atop the eclipse altar sat a chalice, protected by a clear Plexiglas pyramid.
Above the eclipse altar was an impressive screen — a large sphere of white cloth onto which the organizers projected images of revolving planets, decaying forests, human pulses, and faces.
Several young people emerged from the shadows carrying small flames.
"These people are not pyromaniacs," said Matthew Wright, 31, who served as a liturgical emcee. "As you can see, they're using the flames to pray and invite the Spirit into this place."
Wright encouraged people to approach the flamebearers and use the flames to pray. The flamebearers held the flames inches from people's faces, slowly lowered the flames to foot level, then slowly raised the flames back to eye level. Some people gently waved their arms at waist level, almost like charismatic Christians. Others stretched their arms high above their heads, then bowed fully before the small flames.
A scantily-clad Briton led a dance piece:
The music cranked up to a pulsating dance beat. The 35 young Brits — including one young woman in a short skirt and a negligee top — led the room in energetic dancing to this bouncy anthem:
Now we feel your lifeforce rising
Raise the passion 10 by 10
Now we breathe you, Christ, inside us
Feel the freedom pushing on!
Chris Brain was also in attendance to celebrate the service. This would have been before the scandal broke in Sheffield:
A young woman read an unspecified passage of Scripture, listing some of the evils that will exclude people from the kingdom of God, including adultery, uncleanness, lust, and sorcery.
Then a video set the Scripture reading in a corporate context. For adultery, the video portrayed the contrast between Third World debt and Third World aid. For lust, it showed images of pollution. For sorcery, it showed the creature almost everybody loves to hate: a TV preacher begging for donations.
The organizers also adapted a reading from chapter 1 of the Gospel of John through the Cosmic Christ filter. The reading repeatedly referred to "the Word" as "it" rather than "he."
"This is the Word of Christ," Rev. Brain said.
"Thank you, Eternal Voice," the congregation responded.
This was how the Communion part of the service went:
After Fox's homily, Brain celebrated communion — of a sort. Women dancers in four corners of the room turned in circles repeatedly throughout the prayers and communion. Assistants presented fire, water, and soil. Brain immersed his hands in the soil, saying he was washing them. He thanked Mother God for the gift of air.
Brain repeated Jesus' words about partaking of communion in his memory. Otherwise, Brain spoke no words of consecration, which may not matter to those Protestants who believe the Lord's Supper is a memorial service, but matters immensely to Anglicans, who affirm what is called consubstantiation. Most Anglicans do not believe the bread and wine literally become the flesh and blood of Christ, but they do believe in a "real presence" of Christ in the elements of the sacrament.
There's supposed to be a "real presence" in the Rave Mass, too, but it's the presence of the Cosmic Christ as lifeforce, not the personal historical figure who died on a cross and rose again.
Bishop Swing from San Francisco's Grace Cathedral attended. By then, one Planetary Mass had already been performed inside the cathedral:
At a news conference, Swing described the service as "the church singing a new song."
Enough said. How I wish we had St Paul with us today. He would have read them the riot act, straight out of 1 Corinthians.
How the NOS was organised weekly
In Sheffield, organising the weekly NOS began early in the morning and ended late at night.
The University of Huddersfield Repository has a link to an abstract called 'The Nine O'Clock Service: Mixing Club Culture And Postmodern Christianity'.
Rupert Till's abstract presents the difficulty in using St Thomas's Church and explains how the group had to use Ponds Forge:
8. The church service before NOS would end at about 8.15pm, giving NOS about half an hour to clear the church, remove seats, set up equipment, and prepare. They would rehearse services in the afternoon, take everything down and then set it up in the gap between services. Although St Thomas church were regarded as generous in giving NOS time on a Sunday, NOS had to work within heavy constraints, and eventually moved to their own building where they would meet at 8:00 p.m.
 9. As were all of the band for most of the time, carefully situated as they were in dark lighting in the right-hand corner of the church.
11. Members of NOS would record television shows that might have interesting video images. Useful clips would be transferred to new tapes and looped so that a short clip of clouds passing would become a five-minute tape of clouds passing. NOS had a large room with walls covered in shelves full of these tapes of deconstructed decontextualised video images with loop tapes, source tapes, documentaries, and recordings of services. The sampling of secular music and images was a key feature of NOS arts, a deliberate process of reclaiming secular developments in the arts for sacred purposes.
12. A typical NOS Sunday began at five in the morning. A trucking team moved 10 tons of equipment to the church from storage to the empty sports hall. A crew of about 30 would appear by seven to set up the equipment. Late in the morning, some of the artistic team would appear to begin preparing for rehearsals. The 'performers' would arrive later to rehearse. After the service, perhaps 10.30 p.m., a team would begin to take down equipment, which would be returned to storage by 3:00 a.m. Unseen would be the hours of rehearsal and preparation midweek, with the highest of standards maintained.
Rupert Till says that the congregation varied in age but were solidly middle class:
17. Despite trying to project an image of authentic, underground, club culture-influenced young people, NOS members were largely aged 18–40, white, middle-class and well educated, and many were generation X Christians dissatisfied with conventional church. DJs and club kids were supported by barristers, theologians, teachers, doctors, and social workers.
The 1995 scandal, he says, involved a subgroup of the NOS:
16. It is perhaps no accident that sex was the organisation's downfall, choosing as they did to investigate postmodern sexuality in a secretive subgroup, knowing that this was one area that the Christian church would not allow them to explore openly.
I hope this type of church service is dead and buried in the Church of England.
However, I fear it will make a comeback, especially as senior Anglican clergy seek to revamp their denomination post-pandemic. That's a whole other topic for another time.
In 1995, a Church of England scandal made national news.
Reading an update on it this week reminded me of the Corinthians, whom St Paul reproved for becoming debauched. Their carnal attitude permeated their church services: babbling nonsense ecstatically 'in tongues', which was part of pagan worship, and drunken Communion services.
During the 1980s and early 1990s, something similar happened to a church in Sheffield. Unfortunately, there were no senior Church of England clergy to censure the vicar. As it happened, they encouraged a programme about which they knew little.
This week, The Times recapped what happened at St Thomas's Church in Sheffield at what was called the Nine O'Clock Service, or NOS.
The NOS was held every Sunday.
A young Christian rock musician — and ex-nightclubber — Chris Brain, led the NOS, which The Times describes as:
a radical mix of rave culture, social and environmental campaigning and religion that drew queues of black-clad young followers for its weekly gatherings.
Instead of reminding Chris Brain of pertinent chapters of 1 Corinthians, the clergy wanted to extend the NOS throughout the United Kingdom (emphases mine):
The hierarchy was buzzing at the prospect of a vibrant model of service that might be copied around the country to attract new congregations.
Chris Brain, the charismatic young Christian rock musician who had emerged as leader of the NOS, met Dr George Carey, who was soon to be the Archbishop of Canterbury, and later recalled: "He said to me, 'I'd be very happy to see an NOS in every town and city in the UK'."
Carey, who met Brain in 1990, was interested in getting more converts, and rightly so. As the Archbishop of Canterbury, he declared the 1990s to be the Decade of Evangelism. He is best remembered for propagating the Alpha Course nationwide. Alpha started at Holy Trinity Brompton Church in London. It has been an international phenomenon for many years.
Returning to the NOS, in 1989, the Bishop of Sheffield, the Right Rev David Lunn, had confirmed 100 people — nearly all NOS attendees — at St Thomas's. That is an extraordinary number of confirmands for any church at any one time:
It was a moment of great excitement for the church hierarchy because they were almost all young people, usually thought of as being out of reach.
As a result, Brain became a diocesan star of sorts, seen as being ideal for the priesthood:
Brain was fast-tracked for ordination and invited to contribute to the archbishop's collection of essays on evangelism. Lunn told the BBC that the NOS had a "permanent significance" and was a "new development in the way we understand the Christian religion".
The church authorities were either unaware of, or happy to turn a blind eye to some more disturbing aspects of the movement.
Brain's ordination in 1992 was rather extraordinary:
When Brain was ordained in 1992, the NOS borrowed at considerable expense the robes worn by Robert de Niro in the film The Mission for the service.
He became St Thomas's vicar.
Behind the scenes, however, carnality prevailed with Brain and some NOS adherents, particularly women. It was turning into a cult:
There were allegations of controlling behaviour and followers handing over thousands of pounds while cutting themselves off from their friends and families. Young women were enlisted as "postmodern nuns" in Brain's Homebase Team. Some allegedly gave massages and engaged in sexual activity when putting him to bed.
Brain rationalised their behaviour, as one woman later recalled:
One member of the group, interviewed by the BBC, said: "He would talk about how we were discovering a postmodern definition of sexuality in the church. It's just language — language covering up the fact of what was really going on: one bloke getting his rocks off."
Things started getting out of hand in 1992:
There had been consternation in 1992 when an NOS service at a Christian festival included a troupe of dancers in black Lycra bikinis cavorting in front of 15,000 people.
A few laypersons and clergy complained to church authorities, but nothing was done until 1995:
Church leaders finally listened in August 1995 after disclosures by three whistleblowers:
One woman claimed that there was bullying and people were "blurring boundaries sexually". She worried about how money was spent. The NOS charity, the Nine O'Clock Trust, recorded an income of £272,000 in 1994.
That amount of money is something an average Anglican church can only dream of.
Church authorities suspended Brain's ministry. A month later, he tried to downplay the extracurricular activities of the NOS:
In a September 1995 interview with a Sunday newspaper he said that the sexual contact he had with women followers was "heavy petting" but "non-penetrative". The Homebase Team had been created to help his wife at home because he was so busy with his work. "It was like any other vicarage, you always get ladies helping the vicar's wife. They set up a rota but the idea of handmaidens is ridiculous," he said.
Brain added: "These were relationships which began 10 or 12 years ago when I was part of the nightclub scene. When I became a priest, I should have done something about them . . . I didn't and that was wrong."
He said that his ordination never should have happened:
He claimed that it was "utterly ridiculous that I was made a priest . . . I was the breakthrough for the church but it changed everything for me. Everyone became dependent on me."
Yes, congregants depend a great deal on their vicars. They expect spiritual leadership and guidance. He is their shepherd.
The Times is revisiting this story because, after 25 years, former NOS members are now seeking compensation:
Former members of the Nine O'Clock Service, which was known as the NOS and drew hundreds of young people to nightclub-style evangelical services in Sheffield in the 1980s and 1990s, have approached the church alleging that they endured abuse and exploitation.
The current Bishop of Sheffield, the Right Rev Pete Wilcox, said that:
the survivors had given "harrowing testimonies" about their experiences, and their concerns were being taken "very seriously".
More ex-members could be coming forward:
to allege sexual exploitation and psychological abuse.
One member explained that the reason for waiting a quarter of a century to come forward was because the Church of England advised them to stay silent:
One former member of the group said: "People have been silent for a long time and it has caused them huge distress and trauma. The church told them at the time that they should keep silent, don't talk about it, the press will destroy you. I think after the MeToo movement people felt 'enough is enough' and they made a decision to come forward."
Some of those seeking help are considering legal action for damages because church leaders had overtly supported the NOS, believing that it would attract younger congregations.
The article says that the hierarchy even gave the NOS financial backing.
The 'postmodern nuns' wore unusual habits and had unorthodox duties:
Brain resigned his ministry in 1995 as the scandal unfolded. It emerged that his entourage included a group of "postmodern nuns" who wore black miniskirts and whose tasks ranged from housekeeping duties to "putting him to bed" at night.
He told a BBC documentary in 1995 that he had been "involved in improper sexual conduct with a number of women".
Fast forwarding to the present, Brain is now 63. The article says that he has changed his first name from Chris to James. He is currently:
co-director of a "transformation design" consultancy based in Manchester.
The Times reported that he did not respond to their attempts to contact him.
The NOS, The Times says, had between 300 to 500 members. A number of them forsook family and friends for the movement, filling its coffers with large sums of money.
At the time the scandal broke, the then-Bishop of Sheffield, Bishop Lunn, said that:
the hierarchy was not responsible for any wrongdoing.
The current incumbent, Bishop Wilcox, is taking a much different stance:
Wilcox said: "We can confirm a group of survivors of the appalling conduct at the Nine O'Clock Service in the Diocese of Sheffield, which originally surfaced in the 1990s, have contacted the Church of England. Their concerns and harrowing testimonies are being taken very seriously. Support is being offered and the church is working closely with the statutory authorities."
A large law firm, Slater & Gordon, is representing the former members. One of their solicitors (attorneys), Richard Scorer, said:
The Church of England has a moral and legal responsibility to those harmed by abuse in the Nine O'Clock Service and it must honour that and ensure that the appalling harm suffered by victims is properly acknowledged.
I remember when the story broke. It was in the papers for several weeks. Even the atheists I knew at the time expressed their shock and said that priests should not act like that.
The Times has done an admirable job of returning this harrowing story to the spotlight.
I hope that settlements can be reached and that the Church of England learns an important lesson from this.
However, I have a few old bookmarks on the Nine O'Clock Service, which say that Chris Brain's departure did not end the movement. Furthermore, The Independent reported at the time that Bishop Lunn was quick to demand that Brain resign as vicar and that the Archbishop of York had already banned him from performing priestly duties.
More to come on Monday.
Sadly, Prince Philip, the Duke of Edinburgh, died on Friday, April 9, 2021, exactly two months short of his 100th birthday:
The Queen has lost her best friend. My deepest sympathies to her for the unimaginable loss of her long-time husband and daily confidant. My condolences also go to the Royal Family in their grief.
Young love
The couple first met in 1934, and began corresponding when the Prince was 18 and a cadet in the Royal Navy. Princess Elizabeth was 13 at the time.
She was smitten with him from the start.
Prince Philip served with distinction during the Second World War in the Mediterranean and Pacific fleets.
After the war ended, he could have had a stellar career in the Royal Navy. His superiors praised his clear leadership skills.
However, love intervened and the rest was history.
Born Prince Philip of Greece and Denmark, he renounced his foreign titles and took British citizenship before he and Princess Elizabeth were engaged. He took the surname of his maternal grandparents: Mountbatten.
He and Princess Elizabeth were engaged in July 1947. They married on November 20 that year. Shortly before the wedding, George VI gave him the titles of Duke of Edinburgh (created for him), Earl of Merioneth and Baron Greenwich.
Prince Philip remained in the Royal Navy until July 1951. He retired with the rank of Commander.
Royal succession — and surname
In January 1952, he and the Queen began a tour of the Commonwealth countries. They were in Kenya when news reached them that the Queen's father, George VI, died on February 6 that year.
Although she became Queen immediately upon her father's death, her coronation took place in 1953, as it had to be planned meticulously.
On Coronation Day, he knelt before her, clasped her hands and swore an oath of allegiance to her:
He also had to touch her crown and kiss her on the cheek.
He never had a constitutional role, nor was he ever formally given the title of Royal Consort. The courtiers did not like him, nor did they trust him. They believed his personality to be brash and unbecoming of the Royal household. They shut him out of as much decision making as possible.
When Elizabeth became Queen, the question about her family name arose. Prince Philip suggested that the Royal Family be known as the House of Edinburgh. Upon discovering that suggestion, Queen Mary, Elizabeth's grandmother, wrote to Prime Minister Winston Churchill, who advised the young monarch to issue a royal proclamation saying that the Royal Family would continue to be known as the House of Windsor.
In his inimitable style, Prince Philip complained privately:
I am nothing but a bloody amoeba. I am the only man in the country not allowed to give his name to his own children. [57]
The Queen did nothing until eight years later, in 1960, 11 days before she gave birth to Prince Andrew. She issued an Order in Council declaring that the surname of her and her husband's male-line descendants who are not styled as Royal Highness or titled as prince or princess would be Mountbatten-Windsor.
Pater familias
Prince Philip had to carve a role out for himself. He became the pater familias and, through the years, his role expanded to cover not only his four children but his grandchildren. He listened to their concerns, shared their joys and gave them advice. He knew everything that went on in their lives.
Although the public knew him for speaking as he saw — rather bluntly, on occasion — behind closed doors Prince Philip was known to be a warm, loving man.
He also favoured a more transparent Royal Family. According to the BBC, it was he who encouraged the Queen to make a multi-episode documentary on their daily lives, including those of their four children. It was broadcast in the late 1960s. I remember seeing it in the United States.
When Princess Diana died on August 31, 1997, Prince Philip was the one who kept an eye on the public mood that fateful week. He, the Queen and Princes William and Harry were at Balmoral in Scotland for their summer holiday. When the young princes wanted to attend church, their grandparents took them to the Sunday service on the day of their mother's death. Later in the week, it was Prince Philip who encouraged the boys to walk behind the funeral procession the following Saturday. He said:
If you don't walk, I think you'll regret it later. If I walk, will you walk with me? [93]
One cannot imagine what he thought of Prince Harry's departure for the United States to live a life separate from his closely knit family. I did read that the Royal Family shielded information about the Oprah interview from him.
John F Kennedy's funeral
Prince Philip was in Washington for John F Kennedy's funeral in 1963.
He had a friendly encounter with John Jr, who was still a toddler and known as John-John at the time. The child wondered where his father was, as he had no one with whom to play. The Prince stepped in to fill that gap. In 1965, the British government gave an acre of land at Runnymede to the United States for use as a memorial to JFK:
Funeral arrangements
Prince Philip was self-effacing and did not like a fuss to be made over him.
Therefore, the funeral arrangements will respect his wishes, which is rather convenient, as coronavirus restrictions are still in place. Up to 30 people will be allowed at his funeral, in line with legislation across the nation:
The funeral is scheduled to take place on Saturday, April 17:
It is interesting that Prince Harry will be able to attend when we have a 10-day quarantine in place for arrivals into the UK under coronavirus regulations.
The Sunday Mirror reported on Prince Harry's return to the UK:
He could also be released from quarantine if he gets a negative private test on day five, under the Test to Release scheme.
Given his status as a member of the Royal Family travelling to support the Queen, Harry might be considered exempt from travel restrictions.
Wow. It's nice to know we have a two-tiered quarantine system in place /sarc.
A championship boxer remembers the Prince
Former WBC Heavyweight Champion Frank Bruno MBE posted his memories of meeting Prince Philip. He is at the top left in the following photo:
An Anglican priest remembers the Prince
The Revd Peter Mullen, an Anglican priest, recalled his encounters with Prince Philip for Conservative Woman on April 10 in 'A personal recollection'.
He first met the Prince during his schooldays:
The first time I met the Prince was in connection with his Duke of Edinburgh's Award Scheme which gave a leg up to youngsters from what would now be called the less privileged parts of the country. He paid a visit to the Leeds branch of the Church Lads' Brigade of which, aged fourteen, I was a member. We were in the church hall making things. My task was to make a table lamp. I was hopeless at it.
The Duke got hold of my half-finished creation, held it up to one eye and said, 'I suppose this hole is where the flex goes?'
'I think so, Sir.'
'You think so? I was never any good at this sort of thing either!'
And he was off . . . 
As an adult, Mullen met him on more than one occasion thanks to the Honourable Company of Air Pilots. The Prince was its Grand Master. Mullen served as chaplain.
He recalls:
The Company gave a lunch for him to mark his 80th birthday and I recall how jovial he was, making light of his years: 'I believe I have lasted so long because you people are always toasting my good health, but I don't want to live to be a hundred. Things are dropping off already!'
At another luncheon one of our Liverymen who had his own port wine business presented the prince with Bottle Number One, the first fruits, so to speak. As he left, the duke handed the bottle to me: 'You have this, Peter. Our house floats on the bloody stuff.'
'Well, Sir, now I don't know whether to drink it or frame it.'
'Gerrit down ya neck!'
Prince Philip on MPs
Guido Fawkes came up with a good quote from one of the Prince's trips to Ghana. It concerns MPs. His Ghanaian hosts told him the country had 200 MPs. Prince Philip replied:
That's about the right number. We have 650 and most of them are a complete bloody waste of time.
Incidentally, Parliament will be recalled one day early from Easter recess. On Monday, April 12, MPs and Lords paid tribute to the Prince in their respective Houses:
That afternoon, the House of Commons reconvened to pay their tribute — from 2:30 p.m. until 10 p.m. (good grief).
Speaker Sir Lindsay Hoyle spoke first:
Prime Minister Boris Johnson had this to say:
Boris Johnson, who was invited to the funeral but declined so that another member of the Royal Family can attend, said that he would forego a pint when pub gardens reopen on April 12, out of respect for the Prince. Guido Fawkes, however, thinks that the Duke of Edinburgh would have wanted us to toast his memory, especially at a pub that bears his title in Brixton, south London:
Guido had a second tweet on the subject with another quote from the Prince:
Agreed.
Prince Philip on Australia
This is too funny. For those who are unaware, Australia was established as a place where Britain could send convicts. That was a long time ago, but the nation's original purpose was to serve as a prison: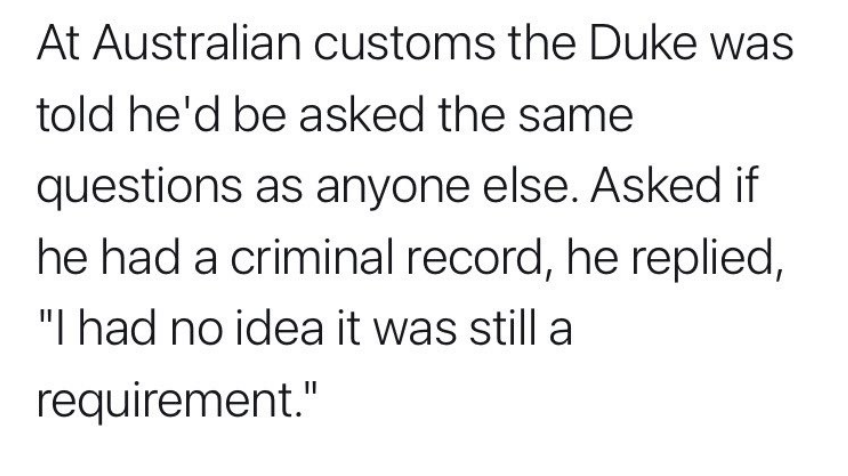 Prince Philip on civil liberties
On a serious note, the 12-minute interview below from 1984 is well worth watching, especially in the coronavirus era.
Prince Philip firmly supported the rights of the individual and believed that the state should serve the individual, not, as in our times, the other way around.
This is from a Thames Television programme originally broadcast on ITV:
I have posted the video below in case the tweets are deleted:
The Prince also said that certain subjects are out of bounds, such as the media and the NHS.
He said that the media are incapable of taking a joke about themselves and, as for the NHS, well, one cannot say anything against it. He didn't necessarily dislike the NHS but thought it was held in too high a regard. Nothing is perfect in this world.
We have been travelling a long road towards the point where we are at present: ruled by the media (they clamoured for coronavirus restrictions) and worship of the NHS. This is how Health Secretary Matt Hancock, Prime Minister Boris Johnson and SAGE have been able to rule our lives. It's been at least 40 years in the making.
BBC coverage on Friday
I was watching BBC Parliament early Friday afternoon, around 1:15, when the programme was interrupted by a broadcast from the BBC News Channel.
I checked the schedule an hour later, which said that the programme would last until 4 p.m. It was still going when I was preparing dinner at 5 p.m.
The final of MasterChef was to have been broadcast that night on BBC1. This was a clip from Thursday's programme:
Pictured are the hosts and judges, chef/restaurateur John Torode on the left and former greengrocer, now television presenter, Gregg Wallace on the right:
BUT:
The BBC News channel was simulcast all afternoon and all night long, not only on BBC Parliament but also on BBC1, to the dismay of MasterChef fans (myself included), and BBC2. BBC4 was suspended for the evening.
I read on social media that the BBC also broadcast continuous coverage of Prince Philip on their radio stations, including Radio 2, knocking out Steve Wright's drive-time show on Friday afternoon.
A friend of mine said that most of the BBC's employees were probably rubbing their hands with glee because it meant an early weekend for them. It's a cynical perspective that could well turn out to be true. We'll find out when someone writes his or her memoirs.
Everyone with a television set receives the BBC News channel. It comes into our homes at no extra charge. There was no need for the BBC to take over every channel for hours on end. By the way, if one had watched two hours of the Prince Philip coverage, as I did, one would have seen and heard everything in its entirety.
The BBC braced themselves for a plethora of complaints; they took the relevant page down on Sunday. Good. I am sure Prince Philip would have objected, too.
As much as I love the Queen, I hope they do not try this when her day comes. God willing, may it be long into the future.
Record-beating prince
Prince Philip established two records as consort to the Queen. He was the longest-serving royal consort in British history. He was also the longest-lived male member of the British royal family.
May he rest in eternal peace with his Maker.
May our gracious Lord grant the Queen, Defender of the Faith, His infinite peace and comfort in the months ahead. May He also bless the Royal Family during this difficult time.