You are currently browsing the tag archive for the 'Arizona' tag.
In response to reader H E's guest post last week on declining church numbers, another faithful reader of mine, George True, responded with an excellent comment about a truly Catholic priest in Arizona.
It's too good to leave there, so here it is in full:
There is a firebrand priest here in the Phoenix AZ area by the name of Father William Kosco. He has publicly, from the pulpit, denounced the Catholic bishops of America for their cowardice in going along with all of the cultural Marxist insanity. He has also publicly denounced Joe Biden as someone who is diametrically opposed to every fundamental teaching of the Roman Catholic church. He has said that Joe Biden would receive Holy Communion at his church only over his (Father Kosco's) dead body. He has declared that Joe Biden, being a public figure, must PUBLICLY repent of his sins against God and his nation in order to be allowed Communion.
The pews at Pastor Kosco's church, St Henry's in Buckeye AZ, are FULL.
At this point, allow me to post a tweet that I saw shortly after reading George's comment. It ties in well, as it shows a church full of worshippers (click on the tweet, and when it opens in a new tab, click the image to see it in full):
Now on with the conclusion of George's comment:
He is showing all priests, Catholic and Protestant, how to put butts in the seats. Start boldly and fearlessly declaring the truth, speaking out against evil, and affirming the fundamental precepts of our faith. People are hungering and thirsting for the truth, and they will flock to shepherds who exhibit courage in the face of evil.
One cannot say better than that. May the good Lord continue to bless Father Kosco and his congregation.
Just to keep everyone updated: President Donald Trump has not conceded.
On Friday, December 4, Sean Hannity spoke with former New York City mayor Rudy 'America's Mayor' Giuliani about vote discrepancies in the contested states, beginning with Nevada:
Giuliani said that when someone brings a civil lawsuit, the judge assumes that the allegations are 'true and correct', yet 'the judge' — US state unspecified — 'did just the opposite' (emphases mine):
Now, we can get it reversed but he's accomplished what he wants to accomplish.
He's delayed things, and, I'm sorry to say, he's a Democrat. And you can't tell me he's made this decision based his on legal knowledge unless he really didn't go to law school.
On a motion to dismiss, you have to assume that every allegation we make is true, and then say it doesn't violate the law.
Later on, you get to make a motion for summary judgement … we get a chance for a hearing.
The reason I went to the state legislatures, Sean, is because I saw what the courts were doing, and I wanted to go around them …
The Georgia court wouldn't have allowed those courts to put those witnesses up. The legislature did. In Michigan, the same thing.
We had two Democrat judges and they weren't allowing us to put witnesses up. But, I was able to get some of the witnesses up there because I went to the legislature.
Now, the simple fact is, we don't need courts.
The United States Constitution gives sole power to the state legislatures to decide presidential elections.
In fact, if we go back to the Founding Fathers, they would tell us that we're making a mistake.
This should be thrown right back to the House of Representatives and to the Senate — in each state — and they should hold hearings, they should make factual determinations, and they should decide what the right voter count is.
President Trump sounded off against Governor Kemp of Georgia:
Giuliani had a photo of the suitcases full of ballots in Georgia; I posted a video on Friday:
In Wisconsin, the state's supreme court threw out a Trump lawsuit: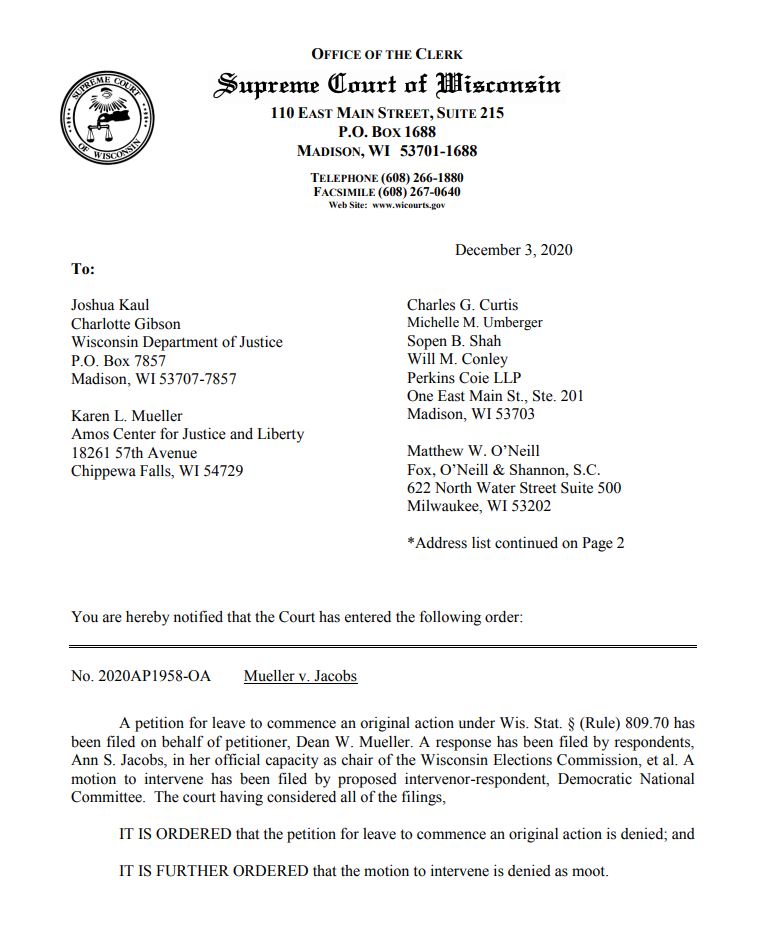 On Friday, December 4, the Daily Mail reported:
A divided Wisconsin Supreme Court on Thursday refused to hear President Donald Trump's lawsuit attempting to overturn his loss to Democrat Joe Biden in the battleground state, sidestepping a decision on the merits of the claims and instead ruling that the case must first wind its way through lower courts.
In another blow to Trump, two dissenting conservative justices questioned whether disqualifying more than 221,000 ballots as Trump wanted would be the proper remedy to the errors he alleged.
The defeat on a 4-3 ruling was the latest in a string of losses for Trump's post-election lawsuits. Judges in multiple battleground states have rejected his claims of fraud or irregularities.
Trump asked the Wisconsin Supreme Court to disqualify more than 221,000 ballots in the state's two biggest Democratic counties, alleging irregularities in the way absentee ballots were administered. His lawsuit echoed claims that were earlier rejected by election officials in those counties during a recount that barely affected Biden's winning margin of about 20,700 votes.
Trump's attorney Jim Troupis said he would immediately file the case in circuit court and expected to be back before the Supreme Court 'very soon.'
However, a hearing will take place in Wisconsin on December 11.
The Gateway Pundit reported:
Wisconsin Republicans will convene a public hearing on the 2020 election irregularities on December 11th. 'Mil' below is Milwaukee County:
Who would have ever thought voter fraud could take place in the land of touristy 'Food, Cheese, Gifts' (a ginormous sign I saw in my youth on trips to Wisconsin)?
Meanwhile, in Arizona, the state's Speaker of the House declined requests to overturn the certification of the vote count. In short:
It's so much easier to do nothing at all. However, doing nothing at all against the Democrats will have severe repercussions for the Great Republic:
It gets worse. Gateway Pundit continues to produce evidence that C h i n a was printing bogus ballots for the election. They have been following this story since November 28.
On December 5, they reported about a video, which has been properly translated into English (emphases in the original):
In the video a caller is heard requesting a bulk order of ballots to ship to the United States.
Here is the video with the translation.
FYI- Our Mandarin speaker confirmed the translation is accurate.
The order was reportedly for 5 million votes.
Two readers noticed that at the 0.54 second mark you can see "Charlotte County Florida" on the ballots …
Here are templates of the Mississippi counterfeit ballots printed in China.
Gateway Pundit have been talking to a former insider, Vinness A. Ollervides, the source for their information:
Here is the video:
On Saturday, President Trump held a successful afternoon rally in Valdosta, Georgia, for the Republican candidates in the state's run-off election early in January 2021. You can read more about it here. The candidates spoke briefly, while the audience voiced their support for the president with cries of 'Fight for Trump':
Elsewhere, President Trump's supporters are also fighting for him:
The battle continues, so, as my late grandfather used to say, 'Don't give up the ship!'
Betty and Jorge Rivas have been Trump supporters since 2016.
They live in Tucson and own Sammy's Mexican Grill.
On February 19, 2020, they attended President Trump's rally in nearby Phoenix.
Someone spotted Mrs Rivas in the audience. Since then, their Facebook page has been littered with negative reviews.
On March 1, Fox Business reported:
That hurt business for several days, co-owner Jorge Rivas told "FOX & Friends" Sunday, but he said Saturday was a "very good day" for sales.
President Trump tweeted his support for the couple. He meant to say Tucson:
Even though business is booming, supporters of Sammy's Mexican Grill, in the Catalina district of Tucson, are planning a lunch gathering on Saturday, March 7. If I lived there, I would definitely go. The address is in the second tweet, along with the organiser's phone number. It's probably a good idea to give him a call before showing up. He might be making reservations:
I like that law enforcement always eats free of charge. Excellent.
The Fox Business article said that Mr and Mrs Rivas received abuse by telephone in 2016, when then-candidate Trump invited Mrs Rivas on stage:
It's not Trump's first interaction with the restaurant owners. During a 2016 campaign rally, Trump called Betty Rivas onto the stage as she held a "Latinos for Trump" sign.
She said at the time that she took criticism then, too …
Nonetheless, a photo of Rivas and Trump has hung on a wall in the restaurant since then.
Here's the life-size cut out of President Trump. Jorge Rivas explains what happened after the Phoenix rally. His wife adds a message in Spanish:
He had more to say about his unwavering support for the president and how happy he is to be an American. He also believes that a strong America is essential for the next generation. He and his wife have two sons:
Well, even if you can't make lunch on Saturday, please remember Sammy's next time you are in the Tucson area.
I wish the Rivases continued success with their business and in their family life.
In closing, I do not understand how the Left's harassment of their political 'opponents' — i.e. normal people — is going to get said opponents on their side. Do they think the Rivases are just going to say one day, 'Yeah, all the abuse was worth it. We'll be voting Dem from now on'?
What a nonsensical 'strategy' unhinged leftists have.
Last week, supporters of President Donald Trump had to endure much negativity.
There were the melées in Charlottesville and Boston, the media and others on the Left denouncing him, continued calls for his removal from office and so on.
Then there are the conversations that we have with people — friends and acquaintances. For my circle, Trump isn't sophisticated enough. One Englishman actually said to me just a few days ago:
Trump isn't very bright. He appeals only to the unsophisticated — like people in Boise, Idaho.
He was refuted pretty quickly on that one, let me tell you.
Anyway, with all of this rubbish going on, Trump's (previously) scheduled rally in Phoenix, Arizona on Tuesday, August 22, 2017 came at the perfect time.
The videos
Those interested can view everything — from supporters' interviews to the guest speakers to Trump's speech — below. Thank you, RSBN:
The following video from Fox 10 in Phoenix is of Trump's one hour and seventeen minute speech:
If you have never seen a Trump rally, it's worth watching. They're all good — and all on YouTube.
Arizona Republicans spoke as did Alveda King, Martin Luther King's niece who is very much pro-life.
The Rev Franklin Graham — Billy's son — opened proceedings with a prayer. (Alveda King is on the right in black and purple.) This really is an amazing prayer on so many levels. RSBN also pans the crowd so you can see how many thousands are there:
Speaking of crowds, someone did a great time lapse video of the queue of people waiting to get in to the Phoenix Convention Center. It was a hot day, with temps over 100° F (40°+ C). People get to Trump's evening rallies early in the morning and are outdoors all day long:
Trump tweeted that there were 15,000.
They were probably in line before Trump left Washington DC. Upon arrival in Arizona, Trump visited the US Border Protection and ICE teams in Yuma:
They told him about their daily work and the dangers they face. Trump discussed the visit in his speech.
Speech highlights
Although the teleprompter was up and running, Trump diverged from it with his trusty Sharpie-written notes and quotes. Trump is nearly always better without a teleprompter.
Trump began by thanking his supporters in Arizona and reminding them that he did his first ever rally there, during the Republican candidate debate season. He also thanked the speakers who preceded him.
He spent several minutes recapping his three statements about Charlottesville, which I covered here last week. N.B.: Although Trump did not say it, Charlottesville was a paid-for, false flag event on both sides.
Trump was amazed that the media did not mention he has 'a home there'. It is where Trump Winery is located.
He said that the media were to blame for stirring up division in America. He said they reported only parts of stories, particularly those related to him. They take selective quotes from his statements. He wondered if the media even liked America because they seem to be so against the interests of the American people.
He did give credit to Fox News, namely Fox and Friends (morning show) and Sean Hannity (late night show). He watches both:
He also said he did not like it when the media smeared his supporters:
He also said that there was a lot of news they never cover, such as America's failing education system and gang violence:
Between 32 and 35 minutes in, CNN and MSNBC shut off their cameras. Trump could see this, because their red camera lights went on. He mentioned it.
This is what happened at MSNBC. Notice the test pattern. (Surely, being a 'Trash Man' is a good thing. The trash man — dustman in the UK — removes rubbish.) Rachel Maddow wasn't sure yet what was going on:
Trump talked about his 1m+ new jobs which would help to unify the nation and end the current division. He said that he wanted prosperity for all:
Trump went on to review his many achievements during the first seven months of his presidency, which I've also written about.
Although his infrastructure project has started, some CEOs from his advisory panel resigned after Charlottesville, because they did not think his statements went far enough. He disbanded the group:
He criticised Congress (and the Senate) for failing to pass legislation to repeal Obamacare. He said he had not given up and also pledged the largest tax reform 'in 30 years':
The tweets below are reactions from the elitist neo-con never-Trumper Bill Kristol (Trump complimented General Kelly, moved from Homeland Security to Chief of Staff) and conservative pundit, the pro-Trump Laura Ingraham:
Trump rightly had a go at local governments and universities bowing to pressure from Antifa to have Confederate and other statues of past American leaders removed. He told them not to touch those of George Washington. Removal takes place in the middle of the night, incidentally:
Around this time:
Trump spoke about renegotiating NAFTA. The first round of talks took place at the end of last week and ran through the weekend:
He signalled that he was sick and tired of the advice from outsiders:
He had a few closing soundbites, including:
Trump then concluded his speech:
Reactions
As ever, Trump pleased his supporters.
A Canadian had a righteous blast at CNN's Jim Acosta. Thank you:
CNN responded with a programme about impeaching Trump featuring their usual leftist experts, Deep Staters and Democrats.
A New York City radio show host measured Trump's speech by noting the Left's hysteria. Responses mentioned the CNN feature about impeachment:
There was also this scandalous CNN commentary on black Trump supporters, including the Secretary of Housing and Urban Development, retired brain surgeon Dr Ben Carson:
Terrible. Now that is racist, even if Mr Boykin is himself black. That's CNN, folks.
Indeed it is.
NBC's White House reporter tweeted:
People at home were blown away:
You bet.
In closing, here's the verdict of Trump's longtime supporter, Pastor Mark Burns:
Amen, Pastor Burns. MAGA!
On Friday, March 17, 2017, an anti-Trump billboard went up at a prominent intersection in Phoenix to coincide with the Art Detour event last weekend.
Local NBC affiliate 12News reports:
The billboard art was commissioned by the billboard owner, Beatrice Moore, a longtime patron of the arts on Grand Avenue.
"Some of these issues are so important you can't not speak out," Moore said in an interview …
Moore said it would remain up as long as Trump is president. 
The billboard is in a can't-miss location at 11th Avenue and Grand.
The artist is California resident Karen Fiorito, who has collaborated before with Moore (emphasis mine):
This isn't the first time Fiorito and Moore put up controversial billboard art.
In 2004, Fiorito created a billboard of President George W. Bush and top government officials for her master of fine arts thesis on political propaganda at Arizona State University.
"Dear America," the billboard said, "we lied to you for your own good. Now trust us."
Of course, the billboard of America's 45th president elicited strong reactions:
Moore and Fiorito did expect blowback from Trump supporters.
Fiorito said she has received death threats over the Trump billboard.
"A lot of hate. Things have gotten a lot more escalated now," she said. 
"I just hope that everyone involved in helping bring this message out is safe and that we all get through this unharmed," Fiorito said.
Hmm.
Death threats — if, indeed, they were made — are beyond the pale.
However, as the old saying goes: if you're gonna play, you've gotta pay. No one sensible can put up something like that without expecting a negative reaction.
According to tweets that Twitchy published in their article about the billboard, the left-wing artist depicted the symbol of a fringe group called the Capitalist Right.
In other news, an Arizona man was arrested for bestiality with a goat: details and photo.
It's a mad, mad, mad world.