You are currently browsing the tag archive for the 'Australia' tag.
Over the past month, Neil Oliver has had some exceptionally good Saturday night programmes on GB News.
While his shows are a must in my household, for those who haven't been tuning in, his shows over the past month have contained even more insight than usual.
This video is from February 26, 2022, the week when Russia invaded Ukraine:
Oliver's editorial begins at the 5:00 point. He rightly wonders what the invasion is really about. He says that he cannot rely on mainstream media to tell the truth.
However, he also discusses the situation in the West and says that we do not realise how exceptional our era of individual liberty and freedom over the past few decades has been.
He points out that we are taking it for granted.
Unfortunately, the pandemic has seen Western governments become authoritarian. He points to Justin Trudeau, who condemns Putin when he himself has had the bank accounts of protesting truckers frozen because they protested against mandatory vaccinations. Oliver says that the sheer hypocrisy of it all is stunning.
He also lambastes the leaders in New Zealand and Australia for authoritarian measures during the pandemic, making the point that, given mankind's natural inclination towards dictatorial policies, Western leaders are happily following along. Therefore, we need to keep an eye on what they are doing and call them out accordingly.
He says that we need to get serious: stop worrying about identity politics and pronouns. Instead, we have our freedoms to defend.
At the 21:00 point, he interviews a journalist to discuss what is really happening in Ukraine. The journalist said that China is also a player in this situation. Although it looks to most people as if Russia and China are enemies, they have a common goal: to bring down the West.
At the 23:00 mark, welcomes Sebastian Gorka to give his views.
Gorka says that Putin's invasion of Ukraine would not have happened had Joe Biden not pulled out of Afghanistan last year. He says that President Trump would have managed Afghanistan much differently and that, consequently, the Ukraine invasion would not have happened.
Gorka also brings up energy independence, which Trump initiated in the United States and warned Europe about in 2017. (Everyone laughed. They're not laughing now.) Gorka said that it was 'moronic' for Biden to reverse Trump's energy policy in the US.
On Biden, I was heartened to see another article in The Telegraph which has been critical of him.
On March 28, the paper's Nile Gardiner asked, 'Will Europe finally wake up to the truth about Joe Biden now?'
He writes (emphases mine):
It is amateur hour on the world stage from the Biden Presidency. His visit last week to Europe was a train wreck, from his bizarre press conference in Brussels to the ad-libbed final words of his speech in Warsaw.
At times Mr. Biden looked dazed and confused, struggling to command his sentences, and drifting into incoherence. The messaging was muddled, forcing even the president's top officials to disown their own leader's comments.
In 20 years in Washington, I have not seen a White House more disorganised, incompetent or mismanaged, in both the president's and vice president's office. It has a distinctly Monty Python-esque feel to it. Having visited the Trump White House on multiple occasions, and met with the former president several times, I can attest it was a model of efficiency compared to what we're seeing now.
On no fewer than three separate occasions, Biden's own staff had to clarify or even refute the words of their commander in chief. Biden officials had to explain to the world's media that he was not calling for US troops to go into Ukraine, that the United States would not respond to Russia with chemical weapons if Moscow used them, and that the Biden administration was not seeking regime change in Moscow. These are big misstatements, not minor gaffes, with major global ramifications, and a direct impact on the war in Ukraine.
There is a major lack of discipline in messaging from the Biden administration, and clearly deep-seated divisions as well among policy staff. Biden himself has been stung by the charge from political opponents that he has been weak over Ukraine, as well as by sinking poll numbers, and is trying to overcompensate with tough rhetoric on Putin. His own aides are trying to rein him in. As a result, confusion reigns …
By contrast:
Donald Trump used to come under heavy fire from the French, Germans and European elites at Nato summits, and his message was not always popular. But he was far more effective than Joe Biden at getting results, increasing defence spending, and shaking up the complacent status quo in Europe.
True!
As Neil Oliver says, our leaders are not up to scratch.
Furthermore, we, the general public, must also stop being complacent about civil liberties and our Western freedoms. As we saw in the pandemic, our leaders can take them away instantly, without any qualms. Restoring them will take much longer.
The old adage 'No news is good news' couldn't be truer when it comes to inconvenient facts.
This thread from Alex Epstein, a New York Times bestselling author, examines the media interest shown when the Great Barrier Reef (GBR) is in decline — 'climate change' — but none whatsoever once it recovers:
Here is a selection of past New York Times headlines about the GBR:
The same holds true for The Washington Post:
The newspapers said that CO2 was to blame for the reef's bleaching, yet, as Epstein points out, the GBR is ancient, therefore, adaptable:
No, the media cannot change the narrative and admit they were wrong:
Epstein firmly believes that fossil fuels have their place. As he says, modern life could not exist without them:
Someday the truth will come out about this agenda, which is potentially harmful to humans.
This was an interesting exchange in reply to the thread, explaining that the reef regenerates when it is damaged:
It seems that, by not believing in God, we think that we are God, investing ourselves with an imagined ability to destroy the planet. What folly.
As we are made in His image, humans should not be made to suffer hardship, which the climate agenda surely will do if taken to its ultimate conclusion.
The three-year Lectionary that many Catholics and Protestants hear in public worship gives us a great variety of Holy Scripture.
Yet, it doesn't tell the whole story.
My series Forbidden Bible Verses — ones the Lectionary editors and their clergy omit — examines the passages we do not hear in church. These missing verses are also Essential Bible Verses, ones we should study with care and attention. Often, we find that they carry difficult messages and warnings.
Today's reading is from the English Standard Version with commentary by Matthew Henry and John MacArthur.
10 When Timothy comes, see that you put him at ease among you, for he is doing the work of the Lord, as I am. 11 So let no one despise him. Help him on his way in peace, that he may return to me, for I am expecting him with the brothers.
———————————————————————————————————
Last week's entry was about Paul's travel plans: staying in Ephesus until Pentecost, then going to Macedonia and, if the Lord willed it, a considerable stay in Corinth afterwards.
Paul was sending Timothy to Corinth to do the Lord's work; Paul instructed the congregation to put Timothy at ease (verse 10).
Timothy was young and fresh faced. Paul wanted him to be his emissary, giving hard truths to the Corinthians, who were likely to be a tough audience as they were already divided by various teachers, some of whom were false.
Matthew Henry's commentary lays out what Timothy faced (emphases mine):
Timothy was sent by the apostle to correct the abuses which had crept in among them; and not only to direct, but to blame, and censure, and reprove, those who were culpable. They were all in factions, and no doubt the mutual strife and hatred ran very high among them. There were some very rich, as it is probable; and many very proud, upon account both of their outward wealth and spiritual gifts. Proud spirits cannot easily bear reproof. It was reasonable therefore to think young Timothy might be roughly used; hence the apostle warns them against using him ill. Not but that he was prepared for the worst; but, whatever his firmness and prudence might be, it was their duty to behave themselves well towards him, and not discourage and dishearten him in his Lord's work. They should not fly out into resentment at his reproof. Note, Christians should bear faithful reproofs from their ministers, and not terrify and discourage them from doing their duty.
Paul entreats the Corinthians not to despise Timothy but to 'help him on his way in peace', because Paul is expecting his return as were others (verse 11).
Henry says that Paul wants to point out that, even though Timothy is junior in rank to him, he was invested with the same authority to do the same work of the Lord:
He did not come on Paul's errand among them, nor to do his work, but the work of the Lord. Though he was not an apostle, he was assistant to one, and was sent upon this very business by a divine commission. And therefore to vex his spirit would be to grieve the Holy Spirit; to despise him would be to despise him that sent him, not Paul, but Paul's Lord and theirs. Note, Those who work the work of the Lord should be neither terrified nor despised, but treated with all tenderness and respect. Such are all the faithful ministers of the word, though not all in the same rank and degree. Pastors and teachers, as well as apostles and evangelists, while they are doing their duty, are to be treated with honour and respect.
Henry says that Paul was expecting a full account of the Corinthians from Timothy upon his return:
Conduct him forth in peace, that he may come to me, for I look for him with the brethren (1 Corinthians 16:11; 1 Corinthians 16:11); or I with the brethren look for him (the original will bear either), ekdechomai gar auton meta ton adelphon—"I am expecting his return, and his report concerning you; and shall judge by your conduct towards him what your regard and respect for me will be. Look to it that you send him back with no evil report." Paul might expect from the Corinthians, that a messenger from him, upon such an errand, should be regarded, and well treated. His services and success among them, his authority with them as an apostle, would challenge this at their hands. They would hardly dare to send back Timothy with a report that would grieve or provoke the apostle. "I and the brethren expect his return, wait for the report he is to make; and therefore do not use him ill, but respect him, regard his message, and let him return in peace."
John MacArthur's sermon has another British missionary story from the 19th century. It is about a Scot, John Gibson Paton (1824-1907), a devout Reformed Presbyterian (Covenanter) who ministered to the cannibals of the New Hebrides:
Paton was a Bible student – a Bible college student in London. God called him to go to the New Hebrides Islands where there were man-eating cannibals. You know, that would be a hard thing for a young Bible college student to say yes to, wouldn't it? I know what I'd have said. I would have said, "Lord, you've got the wrong guy. Are you sure my gifts are fit for that?" Or I would have said, "Look, I graduated Lord. I can make it in the ministry. No sense in me being somebody's lunch. All this effort?" I would have said, "Look, Lord, I've got a great idea. I know a Bible college dropout who'll never make it in the ministry. Send him there; they'll eat him, and who will know." The guy will be a hero. Right? Leave me alone will you? I can cut it.
But John Paton didn't argue with God. The Lord said go, so he went. Took his little wife, a ship let them off, they paddled to shore in a little rowboat. They were there on an island inhabited by man-eating cannibals whose language they did not speak. And they had no way to contact them. They set up a little hut at the beach and the Lord marvelously preserved them. Later on when the chief of the tribe in that area was converted to Christ, he asked John who that army was that surrounded his hut every night. God's holy angels protected him. After a matter of weeks there, his wife gave birth to a baby, and the baby and the wife both died. He was all alone and he says in his biography that he slept on the graves to keep the natives from digging up the bodies and eating them. And he decided he'd stay.
The challenge was great, the adversaries were many and that was where God wanted him, so he stayed. How do you do that by yourself? You do that by being totally depending on God. Accept the challenge, because it's in the challenge where your resources run out and you depend on God and it's where you depend on God that His power flows to victories that you never dreamed possible. It's to the one who really labors for the Lord and does the Lord's work in the Lord's way, has a vision for the future, a sense of flexibility, a thoroughness, not superficial, has a commitment to present service, and accepts opposition as an opportunity or a challenge.
Paton's Wikipedia entry has more.
The inhabitants of Tanna, where the Patons had settled in 1858, were fierce. Yet, Paton survived many attacks on his life. There was one time when he was in a near-death situation, but, providentially, a ship arrived at the island just in time to rescue him and, from the other side of Tanna, two other missionaries, Mr and Mrs Mathieson. The ship took them to another island in the New Hebrides, Aneityum.
From Aneityum, Paton went to Australia then returned to Scotland to recruit new missionaries and to raise funds for evangelising in the New Hebrides. Some of the money went towards building a ship. Later on, he was able to have a steamship built for the missionaries.
In 1864, while he was in Scotland, he remarried. Margaret (Maggie) Whitecross accompanied her husband to the New Hebrides. They settled on Aniwa, the island closest to Tanna. Paton wrote that the inhabitants were just as cruel as those on Tanna.
Incredibly, Maggie bore ten children, four of whom died at very young ages. One of their sons became a missionary in the New Hebrides.
John Paton learned the language of Aniwa and put it into writing, enabling him to translate the New Testament for the islanders. It was printed in 1899. By then, he had enabled the establishment of missionaries on 25 of the 30 islands in the New Hebrides.
Maggie taught the women and girls to weave hats and sew. She also taught them the tenets of Christianity.
As Paton had some medical training, he and his wife were able to minister to the sick, dispensing medicines daily.
Paton held a service every Sunday. He also taught the men how to use modern tools.
By the end of his ministry on Aniwa, he and his wife had trained local teachers to preach the Gospel. By the time they left for Australia, the whole island professed the Christian faith.
The Patons retired in Victoria State, where Melbourne is located. Maggie died in Kew in 1905 at the age of 64. John died in Canterbury in 1907. He was 82, which is an amazing age, considering he had ministered to cannibals and had to contend with all sorts of tropical diseases.
The Patons' ministry was a Pauline one involving a deep, guiding faith as well as perseverance against all adversity. It is an amazing story.
Returning to today's reading, next week's post details Paul's final instructions to the Corinthians. As ever in his closing chapters, the Apostle names several people doing the Lord's work and his satisfaction with them.
Next time — 1 Corinthians 16:12-18
Sadly, Prince Philip, the Duke of Edinburgh, died on Friday, April 9, 2021, exactly two months short of his 100th birthday:
The Queen has lost her best friend. My deepest sympathies to her for the unimaginable loss of her long-time husband and daily confidant. My condolences also go to the Royal Family in their grief.
Young love
The couple first met in 1934, and began corresponding when the Prince was 18 and a cadet in the Royal Navy. Princess Elizabeth was 13 at the time.
She was smitten with him from the start.
Prince Philip served with distinction during the Second World War in the Mediterranean and Pacific fleets.
After the war ended, he could have had a stellar career in the Royal Navy. His superiors praised his clear leadership skills.
However, love intervened and the rest was history.
Born Prince Philip of Greece and Denmark, he renounced his foreign titles and took British citizenship before he and Princess Elizabeth were engaged. He took the surname of his maternal grandparents: Mountbatten.
He and Princess Elizabeth were engaged in July 1947. They married on November 20 that year. Shortly before the wedding, George VI gave him the titles of Duke of Edinburgh (created for him), Earl of Merioneth and Baron Greenwich.
Prince Philip remained in the Royal Navy until July 1951. He retired with the rank of Commander.
Royal succession — and surname
In January 1952, he and the Queen began a tour of the Commonwealth countries. They were in Kenya when news reached them that the Queen's father, George VI, died on February 6 that year.
Although she became Queen immediately upon her father's death, her coronation took place in 1953, as it had to be planned meticulously.
On Coronation Day, he knelt before her, clasped her hands and swore an oath of allegiance to her:
He also had to touch her crown and kiss her on the cheek.
He never had a constitutional role, nor was he ever formally given the title of Royal Consort. The courtiers did not like him, nor did they trust him. They believed his personality to be brash and unbecoming of the Royal household. They shut him out of as much decision making as possible.
When Elizabeth became Queen, the question about her family name arose. Prince Philip suggested that the Royal Family be known as the House of Edinburgh. Upon discovering that suggestion, Queen Mary, Elizabeth's grandmother, wrote to Prime Minister Winston Churchill, who advised the young monarch to issue a royal proclamation saying that the Royal Family would continue to be known as the House of Windsor.
In his inimitable style, Prince Philip complained privately:
I am nothing but a bloody amoeba. I am the only man in the country not allowed to give his name to his own children. [57]
The Queen did nothing until eight years later, in 1960, 11 days before she gave birth to Prince Andrew. She issued an Order in Council declaring that the surname of her and her husband's male-line descendants who are not styled as Royal Highness or titled as prince or princess would be Mountbatten-Windsor.
Pater familias
Prince Philip had to carve a role out for himself. He became the pater familias and, through the years, his role expanded to cover not only his four children but his grandchildren. He listened to their concerns, shared their joys and gave them advice. He knew everything that went on in their lives.
Although the public knew him for speaking as he saw — rather bluntly, on occasion — behind closed doors Prince Philip was known to be a warm, loving man.
He also favoured a more transparent Royal Family. According to the BBC, it was he who encouraged the Queen to make a multi-episode documentary on their daily lives, including those of their four children. It was broadcast in the late 1960s. I remember seeing it in the United States.
When Princess Diana died on August 31, 1997, Prince Philip was the one who kept an eye on the public mood that fateful week. He, the Queen and Princes William and Harry were at Balmoral in Scotland for their summer holiday. When the young princes wanted to attend church, their grandparents took them to the Sunday service on the day of their mother's death. Later in the week, it was Prince Philip who encouraged the boys to walk behind the funeral procession the following Saturday. He said:
If you don't walk, I think you'll regret it later. If I walk, will you walk with me? [93]
One cannot imagine what he thought of Prince Harry's departure for the United States to live a life separate from his closely knit family. I did read that the Royal Family shielded information about the Oprah interview from him.
John F Kennedy's funeral
Prince Philip was in Washington for John F Kennedy's funeral in 1963.
He had a friendly encounter with John Jr, who was still a toddler and known as John-John at the time. The child wondered where his father was, as he had no one with whom to play. The Prince stepped in to fill that gap. In 1965, the British government gave an acre of land at Runnymede to the United States for use as a memorial to JFK:
Funeral arrangements
Prince Philip was self-effacing and did not like a fuss to be made over him.
Therefore, the funeral arrangements will respect his wishes, which is rather convenient, as coronavirus restrictions are still in place. Up to 30 people will be allowed at his funeral, in line with legislation across the nation:
The funeral is scheduled to take place on Saturday, April 17:
It is interesting that Prince Harry will be able to attend when we have a 10-day quarantine in place for arrivals into the UK under coronavirus regulations.
The Sunday Mirror reported on Prince Harry's return to the UK:
He could also be released from quarantine if he gets a negative private test on day five, under the Test to Release scheme.
Given his status as a member of the Royal Family travelling to support the Queen, Harry might be considered exempt from travel restrictions.
Wow. It's nice to know we have a two-tiered quarantine system in place /sarc.
A championship boxer remembers the Prince
Former WBC Heavyweight Champion Frank Bruno MBE posted his memories of meeting Prince Philip. He is at the top left in the following photo:
An Anglican priest remembers the Prince
The Revd Peter Mullen, an Anglican priest, recalled his encounters with Prince Philip for Conservative Woman on April 10 in 'A personal recollection'.
He first met the Prince during his schooldays:
The first time I met the Prince was in connection with his Duke of Edinburgh's Award Scheme which gave a leg up to youngsters from what would now be called the less privileged parts of the country. He paid a visit to the Leeds branch of the Church Lads' Brigade of which, aged fourteen, I was a member. We were in the church hall making things. My task was to make a table lamp. I was hopeless at it.
The Duke got hold of my half-finished creation, held it up to one eye and said, 'I suppose this hole is where the flex goes?'
'I think so, Sir.'
'You think so? I was never any good at this sort of thing either!'
And he was off . . . 
As an adult, Mullen met him on more than one occasion thanks to the Honourable Company of Air Pilots. The Prince was its Grand Master. Mullen served as chaplain.
He recalls:
The Company gave a lunch for him to mark his 80th birthday and I recall how jovial he was, making light of his years: 'I believe I have lasted so long because you people are always toasting my good health, but I don't want to live to be a hundred. Things are dropping off already!'
At another luncheon one of our Liverymen who had his own port wine business presented the prince with Bottle Number One, the first fruits, so to speak. As he left, the duke handed the bottle to me: 'You have this, Peter. Our house floats on the bloody stuff.'
'Well, Sir, now I don't know whether to drink it or frame it.'
'Gerrit down ya neck!'
Prince Philip on MPs
Guido Fawkes came up with a good quote from one of the Prince's trips to Ghana. It concerns MPs. His Ghanaian hosts told him the country had 200 MPs. Prince Philip replied:
That's about the right number. We have 650 and most of them are a complete bloody waste of time.
Incidentally, Parliament will be recalled one day early from Easter recess. On Monday, April 12, MPs and Lords paid tribute to the Prince in their respective Houses:
That afternoon, the House of Commons reconvened to pay their tribute — from 2:30 p.m. until 10 p.m. (good grief).
Speaker Sir Lindsay Hoyle spoke first:
Prime Minister Boris Johnson had this to say:
Boris Johnson, who was invited to the funeral but declined so that another member of the Royal Family can attend, said that he would forego a pint when pub gardens reopen on April 12, out of respect for the Prince. Guido Fawkes, however, thinks that the Duke of Edinburgh would have wanted us to toast his memory, especially at a pub that bears his title in Brixton, south London:
Guido had a second tweet on the subject with another quote from the Prince:
Agreed.
Prince Philip on Australia
This is too funny. For those who are unaware, Australia was established as a place where Britain could send convicts. That was a long time ago, but the nation's original purpose was to serve as a prison: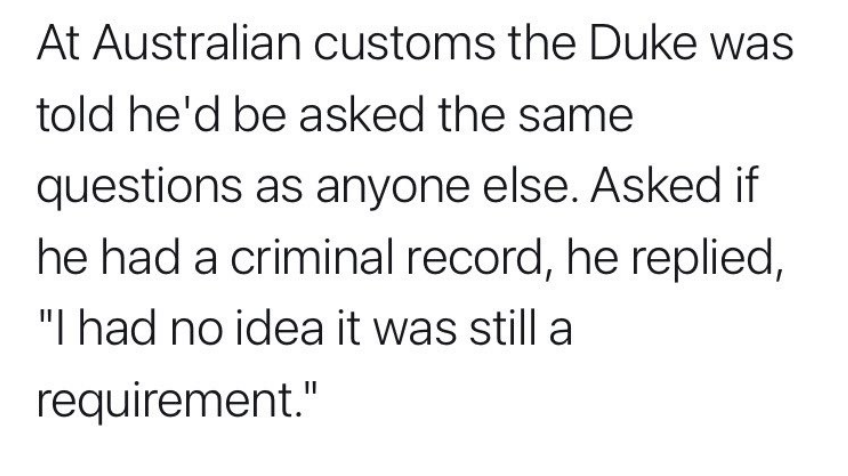 Prince Philip on civil liberties
On a serious note, the 12-minute interview below from 1984 is well worth watching, especially in the coronavirus era.
Prince Philip firmly supported the rights of the individual and believed that the state should serve the individual, not, as in our times, the other way around.
This is from a Thames Television programme originally broadcast on ITV:
I have posted the video below in case the tweets are deleted:
The Prince also said that certain subjects are out of bounds, such as the media and the NHS.
He said that the media are incapable of taking a joke about themselves and, as for the NHS, well, one cannot say anything against it. He didn't necessarily dislike the NHS but thought it was held in too high a regard. Nothing is perfect in this world.
We have been travelling a long road towards the point where we are at present: ruled by the media (they clamoured for coronavirus restrictions) and worship of the NHS. This is how Health Secretary Matt Hancock, Prime Minister Boris Johnson and SAGE have been able to rule our lives. It's been at least 40 years in the making.
BBC coverage on Friday
I was watching BBC Parliament early Friday afternoon, around 1:15, when the programme was interrupted by a broadcast from the BBC News Channel.
I checked the schedule an hour later, which said that the programme would last until 4 p.m. It was still going when I was preparing dinner at 5 p.m.
The final of MasterChef was to have been broadcast that night on BBC1. This was a clip from Thursday's programme:
Pictured are the hosts and judges, chef/restaurateur John Torode on the left and former greengrocer, now television presenter, Gregg Wallace on the right:
BUT:
The BBC News channel was simulcast all afternoon and all night long, not only on BBC Parliament but also on BBC1, to the dismay of MasterChef fans (myself included), and BBC2. BBC4 was suspended for the evening.
I read on social media that the BBC also broadcast continuous coverage of Prince Philip on their radio stations, including Radio 2, knocking out Steve Wright's drive-time show on Friday afternoon.
A friend of mine said that most of the BBC's employees were probably rubbing their hands with glee because it meant an early weekend for them. It's a cynical perspective that could well turn out to be true. We'll find out when someone writes his or her memoirs.
Everyone with a television set receives the BBC News channel. It comes into our homes at no extra charge. There was no need for the BBC to take over every channel for hours on end. By the way, if one had watched two hours of the Prince Philip coverage, as I did, one would have seen and heard everything in its entirety.
The BBC braced themselves for a plethora of complaints; they took the relevant page down on Sunday. Good. I am sure Prince Philip would have objected, too.
As much as I love the Queen, I hope they do not try this when her day comes. God willing, may it be long into the future.
Record-beating prince
Prince Philip established two records as consort to the Queen. He was the longest-serving royal consort in British history. He was also the longest-lived male member of the British royal family.
May he rest in eternal peace with his Maker.
May our gracious Lord grant the Queen, Defender of the Faith, His infinite peace and comfort in the months ahead. May He also bless the Royal Family during this difficult time.
January is a time for many people to cut back on an excess of Christmas food and drink.
In the UK, a popular way to attempt this for one month is through a vegan diet, hence Veganuary.
This year, despite the economic vagaries of coronavirus, meat consumption actually rose:
On March 4, 2021, FarmingUK reported that January sales of red meat and dairy was up compared with the same month last year. In fact, meat sales have risen throughout the pandemic (emphases mine below):
Latest Kantar data shows overall volume sales of red meat were up 15 percent and almost 12 percent for dairy, compared with January 2020.
Red meat and dairy retail sales have seen solid growth since Covid-19 restrictions began last March, with shoppers buying more through retail than pre-Covid.
Over the last quarter, growth across all red meat and dairy has been stronger than overall grocery growth at 10 percent.
Primary red meat volume has seen an 18% increase, with mince driving much of the growth within beef, along with burgers and steaks, but shoppers have also brought traditional roasting joints back to the table.
The seasonal lockdown has also led to more shoppers buying primary red meat, with increased household penetration at 83 percent, Kantar figures show …
Rebecca Miah, AHDB's Strategy Director for beef and lamb, said the red meat and dairy sectors had an excellent start to the New Year.
"[They] reflect how highly valued red meat and dairy are to consumers," she explained.
"While alternatives show growth from a small base, these are mostly complimentary additional purchases driven by interest and variety, rather than a move away from real meat and dairy consumption."
That's great news for our farmers.
Christophe Pelletier, a Canadian who studies food trends, says that increased meat and dairy consumption has also been observed in other countries:
Pelletier retweeted this thread about a University of Kansas study showing that Americans preferred beef to veggie burgers:
On March 3, the university posted an article on the subject, 'Study: consumers favor ground beef over plant-based alternatives'.
An excerpt follows:
Ground beef – offered with 10%, 20% and 30% fat — was strongly preferred for taste and flavor over plant-based alternatives, and less than one-third of the respondents said they would buy the plant-based alternatives in the store or retail settings, according to K-State meat scientist Travis O'Quinn.
"The results are pretty stark," O'Quinn said. "Our three ground beef products were highly desired by consumers. We didn't witness many differences among the three fat levels we offered, but when we compared those to the ground beef alternatives, every one of the alternatives had a tendency to fall out (of favorability with consumers)."
Consumers rated the plant-based alternatives as "extremely dry," according to O'Quinn, and rated those products "very low" for flavor. In one test, only 18% of the consumers said they would be willing to buy the plant-based ground beef alternative.
O'Quinn said the researchers tested ground beef alternatives designed for retail and food service use, and another consisting of a traditional soy protein base.
It's great to read that consumers are voting with their pocketbooks in favour of meat.
For too long now, we have been bombarded with anti-meat propaganda such as this:
The truth is that many people's health has improved because they eat meat:
Perhaps that is why we are being 'nudged' away from it: less money for Big Pharma's coffers.
Instead, we are told that meat harms our health and is responsible for pandemics:
The World Economic Forum (WEF) that meets at Davos every year insists we switch to a plant-based diet. One wonders if the bigwigs at the WEF have a plant-based diet?
The WEF works closely with the UN on food issues.
Smaller farmers are pushed out of the picture in favour of multinationals:
Yet, production of fruit and vegetables is not always kind to the environment. What about avocado production that is harming wildlife in Africa? The tweet about growing avocados is tongue-in-cheek but the effect on elephants and other native species is real:
What about this plastic monstrosity for fruit and veg in Spain? Immigrants from North Africa make up the bulk of the workers:
The Netherlands can do the same more sustainably:
There are better ways of growing crops and rearing meat. They are being implemented right now.
Here is an integrated farm of wheat and cattle. The cattle fertilise the wheat naturally. Some of the grain harvest is for them. The rest is used for consumer foods:
Smaller growers in the US and in France have been adopting this method, too.
I have seen two documentaries over the past couple of years on farming that uses an ecosystem.
One was with an American cheese maker who grows his own crops to feed the cows but also has other farm animals to keep the soil in balance.
Last week, I saw another, featuring a Frenchman who grows vegetables. He, too, has a variety of farm animals, including cows, which achieve the same objective.
And, yes, there are perfectly natural ways to reduce methane from cattle — grass grazing or a seaweed supplement:
Conclusion: the future of agriculture is hardly as bleak as we are told. Farmers are thinking out of the box — and very successfully.
The future of meat is positive — and is here to stay.
Let us avoid enthusing over a possible vaccine.
The coronavirus lockdown is a joke. All it does is suppress the 'infection rate' — number of positive tests.
England's second national lockdown — from November 5 to December 2 — ends in a three-tier system.
Most of the nation fared worse after lockdown was lifted. Only Cornwall, the Isles of Scilly and the Isle of Wight are in Tier 1.
The rest of the country ended up in Tiers 2 or 3. The south west — largely clear of the virus — ended up in Tier 2. They had been in Tier 1 and had no appreciable increase in 'infection' rates.
Leicester has been in some state of local, regional or national lockdown for months, which continues today.
London is in Tier 2, even though some of the capital's boroughs have very few positive test results.
The people of Manchester believe they were politically penalised because their politicians argued with the government. They are in Tier 3.
As the lockdown came to an end yesterday, MPs had to vote on confirming the tier system on Tuesday, December 1.
I watched the afternoon debate that day. Many more MPs spoke out against not only lockdown but also the wide-ranging tier system, which makes no allowance for local or regional differences. Kent's number of positive tests are high in the area of the county nearest London, however, the further one goes out into the countryside, the lower the positives. Nonetheless, the whole county is in Tier 2.
I was heartened to hear a number of Conservative MPs speak out against their own government and was also happy to hear from Labour and DUP MPs who opposed the tier system.
What follows is a summary of proceedings:
With 650 MPs, and excluding the SNP MPs who did not vote on the legislation, there were a lot of abstentions. I only wish those abstaining had actually voted NO. During the debate, a few MPs asked why a policy of common sense (e.g. the Swedish model) couldn't be adopted. That would make much more sense.
As Sammy Wilson, a DUP (Northern Ireland) MP, said during the debate, whatever happens in England follows in Northern Ireland. That is why they voted against:
In any event, the number of rebel MPs is increasing. As more people started paying attention to Brexit last year in Parliament, more have been watching how their MPs vote. Someone from Devon is rightly unhappy with his MP:
One MP voted Aye and No, signalling an abstention:
Wow. The deputy chief whip (Conservative) had to cast proxy votes against the Government. Not every MP can show up in the House of Commons. Some are looking after vulnerable family members or have health issues themselves:
Because the national lockdown ending on Wednesday, December 2 cannot be extended, the Government needed legislation for the tier system, to be reviewed in a fortnight's time.
As the new legislation was necessary, the House of Lords needed to approve it, too. Like the House of Commons, they also had a division — a vote:
This is the detail of the regret motion, which passed:
The Lords approved the new tier system:
In the House of Commons debate, a few MPs chided the allegation that these lockdowns and tier systems were a conspiracy. The MPs said that the Government is too inept to do such a thing. Hmm.
However, the public, whether in the UK or the US, can't really be criticised for noticing that a two- to three-week lockdown ended up in three-quarters of the year under government authority. Yes, the situation was worse in other Western countries, like Australia:
The article discussed coronavirus vaccines as well as digital payments (emphases mine):
The review said the commonwealth should set up agreements between governments and banks so contact tracers could request details of people who had made a payment at a hotspot venue. This method was used to find passengers of a Sydney taxi driver who caught the virus.
Governments are also making plans for distributing vaccines once they become available.
Any COVID-19 vaccine will be free for all Australians or Medicare-eligible visa holders. It will not be mandatory.
"There may, however, be circumstances where the Australian government and other governments may introduce border entry or re-entry requirements that are conditional on proof of vaccination," the Australian COVID-19 Vaccination Policy said.
Hmm.
Returning to Britain, a few MPs criticised members of the public, some of whom contacted them, who were sceptical of the recently announced vaccine.
The Government has measures to deal with such people — members of the British Army who were deployed earlier this year to combat lockdown scepticism. Pictured below is Piers Corbyn, MP Jeremy's brother, who was fined £10,000 a few months ago for protesting against lockdown:
It's no wonder people wonder what in the heck is going on.
ZeroHedge reported on the vaccine situation and included this photo, also from an anti-lockdown protest in London last weekend. An American tweeted:
The ZeroHedge article covered one in The Sunday Times (emphases in the original):
As anti-lockdown protests continue to rage in London, resulting in the arrests of over 150 this past weekend, The Sunday Times is out with a hugely alarming report that almost has to be seen to be believed given how open and brazen an example it is of the state using every means possible to crush free speech and independent thought.
Britain will literally use military intelligence to seek out and stamp out what The Times calls "anti-vaccine militants" and related "propaganda content" in cyberspace.
Of course, it's entirely open to state authorities' interpretation as to what this even means, and will likely morph into cracking down on any speech that's even remotely critical or questioning as to the potential harmful side effects of the new rapidly developed COVID-19 vaccines.
This as the UK has agreed to buy more than 350 million doses of vaccines from at least seven global producers, and hopes to start vaccinating as fast as possible as confirmed cases continue to rise into the winter months.
The Times writes that a secretive elite unit will be used as part of information warfare combating anti-vaccine content online:
The army has mobilized an elite "information warfare" unit renowned for assisting operations against al-Qaeda and the Taliban to counter online propaganda against vaccines, as Britain prepares to deliver its first injections within days.

The defence cultural specialist unit was launched in Afghanistan in 2010 and belongs to the army's 77th Brigade. The secretive unit has often worked side-by-side with psychological operations teams.
If this doesn't sum up the British state's self-understanding of its own immense power and control over citizens in the year 2020 then nothing else will: the military will use psyops on UK citizens to enforce vaccine group think.
Here's another tweet included in the article:
I wrote about police ganging up on protesters a few months ago, but it seems to be getting worse. Wow.
One of our Government ministers is in charge of a vaccine roll-out. The other day he said that taking the vaccine would be mandatory, which the Government denied. Before he entered politics, Nadhim Zahawi, co-founded polling company YouGov:
This vaccine is like none other. Apparently, it uses an mRNA technology, which has never been used before in a vaccine. Is it a vaccine or is it gene therapy?
Is China using this vaccine? Are they dispensing any coronavirus vaccine? This was the scene back in August:
These days, you don't even need to be an anti-vaxxer to get your collar felt. Pity poor Luke, a law student in England. The police made a mistake but wouldn't readily admit it:
How can you 'go to bed' after something like that? Luke did a good job. He'll make a great lawyer. His mum should be pleased:
Looking back to March, why would any Western nation impose a two- to three-week lockdown on its people then extend it for the rest of the year?
By New Year's Day 2021, we will have been in some form of restriction for over nine months:
Even worse, some people cannot open their businesses because of government diktat. On the one hand, in England, at least, are wet pubs (taverns). On the other are wedding organisers and venues; there can only be up to 15 people max at weddings. Meanwhile, conferences here with a few hundred people can go ahead in person.
Uhh, correct me if I'm wrong, but don't we fight wars against totalitarianism and tyranny?
There's probably a really simple preventive solution to COVID-19: vitamin D, sunlight during the summer months and a nutritious hot meal once a day throughout the year:
Instead, we have to go for nearly a year of social deprivation, awaiting a vaccine and a cashless society. The Western world has been turned on its head.
C S Lewis had a point:
Of all tyrannies, a tyranny exercised for the good of its victims may be the most oppressive. It would be better to live under robber barons than under omnipotent moral busybodies. The robber baron's cruelty may sometimes sleep, his cupidity may at some point be satiated; but those who torment us for our own good will torment us without end for they do so with the approval of their own conscience.
We could be approaching that time.
The next tweet is from the US — a reply from an investigative journalist to a commercial litigation lawyer about our new relationship with government:
I'll close with this strangely prescient video from April 2019:
But, hey, we're looking forward to Christmas, right?
These next items are probably made in China:
How they must be laughing at us.
Just remember:
And we thought that voting in a Conservative government with an 80 seat majority nearly a year ago was a guarantee against things like this! Ha!
Melbourne.
One thinks of it as an agreeable Australian city, home to middle-class gentility, often satirised to great effect by Melbourne native John Barry Humphries, AO, CBE (creator of humorous fictional characters e.g. Dame Edna Everage, Sir Les Patterson). Humphries moved to England and has lived in London for the past 40 years.
Melbourne is also home to MasterChef Australia.
Nothing bad happens in Melbourne, one would think.
Except that COVID-19 moved in.
Now everything has changed, rather suddenly.
One can imagine that Barry Humphries is relieved that he left but might empathise with the residents, who are enduring a dystopia in his once-home town.
Jeffrey Tucker, an American who enjoyed his travels in Melbourne, wrote an article dated August 4, 2020, for the American Institute for Economic Research, 'Madness in Melbourne'.
Excerpts follow, emphases mine, unless indicated otherwise.
Tucker begins by describing the Melbourne of his travels:
A happy, civilized, highly educated people are here living amidst modern architecture, inspiring bridges, and natural beauty, a place where even the police are kind, and when you ask them for directions they reply with a smile, and when you say thank you, they say "No worries."
Now things are much different:
The Premier has imposed a vicious police state without precedent in this country's history. His name is Dan Andrews (a sweet-sounding name that masks the tyrant he has become), and he tweets out pictures of empty streets to brag about what he has achieved in the name of suppressing a virus. 
Even though it is winter in the Southern Hemisphere, Melbourne's anti-coronavirus measures give pause for thought. Tucker received the following lockdown information from a friend. Emphases in purple mine:
Police may now enter anyone's home without a warrant.

Curfew 8:00pm.

$1,652 fine if outside without "a valid reason" – an amount being raised by the day

Can't visit any family or friends

.

$200 fine for no mask (mandatory masks at all times)

.

Can only exercise once per day, for up to 1 hour

. 

Only one person per household, per day can leave the house (including for groceries)

.
Can't go more than 3 miles from your home.

Weddings are illegal

.

No gatherings of any size

.
Army is on the streets fining/arresting people.

"Since March 21, a total of 193,740 spot checks have been conducted by police across Victoria."

Protests/activism is illegal; people have already been arrested for peaceful gatherings

.

Media is EXTREMELY biased, calls protesters "right wing conspiracy nutjobs" and won't allow discussion of whether these lockdowns are right or not

. 

Several thousand people were placed under house arrest and unable to leave for ANY reason, with food rations delivered by the army

, leading to appalling levels of personal trauma. 

Australia won't release how many fines they've given out, but an ABC news report says it's over $5.2 million so far

.

Streets of Melbourne are empty

, even in

a city of 5 million+ people

. People are HATEFUL to each other,

everyone is cannibalising their neighbours (calling police to report any little infraction of the rules and turning on each other like some socialist hellhole)

.
Billboards outside on the street that say in capital letters: "WHAT ARE YOU DOING? STAY HOME." They feel extremely oppressive,

like we're being yelled at by a very oppressive government

.

The Victorian Premier Daniel Andrews shows complete and utter disdain for us, constantly blaming us. He's blamed children (yes, really) for not taking this seriously enough. Every chance he gets, he tells us it's OUR fault the virus is spreading (even though that's what viruses do – they spread)

. 
It's not just the Victorian Premier –

the Australian Prime Minister Scott Morrison is just as terrible. He's encouraged all of this, and he was responsible for the first lockdown

.
1984 dystopian language: billboards everywhere saying "Staying apart keeps us together." Have they gone mad?
There's probably more but

at this point I honestly lost track of all the insanity that's happened

.
All because 147 people died in the state of Victoria (total population is 6.359 million), almost all of the deaths are over 70 with comorbidities, same as everywhere else in the world. 
This is lockdown ideology at work. It is tyranny without limit, at the expense of all human dignity, decency, and rights. The politicians make a desert and call it health. 
You also need a 'worker permit' when going to your place of employment (see banner in the police video below):
Shane Patton, the Victoria Police Chief Commissioner, says that the time for leeway is over. Now there will be fines and interventions where applicable:
There are consequences. I want to be really clear on that.
He says that there are people calling themselves 'sovereign citizens' who are 'baiting police at checkpoints'. On such occasions, Commissioner Patton says, police have had to break their car windows in order to get them to provide their personal details.
He also stated that police will arrest people for infringements of the current coronavirus rules. He did cite the incident where a maskless 38-year-old woman, with no prior criminal record, struck a policewoman in the head when confronted. That is wrong. But mandatory masks are not 100% correct, either. We were not meant to walk around wearing masks, indoors or outdoors.
So much for Dame Edna's Neighbourhood Watch. In a year or two, one could make an incredible dystopian television series on what is happening in Melbourne during these restrictions.
Jeffrey Tucker concludes his article with this (emphases mine):
Perhaps the other states in Australia will observe the destruction in Victoria and learn to take another path when the virus first arrives in their territory, as it surely will. Lockdowns are not science; they are brutality.
I cry for the once-great city of Melbourne this day. May there be justice. And may its future political leadership be granted some modicum of decency and wisdom.
All the rest of us can do is watch and pray for the people of Melbourne and surrounds.
The power of prayer is great. Don't let anyone steer you wrong on that score.
Anyone living in Melbourne is more than welcome to comment.
Oh, the irony!
On an Australian television programme recently, an outspoken SJW (Social Justice Warrior) ranted against civility, complaining that white men invented it. Language alert, but everything is this short video from ABC's QandA is subtitled. Look at the polite, albeit sceptical, reception she received. Pure civility:
A non-white rightly took exception to the woman's rant. Civility is the bedrock of all civilisations:
Yes, one can appreciate the offence taken.
Thinking back to 50 years ago, the Revd Martin Luther King Jr provided a great role model for change through civil discourse. Those days, sadly, are long over:
Of course, President Trump's style of speaking entered into the comments. What came first, horrid SJW discourse or the American president? SJW discourse:
I do hope that the chaos surrounding leftist speech and actions dissipates soon. No doubt, it will continue to escalate.
I'm not even sure depriving these people of the oxygen of publicity would help.
I have no solution other than to say that the rest of us should continue to be civil and polite members of society.