You are currently browsing the tag archive for the 'BBC' tag.
Sadly, Prince Philip, the Duke of Edinburgh, died on Friday, April 9, 2021, exactly two months short of his 100th birthday:
The Queen has lost her best friend. My deepest sympathies to her for the unimaginable loss of her long-time husband and daily confidant. My condolences also go to the Royal Family in their grief.
Young love
The couple first met in 1934, and began corresponding when the Prince was 18 and a cadet in the Royal Navy. Princess Elizabeth was 13 at the time.
She was smitten with him from the start.
Prince Philip served with distinction during the Second World War in the Mediterranean and Pacific fleets.
After the war ended, he could have had a stellar career in the Royal Navy. His superiors praised his clear leadership skills.
However, love intervened and the rest was history.
Born Prince Philip of Greece and Denmark, he renounced his foreign titles and took British citizenship before he and Princess Elizabeth were engaged. He took the surname of his maternal grandparents: Mountbatten.
He and Princess Elizabeth were engaged in July 1947. They married on November 20 that year. Shortly before the wedding, George VI gave him the titles of Duke of Edinburgh (created for him), Earl of Merioneth and Baron Greenwich.
Prince Philip remained in the Royal Navy until July 1951. He retired with the rank of Commander.
Royal succession — and surname
In January 1952, he and the Queen began a tour of the Commonwealth countries. They were in Kenya when news reached them that the Queen's father, George VI, died on February 6 that year.
Although she became Queen immediately upon her father's death, her coronation took place in 1953, as it had to be planned meticulously.
On Coronation Day, he knelt before her, clasped her hands and swore an oath of allegiance to her:
He also had to touch her crown and kiss her on the cheek.
He never had a constitutional role, nor was he ever formally given the title of Royal Consort. The courtiers did not like him, nor did they trust him. They believed his personality to be brash and unbecoming of the Royal household. They shut him out of as much decision making as possible.
When Elizabeth became Queen, the question about her family name arose. Prince Philip suggested that the Royal Family be known as the House of Edinburgh. Upon discovering that suggestion, Queen Mary, Elizabeth's grandmother, wrote to Prime Minister Winston Churchill, who advised the young monarch to issue a royal proclamation saying that the Royal Family would continue to be known as the House of Windsor.
In his inimitable style, Prince Philip complained privately:
I am nothing but a bloody amoeba. I am the only man in the country not allowed to give his name to his own children. [57]
The Queen did nothing until eight years later, in 1960, 11 days before she gave birth to Prince Andrew. She issued an Order in Council declaring that the surname of her and her husband's male-line descendants who are not styled as Royal Highness or titled as prince or princess would be Mountbatten-Windsor.
Pater familias
Prince Philip had to carve a role out for himself. He became the pater familias and, through the years, his role expanded to cover not only his four children but his grandchildren. He listened to their concerns, shared their joys and gave them advice. He knew everything that went on in their lives.
Although the public knew him for speaking as he saw — rather bluntly, on occasion — behind closed doors Prince Philip was known to be a warm, loving man.
He also favoured a more transparent Royal Family. According to the BBC, it was he who encouraged the Queen to make a multi-episode documentary on their daily lives, including those of their four children. It was broadcast in the late 1960s. I remember seeing it in the United States.
When Princess Diana died on August 31, 1997, Prince Philip was the one who kept an eye on the public mood that fateful week. He, the Queen and Princes William and Harry were at Balmoral in Scotland for their summer holiday. When the young princes wanted to attend church, their grandparents took them to the Sunday service on the day of their mother's death. Later in the week, it was Prince Philip who encouraged the boys to walk behind the funeral procession the following Saturday. He said:
If you don't walk, I think you'll regret it later. If I walk, will you walk with me? [93]
One cannot imagine what he thought of Prince Harry's departure for the United States to live a life separate from his closely knit family. I did read that the Royal Family shielded information about the Oprah interview from him.
John F Kennedy's funeral
Prince Philip was in Washington for John F Kennedy's funeral in 1963.
He had a friendly encounter with John Jr, who was still a toddler and known as John-John at the time. The child wondered where his father was, as he had no one with whom to play. The Prince stepped in to fill that gap. In 1965, the British government gave an acre of land at Runnymede to the United States for use as a memorial to JFK:
Funeral arrangements
Prince Philip was self-effacing and did not like a fuss to be made over him.
Therefore, the funeral arrangements will respect his wishes, which is rather convenient, as coronavirus restrictions are still in place. Up to 30 people will be allowed at his funeral, in line with legislation across the nation:
The funeral is scheduled to take place on Saturday, April 17:
It is interesting that Prince Harry will be able to attend when we have a 10-day quarantine in place for arrivals into the UK under coronavirus regulations.
The Sunday Mirror reported on Prince Harry's return to the UK:
He could also be released from quarantine if he gets a negative private test on day five, under the Test to Release scheme.
Given his status as a member of the Royal Family travelling to support the Queen, Harry might be considered exempt from travel restrictions.
Wow. It's nice to know we have a two-tiered quarantine system in place /sarc.
A championship boxer remembers the Prince
Former WBC Heavyweight Champion Frank Bruno MBE posted his memories of meeting Prince Philip. He is at the top left in the following photo:
An Anglican priest remembers the Prince
The Revd Peter Mullen, an Anglican priest, recalled his encounters with Prince Philip for Conservative Woman on April 10 in 'A personal recollection'.
He first met the Prince during his schooldays:
The first time I met the Prince was in connection with his Duke of Edinburgh's Award Scheme which gave a leg up to youngsters from what would now be called the less privileged parts of the country. He paid a visit to the Leeds branch of the Church Lads' Brigade of which, aged fourteen, I was a member. We were in the church hall making things. My task was to make a table lamp. I was hopeless at it.
The Duke got hold of my half-finished creation, held it up to one eye and said, 'I suppose this hole is where the flex goes?'
'I think so, Sir.'
'You think so? I was never any good at this sort of thing either!'
And he was off . . . 
As an adult, Mullen met him on more than one occasion thanks to the Honourable Company of Air Pilots. The Prince was its Grand Master. Mullen served as chaplain.
He recalls:
The Company gave a lunch for him to mark his 80th birthday and I recall how jovial he was, making light of his years: 'I believe I have lasted so long because you people are always toasting my good health, but I don't want to live to be a hundred. Things are dropping off already!'
At another luncheon one of our Liverymen who had his own port wine business presented the prince with Bottle Number One, the first fruits, so to speak. As he left, the duke handed the bottle to me: 'You have this, Peter. Our house floats on the bloody stuff.'
'Well, Sir, now I don't know whether to drink it or frame it.'
'Gerrit down ya neck!'
Prince Philip on MPs
Guido Fawkes came up with a good quote from one of the Prince's trips to Ghana. It concerns MPs. His Ghanaian hosts told him the country had 200 MPs. Prince Philip replied:
That's about the right number. We have 650 and most of them are a complete bloody waste of time.
Incidentally, Parliament will be recalled one day early from Easter recess. On Monday, April 12, MPs and Lords paid tribute to the Prince in their respective Houses:
That afternoon, the House of Commons reconvened to pay their tribute — from 2:30 p.m. until 10 p.m. (good grief).
Speaker Sir Lindsay Hoyle spoke first:
Prime Minister Boris Johnson had this to say:
Boris Johnson, who was invited to the funeral but declined so that another member of the Royal Family can attend, said that he would forego a pint when pub gardens reopen on April 12, out of respect for the Prince. Guido Fawkes, however, thinks that the Duke of Edinburgh would have wanted us to toast his memory, especially at a pub that bears his title in Brixton, south London:
Guido had a second tweet on the subject with another quote from the Prince:
Agreed.
Prince Philip on Australia
This is too funny. For those who are unaware, Australia was established as a place where Britain could send convicts. That was a long time ago, but the nation's original purpose was to serve as a prison: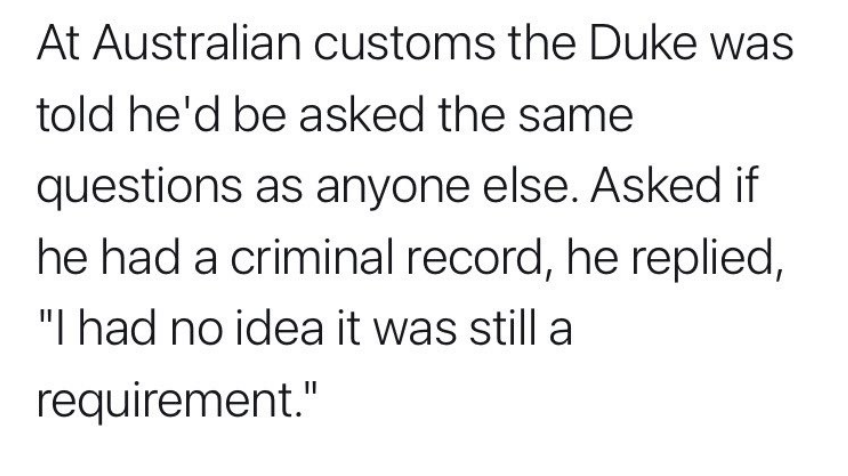 Prince Philip on civil liberties
On a serious note, the 12-minute interview below from 1984 is well worth watching, especially in the coronavirus era.
Prince Philip firmly supported the rights of the individual and believed that the state should serve the individual, not, as in our times, the other way around.
This is from a Thames Television programme originally broadcast on ITV:
I have posted the video below in case the tweets are deleted:
The Prince also said that certain subjects are out of bounds, such as the media and the NHS.
He said that the media are incapable of taking a joke about themselves and, as for the NHS, well, one cannot say anything against it. He didn't necessarily dislike the NHS but thought it was held in too high a regard. Nothing is perfect in this world.
We have been travelling a long road towards the point where we are at present: ruled by the media (they clamoured for coronavirus restrictions) and worship of the NHS. This is how Health Secretary Matt Hancock, Prime Minister Boris Johnson and SAGE have been able to rule our lives. It's been at least 40 years in the making.
BBC coverage on Friday
I was watching BBC Parliament early Friday afternoon, around 1:15, when the programme was interrupted by a broadcast from the BBC News Channel.
I checked the schedule an hour later, which said that the programme would last until 4 p.m. It was still going when I was preparing dinner at 5 p.m.
The final of MasterChef was to have been broadcast that night on BBC1. This was a clip from Thursday's programme:
Pictured are the hosts and judges, chef/restaurateur John Torode on the left and former greengrocer, now television presenter, Gregg Wallace on the right:
BUT:
The BBC News channel was simulcast all afternoon and all night long, not only on BBC Parliament but also on BBC1, to the dismay of MasterChef fans (myself included), and BBC2. BBC4 was suspended for the evening.
I read on social media that the BBC also broadcast continuous coverage of Prince Philip on their radio stations, including Radio 2, knocking out Steve Wright's drive-time show on Friday afternoon.
A friend of mine said that most of the BBC's employees were probably rubbing their hands with glee because it meant an early weekend for them. It's a cynical perspective that could well turn out to be true. We'll find out when someone writes his or her memoirs.
Everyone with a television set receives the BBC News channel. It comes into our homes at no extra charge. There was no need for the BBC to take over every channel for hours on end. By the way, if one had watched two hours of the Prince Philip coverage, as I did, one would have seen and heard everything in its entirety.
The BBC braced themselves for a plethora of complaints; they took the relevant page down on Sunday. Good. I am sure Prince Philip would have objected, too.
As much as I love the Queen, I hope they do not try this when her day comes. God willing, may it be long into the future.
Record-beating prince
Prince Philip established two records as consort to the Queen. He was the longest-serving royal consort in British history. He was also the longest-lived male member of the British royal family.
May he rest in eternal peace with his Maker.
May our gracious Lord grant the Queen, Defender of the Faith, His infinite peace and comfort in the months ahead. May He also bless the Royal Family during this difficult time.
The coronavirus lockdown has certainly contributed to the rising ratings for BBC Parliament and parliamentlive.tv.
More people are tuning in and the BBC have restyled the chyron on their screen to make it more user friendly. We now know what the debate topic is as soon as we tune in.
However, ratings for televised coverage of Parliament began climbing in 2015, when David Cameron was Prime Minister.
On February 12, 2016, Total Politics reported (emphases mine, apart from the italics):
BBC Parliament has reported a record high of an average of two million viewers a month for the first time ever in 2015.
This is an increase of 150,000 viewers each month on the 2014 figures – and it marks the first time the BBC's dedicated parliamentary channel has broken the two million viewers per month threshold.
The channel has more live coverage than ever before and covers proceedings from Westminster, the European parliament, the Welsh and Northern Ireland Assemblies and the Scottish Parliament.
BBC Parliament controller Peter Knowles told TP:
"Providing more live coverage of the key political debates and discussions has meant that during 2015, a dramatic year in politics, we've seen a surge in people using BBC Parliament to follow proceedings.
"New camera positions are also giving our coverage a fresh feel as this parliamentary term is now in full flow."
Apparently the new camera angles, brought in last year, represent the first such change since 1989. According to a BBC spokesman, the new camera angles "bring audiences closer to the key exchanges, debates and votes".
So much for the public being turned off by politicians…
In 2020, in a review of the 2017-2019 Parliament under Theresa May's premiership and with John Bercow as egotistical Speaker of the House, The Institute for Government stated:
Members of the public can now view parliamentary proceedings on a variety of platforms. Run by the parliamentary Digital Service, parliamentlive.tv is the most comprehensive source of parliamentary video and audio, publishing recordings of all events – including meetings of select committees – taking place in public.[24] The site allows members of the public to watch events live, access video on demand and search archive footage going back to December 2007. It is also possible to download clips from parliamentlive.tv – with nearly one thousand clips downloaded on average each week between 5 March 2018 and 30 December 2019. These clips are often shared by MPs, interest groups and political parties on social media. BBC Parliament also carries live coverage of key parliamentary activity.
Parliamentary tensions over Brexit were a massive driver of viewers for Parliamentlive.tv. 
Average daily viewer numbers increased over 150% from 6,552 per day in 2017 to 16,607 per day in 2019. BBC Parliament also saw record viewing figures – the only BBC TV channel experiencing an increase in viewers. An average of one million adults tuned into the channel for at least three minutes each week during 2019, with viewing figures exceeding two million in several key weeks. One commentator described the channel as "the ratings hit that's Big Brother meets 24 – with added Bercow".[25]
Controversial and compelling Brexit debates continued when Boris Johnson became Prime Minister.
On Wednesday, September 4, 2019, the Radio Times reported:
BBC Parliament hit an all-time ratings high on Tuesday as Boris Johnson suffered his first defeat as Prime Minister, with MPs voting to take control of the House of Commons in order to force a vote on a bill that will prevent a no deal Brexit.
Some 1.5m viewers tuned in across the course of the day, marking the biggest 24 hours for the channel on record.
The drama in Westminster continues into Wednesday, as opposition parties and Tory rebels lead a debate on Labour politician Hilary Benn's bill to block a no deal Brexit …
The channel is providing live coverage from the House of Commons throughout the ongoing Brexit crisis, and it is captivating the nation – even drawing viewers away from the beloved Great British Bake Off, which aired its latest episode on Channel 4.
The Radio Times article included two tweets, the first of which is from British television's most famous money pundit, Martin Lewis:
Last year:
Even on less contentious days, the debates can be absorbing, such as a recent closing debate about the threat to driving tests in High Wycombe, Buckinghamshire, not far from London. I watched it while preparing dinner when it aired, and it was compelling. Mail on Sunday columnist Dan Hodges, who is actress/former MP Glenda Jackson's son, tweeted:
Once one starts watching Parliament in action, it is difficult to stop. We get to know the MPs and predict what they will say. With coronavirus, we have the added bonus of seeing what the interiors of their houses look like.
The day's order papers are on the PARLY and House of Commons Twitter feeds:
The most recent development in broadcasting from the Houses of Parliament is a new fit-for-purpose gallery, which Speaker of the House Sir Lindsay Hoyle visited on Tuesday, March 2, 2021:
In a further development, Chancellor for the Exchequer Rishi Sunak will be giving the first-ever press conference about the budget on national television following his statement in Parliament on March 3. Guido Fawkes has more:
After presenting his budget in the House of Commons on Wednesday, the Chancellor will scarper over to No. 10 to take questions on it from the public and journalists from 5pm. The televised event will be the first of its kind on Budget Day …
More on that and the budget tomorrow.
Below is Episode 5 of Spectator TV's The Week in 60 Minutes, which aired on Thursday, October 1, 2020:
It was another hour of informative television, hosted by Andrew Neil.
Discussion points prove that a week is a long time not only in politics but also where coronavirus is concerned.
Although the first segment is now dated, as thousands of extra 'cases' (positive test results, for the most part) were discovered missing from English coronavirus stats last Friday, The Spectator's economics correspondent Kate Andrews reviewed Chief Scientific Officer Sir Patrick Vallance's alarming graph from two weeks ago. The English stats were flat when Andrews gave her commentary.
This is a graph from October 6, showing actual data plotted against Vallance's:
This is also worth noting, including the comparison of hospitalisations from earlier in the year:
Kate Andrews said that France and Spain are levelling out. Nearly one week on, that is continuing. Spain's positive test numbers/cases are falling noticeably:
In any event, Andrews rightly pointed out that COVID deaths are still far fewer than flu or other causes. In fact, she said, 51% of Britons now worried about the economy, particularly in light of lockdowns across a growing swathe of England in the North and the Midlands.
Spectator editor Fraser Nelson thinks Boris has created some space to evaluate COVID measures, as he will now be meeting with Vallance and Chief Medical Officer Dr Chris Whitty once a week.
The magazine's political editor, James Forsyth, said that the hotspots are more regional now and that Tory MPs from regions with lower positive test rates will ask for easing lockdown restrictions with more focus on improving the economy. That has happened in Parliament but not to a great enough extent to make a difference when it comes to voting on coronavirus restrictions. The Government won the vote on the Rule of Six hands down this week.
Kate Andrews says economists now think recovery will take longer because of new restrictions.
They are absolutely correct. A lot of businesses in the hospitality and entertainment sectors are likely to suffer during the winter months. Restaurant and banqueting venue owners do not know whether they should take bookings for Christmas parties. Businesses — their customers — are also loath to make large Christmas bookings. At the weekend, Boris predicted that the coming months would be 'bumpy' through Christmas 'and possibly beyond', perhaps 'until Easter'. Boris and much of his Cabinet are banking on a vaccine appearing on the market by that time. Oh, dearie, dearie me.
The best part of the interview was the segment with Prof Sunetra Gupta, an infectious disease epidemiologist and a professor of theoretical epidemiology at the University of Oxford. Last weekend, Prof Gupta signed the Great Barrington Declaration in western Massachusetts, opposing the current form of Western lockdowns. Those who wish to watch that segment separately can tune in below:
She doubted the validity of Vallance's graph which, she said, still applies to the first, rather than a second, wave. She said that what we are seeing is in line with the way viruses work in the autumn. She thinks that governments and scientists should move away from lockdowns because of other equally urgent issues involving human life. She also said that lockdowns serve only to delay more COVID-19 cases. She believes that we need to learn to live with the virus and added that it should settle down eventually, as with the flu. She says this is called endemic equilibrium. She told Neil that she recently met with Prime Minister Boris Johnson. Unfortunately, she said, Boris told her he disagrees with her scientifically reasoned request to return to normality.
That makes it even more obvious that Boris is all in for a vaccine, nothing less. How sad.
Talk turned to the appointment of a new chairman of the BBC. Charles Moore, a long-time conservative journalist and former Spectator editor, was thought to be the likely candidate last week. Andrew Neil interviewed Claire Fox from the Institute of Ideas, who spoke about Charles Moore and the BBC, which many Britons believe is biased against conservative ideas. Claire Fox said that we have to have a national discussion and 'shake up' about what we expect from the media, because people think there is a one-sided narrative and 'groupthink at their core'.
Fraser Nelson said that conservatives don't really play that game, to their detriment.
In the days that followed, Charles Moore indicated that he would not apply for the job at the BBC (more here from The Telegraph):
Andrew Neil discussed the US election debate, which had taken place earlier last week. Matt Purple of The American Conservative, probably the only anti-Trump journalist at that publication, said it was 'a Chernobyl', largely because Trump does not correct his errors. He said that Biden is ahead in the polls. Neil asked about the undecided voters watching the debate. Purple said that Trump's 'temperament' is the issue. He also thinks that independent voters see Joe Biden as a 'better package'. He added that incumbents have a record to defend and that Trump 'burned the most'.
I find it incredible that Matt Purple thinks Trump is a bad president. I wonder why he works for The American Conservative, which Rod Dreher, a solid conservative, edits.
In any event, Purple's words were music to Andrew Neil's ears. Like most middle- and upper-class Britons, he loathes Trump, for whatever reason.
Neil asked Kate Andrews, an American, whom she preferred. She said that, although she is conservative, she was leaning towards Joe Biden. No surprise there.
Neil said that Trump is going to lose both the popular and Electoral College vote. He mentioned a plethora of court cases to be settled afterwards.
Looking into American history, Neil mentioned the controversy surrounding Rutherford Hayes's election in 1876, which took four months to resolve. Purple agreed, predicting more violence in the streets.
Andrew Neil ended the hour by reading out questions from viewers.
John Prescott (not the retired politician) asked about coronavirus metrics. Gupta said that health officials need to look at deaths and the correct number of cases versus the number of tests then benchmark those data against other infections.
Roger Murphy asked about reversing lockdown. James Forsyth said that we will see in a fortnight, because this is the first time we have seen local pushback to lockdowns. Fraser Nelson said that Boris is missing the point. Lockdown, he added, will not help strengthen the Red Wall that the Conservatives won in the North last December. Locking down London is another possible sticking point.
No doubt this week's Spectator TV broadcast, to be filmed on Thursday, will cover Boris's speech at the Conservative Party conference and rebel Conservative MPs who want lockdown rules to be changed. I'll post that video soon.
On the back of the highly successful televised daily coronavirus briefings, No. 10 Downing Street has taken the decision to broadcast weekday afternoon press briefings in October 2020.
At least 2 million people viewed the daily coronavirus briefings every day. Anyone who watched them regularly, as my far better half and I did, knew exactly what the latest on coronavirus was.
I used to tune into the BBC afterwards to get their 'spin' on the briefings. I felt as if I were living in a parallel universe, because the self-proclaimed 'nation's most trusted' broadcaster twisted all the main messages.
Therefore, it is no wonder that press briefings are sure to be a ratings winner. Britons at home will be able to see and hear the government's messages first hand without the spin.
Not surprisingly, the media do not want these briefings televised.
ITV's political editor Robert Peston is opposed:
Oh, having questions from the public would be great. They worked well on the coronavirus briefings.
Peston really loathes the idea of televised briefings:
Sky's Beth Rigby also made her opposition clear:
The Press Gazette does not seem to like the plans, either. On July 3, they posted an article, 'Televised press conference to permanently replace afternoon Downing Street press briefing'.
Excerpts follow, emphases mine:
The briefings will commence in October, be hosted by a political appointee who expected to be an experienced broadcaster, and will take place in a room at Number 9 Downing Street to be converted into a media suite …
Boris Johnson confirmed the news on LBC, saying people had liked hearing directly from the Government during the Covid-19 press briefings.
"People have liked a more direct, detailed information from the Government about what is going on – and I think that they've actually particularly liked our brilliant scientific and medical advisers, possibly more than the politicians to be frank," he said.
"We do think that people want direct engagement and want stuff from us, and so we're going to have a go at that." …
The Daily Mirror's Pippa Crerar, chair of the Parliamentary Press Gallery, and the Mail's Jason Groves, chair of the Lobby, said in a joint statement to Press Gazette that they hoped the changes weren't being made to reduce transparency and Lobby journalists' access to ministers …
See, they care only about themselves. They do not care about the general public.
There was more negativity:
Their comments were echoed by Huffpost's executive editor for politics Paul Waugh who said on Twitter that the success of the briefings would "depend on whether they lead to genuine scrutiny or propaganda/grandstanding".
The Society of Editors shared a similar warning that the Government must not make the briefings too "stage-managed" or pick and choose who is allowed to take part.
Executive director Ian Murray said: "If the aim of the televised briefings is to enable greater transparency then it will be important that they are of sufficient length and inclusive in nature to ensure a broad cross section of the media is able to question the government.
"It is vital that the government gives assurances that journalists or media providers out of favour with the administration will not be barred from such briefings and will also be given the opportunity to pose questions.
"Briefings that are too stage-managed and favour the few will not be in the best interests of the public as a whole."
Yeah, right.
The coronavirus briefings worked really well, so there is no reason to think these will be any different:
The daily Covid-19 press conferences often saw millions tune in to find out updates and see journalists from a wide range of publications grill ministers and scientists.
Guido Fawkes (Paul Staines) was the only one who championed the briefings. He is the UK's foremost political blogger. As early as January 9, he wrote 'Live Stream the "People's Briefings" from Downing Street'. He and his team used to report the highlights from the lobby briefings but perhaps coronavirus put an end to their attendance. In any event, this is what Guido said (red emphases in the original):
In a digital world where news happens in realtime, not to inky deadlines, it is time to just put the briefings out live, streamed to everyone on all platforms. During the election Boris livestreamed his "People's PMQs" on Facebook, demonstrating there is no technological reason why the briefings can't be broadcast via a free digital feed to everyone. Hacks will still get to ask the questions, they just won't be able to spin off-camera, privately delivered answers as they do now. 
The reality is that it isn't in the interests of hacks to open up the Lobby system or insist more often that quotes are on the public record. Intermediating allows them to more easily introduce their opinions into their new reports. Transparency will devalue their role because information scarcity makes their possession of a spokesman's phone number so much more valuable. A start to improving and opening up the system would be to put the people's briefings into the open, in realtime as it happens…
I couldn't agree more.
On July 2, Guido declared victory when No. 10 announced the news:
He wrote (red emphases in the original):
Guido has won a big victory against the Lobby today, breaking open the Lobby's preferred closed-style of briefings from Downing Street …
Boris Johnson has clearly listened to the argument for "a culture of transparency and openness'' in Westminster by backing the broadcasting of the afternoon press briefings and reducing the number of spin doctors across Whitehall. After the success of the televised Covid briefings, Lee Cain plans to continue the on-camera afternoon government briefings. The role will be filled by a political appointee…
Expect an experienced broadcaster to get the job. No 9 Downing Street – where off-camera press briefings are currently held – will be turned into a modern media studio for briefings. A Downing Street source says: "For too long we've been running an analogue system in a digital age. People want to hear directly what the government is doing and to see it being held to account…"
Get this next bit, though. Who knew we had 4,000 communications people employed by the government?
The whole of government communications is being overhauled by Alex Aiken, the Executive Director for Government Communications – it will see departments ordered to reduce the 4,000 spin doctors employed by the government. Aiken and Cain believe the changes will lead to smaller, more agile communications operation. Officials have also been told of plans to plans to drastically reduce the government's communications operation and the number of press officers across Whitehall. Guido's happy that a decade-long campaign for government briefings unfiltered by Lobby journalists has finally been won…
Me, too.
Veteran broadcaster and journalist Alastair Stewart wrote a good article on this for The Spectator: 'Boris's TV briefings could end the lobby pantomime'.
The term 'lobby' in this particular context refers to the media.
Pantomime — 'panto' — in Britain refers to a Christmas play based on popular old fairy tales, e.g. Puss in Boots. They are fun, noisy performances, often featuring famous television actors in crazy costumes.
One thing we learned from the coronavirus briefings is that the top journalists often ask the same question in an attempt to trap the government. From Monday through Thursday, these journalists were often Laura Kuenssberg (BBC), Robert Peston and Beth Rigby.
I used to watch Laura Kuenssberg afterwards for her spin, which always put an unfavourable light on the government, even when they had something positive to report.
Alastair Stewart says:
Political correspondents often asked the same questions, most seeking a 'gotcha' moment in relation to something that should have been done sooner, or better. On occasion they would also use the event to ask questions about non-coronavirus matters.
True, very true.
I was delighted when the government opened up briefing questions to the public. Normally, they had one short video and one written question every day. The public asked useful questions.
The regional press journalists also asked pertinent questions.
Both the public and the regional press were streets ahead of Kuenssberg, Peston and Rigby.
Alastair Stewart thinks so, too:
While the local and regional press were often better still at asking specific, trickier questions which people actually wanted to know the answer to. Most interesting of all perhaps were the members of the public, allowed into the secret society in the closing phase of this farce which inevitably always included some hapless person struggling with the 'mute' button.
He is right about referring to the lobby as a secret society:
I am not, and never have been, a member of 'the lobby' but it is a sort of Masonic gathering of the political hacks with the Downing Street spokesperson. It is almost as ritualistic: steeped in secrecy, they use the language of 'sources', 'unattributable' or 'off-the-record' and other linguistic mysteries of the game. And, like a St James Club, only members are allowed in.
And, yes, there is 'a line' that these guys and gals want to pursue for their anti-government narrative of the day:
When I was a member of the lowly Industrial Correspondents' lobby, we would gather after a briefing to discuss what 'the line' was. I understand a similar game is often played by the political corps, post the Number Ten gatherings. Johnson wants to bust this wide open by putting his man or woman in front of the camera, fielding questions from hacks who will doubtless be ready for their close-ups too.
I disagree with Stewart on the follow-up questions. They became irritating, because the most prominent reporters were grandstanding. He, however, sees it differently:
One precedent that surely will endure from the Covid-19 events will be the supplementary question. It was an error for Johnson to drop these when he was the host. Others, like [health secretary] Matt Hancock, often used them to great effect. What's more, they added to the public cut and thrust of an exchange between a reporter and a minister. It could be enlightening and, at times, entertaining.
As we do not know yet who will front these briefings on most days, Robert Peston has a suggestion:
Of course, occasionally, a government minister or Boris himself will be at the podium.
Stewart reminds us that past press secretaries had been journalists during their careers:
Churchill had his Brendan Bracken, an FT man. Wilson, Joe Haines, a Mirror man to his finger tips. Thatcher's Bernard Ingham served the Yorkshire Post and, ironically, the Guardian with distinction. TV has less of a role of honour today but the former Sky News man, the excellent Joey Jones, had a spell in May's Downing Street.
Who knows what effect this will have on today's journalism. It is likely to step up a notch. One hopes so, anyway.
In any event:
There is more merit in having a free and frank exchange between press and politicians, in the full glare of the TV lights, than in continuing with the semi-secretive pantomime of the lobby.
The public has a right to know what is really going on in government, without the filter of agenda-driven journalists who by definition oppose conservatives and Conservatives.
It's great that, post-coronavirus, Boris has resurrected the notion of the 'People's Government'.
My word, has this year been bizarre. You couldn't make it up: Brexit, absurd attacks on Trump, followed by coronavirus and protests.
Now we have a British journalist's attack on the platform known as Twitter.
Except that Tim Stanley calls Twitter a 'website'. Never mind. He objects to ordinary people using it.
One cannot help but agree that another media behemoth — the BBC — is a huge problem here:
As to referring to Twitter as a 'website' (so last century):
Tim Stanley writes for The Telegraph. No complaint against him personally, but:
True enough.
Within the next few months, Prime Minister Boris Johnson's government will be televising daily press briefings to the public, as the United States has been doing for several years.
The British daily coronavirus briefings were a big draw, with at least 2 million Britons viewing per day. As such, it makes sense to televise what are called 'Lobby' (media) briefings.
To be fair, only the afternoon sessions from No. 9 Downing Street will be televised, not the morning ones. Nonetheless, opposition is already mounting. Cheers to Guido Fawkes for getting the ball rolling earlier this year:
Then someone posted the following. British readers will recognise the blast from the past (second tweet), Chris Morris's Brass Eye, which ran during 1997 and once more in 2001:
At the time, British television had a number of hard-hitting documentaries, all of which Chris Morris and his capable team of actors satirised.
In many ways, they also foresaw today's 24-hour news in Britain, which ranges between sensational and psychotic.
Even more important, Morris and Co. managed to get actual public figures to take part in their series. Who knows how they did it, but in the 'Crime' episode below, they interviewed the late Conservative MP Rhodes Boyson (no fool he), the gangster 'Mad' Frankie Fraser and the then-newspaper owner David Sullivan.
It's unbelievable that they took it all seriously.
My apologies if this full episode is geo-localised. It really is a triumph of its time:
My point is that showing us the daily press briefings from Downing Street will show us what a scam the media truly are.
More to come once the briefings begin.
Meanwhile, I do miss Brass Eye. Long may it be remembered.
Thank you, Chris Morris. Even watching this episode of 'Crime' that I'd seen when it first premiered, I nearly ruined a keyboard while laughing.
You made news imitate art.
This is why the Downing Street press briefings will be greatly anticipated in our household.
Thank you, Boris Johnson. Thank you, Dominic Cummings. I can hardly wait.
The following British coronavirus version of Rudyard Kipling's If– (original full text here) with regard to coronavirus brought a smile. I hope it does the same for you.
It's a comment that Steven Brook left on a Spiked column by Brendan O'Neill: 'What Neil Ferguson's booty call tells us about modern politics'.
I've added a few grammatical edits to this witty take on the virus:
If – by Mr Kipling
If you can lose your head when all about you are losing theirs and blaming it on you for not panicking sooner.
If you can hide your doubt, judgement and perspective and put your faith in experts like Piers Morgan
If you make no allowance for other considerations, the economy or unintended consequences.
If you can wait and not be tired by waiting for a vaccine that is unlikely to turn up.
Or meekly accept being lied about, because the mainstream media don't deal in facts any more.
Or being hated, don't even think of cutting the public funding to the hatemongers.
And yet don't look too normal, nor talk too wise, just put your critical faculties on one side and show you care …
If you can dream of a multicultural paradise but ignore the reality of a fragmented rudderless society
If you can think, then, for God's sake, hide those thoughts, or you will look cold and heartless.
If you can meet with Triumph and Disaster, having beaten the virus but wrecked the economy.
And treat those two impostors just the same; who needs a healthy economy anyway?
If you can bear to hear the truth you've spoken
Twisted by the BBC to make a trap for fools, but you're too scared to deal with that nest of vipers.
Or watch the things you gave your life to, broken, the family, freedom of speech, education.
And stoop and failed to build 'em up because you imported third rate tools from China:
If you can make one heap of all our national wealth
And risk it on Prof Ferguson's model which forecast that 121% of the British population would be dead by Easter.
And lose, because Imperial College has a long history of getting things completely wrong and start again at the beginnings.
And never breathe a word about our loss because no one takes responsibility for previous panics (and, for goodness sake, don't publish the grooming report).
If you can force your heart and nerve and sinew not to strangle Robert Peston even though he richly deserves it.
To keep having press conferences long after they have become utterly pointless.
And so hold on when there is nothing in you
Except the Will which says to them: 'You do realise that Common Purpose runs the UK?'
If you can talk with the public while selling out your nation to the globalists
Or walk with the Davos crowd — but still pretend to have the common touch,
If neither foes nor loving friends can hurt you because you burnt the photos of you with the lady boy.
If all men count with you, but George Soros particularly;
If you can fill the unforgiving news cycle
With sixty seconds' worth of calm reassurance,
Yours is the Earth and everything that's in it, which, sadly, is a lot less than it used to be.
And—which is more—you'll be a modern politician, old chum.
It nicely sums up the past two (and a bit) months here in England.
Last week, a number of essays and interviews about lockdown appeared in Britain.
There are still people who think that it can be lifted as quickly as it was imposed in so many countries. As we have seen across much of the Free World, as it used to be called, lifting lockdown must be done in stages, otherwise, we might have a second spike in coronavirus cases.
Here in the UK, Prime Minister Boris Johnson followed the Swedish model until the evening of Monday, March 23, when he announced lockdown.
Was it because of Professor Neil Ferguson's (dodgy) numbers? Was it media pressure as they asked daily for a lockdown 'like Germany, like Italy'? In time, we will find out why. Perhaps Boris did not want to be labelled a mass murderer, as he surely would have, if he did not succumb.
Here are the British fatality figures from COVID-19 compared with other pandemics over the past 112 years: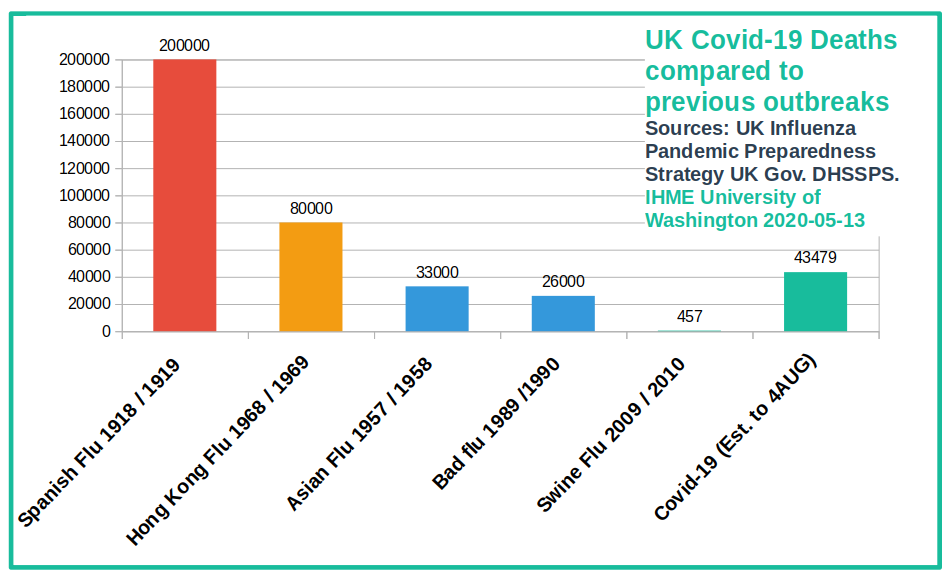 Did we lockdown in 1918 and 1919 for the Spanish Flu with 200,000 deaths when our population was smaller? No.
Did we do it for the Hong Kong flu in 1968 and 1969 with 80,000 deaths, again when the population was smaller than today? No.
Therefore, it makes little sense that we did so in 2020 with a larger UK population and 43,479 projected deaths.
Lionel Shriver, an American author (We Need to Talk about Kevin), who lives in the UK, provides current worldwide death statistics from other causes in 'This is not a natural disaster, but a manmade one', which she wrote for The Spectator on May 16. Emphases mine below:
For maintaining a precious sense of proportion, check out some other annual global fatalities: influenza, up to 650,000. Typhoid fever, up to 160,000. Cholera, up to 140,000. Malaria, 620,000 in 2017, almost all in Africa (so who cares, right?). In 2018, tuberculosis, developing treacherous antibiotic resistance, killed 1.5 million people. Why haven't we closed down the whole world for TB?
I couldn't agree more.
She expresses my deepest reservations here:
I am steeped in dread. I foresee months, if not years, of inane gesturing towards 'safety' that makes no appreciable difference to the nation's health, but does manage to 1) ruin everyone's enjoyment; 2) perpetuate the socially poisonous notion that one's neighbour is a threat to one's very life; 3) maintain an atmosphere of the extraordinary, in which the state may violate civil rights at will; 4) lay waste to what little might otherwise have remained of this country's economy. The lockdown has been bad enough. Post-lockdown could be worse.
Shriver understands. Forget 'science', this will be the reality:
With narrow profit margins, restaurants can't survive serving a fraction of their previous clientele. Half of all UK pubs are already kaput, and the other half will soon go under if lone customers self-isolate over their drinks like sullen alcoholics. Plenty of manufacturing won't function with employees so far apart. The arts are finished.
What she says about London is bang on the button:
West End theatres with audiences a third their former size will close. The Albert Hall is also looking at social-distancing bankruptcy, as well as considering the banning of intervals because the loos will have to be shut (sounds relaxing). The Royal Opera House's streaming of Swan Lake without a live audience makes no money.
Oh, and transport! In London, social distancing is expected to reduce Tube passenger numbers by 90 per cent. Five million people daily ride the Tube, or used to, so how are the other 4.5 million meant to get around? By bicycle. Right. Now, I can assure you that pre-Covid it was already a nightmare to cycle in the capital, as chocka with two-wheelers as the old Shanghai. But forget buses, allowed to carry 15 per cent of their previous ridership. We're told that to get into a sparsely populated lift, we may have to make a reservation on an app. But never fear. I guess we could always throw ourselves off the balcony instead. Why, with the masky, glovey, get-away-from-me future we're all facing, taking that shortest route to the pavement starts to appeal.
Then there is the 14-day quarantine of incoming air passengers from other countries. France is implementing the same policy and, oddly, the French think it's a good idea:
Worst of all, lest some sector somewhere still struggles back to solvency, we'll now order air passengers from abroad to 'quarantine' for a solid fortnight straight off the plane. Because passengers can promise to quarantine themselves in a particular location, this policy comes with obvious enforcement problems. Quarantines will either be roundly ignored (so what's the point?), or they'll require extravagant police resources to keep rapping on doors to ensure some visiting Canadian didn't nip out for a litre of milk. What this policy is guaranteed to achieve is the total devastation of both the British tourist industry and British airlines, especially since the business travel on which aviation depends will evaporate.
On Sunday, May 17, The Spectator posted another article: Claire Fox's 'My fears about the "new normal"'. It explores how we are beginning to view the return to freedom in England during our partial lockdown lift as well as at the resistance to lockdown lifting:
The present lifting of restrictions – despite being mild to the point of mealy-mouthed – is opposed with similar howls of caution; each minor freedom we are granted is treated as a dangerous act of rashness. This approach indicates a deeper estrangement from freedom than merely a pragmatic shrug of acceptance of short-term measures.
In this context, I fear that the 'new normal' will involve a new attitude to freedom. Already, culturally, you can feel a shift. I find myself grateful to be given access to public parks, to be allowed to take more exercise (when normally I would take none). Going to the shop for a non-essential birthday present last week, I was as furtive as a would-be criminal. And in all the discussions on post-Covid life, basic freedoms are treated as something that we need permission for: a piecemeal, rules-based, government allowance, handed down and punitively policed if we dare over-step the mark, whether it is by a clandestine meeting with mates or a sly assignation with a lover.
The left are more worried about lifting lockdown than conservatives are. Who gets nearly all the media attention? The left.
Fox rightly points out that we are going to have to wean ourselves off the overriding concern over COVID-19 deaths and start looking at what else has been going on in our society over the past two months: serious health conditions and suicide among them.
The tension between the left and conservatives reveals how each group views God-given liberties, which Western governments are supposed to defend. Instead, we are now experiencing discussions in the media about freedom versus safety. Fox says:
My nervousness is that for many the value du jour is safety rather than freedom.
The state's role in keeping its citizens safe has historically created familiar tensions in weighing freedom versus security. Most recently, civil liberties activists internationally raised concerns that policies introduced to keep people safe from the threat of jihadi terrorism have resulted in widescale illiberal incursions into the rule of law, privacy and free expression. But in dealing with Covid, there's an added element. When those who resist lifting lockdown cite what-if doomsday scenarios, they posit freedom itself as the enemy of safety: liberty itself is presented as threatening lives …
Is it really such a stark choice as: dead or safe? Alive or free? In fact, we owe our own freedoms to others who put their safety and lives on the line. Every freedom fighter – whether Hong Kong democracy activists, Kurdish fighters who defeated Isis, or those we remembered on the VE Day anniversary – all took on totalitarian states and risked their lives and safety in the fight for free societies.
…reorganising life around safety as an end goal feeds on subjective, free-floating feelings of insecurity and can rob us of the confidence to live free lives. And that is my greatest dread: that we lose the habit of living freedom. Like the apocryphal released prisoner who misses the routine and security of jail so much that he contrives to be re-arrested, is there a danger that we become institutionalised into withdrawing from the undoubted demands that freedom makes of us?
The government has made physical exercise almost mandatory during this lockdown. But freedom, too, is a muscle that needs to be exercised, or it will atrophy. But exercising freedom is no easy ride, and can be as painful metaphysically as the most strenuous workout. To exercise our freedom as autonomous citizens we have to make difficult decisions, use our judgement, live with the uncertainty of knowing there are no preordained outcomes. It's a risky business: we will invariably make mistakes that we'll be held responsible for; we will sometimes take the wrong road and have to live with the consequences, with no-one to blame but ourselves. Relieved of many of these dilemmas during this extraordinary period of having our liberty curtailed, it is perhaps understandable that many of us rather dread entering the fray of freedom.
Several weeks ago, I saw a BBC interview of a Chinese family coming out of lockdown. The mother said that they valued a draconian lockdown because the State was protecting their health. She said that safety trumped liberty (as much as can be had in China). How soon will it be until we have a sizeable number of Britons saying the same thing?
But who wants to be cooped up — accomplished in a five-minute announcement on television — when it robs our lives of meaning?
Fox concludes:
So if we are to have a 'new normal', can it aim to embed within it freedom's historic role as a virtue worth dying for, and make its clarion call the joyous rewards of a free society that makes life worth living. Being able to love who we want; read, write and think what we want; associate with who we want; vote for what we want – all this and so much more allows us to be agents of our own destiny, to write our own life story rather than being bit part characters in someone else's story.
If the Covid narrative insists on a new normal, let's ensure the script contains Goethe's quote that 'freedom and life are earned by those alone who conquer them each day anew'. Despite the grim tragedy of recent months, we need to make freedom central to the Covid storyline to ensure that there's at least some chance of a happy ending to this tragedy.
On May 17, the BBC interviewed a retired Justice of the Supreme Court, Lord Sumption, who offered similar, salient arguments against lockdown, which he said should be lifted now, as there is no need for it. He said that he has been obeying lockdown rules, because the law obliges it, but, if the pubs were open — even crowded ones — he would go to one. Similarly, he said, if theatres were open, he would attend a performance. He spoke of the many negatives of lockdown to health and civil liberties. At the end, the interviewer asked him what he had been doing during lockdown. He replied that he would not say because he did not want to be verbally attacked by the BBC!
This is definitely worth watching (eight minutes in length):
There was a time, back in early March, when I thought the Conservatives were on our side.
I hope I am wrong in doubting them. We'll see what happens in the weeks to come.
Last week, a few British polling companies took the pulse of the nation with regard to coronavirus.
But first, let's look at an international poll from Morning Consult of G7 countries and their leaders' popularity during the pandemic. Congratulations, Boris Johnson — far above the others in popularity!
Returning to Britain, here are the results from a YouGov/Sky News poll. Keir Starmer, incidentally, is Labour's new leader:
This is the poll in more detail. Dr Chris Whitty is the UK's chief medical adviser; Sir Patrick Vallance is the chief scientific adviser; Dominic Raab, Secretary of State for Foreign and Commonwealth Affairs, is Boris's deputy; Matt Hancock is Secretary of State for Health and Social Care; Sir Keir Starmer is the new leader of the Labour Party:
The next one is Survation's poll on trusted sources of information during the coronavirus crisis. Note that the media come lowest, well below that of despised politicians and local government, regardless of the fact that most Britons get their information from broadcast and print media:
Here is a poll from YouGov for Reuters Institute and Oxford University:
Here's one from a Twitter user. Comments follow (DM is the Daily Mail):
One radio talk show host thinks the British public are too stupid to understand media. I try not to use the word delusional, but this is delusional:
The British government are actually doing a great job in managing the coronavirus outbreak. The NHS has not been overwhelmed.
Before the crisis started, according to the Global Health Security Index, the US was rated first in the world for handling a pandemic. The UK was rated second:
Have both the US and the UK been too scrupulous in recording deaths, as — according to some graphs — both countries have the world's highest fatalities? We shall see, once this is over.
Otherwise, sure, there have been ongoing issues with obtaining PPE, BUT is that the government's fault? Aren't NHS procurement managers in charge of that? Ditto care homes, which are either privately owned or council run.
Never mind that, though. Obtaining PPE has been a problem for nearly every nation during this pandemic.
Below are photos of German medics. The BBC often asks, 'Why can't the UK be like Germany?'
Hello, BBC. Germany has a PPE shortage, too:
Despite that and despite lockdown, the British support Boris and his team. This was as of April 21, published on April 26:
Regardless of the government's careful managing of this crisis, the media dig deep every day to report only bad news. Largely, they are still hurting over Brexit, which will no doubt dominate media narratives once coronavirus is over. The negative coronavirus stories are an extension of anti-Brexit narratives:
The BBC is the only channel to broadcast the government's daily coronavirus briefings. As is customary in other nations doing these daily updates, reporters from across the country are allowed to ask questions afterwards:
Health Secretary Matt Hancock, other government ministers and the medical officers have to face a lot of awful questions. Last week, the BBC's health editor Hugh Pym asked whether the government was 'ashamed' of its coronavirus response:
People like Pym, who smile and smirk simultaneously, are the lowest of the low. They use their gotcha questions on early evening newscasts:
On Monday, April 27, Hancock got fed up with ITV's political editor Robert Peston's continuous, verbose questions. Hancock replied with a terse 'No':
Here's the deal with Peston:
Here's another example, this time from the BBC:
And another:
And another. This is BBC Newsnight's Emily Maitlis with Labour's Peter Mandelson — Baron Mandelson — who held several cabinet positions under Tony Blair and Gordon Brown when they were Prime Minister:
But I digress. Back now to the daily coronavirus briefings.
On Monday, April 27, the government began taking at least one question a day from the general public:
Robert Peston does not like this:
Actually, Robert, the first question chosen and read out on April 27 was relevant to many Britons.
That day, the independent polling company the government uses to select the questions chose one from a grandmother who wanted to know how much longer she would have to wait to kiss and hug her grandchildren. Honestly, I nearly welled up. Much better than taking questions from Peston, Pym and the like.
On Tuesday, April 28, they had two enquiries from the public — one read out loud from another grandmother about childminding her grandchildren and a short video from a mother asking when her son on the coronavirus isolation list could return to school. The lad has cystic fibrosis and autism:
Unfortunately, Matt Hancock had to let all three ladies down gently. It was/is still too early to say.
Interestingly, Peston didn't ask a question on Tuesday. Perhaps he's miffed that Britons are getting their own very real concerns aired? As is said in the news trade: 'Developing …'
News emerged several days ago that human testing began at Oxford University on a vaccine for COVID-19. Suppose it succeeds, which we all hope it will. Will this be the sort of questioning the government will receive? Although humorous, it's not far off the mark. Click on image to enlarge:
Actually, something just as strange happened when the vaccine news was announced. A woman with a PhD, whom the media referred to as Doctor — implying a medic — appeared in the media. She said she would be ashamed if Oxford succeeded!
She was made to appear as if she were from the university, when, in fact, she's at what used to be the city's polytechnic, now called Oxford Brookes. They are two very different institutions:
It is not unusual for the BBC to interrupt any Conservative politician, whether on television or radio. On Friday, April 24, Matt Hancock appeared on Radio 4's Today programme:
The clip below shows ITV's Piers Morgan, co-host of Good Morning Britain, having a go at Matt Hancock, not even allowing him to finish a sentence. Breathtaking arrogance, and worth a watch:
Piers should clam up — and tone down his tweets. Good Morning Britain's ratings have been tanking during the coronavirus crisis (more here):
On April 16, during the daily coronavirus briefing, Channel 4's Alex Thomson asked if the government was trying to kill the elderly. Sitting at home viewing, my far better half and I were astonished. Guido Fawkes has the story:
At the more serious end of broadcasting, Channel 4 News' Alex Thomson last night was on a quest for culpability. His crass question at the Downing Street briefing basically accused Hancock and his advisers of choosing to kill off old people to prioritise protecting the young.
We stopped watching Channel 4 News years ago. It got too left-wing in its bias. Here's another example from Guido's article, involving Home Secretary Priti Patel (emphasis in the original):
Earlier in the week, Channel 4 News' reporter repeatedly demanded from Priti Patel an apology. This type of performance isn't holding power to account or about purely eliciting information. It is gotcha journalism and because journalists at the press conferences are asking their questions through the prism of establishing political culpability, they are getting defensive responses. It would be better to leave that to the opposition in parliament and leave the made-for-social-media infotainment to Piers. It might also arrest the dramatic drop in public confidence in the news media…
Therefore, is it any wonder that former Labour MP for Vauxhall in London tweeted:
Yes, there should be a root and branch review and reform of the alleged 'nation's most trusted' broadcaster. The annual licence fee per household is £145. It is a mandatory charge. As such, some Britons call it a tax.
I have a lot more to say about the media's handling of coronavirus. More to follow at some point.
On Friday April 18, a news story from the BBC about an NHS procurement director circulated on the BBC news channel.
The man, unnamed, wanted to contact Burberry and Barbour directly to obtain much-needed PPE.
I heard it reported more than once. The story even popped up on the national coronavirus briefing at the weekend.
On Saturday, April 19, the Mail on Sunday's deputy political editor Harry Cole exposed the BBC story as FAKE NEWS.
Click on the image below or here to read the article in full:
Incidentally, Sarah Smith (pictured), who presented the story is the daughter of the late Labour leader John Smith, who died in May 1994. (Tony Blair succeeded him.) Her mother is a life peer: Baroness Smith of Gilmorehill. But I digress.
As Harry Cole says, the story got several airings on the BBC News channel, then, suddenly, there was nothing more. A newsreader read a retraction at 7:10 a.m. on Saturday.
Unbeknownst to Cole — and most of the viewing public, myself included — the BBC retracted the story on its website late on Friday, the same day it appeared:
The 'correction' says, in part:
We should clarify that the person concerned is not the boss of an NHS trust but is part of a network of organisations helping to source personal protective equipment for some NHS trusts.
The mistake was caused by a misunderstanding of the person's role in the fight against the pandemic.
Cole was able to find out the identity of the mystery man, who works at The Oxford Academic Health Science Network, which is currently helping to source PPE:
He was later identified by the BBC News at One as 'senior health expert' Paul Durrands. Mr Durrands, who has a doctorate in philosophy and molecular plant pathology …
Since 2011:
he has been the chief operating officer of the Oxford Academic Health Science Network, a publicly funded 'innovation exchange'.
It is understood he has been helping NHS trusts seek PPE, but is not and never has been a major NHS trust boss. He did not respond to requests for comment last night.
The BBC are not on the government's side unless it's a Labour one.
They have really pushed the boat out in their anti-Conservative coronavirus coverage, which never covers anything good the government has done thus far.
One gets only noxious narratives from the BBC and, now, fake news. Yet, they have a special segment a few afternoons a week wherein a reporter debunks various online fake news items about the coronavirus. They should take a close look at themselves in the mirror first.
It is a pity that every British household is obliged to pay an annual licence fee to keep this broken outfit going.