You are currently browsing the tag archive for the 'BBC' tag.
As Lectionary readings comprise my New Year's posts, may I take this opportunity to wish everyone a very happy and healthy 2022.
May this plague of a virus get behind us as the months roll on.
Today, I ran across this short clip from Kenneth Clarke's Civilisation:
The BBC never reran Civilisation. That tells us something about both Kenneth Clarke and the BBC.
What Clarke said 50 years ago is very true. He ends by saying that socialism is waning in favour of materialism. Five decades on, it seems we have an unholy union of the two.
It is incumbent upon those of us who value freedom to continue to pursue it in goodness and godliness in the year ahead. I wish all of us the very best in that pursuit.
People in England are ready to comply with Government measures on the new Omicron variant.
The measures went into effect at 4 a.m. on Tuesday, November 30 and include compulsory face coverings in shops and on public transport:
Most Britons would like to see more mask mandates in secondary schools:
On that basis, one wonders if theatre and cinema audiences will stay at home over Christmas:
Most of us are following Omicron news:
Mixed public opinion
Despite the uniformity of YouGov's survey results, opinion is more mixed, as GB News discovered when discussing the new measures on Carnaby Street in the heart of London. Everyone had a different opinion:
Mixed messages from Government ministers and advisers
Government ministers are trying to be measured in their assessment of the new variant.
On Wednesday, December 1, the Daily Mail had a round-up of the mixed messaging.
Prime Minister Boris Johnson and Health Secretary Sajid Javid held a press conference on booster shots the afternoon before.
Boris wants people in England to carry on with Christmas plans (emphases mine):
Prime Minister Boris Johnson urged people not to cancel Christmas parties or school nativity plays. He also promised to 'throw everything' at the booster vaccination campaign to tackle the virus's spread.
Sajid Javid is cautious:
There are 'no guarantees' that there won't be a lockdown this Christmas, the Health Secretary warned today.
In an ominous shift in tone from recent days, Sajid Javid insisted another festive shutdown was 'not the plan', but said: 'We can't rule out any particular measure at this point in time because we always have to look at the data and do what we need to protect people.'
He even urged people to take Covid tests before going to Christmas parties and wear facemasks while partying amid mounting fears about the so-called 'Omicron' variant … 
Asked if he would wear a mask if he was at a Christmas party, Mr Javid told Sky News's Kay Burley: 'It depends if I am walking around or sitting down. It depends if I'm eating. People just need to make a decision based on the guidance.'
Elsewhere, Dr Jenny Harries, who heads the ominous sounding UK Health Security Agency, is not keen on group celebrations:
Dr Jenny Harries recommended people reduce the extent to which they socialise this winter – in a hint that restrictions could go further.
Last year, Harries discouraged going to pubs in one of the televised coronavirus briefings, so this comes as no surprise.
Another NHS bigwig also issued a warning to health staff:
Saffron Cordery, deputy chief executive of NHS Providers, which represents NHS trusts, said some NHS organisations had asked staff 'not to mix in big groups' in the run-up to Christmas owing to fears off staff absences.
Understandably, the hospitality industry is concerned about the reaction to Omicron:
Hospitality leaders now fear another hammering to their industry this December. Kate Nicholls, the chief executive of UKHospitality, told Radio 4's Today programme that Saturday's press conference had had a 'chilling effect on consumer confidence'. She warned against 'the threat of a stop-start to the economy again' in the run up to Christmas …
'I think it's driven largely by consumer confiden[ce]. I think there's also a sense of trepidation that their plans might be disrupted again, and so that irrespective of whether there are government controls imposed on the economy, that is having a cooling effect undoubtedly on hospitality.
'We already saw that bookings were subdued this year compared to pre-pandemic levels. And this will clearly have a further adverse impact on our businesses.'
Trouble started for the travel industry almost immediately after last Saturday's press conference:
New curbs on global travel including the addition of 10 countries to the UK's so-called 'red list', a return of testing rules, and quarantine hotels have also spooked travellers – and sparked a wave of cancellations of bookings at airport hotels …
The Arora Group said travellers who stay at hotels at Heathrow, Gatwick and Stansted airports before catching early morning flights are axing their December bookings. They are even suspending corporate events at the four-star Fairmont in Windsor in January due to mounting uncertainty about the spread of the Covid variant, group chairman Surinder Arora said.
He told the Today programme: 'It's been a bit of a rollercoaster ride. Obviously we had the quarantine hotels at the beginning of this year, and then over the past few weeks as we've been trying to return to some kind of normality, most of the hotels have gone back to operating normal commercial hotels.
'And then of course last week we were hit with this new virus, so sadly that's all changed again and the Government's obviously introduced 10 new countries on the red list which means they need a few hotels to go on the quarantine programme.
'Over the last few weeks, when the quarantine finished we were thankful for getting back to some kind of normality. Since this latest news, instead of getting new bookings the guys are getting a lot of cancellations …
'And not just the leisure business, we're getting quite a few bookings cancelled for meetings and events. I know, for instance, some of the larger bookings – we just recently opened our new flagship at the Fairmont in Windsor, and they actually had big large corporates who had bookings in January who are saying "actually, we may want to push it back to further, later in the year to get some more clarity on where we're heading".'
It's all so sad. If only the Government were less cowed by health advisers.
Behavioural scientist Susan Michie and the BBC
Speaking of health advisers, SAGE and Independent SAGE member Susan Michie, an avowed Communist, has been making the rounds on the BBC once again.
In July, one week before our Freedom Day on the 19th — already delayed from June — she disparaged scientists who wanted to lift lockdown:
To behavioural scientists, we are things to be manipulated:
On Monday, November 29, The Times had a scathing, yet accurate, article: 'The BBC has a blind spot over the bias of its Covid expert Susan Michie'.
Excerpts follow:
Professor Susan Michie, of University College London, a super-rich longstanding member of the Communist Party of Britain, was lined up as a main expert to pass judgment on the prime minister's announcement of measures to tackle the new Omicron variant.
Michie, dubbed "Stalin's nanny" when she was a student at Oxford, is often simply introduced as someone who sits on the Sage committee, the government's Scientific Advisory Group for Emergencies.
This doesn't tell the whole story: Michie is part of the Covid-19 Scientific Pandemic Influenza Behaviour team (SPI-B), a sub-group of Sage made up of almost 50 people from many disciplines and backgrounds. In other words, Michie is one voice — and not necessarily the most important — in the room.
She is not a medical doctor or a virologist but a health psychologist. What overarching qualifications she has to pass judgment on air — and so often — on a range of pandemic policies is open to question …
She has tweeted that "China has a socialist, collective system … not an individualistic, consumer-oriented, profit-driven society badly damaged by 20 years of failed neoliberal economic policies".
Michie's revolutionary views — she is said to be dedicated to establishing a socialist order in the UK — are surely relevant when evaluating her critique of pandemic policies.
However, by Wednesday, Susan Michie had appeared three times on the BBC, which every household in Britain has to pay for via the licence 'fee' (tax?):
Guido Fawkes had a video and an article:
Guido cites The Times's second article on the BBC's invitations to Michie (purple emphases mine):
It's not just Guido criticising the corporation's attitude here. In a Times article yesterday, senior Cambridge University clinical research associate Raghib Ali said:
"I think it would have been helpful to say to the viewers there may have been a conflict of interest. I also think scientists' track record should be taken into account. For example Professor Michie's organisation Independent Sage has repeatedly made inaccurate forecasts overestimating infections since July."
Professor Simon Clarke, associate professor in cellular microbiology at Reading University, also said:
"I see nothing wrong with Professor Michie being given air time, but it should be in a more balanced way. But that's not her responsibility to ensure, it's the BBC's."
Only ITV's Good Morning Britain has told the truth about Michie:
So far the only prime time presenter to call out Michie's hardline beliefs for the transparency of viewers is Richard Madeley…
Coronavirus cousins could help combat Covid variants
In better news, a London consortium of scientists posits that the common cold, also a type of coronavirus in some cases, could help fight COVID-19 variants.
On November 30, The Times reported:
Professor James Moon, a consultant cardiologist who last week was named on a list of the world's most influential researchers, is chief investigator of the Covidsortium, a group of researchers from University College London (UCL) and St Bartholomew's Hospital that was assembled before the start of the first UK pandemic wave in March 2020. Showing remarkable foresight and, in research terms, unprecedented speed, Moon and his colleagues recruited 400 hospital staff working with infected patients in a bid to find out how and why some of the health workers might be more susceptible to infection than others. Funding was sourced — initially through a JustGiving campaign, then boosted with a significant contribution from the investment bank Goldman Sachs — in a matter of days.
Within a week they had collected blood, saliva and nasal samples and continuing data from the participants, and produced findings that informed policy from very early in the pandemic. "It is information that has proven impossibly valuable," Moon says. "It provides the only cohort of samples taken before anyone had been infected or had a vaccination or booster."
To date the team has published more than 20 papers, with more in the pipeline, and its attention is turning to Omicron and whether revisions to vaccines will be necessary to defy it …
… clues to how new vaccines might be developed could evolve from the most recent published findings of the Covidsortium, which identified "parts of the virus that might make for a very good vaccine that may be effective against different variants".
Reporting in the journal Nature, the team discovered that blood samples taken from about one in ten of their participants revealed markers that showed they had been exposed to Covid, yet didn't fall ill. Unlike people who are asymptomatic — those infected with Covid but who don't develop symptoms — this small group appeared to evade it altogether, remaining uninfected and without symptoms or a positive test.
What their blood samples did show, however, was that a subset of T-cells known to recognise and react to coronavirus appeared to have been present and poised for action even before the pandemic took hold. And the reason these people seemed to be super-protected could be down to the common cold …
However, this is more complex than catching a cold and thinking that it offers protection against coronavirus:
There are more than 200 cold viruses — none is exactly the same and only about 10 per cent are caused by coronaviruses. The chances of you catching the right cold at the right time to prime your defences is minimal. And even if you did catch the right sort of cold early on, any added resistance it may have provided has probably waned.
Omicron might have been a blessing in disguise, because Covidsortium was planning on disbanding in April 2022. They now plan to continue their research:
Moon says that the team had planned to wind down their research programme next April because immunity would be waning — until last week when Omicron scuppered that. "We are clearly going to have to keep going as our research still has so much relevance," he says. "We have samples from so many people stored in our freezers and they contain so much unique information about their antibodies and T-cells, and the questions that only we can answer are not running out."
I wish them every success.
Let there be light
In further happier news, Parliament's Christmas tree is casting light in the darkness.
The Lord Speaker — John McFall, Lord McFall of Alcluith — is delighted to make up for lost time:
We must make the best of this time, knowing our restrictions could be far worse. We only have to look at the EU to see that: full lockdowns in some countries, with the possibility of mandatory vaccinations in all EU nations.
Boris Johnson is now into his third year as Prime Minister.
On Wednesday and Thursday, September 15 and 16, he reshuffled some of his cabinet and ministerial posts, signalling that he is more than halfway through his premiership. In other words, this will be the major reshuffle to lead the Conservatives into the next general election.
I hope that Boris does not go for a 2023 election, unless it is late in the year. The coronavirus crisis will have put much of the Conservative manifesto agenda on hold for two years. As such, not much has been accomplished to date, as Andrew Neil, who recently resigned from GB News, says:
Boris has appointed more Leave ministers as well as more minority and female ministers, which will not matter to most small-c conservatives:
Highlights of the reshuffle follow.
Dominic Raab no longer Foreign Secretary
It looks as if dithering over Afghanistan while holidaying in Crete has finished Dominic Raab's days as Foreign Secretary. He had to do the walk of shame after his demotion:
That said, Boris has found a new job for him as Justice Secretary.
Raab will also continue to be Deputy Prime Minister, a role he handled extremely well in April 2020, when Boris was hospitalised with coronavirus.
Defence Secretary Ben Wallace defended his fellow MP and the move in an interview with BBC Breakfast:
Wallace said of Raab: "Dominic is by trade a lawyer, he started his life in the Foreign Office as a human rights lawyer and he's gone to the Ministry of Justice, which is actually a very, very important role and a role he desperately understands."
Liz Truss becomes new Foreign Secretary
Former Trade Secretary Liz Truss replaces Dominic Raab as Foreign Secretary, with Anne-Marie Trevelyan taking her place.
Post-Brexit, Truss has made various trade deals with other nations, notably Australia and Japan.
She also remains minister for women and equalities.
Truss is popular with grassroots conservatives and her name has often been mentioned as a future party leader and Prime Minister.
She succeeded not only in trade but also in refusing wokery in 2020 …
… and in 2021, as Guido Fawkes reported on June 16 (emphases mine):
Liz Truss tells Times Radio most people aren't interested in the culture war…
"My role as equality minister is to make sure everybody in Britain is treated equally regardless of their sex, their sexuality and their race. What we have seen over the past few years is the development of identity politics where there has been division created. People are described as being members of a group rather than for their own personal, individual humanity and dignity… We have just launched for example a big data project looking where are the gaps in education, employment and enterprise across the country, and how we can fix those. That is the approach we need to take… I think some of the identity politics we have seen focus on symbolism over real results has been divisive… I think most people aren't interested in this so–called culture war, what they're interested in is, "Am I being given a fair chance? Do I have a good chance of getting a job? Am I treated fairly by public services?" And that's why I think our equality agenda should focus on, those bread and butter issues that are of concern to everyone in the country."
She is consistently among the most popular of the Cabinet members. This survey is from March 2021:
She can even ably dodge camera equipment during an interview:
Nadine Dorries moves from Health and Social Care to Culture Secretary
In what is hoped to please grassroots small-c conservative voters, Nadine Dorries now heads Digital, Culture, Media and Sport (DCMS), replacing Oliver Dowden, who, as new co-chairman of the Conservative Party, will formulate a strategy for the next general election.
Most of these grassroots supporters are fed up with the BBC. Will Dorries take on Auntie Beeb?
I do not put much stock in that possibility. Resurrecting Dorries's tweets from several years ago are no indication of her current willingness to oppose the BBC on anything much:
The BBC have just appointed a firmly left-wing executive editor of BBC News, Jess Brammar. At least one Conservative MP, Brendan Clarke-Smith, was unhappy about the possibility of her appointment back in August:
I will not be holding my breath for Dorries to take her on, although others in the left-wing and anti-Brexit political establishment are angry about Dorries's appointment, as Guido Fawkes reports; he has screenshots of her past tweets (emphasis in the original):
She's been in the job for 17 hours and is already annoying all the right people… 
John Whittingdale returns to backbenches
I have doubts about Dorries because one of the DCMS ministers, John Whittingdale, was supposed to take on the BBC in 2016 and never did. He also washed his hands of removing free TV licences for most over-75s, saying it was a decision for the BBC. Is this why he got the sack?
During the Euro 2020 soccer tournament this year, Whittingdale told Kay Burley of Sky News that travel restrictions were lifted for 'important' people associated with the matches:
Speaking on Sky News, John Whittingdale was asked why players, officials and others coming to London for the Euros final on 11 July should be allowed in without self-isolating.
He said: "We've always said that for some people who are important, players, for instance …"
The presenter, Kay Burley, interrupted him, saying: "So people who want to go on holiday are not important. Is that what you're saying?"
Whittingdale's last pronouncement, standing in for his boss Oliver Dowden, was about a proposed mandate to make all BBC and ITV output 'distinctively British'. That was on September 16. It will be interesting to see whether Nadine Dorries will insist on it.
Newsnight argument over Dorries
Nadine Dorries was the subject of an argument between Conservative MP Charles Walker and former Conservative MP, Remainer Anna Soubry, who lost her seat in December 2019.
By the way, this was Anna Soubry with Nigel Farage either just before or just after the Brexit referendum in June 2016: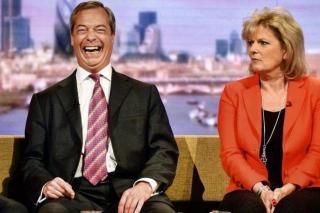 But I digress.
The discussion between Soubry and Charles Walker took place on the BBC's Newsnight on September 15:
Here's the video, with Labour MP Peter Kyle sitting at the desk with presenter Emily Maitlis:
Guido Fawkes has the highlights:
Nadine Dorries provided the biggest clash, as the eternally bitter Soubry ranted that her appointment "actually says everything that's wrong and rotten about this prime minister's stewardship of this country". Charles Walker had some thoughts:
"Nadine Dorries has been a health minister, a minister of state, at an incredibly difficult time for the department of health; has been an extremely good minister for mental health; and really to come onto this programme and just trash her like that is just not a very nice thing to do to be perfectly honest"
Responding to Soubry's claim that people don't really care about reshuffles in the real world, Walker pointed out "Why is it the lead story on Newsnight, and why are you appearing on Newsnight?" Why indeed…
However, there is a personal reason why Anna Soubry is angry with Nadine Dorries.
On July 1, 2016, one week after David Cameron stood down as Prime Minister and Conservative Party leader because of the Brexit referendum result, tensions were running high not only in the Commons but also among the public.
Soubry went out near Parliament to address her fellow Remain supporters. Dorries tweeted that Soubry was under the influence. Soubry demanded that Dorries retract the tweet. The Times has the full story, which ends with this:
Update (25.07.2016): Following publication of this article, Nadine Dorries MP has withdrawn her tweet about passing Anna Soubry MP leaving the bar before she attended a rally of Remain supporters in central London. Ms Soubry has confirmed that she had not drunk any alcohol before speaking at the event.
Another reason why I am doubtful about Nadine Dorries is because she did not question the Government's coronavirus restrictions when she was at Health and Social Care. Does she really believe everything she hears? Here she responds to Conservative Woman's co-founder Kathy Gyngell. Dorries and her mother had the virus at the same time, and her mother recovered first. Even so, not questioning lockdown earns her a black mark from me:
At least she supported Brexit.
Michael Gove moves to Housing, no longer Chancellor of the Duchy of Lancaster
Michael Gove, who is in the process of a divorce and was a recent party boy in an Aberdeen nightclub, is no longer the Chancellor of the Duchy of Lancaster.
Stephen Barclay, formerly Chief Secretary to the Treasury, replaces him in that post. Simon Clarke replaces Barclay in the Treasury role.
Michael Gove replaces Robert Jenrick at the Ministry of Housing, Communities and Local Government and is in charge of Boris's 'levelling up' agenda.
A first attempt at a new acronym for the department has produced DULL:
Guido reports on the problems with acronyms for government departments in general:
The Sun's Harry Cole reports the initial proposal for a new "Department for the Union and Levelling Up" is no longer a flyer after realisations its acronym, 'DULU', sounds too much like "Dull". It's a shame a change was needed, given it was pointed out yesterday that Michael Gove the first MHCLG Secretary with all the letters of the department in his name…
Guido will leave it up to cleverer minds to work out an acronym that includes all the letters of Gove's new remit (MHCLG + Union + Levelling Up + Elections) though it's not the worst reshuffle acronym problem encountered by a PM. As Alan Johnson recounts, in 2005 Tony Blair came up with a plan to rename the department for Trade and Industry as the "Department of Productivity, Energy, Industry and Science". Thankfully Johnson was used to it by that point however – he'd already been Minister for Higher Education and Lifelong Learning, and headed up the Sexual Health Advisory Group…
Although this looks like a demotion for Gove, it involves a hefty budget with pan-govermental reach, something that should definitely appeal to him:
New Education Secretary
Nadhim Zahawi, formerly in charge of the coronavirus vaccine rollout, is the new Education Secretary, replacing Gavin Williamson, who likely got the sack because of the school exams fiasco during the coronavirus crisis.
Zahawi has achieved the British dream, having arrived in the UK as a child refugee who could not speak English:
Other appointments
Guido Fawkes has full reshuffle information for September 15 and 16.
Some MPs have transferred to other departments:
Others will be returning to the backbenches:
Jesse Norman tweeted that he was happy to return to the backbenches:
The new role for Nigel Adams is said to be a 'fixer' appointment in order to get things done:
More information and analysis can be found at The Guardian, The Telegraph, GB News , The Spectator and The Times (here, here and here).
House of Lords
Reshuffles can affect the House of Lords, too.
Fortunately, two of the stars there are still in place.
Baroness Evans
Baroness Evans, composed and competent, will remain as Leader of the House of Lords.
Lord Frost
Lord Frost will remain Cabinet Office Minister for Europe, in charge of EU negotiations and changes to relevant legislation:
On September 16, Guido wrote about Frost's plans to rid the UK of EU laws (emphases in the original):
Lord Frost has announced the government's plans to finally capitalise on the freedoms of Brexit and remove the "special status" of all individual EU laws still on the UK's statute books. There are also plans to invest heavily artificial intelligence, transport, and farming over the Parliament. Now if we just pair deregulation with lower taxes we may actually get somewhere…
Speaking on the reforms this afternoon, Lord Frost said:
"From rules on data storage to the ability of businesses to develop new green technologies, overbearing regulations were often conceived and agreed in Brussels with little consideration of the UK national interest.
"We now have the opportunity to do things differently and ensure that Brexit freedoms are used to help businesses and citizens get on and succeed."
Lord Frost will begin with a review of so-called "retained EU law" – the huge amount of EU legislation still on the UK's statute books; removing its special status so it's no longer a distinct category of UK domestic law, and ensuring all courts have the full ability to depart from EU case law. He describes it as finalising the process of "restoring this sovereign Parliament". There's a reason he's popular with the Tory membership…
Guido's post has more detail, much of which involves digitalising everything from share (stock) certificates and driving licences.
Hmm. I hope that when his proposals reach MPs that they are not taken too far. First, not everyone is online. Secondly, think of the hacking opportunities this could provide. Finally, and perhaps most importantly, digitalisation can lead quickly to establishing a Chinese-style social credit score.
One thing I did like was this:
Permitting the voluntary printing of the Crown Stamp on pint glasses and reviewing the EU ban on markings and sales in imperial units and legislating in due course, none of which were possible within the EU.
Robert Peston's misguided predictions
Sometimes, it is better to wait for the final outcome rather than tweet silly predictions:
On September 16, Guido noted witheringly of ITV's Robert Peston:
While yesterday may not have been great for Dominic Raab, at least he can take solace in the fact he had a better reshuffle than Robert Peston. ITV's senile senior political reporter spent all day tweeting every thought process, speculation and briefing with the acumen and insight of a first-year politics student.
Guido's article lists Peston's tweets. Perhaps ITV should buy him a new crystal ball.
Conclusion
I still think that most Conservative MPs are half-hearted. It's a shame that Boris did not promote any of the 2019 intake, especially the feisty ones from the North of England.
Fortunately, last week's horrible poll results have been reversed. Participants were polled during the reshuffle days of September 15 and 16:
Onwards and upwards to Boris's promised 'sunlit uplands', I hope.
On Monday, July 5, 2021, Richard Madeley, an occasional co-presenter on ITV's Good Morning Britain (GMB), asked SAGE member Susan Michie if her avowed Communism affects her coronavirus recommendations to the general public:
It must have come as a surprise to a number of GMB's viewers who probably did not suspect that a card-carrying Communist works for the Government.
Michie, a psychologist who is also a professor at University College London, works on the SPI-B — behavioural — committee of SAGE which has been driving public behaviour during the pandemic. She appears most frequently on the BBC but also on other television channels.
She was also a speaker at the UN's Psychology Day in 2020. The Division of Health Psychology of the British Psychological Society, of which she is a member, tweeted:
I've written about Michie three times before, twice in the run-up to Christmas (here and here) and once in June.
Before I get to Richard Madeley's interview with Prof Michie, the tweets below show what Communist health policy looks like. We've been living under such rules for 16 months and counting.
2018 Daily Mail article
But first, here is a brief retrospective from the time when Jeremy Corbyn was Labour leader.
In 2018, the Daily Mail posted an extensive article about her support of Corbyn and her praise of Communism. Excerpts follow, emphases mine.
This is her family background. Much of the £52 million she inherited from her mother was in a Picasso, which she and another family member sold:
Susan Fiona Dorinthea Michie is the granddaughter of Henry McLaren, the 2nd Baron Aberconway, an Eton-educated Edwardian industrialist and Liberal MP. 
He inherited major interests in coal, iron, steel and engineering conglomerates, and created the sumptuous gardens at Bodnant House, a stately home set in 5,000 acres near Snowdonia.
Her mother, Dame Anne McLaren, was born at Aberconway House, the family's imposing 2,800-square-metre second residence in London's Mayfair, and was one of the world's leading biologists. When she died in 2007, aged 80, she left £52million in her will.
Ms Michie's father, meanwhile, was an eminent computer scientist who was the son of a wealthy banker whose photo is among the National Portrait Gallery's collection.
Despite these moneyed roots, the blue-blooded Susan, 62, marches to the beat of her own drum.
She stretches her every sinew in pursuance of a class war as a member of the Communist Party of Britain.
The article then described the speech she gave in early March 2018:
On Monday night, she addressed a meeting of about 40 true believers at the Marx Memorial Library in London's Clerkenwell.
She delivered her speech while standing beneath a portrait of Cuban dictator Fidel Castro, a bronze of Lenin and an array of Soviet flags. 
Seemingly oblivious to the irony, this lifelong beneficiary of inherited wealth began by saying: 'We, the working class.'
During the course of a two-hour talk, Ms Michie (whose day-job is as a university academic) made a comment that broke almost a century of hard-Left tradition. 
Britain's Communist Party, she said, is urging its members to work 'full tilt' to help get a Labour prime minister.
This development — after decades of Communists and Labour operating on very separate lines — is a direct result of Labour's lurch to the hard Left under Jeremy Corbyn.
Already, there have been signs of this change of policy with the Communists deciding last year not to split the Left-wing vote by fielding their own candidates at the General Election.
With the two parties increasingly in harmony (Ms Michie declared it 'a really good situation to work much more closely than we have in the past'), the Communists — by way of a 'priority' — are advising their comrades to actively campaign on Corbyn's behalf.
In the general election of December 2019, Labour suffered its worst result since 1935.
Sir Keir Starmer eventually replaced Jeremy Corbyn as Labour leader.
Now on to Michie's activity as a SAGE member.
Regular media appearances
By May 2020, Michie was already becoming a regular guest on various news programmes:
As Guido Fawkes explained, Michie is not only a member of SAGE but also Independent SAGE, a breakaway group (emphases in the original, those in purple mine):
Susan Michie is a Marxist campaigner who has managed to get herself on not only the activist dominated fake SAGE, she is also on the official SAGE. Quite an achievement and evidence of the time and effort she is dedicating to the cause…
Michie is Professor of Health Psychology and Director of the Centre for Behaviour Change at UCL, so prima facie she has the credentials to be a scientific advisor. What is never mentioned at any point to give context to her many media appearances, in which she usually launches a tirade at the government, is that she has for 40 years been a member of of the Communist Party of Britain.
All this has not precluded her from using family wealth to financially support the Labour Party under the Corbyn leadership. In March 2018, it was Michie who said that the Communist Party would no longer stand against Labour in general elections and she should be "working full tilt" for the election of Corbyn as PM. Hardly surprising given her daughter was appointed under him to Labour HQ and her ex-husband was Corbyn's close adviser. That illustrates the level of her dedication to far-left politics.
Two days later, the Father of the House, Peter Bottomley MP (Con), appeared on Radio 4's Broadcasting House programme to lambaste the BBC for not revealing her political philosophy and connections:
He said (audio in Guido's post):
If one of your previous contributors has been a member of a far left party for decades, donated more to the Labour Party under Corbyn than I've given to the Tory Party in forty years, was the wife of a former Labour Party special adviser and mother of Labour's head of complaints, that might have been better than just saying she's a member of SAGE.
The BBC called Bottomley's remarks an:
ad hominem attack.
Prof Stephen Reicher, who teaches at St Andrews in Scotland, is another SAGE member who works on SPI-B. He took issue with Prime Minister Boris Johnson for not sacking his then-special adviser Dominic Cummings after his fateful trip to County Durham during lockdown. Michie agreed:
She is clearly not a Boris fan, nor is The Guardian's Carole Cadwalladr:
Lockdown and mask fan
In May, it was becoming clear to a segment of the British population that Michie favoured a Chinese-style handling of the pandemic. An Anglican clergyman tweeted:
The accompanying article from Michie in The Psychologist is a mild one about directing the public's response to the pandemic. Notable is this sentence (emphases mine below):
If these behaviours changed across the population (as seatbelt use and smoking in public places have), the Covid-19 pandemic would extinguish.
In July 2020, masks had been compulsory on public transport since mid-June, but were not yet mandatory elsewhere. Michie told LBC's Andrew Castle that they must be required:
By November, more Britons were finding out the truth about Michie:
When Boris banned Christmas, lockdown sceptic Dick Delingpole tweeted:
Michie started 2021 by asking why people were not complying with the mask mandate:
In April, mainstream journalists were finally beginning to reveal Michie's political persuasion:
Guido Fawkes reminded his readers that he had unearthed the information in May 2020:
In June, despite Boris's stellar rollout of the vaccine programme — still the best in Europe — Michie, laughing, told Channel 5 News that we would have to wear masks 'forever' (00:57 – 1:05):
A week later, she complained to Freddie Sayers of UnHerd that she had been misquoted (video at the link):
I actually used four words [in that interview with Channel 5], and only one of them was reported. The full words I used were "forever to some extent". What I mean by this is that, sadly, this isn't going to be the last pandemic. For as long as humans are around viruses are going to be around …
In reality, as you can see in the Channel 5 video above, her first answer was 'Forever'. When the interviewer expressed her astonishment, Michie gave the longer response.
She told Sayers that she wanted a delay to Freedom Day, which was to have been on June 21. She must be happy:
I don't think there's really any alternative other than delaying for four weeks and seeing what's happening. It's a very tricky situation… I think [Boris] is right — I think the question is: is it going to be sufficient?
She probably opposes the possible July 19 Freedom Day, too.
She clearly did not want to discuss her communist beliefs with Sayers:
My politics are not anything to do with my scientific advice. And I've never discussed my politics with people like yourself, so nor am I going to now. And the important thing is that when one gives scientific advice, one does so using the expertise one has — not going beyond the expertise, being transparent about what expertise you provide. And I think that the kind of articles you refer to are a really disturbing kind of McCarthyite witch hunting, which I don't think should have any place in a liberal tolerant society.
Richard Madeley's interview
This brings me neatly to Richard Madeley's interview from Monday morning, July 5.
Guido Fawkes broke the story, along with the video (emphases in the original):
Guido commends Richard Madeley for being the first TV host in the country to invite "Independent" SAGE's Susan Michie on to their show and finally confront her about her hard-left politics. Madeley rightly points out that activist expert Michie's love of national Covid restrictions may not be born from her concern for the nation's health, rather the default policy position of a hard-core, state-loving communist. It looked like Susan didn't appreciate this line of questioning…
Lockdown Sceptics has the transcript (emphases in purple mine):
Richard Madeley: There's a point I really have to put to you and you'll be aware of this because there's been a lot of commentary about this in the British media about you and it's to do with your politics and you know what I'm going to ask you. You've been a member of the Communist Party for about 40 years now, you're still a member, and we know that they're statist. We look at Communist countries around the world and we see that they are tremendously top down dominant and controlled societies that they rule over. I just wonder – and I'm putting this question on behalf of those who wonder about your politics – if your politics actually informs your sense of control? It's not just the medical arguments, but you have a kind of a political bent to want the state to tell people what to do?
Susan Michie: I've come on your programme as a scientist, as do all people who come on to your programme as scientists. They come on to talk about the evidence, relevant theories, how we approach our scientific disciplines, and you don't ask other scientists about politics so I'm very happy to speak about science which is what my job is and to limit it to that.
RM: So you're saying that your politics doesn't inform your opinion on this subject?
SM: I'm saying that I agreed to come on this programme as a scientist and I'm very happy to talk to you about the issues that you're raising as a scientist which is the same for other scientists that you invite on to the programme.
Michie has a large house in a leafy part of London, but the video clip says Berkshire for her location. So, she must be one of those privileged people with two homes. Could one call her Berkshire place a dacha?
If Michie thought her interview with Richard Madeley was a one-off, she was wrong.
On Tuesday, July 6, Times journalist Matthew Syed brought up her Communism in his interview with the BBC's Jo Coburn on Politics Live:
Syed mentioned Michie by name and said that it would be wrong for a political agenda to determine a pandemic response:
Guido Fawkes provided this analysis of what Syed said:
On Politics Live earlier Matthew Syed succinctly made the point that Richard Madeley was inching towards yesterday – the issue of the card-carrying communist Susan Michie, of the self-appointed "Independent" SAGE, being given frequent media platforms to smuggle in her political agenda under the guise of "science". Michie is a committed Marxist ideologue, and central committee member of the British Communist Party. This is relevant.
Marxist analysis understands socialism itself to be a scientific method for understanding and predicting social, economic and material phenomena to derive probable outcomes and probable future developments. Her life-long ideology feeds into her work as director of UCL's Centre for Behaviour Change. That theoretical underpinning to her ideas on behavioural change and social compliance has gone unexplored even as she has been given a position advising the government in these matters. She has spoken approvingly of the Chinese Communist dictatorship's authoritarian methods and of her belief that restrictions in Britain should continue "forever, to some extent." Her whole mindset is one of top-down control and diktat that is incompatible with a free and open society.
Before anyone claims that Syed is a misogynist or a right-wing Murdoch lackey – he has a very readable intellectual column in the Sunday Times – Guido would remind them that he stood as the Labour candidate in the 2001 UK general election. At the very least it is fair to discount Michie's advice in the light of her ideological activism.
However, as the aforementioned Lockdown Sceptics article says, complete with a tweet, one woman accused Good Morning Britain of misogyny and asked people to stop watching the programme in protest.
Toby Young, who wrote the article, says that her sex had nothing to do with Madeley's question. It was her politics (emphases mine):
I really don't get why it was "misogynistic" of Madeley to ask Susan Michie whether her hard left politics have affected her position on mask mandates. Of course they have! After all, forcing people to wear masks as a condition of participating in certain activities is a flagrant breach of their liberty and the reason Michie doesn't care about that and thinks public health concerns should take priority (even though there's precious little evidence that masks reduce transmission of the virus) must in part be because she's a communist, who famously don't put much value on individual freedom. And the reason Madeley hasn't put the same question to other members of SAGE is not because Michie's a woman, but because she's the only one who's been a member of the Communist Party for the past 40 years.
True.
However, by July 8, Ofcom, the media watchdog, received 145 complaints about Madeley's interview:
Guido reported that one of the 145 complainants was Michie herself (emphases in the original):
Ofcom are unlikely to rule against Madeley for asking a question Michie did not want to answer; that's an editorial judgement way outside Ofcom's remit. Yet apparently for 145 viewers, it was all too much. Of course, amongst those complaining was Michie herself, who took to Twitter to write:
"A complaint has been submitted and a public apology requested".
If Michie and 144 other pearl-clutching viewers were upset by Madeley, Guido has to wonder what they thought of Matthew Syed's comments on Politics Live yesterday…
What concerns me is that Susan Michie might not be the only Communist in SAGE.
If only we could find out more about the political proclivities of the other members.
It's been quite apparent that the BBC were anxious to attack the Conservative government at every turn prior to May's elections.
Other media outlets also promoted the same stories.
Some accounts were reported inaccurately. They weren't exactly fake news, but either details were omitted or added, with any corrections placed on less visited web pages.
The Sir James Dyson story from the BBC is a case in point.
In early 2020, when coronavirus had every Western country in a tailspin, the Government were negotiating with British vacuum machine and hand dryer company owner/founder Sir James Dyson on the manufacture of ventilators. Dyson said that his company could develop the technology and do the job. Dyson is based in Singapore, so he wanted to make sure that, if his employees had to come to the UK, their wages would not incur tax in Britain.
By April 24, 2020, new ventilators were no longer needed. The Government no doubt thanked Dyson for his kind offer, and that was the end of the story.
However, the media resurrected the story one year later. This is how it was seen by a Twitter user in April 2021. Dyson is pictured with one of his amazing hand dryers, which really work:
On April 21, Guido Fawkes reported on the handling of the story and recalled that MPs — including Labour, especially Sir Keir Starmer — agreed that taxation of foreign companies' employees who manufactured critical clinical equipment, such as ventilators, would be waived during the first few months of the pandemic:
Guido's post says (emphases in the original):
This morning the BBC reveal texts between the PM and James Dyson, in which Boris promised to "fix" a tax issue to prevent Dyson's employees having to pay extra if they came here to make Covid ventilators during what was a national emergency. The Treasury changed the rules to mean any days worked by foreign employees towards the national Covid effort wouldn't be counted by HMRC between March and June 2020. Only an hysterical partisan would take issue with this, here's Labour's line this morning:
"These are jaw-dropping revelations. Boris Johnson is now front and centre of the biggest lobbying scandal in a generation, and Tory sleaze has reached the heart of Downing Street."
A gigantic volte-face given Labour repeatedly praised the ventilator response – a response the tax changes aimed to bolster. The changes were openly put to parliament and applied to non-tax-resident doctors and engineers who would otherwise have had negative tax implications for helping in the fight against Covid. VAT and customs duties on vital medical equipment were also waived. In April 2020, Rachel Reeves said the government needed to "strain every sinew and utilise untapped resources in UK manufacturing, to deliver essential equipment to frontline workers". A week later, Starmer praised everyone involved in the effort to get ventilators:
Even Tony Blair (Labour) thought that this year's furore was a load of cobblers:
Last year, Dyson and Prime Minister Boris Johnson had exchanged text messages about the taxation issue. Boris defended the texts. On April 23, this was Guido's Quote of the Day. Boris said:
If you think that there's anything remotely dodgy, or rum, or weird, or sleazy about trying to secure more ventilators at a time of a national pandemic, and doing everything in your power to do that…then I think that you're out of your mind.
On April 26, the BBC had to issue a retraction. They had added fake news to the story (emphases in purple mine):
Various outlets, Wednesday 21 April 2021
In our coverage of texts he had sent to the Prime Minister we referred in various outlets to Sir James Dyson as a prominent Conservative supporter or said he backed the Conservatives.
Sir James says this is factually incorrect.
We are happy to set the record straight.
26/04/2021
However, for some, the story did not end there. It is unclear whether the BBC reported the next item or where it originated. On Tuesday, May 4, two days before the UK's local and regional elections, some Scots were angry to find out that Boris's brother is a company director for Dyson Technical Training Limited. Perhaps it was a coincidence, perhaps not. In any event, plenty of people on the Left have their high-status connections, too.
Jo Johnson was appointed to that post on February 18, 2020:
But I digress.
Returning to the BBC, on Wednesday, May 12, the broadcaster was forced to make a further retraction of its Dyson coverage:
Guido has the full story.
The BBC stated (emphases mine):
We accept that Sir James Dyson is not a prominent Conservative supporter as was stated in some of our coverage of his text messages with the Prime Minister. The James Dyson Foundation made a charitable gift to support the Wiltshire Engineering Festival for school children. We accept that this does not signal affiliation to any political party and we would like to put the record straight. Sir James also raised concerns about the accuracy of other aspects of our reporting. We wish to make clear that Sir James contacted Number 10 in response to the Prime Minister's direct request to him for assistance in relation to the urgent need for ventilators and incurred costs of £20 million which his company voluntarily absorbed in trying to assist in the national emergency. His text messages to the Prime Minister were also later sent to officials. We are sorry that these facts were not always reflected in our coverage, and we apologise for not doing so.
Dyson responded:
The BBC now acknowledges that it was wrong and has issued an apology – which I accept. To justify its claim that I am a "prominent Conservative supporter" the BBC shamefully twisted our charitable gift to school children to suit their political narrative. The Prime Minister asked Dyson to help at a time of crisis, in the national interest, and we did just that. We dropped everything and focused on the national effort. Far from any gain, the project cost us £20 million – a sum we voluntarily bore. I am proud of the efforts of every Dyson person who contributed and we would do precisely the same again. It was deeply disappointing, for me and for the hundreds of Dyson people who gave it their all, to have our efforts developing an emergency ventilator mischaracterised and used for political mudslinging.
To think that everyone in Britain with a television set is forced to pay annually for the BBC's fake news or be fined — perhaps even sentenced to jail, as has happened in the past — is shameful.
I have several more examples of the Beeb's 'stories' to explore in future posts.
Yes Minister, which aired on BBC2 in the 1980s, is still as fresh as it was decades ago, a perfect satire of politics and the civil service.
In this short clip, which is under two minutes long, Sir Humphrey demonstrates how pollsters use a list of questions to get the end results they want. Amusing, accurate — and relevant:
Would that we had satirical sitcoms like this today, especially ones that didn't rely on four-letter words for laughs, such as The Thick of It, which didn't even come close to Yes Minister in terms of humour.
When former SNP leader and long-serving Westminster MP Alex Salmond launched the ALBA Party, founded by journalist Laurie Flynn, on Friday, March 26, 2021, I watched the video with interest:
Unfortunately, they had several technical difficulties during the first 30 minutes and I stopped watching.
SNP MP Pete 'Runrig' Wishart was annoyed that Salmond pronounced 'Alba' with two syllables rather than three:
Two days later, there was also a data leak of 'thousands of names' of Scots who signed up to the party. Around 4,000 names were visible on their website. Allegedly, the list included prominent SNP names.
Salmond and Alba supporters see the party as a way of creating a supermajority for independence. Their website says:
Almost one of two pro-independence votes go to waste because of the Additional Member System (AMS) used in Scottish elections.
The #Supermajority strategy creates the opportunity to secure over one million additional votes for independence.
Their Supermajority page has more about the overall voting strategy — each voter receives a constituency and a list ballot — beginning with this (emphases mine below):
The more success a party has on the constituency vote, the less well it does on the regional list vote. That's why in 2016 #BothVotesSNP led to 1 million wasted pro-independence list votes.
Voting Alba Party on May 6th will make sure no pro-independence vote goes to waste by securing a #Supermajority for independence.
Let's tip the balance in Scotland's favour.
By Sunday, March 28, two SNP MPs serving in Westminster, Kenny MacAskill and Neale Hanvey, defected to Alba.
Kenny MacAskill wrote a letter to his constituents explaining why he was leading the Lothian list. It says, in part:
My office will continue operating for constituents and I will continue serving as MP. Along with other colleagues in Alba I will work with the SNP Group in Westminster in opposing the harm that's being done to our land by the UK Government.
Neale Hanvey will stand as a candidate in the Mid Scotland and Fife region.
This all looked quite threatening to First Minister Nicola Sturgeon. She was Deputy First Minister for Scotland when Alex Salmond was First Minister:
That day, the BBC reported:
Alba now has more MPs than Scottish Labour who only have Edinburgh South MP Ian Murray.
Also:
With Neale Hanvey and former SNP councillors Lynne Anderson and Caroline McAllister joining today, Alba also appears to be a home for those who fear that gender self-identification for trans people poses a threat to women's rights.
I will come back to gender recognition issues in another post. It is a big deal in Scotland, especially with the nation's new Hate Crime legislation.
Regarding Scottish MPs running for Holyrood seats in the May 6 local elections, some voters think that should trigger a by-election. After all, the SNP's Neil Gray resigned his seat in Westminster before running for a seat in Holyrood. Others, however, point out that not resigning as MPs is an insurance policy should they lose next week:
With regard to independence, a number of SNP supporters do not think Nicola Sturgeon has done enough during her time in Holyrood. As such, they find the Alba Party a welcome development, as this journalist for the Herald Scotland says:
The Greens appeared to be threatened. A new face, that of Lorna Slater — a Canadian — popped up on television when viewers expected to see the Scottish Green leader Patrick Harvie:
Lorna Slater has appeared on more television programmes since then.
The euphoria surrounding the Alba Party vanished quickly. On Monday, March 29, a BBC Scotland spokesperson said that Alex Salmond would not feature in an upcoming election debate of party leaders:
On Tuesday, the Herald Scotland criticised the calibre of one Alba candidate:
The Herald reported that the candidate, a former boxer, also voiced his opinions about some of the homeless in Edinburgh and came out against coronavirus vaccines.
The paper also reported that Neale Hanvey said that a 'supermajority for independence' would not reflect voters' wishes:
Neale Hanvey, who defected from the SNP, said such an outcome would be "representative of the electoral system that exists in Scotland", rather than its people.
He told BBC Radio Scotland that was down to Westminster devising Holyrood's elections.
He said: "I didn't design the system. If anyone… needs to answer to the electoral system that's been put in place in Scotland it's certainly not me."
In an interview with the Daily Record today, Nicola Sturgeon was scathing about the supermajority plan.
She said: "At the end of the day, we've got to win independence fair and square. We can't game, or cheat, our way to that."
Mr Hanvey also said SNP MPs had "very little influence" on policy at Westminster, and that they would be "more than welcome" to defect to Alba.
On the other hand, the Rev. Stu Campbell of Wings Over Scotland painted a fuller picture of Alba candidates in 'Rallying to the Banner'. He listed all of them and wrote about the party's diversity:
The new party's new members/candidates are impressively diverse, despite the lack of any crude and/or illegal gerrymandered selection tactics to impose that diversity. They feature a range of ages from 20s to 60s, from all class backgrounds, six of the 12 are women, Eva Comrie is disabled (and we mean actually disabled, with an artificial leg, rather than just bad at spelling) and Irshad Ahmed of Scots Asians For Independence is the first high-profile BAME defector from the SNP to Alba.
They've joined for a variety of reasons, from delivering a supermajority (Hanvey) to the SNP's dire weakness on women's rights (Anderson, McAllister, Comrie), to its lack of serious commitment to a second indyref (Bews and Wilson), and the parlous, corrupt state of the SNP's internal democracy (Ahmed, who told Wings last night that party HQ had bizarrely refused to let him see the results of the recent list elections until the COVID-19 crisis was over).
The increasingly panicky attempts of Unionists, bitter media columnists and woke SNP activists to paint Alba as some sort of last redoubt for old white men look more and more ridiculous with every passing day. We look forward to continuing developments.
One of Alba's candidates is Scotland's longest serving SNP councillor:
By the end of March, Alba was polling at 3% for list votes:
Another poll showed promise for Alba:
However, on April 8, Guido Fawkes, citing a third poll, by Opinium, said that optimism about Alba was misplaced (emphases in the original):
Guido suspects the disastrous polling numbers for the Alba Party are most likely to bring a smile to Nicola Sturgeon's face. According to Opinium, Salmond's new pet project is unlikely to gain a single seat in Holyrood next month, polling at just 2% in the regional vote. It looks like the declining support for Labour and the Tories has fallen in Sturgeon's favour – not Salmond's…
It's clear Scottish voters just don't trust Alex Salmond. A poll by Savanta Comres yesterday showed the former First Minister's net favourability rating stuck in the gutter at -51% (lower than Boris Johnson's), and today's data bears that out. Over 63% of Scots take an unfavourable view of a coalition between Alba and the SNP…
Alba supporters were undeterred. Alex Salmond gave an interview the day before that attracted much favourable comment:
Meanwhile, Alba launched a two-week crowdfunder which they completed successfully on April 16:
On 16th April 2021 we successfully raised £54,100 with 1257 supporters in 14 days
What chances does Alba have next Thursday? At the end of March, Policy Exchange summed it up this way, alluding to the way Nicola Sturgeon's SNP tried to smear him (emphases mine):
Will anyone listen? That is where Mr Salmond comes in. For all that he is a much-diminished figure, and for all the fact he is now entirely ostracised by Nicola Sturgeon and her coterie, polls suggest that around a third of SNP voters still approve of him. He is still seen by many as the man who nearly led Scotland to independence and who – in the eyes of many Nationalist supporters – has been the victim of a conspiracy to wreck his reputation. So it's to be expected that plenty of these voters will be attracted to his latest ruse. A scenario which sees Mr Salmond's party win around 10-12% of the party list vote – enough to win up to 2 seats in each of Scotland's 8 regions – is therefore possible. And while some of these would come from the pro-independence Greens, the majority would be at the expense of the Conservatives, Labour and the Liberal Democrats.
That is the worst case scenario for the Unionist cause. The more optimistic take would see the pro-independence movement descending into chaos over the next four weeks of the campaign, with splits and divisions dominating coverage. It would also see cautious soft-SNP voters who have been won over by Nicola Sturgeon's approach taking fright and either declining to vote, or switching back to Labour.
True to form, Mr Salmond has decided to roll the dice and find out. There is impeccable and calculated method in his latest move. We're now set to find out whether he remains as good a judge of Scotland's mood as he once was.
Last week, Alba published their manifesto, along with a video. The manifesto includes a proposal for a written constitution for an independent Scotland (point 5) and a new Scottish currency in the case of independence (point 9):
Wings Over Scotland said:
Had we formed our own party it's pretty much the manifesto we'd have written …
On Sunday, April 25, a new poll appeared. The Alba Party remained stuck on 3%:
At this stage, it does not appear as if Alba has much traction with voters. This article from an Edinburgh blogger says that the BBC strictly controls what hits the airwaves during election campaigns.
It looks as if there will be another SNP/Green sweep. The Greens' votes have helped the SNP pass legislation in the past. This is likely to continue:
However, I would bet against a motion on Scottish independence for the foreseeable future.
As the BBC broadcast coverage of Prince Philip's life on Friday, April 9, the day of his death, the final of MasterChef was postponed.
It was shown on Wednesday, April 14, having been announced only the day before. Shown below are the judges, John Torode and Gregg Wallace:
Here they are with finalists Mike, Alexina and Tom:
Britain's foodies could barely contain themselves:
I don't often write about MasterChef, but this year's final was the best yet. I would challenge the pros in the US edition of Top Chef or the amateurs from MasterChef USA to come up with comparable dishes.
This video shows what the British amateurs cooked:
As ever, the programme began with brief biographies, complete with childhood photos, of each contestant. Their parents also participated in interviews.
Alexina
I've put up some inspirational dishes … It's my competition to lose.
She lives in south London:
We discovered that she is a graduate of the University of Cambridge — Jesus College, in fact:
Only social media followers, however, will know that she volunteers for The Food Chain in London. I recognise one well known chef and restaurateur in the photo, Allegra McEvedy, who is in the black and white blouse:
Mike
We knew early on in the series that one side of Mike's family is Italian.
In the following video, Mike's girlfriend describes how generous they are when it comes to serving dinner:
Mike, from Surrey, enjoys his espressos.
He explained that his grandmother taught him how to cook. He was fascinated watching her and imitated what she did in the kitchen:
Tom
Tom is from Newcastle and, before coronavirus struck, worked in a local restaurant as front of house.
He has always enjoyed cooking:
He often cooks for his parents.
The semi-final
The semi-final took place at London's Le Gavroche, which has two Michelin stars. I have eaten there and will never forget the dining experience. Here, Alexina reproduced a challenging Le Gavroche classic for owner Michel Roux Jr and his senior members of staff:
Michel Roux Jr was impressed with all three finalists, each of whom made some of the restaurant's most challenging dishes. In the next video, we see Mike first, then Alexina, followed by Tom:
Based on that episode, we could hardly wait for the final.
The final
Each of the finalists had to create and prepare three dishes.
Mike prepared a starter of scallop with romanesco, followed by sous-vide lamb with a lamb farce and sweetbread pithivier, served with an unctuous thyme and potato terrine. The jus, a gastrique, was perfect. For dessert, he paid homage to his grandmother with a take on tiramisu:
The tiramisu, in particular, looked mouth-watering:
Mike was disappointed that his pithivier burst on the bottom. Nonetheless, John and Gregg responded with superlatives about his dishes:
unctuous and sweet and sticky and absolutely yummy …
dreamy …
fruity sweetness but still with meatiness …
It's classic, opulent cooking and it's skilful.
Here's the video:
Alexina prepared a Malaysian crab soup with a peanut butter bread stick, a perfectly sautéed bavette of beef, and, as a nod to her grandmother, a rolled baked apple (one long strip), served with gin-soaked blackberries and a herby ice cream:
John and Gregg particularly liked the crab soup, an homage to her brother who loves peanut butter:
Then it was Tom's turn to present his final creative plates of food. This chap was a star from the start.
He prepared three oysters, each in a different style, including one which was deep fried in bread crumbs. He followed this with roast beef and beetroot. Dessert was a tangy lemon-yuzu tart with olive oil ice cream, accentuated with a pinch of salt:
Gregg had a deep food experience tasting it, especially the beef.
The tart and ice cream were works of genius. The tart had black olive meringue on top:
Viewers were bowled over by the quality and imagination of the food. Any of these meals could be served in a top restaurant. Tom's showed Michelin-star quality.
In the end, there could be only one winner, the 17th champion of MasterChef:
Everyone did brilliantly:
I wholeheartedly agree. I also think that all should have had a glass of champagne to share Tom's victory:
Tom enjoyed celebrating his win with John and Gregg. He also enjoyed speaking with his ecstatic mother on the phone, hence his reaction:
I wonder if Tom is back at work, now that lockdown has largely lifted:
Indeed.
Follow Tom on Twitter and browse his website for recipes.
I hope someone offers him a job really quickly. His talent is too good to waste. What a great end to lockdown that would be.
Sadly, Prince Philip, the Duke of Edinburgh, died on Friday, April 9, 2021, exactly two months short of his 100th birthday:
The Queen has lost her best friend. My deepest sympathies to her for the unimaginable loss of her long-time husband and daily confidant. My condolences also go to the Royal Family in their grief.
Young love
The couple first met in 1934, and began corresponding when the Prince was 18 and a cadet in the Royal Navy. Princess Elizabeth was 13 at the time.
She was smitten with him from the start.
Prince Philip served with distinction during the Second World War in the Mediterranean and Pacific fleets.
After the war ended, he could have had a stellar career in the Royal Navy. His superiors praised his clear leadership skills.
However, love intervened and the rest was history.
Born Prince Philip of Greece and Denmark, he renounced his foreign titles and took British citizenship before he and Princess Elizabeth were engaged. He took the surname of his maternal grandparents: Mountbatten.
He and Princess Elizabeth were engaged in July 1947. They married on November 20 that year. Shortly before the wedding, George VI gave him the titles of Duke of Edinburgh (created for him), Earl of Merioneth and Baron Greenwich.
Prince Philip remained in the Royal Navy until July 1951. He retired with the rank of Commander.
Royal succession — and surname
In January 1952, he and the Queen began a tour of the Commonwealth countries. They were in Kenya when news reached them that the Queen's father, George VI, died on February 6 that year.
Although she became Queen immediately upon her father's death, her coronation took place in 1953, as it had to be planned meticulously.
On Coronation Day, he knelt before her, clasped her hands and swore an oath of allegiance to her:
He also had to touch her crown and kiss her on the cheek.
He never had a constitutional role, nor was he ever formally given the title of Royal Consort. The courtiers did not like him, nor did they trust him. They believed his personality to be brash and unbecoming of the Royal household. They shut him out of as much decision making as possible.
When Elizabeth became Queen, the question about her family name arose. Prince Philip suggested that the Royal Family be known as the House of Edinburgh. Upon discovering that suggestion, Queen Mary, Elizabeth's grandmother, wrote to Prime Minister Winston Churchill, who advised the young monarch to issue a royal proclamation saying that the Royal Family would continue to be known as the House of Windsor.
In his inimitable style, Prince Philip complained privately:
I am nothing but a bloody amoeba. I am the only man in the country not allowed to give his name to his own children. [57]
The Queen did nothing until eight years later, in 1960, 11 days before she gave birth to Prince Andrew. She issued an Order in Council declaring that the surname of her and her husband's male-line descendants who are not styled as Royal Highness or titled as prince or princess would be Mountbatten-Windsor.
Pater familias
Prince Philip had to carve a role out for himself. He became the pater familias and, through the years, his role expanded to cover not only his four children but his grandchildren. He listened to their concerns, shared their joys and gave them advice. He knew everything that went on in their lives.
Although the public knew him for speaking as he saw — rather bluntly, on occasion — behind closed doors Prince Philip was known to be a warm, loving man.
He also favoured a more transparent Royal Family. According to the BBC, it was he who encouraged the Queen to make a multi-episode documentary on their daily lives, including those of their four children. It was broadcast in the late 1960s. I remember seeing it in the United States.
When Princess Diana died on August 31, 1997, Prince Philip was the one who kept an eye on the public mood that fateful week. He, the Queen and Princes William and Harry were at Balmoral in Scotland for their summer holiday. When the young princes wanted to attend church, their grandparents took them to the Sunday service on the day of their mother's death. Later in the week, it was Prince Philip who encouraged the boys to walk behind the funeral procession the following Saturday. He said:
If you don't walk, I think you'll regret it later. If I walk, will you walk with me? [93]
One cannot imagine what he thought of Prince Harry's departure for the United States to live a life separate from his closely knit family. I did read that the Royal Family shielded information about the Oprah interview from him.
John F Kennedy's funeral
Prince Philip was in Washington for John F Kennedy's funeral in 1963.
He had a friendly encounter with John Jr, who was still a toddler and known as John-John at the time. The child wondered where his father was, as he had no one with whom to play. The Prince stepped in to fill that gap. In 1965, the British government gave an acre of land at Runnymede to the United States for use as a memorial to JFK:
Funeral arrangements
Prince Philip was self-effacing and did not like a fuss to be made over him.
Therefore, the funeral arrangements will respect his wishes, which is rather convenient, as coronavirus restrictions are still in place. Up to 30 people will be allowed at his funeral, in line with legislation across the nation:
The funeral is scheduled to take place on Saturday, April 17:
It is interesting that Prince Harry will be able to attend when we have a 10-day quarantine in place for arrivals into the UK under coronavirus regulations.
The Sunday Mirror reported on Prince Harry's return to the UK:
He could also be released from quarantine if he gets a negative private test on day five, under the Test to Release scheme.
Given his status as a member of the Royal Family travelling to support the Queen, Harry might be considered exempt from travel restrictions.
Wow. It's nice to know we have a two-tiered quarantine system in place /sarc.
A championship boxer remembers the Prince
Former WBC Heavyweight Champion Frank Bruno MBE posted his memories of meeting Prince Philip. He is at the top left in the following photo:
An Anglican priest remembers the Prince
The Revd Peter Mullen, an Anglican priest, recalled his encounters with Prince Philip for Conservative Woman on April 10 in 'A personal recollection'.
He first met the Prince during his schooldays:
The first time I met the Prince was in connection with his Duke of Edinburgh's Award Scheme which gave a leg up to youngsters from what would now be called the less privileged parts of the country. He paid a visit to the Leeds branch of the Church Lads' Brigade of which, aged fourteen, I was a member. We were in the church hall making things. My task was to make a table lamp. I was hopeless at it.
The Duke got hold of my half-finished creation, held it up to one eye and said, 'I suppose this hole is where the flex goes?'
'I think so, Sir.'
'You think so? I was never any good at this sort of thing either!'
And he was off . . . 
As an adult, Mullen met him on more than one occasion thanks to the Honourable Company of Air Pilots. The Prince was its Grand Master. Mullen served as chaplain.
He recalls:
The Company gave a lunch for him to mark his 80th birthday and I recall how jovial he was, making light of his years: 'I believe I have lasted so long because you people are always toasting my good health, but I don't want to live to be a hundred. Things are dropping off already!'
At another luncheon one of our Liverymen who had his own port wine business presented the prince with Bottle Number One, the first fruits, so to speak. As he left, the duke handed the bottle to me: 'You have this, Peter. Our house floats on the bloody stuff.'
'Well, Sir, now I don't know whether to drink it or frame it.'
'Gerrit down ya neck!'
Prince Philip on MPs
Guido Fawkes came up with a good quote from one of the Prince's trips to Ghana. It concerns MPs. His Ghanaian hosts told him the country had 200 MPs. Prince Philip replied:
That's about the right number. We have 650 and most of them are a complete bloody waste of time.
Incidentally, Parliament will be recalled one day early from Easter recess. On Monday, April 12, MPs and Lords paid tribute to the Prince in their respective Houses:
That afternoon, the House of Commons reconvened to pay their tribute — from 2:30 p.m. until 10 p.m. (good grief).
Speaker Sir Lindsay Hoyle spoke first:
Prime Minister Boris Johnson had this to say:
Boris Johnson, who was invited to the funeral but declined so that another member of the Royal Family can attend, said that he would forego a pint when pub gardens reopen on April 12, out of respect for the Prince. Guido Fawkes, however, thinks that the Duke of Edinburgh would have wanted us to toast his memory, especially at a pub that bears his title in Brixton, south London:
Guido had a second tweet on the subject with another quote from the Prince:
Agreed.
Prince Philip on Australia
This is too funny. For those who are unaware, Australia was established as a place where Britain could send convicts. That was a long time ago, but the nation's original purpose was to serve as a prison: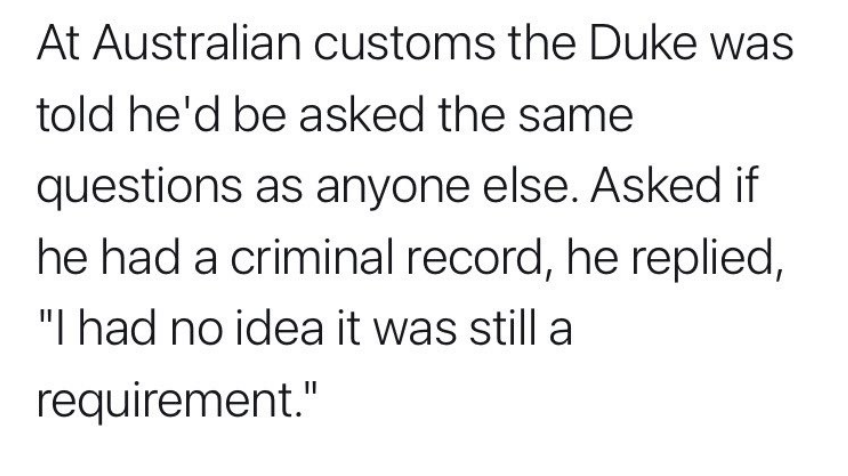 Prince Philip on civil liberties
On a serious note, the 12-minute interview below from 1984 is well worth watching, especially in the coronavirus era.
Prince Philip firmly supported the rights of the individual and believed that the state should serve the individual, not, as in our times, the other way around.
This is from a Thames Television programme originally broadcast on ITV:
I have posted the video below in case the tweets are deleted:
The Prince also said that certain subjects are out of bounds, such as the media and the NHS.
He said that the media are incapable of taking a joke about themselves and, as for the NHS, well, one cannot say anything against it. He didn't necessarily dislike the NHS but thought it was held in too high a regard. Nothing is perfect in this world.
We have been travelling a long road towards the point where we are at present: ruled by the media (they clamoured for coronavirus restrictions) and worship of the NHS. This is how Health Secretary Matt Hancock, Prime Minister Boris Johnson and SAGE have been able to rule our lives. It's been at least 40 years in the making.
BBC coverage on Friday
I was watching BBC Parliament early Friday afternoon, around 1:15, when the programme was interrupted by a broadcast from the BBC News Channel.
I checked the schedule an hour later, which said that the programme would last until 4 p.m. It was still going when I was preparing dinner at 5 p.m.
The final of MasterChef was to have been broadcast that night on BBC1. This was a clip from Thursday's programme:
Pictured are the hosts and judges, chef/restaurateur John Torode on the left and former greengrocer, now television presenter, Gregg Wallace on the right:
BUT:
The BBC News channel was simulcast all afternoon and all night long, not only on BBC Parliament but also on BBC1, to the dismay of MasterChef fans (myself included), and BBC2. BBC4 was suspended for the evening.
I read on social media that the BBC also broadcast continuous coverage of Prince Philip on their radio stations, including Radio 2, knocking out Steve Wright's drive-time show on Friday afternoon.
A friend of mine said that most of the BBC's employees were probably rubbing their hands with glee because it meant an early weekend for them. It's a cynical perspective that could well turn out to be true. We'll find out when someone writes his or her memoirs.
Everyone with a television set receives the BBC News channel. It comes into our homes at no extra charge. There was no need for the BBC to take over every channel for hours on end. By the way, if one had watched two hours of the Prince Philip coverage, as I did, one would have seen and heard everything in its entirety.
The BBC braced themselves for a plethora of complaints; they took the relevant page down on Sunday. Good. I am sure Prince Philip would have objected, too.
As much as I love the Queen, I hope they do not try this when her day comes. God willing, may it be long into the future.
Record-beating prince
Prince Philip established two records as consort to the Queen. He was the longest-serving royal consort in British history. He was also the longest-lived male member of the British royal family.
May he rest in eternal peace with his Maker.
May our gracious Lord grant the Queen, Defender of the Faith, His infinite peace and comfort in the months ahead. May He also bless the Royal Family during this difficult time.