You are currently browsing the tag archive for the 'BBC' tag.
The following British coronavirus version of Rudyard Kipling's If– (original full text here) with regard to coronavirus brought a smile. I hope it does the same for you.
It's a comment that Steven Brook left on a Spiked column by Brendan O'Neill: 'What Neil Ferguson's booty call tells us about modern politics'.
I've added a few grammatical edits to this witty take on the virus:
If – by Mr Kipling
If you can lose your head when all about you are losing theirs and blaming it on you for not panicking sooner.
If you can hide your doubt, judgement and perspective and put your faith in experts like Piers Morgan
If you make no allowance for other considerations, the economy or unintended consequences.
If you can wait and not be tired by waiting for a vaccine that is unlikely to turn up.
Or meekly accept being lied about, because the mainstream media don't deal in facts any more.
Or being hated, don't even think of cutting the public funding to the hatemongers.
And yet don't look too normal, nor talk too wise, just put your critical faculties on one side and show you care …
If you can dream of a multicultural paradise but ignore the reality of a fragmented rudderless society
If you can think, then, for God's sake, hide those thoughts, or you will look cold and heartless.
If you can meet with Triumph and Disaster, having beaten the virus but wrecked the economy.
And treat those two impostors just the same; who needs a healthy economy anyway?
If you can bear to hear the truth you've spoken
Twisted by the BBC to make a trap for fools, but you're too scared to deal with that nest of vipers.
Or watch the things you gave your life to, broken, the family, freedom of speech, education.
And stoop and failed to build 'em up because you imported third rate tools from China:
If you can make one heap of all our national wealth
And risk it on Prof Ferguson's model which forecast that 121% of the British population would be dead by Easter.
And lose, because Imperial College has a long history of getting things completely wrong and start again at the beginnings.
And never breathe a word about our loss because no one takes responsibility for previous panics (and, for goodness sake, don't publish the grooming report).
If you can force your heart and nerve and sinew not to strangle Robert Peston even though he richly deserves it.
To keep having press conferences long after they have become utterly pointless.
And so hold on when there is nothing in you
Except the Will which says to them: 'You do realise that Common Purpose runs the UK?'
If you can talk with the public while selling out your nation to the globalists
Or walk with the Davos crowd — but still pretend to have the common touch,
If neither foes nor loving friends can hurt you because you burnt the photos of you with the lady boy.
If all men count with you, but George Soros particularly;
If you can fill the unforgiving news cycle
With sixty seconds' worth of calm reassurance,
Yours is the Earth and everything that's in it, which, sadly, is a lot less than it used to be.
And—which is more—you'll be a modern politician, old chum.
It nicely sums up the past two (and a bit) months here in England.
Last week, a number of essays and interviews about lockdown appeared in Britain.
There are still people who think that it can be lifted as quickly as it was imposed in so many countries. As we have seen across much of the Free World, as it used to be called, lifting lockdown must be done in stages, otherwise, we might have a second spike in coronavirus cases.
Here in the UK, Prime Minister Boris Johnson followed the Swedish model until the evening of Monday, March 23, when he announced lockdown.
Was it because of Professor Neil Ferguson's (dodgy) numbers? Was it media pressure as they asked daily for a lockdown 'like Germany, like Italy'? In time, we will find out why. Perhaps Boris did not want to be labelled a mass murderer, as he surely would have, if he did not succumb.
Here are the British fatality figures from COVID-19 compared with other pandemics over the past 112 years: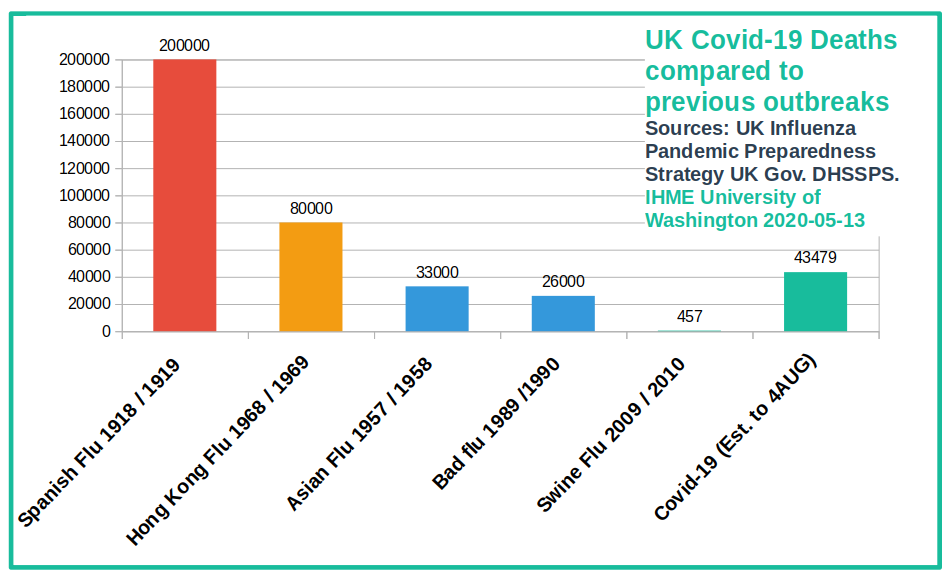 Did we lockdown in 1918 and 1919 for the Spanish Flu with 200,000 deaths when our population was smaller? No.
Did we do it for the Hong Kong flu in 1968 and 1969 with 80,000 deaths, again when the population was smaller than today? No.
Therefore, it makes little sense that we did so in 2020 with a larger UK population and 43,479 projected deaths.
Lionel Shriver, an American author (We Need to Talk about Kevin), who lives in the UK, provides current worldwide death statistics from other causes in 'This is not a natural disaster, but a manmade one', which she wrote for The Spectator on May 16. Emphases mine below:
For maintaining a precious sense of proportion, check out some other annual global fatalities: influenza, up to 650,000. Typhoid fever, up to 160,000. Cholera, up to 140,000. Malaria, 620,000 in 2017, almost all in Africa (so who cares, right?). In 2018, tuberculosis, developing treacherous antibiotic resistance, killed 1.5 million people. Why haven't we closed down the whole world for TB?
I couldn't agree more.
She expresses my deepest reservations here:
I am steeped in dread. I foresee months, if not years, of inane gesturing towards 'safety' that makes no appreciable difference to the nation's health, but does manage to 1) ruin everyone's enjoyment; 2) perpetuate the socially poisonous notion that one's neighbour is a threat to one's very life; 3) maintain an atmosphere of the extraordinary, in which the state may violate civil rights at will; 4) lay waste to what little might otherwise have remained of this country's economy. The lockdown has been bad enough. Post-lockdown could be worse.
Shriver understands. Forget 'science', this will be the reality:
With narrow profit margins, restaurants can't survive serving a fraction of their previous clientele. Half of all UK pubs are already kaput, and the other half will soon go under if lone customers self-isolate over their drinks like sullen alcoholics. Plenty of manufacturing won't function with employees so far apart. The arts are finished.
What she says about London is bang on the button:
West End theatres with audiences a third their former size will close. The Albert Hall is also looking at social-distancing bankruptcy, as well as considering the banning of intervals because the loos will have to be shut (sounds relaxing). The Royal Opera House's streaming of Swan Lake without a live audience makes no money.
Oh, and transport! In London, social distancing is expected to reduce Tube passenger numbers by 90 per cent. Five million people daily ride the Tube, or used to, so how are the other 4.5 million meant to get around? By bicycle. Right. Now, I can assure you that pre-Covid it was already a nightmare to cycle in the capital, as chocka with two-wheelers as the old Shanghai. But forget buses, allowed to carry 15 per cent of their previous ridership. We're told that to get into a sparsely populated lift, we may have to make a reservation on an app. But never fear. I guess we could always throw ourselves off the balcony instead. Why, with the masky, glovey, get-away-from-me future we're all facing, taking that shortest route to the pavement starts to appeal.
Then there is the 14-day quarantine of incoming air passengers from other countries. France is implementing the same policy and, oddly, the French think it's a good idea:
Worst of all, lest some sector somewhere still struggles back to solvency, we'll now order air passengers from abroad to 'quarantine' for a solid fortnight straight off the plane. Because passengers can promise to quarantine themselves in a particular location, this policy comes with obvious enforcement problems. Quarantines will either be roundly ignored (so what's the point?), or they'll require extravagant police resources to keep rapping on doors to ensure some visiting Canadian didn't nip out for a litre of milk. What this policy is guaranteed to achieve is the total devastation of both the British tourist industry and British airlines, especially since the business travel on which aviation depends will evaporate.
On Sunday, May 17, The Spectator posted another article: Claire Fox's 'My fears about the "new normal"'. It explores how we are beginning to view the return to freedom in England during our partial lockdown lift as well as at the resistance to lockdown lifting:
The present lifting of restrictions – despite being mild to the point of mealy-mouthed – is opposed with similar howls of caution; each minor freedom we are granted is treated as a dangerous act of rashness. This approach indicates a deeper estrangement from freedom than merely a pragmatic shrug of acceptance of short-term measures.
In this context, I fear that the 'new normal' will involve a new attitude to freedom. Already, culturally, you can feel a shift. I find myself grateful to be given access to public parks, to be allowed to take more exercise (when normally I would take none). Going to the shop for a non-essential birthday present last week, I was as furtive as a would-be criminal. And in all the discussions on post-Covid life, basic freedoms are treated as something that we need permission for: a piecemeal, rules-based, government allowance, handed down and punitively policed if we dare over-step the mark, whether it is by a clandestine meeting with mates or a sly assignation with a lover.
The left are more worried about lifting lockdown than conservatives are. Who gets nearly all the media attention? The left.
Fox rightly points out that we are going to have to wean ourselves off the overriding concern over COVID-19 deaths and start looking at what else has been going on in our society over the past two months: serious health conditions and suicide among them.
The tension between the left and conservatives reveals how each group views God-given liberties, which Western governments are supposed to defend. Instead, we are now experiencing discussions in the media about freedom versus safety. Fox says:
My nervousness is that for many the value du jour is safety rather than freedom.
The state's role in keeping its citizens safe has historically created familiar tensions in weighing freedom versus security. Most recently, civil liberties activists internationally raised concerns that policies introduced to keep people safe from the threat of jihadi terrorism have resulted in widescale illiberal incursions into the rule of law, privacy and free expression. But in dealing with Covid, there's an added element. When those who resist lifting lockdown cite what-if doomsday scenarios, they posit freedom itself as the enemy of safety: liberty itself is presented as threatening lives …
Is it really such a stark choice as: dead or safe? Alive or free? In fact, we owe our own freedoms to others who put their safety and lives on the line. Every freedom fighter – whether Hong Kong democracy activists, Kurdish fighters who defeated Isis, or those we remembered on the VE Day anniversary – all took on totalitarian states and risked their lives and safety in the fight for free societies.
…reorganising life around safety as an end goal feeds on subjective, free-floating feelings of insecurity and can rob us of the confidence to live free lives. And that is my greatest dread: that we lose the habit of living freedom. Like the apocryphal released prisoner who misses the routine and security of jail so much that he contrives to be re-arrested, is there a danger that we become institutionalised into withdrawing from the undoubted demands that freedom makes of us?
The government has made physical exercise almost mandatory during this lockdown. But freedom, too, is a muscle that needs to be exercised, or it will atrophy. But exercising freedom is no easy ride, and can be as painful metaphysically as the most strenuous workout. To exercise our freedom as autonomous citizens we have to make difficult decisions, use our judgement, live with the uncertainty of knowing there are no preordained outcomes. It's a risky business: we will invariably make mistakes that we'll be held responsible for; we will sometimes take the wrong road and have to live with the consequences, with no-one to blame but ourselves. Relieved of many of these dilemmas during this extraordinary period of having our liberty curtailed, it is perhaps understandable that many of us rather dread entering the fray of freedom.
Several weeks ago, I saw a BBC interview of a Chinese family coming out of lockdown. The mother said that they valued a draconian lockdown because the State was protecting their health. She said that safety trumped liberty (as much as can be had in China). How soon will it be until we have a sizeable number of Britons saying the same thing?
But who wants to be cooped up — accomplished in a five-minute announcement on television — when it robs our lives of meaning?
Fox concludes:
So if we are to have a 'new normal', can it aim to embed within it freedom's historic role as a virtue worth dying for, and make its clarion call the joyous rewards of a free society that makes life worth living. Being able to love who we want; read, write and think what we want; associate with who we want; vote for what we want – all this and so much more allows us to be agents of our own destiny, to write our own life story rather than being bit part characters in someone else's story.
If the Covid narrative insists on a new normal, let's ensure the script contains Goethe's quote that 'freedom and life are earned by those alone who conquer them each day anew'. Despite the grim tragedy of recent months, we need to make freedom central to the Covid storyline to ensure that there's at least some chance of a happy ending to this tragedy.
On May 17, the BBC interviewed a retired Justice of the Supreme Court, Lord Sumption, who offered similar, salient arguments against lockdown, which he said should be lifted now, as there is no need for it. He said that he has been obeying lockdown rules, because the law obliges it, but, if the pubs were open — even crowded ones — he would go to one. Similarly, he said, if theatres were open, he would attend a performance. He spoke of the many negatives of lockdown to health and civil liberties. At the end, the interviewer asked him what he had been doing during lockdown. He replied that he would not say because he did not want to be verbally attacked by the BBC!
This is definitely worth watching (eight minutes in length):
There was a time, back in early March, when I thought the Conservatives were on our side.
I hope I am wrong in doubting them. We'll see what happens in the weeks to come.
Last week, a few British polling companies took the pulse of the nation with regard to coronavirus.
But first, let's look at an international poll from Morning Consult of G7 countries and their leaders' popularity during the pandemic. Congratulations, Boris Johnson — far above the others in popularity!
Returning to Britain, here are the results from a YouGov/Sky News poll. Keir Starmer, incidentally, is Labour's new leader:
This is the poll in more detail. Dr Chris Whitty is the UK's chief medical adviser; Sir Patrick Vallance is the chief scientific adviser; Dominic Raab, Secretary of State for Foreign and Commonwealth Affairs, is Boris's deputy; Matt Hancock is Secretary of State for Health and Social Care; Sir Keir Starmer is the new leader of the Labour Party:
The next one is Survation's poll on trusted sources of information during the coronavirus crisis. Note that the media come lowest, well below that of despised politicians and local government, regardless of the fact that most Britons get their information from broadcast and print media:
Here is a poll from YouGov for Reuters Institute and Oxford University:
Here's one from a Twitter user. Comments follow (DM is the Daily Mail):
One radio talk show host thinks the British public are too stupid to understand media. I try not to use the word delusional, but this is delusional:
The British government are actually doing a great job in managing the coronavirus outbreak. The NHS has not been overwhelmed.
Before the crisis started, according to the Global Health Security Index, the US was rated first in the world for handling a pandemic. The UK was rated second:
Have both the US and the UK been too scrupulous in recording deaths, as — according to some graphs — both countries have the world's highest fatalities? We shall see, once this is over.
Otherwise, sure, there have been ongoing issues with obtaining PPE, BUT is that the government's fault? Aren't NHS procurement managers in charge of that? Ditto care homes, which are either privately owned or council run.
Never mind that, though. Obtaining PPE has been a problem for nearly every nation during this pandemic.
Below are photos of German medics. The BBC often asks, 'Why can't the UK be like Germany?'
Hello, BBC. Germany has a PPE shortage, too:
Despite that and despite lockdown, the British support Boris and his team. This was as of April 21, published on April 26:
Regardless of the government's careful managing of this crisis, the media dig deep every day to report only bad news. Largely, they are still hurting over Brexit, which will no doubt dominate media narratives once coronavirus is over. The negative coronavirus stories are an extension of anti-Brexit narratives:
The BBC is the only channel to broadcast the government's daily coronavirus briefings. As is customary in other nations doing these daily updates, reporters from across the country are allowed to ask questions afterwards:
Health Secretary Matt Hancock, other government ministers and the medical officers have to face a lot of awful questions. Last week, the BBC's health editor Hugh Pym asked whether the government was 'ashamed' of its coronavirus response:
People like Pym, who smile and smirk simultaneously, are the lowest of the low. They use their gotcha questions on early evening newscasts:
On Monday, April 27, Hancock got fed up with ITV's political editor Robert Peston's continuous, verbose questions. Hancock replied with a terse 'No':
Here's the deal with Peston:
Here's another example, this time from the BBC:
And another:
And another. This is BBC Newsnight's Emily Maitlis with Labour's Peter Mandelson — Baron Mandelson — who held several cabinet positions under Tony Blair and Gordon Brown when they were Prime Minister:
But I digress. Back now to the daily coronavirus briefings.
On Monday, April 27, the government began taking at least one question a day from the general public:
Robert Peston does not like this:
Actually, Robert, the first question chosen and read out on April 27 was relevant to many Britons.
That day, the independent polling company the government uses to select the questions chose one from a grandmother who wanted to know how much longer she would have to wait to kiss and hug her grandchildren. Honestly, I nearly welled up. Much better than taking questions from Peston, Pym and the like.
On Tuesday, April 28, they had two enquiries from the public — one read out loud from another grandmother about childminding her grandchildren and a short video from a mother asking when her son on the coronavirus isolation list could return to school. The lad has cystic fibrosis and autism:
Unfortunately, Matt Hancock had to let all three ladies down gently. It was/is still too early to say.
Interestingly, Peston didn't ask a question on Tuesday. Perhaps he's miffed that Britons are getting their own very real concerns aired? As is said in the news trade: 'Developing …'
News emerged several days ago that human testing began at Oxford University on a vaccine for COVID-19. Suppose it succeeds, which we all hope it will. Will this be the sort of questioning the government will receive? Although humorous, it's not far off the mark. Click on image to enlarge:
Actually, something just as strange happened when the vaccine news was announced. A woman with a PhD, whom the media referred to as Doctor — implying a medic — appeared in the media. She said she would be ashamed if Oxford succeeded!
She was made to appear as if she were from the university, when, in fact, she's at what used to be the city's polytechnic, now called Oxford Brookes. They are two very different institutions:
It is not unusual for the BBC to interrupt any Conservative politician, whether on television or radio. On Friday, April 24, Matt Hancock appeared on Radio 4's Today programme:
The clip below shows ITV's Piers Morgan, co-host of Good Morning Britain, having a go at Matt Hancock, not even allowing him to finish a sentence. Breathtaking arrogance, and worth a watch:
Piers should clam up — and tone down his tweets. Good Morning Britain's ratings have been tanking during the coronavirus crisis (more here):
On April 16, during the daily coronavirus briefing, Channel 4's Alex Thomson asked if the government was trying to kill the elderly. Sitting at home viewing, my far better half and I were astonished. Guido Fawkes has the story:
At the more serious end of broadcasting, Channel 4 News' Alex Thomson last night was on a quest for culpability. His crass question at the Downing Street briefing basically accused Hancock and his advisers of choosing to kill off old people to prioritise protecting the young.
We stopped watching Channel 4 News years ago. It got too left-wing in its bias. Here's another example from Guido's article, involving Home Secretary Priti Patel (emphasis in the original):
Earlier in the week, Channel 4 News' reporter repeatedly demanded from Priti Patel an apology. This type of performance isn't holding power to account or about purely eliciting information. It is gotcha journalism and because journalists at the press conferences are asking their questions through the prism of establishing political culpability, they are getting defensive responses. It would be better to leave that to the opposition in parliament and leave the made-for-social-media infotainment to Piers. It might also arrest the dramatic drop in public confidence in the news media…
Therefore, is it any wonder that former Labour MP for Vauxhall in London tweeted:
Yes, there should be a root and branch review and reform of the alleged 'nation's most trusted' broadcaster. The annual licence fee per household is £145. It is a mandatory charge. As such, some Britons call it a tax.
I have a lot more to say about the media's handling of coronavirus. More to follow at some point.
On Friday April 18, a news story from the BBC about an NHS procurement director circulated on the BBC news channel.
The man, unnamed, wanted to contact Burberry and Barbour directly to obtain much-needed PPE.
I heard it reported more than once. The story even popped up on the national coronavirus briefing at the weekend.
On Saturday, April 19, the Mail on Sunday's deputy political editor Harry Cole exposed the BBC story as FAKE NEWS.
Click on the image below or here to read the article in full:
Incidentally, Sarah Smith (pictured), who presented the story is the daughter of the late Labour leader John Smith, who died in May 1994. (Tony Blair succeeded him.) Her mother is a life peer: Baroness Smith of Gilmorehill. But I digress.
As Harry Cole says, the story got several airings on the BBC News channel, then, suddenly, there was nothing more. A newsreader read a retraction at 7:10 a.m. on Saturday.
Unbeknownst to Cole — and most of the viewing public, myself included — the BBC retracted the story on its website late on Friday, the same day it appeared:
The 'correction' says, in part:
We should clarify that the person concerned is not the boss of an NHS trust but is part of a network of organisations helping to source personal protective equipment for some NHS trusts.
The mistake was caused by a misunderstanding of the person's role in the fight against the pandemic.
Cole was able to find out the identity of the mystery man, who works at The Oxford Academic Health Science Network, which is currently helping to source PPE:
He was later identified by the BBC News at One as 'senior health expert' Paul Durrands. Mr Durrands, who has a doctorate in philosophy and molecular plant pathology …
Since 2011:
he has been the chief operating officer of the Oxford Academic Health Science Network, a publicly funded 'innovation exchange'.
It is understood he has been helping NHS trusts seek PPE, but is not and never has been a major NHS trust boss. He did not respond to requests for comment last night.
The BBC are not on the government's side unless it's a Labour one.
They have really pushed the boat out in their anti-Conservative coronavirus coverage, which never covers anything good the government has done thus far.
One gets only noxious narratives from the BBC and, now, fake news. Yet, they have a special segment a few afternoons a week wherein a reporter debunks various online fake news items about the coronavirus. They should take a close look at themselves in the mirror first.
It is a pity that every British household is obliged to pay an annual licence fee to keep this broken outfit going.
On January 21, 2020, the BBC's radio and television presenter Victoria Derbyshire interviewed a Briton who lived as a woman for four years before returning to manhood.
Richard Hoskins tells his story here (two weeks left to view, probably geolocalised) and says of his life as a transsexual (emphasis in the original):
'I used gender transition as a form of escape'
For four years, Richard Hoskins lived as a woman.
But he now believes it was a reaction to the trauma of losing three children, rather than relating to his gender identity.
He has now detransitioned, and tells the BBC's Victoria Derbyshire that more must be done by the NHS to ensure others are properly assessed before treatment begins.
In the clip below, he explains that he had PTSD after the loss of his three children and from earlier sexual trauma as a child. Derbyshire, whose television news and chat show has recently been cancelled, kept showing him national guidelines saying that medical practitioners are following them to the letter. He counters her arguments by saying that what is needed before any of that takes place is one-on-one therapy, which he had after he had become a woman and felt increasingly uncomfortable.
Please watch this two-minute video ('or' in line two should read 'of'):
In Britain, it is very difficult for medical practitioners not to eventually sign off on transsexual procedures. There is legal and professional pressure so to do.
The comments following that tweet are enlightening and show just how wrong 'following the procedures' can be:
It turns out that Richard Hoskins is actually Dr Richard Hoskins, a lecturer in theology and present-day criminologist.
He helped police in a horrific murder case that took place in London in 2001. A little boy, known only as 'Adam', had been mutilated and thrown into the Thames by Tower Bridge. He was close to being swept away into the North Sea. After Hoskins became involved, more similar cases in London came to light.
Hoskins wrote an award-winning book about it called The Boy in the River, available on Amazon, from which an excerpt of the synopsis follows:
Unable to identify the victim, the Murder Squad turned to Richard Hoskins, a young professor of theology with a profound understanding of African tribal religion, whose own past was scarred by a heartbreaking tragedy. Thus began a journey into the tangled undergrowth of one of the most notorious murder cases of recent years; a journey which would reveal not only the identity of the boy they called Adam but the horrific truth that a succession of innocent children have been ritually sacrificed in our capital city.Insightful and grippingly written, The Boy in the River is an inside account of a series of extraordinary criminal investigations and a compelling personal quest into the dark heart of humanity.
According to the highly interesting readers' comments, in the book, Hoskins discusses his experiences as a missionary in the Congo. He seems to have spent part of his earlier life there before returning as an adult to spend six years there. His Wikipedia entry gives brief details about his life, mostly focussing on his career as a lecturer and, later, as a criminologist.
One reader wrote, in part:
Through this well written book, Dr Richard Hoskins takes us from his happy times in the Congo marked by devastating personal tragedy whilst living under the rule of an autocratic dictator and contrasts it with the Congo many years later, free of the dictator but with a disintegrating social fabric providing a void for new churches to fill using their corrupted fusion of Christianity with a brutalised version of previously benign traditional beliefs. The Congo that he used to know is not the one in which he is almost killed years later.
When Adam is pulled from the river the Police come to him seeking guidance in a belief system which seems so alien. Dr Hoskin's personal story run's parallel with the cases he provides help on, fighting to maintain his sanity and marriage in the face of the case reports he must read and interpret for the benefit of Police and Courts to make sure all understand this is not an Africa problem steeped in tradition but a terrible corruption by a minority in recent years of a faith that has lasted hundreds of years with the victims being dreadfully abused before, in the most extreme, death.
The Evening Standard's review said, in part:
As well as being an important book for all sorts of reasons, The Boy in the River is a remarkable one. The horror it evokes will be matched by a sense of disbelief that such appalling things are happening, now, in London. What makes it all the more powerful is the deliberately measured manner in which it is written. Throughout, there s a sense that Hoskins is struggling to maintain his own equilibrium, his own sanity even, as he explores what he calls, with ample justification, the darkest underbelly of human nature.
It is worth emphasising that only a small percentage of the Congo's Christians practice such brutal syncretism involving ritual child abuse and sacrifice.
Yet, from this, it is understandable why Hoskins was traumatised.
From this we can see that the urge to change one's sexuality or remove body parts is complex. Not everyone has as involved a past as Dr Hoskins, however, therapy should be strongly advised in such cases before further action is taken.
There are other ways to come to terms with one's highly personal conflicts:
I hope that Hoskins and others in the same situation continue to speak openly.
For at least 20 years, populism has been popular in the Netherlands.
Former Labour MP Ed Balls has a BBC Two television series called Travels in Euroland with Ed Balls.
In his episode in the Netherlands, he asks at the end how populism can be stopped.
Yet, he missed the most important point of his own interviews.
Populism is not the R-word.
On the contrary. Populism asks that immigrants assimilate into their new culture. It also asks for orderly borders.
He meets a man named Willem, who talks about his girlfriend in the Gambia. Her name is Jojo. When Ed Balls goes to Willem's house for lunch, the Dutchman speaks affectionately of her and says he bought her a bicycle — her new, preferred mode of transport (two-minute mark):
So, we can say that populists are, in the main, multiracial. They do not, however, want their own culture erased out of history.
The clip shows that Balls missed the whole of Willem's message.
But, then again, Balls is Labour and he is making this series for the BBC. What else can one expect?
On Thursday, January 16, 2020, the BBC's Question Time (QT) had an unusual guest: an actor.
He was no ordinary actor, as the presenter, panel and live audience were to discover.
Laurence Fox, co-star of the popular Detective Morse-spin-off series Lewis, spoke his mind cogently and calmly.
What he said was controversial to half the people who heard it and common sense to the other half.
Guido Fawkes promptly posted Fox's 'best of' moments early Friday morning (emphasis in the original):
Few knew who Laurence Fox was before last night's Question Time appearance. After this barnstorming performance Guido reckons his appearances will be more keenly anticipated.
Most viewers would make time to watch QT were Fox on it again. However, unlike Guido, I doubt whether he will be invited again. Although his views are centrist, that's too balanced for the programme, known for its overwhelmingly left-wing panel and presenter (Fiona Bruce) as well as the blunt, emotional discussions, if one can call them that.
No one with any common sense watches QT unless there's someone on they want to see. I only watched the programme in full after seeing Guido's post.
This was one of the best QTs ever, because of Fox.
One wonders if the programme researcher who booked him still has a job. I hope so, because ratings on the online replays of the show must have gone through the roof over the past week.
This is what Spiked's columnist, Patrick West, wrote about the actor only a few weeks ago in November 2019 (emphases mine below):
We need more Laurence Foxes
Most intelligent grownups don't pay attention to the political opinions of actors. The film Team America summed it up. Their opinions are usually shallow and conformist. Not so the actor Laurence Fox.
He is decidedly un-luvvie in his opinions and pastimes. The Lewis actor told The Sunday Times the other week that he recently walked around south London in a MAGA hat. He's fine about multiracialism, but hates multiculturalism: 'You have to be a Somewhere person. If you're in England, be English.'
He openly doesn't hate Donald Trump. He doesn't think there should be 50-50 gender quotas for scriptwriters at RADA. He calls his fellow thesps 'hypocrites' for supporting Extinction Rebellion while leading 'high-carbon lives'. He is irked most by today's culture of conformity. 'Our parents taught us to think for ourselves and then stayed out of the way. Now our kids turn up with a preconceived idea which they're getting from school.'
Research by King's College London's privacy institute published last month showed that young people today had much more liberal views on soft drugs, homosexuality and abortion than they did 20 years ago …
This is the great paradox of our day: young people are more tolerant than they used to be, except towards those who question the consensus.
You can see an interview here from December 1 in which he describes his MAGA hat experience in London and the Trump Derangement Syndrome he received:
This is the full 27-minute interview:
The Telegraph's Madeline Grant was also on the QT panel last Thursday. She wrote about it on Friday morning, including a clip of the show when the Sussexes departure from the Royal Family was discussed:
The woman attempting to take Fox on over his views on the topic turned out to be a BBC plant, a lecturer at Edge Hill University (a former teacher training college):
Now on to Madeline Grant's article, most of which lies behind a paywall:
To say I was in a state of panic on the way to Liverpool for my maiden Question Time outing on Thursday would be an understatement. I imagined vomiting onstage, trying to speak and croaking, wardrobe malfunctions, furious audience members throwing tomatoes, and more. I considered pulling a sickie or emigrating.
Yet the experience defied my expectations; with a rare Right-leaning panel, a terrific audience posing intelligent questions, a generally polite and enjoyable conversation without the point-scoring tedium that often accompanies such shows.
Perhaps the most astonishing revelation, however – the needle in the haystack, the flying pig, the blue moon – was the presence of a non-woke actor on the panel. My new friend Laurence Fox, who perfectly captured public resentment of stifling identity politics and the culture of permanent offence. He skewered the hypocrisies of pontificating celebrities and disconnected politicians. And, like Ricky Gervais's tirade against the Hollywood elite at the Golden Globes, his words found a receptive audience …
The aforementioned lecturer, Rachel Boyle, accused Fox of being 'privileged' in his comments about the Duchess of Sussex. The Telegraph's Jamie Johnson wrote an article, free to view, which recapped some of what the actor said:
Responding to a claim from an audience member that the media's treatment of Meghan amounted to "racism", Mr Fox responded: "It's not racism… we're the most tolerant, lovely country in Europe.
"It's so easy to throw the charge of racism and it's really starting to get boring now," he continued.
The audience member then described Fox as a "white, privileged male", to which he responded: "I can't help what I am, I was born like this, it was an immutable characteristic.
"To call me a white privileged male is to be racist," he claimed.
You can read an analysis of Boyle and QT here. She tweeted on Saturday, January 18, and got a number of pro and con responses, including this one:
Fox believes that the media turned on the Sussexes when they decided they did not want to put in the hard work as Royals yet still get paid a salary:
Further discussing Meghan and Harry's decision to quit as senior royals, he told host Fiona Bruce: "When you're younger you do want to make a life for yourselves.
"So I do empathise with them, but I do think there's a little bit of having your cake and eating it which I don't enjoy."
Absolutely! The more one reflects on this, the more one can see the British public's indignation at the indirect insinuation by the Sussexes that we're just not good enough for them. They cannot bear the idea of pressing our oh-so-common flesh on a regular basis. They're far too good for the likes of us. What snobs.
Returning to QT, the first of Fox's brilliant comments came on the subject of climate change and frequent flights. He willingly admitted to flying a lot:
Joking about the hypocrisy of celebrities who fly regularly, Fox said: "The carbon footprint's huge.
"But we make up for it by preaching to everyone how they should change their life."
Yes! (Looking at you, Sussexes — along with dozens of others!)
Fox received lots of praise from QT viewers:
The Mail on Sunday has more reactions from Twitter on Fox's views as expressed on QT.
In this interview with journalist and polemicist James Delingpole from January 16, Fox discusses his attitude towards dating:
The aforementioned Mail on Sunday article reported some of what Fox, 41, said on the topic:
Laurence Fox has revealed he once broke up with a girlfriend because she liked a pro-#MeToo TV advert. 
The actor, 41, told his ex-lover: 'Bye. Sorry I can't do this with you,' after she praised Gillette for their TV campaign on 'toxic masculinity'. 
He also said he no longer dates women under 35 as they are 'too woke' and most of them are 'absolutely bonkers' …
The controversial Gillette advert subverted the razor brand's famous 'The Best A Man Can Get' slogan by challenging traditional views of what it means to be a successful man. 
It featured news clips of reporting on the #MeToo movement, as well as images showing sexism in films, in boardrooms, and of violence between boys. 
In an interview with the Delingpod podcast, Mr Fox, who has two children with actress Billie Piper, 37, said of his Gillette argument: 'I don't know how we ended up together. It was a very short relationship. 
'We were walking down the road together and she was talking about how good the Gillette advert was. I just looked at her and went, 'Bye. Sorry I can't do this with you.'
It is not clear which former girlfriend Mr Fox was referring to.  
He told the podcast that before his current relationship began, he was put off dating women under 35 because they are 'primed to believe they are victims' …
Mr Fox's previous girlfriends include DJ Lilah Parsons, Sky Sports News presenter Kirsty Gallcher, 43, and Vogue Williams, 34. 
Asked what his former flame would think about him sharing the unusual reason for their break-up he told the podcast: 'She will probably sit there and say, 'See I told you he was patriarchal. He's abusing me and I'm offended.'  
That same day, Fox gave an interview to Spiked's Brendan O'Neill, an ex-leftist who is now centrist and/or libertarian. This is a good discussion, just a little over an hour long. O'Neill clearly agrees with Fox:
Fox said, among other things, that he was very grateful that people were beginning to be more open about their views in the face of political correctness. As a result, he believes the tide is beginning to turn.
Millions of us are grateful to Laurence Fox for going on national television and unreservedly voicing his opinions in a calm, civilised manner.
For my British readers, a documentary well worth watching is the BBC's Laura Kuenssberg's one on Brexit and Boris.
The Brexit Storm Continues: Laura Kuenssberg's Inside Story is very well made, indeed:
Laura gives us behind the scenes footage of herself with the press corps, her BBC colleagues and, best of all, leading Conservative and Labour politicians discussing Boris's first 100 days.
There is some amazing and interesting footage, including a few seconds of the Prime Minister's bare shins. He wears short socks. Perhaps it is time for Carrie Symonds to buy him a few pairs of knee-length ones for televised interviews.
It is obvious that the BBC loathe Boris and it looks as if Laura is no different. They were all rather nasty to top adviser Dominic Cummings at No. 10 in preparing for an interview with Boris.
Speaking more broadly, Laura seemed to think Boris was taking foolhardy gambles with Brexit and the election. Well, we know how the election turned out. We'll find out about Brexit in the New Year.
Contrary to the negative replies from Labour supporters to her tweet above, she is neither a Conservative nor a conservative. She's a canny journalist doing her job, and it's paying off. This documentary bears her name.
All of that aside, viewers will be able to see the offices of Jacob Rees-Mogg and Michael Gove as they welcome Laura for interviews. They will also be able to watch short exchanges with Steve Baker. I enjoyed the little snippet of the BBC trailing Baker and fellow MP Mark Francois after the Saturday, October 19 session in the House. As it was all a bit hard going, Baker asks Francois if he would fancy a drink. The cameras stop just before the two cross the road to repair to a pub.
I am not a BBC news fan, and I don't trust any of their reporters or presenters, but for anyone missing politics over the holiday period, this documentary is well worth watching.
The charges of anti-Semitism that have dogged Labour since Jeremy Corbyn was elected leader in 2015 beggar belief.
Labour has the highly dubious distinction of being the only other political party than the BNP to be formally investigated by the Equality and Human Rights Commission for anti-Semitism.
It is unclear why anti-Semites within Labour have felt so free to be so open with their hatred.
The front page article in The Sunday Times from December 8 has chilling content (click on image to read it in full):
Few are saying Jeremy Corbyn himself espouses the same hate, but he seems to be doing little about it. This is what he said on the last debate of the campaign on Friday, December 6:
Yet, the diversity campaign video that Labour issued on Saturday, November 30, mentions every ethnic and religious group in some way — except the Jews!
The Daily Mail has the story along with the video (emphases mine below):
Mr Corbyn posted the one minute and eight second video about diversity on Twitter on Saturday with the words 'this is our strength'. 
The video uses a speech by shadow equalities secretary Dawn Butler as a voice over in which she lists various different groups and insists 'a Labour government will value you'.
But the video does not refer to British Jewish people in a move which has sparked fury and risks worsening Labour's existing anti-Semitism crisis. 
The party remains under formal investigation by the Equality and Human Rights Commission over its handling of allegations of anti-Semitism …  
Ms Butler said in her speech: 'If you are in social housing, if you are LGBT+, if you are straight, if you are a traveller, if you struggle to pay the rent, if you wear a hijab, turban, cross, if you are black, white, Asian, if you are disabled, if you are old, if you are young, if you don't have a trust fund.
'If you didn't go to Oxbridge, if you are working class, if you are under 18, if you are aspirational, if you work, if you are a carer, if you feel you won't live beyond 25, if you have ever ticked the 'other box'. 
'You have a future and you are worthy. Worthy of equality, worthy of dignity and worthy of respect and a Labour government will value you. Just be your authentic self.'
The video ends with a statement on screen which reads: 'Our diversity is our greatest strength. Let's unite and unleash the potential of all our people'.
The situation has been serious for at least a year. Yet, it would appear as if most of our main media outlets are purposely ignoring it.
Imagine if the Conservatives had this problem. It would have been headline news, front and centre, all year long.
How did I find out about it earlier this year? Via Guido Fawkes.
In looking through my bookmarks, however, I found a few Press Association articles from 2018:
'Corbyn sorry for "pain and hurt" caused by anti-Semitism in Labour' prior to a protest by Jewish leaders in front of Parliament (March 25)
'Corbyn faces renewed calls to tackle Labour anti-Semitism' (April 1)
'Shadow minister "frustrated" over Labour's slowness to tackle anti-Semitism' which features a protester holding a sign saying 'For the many, not the Jew' and mentions Labour MP Thangham Debbonaire being criticised by her Bristol constituency Labour Party for attending the aforementioned rally against anti-Semitism (April 8)
Things went quiet until July 2019, when the BBC's Panorama investigated charges of anti-Semitism against Labour. This was just after the the Equality and Human Rights Commission had begun their formal investigation. Guido Fawkes's team distilled the hour-long documentary into a video just under nine minutes long:
Labour's Disputes team, comprised of a handful of people, was in charge of investigating claims of anti-Semitism. Then, Corbyn appointed a new party General Secretary. Under her leadership, few suspensions were issued. Instead, letters were sent reminding offending members of the party's code of conduct. One by one, the longer-serving members of the Disputes team resigned. One had a nervous breakdown. Another seriously considered committing suicide.
One Labour MP interviewed said that things started to go downhill once Corbyn made his pro-Palestinian views more widely known. It appears that pro-Palestinian party members thought they had licence to abuse the notional enemy, with Jewish members suffering verbal abuse for their faith.
On August 2, Guido Fawkes posted 'Labour Anti-Semitic Incidents Hit Record Numbers', which says in part (emphasis in the original):
A damning report published by the Community Security Trust – the charity set up to protect Jews from antisemitism – has shown that there have already been 100 incidents of anti-Semitism which are "examples of, or related to arguments over, alleged antisemitism in the Labour Party" in the first half of this year alone …
Alarmingly, there was a spike of 55 incidents in February and March alone – when several Labour MPs including Luciana Berger left the party over its endemic anti-Semitism. Almost 20% of anti-Semitic incidents across the whole UK were linked to the Labour Party in March, with the CST report noting that Labour's anti-Semitism crisis "clearly has an important bearing" on the record-high number of incidents recorded. All the while Corbyn continues to dismiss it as just a case of a few members occasionally 'dipping' into antisemitic language…
The MP mentioned, Luciana Berger, joined the Liberal Democrats.
One month later, a Brexit-supporting Labour MP stood down to work for the Conservative government under Prime Minister Boris Johnson:
On September 12, Guido Fawkes posted a schedule of fringe meetings for the Labour Party conference, 'Labour's Anti-Semitic Conference Line-Up', which ends with this:
The problem for Labour is surely within their party these views are no longer fringe…
On October 16, a Labour MP from Liverpool, Dame Louise Ellman, resigned her party membership. She is featured in the BBC Panorama video above:
More former Labour MPs began to denounce Jeremy Corbyn's leadership.
The next was Ian Austin, who was an independent MP before Parliament dissolved on November 6:
Former Home Secretary David Blunkett — now Lord Blunkett — was next:
Charles Falconer — Baron Falconer — served as Lord High Chancellor of Great Britain under Tony Blair. On November 26, he gave the BBC his thoughts on the Chief Rabbi's condemnation of Labour:
Britain's former most senior civil judge is also deeply concerned about anti-Semitism in Labour:
Former Labour MP Ivan Lewis is calling on voters to back Boris:
Yet, the anti-Semitism continues. The bookmarks I have are too numerous to include here.
Going back to The Sunday Times of December 8, referenced above, little is actually being done about anti-Semitism at Labour HQ (paywall):
Moving on to other topics, it has been said that Jeremy Corbyn wants to do away with MI5 and specialist law enforcement.
This happens to be true, as evidenced by these photos of the December 1979 issue of the Socialist Organiser featuring Jeremy Corbyn. Click on any of the tweets below to see the full thread. Click on any of the images themselves to see the full text:
Former leftist and veteran political pundit Rod Liddle succinctly summarised historical reasons not to vote Labour — Corbyn in particular — on Thursday. This is from a recent BBC Question Time programme in Bishop Auckland:
Reports have emerged saying that Hamas are actively supporting Corbyn's election on Thursday:
Then there is Brexit. Corbyn has been very non-committal on where he personally stands. Historically, he has been thought a Leaver, but, as his party supports either Remain or Leave as a member of the Customs Union — worse than remaining as a full EU member — interviewers could not get him to make a commitment either way.
We also have the outrageous spending pledges from Labour.
This is a long but interesting thread debunking them. Highly recommended:
A shorter thread follows. Even this leftist says that we can't take these pledges seriously:
Kate Hoey, a Brexit supporter and, most recently, Labour MP for Vauxhall in south west London, urges Bournemouth West voters to back Boris by voting for the Conservative candidate, Conor Burns:
These are only some of the many reasons not to support Labour, especially on Thursday, November 12.