You are currently browsing the tag archive for the 'BBC' tag.
It's been quite apparent that the BBC were anxious to attack the Conservative government at every turn prior to May's elections.
Other media outlets also promoted the same stories.
Some accounts were reported inaccurately. They weren't exactly fake news, but either details were omitted or added, with any corrections placed on less visited web pages.
The Sir James Dyson story from the BBC is a case in point.
In early 2020, when coronavirus had every Western country in a tailspin, the Government were negotiating with British vacuum machine and hand dryer company owner/founder Sir James Dyson on the manufacture of ventilators. Dyson said that his company could develop the technology and do the job. Dyson is based in Singapore, so he wanted to make sure that, if his employees had to come to the UK, their wages would not incur tax in Britain.
By April 24, 2020, new ventilators were no longer needed. The Government no doubt thanked Dyson for his kind offer, and that was the end of the story.
However, the media resurrected the story one year later. This is how it was seen by a Twitter user in April 2021. Dyson is pictured with one of his amazing hand dryers, which really work:
On April 21, Guido Fawkes reported on the handling of the story and recalled that MPs — including Labour, especially Sir Keir Starmer — agreed that taxation of foreign companies' employees who manufactured critical clinical equipment, such as ventilators, would be waived during the first few months of the pandemic:
Guido's post says (emphases in the original):
This morning the BBC reveal texts between the PM and James Dyson, in which Boris promised to "fix" a tax issue to prevent Dyson's employees having to pay extra if they came here to make Covid ventilators during what was a national emergency. The Treasury changed the rules to mean any days worked by foreign employees towards the national Covid effort wouldn't be counted by HMRC between March and June 2020. Only an hysterical partisan would take issue with this, here's Labour's line this morning:
"These are jaw-dropping revelations. Boris Johnson is now front and centre of the biggest lobbying scandal in a generation, and Tory sleaze has reached the heart of Downing Street."
A gigantic volte-face given Labour repeatedly praised the ventilator response – a response the tax changes aimed to bolster. The changes were openly put to parliament and applied to non-tax-resident doctors and engineers who would otherwise have had negative tax implications for helping in the fight against Covid. VAT and customs duties on vital medical equipment were also waived. In April 2020, Rachel Reeves said the government needed to "strain every sinew and utilise untapped resources in UK manufacturing, to deliver essential equipment to frontline workers". A week later, Starmer praised everyone involved in the effort to get ventilators:
Even Tony Blair (Labour) thought that this year's furore was a load of cobblers:
Last year, Dyson and Prime Minister Boris Johnson had exchanged text messages about the taxation issue. Boris defended the texts. On April 23, this was Guido's Quote of the Day. Boris said:
If you think that there's anything remotely dodgy, or rum, or weird, or sleazy about trying to secure more ventilators at a time of a national pandemic, and doing everything in your power to do that…then I think that you're out of your mind.
On April 26, the BBC had to issue a retraction. They had added fake news to the story (emphases in purple mine):
Various outlets, Wednesday 21 April 2021
In our coverage of texts he had sent to the Prime Minister we referred in various outlets to Sir James Dyson as a prominent Conservative supporter or said he backed the Conservatives.
Sir James says this is factually incorrect.
We are happy to set the record straight.
26/04/2021
However, for some, the story did not end there. It is unclear whether the BBC reported the next item or where it originated. On Tuesday, May 4, two days before the UK's local and regional elections, some Scots were angry to find out that Boris's brother is a company director for Dyson Technical Training Limited. Perhaps it was a coincidence, perhaps not. In any event, plenty of people on the Left have their high-status connections, too.
Jo Johnson was appointed to that post on February 18, 2020:
But I digress.
Returning to the BBC, on Wednesday, May 12, the broadcaster was forced to make a further retraction of its Dyson coverage:
Guido has the full story.
The BBC stated (emphases mine):
We accept that Sir James Dyson is not a prominent Conservative supporter as was stated in some of our coverage of his text messages with the Prime Minister. The James Dyson Foundation made a charitable gift to support the Wiltshire Engineering Festival for school children. We accept that this does not signal affiliation to any political party and we would like to put the record straight. Sir James also raised concerns about the accuracy of other aspects of our reporting. We wish to make clear that Sir James contacted Number 10 in response to the Prime Minister's direct request to him for assistance in relation to the urgent need for ventilators and incurred costs of £20 million which his company voluntarily absorbed in trying to assist in the national emergency. His text messages to the Prime Minister were also later sent to officials. We are sorry that these facts were not always reflected in our coverage, and we apologise for not doing so.
Dyson responded:
The BBC now acknowledges that it was wrong and has issued an apology – which I accept. To justify its claim that I am a "prominent Conservative supporter" the BBC shamefully twisted our charitable gift to school children to suit their political narrative. The Prime Minister asked Dyson to help at a time of crisis, in the national interest, and we did just that. We dropped everything and focused on the national effort. Far from any gain, the project cost us £20 million – a sum we voluntarily bore. I am proud of the efforts of every Dyson person who contributed and we would do precisely the same again. It was deeply disappointing, for me and for the hundreds of Dyson people who gave it their all, to have our efforts developing an emergency ventilator mischaracterised and used for political mudslinging.
To think that everyone in Britain with a television set is forced to pay annually for the BBC's fake news or be fined — perhaps even sentenced to jail, as has happened in the past — is shameful.
I have several more examples of the Beeb's 'stories' to explore in future posts.
Yes Minister, which aired on BBC2 in the 1980s, is still as fresh as it was decades ago, a perfect satire of politics and the civil service.
In this short clip, which is under two minutes long, Sir Humphrey demonstrates how pollsters use a list of questions to get the end results they want. Amusing, accurate — and relevant:
Would that we had satirical sitcoms like this today, especially ones that didn't rely on four-letter words for laughs, such as The Thick of It, which didn't even come close to Yes Minister in terms of humour.
When former SNP leader and long-serving Westminster MP Alex Salmond launched the ALBA Party, founded by journalist Laurie Flynn, on Friday, March 26, 2021, I watched the video with interest:
Unfortunately, they had several technical difficulties during the first 30 minutes and I stopped watching.
SNP MP Pete 'Runrig' Wishart was annoyed that Salmond pronounced 'Alba' with two syllables rather than three:
Two days later, there was also a data leak of 'thousands of names' of Scots who signed up to the party. Around 4,000 names were visible on their website. Allegedly, the list included prominent SNP names.
Salmond and Alba supporters see the party as a way of creating a supermajority for independence. Their website says:
Almost one of two pro-independence votes go to waste because of the Additional Member System (AMS) used in Scottish elections.
The #Supermajority strategy creates the opportunity to secure over one million additional votes for independence.
Their Supermajority page has more about the overall voting strategy — each voter receives a constituency and a list ballot — beginning with this (emphases mine below):
The more success a party has on the constituency vote, the less well it does on the regional list vote. That's why in 2016 #BothVotesSNP led to 1 million wasted pro-independence list votes.
Voting Alba Party on May 6th will make sure no pro-independence vote goes to waste by securing a #Supermajority for independence.
Let's tip the balance in Scotland's favour.
By Sunday, March 28, two SNP MPs serving in Westminster, Kenny MacAskill and Neale Hanvey, defected to Alba.
Kenny MacAskill wrote a letter to his constituents explaining why he was leading the Lothian list. It says, in part:
My office will continue operating for constituents and I will continue serving as MP. Along with other colleagues in Alba I will work with the SNP Group in Westminster in opposing the harm that's being done to our land by the UK Government.
Neale Hanvey will stand as a candidate in the Mid Scotland and Fife region.
This all looked quite threatening to First Minister Nicola Sturgeon. She was Deputy First Minister for Scotland when Alex Salmond was First Minister:
That day, the BBC reported:
Alba now has more MPs than Scottish Labour who only have Edinburgh South MP Ian Murray.
Also:
With Neale Hanvey and former SNP councillors Lynne Anderson and Caroline McAllister joining today, Alba also appears to be a home for those who fear that gender self-identification for trans people poses a threat to women's rights.
I will come back to gender recognition issues in another post. It is a big deal in Scotland, especially with the nation's new Hate Crime legislation.
Regarding Scottish MPs running for Holyrood seats in the May 6 local elections, some voters think that should trigger a by-election. After all, the SNP's Neil Gray resigned his seat in Westminster before running for a seat in Holyrood. Others, however, point out that not resigning as MPs is an insurance policy should they lose next week:
With regard to independence, a number of SNP supporters do not think Nicola Sturgeon has done enough during her time in Holyrood. As such, they find the Alba Party a welcome development, as this journalist for the Herald Scotland says:
The Greens appeared to be threatened. A new face, that of Lorna Slater — a Canadian — popped up on television when viewers expected to see the Scottish Green leader Patrick Harvie:
Lorna Slater has appeared on more television programmes since then.
The euphoria surrounding the Alba Party vanished quickly. On Monday, March 29, a BBC Scotland spokesperson said that Alex Salmond would not feature in an upcoming election debate of party leaders:
On Tuesday, the Herald Scotland criticised the calibre of one Alba candidate:
The Herald reported that the candidate, a former boxer, also voiced his opinions about some of the homeless in Edinburgh and came out against coronavirus vaccines.
The paper also reported that Neale Hanvey said that a 'supermajority for independence' would not reflect voters' wishes:
Neale Hanvey, who defected from the SNP, said such an outcome would be "representative of the electoral system that exists in Scotland", rather than its people.
He told BBC Radio Scotland that was down to Westminster devising Holyrood's elections.
He said: "I didn't design the system. If anyone… needs to answer to the electoral system that's been put in place in Scotland it's certainly not me."
In an interview with the Daily Record today, Nicola Sturgeon was scathing about the supermajority plan.
She said: "At the end of the day, we've got to win independence fair and square. We can't game, or cheat, our way to that."
Mr Hanvey also said SNP MPs had "very little influence" on policy at Westminster, and that they would be "more than welcome" to defect to Alba.
On the other hand, the Rev. Stu Campbell of Wings Over Scotland painted a fuller picture of Alba candidates in 'Rallying to the Banner'. He listed all of them and wrote about the party's diversity:
The new party's new members/candidates are impressively diverse, despite the lack of any crude and/or illegal gerrymandered selection tactics to impose that diversity. They feature a range of ages from 20s to 60s, from all class backgrounds, six of the 12 are women, Eva Comrie is disabled (and we mean actually disabled, with an artificial leg, rather than just bad at spelling) and Irshad Ahmed of Scots Asians For Independence is the first high-profile BAME defector from the SNP to Alba.
They've joined for a variety of reasons, from delivering a supermajority (Hanvey) to the SNP's dire weakness on women's rights (Anderson, McAllister, Comrie), to its lack of serious commitment to a second indyref (Bews and Wilson), and the parlous, corrupt state of the SNP's internal democracy (Ahmed, who told Wings last night that party HQ had bizarrely refused to let him see the results of the recent list elections until the COVID-19 crisis was over).
The increasingly panicky attempts of Unionists, bitter media columnists and woke SNP activists to paint Alba as some sort of last redoubt for old white men look more and more ridiculous with every passing day. We look forward to continuing developments.
One of Alba's candidates is Scotland's longest serving SNP councillor:
By the end of March, Alba was polling at 3% for list votes:
Another poll showed promise for Alba:
However, on April 8, Guido Fawkes, citing a third poll, by Opinium, said that optimism about Alba was misplaced (emphases in the original):
Guido suspects the disastrous polling numbers for the Alba Party are most likely to bring a smile to Nicola Sturgeon's face. According to Opinium, Salmond's new pet project is unlikely to gain a single seat in Holyrood next month, polling at just 2% in the regional vote. It looks like the declining support for Labour and the Tories has fallen in Sturgeon's favour – not Salmond's…
It's clear Scottish voters just don't trust Alex Salmond. A poll by Savanta Comres yesterday showed the former First Minister's net favourability rating stuck in the gutter at -51% (lower than Boris Johnson's), and today's data bears that out. Over 63% of Scots take an unfavourable view of a coalition between Alba and the SNP…
Alba supporters were undeterred. Alex Salmond gave an interview the day before that attracted much favourable comment:
Meanwhile, Alba launched a two-week crowdfunder which they completed successfully on April 16:
On 16th April 2021 we successfully raised £54,100 with 1257 supporters in 14 days
What chances does Alba have next Thursday? At the end of March, Policy Exchange summed it up this way, alluding to the way Nicola Sturgeon's SNP tried to smear him (emphases mine):
Will anyone listen? That is where Mr Salmond comes in. For all that he is a much-diminished figure, and for all the fact he is now entirely ostracised by Nicola Sturgeon and her coterie, polls suggest that around a third of SNP voters still approve of him. He is still seen by many as the man who nearly led Scotland to independence and who – in the eyes of many Nationalist supporters – has been the victim of a conspiracy to wreck his reputation. So it's to be expected that plenty of these voters will be attracted to his latest ruse. A scenario which sees Mr Salmond's party win around 10-12% of the party list vote – enough to win up to 2 seats in each of Scotland's 8 regions – is therefore possible. And while some of these would come from the pro-independence Greens, the majority would be at the expense of the Conservatives, Labour and the Liberal Democrats.
That is the worst case scenario for the Unionist cause. The more optimistic take would see the pro-independence movement descending into chaos over the next four weeks of the campaign, with splits and divisions dominating coverage. It would also see cautious soft-SNP voters who have been won over by Nicola Sturgeon's approach taking fright and either declining to vote, or switching back to Labour.
True to form, Mr Salmond has decided to roll the dice and find out. There is impeccable and calculated method in his latest move. We're now set to find out whether he remains as good a judge of Scotland's mood as he once was.
Last week, Alba published their manifesto, along with a video. The manifesto includes a proposal for a written constitution for an independent Scotland (point 5) and a new Scottish currency in the case of independence (point 9):
Wings Over Scotland said:
Had we formed our own party it's pretty much the manifesto we'd have written …
On Sunday, April 25, a new poll appeared. The Alba Party remained stuck on 3%:
At this stage, it does not appear as if Alba has much traction with voters. This article from an Edinburgh blogger says that the BBC strictly controls what hits the airwaves during election campaigns.
It looks as if there will be another SNP/Green sweep. The Greens' votes have helped the SNP pass legislation in the past. This is likely to continue:
However, I would bet against a motion on Scottish independence for the foreseeable future.
As the BBC broadcast coverage of Prince Philip's life on Friday, April 9, the day of his death, the final of MasterChef was postponed.
It was shown on Wednesday, April 14, having been announced only the day before. Shown below are the judges, John Torode and Gregg Wallace:
Here they are with finalists Mike, Alexina and Tom:
Britain's foodies could barely contain themselves:
I don't often write about MasterChef, but this year's final was the best yet. I would challenge the pros in the US edition of Top Chef or the amateurs from MasterChef USA to come up with comparable dishes.
This video shows what the British amateurs cooked:
As ever, the programme began with brief biographies, complete with childhood photos, of each contestant. Their parents also participated in interviews.
Alexina
I've put up some inspirational dishes … It's my competition to lose.
She lives in south London:
We discovered that she is a graduate of the University of Cambridge — Jesus College, in fact:
Only social media followers, however, will know that she volunteers for The Food Chain in London. I recognise one well known chef and restaurateur in the photo, Allegra McEvedy, who is in the black and white blouse:
Mike
We knew early on in the series that one side of Mike's family is Italian.
In the following video, Mike's girlfriend describes how generous they are when it comes to serving dinner:
Mike, from Surrey, enjoys his espressos.
He explained that his grandmother taught him how to cook. He was fascinated watching her and imitated what she did in the kitchen:
Tom
Tom is from Newcastle and, before coronavirus struck, worked in a local restaurant as front of house.
He has always enjoyed cooking:
He often cooks for his parents.
The semi-final
The semi-final took place at London's Le Gavroche, which has two Michelin stars. I have eaten there and will never forget the dining experience. Here, Alexina reproduced a challenging Le Gavroche classic for owner Michel Roux Jr and his senior members of staff:
Michel Roux Jr was impressed with all three finalists, each of whom made some of the restaurant's most challenging dishes. In the next video, we see Mike first, then Alexina, followed by Tom:
Based on that episode, we could hardly wait for the final.
The final
Each of the finalists had to create and prepare three dishes.
Mike prepared a starter of scallop with romanesco, followed by sous-vide lamb with a lamb farce and sweetbread pithivier, served with an unctuous thyme and potato terrine. The jus, a gastrique, was perfect. For dessert, he paid homage to his grandmother with a take on tiramisu:
The tiramisu, in particular, looked mouth-watering:
Mike was disappointed that his pithivier burst on the bottom. Nonetheless, John and Gregg responded with superlatives about his dishes:
unctuous and sweet and sticky and absolutely yummy …
dreamy …
fruity sweetness but still with meatiness …
It's classic, opulent cooking and it's skilful.
Here's the video:
Alexina prepared a Malaysian crab soup with a peanut butter bread stick, a perfectly sautéed bavette of beef, and, as a nod to her grandmother, a rolled baked apple (one long strip), served with gin-soaked blackberries and a herby ice cream:
John and Gregg particularly liked the crab soup, an homage to her brother who loves peanut butter:
Then it was Tom's turn to present his final creative plates of food. This chap was a star from the start.
He prepared three oysters, each in a different style, including one which was deep fried in bread crumbs. He followed this with roast beef and beetroot. Dessert was a tangy lemon-yuzu tart with olive oil ice cream, accentuated with a pinch of salt:
Gregg had a deep food experience tasting it, especially the beef.
The tart and ice cream were works of genius. The tart had black olive meringue on top:
Viewers were bowled over by the quality and imagination of the food. Any of these meals could be served in a top restaurant. Tom's showed Michelin-star quality.
In the end, there could be only one winner, the 17th champion of MasterChef:
Everyone did brilliantly:
I wholeheartedly agree. I also think that all should have had a glass of champagne to share Tom's victory:
Tom enjoyed celebrating his win with John and Gregg. He also enjoyed speaking with his ecstatic mother on the phone, hence his reaction:
I wonder if Tom is back at work, now that lockdown has largely lifted:
Indeed.
Follow Tom on Twitter and browse his website for recipes.
I hope someone offers him a job really quickly. His talent is too good to waste. What a great end to lockdown that would be.
Sadly, Prince Philip, the Duke of Edinburgh, died on Friday, April 9, 2021, exactly two months short of his 100th birthday:
The Queen has lost her best friend. My deepest sympathies to her for the unimaginable loss of her long-time husband and daily confidant. My condolences also go to the Royal Family in their grief.
Young love
The couple first met in 1934, and began corresponding when the Prince was 18 and a cadet in the Royal Navy. Princess Elizabeth was 13 at the time.
She was smitten with him from the start.
Prince Philip served with distinction during the Second World War in the Mediterranean and Pacific fleets.
After the war ended, he could have had a stellar career in the Royal Navy. His superiors praised his clear leadership skills.
However, love intervened and the rest was history.
Born Prince Philip of Greece and Denmark, he renounced his foreign titles and took British citizenship before he and Princess Elizabeth were engaged. He took the surname of his maternal grandparents: Mountbatten.
He and Princess Elizabeth were engaged in July 1947. They married on November 20 that year. Shortly before the wedding, George VI gave him the titles of Duke of Edinburgh (created for him), Earl of Merioneth and Baron Greenwich.
Prince Philip remained in the Royal Navy until July 1951. He retired with the rank of Commander.
Royal succession — and surname
In January 1952, he and the Queen began a tour of the Commonwealth countries. They were in Kenya when news reached them that the Queen's father, George VI, died on February 6 that year.
Although she became Queen immediately upon her father's death, her coronation took place in 1953, as it had to be planned meticulously.
On Coronation Day, he knelt before her, clasped her hands and swore an oath of allegiance to her:
He also had to touch her crown and kiss her on the cheek.
He never had a constitutional role, nor was he ever formally given the title of Royal Consort. The courtiers did not like him, nor did they trust him. They believed his personality to be brash and unbecoming of the Royal household. They shut him out of as much decision making as possible.
When Elizabeth became Queen, the question about her family name arose. Prince Philip suggested that the Royal Family be known as the House of Edinburgh. Upon discovering that suggestion, Queen Mary, Elizabeth's grandmother, wrote to Prime Minister Winston Churchill, who advised the young monarch to issue a royal proclamation saying that the Royal Family would continue to be known as the House of Windsor.
In his inimitable style, Prince Philip complained privately:
I am nothing but a bloody amoeba. I am the only man in the country not allowed to give his name to his own children. [57]
The Queen did nothing until eight years later, in 1960, 11 days before she gave birth to Prince Andrew. She issued an Order in Council declaring that the surname of her and her husband's male-line descendants who are not styled as Royal Highness or titled as prince or princess would be Mountbatten-Windsor.
Pater familias
Prince Philip had to carve a role out for himself. He became the pater familias and, through the years, his role expanded to cover not only his four children but his grandchildren. He listened to their concerns, shared their joys and gave them advice. He knew everything that went on in their lives.
Although the public knew him for speaking as he saw — rather bluntly, on occasion — behind closed doors Prince Philip was known to be a warm, loving man.
He also favoured a more transparent Royal Family. According to the BBC, it was he who encouraged the Queen to make a multi-episode documentary on their daily lives, including those of their four children. It was broadcast in the late 1960s. I remember seeing it in the United States.
When Princess Diana died on August 31, 1997, Prince Philip was the one who kept an eye on the public mood that fateful week. He, the Queen and Princes William and Harry were at Balmoral in Scotland for their summer holiday. When the young princes wanted to attend church, their grandparents took them to the Sunday service on the day of their mother's death. Later in the week, it was Prince Philip who encouraged the boys to walk behind the funeral procession the following Saturday. He said:
If you don't walk, I think you'll regret it later. If I walk, will you walk with me? [93]
One cannot imagine what he thought of Prince Harry's departure for the United States to live a life separate from his closely knit family. I did read that the Royal Family shielded information about the Oprah interview from him.
John F Kennedy's funeral
Prince Philip was in Washington for John F Kennedy's funeral in 1963.
He had a friendly encounter with John Jr, who was still a toddler and known as John-John at the time. The child wondered where his father was, as he had no one with whom to play. The Prince stepped in to fill that gap. In 1965, the British government gave an acre of land at Runnymede to the United States for use as a memorial to JFK:
Funeral arrangements
Prince Philip was self-effacing and did not like a fuss to be made over him.
Therefore, the funeral arrangements will respect his wishes, which is rather convenient, as coronavirus restrictions are still in place. Up to 30 people will be allowed at his funeral, in line with legislation across the nation:
The funeral is scheduled to take place on Saturday, April 17:
It is interesting that Prince Harry will be able to attend when we have a 10-day quarantine in place for arrivals into the UK under coronavirus regulations.
The Sunday Mirror reported on Prince Harry's return to the UK:
He could also be released from quarantine if he gets a negative private test on day five, under the Test to Release scheme.
Given his status as a member of the Royal Family travelling to support the Queen, Harry might be considered exempt from travel restrictions.
Wow. It's nice to know we have a two-tiered quarantine system in place /sarc.
A championship boxer remembers the Prince
Former WBC Heavyweight Champion Frank Bruno MBE posted his memories of meeting Prince Philip. He is at the top left in the following photo:
An Anglican priest remembers the Prince
The Revd Peter Mullen, an Anglican priest, recalled his encounters with Prince Philip for Conservative Woman on April 10 in 'A personal recollection'.
He first met the Prince during his schooldays:
The first time I met the Prince was in connection with his Duke of Edinburgh's Award Scheme which gave a leg up to youngsters from what would now be called the less privileged parts of the country. He paid a visit to the Leeds branch of the Church Lads' Brigade of which, aged fourteen, I was a member. We were in the church hall making things. My task was to make a table lamp. I was hopeless at it.
The Duke got hold of my half-finished creation, held it up to one eye and said, 'I suppose this hole is where the flex goes?'
'I think so, Sir.'
'You think so? I was never any good at this sort of thing either!'
And he was off . . . 
As an adult, Mullen met him on more than one occasion thanks to the Honourable Company of Air Pilots. The Prince was its Grand Master. Mullen served as chaplain.
He recalls:
The Company gave a lunch for him to mark his 80th birthday and I recall how jovial he was, making light of his years: 'I believe I have lasted so long because you people are always toasting my good health, but I don't want to live to be a hundred. Things are dropping off already!'
At another luncheon one of our Liverymen who had his own port wine business presented the prince with Bottle Number One, the first fruits, so to speak. As he left, the duke handed the bottle to me: 'You have this, Peter. Our house floats on the bloody stuff.'
'Well, Sir, now I don't know whether to drink it or frame it.'
'Gerrit down ya neck!'
Prince Philip on MPs
Guido Fawkes came up with a good quote from one of the Prince's trips to Ghana. It concerns MPs. His Ghanaian hosts told him the country had 200 MPs. Prince Philip replied:
That's about the right number. We have 650 and most of them are a complete bloody waste of time.
Incidentally, Parliament will be recalled one day early from Easter recess. On Monday, April 12, MPs and Lords paid tribute to the Prince in their respective Houses:
That afternoon, the House of Commons reconvened to pay their tribute — from 2:30 p.m. until 10 p.m. (good grief).
Speaker Sir Lindsay Hoyle spoke first:
Prime Minister Boris Johnson had this to say:
Boris Johnson, who was invited to the funeral but declined so that another member of the Royal Family can attend, said that he would forego a pint when pub gardens reopen on April 12, out of respect for the Prince. Guido Fawkes, however, thinks that the Duke of Edinburgh would have wanted us to toast his memory, especially at a pub that bears his title in Brixton, south London:
Guido had a second tweet on the subject with another quote from the Prince:
Agreed.
Prince Philip on Australia
This is too funny. For those who are unaware, Australia was established as a place where Britain could send convicts. That was a long time ago, but the nation's original purpose was to serve as a prison: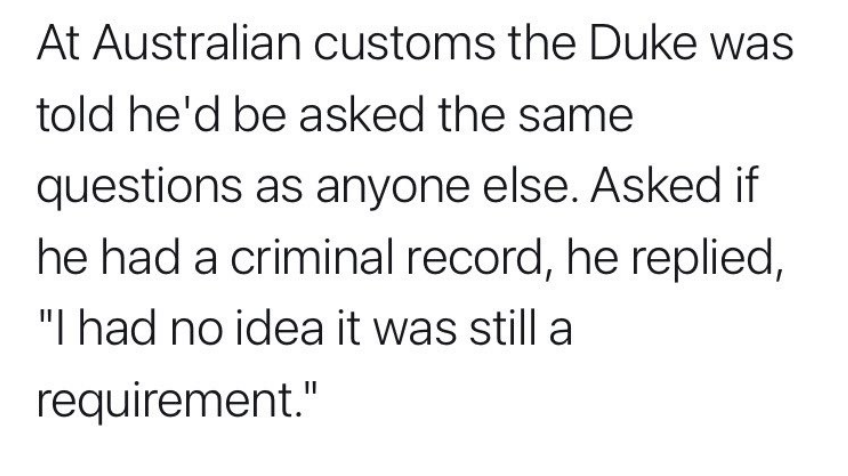 Prince Philip on civil liberties
On a serious note, the 12-minute interview below from 1984 is well worth watching, especially in the coronavirus era.
Prince Philip firmly supported the rights of the individual and believed that the state should serve the individual, not, as in our times, the other way around.
This is from a Thames Television programme originally broadcast on ITV:
I have posted the video below in case the tweets are deleted:
The Prince also said that certain subjects are out of bounds, such as the media and the NHS.
He said that the media are incapable of taking a joke about themselves and, as for the NHS, well, one cannot say anything against it. He didn't necessarily dislike the NHS but thought it was held in too high a regard. Nothing is perfect in this world.
We have been travelling a long road towards the point where we are at present: ruled by the media (they clamoured for coronavirus restrictions) and worship of the NHS. This is how Health Secretary Matt Hancock, Prime Minister Boris Johnson and SAGE have been able to rule our lives. It's been at least 40 years in the making.
BBC coverage on Friday
I was watching BBC Parliament early Friday afternoon, around 1:15, when the programme was interrupted by a broadcast from the BBC News Channel.
I checked the schedule an hour later, which said that the programme would last until 4 p.m. It was still going when I was preparing dinner at 5 p.m.
The final of MasterChef was to have been broadcast that night on BBC1. This was a clip from Thursday's programme:
Pictured are the hosts and judges, chef/restaurateur John Torode on the left and former greengrocer, now television presenter, Gregg Wallace on the right:
BUT:
The BBC News channel was simulcast all afternoon and all night long, not only on BBC Parliament but also on BBC1, to the dismay of MasterChef fans (myself included), and BBC2. BBC4 was suspended for the evening.
I read on social media that the BBC also broadcast continuous coverage of Prince Philip on their radio stations, including Radio 2, knocking out Steve Wright's drive-time show on Friday afternoon.
A friend of mine said that most of the BBC's employees were probably rubbing their hands with glee because it meant an early weekend for them. It's a cynical perspective that could well turn out to be true. We'll find out when someone writes his or her memoirs.
Everyone with a television set receives the BBC News channel. It comes into our homes at no extra charge. There was no need for the BBC to take over every channel for hours on end. By the way, if one had watched two hours of the Prince Philip coverage, as I did, one would have seen and heard everything in its entirety.
The BBC braced themselves for a plethora of complaints; they took the relevant page down on Sunday. Good. I am sure Prince Philip would have objected, too.
As much as I love the Queen, I hope they do not try this when her day comes. God willing, may it be long into the future.
Record-beating prince
Prince Philip established two records as consort to the Queen. He was the longest-serving royal consort in British history. He was also the longest-lived male member of the British royal family.
May he rest in eternal peace with his Maker.
May our gracious Lord grant the Queen, Defender of the Faith, His infinite peace and comfort in the months ahead. May He also bless the Royal Family during this difficult time.
The coronavirus lockdown has certainly contributed to the rising ratings for BBC Parliament and parliamentlive.tv.
More people are tuning in and the BBC have restyled the chyron on their screen to make it more user friendly. We now know what the debate topic is as soon as we tune in.
However, ratings for televised coverage of Parliament began climbing in 2015, when David Cameron was Prime Minister.
On February 12, 2016, Total Politics reported (emphases mine, apart from the italics):
BBC Parliament has reported a record high of an average of two million viewers a month for the first time ever in 2015.
This is an increase of 150,000 viewers each month on the 2014 figures – and it marks the first time the BBC's dedicated parliamentary channel has broken the two million viewers per month threshold.
The channel has more live coverage than ever before and covers proceedings from Westminster, the European parliament, the Welsh and Northern Ireland Assemblies and the Scottish Parliament.
BBC Parliament controller Peter Knowles told TP:
"Providing more live coverage of the key political debates and discussions has meant that during 2015, a dramatic year in politics, we've seen a surge in people using BBC Parliament to follow proceedings.
"New camera positions are also giving our coverage a fresh feel as this parliamentary term is now in full flow."
Apparently the new camera angles, brought in last year, represent the first such change since 1989. According to a BBC spokesman, the new camera angles "bring audiences closer to the key exchanges, debates and votes".
So much for the public being turned off by politicians…
In 2020, in a review of the 2017-2019 Parliament under Theresa May's premiership and with John Bercow as egotistical Speaker of the House, The Institute for Government stated:
Members of the public can now view parliamentary proceedings on a variety of platforms. Run by the parliamentary Digital Service, parliamentlive.tv is the most comprehensive source of parliamentary video and audio, publishing recordings of all events – including meetings of select committees – taking place in public.[24] The site allows members of the public to watch events live, access video on demand and search archive footage going back to December 2007. It is also possible to download clips from parliamentlive.tv – with nearly one thousand clips downloaded on average each week between 5 March 2018 and 30 December 2019. These clips are often shared by MPs, interest groups and political parties on social media. BBC Parliament also carries live coverage of key parliamentary activity.
Parliamentary tensions over Brexit were a massive driver of viewers for Parliamentlive.tv. 
Average daily viewer numbers increased over 150% from 6,552 per day in 2017 to 16,607 per day in 2019. BBC Parliament also saw record viewing figures – the only BBC TV channel experiencing an increase in viewers. An average of one million adults tuned into the channel for at least three minutes each week during 2019, with viewing figures exceeding two million in several key weeks. One commentator described the channel as "the ratings hit that's Big Brother meets 24 – with added Bercow".[25]
Controversial and compelling Brexit debates continued when Boris Johnson became Prime Minister.
On Wednesday, September 4, 2019, the Radio Times reported:
BBC Parliament hit an all-time ratings high on Tuesday as Boris Johnson suffered his first defeat as Prime Minister, with MPs voting to take control of the House of Commons in order to force a vote on a bill that will prevent a no deal Brexit.
Some 1.5m viewers tuned in across the course of the day, marking the biggest 24 hours for the channel on record.
The drama in Westminster continues into Wednesday, as opposition parties and Tory rebels lead a debate on Labour politician Hilary Benn's bill to block a no deal Brexit …
The channel is providing live coverage from the House of Commons throughout the ongoing Brexit crisis, and it is captivating the nation – even drawing viewers away from the beloved Great British Bake Off, which aired its latest episode on Channel 4.
The Radio Times article included two tweets, the first of which is from British television's most famous money pundit, Martin Lewis:
Last year:
Even on less contentious days, the debates can be absorbing, such as a recent closing debate about the threat to driving tests in High Wycombe, Buckinghamshire, not far from London. I watched it while preparing dinner when it aired, and it was compelling. Mail on Sunday columnist Dan Hodges, who is actress/former MP Glenda Jackson's son, tweeted:
Once one starts watching Parliament in action, it is difficult to stop. We get to know the MPs and predict what they will say. With coronavirus, we have the added bonus of seeing what the interiors of their houses look like.
The day's order papers are on the PARLY and House of Commons Twitter feeds:
The most recent development in broadcasting from the Houses of Parliament is a new fit-for-purpose gallery, which Speaker of the House Sir Lindsay Hoyle visited on Tuesday, March 2, 2021:
In a further development, Chancellor for the Exchequer Rishi Sunak will be giving the first-ever press conference about the budget on national television following his statement in Parliament on March 3. Guido Fawkes has more:
After presenting his budget in the House of Commons on Wednesday, the Chancellor will scarper over to No. 10 to take questions on it from the public and journalists from 5pm. The televised event will be the first of its kind on Budget Day …
More on that and the budget tomorrow.
Below is Episode 5 of Spectator TV's The Week in 60 Minutes, which aired on Thursday, October 1, 2020:
It was another hour of informative television, hosted by Andrew Neil.
Discussion points prove that a week is a long time not only in politics but also where coronavirus is concerned.
Although the first segment is now dated, as thousands of extra 'cases' (positive test results, for the most part) were discovered missing from English coronavirus stats last Friday, The Spectator's economics correspondent Kate Andrews reviewed Chief Scientific Officer Sir Patrick Vallance's alarming graph from two weeks ago. The English stats were flat when Andrews gave her commentary.
This is a graph from October 6, showing actual data plotted against Vallance's:
This is also worth noting, including the comparison of hospitalisations from earlier in the year:
Kate Andrews said that France and Spain are levelling out. Nearly one week on, that is continuing. Spain's positive test numbers/cases are falling noticeably:
In any event, Andrews rightly pointed out that COVID deaths are still far fewer than flu or other causes. In fact, she said, 51% of Britons now worried about the economy, particularly in light of lockdowns across a growing swathe of England in the North and the Midlands.
Spectator editor Fraser Nelson thinks Boris has created some space to evaluate COVID measures, as he will now be meeting with Vallance and Chief Medical Officer Dr Chris Whitty once a week.
The magazine's political editor, James Forsyth, said that the hotspots are more regional now and that Tory MPs from regions with lower positive test rates will ask for easing lockdown restrictions with more focus on improving the economy. That has happened in Parliament but not to a great enough extent to make a difference when it comes to voting on coronavirus restrictions. The Government won the vote on the Rule of Six hands down this week.
Kate Andrews says economists now think recovery will take longer because of new restrictions.
They are absolutely correct. A lot of businesses in the hospitality and entertainment sectors are likely to suffer during the winter months. Restaurant and banqueting venue owners do not know whether they should take bookings for Christmas parties. Businesses — their customers — are also loath to make large Christmas bookings. At the weekend, Boris predicted that the coming months would be 'bumpy' through Christmas 'and possibly beyond', perhaps 'until Easter'. Boris and much of his Cabinet are banking on a vaccine appearing on the market by that time. Oh, dearie, dearie me.
The best part of the interview was the segment with Prof Sunetra Gupta, an infectious disease epidemiologist and a professor of theoretical epidemiology at the University of Oxford. Last weekend, Prof Gupta signed the Great Barrington Declaration in western Massachusetts, opposing the current form of Western lockdowns. Those who wish to watch that segment separately can tune in below:
She doubted the validity of Vallance's graph which, she said, still applies to the first, rather than a second, wave. She said that what we are seeing is in line with the way viruses work in the autumn. She thinks that governments and scientists should move away from lockdowns because of other equally urgent issues involving human life. She also said that lockdowns serve only to delay more COVID-19 cases. She believes that we need to learn to live with the virus and added that it should settle down eventually, as with the flu. She says this is called endemic equilibrium. She told Neil that she recently met with Prime Minister Boris Johnson. Unfortunately, she said, Boris told her he disagrees with her scientifically reasoned request to return to normality.
That makes it even more obvious that Boris is all in for a vaccine, nothing less. How sad.
Talk turned to the appointment of a new chairman of the BBC. Charles Moore, a long-time conservative journalist and former Spectator editor, was thought to be the likely candidate last week. Andrew Neil interviewed Claire Fox from the Institute of Ideas, who spoke about Charles Moore and the BBC, which many Britons believe is biased against conservative ideas. Claire Fox said that we have to have a national discussion and 'shake up' about what we expect from the media, because people think there is a one-sided narrative and 'groupthink at their core'.
Fraser Nelson said that conservatives don't really play that game, to their detriment.
In the days that followed, Charles Moore indicated that he would not apply for the job at the BBC (more here from The Telegraph):
Andrew Neil discussed the US election debate, which had taken place earlier last week. Matt Purple of The American Conservative, probably the only anti-Trump journalist at that publication, said it was 'a Chernobyl', largely because Trump does not correct his errors. He said that Biden is ahead in the polls. Neil asked about the undecided voters watching the debate. Purple said that Trump's 'temperament' is the issue. He also thinks that independent voters see Joe Biden as a 'better package'. He added that incumbents have a record to defend and that Trump 'burned the most'.
I find it incredible that Matt Purple thinks Trump is a bad president. I wonder why he works for The American Conservative, which Rod Dreher, a solid conservative, edits.
In any event, Purple's words were music to Andrew Neil's ears. Like most middle- and upper-class Britons, he loathes Trump, for whatever reason.
Neil asked Kate Andrews, an American, whom she preferred. She said that, although she is conservative, she was leaning towards Joe Biden. No surprise there.
Neil said that Trump is going to lose both the popular and Electoral College vote. He mentioned a plethora of court cases to be settled afterwards.
Looking into American history, Neil mentioned the controversy surrounding Rutherford Hayes's election in 1876, which took four months to resolve. Purple agreed, predicting more violence in the streets.
Andrew Neil ended the hour by reading out questions from viewers.
John Prescott (not the retired politician) asked about coronavirus metrics. Gupta said that health officials need to look at deaths and the correct number of cases versus the number of tests then benchmark those data against other infections.
Roger Murphy asked about reversing lockdown. James Forsyth said that we will see in a fortnight, because this is the first time we have seen local pushback to lockdowns. Fraser Nelson said that Boris is missing the point. Lockdown, he added, will not help strengthen the Red Wall that the Conservatives won in the North last December. Locking down London is another possible sticking point.
No doubt this week's Spectator TV broadcast, to be filmed on Thursday, will cover Boris's speech at the Conservative Party conference and rebel Conservative MPs who want lockdown rules to be changed. I'll post that video soon.
On the back of the highly successful televised daily coronavirus briefings, No. 10 Downing Street has taken the decision to broadcast weekday afternoon press briefings in October 2020.
At least 2 million people viewed the daily coronavirus briefings every day. Anyone who watched them regularly, as my far better half and I did, knew exactly what the latest on coronavirus was.
I used to tune into the BBC afterwards to get their 'spin' on the briefings. I felt as if I were living in a parallel universe, because the self-proclaimed 'nation's most trusted' broadcaster twisted all the main messages.
Therefore, it is no wonder that press briefings are sure to be a ratings winner. Britons at home will be able to see and hear the government's messages first hand without the spin.
Not surprisingly, the media do not want these briefings televised.
ITV's political editor Robert Peston is opposed:
Oh, having questions from the public would be great. They worked well on the coronavirus briefings.
Peston really loathes the idea of televised briefings:
Sky's Beth Rigby also made her opposition clear:
The Press Gazette does not seem to like the plans, either. On July 3, they posted an article, 'Televised press conference to permanently replace afternoon Downing Street press briefing'.
Excerpts follow, emphases mine:
The briefings will commence in October, be hosted by a political appointee who expected to be an experienced broadcaster, and will take place in a room at Number 9 Downing Street to be converted into a media suite …
Boris Johnson confirmed the news on LBC, saying people had liked hearing directly from the Government during the Covid-19 press briefings.
"People have liked a more direct, detailed information from the Government about what is going on – and I think that they've actually particularly liked our brilliant scientific and medical advisers, possibly more than the politicians to be frank," he said.
"We do think that people want direct engagement and want stuff from us, and so we're going to have a go at that." …
The Daily Mirror's Pippa Crerar, chair of the Parliamentary Press Gallery, and the Mail's Jason Groves, chair of the Lobby, said in a joint statement to Press Gazette that they hoped the changes weren't being made to reduce transparency and Lobby journalists' access to ministers …
See, they care only about themselves. They do not care about the general public.
There was more negativity:
Their comments were echoed by Huffpost's executive editor for politics Paul Waugh who said on Twitter that the success of the briefings would "depend on whether they lead to genuine scrutiny or propaganda/grandstanding".
The Society of Editors shared a similar warning that the Government must not make the briefings too "stage-managed" or pick and choose who is allowed to take part.
Executive director Ian Murray said: "If the aim of the televised briefings is to enable greater transparency then it will be important that they are of sufficient length and inclusive in nature to ensure a broad cross section of the media is able to question the government.
"It is vital that the government gives assurances that journalists or media providers out of favour with the administration will not be barred from such briefings and will also be given the opportunity to pose questions.
"Briefings that are too stage-managed and favour the few will not be in the best interests of the public as a whole."
Yeah, right.
The coronavirus briefings worked really well, so there is no reason to think these will be any different:
The daily Covid-19 press conferences often saw millions tune in to find out updates and see journalists from a wide range of publications grill ministers and scientists.
Guido Fawkes (Paul Staines) was the only one who championed the briefings. He is the UK's foremost political blogger. As early as January 9, he wrote 'Live Stream the "People's Briefings" from Downing Street'. He and his team used to report the highlights from the lobby briefings but perhaps coronavirus put an end to their attendance. In any event, this is what Guido said (red emphases in the original):
In a digital world where news happens in realtime, not to inky deadlines, it is time to just put the briefings out live, streamed to everyone on all platforms. During the election Boris livestreamed his "People's PMQs" on Facebook, demonstrating there is no technological reason why the briefings can't be broadcast via a free digital feed to everyone. Hacks will still get to ask the questions, they just won't be able to spin off-camera, privately delivered answers as they do now. 
The reality is that it isn't in the interests of hacks to open up the Lobby system or insist more often that quotes are on the public record. Intermediating allows them to more easily introduce their opinions into their new reports. Transparency will devalue their role because information scarcity makes their possession of a spokesman's phone number so much more valuable. A start to improving and opening up the system would be to put the people's briefings into the open, in realtime as it happens…
I couldn't agree more.
On July 2, Guido declared victory when No. 10 announced the news:
He wrote (red emphases in the original):
Guido has won a big victory against the Lobby today, breaking open the Lobby's preferred closed-style of briefings from Downing Street …
Boris Johnson has clearly listened to the argument for "a culture of transparency and openness'' in Westminster by backing the broadcasting of the afternoon press briefings and reducing the number of spin doctors across Whitehall. After the success of the televised Covid briefings, Lee Cain plans to continue the on-camera afternoon government briefings. The role will be filled by a political appointee…
Expect an experienced broadcaster to get the job. No 9 Downing Street – where off-camera press briefings are currently held – will be turned into a modern media studio for briefings. A Downing Street source says: "For too long we've been running an analogue system in a digital age. People want to hear directly what the government is doing and to see it being held to account…"
Get this next bit, though. Who knew we had 4,000 communications people employed by the government?
The whole of government communications is being overhauled by Alex Aiken, the Executive Director for Government Communications – it will see departments ordered to reduce the 4,000 spin doctors employed by the government. Aiken and Cain believe the changes will lead to smaller, more agile communications operation. Officials have also been told of plans to plans to drastically reduce the government's communications operation and the number of press officers across Whitehall. Guido's happy that a decade-long campaign for government briefings unfiltered by Lobby journalists has finally been won…
Me, too.
Veteran broadcaster and journalist Alastair Stewart wrote a good article on this for The Spectator: 'Boris's TV briefings could end the lobby pantomime'.
The term 'lobby' in this particular context refers to the media.
Pantomime — 'panto' — in Britain refers to a Christmas play based on popular old fairy tales, e.g. Puss in Boots. They are fun, noisy performances, often featuring famous television actors in crazy costumes.
One thing we learned from the coronavirus briefings is that the top journalists often ask the same question in an attempt to trap the government. From Monday through Thursday, these journalists were often Laura Kuenssberg (BBC), Robert Peston and Beth Rigby.
I used to watch Laura Kuenssberg afterwards for her spin, which always put an unfavourable light on the government, even when they had something positive to report.
Alastair Stewart says:
Political correspondents often asked the same questions, most seeking a 'gotcha' moment in relation to something that should have been done sooner, or better. On occasion they would also use the event to ask questions about non-coronavirus matters.
True, very true.
I was delighted when the government opened up briefing questions to the public. Normally, they had one short video and one written question every day. The public asked useful questions.
The regional press journalists also asked pertinent questions.
Both the public and the regional press were streets ahead of Kuenssberg, Peston and Rigby.
Alastair Stewart thinks so, too:
While the local and regional press were often better still at asking specific, trickier questions which people actually wanted to know the answer to. Most interesting of all perhaps were the members of the public, allowed into the secret society in the closing phase of this farce which inevitably always included some hapless person struggling with the 'mute' button.
He is right about referring to the lobby as a secret society:
I am not, and never have been, a member of 'the lobby' but it is a sort of Masonic gathering of the political hacks with the Downing Street spokesperson. It is almost as ritualistic: steeped in secrecy, they use the language of 'sources', 'unattributable' or 'off-the-record' and other linguistic mysteries of the game. And, like a St James Club, only members are allowed in.
And, yes, there is 'a line' that these guys and gals want to pursue for their anti-government narrative of the day:
When I was a member of the lowly Industrial Correspondents' lobby, we would gather after a briefing to discuss what 'the line' was. I understand a similar game is often played by the political corps, post the Number Ten gatherings. Johnson wants to bust this wide open by putting his man or woman in front of the camera, fielding questions from hacks who will doubtless be ready for their close-ups too.
I disagree with Stewart on the follow-up questions. They became irritating, because the most prominent reporters were grandstanding. He, however, sees it differently:
One precedent that surely will endure from the Covid-19 events will be the supplementary question. It was an error for Johnson to drop these when he was the host. Others, like [health secretary] Matt Hancock, often used them to great effect. What's more, they added to the public cut and thrust of an exchange between a reporter and a minister. It could be enlightening and, at times, entertaining.
As we do not know yet who will front these briefings on most days, Robert Peston has a suggestion:
Of course, occasionally, a government minister or Boris himself will be at the podium.
Stewart reminds us that past press secretaries had been journalists during their careers:
Churchill had his Brendan Bracken, an FT man. Wilson, Joe Haines, a Mirror man to his finger tips. Thatcher's Bernard Ingham served the Yorkshire Post and, ironically, the Guardian with distinction. TV has less of a role of honour today but the former Sky News man, the excellent Joey Jones, had a spell in May's Downing Street.
Who knows what effect this will have on today's journalism. It is likely to step up a notch. One hopes so, anyway.
In any event:
There is more merit in having a free and frank exchange between press and politicians, in the full glare of the TV lights, than in continuing with the semi-secretive pantomime of the lobby.
The public has a right to know what is really going on in government, without the filter of agenda-driven journalists who by definition oppose conservatives and Conservatives.
It's great that, post-coronavirus, Boris has resurrected the notion of the 'People's Government'.
My word, has this year been bizarre. You couldn't make it up: Brexit, absurd attacks on Trump, followed by coronavirus and protests.
Now we have a British journalist's attack on the platform known as Twitter.
Except that Tim Stanley calls Twitter a 'website'. Never mind. He objects to ordinary people using it.
One cannot help but agree that another media behemoth — the BBC — is a huge problem here:
As to referring to Twitter as a 'website' (so last century):
Tim Stanley writes for The Telegraph. No complaint against him personally, but:
True enough.
Within the next few months, Prime Minister Boris Johnson's government will be televising daily press briefings to the public, as the United States has been doing for several years.
The British daily coronavirus briefings were a big draw, with at least 2 million Britons viewing per day. As such, it makes sense to televise what are called 'Lobby' (media) briefings.
To be fair, only the afternoon sessions from No. 9 Downing Street will be televised, not the morning ones. Nonetheless, opposition is already mounting. Cheers to Guido Fawkes for getting the ball rolling earlier this year:
Then someone posted the following. British readers will recognise the blast from the past (second tweet), Chris Morris's Brass Eye, which ran during 1997 and once more in 2001:
At the time, British television had a number of hard-hitting documentaries, all of which Chris Morris and his capable team of actors satirised.
In many ways, they also foresaw today's 24-hour news in Britain, which ranges between sensational and psychotic.
Even more important, Morris and Co. managed to get actual public figures to take part in their series. Who knows how they did it, but in the 'Crime' episode below, they interviewed the late Conservative MP Rhodes Boyson (no fool he), the gangster 'Mad' Frankie Fraser and the then-newspaper owner David Sullivan.
It's unbelievable that they took it all seriously.
My apologies if this full episode is geo-localised. It really is a triumph of its time:
My point is that showing us the daily press briefings from Downing Street will show us what a scam the media truly are.
More to come once the briefings begin.
Meanwhile, I do miss Brass Eye. Long may it be remembered.
Thank you, Chris Morris. Even watching this episode of 'Crime' that I'd seen when it first premiered, I nearly ruined a keyboard while laughing.
You made news imitate art.
This is why the Downing Street press briefings will be greatly anticipated in our household.
Thank you, Boris Johnson. Thank you, Dominic Cummings. I can hardly wait.