You are currently browsing the tag archive for the 'Belgium' tag.
This week, the UK government's scientific advisers and Prime Minister Boris Johnson said that new, stricter coronavirus measures would come into effect on Thursday, September 24.
On Monday morning, Chris Whitty and Sir Patrick Vallance presented their latest figures, which looked as if they must have come (once again) from Prof Neil Ferguson, they are that exaggerated. You can see the graph further down in my post:
This is utter madness, reminiscent of the WMD days when Tony Blair told us that a WMD could reach our shores within 45 minutes:
Their presentation, given against a No. 10 backdrop, had the purpose of preparing the public for Boris Johnson's announcements on Tuesday. They took no questions.
They showed graphs of where Spain and France are, with an uptick in 'cases'. Again, that means positive test results, most of which do not require hospitalisation.
Strangely enough, the Rule of Six only came in on Monday. Let's let it bed in for a few days, fellas, before taking more measures. They're doing exactly what they did in March, though. On March 16, new measures came in. On March 23, we had lockdown.
The Rule of Six is a Belgian tactic that SAGE thought would work in England. As such, they recommended it to the Government.
Perhaps this is the reason the two scientists did not mention Belgium once in their presentation:
I am glad someone will be tracking the progress of the projections over the next few weeks:
On Tuesday, Boris addressed Parliament and gave a short address that evening, televised to the nation.
In short:
– Pubs and restaurants must close by 10 p.m.
– They must offer table service only.
– All retail workers in hospitality settings must wear masks, along with customers, unless they are eating or drinking.
– Fines for breaking the Rule of Six or not wearing a face covering will result in an initial fine of £200, up from £100, for a first offence.
– Indoor five-a-side football matches have been banned.
– Wedding attendance has been reduced from 30 to 15; funeral attendance remains capped at 30.
– Police are allowed to call the military to fulfil office duties and/or to guard protected sites, leaving the police more capacity to fight crime.
– The plan to return a limited number of fans to sports stadia on October 1 is now postponed indefinitely.
The Daily Mail has a comprehensive article, including Boris's transcript, on the scathing reactions from police and business owners, particularly publicans. Sir Andrew Lloyd Webber said that this could sound the death knell for commercial theatre.
The Telegraph's Matt has this take on Army assistance:
The chances of that happening are very low:
The sad thing is that only five per cent of COVID-19 infections occur in a hospitality environment!
The Government and SAGE know this — yet they pressed on with restrictions!
The Daily Mail reported (emphases mine):
Public Health England data reveals that of the 729 outbreaks in the week to September 13, only five per cent occurred in food outlets such as restaurants and pubs – 45 per cent were in care homes, 21 per cent in schools and 18 per cent in places of work.
Wetherspoons founder Tim Martin said: 'The curfew doesn't even stand up to five minutes consideration by an intelligent person because if you look at the stats… there are relatively few transfers of infections in pubs.
Kate Nicholls, chief executive of trade body UK Hospitality, urged the Government to heed its own statistics because the curfew could take a sledgehammer to the industry which is already 'on its knees'.
She said this morning: 'People will think it's not that significant, but it really will have a big economic impact on jobs, not just on pubs, but also for cafes and restaurants.'   
Martin Wolstencroft, head of Arch Inspirations, which runs 17 bars and restaurants in Leeds, Manchester, York and Newcastle, said the curfew will not make it viable to open some of his venues.
Ironically, August was the month of discount lunches in Chancellor Rishi Sunak's successful initiative, Eat Out to Help Out, which the hospitality industry welcomed.
The Government's new restrictions will largely destroy any uplift participating restaurants received from it.
What on earth is going on?
Toby Young, who was at Oxford with Boris, says that something has changed — and not for the better. Note that Prince Charles approves of military intervention for climate change. Scary:
It's entirely possible that these ruinous measures have no basis in scientific fact, devastating people's livelihoods and families:
Conservative backbench MPs sounded off.
On Tuesday, Sir Desmond Swayne, who has commented both in and outside the House of Commons, tweeted:
His blog post states, in part:
Flu kills all year round – In the last weeks of July it killed 1000 of us (where Covid-19 killed only 200)- but it is seasonal: it certainly kills a lot more of us in the winter. Equally, we should stop talking about another wave of Covid-19 and instead, like flu, start expecting its annual season.
Having peaked in April Covid-19 abated over the summer. Inevitably it will get worse in winter. It may also be worse this winter than might otherwise have been the case. This is because we carried on with a number of restrictions on normal social life during the summer, reducing our ability to acquire and share herd immunity and wasting the opportunity provided by the weakest period for the virus.
My contention remains, as I have said many times over the last months, that our over-reaction to the disease has done much more lasting economic damage, and, counter-intuitively, even more damage to our health than the disease itself.
The current strategy merely kicks the can down the road. If the measures work and reduce the spread, the virus will simply reappear later.
Of course, we could be lucky and get a vaccine or a cure, or even 'moon-shot' daily tests to enable us to return to normality, but none of these are certain.
One day there may be a virus that threatens our whole way of life – but this isn't it, even if we are behaving as if it were.
Sir Desmond retweeted a neurologist's comment on the outrageous graph of projected 'cases' this autumn — in reality, positive tests:
Today, Sir Desmond gave an interview to the BBC about the continuing and questionable restrictions on civil liberties:
Richard Drax rightly predicted economic disaster, ruining the lives of millions:
Lucy Allan also spoke out on Twitter.
She tweeted Monday's graph from SAGE:
She rightly opposes putting everyone on restrictions when we should be protecting those most at risk:
She retweeted an open letter from Profs Sikora, Heneghan and several other leaders in British medicine:
She also called for the precise definition of a 'case':
That's probably why Whitty and Vallance didn't take questions.
Sir Edward Leigh also had a lot to say on this week's announcements:
He is rightly concerned about the blind faith we place in authority and the gradual erosion of civil liberties:
I couldn't agree more:
At least 1,000 people die in the UK every day.
Below are the causes of death per day in September.
Note where COVID-19 is: second from the bottom, dwarfed by heart disease and cancer.
There were nearly twice as many suicides than deaths from the Chi-vi: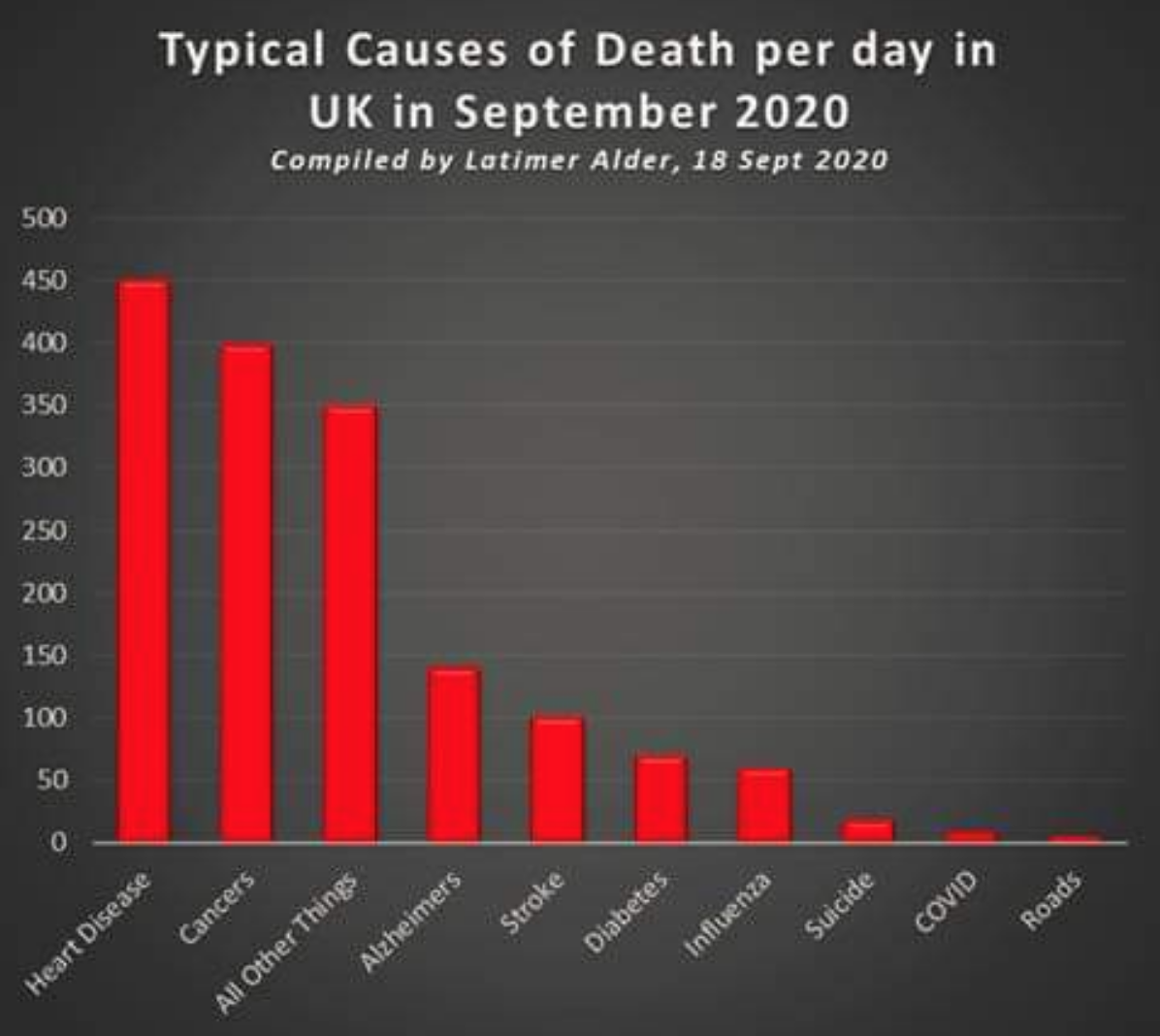 Steve Baker is also concerned about the restrictions bypassing Parliament:
Wow. Sir Graham Brady could pit a load of Tory rebels against the government. Good show:
The article from The Critic says:
Unless Matt Hancock finds a workable accommodation with Sir Graham Brady, the chairman of the 1922 Committee of Tory backbench MPs, the government faces the prospect of defeat next Wednesday when the Coronavirus Act 2020 comes up for its six-monthly renewal in the House of Commons.
The scale of backbench unhappiness is such that according to Steve Baker, who is working alongside Sir Graham, "the magic number was exceeded with 24 hours" of his beginning to canvas support for an insurrection among fellow Conservative MPs. Victory would require Labour and SNP MPs to seize on the opportunity to inflict a humiliating defeat on the government by voting with the Tory rebels. Indications increasingly suggest that this could happen. An increasingly dispirited Whips Office, which feels ignored and disrespected by Downing Street, is especially concerned at the sight of the former ERG "Spartans" leader, Baker, at Westminster furiously tapping away on his phone – a colliery canary of trouble ahead.
The government is equally concerned that the rebellion is being led by Sir Graham Brady, whose role as chairman of the 1992 Committee makes him the most authoritative channel of backbench opinion. In a sign of how seriously Downing Street management is taking the senior shop steward's challenge, on Monday evening the prime minister privately went to see the 1922's executive committee.
The primary complaint is that the government is using powers granted to it under the 1984 Public Health Act and 2020 Coronavirus Act to enact previously unconscionable measures without any prior debate in the Commons. Brady has condemned ministers who "have got into the habit of ruling by decree."
MPs were prepared to cede considerable authority to the government in March in a period of acute crisis when there appeared to be only weeks if not days to "flatten the sombrero" to save the NHS from being overwhelmed. But Boris Johnson's admission in his statement to Parliament today that the latest curtailments (which include further restrictions on hospitality opening hours and the number of people who can congregate at weddings, funerals and other public, private and sporting functions), would likely last at least six months has alerted MPs to the reality that government by decree may last until a vaccine is approved. If, indeed, a vaccine is approved. This is a war that will not be over by Christmas.
Far from persuading potential rebel MPs that a new crisis is looming, the performance of the government's chief medical and scientific officers, Chris Whitty and Sir Patrick Vallance, at their press conference yesterday has heightened consternation that the government is over-reliant on advice predicated upon worst case scenarios that is trumping competing economic and civil liberty considerations.
The likelihood of executive mission creep was foreseen back in March by David Davis and Steve Baker who pushed the government into adopting an amendment reducing from two years to six months the period in which the powers of the Coronavirus Act must be renewed by parliament. That renewal debate will now take place next Wednesday.
I remember that debate from March and also wondered if the Government were as good as their word.
Whilst they are unlikely to call for a wholesale repeal of the Coronavirus Act, Sir Graham Brady could call for a scrutiny clause appended to the Act so that every new statutory instrument connected to the legislation would have to go through Parliament first. To date, many of them have not. Therefore:
Rebels are pinning their hopes on this prospect. They may find a friend in the The Speaker, Sir Lindsay Hoyle, who has already made clear his intense irritation with Matt Hancock's disregard for informing parliament first of major legal changes like the "rule of six" and for the government's brusque imposition of restrictions in his own Chorley constituency …
The appeal of such a mechanism is obvious to Tory backbenchers concerned that laws are being made without scrutiny and are difficult to repeal. But there is no in-principle reason why Opposition parties need object to such a parliamentary safeguard either. Hence the likelihood of a rebellion having the numbers to succeed next Wednesday.
I can hardly wait.
Iain Duncan Smith is also airing his views. Note what he says and compare it to the death graph above:
Brexit better be more than BRINO, otherwise that prediction about the Conservatives could come true.
Former Brexit Party MEP and owner of England's greatest smoked salmon business, Forman's, said:
How true.
Unfortunately, at today's PMQs, Boris said that restrictions will continue until a vaccine is found! Dangerous.
Last week proved to be another emotive and passionate one in the House of Commons with regard to coronavirus and Brexit.
This post concerns coronavirus.
On Monday, September 14, Prime Minister Boris Johnson's Rule of Six, which he announced on September 9, came into effect. It sounds rather Chinese.
It means that people living in England cannot meet in groups of greater than six, indoors or outdoors. If we do, according to him, we 'will be breaking the law'.
He also introduced a new platoon to keep us in line: COVID marshals, to remind us of existing coronavirus rules in England — 'hands, face, space'.
Recall that Boris said after the December 2019 election that we now have the People's Government. Hmm.
The UK government is copying a Belgian idea. The Rule of Six reduced their second spike.
Increasingly, Britons have been looking back at Sweden, which refused to lock down. Fraser Nelson is the editor of The Spectator. Chris Whitty is our Chief Medical Officer; in May, he said that coronavirus was harmless for most people and most of us would never get it:
Michael Gove MP, a Cabinet minister and Chancellor of the Duchy of Lancaster, made matters worse when he confirmed that under-12s were part of the Rule of Six, unlike in Scotland and Wales, where under-12s are not. With life getting back to normal as school has started again, this came as a blow to many families:
The Telegraph reported that the Cabinet was split on the proposals (emphases mine):
… one senior Tory source said that "half the Cabinet" had doubts about the so-called 'rule of six', and it was "pretty hard to find a Conservative member of Parliament who agrees with all of this".
The COVID marshals are also a problem for police and local councils:
Meanwhile, Mr Johnson's plan for coronavirus marshals to help enforce the six-person rule was unraveling as police derided them as "Covid Wombles" and councils said they were a "gimmick".
Downing Street admitted councils would not be given any money to pay for the marshals, suggesting volunteers could do the job, and said it would be up to individual local authorities to decide whether they actually wanted them.
It got worse, as curfews were mooted:
The Government has discussed going even further with new lockdown restrictions, and has drawn up "a well-developed proposal" for a nationwide curfew which was discussed at ministerial level.
My head spun.
Then the ministerial snitch crowd appeared on weekend news programmes to say that people must tell on their neighbours if they are seen to be violating the Rule of Six:
Political journalist Isabel Oakeshott rightly responded:
I couldn't agree more. This is supposed to be the People's Government, isn't it?
History will not look kindly on 2020 with regard to the measures taken to combat the virus:
I was wrong.
Home Secretary Priti Patel said that people should not even talk when they see friends in the street, even at a distance (audio here, thanks to Guido Fawkes, and there's video, too):
Yebbut, if you DO report what appears to be criminal activity, allegedly, the police do not want to know. Here is a printscreen of a set of comments on a Guido Fawkes thread. I call your attention to the last two. Police would rather pick on mums and their children. Ironically, that was posted on the anniversary of the Battle of Britain. Go figure.
A mild-mannered man from Buckingham called talkRADIO to say he would not comply with the Rule of Six because the Government had gone too far.
So did a lady from Brighton, saying that the Rule of Six was about:
control. They're trying to see how much they can get away with.
Another talkRADIO host, Julia Hartley-Brewer, had a go at Roy Lilley, former NHS Trust chairman. She said:
We are being scared into thinking we have to give up our civil liberties when that won't save lives. Being sensible will save lives.
The Telegraph's Salley Vickers wrote of the restrictions on her and her loved ones:
I would rather risk dying and have the joy of their company than lose that vital contribution to my own happiness.
With the festive season only several weeks away, the Daily Mail's Peter Hitchens told talkRADIO's Mike Graham that the Rule of Six has:
made Christmas an arrestable offence.
Another Daily Mail journalist, Bel Mooney, wrote an editorial for Conservative Woman saying that she was surprised at the amount of resistance she received when she wrote that she would be defying the Rule of Six at Christmas:
… in response to Matt Hancock's sudden, arbitrary and illogical 'rule of six' diktat, I wrote a strong opinion piece (at the request of my newspaper) headlined 'NO, NO, NO! I'm having Christmas for 14 – and no puffed-up Covid marshal will stop me'.
As you might expect, there was a huge response. I never look online, and am not on Twitter (I expect there was a lot of poison swilling around out there). I am talking about emails to me and the newspaper. What interested me was the fact that, if I am to be honest, the antis outnumbered the pros. I didn't expect that from Mail readers.
You can never tell with Mail readers, though. They're a tricky lot.
Oxford University's Professor Carl Heneghan and honorary research fellow Tom Jefferson wrote an article for The Spectator against the Rule of Six, saying that Boris must bin it:
At Oxford University's Centre for Evidence Based Medicine, we have spent years trawling through the scientific evidence on the effects of measures such as distancing on respiratory viral spread. We are not aware of any study pointing to the number six. If it's made up, why not five or seven? …
Northern Ireland has taken a more measured approach and not announced any changes to how many people can meet. These disagreements in policy reveal how decisions are being made without evidence. It seems that somebody in government sat in a cabinet office room and said six is a good idea and nobody disagreed …
The problems with policy stem from the current cabinet's vast inexperience: the Health Secretary has been in post for just over two years now; the PM and the Chief Medical Officer a year. The Joint Biosecurity Centre is overseen by a senior spy who monitors the spread of coronavirus and suppresses new outbreaks. Add to this mix the new chair of the National Institute for Health Protection, who similarly has little or no background in healthcare. Our leaders amount to little more than a Dad's Army of highly paid individuals with little or no experience of the job at hand.
This inexperience leads to rash decisions and arbitrary policies.
One example is that entire areas can be locked down if they have 50 cases per 100,000 people. Yet the recognised alert threshold for 'regular' acute respiratory infections is 400 cases per 100,000.
Lord Sumption, who has been speaking out against lockdown this year, said that the Rule of Six will be unenforceable. I hope he is right:
Tom Tugendhat (Tunbridge and Malling, Con) expressed his concerns about the new rule and rightly wanted MPs to vote on it and similar measures:
It's unlikely that the House of Lords can help, either. They already have a full schedule. We should thank Lord Lamont for raising the issue of consulting the public, however. 'SI' means 'statutory instrument':
Monday, September 14
Behind the scenes and well outside of Parliament, an email emerged dated May 23, wherein Chief Scientific Adviser Sir Patrick Vallance stated he had pushed the most for March's lockdown:
Guido Fawkes has the full text of the email. I am not sure how Sir Patrick thinks that a vaccine will achieve herd immunity, though.
In the first of the debates on the Brexit-related Internal Market Bill, Charles Walker MP (Broxbourne, Con) prefaced his comments by expressing his dismay about the Rule of Six, the lack of consultation with Parliament and the fining of Jeremy Corbyn's brother Piers at the anti-lockdown rally on Saturday, September 12.
Thank you, Charles Walker:
This is short and well worth watching:
Tuesday, September 15
Secretary of State for Health and Social Care Matt Hancock poled up to make a statement to MPs about the Rule of Six and testing.
Excerpts follow:
There are signs that the number of cases in care homes and the number of hospitalisations is starting to rise again, so last week we acted quickly, putting in place new measures—the rule of six, which came into force yesterday. We do not do this lightly, but the cost of doing nothing is much greater.
Testing also has a vital part to play. Everyone in this House knows that we are doing more testing per head of population than almost any other major nation, and I can tell the House that we have now carried out over 20 million tests for coronavirus in this country. As we expand capacity further, we are working round the clock to make sure that everyone who needs a test can get a test. The vast majority of people who use our testing service get a test that is close to home, and the average distance travelled to a test site is now just 5.8 miles —down from 6.4 miles last week; but the whole House knows that there are operational challenges, and we are working hard to fix them.
We have seen a sharp rise in people coming forward for a test, including those who are not eligible.
Jonathan Ashworth (Leicester South, Lab/Co-op), speaking for the opposition, said:
I am grateful for advance sight of the Secretary of State's answer. That was decent of him.​
Yesterday LBC revealed that there were no tests available in covid hotspots, including Rochdale, Pendle and Bradford. Over the weekend in Bolton, where infections are the highest in the country, a mobile testing centre failed to turn up. Meanwhile, in Bury hundreds queued for five hours for a test. In Walsall, a father with his sick child travelled 76 miles to an appointment in Wales, only to find on arrival that tests had run out. Increasing numbers of teachers and pupils are not in school. In hospitals, operations are cancelled while NHS staff are stuck in limbo, waiting for tests.
The Secretary of State blames increased demand, but when tracing consistently fails to reach 80% of contacts, when less than 20% of those with symptoms self-isolate properly and there is a lack of financial security, infections rise. When schools reopen and people return to workplaces and social distancing becomes harder, infections rise. Extra demand on the system was inevitable. Why did he not use the summer to significantly expand NHS lab capacity and fix contact tracing?
Just as demand is increasing, the ability to process tests is diminishing. Post-graduate students working in the Lighthouse labs are returning to university, so why did the Secretary of State not plan for the inevitable staff shortages in the Lighthouse labs? Those commercial pillar 2 labs, The Sunday Times revealed at the weekend, have a huge backlog of 185,000 tests. Thursday's data revealed that 65,709 test results were not returned by the end of the week. Care home residents now wait an average of 83 hours for their result. The Prime Minister promised us a 24-hour turnaround for results, so what is going on? What is the current backlog and what is the timeframe for clearing it?
We were promised a world-beating system, so why are we sending tests to Germany and Italy for processing? But, most importantly, people want to know when they will get a test and when this mess will be fixed. Today there will be thousands of ill people trying to book a test, only to be told none is available. When will people be able to book a test online again, or has the online booking system been deliberately disabled? When will ill people no longer have to travel hundreds of miles for a test that should be available on their doorstep? When will pupils and teachers out of school get access to testing, so they can get back to school? When will NHS staff have access to regular testing, so they can focus on their patients and not be sitting at home?
We are at a perilous moment. Imperial College estimates the virus is doubling every seven to eight days. We all want to avoid further restrictions or another national lockdown, but when testing and contact tracing break down, the growth of the virus cannot be tracked. The Prime Minister promised us whack-a-mole, but instead his mallet is broken. The Secretary of State is losing control of the virus; he needs to fix testing now.
Many MPs — from both Opposition and Conservative benches — said that their constituents could not get tests.
Even the Speaker of the House tweeted that his constituents were having similar problems:
The testing situation is shocking — as Terry-Thomas used to say in the Boulting Brothers films: 'An absolute shower!'
On the upside, the British coronavirus jobs situation is improving, thank goodness (more from Guido here):
Wednesday, September 16
Deputy Labour Leader Angela Rayner (Ashton-under-Lyne) stood at the Opposition despatch box for Prime Minister's Questions (PMQs), as Sir Keir Starmer was self-isolating:
She did a good job.
She began by saying:
Many people in the Chamber will think that the battle of Britain is today, but actually we marked the 80th anniversary of those veterans yesterday, and I want to put on record our thanks to all those who fought for our country in the past.
I want to start by reading to the Prime Minister a message that I have received from a man called Keir. Keir was not able to go to work today and his children could not go to school because his family had to wait for their coronavirus test results, despite the Prime Minister's promise of results within 24 hours. Keir was able to do the right thing and self-isolate and work from home, but other people are not in this position, and many of them are the very people who were getting us through this crisis, such as the care workers, who I used to work alongside before I was elected to this House. The Prime Minister once earned £2,300 an hour; can he tell us the average hourly rate of a care worker in this country?
Boris was singularly unimpressed, although he had a neutral expression on his face, even when discussing Starmer:
I congratulate the hon. Lady on her elevation. She speaks of the constituent Keir, and I can tell her that—allegedly, apparently—he has had a negative test, and I do not know quite why he is not here. But 89% of those who have in-person tests get them the next day, and we are working very fast to turn around all the test requests that we get. I think that most people looking at the record of this country in delivering tests across the nation will see that that compares extremely well with any other European country. We have conducted more testing than any other European country, and that is why we are able to deliver tests and results in 80% of cases where we know the contacts.
The hon. Lady asks about care homes, and I can tell the House that today we are launching the winter care home action plan. She is right to raise the issue of care homes, and we are concerned about infection rates in care homes, but we will do everything we can to ensure that care homes and their workers are protected.
On the hon. Lady's final point, I am proud that it is this Government who have instituted the national living wage to ensure that every worker in this country, including care home workers, is paid substantially more, thanks to the care and the work of the people of this country.
Boris listened attentively and responded sensitively to all the points that Angela Rayner raised until this point, which came several minutes in, when she said:
Infections are rising. The testing system is collapsing. When you are the Prime Minister, you cannot keep trying to blame other people for your own incompetence. We have the highest death toll in Europe, and we are on course for one of the worst recessions in the developed world. This winter, we are staring down the barrel of a second wave, with no plan for the looming crisis. People cannot say goodbye to their loved ones. Grandparents cannot see their grandchildren. Frontline staff cannot get the tests that they need. And what was the top priority for the covid war Cabinet this weekend? Restoring grouse shooting.
I suppose that is good news for people like the Prime Minister's friend who paid for a luxury Christmas getaway to a Caribbean island and funded his leadership campaign, and just so happens to own two grouse moor estates. So Prime Minister, is this really your top priority?
The Prime Minister answered:
While the Labour Opposition have been consistently carping from the sidelines throughout this crisis and raising, frankly, issues that are tangential, if not scare stories about what is going on, we are getting on with delivering for the British public. We are not only massively ramping up. She has not contested any of my statistics today about the extent to which this country is now testing more than any other European country.
She has not disputed the massive acceleration in our programme. [Interruption.] I will answer the substance of her question, thank you very much. We are getting on with delivering on the priorities of the British people: getting us through this covid crisis; delivering on making our country safer, bringing forward measures to stop the early release of dangerous sexual and violent offenders, which I hope she will support; strengthening our Union, which in principle Opposition Front Benchers should support; and building more homes across this country and more affordable homes across this country, which she should support. That is in addition to recruiting more doctors and more nurses, and building more hospitals.
I do not think anybody is in any doubt that this Government are facing some of the most difficult dilemmas that any modern Government have had to face, but every day we are helping to solve them, thanks to the massive common sense of the British people, who are getting on with delivering our programme and our fight against coronavirus. It is with the common sense of the British people that we will succeed, and build back better and stronger than ever before.
If only.
That day, news of an upcoming curfew in London emerged.
Apparently, the British people don't have much common sense, after all.
Currently, London has some of the fewest new coronavirus cases (i.e. positive tests, little hospitalisation):
Guido rightly wrote (emphases in the original here):
If this afternoon's splash from the Evening Standard is true, it is a step too far. The London director of Public Health England (yes, the organisation is still limping on for now, despite the Health Secretary announcing its abolition back in August) has issued a "curfew alert" to the capital through the newspaper, saying residents could face a mandatory curfew if Covid cases continue to rise. A ridiculous suggestion that should be forcefully opposed.
Shutting pubs, bars, restaurants, and just about everything else at an arbitrary hour will obviously do nothing to stop the spread of coronavirus. If anything, the move will be counter-productive – compressing the same number of customers into a shorter time and making social distancing harder still. Or pushing social gatherings into homes not bars, which are thought to be more likely to spread the virus. This no doubt ineffective PHE [Public Health England] nannying should have been dumped when the organisation was. The government need to remember there is a limit to people's compliance. This might just hit it.
As I write early on Tuesday, September 22, Boris is planning to bring in an England-wide curfew for pubs and restaurants on Thursday. As if the virus will know the difference between a 10 p.m. closing time versus the usual one of 11 p.m. The mind boggles.
Thursday, September 17
Matt Hancock appeared again with another update on coronavirus.
This time, it was about measures taken on lockdown in the North East of England. This includes strict adherence to household bubbles, table service only in hospitality venues and a curfew between 10 p.m. and 5 a.m.:
Once again, he was straining every sinew, an expression he has been using since March:
The battle against coronavirus is not over, and while we strain every sinew to spring free of its clutches, with winter on the horizon we must prepare, bolster our defences and come together once again against this common foe.
Then he announced upcoming plans to make everyone using A&E (Accident and Emergency) departments to make a booking! Good grief:
… we are working to get patients the right care in the right place, by expanding the role of NHS 111. During the peak of this pandemic, we saw millions of people using NHS 111, on the phone or online, to get the best possible advice on coronavirus, helping them to stay safe and, where possible, to stay out of hospital, where they could have unknowingly spread the virus. It is crucial that, ahead of winter, we use this window of opportunity to seek out what worked and build on it, so we provide a better service for patients and protect the NHS. Of course, no one will ever be turned away from our emergency departments in the most serious of cases; however, we have worked with the royal colleges, the NHS and others to develop a better, quicker and more clinically appropriate service for patients by using NHS 111 first.
This is how it works. We will invest £24 million to increase call-handling capacity and to make sure there are more clinicians on hand to provide expert advice and guidance, and we will build on our trials to make NHS 111 a gateway to the emergency care system, providing a first port of call for patients. In future, rather than having to queue in an emergency ward, we are testing that people should call NHS 111 first to book an appointment with whoever can give them the most appropriate care, whether it is a GP, a specialist consultant, a pharmacist, a nurse or community services. Of course if they need to go to the emergency department, NHS 111 will be able to book them into an appropriate time slot. We want to see this approach lead to shorter waiting times and better availability of appointments for patients. We will consult on how its performance is best measured, and, with successful pilots, we will roll out NHS 111 First to all trusts from December.
This is the bit that galled me the most:
The purpose of 111 First is to improve access, including in terms of inequalities in the NHS, by ensuring that people get the right treatment in the right place and easier access if they do need to go to an emergency department, because the emergency ​department will know that they are coming. It is commonplace now in almost every part of our life to let people know that we are coming. If we are going to do something as important as visit an emergency department, it will help both the patient seeking treatment and the NHS to let them know that they are coming first. That is the principle behind 111 First. It sits alongside 999, which anybody should call in a serious incident.
'People's government', my eye.
Nor is the NHS the people's health service.
If you have a serious injury, you or your loved ones could be losing life- or limb-saving time by calling 111 or 999.
Based on what I read during the March lockdown, calling 111 was life-threatening. Children calling on behalf of elderly parents were told, 'If your relative is not turning blue, do the best you can.'
Calling the ambulance service on 999 generally produced this result: 'We're overloaded. If you can take your relative to hospital yourself, please do so.'
Over the past few months, I have heard NHS senior executives give testimony to Select Committees. They do not want patients coming in to a hospital, to a GP surgery — anywhere on NHS property.
An absolute shower!
Speaking of absolute showers, Baroness Harding — Dido Harding, a former jockey and failed business consultant/corporate director — gave testimony to a Select Committee, the Commons Science and Technology Committee, led by Greg Clark MP (Tunbridge Wells, Con).
Wow. It was car-crash television on BBC Parliament.
Baroness Harding is, inexplicably, the director of NHS Test and Trace programme.
Greg Clark is no slouch. He pressed and pressed the same question. Did she not anticipate the increase of demand for tests after lockdown lifted?
Finally, she gave the answer.
The Independent reported:
Demand for coronavirus tests is three to four times the number available, the director of NHS test and trace has admitted.
Baroness Dido Harding, who told MPs there was capacity to carry out 242,817 tests a day, said the "sizeable" rise in demand had been unexpected.
Boris Johnson has pledged to raise capacity to 500,000 by next month – but Baroness Harding's estimates suggest that even that figure would not be enough to satisfy demand.
Even then:
despite images of queues outside Covid-19 drive-in centres, the testing tsar said: "I strongly refute that the system is failing."
She put the blame on SAGE …
Baroness Harding insisted current capacity had been based on modelling provided by the government's Scientific Advisory Group for Emergencies (Sage) and suggested that around a quarter of those seeking tests did not have symptoms.
… and the testing laboratories:
Quizzed by the committee chair and former Tory minister Greg Clark on the current issues in the system, she said that the "constraint" in the testing was in processing and laboratories.
On Friday, Sir Jeremy Farrar, a SAGE member and director of the Wellcome Trust, hit back.
The Telegraph reported:
Sir Jeremy Farrar, the director of the Wellcome Trust, who sits on the Government's Scientific Advisory Group for Emergencies, said the body had given "clear advice" that a fully functioning test, track and trace system should be in place …
Responding to her comments on social media, Sir Jeremy said he had personally warned that a growing testing crisis was looming.
"Interesting to be blaming Sage," he wrote on Twitter. "Has been clear, and in the advice, that the UK faced an inevitable increase in community transmission and cases after the summer and needed a fully functional and trusted test, track and trace in place."
Sir Jeremy posted his comments from a BBC interview with Andrew Marr in June, in which he warned of a "nasty rebound" if steps were not taken to improve testing. He also re-posted an article from May in which he warned that lifting restrictions was difficult even with a fully working testing programme in operation.
The testing crisis deepened on Friday when it emerged that children at four out of five schools are staying at home because they cannot get a test …
This coronavirus business will only get worse. Watch and wait.
Part 2 concerns the Brexit-related Internal Market Bill.
This week was a bit of a barnstormer in the House of Commons: from Extinction Rebellion to coronavirus.
Last weekend, a man stabbed several people in Birmingham's city centre, killing one. A stabbing also occurred in Lewisham (South London). On Monday morning, a shooting occurred in a small town in Suffolk.
Extinction Rebellion (XR) disrupted the distribution of most national newspapers' weekend editions in England. They glued themselves to scaffolding outside some of the printing plants. Members of Extinction Rebellion also protested at a printing plant in Motherwell, Scotland. The Scottish protests were less severe.
Coronavirus testing has been problematic, with many people unable to find tests when they need them.
Big Christmas gatherings are likely to be cancelled because of new coronavirus legislation.
Grab yourself a cuppa and a sarnie. This week's Parliamentary debates and reaction were compelling.
Monday, September 7
Kit Malthouse, the Minister for Crime and Policing, delivered a statement about the Birmingham stabbings and the Extinction Rebellion direct action. A debate followed.
An excerpt from Malthouse's statement follows (emphases mine below):
On Friday night, Extinction Rebellion protesters used trucks and bamboo scaffolds to block roads outside the newsprinters works at Broxbourne, Hertfordshire and Knowsley, near Liverpool. These presses print The Sun, The Times, The Sun on Sunday and The Sunday Times, as well as The Daily Telegraph, The Sunday Telegraph, The Daily Mail, The Mail on Sunday and the London Evening Standard. The police reacted quickly on Friday night, arrested around 80 people nationally and worked throughout Saturday to clear the sites completely. In Broxbourne, approximately 100 protesters were reported in attendance. Assistance from neighbouring forces was required, with work long into the early hours to ease the disruption. Fifty one protesters were arrested for public nuisance and subsequently charged with obstruction of the highway. They were taken to three custody suites in Hertfordshire, Bedfordshire and London. Disruption concluded by midday on Saturday. All main roads remained open, including the nearby A10. However, there was disruption to the distribution of newspapers as well as for local businesses.
In Knowsley, a group of 30 protesters were reported in attendance alongside 10 observers, one legal adviser and one police liaison individual. Thirty protesters were arrested, with disruption concluding by 10.45 the next morning. These protesters were subsequently charged with aggravated trespass and bailed to appear before magistrates at a later date. Twenty four protesters also ​attended a print works in Motherwell, Lanarkshire in Scotland. In this instance there was no disruption caused and no arrests were made.
A free press is the cornerstone of a British society. The freedom to publish without fear or favour, to inform the public, to scrutinise our institutions and to stimulate debate on events that affect each and every one of us is indispensable. The actions of Extinction Rebellion were a direct challenge to this freedom and the values of liberty and tolerance that we hold dear. Extinction Rebellion claims to be an environmental campaign group, yet that worthy cause is undermined by its tactics. Its actions show that it is not interested in purely peaceful protest, dialogue and debate. Instead, it seeks to impose its view through this kind of direct action.
The right to peaceful protest is a fundamental tool of civic expression and will never be curtailed by the Government. Equally, it is unacceptable for groups such as XR to hide behind the guise of protest while committing criminal acts that prevent law-abiding citizens from going about their lives. All of us will remember the disruption caused last year as the group blocked roads and major transport routes. Police forces across the country were forced to divert resources away from tackling other crime in order to oversee those occupations. It is a terrible shame to see those counterproductive tactics revived in the midst of a pandemic, when we are only just recovering from the profound disruption of lockdown. Throughout the pandemic, our police officers have been on the streets every day working to keep the public safe and to stop the spread of coronavirus. In placing unnecessary pressure on our emergency services, the actions of the protesters are contemptuous not only of the police but of the public whom they seek to protect.
The irony is that the United Kingdom is already doing more to tackle climate change and decarbonise our economy than almost any other nation on earth. The UK is the first major economy to legislate to end our contribution to climate change by 2050. Since 2000, we have decarbonised our economy faster than any other G20 country. The Prime Minister has set up two Cabinet Committees focused on tackling climate change—one for strategy and another for implementation—discussing how Departments can go further and faster in meeting our legally binding 2050 net zero target. We are also hosting the next UN climate change conference, COP26, which will take place in November in Glasgow. It would be far more productive if, rather than plotting disruption and chaos, those behind Extinction Rebellion put their efforts into working with the Government to tackle climate change and build the green economy. While they persist in their current course, however, our message to those individuals is clear: if you plan to curtail our freedoms through criminal acts, be in no doubt that you will face the full force of the law. As a Government, we will not stand by and allow the livelihoods of hard-working people to be undermined by a minority using the pretence of tackling climate change to impose an extremist world view.
Extinction Rebellion's actions have shown how the tactics of disruptive protests are changing. The Home Office has been engaging with police chiefs to understand the challenges they face and to assess how they can facilitate peaceful protest while not causing significant disruption and infringing on the rights of others with differing views. The Home Secretary and I are committed ​to learning the lessons of recent protests and ensuring that the police have the powers required to deal with the disruption caused by groups such as XR. I will keep the tools available to tackle this behaviour under constant review. As always, our thanks go to the police for their tireless efforts to respond to all manner of incidents, and particularly at this time when so many have worked so hard during the pandemic. I hope that the leaders of Extinction Rebellion will issue an apology to them for actions that have been roundly condemned by all mainstream opinion in our country.
By its actions this weekend, XR has done nothing to bolster the cause of fighting climate change. Rather, it has reminded us of the value of a free press and free expression and made us think about what more we may need to do to protect those freedoms. I commend this statement to the House.
Sarah Jones (Croydon Central), responding for Labour, gave an excellent speech. An excerpt follows:
… all Members of the House will be deeply concerned about the wider rise in violent crime that we are seeing. As the former chair of the all-party parliamentary group on knife crime and violence reduction, I am all too aware of the seriousness of this issue. I know that West Midlands police, along with David Jamieson, the PCC, is taking this very seriously, and the violence reduction unit is doing some great preventive work in the west midlands. Does the Minister accept that over the past decade we have seen knife crime rise in every police force area in England and Wales, and ​that easing lockdown restrictions poses particular challenges? Does he further accept that rising violent crime must be urgently addressed?
Turning to the matter of Extinction Rebellion, I trust that the Minister will agree with me, rather than some members of his own party, in recognising that tackling climate change is the challenge of our generation. However, we also know that the free press is the cornerstone of democracy, and we must do all we can to protect it. As a result, actions that stop people being able to read what they choose are wrong. They will do nothing to tackle climate change. Those who break the law should be held to account. As the Leader of the Opposition said over the weekend, the actions of those who deliberately set out to break the law and stifle freedom of the press are completely unacceptable. Stopping people being able to buy the newspapers they choose and hitting small businesses in the process is hugely counterproductive. It does nothing to tackle the vital cause of tackling climate change. In fact, it sets it back.
On the policing response to the incidents, can the Minister confirm whether the authorities had any intelligence that these incidents might occur?
Today in the media, new laws have been mentioned by the Home Secretary. Can the Minister confirm what aspects of our current public order laws he believes are inadequate? Will he also confirm which aspects of the Coronavirus Act 2020 dealing with gatherings he believes leave gaps? Does he agree that we should not forget the many people who are concerned about climate change who wish to peacefully and lawfully protest, and that that right should be protected?
Malthouse did not answer her question about new legislation and said that the intelligence surrounding Extinction Rebellion's actions at the printing plants was unclear.
Bob Stewart (Beckenham, Conservative) suggested giving the protesters fixed-penalty notices (fines). Malthouse said that, as those were new during the coronavirus pandemic, there aren't enough data to measure their efficacy.
An SNP MP, Kenny MacAskill (East Lothian) downplayed the Extinction Rebellion incident. As SNP MPs always do, they think only of Scotland. If this doesn't spell out the SNP's sympathies with Marxism, I don't know what does:
The … group perpetrated no violence—random or otherwise—nor is it a criminal gang, terrorist ​group or a deranged individual. Any attempt to portray those people as that is wrong and a dangerous precedent in a democracy. The actions carried out by Extinction Rebellion, both in Scotland and in England, were a peaceful protest. That should not be forgotten, and that remains legitimate. It is a group of young people, although not always entirely young, who care about the environment. That is a legitimate position to take. This action was not an attempt to close down free speech, and to suggest otherwise is disingenuous. All they were seeking to do was to disrupt the outgoing of print for a period of time. There was no cessation of the print being published. Indeed, it appeared online and at most delivery was delayed to some shops.
Malthouse replied:
I am sorry that the hon. Gentleman has positioned the SNP outside mainstream opinion. [Interruption.] Well, you're all expressing consternation, and speaking, smiling and laughing. I do not know why me expressing concern is worthy of derision. In truth, the vast majority of people in this country, and all mainstream parties in this country, have expressed alarm at the tactics of Extinction Rebellion over the weekend and its stated aim of disrupting newspapers' ability to distribute their views and opinions because they do not agree with them. One of the first things that happens in extremist states and takeovers is an attempt to grip the television station, the radio station or the newspapers. Control of information is key so we need to take care with these things. I hope he will agree with me in time.
Antony Higginbotham (Burnley, Conservative) expressed concern at the cost of the Extinction Rebellion protest:
The unacceptable actions of Extinction Rebellion show a consistent disregard for the lives and livelihoods that they disrupt. Does my hon. Friend believe we should hold Extinction Rebellion to account, not just for the significant public sector costs that rack up with the action it undertakes, but for the significant lost income that businesses across the country have suffered as a result?
Malthouse said:
My hon. Friend raises a very important point. He is right that these protests are not costless. Aside from the costs to the businesses affected, there is a large overtime bill to be covered. Of all the costs, the most profound and alarming is the opportunity cost; those police officers who are spending time ungluing protesters and dismantling scaffolding are not spending time preventing knife crime, murder, rape or domestic violence. There are other much more vital activities that could be performed in the communities they serve.
Anthony Browne (South Cambridgshire, Conservative) pointed out that freer countries have fewer environmental issues:
I am a journalist and an environmentalist. I used to be environment editor of The Observer and The Times. I am currently chair of the all-party parliamentary group on the environment, and I have seen around the world that those countries that have a free press are far better at tackling environmental problems than those countries without a free press. Will my hon. Friend join me in condemning Extinction Rebellion's assault on the free press, and does he agree that such attacks on free speech will ultimately do more harm to the environmental cause than help it?
Malthouse responded:
I completely agree with my hon. Friend. Of course, the paradox, or even the tragedy, of the protests is that I understand that the edition of The Sun that was prevented from being distributed contained an op-ed from David Attenborough—no less—extolling the virtues of climate change action and urging Sun readers to do their bit on global warming. Ten years ago, nobody would have dreamt of that opinion appearing ​in that newspaper, and it shows how far the argument has been advanced by peaceful means. This protest runs the risk of setting the debate back rather than moving it forward.
Dr Julian Lewis, who is now Independent (having had the Conservative whip removed), pointed out the contradiction of fining anti-lockdown spokesman Piers Corbyn £10,000 when XR were free to glue themselves to scaffolding with no fine:
It is true that various brands of Corbynism are a little less popular these days, but does my hon. Friend agree that fining a climate change denier £10,000 for an anti-lockdown protest sets a benchmark which should equally apply to those who break the law in pursuit of more fashionable causes?
Malthouse replied:
As the right hon. Gentleman may know, a number of fixed penalty fines have been handed out over the past few days for all manner of contraventions of the coronavirus regulations. No doubt some may be disputed, but we shall see in the end where the courts decide.
The SNP's Patricia Gibson (North Ayrshire and Arran) asked if XR would be reclassified as a criminal group:
Does the Minister understand the genuine concerns about any plans to reclassify Extinction Rebellion as a ​criminal group and the implications that this may have for peaceful protest, especially given that last year the Prime Minister's own father addressed an Extinction Rebellion rally and said that he backed their methods?
Malthouse said that such groups are being watched and are under review.
Richard Burgon (Leeds East, Labour) claimed that direct action was part of democracy:
Direct action is a proud part of our history and democracy. Through it, the Chartists and suffragettes helped secure the right to vote and trade unions won the eight-hour working day and paid holidays, and it played a key part in securing legislation for gay rights and for women's and racial equality. If pursued, would not the Home Secretary's suggestion of defining Extinction Rebellion as a criminal gang be a betrayal of our proud tradition of civil liberties?
Malthouse said:
Direct action is not the same thing as a crime. If the hon. Gentleman is saying that there are certain crimes that he wishes to ignore, then I am afraid the Opposition are in a very difficult place. I am the Minister for policing and crime, and when, under our current law as approved through this House, somebody commits a crime, I have no choice other than to condemn it.
Lee Anderson (Ashfield, Conservative) would like for XR to be designated a criminal organisation:
The people of Ashfield see no benefit in protesters gluing their ears to the pavement, spraying red dye on our monuments or camping out in trees on Parliament Square. Extinction Rebellion is now public nuisance No. 1 because of the disruption it causes, as well as the massive cost to our emergency services when, frankly, they have better things to do. Does my hon. Friend agree that this group should be ​classified as a crime group and feel the full weight of the law if it continues to disrupt members of the public going about their daily business?
Malthouse repeated his earlier answer about such groups being under continuing review.
Martyn Day (Linlithgow and East Falkirk, SNP) did not want to see XR labelled as a criminal organisation:
Whatever we think about Extinction Rebellion's tactics, be they right or wrong, its actions were peaceful, and such civil disobedience methods have been used throughout history, so any branding of the activists as criminals is certainly not acceptable. Does not the Minister agree that two wrongs do not make a right?
Malthouse gave this wise reply:
Not all crimes are violent.
Only one MP dared to connect Marxism with XR — Imran Ahmad Khan (Wakefield, Conservative). Well done:
It is with regret that, since Extinction Rebellion's inception, we have witnessed it adopt increasingly radical measures, which masquerade upon an environmentalist platform. In truth, it is a considered ruse to gain support for its ​Marxist agenda, which attacks British values predicated on freedom and pluralism. Blocking ambulances and seeking to constrain press freedom are but two examples from a plethora of behaviours that demonstrate its devious agenda.
Her Majesty's Government were elected with a mighty mandate from the British people to restore their ancient rights and freedoms, whether threatened from Brussels or from the barricade. The fine people of my constituency of Wakefield expect us to deliver on that. Will the Minister outline what steps the Government will take to neutralise XR's disruptive and dangerous tactics?
Malthouse replied:
I am grateful for my hon. Friend's stentorian support. He is quite right that people want to see a sense of order in this country, and that is exactly what we will put in place and what we are beavering away to make happen across the country—in his constituency and elsewhere.
I certainly hope so.
Tuesday, September 8
Matt Hancock, Secretary of State for Health and Social Care, gave a statement updating MPs on coronavirus and the situation in Bolton. New laws, he said, would apply only to Bolton.
He was economical with the truth …
Wednesday, September 9
On Wednesday morning, Steve Baker (Wycombe, Conservative), tweeted:
No one raised this topic at Prime Minister's Questions (PMQs).
Meanwhile, Matt Hancock gave a morning interview (more here):
What does that even mean?
He explained his change of advice on testing to Sky News:
More on this follows below.
It was National Farmers Day, and many MPs wore ears of British wheat tied together with British wool. Labour's Angela Rayner wasn't the slightest bit interested:
Most of PMQs was about testing. Prime Minister Boris Johnson made this startling statement about daily coronavirus testing at home:
Just after PMQs, as Boris hurriedly scuttled out of the chamber, Sir Desmond Swayne (New Forest West, Conservative) raised a point of order about the coronavirus legislation.
I wonder if Boris knew about it in advance and got out of there as quickly as he could:
On a point of order, Mr Speaker. Had the Secretary of State for Health given notice of the Government's intention to further restrict our liberty to meet with one another in his statement yesterday, at least some of us would have been able to question him about it. What remedy is there for those of us who enthusiastically support the Prime Minister, but nevertheless want to restrain the Government's ability to govern by order without debate?
Speaker of the House Sir Lindsay Hoyle replied:
I thank the right hon. Member for giving me notice. I am very sympathetic to the main point he makes. I accept that decisions have been taken in a fast-moving situation, but timings for statements are known to Ministers. It is really not good enough for the Government to make decisions of this kind in a way that shows insufficient regard to the importance of major policy announcements being made first to this House and to Members of this House wherever possible. I have already sent a letter to the Secretary of State. I think the total disregard for this Chamber is not acceptable. I know that the Prime Minister is a Member of Parliament as well and that he will ensure that statements should be made here first, especially as this particular Secretary of State requests statements. To then ignore the major fact that he wanted to put to the country, and not put it before this House, is not acceptable and I hope he will apologise to Members.
Jonathan Ashworth (Leicester South, Labour Co-op) had more information:
Further to that point of order, Mr Speaker. Not only did we not get a convincing explanation yesterday from the Secretary of State on the ongoing testing fiasco, but in fact Mr Robert Peston of ITV wrote on Twitter, ahead of the Secretary of State's statement, that the Government were planning to shift the regulations down from 30 people to six. There was no reason why the Secretary of State could not have told the House yesterday that that was the Government's plan. Has the Secretary of State given you, Mr Speaker, notice that he is coming to the House to update MPs on that change in policy, or should we assume that Ministers do not know what they are doing from one day to the next?
Peston had tweeted this on Tuesday:
The Speaker was uncharacteristically incandescent:
What I would take on board is the fact that it was all over Twitter as this was going on. Obviously, somebody decided to tell the media rather than this House. What I would say is that I expect the Secretary of State to apologise to Members and make sure that this Chamber knows first. He was fully aware—fully aware—of what was going to be said later. Let me say that if this Minister wants to run this Chamber ragged, I can assure you now that I am sure an urgent question every day might just begin to run him ragged.
At 4 p.m., Boris gave a coronavirus press conference, announcing new coronavirus 'marshals' who will be appearing on our streets as of next week — so, not only in Bolton:
I agree 110% with this tweet:
Thursday, September 10
Leader of the House Jacob Rees-Mogg was unable to deliver his customary business statement to the Commons. One of his children developed coronavirus symptoms. Stuart Andrew, the Acting Leader, stood in for him:
Matt Hancock showed up to make a statement on new coronavirus regulations. He was taken to task over his confusing advice about getting a test. Earlier this year, he encouraged people to get tested. Now, with the system overwhelmed, he's backtracked:
Guido Fawkes has quotes from Hancock documenting his about-face on the matter and concludes (emphases in the original):
Was Hancock's advice wrong then or is it wrong now? The public will be getting pretty sick of the Department of Health's cock-ups being the responsibility of anyone other than Hancock.
UPDATE: A government source tells Guido "The guidance is clear. If you think you have symptoms you should get a test. Today's message is no different to that." Apparently people in doubt about whether they have symptoms should still get a test…
Simon Dolan, a businessman who is taking the Government to court over lockdown, tweeted:
The Speaker of the House introduced the debate:
Before I call the Secretary of State, I would like to say that he and I had a conversation in a meeting last night, and I think we have some new arrangements coming forward to help the House.
That means that Hancock will be obliged to show up to present these developments to the House for debate in future.
He's so disingenuous:
Thank you very much, Mr Speaker. Just to concur with what you have said, I do regard it as incredibly important to come to the House as often as possible. Sometimes these are fast-moving situations, and I will ensure that I give the House my full attention and, as I try to do, answer as many questions as fully as I can.
Excerpts follow:
… As the chief medical officer said yesterday, we must learn from the recent experience of countries such as Belgium that have successfully put in place measures to combat a similar rise in infections. So today, I would like to update the House on a number of new measures that will help us to get this virus under control and to make the rules clearer, simpler and more enforceable.
First, we are putting in place new rules on social contact … In England, from Monday, we are introducing the rule of six. Nobody should meet socially in groups of more than six, and if they do, they will be breaking the law. This will apply in any setting—indoors or outdoors, at home or in the pub. It replaces both the existing ban on gatherings of more than 30 and the current guidance on allowing two households to meet indoors.
There will be some exemptions. For example, if a single household or support bubble is larger than six, they can still gather.
Guido Fawkes was no doubt relieved:
Hancock continued:
Places of education and work are unaffected. Covid-secure weddings, wedding receptions and funerals can go ahead up to a limit of 30 people. Organised sport and exercise is exempt.
These are not measures that we take lightly. I understand that for many they will mean changing long-awaited plans or missing out on precious moments with loved ones, but this sacrifice is vital to control the virus for the long term and save lives, and I vow that we will not keep these rules in place for any longer than we have to.
Secondly, we are putting in place stronger enforcement. Hospitality venues will be legally required to request the contact details of every party. They will have to record and retain those details for 21 days and provide them to NHS Test and Trace without delay when required. This system is working well voluntarily, with minimal friction, and it is very effective, but it is not in place in all venues. It is only fair that it is followed by all. We are supporting ​local authorities to make greater use of their powers to close venues that are breaking rules and pose a risk to public health, and fines will be levied against hospitality venues that fail to ensure their premises are covid-secure.
Our goal, as much as possible, is to protect keeping schools and businesses open, while controlling the virus …
Our ability to test and trace on a large scale is fundamental to controlling the virus, as we have discussed in the House many times. The latest data show that we are doing more testing per head than other European countries such as Germany and Spain, and we have record capacity. We have increased capacity by more than 10,000 tests a day over the last fortnight. While there have been challenges in access to tests, the vast majority of people get their tests rapidly and close to home. The average distance travelled to a test site is 6.4 miles, and 90% of people who book a test travel 22 miles or less. We already have more than 400 testing sites in operation. We added 19 last week and plan 17 more this week.
However, as capacity has increased, we have seen an even faster rise in demand, including a significant increase from people who do not have symptoms and are not eligible for a test. That takes tests away from people who need them. If you have symptoms of coronavirus or are asked by a clinician or local authority to get a test, please apply, but if you do not have symptoms and have not been asked, you are not eligible for a test.
At the same time, we are developing new types of test that are simple, quick and scalable. They use swabs or saliva and can be turned round in 90 minutes or even 20 minutes. So-called Operation Moonshot, to deploy mass testing, will allow people to lead more normal lives and reduce the need for social distancing. For instance, it could mean that theatres and sports venues could test audience members on the day and let in those with a negative result, workplaces could be opened up to all those who test negative that morning, and anyone isolating because they are a contact or quarantining after travelling abroad could be tested and released. We are piloting that approach right now and verifying the new technology, and then it can be rolled out nationwide. [Laughter.] …
This will not meet well with a great swathe of people living in England (see the replies):
Simon Dolan tweeted:
Incidentally, the wait until Monday is partly because the St Leger Festival is being run through this weekend:
As the debate progressed, MPs from both sides of the House said that their constitutents were told to drive hundreds of miles away for tests. Here are two examples:
Rosie Cooper (West Lancashire) (Lab)
Will the Secretary of State please explain the lack of availability of home testing kits, which has dropped dramatically in my area of West Lancashire? In the absence of home testing kits, very ill pensioners are being offered tests 80 or 100 miles away. The confusing message in the assurance that he is trying to give is that there are too many getting tested, but that, if in doubt, people should get tested. How does that deal with the asymptomatic carriers or spreaders? This is a huge hidden danger. In the light of the Secretary of State's earlier comment, my constituents would genuinely love to get with the programme, get tested where necessary and stay safe—if only the Government's words met their actual experience of the system.
Lucy Allan (Telford) (Con)
I thank my right hon. Friend for his statement and very much welcome the exciting progress on developing saliva testing. Outstanding progress has already been made on expanding testing capacity, and he deserves our thanks for his tireless work. Inevitably, this is not without its challenges. On Tuesday evening, hundreds of cars from across the country—and I do mean hundreds—descended on Telford's testing site, as they were directed to do by the booking system. Tests quickly ran out, roads became blocked, people who had travelled from as far away as Cornwall, Stockport and London were turned away, and my constituents were no longer able to access tests in the area and so in turn were sent elsewhere. What assurances can he give that the error in the booking system that directed so many people to Telford has now been corrected, and does he agree that people should not be criss-crossing the country and travelling for many hours to secure a test?
Harriet Baldwin (West Worcestershire, Conservative) asked about the infringement on civil liberties and whether the Government were moving the goalposts. I won't bother with Hancock's response, because he did not answer her question. He merely repeated the same old waffle:
We accepted massive restrictions on our liberty in March because we wanted to protect the NHS from being overwhelmed, and we achieved that—indeed, not all the capacity was used. We are now imposing more restrictions on people's liberty. Does the Secretary of State's strategic goal for England continue to be to protect the NHS from being overwhelmed, or has he now gone further and is aiming for zero covid in England?
Friday, September 11
Unusually, the House of Commons convened on a Friday.
The Speaker of the House opened the session with this:
We meet today on the 19th anniversary of 9/11. We remember all those who lost their lives due to terrorism on that day and all those who were injured, as well as those who were bereaved.
Then, Sir Christopher Chope (Christchurch, Conservative) spoke, concerned about the new coronavirus rules coming in on Monday, September 14:
On a point of order, Mr Speaker. I have been looking at today's Order Paper and particularly at the remaining orders, where I had expected to see the statutory instrument that the Government must lay for the draconian new rules they are bringing in on Monday to be lawful. It does not appear to have been laid, despite the Prime Minister making an announcement about it on Wednesday and the Secretary of State for Health and Social Care having made a statement yesterday. I am very concerned about the lack of opportunity for the public to see the text of these new regulations and about the Government's continuing reluctance to give any opportunity to Members to debate this. Yesterday, my right hon. Friend the Member for New Forest West (Sir Desmond Swayne) asked when we could have a debate on it, and he was told that he could apply for a Backbench Business debate. That hardly fits in with the sense of urgency about all this. When my hon. Friend the Member for Altrincham and Sale West (Sir Graham Brady) then raised the matter with the Secretary of State yesterday, he was told that the Secretary of State would take it away and think about it. That is not satisfactory, as we are talking about the most draconian introduction of new restrictions on our liberty, with criminal sanctions. We need to be aware of what is happening and given the opportunity to debate it.
Mr Speaker replied:
May I say that I share your disappointment? I think that we should all be informed and the country should also know what is going on. The laying of this instrument is a matter for the Government, but I would say that you know and I know that other avenues could be taken on Monday to tickle this little item out, if required. So I will leave it with you to ponder what you want to do next. The Clerk has made a note, and we will come back with further information.
MPs debated the Co-operative and Community Benefit Societies (Environmentally Sustainable Investment) Bill.
Earlier that morning, Steve Baker was a guest on BBC Radio 4's Today. He spoke his mind about the Government's response to coronavirus:
Baker retweeted an item from Liberty's feed:
Good. Finally. I hope this results in a solid Left-Right grouping of credible people speaking out against this bill, hastily rushed through the Commons and the Lords in March.
Meanwhile, in Sweden:
Sweden continues to operate fairly normally. The British Government, on the other hand, follows the rest of the Western lemmings.
The following video was made in 2014, but I saw it for the first time last week.
Leonora Hamill filmed this stag, named Chambord, in the Church of Saint-Eustache in Paris, which held Easter Day services for the parishioners of Notre-Dame Cathedral, which was devastated by fire during Holy Week on April 15, 2019.
Look how beautifully the stag blends into its surroundings:
It has a respectful look round the altar before leaving.
This is a sublime blending of God's creation and His gift of aesthetics to mankind.
Some who have seen it recall the pagan deer deity Cernunnos, but, according to the YouTube comments, Ms Hamill filmed it to promote the Church of Saint-Eustache, located near Les Halles in the French capital. It is a church, by the way, and not a cathedral.
It is no coincidence that she chose a deer, as Saint Eustache — or Eustace, in English — was a Roman general named Placidus who saw a vision of a crucifix between a deer's antlers. This was in the second century AD.
Upon seeing the vision of the deer with the crucifix between his antlers, Placidus changed his name to Eustace, which means 'upstanding' and 'steadfast'.
Eustace wasted no time in converting his family and all were baptised.
Then, they underwent a series of dramatic trials of faith that were reminiscent of Job's. According to Wikipedia (emphases mine):
A series of calamities followed to test his faith: his wealth was stolen; his servants died of a plague; when the family took a sea-voyage, the ship's captain kidnapped Eustace's wife Theopista; and as Eustace crossed a river with his two sons Agapius and Theopistus, the children were taken away by a wolf and a lion. Like Job, Eustace lamented but did not lose his faith.
Although God restored his social standing and reunited him with his family, he died as a martyr for the faith in 118, when he refused to offer a pagan sacrifice:
There is a tradition that when he demonstrated his new faith by refusing to make a pagan sacrifice, the emperor Hadrian condemned Eustace, his wife, and his sons to be roasted to death inside a bronze statue of a bull or an ox,[5] in the year AD 118.
He was part of the General Roman Calendar of saints until 1970, when he was removed from the list, presumably because his life's story could not be fully authenticated.
Nonetheless, after his death he was venerated in many countries across Europe. He still is today in several of them and, fortunately, remains listed in the Roman Martyrology.
St Eustace is one of the Fourteen Holy Helpers, as is St Blaise. The list of the Fourteen Holy Helpers was devised in Germany during the Black Death in the 14th century. People sought their intercession in times of need. St Eustace was the healer of family troubles. The Catholic Church unceremoniously dumped several of the individual feasts of the Fourteen Holy Helpers in 1969, although Catherine of Alexandria's optional feast day of November 25 was reinstated in 2004, possibly because Joan of Arc was said to have heard the saint's voice.
Other individual feasts days of the Fourteen Holy Helpers were dropped, such as those of Saints Christopher, Barbara and Margaret of Antioch.
Back now to Eustace, who is also the patron saint of hunters, firefighters and anyone facing adversity. His feast day is September 20.
There was another saint who had a similar vision of a deer. His name was Hubertus, or Hubert. He lived near Liège and was the eldest son of Bertrand, the Duke of Aquitaine. Hubert was born in 656. Although he was an agreeable character, he loved hunting. He loved it so much that, one Good Friday morning, while everyone went to church, he went hunting.
According to the legend, recounted by Wikipedia:
As he was pursuing a magnificent stag or hart, the animal turned and, as the pious legend narrates, he was astounded at perceiving a crucifix standing between its antlers, while he heard a voice saying: "Hubert, unless thou turnest to the Lord, and leadest an holy life, thou shalt quickly go down into hell". Hubert dismounted, prostrated himself and said, "Lord, what wouldst Thou have me do?" He received the answer, "Go and seek Lambert, and he will instruct you."
Lambert was the Bishop of Maastricht at the time. Lambert was later canonised, as was Hubert.
Lambert became Hubert's spiritual director, and the young nobleman renounced his title, gave his worldly goods to the poor, studied for ordination and made his younger brother Odo guardian of his infant son Floribert.
Sadly, Lambert was assassinated and died as a martyr. Hubert brought his mentor's remains to Liège in great ecclesiastical pomp and circumstance.
One could say that Hubert put Liège on the world map. It was only a small village when he had Lambert's remains brought there. Not long afterwards, it grew in prominence. Today, it is a renowned city. St Lambert is its patron and St Hubert is considered its founder and was its first bishop.
St Hubert's feast day is May 30. He died on that day in 727 or 728.
His legacy, in addition to increasing Liège's prominence, involves God. Hubert evangelised passionately to the pagans of the Ardennes region at the time. He also developed a set of ethics for hunting animals humanely, standards which are still used today among French huntsmen, who venerate him annually during a special ceremony.
His feast day is November 3. He is one of the Four Holy Marshals, another group of saints that also was venerated in the Rhineland. He is the patron saint of those involved in hunting as well as forest workers, trappers, mathematicans, metal workers and smelters. A few ancient chivalrous orders also bear his name.
In closing, those familiar with the German digestif Jägermeister should know that the drink's logo refers to Eustace and Hubert's respective visions:
I wonder if that label has ever converted anyone. It would be nice to think so.
The 2018 NATO summit was held on Wednesday and Thursday, July 11 and 12 in Brussels.
President Donald Trump made it a fiery one, indeed.
First Lady Melania Trump, since recovered from her kidney operation, accompanied her husband. (Breitbart has fashion notes.) They left the White House on July 10:
Both looked to be in robust health, especially the president:
In the video above, Trump answered a few questions from the press. He predicted that, out of NATO, his Brexit-oriented trade meetings in the UK and Putin summit, his discussions with the Russian president would be the easiest of the three.
This is historical background on why Trump is upset with NATO countries:
In fact, NATO published figures supporting that claim on July 10. Of particular note is Graph 5 on page 4 of the PDF. There's a good NATO chart here.
An article from The Federalist, 'Trump Is Not To Blame for NATO Chaos, Nor Breaking the Liberal Order', explains the situation in full, recalling not only NATO's history but also that of the ancient world. Author Sumantra Maitra, a doctoral researcher at the University of Nottingham, explodes the two myths. It's well worth reading in full. Excerpts follow.
First, on Trump's not being to blame for NATO chaos, he says (emphases mine):
NATO enlargement post-Cold War was essentially a push from the liberal internationalist lobby within the Clinton administration, led by Madeleine Albright and backed by the German leaders like Volker Rühe. Evidence suggests there was significant academic opposition to NATO expansion during that time, including from the father of the strategy of Cold War containment, George F Kennan. He said NATO expansion would end up being the greatest blunder of our times …
Also, the cost-benefit analysis of providing an American taxpayer-funded security umbrella to corrupt, violent smaller countries not only is a heavy and needless burden based on a flawed strategy but encourages those smaller countries to risk conflict assuming that American cavalry is just around the hills …
If European powers want American protection, then they should follow American rules and share the burden. Else, they are free to find their own ways.
As for the second myth, there has never been a particular philosophical 'order' that governed NATO:
There is no evidence that there ever was a "rule-based order" for Trump to now arguably destroy. Research suggests the liberal order was a myth and a nostalgia about a world that never was. Hard military power is what always mattered on this planet as a guarantee of freedom. Trump is just blunt, genuinely conservative, and mercantile enough to remind us of that.
The European Union and some European countries claim that Russia is a gigantic threat and they need more commitment from the United States. The reality is that Trump's administration armed the Ukrainians with lethal weapons, re-established the Second Fleet, smoked out 200 Russians in Syria in one day, and told Germans (yes, Germans) to stop the Nord Stream pipeline. Europeans, on the other hand, refuse flatly to pay their fair share for their defense and even refuse to lead America in cutting off the Russian gas supply. It's quite natural, therefore, that EU technocrats' protests sound hypocritical to an average American taxpayer.
Senator Rand Paul (R-Kentucky) would agree with that assessment:
Trump's friend in England, Nigel Farage, would also agree that member countries are not paying their fair share:
Trump tweeted about this several times before he left. Germany contributes only 1% (the US contributes 4%). Some accounts say that the US is paying for 90% of NATO. Therefore, NATO countries must pay more, the US less. Many countries are also delinquent in their past NATO contributions; will they reimburse the US for paying the balance?
In addition, member nations also want to hammer the US with tariffs:
However, another Donald — EU president Tusk from Poland — published a rebuttal to Trump's claims on the European Council site on July 10. He also read them publicly. His remarks are excerpted below:
Speaking on the eve of the NATO summit here in Brussels, I would like to address President Trump directly, who for a long time now has been criticising Europe almost daily for, in his view, insufficient contributions to the common defence capabilities, and for living off the US. Dear President Trump: America does not have, and will not have a better ally than Europe. Today Europeans spend on defence many times more than Russia, and as much as China …
I would therefore have two remarks here. First of all, dear America, appreciate your allies, after all you don't have that many. And, dear Europe, spend more on your defence, because everyone respects an ally that is well-prepared and equipped …
Dear Mr President, please remember about this tomorrow, when we meet at the NATO summit, but above all when you meet president Putin in Helsinki. It is always worth knowing: who is your strategic friend? And who is your strategic problem?
The Trumps arrived that day at Melsbroek Air Base near Brussels:
Streets in Brussels were closed to the public for security reasons as the US motorcade sped through:
The next tweet ended with a Q-type statement, further leading me to think that Q is travelling with the president. Q has not commented since Wednesday, July 4:
This was Trump's schedule for Wednesday, November 11:
The American contingent prepared for the summit in Brussels. Chief of Staff John Kelly is on the right, Press Secretary Sarah Sanders on the left:
Earlier that morning, Trump made known his concern for American farmers:
I wonder if Secretary General of NATO Jens Stoltenberg (left hand centre, opposite Trump) …
… knew how hot that morning's breakfast would be:
Here's the background:
This diagram, courtesy of Gazprom, shows the current and future Nord Stream pipelines:
This is Trump's perspective …
… included in one of his hot breakfast servings:
The Daily Mail has looked into the situation and confirms that the above is true:
Donald Trump's claim that Germany imports 70 per cent of its gas from Russia at a fiery Nato summit today is correct – and the country will soon receive even more.  
The EU's statistics agency, Eurostat, says that Russia is responsible for up to 75% of Germany's total gas imports.
And experts say that figure could dramatically increase after a new pipeline between Russia and Germany opens in two years time …
Donald Trump also questioned the role of the former German Chancellor Gerhard Schroeder who is now working for Gazprom.
Schroeder signed the deal for Nord Stream in haste after being ousted by Angela Merkel in a narrow election defeat in 2005.
Just weeks after leaving office, however, he started overseeing the implementation of the project for Gazprom.  
Schroeder took up position as head of Nord Stream AG's shareholder committee and has worked for the gas behemoth ever since.
The former politician is rumoured to have been paid millions by Gazprom and is set to pocket even more with the announcement of the second phase of the Nord Stream project.
Before the summit officially began that afternoon, President and Mrs Trump spent time at the Tri-Mission Embassy spreading good will:
When everyone gathered at NATO headquarters, there was a group photo shot. Look at the matching royal blue colour scheme of Theresa May and Angela Merkel (0:22 mark, photo here). The woman in red is Croatia's president:
This was the scene that afternoon at NATO headquarters:
Trump held private meetings with Germany (yes, they discussed the pipeline) and France (remarks here; earlier, Macron hugged his surrogate papa):
This, by the way, is Germany's military readiness at the moment:
Oddly, while America's powerful oppose Trump, e.g. most of the US Senate, his popularity rating is above that of most NATO leaders:
Trump's Brexit friend Nigel Farage agrees:
The following photo shows that Croatia's president has eyes for Trump (in the nicest possible way):
As the FIFA World Cup was drawing to a close, she gave personalised Croatian football shirts to NATO leaders. (Croatia beat England. Then France beat Croatia 4-2 on Sunday, July 15. France's last World Cup win was in 1998.)
Returning to official NATO business, Justin Trudeau announced that Canada will assume the command of the NATO training mission in Iraq.
While the NATO leaders met and held separate meetings, separate events were planned for their spouses who renewed friendships and spent time together:
The summit continued that evening at the historic Parc du Cinquantenaire, home to Belgium's Royal Museums of Art and History:
The EU's Jean-Claude Juncker was not at his best for the opening ceremony:
Juncker has form. Those who defended him online say he has sciatica. If he did, no doubt more attendees would have leapt to support him physically, but they did not. This is what happened after everyone left the dais:
Mrs Trump's wardrobe was of interest:
Trump was still upset heading into Day 2:
This was Trump's schedule for July 12:
Before leaving that day, he held an impromptu press conference (YouTube video):
He referred to himself the way Admiral Ronny Jackson did earlier this year after giving him his health exam. From the transcript:
Q Thank you. We understand your message, but some people ask themselves, will you be tweeting differently once you board the Air Force One? Thank you.
THE PRESIDENT: No, that's other people that do that. I don't. I'm very consistent. I'm a very stable genius. (Laughter.)
As for the NATO summit:
Q Mr. President, I'm Tara McKelvey with the BBC. Can you tell us whether or not you warned people that the U.S. would pull out of NATO if they weren't meeting their spending goals?
THE PRESIDENT: I told people that I'd be very unhappy if they didn't up their commitments very substantially, because the United States has been paying a tremendous amount, probably 90 percent of the cost of NATO. And now, people are going to start and countries are going to start upping their commitments. So I let them know yesterday, actually. I was surprised that you didn't pick it up; it took until today. But yesterday, I let them know that I was extremely unhappy with what was happening, and they have substantially upped their commitment, yeah. And now we're very happy and have a very, very powerful, very, very strong NATO, much stronger than it was two days ago …
Q President Trump, Ryan Chilcote, PBS NewsHour. Did you win concessions in your meetings and discussions with the German Chancellor when it comes to German defense spending and also with this issue of purchasing energy from Russia? And secondly, what would you say to your critics that say by creating this scene here at NATO you're only enabling President Putin and Russia to further disturb things in Ukraine and Georgia?
THE PRESIDENT: Well, if you consider putting up tremendously — you know, the additional funds at a level that nobody has ever seen before, I don't think that's helping Russia. I think that NATO is much stronger now than it was two days ago. I think that NATO was not doing what they were supposed to be doing — a lot of the countries. And we were doing much more than we should have been doing.
Frankly, we were carrying too much of a burden. That's why we call it "burden-sharing." I was using the term a lot today. "Burden-sharing." We had a fantastic meeting at the end — 29 countries. And they are putting up a lot. Germany has increased very substantially their time period, and Germany is coming along. And we still have to figure out what's going on with the pipeline, because the pipeline is coming in from Russia.
So we're going to have to figure that out. I brought it up; nobody brought it up but me, and we all are talking about it now. And actually, I think the world is talking about it now maybe more than anything else. But we're going to figure that out.
But — and, frankly, maybe everybody is going to have a good relationship with Russia so there will be a lot less problem with the pipeline. But, to me, that was a very major point of contention. We discussed it at length today. Germany has agreed to do a lot better than they were doing, and we're very happy with that. We had a very good relationship with Angela Merkel.
On Monday, July 16, in Helsinki, Trump told the Finnish president Sauli Niinistö over their breakfast meeting that NATO has never been stronger.
After President Donald Trump's successful visits to Saudi Arabia and Israel, he and First Lady Melania Trump went to Europe.
I covered their visit to Vatican City in the comments on the Israel post.
The next stop was Brussels.
The first item of business on Thursday, May 25, 2017 was to address the leaks that had emerged from US intelligence or law enforcement about confidential aspects of the suicide bombing that had taken place on Monday, May 22.
British Prime Minister Theresa May was furious that the US had leaked sensitive information. From the BBC:
Details about Abedi's identity had already emerged in the US media less than 24 hours after the explosion and against the UK's wishes.
Home Secretary Amber Rudd said she was "irritated" by the disclosure of Abedi's identity and had warned Washington "it should not happen again".
However, the pictures of debris – which appear to show bloodstained fragments from the bomb and the backpack used to conceal it – were subsequently leaked to the New York Times, prompting a furious response from within Whitehall and from UK police chiefs.
BBC security correspondent Gordon Corera says UK officials believe that US law enforcement rather than the White House is the likely culprit for the leaks.
Trump issued an official statement, which reads in part:
I am asking the Department of Justice and other relevant agencies to launch a complete review of this matter, and if appropriate, the culprit should be prosecuted to the fullest extent of the law.   
There is no relationship we cherish more than the Special Relationship between the United States and the United Kingdom.
The Daily Caller provided Attorney General Jeff Sessions's comments:
I share the president's deep concern and talked to Home Secretary Rudd yesterday about this matter. These leaks cannot be tolerated and we will make every effort to put an end to it. We have already initiated appropriate steps to address these rampant leaks that undermine our national security.
This was a temporary situation which the two nations quickly resolved:
However, Trump is unlikely to be in a good mood once he returns to the White House. Next week's news cycle should be interesting.
This graphic describes Trump's mood in Brussels (courtesy of a contributor to The Conservative Treehouse):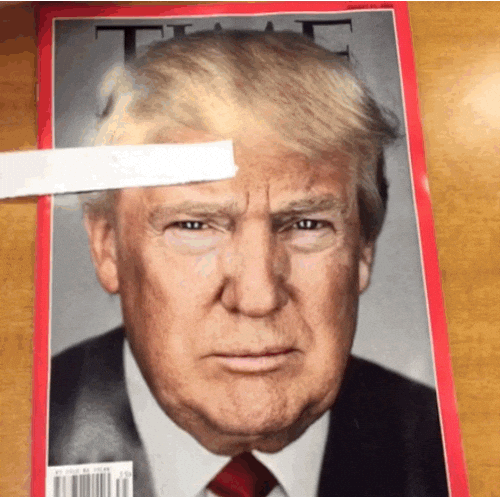 Unbelievably, French President Emmanuel Macron posted this video of Trump strongarming him into a handshake. Seconds earlier, Macron walked straight towards Trump before snubbing him for Angela Merkel:
Despite the smiles and hand gestures, their brief photo op and statements looked chilly:
In another group shot of NATO leaders, the following video makes it look as if the American president forced his way to the forefront:
A Washington Post reporter who lists her American allegiance last, tweeted:
In reality, Prime Minister Dusko Markovic of Montenegro had accidentally stepped on Trump's foot.
A contributor at The_Donald couldn't help but react:
Trump visited members of NATO today, and while walking with several members, is seen moving PM Dusko Markovic aside. The corrupt and fake media took this video clip and spun it completely into FAKE NEWS territory by saying:
"DONALD TRUMP SHOVES A MEMBER ASIDE IN ORDER TO REMAIN IN FRONT OF THE GROUP"
… You can CLEARLY see he winced in pain after his foot was apparently stepped on, and he moves the Prime Minister aside to get him off his foot. Even the PM reacts the moment he steps on Trump's foot, knowing he caused him pain.
Here's the clip in slow motion:
A ceremony took place for the new NATO headquarters and a memorial which included a metal remnant the 9/11 attack in 2001 and a chunk of the Berlin Wall from 1989. In his address, Trump said:
I want to extend my appreciation to the 9/11 Memorial and Museum in New York for contributing this remnant of the North Tower, as well as to Chancellor Merkel and the German people for donating this portion of the Berlin Wall.  It is truly fitting that these two artifacts now reside here so close together at the new NATO Headquarters.  And I never asked once what the new NATO Headquarters cost.  I refuse to do that.  But it is beautiful.
Each one marks a pivotal event in the history of this Alliance and in the eternal battle between good and evil.  On one side, a testament to the triumph of our ideals over a totalitarian Communist ideology bent on the oppression of millions and millions of people; on the other, a painful reminder of the barbaric evil that still exists in the world and that we must confront and defeat together as a group, as a world.
This twisted mass of metal reminds us not only of what we have lost, but also what forever endures — the courage of our people, the strength of our resolve, and the commitments that bind us together as one.
We will never forget the lives that were lost.  We will never forsake the friends who stood by our side.  And we will never waiver in our determination to defeat terrorism and to achieve lasting security, prosperity and peace.
Thank you very much.  It's a great honor to be here.  Thank you.
However, it's what he said before that really matters:
The following graphic from a contributor at The Conservative Treehouse explains Trump's objections. Out of each nation's GDP, the percentages reflect how much goes towards defence, NATO and otherwise:
We pay 4% to NATO defense budget.
We will pay 36% for our defense overall.
They pay less than 2% of their GNP for practically their entire defense overall.
NATO ally flags were raised cermonially:
The flypast:
Whereas Trump diplomatically summarised the meeting as being one of united interests:
Emmanuel Macron made it a Europeans-only occasion:
Fortunately, the NATO spouses and partners seemed to get on better. Melania Trump was buddied with Brigitte Trogneux, Macron's wife and his former high school teacher.
The group went on a tour of the Magritte Museum (Magritte misspelled below):
The Daily Mail, with excellent photos, reported on the visit to the royal palace:
Melania and Brigitte, who met while touring the Magritte Museum in Brussels earlier in the day, posed for pictures alongside the royal [Queen Mathilde] and the other spouses at the royal residence
Mrs Trump also had her own engagements that day:
The next and final stage of the trip is the G7 conference in Taormina, Sicily.
The Trumps left Brussels on Thursday, flying to Italy, then onto Taormina. Watch the Italian guard at 43 seconds in sneak a brief smile to the Trumps:
Trump tweeted:
Taormina is a beautiful ancient city:
This was the schedule and list of participants for Friday, May 26:
The 43rd G7 summit is taking place in Taormina, Sicily, between May 26-27. Attendees will include the leaders of the Group of Seven member states, as well as representatives of the European Union.
The summit is set to be the first for British Prime Minister Theresa May, French President Emmanuel Macron, Italian Prime Minister Paolo Gentiloni, and US President Donald Trump.
Other participants include German Chancellor Angela Merkel, Canadian Prime Minister Justin Trudeau and his Japanese counterpart Shinzo Abe. The EU will be represented by European Commission President Jean-Claude Juncker and European Council President Donald Tusk.
COVERAGE SCHEDULE:
06:00-08:00 GMT – Arrivals from Sigonella airbase.
08:00-09:00 GMT – Jean-Claude Juncker and Donald Tusk press conference.
09:30-10:30 GMT – Welcome cerimony and family photos at Greek Theatre.
10:00-10:30 GMT – Moving to Hotel San Domenico.
10:45-11:30 GMT – Arrivals at Hotel San Domenico. Tour de Table.
17:00-18:00 GMT – Concert for the opening of the G7 Summit at Greek Theatre.
18:15-18:45 GMT – Welcome ceremony and family photo at Hotel Timeo. Official dinner hosted by Italian President Sergio Mattarella.
A concert by La Scala Philharmonic Orchestra and dinner with President Mattarella followed.
Foreign Policy reported that Trump has an important American objective at the G7:
President Donald Trump's controversial senior advisor and speechwriter, Stephen Miller, has led White House efforts to undercut an initiative by Italy to place the migration crisis at the center of this week's Group of Seven major summit meeting starting Friday in Sicily.
For Italy, the summit in Taormina, Sicily, was to provide a poignant opportunity to raise awareness of the plight of hundred of thousands of refugees who cross the Mediterranean Sea to Italy's shores each year, and to reach agreement on a plan to find them permanent homes.
But the Donald Trump White House has largely blocked its Italian host from putting forward an initiative addressing the need to resettle millions of refugees and migrants who have poured into Europe on rickety boats or crossed borders on foot over the past decade. Instead, the United States has pressed the leaders to cap the session with a stern declaration on the need to fight terrorism, a cause that gained added urgency following a grisly suicide bombing at an Ariana Grande concert in Manchester.
The rearguard action was led by the 31-year-old Miller, who has exercised outside influence over the summit's response to the worst refugee crisis since World War II.  In line with President Trump's pledge to build a wall to keep Mexicans out of the United States, the White House has been pressing the G-7 leaders to focus more attention on the need to prevent illegal immigrants from crossing borders than on finding migrants who make the journey a permanent home.
Trump also intends to push back on other G7 preoccupations:
including climate change, trade, and migration that until recently aligned closely with President Obama's foreign-policy vision.
This G7 summit should prove to be a delicate one to be navigated diplomatically. The summit concludes on Saturday, May 27.
On Thursday, March 23, 2017, RMC (French talk radio) had a morning discussion on the London attack which occurred the day before.
Les Grandes Gueules (The Big Mouths) discussed the trend for vehicle terrorism, an ISIS-approved method which started with the July 14, 2016 attack in Nice. The Berlin Christmas market attack on December 19 was the next spectacular. On Wednesday, it was London:
The day after the London attack, Belgian police detained a man in Antwerp for driving at speed along a main pedestrian-only street. Reuters reported:
"At about 11 a.m. this morning a vehicle entered De Meir at high speed due to which pedestrians had to jump away," a police spokesman told a news conference, referring to the street name.
He added the driver was later arrested and additional police and military personnel had been deployed to the center of Antwerp, but did not give any further details.
The Daily Mail reports that the attacker is French-Tunisian. The article has good accompanying photographs.
French media now call such attacks 'low cost' terrorism, meaning that no equipment other than a vehicle is required. The radio show panel debated on whether this was appropriate terminology. Opinion was divided. Some found it demeaning to the victims. Others thought it described the situation objectively.
Regardless, the London attack has raised the same reactions and the same questions of previous attacks.
American military veteran, author and film maker Jack Posobiec summed it up on Twitter:
An Englishman, Paul Joseph Watson, Infowars editor-at-large, tweeted:
He also made a short news video in which he put forth the inconvenient truth about the London attacks and others:
People have been speculating incorrectly on the significance of the date the London attack took place. Reuters has the answer (emphases mine below):
The mayhem in London took came on the first anniversary of attacks that killed 32 people in Brussels.
The article also stated that Khalid Masood — formerly Adrian Elms, then Adrian Ajao — whom police shot dead:
was British-born and was once investigated by MI5 intelligence agents over concerns about violent extremism, Prime Minister Theresa May said on Thursday.
The Islamic State group claimed responsibility for the attack in a statement issued by its Amaq news agency. But it gave no name or other details and it was not clear whether the attacker was directly connected to the group.
Police arrested eight people at six locations in London and Birmingham in the investigation into Wednesday's lone-wolf attack that May said was inspired by a warped Islamist ideology.
About 40 people were injured and 29 remain in hospital, seven in critical condition, after the incident which resembled Islamic State-inspired attacks in France and Germany where vehicles were driven into crowds.
The assailant sped across Westminster Bridge in a car, ploughing into pedestrians along the way, then ran through the gates of the nearby parliament building and fatally stabbed an unarmed policeman before being shot dead. tmsnrt.rs/2napbkD
"What I can confirm is that the man was British-born and that some years ago he was once investigated by MI5 in relation to concerns about violent extremism," May said in a statement to parliament.
So far, four people have died:
It was the worst such attack in Britain since [July 7] 2005, when 52 people were killed by Islamist suicide bombers on London's public transport system. Police had given the death toll as five but revised it down to four on Thursday.
Some found it strange that the March 22 London attack took place on the same day that Turkey's president Tayyip Erdogan said:
that Europeans would not be able to walk safely on the streets if they kept up their current attitude toward Turkey, his latest salvo in a row over campaigning by Turkish politicians in Europe.
While that is strange, it probably remains a coincidence. Erdogan is angry with the Netherlands and Germany at the moment.
Once again, we have the lone-wolf narrative. Patently wrong, as it has been in other terror attacks. Notice Reuters says police arrested eight people. Therefore, how could it have been a lone-wolf operation?
On the notion of normalising terror in big cities, Tucker Carlson had this to say:
Although it sounds clichéd, it is true that prayer — public and private — help greatly at a time like this.
We can pray for the families and friends of victims PC Keith Palmer, fatally stabbed by the attacker, as well as the two civilians who died: Aysha Frade (wife and mother of two daughters), Kurt Cochran (an American tourist, husband and father) and the latest victim, a 75-year-old man. We can pray for Mrs Cochran, who was injured in the attack and is in hospital. We can pray for the 40 injured. Their lives will never be the same again. They will need God's help for physical and mental recovery.
In closing, The Sun has an excellent set of photographs which tell the horrific story of the March 22, 2017 attack.
Yesterday's post discussed Molenbeek, a district northwest of Brussels city centre, and home to an increasing number of terrorists and radicals, including those involved in the recent Paris attacks.
Incidentally, 'beek' is pronounced 'beck'.
This second post focusses on what residents think of the terrorists, radicalisation and their reputation.
The 40% – a community worker writes
Molenbeek community worker Johan Leman wrote an article for The Guardian on November 17.
He says that '99%' of the community support the police and will help the authorities once there is a clear plan of action.
Leman says that 40% of Molenbeek's population is Moroccan. Most live in lower Molenbeek, while the more middle-class are in upper Molenbeek. Lower Molenbeek has an unemployment rate of 40%. The population is young. Any young Moroccan wanting to lose himself in society or evade the authorities can easily hide out there.
Although most households in Molenbeek are stable, the high unemployment rate contributes to radicalisation.
The devil makes work for idle hands.
A discussion on France's RMC (radio) on the morning of November 23 also looked at the language problem that plays a part in unemployment. Les Grandes Gueules ('The Big Mouths') talked to Belgians ringing in. One journalist said that a number of these youths do not want to learn French. Consequently, they don't attend school. That means they cannot learn the skills they need to get a job.
Molenbeek is far from a slum. Most of the homes, as you've probably seen on the news coverage, are neat and tidy. That said, one female journalist said she takes a taxi there and back. It just isn't safe for a non-Muslim woman to walk around or rely on public transport there.
She also discussed the nationality issue. Whilst the terrorists are notionally native Belgians, many have close ties with Morocco. Other Molenbeek residents have dual nationality: Belgian and Moroccan. Their allegiance is often with Morocco, regardless of where they were born.
What residents say
The dozens of reporters from all over the world descending on Molenbeek have fascinated residents, as an article at France TV Info states. Translation mine below.
Journalist Kocila Makdeche interviewed the district's younger residents in the wake of the Paris attacks. He has used assumed names.
Of Salah Abdelsam, Reda, one of those interviewed, said:
They haven't cut him down yet! Seriously, Salah is strong.
Amir, 16, sounded 'seditious', Makdeche noted. Amir told the journalist:
Kalach, suicide vests — frankly, our guys are true gents.
A 22-year-old man, a friend of Amir's, said:
Personally, I don't believe any of it. It's a conspiracy. I saw Salah just a week ago smoking hash in a basement near here.
However, not everyone is so enthusiastic or positive. A spectre hangs over the district.
Fouad Ben Abdelkader, 36, a teacher, said:
Since I've learned that the Abdelsam brothers have been behind all this, I haven't been able to sleep. Because of Salah, everyone will think that Molenbeek is a cradle of terrorism.
The teacher has been working in Molenbeek for 15 years. He explained:
There really are preachers coming through here recruiting. For them, it's very easy to manipulate these young people. They were born here and know nothing about Islam.
Karim, another man interviewed, knew the Abdelsam brothers well. They were hardly model Muslims:
At that time, we drank and went to visit prozzies together.
Hamza, 22, works as a repairman. He described the difficulty in getting a job:
It's already been difficult for us. Now it will be even worse. Those who present a potential employer with a CV which has a Molenbeek address have a really hard time.
Ben Abdelkader agrees:
No work, no money, no girlfriend, no future. All this creates a lot of frustration. Imagine you're in a room full of beautiful things, everything you desire, but you have no right to touch them. That's exactly what the kids hanging out on the corners feel and resent. And, sometimes, the end is dramatic.
Le Monde's Brussels correspondent Jean-Pierre Stroobants visited Molenbeek on November 16 to interview residents. His interviews produced a mixture of denial and consternation.

Of one of the terrorists, Abdelhamid Abaaoud, who died in the Saint-Denis shoot-out on November 18, one man said:
I know his father. He said he was ashamed of his eldest son.
A greengrocer criticised the terrorists whilst lamenting Molenbeek's reputation:
They're stupid, but, you know, I've lived here 30 years in a time without Daech and without attacks, yet, even then, others were pointing the finger at us.
A young man wearing a hoodie didn't want to be overheard. Some distance away from other residents, he told the journalist:

Please understand that if a lot of young people are leaving for Syria it's because no one is paying any attention to them other than fanatics. As for myself, I've completed my education. I speak French, Arabic and Dutch. But as far as getting work goes, I have to use a friend's address, someone who doesn't live in Molenbeek.
The journalist spotted a rare sight — a Belgian woman with her little boy. He overheard her saying:
Hold my hand, otherwise a bad man will take you away.
She told the journalist:
I come here for bargains, but I'm not very comfortable.
Conclusion
I don't really think much will be done in the short term to change Molenbeek's reputation.
That job has to come from within its community. However, as long as fundamentalist ideas and lifestyles proliferate among all generations, especially women, things will stay the same. Female attire signals what the local men think. There is a huge difference between what many of these women wear and the pretty shalwar kameez of subcontinental Asia.
Another issue is national allegiance. Dual nationality in itself is not a problem. However  … aligning oneself principally with the culture of another country, Morocco, so different to Belgium in so many ways, is not helping.
Home is where the heart is. One wonders what some Molenbeek residents consider to be home.
It might not be Belgium.
Brussels was on lockdown at the weekend.
People were told to stay at home. Public transport, cinemas and shopping centres were closed.
Today, The Telegraph says:
Belgian Interior Minister Jan Jambon told RTL radio however Belgium's capital was not giving up completely. "Apart from the closed metro and schools, life goes on in Brussels, the public sector is open for business today, many companies are open," Jambon said on Monday morning.
The city's buses were running normally and many shops in the suburbs were open.
A police operation took place
in the Molenbeek area of the city, a district that has become a hotbed for radicalisation and where Salah Abdeslam grew up.
One of the properties raided in Molenbeek last night was reportedly the home of Salah Abdeslam's maternal uncle.
Abdelsam is still on the run.
He was thought to have been in Molenbeek last week after the Paris attacks.
Since the attacks, many of the Belgian police searches have taken place in this district, northwest of Brussels. Whilst parts of it are pleasantly middle class, other neighbourhoods are home to a number of Islamic radicals.
A photo journalist remembers Molenbeek
Teun Voeten is a cultural anthropologist and war photographer. He has gone where many would not dare to venture and has published books on the underground homeless of New York, the war in Sierra Leone and the drug violence in Mexico.
He recently wrote an article for the European edition of Politico in which he recalls the nine years he lived in Molenbeek, the last affordable district in Brussels.
A summary with excerpts follow. Emphases mine.
He says Molenbeek was affordable because of its bad reputation. However, I wonder whether dubious people flocked there because rents and property prices were low.
In any event, in 2005, Voeten was hopeful and idealistic:
My apartment, just across the canal from the city center, is close to the home where two suspects in the Paris attacks were based, and around the corner from where the shooter from the foiled Thalys attack in August had been staying.
I was part of a new wave of young urban professionals, mostly white and college-educated — what the Belgians called bobo, ("bourgeois bohémiens") — who settled in the area out of pragmatism. We had good intentions. Our contractor's name was Hassan. He was Moroccan, and we thought that was very cool. We imagined that our kids would one day play happily with his on the street. We hoped for less garbage on the streets, less petty crime. We were confident our block would slowly improve, and that our lofts would increase in value. (We even dared to hope for a hip art gallery or a trendy bar.) We felt like pioneers of the Far West, like we were living in the trenches of the fight for a multicultural society.
I, too, was once like that. Perhaps some people reading this are as well.
Things do not change. Nor did they for Voeten or his friends:
Slowly, we woke up to reality. Hassan turned out to be a crook and disappeared with €95,000, the entire budget the tenants had pooled together for our building's renovation. The neighborhood was hardly multicultural. Rather, with roughly 80 percent of the population of Moroccan origin, it was tragically conformist and homogenous. There may be a vibrant alternative culture in Casablanca and Marrakech, but certainly not in Molenbeek.
Voeten is not the only person to point out that North African Muslim neighbourhoods are highly conformist and homogeneous. I will write another post with a summary of an Algerian university lecturer's experience of Saint-Denis, which he says outdoes Oran (an Algerian city) in terms of sombre Islam.
Voeten left Molenbeek in 2014 because:
Over nine years, as I witnessed the neighborhood become increasingly intolerant. Alcohol became unavailable in most shops and supermarkets; I heard stories of fanatics at the Comte des Flandres metro station who pressured women to wear the veil; Islamic bookshops proliferated, and it became impossible to buy a decent newspaper. With an unemployment rate of 30 percent, the streets were eerily empty until late in the morning. Nowhere was there a bar or café where white, black and brown people would mingle. Instead, I witnessed petty crime, aggression, and frustrated youths who spat at our girlfriends and called them "filthy whores." If you made a remark, you were inevitably scolded and called a racist. There used to be Jewish shops on Chaussée de Gand, but these were terrorized by gangs of young kids and most closed their doors around 2008. Openly gay people were routinely intimidated, and also packed up their bags.
The final straw was:
an encounter with a Salafist, who tried to convert me on my street. It boiled down to this: I could no longer stand to live in this despondent, destitute, fatalistic neighborhood.
Many of the bobos' comments following the article are highly critical of Voeten. Voeten wrote in his article that others who have voiced concern or written about Molenbeek in a less than positive way have been vilified:
In 2006, Hind Fraihi, a young Flemish woman of Moroccan descent published "Undercover in Little Morocco: Behind the Closed Doors of Radical Islam." Her community called her a traitor; progressive media called her a "spy" and a "girl with personal problems."
In 2008, Arthur van Amerongen was tarred and feathered for "Brussels Eurabia," and called a "Batavian Fascist" by a francophone newspaper. When he and I went back to Molenbeek in March and I subsequently described it as an "ethnic and religious enclave and a parochial, closed community" in an interview with Brussel Deze Week, that too provoked the wrath of progressive Belgium and an ensuing media storm.
Sadly, Voeten is now in the same boat.
Truth is a difficult thing to tell.
Terror links
On November 15, The Guardian had a good article on Molenbeek's links to terror. A summary follows.
After the Paris attacks, the terrorists' grey Polo parked near the Bataclan not only had Belgian plates but also a parking ticket in it. The ticket was issued in Molenbeek. That told police that IS were behind the attacks.
Even The Guardian article states that Molenbeek is home to 'hardline clandestine Salafist cells'. They also have international terror connections, and not just with neighbouring France.
Since the Paris attacks, dozens of searches and arrests have taken place in Molenbeek.
Other terrorists who came from Molenbeek include Ayoub El-Khazzani who opened fire on the Thalys train in August, Mehdi Nemmouche who killed three people at Brussels's Jewish Museum in 2014 and, back in 2003, one of the men involved in the horrific Madrid attacks.
Another Guardian article reveals that Molenbeek's deputy mayor Ahmed El Khannouss denied extremism, calling such accusations 'stigmatisation'.
Molenbeek has 22 mosques, but even El Khannouss admitted that radicalisation is taking place not so much there but in any number of private prayer rooms in the community.
Still, he maintained that linking local people to radicalism is 'dangerous'.
Perhaps perspectives like the deputy mayor's, the bobos' and the media's are part of the reason security forces have not hit Molenbeek harder up to now. Such moves would have been considered stigmatising and unfair. The terrorists know this, and they can operate with impunity.
Belgium's Prime Minister Charles Michel acknowledges the weakness of the security forces with regard to Molenbeek and pledged that they would 'have to get repressive'.
The media say that Belgium, because of its Dutch-speaking Flemish and French-speaking Walloon population, has a problem when it comes to governing and policing. The Flemish and Walloons have always had difficulties in finding common socio-political ground.
Other commentators point a finger at Brussels's city administration, broken up into several boroughs, each with its own mayor. Yet, other large cities — London and Paris, to name but two — also have the same set up, which works well.
I think there is a real fear of reprisals if anyone tries to 'do something' about Molenbeek. And the terrorists know that.
Tomorrow: people on the streets of Molenbeek speak
One of the suicide bombers at the Stade de France on Friday, November 13, 2015, was Bilal Hadfi, 20, a Belgian thought to have fought with IS in Syria.
In the live reporting The Telegraph ran on the Saint-Denis raids they had a précis of an interview Hadfi's mother gave to the Belgian newspaper La Libre on November 3.
Fatima told the paper that her son smoked hash and drank regularly. He was also given to confrontational behaviour at home.
Sometime around the Charlie Hebdo attacks in January 2015, Hadfi renounced his drinking and smoking. Fatima remembers feeling hopeful:
I thought it positive that he repents and is no longer into alcohol and joints.
Earlier this year, he was taking courses in electrical technology at the Instituut Anneessens Funck. After the Charlie Hebdo attacks, one of his instructors, Sara Stacino, discussed the incidents of that week with her students. (All French and many Belgian teachers were told to do so.)
La Libre reports that Stacino told another media outlet that she clearly remembers Hadfi's pronouncements during the discussion, which he monopolised. She found them so alarming that she wrote a written report for the school administration:
He defended the attacks, saying it was normal, the need for freedom of expression must be stopped, that insults to religion must stop. At the time it really worried me and I reported it in writing to the management of the school.
Mr Hadfi died eight years ago. Perhaps his absence acted as a catalyst for his youngest son's behaviour. We do not know.
In any event, in February 2015, Bilal Hadfi told his mother that he was going to Morocco to visit his father's grave. In reality, he had made arrangements to travel to Syria. The night before he left, Fatima recalled that he hardly seemed himself, physically or emotionally. She began to worry.
Once in Syria, Hadfi rang his mother and tried to persuade her to join him in the creation of a new Islamic State. She refused. He then spoke with his brother, who was angry with him. Fatima said Hadfi told his brother:
Do not shout, it's my decision. In this country, I do not have my place.
Fatima had the impression that someone was standing next to Bilal during these conversations.
She did not report him to the police in case that would jeopardise his return from Syria.
Regardless, in March, anti-terror police raided the Hadfi home. They placed Bilal on a watch list.
Fatima claims Bilal dropped off the radar three months before the Paris attacks and that she had not heard from him. Yet, she feared receiving a text message about her son.
Now he has died for his cause.
I read the rest of the article at La Libre. In one of his phone conversations from Syria, Bilal told Fatima:
I fear you will die and go to hell because you live in a kuffar country.
Fatima has a daughter and two other sons. When their home was raided on March 8, the Belgian police broke down the door. The eldest son was handcuffed. Officers forced Fatima to the floor in an attempt to calm her down. Police took away several self-defence objects, including ninja stars and an aikido baton. The anti-terrorist brigade searched the home at 4:30 in the morning. Belgium's federal police have also searched the home. It is unclear when the latter raids took place.
Although the Hadfis hold French nationality, they have lived in Belgium for many years. They lived in council housing in Brussels and in March moved to another flat in the city.
Fatima told La Libre she is not interested in giving further interviews.