You are currently browsing the tag archive for the 'Ben Wallace' tag.
It's difficult winning against Andrew Neil, the longtime BBC political presenter who was the leading face of GB News for a month in 2021 and who currently has his own Friday evening show on Channel 4.
When it comes to grilling politicians, no one does it better than he.
Rishi Sunak agreed to subject himself to Neil's unfailing command of the facts. So far, Liz Truss — as did Boris Johnson — has not committed to the same.
Neil's interview
Sunak appeared with Neil on Friday, July 29, 2022, to put forth his case for becoming the next leader of the Conservative Party and, by extension, the United Kingdom's next Prime Minister.
Having watched the Q&A session, I thought that Rishi did a good job.
However, there was a real dissonance between what he said his policies involved and what Neil said they did.
As such, it made for awkward viewing. Who was telling the truth? I was left none the wiser.
At times, I was focusing on Neil's hair, which he has dyed a dark brown. His natural colour is ginger.
Rishi presented himself as the sensible, cautious candidate with regard to tax and the deficit:
Rishi defended raising taxes to fund the NHS. He did well in preventing his irritability from showing, but a vulnerability did slip out here:
Neil accused him of being 'consistently inconsistent' with regard to tax reform, but Rishi said that's how it works:
Hmm.
Neil asked Rishi about his wife's non-dom status. The former Chancellor gave a short reply, saying that she addressed it. This did not satisfy me, but then I don't have a vote in this contest:
Yes, there are family obligations here, it would seem. Those appear to involve his in-laws.
Neil was surprised at Rishi's answer about curbing the number of refugees. What Neil doesn't realise is that legal immigrants and their children take a much different view on migration than the British metropolitan elite.
Neil also managed to squeeze in Rishi's televised statement from his teenage years in 2001 in which he said he had no working class friends:
Neil concluded by reiterating that Liz Truss was still welcome to appear on his show.
I did not really know what to make of this half-hour broadcast.
Only the Mail had any commentary on it.
One article with more dialogue from the programme is 'Sunak is forced to deny he has shown a "lack of consistency" on VAT to Andrew Neil'.
An excerpt follows:
Veteran broadcaster Andrew Neil said Mr Sunak's approach of tightening fiscal policy risks recession in an interview on Channel 4.
The Tory leadership hopeful replied: 'No, if you look at what's happening around the world, it's inflation that is slowing economies down. It's rising interest rates that are already putting a brake on economic activity.
'And my concern is that I want to get to grips with inflation as quickly as possible because inflation makes everybody poorer. It erodes people's living standards.'
He also insisted his policy to hike national insurance thresholds was 'undoubtedly, objectively progressive' when Neil suggested it penalised workers.
'It's an entirely progressive measure,' Mr Sunak said. 'Raising thresholds means that those with the broadest shoulders contribute the most.'
The heated exchange resulted in Neil saying that the OECD has said that Mr Sunak's plans will result in a recession for the UK economy – which the former Chancellor disputed. 
It came as Mr Sunak sat down with the fearless interviewer Mr Neil on Channel Four – after frontrunner Liz Truss refused to do the same.
Mr Neil once again extended the hand to come on his show to the Foreign Secretary – saying the 'invitation is still open'.
The Southampton-born millionaire repeated his claims that tax rises were necessary for paying for Covid measures and said that he did not want to pass debt onto future generations.
He said that it would be the 'easiest thing in the world' to cut taxes to aide his leadership campaign but that he thought it was not the responsible thing to do.
Mr Neil hit out at Mr Sunak's wife's non-dom status which hit the papers earlier this year but the former Chancellor attempted to draw a line under the line of questioning, saying that he was the one running for office – not his partner.
The line of questioning made Mr Sunak visibly uncomfortable as he tried to move on from the scandal.
The tax cuts intended to fund the NHS were another line with Mr Neil used to attack Mr Sunak – as the interviewer quoted suggestions that the waiting lists on the NHS will reach 10 million in the next two years.
Mr Sunak attempted to distance himself from the Conservative's record on health after the fierce Scot tried to pin the NHS's problems on him – saying that he has left Government to change course on the NHS.
He added that he wanted to set up over 100 'elective surgery hubs' to bring down the backlog. 
Henry Deedes examined the optics of the interview: 'The ex-chancellor sat awkwardly, like a man about to undergo an enema'.
Excerpts follow:
We immediately saw Sunak sat behind a desk, his hands placed slightly awkwardly on top of each other. Across his mouth was smeared a distinctly uncomfortable grin. He looked like a man nervously waiting to undergo an enema …
Tax was the main topic, namely why Rishi as chancellor made us pay so much of it. Sunak said he wanted to pay down the cost of the pandemic rather than saddle our grandchildren with all that debt. 'I'd like to give people all these nice things – don't you think that'd make my life easier?' he pleaded.
Rishi kept calling Neil by his first name. Most of his replies began with a chummy 'look, Andrew'. Doubtless his spin doctors thought familiarity might soften the old brute. It didn't.
Neil kept coming at him over tax rises. A Bren gun with ceaseless ammunition. Pop, pop, pop. 
Why had he frozen the income tax threshold? Why had he left comfortable pensioners alone? Why were so many people paying the top rate? Unfortunately for Sunak, Neil is that rare thing in journalism – someone who actually understands economics …
Talk turned toward the NHS. Neil pointed out that waiting lists were up, despite the gazillions of pounds which get thrown at the Health Service every year. 'These are complex issues, Andrew,' Rishi mansplained.
Yes, yes, said Neil. But it had gotten worse on the Government's watch. 'Andrew, I left the Government,' pleaded Rishi. 
'Yes, but only a few days ago,' barked Neil. Sunak's answer to the NHS backlog was to set up a task force. Yes, that should do it!
There was mention of a recent video which surfaced of Sunak in which he told an interviewer he didn't know any working class people. 
Bit odd for someone who claims to come from such a modest background. 'I grew up working in my mother's pharmacy,' Sunak reasoned. 'We know all that,' sighed Neil witheringly.
He seemed to think Sunak's 'umble roots were a tad overplayed. Especially since he was schooled at Winchester. Neil's intellect of course was forged and honed at Paisley Grammar.
A brief tit-for-tat developed over Lady Sunak's non-dom tax status. 'I'm the one running for office, not my wife,' said Rishi. His voice lowered a bit at this point. He shot Neil a steely look as if to say 'Let's leave her out of this, shall we?' Respect.
We were now out of time. To be fair to Sunak he was still standing. But only just.
Incidentally, his opponent Liz Truss had given Neil's offer of an interview a wide swerve. 'Her choice, of course,' said Neil, voice laced with irritation. Chicken? Jolly wise, I'd say…
More scrutiny
Last week, Rishi's policies and personal life came under more scrutiny.
A Mail headline from April 24 resurfaced about his lavish Yorkshire home, which has a heated pool and will soon have a new gym and tennis courts. Incidentally, he has other homes, including a pricey mews house in London:

Just a little over a year ago, on July 2, 2021, Asia Financial reported that Rishi wanted more trade between the UK and China:
UK Chancellor of the Exchequer Rishi Sunak called for a "mature and balanced relationship" with China that helps British firms to exploit "the potential of a fast-growing financial services market with total assets worth £40 trillion" ($55 trillion) in a speech on Thursday July 1 …
Sunak set out alternative plans for an independent financial services policy for the UK and spent more time discussing opportunities in China than the US, which is the UK's most important bilateral partner.
He attempted to frame the opportunity to sell financial services to China within a context of maintaining principles such as openness and commitment to a rules-based order.
"Too often, the debate on China lacks nuance," Sunak said. "Some people on both sides argue either that we should sever all ties or focus solely on commercial opportunities at the expense of our values. Neither position adequately reflects the reality of our relationship with a vast, complex country, with a long history."
Sunak highlighted the appeal of China's financial services market for UK firms, as well as the need to cooperate on global issues like health, ageing, climate and biodiversity.
He seemed to effectively offer China the opportunity to agree different financial services terms with the UK than the EU, now that Brexit has arrived without a deal on mutual recognition of standards across Europe – which was the former target of "equivalence" of regulation.
Hmm. Interesting. His father-in-law's Infosys has an office in China.
A year later, on July 25, after China's Global Times endorsed him as the next Conservative Party leader, he walked back his support and claimed Liz Truss was the greater supporter of the Communist nation.
Guido Fawkes reported (red emphases his):
It's unsurprising, given his tacit endorsement from the Chinese propaganda arm Global Times, that Rishi has decided to go in hard on the country's security threat this morning. Declaring the Chinese Communist Party "the largest threat to Britain and the world's security and prosperity this century", Sunak attacks Liz for "[rolling] out the red carpet" and turning "a blind eye to China's nefarious activity and ambitions". He calls for a new NATO alliance to be set up to counter it the threat, and pledges to close all 30 Confucius centres, which teach Mandarin in the UK and are thought to be used as fronts by the Chinese intelligence services.
In response Team Truss returned fire last night, using Iain Duncan Smith to call the policy "surprising" and asking where Sinophobe Sunak has been for the last two years. Her team points to the above Sunak's endorsement by Global Times, and says he has been consistently soft on China …
In response, a Truss ally bluntly tells Guido that Sunak's team are "moronic", given not only was Truss responsible for childcare policy as an education minister, universities policy was run out of the business department at the time. David Willets was the BIS minister responsible, who – whilst yet to declare in this leadership election – has backed Sunak's tax rises. 
Guido also exposed the fact that the Artichoke Trust received £1,234,682 through Cultural Recovery Grants during the pandemic, when Rishi was Chancellor.
The Artichoke Trust puts out 'art' like this:
Clearly, not much scrutiny took place during the pandemic. No doubt, the Treasury were all in a rush to send out grants — taxpayers' money — to all and sundry.
On Tuesday, July 26, Rishi did a huge tax U-turn, imitating his rival Liz Truss.
Only days before, Rishi told Liz that it would be 'immoral' to lower taxes, yet, here he was at the beginning of last week reversing that to sound more like his rival:
Guido rightly asked why Rishi did not cut VAT on energy bills when he was Chancellor. Oddly, he now advocates the policy:
This is what the former Chancellor said in February 2022:
Guido has more on his February comments here.
On July 27, the Mail on Sunday had an article about his U-turn, saying he was 'under pressure' since the BBC debate of July 25 (emphases in purple mine):
This morning, Truss ally Kwasi Kwarteng, the Business secretary, welcomed Mr Sunak's 'late to the party' change on taxes.
He told Times Radio: 'I think he's under a lot of pressure. That's why we see all these statements: he was the person who said the VAT cut would disproportionately benefit rich families and now he's saying that a VAT cut on energy bills is the right thing.
'He was saying that tax cuts were a fairytale, now he is proposing an unfunded tax cut.
'There comes a time in campaigns when people are under a lot of pressure, he clearly felt under a lot of pressure in the debate and he wanted to get out on the front foot and interrupt Liz.'
But Transport Secretary Grant Shapps, an ally of Rishi Sunak, defended the former chancellor's plan. He rejected the suggestion that Mr Sunak is 'flip-flopping' and said the £4.3 billion policy is sensible as it would not add to inflation.
Put to him that it is a 'flip-flop', Mr Shapps said: 'If he hadn't produced £37 billion of support, about £1,200 to the hardest-up households already – if he hadn't done any of that and then suddenly did it then you would have a point.
'But he has, he has been providing all this support, now he is saying "Here's something that won't add to inflation that would save every person watching your programme £160 off their energy bills" – I think that's worthwhile.'
Last night No10 insiders told the Daily Mail that Mr Sunak's plan was something Boris Johnson tried to implement to ease the burden on consumers – but was blocked by his then chancellor.
'Boris begged him to do it – but he wouldn't budge', said the source. 'It's astonishing that he's now claiming it as his own policy.'
Meanwhile new polling shows that the rising cost of living and handling of the NHS could cost the Tories the most votes at the next election.
The Mail on Sunday's Anna Mikhailova pointed out that Rishi hardly had a long-term career in business, despite his own claims.
Nigel Farage picked up on her tweet and called Rishi 'a fraud':
Farage had elaborated on his GB News show the day before, Monday, July 25. He pointed out that Rishi included a clip of him in his campaign video on immigration. He doubted Sunak's sincerity on China and ended by saying, 'Well, I guess that leaves us with Liz Truss':
By July 27, the bookies gave Liz Truss an 83% chance of winning the leadership contest.
That night, Dan Wootton said that 'Fishy' Rishi's tax U-turn was 'too little, too late':
John Sergeant, who reported for the BBC for decades, said that the former Chancellor appeared 'rattled':
Political commentator Patrick O'Flynn said that many intelligent politicians weren't very good at politics, Rishi being a case in point:
On Thursday, July 28, Lord Ranger, a Rishi supporter, said that if the Conservative Party members do not choose the former Chancellor as leader, they are racists.
Dan Wootton responded by pointing out that this Conservative leadership contest has been the most diverse in history:
That includes Labour, too, by the way.
Wootton said, in part:
It was still only a matter of time before Team Rishi Sunak blamed his imploding campaign on racism.
Forget the fact that Kemi Badenoch was a surprise favourite among the party membership before being booted out by MPs for being too daring and different.
Forget the fact that Liz Truss is a woman who went to a Leeds comprehensive.
Nope, Sunak's failure is nothing to do with his big state/high tax agenda, which saw him increase our tax burden to the highest it's been in 70 years.
Nothing to do with his globalist posturing and desire to cosy up to China by making the Communist country our market of choice, as revealed in bombshell leaked Treasury documents reported in The Times today.
Nothing to do with the fact he backstabbed Boris Johnson – the man to whom he owes his career – plotting his leadership campaign, all the while pretending to be his loyal Chancellor.
No, no, no, no it's down to racism.
Conservative donor and Fishy Rishi supporter Lord Ranger told Indian news network Bharat Tak: "If people reject him, it will be a bad name for the party and the country because this will be perceived as racist.
"And so there is pressure on them to prove that here race does not matter.
"Calibre matters, and Rishi's calibre is above everyone. I am optimistic that people here will be fair and will not reject anyone on the basis of race."
Lord Ranger, I can assure you the Conservative members are not rejecting Rishi based on race.
They're rejecting him based on policies and a lack of loyalty too.
As my colleague and friend Calvin Robinson tweeted in response: "'Vote for me because I am brown,' is bad enough 'if you don't you're a racist' is even worse.
"This divisive, toxic rhetoric is straight from the Leftist guidebook on Critical Race Theory and should have no place in the Conservative Party or the government of this great nation."
Former Cabinet member Michael Gove's ex-wife Sarah Vine, who writes for the Daily Mail, said that Rishi stabbed Boris in the front:
On Friday, July 28, a Techne poll showed that Liz was gaining ground over Rishi:
That morning, Defence Secretary Ben Wallace put the boot into Rishi's decision to resign as Chancellor:
Wallace told Sky News:
Wallace: Let's look at that Friday afternoon – I think it was a Friday – what if the markets had crashed? What if the Home Secretary had done that and there was a terrorist attack? What would the public think, they would never forgive us for that… I don't think people needed to walk out, the public would see that as a government not thinking about the job in hand.
The multi-year settlement [for the Department of Defence] that we got was not what the Treasury had wanted, they wanted a one-year settlement – this was back in 2019 I think – and it was vital that we got a multi-year settlement, and the PM effectively asserted his authority and made all that to happen…
Interviewer: But Mr Sunak was not in support?
Wallace: Not that I remember.
Cut the right taxes like not proceed with corporation tax rises helps growth. When Rishi was Chancellor he cut entrepreneurial relief – he cut the relief we give to entrepreneurs who've invested in this country, invested in businesses – that's not a way to help create either wealth or indeed growth.
Wallace had more to say. He said that, as Secretary of State for Defence, he did not have the 'luxury' of resigning, a pointed barb at Rishi, who, he intimated, should have stayed on as Chancellor:
Wallace pledged his support for Liz Truss.
Meanwhile, Rishi's team claimed someone was leaking official documents:
Rishi allegedly asked Simon Case, the head of the civil service, to get involved.
Guido reported:
What leaks might Rishi be upset about? The Treasury documents which completely undermined his pledge to "scrap or reform EU laws in 100 days" is a strong bet. Earlier this month, just after promising to review all of the remaining 2,400 EU laws on the statute book, Bloomberg revealed the Treasury had – under Rishi's leadership – written to Liz Truss to claim that reforming EU taxes was desirable but probably not deliverable until 2026. Last time Guido checked, that wasn't quite within 100 days. Brexit Opportunities Minister Jacob Rees-Mogg even responded by claiming it was "a surprising promise as the Treasury under his leadership was insisting that taxation was exempt from the removal of EU law." What was it Rishi said about "fairytale promises"?
UPDATE: Now a spokesperson for Liz Truss says:
We condemn the leaking of Government documents and papers. Neither campaign condones leaks of material and will not use documents it receives. Furthermore, both campaigns will report any such leaks to the Cabinet Secretary who may take action directly, or via the Police, against the individuals involved in perpetrating such leaks or receiving and not reporting material. We understand leak investigations will be carried out without fear or favour.
Word around Whitehall is that Simon Case is livid, demanded both camps issue a statement and has called in police to investigate the China leaks.
On Saturday, July 30, things got worse for Team Rishi. He had to give away tickets to what had been a £20 per person hustings event:
Then, Tom Tugendhat, he of the military service, endorsed Liz Truss:
Oh, dear.
While all that was going on, staff at the Mail on Sunday (MoS) were preparing its copy.
Late on Saturday in one of the MoS pieces, Boris loyalist Nadine Dorries MP further reinforced the notion that Rishi is not a man of the people. She wrote about a tweet she'd sent out a few days before commenting on his expensive attire:
I wanted to highlight Rishi's misguided sartorial style in order to alert Tory members not to be taken in by appearances in the way that happened to many of us who served with the Chancellor in Cabinet. The assassin's gleaming smile, his gentle voice and even his diminutive stature had many of us well and truly fooled.
I wish to stress it's not the case that I believe a rich man or woman – even if their father-in-law is one of the richest men on an entire continent – cannot be Prime Minister of this great country. But they do have to possess good judgment, understand the lives of others, have empathy, compassion and know how to fill a car with petrol and pay for it at a till.
Rishi's father was a GP, his mother a pharmacist. He attended a public school where the annual fees are about £36,000. They were in the top two per cent income bracket of all earners in the UK. To describe his background as humble is yet another indication of poor judgment.
Rishi will never know what it is like to feel scared, broke and hopeless, without a safety net provided by wealthy parents. He has never had to lie awake at night, worrying about how to pay the bills. A bailiff will never knock on his door …
Too right.
Dorries said that Boris was not best pleased when he found out that Rishi is now pledging to cut VAT on energy bills, something she said Boris begged him to do as Chancellor:
… Rishi says he wants to cut VAT on energy bills. However, Boris had been pleading with him to introduce this measure for two years as the PM had been convinced that such a cut could provide immediate relief to families.
In a speech on Thursday, Boris commented with a hint of uncustomary sarcasm: 'Turns out it was easier than we thought!'
Rishi was the classic dog in the manger as Chancellor. Whenever Boris sought him out to discuss serious issues, Rishi was always polite but unforthcoming. Never a team player.
Another MoS article revealed photos of a young Rishi Sunak at an exclusive nightclub in London's fashionable Mayfair.
Reporter Michelle Bromley included photos, writing about the young man and his then-fiancée, now wife, the Infosys heiress Akshata Murty, who lived in California in 2008:
Despite living 5,400 miles apart, the couple regularly flew back and forth across the Atlantic.
These photographs show how they spent an evening with friends at the Whisky Mist nightclub in London.
Ms Murty is seen with a cocktail while Mr Sunak (who says he's teetotal and 'a total Coca-Cola addict') generously bought all the drinks that night for the couple's friends.
At the time, the club off Park Lane was popular with the young Prince Harry and celebrities such as Beyoncé and Leonardo DiCaprio. Many years later, Tesla tycoon Elon Musk met his second wife, actress Talulah Riley, there.
Whisky Mist was apparently named after an incident during which a tipsy Queen Victoria thought she'd spotted a stag in the fog from the window of Balmoral Castle.
Friends with Mr Sunak and his girlfriend that night recall how many of the guests were focused on Ms Murty because of her family's fabulous wealth.
Her father founded global IT giant Infosys.
Mr Sunak was described by a female reveller as 'the most attentive boyfriend you have ever seen' and as 'someone who would ask a lot of questions but not give too much away about himself'.
Not long before, he had been to Africa where he met some of Barack Obama's relatives. He was photographed with them while holding a copy of the future US president's book, Dreams From My Father: A Story Of Race And Inheritance.
The picture was posted on Mr Sunak's Facebook page. Mr Obama used his book as a primer to introduce himself to the American people as he campaigned in 2008 to become the first black US president.
Fourteen years on, the young Briton captivated by that book is campaigning to become Britain's first Prime Minister of Asian heritage – and of America's greatest ally.
Nadine Dorries is right. Rishi Sunak will never have to worry about anything significant in his life.
The Sunday Telegraph said that Conservative MPs criticised Dorries for retweeting a photoshopped image showing Rishi as Brutus wielding a knife at Johnson's Julius Caesar's back. The original tweet is at the link.
The MoS also reported that some of the MPs supporting Rishi have serious doubts about his campaign:
Conservative MPs backing Rishi Sunak have privately admitted 'It's over' as panic sets into his leadership campaign.
Insiders told The Mail on Sunday that some supporters were refusing to do campaigning events for the former Chancellor.
MPs are said to be getting cold feet after Defence Secretary Ben Wallace and former leadership rival Tom Tugendhat threw their support behind Liz Truss in quick succession.
However, other MPs backing Mr Sunak insisted he was doing well with Tory members, and said private polling showed Ms Truss's supporters had been easily convinced to switch their support to him.
As this week opened, Dan Wootton's Monday poll showed that GB News viewers thought that his tax U-turn was still too little, too late:
That polling ran while Rishi and Liz were at a hustings in Exeter, more about which tomorrow.
I hope the former Chancellor, whose mother owned a pharmacy, does not get anywhere near Downing Street, except as a visitor: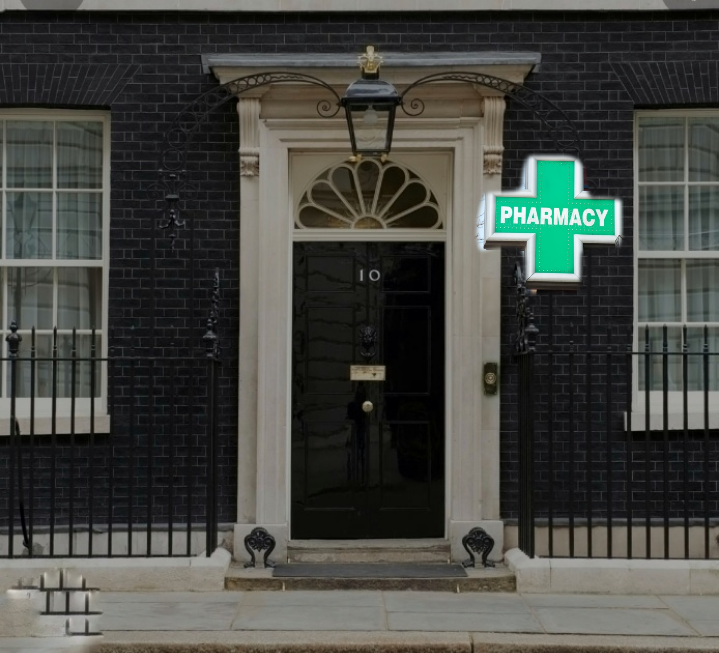 Why anyone wants Rishi to be the next occupant of No. 10 escapes me. Convince me — someone, anyone — why he should be our next Prime Minister.
On Thursday, July 28, 2022, LBC's morning host Nick Ferrari presented a hustings in Leeds for Conservative Party members:
Ferrari interviewed the candidates separately, and each had a chance to deliver a message alone to the audience.
The audience also asked questions.
Liz Truss
This year's burning question for any politician has been, 'What is a woman?' Very few have defined a woman, including Rishi Sunak.
Liz played on that theme:
This hustings took place on the same day that it was announced the Tavistock clinic was to close. This next video has an excellent interview with Dr David Bell, a whistleblower who used to work for the clinic:
Liz discussed sexual identity:
A member of the audience expressed her concern that school loos were changed to unisex during the pandemic when students were at home. Liz came out in favour of separate boys and girls facilities:
LBC's article, which has a video of the hustings in full, says:
The foreign secretary was quizzed about same-sex toilets being introduced in schools during the pandemic while speaking at LBC's Tory hustings.
When asked about returning to single-sex toilets, Ms Truss said: "I completely agree with you – I have sought to clarify that as women's minister.
"I've been very clear that single-sex spaces should be protected, particularly for young people as well as vulnerable people – vulnerable women in domestic violence shelters, for example – and I can assure you, as Prime Minister, I would direct that to happen.
"It's a difficult time being a teenager – being a young girl – and you should be able to have the privacy you need in your own loo, so I 100% agree with you and I would make that happen.
In a follow up question from LBC's Nick Ferrari about pupils who are transitioning, Ms Truss added: "First of all, I do not believe that under-18s should be able to make irreversible decisions about their own bodies that they might come to regret later.
"It's very important to note that.
"And of course, schools should be sensitive – they can provide additional facilities – but it should not be at the expense of protecting young girls."
On the subject of schools and the pandemic, Liz said it was a mistake to close schools in early 2021 and allow the pubs to stay open. She would not have closed schools but said that hindsight is a wonderful thing and no one knew at the time what to do. She did give Boris credit for doing 'his absolute best':
In response to Peter from Tadcaster, Liz said that she supports fracking but said it must have residents' consent. She also supports the smaller nuclear plants, 'like we have in Derbyshire'. She also thinks that we need to continue to use more of our own gas as an immediate response to energy demand:
There was a light hearted moment when Ferrari asked her about her university days. She admitted she was something of 'a teenage controversialist'. She said she regretted saying that the monarchy should be abolished as soon as she said it years ago. And she has since met the Queen. She also said that she had been a member of the Liberal Democrats but left when she realised 'the error of their ways':
A reality show, Love Island, has been this summer's must-watch for a proportion of the British population. Liz said she could watch only ten minutes with her teenage daughter before she turned off the television. She thinks her daughter went to watch it in another room:
Liz repeated her stance on tax, saying that the rise in National Insurance not only broke the 2019 Party manifesto but is also unnecessary as it limits growth:
Liz, who grew up in Leeds, says that the public transport there is as bad now as it was when she was a girl. She promised to improve the situation. She also pledged to cut red tape for farmers:
Ferrari asked Liz for her opinion of Theresa May and Boris Johnson, as she served in both their Cabinets. She said that she always liked Boris and supported him in the 2016 leadership contest, which Theresa May ultimately won. She gave Boris much credit during his time as Party leader and Prime Minister:
Ferrari asked her whether she would lead us into World War Three, which she dismissed as Russian propaganda and sabre-rattling. She added that the UK should have been better prepared in the past, because we did not do enough for Ukraine over Crimea and the Donbass:
On that topic, Liz said that she would raise defence spending to three per cent of GDP by 2030:
More on that below.
An audience member asked about post-pandemic staff shortages. Liz said she would tighten benefits rules to get the workshy back into paid employment. She also said she would have a training programme so that Britons had the available skillsets that we need:
Contrast her response with Rishi's below. He wants to bring more foreigners into the country and forget about our own people.
Someone from the Bury Conservative Association asked whether Liz would give Jeremy Hunt a Cabinet position. She replied that she was not thinking about a possible Cabinet at the moment but that she would appoint a broad range of Conservative talent, should she become Prime Minister:
Please, Liz, no Jeremy Hunt. He would deploy all of Beijing's coronavirus policies and have us masked up and in lockdown in perpetuity. He also said in Parliament that he wanted to make the annual flu jab mandatory. No, no and no!
Rishi Sunak
Last week, Rishi was adamant that tax cuts were 'immoral', then he did a U-turn.
He tried to convince everyone that he didn't do a U-turn on his tax policy. Hmm:
Ferrari then gave the UK's most recent statistics on our poor economic performance this year, but Rishi reminded him about 2021 figures, which were far higher than any other Western nation. Rishi also said that visas needed to be revisited to make sure we attract the 'best and brightest' into Britain. Notice how he has no plans to train young Britons for British jobs. Why am I thinking of his father-in-law's Infosys? Hmm:
Ferrari brought up the petition to the Conservative Party to put Boris's name on the members' ballots. By last Thursday, more than 14,000 people had signed the petition. Rishi said that Boris had lost the confidence of his MPs, 60 of whom resigned from various Government posts. Rishi said that a Prime Minister must have the confidence of his MPs, hence the present leadership contest:
Ferrari told Rishi that he was the first Chancellor since Labour's Denis Healey to raise corporation tax. Healey did that in 1974.
Rishi gave an incoherent answer. He said that Margaret Thatcher raised taxes in the early part of her premiership which lowered inflation. (Mmm. Actually, Margaret Thatcher got different advisers who told her to lower tax, which brought about growth.) He said that lower corporation tax has not worked over the past decade. So, he would cut tax on business investment instead.
I'll leave this to the Rishi fans to ponder and tell me why he is correct:
Ferrari said that President Zelenskyy said that he would like for Boris to remain front and centre for Ukraine and not disappear into the background. Rishi said that Boris is 'very talented' but that he would not give him a post in his Cabinet, were he to become Prime Minister:
A lady in the audience asked Rishi how he viewed our current asylum system. He said that it needs to be changed, by pulling out of the ECHR and using the international Refugee Convention instead. He said that we reject far fewer asylum claims than other European countries and that needs to be changed:
Another member of the audience asked Rishi how committed he would be to supporting Ukraine. Rishi said that he 'absolutely' would be. In elaborating, he said that sanctions towards Russia need to be changed, because, so far, they are having little effect on Putin:
Matthew from West Yorkshire asked Rishi whether he had stabbed Boris Johnson in the back and how the former Chancellor planned to reunite the Party. Rishi said that he had to resign because he and Boris differed too much in the end on economic policy (?!). He pledged to bring the best Conservatives into his Cabinet if elected leader and thinks that would reunite the Party. Watch his leg bob up and down as he answers Ferrari near the end of the video:
Verdict
Afterwards, LBC took calls and interviewed experts about what they thought of the hustings.
LBC's Ben Kentish asked his fellow presenter Iain Dale, a Conservative, for his views. Dale said that not every topic can be covered in one of these events. Therefore, topics such as child care and the NHS are discussed at other local meetings.
Dale thought that Liz 'smashed it'. She did not use any notes this time. She gave 'interesting' and 'entertaining' solo speeches, which surprised him. He said that Rishi did a good job, too, but didn't quite come up to Liz's standard that evening. He said that Rishi has a lot of catching up to do and that 'he's in a real bind now'.
He concluded that it was a 'really good evening for Liz Truss'. He gives her a 75 per cent chance of becoming the next Party leader and, by extension, Prime Minister:
Ferrari took more reactions on his Friday morning show:
Body language expert Dr Harry Witchell said that Liz was more relaxed in both her presentation and gestures than she had been previously. Rishi, he said, was much less aggressive, which was an improvement over last week's performances:
Patrick Hennessy from London Communications Agency said that Liz is likely to have won over the Telegraph's readers. the Leeds audience seemed to warm more to Liz than to Rishi. He reminded Ferrari of Matthew from West Yorkshire's aforementioned question asking Rishi if he'd stabbed Boris Johnson in the back. Indeed:
Former Conservative MP Michael Portillo said that Rishi's campaign is slipping away. He pointed out that, after the Leeds hustings, Defence Secretary Ben Wallace came out in favour of Liz Truss and, also crucially, Simon Clarke, who worked closely with Rishi, has come out in favour of Liz:
Ferrari then interviewed Defence Secretary Ben Wallace, who described Liz as 'feisty':
Ben Wallace discussed Liz's varied experience, reminding Ferrari and listeners that she had been Chief Secretary to the Treasury. The person in that post is the one who tells another Secretary of State whether they can increase their budget. Liz later worked in trade and is the current Foreign Secretary. Wallace said that he has been in meetings with her representing Britain around the world, so she has a lot of experience on the world stage:
Wallace told Ferrari that he 'didn't have the luxury' of resigning … unlike some ministers. He meant Rishi, among others. He said that he, like the Home Secretary Priti Patel, needed to stay in place for national security reasons. The Home Secretary, he explains, has warrants to sign. He, as Defence Secretary, has military operations to authorise. He also said that he did not want Boris to stand down as Party leader:
Wallace said that, in 2019, Rishi wanted to give Defence a one-year monetary settlement. Wallace said that Boris overrode that decision and gave the department a multi-year settlement instead, which is what is necessary:
LBC has more on Wallace's interview here.
All being well, tomorrow's post will be about Andrew Neil's grilling of Rishi Sunak last Friday evening on Channel 4.
Following on from yesterday's post about Britain's presence in Afghanistan, today's entry has more.
On Tuesday, August 17, Strategic Culture posted 'Afghanistan: Whatever the Future Brings, One Thing Is for Sure, Britain and the U.S. Should Stay Out'.
While I disagree with the general premise, the article did have interesting historical information about the UK's involvement in Iraq and Libya based on questionable intelligence by a security chief who promoted the Russian dossier nonsense during the 2016 US presidential election. Emphases mine below:
All the blood and treasure spent, yes that is a tragedy, but not because of how it is ending, but rather how the War on Terror was started.
That is, that the Iraq and Libya wars were both based off of cooked British intelligence, which resulted in the attempt by the British people to prosecute Tony Blair as a war criminal for his direct role in causing British and U.S. troops to enter an illegal war with Iraq. This prosecution was later blocked by the British High Court claiming that there is no crime of aggression in English law under which the former PM could be charged. It seems there is no law against being a war criminal in Britain.
And it was none other than MI6 chief (1999-2004) Sir Richard Dearlove who oversaw and stood by the fraudulent intelligence on Iraq stating they bought uranium from Niger to build a nuclear weapon, the very same Sir Richard Dearlove who promoted the Christopher Steele dossier as something "credible" to American intelligence.
In addition, the Libyan invasion of 2011 was found to be unlawfully instigated by Britain. In a report published by the British Foreign Affairs Committee in September 2016, it was concluded that it was "the UK and France in March 2011 which led the international community to support an intervention in Libya to protect civilians from forces loyal to Muammar Gaddafi". The report concluded that the Libyan intervention was based on false pretence provided by British Intelligence and recklessly promoted by the British government. This is the real reason why David Cameron stepped down.
This is what caused the United States to enter both wars, due to, what has now been officially acknowledged as fraudulent or deliberately misleading evidence that was supplied by British intelligence.
Now onto Afghanistan. After the horrifying weekend of August 14 and 15, Britain's Defence Secretary, Ben Wallace, tried to enlist NATO allies' help to fill the gap from Joe Biden's withdrawal:
UK Defense Secretary, Ben Wallace, has been actively trying to call on NATO allies to join a British-led military coalition to re-enter Afghanistan upon the U.S. departure! Wallace states in an interview with Daily Mail:
"I did try talking to NATO nations, but they were not interested, nearly all of them…We tried a number of like-minded nations. Some said they were keen, but their parliaments weren't. It became apparent pretty quickly that without the U.S. as the framework nation it had been, these options were closed off…All of us were saddened, from the prime minister (Boris Johnson) down, about all the blood and treasure that had been spent, that this was how it was ending."
This has left the UK in a tailspin, although, as of August 26, Prime Minister Boris Johnson said that Britain would remain in Afghanistan to complete evacuation efforts.
However, some of our brightest commentators are fumbling to come up with reasonable solutions to America's withdrawal. Andrew Neil said that we should ask France to partner with us. Hmm:
Meanwhile, Biden acts as if everything is fine.
On August 20, he said that the US gave the Afghans 'all the tools' they need. This is the tally over the past 20 years:
Nigel Farage has disparaged Biden in recent days:
It's not so much the withdrawal itself but how it is being done that is the worry. Troops should be the last to leave:
As if that is not bad enough, the Biden administration has supplied the Taliban with the names of people who helped the US effort. One could not make this up:
Johnny Mercer MP (Con), himself a veteran, posted the video:
But, then, according to his fellow Conservative MP, Tom Tugendhat, the British did the same thing. How is this even possible?
Foreign Office staff left documents with the contact details of Afghans working for them as well as the CVs of locals applying for jobs scattered on the ground at the British embassy compound in Kabul that has been seized by the Taliban.
The papers identifying seven Afghans were found by The Times on Tuesday as Taliban fighters patrolled the embassy. Phone calls to the numbers on the documents revealed that some Afghan employees and their families remained stranded on the wrong side of the airport perimeter wall days after their details were left in the dirt in the haste of the embassy's evacuation on August 15.
The fate of Afghans who worked alongside western diplomats and troops, and who may face reprisals after being left behind, has become an emblem of the West's retreat from Afghanistan.
Such was the British surprise at the speed of the capture of Kabul that the embassy's evacuation protocols, necessitating the shredding and destruction of all data that could compromise local Afghan staff, their families or potential employees, appear to have broken down.
The article mentions Foreign Secretary Dominic Raab, who was on holiday in Crete on August 14 and 15. He was supposed to make an important phone call, which he delegated to Lord Goldsmith. On the face of it, that wasn't a bad idea, because Goldsmith is close to Carrie Johnson and could have had direct access to Boris through her. Unfortunately, for whatever reason, the phone call was never made. I'm still not sure whether it was as crucial as the media make it out to be, because the media are anti-Boris anyway. More will emerge in the weeks to come, but this is what we know for now:
The discovery of the documents comes after Dominic Raab, the foreign secretary, rejected a request to speak with his Afghan counterpart to discuss the evacuation of interpreters who worked for Britain two days before the fall of Kabul. It suggests that staff at the British embassy were careless with the lives of Afghan employees in the rush to save their own.
Labour now have a real issue with which to attack the Conservatives:
Labour said foreign secretary Dominic Raab has "serious questions to answer" and that the destruction of sensitive materials should have been a "top priority". Lisa Nandy, his opposite number, called on the government to "urgently assess" the individuals who may have been identified by the breach and whether operations may have been compromised. The Commons Foreign Affairs Select Committee is now set to launch an inquiry.
I hope that Defence Secretary Ben Wallace is committed to sorting this out:
Reacting to the revelations this morning, Ben Wallace, the defence secretary, said the blunder was "not good enough" and would be investigated. Wallace said that the prime minister "will be asking some questions" about how the documents came to be left on the ground.
Wallace gave an interview to Sky News Friday morning. Contrary to what the British public understood yesterday from Boris about the evacuation efforts continuing, they will be coming to a close shortly, possibly by the time you read this:
Tom Tugendhat chairs the Commons Foreign Affairs Select Committee, so my expectations for the upcoming inquiry into this security breach are high:
Tugendhat spoke about the American withdrawal:
Sorry, but the withdrawal debacle is a military defeat.
I feel very sorry for British — and American — troops. They are still heroes, as Johnny Mercer, who served in Afghanistan, says:
Meanwhile, Home Secretary Priti Patel visited a refugee centre:
She is preparing the British public. We will be taking in 20,000 or 25,000 Afghan refugees over the next five years. However, the British are also concerned about the number of illegal immigrants coming in from France across the English Channel:
Nigel Farage urges caution over the refugee programme:
The Daily Mail article says that Ben Wallace was satisfied that the man on the 'no fly' list was not a threat. However, the Mail states that some security checks have been taking place once the military plane is in the air:
Defence Secretary Ben Wallace today insisted security checks at Kabul airport are working after it emerged a person banned from Britain under a 'no-fly list' was able to travel to the UK as part of the Afghanistan airlift. 
In a potential security breach, the individual was cleared to board an RAF plane before checks in mid-air revealed they were barred from coming to this country.
In a sign of the challenges facing British soldiers at the airport – who are already on high alert amid fears of terror attacks – it emerged last night that a further four people on the no-fly list tried to board mercy flights to the UK, but were stopped before the planes took off.
Mr Wallace defended the security checks, telling Sky News: 'The watch list, or the no-fly list, pinged and the individual was identified so that is a plus side that it worked.
'I wouldn't be as alarmed as some of the media headlines are about this individual and I would also take some comfort from this process is working and flagging people.'
It came amid fears that more than 1,000 heroic Afghan translators, staff and their families could be left behind by the frantic evacuation operation.
Ministers have outlined plans to extract a further 6,000 UK nationals and eligible Afghans, but sources said there were 7,000 who Britain would ideally like to rescue.   
The Home Office said yesterday a 'security assessment' of the individual who arrived in the UK revealed they were no longer considered a threat by the security or law enforcement agencies. Sources said there would be no further action taken against the person, whose nationality is unclear.
But the development raised concerns over security relating to the airlift.
That was the state of play on August 23.
On August 26, another report emerged, this time from The Telegraph. The British public will not find this reassuring:
The Twitter thread received comments of astonishment and concern, such as these:
The men coming across the English Channel are also unlikely to have their papers, creating one terrible mess in the months and years to come.
In closing, today's main story in the UK is that the British evacuation in Afghanistan will end this weekend:
Ben Wallace always maintained that some Afghans would be left behind. Where possible, more will be airlifted:
What a terrible ending after 20 years.
Parliament returns in early September. Both Houses will have a lot of questions for the Government.