You are currently browsing the tag archive for the 'Boris Johnson' tag.
In case anyone missed them, here are Parts 1, 2, 3 and 4 of this series about the British public's suspicion over the continuing coronavirus lockdown.
The June protests vexed Britons who were trying to do the right thing: staying at home and social distancing when outdoors.
All of a sudden, that flew out the window. Protesters had pride of place, yet, the rest of us still had to obey the social distancing guidelines.
That rankled, especially as we had been told we were selfish because we wanted to hug our loved ones who didn't live with us. Think of grandparents and grandchildren.
What about people who just needed to get outdoors in the fresh air by themselves?
What about children who longed to see their friends? This former barrister and co-editor of Conservative Woman nails it:
And what about the people who freaked out over a very limited reopening of schools on Monday, June 1?
What about the average law-abiding person?
Yes, those people are 'the problem'. We are made to feel guilty through no fault of our own.
The frustrating hypocrisy of it all:
Then we had Piers Morgan taking issue with Boris's top adviser for trying to care for his little boy and with Labour MP Barry Gardiner for attending the demonstrations. Yet, Piers applauded his own son for taking part in the protests:
But I digress.
There was no social distancing during the protests. In fact, some police officers in London were assaulted.
However, even though Health Secretary Matt Hancock advised that the rules be kept in place over the weekend of June 6 and 7:
… the lack of social distancing was acceptable:
It was for a cause.
Health 'experts' said so — 1,200 of them, in fact:
Tucker Carlson had an excellent editorial on this on Friday, June 5. Anyone complaining about social distancing and protests is 'the problem', not the protesters and rioters. Well worth a watch. You could not make this up:
But what about the people told to leave London parks because they were sunbathing by themselves? What about Piers Corbyn who was arrested twice for advocating against lockdown? Where were the Metropolitan Police during the protests? On hand, but either taking a knee or standing by doing nothing:
Boris didn't do anything, either. We have a Home Secretary. He could have got in touch with her.
This is what he issued on Saturday, June 6, the day of yet another protest in London over an American who died on home soil in Minneapolis, Minnesota:
'The evils of fascism'. Don't make me laugh, Prime Minister.
Things were no better in Northern Ireland …
… or Scotland, where thousands were expected to attend a protest on Glasgow Green:
The Labour leader, Sir Keir Starmer, was a bit slow on the riots. Didn't he know that American cities were being destroyed and shops across the country looted? President Trump never stopped peaceful assembly:
Anyway, there is some good news in all of this. More people in the public eye have noticed that continuing lockdown in the UK is a bad idea:
Unfortunately, a number of 'senior figures' from the NHS do not see it that way, primarily because of the close proximity of protesters in early June. That is not the fault of the British public and is likely to make them even angrier. They were not among the protesters. They are eager to get back to work.
In fact, said 'senior figures' will probably make the British public all the more suspicious about the protests. Were they timed to prevent lifting of lockdown? We'll never know.
In any event, this concludes this series with a few key points to keep in mind:
It's going to be a long, hot, tense summer here in the UK.
Before reading this, here are Parts 1, 2 and 3 of a series on coronavirus and lockdown.
It seems that the British silent majority were largely fine with obeying the rules that Boris Johnson's government set until the end of May.
By then, they began asking questions about the duration.
During the first two months of lockdown, they understood that the reasons were not to put too much pressure on the NHS.
However, as Boris and his ministers are taking only 'baby steps' (Boris's words) to release us, many wonder what the real plan is.
Rightly or wrongly, suspicion is rife:
There is also the question about the NHS and the need for treatment outside of COVID-19.
Those of us who watch the daily coronavirus briefings from the government can't help but notice the messaging, especially from Health Secretary Matt Hancock:
I missed this little titbit from the coronavirus briefing on Friday, June 5. Hancock said, 'As the NHS reopens'. Hmm:
Yet, Britons are still missing out on non-coronavirus NHS treatments that are urgent:
I couldn't agree more with this next observation from Prof Karol Sikora:
Then we have the unknown consequences of Big Data intrusions into our lives:
This is now climbing up the chain to stain Prime Minister Boris Johnson, the champion of his soi-disant 'Government of the People':
The goalposts have clearly shifted since Boris's stonking victory in December 2019:
Lockdown has now gone on too long:
Despite what the government and scientists say on the weekday coronavirus briefings, other statistics find their way through the established narrative:
Yet, part of the blame also lies with the proportion of the British public who are afraid of re-engaging with society the way they did before lockdown:
Those who are afraid can stay at home. Let the rest of us get back to real life.
This London Assembly member from the Brexit Party is spot on. Lockdown must end:
Social distancing will end up being a killer, too:
One hopes it doesn't come to this:
One wonders whether there is such a thing as conservatism any more:
Or is the WHO driving this? They must think we are stupid. Perhaps we are:
We will never be in a risk-free, virus-free world.
Ending on Boris, for now, this is something I missed. Then again, I don't listen to BBC Radio 4. Even if I had, I would have thought that Boris's father Stanley was voicing his own views, not his son's:
Boris is still better than his Labour counterparts — Jeremy Corbyn (then) and Keir Starmer (now).
However, his polling will take a dive unless he restores what he called the People's Government.
More tomorrow: coronavirus and the June riots.
See Parts 1 and 2 of this series before reading more about Britain's silent majority who are angry about lockdown.
At present, here we are, unable to shop, get our hair cut and must still practice two-metre social distancing. Masks are optional except on public transport:
Whether we are old or young, we are treated like dirt:
And what if this coronavirus were dirt, rather than a virus?
If that is true — and I'm not saying it is — what then?
It couldn't be, could it? After all, the First Minister of Northern Ireland, the DUP's Arlene Foster, has briefed the Queen on COVID-19:
But what about all the deaths in care homes and the lives lost?
What about people's businesses going to ground?
Thank goodness for the government's generous furlough, but …
And what about travel?
This is going to be dire:
No more on board delicious dining for you:
What if you cannot reasonably travel with a face covering?
What about everything else in life?
Who wants to live like that?
This is turning the apolitical into political activists:
Is this ever going to end?
If so, how?
Perhaps it is a giant reset.
After all, we are told this is (shudder) the 'new normal':
The 'new normal' could be green:
Didn't we all enjoy the bluer skies on those sunny May days? We could keep them. 'Fewer holidays for you', the government could say:
One does have to wonder about government advisors from the public sector:
These people do not encounter the everyday man or woman. They live in their own scientific, misanthropic bubble.
They do not care what happens to us. After all, they have a guaranteed salaries and gold-plated pensions.
To be continued next week.
See Part 1 in this series about the anger in Britain over lockdown.
One or two tweets below might have salty language. The rest do not.
There is much anger by a proportion of the population at the government:
MPs, except for one, are largely silent on the subject. Luckily, John Redwood has been an MP for decades. He might be our only hope:
Most are like Conservative MP Nadine Dorries, however. She was one of the first MPs to get coronavirus. Her aged mother, who also had it, helped her recover. I was sorry to see her tweet this:
Yesterday, I left off on masks. On Thursday, June 4, Transport Secretary Grant Shapps said they would be mandatory on all public transport in England. Health Secretary Matt Hancock repeated the order the following day:
Someone in the know saw this coming in April (never mind the reply):
This is so irrational. Earlier this year, the WHO advised against it:
Exactly.
I'm looking forward to the first lawsuit when someone is unable to breathe on public transport:
The above advice applies to England.
Wales, Northern Ireland and Scotland are on their own track.
However, Scotland is no better:
This is what they are doing in Singapore. Simon Dolan, incidentally, is suing the British government over lockdown. Good man:
It seems masks are only the beginning. In the UK, we haven't fully got off the ground with the track-and-trace app.
More from Simon Dolan about Singapore:
Track-and-trace is also getting up people's noses:
Then there's the R rate that SAGE and Chief Medical Officer Chris Whitty discuss daily on the coronavirus briefings:
But that's nothing compared to the wacky modelling from Imperial College's Prof Neil Ferguson which brought about lockdown:
Yet, at least one London hospital is ignoring masks and social distancing:
Shouldn't only the vulnerable be sheltered?
Picking up on the railway platform, here's the latest on international transport …
… and the latest on public conveniences:
Why doesn't any of this make sense?
Similar madness holds true for local buses:
Meanwhile, unlike protestors around the world complaining during coronavirus about the death of an American ex-convict thousands of miles away, when you're Piers Corbyn (pictured with the policewoman in a mask), an eccentric weather forecaster as well as the brother of the last Labour leader, and say that climate change is caused by the sun's activity and you're protesting lockdown with like-minded people, you can be arrested twice at Hyde Park in London:
The sheer hypocrisy of it all is mind boggling.
More tomorrow.
As we continue coronavirus lockdown in June 2020, Britain's silent majority is becoming increasingly angry.
Fortunately, they are venting online rather than mobbing in the streets.
Below is a lengthy selection of tweets about coronavirus, lockdown, the riots and more.
One or two have salty language but most do not.
This was the state of play on Wednesday, June 3:
This lady comforted a young woman who, understandably, doesn't know what to make of it all:
I fully agree with this perspective:
The protests spelled the end of social distancing for many of us:
We still obey it, largely out of consideration for our neighbours — and fear of a fine or worse:
Meanwhile, Prime Minister Boris Johnson said we might be welcoming up to 3 million Hong Kong refugees soon:
It's a great gesture but, first, something must be done about the boat people being escorted to our shores from France by our own Border Patrol:
On Thursday, June 4, Leader of the House Jacob Rees-Mogg took a question from an MP who asked when hairdressers would reopen:
On Friday, June 5, Ipsos MORI published a poll showing that although we were pretty angry about Boris and the government's handling of the pandemic, we still preferred him to the Labour's new leader Keir Starmer:
The Global Vaccine Summit was held the day before, albeit virtually:
This is what concerns me about Boris now. Had you told me this at the beginning of the year, I would have said, 'Never!' Yet, here we are. He's still better than Labour, though:
That day, the silent majority became restive.
We were deeply unhappy with London's Metropolitan Police's response to the riots:
We were angry when Health Secretary Matt Hancock told us in that afternoon's coronavirus briefing we would have to wear masks or some type of face covering on public transport:
To be continued tomorrow.
Throughout the coronavirus crisis, one name has popped up several times, that of Prof Michael Levitt, biophysicist and professor of structural biology at Stanford University in California.
In 2013, Prof Levitt was a joint winner of a Nobel Prize in Chemistry, along with Martin Karplus and Arieh Warshel, for 'the development of multiscale models for complex chemical systems'.
Levitt, 73, was born in Pretoria, South Africa, and is currently a citizen of the United Kingdom, Israel and the United States.
He holds degrees from King's College London and the University of Cambridge.
He has had a stellar career, receiving several distinguished scientific awards and scientific advisory board appointments in addition to his university professorships over the years.
He has had much to say about coronavirus.
On Monday, March 23, 2020, he gave an interview to the Los Angeles Times, with a prediction: 'Coronavirus outbreak may be over sooner than you think'.
The LAT said that he had been adopting a measured approach throughout the pandemic since January, refuting the wild and inaccurate overestimates from the likes of Prof Neil Ferguson of Imperial College London (emphases mine):
Michael Levitt, a Nobel laureate and Stanford biophysicist, began analyzing the number of COVID-19 cases worldwide in January and correctly calculated that China would get through the worst of its coronavirus outbreak long before many health experts had predicted.
Now he foresees a similar outcome in the United States and the rest of the world.
While many epidemiologists are warning of months, or even years, of massive social disruption and millions of deaths, Levitt says the data simply don't support such a dire scenario — especially in areas where reasonable social distancing measures are in place.
"What we need is to control the panic," he said. In the grand scheme, "we're going to be fine."
This is what he discovered about China's experience of the pandemic:
On Jan. 31, the country had 46 new deaths due to the novel coronavirus, compared with 42 new deaths the day before.
Although the number of daily deaths had increased, the rate of that increase had begun to ease off. In his view, the fact that new cases were being identified at a slower rate was more telling than the number of new cases itself. It was an early sign that the trajectory of the outbreak had shifted.
Think of the outbreak as a car racing down an open highway, he said. Although the car is still gaining speed, it's not accelerating as rapidly as before.
"This suggests that the rate of increase in the number of deaths will slow down even more over the next week," Levitt wrote in a report he sent to friends Feb. 1 that was widely shared on Chinese social media. And soon, he predicted, the number of deaths would be decreasing every day.
Three weeks later, Levitt told the China Daily News that the virus' rate of growth had peaked. He predicted that the total number of confirmed COVID-19 cases in China would end up around 80,000, with about 3,250 deaths.
This forecast turned out to be remarkably accurate: As of March 16, China had counted a total of 80,298 cases and 3,245 deaths — in a nation of nearly 1.4 billion people where roughly 10 million die every year. The number of newly diagnosed patients has dropped to around 25 a day, with no cases of community spread reported since Wednesday.
At that point, he moved on from China:
He analyzed data from 78 countries that reported more than 50 new cases of COVID-19 every day and sees "signs of recovery" in many of them. He's not focusing on the total number of cases in a country, but on the number of new cases identified every day — and, especially, on the change in that number from one day to the next.
"Numbers are still noisy, but there are clear signs of slowed growth."
On Tuesday, March 24, The Independent picked up on the article and had found another interview he had done for an Israeli financial newsletter on coronavirus modelling, in which he stated that he disagreed with the exponential growth formulae used in predictions, e.g. Ferguson's, although he mentioned no names:
In an interview with Calcalist, an Israeli financial newsletter, Mr Levitt explained why he didn't agree with models of exponential growth that many organisations were using as the basis of their predictions.
"In exponential growth models, you assume that new people can be infected every day, because you keep meeting new people. But, if you consider your own social circle, you basically meet the same people every day," he said. "You can meet new people on public transportation, for example; but even on the bus, after sometime most passengers will either be infected or immune."
He also thought that social distancing was a good idea:
Mr Levitt said that social distancing measures have been helpful in reducing the virus' ability to spread rapidly.
At this point, he was studying Italy's coronavirus numbers:
He suggested that the higher percentage of elderly people in Italy paired with the country's vibrant social culture resulted in the explosion of cases in that country.
"Furthermore, Italian culture is very warm and Italians have a very rich social life. For these reasons, it is important to keep people apart and prevent sick people from coming into contact with healthy people," he said.
He was rightly concerned with overloading health systems, including that of the United States:
"Currently, I am most worried about the US. It must isolate as many people as possible to buy time for preparations. Otherwise, it can end up in a situation where 20,000 infected people will descend on the nearest hospital at the same time and the healthcare system will collapse," he said.
However, while he recommended a brief lockdown as a stop-gap measure to flatten the sombrero, as it were, he also believed that the nations' populations were developing a natural, or herd, immunity to coronavirus:
Mr Levitt said that while isolating was an important step to fighting viral spread, he also believes a certain segment of the population may be naturally immune to the disease.
"We know China was under almost complete quarantine, people only left home to do crucial shopping and avoided contact with others. In Wuhan, which had the highest number of infection cases in the Hubei province, everyone had a chance of getting infected, but only 3 percent caught it," he said. "Even on the Diamond Princess [the quarantined cruise ship] the infection rate did not top 20 percent."
He said those numbers suggest that some people simply are immune or especially resistant to the virus.
It's quite possible that some of us can build up immunity to COVID-19, because the common cold is a type of coronavirus. I'm not equating the two by any means, just highlighting that the principle could well be the same. We might not need an expensive drug — or a vaccine with who knows what in it.
On May 2, Prof Levitt gave an interview to Britain's online magazine UnHerd, which is an excellent site. Freddie Sayers, the site's executive editor, conducted the interview, which is just under 35 minutes long, available below and at the accompanying article:
The aforementioned article explains Levitt's nuanced view of coronavirus. Lockdowns should be only short-term, or focussed on vulnerable groups, such as the elderly. Social distancing is important, but, even then, after a while people will ignore it. Therefore, some prior immunity or asymptomatic cases must factor in somewhere. Neil Ferguson's Imperial College numbers are misguided, because this is not about exponential growth.
An excerpt from the article follows:
His observation is a simple one: that in outbreak after outbreak of this disease, a similar mathematical pattern is observable regardless of government interventions. After around a two week exponential growth of cases (and, subsequently, deaths) some kind of break kicks in, and growth starts slowing down. The curve quickly becomes "sub-exponential".
This may seem like a technical distinction, but its implications are profound. The 'unmitigated' scenarios modelled by (among others) Imperial College, and which tilted governments across the world into drastic action, relied on a presumption of continued exponential growth — that with a consistent R number of significantly above 1 and a consistent death rate, very quickly the majority of the population would be infected and huge numbers of deaths would be recorded. But Professor Levitt's point is that that hasn't actually happened anywhere, even in countries that have been relatively lax in their responses.
He takes specific issue with the Neil Ferguson paper. "In a footnote to a table it said, assuming exponential growth of 15% for six days. Now I had looked at China and had never seen exponential growth that wasn't decaying rapidly."
The explanation for this flattening that we are used to is that social distancing and lockdowns have slowed the curve, but he is unconvinced. As he put it to me, in the subsequent examples to China of South Korea, Iran and Italy, "the beginning of the epidemics showed a slowing down and it was very hard for me to believe that those three countries could practise social distancing as well as China." He believes that both some degree of prior immunity and large numbers of asymptomatic cases are important factors.
He also observes that the total number of deaths we are seeing, in places as diverse as New York City, parts of England, parts of France and Northern Italy, all seem to level out at a very similar fraction of the total population. "Are they all practising equally good social distancing? I don't think so." He disagrees with Sir David Spiegelhalter's calculations that the totem is around one additional year of excess deaths, while (by adjusting to match the effects seen on the quarantined Diamond Princess cruise ship) he calculates that it is more like one month of excess death that is need before the virus peters out.
More generally, he complains that epidemiologists only seem to be called wrong if they underestimate deaths, and so there is an intrinsic bias towards caution. "They see their role as scaring people into doing something, and I understand that… but in my work, if I say a number is too small and I'm wrong, or too big and I'm wrong, both of those errors are the same."
He believes the much-discussed R0 is a faulty number, as it is meaningless without the time infectious alongside.
On May 23, the Telegraph had an article about Levitt: 'Lockdown saved no lives and may have cost them, Nobel Prize winner believes'.
Levitt had been in touch with Ferguson to tell him his numbers were (once again, as the British know) woefully out of whack:
Michael Levitt, a Stanford University professor who correctly predicted the initial trajectory of the pandemic, sent messages to Professor Neil Ferguson in March telling the influential government advisor he had over-estimated the potential death toll by "10 or 12 times".
The Imperial College professor's modelling, a major factor in the Government's apparent abandoning of a so-called herd-immunity policy, was part of an unnecessary "panic virus" which spread among global political leaders, Prof Levitt now tells the Telegraph.
Levitt told the Telegraph that he was no fan of a prolonged lockdown:
"I think lockdown saved no lives," said the scientist, who added that the Government should have encouraged Britons to wear masks and adhere to other forms of social distancing.
"I think it may have cost lives. It will have saved a few road accident lives – things like that – but social damage – domestic abuse, divorces, alcoholism – has been extreme. And then you have those who were not treated for other conditions."
Levitt nails it with his next observation. Politicians were terrified at the prospect of a high death toll if they did not implement lockdown:
"I think that the real virus was the panic virus," Prof Levitt told the Telegraph. "For reasons that were not clear to me, I think the leaders panicked and the people panicked and I think there was a huge lack of discussion."
Levitt believes that COVID-19 has a natural life cycle. Lockdown did little. The virus burned out by itself:
"In Europe, I don't think that anything actually stopped the virus other than some kind of burnout," he added. "There's a huge number of people who are asymptomatic so I would seriously imagine that by the time lockdown was finally introduced in the UK the virus was already widely spread. They could have just stayed open like Sweden by that stage and nothing would have happened."
Also:
"There is no doubt that you can stop an epidemic with lockdown but it's a very blunt and very medieval weapon and the epidemic could have been stopped just as effectively with other sensible measures (such as masks and other forms of social distancing)," he added.
Levitt thinks that the UK will have total deaths around 50,000, which looks quite possible. He's also drawn the ire of epidemiologists, yet his forecasts have been far more accurate than theirs:
"It turns out numbers are played out very consistently when you look at all the places that have been badly hit, particularly in Europe. The token number of deaths before things stop is about one month of natural deaths, which is something like one in a thousand."
Based on his estimates, Britain was due to suffer around 50,000 deaths in total. "A lot of things went wrong but I think the main thing is that we just needed to think and discuss things a little bit," he added. "I was told on numerous occasions 'you are not an epidemiologist, shut up'. I don't really care. I was just looking at the numbers. I was looking at the cruise ship, looking at Wuhan. The same number held for these places."
A few days before the Telegraph interview took place, an article comparing Levitt's spot-on numbers with Prof Neil Ferguson's off-piste ones appeared in The Critic: 'We're all in the big numbers now'.
As its author, Alistair Haimes, says, we are now in a place to begin studying UK coronavirus deaths and statistical curves.
This is how wrong, to be polite, Ferguson's Imperial College numbers were:
Imperial College haven't had a good war, and after their performance in other recent epidemics perhaps they will now pass their mantle onto another team.  Preferably one that can code to levels fit for publication, never mind policy: it is increasingly awkward to hear the Prime Minister quoting their forecast that, were it not for lockdown, the UK could have been looking at half a million deaths when, at the tail-end of the epidemic, there are only 320,000 deaths worldwide.
By contrast, we have Dr Levitt's accurate predictions, but no one wanted to know because Levitt is not an epidemiologist!
In mid-March, Stanford's Nobel laureate Michael Levitt (biophysicist and professor of structural biology) discussed the "natural experiment" of the Diamond Princess cruise ship, a virtually perfect sealed petri-dish disproportionately filled with the most susceptible age and health groups. Even here, despite the virus spreading uncontrolled onboard for at least two weeks, infection only reached 20% of passengers and crew (an "upper bound" to infection levels?); Levitt concluded that we must have high levels of innate immunity that can clear the virus. And using very simple mathematics (not "15,000 lines of uncommented code" like Neil Ferguson) he demonstrated that the virus's spread had never been exponential but rather has been running out of steam from day one. Who listened?
The end result is a death toll that is no worse than a bad influenza year:
If we simply move covid-19 deaths from spring to winter, the death-toll and the extent of the epidemic is put in the context of recent bad (but not dramatic) influenza years.
We have had bad flu years in the UK, and within the past two decades, but we didn't get hysterical about them:
Remember the killer flu of 2000, and the lockdown after the Millenium super-spreader events? Me neither. Covid-19 might not be "just flu", but that's because there's no "just" about flu.
According to the article, Sweden's no lockdown strategy was that of Britain's SAGE (Scientific Advisory Group for Emergencies) member and our Chief Scientific Adviser, Sir Patrick Vallance:
In Sweden, Professors Giesecke and Tegnell have managed the epidemic within Sweden's healthcare capacity without suspending civil liberties or shutting down schools or society (Sir Patrick Vallance's "Plan A"), with no greater death-toll than our own. The Free Swedes pointed out all along that lockdown would be much easier to get into than out of: no kidding, we're in an eel-trap.
We have no idea if the UK government looked at models that contradicted Ferguson's. Oxford University has more realistic models, but we paid attention to Ferguson's numbers from Imperial College. They have never been right for other pandemics, so why would he have been right about this one?
One thing the article omits is the media narrative that drove us to lockdown. Britain was going along with the Swedish model of social distancing, but the 24/7 news channels — BBC and Sky — ramped up Project Fear by asking why we didn't have a lockdown, too.
No doubt advisers put pressure on Prime Minister Boris Johnson, too, because everyone in that stratum of society, Boris included, will watch some BBC news every day. He probably already knew the narrative.
Hence, lockdown on the evening of Monday, March 23.
SAGE minutes actually state that the British public was so scared that they would comply:
SAGE minutes make it clear that the public was explicitly petrified in order to ensure compliance with lockdown.
Lockdown was a YUGE mistake socially and economically.
We are due to go through the worst economic disaster since the early 18th century. Years differ: 1704, 1706, 1708. Take your pick.
Questions must also be asked of Neil Ferguson. He ruined the farming industry with his past predictions. Now he's ruined not only the British economy, but, perhaps, others where leaders looked at his unrealistic extrapolations. (The United States comes to mind.)
One could be forgiven for thinking that Ferguson has an agenda of some sort. It certainly looks that way.
Boris, his government ministers and his advisers now have to get us out of this mess, sooner rather than later.
Boris's 'baby steps' won't cut it.
On Sunday, May 24, the Telegraph posted an article that brightened my day: 'Churches must be allowed to reopen, MPs demand in letter to PM'.
We haven't been able to attend church since the middle of March, which is also true for other houses of worship.
I am mystified as to why the House of Commons is able to social distance adequately, with alternate benches closed and designated seating, but religious leaders cannot be trusted to do the same in their places of worship.
Fortunately, 20 Conservative MPs wrote to Prime Minister Boris Johnson, expressing their incredulity that we can go to a supermarket but not to church (emphases mine):
Boris Johnson has been urged by a group of Conservative MPs to allow churches to open for prayer, weddings and funerals as soon as next month.
The 20 MPs, including former ministers and senior backbenchers, questioned why shoppers can go to a "busy supermarket" to buy food and drinks but worshippers in need of spiritual sustenance cannot currently pray in a largely empty church.
"Weddings (whether in the church porch or inside), christenings and other services are wanted; safely and soon", the MPs said. "Ten can gather in a crematorium yet one cannot be in a church."
The Government's Covid-19 recovery strategy published earlier this month put churches and other public places of worship in the same bracket as pubs and cinemas, and said that could not reopen until July 4 at the earliest.
It added that some of these venues may not be able to open even then because "it may prove difficult to enact distancing".
However, in a letter to the Prime Minister, a copy of which has been seen by The Telegraph, the MPs make clear that "many [of us] want further faster opening of churches and places of worship".
They said: "We ask for clear guidance, rules removed and discretion allowed as local faith leaders stay alert and make churches, chapels and places of prayer and worship available to the faithful. Everyone understands the value of appropriate social distancing and the obligation to avoid contamination" …
The letter was sent to Mr Johnson and his Parliamentary Private Secretary Andrew Bowie this weekend. It has been organised by Tory MP Sir Peter Bottomley. Other signatories include Tim Loughton and Sir Bob Neill as well as senior members of the influential backbench 1922 committee of Tory MPs such as the chairman Sir Graham Brady and executive officer Bob Blackman.
The group warned Mr Johnson that "the Cabinet and you know the strength of backbench feeling", and expressed concern that some places of worship might not even be able to open in July.
They said: "Even that may be extended by delay in publishing regulations, decisions by diocesan bishops and local circumstances.
Quoting a representative Catholic pastor, they tell Mr Johnson: "I ask you to put pressure on the Government for private prayer as soon as possible. Two-metre social distancing is easy (easier than in a supermarket) and sensible hygiene precautions can quickly be put in place.
"It seems odd that you can go for a walk, enter a busy supermarket, get on a bus, but cannot go to a large virtually-empty-for-much-of-the-time building."
They add: "We ask that our leaders, Government and church, especially the Church of England, together find reasonably safe ways to reopen our churches for prayer, for funerals even with limited congregations and for worship sooner than July."
That day, I heard an interview with the Archbishop of Canterbury on BBC News. He said he was more concerned about Mental Health Week at that time than reopening churches. It seemed an odd remark. Surely, church can help assuage mental health symptoms as those so afflicted can focus on faith, salvation and fellowship — especially during the coronavirus crisis:
At present, the Church of England has instructed clergy that they may go in to church to clean it — but not to pray! Daft.
The Archbishop of Canterbury films services in his kitchen:
However, the Bishop of London, the Right Revd Dame Sarah Mullally, a former nursing chief, disagrees …
… although she films sermons from her home:
Her flexible instruction, it seems, was a wise one, as some clergy were unhappy with Welby's wholesale closure:
Bishop Mullally, who was UK's chief nursing officer from 1999-2004, said priests could livestream services from within a church building if they could access it via an internal door from their home, or without leaving the curtilage of the church.
The Archbishop's wholesale ban upset priests who felt he does not have the right to order clergy who are answerable to their own bishops.
One said: "He's panicked and shut everything down," while another vicar who used Zoom to conduct a Palm Sunday for a 90-strong congregation and will do so again on Easter Sunday, said: "The whole situation is ridiculous".
That said, this Good Friday tweet appears to contradict that flexibility:
On Good Friday, London's St Bartholomew the Great filmed a service with priest and choir:
Hospital chapels are another area of contention, as this letter to the Times, from St Bartholomew's rector (shown in the above video), reveals. Click on the image to read the letter in full:
I like this priest. He's eager — and rightly so — to have his congregation return:
This is amazing (as in awful):
That brought another set of replies from a curate and a gentleman in Montreal:
I fully agree with the 'social service agency' sentiment.
The discussion returned to Mr Walker and a random Twitter user. This is great. I'm so glad the priest took this man on:
Excellent reply.
Whenever church opens, I hope there will be a new market for those who have begun praying at home — and perhaps watching online services — during the past several weeks:
Plans are already underway to work out methods for reopening London's Anglican churches whilst maintaining social distancing.
Last week, a number of essays and interviews about lockdown appeared in Britain.
There are still people who think that it can be lifted as quickly as it was imposed in so many countries. As we have seen across much of the Free World, as it used to be called, lifting lockdown must be done in stages, otherwise, we might have a second spike in coronavirus cases.
Here in the UK, Prime Minister Boris Johnson followed the Swedish model until the evening of Monday, March 23, when he announced lockdown.
Was it because of Professor Neil Ferguson's (dodgy) numbers? Was it media pressure as they asked daily for a lockdown 'like Germany, like Italy'? In time, we will find out why. Perhaps Boris did not want to be labelled a mass murderer, as he surely would have, if he did not succumb.
Here are the British fatality figures from COVID-19 compared with other pandemics over the past 112 years: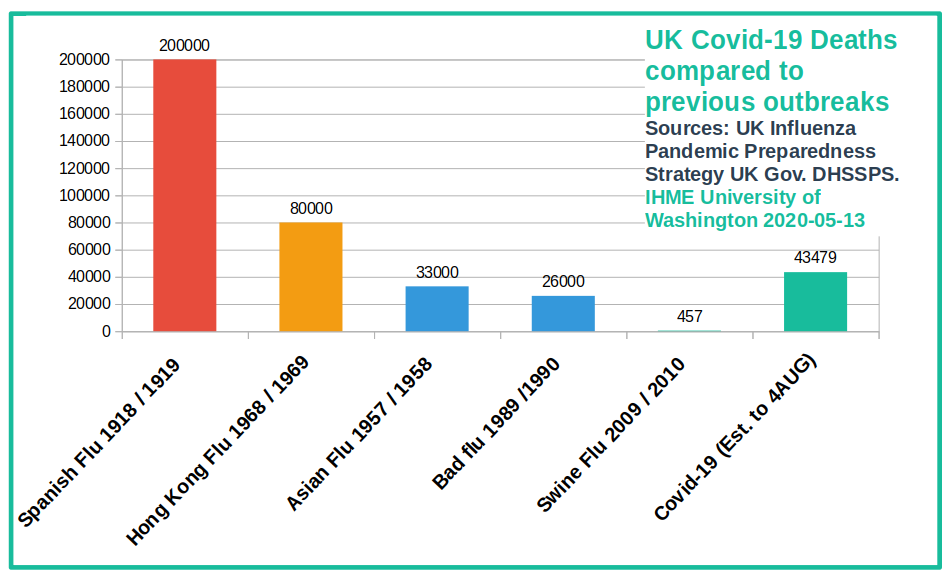 Did we lockdown in 1918 and 1919 for the Spanish Flu with 200,000 deaths when our population was smaller? No.
Did we do it for the Hong Kong flu in 1968 and 1969 with 80,000 deaths, again when the population was smaller than today? No.
Therefore, it makes little sense that we did so in 2020 with a larger UK population and 43,479 projected deaths.
Lionel Shriver, an American author (We Need to Talk about Kevin), who lives in the UK, provides current worldwide death statistics from other causes in 'This is not a natural disaster, but a manmade one', which she wrote for The Spectator on May 16. Emphases mine below:
For maintaining a precious sense of proportion, check out some other annual global fatalities: influenza, up to 650,000. Typhoid fever, up to 160,000. Cholera, up to 140,000. Malaria, 620,000 in 2017, almost all in Africa (so who cares, right?). In 2018, tuberculosis, developing treacherous antibiotic resistance, killed 1.5 million people. Why haven't we closed down the whole world for TB?
I couldn't agree more.
She expresses my deepest reservations here:
I am steeped in dread. I foresee months, if not years, of inane gesturing towards 'safety' that makes no appreciable difference to the nation's health, but does manage to 1) ruin everyone's enjoyment; 2) perpetuate the socially poisonous notion that one's neighbour is a threat to one's very life; 3) maintain an atmosphere of the extraordinary, in which the state may violate civil rights at will; 4) lay waste to what little might otherwise have remained of this country's economy. The lockdown has been bad enough. Post-lockdown could be worse.
Shriver understands. Forget 'science', this will be the reality:
With narrow profit margins, restaurants can't survive serving a fraction of their previous clientele. Half of all UK pubs are already kaput, and the other half will soon go under if lone customers self-isolate over their drinks like sullen alcoholics. Plenty of manufacturing won't function with employees so far apart. The arts are finished.
What she says about London is bang on the button:
West End theatres with audiences a third their former size will close. The Albert Hall is also looking at social-distancing bankruptcy, as well as considering the banning of intervals because the loos will have to be shut (sounds relaxing). The Royal Opera House's streaming of Swan Lake without a live audience makes no money.
Oh, and transport! In London, social distancing is expected to reduce Tube passenger numbers by 90 per cent. Five million people daily ride the Tube, or used to, so how are the other 4.5 million meant to get around? By bicycle. Right. Now, I can assure you that pre-Covid it was already a nightmare to cycle in the capital, as chocka with two-wheelers as the old Shanghai. But forget buses, allowed to carry 15 per cent of their previous ridership. We're told that to get into a sparsely populated lift, we may have to make a reservation on an app. But never fear. I guess we could always throw ourselves off the balcony instead. Why, with the masky, glovey, get-away-from-me future we're all facing, taking that shortest route to the pavement starts to appeal.
Then there is the 14-day quarantine of incoming air passengers from other countries. France is implementing the same policy and, oddly, the French think it's a good idea:
Worst of all, lest some sector somewhere still struggles back to solvency, we'll now order air passengers from abroad to 'quarantine' for a solid fortnight straight off the plane. Because passengers can promise to quarantine themselves in a particular location, this policy comes with obvious enforcement problems. Quarantines will either be roundly ignored (so what's the point?), or they'll require extravagant police resources to keep rapping on doors to ensure some visiting Canadian didn't nip out for a litre of milk. What this policy is guaranteed to achieve is the total devastation of both the British tourist industry and British airlines, especially since the business travel on which aviation depends will evaporate.
On Sunday, May 17, The Spectator posted another article: Claire Fox's 'My fears about the "new normal"'. It explores how we are beginning to view the return to freedom in England during our partial lockdown lift as well as at the resistance to lockdown lifting:
The present lifting of restrictions – despite being mild to the point of mealy-mouthed – is opposed with similar howls of caution; each minor freedom we are granted is treated as a dangerous act of rashness. This approach indicates a deeper estrangement from freedom than merely a pragmatic shrug of acceptance of short-term measures.
In this context, I fear that the 'new normal' will involve a new attitude to freedom. Already, culturally, you can feel a shift. I find myself grateful to be given access to public parks, to be allowed to take more exercise (when normally I would take none). Going to the shop for a non-essential birthday present last week, I was as furtive as a would-be criminal. And in all the discussions on post-Covid life, basic freedoms are treated as something that we need permission for: a piecemeal, rules-based, government allowance, handed down and punitively policed if we dare over-step the mark, whether it is by a clandestine meeting with mates or a sly assignation with a lover.
The left are more worried about lifting lockdown than conservatives are. Who gets nearly all the media attention? The left.
Fox rightly points out that we are going to have to wean ourselves off the overriding concern over COVID-19 deaths and start looking at what else has been going on in our society over the past two months: serious health conditions and suicide among them.
The tension between the left and conservatives reveals how each group views God-given liberties, which Western governments are supposed to defend. Instead, we are now experiencing discussions in the media about freedom versus safety. Fox says:
My nervousness is that for many the value du jour is safety rather than freedom.
The state's role in keeping its citizens safe has historically created familiar tensions in weighing freedom versus security. Most recently, civil liberties activists internationally raised concerns that policies introduced to keep people safe from the threat of jihadi terrorism have resulted in widescale illiberal incursions into the rule of law, privacy and free expression. But in dealing with Covid, there's an added element. When those who resist lifting lockdown cite what-if doomsday scenarios, they posit freedom itself as the enemy of safety: liberty itself is presented as threatening lives …
Is it really such a stark choice as: dead or safe? Alive or free? In fact, we owe our own freedoms to others who put their safety and lives on the line. Every freedom fighter – whether Hong Kong democracy activists, Kurdish fighters who defeated Isis, or those we remembered on the VE Day anniversary – all took on totalitarian states and risked their lives and safety in the fight for free societies.
…reorganising life around safety as an end goal feeds on subjective, free-floating feelings of insecurity and can rob us of the confidence to live free lives. And that is my greatest dread: that we lose the habit of living freedom. Like the apocryphal released prisoner who misses the routine and security of jail so much that he contrives to be re-arrested, is there a danger that we become institutionalised into withdrawing from the undoubted demands that freedom makes of us?
The government has made physical exercise almost mandatory during this lockdown. But freedom, too, is a muscle that needs to be exercised, or it will atrophy. But exercising freedom is no easy ride, and can be as painful metaphysically as the most strenuous workout. To exercise our freedom as autonomous citizens we have to make difficult decisions, use our judgement, live with the uncertainty of knowing there are no preordained outcomes. It's a risky business: we will invariably make mistakes that we'll be held responsible for; we will sometimes take the wrong road and have to live with the consequences, with no-one to blame but ourselves. Relieved of many of these dilemmas during this extraordinary period of having our liberty curtailed, it is perhaps understandable that many of us rather dread entering the fray of freedom.
Several weeks ago, I saw a BBC interview of a Chinese family coming out of lockdown. The mother said that they valued a draconian lockdown because the State was protecting their health. She said that safety trumped liberty (as much as can be had in China). How soon will it be until we have a sizeable number of Britons saying the same thing?
But who wants to be cooped up — accomplished in a five-minute announcement on television — when it robs our lives of meaning?
Fox concludes:
So if we are to have a 'new normal', can it aim to embed within it freedom's historic role as a virtue worth dying for, and make its clarion call the joyous rewards of a free society that makes life worth living. Being able to love who we want; read, write and think what we want; associate with who we want; vote for what we want – all this and so much more allows us to be agents of our own destiny, to write our own life story rather than being bit part characters in someone else's story.
If the Covid narrative insists on a new normal, let's ensure the script contains Goethe's quote that 'freedom and life are earned by those alone who conquer them each day anew'. Despite the grim tragedy of recent months, we need to make freedom central to the Covid storyline to ensure that there's at least some chance of a happy ending to this tragedy.
On May 17, the BBC interviewed a retired Justice of the Supreme Court, Lord Sumption, who offered similar, salient arguments against lockdown, which he said should be lifted now, as there is no need for it. He said that he has been obeying lockdown rules, because the law obliges it, but, if the pubs were open — even crowded ones — he would go to one. Similarly, he said, if theatres were open, he would attend a performance. He spoke of the many negatives of lockdown to health and civil liberties. At the end, the interviewer asked him what he had been doing during lockdown. He replied that he would not say because he did not want to be verbally attacked by the BBC!
This is definitely worth watching (eight minutes in length):
There was a time, back in early March, when I thought the Conservatives were on our side.
I hope I am wrong in doubting them. We'll see what happens in the weeks to come.
On Sunday, May 10, Prime Minister Boris Johnson addressed the British public, giving them an update on the coronavirus lockdown.
More widespread testing has been in place since April. Thousands of new positive cases are appearing every day, thanks to the expanded testing system.
The devolved nations — Wales, Scotland and Northern Ireland — are testing at variable rates. According to charts that Guido Fawkes posted on May 11, Northern Ireland is far and away have the best testing rates (emphases in the original):
Using data from the regional public health authorities published on May 9 it would seem that Northern Ireland is way ahead of the other regions, it was testing at 10 times the rate of Scotland, which is testing at the lowest rate. England is testing for Covid at more than double the rate of Scotland…
How successful have the measures to reduce the number of cases been – when adjusted for population size? Wales had substantially more new cases compared to the other regions.
It is clear from the official figures that Scotland and Wales are doing less well when it comes to testing as well as suppressing the number of new cases.
It is clear that the coronavirus is still circulating, although less than before.
The British government is working with the devolved nations to implement pandemic policies that are largely uniform across the UK.
Boris's announcement on Sunday and press conference on Monday pertain to England.
Very little will change, other than that people who have not previously been working in essential industry sectors have been told they may return to work, provided they are healthy and can provide for child care, where necessary, and that the workplace is COVID-19 safe.
Those returning to work are advised to avoid public transport because of social distancing issues. Those who do need to use public transport have been encouraged to wear some sort of face covering over the nose and mouth.
Childcare in the home can resume, as can cleaning by a third party, provided social distancing can take place.
Grandparents and other relatives living outside the household must not visit family members inside the home.
One may visit one's parents outside their homes, provided there is social distancing. However, one cannot visit one's mother and father at the same time. One must pay a separate visit to one's mother, e.g. in the morning, and one's father later in the day.
This is quite absurd, but the government is 'following the science' from SAGE (Scientific Advisory Group for Emergencies).
More sports venues for exercise — golf courses, basketball courts, tennis courts — opened on Wednesday, May 13, with social distancing rules in place. Those in the same household may avail themselves of these venues at present.
Garden centres were allowed to reopen on Wednesday, May 13.
Further restrictions will be lifted when the R number reduces, but that will not be until June.
Any further lifting — encompassing beauty salons, barbers and hospitality — will not begin until July, provided R is where it should be.
Boris emphasised several times that re-opening various sectors is conditional. The dates are subject to change.
These are the updated messages from Sunday, May 10:
Essential home repairs from a workman, e.g. a plumber, can continue to go ahead as before. However, it would appear that non-essential work done by a third party inside one's home — nice-to-have painting and decorating — must wait.
These were the messages from the daily briefing, led by the Prime Minister, on Monday, May 11:
I found the FAQs on this new lockdown stage more useful than the main government document itself.
SAGE, advising the Prime Minister, are treating us as if we are lab rats.
That said, the PM agreed to lockdown and getting us out of it is one heck of a lot harder than it was getting us into it.
This is one of the worst social experiments of all time.
I know that Britain was far from being the only nation to go into coronavirus lockdown, but this will have lasting damage far beyond the lifespan of COVID-19.
We have been deprived of family, work and worship: the three pillars of Western society.
Pray God deliver us from evil.
Florence Nightingale was born 200 years ago on May 12, 1820, in Tuscany, where her parents were on holiday.
As Prime Minister Boris Johnson tells us in this fascinating three-minute video, she became the mother of modern nursing during the Crimean War and trained other women to become 'ministering angels'. Newly-qualified American nurses still recite the Nightingale Pledge. India gives a Florence Nightingale Award to a deserving nurse every year. An asteroid bears her name, as does a Dutch airliner:
It is only fitting that our (now mothballed) temporary hospitals for coronavirus patients in England bear her name.
Boris also paid tribute to the excellent care that today's nurses, men and women, provide to patients in their care. Therefore, it is also fitting that Florence Nightingale's birthday is International Nurses Day.
It is worth pointing out that the key to successful nursing, as Florence Nightingale discovered early on, is personal hygiene, both for themselves and for their patients.
Therefore, we can apply a few lessons from her work to ourselves at home: washing our hands and staying clean. It's an enduring message from an extraordinary woman.