You are currently browsing the tag archive for the 'Boris Johnson' tag.
When Boris Johnson won the December 2019 general election, the Conservative theme of which was 'Get Brexit Done', he said that he was grateful for the votes from former Labour constituencies, noting that those votes were 'on loan' to his party.
How true and how wise of him to recognise that, a gift which gave him a stonking majority of 80, the highest for the Conservatives in 33 years.
Boris was Prime Minister prior to that election, having been elected as Conservative Party leader in July that year after Theresa May's resignation.
He should have known the knives would be out for him. He had unsuccessfully tried to prorogue Parliament that September. He ended up having to apologise to the Queen after Baroness Hale, she of the spider brooch and a Remainer, ruled against it.
With all that in mind, one would have thought that Boris could be more aware of the optics surrounding his premiership moving forward. Remainers — the Left and the media — have had a beady eye on him and Downing Street.
Boris's majority is now 74: whip withdrawn from three MPs, two by-election losses to the Liberal Democrats (Chesham and Amersham, North Shropshire), one win from Labour in Hartlepool last year and one defection (Christian Wakeford).
Furthermore, it is worth noting that Boris's resounding popularity with the public (until recently) is not reflected in the parliamentary Conservative Party.
Unlike Labour, the Conservatives do not hesitate to depose their leader. They got rid of Margaret Thatcher in the autumn of 1990. The 'wets' she so roundly criticised for their lack of political backbone proved they had spines after all.
Therefore, a Conservative Prime Minister faces threats from without and within.
The Opposition and the media want the UK to re-enter the European Union. The Conservatives have disgruntled candidates, past and present, who want to lead the party in a more conventional, less maverick, style. None of these groups is friendly to Boris Johnson's premiership and would love nothing more than to see it brought down.
On Friday, January 14, 2022, the veteran journalist and author Charles Moore wrote a perceptive column for The Telegraph on Boris's travails with lockdown parties: 'For all his faults, there is no other Tory politician who has Boris Johnson's political reach'.
Moore's editorial appeared two days after Boris apologised at the beginning of PMQs (Prime Minister's Questions). He said (emphases mine):
Mr Speaker, I want to apologise. I know that millions of people across this country have made extraordinary sacrifices over the last 18 months. I know the anguish that they have been through, unable to mourn their relatives and unable to live their lives as they want or to do the things they love. I know the rage they feel with me and with the Government I lead when they think that in Downing Street itself the rules are not being properly followed by the people who make the rules.
Though I cannot anticipate the conclusions of the current inquiry, I have learned enough to know that there were things that we simply did not get right, and I must take responsibility. No. 10 is a big department, with the garden as an extension of the office, which has been in constant use because of the role of fresh air in stopping the virus. When I went into that garden just after 6 o'clock on 20 May 2020, to thank groups of staff before going back into my office 25 minutes later to continue working, I believed implicitly that this was a work event, but with hindsight, I should have sent everyone back inside. I should have found some other way to thank them, and I should have recognised that even if it could be said technically to fall within the guidance, there would be millions and millions of people who simply would not see it that way—people who suffered terribly, people who were forbidden from meeting loved ones at all, inside or outside—and to them, and to this House, I offer my heartfelt apologies. All I ask is that Sue Gray be allowed to complete her inquiry into that day and several others, so that the full facts can be established. I will of course come back to this House and make a statement.
Sue Gray, an eminent civil servant, is still investigating the May 20, 2020 gathering and several others held in Downing Street during the lockdown periods in England. She could be some time.
On January 12, Opposition leaders and MPs piled on Boris. To an extent, I agree with them. Boris set the rules. Boris gave us the rules, either by himself or through his ministers, on television during the coronavirus briefings. Now he says he was unaware of them or should have been more mindful of them?
However, Downing Street is also a Crown property, meaning that it is exempt from certain laws that apply elsewhere across the country.
That said, the Queen scrupulously abided by the coronavirus restrictions during her husband's funeral in April 2021. She sat alone. She was masked. It was tragic to see.
Yet, the overall design of the demands for Boris to resign over the parties — remember, he is still innocent until proven guilty — is to banjax Brexit and get rid of his attempts to make Britain a better place to live. This includes the expiry of most of the remaining Plan B coronavirus restrictions, on schedule for January 26, 2022. Their expiry puts the UK on course to be the freest Western nation in this regard.
Moving on to Charles Moore's editorial on the parties, the eminent journalist asks:
… I wonder, once the righteous anger had passed, how good it would feel for the country if the head of government had been ejected on this issue.
We may now be moving nearer to normality in relation to Covid-19. The Government, which was too draconian earlier on, now seems broadly on the right track, pushing back against scientists and social engineers in love with semi-permanent lockdown. Isn't it better to stick to this course, without the self-indulgence of political convulsion? The international comparisons are quite favourable to Britain. We are not facing the collapse of the Government's main policy. If anything, we are beginning to see its success.
Then there is the question as to how the news about these parties leaked from No. 10 or elsewhere. Boris's former adviser, Dominic Cummings, is behaving like a vengeful jilted lover, referring to the Prime Minister as 'the trolley', careering all around the place. Does he bear any responsibility for these leaks? We should be told.
Of Cummings, Moore says:
I have a lot of sympathy with Dominic Cummings's frustrations with Boris when he worked for him in Downing Street, but none with his attempt to prove him unfit for office by waging a continuous media campaign. 
If the two fell out, there will be fault on both sides, but the benefit of the doubt must go to the executive who is elected, not to the adviser who no longer advises.
As for sitting MPs railing against Boris, Moore says they represented the party when they ran for office; in most cases, they were not elected on their personal merit.
Moore was not to know of Christian Wakeford's crossing the aisle just before PMQs on Wednesday, January 19. Wakeford sat right behind Keir Starmer, in full view of Boris.
Bury South, Wakeford's Red Wall constituency, now has a Labour MP, with no say from his voters about this.
Moore says:
In the age of Twitter, many MPs seem to think they are in Parliament because of their own sturdy independent-mindedness and bear no responsibility to the collective.
Actually, no. Almost all of them are there because of the party label they hold – the regiment, if you like, in which they have chosen to serve. They need to understand that the regiment will come under constant attack, and they cannot survive individually if they crumple under each bombardment.
Until Wakeford's defection, which is a serious matter in the House of Commons, a growing group of Conservative MPs were moving actively against Boris, especially through writing letters to Sir Graham Brady, head of the 1922 Committee. If he receives 54 letters against Boris, he can hold a vote of no confidence. Fortunately, Wakeford's perfidious crossing the aisle was so shocking that those MPs have settled down, deciding to lie low for the time being. It is rumoured that some have since withdrawn their letters to the 1922 Committee.
Moore recaps Boris's political history from the time he served two terms as Mayor of London, a job he performed admirably. Boris has had similar successes since then, including being the face of the Brexit referendum in 2016:
For all Boris's evident faults – so evident that Conservative MPs knew most of them when they chose him – his record of advancing his party is almost unspotted. Twice managing to become Mayor of London – a very unTory city – he then won the EU referendum, thus accumulating the electoral capital to lead his party when Mrs May failed. He won a commanding majority at the ensuing general election on the proposition that he would get Brexit done and crush Jeremy Corbyn's Labour Party. The May era proved that no one else could do that.
I realise that gratitude is not a strong emotion in politics, and the polls are bad now, but Tory MPs should at least recognise that such skills are not easily replicated. The leading contenders if Boris falls – Rishi Sunak, Liz Truss and Michael Gove – are all able politicians, but none has exhibited anything like Boris's reach. This man has come close to political death before – when Michael Gove denounced him after the referendum and when he failed as Foreign Secretary.
He has also come close to actual death – when he got Covid in the early days of the plague. But he has a way of surviving and reviving. These skills deserve respect from the party he leads. If they try to kick him out, they create a definite split for an indefinite benefit, possibly provoking the third general election in five years. Who needs that?
Precisely. There is no other leader who has the reach with the general public like Boris Johnson.
It will take some time for Boris to recover. This will be as difficult for him as recovering from coronavirus was in the Spring of 2020. It seemed to take him several months, even if he said otherwise that year. He looked and sounded tired and worn down for a long time.
The same will hold true now. The public didn't mind when Boris tried to unconventionally foil opposition to Brexit, because we knew he was fighting on our behalf.
However, these parties took place at a time when we could not see other family members outside of our homes. We could not visit relatives in care homes. We could not be with them in hospital for any reason. We could not even get into some Accident & Emergency wards for urgent care. We were deprived of Christmas and other religious celebrations. We could not get married. We could not bury with the comfort of family around us. We could not sit on the grass in the park to soak up warm sunshine in May 2020. We couldn't even sit on a park bench. Nor could we speak out against these restrictions or the 'science' behind them. We were ordered to stay at home and stay away from the workplace in order to save lives. We were constantly warned about 'killing Granny', a disgusting proposition and accusation.
The Government and advisers took us for fools, as if we were brainless. It is therefore amazing that we have the ability to hold down jobs and pay their overly inflated salaries and pensions. Then, at the end of last year, we found out that some of those advisers received New Year's Honours for stopping us from living life in the way God intended, in a free society. It all stinks to high heaven.
Therefore, it is appalling to discover that, while we were cooped up at home, Downing Street was holding these parties.
Boris has betrayed the public the way he betrayed his wives. It was callous and cruel, in the same way that marital infidelity is.
That is what angers the public. Boris turned against us. How does a betrayed wife ever trust her husband again? This is what Boris will have to work on with us, 'straining every sinew', to borrow a favourite, albeit silly, Conservative turn of phrase.
Still, with all that in mind, we must keep in mind Charles Moore's warning. If Boris goes, Brexit could be in trouble. Don't believe Labour when they say that Brexit is a 'done deal' and they won't try to reverse it:
One must ask who stands to benefit from the blond defenestration being talked of. Lord Adonis, the Remainer whose frankness is so helpful to the other side, tweeted this week: "If Boris goes, Brexit goes." That is the idea. That is the constant motivation of a minority of unreconciled Tory MPs and a majority of the Great and the Good in the Civil Service, academia, the law, the House of Lords and the BBC, which is carefully managing this current story for the political effect it has always wanted.
Christian Wakeford is sure he's done the right thing by moving to the Opposition benches, sidling up to Labour without a by-election. It will be interesting to see what his Jewish constituents make of his new alliance with an anti-Semitic party, supposedly cleaned up now. It will be just as interesting to see who the Labour candidate for Bury South is at the next general election. I won't be putting any money on Wakeford's selection.
What we need now is patience, watching Boris like a hawk in the coming months — especially with local elections this May — but giving him the space to repent through his actions by returning to One Nation Conservativism.
On Friday, January 7, 2022, Nigel Farage wrote an editorial for The Telegraph: 'A revolt on the Right is brewing — and I'm ready to be part of it'.
Boris Johnson should be afraid, very afraid.
Nigel Farage's hour-long shows on GB News, broadcast every Monday through Thursday have examined every failing from Boris's Government. His audience ratings are excellent and I know people who will schedule their time in order to be able to watch it.
Farage is currently president of the Reform Party, which used to be the Brexit Party and, prior to that, UKIP. Businessman Richard Tice is the public face of the Reform Party.
This constant renaming is all a bit tiring, yet necessary.
In his editorial, Farage describes past general election campaigns and says that former Labour supporters have been voting either for his party or, most recently in 2019, for the Conservatives, therefore:
Once the generational link with the Labour Party was broken, switching became easy.
He then goes into a litany of Boris's failings, which, despite what No. 10 thinks, are important to a sizeable number of people who voted Conservative in 2019, especially those in Red Wall constituencies that Labour lost that year (emphases mine):
People lent their vote to Johnson in 2019 to break the Brexit logjam and to take back control of our borders because the immigration issue still matters to them. Yet just two years on, the volume of illegal Channel crossings has enraged these voters. The North East now houses 17 times as many asylum seekers as the South East, according to the Migration Observatory. The impact of this is plain for all to see. As the council house waiting list lengthens, there is a growing feeling that Johnson told voters what they wanted to hear about "taking back control" without really meaning it.

Such perceptions are electorally disastrous for any prime minister. Yet there is potentially an even bigger problem on the horizon. This year's massively increased gas and electricity bills are going to cause an enormous shock. Worse still, these large bills will coincide with tax rises. If Richard Tice can get the message through that 25 per cent of people's electricity bills is spent on green subsidies – and that the 5 per cent VAT energy rate has, despite promises, not been removed – then Reform UK will have its big chance.
The revolt on the Right ended the premierships of David Cameron and Theresa May. I founded Reform UK out of the Brexit Party, which had done its job successfully. For now, I am the party's president in a non-executive role, but I intend to increase the help that I'm giving to Richard Tice. Brexit has not been completed properly. The net zero strategy is placing our nation at a significant disadvantage. And the Channel crossings are humiliating Britain. 
I understand the disillusionment of Red Wall voters who thought Brexit would usher in a new politics. This has not happened. It's just more of the same – a metropolitan Tory chumocracy totally detached from the rest of the country. If Johnson wakes up to this, he can still save himself. I suspect, however, that the revolt on the right will cause another prime ministerial casualty.
Despite the old-style Conservative 'chumocracy', many of the Red Wall Conservative MPs are cut from different cloth. Most of them grew up in humbler circumstances and feel conservative to the depths of their being. They are actively interested in their constituencies and their constituents.
That is something Conservative-voting defectors to Reform should consider.
I enjoy watching Nigel Farage. He always brings up some new fact of which I was unaware.
However, the Reform Party is a spoiler party. I will be furious if, when the next election comes, Reform start sapping votes from the Conservatives, thereby returning Red Wall seats to Labour.
I do wonder on what side of the fence Reform actually sits. They make legitimate points but they have no chance at all in winning a seat in Parliament.
The most we can hope for is that Farage gets under Boris's skin so much that he will actually start acting like the Conservative Prime Minister most of England elected.
England had a relatively better coronavirus Christmas season than Wales or Scotland.
Prime Minister Boris Johnson decided against moving from the current Plan B restrictions, in place until January 26, 2022, to Plan C, which would have resembled the approach our socialist mainland neighbours have imposed on their residents.
As such, a number of Scots visited Newcastle and Carlisle to celebrate Hogmanay, the last day of the old year: New Year's Eve. The Scots celebrate through to January 2, an annual bank holiday there. Edinburgh has the best Hogmanay celebrations, but First Minister Nicola Sturgeon cancelled them this year.
The Welsh also journeyed across the border to England to ring in the New Year.
We were happy to have both nations share in our fun.
On January 2, The Sunday Times reported (emphases mine):
Several hours before the famous new year countdown in Times Square, New York, young Scottish revellers were counting down the seconds to midnight at bars in Times Square, Newcastle.
Party-goers fled Scotland, where nightclubs were shut and tougher socialising restrictions were in place, desperate for a big blowout. In the west of England, a similar exodus of young people from Wales boosted the numbers of clubbers in Chester, Bristol and other towns and cities across the border.
In the late afternoon on New Year's Eve, groups of friends spilled out of Newcastle station, dragging wheelie cases behind them, girls freshly spray-tanned, hair in rollers, and boys clutching plastic bags full of cans.
One, with his arms around the shoulders of a group of friends, declared they were here for "a party". Hailing from towns and cities across Scotland, most were in their late teens and early twenties. Many had spent successive birthdays in lockdown and were not prepared to do the same for a second New Year's Eve.
While the UK government had allowed new year celebrations to continue, Scotland's first minister, Nicola Sturgeon, ordered nightclubs to shut for three weeks to limit the spread of the Omicron variant, and Edinburgh's world-famous Hogmanay celebrations were cancelled.
"It's boring in Scotland, all the nightclubs are shut — what are we going to do in Scotland?" said Brian, 25, from Edinburgh. Lily Owen, 19, a student from Edinburgh, was visiting Newcastle for the first time with a group of friends. "There's clubs here, it's open, it's a no-brainer: we're going to go," she said.
Aimee Stuart, 22, had also come to England with friends, "because Nicola Sturgeon has banned us from going out". They had paid about £200 each for the trip — and they were not worried about Covid. "I've just had it, so it's fine," Stuart said. "And we're all double-vaccinated."
It has been interesting to note how the media narrative is beginning to change from a pro-restriction one to a more Swedish-style one.
On January 2, news emerged that epidemiologist Prof Mark Woolhouse OBE from the University of Edinburgh once again advocated a Swedish-style approach, which he had done in September 2020.
The Guardian obtained excerpts from Woolhouse's forthcoming book, The Year the World Went Mad: A Scientific Memoir, and published them:
Rather than imposing blanket lockdowns across the nation, the government should have adopted measures designed to make contacts safe, Woolhouse maintains. "You can see from the UK data that people were reducing their contacts with each other as cases rose and before lockdown was imposed. That, coupled with Covid-safe measures, such as masks and testing, would have been sufficient to control spread."
Largely voluntary behaviour change worked in Sweden and it should have been allowed to progress in the UK, argues Woolhouse. Instead, we plumped for an enforced national lockdown, in part because, for the first time in history, we could. Enough business is now done online to allow large parts of society to function fairly well – through video conferences and online shopping. "But it was a lazy solution to a novel coronavirus epidemic, as well as a hugely damaging one," he adds.
However, Woolhouse is at pains to reject the ideas of those who advocated the complete opening up of society, including academics who backed the Barrington Declaration which proposed the Covid-19 virus be allowed to circulate until enough people had been infected to achieve herd immunity.
"This would have led to an epidemic far larger than the one we eventually experienced in 2020," says Woolhouse. "It also lacked a convincing plan for adequately protecting the more vulnerable members of society, the elderly and those who are immuno-compromised."
Instead, the country should have put far more effort into protecting the vulnerable. Well over 30,000 people died of Covid-19 in Britain's care homes. On average, each home got an extra £250,000 from the government to protect against the virus, he calculates. "Much more should have been spent on providing protection for care homes," says Woolhouse, who also castigates the government for offering nothing more than a letter telling those shielding elderly parents and other vulnerable individuals in their own homes to take precautions.
The nation could have spent several thousand pounds per household on provision of routine testing and in helping to implement Covid-safe measures for those shielding others and that would still have amounted to a small fraction of the £300bn we eventually spent on our pandemic response, he argues. Indeed, Woolhouse is particularly disdainful of the neglect of "shielders", such as care home workers and informal carers. "These people stood between the vulnerable and the virus but, for most of 2020, they got minimal recognition and received no help."
Britain spent a fortune on suppressing the virus and will still be servicing the debt incurred for generations to come, he adds. "By contrast, we spent almost nothing on protecting the vulnerable in the community. We should and could have invested in both suppression and protection. We effectively chose just one."
And Woolhouse is emphatic that further lockdowns are not the way to deal with future waves of Covid-19. "Lockdowns aren't a public health policy. They signify a failure of public health policy," he states.
Instead, the country needs, very quickly, not to be surprised by new variants and not to respond each one in an ad hoc fashion. "We should agree a sliding scale of interventions and trigger points for implementing them. With omicron it all feels a bit chaotic. We need better planning and preparation for when the next variant arrives, as it surely will."
Woolhouse is having a poke at the Conservatives there. He would be better off posting that to Nicola Sturgeon and Mark Drakeford (Wales's First Minister). They have maintained much more stringent restrictions than England from 2020 to the present.
Another piece about adopting a Swedish-style strategy appeared in The Guardian on January 2. Larry Elliott wrote about Boris's new change of tack in an attempt to reduce his current hero to zero reputation.
Elliott writes:
Government policy towards Covid-19 has come full circle. For now, at least, England has returned to the Swedish way of dealing with the pandemic. Tough, officially imposed lockdowns are out. Trusting the people to do the sensible thing is back in.
Whether this approach will survive the expected surge in hospitalisations from Christmas and New Year revelries remains to be seen. Boris Johnson is the master of the screeching U-turn and with the number of infections hitting new records pressure on Downing Street to act is growing. We have been here before.
Back in the early days of the pandemic the prime minister was minded to copy Sweden, a country that imposed few restrictions and decided early on that it needed to learn to live with the virus.
The prime minister's flirtation with the "Swedish experiment" was brief, and at the end of March 2020 a draconian lockdown was imposed. Ministers knew this would have a dire impact on the economy but felt the risk of the NHS being overwhelmed left them no choice.
A paper published in the online journal Scientific Reports last year examined what would have happened had Britain followed the Swedish approach. Even assuming the public here would have been as willing to adhere to non-mandatory recommendations as the Swedes (a pretty big assumption) the UK death rate would have at least doubled.
This time, the decision is a lot less clearcut, not least because vaccines are providing protection from the virus. The news from South Africa, one of the countries where Omicron first surfaced, has also been encouraging. While more transmissible, the new variant has resulted in fewer hospitalisations and deaths. Case numbers, after rising rapidly, have started to decline.
A degree of caution is needed when comparing the two countries, because South Africa has a much younger population than Britain, and it is summer rather than the middle of winter there. Even so, it is clear the government has set a high bar for imposing further restrictions.
The prime minister's weakened political position is one reason the government has gone Swedish. The risk of causing serious damage to the economy when it is looking particularly vulnerable is another, because this is going to be a tough year for the British public. Inflation is rising, interest rates are going up, and energy bills are expected to rocket in the spring just as Rishi Sunak's increase in national insurance contributions comes into force.
The cumulative effect is a whopping cut to living standards. According to the Resolution Foundation thinktank the average household is going to be £1,000 a year worse off. Those on the lowest incomes will be especially hard hit by soaring gas and electricity bills.
In the circumstances, it is easy to see why the government is reluctant to add to the economic pain by imposing tougher restrictions to slow the spread of the Omicron variant. Fresh curbs mean slower growth and a hit to the public finances. They would also test the resilience of the labour market.
Good news. I, like many others of a libertarian bent, foresaw these disasters nearly two years ago in March 2020.
Let Scotland and Wales continue mired in socialist control, which is doing little to alleviate coronavirus numbers.
Meanwhile, may England lead the way out of this pandemic.
In a few months' time, we'll find out which approach was the correct one. I suspect England's, provided it turns out to be a more libertarian one, will have been proven the right thing to do.
I suspect that Omicron is providential. Whilst I would not advocate throwing drinks and nibbles parties, how many people have had it and not know it?
In that respect, it could be good for building up herd immunity the old fashioned way.
The UK had another big weekend of news, which, as I said last week, is unusual, given that Christmas is just around the corner.
One of the big scoops was The Spectator's revelation as to why every SAGE scenario is based on a worst-case outcome.
Fraser Nelson, the magazine's editor, had an online exchange with Graham Medley from SAGE, which can be seen in his article, 'My Twitter conversation with the chairman of the Sage Covid modelling committee', which is a must-read.
Excerpts follow, emphases mine.
Medley is a professor at London School of Hygiene & Tropical Medicine (LSHTM). Last week, LSHTM published another alarming set of figures for the Omicron variant that, naturally, make the case for more lockdowns.
By contrast, JP Morgan came up with a different conclusion after looking at LSHTM's data:
JP Morgan had a close look at this study and spotted something big: all the way through, LSHTM assumes that the Omicron variant is just as deadly as Delta. 'But evidence from South Africa suggests that Omicron infections are milder,' JP Morgan pointed out in a note to clients.
JP Morgan concluded:
Bed occupancy by Covid-19 patients at the end of January would be 33% of the peak seen in January 2021. This would be manageable without further restrictions.
Fraser Nelson says:
So JP Morgan had shown that, if you tweak one assumption (on severity) then – suddenly – no need for lockdown.
Nelson went online to find out why LSHTM didn't do the same thing:
Medley seems to imply that the Government wants the worst case scenario:
Nelson says:
Note how careful he is to stay vague on whether any of the various scenarios in the Sage document are likely or even plausible. What happened to the original system of presenting a 'reasonable worse-case scenario' together with a central scenario? And what's the point of modelling if it doesn't say how likely any these scenarios are?
From what Prof Medley says, it's unclear that the most-likely scenario is even being presented to ministers this time around. So how are they supposed to make good decisions? I highly doubt that Sajid Javid is only asking to churn out models that make the case for lockdown. That instruction, if it is being issued, will have come from somewhere else.
He concludes that there is an ethical issue with SAGE's pronouncements:
Prof. Robert Dingwall, until recently a JCVI [Joint Committee on Vaccines and Immunisation] expert, has said that Medley's candour reveals "a fundamental problem of scientific ethics in Sage" – ie, a hardwired negativity bias. "The unquestioning response to the brief is very like that of SPI-B's behavioural scientists," he says and suggests that the Covid inquiry looks into all this.
At a time when we have just been given a new set of 'scenarios' for a new year lockdown it might be good if someone – if not Prof Medley – would clear up what assumptions lie behind the new 6,000-a-day-dead scenario, and if emerging information from South Africa about Omicron and its virulence have been taken into account. And how probable it is that a double-jabbed and increasingly boosted nation (with 95 per cent antibody coverage) could see this worst-case scenario come to pass.
In my view, this raises serious questions not just about Sage but about the quality of the advice used to make UK lockdown decisions. And the lack of transparency and scrutiny of that advice. The lives of millions of people rests on the quality of decisions, so the calibre of information supplied matters rather a lot – to all of us.
Too right.
I haven't believed SAGE at all, from the beginning. I am also still angry about how much taxpayers' money has been pumped in for a pandemic that needed a common sense solution in March 2020, such as, 'There are a lot of unknowns here. We will provide updates. However, we advise that anyone who feels sick to get a test then isolate at home for 10 days. Keep your distance from those outside your household. Keep your hands clean. Above all: use the same precautions you would in any potentially contagious environment.'
That's it in a nutshell. Not a lot more needed to be said.
But no.
We plebs couldn't have that. We cannot be trusted.
Chief Medical Officer Prof Chris Whitty implied that we do not know what we are talking about.
This video is from Whitty's appearance before a parliamentary Select Committee on Thursday, December 16. Dean Russell MP (Conservative) asked him whether the NHS risks prioritising the virus over cancer. While it might not be Dean Russell's view, this is a prevailing opinion among many members of the public.
Whitty wasted no time in shooting that down, saying that we do not understand 'health' and insisting that lockdowns helped to save the NHS, which would have collapsed otherwise. Along with Prof Gordon Wishart, I also beg to differ, but here is the exchange:
People are frustrated:
General practitioners are wrapped up in this, too:
Coronavirus has overtaken their surgeries. It was already nearly impossible to get an online appointment, never mind one in person. As of last week, GPs' priority from the Government is to dispense boosters:
No, pandemics are not a regular occurrence, but the NHS should be prepared to deal with one.
On Monday, December 20, Boris convened the Cabinet for a two-hour meeting to discuss the possibility of imposing a Christmas lockdown in England. Sir Patrick Vallance presented a doom-and-gloom scenario.
Bear in mind that Boris is skating on thin ice at the moment politically. A lockdown might have caused some of them to resign their Cabinet positions.
In the end, they decided not to go for a lockdown in England, at least over Christmas weekend:
Well, five of them did, at least.
Foreign Secretary Liz Truss had to leave early:

Guido Fawkes has more (red emphasis his, the purple one mine):
The Times and Telegraph have the most comprehensive write-ups, reporting Rishi, Steve Barclay and Grant Shapps were those leading the sceptics' charge. The Times reports Jacob Rees-Mogg had a prolonged argument with Vallance about their modelling, telling Boris to trust the people rather than the scientists. Truss, Kwarteng, Alister Jack, Nadhim Zahawi and Nigel Adams are all also reportedly sceptical about the threat of Omicron…
On the other side of the divide backing restrictions, according to The Telegraph, are (unsurprisingly) Javid and Gove; Nadine Dorries and Chief secretary to the Treasury Simon Clarke. We can only presume the PM also errs towards this group. There's set to be one more Cabinet before Christmas day that could still decide to recall MPs before New Year.
Katy Balls of The Spectator reports that this is the first time in ages that the Cabinet has been consulted on coronavirus policy:
So what happened in that meeting? 'Boris did a great job and encouraged a proper discussion and respected other views,' says one minister. 'He had quite a lot humility'. Michael Gove was, as usual, leading the arguments for more lockdown. But this was based on Sage forecasts of what might happen which have lost some credibility in the eyes of Cabinet members who were — for the first time in a while — genuinely being consulted.
Boris knows he's in trouble:
Several members of Johnson's Cabinet are vocally opposed to new restrictions. They argue that there needs to be clearer data before any restrictions are brought in – with whispers of resignations if Johnson pressed on without this. These members of government hope that more time will offer clarity that could show omicron is milder than previous variants.
Behind the scenes, the Chancellor is understood to have played a key role warning against rushing into decisions that could cost billions. Other ministers keen to see more modelling include Commons leader Jacob Rees-Mogg and Transport Secretary Grant Shapps ("although it was never quite clear what he was saying," I'm told.) Other ministers have been pressing on Johnson the idea of limiting any new measures to guidance.
But when Johnson emerged talking about the need to observe the data, and questions about Omicron's severity, he was using the language of those who opposed lockdown. They argue, in effect, that Sage models cannot be trusted as they are composed of hypotheticals – and that we need to wait for real-world data. The next few days of hospital data, it's argued, will tell us much about how severe Omicron is and if lockdown is needed. Data is emerging not just from South Africa (where cases now seem to be falling) but Denmark where Omicron has been found to be significantly less likely to put patients in hospital. At least some Sage modellers produced figures on the assumption that Omicron is no less likely to hospitalise or kill: one scenario talks about deaths peaking a day …
Johnson faces a parliamentary party filled with MPs vehemently opposed to any new restrictions and who could question his ability to lead as a result. When the Whips office sent a note around this afternoon telling MPs that the parliamentary away day has been cancelled, one messaged me to say:
'It's probably for the best. If we were all in one place for a few days, we could work out a successor'
But there are Tory MPs who believe action is required. One senior Tory concludes:
'This is a Prime Minister paralysed between science and his backbenchers. It's depressing.'
The Times reports on Leader of the House Jacob Rees-Mogg's words of wisdom. He, too, read Fraser Nelson's article. Good man:
Jacob Rees-Mogg, leader of the Commons, said the government should trust people to do the right thing rather than introduce further restrictions. He said many people had voluntarily changed their behaviour as the threat posed by Omicron became clear.
The prime minister said Rees-Mogg's argument was interesting but asked how he would justify his approach at a press conference. He said that as prime minister he had to look after everyone's health. Rees-Mogg is understood to have responded: "I would stand up and say I respect them for doing the right thing." The prime minister is said to have suggested that this would not be enough if the NHS were at risk of being overwhelmed.
Rees-Mogg is also understood to have criticised official modelling suggesting that without further action 3,000 Omicron patients a day could need a hospital bed. He asked if Johnson had read an article by Fraser Nelson, editor of The Spectator, questioning the assumptions behind the data.
Sir Patrick Vallance, the chief scientific adviser, is said to have responded directly to Rees-Mogg that the modelling had included scenarios where the Omicron variant was deemed less severe than the Delta variant.
If so, why did Vallance not present those data?
Boris made a brief announcement after the Cabinet meeting, saying that he is still keeping all options open after Christmas:
On Wednesday, December 22, Health minister Gillian Keegan told LBC's Nick Ferrari not make firm plans for New Year's parties because of ongoing 'uncertainty':
As people have been cancelling dinner reservations and reneging on trips to the pub, Chancellor Rishi Sunak has had to come up with a £1bn compensation plan for the hospitality sector, which amounts to £6000 per business. A nightclub owner says it's 'insulting'. I agree with the person replying — just drop any remaining restrictions:
When is this going to end?
Oh, well. At least we're not in the socialist nations of Scotland or Wales, where things have been far worse and continue so to be.
It's been a week full of news, which is unusual right before Christmas. Yet, here we are.
Omicron death
The person who died with Omicron was an unvaccinated man in his 70s:
I, too, would like those questions answered.
The man's stepson called into Nick Ferrari's LBC show to say that he was a germophobe. He had everything delivered to his door and never left the house unless he had to post a letter:
Guido Fawkes has more (emphasis in the original):
Speaking to Nick Ferrari, the stepson of the man who died earlier this week claimed that he had been taken in by "conspiracy theories", and refused to take the vaccine despite being in his early 70s:
He thought it was a conspiracy. He was an intelligent man but it's all these different things you are getting from online and different media things… He wasn't vaccinated at all.
According to the latest figures, there are currently 15 people in hospital with Omicron, an increase of 5 since Tuesday…
Chris Whitty's Omicron projections
Earlier this week, Prime Minister Boris Johnson held a press conference with Chief Medical Officer Prof Chris Whitty and Chief Scientific Officer Prof Patrick Vallance.
Whitty predicted Armageddon with a chart showing unbelievably high projections of Omicron cases.
A good friend of mine said he hoped that chart would come back to bite Whitty in the proverbial. I couldn't agree more.
However, when Whitty appeared before the Health and Social Care Select Committee on Thursday, December 16, he changed his tune when giving evidence to MPs.
The Telegraph reported (emphases mine):
Britain may be "better off" with omicron than it was with the delta variant, thanks to the booster programme, Prof Chris Whitty has suggested.
Giving evidence at the Health and Social Care Select Committee, the Chief Medical Officer for England said that vaccines appeared to be holding up well against omicron and said boosters may even be preventing transmissibility and infection …
"It is possible that with a boost, we're better off with omicron than we are with two vaccines with delta for severe disease," he told MPs.
Prof Whitty said he was expecting omicron to cause an "impressive" rise in cases, which could lead to daily peaks in admission bigger than seen in the January wave, when hospitalisations hit nearly 40,000 a day.
However, he said that cases may begin to fall quickly and that a milder illness may mean people would stay in hospital for a short period, reducing the overall burden on the health service. Fewer people may also need intensive care, he added …
"I think most people think on the positive side, that there will be some preserved immunity, particularly on the non-antibody side, such as T-cells. Therefore it is likely someone who has one or two vaccines already will have some protection and with a booster considerably more protection against hospitalisation and death.
"It does look as if boosters restore some of the ability to actually reduce infection and transmission, at least for a period of time."
Then he told MPs that he was reluctant to give the public projection numbers, yet he did just that at this week's press conference:
"I have resisted putting forward projection numbers into the public domain because I don't think they are reliable and you can't put enough caveats on them."
We don't think they are reliable either, Prof Whitty.
Health and Security Agency's Omicron projections for England withdrawn
The UK Health and Security Agency also backtracked on their projections because of a change in public behaviour. I wonder:
If only they would lift Plan B …
… because it is really hurting the hospitality sector.
Michel Roux Jr has tweeted about his daughter Emily's London restaurant Caractère, which is suffering from a rash of sudden cancellations:
Her restaurant is not the only one. Omicron has everyone running scared.
But, what if it 'cases' did double every two days and what if we all caught Omicron? Would it confer herd immunity? We'll know if the following extrapolation is true by Twelfth Night:
The Queen cancels Windsor Castle pre-Christmas lunch
Because of the Omicron scare, our sovereign has cancelled her traditional pre-Christmas family lunch at Windsor Castle. ITV's Chris Ship reports:
South Africa, however, remains relatively relaxed about Omicron, as the Daily Mail's Dan Hodges points out. Note the reply, which shows Chris Whitty contradicting himself yet again. Either boosters help immunity or they don't. Which is it, Chris?
The elusive NHS GP can be seen — privately
Our NHS GPs have been elusive since last year. If you're lucky, you can get a telephone or an online appointment. Very few patients are able to see them in person.
However, if one goes private, one can see one's GP:
It looks as if the Mail on Sunday is investigating this situation. Good!
Killing off ivermectin as coronavirus prophylaxis
In more medical news, we discover how ivermectin was effectively killed off as a prophylaxis for coronavirus in the UK and the US.
Thanks to my reader dearieme for the Vox Day link, which leads to a World Tribune article summarising the incident from Robert Kennedy Jr's New York Times Bestseller, The Real Anthony Fauci: Bill Gates, Big Pharma, and the global war on Democracy and Public Health.
Excerpts follow:
Andrew Hill, PhD, is a senior visiting Research Fellow in Pharmacology at Liverpool University. He is also an advisor for the Bill and Melinda Gates Foundation and the Clinton Foundation. As a researcher for the WHO evaluating ivermectin, Hill wielded enormous influence over international guidance for the drug's use.
Hill had previously authored an analysis of ivermectin as a treatment for COVID-19 that found the drug overwhelmingly effective.
On Jan. 6 of 2021, Hill testified enthusiastically before the NIH COVID-19 Treatment Guidlelines Panel in support of ivermectin's use. Within a month, however, Hill found himself in what he describes as a "tricky situation." Under pressure from his funding sponsors, Hill then published an unfavorable study. Ironically, he used the same sources as in the original study. Only the conclusions had changed.
Shortly before he published, Dr. Tess Lawrie, Director of the Evidence-based Medicine Consultancy in Bath, England, and one of the world's leading medical research analysts, contacted Hill via Zoom and recorded the call (transcript below). Lawrie had learned of his new position and reached out to try to rectify the situation.
In a remarkable exchange, a transcript of which appears on pages 137 – 143 in Kennedy's book, Hill admitted his manipulated study would likely delay the uptake of ivermectin in the UK and United States, but said he hoped his doing so would only set the lifesaving drug's acceptance back by about "six weeks," after which he was willing to give his support for its use …
The two scientists discussed ivermectin's positive results in combating coronavirus:
… the number of preventable deaths incurred by such a delay would be staggering — as many as 504,000.
Hill declined being listed as Lawrie's head author on the paper with the positive results. Instead, he published the negative findings.
This is why he did so:
Four days before publication, Hill's sponsor Unitaid gave the University of Liverpool, Hill's employer $40 million. Unitaid, it turns out, was also an author of the conclusions of Hill's study …
… when pressed he admitted his sponsor, Unitaid, was an unacknowledged author of conclusions.
"Unitaid has a say in the conclusions of the paper. Yeah," he told Lawrie …
Dr. Pierre Kory, of the Front Line COVID-19 Critical Care Alliance, commented, "Andrew is apparently making a living now accusing the doctors and scientists who support ivermectin of medical fraud."
Regulatory acceptance of ivermectin did not delay only six weeks. Instead, almost a year later, it has still not been approved by health agencies in the United Kingdom or in United States. Instead The WHO, CDC, NIH, and FDA have suppressed the drug's use.
Instead, we are taking notional vaccines. Who knows what they are doing to our bodies?
Boris's daughter's name
Boris and Carrie Johnson have named their infant daughter Romy Iris Charlotte. She is shown with her brother Wilfred:
Romy is a 'rainbow baby' because she followed a miscarriage.
Best wishes to the Johnsons.
Conservatives lose safe seat for first time ever
In less cheery news for Boris, the Conservatives lost Owen Paterson's former North Shropshire constituency for the first time ever — nearly 200 years:
Paterson resigned a few weeks ago over sleaze allegations. He had a 23,000+ majority in the 2019 general election.
Failed candidate Neil Shastri-Hunt, who had been parachuted in from outside the constituency, said he planned to get some sleep and:
go and give my 8-week old a bit of a cuddle.
My commiserations to anyone who took this misguided betting advice:
The by-election took place on Thursday, December 16. The Liberal Democrats won by a landslide, as I thought they might:
Also note how low the vote for Labour was, despite party leader Sir Keir Starmer refusing to admit he is a socialist:
Conservative Party chairman Oliver Dowden MP admitted his party 'got a kicking' but added that such by-election results are not unusual when a Prime Minister is halfway through his or her term in office:
Therefore, this protest vote might be a one-off. Let us hope so.
However, in order for that to happen, Boris must be more of a Conservative and less of a Green Blairite.
Courier's employees throw parcels against wall
And last, but hardly least, we have distressing news about some Christmas home deliveries.
Hermes is the UK's worst courier company, but we have to put up with their delayed, sometimes damaged, deliveries.
A reporter from The Times did a brief stint with Hermes and found a group of disgruntled employees, some of whom threw parcels against a warehouse wall. The reporter is shown with his car boot open:
Hermes will investigate but says this is not typical behaviour of its employees. The company is at the bottom of the national delivery league table:
Meanwhile, I have been noting the rather downbeat Christmas notes we have received with our cards this year.
I hope that 2022 brings us far better tidings.
With regard to Omicron, this is where we left off on Monday in the UK — one death:
Guido Fawkes's accompanying post says (emphasis in the original):
Boris has claimed this morning that one hospital patient has died with the Omicron variant, telling cameras "Sadly yes, Omicron is producing hospitalisations, and sadly at least one patient has been confirmed to have died with Omicron." It is not yet known whether the patient had comorbidities...
So far, it is believed that Omicron is a relatively mild variant. The Singaporean Ministry of Health has stated (H/T Guido Fawkes; emphasis mine):
Cases who have been detected around the world have mostly displayed mild symptoms, and no Omicron-related deaths have been reported so far. Common symptoms reported include sore throat, tiredness and cough.
The numbers hospitalised with Omicron are in single digits …
… never mind what Justice Secretary Dominic Raab said on this morning's news round:
Dominic Raab doesn't appear to know how many patients are in hospital with Omicron. Yesterday, Sajid Javid said it was "around ten", with Raab this morning claiming on Sky News that the figure had now jumped up to 250, which would be an alarming leap in just 24 hours. Thirty minutes later on BBC Breakfast, however, Raab inexplicably slashed that number all the way down to 9. The new antiviral treatments are good – they aren't that good.
Regardless, today, after the Government already implemented it last week, MPs voted on Plan B for England. There were four separate divisions (votes). One was on coronavirus passports.
When Tuesday's parliamentary session began, Plan B involved wearing masks in enclosed spaces and public transport as well, working from home as well as a return to quarantine.
When Health Secretary Sajid Javid began his address, he mentioned that quarantine would be less severe. It would now involve daily testing instead of a mandated policy to stay indoors (emphases mine):
At the end of last month, this House passed regulations requiring all close contacts of a suspected or confirmed omicron case to self-isolate for 10 days, but given the increasing dominance of omicron, this approach no longer makes sense for public health purposes and nor is it sustainable for the economy. So we are drawing on the testing capacity that we have built to create a new system of daily testing for covid contacts that has started today. Instead of close contacts of confirmed cases or suspected cases having to self-isolate, all vaccinated contacts, irrespective of whether the contact was with an omicron case, will be asked to take lateral flow tests every day for seven days. Regulation No. 1415 allows us to put this plan into action by revoking the omicron-specific provisions for self-isolation.
Ahead of the official vote, The Telegraph's cartoonist Bob Moran took action on masks on Saturday, December 11:
Not surprisingly, Plan B has begun to wreak havoc with cancellations of international travel and Christmas gatherings in hospitality venues.
At least 80 Conservative MPs were expected to rebel and vote against the Government. On the day, 98 rebelled against the vaccine passport, along with three others spotted by Labour Whips. They included Sir Desmond Swayne and Bob Seely. I plan to discuss the results in another post:
Although a rebellion by Conservatives alone did not stop the Government winning the votes — thanks to Labour! — it should send a clear message to Boris.
Alicia Kearns tweeted that she would vote against coronavirus passports:
People living in England are concerned about the constant moving of goalposts with regard to coronavirus restrictions.
Conservative MPs became angry last week. In his press conference on Wednesday, December 8, when he announced Plan B, Boris mooted the idea of 'a national conversation' about mandatory vaccinations:
The rebel MPs' reaction was immediate:
Guido began compiling his list on December 9. A selection of comments from MPs follows:
Alexander Stafford said "he cannot and will not support mandatory vaccinations", adding that working from home "disproportionately negatively affects younger people and those starting out in their careers".
Douglas Ross said "There is no evidence that vaccine passports stop the spread of Covid" and that since he didn't vote for them in Holyrood, he wouldn't vote for them in Westminster either.
Graham Brady said in the chamber last night that "it's deja vu all over again, isn't it?"
Peter Bone slammed compulsory vaccinations on Newsnight, calling the idea "completely outrageous", and even saying "I'd be the first to say the PM should go" if they were implemented.
Simon Jupp said "I don't support Plan B", called vaccine passports "divisive & discriminatory", and made it clear that he "won't vote for these measures."
Steve Baker insisted it is "vital that the maximum number of Conservative MPs vote against Plan B, whatever our useless Opposition do".
Over the weekend, Steve Baker tweeted that he would be relaunching his Conservative Way Forward movement, open to MPs and the general public. It is meant to restore the Conservative Party to its proper origins rather than a Boris-led Blairite/Labour-lite party:
Sir Edward Leigh MP stated his intention to vote against the Government for the first time during this Parliament:
Mark Harper MP pointed out:
"there is no exit strategy", and asked "why should people at home…do things that people working in Number 10 Downing Street are not prepared to do?" 
The Spectator's Kate Andrews also noted the same thing, comparing the content of December 8's press conference with the others that had preceded it. The Government and scientific advisers have made many poor contradictions and bad comparisons between the UK with a strongly vaccinated population versus one like South Africa's:
The Spectator contrasts what our scientific experts from SAGE put forward compared with the real statistics. SAGE have a lot of explaining to do, yet Boris continues to court their shamefully extreme modelling.
Guido's December 9 poll of the public shows that they are increasingly concerned about scope creep, especially with regard to Plan B:
Guido's post reveals who led the press ('lobby') briefing that day. It was not the Department for Health and Social Care (DHSC):
A poll of 3,170 Guido readers opened earlier has less than one-in-seven believing the government's timing of Plan B yesterday was based on epidemiological reasons, and not politics.
Guido can't say he's surprised. Sources suggest that while a quad meeting was always scheduled for yesterday afternoon, Plan B was not on the table. During the morning the briefings were coming from Downing Street not DHSC, further suggesting the move was more politically than epidemiologically motivated.
William Wragg MP was the first to notice the political end to Plan B — a diversion from the Christmas party debacle — and actually challenged Boris on it last Wednesday at PMQs, only hours before the press conference. Tom Newton Dunn tweeted:
Senior Tory William Wragg challenges Johnson directly during PMQs over if he's bringing in Plan B today, and says "few will be fooled by this diversionary tactic". Johnson doesn't deny, but says: "No decisions will be taken without consulting the Cabinet".
It would have been even better if Sir Keir Starmer, leader of the Opposition had said that, but, alas, he's all on board with further restrictions. If he were Prime Minister, we would have never had Freedom Day on Monday, July 19. We would have been where Scotland and Wales continue to be, still restricted in many ways, with compulsory masks and vaccine passports.
On Monday evening, December 13, Sir Keir somehow got media outlets to televise his support for Plan B. The reason for this baffles me, as he is not in Government.
It does appear as if we have a coalition Conservative-Labour government, because the latter jumps on every coronavirus restriction bandwagon going. The Sun's Trevor Kavanagh told Nigel Farage that this is not a good thing:
According to a GB News poll for Dan Wootton Tonight, the public strongly disapprove of Plan B:
Sadly, we now have Plan B in England: face coverings in enclosed spaces, vaccine passports for large venues/events and mandatory vaccines for NHS/care home staff by April 2022. Self-isolation with daily testing was approved unanimously; there was no division on that motion.
The question remains: do we get another lockdown, i.e. Plan C, in the New Year?
Boris wouldn't dare, would he?
Friday's post provided the background to the current turmoil in Boris Johnson's Government.
This is where we left off — a GB News tweet from November 22, before further events occurred:
The Christmas party — or parties
Last week, news emerged of an alleged Christmas party held on December 18, 2020, at No. 10 Downing Street.
Somehow, it took most of 12 months for this news to appear.
It surfaced with a video of Allegra Stratton, who was rehearsing for her new — ultimately unfulfilled — role as a televised press secretary, although she did remain press secretary.
On Tuesday, December 7, ITV News was able to obtain this video of her rehearsing for a press conference involving a fictitious Christmas party. The press corps are senior No. 10 employees:
According to this rehearsal, which Stratton did not take too seriously, we are looking at a party that never took place.
However, when one watches the video, one wonders: did it or did it not happen?
Allegra Stratton laughed and slumped over the podium. Hardly a professional look.
The Sun reported (emphases mine):
Senior members of the PM's top team were filmed laughing and referring to "cheese and wine" in a mock press conference held by Allegra Stratton in the No9 briefing room …
In footage of the fake presser, obtained by ITV, one of the PM's advisers asked: "I've just seen reports on Twitter that there was a Downing Street Christmas party on Friday night, do you recognise those reports?"
Ms Stratton joked: "I went home!" before she paused to consider how to respond.
The aide added: "Would the prime minister condone having a Christmas party?"
Ms Stratton, who was due to lead daily political press briefings in the £2.5million press room before the plan was ditched earlier this year, laughed and replied: "what's the answer?"
Another No10 staffer popped up to say: "It wasn't a party, it was cheese and wine."
Ms Stratton added: "Is cheese and wine alright? It was a business meeting…"
Business meetings were allowed under the restrictions at that time, as The Times explains:
People were allowed to gather if it was reasonably necessary for work purposes, but that would not have included holding a party.
The government's advice from the time said: "Although there are exemptions for work purposes, you must not have a work Christmas lunch or party, where that is a primarily social activity and is not otherwise permitted by the rules in your tier."
The Telegraph's Christopher 'Chopper' Hope reported that Downing Street might have been exempt from the party rule because it was a Crown property. However, Guido Fawkes pointed out that the Queen wore a mask earlier this year at Prince Philip's funeral on the grounds of Windsor Castle:
No. 10 responded to the Christmas party allegations. ITV News's UK Editor Paul Brand tweeted:
By Thursday, December 9, 2021, The Times revealed a catalogue of seven Christmas parties allegedly taking place in or near Downing Street last year during a time when London was, for the most part, under lockdown.
Excerpts follow, emphases mine.
The Times reports:
Insiders said that the No 10 Christmas party on December 18 began early, with officials and political advisers gathering in the press office shortly after 6pm.
Over the course of the evening some people made speeches, enjoyed a cheese board, drank together and exchanged Secret Santa gifts. By the time it ended shortly before 2am, several of those present were said to be "rat-arsed".
A few rooms away Boris Johnson was working in his office, where after consulting once more with government scientists, he was coming to a critical realisation that Christmas, as planned, could no longer go ahead. Less than 24 hours later the prime minister broke the news that millions of people could not see friends and family over the festive period if they lived in other households …
At the time London was under Tier 3 restrictions, banning indoor mixing with a narrow exemption for people whose jobs required them to be at work in the office. Was Johnson aware of the event, which included some of his most senior aides and was held yards from his office? …
The Christmas party, however, was different. A source said it had been organised days in advance on WhatsApp and with a follow-up email.
Originally it was intended for members of the press office who work together in the same large room on the ground floor …
It was not, they said, a party that had been organised by senior members of staff or indeed political special advisers. But in the close world of Downing Street some members of Johnson's media team were also invited. The most senior members were understood to be involved in the preparations for the impending new Christmas restrictions.
Other parties were alleged to have taken place:
At another point in December, sources say, a Christmas quiz was held for officials and Conservative advisers working in Downing Street. Invitations were sent out by email, with people asked to organise themselves into teams of about six. Many wore novelty Christmas jumpers on the day. One source said that the quiz took place in the "control centre" established in 70 Whitehall by Dominic Cummings, who had left his role as one of Johnson's most senior advisers in November. Another source said that people stayed late drinking, and that there was much discussion the next day about the unexpectedly strong knowledge displayed by the victors.
No 10 sources were adamant that the quiz was "entirely virtual", and denied that it took place in 70 Whitehall, but conceded that some people may have participated from desks in communal offices …
One party allegedly took place at Conservative Party headquarters in central London:
Another event took place at CCHQ a few days before the Christmas party. At least two dozen party aides and volunteers, who had helped Shaun Bailey, the Tories' London mayoral candidate, held a "raucous" bash involving drinking, Christmas hats and dancing that went on late into the night. Things were said to have got so rowdy that a door was damaged. London was in Tier 2 restrictions, with a ban on indoor mixing and the rule of six applying outdoors.
Some parties allegedly took place in November 2020:
Government staff are also said to have held informal leaving dos in November, when England was in a full lockdown, to mark the departures of the senior Downing Street aides Lee Cain and Cleo Watson. Christmas parties were also held at the Cabinet Office and the Department for Education.
Those are the seven alleged parties.
The timing of this leak could not have been worse for the Government.
At PMQs on Wednesday, December 8, Boris insisted that the Cabinet Secretary Simon Case would investigate the alleged December 18 party, which was the only known one at the time.
This is how he responded to Labour's Sir Keir Starmer at the despatch box:
… I apologise for the impression that has been given that staff in Downing Street take this less than seriously. I am sickened myself and furious about that, but I repeat what I have said to him: I have been repeatedly assured that the rules were not broken …
I have asked the Cabinet Secretary to investigate exactly what happened, and I repeat that there will be consequences for those involved if the rules were broken.
I have been repeatedly assured that no rules were broken. I understand public anxiety about this and I understand public indignation, but there is a risk of doing a grave injustice to people who were, frankly, obeying the rules. That is why the Cabinet Secretary will be conducting an investigation and that is why there will be the requisite disciplinary action if necessary.
Starmer brought up the story of a woman who died in hospital over Christmas and her aggrieved daughter who was not allowed to see her because of coronavirus restrictions.
Boris responded:
The first thing to say is that, in common with everybody in this House, I extend my sympathies to Trisha and her family. I understand the pain of everybody who has suffered throughout this pandemic.
I know the implication that the right hon. and learned Gentleman is trying to draw: that the case that we are now investigating should somehow undermine public confidence in the measures that we are taking. I think that is the point he is trying to make, but I say to him that I think it is a great mistake to try to play politics with this issue, and I think that is what he is doing. I do not think the public do want to see confidence in the measures undermined. We are taking—[Interruption.] I think they can see the difference. We are taking the steps necessary to protect the public, above all by rolling out the vaccinations. Rather than focusing on the events of a year ago, that is what we are focusing on and that is what I think the public will understand.
On the one hand, one could say that this is still a sour grapes ploy to get Boris, who got Brexit done.
On the other hand, The Times reported that the news caused some Cabinet ministers and backbench Conservative MPs to distance themselves from the allegations, especially as they were not directly involved with the events:
On Tuesday Sajid Javid, the health secretary, volunteered to do a broadcast round the next day to push the booster campaign. After a video was leaked in which Allegra Stratton, then a spokeswoman for Johnson, joked about the party, Javid is said to have made clear he would not defend the No 10 position.
One minister told The Times that the talk in the Commons tea room was of more letters of no confidence in Johnson going into Sir Graham Brady, the leader of the 1922 Committee of backbench Conservative MPs. They said that the party looks "divided, hypocritical, out-of-control, out-of-touch and all the other things that voters despise" …
A succession of Conservatives went on the record with concerns. Douglas Ross, the leader of the Scottish Tories, suggested that Johnson should quit if it emerged that he knew about the party.
This is how some members of the public view the revelations. As seen last week by someone in England: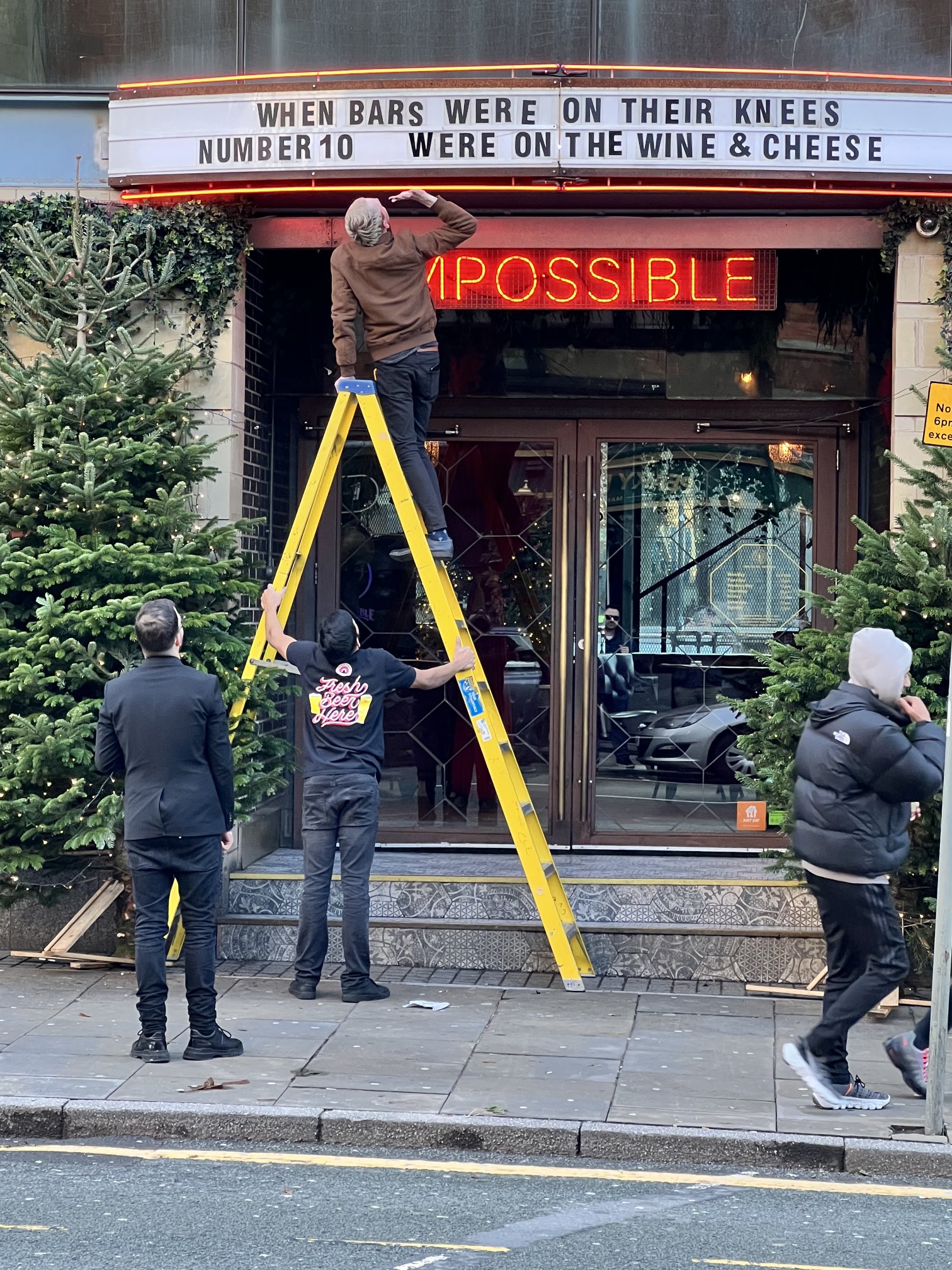 Allegra Stratton's resignation
Allegra Stratton, who appeared so insouciant a year earlier, tendered her resignation shortly after PMQs on Wednesday, December 8.
Tearful — or almost — she gave a brief statement to the press that afternoon:
Guido Fawkes quotes part of her statement:
My remarks seemed to make light of the rules, rules that people were doing everything to obey. That was never my intention. I will regret those remarks for the rest of my days and offer my profound apologies to all of you for them
[…]
To all of you who lost loved ones, endured intolerable loneliness and struggled with your business – I am truly sorry and this afternoon I have offered my resignation to Prime Minister.
This woman is media savvy and has a lot of important connections, shall we say. She'll get another job somewhere else by the New Year, most probably:
Allegra Stratton's televised daily press briefings, mimicking those of the White House, never saw the light of day. One wonders if someone informed on her after the aforementioned December 2020 dress rehearsal video:
She was never very good in No. 10, as our COP26 spokesperson, having explained at length why she didn't own an electric car and why people should join the Green Party! What planet is she on?
Further coronavirus restrictions for England
On the day of her resignation, the Daily Mail reported that No. 10 was desperately searching for the person who leaked Stratton's rehearsal video to ITV News.
But that was not all. Their article said that, in order to take the heat off the Christmas party story, Boris put England under Plan B — further coronavirus restrictions (masks, vaccine passports, travel quarantine) — in light of the Omicron variant, which he did on Wednesday, December 8, a few hours after PMQs and Allegra Stratton's resignation. What was — is — he thinking?
Within 24 hours of its broadcast, the toxic footage of No 10 staff giggling about a lockdown-busting party had detonated a bomb under the Government and led to the tearful resignation of its 'star' Allegra Stratton.
It also sparked an immediate hunt for the leaker, whose decision to pass the film to ITV News may even have prompted Boris Johnson to fast-track plans for tighter Covid restrictions.
So, Boris might have a Christmas party scandal on his hands from last year, therefore, in order to rectify that with the largest swathe of the British public — those living in England — he puts them under Plan B just before Christmas.
How is that a future vote winner?
Furthermore, Boris did not present the initiation of Plan B to Parliament first, which he should do. He had Health Secretary Sajid Javid present it to Parliament at the same time he was giving a press conference to the nation about it.
Wrong!
According to Parliamentary procedure, MPs must be allowed to debate and, if necessary, vote on these proposals before they are made public or enacted into law.
However, Boris has been doing this consistently since 2020 with coronavirus restrictions.
These restrictions will be in place by Monday, December 13. The Parliamentary debate and vote do not take place until Tuesday, December 14. Outrageous.
Omicron relatively weak, yet we have Plan B
As far as we know, Omicron is relatively mild:
Guido points out that the Government is going overboard about a variant whose symptoms resemble a common cold (emphasis in the original):
As the UK government hits the 'Plan B' button in a moment of epidemiological stringency, in the past 24 hours both the US Center for Disease Control and Prevention and the EU Medicine Agency have both said cases remain mild.
15 hours ago the CDC Chief said that of the more-than-40 people in the US have been infected with Omicron, "nearly all of them were only mildly ill" and the "the disease is mild". Just one person's been hospitalised.
… Meanwhile the UK government is preparing to hit the UK economy with a stay-at-home order, based on no hospitalisation or death data suggesting it's necessary.
In his press conference last Wednesday annoucing Plan B, to make things worse, Boris also said that we need to have 'a national conversation' as to whether the UK should implement mandatory vaccinations!
On December 9, The Telegraph's Andrew Lilico wrote (emphases mine):
… Omicron cases are currently doubling every two to two and a half days. Wearing a face mask in the cinema but not the pub isn't going to make a lot of difference to that.
If omicron is really going to grow as explosively as the Government suggests, Plan B isn't going to come remotely close to slowing it down or stopping it. Restricting people's lives in a way that makes no difference whatever to a problem is just as authoritarian as restricting people's lives when there is no problem at all. If the only point of restrictions is as a kind of virtual flag with "We're doing something" written on it, it'd be better not to restrict people's lives but instead to raise a literal physical flag saying that, outside 10 Downing Street …
There needs to be a high likelihood that some disaster will follow if restrictions are not imposed and a good chance that the restrictions would avert or at least mitigate that disaster.
The Government does not appear to believe it needs such a rationale. It seems to think that it's legitimate to restrict millions of people's lives on bases such as "on balance, that's wise" or "to reduce pressure on the NHS" (not to avoid its collapse – just to make life a bit easier). That is a serious departure that MPs of good conscience should vote against. Otherwise it would be legitimate to introduce a curfew every evening to "reduce pressure on the police" or restrictions every time a new flu strain is identified "just in case" it might lead to a pandemic …
We did our bit. We got vaccinated. That has meant that, since April, the infection fatality rate of Covid has only been perhaps 3 to 4 times that of flu. Covid will be with us forever, killing tens of thousands each year. But since April it has never again been possible for it to create the waves of 100,000 and more deaths at a time that we experienced last Winter and that would have been much worse had we not accepted restrictions from last Spring onwards.
… Everyone in the country was going to get delta over the next couple of years, as our immunity faded, unless we were willing to get boosters every few months forever. Why does it matter if we get omicron this Christmas instead? A vague sense that "Something must be done. This is Something. So let's do This." is not even close to an adequate basis on which to let Plan B proceed.
On Sunday evening, December 12, Boris gave a brief recorded address to those in the UK saying that there has been a 'surge' of hospital cases and that the coronavirus danger level has been ramped up to Stage 4 throughout the four nations. Again, he and his ministers just decided this with no input from MPs:
In a nutshell, this appears to be what is happening with Government policy and the media on Omicron:
That morning, Dr Susan Hopkins of the UK [England, actually] Health Security Agency was still among those experts waiting for something to happen with Omicron:
UPDATE — Monday, December 13: One patient in the UK has died 'with' Omicron.
Sadly, the Government and their scientists will consider that a success.
————————————————————————-
People living in England wonder whether Plan B will proceed to another full lockdown in 2022 as punishment for celebrating Christmas.
On Friday, December 10, The Telegraph's Julia Samuel said that, in light of the Christmas party allegations, the Government no longer has the moral authority to impose yet another lockdown:
It seems almost inconceivable and yet it's not. We could be headed for another lockdown, probably just after Christmas. No one really believes that the measures announced by Boris Johnson this week will stop the new Covid variant from spreading. The private reasoning of the officials recommending them and the ministers agreeing to them is that they need to prepare the public psychologically for the possibility of going back into lockdown …
They might tell us to stay at home, but they don't. They might have told us not to party, but Number 10 staffers clearly judged that since they had worked together in close quarters for weeks, a party couldn't really hurt. What stinks is not the logic of this decision; it's the rank hypocrisy of legislating for one thing and then doing another.
If the Government is considering another lockdown, then it needs to understand that it has exhausted consent for the type of policy it could enact before. It has no moral authority to ban fathers from being with their wives during childbirth or to confine people to their houses because an app says they shared a bus ride with a Covid case. If we are told to stay at home, it can only be conditional upon our nearest and dearest social obligations. If that makes enforcement difficult, so be it. Policing this mess fairly has been a fool's errand from the start …
With any luck, this will all end up with a dramatic anti-climax. Scientists are starting to sound increasingly confident that omicron hails Covid's transformation from a threat to a common cold.
By Christmas, we will know the score. But in the meantime, let's recognise the government's half-hearted and ineffective Covid measures for what they are: the start of a campaign to soften us up for another lockdown, if it's deemed necessary.
If that is what's coming down the track, we need to be clear: some things are too important to be sacrificed to Covid controls. The Government ought to recognise that and use the law sparingly.
But if it doesn't, people will have to use their own judgement and make decisions they can live with afterwards. We would only be following Number 10's example, after all.
Who can argue with that?
In Parliament, a rebellion has been brewing over the past week on coronavirus legislation. Although protest votes will not prevent Plan B from passing, they will send a signal to No. 10 that a growing number of Conservative backbench MPs are deeply unhappy.
More on that tomorrow.
Prime Minister Boris Johnson is quickly going from hero to zero.
Lately, he has been beset by scandals, some from other Conservative MPs but others which can be laid only at his door.
At least he has a new baby daughter to provide some distraction.
N.B. Some tweets below come from a Boris parody account, such as these:
Downing Street flat refurbishment
Carrie Johnson wanted to refurbish the Downing Street flat.
Most PMs' wives have done it on a careful budget. Samantha Cameron redid the flat when her husband David was PM between 2010 and 2016. Unlike the other PMs's wives, she spent £100,000, which included a brand new kitchen.
Theresa May was more prudent when she redecorated further.
According to Tatler, Theresa May's taste was too 'John Lewis', so Carrie enlisted the help of interior designer Lulu Lytle.
On March 1, 2021, news emerged that, before Carrie Symonds married the Prime Minister, her fiancé wanted to set up a charity to fund the costs, as the White House does. The Daily Mail reported (emphases mine):
Boris Johnson is secretly trying to set up a charity to help pay for a costly makeover of his official flat by his fiancée, it has been claimed.
The scheme is based on one used by the White House to raise millions of dollars for interior design, antiques and art.
The presidential charity is bankrolled by private donors – and the proposed Downing Street version is expected to be funded largely by wealthy Tory benefactors.
It runs the risk of claims of conflict of interest if it is seen as a back-door way of providing a financial benefit to the Prime Minister.
Mr Johnson has complained the cost of the refurbishment by Carrie Symonds was 'totally out of control', the Daily Mail has been told. He reportedly said during one meeting that the sum amounted to 'tens and tens of thousands'. On another occasion he said it was 'over a hundred grand'.
He is said to have told one minister he was particularly alarmed by the cost of wallpaper chosen by Miss Symonds, saying she appeared to have ordered 'gold wall coverings'.
Mr Johnson has asked multi-millionaire financier and Tory peer Lord Brownlow, who has close links with the Royal Family, to run the charity. It is believed that an application to register it with the Charity Commission is under way.
The official purpose of the charity is to raise funds to preserve No 10 and No 11 Downing Street for the nation on heritage grounds.
But insiders say the proposal stemmed from the soaring cost of a makeover of the No 11 flat, which is preferred by prime ministers with families because it is bigger than the No 10 flat …
The Charity Commission said it was not aware of any application to set up a Downing Street charity.
Conservative Party HQ, the Cabinet Office, Lord Brownlow and Miss Lytle declined to comment.
The article includes photos of the newly decorated room which looks as if it came out of a harem. What were they thinking?
The hallway is better but is still an acquired taste.
On March 12, the cost came up for discussion in the House of Lords. Journalist John Rentoul put together a graph from the figures that Lord True gave to the Lords:
When this came up earlier this year, it seemed like revenge at Boris for Brexit.
On Wednesday, April 28, the left-leaning Electoral Commission announced a formal investigation into the refurbishment.
Guido Fawkes reported that the Commission's spokesperson said, in part (emphases in the original):
We are now satisfied that there are reasonable grounds to suspect that an offence or offences may have occurred. We will therefore continue this work as a formal investigation to establish whether this is the case.
"The investigation will determine whether any transactions relating to the works at 11 Downing Street fall within the regime regulated by the Commission and whether such funding was reported as required …
Guido pointed out that Prime Minister's Questions (PMQs) took place that day:
Incredibly awkward timing ahead of PMQs…
Sure enough, it was awkward for Boris, facing Labour's Sir Keir Starmer at the despatch box, as Guido later reported, complete with a video (emphases mine):
Boris ended his PMQs spar with Sir Keir visibly furious after four questions about who paid for the No. 10 flat renovation. The PM copied the CCHQ strategy of relying on the specifically-worded phrase "I paid for [the] Downing Street refurbishment personally". Asked whether Lord Brownlow paid the initial refurbishment invoice, Johnson dodged the question, saying "I think I've answered this question several times, the answer is I have covered the cost."
The session finished with an incredible rant from the PM, which resulted in [Speaker of the House] Lindsay Hoyle having to ask him to "Calm it down a little."
Guido and his team discussed the issue on Friday, April 30.
Around that time, Tatler published the text of an email from Lord Brownlow regarding a donation:
The Mail claims that the email appears to prove that the Tories planned to claim the £58,000 was paid not by Lord Brownlow but by a 'soon to be formed Downing St Trust' that did not exist – and still doesn't, officially.
The email, sent by wealthy donor Lord Brownlow last year, on 14 October was marked 'Donation' and reads: 'Hi Mike … further to our conversation I am making a donation to the Party. It includes the £15,000 you and I have agreed – plus £58,000 to cover the payments the Party has already made on behalf of the soon to be formed "Downing Street Trust" – of which I have been made chairman, as you know.'
… Prime Ministers typically receive about £30,000 of public money to redecorate but Johnson is reported to have complained to advisers about the high costs he incurred for his upmarket interior design project.
A Conservative spokeswoman told the Times : 'All reportable donations to the Conservative Party are correctly declared to the Electoral Commission.'
On August 26, Conservative Party headquarters provided an update. Guido reported that the following was buried in the footnote of page 25/26 of the annual report (emphases in the original):
The Conservative Party officially say they provided a "bridging loan" of precisely £52,802 "in relation to the renovation of the Prime Ministerial residence in Downing Street" in anticipation of the formation of the PM's now-abandoned "Downing Street Trust". Conservative Central Office was then invoiced by the Cabinet Office in June 2020. Lord Brownlow then reimbursed the party…
CCHQ continues, "In March 2021, the Prime Minister personally settled the costs incurred by Lord Brownlow", before pointing to the Independent Adviser on Ministers' Interests review, which found the loan provided by CCHQ constituted financial support to the PM. The full stop at the end of the long-running row?
No, that was not the end of the matter. Yesterday, Thursday, December 9, Guido updated us with the news that the Electoral Commission fined the Conservative Party £17,800:
It just one thing after another for No. 10 this morning, as the Electoral Commission fines them £17,800 for failing to "accurately report a donation and keep a proper accounting record" in regards to the Downing Street flat refurb:
" … The investigation found that the party failed to fully report a donation of £67,801.72 from Huntswood Associates Limited in October 2020. The donation included £52,801.72 connected to the costs of refurbishment to 11 Downing Street. The full value of the donation was not reported as required in the party's Q4 2020 donation report.
The Commission also concluded that the reference in the party's financial records to the payment of £52,801.72 made by the party for the refurbishment was not accurate."
It never rains but it pours…
Sleaze
A sleaze scandal involving Conservative MPs erupted in November, resulting in the resignation of Owen Paterson, MP for North Shropshire. A by-election for his successor will be held on Thursday, December 16.
However, as I was on the subject of flats, the Political Editor of The Sun reports that, even though it became an issue in 2012, it appears that MPs buy London flats to rent out then reclaim the expense for the flat:
Guido exposed the practice in 2012. It allegedly involved at least one Labour MP and the then-Speaker of the House John Bercow covering it up (emphasis in purple mine):
The first and most simple method of rent-swapping involves the MPs who make money renting out their own previously taxpayer-funded properties while claiming expenses to rent out homes nearby. According to The Telegraph Chris Bryant rents out his mansion flat in Bloomsbury while claiming £2,000 expenses for rent on another London property. We have repeatedly asked him for an explanation this morning without receiving any reply. The Speaker claims the truth cannot be released because it would pose a security risk. Laughable, Guido and anyone else who wants to know, already knows where he lives.
The second, far more serious, category of rent-swapping covers a handful of MPs suspected of renting out properties to each other, effectively an "I'll pay yours if you pay mine" scheme. MPs are banned from renting homes to relatives but a loophole in the rules allows them to trouser huge sums of money by renting out properties to other current and former MPs. Bercow cites security reasons for not revealing the address or names of landlords, but there is absolutely no reason why he cannot release the names of the MPs involved in this form of rent-swapping. It is a cover up.
There is also potentially a third category: the so-called "phantom" rent swap. This involves the possibility of MPs telling the authorities they have moved when in reality they have not, and then swapping their rent on the quiet.
If these people were claiming housing benefit "Rent Swapping" like this would fall into the category of benefit fraud plain and simple, it is in the parlance of welfare fraud investigators a "contrived tenancy" punishable by up to 10 years imprisonment.
Now on to the big Opposition sleaze attacks from this year.
In April, Labour and Scotland's SNP MPs accused the Conservatives of cronyism when obtaining last year's emergency PPE and equipment contracts to fight the pandemic. On April 26, Michael Gove responded:
Only 0.5% of PPE wasn't up to scratch …

The Dyson texts were about securing ventilators for the frontline …
In November, the Owen Paterson controversy broke. Paterson had been working for the Northern Irish healthcare company Randox, whilst he was Shadow Northern Ireland Secretary. That was before the Conservative-Lib Dem coalition took office in May 2010. In 2015, he began working as a consultant for the company. By 2019, he was earning £8,333 a month for a monthly commitment of 16 hours in that role.
In 2020, the Government awarded two contracts to Randox for producing coronavirus testing kits. The first contract, awarded in March, was worth £133 million. In April 2020, Paterson represented Randox in a call with Lord Bethell, the minister responsible for awarding contracts. Unusually, no minutes of the call were available. Later that year, Randox won another contract worth £347 million. In neither case were other companies allowed to bid for those contracts.
Owen Paterson also worked for another company based in Northern Ireland, Lynn's Country Foods Ltd. They paid the then-MP £12,000 per annum for 24 hours of work.
In October 2021, on Political Correction, Nigel Farage interviewed Paterson on GB News. Paterson said that he had been under investigation by the Parliamentary Commissioner for Standards for many months. Paterson told Farage that, in June 2020, his wife, Rose, asked him one weekend how long the investigation would go on. He replied that he did not know. Little did he know that she was preparing to take her own life in the days that followed. She committed suicide on Wednesday, June 24, 2020. She had been so concerned for him that it was taking a toll on her mental health. Paterson and their three children were devastated.
In October 2021, the Parliamentary Commissioner for Standards concluded her investigation. Wikipedia states:
The Commissioner said Paterson had "repeatedly used his privileged position to benefit two companies for whom he was a paid consultant, and that this has brought the house into disrepute" and that "no previous case of paid advocacy has seen so many breaches or such a clear pattern of behaviour in failing to separate private and public interests".
Paterson told Farage that at no time was he allowed to present his case to the Parliamentary Commissioner for Standards.
The Commons Select Committee on Standards recommended that Paterson undergo a 30-day suspension from Parliament. That length of suspension could have triggered a recall of the MP from his constituency, resulting in a by-election.
In order to avoid that situation — and because some Conservative MPs thought Paterson had suffered enough through his wife's suicide brought on because of the pressure of waiting for the investigation to conclude — Andrea Leadsom MP brought forward an amendment to the motion to suspend him. It involved delaying consideration of the suspension until a new proposed cross-party committee of MPs could investigate the disciplinary process for MPs. The Government supported Leadsom's amendment and appointed a three-line Conservative whip, obliging the party's MPs to vote for it.
The amendment passed: 250–232. Paterson was able to vote for it.
On November 3, Paterson thought he would be able to clear his name. The Guardian quoted him as saying (emphases mine):
The process I was subjected to did not comply with natural justice.
No proper investigation was undertaken by the commissioner or committee.
The standards commissioner has admitted making up her mind before speaking to me or any witnesses.
All I have ever asked is to have the opportunity to make my case through a fair process.
The decision today in parliament means that I will now have that opportunity.
After two years of hell, I now have the opportunity to clear my name.
I am extremely grateful to the PM, the leader of the house and my colleagues for ensuring that fundamental changes will be made to internal parliamentary systems of justice.
I hope that no other MP will ever again be subject to this shockingly inadequate process.
That night, there was outrage among MPs, including Conservatives, and in the media.
Early in the afternoon the following day, Boris Johnson reversed his support for Paterson.
The Guardian reported:
MPs are expected to get another vote "as soon as possible" on suspending the Conservative MP Owen Paterson from parliament, after Boris Johnson made a U-turn and ditched immediate plans to overhaul the standards system.
Following a wave of anger from within his own party and allegations of Tory sleaze, the prime minister retreated. He signalled that he would not go ahead with a new committee chaired by a Conservative MP to review the case and wider sanctions policy, given that opposition politicians had vowed to boycott it.
A motion trying to reverse Wednesday night's vote is expected to be debated next week before the Commons goes into recess, when further details will be set out of how changes to the standards system will be taken forward on a cross-party basis.
Early that evening, Paterson announced that his resignation as MP for North Shropshire.
The Guardian said:
There is a Westminster joke about how eventually everyone gets let down by Boris Johnson, and the U-turn meant that Paterson – who yesterday enjoyed the full support of the No 10 machine – was today facing inevitable suspension from the Commons, and a possible recall election too … Johnson's U-turn makes the government less vulnerable to the toxic charge of corruption and cronyism than it was, but the episode must have caused some reputational damage and Tory MPs who loyally defended what the government was doing yesterday are looking particularly exposed.
The Paterson controversy resonated with many Britons who remember the MPs' expenses scandal that The Telegraph exposed more than a decade ago. Most of us have a dim view of Parliamentarians anyway, with the word 'trough' popping up more often than not in any mention of either House, Commons or Lords.
Interestingly, on November 30, Guido reported that Kathryn Stone, the Parliamentary Commissioner for Standards, cleared another Conservative MP, Geoffrey Cox (purple emphases mine):
of using his Commons Office during a Zoom call for his second job , on the grounds there is insufficient evidence to justify beginning an inquiry. Despite screenshots and videos having him bang to rights…
Stone's limp-wristed decision sets an alarming precedent, arguing the rules on the use of taxpayer-funded parliamentary offices should be operated with a degree of proportion. While this creates an absurdly subjective grey area, Guido confesses he worried this would be the outcome. As the scandal played out last month, he spotted that while the 2010 MP's handbook had explicitly said Commons Offices must not be used for non-MP work, this rule had been written out of the guidelines come the 2017 update …
Unfortunately, this means that Labour MPs using their offices and equipment to campaign for their candidates in by-elections are well in their rights to do so:
Far from this decision only impacting Geoffrey Cox, it also jettisons Guido's campaign against five Labour MPs he'd caught using their parliamentary offices to campaign in by-elections: Matt Western and Catherine West for Batley & Spen; Helen Hayes and Vicky Foxcroft for Old Bexley & Sidcup; and Kate Green for both.
Guido wrote to all five last Friday asking why they thought it an appropriate and fair use of taxpayer-funded resources, unsurprisingly receiving no reply from any. Guido reckons Kathryn Stone must be one of the few taxpayers in the country happy to fork up her cash for MPs like Cox et al to abuse the system and let them get away with it…
Of course, Conservatives hardly have a monopoly on sleaze. There are Opposition MPs who are also raking it in with second jobs. That's another subject for another day.
The result of the sleaze revelations was that Boris and his Government began slipping in the polls. In recent weeks, Labour have taken the lead in some of them.
Therefore, it was hard to see how Boris could manage to make things even worse for himself or the public.
On November 22, Patrick Christys of GB News said that Boris would be unlikely to survive anything further:
But what happened next?
Amazingly, Boris initiated Plan B coronavirus restrictions for England.
Find out why on Monday in Part 2.
Hint: his reason has nothing to do with health.
On Thursday, December 9, Prime Minister Boris Johnson's wife Carrie gave birth to a baby daughter in a London NHS hospital:
Their young son Wilfred now has a baby sister.
The Daily Mail reported:
Boris Johnson has left hospital after his wife Carrie gave birth to his seventh child today – a baby girl – in a tumultuous 24 hours where he triggered 'Plan B' on Omicron as the furore over illegal Christmas parties at No 10 rocked his premiership.
The couple walked into a central London NHS hospital at 7.40am this morning – around two hours after police officers turned up to secure the site ahead of Carrie's arrival, MailOnline can reveal.
A masked Mrs Johnson, 33, was accompanied into a side entrance by a bodyguard carrying an overnight bag. Her husband, 57, wearing a mask and a trademark wooly hat, was flanked by two policemen as he followed her in carrying a suitcase and what appeared to be a bluetooth speaker.
The baby girl, a younger sister to their son Wilf, one, was born within a couple of hours with Mr Johnson at his third wife's side throughout the labour and birth. The PM returned to Downing Street at lunchtime after leaving the maternity ward at around 11.45am. 
In a statement, a spokeswoman for the couple said: 'The Prime Minister and Mrs Johnson are delighted to announce the birth of a healthy baby girl at a London hospital earlier today. Both mother and daughter are doing very well. The couple would like to thank the brilliant NHS maternity team for all their care and support.' 
Mrs Johnson has called their newborn girl their 'rainbow baby' – a term used by parents having a child after losing a baby to miscarriage, stillbirth or neonatal death and coined to signify the arrival of something beautiful after a storm. 
The couple announced they were expecting at the end of July, as Carrie, an environmental campaigner and former director of communications for the Conservatives, described her own 'heartbreak' following a miscarriage in early 2021. 
It is unclear whether Boris has fathered seven or eight children.
This birth comes at a chaotic time for Boris's premiership. Allegations of 2020 Christmas parties defying coronavirus rules have surfaced along with a £17,800 fine for his Downing Street flat refurbishment and the launching of a most authoritarian Plan B in light of the Omicron variant:
Boris' happy news came after a day of bedlam in government where he is struggling to contain a Tory revolt today amid fury at 'non-sensical' new Covid restrictions and his handling of the No10 Christmas party debacle, which forced the tearful resignation of senior Government aide Allegra Stratton. 
Last night the PM dramatically triggered 'Plan B' measures to control the rampant Omicron strain at a press conference, with fears that infections are now doubling every few days and the NHS could be crippled.  But critics says the restrictions are 'mental' as he urged 66million Britons to work from home if they can to slow the spread of Omicron – but still head into town for Christmas parties as well as festive drinks and dinners. 
And amid more scandal at No 10, Baby Johnson entered the world just as the Conservatives were fined £17,800 over the controversial donation to help cover the lavish refurbishments to the couple's Downing Street flat.  
Labour leader Sir Keir Starmer tweeted: 'Congratulations to Carrie and Boris Johnson on the birth of their daughter. 'Wishing your family health and happiness.' 
Wilfred Lawrie Nicholas Johnson was born in April last year and was named in partly in tribute to two doctors, Nick Hart and Nick Price, who helped saved the Prime Minister's life when he was admitted to hospital with Covid-19 earlier that month.
It is unclear whether the wheels on the Boris bus are coming off. Conservative MPs are angry about the alleged Christmas parties in 2020 and a further ramping up of coronavirus restrictions which go into effect on Friday, December 10. A vote will be held in the House of Commons after the fact next Tuesday, just before Christmas recess.
For now, Boris has a happy distraction in his newborn daughter.
Congratulations to the Johnsons on their new bundle of joy.