You are currently browsing the tag archive for the 'Brexit' tag.
The past seven days in Britain have proven further the old adage that a week is a long time in politics.
Last Saturday, September 7, Conservative MP Amber Rudd (Hastings and Rye) resigned from Prime Minister Boris Johnson's cabinet. Her resignation is not a huge loss, as she is a Remainer, however, the optics were potentially damaging to the new PM.
She was upset about the 21 Conservative MPs who had the whip removed last week. (The PM's brother Jo had resigned from Cabinet days before for the same reason.) Fair enough. However, she allegedly told The Sunday Times about her resignation before she notified the PM, according to Buzzfeed's Alex Wickham:
On Monday, September 9, talk revolved around Boris's 'unfair' prorogation. A few weeks ago, Conservative MEP Daniel Hannan reminded us of the facts:
Before prorogation took place, however, former Conservative-now-rebel MP Dominic Grieve put forward a Humble Address procedure in Parliament on Monday afternoon. He wants every detail of correspondence behind prorogation as well as the emergency Brexit procedures contained in Project Yellowhammer. The Guardian has this summary of this extraordinary measure with regard to prorogation correspondence (emphases mine):
Grieve's demand for the release of all written and electronic contact about the temporary suspension of Parliament and Operation Yellowhammer documents since July 23 to be released was approved by MPs by 311 votes to 302 on Monday.
It asked for all correspondence and communications, formal or informal, including WhatsApp, Telegram, Signal, Facebook Messenger, private email accounts, text messages, iMessage and official and personal mobile phones connected to the present Government since July 23 relating to prorogation.
It listed key individuals of Mr Johnson's Government, including senior adviser Dominic Cummings and director of legislative affairs Nikki da Costa.
Grieve was Attorney General just a few years ago, so, apparently, this move is legal, even though one wonders about the legality of requesting private correspondence given EU data protection rules. An update follows below.
That was followed by Speaker of the House John Bercow's announcement that he would be relinquishing his post by October 31. A standing ovation from Opposition MPs followed, at which point most Conservative MPs left the chamber. Then, a 90-minute verbal floral tribute followed to the Remainer from a variety of Opposition MPs, also Remainers. And these are the people who complain they lack adequate time to debate Brexit!
That evening, as MPs continued to sit in session, the PM once again put forward his motion to hold a general election. His prior attempt had been defeated a week earlier.
Once again, Boris was defeated. Those who voted Aye were in the majority, but he needed two-thirds of all sitting MPs to vote for it.
Still, no one can rightly call him a dictator.
Recalcitrant MPs should have listened to Gina Miller. This is probably the one time I agree with her — and that is only with the second sentence in this tweet:
Gina's case on illegal prorogation was rejected, but it goes before the Supreme Court next week on appeal. Former Conservative PM John Major (pictured in the background) piggybacked his own anti-prorogation case onto Miller's:
It's a bit rich for Sir John to complain about Boris's prorogation:
Around the time Parliament was preparing for prorogation, a poll was released saying that the British public do not want another extension to Brexit:
In the early hours of Tuesday morning, all hell broke loose in the House of Commons.
Black Rod, the Lady Usher in the House of Lords and Queen's representative for the prorogation ceremony, entered the House. She was there to prorogue Parliament and summon all MPs to the House of Lords where they had to listen to a very long list of all the achievements of their Parliament. It took ages.
I stayed up to watch everything on BBC Parliament, but the following video has better views of a few other scenes in the Commons. The noise that Opposition MPs made was terrible. Then, a vexed Black Rod, who stood on the red line designating the governing party's boundary in the House, glared at the Speaker as he made some great peroration, to borrow the word he uses against those with whom he disagrees. He then barked at two Conservative MPs telling him to get on with it and leave the chamber. One Labour MP climbed on top of Speaker Bercow to prevent him leaving!
This video is around six and one half minutes long and is well worth watching:
Here is a potted version with subtitles of the proceedings:
It was part of Bercow's job to silence the chamber and allow Black Rod to speak.
Here are a few more scenes:
The 'SILENCED' signs were rich, considering these MPs are thwarting Brexit at every turn. A Leave supporter did a nice Photoshop of the Speaker's chair:
All of the MPs were supposed to follow Black Rod to the House of Lords, but only the Conservatives and a handful of Opposition MPs did.
The rest stayed behind to film themselves in the Commons — not allowed — and to sing songs, such as The Red Flag!
The Labour MP crawling on top of Bercow was re-enacting a similar prorogation scene in Parliament from 1629:
After Bercow returned from the House of Lords, he received a second standing ovation, largely from the Opposition:
On Wednesday, September 11, The Guardian reported that Cabinet minister Michael Gove wrote Dominic Grieve in response to his aforementioned Humble Address procedure requesting private correspondence on prorogation. The government — rightly — will not hand over said documents:
A letter from Michael Gove addressed to former Attorney General Dominic Grieve states that the request would breach the rights of those named in the communications – including civil servants and special advisers.
This is an unprecedented, inappropriate, and disproportionate use of [the Humble Address] procedure. To name individuals without any regard for their rights or the consequences of doing so goes far beyond any reasonable right of Parliament under this procedure.
These individuals have no right of reply, and the procedure used fails to afford them any of the protections that would properly be in place. It offends against basic principles of fairness and the Civil Service duty of care towards its employees.
Excellent move, excellent reasoning.
However, the government did release more information about Operation Yellowhammer, which looks a lot like what we saw reported in the media earlier this year in anticipation of the original March 29 departure date:
We have enough to go on at this time. Why release procedures that could compromise national security?
Michael Gove explained that Yellowhammer details what to do in a worst case scenario. Those scenarios might never happen. They are contingency plans:
That day, three Scottish Appeal Court judges declared that the PM's prorogation is unlawful, as they believe it is intended to stymie Parliament:
The case goes to the UK's Supreme Court next week. The Guardian reported:
The three judges, chaired by Lord Carloway, Scotland's most senior judge, overturned an earlier ruling that the courts did not have the power to interfere in the prime minister's political decision to prorogue parliament.
Lawyers acting for 75 opposition MPs and peers argued Johnson's decision to suspend parliament for five weeks was illegal and in breach of the constitution, as it was designed to stifle parliamentary debate and action on Brexit.
The judges failed to issue an interdict, or injunction, ordering the UK government to reconvene parliament, prompting a row over whether the decision meant MPs could go back to the House of Commons.
The court issued an official summary of its decision declaring the prorogation order was "null and of no effect", but Carloway said the judges were deferring a final decision on an interdict to the UK supreme court, which will hold a three-day hearing next week.
Conservative MP Nigel Evans reiterated the PM's position:
A hypocritical Labour MP showed up alone for PMQs (Prime Minister's Questions) late that morning, following the Scottish judges' declaration. Too bad he did not spend that energy in a vote for a general election:
On Thursday, a High Court judge in Belfast dismissed a legal challenge against a No Deal Brexit. A BBC article says:
One of the three cases brought was by the victims' campaigner Raymond McCord who plans to appeal the decision.
The court heard arguments that a no-deal would have a negative effect on the peace process and endanger the Good Friday Agreement.
But the judge said the main aspects of the case were "inherently and unmistakeably political".
Lord Justice Bernard McCloskey also excluded a challenge against the suspension of Parliament because the issue formed the "centrepiece" of proceedings in England and Scotland.
As the week draws to a close, a reporter for The Times (paywall) says that the EU regrets alliances with Labour and other Remainers over their incoherent policies on Brexit. Labour's Keir Starmer is on the left in the photo, with party leader Jeremy Corbyn on the right:
As far as the government's negotiations in the EU, Boris has made a largely favourable impression, although his negotiator David Frost is seen to be driving a hard bargain in some areas. This thread comes from the Director of the Centre for European Reform, who confirms that, to date, no firm proposals have been presented to the EU. That said, he says some EU nations believe that Boris wants to make a deal before October 31:
Elsewhere in Brussels news, Guy Verhofstadt's wine from his estate in Tuscany is reportedly very good. Perhaps that was what he poured in this documentary clip about the EU's Brexit Steering Group:
On Monday, September 16, the PM will meet over lunch for Brexit talks with Jean-Claude Juncker in Luxembourg.
More to follow anon as this sorry saga continues.
Last week, a reader, prairie123, responded to my post, 'Brexit Chronicles: the parliamentary drama continues':
This is very informative, I have been trying to learn more about this situation for a while now, but I have such a firm understanding of how US govt. works, that it's a little tricky to figure out how British govt. does things. The questions (and shouting matches, etc) during the question portion of that even were insane! I thought there would be more decorum and manners… also the crossing of the floor by Lee – that must have been a BIG deal! He basically just switched parties, correct? Yikes. I hope Boris can win some back, but I have a feeling it's just time to vote some members out.
I do have some random questions, if could ask you CM: Does the UK have a set time for elections or is it random? Does the House of Lords get voted in/out? Is the majority/minority whip jobs similar to US positions? When the UK joined the EU, did the people get to vote to decide that, or did the govt. just decide it was best? The EU is basically draining the economy of the UK, right? What other negative implications has being a part of the EU brought to the people of the UK, in other words what is so bad about the EU that you don't like?
Ok, sorry to be a pest, but I really am curious about this. I know there is nothing I can do to help, but just keep Boris Johnson in my prayers and the people of Britain, I hope the politicians will actually do what they said they will do, which is the will of the people!
Thanks CM – have a great day! 🙂
I am most grateful to prairie123 for the questions. Answers follow.
That post discussed the now-former Conservative MP Phillip Lee crossing the floor of the House of Commons to the Liberal Democrats.
… that must have been a BIG deal! He basically just switched parties, correct?
Yes, and it is a big deal whenever it happens when MPs are in session. This was notable as Prime Minister Boris Johnson, also Conservative Party leader, was addressing Parliament at the time:
Does the UK have a set time for elections or is it random?
It used to be more random until the Fixed Term Parliaments Act — FTPA — became law in 2011.
When David Cameron (Conservative) became Prime Minister after the May 2010 election, there was a hung Parliament, with no clear Conservative majority. The Conservatives had 306 MPs and the Liberal Democrats 57 MPs. The Conservatives had to go into coalition with the Liberal Democrats, led at that time by Nick Clegg. Clegg became Deputy Prime Minister.
The purpose of the FTPA was to ensure that neither of the coalition partners — the Conservatives nor the Liberal Democrats — could trigger a snap general election.
In principle, under the FTPA, general elections are now held every five years. In reality, Prime Minister Theresa May, David Cameron's successor, was able to trigger one in 2017, even though the Conservatives won the 2015 election. (Opposition MPs said she had no mandate to deliver Brexit, and the election was seen as a way of giving her legitimacy.)
Under FTPA, Theresa May needed the Aye votes of two-thirds of sitting MPs in order to trigger an election. She got those votes, and the election went ahead in June 2017. Unfortunately, she came out with less of a majority than before the election.
PM Boris Johnson has tried twice in the past two weeks to trigger a general election. Unfortunately, although the Aye votes were overwhelming, they did not come from two-thirds of sitting MPs. Other MPs abstained or did not vote.
Does the House of Lords get voted in/out?
There is no public vote for members of the House of Lords.
The House of Lords used to be comprised of hereditary peers until Labour, under Tony Blair, enacted reforms between 1997 and 2010. The House of Lords Act 1999 retains only 92 hereditary peers among the Lords Temporal.
There are also Lords Spiritual who are members: 26 bishops from the Church of England.
The majority of the Lords Temporal are life peers who are appointed by the monarch on the advice of the Prime Minister or the House of Lords Appointments Commission.
There is no limit to the number of members of the House of Lords. It is the only upper house of bicameral government in the world to be larger than the lower house.
Are the majority/minority whip jobs similar to US positions?
Yes and no.
In the UK, a whip withdrawn from an MP means that the MP no longer represents his political party in Parliament, even though he can remain as a sitting MP. This is what happened to the rebel Conservative MPs last week. They became independents upon withdrawal of the Conservative whip.
Wikipedia explains:
In British politics, the chief whip of the governing party in the House of Commons is customarily appointed as Parliamentary Secretary to the Treasury so that the incumbent, who represents the whips in general, has a seat and a voice in the Cabinet. By virtue of holding the office of Parliamentary Secretary to the Treasury, the government chief whip has an official residence at 12 Downing Street, although the chief whip's office is currently located at 9 Downing Street. Government whips report to the prime minister on any possible backbench revolts and the general opinion of MPs within the party, and upon the exercise of the patronage, which is used to motivate and reward loyalty.
In the sense of 'voting instructions', there are three categories of whip in British politics that are issued on particular business. An expressed instruction on how to vote could constitute a breach of parliamentary privilege, so the party's wishes are indicated unequivocally but indirectly. These whips are issued to MPs in the form of a letter outlining the parliamentary schedule, with a sentence such as "Your attendance is absolutely essential" next to each debate in which there will be a vote, underlined one, two or three times according to the severity of the whip:
A single-line whip is a guide to what the party's policy would indicate, and notification of when the vote is expected to take place; this is non-binding for attendance or voting.
A two-line whip, sometimes known as a double-line whip, is an instruction to attend and vote; partially binding for voting according to the party's position, attendance required unless prior permission given by the whip.
A three-line whip is a strict instruction to attend and vote according to the party's position, breach of which would normally have serious consequences. Permission to not attend may be given by the whip, but a serious reason is needed. Breach of a three-line whip can lead to expulsion from the parliamentary political group in extreme circumstances, and even to expulsion from the party. Consequently, three-line whips are generally only issued on key issues, such as votes of confidence and supply. The nature of three-line whips and the potential punishments for revolt vary among parties and legislatures.
In the US, the whip has a similar function, but without the drastic consequences that are possible in the UK system:
Both houses of Congress, the House of Representatives and Senate, have majority and minority whips. They in turn have subordinate "regional" whips. While members of Congress often vote along party lines, the influence of the whip is weaker than in the UK system. American politicians generally have considerably more freedom to diverge from the party line and vote according to their own or their constituency's conscience. One reason is that a considerable amount of money is raised by individual candidates. Furthermore, neither members of Congress, nor any other person, can be expelled from a political party, which are formed simply by open registration. In addition, because preselection of candidates for office is generally done through a primary election that is open to a wide number of voters, candidates who support their constituents' political positions, rather than those of their party leaders, cannot easily be rejected by their party due to a democratic mandate.
Because members of Congress cannot serve simultaneously in Executive Branch positions, a whip in the United States cannot bargain for votes by using potential promotion or demotion in a sitting administration as an inducement. There is, however, a highly structured committee system in both houses of Congress, and a whip may be able to offer promotion or threaten demotion within that system instead. In the House of Representatives, the influence of a single member individually is relatively small and therefore depends a great deal on the representative's seniority (i.e., in most cases, on the length of time they have held office).
In the Senate, the majority whip is the third-highest ranking individual in the majority party (the party with the most seats). The majority whip is outranked by the majority leader and, unofficially, the president pro tempore. As the office of president pro tempore is largely honorific and usually given to the longest-serving senator of the majority, the majority whip is in reality the second-ranking senator in the majority conference. Similarly, in the House, the majority whip is outranked by both the majority leader and the speaker. Unlike the Senate's presiding officer, the Speaker is the leader of his or her party's caucus in the House.
In both the House and the Senate, the minority whip is the second highest-ranking individual in the minority party (the party with the lesser number of legislators in a legislative body), outranked only by the minority leader.
When the UK joined the EU, did the people get to vote to decide that, or did the govt. just decide it was best?
In the 1960s, the Government had made repeated applications to join the European Common Market — purely a trading bloc without much of today's bureaucracy — and the UK was finally accepted in 1969.
It took three years to work out the terms, and on January 1, 1972, the UK joined the EC (European Community), along with Denmark and Ireland.
Some Labour MPs disapproved of the terms of the treaty and thought that the matter should be taken to the public in a referendum, and this was part of the Labour Party's manifesto for the 1974 election, which they won.
The referendum was held in 1975. The Conservatives supported EC membership, and Labour MPs were still divided. Tony Benn was deeply concerned about how EC membership would eventually erode the UK's sovereignty as a nation. (Today, his grandson Hilary holds the opposite view.)
Yes won by 67.23% of the vote, with a turnout of 64.62%.
You can read more at the following links: History of European Union-United Kingdom relations and 1975 United Kingdom European Communities membership referendum.
The EU is basically draining the economy of the UK, right?
Not really, however, we could be using the annual contributions we make to the EU for our own nation.
What EU membership has done is weaken our manufacturing over the years (details in this post).
As for contributions, we are second behind Germany. We are a net contributor, meaning that we send more to the EU every year than we get back.
On June 1, 2019, the Express reported:
In 2017, the UK was the second largest contributor with €7.43bn (£6.55bn), just behind Germany at €12.8bn (£11.2bn).
Britain will remain a member of the EU until its departure has been negotiated and will continue to contribute to the EU budget until it formally leaves.
On the other end, Poland was the biggest net recipient of the EU budget (getting more back than it contributed in the first place), followed by Greece, Romania, Hungary and Portugal.
Regardless of their ability to contribute, the 27 countries are able to vote on EU policies equally. Is it advisable that countries who sap from the EU coffers receive an equal vote on everything?
On May 29, the BBC published a good analysis of how EU contributions are spent and where they go. As their article explains, figures can be looked at in a few ways.
First, on the poorer countries:
The EU spends the money on a wide range of projects, but about three quarters of the budget every year goes to two main areas: agriculture and development of poorer areas of the EU.
So, poorer countries and those with a lot of farms get more.
Poland was the biggest net recipient of the EU budget (getting more back than it contributed in the first place), followed by Greece, Romania, Hungary and Portugal.
Luxembourg and Belgium, two of the richest EU countries, are also on the list of EU budget net recipients, because they receive a high proportion of the funding for administration as many EU institutions, such as the Commission and the European Parliament, are based there.
Secondly, on the contributions, whilst the BBC quotes the same German and British contribution figures as the Express article, when one analyses the contributions per person, a different picture emerges:
The largest net contributor to the EU budget per capita is the Netherlands, followed by Sweden, Germany, Denmark and the United Kingdom in fifth place, with €112.85 in 2017.
Thirdly, the placement differs again, albeit slightly, when one looks at the contributions in terms of GDP:
The Netherlands pays the biggest proportion of its gross domestic product (GDP) – a measure of the amount produced in an economy in a year. In 2017, its contribution to the EU budget was 0.47% of its GDP.
Germany is second on this list, followed by Sweden and the UK, in fourth place, with 0.32% of GDP contributed in 2017.
As for our final 'divorce' settlement, a page on Parliament's website has excellent information, in part:
The UK will remain a member of the EU until its departure has been negotiated and will continue to contribute to the EU budget until it formally leaves …
The UK Government costs the settlement at around £35 billion-£39 billion. However, the true cost will not be known until all the future payments have been made …
The UK Government says that it may pay to participate in some EU programmes after Brexit. For instance, the UK might contribute to remain in Horizon 2020, the EU's research and innovation programme. Exit negotiations will determine the extent of the UK's future participation in EU programmes and any cost.
What other negative implications has being a part of the EU brought to the people of the UK, in other words what is so bad about the EU that you don't like?
The main issue is loss of national sovereignty.
Hilary Benn, the Labour MP who has been running serious interference against Brexit, had a grandfather who felt quite the opposite. The late Tony Benn was a legendary Labour MP. Whilst I did not agree with most of his views, his 1975 prediction about membership in the EU came true. He warned that we would lose our sovereignty bit by bit, which we did. He also warned that once in, we would find it very difficult to leave. And so it is proving. I wish he were still alive to talk to his grandson about this issue.
———————————————————————————————————–
I hope this answers some of your questions, prairie123. Thank you very much for your moral support for those of us who wish to leave!
The truth about Remainers wanting Britain to stay in the European Union continues to emerge.
The result is that British voters have become very angry — even Remainers and the normally apathetic.
People are angry because of the false promises those on both sides of the aisle made three years ago:
News items
Late last week, a number of news interviews and articles exposed the continued, wilful intransigence of Remain MPs calling for 'compromise', 'coming together' and so on — all in a concerted effort to block not only Brexit but also a general election.
Spiked's Brendan O'Neill appeared on Sky Australia on September 4 to discuss Hilary Benn's European Union (Withdrawal) (No.6) Bill and the failed vote on a general election:
Meanwhile, in Britain that day, former Conservative MP Michael Portillo rightly said that the 2016 referendum was never about Deal or No Deal. The voter responding to him also remembers then-PM David Cameron's words correctly:
Brexit Party MEP Dr David Bull said the same on David Vine's Channel 5 morning talk show. On Friday, September 6, he responds to a Remainer panellist saying that Leave 'was based on a lie':
Nor did any of the Leave campaigners say it would be easy:
Well said, Portillo! No leading figure campaigning for Brexit *ever* mentioned a deal of any kind! Nobody said we'd be getting a great, quick, easy deal! Nobody said we'd have to have a deal in order to enjoy the exact same benefits of being the EU! These are all Remoaner lies!
On Thursday, September 5, news emerged that former Conservative MPs, from whom the Party whip had been withdrawn last week, plan to stand as Independent MPs in the next general election. They are Remainers:
The Sun reported not only on the rogue MPs but also on other developments going on at the heart of Prime Minister Boris Johnson's government (emphases mine):
They are Philip Hammond, David Gauke, Dominic Grieve, Ed Vaizey, Sam Gyimah, Alistair Burt, Steve Brine, Caroline Nokes, Antoinette Sandbach, Rory Stewart, Margot James and Stephen Hammond.
Even if the rebels fail to win them, the move could split the Tory vote and hand the seats to opposition parties, diminishing the PM's chances of a majority.
It came as Sir John Major last night demanded the PM reinstate the 21 rebels – and sack controversial aide Dominic Cummings in an extraordinary attack.
The former PM said it defied belief the Tory MPs had been booted out for failing to "parrot the views of a Prime Minister influence by a political anarchist".
Former Attorney General and rebel leader Mr Grieve told The Sun last night that his decision to stand "depends on the circumstances of the election".
But Mr Grieve added: "I'm certainly of the view that pulling out of politics during the biggest crisis in recent history would be the wrong thing to do …"
… The development comes as Sajid Javid became the latest senior Tory to join the spiralling Cabinet revolt against the expulsions.
Asked if there was a road to redemption for them, the Chancellor told LBC: "I would hope so. I would like to see them come back at some point" …
It wasn't good news for Labour that day, either, as voters in Grimsby, in North East Lincolnshire, told BBC Radio 4 that they could not countenance the idea of Jeremy Corbyn as Prime Minister. Grimsby is a Labour stronghold and has elected a Labour MP consistently since 1945: 74 years!
The Express has the story about the fishing town that also voted overwhelmingly to Leave in 2016. Some residents are considering voting for the Brexit Party:
Speaking to BBC Radio 4's Today programme, one local said: "Labour are out, I think.
"I would definitely say Labour would be gone. Their position on Brexit is not very clear and that's probably why they're going to be in trouble.
"They'll be seen as the worst of the parties because at least the Lib Dems have come out and said, 'this is our position.' Everyone knows the Tory position with Johnson and people.
"I feel Labour is still sort of in the middle and Corbyn's not going to be, probably, the world's best prime minister" …
And another local appeared to echo the sentiment, saying: "It's difficult when you've been a paid-up Labour member for years and now we're really struggling to think, 'I don't really want to vote for them.'
"Where does your vote go? We could be Liberals but Conservatives, no. Because if you look at the Conservatives at the top at the minute, they don't have to worry about what challenges or financial challenges Brexit would bring because they're all very rich."
Other locals also signalled they would be willing to switch their vote to the newcomer Brexit Party led by Nigel Farage, whose candidates snatched at least one seat in each constituency at the European parliamentary elections in May – including one seat in Scotland.
A man said: "I was talking to my friend earlier and he said he'd vote Farage.
"Actually, that's quite a possibility. I'm thinking about it and my friends are, too."
Boris's call to the voters
On Thursday, September 5, Boris updated the voters, explaining what their choice is now, given last week's events in the House of Commons. The short video has subtitles:
An MP speaks
This video clip shows Conservative MP Nigel Evans defending the voters who, in good faith, ticked the Leave box in 2016. What a pity he spoke to nearly empty benches on both sides:
A Conservative MEP sums up
The eloquent MEP Daniel Hannan sums up the current Brexit deadlock — and prorogation — as follows:
A Labour MP for Leave gets threatened
Kate Hoey, Labour MP for Vauxhall (South London), has been an ardent Leave campaigner from the beginning. After her re-election in 2017, she decided not to stand again as a Labour MP in the next general election.
Last week, she voted with the Government against Hilary Benn's 'Surrender' bill:
She also received the following email, which looks as if it came from a bot. Nonetheless, it carries a nasty threat. She received support from the aforementioned Dr David Bull. Language alert:
Labour Leave tweets
Labour Leave point out the hypocrisy of Remainer MPs. 'SM' is Single Market and 'CU' is Customs Union:
In fact, SM + CU is worse than Remain. We would have no sovereignty — or EU vote.
I am glad to see they took exception to Remain MPs' extreme characterisations of Leavers last week:
The British speak out — 'bigger than Brexit'
It is telling that the British public are now clearly angry about the way Parliament has treated them.
This is now bigger than Brexit. It is about how we are governed.
Some Remainers understand what is happening and want MPs to carry out the referendum result.
So do some who were formerly apathetic about politics in general.
The Remainers
This former Remainer is irked by the People's Vote (FBPE) — second referendum — brigade:
The awakened apathetics
This is a great tweet — followed by similar replies:
Teachers are angry
These are more replies to the man's tweet about his apathetic wife.
These are important because they are about teachers, most of whom voted to Remain. Yet, even they can see that what's happening is greater than Brexit. This is about how we are governed, full stop:
Conclusion
The British are ready now for a general election.
Some of us have had two elections this year: local (not everywhere) and for the EU Parliament.
Yes, we were sick of going to the polls so frequently, especially for an EU election, but, based on last week's antics, we are looking forward to casting our vote.
Consider it a People's Vote, or a second referendum. It serves the same purpose.
In two votes, MPs stymied Prime Minister Boris Johnson during the afternoon and evening of Wednesday, September 4, 2019.
You can read my earlier report here.
The European Union (Withdrawal) (No.6) Bill
The Hilary Benn – Alistair Burt Bill passed the House of Commons, effectively limiting the chances of No Deal Brexit in favour of yet ANOTHER cap-in-hand request to the EU for yet ANOTHER extension!
Burt, by the way, is a rebel Tory and is now an Independent:
Parliament's website has a summary of the bill, known officially as the European Union (Withdrawal) (No.6) Bill:
The Bill would require that unless the House of Commons approves a deal with the EU or the House of Commons agrees a no-deal Brexit, the Government must by 19 October 2019 seek an extension to the Article 50 period until 31 January 2020.
In debating it yesterday afternoon, a handful of Conservative MPs loyal to the British public pointed out that some Remainer MPs — unnamed — are in league with Brussels to prevent a No Deal Brexit or any Brexit at all.
They further accused Remainer MPs of playing for time. The more extensions they get, the further away the timeline moves from the 2016 referendum, at which point they could say that it's time for a second referendum.
There are already some MPs with private estates or farms that receive EU grants. So, they have a vested interest in maintaining the status quo. Others must have some other dependency on the EU financially, otherwise, they would vote to leave on October 31. At some point, someone will reveal more about this.
In any event, the bill progressed to the House of Lords, which — despite the amendments the Conservative peer Lord True tabled (he lives up to his name) — is scheduled to clear by the end of the day, Friday, September 6. The Lords will then return it, with amendments, to the Commons for further debate on Monday. It is likely to pass into legislation.
On Thursday, September 5, Guido Fawkes reported that, in a twist of events, No. 10 has agreed with opposition MPs that the Lords should be enabled to clear this by Friday. That would indicate that the 100+ amendments that Lord True tabled have either been reduced or eliminated:
… following Boris's defeat in the [C]ommons, there ha[ve] been reports that far from the 100 hours-worth of debate we were anticipating in the Lords, the Government has conceded defeat and negotiated with the opposition to agree Hilary Benn's Bill to complete all its stages by Friday – with the bill then going back to the Commons for any further consideration on Monday.
This sounds like a further climbdown on the government's part, but Guido explains that this could help Boris get more leverage for a snap general election (emphasis in the original):
It looks like the decision was accepted by Boris, who now will want legislation to be passed as quickly as possible, to ensure Labour can't again duck out of backing a general election next week. Prorogation could be enacted as late as the 12th, allowing Boris to secure his preferred route to an election by the 16th…
We can but see.
More on the bill follows below.
General Election voted down
Last night, Boris brought forward a motion for a general election.
MPs defeated him on this vote, too.
Until 2011, it was relatively easy for a sitting Prime Minister to call for a general election. However, in 2010, Conservative Prime Minister David Cameron had to form a coalition government with the leader of the Liberal Democrats at that time, Nick Clegg. The Liberal Democrats are a far smaller party than either the Conservatives or Labour. In order to secure the Liberal Democrats' position in the coalition, Parliament passed the Fixed Term Parliament Act, under which no general election can be held unless two-thirds of all sitting MPs approve it. The Queen then rubber stamps the decision.
Last night's vote was overwhelmingly in favour of a general election, however, not all of the MPs voted Aye or No. Some abstained. Others did not vote at all:
The replies to the tweet show that the British public are not happy:
Yes, indeed.
As I write on Thursday, it appears that the Government could be contemplating another motion for an election, to be tabled on Monday:
That said, this is what the Prime Minister said after Thursday's vote:
The Opposition has opted to show confidence in Her Majesty's Government.
That is true.
One member of the public summed up the result as follows:
Yes, in effect, a general election would be a People's Vote on Brexit. The Left has been clamouring for a People's Vote — a second referendum — for most of this year. A general election would accomplish the same objective.
It is also worth noting that Labour have also been calling for a general election since February 2018, only months after the June 2017 election was held. This video shows all their requests:
The following tweets from The Independent's John Rentoul explain Labour's reasoning for voting against the Government's motion on Wednesday:
What Boris might be thinking
These two defeats on Boris's first full day in the Commons look terrible, and indeed they are, however, knowing that he is a keen student of world history going all the way back to the Ancient World, he and his Svengali, Dominic Cummings, no doubt have other cards they intend to play.
On these two votes, some on Twitter offer speculation. One involves Jacob Rees-Mogg's sister Annunziata, who is a Brexit Party MEP:
It makes sense.
What Boris said last night
Late yesterday evening, the Prime Minister gave a ten-minute interview to ITV's Robert Peston, in which he discussed his past two days in Parliament:
At the 2:00 mark, he discussed the new Bill, saying that it damages his ability to negotiate a good deal with the EU. He said that it also dictates the letter he is to write for an extension.
You can see the letter here on page 8. Talk about supplication!
It is clear that Remainer MPs are now out in the open about their opposition to No Deal. The public understands what is going on:
Yep!
Boris's brother resigns
The Prime Minister's brother, Jo Johnson, has a place in the Cabinet, but has chosen to become a rebel and resign the Party whip.
News broke early Thursday afternoon. Andrew Neil discussed it on his BBC show that day:
The now-former Minister for Universities and Science tweeted:
ITV's Robert Peston quipped:
Was it a surprise or not?
Someone replied with the referendum result for Johnson's Kent constituency:
Jo Johnson failed to mention that his constituency of Orpington had a 57.54% estimated LEAVE vote in 2016
Johnson's resignation was only a matter of time. I was surprised to see him accept his brother's offer of a Cabinet post in July, considering his Remainer views.
In other news
Boris's top adviser Dominic Cummings was found in contempt of Parliament in March 2019 for his 2016 role in the Vote Leave campaign, which he chaired. He refused to appear before the Digital, Culture, Media and Sport (DCMS) committee, which accused him of spreading fake news for the campaign.
On Wednesday, Damian Collins MP wrote again to ask him to appear before the committee:
I think Cummings will ignore the request, but I could be wrong.
———————————————————————————————-
And, so, this wraps up a week of excitement in Parliament. What a potboiler this saga is! More to come anon.
If Brexit were a television series, we would be entering what Americans call 'the new fall season'.
Essentially, MPs picked up where they left off before summer recess.
Tuesday and Wednesday were full of drama.
Rebel MPs
Prime Minister Boris Johnson lost his Commons majority on Tuesday.
In fact, he now has a working minority of -2.
Twenty-one Conservative MPs voted against the government in favour of Labour MP Hillary Benn's motion to prevent a No Deal Brexit, which is still the legal default. The debate on the Benn-Burt Bill, dubbed the Surrender Bill, is going on today, Wednesday, and I will cover that more in another post.
This is not the first time an MP has had control wrested from him in the first vote of his premiership. There were two others, one from the 18th century and another in the 19th.
The first was Pitt the Younger:
Rosebery (misspelled below) was the other:
Government loses. Johnson the first PM to lose his first Commons vote since Roseberry in 1894.
This is very serious for Boris, should the Lords pass the bill. It would prevent him from negotiating the best Brexit deal for the UK.
Many of the Conservatives listed below gave Hilary Benn support in mid-March for another anti-Brexit motion, which he put forward two days before the original March 29 departure date.
The two Labour MPs listed below voted against the motion to debate Benn's bill, which took place on Wednesday.
The list of rebels includes longtime EUrophile Kenneth Clarke, Father of the House:
Kenneth Clarke is not the only prominent Conservative who has had the whip withdrawn. An explanation of whip withdrawal is below.
Sir Nicholas Soames is Winston Churchill's grandson. Remainers are upset that he, along with the others listed, are no longer Conservative MPs, at least for the meantime. However, this graphic offers a reasonable comparison between grandfather and grandson. Courtesy of Leave.EU: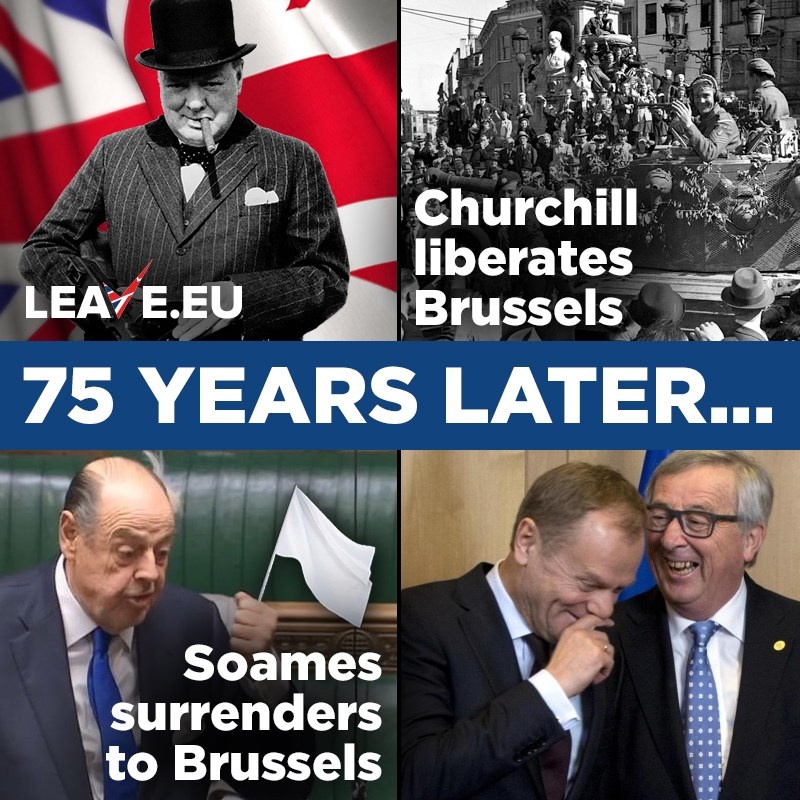 One name does not appear, that of Phillip Lee, who crossed the floor from the Conservatives to the Liberal Democrats — while Boris Johnson was addressing MPs:
Lee explained:
Normally, in these circumstances, an MP would stand down in his/her constituency and a by-election would take place. TalkRADIO's Julia Hartley-Brewer raised the question. Let's also recall Lee's previous position on the 2016 referendum result:
Metro and ZeroHedge have more on the rebels and their impact.
Whip withdrawn from Conservative rebels
It appears as if Boris wants a purge of Conservative MPs voting against his government's — and the people's — wishes.
He was at the prime ministerial country residence Chequers on Sunday, September 1. A purge of disloyal MPs also forces him to ask for a vote on a general election, which Labour do not want to have at this time, as they are too vulnerable — so far:
Yes, it is a risky move.
On September 3, Metro reported on the whip being withdrawn because of MPs' seizing control of the House of Commons agenda from the government. The article also has MPs' reactions (emphases in the original):
More than 20 Tory MPs face deselection after they rebelled against the government tonight.
Boris Johnson's chief whip is speaking to the 21 who voted in favour of a move to try to stop a no-deal Brexit and they will be expelled from the party, a spokesman said.
'The chief whip is speaking to those Tory MPs who did not vote with the government this evening. They will have the Tory whip removed,' the spokesman from Johnson's office said.
MPs voted to seize control of the House of Commons agenda tonight, so they could put forward a bill tomorrow aimed at blocking a no-deal Brexit. It would force the government to seek an extension to Brexit if no deal is agreed by October 17.
Sir Nicholas Soames said he would not stand in the next election.
Kenneth Clarke, a former Chancellor of the Exchequer, will not stand in the next general election, either.
With another former Chancellor, Philip Hammond, things were a bit more variable, especially at the end of August with rank and file members of his constituency's Conservative association. A week before that, his own allies alleged that he and other Remainer MPs were working with Brussels to obtain yet another Article 50 extension!  No wonder the whip was withdrawn this week!
On Monday, Hammond toasted his reselection:
However, Conservative Party HQ overruled the local party association. He is now well and truly deselected (click on the announcement image to see it in full):
To avoid any confusion, these MPs can still sit in the Commons — just not as Conservative MPs:
We'll see if he stands as an Independent when the time comes.
At the end of Wednesday's PMQs, as Conservatives cheered Boris, Hammond was clearly miffed:
Anyway, back to the Conservative Party whip.
This is how it was done (click on second image to see the message in full):
However, former Party leader and current MP Iain Duncan Smith said of the rebels:
Theresa May
Theresa May has been sitting next to Ken Clarke, Father of the House. On Tuesday, they had a grand time listening to Boris at the despatch box, fielding questions from opposition MPs — or perhaps it was when Phillip Lee crossed the floor to the Liberal Democrats' bench while Boris was speaking:
Boris is hardly the 'worst PM' as he's only just begun.
ITV's Robert Peston had this to say about the seating arrangement:
On May's left sits another rebel:
Although they are not supposed to sit with the Conservatives any more, the Labour/Lib Dem benches are too full to accommodate any more MPs:
She did, however, vote with the government — not the rebels.
That said, May has been enjoying her time on the backbenches.
BBC's Nicholas Watt tweeted:
Members of the public replying to Watt's tweet were unimpressed, saying that she is responsible for the mess we are in. True! Now Boris has to dig us out of the morass.
Reuters tweeted a photo of her in a car notionally last night, but it appears to be an old photo, as her jacket is white rather than dark blue.
On Wednesday, she appeared for Boris's first Prime Minister's Questions (PMQs).
Tim Shipman from The Times tweeted:
Or, perhaps she was thinking about something else:
Boris's first PMQs
With all this going on, Boris took his first PMQs on Wednesday.
He clearly did not start as ebulliently as he did on July 25. Still, he put present concerns behind him and scored a few points.
Although I do not agree with that Boris was 'unsettled' throughout, what follows is the short version of PMQs from the Sunday Times's Tim Shipman. The PM was asked about his special adviser Dominic Cummings, one-time head of Vote Leave. Cummings is seen to be the Svengali of Boris's government. Boris also took a question from a Labour MP about a Sunday Telegraph column of his from last year lamenting the burqa, to which Boris said that, if the MP had read the article, he would have understood the context:
Boris got an early swipe at Labour leader Jeremy Corbyn who asked about a trade deal with the US, mentioning chlorinated chicken. The subject of a general election also arose. Boris knows that Corbyn's polling figures aren't as good as his, although positive polls did not work too well for Theresa May in 2017's election, which forced her to seek a 'supply and confidence' arrangement with Northern Ireland's DUP (Democratic Unionist Party):
This next exchange comes with a language alert. It's not often that such a thing is necessary in Parliament, but it has happened before:
Here is the context of Boris's remark. Labour's Angela Rayner asked a question about economic policy. Boris mentioned what she said about her own party's economic policy in 2018:
Speaker of the House John Bercow said nothing:
Near the end came the question about Boris's burqa column from 2018. This was an ill-advised question, considering that Boris's cabinet is far more diverse than Labour's have ever been:
I disagree that the hammering was good, considering our Chancellor is Muslim. Boris also has Muslim ancestors in the not so distant past:
As someone pointed out, a prominent Labour MP also took exception to the women's garment not so long ago. Furthermore, Labour has been accused of unchecked anti-Semitism for some time now, a fact that Boris did not hesitate to point out:
Here's the video:
Conclusion
Not surprisingly, the public are still firmly behind Boris.
They know that MPs are working against them:
This is a useful graphic from the polling organisation Ipsos MORI last week. Voters are not stupid: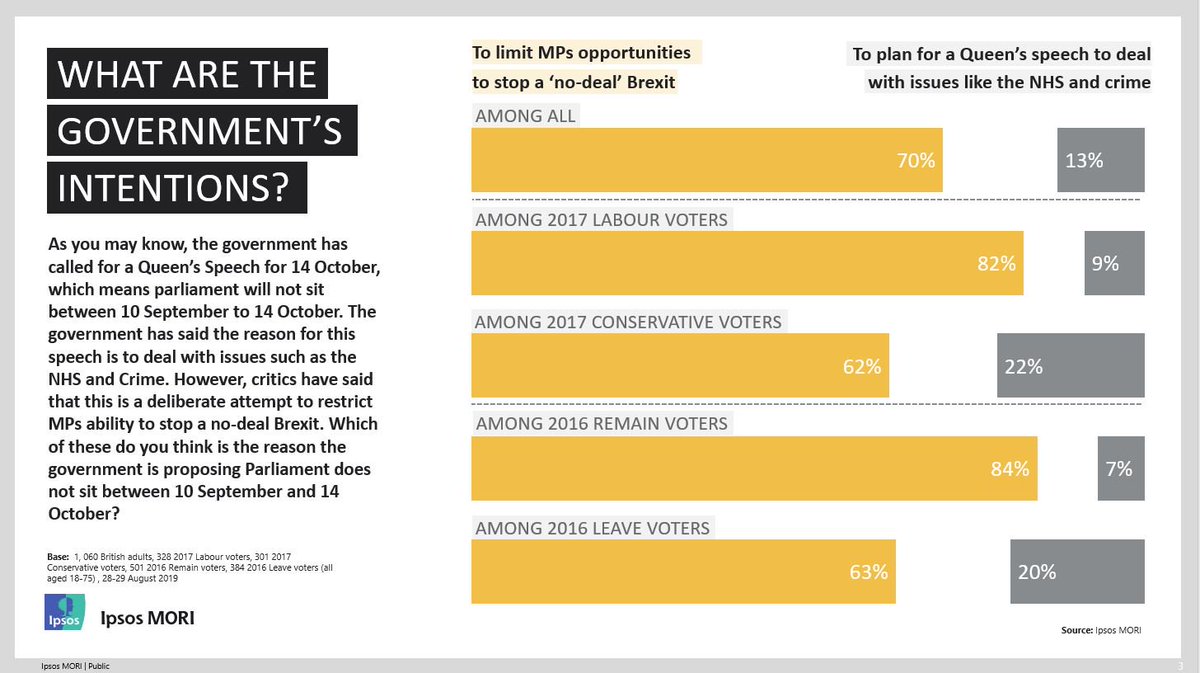 I will have more on Friday, all being well.
So far, Boris Johnson has given only one prime ministerial address, because Parliament adjourned for summer recess at the close of business on Thursday, July 25, 2019.
Boris gave a rousing little speech on his vision for Britain, which includes 'sunlit uplands'. Bring them on!
He then took questions from MPs for around an hour before leaving the chamber. He certainly riled Labour!
The former Leader of the House — and former Conservative leadership candidate — Andrea Leadsom had this to say about sunlit uplands:
Earlier, the new Leader of the House, Jacob Rees-Mogg …
… gave a witty speech, also worth viewing:
I agree with him, but, then again, I am a regular BBC Parliament viewer:
Theresa May was at a cricket match that day, by the way.
Both Houses of Parliament are now back in session. Boris gave a short address on Monday, September 2, outside of No. 10, reporting that Brexit negotiations have been going well, that now is not the time for Labour's Jeremy Corbyn to push for a Brexit extension. Ultimately, Boris wants MPs — and the nation — to come together to support his programme for the country:
Unfortunately, anti-Brexit people who do not want the UK to come together as a nation were protesting outside the gates of Downing Street:
Boris has been busy not only negotiating Brexit but also welcoming various Britons to No. 10 — unprecedented in frequency and transparency …
… as well as touring the nation:
Of course, he also attended the G7:
Britons view Boris positively, which isn't surprising, since he is the first Prime Minister for a long time who has given the nation a real sense of hope:
Here are three different polling samples from the end of August. Thanks to Boris, the Conservatives have really bounced back since July:
However, as most people reading this know, it is not all plain sailing for the new PM and his government.
The 52% who voted to Leave do not want any more extensions to the Brexit deadline. The latest is October 31, and Labour's Corbyn wants it extended for a few more months. All will become clearer today and Wednesday.
Those who want Brexit no longer care whether there is a deal or no deal at all. After all, Theresa May said over 100 times:
No deal is better than a bad deal.
As I write, we have no real details from No. 10 other than Boris's ongoing commitment to exit the EU on October 31.
Then there is his prorogation of Parliament, which will meet for a few days then be in recess until October 14. The Left — and Conservative anti-Brexit MPs are saying that this is an outrage. However, there are two points to keep in mind. First, the term of the previous parliament went on substantially longer than normal and debated — worked against — Brexit for many months. Secondly, Boris is only proroguing Parliament for an extra four to six days. This is because MPs take most of September off for their respective annual party conferences: Conservative, Labour and Liberal Democrats. No two party conferences are held during the same time period, hence, the need to adjourn for most of the next several weeks.
Conservative MP Dominic Grieve is a Remainer who strongly objects to Brexit — and the prorogation. However, on August 30, political pundit Guido Fawkes reminded him of a prior prorogation (emphases mine, the one in red is his):
Dominic Grieve has been touring TV and radio studios claiming that Boris' prorogation is unusually long and therefore unconstitutional as ordinarily the prorogued period cover just four or five days. Guido thought it might be nice to remind the anti-Brexit campaigner who was the Government's Attorney General when Parliament was prorogued for 21 days, starting 14 May and concluding on 4 June in 2014. That recent prorogation spanned the Whitsun recess and a further two weeks of sitting time. In contrast, Boris' prorogation takes up just four days of sitting time…
Paul Goodman calculated six days in his article for Conservative Home:
… yes, the number of days that Parliament now won't sit is only six more than was originally planned.
That's still a far cry from the aforementioned 2014 prorogation.
The Left, media and celebrities included, have been accusing Boris of a 'coup' and implementing something akin to the Third Reich. Paul Goodman explains why they are wrong, by way of explaining what prorogation involves:
… to compare an autumn recess without prorogation to one with it would be to compare apples and pears. Prorogation ends the session: during it, no motions or questions can be tabled. And this will be a very long prorogation: it is to last the best part of five weeks.
There also needs to be a prorogation before the Queen's Speech, scheduled for October 14.
Goodman explains Boris's strategy:
At a stroke, the Prime Minister has thus prevented those MPs opposed to a No Deal Brexit, or indeed to Brexit itself, from seizing control of the Commons timetable and extending the September sitting into the Party Conference season.
In short, he has given them as little time to postpone Brexit on October 31 as he can get away with – just as Ben Wallace suggested in a moment of on-camera candour.  This is bending the rules.  But it is not breaking them.  Parliament is not being shut down.  (It will sit next week and after October 14.)  Johnson is not acting unconstitutionally (because if he had been, the Queen would not have agreed the prorogation).
And he is not, repeat not, re-enacting the Reichstag Fire.  The Commons can pass a no confidence motion in him – this week, if it wishes.  At the risk of invoking Godwin's Law, the German Communist Party was not in a position to move such a vote against Hitler in 1933.
One has to be very clever indeed to suggest a parallel so profoundly stupid, but that's the effect of Brexit for you.
Keep in mind, MPs have been debating and getting extensions to Brexit for months:
… the Commons cannot make up its mind what to do. It has voted against No Deal. It has voted against Theresa May's deal. It has voted against revocation. Against a second referendum. Against Norway Plus. Against the EEA. In short, against everything – with two exceptions. The first is extension. The most likely course it will now take, if it can get its act together, will be to vote for extension yet again. No wonder the Prime Minister believes that enough is enough, and that Britain must leave the EU by October 31.
The second exception is worth bearing in mind. There will be no shortage of drama this week in the Chamber and in law courts, on TV and all over Twitter. Stand by for S024 motions, judges' rulings, emergency Bills, Mr Speaker, Gina Miller, Brussels rumours, Dominic Cummings, Corbyn opposing the No Deal Brexit that he has done so much to further – not to mention deselection talk, with possible action, and election fever. But one should not be so gobsmacked by the actors as to miss the structure of the play.
MPs are unaccustomed to Boris's style:
The long and short of it is that where Theresa May rolled over, Johnson pushes back.  It is almost too much for the Remainer Ascendancy, with its Lord Kerr-like sense of entitlement, to be able to bear.   (And the Hard Left now has an excuse for making a nuisance of itself by, er, rising up in defence of one of our great established institutions).
All hell is likely to break loose in the days ahead.
This is British history in the making, the likes of which have not been seen in decades.
Enjoy the show!
Prime Minister Boris Johnson will be visiting our European neighbours this week before the G7 conference in Biarritz:
Reuters reports (emphases mine):
Prime Minister Boris Johnson will tell French President Emmanuel Macron and German Chancellor Angela Merkel that the Westminster parliament cannot stop Brexit and a new deal must be agreed if Britain is to avoid leaving the EU without one.
In his first trip abroad as leader, Johnson is due to meet his European counterparts ahead of a G7 summit on Aug. 24-26 in Biarritz, France.
He will say that Britain is leaving the European Union on Oct. 31, with or without a deal, and that the British parliament cannot block that, according to a Downing Street source.
Despite Parliament's summer recess, Remain MPs have been in various discussions as to how to stop our leaving, deal or no deal, on October 31:
It is, however, unclear if lawmakers have the unity or power to use the British parliament to prevent a no-deal Brexit on Oct. 31 – likely to be the United Kingdom's most significant move since World War Two.
Sky News reports that No. 10 says Brexit will be but a small part of Boris's discussions with France and Germany:
… Number 10 said it expects there to be "very little discussion" of Brexit during the visit to Berlin on Wednesday and Paris on Thursday, with other topics to be the focus.
Discussions are expected to centre around the next G7 summit in Biarritz, France, next weekend, with trade, foreign policy, security and the environment set to be on the table.
Number 10 said Mr Johnson would discuss issues such as climate change with his fellow leaders, adding: "The EU are our closest neighbours and whatever happens we want a strong relationship after we leave."
Thanks to Boris's leadership thus far, the Conservative Party once again leads in the polls:
British voters believe that Boris would make the best PM:
Nevertheless, Labour MPs think they can overturn triggering of Article 50. Whether this can be done is of some debate:
The Speaker of the House, John Bercow, is supposed to be impartial, yet, he, too, is said to be plotting against No Deal:
Boris's government tied up one loose end at the weekend:
This was something Theresa May was supposed to instruct Stephen Barclay (pictured) to do — but didn't:
There were two significant leaks in the past few days.
One was Boris's Brexit 'script', left behind in a London pub, allegedly by a civil servant. Tell me this was not deliberate:
The other was a copy of Operation Yellowhammer, which contains all the worst case scenarios in case of No Deal:
The Sunday Times made this look like news, but Yellowhammer first surfaced on Wednesday, March 20 in preparation for our original March 29 exit date.
That day, the Express reported:
Brexit Secretary Stephen Barclay told Cabinet ministers in a letter the plan will be implemented on March 25 unless a new exit date is agreed. Operation Yellowhammer is the UK Treasury's contingency plan for no deal exit from the bloc. The plan drafts what would happen for factors such as money, citizens, trade and customs.
According to the Daily Telegraph, if no date is set by Monday Operation Yellowhammer will be implemented.
In a letter to Cabinet ministers, Mr Barclay wrote: "Operation Yellowhammer command and control structures will be enacted fully on 25 March unless a new exit date has been agreed between the UK and the EU."
The Guardian's story, also published that day, had more information:
With the country placed on a knife-edge by Theresa May's latest Brexit crisis, the government is preparing for "any outcome" with a decision on Monday on whether to roll out the national Operation Yellowhammer contingencies for food, medicine and banking.
Some measures have already swung into place, including Operation Fennel's traffic management in Kent.
The Europe minister, Alan Duncan, has also said the Foreign Office staff deployed to its Brexit "nerve centre" are working to help UK citizens in the EU in the event they get caught up in a Brexit mess.
The Department of Health was due to activate emergency supply chain operations, with instructions to medicines suppliers to book space on ferries to ensure they are not caught up in queues from next weekend in the event of no-deal.
They are just two of the 12 Operation Yellowhammer areas of risk the government has planned for in the event of a crash-out, according to a National Audit Office report [pdf]. It will decide next Monday if they should all become operational, enacting no-deal plans in 30 central government departments and 42 local councils, two devolved governments and in Northern Ireland.
Yellowhammer also had measures in place for Gibraltar. Fortunately, the government there was quick to point out that Yellowhammer as published is now out of date:
Interestingly, the week before, the island's government reminded residents to prepare for a No Deal Brexit:
But I digress.
Meanwhile, back in the UK, Michael Gove, the Chancellor of the Duchy of Lancaster, tweeted:
Sky News had more about Gove's explanation:
Sebastian Payne of the Financial Times tweeted:
Boris is also displeased with Theresa May's Chancellor of the Exchequer Philip Hammond, who has been predicting all manner of Project Fear disasters if No Deal comes about on October 31:
However, Germany had an important leak of its own at the same time as Yellowhammer resurfaced in the UK:
Good. I was also heartened to see the view of Boris from Berlin:
Absolutely correct.
I wish Boris Johnson all the best in his meetings this week with our European partners.
July 24 is the feast day of St Boris, a mediaeval Slavic martyr who died for the faith with his brother (or half-brother) Gleb early in the 11th century.
Boris Johnson became Britain's next Prime Minister on July 24. Let us hope that the association of PM and saint bodes well.
A number of resignations took place prior to his becoming PM.
One was in the Conservative Party …
… other resignations took place in government:
Guido Fawkes says there 'will be more' (red and italics in the original):
Officially resigned:
Alan Duncan

Anne Milton

Rory Stewart

Philip Hammond

David Gauke
There will be more…
And so there were.
This is good. These people were never really on board with Brexit, especially a no deal departure.
Guido was correct in his prediction. David Lidington, the Chancellor for the Duchy of Lancaster and Minister for the Cabinet Office, was the next to tender his resignation:
The second tweet below is interesting. One wonders what he means by 'relishing the prospect of … speaking freely':
More followed:
Mordaunt tweeted:
There were more resignations, including that of Chancellor of the Exchequer, Philip Hammond:
Savid Javid succeeds Hammond:
Boris wants to make his Cabinet all-inclusive. He has appointed a female Brexiteer as Home Secretary:
If we want to talk about diversity:
Ex-Labour member — and former actress/Labour MP Glenda Jackson's son — tweeted:
Also:
Continuing with the resignations:
Boris's opponent for Conservative leader is also leaving government:
The Education Secretary has also left:
From this, we can conclude that Boris wishes to wipe a long-standing Conservative cabinet clean:
I repeat: this is likely to be good news.
Since July 23, the day he became Conservative Party leader, Boris has been busy putting his team together. It will be comprised of both Leavers and Remainers in an effort to promote national unity. I hope it works. He has a working majority of just two MPs at present.
That day, Guido Fawkes reported:
Former dairy farmer, MP since 2010, and whip since 2017 Mark Spencer has been confirmed as the first appointment Boris will make to his Cabinet when he become Prime Minister tomorrow. Spencer will take on the unenviable brief of Chief Whip …
Sky's Chief Financial Officer Andrew Griffith has been appointed as a corporate adviser, while May's Principal Private Secretary Peter Hill is resigning and will be replaced by Boris's own choice of civil servant …
David Frost is reportedly joining Boris's team in the Olly Robbins role – Frost is the CEO of the London Chamber of Commerce and Industry and was previously Boris' SpAd and the boss of the Scotch Whisky Association. The LCCI have arguably been the most pragmatic industry group towards Brexit under his tenure, it's definitely a boost for Brexit…
SpAd is 'special adviser'.
But what has really set the cat amongst the pigeons is the appointment of Vote Leave's Dominic Cummings as senior adviser. Remainers are furious:
More to come soon.
There is much to cover in the aftermath of the EU elections held in the UK.
Hell certainly broke loose at the end of May, and I don't mean Theresa.
Labour
After many months, if not a year, of anti-Semitic slurs coming from some elements of the Labour Party, the EHRC (Equality and Human Rights Commission) finally took action:
During the BBC's programme about the EU election results on Sunday, May 27, Tony Blair's former spin doctor Alastair Campbell declared that he had voted for the Liberal Democrats, the largest Remain party. The Labour Party duly expelled him, then decided to review their decision:
Kate Hoey, on the other hand, has played her cards well as the most prominent Leave Labour MP since 2016. She believes that The Brexit Party deserves a seat at the negotiating table:
The Brexit Party
Nigel Farage is absolutely correct about Theresa May's 'deal', or treaty:
Meanwhile, party chairman Richard Tice, one of three newly-elected MEPs for the East of England region, isn't taking any nonsense:
On May 29, Westmonster reported:
Brexit Party chairman Richard Tice has issued a legal letter to an SNP MEP following allegations of money laundering were made in a Sky News interview on Monday.
Alyn Smith accused the Brexit Party of being "shysters" who were "a shell company for a money laundering front".
The interview which has been circulated across social media for the last 48 hours was brought to the attention of Tice whose solicitors have now issued Mr Smith with the following letter:
Conservative Party
The race continues for party leader, succeeding Mrs May.
The overall picture of the runners and riders shows gaps in their commitment to delivering Brexit:
Priti Patel has been committed to delivering a proper Brexit since 2016:
She also recognises the despair at grassroots level among the loyal, tireless volunteers:
It won't be long before we see how this develops for the Conservatives.
I hope true Leavers do well. More to come as the leadership contest narrows.