You are currently browsing the tag archive for the 'Brexit' tag.
On Monday, I wrote about the UK's third anniversary on becoming free of the European Union.
Admittedly, Northern Ireland is still half-in and half-out, a problematic situation that is being negotiated.
I pointed out the sclerotic pace at which MPs are legislating to take full advantage of Brexit.
On February 1, UnHerd featured an article by Richard Johnson, a Labour Party member, and Lecturer in US Politics and Policy at Queen Mary University of London: 'Labour's lost love for Leave'.
Richard Johnson voted to Leave in 2016 and has no regrets.
Before going into Parliament's slow pace at reclaiming our sovereignty, he explains Labour's changing viewpoint on belonging to the EU (emphases mine):
Back in 2016, one in three people who voted Labour at the previous year's general election voted for Brexit. Today, polling for UnHerd shows that just 15% of Labour voters think the UK was right to leave. Of course, in those intervening years, there has been enormous churn in the Labour electorate, with sizeable defections by Labour Leavers at the last election to the Brexit Party and the Conservatives. Nonetheless, UnHerd's polling shows that support for Brexit has dropped significantly in Labour's historic heartlands in the North and Midlands.
In historical terms, this is a striking shift. For four decades, the Labour Party was the chief Eurosceptic party in British politics — far more so than the Conservative Party. Every Labour leader between Clement Attlee and Neil Kinnock had expressed opposition to joining (or support for leaving) the European Economic Community (EEC) at some point as a frontbench Labour MP. The first truly pro-European Labour leader was John Smith, who defied a three-line whip in 1972 to vote for the Conservatives' European Communities Act. Pro-Europeanism was viewed as a Right-wing project — an attempt to constitutionalise capitalist principles in ways that would curtail the power of socialist governments to plan their national economies as they saw fit.
Labour's perspective on the EU began to change in the 1980s:
In the late Eighties, Labour finally abandoned its opposition to EEC membership, though the change was driven more by a response to repeated domestic defeats than a principled embrace of the European project. The promise of a "social Europe" was regarded by many Labour MPs as a chimera, but it at least offered some alternative to Thatcherism. So the party came to accept supranational legal limits on British governments, hoping the EU could mitigate the excesses of Conservative rule.
Belonging to the EU meant that EU law applied, restricting the ability of both Conservatives and Labour to raise legislation that benefits the UK's interests. This also affected civil servants' work:
… this Mephistophelian deal meant placing limits on future Labour governments, too. Policy tools which had once been fundamental to previous governments' socialist programmes — trade policy, currency management, state aid and nationalisation, and capital and labour controls — were all sacrificed in exchange for the promise of minimum labour standards and regional development funds delivered through European institutions, rather than Whitehall.
Once we were in, we were in fully. Although Johnson is writing from a Labour perspective, the following attitudes also pertain to Conservative Remainer MPs, of which there are many:
Few outwardly advocated leaving the bloc, believing it to be too difficult or simply not politically feasible …
This is where we find ourselves today, six-and-a-half years after voting to leave in the 2016 referendum.
Parliamentarians have not had to legislate much since the 1970s. Civil servants haven't had to think about that, either. Hence the slow pace. It might require work, not only in the House of Commons but also in Whitehall:
Joining the EEC in 1972, for instance, took a variety of national powers out of the hands of the UK Government and, by extension, parliament. EU countries are constitutionally transformed from nation-states to member-states, as the Cambridge academic Chris Bickerton has explained. This means that a variety of policy instruments are removed from national governments altogether, or their implementation becomes contingent on the wishes of the European Commission or interpretations of the European Court of Justice (ECJ). Perhaps more obviously, EU membership is simply not compatible with a belief in socialist planning. At its core, the Single Market is designed to limit the power of national electorates to plan their own economies. Of course, a certain degree of national economic planning is permitted within EU membership, but it is conditional. Any time a national government takes a decision that is viewed as distorting the hallowed Single Market — which must be prioritised above all else — those policies are blocked …
… European judges have struck down labour practices that they claim impose onerous restrictions on business, as in the infamous cases Laval and Viking. The former limited Swedish trade unions insisting on higher working conditions for construction workers from Latvia who operated in Sweden. The latter prevented a Finnish transport union from taking action against Viking Line for reclassifying their workers under the flag of a lower-wage EU country to ignore Finnish collective bargaining. Because these judgements are based on judicial interpretation of fundamental EU treaty rights, no legislation, either at a national level or from MEPs, can overturn them.
As such, for 50 years, the UK government has had to rely on Brussels for legislation. It is no wonder that the nanny state has grown so much, particularly over the past 25 years. What else is there to legislate upon but personal behaviours?
Johnson points out that Labour have been as negligent as the Conservatives over embracing our new freedoms:
Indeed, there are so many areas of policy where Labour ought to have spent the last few years seriously thinking about the post-Brexit opportunities. How can we use procurement better now that we are out of the Single Market? … What would a socialist trade policy look like, once protection of continental European industries and agriculture is removed from the equation?
Instead, Labour has wasted the years since Brexit almost as much as the Tories have. Labour had stood on a manifesto in the 2017 election which promised to take the UK out of the EU, Single Market, and Customs Union. That election saw the biggest increase in its vote since the 1945 General Election and the only net gain in Labour seats since 1997. A majority of the seats Labour won in England were Leave-voting seats off the Tories …
Today, though … the reality is that Labour is still not making the case for Brexit on Labour terms. Virtually every time a Labour politician speaks about Brexit, it is framed as an attempt to mitigate the damage. Labour's underlying assumption is that Brexit has failed because the UK has diverged too much from the EU. A better Brexit is one closer to the EU. But, the reality is that the UK has not diverged enough from the limitations which EU membership placed on national economic planning.
The reason why?
For both main parties, it's too much like work, for MPs and civil servants alike: a parlous state of affairs.
January 31, 2023 marks the third anniversary of Brexit:
As I have written before, those parliamentary debates early in 2020 were splendid. Newly and re-elected Conservative MPs, giving the Government a majority of 80 thanks to Boris Johnson's 2019 'Get Brexit Done' campaign slogan, were full of optimism about how Britain could — and would — be transformed.
Unfortunately, the pandemic put paid to those dreams in mid-March. We couldn't move past it. Even now, we are still suffering financially from the decisions the Government made, forced to do so by Opposition MPs. If Boris had just not given into SAGE, we probably could have stuck to the Swedish policy of no lockdown and minimal restrictions, which would have saved us hundreds of billions of pounds. Then again, Boris got coronavirus and had to be hospitalised for a week in early April. He came back a different man. SAGE were able to exercise power over him.
Even in 2022, once England finally returned to normal, the Government seemed to be treading water. We had three Prime Ministers and four Chancellors of the Exchequer last year. Very little of the optimistic legislation from the 2019 manifesto got started. Instead, Net Zero seemed to take over. It was in the manifesto, but as the final point, not the main one. The Online Safety Bill is a piece of intrusive legislation. The Conservatives are only getting started on pushing legislation through to get rid of thousands of EU laws on our books. Taxes are at a 70-year high. We have tens of thousands of migrants crossing the Channel in small boats. The possibility of any real progress for the Brexit agenda between now and the end of 2024 or January 2025 looks dim.
That said, Guido Fawkes reminds us (emphases his):
… we've signed about 71 new trade deals, led the European response to Putin's war in Ukraine and saved countless British lives with an independent vaccine rollout. And that's without any politicians actually making a concerted effort to capitalise on independence…
Of course, there is always a dismal economic forecast with which to deal. We must remember that Brexit was never about the economy but taking back control of our own national destiny.
Still, here is the latest dismal economic forecast and the danger ahead for Brexit in late 2024 or early 2025:
… even today's IMF report on growth forecasts couldn't bring itself to attribute any faults in the UK economy to our decision to leave the bloc. Now preparations must be made to save Brexit from a Starmer-led Labour government…
Because the IMF is the IMF, its forecasts receive undue attention. It is important to look back on the IMF's track record. They did a terrible job in predicting 2022:
Guido points out:
The 'good' news is the IMF has upped its forecast for 2024, now predicting 0.9% growth from 0.6%. It is also worth bearing in mind the IMF's analysis isn't gospel; it underestimated 2021's growth by 2 points. Chancellor Jeremy Hunt is doing his best to remind everyone of that:
Short-term challenges should not obscure our long-term prospects — the U.K. outperformed many forecasts last year.
A number of these forecasts are shaped to comply with political narratives. One of Guido's readers commented (purple emphases mine):
Rather a lot of years ago, I worked with a fellow who had, in previous employment, worked at the Board of Trade. He told me that every month, their top guy would get together with some other top guy from the Treasury and they would concoct the monthly trade figures to broadcast to the media. T'was all mainly fiction, of course, depending on what political message was required. I doubt if anything much has changed in the intervening years.
Here is another forecast gone wrong: Germany's. Keep in mind that Germany is at the heart of the EU, so we cannot blame Brexit for their woes:
Going back to August 2022, Germany and France joined the UK in having either flat or negative GDP:
Opposition MPs of all flavours, except for Northern Ireland's DUP, tell us that if we were still an EU member country, we wouldn't have inflation.
Yet, on January 26, 2023, Euronews informed us that food prices continue to rise across the EU:
Food prices have continued to rise across Europe despite inflation dropping for a second consecutive month in December, according to data shared on Wednesday by Eurostat, the European statistics agency.
The inflation of food prices in the EU was 18.2 per cent, and 16.2 per cent in the eurozone in December, which is a slight decrease compared to November on average. But some basic food items like sugar, milk cheese and eggs, oils, and fats prices are still going up.
One month earlier, Euronews reported on the plight of French university students who were forced to use food banks:
20% of students in France live below the poverty line. Rising food prices and energy bills soaring are exacerbating their situation. And yet, France gives more financial aid to students than many other European countries …
The government has recently allocated 10 millions euros to support the associations that organise food distributions for students. A consultation between the governement and student unions on the reform of the student grant system is ongoing, but concrete change is not expected anytime soon.
Our Opposition MPs also tell us that if we were still part of the EU, we would not be experiencing the multi-sector strikes that have been plaguing us.
However, let us look at France. Today, January 31, Euronews reported:
A new wave of strikes on Tuesday to protest French government plans to raise the retirement age to 64 has already impacted transport links and electricity production. 
TotalEnegies says between 75% and 100% of workers at its refineries and fuel depots are on strike, while electricity supplier EDF said they're monitoring a drop in power to the national grid equivalent to three nuclear power plants. 
"Following the call for a strike, shipments of products from TotalEnergies sites are interrupted today but TotalEnergies will continue to ensure supplies to its service station network and its customers," the group's management said.
In EDF power stations, strikers reduced loads by "nearly 3,000 MW" on Monday night, but without causing any cuts, the company said.
Hundreds of thousands of workers are expected to take to the streets across France on Tuesday, for a second day of industrial action that unions hope will be even more massive than the first, earlier this month … 
The government had warned in advance of Tuesday's strike about likely disruption to France's transport network. 
In the Paris region the metro and local rail services are "very disrupted" say officials. Long distance TGV train services are also impacted, as are regional trains with intercity services almost at a standstill. 
Rail operator SNCF said only one in three high-speed TGV trains will operate on Tuesday while disruptions are also expected at French airports and on transnational rail services …
French doctors were on an extended strike on January 2: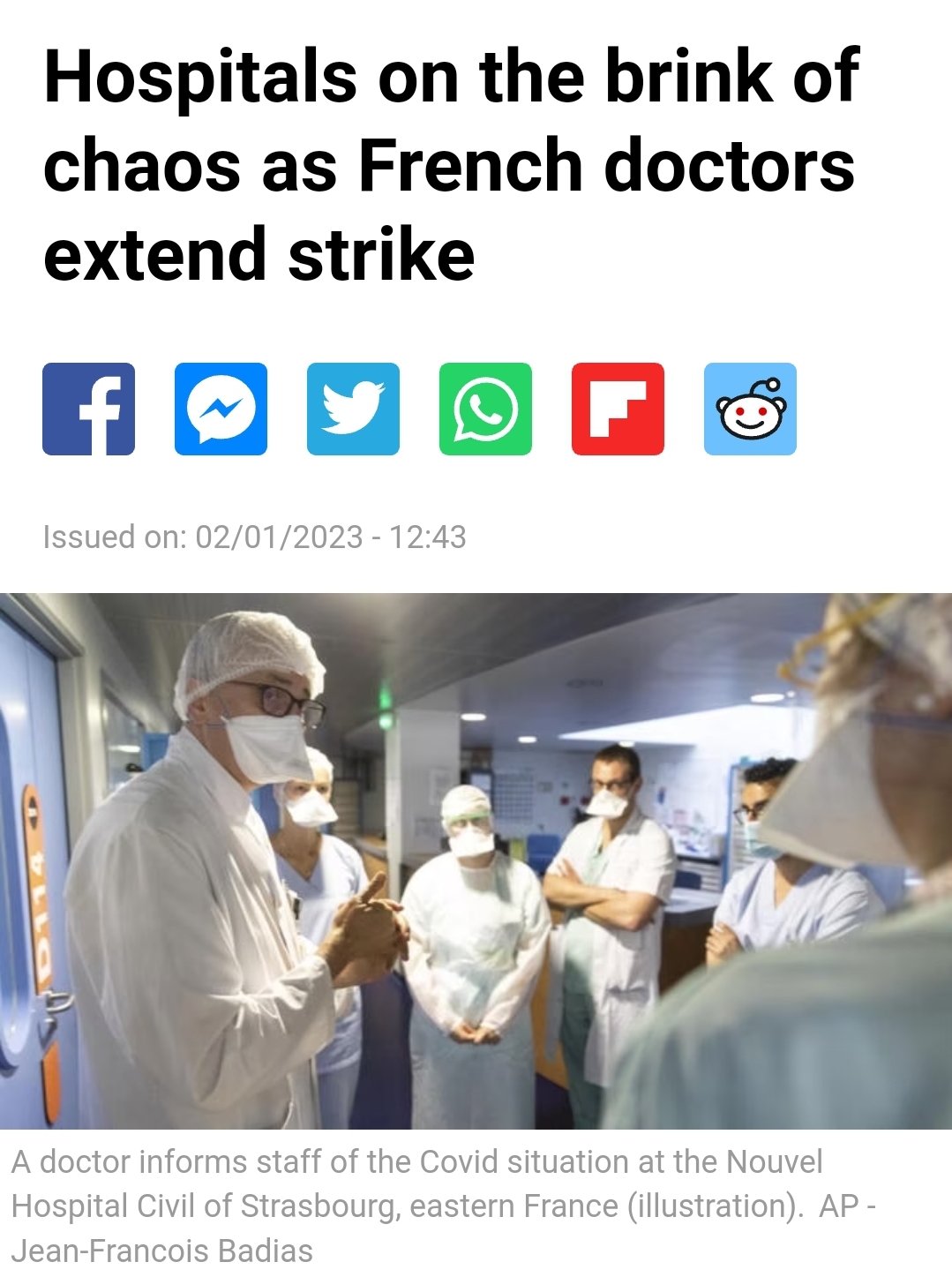 Then there is Ukraine. Nearly a year ago, Remainers told Leavers that Vladimir Putin would use Brexit to his advantage — an entirely erroneous talking point, as Boris was the first Western leader to champion Ukraine. If we had been part of the EU, he would not have been able to do so. By contrast, Germany was buying Russian gas and Italy was sending handbags to Russia:
Then there was the pandemic. In May 2022, the WHO published excess death statistics for 2020 and 2021. The UK had lower excess deaths than Spain, Italy and Germany, although France had fewer excess deaths than we did:
As for migration, France still has as much of a problem as we do, yet our Opposition MPs tell us that if we were still part of the EU, we would not have a Channel crossing issue.
On December 26, 2022, The Times reported that the French government opened the Château de Grignon to house them, which isn't too different to our policy, egregious as it is, of opening hotels to those coming nearly daily across the Channel:
A row has broken out in France over a government decision to shelter homeless families, notably migrants, on the estate of a Renaissance château …
Under a plan to provide shelter for the homeless during the winter, up to 200 people are to be housed in the château estate until March. The first 62, including 37 children, arrived this week.
Officially, they are classified as people of no fixed abode who have been sleeping rough. In practice, most are migrants unable to find shelter upon their arrival in France and often forced to live in squalid, makeshift camps around the Paris ring road.
In conclusion, EU nations share many of the major problems that the UK has.
Brexit has nothing to do with it. In fact, Brexit will probably help us get out of these issues more quickly than EU nations will.
Therefore, Happy Brexit Day! May many more follow!
Yesterday's post examined Britain's metropolitan elite and the unwitting effect they had on the 2015 general election, handing the Conservative Prime Minister David Cameron another term with a clear majority of seats, surpassing the magic number of 326 to end up with 331!
At that point, Cameron no longer needed the Liberal Democrats in coalition. The Conservatives were fully in charge.
David Cameron
Cameron fulfilled two Conservative pledges:
1/ To resolve the 1977 West Lothian Question and EVEL — English Votes for English Laws — the Government made a change to a standing order in Parliament so that:
a new law could no longer be imposed only on England by a majority of all MPs if a majority of English MPs were opposed. However, a proposed new law could still be vetoed by a majority of all MPs even if a majority of English MPs were in favour. 
This was abolished in 2021, a move with which I disagreed and instigated by a Scot, Levelling Up Minister Michael Gove, whom I do not trust at all. His reasoning was that the measures:
had "added complexity and delay to the legislative process" and that their removal would allow all MPs to be represented equally.[9]
I watched that debate. Why should another nation have its MPs 'represented equally' where English laws are concerned? English MPs cannot vote on another nation's laws.
That said, so far, Scotland's SNP MPs are careful to leave their benches when laws for England and Wales are debated.
2/ A referendum on leaving the European Union was scheduled for June 23, 2016. Fifty-two per cent of British voters opted for Brexit.
Although he said that he would abide by the referendum result, David Cameron resigned on Friday, June 24, that year at 9:30 a.m.
He and his wife Samantha honestly did not think the British would vote to leave. According to some news reports, Samantha spent much of the night in tears while watching the returns come in.
Theresa May
Theresa May became Conservative leader and Prime Minister in the summer of 2016.
Having previously branded the Conservatives 'the nasty party' at an annual party conference a few years before, she had big plans to improve opportunities for everyone living in Britain.
Although she was a Remainer, she pledged to abide by the referendum result. She appointed good Conservative MPs to her Brexit team, and Boris Johnson became Foreign Secretary.
The Opposition benches said that she had no mandate, so she held a general election in June 2017. Two trusted aides told her that polling showed that the Conservatives would do well. Furthermore, the controversial Jeremy Corbyn was Labour leader. It sounded as if May and her party were shoo-ins. In the end, there was a hung Parliament and May brokered a confidence and supply arrangement with Northern Ireland's Democratic Unionist Party (DUP), led by Arlene Foster at the time.
Things began to unravel further in the summer of 2018. May's Brexit team had come up with a sensible, considered plan to leave the EU. May held a meeting at Chequers, the prime ministerial weekend estate, to discuss the plan. Unbeknownst to her colleagues, she had a compromise plan ready to discuss which superseded the Brexit team's plan. She told her ministers that if they did not agree to her compromise plan, later rumoured to have been developed with German input from someone working for Angela Merkel, they were free to leave the country estate at their own expense. It was shocking and resulted in several resignations from the Brexit team. Boris Johnson resigned as Foreign Secretary.
By January 2019, May could get nowhere in Parliament with Brexit votes, even with her compromise. I began watching BBC Parliament in earnest at that time and haven't stopped. We really do have a load of virtue-signalling troughers from the metropolitan elite in both Houses. But I digress.
On May 24, 2019, Theresa May announced that she would resign as Conservative Party leader on June 7. That triggered a leadership election by the party members. May stayed on as PM until July 24, the day after Boris Johnson became the new leader of the Conservatives. Today, May serves on the backbenches, representing the constituency of Maidenhead, a delightful Home Counties town bordering the Thames.
Boris Johnson
Boris gave his first speech at the despatch box, all guns blazing. I watched it on television. He had a go at Labour, alleging that one of their MPs had been involved in corruption while serving on the Greater London Assembly many years before. A PM couldn't get better than this.
However, Brexit was the major issue, and he was presiding over the hung Parliament from the 2017 election, with Arlene Foster's DUP providing confidence and supply to Conservative policies. Try as he might, Boris could get nowhere with the Opposition benches.
Brexit negotiations with the EU resumed on August 28, 2019, the same day that Boris attempted to prorogue (adjourn) Parliament from September 10 to October 14. He claimed that the prorogation would cover all the party conferences normally held during that time. However, court cases arose in the Supreme Court in England, presided over by Baroness Hale, she of the spider brooch (Guido's story involves a later controversy, unrelated to the prorogation):
'Spiderwoman' Hale's decision forced Parliament to reconvene on September 3. It will come as no surprise that attempting to get Brexit votes through the House of Commons became even more difficult. On September 4, the Benn Act, a bill to block a no-deal Brexit passed. At that point, Boris proposed a motion to hold a general election on October 15. It failed to command two-thirds approval from MPs.
In addition, several Remainer Conservative MPs had the party whip removed at that time, which made matters worse. Although some had the whip restored, the Conservatives no longer had a working majority.
As a result, Parliament was dissolved in October 2019, with an election called for December 12 that year.
What voters thought
Whether Leavers or Remainers, more people began paying close attention to the goings-on in Parliament.
Leavers knew that, while Boris was flawed, he was on their side with regard to getting Brexit done. After delay upon delay in Parliament from June 2016 to October 2019, that was all that mattered.
Remainers wanted a second referendum to confirm (ahem) the first vote. In other words, they wanted to overturn the 2016 vote.
Leavers felt increasingly betrayed by Parliamentarians. However, Brexit was also beginning to have an effect on their personal lives: relationships broke down, family feuds began and working life became strained.
England was becoming a highly divided and divisive place, exacerbated by print and broadcast media alike. Leavers felt alienated and betrayed.
The fallout between 2015 and 2019
I'm returning briefly to the comments left on the 2015 Guardian article I cited yesterday: 'The metropolitan elite: Britain's new pariah class', which appeared on May 22, two weeks after the general election.
What people felt about the metropolitan elite did not change in the four years that followed. Voters were disappointed.
One Guardian commenter remembered the unity during the Thatcher era as the Iron Lady began closing mines (emphases mine):
We have a situation amongst the majority of the "lower classes" which is this:
If you dare to offer a "lefty" opinion you are automatically assumed to be a rich metro elite type, with no experience of the real world.
If you dare to offer a "right" opinion you are immediately branded a racist, ignoramus.
Does no one else see the division this has caused?
Remember when the gay rights groups went to help the miners? Can you imagine that happening today? – They'd be sniping at each other over these perceived differences, instead of recognising their similarities and fighting together against a common enemy.
We are all exactly where they want us, and until we recognise that- the real elite have won and will carry on winning- regardless of what colour they pin to their (old boys) ties.
Another went back further in time, putting forward post-war Prime Minister Clement Attlee as a man of duty:
… the most effective Labour Prime Minister by far was Clement Attlee: the son of a well-off London solicitor, educated at Haileybury and Oxford, served with distinction as a junior officer in WW1 and reached the rank of Major. Though not a patrician, you'd hardly have called him a man of the people, and I suspect that he would have felt under no obligation to put on glottal stops or pretend that he liked football (though he had actually played it in his youth).
The point is that perhaps aided by attending Haileybury – the public school that specialised in training boys up for the Indian Civil Service – he had an intense, deeply ingrained sense of his duty to the nation and particularly to the less well-off part of it, which carried him through all the vicissitudes of setting up the Welfare State in a bankrupt, exhausted country with an empire to get rid of. He knew what had to be done, and he was determined to do it, and what focus groups or the media thought about it was of no consequence to him.
… where there is no vision the people perish. Without a thoroughgoing analysis of the state we're in and a thought-through programme for putting it right, such as it had in 1945, Labour is simply wasting its own time and everyone else's and might as well shut up shop now.
People dislike when MPs are not local, especially when a well-heeled Londoner represents a disadvantaged Northern constituency:
It's ridiculous that these parachuted-in pillocks can hold office in northern constituencies when many of them will secretly smirk about it being "grim up north" every time they're sat in some trendy London wine-bar.
Someone had a solution to candidate selection:
We need to stop north-London PPE [Philosophy, Politics and Economics] graduates from pretty much automatically getting into Westminster. Anyone who's interested in being a politician does that PPE degree, then works for a think-tank or as a political advisor then a junior minister and so on.
Candidates should be elected from people who live in individual constituencies, who have done proper jobs and who genuinely wish to fight for their communities. In this system George Osborne, Nick Clegg and Ed Miliband would not be able to stand in northern constituencies; they'd have to run in the cities and towns where they actually lived. Generally speaking, that would mean a borough of London – Oh, wait Chukka Umunna and Ed Miliband live in the same borough? Tough! Only one of them can stand for Labour. What's that; several of the Tory cabinet live in the same town in rural Oxfordshire? Oh dear, only one of them can stand. And in order to prevent parachuting candidates in, they'd have to live there for at least five years prior to being selected.
The whole political system in this country lacks any legitimacy. The people who are affected the most by politics are the people who are the least engaged in it …
This issue also affects London. One person wrote about Labour's David Lammy:
Lammy is my MP and I like him, but I do have a slight problem: according to the Tory leaflet through the door pre-election, he doesn't live in Tottenham, his constituency, he lives in Crouch End, which is rather met-elity itself. Not to mention giving the option of a state secondary school you'd actually want your kids to go to.
If the Tories were lying I apologise.
One reader understood why people resented the metropolitan elite:
I totally get the hatred of the "metropolitan elite". The assumption that you, as someone who is not a member of that class, will have no idea what they are talking about whether it is art, literature, politics, whatever and, by extension, you are an idiot. It's bloody infuriating!!
It's essential for the media not to leave London:
Aside from John Harris I know of no other Guardian columnist that sets foot out of London – or even North London.
Tell a lie – Polly [Toynbee] is in Brighton for her Arts Festival.
That's the nature of metropolitan elites – write about those less well-off but be sure never to meet any.
Also:
Metropolitan elite means people living in London who are unnatural and out of touch with the rest of the country. This is nothing new. The medieval word for a Londoner was "cock's egg"' (cockney) which also described something unnatural and out of touch.
I did not know that!
Other readers noted the petty, controlling interference that the metropolitan elite display:
Different people will have different reasons for disliking the ME. One of these must surely be the neopuritanism they espouse, which means you're always looking over your shoulder worrying whether you've exhibited the wrong attitude, e.g. insufficient enthusiasm about gay marriage or a penchant for Top Gear.
On that topic:
Metropolitan elite who work in media, government, academia, charities, and NGOs from the National Trust to Oxfam and the Royal Society. These tend to coalesce on gay marriage, "safe" places, "islamophobia" issues, pro-EU sentiment, pro-Obama and catastrophic climate change. Just watch the BBC for any length of time.
Another said:
I personally feel this miring of everything in semantics does little to describe the current rot in UK politics. It would be better to use a historical example – I personally think referring to these people as "The Marie Antoinette Class" is more appropriate. It illustrates just how out of touch they really are with the current reality of life for British working people.
Even worse, they don't really seem to be British at heart:
What has happened (maybe?) is that the elite in the UK (England specifically) has become more like other countries – urban and bourgeois, rather than rural and aristocratic – and without the aspiration to ennoble themselves that the previous industrial bourgeois had (by marrying their wealth into the old order's titles). What we have now is a class of educated professional people who share urban liberal-middle-class values that are much more like those of their equivalents in other European countries than they are many of their own compatriots.
Another reader also noticed the lack of Britishness:
One explanation could be that many young educated people in Europe were brought up to feel European (or even global) than from a particular country or region. Programs like ERASMUS and the increasing cheapness and availability of travel have opened up the horizons of many smart and educated individuals. This is definitely causing a class divide with those who remain rooted and patriotic. Combine that with the growing phenomenon of elitism in all societal institutions (you need a degree to do anything these days), then you inevitably get more of group A in all positions of power.
I can't tell whether this is a good thing (or even inevitable) or not. The "metropolitan elite" would probably find themselves thinking that they are better than group B, who are quagmired in small mindedness and petty issues. Then you have group B, made up largely of working class people, who are feeling disenfranchised and silenced (the elite would probably condescendingly refer to it as "feeling left behind"). It's like a soft Russian revolution, and look what happened that time when they let their "betters" look after them. I think a healthy society needs to always listen to both sides, whenever you start thinking "you know best" and ignore the plebs who "don't know any better", well, then you get the Star Wars prequels.
Globalism alienates:
There is hardly any difference in the political parties communications, only semantics. The nation state is dying and Universalism is taking over through the multinational corporations & global organisations.
One reader gave us the education profiles of the main political players of 2015 and the Labour years:
They are all cut from the same cloth…a ll that differentiates them is how they divvy up and pork barrel the the trolls tax contributions.
Cameron: Philosophy, Politics and Economics (PPE) at Brasenose College, Oxford
Miliband: Corpus Christi College at the University of Oxford, and the London School of Economics
Clegg: University of Cambridge, the University of Minnesota, College of Europe
Farage: Dulwich College, a public school (private), and stockbroker….
Mandelson: Philosophy, Politics and Economics at St Catherine's College, Oxford
Blair: St John's College, Oxford…and various private schools
Brown: University of Edinburgh, History (as the son of CoS [Church of Scotland] Minister he is definitely middle class)
The list is not exclusive…….but the stench is unmistakable……
At least voters know where they stand with the Conservatives:
This is why the Tories won the election. So the PM is posh and privileged. He knows it and we know it.
Someone complimented Cameron's approach to EVEL:
What people object to, at a gut level, is getting a clever-dick, hypocritical answer to their concerns.
For example, Labour's position on EVEL is transparently self-serving and relies on a lot of chin-scratching about complicated constitutional niceties. In contrast Cameron's proposition, that it is only fair for England to have self-determination on the same issues which Scotland does, is an uncomplicated statement of a simple principle, even if it is of course equally self-serving.
So people see Labour as putting self-interest first and talking down to them about constitutions, on the one hand, and on the other they see Cameron espousing a simple principle which they see as being on their side.
It's no surprise Labour end up on the wrong side of so many arguments.
Interestingly, someone brought up Boris:
Londoners are not much interested in the politics of power, influence, wealth and class envy. For many, social justice might mean the mortgage paid off so they can fund their care home one day. Love him or hate him, Boris Johnson recognised and tapped into this and that's why they voted Boris Johnson Mayor. Twice. London actually gave an early indicator for the national mood.
Labour, on the other hand, cannot relate to most people. The second sentence gave me a chuckle:
I am still angry that Ed wasn't able to put his view across more forcefully.
He is very fond of the third chapter of The Working Classes And Their Struggle For A Cohesive Understanding Of Dialectical Materialism Within A Framework Of Sonambulant Artifice And Prolapsed Thinking and yet people still didn't think he understood what life is like on a Council estate or in a factory.
It beats me.
Someone else agreed, saying that Labour were interested only in themselves:
Labour's metropolitan political class – and believe me, they are ABSOLUTELY the worst, an utter ideological and moral vacuum compared to, say, the Lib Dems or the centrist strain of the Tory Party – are utterly without allegiance to anyone but their own caste.
What voters want(ed)
One reader provided a profile of the ideal MP:
Here's what we require of our politicians:
(1) honesty
(2) probity
(3) the ability to listen to their constituents
(4) the ability to put the needs of their constituents before the interests of big business, the aristocracy or the establishment.
Tick all four boxes and I don't care where you were born, where you were schooled or where you live. The problem is finding anybody who'll tick those boxes.
Little did that person know that a bevy of Conservative candidates could tick those boxes in 2019.
To be continued next week.
By chance, last week I read an article from May 20, 2015 in The Guardian about the general election result earlier that month: 'The metropolitan elite: Britain's new pariah class'.
Labour lost, leaving the metropolitan elite scratching their heads and wondering why.
Zoe Williams's article has three pages of comments, which are illuminating. The general public revealed why Conservatives won not only in 2015 but even more convincingly with an 80-seat majority in 2019.
Of course, in between those two elections was the one held in 2017, whereby Prime Minister (PM) Theresa May barely scraped by with a slim majority which caused her major problems in getting Brexit legislation passed in the first half of 2019. She resigned during the summer, and Boris Johnson became party leader, thereby succeeding her as PM. He held an election on December 12 that year, primarily to break the Brexit deadlock. It was one of the best things he ever did.
What is the metropolitan elite?
Zoe Williams, who has been writing for The Guardian for decades, defines the metropolitan elite through interviews with other people which makes up the article.
The characteristics that tie the metropolitan elite together are working in London, living in an upper-middle class bubble, going to a public (private boarding) school; having an Oxford degree (especially in Philosophy, Politics and Economics); making a close network of friends from school and university; finding employment in politics, the civil service, law, the media and academia. They ensure their children follow the same route.
No one's definition is perfect. Each needs another element added to it.
Williams concludes that an exact definition doesn't really matter, because it is fluid, but the reality is that this group has caused the ethos of Parliament to change through the years (emphases mine):
The meaning of "metropolitan elite" is not fixed. It will change in the mouth of whoever says it, and it will take on the shape of the person to whom, for whatever combination of reasons, it is thrown at and sticks. But the anger is real: parliament, as the last century understood it, represented the people to the state. Parliament now represents the state to the people. And maybe "metropolitan" is a way to say that, and to give it a face.
Background to the 2015 election
Below is a summary of the highlights of the 2015 election.
Conservatives and Liberal Democrats
David Cameron was PM at the time, part of a coalition government with the Lib Dems. Nick Clegg was deputy PM.
Clegg ran as the Lib Dem candidate as he was party leader at the time.
Cameron was getting a lot of heat about holding a Brexit referendum. Nigel Farage, leader of UKIP at the time, piled on the pressure. Referenda are not a British thing and Cameron could have happily ignored it were it not for the fact that a Conservative victory depended upon granting voters a Brexit referendum.
There was also much talk at the time about English Votes for English Laws, or EVEL: the inappropriateness of allowing Scottish MPs to vote on English laws when English MPs have not been able to vote on Scottish laws since devolution in 1999. MPs from Wales and Northern Ireland can also vote on English laws, but the issue mainly concerns Scotland, since many laws apply equally to England and Wales. EVEL — arising from the West Lothian Question of 1977 — was another issue Cameron had to address in the campaign. As such, it became part of the Conservative manifesto that year.
Labour
Ed Miliband was Labour's leader at the time.
Emily Thornberry
The snobbish aspect of the metropolitan elite, which Labour embodies so well, came to light during the World Cup in 2014. Emily Thornberry MP experienced a combination of bemusement and outrage upon seeing that someone would have the audacity to display St George's flags, representing England, outside their home. What's more, there was a white van parked in the driveway. Oh, the horror!
She tweeted a photo of the house and captioned it: 'Image from #Rochester'
The offending home was in Rochester, Kent, where a by-election was being held in November that year. The owner of the house said that he put three St George's flags up during the World Cup and decided to leave them flying from an upstairs window.
On November 14, the BBC reported that Thornberry resigned from the shadow front bench as a result of the tweet (bold in the original here):
Emily Thornberry has resigned from Labour's front bench after sending a tweet during the Rochester and Strood by-election which was branded "snobby".
The shadow attorney general apologised for the message, which showed a terraced house with three England flags, and a white van parked outside.
UKIP said she had "sneered, and looked down her nose at a white van in Strood with the cross of St George on it".
Labour leader Ed Miliband was "angry" at her, a senior figure told the BBC.
The resident of the house, Dan Ware, said Ms Thornberry – the MP for Islington South and Finsbury – was a "snob".
"I've not got a clue who she is – but she's a snob," he told the Sun. "We put the flags up for the World Cup (in 2014) and will continue to fly them."
Even today, everyone who loves England remembers Thornberry's attitude towards our nation's flag. Ed Miliband was right to have been angry at the time. It must have lost Labour votes in certain constituencies:
The Independent had more:
Three hours later she apologised, after Ed Miliband intervened and the Labour leader made it "very clear" that he believes people should be able to fly the England flag without feeling ashamed.
Following her resignation, Labour has revealed that Thornberry had spoken to Mr Miliband a second time.
"Ed and Emily had a second conversation. She thought the right thing to do was to resign. Ed agreed," the source said.
Her tweeted apology received strong reactions, among them the following:
Simon Danczuk, who was the Labour MP for Rochdale at the time, could see the elitist London-centric outlook at work:
Everyone will know exactly what she meant by that comment. I think she was being derogatory and dismissive of the people. We all know what she was trying to imply.
I've talked about this previously. It's like the Labour party has been hijacked by the north London liberal elite and it's comments like that which reinforce that view.
In the end, Mark Reckless won the by-election which was held because he wanted to change party affiliation from Conservative to UKIP. Nigel Farage had told him to do the right thing by asking his constituents. Reckless became the second UKIP MP to serve in the House of Commons when he joined Douglas Carswell that year. Carswell also had to hold a by-election in his constituency before Farage would allow him into UKIP.
Ed Miliband
Returning to Labour, a month before the by-election, Ed Miliband proposed a mansion tax, aimed primarily at Londoners.
However, a Londoner from Dartmouth Park in Kentish Town, Dan Carrier, wrote an article for The Guardian in October 2014, saying that not everyone living in a house in North London was necessarily wealthy: 'My house in the middle of Ed Miliband's street'.
It so happens that Ed Miliband and his family moved into the street where Mr Carrier grew up. In 2014, his parents still lived in the same house and he had the good fortune to be able to buy a home just a few doors down.
The Carriers and the Milibands are two very different classes of people:
In many ways our road is a typical London street: a mixture of Victorian terraces, some grand double-fronted villas and a postwar apartment block. More recently, however, it has had national media attention, prompted by the arrival a few years ago of Ed Miliband and his family. When they decamped from Primrose Hill, the move produced a swathe of articles describing my neighbourhood as a place of leafy-lefty-intellectual-middle-class types. The road I grew up on, and moved back to, has become shorthand for the gentrification of north London. The gap between the property haves and have-nots has never been starker, and housing is set to be a defining issue of the next general election. Ours is just one street, but it could be anywhere in the capital.
Carrier described many of his neighbours, who were working- or middle-class, hardly of the metropolitan elite. As such, a mansion tax would have been devastating:
Under the proposed system, many of Ed's neighbours could face large bills.
The newcomers, however, were flush with cash:
One recently arrived couple, both on six-figure salaries, asked not to be named. Being able to buy a property in this neighbourhood these days, it seems, is enough to single you out for unwanted attention.
They say they moved here because of "the large houses, and the fact it's not chi-chi like Hampstead or Primrose Hill. You see neighbours at the weekends, they're not all out at their country homes. You don't see Fortnum's vans pull up." Dartmouth Park is not yet Mayfair, in other words – not a comparison my parents' generation would have felt compelled to make. "It feels like a real street, with real people."
In the end, there was no mansion tax because Labour lost the election, thankfully.
By the way, Ed's house has two kitchens in it. One is for the nanny and the children. The other is for Ed and his wife.
Ed Miliband could have taken some advice on the PR front. The lesser of his campaign sins was jamming a bacon sandwich into his mouth, further proof that no one should be photographed eating. The greater sin, however, was imitating Moses by erecting a stone listing five Labour Party goals, dubbed the Ed Stone. Oh, my, how we laughed at such hubris.
The election was held on Thursday, May 7.
Miliband resigned as Labour Party leader on Friday, May 8, a position he had held since September 2010.
By May 10, the Ed Stone was nowhere to be seen.
That day, The Guardian reported:
A case of champagne is among the rewards being offered by tabloids and rightwing pundits in return for the whereabouts of the so-called "Ed Stone".
The 10 commandments-style tablet, engraved with five promises and unveiled in the final days before the election, was meant to symbolise how Ed Miliband would keep his pledges and restore trust in politics.
But the gimmick was perhaps the greatest gift Miliband gave to his opponents – and the mockery shows no signs of letting up even after his resignation and the quiet disappearance of the stone.
An 8ft 6in-high, two-ton limestone hulk is not the easiest thing to hide. But the stone, which was rumoured to have cost up to £30,000, is proving remarkably elusive and Labour sources are staying tight-lipped.
The Mail has offered a case of champagne to any reader who has information that "leads to the discovery of the Ed Stone". The Sun has set up a dedicated "Ed Stone hotline" for tips about the stone's whereabouts.
But without any apparent success in locating the real thing, the Sun also offered its readers a chance to win a full-size replica of "the Labour loser's laughable slab".
It was only on January 16, 2016, that we found out what happened to the slab. The Guardian reported:
The Ed Stone was broken up shortly after the general election, it has been revealed, putting an end to eight months of speculation about its whereabouts.
Two party officials, speaking on condition of anonymity, told Bloomberg News that the stone had been destroyed in the weeks following 7 May 2015.
Shortly before the election, David Cameron tweeted that there would be chaos with Ed Miliband (pictured with Ed Balls on the left):
Miliband is still an MP.
The Ed Stone might not have survived, but one of his lasting legacies as Energy Minister from Labour's time in power has: the green levy on home heating fuel, which is more than the VAT. The Conservatives should scrap the levy. Perhaps they will when the cost of gas for the home reaches breaking point and people get sufficiently irritated with Net Zero.
I wrote two posts about the 2015 election. In the second, I wrote about the 'historic upset the pollsters missed':
Even the most accurate poll — the exit poll — slightly underestimated the final total. The Conservatives won a clear majority of seats, surpassing the magic number of 326 to end up with 331!
David Cameron no longer needed a coalition government.
Today, Nick Clegg works in California for Facebook and has just received a huge promotion as president of global affairs for parent company Meta, taking on some of Mark Zuckerberg's former responsibilities.
What the public thought
In 2015, the public made it abundantly clear that they preferred a Conservative government.
The readers' responses to Zoe Williams's article about the metropolitan elite made some excellent points. I read them all.
One person said that the Conservatives' policies appeal more to the average Briton:
The election was won by the Tories less because they represent the views of more people than any other party than because their policies offended fewer people than those of any other party. The widespread and insidious disenchantment with politicians stems from this disconnect and it just happens that at the moment the Tory message is marginally less unpopular than a whole range of unpopular messages – probably because the Tory demographic is a currently a bit wider than that of Labour.
Another said that Labour had deserted the working class for the middle class:
A large section of the working class of this country still can't box their way out of this ingrained deference to the ruling class. The existence of the royal family and the institution of the monarchy is the guarantor of that deference. But they do not feel the same deference to the 'metropolitan elite' and this fact has been nicely used by right wing media to undermine urban liberalism and split the working class vote. The Labour party will have difficulty fighting its way out of this conundrum so long as they exclude working class representatives in favour of middle-class ones, black or white.
The working class feel ignored:
Labour are more and more removed from working class people … The divide is growing -hence the growth in UKIP in traditional labour areas. The metropolitan elite – useless Ed is one of them – have failed to understand and address the concerns of their traditional voting base in far too many areas.
Someone said that the Labour Party was synonymous with the metropolitan elite:
If the Labour Party (or the metropolitan elite that provides it`s talking heads) thinks that simply stealing the Conservatives`s clothes or repositioning themselves on Europe is going to work – forget it. At the moment the terms "Labour Party" and "metropolitan elite" are interchangeable and are synonymous with what us plebs would call "being out of touch". Can the Labour Party learn how to talk to us again?….They`d better, and quickly because at present we`re all listening to the Tories and UKIP …
Another reader said the same thing:
I say this as a northern working class boy …
Until we have a left wing party led and organised by the working class, I'm a Tory. All you people still voting Labour when these people are in charge of the party are fools – they've tricked you into believing they represent you, but actually you're just useful to them to legitimise their marginal differences compared to their blue friends in the next street.
Two people even had a go at Zoe Williams:
Zoe Williams. Godolphin and Latymer School, Oxbridge, lives in Camberwell, brays, wrote a tedious feminist piece about why she married the father of her kids after a decade as if anyone cared, spouts by-numbers liberal-lefty discourse every week in the Graun.
I don't loathe the metropolitan elite. It's just a shame there are so many of them clogging up the national media, the political scene, academia, the arts, public policy, etc. when they represent such an infinitesimal cadre of people. So much for the 'diversity' they so often chirrup about.
Also:
YOU, Zoe W, are most certainly a member of that elite. How else do you get on What The Papers Say on Sky television?
This comment seemed to unknowingly say the most about what would happen in December 2019. Britain was — and is — becoming more nationalistic, but not as a Union, only as separate parts:
Events in Scotland and the victory of the SNP and the rise of UKIP, particularly in Northern heartlands, have raised questions about the leadership of a working class party by a group of North London academics and politicians. However the real event is the battle of ideas about what a Labour Party should represent as the North London hegemony over policy has dissolved. The Blairites are in the news on the TV every day attempting to solve the problem of hegemony by a return to the centre. Both the SNP and UKIP have shown that there is no way back as both Scotland and large swathes of England are staunch nationalist. The rest of England, with the collapse of Lib Dems, is dark and lite tint blue Tory, and as such a distinct Englishness has temporarily been established. This Englishness is different from that of the UKIP North and certainly different from that of the Scottish nationalism of the SNP. The hegemonic moment of North London has in the words of Tom Nairn come face to face with the break up of Britain. Dr. Eamon O'Doherty
And, lo, it turned out to be …
More to come tomorrow.
Despite receiving more brickbats this week, Prime Minister Boris Johnson is still standing as Parliament enters its February recess.
Former PM John Major had a go at Boris about Brexit in a speech he gave to the Institute for Government this week. Like another former PM, Theresa May — still a serving MP — Major is a staunch Remainer.
Writing for The Spectator, historian Nigel Jones discussed the Blob (our Swamp) on Thursday, February 11, 2022 (emphases mine throughout except for Guido Fawkes's posts):
Still fighting their neverendum certain Blobbers, so used to having things go their way for the past half century, view the man who brought us Brexit as the one who betrayed the favourite cause of his caste. For that alone he must be punished. They seek not only Johnson's removal from office but his total humiliation …
The Mays and the Majors of this world, uniting with the legions of the left who have always loathed Johnson, cannot bear it that someone who sums up in his rumpled and hitherto popular persona all that they are not, is, after all the ordure that they have poured over him, like Elton John: still standing. After weeks of sustained bombardment with the most vicious projectiles his enemies can muster, the object of their righteous wrath is still withstanding the siege from the Downing Street bunker, even belting out 'I will survive!'
… And those such as Johnson's former editor Max Hastings, who has predicted the PM could be gone within weeks, could yet be proven wrong. But if Boris does go he will not have been brought down in a flood of booze but by the bile of 'the Blob' against the black sheep who dared, by accident or design, to stray from the flock.
The Spectator's Katy Balls says Boris is succeeding because he is buying himself time, putting forward his 'red meat' policies to win back MPs and those souls who voted Conservative in 2019:
After a difficult few weeks, Boris Johnson has made it to parliamentary recess. Given few expect a no confidence vote to be held during recess, time away from parliament gives the Prime Minister much-needed breathing space. After the seemingly never-ending parade of partygate stories, there have been times when MPs were sceptical he would make it this far.
Instead, the Prime Minister has succeeded in buying himself time — talking down would-be plotters and rushing out a string of red meat announcements to keep the right of his party on side. The announcement this week that all Covid restrictions could end a month early is a prime example of this. When MPs return from recess, Johnson will unveil his plan for living with the virus — which will include the guidance rather than law (self-isolation is expected to become just advice) and reduced access to tests.
Boris made his liberating announcement about lifting coronavirus restrictions to the House of Commons on Wednesday, February 9:
Guido Fawkes wrote:
Boris in the Chamber just now announcing that the final Covid restrictions, including the legal requirement to self-isolate after a positive test, are likely to be lifted after the February recess. The "living with Covid" plan will be revealed on 21st February. A full month ahead of schedule…
February 24 could be our third liberation day. We already had Independence Day on July 4, 2020, followed by Freedom Day on July 19, 2021 and now this. Let's hope it is permanent.
In any event, the announcement made two front pages on Thursday, February 10, with the Daily Mail being more positive about this world leading move than The Star. I can empathise with both:
When SAGE's scientists and the unions object, we know Boris is on the right track. Boris didn't even bother consulting the former, as The Mail reported:
Unions are already digging their heels in after Boris Johnson revealed he intends to ditch all remaining Covid laws within a fortnight as a poll revealed that three in four workers ground down by almost two years of lockdowns and restrictions want to continue with self-isolation.
Unison, Britain's largest union serving more than 1.3million members from swathes of the public sector, has accused the Prime Minister of going 'too far, too soon', insisting that the virus 'hasn't disappeared' — despite a raft of data suggesting the worst is now over.
SAGE scientists have also warned of the 'dangers' of the PM's plan to make England the first country in the world to scrap all Covid rules, after it emerged Mr Johnson had not discussed it with the committee which is now infamous for its gloomy predictions about the pandemic.
Boris appears to be placing more weight on what is actually happening rather than alarming data projections from SAGE:
The resistance comes despite Covid infections falling consistently, with even the gloomiest surveillance study now accepting that the country's outbreak has peaked — mirroring the official numbers.
The milder nature of Omicron, coupled with sky-high immunity, mean the NHS never came under the levels of pressure that No10's experts feared would happen, with hospitalisations and deaths both now in freefall.
People with fragile health should note that they will be free to continue self-isolating. That freedom is an individual choice rather than a mandate by law.
The same goes for masks.
Boris is no doubt trying to encourage the socialist governments in Wales and Scotland to do the same thing:
The announcement annoyed the devolved governments in Scotland and Wales – with Nicola Sturgeon's administration calling it a publicity stunt to divert from the Partygate scandal that has left the PM fighting for his job.
The First Minister did this afternoon pledge to ditch face masks in Scotland's classrooms from February 28 — keeping them in communal areas — but says she will wait for expert advice before following Boris's lead on any other rules.
The Scottish Government is unlikely to go as far as dropping all rules when it publishes its strategy for living with Covid in the months ahead on February 22. The plans will be debated by MSPs, meaning any changes could be several weeks behind England. The Scottish Government is even set to extend its Covid powers until September 24.
Conservatives applauded Boris's move:
Lord Frost, who dramatically quit Cabinet partly in protest at draconian curbs, was among the senior Tories praising the move. 'The PM's plan to end all Covid restrictions a month early is the right thing to do & is extremely welcome. I hope the government will also make clear we will not go down the road of coercive lockdowns ever again,' he tweeted.
Tory MPs last night insisted that lockdowns should never be deployed again. 'I am glad to see the emphasis on learning to live with Covid,' said Bob Seely, who represents the Isle of Wight …
David Jones, a former Cabinet minister, welcomed the 'very positive' news, adding: 'The PM deserves credit for this. We have locked down for too long and we now need a commitment that we will not lock down again, save for in the most exceptional of circumstances.'  
Steve Baker hit the nail on the head. The lifting of restrictions is meaningful only if Boris reforms the Public Health Act of 1984 — and, may I add, scraps the Coronavirus Act of 2020:
Former minister Steve Baker added: 'I welcome this announcement but we are not out of the woods until the Public Health Act has been reformed, we have new rules for better modelling, competitive, multi-disciplinary expert advice and wellbeing-based cost-benefit analysis covering the costs of lockdowns and restrictions. There is much to do!'
Earlier this week, Boris made another reshuffle involving the Cabinet Office and Downing Street, in line with the preliminary recommendations from Sue Gray's report on Boris's lockdown parties on January 31. Boris had met with Conservative MPs that evening:
Guido's accompanying post reads in part:
It could be "imminent".
Guido was also first to reveal the PM won over swathes of support from wavering MPs by promising to massively up their involvement in No. 10's policy-making, saying he liked Graham Brady's suggestion of 1922-organised MP policy committees.
In a sign of how the day had played out, in the evening Birmingham 2019 MP Gary Sambrook put out a gushing tweet about the PM:
Guido understands he's now withdrawn his letter of no confidence to Graham Brady. After the vaccine rollout and Brexit, the new shadow whipping operation has to be one of the most impressive things Boris's No. 10 has managed to organise…
On Tuesday, February 8, GB News gave us the details on the reshuffle:
Jacob Rees-Mogg will be the minister responsible for "Brexit opportunities" in the first move confirmed as part of Boris Johnson's reshuffle.
The shake-up of the ministerial team follows the appointment of Stephen Barclay as the Prime Minister's chief of staff and comes as Mr Johnson seeks to relaunch his administration following the partygate row.
Mr Rees-Mogg, previously the Leader of the House of Commons, will still sit at the Cabinet table in his new role as Minister for Brexit Opportunities and Government Efficiency …
Former Chief Whip Mark Spencer has been confirmed as the new Leader of the House of Commons to replace the vacant role left by Jacob Rees-Mogg.
Mark Spencer has been the MP for Sherwood since 2010 and has previously been Deputy Leader of the House of Commons.
Stuart Andrew has been appointed as Minister of State (Minister for Housing) in the Department for Levelling Up, Housing and Communities; he has been the MP for Pudsey since 2010, he has most recently been a deputy whip.
Chris Heaton-Harris has been confirmed as the Government's new Chief Whip; he has served as MP for Daventry since 2010, he had most recently been Minister of State for Europe and is famed in Westminster for his use of Twitter to post one-liner jokes.
James Cleverly MP will become Minister of State (Minister for Europe) in the Foreign, Commonwealth and Development Office as part of the shake-up of the Government frontbench, Downing Street said.
Wendy Morton MP to be a Minister of State in the Department for Transport.
Rt Hon Christopher Pincher MP to be Treasurer of HM Household (Deputy Chief Whip).
Samantha Jones, the Prime Minister's adviser on the NHS and social care, has been appointed as the new No 10 permanent secretary and chief operating officer, Downing Street said.
Samantha Jones, who is a civil servant, is a former NHS trust executive.
She helped develop the plan to reduce hospital waiting lists, but it did not go down well in Parliament this week when Health Secretary Sajid Javid announced it. Even Conservative MPs thought it was weak, especially as a record high of 6.1 million patients are awaiting surgery or other medical procedures.
Samantha Jones will be both an interim No 10 permanent secretary and its COO, both new posts, as The Telegraph reported on February 9:
Boris Johnson has appointed a former NHS trust executive who advises him on health policy to the newly created position of No 10 permanent secretary.
In the latest move to shake-up his inner circle, the Prime Minister announced that Samantha Jones will take the role for six months on an "interim" basis.
Ms Jones had been Mr Johnson's expert adviser on NHS transformation and social care, meaning she helped craft the newly announced plan to bring down NHS waiting lists.
The former nurse and NHS veteran will also hold the title of Chief Operating Officer for Downing Street as she helps shape the new civil service structure being created for the Prime Minister.
There was another appointment, that of Stuart Andrew MP as Levelling Up Minister:
Andrew Griffith, one of the MPs who was reshuffled in the first week of February, laid out his plans as Boris's new Director of Policy:
You would not know it from the media headlines, but families want to hear about our plans to grow employment, tackle the NHS backlog, control our borders, make their streets safer, bring down the cost of living and return rapidly to the point when we can cut taxes to let everyone keep more of their own money – all policies that are rooted in strong Conservative values.
As the Prime Minister's Director of Policy, these are my top priorities together with delivering the tangible opportunities from Brexit that will allow our economy to be more competitive and the reform of government to deliver better public services. Whilst the Policy Unit's remit is to advise the Prime Minister across the widest breadth of government policy, we will be unafraid to ruthlessly focus on the key issues. It is ultimately outputs that matter.
Elected in 2019, he is far from the Sir Bufton Tufton brand of Conservative MP and has been against the EU since John Major's time as PM:
From a comprehensive school in south-east London, I was the first in my family to go to university, where campaigning to keep the UK out of the Exchange Rate Mechanism turned me into a lifelong Conservative.
Jacob Rees-Mogg went further, asking Sun readers for suggestions on which EU regulations should be rolled back in the UK:
The opportunities in front of us are immense. Huge parts of our economy are no longer regulated by the EU.
Before Brexit, many of my constituents would write to me to complain about regulations that burdened them daily.
From farmers to electricians, on so many issues I had to tell them that even as an MP I could not help to solve their problems, as these rules were set by the EU, not the British Parliament.
Thanks to Brexit, that has all changed. Sun readers can hold their MPs accountable, as the buck truly stops with them …
You are the ones who know the red tape binds your hands, and to do my job I need your wisdom. Ronald Reagan rightly said: "The nine most terrifying words in the English language are, 'I'm from the Government, and I'm here to help'." This needs to be turned on its head: Britain needs The Sun readers' help instead.
I implore you all to write to me with the regulations you want abolished — those which make life harder for small businesses, which shut out competition, or simply increase the cost of operating. Through thousands of small changes, we can enact real economic change — which means The Sun's readers will feel a real Brexit bonus in their pockets and in their lives  every day.
WRITE TO ME: Jacob Rees-Mogg, House of Commons, London SW1A 0AA
EMAIL: jacob.reesmogg.mp@parliament.uk
In other news, the UK economy grew 7.5% in 2021:
Guido has the quote from the ONS:
 Darren Morgan, ONS: 
"Despite December's setback, GDP grew robustly across the fourth quarter as a whole with the NHS, couriers and employment agencies all helping to support the economy," he said.
"Overall, GDP in December was in line with its level in February 2020, before Covid-19 struck, while in the fourth quarter as a whole, it was slightly below that of the fourth quarter in 2019."
People are trying to cast shade on this achievement, but even The Spectator, hardly pro-Boris, has a compliment for his administration. Today, Katy Balls pointed out:
With prices soaring, interest rates rising and the cost of living crisis growing more acute by the day, we could do with some more positive news: and this morning's GDP update has played a small part in providing it.
Despite suffering the largest economic contraction in 300 years in 2020 – and taking the biggest economic hit in the G7 – Britain had the fastest growing economy in the G7 last year, boosting its GDP by 7.5 per cent.
It's still a mixed story: looking at where the UK economy is now compared with pre-pandemic levels, it ranks average within the G7. But with one of the steepest hills to climb back to recovery, the UK's relatively fast growth enabled the economy to get there several months before it was forecast to do so …
… while the economy did take a slight hit at the end of last year, it did not fall back below pre-pandemic levels. Britain can still boast that it made a full economic recovery – and hopefully recoup December's losses fairly quickly, given how quickly fears about Omicron's severity were put to bed.
Finally, with local elections coming up in May, Boris will be doing what he does best — campaigning around England (with one stop in Wales):
Guido notes that not all of Boris's destinations will be holding an election this Spring, but the PM needs to turn things around for the Conservatives:
Boris has spent a lot of time on the road recently. Almost every day he seems to show up at another school, building site, or hospital somewhere outside SW1 – in just the last 5 weeks, he's made 10 trips across the UK. Coincidentally, 7 of those trips happen to be in seats which are holding local elections in May …
With Labour and much of the media hammering away at Partygate since December inside the Westminster bubble, Boris obviously knows his best chance of turning things around is to get back into campaign mode. It is what he does best, after all…
Although Labour are still ahead in the polls, an amazing reversal that began when the Downing Street parties during lockdown came to light, a pollster from Savanta ComRes thinks that it will be easier for Boris to win his 2019 voters back than it will be for Starmer to encourage them to vote Labour:
This is what Savanta ComRes uncovered from their latest focus group — Starmer isn't capturing their collective imagination, so Boris is still in with a chance:
I will have more next week on Boris's attempt to survive at No. 10.
On Saturday, December 18, 2021, Lord Frost resigned as the UK Government's chief Brexit negotiator.
He cited his dissatisfaction with Boris Johnson's 'political direction':
Most Conservatives were in shock at the news. He was among the top-rated Cabinet members and was negotiating Brexit as well as could be expected, given the nature of the EU in Brussels:
Lord Frost had been in a Brexit negotiating post for two and a half years. He became a full Cabinet member on March 1, 2021, at which point he became Britain's chief negotiator, taking over from Michael Gove, who was then Chancellor of the Duchy of Lancaster.
Guido Fawkes has the text of Frost's acceptance of the Cabinet position:
I am hugely honoured to have been appointed Minister to take forward our relationship with the EU after Brexit. In doing so I stand on the shoulders of giants and particularly those of Michael Gove, who did an extraordinary job for this country in talks with EU over the past year.
Frost was sworn into the House of Lords on September 8 as Baron Frost of Allenton in the County of Derbyshire. Because of coronavirus, wearing ermine has been optional:
The most intractable part of Brexit has been — and continues to be — the EU's holding Northern Ireland hostage. Goods from Great Britain cannot get through, such as English oak trees, which the Province wants to plant for the Queen's Platinum Jubilee in 2022. British Christmas cards were taxed last year, according to EU rules. The transport of medicines is a much more serious problem.
Guido Fawkes has the full text of Lord Frost's resignation letter and Boris's reply.
This is the main highlight, wherein the peer mentions his 'concern about the current direction of travel', particularly with coronavirus lockdowns. Interestingly, he thinks that Brexit 'is now secure':
Although Lord Frost had tendered his resignation the week before, according to the Mail on Sunday, and had agreed to stay on until January, he changed his mind and left Government with immediate effect, after the Mail on Sunday leaked his impending departure a week before. See the end of the first paragraph of his letter below:
The story made the Mail on Sunday's front page on December 19. Frost also objected to, quite rightly, to tax hikes and green policies, neither of which is Conservative:
The article clearly worried some Conservative MPs. Sam Coates from Sky News tweeted a bit of their WhatsApp exchange.
Theresa Villiers wrote:
Very worrying that Lord Frost has gone.
Andrew Bridgen replied:
Worrying? It's a disaster. Lord Frost was concerned about the policy direction of the Gov. So are most of the Conservative backbenchers.
Marcus Fysh said, in part:
Frost is a hero and 100% right on this.
The day he resigned, The Spectator posted the text of Frost's speech to the Centre for Policy Studies, 'Britain needs low taxes and no vaccine passports'. Excerpts follow:
We can't carry on as we were before and if after Brexit all we do is import the European social model we will not succeed. We have not successfully rolled back the frontiers of the European Union from Britain with Brexit, only to import that European model after all this time …
It is all too easy to get captured by the interest groups and the lobbies. We don't have time for that. The world is not standing still. No-one owes us a living. Earning one is now fully in our own hands. The formula for success as a country is well known. Low taxes – I agree with the Chancellor, as he said in his Budget speech, our goal must be to reduce taxes.
Light-touch and proportionate regulation, whatever our policy objectives. Free trade – of course – simultaneously increasing consumer choice while reducing consumer costs. Ensuring competition stops complacency – keeping our economy fit and responsive to innovation and progress abroad.
And personal freedom and responsibility. Unavoidably, we have had a lot of state direction and control during the pandemic. That cannot and must not last for ever, and I am glad that it is not. I am very happy that free Britain, or at least merry England, is probably now the free-est country in the world as regards covid restrictions. No mask rules, no vaccine passports – and long may it remain so.
The Mail on Sunday's editorial explained why Frost's departure is a serious blow not only for the UK but also for Boris's premiership (emphases mine):
Lord Frost, the Brexit Minister, is the opposite of a career politician. He is a distinguished diplomat with a long record of skilled negotiation who gave his talents to Boris Johnson in the hope of getting Brexit done, successfully and to the benefit of this country.
He is a serious and substantial figure, a genuine patriot who believes in Britain …
He transformed the Brexit talks, symbolising a new, unapologetic and frankly patriotic approach by getting our negotiating team to wear Union Flag badges.
His approach was so unlike the feeble and defeatist attitudes of so much previous British contact with the EU that Brussels realised it was for once dealing with serious opponents, with an iron determination to stand up for ourselves …
But his departure is less to do with the continuing problems of sorting out the details of our new relationship with the Continent and more to do with the PM's conduct of the Covid crisis.
With his usual sharp perception, Lord Frost has decided that he has had enough of the Government's increasingly European-style approach to the pandemic.
Lord Frost has been among the strongest voices in Cabinet in favour of keeping the country open and for avoiding more legislative controls to deal with the disease. He is believed to have objected in principle to the idea of 'vaccine passports'. He is also thought to have been disillusioned by the latest resort to regulations.
This is all of a piece with his more general disenchantment with the whole policy direction of the Government in recent months – especially on tax rises and the green-driven preoccupation with the target of 'net zero' CO2 emissions.
This view meshes with his public statements, disagreeing with the European-style high- tax high-spend economic model recently embraced by the Chancellor. Lord Frost believes that such a policy, whatever the excuse for it may be, is unlikely to deliver the benefits of Brexit. These are serious objections from a serious man.
Boris Johnson, who understands very well the value of figures such as Lord Frost, needs to heed what he says, and soon. The Covid crisis has caused the Government to wander very far from the principles on which it was so decisively elected. And, while it is easy to read too much into bad by-election results, it would be very unwise for Mr Johnson to brush the North Shropshire defeat aside.
It is because he has failed to deliver what his supporters want that they are now prepared to shift their votes elsewhere. For the moment, protests of this kind are just a warning, as Lord Frost's departure is a warning.
But if these danger signals go unheeded in the year ahead, the Government will face a much more serious defection and its future could be in real danger.
The Sun's article was along the same lines, signposting danger for Boris, who was already sinking in the polls at the time:
Lord Frost's walk-out will intensify the pressure on Mr Johnson's faltering leadership — and will be particularly painful as he was his "Brexit brother in arms" …
A Downing Street source said: "This is a proper kick in the balls for Boris and the team.
"Frostie hated the Covid restrictions and higher taxes — but vaccine passports was the final straw."
The hammer blow came as Boris planned his fightback after his worst week in charge.
Senior allies have told him heads must roll if he is to cling on to power …
Cabinet big guns have said they will stand by the PM.
A source said yesterday: "We all need to pull together. We need the whips to make it clear that there is no other option than to stick with Boris."
The Spectator said that Frost's departure was worse for Boris than the recent Shropshire by-election loss, which saw the Liberal Democrats take over a long-standing Conservative constituency:
On December 19, Boris wasted no time in appointing Foreign Secretary Liz Truss as Frost's replacement:
Guido reported that Truss will be primarily responsible for the Northern Ireland Protocol negotiations and that Chris Heaton-Harris will become her deputy:
The Foreign Secretary is to become lead negotiator with the EU on the Northern Ireland Protocol, following the departure of Lord Frost.
Liz Truss will take over Ministerial responsibility for the UK's relationship with the European Union with immediate effect.
She will become the UK's co-chair of the Partnership Council and the Joint Committee, and will lead the ongoing negotiations to resolve the problems arising from the current operation of the Northern Ireland Protocol.
Chris Heaton-Harris will become Minister of State for Europe and will deputise for the Foreign Secretary as necessary on EU Exit and the Protocol.
Nikki da Costa, Former Director of Legislative Affairs at No 10, posted an incisive Twitter thread explaining how hard Lord Frost worked on Brexit negotiations, despite all the obstacles. He remained cool-headed and diplomatic throughout:
At that point, I will add that, having seen the Lords grill Lord Frost when he answered their questions, they gave him a very hard time. Not surprising, when most of them are Remainers, but he really did not need the extra aggravation.
Nikki da Costa concludes:
On December 20, The Spectator took a closer look at what Frost wanted out of negotiations concerning Northern Ireland. Henry Hill, who wrote the article and works for Conservative Home, concluded that the Government didn't have the nerve to go through with his plans:
Whether Frost speaks out or not, this speaks to a deeper political problem for the government. Frost could only ever be as muscular as Johnson was prepared to allow him. Thus, over the past couple of months, we have gone from a very robust line about triggering Article 16 — the mechanism that allows either side to suspend the Protocol — to the most recent news that actually, maybe the government's red line about the jurisdiction of the ECJ wasn't quite so red after all.
According to Dominic Cummings, Frost and his team did have a proper strategy for invoking Article 16 and using it to secure the reforms required to safeguard the integrity of the British state. But they knew the government didn't have the bottle for it. And following the departure of most of the rest of the Prime Minister's original Vote Leave team, they were also isolated within government.
Even accepting that Cummings has an axe to grind, that seems perfectly plausible. Johnson's overall approach to the Union has been wildly erratic. One might plausibly favour either a more conciliatory 'four nations' strategy or a more muscular approach to unionism. The government has instead lurched haphazardly between the two.
Boris's lurching, as the article puts it, seems to be affecting other areas of government policy:
It's the same story on pretty much every important area where the Tories should be pursuing structural change. Ambitious planning reform has been abandoned. Detailed proposals for reforming the courts have been sidelined in favour of disinterring David Cameron's 'British Bill of Rights'. I couldn't even tell you if this ministry has an education reform policy.
Time and again, Johnson has proven that his 'fight or flight' instinct is stuck on 'flight'. He's a talented campaigner with an uncommon knack for connecting with voters, at least until recently. But he isn't going to fight to the last for the things he believes in because neither fighting nor believing things are major parts of his political character.
That day, LBC (radio) interviewed Lord Frost, who said that being a Cabinet minister involves supporting Government policies, something he no longer felt he could do, hence his resignation (H/T Guido):
On January 8, 2022, the Mail reported that Lord Frost supports Boris as Prime Minister but thinks he has the wrong advisers. He also hit out at 'woke warriors', stifling public debate. How true — on both counts:
Boris Johnson must reset his Government along traditional Conservative lines if he is to avoid defeat at the next General Election, his former Cabinet Minister Lord Frost warns today.
In his first interview since his sensational resignation as Brexit Minister last month, Lord Frost calls on Mr Johnson to revitalise the country with 'free markets, free debate and low taxes' and to 'set the direction of travel' to appeal to ordinary voters.
He says that the course change is essential for the party 'if we're going to get out of this little trough and win the Election in a couple of years' time' …
Lord Frost makes clear he does not want Mr Johnson to stand down, but to change his policies – and the people around him.
'What I think we need to do is be clearer about the direction of travel, clearer about how we're going to get there. And I think the PM should trust his instincts a bit more,' he says, before criticising the No 10 operation.
'The PM has a right, when he wants something to happen, for the levers that he pulls to actually produce something. And he has the right to the best possible advice around him.
'So I think there needs to be machinery changes and there probably need to be some different voices around him to make sure that he gets the best possible advice.'
Setting out a manifesto for post-Brexit Britain, Lord Frost says: 'I think we need to focus on rebuilding the nation and be proud of our history.
'We need to get the country going economically again and that means free markets, free debate and low taxes. People need to look at this country and think, yes, something is changing here. You've got to set the direction of travel …
His intervention comes after Tory MPs were shaken by a poll in last week's Mail on Sunday showing a Labour lead of 16 per cent in the 'Red Wall' seats seized by Mr Johnson in the 2019 Election, which are critical to his chances of winning the next one.
Lord Frost says: 'I saw the polling and it doesn't look good. I don't think the Red Wall is so different to the rest of the country. What people want is their own lives to get better. They want control of their lives and to be prosperous' …
'It isn't about just, "Is this tax increase justifiable or not?" It's about the big-picture things we are trying to do and why.'
That includes the 'policing of people's opinions' by 'woke warriors' and mounting 'Twitter pile-ons' targeting those with opposing opinions.
'It really worries me it's becoming difficult to advocate certain positions that have been reasonable in public debate in the past,' Lord Frost says.
'All of Western history is about free debate, intellectual inquiry, the ability to take the conclusions where you find them.'
… Despite the many problems afflicting the Government, Lord Frost still believes that Mr Johnson will be Prime Minister this time next year, if he gets 'the right sort of support'.
Lord Frost refuses to name his preferred successor to Mr Johnson, although he believes that Brexit is safe in the hands of Ms Truss, who has taken over his portfolio …
How would he define 'Johnsonist Conservatism'?
'Good question. It's about a 'can do' attitude – he is relentlessly optimistic and positive about this country, which is a good thing, and he's right to be. I think his fundamental views about the world and politics are good ones.
'I look back to the speech he gave at party conference in 2018 about tax cuts.
'That was a good speech and I think we could get back to that.' 
Lord Frost expanded on his views in this January 21 interview with Mark Steyn on GB News, which is well worth watching:
With the controversy over Boris's Downing Street parties still a subject of daily debate, pending civil servant Sue Gray's report, on January 27, Frost said in The Sun that we should not condemn the Prime Minister until the facts are made available.
I am glad that he brought the PM's critics' hatred of Brexit into the mix, because that's what is really at the heart of the matter:
Sue Gray's report must be published and judgments must be made.
Her report may provide evidence to condemn the Prime Minister. 
Or it may turn out, as so often before, that his critics have allowed their dislike of Brexit, or of Boris Johnson personally, to blind them to the facts.
For my part, I think the Prime Minister of this country should have the right to be believed — unless there is clear contrary evidence. 
That is why the Gray report is so important. 
MPs will have to draw their own conclusions from it. 
On January 31, Lord Frost ruled out a return to Downing Street as an adviser.
The Telegraph's political editor tweeted:
Frost had tweeted:
I hope that Boris gets the message. He needs the proper help — and fast.
When Boris Johnson won the December 2019 general election, the Conservative theme of which was 'Get Brexit Done', he said that he was grateful for the votes from former Labour constituencies, noting that those votes were 'on loan' to his party.
How true and how wise of him to recognise that, a gift which gave him a stonking majority of 80, the highest for the Conservatives in 33 years.
Boris was Prime Minister prior to that election, having been elected as Conservative Party leader in July that year after Theresa May's resignation.
He should have known the knives would be out for him. He had unsuccessfully tried to prorogue Parliament that September. He ended up having to apologise to the Queen after Baroness Hale, she of the spider brooch and a Remainer, ruled against it.
With all that in mind, one would have thought that Boris could be more aware of the optics surrounding his premiership moving forward. Remainers — the Left and the media — have had a beady eye on him and Downing Street.
Boris's majority is now 74: whip withdrawn from three MPs, two by-election losses to the Liberal Democrats (Chesham and Amersham, North Shropshire), one win from Labour in Hartlepool last year and one defection (Christian Wakeford).
Furthermore, it is worth noting that Boris's resounding popularity with the public (until recently) is not reflected in the parliamentary Conservative Party.
Unlike Labour, the Conservatives do not hesitate to depose their leader. They got rid of Margaret Thatcher in the autumn of 1990. The 'wets' she so roundly criticised for their lack of political backbone proved they had spines after all.
Therefore, a Conservative Prime Minister faces threats from without and within.
The Opposition and the media want the UK to re-enter the European Union. The Conservatives have disgruntled candidates, past and present, who want to lead the party in a more conventional, less maverick, style. None of these groups is friendly to Boris Johnson's premiership and would love nothing more than to see it brought down.
On Friday, January 14, 2022, the veteran journalist and author Charles Moore wrote a perceptive column for The Telegraph on Boris's travails with lockdown parties: 'For all his faults, there is no other Tory politician who has Boris Johnson's political reach'.
Moore's editorial appeared two days after Boris apologised at the beginning of PMQs (Prime Minister's Questions). He said (emphases mine):
Mr Speaker, I want to apologise. I know that millions of people across this country have made extraordinary sacrifices over the last 18 months. I know the anguish that they have been through, unable to mourn their relatives and unable to live their lives as they want or to do the things they love. I know the rage they feel with me and with the Government I lead when they think that in Downing Street itself the rules are not being properly followed by the people who make the rules.
Though I cannot anticipate the conclusions of the current inquiry, I have learned enough to know that there were things that we simply did not get right, and I must take responsibility. No. 10 is a big department, with the garden as an extension of the office, which has been in constant use because of the role of fresh air in stopping the virus. When I went into that garden just after 6 o'clock on 20 May 2020, to thank groups of staff before going back into my office 25 minutes later to continue working, I believed implicitly that this was a work event, but with hindsight, I should have sent everyone back inside. I should have found some other way to thank them, and I should have recognised that even if it could be said technically to fall within the guidance, there would be millions and millions of people who simply would not see it that way—people who suffered terribly, people who were forbidden from meeting loved ones at all, inside or outside—and to them, and to this House, I offer my heartfelt apologies. All I ask is that Sue Gray be allowed to complete her inquiry into that day and several others, so that the full facts can be established. I will of course come back to this House and make a statement.
Sue Gray, an eminent civil servant, is still investigating the May 20, 2020 gathering and several others held in Downing Street during the lockdown periods in England. She could be some time.
On January 12, Opposition leaders and MPs piled on Boris. To an extent, I agree with them. Boris set the rules. Boris gave us the rules, either by himself or through his ministers, on television during the coronavirus briefings. Now he says he was unaware of them or should have been more mindful of them?
However, Downing Street is also a Crown property, meaning that it is exempt from certain laws that apply elsewhere across the country.
That said, the Queen scrupulously abided by the coronavirus restrictions during her husband's funeral in April 2021. She sat alone. She was masked. It was tragic to see.
Yet, the overall design of the demands for Boris to resign over the parties — remember, he is still innocent until proven guilty — is to banjax Brexit and get rid of his attempts to make Britain a better place to live. This includes the expiry of most of the remaining Plan B coronavirus restrictions, on schedule for January 26, 2022. Their expiry puts the UK on course to be the freest Western nation in this regard.
Moving on to Charles Moore's editorial on the parties, the eminent journalist asks:
… I wonder, once the righteous anger had passed, how good it would feel for the country if the head of government had been ejected on this issue.
We may now be moving nearer to normality in relation to Covid-19. The Government, which was too draconian earlier on, now seems broadly on the right track, pushing back against scientists and social engineers in love with semi-permanent lockdown. Isn't it better to stick to this course, without the self-indulgence of political convulsion? The international comparisons are quite favourable to Britain. We are not facing the collapse of the Government's main policy. If anything, we are beginning to see its success.
Then there is the question as to how the news about these parties leaked from No. 10 or elsewhere. Boris's former adviser, Dominic Cummings, is behaving like a vengeful jilted lover, referring to the Prime Minister as 'the trolley', careering all around the place. Does he bear any responsibility for these leaks? We should be told.
Of Cummings, Moore says:
I have a lot of sympathy with Dominic Cummings's frustrations with Boris when he worked for him in Downing Street, but none with his attempt to prove him unfit for office by waging a continuous media campaign. 
If the two fell out, there will be fault on both sides, but the benefit of the doubt must go to the executive who is elected, not to the adviser who no longer advises.
As for sitting MPs railing against Boris, Moore says they represented the party when they ran for office; in most cases, they were not elected on their personal merit.
Moore was not to know of Christian Wakeford's crossing the aisle just before PMQs on Wednesday, January 19. Wakeford sat right behind Keir Starmer, in full view of Boris.
Bury South, Wakeford's Red Wall constituency, now has a Labour MP, with no say from his voters about this.
Moore says:
In the age of Twitter, many MPs seem to think they are in Parliament because of their own sturdy independent-mindedness and bear no responsibility to the collective.
Actually, no. Almost all of them are there because of the party label they hold – the regiment, if you like, in which they have chosen to serve. They need to understand that the regiment will come under constant attack, and they cannot survive individually if they crumple under each bombardment.
Until Wakeford's defection, which is a serious matter in the House of Commons, a growing group of Conservative MPs were moving actively against Boris, especially through writing letters to Sir Graham Brady, head of the 1922 Committee. If he receives 54 letters against Boris, he can hold a vote of no confidence. Fortunately, Wakeford's perfidious crossing the aisle was so shocking that those MPs have settled down, deciding to lie low for the time being. It is rumoured that some have since withdrawn their letters to the 1922 Committee.
Moore recaps Boris's political history from the time he served two terms as Mayor of London, a job he performed admirably. Boris has had similar successes since then, including being the face of the Brexit referendum in 2016:
For all Boris's evident faults – so evident that Conservative MPs knew most of them when they chose him – his record of advancing his party is almost unspotted. Twice managing to become Mayor of London – a very unTory city – he then won the EU referendum, thus accumulating the electoral capital to lead his party when Mrs May failed. He won a commanding majority at the ensuing general election on the proposition that he would get Brexit done and crush Jeremy Corbyn's Labour Party. The May era proved that no one else could do that.
I realise that gratitude is not a strong emotion in politics, and the polls are bad now, but Tory MPs should at least recognise that such skills are not easily replicated. The leading contenders if Boris falls – Rishi Sunak, Liz Truss and Michael Gove – are all able politicians, but none has exhibited anything like Boris's reach. This man has come close to political death before – when Michael Gove denounced him after the referendum and when he failed as Foreign Secretary.
He has also come close to actual death – when he got Covid in the early days of the plague. But he has a way of surviving and reviving. These skills deserve respect from the party he leads. If they try to kick him out, they create a definite split for an indefinite benefit, possibly provoking the third general election in five years. Who needs that?
Precisely. There is no other leader who has the reach with the general public like Boris Johnson.
It will take some time for Boris to recover. This will be as difficult for him as recovering from coronavirus was in the Spring of 2020. It seemed to take him several months, even if he said otherwise that year. He looked and sounded tired and worn down for a long time.
The same will hold true now. The public didn't mind when Boris tried to unconventionally foil opposition to Brexit, because we knew he was fighting on our behalf.
However, these parties took place at a time when we could not see other family members outside of our homes. We could not visit relatives in care homes. We could not be with them in hospital for any reason. We could not even get into some Accident & Emergency wards for urgent care. We were deprived of Christmas and other religious celebrations. We could not get married. We could not bury with the comfort of family around us. We could not sit on the grass in the park to soak up warm sunshine in May 2020. We couldn't even sit on a park bench. Nor could we speak out against these restrictions or the 'science' behind them. We were ordered to stay at home and stay away from the workplace in order to save lives. We were constantly warned about 'killing Granny', a disgusting proposition and accusation.
The Government and advisers took us for fools, as if we were brainless. It is therefore amazing that we have the ability to hold down jobs and pay their overly inflated salaries and pensions. Then, at the end of last year, we found out that some of those advisers received New Year's Honours for stopping us from living life in the way God intended, in a free society. It all stinks to high heaven.
Therefore, it is appalling to discover that, while we were cooped up at home, Downing Street was holding these parties.
Boris has betrayed the public the way he betrayed his wives. It was callous and cruel, in the same way that marital infidelity is.
That is what angers the public. Boris turned against us. How does a betrayed wife ever trust her husband again? This is what Boris will have to work on with us, 'straining every sinew', to borrow a favourite, albeit silly, Conservative turn of phrase.
Still, with all that in mind, we must keep in mind Charles Moore's warning. If Boris goes, Brexit could be in trouble. Don't believe Labour when they say that Brexit is a 'done deal' and they won't try to reverse it:
One must ask who stands to benefit from the blond defenestration being talked of. Lord Adonis, the Remainer whose frankness is so helpful to the other side, tweeted this week: "If Boris goes, Brexit goes." That is the idea. That is the constant motivation of a minority of unreconciled Tory MPs and a majority of the Great and the Good in the Civil Service, academia, the law, the House of Lords and the BBC, which is carefully managing this current story for the political effect it has always wanted.
Christian Wakeford is sure he's done the right thing by moving to the Opposition benches, sidling up to Labour without a by-election. It will be interesting to see what his Jewish constituents make of his new alliance with an anti-Semitic party, supposedly cleaned up now. It will be just as interesting to see who the Labour candidate for Bury South is at the next general election. I won't be putting any money on Wakeford's selection.
What we need now is patience, watching Boris like a hawk in the coming months — especially with local elections this May — but giving him the space to repent through his actions by returning to One Nation Conservativism.
It is safe to say that the two most controversial British Prime Ministers of living memory are Margaret Thatcher (Conservative) and Tony Blair (Labour).
Baroness Thatcher has gone to her rest, so we are left with Tony Blair.
Blair's knighthood of the Most Noble Order of the Garter made the news at the end of 2021. On Saturday, January 1, 2022, The Guardian reported (emphases mine below):
Appointments to this ceremonial order are made without prime ministerial advice and are usually announced on St George's Day, on 23 April. Founded in 1348 by Edward III, it is the oldest and most senior British Order of Chivalry and a recognition of significant public service. Sir John Major [Conservative], Blair's predecessor, was the last to receive the honour.
The monarch makes this appointment, supposedly independently, but one wonders.
Only a year ago, the media reported that the Queen had refused to appoint him to the Garter. Incidentally, Blair has been sticking his nose in everywhere, especially Brexit. From this, we can deduce that he dislikes the average Briton:
Over the weekend, Angus Scott launched a petition on Change.org to have Blair's knighthood rescinded. By Tuesday, January 4, the petition had 500,000 signatures. Unfortunately, as the petition was not created on the parliamentary website, it is likely to be ignored. More importantly, as this appointment is the Queen's, Parliament cannot do anything about it.
The petition reads:
Tony Blair caused irreparable damage to both the constitution of the United Kingdom and to the very fabric of the nation's society. He was personally responsible for causing the death of countless innocent, civilian lives and servicemen in various conflicts. For this alone he should be held accountable for war crimes.
The Government rejected the petition:
The aforementioned Guardian article says that the Iraq war is still an issue with many members of the public. Speaker of the House Sir Lindsay Hoyle stepped in to defend his fellow Labourite. Not only that, he poured more oil on the flames by saying that every Prime Minister should be knighted, by virtue of their position. No, just no:
Sir Tony, rather than Sir Anthony, as he is now known, has been made a Knight Companion of the Most Noble Order of the Garter, 14 years after leaving Downing Street. But the honour has been criticised by Blair's political opponents and those who argue the legacy of his invasion of Iraq in 2003 makes him unsuitable.
Speaking on Saturday morning Hoyle said he felt the honour, the oldest and most senior British order of chivalry, was "a fitting tribute" for a former prime minister, although he felt it was not a political decision.
"Whatever people might think, it is one of the toughest jobs in the world," the Speaker said, "and I think it is respectful and it is the right thing to do, whether it is Sir David Cameron. They should all be offered that knighthood when they finish as prime minister."
Hoyle was talking to Today programme presenter Martha Kearney on BBC Radio 4 when he was asked if he believed all recent former prime ministers should now be knighted.
"If you have been prime minister of this country, I do believe the country should recognise the service given. Absolutely. You finish in the office and when you've finished it is the respect that we give to those prime ministers," he replied.
I'm going off Lindsay Hoyle rather rapidly.
Other new appointees to the Garter include Camilla, Duchess of Cornwall and to the former Labour cabinet member Lady Amos, the first black person to be honoured this way.
On Tuesday, January 4, The Guardian reported that Sir Keir Starmer, Labour Party leader, defended the knighthood on Good Morning Britain:
The Labour leader said Blair was a worthy recipient of the Knight Companion of the Most Noble Order of the Garter, received in the new year honour's list.
"I don't think it's thorny at all. I think he deserves the honour. Obviously I respect the fact that people have different views," Starmer told ITV's Good Morning Britain.
"I understand there are strong views on the Iraq war. There were back at the time and there still are, but that does not detract from the fact that Tony Blair was a very successful prime minister of this country and made a huge difference to the lives of millions of people in this country."
Blair, who led Labour to three election victories, was prime minister during the allied military invasions of Iraq and Afghanistan.
On Monday, January 3, Christine Hamilton, whose husband was a Conservative MP then a member of the Welsh Senedd ('Senate', Assembly), told Dan Wootton of GB News that there are reasons why Blair should not receive this honour: Iraq, Afghanistan, Brexit. She surmises that if Prince Philip were still alive, this appointment never would have happened:
Several years ago, The Telegraph had an article entitled 'Tony Blair believed God wanted him to go to war to fight evil, claims his mentor'. Unfortunately, it has since been withdrawn from their website.
Another Telegraph gem that no longer exists is the former Conservative MP Norman Tebbit's blog post, 'Gordon Brown is not as vain or greedy as Tony Blair but he is in deep denial and must be removed from office'.
Money, money, money
Blair watchers know that he loves his money.
Unfortunately, this Telegraph article is also gone: 'Tony Blair earned £680,000 for his foundation for 50 hours' work'. That was about The Tony Blair Faith Foundation. You could not make this up.
In March 2010, the Daily Mail reported that Tony Blair needed £5 million a year just to get by. How many properties did he own by then? Six? How many properties does he own now? Eight?
The Mail says:
Tony Blair has told friends he needs to earn at least £5million a year just to break even.
The former prime minister has been heavily criticised for cashing in on his contacts for personal gain and is thought to have made around £20million since leaving office.
But last night his former election agent John Burton claimed Mr Blair needed the astonishing annual income – and possibly much more – to pay spiralling wage bills at his growing list of companies and charities.
The revelation about his finances came as the former premier returned to the political fray with a lukewarm televised endorsement of Gordon Brown.
Mr Burton, one of Mr Blair's most loyal political friends, said: 'What I asked him was, you know he gets this criticism about what he earns. I said how many people do you employ? And he said 130.
'I mean it was 25 about two years ago and he said to me I have got to earn £5million a year to pay the wages, so God knows what he has got to earn now to pay the wages.'
2010 saw the Conservatives regain Government in May thanks to a coalition with the Liberal Democrats. David Cameron, mentioned below, became Prime Minister. The Mail's article appeared during the campaign:
The former prime minister was making a controversial intervention in the election campaign yesterday as he addressed the Labour Club in his old constituency.
It followed a warning from a former defence minister that his appearance could trigger a public backlash against Labour from those angry over the Iraq War as well as Mr Blair's business dealings.
Sporting a bizarre orange tan, Mr Blair spoke in support of his long-time rival Gordon Brown and attacked the ' vacuous' Tories – but stopped short of personally criticising David Cameron.
The Tories were relaxed about the appearance, with Mr Cameron taking a dig at the former premier's lecture circuit earnings, joking: 'It is nice to see him making a speech that no one is paying for.'
Security was tight as Iraq War protesters demonstrated outside the Trimdon Labour Club, in the Sedgefield constituency in County Durham …
But many senior Labour figures fear his involvement could harm the party. Chief among critics was former defence minister Peter Kilfoyle, who warned that Mr Blair was now a 'negative factor'.
He said: 'He evokes a strong antagonism, particularly because of the Iraq War, but not only that.
'Also the kind of things going on with allegedly Blairite former ministers and their apparently venal approach to life. He epitomises everything people think is wrong about New Labour.
'It is a mistake by the so-called strategists. It may seem a good idea to them, but to many people at the grassroots level it is not.'
Kilfoyle was not wrong.
On May 25, 2010, a few weeks after David Cameron became PM, The Telegraph reported, 'Tony Blair hired by US billionaire Vinod Khosla for climate change advice'. What does Tony Blair know about climate change?
The billionaire thought Blair was an expert, apparently:
The agreement will see Tony Blair Associates give strategic advice to Khosla Ventures, a venture capital firm that invests in companies pursuing green technologies. Mr Khosla, who made his fortune as co-founder of computing giant Sun Microsystems, is hoping that Mr Blair's decade on the global stage helps unlock doors for the companies that California-based Khosla Ventures invests in …
Mr Khosla said that "with Tony's advice and influence' we will create opportunities for entrepreneurs and innovators to devise practical solutions that can solve today's most pressing problems."
It wasn't disclosed how much Mr Blair will be paid for the advice he gives to Khosla. He already has a £2m lobbying post with JP Morgan Chase and a £500,000 job with Zurich Financial.
Mr Blair also charges tens of thousands of pounds for public speaking, received a £4.5m advance for his memoirs and set up Tony Blair Associates to advise foreign countries including Kuwait. In total, he is estimated to have earned at least £15 million since leaving office two and a half years ago.
Good grief.
Let's go back to Blair's properties. Most of them are stately homes or properties out of the reach of most people in the UK.
Less than a year after Blair left office as Prime Minister, he was somehow able to buy his sixth property. How can that happen on a PM's salary?
On May 4, 2008, the Mail reported (and included must-see photos):
Tony and Cherie Blair have added a £4million stately home once owned by Sir John Gielgud to their property portfolio.
The seven-bedroom mansion in Buckinghamshire is a few miles from Chequers, the prime ministerial retreat the Blairs gave up to Gordon Brown when he took over at No 10.
Mrs Blair was said to have longed for another historic home in the same area.
A source said: "It ticked all of Cherie's boxes. She wanted a small stately home within a 20-mile radius of Chequers."
The Grade I listed South Pavilion, in Wotton Underwood, brings to six the number of properties the couple now own.
They have two houses in London, two flats in Bristol and Mr Blair's former constituency home in Durham …
Since he left office last June Mr Blair is estimated to have signed deals worth nearly £10million.
Last month the former Prime Minister reportedly earned up to £240,000 for making a 90-minute speech to businessmen in Spain.
Theoretically Mr Blair could have written a cheque for £4million to buy the property outright, but it seems more likely the couple have taken out another mortgage.
If so it would double their mortgage debt to around £8million and push their payments to more than £30,000 a month, experts estimate.
Iraq War: Dr David Kelly's death and apologies
On June 26, 2010, the Mail alleged a cover up in the death of Dr David Kelly, said to have been unmasked as the source of the claim that the Blair government had 'sexed up' claims for a war in Iraq. Dr Kelly's case is still a mystery.
The Mail article says, in part:
The official story of Dr David Kelly is that he took his own life in an Oxfordshire wood by overdosing on painkillers and cutting his left wrist with a pruning knife …
A subsequent official inquiry led by Lord Hutton into the circumstances leading to the death came to the unequivocal conclusion that Kelly committed suicide.
Yet suspicions of foul play still hang heavy over the death of the weapons expert whose body was found seven years ago next month in one of the most notorious episodes of Tony Blair's premiership.
Many believe the truth about the manner of Dr Kelly's death has never been established properly. Some even fear that the 59-year-old, the world's leading expert in biological and chemical weapons, was murdered …
The blanket of secrecy thrown over the case by the last Labour Government has only fuelled the sense of mystery.
In January this year, it emerged that unpublished medical and scientific records relating to Dr Kelly's death – including the post-mortem report and photographs of his body – had been secretly classified so as not to be made public for 70 years.
Lord Hutton, who had been appointed by Blair, was responsible for this extraordinary gagging order, yet its legal basis has baffled experts accustomed to such matters.
Against this shadowy background, we have conducted a rigorous and thorough investigation into the mystery that surrounds the death of David Kelly. And our investigation has turned up evidence which raises still more disturbing questions.
Our new revelations include the ambiguous nature of the wording on Dr Kelly's death certificate; the existence of an anonymous letter which says his colleagues were warned to stay away from his funeral; and an extraordinary claim that the wallpaper at Dr Kelly's home was stripped by police in the hours after he was reported missing – but before his body was found.
Until now, details of Dr Kelly's death certificate have never been made public.
But the certificate was obtained by a group of leading doctors who have spent almost seven years investigating the case; doctors who believe it is medically implausible that he died in the manner Hutton concluded and are alarmed at the unorthodox way the death certificate was completed.
Near the top of all British death certificates is a box headed 'Date and place of death', in which a doctor or coroner should declare the exact location of a death, if it has been established.
Dr Kelly's certificate gives his date of death as July 18, 2003. It then states in reference to place of death: 'Found dead at Harrowdown Hill, Longworth, Oxon'.
Why was the word 'found' used? Why was the crucial question of 'place of death' not answered? The death certificate should be precise about the time, cause and location of death.
The doctors who have investigated the case believe the failure to answer this question leaves open the possibility that Dr Kelly died somewhere other than Harrowdown Hill, the wood where his body was discovered. If this was the case, they are concerned the law may have been subverted over Dr Kelly's death …
A full coroner's inquest, which, by law, must be held following any sudden, unexpected or violent death, would have addressed these discrepancies.
But no full inquest was ever held.
Oxfordshire Coroner Nicholas Gardiner opened an inquest on July 21. But on August 13 the then Lord Chancellor Lord Falconer, Tony Blair's former flatmate, ordered it to be adjourned indefinitely.
Falconer used an obscure law to suspend proceedings, and for the first time in English legal history he replaced an inquest with a non-statutory public inquiry to examine a single death, seemingly without any public explanation.
On October 24, 2015, The Telegraph reported that Blair gave an interview to CNN in which he partially apologised for the war in Iraq:
Tony Blair has apologised for some of the mistakes that were made during the Iraq War, and says he recognises "elements of truth" behind opinion that the invasion caused the rise of Isil.
In a candid interview with CNN, the former prime minister was challenged by US political broadcaster Fareed Zakar who accused Blair of being George Bush's 'poodle' over the conflict.
During the exchange, which will air on CNN Europe at 11am and 7pm on Sunday, Mr Blair says: "I apologise for the fact that the intelligence was wrong. I also apologise, by the way, for some of the mistakes in planning and certainly, our mistake in our understanding of what would happen once you removed the regime. But I find it hard to apologise for removing Saddam."
When asked whether he thought the invasion led to the rise of Isil, he says: "I think there are elements of truth in that. Of course you can't say those of us who removed Saddam in 2003 bear no responsibility for the situation in 2015."
… Blair's acknowledgement of responsibility, if not apology, for the rise of Islamic extremism, is aptly timed.
In 2004, he told MPs: "I will not apologise for the conflict. I believe it was right" and in 2007, he repeated this sentiment, saying: "I don't think we should be apologising at all for what we are doing in Iraq."
Last week, The Telegraph reported the inquiry was facing more chaotic delays after a leaked memo signalled Blair had signed up to the war in Iraq a year before it started.
It has also been reported that former David Blunkett, the former Labour home secretary, has revealed that he challenged Blair before the war about how to avoid any chaos after Saddam's downfall.
Meanwhile, it was revealed that Mr Blair made a secret trip to the White House to broker a deal on behalf of Muammar Gaddafi that deprived British victims of Libyan terrorism of millions of pounds in compensation.
Mr Blair acted as a go-between in negotiations between Gaddafi and President George Bush over payments to terror victims, according to a senior source.
The disclosure was made as Mr Blair ignored a deadline to explain his role to a parliamentary committee investigating the deal. He was invited to respond by Friday but instead sent a letter at 6pm on the day of the deadline, asking when the deadline was.
The source said Mr Blair travelled to Washington to intervene on behalf of Gaddafi in February 2008, after first meeting the dictator in Libya.
The new evidence suggests Mr Blair, who had quit as prime minister less than a year earlier, had played an important role in negotiations between President Bush and Gaddafi.
At the time, Libya was being sued through the US courts for committing terror atrocities, and billions of pounds of Gaddafi's assets were at risk of being frozen as part of the lawsuits.
The deal struck by President Bush and Gaddafi led to US victims receiving £1  billion in compensation , but in exchange all court cases were dropped under an act of Congress.
But British victims, who had brought cases in the US, including almost 200 families of victims of IRA terrorist attacks, were not included in the deal. Mr Blair has always insisted he had "nothing whatever to do with any compensation legislation signed by President Bush".
See? He does not like his own people.
On July 2, 2016, The Telegraph reported that Blair would not be investigated for war crimes in Iraq, although British soldiers could be:
Prosecutors at the International Criminal Court will examine the Chilcot report for evidence of abuse and torture by British soldiers but have already ruled out putting Tony Blair on trial for war crimes, The Telegraph can disclose.
The decision has outraged families of troops killed in Iraq who blame Mr Blair for engineering the war.
Sir John Chilcot's report will finally be published on Wednesday and is expected to strongly criticise Mr Blair's role in the US-led invasion of Iraq in 2003.
But in an official statement to the Telegraph, the International Criminal Court (ICC) said its prosecutors would comb through the 2.3 million word report for evidence of war crimes committed by British troops but that decision to go to war remained outside its remit.
It means individual soldiers could be prosecuted for war crimes but not Mr Blair.
The ICC, based in the Hague, has begun a 'preliminary examination' of claims of torture and abuse by British soldiers, after receiving a dossier from human rights lawyers acting for alleged Iraqi victims.
Brexit
In 1983, a young Tony Blair, running for MP in his first election standing in Sedgefield, pledged to support leaving the EU.
A campaign leaflet of his from that year surfaced, as a regional paper for the North East of England, The Chronicle, discovered:
Former Prime Minister Tony Blair hasn't half changed his tune on Brexit since the heady days of 1983.
A campaign leaflet from Mr Blair's first election standing in Sedgefield in 1983 has resurfaced online.
In the Labour literature, the bouffanted Oxford University graduate declares he wants to leave the European Economic Community, which later became the EU.
The pamphlet said: "We'll negotiate a withdrawal from the E.E.C. which has drained our natural resources and destroyed jobs."
On June 26, 2016, three days after the Brexit referendum, Blair pledged to seek a second referendum. Obviously, the British people are too stupid to handle such issues via the ballot box.
The Evening Standard reported:
When asked on the BBC's Sunday Politics programme about the possibility of another vote, he said: "As I'm looking at it here, I can't see how we can do that.
"But, you know, the point is, why rule anything out right now? As I say, you are going to have a reality to test yourself against."
Blair said the nation needs to "see the consequences" of Brexit as they play out in the coming weeks and months.
"I can't see how you would go through all of the mechanics of another referendum now," he continued. I just can't see it.
"But on the other hand I also think there will be a lot of people in the country who will say 'well, let's have a look at this and see what we are going to do' and Parliament will want to look at it."
Blair was still at it a year later, asking for a delay to Brexit negotiations:
In 2019, Blair asked for a second referendum, claiming it would be 'healing'. Oh, my:
A month later, this Brexit poll appeared, which the Tony Blair Institute for Global Change conducted:
Hilarious!
It should be noted that Blair did not offer British voters a referendum on the Treaties of Amsterdam and Nice during his time in office:
Do we need any further proof that Blair dislikes the British people? Perhaps we do.
Migration to UK unexpected
Then there was the issue of migration to the UK, which Blair facilitated during his time as PM.
On March 19, 2017, Tony Blair said he did not anticipate the number of migrants who would come to the UK when he opened the borders to European workers.
The former Labour leader relaxed immigration controls in 2004 after 10 new nations including Poland, Lithuania and Hungary, were admitted to the EU.
He tried to play down the significance of opening Britain's borders, arguing that most EU migrants came to the UK after 2008.
However, official figures show that the number of EU migrants who came to Britain rose from just 15,000 in 2003 to 87,000 the following year. That figure increased to 104,000 in 2006 and 127,000 in 2007.
Mr Blair also made a factual error by suggesting that he could only have imposed transitional controls, temporarily barring migrants for four years.
In fact other EU nations including Germany introduced the measures for up to seven years.
Those numbers, which continued to increase through subsequent years, represent one small city per year in the UK.
——————————————————–
What has Tony Blair done to deserve the Order of the Garter? Nothing whatsoever.
On Wednesday, June 23, 2021 — the five year anniversary of the Brexit referendum — The Spectator had a good article about how wrong Project Fear's predictions were.
Excerpts from 'Five of the worst Remain predictions five years on' follow (emphases mine).
The sources for these are then-Chancellor George Osborne, the banks, an international accounting firm, then-Prime Minister David Cameron and the EU's Donald Tusk.
George Osborne
George Osborne and the Treasury peddled three Project Fear disasters: impoverished households, huge job losses and what The Spectator calls a 'punishment budget'.
On households, using Treasury figures, he predicted that each household in Britain would be poorer by £4,300 in 2030. Even the Remainer BBC had a problem with that. Their fact check said that the figure was:
questionable and probably not particularly helpful.
In reality, the opposite has happened:
records from the Office for National Statistics (ONS) show in the five years since that real disposable income per head has risen from £5,177 in the second quarter of 2016 to £5,354 at the end of 2020. 
On the jobs front, Treasury figures predicted 500,000 job losses across Britain.
In reality, early in 2020, before coronavirus hit, the employment rate was at a record high:
a million jobs were added by the time Covid hit, with the employment rate for those aged between 16 to 64 rising from 74.5 per cent in June 2016 to 76.6 per cent in January 2020 – the highest level since 1971.
Before the 2016 referendum, Osborne told BBC Radio 4's Today programme that the UK would leave the EU with no economic plan, therefore, a punishment budget of higher taxes and public spending cuts would have to be implemented.
In reality, after Cameron resigned at 9:30 a.m. on June 24, 2016, Osborne left his post as Chancellor. Philip Hammond, his successor, said that no such budget would be implemented.
As a result:
Hammond's first budget was described as a 'low-key package' that increased national insurance contributions for the self-employed and enjoyed stronger-than-expected tax receipts since the EU referendum. Britain even finished the year as one of the fastest growing economies in the G7.
The banks
Goldman Sachs predicted a British recession by early 2017.
Nomura and Credit Suisse predicted falls in GDP: 1.3% and 1%, respectively.
JP Morgan predicted that Scotland would leave the Union and create their own currency.
In reality, Scotland is still yearning to break free with no plan on how to do it:
with the British economy growing up until the first quarter of 2020 when Covid struck with 1.7 per cent annual GDP growth in both 2016 and 2017 followed by 1.3 per cent in 2018 and 1.4 per cent in 2019.
Big accounting firm
PricewaterhouseCoopers predicted a loss of up to 100,000 financial services jobs.
EY (Ernst & Young) came closer to the true figure:
Rivals EY estimated last month that PWC's figure had overestimated such losses by a factor of nine, with just 7,600 going overseas as of March 2021.
Donald Tusk and David Cameron
The EU's Donald Tusk predicted the loss of:
Western political civilization in its entirety.
David Cameron predicted a Third World War.
In reality:
it appears that the greater threat to the EU is in fact its own leaders, given the ongoing debacle of the vaccine rollout in the face of public dismay. Western political civilisation meanwhile has somehow remained intact.
Ordinary citizens — the 52% who voted to Leave — can discern the situation on the ground better than the experts — our notional betters — can.
Thanks again to all Britons who voted Leave on that rainy, miserable day five years ago.
We're out and, together as a Union, we are putting the 'Great' back into Britain. Our coronavirus vaccine rollout has been spectacular, surpassing the EU's by a country mile. More great accomplishments for us lie ahead.
When it comes to the EU, better out than in.
By the way, that's Jersey as in the Channel Islands, not New Jersey.
The 200th anniversary of Napoleon's death was May 5, 2021.
A solemn commemoration was held at Les Invalides in Paris:
A number of Metro and railway stations in Paris are named after Napoleon's victories:
French president Emmanuel Macron was always a keen student of history, particularly Napoleon.
Britain's Prime Minister Boris Johnson is also a keen student of history, especially of battles that took place in antiquity.
Now we have a post-Brexit situation. France is upset that their fishing boats cannot go in Jersey's waters.
Sky News explains the new post-Brexit rules (emphases mine):
French fishing crews are demonstrating as part of a row over post-Brexit fishing rights.
Under the Brexit trade deal, which came into force on 1 January, EU fishermen continue to have some rights to fish in UK waters as part of a transition period until 2026.
However, under the new rules, EU boats wanting to fish within 12 miles of the UK coast need to be licensed and prove they have a history of fishing in those waters in order to carry on operating.
This includes submitting evidence of their past fishing activities.
Jersey has not granted licences to some of the boats that have applied to fish in its waters.
Ian Gorst, the island's external relations minister, said of the 41 boats which sought licences under the new rules last Friday, all but 17 had provided the evidence required.
"The trade deal is clear but I think there has been some confusion about how it needs to be implemented, because we absolutely respect the historic rights of French fishermen to fish in Jersey waters as they have been doing for centuries," he said.
"I do think a solution can be found. I am optimistic that we can provide extra time to allow this evidence to be provided."
The French government has also expressed its anger at what it said were unilaterally-imposed conditions on the fishing licences, including the time French fishing vessels could spend in Jersey's waters.
Jersey said it had issued permits in line with the terms of the post-Brexit trade deal.
The Jersey Evening Post reported:
Don Thompson, president of the Jersey Fisherman's Association, said Jersey had been 'quite generous' in its licensing scheme and described France's response as an 'over-reaction'.
He said: 'The EU have signed up to the [post-Brexit] Trade and Co-operation Agreement which states that Jersey must recognise the extent of previous fishing in our waters. The restrictions on the new licences cover what the French were already doing in our waters and are only preventing them from expanding their fishing efforts, which is needed if we are going to have sustainability in our waters.
'A point that is being missed is that Jersey boats do not have licences to fish in French waters – we are restricted to our own territorial waters while they can use ours, if any restrictions are placed on their own.'
Mr Thompson also highlighted how the approved 41 French vessels had been given a licence for free and urged Jersey's government not to give in to the French.
'Our boats would be charged £250,000 if they were to have something similar. Our advice to ministers is that they should not capitulate to these intimidation and bullying tactics that are being used,' he said.
'If we do capitulate now then they are just going to do the same thing every time we try to apply some form of management to make our waters sustainable.'
An oyster farmer from Jersey, mentioned in the headline, disagreed.
France threatened to cut off the electricity supply to Jersey. They have since backed down. Jersey Electricity said that customers did not have to worry:
On the evening of May 5, Guido Fawkes posted:
A reader responded:
These were the headlines on May 6:
They are armed fisheries protection vessels, or river class ships:
I wonder if the Royal Marines will use their new jetpack technology (videos here and here). It enables a Royal Marine to fly up to 12,000 feet in the air and up to 80mph:
As I write, these were the developments on Thursday, May 6. HMS Tamar, recently repainted with 'dazzle' camouflage, set sail for Jersey that morning:
We're in 2021 and not 1588 (sinking of the Spanish Armada), but, even so, there is a frisson of excitement about this:
France responded by sending two of their ships:
Guido Fawkes has more on France's reaction:
Guido's post says (emphases in the original here):
The head of the joint Normandy-Brittany sea authority has declared they are "ready for war" and "can bring Jersey to its knees" as tensions continue to ramp up between the UK and France over Jersey at a dizzying pace. War with France can only help Boris's 10 point poll lead…
Responding to two navy vessels being sent by Britain to patrol the situation last night, Macron has retaliated by sending one of his own military boats, to join 100 French fishing vessels blockading the harbour. A French minister has said the country "won't be intimidated" by British manoeuvres …
A military historian posted a thread about French fishermen protesting in Jersey:
This morning, a Jersey resident re-enacted an ancient battle with the French. He did this in safety, far from the port. Talk show host Jeremy Vine demonstrated how the blockade of the port was unfolding:
It's hard to disagree with this:
Negotiations are now taking place on Jersey between their government and the French fishermen:
The Jersey Evening Post reported:
External Relations Minister Ian Gorst, said: 'We are meeting with French fishing leaders this morning to listen to their concerns regarding fishing rights. There are continuing extensive political and operational efforts with both our local fishing community and French fishing associations, their regional representatives in France, and both the UK and French governments, in order to resolve the current dispute and resume previous good relations.'
A number of Islanders have turned up to watch and police are at the scene.
Although the crews have been setting off flares, the protest has so far remained peaceful.
One French fisherman complained that France has to go through the EU first for any resolution:
That could explain why Charles-Henri Gallois, president of Génération Frexit, is using this disagreement as an argument for France to leave the EU. He says: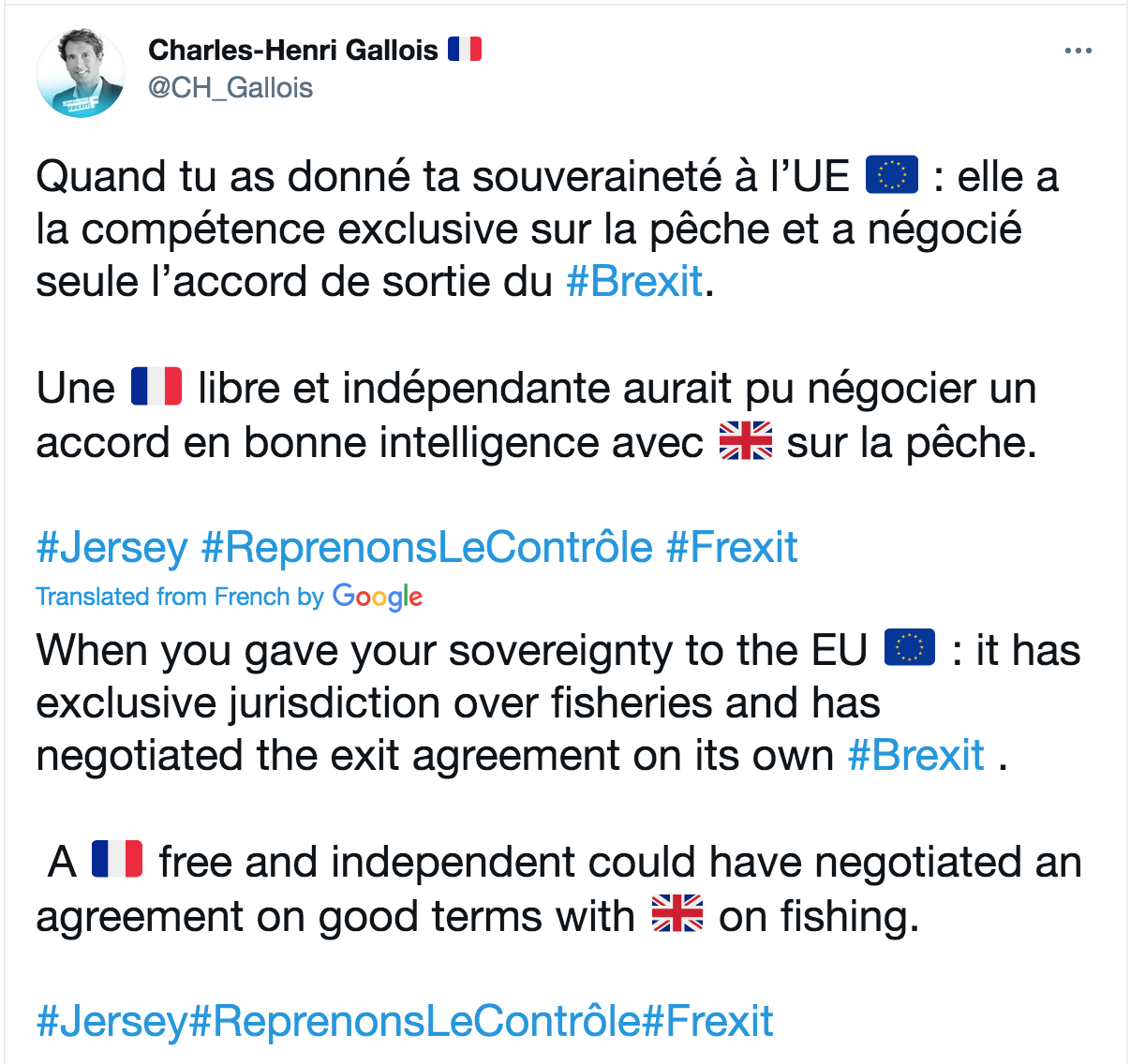 Here's his tweet, which met with an equally Frexit response:
Gallois also posted a link to an article in Les Echos, France's leading business newspaper, which says that the UK was able to handle their coronavirus vaccine rollout with 'great efficacy'. Gallois says that a free country which is independent is always more effective than one which is bureaucratic, slow and with divergent interests. He adds that, if one adds the totally antidemocratic aspect of the EU, one should not hesitate a single second to leave:
I wish Charles-Henri Gallois and Génération Frexit all the best in their pursuit of a France free from the EU.
Meanwhile, one wonders if the French are aware that today, Thursday, is England's local election day. As Guido says, this can only help Boris and the Conservatives.
UPDATE: IT ENDED BEFORE IT EVEN STARTED.
By dinnertime, the French fishermen had left Jersey:
Boris declared victory:
This is Guido Fawkes's version:
Guido reported:
The PM has hailed the end of the third battle of Jersey, understatedly calling the matter "resolved" after the 100 French fishing boats ran away earlier this afternoon.
The announcement comes as No. 10 says the two Royal Navy vessels will depart the island's waters in the coming hours, though will remain on standby in case Jersey once again finds itself in an hour of need. In the words of Maggie, just rejoice at that news, and congratulate our forces and the marines…
Many thanks to all involved in resolving this situation quickly. Even a small nuisance can be a lingering irritant if left to fester.