You are currently browsing the tag archive for the 'Brexit' tag.
Kate Hoey, departing MP for Vauxhall in South London, may be a Labour Party member, but she is one Parliamentarian I will dearly miss.
On Tuesday, November 5, she, along with other departing MPs, gave her valedictory address. I saw it live, and it is very moving indeed:
Hoey, originally from Northern Ireland, still has a soft spot for her homeland. She also has been at the forefront for Brexit since 2016.
As MP for Vauxhall for 30 years (1989-2019), she said in her address that she rarely spent time with colleagues enjoying dinner. Instead, she was rooted in her constituency, just south of the Thames from the Houses of Parliament, and returned every evening for community meetings or get-togethers. She joked that her Mini could drive itself from Parliament to Vauxhall, it had made the journey so many times.
At the end, she began crying as she thanked her loyal staff, most of whom had served her for many years. She tried to stop crying — 'This is silly' — then quickly recovered to finish her speech.
Most importantly, she said that she put country before party.
Kate Hoey is why I never used to mind Labour very much. She was old school, just with different political stances.
The Conservative Woman thought she was great, too (emphases mine):
There are not many Members of Parliament TCW will be sad to see the back of. But there is one: Kate Hoey.
She stands heads and shoulders above her colleagues – Labour and Conservative. There is not a woman MP to match her in any of the parties …
Would that other MPs were as principled. Parliament will be a poorer place without her. Young MPs should listen and learn what political principle really means, and perhaps there is no better place to start than her speech at the Leave Means Leave rally on March 29, 2019:
We wish Kate well and hope that, liberated from party politics, she will continue to exert her influence for good.
I could not agree more.
Recapping 2019, here are some of Kate Hoey's best moments.
Brexit
Hoey, like all Leavers, was deeply disappointed we did not leave the EU on March 29:
Our next extension was to April 12:
She had a go at Guy Verhofstadt …
… and at Channel 4 news presenter Jon Snow:
She liked the new EU-free passports, since suspended:
Labour Party
We had the EU elections in May. Afterwards, Tony Blair's spin doctor Alastair Campbell explained why he himself voted for the Liberal Democrats rather than Labour.
Campbell's supporters were angry that Kate Hoey had not been expelled. However, there was no reason for Labour to expel her. This photo is from 2016, pre-referendum:
Announcing she would stand down as MP for Vauxhall
In 2017, Kate Hoey announced she would be serving her last term as MP for Vauxhall.
In July 2019, she stayed true to her pledge:
At that time, no one knew we would have an election later this year. Hoey wisely confirmed she would serve her term as MP:
This was the main reason why she did not want to seek a further term:
Here's another:
The fact that she supported delivering Brexit did not matter to her Leave constituency. She stood on principle:
She cared about the children in Vauxhall, whether it be for education …
… or a day out at a museum or clay pigeon shooting:
As far as I know, no new Labour candidate has yet been selected. Lord Adonis was willing to renounce his title for the candidacy:
But, he did not succeed:
Boris
Kate was happy when Boris Johnson became Prime Minister:
A few weeks later, he faced opposition from Labour leader Jeremy Corbyn and many other MPs:
Kate made her views known:
She lamented that today's Labourites know nothing about the party's Euroscepticism, e.g. Tony Benn's, in the 1970s:
Boris's deal
Although Boris's new Brexit deal got rid of the backstop, it would put in a virtual border down the middle of the Irish Sea and make getting some goods from Northern Ireland to other parts of the UK difficult.
Therefore, Hoey could not vote for it. Fortunately, it passed, although the Programme Motion for the timetable did not:
That said, she criticised Jeremy Corbyn for blaming Boris for our failure to exit the EU by October 31:
John Bercow
She was no fan of Speaker Bercow:
She is much happier with Sir Lindsay Hoyle:
Election
As for the December 12 election, this is what she predicts:
She has agreement on that:
She has also noted how Labour have dumped Brexit as a talking point:
Conclusion
At the end, Kate Hoey has been grateful for all the support the British public have given her:
If not the Brexit Party, then, yes, please, the House of Lords.
Well done, Kate Hoey. A grateful nation — whether Labour or Conservative — thanks you for your service as an MP.
Thursday, October 31, 2019, was John Bercow's last day as Speaker of the House of Commons.
I listened to Parliamentary proceedings that day, as I wanted to be sure he was actually leaving. Based on the fulsome tributes from both Conservative and Labour MPs, it appears as if yesterday did indeed bring an end to the former Conservative's tenure as Speaker.
Prime Minister Boris Johnson gave him a witty, tongue-in-cheek tribute at Wednesday's PMQs (Prime Minister's Questions):
No doubt Bercow got Boris's asides, delivered with aplomb. MPs laughed at the back-handed compliments. To a stranger, they would have indeed sounded as positives. However, those of us watching at home got the jokes.
I had not noticed, but a number of MPs not standing for re-election on December 12 spoke on Wednesday. That was entirely at Speaker Bercow's discretion.
Interestingly, Kate Hoey, Labour's MP for Vauxhall and a firm Leave supporter, was not among them:
Many of us hope that Kate Hoey could run as a candidate for the Brexit Party (BXP):
She has always been a ladylike and eloquent MP, unlike many other women on the opposition benches who, quite frankly, sound like angry harpies:
Most of us do not like John Bercow because not only did he turn his back on the Conservative Party shortly after becoming Speaker, he also did his best to bring up motions that frustrated the Brexit process, from Theresa May's final months to now.
Behind the scenes, members of his staff accused him of harassment. No investigation took place. All he needed to do was to deny the accusations.
As I write on Thursday, I am listening to more MPs — many of whom are Conservatives — fawn over Bercow.
Bercow has a grace and favour accommodation, Speaker's House, in the Palace of Westminster. Unfortunately, it requires renovation, so his successor, to be elected on Monday, November 4, will not be able to move into it for another year. Could the works have been staged, particularly during the many lengthy recesses? Did he have any say in prolonging repairs? One wonders:
Guido Fawkes describes Speaker's House as follows (emphasis in the original):
The Speaker of the House of Commons doesn't just get the freedom to verbally abuse whoever he likes, he gets a very swanky pad in the heart of the Palace of Westminster, with staterooms, a bedroom designed for the monarch to stay in and a private gilded study. Lesser known about Bercow's pad is it also includes a private sectioned-off part of the Commons' Terrace as a private space to entertain guests outside. All paid for by the taxpayer of course.
Despite living in situ in the Palace of Westminster, Bercow took a roundabout route to work on his last day:
Guido Fawkes tells us about the Press Association (PA) record of the event along with a tweet:
John Bercow was pictured arriving at work this morning by PA in the kind of candid, natural shots that we all indulge in on our final day job commute.
The only flaw in his plan was that Bercow lives in Speaker's House… in the Palace of Westminster – meaning he had to first leave his place of work to be featured in the snaps heading back in – a 1627% longer journey. The whole thing is just a faked up performance for the cameras… perfectly appropriate ending.
That said, the PA had a good summary of his ten-year tenure as Speaker, excerpted below, emphases mine:
John Bercow has been no stranger to the limelight in more than 10 years in the Speaker's chair.
The one-time Conservative MP for Buckingham, with a high-profile Labour-supporting wife, has made a catalogue of unconventional comments since he took over the impartial role from Michael Martin.
He has survived attempts to remove him from the chair, including from former colleagues in the Tory party, revelations about his expenses and allegations of bullying, which he denied.
But it will perhaps be his interventions in the Brexit crisis, and the relish with which he seemed to make them, for which he will be best remembered.
Regular Parliament watchers may or may not miss his inimitable style, such as his bellowing shouts of "order" and "division, clear the lobby", but those quirks are what brought him international attention when the eyes of the world became fixed on the Commons throughout 2019.
As the Brexit debate raged and senior opposition figures played every trick in the parliamentary book to prevent the governments of Theresa May and Boris Johnson from pursuing their preferred policies, Mr Bercow drew the ire of hardline Eurosceptics for perceived bias.
After he allowed an amendment by Tory rebel Dominic Grieve to be voted on in January, he was labelled "Speaker of the Devil" by one newspaper, while the Daily Mail called him an "egotistical preening popinjay (who) has shamelessly put his anti-Brexit bias before the national interest – and is a disgrace to his office".
He voted Remain, discussing it candidly with a group of students, but in an interview with Italian newspaper La Repubblica denied this meant he had lost his impartiality.
"If I'm biased, I'm biased in favour of Parliament. Parliament being heard. Parliament having a right to speak. Parliament having time. Parliament being respected by the government of the day and indeed by the opposition," he said.
Since being elected as the 157th Speaker of the House of Commons in June 2009, he has delivered many caustic put-downs, earning him both loathing and appreciative laughter from MPs.
He had a fractious relationship with former Commons Leader, and now Business Secretary, Andrea Leadsom, after he was accused of calling her a "stupid woman".
Andrea Leadsom is far from being 'stupid', but that's Bercow.
Three weeks ago, Bercow travelled to Brussels to meet with his opposite number, the EU Parliament President David Sassoli:
The Speaker's role does not include government negotiations:
To think that October 31 was supposed to be our Brexit date. Of course, Bercow did not prevent this single-handedly, but, nonetheless, he helped:
On the Saturday, October 19 session, Bercow brought forward the Letwin Amendment, which stipulated that all Brexit legislation be voted on before Boris's new deal was approved. Its passage by MPs that day ensured that Boris had to send letters of extension to Brussels, in compliance with the Benn Act. January 31, 2020 is the new Brexit deadline:
The following day, one of his deputies, Conservative MP Dame Eleanor Laing, accused him of abusing his position:
The Mail on Sunday article states:
Dame Eleanor is one of nine MPs running to replace him, including fellow deputies Sir Linsday Hoyle and Dame Rosie Winterton.  
In another barely veiled attack on Mr Bercow, Dame Eleanor said the Speaker needed to 'set an example of dignified, respectful behaviour' and said: 'Aggression and arrogance are deplorable.' 
Mr Bercow's critics have frequently taken aim at what they see as a pompous, grandstanding style of managing the Commons. 
In a bizarre rant at Michael Gove last month he even brought the Cabinet minister's children into a row. 
The Speaker was back in the spotlight yesterday as the Commons assembled on a Saturday for the first time since the Falklands War in 1982. 
After Mr Johnson lost the crunch vote, the Speaker hinted he could block a Government attempt to bring another 'meaningful vote' on Monday. 
Jacob Rees-Mogg, the leader of the House of Commons, suggested the Government would bring the vote before introducing Withdrawal Agreement legislation this week.
But Mr Bercow has previously ruled that MPs cannot hold repeated votes on the same question. 
Citing a precedent dating back to 1604, he ruled in March that then-PM Theresa May could not bring the same withdrawal deal back to Parliament without changes.   
The ruling enraged Conservative MPs who accused him of sparking a 'constitutional crisis'. 
Two months earlier he had torn up precedent to allow a procedural vote which damaged Mrs May. 
'If we were guided only by precedent, manifestly nothing in our procedures would ever change,' he said at the time.      
Mr Bercow, previously a Conservative MP, took the chair in 2009 after Michael Martin resigned over the expenses scandal. 
The following week, Boris's deal did pass in Parliament, however, MPs opposed the Programme Motion for approving legislation, which they said had too short a timeframe. Hence, Boris's move for an election on December 12, which has now passed the House of Lords:
As for choosing Bercow's successor on Monday, I wish Dame Eleanor all the best:
The Health Secretary, Matt Hancock, made it known that he will be voting for her:
That said, many pundits say that it is now Labour's turn to sit in the chair. We shall see.
More next week.
UPDATE: A surprise ending (well, perhaps not so much to my British readers) awaits on Monday. It took place late during Thursday's proceedings and deserves its own post.
Before I get to the main story, October has been Theresa May's best month this year.
Her birthday was October 1:
During the extraordinary parliamentary session of Saturday, October 19, 2019, she stood firm with Boris on his new Brexit deal. That was principled, considering that David Cameron didn't stand with her when she was PM. In fact, he resigned as the MP for Witney (Oxfordshire):
She gave an excellent speech that day:
Now, let us cast our minds back to 1961. Theresa Brasier was nearing her fifth birthday. Her parents, the Revd Hubert Brazier and Zaidee 'Mary' Brasier, played host to a 16-year-old German teenager from Bonn that summer at the vicarage in Church Enstone, Oxfordshire.
On July 24, 2019, Detlev J Piltz wrote a fascinating article about his four weeks with the Brasiers for The Oldie magazine, outstanding reading for anyone over the age of 40. He learned invaluable lessons about the English during his time in the Cotswolds.
Excerpts follow, emphases mine.
The Brasiers took young Detlev everywhere:
The four weeks I spent there enriched my life. Not only did I improve my schoolboy English and become more fluent, but the family took me with them on their shopping trips in their plush Morris Minor, usually to Chipping Norton.
On Sundays, the family and I attended the village church together. We all went to watch the motor racing at Silverstone, picnicked in the country, and the vicar showed me Oxford University and explained about its colleges.
He especially appreciated his time with the vicar:
What impressed me most were the many conversations that the Reverend Hubert, to call him by his first name, then in his mid-forties, carried on with a rather wet-behind-the-ears teenager.
The vicar, as folk in the village referred to him, was a good-hearted soul: clever, educated, helpful and gentle, yet quite clear about his moral and ethical principles. Perhaps this was also partly due to his slight stoop which, as he himself put it, had focused his concentration more on the spiritual than on the physical.
The parishioners – who visited us, or whom we visited – and the congregation in church always displayed an aura of love and devotion, but also respect, for their vicar.
I still admire him today for how he and his wife managed the not-so-easy duties of an English country clergyman. During my stay, I also learned something about Englishness and even about the English class system, although this knowledge was more sensed and intuited than consciously understood.
The Brasiers had just purchased a television set. A Test Match between England and Australia was being broadcast, so the vicar explained the rules of cricket to Detlev. Detlev also learned a lesson about the English. Only they can criticise their country. Foreigners cannot.
This is very true — and anyone coming here should remember it. It's just how things are:
He straightforwardly concluded that the Australians would win, as they were both bowling and batting better than the English, an assessment with which I dutifully agreed.
This proved to be a mistake. My host took me to one side and explained, 'You are quite right, Detlev. Australia is playing better than England. But perhaps I can give you a piece of advice for the future. As a foreigner, you would do well not to say so. Leave it to us.'
In a few words, the vicar had borne out a rule of English interaction with foreigners, summarised succinctly by George Orwell, 'We spend our lives in abusing England but grow very angry when we hear a foreigner saying exactly the same things.'
Fortunately, comments in the opposite direction are allowed. If a foreigner praises certain features of England, the English are pleased, although they will immediately play down the merits of what has been admired and claim that it is actually not so great.
The bishop of the diocese visited the Brasiers on the last Sunday that Detlev was there. The couple made a point of impressing upon the young German the importance of manners:
something they had never previously done.
They told him to stay silent unless the bishop spoke to him:
I was also kindly advised not to engage the bishop in conversation myself, but to wait until he spoke to me, and to address him as 'Bishop', rather than Mr Johnson, or whatever his name might be.
They impressed upon him the finer points of tea drinking — always two cups:
a single cup was deemed impolite, as not enough; three cups were considered impolite, as too many.
Detlev did not like the special tea that Mrs Brasier served but refrained from commenting until later. It was probably Lapsang Souchong, a smoky tea:
'It was Chinese tea,' the vicar's wife explained. When I asked why it was different from the tea we otherwise always drank, I heard for the first time in my life that it was 'because of the bishop'.
The high point of his visit was when he accompanied the Brasiers to the local landowner's for tea. Detlev had a keen interest in historic Royal Navy battles. When they arrived at Sir John's house, Detlev could not contain his enthusiasm:
When we arrived in the entrance hall of the large and rather grand residence, I spotted on the opposite wall a painting of a scene from the 1916 Battle of Jutland, details of which were well known to me.
Without thinking, I stopped in front of the picture and said, 'Oh, the famous manoeuvre of crossing the T [when a line of warships crosses in front of a line of enemy ships at right angles] by Admiral Jellicoe.'
Sir John treated his guests to tea and scones. Then he turned his attention to the young German:
Afterwards, Sir John asked me how I recognised the scene in the picture, and I told him about my interest in the Royal Navy. He signalled to me to follow him and we entered a room full of English naval memorabilia.
It transpired that Sir John had fought in the Battle of Jutland. For nearly a whole hour, he described the events and his role. I was eager to know whether he had known the English admirals, Jellicoe and Beatty, personally. It was an hour suffused with mutual affection between old and young, with never a word out of place, and certainly no nationalistic undertones. I remember it clearly and vividly to this day.
On the way home, Mrs Brasier expressed her disappointment that Sir John had not spent more time with them. The vicar responded:
Well, it may be years since he had such an admirer, let alone such a young one – and, by the way, he can do whatever he thinks fit.
Detlev's stay with the Brasier family fostered in him a lifelong love of England.
In 2015, he and his wife visited the Cotswolds and passed through Church Enstone, where they stopped.
Detlev Piltz did not want to bother the present occupants of the vicarage, but he asked at the church what happened to the Brasiers:
… in the church, someone showed us a roll of past vicars, and there was the name of 'my' vicar, and his dates in office, from 1959 to 1971.
Piltz thought nothing more about it until the following year, which featured that momentous summer of the Brexit referendum and David Cameron's immediate resignation, which was completely unnecessary but was perhaps for the better, given his Remainer views.
Lo, Theresa May won the Conservative leadership contest that summer:
The candidacy of Theresa May spawned widespread reporting about her background and early life. And only then did it become clear to me how small the world really can be.
For the idyllic village in the Cotswolds was Church Enstone, and the vicar and his wife were Hubert and Zaidee Brasier, although he always called her Mary. Sadly, I then learned that Hubert Brasier had been killed in a car accident in 1981, and his wife died the following year.
And I also learnt what had happened to their young daughter. She was called Theresa – today known to every Englishman and woman as Prime Minister Theresa May.
I thought that was such a terrific anecdote.
People have either made fun of Theresa May or criticised her mercilessly. We still don't know what fully took place between her people and Angela Merkel's regarding Brexit. Certainly, May's downfall began when she put forward that London-Berlin Brexit deal in July 2018 at Chequers, when her own Brexit team, lead by David Davis, was putting together a proper exit plan (Canada ++), working together with Michel Barnier from the EU. May told a shocked assembly of her own ministers that it was her deal or the highway. The Evening Standard reported that she told ministers they could pay for their own transport back to London if they wanted to leave early. Brexit minister David Davis tendered his resignation afterwards as did Boris Johnson, who was Foreign Minister at the time.
My, how much water has passed under the dam since then. I hope that our former PM continues to vote in support of our present one, Boris Johnson.
I regret to report that our new exit deadline is January 31, 2020.
It looks as if Prime Minister Boris Johnson will await yet another EU extension to Brexit.
Despite his new deal, MPs said on Tuesday, October 22, 2019, that they would not have time to read it and make a substantive judgement on it in three days' time before sending it off to the House of Lords for deliberation with a view towards completion by October 31.
It was a disappointing day with eight hours of debate, including two votes near the end.
John Redwood MP (Conservative) rightly compared the situation to Groundhog Day. One Twitter user likened it to a broken record:
There continues to be a clear disconnect between voters and MPs:
The afternoon began with Boris making another positive case for his deal from the despatch box. He stayed to answer MPs queries. It was a lengthy session. He answered each — often repetitive — question with infinite patience and rhetorical aplomb. Our PM is no idiot.
Following that, MPs continued 'debating', voicing the same oral rubbish they have been since the beginning of the year.
After 7 p.m., there was good news for Boris on the first vote. A majority of 30 MPs supported Boris's new deal, in principle:
Then came the second vote, which put a distinct spanner in the works. Most MPs thought in the end that they would not have time to study and debate the bill in full by the end of the week. That's putting it nicely. The No vote is also anti-Brexit and anti-Boris:
Brexit and Boris aside, let's look at why MPs do not think they can reasonably the bill within three days.
Interestingly, voters found Boris's new deal online by Monday. I saw the link on Guido Fawkes. One of his readers supplied it.
Some pundits say that it is shorter yet similar (outside of the Northern Ireland trade backstop) to Theresa May's deal, which was just under 600 pages long.
MPs debated Theresa May's deal and voted it down three times earlier this year.
Some Remainers say Theresa May's deal was never published, therefore, MPs cannot reasonably make a comparison between it and Boris's.
The truth is that Theresa May's deal was published in full — including online — during the time period MPs voted it down months ago. I read it myself. The BBC said that the 1,300 paper copies cost £45,637. Remainers, therefore, are being disingenuous with the truth.
There is no excuse for MPs to refuse to read Boris's in three days, especially as it is approximately one-sixth of the size of Theresa May's.
There is another issue here, though: the ability of MPs to read legislative language.
Now, I always thought that most MPs had law degrees. For anyone even remotely familiar with law school, that means having to absorb at least a hundred pages of legal texts every day in one's first and second years. I base this on the American film and television series Paper Chase. If you couldn't handle that, you had to leave law school.
However, journalist Isabel Hardman posits that most MPs cannot decipher legislative English. Interesting:
Lawyers responded to her thread, proving my earlier point:
MPs have their own staffers, possibly not up to the required standard, however:
Kezia Dugdale, who is a former leader of the Scottish Labour Party and serves as an MP for the Scottish Parliament, explains:
Boris spoke after the vote:
Jacob Rees-Mogg announced in his Business Statement that Wednesday and Thursday's debates would be on approving the content of the Queen's Speech rather than Brexit:
As I write on Wednesday morning, there is no clear response yet from the EU on latest developments.
Emmanuel Macron is generally the first to respond. He is in the French overseas territory of Mayotte at the moment, so there has been no personal response from him, but, last night, Agence France Presse (AFP) offered this:
We shall see. More to follow this week.
It is rare that the House of Commons meets on a Saturday.
Before October 19, the last time was in 1982 when Argentina invaded the Falkland Islands. That was only the third Saturday session since the Second World War. Margaret Thatcher was Prime Minister at the time.
The Telegraph has a short, informative video on the agenda for October 19:
The Rugby World Cup was on, so special arrangements were made for MPs who wanted to see the televised England v Australia match from Japan that morning.
However, the House of Commons was full to bursting by the time the session started at 9:30 a.m. As there are never enough seats on the benches for all MPs, several had to huddle together just inside the entrance to the chamber.
Those watching at home — and I was one of them — were looking forward to the session, like this Twitter user:
By 3:30 p.m., we were sorely disappointed, agreeing with ITV's Piers Morgan:
The Letwin amendment
The day's business began with a debate on the Letwin amendment, brought forward by outgoing MP, Sir Oliver Letwin, a notional Conservative — a rebel who had the whip removed.
This is not the first time Letwin has frustrated the Brexit process. He did so in April, when we had a short two-week extension from March 29 to April 12. He co-sponsored a bill with Labour MP Yvette Cooper to ensure we did not leave then, either:
Then — as now — the amendment was designed to thwart a No Deal exit. It passed. Conservative Woman discusses the amendment, but, more importantly, Letwin's less than trustworthy tenure as an MP. About the Cooper-Letwin Bill from April, CW's article says (emphases mine below, unless otherwise stated):
Thanks to Oliver Letwin's machinations with Yvette Cooper, we woke yesterday to hear that MPs had voted by majority of one 'to force the prime minister to ask for an extension to the Brexit process, in a bid to avoid a no-deal scenario'. Not that Mrs May needed any forcing. The constitutional outrage of the Bill currently being rammed through Parliament is that against the people's will it will prevent us leaving the EU, for a second time, despite the referendum, despite the main party manifestos, the European Withdrawal Act, and the Prime Minister's repeated promises, on April 12.
That Mrs May is now playing kneesy-kneesy with Jeremy Corbyn and shuffling us toward a customs union worse than either leaving or remaining we have to thank Sir Oliver, useful idiot and Member of Parliament for the safe seat of West Dorset.
That, as a result of his Parliamentary coup, she's collaborating and consulting a terrorist-loving Labour Leader in preference to her conservative colleague Jacob Rees-Mogg you'd think might trouble his conscience.
Not if you understand what shaped him as politician.
After Boris Johnson became Prime Minister, Letwin confirmed at the end of August that Speaker of the House John Bercow was working behind the scenes from his holiday bolthole in Turkey to frustrate Brexit before the Commons reconvened in September.
On September 12, The Sun reported on Letwin's agenda:
SACKED Tory rebel Sir Oliver Letwin wants to create a "zombie parliament" by delaying Boris Johnson's general election until next summer at least if he fails to get a new Brexit deal.
He warned there was a cross-party majority in favour of blocking going to the polls until our EU split is resolved — either by passing a deal or holding a second referendum.
Sir Oliver, a leading architect of the law to block a No Deal, said going back to the people to vote on Brexit must come first as an election would "muddle things up".
But Tory Brexiteer Iain Duncan Smith accused him of "stabbing Conservative MPs in the back".
Letwin's successful amendment to Boris's new deal in October prevents any exit until all legislation is agreed. By its very nature, it automatically triggered implementation of the Benn-Burt Act, which stipulates that Boris must send a letter to the EU to ask for an extension. As I write, it is unclear what the EU will do. Benn-Burt even specifies the exact text of the letter. More on that below.
Veteran broadcaster and publisher Andrew Neil explains the strategy behind Letwin's move:
After Letwin's amendment passed, The Telegraph rightly took issue with him:
The Mail on Sunday alleged that Letwin had help in devising the amendment from Lord Pannick, an ardent Remainer:
On Sunday, Letwin confirmed that Lord Pannick was helping him:
Not surprisingly, a number of former Conservative MPs — the rebels — voted for the Letwin amendment:
It is important to keep in mind that Northern Ireland's DUP also voted for the Letwin amendment, even though Boris's new Brexit deal has removed the contentious trade/customs backstop that Theresa May's had. However, the DUP MPs are unhappy that there will be a virtual customs border in the Irish Sea:
If those two groups had not voted Aye, Letwin's amendment would have failed. The result was close: 322-306.
However, if Labour think they now have the DUP onside, they should think again. On Monday, October 21, MP Jim Shannon said:
Guido Fawkes explains (emphasis in the original):
Big news if remain MPs were hoping to get a customs union amendment through on the back of DUP support. Sighs of relief from Downing Street…
Interestingly, the UK edition of HuffPost says that we might have reached what journalist Paul Waugh calls 'peak Letwin'. After the vote, he wrote (emphases in the original, those in purple mine):
today it felt like we had reached 'Peak Letwin'. And although the large crowd in Parliament Square roared when the vote was announced on a huge screen, that too felt like the last dying twitch of a movement that now looks doomed …
The pro-People's Vote MPs will push one final time when the Withdrawal Agreement Bill arrives next week. But having waited and waited for their moment in the hope they can bring more MPs on board, that moment may have now passed. They won't be able to amend the second reading of the bill, which may itself be passed with a hugely important vote for Johnson's deal.
‌Most important of all, the People's Vote campaign has been waiting for 'moderate' Tories to come on board (one claimed that half of the 21 would back a referendum), but those same Tories now look ready to call it a day and back the PM. The DUP are so upset with No.10 they are flirting with a second referendum threat, but few think that will happen.
The EU, which will probably hold off until Tuesday to see whether parliament really can pass the deal, may then offer only a short extension to say mid-November to allow time for the legislation and ratification by the EU itself. Again, that can only help Johnson and focus MPs' minds once more on 'this deal or no-deal'.
Confusion ensued
While we all knew that the Letwin amendment passed, confusion ensued as Saturday's session ended.
Even MPs were left wondering what had happened.
It seemed to some of us, including MPs, that Boris's deal had passed along with Letwin's amendment. Although there was no vote on Boris's deal, approving Letwin's amendment seemed to imply that by voting for it, Boris's deal had also been approved.
The parliamentary journal of record, Hansard, provided no clarity on the matter, either.
Letwin gave a statement after his amendment passed and House Leader Jacob Rees-Mogg made a Point of Order, not the customary Business Statement:
SNP MP Joanna Cherry checked Hansard but still has questions:
Jacob Rees-Mogg
As I said, Jacob Rees-Mogg made a Point of Order and delayed his usual customary Business Statement for Monday.
A lengthy 45-minute discussion ensued, mostly from Scottish MPs, such as Jo Cherry, who asked Speaker Bercow what was going on.
As Rees-Mogg made a Point of Order, he was not obliged to explain his statement that there would be a 'full emergency business statement on Monday':
Rees-Mogg sat there being discussed in the third person, which, while strange, conforms with parliamentary protocol:
Speaker Bercow reassured MPs that he would take legal advice at the weekend and make a statement on Monday:
The vote on the content of the Queen's Speech was scheduled for early next week, too:
Then, Jacob Rees-Mogg quietly got up and walked out of the chamber (start at 4 sec. point):
Discussion went on for a few more minutes in his absence before concluding with this from Bercow:
Police protection required
The People's Vote demonstration was going on outside the Palace of Westminster, as was a pro-Brexit gathering.
Although a few pro-Brexit jerks verbally attacked Labour MP Diane Abbott, the People's Vote Remainers were far more serious about preventing Conservative MPs from leaving Parliament safely.
Some Cabinet MPs required a phalanx of police to escort them to their cars:
What happened to Rees-Mogg and his 12-year-old son, who had been in the Public Gallery, did the Remain/Second Referendum movement no favours:
However, Rees-Mogg received at least one shout out of support. This video also shows his son, who looks and dresses like his father:
Such heinous harassment will do Remainers no favours.
Boris complies with the law
That evening, Boris complied with the law.
Whether Remainers will approve (see below) is another matter.
However, I'm glad the PM complied with the Benn-Burt Act the way he did.
The Mail on Sunday reported:
Late yesterday – just before the midnight deadline stipulated by 'wrecker' MPs – a total of three letters were due to be sent from the Government to Donald Tusk, the president of the European Council.
The first was the letter demanded by the Benn Act, which asks the EU to delay Brexit beyond the October 31 deadline – but not signed by Boris Johnson – using the exact wording specified in the legislation.
The second was a covering letter, written by Sir Tim Barrow, the UK's Permanent Representative in Brussels, which made clear that the first letter was from Parliament, not the Government.
And the third was a letter from Mr Johnson, which was also sent to the leaders of the other 27 EU nations, in which he disavowed the first letter by making clear that he does not want any delay to Brexit.
In it, the PM said any further hold-up would be 'deeply corrosive', and would 'damage the interests of the UK and our EU partners'.
He said UK would continue to ratify the deal and urged Brussels to do the same.
Donald Tusk confirmed he received them:
Tim Barrow's cover letter prefaced the Benn-Burt letter, unsigned:
The PM also sent a letter to MPs, exhorting (encouraging) them to support his deal:
More Scottish anti-Brexit lawsuits to come
This week, Jo Maugham QC and Joanna Cherry MP, also a QC, will bring more anti-Brexit lawsuits in Edinburgh.
The first is about Boris's handling of his obligations under the Benn Act.
While Parliament convened, Jo Cherry included, Jo Maugham prepared for the week ahead in Spain:
Calm and witty though his tweets might be, it is nonetheless hard to forget that, on October 17, Maugham called Rees-Mogg a 'notorious talker of tripe'. That was not a one-off against the Conservatives, either.
What happens next?
On October 19, the BBC reported that the government plans to bring back a vote on Boris's deal by holding:
a "meaningful vote" on the Withdrawal Agreement Bill on Tuesday.
This would corner MPs into a Yes/No vote on their deal, and given there are a fair number of Labour rebels, the government could well win.
Certainly, the vote would put any number of Labour MPs – and MPs for other parties – from Brexit-voting constituencies in a very awkward place.
Watch out for an attempt to attach a second referendum to the deal in some way.
But the success of that effort would require full-throated support (and whipping of their MPs) from the Labour Party. They are not there yet, and they may never be.
If the government wins a "meaningful vote" on Tuesday, the legislation to underpin the new deal would then go forward – and that would provide further opportunities to attempt amendments.
Winning the next meaningful vote is only the beginning of a new phase of Brexit; it's not even the beginning of the end.
How true.
Along with many other Britons, I wish they would just pass Boris's deal, along with the legislation, and get on with leaving on October 31 …
… because, at that point, our transition period begins. It would be scheduled to last until December 2020. It is during that time that trade — and other — deals can be fully negotiated.
More to follow this week.
A week is a long time in politics, as the saying goes.
Much happened during the past five days, beginning with the Queen's Speech and culminating with Boris's new Brexit deal.
Promises made — and kept
But, first, delivering a new Brexit deal was what Prime Minister Boris Johnson pledged on Tuesday, September 10, 2019. Please watch the first six minutes:
This week, he delivered on that pledge.
Queen's Speech
From the end of September to last weekend, the anti-Boris brigade wondered whether the Queen's Speech would go ahead on Monday, October 14:
Much to Remainers' dismay, it did indeed take place:
With regard to the Queen not wearing the Imperial Crown, this is why:
You can read the full text of proposed legislation for the next (now current) session of Parliament — including supporting facts — here. Preserving the Union and getting Brexit done are the top two priorities. Proposed legislation for this session involves the NHS, the environment, policing and the railways, among other issues. The BBC has a good summary.
It should be noted that the government — political party — in power writes the speech for the monarch.
Advance copies are issued, but they have to remain under embargo until afterwards. Therefore, media pundits pretend they do not know what the Queen is going to say as they have to create a news story for the folks at home:
On the day, Black Rod goes to the House of Commons to summon MPs to the House of Lords for the speech:
MPs are summoned by a House of Lords official, known as Black Rod. Before entering the Commons, Black Rod has the doors shut in their face, symbolising the chamber's independence from the monarchy.
During the speech, the Queen sets out the laws the government wants Parliament to approve. By convention, it is announced by the monarch in the presence of MPs, peers and other dignitaries in the House of Lords.
Afterwards, the House of Commons then needs to vote on whether to accept the contents of the speech. MPs normally spend five days debating whether to approve it. It is thought that they will vote on Monday or Tuesday next week.
I watched this week's tiresome 'debates', which were dominated by opposition MPs' petty speeches. One railed on about the cost of school uniforms and said that a proposed subsidy should have been included in the speech. For that reason, she does not want to approve it.
Five days of 'debate' over a 1,073-word speech that took around ten minutes to deliver. The mind boggles.
Brexit negotiations
Last week, Boris spent time in meetings with Ireland's Taoiseach — Prime Minister — Leo Varadkar:
Many MPs, including some Remainers, were optimistic.
The Democratic Unionist Party (DUP), with whom the Conservatives have had a confidence and supply agreement since the 2017 election, because of Theresa May's decreased majority, were cautiously optimistic:
Brexit Secretary Steve Barclay met with our EU negotiator Michel Barnier last Friday:
On Monday, the day of the Queen's Speech, Barclay's optimism continued:
Intensive rounds of meetings ensued this week:
Barclay returned to London on Wednesday to provide an update:
Then, it was back to the Continent for more meetings that lasted into the morning of Thursday, October 17.
At 9 a.m. (BST), there was finally a Brexit breakthrough, after Boris spoke to Cabinet members about it:
It was made public just after 10:30:
Jean-Claude Juncker said there was no need now for 'prolongation':
Boris was allowed to address EU leaders before they began their summit:
He also gave a joint press conference with Juncker:
I watched the news last night (a rare occurrence, but this was a historic moment). All the film clips showed the EU leaders greeting Boris as if he were a hero — hugs, hearty handshakes, the lot. See the 6:49 mark in the following video:
EU leaders approved the deal after he left:
A 'Tournedos Rossini of a deal'
When Parliament's session began yesterday morning, Leader of the House Jacob Rees-Mogg gave an enthusiastic speech about Boris's deal, calling it a 'Tournedos Rossini of a deal':
He also said (emphasis mine):
It takes out the undemocratic backstop, delivers on what the Prime Minister promised he would do. In 85 days achieved something that could not be achieved in three years.
Every single member who stood on a manifesto saying that they would respect the will of the people in the referendum can support this with confidence.
I believe him.
Unfortunately, the DUP will not be voting for it on Saturday, unless, by the time you read this, something or someone has changed their minds:
To compound the situation, hardcore anti-Boris and anti-Brexit Remainers have tricks up their sleeves.
Saturday's session in the Commons will not be easy. I suspect that this week's EU negotiations will appear like a walk in the park by comparison.
More next week.
On the evening of Tuesday, October 8, a second prorogation of Parliament took place:
Prorogation proceeded as normal, unlike the first one on September 10, which Baroness Hale and the Supreme Court declared unlawful.
Not illegal, unlawful: done for political reasons.
Apparently, Baroness Hale has eyes into Prime Minister Boris Johnson's soul. Could it be the spider brooch what done it?
It has been said that Spiderwoman took down the Hulk with that decision. She isn't denying it.
The Baroness spoke to the Association of State Girls' Schools, covered by TES (Times Educational Supplement) event on October 4. Clearly, she took exception to Boris's use several weeks ago of the phrase 'girly swot'. He once referred to former PM David Cameron as a 'girly swot'. The anti-Boris/anti-Brexit brigade are still running with it.
It is unclear whether the slide below came from the Association or the Baroness herself:
Now on to the orderly prorogation that took place on Tuesday evening:
This is what happened:
People were sympathetic towards Black Rod, remembering the events of September with Speaker Bercow and Labour MP Dennis Skinner (language alert):
Norman French is still used as part of this ceremony — 'The Queen wishes it':
Unlike last time, all of the MPs filed out of the chamber to walk to the House of Lords:
The same clerk from the Lords read out the lengthy achievements of the government and Parliament in terms of legislation:
The government writes the clerk's speech, which is presented on the Queen's behalf, hence the usage of 'my government':
In the photo at the top right, you can see Black Rod (Sarah Clarke) on the left and the Speaker of the House (John Bercow) next to her:
After the clerk finished the long list of accomplishments, she announced the prorogation of the House of Commons, required before a Queen's Speech, which will take place on Monday:
The 'zombie Parliament' is over …
… although the same MPs will convene on Monday.
At the end:
The MPs then returned to the House of Commons for a few minutes:
Then everyone left and the chamber was locked.
On Monday, it will be interesting to see if MPs reject the content of the Queen's Speech. They vote on it:
Even if they vote to approve it, the Lords — most of whom are life peers, not hereditary — can vote against subsequent legislation, e.g. Brexit. As the Twitter user below points out, Remainer Lords did not show up for September's prorogation:
The last PM to have a Queen's Speech rejected was Stanley Baldwin in 1924:
The last time this happened was in January 1924 to Conservative Prime Minister Stanley Baldwin after he proceeded with a King's Speech, under George V, despite having lost his majority in the previous month's general election.
Mr Baldwin subsequently resigned and a minority Labour government took over.
Oh, my. The circumstances, minus the general election, sound very similar to Boris Johnson's. That said, Boris, being a keen student of history, already knows that.
He won't resign. If MPs vote against the Queen's Speech, all he has to say is that opposition MPs turned down his two previous motions for a general election. This is why Labour and the Lib Dems don't want one:
More next week.
On September 28, 2019, President Trump discussed the 'single greatest scam' going on in politics today — the Left's relentless attacks on him and the American people.
Please watch this short video:
How true.
The comments in response to that tweet are hideous, to put it mildly.
Here in the UK, our Left is conducting similar co-ordinated attacks on Prime Minister Boris Johnson. I notice that they did not do this to Theresa May, possibly because they knew she would delay Brexit, which she effectively did.
Now we have a PM who wants us to exit by October 31.
Here is one American citizen pundit's view:
People aren't stupid. They see and understand what is going on.
DB Daily Update has a great article on the current parallels between the United States and Great Britain. It does seem as if there is a cold civil war going on in both our nations. Emphases mine below:
When this latest coup/impeachment effort crashes and burns in spectacular fashion, we can expect the forces aligned against Trump and his supporters to simply make up another false narrative and keep the coup going.
The same thing is happening right now in Britain, where Boris Johnson, the Prime Minister elected to complete the Brexit effort the voters approved three long years ago, is under a similar relentless assault by that country's deep state, disloyal lawmakers and fake news media. As I wrote in one of the earliest Campaign Updates way back in 2016, Brexit and Trump are essentially the same political movement, a movement that pits those who love their country and want it to remain a strong, independent nation against the forces of globalism and one-world-government.
The Brits who support Brexit have held firm through all that time and grown stronger. Trump's base of support has also held firm and grown larger. That base has remained unshakable not because they necessarily approve of every aspect of Trump's personal behavior, but because they understand what is at stake here, and whose side Trump is on.
Because at the end of the day in this tiresome Civil War, Trump is on the side of Americans and America. I don't know about the rest of you, but they won't ever wear me down.
That is all.
I'll close with comments from the aforementioned Praying Medic tweet that help explain why the British wanted a referendum on EU membership. These also indicate why Theresa May was never viciously attacked politically whilst she was PM:
As for Boris, only a couple of weeks ago the Shadow (Labour) Chancellor, the former Conservative Chancellor (under May) and Boris's own sister (!) claimed that No Deal backers stood to make financial gains.
At least one Government minister subsequently denounced this last week from the despatch box in Parliament.
Here is the report on the allegations from The Guardian dated Saturday, September 28:
The UK's most senior civil servant is under pressure to investigate Boris Johnson's financial backers following cross-party claims that unnamed individuals stand to benefit from the prime minister's willingness to pursue a no-deal Brexit.
John McDonnell, the shadow chancellor, has written to the cabinet secretary, Sir Mark Sedwill, asking if there may be a conflict of interest in Johnson's acceptance of support from hedge funds that could gain from an economic shock.
Earlier on Saturday, Philip Hammond, the former chancellor, suggested Johnson was pursuing the interests of financial backers set to gain from a no-deal Brexit, in a major escalation of tensions in the prime minister's own party.
Hammond said he was repeating a comment made last week by Rachel Johnson, the prime minister's sister.
The former chancellor was accused by senior Tories of attempting a "smear" without evidence. However, Hammond was supported on Saturday by a series of MPs from across the Commons.
"Johnson is backed by speculators who have bet billions on a hard Brexit – and there is only one option that works for them: a crash-out no-deal that sends the currency tumbling and inflation soaring," Hammond wrote in the Times.
Downing Street has refused to comment on the claim.
On October 1, Treasury Minister Simon Clarke accused John McDonnell of 'outlandish speculation' when the latter brought up the issue that day in Parliament:
Guido Fawkes has more (emphases in the original):
Making his debut at the dispatch box, the new Treasury Minister Simon Clarke confidently tore down McDonnell's absurd urgent question on short positions taken against the pound in the lead up to a possible no-deal Brexit. Something Guido and many others have comprehensively debunked before…
Clarke blasted the question as the shadow chancellor propagating myths and smears and claiming the conspiracy does little to cool tensions in Westminster at the moment. Playing Labour at their own game…
On a related note, at the weekend, it was rumoured in the media and by other Remainers that Boris could go to jail for pursuing a No Deal Brexit in violation of the recent Benn-Burt Act, a.k.a. the Surrender Bill, which stipulates that he must ask for an extension to the current Brexit deadline.
This is straight out of the Get Trump playbook.
More to follow anon.
Interestingly, whilst the Conservatives were at their annual party conference, the opposition benches were largely empty.
Strange. Last week, they voted against proroguing Parliament from Monday through Wednesday because they had serious work to get on with.
Or so they said.
As it turned out, only a handful of the diligent, hardworking opposition MPs showed up on those days.
On Tuesday, October 1, a Brexit-related session headed by George Eustice, the minister for DEFRA (Department for Environment, Food and Rural Affairs) covered the draft Common Agricultural Policy from July 24 which would be used for Brexit. The end of the debate is here. It's a pity that only the opposition agricultural ministers and a couple of other MPs attended:
On Wednesday, October 2, Foreign Minister Dominic Raab headed PMQs — Prime Minister's Questions — as Prime Minister Boris Johnson gave his rousing speech in Manchester to the party faithful.
That morning, the Labour Whips issued a directive to their MPs not to ask Urgent Questions that day:
It was even worse when the afternoon's proceedings began.
Recall — as if we could forget — that the opposition claim to be the champions of the vulnerable, especially women.
So, it was particularly galling to see that very few of them turned up for the second reading of the Domestic Abuse Bill:
Only a few Liberal Democrat MPs attended that afternoon. Labour produced more, but could have done much better.
Good grief.
Apparently, this bill and some others have been carried over post-Queen's Speech on October 14:
Therefore, if this is true, the opposition knew full well that they could have easily prorogued for three days during the Conservative Party Conference but chose not to out of sheer spite. Ditto the Supreme Court when they cancelled Boris's prorogation.
The main and most moving speech of the debate was that of Labour MP Rosie Duffield. Her testimony of a recent relationship is well worth sharing with your daughters or nieces.
Women cannot be too careful when getting involved in a long-term relationship. If this can happen to an MP, it can happen to anyone. Please watch:
This bill is Theresa May's. She brought it forward as a backbencher, therefore, before she became Prime Minister in 2016. How slowly the wheels of legislation turn.
Theresa May also gave an impassioned speech for the bill near the end.
Debate continues after October 14.
Attendance improved when Boris appeared on Thursday, October 3, to discuss a new proposal for Brussels, sent to Jean-Claude Juncker the day before:
Note the final paragraph about the Northern Ireland backstop on the first page: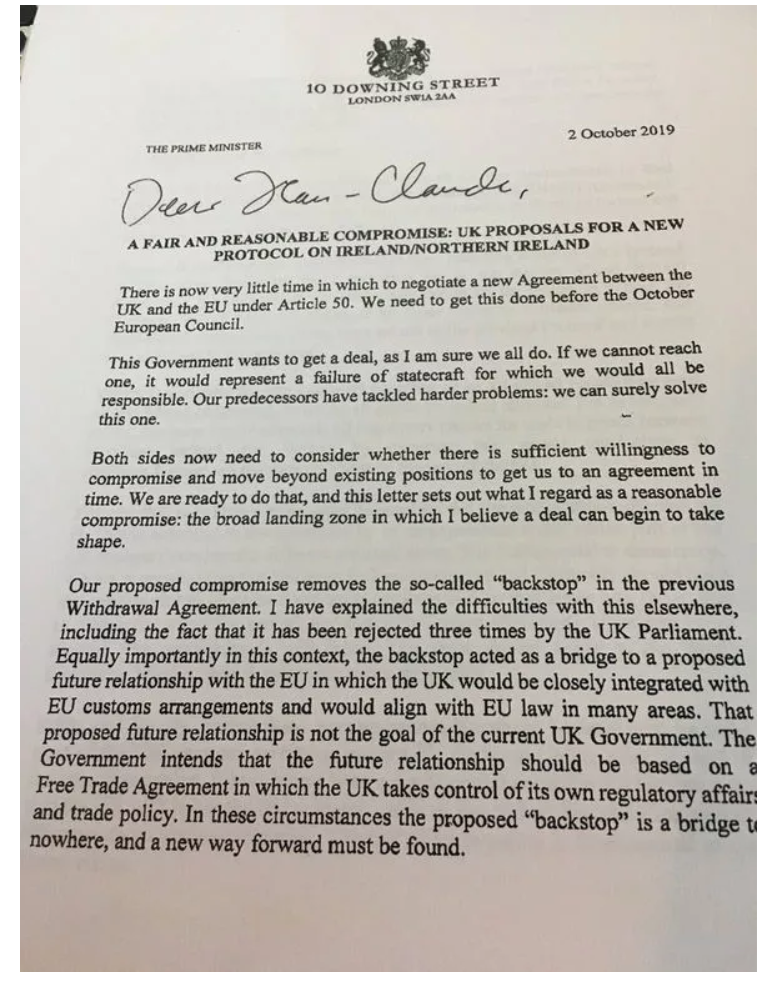 This is the European Commission's announcement about the letter (click on the image to enlarge text):
Many MPs who offered comments following Boris's address commented positively. Even most Remainers accepted the proposal, albeit with a request for more details, which will be forthcoming. Only two or three diehard Remainers spoke out against it.
Several MPs hoped that the EU commissioners were watching the positive reaction.
Guido Fawkes has more, including this video of Boris's speech:
Guido gives us the transcript of Boris's five elements concerning the abolition of the proposed backstop, the crux of the leaving date delay thus far (italics in the original):
In the first place all our actions are based on our shared determination to sustain the Belfast (Good Friday) Agreement, the fundamental basis of governance in Northern Ireland the protection of which is the highest priority of all.

And from this follows the second principle – namely that we shall of course uphold all the longstanding areas of co-operation between the UK and our friends in Ireland including the rights of all those living in Northern Ireland, North/South co-operation and the Common Travel Area, which predates both the Good Friday Agreement and the European Union itself.

Third, we propose the potential creation of a regulatory zone on the island of Ireland covering all goods, including agri-food. For as long as it exists, this zone would eliminate all regulatory checks for trade in goods between Ireland and Northern Ireland.

But fourth, unlike the so-called backstop, such a regulatory zone would be sustained with the consent of the people of Northern Ireland, as expressed through the Assembly and Executive. They will give their consent during the transition period as a condition for these arrangements entering into force. Thereafter, the Assembly will vote again every four years – and if consent were withheld, these arrangements would then lapse after one year.

Fifth, it has always been a point of principle for this government that at the end of the transition period, the UK should leave the EU Customs Union whole and entire restoring sovereign control over our trade policy and opening the way for free trade deals with all our friends around the world.
In short: no hard border between the Republic and Northern Ireland. Instead, there would be a regulatory zone covering all goods, including foodstuffs. Northern Ireland's Assembly and Executive would vote on the arrangements in the near future and every four years after that. (I do not know how that will work if Stormont is not sitting, but, no doubt, the government can find a way.)
I'm guardedly hopeful that Boris is onto something positive with this. It won't please Brexit Party members, but we were never going to get an absolute No Deal. I'm hoping that David Davis's Canada ++ arrangement can be revived. Theresa May insisted that his plans be superseded by her Withdrawal Agreement in July 2018, no ifs, ands or buts. Davis resigned as Secretary of State for Exiting the European Union on July 8 that year. It was all downhill from there.
Davis has not tweeted his reaction, but another staunch Leave MP, John Redwood, offered his thoughts on Boris's proposal:
Unfortunately, the Twitter replies to that were very angry, indeed.
It is essential to keep in mind that trade and other agreements will be in transition once we leave the EU.
It's not as if everything will change dramatically on November 1 (God willing) or whenever we leave.
The transition period is likely to last anywhere from two to four years, depending on negotiations.
As for prescription drug shortages, some of which are occurring now in the UK and being blamed on Brexit: several EU countries have been experiencing similar shortages of essential medication for several months now. France and the Netherlands are among those nations. We cannot blame Brexit for that.
Britain's Conservatives have had a highly successful party conference in Manchester.
They have had the highest attendance in 20 years, with many more young members showing up.
Conservatives seen as Party of Brexit
Voters now think that the Conservatives are definitely a party of Brexit, a dramatic turnaround since the days of Theresa May in April 2019, as a YouGov poll from October 1 shows:
Guido Fawkes writes (emphasis in the original):
New YouGov polling has revealed that more Leave voters now think that the Tory party is a pro-Brexit party in a direct contrast to the last time the question was asked. Back in April, Leave voters were found to be substantially more likely to think the Tories were actually anti-Brexit (40%) than pro-Brexit (23%). The more pro-Brexit the Tories are seen as, the higher their polling climbs…
Hearteningly for Tory strategists, the proportion of Brexit Party voters who see the Tories as anti-Brexit has collapsed from 65% to just 24%.
This exchange is representative of voters' perceptions:
One of Guido's readers provided an excellent analysis (emphases mine) and meme featuring Chancellor Sajid Javid, Home Secretary Priti Patel, Leader of the House Jacob Rees-Mogg and Foreign Secretary Dominic Raab:
The core Cabinet + Lynton Crosby + Dominic Cummings are driving policy in a very interesting way.
They are commissioning an unprecedented number of focus groups and private polls. They are scouring the social media. They will even be reading this comment (Hi!).
They then use this knowledge of what the public actually want to form policy and to craft the messages in their speeches, press releases and other output.
They are doing what a government should do. They have become the servants of the people.
This is why Boris says we are leaving, deal or no deal. He is 100% sure that this is what the vast majority want. And he knows how massively unpopular the Quislings are.
The other parties are just bumbling round in the dark with their blindfolds on.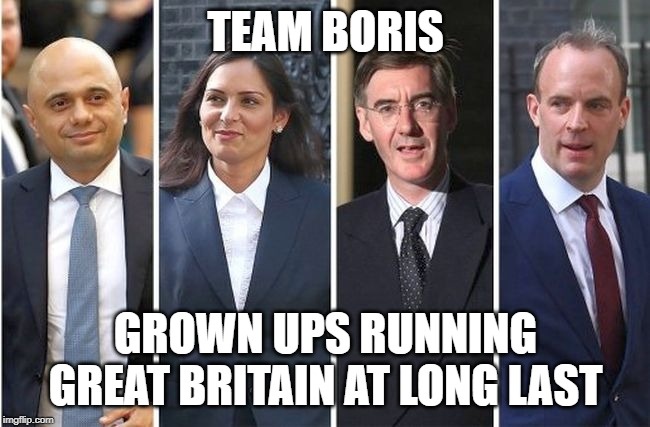 I don't know about 'grown ups' as much as a group of people who have the mettle to keep going, in spite of all obstacles, not least the daily nastiness from the Left. This went up near Manchester in nearby Salford just before Conference began on Sunday, September 29:
Boris best PM since Maggie
Many Britons have said anecdotally online that Prime Minister Boris Johnson is the best since Margaret Thatcher, who stood down in 1990. The following is something any Briton over 60 will tell you about when you ask about the 1970s and her party's defeat of Labour. She faced a national mess, one that affected everyone with regular power outages, strikes and so on:
Whilst it's early days, here are poll results from this week for Boris …
… and the Conservatives:
Conservatives — the party of the people and of diversity
From the introductory speech by the female chairperson of the conference until the end, the Conservative message was:
We don't care where you come from, but where you are going.
How true.
Under Boris Johnson, we have the most diverse Cabinet in British history.
Despite all their rhetoric on people and diversity, Labour's Shadow Cabinet barely comes close.
Labour are also under investigation on charges of anti-Semitism.
On Monday, September 30, a young Conservative Party member introduced the Chancellor of the Exchequer. Mercy Meroki is no fan of the Labour Party. She is currently studying at Oxford:
Now is a good time for people like me to find out how to pronounce the Chancellor's name:
He greeted his mother, who was in the audience. This is probably the first time Punjabi has been heard at a Conservative Party conference. I wonder about the Labour and Lib Dem conferences in that regard, too, though:
The biggest headline from the Chancellor's speech is a proposed abolition of inheritance tax, rightly viewed by Britons to be the most unfair:
The Party of Law and Order — Conservatives
I sincerely hope that Priti Patel can be a better Home Secretary than her predecessors Amber Rudd and Theresa May.
Her speech went down very well with conference attendees and people watching from home.
Whilst I applaud the addition of 20,000 more police from the PM and her, we have heard this before. For various reasons, it never happens.
I also question the Australian points system for future immigrants. Surely, there must be a better way, as an article from October 1 in The Guardian, 'Oxford professor's children refused visas to join her in UK'. This is what happens in the academic world, so heaven only knows what happens to others than senior executives or the very wealthy (emphases mine):
Dr [Amber] Murrey, an expert on social change in Africa, who has published widely and previously held positions at universities in Cairo, Massachusetts and Ethiopia, took up her post in Oxford last year. Without proof of residency she couldn't set up schooling or somewhere to live in advance, so the couple decided she should establish a base in Oxford before moving the family. While she has been returning to Cameroon to see her daughters and husband in the university holidays, she says this has been an emotional strain.
"It has been really hard, because I need to spend more time with my daughters but I am wary of being out of the UK for too long in case it jeopardises the terms of my tier 2 visa," she says.
The news has hit the family hard. Murrey says: "My nine-year-old had been so excited about her new school, and our apartment near a meadow. After I told her their visas had been denied she told me: 'I know why they rejected me, it's because I've been misbehaving this week, Mama'. We both cried very hard."
The Home Office rejection letters say that under immigration rules a child may only be given a visa if both parents are living together in the UK. This would be waived if the parent living here had sole responsibility for the children, or the other partner had died.
"This policy seems to operate under the guise of keeping families together, but it is splitting mine apart," Murrey says.
Ultimately the couple want the whole family to live together in Oxford, but Murrey says that right now they are just trying to "do what is best for our daughters".
She doesn't know whether she has been singled out as a risk because her husband is from Cameroon. "We have family members and friends there who have been rejected for British visas in the past," she says.
The Wellcome Trust, a health research charity, has evidence of around 100 cases in which academics, especially from African countries, have been refused visas to come to the UK for conferences, often for spurious reasons …
A young Canadian academic, who wished to remain anonymous, recently encountered a similar pop-up window when applying for a full-time lectureship that should have qualified her for a tier 2 visa at a London university.
"It said: 'It is highly unlikely that you would obtain permission to work in the UK on the basis of an offer for this … job. It is therefore recommended that you do not continue with your application'."
She says this felt like a sign saying: "foreigners go home". She blames the government rather than universities, but says that after a year of applying for jobs she is beginning to feel desperate.
Gareth Edwards, a senior geography lecturer at the University of East Anglia and co-founder of International and Broke, which campaigns against high visa costs for academics, says international academics are getting this sort of pop-up warning when applying for permanent lectureships. "Those jobs are most certainly eligible for sponsorship," he says.
Meanwhile, we've got illegals coming here on dinghies from the Dunkirk area. They have friends or family members pick them up in coastal arrival points in the UK to take them to their new home.
It seemed to be just a few cases last year, but LBC (radio) recently sent someone undercover to investigate, and it's a regular trafficking programme with dozens of people being smuggled across the Channel every night. On a slow day, only 20 to 25 go across. Normally, twice that many people make the crossing nightly, often with the blessing of the local gendarmerie. I will write about this in a separate post.
Immigration aside, the levels of crime on our streets are far different than they were 25 or 30 years ago. Crime used to make the national news. Now there are so many incidents that local newspapers cover them instead. So, on that basis, Priti Patel's policies — really Boris's, as he came up with them first — have been applauded:
And, ironically, before the Home Secretary spoke on the dais to formally announce this new commitment, security staff duly ejected a Conservative MP from an event at the International Lounge. Either he or his guest lacked the relevant pass to gain entry. They were then asked to leave the conference altogether:
The BBC reported:
A staff member guarding the door of the International Lounge said the incident was sparked by a disagreement.
"It was a small misunderstanding," the man said.
BBC Political Editor Laura Kuenssberg said the incident happened just before home secretary Priti Patel stood up to make a speech "trying to reclaim the Tories as the party of law and order".
A Greater Manchester Police spokesman said an attendee "attempted to enter the International Lounge area of the conference without the relevant pass".
"Security staff intervened and resolved the situation without any breach of security occurring," he added.
Also:
The incident led to a lockdown of part of the Manchester Central Convention Centre for about 20 minutes. The MP apologised "unreservedly".
A Conservative spokesman said: "The incident was totally unacceptable."
"Geoffrey has been asked to leave Conference and we are establishing all of the facts to see if further action is necessary," he added.
"We will always adopt a zero tolerance approach to any inappropriate behaviour towards our hardworking staff."
The Cotswolds MP said in a statement: "This was a minor verbal misunderstanding.
"The police have not contacted me at all. I am mortified that something so minor seems to have been blown out of all proportion and if anyone has been offended, I apologise unreservedly.
"I will co-operate with the party in any investigation."
Tweets show this incident caused concern:
Boris's speech — backing Britain
Of course, most reading this want to know what Boris said just before midday on Wednesday, October 2.
As one would expect, he was witty and to the point. As one reader of Guido Fawkes points out:
… Boris in a nutshell: HE CHEERS US UP.
True!
Others agreed:
Were any other former PMs there? No:
You can see Boris's speech in full, beginning at one hour and 36 minutes in:
Note his Brexit coloured tie.
He began by paying tribute to his predecessor, Theresa May. He also thanked the outgoing leader of the Scottish Conservatives, Ruth Davidson. Neither is a particular fan of his, but Boris did the right thing.
He then said:
We have so many reasons to feel confident about our country.
Finally. Having watched portions of the Lib Dem and Labour conferences, it was a relief to hear a party leader talking positively about Britain.
He referred to Labour as the:
anti-Semitic Marxists in Brighton last week.
Boris then wittily criticised Jeremy Corbyn for not voting for a general election. Corbyn, lest we forget, asked for one 35 times, no exaggeration. Boris put forward a motion twice in September, and Labour voted No. Then he went on to discuss the Supreme Court overruling the recent prorogation, which had Royal assent:
He brought up Brexit:
He rightly asked when any Conservative leader last spoke about capitalism:
The answer is Theresa May in 2017. Prior to that, David Cameron did at some point.
He spoke up for Britain and our nation's great innovations throughout history:
I'm fed up with being told our country can't do something when I passionately believe that it can.
He gave a shout out to the Commonwealth.
He praised Priti Patel for supporting law and order policies.
He called for London to elect Shaun Bailey as its next mayor.
He spoke about buses, his favourite vehicle.
He said that wind and solar energy were far more productive than originally claimed. It turns out his sister, Remainer Rachel, was sceptical. Boris picked up on it at the time in one of his Telegraph columns:
At the end, Boris received a standing ovation.
No one slept through his speech.
He did not use an autocue, either, which was refreshing.
'No disposable cups'
The comedy moment of the conference occurred on Tuesday, October 1.
Boris really wanted a cup of coffee, and a male aide handed him one. A female assistant quickly whisked it out of his hand.
Apparently, it was because it was in a disposable cup. I do think the Conservatives are taking this eco-thing a bit too far:
Watch Boris extend his hands, not quite believing what happened and not having any coffee. He's a good sport:
It reminded me of that Seinfeld episode, 'The Soup N@zi': 'No soup for you!'
Comedy gold.
Guido Fawkes reports (emphasis in the original):
After a slue of late night receptions with Tory members, Boris was denied his much needed caffeine hit this morning by his press team – all because it came in the wrong cup. When Number 10 Press Secretary Rob Oxley handed the Prime Minister a cup of coffee, it was swiftly snatched away by events aide Shelley Williams-Walker who scolded him saying "No disposable cups." Oxley was later spotted buying a KeepCup and a mug at the Tory Party conference shop…
UPDATE: Several hours later…
My observations
After Boris's speech, the Conservative Party Conference drew to a close for another year.
My brief observations follow, contrasting this to the two left-wing conferences.
First, everyone at the Conservative conference was tidy and well groomed. Most of the men wore jackets and ties.
Secondly, proceedings ran to time. Boy, did they ever.
Finally, everyone who spoke was articulate and delivered their speeches well.
Bravo!
Now, it's onwards and upwards to GET BREXIT DONE!