You are currently browsing the tag archive for the 'Brigitte Trogneux' tag.
Last week at this time, Prime Minister Boris Johnson was preparing for the G7 summit at Carbis Bay in Cornwall.
Prior to that, meetings between G7 foreign ministers and finance ministers took place earlier in London.
This is the family photo of the foreign ministers from their meeting in May. The eighth man is an EU representative:
One of the outcomes of the finance ministers' meetings in early June was a tax on profits from the largest multinational tech giants, to be continued when the G20 meet in July:
Joe Biden
It was amazing to see Joe Biden last the full course of the G7, especially without Kamala Harris hovering over him:
I am still puzzling over this photo of Dr Jill prepping for the G7 and the text 'United States government official'. She is the First Lady, not a government official:
Joe Biden successfully triggered a post-Brexit storm around the EU trading arrangements with Northern Ireland, which are crucial to maintaining the peace agreement between that part of the UK and the Republic of Ireland:
Biden's opinion is important, because the UK wants to make a trade deal with the US, which would have been much easier were President Trump still in the White House:
Nigel Farage rightly tweeted:
The sad truth is that no one in government cares about Trump. Boris has made it pretty clear in Parliament that he prefers dealing with Biden.
On Thursday, June 10, the US and the UK signed The New Atlantic Charter to promote common interests between the two nations, including technology, health pandemics and climate change.
The original Atlantic Charter was signed by Winston Churchill and Franklin D Roosevelt in 1941.
This new charter is hardly as ground breaking as the original.
The Daily Mail reported:
The major focus of Mr Johnson and Mr Biden's new charter is defeating the coronavirus crisis and preventing further global health crises.
To achieve these goals, the two men agreed to 'scale up joint work on genomic sequencing and variant assessments' and to work together on a new global surveillance system.
This will see the UK Health Security Agency's new Centre for Pandemic Preparedness establishing a working relationship with its US counterpart, the proposed National Center for Epidemic Forecasting and Outbreak Analytics.
The new charter states: 'We recognise the catastrophic impact of health crises, and the global good in strengthening our collective defences against health threats.
'We commit to continuing to collaborate to strengthen health systems and advance our health protections, and to assist others to do the same.
Mr Johnson said: 'While Churchill and Roosevelt faced the question of how to help the world recover following a devastating war, today we have to reckon with a very different but no less intimidating challenge – how to build back better from the coronavirus pandemic.'
While the men met, Carrie Johnson, young Wilfred Johnson and Jill Biden took a walk along the beach. That evening, the Bidens enjoyed a drink at the Tregenna Castle Hotel in St. Ives.
On Sunday, June 13, the Bidens left Cornwall and were guests of the Queen at Windsor Castle where they enjoyed tea together. The Express has more.
On Monday and Tuesday, Biden met with NATO leaders and held a private meeting with the president of Turkey, Tayyip Erdogan.
The Bidens flew to Geneva on Tuesday night. On Wednesday, Biden met with Vladimir Putin in Geneva.
Sausage war
On the topic of Biden's beef over Northern Ireland, he wants the UK to move closer to the EU and had the diplomat at the American Embassy in London issue Boris with a démarche, a reprimand normally reserved for enemy nations.
On Wednesday, June 9, the Telegraph reported:
Joe Biden ordered US officials to rebuke Boris Johnson for jeopardising the peace process in Northern Ireland due to its stand-off with the European Union, it emerged on Wednesday night.
In a significant diplomatic intervention which now threatens to overshadow the G7 summit in Cornwall, America's most senior diplomat in Britain told the Brexit minister Lord Frost that the UK's stance on the Northern Ireland Protocol was "inflaming" tensions in Ireland and Europe.
Yael Lempert is said to have issued Lord Frost with a demarche – a formal diplomatic reprimand – at a meeting on June 3 in London, during which she relayed to him the US President's "great concern" over the UK's approach to the protocol, which was established to prevent a hard Irish border.
The protocol is causing difficulty in shipping sausages, hence 'sausage war'. You could not make this up.
Lord David Frost is attempting to negotiate with the EU:
During "frank" discussions in London, the Brexit minister Lord Frost said he would not rule out acting unilaterally to prevent a ban on the sale of British sausages in the province from coming into force at the end of the month.
It came despite Maros Sefcovic, the European Commission vice-president, warning that the EU could ultimately suspend parts of the Brexit trade deal and hit British products with tariffs should the UK choose to extend the grace period on chilled meats.
In a clear show of defiance, one insider involved in the joint committee that oversees the Northern Ireland Protocol told The Telegraph: "David very clearly said he wasn't taking that off the table."
Lord Frost also rebuffed EU calls for the UK to solve the row by signing up to a Swiss-style veterinary agreement which would require it to follow the bloc's food safety rules as they change over time in a process known as "dynamic alignment".
Over the years, British food and veterinary standards have become more strict than those of the EU, so it is no surprise that Lord Frost is sticking to his guns.
The démarche from the United States upset the DUP leader in Northern Ireland — Edwin Poots — and some Conservative MPs in Westminster.
On Thursday, June 10, the Daily Mail reported:
New DUP leader Edwin Poots laid into Joe Biden today after the US president intervened in Northern Ireland politics with a rebuke for Boris Johnson over the EU 'sausage war'.
Hardliner Mr Poots accused the Democrat of trying to drive 'a coach and horses through the Good Friday Agreement' that guarantees sectarian peace in Northern Ireland.
The US President instead used his diplomats to express 'great concern' over the conflict centred on post-Brexit trade rules agreed last year by both sides, which the UK is now seeking to change, the Times reported today.
The UK is now at loggerheads with the EU over rules governing the import of chilled goods like sausages into Ulster under the Northern Ireland Protocol agreed six months ago.
The US is said to have issued a 'demarche' to Britain, an official diplomatic censure not normally used against allies, especially those as close as the two nations.
The United States was said to have 'strongly urged' Britain to 'stay cool' and reach an agreement, even if that meant making 'unpopular compromises'.
The White House tried to row back from the row today, insisting the bust-up had been overplayed, but not before the president was branded 'senile' by a Tory Brexiteer …
… an anonymous Tory MP told Politico: 'America should remember who their allies are… unfortunately he's (Biden) so senile that he probably won't remember what we tell him anyway.
'Unless an aide is listening I'm not sure he's going to remember for very long.'
The Express had more from anonymous Conservative MPs:
One told Express.co.uk: "The cognitive decline of the American President appears to mirror the decline of the special relationship.
"I don't actually believe this is Biden doing this.
"He's lost the plot again. Somebody is pulling his strings because he's senile and just hasn't got it – if he ever had it."
Another angry Conservative told this website the US was picking fights with the wrong people.
They said the Biden administration had issued a rebuke to the UK, one of America's oldest allies, quicker than it had taken action against Iran or China.
"He's talking to the wrong people on this one I'm afraid," the MP said.
The Gateway Pundit picked up on the story:
Joe Biden's first trip abroad is turning into an utter disaster as the senile sock puppet offends our closest allies and endangers the peace process in Northern Ireland with his incompetent dementia …
On June 10, the Prime Minister and Biden met privately at St Michael's Mount, a 17th-century castle on an island just off the coast of Cornwall.
The Daily Mail reported that Boris downplayed the disagreement:
Boris Johnson tonight insisted Joe Biden did not rebuke him over the Northern Ireland situation during their first face-to-face talks – as the White House tried to cool a furious row.
The PM revealed that the US president avoided reading the riot act over the Brexit standoff when they met in Cornwall this afternoon.
But he said there is 'common ground' between the UK, America and the EU that solutions must be found to the Northern Ireland protocol issues.
The Express quoted him as saying:
So it's a relationship, you can call it the 'deep and meaningful relationship', whatever you want, the 'indestructible relationship'.
It's a relationship that has endured for a very long time, and has been an important part of peace and prosperity in Europe and around the world.
Emmanuel Macron's gaffe
Emmanuel Macron ruffled British feathers when he said that Northern Ireland was not part of the United Kingdom.
The Express reported on Macron's reaction to the sausage war:
Britain has been left frustrated by the EU's implementation of the mechanism, warning excessive customs checks are having a detrimental impact on trade between Britain and Northern Ireland.
During talks with Mr Macron at the G7 summit, Boris Johnson tried to explain the problems with the Protocol, comparing it to the hypothetical introduction of checks on goods between Toulouse and Paris.
Mr Macron responded by saying there was a difference because Northern Ireland is a separate country to the rest of the UK.
The comments enraged Boris Johnson and led to Foreign Secretary Dominic Raab blasting the EU for a lack of "respect".
According to the newspaper, Macron also threatened a reset of British and French relations:
Emmanuel Macron was among the leaders who visited Cornwall this week for the G7 summit. Mr Macron told Prime Minister Boris Johnson the two countries had common interests, but ties could only improve if he kept his word on Brexit. One source told the Guardian: "The president told Boris Johnson there needed to be a reset of the Franco-British relationship. This can happen provided that he keeps his word with the Europeans."
Meanwhile, Carrie Johnson took Brigitte Macron and Jill Biden to a performance at the Minack Theatre. Mrs Macron wore espadrilles.
The Queen's reception
On Friday, June 11, the Queen held a reception at the futuristic green Eden Project for G7 leaders and their spouses. Prince Charles (pictured) and the Duke and Duchess of Cambridge also attended:
A family photo was taken, where the Queen cracked a joke:
She also hosted G7 leaders in 1977. Among them was Justin Trudeau's father, Pierre, on the far left in the photo below. Valery Giscard d'Estaing and the Queen engaged in conversation. It is unclear why the Queen Mother and Jimmy Carter were holding hands:
Other members of the Royal Family also attended this year's reception.
The Queen has met nearly every US president since Dwight D Eisenhower. The only one she never met was Lyndon B Johnson.
The Duchess of Cambridge took Jill Biden for a visit to Connor Downs Academy, a primary school in Hayle:
Jill Biden revealed that she knows Prince Harry well, thanks to the Invictus Games.
In a separate event, the Duchesses of Cambridge and Cornwall accompanied the Queen to an event in St Austell, where the monarch cut a cake with a ceremonial sword. This video is a must:
Lighter moments
The G7 security costs were eye-watering:
In addition, the Daily Mail reported that the Royal Navy's giant new aircraft carrier sailed past the summit venue where the G7 leaders are staying to prove Britain's power.
A beach party was held on Saturday, June 12. The weather was good:
The G7 family photo this year was socially distanced because of coronavirus:
Elbow bumps replaced handshakes:
However, social distancing disappeared for the flypast by the Red Arrows:
Conclusion
The G7 summit ended on Sunday, June 13.
The French tried to clarify Macron's remark about Northern Ireland:
Boris announced that the UK would build back better in a 'gender neutral', possibly even 'more feminine', way.
The nations' leaders also agreed to counter China's belt and road policy:
Meanwhile, the sausage war rages on.
The next big British event will be COP26, to be held in Glasgow in November 2021.
Yesterday's post was about Emmanuel Macron's state visit to the White House.
This is the first state visit of the Trump presidency. The first state dinner, honouring Emmanuel Macron, took place on Tuesday, April 24.
Much was made of the fact that First Lady Melania Trump did not hire an event planner. Instead she worked with a closely-knit group of ten staff in the East Wing:
This was the menu. Note that President Trump agreed to have wine served. Every other event has been tee-total. I expect that an exception was made for the French, for whom wine with dinner is a must. The wine is not included on the press tweet below. The one served with the main course came from French vines planted in Oregon generations ago.
The day's schedule was as follows:
History lover Macron understood the importance of everything happening that day:
Official welcome and meetings
The official arrival ceremony took place on the South Lawn (41-minute White House video here).
Hail to the Chief was played as the Trumps emerged from the White House to await the Macrons.
This is a great photo:
During the ceremony, both nations' national anthems were played.
Both gave short speeches and spoke of the history between the two countries dating from the Revolutionary War. I am positive that the incomparable Stephen Miller had a hand in Trump's:
Selected members of the public were invited, with local schoolchildren in attendance:
Once again, Macron sought out his father figure, who indulged him with a kiss this time:
Gateway Pundit's Jim Hoft enjoyed it:
Afterwards, the Trumps and the Macrons greeted members of the French delegation:
Then it was time for the restricted bilateral meeting, the topic of which was Iran. Trump rightly wants to re-negotiate the deal, Macron doesn't.
Papa Trump led his young subject away after their public remarks:
The next meeting, the expanded bilateral one, was held in the Cabinet Room. Before it began, Trump and Macron discussed the restricted bilateral meeting. Excerpts follow:
PRESIDENT TRUMP: Thank you very much, everybody. Please. We were going to have a short little meeting, and it turned out to be a long meeting, and it could have gone on for another two hours.
We discussed a lot of things, a lot of problems in the world, a lot of problems that we think can be solved. But we've come a long way, just the two of us, I think, as understanding. We talked about Iran; we talked about Syria. We talked about a lot of subjects that really are big, big, hard situations. And we think we have solutions to a number of them.
So we're going to continue that now, and then Emmanuel and myself will meet again, I think, after this meeting. But we wanted to get the opinion of some of the experts in the room. We have great experts on both sides, so we wanted to get the opinion of some of the experts …
PRESIDENT MACRON: Thank you, Mr. President, for these words. We will have this large meeting with (inaudible) together again before the press conference, just to say we have had very good discussion, indeed, on Syria, on Iran, the overall region, and some other very important topics regarding our security.
And I think we have to work together because we've always worked together on these issues, and it's very important to preserve the stability of this region. And I think what we want to do in the interest of our people is precisely to preserve stability of sovereign states, without any hegemon.
As for the trade issue, you presented your perception of the situation and you were fair to remind everybody that bilateral relationship is balanced between France and the U.S.
PRESIDENT TRUMP: It's true.
PRESIDENT MACRON: And I think it's very important to bear in mind that, between allies — I mean, regarding so important security issues, it's impossible to make any trade war …
After the expanded bilateral meeting, the two presidents held a joint press conference (full White House video here), which began with this:
President Trump was thorough in his remarks, enumerating not only current international challenges but also France's helpful contributions. Excerpts follow:
France and the United States also agree that Iran cannot be allowed to develop a nuclear weapon, and that regime must end its support for terrorism all over. No matter where you go in the Middle East, you see the fingerprints of Iran behind problems.
I also want to thank President Macron for France's vital contribution to our very successful campaign against ISIS. As we drive these ISIS killers from Syria, it is essential that the responsible nations of the Middle East step up their own contributions to prevent Iran from profiting off the success of our anti-ISIS effort. Very rich countries are in the Middle East. They have to make major contributions. They have not been doing it as they should. A major topic that we discussed a little while ago: They have to step up tremendously — not a little bit, but tremendously — their financial effort …
Both the United States and France are dealing with a challenge that has gone on for a long, long time. It's uncontrolled migration. In the United States, we are taking strong action to regain control over our borders and over our sovereignty. It's gone on for too long. And we've slowed it down very substantially, but we're going to stop illegal immigration. I know that you face similar challenges in France. And, Mr. President, I admire the leadership you have shown in addressing them in a very honest and direct fashion, and not always popular.
Macron began his remarks by discussing the Iran deal:
Mr. President, please allow me to go back to a number of issues, which are fundamental for not only our relationship, but beyond. The first topic is Iran. You said once again, in front of the press, what your position was during the campaign and as well as the President of the United States. It's not a mystery we did not have the same starting positions or stances, and neither you nor I have a habit of changing our stances or going with the wind.
That being said, I can say that we've had very a frank discussion on that, just the two of us. You consider that the Iranian deal, the JCPOA — the one negotiated in 2015 with Iran — is a bad deal. For a number of months, I've been saying that this was not a sufficient deal, but that it enabled us, at least until 2025, to have some control over their nuclear activities.
We therefore wish, from now on, to work on a new deal with Iran. What we need — and I believe that on that, our discussions allowed us to shed light on our convergence of views — is that we need to cover four topics.
The first one is to block any nuclear activity of Iran until 2025. This was feasible thanks to the JCPOA. The second is to make sure that, in the long run, there is no nuclear Iranian activity. The third fundamental topic is to be able to put an end to the ballistic activities of Iran in the region. And the fourth one is to generate the conditions for a solution — a political solution to contain Iran in the region — in Yemen, in Syria, in Iraq, and in Lebanon.
On these topics, I did not change. I constantly said that we needed to find the framework so that, together, and with the powers of the region, and with the Iranian leaders, manage to find a deal. I therefore would like us to commit to that effect in the weeks and months to come.
This is the only way to bring about stability. France is not naïve when it comes to Iran. We have also a lot of respect for the Iranian people, which, through their history — its history — has always shown its strength.
But we do not want to repeat the mistakes of the past. Each time we tried to unilaterally replace the sovereignty of the people, we brought about some more terror. But for our allies, we want sustainable stability …
After the press conference, the two gripped hands (Trump probably did not want another kiss):
Afterwards, President Trump went to a private lunch with the Secretary of Defense.
Lunch honouring Macron
Acting Secretary of State John Sullivan and Vice President Mike Pence hosted a lunch for President Macron at the Harry S Truman Building. Afterwards, Sullivan gave a short speech:
Then Pence spoke and offered a toast. Macron responded with a speech and a reciprocal toast. (Full transcript here.)
Presidents' wives visit National Gallery of Art
The White House published a précis of what the presidents' wives did during the day, excerpted below:
In tradition with State Visits, First Lady Melania Trump hosted Mrs. Macron for a spousal event, choosing to visit the National Gallery of Art in Washington D.C. this morning. Mrs. Trump and Mrs. Macron were met by Frank Kelly, Deputy Director of the museum. The tour of the National Gallery of Art was crafted to particularly note the incredible work of French artists to complement the long-standing friendship between the United States and France.
"Everyone understands the language of art," said Mrs. Trump. "The historically famous and beautiful works that currently live in the National Gallery of Art are breathtaking."
The Macrons at JFK's grave
That afternoon, the Macrons paid a reverent visit to John F Kennedy's grave:
The linked tweet has an excellent photo and the same text in French. The responses are very anti-Macron.
French Embassy presentation to American veterans
At the French Embassy that afternoon, Macron presented Legion of Honour medals to three American veterans of the Second World War.
The News Virginian has the story:
WAYNESBORO — A 94-year-old Staunton man's heroism during World War II earned him the French Legion of Honor award Tuesday night from French President Emmanuel Macron.
William Barr, who currently lives at The Legacy at North Augusta in Staunton, was honored Tuesday along with two other veterans at the French Embassy in Washington …
After personally awarding the medals to Barr and the other two men, Robert Ewald and Stanley Rzucidio, at Tuesday's ceremony, President  Macron praised the three veterans and all of those who helped defeat tyranny during World War II.
"My generation has the opportunity to defend these values today because your generation, and especially people like you, decided to take all the risks to protect these values, to protect my country," Macron said. "[I am] also paying tribute to the blood shed by all your comrades."
Barr was a World War II Army Air Forces airplane mechanic who participated in the Battle of the Bulge and other key campaigns …
"Robert, Stanley, William, those are names of heroes. During World War II, your generation decided to take all the risks to protect France. You fought for freedom. Eternal gratitude from the French people," Macron tweeted.
The article states that the Legion of Honour, which Napoleon established in 1802, is the highest French order of merit.
The State Dinner
The climax of the Macrons' visit was the state dinner that evening, the Trumps' first.
Laura Dowling, former chief floral designer at the Obama White House, wrote an excellent article for Fox News, describing the symbolism not only in floral decorations but also the particular symbolism that goes into a state dinner. A short video is also included, with amazing photos and statistics on this particular dinner (emphases mine):
I was honored to help design décor and flowers for two visits by heads of state from France: the private dinner that President Obama and first lady Michelle Obama hosted for President Nicolas Sarkozy and his wife, Carla Bruni, in 2010; and the state visit of President Francois Hollande in 2014.
For both events, the flowers were designed to carry out diplomatic, cultural and historical themes – with the goal of honoring France and the individual leaders, as well as to celebrate cherished American traditions and ideals …
Some of the most beautiful and historic pieces in the White House collection have a French provenance – the 18th century gilt mirrored Monroe Plateau, the early 19th century marble-topped table in the Red Room by a French-American cabinetmaker, and the French Blue Room furniture acquired by President Monroe are just a few examples …
In addition to highlighting the White House collection of French decorative arts, the first lady is paying tribute to former first ladies Hillary Clinton and Laura Bush by selecting their china for this inaugural state visit.
Additional décor includes the large urns of cherry blossoms lining the Great Hall. Cherry blossoms are not only the quintessential emblem of spring in Washington, but also in Paris, where they are currently in bloom in the Jardin de Tuilieries near the Elysses Palace, the home of the French first couple.
The Daily Mail has an article on the dinner with excellent photos.
This was the menu in full, with the wines from Oregon listed. The gold rimmed plate, an edge of which can be seen underneath is a Clinton plate:
There's a story behind this china:
The Conservative Treehouse posted on this and included the above tweets as well as a link to the 2001 ABC story, excerpted below:
Former President Clinton and his wife, Sen. Hillary Rodham Clinton, have sent $28,000 worth of household goods back to Washington after questions arose over whether the items were intended as personal gifts or donations to the White House.
"We have been informed that it is being shipped back, and the National Park Service is ready to receive it, take possession of it and take custody of it," Jim McDaniel, the National Park Service's liaison to the White House, said Wednesday.
"The property is being returned to government custody until such time that the issues can be resolved. It may well turn out that that property is rightly the personal property of the Clintons."
After they were criticized for taking $190,000 worth of china, flatware, rugs, televisions, sofas and other gifts with them when they left, the Clintons announced last week that they would pay for $86,000 worth of gifts, or nearly half the amount.
Their latest decision to send back $28,000 in gifts brings to $114,000 the value of items the Clintons have either decided to pay for or return.
On that subject, one of the commenters at The_Donald had an anecdote about the Clintons:
I personally know one of the White House Interior Decorators that was at The White House when Clinton's arrived. She said it was like The Beverly Hillbillies come to town. They ruined so much historical stuff, decorated things totally trashy and they did try to and did take tons of stuff out of there. They personally ruined things, broke things trashed things that had been around a long time that had history behind them. I didn't hear much about Bill from my friend, but she said Hillary was a piece of work and nasty. This from someone that lived through it.
Back to the present now and America's current first couple. For interested ladies — Mrs Trump wore Chanel:
A light rain fell as the Trumps greeted the Macrons.
This video shows you how grand it was, with the military escort. The first couples pose for a photo at the 1:15 mark:
As for the guests, Rep. Kevin McCarthy (R-California) was the first to arrive:
Here is the only Democrat invited — the governor of Louisiana:
The following links have photos of other notable guests: the Vice President and Mrs Pence, the Speaker of the House and Mrs Ryan, Ivanka Trump and husband Jared Kushner, the Chief of Staff and Mrs Kelly, the Press Secretary and Mr Sanders, the Director of the CIA and Mrs Pompeo, the Surgeon General and Mrs Adams, the Secretary of the Treasury and Mrs Mnuchin, the Chief Justice and Mrs Roberts, Henry and Nancy Kissinger (must see) and Rupert and Jerry (Hall) Murdoch. More guests are listed here and here.
Toasts were made before dinner (full transcript here):
Then it was Macron's turn:
Knowing how much hard work went into the event, President Trump tweeted his appreciation to his First Lady:
Wednesday, April 25
Early the next day, Trump tweeted:
The video of Macron's speech is here. He laid out his international policies and perspectives, which are very different to Trump's. He received a standing ovation from both houses of Congress.
Macron then went to speak at George Washington University on a variety of topics …
… including religion, which is a hot topic for him right now in France:
He also held a press conference there:
President and Mrs Macron left for Paris later that day.
President Donald Trump and First Lady Melania hosted their first state visit by welcoming President Emmanuel Macron and his wife Brigitte to the White House.
The Macrons arrived on Monday, April 23 and left on Wednesday, April 25.
Emmanuel Macron is the Western leader who likes President Trump the most. The US president also wanted to reciprocate the warm welcome and Bastille Day visit in July 2017 (here and here).
Oh, the irony. Macron was Obama's pet in 2017 during the French presidential campaign. They were on the phone to each other at least once:
State visits
In 1997, Radio Free Europe / Radio Liberty posted an article on the various types of visits made to the White House by heads of state. It is well worth reading. An excerpt follows about the state visit, the most important one (emphases mine):
According to official State Department guidelines, there are five types of visits to be accorded to a ranking member of a foreign government. They are: a "state visit," an "official visit," an "official working visit," a "working visit," and a "private visit."
The guidelines say that the "state visit" is the highest ranking visit and can only be offered to a chief of state — such as the president of a country or a reigning monarch like Britain's Queen Elizabeth — and must be at the invitation of the U.S. president.
During a state visit, the guest is offered a room for four days and three nights at Blair House, the President's official guest house, located within walking distance of the White House.
A state visit ensures a meeting with the U.S. president, a state dinner at the White House, a full honors arrival and departure ceremony on the south grounds of the White House, and a 21 gun salute. Gifts may be exchanged and spouses can attend the ceremonies and dinners. Press availability and photo opportunities are plentiful …
Mel French, the Director of Protocol at the U.S. State Department, says there is a practical reason why the White House ranks the visits of foreign guests.
"Ranking the visits gives a level to what the [U.S.] president wants to do when he invites someone to this country," she says. "Often they really need an official working visit where they can sit down and work through problems or things that they need to talk about. An official working visit is really a visit of substance and policy. A state visit and an official visit are more of a ceremonial type thing where we are honoring a country."
French adds that there are limits on state visits.
"A country can only have one state visit during a [U.S.] president's four-year term," she says.
French says that the decision of what kind of rank to accord each visitor is made jointly by the National Security Council and the State Department.
When asked if foreign heads of state are ever invited to stay at the White House instead of Blair House, French says that can happen occasionally, but only under unusual or important circumstances.
State dinners
On April 18, Jennifer Boswell Pickens, White House East Wing historian, wrote an excellent article for The Daily Caller about previous presidents' state dinners and her anticipation of this one:
I predict the Trumps' first State Arrival Ceremony and State Dinner will truly be a meaningful event for the Macrons, as even the smallest details are coming from Mrs. Trump's appreciation for American History and respect for her French guests … Not since Jackie Kennedy will we have a First Lady able to speak fluently to her guests creating that timeless "Melania Trump je ne sais quoi" that will help the president create deeper bonds, and closer diplomatic ties with our French neighbors.
The White House also issued an interesting history of state visits. The first one was held in 1874, when President Ulysses S Grant welcomed King David Kalakaua of Hawaii:
The White House had never hosted a foreign head of state—Hawaii would not be annexed by the United States until 1898—largely because travel overseas during the 18th and 19th centuries was long and hazardous.
No matter how the visit went, King Kalakaua's trip would set a precedent.
The result was America's first State Dinner with a foreign head of state, an intimate but elaborate meal consisting of more than 20 courses and 36 guests. The President, Vice President, and a host of other U.S. dignitaries were in attendance.
The reason for King Kalakaua's visit and the primary topic of discussion? A trade deal.
Preparations
Everything was planned well in advance, from the security and the dinner to Macron's speaking engagements.
Meanwhile, Macron gave interviews on both sides of the Atlantic prior to his visit. Chris Wallace travelled to Paris to interview him for Fox News:
The 40-year-old Macron said Sunday that he has a "very special relationship" with Trump, suggesting they're political "mavericks" mutually committed to fighting terrorism and reducing the influence of rogue nations and dictators …
He said he and Trump "have a very special relationship because both of us are probably the maverick of the systems on both sides. I think President Trump's election was unexpected in your country, and probably my election was unexpected in my country. And we are not part of the classical political system. … We are very much attached to the same values …. especially liberty and peace," he said. "And I think the U.S. today has a very strong role to play for peace in different regions of the world and especially the Middle East."
No doubt Macron was looking forward to getting away from the fray for a few days. He has been facing active opposition in France for some time. The Express had more on the Chris Wallace interview:
Furious protests are regularly held against French Government's reforms, with up to 200,000 people attending some marches. 
These protests have often spilled over into violence and riots, including tense clashes with police.
On this, Mr Macron said: "If I stop here, because of some protests, they are legitimate but in a minority, then I will never be able to reform again."
Wallace followed this up: "Your popularity is falling. You were elected with 66 percent of the vote.
"The latest polls show that 58 percent of French people disapprove of your presidency, with only 40 percent approval rates."
The French president responded: "If you follow the polls, you never reform, you never fix the situation, you never transform.
"You are always obsessed with following where you want to go. I will look at the polls in due time, not now."
There was also the matter of an immigration bill which caused rifts in the French parliament.
On Sunday, the First Lady was putting the finishing touches on Tuesday's state dinner:
She tweeted:
After months of preparations, @POTUS and I are looking forward to hosting our first State Dinner with France! Thank you to everyone who has worked so hard to make this visit a success.


ZeroHedge gave us an insight into the planning (bold emphases in the original, those in purple mine):
To prepare for Tuesday night's State Dinner – the Trump administration's first – Melania went all out, curiously doing so without the help of an event planner as previous first ladies have used …
Preparation began seven months ago, when Melania began cooking up gift ideas – such as a framed section of upholstery from one of the chairs in the White House Blue Room, created by French designer Pierre-Antoine Bellangé as one of 53 pieces commissioned for the room by President James Monroe. 
The Macrons will also receive a photo album upon their departure, full of pictures of their visit – along with an engraved Tiffany & Co. silver bowl which bears the presidential seal and the signatures of both Trumps …
To pull off the event, Melania has assembled a "close-knit" team of 10 people in the East Wing. "The team is small, but mighty" says the first lady's communications director, Stephanie Grisham.
The Trumps are opting for a slimmed-down dinner of around 150 people – with no invites going to Congressional Democrats or members of the press. 
In fact, there was one Democrat who attended: the governor of Louisiana. It is customary for Louisiana's governor to be invited to state events honouring the French head of state.
Monday's schedule
This was the White House schedule for Monday, April 23:
The US military and various dignitaries welcomed the Macrons upon their arrival at Joint Base Andrews. Macron made a brief statement of thanks to Trump and said the two of them would discuss various bilateral issues, including trade and security (around 7:00):
Macron mentioned the mutual responsibility both countries have in the face of mounting international challenges. As a political commentator pointed out on France's RMC talk radio, France is the EU nation the US will look to for military presence when needed once the UK completes Brexit:
A motorcade then took the couple to Blair House, where visiting heads of state reside during their visits. There, they were able to rest and prepare for the afternoon's tree planting and dinner at Mount Vernon. Transport to and from George Washington's homestead was via Marine One.
That afternoon, the president and first lady officially greeted the Macrons at the White House (longer version here):
They got a tour of the White House. Here they are in the Oval Office. Brigitte Macron admired the Resolute desk:
The Macrons gave the United States an oak tree sapling as a gift. The Conservative Treehouse explains that the sapling is an important one. It was (emphases mine):
taken from Bellau Wood, about 60 miles northeast of Paris in the Champagne region. The site is where a famous World War One battle took place, where the U.S. Marine Corps repelled a German offensive in the final year of the conflict almost exactly a century ago.
The sapling grew close to the so-called "Devil Dog" fountain, a spot that has become legendary within Marines ranks. It is where U.S. soldiers are said to have gathered after the battle. The "dog" in the fountain's name refers to its spout, which resembles the head of a bull mastiff. But the nickname also stems from the German moniker "Teufelhunde", or "devil dogs". That term is said to have been used by the Germans to describe the U.S. Marines due to the ferocity with which the Americans fought.
As a consequence, "Devil Dog" soon became a common nickname for U.S. Marines.
The tree was already planted on the White House lawn, so the two presidents conducted a ceremonial 'planting' on the South Lawn:
I rather enjoyed this photo of the wives:
Then it was time to board Marine One:
This was the view:
They arrived a short while later. Macron cannot keep his hands off Trump, whom he sees as a father figure (see 3:10). You can see the exterior of the Mount Vernon mansion at 4:47:
This clip gives a closer view. The outer doors are particularly intriguing (3:00):
After dinner:
Before leaving:
The choice of the venue has historic significance for the two countries. George Washington had a close friendship with General Lafayette, who helped the colonies greatly in the Revolutionary War:
The media stated a more pedestrian reason for the choice of Mount Vernon:
In a statement issued that day, President Trump made it abundantly clear that the historical bonds between the United States and France are significant. An excerpt follows (emphasis in the original):
A LONG AND ENDURING FRIENDSHIP: President Trump is continuing the legacy of French-American cooperation that stretches back to America's independence and working with President Macron to build the already strong ties between the United States and France.
President Trump has made clear that the bond between the United States and France is unbreakable.

The relationship between the two countries dates back to the days of the American Revolution, when thousands of French soldiers fought alongside American troops and provided crucial support in our fight for freedom and liberty.

Presidents Trump and Macron have reaffirmed and strengthened the U.S.-France relationship. They have met in person and spoken on the phone numerous times.
As dusk fell, the couples boarded Marine One for the White House.
Upon arrival, conversation was lively, as if between friends:
The top left photo shows Macron holding Papa Trump's left arm (click to enlarge):
The Macrons left for Blair House:
Trump managed to secure an increase in France's NATO contribution that day. Early that evening, The Daily Caller reported:
President Donald Trump secured a commitment from French President Emmanuel Macron Monday to increase the country's NATO defense spending by more than a third.
Trump hosted Macron in Washington, DC Monday, after which the White House announced France's commitment to meet NATO's two percent GDP defense spending minimum, an increase of 35 percent.
Ah. The Art of the Deal.
Promises made, promises kept.
Tomorrow: The Trumps' first state dinner
On July 19, 2017, the New York Times (NYT) published a transcript of an extensive interview with President Donald Trump.
Portions of the transcript made French news on Friday, July 21. I heard it on RMC at lunchtime. Trump was most effusive about his meeting with French president Emmanuel Macron. Relevant excerpts will appear in this first part detailing the Trumps' trip as well as the second entry which will cover events on July 14, Bastille Day.
The French government decided months ago — before the US election last autumn — to invite the American president for Bastille Day commemorations on July 14, 2017. This year marks the centenary of American troops arriving in France during the Great War, and the French wanted to roll out special ceremonies of remembrance and thanksgiving.
Trump is not the first foreign leader to have been invited for Bastille Day celebrations. It is a common occurrence.
Security was tighter than usual in Paris during this time, but, despite the American president's remarks about their country, the French were looking forward to the Trumps' visit. A British journalist was thrilled they would be spending so much time in his neighbourhood.
No one could have predicted how well this trip went, possibly even President Trump and First Lady Melania.
Trump told the NYT how he reacted to the invitation:
… when Macron asked, I said: "Do you think it's a good thing for me to go to Paris? I just ended the Paris Accord last week. Is this a good thing?" He said, "They love you in France." I said, "O.K., I just don't want to hurt you."
Add to that the fact that Macron met with his beloved Angela Merkel the morning of Trump's arrival on Thursday, July 13.
The Trumps landed that morning:
The French were fascinated by Trump's reinforced Cadillac, The Beast.
While Macron and members of his cabinet spent time with Merkel and her German delegation, the Trumps had prior commitments.
Mrs Trump visited the Necker Hospital for children:
She spent time with patients:
Her husband was at the US Embassy for meetings.
Later, the couple met at the embassy where Trump addressed an enthusiastic gathering of military families and American veterans who served in the Second World War:
A somewhat younger audience was also delighted:
In covering the event, CNN's Poppy Harlow mistook the Star Spangled Banner for La Marseillaise.
You can see more embassy photos here, here and here.
There was no meeting at the Elysée Palace until after the tour of Les Invalides, the military museum, formerly a military hospital that Napoleon had built. It is a splendid place to visit.
The next few photos are from Les Invalides. You can see a news clip here which shows how grand it is and the welcome ceremony Macron laid on.
The Beast arrived:
What a magnificent setting:
Strict protocol was observed throughout:
Macron gave the Trumps a tour of the museum. No doubt it included quite a history lesson as the French president has always been scholarly, even from his early childhood:
Maréchal Foch's tomb was also part of the tour. The comment in the tweet explains why nearly every large French town and city has a Boulevard or Avenue Maréchal Foch:
Trump told the NYT that he was impressed with Macron's commentary on Napoleon and the tour of Les Invalides.
Afterwards, Macron hosted Trump at the Elysée.
It was a tight squeeze for The Beast:
Meetings took place, likely to have included counter-terrorism in the Horn of Africa:
A press conference followed:
It emerged that Trump spoke with the press on the flight to Paris. Bloomberg has a transcript.
You can watch the 35-minute press conference here.
Macron looked pleased:
The Guardian predicted a synergy between the two men whilst acknowledging Macron's opportunism (emphases mine):
The deeper worry for the UK must be that Trump warms to Macron's energy, and finds the British, preoccupied by the intricacies of Brexit and led by a "loser" who wasted her parliamentary majority, comparatively less appealing. His state visit to the UK – stalled at least until next year – is in danger of becoming a symbol of an ailing special relationship.
Above all Macron, unlike May, has shown himself to be an operator. At the "family" photo-shoot at the G20, Macron, realising his relatively small frame and slated for a rather undistinguished position in the second row, simply ignored protocol and inserted himself in the front row next to the US president. Trump may be an isolationist, but few politicians want to isolate themselves from him.
Equally, after the Manchester terrorist attack in May, Macron walked from the Élysée to sign a condolences book. A letter of gratitude for the gesture from the British embassy received a handwritten reply from Macron to the effect "it is what should be expected". Gallic charm and symbolism have their virtues.
Trump confirmed to the NYT that Great Britain can wait:
BAKER: Will you go to Britain? Are you going to make a state visit to Britain? Are you going to be able to do that?
TRUMP: As to Britain?
BAKER: Yeah.
HABERMAN: Will you go there?
[crosstalk]
While the meetings and press conference took place, Brigitte Macron took Mrs Trump on a tour of Notre Dame Cathedral …
… and a boat tour of the Seine:
That evening, the Macrons hosted the Trumps for dinner at the upmarket restaurant, the Jules Verne (more here):
It is one of Alain Ducasse's restaurants. You can see him in the video below:
The restaurant was closed to other diners, although photographers were allowed in from time to time:
While they had dinner, the main course of which was lobster, Trump's entourage took a night-time tour of the city.
Then it was time to get some rest:
Mrs Trump closed the day by sending a thank you via the White House:
"France is a beautiful country that is rich in history and culture," said First Lady Melania Trump. "I am grateful to President and Mrs. Macron for their gracious invitation and hospitality as we celebrate Bastille Day with them, which is not only a celebration of France's national day, but on this occasion, in 2017, also honors the historic cooperation between France and the United States during the First World War." The First Lady continued, "I also want to take a moment to thank the employees and families of the United States Embassy for all of their hard work on behalf of our country, and to extend my warmest wishes to the patients and staff at Necker Hospital. My visit with the patients was very special, and I will continue to keep them all in my thoughts and prayers for a speedy recovery."
You can see more images here, here, here, here and here.
The Daily Mail, The Telegraph and Breitbart each has a series of photos of the Trumps and Macrons taken on July 13.
A review of July 14 comes next week.
Yesterday's post related how Emmanuel Macron met Brigitte Trogneux, his wife and former teacher.
Today's post describes a bit more about his youth and Brigitte's involvement.
When he was a little boy, Macron often went to his maternal grandmother's house. Germaine, who died in 2013, was a retired schoolteacher. She instilled in her grandson a love of books and education. She was also keen for him to become a politician. She died in 2013. However, from the beginning, he was accustomed to being around older people.
When Macron was 15, he was a student at the Jesuit-run La Providence school in Amiens. Trogneux, then Mme Auzière — a mother of three, married to André-Louis Auzière — taught French and drama. The first lady of France told an interviewer before her husband became president that when the young Macron auditioned for the school play:
'I just found him incredible. He had such presence.'
She went on: 'Without doubt he wasn't like the others. He was always with the teachers. He simply wasn't an adolescent.'
The Daily Mail has photos of this particular production, including her giving him a congratulatory kiss at the end.
She was close to her 40th birthday at the time.
The Mail researched several of her interviews with French media, one of which had this:
'At the age of 17, Emmanuel said to me, 'Whatever you do, I will marry you!',' Miss Trogneux told Paris Match magazine last year.
Macron's parents were less than pleased. Heavy has 5 Fast Facts about Trogneux, including a description of how things unfolded at home in 1993 (emphases mine below):
According to the book Emmanuel Macron: A Perfect Young Man by Anne Fulda, Macron's parents told Trogneux to stay away from their son, at least until he was 18.
As Vogue notes, Macron's parents tried to split them up by sending Macron to Paris to finish his studies, but that didn't work.
"I cannot promise you anything," Trogneux told his parents, Fulda writes, notes Reuters. Their relationship continued and they married in 2007, after Trogneux and her husband divorced.
Macron's parents told Fulda that they believed their son was actually going after the heart of Trogneux's daughter. They were stunned to hear that this wasn't the case.
"We couldn't believe it. What is clear is that when Emmanuel met Brigitte we couldn't just say: 'That's great,'" Macron's mother told Fulda.
Then there was the possibility of Macron not having his own children. Starting one's own family is a top priority in France. Macron's mother had words for her son's teacher:
She is quoted as telling Trogneux, "Don't you see. You've had your life. But he won't have children with you."
This came true. Macron stated the reasons why:
During a BMFTV interview in April, Macron made it clear that he and his wife have decided not to have any children, Gala notes. He's already the step-grandfather of seven children.
"We have chosen not to have children. A choice that was not selfish for me," he told BMFTV. "It is a choice that has been assumed, which I had to make very young given the age difference …"
As the years passed, time healed the wounds between Macron's parents and the May-December couple:
Although Fulda did interview Macron and Trogneux, Macron's spokesman said he was disappointed that she didn't ask about his parents' approval of the relationship.
And, yes, the middle-aged teacher probably had broken the law, however:
"Emmanuel's parents were keen on emphasizing that they did not lodge a complaint against Brigitte Auziere (Trogneux's married name) for corruption of a minor," Macron's spokesman said, reports Reuters.
Even today, years later, she said:
"Nobody will ever know at what moment our story became a love story. That belongs to us. That is our secret," Trogneux is quoted as saying in the book.
Macron, 39, is two years younger than his step-son. He is the same age as his elder step-daughter and was a classmate of hers. He is only nine years older than Brigitte's youngest child, Tiphaine Auzière.
Tiphaine, a lawyer, worked on Macron's campaign.
Brigitte is very close to her second husband. The couple firmly expect that she will have an important role to play in his presidency.
One wonders whether she will have the family chocolates in the Elysée Palace. Heavy points out:
Trogneux's parents were Jean Trogneux and Simone Pujol. They had six children, with Trogneux as the youngest, according to Geneanet.org.
L'Express notes that Trogneux's family is well-known in the north of France for their chocolates. Her nephew, Jean-Alexandre Trogneux, leads the family business, which made four million euros in 2013 alone.
The Jean Trogneux website has a full list of merchandise. The chocolates and other specialities are very pricey.
There's a joke here, because the company makes the famous Macaron d'Amiens, which Catherine de Medici introduced in the 16th century:
The company's best-known product are their macaroons, or Mac[a]rons d'Amiens. In 2014, a local jokingly told Le Parisien that, "We already had the macaroon from Amiens. Now we also have the Macron d'Amiens!"
Such an unusual marriage cannot be without rumour:
Macron's unconventional marriage has led some to speculate that he's secretly gay. Back in February, he laughed off rumors that he was having an affair with Radio France CEO Mathieu Gallet … The Telegraph reports.
The NATO meeting and G7 summit last week put Brigitte Trogneux in the world spotlight. One French report said that Trogneux has the world at her feet (see the first 1:51 minutes):
Not everyone commenting on the video agreed (translation mine below):
It's more like Melania Trump who has the world at her feet!
Trogneux, 64, has teenage legs, to be sure. However, she doesn't need to show them off so much at every opportunity.
Here's another video of her attire contrasted with Melania Trump's:
In closing, below are links with photos of Macron's family from his inauguration ceremony.
The senior Macrons have been divorced for several years. However, Jean-Michel and Françoise Nogues-Macron were photographed together at the Elysée. Macron's mother is a retired physician and his father is a professor of neurology at the University Hospital in Amiens. Macron's brother Laurent, a radiologist in the Paris region, is two years younger than the president and was at the ceremony, although no one in the media knows what he looks like. Their younger sister Estelle, a kidney specialist near Toulouse, did not attend.
One cannot help but wonder whether Macron, too, would have gone into medicine if his secondary school years hadn't changed him so much.
In any event, I'm still thinking about a husband cuckolded by a 15-year-old and a set of very shocked parents. It's disgusting.
What follows is the background to Brigitte Trogneux and Emmanuel Macron's past.
The following tweets say:
'It's true that sleeping with students of 15 years of age is completely gross, borderline predatory, but it's a woman, so it's okay'. (Sarcasm alert there.)
'When journalists put romance in a story of corruption of a minor by a person in authority. Beauty in what is ugly.'
My translation of the article follows:
When she met Emmanuel Macron, then aged 15, Brigitte Trogneux was married to a certain André-Louis Auzière. A portrait of her first husband and the father of her three children.
Brigitte Macron never leaves Emmanuel Macron's side: an important source of support that the presidential candidate never missed emphasising during his numerous speeches and regular meetings. It has to be said that the couple are very closely knit, despite their significant age difference. The two lovebirds met in 1993 in a context more academic than romantic. At the time, Brigitte Trogneux was a French and drama teacher in the city of Amiens and very much married …
Coming from the comfortable middle class in Amiens, the young Brigitte Trogneux married André-Louis Auzière, two years her senior, although she was only 21 at the time. The ceremony took place in Le Touquet in June 1974. The son of an accountant in the public sector, André-Louis Auzière worked in a bank, the Crédit du Nord, and lived in Paris. He was born in the small town of Éséka, situated in northwestern Cameroon, as his father worked as a civil servant in this former French colony.
Emmanuel Macron born the same year as his step-daughter
The year after their marriage, André-Louis was transferred to Strasbourg. The couple began a new adventure in Alsace, soon followed by the birth of their son Sébastien that same year. Two years later, little Laurence arrived on the scene. She was born in the same year as Emmanuel Macron: 1977. André-Louis and Brigitte returned to live in Amiens, where, in 1984, they welcomed the arrival of their third and last child, Tiphaine. As she reached the age of 40, Brigitte seemed, for all intents and purposes, happy … however.
During a theatre workshop, she met young Emmanuel Macron, then 15 years old. She rapidly fell under his spell, intelligence and ardour. Anne Fulda, author of the book Emmanuel Macron, un jeune homme si parfait ('Such a perfect young man'), wrote in the biography, 'She spoke little of André-Louis Auzière. […] Because there were things she did not want to, or could not, say? In any event, he certainly was not making her very happy'.
Romantic encounters in Paris
The teacher and student began seeing each other outside of school … and were soon noticed by the residents of Amiens. On the one hand, those close to Emmanuel Macron opposed this romance taking place while her marriage was foundering more and more. The teacher finally left to work in Paris, where she met up with her young lover who [by then] was studying at Henri IV high school. In 2006, the Grand Tribunal in Amiens granted a divorce to Brigitte and André-Louis Auzière. One year later, she married Emmanuel Macron in Le Touquet for the continuation of an enduring love story.
Ugh!
I have more on this to come, but, to clarify: Macron's parents pulled him out of La Providence, the Jesuit school in Amiens where Trogneux was teaching, and sent him to Paris to Henri IV, a secondary school in the Latin Quarter that, despite its motto 'A Home for All', prepares its students for admission into the most elite institutions of higher education. Little did the Macrons know that Brigitte was fully prepared to follow their son to the capital.
In closing, two geographical notes: Amiens is a cathedral city in the north of France and Le Touquet is a popular upmarket resort not too far away on the coast. It is also known as a place for lovers, so it comes as no surprise that people go there to get married.
After President Donald Trump's successful visits to Saudi Arabia and Israel, he and First Lady Melania Trump went to Europe.
I covered their visit to Vatican City in the comments on the Israel post.
The next stop was Brussels.
The first item of business on Thursday, May 25, 2017 was to address the leaks that had emerged from US intelligence or law enforcement about confidential aspects of the suicide bombing that had taken place on Monday, May 22.
British Prime Minister Theresa May was furious that the US had leaked sensitive information. From the BBC:
Details about Abedi's identity had already emerged in the US media less than 24 hours after the explosion and against the UK's wishes.
Home Secretary Amber Rudd said she was "irritated" by the disclosure of Abedi's identity and had warned Washington "it should not happen again".
However, the pictures of debris – which appear to show bloodstained fragments from the bomb and the backpack used to conceal it – were subsequently leaked to the New York Times, prompting a furious response from within Whitehall and from UK police chiefs.
BBC security correspondent Gordon Corera says UK officials believe that US law enforcement rather than the White House is the likely culprit for the leaks.
Trump issued an official statement, which reads in part:
I am asking the Department of Justice and other relevant agencies to launch a complete review of this matter, and if appropriate, the culprit should be prosecuted to the fullest extent of the law.   
There is no relationship we cherish more than the Special Relationship between the United States and the United Kingdom.
The Daily Caller provided Attorney General Jeff Sessions's comments:
I share the president's deep concern and talked to Home Secretary Rudd yesterday about this matter. These leaks cannot be tolerated and we will make every effort to put an end to it. We have already initiated appropriate steps to address these rampant leaks that undermine our national security.
This was a temporary situation which the two nations quickly resolved:
However, Trump is unlikely to be in a good mood once he returns to the White House. Next week's news cycle should be interesting.
This graphic describes Trump's mood in Brussels (courtesy of a contributor to The Conservative Treehouse):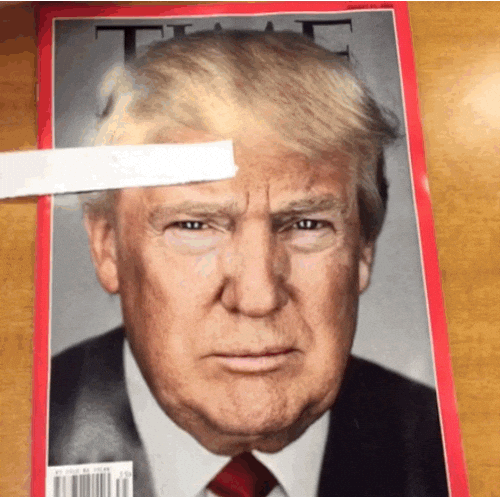 Unbelievably, French President Emmanuel Macron posted this video of Trump strongarming him into a handshake. Seconds earlier, Macron walked straight towards Trump before snubbing him for Angela Merkel:
Despite the smiles and hand gestures, their brief photo op and statements looked chilly:
In another group shot of NATO leaders, the following video makes it look as if the American president forced his way to the forefront:
A Washington Post reporter who lists her American allegiance last, tweeted:
In reality, Prime Minister Dusko Markovic of Montenegro had accidentally stepped on Trump's foot.
A contributor at The_Donald couldn't help but react:
Trump visited members of NATO today, and while walking with several members, is seen moving PM Dusko Markovic aside. The corrupt and fake media took this video clip and spun it completely into FAKE NEWS territory by saying:
"DONALD TRUMP SHOVES A MEMBER ASIDE IN ORDER TO REMAIN IN FRONT OF THE GROUP"
… You can CLEARLY see he winced in pain after his foot was apparently stepped on, and he moves the Prime Minister aside to get him off his foot. Even the PM reacts the moment he steps on Trump's foot, knowing he caused him pain.
Here's the clip in slow motion:
A ceremony took place for the new NATO headquarters and a memorial which included a metal remnant the 9/11 attack in 2001 and a chunk of the Berlin Wall from 1989. In his address, Trump said:
I want to extend my appreciation to the 9/11 Memorial and Museum in New York for contributing this remnant of the North Tower, as well as to Chancellor Merkel and the German people for donating this portion of the Berlin Wall.  It is truly fitting that these two artifacts now reside here so close together at the new NATO Headquarters.  And I never asked once what the new NATO Headquarters cost.  I refuse to do that.  But it is beautiful.
Each one marks a pivotal event in the history of this Alliance and in the eternal battle between good and evil.  On one side, a testament to the triumph of our ideals over a totalitarian Communist ideology bent on the oppression of millions and millions of people; on the other, a painful reminder of the barbaric evil that still exists in the world and that we must confront and defeat together as a group, as a world.
This twisted mass of metal reminds us not only of what we have lost, but also what forever endures — the courage of our people, the strength of our resolve, and the commitments that bind us together as one.
We will never forget the lives that were lost.  We will never forsake the friends who stood by our side.  And we will never waiver in our determination to defeat terrorism and to achieve lasting security, prosperity and peace.
Thank you very much.  It's a great honor to be here.  Thank you.
However, it's what he said before that really matters:
The following graphic from a contributor at The Conservative Treehouse explains Trump's objections. Out of each nation's GDP, the percentages reflect how much goes towards defence, NATO and otherwise:
We pay 4% to NATO defense budget.
We will pay 36% for our defense overall.
They pay less than 2% of their GNP for practically their entire defense overall.
NATO ally flags were raised cermonially:
The flypast:
Whereas Trump diplomatically summarised the meeting as being one of united interests:
Emmanuel Macron made it a Europeans-only occasion:
Fortunately, the NATO spouses and partners seemed to get on better. Melania Trump was buddied with Brigitte Trogneux, Macron's wife and his former high school teacher.
The group went on a tour of the Magritte Museum (Magritte misspelled below):
The Daily Mail, with excellent photos, reported on the visit to the royal palace:
Melania and Brigitte, who met while touring the Magritte Museum in Brussels earlier in the day, posed for pictures alongside the royal [Queen Mathilde] and the other spouses at the royal residence
Mrs Trump also had her own engagements that day:
The next and final stage of the trip is the G7 conference in Taormina, Sicily.
The Trumps left Brussels on Thursday, flying to Italy, then onto Taormina. Watch the Italian guard at 43 seconds in sneak a brief smile to the Trumps:
Trump tweeted:
Taormina is a beautiful ancient city:
This was the schedule and list of participants for Friday, May 26:
The 43rd G7 summit is taking place in Taormina, Sicily, between May 26-27. Attendees will include the leaders of the Group of Seven member states, as well as representatives of the European Union.
The summit is set to be the first for British Prime Minister Theresa May, French President Emmanuel Macron, Italian Prime Minister Paolo Gentiloni, and US President Donald Trump.
Other participants include German Chancellor Angela Merkel, Canadian Prime Minister Justin Trudeau and his Japanese counterpart Shinzo Abe. The EU will be represented by European Commission President Jean-Claude Juncker and European Council President Donald Tusk.
COVERAGE SCHEDULE:
06:00-08:00 GMT – Arrivals from Sigonella airbase.
08:00-09:00 GMT – Jean-Claude Juncker and Donald Tusk press conference.
09:30-10:30 GMT – Welcome cerimony and family photos at Greek Theatre.
10:00-10:30 GMT – Moving to Hotel San Domenico.
10:45-11:30 GMT – Arrivals at Hotel San Domenico. Tour de Table.
17:00-18:00 GMT – Concert for the opening of the G7 Summit at Greek Theatre.
18:15-18:45 GMT – Welcome ceremony and family photo at Hotel Timeo. Official dinner hosted by Italian President Sergio Mattarella.
A concert by La Scala Philharmonic Orchestra and dinner with President Mattarella followed.
Foreign Policy reported that Trump has an important American objective at the G7:
President Donald Trump's controversial senior advisor and speechwriter, Stephen Miller, has led White House efforts to undercut an initiative by Italy to place the migration crisis at the center of this week's Group of Seven major summit meeting starting Friday in Sicily.
For Italy, the summit in Taormina, Sicily, was to provide a poignant opportunity to raise awareness of the plight of hundred of thousands of refugees who cross the Mediterranean Sea to Italy's shores each year, and to reach agreement on a plan to find them permanent homes.
But the Donald Trump White House has largely blocked its Italian host from putting forward an initiative addressing the need to resettle millions of refugees and migrants who have poured into Europe on rickety boats or crossed borders on foot over the past decade. Instead, the United States has pressed the leaders to cap the session with a stern declaration on the need to fight terrorism, a cause that gained added urgency following a grisly suicide bombing at an Ariana Grande concert in Manchester.
The rearguard action was led by the 31-year-old Miller, who has exercised outside influence over the summit's response to the worst refugee crisis since World War II.  In line with President Trump's pledge to build a wall to keep Mexicans out of the United States, the White House has been pressing the G-7 leaders to focus more attention on the need to prevent illegal immigrants from crossing borders than on finding migrants who make the journey a permanent home.
Trump also intends to push back on other G7 preoccupations:
including climate change, trade, and migration that until recently aligned closely with President Obama's foreign-policy vision.
This G7 summit should prove to be a delicate one to be navigated diplomatically. The summit concludes on Saturday, May 27.
Emmanuel Macron officially became France's president on Sunday, May 14, 2017.
The Daily Mail has a good write up, with plenty of repetitive photos of Macron's £380 suit from Jonas and Cie and his 64-year-old wife Brigitte Trogneux's teenage legs. Trogneux wore a powder blue Louis Vuitton suit, price unknown.
On the night he won the first round, Trogneux wore skin tight black leather trousers and a cropped jacket. Seen from the back, she could have been mistaken for a much younger woman.
But I digress.
The Mail has a photo of Macron's parents, likely the only contemporary one we will ever see.
Sunday began with a huge red carpet rolled out at the Elysée Palace. After the ceremony inside, Hollande stood on the Elysée steps for the final time to rapturous applause. Macron escorted Hollande to a waiting car.
From there, the new president then went up the Champs Elysées to the Arc de Triomphe to lay a wreath at the tomb of the unknown soldier. A military ceremony took place.
After lunch at the Elysée Palace, Macron made a traditional presidential trip to the Hôtel de Ville (City Hall), which looked like this earlier in the day. Presumably, more people attended:
Then again, judging from the next tweet, I'm not so sure.
The caption translates as 'The sadness of a president elected by default. No one there to acclaim him, nowhere. This pretence of a celebration!':
It's important to note the following:
Mr Macron, the former unelected Economy Minister, left Mr Hollande's government to form his own electoral movement, En Marche! [On the Move], in April 2016.
Despite this, Hollande said he wanted today's handover of power to be 'simple, clear and friendly'…
The 64-year-old [Hollande] launched Macron's political career, plucking him from the world of investment banking to be an advisor and then his economy minister.
'I am not handing over power to a political opponent, it's far simpler,' Hollande said on Thursday.
Absolutely.
The plan from the beginning was for Macron to win. Macron is Hollande's heir apparent.
Macron had to run under another label, hence he created his own movement.
This is because the weakness of Hollande's presidency had tarnished the Parti Socialiste (PS) so much that everyone knew they would have a tough time winning.
That said, Manuel Valls, a law and order candidate, would have been a very strong favourite. However, through party machine sabotage, Valls came second in the PS primaries to the lacklustre former education minister Benoît Hamon. There was no way that Hamon could have beaten the conservative François Fillon, who was top in the polls in January 2017.
In order for Macron to win — the plan all along — Fillon, Nicolas Sarkozy's prime minister, had to be brought down. This began happening on January 25, through a series of alleged financial scandals which dogged him until April, effectively stopping his campaign.
With Fillon out of the way, Macron had a clear path to victory. The French do not want Marine Le Pen in the Elysée.
The beauty of Macron's En Marche! is that, even if he makes a total hash of his five years in office, the PS will have regrouped by then and En Marche! can be quietly put to sleep, with its leader likely moving on to bigger and better things in the private sector.
The following tweet sums up the situation as Hollande left office:
All the above points explain the highly negative tweets surrounding Macron:
To clarify: if a French traveller's stay is under 90 days, there is no visa requirement.
French presidents traditionally make their first trip to Germany, a pattern that Macron duly followed.
This will not end well.
I will have two posts on Macron's private life coming up soon.