You are currently browsing the tag archive for the 'Brigitte Trogneux' tag.
On July 19, 2017, the New York Times (NYT) published a transcript of an extensive interview with President Donald Trump.
Portions of the transcript made French news on Friday, July 21. I heard it on RMC at lunchtime. Trump was most effusive about his meeting with French president Emmanuel Macron. Relevant excerpts will appear in this first part detailing the Trumps' trip as well as the second entry which will cover events on July 14, Bastille Day.
The French government decided months ago — before the US election last autumn — to invite the American president for Bastille Day commemorations on July 14, 2017. This year marks the centenary of American troops arriving in France during the Great War, and the French wanted to roll out special ceremonies of remembrance and thanksgiving.
Trump is not the first foreign leader to have been invited for Bastille Day celebrations. It is a common occurrence.
Security was tighter than usual in Paris during this time, but, despite the American president's remarks about their country, the French were looking forward to the Trumps' visit. A British journalist was thrilled they would be spending so much time in his neighbourhood.
No one could have predicted how well this trip went, possibly even President Trump and First Lady Melania.
Trump told the NYT how he reacted to the invitation:
… when Macron asked, I said: "Do you think it's a good thing for me to go to Paris? I just ended the Paris Accord last week. Is this a good thing?" He said, "They love you in France." I said, "O.K., I just don't want to hurt you."
Add to that the fact that Macron met with his beloved Angela Merkel the morning of Trump's arrival on Thursday, July 13.
The Trumps landed that morning:
The French were fascinated by Trump's reinforced Cadillac, The Beast.
While Macron and members of his cabinet spent time with Merkel and her German delegation, the Trumps had prior commitments.
Mrs Trump visited the Necker Hospital for children:
She spent time with patients:
Her husband was at the US Embassy for meetings.
Later, the couple met at the embassy where Trump addressed an enthusiastic gathering of military families and American veterans who served in the Second World War:
A somewhat younger audience was also delighted:
In covering the event, CNN's Poppy Harlow mistook the Star Spangled Banner for La Marseillaise.
You can see more embassy photos here, here and here.
There was no meeting at the Elysée Palace until after the tour of Les Invalides, the military museum, formerly a military hospital that Napoleon had built. It is a splendid place to visit.
The next few photos are from Les Invalides. You can see a news clip here which shows how grand it is and the welcome ceremony Macron laid on.
The Beast arrived:
What a magnificent setting:
Strict protocol was observed throughout:
Macron gave the Trumps a tour of the museum. No doubt it included quite a history lesson as the French president has always been scholarly, even from his early childhood:
Maréchal Foch's tomb was also part of the tour. The comment in the tweet explains why nearly every large French town and city has a Boulevard or Avenue Maréchal Foch:
Trump told the NYT that he was impressed with Macron's commentary on Napoleon and the tour of Les Invalides.
Afterwards, Macron hosted Trump at the Elysée.
It was a tight squeeze for The Beast:
Meetings took place, likely to have included counter-terrorism in the Horn of Africa:
A press conference followed:
It emerged that Trump spoke with the press on the flight to Paris. Bloomberg has a transcript.
You can watch the 35-minute press conference here.
Macron looked pleased:
The Guardian predicted a synergy between the two men whilst acknowledging Macron's opportunism (emphases mine):
The deeper worry for the UK must be that Trump warms to Macron's energy, and finds the British, preoccupied by the intricacies of Brexit and led by a "loser" who wasted her parliamentary majority, comparatively less appealing. His state visit to the UK – stalled at least until next year – is in danger of becoming a symbol of an ailing special relationship.
Above all Macron, unlike May, has shown himself to be an operator. At the "family" photo-shoot at the G20, Macron, realising his relatively small frame and slated for a rather undistinguished position in the second row, simply ignored protocol and inserted himself in the front row next to the US president. Trump may be an isolationist, but few politicians want to isolate themselves from him.
Equally, after the Manchester terrorist attack in May, Macron walked from the Élysée to sign a condolences book. A letter of gratitude for the gesture from the British embassy received a handwritten reply from Macron to the effect "it is what should be expected". Gallic charm and symbolism have their virtues.
Trump confirmed to the NYT that Great Britain can wait:
BAKER: Will you go to Britain? Are you going to make a state visit to Britain? Are you going to be able to do that?
TRUMP: As to Britain?
BAKER: Yeah.
HABERMAN: Will you go there?
[crosstalk]
While the meetings and press conference took place, Brigitte Macron took Mrs Trump on a tour of Notre Dame Cathedral …
… and a boat tour of the Seine:
That evening, the Macrons hosted the Trumps for dinner at the upmarket restaurant, the Jules Verne (more here):
It is one of Alain Ducasse's restaurants. You can see him in the video below:
The restaurant was closed to other diners, although photographers were allowed in from time to time:
While they had dinner, the main course of which was lobster, Trump's entourage took a night-time tour of the city.
Then it was time to get some rest:
Mrs Trump closed the day by sending a thank you via the White House:
"France is a beautiful country that is rich in history and culture," said First Lady Melania Trump. "I am grateful to President and Mrs. Macron for their gracious invitation and hospitality as we celebrate Bastille Day with them, which is not only a celebration of France's national day, but on this occasion, in 2017, also honors the historic cooperation between France and the United States during the First World War." The First Lady continued, "I also want to take a moment to thank the employees and families of the United States Embassy for all of their hard work on behalf of our country, and to extend my warmest wishes to the patients and staff at Necker Hospital. My visit with the patients was very special, and I will continue to keep them all in my thoughts and prayers for a speedy recovery."
You can see more images here, here, here, here and here.
The Daily Mail, The Telegraph and Breitbart each has a series of photos of the Trumps and Macrons taken on July 13.
A review of July 14 comes next week.
Yesterday's post related how Emmanuel Macron met Brigitte Trogneux, his wife and former teacher.
Today's post describes a bit more about his youth and Brigitte's involvement.
When he was a little boy, Macron often went to his maternal grandmother's house. Germaine, who died in 2013, was a retired schoolteacher. She instilled in her grandson a love of books and education. She was also keen for him to become a politician. She died in 2013. However, from the beginning, he was accustomed to being around older people.
When Macron was 15, he was a student at the Jesuit-run La Providence school in Amiens. Trogneux, then Mme Auzière — a mother of three, married to André-Louis Auzière — taught French and drama. The first lady of France told an interviewer before her husband became president that when the young Macron auditioned for the school play:
'I just found him incredible. He had such presence.'
She went on: 'Without doubt he wasn't like the others. He was always with the teachers. He simply wasn't an adolescent.'
The Daily Mail has photos of this particular production, including her giving him a congratulatory kiss at the end.
She was close to her 40th birthday at the time.
The Mail researched several of her interviews with French media, one of which had this:
'At the age of 17, Emmanuel said to me, 'Whatever you do, I will marry you!',' Miss Trogneux told Paris Match magazine last year.
Macron's parents were less than pleased. Heavy has 5 Fast Facts about Trogneux, including a description of how things unfolded at home in 1993 (emphases mine below):
According to the book Emmanuel Macron: A Perfect Young Man by Anne Fulda, Macron's parents told Trogneux to stay away from their son, at least until he was 18.
As Vogue notes, Macron's parents tried to split them up by sending Macron to Paris to finish his studies, but that didn't work.
"I cannot promise you anything," Trogneux told his parents, Fulda writes, notes Reuters. Their relationship continued and they married in 2007, after Trogneux and her husband divorced.
Macron's parents told Fulda that they believed their son was actually going after the heart of Trogneux's daughter. They were stunned to hear that this wasn't the case.
"We couldn't believe it. What is clear is that when Emmanuel met Brigitte we couldn't just say: 'That's great,'" Macron's mother told Fulda.
Then there was the possibility of Macron not having his own children. Starting one's own family is a top priority in France. Macron's mother had words for her son's teacher:
She is quoted as telling Trogneux, "Don't you see. You've had your life. But he won't have children with you."
This came true. Macron stated the reasons why:
During a BMFTV interview in April, Macron made it clear that he and his wife have decided not to have any children, Gala notes. He's already the step-grandfather of seven children.
"We have chosen not to have children. A choice that was not selfish for me," he told BMFTV. "It is a choice that has been assumed, which I had to make very young given the age difference …"
As the years passed, time healed the wounds between Macron's parents and the May-December couple:
Although Fulda did interview Macron and Trogneux, Macron's spokesman said he was disappointed that she didn't ask about his parents' approval of the relationship.
And, yes, the middle-aged teacher probably had broken the law, however:
"Emmanuel's parents were keen on emphasizing that they did not lodge a complaint against Brigitte Auziere (Trogneux's married name) for corruption of a minor," Macron's spokesman said, reports Reuters.
Even today, years later, she said:
"Nobody will ever know at what moment our story became a love story. That belongs to us. That is our secret," Trogneux is quoted as saying in the book.
Macron, 39, is two years younger than his step-son. He is the same age as his elder step-daughter and was a classmate of hers. He is only nine years older than Brigitte's youngest child, Tiphaine Auzière.
Tiphaine, a lawyer, worked on Macron's campaign.
Brigitte is very close to her second husband. The couple firmly expect that she will have an important role to play in his presidency.
One wonders whether she will have the family chocolates in the Elysée Palace. Heavy points out:
Trogneux's parents were Jean Trogneux and Simone Pujol. They had six children, with Trogneux as the youngest, according to Geneanet.org.
L'Express notes that Trogneux's family is well-known in the north of France for their chocolates. Her nephew, Jean-Alexandre Trogneux, leads the family business, which made four million euros in 2013 alone.
The Jean Trogneux website has a full list of merchandise. The chocolates and other specialities are very pricey.
There's a joke here, because the company makes the famous Macaron d'Amiens, which Catherine de Medici introduced in the 16th century:
The company's best-known product are their macaroons, or Mac[a]rons d'Amiens. In 2014, a local jokingly told Le Parisien that, "We already had the macaroon from Amiens. Now we also have the Macron d'Amiens!"
Such an unusual marriage cannot be without rumour:
Macron's unconventional marriage has led some to speculate that he's secretly gay. Back in February, he laughed off rumors that he was having an affair with Radio France CEO Mathieu Gallet … The Telegraph reports.
The NATO meeting and G7 summit last week put Brigitte Trogneux in the world spotlight. One French report said that Trogneux has the world at her feet (see the first 1:51 minutes):
Not everyone commenting on the video agreed (translation mine below):
It's more like Melania Trump who has the world at her feet!
Trogneux, 64, has teenage legs, to be sure. However, she doesn't need to show them off so much at every opportunity.
Here's another video of her attire contrasted with Melania Trump's:
In closing, below are links with photos of Macron's family from his inauguration ceremony.
The senior Macrons have been divorced for several years. However, Jean-Michel and Françoise Nogues-Macron were photographed together at the Elysée. Macron's mother is a retired physician and his father is a professor of neurology at the University Hospital in Amiens. Macron's brother Laurent, a radiologist in the Paris region, is two years younger than the president and was at the ceremony, although no one in the media knows what he looks like. Their younger sister Estelle, a kidney specialist near Toulouse, did not attend.
One cannot help but wonder whether Macron, too, would have gone into medicine if his secondary school years hadn't changed him so much.
In any event, I'm still thinking about a husband cuckolded by a 15-year-old and a set of very shocked parents. It's disgusting.
What follows is the background to Brigitte Trogneux and Emmanuel Macron's past.
The following tweets say:
'It's true that sleeping with students of 15 years of age is completely gross, borderline predatory, but it's a woman, so it's okay'. (Sarcasm alert there.)
'When journalists put romance in a story of corruption of a minor by a person in authority. Beauty in what is ugly.'
My translation of the article follows:
When she met Emmanuel Macron, then aged 15, Brigitte Trogneux was married to a certain André-Louis Auzière. A portrait of her first husband and the father of her three children.
Brigitte Macron never leaves Emmanuel Macron's side: an important source of support that the presidential candidate never missed emphasising during his numerous speeches and regular meetings. It has to be said that the couple are very closely knit, despite their significant age difference. The two lovebirds met in 1993 in a context more academic than romantic. At the time, Brigitte Trogneux was a French and drama teacher in the city of Amiens and very much married …
Coming from the comfortable middle class in Amiens, the young Brigitte Trogneux married André-Louis Auzière, two years her senior, although she was only 21 at the time. The ceremony took place in Le Touquet in June 1974. The son of an accountant in the public sector, André-Louis Auzière worked in a bank, the Crédit du Nord, and lived in Paris. He was born in the small town of Éséka, situated in northwestern Cameroon, as his father worked as a civil servant in this former French colony.
Emmanuel Macron born the same year as his step-daughter
The year after their marriage, André-Louis was transferred to Strasbourg. The couple began a new adventure in Alsace, soon followed by the birth of their son Sébastien that same year. Two years later, little Laurence arrived on the scene. She was born in the same year as Emmanuel Macron: 1977. André-Louis and Brigitte returned to live in Amiens, where, in 1984, they welcomed the arrival of their third and last child, Tiphaine. As she reached the age of 40, Brigitte seemed, for all intents and purposes, happy … however.
During a theatre workshop, she met young Emmanuel Macron, then 15 years old. She rapidly fell under his spell, intelligence and ardour. Anne Fulda, author of the book Emmanuel Macron, un jeune homme si parfait ('Such a perfect young man'), wrote in the biography, 'She spoke little of André-Louis Auzière. […] Because there were things she did not want to, or could not, say? In any event, he certainly was not making her very happy'.
Romantic encounters in Paris
The teacher and student began seeing each other outside of school … and were soon noticed by the residents of Amiens. On the one hand, those close to Emmanuel Macron opposed this romance taking place while her marriage was foundering more and more. The teacher finally left to work in Paris, where she met up with her young lover who [by then] was studying at Henri IV high school. In 2006, the Grand Tribunal in Amiens granted a divorce to Brigitte and André-Louis Auzière. One year later, she married Emmanuel Macron in Le Touquet for the continuation of an enduring love story.
Ugh!
I have more on this to come, but, to clarify: Macron's parents pulled him out of La Providence, the Jesuit school in Amiens where Trogneux was teaching, and sent him to Paris to Henri IV, a secondary school in the Latin Quarter that, despite its motto 'A Home for All', prepares its students for admission into the most elite institutions of higher education. Little did the Macrons know that Brigitte was fully prepared to follow their son to the capital.
In closing, two geographical notes: Amiens is a cathedral city in the north of France and Le Touquet is a popular upmarket resort not too far away on the coast. It is also known as a place for lovers, so it comes as no surprise that people go there to get married.
After President Donald Trump's successful visits to Saudi Arabia and Israel, he and First Lady Melania Trump went to Europe.
I covered their visit to Vatican City in the comments on the Israel post.
The next stop was Brussels.
The first item of business on Thursday, May 25, 2017 was to address the leaks that had emerged from US intelligence or law enforcement about confidential aspects of the suicide bombing that had taken place on Monday, May 22.
British Prime Minister Theresa May was furious that the US had leaked sensitive information. From the BBC:
Details about Abedi's identity had already emerged in the US media less than 24 hours after the explosion and against the UK's wishes.
Home Secretary Amber Rudd said she was "irritated" by the disclosure of Abedi's identity and had warned Washington "it should not happen again".
However, the pictures of debris – which appear to show bloodstained fragments from the bomb and the backpack used to conceal it – were subsequently leaked to the New York Times, prompting a furious response from within Whitehall and from UK police chiefs.
BBC security correspondent Gordon Corera says UK officials believe that US law enforcement rather than the White House is the likely culprit for the leaks.
Trump issued an official statement, which reads in part:
I am asking the Department of Justice and other relevant agencies to launch a complete review of this matter, and if appropriate, the culprit should be prosecuted to the fullest extent of the law.   
There is no relationship we cherish more than the Special Relationship between the United States and the United Kingdom.
The Daily Caller provided Attorney General Jeff Sessions's comments:
I share the president's deep concern and talked to Home Secretary Rudd yesterday about this matter. These leaks cannot be tolerated and we will make every effort to put an end to it. We have already initiated appropriate steps to address these rampant leaks that undermine our national security.
This was a temporary situation which the two nations quickly resolved:
However, Trump is unlikely to be in a good mood once he returns to the White House. Next week's news cycle should be interesting.
This graphic describes Trump's mood in Brussels (courtesy of a contributor to The Conservative Treehouse):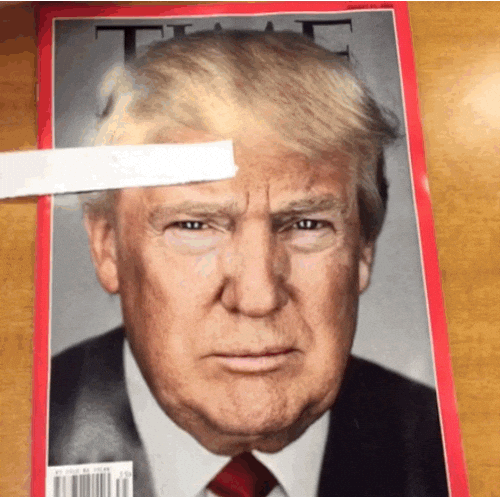 Unbelievably, French President Emmanuel Macron posted this video of Trump strongarming him into a handshake. Seconds earlier, Macron walked straight towards Trump before snubbing him for Angela Merkel:
Despite the smiles and hand gestures, their brief photo op and statements looked chilly:
In another group shot of NATO leaders, the following video makes it look as if the American president forced his way to the forefront:
A Washington Post reporter who lists her American allegiance last, tweeted:
In reality, Prime Minister Dusko Markovic of Montenegro had accidentally stepped on Trump's foot.
A contributor at The_Donald couldn't help but react:
Trump visited members of NATO today, and while walking with several members, is seen moving PM Dusko Markovic aside. The corrupt and fake media took this video clip and spun it completely into FAKE NEWS territory by saying:
"DONALD TRUMP SHOVES A MEMBER ASIDE IN ORDER TO REMAIN IN FRONT OF THE GROUP"
… You can CLEARLY see he winced in pain after his foot was apparently stepped on, and he moves the Prime Minister aside to get him off his foot. Even the PM reacts the moment he steps on Trump's foot, knowing he caused him pain.
Here's the clip in slow motion:
A ceremony took place for the new NATO headquarters and a memorial which included a metal remnant the 9/11 attack in 2001 and a chunk of the Berlin Wall from 1989. In his address, Trump said:
I want to extend my appreciation to the 9/11 Memorial and Museum in New York for contributing this remnant of the North Tower, as well as to Chancellor Merkel and the German people for donating this portion of the Berlin Wall.  It is truly fitting that these two artifacts now reside here so close together at the new NATO Headquarters.  And I never asked once what the new NATO Headquarters cost.  I refuse to do that.  But it is beautiful.
Each one marks a pivotal event in the history of this Alliance and in the eternal battle between good and evil.  On one side, a testament to the triumph of our ideals over a totalitarian Communist ideology bent on the oppression of millions and millions of people; on the other, a painful reminder of the barbaric evil that still exists in the world and that we must confront and defeat together as a group, as a world.
This twisted mass of metal reminds us not only of what we have lost, but also what forever endures — the courage of our people, the strength of our resolve, and the commitments that bind us together as one.
We will never forget the lives that were lost.  We will never forsake the friends who stood by our side.  And we will never waiver in our determination to defeat terrorism and to achieve lasting security, prosperity and peace.
Thank you very much.  It's a great honor to be here.  Thank you.
However, it's what he said before that really matters:
The following graphic from a contributor at The Conservative Treehouse explains Trump's objections. Out of each nation's GDP, the percentages reflect how much goes towards defence, NATO and otherwise:
We pay 4% to NATO defense budget.
We will pay 36% for our defense overall.
They pay less than 2% of their GNP for practically their entire defense overall.
NATO ally flags were raised cermonially:
The flypast:
Whereas Trump diplomatically summarised the meeting as being one of united interests:
Emmanuel Macron made it a Europeans-only occasion:
Fortunately, the NATO spouses and partners seemed to get on better. Melania Trump was buddied with Brigitte Trogneux, Macron's wife and his former high school teacher.
The group went on a tour of the Magritte Museum (Magritte misspelled below):
The Daily Mail, with excellent photos, reported on the visit to the royal palace:
Melania and Brigitte, who met while touring the Magritte Museum in Brussels earlier in the day, posed for pictures alongside the royal [Queen Mathilde] and the other spouses at the royal residence
Mrs Trump also had her own engagements that day:
The next and final stage of the trip is the G7 conference in Taormina, Sicily.
The Trumps left Brussels on Thursday, flying to Italy, then onto Taormina. Watch the Italian guard at 43 seconds in sneak a brief smile to the Trumps:
Trump tweeted:
Taormina is a beautiful ancient city:
This was the schedule and list of participants for Friday, May 26:
The 43rd G7 summit is taking place in Taormina, Sicily, between May 26-27. Attendees will include the leaders of the Group of Seven member states, as well as representatives of the European Union.
The summit is set to be the first for British Prime Minister Theresa May, French President Emmanuel Macron, Italian Prime Minister Paolo Gentiloni, and US President Donald Trump.
Other participants include German Chancellor Angela Merkel, Canadian Prime Minister Justin Trudeau and his Japanese counterpart Shinzo Abe. The EU will be represented by European Commission President Jean-Claude Juncker and European Council President Donald Tusk.
COVERAGE SCHEDULE:
06:00-08:00 GMT – Arrivals from Sigonella airbase.
08:00-09:00 GMT – Jean-Claude Juncker and Donald Tusk press conference.
09:30-10:30 GMT – Welcome cerimony and family photos at Greek Theatre.
10:00-10:30 GMT – Moving to Hotel San Domenico.
10:45-11:30 GMT – Arrivals at Hotel San Domenico. Tour de Table.
17:00-18:00 GMT – Concert for the opening of the G7 Summit at Greek Theatre.
18:15-18:45 GMT – Welcome ceremony and family photo at Hotel Timeo. Official dinner hosted by Italian President Sergio Mattarella.
A concert by La Scala Philharmonic Orchestra and dinner with President Mattarella followed.
Foreign Policy reported that Trump has an important American objective at the G7:
President Donald Trump's controversial senior advisor and speechwriter, Stephen Miller, has led White House efforts to undercut an initiative by Italy to place the migration crisis at the center of this week's Group of Seven major summit meeting starting Friday in Sicily.
For Italy, the summit in Taormina, Sicily, was to provide a poignant opportunity to raise awareness of the plight of hundred of thousands of refugees who cross the Mediterranean Sea to Italy's shores each year, and to reach agreement on a plan to find them permanent homes.
But the Donald Trump White House has largely blocked its Italian host from putting forward an initiative addressing the need to resettle millions of refugees and migrants who have poured into Europe on rickety boats or crossed borders on foot over the past decade. Instead, the United States has pressed the leaders to cap the session with a stern declaration on the need to fight terrorism, a cause that gained added urgency following a grisly suicide bombing at an Ariana Grande concert in Manchester.
The rearguard action was led by the 31-year-old Miller, who has exercised outside influence over the summit's response to the worst refugee crisis since World War II.  In line with President Trump's pledge to build a wall to keep Mexicans out of the United States, the White House has been pressing the G-7 leaders to focus more attention on the need to prevent illegal immigrants from crossing borders than on finding migrants who make the journey a permanent home.
Trump also intends to push back on other G7 preoccupations:
including climate change, trade, and migration that until recently aligned closely with President Obama's foreign-policy vision.
This G7 summit should prove to be a delicate one to be navigated diplomatically. The summit concludes on Saturday, May 27.
Emmanuel Macron officially became France's president on Sunday, May 14, 2017.
The Daily Mail has a good write up, with plenty of repetitive photos of Macron's £380 suit from Jonas and Cie and his 64-year-old wife Brigitte Trogneux's teenage legs. Trogneux wore a powder blue Louis Vuitton suit, price unknown.
On the night he won the first round, Trogneux wore skin tight black leather trousers and a cropped jacket. Seen from the back, she could have been mistaken for a much younger woman.
But I digress.
The Mail has a photo of Macron's parents, likely the only contemporary one we will ever see.
Sunday began with a huge red carpet rolled out at the Elysée Palace. After the ceremony inside, Hollande stood on the Elysée steps for the final time to rapturous applause. Macron escorted Hollande to a waiting car.
From there, the new president then went up the Champs Elysées to the Arc de Triomphe to lay a wreath at the tomb of the unknown soldier. A military ceremony took place.
After lunch at the Elysée Palace, Macron made a traditional presidential trip to the Hôtel de Ville (City Hall), which looked like this earlier in the day. Presumably, more people attended:
Then again, judging from the next tweet, I'm not so sure.
The caption translates as 'The sadness of a president elected by default. No one there to acclaim him, nowhere. This pretence of a celebration!':
It's important to note the following:
Mr Macron, the former unelected Economy Minister, left Mr Hollande's government to form his own electoral movement, En Marche! [On the Move], in April 2016.
Despite this, Hollande said he wanted today's handover of power to be 'simple, clear and friendly'…
The 64-year-old [Hollande] launched Macron's political career, plucking him from the world of investment banking to be an advisor and then his economy minister.
'I am not handing over power to a political opponent, it's far simpler,' Hollande said on Thursday.
Absolutely.
The plan from the beginning was for Macron to win. Macron is Hollande's heir apparent.
Macron had to run under another label, hence he created his own movement.
This is because the weakness of Hollande's presidency had tarnished the Parti Socialiste (PS) so much that everyone knew they would have a tough time winning.
That said, Manuel Valls, a law and order candidate, would have been a very strong favourite. However, through party machine sabotage, Valls came second in the PS primaries to the lacklustre former education minister Benoît Hamon. There was no way that Hamon could have beaten the conservative François Fillon, who was top in the polls in January 2017.
In order for Macron to win — the plan all along — Fillon, Nicolas Sarkozy's prime minister, had to be brought down. This began happening on January 25, through a series of alleged financial scandals which dogged him until April, effectively stopping his campaign.
With Fillon out of the way, Macron had a clear path to victory. The French do not want Marine Le Pen in the Elysée.
The beauty of Macron's En Marche! is that, even if he makes a total hash of his five years in office, the PS will have regrouped by then and En Marche! can be quietly put to sleep, with its leader likely moving on to bigger and better things in the private sector.
The following tweet sums up the situation as Hollande left office:
All the above points explain the highly negative tweets surrounding Macron:
To clarify: if a French traveller's stay is under 90 days, there is no visa requirement.
French presidents traditionally make their first trip to Germany, a pattern that Macron duly followed.
This will not end well.
I will have two posts on Macron's private life coming up soon.