You are currently browsing the tag archive for the 'building back better' tag.
The arrival of the Holy Spirit upon the disciples on the first Pentecost — the Church's birthday — enabled something highly beautiful out of a group of people who had previously seen through a glass darkly, to paraphrase St Paul.
Similarly, the gifts of intellect, creativity and perseverance can produce similar beauty.
Yesterday, on the night of Pentecost Sunday 2021, someone posted a fantastic video of woodworking by an artisan, Andy Phillip from Skipton, North Yorkshire, who produces a variety of beautiful woodwork for sale.
In this video from May 12, he shows us how he transformed a yew tree root, something most of us would throw into the recycling bin, into a piece of art. I was spellbound watching his 11-minute video:
Another example of transformation is in housing, also somewhere in England. The person who posted this online says this building actually exists and claims to have seen it, although he did not say where. From Bauhaus to beautiful house: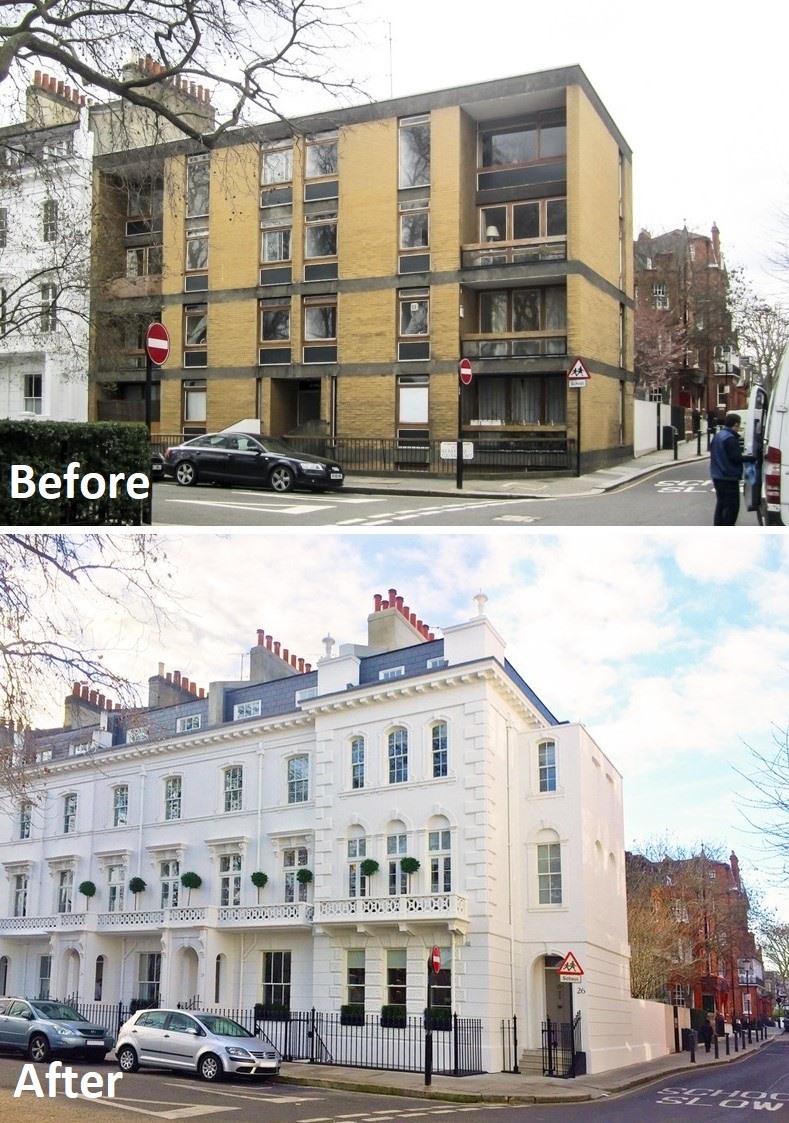 Isn't that block of flats splendid? If the Conservatives go through with their plan for 'building back better' post-coronavirus with beautiful buildings, I'll be all for it.
These two examples just go to show what mankind is capable of when using God's gifts to the fullest.
Public Health England is being reorganised, but not before they have a go at coronavirus statistics.
As of October 9, 2020, coronavirus and flu stats COULD appear combined in ONE statistic:
Here we go (note the yellow highlight below). This went into effect on Thursday, October 8, 2020:
Let this news sink in and click on the text image (see 11:12 below) for more information:
Good grief.
Where could this lead?
Those who have listened carefully to Matt Hancock, the Secretary of State for Health and Social Care, have made the following observation, probably concerning the absolute necessity (not) of getting a flu jab (shot, vaccine):
Even lockdown advocates should be concerned:
Standing back for just a moment, will this be a report that clearly separates the two maladies?
Which takes precedence — COVID-19 or the flu?
Whatever the case, this has a huge bearing on how the English lead their lives during the foreseeable future. Sadly, we have no answer and no influence:
We can but see.
However, has this tactic from public sector organisations and the Government come too late in the game?
For those who doubt the reason behind this move, think about looking at a blurry photograph or video of your loved ones, impossible to identify, and being asked if you wanted to keep it. Most people would say, 'No, thanks, I have better ones already'. This is the same type of situation.
When it comes to health, we need to see specifics, not blended statistics that leave us in the dark.
Meanwhile, Matt Hancock continues to fearmonger, claiming that a vaccine is the only way out:
Thankfully, some replied:
Please, Lord, how long can this go on?
What are the unknown stories and statistics behind the dangers of lockdown?
One day, we will find out. We will not be happy.