You are currently browsing the tag archive for the 'California' tag.
President Donald Trump's Weekly Address of April 7, 2018, took aim at California's legislature and at Democrats:
This is what he said (emphases mine, H/T to 8chan for the transcript):
My fellow Americans, the Federal Government is charged with the sacred duties of protecting our Nation, supporting our Constitution, and defending our borders. We also have to ensure the equal application of our laws in all 50 states. Last year politicians in California violated the Constitution by nullifying federal law and declaring their state to be a sanctuary from federal immigration enforcement, a border-free zone where thousands of criminal aliens can roam free, a very, very dangerous situation unacceptable to everyone.
Their actions not only imperil the security of the people of California, but the security of the entire Nation. California's sanctuary bill should be called the Jail Break Bill, because that's exactly what it is. They force the release of criminal aliens from prisons and jails, including drug traffickers and dealers responsible for the deaths of countless Americans. It's gotten totally out of control. We can't allow it to go on.
California's law also increases our vulnerability to terrorism by keeping life-saving information from federal authorities. The relationship is ridiculous. It forces law enforcement not to work together. Last week, citizens of Orange County, California bravely resisted the open borders politicians in Sacramento. The Orange County Board of Supervisors courageously voted to join the Administration's lawsuit to stop these dangerous and unconstitutional actions. All across California and all over America everyday citizens are taking a stand to protect their families, protect their borders, and protect their country.
Every citizen has the right to be protected by federal law, and when politicians in California break those laws, they violate the Constitutional Rights of their citizens. My message to communities under siege from drugs and gangs and violence is, you can stop this. And you can stop it cold. Partner with the federal government so we can help to remove these threats from your communities, and restore peace to our streets. I'm also calling on Congress to immediately close the deadly border security loopholes that endanger our country. All over our country, we're living with laws that don't work. Congress has to change them. Democrats in Congress are doing everything in their power to undermine immigration enforcement and encourage illegal immigration. Their policies are putting all of America at risk. It is so bad, it's hard to believe what they're doing and why they are doing it. We can't let it continue. The Democrats are not doing what's right for our country. I will not rest until we have secured our borders and restored the rule of law. We will win, and we will win soon. It's happening.
Whoa!
Are there laws that apply in this situation? Yes, there are. Here are two of them:
I learned about these in history class. Schools probably don't teach this anymore.
Fortunately, Californians are speaking out and voting against the state-wide sanctuary policy:
In related news, President Trump has signed a presidential memorandum to end catch and release:
BizPacReview has an excellent article on this policy which has been in force for years:
The order directs the Department of Homeland Security to provide "a detailed list of all existing facilities, including military facilities, that could be used, modified, or repurposed to detain aliens for violations of immigration law at or near the borders of the United States."
"Catch and release" has been a de facto policy followed by ICE (Immigration and Customs Enforcement) for years because the department lacked enough resources to detain illegal immigrants.
The policy has been widely slammed because it allows illegal aliens to stay in the United States until their immigration trial date, which most do not show up for.
Meanwhile, in Mexico:
Ironically, Mexico (and most other countries) immediately expel illegal aliens, but expect American taxpayers to pay for their housing, education, and healthcare costs.
Also:
… the Mexican government issued a 31-page pamphlet, "Guide for the Mexican Migrant," that instructs Mexican illegals to the United States on how to avoid deportation. Critics say the Mexican government actively encourages illegal immigration to the U.S. because they want to export poor, uneducated Mexicans out of their country.
Note that Dems are preoccupied with the cost of Trump's wall, however:
While Democrats like Nancy Pelosi, Chuck Schumer, and Maxine Waters have blocked funding for a border wall claiming it's too expensive, they blithely ignore that illegal immigration costs U.S. taxpayers more than $113 billion every year. By comparison, President Trump's border wall would cost about $21.6 billion.
Thank goodness that Trump spoke out so forcefully. Millions will be watching to see what happens next.
I had never heard of MS-13 until last year.
Since then, I run across a mention of them nearly every week without even trying.
My post yesterday dealt with the latest strategy to fight this alarming and deadly gang.
MS-13 have had an incredible and terrifying expansion in the United States. I recently saw a History Documentary Channel film on them and would like to share it with you along with a bit of California gang history.
For my European readers, this gang might appear to be an American and Central American phenomenon, however, primary school children in North Brabant, The Netherlands, are beginning to copy MS-13's violent behaviour (see here and here).
California gang organisation
In California, gangs operate on a North-South divide. The boundaries are marked by the towns of Delano and Bakersfield.
Gangs from the North are called Norteños: Northerners. They affiliate with the larger criminal organisation Nuestra Familia, which formed in 1968 in the Soledad Correctional Facility, located in Monterrey County. Their main income comes from drugs: cocaine, heroin, cannabis and methamphetamine. Nuestra Familia's Wikipedia entry points out:
While members of the Norteños gang is considered to be affiliated with Nuestra Familia, being a member of Nuestra Familia itself does not signify association as a Norteño.
The number of the Norteños is 14. N is the 14th letter of the alphabet and is the first letter in Nuestra Familia. They write the number 14 as XIV or X4. They tattoo themselves with four dots. Their colours are red and black.
Sureños — Southerners, also SUR (Southern United Raza) — are gangs that operate from the southern part of the state, although some have a presence in northern California. They affiliate with the organisation Mexican Mafia, created in 1957 at what was then the Deuel Vocational Institution (now an adult prison) in Tracy. It has no original connection with Mexico, but rather Hispanic youth gangs in Los Angeles. Mexican Mafia has no connection with the New Mexican Mafia.
The number of the Sureños is 13. M is the 13th letter of the alphabet and the first letter in Mexican Mafia, also known as La Eme: The M. They write the number 13 as itself but also as XIII, X3, uno tres, trece. They tattoo themselves with three dots. Their colours are blue and grey.
In addition to drug trafficking, Sureños are also very violent. They kidnap, murder, assault and engage in human trafficking.
MS-13 is a Sureño gang.
The rift between the northern and southern gangs took place in 1968:
While La Eme had initially been created to protect Mexicans in prison, there was a perceived level of abuse by members of La Eme towards the imprisoned Latinos from rural farming areas of Northern California.[10] The spark that led to the ongoing war between Norteños and members of the Mexican Mafia involved a situation in which a La Eme allegedly stole a pair of shoes from a Northerner. This event put into motion the longest-running gang war in the state of California and the founding of Nuestra Familia.[10]
MS-13: from LA street punks to big players
Wikipedia states that the etymology of the name MS is in dispute. The gang's full name is Mara Salvatrucha:
There is some dispute about the etymology of the name. Some sources state the gang is named for La Mara, a street gang in San Salvador, and the Salvatrucha guerrillas who fought in the Salvadoran Civil War.[8] Additionally, the word mara means gang in Caliche slang (es) and is taken from marabunta, the name of a fierce type of ant. "Salvatrucha" may be a combination of the words Salvadoran and trucha, a Caliche word for being alert. The term, "Salvatruchas" has been explained as a reference to Salvadorian peasants trained to become guerrilla fighters, referred to as "Farabundo Martí National Liberation Front."[9]
InSight Crime has a good translation of a history of MS-13 which appeared in Spanish on the El Faro site. Insight Crime's Geoffrey Ramsey explains more before going into Sanz and Martinez's history from El Faro. Emphases mine below:
While the MS-13 is more commonly associated with menacing tattoos and violent initiation ceremonies, El Faro's two-part investigation (See Part I and Part II, in their original Spanish) into the gang's history shows that this was not always the case. When starting out at the bottom of the food chain in Los Angeles' gang underworld, the Mara found itself attacked from all sides. The authors, Jose Luis Sanz and Carlos Martinez, claim that the gang's fearsome reputation had to be earned, and was the result of persecution from white and Mexican gangs in the city …
The transition into one of the most ruthless transnational criminal gangs was not an easy one. The Mara Salvatrucha, like other street gangs, emerged from humble beginnings. While most analysts believe that the gang got its start in Los Angeles-area prisons in the 1990s, its roots date back farther than that, to a small group of teenagers in the Salvadoran community in the 1970s:
In the late '70s in LA, the Mara Salvatrucha was just a bunch of ragged teenagers, mostly heavy metal fans. They called themselves "stoners" in reference to rock and the influence of the Rolling Stones, as did other youth gangs — like the Mid City Stoners and The Hole Stoners — who listened to rock and smoked marijuana on street corners and parks in their neighborhoods.
No member of the Mara Salvatrucha Stoners was over 18 years. Most had come to the United States recently, with his parents fleeing poverty in El Salvador. They were the most recent batch of migrants to arrive and none could say that their "territory" was entirely theirs, with no blacks, Mexicans or Koreans.
Still, speaking within the Mara Salvatrucha of stoners is to invoke the pure, the original, the real thing. In the Mara, which maintains a blurred memory preserved by oral traditions, they say that none of these early pioneers are alive, but gangsters who cooly claim to have joined in those early days are aware of the prestige this gives them. Invoking the blurred past is a hallmark of the constant war for respect being waged in the gang.
The LAPD has records of the Mara Salvatrucha Stoners dating back to 1975. Researchers like Tom Ward, of the University of California, have documented the foundation of small cliques or core stoners of the MS in 1978.
It is uncertain when it first began, but some veteran Salvatruchos from LA in the late '70s claim that a dozen stoners began meeting regularly at the Seven Eleven that still exists at the intersection of Westmoreland Avenue and James M. Wood Street. There, at that Seven Eleven, is probably where the first clique of the Mara Salvatrucha began. There are still, in Los Angeles and El Salvador, gang members who belong to it.
The Salvatruchos felt tough. Their tight jeans torn at the knees, black shirts with album covers of ACDC, Led Zeppelin or Kiss, and long hair all shouted defiance. They were involved in fights with similar groups, stole car cassette players and became infamous in schools like Berendo Middle School, four blocks from the intersection of Normandie Avenue and Pico Boulevard. Some even boasted of being satanic while singing Hell Bent for Leather, by Judas Priest. But they hardly had any ambition beyond going to the next concert and feeling powerful by raising their fists into the air and raising two fingers, simulating a pair of horns. For the moment.
Sanz and Martinez explain MS-13's evolution from petty crime into extreme violence as the gang expanded in Los Angeles. Prison served as an enabler, with members getting acquainted with each other and trading information:
Salvadorans formed their own gang to stand up to pressure from other Latinos, finding themselves looked at in disgust by Mexicans and their descendants. It is not easy being the new kid on the block and expecting others to invite you to play with them. Even if the game consists of waging war …
By 1985 most of the MS cliques had moved past their stoner identity and in the following years took up small-scale drug trafficking, or extorted money from corner drug dealers in their areas.
Controlling the street made no sense if you could not get financial benefit from it. They competed with other gangs in order to win in all categories: presence, control, violence … money. [MS-13 affiliated woman] La Chele remembers how the homies came out of jail talking in new terms about the arts of intimidation and power, learned from long cell conversations. She, herself near the end of a brief stay in a prison, found herself bringing order to her clique, which was losing money because it only taxed local drug dealers once a week.
"The homie who was in charge of extortions asked me, 'How do you think you can improve our method, coming out of jail?' And I said, "Simon, you got to charge rent every day, plus the corner dealers can see that red truck of yours from a mile away. When they see it they hide and that's why you don't·manage to get anything."
It took a long time for MS to earn enough street cred so that they could get a powerful ally in the gang world. Sanz and Martinez tell us:
The number 13 is actually a name that indicates homage to a criminal force majeure, the Lords, the Mexican Mafia, which reigns in Southern California. The Mara Salvatrucha would take several years to build that friendship and that number.
MS-13 now an international menace
This brings us to the 45-minute film from History Documentary Channel, MS-13: World's Most Dangerous Gang. It was made in 2016. Some dates differ to what Sanz and Martinez above documented, e.g. when the gang was founded. A summary of the film follows:
Wally
The documentary features the story of Wally, a student at Hollywood High and an Iranian immigrant, having a snack in a neighbourhood restaurant with a friend. On December 17, 2002, an MS-13 girl approached Wally and asked him where he was from, meaning what gang was he with. A few minutes later, a group of male gang members and the girl surrounded him, brutally beating him up. They fled. Bleeding, Wally got up off the floor. He thought that was the end of the incident. Suddenly, a gang member walked back in with a gun and shot him at point blank range.
The senseless attack occurred because the girl and the male gang members were angry when Wally said he was from Iran. He had no gang connection. But Wally protested his innocence in vain.
Wally survived the beating and the shooting, but was now a quadriplegic, in a wheelchair and on a ventilator 24/7. Fortunately, he was able to testify in court against his attackers. He died four months later.
Marvin 'Spy' Guerra was among the defendants in court. He had joined MS-13 in October 2002. Guerra was the guy who went back to the restaurant to shoot Wally. He did that to make a name for himself.
Guerra aimed the gun close to Wally's face. Wally's only option in a split second reaction was to put his hand in front of his face. The bullet went through Wally's hand and into his neck. Guerra had crippled Wally for life.
Guerra received a life sentence. He is eligible for parole in 15 years, therefore, soon.
Honduras
Another senseless attack — a massacre — took place in San Pedro Sula, the second largest city in Honduras. On December 23, 2004, MS-13 members there opened fire on a bus full of families at 6:30 p.m. Women, children and the elderly died in a bloodbath. A Honduran law enforcement official said it was like 'something out of a Hollywood movie', so horrific it didn't seem possible in real life.
The massacre was organised and executed by a Los Angeles MS-13 member.
Two cars blocked the bus, one from the front and the other at the back. MS-13 members first killed the bus driver. They then sprayed the bus with bullets. That wasn't enough. The gang members then went inside the bus to make sure everyone was dead. The law enforcement official said:
It was like a war zone, because the weapons were war weapons — M16s, AK-47s.
Twenty-eight people died, six of whom were children.
Fortunately, Honduran police were able to capture all but one of the killers — the mastermind behind the attack, from Los Angeles. His name is Eber Anibal Rivera-Paz, known as El Coche, or The Tapeworm. He was part of an MS-13 clique the Normandie Locos, referencing Normandie Avenue in Los Angeles.
The Tapeworm had been deported in the 1990s back to Honduras, where he started an MS-13 clique which he headed. He ordered the bus massacre in order to get back at police who were cracking down on the gang.
He made his way back to the United States but was quickly sent back to Honduras by airport immigration. Somehow, Honduran officials were unable to identify him upon his return. Furthermore, someone should have been waiting for him at the airport. When he saw no one was there, he continued on his way.
The Tapeworm has not been seen since. He could be in Honduras. He could be in the United States. He could be anywhere.
Ex-members' stories
Since the 1980s, MS-13 has been growing at a 'phenomenal rate', with a presence in 41 or 42 states today as well as in Latin America.
In its infancy, MS-13's original members had not belonged to gangs in El Salvador. They only formed a gang once they met in Los Angeles near Lafayette Park.
By 1979, approximately 700,000 Salvadorians fled the guerilla war in their own country for the safety of the United States. They settled near MacArthur Park in Los Angeles. One law enforcement official interviewed said that more than 95% of these immigrants wanted to work hard and build a new future for themselves. However, some young Salvadorians felt the tension on the streets near the park, which a Mexican gang, 18th Street, controlled. Salvadorians were not welcome.
Julio Cabrera, a former MS-13 member, said that when he joined in 1987 as Flipper, MS-13 and some of the other gangs got along and partied together. That changed in short order once MS-13 got involved in drug dealing and violence. Eventually, MS-13 began infringing on 18th Street's territory.
In 1990, a fight broke out at a neighbourhood party and an 18th Street member shot an MS-13 member. Some say the shooting started a fierce war between the two gangs. Gunfights took place nightly.
By then, Salvadorians who had fought in their civil war began arriving in Los Angeles. Some joined MS-13. They were tough. They had military training. A law enforcement official says that they had seen and engaged in so much ruthless and extreme violence — e.g. cutting people's arms off with a machete, setting people alight — that it was routine.
When Charlie 'Angel' Vasquez's family arrived in Los Angeles in 1979, he was eight years old. He joined the Parkview Locos, a clique of MS-13 and got two tattoos, one on each arm. One says Mara 13 and the other 213, the city's telephone area code. He said he was an 'adrenaline junkie' at the time and found the gang violence 'exciting'.
He met the aforementioned Julio Cabrera, who helped initiate him into MS-13. The initiation rite consists of getting brutally beaten up by other gang members for 13 seconds. Vasquez says that if a member is enjoying watching someone getting beaten up, he'll count to 13 more slowly.
Such violence and notoriety, Vasquez says, attracted hundreds of new recruits around the city. Not only was MS-13 shooting people without a second thought, they also had a reputation for rape. Vasquez said that he disapproved of rape, but a lot of his fellow 'homies' didn't mind.
MS-13 also had a well known reputation for murder, which Vasquez also participated in. In 1991, he got into a heated argument with a rival black gang member. The black punched him then ran off. Charlie caught up with him. Out of his box on drink and cocaine, Charlie couldn't stop punching his rival. When he stood back, he saw his clothes were covered in blood. His rival died.
Police arrested Vasquez at the scene. Vasquez felt no remorse for what he had done. In fact, he said that he felt proud, especially because his victim was black:
Hispanic gang members are racist.
Whilst in Los Angeles County Jail, he contemplated his next victims ('Chinese? Cops?') and his next crime:
You can't help but think of evil things to do.
Meanwhile, the war with 18th Street was escalating. Drive-by shootings were commonplace, and innocent people were getting shot, sometimes fatally.
Enter the Mexican Mafia, which decided to stop the carnage. It was bad for their business. People stopped hanging out on street corners waiting for their drugs.
The truce took place at Elysian Park. The LAPD filmed it. The Mexican Mafia divided the area around MacArthur Park between the two gangs.
That was when Mara Salvatrucha added 13 to its name. That numerical addition increased their prestige. Soon they branched outside of Los Angeles. New territory was easy to find.
Rapid expansion
By the early 1990s, police forces noticed that MS-13 random violence was taking place far away from Los Angeles.
As the LAPD began cracking down on the gang, members moved elsewhere in the US. This gave them the opportunity to lie low from the police as well as operate in a new environment.
A law enforcement official said that it is easy for the gang to blend in to new surroundings. MS-13 members work by day, often in the building trade or menial labour, so appear to be straight arrows to employers. They enjoy working hard and will move anywhere there is job growth and steady employment.
BUT — well meaning parents also move their MS-13 teenage children to other parts of the country in the belief that they will quit the gang. Joker, who was a member of the Parkview Locos (affiliated with MS-13), said that his mother told him they were going to move to Virginia, where she had family. After six months, Joker picked up where he left off when he happened to meet other LA members there. He wasted no time in setting up a new branch of MS-13 in Fairfax County, Virginia. He began recruiting in middle schools and high schools.
Joker was not alone. This happened all over the United States. By the end of the 1990s, there were 10,000 MS-13 members across the nation.
In Dallas in 2001, the body of a young man was found in the woods. He had been shot execution style — and sodomised.
In Virginia in 2003, hikers found the body of a pregnant teenager along the banks of the Shenandoah River. She had been stabbed 16 times, her head nearly severed.
My post from yesterday has more recent cases.
Illegal immigrants
The Clinton administration instituted new laws to crack down on illegal immigration in the 1990s, closely tied to gang violence.
The aforementioned Tapeworm — who ended up in Honduras — was one of the members deported.
Hundreds of other MS-13 members were deported back to their Latin American countries of origin. They quickly established and led MS-13 branches. They were big fish in a little pond.
However, there was a more pragmatic reason. They returned with no money and no job, just the clothes on their back. Many had no family, so crime and violence were the only options they knew and the ones that came easiest.
El Salvador
Around this time, MS-13 took root in El Salvador.
The aforementioned Julio Cabrera was sent back to El Salvador. The kids on the street thought he was a Hollywood movie star. He started several cliques in the MS-13 style. He had no end of recruits. The gang culture grew quickly.
Charlie Vasquez, who was doing time for beating a black gang member to death, was offered a plea bargain and was deported to his native El Salvador. Unlike a number of his fellow members, he took the opportunity to turn his life around south of the border.
Central America became a gangster's paradise
The teenage recruits that deported MS-13 members cultivated were eager to get the full gang experience.
American culture is a big deal there, and anyone from Los Angeles earns instant respect and adoration.
Police forces in Honduras, El Salvador and Guatemala were overwhelmed by a sudden crime epidemic, which included families being terrorised, sometimes massacred. Victims were afraid to notify the police, and there were cases where police were afraid to confront the gang members or investigate those crimes.
California law
In 2004, laws began changing in California, making it easier not only for people to speak up but also for police to arrest gang members, even for loitering.
However, MS-13 lives on: where there's a will, there's a way.
Law enforcement
Since 2006, the FBI has developed a good working relationship with law enforcement in Central American countries.
Conclusion
Jail and prison have served to further MS-13's reach.
One prison in San Salvador is comprised of MS-13 members only. The inmates hide their telephones and can easily communicate with MS-13 members in the United States. Heinous crimes have been engineered and committed.
The same thing happens from US prisons to Central American MS-13 cliques.
Human trafficking, drugs and money laundering are highly likely to be international operations.
Fortunately, as some MS-13 members get older, they leave. They find jobs and raise families. Some become willing informants, a great asset to the authorities. They get their tattoos removed. Some help young teens avoid gang life. Others turn towards the Church. One former MS-13 member has become a pastor.
MS-13 is an international scourge. Let us hope that the US Attorney General and law enforcement agencies both in the US and Central America can eradicate it.
Coming up on Monday: MS-13's surprising new market
On June 3, 2016 Donald Trump held a campaign rally in San Jose, California.
Violent leftists attacked Trump supporters. Police stood aside and did nothing. The incidents were many and bloody that day. I wrote about one of them at the time for another website:
The violent anti-Trump and anti-Trump-supporters protests in San Jose have beggared belief.
So has the poor response by the city. The mayor, a Hillary Clinton supporter, said that Donald Trump brought the trouble through his 'irresponsible' behaviour. Police did not seem to do much. The lady who was egged put on a jovial face, even though the second egg could have easily blinded her; thank goodness it was just that tiny bit off-target.
Twitchy has a complete catalogue of tweeted videos. Here's the lady who was egged:
A young man was struck in his right temple:
Punches were thrown. More people were injured:
Police did not help:
On March 18, 2017, KCBS reported that Trump's Deplorables can sue San Jose:
A federal judge is giving Donald Trump supporters the green light to pursue their lawsuit against the city of San Jose. The plaintiffs accuse the city for not protecting them during a campaign rally last year.
This is important (emphases mine):
The Trump supporters in this case claim that San Jose police officers intentionally steered them into an angry mob of protesters, following a Trump campaign rally last June.
However, the city of San Jose is confident nothing will happen:
On Wednesday, federal judge Lucy Koh allowed the lawsuit against the city and individual police officers to go forward, however she dismissed claims against Police Chief Eddie Garcia.
Last year, Mayor Sam Liccardo said the lawsuit was baseless.
"The notion that there was some stand down order is ridiculous," Liccardo said.
City Attorney Rick Doyle is confident the city will prevail. Doyle said Wednesday that police officers didn't do anything wrong and were trying to maintain some kind of crowd control in a chaotic situation.
Twitchy has more in their article of March 18, including this:
The Twitchy article points out:
If federal judges are going to block President Trump's executive orders based on things he said on the campaign trail, let's hope that statement by the police about "weighing the need" to protect citizens has just as much influence in this case.
Here are the suspects. These were the only ones arrested, but there were many more who participated in the violence:
A discussion at The Donald provided more information. American police forces often have a motto of 'protect and defend' or 'serve and protect'. Someone mentioned the 1981 case, Warren v District of Columbia:
the police do not owe a specific duty to provide police services to citizens based on the public duty doctrine.
The_Donald's readers see two possible outcomes:
1/ Only if the DoJ files civil rights lawsuits against the chief of police will this go anywhere. Until then assume that San Jose police are actively working for the SJW [social justice warrior] left and behave accordingly.
2/ This could be approached from a failure to protect/prevent a breach of the peace.
Personally, I am not hopeful Trump supporters will win. Regardless, it's the principle that matters. I hope that similar cases will be raised in Berkeley and other cities — and get the green light to proceed.
It seems that people on the wrong side of the law get more protection than the average citizen. This is another reason why Trump won.
I will post an update when it becomes available.
Matt Harrigan, CEO of PacketSled, got tired and emotional on Sunday, November 13.
He issued death threats against Donald Trump on Facebook, dared the Secret Service to come after him then insulted the United States.
Language alert below, however, the truth must out. Image courtesy of The_Donald:
There is no way this could have not been taken seriously. He:
1/ Stated he would 'kill' the president-elect.
2/ Challenged the Secret Service.
3/ Outlined an assassination plan involving a sniper rifle and aiming for one of the bedrooms in the White House then called Trump one of the crudest names in the book.
4/ Told America twice 'in no uncertain terms' where it can go in the crudest of terms.
I really enjoyed the reply from the person who told him where to get off:
for being a whiny CEO of a successful start up as you take your $5,000,000 and continue your success as you drive your Land Rover into your home in a predominantly white coastal city called Del Mar, CA.
Yes, it's true. Someone doxxed (revealed personal details about) Harrigan on Twitter. His home address is out there, along with a map. I wonder how many people stopped by.
The patriots at The_Donald — the finest group of civilian Americans and international supporters — wasted no time in looking into Harrigan. At least one person notified the Secret Service.
PacketSled is a cyber security firm. On October 26, Harrigan posted a photo of himself with former CIA director James Woolsey on his Facebook page.
Weeks earlier, Politico announced on September 12 that Woolsey — who was CIA director under Bill Clinton — will be serving Donald Trump:
as a senior adviser on national security, defense and intelligence, the campaign announced today.
Woolsey appeared on CNN shortly after the announcement, saying he joined the Trump campaign because he favors the Republican candidate's defense budget proposal. Trump has proposed to lift the caps on defense spending. Woolsey also advised Republican John McCain's presidential campaign.
Knowing this, it is curious that Harrigan would then issue blatant death threats against Trump.
On October 4, PacketSled proudly announced that Harrigan was appointed to the board of directors of Cyber Center of Excellence (CCOE) in San Diego (emphases mine):
The San Diego CCOE is a non-profit dedicated to accelerating the region's cyber economy and positioning it as a global hub of cyber innovation. Harrigan will join representatives from Bank of America, ViaSat, Qualcomm, FICO, ESET, Ernst & Young, US Navy SPAWAR, and others in helping to attract and nurture cybersecurity and IT talent, create new opportunities for businesses, and foster cooperation through the local economy.
Harrigan then attempted to walk back his remarks in a long sentence on Twitter.
My humble apologies that a flawed joke has become public/out of context. My poor judgement does not represent the views of @packetsled …
customers, investors or the officers of @packetsled. I have no malicious intention towards the #POTUS, and apologize to all for …
my lack of judgement and offensive commentary. I wish you all well.
He also posted a statement on Facebook:
My recent facebook [sic] comment was intended to be a joke, in the context of a larger conversation, and only privately shared as such. Anyone who knows me, knows that I do not engage in this form of rhetoric with any level of seriousness and the comment most certainly does not represent my real personal views in any regard. I apologize if anything that I said was either taken seriously, was offensive, or caused any legitimate concern. Best Regards, Matt Harrigan
It was, thankfully, too late.
In the early hours of Monday morning, PacketSled issued this statement:
PacketSled takes recent comments made by our CEO, seriously. Once we were made aware of these comments, we immediately reported this information to the secret service and will cooperate fully with any inquiries. These comments do not reflect the views or opinions of PacketSled, its employees, investors or partners. Our CEO has been placed on administrative leave.
I was pleasantly surprised — and relieved — to read that.
There's more good news. His name no longer appears on the Cyber Centre of Excellence Board list.
As the nuns told us at school: 'Act in haste, repent at leisure'. I hope his leisure lasts a long time.
Harrigan's shenanigans also featured in The Gateway Pundit, TruthFeed (which reported him to the Trump campaign) and Media Circus (which took a very dim view). Before Harrigan's suspension their reporter wrote:
Of course, like the GrubHub CEO Matt Maloney the media is ignoring this death threat. Also like GrubHub, nothing has happened to Matt Harrigan like being removed as CEO of a company. I hope both companies get crushed. It's because of these left wing CEOs and media hacks that we have the #SorosRiots going on now. It will only get worse by election day. If anything happens, the blood with be on the hands of these CEOs and the media.
I couldn't agree more.
Enjoy the critical comments on PacketSled's Facebook page. They're getting hammered. Here are three as a taster:
Has your threat detection monitored your own pathetic CEO? Delete all you want, I and thousands of others will be back till he is gone or you crash. Your choice.
Wow your CEO is CRAZY…. What a total NUT.. You should all get him out before the FBI and secret service get him… He may just start shooting anyone because he didn't get his way… This guy is awful….
Looks like your threat detection doesn't work so well. Maybe its programmed only to search for threats outside of your company? Best of luck. You should hire veterans. They usually don't act like little kids and make random threats when things don't go their way. They just "Do Work"
You might also be interested in reading about PacketSled investors on The Daily Stormer.  Excerpts of their article follow:
The interesting thing is the sheer amount of Islamic support this guy's company has. A quick dig around its base of investors exposes some shocking truths. Its Series A funding round was lead by by Keshif Ventures, the Angel Investment group of Taner Halicioglu. That last name is of clear Turkish origins, and Taner currently sits on PacketSled's board.
Usually the Angel investor contributes the smallest amount of capital to the funding rounds, leaving the two larger investors likely to be Blu Venture Investors and JHS Ventures. I was able to find Blu Venture easily on Twitter, so maybe drop them a tweet @blu_venture and ask them why they haven't fired this Muslim-backed terrorist from the company they've funded.
The other venture firm, JHS Ventures, is a Lahore, Pakistan based firm with very little social media presence …
Other than bankrolling assassination plots against our future president, … [JHS Ventures] are highly involved in the textiles industry (cited even by the [N]ew York Times as being highly problematically linked to terrorism) and the production of fertilizer, which for those somehow unaware of Timothy McVeigh is the most common source of explosives in the world.
In addition, we've all known that the CIA is a pro-Islamist fifth column against the USA, and PacketSled's CEO is personal friends with Jim Woolsey, the former head of the CIA.
If anything more happens, I'll be sure to follow up.
————————————————————————————-
UPDATE — Tuesday, November 15 — Harrigan has resigned:
The Trump transition begins. There's even a new website!
Warmest congratulations go to Kellyanne Conway, the Trumpwhisperer, who is the first woman to manage a victorious presidential campaign in the United States. She was responsible for refining Trump's stump speeches and for putting the kibosh on his excessive tweeting. No one else could do that! Furthermore, her internal polls were spot on. Conway is one tough tigress, make no mistake. She is also married, a mother of four and a practising Catholic.
Also noteworthy is that Hillary Clinton spent nearly twice as much money per vote as Trump and lost: $8.80 to $4.57. Trump has decisively proven you do not need big money to win an election!
President-elect Donald Trump and his wife Melania flew to Washington DC on Thursday, November 10 to meet with the Obamas as well as top Republican congressional leaders Paul Ryan and Mitch McConnell.
Vice President-elect Mike Pence was also in Washington. He met with his outgoing counterpart Joe Biden, in what Pence described as a 'warm reception'. Pence also had a telephone conversation with British Foreign Secretary Boris Johnson, who tweeted:
Just spoken to US VP-elect @mike_pence. We agreed on importance of the special relationship & need to tackle global challenges together
Trump's son-in-law — Ivanka's husband — Jared Kushner was also with the Trumps. During their private meetings, he spent time with White House chief of staff Denis McDonough, who gave him a tour of the Rose Garden. Kushner has been a close adviser to his father-in-law throughout the campaign and is expected to remain so after the inauguration.
Trump and Obama had a 90-minute discussion, far exceeding Trump's expectations.
Melania and Michelle shared tea together, discussed raising children and talked about what it is like to live in the White House.
The Mail has a great set of photos from the day.
Afterwards, Trump tweeted:
A fantastic day in D.C. Met with President Obama for first time. Really good meeting, great chemistry. Melania liked Mrs. O a lot!
Questions have been asked about the Trumps' entrance by a side door and the two couples not posing together for a photo in front of the White House. Things were different eight years ago with Bush 43 (i.e. 43rd president):
Breitbart had more on the matter:
White House Press Secretary Josh Earnest refused to explain the details of the decision but denied the story.
"Not true," he said, during the White House press conference, when asked about the report. He also denied that the lack of a photo opportunity had anything to do with First Lady Michelle Obama not wanting to be photographed with the Trump family. He argued that it was not a "snub" of the Trumps, but rather a different strategy of press access.
The press pool was allowed into the Oval Office on Thursday, to photograph Trump and Obama together after their 90-minute meeting. The two men met alone, with no staffers present.
But Obama snubbed the press by telling Trump not to answer any of their questions after the meeting.
"Here's a good rule. Don't answer any questions," Obama said to Trump after reporters shouted questions at the pair.
Despite the pleasantries exchanged between the two political foes, Earnest specified afterwards that Obama still believed that Trump was unsuitable to be president …
Earnest's remarks contrasted with Obama's welcome of Trump at the White House, promising to meet the standards set by President George W. Bush …
Earnest hinted that the White House might release a photo of the two couples meeting.
Independent Bernie Sanders pledged his support to Trump. The Daily Caller reported:
"Donald Trump tapped into the anger of a declining middle class that is sick and tired of establishment economics, establishment politics and the establishment media," Sanders said. "People are tired of working longer hours for lower wages, of seeing decent paying jobs go to China and other low-wage countries, of billionaires not paying any federal income taxes and of not being able to afford a college education for their kids – all while the very rich become much richer" …
In his statement Sanders went on to say: "To the degree that Mr. Trump is serious about pursuing policies that improve the lives of working families in this country, I and other progressives are prepared to work with him …"
The Democrats' wounds are still raw. Despite Big Media's attempted character assassination of Trump and the voter fraud — which is why his popular vote isn't higher — he prevailed once again. (Are we sick and tired of winning, ladies and gentlemen? Never!)
Business Insider reports that the Democratic Party is in disarray.
It looks very likely that the DNC will replace current interim chair Donna Brazile. A White House staffer yelled at her for being 'part of the problem' in Hillary Clinton's loss.
Politico reports:
No party leader calls have been set to map out a plan ahead, and no signal has come from the White House or from Clinton's team about what comes next. The phone lines were silent, only slowly picking up, and escalating to a fever pitch as the defeated nominee prepared her morning speech and interim DNC chairwoman Donna Brazile sat on the silent 9:00 Acela [train] from New York to Washington.
The Washington Post says that Minnesota Muslim congressman Keith Ellison or former Vermont governor Howard Dean are tipped to lead the DNC. The Huffington Post says Brazile could stay on until March, however, based on the aforementioned yelling:
Thursday's meeting shows at least some party officials want fresh blood at the top.
Early in the morning of Wednesday, November 9, Clinton's team had to get pervy John Podesta to address campaign workers. This is because Clinton had been weeping 'inconsolably', according to Ed Klein author of the recent book on the Clintons, Guilty As Sin. Klein appeared on a radio show later that morning and said:
"She couldn't stop crying.
"Her friend said — her female friend from way, way, back — said that it was even hard to understand what she was saying, she was crying so hard.
"This is Hillary we're talking about," Klein said.
Clinton appeared two hours later dressed like Batman's The Penguin in black and purple. Earlier, Podesta had told everyone to go home. Yet, after Hillary spoke, there was applause. I read somewhere that the delay allowed travel time for a new audience of those closest to her: big wigs.
The New York Times has highlights of her concession speech and Obama's remarks.
Before I go into detail on the protests — all previously organised, none are 'organic' (spontaneous) like Big Media are telling you — Sundance at The Conservative Treehouse has a theory about Obama/Clinton and the demonstrations and riots taking place:
If the ridiculous election protests continue again tonight, then President Obama has not called them off.  That means he and Clinton received no substantive assurances, and are worried about being held to account – prosecuted and investigated.
If the ridiculous election protest do not happen again tonight, then President Obama has called them off.  That means he and Clinton feel more comfortable they will not be held to account – prosecuted and investigated …
Ultimately the Machiavellian political gamesmanship then evolves toward how does Obama/Clinton "feel" about the success of their initial probing for terms.
Demonstrations and riots around the US continued the night of November 10.
After this post, I will be mentioning them as little as I can. They do not deserve the oxygen of publicity, to borrow Margaret Thatcher's phrase.
However, I do want everyone to understand what is happening here.
Americans should note that there are laws on riots — 18 U.S. Code § 2101 — as being criminal rather than examples of freedom of speech. In part:
(a) Whoever travels in interstate or foreign commerce or uses any facility of interstate or foreign commerce, including, but not limited to, the mail, telegraph, telephone, radio, or television, with intent—
(1) to incite a riot; or
(2) to organize, promote, encourage, participate in, or carry on a riot; or
(3) to commit any act of violence in furtherance of a riot; or
(4) to aid or abet any person in inciting or participating in or carrying on a riot or committing any act of violence in furtherance of a riot;
and who either during the course of any such travel or use or thereafter performs or attempts to perform any other overt act for any purpose specified in subparagraph (A), (B), (C), or (D) of this paragraph— [1]
Shall be fined under this title, or imprisoned not more than five years, or both.
I would not hold my breath expecting anyone to be prosecuted. However, after the inauguration, watch for this law to be enforced in future.
The demonstrators in Austin, Texas, who marched not far from the state capitol building, arrived by bus:
Not only that, but they were paid.
At least one ad appeared on Craigslist: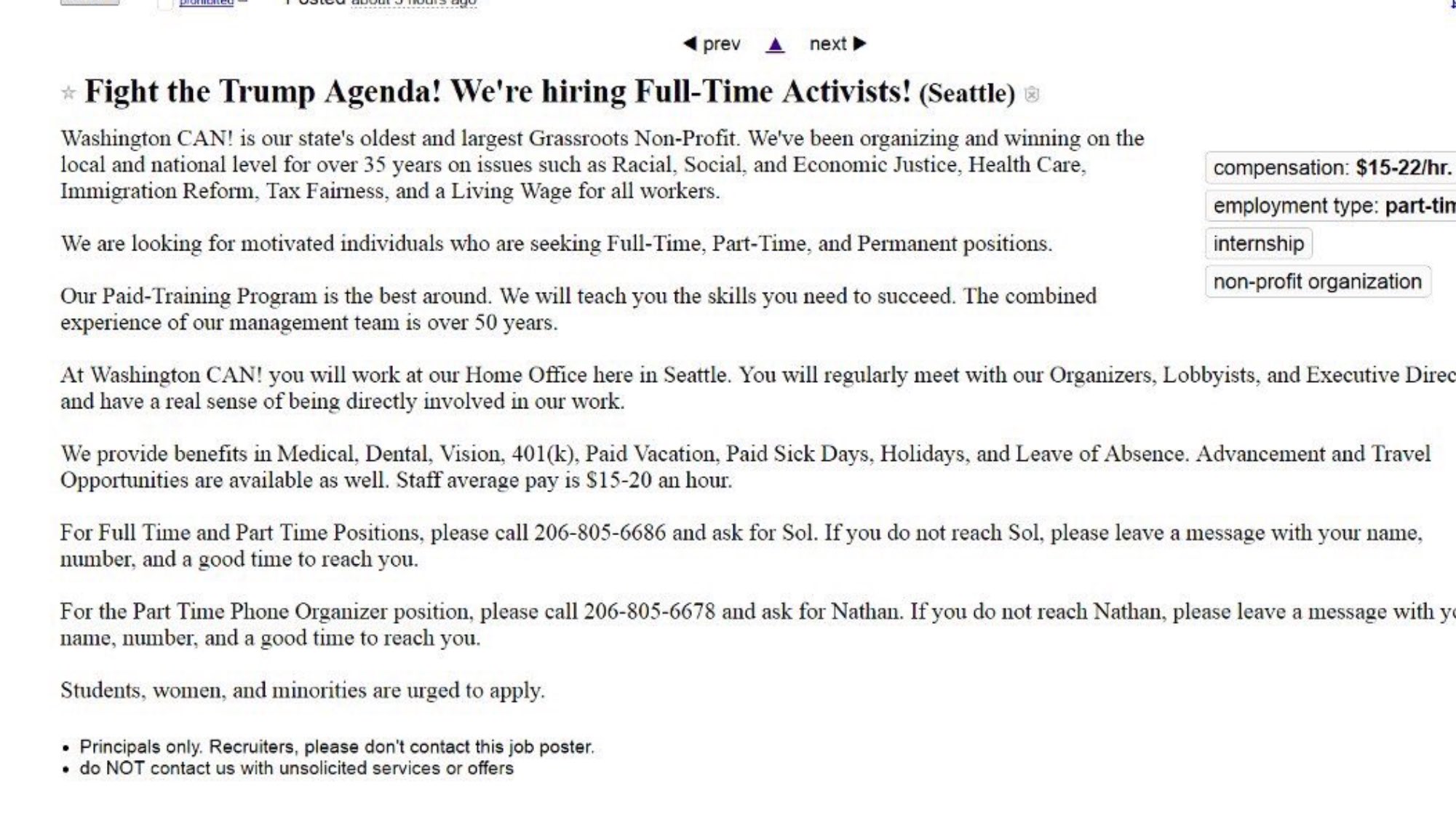 Here's another Craigslist ad, this one for Manhattan, from a European television network (I'm curious):
Earlier on November 10, a panellist on Fox and Friends actually asked if George Soros was funding these demos and riots. This is good, because Big Media never do this. In case the YouTube in the previous link is removed, The_Donald reproduced the exchange:
Brian: "There were no protests for Al Gore, there were no protests for John Kerry, there were no protests for Mitt Romney. What's going on?"
Steve: "Well, back then, George Soros wasn't funding these things. Is he behind this? Don't know!"
Many people say that when Soros dies, all this seditious activity — explained here in detail — will die with him. Not true. His children are every bit as committed to it as he is. One also appears to be involved with the Clinton Spirit Cooking dinners.
Breitbart reported that MoveOn.org — Soros's flagship activist organisation — has anti-Trump protests and riots going on all over America. Amazingly, people actually contribute to MoveOn.
A wide network of organisations affiliated with MoveOn are involved.
In March, after the cancellation of Trump's rally in Chicago, Independent Sentinel listed several groups allied with MoveOn and added:
The billionaire George Soros and other liberal donors bankroll a new $15 million campaign to mobilize Latinos and other immigrants this fall, hoping to channel outrage at  Donald J. Trump and other Republicans into a surge of votes for Democratic candidates in November …
And now that has failed on a national scale, they have today's violent protests, such as this riot in Portland, Oregon. (More here.) If these anarchists and maladjusted folks aren't driving sceptical Americans into the Trump — and gun — camp, I don't know who is.
Below is a list of planned protests from ANSWER (Act Now to Stop War and End Racism). You can also read more here:
Another group to watch for is Socialist Alternative, one of whose directors is a union man, born and bred in Britain, who has lived in Chicago for many years. They, too, have a list of demonstrations.
A number of the protesters are carrying professionally printed signs. One of The_Donald's contributors has seen some that read revcom.us on the bottom, indicating another Soros-funded communist organisation.
It also looks as if Aaron Black — featured in this James O'Keefe Project Veritas video about bird dogging (inciting Trump supporters to violence) — is part of the protest mix. He makes sure everyone is kitted out with signs and whatever else they need. He is supposed to be a background man and says no one should be able to easily identify him at protests.
On Chicago's West Side, a man was dragged out of his car at an intersection and was brutally assaulted. This post has a YouTube video of young men pulling a motorist out of his vehicle, beating him up, stealing items from his car — all abetted by a woman shouting instructions nearby. This tweet has a video of what happened next: the young men got into the car, the man was able to grab onto a door frame and they all sped off around the corner, with the man holding on for dear life. The Chicago Tribune caught up with him afterwards (photo at link). Emphases mine below:
David Wilcox, 49, said he was about to turn left from Kedzie Avenue to Roosevelt Road around 1 p.m. Wednesday when a black sedan pulled up and scraped the right side of his Pontiac Bonneville.
"I stopped and parked. And I asked if they had insurance, and the next thing that I knew they were beating the s— out of me," Wilcox said Thursday …
"They were beating me to have me let go of the car," Wilcox said. "The guy went to 70 and 80 mph. If I let go, I was dead. He slowed to 45. … He tried to push the door open. …So he stepped on it again.
"He stepped up back to 70 and 80, swerved again," Wilcox said. "The wheels on my side left the ground, up to 2 inches. … Then he slowed down. I was looking at oncoming traffic. He probably slowed to about 45. God was watching over for me. I rolled about five or seven times into the oncoming traffic lanes.
"There was a parole officer with a gun and bulletproof vest," he added. "He turned left, and he told me just sit down and wait for the police to come."
Wilcox filled out a police report, but no one was reported in custody Thursday afternoon. Police said they were investigating the beating and who made the "politically divisive" statements in the video.
I wonder if he got his car back. It should have DNA.
Pray for David Wilcox's recovery. He must be undergoing trauma, even if it doesn't show.
If that is not a hate crime, I do not know what is. They could have killed him, directly or indirectly. This got little to no coverage outside of Chicago!
In California, a female high school student near San Francisco was beat up by another classmate — also a girl — for supporting Trump online:
Cellphone video captured the moment a female student attacked sophomore Jade Armenio.
"This girl comes up to me and she said, 'Do you hate Mexicans?' and I was like, 'no,' and she said, 'You support Trump. You hate Mexicans.'"
Armenio says the girl hit her, threw her to the ground, pulled out her earrings and hair. She was left with a bloody nose and scratches and bruises …
The princip[al] of Woodside High School issued a statement that reads in part the recorded incident was investigated in conjunction with law enforcement and appropriate disciplinary action has been taken …
Armenio['s] parents say they are keeping her out of school until they know she'll be safe.
Let's pray for her, too.
Meanwhile, a story that did get nationwide coverage turned out to be false. A university student in Lafayette, Indiana, accused two Trump supporters of tearing off her hijab and stealing her wallet. Thankfully, she confessed to a lie. She should be charged:
The story made national headlines and was featured in The New York Times, The Huffington Post and other national media outlets. Messages of love and support were found all over UL Lafayette's campus after news of the attack spread.
It's unclear whether the student will face charges for filing a false police report.
In closing, here is an interesting exchange from 2013. The_Donald calls it 'the tweet that started it all':
You can't stump the Trump!
And, finally, a great summary of the past few weeks, also from The_Donald:
Protests aside, the next four years are going to be an exciting — and positive — time for all Americans. Trump has a Republican Congress and Senate to help him to restore the Great Republic. Outspoken radio show host Michael Savage says:
God's hand is all over this election.
I truly believe it is.
MAGA!
Early in September, I wrote about the terror attack on the French train in August 2015.
'Americans who foiled French train attack are practising Christians' tells their story. 'More on the French train attack' recounts the confusion among the French passengers in the next carriage.
Most of us around the world figured that the French Legion of Honour medal recipients went back to the United States and resumed their lives.
Spencer Stone stabbed in Sacramento
We would have been wrong in the case of Spencer Stone.
On October 8, he was stabbed four times in the chest in Sacramento, California. The Air Force Times had a report, which reads in part:
Airman 1st Class Spencer Stone, who helped take down a gunman on a train in Belgium, was stabbed four times in the chest in Sacramento early Thursday morning, Air Force Times has learned.
"A1C Spencer Stone has been transported to a local hospital, and is currently being treated for injury," Air Force spokesman Lt. Col. Christopher Karns said in an email in Air Force Times. "The incident is currently under investigation by local law enforcement. He is currently in stable condition."
Sky News has more:
It is not clear whether the CCTV footage shows the moment Mr Stone was stabbed.
The incident, which took place at 12.45am (local time) on Thursday morning, is not thought to be connected to terrorism.
Sacramento Police are not connecting terrorism with this assault — what the British would call grievous bodily harm in this instance (emphases mine throughout):
Sacramento Police Deputy Chief Ken Bernard said: "This is not related to what happened in France a couple of months ago.
"The assault appears to be related to a nightclub incident. It was a dispute between two groups of people."
Some reports suggest Mr Stone was protecting a female friend.
Officers sealed off a two-block area after the stabbing and interviewed a man and a woman – but no arrests have been made …
The injuries were so severe that it was initially thought Mr Stone would not survive and a homicide investigation was launched, according to KCRA‑TV.
And:
Mr Bernard said his team were hunting two Asian men in their 20s who fled in a dark Toyota Camry.
The word 'Asian' is a source of confusion. In the UK, where Sky News is based, 'Asian' refers to people from the Subcontinent, e.g. Pakistan, India and Bangladesh.
In the US, the word denotes people from the Far East.
Therefore, the 'Asian' demographic referred to here is unclear. Now read on for the next story. Could they be related?
Was Alek Skarlatos a target in Oregon attack?
On October 1, Umpqua Community College in Oregon made headlines around the world after Chris Harper-Mercer shot ten Christians for their faith.
The second French train attack hero, Alek Skarlatos, was scheduled to resume his studies at the community college this autumn.
The only reason he was absent from class that day was because
he was in Los Angeles on Dancing with the Stars, he said during an appearance on The Ellen DeGeneres Show.
Skarlatos told DeGeneres:
he was supposed to be in the building where Thursday's shooting took place.
"I had classes in Snyder Hall," said Skarlatos."It's a fairly small community college, the town in general, everybody knows each other. So with that many deceased, I mean everybody's going to know at least one person."
And:
"I would have been there today if I didn't agree to do this show," he said. "I had classes picked out and everything."
Skarlatos was last on campus in spring 2014, before his deployment to Afghanistan.
Matthew Vadum, writing for American Thinker, wonders about Harper-Mercer's motive and targets:
although no evidence revealed thus far directly indicates Harper-Mercer was influenced by Islamic State, plenty of evidence suggests the shooter was acting in furtherance of the Islamic goal of global jihad.  Maybe the massacre was intended as a kind of jihadist payback hit.
Islamic State (a.k.a. ISIS, ISIL, and Daesh) apparently claimed responsibility on Twitter for the killings Harper-Mercer carried out at Umpqua.  The tweet states, "Again #Oregon #USA #WashingtonDC #IslamicState #ISIS #USA[,]" and displays a graphic with the words "Slay Americans" in front of an image of a man in the process of being beheaded.
He explains:
Islamists view not only Skarlatos, but also his two childhood friends who helped to foil the train attack, as enemies.  The three young men have been widely identified in news reports as fervent Christians.  Skarlatos attended "an independent Christian middle school," the Sacramento Bee reported …
Which brings us to Harper-Mercer, 26 (his age was initially reported as 20) who killed 10 people and wounded seven at Umpqua Community College last Thursday before being killed by police.  Witnesses said that Harper-Mercer wore body armor and entered a classroom where an English and writing class was being conducted.  He demanded that those present say if they were Christian.
Those who said yes were fatally shot in the head.  He reportedly said "because you're a Christian, you're going to see God in just about one second."  Those who said no or refused to answer were shot in the legs.  No news reports indicate anyone in Snyder Hall identified himself or herself as Muslim.
Singling out Christian hostages for death is the same modus operandi used by Islamic terrorist groups like al Qaeda-linked Al Shabaab.
As Raymond Ibrahim reports at Jihad Watch, Al Shabaab did the same thing as Harper-Mercer did when it attacked a school in Kenya …
Political response
How many people reading about the Oregon attack knew that the Islamic State allegedly claimed responsibility for it via Twitter?
I didn't until I started searching for information on Spencer Stone's injuries in Sacramento, at which point articles about Alek Skarlatos and Oregon began popping up. Matthew Vadum's article was one of them.
It is interesting to note that every time a strange shooting occurs in Western countries, authorities respond with 'lone wolf' or 'unrelated to terrorism'.
Yet, we saw that the Charlie Hebdo and kosher supermarket killers were in cahoots. Amedy Coulibaly said he would go on a full rampage at the kosher shop if security forces shot the Kouachi brothers at the printing plant some miles away. Security forces had to carefully manage that so they could kill Coulibaly then take care of the Kouachi brothers that fateful Friday afternoon of January 9.
Mohammed Merah, whom French authorities identified as a lone wolf in 2012, had made trips to Afghanistan and Pakistan, claiming to have trained with Al Qaeda. How was he able to stockpile ammunition for his shootings and siege in the Toulouse area without help?
And what about the American military base shootings called 'workplace violence'?
In any event, after the Oregon massacre, Obama called for more gun control. Matthew Vadum writes:
Instead of comforting Americans and bringing them together as a decent, patriotic person would, Obama immediately seized on the opportunity to divide Americans politically. 
Obama said nothing about the religious aspect of the killings.  This self-professed Christian who studied in a Muslim school and speaks of Islam in reverent tones said nothing about how the killer asked his victims jihadist-style if they were Christian and then blew them away. 
Why would the president ignore this shocking fact?  Maybe the answer is that to do so would have linked the killer to Islam.
Agreed. Much better to talk about gun control, which is exactly how the MSM covered it here in Europe with their readers and viewers quickly agreeing.
Of course, it helped that the killer had a Western-sounding name. From this we could conclude, without thinking too much about it, that he was just another mad 'lone wolf'. But was he?
In the meantime, let us keep the three American heroes in our prayers, especially Spencer Stone. I wish him a rapid, complete recovery.
The speculation below regarding smart meter marketing in Britain is mine, except for one item.
It seems to be a happy accident that 51% of British energy bill payers have never heard of smart meters. That means they have no negative preconceptions. Therefore, this makes it easier to introduce a positive outlook on smart meters, which could prove to be yet another bone of contention in our society.
Below are three possibilities — probabilities? — for their introduction to the UK:
1/ Adverts about saving money whilst helping the environment: Many Britons are divided on the Church of Gaia premise of 'saving' the environment. My neighbours' commitment to Gaia is varied. Yes, we all recycle, but one man brings home the weekly shop in carrier bags whilst his wife uses bags for life or cardboard boxes. Our clergy seem particularly committed to bags for life. Other residents prefer using carrier bags for their purchases because they can reuse them for other purposes.
So, energy companies — namely British Gas — need to 'sell' the smart meter idea to the 51%. We do not, as yet, know how many of them are adherents of Gaia. Therefore, it is impossible to assess the difficulty of the learning curve involved.
As most of us are fairly materialist, mainly because of the dismal economy, we're continually assessing the value of money spent. Much of this centres on tax — who is worthy of receiving unemployment benefit or health services, to cite two examples. However, another element is how much we pay for goods and services, and here a magnificent marketing coup can take place nudging consumers towards smart meters.
Imagine adverts with interviews of energy company customers discussing how much they save now that they have smart meters installed. Useful talking heads for these adverts would be a middle class elderly couple and a low-income single mother with children around her. 'I never thought it was possible to save on electricity — until now. My smart meter has given me more money for holiday and treats for the kids.'
2/ Politicians talking up smart meters in media appearances. All this involves is slipping smart meters into as many discourses on the environment and carbon footprint as possible. 'And, of course, we now have smart meters which will actually measure how and when we use a precious commodity like electricity. They're perfectly safe and easy for homeowners to have installed. Many of our European neighbours have found that they can now reduce their energy consumption, thanks to smart meters.'
Expect propaganda and obfuscation on safety and savings, a bit like the MMR debate of the Blair years which centred on vaccine safety and children's health. We never did find out if Leo Blair had the MMR or separate vaccines. We don't really care, either, but it is the principle of the thing, especially when British parents are unable to obtain separate vaccinations for their own children.  Therefore, not installing a smart meter might prove difficult.  As my post yesterday explained, California's Pacific Gas & Electric forces customers without smart meters to pay annual and monthly penalty charges for that privilege.
3/ Schoolchildren receiving temporary smart meters to take home. This has already begun happening in some schools. Last Spring some primary schools were given smart meters to hand out to pupils to test energy output for 24 hours. They went home with the meter and a short user guide on how to work with their parents to measure electricity output, the results of which they later discussed in class.  Apparently, the kettle uses up the most energy. Yet, in most households it is on only a very limited time per day.
In the sinister 20th century propaganda tradition of using children to influence parents, schools present a great marketing opportunity for smart meters through pester power. In the school 'test meter' situation that I know of, the children were quite insistent that smart meters were a good thing, should they become available. In one household, the parents were unsure until they did their own online research. They decided that issues of privacy and control outweighed any possible savings. As a parent explained to me after having the test meter plugged in for 24 hours, one knows what appliances use the most electricity and can reduce usage accordingly.
It will be interesting to see how smart meters are positioned here in the UK. I'll keep tabs on France as well. To date, I have not heard or read any discussions about them.
More on the subject later.
In the meantime, any readers from California who have any anecdotes or experiences they would like to share should feel free to leave a comment.
British readers can consult Stop Smart Meters (UK) (see my UK blogroll at the bottom left hand corner), which gives more information about them, including the risks to personal privacy.
As Stop Smart Meters notes:
In the UK, 'Smart' Meters are NOT compulsory and you have the lawful right to refuse one.
Another factor which might slow their take-up is our deregulated energy market. A new regulatory framework would need to be devised for smart meters, which, all being well, would take some time.
This is a quick post to alert my fellow Britons and other EU readers that electricity 'smart meters' are coming our way.
You might have noticed earlier this month on commercial television that British Gas made a rather happy advert announcing that smart meters were on their way to our homes.
California customers of Pacific Gas & Electric (PG&E) have had these meters for the past few years. Some claim they cause adverse health affects. Possibly. More importantly, your electricity supplier will know your daily movements: when you turn the lights on, when your computer or washing machine goes on and so forth.
Take this a step further. What is the probability of someone hacking into your smart meter to find out if you are at home or away? All it takes is one unscrupulous employee.
It also begs the question whether corporate, or — by extension — government bodies, should have the ability to know your daily goings-on.  As Britain's Captain Ranty says:
I have enough of Big Brother on the streets without inviting him in. The smart meters are operated remotely and switch off your stuff if they feel it shouldn't be switched on.
It is unclear whether these meters will be mandatory within the EU, however, California residents must pay for the right of refusal. As I mentioned in this post a few weeks ago, PG&E require an annual penalty payment for opting out of smart meters:
In PG&E's plan, "PG&E customers who want to opt-out of smart meters will be required to pay a one-time $75 fee and a monthly charge of $10. Low-income customers will pay an initial fee of $10 and a monthly charge of $5," reports the San Jose Mercury News.
On top of that, your prices might increase regardless.
We do not know exactly how this will work out for European customers and might differ on a country-by-country basis.
Fortunately, even British analysts wonder whether the rollout will be successful. Captain Ranty directed his readers to this article from Euractiv.com:
Over 51% of the 2,396 energy bill-payers interviewed by the Ipsos Mori research team in Britain said they had never heard of smart meters. Only one in four said they knew at least a fair amount about the meters, 24% had heard of them but knew nothing about them, while just 2% claimed to know "a great deal". 
The study comes amid plans to roll-out smart meters in all of Britain's 30 million households from 2014 to 2019.
But even figures in the smart metering industry say this objective might be difficult to attain.
Mark England, chief executive of Sentec, a supplier of smart grid and metering technology said in March 2012 that smart meter deployment in 65% of UK homes by 2015 was not possible.
"The deregulated structure of the UK market is uniquely challenging for rapid and co-ordinated action in a large scale initiative like this," England said in a statement. "There is a great deal of work still to do to finalise the technical and regulatory framework for smart metering."
The EU's 27 member states are expected to present their national cost-benefit analyses on the deployment of smart meters to the European Commission before 3 September. These are expected to result in 80% of European consumers being equipped with intelligent metering systems by 2020.
The roll-out of smart meters could potentially transform the way energy markets operate in the EU, with customers expected to become more actively engaged in controlling their energy consumption, with the help of demand-response systems.
In addition to the aforementioned concerns, your utility company might sell on your personal details to companies selling more energy-efficient refrigerators, freezers, washing machines and other white goods. They will already know what you are using when they market new merchandise to you.
My readers in the UK might be interested in reading Stop Smart Meters (UK) (see my UK blogroll at the bottom left hand corner), which gives more information about them, including the risks to personal privacy.
As Stop Smart Meters notes:
In the UK, 'Smart' Meters are NOT compulsory and you have the lawful right to refuse one.
One hopes that those who refuse will not be charged annual and monthly penalties for doing so.
Not all of California's PG&E customers are happy about smart meters. YouTube has a series of videos about people who have confronted installers and voiced their objections.
In 2010, this California man refused a smart meter installation:
This video from 2011 shows a number of disgruntled Californians attempting to return their smart meters:
Protect your privacy and your property rights by simply saying no.
Smart meters are just a step away from the film Brazil with its sinister Central Services.
For those who are new to the inside track of Tobacco Control, Dr Stanton Glantz has been an important figure in the fight against smoking.
A Democrat from San Francisco, Glantz is on the Faculty of the University of California San Francisco (UCSF) where he is the American Legacy Foundation Distinguished Professor of Tobacco Control. A nice title if you can get it! (I have deliberately highlighted a word at the beginning of this paragraph.)
Great titles aside, this is a summary of his CV from the same page:
University of Cincinnati, OH, BS, 1969, Aerospace Engineering
Stanford University, CA, MS, 1970, Applied Mechanics
Stanford University, CA, PhD, 1973, Applied Mechanics and Engineering Economic Systems
Stanford University, CA, Postdoc, 1975, Cardiology
University of California San Francisco, CA, Postdoc, 1977, Cardiovascular Research
It is unclear what Engineering Economic Systems refers to. Is it that he has the competence to design — engineer — economic systems or is it a recognition that he understands economic systems within the field of engineering?
However, there is a larger question here: did you see anything unusual about Glantz's degrees?
In an objection to an Ottawa regional smoking by-law, the smoking liberties group Forces Canada observed (emphases mine):
In investigating this man, we obtained his Curriculum Vitae and were astounded to learn that Dr. Stanton Glantz is not a medical doctor, but has his Ph.D. in mechanical engineering. Dr. Glantz was also one of the authors of the EPA Report, as well as authoring a paper entitled, "Tourism and Hotel Revenues Before and After Passage of Smoke Free Restaurant Ordinances, 1999", as well as numerous other papers on economic issues relating to no-smoking by-laws about which he can make no claim to professional competence – he does not have an economic[s] degree. However, Dr. Glantz has been an anti-smoking advocate since the 1960's and clearly is NOT a medical doctor.
Glantz engineered the now-infamous Helena (Montana) 'Miracle' study which purported that cardiovascular arrest rates dropped significantly within a short time of a smoking ban having been implemented. These results have been extrapolated onto several other countries' 'successful' results post-ban.
He has written several books, including the widely used Primer of Biostatistics (which has been translated into Japanese, French, Russian, German, Italian, Japanese and Spanish, and Primer of Applied Regression and Analysis of Variance).
Did he write that book before or after the Helena report?  There was a time when Glantz was scrupulous about conducting studies and obtaining objective results.
This is what Glantz works on:
– Health Effects of Secondhand Smoke:
… This project focuses on the short-term effects on the heart, blood and blood vessels. Even a few minutes' worth of exposure is dangerous …
– Smoking in the Movies:
Exposure to onscreen smoking in movies is the largest single factor promoting youth smoking in the United States, accounting for about 44% of all new smokers. 
– Analysis of Tobacco Industry Documents:
To understand the tobacco industry, we have a written record of its research and decision making process in the form of over 62 million pages of previously secret tobacco industry documents now available at the UCSF Legacy Tobacco Documents Library. This research uses this unique resource to understand how the tobacco industry works to shape the environment, and what public health authorities and advocates can do to anticipate and counter the tobacco industry's adaptive strategies (legal, political, scientific, propagandistic) to frustrate and subvert smoking prevention and cessation programs.
How does he arrive at 44% of new smokers starting once they see cigarettes in films?
How much in taxpayers' money — and again in tobacco tax — has this man and his team siphoned from the State of California?
There was a time — back in 1994 — when Glantz felt a frisson as he feared for his funding.  What follows is part of his acceptance speech upon winning the American Cancer Society's 2009 Luther Terry Distinguished Career Award in Mumbai:
First, and most importantly, I want to thank the American Cancer Society for the great honor or receiving the Luther Terry Distinguished Career Award. Most would say this is the highest honor that one can receive in the field of tobacco control. But, for me, this is actually the second highest honor I have received from the American Cancer Society. The greatest honor was 15 years ago, in 1994, and I have never had the opportunity to publicly thank the American Cancer Society and John Seffrin in particular. In 1994, shortly after the Republicans took control of the US Congress, Congressman John Porter, the chair of the budget subcommittee that controlled the National Cancer Institute, quietly added language to the bill directing NCI the terminate my research funding. Of course, they did not mention me by name and we only found out about this language by dumb luck: One of my students' sister [sic] was interning with another member of the committee and found language in the bill saying something like, "no funds appropriated under this bill shall be used to fund dumpy professors in San Francisco working on tobacco." This was very scary. Despite this threat to the grant, I was a tenured professor at the University of California and I was personally safe. The same was not true, however, for my fellows and researchers – some of whom are here – who were paid by the grant. They were very concerned about losing their jobs and asked me if they should be looking elsewhere. Loosing [sic] this talented team would have been a disaster, even if the grant was eventually saved, so I went to several agencies and asked for a quiet "insurance policy" in the form of a commitment for one year of funding if we lost the battle in Congress so that I could tell my staff to just keep working. 
And I have to say that some people declined help. I was too controversial. The Republicans had just taken control of Congress and no one knew what to expect. Tobacco was not the only issue they were working on and did not want to jeapordize important relationships. The American Cancer Society was different. They gave me that insurance policy so that I could tell my staff to just keep working. But, the ACS, led by John Seffrin did much more than that. John and ACS joined the effort to pressure Congressman Porter to remove the language from the bill. This was a controversial position inside ACS. Porter was a strong supporter of cancer research and there were those who did not want to risk funding for molecular biology and clinical trials to support some crazy tobacco researcher. And worst of all, I had from time to time actually criticized and challenged the ACS … we succeeded – and there is no question that saving that grant is what allowed me to do much of the work that led to this award today. Second, I have been struck by the number of people who have expressed surprise that ACS gave me this award. As just noted, I have, on occasion, challenged the American Cancer Society in ways that could not? have been comfortable for them.  At the 12th World Conference on Tobacco or Health in Helsinki, Finland, the ACS fought hard to bring the 13th World Conference to Washington, DC, which, at the time was not a smoke free city.  I was the closing speaker at the Helsinki meeting and I challenged ACS to make sure that Washington was smokefree by the time of the meeting. To show that I was serious, I announced that I would not be attending the meeting unless the city was smokefree … John Seffrin knew I was right and under his leadership, ACS joined with other advocates and, by the time the 13th World Conference opened, Washington was a smokefree city. This effort was not easy, but everyone pulled together and prevailed. Which brings me to my third point, the currently pending legislation to grant the US Food and Drug Administration jurisdiction over tobacco products. While I agree with everyone else that the FDA should have jurisdiction over tobacco, I was never a fan of this bill because it was a deal with Philip Morris and I figured no deal with Philip Morris would be a?good thing for public health in the long run. My opposition has been, until recently, subdued for two reasons. First, while I was not enthused about the bill, I figured that the damage it did would be limited to issues of product regulation, something that I have not seen as central to tobacco control. Second, Matt Myers has been an important and helpful supporter of my Smoke Free Movies campaign and, in addition to signing some of the advocacy advertisements, has played an important behind-the-scenes role in heading off some serious challenges to the campaign. I did not want to anger them over the FDA … I re-read two important papers my UCSF colleagues Patricia McDaniel and Ruth Malone that used the tobacco industry documents to explain Philip Morris' Project Sunrise and specific reasons for wanting the FDA bill, the provisions they wanted, and, most important, how this would help them sell more cigarettes. We don't have to speculate on these points; it is all there in Philip Morris own words. … Fourth, a few weeks ago, Dick Daynard, a lawyer who has been very active in efforts to support the Framework Convention for Tobacco Control, pointed out to me that the FDA bill violated Article 5.3, which is designed to prevent government "partnerships" with the tobacco industry.  The FDA bill creates a Scientific Advisory Committee that is central to the regulator process and which is required to have two tobacco industry representatives. They are nonvoting, but they are there. Not only does this violate Article 5.3, but is makes no sense. If the Department of Justice was forming a committee to develop policy on racketeering, would it want a law requiring nonvoting members who were racketeers? I think not. For these reasons, I think that the damage that this bill will do extends far beyond the narrow confines of product regulation and could do great damage to tobacco control, not only in the United States, but globally. It could easily become the precedent for undermining Article 5.3 in the 163 countries that have ratified the FCTC. Is it possible to fix this bill? Yes.  We have a new president who has already demonstrated that he is  committed to putting science above politics and who has direct personal  experience with nicotine addiction. If we are willing to speak with a clear voice on the need for an unambiguously public health-oriented bill that is not a compromise with the industry, I believe Obama and the new Congressional leadership will listen. But they can't give us what we want if we don't ask. Fixing this bill will not be easy, but, based on my experience with ACS taking strong, principled positions in the past and doing the hard work it takes to win, I am confident that we can. So, I have challenge for the ACS and every American in the room: Fix this bill Take a clear position that you will not support any legislation that is not consistent with the FCTC.  Thank you again for your recognition and support."
How nice to know that Glantz quietly kept his people on the public payroll out of concern for them.
It would if he gave the smokers of greater San Francisco the same consideration. Many must smoke in secret. Many cannot get jobs because they smoke a legal product — tobacco. Many risk being physically or verbally assaulted by strangers in the street.
Now, if they were cannabis smokers, that would be a different story.
Strange, that.