You are currently browsing the tag archive for the 'Calvin Robinson' tag.
Before June 2022, the last time an ordination was shown on British television was when the first female Anglican priests were ordained in 1994.
I did not cover this at the time, as Boris stood down as Conservative Party leader. The news onslaught surrounding the contest for his successor, Liz Truss, lasted for the rest of the summer. Then the Queen died, sadly. It was not long after that when Truss had to stand down to make way for Rishi Sunak.
Having been refused ordination by the Church of England, Calvin Robinson was ordained a deacon on Saturday, June 25, 2022, at Christ Church Harlesden, a Free Church of England parish in north west London which is part of GAFCON:
The Global Fellowship of Confessing Anglicans — GAFCON — is a global network of conservative Anglican churches that formed in 2008 in response to an ongoing theological crisis in the worldwide Anglican Communion. Thankfully, they took in their brother Calvin and recognised his calling:
GB News was on hand to film the ceremony and broadcast it that weekend:
Calvin's GB News colleagues offered their heartfelt congratulations, such as the Conservative life peer Baroness Foster:
Some of his colleagues attended the ceremony …
… and stayed for lunch afterwards:
Those who were unable to attend also sent their best wishes. Every one of them recognised the CofE's rejection of a godly man called to Holy Orders:
Always evangelising, whether indirectly or, as is the case here, directly, Calvin never misses out an opportunity to exhort people to experience the truth and light of Christ Jesus, as he did with GB News contributor Dominique Samuels:
Other conservative media personalities who are Calvin's friends also offered their congratulations for his ministry, such as the Reform Party leader Richard Tice …
… and Margaret Thatcher's former aide Nile Gardiner:
Calvin's friends from his radio days also wished him well:
Politicians also chimed in, from former London Assembly member and Conservative candidate for Mayor of London (2021) Shaun Bailey …
… and Conservative MP Steve Baker, who has not hesitated to mention his own faith in House of Commons debates:
I'll leave the closing word to the head of the conservative think tank The Bow Group. Ben Harris-Quinney discusses choosing principle over power and achieving both:
As Calvin replied:
For the greater glory of God!
Indeed!
The Revd Calvin Robinson has his own GB News show every Sunday at 2 p.m.
He also appears as a contributor on several other of the channel's programmes throughout the day and evening.
May God's grace and the wisdom of the Holy Spirit continue to guide Calvin in his ministry for Jesus Christ, our only mediator and advocate:
Deo gratias! Thanks be to God!
December 26 in the UK and parts of the Commonwealth is Boxing Day.
The day, however, is the feast day of St Stephen, our first martyr, whose story is told in Acts 6 and 7:
The next posts have more about St Stephen's Day and Boxing Day:
December 26 — St Stephen's Day, Boxing Day and more (the money box, details on St Stephen and Good King Wenceslas (2017)
Here is a reminder that the Christmas season is not one day, but 12, as celebrated in the Church:
The Christmas season is 12 days long (2021, GB News)
GB News has done a spectacular job in discussing Christmas on its programmes, especially the Revd Calvin Robinson's hour-long special, A Message of Hope, filmed at the Brompton Oratory this year. For the second year running, Robinson has explored the Christian faith in light of the Christ Child. This video includes excellent carol renditions:
Highlights follow.
This is part of the Anglican deacon's introduction on the meaning of Christmas, which is one of hope and the greatest story ever told:
In these days, especially when Christianity is on a downward trend in the West, it is more important than ever that those of us who live in the developed world spread the Good News so that people really understand what Jesus came to earth to accomplish. Doctor Gavin Ashenden, now a Catholic, but formerly an Anglican priest and one of the late Queen's chaplains, explains more:
Ashenden told Neil Oliver on Christmas Eve that it is regrettable that Christianity, based on non-violence, is seen as such an easy touch for secularists:
Nonetheless, the message of Christianity's forgiveness and redemption still gets through. The Most Revd Robert Barron, a Catholic bishop from the United States, told Calvin Robinson how actor Shia LaBoeuf converted to Christianity. For him, knowing that God forgave his sins was a huge factor. The bishop gives a great summary of the effectual call. He says that God pursues and pursues those whom He has chosen, regardless of how awful our past trespasses were:
Religious Studies professor Dr John Milbank gave a lovely apologetic for Father Christmas, inspired by St Nicholas of Myra, a bishop, who gave anonymous gifts that saved people's lives. By giving gifts of gold to three young women's families, St Nicholas saved them from a life of prostitution. Milbank says it is good for young children to believe in Father Christmas and anonymous gifts. As they get older, he says, the belief in God's gifts of grace from heaven is an easier concept to appreciate and makes more sense to them:
One of the fascinating things about GB News's programmes over the past few days is the universality of Christmas celebrations in the UK. We are living proof that one does not need to be Christian in order to enjoy Christmas. I'm not talking about secularists but those of other faiths.
I have heard a Sikh, a Hindu — and now a Muslim — discuss how they celebrate Christmas. This imam, whose wife is from a non-Muslim background, says that their sons go to his in-laws' house on December 25. On Eid, his parents invite them over to celebrate that feast. This interview took place on the Christmas Day morning show. He said that, afterwards, he would be going to his in-laws for the day:
Neil Oliver also had a good editorial on his show about the meaning of Christmas. He began by discussing the Penlee Disaster, a 1981 shipwreck that took place near Mousehole, Cornwall. He described the selflessness of the men from Mousehole who rushed to the ship to rescue those on board. He then explored this selflessness in light of the Nativity story. He ended with a socio-political commentary:
An excerpt from his editorial follows (emphases mine):
I think about the Penlee lifeboatmen every year at this time. They say Greater love hath no man than this, but that he lay down his life for his friends. I say there is a greater love, and that it was revealed in the willingness of those eight Mousehole men who were ready to lay down their lives for people they had never met and would never know.
I often remind myself of the Penlee lifeboatmen, in fact, throughout the year – and I think about selfless acts of courage that declare in the strongest possible terms what it truly means to be human and alive. I think about what people are capable of, how much they have to give … and how much some of them WILL give. The Penlee lifeboatmen gave everything they had.
At Christmas we think about the birth of a child – Jesus Christ. He is God's gift to the world. Every child is a gift precious beyond description. It is also an act of immeasurable bravery by every woman who bears a child – because every child is, she knows, at the mercy of the world and every mother must understand, without needing to think about it, that her child is ultimately surrendered to life itself.
Mary gave birth to Jesus – the son of God – and even she would not be spared the ultimate loss. All our lives are forfeit – a debt that must be repaid, willingly or unwillingly.
Christmas is the time to think about all this – to think about what it means to give – and to acknowledge the meaning of the gift of the child … of every child.
The selfless courage of the Penlee lifeboatmen and the message of the Christmas story can be the antidote to much of the madness that is all around us now. It is a time to remember what we have, to value our loved ones and be thankful they are with us.
Rather than our hollow, spineless leaders, it is the courage and sacrifice of our fellow citizens that should capture and hold our attention, and not just now but all through the year.
It often feels like we are supposed to be focus all our attention on those who are not worthy. Those whose faces we see every day, the politicians in parliament, the leaders around the world, their preferred experts … whose names we hear over and over – they have nothing to give that is of any use to us now, that much as been made painfully obvious in recent years. I have long since stopped paying them any attention at all. Instead I look for heroes elsewhere.
We are supposed to believe our leaders mean to rescue us – from whatever Covid was, from the warmongers, from climate change, from the cost of lockdown crisis – but they had, and have, no such intentions as far as I can see. If they have plans to make anything better, it is certainly not our lives, or the lives of our children.
There is no cavalry coming to rescue us. If we are to be saved – and we surely will be – then we must look to one another for the necessary effort. We are more than capable of the task. We must save ourselves and each other by setting aside old broken ways, and finding new.
We should turn away from those who have failed us, lied to us, deceived us and left us to our fates and see that it is time to take the initiative, to shape and build something new, something untouched by those who have betrayed us and let us down.
Just because the help and leadership we need is not yet clearly in view … the seeds of it are there among us already, nonetheless. We must come to our own rescue in the year and years ahead because there's no one else.
The Christmas story tells us that 2000 and more years ago, a baby boy was born into poverty and into obscurity. During the 33 years of the life of the man he became, he was recognised for what he really was, his true value, by relatively few. He died as he had lived, in obscurity. He was executed for standing up to, and challenging, the establishment, but by his actions the world was changed for ever, for the better.
Sometimes the most obvious people change the world. At other times, it's the people the world does not notice, that the world thinks nothing of and so ignores, who end up making all the difference.
I hope and also trust that this is one of those times. I have no faith in the obvious, loud people with their hands on the levers of power. We will be saved by our own actions in defiance of those who care for us not a jot and who prioritise only those they serve – which is to say the already rich and the already powerful, the banks, the markets and the global corporations. I say we should ignore the whole lot of them.
Heres's the thing: together, right now, we already have everything we will ever need, which is to say each other. We can share food and warmth and light.
We are free people. It's Christmas and the Christmas message is that hope is here. Light in the dark.
Merry Christmas.
Incidentally, in 2022, December 25 is the seventh and final day of Hanukkah, which GB News also explored. It isn't often when these two religious feasts coincide:
Moving away from GB News, the Revd Giles Fraser, the vicar of St Anne's in Kew, west London, wrote an excellent editorial for The Telegraph. The paper has also included a list of religious belief in every county of England and Wales. Find out if yours is still Christian.
Of Christianity's influence on Western society, Fraser says:
So what, people may ask? Christianity has had its day. But, actually, Judeo-Christian assumptions have underpinned every aspect of life in the West for roughly the past thousand years, shaping the way we think about everything – from art to law, morality to freedom. Our constitution makes no sense without it; our intellectual traditions are incomprehensible without it; even the very idea of the secular is a Christian idea. 
It doesn't matter if you are a fully paid-up believer or not; it doesn't even matter if you dislike religion and consider yourself an atheist – if you are European, you probably still have a broadly Christian imagination. 
But, just like the fish who ask "What is water?" in David Foster Wallace's famous commencement address at his old college in 2005, some things can be so ubiquitous as to be almost invisible. We think in a Christian way even if we have abandoned any sort of specific belief. The very idea of human rights, for instance, is a classic example of a Christian perspective that has been secularised … 
… Indeed, the very act of cultural self-criticism that drives secularism is itself a Christian speciality. There is no more robustly self-critical book than the New Testament. The pious and priestly class are subjected to constant critique for their lack of understanding. The parable of the Good Samaritan is not just an encouragement to look after the vulnerable and stranded, it is a subversive dig at the failure of those who should have been first to help. The Samaritan is the New Testament's representative "other", disliked for being culturally and theologically different. To make a Samaritan the hero of the story is a withering critique of the established religious order. 
The Reformation was a perfect example of this permanent revolution from below – a religious self-critique that, to its proponents, attacked abuses of heteronomous power and relocated learning and authority to the people in the pews, spreading literacy to the ploughboy and fiery encouragement to the dispossessed.
Within education, family life, capitalism, pop music, the welfare state, no area of our common life has been untouched by these cycles of Christian renewal. Christian influence on Western culture cannot be simply measured by the number of virgins on display in the National Gallery, or the fact that you can't even begin to understand European literature without having first read the Bible.  
Nowhere will this be more evident than when King Charles is crowned next year. The Coronation is an inherently Christian ceremony. He will be anointed with oil in the same way that King David from Bethlehem was a thousand years before the first Christmas. Monarchy remains a religious business or it is nothing. The birth of the new king of Bethlehem, the king of kings, redefines monarchy as stripped of its power and glamour. Born in a shed with cattle as courtiers, this is authority without the armies. 
As the historian Tom Holland has argued in his brilliant exploration, Dominion, the story of the Christian engagement with the Roman empire is one of a clash of diametrically opposed systems. What attracted the young Holland to the Romans was all their glamour and cruelty. With Christianity, the weak triumph over the strong. The cross that was used by the Romans as an instrument of public humiliation turned into a universal symbol of human liberation. Which is why it will be the king who was crowned with thorns that will preside over the Coronation, not the history book king of the Roman eagle.
… I can only reflect that the story of God divesting himself of his celestial authority and coming amongst us as a vulnerable child has proved remarkably resilient, despite being banned, dismissed and ignored. 
And as the church places a small plaster representation of the baby into a pile of straw, hope is renewed. It is not hope as optimism, but hope as defiance: at the darkest time of the year, the light comes into the dark and the dark does not overcome it. No, we are not done yet. 
… Christmas is not about our love for Him but His love for us. And for that, Alleluia. Glory to the new born king. Happy Christmas.
Even though the UK is now a non-Christian country, according to the latest census, Christmas 2022 brought much considered thought from those who do acknowledge and believe that Jesus Christ is our Saviour and Redeemer.
Forbidden Bible Verses will appear tomorrow.
It's difficult winning against Andrew Neil, the longtime BBC political presenter who was the leading face of GB News for a month in 2021 and who currently has his own Friday evening show on Channel 4.
When it comes to grilling politicians, no one does it better than he.
Rishi Sunak agreed to subject himself to Neil's unfailing command of the facts. So far, Liz Truss — as did Boris Johnson — has not committed to the same.
Neil's interview
Sunak appeared with Neil on Friday, July 29, 2022, to put forth his case for becoming the next leader of the Conservative Party and, by extension, the United Kingdom's next Prime Minister.
Having watched the Q&A session, I thought that Rishi did a good job.
However, there was a real dissonance between what he said his policies involved and what Neil said they did.
As such, it made for awkward viewing. Who was telling the truth? I was left none the wiser.
At times, I was focusing on Neil's hair, which he has dyed a dark brown. His natural colour is ginger.
Rishi presented himself as the sensible, cautious candidate with regard to tax and the deficit:
Rishi defended raising taxes to fund the NHS. He did well in preventing his irritability from showing, but a vulnerability did slip out here:
Neil accused him of being 'consistently inconsistent' with regard to tax reform, but Rishi said that's how it works:
Hmm.
Neil asked Rishi about his wife's non-dom status. The former Chancellor gave a short reply, saying that she addressed it. This did not satisfy me, but then I don't have a vote in this contest:
Yes, there are family obligations here, it would seem. Those appear to involve his in-laws.
Neil was surprised at Rishi's answer about curbing the number of refugees. What Neil doesn't realise is that legal immigrants and their children take a much different view on migration than the British metropolitan elite.
Neil also managed to squeeze in Rishi's televised statement from his teenage years in 2001 in which he said he had no working class friends:
Neil concluded by reiterating that Liz Truss was still welcome to appear on his show.
I did not really know what to make of this half-hour broadcast.
Only the Mail had any commentary on it.
One article with more dialogue from the programme is 'Sunak is forced to deny he has shown a "lack of consistency" on VAT to Andrew Neil'.
An excerpt follows:
Veteran broadcaster Andrew Neil said Mr Sunak's approach of tightening fiscal policy risks recession in an interview on Channel 4.
The Tory leadership hopeful replied: 'No, if you look at what's happening around the world, it's inflation that is slowing economies down. It's rising interest rates that are already putting a brake on economic activity.
'And my concern is that I want to get to grips with inflation as quickly as possible because inflation makes everybody poorer. It erodes people's living standards.'
He also insisted his policy to hike national insurance thresholds was 'undoubtedly, objectively progressive' when Neil suggested it penalised workers.
'It's an entirely progressive measure,' Mr Sunak said. 'Raising thresholds means that those with the broadest shoulders contribute the most.'
The heated exchange resulted in Neil saying that the OECD has said that Mr Sunak's plans will result in a recession for the UK economy – which the former Chancellor disputed. 
It came as Mr Sunak sat down with the fearless interviewer Mr Neil on Channel Four – after frontrunner Liz Truss refused to do the same.
Mr Neil once again extended the hand to come on his show to the Foreign Secretary – saying the 'invitation is still open'.
The Southampton-born millionaire repeated his claims that tax rises were necessary for paying for Covid measures and said that he did not want to pass debt onto future generations.
He said that it would be the 'easiest thing in the world' to cut taxes to aide his leadership campaign but that he thought it was not the responsible thing to do.
Mr Neil hit out at Mr Sunak's wife's non-dom status which hit the papers earlier this year but the former Chancellor attempted to draw a line under the line of questioning, saying that he was the one running for office – not his partner.
The line of questioning made Mr Sunak visibly uncomfortable as he tried to move on from the scandal.
The tax cuts intended to fund the NHS were another line with Mr Neil used to attack Mr Sunak – as the interviewer quoted suggestions that the waiting lists on the NHS will reach 10 million in the next two years.
Mr Sunak attempted to distance himself from the Conservative's record on health after the fierce Scot tried to pin the NHS's problems on him – saying that he has left Government to change course on the NHS.
He added that he wanted to set up over 100 'elective surgery hubs' to bring down the backlog. 
Henry Deedes examined the optics of the interview: 'The ex-chancellor sat awkwardly, like a man about to undergo an enema'.
Excerpts follow:
We immediately saw Sunak sat behind a desk, his hands placed slightly awkwardly on top of each other. Across his mouth was smeared a distinctly uncomfortable grin. He looked like a man nervously waiting to undergo an enema …
Tax was the main topic, namely why Rishi as chancellor made us pay so much of it. Sunak said he wanted to pay down the cost of the pandemic rather than saddle our grandchildren with all that debt. 'I'd like to give people all these nice things – don't you think that'd make my life easier?' he pleaded.
Rishi kept calling Neil by his first name. Most of his replies began with a chummy 'look, Andrew'. Doubtless his spin doctors thought familiarity might soften the old brute. It didn't.
Neil kept coming at him over tax rises. A Bren gun with ceaseless ammunition. Pop, pop, pop. 
Why had he frozen the income tax threshold? Why had he left comfortable pensioners alone? Why were so many people paying the top rate? Unfortunately for Sunak, Neil is that rare thing in journalism – someone who actually understands economics …
Talk turned toward the NHS. Neil pointed out that waiting lists were up, despite the gazillions of pounds which get thrown at the Health Service every year. 'These are complex issues, Andrew,' Rishi mansplained.
Yes, yes, said Neil. But it had gotten worse on the Government's watch. 'Andrew, I left the Government,' pleaded Rishi. 
'Yes, but only a few days ago,' barked Neil. Sunak's answer to the NHS backlog was to set up a task force. Yes, that should do it!
There was mention of a recent video which surfaced of Sunak in which he told an interviewer he didn't know any working class people. 
Bit odd for someone who claims to come from such a modest background. 'I grew up working in my mother's pharmacy,' Sunak reasoned. 'We know all that,' sighed Neil witheringly.
He seemed to think Sunak's 'umble roots were a tad overplayed. Especially since he was schooled at Winchester. Neil's intellect of course was forged and honed at Paisley Grammar.
A brief tit-for-tat developed over Lady Sunak's non-dom tax status. 'I'm the one running for office, not my wife,' said Rishi. His voice lowered a bit at this point. He shot Neil a steely look as if to say 'Let's leave her out of this, shall we?' Respect.
We were now out of time. To be fair to Sunak he was still standing. But only just.
Incidentally, his opponent Liz Truss had given Neil's offer of an interview a wide swerve. 'Her choice, of course,' said Neil, voice laced with irritation. Chicken? Jolly wise, I'd say…
More scrutiny
Last week, Rishi's policies and personal life came under more scrutiny.
A Mail headline from April 24 resurfaced about his lavish Yorkshire home, which has a heated pool and will soon have a new gym and tennis courts. Incidentally, he has other homes, including a pricey mews house in London:

Just a little over a year ago, on July 2, 2021, Asia Financial reported that Rishi wanted more trade between the UK and China:
UK Chancellor of the Exchequer Rishi Sunak called for a "mature and balanced relationship" with China that helps British firms to exploit "the potential of a fast-growing financial services market with total assets worth £40 trillion" ($55 trillion) in a speech on Thursday July 1 …
Sunak set out alternative plans for an independent financial services policy for the UK and spent more time discussing opportunities in China than the US, which is the UK's most important bilateral partner.
He attempted to frame the opportunity to sell financial services to China within a context of maintaining principles such as openness and commitment to a rules-based order.
"Too often, the debate on China lacks nuance," Sunak said. "Some people on both sides argue either that we should sever all ties or focus solely on commercial opportunities at the expense of our values. Neither position adequately reflects the reality of our relationship with a vast, complex country, with a long history."
Sunak highlighted the appeal of China's financial services market for UK firms, as well as the need to cooperate on global issues like health, ageing, climate and biodiversity.
He seemed to effectively offer China the opportunity to agree different financial services terms with the UK than the EU, now that Brexit has arrived without a deal on mutual recognition of standards across Europe – which was the former target of "equivalence" of regulation.
Hmm. Interesting. His father-in-law's Infosys has an office in China.
A year later, on July 25, after China's Global Times endorsed him as the next Conservative Party leader, he walked back his support and claimed Liz Truss was the greater supporter of the Communist nation.
Guido Fawkes reported (red emphases his):
It's unsurprising, given his tacit endorsement from the Chinese propaganda arm Global Times, that Rishi has decided to go in hard on the country's security threat this morning. Declaring the Chinese Communist Party "the largest threat to Britain and the world's security and prosperity this century", Sunak attacks Liz for "[rolling] out the red carpet" and turning "a blind eye to China's nefarious activity and ambitions". He calls for a new NATO alliance to be set up to counter it the threat, and pledges to close all 30 Confucius centres, which teach Mandarin in the UK and are thought to be used as fronts by the Chinese intelligence services.
In response Team Truss returned fire last night, using Iain Duncan Smith to call the policy "surprising" and asking where Sinophobe Sunak has been for the last two years. Her team points to the above Sunak's endorsement by Global Times, and says he has been consistently soft on China …
In response, a Truss ally bluntly tells Guido that Sunak's team are "moronic", given not only was Truss responsible for childcare policy as an education minister, universities policy was run out of the business department at the time. David Willets was the BIS minister responsible, who – whilst yet to declare in this leadership election – has backed Sunak's tax rises. 
Guido also exposed the fact that the Artichoke Trust received £1,234,682 through Cultural Recovery Grants during the pandemic, when Rishi was Chancellor.
The Artichoke Trust puts out 'art' like this:
Clearly, not much scrutiny took place during the pandemic. No doubt, the Treasury were all in a rush to send out grants — taxpayers' money — to all and sundry.
On Tuesday, July 26, Rishi did a huge tax U-turn, imitating his rival Liz Truss.
Only days before, Rishi told Liz that it would be 'immoral' to lower taxes, yet, here he was at the beginning of last week reversing that to sound more like his rival:
Guido rightly asked why Rishi did not cut VAT on energy bills when he was Chancellor. Oddly, he now advocates the policy:
This is what the former Chancellor said in February 2022:
Guido has more on his February comments here.
On July 27, the Mail on Sunday had an article about his U-turn, saying he was 'under pressure' since the BBC debate of July 25 (emphases in purple mine):
This morning, Truss ally Kwasi Kwarteng, the Business secretary, welcomed Mr Sunak's 'late to the party' change on taxes.
He told Times Radio: 'I think he's under a lot of pressure. That's why we see all these statements: he was the person who said the VAT cut would disproportionately benefit rich families and now he's saying that a VAT cut on energy bills is the right thing.
'He was saying that tax cuts were a fairytale, now he is proposing an unfunded tax cut.
'There comes a time in campaigns when people are under a lot of pressure, he clearly felt under a lot of pressure in the debate and he wanted to get out on the front foot and interrupt Liz.'
But Transport Secretary Grant Shapps, an ally of Rishi Sunak, defended the former chancellor's plan. He rejected the suggestion that Mr Sunak is 'flip-flopping' and said the £4.3 billion policy is sensible as it would not add to inflation.
Put to him that it is a 'flip-flop', Mr Shapps said: 'If he hadn't produced £37 billion of support, about £1,200 to the hardest-up households already – if he hadn't done any of that and then suddenly did it then you would have a point.
'But he has, he has been providing all this support, now he is saying "Here's something that won't add to inflation that would save every person watching your programme £160 off their energy bills" – I think that's worthwhile.'
Last night No10 insiders told the Daily Mail that Mr Sunak's plan was something Boris Johnson tried to implement to ease the burden on consumers – but was blocked by his then chancellor.
'Boris begged him to do it – but he wouldn't budge', said the source. 'It's astonishing that he's now claiming it as his own policy.'
Meanwhile new polling shows that the rising cost of living and handling of the NHS could cost the Tories the most votes at the next election.
The Mail on Sunday's Anna Mikhailova pointed out that Rishi hardly had a long-term career in business, despite his own claims.
Nigel Farage picked up on her tweet and called Rishi 'a fraud':
Farage had elaborated on his GB News show the day before, Monday, July 25. He pointed out that Rishi included a clip of him in his campaign video on immigration. He doubted Sunak's sincerity on China and ended by saying, 'Well, I guess that leaves us with Liz Truss':
By July 27, the bookies gave Liz Truss an 83% chance of winning the leadership contest.
That night, Dan Wootton said that 'Fishy' Rishi's tax U-turn was 'too little, too late':
John Sergeant, who reported for the BBC for decades, said that the former Chancellor appeared 'rattled':
Political commentator Patrick O'Flynn said that many intelligent politicians weren't very good at politics, Rishi being a case in point:
On Thursday, July 28, Lord Ranger, a Rishi supporter, said that if the Conservative Party members do not choose the former Chancellor as leader, they are racists.
Dan Wootton responded by pointing out that this Conservative leadership contest has been the most diverse in history:
That includes Labour, too, by the way.
Wootton said, in part:
It was still only a matter of time before Team Rishi Sunak blamed his imploding campaign on racism.
Forget the fact that Kemi Badenoch was a surprise favourite among the party membership before being booted out by MPs for being too daring and different.
Forget the fact that Liz Truss is a woman who went to a Leeds comprehensive.
Nope, Sunak's failure is nothing to do with his big state/high tax agenda, which saw him increase our tax burden to the highest it's been in 70 years.
Nothing to do with his globalist posturing and desire to cosy up to China by making the Communist country our market of choice, as revealed in bombshell leaked Treasury documents reported in The Times today.
Nothing to do with the fact he backstabbed Boris Johnson – the man to whom he owes his career – plotting his leadership campaign, all the while pretending to be his loyal Chancellor.
No, no, no, no it's down to racism.
Conservative donor and Fishy Rishi supporter Lord Ranger told Indian news network Bharat Tak: "If people reject him, it will be a bad name for the party and the country because this will be perceived as racist.
"And so there is pressure on them to prove that here race does not matter.
"Calibre matters, and Rishi's calibre is above everyone. I am optimistic that people here will be fair and will not reject anyone on the basis of race."
Lord Ranger, I can assure you the Conservative members are not rejecting Rishi based on race.
They're rejecting him based on policies and a lack of loyalty too.
As my colleague and friend Calvin Robinson tweeted in response: "'Vote for me because I am brown,' is bad enough 'if you don't you're a racist' is even worse.
"This divisive, toxic rhetoric is straight from the Leftist guidebook on Critical Race Theory and should have no place in the Conservative Party or the government of this great nation."
Former Cabinet member Michael Gove's ex-wife Sarah Vine, who writes for the Daily Mail, said that Rishi stabbed Boris in the front:
On Friday, July 28, a Techne poll showed that Liz was gaining ground over Rishi:
That morning, Defence Secretary Ben Wallace put the boot into Rishi's decision to resign as Chancellor:
Wallace told Sky News:
Wallace: Let's look at that Friday afternoon – I think it was a Friday – what if the markets had crashed? What if the Home Secretary had done that and there was a terrorist attack? What would the public think, they would never forgive us for that… I don't think people needed to walk out, the public would see that as a government not thinking about the job in hand.
The multi-year settlement [for the Department of Defence] that we got was not what the Treasury had wanted, they wanted a one-year settlement – this was back in 2019 I think – and it was vital that we got a multi-year settlement, and the PM effectively asserted his authority and made all that to happen…
Interviewer: But Mr Sunak was not in support?
Wallace: Not that I remember.
Cut the right taxes like not proceed with corporation tax rises helps growth. When Rishi was Chancellor he cut entrepreneurial relief – he cut the relief we give to entrepreneurs who've invested in this country, invested in businesses – that's not a way to help create either wealth or indeed growth.
Wallace had more to say. He said that, as Secretary of State for Defence, he did not have the 'luxury' of resigning, a pointed barb at Rishi, who, he intimated, should have stayed on as Chancellor:
Wallace pledged his support for Liz Truss.
Meanwhile, Rishi's team claimed someone was leaking official documents:
Rishi allegedly asked Simon Case, the head of the civil service, to get involved.
Guido reported:
What leaks might Rishi be upset about? The Treasury documents which completely undermined his pledge to "scrap or reform EU laws in 100 days" is a strong bet. Earlier this month, just after promising to review all of the remaining 2,400 EU laws on the statute book, Bloomberg revealed the Treasury had – under Rishi's leadership – written to Liz Truss to claim that reforming EU taxes was desirable but probably not deliverable until 2026. Last time Guido checked, that wasn't quite within 100 days. Brexit Opportunities Minister Jacob Rees-Mogg even responded by claiming it was "a surprising promise as the Treasury under his leadership was insisting that taxation was exempt from the removal of EU law." What was it Rishi said about "fairytale promises"?
UPDATE: Now a spokesperson for Liz Truss says:
We condemn the leaking of Government documents and papers. Neither campaign condones leaks of material and will not use documents it receives. Furthermore, both campaigns will report any such leaks to the Cabinet Secretary who may take action directly, or via the Police, against the individuals involved in perpetrating such leaks or receiving and not reporting material. We understand leak investigations will be carried out without fear or favour.
Word around Whitehall is that Simon Case is livid, demanded both camps issue a statement and has called in police to investigate the China leaks.
On Saturday, July 30, things got worse for Team Rishi. He had to give away tickets to what had been a £20 per person hustings event:
Then, Tom Tugendhat, he of the military service, endorsed Liz Truss:
Oh, dear.
While all that was going on, staff at the Mail on Sunday (MoS) were preparing its copy.
Late on Saturday in one of the MoS pieces, Boris loyalist Nadine Dorries MP further reinforced the notion that Rishi is not a man of the people. She wrote about a tweet she'd sent out a few days before commenting on his expensive attire:
I wanted to highlight Rishi's misguided sartorial style in order to alert Tory members not to be taken in by appearances in the way that happened to many of us who served with the Chancellor in Cabinet. The assassin's gleaming smile, his gentle voice and even his diminutive stature had many of us well and truly fooled.
I wish to stress it's not the case that I believe a rich man or woman – even if their father-in-law is one of the richest men on an entire continent – cannot be Prime Minister of this great country. But they do have to possess good judgment, understand the lives of others, have empathy, compassion and know how to fill a car with petrol and pay for it at a till.
Rishi's father was a GP, his mother a pharmacist. He attended a public school where the annual fees are about £36,000. They were in the top two per cent income bracket of all earners in the UK. To describe his background as humble is yet another indication of poor judgment.
Rishi will never know what it is like to feel scared, broke and hopeless, without a safety net provided by wealthy parents. He has never had to lie awake at night, worrying about how to pay the bills. A bailiff will never knock on his door …
Too right.
Dorries said that Boris was not best pleased when he found out that Rishi is now pledging to cut VAT on energy bills, something she said Boris begged him to do as Chancellor:
… Rishi says he wants to cut VAT on energy bills. However, Boris had been pleading with him to introduce this measure for two years as the PM had been convinced that such a cut could provide immediate relief to families.
In a speech on Thursday, Boris commented with a hint of uncustomary sarcasm: 'Turns out it was easier than we thought!'
Rishi was the classic dog in the manger as Chancellor. Whenever Boris sought him out to discuss serious issues, Rishi was always polite but unforthcoming. Never a team player.
Another MoS article revealed photos of a young Rishi Sunak at an exclusive nightclub in London's fashionable Mayfair.
Reporter Michelle Bromley included photos, writing about the young man and his then-fiancée, now wife, the Infosys heiress Akshata Murty, who lived in California in 2008:
Despite living 5,400 miles apart, the couple regularly flew back and forth across the Atlantic.
These photographs show how they spent an evening with friends at the Whisky Mist nightclub in London.
Ms Murty is seen with a cocktail while Mr Sunak (who says he's teetotal and 'a total Coca-Cola addict') generously bought all the drinks that night for the couple's friends.
At the time, the club off Park Lane was popular with the young Prince Harry and celebrities such as Beyoncé and Leonardo DiCaprio. Many years later, Tesla tycoon Elon Musk met his second wife, actress Talulah Riley, there.
Whisky Mist was apparently named after an incident during which a tipsy Queen Victoria thought she'd spotted a stag in the fog from the window of Balmoral Castle.
Friends with Mr Sunak and his girlfriend that night recall how many of the guests were focused on Ms Murty because of her family's fabulous wealth.
Her father founded global IT giant Infosys.
Mr Sunak was described by a female reveller as 'the most attentive boyfriend you have ever seen' and as 'someone who would ask a lot of questions but not give too much away about himself'.
Not long before, he had been to Africa where he met some of Barack Obama's relatives. He was photographed with them while holding a copy of the future US president's book, Dreams From My Father: A Story Of Race And Inheritance.
The picture was posted on Mr Sunak's Facebook page. Mr Obama used his book as a primer to introduce himself to the American people as he campaigned in 2008 to become the first black US president.
Fourteen years on, the young Briton captivated by that book is campaigning to become Britain's first Prime Minister of Asian heritage – and of America's greatest ally.
Nadine Dorries is right. Rishi Sunak will never have to worry about anything significant in his life.
The Sunday Telegraph said that Conservative MPs criticised Dorries for retweeting a photoshopped image showing Rishi as Brutus wielding a knife at Johnson's Julius Caesar's back. The original tweet is at the link.
The MoS also reported that some of the MPs supporting Rishi have serious doubts about his campaign:
Conservative MPs backing Rishi Sunak have privately admitted 'It's over' as panic sets into his leadership campaign.
Insiders told The Mail on Sunday that some supporters were refusing to do campaigning events for the former Chancellor.
MPs are said to be getting cold feet after Defence Secretary Ben Wallace and former leadership rival Tom Tugendhat threw their support behind Liz Truss in quick succession.
However, other MPs backing Mr Sunak insisted he was doing well with Tory members, and said private polling showed Ms Truss's supporters had been easily convinced to switch their support to him.
As this week opened, Dan Wootton's Monday poll showed that GB News viewers thought that his tax U-turn was still too little, too late:
That polling ran while Rishi and Liz were at a hustings in Exeter, more about which tomorrow.
I hope the former Chancellor, whose mother owned a pharmacy, does not get anywhere near Downing Street, except as a visitor: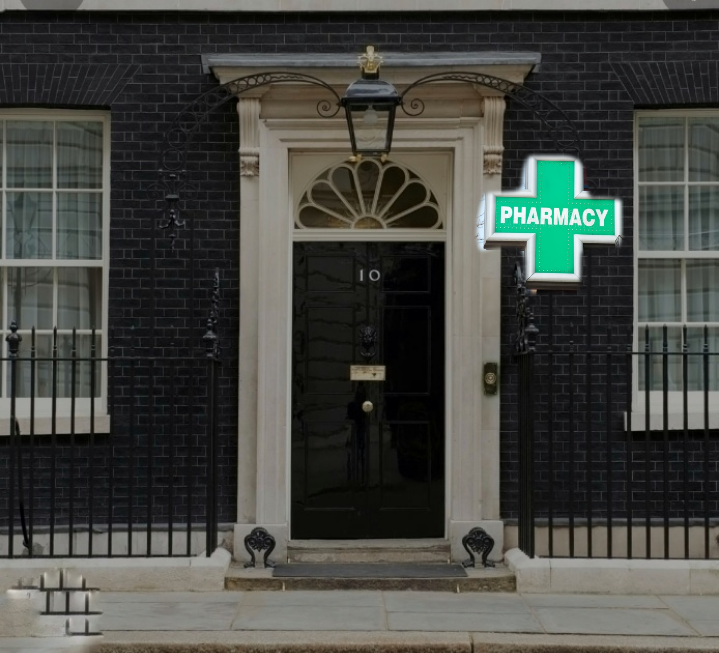 Why anyone wants Rishi to be the next occupant of No. 10 escapes me. Convince me — someone, anyone — why he should be our next Prime Minister.
Before I get to the latest round of voting in the Conservative Party leadership contest, here's an update on our weather.
Tuesday was quite warm. Allegedly, temperatures reached over 40°C for the 'first time ever'. I do wonder, because I remember a day or two in the mid-1990s when we reached 100°F. Furthermore, my reader dearieme wrote in to say that Greenwich recorded 100°F way back in 1911.
I say 'allegedly' because temperature readings came from airports. Certainly, it was at least 38°C.
Everyone in the media was banging on about how many people would die. Yet, cold weather kills many more than does hot weather.
That should not need pointing out, but The Lancet has just published a new study on winter deaths:
In the UK, on average, 791 people die from heat, compared with 60,753 every winter:
Guido Fawkes summarised the findings and concluded (red emphases his, purple ones mine):
With 60,000 annual deaths due to the cold compared to 800 resulting from extreme heat, Guido can only hope that rising average temperatures will save more lives in the future, as a real demonstration of climate justice in action. Always see the sunny side…
I agree. One would think activists would hope for hotter days. Warm weather saves lives.
In any event, it rained in southern England Tuesday night. Wednesday morning was quite cool. Temperatures are now back to normal.
Crisis averted — for the most part.
That said, there was a spate of fires because of dry weather, including a terrible blaze in a village east of London that lasted for hours. It was breezy, so the firefighters had a horrible job on their hands. My prayers go to the residents of that village and those elsewhere who have lost their homes and property.
Wednesday's vote
On Wednesday morning, we had three candidates left. Political geeks hoped for a three-way tie, which would have forced an immediate run-off:
Guido wrote:
At 4 pm today we will learn who the final two are. MPs vote from 1 pm to 3 pm, though we're still not clear whether they'll vote for the candidate they want to win, or the candidate Grand Marshall Gavin Williamson has told them to vote for. Kemi Badenoch's 59 ex-backers won't have had a moment's silence since she got knocked out yesterday. If this were a TV drama, today would be a fantastic half-time series final. 
… If that wasn't enough excitement, we also get Boris's last PMQs proper. His attendance may be a bit awkward, however, given he's already said his goodbyes and bowed out during last week's session, implying he may be unavailable to do today. Now his No. 10 team will be having to come up with more perorations and Starmer put-downs. Will the Tories clap him out? 
… there's the numerical possibility all candidates could tie on 119 votes each. Already Sir Graham's had to draw up contingency plans for an emergency re-vote tomorrow if such an event [occu]rs. There are concerns Westminster could be facing an imminent popcorn shortage…
In the end, while the vote was close, Penny Mordaunt lost.
Rishi Sunak had the most votes — 137 — and Liz Truss came in second:
Membership ballots
Meanwhile, 3,500+ disgruntled Conservative Party members are demanding that Prime Minister Boris Johnson's name be added to their ballots.
On Wednesday, July 20, Guido reported:
More than 3,500 Conservative Party Members have written to the Conservative Party Chairman demanding Boris Johnson is allowed to compete in the forthcoming leadership election. The petition, launched by Conservative Post, claims "our first choice has been removed without our involvement" and has the backing of prominent party figures like Lord Cruddas and David Campbell Bannerman … Guido understands it has at least annoyed CCHQ by clogging their phone lines…

The petition does say a lot about the sentiment within the Tory grassroots, just as they are about to choose the next Prime Minister. Thousands of members have signed up to a letter that describes how morale is low, with grievances arising at a Parliamentary party with a "vested interest" against Boris. No doubt such strong feelings towards Boris, and those who ousted him, could prove an interesting dynamic in the election. The Tory members share a similar belief to the Labour Party: Boris is a vote winner.
CCHQ plans to send ballots to Conservative Party members out the first week in August. Online voting is also available. Members will receive security codes for online votes.
Members may vote more than once, should they change their minds, although only their most recent vote will count.
A debate on the BBC between the top two candidates is scheduled for Monday evening.
One of Rishi Sunak's backers had told Guido that, if the ballots are available too early, his candidate might fare poorly. With ballots going out after the debate, that is no longer a concern. Yet, it is worth noting:
One Sunak backer told Guido this could be especially damaging to their preferred candidate should he make the final two, given he knows all too well he faces an uphill battle among members to win over support – not least proved by this afternoon's YouGov poll. Sunak's key strategy is to win members over with his ability to perform during the regional debates and hustings, as his team believes he proved he could do during the TV debates. The fear is that if CCHQ sends ballots out at the very start of the debate – and opens electronic voting at the same time – the vast majority of members will return their forms immediately, not giving Sunak time to win over doubters. 
Even MPs supporting rival camps worry that while their candidate might benefit from this CCHQ timetable, there's an essential need to "kick the tyres" on the final two candidates to make sure there isn't a repeat of only discovering Theresa May's inability to communicate come the election. Expect this row to take off the moment the final two are confirmed on Thursday…
Early signs that Rishi won't win
At this juncture, it looks unlikely that Rishi Sunak will win the Conservative membership contest.
A YouGov poll published on Tuesday, July 19, shows that every other candidate would beat him:
Think of it this way: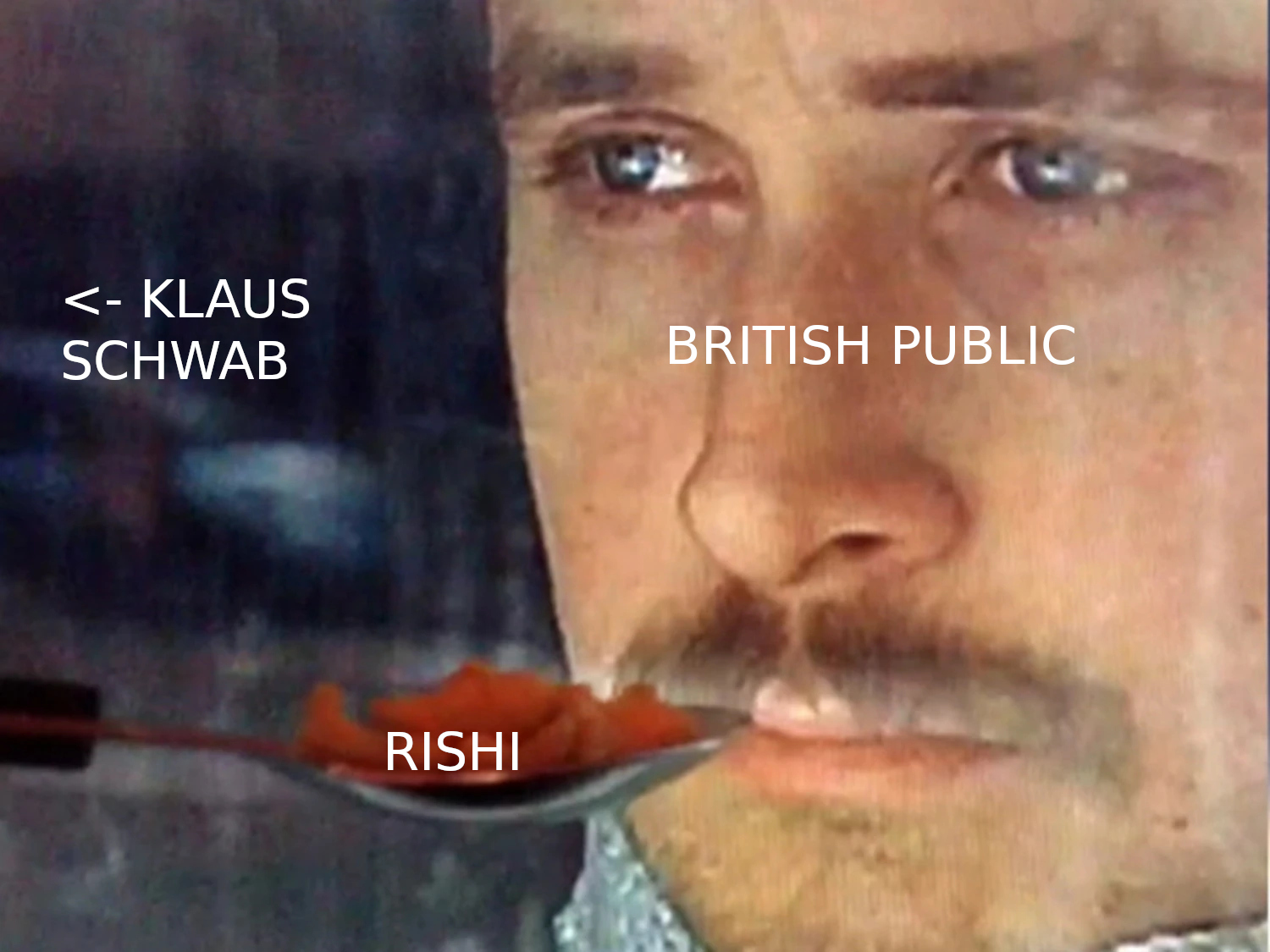 Why Rishi could lose
After Rishi resigned as Chancellor, Nadine Dorries, the Secretary of State for Digital, Culture, Media and Sport, appeared on GB News to give us the lowdown on Rishi. She told Dan Wootton that he didn't work very hard:
She alleged that neglecting his duties gave him a lot of time to prepare his leadership candidacy:
Another MP who thinks that Rishi did not do a good job as Chancellor is John Redwood: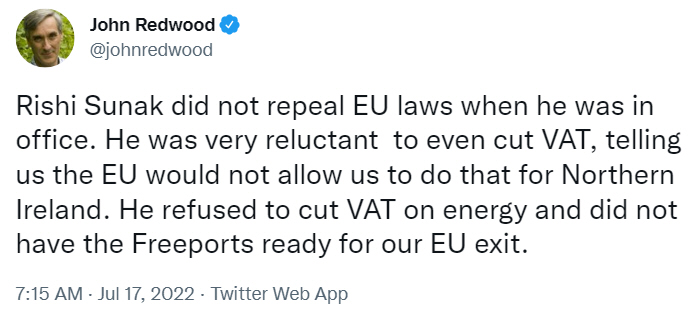 Returning to Nadine Dorries, the public had been disgruntled with Rishi prior to her interview, largely because of his financial and immigration situation, as GB News explains:
his stock has taken a tumble recently following disclosures that his wife had non-dom status for tax purposes and he held on to his US green card while serving in Government.
She suspects that Boris's former adviser Dominic Cummings has a hand in Rishi's candidacy:
Ms Dorries also warned about Mr Sunak's relationship with former Downing Street adviser Dominic Cummings.
She said: "His support for Rishi is off the scale.
"I think it's only because Dominic wants to be back at the heart and that should be a terrifying thought for anybody."
Dorries, probably Boris's staunchest supporter, told Wootton that the Prime Minister should not have been ousted as Party leader:
… the 65-year-old went on to say that "the Remain establishment, Labour and Putin were the three that wanted him out the most."
Referring to the Prime Minister, Ms Dorries added: "He got us through Covid, he lifted the restrictions, he delivered Brexit, so many policies I could just list them forever, all of these have been delivered."
Wootton also had a panel discussion about whether Rishi was trustworthy. One participant said that Rishi should have done his job rather than plot against Boris:
People will not forget his disloyalty:
Early in the contest, The Sunday Times took a poll of the British public and Conservative voters as to whom should succeed Boris. Together, 'Don't know' and 'None of the above' totalled 58 per cent; read 'Boris'. Also note the response from Pippa Crerar of the Labour-friendly Mirror:
A poll that YouGov took for The Sunday Times, conducted on July 12 and 13, showed that Rishi would lose against any of the remaining candidates: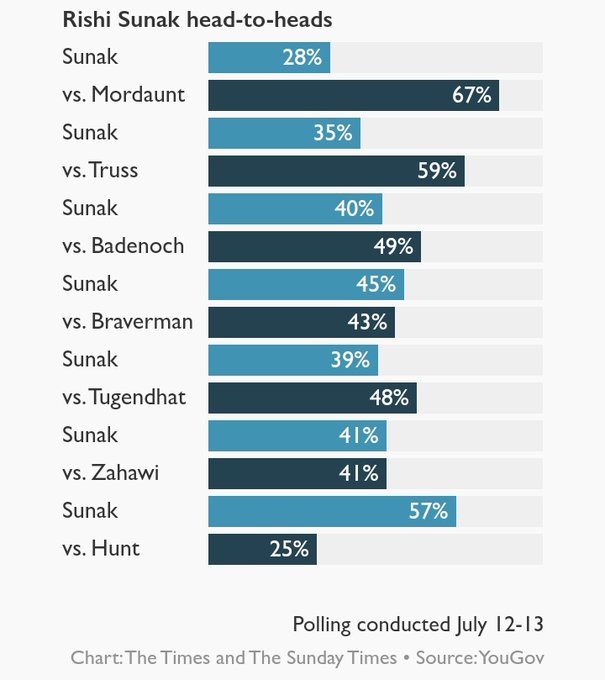 Rishi launched his campaign on July 12. Oddly, he took questions from television news reporters but none from newspapers, except from The Sun's Harry Cole. Cole had to embarrass him into it:
Rishi's campaign message of unity did not go down well with the public:
Dan Wootton had another editorial and discussion on Rishi that evening. Wootton called him 'a big state globalist assassin' and said that Conservative Party members would not back him:
Here's the video:
In the panel discussion, the Revd Calvin Robinson called the former Chancellor 'a socialist':
The next day, Wootton had more, urging MPs to listen to Party members when voting:
GB News has a transcript of his editorial, in which he said:
So all week the usual suspects in the political establishment and the MSM, especially the BBC, ITV News and Sly News, have been trying to convince you that Rishi Sunak was the inevitable candidate to replace Boris Johnson as Conservative Party leader and thus become the Prime Minister of this great country.
As ever, they've been selling you a load of utter piffle cooked up in the Westminster bubble.
But, from the moment Boris was brutally deposed in that completely unnecessary coup, I've been telling you there's zero chance Tory Party members – many of whom are horrified about the treatment of the Prime Minister – will elect the knife-wielding ex-Chancellor …
Tory grandees might think Sunak can win it, but he won't.
Spiked's Brendan O'Neill fears that Sunak is, at heart, a technocrat who does not care about the people:
Body language analyst Judi James says that Rishi's delivery is awful, from his speech patterns to his awkward gestures. She says that it would not take long for his insincerity to turn into smugness:
Guido discovered that Rishi's earliest backers among MPs were Remainers:
A drilldown of the MPs supporting him this afternoon shows that only 30% of Rishi's supporters backed Brexit in 2016.
Hmm.
On July 14, Lord Moylan appeared on Michelle Dewberry's GB News show to say that Sunak is 'deeply unpopular' among Party members. He also said that Conservatives will pay the price for getting rid of Boris, as he could win elections:
Here's the full video:
Dan Wootton was not letting up on Rishi:
That night, his guests discussed the top candidates, agreeing on 'Anybody but Rishi':
Here's the video:
Boris also urged MPs to back 'anyone but Rishi'.
On July 15, The Mail reported:
Boris Johnson is pushing for failed Tory leadership candidates to back 'anyone but Rishi' Sunak, it was claimed today, amid reports that the whole team at 10 Downing Street 'hates' the former chancellor for causing the PM's downfall.
Johnson, who announced last week that he will step down as party leader when his replacement is decided, has said he will not publicly endorse any candidate or get involved in the increasingly bitter leadership race.
However, Johnson has reportedly made clear in private discussions with failed leadership hopefuls that Sunak should not be his successor.
Citing a source close to one such conversation, The Times said Johnson appeared to be most enthusiastic about his Foreign Secretary Liz Truss becoming Prime Minister.
That day, Bev Turner and her guests discussed the likelihood of Rishi or the other candidates being able to win an election:
While people thought that Kemi Badenoch was 'too young' to progress in the contest, she is actually older than Rishi:
Look how far ahead Kemi was in the Conservative Home poll of July 16. Note that Rishi was in fourth place:
It will be hard for Rishi to shake off public opinion.
A poll done for the Mail on Sunday of July 17 shows that 41 per cent of participants think that he is out of touch with voters:
That's Rishi Sunak.
I would enjoy knowing what his real ambitions are for the future. Becoming Prime Minister would be a stepping stone for something that probably only he, his wife and his in-laws know about.
I do not have a vote in this contest, but if I did, I'd cast it for Liz Truss.
In closing, Dan Wootton started a poll last night asking GB News viewers who their choice was for the next Conservative leader. Halfway through his show, he announced that tens of thousands (he cited two different figures) of viewers had participated.
These were the results halfway through his show:
Boris Johnson 49%
Penny Mordaunt 22%
Liz Truss 15%
Rishi Sunak 14%
Bring back Boris — about whom more will follow in another post. His last PMQs was terrific.
Last weekend saw an Anglican news story make the papers: that of ordinand Calvin Robinson, who is effectively being prevented from taking Holy Orders in the Church of England.
Even though he is mixed-race black, he appears to be the 'wrong sort' of minority for the C of E: too biblical, too conservative, too traditional.
I wrote about him a month ago, when it was clear he was having problems securing a priestly placement, even though he had been offered one in central London at St Alban's in Holborn.
Background
In 2020, Calvin Robinson was a campaigner for Defund the BBC. Here he tells Dan Wootton, then a broadcaster on talkRADIO, that it was absurd for the BBC's Countryfile to suggest that people of colour would feel awkward in the countryside. Robinson said that he practically grew up in Sherwood Forest in Nottinghamshire:
He had more to say in September, when the BBC's A Question of Sport revamped its panel because of their skin colour. Robinson called for more diversity of thought and economic background instead, i.e. conservative working-class people:
Robinson worked as a schoolteacher and assistant principal before entering the seminary. He was also a school governor, so a well-rounded children's education remains important to him. On October 15, he took exception to radical 'theories' entering the British school system:
He had more to say a few days later when Parliament debated the subject. Kemi Badenoch MP is at the despatch box. The Opposition view her as the 'wrong sort' of minority woman:
He deplored the National Education Union's push for school closures early in 2021 because of the pandemic:
Shortly after he tweeted that, he had appeared on a BBC Sunday morning show, The Big Questions. His appearance brought reaction in the form of verbal insults from an activist and academic at Leeds Beckett University, more about whom below. On February 18, he wrote an article about it for the Mail:
… after I had appeared on the long-running BBC discussion show The Big Questions last Sunday morning, I saw a message on Twitter from Aysha Khanom, the founder and director of the Race Trust charity, which works with schools and universities and purports to promote 'racial equity'.
Aysha Khanom personally tweeted of me: 'Please somebody deal with this man!'
I found that menacing. I don't know exactly what she meant by it, but it echoes the sort of language that Tony Soprano would use when he wanted a rival rubbed out.
'Deal with' could easily be read as an incitement to violence.
But I shrugged it off. If I obsessed over every piece of abuse I receive through my phone, I would never think about anything else.
Shortly afterwards, though, the Race Trust Twitter account also attacked me — and this time it was less ambiguous.
'Calvin Robinson,' the tweet read, 'does it not shame you that most people see you as a house n****?'
I knew immediately that any decent person would find that language abhorrent. And sure enough, within 48 hours, Leeds Beckett University, which had worked closely in the past with the Race Trust, cut all ties and deleted Aysha Khanom's profile from its website.
For what it's worth, Race Trust now denies Aysha Khanom sent that second tweet. It claims it came from an anonymous employee without approval, and that this unnamed person has since been dismissed …
There was no apology to me for labelling me with a racist slur …
The sad truth is that many on the Left want to remove my freedom to speak independently.
To them, my skin colour means I am supposed to be part of a homogenous, faceless group, without a mind of my own.
But I am more than that. I am British, a Christian, a Midlander, a former computer programmer, a qualified teacher, a political adviser, a son and a brother.
I have many elements to my identity, and all these things have far more effect on how I see the world.
Above all, I believe in self-reliance and personal responsibility. I want to make the most of my life and refuse to see myself as oppressed or downtrodden …
After Oprah Winfrey's interview with the Sussexes aired, Robinson was dismayed that Meghan claimed the Archbishop of Canterbury married her and Harry privately in the garden when it was only a rehearsal. Robinson explains the C of E criteria for a wedding ceremony:
Robinson joined GB News as a panellist and presenter soon after its launch in the summer of 2021.
This appearance of his from August 2021 was excellent. In it, he defended traditional Christian values which have informed the UK's way of life for centuries:
Two weeks earlier, he reminded us that then-Health Secretary Matt Hancock resolutely said in November 2020 that the coronavirus vaccines would not be given to children. Robinson is opposed to children receiving the vaccine. Yet, by the time he posted this tweet, schoolchildren were receiving it. What a difference several months make:
On August 18, he was very generous in defending the free speech of the aforementioned academic at Leeds Beckett University who called him something offensive. He wrote an article for Spiked about her, saying:
It is for that reason that I haven't joined in the demands for academic Aysha Khanom to lose her job. Leeds Beckett University has cut ties with Khanom after an organisation she runs, the Race Trust, racially abused me on social media.
Earlier this year, I appeared on BBC One's The Big Questions to discuss the state of racism in the UK. I spoke about how I have been racially abused for not holding the 'correct' opinions. In response, the Race Trust tweeted: 'Does it not shame you that most people see you as a house negro?'
Khanom maintains that the 'house negro' tweet was not sent by her, though she accepts responsibility for it. Either she or someone at her organisation was clearly comfortable using such racist language in public. The good news is that the tweet was rightly challenged and 'ratioed' by the masses on Twitter …
In my eyes, what's most worrying about this incident is that Khanom's organisation was set up to promote this critical race theory view – or what it calls 'race literacy' – in schools and universities. Sadly, this is what passes for 'anti-racism' today. Is this really the kind of worldview we want to indoctrinate our young people into?
The rise of identitarian racism should definitely worry us, but we won't be able to challenge it openly if its defenders aren't free to express themselves.
On Remembrance Sunday last year, an asylum seeker attempted to bomb Liverpool Cathedral but set himself off at the nearby children's hospital instead. He had converted to Christianity. Pictured below is a man from his church who housed him for a while. Calvin voiced his opinion:
By early 2022, anyone not towing the media-Government line on coronavirus was anathema. Robinson was empathetic but frank with a university student who lost her friends because she dared to dissent:
Calvin Robinson anathema to C of E bishops
This brings us to the present, the past week, in fact.
On Friday, May 20, Robinson said on GB News that he had no choice but to leave the Church of England. He announced that he would be joining GAFCON, Global Anglican Future Conference, which is traditional in its teaching and practice.
The Mail on Sunday was already working on the story. A Mail+ article from Saturday, May 21, reported (emphases mine):
Internal emails obtained by The Mail on Sunday reveal that Archbishop of Canterbury Justin Welby asked to be shown examples of Mr Robinson's tweets amid mounting alarm within the Church over his criticism of 'bleeding-heart liberal vicars' and the Church's race policy.
In one, The Rt Rev Rob Wickham, Bishop of Edmonton, voiced his fears to senior church leaders after Mr Robinson insisted that Britain was not riven with racism. 'Calvin's comments concern me about denying institutional racism in this country,' he wrote.
Mr Robinson also claimed that the Bishop of London, the Rt Rev Sarah Mullally, lectured him about racism in the church, insisting that 'as a white woman I can tell you that the Church is institutionally racist'.
Mr Robinson, a former teacher who has trained for two years to become an ordained member of the clergy, has been told that plans for him to serve as a deacon at a parish in London have been axed.
Last night he described the decision as 'soul-destroying' and claimed it followed a 'sustained campaign' against him by the Bishop of Edmonton over his views, including on whether Britain and the Church were institutionally racist. 'These people are claiming they are institutionally racist, yet they are disregarding the opinion of an ethnic minority because it is not fitting their narrative,' he said.
In comments set to rock the Church's hierarchy, he questioned whether the Archbishop of Canterbury, who has claimed the Church is 'deeply institutionally racist', had a part in blocking his ordination.
'I would love to know how big a role the Archbishop had in it because he has certainly been a part of the conversation. He is the boss and the fact they have gone ahead and cancelled me suggests that he was happy with that.'
… The Church said last night there were only a few clergy positions in London and 'no suitable option' available in London for Mr Robinson, who became a trainee vicar – an ordinand – at St Stephen's House, a theological college at the University of Oxford, in October 2020.
Yet, Robinson had already been offered a post at St Alban's, Holborn.
I gave you his background above because that is what the bishops were examining:
The emails reveal that even before starting his studies, Mr Robinson's public comments were being scrutinised by church leaders. He claimed on ITV's Good Morning Britain in September 2020 that the Black Lives Matter movement was stoking racial tensions, adding: 'There are elements of racism in this country we need to stamp out, but while we are seeing everything as racist we are kind of undermining those racial issues we need to address.'
That day the Bishop of Edmonton emailed the Bishop of London, the Rt Rev Sarah Mullally, and a PR adviser to the Diocese of London to register 'concern' about Mr Robinson's denial of institutional racism in Britain. 'Calvin Robinson is not only a political commentator, but he's an ordinand and former teacher in this area,' he added. Despite the Church's view on racism, the Commission on Race and Ethnic Disparities concluded in March 2021 that Britain did not have a systemic racism problem. In November 2021 senior Church leaders received a complaint after Mr Robinson shared on social media a Daily Mail investigation that exposed how the Church gave official advice that being baptised could help failed asylum seekers stay in Britain.
It followed news that suicide bomber Enzo Almeni, who detonated a device at a hospital in Liverpool last year, was baptised there as a Christian in 2015. Mr Robinson, by then a GB News commentator, tweeted that 'misguided bleeding-heart liberal vicars could be complicit in recent terror attack', adding: 'Not to mention abuse of the Holy Sacrament of Baptism.'
Bishop Wickham criticised the 'highly irresponsible' comments in an email to Emma Ineson, assistant bishop to the Archbishops of Canterbury and York, and said they remained online after 27 migrants died in the English Channel. 'These are clear examples as to why, in my opinion, his ordination should be looked at very closely indeed,' he wrote. 'Calvin's Twitter feed is here. It is worth scrolling down.' He revealed the Archbishop of Canterbury had 'asked for examples of Calvin Robinson's tweets' and highlighted that Mr Robinson had also criticised the findings of the Church's anti-racism taskforce, which recommended quotas to boost the number of black and ethnic-minority senior clergy. Bishop Ineson said she would show the information to Archbishop Welby.
Mr Robinson was to be ordained as a deacon with a part-time role as assistant curate at St Alban's Church in Holborn, central London. But in February the Bishop of Fulham, the Rt Rev Jonathan Baker, told him the role was 'likely to prove problematic, and would not lead to a fruitful or happy formation for you in your early years in ordained ministry'. Mr Robinson offered to reduce his media work but was told he would still not be able to take up the proposed role because 'that moment had passed'.
The Bishop of London suggested he was stoking division:
At a meeting with Mr Robinson this month, Bishop Mullally insisted the decision was not about his politics, but because his 'presence' on social media and TV 'is often divisive and brings disunity'.
Robinson received support from a young Conservative MP, Tom Hunt:
Tory MP Tom Hunt backed Mr Robinson last night, saying: 'The message the Church seems comfortable to send out is that it's OK to propagate some political views but not others. Sadly, Church of England congregations will continue to decline as millions of Christians are alienated by its behaviour.'
The C of E prelates involved in deciding Robinson's fate as a future priest declined to comment:
The Archbishop of Canterbury and Bishops of Edmonton and London declined to comment. The Diocese of London said: 'We have a limited number of curacies available. In this instance, it is felt that there is no suitable option available that London can offer. We continue to be in conversation with Calvin, are willing to work with him to discern the right way forward, and we keep him in our prayers.'
The Mail on Sunday's article has this title: 'EXCLUSIVE: Not woke enough to be a vicar! Black political commentator Calvin Robinson who said Britain is NOT a racist country is BLOCKED from becoming a priest by a white bishop as a result'.
That title sums the situation up perfectly. Is not the bishops' attitude a racist one, as in 'We whites know better than you'?
Calvin tweeted the article:
The article is the same as Mail+'s, but it does include photos of the main players in this story.
The Mail kindly gave space for Robinson to respond beneath their article.
Excerpts follow:
Sitting in an ornate study in the Old Deanery – a 17th Century mansion house opposite St Paul's Cathedral – the Bishop of London put her hand on my arm and quietly said something that left me astounded.
'Calvin, as a white woman I can tell you that the Church IS institutionally racist,' the Rt Rev Sarah Mullally told me.
We had been discussing the Church's race policy, which I had been vocally objecting to for some time. The Bishop could not understand that as a black man, I simply did not share her – and the Church hierarchy's – view on this contentious issue.
The Archbishop of Canterbury, Justin Welby, has proclaimed that the Church of England is 'deeply institutionally racist' and called for 'radical and decisive' action. Last year an Anti-Racism Task Force recommended using quotas to boost the number of black and ethnic-minority senior clergy, introducing salaried 'racial justice officers' in all 42 dioceses and launching 'racial justice Sunday' once a year.
I fundamentally disagreed with this approach, which is based on a faith in divisive Left-wing Critical Race Theory, instead of the teachings of Christ. I believe it is divisive and offensive.
I have experienced plenty of racism in my life, but it has always been down to a minority of malicious individuals. I do not think the claim that either the Church, or wider society, is institutionally racist has ever been supported by robust evidence.
The Bishop of London's hushed condescension during our meeting made me realise that any dissent from the Church's ingrained view, which to me seems like nothing more than virtue-signalling, is not welcomed. The Church claims it wants to listen to the perspectives of minorities – well, I am one of them but it doesn't appear to want to hear my view because it also happens to be a conservative one.
For the past two years I have been training for ordination at St Stephen's House at the University of Oxford. I was due to begin a curacy at a lovely parish in Holborn, Central London, and within a year I hoped to be ordained a priest.
It takes a long time to acknowledge a call from God to serve as a priest, and it's a vocation that often involves the sacrifice of leaving behind a successful career. I gave up my career as an assistant headteacher and consultant for the Department for Education to throw myself into my theological studies.
He said that the role at St Alban's would have allowed him time to still appear on GB News and do other media work:
as an acknowledgment that I see my media work, which reaches a huge audience, as part of my calling and future ministry.
Another bishop was involved with deciding Robinson's fate, the Bishop of Fulham, also in London:
During a Zoom call, the Bishop of Fulham, the Rt Rev Jonathan Baker, told me that there had been 'a lot of turbulence' over some of the views I had expressed online and on TV. It was no secret that senior figures in the Church disliked me. I am after all a traditionalist – which means I do not believe in the ordination of women – and I have never been afraid to voice my criticism of the Church's drift away from what I, and many of its parishioners, think are its core values.
I did not expect everyone to agree with me, but what I did expect is the right to express my own opinions. I had always been taught that the Church of England was a broad church.
I later discovered that Church leaders in London appeared to have had deep misgivings about my ordination from the very beginning of my training – despite spending more than £20,000 of parishioners' money on sending me to study theology at Oxford.
Emails that I obtained via data-protection rules revealed that bishops at the very top of the Church had been closely scrutinising my public comments.
'His political agenda is I guess what you would call libertarian – anti-woke, anti-identity politics, Covid-sceptical,' the Bishop of Fulham wrote in one email. 'His tweets get him into trouble sometimes and there have been complaints to the Bishop of London that he shouldn't be ordained.'
Robinson rightly asks why, if the Church is institutionally racist, these white bishops have not tendered their resignations:
If the Church is institutionally racist, as the Archbishop of Canterbury insists, then why have he and other senior figures, including Stephen Cottrell, the Archbishop of York, and Sarah Mullally, the Bishop of London, not resigned? After all, they have all been bishops for years, which suggests they have been unable to solve the problem.
He warns that the C of E is entering apostasy. He is not wrong:
If you defend family values, the sanctity of marriage, all human life being sacred, or the fact that God made us male and female, you'll face opprobrium.
Something has gone wrong. The established Church is entering apostasy, and the faithful masses in the congregations and the hard-working clergy deserve better.
Fortunately, he has received much support from clergy and laity:
Since my ordination was blocked I've been contacted by clergymen and lay people up and down the country who have been sharing their stories of how they've been silenced by the Church for holding conservative views.
He confirmed that he will be joining GAFCON and explained why it is so heartbreaking for him to leave the C of E:
After becoming increasingly disillusioned, I recently decided to leave the Church of England and join a more orthodox institution, the Global Anglican Future Conference (GAFCON). Walking away from the Church of England has been heartbreaking.
People often quizzed me on why, if I was so troubled by its direction, I was also so determined to take holy orders in the Church of England. It was because, for me, the Church is the body of Christ and, perhaps naively, I thought I could help pull things back on track from within.
The Sunday Telegraph provided a few more details:
He had been training to become a priest at the University of Oxford for the past two years and was due to begin a curacy at a parish in Holborn, London, but was turned down for the role by the Bishop of Fulham, the Rt Rev Jonathan Baker, in February …
Mr Robinson submitted a subject access request (SAR) to the Church of England – asking the organisation for access to the personal information it held on him.
It was then that he discovered a series of internal emails between Church bosses raising concerns over his opinions on institutional racism in Britain …
In another email, the Bishop of Fulham writes: "I wanted a word about an ordinand, Calvin Robinson. You might be aware of him … "
Of the Bishop of London, he pointed out the irony of her insisting that the Church was institutionally racist:
Former teacher Mr Robinson added: "She was just ignorant. She accused me of being controversial so I said to her in a polite way that some of the things she says are controversial too – like the fact that she thinks the Church is institutionally racist. And then she turned around and said that.
"She was contradicting herself because in one instance she's saying the Church is racist and needs to listen to the lived experiences of ethnic minorities, but then she was refusing to listen to my lived experience as a black man because it didn't fit with her narrative."
On Sunday evening, he appeared on Mark Dolan's GB News show:
On Monday, May 23, The Times carried a report.
In it, we discovered that the Bishop of Edmonton's child or children attended the school where Robinson was an assistant principal:
Calvin Robinson has been blocked as a priest by the Church of England after the Right Rev Rob Wickham, the Bishop of Edmonton, privately warned church leaders against ordaining him. Robinson, a social commentator, was an assistant principal at a school where Wickham was a parent …
Robinson said that he was shocked to be told in February that his ordination was likely to be problematic. He applied under the Data Protection Act to see the information the church had on him.
He discovered that the Bishop of Edmonton had been reporting him to church leaders since he began his studies. Robinson went on Good Morning Britain in September 2020 to say that he was against Black Lives Matter because it was increasing racial tensions, and he believed that everyone in this country had an equal opportunity to succeed. The same day Wickham wrote to the Right Rev Sarah Mullally, the Bishop of London, to "bring it to your attention . . . Calvin Robinson is not only a political commentator, but he's an ordinand and former teacher in this area who has just started at St Stephen's House. Calvin's comments concern me about denying institutional racism in this country."
In December last year, Wickham wrote to the Right Rev Emma Ineson, Bishop to the Archbishop of Canterbury, and also to the Bishop of London. Wickham sent them some of Robinson's tweets, adding: "These are clear examples as to why his ordination should be looked at very closely."
Robinson said he felt "betrayed and a bit heartbroken" at Wickham's conduct. He said: "To hear that people are campaigning behind your back after you have given them all that you have got, I don't know how to put it into words."
Church sources said that Wickham's status as a parent at the school had no bearing on this matter.
Robinson rightly urges the C of E to return to the fundamentals of faith:
The TV pundit, who now works for GB News, accused the church of apostasy by "moving away from core tenets of the faith. They need to focus on scripture because that's the word of God."
He said that he had now joined the Global Anglican Future Conference and would be ordained to one of its parishes. "My hope is to attract all the people who feel the Church of England doesn't represent them because it is obsessed with woke issues."
The Diocese of London issued an updated statement:
A spokesman for the Diocese of London said: "We wish him well in the ministry he is now going to exercise."
On Monday evening, Douglas Murray's editorial for The Times appeared. It listed a modern litany of the C of E's preoccupation with race at the expense of everything else, including during the time when an African, the Right Revd John Sentamu, now retired, was Archbishop of York. Oh, the irony:
It is two years since Justin Welby, the Archbishop of Canterbury, gave a speech to the General Synod in which he apologised for the "institutional racism" of the Church of England. "I am sorry and ashamed," the archbishop said. "I'm ashamed of our history and I'm ashamed of our failure. There is no doubt when we look at our own church that we are still deeply institutionally racist."
It was a strange claim to make — not least because at the time the next most important bishop in the church was John Sentamu, the Archbishop of York.
Murray rightly points out the diversity among C of E clergy:
This fatal combination of ignorance and present-era preening seems to have become the tenor of the established church — and in no area so much as in the church's demands for clergy representation. As it happens, the Anglican communion has one of the most diverse bodies of clergy that any religious denomination could wish for. But the church has declared that it will continue to be racist until such a day as minority ethnic groups (or UKME as the acronym-laden C of E likes to call them) are over-represented among the clergy.
Even my church has had a minority vicar, who has since been promoted within the Church.
Murray then discussed Calvin Robinson's sad situation:
And in a way, here is revealed the modern Church of England's actual party political affiliation.
Having shut its doors throughout the Covid-19 crisis, the church now seems to be back with a new faith: an evangelical and dogmatic belief in its own iniquity and racism. Fail to go along with that belief and the church has no place for you.
So determined is the C of E about this new gospel that a church hierarchy of white people is even willing to bar a young black man from joining the clergy because he will not agree with their insistence that their own church is racist. It is a farce, certainly, but a tragedy, too — for a church that has need of talent, and an era that has need of institutions that are not principally intent on blowing themselves up.
On GB News Monday evening, presenter Dan Wootton chose the Bishop of Edmonton as his Union Jackass of the day. Good on the former Brexit Party MEP, the lady on the right, for nominating him:
Conclusion
Calvin Robinson is surely doing all the right things. That is why our pharisaical clergy have opposed his ordination.
May God continue to sustain Calvin with his grace. May our Lord Jesus continue to give him inner peace. And may the Holy Spirit continue to enhance his gifts of wisdom, fortitude and discernment.
I wish him all the best as he pursues a path to ordination.
There was little of an Easter recess for some British parliamentarians, especially Boris Johnson.
That said, the relatively short break proved once again that a week is a long time in politics.
The Archbishop
The Archbishop of Canterbury's Easter sermon continued to rattle cages last week. Boris was the last to chime in on Tuesday, April 19, when he spoke to Conservative MPs after making another apology in Parliament for being fined in relation to a Downing Street lockdown gathering.
The Times reported that Boris defended the new policy of flying illegal immigrants to Rwanda for processing (emphases mine):
Boris Johnson took aim at the Archbishop of Canterbury last night as he criticised senior members of the clergy for having "misconstrued" the policy of sending some asylum seekers to Rwanda.
Sources close to the prime minister said he told Conservative MPs in a private meeting that it was a "good policy" despite some "criticism on the BBC and from senior members of the clergy".
Johnson said that some clergymen "had been less vociferous in their condemnation on Easter Sunday of Putin than they were on our policy on illegal immigrants".
Justin Welby, the Archbishop of Canterbury, used his Easter Day sermon to condemn the policy, in which some migrants will be flown to Rwanda on a one-way ticket. He said it raised "serious ethical questions", contradicted Christian values and would not "stand the judgment of God".
On Wednesday, The Times reported that the Church of England fired back:
John Bingham, the Church of England's head of news, said: "If true, a disgraceful slur." He highlighted Welby's recent criticism of the invasion as a "great act of evil". Some of the country's most senior clerics today joined Welby in condemning the Rwanda policy.
Why is it a 'slur' and a 'disgraceful' one at that? Boris's words were polite enough.
The Times article also said that Boris was critical of the BBC. Hmm, I wonder:
At the private meeting of Tory MPs Johnson was also critical of the BBC's coverage of the asylum plans, claiming it had misunderstood the proposal to send migrants on a one-way flight to the African country as early as next month.
The Telegraph put the story of alleged criticisms of the BBC on their front page, which Keir Starmer picked up on at Prime Minister's Questions on Wednesday. Apparently, there was a misunderstanding between reporters and Downing Street:
The Spectator's Melanie McDonagh, a practising Catholic, explained why some sort of policy was necessary, particularly to stem the daily multiple Channel crossings to England from France:
Certainly, as the reading that preceded the Gospel in the service today [Easter] makes clear, 'God has no favourites'. By this was meant Jews and Gentiles, but by all means, make the point that asylum seekers are of equal worth to Spectator readers. But it doesn't follow that this prescribes any particular asylum policy. When the Archbishop says that the deportation to Rwanda policy 'cannot carry the weight of our national responsibility as a country formed by Christian values', he's being a little disingenuous. When Britain was far more overtly Christian than it is now – say, a couple of generations ago – it actually had a far more restrictive approach to immigration and asylum. The concept that anyone who wanted to come, should be able to come, is pretty well a product of the Blair government's opening the floodgates from 1997, 25 years ago. Before that, yearly immigration levels were in the tens of thousands; asylum claims were far lower than now but were probably dealt with more individually than at present.
As I say, declaring that 'the details are for politicians' leaves an important question hanging: should anyone who wants to come to Britain, and can get to Britain, be allowed to stay? Who should be returned? Of the 600 a day who arrive here by boat alone (leaving out of account every other means of entry), only two per cent have passports; should they by virtue of abandoning their identity documents automatically be granted leave to remain? When is it right to return people either back to where they came from, or indeed to Rwanda? (He doesn't suggest they will be persecuted there.) And what about the EU countries on the frontline of the asylum influx (on a scale that far surpasses Britain); are they ever justified in turning back boats? How many people must European countries admit? And if the Archbishop thinks there can be no sending back asylum seekers or economic migrants, he must say so. But he must also acknowledge the consequences for the host countries.
I am not so stupid as to suggest that clergy should stay out of politics; the Archbishop was speaking in Canterbury cathedral where Thomas Becket was killed for taking issue with the king. But the Archbishop – like Pope Francis in other contexts – is being disingenuous in criticising a government policy as unChristian without any attempt to acknowledge the scale and nature of the problem it is designed to address.
And there is no denying that the C of E is political. GB News's conservative commentator and former teacher Calvin Robinson is an Anglican ordinand in the Diocese of London, which claims it cannot give him an assignment, even though he has had offers:
Here's an interesting exchange on that tweet:
On Easter Monday evening, the Archbishop of Canterbury's name came up on Dan Wootton's GB News show, and one of the panellists, Emma Webb, nominated Calvin Robinson for Greatest Briton. Patrick Christys, filling in for Dan, chose Nathan Dunne, who is raising money for charity by walking across the country barefoot:
The Prime Minister
On April 12, Tuesday in Holy Week, Boris Johnson received a fine from the Metropolitan Police for an event during lockdown nearly two years ago. So did the Chancellor, Rishi Sunak.
Both men paid their fixed penalty notice — 'It's not a fine!' — promptly.
Naturally, Boris had to apologise before the House of Commons again, as he did earlier in January this year.
There was a feeling of déjà vu about it all:
… let me begin in all humility by saying that on 12 April, I received a fixed penalty notice relating to an event in Downing Street on 19 June 2020. I paid the fine immediately and I offered the British people a full apology, and I take this opportunity, on the first available sitting day, to repeat my wholehearted apology to the House. As soon as I received the notice, I acknowledged the hurt and the anger, and I said that people had a right to expect better of their Prime Minister, and I repeat that again in the House now.
Let me also say—not by way of mitigation or excuse, but purely because it explains my previous words in this House—that it did not occur to me, then or subsequently, that a gathering in the Cabinet Room just before a vital meeting on covid strategy could amount to a breach of the rules. I repeat: that was my mistake and I apologise for it unreservedly. I respect the outcome of the police's investigation, which is still under way. I can only say that I will respect their decision making and always take the appropriate steps. As the House will know, I have already taken significant steps to change the way things work in No. 10.
The only difference was the mention of the Ukraine conflict:
I travelled to Kyiv myself on 9 April—the first G7 leader to visit since the invasion—and I spent four hours with President Volodymyr Zelensky, the indomitable leader of a nation fighting for survival, who gives the roar of a lion-hearted people. I assured him of the implacable resolve of the United Kingdom, shared across this House, to join with our allies and give his brave people the weapons that they need to defend themselves. When the President and I went for an impromptu walk through central Kyiv, we happened upon a man who immediately expressed his love for Britain and the British people. He was generous enough to say—quite unprompted, I should reassure the House—"I will tell my children and grandchildren they must always remember that Britain helped us."
But the urgency is even greater now because Putin has regrouped his forces and launched a new offensive in the Donbas. We knew that this danger would come. When I welcomed President Duda of Poland to Downing Street on 7 April and Chancellor Scholz the following day, we discussed exactly how we could provide the arms that Ukraine would desperately need to counter Putin's next onslaught. On 12 April, I spoke to President Biden to brief him on my visit to Kyiv and how we will intensify our support for President Zelensky. I proposed that our long-term goal must be to strengthen and fortify Ukraine to the point where Russia will never dare to invade again …
This Government are joining with our allies to face down Putin's aggression abroad while addressing the toughest problems at home, helping millions of families with the cost of living, making our streets safer and funding the NHS to clear the covid backlog. My job is to work every day to make the British people safer, more secure and more prosperous, and that is what I will continue to do. I commend this statement to the House.
The Commons was lit, especially the Opposition benches, more about which below.
Going back to June 19, 2020, grateful conservatives were happy that Boris was even alive to celebrate his birthday, which The Times reported on the following day. No one said anything negative at the time.
Boris had survived coronavirus but was far from well. It took the rest of the summer for him to recover. Even in September, he still looked and sounded somewhat peaky.
Furthermore, some pundits and MPs have said that Downing Street is a Crown estate, thereby exempt from the rules.
We will have to see what transpires from the Metropolitan Police and civil servant Sue Gray's respective reports.
The Opposition
After Boris apologised on Tuesday of Easter Week, a number of MPs on both sides of the aisle were talking animatedly.
Keir Starmer responded for the opposition benches, which agitated his side even more:
What a joke!
Even now, as the latest mealy-mouthed apology stumbles out of one side of the Prime Minister's mouth, a new set of deflections and distortions pours from the other. But the damage is already done. The public have made up their minds. They do not believe a word that the Prime Minister says. They know what he is.
As ever with this Prime Minister, those close to him find themselves ruined and the institutions that he vows to protect damaged: good Ministers forced to walk away from public service; the Chancellor's career up in flames; the leader of the Scottish Conservatives rendered pathetic. Let me say to all those unfamiliar with this Prime Minister's career that this is not some fixable glitch in the system; it is the whole point. It is what he does. It is who he is. He knows he is dishonest and incapable of changing, so he drags everybody else down with him. [Interruption.] The more people debase themselves, parroting—[Interruption.]
The Speaker, Sir Lindsay Hoyle, interrupted:
Order. I cannot hear what is being said because there is so much noise.
There were also cries of disagreement about Starmer's labelling Boris dishonest:
Withdraw!
The Speaker agreed:
Order. What I will say is that I think the Leader of the Opposition used the word "dishonest", and I do not consider that appropriate. [Hon. Members: "Breaking the rules!"] We do not want to talk about breaking rules, do we? I do not think this is a good time to discuss that.
I am sure that if the Leader of the Opposition withdraws that word and works around it, he will be able—given the knowledge he has gained over many, many years—to use appropriate words that are in keeping with the good, temperate language of this House.
Starmer accepted the Speaker's direction and said:
I respect that ruling from the Chair, Mr Speaker. The Prime Minister knows what he is.
Starmer then launched an attack on the Conservative MP for Lichfield, Michael Fabricant, without naming him. If you wish to mention an MP by name, you must ask their permission beforehand:
Last week, we were treated to a grotesque spectacle: one of the Prime Minister's loyal supporters accusing teachers and nurses of drinking in the staff room during lockdown. Conservative Members can associate themselves with that if they want, but those of us who take pride in our NHS workers, our teachers, and every other key worker who got us through those dark days will never forget their contempt.
Casting our minds back to January — and Boris's first apology — Michael Fabricant suggested resurrecting an idea of Tony Blair's: an Office of Prime Minister, which would allow Boris to control No. 10 the way the US president does the White House. The context of Fabricant's intervention was in response to Boris saying that he was going to improve the way Downing Street is run:
On Tuesday in Holy Week, Fabricant suggested that Downing Street get a bar so that staffers would not need to wheel luggage to the local shops in order to bring alcohol back to No. 10:
Guido Fawkes had the story and accompanying audio:
Expertly reading the room, Michael Fabricant used an interview on 5 Live in the wake of Boris, Rishi and Carrie receiving pre-notices to defend staffers wheeling in suitcases of booze to Downing Street during lockdown:
There is no bar in Downing Street… That's the only way you can actually get any alcohol into Downing Street.
He then went on to argue the suitcase claims makes the argument for a bar being installed in No. 10, like there is in the Houses of Parliament.
It seems reasonable enough, provided the room is under lock and key until after hours.
The next day, however, Fabricant went further, which is what Starmer was talking about:
Guido's tweet brightened my day. It goes so far in explaining why the UK and Ireland used to be so much fun, once upon a time. Unfortunately, that fun ended by the mid-1990s as we imported an increasingly American mindset.
A terrific exchange followed his tweet, with others recalling similar memories of secondary school:
But I digress.
I don't remember how many times Boris apologised after MPs' comments.
Earlier that day, the Speaker announced that Starmer had approached him about Boris's fixed penalty notice, the lockdown 'parties' at Downing Street and the issue of parliamentary privilege:
Before we come to today's business, I wish to make a short statement. I have received letters from a number of hon. and right hon. Members, including the right hon. and learned Member for Holborn and St Pancras (Keir Starmer), the Leader of the Opposition, requesting that I give precedence to a matter as an issue of privilege. The matter is the Prime Minister's statements to the House regarding gatherings held at Downing Street and Whitehall during lockdown. The procedure for dealing with such a request is set out in "Erskine May" at paragraph 15.32.
I want to be clear about my role. First, as Members will appreciate, it is not for me to police the ministerial code. I have no jurisdiction over the ministerial code, even though a lot of people seem to think that I have. That is not the case. Secondly, it is not for me to determine whether or not the Prime Minister has committed a contempt. My role is to decide whether there is an arguable case to be examined.
Having considered the issue, and having taken advice from the Clerks of the House, I have decided that this is a matter that I should allow the precedence accorded to issues of privilege. Therefore, the right hon. and learned Member for Holborn and St Pancras may table a motion for debate on Thursday. Scheduling the debate for Thursday will, I hope, give Members an opportunity to consider the motion and their response to it. The motion will appear on Thursday's Order Paper, to be taken after any urgent questions or statements—hopefully, there will not be any. I hope that this is helpful to the House.
Incredibly, the Speaker — a Labour MP — granted five and a half hours of debating time. Some weeks back, the Opposition benches were allowed a generous two or three hours of debating Boris's suitability for office in light of these 'parties'.
How much debating time does one need?
It started at 11:30 a.m. and ended at 4:30 p.m., so, five hours in length. Here's the transcript. I saw about a third of it. Again, much like Boris's second apology, this was much like listening to the other debate from earlier this year.
What more can they reasonably say? Not a lot.
Most people I know would like for the media and the opposition to leave Boris alone. As I said above, he wasn't well at that point in 2020, was taking advice from other people upon whom he relied heavily — rightly or wrongly — and would have trusted the person(s) who said that having a short birthday get together was permissible.
It lasted around ten minutes, apparently, and the cake was left unopened in its Tupperware container.
Returning to last Thursday's debate on privilege and Boris. A division — vote — was expected, but, in the event, none took place.
The end result was that the matter will now be referred to the Committee of Privileges pending the release of the Metropolitan Police report. Chris Bryant (Lab) chairs the committee, which is cross-party:
Resolved,
That this House
(1) notes that, given the issue of fixed penalty notices by the police in relation to events in 10 Downing Street and the Cabinet Office, assertions the Rt hon Member for Uxbridge and South Ruislip has made on the floor of the House about the legality of activities in 10 Downing Street and the Cabinet Office under Covid regulations, including but not limited to the following answers given at Prime Minister's Questions: 1 December 2021, that "all guidance was followed in No. 10", Official Report vol. 704, col. 909; 8 December 2021 that "I have been repeatedly assured since these allegations emerged that there was no party and that no Covid rules were broken", Official Report vol. 705, col. 372; 8 December 2021 that "I am sickened myself and furious about that, but I repeat what I have said to him: I have been repeatedly assured that the rules were not broken", Official Report vol. 705, col. 372 and 8 December 2021 "the guidance was followed and the rules were followed at all times", Official Report vol. 705, col. 379, appear to amount to misleading the House; and
(2) orders that this matter be referred to the Committee of Privileges to consider whether the Rt hon Member's conduct amounted to a contempt of the House, but that the Committee shall not begin substantive consideration of the matter until the inquiries currently being conducted by the Metropolitan Police have been concluded.
It should be noted that no other British political leader or minister serving during the pandemic has been fined or censured for breaking lockdown or violating other coronavirus restrictions: Nicola Sturgeon (Scotland, twice); Vaughan Gething (Wales, once), Michelle O'Neill (Northern Ireland, once) or Mark Drakeford (Wales, once).
Only Boris, our Prime Minister, is in trouble.
And that trouble could become very deep, indeed.
A week really is a long time in politics.
More to follow tomorrow.
In 2017, John MacArthur preached a sermon on Galatians 4:19-20 called 'The Primary Importance of Sanctification'.
In addition to preaching well on the text, he also gave a discourse on why today's churches are so, well, awful, for lack of a better word.
The excerpt follows, emphases mine:
We talk a lot about the economy in America and the economy growing. You do understand, don't you, that the economy in America grows on massive self-interest, not on altruism, not on wanting to help others; it grows on massive self-interest. The church has bought into that as a way to appeal to those people who live for their own fulfillment. Churches then look and sound and feel like the world, and they advertise God as if He was a product that would satisfy your heart's desires. Carefully they avoid anything that condemns people, anything that convicts them, certainly anything that terrifies them, like the judgment of hell. They avoid anything that expects people to deny themselves, take up a cross, pursue with passion what is holy, pure, and good. And, again, even in churches where there's a strong emphasis on justification, and maybe a now and then emphasis on glorification, there is a strict avoidance of sanctification. This plays out all the time.
The church is supposed to look like Christ in the world. And rarely does a day go by that there isn't some blatant, gross sin and immorality attributed to someone in the media across the country, if not across the world, who is anything but Christlike. Faithful churches are always led by godly shepherds who lead their people away from the world, away from themselves to God, away from the fulfillment of their own desires, their own longings, to seek those things which are above, not things on the earth. The church is in a sad state.
Now, how did we get to this point? I don't want to belabor this, but this is a little bit of helpful history. Churches for centuries were theological, theological, and biblical. The Bible was the centerpiece, and the theology that the Bible taught established the convictions, and churches were God-centered.
It was even demonstrated architecturally. You go back a few generations, and when churches were built they were built to manifest a kind of transcendent perspective. They were tall, they were high; they wanted to demonstrate something that was above the earth. Some of you have visited those kinds of places where you look up, perhaps in some cases a hundred feet or more, and you see paintings and stained glass and things like that.
There was a sense in which when you went to church you were encountering God, and transcendence was important. It was God-centered, it was Christ-centered. And they trusted in the Holy Spirit for the growth of the church. I'll say that again. They trusted in the Holy Spirit for the growth of the church.
Churches opposed worldliness. They opposed sin categorically ... But even Protestant churches, even gospel-preaching churches had a sense of transcendence. There was a dignity about them. The music had a dignity. The way people conducted themselves had a dignity. The leadership carried themselves in a dignified fashion. One commentator I read this week said, "Modern pastors look like they buy their wardrobes at Forever 21." There was a loftiness. There was an ascendency. You came to hear from heaven. You came for an encounter with God.
New churches are not theological, they're not biblical; they are psychological, sociological. They have given up transcendence – a heavenly experience, for imminence – an earthly experience, to make it as much like what is familiar in the world as possible; to not make you think that you've stepped into any kind of different category, either in the style, the fashion, or anything else; make it as worldly, as flat as possible. It is man-centered. And though the names of Jesus and God are used, Jesus and God are like imaginary friends who give you what you want. Churches today trust in their growth techniques, not the Holy Spirit. They trust that by sucking in the world and redefining worship as a mindless musical stimulation while the people think only about their own desires, that somehow this is how you grow a church.
You can collect a crowd that way, but only the Holy Spirit can build a church. Vague spirituality has replaced sound doctrine. True holiness is not an issue, because that would be way too confrontive. You can't talk to people about self-denial, of giving up everything they long for, everything they think satisfies them, giving it all up in total self-denial for the sake of God; can't do that. This culture today has drunk too deeply of the wine of self-fulfillment for too long. They are drunk on it.
Attendance in a church and loyalty to a church is never related, it seems, to the love of the truth or the love of Christ, but always to the love of self: "I like what they do, it's my style; makes me feel good about me." You might say, "How did we get here?" We got here because ideas have consequence.
Sigmund Freud died in 1939. He was the father of psychoanalysis. His system was a system that rejected God. His system was a system that said man is the ultimate. And so he said, there is in every human being, what he called, the id. And the id is the real you, the authentic you. It's basically the complex out of which comes all your desires. And if you want to be who you are you've got to let your desires go. If you want to be an authentic person, you need to be you. Whatever you is, whatever the complex of your heart's desires are, you have to be able to fulfill them to be a healthy, authentic person. In other words, unleash your sinfulness.
Obviously, the most eager people to buy into that were young people, because young people haven't learned lessons in life about how living like that destroys you. So they're the fertile ground to sow those seeds. The most liberated sinners are the youngest, because they lack the restraints that come from the lessons of life, and so youth become the symbol of authenticity. Youthful, irresponsible desire is elevated to a noble level, and the perpetual adolescent is the most authentic person.
We see it in our culture. The heroes of this culture are so profoundly sinful and so proud about it, that it would be hard to track the record of their iniquitous behavior. But they're real; they're the real people. The church is a restrainer. The church is bondage. The church is full of hypocrites, people who dress up like we do because they're phonies and they are not authentic.
Over the years since Freud, this youthful authenticity movement has taken over the culture. Dramatically it made strides in the 1960s when, for the first time, the selfish, self-indulgent, immoral young person, hedonistic young person became the cultural hero: the hippies – sex, drugs, rock and roll. This is played out in songs like "I've Got To Be Me," "I Did It My Way." "And so if a church doesn't let me be me, I reject it."
This has reached severe proportions. An illustration: same-sex marriage. Homosexual people don't care about marriage – just mark it – they don't care about marriage, they just care about doing what they want to do. They don't care about marriage.
Why do they want same-sex marriage? They want it established by law for one reason: so that they can put those who are against that sin out of business. That's all they want; LGBTQ lobbying constantly for acceptance in the culture. It isn't that they want some kind of political acceptance, they want to make criminals out of the people who spell that out as sin. They want to criminalize Christianity. That's the only reason any of this is happening. They're free to do what they want, and they do it. But what bothers them is those who denounce that behavior as sin; they want to make us criminals. So we're in a tough spot.
The culture, mostly young people, is against us. In the '60s after the hippie movement, when immorality just broke loose, there were some kids who supposedly came to Christ; they became the Jesus people. They came to Southern California down to Orange County. There was a guy named Lonnie Frisbee who was leading that movement, who was secretly a homosexual and died of AIDS.
But Lonnie Frisbee had decided they needed to take their kids, that were meeting on the beach and baptizing in the Pacific Ocean, to church. So they went to Calvary Chapel in Orange County where Chuck Smith was pastor. Then it was a four square church, traditional church. And they all showed up on a few Sundays barefoot, long hair, irreverent, casual, with their own kind of music; and the leaders of the church said, "We've got to hold onto the young people. If we don't give them what they want they'll leave."
That was already being discussed a lot of places, because the hippie movement caught fire across America – the movement of rebellion against authority, responsibility, duty, expectation; rebellion against right, honor; it caught fire. So the church feared, "We're going to lose these people if we don't acquiesce." So for the first time when the Jesus people came to church, first time I can find in church history, the church began to redefine its own identity and worship based upon the wishes of a rebellious subculture. That definition started then and spread; started in California, spread clear across the country.
Prior to the '60s, nobody expected a church service to be rock concert. Nobody expected a church service to be entertainment. Nobody expected worship to be physical stimulation, emotional feelings without engaging your mind. Nobody expected church to be a manipulation of people's desires to fulfill their own self-styled identity. A church was a church, and it was a place where there was thoughtful, prayerful, biblical, sober-minded hearing from the Word of God, leading to conviction and edification and elevation. It was a heavenly encounter.
But to this modern generation of young people – serious, sober, thoughtful, scriptural preaching about God, and confrontation of sin, and a call to holiness, and a call to separate from the world and from iniquity is far too absolute and far too offensive. People who want to feel good about themselves the way they are don't want that, so the church caved in. The church caved in and gave them what they want. And now pastors continue to accommodate those same people – irresponsible, lazy, undisciplined rebels who want what they want – and the church, instead of confronting it, conforms to it. No preaching on sanctification, no preaching on holiness can be done in those environments; they'd empty the place.
This is the situation today. Strong preaching on holiness against worldliness, confronting the desires of the hearts of the "me" generation as sin from which they need to repent is a far cry from the trend.
How true.
I put this post together on Easter Day. What was the Archbishop of Canterbury's sermon about? The Resurrection? No. Justin Welby preached about the ungodliness of processing economic migrants crossing the English Channel from France to the UK — overwhelmingly single, young men without papers — in Rwanda. That is the Conservative government's plan which is scheduled to start in several weeks' time. It is an attempt to reduce the number of migrant crossings which went up from several hundred per annum a few years ago to 28,000+ in 2021.
In a further note on the Church of England, which illustrates what MacArthur is rightly condemning, a 30-something ordinand, GB News commentator Calvin Robinson, is unable to be formally ordained yet because he follows the Bible and is not conforming to the world. The C of E doesn't like biblical preaching. The C of E is one of the worldliest denominations around. However, many of us stick around because we love the Thirty-Nine Articles of Religion and, where we can find it, the liturgy of the 1662 Book of Common Prayer. We ignore everything and everyone else.
The channel's article on Robinson's struggle appeared on Holy Saturday:
When asked what reason the Church gave to him as to why they cancelled his curacy, Calvin added: "They said it would be too turbulent for me to be an ordained minister and have a public profile.
"The official line will be that there [are]n't enough curacies in London but that is nonsense as I have had several offers for title posts, but even then the Church says no.
"It's not about there not being enough space, it's purely politics."
In response to Calvin's comments, the Diocese of London told GB News: "In the Diocese of London, we have a limited number of curacies available each year that are considered on a case-by-case basis.
"We work with and support Ordinands throughout the discernment process to establish the right path for each person.
"In this instance, it was felt that there was no suitable option available that London could offer.
"Calvin continues to be a candidate sponsored for ordination. We continue to be willing to work with him to discern the right way forward, and we keep him in our prayers."
Last year, Calvin Robinson presented an hour-long programme, The Meaning of Christmas.
This year, he presented a similar programme on Easter, featuring classic hymns, a biblical viewpoint and interviews with clergy and laity discussing the meaning of the Crucifixion and Resurrection as well as what it was like living in our Lord's era under Roman rule:
I, too, will keep Calvin in my prayers for his future. He was a teacher for several years, and he would make a good priest. He'd be an ideal Archbishop of Canterbury.
One can only live in hope for the future.
For many, Christmas as they know it ended at midnight on December 26.
Most people will be heading back to work on Monday.
Yet, there is a reason for the old song The Twelve Days of Christmas, because that is how long the actual season is.
An Anglican priest of the High Church tradition explains to presenter Calvin Robinson in the following GB News video that, when many people think Christmas has ended, it has only just begun. This 45-minute programme, which includes carols from an Anglican church choir, explores the true religious meaning of the season. It's well worth watching:
Epiphany is on January 6, so there is still plenty of time to celebrate and contemplate our Saviour's birth until then.
Furthermore, we in the UK are blessed with a thoughtful Yuletide convention. Because Christmas Day fell on a Saturday this year, Monday, December 27, is a bank holiday. We get a long weekend of celebration and relaxation.
The Queen delivered her traditional address to the nation on December 25. This year, the theme was her loss of Prince Philip, who loved her dearly and was her best friend. The old film clips show her face light up when he joins her at various functions. It's a beautiful, spontaneous reaction. Our monarch said that she is looking forward to celebrating her Platinum Jubilee year in 2022:
The Queen always includes a Christian message. This year was one of enduring faith, one that promotes leadership:
Neil Oliver delivered a thoughtful Christmas message which will appeal to all, believers and non-believers alike. He reflects philosophically on the story of the Christ Child and the meaningful traditions that have emanated from it. This is a must-see:
Oliver also had a round-up of the Greatest Britons he interviewed in 2021. This will restore one's faith in humanity:
A few days ago, I wrote about the Revd William Pearson-Gee's impassioned video about keeping churches open during the Christmas period during the current coronavirus panic over Omicron. Watch his hands; the intensity is palpable:
Mr Pearson-Gee's Buckingham Parish Church has its own YouTube channel with all its main services.
Here is the church's Service of Nine Lessons and Carols for 2021:
The next video was one of their Christmas services which starts with a charming Christingle service and ends with the liturgy for Holy Communion. Mr Pearson-Gee includes Christmas prayers in the second service, making it all the more meaningful:
I hope that these videos, be they religious or secular, help us better appreciate the Christmas season.
I hope that everyone who could have helped former President Trump to set the election fraud straight is happy.
That includes Mike Pence and the Supreme Court.
Oh, my apologies. They do not care one jot for ordinary Americans. So, everything's okay.
I didn't think it was possible for the greatest nation in the world to go down the tubes so quickly.
Yet, that is where America is headed at breakneck speed.
Inauguration Day
YouTube viewers did not care about the inauguration on Wednesday, January 20. In fact, they registered their displeasure (H/T patriots.win, formerly thedonald.win):
Not many attended:
Freshman congresswoman Marjorie Taylor Greene (R-Georgia) observed:
By Friday, she filed articles of impeachment against him:
Tucker Carlson studied Biden's inaugural speech:
On the one hand, he notes, Biden spoke of 'unity'. On the other hand, he also spoke of a new 'war' on domestic extremism, which encompasses white supremacy. Tucker says that on the face of it, that's great, until one drills down to see what it really means. He spoke of his own show, which started only a few years ago. Six months after it began, Tucker Carlson Tonight was labelled a white supremacist broadcast. Tucker and his young staffers were shocked. Fortunately, the furore died down and it went on to become one of Fox News's best rated shows. Tucker concludes that it has to do with a belief in God, our Creator, who loves all of us equally, regardless of our race, creed or colour. By contrast, Tucker pointed out that Stalin and Mao Tse-Tung were atheists. People who believed in God were targeted under their regimes. Believers in God could be targets under the Biden administration for believing that we are all created equal.
The Conservative Woman featured Tucker's video and commented:
IT WAS fitting, as more than one commentator has pointed out, that the only people at the Biden inauguration yesterday were politicians, journalists, rich donors and the Hollywood elite. The spectacle of the Clintons, Bushes and Obamas congratulating the new President spelt out two things:
A return to the swamp.
The President of which is a sick man, as everyone knows but no one is saying.
Except for Tucker Carlson.
Equally worrying in his important monologue is that the US now has a party in power 'that is demonising half the country'.
After the inauguration, Biden wasted no time in signing a coronavirus mask mandate on federal lands.
Later, he and his family went to the Lincoln Memorial to remember those who have died from coronavirus. Note, no masks and no social distancing:
That night, there were fireworks:
The Bidens held a party:
That day, rioting broke out in some American cities. Those involved were not Trump supporters, but the usual anarchists. To Biden, they were an 'idea' during the campaign. Freshman congresswoman Lauren Boebert (R-Colorado) remembers:
In New York City, they attacked the Democratic National Committee office:
Portland demonstrators made it clear they did not like Biden:
The next day
On Thursday, January 21, Biden signed his first executive orders at a press conference. If true, shocking, but it does sound as if Biden is saying he doesn't know what he's signing:
More on the EOs below.
This is the sort of hardline questioning one can expect in the new administration:
Hundreds of comments followed the following video — all direct quotes from Biden during his 48-year political career and the campaign. Unfortunately, they are now unavailable as comments have been turned off. I remember when a court forbade former President Trump from blocking people replying to his tweets because he was a public figure. Hmm:
Biden was unimpressed with the AP's Zeke Miller who asked about something other than Biden's favourite flavour of ice cream. Biden short circuited the press conference then and there:
Kamala Harris was taken aback. Her:
body language was surprising. She looked almost frightened of Joe. Like a wife who walks on eggshells around her husband. The old bastard won't relinquish power as easily as they thought.
Earlier, he made his support for Dr Fauci clear. Less clear was Biden's own position. He still thought he was on the campaign trail:
Fauci's line hasn't changed:
This was interesting:
And did Fauci really say the following? I haven't been able to find an original source, but it sounds plausible:
I TOOK NO PLEASURE IN CONTRADICTING TRUMP WHEN HE WAS IN OFFICE, NOR DO I TAKE PLEASURE CONTRADICTING MY PREVIOUS DECISIONS NOW THAT BIDEN IS IN OFFICE
Unbelievably, Fauci has worked in the same post for 37 years. Good grief:
Speaking of coronavirus, Biden's press secretary quickly batted away a question from a reporter asking why the Bidens were not wearing masks when they commemorated the COVID dead at the Lincoln Memorial, despite his mask mandate on federal lands.
She didn't care:
Coronavirus rules do not apply to the Bidens. They apply to YOU.
Also, hydroxychloroquine is suddenly okay. Remember when former President Trump recommended it last year?
Executive orders
Not surprisingly, Biden is quickly undoing former President Trump's excellent and careful work for the American people:
A conservative British educator and political advisor, Calvin Robinson, agrees. He also criticised Biden's call for unity, which, he says, will end with more division. You can see his concise talkRADIO interview below:
As Biden pledged during the campaign — whether he remembers it or not — he will be ending fracking and the Keystone XL pipeline:
It is hard to disagree with the next two tweets:
Juanita Broaddrick, who knew Bill Clinton during his time as Arkansas governor, is one of Trump's biggest fans. She also predicts more bad news from the Biden administration:
It looks as if Biden fancies an international conflict, something happily missing from the Trump years:
Oh, yes, Jack, we are paying attention.
We also noticed:
Tucker Carlson has a superb analysis of those two measures and says flatly that they do not benefit Americans:
Then, there is the Paris Agreement. Trump pulled out of it and Biden has now signed back on.
Freshman congresswoman Lauren Boebert (R-Colorado) tweeted:
She believes that Biden wants to rule rather than work with the House and the Senate:
Wow, this is unbelievable:
Conclusion
I'll end with this:
For once, words fail me.
Please pray for the people of the United States and the future of the Great Republic, partially restored by President Trump.