You are currently browsing the tag archive for the 'Canada' tag.
Today's post concludes my three-part series on Mark Steyn's departure from GB News.
Find out why he left here. This post has more segments from his evening programme, which will be sorely missed.
What follows are clips from the best of the rest of his output for GB News.
Law and order
In 2021, the British public discovered that the police weren't much cop. They began being more interested in patrolling Twitter than investigating actual crime.
Over a year ago, on February 2, 2022, Steyn addressed this parlous state of affairs:
Nearly a week later, on February 8, Steyn pointed out that Labour's Sir Keir Starmer's record as Director of Public Prosecutions (DPP) wasn't exactly good. This editorial came on the back of then-Prime Minister Boris Johnson's accusation at the despatch box during PMQs that Starmer never did anything about BBC presenter Sir Jimmy Savile, since deceased, when two constabularies were investigating him for molesting minors. Labour took great offence at Boris's accusation. Nor did Starmer do anything about the grooming gang situation in Labour-controlled Rotherham when he was DPP:
On April 18, Steyn showed us the parlous police statistics for England and Wales. At the 51-second mark, we see that in less than 10% of cases was anyone charged or even summonsed. Meanwhile, London's Metropolitan Police were investigating Boris for get-togethers during lockdown. Steyn alleged that the Met were looking at each accusation of a party as a separate incident to boost their crime-solving figures. He was being semi-serious, but one can readily believe it:
On April 18, he informed us that, where some cases of multiple sexual assault by more than one person are concerned, the police now prefer something spurious called 'community resolution' to prosecution and sentencing. How would that apply to grooming gangs, one wonders. Dear, oh dear:
Channel migrants
On May 24, Steyn opened his editorial with all the notionally big political machinations going on: the investigation of Boris's partygate, the WEF at Davos and an ever-increasing 'big government'. He concluded that this was the 'death of democracy'. He then discussed the Home Office's plan to place 1,500 Channel migrants in a disused RAF base in tiny Linton-on-Ouse, pop. 700. Unbelievable.
The good people of this North Yorkshire village had been protesting the move for days. The migrants were scheduled to pole up on May 31. Steyn pointed out that the political class 'have everything' and 'you've got nowt':
Fortunately, the Home Office rode back on the decision. That wasn't Steyn's first mention of the village. It would be nice to think that his making it public forced the Government to backtrack.
On August 2, as tens of thousands of migrants had crossed the Channel in 2022 by that time, Steyn had a go at the Government's placing these undocumented people in decent hotels, rather than sending them back over the Channel:
Many of the arrivals from the Channel are Albanians. It seems that the UK is the only European country to admit Albanians crossing illegally. Other European countries refuse them entry. Albania is safe, so safe, in fact, that it is becoming a British tourist destination. Other GB News programmes reported last year that newly-arrived Albanians to the UK are quickly taking over the British drug trade.
On November 28, hundreds of Albanians blocked central London to celebrate Albanian Independence Day. The broadcast video was extraordinary. The Met did nothing, while a load of posh cars paraded in a convoy around the main streets near Parliament. Albanian women in their native dress danced around the cars. Traffic was at a standstill.
On November 29, Steyn said that he had to abandon the taxi he was in to walk to the GB News studio. He criticised MPs for doing nothing about the numbers of Albanians coming here illegally. They were at that time, the majority of the Channel crossers. He also criticised the police for closing a bridge near Parliament rather than breaking up the convoy. Steyn said:
The useless political class have wrecked your country, and they're not done yet.
Conservative Party
During the Conservative Party leadership campaign in July, Steyn interviewed Lord Frost, whom many want to renounce his peerage and throw his hat into the ring one day. (He would need to become an MP first or Party rules would need to be changed.) He is a proper Brexiteer and an unabashed Conservative in the best of ways.
Steyn interviewed the life peer on July 11:
Highlights follow.
Steyn said that the Party has lost its way. Frost and Steyn align on what should matter to true Conservatives:
Lord Frost said that stopping the Channel crossings was paramount:
Perhaps one day he will renounce his peerage and run as a Conservative candidate for Parliament:
Platinum Jubilee
On June 1 and 2, Steyn devoted parts of his show to the Queen's Platinum Jubilee.
Here's the full show. At 49 minutes in, he discusses Australia's new Prime Minister who installed an 'Assistant Minister for the Republic'. Not surprisingly, Steyn is critical, as is The Spectator's Australian editor Alexandra Marshall, who was appalled that the appointment was made just before Platinum Jubilee weekend. Marshall said that no mention of a republic was ever made during the general election and that most Australians are shocked by the move. She says that politicians 'do not deserve any more powers than the ones they already have':
Before that, Steyn interviewed The Conservative Woman's Laura Perrins. Although she has lived in England for many years, she is still Irish to her core and couldn't get excited about the Jubilee. Steyn was disappointed:
On June 2, Steyn paid a splendid tribute to the Queen in his editorial:
Social issues
On December 22, 2021, Steyn interviewed the Revd Will Pearson-Gee, an Anglican priest who said that, in the event of another lockdown, he would not be closing his church at Christmas:
I do not have that interview, but it does give me a chance to once again share the priest's passionate declaration that his church would remain open. In the event, he didn't have to worry about another lockdown, thanks to 101 rebel Conservative MPs:
That same evening, Steyn took exception to the 'man' who had a baby and refused to be called 'mother':
On April 6, 2022, Steyn criticised British politicians who refused to define a woman out of fear. Earlier that day, GB News's Ben Leo had interviewed several MPs on the subject. Some didn't answer. Others ran away. Well worth watching:
On April 27, Steyn had an excellent editorial on whether going to university is a good idea for everyone. Back in the 1990s, then-Prime Minister Tony Blair said that 50% of British students should go on to higher education. Currently, Steyn says, 53% now attend university. However, Blair said last year that 70% of Britons should now go to university. Steyn counters the argument by saying that, in the 20th century, the vast majority of Americans left school at the age of 13 and went on to achieve great things. Steyn poured cold water on the 'achievement' aspect of university, saying that so many are still students at the age of 28 and are working as baristas rather than in high-level employment. Furthermore, university now leaves British students in debt, so they are unable to get married and start families. As a result, British demography is suffering with an ageing population.
He is so right:
A Canadian lady, Yasmine Mohammed, appeared several times early in 2022. She discussed her time in al-Qaeda and deplored the fact that Western nations seem to bend over backward for radical philosophies. She concluded that radicals and Islamicists share the same goal, which is to bring down the West:
Dutch farmers
Until I watched Mark Steyn, I had no idea that the Dutch government wanted to seize farms in the Netherlands.
The legal philosopher, as she calls herself, Eva Vlaardingerbroek, appeared many times to keep Mark and his audience apprised of the situation.
On July 11, Eva explained why the Dutch farmers were actively protesting:
Dutch Prime Minister Mark Rutte says there is a nitrogen crisis exacerbated by farming. That idea came from the EU. Dutch farmers are some of the world's greenest in their innovations, but Rutte wants them to turn their farms over to the government.
On August 1, Eva pointed out the danger that such a move poses to individual freedom — the right to own property and to work productively as one wishes:
On December 14, for the first time, GB News's ratings overtook those of the BBC, with Sky News in third place!
Eva expressed her delight in being part of Mark Steyn's programme:
On February 6, 2023, she expressed her disgust at GB News for Steyn's departure. It should be noted that the channel's CEO has changed his own Twitter account to 'private':
Meanwhile, Eva continues campaigning for Dutch farmers.
Unfortunately for them, Mark Rutte's government is winning. This video is from February 3:
On February 8, she said in an interview that the government intends to purchase 3,000 farms by the end of the decade. Who will supply the food?
The next major farmers protest will take place on March 11 in the Hague. I wish these men and women well in their fight:
Mark Steyn update
On February 7, Press Gazette accused Steyn of launching a 'tirade' against Ofcom:
The telecoms regulator currently has two investigations open into GB News, both relating to claims around the safety of Covid-19 vaccines made on The Mark Steyn Show, which aired at 8pm on Mondays to Thursdays.
No fines have been levied against the broadcaster at present, nor any adverse rulings made against the television channel. (GB News Radio did breach a broadcast rule in March 2022 when it failed to give a full list of candidates standing in a by-election.)
Press Gazette understands Steyn has to date been presenting for GB News in a freelance capacity, and had been in negotiations for a permanent contract.
However, it appears the channel has struggled to get Steyn to comply with Ofcom's requirements under the Broadcasting Code.
In a video published to his website on Monday, Steyn referred to an instance in which, ten minutes before going on air, he had a back and forth with the channel's editorial compliance officer that ended with him calling them "Ofcom's bitch" …
It is unusual for a publisher to ask a staff member to accept the costs of a regulatory or legal sanction. It is unclear from the language in the clause whether Steyn would have automatically had to accept liability for the fines or if GB News was reserving the right to pass him costs.
Steyn said in the video: "I'm on the hook there for Ofcom fines – but, and this is the important point, I don't have any say in our defence against an Ofcom complaint. That's all done by GB News. So Ofcom's bitch, as I call the compliance officer, will be making the weedy, wimpy defence to Ofcom, and then I'm the one who has to pay the £40,000 fine or whatever it is."
Steyn went on to say "Ofcom is making a big move to take over the planet at the moment" in connection with the Online Safety Bill.
Asked about Steyn's accusations, a GB News spokesperson said: "GB News takes Ofcom compliance extremely seriously. All our presenters are expected to comply fully with the Broadcast Code and there are no exceptions.
"This does not impinge on our ability to ask tough questions, express strong opinions, and debate the issues that matter to the people of Britain."
Now comfortably back in Canada, Mark has relaunched his online show with his usual guests:
GB News viewers will miss the beauty of Eva Vlaardingerbroek, Alexandra Marshall and Leilani Dowding:
That episode can be found here.
Follow Mark Steyn and his shows here and here. He's also on Twitter.
Steyn's 'Stats Man' Jamie Jenkins will be watching — and contributing. Excellent:
In closing, The Conservative Woman's Laura Perrins is also dismayed by Steyn's departure:
She is not wrong.
GB News made a huge mistake. Let's hope they can limit the damage this will cause them.
End of series

In December 2022, the then-GB News presenter Mark Steyn suffered two heart attacks within days of each other.
The first one he ignored, because he had never suffered a heart attack and didn't recognise the symptoms.
The second occurred when he and a female friend were in France. Fortunately, he got to the hospital just in time. Fifteen minutes more and he would have died.
While he recuperated in France — there was no chance of his returning to Canada, doctors said — some of GB News's sharpest hosts stepped in to sub for him between 8 and 9 p.m. They told viewers that Mark was on the mend, until the end of January, at which point they mentioned him no more.
Don't mention the vaccines
Then, late on Monday, February 6, 2023, Guido Fawkes posted that Mark would not be returning to GB News. The news channel's CEO wanted to make Steyn liable for any Ofcom fines they received over his segments that criticised the coronavirus vaccine:
Guido tells us, complete with the relevant video clip (emphases in red his):
Mark Steyn has quit GB News on fairly bad terms after a protracted leave of absence owing to his health. A few weeks ago Guido picked up that the channel had been trying to formalise Steyn's contract, having operated on a fairly ad hoc basis since starting his show. Part of trying to get him on board as a properly contracted presenter was also an attempt to rein in his output, given that in a rather short space of time he'd managed to spark two separate Ofcom investigations into claims made on his show.
GBN offered him a new contract to sign, otherwise he'd face termination. It now looks like Steyn is declining to sign the new contract, so he's out.
In a video put out on his website today, Mark doesn't hold back on his opinion of the channel's CEO Angelos Frangopoulos, ranting about the terms of the new contract that would have made him financially liable for any fines imposed on GB News by Ofcom because of his show's output. He also calls Frangopoulos an "habitual liar". Shame – Steyn managed to consistently beat Piers's view count…
After a few months, Mark Steyn Show regularly trounced Piers Morgan's TalkTV show Monday through Thursday in the same time slot.
GB News has been scrupulous about offering both sides of any story on their shows in order to avoid censure from Ofcom. This entails having a left-wing guest oppose the host's centrist or conservative perspective.
In 2022, Press Gazette reported on the channel's potential Ofcom violations. I'll start with the story from August 8, with the communications regulator's examination of two segments, one on Nigel Farage's evening show and one from a morning show with Patrick Christys, who now hosts a three-hour afternoon slot Monday through Friday:
The first two investigations by broadcast regulator Ofcom into GB News have ended with no rebukes, keeping the TV channel's record clean as it enters its 15th month.
Critics feared the opinion-led news channel would rub up poorly against the UK's strict impartiality rules, a problem not faced by broadcasters in the US such as Fox News.
But by balancing views from presenters and guests across its schedule, GB News has avoid any Ofcom rebukes despite airing some strident views on Covid-19 lockdowns and vaccines. Two Ofcom investigations into GB News TV and radio broadcasts remain ongoing.
In October 2022, complaints about Mark Steyn's show were still ongoing:
Ofcom has opened an investigation into an episode of Mark Steyn's 4 October programme on GB News after it received 411 complaints from viewers about comments made by author and journalist Dr Naomi Wolf in relation to Covid-19 vaccines.
Ofcom said: "Specifically, our investigation will consider whether this programme broke our rules designed to protect viewers from harmful material."
Wolf was banned from Twitter last year for spreading unfounded theories about vaccines.
Ofcom is already investigating Steyn's show for a potential breach of standards on 21 April when he claimed people who had a Covid-19 booster vaccine were three times more likely to die than those who had two doses or fewer.
Press Gazette says that the April 21 episode was removed from YouTube:
In a monologue that day, Steyn said: "Why aren't we talking about this? It seems, if the booster shot is making it thrice as likely that you're going to be deadsville, that they're going to carrying you out by the handles, why aren't we talking about that?"
Fact-checking charity Full Fact said the figures used by Steyn were "broadly accurate" but that he was "wrong to claim the booster 'increases your chances of hospitalisation and death'".
Interestingly:
No Ofcom investigations have yet been started into rival TalkTV, which Rupert Murdoch's News UK launched in April.
The Guardian had more, especially about Dr Matthew Sweet, who was interviewed on the BBC and had been monitoring Steyn's show for soundbites that criticised the vaccines. Steyn often mentioned Sweet:
The latest investigation relates to an interview with the author Naomi Wolf in which she claimed women were being harmed by Covid-19 vaccines as part of an effort to "to destroy British civil society".
Ofcom said it would investigate whether the programme broke "rules designed to protect viewers from harmful material" after receiving more than 400 complaints from members of the public.
In the interview, which was originally broadcast on 4 October, Wolf also compared doctors' support for the vaccine rollout to the behaviour of the medical profession in Nazi Germany and described herself as the "last remaining independent journalist" willing to question this.
She was being interviewed on the Mark Steyn Show, which has repeatedly raised doubts over the safety of vaccines. Steyn's claims that the jabs cause "every conceivable kind of damage" have been disputed by factchecking websites. He is already the subject of a separate Ofcom investigation over previous comments about vaccination.
Wolf began as a prominent feminist writer but in recent years her career has taken a hit after she wrote a book partly based on a misunderstanding of English court records. Since then she has veered into the world of conspiracy theories about the impact of 5G telephone masts and the coronavirus vaccine.
Presenter Matthew Sweet, whose BBC interview exposed the flaw in Wolf's book, has since kept tabs on her work and GB News's coverage of the pandemic and accused the channel of repeatedly "broadcasting misinformation about vaccines and presenting conspiracy theorists as legitimate experts on medical matters".
In a letter to Sweet tweeted last month, GB News insisted that at no point had Steyn's programme adopted an "anti-vax" approach. Instead it said he was conducting probing journalism in the face of people who want GB News to be "more supportive of government policy".
As I wrote in my post last week on Big Brother Watch's exposé of Government departments' surveillance of politicians' and journalists' Twitter accounts during the pandemic, the one thing one cannot do is criticise the vaccines.
The best of Mark Steyn's GB News output
Having watched nearly every Mark Steyn show once he began broadcasting weeknights in January 2022, I bookmarked the most notable ones.
Any interested readers should view the videos sooner rather than later. YouTube have already removed some of Steyn's GB News output.
Ratings
It took a while for people to tune into Steyn, which was no fault of his. He did a memorable series in March 2022 in Ukraine and told us that he was partly of Ukranian descent. He hoped to return when the war was over. You can read more about those programmes here.
At the end of that month, he had a special edition on the second anniversary of the first coronavirus lockdown, March 23, 2020. It's a good thing I described the content, because YouTube removed the video for the usual reasons.
Then on Monday, May 16, Mark hit the jackpot, beating TalkTV's Piers Morgan for the first time in the 8 to 9 p.m. slot. Mark wasn't the only ratings star that night — all the GB News evening shows beat TalkTV's:
The following day, Guido wrote:
The slow motion collapse in ratings of Talk TV is astounding. Until now, Piers Morgan has always held his lead in his slot against Mark Steyn on GB News. Last night Steyn beat Morgan for the first time…
And it would not be the last time, either. In fact, it became a regular occurrence.
Coronavirus
On Wednesday, January 12, 2022, Steyn interviewed Lord Ridley — Matt Ridley — about the coronavirus lab leak (30:00 – 40:00):
In February, he covered the Canadian truckers' protest in Ottawa against mandated vaccines:
He also interviewed a Canadian policewoman about the protests:
On April 21, he cited UK government data which said that people over 50 who had three jabs were five times more likely to get the virus: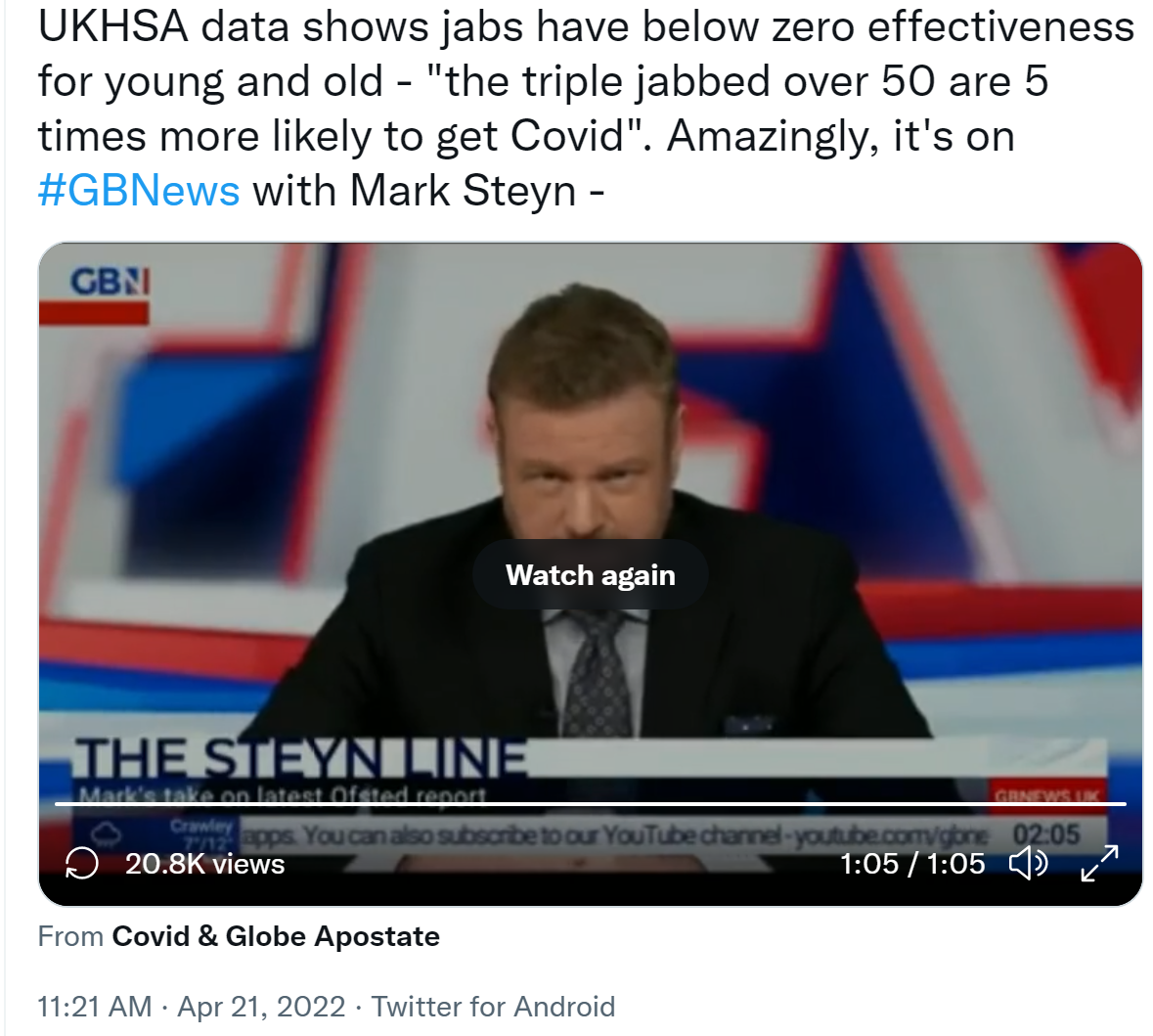 On Monday, May 9, he interviewed vaccine victims:
On May 11, he interviewed people who became seriously ill after taking the Astra Zeneca vaccine. No wonder it's no longer on the Government's vaccine list.
This man got a blood clot on the brain:
This lady suffered blood clots on her liver and lungs:
That day, Laura Perrins from The Conservative Woman waxed lyrical about Steyn's show. I, too, was a bit ambivalent about him many years ago, but as she pointed out:
It is true that a few decades ago he was considered an Establishment journalist; he has written for all your mainstream Right-wing publications. But he had long left that scene by the time I had my political awakening.
Anyway, somehow I stumbled across him, Praise be the Lord. The more I started listening, the more I read, I thought: 'Goodness gracious, hold the phone, shut the front door, this guy is the Real Deal.' This guy knows that we are being had by the political and media establishment and he is not afraid to say it …
Not only is Steyn the best-dressed, most-polished, most-sophisticated of all the presenters on TV, he says what you are thinking. For the last week or two he has been giving a voice to those the MSM have shamefully ignored – families who have lost loved ones through the 'safe and effective' non-vaccine vaccine.
… While Piers 'Lock Me Down Harder, Daddy' Morgan is interviewing Bruce Jenner, Steyn is pointing out that the lockdown has caused economic damage and inflation that the MPs like to ignore.
He also points out that when the Conservatives tell you they are getting a hold on illegal immigration, they are lying to you, they are lying to your face, dear reader.
So, do yourself a favour and watch Mark Steyn, Monday-Thursday, 8pm on GB News.
You can also catch up on YouTube when they haven't censored him for 'disinformation'. This is not a man who could ever be bought or sold for any price. I say again, Mark Steyn is the Real Deal.
The following day, news emerged that the WHO wanted nations to sign up to their pandemic treaty which would supercede national sovereignty. Unbelievable. Steyn said, 'The permanent abnormal staggers on':
On Tuesday, May 17, he talked about the WHO's involvement in the pandemic:
One week later, he interviewed a fellow broadcaster, Andrew Griffiths, who experienced serious side effects after getting the vaccine:
The Powers That Be tried to stir up fear over what is now called MPOX. On May 25, Steyn discussed Natalie Winters' findings for the National Pulse about an alleged link to the Wuhan lab:
Steyn had more on that and other topics on June 1, calling it 'the controlled demolition of the free world':
That was an exceptional show. Former ONS statistician Jamie Jenkins, one of Mark's regulars, alleged that the UK government had not collected any official statistics on vaccine injuries:
Claire Hibbs returned to discuss her injuries and the lack of compensation from the Government:
On June 16, he discussed the disastrous economic results of lockdown with Leilani Dowding:
Other Steyn broadcasts of note
In May 2022, he tapped into Canada's Rebel News output on Davos: excellent and entertaining.
On July 12, he was the only broadcaster to cover the July 12 celebrations in Northern Ireland in a non-confrontational way.
He interviewed Baroness Hoey — former Labour MP Kate Hoey — on her love for Northern Ireland and the United Kingdom:
He also spoke at length with the former leader of the Democratic Unionist Party, now-Baroness, Dame Arlene Foster:
These are just tasters. More to follow tomorrow.
No stranger to controversy
Mark Steyn has never been a stranger to controversy. Thank goodness.
Going way back in my Mark Steyn bookmarks, in 2004, he reviewed Mel Gibson's The Passion of the Christ, an incredible but much-criticised film, for The Spectator (full text here):
… Those who believe in Christ the Redeemer are booming, and Mel Gibson has made a movie for them. If Hollywood was as savvy as it thinks it is, it would have beaten him to it. But it isn't so it didn't. And as most studio execs have never seen an evangelical Christian except in films where they turn out to be paedophiles or serial killers, it's no wonder they're baffled by The Passion's success …
… Mel Gibson was driven by his own passion to make a movie that speaks to millions of people. As I said a couple of weeks back, if it's not the Jesus movie you'd have made, then go make your own. I saw it on a Monday night full house – a rare event in itself – and the crowd was rapt and eerily hushed, except for the occasional sob. It's true that if you don't believe that Christ's death on the cross is the central event in His time on earth then Mel's telling won't convince you and the film will look, as it does to Christopher Hitchens, like an S&M flayfest. One can regard this as a criticism of Gibson. On the other hand, all manner of movies – Star Wars, X-Men – leave you cold if you're not already a devotee. For millions of people, Mel Gibson shows them their Jesus and their salvation.
In 2009, Steyn wrote an article for Canada's Macleans about the danger that political correctness and censorship (i.e. 'hate speech') pose to human lives — the Fort Hood massacre (full text here):
… the old refrain echoes through the corridors of power: vigorous honest free speech will lead to mass murder unless we subject it to "reasonable limits."
Actually, the opposite is true: a constrained and regulated culture policed by politically correct enforcers leads to slaughter. I'm not being speculative here, as Commissar Lynch [Jennifer Lynch, Q.C., Canada's censor at the time] is about my murderous prose style. It's already happened, just a couple of weeks back. Thirteen men and women plus an unborn baby were gunned down at Fort Hood by a major in the U.S. Army. Nidal Hasan was the perpetrator, but political correctness was his enabler, every step of the way. In the days that followed, the near parodically absurd revelations piled up like an overripe satire …

Instead, asked "Who ya gonna believe—The Celebrate Diversity Handbook or your lyin' eyes?", more and more of us plump for the former, if only for a quiet life. Commissar Lynch has it exactly backwards: it's the craven submission to political correctness, the willingness to leave your marbles with the Diversity Café hat-check girl, that leads to death—real death, with real corpses, from Texas to Ontario.
It's amazing that the hot topics really have not changed since the Millennium. It's been the same-old, same-old for over 20 years now.
To be continued tomorrow
Previous instalments in my series on Harry and Meghan can be found here, here, here and here.
I left off at the end of 2019, with The Sun publishing a story on the Sussexes imminent extended visit to Canada, which enraged the Duke and Duchess:
On December 21 that year, Sky News reported:
Harry and Meghan's spokeswoman ended speculation over their whereabouts by confirming the couple and their seven-month-old son Archie are spending their six-week Christmas break in the country Meghan called home for seven years.
"The decision to base themselves in Canada reflects the importance of this Commonwealth country to them both," she said.
"The Duke of Sussex has been a frequent visitor to Canada over many years, and it was also home to The Duchess for seven years before she became a member of the Royal Family.
"They are enjoying sharing the warmth of the Canadian people and the beauty of the landscape with their young son."
The duchess lived in Toronto before joining the Royal Family as the popular US drama Suits, in which she starred in, was filmed in the Canadian city.
Harry and Meghan were famously pictured in Toronto in 2017 at the Invictus Games.
The Sussexes are likely to have spent the US Thanksgiving celebrations on 28 November with the duchess' mother Doria Ragland.
Prince Harry's grandmother, the Queen, is said to be supportive of the Sussexes' plan to take a long break and not join the rest of the Royal Family at Sandringham on Christmas Day.
The Duke and Duchess of Cambridge have previously spent Christmas with Kate's parents in Berkshire instead of with the Queen.
Harry's grandfather, Prince Philip, 98, was taken to hospital in London on Friday from Sandringham for treatment for a pre-existing condition, Buckingham Palace said.
The Queen had just arrived at the Norfolk estate for her Christmas break after the State Opening of Parliament on Thursday …
By Christmas Eve, the Mail reported that the Royal Family wanted the couple to return home in light of Prince Philip's stay in hospital:
Prince Harry and Meghan Markle have been urged by Royal family members to return from abroad to spend Christmas in the UK, as Prince Philip spends a fourth night in hospital …
It comes after a family Christmas card of the royal couple smiling in front of a Christmas tree, with Archie's adorable face staring down the camera lens, was revealed.
On December 28, news emerged in the UK that:
THE Duke and Duchess of Sussex have registered the trademarks for hundreds of products with their Sussex Royal brand.
That same day, Blind Gossip posted 'The Big Plan':
Think back to a few months ago when we talked about the baby.
Our married couple was oddly reluctant to let the public see the baby, citing concerns over safety and a desire to bond privately.
We told you that wasn't true. Plenty of their family members have managed to keep their children safe and secure over many generations while meeting their obligations as public figures.
We told you that the couple was actually trying to keep sightings of the baby rare while they figured out how to monetize the situation… without the rest of the family finding out.
They bungled that scenario.
However, it's now full steam ahead with The Big Plan!
What is The Big Plan?
To brand and monetize everything.
You are now seeing that plan being put into motion. And if you question what they are doing, you will be met with anger, misdirection, and insistence that their motives are pure.
We hid the baby because… Privacy! Motherhood!
We take private planes and stay in posh private digs because… Environment! Wellness!
We isolate ourselves from 99% of our family and surround ourselves with celebrities because… Family! Safety!
We are engaging our own outside lawyers and PR team because… Protection! Charity!
How dare you question our motives!
See how that works?
Fortunately, the Queen put paid to Sussex Royal on February 18, 2020, as the Mail reported:
The Duke and Duchess of Sussex must drop their 'Sussex Royal' label after deciding to step down as working royals.
Following lengthy and complex talks, the Queen and senior officials are believed to have agreed it is no longer tenable for the couple to keep the word 'royal' in their 'branding'.
Harry and Meghan have spent tens of thousands of pounds on a new Sussex Royal website to complement their hugely popular Instagram feed.
They have also sought to register Sussex Royal as a global trademark for a range of items and activities, including clothing, stationery, books and teaching materials. 
In addition, they have taken steps to set up a new charitable organisation: Sussex Royal, The Foundation of the Duke and Duchess of Sussex.
It has now been made clear that they will need to 're-brand'.
Returning to December 2019 and January 2020, Harry was eager to work out some sort of arrangement for his and Meghan's future with the then-Prince Charles. Charles told his son that such things had to be done in person, not via email. Prior to that, Harry had contacted the Queen, who said she would be happy to meet with him until it turned out her diary was full.
Various excerpts in this post come from investigative-turned-royal reporter Valentine Low and his 2022 best-seller, Courtiers. Royal insider Lady Colin Campbell said on GB News a few weeks ago that Low's book must be the definitive one he had so much access to the people who run the Palace.
On a personal note, I read all of Valentine Low's work when he wrote for the London Evening Standard around the Millennium. Low left no stone unturned in his lengthy exposés, and it is good to see that he continues to doggedly investigate his subject matter.
Another book I would recommend is Tom Bower's 2022 best-seller Revenge, which concerns the Sussexes lives. It, too, is packed with detail. Again on a personal note, I read his biography of the late Robert 'Bob' Maxwell in the 1990s. Maxwell died an unresolved mysterious death on his yacht. Maxwell was larger than life, both physically and figuratively. Bower's biography was a page-turner, from start to finish.
I sent both Courtiers and Revenge as Christmas gifts in 2022. I commend them to my readers.
'Cornered, misunderstood, deeply unhappy'
Valentine Low's excerpt, which The Times published on September 25, 2022, explains what happened between December 2019 and January 2020 (emphases mine):
The current set-up was not working for them, and they wanted to go and live in North America. Harry seemed to be under the impression that they could just sort it out by email before he and Meghan got back to London on January 6. The reply they got, however, was that this would require a proper family conversation. They were also told that the first date that the family would be available was January 29. It is not clear if this inflexibility was on the part of Charles, who was due to be in Davos, or that this was the response of his long-time private secretary Clive Alderton, pulling the strings. Either way, from the Sussex point of view, this went down incredibly badly. It fed into the narrative that they were not being taken seriously by the palace machinery, or by the rest of the family.
Harry had tried to speed up matters by arranging to see his grandmother alone before he left Canada. However, the message was conveyed to him that the Queen had been confused about her diary, and was no longer available. Harry was incensed, because it was not true: the courtiers had got in the way, it seemed, because they saw the meeting with the Queen as an attempt to pick the Queen off before Harry started talks with the rest of the family. As one source put it, "There was a danger that a private conversation could be interpreted very differently by two people."
And so it turned out with other conversations concerning the Sussexes, leaving the Queen to state that 'some recollections may vary'.
Harry considered travelling directly to Sandringham to see his grandmother:
He eventually dropped the idea, but it was a sign of his frustration that he even contemplated such a move.
Royal diaries opened up early in January 2020:
Given that the couple announced their plans to stand down on January 8, and the royal family met to discuss it all five days later on January 13 — the so-called Sandringham summit — it seems that the family diary was rather more flexible than originally appeared.
Harry and Meghan could be maddening, of course; they had already infuriated the royal family by pushing out their Megxit announcement on January 8 with the minimum of notice when all the talks had been about issuing a joint statement. But the palace also showed the sort of initial inflexibility that was always guaranteed to infuriate them. Harry and Meghan felt cornered, misunderstood and deeply unhappy. If the rest of the institution failed to appreciate that, even if their demands were unreasonable, the departure negotiations were never going to end happily. It is uncontroversial to suggest that the Sussexes would regard the talks as a failure. They wanted to find a compromise whereby they could live part of the year abroad but carry out some royal duties at home. No such compromise was found. Instead, they lost their royal duties, their patronages, Harry's military affiliations, their security, their income from the Prince of Wales and, for official purposes anyway, their HRH titles. They pretty much lost everything, except for the freedom to do exactly what they want.
This is what I meant yesterday by the mess of pottage.
The courtiers were busy:
In the immediate aftermath of the Sussex bombshell on January 8, when the Queen said she wanted all four households to "work together at pace" to find a workable solution, Edward Young, the Queen's private secretary, was with the Queen at Sandringham. The first negotiations took place in Clarence House — Charles's home ground — over the following four days, with the private secretaries and communications secretaries from the four households all trying to find a way to make the Sussexes' dreams a reality. They gathered in Alderton's office, a sunny first-floor room where paintings from the Royal Collection sit alongside photographs of Alderton's own family. Young would join the talks on the phone from Norfolk, but for the first few days it was Alderton who was leading the discussions. (Later, they would all have talks at Buckingham Palace.) Simon Case, Prince William's private secretary, who is now cabinet secretary, also played a pivotal role. "He was talking to both sides," said a source.
The people sitting around the table went through five different scenarios, which ranged from Harry and Meghan spending most of their time being working members of the royal family, but having a month a year to do their own thing, to them spending most of their time privately, but doing a select number of royal activities. There was, according to more than one source, a positive atmosphere in the room: they wanted to find a solution. At one stage, Alderton made the point that if they could get this right, they would be solving a problem for future generations of the royal family who were not in the direct line of succession.
Ultimately, the Queen decided that the couple could not be both in and out of the Royal Family:
By the end of the week, the five scenarios had been worked through. The view from the palace establishment was that, however much time Harry and Meghan spent away from royal duties, anything they did would reflect on the institution. That meant that the normal rules about royal behaviour would apply. They should not act or take decisions in order to gain financial or other material benefits for themselves, their family, or their friends.
But the Sussexes wanted their freedom: freedom to make money, freedom to dip their toes into American politics. There was no way for the two sides to reach an agreement on that point. Crucially, it was the Queen who took the view that unless the couple were prepared to abide by the restrictions that applied to working members of the royal family, they could not be allowed to carry out official duties. One source said: "There was a very clear view: you can't be in and out. And if you've got such clarity of view, it's very difficult to say, 'Why don't we go 10 per cent this way instead of 20 per cent?' " Compromise was off the table, removed by the Queen.
Low wonders whether the courtiers could have handled the situation 'differently', but it seems the previous paragraph would say that they could not have done so. The Queen took the final decision — and the right one, in the estimation of most Britons.
Mismatched expectations
It would appear that Meghan thought she would be the star of the Royal Family, whereas the Palace, rightly, expected her to slot into her role as the Duchess of Sussex.
Low found empathisers with both sides then adds his view:
One former palace insider believes the way the developing crisis was handled was "incompetent beyond belief". They said: "I think Meghan thought she was going to be the Beyoncé of the UK. Being part of the royal family would give her that kudos. Whereas what she discovered was that there were so many rules that were so ridiculous that she couldn't even do the things that she could do as a private individual, which is tough . . . It just required the decision-makers to sit around a table and say, 'OK, what are we going to do about this? What do you need to feel better? And what can we give?' "
There is, however, another view: that nothing could have ever saved the situation. The two sides were just too far apart. Another palace source, who has been critical of the Queen's private secretary Edward Young in the past, said: "I think that it was an impossible task. I think in Meghan and the household, you had two worlds that had no experience of each other, had no way to relate to each other, had no way to comprehend each other. And Meghan was never going to fit in that model and that model was never going to tolerate the Meghan who Meghan wanted to be. So I think that it was inevitable that they would not be able to work together. I don't think there's anything Edward could have done about that that other members of the royal family would have accepted."
Both things are probably true. There was a collective failure on the part of those who work for the royal family to recognise that there was a serious problem, to flag it up, and to try to do something about it. There were no high-level discussions any time in the first eight months of 2019 — when Meghan was later to say that she had suicidal thoughts and the first clues were emerging that the Sussexes were plotting an escape — about the nature of their unhappiness and what could be done about it.
But even if that had happened, I do not believe that it would have solved the problem. Their grievances were too deep-rooted, and the distance between what the Sussexes wanted and what the royal family felt able to give was just too great. Perhaps the best that could have happened is that the divorce could have been handled without all the acrimony that followed the events of January 2020. One thing is definitely true, however. If there were any failings, they were during the first year or so of Harry and Meghan's marriage.
There is one final thought on this, and it comes from a surprising source, someone who knows Harry well but remains upset about what Harry and Meghan did. Their view is that perhaps the Sussexes' departure was not the untrammelled disaster that so many think it was. "There is a part of me that thinks Meghan did Harry the greatest kindness anyone could do to him, which was to take him out of the royal family, because he was just desperately unhappy in the last couple of years in his working life. We knew he was unhappy, but we didn't really know what the solution would be. She came along and found the solution."

Dear, oh dear.
The Sussexes ignored staff advice
In an article from January 10, 2020 for The Times, written as the formal separation took place, Low tells us what was going on between the Sussexes and their staff before the couple sent out their statement:
This reveals how Harry has his own sense of the truth:
There was talk of putting out a statement — not the one that was eventually released but a blander version merely confirming that talks were taking place, and giving none of the detail about their plans to become financially independent and to split their time between Britain and North America.
Once more, Harry spoke to the Queen. Versions of how the conversation went differ. According to one narrative she made it clear that he should not go public with his plans. However, a source close to Harry told The Times: "He certainly thinks she said it was fine."
His closest advisers did not think it was fine. Both Sara Latham, the couple's communications secretary, and Fiona Mcilwham, their private secretary, argued strongly against putting out a bombshell statement without consulting the other members of the family. Harry and Meghan, however, were determined to press ahead.
The other royal households were given the statement shortly after 6pm on Wednesday. Ten minutes later it was sent out to the world.
It seems that the Duke and Duchess hadn't listened to their staff on other occasions:
Harry and Meghan's closest advisers are a devoted team who believe in the values, aims and ambitions espoused by the duke and duchess. But that does not mean that their advice is always listened to: and it also does not mean that some of them are not anxious about their future as the couple carve out their new role.
It also does not mean all of them have been involved in the plans. The Sussexes' website, sussexroyal.com, was created by Made by Article, a Canadian company, without input from their Buckingham Palace press team. Instead much of the content, criticised for inaccuracies, was created by the couple with Sunshine Sachs, a PR company in New York.
The Sussexes' most senior advisers are Sara Latham, their communications secretary, and Fiona Mcilwham, their private secretary, both appointed in the past year. Until last year the couple's household was part of Kensington Palace, home of the Duke and Duchess of Cambridge, and they were a closely knit team and funded by the Prince of Wales.
Then came the falling out and the decision for the Sussexes to set up on their own. In theory they are answerable to the Buckingham Palace team, but in reality they operate as a separate fiefdom. Most staff costs are paid for by the Duchy of Cornwall, but communications staff under Ms Latham are paid for by the sovereign grant.
Public unhappy
Low then explores the view of the general public in January 2020, which was quite negative, especially as their money went towards the refurbishment of Frogmore Cottage, where the Sussexes lived for only a short while:
… the announcement that the Duke and Duchess of Sussex aimed to be financially independent has raised questions about their future income. The duke has personal wealth — the money left to him by his mother, Diana, Princess of Wales — but is supported by money from his father and public cash.
In the narrow streets that surround Windsor Castle, locals grumbled at the cost of a recent renovation to the couple's residence, Frogmore Cottage, which sits in the castle grounds. Taxpayers paid £2.4 million to renovate the grade II listed building, into which the pair moved nine months ago. Jess Hunter, 28, manager of the Queen Charlotte pub, said: "It seems a bit rich to then turn around and walk away from it all. I like Meghan but she knew what she was getting into when she married Harry. If you don't want to be a princess, don't marry a prince."
About 32 per cent of people thought the decision would "damage" the royal family, while 49 per cent did not. "He's a normal human being and he's wanting to carve out a little bit of space for his new family to grow in," added Michael Smith, 52, a prison officer. "It's what his mother would have wanted."
The Sussex Survivors' Club

The Times featured another excerpt from Low's book on September 24, 2023.
It gives examples of how unaccustomed courtiers are to incivility — and so should they be. It is hard to imagine what they went through from 2018 to early 2020.
Low takes us back to 2018, when he was part of the press pack on the couple's South Pacific tour:
It is normally a standard part of a royal tour, the moment when the royals venture to the back of the plane, where the media sit, to say hello and have a chat. But the tour of the South Pacific by the Duke and Duchess of Sussex in 2018 was different …
… Harry had looked out of sorts. His relations with the media pack had been prickly and strained. Where Meghan smiled, always putting on her best face whenever she was on show, Harry glowered. On the five-hour flight back from Tonga to Sydney, his press handlers promised that he would come and thank the media for being there. It was only after the plane had landed that the couple finally appeared.
I remember the scene well. Harry looked like a sulky teenager, Meghan stood behind him, smiling benignly. Her only contribution was a comment about how much everyone must be looking forward to Sunday lunch at home. Harry sounded rushed, as if he couldn't wait to get back into the first-class cabin. "Thanks for coming," he said, "even though you weren't invited."
This was spectacularly rude — and incorrect. The media had been invited to cover the tour. Later, Harry's staff told him how badly his remarks had gone down. He replied: "Well, you shouldn't have made me do it." Harry's petulant behaviour revealed much about the couple's deteriorating relationship with their own staff.
So bad did things eventually become that Harry and Meghan's team would later refer to themselves as the Sussex Survivors' Club. The core members were Sam Cohen, whom the Queen had personally asked to step in as private secretary and who worked for the couple from after their wedding until the end of their South Africa tour in September 2019; Sara Latham, the former Freuds PR managing partner, hired in 2019 to be in charge of communications; and assistant press secretary Marnie Gaffney. Sources say the team came up with a damning epithet for Meghan: a "narcissistic sociopath". They also reportedly said on repeated occasions: "We were played."
Fast forward to the Oprah interview in March 2021, and all close advisers' support was forgotten:
Meghan takes pains to highlight the difference between the Queen and those who surrounded her. In Meghan's account, they were the people who refused to help when she was in her hour of greatest need. They were the ones who "perpetuate falsehoods" about her.
Watching Meghan describe how she considered ending her life in the year after her marriage was an uncomfortable experience. And yet a succession of perfectly decent people, all of whom believed in Meghan and wanted to make it work, came to be so disillusioned that they began to suspect that even her most heartfelt pleas for help were part of a deliberate strategy that had one end in sight: her departure from the royal family. They believe she wanted to be able to say 'Look how they failed to support me'.
Sam Cohen, who had 17 years' experience of working at the Palace, would frequently say to Edward Young, the Queen's private secretary, and Clive Alderton, Charles's private secretary, that if it all went wrong, the Palace needed evidence of the duty of care it had shown to Harry and Meghan. The duty of care was crucial. "[Sam] was a broken record with them on that," said a source.
But by the time of the Oprah interview, everything the Palace had done to support the couple — including giving them a team that would have done anything to help them succeed — was forgotten.
Instead, Meghan was able to point out all the times the institution had failed her. One of them was when she says she went to the head of HR, where she was given a sympathetic hearing but sent on her way. This was inevitable: HR is there to deal with employee issues, not members of the royal family. Meghan would presumably have known that, so what was she doing there? Laying a trail of evidence, would be the cynical answer.
Another former staff member goes even further. "Everyone knew that the institution would be judged by her happiness," they say. "The mistake they made was thinking that she wanted to be happy. She wanted to be rejected, because she was obsessed with that narrative from day one."
Courtiers are unaccustomed to untoward behaviour:
Part of the problem, according to one source, was that everyone in the Palace was too genteel and civil: "When someone decides not to be civil, they have no idea what to do. They were run over by her, and then run over by Harry."
The situation was not helped by Harry and Meghan's deteriorating relationship with Alderton and Young. "As things started to go wrong," a source told royal biographer Robert Lacey, "Meghan came to perceive Young as the inflexible, bureaucratic figure who summed up what was with the BP [Buckingham Palace] mentality, and the feeling was mutual. Young really came to dislike Meghan's style." Harry was just as dismissive of the two senior courtiers as Meghan. An insider said: "He used to send them horrible emails. So rude."
Meghan's secrecy
If Meghan criticised the courtiers, she was not exactly above criticism herself.
She used secrecy to her advantage:
When Harry and Meghan went to Canada for their six-week break in November 2019, their escape plans were already laid, amid the greatest secrecy. Meghan would not even tell their nanny, Lorren, where they were going. According to one source, she did not know where they were going until the plane — a private jet — was in the air.
Shortly before the end of the year, Meghan confided in a member of her staff that the couple were not coming back. The rest of the team did not find out until they held a meeting at Buckingham Palace at the beginning of January 2020. They found it hard to accept they were being dumped just like that. Some of them were in tears. "It was a very loyal team," said one.
Money, money, money
By the end of March 2020, Meghan was allegedly panicking about money:
On March 31, The Express reported:
Meghan Markle and Prince Harry agreed to pay back the money spent for the refurbishment of Frogmore Cottage into the Royal Purse as part of their deal with the Queen. As part of their bid for independence from the Royal Family, the Duke and Duchess of Sussex said they want to become financially separate from the Queen and will be looking for new sources of income. Meghan last week was confirmed to have struck up a deal with Disney to narrate their latest documentary Elephant but the Duchess donated the money as the project was filmed before she and Harry announced their departure from the Royal Family.
A royal insider claimed Meghan is terrified because of the financial pressure they are now under and suggested the Duchess has ordered Prince Harry to find a job.
Speaking to US tabloid National Enquirer, the anonymous source said: "This debt is a blow to their ambitious plan to become freewheeling billionaires in the world.
"Meghan is terrified that her dreams of being a Hollywood queen will be destroyed by this financial nightmare and she is insisting that Harry make a move and resolve the crisis."
The insider however noted the lack of previous working experience could make the search for a new job difficult for the Duke of Sussex.
That is too funny. On a serious note, we see again the mess of pottage looming large.
Harry's lack of work experience led him to dish the dirt on the world's most famous royals. I hope he's happy.
Ending on the present day — January 2023 — it is rumoured that Harry might be offered a contract to be a television commentator in the US on his father's May 6 coronation.
On January 25, The Express reported:
Prince Harry has been tipped to skip King Charles III's coronation after two US broadcasters allegedly approached the Duke of Sussex to commentate on the ceremony. The Duke's potential coronation role was first tipped in this weekend's Sunday Express where TV companies were suggested to be attempting to lure him to join their media teams. Harry's relationship with his father and the Royal Family has been frosty after a series of digs levelled at the institution in recent months. Royal correspondent Charles Rae said the couple may still be invited to attend the ceremony but suggested Prince Harry may instead opt to strike a deal with US TV channels to act as a commentator and stay in the US …
Speaking on behalf of Spin Genie, Rae added: "There are also rumours that Harry has been offered a lot of money by two broadcasters to commentate on the Coronation …
Networks CBS and NBC are believed to have approached the Duke to get him joining their reporting team in the lead-up to the coronation.
The Venn diagram: Diana
The intersection of the Venn diagram linking Harry and Meghan is clearly Princess Diana.
On August 4, 2021, at the time the Duchess turned 40, her half-sister Samantha told GB News's Dan Wootton how obsessed Meghan was with the princess:
Here's the full video, just under 20 minutes long. In it, Samantha discusses how difficult it is to love someone who has caused so much hurt, her disappointment that Meghan has not contacted their ailing father and her book about the Duchess:
As for Harry, Prince Charles's and Princess Diana's chef at Kensington Palace, Darren McGrady, says that William and Harry had very different personalities (see at the 1:25 mark).
He says that one day Diana entered the kitchen after the boys had just been in — a favourite place for them to go — and said:
You know, the boys are so different. William's deep, like his father, and Harry is just an airhead like me.
What more can I say? Nothing.
Cottage pie
In closing, Darren McGrady prepares cottage pie the authentic way. The recipe dates from the 1700s.
There is a note early on in the video that says shepherd's pie is made with lamb and cottage pie is made with beef, something non-Brits do not realise.
It is also called cottage pie because it was for peasants. Peasants lived in cottages.
But I digress.
Cottage pie was a favourite of Wills and Harry. Perhaps one day, in the years to come, they might enjoy it again together.
End of series
The story goes that when the Swiss Reformer Zwingli said that Holy Communion was a mere symbol, an appalled Martin Luther observed that 'another spirit' was working through him, meaning the devil.
Sadly, we have had a lot of 'another spirit' news in 2022.
Let's get through that first in order to move on to other items.
'Another spirit' news
From the family structure to euthanasia, the devil never stops.
Canada's 'killing fields'
On December 16, the Mail had an excellent article about the many Canadians being urged to undergo euthanasia.
Canada's national euthanasia programme is called MAiD (Medical Assistance in Dying), but this is no comely lass, rather a killing machine of sorts, so much so that even the UN wants to call time on it (emphases mine):
… the progressive administration of Prime Minister Justin Trudeau now finds itself in the deeply embarrassing position of being attacked by human rights campaigners and the United Nations over MAiD. 
Three UN experts last year concluded the law appeared to violate the Universal Declaration of Human Rights. Euthanasia — from the Greek for 'good death' — is a means of release to people in unimaginable and incurable pain, especially if expected to die soon. 
This is how Canada's 'killing fields', as the Mail rightly says, entered the statute books:
Canada's Supreme Court dismissed as scaremongering fears of a 'descent down a slippery slope into homicide' when it overturned a ban on euthanasia in 2015, ruling that it was unconstitutional as it deprived people of dignity and autonomy. 
The following year, Canada's Parliament passed legislation allowing euthanasia, but only for people suffering from a terminal illness whose death was 'reasonably foreseeable'. 
Within five years, it became clear that Canada was, indeed, sliding down the slope when — again under pressure from the courts — MPs passed Bill C-7, which scrapped those criteria. 
From 2021, anyone suffering from an illness or disability that 'cannot be relieved under conditions' that he or she 'considers acceptable' can, with the approval of two doctors or nurse practitioners, get MAiD free. 
The patient must be found to be competent to make the decision and wait a minimum 90-day assessment period before death is provided. 
If a doctor refuses to sign off the request, patients can shop around for one who is more amenable. And unlike other countries, including Belgium and the Netherlands, where euthanasia is legal, Canadian patients are not required to have exhausted all treatment alternatives first. 
Last year, 96 per cent of MAiD applications were approved. 
Seeking to understand why so many in government and healthcare appear to be pushing MAiD enthusiastically, critics point to a 2017 study by the University of Calgary that estimated medically-assisted dying could reduce national healthcare spending by $139million a year (£83 million). 
The report noted that in some Canadian provinces, caring for patients in the last six months of life accounted for more than a fifth of healthcare costs.
This page from a MAiD pamphlet didn't come from the Mail, but its egregious typeface and presentation make such a death look harmless and normal: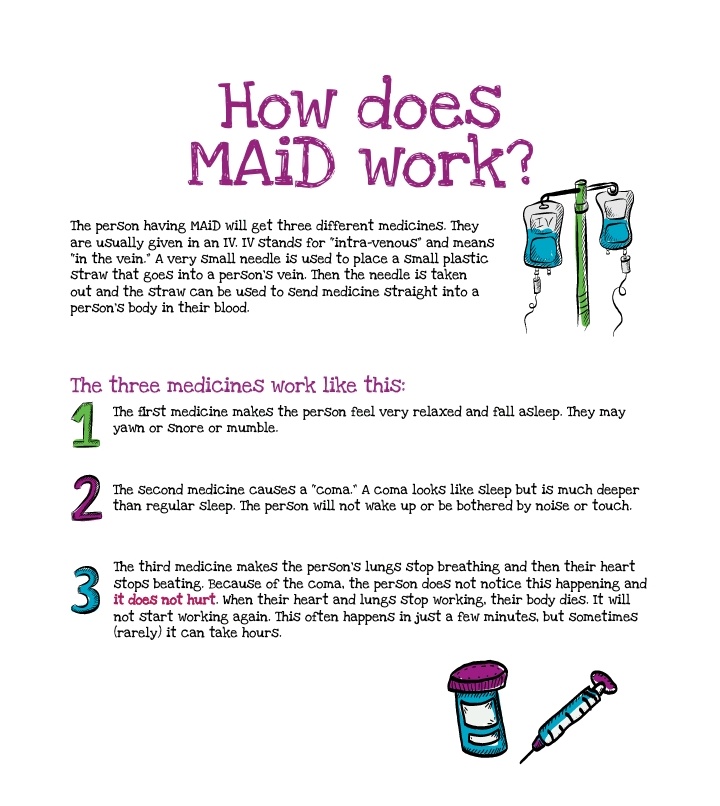 All manner of Canadians — totalling 10,000 in 2021 — have gone to their rest via MAiD. These are photo captions from the Mail where their stories are explored in greater detail. Note the financial reasons:
Michael Fraser, 55, was euthanised by his GP after he pleaded poverty
Wheelchair-bound Les Landry, 65, an ex-lorry driver from Medicine Hat, Alberta, is one of those seeking assisted suicide primarily for financial reasons 
Christine Gauthier, a paraplegic army veteran who competed in the 2016 Paralympics, told MPs how, after five years of trying to obtain a stairlift for her home, a Veterans Affairs official told her that if she was 'desperate', they could offer her MAiD
Here in the UK, both Houses of Parliament have been debating legislating for end of life choices. Some peers (Lords) and MPs (Commons) are all for the Canadian model, about which, it seems, they know very little:
In both Canada and the UK, euthanasia is defined as the act of deliberately ending a person's life to relieve suffering. 
It is often referred to as 'physician-assisted dying' or 'assisted dying' and is distinct from 'assisted suicide' which is helping someone to kill themselves by, say, obtaining lethal drugs for them. 
Just months after the House of Lords halted an attempt to legalise euthanasia in the UK, the Commons last week launched a new inquiry into assisted dying with 'a focus on the healthcare aspects', including the role of doctors, access to palliative care, criteria for eligibility and 'what protections would be needed to safeguard against coercion'. 
Successive UK governments have refused to legalise euthanasia but inquiry chairman [Conservative] Steve Brine MP said there was now 'real-world evidence' to look at from those countries where it is legal. 
What has also changed is that the British Medical Association, Britain's biggest doctors' union, took a landmark vote last year that ended its long- standing opposition to euthanasia. 
It is possible that even children will be able to request MAiD in 2023:
Many are deeply concerned by next spring's extension of MAiD to people with mental illnesses and — pending a parliamentary review — to 'mature minors' above the age of 12. 
MAiD has its critics among clinicians, but does it have enough of them?
This was the most apt description of the process:
Professor Tim Stainton, director of the Canadian Institute for Inclusion and Citizenship at the University of British Columbia, described Canada's law as 'probably the biggest existential threat to disabled people since the Nazis' programme in Germany in the 1930s'. 
It's hard to disagree.
Woe betide Canada. It used to be such a lovely country.
More dismantling of marriage
Two weeks ago, I featured news stories from November advocating that couples abandon the marital bed.
On December 15, The Guardian's Emma Brockes promoted living apart: 'Why are so many women living in separate homes from their partners and kids? Because it's a win-win situation'.
This is obviously for upper middle class types who can afford two homes:
The overheads on two households are eye-bleeding.
Even so, it's another slippery slope article.
As usual, this trend emanates from North America and was first trumpeted in the New York Times, where the devil seems to have a comfy home:
In the New York Times this week – sound the klaxon – a new trends piece drops on the growing numbers of women in the US who, post-pandemic, are opting to sustain the separate household model of marriage, established during lockdown by some families to reduce Covid transmissions, and proving so preferable to the norm, apparently, that they're in no hurry to reunite with their husbands.
It's well known that among straight couples, women initiate most divorces – by some reckonings 70% – and pushing for separate households is, I would imagine, a staging post towards this end for many of the numbers in this new trend. But for others, perhaps it really is a viable solution to the problem of loving your spouse but not wanting them underfoot all the sodding time.
How frightfully sad.
This began years before the pandemic:
What's new is the surge in those who still identify as married but live apart from their spouse; in the US, married couples maintaining separate households rose by a quarter between 2000 and 2019, and in 2021, that number sharply climbed again, according to the New York Times. It is estimated by the Census Bureau that 3.89 million Americans, or 2.95% of married couples, live apart. They even have a little acronym: Lat, or "living apart together".
The trend appears a likely result both of everyone being home for the past two-plus years and driving each other insane, and the fact that after lockdown ended, studies showed that men swiftly dropped the childcare and domestic work some had adopted during that period. Judging by case studies in the article, for some women, quarantining in a quiet, separate residence while their husbands shouldered the caretaking at home, struck them at the level of a revelation. For others, the fact that even a global pandemic did little to undermine – or in some cases, actively deepened – the division of labour at home along traditional gender lines had a straw-that-broke-it effect.
How utterly, utterly selfish.
New York Times crossword puzzle
As we're on the subject of the New York Times, here is their December 18 crossword puzzle. December 18 was the first night of Hanukkah, yet the paper produced a gamma-shaped puzzle. Hmm. Why?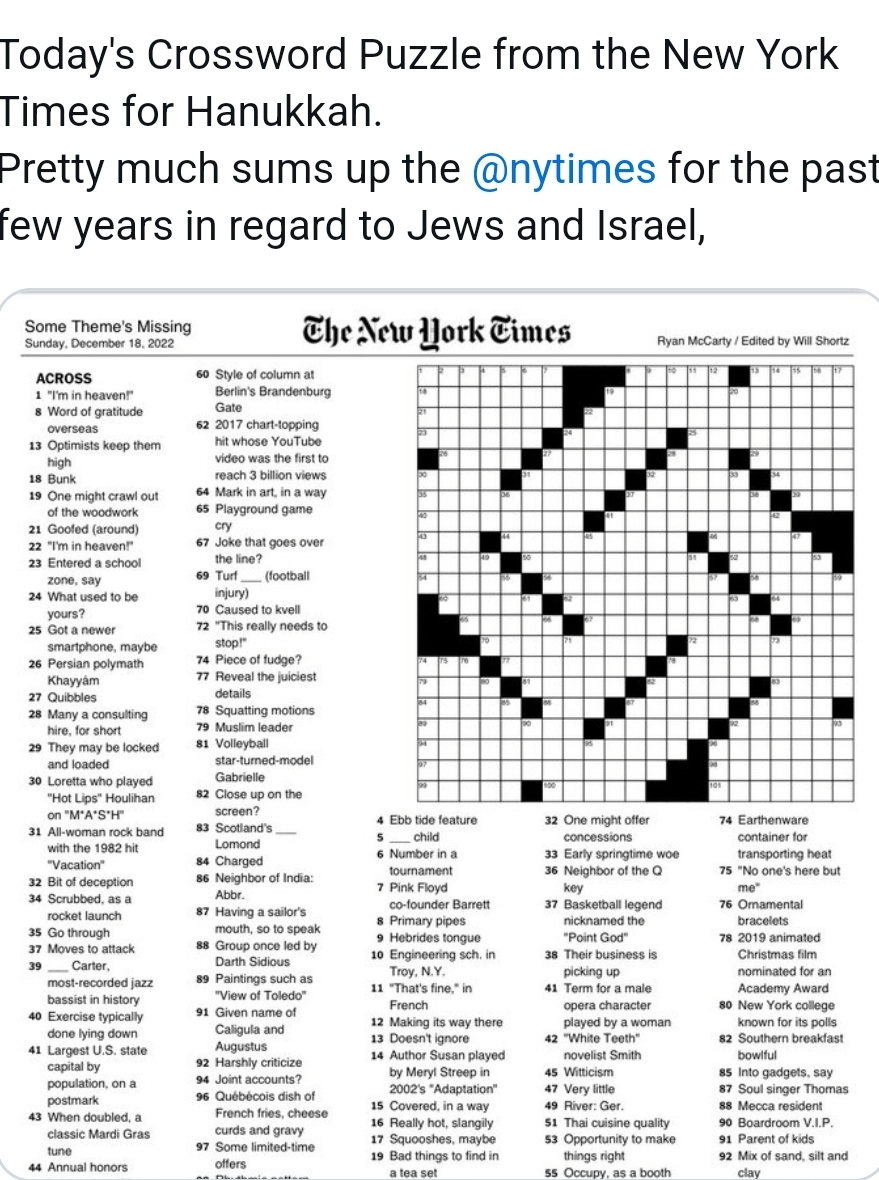 Despite complaints from prominent Jews around the world, the paper defended the puzzle's shape, saying:
'This is a common crossword design: Many open grids in crosswords have a similar spiral pattern because of the rules around rotational symmetry and black squares,' a Times spokesperson told DailyMail.com on Monday. 
Although Carlos Slim is the current owner, the famous Ochs-Sulzberger family are still in charge of content:
The paper is run by AG Sulzberger – the sixth member of the Ochs-Sulzberger family to serve The Times as publisher since the newspaper was purchased by Adolph Ochs in 1896. The family is of both German and Jewish ancestry. 
This is not the first time such a design has appeared:
A similar incident occurred in 2017, and at that time the newspaper responded in a tweet: 'Yes, hi. It's NOT a swastika. Honest to God. No one sits down to make a crossword puzzle and says, "Hey! You know what would look cool?"' 
One wonders.
Christian doctor told to attend 'boundaries' course
I was amazed to see a praying Christian physician, Dr Richard Scott, appear in The Telegraph on September 27.
His is such an old — and sad — story. It goes back to 2019 and has only now been resolved.
The 62-year-old was nearly struck off the medical register for praying by request with his patients in Kent. Someone complained, and you can guess the rest.
The article says:
A tribunal that could have taken away his right to practice was called off after a last-minute settlement with the NHS, but Dr Scott will have to attend a £500 one-day training course on "professional boundaries".
The tribunal was due to consider complaints relating to a telephone interview Dr Scott took part in on BBC Radio 4 in 2019 discussing his use of prayer in his practice.
On the radio programme he also said: "As a Christian doctor you have to ask yourself, who's your ultimate boss? And it's not the GMC [General Medical Council]. It's Jesus Christ."
He said he offered spiritual care to around one in 40 patients, and around 80 per cent of people offered prayer or religious support accepted the offer.
The tribunal was set to begin in Ashford on Monday to determine whether he could still be allowed to work as an NHS doctor.
He had previously been ordered to attend a three-day course costing £1,800 aimed at people who had been accused of sexual impropriety.
Dr Scott was not accused of sexual misconduct and refused to attend the course or undertake a psychiatric assessment. The GMC had twice ruled that the Christian doctor had not breached any of its guidelines.
Following the settlement with the NHS, Dr Scott will now take part in a one-day training course costing £500 relating to "professional boundaries". He said that he did try to "follow the General Medical Council guidelines and if you read them correctly, they allow you and encourage you to speak to patients about religion where it's relevant to their care".
"Some people are desperate for help and I can give any number of examples of people I've helped through spiritual care – which is done on my own time and fully consented." he added.
Andrea Williams, chief executive of the Christian Legal Centre, which supported Dr Scott, said: "Dr Scott is a highly experienced doctor whose life and career has been committed to serving his patients and community.
"He is loved and respected by his community which he has served for decades. His love for Jesus and dedication to his faith is also well known where he works and within the community.
"There is no evidence that Dr Scott's practice of praying with his patients has in any way interfered with his delivery of excellent medicine – in fact, quite the opposite."
NHS England has been contacted for comment.
That poor man. It's hard to imagine the stress he has been under for the past three years. I hope that he and his family have a blessed, relaxing Christmas this year.
House of Lords climate change paper
This month, the House of Lords published a paper on climate change — 'In our hands: behaviour change for climate and environmental goals'.
It's 140 pages long and a product typical of today's left-leaning peers, including a number of the Conservatives lurking there, too.
I've been reading the chapter called 'Behaviour change for climate and environmental goals', because this is what the average Briton will experience in the years to come via media bombardment.
Of course, the Lords worry about 'misinformation' and 'disinformation', meaning any evidence contrary to their Net Zero narrative.
This is from page 84 of the paper (page 86 in the PDF linked to above):
309. Several witnesses expressed concern about the spread of misinformation—incorrect or misleading information—and disinformation—deliberately deceptive information—related to climate change and the environment on social media. Carnegie UK described research carried out by the Institute for Strategic Dialogue (ISD), which compared the levels of engagement on social media platforms generated by reliable scientific organisations and climate sceptic actors respectively and found that the posts from the latter frequently received more traction and reach than the former. Carnegie UK explained:
"In the fortnight over which COP26 took place, sceptic content garnered 12 times the level of engagement of authoritative sources on the platform; and 60 per cent of the "sceptic" posts they analysed could be classified as actively and explicitly attacking efforts to curb climate change."530
310. Witnesses had several suggestions as to how misinformation and disinformation about climate change and the environment on social media could be tackled. Mr Smith suggested traditional broadcasters—like the BBC—must play an important role as "trusted sources" in a landscape of disinformation online. 531 Carnegie UK expressed concern that the Government's Online Safety Bill "does little to tackle climate change information", and proposed amendments to bring climate change disinformation into the scope of the draft Bill in a "proportionate manner".532
Pages 95 and 96 highlight the Conservative government's deficiences in bold text, paragraph after paragraph. Contrary to what the Lords say, this is a good thing.
Here are two sections, emphases theirs, from page 96 (page 98 of the PDF):
362. The public expect the Government to take a leadership role to enable behaviour change, but the Government's reticence to address key areas—such as what people eat, how we heat our homes, what we buy and how we travel—which is largely a result of a reluctance to be perceived as reducing freedom of choice, undermines individuals' willingness and ability to take action.
364. The Government should apply behavioural science to all its policies and initiatives. It should urgently review the Net Zero Strategy and policies and initiatives in place to deliver it and rectify where its six principles underpinning green choices are not being delivered.
Satan has obviously found a home on the cushy red benches of the Lords.
Good on the Conservative government in taking little to no action on this guff. Long may it remain so.
Starving mother struggles to feed children
This is another story that causes one to shake one's head in disbelief or despair.
It appeared on ITV News on Monday, December 19:
A mother-of-four from Bath says she is having to live off her children's leftovers because she no longer has enough money to pay for her own meals.
Victoria Walker will not be able to afford Christmas for her family as food prices continue to rise.
She rarely turns the heating on and tries not to eat so that her children can have food.
"Unless I really have to, I won't eat," she said. "I fill myself up with tea and coffee. I like the children to eat so I tend to have the leftovers."
Recently her 11-year-old daughter even started offering her pocket money to help buy food essentials like bread and milk.
She added: "It just makes me sad. It breaks my heart. Christmas is looking sad for me. I can't afford Christmas."
Victoria is receiving help from Action for Children, a charity created to help vulnerable children, young people and their families in the UK.
Unfortunately, the accompanying video, which can be seen at the link, undermines the mother-of-four's case for hunger.
ITV also showed her in their social media post about the story: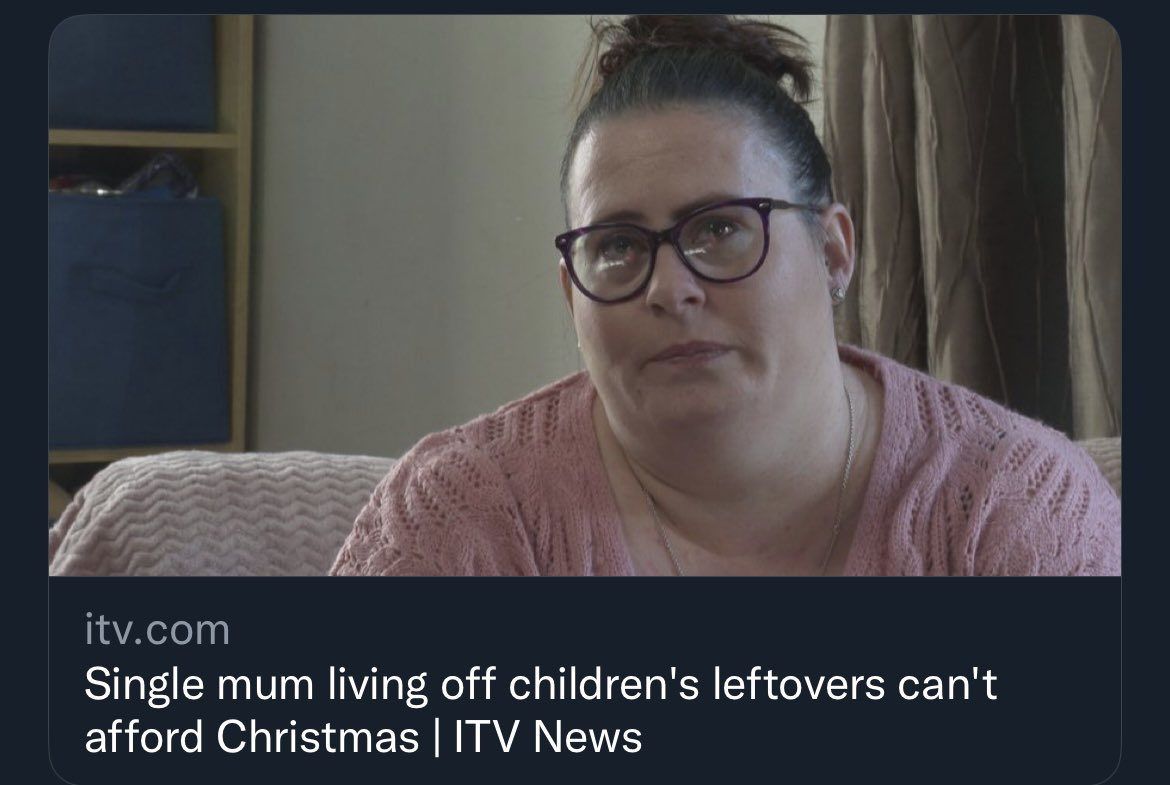 No further comment.
Political theatre: they're all friends, really
We mere mortals think that politicians from opposite sides of the spectrum oppose each other in real life.
However, the Queen's mourning period proved that what we see on television and read in the papers is nothing more than political theatre. I refer specifically to the gathering of hundreds of MPs, Prime Ministers and peers from past and present gathering to see King Charles take the Oath of Affirmation shortly after his mother died.
These men and women, whether Labour or Conservative, have a real rapport with each other.
On September 13, six days before Queen Elizabeth's funeral, The Telegraph's Tom Harris, a former MP himself, discussed the meeting of the Privy Council that day and featured a photo of former Prime Ministers Gordon Brown (Labour) and Boris Johnson (Conservative) sharing a laugh together.
Harris explained why this was not unusual:
Consider this: what if the Queen's death and preparations for her funeral were not forcing natural enemies to behave in public, but were allowing our political leaders the rare opportunity genuinely to enjoy each other's company? …
Cross-party friendships are always surprising to outside observers, though within Westminster's walls they are so common that they are rarely commented upon. True, the tea room, where most of the House of Commons gossip is shared, is strictly split up into party areas. But those demarcations are informal and there is much interchange and banter, including the sharing of tables by MPs of different parties.
The fact is that many MPs will feel more comfortable sitting in the smoking room after a late night vote, having a drink and sharing a joke with colleagues from the opposite party, than they will having a beer after a meeting of their local party. After all, outside those fraught occasions when constituency mergers and boundary changes are in prospect, an MP will see no rival when he gazes around the chamber of the Commons. Everyone there, by definition, already has a seat and is too concerned with holding onto theirs to cast envious eyes on their own.
It's a shame that friendships between MPs of opposition parties is the love that dare not speak its name. Only when tragedy rears its head do we catch a glimpse of those relationships. In a touching tribute to John Smith just a day after the Labour leader's unexpected death in 1994, John Major told of late night drinks in his study with his political rival, meetings which started off with drink singular and then progressed to the plural pretty quickly.
As an MP I would frequently join colleagues from different parties to sample Soho's various karaoke bars … These events were not unusual in themselves; what was unusual was how quickly, the day after, everyone once again sworn political enemies.
Ironic, then, that it is the speeches and barbs of the Commons and TV studio debates, not the joyful, slightly inebriated singing, that are the more performative. Constituents expect it. The first rule of Karaoke Club is that no one talks about Karaoke Club, not just because MPs can't be seen to be enjoying themselves during the week instead of keeping their heads down in the Commons library, but also because it just wouldn't do to be seen to be friends with the other side.
And, finally — Bruce Springsteen
On Monday, November 14, Bruce Springsteen cleared up a long-running argument — apparently — about the lyrics to his 1975 hit 'Thunder Road'.
The next day, The Telegraph reported:
The 73-year-old's fans have long disputed whether the opening line to 1975 hit Thunder Road begins with the slam of a screen door followed by "Mary's dress" either swaying or waving.
Knowing he would be asked about the crucial word during an appearance on US talk show The Tonight Show by host Jimmy Fallon on Monday, Springsteen arrived prepared with an original vinyl LP detailing the song's lyrics.
The Boss declared the LP had the lyrics incorrectly printed as "waves", adding that he had sung "sways" for nearly half a century …
The debate over the wording re-emerged on social media last year after two copies of the handwritten lyrics went to auction, one saying "sways" and the other "waves".
Springsteen's own publications also bear the hallmarks of confusion, with his 2016 autobiography Born to Run using "sways" and his website referring to "waves".
Jon Landau, Springsteen's manager and co-producer on Born to Run, said last year that the lyric was "sways" and that "any typos in official Bruce material will be corrected".
"That's the way he wrote it in his original notebooks," Landau said.
Good to know in case anyone starts a dispute about it after too much Christmas cheer.
More news to follow in the coming days.
Yesterday's post looked at the new biography of Liz Truss, Out of the Blue.
Her life has been a fascinating one in many ways.
On Saturday, September 3, 2022, shortly before Conservative Party members elected Liz Truss as their leader, The Times published an excellent article complete with photos, 'Just where is Liz Truss from? Her incredible journey spans three countries and two continents'.
Excerpts follow, emphases mine.
Early years
Mary Elizabeth Truss was born in Oxford in 1975 to a couple who lived in Cowley, known for the Anglican religious order, the Cowley Fathers, and car making:
The Truss odyssey begins amid the rackety student townhouses of James Street in Cowley, Oxford. She was born on July 26, 1975 at the nearby John Radcliffe Hospital, the second of five children, to Priscilla, a nurse and teacher and John, a mathematics professor. Their first child, Matthew, died when he was a baby. James Street today is inhabited by a mixture of posh students and local families, with a dash of Cowley seediness thrown in.
Like many of the places where Truss grew up, the area is middle class, left-leaning and studenty, home to a variety of public sector workers and professionals on a budget.
A series of moves followed, all connected with John Truss's work:
When her father's junior research fellowship at Oxford University ended, he spent a couple of years as a teacher at King Charles I High School in Kidderminster [Worcestershire], where Truss's younger brother Chris was born in 1978. After that, he found employment at Paisley College of Technology in Renfrewshire, and in 1979 took the family on the long journey up the M6 to Glasgow. Truss was four at the time.
Handsome civic buildings aside, Paisley is a fairly down-at-heel town, its high street a parade of betting shops, tattoo parlours and discount stores. But leafy Low Road, where the Truss family lived, is a bourgeois haven of Range Rovers and birdsong nestled among council estates and main roads. The Trusses lived in two different houses on the street, one a capacious detached villa, the other a sturdy semi-detached. Her other two brothers, Patrick and Francis, were born in this period.
Liz attended West Primary School and once drew the short straw in having to play Margaret Thatcher in a mock election. Most Scots detest Conservatives, especially in the western half of the country:
"I ended up with zero votes," she recalled. "I didn't even vote for myself. Even at that age, we knew it was simply unpopular to be a Tory in the west of Scotland."
In her spare time, young Liz embraced her parents' left-wing politics and attended protests:
It was in Paisley that Truss's mother first introduced her to political activism, taking her on Campaign for Nuclear Disarmament marches with the local CND chapter, including the famous Greenham Common protests, which she attended as a seven-year-old. A picture from the Paisley Daily Express on October 23, 1985 shows a 10-year-old Liz with her mother and brother Chris proudly holding aloft a new Paisley CND banner, ahead of a planned protest trip to London. The article recounts how the family spent two weeks painstakingly making the flag.
Truss has recalled the DIY nature of her family's 1980s radicalism. "We did a number of things like marches, protests," she told an interviewer in 2014. "On one occasion when we went down to London in a bus we had made some nuclear bombs made out of carpet rolls — ours didn't quite work because it had floral wallpaper on it."
In 1987, John Truss got a new job as a visiting professor at Simon Fraser University in British Columbia. The year the family spent in Canada transformed Liz's life:
In July she posted a picture on Instagram of her class at Parkcrest Elementary School in Burnaby, a suburb of Vancouver, which also boasts the actor Michael J Fox as an alumnus. The caption read: "30 years ago I spent a year in Canada that changed my outlook on life #pioneerspirit #optimism."
Moving 6,000 miles across the world would be a challenge to any 12-year-old, but the wide-open spaces and artless optimism of western Canada appear to have invigorated Truss.
The Times was able to find a Canadian classmate of hers, Brenda Montagano, who now teaches at the school both women attended:
"I remember her accent and I remember her being very smart," Montagano recalled. "Now that I'm a teacher, I recognise that it's no small feat to change schools, never mind countries, at that age. She came in and was confident, chatty, tried to get to know everyone. She made her mark."
Upon returning to England, the Trusses settled in Roundhay, a suburb of Leeds:
the closest thing Truss and her brothers had to a permanent family home. It was a household of music lessons and political debate, books and board games, the latter of which Truss "had to win", her brother Francis once told Radio 4.
Roundhay was an affluent area in the 1980s and remains so now, with the villas that overlook the park selling for more than £1 million. As a teenager, Truss would play tennis here with her brothers and drink cider with schoolfriends. Although the constituency of Leeds East was still Conservative when the Trusses first moved there, Roundhay today is solidly middle-class Labour, with the tapas bars and bookshops to prove it.
Liz was highly critical of Roundhay on the campaign trail during the summer, denouncing its Labour element. The Roundhay ward is part of Leeds City Council, so perhaps that was what she referred to. She was also critical of Roundhay School, which she attended:
"All of my parents' friends worked in public sector jobs," Truss has recalled. "The teachers at my school were quite often card-carrying members of the Labour Party and it just was not part of the culture to approve of what the government was doing."
Truss is profoundly unpopular in Roundhay today. Beyond her politics, locals were outraged when she made disparaging remarks about Roundhay School, which is now a successful comprehensive (motto: "Courtesy, co-operation and commitment"), situated in a handsome redbrick building by the park.
"The reason I am a Conservative is that I saw kids at my school being let down in Leeds," Truss said during a debate with Rishi Sunak in July.
It's true that Roundhay was not a particularly good school in the late 1980s. "The fabric of the school was crap, really awful," said one Roundhay teacher who overlapped with Truss. "There were ceilings collapsing, water leaks, gas leaks. The GCSE pass rate would have been 40 per cent A-C."
It is possible that Truss thinks that more effort should have been made across the board. She was clearly a gifted student:
… the school improved markedly for sixth form and Truss reportedly received extra tuition along with other Oxbridge applicants, which helped her gain acceptance to Merton College, Oxford, to study philosophy, politics and economics (PPE).
Her years in Roundhay might not have been her best with regard to friendships:
On Ingledew Crescent, neighbours of John Truss, whose politics diverge considerably from his daughter's, have been asked to keep their views to themselves. Some are too furious to hold back though. "She's a lying b***h," said Louise, a long-time neighbour. "She told lies about our local school. She told lies about the assistance she was given. I despise the woman and I feel sorry for her father. It's not his fault"…
One pupil at Roundhay remembered Truss as "aloof" and a "loner".
The Oxford years
Going up to Oxford probably came as a relief for Liz Truss:
Like many bumptious high-achievers, it seems she found a more comfortable groove when she went to university in 1993. Even among Oxford colleges, the secluded, introspective Merton has a reputation for academic excellence. "For those of us from regional comprehensives, we'd often had to hide how clever we were," said one contemporary from her year at Merton. "But at Merton you could meet all these amazing people with similar interests. It was very liberating."
Oxford was a bastion of Conservatism in those days:
"I met Tories and [found] these people don't have two heads and they don't eat babies," she said of this experience.
That said, she joined the Liberal Democrats:
Unlike most of her Merton contemporaries, though, Truss threw herself into life outside the college, joining the university Liberal Democrat society and becoming its president in the spring term of 1995. Student politics seems to have provided the stage she had been looking for.
Truss's politics in the Oxford years were a typical Lib Dem mishmash. On social issues she still espoused the left-wing radicalism of her parents. During her speech to the Lib Dem party conference in 1994, made while she was still an Oxford student, she made an impassioned plea to abolish the monarchy.
Roger Crouch, who became president of the Lib Dem society the year after Truss, met her at a freshers' fair in which she was determined to carpet the party's entire stall with entreaties to legalise cannabis.
"Even at the time she was determined and willing to pick a fight and stand her ground," Crouch recalled. "She knew what she thought and was willing to defend it. She was determined, slightly eccentric and challenging. She had an acerbic sense of humour, which I think is why we got on."
The termcard for Truss's presidency of the society included events on the legalisation of drugs and prostitution. "She liked to challenge the orthodoxy, often a male orthodoxy," said Crouch, who is now a teacher.
Even so, she was too libertarian to remain a Liberal Democrat for long:
"Liz was always quite a libertarian Liberal Democrat," he says. Truss was also involved with the free-market Hayek Society at the university and Crouch recalls one particular discussion in which she advocated for the privatisation of lampposts. "I didn't see her as someone with a longer-term future in the Lib Dems," he said. "I think she would have found us quite annoying."
Liz and her boyfriends made the fringe student newspaper columns, one of which said:
Liz had mad ideas.
Her acceptance of a job with Shell also garnered criticism in the student gossip columns.
Life in London
Liz completed her studies in 1996 when John Major was Prime Minister, one year before Tony Blair's Labour landslide:
Truss migrated to London after college and the not-quite-northerner became an entrenched southerner. She worked as an economist for Shell and then Cable and Wireless, but she was quickly captivated by the siren call of Tory politics, baffling some of her university peers.
"We came out of Oxford and it was the summer of Euro 96 and Britpop," said her Merton contemporary. "Then Tony Blair got in. It was a breath of fresh air. The country was full of optimism. To then go and join the Conservative Party, I was like: 'How does that happen?' It was really perplexing."
It was at this time that politics took hold of Liz, even if she was not an immediate success. However, her tenacity saw her through:
In 1998, aged 23, Truss ran for a seat on Greenwich council, a Labour-leaning borough. She lost, and it would be a 12-year political slog before she eventually became MP for South West Norfolk.
Running alongside her in 1998 was Douglas Ellison, who later won a seat on the council. "She was definitely resilient," he recalled. "I don't know how many selection processes she went through. There was this enormous self-belief to keep on getting up in front of these audiences and voters to eventually try and get that break. She was a sucker for punishment."
Ellison wouldn't necessarily have expected her to become prime minister, but noticed her obvious political skill. "Her manner could be a bit matronly, but she was very good at working people," he said. "She's been very lucky in a sense. Sometimes it can be better to be lucky than talented."
Even though she never got a seat on Greenwich council, she settled in the borough, marrying her accountant husband Hugh O'Leary in 2000, at St Alfege church in Greenwich, just half a mile walk from their current home.
Her Oxford classmate Roger Crouch attended the reception:
It must have been a good one, because I can't really remember it.
The couple have two daughters:
Frances, 16, and Liberty, 13, who she says is looking forward to hosting sleepovers in Downing Street.
I hope Liberty acted quickly.
Hugh O'Leary
On Tuesday, September 6, after Liz became Prime Minister that day, the Daily Mail told us more about Hugh O'Leary, complete with lots of photos:
Liz Truss' 'true blue' husband watched proudly as the Tory leader was crowned Britain's third female Prime Minister.
Hugh O'Leary listened on as Ms Truss delivered her first Downing Street address on Tuesday, vowing to to create an 'aspiration nation' during her reign as the nation's 56th Prime Minister …
Mr O'Leary was also by her side when she won Tory leadership on Monday, marking the first high-profile joint appearance by a hitherto private couple.
Ms Truss, 47, described her 'dry-witted' accountant spouse as the 'love of my life' on Valentine's Day three years ago. She met Mr O'Leary at the Tory Party Conference in 1997 and said of their first date: 'I invited him ice skating and he sprained his ankle.' 
Mr O'Leary was born in 1974 and grew up in Allerton, Liverpool, before his family moved to Heswall, Wirral.
A former neighbour said 'Hugh was much more serious' than his two younger siblings and that 'he was very earnest and very quiet but a lovely boy,' the Times reported last week.
O'Leary, 48, became a chartered accountant after studying econometrics and mathematical economics at the London School of Economics (LSE). 
The couple started dating and married three years later, settling in Greenwich, South-East London. They have two daughters, Frances and Liberty. O'Leary has worked from home as a house-husband.
A close family friend, cookery writer Mallika Basu, said: 'They are a great team. Both are keen cooks and very good cooks. She does lovely roasts, he does a good curry.'
There was only one dark period, when Liz had an affair with a fellow Conservative MP. Fortunately, her marriage withstood the strain:
Only once has their relationship been rocked. In 2006, it was revealed Truss had been having an affair with married Tory MP Mark Field. Her marriage survived; his ended.
The only damaging moment came when Tory members in her Norfolk constituency complained they had been kept in the dark about the affair and tried to oust her. 
But they were defeated and Truss triumphed.
'I remember when the tabloid furore was roaring … both times, her friends locally rallied around,' a source told The Times. 
'There were a number of occasions when the two of them came to various parties and it was quite good to see that people were sympathising and rallying round, particularly when it was over her selection in 2009. It was extremely unfair the way that came up.
'I don't really know much about what went on but from my impression, they [O'Leary and Truss] have always been a really strong couple and I have never seen any real sign that it's had much of an impact.'
What her family think
The article said that Liz's father John was sad and furious about his daughter's Conservatism — and probably her ascent to No. 10:
Truss' left-wing academic father was apparently 'so saddened' at her metamorphosis from an anti-monarchist Lib Dem to a Tory that he finds it difficult to talk about it, according to reports. 
A former neighbour of maths professor John Truss claims he was 'sometimes furious' and could 'barely bring himself to speak about' her being a Conservative candidate when she first stood in 2005. 
His college, the University of Leeds, has also reportedly banned his colleagues from speaking about Truss as well, The Times reports …
In July, the Daily Express also alleged that the Foreign Secretary's relationship with her father has been impacted by her 'conversion to extreme right-wing politics' and he is really 'appalled' by it, a colleague said.
Another university source said: 'John is distraught at the policies his daughter is advocating in her bid to become PM.'
Also:
Another report claimed Professor Truss was 'so appalled' by his child's 'conversion to extreme Right-wing politics' that it had impacted their relationship.
We understand that this is considerably wide of the mark. It may be coincidence but we understand Prof Truss has spent part of the time that his daughter has been campaigning abroad in Finland.
'I think it's fair to say there is a diplomatic element to this,' says a source. Family figures have indicated to us that the move was almost certainly to avoid being a distraction to his daughter.
But if he has been dismayed by her transformation from the spirited girl in whom he proudly instilled a strong social conscience into the standard bearer for the Tory Right, he is not saying.
All the same it is worth noting Prof Truss, whose colleagues at Leeds have been ordered not to give interviews about him, declined to campaign for his daughter when she first stood for election in 2001. (Again it may be a coincidence but she was standing in a strongly Labour-supporting constituency.) An indication of how this must have been testing family bonds comes from Prof Truss's older brother Richard, a retired Church of England vicar who officiated when his niece married accountant, Hugh O'Leary, 22 years ago.
The Truss family, he said, had liberalism 'in its blood' adding: 'It must still be in her blood as well.'
He last saw his niece in March at a party to mark his 80th birthday.
He was, he says, 'touched' that the Foreign Secretary had flown in from overseas in order to be there. Of the family politics, he explained: 'My grandfather lived and died quite young but he used to turn up and campaign for the Liberals before the First World War, so it's kind of in our genes.'
His understanding of liberal, he says, is of being 'open and concerned for those who are in need'.
It is also why he hopes the girl he remembers as 'fun, very bright… questioning and determined' will do something to heal 'the division between people in poverty' as well as changing the Government's approach to immigration and refugees. 'I hope she might do something on both fronts,' he says.
Fortunately, Priscilla Truss supports her daughter:
The former neighbour also said that Truss' mother, nurse and teacher, Priscilla – who he spoke to before she was selected as a Tory candidate in 2005 – is backing her daughter.
'She said she was quite torn. She'd agonised over whether to support her because she was her daughter, or not to support her because she was a Tory,' he told The Times. 'In the end, she decided that family ties should win out.'
Liz's three brothers also support her:
Paradoxically for all this apparent family dissent, there is also considerable support for a politician whose list of jobs in government reads like a cut-out-and-keep guide to becoming PM: Under-secretary of state for childcare and education; Environment, Food and Rural Affairs Secretary; Justice Secretary and Lord Chancellor; Chief Secretary to the Treasury, International Trade Secretary; and finally heading the Foreign and Commonwealth Office.
Her three brothers, Chris, Patrick and Francis, turned out to support her at the final hustings at Wembley on Wednesday evening. As for her mother Priscilla, she has been a near constant presence as her daughter has criss-crossed the country seeking support.
'For the children, Priscilla has always been there for them,' says a family friend. 'They always knew that if they needed her she would be there.
'The fact is Liz is proud of her politics but she is also proud of her mother's political views, too.'
The article says that her mother's family's politics have been pivotal in shaping Liz's worldview:
If anything, it is from her mother's side of the family that we find the crucible of Liz Truss's convictions.
The roots of the Grasby family, Priscilla's maiden name, are deep in the rural landscape around Driffield, East Yorkshire. Priscilla's grandfather George fought in the Great War with the East Yorkshire regiment and lost a leg at the Battle of Passchendaele.
After the war, he married Mary and became a cobbler on Adelphi Street. Mike Kennie, who lived next door, said the old soldier's disability was no handicap and that he would 'often be climbing ladders outside the building.'
His father William was a shepherd and inn keeper. Today the pub he ran, The Ship Inn at Langtoft, is still in business. But the link came as a shock to the current publican Martin Weaver.
'Can you repeat that? Liz Truss, our probable next Prime Minister, is connected to this pub. I'm astonished.
'In fact I'm shocked. This has been a pub since the days of Queen Victoria but I never knew that Truss's great-grandfather was brought up here as a boy. I can't wait to tell the locals.'
The local Tory MP, Sir Greg Knight, looks forward to having a drink with Miss Truss in her great-grandfather's former home as a matter of urgency.
I hope he hurried.
Anyway:
'Why not? It's a great part of the countryside and I am pleased to learn of the family connection.' It was George who laid the foundation for the socially-upward Truss family. His son, also George, won a place to read classics at Queen's College, Oxford.
During World War II he served with the Army in India in an intelligence role. After the war he became a teacher, later a head of classics at Bolton School for 25 years. His daughter, Liz's mother, was one of his pupils.
According to one former pupil, the pipe-smoking Mr Grasby was very much a 'post-Second World War socialist'. It was into this Left-leaning family tradition that Miss Truss was born in 1975. An older brother Matthew died in infancy the previous year. Three brothers followed her.
Here's something we didn't know:
When Liz was two, they moved to Poland and then, when she was three to Paisley, where her father had been appointed a maths lecturer at Paisley College of Technology. She started at the West Primary School, where she recalls, discipline was still imposed with the leather strap for miscreants.
Liz's brothers talked about what it was like growing up with her. Let's begin with a neighbour's reminiscence:
… she revelled in her position as the only girl in a family of boys. 'Her brothers were very sporty and her parents active so there was always something going on,' says a Roundhay neighbour.
Youngest brother Francis said it was a very musical home: 'We'd do music practice every night because my dad's a very keen musician, and that was sort of enforced.' Recalling playing board games such as Cluedo and Monopoly, Francis said of his sister: 'My dad would say she cheated to win. She was someone who had to win. She created a special system to work out how she could win, and then if she was losing she might sort of disappear rather than lose.'
What her friends say
The paper reported that Liz's friends were on board with her candidacy as Party leader and had every confidence in her:
We have spoken to family, friends, foes and even former romantic partners. They all agree on one thing: the Liz Truss they know is brighter and far more intelligent than some of her leaden appearances on hustings and in interviews might have suggested.
There is, too, something of a chameleon character to her that manages to identify her with practically everyone. That, of course, may be her skill as a politician — she is after all the longest-serving Cabinet minister in recent times.
But as a one-time ally says: 'The key to understanding her is that she actually says what she believes.' What perhaps is even more bizarre is the contempt she has these days for liberal group-think.
The paper caught up with friends of hers from Roundhay:
While still at school she joined the youth branch of the Lib Dems. A fellow student was Kiron Reid and the two were photographed holding a party flag at a mass trespass at Twyford Down, Hampshire, in protest at then Home Secretary Michael Howard's Criminal Justice Bill clamping down on illegal raves.
Reid was also a friend of her then boyfriend, Wyn Evans, another Lib Dem supporter who was at Leeds Polytechnic.
Reid, who is still a party activist, told us: 'Liz always had a liberal social and economic view of the world. Am I surprised she's now a Tory?
'Well, even back then she was a huge fan of Mrs Thatcher which was not a commonly held position in the North of England. She regarded her as a strong woman leader.
'It was a long time ago and I was often drunk or hung over at Lib Dem conferences but she always argued her position strongly.
'Wyn and Liz went out with each other for at least a year, maybe 18 months or more.'
Mr Evans is clearly no longer a fan of his former girlfriend, tweeting in April: 'Biggest war in Europe for 75 years and our Foreign Secretary, in a major speech, can barely utter the word Europe. This is a speech of an isolated, detached nation still carrying notions of being a global power. Depressingly sad and woefully dangerous.'
A professor speaks
The Mail's article ends with the words of one of Liz's lecturers at Oxford:
Perhaps Marc Stears, one of her Oxford lecturers, offers the most intriguing insight on our next PM.
'That Truss appears to be on the cusp of becoming Prime Minister, rather than those candidates from central casting of PPE at Oxford, shows not only that I grossly underestimated her 25 years ago but also that the qualities our politics rewards have changed beyond recognition,' he says.
'Truss lacks the media elan of Tony Blair and David Cameron. She lacks the dogged determination of Gordon Brown or the patient, long-term vision of Margaret Thatcher.'
Then again, he will not be the first person to have underestimated Mary Elizabeth Truss.
Maybe the prof nailed it in saying she lacked a patient, long-term vision. Then again, with the Conservatives having lost two years' worth of policy making to the pandemic, time was against her.
Tomorrow's post looks at the New Statesman's fascinating profile of Liz Truss's brand of politics and The Guardian's analysis of her time in Parliament as well as Downing Street.
Over the past month, Neil Oliver has had some exceptionally good Saturday night programmes on GB News.
While his shows are a must in my household, for those who haven't been tuning in, his shows over the past month have contained even more insight than usual.
This video is from February 26, 2022, the week when Russia invaded Ukraine:
Oliver's editorial begins at the 5:00 point. He rightly wonders what the invasion is really about. He says that he cannot rely on mainstream media to tell the truth.
However, he also discusses the situation in the West and says that we do not realise how exceptional our era of individual liberty and freedom over the past few decades has been.
He points out that we are taking it for granted.
Unfortunately, the pandemic has seen Western governments become authoritarian. He points to Justin Trudeau, who condemns Putin when he himself has had the bank accounts of protesting truckers frozen because they protested against mandatory vaccinations. Oliver says that the sheer hypocrisy of it all is stunning.
He also lambastes the leaders in New Zealand and Australia for authoritarian measures during the pandemic, making the point that, given mankind's natural inclination towards dictatorial policies, Western leaders are happily following along. Therefore, we need to keep an eye on what they are doing and call them out accordingly.
He says that we need to get serious: stop worrying about identity politics and pronouns. Instead, we have our freedoms to defend.
At the 21:00 point, he interviews a journalist to discuss what is really happening in Ukraine. The journalist said that China is also a player in this situation. Although it looks to most people as if Russia and China are enemies, they have a common goal: to bring down the West.
At the 23:00 mark, welcomes Sebastian Gorka to give his views.
Gorka says that Putin's invasion of Ukraine would not have happened had Joe Biden not pulled out of Afghanistan last year. He says that President Trump would have managed Afghanistan much differently and that, consequently, the Ukraine invasion would not have happened.
Gorka also brings up energy independence, which Trump initiated in the United States and warned Europe about in 2017. (Everyone laughed. They're not laughing now.) Gorka said that it was 'moronic' for Biden to reverse Trump's energy policy in the US.
On Biden, I was heartened to see another article in The Telegraph which has been critical of him.
On March 28, the paper's Nile Gardiner asked, 'Will Europe finally wake up to the truth about Joe Biden now?'
He writes (emphases mine):
It is amateur hour on the world stage from the Biden Presidency. His visit last week to Europe was a train wreck, from his bizarre press conference in Brussels to the ad-libbed final words of his speech in Warsaw.
At times Mr. Biden looked dazed and confused, struggling to command his sentences, and drifting into incoherence. The messaging was muddled, forcing even the president's top officials to disown their own leader's comments.
In 20 years in Washington, I have not seen a White House more disorganised, incompetent or mismanaged, in both the president's and vice president's office. It has a distinctly Monty Python-esque feel to it. Having visited the Trump White House on multiple occasions, and met with the former president several times, I can attest it was a model of efficiency compared to what we're seeing now.
On no fewer than three separate occasions, Biden's own staff had to clarify or even refute the words of their commander in chief. Biden officials had to explain to the world's media that he was not calling for US troops to go into Ukraine, that the United States would not respond to Russia with chemical weapons if Moscow used them, and that the Biden administration was not seeking regime change in Moscow. These are big misstatements, not minor gaffes, with major global ramifications, and a direct impact on the war in Ukraine.
There is a major lack of discipline in messaging from the Biden administration, and clearly deep-seated divisions as well among policy staff. Biden himself has been stung by the charge from political opponents that he has been weak over Ukraine, as well as by sinking poll numbers, and is trying to overcompensate with tough rhetoric on Putin. His own aides are trying to rein him in. As a result, confusion reigns …
By contrast:
Donald Trump used to come under heavy fire from the French, Germans and European elites at Nato summits, and his message was not always popular. But he was far more effective than Joe Biden at getting results, increasing defence spending, and shaking up the complacent status quo in Europe.
True!
As Neil Oliver says, our leaders are not up to scratch.
Furthermore, we, the general public, must also stop being complacent about civil liberties and our Western freedoms. As we saw in the pandemic, our leaders can take them away instantly, without any qualms. Restoring them will take much longer.
A lot happened during Holy Week 2021 to Christ's faithful.
They, too, suffered afflictions, some more serious than others, all because of coronavirus.
London
On Good Friday, a Polish Catholic congregation in Balham, south London, received a visit from the Metropolitan Police which ended their service:
Too many people showed up:
The BBC has more on the story:
The Daily Mail also featured a report, including a lot of photos. It points out the service was only going to be 30 minutes long.
I can see the social distancing problem, so why didn't the cop just ask for some people to leave and the remaining congregants could then spread out a bit in the pews?
Looks like another soft target for the police: obedient Christians with little command of the English language.
The BBC reports that people living near the church called the police (emphases mine):
Police say they were called to reports of large groups of people queuing outside Christ the King church on Balham High Road.
The video went viral:
Video of officers addressing the congregation, from the altar of the church, has been circulating online.
The church said all "government requirements have been complied with".
A representative of Polish Catholic Mission Balham, which runs the church, added worshippers "obeyed" the police "without objection".
"We believe, however, that the police have brutally exceeded their powers by issuing their warrant for no good reason," the spokesman added.
"We regret that the rights of the faithful have been wronged on such an important day for every believer, and that our worship has been profaned."
On Saturday, the Archbishop of Southwark, John Wilson, visited the church to discuss the incident.
Rector of the Catholic Polish Mission, Stefan Wylezek, said he intended to contact the Met to discuss how the situation was handled …
No fines were issued to worshippers.
The Met said it was "engaging with the church authorities" in connection with numerous events taking place at the church over the Easter period.
Incidentally, the next day, more protests about the proposed policing bill took place:
I'm tempted to make a comment, so I'll refrain.
Canada
Now let's cross the pond for more Holy Week stories.
Our first stop is Calgary, Alberta, where, coincidentally, another Polish pastor was targeted.
On Holy Saturday, Pastor Artur Pawlowski, the head of Calgary's Street Church in Alberta, Canada, was holding a service at the Fortress (Cave) of Adullam when the officers entered the building.
This is because, according to local media, Pawlowski has violated coronavirus regulations before. He:
has been charged multiple times under Alberta's Public Health Act for breaching Covid-19 regulations.
'We expect that all places of worship across Alberta follow the CMOH restrictions and we thank everyone who continues to do their part to prevent the spread of COVID-19 this holiday weekend and throughout the pandemic.'
CTV News reported that officials from the City of Calgary Bylaw Services were also in attendance, alongside city police …
Churches in the area can hold services but must keep attendance below 15 per cent and follow guidelines including wearing masks and social distancing.
However the controversial pastor was praised by some on social media who see pandemic restrictions as infringing on their right to religious worship.
Ezra Levant, the founder of far-right commentary website Rebel News, said Pawlowski's response was 'how you handle police who enter a church without a warrant.'
Here is Levant's tweet, along with a video taken at the church showing the main confrontation (H/T to the Gateway Pundit):
Fox News reported what Pawlowski said:
"Get out of this property immediately," he says in the video. "I don't want to hear anything … out immediately."
Most of the officials don't engage Pawlowski, but an unidentified woman seems to try and explain their presence. Pawlowski was not having it.
"Out!" he yelled. "Out of this property … immediately until you come back with a warrant." The officials and officers slowly exit the building, and Pawlowski followed them.
"Nazis are not welcome here," he then says. "And don't come out without a warrant."
The pastor also called them "Gestapo."
The second video follows. The pastor says that the Canadian government is trying to take people's rights away and will succeed if people do not rally together to stop it:
The Church of Adullam is a group of churches in North America which offer spiritual refuge to those experiencing brokenness in their lives:
We aim to provide a safe place of help, hope, and healing for all who enter the cave.
At Adullam, we believe deeply in the power of community. We believe community in the church means an ongoing fellowship of connectedness with Jesus by His spirit taking his rightful place among the people as King.
The church also provides food to those in need.
Its name comes from 1 Samuel 22:1-2:
1 David left Gath and escaped to the cave of Adullam. When his brothers and his father's household heard about it, they went down to him there. 2 All those who were in distress or in debt or discontented gathered around him, and he became their commander. About four hundred men were with him.
On Easter Sunday, the Calgary Police Service issued a statement:
United States
The US also had sad Holy Week episodes.
Texas
The following story broke on Lazarus Saturday, the day before Palm Sunday. Technically, it did not take place during Holy Week — rather two weeks before — but it circulated during that time, especially when the Gateway Pundit featured it on Monday, March 29.
Dr Taylor Marshall, a husband and father of eight children, converted to the Catholic faith. He was mainline Protestant. He is an author who also broadcasts on YouTube:
In the video, Mrs Deirdre Hairston, mother of a one-year-old with another baby expected later this year, described her experience at Holy Trinity Church in Dallas. She has been permanently barred from entering that church — her parish church — again:
She says that, during Mass, the pastor approached her — the assistant pastor was saying Mass — and told her that she had to wear a mask or he would call the police. Mrs Hairston purposely sat in the back row of chairs. She had her baby with her and wanted to be able to make a quick exit should the baby start crying.
She told Taylor Marshall that she was not wearing her mask because she did not feel well, which isn't surprising, given that she is in the early stages of pregnancy.
She went to receive Holy Communion with her baby in her arms. She returned to her chair to pray, the Eucharist still in her mouth, when she felt a rough tug on her arm.
It was a police woman who said she was going to put handcuffs on her. Remember, she was holding her baby at the time!
Hairston asked if she was under arrest. The police woman said that she was not.
Here's the clip:
Texas has not had a state mask mandate since early March.
Therefore, she was under no legal obligation to wear one, although businesses can ask a person to do so.
Hairston and her baby left the church. In the video, it appears as if her husband shows up — a man wearing shorts and a polo shirt. The police woman tells him that the church is a business. He tells her that it is not, under 501c(3) rules. She insists that it is.
Anyway, the family left, and Mrs Hairston can no longer attend that church — her parish church!
I love this tweet addressed to the Roman Catholic Bishop of the Diocese of Dallas:
The CBS affiliate in Dallas/Fort Worth picked up the story on Monday and reported:
Cell phone footage shows Hairston asking what crime she has committed, to which police replied she was "trespassing on a business."
Hairston said her parish-priest, Father Ryan called police.
Once outside, Hairston said the usher ran to her car and took photos of her license plate as police were taking her information. She also said she was issued a ticket for trespassing.
Holy Trinity, which serves the uptown community near Oak Lawn and Lemmon Ave. responded on March 29, two weeks after the incident and two days after Marshall shared the interview on Youtube.
In it, they state that Hairston wasn't arrested or ticketed, merely issued a trespass warning. They also said the pastor of the parish has required masks at Mass out of concern for the health and welfare of its entire congregation. Hairston and her husband said that isn't true. They said it wasn't required – only encouraged.
How can Holy Trinity 'encourage' it when the parish priest calls the police? As for 'concern', has he no concern for a pregnant mother who isn't feeling well?
In the video, Hairston and Marshall discuss what impact incidents such as these might have on church attendance.
Some Catholics are angry:
This might even unintentionally encourage Catholics to attend other churches.
And, lo, here's a Twitter exchange on that very subject:
Too right.
New York
My final news story — a sad and violent one — took place in Manhattan on Monday of Holy Week.
Vilma Kari, a 65-year-old woman of slight build, was on her way to church on Monday when a man at least twice her size pushed her to the ground and began kicking her in the head.
Ms Kari is an American of Filipino heritage. Her attacker is black.
Here's the video. Watch the security guards of the nearby building close the door on the scene:
People were outraged that the security guards did not come to her rescue:
On Wednesday, March 31, the NYPD arrested the perp:
That also angered people, especially when they found out he killed his own mother and was out on parole:
The New York Post reported:
Bystanders did nothing to help an Asian woman as she was being beaten in broad daylight in Manhattan this week — and didn't even bother calling 911, police said Wednesday.
An NYPD spokesperson said it had zero records of a 911 call from Monday's unprovoked attack — when convicted murderer Brandon Elliot, 38, allegedly kicked a 65-year-old victim to the ground and repeatedly stomped on her face outside 360 West 43rd Street.
At a press conference Wednesday afternoon, Det. Michael Rodriguez said police on patrol drove by and saw the victim after she was attacked.
"They came upon the victim after she was assaulted," he said.
Outrage has mounted over the caught-on-camera beatdown — the latest in a disturbing trend of hate crimes against Asian Americans — after at least three staffers inside the building were caught doing nothing to thwart Elliot.
NYPD Commissioner Dermot Shea said detectives would be interviewing those on video tape who witnessed the assault first hand.
"I fully understand the public's anger," Shea said about the bystander inaction …
The staffers who witnessed the attack have since been suspended as an investigation plays out …
The victim, Vilma Kari, suffered a broken pelvis and was released from the hospital Tuesday.
Early Wednesday morning, police nabbed Elliot — a homeless man who was out on parole for murdering his mother in 2002 — for the alleged hate crime.
The New York Post had an article on Elliot, who lived near the building in front of which he assaulted Ms Kari:
Brandon Elliot, 38, who lives in a nearby hotel that serves as a homeless shelter, was arrested early Wednesday and hit with a number of charges, including assault as a hate crime and attempted assault as a hate crime, police said.
He was caught on video mercilessly punching and kicking the 65-year-old victim in front of an apartment building at 360 West 43rd Street around 11:40 a.m. Monday, yelling "F–k you, you don't belong here," according to cops and police sources.
In April 2002, Elliot was charged with murder for using a kitchen knife to stab his mother, Bridget Johnson in the chest three times in their East 224th Street home in the Bronx, according to previous reports.
The deadly attack took place in front of Elliot's 5-year-old sister, sources told The Post. It's unclear what led to the slaying.
Johnson, 42, died a couple of days later.
Elliot was convicted of murder and sentenced to 15 years-to-life in prison.
He was denied parole twice — first at a February 2017 hearing and again in December 2018, according to a state Department of Corrections official.
But the following year, he was approved for release in September and sprung on lifetime parole two months later.
Also:
Kari is Filipino American, according to Philippine Ambassador to the US Jose Manuel Romualdez.
Elliot is expected to be arraigned in Manhattan criminal court sometime on Wednesday.
A resident at the Four Points by Sheraton — the West 40th Street homeless shelter where Elliot was staying during the alleged attack — said he knew the brute well after spending time with him at another shelter.
"He told me he was [a] diagnosed paranoid schizophrenic," the man, who declined to give his name, told The Post. "He's quiet. He doesn't talk much. He is really paranoid. He has mental issues."
Elliot's latest bust comes in the wake of a surge of attacks against Asian victims in New York City and elsewhere.
That is because of coronavirus. Shameful and ignorant on so many levels.
UPDATE — April 6: The two security guards have been fired. However, under their union's — SEIU's — procedures, they can appeal, although that could take weeks or months, according to a union official. The perp, Elliot, will be arraigned on April 21.
——————————————————————————–
All of these incidents happened because of coronavirus or coronavirus restrictions.
May the Risen Lord Jesus look graciously upon His believers who have been afflicted during the past few weeks, particularly those profiled here. May He give them sustained hope and healing, especially during this Easter season.
Yesterday's post summed up the week's coronavirus news in the UK.
It was all rather interesting, ranging from vaccine distribution in Coventry to Sky News's Kay Burley being sent to Coventry and back to London — for a six-month suspension. Gosh. Talk about 'being sent to Coventry', i.e. ostracised.
More snippets from this week follow in the coronavirus crisis.
Remember medical statistics history — Prof Carl Heneghan
Prof Carl Heneghan from Oxford warns that we should not forget statistics pre-Covid. Let us cast our minds back to one year ago, 2019:
Most respiratory infections have gone down from this time last year.
COVID-19 is the only new addition with a dramatic upward spike.
An American physician speaks out
Dr Brian Lenzkes, an internist from San Diego, California, offered an interesting thread on coronavirus censorship in the medical community.
But, first, let me begin with the following madness which he rightly exposed. Influenza has disappeared? Pull the other. A San Diego County health official says so — because people are wearing masks:
Yet, there are no tests for flu.
Dr Lenzkes has excellent tweets about diet and coronavirus, among them the following thread about censorship on the subject:
Note the fifth tweet:
Meanwhile, non-COVID patients are losing their well-being
In Britain, the National Health Service has become the National Covid Service (NCS).
Many patients with other serious conditions are losing out on critical care. This lady has lost her sight because of the NCS:
WHY?
Surely, after over 70 years, the NHS, sorry, NCS, can — and should — do much better.
Helen is only one of thousands who have gone without the care they needed.
The unvaccinated deserve nothing?
The chairman of the Oxted and Limpsfield (Surrey) RAFA — Royal Air Force Association — tweeted that those without the coronavirus vaccine should be denied service. In his opinion, there is no excuse:
Wow.
Many of us recall when the RAF fought for our freedom:
A London plumbing firm could mandate the vaccine for customers
Disappointingly, some service providers plan to discriminate against the unvaccinated.
This is Charlie Mullins, who heads London's famous plumbing firm, Pimlico Plumbers. He gave this interview from his second home in Marbella:
Meanwhile, in Canada …
On Wednesday, December 9, the deputy premier of Ontario made a statement about coronavirus vaccines.
They are not mandatory, but if you don't get vaccinated, your life will not return to normal:
However, the vaccine does not guarantee immunity
In any case, the vaccines do not guarantee immunity. They purport only to make the coronavirus episode less severe, much like the flu vaccine. Isn't there a preventive solution, e.g. Vitamin D supplements, natural summer sunshine, a good diet, that could prevent the virus taking hold? I think we should be told:
In the US, overall death figures are low
Yes, despite what we read in the media, in 2020, the United States has a low overall death toll compared with previous years:
This woman is indignant over the lockdown(s) which have seen many shops in the Palisades Center in West Nyack, New York close (occasional language alert):
Londoners could be entering the dreaded Tier 3
The same nihilistic restrictions are going on in England, with the threat of London entering Tier 3.
This was yesterday's headline in the London Evening Standard:
In conclusion
This is about the size of it. 'Submit and obey'? Not on your Nelly:
Let's remember:
In conclusion, the aforementioned Dr Lenzkes quoted the late Rod Serling from the original Twilight Zone:
It's interesting that some did not think the warnings were strong enough:
Rod Serling and others warned the way they were able to do — based on their knowledge at the time.
Why do we ignore history?
On Friday, July 24, 2020, face coverings became mandatory in English shops — and Anglican churches (even with social distancing):
On Sunday, July 26, #CoverYourFace trended on Twitter.
This subject is splitting English public opinion as much as Brexit did four years ago.
This is what it amounts to:
Some of us still remember the early days of lockdown and parts of the NHS which were void of patients. According to the media, the NHS still has few patients:
I love the concept behind the NHS and, in general, the staff, so I don't want to see it disappear, but over the past decade, something has gone woefully wrong somewhere.
This is where we are today with coronavirus:
Let's look closer at what Chris Whitty told a Parliamentary select committee at the end of July. Former Health Secretary Jeremy Hunt (equally useless) was interviewing him. Let's also review what the current Health Secretary Matt Hancock said about masks (Sir Patrick Vallance, the UK's chief scientific adviser, is shown at the beginning of the video):
Mmmkay.
I've watched all of the coronavirus briefings, the House of Commons debates this year and have read government documents. This is how events unfolded five months ago:
This was the state of play just before July 24:
With regard to masks, I saw the following tweet:
For a helpful compendium on pre-COVID19 mask science, Watt's Up With That — WUWT — has a guest post dated July 25: 'Does Universal Mask Wearing Decrease or Increase the Spread of COVID-19?'
The contents of the post, WUWT's author says, is presented 'for information only'.
The preface reads as follows:
The use and requirements of masks have become incredibly political and partisan. Unfortunately, far too much of science, knowledge, journalism, and even epistemology are becoming political.
Agreed.
The abstract reads as follows. Five months on, past research might come as a surprise to some (emphases mine):
A survey of peer-reviewed studies shows that universal mask wearing (as opposed to wearing masks in specific settings) does not decrease the transmission of respiratory viruses from people wearing masks to people who are not wearing masks.
Further, indirect evidence and common sense suggest that universal mask wearing is likely to increase the spread of COVID-19.
This paper agrees that wearing masks in specific settings (such as healthcare facilities) achieves protective effects, although the masks should not be home-made, must be worn correctly, replaced frequently, and not overestimated.
The WUWT post references 24 papers and arranges them in three scenarios of mask wearing: A (medical/care facilities, including visitors), B (voluntary wearing by members of the public) and C (widespread/mandated wearing among the general public).
You may read the detail at your leisure.
Key points from the article follow.
First, there is a difference in behaviour when wearing masks in a clinical situation versus a generalised one:
When people are told to wear masks in specific situations to protect vulnerable individuals—for example, in pharmacies, nursing homes, and medical buildings—most people are careful to follow rules and recommendations. However, when people are ordered to wear masks everywhere and all the time, proper mask use and handling become significantly less probable. It is possible to enforce mask wearing, but it is impossible to enforce proper mask handling.
Secondly, no mask prevents aerosol flow completely:
Neither surgical nor cloth mask restrains aerosols from escaping at the sides, top, and bottom of the mask.
Masks redirect aerosol flow to all sides. Though we take protective measures, none of these measures protect against viral-loaded aerosols—especially when they can settle downward from above. For example, we know not to sneeze or cough in other people's direction. And recently, we have also become accustomed to keeping six feet of distance away from others in a frontal arc. Moreover, clerks, cashiers, and other service providers are usually protected by plexiglass barriers. But because these measures fail to protect against viral-loaded aerosols, even ideally worn and cared-for masks might cause more harm than benefits.
Finally, breathing becomes more difficult with the real possibility, if not probability, that masks might retain — and transmit — coronavirus droplets now that many of us are required to wear masks:
All masks make breathing more difficult, requiring more effort to inhale and exhale and potentially causing more viral load to be expelled into the air. Moreover, when a non-contagious person wears a cloth mask, his or her mask accumulates the coronavirus and other germs from the environment. If a contagious person wears a cloth mask, the mask also accumulates some viral load with each breath, and soon, it might discharge more viral load with each exhalation than the contagious person would otherwise exhale—and in more directions …
As of now, hundreds of thousands of people are breathing similarly forcefully through masks in public spaces, and other people are inhaling what mask wearers expel.
I then found two articles on Technocracy News.
One, from July 14, is 'Masks Are Neither Effective Nor Safe: A Summary Of The Science', a review of 42 papers about various types of masks.
The article begins with this preface from the editor:
Print this article and hand it to frightened mask wearers who have believed the alarmist media, politicians and Technocrats in white coats. Masks are proven ineffective against coronavirus and potentially harmful to healthy people and those with pre-existing conditions.
My wife and I dined out last night in a very empty restaurant and the young waitress was required to wear a cloth mask. I asked her how she was doing with the mask and if there were any side effects. She related that was consistently short of breath (when away from the table, she lowered the mask below her nose) and that she had actually passed out because of it a few days earlier, taking her straight to the floor. Fortunately, she was not hurt. ⁃ TN Editor
The article includes an excellent video in which a doctor explains COVID-19 in a professional way, yet in layman's terms. Kelly Victory is the doctor's real name, by the way:
Ultimately, regarding masks, the conclusion is that they can damage our health under a widespread mandate. Dyspnea, mentioned below, is shortness of breath because of inadequate ventilation or lack of oxygen:
In the summer of 2020 the United States is experiencing a surge of popular mask use, which is frequently promoted by the media, political leaders and celebrities.  Homemade and store-bought cloth masks and surgical masks or N95 masks are being used by the public especially when entering stores and other publicly accessible buildings.  Sometimes bandanas or scarves are used.  The use of face masks, whether cloth, surgical or N95, creates a poor obstacle to aerosolized pathogens as we can see from the meta-analyses and other studies in this paper, allowing both transmission of aerosolized pathogens to others in various directions, as well as self-contamination.
It must also be considered that masks impede the necessary volume of air intake required for adequate oxygen exchange, which results in observed physiological effects that may be undesirable.  Even 6-minute walks, let alone more strenuous activity, resulted in dyspnea.  The volume of unobstructed oxygen in a typical breath is about 100 ml, used for normal physiological processes.  100 ml O2 greatly exceeds the volume of a pathogen required for transmission.
The foregoing data show that masks serve more as instruments of obstruction of normal breathing, rather than as effective barriers to pathogens. Therefore, masks should not be used by the general public, either by adults or children, and their limitations as prophylaxis against pathogens should also be considered in medical settings.
The second Technocracy News article is from June 30: 'Censored: A Review Of Science Relevant To COVID-19 Social Policy And Why Face Masks Don't Work'. It is an article written by Dr Denis G Rancourt, a researcher at the Ontario Civil Liberties Association (OCLA.ca) and is formerly a tenured professor at the University of Ottawa, Canada. The original version in PDF has more charts, which have not been posted widely online.
Dr Rancourt researched several papers on masks written before the coronavirus outbreak. Unfortunately, he was censored. The Technocracy News editor wrote this preface to Rancourt's article:
Denis Rancourt, PhD, has published over 100 peer-reviewed studies in his career, but ResearchGate choose to censor and remove this paper because it didn't fit the narrative of the Great Panic of 2020 over COVID-19. Such censorship proves the existence of an alternative agenda.
Again, this underscores the Technocrat methodology of shaming, ridiculing and censoring anybody that comes forth with real science that refutes their pseudo-science.
Rancourt begins with this introduction:
Masks and respirators do not work.
There have been extensive randomized controlled trial (RCT) studies, and meta-analysis reviews of RCT studies, which all show that masks and respirators do not work to prevent respiratory influenza-like illnesses, or respiratory illnesses believed to be transmitted by droplets and aerosol particles.
Furthermore, the relevant known physics and biology, which I review, are such that masks and respirators should not work. It would be a paradox if masks and respirators worked, given what we know about viral respiratory diseases: The main transmission path is long-residence-time aerosol particles (< 2.5 μm), which are too fine to be blocked, and the minimum-infective dose is smaller than one aerosol particle.
The present paper about masks illustrates the degree to which governments, the mainstream media, and institutional propagandists can decide to operate in a science vacuum, or select only incomplete science that serves their interests. Such recklessness is also certainly the case with the current global lockdown of over 1 billion people, an unprecedented experiment in medical and political history.
You may read his detailed analysis in more detail.
His conclusion is as follows. He repeats the sentence above about lockdown, which I have excluded:
By making mask-wearing recommendations and policies for the general public, or by expressly condoning the practice, governments have both ignored the scientific evidence and done the opposite of following the precautionary principle.
In an absence of knowledge, governments should not make policies that have a hypothetical potential to cause harm. The government has an onus barrier before it instigates a broad social-engineering intervention, or allows corporations to exploit fear-based sentiments.
Furthermore, individuals should know that there is no known benefit arising from wearing a mask in a viral respiratory illness epidemic, and that scientific studies have shown that any benefit must be residually small, compared to other and determinative factors.
So, there you have it.
Masks and face coverings do not help in the fight against coronavirus. In fact, they may do more personal harm than good.
In closing, I found this comment to WUWT's article worthwhile, as it concerns our natural immune systems:
There are basic false questions in play with this current Covid 19 crisis.
Who actually cares if face masks are better at stopping the spread or not? We have among us a virus, it is not so different to other virus, that have come and lodged with us in everyday life. The corona virus is called the common cold, the clue is in the name. We are well set up to fight off virus infections, we have T cells for that; they work very well, particularly if you are young healthy and fit.
That brings us into the core of the face mask question.
There is a false hope being progressed that wearing a face cover will in some way isolate the wearer from infection; clearly that is not possible. Consequently, the authorities have realised the only way to sell the idea a face cover is a good thing, is to make people who do not wear them feel guilty. The argument goes, if you wear a face mask you are protecting others and you are showing how considerate you are.
How sweet is that? Be kind to others wear a mask, virtue signalling taken to a whole new level.
We have survived and thrived without resorting to wearing face masks. I fail to see any reason to change the healthy lifestyles of humanity, simply to pacify the bizarre anxieties of the gullible.
Yes, face masks will reduce some transmission of exhaled contaminated breath. Unfortunately, the unknown consequences of blocking natural development of immunity to a virus infection, could be far far worse. Real world experience tells us, when the European trailblazers ventured into New World lands, they "met" the natives infecting them with everyday European infections, which the natives didn't have any immunity to, sadly they largely passed away.
We do not want to reinvent that scenario, in a generation or two's time.
Those who want to wear a face mask are free to do so, those who prefer not to wear one, should also be free not to.
That's where I stand. Wear one if you feel better, but please don't look down upon those who prefer to breathe the way nature intended.
For anyone who finds this upsetting, ask yourself if you have worn a mask every winter during flu season.
If you live in the West, you haven't, so please don't start now.