You are currently browsing the tag archive for the 'censorship' tag.
Today's post concludes my three-part series on Mark Steyn's departure from GB News.
Find out why he left here. This post has more segments from his evening programme, which will be sorely missed.
What follows are clips from the best of the rest of his output for GB News.
Law and order
In 2021, the British public discovered that the police weren't much cop. They began being more interested in patrolling Twitter than investigating actual crime.
Over a year ago, on February 2, 2022, Steyn addressed this parlous state of affairs:
Nearly a week later, on February 8, Steyn pointed out that Labour's Sir Keir Starmer's record as Director of Public Prosecutions (DPP) wasn't exactly good. This editorial came on the back of then-Prime Minister Boris Johnson's accusation at the despatch box during PMQs that Starmer never did anything about BBC presenter Sir Jimmy Savile, since deceased, when two constabularies were investigating him for molesting minors. Labour took great offence at Boris's accusation. Nor did Starmer do anything about the grooming gang situation in Labour-controlled Rotherham when he was DPP:
On April 18, Steyn showed us the parlous police statistics for England and Wales. At the 51-second mark, we see that in less than 10% of cases was anyone charged or even summonsed. Meanwhile, London's Metropolitan Police were investigating Boris for get-togethers during lockdown. Steyn alleged that the Met were looking at each accusation of a party as a separate incident to boost their crime-solving figures. He was being semi-serious, but one can readily believe it:
On April 18, he informed us that, where some cases of multiple sexual assault by more than one person are concerned, the police now prefer something spurious called 'community resolution' to prosecution and sentencing. How would that apply to grooming gangs, one wonders. Dear, oh dear:
Channel migrants
On May 24, Steyn opened his editorial with all the notionally big political machinations going on: the investigation of Boris's partygate, the WEF at Davos and an ever-increasing 'big government'. He concluded that this was the 'death of democracy'. He then discussed the Home Office's plan to place 1,500 Channel migrants in a disused RAF base in tiny Linton-on-Ouse, pop. 700. Unbelievable.
The good people of this North Yorkshire village had been protesting the move for days. The migrants were scheduled to pole up on May 31. Steyn pointed out that the political class 'have everything' and 'you've got nowt':
Fortunately, the Home Office rode back on the decision. That wasn't Steyn's first mention of the village. It would be nice to think that his making it public forced the Government to backtrack.
On August 2, as tens of thousands of migrants had crossed the Channel in 2022 by that time, Steyn had a go at the Government's placing these undocumented people in decent hotels, rather than sending them back over the Channel:
Many of the arrivals from the Channel are Albanians. It seems that the UK is the only European country to admit Albanians crossing illegally. Other European countries refuse them entry. Albania is safe, so safe, in fact, that it is becoming a British tourist destination. Other GB News programmes reported last year that newly-arrived Albanians to the UK are quickly taking over the British drug trade.
On November 28, hundreds of Albanians blocked central London to celebrate Albanian Independence Day. The broadcast video was extraordinary. The Met did nothing, while a load of posh cars paraded in a convoy around the main streets near Parliament. Albanian women in their native dress danced around the cars. Traffic was at a standstill.
On November 29, Steyn said that he had to abandon the taxi he was in to walk to the GB News studio. He criticised MPs for doing nothing about the numbers of Albanians coming here illegally. They were at that time, the majority of the Channel crossers. He also criticised the police for closing a bridge near Parliament rather than breaking up the convoy. Steyn said:
The useless political class have wrecked your country, and they're not done yet.
Conservative Party
During the Conservative Party leadership campaign in July, Steyn interviewed Lord Frost, whom many want to renounce his peerage and throw his hat into the ring one day. (He would need to become an MP first or Party rules would need to be changed.) He is a proper Brexiteer and an unabashed Conservative in the best of ways.
Steyn interviewed the life peer on July 11:
Highlights follow.
Steyn said that the Party has lost its way. Frost and Steyn align on what should matter to true Conservatives:
Lord Frost said that stopping the Channel crossings was paramount:
Perhaps one day he will renounce his peerage and run as a Conservative candidate for Parliament:
Platinum Jubilee
On June 1 and 2, Steyn devoted parts of his show to the Queen's Platinum Jubilee.
Here's the full show. At 49 minutes in, he discusses Australia's new Prime Minister who installed an 'Assistant Minister for the Republic'. Not surprisingly, Steyn is critical, as is The Spectator's Australian editor Alexandra Marshall, who was appalled that the appointment was made just before Platinum Jubilee weekend. Marshall said that no mention of a republic was ever made during the general election and that most Australians are shocked by the move. She says that politicians 'do not deserve any more powers than the ones they already have':
Before that, Steyn interviewed The Conservative Woman's Laura Perrins. Although she has lived in England for many years, she is still Irish to her core and couldn't get excited about the Jubilee. Steyn was disappointed:
On June 2, Steyn paid a splendid tribute to the Queen in his editorial:
Social issues
On December 22, 2021, Steyn interviewed the Revd Will Pearson-Gee, an Anglican priest who said that, in the event of another lockdown, he would not be closing his church at Christmas:
I do not have that interview, but it does give me a chance to once again share the priest's passionate declaration that his church would remain open. In the event, he didn't have to worry about another lockdown, thanks to 101 rebel Conservative MPs:
That same evening, Steyn took exception to the 'man' who had a baby and refused to be called 'mother':
On April 6, 2022, Steyn criticised British politicians who refused to define a woman out of fear. Earlier that day, GB News's Ben Leo had interviewed several MPs on the subject. Some didn't answer. Others ran away. Well worth watching:
On April 27, Steyn had an excellent editorial on whether going to university is a good idea for everyone. Back in the 1990s, then-Prime Minister Tony Blair said that 50% of British students should go on to higher education. Currently, Steyn says, 53% now attend university. However, Blair said last year that 70% of Britons should now go to university. Steyn counters the argument by saying that, in the 20th century, the vast majority of Americans left school at the age of 13 and went on to achieve great things. Steyn poured cold water on the 'achievement' aspect of university, saying that so many are still students at the age of 28 and are working as baristas rather than in high-level employment. Furthermore, university now leaves British students in debt, so they are unable to get married and start families. As a result, British demography is suffering with an ageing population.
He is so right:
A Canadian lady, Yasmine Mohammed, appeared several times early in 2022. She discussed her time in al-Qaeda and deplored the fact that Western nations seem to bend over backward for radical philosophies. She concluded that radicals and Islamicists share the same goal, which is to bring down the West:
Dutch farmers
Until I watched Mark Steyn, I had no idea that the Dutch government wanted to seize farms in the Netherlands.
The legal philosopher, as she calls herself, Eva Vlaardingerbroek, appeared many times to keep Mark and his audience apprised of the situation.
On July 11, Eva explained why the Dutch farmers were actively protesting:
Dutch Prime Minister Mark Rutte says there is a nitrogen crisis exacerbated by farming. That idea came from the EU. Dutch farmers are some of the world's greenest in their innovations, but Rutte wants them to turn their farms over to the government.
On August 1, Eva pointed out the danger that such a move poses to individual freedom — the right to own property and to work productively as one wishes:
On December 14, for the first time, GB News's ratings overtook those of the BBC, with Sky News in third place!
Eva expressed her delight in being part of Mark Steyn's programme:
On February 6, 2023, she expressed her disgust at GB News for Steyn's departure. It should be noted that the channel's CEO has changed his own Twitter account to 'private':
Meanwhile, Eva continues campaigning for Dutch farmers.
Unfortunately for them, Mark Rutte's government is winning. This video is from February 3:
On February 8, she said in an interview that the government intends to purchase 3,000 farms by the end of the decade. Who will supply the food?
The next major farmers protest will take place on March 11 in the Hague. I wish these men and women well in their fight:
Mark Steyn update
On February 7, Press Gazette accused Steyn of launching a 'tirade' against Ofcom:
The telecoms regulator currently has two investigations open into GB News, both relating to claims around the safety of Covid-19 vaccines made on The Mark Steyn Show, which aired at 8pm on Mondays to Thursdays.
No fines have been levied against the broadcaster at present, nor any adverse rulings made against the television channel. (GB News Radio did breach a broadcast rule in March 2022 when it failed to give a full list of candidates standing in a by-election.)
Press Gazette understands Steyn has to date been presenting for GB News in a freelance capacity, and had been in negotiations for a permanent contract.
However, it appears the channel has struggled to get Steyn to comply with Ofcom's requirements under the Broadcasting Code.
In a video published to his website on Monday, Steyn referred to an instance in which, ten minutes before going on air, he had a back and forth with the channel's editorial compliance officer that ended with him calling them "Ofcom's bitch" …
It is unusual for a publisher to ask a staff member to accept the costs of a regulatory or legal sanction. It is unclear from the language in the clause whether Steyn would have automatically had to accept liability for the fines or if GB News was reserving the right to pass him costs.
Steyn said in the video: "I'm on the hook there for Ofcom fines – but, and this is the important point, I don't have any say in our defence against an Ofcom complaint. That's all done by GB News. So Ofcom's bitch, as I call the compliance officer, will be making the weedy, wimpy defence to Ofcom, and then I'm the one who has to pay the £40,000 fine or whatever it is."
Steyn went on to say "Ofcom is making a big move to take over the planet at the moment" in connection with the Online Safety Bill.
Asked about Steyn's accusations, a GB News spokesperson said: "GB News takes Ofcom compliance extremely seriously. All our presenters are expected to comply fully with the Broadcast Code and there are no exceptions.
"This does not impinge on our ability to ask tough questions, express strong opinions, and debate the issues that matter to the people of Britain."
Now comfortably back in Canada, Mark has relaunched his online show with his usual guests:
GB News viewers will miss the beauty of Eva Vlaardingerbroek, Alexandra Marshall and Leilani Dowding:
That episode can be found here.
Follow Mark Steyn and his shows here and here. He's also on Twitter.
Steyn's 'Stats Man' Jamie Jenkins will be watching — and contributing. Excellent:
In closing, The Conservative Woman's Laura Perrins is also dismayed by Steyn's departure:
She is not wrong.
GB News made a huge mistake. Let's hope they can limit the damage this will cause them.
End of series

Many GB News viewers will have been deeply disappointed that Mark Steyn has left GB News over the channel's alleged attempts to make him liable for any Ofcom fines resulting from his show for talking about coronavirus vaccines.
Yesterday's post discusses that and has a variety of Mark's output for the channel, with plenty on people who suffered adverse effects from said vaccines.
Today's post continues with more content from his excellent show.
Don't mention the vaccines (continued)
I covered a lot of Steyn's segments on the coronavirus vaccines yesterday.
Here are others I had bookmarked.
On June 16, 2022, Steyn rightly took issue with a Scottish Parliament member who sent a derisory tweet about people posing questions about the vaccines. Apparently, John Mason MSP has form:
Steyn was committed to covering the coronavirus vaccine issue because no other channel was. He discussed this with Dan Wootton on July 4:
In this clip from the same interview, he says that he isn't going anywhere because he enjoys the editorial freedom that GB News allows its presenters:
It's a shame that the channel seems to be changing tack. It would be disappointing indeed if its other presenters were muzzled accordingly. That said, Dan Wootton was the only other presenter to talk about the pandemic on a regular basis, and I haven't heard him do that for several months now.
On July 13, Steyn had a remarkable show about Britons who were either victims of the vaccine or whose relatives died from it. It was one of the best programmes I've seen in some time:
Here is the full hour-long video:
Highlights follow.
At the time, the British government was only just starting to pay out to vaccine victims. The Government only give £120,000 lump sum if the vaccine is the cause of death on the coroner's report or if a living person has been 60% disabled as a result. A Conservative MP, Sir Christopher Chope, was given an adjournment debate on the matter, because payouts were painfully slow.
It was a shame that the House of Commons benches were nearly empty when he spoke. Then again, nearly all MPs think the vaccines have been a godsend. This is why the Government have been suppressing any opposing views and monitoring prominent social media accounts, as Big Brother Watch uncovered last week. Accordingly, Ofcom are all over this on the airwaves, hence GB News's skittishness over broadcasting such stories, as Mark Steyn had been doing so fearlessly.
Mark began by celebrating the first person to receive Government compensation:
That person is Vikki Spit, whose fiancé died from the vaccine. They were a rock'n'roll duo who loved each other deeply:
The mother and wife of NHS doctor Stephen Wright mourned on air:
GB News presenter Neil 'the Coast guy' Oliver joined Mark. He's sitting on the right in the video:
Michelle Dewberry, whose weeknight show is on at 6 p.m., also joined Mark:
Dan Wootton, who was also interested in every aspect of the pandemic debacle at the time, thanked him on his show, which followed at 9 p.m.:
As the response to this tweet indicates, only GB News was covering this topic:
Now they have pretty much stopped, falling into line with every other news outlet.
As you can see in the following video, the victims were young — thirty-somethings:
On July 27, Professor Richard Ennos joined Mark to discuss the excess deaths from the beginning of the pandemic to the present. He said that the early deaths were comprised of elderly people. Increasingly, the age cohort has been decreasing to include much younger Britons:
On August 8, Steyn interviewed Alex Antic, Senator for South Australia, about the commonality of Western countries to link politics with science. So many nations did the same thing at the same time. No one is allowed to ask questions about pandemic policies:
On Tuesday, August 16, Mark welcomed Dr Aseem Malhotra to the show. Dr Malhotra, a cardiologist, was a big supporter of coronavirus vaccines in the beginning but changed his mind. Later in the year, his healthy father, a physician in his 70s, took the vaccine and died.
You can find the video at this GB News link. The accompanying article says, in part (emphases mine):
A leading consultant cardiologist who was one of the first people in the UK to take two doses of the Covid-19 vaccine and promote them on television has called for an end to all remaining vaccine mandates.
Dr Aseem Malhotra has written an open letter to Prime Minister Boris Johnson and US President Joe Biden calling for the immediate release of the raw data from Pfizer's original Covid-19 vaccine trial.
Speaking exclusively to GB News' Mark Steyn show, Dr Malhotra said: "When the vaccines were first released we were told they were 95% effective against infection.
"This is not true. This is based on relative risk reduction. In absolute terms, they provided 0.84 percent protection which means only one in 119 people would be protected from infection.
"This statistic was the pretence under which vaccine mandates were implemented.
"The latest data reveals that once infected there is no significant difference in transmission rates between the vaccinated and unvaccinated, which makes any scientific case for mandates illegitimate.
"As newer and thankfully, less lethal, mutated strains became dominant, any protection against infection at the very least became less effective and likely completely ineffective, even if there is some significant (as yet to be fully determined in absolute individual terms) protection against serious illness and death" …
Dr Malhotra also wrote: "Rather than encourage transparent debate about the true benefits and potential harms of the Covid vaccine as new evidence emerges, those that encourage more critical thinking and adding to the database of relevant knowledge are smeared."
This comes in light of investigative journalist Paul Thacker's investigation into Pfizer's trial data published in the British Medical Journal (BMJ) last year being branded "false information" by independent fact-checkers …
Dr Malhotra argues "global vaccine mandates for Covid-19 must stop until we have the full data on efficacy of all available vaccines."
Writing in praise of Dr Malhotra's findings, Dr Amir Hannan said "[Dr Malhotra] raises some important questions about the validity of the assertions made, asking for all data to be made available so that an in depth analysis can be developed and proper conclusions identified to help restore trust in doctors, the pharmaceutical industry, the research community, the regulatory bodies, the press and governments."
Dr Malhotra's letter has been published in the European Scientist.
Pfizer/BioNTech have been contacted for comment.
On September 2, Dr Matthew Sweet, who appears on the BBC, took issue with Steyn and proved to be a thorn in his side. Steyn mentioned him frequently in the autumn:
On October 4, feminist author Naomi Wolf, who received her doctorate from Oxford University, appeared on Steyn's show to say that she had been pointing out menstrual abnormalities from the vaccine since 2020:
On October 11, Mark interviewed Robert Roos MEP, Vice-Chair of the European Conservatives and Reformists group, one of the MEPs who questioned Pfizer directors about their vaccine. One of the directors intimated that they had no real data to say that the vaccines would stop transmission of the virus. Roos wants to know more, because in some EU countries, unvaccinated people could not go to the supermarket and people lost their jobs because the vaccine was mandated. Overall, the social cost was too great for an ineffective jab:
On Monday, February 6, 2023, Robert Roos voiced his concerns in the European Parliament, stating that, for the most part, parliamentary questions about the effect of pandemic measures on EU citizens were not posed, either in Brussels or in individual member countries' parliaments:
On October 29, 2022, The Conservative Woman's Kathy Gyngell, who was no stranger to the Steyn show, called our attention to his October 27 show, beginning at the 35-minute mark:
She went so far as to include a transcript, which can be found here.
The segment Kathy Gyngell points to is an interview with Mark Sharman, who, during his career, headed the News and Sport division at ITV as well as being the Director of News at Sky.
Sharman made a documentary about the vaccines, Safe and Effective: A Second Opinion. He posted it on YouTube.
Steyn said:
And so Mr Sharman's documentary has just been taken down at YouTube for the following reasons. Big exclamation – 'Medical Misinformation. YouTube doesn't allow claims about Covid-19 vaccinations that contradict expert consensus from local health authorities or the World Health Organisation.' Ooh! No contradicting the World Health Organisation. Mark Sharman joins me now. Mark, as I said, you've been in British broadcasting for a very long time. Have you ever just had a piece of work, such as your documentary, just – boom! – vaporise in the way that YouTube just did it to you?
Sharman replied:
MARK SHARMAN: No, not at all. Mark, I'm not surprised that it's been cut, but as an old-school journalist who believes in reporting both sides of a story, I'm dismayed about what's happening. You know, we are being controlled. The narrative on many, many things is being controlled, and the evidence is growing. I mean, the governments, the Big Pharma companies, Big Tech media companies, they've all decided what the line is and they're sticking to that line come what may. And as you showed earlier in the programme, there are more and more pieces of research from around the world which proves there is something seriously wrong with these vaccines, they're clearly not totally safe and effective. They're clearly not safe, and that don't appear to be effective. And all we're asking for, Mark, is some proper open scientific debate. You know, if there's something wrong, it should be looked at and stopped before more people are hurt …
Sharman echoed other findings exposed on Steyn's show:
You know, there have been 25,000 excess deaths in this country since April. Across Europe, the death rates, excess death rates, are running at 16 per cent higher than usual. And strangely, they're higher in the countries that have been most vaccinated. The authorities come up with all kinds of reasons, including lockdown and the heatwave and changing your bed or whatever. But they won't put the vaccine injury on the list. Now, any investigator worth his salt is going to look at every suspect, if only to rule them out. And there is absolutely no excuse whatsoever to not put vaccine injury on that list. And as I said before, I'm not on one side or the other, I would just love to see a proper open debate where somebody can look at what is happening to these vaccine-injured and deaths around the world. You know, there are other questions as well about the whole reproductive system, but that's another matter. But again, reports are coming in that should be causing concern to the authorities, but they resolutely won't listen, and won't debate it, and cut scientists off and have cut our film off. By the way, it was just about to hit a million views on YouTube alone. And it's interesting that it's been three weeks and not been touched.
More at the link.
On February 6, 2023, The Conservative Woman posted a brief notice about the demise of the Mark Steyn Show. They, too, found the news on Guido Fawkes, as had I:
This is more than 'a shame because he beat Piers Morgan', as Guido puts it. It is a terrible loss for us all and not just all at TCW, but for the country. It is a tragedy for free speech that his style of fearless, moral and uncompromising broadcasting has been brought to an abrupt end. For a year he threw light on dark, he ridiculed the shameless, for a year he raised our hopes that sanity, reason and truth might prevail. Now he is gone and it is shocking and sad. That is how we feel at TCW.
Hundreds of comments followed their post, nearly all of which lamented Steyn's departure.
Professor Norman Fenton was also very sorry to learn that one of GB News's best hosts had left:
However, there might be hope. Bev Turner, who hosts the channel's weekday mid-morning show, is also concerned about coronavirus vaccine safety.
On Monday, February 6, she interviewed a lady from UsForThem, which campaigns for the right of children not to have a vaccine mandate. Molly Kingsley says that the group has won a claim against Pfizer on marketing the vaccine without presenting the risks involved:
Grooming gangs
Another no-go area where only Steyn ventured in depth involved grooming gangs, which have been operating around England for decades.
Samantha Smith, a grooming gang victim who blossomed into an articulate young woman, lives in Telford, Shropshire. She appeared often on Steyn during the summer, then she got a visit from the police on July 6:
Although other channels might say that grooming gangs are in the past — e.g. Oldham, Rotherham — they are still taking advantage of young girls:
On July 11, she returned to London to speak with Mark about her ordeal with the police. The first tweet has an accompanying article:
Here is the full video:
Would that the police had been so interested when she was undergoing sexual abuse from local predators.
In July, the Conservative Party race to replace Boris as leader was in full flow. On July 13, Samantha tweeted that over 1,000 girls have been sexually abused and exploited in Telford alone — a more urgent matter:
On August 10, The Mail+ gave her a voice in a first-person article about her years of abuse:
An excerpt follows:
For years, between the ages of five and 14, I was abused by successive men who left a devastating legacy.
As my life fell apart, I found myself homeless by the age of 16, and there were many nights when I would lie there — racked by visceral self-loathing — wishing I would simply disappear.
How could I not hate myself?
Of course, I had tried to seek help. I eventually reported my abuse and was interviewed by a police child sexual exploitation team. But they did absolutely nothing to bring my abusers to justice.
In fact, I was made to feel unworthy of help or support, as though the abuse I experienced was my fault. My social workers even spelled it out. 'Your behaviour and actions have led you to where you are today,' they told me.
Isolated as I was, I had no idea that I was not alone, but one of more than a thousand children in Telford who had been sexually exploited over decades while the police and youth workers whose job it is to protect us not only failed to act but all too often blamed us as the architects of our own trauma.
Indeed, that's not just my opinion, but the conclusive judgment of a devastating independent report issued last month following an extensive three-year inquiry into sexual exploitation and abuse in my home town stretching back to the seventies.
The authors' verdict could not have been more damning, concluding that generations of children had been subjected to unnecessary suffering because of the abject failures of West Mercia Police, their wilful neglect damning children to years of unnecessary suffering and cruelty.
In some cases, like that of 16-year-old Lucy Lowe, victims were murdered by their abusers.
Echoing conclusions drawn by investigations into similar scandals in Rotherham, Rochdale and Oxford, the report laid bare the scale of systemic failures, highlighting how many perpetrators — predominantly Asian men — were not investigated because of nervousness about appearing racist.
Meanwhile the largely working-class white victims were treated as no-hope cases who were destined to fall into a life of crime, branded 'troublemakers' or even 'child prostitutes' by police. Teachers and social workers were found to have been actively dissuaded from reporting abuse, while offenders were 'emboldened' as police efforts to stop them were scaled down 'to virtual zero'.
It is little wonder the report has been greeted with widespread fury and disgust. My reaction was one of bittersweet vindication — and an anger that reduced me to tears.
Much of the inquiry focused on gang-related cases but many — as I experienced — were perpetrated by individual men.
And while my case was not one of those featured in the report, I am one of hundreds of victims of child sexual abuse and grooming in Telford whose suffering was brushed under the carpet as part of a deeply engrained cover-up culture.
Even now, it is hard to confront the scale of abuse in the leafy Shropshire town I once called home which — on the outside at least — is a world away from the former mining communities that have more commonly been associated with child sexual abuse scandals.
Statistics do not lie, however: while incidents of child sexual abuse number 7.9 per 10,000 nationwide, in Telford that figure jumps to 16.4.
Samantha also appeared on Steyn's October 27 show, just before the aforementioned documentary maker Mark Sharman appeared.
Sharman praised her eloquence when talking to Steyn:
You know, if there's something wrong, it should be looked at and stopped before more people are hurt. And interesting listening to Samantha talk previously – and by the way, what a wonderful spokesperson she is for victims of sexual abuse – but there are real parallels there. You know, the vaccine injured and the public in general don't seem to be as important as the authorities. They'd rather protect their own line and their own story than look at what's going on. You know, it just isn't right.
No, it isn't right.
Kudos to Mark Steyn for discussing this regularly. Until I saw Samantha, I had no idea that this had even been going on in Telford!
More to come
Steyn also had regular segments on other topics, which I shall cover on Friday.
Stay tuned …
In December 2022, the then-GB News presenter Mark Steyn suffered two heart attacks within days of each other.
The first one he ignored, because he had never suffered a heart attack and didn't recognise the symptoms.
The second occurred when he and a female friend were in France. Fortunately, he got to the hospital just in time. Fifteen minutes more and he would have died.
While he recuperated in France — there was no chance of his returning to Canada, doctors said — some of GB News's sharpest hosts stepped in to sub for him between 8 and 9 p.m. They told viewers that Mark was on the mend, until the end of January, at which point they mentioned him no more.
Don't mention the vaccines
Then, late on Monday, February 6, 2023, Guido Fawkes posted that Mark would not be returning to GB News. The news channel's CEO wanted to make Steyn liable for any Ofcom fines they received over his segments that criticised the coronavirus vaccine:
Guido tells us, complete with the relevant video clip (emphases in red his):
Mark Steyn has quit GB News on fairly bad terms after a protracted leave of absence owing to his health. A few weeks ago Guido picked up that the channel had been trying to formalise Steyn's contract, having operated on a fairly ad hoc basis since starting his show. Part of trying to get him on board as a properly contracted presenter was also an attempt to rein in his output, given that in a rather short space of time he'd managed to spark two separate Ofcom investigations into claims made on his show.
GBN offered him a new contract to sign, otherwise he'd face termination. It now looks like Steyn is declining to sign the new contract, so he's out.
In a video put out on his website today, Mark doesn't hold back on his opinion of the channel's CEO Angelos Frangopoulos, ranting about the terms of the new contract that would have made him financially liable for any fines imposed on GB News by Ofcom because of his show's output. He also calls Frangopoulos an "habitual liar". Shame – Steyn managed to consistently beat Piers's view count…
After a few months, Mark Steyn Show regularly trounced Piers Morgan's TalkTV show Monday through Thursday in the same time slot.
GB News has been scrupulous about offering both sides of any story on their shows in order to avoid censure from Ofcom. This entails having a left-wing guest oppose the host's centrist or conservative perspective.
In 2022, Press Gazette reported on the channel's potential Ofcom violations. I'll start with the story from August 8, with the communications regulator's examination of two segments, one on Nigel Farage's evening show and one from a morning show with Patrick Christys, who now hosts a three-hour afternoon slot Monday through Friday:
The first two investigations by broadcast regulator Ofcom into GB News have ended with no rebukes, keeping the TV channel's record clean as it enters its 15th month.
Critics feared the opinion-led news channel would rub up poorly against the UK's strict impartiality rules, a problem not faced by broadcasters in the US such as Fox News.
But by balancing views from presenters and guests across its schedule, GB News has avoid any Ofcom rebukes despite airing some strident views on Covid-19 lockdowns and vaccines. Two Ofcom investigations into GB News TV and radio broadcasts remain ongoing.
In October 2022, complaints about Mark Steyn's show were still ongoing:
Ofcom has opened an investigation into an episode of Mark Steyn's 4 October programme on GB News after it received 411 complaints from viewers about comments made by author and journalist Dr Naomi Wolf in relation to Covid-19 vaccines.
Ofcom said: "Specifically, our investigation will consider whether this programme broke our rules designed to protect viewers from harmful material."
Wolf was banned from Twitter last year for spreading unfounded theories about vaccines.
Ofcom is already investigating Steyn's show for a potential breach of standards on 21 April when he claimed people who had a Covid-19 booster vaccine were three times more likely to die than those who had two doses or fewer.
Press Gazette says that the April 21 episode was removed from YouTube:
In a monologue that day, Steyn said: "Why aren't we talking about this? It seems, if the booster shot is making it thrice as likely that you're going to be deadsville, that they're going to carrying you out by the handles, why aren't we talking about that?"
Fact-checking charity Full Fact said the figures used by Steyn were "broadly accurate" but that he was "wrong to claim the booster 'increases your chances of hospitalisation and death'".
Interestingly:
No Ofcom investigations have yet been started into rival TalkTV, which Rupert Murdoch's News UK launched in April.
The Guardian had more, especially about Dr Matthew Sweet, who was interviewed on the BBC and had been monitoring Steyn's show for soundbites that criticised the vaccines. Steyn often mentioned Sweet:
The latest investigation relates to an interview with the author Naomi Wolf in which she claimed women were being harmed by Covid-19 vaccines as part of an effort to "to destroy British civil society".
Ofcom said it would investigate whether the programme broke "rules designed to protect viewers from harmful material" after receiving more than 400 complaints from members of the public.
In the interview, which was originally broadcast on 4 October, Wolf also compared doctors' support for the vaccine rollout to the behaviour of the medical profession in Nazi Germany and described herself as the "last remaining independent journalist" willing to question this.
She was being interviewed on the Mark Steyn Show, which has repeatedly raised doubts over the safety of vaccines. Steyn's claims that the jabs cause "every conceivable kind of damage" have been disputed by factchecking websites. He is already the subject of a separate Ofcom investigation over previous comments about vaccination.
Wolf began as a prominent feminist writer but in recent years her career has taken a hit after she wrote a book partly based on a misunderstanding of English court records. Since then she has veered into the world of conspiracy theories about the impact of 5G telephone masts and the coronavirus vaccine.
Presenter Matthew Sweet, whose BBC interview exposed the flaw in Wolf's book, has since kept tabs on her work and GB News's coverage of the pandemic and accused the channel of repeatedly "broadcasting misinformation about vaccines and presenting conspiracy theorists as legitimate experts on medical matters".
In a letter to Sweet tweeted last month, GB News insisted that at no point had Steyn's programme adopted an "anti-vax" approach. Instead it said he was conducting probing journalism in the face of people who want GB News to be "more supportive of government policy".
As I wrote in my post last week on Big Brother Watch's exposé of Government departments' surveillance of politicians' and journalists' Twitter accounts during the pandemic, the one thing one cannot do is criticise the vaccines.
The best of Mark Steyn's GB News output
Having watched nearly every Mark Steyn show once he began broadcasting weeknights in January 2022, I bookmarked the most notable ones.
Any interested readers should view the videos sooner rather than later. YouTube have already removed some of Steyn's GB News output.
Ratings
It took a while for people to tune into Steyn, which was no fault of his. He did a memorable series in March 2022 in Ukraine and told us that he was partly of Ukranian descent. He hoped to return when the war was over. You can read more about those programmes here.
At the end of that month, he had a special edition on the second anniversary of the first coronavirus lockdown, March 23, 2020. It's a good thing I described the content, because YouTube removed the video for the usual reasons.
Then on Monday, May 16, Mark hit the jackpot, beating TalkTV's Piers Morgan for the first time in the 8 to 9 p.m. slot. Mark wasn't the only ratings star that night — all the GB News evening shows beat TalkTV's:
The following day, Guido wrote:
The slow motion collapse in ratings of Talk TV is astounding. Until now, Piers Morgan has always held his lead in his slot against Mark Steyn on GB News. Last night Steyn beat Morgan for the first time…
And it would not be the last time, either. In fact, it became a regular occurrence.
Coronavirus
On Wednesday, January 12, 2022, Steyn interviewed Lord Ridley — Matt Ridley — about the coronavirus lab leak (30:00 – 40:00):
In February, he covered the Canadian truckers' protest in Ottawa against mandated vaccines:
He also interviewed a Canadian policewoman about the protests:
On April 21, he cited UK government data which said that people over 50 who had three jabs were five times more likely to get the virus: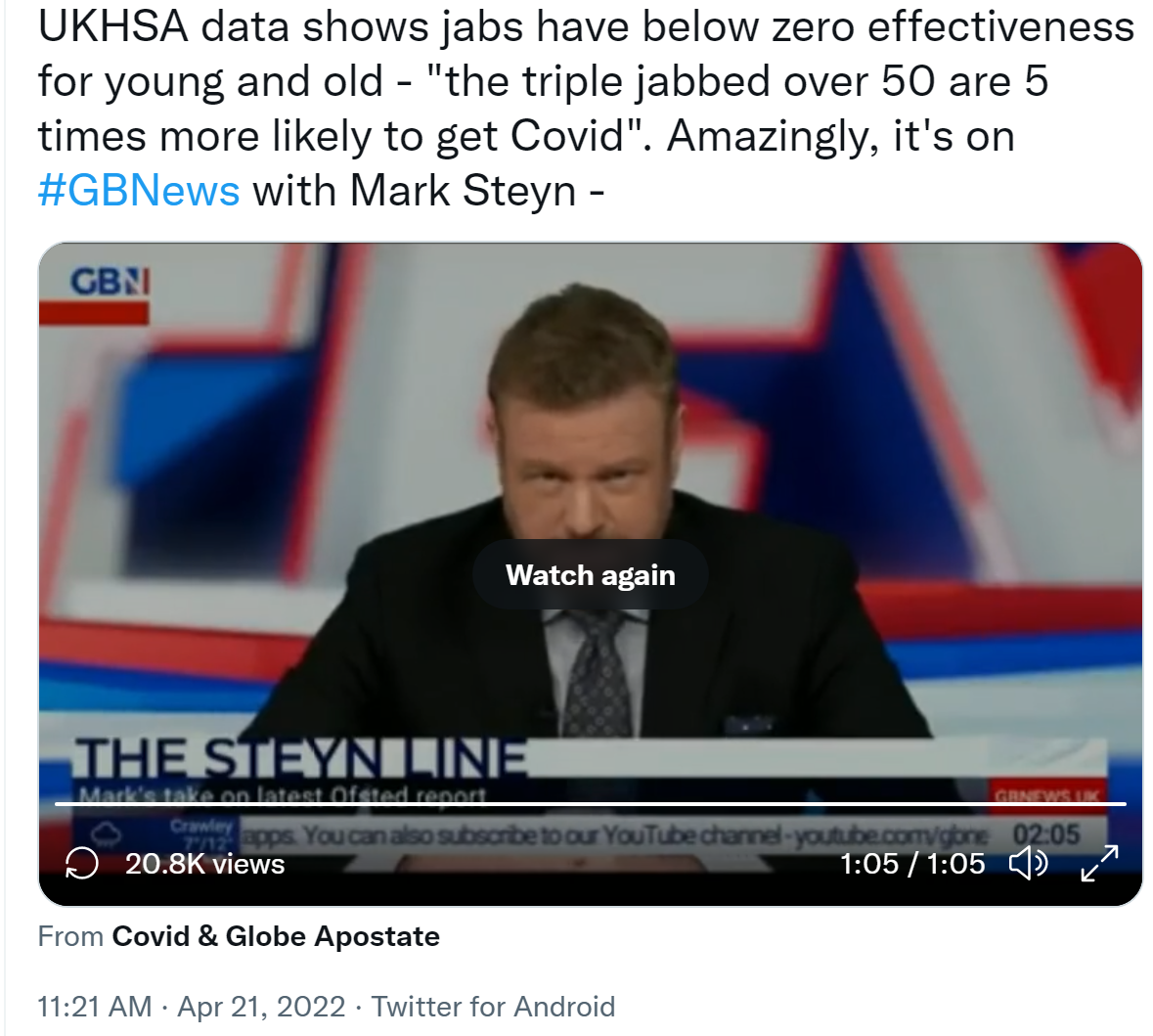 On Monday, May 9, he interviewed vaccine victims:
On May 11, he interviewed people who became seriously ill after taking the Astra Zeneca vaccine. No wonder it's no longer on the Government's vaccine list.
This man got a blood clot on the brain:
This lady suffered blood clots on her liver and lungs:
That day, Laura Perrins from The Conservative Woman waxed lyrical about Steyn's show. I, too, was a bit ambivalent about him many years ago, but as she pointed out:
It is true that a few decades ago he was considered an Establishment journalist; he has written for all your mainstream Right-wing publications. But he had long left that scene by the time I had my political awakening.
Anyway, somehow I stumbled across him, Praise be the Lord. The more I started listening, the more I read, I thought: 'Goodness gracious, hold the phone, shut the front door, this guy is the Real Deal.' This guy knows that we are being had by the political and media establishment and he is not afraid to say it …
Not only is Steyn the best-dressed, most-polished, most-sophisticated of all the presenters on TV, he says what you are thinking. For the last week or two he has been giving a voice to those the MSM have shamefully ignored – families who have lost loved ones through the 'safe and effective' non-vaccine vaccine.
… While Piers 'Lock Me Down Harder, Daddy' Morgan is interviewing Bruce Jenner, Steyn is pointing out that the lockdown has caused economic damage and inflation that the MPs like to ignore.
He also points out that when the Conservatives tell you they are getting a hold on illegal immigration, they are lying to you, they are lying to your face, dear reader.
So, do yourself a favour and watch Mark Steyn, Monday-Thursday, 8pm on GB News.
You can also catch up on YouTube when they haven't censored him for 'disinformation'. This is not a man who could ever be bought or sold for any price. I say again, Mark Steyn is the Real Deal.
The following day, news emerged that the WHO wanted nations to sign up to their pandemic treaty which would supercede national sovereignty. Unbelievable. Steyn said, 'The permanent abnormal staggers on':
On Tuesday, May 17, he talked about the WHO's involvement in the pandemic:
One week later, he interviewed a fellow broadcaster, Andrew Griffiths, who experienced serious side effects after getting the vaccine:
The Powers That Be tried to stir up fear over what is now called MPOX. On May 25, Steyn discussed Natalie Winters' findings for the National Pulse about an alleged link to the Wuhan lab:
Steyn had more on that and other topics on June 1, calling it 'the controlled demolition of the free world':
That was an exceptional show. Former ONS statistician Jamie Jenkins, one of Mark's regulars, alleged that the UK government had not collected any official statistics on vaccine injuries:
Claire Hibbs returned to discuss her injuries and the lack of compensation from the Government:
On June 16, he discussed the disastrous economic results of lockdown with Leilani Dowding:
Other Steyn broadcasts of note
In May 2022, he tapped into Canada's Rebel News output on Davos: excellent and entertaining.
On July 12, he was the only broadcaster to cover the July 12 celebrations in Northern Ireland in a non-confrontational way.
He interviewed Baroness Hoey — former Labour MP Kate Hoey — on her love for Northern Ireland and the United Kingdom:
He also spoke at length with the former leader of the Democratic Unionist Party, now-Baroness, Dame Arlene Foster:
These are just tasters. More to follow tomorrow.
No stranger to controversy
Mark Steyn has never been a stranger to controversy. Thank goodness.
Going way back in my Mark Steyn bookmarks, in 2004, he reviewed Mel Gibson's The Passion of the Christ, an incredible but much-criticised film, for The Spectator (full text here):
… Those who believe in Christ the Redeemer are booming, and Mel Gibson has made a movie for them. If Hollywood was as savvy as it thinks it is, it would have beaten him to it. But it isn't so it didn't. And as most studio execs have never seen an evangelical Christian except in films where they turn out to be paedophiles or serial killers, it's no wonder they're baffled by The Passion's success …
… Mel Gibson was driven by his own passion to make a movie that speaks to millions of people. As I said a couple of weeks back, if it's not the Jesus movie you'd have made, then go make your own. I saw it on a Monday night full house – a rare event in itself – and the crowd was rapt and eerily hushed, except for the occasional sob. It's true that if you don't believe that Christ's death on the cross is the central event in His time on earth then Mel's telling won't convince you and the film will look, as it does to Christopher Hitchens, like an S&M flayfest. One can regard this as a criticism of Gibson. On the other hand, all manner of movies – Star Wars, X-Men – leave you cold if you're not already a devotee. For millions of people, Mel Gibson shows them their Jesus and their salvation.
In 2009, Steyn wrote an article for Canada's Macleans about the danger that political correctness and censorship (i.e. 'hate speech') pose to human lives — the Fort Hood massacre (full text here):
… the old refrain echoes through the corridors of power: vigorous honest free speech will lead to mass murder unless we subject it to "reasonable limits."
Actually, the opposite is true: a constrained and regulated culture policed by politically correct enforcers leads to slaughter. I'm not being speculative here, as Commissar Lynch [Jennifer Lynch, Q.C., Canada's censor at the time] is about my murderous prose style. It's already happened, just a couple of weeks back. Thirteen men and women plus an unborn baby were gunned down at Fort Hood by a major in the U.S. Army. Nidal Hasan was the perpetrator, but political correctness was his enabler, every step of the way. In the days that followed, the near parodically absurd revelations piled up like an overripe satire …

Instead, asked "Who ya gonna believe—The Celebrate Diversity Handbook or your lyin' eyes?", more and more of us plump for the former, if only for a quiet life. Commissar Lynch has it exactly backwards: it's the craven submission to political correctness, the willingness to leave your marbles with the Diversity Café hat-check girl, that leads to death—real death, with real corpses, from Texas to Ontario.
It's amazing that the hot topics really have not changed since the Millennium. It's been the same-old, same-old for over 20 years now.
To be continued tomorrow
This week, Big Brother Watch's Ministry of Truth exposé states how UK Government agencies tracked social media accounts of certain well-known Britons during the coronavirus pandemic to monitor opinions.
One of the Twitter accounts involved belongs to a publican who had not yet begun appearing on television.
2020: online dissent, abuses of power

Before going into that story, here are bookmarks I had filed under 'Ministry of Truth'. It would seem that the name relates to a Twitter account which has since been renamed. This person has nothing to do with the aforementioned exposé, but the tweets reflect what was already on people's minds.
Interestingly, all of these relate to the pandemic.
Looking back to April 2020, three weeks after the UK locked down, people were already discussing the egregious nature of lockdown and suspicion about any vaccine.
This is an informal poll asking what percentage of global deaths justifies a lockdown:
Nearly 80% of people did not wish to take a coronavirus vaccine, should one be developed:
By April 13, police were already entering people's properties. In this case, there was no party going on, but the abuse of power was shocking:
The video went viral:
On April 24, 2020, Tony Blair's Institute for Global Change suggested that state surveillance was 'a price worth paying' to stop coronavirus. Shocking:
By the end of April, we discovered that the WHO had coined the expression 'New Normal' on June 7, 2019:
In June 2020, despite lockdown in force, protests took place. In London, Metropolitan Police officers ran away from protesters after being pelted with objects:
2023: Ministry of Truth
On Saturday, January 28, 2023, Big Brother Watch sent an advance copy of their report to the Mail, which reported (emphases mine):
A shadowy Army unit secretly spied on British citizens who criticised the Government's Covid lockdown policies, The Mail on Sunday can reveal.
Military operatives in the UK's 'information warfare' brigade were part of a sinister operation that targeted politicians and high-profile journalists who raised doubts about the official pandemic response.
They compiled dossiers on public figures such as ex-Minister David Davis, who questioned the modelling behind alarming death toll predictions, as well as journalists such as Peter Hitchens and Toby Young. Their dissenting views were then reported back to No 10.
Documents obtained by the civil liberties group Big Brother Watch, and shared exclusively with this newspaper, exposed the work of Government cells such as the Counter Disinformation Unit, based in the Department for Digital, Culture, Media and Sport, and the Rapid Response Unit in the Cabinet Office.
But the most secretive is the MoD's 77th Brigade, which deploys 'non-lethal engagement and legitimate non-military levers as a means to adapt behaviours of adversaries'.
According to a whistleblower who worked for the brigade during the lockdowns, the unit strayed far beyond its remit of targeting foreign powers. 
They said that British citizens' social media accounts were scrutinised – a sinister activity that the Ministry of Defence, in public, repeatedly denied doing.
Papers show the outfits were tasked with countering 'disinformation' and 'harmful narratives… from purported experts', with civil servants and artificial intelligence deployed to 'scrape' social media for keywords such as 'ventilators' that would have been of interest.
The information was then used to orchestrate Government responses to criticisms of policies such as the stay-at-home order, when police were given power to issue fines and break up gatherings. 
It also allowed Ministers to push social media platforms to remove posts and promote Government-approved lines.
The Army whistleblower said: 'It is quite obvious that our activities resulted in the monitoring of the UK population… monitoring the social media posts of ordinary, scared people. These posts did not contain information that was untrue or co-ordinated – it was simply fear.'
Last night, former Cabinet Minister Mr Davis, a member of the Privy Council, said: 'It's outrageous that people questioning the Government's policies were subject to covert surveillance' – and questioned the waste of public money.
Mail on Sunday journalist Mr Hitchens was monitored after sharing an article, based on leaked NHS papers, which claimed data used to publicly justify lockdown was incomplete. An internal Rapid Response Unit email said Mr Hitchens wanted to 'further [an] anti-lockdown agenda and influence the Commons vote'. 
Writing today, Mr Hitchens questions if he was 'shadow-banned' over his criticisms, with his views effectively censored by being downgraded in search results. 
He says: 'The most astonishing thing about the great Covid panic was how many attacks the state managed to make on basic freedoms without anyone much even caring, let alone protesting. 
Now is the time to demand a full and powerful investigation into the dark material Big Brother Watch has bravely uncovered.'
The whistleblower from 77 Brigade, which uses both regular and reserve troops, said: 'I developed the impression the Government were more interested in protecting the success of their policies than uncovering any potential foreign interference, and I regret that I was a part of it. Frankly, the work I was doing should never have happened.'
The source also suggested that the Government was so focused on monitoring critics it may have missed genuine Chinese-led prolockdown campaigns.
Silkie Carlo, of Big Brother Watch, said: 'This is an alarming case of mission creep, where public money and military power have been misused to monitor academics, journalists, campaigners and MPs who criticised the Government, particularly during the pandemic.
'The fact that this political monitoring happened under the guise of 'countering misinformation' highlights how, without serious safeguards, the concept of 'wrong information' is open to abuse and has become a blank cheque the Government uses in an attempt to control narratives online.
'Contrary to their stated aims, these Government truth units are secretive and harmful to our democracy. The Counter Disinformation Unit should be suspended immediately and subject to a full investigation.'
A Downing Street source last night said the units had scaled back their work significantly since the end of the lockdowns.
The Mail's article also has the 77th Brigade member's full disclosure as well as Peter Hitchens's first-hand experience from that time.
It is ironic that a Conservative MP, Tobias Ellwood, is part of the 77th Brigade, which monitored another Conservative MP, David Davis:
Toby Young, also monitored, featured the Mail's articles on his website in 'The 77th Brigade Spied on Lockdown Sceptics, Including Me'.
He pointed us to a Twitter thread from Dr Jay Bhattacharya, one of the signatories of the Great Barrington Declaration, which the Establishment panned worldwide:
On Sunday, January 29, Spiked had a tongue-in-cheek title to their article on the exposé, 'Warning: sharing a spiked article could get you in trouble with the government':
Today, a report by Big Brother Watch has revealed the alarming lengths the UK government went to in order to hush up its critics. We now know that three government bodies, including a shady Ministry of Defence unit tasked with fighting 'information warfare', surveilled and monitored UK citizens, public figures and media outlets who criticised the lockdown – and spiked was caught up in that net.
This mini Ministry of Truth was composed of the Rapid Response Unit (RRU) in the Cabinet Office, the Counter Disinformation Unit (CDU) in the Department for Culture, Media and Sport and the army's 77th Brigade. The 77th Brigade exists to monitor and counter so-called disinformation being spread by adversarial foreign powers. But, as a whistleblower from the unit told Big Brother Watch, 'the banner of disinformation was a guise under which the British military was being deployed to monitor and flag our own concerned citizens'. The other bodies worked together to monitor 'harmful narratives online' and to push back on them, by promoting government lines in the press and by flagging posts to social-media companies in order to have them removed.
The public figures targeted by these shadowy units included Conservative MP David Davis, Lockdown Sceptics founder Toby Young, talkRADIO's Julia Hartley-Brewer and Mail on Sunday columnist Peter Hitchens. All of whom had warned about the consequences of lockdown and had raised questions about the UK government's alarmist modelling of the virus.
Documents obtained by Big Brother Watch, using subject-access requests, reveal that Peter Hitchens was flagged for, among other things, sharing a spiked article. A cross-Whitehall disinformation report from the RRU in June 2020 notes that, 'The spiked article was shared on Twitter by Peter Hitchens, which led to renewed engagement on that specific platform'. The RRU also monitored the level of public agreement, noting that 'some highly engaged comments' agreed with the article, while others were critical …
We desperately need a reckoning with lockdown, and with the lockdown on dissent that accompanied it.
Big Brother Watch announced their report with a summary of highlights, 'Inside Whitehall's Ministry of Truth — How secretive "anti-information" teams conducted mass political monitoring'.
Read that if you do not have time to peruse their full report.
Guido Fawkes also summarised the report on Monday, January 30:
Millions of pounds of taxpayer's money went into this egregious surveillance. Imagine inadvertently paying to have yourself monitored by the state:
Unbelievable.
Will anything come of this? I certainly hope so, but I doubt it.
On Thursday, February 2, David Davis asked about Peter Hitchens during Cabinet Office questions:
David Davis: In 2020 we have evidence that the Cabinet Office monitored the journalist Peter Hitchens' social media posts in relation to the pandemic. In an internal email the Cabinet Office accused him of pursuing an anti-lockdown agenda. He then appears to have been shadow- banned on social media. Will the Minister confirm that his Department did nothing to interfere with Hitchens' communications, either through discussion with social media platforms or by any other mechanism? If he cannot confirm that today, will he write to me immediately in the future to do so? (903428)
Mr Speaker: Who wants that one?
Jeremy Quin (Cabinet Office Minister): It is a pleasure to take it, Mr Speaker. I thank my right hon. Friend for his question. He referred to the rapid response unit; what it was doing during the course of the pandemic was entirely sensible—trawling the whole of what is available publicly on social media to make certain we as the Government could identify areas of concern particularly regarding disinformation so that correct information could be placed into the public domain to reassure the public. I think that was an entirely reasonable and appropriate thing to do. I do not know about the specifics that my right hon. Friend asks about; I would rather not answer at the Dispatch Box, but my right hon. Friend has asked me to write to him and I certainly will.
They have an answer for everything.
Let no one think that Labour would have done anything differently. Labour fully supported the Government on everything coronavirus-related and said they would have gone further.
So far, my series on Conservative MP and former Health Secretary Matt Hancock has covered a summary of his current activities as well as his actions during the coronavirus pandemic: parts 2 and 3.
Today's post reviews the events surrounding the pandemic between October and December 2020, mostly in England. Positive cases spiked in October that year, particularly in certain regions of England, causing the development of a tiered system of restrictions. Christmas ended up being cancelled, a great loss to the hospitality sector, which had been open since July 4.
There was one ray of hope to get everyone out of this: the vaccine.
Dissenters must be silenced
The Mail has been running excerpts from Hancock's Pandemic Diaries which he co-wrote with former Times journalist, Isabel Oakeshott.
One thing I have not found in the excerpts is any mention of dissent among the public or medics who were not on SAGE.
However, Isabel Oakeshott provides insight about the Government's view of dissenters in an overview of Pandemic Diaries that she wrote for The Spectator, posted on December 7, 2022. Emphases mine below:
As far as Hancock was concerned, anyone who fundamentally disagreed with his approach was mad and dangerous and needed to be shut down. His account shows how quickly the suppression of genuine medical misinformation – a worthy endeavour during a public health crisis – morphed into an aggressive government-driven campaign to smear and silence those who criticised the response. Aided by the Cabinet Office, the Department of Health harnessed the full power of the state to crush individuals and groups whose views were seen as a threat to public acceptance of official messages and policy. As early as January 2020, Hancock reveals that his special adviser was speaking to Twitter about 'tweaking their algorithms'. Later he personally texted his old coalition colleague Nick Clegg, now a big cheese at Facebook, to enlist his help. The former Lib Dem deputy prime minister was happy to oblige.
Such was the fear of 'anti-vaxxers' that the Cabinet Office used a team hitherto dedicated to tackling Isis propaganda to curb their influence. The zero-tolerance approach extended to dissenting doctors and academics. The eminent scientists behind the so-called Barrington Declaration, which argued that public health efforts should focus on protecting the most vulnerable while allowing the general population to build up natural immunity to the virus, were widely vilified: Hancock genuinely considered their views a threat to public health.
For his part, [Boris] Johnson occasionally fretted that they might have a point. In late September 2020, Hancock was horrified to discover that one of the architects of the Declaration, the Oxford epidemiologist Professor Sunetra Gupta, and her fellow signatory Professor Carl Heneghan, director of the University of Oxford's Centre for Evidence-Based Medicine, had been into Downing Street to see the prime minister. Anders Tegnell, who ran Sweden's light-touch approach to the pandemic, attended the same meeting. Hancock did not want them anywhere near Johnson, labelling their views 'absurd'.
Anti-lockdown protests were quickly banned. When, in September 2020, the Cabinet Office tried to exempt demonstrations from the 'rule of six', Hancock enlisted Michael Gove to 'kill it off', arguing that marches would 'undermine public confidence in social distancing'. Gove had no qualms about helping.
Keep in mind that, in June 2020, BLM protests took place in English cities. Police did nothing to stop them, even though we were not supposed to be gathering in the streets, particularly without social distancing. Members of the police responded by taking the knee in front of protesters. Talk about double standards!
Oakeshott had more dismal news emerging from Hancock's diaries.
Masks
Oakeshott says:
Hancock, [Chief Medical Officer Chris] Whitty and Johnson knew full well that non-medical face masks do very little to prevent transmission of the virus. People were made to wear them anyway because [Boris's top adviser] Dominic Cummings was fixated with them; because [Scotland's First Minister] Nicola Sturgeon liked them; and above all because they were symbolic of the public health emergency.
I do despair.
It was exactly as the sceptics said at the time: theatre designed to show the Government's power over the people.
Care homes
Even worse was — and, in some places, still is — the situation in care homes. Patients and their loved ones were separated for many months. There were no hugs, no kisses, no caresses. Instead, patients and family members met at a window, pressing their hands against glass, aligning them with those of their loved ones — just as one would do at a prison visit.
Oakeshott writes:
Hancock is more sensitive about this subject than any other. The accusation that he blithely discharged Covid-positive patients from hospitals into care homes, without thinking about how this might seed the virus among the frail elderly, or attempting to stop this happening, upsets and exasperates him. The evidence I have seen is broadly in his favour.
At the beginning of the pandemic, it was simply not possible to test everyone: neither the technology nor the capacity existed. Internal communications show that care homes were clearly instructed to isolate new arrivals. It later emerged that the primary source of new infection in these settings was in any case not hospital discharges, but the movement of staff between care homes. Politically, this was very inconvenient: Hancock knew he would be accused of 'blaming' hardworking staff if he emphasised the link (which is exactly what has now happened).
He is on less solid ground in relation to the treatment of isolated care-home residents and their increasingly desperate relatives. His absolute priority was to preserve life –however wretched the existence became. Behind the scenes, the then care home minister Helen Whately fought valiantly to persuade him to ease visiting restrictions to allow isolated residents some contact with their loved ones. She did not get very far. Internal communications reveal that the authorities expected to find cases of actual neglect of residents as a result of the suspension of routine care-home inspections.
October through December 2020
Pandemic Diaries entries for these months come from this instalment, unless otherwise indicated.
October
Saturday, October 3:
A day dominated by the discovery of a hideous blunder involving a week's worth of Covid data. Somehow or other we have failed to log around 16,000 cases, which all had to be piled into today's figures. We might as well just hang a giant neon sign above the Prof's 'next slide please' screen, saying 'See here: Spectacular Screw-Up.' [The Prof is the nickname for chief medical officer Chris Whitty.]
[Head of the Vaccine Taskforce] Kate [Bingham] has been telling the Financial Times we should only vaccinate the vulnerable. Except she has nothing to do with the deployment – only the buying. And what she's criticising is the Government's agreed policy. 
'We absolutely need No 10 to sit on her hard,' I told the spads [special advisers], adding that I consider her 'totally unreliable'.
Monday, October 5:
For reasons best known to themselves, No 10 are rowing back on tiers [putting areas of the country into tiers with different levels of restrictions depending on the Covid risk] and has pulled the planned announcement from this week's grid. They want tough action; then they don't want tough action; then someone gets to the PM and he changes his mind all over again. FFS.
The Economist has got wind of an old vaccine deployment plan. I instinctively asked my spads if Kate might be behind it. 'I have some evidence to suggest it might have been – ie the fact she had a meeting yesterday with the journalist who has the story,' came the reply. Who knows, but I wouldn't be surprised.
Saturday, October 10:
Boris has finally agreed to announce tiers on Monday.
Monday, October 12:
In the six weeks since I proposed the tiers system, there's been delay and watering down at every stage — while the virus has grown faster than the worst-case scenario. What's most frustrating is that I'm being portrayed as the one who's pushing for lockdown, whereas actually it's those with their heads in the sand who will lead us to a full-blown national lockdown.
Thursday, October 15:
Today I announced that London and a few other places are going into Tier 2. The original draft statement was quite bullish on vaccines, but No 10 freaked, ordering me to delete anything that made it sound as if we think vaccines are the way out.
This really annoyed me, because they are the way out. Since that's our strategy, it's ridiculous to be told I can't say it. I will not be blown off the vaccine drive by the sceptics — in No 10 or anywhere else.
This was a problem for Iain Duncan Smith MP, who pointed out that some London boroughs are relatively virus-free, therefore, it is wrong to impose the same restrictions on all of them. With a lot of umms and ahhs, Hancock said that it was only right that the same restrictions were imposed on all boroughs. Iain Duncan Smith looked as if he were about to blow a gasket — and rightly so:
Friday, October 16:
Boris has been studying what they did during the plague and messaged this morning about how tiering worked in the old days.
'In 1606, the Privy Council decreed that theatres should be closed if deaths from plague exceeded 30 per week,' he told us. 'Not sure about these fixed thresholds,' I replied warily. Thankfully this was the end of the history lesson.
Saturday, October 17:
Woke up to another briefing against me from No 10, this time in the i [newspaper]. Apparently 'Matt Hancock is the only person here who thinks there is actually going to be a vaccine . . . It's a running joke with other departments'.
If so, I'm happy to own it. Thank God I banned the team from talking to No 10 about the [vaccine] rollout. They'd just trash it.
Had a bit of a counselling session from Nadine [Dorries, mental health minister] this evening. 'You are too nice too often,' she told me.
Could labradors be our secret weapon against the pandemic? A bizarre and cheering morning watching disease-detecting dogs on the concourse at Paddington Station demonstrate what they can do on a crowd that included the Duchess of Cornwall.
Inside, I was panicking. I couldn't stop worrying that the mutts might pick out Camilla, or indeed me, as having the dreaded disease. 'Please, please, don't do that,' I willed silently.
Luckily, the labs correctly identified the man with the T-shirt that had been worn by an affected patient. I was impressed. 
These dogs can pick up the scent of Covid just like they pick up the scent of drugs. I want them at airports and train stations to sniff out super-spreaders.
The [Health] department's briefing was: 'Evidence base too thin.' It's absurd. Just because they aren't conventional tests, officialdom can't see the point.
I've pushed it and asked Jim [Bethell, a Health Minister in the Lords] to follow up.
Thursday, October 29:
We're putting so many new areas into Tier 3 that it'll soon be a national lockdown in all but name. Had we brought in tougher tiers three weeks ago, as the Prof and I were arguing for, we wouldn't be in this position. And for goodness' sake, why aren't we pushing harder on ventilation as well as masks? We have known since a Spanish study proved it in the summer that Covid spreads more like smoke than droplets — yet the comms is still geared to masks, which are less important than ventilation.
Friday, October 30:
This afternoon I was called to a meeting of Covid-S, the strategy group chaired by the PM. At the end: victory.
Boris grudgingly accepted the stark, painful facts: that cases, hospitalisations and deaths are all rising and the NHS will run out of space unless we act. The upshot is four weeks of lockdown then back to souped-up tiers.
Having won the lockdown argument, I was exhausted but elated and literally ran up the stairs to my office, stopping off to see the Prof, who'd fought hard alongside me via Zoom.
'Secretary of State, you've saved many lives with what you've done today,' he replied.
As I headed off to Suffolk [his constituency], I finally relaxed. We took the children for a curry at Montaz in Newmarket, where the staff seemed excited to see us. It was horrible to think they were going to have to close again on Thursday and I couldn't tell them.
I really, really wanted to forget the pandemic, just for half an hour, when [ITV political editor] Robert Peston's number flashed up on my phone. I almost choked on my chapati.
'I understand that this pm you, PM, Chancellor and [Michael Gove] met. Am told 99 per cent likely there will be a full national lockdown from next Wed or Thurs,' Peston said.
So the cat is out of the bag — already! Furious, I forwarded the message to my spads [special advisers] and No 10 comms. How the f*** had it leaked already? Only a handful of people knew!
By the time I got home, I had an enraged Boris on the phone saying his media people had told him hacks were pointing the finger at me.
'Whoever is telling you that is lying to you,' I replied furiously.
How had this happened? My money is firmly on Dominic Cummings via his acolytes. The agenda? To bounce the PM into announcing the lockdown sooner [rather] than later and stop him U-turning. If they got me sacked into the bargain, that would be a bonus.
I texted the PM to say that obviously the accusations against me were untrue and I could prove that if necessary. Half an hour later, he messaged asking me and [spad] Damon to bring our phones into Downing Street on Monday.
'With pleasure,' I replied coldly.
Peston wouldn't have texted me for confirmation if I was the source. Plus: it's not like I benefit from this information being out early.
'I'm taking a huge amount of flak to do the right thing and protecting you in the process,' I told Boris.
'Understood, everyone overwrought,' he replied soothingly, but with Dom dripping poison in his ear, I very much doubt that will be the end of it. So everything hangs in the balance. Either the PM has to rush into announcing the lockdown or there's such a backlash, especially from our truculent backbenchers, that he bottles it again.
'It's a f***ing disgrace,' I told [Cabinet Secretary] Simon Case. 'I hope you have a full inquiry.'
As lockdown approaches, I should be focused on testing, the vaccine and getting the new measures right to get us all out of this nightmare. Instead I'm fighting for my political life. This is no way to run a country.
Saturday, October 31:
I hardly slept. Consternation from friends about how it all came out. Jim [Lord Bethell, health minister in the Lords] described it as 'the fastest leak since Nick Clegg was on world-record form' — he was notorious when we were in coalition.
Nadine was raging, telling me the culprit 'needs putting in front of a firing squad'.
Thankfully, at the press conference the PM gave it his all, warning of thousands of deaths a day if we don't do more.
Lockdown will be a little lighter than last time because we've got better evidence about what works. After the s*** I've taken, I don't feel triumphant, but at least we've avoided a complete collapse in the NHS and those Lombardy scenes in our hospitals. For now at least.
November
Sunday, November 1:
Boris was still far from reconciled to the lockdown he'd so grudgingly authorised, continuing to fret that we'd be accused of 'blinking too soon'.
Meanwhile, Cummings is deliberately ignoring my calls and messages. Extraordinary. We're in the middle of a national crisis in which hundreds of people are dying every day and I'm in charge of the health service. Yet he won't talk to me. It's pathetic, petty and downright irresponsible.
Tuesday, November 3:
I think someone's trying to smear me. First, I'm falsely accused of being in a Commons bar after 10pm, then I'm falsely accused of leaking, and now The Sun wants to know if I went to have a haircut with Michael Gove at the weekend. Nothing to declare there.
One of my allies received a message from a journalist saying, 'We need to talk about who is framing Matt at some stage . . .' I think I can take an educated guess.
Tuesday, November 10:
After months of working it up in secret, today I presented the vaccine rollout plan to the PM. I've rarely seen him as enthusiastic. Finally I think he realises this really is going to happen.
'Can we go faster?' he boomed, banging the table.
As expected, the price of success is that No 10 has gone from not believing the vaccine will happen to getting completely carried away. Yesterday they started putting it out that 'ten million people' could get the jab before Christmas.
This was never the plan, is never going to happen, and [my spad] Damon spent half the day trying to kill it.
Friday, November 13:
Cummings has gone! I am elated and, more than anything, relieved for the sake of the vaccine and the country. He's been such a frightening, damaging, negative force for so long.
'Now we can actually build a government that works effectively,' I told Simon Case excitedly.
We talked about restoring proper processes and ensuring everything that should come to me does come to me, instead of being diverted to one of many random groups Cummings set up to interfere/cut me out of the loop/attempt to control everything.
My team — officials and advisers — are thrilled.
Sunday, November 15:
The Sunday Times thinks we've been dishing out multi-million-pound contracts to 'cronies'. Really? I'm absolutely fuming. I've not been involved in either the pricing or the decision-making behind who's been awarded government contracts.
With all my years of experience as a politician, would I seriously just bung millions of pounds' worth of deals to my mates, just kind of hoping nobody would notice? So galling.
Friday, November 20:
I met my Slovakian opposite number to talk about their government's super-ambitious 'let's make the entire population take a Covid test all on the same day' initiative. I have my reservations but Boris is super-keen.
Saturday, November 21:
The PM has been talking to the Slovakian PM and is incredibly eager to give it a go. Today's the day I had to get ministerial approval on the plan. It did not go well — bluntly, the Cabinet think it's crazy.
Doing my best to ignore the increasingly incredulous expressions on the faces of the Zoom attendees, I walked everyone through what would be required: nothing less than the entire military and every part of the NHS that could be harnessed to the cause. The price tag? A cool £1 billion.
Knowing this one came straight from the top, I gave it both barrels. [Environment Secretary] George Eustice dismissed it as ridiculous. The Treasury said they wouldn't pay for it. [Defence Secretary] Ben Wallace said the military was already deployed on other missions.
Afterwards, I picked up my phone to [spad] Emma. 'Well, that was a drive-by shooting if ever I've seen one. Shows the limit of the PM's powers, even in a pandemic. Cabinet government lives!' I said cheerfully.
Much too late, I realised I'd forgotten to press 'Leave Meeting' on Zoom. Around 20 ministers and officials were still on screen, listening to every word.
Sunday, November 22:
I'm under fire from The Observer over Gina [Coladangelo's] appointment to the [health department] board. They've described her as my 'closest friend from university' (true — one of) but are also making a song and dance of the fact that she's a 'director of a lobbying firm'.
The truth is she hasn't been actively engaged with that company for years and every aspect of her appointment [as adviser] to the department went through all the proper channels. She was appointed after she proved herself during her stint as a volunteer just trying to do her bit for the country.
December
Tuesday, December 1:
Jim [health minister in the Lords] came to tell me he'd just formally signed the Pfizer vaccine off. I walked into the Cabinet Room, where the PM was standing behind his chair with Rishi, Simon Case and a few others dotted around.
'We have a vaccine! It's been formally approved!' I announced as I walked in.
Boris danced a little jig, his jubilant moves giving every impression that he hadn't had much dance practice of late.
We were all elated. We know this is the only way out. So many people feared it would never happen. But here it is, the first in the world, in under a year.
On the way out of Downing Street I bumped into Rishi, who gave me a man-hug and thanked me for pulling off the vaccine. Tomorrow is going to be massive.
Wednesday, December 2:
The announcement to the markets was due at 7am sharp. From the privacy of a green room in the bowels of the BBC building, my first call was to my counterparts in the devolved administrations. Ridiculously, we'd had to keep them in the dark about the impending announcement because we were worried about leaks. Then moments after 7am, I was on air telling the world.
Unfortunately, Boris's good humour didn't last long. By mid-afternoon, I was just finishing answering questions in the Commons when I got a series of texts from an increasingly desperate-sounding Emma [spad], saying he was 'going mad'.
She said Boris wasn't happy that we're launching on Tuesday, not Monday; wasn't happy with the time frame for vaccinating care-home residents; wasn't happy about the way we're working with the devolved administrations; and had a bee in his bonnet about the use of wholesalers to get the vaccine to GPs.
'Oh FFS,' I replied. I wish he'd take a moment to congratulate the team and keep their morale up, not lose it like this.
Thursday, December 3:
A cloak-and-dagger operation to get the first 800,000 doses of the vaccine into the UK. We weren't taking any chances. Imagine if rogue actors or hostile states tried to hijack the vehicle or seize the goods?
At lunchtime, a drama: in hushed tones, officials told me that the team was switching route 'as a precaution' following a credible security threat. It was amazing work by our intelligence agencies and the private-sector company who first spotted it, and just goes to show that we were not being paranoid.
Then, mid-afternoon, came confirmation that all 800,000 doses were safely in the UK. Relief!
As news spreads, we're beginning to get sheepish requests from VIPs around the world. A Middle Eastern diplomat reached out to Nadhim Zahawi [vaccine deployment minister] asking if we'd be willing to send 400 shots for the royal household. Nadhim sounded embarrassed and assumed we'd have to find a polite way of saying no.
In fact, I'm up for these small diplomatic efforts — so long as the Foreign Office agrees, of course. Done appropriately, it pays dividends for international relations. Nadhim sounded relieved, saying that the king himself is asking.
That morning, Hancock told talkRADIO's Julia Hartley-Brewer that restrictions could be lifted once all of the most vulnerable people have received the vaccine, rather than waiting until everyone has been vaccinated:
Friday, December 4:
The first big setback: Pfizer say the vaccine isn't brewing as fast as they'd like. It means we're unlikely to get the ten million doses we're due to receive before the end of the year, and production estimates for early 2021 are being scaled back. Thank goodness we didn't let the plans go public.
Tuesday, December 8:
Shortly after 6am, I received confirmation that the first person had been inoculated, and I hurried off for the morning media round.
Gina and [spad] Damon accompanied me to the broadcast studios [ITV's Good Morning Britain]. 'You need to relax' was Gina's advice, by which she meant: 'Stop being so buttoned up.' What she did not mean was that I should lose it altogether, which unfortunately is exactly what happened.
I was on my own in a dark windowless booth, answering questions, when they played the video of [the first person] getting her jab. Suddenly I completely lost it, blubbing away, battling to regain my composure as tears streamed down my face. 'For Christ's sake, pull yourself together,' I told myself desperately. Then the camera was back on me, my microphone was live and my watery red eyes were there for all to see. When I tried to answer the next question, my voice came out in a weird sort of croak. Gina said at least I'd shown how I felt.
Much later, I was on my way to bed when my phone rang. Nobody rings at 11.43pm unless it's bad news, least of all the Prof [Whitty], whose number was flashing ominously. In that calm, professorial voice of his, he explained that three people had suffered a serious adverse reaction to the vaccine. One had nearly died.
We tried to calculate the statistical risk. If three out of 400 vaccinated today had a massive reaction, then that's 38,000 out of the whole population. And 38,000 is an awful lot of people.
'Jesus Christ,' I thought, feeling physically sick. We may well have to halt the entire vaccination rollout. 'Perhaps all three have a history of anaphylaxis?' I asked hopefully. Still feeling nauseous, I slumped into bed, knowing I wouldn't get a wink of sleep.
Wednesday, December 9:
At 5.30am my phone went. 'All three had a clinical history of anaphylaxis,' said Natasha [head of Hancock's private office].
'[Prof Whitty] recommends that anyone with a history shouldn't take this vaccine, that we introduce a 15-minute wait after vaccination to monitor people, restrict the rollout to hospitals for the next couple of days and get on with it,' she said.
I can't remember ever being so relieved in my life.
The following entries come from this extract in the Mail, unless otherwise stated.
Friday, December 11:
There's a new [more infectious] variant. This explains why the Covid numbers in Kent have been so stubbornly high.
Monday, December 14:
I announced the new variant in a statement to Parliament. Even normally reasonable MPs are going tonto [crazy]. Everyone can see Christmas falling apart, and judgment is going out of the window.
That day, Hancock announced a shorter self-isolation period, from 14 to ten days:
Thursday, December 17:
A grim day dominated by the announcement of new tiers, which effectively cancel Christmas. Worse for me, they also scupper [wife] Martha's birthday dinner tonight, which was set to be our first night out in months. I feel terrible about it.
I've come to hate the tiers: the boundaries are impossible to draw sensibly, and the whole thing doesn't keep us together as a country. I hadn't appreciated how important that is.
Later JVT [Jonathan Van-Tam, Deputy Chief Medical Officer] called. He and the Prof [nickname for Chief Medical Officer Chris Whitty] have worked out that since the first dose of the vaccine gives about four times the level of protection as the second dose, the best way to save lives might be to give the first dose to as many people as possible and then delay the second.
[Former Speaker of the House of Commons and former Labour MP] Betty Boothroyd called the office, asking if there's any way she can get her jab soon. She's 91 and very vulnerable. I called her back myself as I was in the car home.
I'd never met her, but she's something of a hero of mine. As Speaker, she was a real trailblazer for women in politics. I said yes, we can get you your jab — given her age, she's entitled to it — but the deal is you have to have it on camera.
She readily agreed. I gave her number to Nadhim Zahawi, who is going to fix it.
Friday, December 18:
Boris has reluctantly caved to the inevitable and agreed to cancel Christmas. Frankly, we'd have been far better off saying it would be a Zoom Christmas from the start.
That morning, Labour MP Graham Stringer — one of the good guys in the Opposition — criticised Hancock's maintaining Manchester in Tier 3, accusing him of 'playing silly schoolboy games':
Saturday, December 19:
There's no good time for Test and Trace to crumble, but this is literally the worst. There's a critical shortage of pipette tips. Our failure to get hold of these little bits of plastic has led to a backlog of 182,000 tests.
Meanwhile, various people, including vice-chairman of the 1922 Committee Charles Walker, are calling for my head over the Christmas farce. It's an irony, because I wasn't involved in the Christmas decision at all. Maybe I should have come in and played hardball over it right from the start — but I can't be Mr Miseryguts on everything.
On December 20, The Sun on Sunday's political editor could foresee the tiers extending well into 2021:
She was not wrong. Hancock appeared on LBC radio later that morning to say the same thing. He even acknowledged that the November lockdown did not help:
Someone parodied Hancock's Christmas card: 'In Tier 6, you will be eating your pets':
Retired Southampton footballer Matt Le Tissier, a sceptic from the start, conducted his own Twitter poll showing that 89.7% of respondents did not trust Matt Hancock to tell the truth:
We've finally started vaccinating care home residents. We're paying GPs £25 per resident, pretty nice money for something that only takes a few minutes.
The public were sceptical about Hancock's claims that the new variant, the South African one, was more transmissible. Here is Hancock's announcement from that afternoon:
A South African studying the data said there was no evidence to support that claim:
Hancock also announced that more parts of England would be in Tiers 3 and 4 from Boxing Day:
That same day, then-London Assembly member David Kurten (UKIP at the time) noted that the Nightingale hospitals were lying empty, rightly calling them a waste of money (see second tweet):
Thursday, December 24:
Boris has been fretting that America has now jabbed more people than we have [Churchmouse's note: thanks to President Trump]. I had to explain last night that, as a proportion, that means we're six times ahead. Very unhelpfully, there's a major Covid outbreak at the largest testing lab in the country, in Milton Keynes, adding to the backlog.
Friday, December 25:
Today is my first real day off since summer.
Monday, December 28:
There are now 20,426 people in hospital with the virus — more than at the peak of the first wave.
We've announced the plan to extend the interval between the first and second doses of the jab. Lo and behold, who pops up to claim credit? None other than Tony Blair!
That day, Hancock gave an interview to Mark Dolan, who was at talkRADIO at the time, saying he had no date as to when we could come out of restrictions, even with a vaccine:
That afternoon, the Mail reported that only 530,000 doses of the AstraZeneca (Oxford) vaccine were available, when the Government had claimed in May that 30 million would be available by December 2020:
Britain will only have 530,000 doses of the Oxford/AstraZeneca vaccine at its disposal from Monday, the Health Secretary Matt Hancock revealed today after the game-changing jab was approved by the UK medical regulator.
The initial doses fall significantly short of the number touted by the Government in recent months. In May, officials suggested 30million doses of Oxford's jab would be ready by the end of the year and last month the UK's vaccine tsar toned the estimate down to 4million, citing manufacturing problems. 
But the UK has ordered 100million doses in total and AstraZeneca has promised to deliver 2million a week by mid-January, raising hopes that 24million of the most vulnerable Britons could be immunised by Easter.
Vaccine or not, the public's patience was waning.
The first half of 2021 was dismal, beginning on January 4.
To be continued tomorrow.
Last weekend's big news stories concerned freedom of speech.
The world was horrified to learn of the bloody and debilitating assault on Sir Salman Rushdie, who might lose his sight in one eye. He was off his respirator early this week, thankfully, but, unfortunately, still has a long recovery awaiting him.
Then, here in Britain, on Saturday, August 13, we awoke to the news that raunchy comedian Jerry Sadowitz, 60, had his Edinburgh Fringe gig cancelled at the city's Pleasance Theatre.
Sadowitz gave only one performance before the Pleasance pulled the plug.
I've lived here as long as Sadowitz has been a comedian. For all that time, I have never met a man who liked his brand of comedy.
One could describe him as an equal-opportunity offender. He has appeared on television from time to time. I first saw him in the early 1990s on a comedy show. I couldn't see what was funny. His jokes were gratuitously offensive and filthy.
Nearly everyone in the UK knows about Sadowitz's humour, if one can call it that.
His show is not appropriate for a first date and certainly not for a blind date.
Being generous, I would say that, in terms of comedy, Jerry Sadowitz is the 21st century British version of Lenny Bruce.
Like Bruce, Sadowitz was born in the United States.
He moved to Scotland with his Glaswegian mother at the age of seven.
Let's look at the facts surrounding his cancellation, keeping in mind that the month-long Edinburgh Fringe is supposed to be the bastion of comedic free speech. Its whole purpose is to shock and provoke.
Another thing worth keeping in mind is that Sadowitz actually said what sort of material his show at the Pleasance would include.
The show was called 'Not for Anyone'.
That should have set people's expectations, but it did not.
On Saturday, I read Guido Fawkes:
Guido posted Sadowitz's tweet about how well he thought Friday night's show went:
Guido tied the news in with that of Salman Rushdie (emphases in the original):
Here's some news from the Edinburgh Fringe that Salman Rushdie might find amusing. In a statement announcing that they were cancelling further appearances by the comedian and magician Jerry Sadowitz, the venue said:
The Pleasance Theatre Trust have cancelled Jerry Sadowitz's second and final show at the Edinburgh Festival Fringe with immediate effect. In today's society, opinions such as those displayed on stage by Sadowitz are not acceptable and The Pleasance are not prepared to be associated with such material.
Anthony Alderson, Director of the Pleasance said:
The Pleasance is a venue that champions freedom of speech and we do not censor comedians' material. While we acknowledge that Jerry Sadowitz has often been controversial, the material presented at his first show is not acceptable and does not align with our values. This type of material has no place on the festival and the Pleasance will not be presenting his second and final show.
You couldn't make it up….
No, you couldn't.
Apparently, among other things, Sadowitz exposed himself to a woman in the front row.
The Scottish Daily Express reported (emphases mine):
Controversial Scots comedian Jerry Sadowitz has been cancelled by the Edinburgh Fringe after complaints from shocked audience members and venue staff.
The 60-year-old had two shows booked at the Pleasance called 'Jerry Sadowitz: Not for Anyone' which came with a warning of "strong language and themes some may find distressing" …
However, the decision sparked fury from fellow comics such as Leo Kearse, who said: "If the Islamic fundamentalists don't get you, the wokeists will."
He added that Sadowitz, who was born in the US and moved to Glasgow with his Scottish/Jewish mother at the age of seven, was the "only comedian worth seeing" at the Fringe this year.
Good grief. Yet, judging from this year's Edinburgh Fringe and Festival reviews in The Times, he's probably right.
Anyway:
The Pleasance said anyone who had booked a ticket for Saturday's gig would receive refunds for their tickets and that they "won't be working" with the entertainer again.
Meanwhile, Sadowitz was soon busy on Twitter promoting his run of 14 gigs at venues south of the Border later in the year.
How could the Pleasance not have known about Sadowitz's material when he'd performed there before?
On Sunday, the paper had an update:
The Pleasance has hit back at critics following the Jerry Sadowitz cancellation claiming the comedian made people "uncomfortable and unsafe" to remain in the theatre.
The Edinburgh Fringe venue slammed those who ripped into the "woke" decision as an attack on freedom of speech. The theatre claimed that Sadowitz crossed the line and that controversial comedians "need to be challenged" in a "changing world" …
Fans say his unique brand of black comedy has to be viewed in context and questioned why the venue booked him in the first place, as well as asking why people bought tickets to the show if they were so easily offended.
I completely agree.
Whereas Sadowitz tweeted that he didn't see anyone walk out, the Pleasance claimed that a number of people left during his act:
"A large number of people walked out of Jerry Sadowitz's show as they felt uncomfortable and unsafe to remain in the venue. We have received an unprecedented number of complaints that could not be ignored and we had a duty to respond. The subsequent abuse directed to our teams is also equally unacceptable …
"In a changing world, stories and language that were once accepted on stage, whether performed in character or not, need to be challenged. There is a line that we will not cross at the Pleasance, and it was our view that this line was crossed on this occasion.
"We don't vet the full content of acts in advance and while Jerry Sadowitz is a controversial comedian, we could not have known the specifics of his performance. The Pleasance has staged his work numerous times over the years, but as soon as we received complaints from those in the building which caused us great concern, we knew we could not allow the final performance to go ahead.
"The arts and comedy in particular have always pushed the boundaries of social norms but this boundary is always moving. Our industry has to move with it. However, this does not mean that we can allow such content to be on our stages."
I was heartened to read that a Scottish Conservative and a feminist were critical of The Pleasance:
Former Scots Tory strategy chief Eddie Barnes was among the critics of the decision. He tweeted: "The Pleasance's statement is totally contradictory. But it's that mealy-mouthed, morally vacuous phrase 'not acceptable' that really grates. To whom? And on what grounds? Who decided?"
Feminist campaigner Lucy Hunter Blackburn added: "I first came to the Fringe in 1986. The cancelling of Jerry Sadowitz (who I've never seen – not my bag, I strongly assume I'd not enjoy his material) feels like an important moment – something to stop and look at hard."
… While discussing the furore on GB News on Saturday night, Scots comedian Leo Kearse said: "The Edinburgh Fringe is over, the SNP have put a nail in it by restricting the amount of accommodation so there's not enough space for audiences and acts. Nobody wants to go and see woke comedy. It's like women's football, it gets written about by the Guardian but it's rubbish."
On Sunday evening, GB News's Andrew Doyle, a former teacher who went into stand up and created Titania McGrath, emphasised that what the audience sees is Sadowitz's 'persona', not the man himself. He added that while Sadowitz is lobbing his offensive material, he simultaneously performs magic tricks. (Sadowitz is accomplished at card tricks in particular. That's how he got his start.)
Doyle, who has seen Sadowitz's act, explains that the material is so out there that it makes people laugh:
He's an equal opportunities offender. Think of the worst thing in your head and then say it.
Leo Kearse and Josh Howie, another British comedian, joined Doyle in slamming the manager of The Pleasance, the Fringe's premier venue.
According to them, Sadowitz's material this year was nothing new. Doyle also confirmed that Sadowitz circulated a promo video in which he said what would be in the show.
Kearse said that the people complaining are probably the types who would be okay with Drag Queen Story Hour for children:
Why are we treating children like adults and adults like children?
Howie and Doyle were annoyed to see that some comedians at the Fringe supported The Pleasance. Howie said:
They're putting themselves out of a job.
Doyle added:
They're making a rod for their own backs.
Howie pointed out that Sadowitz is 'revered' on the comedy circuit and that he has inspired many newer comedians' material, which makes his cancellation a 'flash point'. Every new boundary push in comedy today has been thanks to him.
Doyle closed by saying that he had heard most of the complaints had come from members of staff at The Pleasance. Howie said that most venue employees are 'mostly students', ergo, likely to be offended and to 'feel unsafe'.
Doyle asked:
Why do people keep submitting to these brats?
Theirs is a great exchange about freedom of speech in comedy:
On Monday, August 15, BBC Scotland interviewed Russian emigré and free speech advocate Konstantin Kisin. Kisin, who hosts his own podcast, says that such censorship helps no one and that, ultimately, the Edinburgh Festival might become less appealing and lose its audience. The male BBC co-host implied that audience members went only so they could laugh at racism because they rarely get the chance to do so.
Kisin responded, beginning with:
If I were a mind reader like you …
and said:
I have more faith in human beings than you do …
The co-host doubled down:
I was there in the audience. You weren't …
Kisin asked him how he would assess what was going on in people's minds as they watched Sadowitz:
You can tell what someone thinks from their body language? … No, no, you did say that you knew from their body language. You said exactly that.
At which point, the co-host abruptly terminated the interview.
Here it is. I applaud GB News's Colin Brazier for his scathing remark about our being forced to pay for the BBC and their bias:
The same comedians had another go on Monday's Headliners show on GB News. By then, Sadowitz felt forced to explain his act, which disappointed Josh Howie. Sadowitz is also seeking an apology from The Pleasance. Nick Dixon, another comedian, said that today's big names in comedy (many of whom probably got where they are today thanks to Sadowitz) need to stand up for him. The owner of The Assembly Rooms, another top Fringe venue, has rightly criticised The Pleasance for cancelling the act:
Earlier that evening, Dan Wootton asked comedy veteran Jim Davidson, whose style is the exact opposite of Sadowitz's, for his opinion. Davidson got dragged into this because Sadowitz wrote 'I am not J** D*******, folks' and 'a lot of thought goes into my shows'. Davidson was generous in defending a comedian who does not wish to be compared to him. Davidson criticised The Pleasance, saying they knew 'exactly what act' Sadowitz was going to do.
Davidson thinks someone within the local council complained, which has happened before in England. He also pointed out that The Pleasance said that even performing material 'in character' should not be allowed:
Isn't every comedian in character?
Here's the video:
There is a huge gulf between the author of The Satanic Verses and obscene, offensive comedy, however, it is important to defend both.
James Marriott wrote about this conundrum for The Times on Wednesday, August 17: 'The grubby truth about freedom of speech'.
He gave an unintended plug for GB News. Remember that Murdoch owns The Times and TalkTV:
An honest defence of free speech acknowledges that it inflicts pain on vulnerable people, disperses power unequally and has no scientifically identifiable principles — but that it is precious nonetheless. It is a grubby, unfortunate truth.
Has there ever been a less glamorous time to support free speech? Because social media companies refuse to accept editorial responsibilities, the internet is overrun with the gory worst of what humans have to say.
The most vocal modern defenders of free speech are not artists or libertines but pimply "Enlightenment bros" and the talking heads of GB News. Of course, one's principles should never be formed in accordance with what is and isn't trendy. So we are left as the awkward, perhaps half-embarrassed, defenders of this unhappy, dysfunctional system which is nevertheless by far the best one we've yet devised.
That probably explains why GB News's ratings are way ahead of TalkTV's.
I'll leave the last word to The Telegraph's theatre critic Dominic Cavendish:
Though I've seen a number of his shows over the years, I didn't catch this one. His act – initiated in the 1980s, and bolstered since the 1990s by dexterous card tricks – is easy to summarise: misanthropic, unrelenting bile, awash with expletives and at war with political correctness. No one escapes his performative contempt, which springs from him, but qualifies too as an act.
His patter is knowingly extreme, and can be extremely funny, although the exhalation of laughter wars with the sharpest intakes of breath. His offence-giving once brought him celebrity but that has been on the wane – TV has barely touched him since the early 2000s. Sick-taste comedians have come up in his wake, most successfully Jimmy Carr and Frankie Boyle, yet he has admirers across the spectrum; even Stewart Lee, the darling of the progressive Left.
As Lee wrote in the New Statesman in 2013, "because Sadowitz is one of the most complete and perfect stand-ups in history, his exact political position is complicated. By accident or design, he appears to be socially, sexually, culturally, physically and economically at the bottom of the pile. This gives him licence to attack everything and everyone, like a drowning rat swimming desperately up the U-bend. And this tells us a lot about the essence of stand-up."
… It's impossible to justify every line of Sadowitz's sets but his worldview is to be suspicious of pleasantness and to detect phoneyness in progressivism. He confronts us with his viciousness and by extension, our own. Times have changed, have they? His pertinent thrust is that people haven't.
… The Pleasance can hardly say they didn't know who they were booking, this time around.
That they de-platformed Sadowitz just after Salman Rushdie was attacked felt doubly uncomfortable. There's a world of difference, of course, in being told that your show is cancelled, and being stabbed in the face. But how could the Pleasance feel on the right side of history? Though worlds apart in terms of finesse, and import – Rushdie is a highbrow culture hero, Sadowitz an increasing anachronism – are the two men not both flying the flag for freedom of expression?
Today, sure, cancel Sadowitz. But tomorrow? What about other less provocative but maybe also problematic acts? Take another fringe veteran, Arthur Smith, who gratuitously if comically has a naked woman walk across stage during his Pleasance show. Should he go next? The 2022 Fringe so far has been a sun-lit occasion – but dark clouds have gathered.
I don't like Jerry Sadowitz's comedy but I will defend his right to perform on stage.
Like him or loathe him, where freedom of speech is concerned, he's every bit as important as Salman Rushdie.
In writing this week's Forbidden Bible Verses post on Philippians 2:14-18, I used, as per usual, John MacArthur's sermons.
'Stop Complaining, Part 1' begins with his view of an overly indulged, complaining generation.
He says that the problem is getting worse, rather than better.
Emphases mine below:
Let me sort of ease in to our subject a little bit, if I might.  We're in Philippians chapter 2 verses 14 through 16.  And I titled the message, "Stop Complaining."  There's a reason for that, and it's fairly obvious if you look at verse 14 where Paul says, "Do all things without grumbling or disputing," which are really two ways of saying stop complaining.  And as I was thinking about this very pertinent message about living your Christian life without complaining, it became very apparent to me that we live in a very complaining society.  And I really believe we are breeding a generation of complainers, and they seem to be getting worse with each passing generation. 
And as I've said to you on a number of occasions, it is a curiosity to me that the most indulged society is the most discontent society, that the more people have, the more they seem to be discontent with what they have and the more complaining they seem to be.  In thinking about this, and there would be many ways to approach it, I was just inadvertently flipping on the radio this week and I heard a speech by a sociologist that was quite curious to me and quite interesting.  The sociologist made a very interesting point.  He was talking about the young people in our culture, talking about their discontent, talking about their complaining attitude, their resistance to responsibility, and how that nothing is ever the way they would like it.  And they go through life with a kind of sullen discontent, kind of rejection of things the way they are.  And he had an interesting thesis.  What he basically said was this: that in many ways this discontented generation of young people is a product of small families.  His thesis was that where you have families where the average is two or less, of course the average family now in America is 1.7 children, which is kind of strange to think about; as one brother said to his sister, "I'm the one and you're the point seven."  But every family seems to come out at about 1.7.7.  We realize that families are getting smaller and smaller and moving toward one child families, if that.  Most families in America have either none, one, or two children …
And the difference is where you have a small family, the system bends to the child.  Where you have a large family, the child bends to the system.  And so, what you have, he said, is young people growing up in an environment where the system bends to them.  And you have child-centered parenting.
MacArthur grew up in a large family, where choice was not an option:
I know as a child myself, one of the reasons I wanted to grow up was I wanted freedom.  I lived in a totally conformed society.  I ate what they gave me.  I don't ever remember going shopping with my mother, ever.  I wore whatever she brought home.  I never picked out a thing, never.  I don't even remember going to a department store clothing section as a young person.  My mother brought me what I needed, and I put it on.  And I conformed to the system.  And I looked forward to adulthood so that I could be free to make my own choices.  The reverse is true now; children grow up controlling the family and they don't want to become adults because that means conformity.  Then, they have to go to work, and nobody at work says, "Now, how would you like your office decorated?  And what time would you like to take a break for lunch?"  Nobody says that.  They put you on an assembly line or they put you in a place where you are forced to conform, so what you have then is a generation of young people who don't want to grow up.
And this sociologist said on the radio, you ask the average high-school kid, what do you want to do when you get out of school?  What's his answer?  "I don't know."  You ask the average college student, what do you want to do when you're out of college?  "I don't know."  And the reason he doesn't know is because he is postponing responsibility because responsibility means conformity to a system, whereas childhood for him has been absolute freedom.  Eat what you want when you want, wear what you want when you want, and your mother will take you anywhere you want to go whenever you want.  And so, you breed a generation of young people who are irresponsible.  And when they do get a job, they get a job simply to finance themselves so they can enjoy their indulgences, and then when they're 28 years old their license plate says, "He wins who has the most toys."  And the whole idea of adulthood is to collect toys, boats, cars, vacation trips, on and on and on.
Now, what you have in this kind of thing, said this sociologist, is breeding moody discontent.  And you build young people who cannot conform and cannot be satisfied, over-indulged kids who don't want to be adults, continue to push off responsibility; they grow up in an environment they control.  They don't like being controlled.  And they become discontent.  They don't want to take responsibility.  They don't want to work.  And their adult years are sad.  They become sullen, very often, they become complainers.  And I really believe that he's right in many cases.  One of the curses of our culture are overindulged childish kind of adults who are really complainers about everything.  Nothing is ever enough.  That's why we have a whole society with a critical mentality, constantly attacking everything.
The church environment is no different:
Now, I want you to know this has found its way into the church.  And the church is full of its own complainers, and what is really sad is many of them are run by their children's discontent.  People leaving the church because their children don't like it.  Can't imagine such a thing, unless their children control the family.  The church has its complainers.  And here we are with so much, so much.  How in the world could we possibly complain just because every little thing in life isn't exactly the way we want it?  Frankly, I would suggest to you that few sins are uglier to me and few sins are uglier to God than the sin of complaining.  Frankly, I think the church at large does much to feed this thing by continuing to propagate this self-esteem, self-fulfillment garbage that just feeds the same discontent.  There's little loyalty.  There's little thankfulness.  There's little gratitude.  And there's very little contentment.  And sadly, what happens eventually is your griping, grumbling, murmuring discontent is really blaming God because, after all, God is the one who put you where you are.  So, just know who you're complaining against.
He discusses how famous people from the Bible railed against God, from the very beginning:
Now, having said all of that there is a sense in which this complaining is part of our culture.  There's another sense in which it's not new at all.  Who was the first complainer who ever walked the earth?  Who was it?  The first complaining human being who ever walked was the first human being whoever walked.  And what was Adam's first complaint?  "God, the woman You gave me."  We are in this mess because of this woman.  He didn't blame Eve; he blamed God.  Eve had nothing to do with it.  God made Eve.  Adam wasn't married; he woke up one morning he was married.  God could have picked anybody He wanted, He picked her.  Why?  It's God's fault.  She led the whole human race in sin.  The woman You gave me, complaining.  Cain complained to God about God's work in his life, Genesis 4:13 and 14.  Moses complained to God for not doing what he wanted Him to do when he wanted Him to do it, Exodus 5:22 and 23.  Aaron and Miriam complained to God against Moses, His chosen leader and their own brother in Numbers chapter 12.  Jonah complained to God because he was mad at God for saving the Ninevites, Jonah chapter 4 verses 9 and 10.  And it is still a popular pastime to complain at God.  And may I say that all of your complaints in one way or another are complaints against the providential purpose and will of God.
There's a new book out called "Disappointment With God," very popular and being promoted very heavily.  It seems to me to make complaining against God okay.  It sort of tries to define God as a lonely misunderstood lover who is really trying to work things out, but is really kind of a victim of all of us and we shouldn't complain against Him, we ought to love Him.  What a strange view of God.  He is not some lonely misunderstood lover; He is the sovereign God who has ordered the circumstances of all of our lives.  And to complain against God, to grumble against God is a sin and we must see it as such.
In the ninth chapter of Romans verse 20, "O man, who answers back to God?  The thing molded will not say to the molder, 'Why did you make me like this,' will it?"  Who in the world are you to answer back to God?  What an unthinkable thing to do.  And when describing the apostates in Jude 16, it says they are grumblers finding fault following after their own lusts.  All they want is what they want when they want it, they don't get it, they grumble and find fault.  It's characteristic sin of the proud and it is characteristic sin of the wicked.
Now, the tragedy of this particular sin is that it is so contagious.  Let me take a minute to usher you back into the Old Testament, chapter 13 of Numbers.  And I want you to follow me and we'll at least get through this little introduction and I think set the stage for what is ahead of us.  This is really very, very interesting and very important.  We go back to the number one illustration of grumbling, murmuring belly-aching griping people the world has ever known, namely whom?  The Israelites.  Numbers 13 just gives us a little insight in to the potential power of this attitude to spread.  Verse 30 says, "Caleb quieted the people before Moses and said, we should by all means go up and take possession of it for we shall surely overcome it."  Joshua, you remember, and Caleb came back from spying out the land and they said we can do it; God is on our side, we can take it.  "But the men who had gone up with him said, we are not able to go up against the people for they are too strong for us."  Which is nothing but doubting God.  "So, they gave out to the sons of Israel a bad report of the land which they had spied out saying the land through which we have gone in spying it out is a land that devours its inhabitants, and all the people whom we saw in it are men of great size."  And then, they said this, "Also we saw the Nephilim, the sons of Anak are part of the Nephilim, and we became like grasshoppers in our own sight and so were we in their sight."
So, they come back with this complaining: we'll never do it, we can't make it, we can't defeat them.  It's a bad report.  It will fail, it will never make it.  Prophets of doom, they are.  And they're really complaining against the fact that God has told them to go in.
God hates complaining as much as He hates sin.
God killed complaining Israelites. The wages of complaining were death:
Now, go over to chapter 14, watch what happens in verse 36, "As for the men whom Moses sent to spy out the land and who returned and made all the congregation," what?  "Grumble against him by bringing out a bad report concerning the land, even those men who brought out the very bad report of the land," follow this, "died by a plague before the Lord."  You know what the Lord thinks of grumblers?  He killed them because they spread a brooding discontent against God.  That's the issue.  These people complained against God, they complained against God calling them to go into the land, they complained because the odds were against them humanly speaking.  And in their disbelief and complaining against God, they caused the whole nation to grumble, and as a result God killed them with a plague.  Grumbling really spreads, and your discontent, and your critical spirit, and your grumbling attitude, and your murmuring complaints will infect other people.
Here were the children of God.  They had been led out of Egypt.  God had parted the Red Sea for them.  They had seen ten plagues, miraculous plagues at the point of their deliverance.  And as soon as they got out of the land of Egypt they started to complain, and it never really ended.  Can I take you through a little trek?  Go back to Exodus and let's go back to where it started in the Exodus.  Verse 11 of chapter 14, "Then, they said to Moses," and they're out in the wilderness now.  "Is it because there were no graves in Egypt that you have taken us away to die in the wilderness?"  They said, "What do you bring us out here for, because there weren't any graves in Egypt?"  Which is a mocking statement.  I mean, wasn't there a place to bury us there?  You're going to have to take us to the desert to bury us?  "Why have you dealt with us in this way, bringing us out of Egypt?"  Here's the complaint, it's not like they want it.  They've left Egypt, it's not the way they want it.  Pharaoh is moving after them, and they begin to complain.  Of course, God did a marvelous thing, He opened the Red Sea, drowned Pharaoh's entire army and saved them.
Go to chapter 15, they come through the Red Sea, they've been delivered, and in that great 15th chapter, the song of Moses sings of God's great deliverance.  And it's no sooner than they've done that, verse 22, then Moses led Israel from the Red Sea, and they went out into the wilderness of Shur, and they went three days and they didn't have any water, three days.  And they came to Marah, they couldn't drink the waters of Marah, they were bitter therefore it was named Marah, so the people what?  Grumbled at Moses saying, "What shall we drink?"  Again, the same attitude.  Chapter 16, by the way, God provided water for them.  You remember it.  Verse 27 of chapter 15, 12 springs of water and they camped there and 70 date palms and they had a feast.  "Then, they set out from Elim and all the congregation of the sons of Israel came to the wilderness of Sin which is between Elim and Sinai, on the 15th day of the second month after their departure from the land of Egypt, and the whole congregation of Israel grumbled against Moses."  Nothing is ever enough.  Part the Red Sea, provide the water, more grumbling.  "Would that we had died by the Lord's hand in the land of Egypt, we would have been better off there when we sat by the pots of meat, when we ate bread to the full."  Boy, this is a crass crowd, right?  They don't care about anything but food.  "We're all going to die of hunger."  Boy, they're real deep, aren't they?  Real deep people.  "And the Lord provides again."  It's absolutely incredible.  God sends quail, God sends manna down.
Then, you come to chapter 17.  "Then, all the congregation of the sons of Israel journeyed by stages from the wilderness of Sin according to the command of the Lord and camped at Rephidim and there was no water for the people to drink.  Therefore the people quarreled with Moses and said, give us water that we may drink."  See, here's more complaining, griping, grumbling, quarreling, disputing.  "Moses said to them, why do you quarrel with me?  Why do you test the Lord?  He is the one who has ordained the circumstances.  But the people thirsted there for water and they grumbled against Moses and they said, why now have you brought us up from Egypt to kill us and our children and our livestock with thirst?"
Well, Moses is getting to the end of his rope.  So, Moses cried to the Lord, and I'm sure it was loud, "What shall I do to this people?  A little more and they'll stone me."  Some group, huh?  So, the Lord said, "Pass before the people, take with you some of the elders of Israel, take in your hand your staff with which you struck the Nile and go.  I'll stand before you there on the rock at Horeb and you'll strike the rock and water will come out of it the people may drink.  Moses did so in the sight of the elders of Israel, he named the place Massah and Meribah because of the quarrel of the sons of Israel, and because they tested the Lord saying, is the Lord among us or not?"  It doesn't take very long for people to forget the provision of God.
Now, go over to Numbers for just a moment or two because I want you to see this pattern.  Now, they're at the other end of the 40 years.  They're ready.  Time is ready to go into the land.  And it's not much different.  Verse 1 of chapter 11 of Numbers, "Now, the people became like those who complain."  You ought to underline that.  "They became like those who complain of adversity.  Complaining of adversity in the hearing of the Lord."  That's where their complaint really was directed.  "And when the Lord heard it His anger was kindled, and the fire of the Lord burned among them and consumed some of the outskirts of the camp.  The people therefore cried out to Moses and Moses prayed to the Lord and the fire died out.  So, the name of the place was called Taberah because the first of the Lord burned among them."  40 years later, and they have been complaining the whole time about everything.
Verse 4 says, "The rabble who were among them had greedy desires, and the sons of Israel wept again and said, who will give us meat to eat?  We remember the fish and the cucumbers and the melons and the leeks and the onions and the garlic, and we've got nothing but manna, crummy manna."  Day after day, this is typical complaining.  Chapter 14, God keeps on providing.  God sends the spies into the land.  And what happens?  They come out, they give this evil report, we can't do it.  Verse 27 of chapter 14, "How long," the Lord says to Moses and Aaron, "shall I bear with this evil congregation who are grumbling against Me?  I have heard the complaints of the sons of Israel which they are making against Me.  Say to them as I live, says the Lord, just as you have spoken in my hearing, so I will surely do to you.  Your corpses shall fall in this wilderness, even all your numbered men according to your complete number from 20 years old and upward who have grumbled against Me."  God says I'll kill the whole lot of you, you'll never enter the promised land, and He did it.  He did it.
Chapter 16 verse 41, "On the next day," what next day?  The next day after God had just punished some people for invading the priesthood.  The next day after God's object lesson about serious treatment of His law, "All the congregation of the sons of Israel," verse 41, "grumbled against Moses and Aaron, and they're saying you are the ones who caused the death of the Lord's people."  And the Lord was furious.  Verse 45, He says, "Get away from among this congregation that I may consume them instantly.  Then, they fell on their faces."  And Moses said to Aaron, "Take your censer and put in a fire from the altar and take incense in and bring it quickly to the congregation and make atonement for them, for wrath has gone out from the Lord, the plague has begun.  Then, Aaron took it as Moses had spoken, ran into the midst of the assembly, for behold the plague had begun among the people so he put on the incense and made atonement for the people.  And he took his stand between the dead and the living and the plague was checked, but those who died by the plague were 14,700, besides those who died on account of Korah," where the ground swallowed them all up.  God just starts slaughtering thousands of them because of their grumbling, complaining, discontent.
You find it again in chapter 20.  You find it again in chapter 21.  I won't read them to you.  I suppose the summary of all of it could be in Psalm 106, just listen to this, verse 25.  It says, "They didn't believe in His word but grumbled in their tents.  They didn't listen to the voice of the Lord.  Therefore, He swore to them that He would cast them down in the wilderness."  And that's exactly what He did.
I read with interest and thought that this must be quite a recent sermon.
How old do you think it is?
MacArthur delivered that sermon on January 15, 1989!
Let's return to our generation of complainers from that era, 33 years ago, as I write in 2022.
Their parents would have been born in the late 1950s through to the early 1960s, in most cases.
Those young adults, their children, in 1989, would have started getting married and bearing their own offspring in the 1990s.
Here we are, three decades — and three generations — later.
I have an update on today's youth from Saturday's Telegraph, July 30, 2022: 'Our fixation with feelings has created a damaged generation'.
The article is about British youth. Post-pandemic, the main topic that appears in many news articles and parliamentary debates is mental health.
If I had £1 for every time I've heard the words 'mental health' in parliamentary debates between 2020 and 2022, I'd be living in Monaco right now.
Not only do we have a new generation of complainers, they say they are suffering.
They are suffering because they are too introspective.
Feelings are the order of the day. A dangerous solution to that is the Online Safety Bill currently in the House of Commons. Pray that we can put an end to it, because it has provisions for 'legal but harmful' speech. The Secretary of State for Digital, Culture, Media and Sport — currently Nadine Dorries — can decide what is 'legal but harmful' speech.
Whoa!
That is a very dangerous route.
Even more dangerous are the voices coming from Labour MPs, who say that if they are ever in government again — a likely possibility — they will clamp down on whatever free speech remains.
Even worse, the legislation has not been passed, yet, here are Hampshire Constabulary just last Saturday, July 30, 2022, arresting a military veteran for tweeting a meme. The person who complained said that the meme caused him or her 'anxiety'.
The police don't ordinarily go to people's homes to investigate crime these days. Yet, they are all too ready to look into social media.
Five officers attended this man's residence and arrested him. It appears that no charges stuck, possibly because of the Reclaim Party's Laurence Fox's video of the incident. Perhaps the police were embarrassed?
The man tweeting this — unrelated to the incident — is former firefighter Paul Embery, a GB News panellist and Labour Party member who is active in unions, someone concerned about freedom of expression:
Guido Fawkes has more on the story and points out (emphasis in the original):
Arresting people for causing offence or anxiety, all while Hampshire recorded 8,000 burglaries in the last year, probably isn't the best use of police time…
How did we get here?
The Telegraph article consists of an interview with Gillian Bridge, 71, who is an addiction therapist, mental health advocate, teacher and author of many years' experience in schools and prisons.
Now you might think she makes all manner of apologies for today's youth.
Au contraire!
Gillian Bridge was aghast to find that the BBC put great emphasis earlier this year on how young Britons were reacting to the war in Ukraine. She said:
… there was this expectation that they were going to be enormously distressed – and about something that was not affecting them directly. Meanwhile, what were they doing in Ukraine? Living in bomb shelters; giving birth in cellars. But we were supposed to worry about the 'anxiety' young people were experiencing here? Frankly, I found that terrifying.
She said that this was not surprising, because in our post-pandemic world, feelings in a world of short attention spans are the only thing that matter.
As such, Ukraine is less important now. It shouldn't be, but it is:
Terrifying, but "not surprising", she adds with a sigh. "And you'll notice that just like other political subjects that have prompted huge emotional outpourings on and off social media of late, things have now gone very quiet on that front. Once we've had these 'big' emotions, we are no longer particularly interested, it seems." She cites our celebration of the NHS as another example. "People were virtually orgasmic about their pan-banging, but how many of them then went on to volunteer or do something tangibly helpful?" It's in part down to our gnat-like attention span, says Bridge, "but also the fact that a lot of the time we're not interested in the actual subject, just the way we feel about it."
Mental health problems, real or otherwise, have spun out of control over the past few years, even pre-pandemic:
… the 71-year-old has watched our "fixation with feelings" balloon out of all proportion, eclipsing reason, and predicted how damaging it would be, especially for the young. However, even Bridge was shocked by figures showing that more than a million prescriptions for antidepressants are now written for teenagers in England each year, with NHS data confirming that the number of drugs doled out to 13 to 19-year-olds has risen by a quarter between 2016 and 2020.
Child mental health services are reported to be "at breaking point", with referrals up by 52 per cent last year and some parents even admitting that they have been sleeping outside their children's bedrooms in order to check they are not self-harming. There is no doubt that we are dealing with an unprecedented crisis – one that was definitely heightened by the pandemic. "But Covid cannot be held responsible for all of it," cautions Bridge. "And while antidepressants can be very effective, we need to be asking ourselves how we reached this point? Because whatever we've been doing clearly isn't working."
Bridge blames this on too much introspection:
At the Headmasters' and Headmistresses' Conference in 2019 Bridge told the 250 independent school heads in attendance what she believed to be the root cause of this mass unhappiness: "This focus on 'me, myself and I' is the problem… It's taking people who are vulnerable to begin with and asking them to focus inwards." And in Bridge's ground-breaking book, Sweet Distress: How Our Love Affair With Feelings Has Fuelled the Current Mental Health Crisis, the behavioural expert explains why too much emphasis on emotion is as bad for our health as a surfeit of sweet treats. Indeed the "empty calories contained in some feelings" have only helped our "sense of self-importance to grow fat", she says. Hence the "emotional obesity many are suffering from now".
Cancel culture and censorship are part of this dreadful focus on feelings:
The book – which kicks off with Bridge's assertion, "We've been living in a gross-out world of personal emotional self-indulgence and sentiment for decades now … decades which have seen the nation's mental health worsening" – is a succession of equally magnificent declarations. Magnificent because she has pinpointed the cause of a whole range of societal problems, from mental distress and the determined fragility of the young to the woke chaos of universities and cancel culture.
Interestingly, Bridge believes that this toxic focus on feelings began in the 1970s. MacArthur and the sociologist he cited spoke in 1989. The timing makes sense.
Bridge told The Telegraph:
Certainly the touchy-feely approach to things had already started in classrooms back in the 1970s.
From there, it gradually expanded, year after year, decade after decade:
Flash forward to today, when every boss can be silenced by an employee starting a sentence with: "I just feel that …"
Whereas you could do so in the old days, it is now taboo to downplay someone's feelings, and that is not a good thing:
The great value of feelings today, Bridge tells me, "is that no one else can ever deny them … so if you feel offended then someone has genuinely harmed you". Celebrity culture has promoted this new way of thinking as much as social media, "where you can witness people actually gorging on themselves, getting high on the strength of their own feelings just as they do on sugar – self-pleasuring, basically. And listen, it may feel good in the short term, but it's very bad for us in the long run."
People can convince themselves that their feelings are the truth, their truth, anyway. That omits fact, what really happened. Bridge mentioned Meghan Markle's complaints:
Take the Duchess of Sussex, she points out, and her litany of "heartfelt" complaints. "Just last week there she was explaining that she didn't lie to Oprah about growing up an only child, because she felt like one, so it was, as she put it 'a subjective statement'." Bridge laughs; shakes her head. "We really are tying ourselves up in knots now, aren't we? Because it's all about me, myself and I, and someone like Meghan has made it so much easier for people to follow in her footsteps, when the reality is that feelings are not immutable. They are not fixed, an absolute. They are not fact. And they are certainly not something that must override everything else."
Yet there is a natural neurological process whereby the brain is able to turn feelings into fact, Bridge explains. "If you revise, rehearse, repeat and reinforce, then you create a fact, and that fact will then be embedded in your memory: 'your truth'. Going back to Markle, that's crucially a truth that no amount of counter-evidence can challenge."
Bridge says that encouraging children to emote and focus on their feelings is unhelpful for them and for society at large. The focus on feelings originated in the United States, the source of all bad ideas in our time:
"The worst possible thing you can do with a child is to give them a fixed idea that they are feeling a certain way," she says with aplomb. So those "emotional literacy" classes that started in California and are now being taught at schools here in the UK? The ones using a "traffic light" system, with pupils as young as four being asked to describe their "happiness levels" accordingly? "A terrible idea," Bridge groans. "Feelings are simply physiological sensations mediated by cultural expectations; they go up and they go down!" Yet thanks to the pervasive narrative that every feeling should be given weight, "instead of enjoying the limitless health and optimism of youth" many youngsters "are now entrenched in their own misery".
Bridge then tapped unknowingly into what MacArthur preached about in 1989, the notion that there were once roles for us in life, conformity to social expectations:
The desire to feel significant (either by embracing victimhood or by other means) is hardly new where young people are concerned, Bridge reminds me, and her tone is notably empathetic. "Let's not forget that people used to have a role in life assigned for them within their communities. You might do an apprenticeship and then go and work in a factory or go into your father's firm, or you might be preparing to get married and have babies. Now people have to find their role, they have to choose an identity, and that is much more complicated for them."
Remember when we older folk — the 60+ group — were taught resilience at home when we were children? 'Tomorrow's another day'? It meant that today's setback was temporary and, sure, we were hurt or upset, but better times were on the way. And, sure enough, they were.
Parents and schools are not teaching children about the temporary nature of setbacks. Therefore, today's children lack resilience, which gave all of us who learned it so long ago hope for the future:
"The reason 'everything will look better in the morning' is so important," says Bridge, "is that just like the children who did well in [Walter Mischel's famous 1972] marshmallow experiment, they were able to predict the future based on their past." That ability to delay and see the bigger picture is closely associated with the development of the hippocampus, she explains, "which is memory, navigation and good mental health. Yet by immersing ourselves in feelings and the now, we've blotted out the 'OK so I'm feeling bad, but tomorrow will be another day' logic, and we're trusting the least intelligent part of our brains. As parents, we should all be discouraging this in our children. Because a child has to believe in tomorrow."
Developing resilience is good for brain health, and it helps us to survive.
Bridge says that altruism also helps our brain health. We look out for others, not just ourselves. She says:
Studies have shown that it protects us from mental decline in our later years, but that the self-involved are more likely to develop dementia.
She cautions against cancelling or revising our history, whether it be factual or cultural:
Learning and a sense of history are equally important when it comes to brain health. "Yet again we seem to be distancing ourselves from the very things that we need to thrive. We're so threatened by history and its characters that we try to cancel them! When you only have to read something like Hamlet's 'to be, or not to be' speech to understand that it encapsulates all of the issues and irritations we still suffer from today. And surely knowing that gives you a sense of belonging, a sense of context, continuity and, crucially, relativity?"
Alarmingly, Bridge says that some young people believe that suicide is a melodrama, not a final act:
… they don't actually realise it's the end of them. Instead, they are almost able to view it as a melodrama that they can observe from the outside. Which is a deeply distressing thought.
Scary.
Bridge warns that too much introspection can lead to criminality:
Although it's hard to condense everything she learnt about the criminal brain during those years down to a tidy sound bite, "what was notable and important in this context," she says, "was their fixation on themselves. So the more a person looks inwards at the me, myself and I, the more they're likely to run afoul of everything, from addiction to criminality. In a way, the best thing you can do for your brain is to look beyond it."
She tells me about a prisoner she was working with "who came up to me and said: 'I've got mental health' – as though that were a disorder. Because people have become so 'into' the problem that the phrase is now only negative. That's surely one of the most worrying developments of all. And it's why I refuse to use or accept the term 'mental health' unless it is prefixed by 'good' or 'bad'."
Incredibly, with all the misplaced importance on feelings, Bridge says she has never had a bad reception to her talks:
… she stresses she "has never encountered negativity anywhere I have spoken". Yet another reason why Bridge isn't about to dampen her argument.
She thinks there might be the seeds of a turnaround, based on news items over the past few weeks:
"I think people understand that it's time for some tough talking," she writes in Sweet Distress. "There is increasing evidence that families, schools and universities are being overwhelmed by an epidemic of mental ill health." So whatever we are doing isn't just "not helping", but harming? "Absolutely. But I am seeing more and more people speaking up about this now. The narrative is changing. Just look at what the Coldstream Guards fitness instructor, Farren Morgan, said last week about body positivity promoting 'a dangerous lifestyle'. He's right." She shrugs. "It's no good saying 'it's OK to be any size you please' when we know that if children have bad diets, that can in turn lead to obesity – which in turn makes it more likely that they will suffer both physically and mentally later on."
She mentions the new smart dress code implemented by the head of Greater Manchester Police – the one that, according to reports last week, helped turn the force around into one of the "most improved" in the country. "These officers were performing better at work because they were dressed smarter. So what does that tell us? That if you have a disciplined life and if you accomplish the things you set out to do, that gives you self-esteem – which makes you happier. But of course none of this happens if we are just sitting around 'feeling' things."
She suggests that a good way of getting young people out of the cancel culture narrative is to point out that, someday, they might be cancelled, too. Also note the final word:
How do we get people out of themselves when they are so entrenched, though? How do we root them when they are flailing to such an extent? "By giving them a sense of being part of history! By getting them to see that if they want to cancel someone who lived 50 or 100 years ago, then in 50 or 100 years' time someone may have entirely 'valid' reasons to cancel them. By building the inner scaffolding that will keep them standing throughout life's ups and downs. And you know what that inner scaffold is called?" she asks with a small smile. "Resilience."
Get Gillian Bridge into the new Government, coming soon, as an adviser. The nation needs someone like her. She would be perfect in helping us to defeat our mental health pandemic.