You are currently browsing the tag archive for the 'censorship' tag.
Last weekend's big news stories concerned freedom of speech.
The world was horrified to learn of the bloody and debilitating assault on Sir Salman Rushdie, who might lose his sight in one eye. He was off his respirator early this week, thankfully, but, unfortunately, still has a long recovery awaiting him.
Then, here in Britain, on Saturday, August 13, we awoke to the news that raunchy comedian Jerry Sadowitz, 60, had his Edinburgh Fringe gig cancelled at the city's Pleasance Theatre.
Sadowitz gave only one performance before the Pleasance pulled the plug.
I've lived here as long as Sadowitz has been a comedian. For all that time, I have never met a man who liked his brand of comedy.
One could describe him as an equal-opportunity offender. He has appeared on television from time to time. I first saw him in the early 1990s on a comedy show. I couldn't see what was funny. His jokes were gratuitously offensive and filthy.
Nearly everyone in the UK knows about Sadowitz's humour, if one can call it that.
His show is not appropriate for a first date and certainly not for a blind date.
Being generous, I would say that, in terms of comedy, Jerry Sadowitz is the 21st century British version of Lenny Bruce.
Like Bruce, Sadowitz was born in the United States.
He moved to Scotland with his Glaswegian mother at the age of seven.
Let's look at the facts surrounding his cancellation, keeping in mind that the month-long Edinburgh Fringe is supposed to be the bastion of comedic free speech. Its whole purpose is to shock and provoke.
Another thing worth keeping in mind is that Sadowitz actually said what sort of material his show at the Pleasance would include.
The show was called 'Not for Anyone'.
That should have set people's expectations, but it did not.
On Saturday, I read Guido Fawkes:
Guido posted Sadowitz's tweet about how well he thought Friday night's show went:
Guido tied the news in with that of Salman Rushdie (emphases in the original):
Here's some news from the Edinburgh Fringe that Salman Rushdie might find amusing. In a statement announcing that they were cancelling further appearances by the comedian and magician Jerry Sadowitz, the venue said:
The Pleasance Theatre Trust have cancelled Jerry Sadowitz's second and final show at the Edinburgh Festival Fringe with immediate effect. In today's society, opinions such as those displayed on stage by Sadowitz are not acceptable and The Pleasance are not prepared to be associated with such material.
Anthony Alderson, Director of the Pleasance said:
The Pleasance is a venue that champions freedom of speech and we do not censor comedians' material. While we acknowledge that Jerry Sadowitz has often been controversial, the material presented at his first show is not acceptable and does not align with our values. This type of material has no place on the festival and the Pleasance will not be presenting his second and final show.
You couldn't make it up….
No, you couldn't.
Apparently, among other things, Sadowitz exposed himself to a woman in the front row.
The Scottish Daily Express reported (emphases mine):
Controversial Scots comedian Jerry Sadowitz has been cancelled by the Edinburgh Fringe after complaints from shocked audience members and venue staff.
The 60-year-old had two shows booked at the Pleasance called 'Jerry Sadowitz: Not for Anyone' which came with a warning of "strong language and themes some may find distressing" …
However, the decision sparked fury from fellow comics such as Leo Kearse, who said: "If the Islamic fundamentalists don't get you, the wokeists will."
He added that Sadowitz, who was born in the US and moved to Glasgow with his Scottish/Jewish mother at the age of seven, was the "only comedian worth seeing" at the Fringe this year.
Good grief. Yet, judging from this year's Edinburgh Fringe and Festival reviews in The Times, he's probably right.
Anyway:
The Pleasance said anyone who had booked a ticket for Saturday's gig would receive refunds for their tickets and that they "won't be working" with the entertainer again.
Meanwhile, Sadowitz was soon busy on Twitter promoting his run of 14 gigs at venues south of the Border later in the year.
How could the Pleasance not have known about Sadowitz's material when he'd performed there before?
On Sunday, the paper had an update:
The Pleasance has hit back at critics following the Jerry Sadowitz cancellation claiming the comedian made people "uncomfortable and unsafe" to remain in the theatre.
The Edinburgh Fringe venue slammed those who ripped into the "woke" decision as an attack on freedom of speech. The theatre claimed that Sadowitz crossed the line and that controversial comedians "need to be challenged" in a "changing world" …
Fans say his unique brand of black comedy has to be viewed in context and questioned why the venue booked him in the first place, as well as asking why people bought tickets to the show if they were so easily offended.
I completely agree.
Whereas Sadowitz tweeted that he didn't see anyone walk out, the Pleasance claimed that a number of people left during his act:
"A large number of people walked out of Jerry Sadowitz's show as they felt uncomfortable and unsafe to remain in the venue. We have received an unprecedented number of complaints that could not be ignored and we had a duty to respond. The subsequent abuse directed to our teams is also equally unacceptable …
"In a changing world, stories and language that were once accepted on stage, whether performed in character or not, need to be challenged. There is a line that we will not cross at the Pleasance, and it was our view that this line was crossed on this occasion.
"We don't vet the full content of acts in advance and while Jerry Sadowitz is a controversial comedian, we could not have known the specifics of his performance. The Pleasance has staged his work numerous times over the years, but as soon as we received complaints from those in the building which caused us great concern, we knew we could not allow the final performance to go ahead.
"The arts and comedy in particular have always pushed the boundaries of social norms but this boundary is always moving. Our industry has to move with it. However, this does not mean that we can allow such content to be on our stages."
I was heartened to read that a Scottish Conservative and a feminist were critical of The Pleasance:
Former Scots Tory strategy chief Eddie Barnes was among the critics of the decision. He tweeted: "The Pleasance's statement is totally contradictory. But it's that mealy-mouthed, morally vacuous phrase 'not acceptable' that really grates. To whom? And on what grounds? Who decided?"
Feminist campaigner Lucy Hunter Blackburn added: "I first came to the Fringe in 1986. The cancelling of Jerry Sadowitz (who I've never seen – not my bag, I strongly assume I'd not enjoy his material) feels like an important moment – something to stop and look at hard."
… While discussing the furore on GB News on Saturday night, Scots comedian Leo Kearse said: "The Edinburgh Fringe is over, the SNP have put a nail in it by restricting the amount of accommodation so there's not enough space for audiences and acts. Nobody wants to go and see woke comedy. It's like women's football, it gets written about by the Guardian but it's rubbish."
On Sunday evening, GB News's Andrew Doyle, a former teacher who went into stand up and created Titania McGrath, emphasised that what the audience sees is Sadowitz's 'persona', not the man himself. He added that while Sadowitz is lobbing his offensive material, he simultaneously performs magic tricks. (Sadowitz is accomplished at card tricks in particular. That's how he got his start.)
Doyle, who has seen Sadowitz's act, explains that the material is so out there that it makes people laugh:
He's an equal opportunities offender. Think of the worst thing in your head and then say it.
Leo Kearse and Josh Howie, another British comedian, joined Doyle in slamming the manager of The Pleasance, the Fringe's premier venue.
According to them, Sadowitz's material this year was nothing new. Doyle also confirmed that Sadowitz circulated a promo video in which he said what would be in the show.
Kearse said that the people complaining are probably the types who would be okay with Drag Queen Story Hour for children:
Why are we treating children like adults and adults like children?
Howie and Doyle were annoyed to see that some comedians at the Fringe supported The Pleasance. Howie said:
They're putting themselves out of a job.
Doyle added:
They're making a rod for their own backs.
Howie pointed out that Sadowitz is 'revered' on the comedy circuit and that he has inspired many newer comedians' material, which makes his cancellation a 'flash point'. Every new boundary push in comedy today has been thanks to him.
Doyle closed by saying that he had heard most of the complaints had come from members of staff at The Pleasance. Howie said that most venue employees are 'mostly students', ergo, likely to be offended and to 'feel unsafe'.
Doyle asked:
Why do people keep submitting to these brats?
Theirs is a great exchange about freedom of speech in comedy:
On Monday, August 15, BBC Scotland interviewed Russian emigré and free speech advocate Konstantin Kisin. Kisin, who hosts his own podcast, says that such censorship helps no one and that, ultimately, the Edinburgh Festival might become less appealing and lose its audience. The male BBC co-host implied that audience members went only so they could laugh at racism because they rarely get the chance to do so.
Kisin responded, beginning with:
If I were a mind reader like you …
and said:
I have more faith in human beings than you do …
The co-host doubled down:
I was there in the audience. You weren't …
Kisin asked him how he would assess what was going on in people's minds as they watched Sadowitz:
You can tell what someone thinks from their body language? … No, no, you did say that you knew from their body language. You said exactly that.
At which point, the co-host abruptly terminated the interview.
Here it is. I applaud GB News's Colin Brazier for his scathing remark about our being forced to pay for the BBC and their bias:
The same comedians had another go on Monday's Headliners show on GB News. By then, Sadowitz felt forced to explain his act, which disappointed Josh Howie. Sadowitz is also seeking an apology from The Pleasance. Nick Dixon, another comedian, said that today's big names in comedy (many of whom probably got where they are today thanks to Sadowitz) need to stand up for him. The owner of The Assembly Rooms, another top Fringe venue, has rightly criticised The Pleasance for cancelling the act:
Earlier that evening, Dan Wootton asked comedy veteran Jim Davidson, whose style is the exact opposite of Sadowitz's, for his opinion. Davidson got dragged into this because Sadowitz wrote 'I am not J** D*******, folks' and 'a lot of thought goes into my shows'. Davidson was generous in defending a comedian who does not wish to be compared to him. Davidson criticised The Pleasance, saying they knew 'exactly what act' Sadowitz was going to do.
Davidson thinks someone within the local council complained, which has happened before in England. He also pointed out that The Pleasance said that even performing material 'in character' should not be allowed:
Isn't every comedian in character?
Here's the video:
There is a huge gulf between the author of The Satanic Verses and obscene, offensive comedy, however, it is important to defend both.
James Marriott wrote about this conundrum for The Times on Wednesday, August 17: 'The grubby truth about freedom of speech'.
He gave an unintended plug for GB News. Remember that Murdoch owns The Times and TalkTV:
An honest defence of free speech acknowledges that it inflicts pain on vulnerable people, disperses power unequally and has no scientifically identifiable principles — but that it is precious nonetheless. It is a grubby, unfortunate truth.
Has there ever been a less glamorous time to support free speech? Because social media companies refuse to accept editorial responsibilities, the internet is overrun with the gory worst of what humans have to say.
The most vocal modern defenders of free speech are not artists or libertines but pimply "Enlightenment bros" and the talking heads of GB News. Of course, one's principles should never be formed in accordance with what is and isn't trendy. So we are left as the awkward, perhaps half-embarrassed, defenders of this unhappy, dysfunctional system which is nevertheless by far the best one we've yet devised.
That probably explains why GB News's ratings are way ahead of TalkTV's.
I'll leave the last word to The Telegraph's theatre critic Dominic Cavendish:
Though I've seen a number of his shows over the years, I didn't catch this one. His act – initiated in the 1980s, and bolstered since the 1990s by dexterous card tricks – is easy to summarise: misanthropic, unrelenting bile, awash with expletives and at war with political correctness. No one escapes his performative contempt, which springs from him, but qualifies too as an act.
His patter is knowingly extreme, and can be extremely funny, although the exhalation of laughter wars with the sharpest intakes of breath. His offence-giving once brought him celebrity but that has been on the wane – TV has barely touched him since the early 2000s. Sick-taste comedians have come up in his wake, most successfully Jimmy Carr and Frankie Boyle, yet he has admirers across the spectrum; even Stewart Lee, the darling of the progressive Left.
As Lee wrote in the New Statesman in 2013, "because Sadowitz is one of the most complete and perfect stand-ups in history, his exact political position is complicated. By accident or design, he appears to be socially, sexually, culturally, physically and economically at the bottom of the pile. This gives him licence to attack everything and everyone, like a drowning rat swimming desperately up the U-bend. And this tells us a lot about the essence of stand-up."
… It's impossible to justify every line of Sadowitz's sets but his worldview is to be suspicious of pleasantness and to detect phoneyness in progressivism. He confronts us with his viciousness and by extension, our own. Times have changed, have they? His pertinent thrust is that people haven't.
… The Pleasance can hardly say they didn't know who they were booking, this time around.
That they de-platformed Sadowitz just after Salman Rushdie was attacked felt doubly uncomfortable. There's a world of difference, of course, in being told that your show is cancelled, and being stabbed in the face. But how could the Pleasance feel on the right side of history? Though worlds apart in terms of finesse, and import – Rushdie is a highbrow culture hero, Sadowitz an increasing anachronism – are the two men not both flying the flag for freedom of expression?
Today, sure, cancel Sadowitz. But tomorrow? What about other less provocative but maybe also problematic acts? Take another fringe veteran, Arthur Smith, who gratuitously if comically has a naked woman walk across stage during his Pleasance show. Should he go next? The 2022 Fringe so far has been a sun-lit occasion – but dark clouds have gathered.
I don't like Jerry Sadowitz's comedy but I will defend his right to perform on stage.
Like him or loathe him, where freedom of speech is concerned, he's every bit as important as Salman Rushdie.
In writing this week's Forbidden Bible Verses post on Philippians 2:14-18, I used, as per usual, John MacArthur's sermons.
'Stop Complaining, Part 1' begins with his view of an overly indulged, complaining generation.
He says that the problem is getting worse, rather than better.
Emphases mine below:
Let me sort of ease in to our subject a little bit, if I might.  We're in Philippians chapter 2 verses 14 through 16.  And I titled the message, "Stop Complaining."  There's a reason for that, and it's fairly obvious if you look at verse 14 where Paul says, "Do all things without grumbling or disputing," which are really two ways of saying stop complaining.  And as I was thinking about this very pertinent message about living your Christian life without complaining, it became very apparent to me that we live in a very complaining society.  And I really believe we are breeding a generation of complainers, and they seem to be getting worse with each passing generation. 
And as I've said to you on a number of occasions, it is a curiosity to me that the most indulged society is the most discontent society, that the more people have, the more they seem to be discontent with what they have and the more complaining they seem to be.  In thinking about this, and there would be many ways to approach it, I was just inadvertently flipping on the radio this week and I heard a speech by a sociologist that was quite curious to me and quite interesting.  The sociologist made a very interesting point.  He was talking about the young people in our culture, talking about their discontent, talking about their complaining attitude, their resistance to responsibility, and how that nothing is ever the way they would like it.  And they go through life with a kind of sullen discontent, kind of rejection of things the way they are.  And he had an interesting thesis.  What he basically said was this: that in many ways this discontented generation of young people is a product of small families.  His thesis was that where you have families where the average is two or less, of course the average family now in America is 1.7 children, which is kind of strange to think about; as one brother said to his sister, "I'm the one and you're the point seven."  But every family seems to come out at about 1.7.7.  We realize that families are getting smaller and smaller and moving toward one child families, if that.  Most families in America have either none, one, or two children …
And the difference is where you have a small family, the system bends to the child.  Where you have a large family, the child bends to the system.  And so, what you have, he said, is young people growing up in an environment where the system bends to them.  And you have child-centered parenting.
MacArthur grew up in a large family, where choice was not an option:
I know as a child myself, one of the reasons I wanted to grow up was I wanted freedom.  I lived in a totally conformed society.  I ate what they gave me.  I don't ever remember going shopping with my mother, ever.  I wore whatever she brought home.  I never picked out a thing, never.  I don't even remember going to a department store clothing section as a young person.  My mother brought me what I needed, and I put it on.  And I conformed to the system.  And I looked forward to adulthood so that I could be free to make my own choices.  The reverse is true now; children grow up controlling the family and they don't want to become adults because that means conformity.  Then, they have to go to work, and nobody at work says, "Now, how would you like your office decorated?  And what time would you like to take a break for lunch?"  Nobody says that.  They put you on an assembly line or they put you in a place where you are forced to conform, so what you have then is a generation of young people who don't want to grow up.
And this sociologist said on the radio, you ask the average high-school kid, what do you want to do when you get out of school?  What's his answer?  "I don't know."  You ask the average college student, what do you want to do when you're out of college?  "I don't know."  And the reason he doesn't know is because he is postponing responsibility because responsibility means conformity to a system, whereas childhood for him has been absolute freedom.  Eat what you want when you want, wear what you want when you want, and your mother will take you anywhere you want to go whenever you want.  And so, you breed a generation of young people who are irresponsible.  And when they do get a job, they get a job simply to finance themselves so they can enjoy their indulgences, and then when they're 28 years old their license plate says, "He wins who has the most toys."  And the whole idea of adulthood is to collect toys, boats, cars, vacation trips, on and on and on.
Now, what you have in this kind of thing, said this sociologist, is breeding moody discontent.  And you build young people who cannot conform and cannot be satisfied, over-indulged kids who don't want to be adults, continue to push off responsibility; they grow up in an environment they control.  They don't like being controlled.  And they become discontent.  They don't want to take responsibility.  They don't want to work.  And their adult years are sad.  They become sullen, very often, they become complainers.  And I really believe that he's right in many cases.  One of the curses of our culture are overindulged childish kind of adults who are really complainers about everything.  Nothing is ever enough.  That's why we have a whole society with a critical mentality, constantly attacking everything.
The church environment is no different:
Now, I want you to know this has found its way into the church.  And the church is full of its own complainers, and what is really sad is many of them are run by their children's discontent.  People leaving the church because their children don't like it.  Can't imagine such a thing, unless their children control the family.  The church has its complainers.  And here we are with so much, so much.  How in the world could we possibly complain just because every little thing in life isn't exactly the way we want it?  Frankly, I would suggest to you that few sins are uglier to me and few sins are uglier to God than the sin of complaining.  Frankly, I think the church at large does much to feed this thing by continuing to propagate this self-esteem, self-fulfillment garbage that just feeds the same discontent.  There's little loyalty.  There's little thankfulness.  There's little gratitude.  And there's very little contentment.  And sadly, what happens eventually is your griping, grumbling, murmuring discontent is really blaming God because, after all, God is the one who put you where you are.  So, just know who you're complaining against.
He discusses how famous people from the Bible railed against God, from the very beginning:
Now, having said all of that there is a sense in which this complaining is part of our culture.  There's another sense in which it's not new at all.  Who was the first complainer who ever walked the earth?  Who was it?  The first complaining human being who ever walked was the first human being whoever walked.  And what was Adam's first complaint?  "God, the woman You gave me."  We are in this mess because of this woman.  He didn't blame Eve; he blamed God.  Eve had nothing to do with it.  God made Eve.  Adam wasn't married; he woke up one morning he was married.  God could have picked anybody He wanted, He picked her.  Why?  It's God's fault.  She led the whole human race in sin.  The woman You gave me, complaining.  Cain complained to God about God's work in his life, Genesis 4:13 and 14.  Moses complained to God for not doing what he wanted Him to do when he wanted Him to do it, Exodus 5:22 and 23.  Aaron and Miriam complained to God against Moses, His chosen leader and their own brother in Numbers chapter 12.  Jonah complained to God because he was mad at God for saving the Ninevites, Jonah chapter 4 verses 9 and 10.  And it is still a popular pastime to complain at God.  And may I say that all of your complaints in one way or another are complaints against the providential purpose and will of God.
There's a new book out called "Disappointment With God," very popular and being promoted very heavily.  It seems to me to make complaining against God okay.  It sort of tries to define God as a lonely misunderstood lover who is really trying to work things out, but is really kind of a victim of all of us and we shouldn't complain against Him, we ought to love Him.  What a strange view of God.  He is not some lonely misunderstood lover; He is the sovereign God who has ordered the circumstances of all of our lives.  And to complain against God, to grumble against God is a sin and we must see it as such.
In the ninth chapter of Romans verse 20, "O man, who answers back to God?  The thing molded will not say to the molder, 'Why did you make me like this,' will it?"  Who in the world are you to answer back to God?  What an unthinkable thing to do.  And when describing the apostates in Jude 16, it says they are grumblers finding fault following after their own lusts.  All they want is what they want when they want it, they don't get it, they grumble and find fault.  It's characteristic sin of the proud and it is characteristic sin of the wicked.
Now, the tragedy of this particular sin is that it is so contagious.  Let me take a minute to usher you back into the Old Testament, chapter 13 of Numbers.  And I want you to follow me and we'll at least get through this little introduction and I think set the stage for what is ahead of us.  This is really very, very interesting and very important.  We go back to the number one illustration of grumbling, murmuring belly-aching griping people the world has ever known, namely whom?  The Israelites.  Numbers 13 just gives us a little insight in to the potential power of this attitude to spread.  Verse 30 says, "Caleb quieted the people before Moses and said, we should by all means go up and take possession of it for we shall surely overcome it."  Joshua, you remember, and Caleb came back from spying out the land and they said we can do it; God is on our side, we can take it.  "But the men who had gone up with him said, we are not able to go up against the people for they are too strong for us."  Which is nothing but doubting God.  "So, they gave out to the sons of Israel a bad report of the land which they had spied out saying the land through which we have gone in spying it out is a land that devours its inhabitants, and all the people whom we saw in it are men of great size."  And then, they said this, "Also we saw the Nephilim, the sons of Anak are part of the Nephilim, and we became like grasshoppers in our own sight and so were we in their sight."
So, they come back with this complaining: we'll never do it, we can't make it, we can't defeat them.  It's a bad report.  It will fail, it will never make it.  Prophets of doom, they are.  And they're really complaining against the fact that God has told them to go in.
God hates complaining as much as He hates sin.
God killed complaining Israelites. The wages of complaining were death:
Now, go over to chapter 14, watch what happens in verse 36, "As for the men whom Moses sent to spy out the land and who returned and made all the congregation," what?  "Grumble against him by bringing out a bad report concerning the land, even those men who brought out the very bad report of the land," follow this, "died by a plague before the Lord."  You know what the Lord thinks of grumblers?  He killed them because they spread a brooding discontent against God.  That's the issue.  These people complained against God, they complained against God calling them to go into the land, they complained because the odds were against them humanly speaking.  And in their disbelief and complaining against God, they caused the whole nation to grumble, and as a result God killed them with a plague.  Grumbling really spreads, and your discontent, and your critical spirit, and your grumbling attitude, and your murmuring complaints will infect other people.
Here were the children of God.  They had been led out of Egypt.  God had parted the Red Sea for them.  They had seen ten plagues, miraculous plagues at the point of their deliverance.  And as soon as they got out of the land of Egypt they started to complain, and it never really ended.  Can I take you through a little trek?  Go back to Exodus and let's go back to where it started in the Exodus.  Verse 11 of chapter 14, "Then, they said to Moses," and they're out in the wilderness now.  "Is it because there were no graves in Egypt that you have taken us away to die in the wilderness?"  They said, "What do you bring us out here for, because there weren't any graves in Egypt?"  Which is a mocking statement.  I mean, wasn't there a place to bury us there?  You're going to have to take us to the desert to bury us?  "Why have you dealt with us in this way, bringing us out of Egypt?"  Here's the complaint, it's not like they want it.  They've left Egypt, it's not the way they want it.  Pharaoh is moving after them, and they begin to complain.  Of course, God did a marvelous thing, He opened the Red Sea, drowned Pharaoh's entire army and saved them.
Go to chapter 15, they come through the Red Sea, they've been delivered, and in that great 15th chapter, the song of Moses sings of God's great deliverance.  And it's no sooner than they've done that, verse 22, then Moses led Israel from the Red Sea, and they went out into the wilderness of Shur, and they went three days and they didn't have any water, three days.  And they came to Marah, they couldn't drink the waters of Marah, they were bitter therefore it was named Marah, so the people what?  Grumbled at Moses saying, "What shall we drink?"  Again, the same attitude.  Chapter 16, by the way, God provided water for them.  You remember it.  Verse 27 of chapter 15, 12 springs of water and they camped there and 70 date palms and they had a feast.  "Then, they set out from Elim and all the congregation of the sons of Israel came to the wilderness of Sin which is between Elim and Sinai, on the 15th day of the second month after their departure from the land of Egypt, and the whole congregation of Israel grumbled against Moses."  Nothing is ever enough.  Part the Red Sea, provide the water, more grumbling.  "Would that we had died by the Lord's hand in the land of Egypt, we would have been better off there when we sat by the pots of meat, when we ate bread to the full."  Boy, this is a crass crowd, right?  They don't care about anything but food.  "We're all going to die of hunger."  Boy, they're real deep, aren't they?  Real deep people.  "And the Lord provides again."  It's absolutely incredible.  God sends quail, God sends manna down.
Then, you come to chapter 17.  "Then, all the congregation of the sons of Israel journeyed by stages from the wilderness of Sin according to the command of the Lord and camped at Rephidim and there was no water for the people to drink.  Therefore the people quarreled with Moses and said, give us water that we may drink."  See, here's more complaining, griping, grumbling, quarreling, disputing.  "Moses said to them, why do you quarrel with me?  Why do you test the Lord?  He is the one who has ordained the circumstances.  But the people thirsted there for water and they grumbled against Moses and they said, why now have you brought us up from Egypt to kill us and our children and our livestock with thirst?"
Well, Moses is getting to the end of his rope.  So, Moses cried to the Lord, and I'm sure it was loud, "What shall I do to this people?  A little more and they'll stone me."  Some group, huh?  So, the Lord said, "Pass before the people, take with you some of the elders of Israel, take in your hand your staff with which you struck the Nile and go.  I'll stand before you there on the rock at Horeb and you'll strike the rock and water will come out of it the people may drink.  Moses did so in the sight of the elders of Israel, he named the place Massah and Meribah because of the quarrel of the sons of Israel, and because they tested the Lord saying, is the Lord among us or not?"  It doesn't take very long for people to forget the provision of God.
Now, go over to Numbers for just a moment or two because I want you to see this pattern.  Now, they're at the other end of the 40 years.  They're ready.  Time is ready to go into the land.  And it's not much different.  Verse 1 of chapter 11 of Numbers, "Now, the people became like those who complain."  You ought to underline that.  "They became like those who complain of adversity.  Complaining of adversity in the hearing of the Lord."  That's where their complaint really was directed.  "And when the Lord heard it His anger was kindled, and the fire of the Lord burned among them and consumed some of the outskirts of the camp.  The people therefore cried out to Moses and Moses prayed to the Lord and the fire died out.  So, the name of the place was called Taberah because the first of the Lord burned among them."  40 years later, and they have been complaining the whole time about everything.
Verse 4 says, "The rabble who were among them had greedy desires, and the sons of Israel wept again and said, who will give us meat to eat?  We remember the fish and the cucumbers and the melons and the leeks and the onions and the garlic, and we've got nothing but manna, crummy manna."  Day after day, this is typical complaining.  Chapter 14, God keeps on providing.  God sends the spies into the land.  And what happens?  They come out, they give this evil report, we can't do it.  Verse 27 of chapter 14, "How long," the Lord says to Moses and Aaron, "shall I bear with this evil congregation who are grumbling against Me?  I have heard the complaints of the sons of Israel which they are making against Me.  Say to them as I live, says the Lord, just as you have spoken in my hearing, so I will surely do to you.  Your corpses shall fall in this wilderness, even all your numbered men according to your complete number from 20 years old and upward who have grumbled against Me."  God says I'll kill the whole lot of you, you'll never enter the promised land, and He did it.  He did it.
Chapter 16 verse 41, "On the next day," what next day?  The next day after God had just punished some people for invading the priesthood.  The next day after God's object lesson about serious treatment of His law, "All the congregation of the sons of Israel," verse 41, "grumbled against Moses and Aaron, and they're saying you are the ones who caused the death of the Lord's people."  And the Lord was furious.  Verse 45, He says, "Get away from among this congregation that I may consume them instantly.  Then, they fell on their faces."  And Moses said to Aaron, "Take your censer and put in a fire from the altar and take incense in and bring it quickly to the congregation and make atonement for them, for wrath has gone out from the Lord, the plague has begun.  Then, Aaron took it as Moses had spoken, ran into the midst of the assembly, for behold the plague had begun among the people so he put on the incense and made atonement for the people.  And he took his stand between the dead and the living and the plague was checked, but those who died by the plague were 14,700, besides those who died on account of Korah," where the ground swallowed them all up.  God just starts slaughtering thousands of them because of their grumbling, complaining, discontent.
You find it again in chapter 20.  You find it again in chapter 21.  I won't read them to you.  I suppose the summary of all of it could be in Psalm 106, just listen to this, verse 25.  It says, "They didn't believe in His word but grumbled in their tents.  They didn't listen to the voice of the Lord.  Therefore, He swore to them that He would cast them down in the wilderness."  And that's exactly what He did.
I read with interest and thought that this must be quite a recent sermon.
How old do you think it is?
MacArthur delivered that sermon on January 15, 1989!
Let's return to our generation of complainers from that era, 33 years ago, as I write in 2022.
Their parents would have been born in the late 1950s through to the early 1960s, in most cases.
Those young adults, their children, in 1989, would have started getting married and bearing their own offspring in the 1990s.
Here we are, three decades — and three generations — later.
I have an update on today's youth from Saturday's Telegraph, July 30, 2022: 'Our fixation with feelings has created a damaged generation'.
The article is about British youth. Post-pandemic, the main topic that appears in many news articles and parliamentary debates is mental health.
If I had £1 for every time I've heard the words 'mental health' in parliamentary debates between 2020 and 2022, I'd be living in Monaco right now.
Not only do we have a new generation of complainers, they say they are suffering.
They are suffering because they are too introspective.
Feelings are the order of the day. A dangerous solution to that is the Online Safety Bill currently in the House of Commons. Pray that we can put an end to it, because it has provisions for 'legal but harmful' speech. The Secretary of State for Digital, Culture, Media and Sport — currently Nadine Dorries — can decide what is 'legal but harmful' speech.
Whoa!
That is a very dangerous route.
Even more dangerous are the voices coming from Labour MPs, who say that if they are ever in government again — a likely possibility — they will clamp down on whatever free speech remains.
Even worse, the legislation has not been passed, yet, here are Hampshire Constabulary just last Saturday, July 30, 2022, arresting a military veteran for tweeting a meme. The person who complained said that the meme caused him or her 'anxiety'.
The police don't ordinarily go to people's homes to investigate crime these days. Yet, they are all too ready to look into social media.
Five officers attended this man's residence and arrested him. It appears that no charges stuck, possibly because of the Reclaim Party's Laurence Fox's video of the incident. Perhaps the police were embarrassed?
The man tweeting this — unrelated to the incident — is former firefighter Paul Embery, a GB News panellist and Labour Party member who is active in unions, someone concerned about freedom of expression:
Guido Fawkes has more on the story and points out (emphasis in the original):
Arresting people for causing offence or anxiety, all while Hampshire recorded 8,000 burglaries in the last year, probably isn't the best use of police time…
How did we get here?
The Telegraph article consists of an interview with Gillian Bridge, 71, who is an addiction therapist, mental health advocate, teacher and author of many years' experience in schools and prisons.
Now you might think she makes all manner of apologies for today's youth.
Au contraire!
Gillian Bridge was aghast to find that the BBC put great emphasis earlier this year on how young Britons were reacting to the war in Ukraine. She said:
… there was this expectation that they were going to be enormously distressed – and about something that was not affecting them directly. Meanwhile, what were they doing in Ukraine? Living in bomb shelters; giving birth in cellars. But we were supposed to worry about the 'anxiety' young people were experiencing here? Frankly, I found that terrifying.
She said that this was not surprising, because in our post-pandemic world, feelings in a world of short attention spans are the only thing that matter.
As such, Ukraine is less important now. It shouldn't be, but it is:
Terrifying, but "not surprising", she adds with a sigh. "And you'll notice that just like other political subjects that have prompted huge emotional outpourings on and off social media of late, things have now gone very quiet on that front. Once we've had these 'big' emotions, we are no longer particularly interested, it seems." She cites our celebration of the NHS as another example. "People were virtually orgasmic about their pan-banging, but how many of them then went on to volunteer or do something tangibly helpful?" It's in part down to our gnat-like attention span, says Bridge, "but also the fact that a lot of the time we're not interested in the actual subject, just the way we feel about it."
Mental health problems, real or otherwise, have spun out of control over the past few years, even pre-pandemic:
… the 71-year-old has watched our "fixation with feelings" balloon out of all proportion, eclipsing reason, and predicted how damaging it would be, especially for the young. However, even Bridge was shocked by figures showing that more than a million prescriptions for antidepressants are now written for teenagers in England each year, with NHS data confirming that the number of drugs doled out to 13 to 19-year-olds has risen by a quarter between 2016 and 2020.
Child mental health services are reported to be "at breaking point", with referrals up by 52 per cent last year and some parents even admitting that they have been sleeping outside their children's bedrooms in order to check they are not self-harming. There is no doubt that we are dealing with an unprecedented crisis – one that was definitely heightened by the pandemic. "But Covid cannot be held responsible for all of it," cautions Bridge. "And while antidepressants can be very effective, we need to be asking ourselves how we reached this point? Because whatever we've been doing clearly isn't working."
Bridge blames this on too much introspection:
At the Headmasters' and Headmistresses' Conference in 2019 Bridge told the 250 independent school heads in attendance what she believed to be the root cause of this mass unhappiness: "This focus on 'me, myself and I' is the problem… It's taking people who are vulnerable to begin with and asking them to focus inwards." And in Bridge's ground-breaking book, Sweet Distress: How Our Love Affair With Feelings Has Fuelled the Current Mental Health Crisis, the behavioural expert explains why too much emphasis on emotion is as bad for our health as a surfeit of sweet treats. Indeed the "empty calories contained in some feelings" have only helped our "sense of self-importance to grow fat", she says. Hence the "emotional obesity many are suffering from now".
Cancel culture and censorship are part of this dreadful focus on feelings:
The book – which kicks off with Bridge's assertion, "We've been living in a gross-out world of personal emotional self-indulgence and sentiment for decades now … decades which have seen the nation's mental health worsening" – is a succession of equally magnificent declarations. Magnificent because she has pinpointed the cause of a whole range of societal problems, from mental distress and the determined fragility of the young to the woke chaos of universities and cancel culture.
Interestingly, Bridge believes that this toxic focus on feelings began in the 1970s. MacArthur and the sociologist he cited spoke in 1989. The timing makes sense.
Bridge told The Telegraph:
Certainly the touchy-feely approach to things had already started in classrooms back in the 1970s.
From there, it gradually expanded, year after year, decade after decade:
Flash forward to today, when every boss can be silenced by an employee starting a sentence with: "I just feel that …"
Whereas you could do so in the old days, it is now taboo to downplay someone's feelings, and that is not a good thing:
The great value of feelings today, Bridge tells me, "is that no one else can ever deny them … so if you feel offended then someone has genuinely harmed you". Celebrity culture has promoted this new way of thinking as much as social media, "where you can witness people actually gorging on themselves, getting high on the strength of their own feelings just as they do on sugar – self-pleasuring, basically. And listen, it may feel good in the short term, but it's very bad for us in the long run."
People can convince themselves that their feelings are the truth, their truth, anyway. That omits fact, what really happened. Bridge mentioned Meghan Markle's complaints:
Take the Duchess of Sussex, she points out, and her litany of "heartfelt" complaints. "Just last week there she was explaining that she didn't lie to Oprah about growing up an only child, because she felt like one, so it was, as she put it 'a subjective statement'." Bridge laughs; shakes her head. "We really are tying ourselves up in knots now, aren't we? Because it's all about me, myself and I, and someone like Meghan has made it so much easier for people to follow in her footsteps, when the reality is that feelings are not immutable. They are not fixed, an absolute. They are not fact. And they are certainly not something that must override everything else."
Yet there is a natural neurological process whereby the brain is able to turn feelings into fact, Bridge explains. "If you revise, rehearse, repeat and reinforce, then you create a fact, and that fact will then be embedded in your memory: 'your truth'. Going back to Markle, that's crucially a truth that no amount of counter-evidence can challenge."
Bridge says that encouraging children to emote and focus on their feelings is unhelpful for them and for society at large. The focus on feelings originated in the United States, the source of all bad ideas in our time:
"The worst possible thing you can do with a child is to give them a fixed idea that they are feeling a certain way," she says with aplomb. So those "emotional literacy" classes that started in California and are now being taught at schools here in the UK? The ones using a "traffic light" system, with pupils as young as four being asked to describe their "happiness levels" accordingly? "A terrible idea," Bridge groans. "Feelings are simply physiological sensations mediated by cultural expectations; they go up and they go down!" Yet thanks to the pervasive narrative that every feeling should be given weight, "instead of enjoying the limitless health and optimism of youth" many youngsters "are now entrenched in their own misery".
Bridge then tapped unknowingly into what MacArthur preached about in 1989, the notion that there were once roles for us in life, conformity to social expectations:
The desire to feel significant (either by embracing victimhood or by other means) is hardly new where young people are concerned, Bridge reminds me, and her tone is notably empathetic. "Let's not forget that people used to have a role in life assigned for them within their communities. You might do an apprenticeship and then go and work in a factory or go into your father's firm, or you might be preparing to get married and have babies. Now people have to find their role, they have to choose an identity, and that is much more complicated for them."
Remember when we older folk — the 60+ group — were taught resilience at home when we were children? 'Tomorrow's another day'? It meant that today's setback was temporary and, sure, we were hurt or upset, but better times were on the way. And, sure enough, they were.
Parents and schools are not teaching children about the temporary nature of setbacks. Therefore, today's children lack resilience, which gave all of us who learned it so long ago hope for the future:
"The reason 'everything will look better in the morning' is so important," says Bridge, "is that just like the children who did well in [Walter Mischel's famous 1972] marshmallow experiment, they were able to predict the future based on their past." That ability to delay and see the bigger picture is closely associated with the development of the hippocampus, she explains, "which is memory, navigation and good mental health. Yet by immersing ourselves in feelings and the now, we've blotted out the 'OK so I'm feeling bad, but tomorrow will be another day' logic, and we're trusting the least intelligent part of our brains. As parents, we should all be discouraging this in our children. Because a child has to believe in tomorrow."
Developing resilience is good for brain health, and it helps us to survive.
Bridge says that altruism also helps our brain health. We look out for others, not just ourselves. She says:
Studies have shown that it protects us from mental decline in our later years, but that the self-involved are more likely to develop dementia.
She cautions against cancelling or revising our history, whether it be factual or cultural:
Learning and a sense of history are equally important when it comes to brain health. "Yet again we seem to be distancing ourselves from the very things that we need to thrive. We're so threatened by history and its characters that we try to cancel them! When you only have to read something like Hamlet's 'to be, or not to be' speech to understand that it encapsulates all of the issues and irritations we still suffer from today. And surely knowing that gives you a sense of belonging, a sense of context, continuity and, crucially, relativity?"
Alarmingly, Bridge says that some young people believe that suicide is a melodrama, not a final act:
… they don't actually realise it's the end of them. Instead, they are almost able to view it as a melodrama that they can observe from the outside. Which is a deeply distressing thought.
Scary.
Bridge warns that too much introspection can lead to criminality:
Although it's hard to condense everything she learnt about the criminal brain during those years down to a tidy sound bite, "what was notable and important in this context," she says, "was their fixation on themselves. So the more a person looks inwards at the me, myself and I, the more they're likely to run afoul of everything, from addiction to criminality. In a way, the best thing you can do for your brain is to look beyond it."
She tells me about a prisoner she was working with "who came up to me and said: 'I've got mental health' – as though that were a disorder. Because people have become so 'into' the problem that the phrase is now only negative. That's surely one of the most worrying developments of all. And it's why I refuse to use or accept the term 'mental health' unless it is prefixed by 'good' or 'bad'."
Incredibly, with all the misplaced importance on feelings, Bridge says she has never had a bad reception to her talks:
… she stresses she "has never encountered negativity anywhere I have spoken". Yet another reason why Bridge isn't about to dampen her argument.
She thinks there might be the seeds of a turnaround, based on news items over the past few weeks:
"I think people understand that it's time for some tough talking," she writes in Sweet Distress. "There is increasing evidence that families, schools and universities are being overwhelmed by an epidemic of mental ill health." So whatever we are doing isn't just "not helping", but harming? "Absolutely. But I am seeing more and more people speaking up about this now. The narrative is changing. Just look at what the Coldstream Guards fitness instructor, Farren Morgan, said last week about body positivity promoting 'a dangerous lifestyle'. He's right." She shrugs. "It's no good saying 'it's OK to be any size you please' when we know that if children have bad diets, that can in turn lead to obesity – which in turn makes it more likely that they will suffer both physically and mentally later on."
She mentions the new smart dress code implemented by the head of Greater Manchester Police – the one that, according to reports last week, helped turn the force around into one of the "most improved" in the country. "These officers were performing better at work because they were dressed smarter. So what does that tell us? That if you have a disciplined life and if you accomplish the things you set out to do, that gives you self-esteem – which makes you happier. But of course none of this happens if we are just sitting around 'feeling' things."
She suggests that a good way of getting young people out of the cancel culture narrative is to point out that, someday, they might be cancelled, too. Also note the final word:
How do we get people out of themselves when they are so entrenched, though? How do we root them when they are flailing to such an extent? "By giving them a sense of being part of history! By getting them to see that if they want to cancel someone who lived 50 or 100 years ago, then in 50 or 100 years' time someone may have entirely 'valid' reasons to cancel them. By building the inner scaffolding that will keep them standing throughout life's ups and downs. And you know what that inner scaffold is called?" she asks with a small smile. "Resilience."
Get Gillian Bridge into the new Government, coming soon, as an adviser. The nation needs someone like her. She would be perfect in helping us to defeat our mental health pandemic.
On the first Thursday in May 2022, the UK will hold local elections.
It is unclear how well the Conservative Party will do, given sudden cost of living increases across the board, all of which occurred on April 1. Oh, were that this an April Fool joke. Sadly, it is all too real.
On April 3, Tim Stanley recapped the Conservatives' self-inflicted wounds for The Telegraph: 'The nannying Tories face oblivion if they refuse to get their priorities straight'.
Excerpts follow, emphases mine, except for Guido Fawkes's posts below:
The same day the gas bill doubled, it snowed. Oh, and restaurants were mandated to list calorie counts on menus. After 12 years in office, the Tories have gone from trying to fix the state to trying to fix us, so we'll be less of a shivery, fat burden on the bureaucrats. Don't eat, they advise; don't fly, don't drive, avoid using the heating. In fact, it would be helpful if we could stop existing altogether. The NHS would look good on paper if no one used it, and we'd have a zero per cent failure rate in schools if no one ever sat an exam.
As MPs take a break from Parliament this week, the Tories need to dwell on what they have actually done and what there is to do. This all hinges upon the question of who they truly represent. Considering they were elected to clear up the economic mess left by Labour, it's a bummer to note that debt is higher than under Gordon Brown, the tax burden rising and living standards crashing. We cannot blame ministers for a pandemic or a war, it's true, but the Conservative Party's solutions are near-indistinguishable from New Labour's, and the alternatives rarely aired. Last week, I sat in on the Treasury Committee's "grilling" of Rishi Sunak and the two points I never heard made were "you are spending too much" and "how dare you take my constituents' money to do it". The anger is not there. No party in Westminster stands for the consumer.
It was heartening to see that Stanley shares my impressions of parliamentary debate — virtue signalling, for the most part, including from Conservative benches:
This is not merely a crisis of philosophy, it is undemocratic. MPs are supposedly elected to do what their constituents want, but too many of them, as soon as they arrive in Westminster, are absorbed into a culture that has a uniform idea of what voters need, a total plan for life that runs from reducing carbon to dropping enough weight to fit into a size six dress (even better if you're a fella!). Half the debates are toe-curlingly pious nonsense that does the electorate no benefit except to reassure them that their MP is spectacularly compassionate – and the more laws you pass, goes the logic, the more money we splash, the more compassionate they appear to be. Ergo, the most important metric for success in 2022 is how much the Treasury is spending, not the results.
It's maddening to contemplate that nothing is ever done about situations past and present that affect many Britons:
Where to begin? The Ockenden report has stated that more than 200 babies and nine mothers might have survived were it not for failings at the Shrewsbury and Telford Hospital Trust. During the lockdown, the Government allocated around £37 billion for the deeply inefficient Test and Trace project. It lost £4.9 billion in loan fraud. Not one police officer has been sacked in relation to the Rotherham child abuse scandal. And the same Home Office that struggles to kick out foreign-born criminals finds it strangely difficult to let in Ukrainian women and children.
And we're paying for this incompetence, while an independent body that Labour created years ago just gave all MPs a 2.7% pay rise:
You are paying for all this, and likely paying more thanks, despite [Rishi] Sunak's tinkering, to a combination of National Insurance changes and inflation dragging people into ever higher tax bands. The Chancellor, in his munificence, says he plans to cut income tax in 2024, which means the British government is now handing out IOUs. At the same time, he is also bunging us £200 to help with the electricity bills, a sum that the state will reclaim at a later date, which means it's also entered the habit of writing "UOMes". MPs are getting a wee grant of their own. Their salaries will rise by 2.7 per cent, or £2,212.
The Government has become more intrusive and we have less money in our pockets:
… thanks to Covid, the public sector has been calling the shots since 2020, while the burden of wealth and power has shifted decisively away from the individual. Does this feel like a freer society than 12 years ago? Or a happier one? Paranoia and suspicion are not only widespread but encouraged (adverts on the London Underground now warn against "staring"), and privacy is dead. I can remember when we were told to protect our data. Now, just to take a train to Belgium, I have to prove my vaccine status by downloading the NHS app, send it a photo of my driving licence and record a video of my face reciting a series of numbers. Do I trust the NHS will delete all this information once used? Bless you. I'd sooner invite a rabid fox to babysit the chickens …
Voters, in the eyes of far too many, are spreaders of disease or pollution (in the opinion of some of the old ladies who glue themselves to roads, we ought even to stop breeding), and pockets of money waiting to be tapped.
What is a truly conservative concept of government?
… the old-fashioned principle of offering us the best possible service at the lowest possible price …
Small government doesn't mean "no government" but more efficient government – more effective precisely because it limits itself to a narrower range of tasks at which it can excel. Drawing a line under the Trimalchio's feast of a Spring Statement, the Tories must spend the time they have before the next election peeling back the bureaucracy where it is not needed, passing the benefits on to the people who have been robbed to pay for it, and coming up with creative ways to encourage the private sphere to revive. I don't just mean conjuring up new markets in insurance or energy, but also unleashing culture and technology, faith and family, the very things that make life worth living.
Bravo!
Ultimately, Stanley says:
The paradoxical goal of conservative politics is to make politics less important in everyday life, and while it might sound hopelessly idealistic to expect powerful people to surrender power, unless the Tories try to reduce the state, they will eventually lose office altogether. The time will come when voters finally snap, and take it away.
Let us look at a few more news items on this subject.
A week or two ago, someone sent in a letter to The Telegraph illustrating how much the Government is taking in tax. This is an alarming practical example: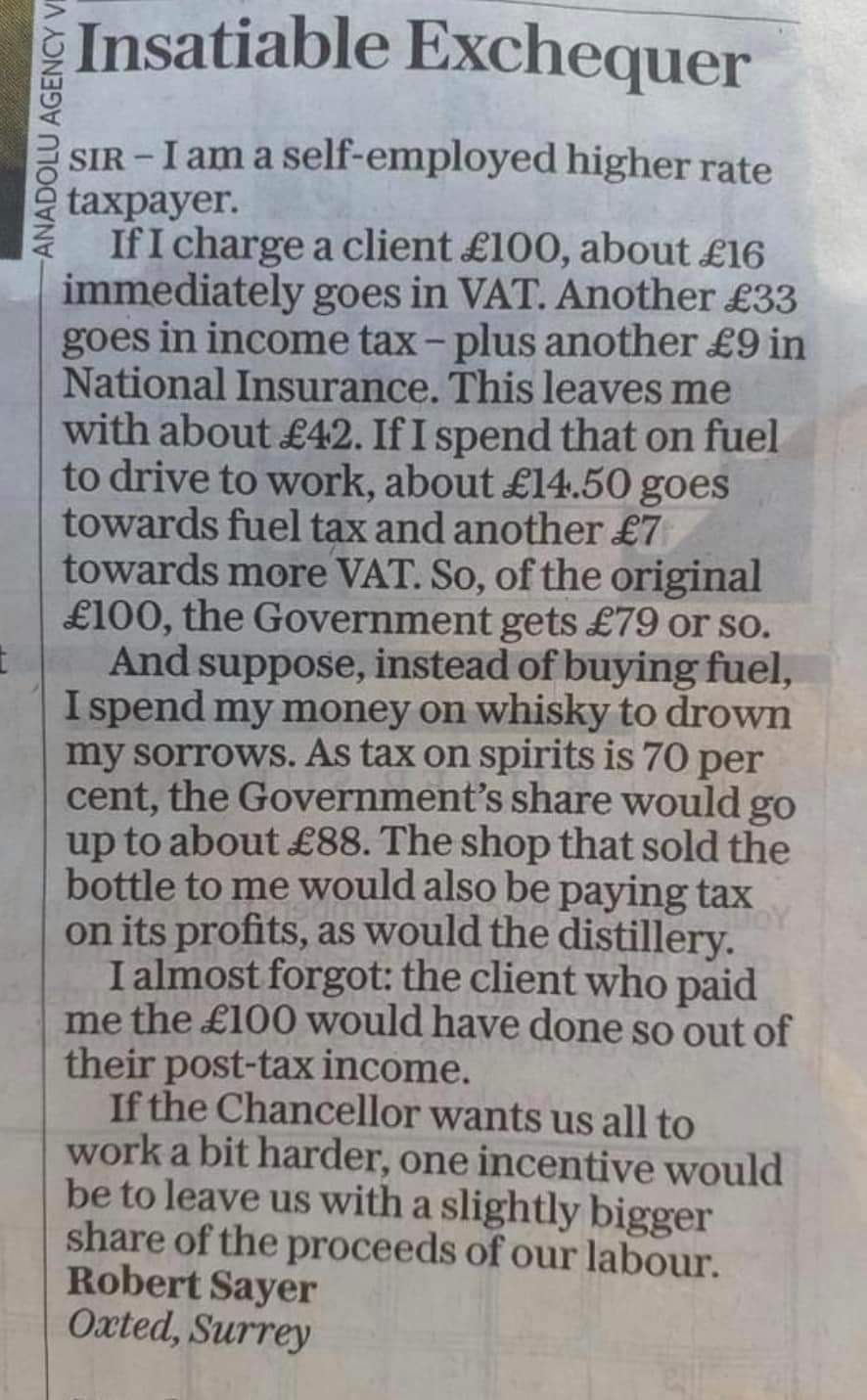 Now let's look at Net Zero, the Government's pet project, initiated by then-Prime Minister Theresa May.
This is a practical illustration of the folly of electric cars, written by conservative columnist and broadcaster Iain Dale for The Telegraph:
Back in November, I acquired an electric car, something I never thought I would do … I calculated it would save me thousands of pounds every year … 
On Friday night, I was invited to speak to Beverley and Holderness Conservatives. The main difference when you drive an electric car on a long journey is that you have to plan. In my old car, I could drive 600 miles without filling the tank, but if I ever nearly ran out of diesel there was always a petrol station around the corner.
The equivalent is not true if you have an electric car. You have to plan your journey using apps such as Zap-Map, which tell you where the charging points are, and whether they're being used, or working. I got to Beverley OK, having recharged the car at Donington Park services on the M1, which has a few charging points. Some motorway services don't have any.
The return journey proved to be a disaster. I left Beverley at 9am and arrived home in Kent at 7.45pm. A journey that should have taken four hours lasted an astonishing 10¾. It was a day completely wasted. The problem was that the three fast chargers in Beverley were either in use or didn't work. So I had to use slow chargers to get to the next fast charger, which was 50 miles away. Range anxiety is a real phenomenon. The whole time you're looking at the screen in front of you, wondering if you will run out of charge before you reach the next charger. And then what?
This week, [Transport Secretary] Grant Shapps announced a target of 300,000 more chargers across the country by 2030, the year when the Government says it will ban the sale of new petrol and diesel powered cars. Fatally, he's left it to local authorities to make sure the roll-out happens. Mark my words, it won't. Not without national direction.
My advice is this. If you only do relatively short journeys, then buying an electric car is a good decision. If you regularly travel more than 150 miles, it isn't. In my experience, the car manufacturers lie about the expected range. My electric car is supposed to do 298 miles. The reality is that it does 206, or 215 if the weather is warm. Caveat emptor.
In other news, the price of milk is set to rise by 50%. The Telegraph reports that crisis talks with EU and British dairy farmers took place in Brussels last week:
Rocketing costs from feed, fertiliser and fuel have stoked fears in the industry of a surge in milk prices not seen in decades.
The cost of four pints of milk will jump from around £1.15 to between £1.60 and £1.70, an increase of up to 50pc, according to Kite Consulting, the UK's leading adviser to dairy farmers.
Michael Oakes, the dairy board chair of the National Farmers' Union, agreed that milk prices will likely rise by as much as 50pc.
John Allen at Kite said a 30-year period of low milk price rises is "coming to an end now" as costs surge on multiple fronts. He expects a typical pack of butter to rise from £1.55 to more than £2.
He said: "What is of concern at present is processors are getting inflationary costs as well and also we are short of milk around the world."
Dairy industry bosses from the UK and elsewhere in Europe flew into Brussels at the end of last week with talks led by Eucolait, the continent's leading dairy industry group. Dairy processors, which act as a link between farmers and shops, are said to be deeply concerned about soaring costs both at farm level and further up the supply chain, as the war in Ukraine lifts key input costs …
UK dairy industry bosses have raised concerns over their costs to the Government, but officials at the Department for Environment, Food and Rural Affairs (Defra) are said to be merely in "listening mode" …
Mr Oakes, who is also a farmer, said: "I was paying about £7,000 for an artic [articulated lorry] load of fertiliser, and this year it's £28,000. It would have been a little bit less before Ukraine happened, but it made another big jump because we'd already seen higher gas prices, which have implications for fertiliser costs …
He added that feed costs have risen 60pc.
As if all that isn't enough to worry voters, we have the Online Safety Bill passing through Parliament. Guido Fawkes tells us what is happening as Ofcom, the communications regulator, prepares for the not-so-distant future:
Scary.
Guido's accompanying post says, in part:
According to Melanie Dawes, the newly-appointed CEO of Ofcom, the quango will increase headcount by 400 staff ahead of new powers to police the internet in the Online Safety Bill, which will be voted on in Parliament after Easter. That's a lot of censors…
Ofcom will have Putin-style powers to block websites from being seen in the UK if those sites fail to uphold their new legal duty of care to remove "harmful content". The definition of "harmful content", of course, will be a political question. Will questioning hurtling towards net-zero whilst millions are in energy poverty be deemed harmful content? …
Ofcom's Melanie Dawes told Times Radio:
We've got some tough and strong tools in our toolkit as a result of this legislation. And I think we need those. …These very strict and somewhat draconian kinds of sanctions are really only the sort of thing that you would expect to use as a serious last resort.
If you don't accept self-censorship and comply, your website will be blocked. Chilling.
Then we found out at the weekend that the civil servant in charge of ethics was at a lockdown party.
The Times's Patrick Maguire reported:
Were this a plot point in a satire, it would feel much too lazy for any self-respecting reader to get behind. But here we are: the official who was then in charge of ethics on Whitehall has been fined for her attendance at a lockdown-busting karaoke party.
As the first major name to have been revealed to have received a fixed penalty notice, Helen Macnamara — then the government's head of propriety and ethics, now in the business of neither as director of policy and corporate affairs at the Premier League — is surely a sign of things to come.
For confirmation of her attendance at a leaving do in the Cabinet Office in June 2020 — at a cost of £50 — is a sign that it wasn't just the junior, nameless and faceless who breached Covid restrictions at the heart of government over that fateful period, as Boris Johnson would much prefer to be the case.
Meanwhile, Scotland Yard is also said to have told people who attended a No 10 party on April 16 last year, the day before Philip's funeral, that they would be given fixed penalty notices: conclusive proof at last that the law was broken in Downing Street itself.
The PM did not attend either do, but the slow burn of revelations from the Met's investigation is hardly ideal, particularly with elections just over a month away.
"I have 65,000 constituents in west Wales, where I represent, and they are not shy in coming forward and expressing a view about this and a number of other subjects," Simon Hart, the Welsh secretary, told Sky News this morning.
"And throughout all of this saga of the Downing Street parties they have said one thing very clearly, and in a vast majority they say they want contrition and they want an apology, but they don't want a resignation."
The bigger risk, looking at the polls, is that they don't want to vote Tory…
However, there are two bright rays of sunlight in an otherwise cloudy day.
The first is that London's position as the second most important financial centre in the world is holding steady, as The Telegraph reported on Monday, April 4:
London remains Europe's dominant financial centre based on factors such as (relative) political stability, labour market flexibility, quality of life, infrastructure and innovation, a ranking by think tank Z/Yen Group found last week. It was ranked second only to New York globally, while Paris came in at 11th place.
The second is that Volodymyr Zelenskyy still appreciates all of Boris Johnson's efforts for Ukraine. He is contemptuous of Emmanuel Macron and Angela Merkel, as Guido reports:
Guido has the video of Zelenskyy praising Boris:
Zelenskyy's said the UK has "agreed on new defensive support for Ukraine. New package. Very, very tangible support," adding "Thank you Boris for the leadership! Historical leadership. I'm sure of it". 
It's too bad that Zelenskyy cannot campaign for Boris's Conservatives. They could use his help.
Yesterday's post covered Piers Morgan's polemics, which cost him his job last week.
In the latter half of last week, Scotland passed what appears to be a draconian Hate Crime Bill, the subject of today's post on censorship in Britain.
Thanks to BBC Parliament, I saw some of the debate in the Scottish Parliament in Holyrood a few weeks ago. I was grateful to the Scottish Conservatives who raised many questions about the scope and the reach of the then-proposed legislation.
On March 10, 2021, the day before MSPs passed the legislation, Lucy Hunter Blackburn wrote an excellent article for Holyrood: 'Chilling effect: how the Hate Crime Bill threatens free speech'.
Excerpts follow, emphases mine.
The article begins with the wide ranging opposition the bill had received:
The bill has had an exceptionally difficult passage to date, prompting criticism from a range of organisations, including at various times the Faculty of Advocates, the Law Society, the BBC, the National Secular Society, the Catholic Church and a raft of writers and artists.
Much of the objection revolves around the precise definition of 'stirring up hatred' in Part 2 of the bill, particularly with the trans movement being active in Scotland. In fact, the article has a photo of trans rights activists to illustrate the point:
In particular, significant concerns remain in relation to issues around sex and gender identity, and the risk of furthering chilling effects in an area of debate that people are already afraid to enter.
The Scottish Government and some commentators have downplayed such worries, insisting that people will not be criminalised for making basic statements about the nature of sex and gender identity, in ordinary language.
A leading lawyer tweeted: "in my opinion of the bill (if enacted) it will not be criminal to criticise the government. Nor will it be criminal to say there are only two genders. Neither involves stirring up hate, or is threatening or abusive."
But the risks here are more subtle. And not for the first time, subtle risks are not being dealt with well in the process of making law, and seem to be least apparent to those least expecting to be affected.
The article looks at the language used in Part 2 of the legislation:
The bill as amended at Stage 2 requires that behaviour must be judged "abusive or threatening" by a "reasonable" person, and "intended to stir up hatred". None of these terms are further defined.
MSPs have taken the view that the meaning of all these words will be obvious, and they will "set a high bar".
Yet this overlooks the mass of evidence presented over the course of the passage of the bill that demonstrates what is hateful, abusive, and reasonable is substantially contested in the context of discussing sex and gender identity.
Even before this legislation was passed, women in Scotland were in danger of losing their jobs for expressing their opinions on the subject of sexual identity:
… women have already lost their jobs, and had their details recorded on police databases for asserting that sex matters.
This is probably how the legislation would work in practice:
In practice, a person will only have to find a police officer willing to entertain the idea that particular statements are intended to "abusive", to trigger an investigation into whether a group or individual intended to stir up hatred.
What might an investigation entail? Organisations representing journalists giving evidence to the committee spoke about the serious professional and personal disruption of having laptops and phones seized, for unknown periods.
It would be likely to mean police interviews. It would be a non-trivial experience, even if charges were not pursued. This [is] broadly what happened to veteran feminist politician Lidia Falcon in Spain, before the authorities decided she had no hateful intent.
Before contemplating the possibility of going to court, let alone the likelihood of receiving a conviction, the sole barrier to a large disruptive criminal justice system intervention in a person's life is, therefore, the application by the police of the "reasonable person" test of being "abusive".
Guessing how that might be applied if or when someone complains will now hang over people. How it is actually applied will be the difference between ordinary life and sudden, substantial disruption to that.
Earlier this year, MSPs attempted to bring in amendments to the Bill that would have protected freedom of speech, but the backlash outside of Holyrood was too great:
Following a social media backlash and accusations of transphobia, opposition MSPs and the Cabinet Secretary for Justice hastily withdrew all these amendments, and agreed to take a 'collaborative' approach to discussing a generic wording for a Stage 3 amendment on freedom of expression instead.
The justice secretary apologised for any hurt caused by singling out particular characteristics. The convener of the justice committee, Adam Tomkins, stated that he was "'alarmed and distressed and perhaps even, if I'm honest, a little afraid" by how this had played out.
In committee, the justice secretary refused to state that there are only two sexes.
More recently, Labour MSP Johann Lamont unsuccessfully attempted to bring in another amendment with a list of words that would not be considered threatening:
This includes asserting that sex is a physical, binary characteristic that cannot be changed, that terms such as 'man' and 'woman' refer to the characteristic of sex, and that a person's sex may be relevant to their experience.
On 5 March, the Equality Network and Scottish Trans Alliance circulated a briefing to all MSPs, advising voting against this amendment, describing such statements as sending a message that that "trans people's rights are open season for attack".
The article concludes:
If the bill is passed in the form the government is seeking, while it will not make certain types of statements about sex and gender identity criminal in themselves, the freedom to do so without risking at least serious disruption to life will now rest wholly on what frontline police officers decide in practice a "reasonable person" might judge "abusive" here.
Given the evidence presented to the parliament, and the passage of the bill to date, that feels like a very thin blue line, making Scotland look an increasingly hostile place for anyone who believes it is ever important to have the freedom to see, name and discuss the relevance of sex.
Later that day — March 10 — The Scottish Sun posted an article: 'Hate Crime Bill: Humza Yousaf faces anger as law gives protection for "cross-dressers" but not women'.
Humza Yousaf is Scotland's justice secretary.
The article says, in part:
The Justice Secretary's controversial law introduces an offence of "stirring up hatred" against groups with "protected characteristics" of race, religion, disability, transgender identity, sexual orientation and age – punishable by up to seven years in jail …
But Labour MSP Johann Lamont – backed by a list of other MSPs – were angry that the Bill does not provide protection for women, but does for cross-dressers.
Tonight, Ms Lamont said that the Scottish Government recently confirmed that they hold no data on cross dressers being a target of hate crime – despite collecting data on the characteristic from 2009.
However, she pointed out that women, goths, and homeless people are not covered by the Bill – despite plenty of evidence they have been targeted for serious offending. 
Ms Lamont told the Scottish Parliament: "The Cabinet secretary has talked about 'a man who is not a trans woman but wears a dress for a drag performance'. 
"The Equality Network has brought up the example of a man dressing up for a night out at the Rocky Horror Show, and also of men who cross dress for what they term 'emotional need'. 
"When women are would be likely to be recognised as cross dressers is obviously much less clear. 
"Why do we believe occasional hatred to crossdressers should be covered in this bill, but not hatred towards all the other groups I have mentioned, but most especially women."
In response, Mr Yousaf said: "In my view these amendments would limit the protections in the Bill and remove protections already provided within the existing definition of Transgender identity within the offence as aggravation by prejudice, Scotland Act 2009. 
"While ensuring existing protection is not lost which is a very important point indeed, people who cross dress are also included in the Bill because they experience hate crime." 
However, SNP and other MSPs rejected separate amendments that would have added sex to the protected characteristics, and also removed the protection for cross dressers from the Bill.
The move prompted outrage online with thousands of women posting the hashtag #iamthestorm in response to sex not being included.
One woman fumed: "Welcome to McGilead, a country so progressive that men on a stag do, wearing dresses, have more rights than actual women."
Another said: "Scotland, under the first female FM, has become a place where women discussing, challenging and debating issues regarding their sex is fast becoming a crime. They can't win the argument so they have made the argument a crime."
The pro-independence SNP lead Scotland's parliament. Nicola Sturgeon is First Minister.
Yet, not everyone in the SNP was on board with the law, including former deputy leader Jim Sillars:
Local and parliamentary elections will be taking place in May.
George Galloway, a Scot who moved back to his homeland from England to run for office, is part of the new political party, All(iance) 4 Unity, standing in direct opposition to the SNP, agreed with Jim Sillars:
The BBC reported that Scots are concerned about conversations they have in their own home:
Scottish Conservative MSPs Adam Tomkins and Liam Kerr have proposed amendments that they say will protect free speech in private – something the new law doesn't offer.
Their amendments are related to the so-called "dwelling defence" that already exists in relation to stirring up racial hatred.
Mr Tomkins – who is also convenor of Holyrood's justice committee – said his move to protect speech "wholly in private" is in line with the right to respect for privacy and a family life.
He told BBC Scotland: "I'm not seeking to insulate everything that happens in the home.
"But I am seeking to say there is a zone of privacy that is protected by European human rights law. We all have the right to respect for our private and family life.
"If something is happening wholly in private, with no public element at all, then it should be safeguarded from the Hate Crime Bill."
Mr Yousaf said: "If you are sitting round the dinner table having a debate about transgender identity and your view is that a man can't transition to a woman, that won't get you prosecuted.
"If your behaviour is found to be threatening or abusive by a reasonable person and it was intended to stir up hatred – and that can be proven beyond reasonable doubt – then you will be prosecuted."
The bill came up for final debate and successful vote on Thursday, March 11, having overrun from Wednesday. The debate can be viewed here.
Pete (Runrig) Wishart, an SNP MP in Westminster, seemed critical of the Conservatives, the only party opposing the legislation:
Would that other parties had opposed the bill:
The pro-independence site, Wings Over Scotland, strongly objected to the bill's passage. In 'The Wrecking Crew', the Rev Stuart Campbell, who founded the site, wrote:
For the last couple of years this site has been critical of the SNP's failure to make any sort of progress on independence. But this is far, far worse even than that. Because if they somehow miraculously achieved independence tomorrow, we'd be afraid to live in the Scotland they're creating.
Our country doesn't have a SINGLE political party remotely fit for government. Voters in May face a choice between the evil, the stupid, and the evil and stupid. And they can't even be angry about it, because even the politest anger is now a hate crime.
We wish we had a constructive course of action to suggest to you, folks. But we don't, because democracy has failed you. There is no way you can vote that will fix the ruins the SNP have made of Scotland. We cannot see a way forward. It is becoming nearly impossible to evade the conclusion that all is lost. Nicola Sturgeon has destroyed it.
The deputy editor of Country Squire magazine tweeted his objections to the bill:
Women are concerned that seeking the privacy of a ladies' restroom is under threat as a man who self-identifies as a woman will have more 'right' to use that facility than they:
Lily of St. Leonards posted on the ethical dilemmas in this legislation involving a potential confluence between a variety of hate categories. 'Humza's hate crimes' is well worth reading in full. On women, she says:
If I am taking off my clothes in the woman's changing area of a swimming pool and I see someone with male anatomy, am I allowed to politely ask them to leave? What if this person says, "I am a woman" and finds my attitude hateful, insulting and discriminatory? Will I be convicted of a hate crime in Scotland if I tell the person I don't believe it is possible for men to become women?
For female politicians on the left, however, the problem goes much deeper. Some have been the subject of truly hateful, obscene messages for not toeing the party line on sexual identity, as The Herald's Kevin McKenna pointed out on Sunday, March 14 in 'Hate Crime Bill: Do women's rights not matter to this authoritarian SNP?' He wrote:
The problem here though is that, judging by social media, the SNP has been hollowed out by a vociferous group of illiberal nasties who seem determined to view reasonably-expressed opinions – especially around gender – as evidence of hate speech.
A significant number of them also seem to derive pleasure from threatening women (never men), both online and in person. Joan McAlpine, the most prominent SNP critic of the Hate Crime proposals has had a target crudely drawn on her Twitter profile amidst explicit threats of sexual violence towards her. Other female members have left the party because their own complaints about similar treatment have been ignored by the leadership.
Joanna Cherry is an SNP MP at Westminster who has also been the subject of a vicious campaign:
I've previously been disobliging of several of Nicola Sturgeon's Labour predecessors but none would have scoured the floor of the swamp as she did a few weeks ago when she whistled up the bullies on the party's scarecrow wing before sacking Joanna Cherry from the front bench of her Westminster team.
Yesterday, at Edinburgh sheriff court a man pled guilty to sending Ms Cherry messages that were grossly offensive, menacing and included threats of sexual violence. The messages were sent days after the First Minister's intervention.
Ms Cherry says that allegations of transphobia made against her from within her own party "put a target on her back".
This week Ms Cherry was the only Scot named on a list of the 100 most inspirational women at Westminster. In the SNP, though, she is considered a pariah and has endured a two-year campaign of intimidation and bullying. This is a party where strong, talented women of independent minds are considered a threat rather than an asset. Its failure to make sex a protected characteristic in their Hate Crime Bill is the final proof – if any were still required – that the SNP does not take women's safety and wellbeing seriously.
Joanna Cherry has also been a QC (Queen's Counsel) since 2009:
Regular readers of McKenna's columns point out that his critical article could mark a turning point for the SNP:
Jamie Blackett, the leader of the new All for Unity (Alliance4Unity) party of which George Galloway is a member, says that this legislation creates a dangerous precedent:
As Lily of St Leonards notes in her aforementioned post:
Nothing should limit my right to write freely about any topic including even if other people find that writing hateful and insulting. Letting their perception of hatred limit my ability to write and speak freely means there is a special group of people living in Scotland who can in theory control what the rest of us say write and do. But it is mere prejudice that elevates these people above everyone else and it is disgraceful that the Scottish Parliament has in effect created a form of reverse Apartheid in Scotland.
This also means that teasing — called 'flyting' in Scotland — is out, as Iain Macwhirter pointed out in 'So what will independence be if SNP no longer protect freedom of speech?' for The Herald:
The abuse is, of course, an ironic form of affection, of bonding – a demonstration that your relationship is so strong that you can playfully abuse each other. But it's something that is almost impossible to explain in the age of social media and the tyranny of the literal. And with the SNP's Hate Crime Bill now passed into law, flyting is finally grounded.
He points out that hate crimes have already been covered under legislation for 11 years:
threatening and abusive behaviour is already illegal, not least under the 2010 Criminal Justice Act. Incitement to racial hatred is also illegal.
Existing legislation means that even a passer-by could notify the police:
You don't even have to be a "victim" yourself. Anyone who overhears something offensive can report a hate incident and the police will be required by law to record it. This will rarely lead to actual prosecution, but it carries a punishment nevertheless. The mere recording of a hate incident will hang around the neck of whoever is accused of it, and could be dredged up when they apply for jobs involving childcare or race relations.
It looks as if the only recourse will be the courts. Such an action has worked before:
Most ordinary SNP members are mystified as to why the Hate Crime Bill ever saw the light of day. It threatens to be even more perverse and indiscriminate than the Scottish Government's Offensive Behaviour at Football Act, which criminalised football supporters and had to be repealed in 2018. It is arguably worse than the named persons scheme, which sought to install a state guardian for every child, and was struck down by the UK Supreme Court because it infringed the European Convention on Human Rights.
All for Unity pledge to repeal the new legislation if they win a majority in May:
As Spiked noted:
Scotland is in serious trouble of becoming the land of the unfree.
Indeed.
It will be interesting to see how this plays out between now and May's local elections.
President Trump spoke at CPAC on Sunday, February 28, 2021, in Orlando.
Anyone missing his rallies will enjoy his closing address, which lasted about an hour. I watched RSBN's coverage, which was excellent. The video covers the whole day, so go to the 8-hour mark to see the speech:
UPDATE ON THE VIDEO — March 4:
For now, it is available from the American Conservative Union and a well respected news site:
Liberty Nation has a good version of the transcript. I've made a few edits in the excerpts below. Emphases are mine.
President Trump began by thanking CPAC organisers Matt and Mercedes Schlapp. Mercedes Schlapp worked on Trump's communications team during his presidency and also on his 2020 campaign. He also acknowledged Rush Limbaugh's widow, Kathryn:
Thank you very much and hello, CPAC. Do you miss me yet? A lot of things going on. To so many wonderful friends, conservatives, and fellow citizens in this room, and all across our country. I stand before you today to declare that the incredible journey we began together – we went through a journey like nobody else. There's never been a journey like it, there's never been a journey so successful. We began it together four years ago, and it is far from being over.
Our movement of proud, hard-working – and you know what this is? The hardest working people, hardworking American patriots – is just getting started. And in the end, we will win. We will win. We've been doing a lot of winning. As we gather this week, we're in the middle of a historic struggle for America's future, America's culture, and America's institutions, borders, and most cherished principles.
Our security, our prosperity, and our very identity as Americans is at stake – like, perhaps, at no other time. So, no matter how much the Washington establishment and the powerful special interests may want to silence us, let there be no doubt, we will be victorious, and America will be stronger and greater than ever before.
I want to thank my great friends, Matt and Mercedes Schlapp. Matt, thank you. Thank you, Mercedes. Thank you very much. And the American Conservative Union for hosting this extraordinary event. They're talking about it all over the world. Matt, I know you don't like that but that's okay. All over the world. I also want to pay my love and respect to the great Rush Limbaugh, who is watching closely and smiling down on us. He's watching and he's loving it and he loves Kathryn. Kathryn, thank you for being here. So great. Thank you, Kathryn. He loved you, Kathryn, I will tell you that. Fantastic. Thank you, Kathryn, very much.
He put paid to rumours about a new political party. There will not be a new party. Trump aims to take over the Republican Party:
To each and every one of you here at CPAC, I am more grateful to you than you will ever know. We are gathered this afternoon to talk about the future of our movement, the future of our party, and the future of our beloved country for the next four years. The brave Republicans in this room will be at the heart of the effort to oppose the radical Democrats, the fake news media, and their toxic cancel culture – something new to our ears, cancel culture. And I want you to know that I'm going to continue to fight right by your side. We will do what we've done right from the beginning, which is to win.
We're not starting new parties. They kept saying, he's going to start a brand-new party. We have the Republican Party. It's going to unite and be stronger than ever before. I am not starting a new party. That was fake news, fake news. Wouldn't that be brilliant? Let's start a new party and let's divide our vote so that you can never win – no, we're not interested in that.
Mr. McLaughlin just gave me numbers that nobody's ever heard of before, more popular than anybody – that's all of us. Those are great numbers and I want to thank you very much. Those are incredible numbers. I came here and he was giving me 95%, 97%, 92%. I said they're great, and I want to thank everybody in this room and everybody all throughout the country – throughout the world, if you want to really know the truth. Thank you.
We will be united and strong like never before. We will save and strengthen America and we will fight the onslaught of radicalism, socialism, and indeed it all leads to communism, once and for all. That's what it leads to. You'll be hearing more and more about that as we go along, but that's what it leads to – you know that.
Not surprisingly, he spoke a lot about the disastrous Biden administration:
We all knew that the Biden administration was going to be bad, but none of us even imagined just how bad they would be and how far left they would go. He never talked about this. We would have those wonderful debates – he would never talk about this. We didn't know what the hell he was talking about, actually.
His campaign was all lies. Talked about energy – I said, you know, this guy, actually he's okay with energy. He wasn't okay with energy. Wants to put you all out of business. He's not okay with energy. He wants windmills – the windmills that don't work when you need them.
Joe Biden has had the most disastrous first month of any president in modern history. Already, the Biden administration has proven that they are anti-jobs, anti-family, anti-borders, anti-energy, anti-women, and anti-science. In just one short month, we have gone from America First to America Last – you think about it, right? America last.
He spoke about the wall along the southern border, which requires closing the gaps in places:
… We did such a good job; it all worked. Nobody's ever seen anything like we did, and now he wants it all to go to hell. When I left office just six weeks ago, we had created the most secure border in U.S. history. We had built almost 500 miles of great border wall that helped us with these numbers, because once it's up – you know they used to say a wall doesn't it work well. You know what I've always said: walls and wheels, those are two things that will never change.
The wall has been amazing, it's been incredible, and little sections of it to complete, they don't want to complete it. They don't want to complete little sections and certain little areas, they don't want to complete, but it's had an impact that nobody would have even believed. It's amazing, considering that the Democrats' number one priority was to make sure that the wall would never, ever get built – would never, ever happen. We'd never get financed – we got financed. We ended catch and release, ended asylum fraud, and brought illegal crossings to historic lows. When illegal aliens trespassed across our borders, they were promptly caught, detained, and sent back home. And these were some rough customers, I want to tell you – some rough customers were entering our country.
I had hoped he would have said 'bad hombres', as he did in 2016, but, perhaps wisely, he did not.
He continued:
It took the new administration only a few weeks to turn this unprecedented accomplishment into a self-inflicted humanitarian and national security disaster. By recklessly eliminating our border security measures, controls, all of the things that we put into place, Joe Biden has triggered a massive flood of illegal immigration into our country, the likes of which we have never seen before. They're coming up by the tens of thousands. They're all coming to take advantage of the things that he said, That's luring everybody to come to America. And we're one country, we can't afford the problems of the world, as much as we'd love to – we'd love to help, but we can't do that.
So they're all coming because of promises and foolish words. Perhaps worst of all Joe Biden's decision to cancel border security has single-handedly launched a youth migrant crisis that is enriching child smugglers, vicious criminal cartels, and some of the most evil people on the planet, you see it every day just turn on the news, you'll see it every day.
Under my administration, we stopped the child smugglers. We dismantled the criminal cartels. We greatly limited drug and human trafficking to a level that nobody actually thought was possible and the wall helped us a lot. And we protected vulnerable people from the ravages of dangerous predators and that's what they are dangerous, dangerous predators. But the Biden administration has put the vile coyotes back in business and is done so in a very, very big way.
Under the new administration, catch and release has been restored. Can you imagine? We worked so hard. Catch – you know what that is – you catch them, you take their name. They may be killers, they may be rapists, they may be drug smugglers. You take their name and you release them into our country. We did the opposite. We not only didn't release them, we had them brought back to their country, illegal immigrants are now being apprehended and released along the entire southern border – just the opposite of what it was two months ago. They weren't coming because they couldn't get in. Once they think they can get in they're coming, and they are coming at levels that you haven't even seen yet – by the hundreds of thousands, by the millions, they'll be coming.
The Biden administration is now actively expediting the admission of illegal migrants, enabling them to lodge frivolous asylum claims and admitting them by the thousands, and thousands and thousands a day; crowded together in unsanitary conditions despite the ongoing economic and public health crisis, COVID-19 – or, as I call it, the China virus.
He made a short announcement:
This alone should be reason enough for Democrats to suffer withering losses in the midterms and to lose the White House decisively four years from now. Actually, as you know, they just lost the White House, but it's one of those things. But who knows, who knows? I may even decide to beat them for a third time, okay?
Trump said that his administration has already paid for the completion of the gaps in the wall. All that needs doing is the work itself:
Joe Biden defunded the border wall and stopped all future construction, even on small open sections that just needed to be finished up – routine little work. It's already been bought. Wait 'til the contractors get to him and they say no, it costs us much more money not to finish this small section than if we finished it – that's going to be nice. Wait 'til you see those bills start pouring in.
He talked about another amnesty, which is probable:
To top it all off, the Biden people are pushing a bill that would grant mass amnesty for millions of illegal aliens, while massively expanding chain migration – that's where you come in and everybody comes in; your grandmother, your father, your mother, your brother, your cousins. They come in so easily. So crazy. It even requires that the U.S. government provide illegal border crossers with taxable funded lawyers. Anybody need a good lawyer? You can't have one. They get the lawyers. They're probably very good, too.
He then discussed coronavirus, beginning with schools that are still closed:
The Biden administration is actually bragging about the classroom education they are providing to migrant children on the border, while at the same time millions of American children are having their futures destroyed by Joe Biden's anti-science, school closures. Think of it, we're educating students on the border, but our own people, children of our citizens – citizens themselves – are not getting the education that they deserve.
There's no reason whatsoever why the vast majority of young Americans should not be back in school, immediately. The only reason that most parents do not have that choice is because Joe Biden sold out America's children to the teachers' unions. His position is morally inexcusable – you know that. Joe Biden has shamefully betrayed America's youth, and he is cruelly keeping our children locked in their homes. No reason for it whatsoever. They want to get out.
They're cheating the next generation of Americans out of the future that they deserve – and they do deserve this future. They're going to grow up, and they're going to have a scar. It's a scandal of the highest order and one of the most craven acts by any president in our lifetimes. It's the teachers' union – it's the votes. And it shouldn't happen and nobody has more respect for teachers than I do. And I'll bet you a lot of the people within that union, they agree with everything I'm saying. Even The New York Times is calling out the Democrats.
The mental and physical health of these young people is reaching a breaking point. Tragically, suicide attempts have skyrocketed, and student depression is now commonplace and at levels that we've never seen before. The Democrats now say we have to pass their $1.9 trillion boondoggle to open schools, but a very small part of it has to do with that. You know where it's going – it's going to bail out badly run Democrat cities, so much of it. But billions of dollars for schools remain unspent from the COVID relief bills that were passed last year.
So on behalf of the moms, dads, and children of America, I call on Joe Biden to get the schools open and get them open now.
He talked about Operation Warp Speed's success in obtaining coronavirus vaccines and treatment for the American people:
When I left office – and we're very proud of this because this was something that they said could not be done; the FDA said it, everybody said it, and the article you read said it couldn't be done, it would be years and years – I handed the new administration what everyone is now calling a modern-day medical miracle. Some say it's the greatest thing to happen in hundreds of years. Two vaccines produced in record time with numerous others on the way, including the Johnson and Johnson vaccine that was approved just yesterday – and therapeutic relief also if you're sick.
If you're sick, we have things now that are incredible – what has taken place over the last year under our administration would have taken any other president at least five years and we got it done in nine months. Everyone says five years …
I pushed the FDA like they have never been pushed before. They told me that loud and clear. They have never been pushed like I push them. I didn't like them at all, but once we got it done I said, I now love you very much.
What the Trump administration has done with vaccines has, in many respects, perhaps saved large portions of the world – not only our country but large portions of the world. Not only did we push the FDA far beyond what the bureaucrats wanted to do, we also put up billions and billions of dollars – ten billion – to produce the vaccines before we knew they were going to work. It was called a calculated bet or a calculated risk. We took a risk. Because if we didn't do that, you still wouldn't have the vaccines, you wouldn't have them for a long time so think of that; we took this bet. We made a bet, because we thought we were on a certain track, but you'd be starting to make them right now. It'd be a long time before you ever saw. It takes 60 to 100 days to manufacture and inspect new doses. And that means that 100% of the increased availability that we have now was initiated by our administration …
Joe Biden is only implementing the plan that we put in place. And if we had an honest media, which we don't, they would say it loud and clear. By the time I left that magnificent house at 1600 Pennsylvania Avenue, almost 20 million Americans had already been vaccinated – 1.5 million doses were administered on my final day alone. Yet Biden said, just a few days ago, that when he got here – meaning the White House – there was no vaccine. He said there's no vaccine. Oh, good, say it again, Joe. Now, I don't think he said that, frankly, in a malicious way – I really don't. I actually believe he said that because he didn't really know what the hell was happening.
Never let them forget this was us, we did this, and the distribution is moving along according to our plan – and it's moving along really well. We had the military, what they've done – our generals, and all of the people – what they've done is incredible. But remember, you know, we took care of a lot of people, including, I guess, on December 21 we took care of Joe Biden, because he got his shot, he got his vaccine – he forgot. It shows you how unpainful that vaccine shot is, so everybody go get your shot.
He spoke about his policies of peace:
When I left office, we had virtually ended the endless wars, these endless wars they go on forever. They go on forever. I would go to Dover and I would see caskets, coffins coming in, I'd see the parents and wives and husbands I would see the kids, endless wars 19 years in Afghanistan, we have it down to almost nothing left and I hear they might want to go back in Iraq, remember I used to say don't go in, but if you're going to go and keep the oil well we went in and we didn't keep the oil.
We had made historic peace deals in the Middle East, like nobody thought were even possible … not a drop of blood. By the way that one American soldier has been killed in Afghanistan in over a year, think of that, not one those troops have largely come home at the same time, the new administration unilaterally withdrew our crippling sanctions on Iran foolishly giving away all of America's leverage before negotiations have even begun. Leave the sanctions, negotiate.
Then he addressed the Biden administration's fawning attitude towards the WHO and China:
And another horrendous surrender: he agreed to get back into the World Health Organization for approximately $500 million a year which is what we were paying. When I withdrew from the WHO and you know the whole story with that they called it badly. They really are puppets for China. They called and they wanted us to stay in. I said, 'How much are we paying, approximately $500 million? How much is China paying … in terms of population country?' 'Sir, they're paying $39 million.' I said, 'Why are we paying 500 million and they're paying 39?' I can tell you why. Because the people that made the deal is stupid. That's why.
So, so, and I had no idea how popular was we I didn't even know if I would be able to politically because people were so happy when I did get out. But I said so we went in, we could get it for 39 million, which is what China not 500 million, which is what we were stupidly paying and they said, We can make a deal we want you to go in, we can make a deal. Okay, and I did, I decided not to do it. We could have had it for 39, we could have had it for the same as China, and they decide now to go back into the World Health Organization and pay 500 million. What the hell is wrong with them? …
He talked about the Paris Climate Accord:
Just like Iran and the World Health Organization Joe Biden put the United States back into the very unfair and very costly Paris Climate Accord without negotiating a better deal. They wanted us so badly back in. I'll tell you they wanted us. I was getting called from all of the countries: 'You must come back into the Paris Accord'. I said, 'Tell me why. Give me one good reason.' First of all, China doesn't kick in for 10 years, Russia goes by an old standard which was not a clean standard and other countries, but we get hit right from the beginning when it cost us. Hundreds of 1000s and millions of jobs; it was a disaster.
But they go back in. I could have made an unbelievable deal and got back in but I didn't want to do that, surrendering millions of jobs and trillions of dollars to all of these other countries, almost all of them that were in the deal, so they have favorable treatment. We don't have favorable treatment and we just had we're going back in to go back in, they wanted to so badly. You couldn't negotiate if you wanted to go back in, which, frankly we have … the cleanest water and everything else that we've ever had.
He discussed Biden's cancellation of the Keystone XL pipeline, the folly of wind power and the price of petrol over the past few weeks:
One of his first official acts, which was incredible, because, again, he talked about energy. He never said he was going to do this. He cancelled the Keystone XL pipeline, destroying not the 8000 or the 9000 or the 11,000 jobs that you hear, but 42,000 great paying jobs on just about day one, right? He never talked about that during a debate, because he wouldn't have gotten away with it …
We cannot let this stuff continue to go on, but one of my proudest accomplishments as president was to make America energy independent. The United States became the number one energy superpower, number one. Number one, bigger than Saudi Arabia, bigger than Russia by a lot. We left them all in the dust …
How bad is wind power? So, I talked about it all the time …
The wind isn't blowing. I don't believe we'll have any electricity … It's such an important such an expensive form of energy. It's so bad for the environment, it kills the birds, it destroys the landscapes. And remember, these are structural columns with fans on them, they wear out, and when they were out all over the country you see them, nobody takes them down, they're rotting, they're rusting. How this is environmentally good for our country?
And it costs, many, many times more than natural gas … [Natural gas] can fuel our great factories. Wind can't do that and, and solar, I love solar but it doesn't have the capacity to do what we have to do to make America great again. Sorry, it just doesn't happen under the radical Democrat policies.
The price of gasoline has already surged 30% since the election, and we'll go to $5 $6 $7 and even higher. So enjoy that when you go to the pump, because it'll be about $200 to fill up your van … It's a shame what's happening, energy prices are going to go through the roof, and that includes your electric bills. That includes any bill having to do with energy our biggest costs.
We will now be relying on Russia and the Middle East for oil and they talk about Russia, Russia, Russia. What's better than what this guy's done for Russia? …
He deplored what is happening to women's sports:
Joe Biden and the Democrats are even pushing policies that would destroy women's sports … Hate to say that, ladies, but a lot of new records are being shattered. … Now, young girls and women are … being forced to compete against those who are biological males …
Now I think it's crazy. I think it's just crazy what's happening. We must protect the integrity of women's sports, so important. Controversial. Somebody said, 'Well, that's gonna be very controversial'. I said, 'That's okay'.
He defined Trumpism, a word he says he did not coin. However, he defended this new movement and pointed to his administration's record:
Many people have asked what is Trumpism, a new term being used more and more. I'm hearing that term more and more, I didn't come up with it. But what it means is great deals, great trade deals, great ones …
Did you see grain prices and grain sales are at an all time high? We are at an all time high … We did a lot of work with the tariffs and all these things that we had to do to get it and now the farmers are doing great … they're setting records.
It means low taxes and eliminating job killing regulations. Trumpism, it means strong borders, but people coming into our country based on a system of merit … It means no riots in the streets, it means law enforcement. It means very strong protection for the Second Amendment and the right to keep and bear arms. It means support for the forgotten men and women who have been taken advantage of for so many years, and they were doing great.
They were doing great before that horrible thing from China came in and hit us, and now they're starting to do really well again … No country comes even close to competing with our comeback … A strong military and taking care of our vets but a strong military, which we have totally rebuilt. We have rebuilt it. And our military has never been stronger than it is today. It was tired, it was depleted, it was obsolete and now we have the best brand new equipment ever made. And it was all produced right here in the USA.
And we take care of our vets. You know, we had a poll recently just before leaving office, the vets had a 91% approval rating for the way we took care of them, that's the highest number in the history of the polls. But on top of all of that. We have even created the Space Force the first new branch of the United States military in nearly 75 years …
The mission of our movement and of the Republican Party must be to create a future of good jobs, strong families, safe communities a vibrant culture, and a great nation, for all Americans, and that's what we're creating … The culture of our country, our party is based on love for America, and the belief that this is an exceptional nation, blessed by God.
We take great pride in our country. We teach the truth about history. We celebrate our rich heritage and national traditions we honor, George Washington, Abraham Lincoln Thomas Jefferson and national heroes. And of course, we respect our great American flag.
He received a lot of applause with that and thanked the audience several times.
He continued:
We are committed to defending innocent life and to upholding the Judeo Christian values of our founders and of our founding. Free thought. We stand up to political correctness, and we reject the left wing lunacy, and, in particular, we reject cancel culture. We know that the rule of law is the ultimate safeguard. And we affirm that the Constitution means exactly what it says. As written, as read …
That is the essence of Trumpism.
I've covered only half of President Trump's speech. The other half can be found here.
Afterwards, he received a standing ovation from nearly everyone in the crowd.
President Trump's speech closed the CPAC conference. It's hard to imagine a better ending to it and a better beginning to 2021 for Republicans.
Shortly after Joe Biden's inauguration, Fox News posted two interesting videos.
The first was one I never thought I would see. In fact, I hadn't even imagined it.
Laura Ingraham managed to get an interview with Glenn Greenwald, formerly of The Intercept, which he co-founded. Not so long ago, the publication told him to take a hike. They did not like that he opposed 'their' editorial line. Greenwald, although hardly a conservative, questioned current leftist narratives.
Glenn Greenwald is not a fan of Donald Trump, but even he can see that Big Media have clearly overstepped their bounds.
Laura Ingraham begins the segment with three minutes of Inauguration Day coverage contrasting 2021's with 2017's. Even Greenwald says he could barely stomach it:
He said that the media react in three ways: a) basic whining, b) complaining that the public can see through media lies and c) downright censorship.
Greenwald said that the public's
lack of trust will continue to worsen, undoubtedly.
Ingraham asked about the militarisation of Washington, DC. Greenwald posited that the media had to create a story that invoked fear — domestic terrorism — because talking about Joe Biden would have been too dull.
Ultimately, he said that the media want the people to be subservient to the elites and that is why they are
spinning these stories.
He also said that the Democrats want to bring in a
new War on Terror bill.
It would deal with what is perceived to be domestic terrorism:
all designed to entrench powers in their hands that we would otherwise agree they should never have.
Too true.
Tucker Carlson also discussed this on his show around the same time:
Glenn Greenwald said that Adam Schiff (D-California) has been trying to bring in a domestic terrorist threat bill since 2019.
Tucker Carlson introduced another Democrat legislator with the same intent in mind. His name is Rep. Brad Schneider (D-Illinois). No one outside of his constituency or state has ever heard of Brad Schneider. Tucker wonders who put Brad Schneider in charge of the First Amendment.
Tucker's video goes on with video clips of two other legislators who want to restrict the right to free speech and freedom of assembly, because Americans doing so — Americans with conservative values — are 'harming' other Americans.
Unbelievable.
Both videos are worth your time: 13 minutes in total.
Please watch and circulate.
Dems and their water carriers in the media do not have the Constitution in mind with these proposed laws.
Tucker, in particular, makes a valid and impassioned defence of the First Amendment. He read history at university, so he's not a 'media studies' kind of journalist.
America has always been the freest country in the world.
May the Great Republic always be so. May these censors and charlatans cease and desist from removing fundamental American rights from the people.
Four years ago at this time, I was lukewarm about Kevin McCarthy, the Republican (Minority) Leader in America's House of Representatives.
He represents California's 23rd District, so he knows a lot about the state's politics.
He wasn't too keen on Donald Trump in 2016, but, since then, he got on board the Trump Train and makes a lot of sense.
Below are some of his latest and greatest tweets.
The 2020 results for the House
Six days after the 2020 election, he tweeted:
He also had a go at Nancy Pelosi's predictions about the election results. She was so wrong:
2020 election censorship
On Wednesday, December 9, YouTube posted a statement: 'Supporting the 2020 U.S. Election'.
It reads in part (emphases mine):
Yesterday was the safe harbor deadline for the U.S. Presidential election and enough states have certified their election results to determine a President-elect. Given that, we will start removing any piece of content uploaded today (or anytime after) that misleads people by alleging that widespread fraud or errors changed the outcome of the 2020 U.S. Presidential election, in line with our approach towards historical U.S. Presidential elections. For example, we will remove videos claiming that a Presidential candidate won the election due to widespread software glitches or counting errors. We will begin enforcing this policy today, and will ramp up in the weeks to come. As always, news coverage and commentary on these issues can remain on our site if there's sufficient education, documentary, scientific or artistic context.
While only a small portion of watch time is election-related content, YouTube continues to be an important source of election news. On average 88% of the videos in top 10 search results related to elections came from authoritative news sources (amongst the rest are things like newsy late-night shows, creator videos and commentary). And the most viewed channels and videos are from news channels like NBC and CBS.
NBC and CBS weren't biased, were they?
Kevin McCarthy was quick to respond. He's absolutely right. There was nothing like this in 2016:
Praise for Trump's historic five peace deals in four months
On Thursday, December 10, the Trump administration made history once again, with yet another exceptional peace deal, where people said none could be done.
Yes, Donald Trump is the Peace President:
I couldn't agree more:
China
A week ago, I wrote on Orphans of Liberty about the revelations that a female Chinese spy was active in California and the Midwest for several years (see the part on China). The principal politician involved was Rep. Eric Swalwell. The Chinese national, Fang 'Christine' Fang, met him when he was councillor for a San Francisco Bay area town, Dublin City. At the time, she was a student at California State University East Bay and affiliated with the Chinese Student Association.
Swalwell was first elected to US Congress in 2012. He was re-elected in 2014. Fang was his 'bundler' for campaign contributions. That was ideal for her and for China. She ended up placing a few political interns in his offices, including one in Washington, DC.
Fang overplayed her hand in the months to come. By 2015 — and this was during Obama's second term — the FBI was on to her. They gave Swalwell a defence briefing about Fang and he put an end to his association with her.
Nonetheless, Swalwell has served on the House Intelligence Committee for several years. He is still serving on the House Intelligence Committee.
Furthermore, few people are more vocally anti-Trump than Eric Swalwell. He was one of the principal peddlers of the 'Russian collusion' narrative.
Kevin McCarthy nailed it with this tweet from Tuesday, December 8:
The following day, he explained to Laura Ingraham of Fox News that Speaker of the House Nancy Pelosi nominated him to that committee. Did Madam Speaker know about Swalwell's connections? If so, she never should have nominated him:
On Monday, December 14, he also had a go at Adam Schiff, the chairman of the House Intelligence Committee, about Swalwell. Schiff, also a Democrat, is another US legislator from California:
This is his message for the next session of Congress, when the Speaker of the House position is once again up for grabs:
Coronavirus lockdowns
For me, however, this is Kevin McCarthy's best tweet:
Yes, they do, indeed.
In August, he tweeted:
Yet, the longer lockdowns and restrictions go on, the more people are likely to believe small business closures, particularly those in the hospitality sector, are a way of letting either big firms or the Chinese in to buy vacant property.
Yesterday, Howie Carr interviewed a restaurant owner from the North End in Boston who has a long-established restaurant that is opening and closing at the whims of city officials and the Massachusetts governor. The man was fighting back tears. This is not easy — at all. He said he does not know what is going on but he says that all the benefit is going to big corporations rather than to him and his brother as well as other small business owners.
When I found McCarthy's 'lockdowns destroy livelihoods' tweet, I'd also spotted a prescient comment from someone who has been an ex-Democrat since 2008. The comment is excerpted below:
…Why are all the Dem leaders so blatantly cold & heartless & PUNITIVE towards destroying people's lives…while continuing to party in their own lives
Why would Cuomo & DeBlasio let NY turn into a ghost town? and Newsome & Garcetti let the great state of California & the once grand city of Los Angeles die a slow death to the point of driving even Silicon Valley & Elon Musk to skedaddle out to greener & nicer pastures taking all their jobs & moola with them??? Why??
…and then it hit me……there is a strategy…the Dems want the businesses to fail; they want the small business people to fail…they want to kill their golden goose…WHY? Democrats have always been big supporters of Eminent Domain…I could not believe it when I found out years ago it is usually the Dems behind confisicating people's land, homes, businesses…not really repubs…they believe in their right to do that…for the "greater good"
so my theory goes Dem leaders want to suffocate the small business & real estate & workers to the point of blight & where they give up, lose their businesses & property, have their business licenses & credentials taken away from them, etc
…and then Dems claim all the property & real estate, small businesses under eminent domain or some other concocted device…take what they want …demolish the rest & start selling the locations & properties to FOREIGN INVESTORS…namely CHINA, CHINA, CHINA…
Does anyone doubt that CHINA (given we are speaking about Dems, throw in Iran, etc) would love to own Los Angeles & New York City?
THIS is what I believe is the method to their madness…let things get as bad as they conceivably can without being too obvious…and then one by one Foreign money will appear & buy up the fire sales…& then recreate in their own image a "New America" with Dems in charge of who gets what & at what price.
That is very plausible, very plausible. And, if it is, it won't just be true in the United States. What about the many European countries experiencing endless lockdowns and restrictions?
The Democrats — either at state or federal level — are not helping the normal American who has worked hard to make his or her living.
McCarthy retweeted this:
As he told Maria Bartiromo of Fox News, Nancy Pelosi used this despicable strategy to hurt President Trump. Instead, it hurt millions of Americans:
Civil rights
On civil rights, McCarthy knows the history of the Republican Party, which has championed them from the 19th century:
After the 2020 election, McCarthy pointed out the diversity among the Republican winners:
Oldies but goodies from 2018 up to 2020
In 2018, McCarthy proved that a goodly number of Democrat congressmen don't care whether illegals vote in a US election:
Nearly three weeks later — and three weeks before the mid-term election that year — Newt Gingrich lauded McCarthy for his stance on immigration: 'Here's a leader with a plan to genuinely control our southern border. He needs our support'.
California politics is part of this, too:
When House Majority Leader Kevin McCarthy, R-Calif., introduced the Build the Wall, Enforce the Law Act he set the stage for a vital national debate on important questions …
When contrasted with the open borders bill of Sen. Dianne Feinstein, D-Calif. – which every Democratic Senate incumbent has co-sponsored – the choice between the two parties is clear.
Republicans will control the border. Democrats will throw the border wide open to anyone who wants to enter.
On October 23 that year, Fox News reported that two men threw a large rock through the window of McCarthy's office in Bakersfield, California. The men then burglarised the equipment inside:
McCarthy posted four photographs documenting the alleged episode on Instagram — three showing the individuals he identified as possible suspects, and one providing a clear view of a massive slab of rock lying on the floor amid shattered glass.
"Does anyone know these two guys?" McCarthy wrote on the social media site, next to images of two people spotted near his office.
The Bakersfield Police Department did not comment on the alleged incident when reached by Fox News and said it would have more information on Tuesday.
McCarthy, like several other congressional Republicans, has faced threats and harassment in the past several weeks. In August, protesters in Sacramento chanting "No justice, no peace" disrupted McCarthy's event at the Public Policy Institute of California.
Ironically, on Thursday, McCarthy retweeted President Trump's "#JobsNotMobs" slogan, underscoring the deteriorating level of civility in politics ahead of the Nov. 6 midterm elections.
After the November 6 election that year, McCarthy was approved by a vote of 159-43 to become the new House Minority Leader.
McCarthy is someone who appeals to all Republicans. Trump, however, also wanted a more controversial figure to also represent his interests — Jim Jordan from Ohio, a wrestler during his university days:
Jim Jordan did not get his appointment as Ranking Member of the House Judiciary Committee until March 20, 2020. That said, Doug Collins (R-Georgia) did an excellent job defending the president during his impeachment hearings.
During Sen. Chuck Schumer's (D-NY) shutdown early in 2019, McCarthy wanted Congress in session:
During that time, he also made it clear that he supports small government:
At the end of January 2019, in an effort for tighter border legislation, McCarthy gave a speech about the many Americans who had been the victims of crime at the hands of illegals. It was so moving that he received a bipartisan standing ovation.
A few days later, he upheld the right to life in criticising Virginia's Democrat governor Ralph Northam for his egregious racist behaviour and stance on abortion:
Sadly, Northam's still there.
On February 19, 2019, he posited that Adam Schiff should have recused himself from investigating Trump's notional 'Russian collusion' because Schiff met with Glenn Simpson, the founder of GPS Fusion, the opposition research firm behind the Democrat-funded Steele dossier at the Aspen Security Forum in July 2018.
The matter persisted through the end of March that year, but Schiff is still the chairman of the House Intelligence Committee.
In April, he warned Americans of the Democrat plan to regulate the Internet. He countered that Republicans want to keep the Internet free and open.
Two months later, he pointed out that YouTube considers itself a publisher, not a platform. It should be noted that a publisher can choose what to publish, a platform — which YouTube claims to be — cannot.
Kevin McCarthy also managed to raise a lot of money for President Trump's 2020 campaign, starting in 2019:
McCarthy had a strategy to win a House majority in 2020. Sadly, that didn't work — and historically, it's very difficult — BUT at least the Republicans did not lose any seats (see the first tweet in this post).
In late October 2019, McCarthy rightly criticised the secrecy that Adam Schiff engineered around the preparations for Trump's impeachment. Republicans were not allowed to see some of the evidence.
McCarthy refused to give it legitimacy:
On December 6, 2019, McCarthy brought Pelosi's forked tongue approach to the attention of all Americans:
In January 2020, McCarthy set an all-time annual fundraising record for the Republicans:
On February 5, 2020, McCarthy announced that Trump was 'acquitted for life':
He defended Attorney General Bill Barr (who is leaving his post this month) against 2,000 former DoJ — Department of Justice — employees who wanted him to resign.
In June, he saw the agenda that lies behind people who want to topple statues and destroy police stations, public housing as well as churches:
Later this past summer, he appeared in a moving campaign ad for President Trump:
In a change from four or more years ago, McCarthy stated that he did not want an endorsement from the Chamber of Commerce. That is because the Chamber of Commerce rejected Trump in 2020 and endorsed Democrats instead. Now please revisit the ex-Dem's comment earlier in this post about what could happen to the property that businesses going bust from coronavirus leave behind. It is entirely possible that those properties could be sold to a foreign entity or to big real estate developers.
On Wednesday, November 4, the day after the election, he tweeted, 'Americans rejected socialism and voted for freedom', which was true at state and federal levels. Team Trump continues to contest the presidential results.
McCarthy wants the battle for truth to continue. On November 6, he told Laura Ingraham of Fox News, 'Republicans will not be silenced'.
I have enjoyed what I have seen and heard from Rep. Kevin McCarthy of California over the past four years. I hope he continues like this, because, if he does, he would make an excellent Speaker of the House someday.
Yesterday's post summed up the week's coronavirus news in the UK.
It was all rather interesting, ranging from vaccine distribution in Coventry to Sky News's Kay Burley being sent to Coventry and back to London — for a six-month suspension. Gosh. Talk about 'being sent to Coventry', i.e. ostracised.
More snippets from this week follow in the coronavirus crisis.
Remember medical statistics history — Prof Carl Heneghan
Prof Carl Heneghan from Oxford warns that we should not forget statistics pre-Covid. Let us cast our minds back to one year ago, 2019:
Most respiratory infections have gone down from this time last year.
COVID-19 is the only new addition with a dramatic upward spike.
An American physician speaks out
Dr Brian Lenzkes, an internist from San Diego, California, offered an interesting thread on coronavirus censorship in the medical community.
But, first, let me begin with the following madness which he rightly exposed. Influenza has disappeared? Pull the other. A San Diego County health official says so — because people are wearing masks:
Yet, there are no tests for flu.
Dr Lenzkes has excellent tweets about diet and coronavirus, among them the following thread about censorship on the subject:
Note the fifth tweet:
Meanwhile, non-COVID patients are losing their well-being
In Britain, the National Health Service has become the National Covid Service (NCS).
Many patients with other serious conditions are losing out on critical care. This lady has lost her sight because of the NCS:
WHY?
Surely, after over 70 years, the NHS, sorry, NCS, can — and should — do much better.
Helen is only one of thousands who have gone without the care they needed.
The unvaccinated deserve nothing?
The chairman of the Oxted and Limpsfield (Surrey) RAFA — Royal Air Force Association — tweeted that those without the coronavirus vaccine should be denied service. In his opinion, there is no excuse:
Wow.
Many of us recall when the RAF fought for our freedom:
A London plumbing firm could mandate the vaccine for customers
Disappointingly, some service providers plan to discriminate against the unvaccinated.
This is Charlie Mullins, who heads London's famous plumbing firm, Pimlico Plumbers. He gave this interview from his second home in Marbella:
Meanwhile, in Canada …
On Wednesday, December 9, the deputy premier of Ontario made a statement about coronavirus vaccines.
They are not mandatory, but if you don't get vaccinated, your life will not return to normal:
However, the vaccine does not guarantee immunity
In any case, the vaccines do not guarantee immunity. They purport only to make the coronavirus episode less severe, much like the flu vaccine. Isn't there a preventive solution, e.g. Vitamin D supplements, natural summer sunshine, a good diet, that could prevent the virus taking hold? I think we should be told:
In the US, overall death figures are low
Yes, despite what we read in the media, in 2020, the United States has a low overall death toll compared with previous years:
This woman is indignant over the lockdown(s) which have seen many shops in the Palisades Center in West Nyack, New York close (occasional language alert):
Londoners could be entering the dreaded Tier 3
The same nihilistic restrictions are going on in England, with the threat of London entering Tier 3.
This was yesterday's headline in the London Evening Standard:
In conclusion
This is about the size of it. 'Submit and obey'? Not on your Nelly:
Let's remember:
In conclusion, the aforementioned Dr Lenzkes quoted the late Rod Serling from the original Twilight Zone:
It's interesting that some did not think the warnings were strong enough:
Rod Serling and others warned the way they were able to do — based on their knowledge at the time.
Why do we ignore history?