You are currently browsing the tag archive for the 'Channel 4' tag.
It's difficult winning against Andrew Neil, the longtime BBC political presenter who was the leading face of GB News for a month in 2021 and who currently has his own Friday evening show on Channel 4.
When it comes to grilling politicians, no one does it better than he.
Rishi Sunak agreed to subject himself to Neil's unfailing command of the facts. So far, Liz Truss — as did Boris Johnson — has not committed to the same.
Neil's interview
Sunak appeared with Neil on Friday, July 29, 2022, to put forth his case for becoming the next leader of the Conservative Party and, by extension, the United Kingdom's next Prime Minister.
Having watched the Q&A session, I thought that Rishi did a good job.
However, there was a real dissonance between what he said his policies involved and what Neil said they did.
As such, it made for awkward viewing. Who was telling the truth? I was left none the wiser.
At times, I was focusing on Neil's hair, which he has dyed a dark brown. His natural colour is ginger.
Rishi presented himself as the sensible, cautious candidate with regard to tax and the deficit:
Rishi defended raising taxes to fund the NHS. He did well in preventing his irritability from showing, but a vulnerability did slip out here:
Neil accused him of being 'consistently inconsistent' with regard to tax reform, but Rishi said that's how it works:
Hmm.
Neil asked Rishi about his wife's non-dom status. The former Chancellor gave a short reply, saying that she addressed it. This did not satisfy me, but then I don't have a vote in this contest:
Yes, there are family obligations here, it would seem. Those appear to involve his in-laws.
Neil was surprised at Rishi's answer about curbing the number of refugees. What Neil doesn't realise is that legal immigrants and their children take a much different view on migration than the British metropolitan elite.
Neil also managed to squeeze in Rishi's televised statement from his teenage years in 2001 in which he said he had no working class friends:
Neil concluded by reiterating that Liz Truss was still welcome to appear on his show.
I did not really know what to make of this half-hour broadcast.
Only the Mail had any commentary on it.
One article with more dialogue from the programme is 'Sunak is forced to deny he has shown a "lack of consistency" on VAT to Andrew Neil'.
An excerpt follows:
Veteran broadcaster Andrew Neil said Mr Sunak's approach of tightening fiscal policy risks recession in an interview on Channel 4.
The Tory leadership hopeful replied: 'No, if you look at what's happening around the world, it's inflation that is slowing economies down. It's rising interest rates that are already putting a brake on economic activity.
'And my concern is that I want to get to grips with inflation as quickly as possible because inflation makes everybody poorer. It erodes people's living standards.'
He also insisted his policy to hike national insurance thresholds was 'undoubtedly, objectively progressive' when Neil suggested it penalised workers.
'It's an entirely progressive measure,' Mr Sunak said. 'Raising thresholds means that those with the broadest shoulders contribute the most.'
The heated exchange resulted in Neil saying that the OECD has said that Mr Sunak's plans will result in a recession for the UK economy – which the former Chancellor disputed. 
It came as Mr Sunak sat down with the fearless interviewer Mr Neil on Channel Four – after frontrunner Liz Truss refused to do the same.
Mr Neil once again extended the hand to come on his show to the Foreign Secretary – saying the 'invitation is still open'.
The Southampton-born millionaire repeated his claims that tax rises were necessary for paying for Covid measures and said that he did not want to pass debt onto future generations.
He said that it would be the 'easiest thing in the world' to cut taxes to aide his leadership campaign but that he thought it was not the responsible thing to do.
Mr Neil hit out at Mr Sunak's wife's non-dom status which hit the papers earlier this year but the former Chancellor attempted to draw a line under the line of questioning, saying that he was the one running for office – not his partner.
The line of questioning made Mr Sunak visibly uncomfortable as he tried to move on from the scandal.
The tax cuts intended to fund the NHS were another line with Mr Neil used to attack Mr Sunak – as the interviewer quoted suggestions that the waiting lists on the NHS will reach 10 million in the next two years.
Mr Sunak attempted to distance himself from the Conservative's record on health after the fierce Scot tried to pin the NHS's problems on him – saying that he has left Government to change course on the NHS.
He added that he wanted to set up over 100 'elective surgery hubs' to bring down the backlog. 
Henry Deedes examined the optics of the interview: 'The ex-chancellor sat awkwardly, like a man about to undergo an enema'.
Excerpts follow:
We immediately saw Sunak sat behind a desk, his hands placed slightly awkwardly on top of each other. Across his mouth was smeared a distinctly uncomfortable grin. He looked like a man nervously waiting to undergo an enema …
Tax was the main topic, namely why Rishi as chancellor made us pay so much of it. Sunak said he wanted to pay down the cost of the pandemic rather than saddle our grandchildren with all that debt. 'I'd like to give people all these nice things – don't you think that'd make my life easier?' he pleaded.
Rishi kept calling Neil by his first name. Most of his replies began with a chummy 'look, Andrew'. Doubtless his spin doctors thought familiarity might soften the old brute. It didn't.
Neil kept coming at him over tax rises. A Bren gun with ceaseless ammunition. Pop, pop, pop. 
Why had he frozen the income tax threshold? Why had he left comfortable pensioners alone? Why were so many people paying the top rate? Unfortunately for Sunak, Neil is that rare thing in journalism – someone who actually understands economics …
Talk turned toward the NHS. Neil pointed out that waiting lists were up, despite the gazillions of pounds which get thrown at the Health Service every year. 'These are complex issues, Andrew,' Rishi mansplained.
Yes, yes, said Neil. But it had gotten worse on the Government's watch. 'Andrew, I left the Government,' pleaded Rishi. 
'Yes, but only a few days ago,' barked Neil. Sunak's answer to the NHS backlog was to set up a task force. Yes, that should do it!
There was mention of a recent video which surfaced of Sunak in which he told an interviewer he didn't know any working class people. 
Bit odd for someone who claims to come from such a modest background. 'I grew up working in my mother's pharmacy,' Sunak reasoned. 'We know all that,' sighed Neil witheringly.
He seemed to think Sunak's 'umble roots were a tad overplayed. Especially since he was schooled at Winchester. Neil's intellect of course was forged and honed at Paisley Grammar.
A brief tit-for-tat developed over Lady Sunak's non-dom tax status. 'I'm the one running for office, not my wife,' said Rishi. His voice lowered a bit at this point. He shot Neil a steely look as if to say 'Let's leave her out of this, shall we?' Respect.
We were now out of time. To be fair to Sunak he was still standing. But only just.
Incidentally, his opponent Liz Truss had given Neil's offer of an interview a wide swerve. 'Her choice, of course,' said Neil, voice laced with irritation. Chicken? Jolly wise, I'd say…
More scrutiny
Last week, Rishi's policies and personal life came under more scrutiny.
A Mail headline from April 24 resurfaced about his lavish Yorkshire home, which has a heated pool and will soon have a new gym and tennis courts. Incidentally, he has other homes, including a pricey mews house in London:

Just a little over a year ago, on July 2, 2021, Asia Financial reported that Rishi wanted more trade between the UK and China:
UK Chancellor of the Exchequer Rishi Sunak called for a "mature and balanced relationship" with China that helps British firms to exploit "the potential of a fast-growing financial services market with total assets worth £40 trillion" ($55 trillion) in a speech on Thursday July 1 …
Sunak set out alternative plans for an independent financial services policy for the UK and spent more time discussing opportunities in China than the US, which is the UK's most important bilateral partner.
He attempted to frame the opportunity to sell financial services to China within a context of maintaining principles such as openness and commitment to a rules-based order.
"Too often, the debate on China lacks nuance," Sunak said. "Some people on both sides argue either that we should sever all ties or focus solely on commercial opportunities at the expense of our values. Neither position adequately reflects the reality of our relationship with a vast, complex country, with a long history."
Sunak highlighted the appeal of China's financial services market for UK firms, as well as the need to cooperate on global issues like health, ageing, climate and biodiversity.
He seemed to effectively offer China the opportunity to agree different financial services terms with the UK than the EU, now that Brexit has arrived without a deal on mutual recognition of standards across Europe – which was the former target of "equivalence" of regulation.
Hmm. Interesting. His father-in-law's Infosys has an office in China.
A year later, on July 25, after China's Global Times endorsed him as the next Conservative Party leader, he walked back his support and claimed Liz Truss was the greater supporter of the Communist nation.
Guido Fawkes reported (red emphases his):
It's unsurprising, given his tacit endorsement from the Chinese propaganda arm Global Times, that Rishi has decided to go in hard on the country's security threat this morning. Declaring the Chinese Communist Party "the largest threat to Britain and the world's security and prosperity this century", Sunak attacks Liz for "[rolling] out the red carpet" and turning "a blind eye to China's nefarious activity and ambitions". He calls for a new NATO alliance to be set up to counter it the threat, and pledges to close all 30 Confucius centres, which teach Mandarin in the UK and are thought to be used as fronts by the Chinese intelligence services.
In response Team Truss returned fire last night, using Iain Duncan Smith to call the policy "surprising" and asking where Sinophobe Sunak has been for the last two years. Her team points to the above Sunak's endorsement by Global Times, and says he has been consistently soft on China …
In response, a Truss ally bluntly tells Guido that Sunak's team are "moronic", given not only was Truss responsible for childcare policy as an education minister, universities policy was run out of the business department at the time. David Willets was the BIS minister responsible, who – whilst yet to declare in this leadership election – has backed Sunak's tax rises. 
Guido also exposed the fact that the Artichoke Trust received £1,234,682 through Cultural Recovery Grants during the pandemic, when Rishi was Chancellor.
The Artichoke Trust puts out 'art' like this:
Clearly, not much scrutiny took place during the pandemic. No doubt, the Treasury were all in a rush to send out grants — taxpayers' money — to all and sundry.
On Tuesday, July 26, Rishi did a huge tax U-turn, imitating his rival Liz Truss.
Only days before, Rishi told Liz that it would be 'immoral' to lower taxes, yet, here he was at the beginning of last week reversing that to sound more like his rival:
Guido rightly asked why Rishi did not cut VAT on energy bills when he was Chancellor. Oddly, he now advocates the policy:
This is what the former Chancellor said in February 2022:
Guido has more on his February comments here.
On July 27, the Mail on Sunday had an article about his U-turn, saying he was 'under pressure' since the BBC debate of July 25 (emphases in purple mine):
This morning, Truss ally Kwasi Kwarteng, the Business secretary, welcomed Mr Sunak's 'late to the party' change on taxes.
He told Times Radio: 'I think he's under a lot of pressure. That's why we see all these statements: he was the person who said the VAT cut would disproportionately benefit rich families and now he's saying that a VAT cut on energy bills is the right thing.
'He was saying that tax cuts were a fairytale, now he is proposing an unfunded tax cut.
'There comes a time in campaigns when people are under a lot of pressure, he clearly felt under a lot of pressure in the debate and he wanted to get out on the front foot and interrupt Liz.'
But Transport Secretary Grant Shapps, an ally of Rishi Sunak, defended the former chancellor's plan. He rejected the suggestion that Mr Sunak is 'flip-flopping' and said the £4.3 billion policy is sensible as it would not add to inflation.
Put to him that it is a 'flip-flop', Mr Shapps said: 'If he hadn't produced £37 billion of support, about £1,200 to the hardest-up households already – if he hadn't done any of that and then suddenly did it then you would have a point.
'But he has, he has been providing all this support, now he is saying "Here's something that won't add to inflation that would save every person watching your programme £160 off their energy bills" – I think that's worthwhile.'
Last night No10 insiders told the Daily Mail that Mr Sunak's plan was something Boris Johnson tried to implement to ease the burden on consumers – but was blocked by his then chancellor.
'Boris begged him to do it – but he wouldn't budge', said the source. 'It's astonishing that he's now claiming it as his own policy.'
Meanwhile new polling shows that the rising cost of living and handling of the NHS could cost the Tories the most votes at the next election.
The Mail on Sunday's Anna Mikhailova pointed out that Rishi hardly had a long-term career in business, despite his own claims.
Nigel Farage picked up on her tweet and called Rishi 'a fraud':
Farage had elaborated on his GB News show the day before, Monday, July 25. He pointed out that Rishi included a clip of him in his campaign video on immigration. He doubted Sunak's sincerity on China and ended by saying, 'Well, I guess that leaves us with Liz Truss':
By July 27, the bookies gave Liz Truss an 83% chance of winning the leadership contest.
That night, Dan Wootton said that 'Fishy' Rishi's tax U-turn was 'too little, too late':
John Sergeant, who reported for the BBC for decades, said that the former Chancellor appeared 'rattled':
Political commentator Patrick O'Flynn said that many intelligent politicians weren't very good at politics, Rishi being a case in point:
On Thursday, July 28, Lord Ranger, a Rishi supporter, said that if the Conservative Party members do not choose the former Chancellor as leader, they are racists.
Dan Wootton responded by pointing out that this Conservative leadership contest has been the most diverse in history:
That includes Labour, too, by the way.
Wootton said, in part:
It was still only a matter of time before Team Rishi Sunak blamed his imploding campaign on racism.
Forget the fact that Kemi Badenoch was a surprise favourite among the party membership before being booted out by MPs for being too daring and different.
Forget the fact that Liz Truss is a woman who went to a Leeds comprehensive.
Nope, Sunak's failure is nothing to do with his big state/high tax agenda, which saw him increase our tax burden to the highest it's been in 70 years.
Nothing to do with his globalist posturing and desire to cosy up to China by making the Communist country our market of choice, as revealed in bombshell leaked Treasury documents reported in The Times today.
Nothing to do with the fact he backstabbed Boris Johnson – the man to whom he owes his career – plotting his leadership campaign, all the while pretending to be his loyal Chancellor.
No, no, no, no it's down to racism.
Conservative donor and Fishy Rishi supporter Lord Ranger told Indian news network Bharat Tak: "If people reject him, it will be a bad name for the party and the country because this will be perceived as racist.
"And so there is pressure on them to prove that here race does not matter.
"Calibre matters, and Rishi's calibre is above everyone. I am optimistic that people here will be fair and will not reject anyone on the basis of race."
Lord Ranger, I can assure you the Conservative members are not rejecting Rishi based on race.
They're rejecting him based on policies and a lack of loyalty too.
As my colleague and friend Calvin Robinson tweeted in response: "'Vote for me because I am brown,' is bad enough 'if you don't you're a racist' is even worse.
"This divisive, toxic rhetoric is straight from the Leftist guidebook on Critical Race Theory and should have no place in the Conservative Party or the government of this great nation."
Former Cabinet member Michael Gove's ex-wife Sarah Vine, who writes for the Daily Mail, said that Rishi stabbed Boris in the front:
On Friday, July 28, a Techne poll showed that Liz was gaining ground over Rishi:
That morning, Defence Secretary Ben Wallace put the boot into Rishi's decision to resign as Chancellor:
Wallace told Sky News:
Wallace: Let's look at that Friday afternoon – I think it was a Friday – what if the markets had crashed? What if the Home Secretary had done that and there was a terrorist attack? What would the public think, they would never forgive us for that… I don't think people needed to walk out, the public would see that as a government not thinking about the job in hand.
The multi-year settlement [for the Department of Defence] that we got was not what the Treasury had wanted, they wanted a one-year settlement – this was back in 2019 I think – and it was vital that we got a multi-year settlement, and the PM effectively asserted his authority and made all that to happen…
Interviewer: But Mr Sunak was not in support?
Wallace: Not that I remember.
Cut the right taxes like not proceed with corporation tax rises helps growth. When Rishi was Chancellor he cut entrepreneurial relief – he cut the relief we give to entrepreneurs who've invested in this country, invested in businesses – that's not a way to help create either wealth or indeed growth.
Wallace had more to say. He said that, as Secretary of State for Defence, he did not have the 'luxury' of resigning, a pointed barb at Rishi, who, he intimated, should have stayed on as Chancellor:
Wallace pledged his support for Liz Truss.
Meanwhile, Rishi's team claimed someone was leaking official documents:
Rishi allegedly asked Simon Case, the head of the civil service, to get involved.
Guido reported:
What leaks might Rishi be upset about? The Treasury documents which completely undermined his pledge to "scrap or reform EU laws in 100 days" is a strong bet. Earlier this month, just after promising to review all of the remaining 2,400 EU laws on the statute book, Bloomberg revealed the Treasury had – under Rishi's leadership – written to Liz Truss to claim that reforming EU taxes was desirable but probably not deliverable until 2026. Last time Guido checked, that wasn't quite within 100 days. Brexit Opportunities Minister Jacob Rees-Mogg even responded by claiming it was "a surprising promise as the Treasury under his leadership was insisting that taxation was exempt from the removal of EU law." What was it Rishi said about "fairytale promises"?
UPDATE: Now a spokesperson for Liz Truss says:
We condemn the leaking of Government documents and papers. Neither campaign condones leaks of material and will not use documents it receives. Furthermore, both campaigns will report any such leaks to the Cabinet Secretary who may take action directly, or via the Police, against the individuals involved in perpetrating such leaks or receiving and not reporting material. We understand leak investigations will be carried out without fear or favour.
Word around Whitehall is that Simon Case is livid, demanded both camps issue a statement and has called in police to investigate the China leaks.
On Saturday, July 30, things got worse for Team Rishi. He had to give away tickets to what had been a £20 per person hustings event:
Then, Tom Tugendhat, he of the military service, endorsed Liz Truss:
Oh, dear.
While all that was going on, staff at the Mail on Sunday (MoS) were preparing its copy.
Late on Saturday in one of the MoS pieces, Boris loyalist Nadine Dorries MP further reinforced the notion that Rishi is not a man of the people. She wrote about a tweet she'd sent out a few days before commenting on his expensive attire:
I wanted to highlight Rishi's misguided sartorial style in order to alert Tory members not to be taken in by appearances in the way that happened to many of us who served with the Chancellor in Cabinet. The assassin's gleaming smile, his gentle voice and even his diminutive stature had many of us well and truly fooled.
I wish to stress it's not the case that I believe a rich man or woman – even if their father-in-law is one of the richest men on an entire continent – cannot be Prime Minister of this great country. But they do have to possess good judgment, understand the lives of others, have empathy, compassion and know how to fill a car with petrol and pay for it at a till.
Rishi's father was a GP, his mother a pharmacist. He attended a public school where the annual fees are about £36,000. They were in the top two per cent income bracket of all earners in the UK. To describe his background as humble is yet another indication of poor judgment.
Rishi will never know what it is like to feel scared, broke and hopeless, without a safety net provided by wealthy parents. He has never had to lie awake at night, worrying about how to pay the bills. A bailiff will never knock on his door …
Too right.
Dorries said that Boris was not best pleased when he found out that Rishi is now pledging to cut VAT on energy bills, something she said Boris begged him to do as Chancellor:
… Rishi says he wants to cut VAT on energy bills. However, Boris had been pleading with him to introduce this measure for two years as the PM had been convinced that such a cut could provide immediate relief to families.
In a speech on Thursday, Boris commented with a hint of uncustomary sarcasm: 'Turns out it was easier than we thought!'
Rishi was the classic dog in the manger as Chancellor. Whenever Boris sought him out to discuss serious issues, Rishi was always polite but unforthcoming. Never a team player.
Another MoS article revealed photos of a young Rishi Sunak at an exclusive nightclub in London's fashionable Mayfair.
Reporter Michelle Bromley included photos, writing about the young man and his then-fiancée, now wife, the Infosys heiress Akshata Murty, who lived in California in 2008:
Despite living 5,400 miles apart, the couple regularly flew back and forth across the Atlantic.
These photographs show how they spent an evening with friends at the Whisky Mist nightclub in London.
Ms Murty is seen with a cocktail while Mr Sunak (who says he's teetotal and 'a total Coca-Cola addict') generously bought all the drinks that night for the couple's friends.
At the time, the club off Park Lane was popular with the young Prince Harry and celebrities such as Beyoncé and Leonardo DiCaprio. Many years later, Tesla tycoon Elon Musk met his second wife, actress Talulah Riley, there.
Whisky Mist was apparently named after an incident during which a tipsy Queen Victoria thought she'd spotted a stag in the fog from the window of Balmoral Castle.
Friends with Mr Sunak and his girlfriend that night recall how many of the guests were focused on Ms Murty because of her family's fabulous wealth.
Her father founded global IT giant Infosys.
Mr Sunak was described by a female reveller as 'the most attentive boyfriend you have ever seen' and as 'someone who would ask a lot of questions but not give too much away about himself'.
Not long before, he had been to Africa where he met some of Barack Obama's relatives. He was photographed with them while holding a copy of the future US president's book, Dreams From My Father: A Story Of Race And Inheritance.
The picture was posted on Mr Sunak's Facebook page. Mr Obama used his book as a primer to introduce himself to the American people as he campaigned in 2008 to become the first black US president.
Fourteen years on, the young Briton captivated by that book is campaigning to become Britain's first Prime Minister of Asian heritage – and of America's greatest ally.
Nadine Dorries is right. Rishi Sunak will never have to worry about anything significant in his life.
The Sunday Telegraph said that Conservative MPs criticised Dorries for retweeting a photoshopped image showing Rishi as Brutus wielding a knife at Johnson's Julius Caesar's back. The original tweet is at the link.
The MoS also reported that some of the MPs supporting Rishi have serious doubts about his campaign:
Conservative MPs backing Rishi Sunak have privately admitted 'It's over' as panic sets into his leadership campaign.
Insiders told The Mail on Sunday that some supporters were refusing to do campaigning events for the former Chancellor.
MPs are said to be getting cold feet after Defence Secretary Ben Wallace and former leadership rival Tom Tugendhat threw their support behind Liz Truss in quick succession.
However, other MPs backing Mr Sunak insisted he was doing well with Tory members, and said private polling showed Ms Truss's supporters had been easily convinced to switch their support to him.
As this week opened, Dan Wootton's Monday poll showed that GB News viewers thought that his tax U-turn was still too little, too late:
That polling ran while Rishi and Liz were at a hustings in Exeter, more about which tomorrow.
I hope the former Chancellor, whose mother owned a pharmacy, does not get anywhere near Downing Street, except as a visitor: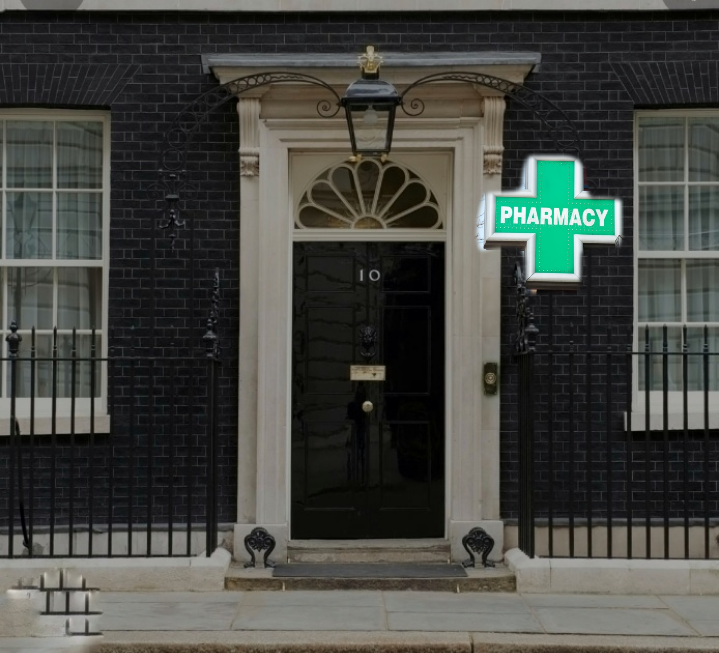 Why anyone wants Rishi to be the next occupant of No. 10 escapes me. Convince me — someone, anyone — why he should be our next Prime Minister.
On Monday morning, July 18, 2022, this was where the candidates for the Conservative Party leadership stood with their fellow MPs:
A third vote took place this afternoon. Sir Graham Brady, chairman of the 1922 Committee, announced the result at 8 p.m. More on the outcome in tomorrow's post.
Weekend debates
The final five candidates participated in two debates this weekend: one on Channel 4 on Friday evening and the other on ITV on Sunday evening.
Guido Fawkes summed up the results as follows (purple emphases mine):
The polls after both Channel 4's Friday debate and ITV's Sunday debate will have provided major morale boosts to Team Tom and Team Rishi, though whether they change the dials for tonight's vote – set to be released at 8 pm – remains to be seen. Certainly Liz Truss's declared supporters haven't relented in promoting their candidate over the weekend despite said polls saying she came across rather poorly, the moniker 'Maybot 2.0' already cranking into gear by rival camps.
I'll go into more detail below.
Sky debate cancelled
A third debate was to have taken place on Sky News on Tuesday, July 19, however, Rishi Sunak and Liz Truss pulled out, so, despite Penny Mordaunt and Kemi Badenoch saying they would participate, the broadcaster has cancelled it:
Guido's post says:
Guido has confirmed Steve Swinford's report that Rishi and Liz have decided to avoid another round of the blue-on-blue mutually assured destruction of a televised debate. Last night candidates accused each other of being socialists.
Team Truss say: "It is not the right time to be doing more debates when this part of the contest only has 358 voters. The broadcasters should stop squabbling amongst themselves. The C4 debate in particular was a massive mistake and candidates were wrong to take part in it."
Hmm.
Channel 4 debate
It would have been great if GB News had been able to host a debate, but, since the American-style format launched here before the general election in 2010, Channel 4 has always hosted one.
News presenter Krishnan Gurumurthy was the host. I remember the years when he was reasonably objective, but, for some time now, he makes no effort to hide his political leanings. Furthermore, it's all about him:
Conservative Home journalist thought that GB News would have been a better channel for the debate:
Krishnan put what he described as 'floating voters' in the studio audience, but they looked like left-wing radicals to many viewers.
His main debate theme was trust.
He asked the candidates whether they trusted Boris.
Rishi Sunak gave the most pointed answer, more about which at the end of this post:
Here's the video of Rishi saying that he resigned because 'enough was enough':
Not surprisingly, Rishi's policies were front and centre of the debate.
He looked irritated when another candidate pointed out what he or she would have done better.
Rishi looked irritated quite a lot.
Liz Truss, on the other hand, looked wooden and stiff.
It's no wonder why neither of them wants to do a third debate.
At the end of the first round, Krishnan asked whether Boris was honest. He wanted a 'yes' or a 'no' answer.
Three of the candidates refused to say either way. Of the other two, Kemi Badenoch said 'Sometimes' and Tom Tugendhat shook his head. His was the only definite 'no':
This is why viewers called it Krishnan's show:
One of the more memorable exchanges of the evening was between Rishi Sunak and Liz Truss over tax cuts. We saw irritable Rishi once more:
Guido has the video of Rishi disparaging Liz's tax cut plan:
However, experts say that Liz's plan is affordable. Guido explains why, beginning with the Office of Budget Responsibility (OBR):
The OBR's latest economic and fiscal outlook estimates that for each 1% of higher nominal GDP, public borrowing in 2024/25 will be 0.8% lower. The Centre for Economics and Business Research (CEBR) forecast is that nominal GDP in 2024/25 will be 5.7% points higher than the OBR assumes. If they are right this alone generates £133 billion of net additional revenues. Against that needs to offset some likely higher spending.
The CEBR argues that
If we assume that public spending will be the same share of GDP as in the OBR projections, this increases the cost of public spending by £34 billion; higher inflation will raise indexed debt payments by about £7 billion while higher interest rates could raise debt payments by as much as £30 billion. Even allowing for all these, it is pretty clear that the OBR's forecasting failures mean that substantial additional net revenues are likely to be generated compared with those expected. Which in turn means that net tax (after allowing for expenditure) receipts in 2024/25 will be about £60 billion more than the OBR's base estimates.
Since these receipts will come from the effects of inflation and fiscal drag meaning that people will be paying more tax than they would have expected, it would not be unreasonable for the additional revenues to be used for tax cuts.
Economist Douglas McWilliams points out that since these receipts will come from the effects of inflation and fiscal drag meaning that people will be paying more tax than they would have expected, it would not be unreasonable for the additional revenues to be used for tax cuts. The £60 billion will cover the tax cuts being advocated by Liz Truss…
Another memorable moment was when gender identity came up:
Penny Mordaunt denied that she supports self-ID, but Kemi Badenoch said that she did. Kemi and Liz Truss worked in the department that Penny did. Kemi urged, 'Tell the truth, Liz', which she reluctantly did.
Guido says (emphases in red his):
Kemi insisting self ID was government policy when she took over as Minister, and had to reverse it herself…
True. It's all in Hansard.
Guido ran a poll on who was more believable — Penny or Kemi and Liz. The latter won by a landslide:
And the other memorable moments were when Tom Tugendhat talked constantly — so it seemed — about his military service.
Of course, he gave us no actual details.
Over the weekend, social media saw many people criticising Tugendhat's many mentions of his service to his country, prompting comparisons to characters on past British sitcoms.
Tugendhat also thanked the NHS for giving him two children. He clarified the statement, but it was a comedy gold moment.
One of Guido's readers compared Tugendhat to Uncle Albert of Only Fools and Horses:
Cripes! Please don't encourage Uncle Albert with any more of this military fetishism. His "defend the nation" slogan might be a bit more passable if he didn't look like a foppish library monitor. Come to think of it, maybe the NHS really did give him 2 children – like just handed them over. Not sure how he'd get his leg over otherwise.
Although the debate lasted 90 minutes, time moved quickly.
Notable by their absence were questions about coronavirus lockdowns and immigration. Then again, Channel 4 supports both.
Subsequent polling showed varying approval ratings.
Opinium said that Tom Tugendhat won. Really?
But Tom Harwood of GB News said that Kemi and Rishi performed the best. I agree on Kemi but not on Rishi:
Earlier in the evening, GB News panellists on Patrick Christys's show discussed the candidates. One said that Penny wasn't trustworthy and that Liz was better:
The Sunday Times had more about Truss, who has a problem gaining traction among certain Conservative MPs, it would seem:
Truss is seen as the Johnson continuity candidate, supported by staunch allies of the prime minister such as Nadine Dorries and Jacob Rees-Mogg. The born-again-Brexiteer from Paisley and Leeds has been marked out as a strong contender by influential figures on the Tory right for some time. In December, shortly after his return to the Daily Mail as editor-in-chief of its parent company, Associated Newspapers, Paul Dacre tipped her as a "comer". He wrote in The Spectator: "She is clearly a toughie, possessed of a steely self-belief, an imperviousness to the media, a healthy contempt for the male species, a seemingly genuine belief in a low-tax, small-state economy and a disarming habit of asking abrupt questions and dismissing the response as 'bollocks' — a tactic clearly designed to gain further elucidation."
But Truss is in third place after the second round of parliamentary voting, with the backing of 64 MPs. Despite trying to channel Margaret Thatcher in a pussycat-bow blouse and winning the backing of Suella Braverman, who was ejected from the race on Wednesday, she seemed unsure of herself on Friday night. One observer described her as a "robot on Valium". References to her record in government prompted derision in the "spin room" next to the studio, where the Tugendhat supporter Anne Marie Trevelyan, who succeeded Truss as trade secretary last year, openly laughed at her. Truss allies are pleased, though, that the contest is being framed as a battle between her and Sunak. The idea of a ideologically driven run-off between the former chancellor and the foreign secretary could propel her into the final two.
Liz was more relaxed on Sunday evening. She gesticulated a bit more.
ITV debate
ITV's debate on Sunday evening was an hour long.
Julie Etchingham was an excellent moderator.
Unfortunately, she had no questions about either coronavirus lockdowns or immigration.
Tom Tugendhat banged on again about his military service, prompting this response:
The same flashpoints reappeared: tax cuts and gender identity.
Liz pointed out that Rishi as Chancellor raised taxes to their highest level in 70 years:
The subject came up again with Penny. Rishi accused her of being to the left of Labour's former leader Jeremy Corbyn on economic policy:
Yet, Rishi did borrow for daily Government spending during the pandemic:
Here's the gender identity clash between Kemi and Penny. Note the tweeted reply:
China was a new entry, with Rishi insisting he supported the Government's stance:
The Mail has a brief summary of the debate:
Mr Sunak insisted he had never had non-dom tax status but pointed out his billionaire heiress wife was from India, and said he was 'incredibly proud' that his father-in-law had 'built' a highly successful business from nothing; 

Ms Truss took a backhanded swipe at Mr Sunak's style, saying she is 'not the slickest presenter on this stage… I've shown I can deliver as Foreign Secretary'

;

All the hopefuls dismissed the idea of a snap general election when the new PM takes over, saying the focus should be on addressing the cost of living; 

The would-be PMs were asked to put up their hands if they backed Brexit at the referendum, with Ms Truss unable to say she did;  

Mr Tugendhat said all the other candidates were tainted by having served in Boris Johnson's government; 

Mr Sunak issued a campaign video directly trolling Ms Truss for backing Remain in 2016, and describing him as a 'real Brexiteer from day one'

;

Ms Mordaunt used a BBC interview to vent fury at 'smears' and 'toxic politics' as she struggles to stop her PM bid being derailed by a backlash at her trans rights stance

.
Kemi took issue with Tom's 'clean start' approach, pointing out that he has never served in Government:
Serving in Government is not easy. It requires taking difficult decisions. Tom has never done that. It's very easy for him to criticise what we've been doing, but we have been out there on the frontline making the case.
Here is the dialogue between Kemi and Penny on gender issues:
Ms Badenoch reiterated that she had been responsible for reversing the trans policy put in place by Ms Mordaunt as equalities minister.
'I'm saying that when I took on the role of equalities minister, we had to change the existing Government policy which previous ministers had put in place,' Ms Badenoch said.
'What I'm challenging or what I challenged Penny on is what that policy was. She is saying she did not agree with it, but I don't understand how that would be the case if she had been the previous minister. If she didn't agree with it, why was the policy as it was?'
Ms Mordaunt replied: 'I wasn't the previous minister. The stuff in the papers today demonstrates what my policy was and refutes this. I think this whole thing is unedifying, and I would just say to all four of my other colleagues and candidates here, I know why this is being done.
'But what I would say to you is that all attempts to paint me as an out-of-touch individual will fail. I'm the only person on this stage that has won and fought a Labour seat. My constituents do not elect people who are out of touch.'
Ms Badenoch responded: 'Penny I was just telling the truth. I'm telling the truth.'
I would love to see Kemi as our next Prime Minister. She's upfront and straightforward. She manages expectations, not promising a lot.
In the Channel 4 debate she said that increased spending in one area often means less spending in another. We cannot have everything, and the Government simply cannot provide everything for everyone.
Boris's weekend
Meanwhile, Boris Johnson visited RAF Coningsby in Lincolnshire for the flight of his life and hosted a barbeque at the Prime Minister's weekend home, Chequers:
Guido has a report:
… the PM held a well-timed BBQ at sunny Chequers, which unlike his belated wedding party, managed to avoid being scuppered by a relentless media onslaught. According to Politico, 130 people ate burgers and sipped sparkling wine in the sun. Among the guest list were the remaining Cabinet loyalists, No. 10 aides and Dilyn the Dog. Chequers staff may be happy to see the back of him after numerous stories about Dilyn gnawing on antique furniture…
As ever, Boris delivered plenty of gags in his well written, well delivered speech to guests.
He took a gentle swipe at Neil Parish, who stood down for having looked at tractor porn twice on the parliamentary estate. Parish was replaced by a Liberal Democrat, who took his place in the Commons last week:
Boris's tubthumping valedictory speech went down a treat, with one of the best received gags celebrating his successful fibre optic broadband rollout:
Not only has it delivered incredible choice for consumers in the way in which we consume content but farmers in tractors up and down the land can watch whatever they like at any time of day to their hearts' content…
We will never see the likes of Boris's speeches again in Government. How I will miss them.
He spoke about his flight at RAF Coningsby and took a dig at former Chancellor Rishi Sunak:
… we flung that eager craft through footless halls of air and generally put it through its paces and after a while the wing commander said to me do you want to have a go? I said are you sure, it seems very expensive – we only have 148 of them and they cost about £75 million.
He said don't worry, you can't break it and I thought 'oh well famous last words'.
I pushed the joystick right over to the right and we did an aileron roll and then I hauled the joystick right the way back and we did a loop the loop and then I tried a more complicated thing called a barrel roll and we started as they say to pull a few Gs and when I came back to consciousness I could see the sea getting closer and closer.
And I want you to know that after 3 happy years in the cockpit and after performing some pretty difficult if not astonishing feats: getting Brexit done and restoring this country's ability to make its own laws in parliament; vaccinating the population faster than any other comparable country; and ensuring the fastest growth in the G7; and being the first European country to give the Ukrainians the vital military help they need see off Putin's aggression; cutting neighbourhood crime by 31%; lowest unemployment for almost 50 years; gigabit broadband from 7 to 69%; I am about to hand the controls over seamlessly to someone else.
 
But whoever it is I can tell you the twin engines of this conservative government will roar on fantastic public services, dynamic market economy, each boosting the other and there could be no better example of that relationship that symbiosis between government and the private sector than the aviation industry and if you want a final example of this government's ambition I give you not just FCAS or Jet Zero but space flight.
 
This year if all goes well we will launch the first UK satellite in history to enter space from UK soil as Newquay becomes this country's equivalent of Cape Kennedy and I leave it to you to imagine who I would like at this stage to send into orbit but with so much to look forward to and with the UK at the leading edge of progress not just for our national security and prosperity but for the protection of the planet itself.
The Mail on Sunday reported that Downing Street is most unhappy with Rishi:
Mr Johnson is keen to stay out of the contest, but his allies are clear: if Mr Sunak continues to cast doubt on Mr Johnson's integrity, then there will be consequences. 
One ally says: 'Rishi is being extremely pious in his disapproval about the [lockdown] parties, but he was working in the same building the entire time, so he must have known about them too. And he picked up exactly the same number of fines as Boris.' 
It is clear that resentment is still boiling over at the manner of Mr Johnson's eviction from Downing Street, catalysed by Mr Sunak's resignation.
The PM is understood to have grown increasingly frustrated with Mr Sunak during the past year, complaining to aides that his Chancellor would go missing in a crisis. 
One Government source said: 'Sunak was constantly physically and emotionally absent from the project. He governed in a parallel universe, and would refuse to answer his phone when he was needed most.' 
The source said that during the many crises which have dogged Mr Johnson's time in power, he felt he could not rely on Mr Sunak for constructive advice.
A Johnson ally said: 'If Rishi was asked about an issue in Cabinet, usually as either the very first or the very last person he turned to, Rishi would just say, "Oh you don't need to hear from me" – and would often turn his back as he said it, probably unconsciously. 
'And he was conspicuously absent from the media when the s*** hit the fan. He was the submarine Chancellor.' 
Despite Mr Johnson's vow not to interfere in the contest, his closest supporters have been critical of Mr Sunak. 
Jacob Rees-Mogg, who called Mr Sunak 'the Socialist Chancellor', and Nadine Dorries have both publicly backed Foreign Secretary Liz Truss in the race.
It has also been claimed that Mr Johnson would be open to Ms Mordaunt succeeding him if it meant that Mr Sunak did not win the leadership, with the Prime Minister voicing concerns that Mr Sunak would go soft on Vladimir Putin and ease sanctions on Russia. 
The saga continues tomorrow.
Last Friday's post introduced Red Wall MP Lee Anderson, who serves the Ashfield constituency in Nottinghamshire.
I ran across an article about him in the Daily Mail, which published it exactly one month before the 2019 general election.
To set the background, Anderson had switched party membership from Labour to Conservative the year before, largely because of Brexit but also because of radical elements in Labour. Jeremy Corbyn, now an Independent MP, was Labour leader and his followers formed a movement within the party called Momentum. The movement has since lost its, err, momentum, particularly during the leadership challenge which Sir Keir Starmer won in 2020.
The Mail's portrait of Lee Anderson tells us about his situation three years ago. His predecessor Gloria de Piero, for whom he worked, was and currently is a television presenter. She appears on GB News (emphases mine):
A former aide to a Labour frontbencher has defected to the Tories claiming he was hounded out of his old party by far-Left bullies.
Lee Anderson, an ex-miner who worked for MP Gloria de Piero, said he was labelled a 'traitor' by party officials for backing Brexit.
He claims they camped outside his home to spy on him and spread false rumours about his terminally-ill wife.
Now Mr Anderson, a lifelong Labour supporter, is standing as a Tory candidate in Mrs de Piero's old seat, Ashfield in Nottinghamshire.
That seat will be one of the most closely-watched of the election and currently has a Labour majority of just 441.
Mr Anderson, 52, claims the constituency Labour party was taken over by Momentum 'almost overnight' after Jeremy Corbyn was elected leader in 2015.
He claims they started bullying him in the run-up to the Brexit vote in June 2016 labelling him 'treacherous' and a 'traitor' for wanting to leave the EU.
At the time, Mr Anderson's wife Sinead was ill with cystic fibrosis and on a life-support machine awaiting a double lung transplant.
He said: 'It was like being in a crowded room of people who were whispering all the time. Finger-pointing, I'm a freak in the house, the Brexit freak. There was social media bullying, 'traitor', 'Tory-boy', 'scum'. People were camped outside, spying on me.
'At the time my wife was terminally ill and we thought she only had a few months to live. They said I was just using her illness as an excuse not to attend a meeting.'
Mr Anderson claims the party also targeted Mrs de Piero after she tried to oust Mr Corbyn in a failed coup in 2016. She is not standing at the election …
The former Citizens' Advice counsellor said: 'My background is mining and if the pits were still open now, the miners would not be voting Labour …
'You're in a Labour group meeting in Ashfield when really we should be talking about litter, grass-cutting, cemeteries, dog-fouling. They'd want to be talking about Palestine.'
Mr Anderson resigned as Mrs de Piero's office manager 18 months ago and was recruited by the local Conservative party to be a campaigns manager.
His wife's health was transformed following a lung transplant in 2016 and she is now a Tory councillor in Mansfield.
Brexit and Bray

After seeing off the Labour candidate in Ashfield, Anderson went up to London, only to meet with a new, albeit occasional, adversary: Steve Bray, who is rumoured to be paid and housed by unknown benefactors to denounce Brexit every day near the Houses of Parliament.
Everyone thought that the middle-aged man clad in an EU flag or EU tee shirt and hat would have given up his daily shouting after the 2016 referendum. He didn't. Then we thought that he would stop on January 1, 2021, after we officially left the EU. He didn't.
Guido Fawkes captured the moment when Lee Anderson met Steve Bray on June 16, 2021:
Guido reported the scene outside the Red Lion pub near Parliament:
Steve has continued loitering around SW1 to yell at politicos and interrupt interviews. He may have picked off more than he could chew as he tried taking on rottweiler Lee Anderson outside the Red Lion … Anderson rightly repeatedly told Bray to "get a job" and concluded with:
You're nothing but a parasite, a malingerer and a scrounger!
You always know where you stand with Lee Anderson.
Bray quickly threatened legal action against the MP:
Of the threatened legal action, Guido said (red emphases in the original):
… On what grounds, Guido cannot fathom.
If the threat is anything more than a cry for attention, Bray has a decent pot of funds. He's been crowdfunding for 46 weeks in support of his general nuisance-making and has scrounged over £21,000. Anderson tells Guido he "won't be losing any sleep over it"…
Anderson's second encounter with Bray came on November 24 that year, with Bray strangely continuing to accuse Anderson of lying to the people of 'the North':
Anderson told Bray that he had a look at the activist's CV (resumé) and that it was not very impressive. When Bray moved in closer, Anderson told him that his breath was foul. One can imagine that it is:
Guido wrote:
… For some reason, Bray must think he won the exchange, given he uploaded the clip to his own Twitter account…
Responding to Bray's Twitter threat of possible legal action, Guido asked Anderson whether he was concerned. He said "Yes, it keeps me awake every single night. I would love to see the evidence that he has a job though."
Their third meeting took place on March 16, 2022, when Anderson had to shove Bray out of the way so he could get to the Tube. Once again, Bray threatened legal action, this time for assault:
Guido has the story:
Steve Bray is once again pottering around Westminster, shouting at MPs and blabbering about Brexit. And once again, Red Wall rottweiler Lee Anderson was having absolutely none of it…
With Bray squawking about "Russian money" and how he somehow "pays [Anderson's] wages" as an unemployed man who loiters around SW1 all day, Anderson bit back:
I tell you what, Steve, if you'd have been around 100 years ago, you'd have been traveling around the country in a tent. You're nothing but a freak-show.
Lee had to give Bray a small shove out the way to enter the Tube station, at which point Steve lost it. Guido makes that 3-0 to Anderson…
On their most recent encounter — April 20 — Anderson told Bray that he would make a good tramp:
Guido had the video and the dialogue:
Despite the threat of police involvement, Steve Bray is still spending his days floating around Westminster to badger MPs and shout about Brexit. This afternoon, however, Bray once again collided with his nemesis – the Red Wall rottweiler Lee Anderson … Today it was time for the rematch…
Inevitably, it was another knockout win for Lee, who told Bray:
Listen, you're nothing but a parasite. We've established that. You're a scrounger. Why are you here every day dressed like a tramp? … In fact, I'll rephrase that, if you smartened yourself up, you'd make a good tramp.
At one point Bray asked Anderson, "People fund me to do this. Do you know why?". The MP hilariously shot back "Because they're tapped." 4-0 to Anderson…
Steve Bray's daily rants are a nuisance, so much so that, on May 11, Anderson's fellow Red Wall MP Marco Longhi brought his noise up in Parliament as news emerged that parliamentary authorities have been investigating Bray's behaviour.
GB News asked Bray for his reaction. He said:
"You know what these Tories are like. They don't want protests which is why they are stripping away our rights.
"And Marco Longhi and also his best buddy Lee Anderson, they are not happy to see me because they normally try and wind me up but I end up turning it on them.
"Here is the thing about those two – they are going to lose their seats in the next election, so they are just griping for any little bit of press coverage they can get. The less they get the better, to be honest, because they are so insignificant."
The problem is that hardly any witnesses with evidence are coming forward enabling a court case. Bray is playing his long game well, making it impossible to distinguish whether he is harassing people or just a right pain in the proverbial.
There could be a case to be made for breach of the peace. Police are out there every day. Surely they can do something about Steve Bray. Oh, what a fitting name.
Media
Lee Anderson has also shown himself to be a plain speaker when it comes to the media.
On May 24, 2021, he announced that he had torn up his TV licence, necessary to watch anything on television, even though the BBC is the recipient of the annual tax:
He made an impassioned plea to then-Government minister John Whittingdale MP.
Guido wrote:
Co-conspirators' favourite no-nonsense Tory MP Lee Anderson had another barnstorming outing in the Commons yesterday, professing that he has torn up his TV Licence following the Martin Bashir scandal, and the corporation "won't get another penny" out of him "ever". The Ashfield MP told fellow MPs the BBC is "rotten":
In my opinion, the once-great BBC is rotten, and my constituents should not have to pay for a service if they don't use it.
He ended his intervention with a call to the minister to transform the BBC into a subscription service. Whittingdale didn't fully avoid the point, saying "I have no doubt that that is a debate that has already started and will continue." Guido will make sure of it…
Later that year, in the middle of November, he and other MPs who were first elected in 2019 attended a meeting with Boris Johnson about MPs' standards in the wake of the Owen Paterson scandal which saw that MP resign.
Channel 4 interviewed various MPs who gave brief, courteous answers to the reporter. Not Lee Anderson. He simply said:
I'm just the window cleaner, mate.
Here's the video:
On a more serious note, Anderson fought and won a court case against Google, which served a defamatory advert about the MP:
The legal fight took nearly a year to resolve.
Guido has the full story from March 10, 2022, excerpted below:
After nearly a year locked in a legal fight with the tech giants, Red Wall heavyweight fighter Lee Anderson has finally walked away victorious after Google issued a formal High Court apology to the MP for serving a defamatory advert falsely accusing him of protecting a paedophile. An advert which was targeted at Guido readers…
It was bought via Google's programmatic network and was unseen by our commercial representatives, nor indeed ourselves, until it popped up. Google has a near monopoly on this type of advertising, where publishers offload unsold advertising inventory to Google to fill. Scam adverts get through frequently, though this is the first time we have ever seen a defamatory attack via this method …
While the terms of the settlement are confidential, Google finally apologised in court. They also accepted that they should not have allowed this advert to appear. Guido would argue that they were negligent in allowing this advert to appear and they should be held liable for any damages arising in this situation. Guido argued before the case began that we should not be a party to it because we had no knowledge of the advert prior to it appearing in a space that Google had effectively rented and published to without our active involvement. We were akin to the paper supplier to a newspaper, not the printer or publisher. This settlement avoided the arguments being heard, though no doubt lawyers will study this for future cases. 
Lee tells Guido that
I am pleased that Google has publicly apologised in Court and put an end to this very difficult and distressing time for me and my family.
I do however think it is a real shame that it has taken so long for this to happen and that I had to get lawyers involved and threaten Google with legal action to get here.
I want to thank Guido for swiftly taking down this ad once they were made aware and for their ongoing support through a difficult time.
M'learned friends can read and study the official Statement (Anderson v Google). We're just glad that Lee fought and won justice in his battle against the trillion dollar plus Google behemoth…
I'm delighted that Anderson won, too.
Guido's post has Lee Anderson's statement in full.
He is an incredible MP with a niche following of Britons who think he'd make a great Prime Minister. It will never happen, but we can but dream.
More on Lee Anderson soon.
To be continued
In 1980s Britain, Marco Pierre White (MPW) was the original enfant terrible of young chefs.
He went on to win not only Michelin stars but also start the careers of the youngsters working in his kitchen at Harveys in Wandsworth Common, London.
Gordon Ramsay, Stephen Terry and Phil Howard all worked for MPW at the same time, more about which below.
However, more important is the bad rap that liver gets.
This is because most liver is cut into thin, shoe sole slices and is overcooked.
Whenever someone says to me, 'Liver? Yuck!', I tell them they'd love it if they ate it my way: thick with a somewhat crusty exterior and rare on the inside. A butcher will gladly cut liver to order.
A masterclass in cooking liver
Fortunately, Marco Pierre White likes it the same way and demonstrates how to cook liver properly in this video, which is around seven and a half minutes long. The liver recipe at the beginning only takes a couple of minutes to watch:
An Italian responding to the video says that this is (emphases mine below):
Fegato alla veneziana = Venetian liver. The mother of Marco grew up in Venice.
As is true of the most authentic Italian cuisine, this dish has three ingredients. Marco prepares sautéed liver, onions and adds a small amount of vinegar for the sauce.
The video begins with the sautéed onions on a plate with the vinegar added, making a sauce of sorts.
Now on to the liver:
1/ Marco salts the liver by hand from a great height, then grinds pepper on it the same way. This is because seasonings disperse better on food when applied from shoulder height.
2/ Marco dusts the thick slice of liver with flour, then shakes off the excess. He doesn't say so, but you should season the flour with salt before dredging anything in it, even if you've already seasoned the main ingredient. Otherwise, what ever you cook in it will taste of just flour: terrible.
3/ He puts the liver in a preheated pan that has sizzling oil in it, just covering the bottom.
4/ When the liver has 'caramelised nicely' on the bottom, flip it over and cook until it is 'nicely golden brown'. So, one side should be caramelised and the other golden brown.
5/ The finished product should be pink inside. Marco explains that this has to do with the temperature of the pan. If the pan is too hot, the flour on the outside of the liver will be scorched. If the pan is too cool, the liver goes soggy. Once you think it is cooked enough, lightly touch the top of the liver. If it springs back, it's rare. The more the surface of the liver solidifies, the more well done it is, which is not what one wants.
If you don't want to touch the liver, Marco says to watch for the blood to come to the top, at which point it is done.
6/ Remove the liver from the pan, let any excess fat drip off of it and put on top of the plated onions and vinegar sauce.
Because the video is old, the cut liver doesn't look that pink. However, when Marco feeds one of his sous chefs a little bit from the top of a long knife, the sous chef says it's great:
It's the business.
Liver is an important protein:
Liver is actually one of the most nutrient dense foods you can eat and therefore one of the healthiest food choices you can make. If you get and buy local or fresh sources you can it eat it raw and it's even better for you that way. We humans would eat the liver raw right after a kill while hunting. I prefer to process it and bring it home.
Done properly, liver should be pink in the middle:
… yes, the liver should be still pink when plated otherwise the texture will be too tough!
A viewer made Marco's Venetian liver and enjoyed it:
I have just prepared and eaten MPW's onion liver. Yummy.
These days, Marco is the face of Knorr's seasoning cubes:
Check out his section on the Knorr website. Excellent cooking ideas for the home cook to try out. He even managed to improve on my own Spaghetti bolognaise recipe, and I didn't think that was possible!
The video comes from a late 1980s show on Channel 4, which had just started broadcasting. Channel 4 has always been known for its innovation in programming.
YouTube has more episodes, but there aren't many, because MPW stopped filming halfway through the series. Another commenter says:
They only managed to film 3 episodes before Marco told them to get the f…k out of his kitchen, apparently it was supposed to be a 6 episode deal with the newly launched Channel 4. Sorry about that.
The video is so nostalgic. There's smoking indoors! We even see the little square in the upper right hand corner of the screen, signalling that a commercial break was coming up:
Ahhhh the box with the diagonal lines in the right hand corner of the screen that told you the adverts were coming up took me back.
After Marco gives the sous chef a taste of the liver, they discuss their mentor, Albert Roux:
Albert Roux mentored Marco plus many of his crew at La Gavroche in the 80's.
Apparently Marco worked at a butchers shop and a couple other little enterprises Albert ran as well.
This was the dialogue:
Chef: Albert Roux is my mentor.
Marco: OUR MENTOR.
In the 1980s, Marco Pierre White was known for his pre-Raphaelite looks, especially his hair. He looked like an angel but ran his kitchen like a demon:
Marco is a frightening man in the kitchen. Honestly doesn't even compare to how Gordon treats his staff, this guy was just plain scary.
Gordon Ramsay wrote about his time with Marco:
Oh, believe me, Marco yelled at everyone in that kitchen from the chefs to the waiters, read one of Gordon's books and he'll tell you no one was safe.
Today, somewhat grizzled, MPW owns several branded restaurant enterprises that are franchise operations.
Harveys
Harveys opened in 1987. It was a small restaurant in South London. MPW co-owned it with another restaurateur, Nigel Platts-Martin.
It attracted celebrities and, despite its size, was a bit of a status symbol. No doubt the French maître d' and French waiters helped.
MPW hired young male sous chefs and commis who, somehow, managed to dance around each other in a demanding kitchen environment:
I can't believe there are not more fights … Look how they are all crammed in there running around so close and for 12 hours a day.
In the video, he tells the interviewer what he wants from his staff:
Interviewer: "What it is it you want out of them?"
Marco: "I want loyalty, I want finesse out of the them."
There was only ever one woman in MPW's brigade, and she did not appear until the late 1980s or early 1990s:
Chef Gigi Mon Ami worked with Gordon Ramsay when he was Sous Chef at Marco Pierre White's Michelin rated "Harvey's" restaurant in Wandsworth Common, U.K. Gigi wrote about it in Moon On A Platter, but she also taught Culinary Fine Dining @ JobCorps- and said Gordon actually was very nice to her; kind of looked after her in Marco's kitchen cuz he had hired her as a joke; she was the only girl in the kitchen, late 80's. Ever since then, kind of a soft spot for Ramsay – that's the way European kitchens were in the 80's and into the 90's before everything was PC.
Chef Gigi Mon Ami from San Francisco even wrote a book about it, Moon On A Platter. She travelled the world and was often the only woman in the kitchens in which she cooked.
The restaurant closed in 1993 with two Michelin stars awarded to MPW, who said that he wanted a third star and that, in order to win it, he would have to work in larger premises.
The young men, Marco included, did not cover their longish hair. All of them look like budding pop stars, including Gordon Ramsay:
Ramsay has looked exactly the same since 1987…except he doesn't still have that Flock of Seagulls haircut.
One commenter on the video above wondered how Marco could have earned his Michelin stars with all those uncovered heads:
I mean the amount of hair the customers must have found in the food …
Marco had a penchant for giving his staff and customers a taste of his food. AA Gill, referred to below, was one of our great — and young — food critics at the time:
I love it when he feeds his cook the liver [and] onions with the knife… apparently this was something he loved to do. I remember reading AA Gill; he wrote that Marco hand fed something to the girl who was his guest at the time. Kinda cute, considering how much of a culinary behemoth he is. For me it says that he really, really does care about food and feeding people and creating gastronomic happiness at the highest level. Awesome.
Gordon Ramsay
Many of the comments on the video concern Gordon Ramsay who graces our television screens around the world, moreso than his mentor Marco.
Marco Pierre White is the only chef who ever made Gordon Ramsay cry. Unfortunately, this is not on video, but, allegedly, a spokesperson for Ramsay says that it's true.
Commenters argued over who is the better chef.
Some say that Gordon merely copied Marco:
Ramsay copied so much from him, from his plates, recipes (scallops with curry powder, tagliatelles, etc) and embellishes so much. Marco is so much more authentic.
Several people pointed out that Gordon also copied Marco's gestures but that Marco's delivery of criticism was more constructive:
Notice, Marco says "come here" with a gesture only and then teaches the person something when they get there, whereas Gordon screams "come here" to the person, then insults them when they get there. Marco attacks the mistake, Gordon attacks the person. I know who's the scarier of the two. And the better chef.
Someone else agreed:
At around 7:20 you can see Gordon blink his eyes like he is crying, there was another video at the end of which Marco says to Gordon, "You know, you cry every night". In a Boiling Point episode, Gordon tells a young cook that he is nothing but a big baby cause Gordon caught him crying. Hell, when Gordon was his age he was crying his eyes out every night.
Another says that Marco is better:
Marco is the only chef in history to get 3 stars AND 5 spoons and forks in the Michelin Guide for his restaurant The Oak Room. That is total excellence. The great thing about it, is that he was doing a lot of the cooking when he achieved that honor. Gordon has 12 stars, most of which are not because of his cooking, but the cooking of others. Those stars belong to those chefs that work under his brand, not to him.
Anyone expecting the young Ramsay to speak will be disappointed:
Thumbs up if that's the quietest you've ever seen Ramsay in the kitchen, haha.
And is it true that when he left he stole the Harveys reservations book?
Ramsey recently confesses he was so jealous of Marco that he went in Harvey's and stole the booking book.
Stephen Terry
I didn't even recognise Stephen Terry in the video. He returned to Wales to open his own restaurant:
Wow, look how young Stephen Terry is…….. He has the Hardwick Restaurant in Raglan near me 🙂
On a break, the interviewer asks him how he feels when Marco bawls him out. Terry shrugs and says:
It's for a reason. It's never not for a reason, the reason being that you've done something wrong or you've done something you shouldn't have done … You're learning all the time.
Back in the kitchen, Marco criticises Terry for the presentation of one the plates:
"You wanna do things like that, go to a florist!"

The love for a professional kitchen
Although a professional kitchen looks like a living hell, young men in particular still aspire to becoming professional chefs:
Yo, for real, passion is the only thing that drives you working in a kitchen, you face long hours, so much stress, burns, cuts and running, it's physically and mentally draining for any person, but I love it. The people you work with, it's like a family and it's full of weird people hahaha but we're always for each other and we always do our best. Sometimes Chefs can be tough, but even the tougher [ones] reward the staff and congratulate them for everything. It's actually a beautiful job, but it's tough, really tough.
Another commenter agreed on passion being an essential ingredient to a successful cooking career:
I love food. I love to eat it, i love to touch it, I love to change it, the way it sounds in the pan, the happiness it gives when it's served, to improve my techniques and to magnify the ingredients. It's all about passion really. And it should be, otherwise no one could do it.
Anthony Bourdain put it best when he wrote about the importance of cameraderie in the professional kitchen, a dangerous place:
The ability to 'work well with others' is a must. If you're a sauté man, your grill man is your dance partner, and chances are, you're spending the majority of your time working in a hot, uncomfortably confined, submarine-like space with him. You're both working around open flame, boiling liquids with plenty of blunt objects at close hand-and you both carry knives, lots of knives. So you had better get along. It will not do to have two heavily armed cooks duking it out behind the line over some perceived insult when there are vats of boiling grease and razor-sharp cutlery all around.
I will post at least one more Marco Pierre White video.
For now, though, I hope that you try his Venetian liver recipe. It's a keeper.
As I have said before, sometimes things are not as they appear.
This is especially true of media attacks on Prime Minister Boris Johnson.
Fake news polls
On February 6, 2022, The Sunday Times published a poll showing that Chancellor Rishi Sunak is more popular with Red Wall (ex-Labour) voters than Boris.
However, Guido Fawkes has shown this is not true — including on a national level.
In fact, Boris is far more popular in Red Wall seats — and nationally — than Rishi is:
Guido seems to be the only one who has uncovered this fake news:
On Monday, Guido wrote about the poll as well as another one published last weekend and asked (emphases in the original):
Who benefits from briefing the Sunday paper most closely read by Tory MPs with fake polls that falsely inflate the electoral prospects of Rishi Sunak?
Guido resolved the issue on Tuesday, February 8:
Yesterday Guido reported on the mystery of the fake polls creating fake news in the Sunday Times. The paper claimed two polls from Survation and Focaldata showed Rishi was the top choice nationally, especially with Red Wall voters. Survation and Focaldata later denied these polls ever existed. The CEO of Focaldata now says he actually forgot* about a poll commissioned by Hanover Communications, and has since provided the data tables which generated the above chart. It shows that, based on the stated "first preference for Prime Minister", voters nationally prefer Boris and he currently ties with Starmer in Red Wall seats.
Given the Sunday Times article reported the poll as showing Rishi Sunak supposedly had the best chance of reaching voters in the Red Wall seats that flipped to the Tories in 2019, it is striking that the actual data shows Rishi well behind in the Red Wall seats and nationally as the first choice for voters. Whomever span the poll to the Sunday Times emphasised that Rishi was a strong second choice versus Starmer and Boris …
*Justin Ibbett, CEO of Focaldata, who tweeted on Sunday that he had not conducted a poll regarding a "hypothetical leader" has now explained that his firm is primarily a software platform. Customers like Hanover Communications can automate their polling without human intervention from them. Hence his ignorance of a poll his firm conducted.
Biased BBC reporting of Downing Street parties
On a related Boris-bashing topic, the media have been going into overdrive over parties in Downing Street. I fully appreciate why and agree with the exposure of rule-breaking of draconian lockdown measures which the rest of the population obeyed, being cruelly separated from loved ones in life and in death.
However, the BBC — an organisation we all have to pay for in order to watch any television — have taken their coverage of the parties to a whole new level.
On January 18, The Telegraph's Charles Moore wrote about their coverage, which is supposed to be impartial: 'The BBC has been acting like the Fox News of the Left'.
Moore wrote, in part (emphases mine):
I actually do believe that Tim Davie, the director-general, is serious about impartiality, but the corporation's implementation of his Action Plan is slow in that special way that only great bureaucracies can manage.
The story about Boris and parties is a classic case where the national broadcaster needs to show super-impartiality; but the coverage has showed no recognition whatever of what Mr Davie seeks.
On the contrary, from the news that starts the day to Newsnight, with presenters like Lewis Goodall, which ends it, the BBC has tried to prove that this is the worst scandal in living memory and will be fatal to Boris Johnson's premiership. It has dragged out the sort of disgruntled Tory backbenchers it normally despises and given them endless airtime to attack the Prime Minister. It is not far off being a Fox News of the Left, taking a line and incessantly promoting it.
Newspapers, too, have made a great meal of the scandal, and a good read it has often been. But this is exactly the sort of occasion where a compulsorily funded broadcaster should not try to ape Fleet Street. If you had relied solely on BBC coverage last week, you would have concluded that Boris was about to be kicked out. There was almost no presentation of the contrary view – which precedent suggests is likelier to be right – that he probably wasn't.
Moore points out that there are other news stories that the BBC could be covering, which are far more important in the long term than events from 2020 and 2021:
The biggest story in the world last week (and this) is the possibility of Russia invading Ukraine. The BBC virtually forgot this.
The news that a Chinese agent had donated nearly half a million pounds to the office of the Labour MP Barry Gardiner was also strong – a much more significant example of apparent political corruption than the standard "Tory sleaze" tales which the BBC relishes, yet it was downplayed.
Egregious coverage of Boris's accusation of Keir Starmer over Jimmy Savile
Speaking of Labour and the BBC, in his January 31 statement about the Sue Gray inquiry looking into the parties, Boris accused Sir Keir Starmer of not investigating Sir Jimmy Savile while Starmer was the Director of Public Prosecutions.
Savile was the BBC's darling, presenting Top of the Pops (TOTP) for many years and then his own show, Jim'll Fix It.
The BBC have said that Boris's accusation is fake news and should be retracted.
However, the accusations against Savile for taking advantage of minors have been many and have been circulating for years. One famous punk rock lead singer said several years ago on a late-night programme on another network that everyone was discussing Savile's proclivities backstage on TOTP in the 1970s!
Savile's death in 2011 provoked months of discussion on English websites asking why he was never prosecuted for taking advantage of young people who were part of the dancing audience on TOTP.
In other words, everyone knew what Savile got up to, but he was untouchable — and the BBC refuses to hear any criticism of their iconic star.
On Monday, February 7, a group of left-wing protesters which gathered in London to voice their discontent with coronavirus measures, verbally attacked Starmer while he and another Labour MP were walking back to Parliament from a meeting elsewhere.
They asked him about Freemasonry, called him a traitor, denounced his lack of opposition to the Government and — at the bottom of the list — criticised his lack of prosecution of Savile's crimes against minors. In the end, police had to escort him and the other MP to a car to drive them back.
Piers Corbyn led the anti-coronavirus protest. He has led many of these in England. He is the brother of Labour MP Jeremy Corbyn.
Piers Corbyn is not a Boris supporter.
However, the BBC blamed Boris for the mob's verbal attack on Starmer. Below is Laura Kuenssberg's analysis, saying that the Prime Minister should retract his accusation of January 31. Note how she doesn't even mention the name Jimmy Savile, only 'false claims':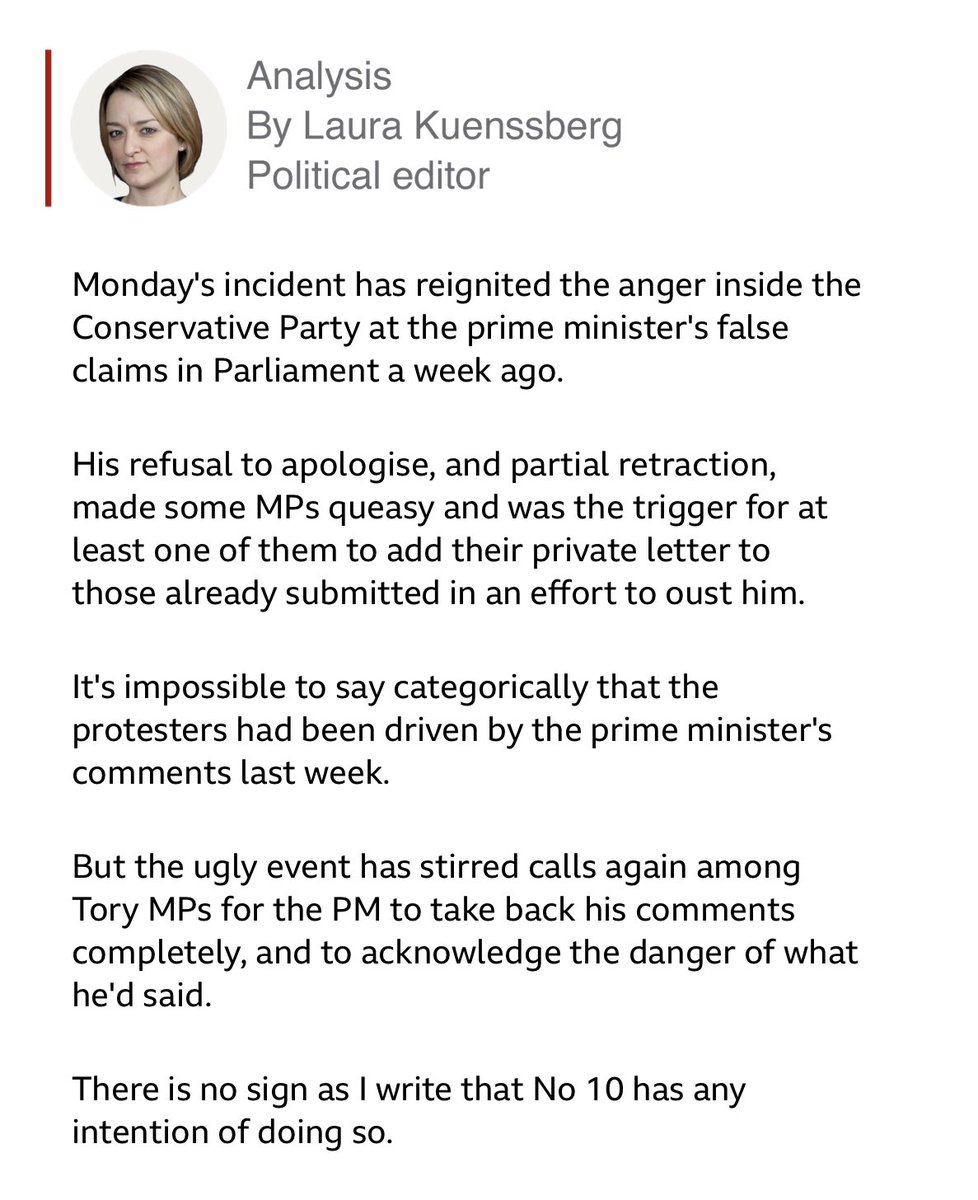 However, Channel 4 News actually interviewed Piers Corbyn, who said that Boris had nothing to do with his group surrounding Starmer in the street:
It's a good interview, with intelligent questions from the reporter.
Corbyn says that people have known about Savile for years.
Conclusion
Fake news used to be an American phenomenon.
It's quickly spreading here and, sadly, infecting what used to be our most trusted media outlets.
Readers of The Times and viewers of the BBC should be aware that not everything is as it seems.
What we are witnessing is a kangaroo media court.
A new series is currently showing about dementia patients: Channel 4's The Restaurant That Makes Mistakes, about the eponymous experimental restaurant in Bristol headed by Michelin-starred Josh Eggleton.
I missed the first episode about the dementia patients and their families but saw the second episode about the restaurant's first few days when it opened to the public.
I thought this would be depressing, but it was most encouraging, not unlike the 'train ride' therapy I wrote about yesterday.
The patients — staff — of this Bristol establishment have early-onset dementia. Many of them had highly responsible jobs: company owner, mortgage adviser, legal representative, sole trader (plumber), to name but a few.
Seeing people my age and under suffering from dementia was shocking. They were shown being given tests by a doctor before going on the programme. They were unable to answer the most basic of questions.
Not surprisingly, they all felt worthless.
The wife and mother of five who is suffering knows that she has only a few years to live. She is correct. I saw a young Alzheimer's patient for a few years when visiting a family member in assisted living. On my next visit, he was no longer there. He had gone to his eternal rest. The director of the home told me that younger dementia patients die sooner than older ones. I had not expected to hear that.
The idea for the programme came from Tokyo, as Television Business International reported on September 24, 2018, before filming began:
The Restaurant That Makes Mistakes is from Red Arrow's CPL Productions, the makers of BAFTA-nominated Old People's Home for 4 Year Olds and Motion Content Group, co-producers of C4's Dementiaville. It is supported by The Alzheimer's Society.
A group of Alzheimer's sufferers will be trained to work in the restaurant for a five-week period, where they will be visited by a host of celebrity diners and members of the public.
With more than 40,000 people living with dementia and aged under 65 in the UK, only a fifth of them continue to work post-diagnosis. A team of experts will oversee the ambitious project to evaluate whether the experiment could potentially change how businesses recruit, employ and retain staff who find themselves living with dementia.
Inspired by a real-life Japanese pop-up restaurant that opened in Tokyo last year, the 5 x 60-minute series attempts to start a wider national conversation about how we think about people who live and work with the increasingly common condition.
I give Josh Eggleton bags of credit for participating and heading the restaurant:
He is correct in saying that this experiment restored the patients' sense of self worth.
He has a chef trained in dementia who worked with the patients in the kitchen:
This short video shows Sue, the patient with vascular dementia who ran the bar. Josh Eggleton said the experience was nerve-wracking at first but ended up brilliantly. The young man in the film is Eggleton's dementia-trained chef who has a high genetic probability of getting Pick's Disease, another form of dementia. Both he and Sue ran together in the London Marathon for charity:
The more abled patients helped the others, such as the former business owner who helped the former legal adviser welcome diners at the front desk. She could not remember what to say and kept asking them if they wanted menus. Finally, she got there with regard to 'Welcome to The Restaurant That Makes Mistakes. Do you have a reservation?'
The former mortgage advisor runs the till, because her mathematical acuity is still sharp. She just speaks rather slowly.
Here are a few other selected tweets from the second episode:
The doctor in the film explains dementia:
The third of four episodes is on Wednesday, June 26, 2019. If you live in the UK, please tune in!
The Anheuser-Busch commercial for the Superbowl this year, scheduled to air on February 5, has kicked up a storm and is viewed by a number of Americans as pro-immigration advertising.
It comes a week after President Donald Trump initiated a 90-day immigration ban on seven countries which have majority Muslim populations. These selected countries lack the means for sufficient background checks on their own citizens. (More about this in a future post.)
See if you think this is political commentary:
I have two problems with it. First, by the time Adolphus Busch arrived in the United States in 1857, Germans had been emigrating there for a century, at least. They were well established in society. Secondly, it was unclear to me that the final scene was the famous 'when Anheuser met Busch' moment. I thought he was a random guy in a bar until I saw a YouTube from Mark Dice explaining it in the first minute or so:
Budweiser, owned by InBev — a Belgian corporation — denies it is commenting on Trump policy or an anti-immigration climate.
However, I cannot help but wonder if Adolphus Busch would have wanted to be portrayed in that way. Most immigrants wanted to assimilate straightaway. They were not going to dwell on the voyage over, their processing time at Ellis Island or their early years getting established. Everything was about becoming an American.
If you doubt this, then, please be aware that his Wikipedia entry states (emphases mine):
His wealthy family ran a wholesale business of winery and brewery supplies. Busch and his brothers all received quality educations, and he graduated from the notable Collegiate Institute of Belgium in Brussels.[2]
Another German immigrant came to America in the 19th century. His name was Friedrich Trump, pictured at left (courtesy of Wikipedia). He was a Lutheran and came from Kallstadt in Bavaria. He managed to make a fortune within three years. He went everywhere, from New York to the Yukon. Nary a complaint. Even the most recent Channel 4 documentary by anti-Trump Matt Frei on his grandson — shown in late January 2017 — painted Friedrich as a clever, enterprising businessman. That makes me think Adolphus Busch was of the same entrepreneurial mindset.
You didn't go to the US as a victim then, that's for sure.
Incidentally, Friedrich returned to Kallstadt after three years only to go through a series of legal hurdles regarding his German nationality! He found out it had been revoked, possibly because he went to the US around the time he was to do his military service. So, back to America he went and the rest is history. According to Matt Frei's documentary, Friedrich quietly enjoyed his life a lot but died in the Influenza Epidemic of 1918. His widow, Elizabeth — also from Kallstadt — set up a real estate company for her middle son Fred, the president's father. It was called Elizabeth Trump & Son. Fred was still a minor at the time, even though he was precocious enough to follow in his father's footsteps and get small houses built.
I recommend that we need to watch these adverts with a gimlet eye and research the immigrant mindset of the 19th and early 20th centuries, very much oriented to assimilating into American society — as future Americans.
This week in Britain, the notional artist Grayson Perry took issue with the masculinity that adventurer Bear Grylls displays, terming it 'useless'.
(Photo of Grylls courtesy of Wikipedia.)
Perry is known for his cross-dressing, which you can see in a Spectator article on his sniping against alpha males. Perry is currently doing a show for Channel 4 which explores the 'problems' that 'masculinity and manly men' cause society.
Perry, 56, has enjoyed cross-dressing from his childhood. Not surprisingly, this fractured the relationship he had with his parents and his step-parents. In 1979, his step-father told him not to return home. He has been estranged from his mother since 1990.
He is best known for his pottery, although he has also created tapestries. Some of his work explores explicit sadomasochism and child abuse. However, he has had a one-man exhibition at the Stedjick Museum in Amsterdam in 2002 which led to him winning the Turner Prize in 2003. Incredibly, he was appointed Commander of the Order of the British Empire (CBE) in the 2013 Birthday Honours for services to contemporary art. In 2015, he became chancellor of University of the Arts London.
He is married and has a daughter, born in 1992.
Unlike Perry, Edward Michael 'Bear' Grylls does not have any honours, although he has been Chief Scout since 2009. He was the youngest ever Briton to become one. He was 35 at the time.
His parents are Conservatives. He attended Eton College and has two university degrees. He has been interested in mountaineering and martial arts since his teenage years. For several years he served in the Territorial Army and as a reservist with the 21 SAS Regiment (Artists Reserve) until 1997.
His expeditions are too numerous to mention but include Everest, the Himalayas and Antarctica. He has starred and presented several television programmes for Channel 4 on extreme life in the outdoors. He also gives motivational talks to various organisations, including schools and churches.
He is married and has three sons.
His Christian faith is deeply important to him.
Perry finds Grylls appalling:
Top of his no-no list? Bear Grylls. Yes, Perry says that the Old Etonian adventurer is a 'hangover' who represents a 'masculinity that is useless':
'Try going into an estate agent in Finsbury Park [London] and come out with an affordable flat. I want to see Bear Grylls looking for a decent state school for his child!'
Bear Grylls would have no problem at all in choosing a school for his sons, state or otherwise.
Perry also attacked Grylls's show The Island:
Perry says it helps foster a masculinity that makes life in modern society more difficult.
Grylls responded in his usual gentlemanly style:
In the wild, quiet courage, humility, persistence and selflessness makes a man and also a woman. That is never outdated.
I agree with the Spectator when they say they'd be interested to see how Grayson Perry would fare in the wild — if only he could bring himself to leave leafy London.
Although I do not watch his shows, I'll take Grylls's alpha male masculinity any day, especially when he says:
my faith is a quiet, strong backbone in my life, and the glue to our family.
It's time he was awarded an honour.
Queen Elizabeth turns 90 on Thursday, April 21.
Millions of people, not just in the UK but around the world, will wish her a very happy birthday and many happy returns.
Britons are blessed to have her as their head of state. She is the glue that holds us together.
What has made her so successful and well respected?
On October 31, 2015, Channel 4 broadcast How to Be Queen: 63 Years and Counting which revealed the 'secrets' of the woman who is more popular than ever.
Below is a countdown of the Queen's ten secrets to No. 1 — the most important. The subheads below come directly from the programme and the text summarises its content.
10/ Stay out of politics
The film The Queen, starring Helen Mirren, explores this principle in depth, especially in the depictions of her conversations with then-Prime Minister Tony Blair.
The Queen does not say anything about politics outside of her family circle, however, to politicians like Blair, she makes her thoughts known through a look or a brief remark that can cut one down to size in an instant.
By contrast, Prince Charles, whose opinions are well known on a variety of subjects, has little of his mother's near-universal appeal. Perhaps it is time he took a leaf out of his mother's notebook.
9/ Say nothing
Unlike Prince Charles and the late Princess Diana, the Queen does not give interviews.
Discretion is the better part of valour.
The only exception was in 1992 when the Queen noted in her Christmas Day message to the nation how awful that year had been, but used a Latin expression. She pronounced it an 'Annus Horribilis'. A number of Royal scandals broke that year. Windsor Castle also caught fire and was seriously damaged.
8/ Do your duty
The Queen was brought up to do her duty to the nation. She has never wavered from serving her people.
She is the opposite of two of her ancestors. When Queen Victoria's son Edward VII ascended to the throne in January 1901, he continued his previous playboy lifestyle, even though he was married to Princess Alexandra.
A more shocking example, however, was that of Edward VIII who reigned for 326 days in 1936 before abdicating to lead his own life. After abdication, he took his ladyfriend, American divorcée Wallis Simpson, whom he later married, on a trip to Nazi Germany. Understandably, public opinion was so hostile to him that he spent most of the rest of his life in France. His successor (brother) George VI — Queen Elizabeth's father — and his mother Queen Mary threatened to cut off his allowance if he returned to the UK uninvited. It is no wonder that Britons over the age of 50 consider him to be one of our worst ever monarchs.
7/ Don't fluff your lines
The Queen has always delivered her addresses in a clear, professional way.
The Queen Mother no doubt had a role to play in that. Her husband George VI had a stammer which marred his radio addresses to the nation. His speech therapy was the subject of the film The King's Speech. The film builds up to the King's wartime broadcast of 1939, which had to be delivered flawlessly to have the necessary gravitas. A nation held its breath. Fortunately, all went well. The Queen's father occasionally stammered after that, but much less so than previously. The British public considered him all the more human for it.
6/ Protect the brand
The Queen has always been conscious of the Royal Family's status as a brand.
The Queen Mother instilled that in her from childhood, but it actually originated with George V during the Great War. He and Kaiser Wilhelm were first cousins. The British public were understandably unhappy during a time when anti-German sentiment was rampant. George V changed the family name from Saxe-Coburg-Gotha to Windsor, after the castle.
In 1917, the King faced another difficulty, this time involving another cousin, Tsar Nicholas. He wanted very much to bring the tsar and his family in Russia to safety in the UK but decided against it. He feared that bringing the Russian royals to Britain would also foment a revolt in Britain, similar to the Russian Revolution.
Unfortunately, not all of the Queen's children share her desire to protect the brand. Some royals appeared in the television programme It's a Royal Knockout in 1987. Rather than boost their popularity, it did the opposite. Lesson learned.
Ironically, it is the Queen's husband, Prince Philip, who makes the most gaffes, too numerous to mention here. Reading them is painful, but people who have met him and heard them find them rather amusing. Hmm.
5/ Don't mix with the staff
When it comes to confiding in her staff, the Queen appears to abide by the maxim 'Trust no one'. Her record is blemish-free.
This has not always been the case with previous monarchs. After Prince Albert's death, Queen Victoria spent a lot of time with Mr Brown and then Abdul Karim. These associations with palace attendants scandalised the royal household and the courtiers.
More recently, Princess Diana confided in her butler Paul Burrell, which generated much publicity for him after her death and some difficulty for the Royal Family as a result.
4/ Earn your keep
The Queen was brought up to be a hard worker.
She understands that if one is going to live at the taxpayer's expense, one had better earn one's keep.
She, Prince Philip, Prince Charles and Princess Anne are the most dedicated of the Royals. Much of the charity work that Princess Anne does goes unnoticed by the media, and that is the way she likes it.
The Queen is careful to work hard and maintain a sober, low-profile private life.
Her responsible approach contrasts with Edward VII's partying and cavorting more than a century ago. In our time, Prince Andrew rightly came under public criticism for his affair with Koo Stark in the 1980s and, in recent years, for his profligate air travel.
3/ Keep a stiff upper lip
The Queen always controls her emotions.
She was brought up to practise emotional reserve and displayed little physical affection for her children.
Her grandfather George V was also very reserved, even towards his wife, Queen Mary. With regard to his children, the Channel 4 programme said he was 'cold'.
Does this mean there was no love? Hardly. In fact, many Britons would point to the old dictum 'Still waters run deep'.
The Queen's children have taken a different approach to parenting. Prince Charles, in particular, was careful to show his sons much affection in their childhood.
One of the few times one could see a scintilla of deep emotion in the Queen was when the royal yacht Britannia was decommissioned. Television news footage captured the monarch, her lips quivering ever so slightly as she blinked rapidly.
2/ Find true love
The Queen is deeply in love with Prince Philip and always has been.
The feeling is mutual. The couple have been married for nearly 70 years.
The Duke and Duchess of Cambridge (Prince William and Kate Middleton) share that same sort of love.
The film The Young Victoria depicted Queen Victoria's profound love for Prince Albert in the 19th century. Her diaries record that he used to help her dress in the morning and would put her stockings on for her.
1/ Listen to the people
The Queen has only had one crisis during her reign and she mitigated that by listening to the people.
Another thing that helped was not to react instantly but rather wait and see what way the wind is blowing.
This troublesome period was the week following the death of Princess Diana at the end of August 1997. The Queen and the Royal Family were on summer holiday at Balmoral in Scotland at the time. The Queen decided they should leave for London four days later.
Meanwhile, public emotions were at fever pitch. I know. I worked in London at the time and saw a few of my female colleagues rail against the Queen, calling for her death. A lot of women laying flowers at Kensington Palace felt the same way. Television reporters interviewed a number of them for news broadcasts every day. The newspapers were filled with anti-Royal sentiment.
Once in London, the Queen went on a walkabout in front of Kensington Palace to see the queues of people ready to lay flowers in front of the late princess's residence. The Queen has a scene which actually took place that day, later shown on the news. Queen Elizabeth spoke to a little girl holding a posy. She said something to the girl about the flowers being for Princess Diana. The little girl said, 'These are for you', and handed her the bouquet. That moment reversed the Queen's dismal week because it signalled the turning of the tide away from animosity.
Later that day, the Queen gave a televised address to the nation with regard to Princess Diana's death. It was her first public statement on the subject. Admittedly, then-Prime Minister Tony Blair had been advising the Queen on the hostile mood in London, but she does not say anything she does not mean.
In the address, she displayed no sign of regret but she delivered two messages in a muted fashion: continuing authority — 'As your Queen' — and true sentiment — 'something I say from the heart'.
On the day of the funeral, Queen Elizabeth did something unusual. When Princess Diana's coffin passed by, she bowed her head as a mark of respect. She might have done that as a nod to public opinion.
The Queen carefully averted what could have easily turned into a crisis. The following week saw a calmer atmosphere in the capital and a gradual return to normality.
Conclusion
How to Be Queen: 63 Years and Counting concluded that if the next generation of Royals can master Queen Elizabeth's ten secrets, our monarchy's future is secure.
Many of us will pray, particularly today, that it is.
Yesterday's post looked at how Islamic extremism has developed in England over the past decade.
Today's entry continues the theme, in a less dramatic way although a more personal one with regard to women. Emphases mine below.
The 'Sharia' driver
The Evening Standard Theatre Awards were held in London on November 21, 2015. (The Evening Standard is London's local newspaper.) The English actress Frances Barber, 58, attended the ceremony.
She was wearing a long-sleeved ankle-length black gown with a high neckline and a shawl; click on the link for the full photo.
Afterwards, Barber got into the Uber taxi she had booked. She made small talk with the driver, remarking that it was a cold night.
The driver told her:
Well if you weren't so disgustingly dressed…
He also told her that women should not be out alone at night.
She got out of the car, slammed the door and sought alternative transport.
She tweeted:
Just had a sharia Uber driver, first time in London. Shocked. Reported.
And, she ended her second tweet — which recaps what I've already told you here — with:
THIS IS LONDON.
Uber are looking into the matter. We do not know what, if anything, happened to the driver. Barber's next tweet was on November 26:
Thankyou for so many messages of support.Uber have taken this seriously & am grateful.But clearly there is an issue.
Frances Barber was not the only one who had a negative experience with an Uber driver. Her Twitter feed included tweets from another lady — from the Asian Subcontinent — who wrote:
My sister was told an Asian woman should not be out in late evening. Even tho with kids.
Uber must insist that their drivers refrain from making comments of a misogynistic nature, just as they would refrain from offering opinions on social or political matters.
Uber passengers
The problem is that these drivers have no professional driving qualifications. As Ed West pointed out in The Spectator:
… if people want a fully-trained driver who knows what he's doing, has invested both his time and money in his career, and is licensed, then get a black cab. Uber is not a taxi service; it's merely a mechanism to hire some random guy to drive you around for a pittance – don't be surprised if he's not quite possessed of a Morgan Freeman level of repartee and diligence.
There is also the mind-set that goes along with celebrities and upper-middle class people flocking to Uber instead of black cabs in the capital. Uber attracts these passengers, nearly all of whom are left-wing. There is a case of cognitive dissonance here, as West explains:
Janice Turner recently pointed out in The Times that her friends 'wouldn't grind an unfairly traded coffee bean, they champion the living wage and want to tax global evaders like Starbucks and yet Uber leaves such principles squished in the road'.
The Times is behind a paywall, but West's article has a legible photo of Turner's article which says that Uber wants to flood London with drivers. Indeed, the Daily Mail article cited above says that they already have 15,000. Turner says that Uber drivers from Manchester (North West England) are going up to London to work weekends.
West rightly notes that there seems to be a British bias against drivers of black cabs. They are satirised as opinionated blowhards. In reality, like West, I have had very few conversations with them. Most prefer not to talk.
West points out that foreign taxi drivers also have political views:
I've had some interesting chats – most recently there was a lovely Iranian guy who hated the religious authorities and wanted to restore the Shah, which I'm totally down with – but I've also spoken to people who believe the Mossad were behind 9/11. Imported prejudices are not so much a target for Radio 4 comedy, but as Europe is finding out, these days they are much more extreme and dangerous.
Other news stories
Frances Barber's unfortunate Uber encounter took place in the aftermath of the Paris attacks when Brussels was on lockdown and a day before Channel 4 broadcast Women of ISIS.
There were other related news stories. The Sun received fierce criticism for their poll taken in the wake of the Paris attacks. It shows that 19% of Muslims have 'sympathy' for those who go to Syria to fight for IS. The percentage is higher for those aged between 18 and 34.
Oddly, no one criticised the more dramatic results of the BBC's poll of Muslims which followed the Charlie Hebdo massacre in January — 27% of respondents had 'sympathy' for the terrorists.
Why? Is it because The Sun is perceived as being a white working class paper? Is it because most people find Charlie Hebdo a repulsive publication? I think so. Therefore, both can be safely ignored.
Biased BBC has a good post on the subject, including the Frances Barber story. Incidentally, Barber is currently starring in a BBC series, Silk:
… if a non-Muslim spoke like that to a Muslim woman in a Niqab that would be classed as hate speech…why the difference?  The BBC would be all over that story …
The BBC has not reported this story of 'racial' abuse….even though the victim is one of its own employees….the BBC would rather cover up for a Muslim extremist than defend its own employee in the interest of 'community cohesion'.
They mention the difference in perception of the two aforementioned surveys.
As for Women of ISIS:
You may remember the BBC also totally ignored the astonishing expose by C4's Dispatches programme 'Undercover Mosque' which revealed what the extremists were saying behind the closed doors of British mosques.  The BBC instead spent the same week trashing Jade Goody for a 'racist' comment she made in the heat of the moment during an argument in the Big Brother house…great to see what the BBC's real priorities are….never mind extremist Muslim hate speech, instead launch an all out, week long attack on a white (with a mixed-race father), working class girl.
Ultimately:
Odd isn't it what the BBC prioritises and what it seeks to hide.  Three Muslim girls go off to be Jihadi brides and the BBC is there for them and their families….however, Muslim women aiding and abetting the radicalisation and recruitment of such girls in the name of Islam and the BBC ignores it.
Conclusion
This is the problem England will continue to have regarding Islam and why extremism is likely to increase rather than decrease in the short term.
The BBC are partly to blame. The BBC have a huge hold on the British public. Our neighbours religiously watch their news programmes and adopt the Beeb's perspective on everything. There are millions more just like them.
At least the newspapers came out in support of Frances Barber. However, they need to also find out about other Uber drivers and anyone else who is telling women to stay off the streets at night.
We are not too different to Belgians and Swedes who attempt to brush a real problem aside in the name of tolerance with unenviable consequences. Belgian Jews are now beginning to leave the country. Nearly all of Sweden's rapes are committed by one demographic. However, these are seen as minor issues which have been exaggerated.
At least France's Muslim pundits are now beginning to speak out firmly against radicalisation. Mohammed Chirani, a political analyst and anti-terror specialist, is one such example. I have often heard him on RMC (radio). He speaks sense on many subjects. After the Paris attacks, he appeared on France's iTele with this message (English subtitles at the MEMRI link). He says, in part, to the notional 'caliph' of IS, his followers and the Paris attackers:
We are the ones who will be kept firm. Truth is on our side. You are the wrongdoers. Know that our dead, the innocent French citizens, are in Paradise, and your dead, the terrorists, are in Hell. Know that Allah is our Protector and that you have no protector.
I'd like to tell you that you will not succeed in igniting the fire of strife in France … I'd like to tell you that we will wage jihad against you with the Quran. I'd like to tell the traitors who deceived France, betrayed their country and burned their IDs that we are kissing our ID documents.
At that point, he kissed his French passport.
England could use at least one, if not several, Mohammed Chiranis.