You are currently browsing the tag archive for the 'Charles III' tag.
My most recent post on Liz Truss examined her first two weeks in office as Conservative Party leader and Prime Minister, from September 6th through the 16th.
Things had started out so well. Ironically, Jeremy Hunt, who is now Chancellor, told ITV's political editor Robert Peston on September 7 that Truss would be 'formidable'. An amazing endorsement from someone who was her natural ally:
Hmm. Did he know anything at that point? We'll probably never know.
On September 20, The Sun's political editor Harry Cole was delighted to announce his and James Heale's book on Truss, Out of the Blue, which later had to have hastily written chapters added to it:
Yes, it is still coming out by Christmas — November 24, to be precise:
King Charles and COP27
Liz saw King Charles on Sunday, September 18, the day before the Queen's funeral. It was not their usual day to meet, but the Royal Family went into private mourning until the end of September:
On Saturday, October 1, The Times reported that Liz had asked the King not to attend COP27, which ran between November 6 and 18, despite an invitation from the organisers.
This was a good move, in my opinion, as climate change, or whatever it's being called this week, has turned highly political.
The article said (emphases mine):
The King, a passionate environmental campaigner, has abandoned plans to attend next month's Cop27 climate change summit after Liz Truss told him to stay away.
He had intended to deliver a speech at the meeting of world leaders in Egypt.
Had she remained PM, Liz would not have attended, either:
Truss, who is also unlikely to attend the Sharm el-Sheikh gathering, objected to the King's plans during a personal audience at Buckingham Palace last month.
There were no hard feelings between the Palace and No. 10:
… a Downing Street source claimed the audience had been cordial and there had "not been a row".
No doubt he was expecting it:
A senior royal source said: "It is no mystery that the King was invited to go there. He had to think very carefully about what steps to take for his first overseas tour, and he is not going to be attending Cop."
They said the decision was made on the government's advice and was "entirely in the spirit of being ever-mindful as King that he acts on government advice".
In the end, the King held a reception at Buckingham Palace for world leaders before they flew to the summit. In light of that, this was rather interesting:
Charles is still determined to make his presence felt there, and how he will do that is "under active discussion". A senior royal source said: "Just because he is not in physical attendance, that doesn't mean His Majesty won't find other ways to support it."
A source who knows Charles said he would be "personally disappointed" to miss it and was "all lined up to go", with several engagements planned around his Sustainable Markets Initiative (SMI) which aims to persuade businesses to invest in environmentally friendly initiatives.
Public v parliamentary opinion
In late September, a poll showed that Truss was ahead of Labour's Keir Starmer in Red Wall seats, boosting the Conservatives by eight points:
Admittedly, that was before Kwasi Kwarteng's fiscal event, or mini-budget, of Friday, September 23.
That said, I will go out on a limb and say that most conservative voters thought that Kwarteng's — Truss's — plan was the right one. My better half and I thought it was refreshingly libertarian.
However, Conservative MPs vehemently disagreed with the public and started writing in to Sir Graham Brady, the chairman of the 1922 Committee, the all-powerful group that Margaret Thatcher dubbed 'the men in grey suits'.
On September 26, the Northern Echo reported:
A former Tory minister MP has told Sky News the new Prime Minister is "f*****" and the party are already looking to bring her down following Friday's mini-budget.
The MP said: "They are already putting letters in as they think she will crash the economy. The tax cuts don't matter as all noise anyway – mainly reversing back to the status quo this year …
Another Tory MP told the broadcaster that Friday's announcement – which included reversing a 1.25% hike in National Insurance – had been a "s***show".
Note that MPs were siding with the Bank of England. Very establishmentarian of them:
"The issue is government fiscal policy is opposite to Bank of England monetary policy – so they are fighting each other. What Kwasi [Kwarteng] gives, the Bank takes away."
The mood among Conservative 'wets', to borrow Thatcher's name for such weaklings, only escalated.
At Liz's one — and only — appearance before the 1922 Committee on Thursday, October 13, Robert Halfon, a wet, told Truss she had 'trashed the past ten years'.
Liz Truss was accused by a senior MP of trashing "the last ten years" of Conservative government as her party turned on its new leader over the mini-budget.
Robert Halfon, a former minister who chairs the education select committee, unleashed a furious attack on her financial measures, saying they disproportionately benefited the wealthy and meant she had abandoned "workers' conservatism".
Anything but, however:
According to an MP present, Halfon told Truss in a meeting of the 1922 Committee of backbenchers — her first as prime minister — that "in the last ten years we had the living wage, a focus on apprenticeships and skills", contrasting that with "bankers' bonuses, benefits cuts and now cuts to affordable housing targets".
His intervention came after Truss tried to assuage Conservative MPs by saying she had "shielded families and businesses from bills of up to £6,000 this winter and for the winter ahead, while Labour has no plan beyond the next six months".
The meeting did not go well. Halfon seemed to voice other MPs' concerns:
… a Tory MP who has been in the Commons for more than a decade said: "It was the worst 1922 I've ever been to." They added: "With each tough question she looked like she'd had the wind knocked out of her — the 31st of October could finish her off on the basis of the reception she got in that room."
Halloween — who schedules these things? — was supposed to be the day Kwasi was going to set out more detail behind his fiscal event. Liz's friend and neighbour in Greenwich was on hand to support her:
Thérèse Coffey, the deputy prime minister, told reporters outside the 1922 meeting that the chancellor would meet MPs before presenting his medium-term plan on Halloween, stressing that engagement was key.
In the event, Truss had to sack Kwarteng and appoint (ahem) the aforementioned Jeremy Hunt as Chancellor. He delivered his shocking budget on Thursday, November 17, to Prime Minister Rishi Sunak's approval. Sunak nodded several times during the presentation.
Returning to The Times's article of October 13, what other wets said presaged the future:
Even those who back the prime minister expect some sort of climbdown. One MP said: "She will have to unwind everything fiscal in the statement. They have to backtrack. There is no alternative. They've done it on the 45p and they'll have to do it on the rest.
"Then if we are still 20 points behind in the polls we will have to change leader. We are cold-blooded like that."
Another admitted there was "definitely still a big split between her and the Rishi [Sunak] side of the party". Asked if Truss would have to perform another U-turn, they said: "Ultimately, I suppose it depends if she's leveraged into that position by our own party, but it's all by those with 20,000 majorities."
Hmm … Hmm.
However, one Rishi Sunak supporter — Esther McVey — is deeply unhappy over his Chancellor's budget:
On Tuesday, November 22, McVey rightly tore the budget apart in ConservativeHome, saying that Hunt's tax rises are 'socialist measures' that are 'punishing Conservative voters':
… It wasn't helped by the Chancellor's statement being such a pendulum swing from the Liz Truss / Kwasi Kwarteng mini budget. People went from thinking they were getting their taxes cut to seeing them hiked.
The Autumn Statement was clearly an over-correction to that mini-budget. Going from one extreme to the other is hardly reassuring for people. A middle ground was needed: an acceptance of Conservative principles, with a costed plan and the accompanying narrative to reassure the markets.
Instead, Hunt delivered his statement with a doom and gloom that would have appropriate were the country on the brink of financial collapse. However, despite some serious challenges, things are not so dire that we had to have such excessive medicine.
For instance, the ten-year gilt yield – the interest rate the Government must pay on a new decade-long loan – was 3.14 per cent, whereas, even before the notorious mini-Budget in late September, that same yield was much higher at 3.49 per cent.
Britain is no more indebted than other comparable countries. Our national debt (albeit too high) stands at 97 per cent of GDP, whereas France, Canada and the US stands at 115 per cent, 116 per cent and 132 per cent respectively. Across the G7, only Germany has lower levels of government debt than the UK.
So when I stood up in the House of Commons at PMQs the day before the budget and said –
Given that we have the highest burden of taxation in living memory, it is clear that the Government's financial difficulties are caused by overspending and not due to undertakings. Does the Deputy Prime Minster therefore agree, if the government has got enough money to proceed with HS2 at any cost then it has sufficient money not to increase taxes, if however, it has so little money it has to increase taxes (which is the last thing for a conservative government to do) then it doesn't have sufficient money for HS2 [High Speed Rail 2]?
So can I gently urge the Deputy Prime Minister not to ask Conservative MPs to support any tax rises, unless and until, this unnecessary vanity project is scrapped, because I for one won't support them.
– it was to remind everyone there are better choices for our Conservative government than hiking up taxes.
In fact, given that unprecedented tax burden, any self-respecting Conservative would instinctively know that the answer is to spend less. Dropping HS2 – an out-of-date white elephant, costing north of £150 billion which (as Andrew Gilligan revealed on my show on GB News) the Ministers themselves know will deliver less economic benefit than the cost of it – would have been an ideal place to start. That would certainly have been more desirable than increasing taxes on hard-working families who are already feeling the severe pain of higher energy prices and increased mortgage payments.
If a Conservative government with a sizeable majority – in a time of financial pressure – won't cut public expenditure to start living within our means, then when on earth will that ever happen? …
Parliament is debating Jeremy Hunt's budget this week. In Monday's proceedings, a number of Conservative MPs spoke out against it.
Liz's U-turn on windfall tax
On October 12, two days before she sacked her friend and neighbour Kwasi Kwarteng, she appeared to do a U-turn on 'no new taxes' by allowing an announcement for a new levy on green energy firms.
Her ally, then-Business (BEIS) Secretary Jacob Rees-Mogg, defended the move and claimed it was not a windfall tax:
Guido Fawkes reported (emphases his):
The government has announced a new plan to impose a multi-billion pound levy on green energy firms to fund support to consumers. Renewable and nuclear electricity generators in England and Wales will now have their revenues capped after windfall tax-hating Liz Truss seemingly bowed to pressure to limit profits. The announcement came from BEIS last night, which is calling the new policy a "Cost-Plus-Revenue Limit" and spinning that it isn't in any way a windfall tax "as it will be applied to 'excess revenues' as opposed to profits". If it walks like a tax, swims like a tax and quacks like a tax…
The latest backtracking on free market values by the government comes just 41 days after Liz Truss told party members at the London husting that they could read her lips, and there would be no new taxes under her leadership …
On Today this morning, Rees-Mogg tried performing a Jedi mind trick, saying "this is not a windfall tax…this is rationalising the market"…
Despite the government's denial that the new revenue limit is a tax, the boss of RWE – the third biggest renewable power generator in Britain – has told The Times the move "is a de facto 'windfall tax' on low-carbon generators that, if not designed and implemented correctly, could have severe negative consequences for investment in the renewable and wider energy market and so for the energy transition."
Guido warned that Labour's support for the new levy is not a good sign:
Ed Miliband welcoming the policy with open arms should give the government sufficient pause for thought before it buys its own spin…
The mystery of Liz signing UK up to EU's PESCO
Early in October, Liz did a strange thing, considering she is a staunch Brexit supporter.
She attended the first ever meeting of the European Political Community in Prague. The European Political Community is Emmanuel Macron's brainchild.
This group is made up of EU member countries, yet, somehow Liz got an invitation. No one knows for certain.
However, she went.
She met with Macron on Thursday, October 6, in an effort to get the Channel dinghy crossing issue resolved.
GB News reported:
Liz Truss hailed Emmanuel Macron as a "friend" on Thursday, as the two countries signalled that a new agreement could be close to tackle small-boat crossings in the Channel.
The pair met at the first summit of the European Political Community in Prague, a gathering pushed for by the French president.
There, the pair said they looked forward to "an ambitious package of measures this autumn" to address issue of migration across the Channel.
And in a sign that Ms Truss hopes to improve relations with Mr Macron, she had no hesitation in labelling him a "friend", just weeks after refusing to do so …
Mr Macron later suggested it was a "problem" if Britain could not call itself a friend of France.
But Prime Minister Ms Truss adopted a different tone ahead of a meeting with Mr Macron in Prague on Thursday.
She told broadcasters: "I work very, very closely with President Macron and the French government and what we're talking about is how the UK and France can work more closely together to build more nuclear power stations and to make sure that both countries have energy security in the future.
"We're both very clear the foe is Vladimir Putin, who has through his appalling war in Ukraine threatened freedom and democracy in Europe and pushed up energy prices which we're now all having to deal with."
Asked if he was then a friend, Ms Truss said: "He is a friend."
The bi-lateral meeting between the two leaders, which took place towards the end of the day, appeared to signal some progress on the issues of migration and energy, both areas Ms Truss had raised as priorities ahead of the summit.
"Thank you for being here," Mr Macron told the PM when they met.
It also emerged that the two countries have agreed to hold a joint summit next year to "take forward a renewed bilateral agenda", in a further sign of the desire for warmer relations between the two countries.
On migration, a joint statement said the leaders "agreed to deepen cooperation on illegal migration within the bounds of international law, to tackle criminal groups trafficking people across Europe, ending in dangerous journeys across the Channel".
But the big, and secret, news was that Liz had signed the UK up to the EU's PESCO — Permanent Structured Co-operation — which is a military initiative.
Nigel Farage announced the move on his GB News show as soon as he had heard.
On Friday, October 7, The Express said that the move could affect British armed forces by dragging them into an EU army:
The Prime Minister has been warned not to allow the UK to be dragged into an EU Army by accident after she signed a military deal this week at Emmanuel Macron's European Political Community (EPC) summit in Prague. The decision to go into part of the PESCO has alarmed some Brexiteers who fear it could undermine the UK's sovereignty.
Former defence minister Sir Gerald Howarth, a leading Brexiteer has led the campaign to resist joining PESCO for many years.
He said: "This is very serious and we must be very careful. The issue around PESCO is that the structures are permanent.
"We must not sign up to anything which undermines our sovereignty and where we do not have a veto.
"Second, we must not do anything that undermines NATO. If we have learnt anything over the last few months is that we need NATO for the defence of western values and Europe against our enemies which at the moment is clearly Russia."
Even if this has to do with Ukraine, and enables us to move troops and military equipment more easily, it still raises questions:
At the EPC meeting on Thursday, the EU member states voted unanimously to allow the UK to join the the mobility project that would allow the UK to move troops and military equipment more quickly.
The UK Government decided to enter the strand in case Britain is called upon as a NATO ally to defend the Baltic states from a Russian invasion.
However, staunch Brexiteer Mark Francois MP was relaxed about it:
One senior Brexiteer, former Armed Forces Minister, Mark Francois, who now chairs the powerful group of Tory Brexiteers the European Research Group (ERG), said he believes that the move was the right one.
He said: "As we are outside the EU, we can opt in to individual PESCO projects if they have merit and looking at how we could speed up reinforcing the Baltic States from the UK, across internal EU borders, may well have military advantages.
"However, it is NATO that remains the bedrock of our security, especially in deterring further Russian adventurism and we should never forget that."
On October 9, David Kurten, a former London Assembly member and founder of the Heritage Party, said that signing the UK up to PESCO was a betrayal of Brexit:
One month ago, the aforementioned Sir George Howarth appeared on Farage to say that we still do not know what part of PESCO Liz signed us up to. He was clearly concerned, saying that the implications could be important, especially as none of the countries involved has a veto. The EU calls all the shots:
Today, one month on, we are none the wiser about our involvement in PESCO.
Someone must know what's going on. In fact, a lot of people probably do know.
Liz's final week
All of Liz's opponents, whether on the right or the left, told us that Liz and Kwasi, joined at the hip politically, had to go.
Project Fear started as soon as Kwasi delivered his mini-budget on September 23.
On September 27, Bloomberg told us that UK markets had lost $500 billion in combined value since Liz Truss became PM. Really?
'Investor confidence' means international markets, ergo part of the Establishment.
Also at that time, former Conservative Chancellor George Osborne, who served under David Cameron, stuck the boot in.
On September 29, a comment from an UnHerd reader appeared in response to one of their articles, beginning with 'Is this the end for Liz Truss?':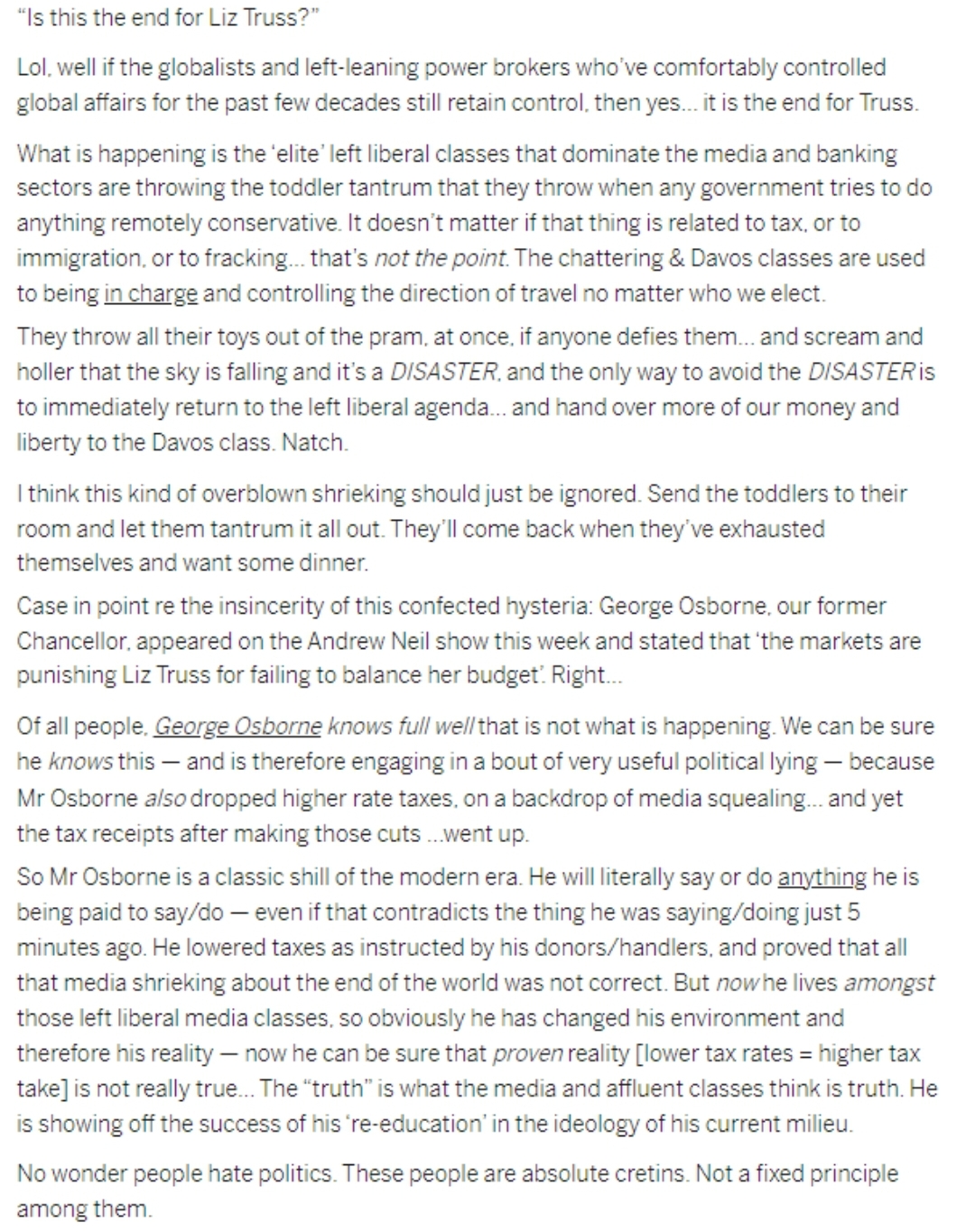 Osborne features heavily in it. The reader quotes him saying, 'The markets are punishing Liz Truss for failing to balance her budget'.
The UnHerd reader says:
Right.
Of all people, George Osborne knows full well that is not what is happening. We can be sure he knows this — and is therefore engaging in a bout of very useful political lying — because Mr Osborne also dropped higher rate taxes [the 50% rate], on a backdrop of media squealing … and yet the tax receipts after making those cuts … went up.
So Mr Osborne is a classic shill of the modern era …
As to whether Liz would have to go, the reader supplies the answer at the top of his message:
… well, if the globalists and left-leaning power brokers who've comfortably controlled global affairs for the past few decades still retain control, then yes … it is the end for Truss …
… It doesn't matter if that thing is related to tax, or to immigration, or to fracking … that's not the point. The chattering and Davos classes are used to being in charge and controlling the direction of travel no matter who we elect.
Speaking of such people, on Wednesday, October 12, King Charles greeted Liz with, 'Dear, oh dear', while the press were still there to record it for posterity:
What did he know and when?
The beginning of the end came two days later on Friday, October 14, when Liz sacked Kwasi and appointed (ahem) Jeremy Hunt as Chancellor. This was the shortest and most painful press conference — she only took four questions — in living memory. She looked like a rabbit in the headlamps or a hostage being forced at gunpoint to read out a message:
As soon as she announced it, we knew Hunt was, at that point, the de facto Prime Minister.
Hours later, The Telegraph reported:
Mr Hunt, a former foreign secretary, took the helm at the Treasury following the sacking of Kwasi Kwarteng over the mini-Budget fiasco. Ms Truss turned to him even though the pair have strongly disagreed on economic policy.
Mr Hunt, also an ex-health secretary, endorsed Rishi Sunak for the Tory leadership after being voted out of the race in July, saying: "This is the wrong time for populist crowd-pleasing and the right time for honesty."
He will hold huge power over a weakened Prime Minister, raising the likelihood that much of her growth plan will now be axed. Allies said that he would act as her "chief executive".
Mr Hunt ran for the Conservative leadership on a platform of slashing corporation tax to 15 per cent to boost growth but also opposed cuts to personal levies such National Insurance and income tax, with which Ms Truss still intends to press ahead.
His appointment was announced moments before the Prime Minister unveiled her U-turn on corporation tax at a press conference. She ditched what had been a core leadership pledge, meaning the rate companies pay on their profits will go up from 19 to 25 per cent in April. It means she has reverted to the plan put in place by Mr Sunak when he was chancellor.
Quelle surprise!
Conservative Party members had voted Liz Truss in largely on her economic policy.
The elites took out her Chancellor. Soon afterwards, they came for her in the form of Conservative MPs and the 1922 Committee. It was a grand game of political chess, not seen since Margaret Thatcher was removed from office in 1990.
To be continued on Friday.
The weekend's events surrounding Remembrance Day and Remembrance Sunday entered a new era with King Charles.
First, however, November 14 is the King's birthday and his first one as monarch. He turned 74 on Monday:
Many happy returns, Your Majesty!
Remembrance Day
Last week, the King and Queen Consort paid their respects to those who died for our freedom:
On Thursday, November 10, the Telegraph reported (emphases mine):
The Queen Consort today paid tribute to Queen Elizabeth II at a plot created in her memory at Westminster Abbey's Field of Remembrance.
The plot features two black-and-white photographs of the late Queen taken at the Field of Remembrance in 2002, the year she lost both her mother and her sister.
In one, she stands, head bowed in silent contemplation alongside the Duke of Edinburgh.
In the other, she is bending down to place a small wooden cross amongst others in the ground.
A black wooden cross alongside the photographs reads "In Memorandum. Her Majesty Queen Elizabeth II. 1926 – 1922".
The Queen [Consort], who is patron of the Poppy Factory, was taking part in a ceremony to commemorate the nation's war dead, which takes place on the Thursday before Remembrance Sunday each year.
She placed her own wooden cross of remembrance, bearing her new cypher, amid a sea of poppies before bowing her head.
The ceremony had a large attendance:
More than 1,000 veterans gathered in the grounds of Westminster Abbey for the short ceremony, observing a two-minute silence as Big Ben chimed to mark 11am.
The Queen Consort then met Ben Wallace, the Defence Secretary, before being introduced to Poppy Factory staff and then reviewing the plots for regimental and other associations.
Before leaving, she was invited by the Dean of Westminster, The Very Reverend Dr David Hoyle, to review a plot honouring her late mother-in-law.
Camilla took over the patronage from Prince Harry in 2020, after he relinquished his royal duties:
The Queen took over at the event from the Duke of Sussex when he stepped down from royal duties in 2020. The ceremony marks a tradition, now in its 94th year, that was previously the responsibility of Prince Philip and Queen Elizabeth the Queen Mother.
Deirdre Mills, chief executive of The Poppy Factory, said:
Her Majesty's commitment to the ex-forces community has been unwavering. We are grateful to Her Majesty The Queen Consort for her continued support as we look to help hundreds more veterans overcome barriers on their journey towards employment.
Meanwhile, the Princess of Wales toured a children's centre in London, where she explained the importance of the poppy to a little boy and gave him hers to wear:
The Princess of Wales gave a three-year-old her poppy on Wednesday after he pointed it out on her coat.
She stopped to speak to the boy, called Akeem, during a visit to Colham Manor Children's Centre in Hillingdon, west London, after spending the morning chatting with mothers and health workers.
The two introduced themselves, then:
The Princess asked Akeem if he had a poppy, before adding: "It's very nice, would you like mine?"
"Yes," came the response, to giggles from onlookers. The Princess then carefully removed the poppy from her coat, saying, "there you go, you can have my poppy. Shall I see if I can get it out?"
As she fiddled with it, she asked the boy: "Do you know what this is for? It's for remembering all the soldiers who died in the war."
She said: "There you go, that's for you. Will you look after it?"
She gave the pin to his mother so she fasten it for him.
New monarch, new wreath
As we have a new monarch, a new memorial wreath appeared on Remembrance Sunday.
King Charles has his own design, with his own 'racing colours', displayed in an elegant ribbon and bow extending across the centre.
Its poppies are mounted on an arrangement of black leaves, as per tradition for the sovereign, while its ribbon bears the King's racing colours; scarlet, purple and gold.
The racing colours were also incorporated into the wreaths of King George V, King George VI and the late Queen.
Unfortunately, the King's wreath had no white in it, which, as I recall, the Queen's did. In fact, I don't remember the black in her wreath, only the white.
White symbolises resurrection and eternal life, which we hope the Glorious Dead experience.
The Queen Consort also had a wreath laid at the Cenotaph on Sunday, as the Queen Mother — the previous Queen Consort — had when she was alive:
For the first time, a wreath will be laid on her behalf, by an equerry, and will bear her own family's racing colours, inherited from her grandfather.
Remembrance Sunday
It was heartening to see that, although the survivors of the Great War have long gone to their rest and that those from the Second World War are, too, Remembrance Sunday still attracts 20,000 people.
The Sunday Times reported that 10,000 took place in the march past the Cenotaph in Whitehall. They were mainly Royal British Legion veterans representing 300 Armed Forces organisations. The other participants were from civilian organisations connected with previous wars and conflicts. War widows also marched past. Cadet organisations representing the respective armed forces also marched past.
The Sunday Times estimated that 10,000 spectators watched from the sidelines.
The march past began and ended at Horse Guards Parade, where Trooping the Colour takes place every June. At the Cenotaph in Whitehall, one person from each organisation handed over a large poppy wreath to lay at the foot of the monument.
Mobility issues are catered for …
… and age is no barrier:
This year marked the 40th anniversary of the Falklands War (see the second tweet):
This retired soldier is from Royal Hospital Chelsea, which Charles II founded in 1682, at the suggestion of his mistress Nell Gwyn. It is a retirement home with a state-of-the-art infirmary.
Those lucky few men and women who live there are known as Chelsea Pensioners. On ceremonial days and when they leave the Hospital, they wear their red jackets and tricorne hats, also designed by Charles II. See the gentleman in the second tweet:
The ceremony revolves around the Cenotaph, with its inscription:
THE GLORIOUS DEAD
The commemoration began in 1920 to remember all those who gave their lives in the Great War, the First World War. George V, whom the late Queen affectionately called Grandfather England, was the first monarch to lay a wreath. Note that there was quite a bit of white in his (top right photo) compared with Charles's. George VI is pictured on the lower left:
Here is a close-up of George V from 1924:
Other working Royals also laid their wreaths. Note that William's is that of the Prince of Wales now. The Queen Consort and Princess of Wales watched from the balcony at the Foreign, Commonwealth and Development Office (FCDO):
Other members of the Royal Family also watched from the FCDO balcony: The Countess of Wessex, The Duke and Duchess of Gloucester, The Duke of Kent and Sir Tim Laurence (Princess Anne's husband).
The Chiefs of Staff of the Armed Forces and leaders of the UK's political parties also laid wreaths. This will be the last time we see EIIR cyphers:
A short Christian service followed the two-minute silence at 11:00 a.m. The Right Revd Dame Sarah Mullally, the Bishop of London, led it:
The march past took place afterwards.
The morning was poignant, solemn, dignified and, if I may say so, beautiful as always.
The Telegraph quoted Chief of the Defence Staff Admiral Sir Tony Radakin, who summed up the 2022 ceremony well:
In an interview broadcast on Sky's Sophy Ridge on Sunday programme, he said: "I think Remembrance Sunday is always poignant.
"I think it's poignant for the whole nation, this special moment when we pause to reflect on the sacrifice and commitment of others to provide our freedom today.
"I think there's a special poignancy this year with both the loss of Her Majesty, another loss of a Second World War veteran.
"I also think it's poignant when we have once again the spectre of war in Europe and all that that entails, and a country that's been invaded and is fighting for its freedom."
On Sunday night, the Elizabeth Tower, which Big Ben adorns, had a splendid illumination for Remembrance Sunday, which also remembered the late Queen, for whom the tower is named:
My better half and I watch the ceremony every year. Each time, I see something new upon which to reflect privately in the days that follow. This year was no different. Long may those reflections continue.
Tuesday, October 25, 2022, was a historic day for the United Kingdom.
We have our first minority Prime Minister, Rishi Sunak — and, always remember, he is Conservative.
Labour, with all their waffling about equality and short-lists designed to produce the desired result, have not even come close to attaining what the Conservative Party has accomplished organically.
India cheers, on Diwali
When the 1922 Committee, which represents Conservative backbench MPs, announced on Monday, October 24, that Sunak was the winner of the leadership contest, India cheered.
Sunak's victory as the last man standing with an overwhelming amount of MPs' votes took place on Diwali.
The Times reported (emphases mine):
The prospect of Rishi Sunak being named as the UK's first British-Asian prime minister today has been headline news in India's media.
Newspapers and broadcasters pointed out that his likely victory in the Conservative leadership race would come on Diwali, the festival of lights marking the victory of light over darkness and the most important celebration in the Hindu religious calendar.
The former chancellor's mother and father are both Hindu Punjabis whose parents migrated from India to Tanzania and Kenya respectively before coming to the UK in the 1960s. But that has not stopped Indian journalists and commentators claiming him as one of their own.
India's press has not forgotten how then-Chancellor Sunak celebrated Diwali:
The Press Trust of India, a national news agency, noted that Sunak is a devout Hindu and a regular at the temple close to where he was born in Southampton. It reported that he had made history when he was the first chancellor of Indian origin by lighting Diwali lanterns at 11 Downing Street.
Sunak's rise to the premiership is important to India as it comes 75 years after the nation's independence in 1947:
The prominent Indian TV anchor Rajdeep Sardesai tweeted: "To think that on Diwali day, UK could have its first prime minister of Indian origin. That too in the 75th year of independence! Yeh hui na baat! [that's the spirit]" …

The former Bihar state government chief secretary MA Ibrahimi tweeted: "Revenge of history as well. Destiny." Another Twitter user, Ranjan Kumar, who described himself as a banker, joked: "Reverse colonisation."
Indian media also celebrated Sunak's wealth and billionaire in-laws:
Sunak is also married to Akshata Murty, the daughter of NR Narayana Murthy, the Indian billionaire and founder of Infosys, the information technology giant, who has a net worth of $3.2 billion. Many have noted that, through his family ties, Sunak is effectively richer than the King.
"Advantage Rishi Sunak: Narayana Murthy's son-in-law could be UK's next prime minister", read a headline in the Mint newspaper this morning.
Star adopts new motif: calendar PMs
The Star newspaper, having finished comparing Liz Truss's shelf life with that of a lettuce, put Sunak on the front page as their Prime Minister of the Month for October:
Their Tuesday Thought for the Day says:
Who'll be the PM for November? Stay tuned …
Liz Truss's final hours as Prime Minister
Although Liz Truss had not been Party leader after she resigned on Thursday, October 20, she did remain Prime Minister until she tendered her resignation to Charles III on Tuesday morning.
At 9 a.m., she held her final Cabinet meeting, as is customary on a Tuesday.
Meanwhile, a moving van arrived at No. 10 to remove the Truss family's belongings:
Most PMs use Bishop's Move removals company. Not so this time around. Liz Truss was always going to be different, and, if Harrow Green was her choice, it was further proof of her standing out in a crowd.
Various Cabinet members filed in through the front door of No. 10. It is likely that Chancellor Jeremy Hunt will keep his job under Sunak.
For the competent and calm Defence Secretary Ben Wallace, however, things could be different.
The Guardian's daily diary reported:
Wallace is very popular with Tory party members, but there is a good chance that he will be moved. In recent months people have been briefing papers on his behalf saying that he would resign if a new prime minister refused to stick to the plan to raise defence spending to 3% of GDP by the end of the decade. But Rishi Sunak is refusing to make that commitment.
The two also clashed when Sunak was chancellor, and in the summer Wallace publicly critcised Sunak's stance on defence spending. Wallace backed Liz Truss for the leadership.
Another capable MP, Welsh Secretary Robert Buckland, could be out, too:
In the summer leadership contest Buckland originally supported Sunak. But then, in a highly unusual move, he switched to backing Liz Truss. By that point she was the favourite, and Buckland's move raised a lot of eyebrows because MPs who pledge allegiance to one candidate almost never normally switch in public, because it makes them look inconsistent and opportunist.
Buckland kept his Welsh secretary job in Truss's first reshuffle (although if he was hoping for a return to his previous cabinet job, justice secretary, which was going to be vacant when Truss sacked Dominic Raab, he was disappointed). But this morning, Buckland may be thinking his summer Judas performance was not so wise after all.
Another MP who will probably be gone is the veteran Jacob Rees-Mogg, the current Business Secretary. Under Boris Johnson he was Leader of the House then the minister for Brexit efficiencies. He is very much a Boris loyalist:
Yesterday he said he would support Rishi Sunak as PM. But during the summer leadership contest he said he could never serve in a Sunak cabinet. He told Sky News in July:
I think as a chancellor, he made decisions that were of the left rather than on the right, that he was a tax increasing chancellor. I didn't support the decisions he made.
When asked whether he would serve in a Sunak government, he replied:
No, of course I wouldn't. I believe his behaviour towards Boris Johnson, his disloyalty means that I could not possibly support him. And he wouldn't want me in his cabinet anyway.
He will be sorely missed.
At 9:30, the Cabinet meeting ended.
Truss gave her final speech as Prime Minister at 10:15, before going to Buckingham Palace, to tell the King that she was standing down.
Her lectern appeared shortly before 10:00:
On GB News this morning, Darren McCaffrey explained that, starting 50 years ago, each Prime Minister has had his or her own podium. He showed us the various ones from Gordon Brown's to Truss's.
Liz Truss's has a terrible Zenga style to it, so I was relieved that McCaffrey said that Rishi Sunak would have his own lectern.
Truss's staff and closest MPs gathered off to one side of Downing Street:
At the appointed time, she left Downing Street for the final time, joined by her husband Hugh and daughters Frances and Liberty. The three stood off to one side of No. 10.
Truss approached the Zenga podium with a black folder.
On Monday, she pledged Sunak her full support:
However, her valedictory speech struck another tone, that her boldness and ideas were the correct ones.
This is the full transcript:
It has been a huge honour to be Prime Minister of this great country.
In particular, to lead the nation in mourning the death of Her Late Majesty The Queen after 70 years of service,
and welcoming the accession of His Majesty King Charles III.
In just a short period, this government has acted urgently and decisively on the side of hardworking families and businesses.
We reversed the National Insurance increase.
We helped millions of households with their energy bills and helped thousands of businesses avoid bankruptcy.
We are taking back our energy independence…
…so we are never again beholden to global market fluctuations or malign foreign powers.
From my time as Prime Minister, I am more convinced than ever we need to be bold and confront the challenges that we face.
As the Roman philosopher Seneca wrote: "It is not because things are difficult that we do not dare. It is because we do not dare that they are difficult."
We simply cannot afford to be a low growth country where the government takes up an increasing share of our national wealth…
and where there are huge divides between different parts of our country.
We need to take advantage of our Brexit freedoms to do things differently.
This means delivering more freedom for our own citizens and restoring power in democratic institutions.
It means lower taxes, so people keep more of the money they earn.
It means delivering growth that will lead to more job security, higher wages and greater opportunities for our children and grandchildren.
Democracies must be able to deliver for their own people…
We must be able to outcompete autocratic regimes, where power lies in the hands of a few.
And now more than ever we must support Ukraine in their brave fight against Putin's aggression.
Ukraine must prevail.
And we must continue to strengthen our nation's defences.
That is what I have been striving to achieve… and I wish Rishi Sunak every success, for the good of our country.
I want to thank Hugh, Frances, Liberty, my family and friends, and all the team at No10 for their love, friendship and support.
I also want to thank my protection team.
I look forward to spending more time in my constituency, and continuing to serve South West Norfolk from the backbenches.
Our country continues to battle through a storm.
But I believe in Britain.
I believe in the British people.
And I know that brighter days lie ahead.
Her speech was Johnsonian in so many ways. Like Boris, she had no apologies: good. After all, she'd made enough already. No backing down from her beliefs. Justification of her actions for her ideals. All good.
She was the first Prime Minister to thank her protection team: outstanding. More PMs should do so.
GB News criticised her for saying that brighter days lie ahead. It was her way of saying what President Lincoln did in the 1860s: 'This, too, shall pass'. In other words, don't give up hope.
As for Truss's future, being a backbench MP will be difficult for her, because she has had ministerial or Cabinet positions since the days of the Coalition government, dating from 2012. That's a decade ago. She began her Cabinet posts in 2014.
Perhaps she will find a continuing cause to champion:
Immediately after her speech, she and Hugh went in one vehicle and her daughters in another, escorted by police and special security detail to Buckingham Palace. Truss arrived shortly afterward.
At 10:56, GB News reported that Truss had tendered her resignation. At that point, King Charles was in charge of the UK, as we had no Government.
That sort of thing used to unnerve his mother, the late Queen, so she tried to make those time periods as brief as possible.
The King's conversation with Truss was lengthy.
After her motorcade left, it was time for Rishi Sunak to request the King's permission to form a new government.
The Queen received 15 Prime Ministers during her reign. King Charles, who ascended to the throne just days after Truss became Prime Minister, is already on his second.
Sunak's first hours as PM
Sunak's motorcade, also comprised of police and special security, arrived at the Palace immediately after Truss's left.
Sir Clive Alderton, principal private secretary to the king and queen consort, the monarch's equerry, Lt Col Jonny Thompson, and Sir Edward Young, joint principal private secretary to the king, PA Media reports.
Sunak also spent a long time with the King.
Just before 11:30, the monarch turned the Government over to Sunak. The King had been in charge of us for half an hour. With his mother, it was a matter of minutes. Fascinating.
Someone on GB News quipped that perhaps we should reconsider having an absolute monarchy.
Sunak was due to give his first speech at No. 10 at 11:35. In the event, it was closer to 11:50.
He and the King already know each other through a Prince's Trust event from a few years ago.
When Sunak arrived in Downing Street, he left his vehicle and immediately approached — thankfully — a new lectern.
There were no MPs around him. If there had, it would have been a phalanx, as he had the support of nearly half of them:
Sunak's speech lasted exactly five minutes.
It is possible that he knew what Truss had said in hers, because he wasted no time in blaming her for the mess he was about to land in:
I have just been to Buckingham Palace and accepted His Majesty The King's invitation to form a government in his name.
It is only right to explain why I am standing here as your new Prime Minister.
Right now our country is facing a profound economic crisis.
The aftermath of Covid still lingers.
Putin's war in Ukraine has destabilised energy markets and supply chains the world over.
I want to pay tribute to my predecessor Liz Truss.
She was not wrong to want to improve growth in this country. It is a noble aim.
And I admired her restlessness to create change.
But some mistakes were made.
Not borne of ill will or bad intentions. Quite the opposite, in fact. But mistakes nonetheless.
He warned of 'difficult decisions' to come:
And I have been elected as leader of my party, and your prime minister, in part, to fix [those mistakes – see 11.52am.].
And that work begins immediately.
I will place economic stability and confidence at the heart of this government's agenda.
This will mean difficult decisions to come.
But you saw me during Covid, doing everything I could, to protect people and businesses, with schemes like furlough.
There are always limits, more so now than ever, but I promise you this – I will bring that same compassion to the challenges we face today.
The government I lead will not leave the next generation – your children and grandchildren – with a debt to settle that we were too weak to pay ourselves.
I will unite our country, not with words, but with action.
I will work day in and day out to deliver for you.
This government will have integrity, professionalism and accountability at every level.
Trust is earned. And I will earn yours.
I hope so.
Then he paid tribute to Boris and said he would continue the 2019 manifesto:
I will always be grateful to Boris Johnson for his incredible achievements as prime minister, and I treasure his warmth and generosity of spirit.
And I know he would agree that the mandate my party earned in 2019 is not the sole property of any one individual. It is a mandate that belongs to and unites all of us.
And the heart of that mandate is our manifesto. I will deliver on its promise: a stronger NHS, better schools, safer streets, control of our borders, protecting our environment, supporting our armed forces, levelling up and building an economy that embraces the opportunities of Brexit, where businesses invest, innovate, and create jobs.
I understand how difficult this moment is. After the billions of pounds it cost us to combat Covid, after all the dislocation that caused in the midst of a terrible war that must be seen successfully to its conclusions, I fully appreciate how hard things are.
And I understand too that I have work to do to restore trust after all that has happened.
All I can say is that I am not daunted.
I know the high office I have accepted and I hope to live up to its demands.
But when the opportunity to serve comes along, you cannot question the moment, only your willingness.
So I stand here before you, ready to lead our country into the future.
To put your needs above politics.
To reach out and build a government that represents the very best traditions of my party.
Together we can achieve incredible things.
We will create a future worthy of the sacrifices so many have made and fill tomorrow, and every day thereafter with hope.
Hmm. That I will be interested to see.
Afterwards, Boris tweeted his congratulations. Better late than never:
He was just in time.
Emmanuel Macron tweeted his congratulations one minute later:
Cabinet resignations roll in
Afterwards, Sunak went to the Commons to meet with Cabinet members who he sacked or demoted.
The Guardian explains why this is not done in No. 10:
Prime ministers normally do the sacking element of the reshuffle in parliament because people losing their jobs can come and go without being photographed, or seen by journalists. Lobby journalists have access to some areas of parliament, but other parts are off limits and trying to doorstep the PM's office is definitely not allowed.
Sunak started from the lesser end of the spectrum and moved up the ladder:
According Sky's Beth Rigby, Wendy Morton, the chief whip, and Ranil Jayawarena, the environment secretary, have both been summoned. But were Truss acolytes who were seen as lightweight appointments to cabinet.
Chloe Smith was Truss's Work and Pensions Secretary:
Boris loyalist Kit Malthouse, who worked for him when he was Mayor of London, is out as Education Secretary. His brief stint at Education was under Truss. Prior to that, Malthouse was in charge of Policing:
It is customary for sacked MPs to write a resignation letter.
Jacob Rees-Mogg, a devout Catholic, dated his letter 'St Crispin's Day':
Here's Robert Buckland's:
Brandon Lewis pointed out that he had been one of the longest serving Cabinet members — under four Prime Ministers:
On a positive note, Suella Braverman could re-enter Cabinet:
The Guardian's Pippa Crerar has more news. Glad to see that Grant Shapps will not continue as Home Secretary. Business is better suited to him:
Commiserations to Jake Berry, a Red Wall MP and, however briefly, chairman of the Conservative Party. I wonder what Sunak has against Simon Clarke, though. He's been in the Treasury since Sunak was Chancellor. Hmm. Glad to see that James Cleverly, Ben Wallace and Thérèse Coffey could be staying. I hope that Coffey continues as Health Secretary:
Jake Berry tweeted:
For Foreign Secretary Cleverly, it looks like business as usual. If so, excellent:
With regard to Simon Clarke, it seems there's a bit of a back story there involving Liz Truss:
Simon Clarke has left his post as levelling up secretary. It is not clear from his tweet whether he was sacked, or whether he quit "voluntarily" to save face.
But it is no surprise that he has gone. He was one of Liz Truss's key allies, and during the Tory leadership contest in the summer he often criticised Rishi Sunak quite harshly on her behalf, at one point co-authoring an article accusing him of favouring "a Labour-lite economic policy".
On another point, he is very tall. When he walked with Rishi, he made sure he kept several paces behind so that no one would notice the difference in height.
ITV's political editor Robert Peston summed up the departures as follows:
Around 2:30, Sunak walked into Downing Street to applause. It is customary for staff to applaud the incoming Prime Minister.
New Cabinet appointments took place.
I'll leave it here — at 3:14 p.m.:
I'll have more tomorrow, particularly on the leadership contest that took place over the weekend.
Prime Minister Liz Truss resigned early in the afternoon of Thursday, October 20, 2022.
She will remain Prime Minister until a new Conservative Party leader is elected — details to be announced — in a week's time.
She will have seen the shortest tenure of any British Prime Minister. If she serves another week, that will be a total of 52 days.
More to follow next week.
She met the King this afternoon to tender her resignation. It is, after all, His Majesty's Government.
Her penultimate meeting with him was last Thursday, immortalised here:
———————————————————————
Yesterday's post discussed Liz Truss's sacking of Kwasi Kwarteng as Chancellor on Friday, October 14, 2022.
A day is a long time in politics
Kwarteng's defenestration illustrates that one day is a long time in politics, never mind a week.
However, days are eras in Truss's government, if one can call it that.
On Wednesday, October 19, Home Secretary Suella Braverman was out and, by the end of the evening, the Speaker of the House decided to investigate an unrelated incident at a Commons vote on fracking, during which it was unclear whether the Conservative Whip and Deputy Whip had resigned. More about that in another post.
Returning to Kwarteng, on Thursday, October 13, he said he would be going nowhere. This was The Telegraph's headline on the morning of Friday, October 14:
By the time that headline appeared, Kwarteng was on his way back to London on a red eye flight from the annual IMF meeting in Washington DC.
Shortly after 11:00 a.m., by which time Kwarteng would have returned to London, Guido Fawkes tweeted that Truss would be holding a press conference that afternoon:
An hour later, Guido followed up with a tweet saying Kwarteng was about to be sacked:
Guido's post said (emphases his):
Kwasi has just arrived at No.10 for a showdown with Liz Truss. The FT, the Times, the Spectator and the Sun are all reporting he's about to be sacked. A Boris-era insider texts Guido to say "It's just getting silly now." Liz is up in front of the cameras at 2pm. Will she have a new Chancellor by her side?
Just before 12:30, he tweeted that Kwasi was out …
… commenting:
Kwasi Departeng…
Twenty minutes later, Guido posted runners and riders for Chancellor:
His post had eight names with a summary about each candidate. Personally, I would have liked to see one of these two:
Simon Clarke: A key and prominent supporter of Liz. Chief Secretary to the Treasury under Rishi, though with some major disagreements with the former Chancellor reported during his time there. A very likely candidate.
Steve Barclay: Widely reported to have been Rishi's choice for Chancellor had he won the leadership contest.
In the event, we got Jeremy Hunt, as I stated yesterday:
Jeremy Hunt: The centrist, 'party unity' candidate that may placate backbench opponents. Would be an admission that the Truss economic programme is DOA. Currently out of the country.
At 1:05 p.m., Guido posted Kwarteng's gracious resignation letter:
Guido has a better copy here. Kwarteng was most gentlemanly:
You have asked me to stand aside as your Chancellor. I have accepted.
… your vision of optimism, growth and change was right.
As I have said many times in the past weeks, following the status quo was simply not an option.
… I look forward to supporting you and my successor to achieve that from the backbenches.
We have been colleagues and friends for many years … I believe your vision is the right one. It has been an honour to serve as your first Chancellor.
Your success is this country's success and I wish you well.
This was Friday afternoon's headline from London's Evening Standard:
Kwarteng had been Chancellor for 39 days, the second shortest in British parliamentary history.
Iain Macleod lasted one month, before dying of a heart attack in 1970. The Prime Minister at the time was Ted Heath.
What happened behind the scenes
On Friday evening, The Sun's Political Editor Harry Cole posted 'Inside story of Liz Truss' first 40 days in power that ended in biggest political meltdown for 300 years'.
Excerpts follow, purple emphases mine:
Caught between the rock of mercenary traders in the City and the hard place of mutinous Tory MPs in Westminster, it began to dawn on the Prime Minister that her sticking to her plans risked her becoming the shortest ever serving PM.
But it was an email from the Office of Budget Responsibility to the Chancellor last Friday set in motion the most spectacular collapse in Government authority in modern political history.
The independent scrutineers of tax and spending were brutal in their assessment: A £60billion black hole in the nation's finances was the direct result of Ms Truss and Kwasi Kwarteng's mini-Budget.
The scale of the spending cuts that would be needed just to stop debt interest bankrupting the country were not just eye-watering but politically impossible to even a strong government.
But having junked the 45p rate, Truss was barely treading water as PM, let along one strong enough to take a toxic axe to the size of the state.
The extra £18billion Britain will be paying in interest on government borrowing alone was more than the entire Home Office budget …
And when she claimed at PMQs on Wednesday there would be no cut to public spending, the clock was ticking on a spectacular U-turn.
Even as she told the MPs that a rise to corporation tax "would be wrong at a time when we are trying to attract investment into our country", privately work was underway to do just that.
The PM began to make preparations to climb down on Wednesday evening, as her Chancellor — her closest friend and ally in politics — flew to Washington to meet global financial watchdog the IMF.
While he was there they openly criticised the Government's plans in a humiliating dressing down on the world stage.
With inflation rampant, the global experts held up Britain as an example of how not to handle it.
"We were becoming a laughing stock," one minister admits …
With Kwarteng out of the country, Simon Case the Cabinet Secretary and James Bowler, the new head of the Treasury, turned the screw on Ms Truss to jettison the plans.
And the news was grim from political advisers, too.
This was the second time that Sir Graham Brady from the 1922 Committee had to step in over Kwarteng's and Truss's economic plan. The first was Sunday, October 2, during the Conservative Party conference, which caused a U-turn on scrapping the 45% tax rate.
Cole tells us:
Away on holiday, the all-powerful boss of the backbench 1922 Committee, Sir Graham Brady, made his disquiet known in a number of calls with Ms Truss on Wednesday and Thursday.
Just as he came to visit Truss during Tory conference to warn the 45p rate had to be scrapped if she wanted to survive, Sir Graham warned the PM the knives were out for the Chancellor and Kwarteng may need to be offered up as a sacrifice if her administration were to remain in any way credible.
However, Truss's other good friend and Cabinet member, the Deputy Prime Minister (and Health Secretary) was also allegedly on manoeuvres against Kwarteng:
Deputy PM Therese Coffey was also "determined to get Kwasi" according to one senior Government source.
"She put the knife through his shoulder blades while he was still in the departure lounge."
It seems that Truss wanted to deal with her Chief Whip first:
Ms Truss also briefly considered firing the Chief Whip Wendy Morton, who MPs consider a lightweight totally unable to herd the various factions of the Tory MPs publicly machine gunning each other.
Hmm. Wendy Morton was part of the reason for the chaos at the aforementioned fracking motion vote.
Moving on:
… the PM wanted to sleep on the decision to finally fire Kwarteng …
"He had an inkling it was coming and didn't put up much of a fight", one source said.
But it is hard to overstate just what a serious blow to Truss and her entire project the decision was.
Her closest friend in politics, this was their budget written together, at times in secret, away from advisers, aides and spin doctors.
When she U-turned on the 45p rate, she misleadingly blamed it on a "decision the Chancellor had made."
Now in U-turning on Corporation Tax she has thrown that fireguard away – leaving the PM the only target left now.
The Telegraph told us more about Kwarteng's visit to Washington last Thursday:
… the outgoing Chancellor tried to put a brave face on things. Even when he knew his time in Number 11 was up, he didn't show it.
On the night he departed for London, Kwarteng continued to work the room of bankers and officials at the British Embassy in Washington DC. Rubbing shoulders with the likes of Shriti Vadera, once a Labour minister and now chairman of Prudential; Sir Danny Alexander, vice president of the Asian Infrastructure Investment Bank and former chief secretary to the Treasury; and Axel Weber, chairman of the Institute for International Finance, he stopped for quick chats, and even addressed the crowd.
But while to some it seemed like the troubles 3,500 miles away in Westminster were far away, others said he seemed distracted.
He had reasons to be. At first, the British Airways flight out of Washington Dulles at 10.40pm was full and he struggled to get on board. While he and his special adviser managed to find seats eventually, it was an uncomfortable journey home.
In Kwarteng's own words, his 38 days as Chancellor were a "baptism of fire". Investors had already delivered the verdict on his policies, but some of the starkest criticism came from Britain's strongest allies …
But for many observers, it was Kwarteng's steadfast attitude that surprised. Germany has also been criticised for its €200bn (£174bn) energy bailout. But while their finance minister Christian Lindner adopted a more contrite approach in meetings, saying the spending might not be popular with markets but was nonetheless vital, the Chancellor stuck to his message that the Government was unapologetically pro-growth.
"He just didn't seem to understand that you can't just do lots of tax and spending giveaways when the economy is unstable, prices are soaring and borrowing costs are rising," said one member of the US delegation …
One banker who attended the drinks with Kwarteng said: "We just don't know what's coming next from the UK. Which policies are staying? Which are going? Who is staying? Who is going? There's no certainty any more" …
There was more love for Andrew Bailey, the Governor of the Bank of England, who found friends among the financial establishment in Washington DC. Many have known him for several years. "I just hope they don't try to hang him out to dry too," said one US banker.
The Times suggested that Kwarteng had little idea he was about to be dismissed. Yet, motions were in play even during the Conservative Party conference at the beginning of October:
In his suite in the Hyatt Regency hotel at the Conservative Party conference in Birmingham, he told allies: "The idea that a prime minister is going to bullet her chancellor and survive, I just don't think is feasible."
Unknown to Kwarteng, his long-term friend had already been sounding out at least one former cabinet minister about the prospect of replacing him.
Intermediaries had begun reaching out to allies of Sajid Javid, the former chancellor, to gauge his appetite for a return to the Treasury in case Kwarteng was forced to fall on his sword. The prime minister's emissaries asked Javid to name his price but had not bargained on his conditions being too much for Truss to accept.
"Sajid would have only done it if he had complete control," one ally of Javid's said …
It is unclear whether more horse trading took place but by Thursday last week, Javid was no longer in the running, with Truss's allies instead pivoting to another big beast as their preferred replacement for the chancellor.
Just hours after Kwarteng left the UK for Washington to defend the prime minister's fiscal plans to his foreign counterparts at the annual meetings of the International Monetary Fund, senior Truss allies had made contact with Jeremy Hunt, the former foreign and health secretary, who only a month beforehand had backed her rival, Rishi Sunak, for the top job.
Hunt insisted yesterday that when he heard that a "Liz Truss" wanted to talk to him on Friday, he assumed it was a prank call. The twice-failed leadership candidate then cut short a family holiday in Belgium to take charge of the Treasury. By last night — after Hunt's extensive media round, during which he tore up much of the mini-budget — it felt to many Westminster observers that Hunt, not Truss, was now running Britain. Wiser heads note that the Conservatives appear increasingly to resemble a political death cult, having burnt through four prime ministers in six years and four chancellors in the space of a barely believable four months …
Truss arrived at No 10 without a ringing endorsement and faced a faction-driven Westminster.
Last night, a No 10 source denied that Javid had ever been considered for the role now filled by Hunt. "The prime minister laughed out loud at the suggestion," they said …
By Thursday afternoon, Kwarteng knew that his political future might be in jeopardy, despite being 3,700 miles away across the Atlantic. He spent most of his time at the IMF gathering skipping meetings to hold talks with No 10 and his aides in London.
Kwarteng eventually cut short his trip by two days and booked the last overnight flight back to London. By then, however, at least one of his closest allies had already guessed that the game was up. "It wasn't a massive shock," they said. "There was nothing to come back for, no major meeting or announcement. The only reason he was coming back was to be sacked."
If Kwarteng suspected on Thursday evening, as he addressed a room of 200 bankers in Washington at the Institute of International Finance, that the axe was about to fall on his cabinet career, he gave no indication.
He told them there were three important things to sort out: the energy package, growth, and keeping the Bank of England independent …
Confirmation that Kwarteng was receiving his marching orders came the next morning. When he arrived at Downing Street after his red-eye flight, he was informed by Truss that she needed to restart her premiership with a "clean slate" — something that would be impossible with him as chancellor. The two had "a warm meeting" in the Cabinet Room.
"The PM felt deep personal sadness at the decision but made peace with it," an aide said. "Senior party figures had encouraged her to move the chancellor on" …
… Truss's decision to demote Kwarteng's No 2, Chris Philp, who had already been blamed for the policy to abolish the additional rate of income tax, has left some moderate MPs incandescent.
"The most disgusting thing she has done is sack Chris Philp," one said. "He's got his faults, he makes mistakes, but he's a good person and the person she needs around her and they just f***ed him around completely. They used him, sucked the blood dry and then spat him out. They are a real bunch of bastards."
According to a source in Kwarteng's constituency of Spelthorne, Surrey, the former chancellor experienced his first taste of the public's dissatisfaction during a walkabout on his local high street shortly after the mini-budget on September 23. Although his pledge to cut stamp duty had been expected to provide a welcome boost to the housing market, Kwarteng was left in no doubt about the views of a local estate agent who, on being waved at through the shop window, responded with a rude hand gesture.
There were signs the wheels were falling off the Truss bandwagon on Tuesday, when she reiterated her commitment to cutting taxes in a speech at a Conservative fundraising dinner for which guests paid £1,500 a seat. Truss, whose speech was described as "a worse version of the one she gave at conference", was denied a standing ovation.
"It was embarrassing," one guest said. "I can't think of another PM who hasn't received a standing ovation after addressing the same event — not even Theresa May at the height of her Brexit battles. The only topic of conversation was how the party could get rid of her."
Tory donors are also understood to have snubbed the PM. "Aides came to our table and asked our host, a prominent Tory donor, if he wanted to speak to the PM, as is customary. He told them bluntly that he would rather not."
Several miles away, at a separate dinner organised by Mel Stride, a leading Sunak supporter, those present were unanimous in their view that Truss should be replaced.
"The major discussions are no longer about her removal but how to do it," said one of those present. "It was mainstream, moderate MPs. I've never been to a dinner like it in my life. The whole room was discussing how to remove the prime minister."
On Wednesday, Truss faced the wrath of MPs at the 1922 Committee. The No 10 team have privately pointed the finger of blame at the whips for not preparing a proper operation beforehand. Truss was described as "incandescent" that she addressed the back-benchers without Sir Graham Brady, the committee chairman, leading the meeting. "She was stitched up," an ally said. "It was the same public schoolboy men attacking her at the 1922 who then went out to tweet about how good her tax cuts were."
Truss appears to have anticipated that calls for her removal would only grow after Kwarteng's sacking. Within minutes of the prime minister's disastrous eight-minute press conference on Friday afternoon, Thérèse Coffey, the deputy prime minister and health secretary, held a phone call with dozens of ministers in an attempt to shore up Truss's support. Looking "very upset", according to one person on the call, Coffey acknowledged the government had gone "too far and too fast" in the mini-budget but insisted, despite the severe setbacks, that No 10 was determined to prove the "flipping" Office for Budget Responsibility wrong …
Later, Coffey held a second call with backbench MPs, but it did not take long for the mood to sour. Laurence Robertson, a loyalist, told Coffey that Truss's supporters had been made to "look like fools", while Johnny Mercer, Andrew Percy and Steve Double are said to have claimed that the party was hurtling towards "disaster."
… There are reports that as many as 100 letters expressing no confidence in Truss have been submitted to the 1922 Committee, which some backbenchers believe would give Brady a mandate to change the rules and get rid of the year's grace a new prime minister usually has before a leadership challenge can be launched … 
"I've never been more depressed by what has happened in my entire time as an MP," one former minister said. "She sacked Kwasi out of survival but it actually made it worse for her. I think she will be gone by the end of the week" …
Although many of the party are unified in their desire to remove Truss, there is no agreement on who could replace her …
Truss's dire press conference
Truss's press conference last Friday was one for the history books.
She looked white as a sheet and visibly shaken, as if she were a hostage reading a pre-prepared note in front of a camera.
The Naked Emperor's Substack post from October 17 might give us an indication of what went on (bold emphasis his):
Alfred Kammer, head of the IMF's European department said he praised the UK's "strong institutions" but that the IMF would only deliver its verdict once policymakers' "process of recalibrating" the policies had been completed.
It sounds like Kwasi was sent to Washington DC to be assessed but he failed miserably. He was asked to change his mind but when he stuck to his guns, the message was sent back to London that this guy must be removed.
With the message received loud and clear back in London, a new Chancellor needed to be chosen. Once again, Liz Truss thought she was in charge and looked to replace Kwasi with Sajid Javid. However, once more, the powers that be had other ideas and she was told to appoint Jeremy Hunt.
But the main question remains – where was Jeremy Hunt? Why was he not by the Prime Minister's side when she announced his appointment?
The answer is that he was nowhere to be seen because Mr. Hunt had been in Brussels for three days. What was he doing there? Who was he meeting with? Was he being given his orders in case Kwasi couldn't be turned?
Clearly Liz and Kwasi didn't want to reverse course. Her extraordinarily short press conference … looked more like a hostage video.
Without further ado, here's the eight-minute press conference, which includes four questions from the media — Ben Riley-Smith from The Telegraph, Harry Cole from The Sun, Robert Peston from ITV News and a fourth whom I've forgotten. It starts a little after the 36:00 point:
It took Truss ages to choose the appropriate reporter:
Umm … ahh … let's see …
She chose The Telegraph and The Sun first, because those would be the most favourable towards her plight, but it did not turn out like that.
This was The Telegraph's front page on Saturday:
On Saturday, Harry Cole wrote:
Weakened and defenceless, when I asked the PM at yesterday's disastrous press conference why she should remain in office, she could barely muster an answer.
After taking just four questions from reporters, she rushed for the exit – barely eight minutes in.
Last night No10 were scrambling to simply survive in office.
"Tax cuts were meant to be the easy part", a minister claims.
Here is a clip of him asking his question and Truss's answer, which is about her taking 'difficult decisions':
After Truss took the fourth question, she walked away. That was it.
Cole is in the centre of the next video, looking bemused:
You could not have made this up — any of it.
Truth is stranger than fiction.
More to follow on Friday and early next week.
Yesterday's post introduced the sad saga of Prime Minister Liz Truss and her first Chancellor Kwasi Kwarteng over their fateful fiscal event of Friday, September 23, 2022.
My post ended with the market turmoil and negativity up to Friday, September 30.
Many of us hoped that his plan would work. After all, the market turmoil is global, for different reasons in different Western countries.
What motivates Kwarteng
On Wednesday, September 28, Rachel Sylvester wrote an interesting profile of Kwarteng for The Times, complete with photos of him and Truss from their earlier days as MPs. One from 2013 shows them together at a book awards event and another from 2018 has them enjoying a picnic at that year's Hay literary festival.
Excerpts follow, emphases mine.
Kwarteng was pleased with his fiscal event and believed the market's jitters were temporary:
So sure was he of his plan that he smiled as he announced that he was abolishing the cap on bankers' bonuses introduced by David Cameron in 2014.
Within hours the pound had tanked, but Kwarteng doubled down, promising that he had "more to come". As the markets reacted to the UK's biggest tax cuts in 50 years, the pound fell to a record low against the dollar. One senior figure in the City described the fiscal statement to me as "economically reckless". Yet the chancellor did not blink, with an ally suggesting that this was just "the City boys playing fast and loose with the economy" and insisting, "It will settle."
Although it is unclear what Kwarteng thinks today, he and Truss were allies dating back at least a decade:
At 47, Kwarteng is the same age as Liz Truss and is one of her closest political allies. Earlier this year, he moved into a house just down the road from her in Greenwich and now they are neighbours in Downing Street. His appointment as chancellor was one of the first decisions she made when it became clear that she was likely to win the Tory leadership contest. Truss and Kwarteng have been working for weeks on their "shock and awe" shake-up of taxes, including changes to stamp duty and the abolition of the top 45p rate of income tax. The blueprint has been in their dreams for years …
His allies say his politics have also evolved. In 2012 the chancellor was one of a group of free marketeers – including Truss – who published a pamphlet called Britannia Unchained, which described British workers as "among the worst idlers in the world" and railed against a "bloated state, high taxes and excessive regulation". He has since distanced himself from the controversial text.
His parents arrived in England from Ghana. Both received a first-class education and had top-flight careers:
An only child, Akwasi Addo Alfred Kwarteng was born in Waltham Forest, northeast London, in 1975. His parents had come to Britain as students in the Sixties. His father, Alfred, an economist for the Commonwealth Secretariat, was educated in Ghana at an Anglican school with a Winchester-educated English headmaster. His mother, Charlotte, a successful barrister, was an admirer of Margaret Thatcher. "It was a self-reliance thing," Kwarteng once explained. She instilled in her son a ferocious work ethic and education was of fundamental importance to the family.
When his father was posted to Switzerland, Kwasi was sent at the age of eight to board at the fee-paying Colet Court – now St Paul's Juniors – in southwest London. He admits it was probably too young to be separated from his parents but he not only survived, he thrived. He won a scholarship to Eton where friends recall a "lanky malcoordinated" but hard-working teenager who was determined to make the most of the opportunity he had been given.
Like Boris Johnson, Kwarteng played the wall game – a brutal mixture of football and rugby. "He's so tall that he was a great addition to any team," one fellow pupil recalls.
Kwarteng is not attracted to identity politics:
Kwarteng never expressed his desire to be "world king" in the way that Johnson did. "I was slightly surprised when he went into politics," says a contemporary from Eton and Cambridge. "He wasn't in a political activist circle at university. People sometimes think one Etonian is just like another, but Boris and Kwasi are very different. Boris wants to rule the world; Kwasi wants to solve problems, rather than just being in power for the sake of it. He's not going to go out there to break rules. Kwasi does listen to people and wants to discuss ideas" …

Kwarteng's 2011 book Ghosts of Empire is a far more nuanced analysis than the rose-tinted version of British history favoured by Tory traditionalists. He rejects the "sterile debate" over whether "empire was a good or bad thing" and concludes, "Much of the instability in the world is a product of its legacy of individualism and haphazard policymaking." According to those who know him well, the chancellor is uncomfortable with "culture war" politics and describes his own philosophy as "relentless pragmatism". One aide insists, "He is sometimes lazily pigeonholed as a ruthless, black and white free market ideologue. It is true that he is a low-tax Conservative. He's a free marketeer, but there are occasions when the state does need to intervene." In 2019, the chancellor told a Tory party conference event: "There's nothing [better] to convert someone from being a radical free marketeer to seeing the virtues of government action than making them an energy minister."
He focused on his studies at Trinity College, Cambridge:
"As a student he was charismatic and a bit chaotic," says a friend from that time. "He was scholarly. The everyday run of things didn't worry him. He would be immersed in his books."
He began meeting the great and the good in the Conservative Party:
… the future chancellor was spotted by Dr John Casey, an English fellow and legendary figure among Conservative thinkers, who invited him to his dining club, the Michael Oakeshott Society. There Kwarteng met Tory politicians and journalists such as Norman Lamont, Geoffrey Howe, Norman Tebbit and Charles Moore. Casey insists it was never a political society: "It is devoted to intelligent conversation and strong views don't go with that.
"He has a first-rate mind and a first-rate personality," Casey continues. "He is intellectually and personally equipped to be chancellor. He's a cultured man, an intellectual – there are very few in politics. He's not like anybody else; he's himself."
After Cambridge, Kwarteng won a Kennedy scholarship to Harvard. When he finished his time there, he returned to Cambridge to earn a doctorate in economic history, after which the City of London beckoned:
He then worked as a fund manager at the bank JP Morgan and at Odey Asset Management, run by the Brexit-backing investor Crispin Odey, as well as chairing the Bow Group, a conservative think tank.
His political career began afterwards:
In 2005 he stood as the Conservative candidate for Brent East, coming third, before being elected as MP for the safe Tory seat of Spelthorne in Surrey in 2010, the same year as Truss entered politics. He spent several years on the back benches after criticising coalition policies including the help-to-buy scheme. "He's genuinely clever, with a very strong academic, scholarly mind," one old friend says. "But that academic, scholarly mind meant he was happy to speak out against David Cameron and George Osborne and didn't really worry about the consequences."
Kwarteng understands the importance of a Prime Minister and Chancellor working closely together:
For now, Kwarteng and Truss are united on economic policy. The chancellor tells colleagues that his role is to support the PM, explaining: "I will facilitate; I won't emasculate." One ally says, "Kwasi was completely disillusioned with the battles between No 10 and No 11 under Rishi and Boris. When No 10 and No 11 are at war, nothing works. Kwasi will deliver what the prime minister wants. She is the first lord of the treasury, Kwasi is the second lord of the treasury. That will change the entire mood and approach of government. The institutions will try to break No 10 and No 11 apart, but they underestimate the strength of the relationship between Kwasi and Liz."
Hmm. Interesting.
British public gaslit
The last week of September was one of news about unfunded tax cuts, the Bank of England stepping in to calm the UK markets, how Kwarteng and Truss didn't bother to communicate their economic plan and how awful everything was.
On Friday, September 30, Tom Harwood, GB News's political correspondent and Guido Fawkes alum, put things into perspective, rightly saying that the media were gaslighting Britons:
That day, The Telegraph's Matthew Lynn wrote, 'There's no such thing as unfunded tax cuts — it's our money':
It is hard to imagine that three simple words could be quite so lethal. But over the last few days "unfunded tax cuts" have been held responsible for the potential destruction of the British economy, and, come to think of it, the global financial system as well.
We are told that the Government's £45bn package of cuts announced last week have crashed the currency markets, sent mortgage rates soaring, and left the stock market to keel over and die. Any government crazy enough to even attempt unfunded tax cuts can expect to be evicted from office within days if not hours. 
Tosh. Although the phrase has become ubiquitous, we should be a lot more cautious about how we use it. In reality, tax cuts don't need to be funded, for the same reason that staying home instead of going out to dinner doesn't need to be 'funded', and nor does opting to spend Christmas with your parents rather than flying off to Mauritius need to be 'funded' either.
It isn't spending. It is simply taking less of your citizen's money. It is state spending that needs to be 'funded', and not its opposite – and until we get that straight, and change the language we use, we will never be able to have a grown-up debate about how to manage our economy.
If Kwasi Kwarteng had a grand for every time our broadcasters, newspapers, a think tank, or indeed a growing legion of City analysts, used the term "unfunded tax cuts", or UTCs as we should probably call them, he'd have enough money to wade into the markets and send sterling back over the two dollar mark. The phrase probably has its own emoji by now, just to make it easier to discuss on WhatsApp (some sort of variant of the scowling face, I'd imagine).
Ever since the pound started falling modestly against the dollar on Monday – because after all "crashing" seems a slightly extreme term for a downwards correction of less than 10pc – the phrase has dominated the headlines.
According to just about every think tank, constant broadcasts from the BBC, dozens of newspaper analysts, the IMF, and just about every major City bank, not to mention a small army of retired central bankers, it was the Chancellor's decision to cut a few taxes without announcing accompanying decisions on reducing spending that led immediately to a dramatic sell-off in sterling and a rise in bond yields that could only be controlled by emergency intervention by the Bank of England. 
A quick Google search yields 28,000 mentions of the phrase, and that is without even counting social media. According to the credit ratings agency Moody's "large unfunded tax cuts are credit negative" while according to the former Bank Governor Mark Carney "the message of financial markets is that there is a limit to unfunded spending and unfunded tax cuts in this environment."
And yet, in reality, we should be a lot more careful about the language we use. We can leave aside the point that the "unfunded" parts of last Friday's fiscal package amount to no more than a few billion pounds, a trivial sum give the size of state spending, and that by far the largest part of it was made up of the energy support package that all sides of the political spectrum had been calling for. The more important point is this: we shouldn't ever describe tax cuts as "unfunded".
By definition a tax cut is not spending any money. It is simply a decision to take less from a particular group of people in one particular way …
Next, the term ignores the possibility that tax cuts might pay for themselves …
Finally, and perhaps most importantly, it concedes the argument before it has even begun. "Unfunded" is a boo word, and even more so when you put the inevitable "reckless" in front of it. The language deliberately skews opinion against a reform of the tax system. Even worse, it is used by banks and broadcasters who pretend they are staying neutral – when in reality they are anything but. 
… fundamentally it is only state spending that needs to be funded – not leaving more money in the pockets of long-suffering taxpayers. If we could be a little clearer about that we might be able to have a slightly more sane debate about how much tax the government should be raising and how – instead of hysterical catastrophizing about UTCs.
On Saturday, October 1, The Sun rightly defended the Truss-Kwarteng plan, citing other Western economies' woes: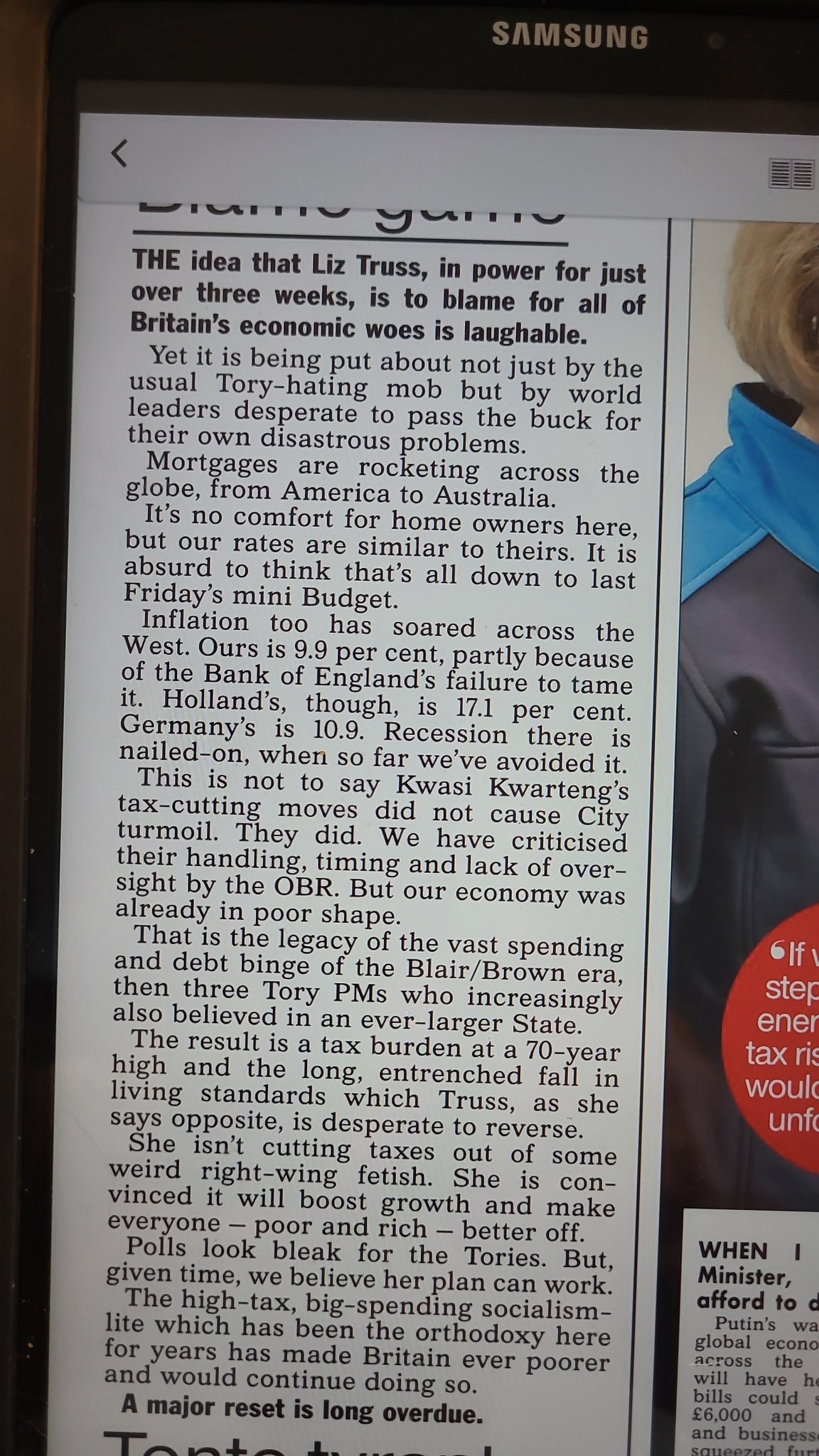 On Sunday, October 2, GB News's and The Telegraph's Liam Halligan, formerly of Channel 4 News, was on the money when he said that the market meltdown was the fault of quantitative easing (QE):
… This week of financial turmoil has left millions frightened and angry.
While Kwarteng's statement sparked last week's alarming debt repricing, it was by no means the underlying cause. There are far bigger forces at play …
… what we saw last week was just the beginning of a long-term shift away from over a decade of ultra-low interest rates and quantitative easing. We've indulged in ultra-loose monetary policy since the 2008/09 financial crisis – a necessary emergency measure, which ossified into a lifestyle choice.
And now, the obvious excesses, dangers – and crass stupidity – of this policy, are coming home to roost.
Since that financial crisis, the Bank of England has created hundreds of billions of pounds of QE money, as have similarly aligned central banks, which have blown huge asset price bubbles in stocks, bonds and property.
QE has helped governments borrow cheaply, while making the rich even richer – which is why, having begun as a £50 billion temporary measure to inject liquidity into bombed-out banks, it has morphed, thirteen years on, into an £895 billion monster.
The early tranches of QE stayed largely within the financial system – so didn't cause serious inflation. But the Covid-era variant, funding furlough and an avalanche of business support loans, has fed directly into the real economy – helping to explain today's inflation predicament.
This is an inconvenient truth that no-one wants to admit – certainly not the likes of the International Monetary Fund and central bankers who oversaw QE. Better to blame an incoming Tory government ­– one led by a politically vulnerable Prime Minister, with only lukewarm support from her own MPs.
… the idea that this "unfunded cut crashed the pound" is preposterous. Yet that is now the accepted political narrative – that a greed-driven Tory policy collapsed sterling and sent 10-year gilt yield surging as fears swirled of government insolvency, sending higher borrowing costs rippling across the economy, damaging hard-working families and firms.
What I suspect happened is that global currency traders, understanding the top tax cut was politically tin-eared, could see ministers were in for a kicking. With the Government introducing a potentially expensive energy price cap, the moment seemed right to start shorting – that is, betting against – the pound, knowing the media would pile in.
When that happened on Asian markets on Monday, and we woke to a plunging currency, I was astonished that ministers fell silent – given the strength of the arguments on their side …
For now, the Bank of England's intervention on Wednesday – buying gilts to rein in borrowing costs – seems to have worked. By Friday, the pound was back where it was pre-statement, the 10-year yield having retreated from over 4.5pc to around 4.0pc.
But the City and Wall Street moneymen, having loaded pension schemes with billions of pounds of debt, yet again have the upper hand – effectively forcing the UK authorities to restart the QE asset-boosting machine. This cannot end well.
"Tory tax cuts". It's such an easy and convenient scapegoat. The truth is we're in for a sustained period of painful adjustment – one which our political and media class must urgently start to explain.
The Times's Robert Colvile pointed out the global aspects of market turmoil, driven in part by the United States:
The markets were already primed to punish the UK, he [Albert Edwards of Société Générale] argues, because of the Bank of England's decision the previous day to raise rates at a slower rate than the US and to keep trying to dispose of the assets accumulated under quantitative easing. So Kwasi Kwarteng's decision to throw in a few more tax cuts just gave an extra push to a boulder that was already rolling …
Admittedly, the attempts of some in government to blame last week's rout in the markets entirely on global factors strained credulity. But they did have the core of a point. A year ago the Bank of England believed interest rates would stay below 1 per cent. A month ago they were set to top out at 3 per cent. By the time Kwarteng got to his feet, the expected peak had risen to 5 per cent — soaring over 6 per cent at the height of last week's panic.
Now, some of that rise in September was probably due to anxieties about the new government. But it was also driven, yes, by global factors — in particular decisions made in Washington. Even if Kwarteng had replaced his planned statement with a lusty rendition of the Marseillaise, mortgage-holders would still be facing eye-popping jumps in interest rates. For example, at that 6 per cent rate a typical UK mortgage would, according to the Resolution Foundation, cost an excruciating £4,800 a year extra — but £3,800 of that was already on the way before Friday's speech. The age of cheap money is over not just for Britain but for everyone.
Over the past three years, a number of conservatives must have wondered why Boris Johnson never delved deeper into economic policy. A letter to The Telegraph gives a possible explanation — global forces at work:
SIR – It takes great strength of character and conviction to stand up and face a baying mob, especially a political one. Liz Truss and Kwasi Kwarteng have my admiration.
I always wondered why Boris Johnson did not attempt to enact some of his early policies after Brexit, for which he had great public support. Perhaps he understood how the pro-EU and socialist contingents in Parliament and the wider political world would react, and was fully aware of the force that would be against him.
I wish Ms Truss and Mr Kwarteng good luck. They have shown enough courage in their beliefs to see this challenge through.
Conservative Party Conference
The Conservative Party Conference opened on Sunday, October 3, in Birmingham.
That day, The Times reported that Kwarteng had requested Cabinet ministers to cut expenditure in their respective departments:
Kwasi Kwarteng has told ministers to make cuts in their departments and warned them "we have a duty to live within our means".
The chancellor has asked cabinet ministers to send him their "proposals to support growth" by the end of the month.
He is also launching a reprioritisation, efficiency and productivity review across the public sector, which will re-examine "existing spending commitments" and repurpose budgets to deliver the government's "core priorities", including growth.
I wrote about the conference, including Truss's and Kwarteng's U-turn on abolishing the 45% tax rate, the prominent Conservative MPs in disarray, the rebels and Truss's closing speech.
On Monday, October 3, the duo pulled out of a fringe event, which cost £3,000 a ticket:
Nigel Farage, looking on from the outside, predicted a Labour rout in the next general election:
Meanwhile, Guido Fawkes kept us apprised of market movements, which weren't nearly as alarming as expected that week:
He rightly criticised Labour's shadow chancellor Rachel Reeves for stirring the pot unnecessarily:
On Wednesday, October 5, as the conference closed, Guido wrote (emphases his):
The Bank of England has been easing off its interventions in the gilt market, leaving Rachel Reeves's hyperbolic attack lines exposed for their inaccuracies. Julian Jessop points out the fact the Bank did not have to buy any gilts again today, leaving total purchases stable at £3.66 billion. A tad short of the £65 billion she repeatedly claims. This is a further sign market jitters have been effectively mitigated, far from Labour's claims of an "economic crash". As a trained economist and former Bank of England employee, Rachel really must know better. Her sums were out by a factor of 17…
At the weekend, while anti-Conservative pundits were still banging on about the 45% tax rate, which Truss and Kwarteng did a U-turn on …
… The Telegraph's Ambrose Evans-Pritchard pointed out that gas prices were already falling, indicating that 'Liz Truss may be winning her gamble on the energy price cap after all':
Plummeting global gas prices have slashed the cost of the UK's energy price cap and may ultimately reduce the monthly subsidy to zero, greatly alleviating the strain on Government borrowing.
NatWest Markets estimates that the price guarantee would cost approximately £30bn over the first six months based on current futures contracts, half the £60bn figure assumed by the Treasury and the rating agencies …
While NatWest remains wary of gilts after the mini-budget and the bond shock last month, it said pessimism over the UK's public finances may have gone too far. Gilts may no longer be a one-way bet for traders …
Goldman Sachs thinks European wholesale prices may fall a further 40pc by late winter. Average energy bills in the UK would in that case fall to £2,000 or less.
The Government could put its cheque book back in the drawer.
Douglas McWilliams, from the Centre of Economics and Business Research, says that the public finances are in better shape than widely-supposed.
An odd week that began well
By Monday, October 10, things appeared to be looking up for Truss and Kwarteng.
Mel Stride MP, chairman of the Treasury Select Committee and not one of their best friends, was satisfied that the then-Chancellor agreed to review his economic plan on Halloween rather than in November:
Tuesday, October 11, was a red-letter day.
The head of JP Morgan said that Truss deserved a chance:
Guido wrote:
… Speaking last night from London with US broadcaster CNBC, Dimon backed Liz's tax plans and hammered home the need for laser-like focus on growth – adding he'd "love to hear that out of their mouth every time a president or prime minister speaks"…
It'll take time to execute the policies and kind of drive growth and what's important … [but] there's a lot of things the UK has going for it and proper strategies to get it growing faster … then it can accomplish some of the other objectives it wants to accomplish too […] I would like to see the new Prime Minister, the new Chancellor, be successful […] I think every government should be focusing on growth. I would love to hear that out of their mouth every time a president or prime minister speaks.
Another proud member of the Pro-Growth Coalition. Although he did warn the US will likely tip into recession in about 6 months…
The IMF did an about-face, as The Telegraph reported:
Kwasi Kwarteng's tax cutting mini-Budget will help Britain to be the fastest growing major economy this year at the cost of higher long-term inflation, the International Monetary Fund (IMF) has said.
Strong momentum at the end of 2021 means UK economic growth will outpace the rest of the G7 this year. Tax cuts announced in the mini-Budget are expected to lift it even higher than the IMF's current forecast of 3.6pc, which was published on Tuesday but finalised before the Chancellor announced his plans …
The paper's Ambrose Evans-Pritchard wrote, 'Rejoice: we may be very close to Fed capitulation':
Not only is the Fed rushing through jumbo rises of 75 points each meeting, it is also draining global dollar liquidity with $95bn a month of quantitative tightening (QT). It has never done the two together before. And it does not understand how QE/QT actually works, as admitted cheerfully by one Ben Bernanke, Nobel Prize laureate as of yesterday …
Ben Bernanke flagged the dangers of a strong dollar and the capital exodus from emerging markets yesterday. Without naming the British gilt market, he said financial stress in the international system was building up and posed a threat. "We really have to pay close attention," he said. 
On Wednesday, October 12, it was noted that a Federal Reserve hike in interest rates took place before Kwarteng's economic statement:
Furthermore, the US was also experiencing an unusual increase in mortgage rates, meaning that the UK was not the only country with that problem:
On Thursday, October 13, Truss had her weekly meeting with King Charles, who greeted her with 'Dear, oh dear' while the press were there:
What did he know?
He would have heard Foreign Secretary James Cleverly defend Truss and Kwarteng on that day's news round. The poor man.
The Telegraph has a running diary of what went on that morning. This is the summary:
James Cleverly has warned it would be a "disastrously bad idea" to replace Liz Truss as Prime Minister.
Ms Truss is under intense pressure from some of her own MPs to abandon her economic plan following a market backlash to the measures set out in the mini-Budget.
The Prime Minister's leadership is being questioned after little more than a month in the job, with some Tory MPs already considering who could replace her.
ConservativeHome's editor Paul Goodman was also on the airwaves. He told BBC Radio 4 that some Conservative MPs had suggestions for Truss's and Kwarteng's replacement:
The former Tory MP told BBC Radio 4's Today Programme: "All sorts of different people are talking about all sorts of different things because the Conservative backbenchers are casting around for a possible replacement for Kwasi Kwarteng, even for a possible replacement for Liz Truss.
"All sorts of names are being thrown about, Rishi Sunak, even Boris Johnson, Kit Malthouse, Sajid Javid.
"But one idea doing the rounds is that Penny Mordaunt and Rishi Sunak, who, after all, between them got pretty much two-thirds of the votes of MPs, come to some kind of arrangement and essentially take over."
The King probably also knew that Truss and Kwarteng were going to do a U-turn on corporation tax, which they planned to lower to 19%, as it is in Ireland:
On Wednesday, at PMQs, Truss stood by the cut:
What we are doing is simply NOT putting up corporation tax. It's not a tax cut, we're just not raising corporation tax. And I feel that it would be wrong, in a time when we are trying to attract investment into our country, at a time of global economic slowdown, to be raising taxes. Because it will bring less revenue in.  And the way that we are going to get the money to fund our National Health Service… is by having a strong economy with companies investing and creating jobs.
On Thursday, October 13, Guido wrote:
What a difference 24 hours makes: this lunchtime The Sun broke the news that Truss "is considering raising Corporation Tax next year in spectacular mini-Budget U-turn". A source tells Harry Cole that while the U-turn is being seriously considered, it wouldn't be back up to the 25% proposed by Rishi before leaving the Treasury.
An unpleasant surprise for Kwarteng
Meanwhile, Kwarteng was in Washington at the annual IMF meeting.
Guido's post had an update:
Channel 4 doorstepped him on his way in, where he said "I'll be coming out with a statement on 31st October and I'm not going to pre-empt that." As The Speccie's James Forsyth points out, if the markets are now pricing in a U-turn, and the government decides against one, they'll likely be in a worse position than they were 24 hours ago…
On Friday, October 14, we woke up to the news that Kwarteng was summoned back to London, under the guise that emergency budget negotiations had to take place. The IMF meeting was to last into the weekend:
This could mean only one thing — that his time as Chancellor was over.
Guido reported that Mel Stride was happy that Kwarteng's economic package was about to be shot to bits:
… one source quoted in the Financial Times claims "Almost everything in the Budget is now up for grabs" …
For those who enjoyed the excitement of tracking Priti Patel's flight back to the UK ahead of her sacking by Theresa May, you can follow Kwasi's flight in real time here …
Mel Stride, Chair of the Treasury Select Committee, spoke on the Today Programme and welcomed a U-Turn. He called it a "powerful" signal to markets and added the government's "fiscal credibility is now firmly back on the table". He added the Conservative party should give the government "more time" and space to "rest". How generous…
Sterling and bond markets had rallied following the first reports of a U-turn, which only adds on the pressure for more reversals. Elsewhere in the markets, today is the final day of the Bank of England's gilt operations. Although gilt markets appeared steady this morning, the real test will come on Monday…
A Downing Street source tried to downplay Kwarteng's return:
Kwarteng had scrambled to take the last commercial flight from Dulles Airport to Heathrow:
The next bit of news was that Truss was going to hold a press conference that afternoon.
Guido wrote:
Liz is set to U-turn on the corporation tax freeze at 2pm this afternoon. It's rumoured she'll whack it all the way up to 25% in the spring. Kwasi won't be appearing alongside her…
Speculation began on who the new Chancellor would be. The Sun's political editor Harry Cole tweeted the following in the hours before the press conference, indicating Jeremy Hunt:
Cabinet members were correct about Jeremy Hunt:
King Charles approved the following appointments from Truss:
Nigel Farage was rightly furious about a Remainer assuming the post of Chancellor:
Harry Cole got a copy of Truss's letter to Kwarteng, thanking him for his hard work:
The nation now had a new dream team. This seconds-long video is a must-see. The UK is doomed:
I'll go into Truss's press conference tomorrow.
In short, it was absolutely dire and lasted only eight minutes, which included four questions, one of which was from Harry Cole. His face is a picture:
I'll have more tomorrow on how shocked Kwarteng must have been as well as what this means for Truss's premiership.
Pity our Prime Minister Liz Truss.
The choice of Conservative Party members, the lady who wanted a Thatcherite premiership of low taxation and high growth, is now silent.
On Thursday, October 13, in her private weekly meeting with King Charles, he greeted her with 'Dear, oh dear':
He could have at least waited until the press were out of the way.
On Friday, October 14, she was forced to sack her Chancellor and good friend Kwasi Kwarteng.
The two of them were not playing the globalist game for high taxation and low growth.
Kwarteng's brilliant mind
Kwarteng was elected as MP for Spelthorne in 2010, part of Prime Minister David Cameron's fresh, youthful Conservative intake that year.
He worked on Brexit in 2019 as part of Theresa May's government. Later that year, he was keen for Nigel Farage to stand down candidates in order for Conservatives to win convincingly in the general election — and get Brexit done:
Under Boris Johnson, in 2021, as Business Secretary, he became the first black — and first Conservative — Secretary of State. In that role, he refused to lift the moratorium on fracking. On the other hand, on July 6, 2022, he ensured that two coal plants are staying open to help ensure that the UK has adequate energy supplies this winter.
He was not a man in favour of high taxes, even in the wake of the pandemic, telling LBC radio on March 2, 2021:
Obviously we have to balance the books over time, but I'm a low tax conservative. The real key is to grow the economy. The best remedy for the deficit, the best remedy for the economy is to open up the economy, allow people to get on with their lives, allow businesses to start trading again.
In July 2021, he politely opposed the National Insurance tax hike.
In June that year, he supported the Government's caution on lifting final coronavirus restrictions in England and sagely predicted that there would be no more lockdowns in England.
Once Liz Truss was made Prime Minister, we found out more about his friendship with her, which began when she, too, was first elected to Parliament in 2010.
On September 6, 2022, the Mail posted an old photo from earlier parliamentary days of the new Chancellor and the new Prime Minister with this caption:
The new Chancellor Kwasi Kwarteng is a close friend of Liz Truss, so close that he lives 350 yards away in Greenwich.
The article also told us more about his towering height and intellect (emphases mine):
Although he is not widely known to the public, the 47-year-old MP for Spelthorne, Surrey, comes equipped with a solid academic background.
At 6ft 5in, Mr Kwarteng is a powerhouse physically and intellectually …
He speaks German, Greek and French, and writes poetry in Latin.
One friend recalled how, when the school introduced Italian to the curriculum, 'the teachers were trying to teach rudimentary Italian but Kwasi learnt the whole language – the teachers were struggling to keep up with him'.
Like Boris Johnson, who attended Eton a decade earlier, Mr Kwarteng shone at the Wall Game, a hybrid of football and rugby, where he played First Wall, described by an Etonian as 'an almost suicidal position that involved spending much of the match having his head scraped against brickwork' …
He was a prefect at the school and is still, it is said, held up as an example of how to succeed in Oxbridge interviews.
He went up to Trinity College, Cambridge:
He excelled at Cambridge where friends described him as 'supremely confident, but not arrogant'.
One said he 'had quite a few girlfriends – he had catching up to do after his boys' private school upbringing'.
Professor Tim Whitmarsh, who taught him Latin and Greek, was quoted as describing him as 'a bit of a young fogey', saying: 'I once saw a 19-year-old Kwasi in full brown tweed bumbling around with a pipe in his mouth on a baking hot day.' 
More recently:
Last year, Mr Kwarteng bought a Victorian villa just 350 yards from Miss Truss's £1.5million four-storey townhouse in Greenwich, south London.
Now they are neighbours in Downing Street too.
At one point Mr Kwarteng was dating Amber Rudd, the former Conservative home secretary, but the pair split up.
He then met Harriet Edwards, 36, a former pupil of Cheltenham Ladies' College and now a high-flying corporate lawyer specialising in advising private clients on 'succession' planning.
The pair married in 2019 and have a baby daughter, Ida, born last year …
Said to be a 'pragmatist rather than an ideologue', the free-marketeer's ministerial office allegedly boasts a large whiteboard on which are scrawled the letters 'MSH', standing for 'making s*** happen'.
With the multiple challenges facing the new chancellor, it is a mantra that may serve him well.
On September 7, The Telegraph had a profile of Kwarteng, which gave Truss supporters further hope.
We discovered that he wrote for the newspaper and had decidedly conservative opinions even in his 20s. The article featured a screenshot of his column of August 1, 1997 about higher education — 'Don't go to university, make money instead':
The man appointed the 109th Chancellor of the Exchequer had been considered a rising star well before he entered Parliament and first made his name at the age of 22 with a column in The Telegraph.
From higher education to the rise of "lad mags", Mr Kwarteng left a trail of published evidence showing his youthful thinking on the state of Britain. 
According to Mr Kwarteng, universities were not just a waste of time for those hoping to make lots of money but "a trick of the mind". They offered value of a sort as "a place for reflective thought, like the monasteries of the Middle Ages," but were only really popular as a way of proving one's smarts …
While universities might be conducive to research, on the whole, Mr Kwarteng thought, "the university added little to the talent which was already in them". 
For that reason, the MP for Spelthorne thought it "ridiculous" that everyone should go to university.
Also in August 1997, he also wrote about his scepticism of those who know best in '"Experts": it's the same old story', wherein he expressed his doubts about climate change:
"We live in the age of the expert," he declared, "of course, all these experts are invariably self-appointed, and they all contradict each other."
Mr Kwarteng lamented the loss of Western "reason and objective investigation" and said that the witchdoctors of "simple peoples" had been "reincarnated in a modern, Western, suit-wearing capacity.
"They are the consultants, health gurus, constitutional experts, psychologists and sociologists who seem to spring from the ground at every opportunity."
… In his column, he highlighted global warming as an example of "conjecture" dressed up as "granite fact".
It's a pity he later changed his mind. Perhaps he did it for political expediency. Who knows?
On at least one issue, however, Mr Kwarteng has clearly come to accept the views of the experts …
As Business Secretary, he has declared it essential for governments to intervene to tackle climate change. 
The Telegraph article has several more of his columns to explore.
Kwarteng as Chancellor
A fortnight before he delivered his fiscal event to Parliament, he pledged that his focus on growth would be 'relentless'. The Times reported:
The new chancellor has promised a shift in economic policy towards an "unashamedly pro-growth agenda" rather than worrying about redistribution.
Kwasi Kwarteng promised "to do things differently" as he acknowledged the need for higher borrowing over the winter to help households with their energy bills. However, he promised "fiscal discipline over the medium term" by ensuring the economy would grow faster than government debt, saying this would require deregulation and tax cuts.
After meeting key City figures, including the chief executives of Barclays, NatWest, Lloyds Banking Group and HSBC, Kwarteng said that he wanted to deal with economic problems through growth, with a goal of getting the underlying rate up to 2.5 per cent.
"The prime minister and I are committed to taking decisive action to help the British people now," he said. "That means relentlessly focusing on how we unlock business investment and grow the size of the British economy, rather than how we redistribute what's left."
He and Truss needed to work quickly to come up with the fiscal event. The nation had been in mourning for the Queen from September 8 through September 19. Meanwhile, the Conservatives' opponents were braying for a statement.
On Thursday, September 22, Kwarteng tweeted:
That day, The Spectator's Katy Balls explained that Truss wanted to move quickly:
Liz Truss is in a race against time. It's not just the prospect of an election in two years. It's the political problems – from party management to events outside of one's control – that quickly clog up a prime minister's in-tray. It's why for all the efforts to play down Friday's fiscal event as a mini-Budget, it is likely to be anything but small. Truss and her Chancellor Kwasi Kwarteng plan to push through as much as possible while their stock is highest …
Truss and Kwarteng have said their priority is to boost growth. In order to do that, they are undoing plenty of policies by their predecessors. The plan for investment zones – areas that could benefit from a lighter planning regime and various tax breaks – has already been briefed as a change of priorities compared to the former Levelling Up secretary Michael Gove. A government insider told the Financial Times this week: 'The plans make Gove look like a socialist.' There will also be further measures to undo more of the policies brought in by Rishi Sunak as Chancellor. 
Coffee House understands one plan under consideration is the return of tax-free shopping for tourists. As Chancellor, Sunak axed the 20 per cent discount for foreign visitors – leading to an outcry from MPs who said it would make Britain less attractive to businesses. At the time, the Treasury defended his decision on the grounds that 'this is getting rid of a tax cut that mainly benefits foreign billionaires.' However, the sector has voiced frustrations that this has led UK business to drop off while European capitals have seen business go up.
How will all this go down? As the Bank of England raise interest rates by 0.5 percentage points to 2.25 per cent in an attempt to combat inflation, already there are warnings about the effect of the government's planned borrowing. The Institute for Fiscal Studies has said that the planned tax cuts are likely to push UK borrowing and debt to unsustainable levels. The hope in government is that rather than spark alarm, the markets will have already priced in the new direction they are taking, and what happened in August suggests they may well have done so.  
'The strategy is do everything now,' says one person close to Liz Truss. 'This government has balls of steel'. In adopting this approach, Truss and Kwarteng are taking a gamble – and it won't be too long before it becomes clear whether or not it is paying off.
True conservatives cheered the package Kwarteng delivered to Parliament on Friday, September 23:
We felt as if Brexit would finally become the reality that would thwart Labour:
Our debt would remain the second lowest in the G7:
Guido Fawkes posted Kwarteng's economic plan in full as well as a summary, excerpted below:
Price of Energy
Government freezes household energy bills at £2,500

Government will

subsidise wholesale energy prices for businesses

Total cost of energy package for 6 months from October will be approximately £60 billion
Inflation
Government plan will reduce peak inflation by 5%

Chancellor: Bank of England independence is "sacrosanct"
Growth
Government will focus on growth target of 2.5%
Barriers to Enterprise
Government will bring forward bill to unpick regulation and launch a review into decision making

Increase disposal of government land to build more homes

Government will remove cap on bankers' bonuses

…



Tax
Planned rise in corporation tax is cancelled, it will remain at 19%

Annual investment allowance will not fall to £200,000 as planned, will remain at £1 million

Office of tax simplification abolished,

tax simplification mandated in all government departments

IR35 rules changed: 2017 and 2021 reforms scrapped

Planned increases in duty for beer, wine and spirits cancelled

VAT free shopping for overseas visitors

Increases to National Insurance contributions cancelled

Stamp duty threshold raised from £125,000 to £250,000; for first time buyers it will rise from £300,000 to 425,000

Kwasi will abolish the highest 45% rate of income income tax. Top rate now 40%.

Basic rate of income tax cut to 19% from April
Ahead of Kwasi's statement:
FTSE 100 is at 7,120
£/$ 1.1163
£/€ 1.1435
10 year gilt yield 3.49%
That afternoon, The Telegraph's Allister Heath was over the moon:
This was the best Budget I have ever heard a British Chancellor deliver, by a massive margin. The tax cuts were so huge and bold, the language so extraordinary, that at times, listening to Kwasi Kwarteng, I had to pinch myself to make sure I wasn't dreaming, that I hadn't been transported to a distant land that actually believed in the economics of Milton Friedman and FA Hayek.
But Liz Truss and Kwarteng are very much for real, and in revolutionary mood. The neo-Brownite consensus of the past 20 years, the egalitarian, redistributionist obsession, the technocratic centrism, the genuflections at the altar of a bogus class war, the spreadsheet-wielding socialists: all were blown to smithereens by Kwarteng's stunning neo-Reaganite peroration.
Hardcore, unapologetic liberal Toryism is back. This fiscal statement is in some ways an even bigger deal than that previously greatest of Budgets, Lord Lawson's extravaganza of 1988, so long ago that my generation cannot remember it. All the taboos have been defiled: the fracking ban, the performative 45pc tax rate, the malfunctioning bonus cap, the previous gang's nihilistic corporation tax and national insurance raids. The basic rate of income tax is being cut, as is stamp duty, that dumbest of levies. There will be more reforms, more deregulation from a Chancellor explicitly committed to a flatter and simpler tax system.
It wasn't merely the policies that were astonishingly good: just as remarkable was Kwarteng's language, the arguments he deployed to explain his decisions, the lucid free-market philosophy from which they emanated. He spoke of the need to bolster incentives, to encourage business investment, to increase work, to reward savings. He explained that this meant that the returns on capital and labour had to be improved. He wants to usher in a new Big Bang in the City and launch dozens of new Canary Wharfs on steroids.
At a stroke of a pen, Britain's competitiveness, its attractiveness to investors and top talent, has been transformed. Money and jobs will flow in, especially from the Eurozone. Britain's central pathology is low growth, held back by faulty economic, fiscal, monetary and regulatory policies: higher spending begets higher taxes, which lead to a vicious cycle of even lower growth, and hence yet more taxes, and so on.
I watched Kwarteng's speech to Parliament and the debate that followed. Allister Heath was right in everything he wrote.
On Sunday, September 25, The Sun wrote that its polls indicated the British public supported nearly all of Truss's proposals that Kwarteng delivered:
DELIGHTED Brits overwhelmingly back Kwasi Kwarteng's key income tax and stamp duty cuts, a poll found …
And PM Liz Truss says their radical plan will usher in a "decade of dynamism" …
A Deltapoll survey for The Sun on Sunday found many of his central policies have gone down a storm.
His pledge to slash the basic rate of income tax from 20p in the £1 to 19p from next April, benefitting 31million workers, got the backing of 63 per cent of respondents.
A majority of Labour and Tory supporters like the plan.
Meanwhile, the decision to ditch stamp duty for first-time buyers on homes worth up to £425,000 was approved by 61 per cent of respondents.
The move to reverse the 1.25 percentage point hike in National Insurance Contributions was liked by 59 per cent of the 1,553 people surveyed.
Some parts of the mini Budget, however, were far less popular. Just 30 per cent of voters backed the decision to scrap the bankers' bonus cap.
And even fewer — 28 per cent — approved of the move to do away with the 45p top rate of income tax, which will put more cash in the pockets of society's top earners …
Some delighted Tory MPs punched the air in delight after Mr Kwarteng detailed his mini Budget to the Commons.
One senior Tory said: "I am delighted. Finally, we have a proper Thatcherite budget."
But others warned it was a punt that may cost the Tories the next election.
One minister crossed his fingers as he said: "It is a huge gamble. If we see growth then it will have worked. It's a roll of the dice."
The annual Labour Party conference convened that Sunday.
The Spectator's editor Fraser Nelson pointed out that their leader Sir Keir Starmer opposed only the abolition of the 45% tax rate:
The Sun's editorial that day reminded Britons that it was Gordon Brown who put the 45% rate in place — and that was late in his premiership, around 12 years ago. His predecessor Tony Blair had not. As such, Labour had no room to complain:
For too long — if partly by necessity of the pandemic in recent years — the Conservatives have been parked on the centre ground, often operating from a Blairite or Brownite playbook.
The spleen-venting over Mr Kwarteng's most controversial call — ditching the 45 per cent top tax rate for those on over £150,000 — ignores the fact that, throughout the Blair years, it was the exact same as the new 40 per cent levy.
Nonetheless it's true that the move does give Labour an easy line of attack, as does the Government's reluctance to trumpet the fact that it IS already subjecting energy giants to a windfall tax — one which is raising around £30billion.
Yesterday Labour leader Sir Keir Starmer confirmed he would retain the vast majority of the Chancellor's tax cuts if he gained power.
Already, however, the doomsayers, including Torsten Bell, were already weighing in, as Guido Fawkes wrote that day (emphases his):
… Labour have accepted two thirds of the personal income tax cuts. They are only rejecting one cut, the top rate cut…
So the the dividing line between the parties is: Will "new era" economics work and crank growth up to 2.5% before the next election?
Not a chance say Rachel Reeves and the assembled hardline-centrists of the broadsheet punditry, plus all the orthodox economists from the IFS, Institute for Big Government and gloomy Torsten Bell with his distribution charts. Kwasi and Liz say it will work. It won't surprise co-conspirators that Guido thinks it is less of a gamble than the BBC's Faisal Islam reckons. Barring oil going to $300 or some other catastrophe, it is far more likely to work than the doomsters would have you believe. If Kwasi and Liz fail to hit the 2.5% target they have set for themselves, they will deservedly lose the next election. The choice now is pull out all the stops and go for growth, or go into opposition…
At conference, two Labour MPs of colour criticised the Conservatives' choice of Chancellor in Rishi Sunak, his successors and Kwasi Kwarteng. Guido reported on Rupa Huq's words about Kwarteng, which earned her a suspension from the Party, despite her apology. Shadow Rail Minister Tan Dhesi said he wanted to see white males in the Conservative Cabinet rather that persons of colour:
Guido doesn't consider Tan's comments to be half as bad as Rupa Huq's. His quote about Boris having an Asian do his dirty work for him, alongside Huq's referral to Rishi as "a little brown guy", is indicative that Labour somehow questions the legitimacy of non-white Tory Cabinet ministers. Does anyone get the sense Labour are slightly panicked about the Tories having a more diverse front bench than they do?
Fatal criticism despite global problems
But that was nothing compared to the big anti-Truss, anti-Kwarteng fallout that took place elsewhere that week.
On Monday, September 26, the IMF criticised the fiscal event.
Lord Frost defended Truss and Kwarteng in an article for The Telegraph: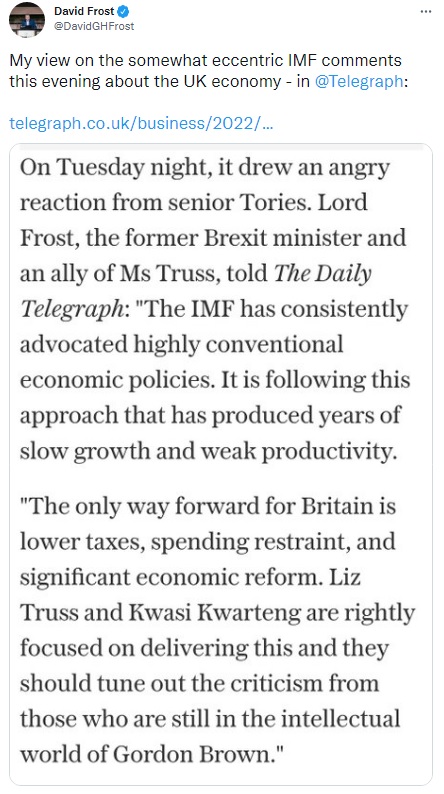 The IEA's head of public policy said that one of Margaret Thatcher's budgets — that of then-Chancellor Geoffrey Howe — was similarly criticised and ended up being wildly successful: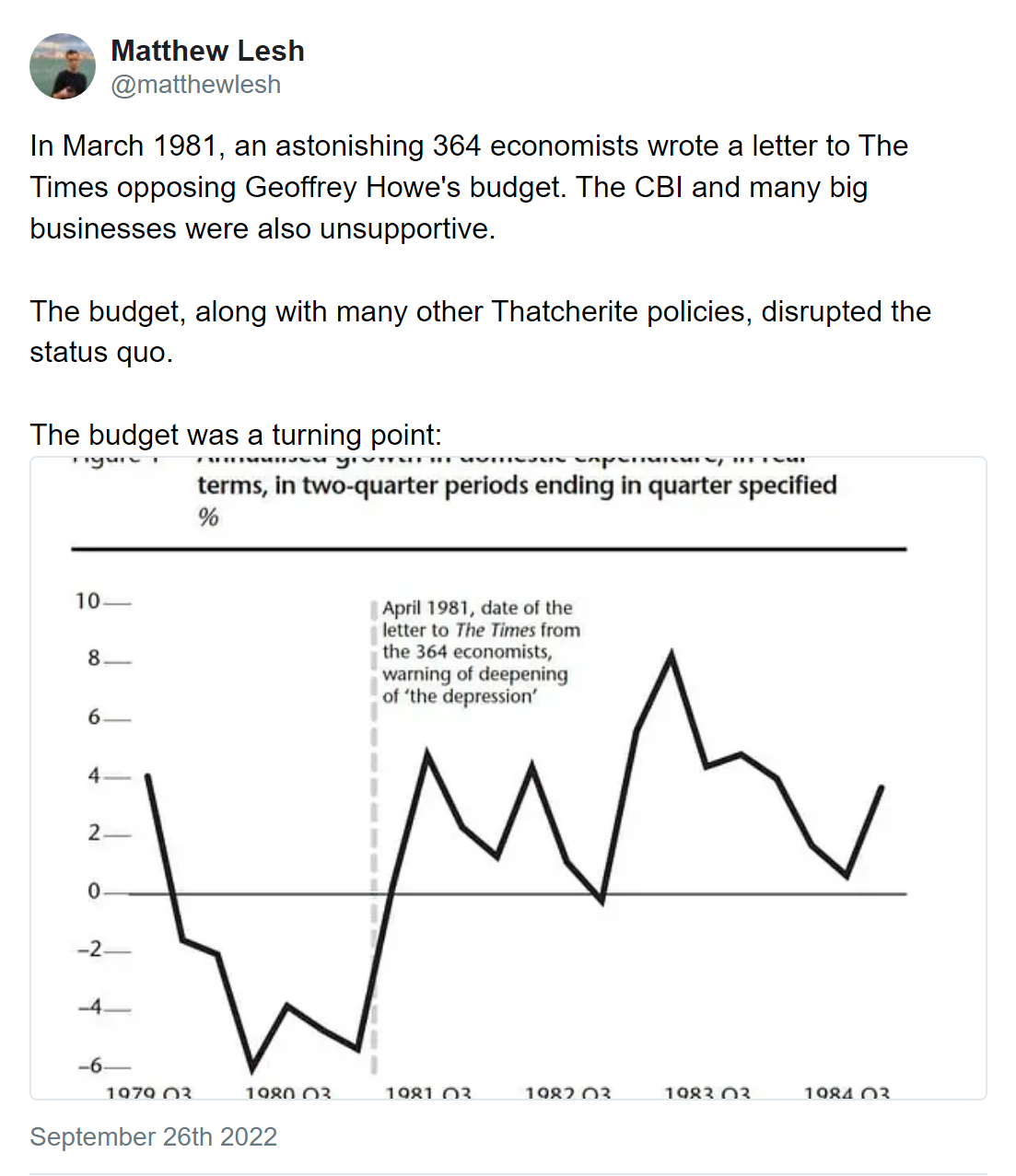 On Thursday, September 29, Labour MPs were back at home but outside criticism of the Truss-Kwarteng plan continued from globalist sources.
The US Treasury had weighed in against the plan after the IMF had.
The markets wobbled that week.
It should be noted that the UK was not the only country suffering from jitters — it was every other main economy, too.
With regard to us, however, the Bank of England had to step in with a fortnight of measures, too complicated to explain here, that put an end to risky measures that British pension funds had been using for several years.
Nevertheless, Truss and Kwarteng got it in the neck.
The Telegraph had a running diary of events that Thursday morning. Excerpts follow, covering the period from 7:30 to 10:30 a.m.:
The Prime Minister is due to undertake a tour of regional BBC radio stations this morning when she will be grilled on her tax cuts and spending plans after they sparked economic turmoil.
Lord Clarke, the Tory former chancellor, has argued this morning that no other Conservative government would have made a "mistake" like Kwasi Kwarteng's mini-Budget. 
The Tory former chancellor told Times Radio: "If the pound sinks any further, then they will have to perhaps retract some of the measures because the more the pound goes down, the more inflation goes up."
The Treasury has said Kwasi Kwarteng will deliver a follow up statement to the mini-Budget in November in which he will set out the Government's medium-term economic plans. 
But the Chancellor is under mounting pressure to deliver a statement to reassure the markets and the nation much sooner than that.
Chris Philp, the Chief Secretary to the Treasury, has defended the Government's decision to scrap the 45p top rate of income tax.
Asked why it was necessary to make the move now, he told Sky News: "The top rate of now 40 per cent, reducing from 45, makes us internationally competitive, it puts us on a par with a number of other economies."
After the Bank of England was forced to step in to calm the markets, Mr Philp told Sky News: "No one's perfect but I'm not going to apologise for having a plan to grow the economy …"
Chris Philp, the Chief Secretary to the Treasury, has dismissed suggestions that Kwasi Kwarteng should resign as Chancellor over his handling of the mini-Budget. 
Liz Truss has defended her mini-Budget plans as she said as Prime Minister she is prepared to take "controversial and difficult decisions". 
Liz Truss has said the world is facing "very, very difficult economic times" as she also insisted Kwasi Kwarteng is working "very, very closely" with the Bank of England.
Liz Truss said that "we have seen difficult markets around the world because of the very difficult international situation we face". 
Liz Truss has defended the decision to scrap the 45p top rate of income tax as she argued that lower taxes "help everybody".
BBC Radio Bristol presenter James Hanson challenged Liz Truss over her repeated claim that financial markets around the world have been facing turmoil. 
Daisy Cooper, the deputy leader of the Liberal Democrats, has claimed Liz Truss is in "complete denial" following the Prime Minister's morning media round. 
The Conservative Party is due to meet in Birmingham from Sunday this weekend for its annual conference. 
Sir Ed Davey, the leader of the Liberal Democrats, has called on the Tories to scrap the event.
Sir Ed said repeated his call for Parliament to be recalled.
Chris Philp, the Chief Secretary to the Treasury, was told this morning that the mini-Budget needs to be changed. 
Speaking to LBC Radio, he said: "No, well, if you listen to the reaction of British business organisations to Kwasi Kwarteng's growth plan on Friday, like, for example, the Confederation of British Industry, the CBI, the Federation of Small Businesses, the British Chambers of Commerce, they all strongly welcomed the growth plan, and they are the organisations that represent British business…"
The Bank of England's £65 billion intervention in the UK economy yesterday is a "very targeted, time-limited intervention", according to the Chief Secretary to the Treasury. (You can read the full story on the bailout here) …
Chris Philp was asked during an interview on LBC Radio this morning if that bailout indicated the economy is experiencing "serious problems".
He said: "Look, they were making a very targeted, time-limited intervention. There was a particular idiosyncrasy to do with the way that particular pension vehicles used long-dated gilts.
"It was a very targeted, very specific intervention to address that issue, which they've successfully done – independently, of course, the Bank of England act independently.
"And they're not the only central bank to have had to make an intervention. Like I said, the Bank of Japan intervened in the Yen dollar market just a few days ago."
Chris Philp, the Chief Secretary to the Treasury, has rejected the suggestion that the UK is now in the middle of a financial "crisis". 
Asked if he accepted it is a "crisis", Mr Philp told LBC Radio: "Look, I don't accept the word crisis at all. Look, in the last six to nine months… the financial markets have been in some volatility around the world."
Sterling has fallen sharply again as former Bank of England governor Mark Carney accused Liz Truss of "undercutting" the central bank …
He said there was an "undercutting" of key City institutions, pointing to the lack of an OBR forecast, a lack of detail about costing and working at "cross-purposes" with the Bank of England.
Ms Truss later told BBC Radio Kent that she is "very clear the Government has done the right thing by taking action urgently to deal with inflation, to deal with the economic slowdown, and to deal with high energy bills".
Were those accusations from globalists really true?
Was day-to-day business in Britain disrupted so dramatically? And wasn't the Government helping Britons with their energy bills? As to the latter question, the UK has been providing the most assistance of any European government:
That week, Kwarteng was under much pressure to meet with the Office for Budget Responsibility (OBR), which, as I posted on October 6, has a lot of Torsten Bell alums from his charity, the Resolution Foundation.
On Friday, September 30, he met with the OBR. Guido reported:
The highly-anticipated meeting between the OBR and government wrapped up after 48 minutes. The OBR says they'll deliver an initial forecast on the October 7, however the government's readout of the meeting sticks to the line that it will be published alongside Kwarteng's medium-term growth plan on November 23 …
Meanwhile, Labour were still banging on about the abolition of the 45% tax rate. The cost of subsidising Britons' energy bills kept increasing, too. Naysayers were pumping up the total expenditure from £60bn to £100bn:
That morning, The Telegraph posted Kwarteng's editorial defending his fiscal event, which ended with this:
Even in the face of extreme volatility in global markets, with major currencies wrestling an incredibly strong US dollar, we will show financial markets and investors that our plan is sound, credible and will work to drive growth.
By combining our immediate energy support with bold action to reset the fundamentals of the UK economy, we are helping households and businesses today – and putting the United Kingdom on a more prosperous, competitive path for years to come.
That evening, The Times reported that the Scottish Secretary Alister Jack said that Truss delivered what she had promised in the leadership hustings and reminded us that she and former Chancellor Rishi Sunak disagreed on how the British economy should proceed:
Speaking to BBC Radio Scotland on Friday, Jack said: "When you say 'huge shock', over the summer [Truss] was very clear that her strategy was to reduce taxes.
"She and Rishi Sunak argued that out over the summer, he said one thing, she said the other, but it shouldn't come as a shock to anyone when she said she believed the strategy was to be more of an Asian tiger economy, where you keep your higher spending but you grow your economy, and she said to do that she would be cutting taxes.
"To anyone paying any attention to that leadership contest it was plain as day what was going to happen" …
In response to the plans announced by Kwarteng last week, the International Monetary Fund said it was monitoring the situation and urged a rethink, while the Bank of England began buying government bonds to avert what it described as a "material risk to UK financial stability".
More controversy, ending with Truss's sacking of Kwarteng, followed.
I will dissect the tragic conclusion tomorrow and, on Thursday, what it means for Truss's premiership.
Yesterday's post discussed Charles III's proposed pared down coronation, scheduled for Saturday, May 6, 2023.
No bank holiday?
It is curious, given that it will have been over 70 years since our last coronation, the King seems to have ruled out a bank holiday.
May has two bank holidays, bookmarking the month.
This year, the second bank holiday, traditionally known as Whitsun (Pentecost) Bank Holiday, was moved one week later, taking place at the beginning of June to accommodate Platinum Jubilee festivities.
The Times reports that Parliament is all for a celebratory bank holiday weekend (emphases mine):
There have been calls from some MPs for the May 1 bank holiday to be moved or for an additional bank holiday to be announced …
Labour backed moving the May bank holiday to coincide with the King's coronation. Sir Keir Starmer's spokesman said: "That would certainly be a good way for the country to be able to celebrate the coronation."
David Jones, a cabinet minister under David Cameron, told the Daily Mail that combining the May bank holiday with the coronation would be welcomed "by the entire nation". He said: "It would make a very special memory for all of us." Tobias Ellwood, another Tory former minister, said: "A bank holiday would help strengthen our transition to a new era."
Khalid Mahmood, a former Labour frontbencher, said: "We can move the holiday back to the coronation weekend. We have a unique system with the monarchy and an independent parliament; I would back Britons having a three-day weekend to mark the occasion."
Royal sources have said that any decision about whether to move the bank holiday or create a new one will be up to the government.
No. 10 is open to the idea:
In response the prime minister's spokesman said: "Obviously this will be a historic event. We are carefully considering our plans. All options remain on the table."
Personally, I don't think this is as much the Prime Minister's reluctance as it is the King's.
The diamond
It was thought that Camilla Queen Consort would be crowned with the crown the late Queen Mother wore, the one with the incomparable Koh-i-noor diamond.
Suddenly, that prospect appears to be in doubt.
On October 13, The Telegraph reported:
The crown was thought to be a front runner among the options for Queen Camilla to wear for next year's Coronation, and has been under discussion at the palace for as long as it has been understood she will join the King for the ceremony.
One source last night suggested that the jewel had not, until recently, been treated as "problematic".
Charges of colonialism have now been raised with regard to the Koh-i-noor:
In Britain, it has been used in the crowning of Queens for generations with pomp, ceremony but little noticeable fuss, mounted on successive crowns worn by Queen Alexandra, Queen Mary and Queen Elizabeth [the Queen Mother] …
The Koh-i-Noor diamond, which has been part of the Crown Jewels for more than 150 years, is at the centre of renewed calls for its return – with India the most diplomatically-critical country making a claim to it …
The diamond, which is often said to have been "given" to Britain in 1849, is currently set in the crown worn by Queen Elizabeth, later the Queen Mother, in her own 1937 coronation.
Experts on colonialism have spoken out:
William Dalrymple, co-author of a book describing the Koh-i-Noor as "the world's most infamous diamond" said its ownership was "not a small sensitive issue in the eyes of India" but a "massive diplomatic grenade".
Jyoti Atwal, associate professor at Jawaharlal Nehru University, explained the diamond's significance, telling The Telegraph how it travelled around the medieval world as a "prized possession" and in 1851, after British annexation, "went to the United Kingdom via a treaty with an 11-year-old King in Punjab".
"In the colonial discourse it was seen as a gift from India, although it has a chequered history of being owned by different kingdoms across South Asia and West Asia," she said. "It was one of the biggest signifiers of victory for Britain over the subcontinent and since India's independence in 1947, there have been demands of bringing it back.
"It has always been at the centre of political restoration and restoring Indian pride, and doing away with this blot in history" …

Saurav Dutt, an author and political commentator born in Kolkata and raised in the UK, said: "Ensuring the Koh-i-noor remains front and centre in the public eye in this way flies in the face of any attempt by the Royal family and political orthodoxies to draw a line under the dispossession, prejudice, plunder and exploitation that imperialism revelled in.
"Such a position is at odds with the modern, egalitarian stance the royals seek to present themselves within a world that seeks to move on from the ugliest chapters of history that they benefited from."
If this was historically known to be the case, why didn't anyone complain in 2002, when it was the crown resting on the Queen Mother's coffin at Westminster Hall where she lay in state?
No one said anything then, and even BBC commentators talked about what a splendid jewel in the crown it is.
It appears that, 20 years on, social media, which did not exist in 2002, could partly be to blame.
Jyoti Atwal said:
A resurgence of interest in "bringing it back" was now "very visible" among a new generation on social media …
There also seems to be a potential vulnerability about Charles III that indicates he might well cave in:
Lauren Kiehna, a royal jewellery expert who writes a blog under the name of The Court Jeweller, last week predicted that the creation of a new crown for Queen Camilla was unlikely but called the inclusion of the Koh-i-Noor diamond a "real, serious sticking point".
"I would imagine that Charles and Camilla would be keen to avoid additional criticism when possible, and Charles particularly has always seemed sensitive to the fact that jewels can carry significant symbolism," she wrote.
This is how Britain acquired the diamond in 1849, during Queen Victoria's reign:
… the Koh-i-Noor was signed over to the British East India Company in 1849 along with vast areas of land in the Treaty of Lahore.
It is described by the Royal Collection Trust as being "surrendered" to Queen Victoria "by the Maharaja Duleep Singh in 1849".
At the time, the maharajah of the Punjab was 11 years old.
The jewel was brought back to Britain for presentation to Queen Victoria a year later, and put on display to the public at the Great Exhibition.
Afterwards, it was cut by Garrard & Co and turned into a brooch worn by Victoria.
In 1902, it was mounted on a crown for Queen Alexandra's coronation, and in 1911 transferred to that of Queen Mary.
In the modern era, it is best known for being worn by the Queen Mother, and was placed on top of her coffin in 2002.
Another Telegraph article on the diamond states:
The thousand-year-old, 105.6 carat diamond is the subject of international dispute, with India, Afghanistan and Iran among the countries laying claim to it.
Again, why is this coming up only now? Why did it not come up in the past?
Unfortunately, the controversy is coming as a diplomatic row has taken place between the British government and India:
Our new Home Secretary, Suella Braverman, is of Goan descent.
Recently, she complained about migration from India at the time the Government is trying to put a trade deal with that nation:
Debate over the [coronation] ceremony comes amid heightened tensions between Britain and India over post-Brexit trade.
Liz Truss's trade deal with India is said to be on the "verge of collapse" after Suella Braverman, the Home Secretary, said she had "concerns" about it, adding that "the largest group of people who overstay are Indian migrants".
Indian government sources said the "disrespectful" remarks meant the "relationship has taken a step back". Plans for Narendra Modi, the Indian prime minister, to visit the UK to seal a trade deal have been shelved, according to reports.
On Wednesday, the Bharatiya Janata Party [BJP] told The Telegraph a choice for Queen Camilla to continue the tradition of consorts wearing a crown containing the Koh-i-Noor would hark back to the days of Empire.
A BJP spokesman said:
Most Indians have very little memory of the oppressive past.
He added that the United Kingdom was not the only country that ruled over India:
Five to six generations of Indians suffered under multiple foreign rules for over five centuries.
He said that the Queen's death revived memories of Empire:
Recent occasions, like Queen Elizabeth II's death, the coronation of the new Queen Camilla and the use of the Koh-i-Noor do transport a few Indians back to the days of the British Empire in India.
Hmm.
The British government declared the Partition of India in 1947. George VI was King and his wife Elizabeth was Queen Consort at the time.
In short, India and Pakistan became independent nations:
The partition was outlined in the Indian Independence Act 1947 and resulted in the dissolution of the British Raj, i.e., Crown rule in India. The two self-governing independent Dominions of India and Pakistan legally came into existence at midnight on 14–15 August 1947.
Maharaja Duleep Singh
It is also worth noting what happened to the young Maharaja Duleep Singh who gave the diamond to the British government.
He became a member of Queen Victoria's court.
Wikipedia has a synopsis of the aforementioned William Dalrymple's book, Koh-i-noor: The History of the World's Most Infamous Diamond, which he co-authored with Anita Anand.
The maharaja's story begins sadly and ends sadly, but also included is the privileged and rather lengthy middle of his story from the second half of the book, 'The Jewel in the Crown'. A summary follows.
It was unclear what the boy's father, Ranjit Singh, also known as the Lion of Punjab, intended to do with the diamond.
When the Second Anglo-Sikh War ended in 1849, his young son gave the gem to the colonial administrator Lord Dalhousie in the context of the Treaty of Lahore. The boy's mother, the regent Jind Kaur, had been taken away from him.
John Spencer Login, a diplomat living in India, adopted the boy to live with him and his family. Meanwhile, Jind Kaur was exiled to Nepal.
Then, a few years later:
After requesting to travel to England Duleep Singh joined Queen Victoria's court. When he was 15 he repeated the ceremony of giving the Koh-i-Noor, in this instance to Victoria.
When Duleep Singh turned 21, he:
began to express a great longing for his mother and more distance from the people with whom he lived in the court.
The following year, he was reunited with his mother:
At age 22 he traveled to meet her at Spence's Hotel in Calcutta then brought her back to England.
Unfortunately, things unravelled for him for a few years:
From this point his life went into chaos with him no longer behaving like his peers in British society and spending huge sums of money.
However, his biography on Wikipedia tells us that, even as an adolescent, he lived a charmed life. Before he was reunited with his mother, he began receiving an immense annual pension from the East India Company and spent a few years in a Scottish castle.
He arrived in England in 1854:
He was a member of the Photographic Society, later the Royal Photographic Society, from 1855 until his death.[15]
On his return from Continental Europe in 1855 he was given an annual pension of £25,000 a year[16] (approximately £2,500,000 in today's value) provided he "remain obedient to the British Government," and was officially under ward of Sir John Spencer Login and Lady Login, who leased Castle Menzies in Perthshire, Scotland, for him. He spent the rest of his teens there, but at 19 he demanded to be in charge of his household. Eventually, he was given this and an increase in his annual pension.
In 1859 Lt Col James Oliphant was installed as Equerry to the Maharaja at the recommendation of Sir John Login. Oliphant was to be a possible replacement should anything happen to the Maharaja's most trusted friend Sir John Login (who did indeed die four years later in 1863).[17]
In the 1860s, Singh moved from Castle Menzies to Grandtully Castle.[18]
Between 1858 and 1862, he also rented Mulgrave Castle, near Whitby.
When his mother moved to Britain, she lived with him for a time in Perthshire.
In June 1861, he became Maharaja Duleep Singh and either acquired or was given Elveden Hall on the border between Norfolk and Suffolk.
Singh not only transformed the estate into a farm with hunting grounds, becoming the fourth best shot in England, but he also restored the nearby church, school and cottages bordering the delightful town of Thetford.
His mother and adoptive father Sir John Login both died in 1863.
The Maharaja's wife, Maharani Bamba
In 1864, with permission from the East India Company, which financed him, Singh was able to go to India to place his mother's ashes in a memorial monument in Bombay.
On his way back to England in February 1864, he stopped off in Cairo to visit a Christian mission in the city. At the American Presbyterian Missionary school, he met a student, Bamba Müller, the illegitimate daughter of wealthy German banker Ludwig Müller and his Abyssinian (Ethiopian) mistress, Sofia. Müller had a wife and children, so he left young Bamba in the care of the missionaries, where she became a devout Presbyterian. Müller paid for her lodging and schooling.
In March that year, he wrote to the missionaries, asking them for advice on finding a suitable wife. Although Queen Victoria suggested that Singh marry an Indian princess, he wanted someone less worldly. Details are scant, but it was decided that Bamba was the candidate. The missionaries asked Ludwig Müller about it and he left the decision to his daughter. Bamba had wanted to teach in a missionary school, so she prayed hard about what she should do, eventually deciding that it was God's will that she marry Singh.
There was only one problem: a language barrier. Bamba spoke Arabic and Singh's only second language was English. An interpreter facilitated the proposal. Singh gave the school a donation of £1,000, a substantial sum. The couple married on June 7, 1864 at the British Consulate in Alexandria. Singh made his vows in English. His bride made hers in Arabic.
The couple sailed back to England and settled at Elveden Hall. Bamba gave birth to a son in 1885; sadly, he lived only one day. She gave birth to the first of six children in 1866: three sons and three daughters. All of the daughters became suffragettes. One was a debutante who was presented at court, and another married a Scottish doctor and moved to Lahore.
Two of the sons went to Eton before joining the British Army. A memorial to both sons is in the school. The third son died at the age of 13.
All the Singh children had the titles of either Prince or Princess, as Sikh royalty.
Later life
As the years passed, despite his privileged lifestyle, Singh became increasingly discouraged with the British and longed for his homeland.
In 1884, Singh's cousin Sardar Thakar arrived in England with his two sons and a Sikh granthi (priest). Thakar brought with him a list of properties that Singh owned in India. Naturally, he wanted to return and to re-embrace Sikhism.
In 1886, the British government formally objected to Singh's proposed return to India for a visit as well as a reversion to Sikhism. Nevertheless, Singh set sail for India on March 30 that year.
The Government intercepted him at Aden in today's Yemen. Officials probably feared that if he reached India, there would be massive unrest. Aden was where the Viceroy of India's rule began, so it was the first point at which he could be legally stopped.
Although Singh had to abandon his voyage, while he was in Aden, he reverted to Sikhism in a cermony performed by emissaries that his cousin Sardar Thakar sent.
In 1887, Bamba died:
The cause of death was reported as "comprehensive renal failure brought on by an acute case of diabetes, made worse by her drinking (of alcohol)".[1]
Interestingly, Singh appeared not to have returned to England from Aden. He ended up in Paris:
upon being stopped in Aden by the British authorities he abandoned his family and moved to Paris.
He had met his future second wife, Ada Douglas Wetherill, sometime before he attempted to sail to India:
Wetherill had been Duleep's mistress before he decided to return to India.
When Singh moved to Paris, Wetherill joined him.
They married and had two daughters, also Princesses in line with Sikh royalty.
Before he died, Singh resolved his differences with Queen Victoria, who refused to receive his second wife:
whom she suspected had been involved with the Maharaja before Maharani Bamba's death in 1887.[38]
In 1893, at the age of 55, Maharaja Duleep Singh died in Paris. His body was brought back to England.
His request to be buried in India was refused on grounds that it might create unrest, as the Indians were growing increasingly upset over British rule.
Instead, Singh was given a Christian burial:
in Elveden Church beside the grave of his wife Maharani Bamba, and his son Prince Edward Albert Duleep Singh. The graves are located on the west side of the Church.
Elveden Hall had to be sold after his death to pay his debts. The First Earl of Iveagh bought it in 1894 and it remains the home of his successors, who are part of the Guinness brewing family.
All eight of Singh's children died without legitimate issue, thus ending the direct line of Sikh royalty.
Conclusion
It seems that the lavish life the Maharaja was given in Britain and in Paris was compensation for the Koh-i-noor diamond.
Queen Victoria and the East India Company gave Duleep Singh everything he could ever ask for, except a permanent return to India.
On that basis, there seems no good reason why Camilla Queen Consort cannot wear the Queen Mother's crown next year.
The Telegraph says that King Charles enjoys a good relationship with India:
He has recently had a warm relationship with India, meeting Mr Modi on several occasions in the last few years.
As for the crown:
The King, now Head of Commonwealth, and his advisers are understood to be mindful of the "issues around today", with decisions about the coronation likely to be confirmed only at the last minute.
One suspects that those asking for the diamond's return do not know about the final Maharaja's history.
Charles III's coronation is scheduled for Saturday, May 6, 2023.
The project is called Operation Golden Orb.
It will not be like his late mother's coronation on June 2, 1953.
On October 8, the Mail on Sunday (MoS) reported (emphases mine):
The MoS can reveal that under a blueprint known as Operation Golden Orb:
The Coronation ceremony is set to be dramatically cut in length from more than three hours to just over an hour

;
The guest list for the ceremony is likely to be slashed from 8,000 to 2,000, with hundreds of nobles and parliamentarians missing out;
Discussions have been held about a more relaxed dress code, with peers possibly allowed to wear lounge suits instead of ceremonial robes

;
Ancient and time-consuming rituals

– including presenting the monarch with gold ingots –

will be axed to save time

;
Prince William is likely to play an important role in helping to plan the ceremony.
Hmm.
The language is likely to be more modern, too:
It will be more religiously and culturally diverse. While the 1953 Coronation required the Queen to make various outfit changes, a source said: 'King Charles is unlikely to do the same and the language will be adapted so as to be understandable to a more modern audience.'
However, traditional elements will remain:
Some key rituals will be retained, including the anointing of the monarch, who will swear to be the 'defender of the faith', not 'defender of faith' as previously speculated. The 1762 Gold State Coach, which was refurbished at great expense for the Queen's Platinum Jubilee, will also once again be part of the Coronation procession.
That is reassuring.
The MoS article has a splendid selection of photos from the Queen's coronation.
Reportedly, the King does not wish to cause hard feelings among members of the public, whose taxes will pay for the ceremony. Hence his desire to make it a low-key affair.
Many of us can see his point, but, on the other hand, the economy was still on a post-war footing when his mother was crowned. No expense was spared.
Most monarchists would enjoy seeing splendour and pageantry.
This is part of what will probably go by the wayside:
In the final weeks of 1952, the ancient Court of Claims was set up in Westminster to assess which members of the gentry had the right to perform certain roles.
Over a period of several weeks the court, led by senior judges in England and Scotland, heard 21 claims.
The Earl of Shrewsbury was appointed to carry a white wand as a symbol of his office, while the Dean of Westminster was allowed to instruct the Queen in the rites and ceremonies. Winston Churchill, then Prime Minister and Lord Warden of the Cinque Ports, a ceremonial position dating back to the 12th Century, presented claims from various barons of the ports to carry the canopy over the head of the Queen.
The MoS understands that the Court of Claims is set to be scrapped in the run-up to the ceremony, likely to be in the summer.
The traditional presentation of gold to the monarch is also likely to disappear. In 1952, it was reported that 'an ingot or wedge of gold of a pound weight' was presented to the monarch by the Lord Great Chamberlain before being placed upon the altar. A source said: 'In an age where people are feeling the pinch, this is not going to happen.'
Velvet chairs made especially for the 1953 Coronation are likely to be replaced by standard seating.
Diplomats and other male guests invited to the 1953 Coronation were instructed that 'knee breeches' were in order, while women were advised to wear headgear, preferably tiaras.
The dress code next year will be less prescriptive.
Discussions had taken place on relaxing the requirement for peers to wear so-called coronation robes. A cloak of crimson velvet, the rank of the peer is indicated by rows of ermine – a stoat's white winter fur and black tail end – on the cape. Lieutenant Colonel Anthony Mather, who started the plan for King Charles's Coronation – which has since been updated – told The Mail on Sunday: 'No Coronation robes. Give them to a museum where they belong. It's not going to be a tweed jacket and pair of jeans – but morning suit or lounge suit.'
Other experts speculated that peers could don their ermine-trimmed parliamentary robes instead.
Outlining how the guest list will be reduced, Lt Col Mather added: ''There are about 700 peers, well they won't all be there,' he said. 'The same with MPs: they won't all be present because he's not being crowned for them. He's being crowned for the people.'
If Lt Col Mather's name sounds familiar, it is because he was the man who planned Operation London Bridge, the Queen's funeral:
Lt Col Mather worked alongside the Duke of Norfolk who, as Earl Marshal, has formal oversight of coronations and Royal funerals. But it was Lt Col Mather who drew up the detailed plans for London Bridge. He led a team of 300 who met at least once a year to revise the Queen's funeral plans and co-ordinate with courtiers.
It's hard to disagree with this comment to the article:
An hour ceremony isn't worth showing up for! We WANT to see people dressed in ceremonial garb! Just update the wording that could be offensive, and some of the guest list, but what's on the table now is a mistake!
On Tuesday, October 11, Valentine Low, The Times's correspondent on the Royal Family and author of Courtiers, reported:
King Charles and Queen Camilla will be crowned at Westminster Abbey on Saturday May 6, Buckingham Palace has said.
The Palace's PR machine is clearly at work:
Buckingham Palace said the ceremony would "reflect the monarch's role today and look towards the future, while being rooted in longstanding traditions and pageantry".
This led to complaints that Charles would have a "cut-price coronation". However, palace insiders said it reflected how Britain had changed and the fact that many people are facing hardship. It will still, they said, be "a festival in the best traditions of a thousand years of history" …
Charles will be anointed with holy oil, receive the orb, coronation ring and sceptre, and be crowned with St Edward's Crown, which was made for Charles II in 1661 …
Sources close to the King have said that he will want to reflect multicultural, modern Britain. It is expected to be more inclusive of other faiths than past coronations but will at heart still be an Anglican service. In his first address to the nation on acceding to the throne, the King went out of his way to emphasise his Christian faith.
The anointing of the monarch is part of the coronation and was not televised in 1953 because it is a religious ceremony:
During the ceremony the sovereign is "anointed, blessed and consecrated" by the Archbishop of Canterbury. The anointment of Queen Elizabeth was one of the few elements of her coronation which was not televised.
A golden canopy is placed over the monarch during the anointing and removed afterwards.
These are the six phases of the coronation:
At the heart of the ancient ceremony are six basic phases: the recognition, the oath, the anointing, the investiture (which includes the crowning), the enthronement and the homage.
Also:
As a palace source said: "The ceremony has retained a similar structure for over a thousand years, and next year's coronation is expected to include the same core elements while recognising the spirit of our times."
Camilla will also be anointed with holy oil and crowned, just as the Queen Mother was at the coronation of her and George VI in 1937.
For the past 900 years every coronation has taken place at Westminster Abbey. Since 1066 the service has almost always been conducted by the Archbishop of Canterbury.
Camilla's coronation will likely follow Charles's enthronement:
At George VI's coronation in 1937 Queen Elizabeth — later known as the Queen Mother — was crowned and anointed in a smaller and simpler ceremony which followed the enthronement of the king. She was anointed by the Archbishop of Canterbury before being handed her own regalia — the Sceptre with the Cross and the Ivory Rod with the Dove — and then sitting next to the king on her own throne. Queen Camilla's involvement is likely to follow a similar format.
The King will sign a formal proclamation of his upcoming coronation later this year when the Privy Council meets.
May 6 was chosen so as not to conflict with sporting events:
such as the FA Cup Final and the Derby. The palace wanted a spring or summer coronation, and there is a feeling that the weather in May is often better than in June. The availability of Westminster Abbey and the Archbishop of Canterbury was also vital.
Perhaps the King is erring on the side of caution with his modest plans to see what the public reaction would be. If enough journalists think it should be more elaborate, he could change his mind.
The Telegraph's Melanie McDonagh thinks that the King's coronation should reflect all of the pomp and circumstance of the British monarchy. I think so, too.
On October 9, she wrote:
Scarlet robes. Gold carriage. Ermine. Heralds. Crowns, coronets and tiaras. Anything not to like? The thing about pomp and circumstance is that it's terrifically popular. Remember the (diverse) crowds that came to witness the solemn procession of the late Queen's coffin and the lying in state? Think of the pageantry of the funeral – the marshals' scarlet, the dress of the little choirboys in Westminster Abbey, the trumpets. All fabulous.
She wants to see hereditary peers:
I'm all for reducing the boring life peers – but very keen to see the hereditary ones.
She objects to a modernisation of the ceremony:
But what's all this about cutting back on the fun bits? No presentation of gold ingots? A "more relaxed" dress code? What that means, apparently, is that diplomats won't have to wear knee breeches or tiaras. And peers won't wear their coronation robes – scarlet velvet trimmed with ermine. Instead, it could be "lounge suits".
Come again? Business suits at the coronation? I don't think so. The point about the scarlet and gold and knee breeches and ermine is that it's meant to celebrate the institution. It's meant to be solemn and splendid. And what's solemn or splendid about a sea of grey?
She says that the coronation is meant to be grand, very grand — for the public's delight and delectation:
… the coronation is about exalting the monarchy and, through it, the country. So, whatever your feelings about Charles or Camilla, we can all enjoy the pageantry. Pomp and display – scarlet, gold and tiaras – are meant to cheer up the onlookers, and they do. The last coronation, held in far bleaker times, was an occasion for celebration by a battered population, who enjoyed the spectacle.
She concludes by remembering a little-known fact about Edward VII's coronation on August 9, 1902:
My favourite coronation was Edward VII's, as described by the Irish Countess of Fingall in her riveting memoir, Seventy Years Young. She recalls all the earls and countesses putting their coronets on, all at once. Synchronised donning of the coronets? Yes, please.
I could not agree more.
Let's hope that the Speaker of the House of Commons, Sir Lindsay Hoyle, will ride in his own ceremonial state coach on the day, too:
Bring on the big, the bold and the beautiful.
After more than 70 years, the world will want to see our monarchy in its full glory in a dazzling coronation.
A new biography of Elizabeth the Queen Mother is out just in time for Christmas.
It is Gareth Russell's Do Let's Have Another Drink.
Subtitles differ. One says:
The Singular Wit and Double Measures of Queen Elizabeth the Queen Mother
Another reads:
The Dry Wit and Fizzy Life of Queen Elizabeth the Queen Mother.
Most British adults connect the Queen's mother with her favourite tipple: gin and Dubonnet.
The Times reviewed the new book on October 11, 2022. Excerpts from the article follow, emphases mine.
N.B.: This is not the usual fairy tale Royal story, so expect real life to creep in now and then.
Belief in ghosts
It appears that the Queen Mother's belief in ghosts gave her resilience. Hmm:
If the Queen Mother did have an inner core of steel, it isn't hard to see where it came from. Her childhood in Glamis Castle, one of Scotland's most rambling and supposedly haunted piles, didn't just give her a lifelong belief in ghosts (she attended her last exorcism at the age of 99, when she persuaded a local priest to shoo away the unquiet spirit of George VI, or maybe Diana, from a bedroom in Sandringham), but also a group of male friends who were mostly killed in the First World War before she was 18. "I think of my 20 best friends in 1914," she reminisced, decades later. "Only five came back."
Among those who died was one of her brothers. Three other brothers suffered for years with what was then called shell-shock — post-traumatic stress disorder. Russell's account of those years occupies very little of his book, but it's by far the most compelling part. And it explains a lot about this most misunderstood of national matriarchs. She may have been an old soak, but she put the backbone into a royal family that was floundering when she joined it.
Suitors and courtship
When Elizabeth Bowes-Lyon was born in England in 1900, royal families were meant to intermarry.
Although she came from nobility — being the daughter of Claude Bowes-Lyon, Lord Glamis (pron. 'Glahms') and, later, the 14th Earl of Strathmore and Kinghorne in the Peerage of Scotland — she was not considered suitable to marry a future king.
At least one European royal made her bias known towards the noble's daughter in the early 20th century:
When her brother-in-law, the Duke of Kent, married Princess Marina of Greece, for instance, Marina (descended from the Russian and Greek royal families) made little attempt to hide her disdain for Elizabeth, a mere Scottish earl's daughter whom she took to describing as a "common little Scotch tart".
Elizabeth was an adorable girl who grew up to be a fetching young woman.
She had a few serious suitors when she grew up and she rejected Prince Albert, Duke of York, who wanted to make her his wife:
She certainly turned down two proposals of marriage from Bertie. That, however, was more because she was dallying between another prince (the King of Serbia's nephew, Prince Paul of Yugoslavia) and such eligible British bachelors as Henry "Chips" Channon …
UGH! A book of Channon's letters was released earlier this year. Talk about sex addicts:
… (who, oddly enough, had slept with Prince Paul when both were at Oxford) and the dashing Captain James Stuart, who had won the Military Cross in the First World War.
The story of how Bertie — the future George VI — and Elizabeth became engaged is a bit more nuanced than we would have thought.
The book says that Bertie's mother, Queen Mary of Teck, rearranged Elizabeth's love life accordingly:
George V's wife, the indomitable Queen Mary, had decided that the gregarious, charming Elizabeth would be perfect for introverted, stammering Bertie, and simply wouldn't take no for an answer, even if her son did. Somehow, she fixed it so that the dashing Captain Stuart received an offer of an extraordinarily well-paid job with an oil company in Oklahoma, requiring him to sail for America immediately.
Amazing.
Stuart apparently knew it, too:
According to Russell, he later told friends: "That bitch Queen Mary ruined my life."
Wikipedia says that Queen Mary visited Glamis Castle to meet the girl who stole his son's heart:
Prince Albert, Duke of York—"Bertie" to the family—was the second son of King George V. He initially proposed to Elizabeth in 1921, but she turned him down, being "afraid never, never again to be free to think, speak and act as I feel I really ought to".[18] When he declared he would marry no other, his mother, Queen Mary, visited Glamis to see for herself the girl who had stolen her son's heart. She became convinced that Elizabeth was "the one girl who could make Bertie happy", but nevertheless refused to interfere.[19] At the same time, Elizabeth was courted by James Stuart, Albert's equerry, until he left the Prince's service for a better-paid job in the American oil business.[20]
It seems that Queen Mary had no objection to Bertie marrying what would have been known as 'a commoner', although Elizabeth appeared to have reservations about entering Royal life:
Eventually, in January 1923, Elizabeth agreed to marry Albert, despite her misgivings about royal life.[23] Albert's freedom in choosing Elizabeth, not a member of a royal family, though the daughter of a peer, was considered a gesture in favour of political modernisation; previously, princes were expected to marry princesses from other royal families.[24] They selected a platinum engagement ring featuring a Kashmir sapphire with two diamonds adorning its sides.[25]
The couple were married at Westminster Abbey and Elizabeth, who became the Duchess of York, became ill during the Scottish leg of their honeymoon:
They married on 26 April 1923, at Westminster Abbey. Unexpectedly,[26] Elizabeth laid her bouquet at the Tomb of the Unknown Warrior on her way into the abbey,[27] in memory of her brother Fergus.[28] Elizabeth became styled Her Royal Highness The Duchess of York.[29] Following a wedding breakfast at Buckingham Palace prepared by chef Gabriel Tschumi, the new Duchess and her husband honeymooned at Polesden Lacey, a manor house in Surrey owned by the wealthy socialite and friend Margaret Greville. They then went to Scotland, where she caught "unromantic" whooping cough.[30]
Tenacity
Elizabeth was certainly tenacious.
Russell's book purports that Edward VIII — David — said that Elizabeth really wanted to marry him, not Bertie, and, as a result, held a grudge against Wallis Simpson:
… the great feud of Elizabeth's life – with Wallis Simpson and her husband David, who was briefly King Edward VIII before abdicating, having given his brother Bertie, Elizabeth's husband (and henceforth King George VI), just 72 hours' notice of his intentions. Those who take Elizabeth's side say that her anger was due to the unbearable pressure this placed on the already insecure Bertie. However, according to David (later the Duke of Windsor, spewing bile from his lavish exile in France), Elizabeth's anger was entirely down to her having wanted to marry him, not Bertie.
He would have said that, wouldn't he?
In 1936, with Edward VIII's abdication, Elizabeth became Queen Consort, a title she held until George VI died. She also became the first and last Empress Consort of India, a title she held until 1947, when Partition took place.
Russell's book says that the Queen Consort — and later, the Queen Mother — the public saw was not the same person behind closed doors:
Russell's book — a "life told through 101 anecdotes", as he calls it (one for each year of his subject's life) — paints an entertaining and, one feels, mostly honest picture of a woman who divided opinion more than is often realised by those who knew her only as "the nation's granny". She was definitely a granny (and before that a wife and mother) with claws. The socialite Stephen Tennant, who knew her when she was plain Elizabeth Bowes-Lyon, wrote that "she looked everything she was not . . . Behind the veil, she schemed and vacillated, hard as nails." Even Russell, who bends over backwards to be fair, admits that she possessed "an Olympian ability to hold a grudge".
Russell writes that the Queen Mother used Queen Mary's tactics to despatch Princess Margaret's divorced lover, Peter Townsend, in the 1950s:
… she colluded in sending Group Captain Townsend to a pointless job in Brussels to get him out of Princess Margaret's life.
There might have been more tenacity on display, as the Queen Mother once said she managed to get rid of written evidence of John Brown's relationship with Queen Victoria:
the Queen Mother once told friends that she had burnt documentary evidence of Queen Victoria not only having an affair with her Scottish servant John Brown, but also secretly marrying him …
… since Russell's book derives its title and subtitle ("The Singular Wit and Double Measures of Queen Elizabeth the Queen Mother"), plus a considerable amount of its content, from the Queen Mother's legendary ability to consume industrial quantities of alcohol, you do wonder whether she really did apply the paraffin and Swan Vestas to Victoria's private papers one dark night in Balmoral. Or was it just the gin and Dubonnet talking?
We'll never know, just as we'll never know what happened to Brown's diary, which was never located after Victoria's death.
There is obviously something to this John Brown story. After Queen Elizabeth II died, I pointed out the two portraits of him at Balmoral, only one of which features one of Victoria's husband Prince Albert. Osborne House on the Isle of Wight, which was another of Victoria's residences and the one Prince Albert designed, also has a prominent portrait of Brown and Victoria, which you can see in this Telegraph article.
What other sources say
Other illuminating pieces of the puzzle of the Queen Mother's personality have come to light over the years.
Influencing King Charles III
It's hard to imagine that King Charles III's views on certain things might have come from his grandmother, but a recent documentary says she had a big part to play in his early life.
In 2021, The Express featured an article on the influence the Queen Mother exercised over King Charles III's life as discussed in a documentary, The Queen Mother, which aired that year:
The Queen Mother's influence in Prince Charles' early life "created an antipathy" with his parents, according to royal commentators. Queen Elizabeth II and Prince Philip's plans for their son were reportedly repeatedly "undermined" by the older royal. Channel 5 documentary, 'The Queen Mother', discussed how her close relationship with her grandson drove a wedge between the prince and his mother and father.
Lady Colin Campbell told viewers: "The word in the family is that she undermined the relationship between Charles and his parents in a rather destructive way.
"She would always encourage him in his hypersensitivities.
"While the Queen and Prince Philip were trying to toughen him up for what the future held.
"This created an antipathy."
Historical biographer Sarah Gristwood explained: "Maybe there was a sense that the Queen Mother wanted to pass on to the future king the vision of monarchy that she felt she and her husband had developed.
"So I guess she would have had a particular eye on the forming of the future king."
Royal experts think this would have started in his early childhood when Princess Elizabeth lived with Prince Philip in Malta, where he was stationed with the Royal Navy:
Royal commentator Wesley Kerr added: "She would spend a lot of time in his nursery when Princess Elizabeth was away, not least in Malta with her husband.
"I think that's a really powerful relationship for him through his whole life and a very powerful influence."
The Queen Mother also tried to influence where young Charles would attend school:
Prince Philip had chosen Gordonstoun, an austere boarding school in Scotland, for his son.
According to biographer Angela Levin, the Queen Mother tried to persuade her daughter and son-in-law to send Charles to Eton, but they refused.
I should have watched that documentary.
Criticism after Diana's death 'upset' the Queen Mother
In 2009, 12 years after Princess Diana's death and seven years after the Queen Mother's death, friends of the latter said that criticism of her daughter 'hugely upset' her.
Keep in mind that the Queen and Prince Philip were minding Princes William and Harry at Balmoral while their mother was on holiday in August 1997. When news broke of Diana's tragic death, the Royal couple initially decided to protect the boys by keeping them in Scotland, safe and out of the public eye.
They were right to have that instinct. Central London, where I worked, was one great cesspool of emotion, the first the nation had ever seen. It was alarming, because some of these mourners were full of rage and did not hide their feelings about the accident being 'the Royals' fault'. I kept my head down on the Tube going in and, at night, returning home to outer London. It was awful.
The Sunday Telegraph featured an article on the subject, published on September 26, 2009:
Friends of Queen Elizabeth have … revealed her shock at the public outpouring of grief over the Princess' death.
Sir Michael Oswald and his wife Lady Angela Oswald said Queen Elizabeth felt angry and defensive that her elder daughter was so widely criticised for her actions in the aftermath of the Princess's fatal car crash in Paris in the summer of 1997 …
… Lady Angela said: "The Queen was criticised for two things. One was taking the boys [Princes William and Harry] to church [on the day the Princess died]. But they wanted to go to church. If you are a Christian and your mother has been killed, it is a comfort going to church.
"The other thing was that people expected the Queen to abandon her two grandsons – whose mother had just been killed – and go to London to mourn with people who had never even met the Princess.
"If you stand back and think about it, it is an extraordinarily selfish attitude. Queen Elizabeth was hugely upset by the criticism of her daughter because she has always admired her so much. It was such a cruel criticism and it was unfair."
Sir Michael, now 75, an Old Etonian and former manager of the Royal Studs, was Queen Elizabeth's racing manager from 1970 to her death in 2002 aged 101. His wife, the daughter of the 5th Marquess of Exeter, was one of her ladies in waiting for 21 years from 1981.
… following the publication of William Shawcross's official biography of Queen Elizabeth, Sir Michael and Lady Angela spoke exclusively to The Sunday Telegraph – with the knowledge of Buckingham Palace – about their decades of royal service. Even though they both unfailing called her "ma'am" out of respect, they clearly considered Queen Elizabeth a close and loyal friend.
Sadness over Charles's divorce
The couple said that the Queen Mother was devastated to learn of Charles's and Diana's divorce.
Lady Angela said:
"The one time I remember her losing her smile for any length of time was for a fortnight in 1991, or 1992, at Birkhall [her Scottish home] after she had been informed that the marriage of the Prince and Princess of Wales was effectively over.
"Normally with the bad things in life, she managed to pass by on the other side and not notice. But she had been made aware what unhappiness there was in the marriage. She was so sad, so tense and so obviously unhappy in herself.
"There was a very close bond between Queen Elizabeth and the Prince of Wales. She was of a generation that felt that anything that went on in a marriage was private between the couple. So it is certainly fair to say that she would have been deeply shocked when private feelings and thoughts were broadcast worldwide" [a reference to Diana, Princess of Wales's Panorama interview in 1995, in which she claimed the marriage was "crowded" because of her husband's affair with the then Camilla Parker Bowles].
Drinking habits exaggerated
The Queen Mother's drinking habits were often featured in the press or joked about.
Here is a 1987 photo of her at a pub in London's East End:
One case in point was in 2019, when Nigel Farage visited Australia. The Guardian reported him as joking about it then, 17 years after her death:
The Brexit party leader was laudatory about the Queen – "an amazing, awe-inspiring woman, we're bloody lucky to have her" – but abused her son, grandson and mother.
"When it comes to her son, when it comes to Charlie Boy and climate change, oh dear, oh dear, oh dear. Her mother, Her Royal Highness the Queen's mother was a slightly overweight, chain-smoking gin drinker who lived to 101 years old. All I can say is Charlie Boy is now in his 70s … may the Queen live a very, very long time."
I don't recall that the Queen Mother smoked. Maybe she did, but, if so, she likely gave it up. After all, her husband, George VI, died of lung cancer.
The aformentioned Oswalds told The Sunday Telegraph that the Queen Mother had a daily routine but never overindulged:
Queen Elizabeth, they insist, was never a heavy drinker, usually enjoying a single gin and Dubonnet before lunch, a single Martini before dinner and wine with her meal. Far from drinking too much, they said she was constantly alert and that her memory for people and stories was incredible.
She lived to 101. That's a good enough secret of longevity for me.
As for the horses:
Although Queen Elizabeth loved horse racing, she never had a bet.
Lady Angela said that the Queen Mother the public saw was the lady she knew:
Her life was full of laughter and sparkle.
I feel so privileged to have spent so much time with her. When I was with her at a reception, I sometimes 'lost' her because of her lack of height. But I could always tell quickly where she was because of the joyful expressions of the people who were talking to her. They looked different because they were so thrilled to be speaking to her. The wave of affection was tangible – and it went both ways. People loved Queen Elizabeth and she really did love them.
Conclusion
As with anyone else, the Queen Mother was complex. She was far from a caricature, and it is rather sad that many people still think of her as such.
We would do well to remember that she and George VI never left London during the Second World War. Their daughters went only as far as Windsor Castle during those years. They remained on our shores.
The family stayed together with the British people through thick and thin.
That is how and why Queen Elizabeth II had such an abiding sense of service and duty to the United Kingdom and the Commonwealth.
While Nigel Farage took a two-week break from his early evening GB News show, actor Laurence Fox, who also founded the Reclaim Party, was his guest host.
What a surprise viewers had on Tuesday, October 4, 2022, when Fox spoke to Donald Trump on the phone:
It was an excellent interview, done in segments, after which a Democrat or a Republican appeared on air to give his or her views of what Trump had just said.
This is the full hour-long episode:
Fox began by reviewing Trump's accomplishments while in office, pointing out that he got elected in 2016 because he could connect with millions of Americans and didn't come off as an elitist like Hillary Clinton did:
America's 45th president told Fox how surprised he was at Boris Johnson's change of focus during his premiership, saying that he 'went woke':
This GB News article has more (emphases mine):
Donald Trump has called former UK Prime Minister Boris Johnson "woke" in a surprising attack on his ally.
In a world exclusive GB News interview, the ex-US President said Boris Johnson "went liberal all of a sudden" in a "crazy" move.
Trump called Mr Johnson a "good guy" but criticised him for "changing" as he spoke to Laurence Fox.
The 76-year-old said: "Boris was a friend of mine, perhaps he still is but I haven't spoken to him in a while.
"The problem Boris has is he went liberal all of a sudden, and I think that is crazy.
"He's a good man but something happened to him, he changed, he went for windmills all over the place and he went a little bit wokier than I believe he is and I think ultimately that is the thing that got him out.
"I don't think it was the party [Conservatives] I think that was just an excuse."
Although Trump has not met Boris's successor Liz Truss, he is favourably disposed towards her:
Trump also said that he was surprised at the criticism Truss's mini-budget received (more here):
The Telegraph reported on that part of the interview:
Former US president Donald Trump had said that he backs new Prime Minister Liz Truss and that he thinks "very highly" of her.
Speaking on GB News to Laurence Fox, Trump said of Truss that he liked "some of the things she's done", adding that he had "cut taxes very substantially and we did much more business and she's done that".
He said that he thinks "very highly of her and she had a great send-off from the Queen", adding that as it was the late Queen's last meeting it was a "big deal".
Joe Biden's former Chief of Staff appeared but she didn't respond to anything Trump had said. She only wanted to bang on about how 'divisive' he had been as president. Talk about living in a parallel universe:
In a separate interview, Greg Swenson from Republicans Overseas UK lauded Trump's economic policy and said that more countries around the world should implement them:
Trump discussed his own major accomplishments during his four-year term, which brought criticism from an adviser to both the Bush II and Clinton administrations. Fox ended this man's three-minute rant by telling him to go and have another espresso:
Trump rightly told Fox that, if he were still president, there would be no war in Ukraine:
Former Royal Navy Commander Dr Chris Parry agreed:
Trump was discreet about his meeting with King Charles III a few years ago and offered his support to the new monarch. Trump also reminded us that his mother was Scottish:
GB News reported:
He told Laurence Fox: "I think he'll probably not discuss certain elements of what he believes, in my opinion.
"I think Charles is going to do very well, he's got a great way about him, I think he did very well during the ceremony [Queen Elizabeth II's funeral]."
Despite his warm feeling towards the royal, Trump admitted he does not hold look upon Prince Harry and Meghan Markle as favourably.
He told GB News: "I'm not a fan, I was never much of a fan of her [Meghan].
"I don't get it, but I hope he's [Harry] happy, he didn't seem too happy and he doesn't seem too happy.
"I thought she was disrespectful to the Queen, which is a no no, you can't do that."
The Telegraph had more:
"I know him very well, quite well. And I spent a lot of time when I was over there as president with him. And with his wife [who] was absolutely lovely, by the way, and we had a good time together," he said.
As for the King's popularity versus his mother's, he said:
Probably difficult when you're the King you want to have 100% of the people love you like the Queen did. The Queen had – everybody loved her, right? She didn't have that kind of an agenda.
And yet, you know, she was a very strong woman. I got to know her too. She was a very strong woman, a great woman.
The interview ended with a discussion about biopics. Fox plays Hunter Biden in My Son Hunter, released on September 7.
Trump said that, if it were ever to happen, he hoped that Fox could play him in a biographical movie:
Oh, that voice!
He enthused for another minute or so about Fox's accent, then, with both parties happy, the call came to an end.
Fox's interview style is conversational, something Trump would appreciate. What a great hour of television.