You are currently browsing the tag archive for the 'Charles Walker' tag.
Thus far, most of my series on Matt Hancock has focused on his handling of the coronavirus pandemic.
Those who missed them can catch up on parts 1, 2, 3 and 4.
Even though the vaccine was about to be distributed throughout the UK, people in England were frustrated by the restrictions which the Government had imposed indefinitely. Effectively, we had had a Christmas lockdown, with more restrictions that came in on Boxing Day. As I covered in my last post, even at the end of the year, Hancock could not say when they would be lifted.
This post covers the first half of 2021 with excerpts from Hancock's Pandemic Diaries as serialised in the Mail along with news I had collected during that time. Pandemic Diaries entries come from this excerpt, unless otherwise specified.
Vaccines and side-effects
Former Times journalist Isabel Oakeshott co-authored Pandemic Diaries. On December 7, The Spectator posted her impressions of Hancock and the pandemic.
This is what she had to say about the vaccine policy (emphases mine):
The crusade to vaccinate the entire population against a disease with a low mortality rate among all but the very elderly is one of the most extraordinary cases of mission creep in political history. On 3 January 2021, Hancock told The Spectator that once priority groups had been jabbed (13 million doses) then 'Cry freedom'. Instead, the government proceeded to attempt to vaccinate every-one, including children, and there was no freedom for another seven months. Sadly, we now know some young people died as a result of adverse reactions to a jab they never needed. Meanwhile experts have linked this month's deadly outbreak of Strep A in young children to the weakening of their immune systems because they were prevented from socialising. Who knows what other long-term health consequences of the policy may emerge?
Why did the goalposts move so far off the pitch? I believe multiple driving forces combined almost accidentally to create a policy which was never subjected to rigorous cost-benefit analysis. Operating in classic Whitehall-style silos, key individuals and agencies – the JCVI, Sage, the MHRA – did their particular jobs, advising on narrow and very specific safety and regulatory issues. At no point did they all come together, along with ministers and, crucially, medical and scientific experts with differing views on the merits of whole-population vaccination, for a serious debate about whether such an approach was desirable or wise.
The apparent absence of any such discussion at the top of government is quite remarkable. The Treasury raised the occasional eyebrow at costs, but if a single cabinet minister challenged the policy on any other grounds, I've seen no evidence of it.
In Hancock's defence, he would have been crucified for failing to order enough vaccines for everybody, just in case. He deserves credit for harnessing the full power of the state to accelerate the development of the Oxford/AstraZeneca jab. He simply would not take no or 'too difficult' for an answer, forcing bureaucratic regulators and plodding public health bodies to bend to his will. He is adamant that he never cut corners on safety, though the tone of his internal communications suggest that in his hurtling rush to win the global race for a vaccine, he personally would have been willing to take bigger risks. I believe he would have justified any casualties as sacrifices necessary for the greater good. Fortunately (in my view) his enthusiasm was constrained by medical and scientific advisers, and by the Covid vaccine tsar Kate Bingham, who was so alarmed by his haste that at one point she warned him that he might 'kill people'. She never thought it was necessary to jab everyone and repeatedly sought to prevent Hancock from over-ordering. Once he had far more than was needed for the initial target group of elderly and clinically vulnerable patients, he seems to have felt compelled to use it. Setting ever more ambitious vaccination rollout targets was a useful political device, creating an easily understood schedule for easing lockdown and allowing the government to play for time amid the threat of new variants. The strategy gave the Conservatives a big bounce in the polls, which only encouraged the party leadership to go further.
Now on to side-effects:
Given the unprecedented speed at which the vaccine was developed, the government might have been expected to be extra careful about recording and analysing any reported side-effects. While there was much anxiety about potential adverse reactions during clinical trials, once it passed regulatory hurdles, ministers seemed to stop worrying. In early January 2021, Hancock casually asked Chris Whitty 'where we are up to on the system for monitoring events after rollout' …
Not exactly reassuringly, Whitty replied that the system was 'reasonable' but needed to get better. This exchange, which Hancock didn't consider to be of any significance, is likely to be seized on by those with concerns about vaccine safety.
January 2021
On January 2, Hancock hoped to ease red tape allowing NHS physicians to come out of retirement to be part of the vaccination drive:
On January 3, The Conservative Woman's co-editor and qualified barrister Laura Perrins blasted the Government for keeping Britons under 'humiliating and undignified treatment':
Schools reopened in England on Monday, January 4. They closed again by the end of the day.
Monday, January 4:
Millions of children returned to school today, only to be told schools are closing again tomorrow. After sleeping on it, Boris agreed we have no choice but to go for another national lockdown.
On Thursday, January 7, Hancock appeared before the Health and Social Care Select Committee to answer questions about lockdown. He came across as arrogant, in my opinion:
A message from a friend tipping me off that straight-talking cricket legend Sir Geoffrey Boycott is very unhappy about the delay in the second dose. He's a childhood hero of mine, so I volunteered to call him personally to explain. I rang him and made the case as well as I could, but it was clear he was far from persuaded.
That morning, Guido Fawkes's cartoonist posted his ghoulish perspective on Hancock: 'A nightmare before vaccination'. It was hard to disagree:
A bunch of GPs are refusing to go into care homes where there are Covid cases. Apparently there are cases in about a third of care homes, meaning many residents aren't getting vaccinated. Evidently I was naive to think £25 a jab would be enough of an incentive. We may have to use the Army to fill the gap.
Not only is [Sir Geoffrey] Boycott in the Press having a go at me; now [former Speaker of the House of Commons] Betty Boothroyd is kicking off as well. Given that I personally ensured she got her first jab fast, it feels a bit rich. It's particularly miserable being criticised by people I've grown up admiring and went out of my way to help, but welcome to the life of a politician.
On Wednesday, January 13, Hancock still had no answer as to when restrictions would be lifted. Many of us thought he was enjoying his power too much:
Friday, January 15:
An extraordinary row with Pfizer bosses, who are trying to divert some of our vaccine supply to the EU!
When I got to the Cabinet Room, the PM practically had smoke coming out of his ears. He was in full bull-in-a-china-shop mode, pacing round the room growling.
What really riled him was the fact that only last night he was speaking to Pfizer CEO Albert Bourla, and Bourla made no mention of it! I was wary: when the PM is in this mood, he can really lash out. I knew I'd need to be as diplomatic as possible if I wanted to avoid getting caught in the crossfire.
Monday, January 18:
Pfizer has relented. Following a robust exchange between Bourla and the PM, lo and behold, they've located an 'emergency supply', which is now heading our way.
On Tuesday, January 19, Hancock got coronavirus and had to self-isolate. This was his second bout. The first one was earlier in 2020:
Julia Hartley-Brewer of talkRADIO posed an interesting question about re-infection and T-cells. Hmm:
[Social Care minister] Helen Whately wants to find a way of allowing indoor visits again. I'm hardline on this: we cannot have Covid taking off in care homes again.
Monday, January 25:
The EU health commissioner has tweeted that 'in the future' any company that produces vaccines in the EU will have to provide 'early notification' if they want to sell it to a third-party country. In other words, they'll need permission. Totally desperate stuff! They're doing it purely because they screwed up procurement.
Tuesday, January 26:
Today we reached a really grim milestone in the pandemic: more than 100,000 deaths in this country. So many people grieving; so much loss.
Wednesday, January 27:
A humiliating climbdown from the EU, who clearly realised their 'export ban' wouldn't end well. It followed frantic diplomacy on our side, plus our lawyers confirming that they wouldn't be able to block our supply anyway. What a ridiculous waste of time and energy.
Tonight I'm doing a night shift at Basildon Hospital [in Essex]. Front-line staff are still under horrendous pressure, and the best way for me to understand is to see it for myself.
Thursday, January 28:
The night shift has left me completely drained. I don't know how they do it day in and day out: heroic. I donned full PPE, and got stuck in, helping to turn patients and fetch and carry. In intensive care, I watched a man consent to being intubated because his blood oxygen levels weren't sustainable.
He spoke to the doctor, who said: 'We want to put a tube in, because we don't think you'll make it unless we do that.'
His chances of waking up were 50:50. He knew that. It was an unbelievably awful moment. He reluctantly agreed, and within a minute he was flat out on the ventilator. The doctor next to me said: 'I don't think we'll see him again.'
When my shift was over, I went down to the rest area. One of the registrars told me he'd just had to phone the wife of the patient to say he'd been intubated.
'We're doing this, we all know it's our duty, we're coping with a second wave — but we can't have a third,' he said. Then he burst into tears.
That day, an article appeared in Spiked about the Government's censorship of lockdown sceptics. 'Shouldn't we "expose" the government rather than its critics?' says:
It's true 'lockdown sceptics' have made mistakes. But the government's survival depends on none of us ever understanding that lockdown sceptics are not in charge – it is.
… they're gunning for people like Sunetra Gupta, the professor of theoretical epidemiology at Oxford University … 
Pre-Covid, I would estimate 97 per cent of the population couldn't have picked Matt Hancock out of a police line-up if he had just mugged them. So when he stood up in the House of Commons, last January, to state that 'the Chinese city of Wuhan has been the site of an outbreak of 2019-nCoV', there was no reason to doubt him when he said 'the public can be assured that the whole of the UK is always well-prepared for these types of outbreaks'. In February, he explained 'our belts and braces approach to protecting the public' and insisted that 'the clinical advice about the risk to the public has not changed and remains moderate'.
On 23 March, he made a complete volte-farce. (That was not a typo.) The 'risk to the public' wasn't 'moderate' at all. 'It is incredibly important that people stay more than two metres away from others wherever they are or stay at home wherever possible', he told the Today programme, adding those who weren't doing so were 'very selfish'. Four days later, Hancock tested positive for coronavirus. Seven days after that (3 April), he opened the Nightingale hospital ('a spectacular and almost unbelievable feat'), while 'blowing his nose' and not appearing 'to be at 100 per cent'. Two days after that, he threatened to change the rules again so that people who weren't ill couldn't go outside at all: 'If you don't want us to have to take the step to ban exercise of all forms outside of your own home, then you've got to follow the rules' …
We'll skip over Hancock's botching of track and trace, the dodgy private contracts he's had a hand in rewarding, how he breaks the rules he makes for us while cracking jokes about it, or his intervention into the debate about whether scotch eggs constitute a 'substantial meal'.
In the autumn of 2020, pubs could only open if they served a plate of food. Why, I do not know.
The article mentions Hancock's tears on Good Morning Britain as he watched the first two people get the first doses of the vaccine. Then:
Days later, all this 'emotion' had gone down well, so Hancock did more of it – in parliament – announcing that his step-grandfather had died of Covid-19. ('He was in a home and he had Alzheimer's – the usual story', Hancock's father told the Daily Mail. 'It was just a few weeks ago.')
'Beware of men who cry', Nora Ephron once wrote. 'It's true that men who cry are sensitive to and in touch with feelings, but the only feelings they tend to be sensitive to and in touch with are their own.' Was Hancock crying because he was devastated that his step-grandfather was not kept alive long enough to receive the vaccine (suffering from Alzheimer's – so it would not be a leap to fear – bewildered, confused, and very likely denied the comfort of the touch of anyone he loved for most of the year)? Or was it because the political survival of the Conservative government depends on being proved right about lockdown – and that depends on one thing: the vaccine …
Hancock told the Spectator that Covid-19 will never be eradicated. But he sees no reason for his extraordinary powers as health secretary to cease even if – by some miracle – it does. In late November, Hancock told a Commons health and science committee that he wants to end the British culture of 'soldiering on'. Having built a 'massive diagnostics capacity', he said, 'we must hold on to it. And afterwards we must use it not just for coronavirus, but everything. In fact, I want to have a change in the British way of doing things, where if in doubt, get a test. It doesn't just refer to coronavirus, but to any illness that you might have.'
The idea that we would continue to test, track and trace healthy people who have cold symptoms is so psychotic it's a struggle to understand whether the man is even aware of how many people weren't tested for cancer last year. The only hero in this context is Professor Sunetra Gupta. All she's done is express her fears that lockdown – long-term – will do more harm than good – which is what she believes. In China, Zhang Zhan was also worried that people were dying and the government didn't want anyone to know about it, so she tried her best to warn everyone in society that more people were going to die if nothing was done. If China had been honest about the outbreak from the start, maybe, just maybe, 100,000 lives would have been saved from Covid-19 here …
Maybe anyone who shares Gupta's fears are 'fringe cranks', but 'fringe cranks' have as much right to say what they think as anyone else. And especially when the government has stripped us of all our rights to do pretty much anything else, while refusing to reveal when – if ever – our rights will be returned. This isn't China. It's Britain. And we do things differently here. Or at least we used to – in those halcyon days when none of us had a clue who Matt Hancock was …
Scandalous behaviour by certain care home operators, who are unscrupulously using staff with Covid. Inspectors have identified no fewer than 40 places where this is happening.
Wow. I am shocked. It underlines why we need to make jabs mandatory for people working in social care. The PM supports me on this.
February 2021
Monday, February 1:
A YouGov poll suggests 70 per cent of Britons think the Government is handling the vaccine rollout well, while 23 per cent think we're doing badly. I forwarded it to [NHS England chief executive] Simon Stevens.
'Who the heck are the 23 per cent, for goodness' sake!!' he replied.
I don't know. Maybe the same 20 per cent of people who believe UFOs have landed on Earth? Or the five million Brits who think the Apollo moon landings were faked?
Thursday, February 4:
Tobias Ellwood [Tory MP] thinks GPs are deliberately discouraging patients from using vaccination centres so they get their jabs in GP surgeries instead. I'm sure he's right. That way, the GPs make more money.
On Saturday, February 6, The Telegraph reported that Hancock wanted to 'take control of the NHS'. Most Britons would agree that something needs to be done — just not by him:
On Sunday, February 7, The Express's Health and Social Affairs editor said a specialist thought that the Government was using virus variants to control the public. Many would have agreed with that assessment:
Monday, February 8:
We've now vaccinated almost a quarter of all adults in the UK!
I've finally, finally got my way on making vaccines mandatory for people who work in care homes.
Because of that, a lot of employees resigned from their care home posts and have gone into other work, especially hospitality.
A poll that day showed that the public was happy with the Government's handling of the pandemic. John Rentoul must have looked at the wrong line in the graph. Rishi Sunak, then Chancellor, came out the best for shaking the magic money tree:
On Tuesday, February 9, Hancock proposed 10-year jail sentences for people breaking travel restrictions. This referred to people travelling from 'red list' countries, but, nonetheless, pointed to a slippery slope:
The Conservative Woman's co-editor and qualified barrister Laura Perrins pointed out a logic gap in sentencing:
Spiked agreed with Perrins's assessment in 'Matt Hancock is behaving like a tyrant':
Health secretary Matt Hancock announced new, staggeringly authoritarian enforcement measures in the House of Commons today.
Passengers returning from one of the 33 designated 'red list' countries will have to quarantine in government-approved hotels from next week. Anyone who lies on their passenger-locator form about whether they have visited one of these countries faces imprisonment for up to 10 years. As the Telegraph's assistant head of travel, Oliver Smith, has pointed out, this is longer than some sentences for rape (the average sentence is estimated to be eight years).
In addition, passengers who fail to quarantine in hotels when required to do so will face staggering fines of up to £10,000.
This is horrifying. Of course, we need to take steps to manage the arrival of travellers from countries with high levels of infection, particularly since different variants of Covid have emerged. But to threaten people with a decade behind bars or a life-ruining fine for breaching travel rules is a grotesque abuse of state power.
During the pandemic, we have faced unprecedented attacks on our civil liberties. We have been ordered to stay at home and have been banned from socialising under the threat of fines. But this latest move is the most draconian yet …
… we have now reached the stage where a 10-year sentence is considered an appropriate punishment for lying on a travel form.
Matt Hancock is behaving like a tyrant.
Meanwhile, Hancock's fellow Conservative MPs wanted answers as to when lockdown would end. The Mail reported:
Furious Tories savaged Matt Hancock over a 'forever lockdown' today after the Health Secretary warned border restrictions may need to stay until autumn — despite figures showing the UK's epidemic is firmly in retreat.
Lockdown-sceptic backbenchers took aim at Mr Hancock when he unveiled the latest brutal squeeze aimed at preventing mutant coronavirus strains getting into the country …
… hopes the world-beating vaccine roll-out will mean lockdown curbs can be significantly eased any time soon were shot down today by Mr Hancock, who unveiled the latest suite of border curbs and warned they could last until the Autumn when booster vaccines will be available.  
As of Monday travellers from high-risk 'red list' countries will be forced to spend 10 days in 'quarantine hotels', and all arrivals must test negative three times through gold-standard PCR coronavirus tests before being allowed to freely move around the UK. Anyone who lies about whether they have been to places on the banned list recently will face up to 10 years in prison. 
The fallout continued the next day. See below.
Wednesday, February 10:
Meg Hillier [Labour MP], who chairs the Public Accounts Committee, has started an infuriating campaign accusing 'Tory ministers' of running a 'chumocracy' over PPE contracts. How pitifully low. I'm incandescent.
What Meg fails to acknowledge is that when the pandemic kicked off, of course we had to use the emergency procedure for buying, which allows officials to move fast and not tender everything for months.
And when people got in contact [about] PPE, of course we forwarded on the proposals for civil servants to look at.
Even the Labour Party were getting involved — it was a national crisis and these leads have proved invaluable.
[Shadow Chancellor] Rachel Reeves wrote to Michael Gove at the time, complaining that a series of offers weren't being taken up. Officials looked into her proposals, too.
I'm even more offended because I used to respect Meg. It's so offensive for a supposedly grown-up politician to bend the truth in this way.
Labour's Deputy Leader Angela Rayner was angry at the Conservatives. What else is new?
This story has not gone away. There was a debate about it in the Commons this month.
Fallout continued from February 9 over Hancock's never-ending lockdown.
His fellow Conservative, Sir Charles Walker MP, gave an interview saying that Hancock was 'robbing people of hope'. He was also appalled by the prospect of a 10-year prison term for travelling from a red list country:
With regard to lockdowns, recall that at the end of 2020, Hancock said that only the vulnerable needed vaccinating, then we could all, in his words, 'Cry freedom'. In the space of a few weeks, he had a change of tune:
Thursday, February 11:
So here we are, in the depths of the bleakest lockdown, with the virus still picking off hundreds of victims every week, and Test and Trace officials have been having secret talks about scaling back. Unbelievable!
I told them there was no way they should stand down any lab capacity, but I'm told they're getting a very different signal from the Treasury.
Friday, February 12:
The Left never ceases to amaze. The bleeding hearts who run North West London CCG (one of many health quangos nobody will miss when they're abolished) have taken it upon themselves to prioritise vaccinating asylum seekers. They have fast-tracked no fewer than 317 such individuals — 'predominantly males in their 20s and 30s'.
So, while older British citizens quietly wait their turn, we are fast-tracking people who aren't in high-risk categories and may not even have any right to be here?
Meanwhile, some of our vaccine supply has met an untimely end. I'd just reached the end of a tricky meeting when a sheepish-looking official knocked on my office door. He'd been dispatched to inform me that half a million doses of the active ingredient that makes up the vaccine have gone down the drain.
Some poor lab technician literally dropped a bag of the vaccine on the floor. Half a million doses in one dropped bag! I decided not to calculate how much Butter Fingers has cost us. Mistakes happen.
On February 22, CapX asked, 'Why isn't Matt Hancock in jail?'
It was about Labour's accusations about procurement contracts for the pandemic. The article comes out in Hancock's favour:
On Thursday, Mr Justice Chamberlain sitting in the High Court ruled that Matt Hancock had acted unlawfully by failing to to publish certain procurement contracts …
It is worth noting that there was no suggestion in Mr Justice Chamberlain's judgment that Matt Hancock had any personal involvement in the delayed publication. The judgment was made against the Health Secretary, but in his capacity as a Government Minister and legal figurehead for his Department, rather than as a private citizen. In fact, the failure to publish was actually on the part of civil servants in the Department who, in the face of the pandemic, saw a more than tenfold increase in procurement by value and struggled to keep up.
Indeed, on the Andrew Marr Show on Sunday, Mr Hancock did not apologise for the unlawful delays, saying it was "the right thing to do" to prioritise getting the PPE to the frontline rather than ensuring timely transparency returns. I wonder how many of those calling for Mr Hancock's imprisonment would rather he had published the contracts in the required timeframe even if it meant there was less PPE available for NHS workers.
As a general rule, we should be able to see how the Government spends our money, what it is spent on and to whom it is given. Transparency improves governance. It is right that the Secretary of State is under a legal duty to publish contracts such as those at the heart of this case. However, this case – and the way it has been reported – is likely to have a much more invidious impact than simply improving transparency in public procurement policy.
Opposition politicians and activists have attacked the Government with claims that it has been using procurement during the pandemic as a way to funnel money to its political supporters and donors. It is certainly true that the sums spent by the Government have been large, and have been spent quickly.
What is certainly not true is that Mr Justice Chamberlain in his judgment gave any credence to this line of attack. He accepted evidence from an official at the Department of Health and Social Care that the delay was due to increased volume in contracts and lack of staff. However, that has not stopped figures linking the judgment to the attack line, such as Shadow Health Secretary Jonathan Ashworth who tweeted that the delay was 'Cronyism'. In fact, there was no evidence to suggest that was so.
Vanishingly few people will read Mr Justice Chamberlain's judgment in full, or even in part. Most people will only see the headlines in the press. Coupled with tweets such as those by Mr Ashworth, the public at large is likely to come to the conclusion that a court has found against the Government for cronyism, when that is not the case. And this will likely fuel further resentment that the Cabinet are not serving decades behind bars.
Justice must be done and it must be seen to be done. Justice has been done in this case – the Secretary of State has been found to have acted unlawfully – but too many lack the ability and willingness to see.
Sunday, February 28:
A potentially dangerous new variant — which we think originated in Brazil — has been identified in the UK, but we can't find Patient Zero. Whoever it is failed to provide the correct contact details when they took their Covid test, so we don't know who or where they are. Cue a frantic search.
March 2021
Monday, March 1:
When a lab technician first spotted the new variant, we didn't even know which part of the country the positive test had come from. Since then, thanks to some fancy sequencing and a high-quality data system, we've been able to identify the batch of home-test kits involved, and narrowed it down to just 379 possible households. We're now contacting every single one.
Tuesday, March 2:
The net's closing. We now know that the PCR test was processed at 00.18hrs on Valentine's Day and went to the lab via a mailing centre in Croydon [south London].
Thursday, March 4:
Test and Trace have found Patient Zero! He was on the shortlist of 379 households and eventually returned calls from officials at 4 pm yesterday.
Apparently, he tried to register his test but got the details wrong. We now know his name and age (38) and that he has been very ill. He claims not to have left his house for 18 days.
This is extremely good news: assuming he's telling the truth, he has not been out and about super-spreading. What amazing detective work.
Friday, March 5:
Covid deaths have nearly halved within a week. The vaccine is clearly saving lives.
On Saturday, March 6, The Conservative Woman's Laura Perrins, a qualified barrister, pointed out that mandatory vaccinations — she was probably thinking of health workers — is 'criminal battery':
Wednesday, March 10:
Can you imagine if we hadn't bothered to set up a contact tracing system? And if we'd decided it was all too difficult and expensive to do mass testing? Would we ever have been forgiven if we'd failed to identify clusters of cases or new variants?
No — and rightly so. Yet a cross-party committee of MPs has come to the conclusion that Test and Trace was basically a gigantic waste of time and money. I felt the red mist descend.
Yesterday, we did 1.5 million tests — in a single day! No other European country has built such a capability.
Thursday, March 11 (see photo):
The Test and Trace row is rumbling on, as is a ridiculous story about me supposedly helping a guy who used to be the landlord of my local pub in Suffolk land a multi-million-pound Covid contract. As I've said ad nauseam, I've had nothing to do with awarding Covid contracts. I find these attacks on my integrity incredibly hurtful.
The story rumbles on in Parliament, including in a debate this month.
Oh well, at least [retired cricketer, see January's entries] Geoffrey Boycott is happy. He texted me to say he'd got his second dose. He seems genuinely grateful. I resisted the temptation to tell him that good things come to those who wait.
Tuesday, March 16:
To my astonishment, hotel quarantine is working. There's a weird new variant from the Philippines, but the two cases we've identified have gone no further than their Heathrow airport hotel rooms.
Wednesday, March 17:
Today was my son's birthday. We had breakfast together, but there was no way I could join the birthday tea with family. I hope to make it up to him — to all of them — when all this is over.
On Tuesday, March 23, the first anniversary of lockdown, Boris did the coronavirus briefing. Below is a list of all the Cabinet members who had headed the briefings in the previous 12 months. I saw them all:
On Wednesday, March 24, Hancock announced the creation of the sinister sounding UK Health Security Agency. SAGE member Dr Jenny Harries is at its helm:
Tuesday, March 30:
How did Covid start? A year on, we still don't really know, and there's still an awful lot of pussyfooting around not wanting to upset the Chinese.
No surprise to learn that the Foreign Office has 'strong views on diplomacy' — in other words, they won't rock the boat with Beijing and just want it all to go away.
Sometime in March, because magazine editions are always a month ahead, the publisher of Tatler, Kate Slesinger, enclosed a note with the April edition, which had Boris's then-partner/now-wife Carrie Symonds on the cover. It began:
As I write this letter, the Prime Minister has just announced an extension to the nationwide lockdown, to be reviewed at around the time this Tatler April issue goes on sale — an opportune moment for us to be taking an in-depth look into the world of Carrie Symonds, possibly the most powerful woman in Britain right now.
April
On April 5, a furious Laura Perrins from The Conservative Woman tweeted that Hancock's policies were 'absolute fascism', especially as we had passed the one year anniversary of lockdown and restrictions on March 23:
Note that lateral flow tests, as Hancock tweeted above, were free on the NHS. The programme continued for a year.
The civil service seems determined to kill off the Covid dogs idea, which is so much more versatile than normal testing and really worthwhile. The animals are amazing – they get it right over 90 per cent of the time – but officials are being very tricky.
We should have started training dogs months ago and then sending them to railway stations and other busy places, where they could identify people who probably have Covid so they can then get a conventional test.
Unfortunately, even though I've signed off on it, the system just doesn't buy it.
So far we've done a successful Phase 1 trial, but Phase 2, which costs £2.5 million, has hit the buffers. The civil service have come up with no fewer than 11 reasons to junk the idea.
That's one idea I actually like. It sounds great.
On Friday, April 16, someone posted a video of Hancock breezing into No. 10. He had his mask on outside for the cameras, then whisked it off once he entered. Hmm. The person posting it wrote, 'The hypocrisy and lies need to stop!'
That day, the BBC posted that Hancock had financial interests in a company awarded an NHS contract — in 2019:
Health Secretary Matt Hancock owns shares in a company which was approved as a potential supplier for NHS trusts in England, it has emerged.
In March, he declared he had acquired more than 15% of Topwood Ltd, which was granted the approved status in 2019.
The firm, which specialises in the secure storage, shredding and scanning of documents, also won £300,000 of business from NHS Wales this year.
A government spokesman said there had been no conflict of interest.
He also said the health secretary had acted "entirely properly".
But Labour said there was "cronyism at the heart of this government" and the party's shadow health secretary Jonathan Ashworth has asked the head of the civil service to investigate whether Mr Hancock breached the ministerial code.
Public contract records show that the company was awarded a place in the Shared Business Services framework as a potential supplier for NHS local trusts in 2019, the year after Mr Hancock became health secretary.
The MPs' register did not mention that his sister Emily Gilruth – involved in the firm since its foundation in 2002 – owns a larger portion of the shares and is a director, or that Topwood has links to the NHS – as first reported by the Guido Fawkes blog and Health Service Journal.
Labour leader Sir Keir Starmer said: "Matt Hancock has to answer the questions… He can't pretend that the responsibility lies elsewhere."
But he said he was "not suggesting" the health secretary had broken any rules.
Here's photographic proof of share ownership:
Saturday, April 17:
Prince Philip's funeral. The Queen sat alone in a pew, in widow's weeds and a black face mask. Looking at her in her grief, I felt an intense internal conflict, almost an anguish, between the overwhelming sense of duty I have had to save lives on the one hand and the painful consequences of my own decisions on the other. Out of duty, out of an abundance of caution, and to show leadership, the Queen took the most proper approach. It was humbling, and I felt wretched.
Monday, April 19:
The police rang to warn me that anti-vaxxers are planning a march on my London home. They suggested I liaise with [my wife] Martha so she can tell me if it's happening.
Great that they spotted it, but asking my wife to keep an eye out of the window while a baying horde descends on the family home is not exactly British policing at its finest. I asked for more support. Then I went home to make sure I was there if it kicked off, but there was no sign of anyone.
A policeman explained that the anti-vaxxers had posted the wrong details on social media so were busy protesting a few streets away. What complete idiots.
Thursday, April 22:
Boris has completely lost his rag over Scotland.
He's got it into his head that Nicola Sturgeon is going to use vaccine passports to drive a wedge between Scotland and the rest of the UK and is harrumphing around his bunker, firing off WhatsApps like a nervous second lieutenant in a skirmish.
He's completely right: Sturgeon has tried to use the pandemic to further her separatist agenda at every turn.
Now the Scottish government is working on its own system of vaccine certification, which might or might not link up with what's being developed for the rest of the UK.
On April 26, the vaccine was rolled out to the general population. Hancock is pictured here at Piccadilly Circus:
I cannot tell you how many phone calls and letters we got in the ensuing weeks. Not being early adopters of anything, we finally succumbed in early July, again a few months later and at the end of the year for the booster.
On April 29, Hancock and Deputy Medical Officer Jonathan Van-Tam had a matey vaccination session together, with 'JVT', as Hancock called him, doing the honours:
May
Saturday, May 1:
Another outright death threat today in my inbox that said simply: 'I am going to kill you.' Lovely. The threats from online anti-vaxxers are getting far more frequent and violent.
As a result, I'm now being assessed for the maximum level of government security.
Tuesday, May 4:
Today, I was out campaigning for the local elections in Derbyshire. Gina [Coladangelo, adviser] drove me up. My relationship with Gina is changing.
Having spent so much time talking about how to communicate in an emotionally engaged way, we are getting much closer.
On Wednesday, May 12, the London Evening Standard interviewed Hancock. 'Matt Hancock: Let's put our year of hell behind us' is more interesting now than it was then:
Matt Hancock today struck his most upbeat note yet on easing many of the remaining lockdown restrictions next month, with Britain set to be "back to life as normal" within a year.
The Health Secretary, who has been one of the most powerful voices arguing for lockdown to save thousands of lives, stressed that the Government would lay out the low risks of further Covid-19 infections if, as expected, it presses ahead with the final relaxation stage in June.
"Our aim on the 21st is to lift as many of the measures/restrictions as possible," he told the Standard's editor Emily Sheffield in a studio interview aired today for its online London Rising series to spur the city's recovery from the pandemic. "We've been putting in place all these rules that you'd never have imagined — you're not allowed to go and hug who you want," while adding he hadn't seen his own mother since July and he was looking forward to hugging her.
"I am very gregarious," he added, "and I really want to also get back to the verve of life. For the last year, we have had people literally asking ministers, 'Who can I hug?'"
Mr Hancock also criticised as "absolutely absurd" protests outside AstraZeneca's offices in Cambridge, where demonstrators have been calling for the pharmaceutical giant to openly licence its vaccine. He stressed that the Oxford/AstraZeneca jabs were already being offered to many countries "around the world" at cost price.
During the interview, for the business and tech section of London Rising, he admitted being too busy to keep a diary of the year's extraordinary events.
He also said he hadn't had time to help with the housework as he was "working full-time" on the pandemic and that he had spent more hours than he cared to remember in his home "red room" office, which went viral.
In a boost for going back to offices, he admitted that he was now back at Whitehall, adding: "I get most of my work done there."
… He also said he had not heard Mr Johnson say he was prepared to see "bodies pile high" rather than order another lockdown, a phrase the Prime Minister has denied using, saying: "No I never heard him talk in those terms." But he admitted there were very lengthy, serious debates and "my job is to articulate the health imperative".
He added: "By this time next year, large swathes of people will have had a booster jab. That means we'll be able to deal with variants, not just the existing strains, and I think we'll be back to life as normal."
In the interview, Mr Hancock also:
Warned that another pandemic hitting the UK was "inevitable"

and "we've got to be ready and more ready than last time. Hence, we are making sure we have got vaccines that could be developed in 100 days and the onshore manufacturing" and that health chiefs would be better equipped to defeat it …

Told how he hoped that England's Chief Medical Officer Professor Chris Whitty, his deputy Professor Jonathan Van-Tam, and chief scientific adviser Sir Patrick Vallance are "properly thanked" for their work

in steering the country through the crisis. Pressed on whether they should be elevated to the Lords, he said:

"That's a matter for Her Majesty the Queen"

…
Backed Boris Johnson, enjoying a "vaccines bounce" which is believed to have contributed to Tory success in the recent elections, to be Tory leader for a decade.
Indeed, the Queen did reward Whitty, Van-Tam and Vallance with knighthoods.
Boris seemed invincible at that point, until Partygate emerged in November that year. Someone was out to get him. They succeeded.
Four days later, on May 16, Wales Online reported 'Matt Hancock sets date for next lockdown announcement; he also says local lockdowns are not ruled out'. This is interesting, as he seemed to walk back what he told the Evening Standard:
Health Secretary Matt Hancock has confirmed the date for the next lockdown lifting announcement by the Government, but has said local lockdowns 'have not been ruled out'.
Speaking on Sky News this morning Mr Hancock said their strategy was to continue with the lockdown lifting roadmap as planned, but said they would be monitoring the data very closely.
He said there had been just over 1,300 cases of the Indian variant detected in the country so far, with fears it could be 50% more infectious than Kent Covid.
Mr Hancock said: "It is becoming the dominant strain in some parts of the country, for instance in Bolton and in Blackburn." But he said it has also been detected 'in much lower numbers' in other parts of the country …
He added: "We need to be cautious, we need to be careful, we need to be vigilant."
Asked if lockdown lifting could be reversed he said: "I very much hope not." but on local lockdowns he said: "We haven't ruled that out."
Mr Hancock said: "We will do what it takes to keep the public safe as we learn more about this particular variant and the virus overall."
The Health Secretary said an announcement on the next stage of lockdown lifting would be made on June 14 …
It was thought at the time that lockdown would be lifted on June 21.
Wednesday, May 26:
Dominic Cummings has told a select committee I should have been fired 'for at least 15-20 things, including lying to everybody on multiple occasions'.
Apparently I lied about PPE, lied about patients getting the treatment they needed, lied about this and lied about that.
Later, the PM called. 'Don't you worry, Matt. No one believes a word he says. I'm sorry I ever hired him. You're doing a great job — and history will prove you right. Bash on!'
I went to bed thinking, 'Thank goodness I kept vaccines out of Dom's destructive hands or that would have been a disaster like everything else he touched.'
I watched that session. Everyone was at fault except for Dominic Cummings. Anyone who presents himself in such a way is probably not all he seems.
Thursday, May 27:
When I got into work, I heard that the Prof [Whitty] had called my private office volunteering to support me in public if need be.
This spectacular vote of confidence meant the most.
Shortly before I headed home, [Defence Secretary] Ben Wallace sent a nice message asking if I was OK. 'The Cummings evidence can be summed up as the 'ramblings of a tw*t',' he said.
Also:
Of all the many accusations Dom Cummings has hurled at me, the media seem most interested in his claims that I lied about the arrangements surrounding hospital discharges into care homes at the beginning of the pandemic.
Annoyingly, it was only after this evening's [Downing Street] press conference that I received some very pertinent PHE [Public Health England] data. They analysed all the Covid cases in care homes from January to October last year and found that just 1.2 per cent could be traced back to hospitals.
The vast majority of infections were brought in from the wider community, mainly by staff.
Overall, England did no worse at protecting care home residents than many countries, and better than some — including Scotland, where [Nicola] Sturgeon's team has been responsible for decision-making. Regardless, the awfulness of what the virus did to people in care homes around the world will stay with me for the rest of my life.
That day, YouGov published the results of a poll asking if Hancock should resign. Overall, 36% thought he should and 31% thought he should remain in post:
Saturday, May 29:
Boris and Carrie got married at Westminster Cathedral. I'm not entirely sure how much the PM's mind was on his future with his beloved, though, because this afternoon he was busy texting me about the latest Covid data.
'Lower cases and deaths today. So definitely ne panique pas,' I told him.
Then again, perhaps he's just very good at multi-tasking and can examine infection graphs, pick bits of confetti off his jacket and give his new bride doe-eyed looks all at the same time.
Sunday, May 30:
'Keep going, we have seen off Cummings's bungled assassination,' Boris messaged cheerfully.
It was lunchtime and the PM didn't appear to be having any kind of honeymoon, or even half a day off.
Nevertheless, that day, the Mail on Sunday reported that the Conservatives were beginning to slip in the polls and had more on Cummings's testimony to the select committee:
The extraordinary salvo launched by Mr Cummings during a hearing with MPs last week appears to be taking its toll on the government, with a new poll suggesting the Tory lead has been slashed by more than half. 
Keir Starmer tried to turn the screw today, accusing Mr Johnson and his ministers of being busy 'covering their own backs' to combat the Indian coronavirus variant.
The Labour leader said 'mistakes are being repeated' as the Government considers whether to go ahead with easing restrictions on June 21.
'Weak, slow decisions on border policy let the Indian variant take hold,' he said.
'Lack of self-isolation support and confused local guidance failed to contain it.
'We all want to unlock on June 21 but the single biggest threat to that is the Government's incompetence' …
Mr Cummings, the Prime Minister's former adviser, told MPs on Wednesday that 'tens of thousands' had died unnecessarily because of the Government's handling of the pandemic and accused Mr Hancock of 'lying' about testing for care home residents discharged from hospital – a claim he denies. 
Separately, the Sunday Times highlighted an email dated March 26 from social care leaders warning Mr Hancock that homes were being 'pressured' to take patients who had not been tested and had symptoms.
Lisa Lenton, chair of the Care Provider Alliance at the time, told Mr Hancock managers were 'terrified' about 'outbreaks'.
'The following action MUST be taken: All people discharged from hospital to social care settings (eg care homes, home care, supported living) MUST be tested before discharge,' she wrote.
However, the government's guidance on testing was not updated until April 15.
Instructions issued by the Department of Health and the NHS on March 19 2020 said 'discharge home today should be the default pathway', according to the Sunday Telegraph – with no mention of testing …  
An insider told the Sun on Sunday on the spat between Mr Johnson and Mr Hancock: 'Boris returned from convalescence at Chequers when he heard the news. He was incensed. 
'Matt had told him point blank tests would be carried out. He couldn't understand why they hadn't been. For a moment he lost it with Matt, shouting "What a f***ing mess".
'At least three ministers told Boris Matt should be sacked.'
However, Mr Johnson refused to axe Mr Hancock reportedly saying that losing the health secretary during a pandemic would be 'intolerable'.  
Sir Keir said the situation in care homes had been a 'betrayal', adding: 'We may never know whether Boris Johnson said Covid "was only killing 80-year olds" when he delayed a second lockdown.
'What we do know is that the man charged with keeping them safe showed callous disregard for our elderly, as he overlooked the incompetence of his Health Secretary.'
June
Tuesday, June 1:
For the first time since last summer, there were no Covid deaths reported yesterday. We really are coming out of this.
Things might have looked good for Hancock at the beginning of the month, but the mood would sour rapidly.
England's 2021 reopening on June 21 looked as if it would not happen. Not surprisingly, members of the public were not happy.
On June 6, Essex publican Adam Brooks tweeted Hancock's words about personal responsibility back at him, calling him a 'liar':
Brooks, who owned two pubs at the time, followed up later, threatening that the hospitality industry would issue another legal challenge to coronavirus restrictions:
The next day, June 7, The Sun sounded the death knell for a reopening on June 21:
BRITS' holiday hopes have been dashed AGAIN as Matt Hancock warns that the new variants are the "biggest challenging" to our domestic freedom.
The Health Secretary told MPs that restoring international travel is an "important goal" – but is one that will be "challenging and hard."
Health Secretary Mr Hancock said the return to domestic freedom must be "protected at all costs".
It comes after he confirmed that over-25s in England will be invited to receive their Covid jabs from Tuesday as the Delta variant "made the race between the virus and this vaccination effort tighter".
Matt Hancock told the Commons this afternoon: "Restoring travel in the medium term is an incredibly important goal.
"It is going to be challenging, it's going to be hard because of the risk of new variants and new variants popping up in places like Portugal which have an otherwise relatively low case rate.
"But the biggest challenge, and the reason this is so difficult, is that a variant that undermines the vaccine effort obviously would undermine the return to domestic freedom.
"And that has to be protected at all costs."
The Health Secretary added: "No-one wants our freedoms to be restricted a single day longer than is necessary.
"I know the impact that these restrictions have on the things we love, on our businesses, on our mental health.
"I know that these restrictions have not been easy and with our vaccine programme moving at such pace I'm confident that one day soon freedom will return."
This comes as desperate Brits have flooded airports as they race against the clock to get back to the UK before Portugal is slapped onto the amber travel list.
The next day, nutritionist Gillian McKeith tweeted her disgust with Hancock:
On Wednesday, June 9, the Health and Social Care Select Committee, which former Health Secretary Jeremy Hunt headed, posed questions to Hancock in a coronavirus inquiry session:
On Thursday, June 10, The Guardian reported that Dominic Cummings would tell all about coronavirus as well as Brexit on his new Substack:
Dominic Cummings is planning to publish a paid-for newsletter in which subscribers can learn about his time inside Downing Street.
Boris Johnson's former top aide has launched a profile on Substack, a platform that allows people to sign up to newsletter mailing lists.
In a post on the site, Cummings said he would be giving out information on the coronavirus pandemic for free, as well as some details of his time at Downing Street.
However, revelations about "more recondite stuff on the media, Westminster, 'inside No 10', how did we get Brexit done in 2019, the 2019 election etc" will be available only to those who pay £10 a month for a subscription …
It follows Cummings taking aim at Boris Johnson, Matt Hancock, and the government in general as part of evidence given last month to the health and social care select committee and the science and technology committee.
Cummings, who left Downing Street after a behind-the-scenes power struggle in November last year, accused the health secretary of lying, failing on care homes and "criminal, disgraceful behaviour" on testing.
However, the parliamentary committees said Cummings's claims would remain unproven because he had failed to provide supporting evidence.
On Friday, June 11, Labour MP Graham Stringer — one of the few Opposition MPs I admire — told talkRADIO's Julia Hartley-Brewer that 'things went badly wrong' on Hancock's watch and that the Health Secretary should not have 'blamed scientific advice':
On Monday, June 14, talkRADIO's Mike Graham told listeners forced to cancel a holiday to sue Hancock, Transport Secretary Grant Shapps, SAGE and 'every single one of them, personally', otherwise 'they will think they've won':
[Lingerie tycoon] Baroness (Michelle) Mone has sent me an extraordinarily aggressive email complaining that a company she's helping isn't getting the multi-million-pound contracts it deserves.
She claims the firm, which makes lateral flow test kits, 'has had a dreadful time' trying to cut through red tape and demanded my 'urgent help' before it all comes out in the media.
'I am going to blow this all wide open,' she threatened.
In essence, she's not at all happy that a U.S. company called Innova has secured so many contracts while others 'can't get in the game'. She claims test kits made by the company she's representing, and by several others, have all passed rigorous quality control checks but only Innova is getting the business.
'This makes it a monopoly position for Innova, who to date have received £2.85 billion in orders,' she complained.
By the end of the email, she seemed to have worked herself into a complete frenzy and was throwing around wild accusations. 'I smell a rat here. It is more than the usual red tape, incompetence and bureaucracy. That's expected! I believe there is corruption here at the highest levels and a cover-up is taking place . . . Don't say I didn't [warn] you when Panorama or Horizon run an exposé documentary on all this.'
She concluded by urging me to intervene 'to prevent the next bombshell being dropped on the govt'. I read the email again, stunned. Was she threatening me? It certainly looked that way.
Her tests, I am told, have not passed validation — which would explain why the company hasn't won any contracts. I will simply not reply. I won't be pushed around by aggressive peers representing commercial clients.
In December 2022, Baroness Mone announced that she would be taking a leave of absence from the House of Lords. Her Wikipedia entry states:
Mone became a Conservative life peer in 2015. From 2020 to 2022, in a series of investigative pieces, The Guardian reported that Mone and her children had secretly received £29 million of profits to an offshore trust from government PPE contracts, which she had lobbied for during the COVID-19 pandemic. The House of Lords Commissioner for Standards and National Crime Agency launched investigations into Mone's links to these contracts in January 2022. Mone announced in December 2022 that she was taking a leave of absence from the House of Lords "to clear her name" amid the allegations.
Also that day came news that, after Parliament voted on coronavirus restrictions that week — June 21 having been postponed to July 19 — the NHS waiting list was much larger than expected. It was thought to be 5 million but was actually 12 million:
LBC reported:
The Health Secretary told the NHS Confederation conference that up to 12.2 million people are in need of elective procedures delayed due to the pandemic.
This includes 5.1m people already on waiting lists.
Health bosses believe there could be as many as 7.1m additional patients who stayed away from hospitals because of the risk of Covid-19.
Mr Hancock told the NHS conference that there is "another backlog out there" and that he expected the numbers to rise even further.
NHS leaders have warned the backlog could take five years to clear …
Prof Chris Whitty, England's chief medical officer, said the current wave of cases would "definitely translate into further hospitalisations".
On Saturday, June 19, a YouTube video appeared, which has since been deleted. These are my notes on it:
June 19, coronavirus: 24 mins in — Matt Hancock says unvaccinated will not receive health treatment if NHS is overwhelmed, also mentioned are Birmingham deaths, FOIA Pfizer vaccine information forwarded to Special Branch re Warwickshire and four Birmingham hospitals; Mark Sexton, ex police constable – YouTube.
I have no idea what ensued.
On Friday, June 25, Dominic Cummings posted this article on his Substack: 'More evidence on  how the PM's & Hancock's negligence killed people'.
It's quite lengthy, but begins as follows:
Below is some further evidence including a note I sent on 26 April regarding how we could shift to Plan B with a serious testing system.
It helps people understand what an incredible mess testing was and why care homes were neglected. Hancock had failed terribly. The Cabinet Office did not have the people it needed to solve the problem. Many were screaming at me that Hancock was failing to act on care homes and spinning nonsense to the Cabinet table while thousands were dying in care homes.
There are clearly errors in my note but the fact that *I* had to write it tells you a lot about how the system had collapsed. As you can see it is a draft for a document that needed to exist but didn't because Hancock had not done his job properly and was absorbed in planning for his press conference at the end of April, not care homes and a serious plan for test-trace.
The Sunday Times's Tim Shipman summed up the article with Boris Johnson's impressions of test and trace:
Returning to Hancock, it was clear that he would have to go, but no one expected his departure would be so dramatic.
To be continued tomorrow.
As I write, the latest Conservative Party leadership contest came to a close at 2 p.m. on Monday, October 24, 2022.
Once he meets with the King, Rishi Sunak, the new Party leader, becomes the next Prime Minister.
The other candidate, Penny Mordaunt, pulled out of the race earlier today. She had far fewer MPs backing her than did Sunak. Boris Johnson declined to run last night, even though he had the numbers. I'll write about the contest in another post.
Picking up from last Friday's post, Liz Truss's last day as Conservative Party leader started with a storm over the fracking vote and the resignation of Suella Braverman as Home Secretary.
Both events took place within hours on Wednesday, October 19, 2022.
Sir Charles Walker MP
On Wednesday night, the Conservative MP Sir Charles Walker gave an explosive interview in the Palace of Westminster on the dire state of the Government under Liz Truss.
It should be noted that on February 2, he stated that he would not be standing for re-election in his constituency, Broxbourne. The BBC reported (emphases in purple mine):
He will remain an MP until the next general election, due in May 2024.
Speaking on Channel 4, Sir Charles said that after 17 years as an MP he was "juiced out".
"It's just very difficult, the public are demanding and they're becoming more demanding," he said,
"They're becoming quite angry, some of them cross the line and at times I feel like it's a pretty toxic environment."
On March 26, in a debate on extending coronavirus laws for another six months, he said he would protest by carrying around a milk bottle to show his displeasure. To this day, many of us have no idea what he was talking about, but you can read more in The Independent.
In May, Walker said he was wrong for thinking Boris could survive Partygate:
He only had to wait another several weeks.
On July 28, after Boris Johnson resigned as Conservative Party leader, he said that Party members should not be able to vote for Boris's successor. The Times reported:
About 180,000 Tory members will choose between Rishi Sunak and Liz Truss over the summer, before casting their votes over who will lead the party and therefore the country …
Sir Charles Walker, a former vice-chairman of the 1922 Committee of backbench MPs, which sets the rules of the race, said that the electorate should be narrowed to just allow fellow politicians to vote to prevent the bitter blue-on-blue attacks seen so far.
He told The Guardian that the contest "should have got nowhere near" the members, adding: "It's a view shared by many of my colleagues privately who wouldn't dare say it publicly."
He added: "MPs should be left to pick party leaders because we know the strength and weaknesses of the candidates far better than the membership because we serve and work with them every day in Westminster."
On October 11, Walker became a member of two select committees, the one for Standards and the one for Privileges. Both focus on MPs' conduct:
That brings us up to his explosive interview of October 19, when Walker announced he'd 'had enough':
He said he was angry with his colleagues, but, watching it, I wonder if he was angrier at Party members for electing Liz Truss over Rishi Sunak.
I was completely put off when he said that he was worried for his fellow MPs paying off their mortgages. They're in a much better position to do so than their constituents are. Good grief. That says a lot about the man:
You can see the full version here:
He was angry that Liz Truss was Prime Minister:
Speaking to reporters on BBC News, the Tory MP said: 'To all those people that put Liz Truss in number 10, I hope it was worth it to sit round the cabinet table'. He went on to say, 'the damage they have done to our party is extraordinary', admitting he was 'livid' and 'furious'.
Although he was presumably talking about his fellow MPs, he was probably also angry with Conservative Party members for getting Truss into No. 10. It bears repeating.
The Telegraph had more:
Charles Walker branded the Truss Government "an absolute disgrace" and her ministers a group of "talentless people" on Wednesday night …
"I've had enough, I've had enough of talentless people putting their tick in the right box, not because it's in the national interest but because it's in their own personal interest to achieve ministerial position. And I know I speak for hundreds of backbenchers who right now are worrying for their constituents all the time but are now worrying for their own personal circumstances because there is nothing as ex as an ex-MP" …

"A lot of my colleagues are wondering, as many of their constituents are wondering, how they are going to pay their mortgages if this comes to an end soon," he added …
"But unless we get our act together and behave like grown-ups I'm afraid many hundreds of my colleagues, perhaps 200, will be leaving at the behest of their electorate.
"Patience reached the limit."
The Guardian has another quote, relating to Suella Braverman:
Speaking to BBC Radio 4's The World Tonight, he added: "Let's not beat around the bush here. And I expect the prime minister to resign very soon because she's not up to her job either … I will shed no tears for either of them."
When asked when Truss should quit, he replied: "Well, I hope, by tomorrow … She needs to go. She shouldn't have been made prime minister."
Walker got his wish.
Wendy Morton
As I wrote on Friday, the vote on Labour's motion on fracking was a complete disaster in the No lobby, where Conservative MPs were expected to vote.
After the vote, as I said, Labour's Chris Bryant alleged that bullying occurred there.
At the opening of the Commons session on the morning of Thursday, October 20, Speaker of the House Sir Lindsay Hoyle opened with this statement:
I wish to say something about the reports of behaviour in the Division Lobbies last night. I have asked the Serjeant at Arms and other senior officials to investigate the incident and report back to me. I will then update the House.
I remind Members that the behaviour code applies to them as well as to other members of our parliamentary community. This gives me another opportunity to talk about the kind of House that I want to see, and that I believe the vast majority of MPs also want to see. I want this to be a House in which—while we might have very strong political disagreements—we treat each other courteously and with respect, and we should show the same courtesy and respect to those who work with and for us. To that end, I will be meeting senior party representatives to seek an agreed position that behaviour such as that described last night is unacceptable in all circumstances.
Earlier that morning, photographs of the situation outside the No lobby had appeared online.
No photographs are allowed in the voting lobbies, yet here they were.
Chris Bryant had appeared on Sky News. He tweeted a still of himself from the interview, with the comment:
Yesterday was utter chaos!
Someone replied with a photo of Conservative MPs all over one of their own. A professional photographer, so it would appear, took a photo of them and someone else took a photo of that scene: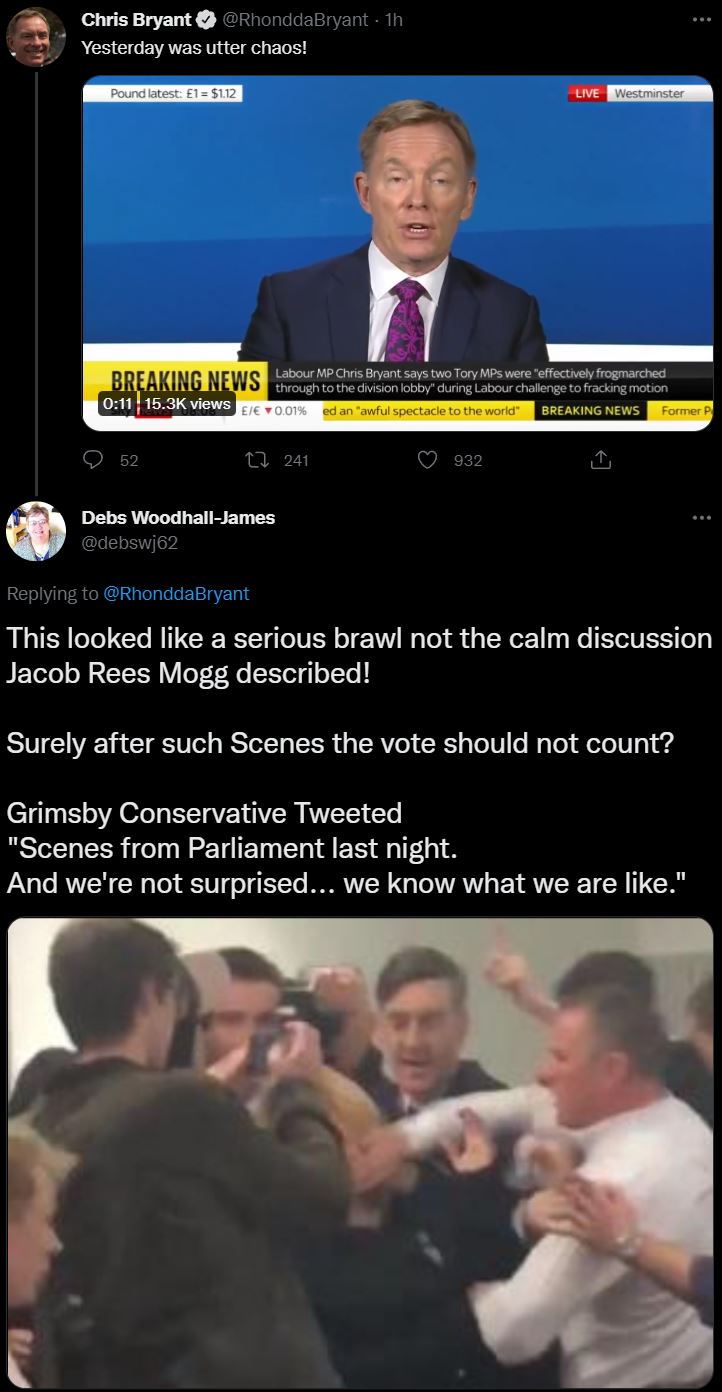 Here is another photo with Conservatives clustered in the middle of the room outside the voting lobbies. Labour MPs are standing off to the right. The No lobby is off to the left: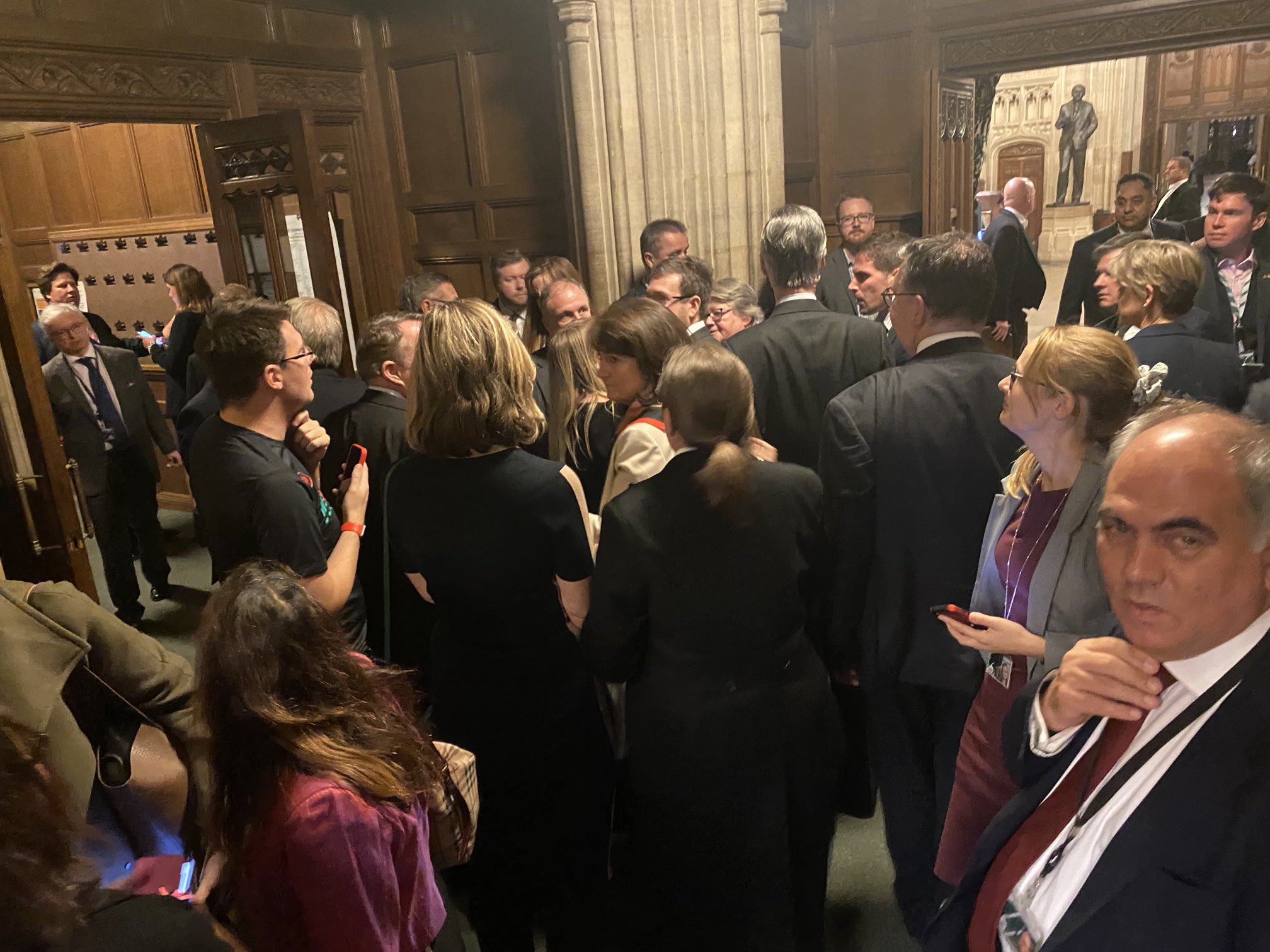 Business Secretary Jacob Rees-Mogg, tall with spectacles, is in the middle of both photographs. Deputy Prime Minister and Health Secretary Thérèse Coffey is the woman in front of Rees-Mogg's left shoulder.
Returning to the Speaker's statement, which I watched on BBC Parliament, Chris Bryant said that he had taken the photographs as evidence. Although Hansard does not record any responses to the Speaker, Bryant asked if photographs could be allowed in order to document these incidents in future. The Speaker said that it would be a matter for the House to decide together.
Confusion still reigned on the Conservative benches, particularly as some of their MPs strongly object to fracking.
And was Wendy Morton still Chief Whip at the time the vote took place? It was all a mystery, including to Conservative MP Ruth Edwards:
Edwards wrote about her experience in the voting lobby for ConservativeHome: 'Ruth Edwards: Why I am now calling on the Prime Minister to quit'.
Excerpts follow:
Shouting, confusion, allegations of bullying. Last night chaos reigned in the Commons. Anyone watching from the outside must have wondered what on earth was going on. It wasn't much clearer for those of us in the chamber either, but here is one bit-player's view from the benches.
Labour had tabled an Opposition Day motion that linked a bill to ban fracking to what was supposedly a confidence motion in the Government. If it passed it would have allowed the Labour party to take control of Parliamentary business in Government time. Like many colleagues, I don't think we should be reneging on our manifesto commitment to lift the moratorium on fracking. Why? Because I think it's poor energy policy and because I believe that manifesto commitments are there to be kept unless there is no other choice.
Edwards is against fracking. However, she did not want to vote with Labour, yet, this was supposed to be a three-line whip vote on Liz Truss's premiership:
None of us wanted to vote with Labour last night but some of us did want to abstain …
All day we were told by the whips that this was not just a strong three-line whip but a confidence vote. Voting against the government or abstaining would result in the whip being removed. That was very clear from the message sent to all Conservative MPs by the Deputy Chief Whip and confirmed by my whip when I messaged him to check.
That's why colleagues were in tears in the division lobbies and their offices. We were being told we had to choose between voting to lose the whip or voting against a manifesto commitment we believed in. For the front bench to allow the Opposition to put their MPs in this position is a special type of incompetence. But the tactic worked. The vast majority of colleagues, even the disillusioned and distressed, were prepared to go through the Government lobby.
I cited Edwards in my Friday post. In the debate wind up by the Government minister, she asked for clarification of a whipped vote after he said that it wasn't:
… the Minister lobbed a verbal hand grenade into the assembled crowd. By announcing at the despatch box that it wasn't in fact a confidence vote after-all. There was a sharp intake of breath. No one could believe what they had just heard. Surely he had misspoken?
So I bobbed up and down, asking him to 'give way'. That's the Parliamentary equivalent of putting your hand up in class to ask a question. After repeated efforts and a chorus of support from equally perplexed colleagues, he did so. But was unable to give a clear answer to my question.
That's when the chaos descended, because we now had no idea about the basis of the vote. MPs gathered in groups asking each other 'what are you going to do?'
Edwards spotted Chief Whip Wendy Morton in the lobbies and approached her:
I walked up to the Chief Whip to try and clarify what was going on. She cut me off mid-sentence 'I don't have to talk to you, I've resigned'.
The Deputy came through the lobby reiterating that it was a confidence vote and that the Minister would do a Point of Order to confirm that. So, eventually, we swiped our cards and shuffled back to the chamber. But no Point of Order came. Why is this even important? Because if you want to maintain trust and a good working relationship with your Parliamentary party, you can't lie to your MPs about the terms on which they are voting.
So what happened? It was still unclear:
I believe the whips office did act in good faith. I saw their faces as the Minister announced that it wasn't a confidence vote. One of them looked like she wanted to clobber him with the mace.
To be fair to the Minister I have it on good authority that he was relaying a message which had just come in from Number 10. This morning we are being asked to believe [by Jacob Rees-Mogg] it was a misunderstanding caused by a junior official. Anyone who believes that must be smoking something rather exotic.
Edwards had decided that Liz Truss should go and conveyed her sentiments formally to Sir Graham Brady, head of the 1922 Committee of Conservative backbenchers:
The trust between the Parliamentary Party and the Prime Minister no longer exists. You can only pull a stunt like that once. And you can't work as a team if the foot soldiers are treated with contempt by the general.
On Monday night the Prime Minister stood in front of the One Nation Caucus and promised to improve the communication between Number 10 and the party. Last night showed how deeply disingenuous that commitment was. I made my views known to Sir Graham Brady earlier this week. The Prime Minister has shown breath-taking economic and political incompetence during her short tenure in office. It is not responsible for the party to allow her to remain in power. Not when her actions can have such detrimental consequences for our constituents. So I add my small voice to the groundswell of others. Step aside, go, and let someone who is up to the task take on the great privilege and responsibility of leading our great country and party.
On October 20, The Sun's Political Editor Harry Cole wrote:
Within hours the government went into freefall as an extraordinary night of Commons drama saw claims that tearful Tory MPs were being physically manhandled by party enforcers.
During the carnage Chief Whip Wendy Morton threatened to resign – only to un-resign in a chaotic few hours where No10 could not confirm if she was in post.
Ms Truss could only watch on ashen-faced as she saw her authority drain away and more Tory MPs break cover calling for her to quit.
On Wednesday [at PMQs] Truss had insisted "I'm a fighter, not a quitter", but after scenes of Commons carnage that night after a botched confidence vote, it was clear her administration was on life support.
The Telegraph had much more:
The motion, which was defeated, would have guaranteed Commons time to debate a new law to ban fracking once and for all.
The vote meant that Ms Truss faced a showdown with rebellious MPs, many of whom have openly expressed their opposition to her plans to lift the moratorium on fracking …
On Wednesday morning, Tory MPs were told by the whips' office that the vote was a "100 per cent hard three line whip".
The message from Mr [Craig] Whittaker [Deputy Chief Whip] went on to say: "This is not a motion on fracking. This is a confidence motion in the Government.
"I know this is difficult for some colleagues, but we simply cannot allow this. We are voting no and I reiterate, this is a hard three line whip with all slips withdrawn."
If a vote is being treated as a matter of confidence in the Government, it usually means that MPs who vote against it would be expelled from the Conservative Party and have to sit as independent candidates …
But by Wednesday evening, the Government's position appeared to have changed. As the debate on fracking drew to a close, Graham Stuart, the climate minister, told the Commons that it was, in fact, "not a confidence vote".
Asked by Tory MPs whether they would lose the whip if they abstain, he said that it was a "matter for party managers".
Truss went to vote:
Ms Truss was reportedly yelled at by rebel MPs as she went through the lobby. Meanwhile, Mr Whittaker was reportedly overheard saying: "I am f***ing furious and I don't give a f*** any more."
According to some reports, Ms Morton resigned and left the Chamber as the voting was taking place, with Ms Truss grabbing her arm in an attempt to persuade her to reconsider …
What an unholy mess.
The Government won the vote, but:
It was unclear how many of the 40 abstentions were because MPs were unavoidably away from Parliament – Boris Johnson, for example, is currently on holiday – or because they were abstaining as a point of principle.
The Telegraph mentioned Bryant's Sky News interview implicating Rees-Mogg and Truss's confidante Thérèse Coffey:
Mr Bryant told Sky News that Cabinet ministers Therese Coffey and Mr Rees-Mogg were among a group of senior Tories who were putting pressure on Conservative MPs to vote against the Labour motion on fracking.
"There was a bunch of Conservative Members obviously completely uncertain whether they were allowed to vote with the Labour or against it," he said.
"There was a group including several Cabinet ministers who were basically shouting at them. At least one member was physically pulled through the door into the voting lobby. That is completely out of order.
"I know that Therese Coffey was in the group. I know that Jacob Rees-Mogg was in the group and there were others as well. The group all moved forward with one member."
One furious MP said they felt the Government had deliberately tried to trick backbenchers into supporting it with the mix-up over whether the vote was a confidence matter. They said this amounted to a "breach of trust" between No 10 and MPs that would be almost impossible to repair.
Another senior Tory MP put the confusion down to a "cock up" between No 10 and the whips office and said the confidence vote was in fact meant to be attached to the Government's motion, and not the one tabled by Labour.
Speaking to Sky News after the vote had ended, Mr Rees Mogg said he did not know whether Ms Morton was still in post or not, saying: "I am not entirely clear on what the situation is with the Chief Whip."
He explained that the confusion arose over whether the Commons vote on fracking was a confidence vote because of a message sent by a "junior official in 10 Downing Street", suggesting they did not have the authority to do so.
As for the two main whips, The Guardian reported:
Amid chaotic scenes in the Commons, it was reported that Wendy Morton, the chief whip, and her deputy, Craig Whittaker, had left the government. However, after hours of confusion Downing Street released a statement saying the two "remain in post".
The Mail+ reported that Truss had always wanted Coffey to be Chief Whip, but Coffey wanted to be able to stand up to the media for her friend:
A source said: 'We also had trouble finding a Chief Whip. Therese [Coffey] turned it down because she wanted to be free to defend the PM in the media, so we ended up with Wendy [Morton]. The whole thing became an absolute mess, Downing Street was cobbled together on compromise.'
Suella Braverman
At 10:30 a.m. on Thursday, an Urgent Question (UQ) was raised about the circumstances of Home Secretary Suella Braverman's departure the preceding day:
Shadow Home Secretary Yvette Cooper (Labour) raised the question.
Ably answering and clearly staying within his boundaries as Parliamentary Secretary, Cabinet Office was the brilliant Brendan Clarke-Smith.
He replied, beginning with this:
I thank the right hon. Lady for her question. My right hon. and learned Friend the Member for Fareham (Suella Braverman) resigned yesterday, following a contravention of the ministerial code relating to a breach of Cabinet confidentiality and the rules relating to the security of Government business. The Prime Minister has made clear the importance of maintaining high standards in public life, and her expectation that Ministers should uphold those standards, as set out in the ministerial code. All Ministers are personally responsible for deciding how to act and conduct themselves in the light of the code, and for justifying their actions and conduct to Parliament and the public. However, Ministers remain in office only so long as they retain the confidence of the Prime Minister. She is the ultimate judge of the standards of behaviour expected of a Minister, and the appropriate consequences of a breach of those standards. My right hon. and learned Friend has explained her decision to resign, and to be clear, the information that was circulated was subject to Cabinet confidentiality and under live discussion within the Government. In the light of that, it would not be appropriate to discuss the specifics of the matter further in the House, but the Prime Minister is clear that the security of Government business is paramount, as is Cabinet responsibility.
Cooper was unhappy with Clarke-Smith's answer, referencing Braverman's statement of 'tofu-eating wokerati' from her Tuesday debate and the Star's front page campaign of comparing Truss to a lettuce, implying a short shelf life:
… We have a third Home Secretary in seven weeks. The Cabinet was appointed only six weeks ago, but the Home Secretary was sacked, the Chancellor was sacked and the Chief Whip was sacked and then unsacked. We then had the unedifying scenes last night of Conservative MPs fighting like rats in a sack. This is a disgrace …
Has a check been made of whether she sent other documents through personal emails, putting security at risk? Was there a 90-minute row about policy between the Prime Minister and the former Home Secretary? Given the huge disagreements we have seen in the last few weeks between the Prime Minister and the former Home Secretary on drugs policy, Rwanda, the India trade deal, seasonal agriculture, small boats—and with a bit of tofu thrown in over the lettuce for good measure—is anything about home affairs agreed on in the Cabinet?
… who is taking decisions on our national security? It is not the Prime Minister, nor the past or current Home Secretaries. Borders, security and policing are too important for that instability, just as people's livelihoods are too important for the economic instability that the Conservative party has created. It is not fair on people. To quote the former Home Secretary, this is indeed a total "coalition of chaos". Why should the country have to put up with this for a single extra day?
Clarke-Smith replied:
I am mindful that it is not usual policy to comment in detail on such matters, but, if some background would be helpful—I appreciate that much of this is already in the public domain—the documents in question contained draft Government policy, which remained subject to Cabinet Committee agreement. Having such documents on a personal email account and sharing them outside of Government constituted clear breaches of the code—under sections 2.14 and 2.3, if that is helpful to look at. The Prime Minister is clear that the security of Government business is paramount, as is Cabinet responsibility, and Ministers must be held to the highest standards.
He took questions from other MPs, mostly from the Opposition. He did not cave in.
Guido Fawkes's sketch writer Simon had high praise for Clarke-Smith and was still hopeful at that point that Truss could survive:
The Home Secretary had been fired for infringing the ministerial code. The ministerial code was the responsibility of the Cabinet Office. He was from the Cabinet Office and had no view on migrants, boats, flights to Rwanda or pigs' ears, come to that.
It was a rare display of governmental competence. They managed to say nothing of interest, and say it convincingly. It's a low bar but they cleared it comfortably. Is this the start of a Conservative revival? There's a wee way to go, if it is. 
Liz Truss resigns
On Wednesday night, The Sun's Harry Cole said:
We are watching a hostile takeover of the government.
A short while later, the new Home Secretary — formerly the Transport Secretary until Truss sacked him — Grant Shapps said in an interview that Truss's chances of leaving Downing Street were high:
Guido reported that Shapps said, in part (emphases in the original, with the full quote here):
… I think the 80% [chance of failure] is closer to where we've got to… she needs to thread the eye of a needle with the lights off …

For weeks, the Star had been running with their lettuce campaign, showing a photo of Truss next to an iceberg lettuce on the front page. They had also a webpage.
On Wednesday, The Telegraph's Madeline Grant wrote, 'The Liz Truss lettuce lives to wilt another day':
Contrary to any number of rumours, where Westminster gets its kicks is the scent of blood – and most of all when there's a resignation in the air. The Tory WhatsApp groups pinged mutinously. Hastily-assembled spreadsheets did the rounds, detailing who'd called for the PM to resign, and when. The Daily Star outdid the competition; hosting a live stream of a lettuce to see if it outlives Liz Truss's premiership.
Then came Suella Braverman's resignation and the lettuce claimed its first victim …
… For now, the lettuce lives to wilt another day.
But only one more day.
The Mail+ had an insightful piece on October 22 about what went on with the Prime Minister between Wednesday night and Thursday afternoon. The article also recaps how disastrous Truss's choices were from the beginning of her brief tenure:
WHEN LIZ Truss finally accepted that her Premiership was over, late on Wednesday evening, she went to the fridge in the No10 flat and pulled out a bottle of sauvignon blanc to share with her husband, Hugh …
As she nibbled on a pork pie, the couple agreed that it was now a matter of when, not if, she resigned. One of the main considerations was the impact of the growing turmoil on their two teenage daughters.
Ms Truss then slept fitfully until 4.30am, when she started messaging aides for advice. Later that morning, No10 asked Sir Graham Brady, the chairman of the 1922 Committee of backbench Tory MPs, to come in to see the Prime Minister.
When she asked him if the situation was retrievable, he replied: 'I don't think so Prime Minister.' The game was up.
As she delivered her resignation statement, her former No10 consigliere, Jason Stein, was watching the live feed on his phone at a table in The Ivy in London's Marylebone …
Until his suspension on Wednesday pending an investigation by the Government's Propriety and Ethics Team over claims of unauthorised briefings against colleagues, Mr Stein had been at the centre of the doomed Truss premiership as an all-purpose fixer and adviser.
He has told friends that the Downing Street operation was 'dysfunctional from the outset', and blames 'muddled lines of command' for the single greatest error – the mini-Budget which even the Prime Minister herself now privately describes as 'a colossal f***-up'.
Sources also describe fractious meetings in the run-up to the mini-Budget, which led to the sacking of her Chancellor Kwasi Kwarteng and the reversal of the vast majority of its measures, with Ms Truss being so enraged by one member of her staff on one occasion that she talked about 'stabbing him in the leg'.
The sources are scathing about the role played by Ms Truss's Chief of Staff Mark Fullbrook, describing his appointment as 'a disaster'.
One said: 'Liz offered that job around everywhere, but no one would take it. We were left with no option but to give it to Fullbrook. He was part of a secret meeting in the Downing Street flat on September 13, during the official mourning period for the Queen, when the Budget was drawn up behind the back of Kwasi.
'It was just Liz, Fullbrook and a couple of other aides eating sushi takeaways and coming up with that brilliant plan to cut the top 45p rate of tax.
'The Treasury and the Cabinet Secretary [Simon Case] warned against it' …
The sources also claimed that Mr Stein had warned Ms Truss against appointing Mr Fullbrook in August, describing him as 'a trickster', but that Ms Truss had 'gone ballistic' at him in return.
Another source claimed that Ms Truss had regretted appointing Matthew Sinclair, the former chief executive of The TaxPayers' Alliance think-tank, as her Chief Economic Adviser, adding: 'He was always talking over her in meetings and "mansplaining". She said on one occasion that if he kept it up she would stab him in the leg. He never shut up' …
It would appear that Truss lacked a close coterie of people she could trust:
Another source also claimed that Mr Case had been concerned about Ms Truss's morale, telling colleagues that 'while all Prime Minister's end up lonely in office, it has happened at warp speed to Liz.
'He grew very, very concerned,' the source said.
On Thursday, she reportedly felt relieved she was leaving:
Downing Street staff were in tears as Ms Truss prepared her resignation, but she reassured them, 'Don't worry, I'm relieved it's over,' before adding, 'At least I've been Prime Minister.'
At least her staff were in tears, meaning that she must have been nice to them, which is vital.
Guido kept us apprised of the morning's events, beginning with Graham Brady's arrival:
Guido said there were different versions of who called the meeting:
Graham Brady has just been escorted into the back door of No. 10, with Downing Street confirming that he's meeting the Prime Minister. The Telegraph reports there was no meeting planned in her diary. The meeting of the two comes as ITV's Paul Brand reports One Nation Tory MPs have been meeting this morning "to try and coalesce around a single candidate to replace Liz Truss." May just be a lot more noise without any movement. Eyebrow-raising nonetheless…
UPDATE: Downing Street saying Truss requested the meeting herself…
UPDATE 12:25 – Therese Coffey enters Downing Street
UPDATE 12:49 – Jake Berry [MP, chairman of the Conservative Party] enters Downing Street
Just after 1:15 came the news that Truss would make a statement:
And then, at 1:25 p.m., Truss announced her resignation as leader of the Conservative Party (video here):
It was brief and to the point. Her husband was out of shot by a front window.
Thankfully, there were no tears as there were with Theresa May who broke down while giving her speech in 2019.
Because it is an afternoon newspaper, London's Evening Standard was the first out of the traps with the historic headline:
Let's have a look at the victorious lettuce:
It's hard to know whether to laugh or to cry.
Truss remains Prime Minister until Rishi Sunak meets with the King. In her final message on Monday, October 24, she sent her wishes for a happy Diwali, celebrating the triumph of light over darkness. We certainly could do with that. More importantly, what a memorable Diwali it will be for the Sunaks — and Rishi's in-laws:
I wish Liz Truss and her family all the very best for the future.
I had so much hope for her, but that's all gone by the wayside.
More analysis on the leadership contest and what happens next will follow this week.
Boris Johnson is now into his third year as Prime Minister.
On Wednesday and Thursday, September 15 and 16, he reshuffled some of his cabinet and ministerial posts, signalling that he is more than halfway through his premiership. In other words, this will be the major reshuffle to lead the Conservatives into the next general election.
I hope that Boris does not go for a 2023 election, unless it is late in the year. The coronavirus crisis will have put much of the Conservative manifesto agenda on hold for two years. As such, not much has been accomplished to date, as Andrew Neil, who recently resigned from GB News, says:
Boris has appointed more Leave ministers as well as more minority and female ministers, which will not matter to most small-c conservatives:
Highlights of the reshuffle follow.
Dominic Raab no longer Foreign Secretary
It looks as if dithering over Afghanistan while holidaying in Crete has finished Dominic Raab's days as Foreign Secretary. He had to do the walk of shame after his demotion:
That said, Boris has found a new job for him as Justice Secretary.
Raab will also continue to be Deputy Prime Minister, a role he handled extremely well in April 2020, when Boris was hospitalised with coronavirus.
Defence Secretary Ben Wallace defended his fellow MP and the move in an interview with BBC Breakfast:
Wallace said of Raab: "Dominic is by trade a lawyer, he started his life in the Foreign Office as a human rights lawyer and he's gone to the Ministry of Justice, which is actually a very, very important role and a role he desperately understands."
Liz Truss becomes new Foreign Secretary
Former Trade Secretary Liz Truss replaces Dominic Raab as Foreign Secretary, with Anne-Marie Trevelyan taking her place.
Post-Brexit, Truss has made various trade deals with other nations, notably Australia and Japan.
She also remains minister for women and equalities.
Truss is popular with grassroots conservatives and her name has often been mentioned as a future party leader and Prime Minister.
She succeeded not only in trade but also in refusing wokery in 2020 …
… and in 2021, as Guido Fawkes reported on June 16 (emphases mine):
Liz Truss tells Times Radio most people aren't interested in the culture war…
"My role as equality minister is to make sure everybody in Britain is treated equally regardless of their sex, their sexuality and their race. What we have seen over the past few years is the development of identity politics where there has been division created. People are described as being members of a group rather than for their own personal, individual humanity and dignity… We have just launched for example a big data project looking where are the gaps in education, employment and enterprise across the country, and how we can fix those. That is the approach we need to take… I think some of the identity politics we have seen focus on symbolism over real results has been divisive… I think most people aren't interested in this so–called culture war, what they're interested in is, "Am I being given a fair chance? Do I have a good chance of getting a job? Am I treated fairly by public services?" And that's why I think our equality agenda should focus on, those bread and butter issues that are of concern to everyone in the country."
She is consistently among the most popular of the Cabinet members. This survey is from March 2021:
She can even ably dodge camera equipment during an interview:
Nadine Dorries moves from Health and Social Care to Culture Secretary
In what is hoped to please grassroots small-c conservative voters, Nadine Dorries now heads Digital, Culture, Media and Sport (DCMS), replacing Oliver Dowden, who, as new co-chairman of the Conservative Party, will formulate a strategy for the next general election.
Most of these grassroots supporters are fed up with the BBC. Will Dorries take on Auntie Beeb?
I do not put much stock in that possibility. Resurrecting Dorries's tweets from several years ago are no indication of her current willingness to oppose the BBC on anything much:
The BBC have just appointed a firmly left-wing executive editor of BBC News, Jess Brammar. At least one Conservative MP, Brendan Clarke-Smith, was unhappy about the possibility of her appointment back in August:
I will not be holding my breath for Dorries to take her on, although others in the left-wing and anti-Brexit political establishment are angry about Dorries's appointment, as Guido Fawkes reports; he has screenshots of her past tweets (emphasis in the original):
She's been in the job for 17 hours and is already annoying all the right people… 
John Whittingdale returns to backbenches
I have doubts about Dorries because one of the DCMS ministers, John Whittingdale, was supposed to take on the BBC in 2016 and never did. He also washed his hands of removing free TV licences for most over-75s, saying it was a decision for the BBC. Is this why he got the sack?
During the Euro 2020 soccer tournament this year, Whittingdale told Kay Burley of Sky News that travel restrictions were lifted for 'important' people associated with the matches:
Speaking on Sky News, John Whittingdale was asked why players, officials and others coming to London for the Euros final on 11 July should be allowed in without self-isolating.
He said: "We've always said that for some people who are important, players, for instance …"
The presenter, Kay Burley, interrupted him, saying: "So people who want to go on holiday are not important. Is that what you're saying?"
Whittingdale's last pronouncement, standing in for his boss Oliver Dowden, was about a proposed mandate to make all BBC and ITV output 'distinctively British'. That was on September 16. It will be interesting to see whether Nadine Dorries will insist on it.
Newsnight argument over Dorries
Nadine Dorries was the subject of an argument between Conservative MP Charles Walker and former Conservative MP, Remainer Anna Soubry, who lost her seat in December 2019.
By the way, this was Anna Soubry with Nigel Farage either just before or just after the Brexit referendum in June 2016: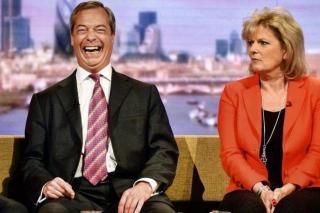 But I digress.
The discussion between Soubry and Charles Walker took place on the BBC's Newsnight on September 15:
Here's the video, with Labour MP Peter Kyle sitting at the desk with presenter Emily Maitlis:
Guido Fawkes has the highlights:
Nadine Dorries provided the biggest clash, as the eternally bitter Soubry ranted that her appointment "actually says everything that's wrong and rotten about this prime minister's stewardship of this country". Charles Walker had some thoughts:
"Nadine Dorries has been a health minister, a minister of state, at an incredibly difficult time for the department of health; has been an extremely good minister for mental health; and really to come onto this programme and just trash her like that is just not a very nice thing to do to be perfectly honest"
Responding to Soubry's claim that people don't really care about reshuffles in the real world, Walker pointed out "Why is it the lead story on Newsnight, and why are you appearing on Newsnight?" Why indeed…
However, there is a personal reason why Anna Soubry is angry with Nadine Dorries.
On July 1, 2016, one week after David Cameron stood down as Prime Minister and Conservative Party leader because of the Brexit referendum result, tensions were running high not only in the Commons but also among the public.
Soubry went out near Parliament to address her fellow Remain supporters. Dorries tweeted that Soubry was under the influence. Soubry demanded that Dorries retract the tweet. The Times has the full story, which ends with this:
Update (25.07.2016): Following publication of this article, Nadine Dorries MP has withdrawn her tweet about passing Anna Soubry MP leaving the bar before she attended a rally of Remain supporters in central London. Ms Soubry has confirmed that she had not drunk any alcohol before speaking at the event.
Another reason why I am doubtful about Nadine Dorries is because she did not question the Government's coronavirus restrictions when she was at Health and Social Care. Does she really believe everything she hears? Here she responds to Conservative Woman's co-founder Kathy Gyngell. Dorries and her mother had the virus at the same time, and her mother recovered first. Even so, not questioning lockdown earns her a black mark from me:
At least she supported Brexit.
Michael Gove moves to Housing, no longer Chancellor of the Duchy of Lancaster
Michael Gove, who is in the process of a divorce and was a recent party boy in an Aberdeen nightclub, is no longer the Chancellor of the Duchy of Lancaster.
Stephen Barclay, formerly Chief Secretary to the Treasury, replaces him in that post. Simon Clarke replaces Barclay in the Treasury role.
Michael Gove replaces Robert Jenrick at the Ministry of Housing, Communities and Local Government and is in charge of Boris's 'levelling up' agenda.
A first attempt at a new acronym for the department has produced DULL:
Guido reports on the problems with acronyms for government departments in general:
The Sun's Harry Cole reports the initial proposal for a new "Department for the Union and Levelling Up" is no longer a flyer after realisations its acronym, 'DULU', sounds too much like "Dull". It's a shame a change was needed, given it was pointed out yesterday that Michael Gove the first MHCLG Secretary with all the letters of the department in his name…
Guido will leave it up to cleverer minds to work out an acronym that includes all the letters of Gove's new remit (MHCLG + Union + Levelling Up + Elections) though it's not the worst reshuffle acronym problem encountered by a PM. As Alan Johnson recounts, in 2005 Tony Blair came up with a plan to rename the department for Trade and Industry as the "Department of Productivity, Energy, Industry and Science". Thankfully Johnson was used to it by that point however – he'd already been Minister for Higher Education and Lifelong Learning, and headed up the Sexual Health Advisory Group…
Although this looks like a demotion for Gove, it involves a hefty budget with pan-govermental reach, something that should definitely appeal to him:
New Education Secretary
Nadhim Zahawi, formerly in charge of the coronavirus vaccine rollout, is the new Education Secretary, replacing Gavin Williamson, who likely got the sack because of the school exams fiasco during the coronavirus crisis.
Zahawi has achieved the British dream, having arrived in the UK as a child refugee who could not speak English:
Other appointments
Guido Fawkes has full reshuffle information for September 15 and 16.
Some MPs have transferred to other departments:
Others will be returning to the backbenches:
Jesse Norman tweeted that he was happy to return to the backbenches:
The new role for Nigel Adams is said to be a 'fixer' appointment in order to get things done:
More information and analysis can be found at The Guardian, The Telegraph, GB News , The Spectator and The Times (here, here and here).
House of Lords
Reshuffles can affect the House of Lords, too.
Fortunately, two of the stars there are still in place.
Baroness Evans
Baroness Evans, composed and competent, will remain as Leader of the House of Lords.
Lord Frost
Lord Frost will remain Cabinet Office Minister for Europe, in charge of EU negotiations and changes to relevant legislation:
On September 16, Guido wrote about Frost's plans to rid the UK of EU laws (emphases in the original):
Lord Frost has announced the government's plans to finally capitalise on the freedoms of Brexit and remove the "special status" of all individual EU laws still on the UK's statute books. There are also plans to invest heavily artificial intelligence, transport, and farming over the Parliament. Now if we just pair deregulation with lower taxes we may actually get somewhere…
Speaking on the reforms this afternoon, Lord Frost said:
"From rules on data storage to the ability of businesses to develop new green technologies, overbearing regulations were often conceived and agreed in Brussels with little consideration of the UK national interest.
"We now have the opportunity to do things differently and ensure that Brexit freedoms are used to help businesses and citizens get on and succeed."
Lord Frost will begin with a review of so-called "retained EU law" – the huge amount of EU legislation still on the UK's statute books; removing its special status so it's no longer a distinct category of UK domestic law, and ensuring all courts have the full ability to depart from EU case law. He describes it as finalising the process of "restoring this sovereign Parliament". There's a reason he's popular with the Tory membership…
Guido's post has more detail, much of which involves digitalising everything from share (stock) certificates and driving licences.
Hmm. I hope that when his proposals reach MPs that they are not taken too far. First, not everyone is online. Secondly, think of the hacking opportunities this could provide. Finally, and perhaps most importantly, digitalisation can lead quickly to establishing a Chinese-style social credit score.
One thing I did like was this:
Permitting the voluntary printing of the Crown Stamp on pint glasses and reviewing the EU ban on markings and sales in imperial units and legislating in due course, none of which were possible within the EU.
Robert Peston's misguided predictions
Sometimes, it is better to wait for the final outcome rather than tweet silly predictions:
On September 16, Guido noted witheringly of ITV's Robert Peston:
While yesterday may not have been great for Dominic Raab, at least he can take solace in the fact he had a better reshuffle than Robert Peston. ITV's senile senior political reporter spent all day tweeting every thought process, speculation and briefing with the acumen and insight of a first-year politics student.
Guido's article lists Peston's tweets. Perhaps ITV should buy him a new crystal ball.
Conclusion
I still think that most Conservative MPs are half-hearted. It's a shame that Boris did not promote any of the 2019 intake, especially the feisty ones from the North of England.
Fortunately, last week's horrible poll results have been reversed. Participants were polled during the reshuffle days of September 15 and 16:
Onwards and upwards to Boris's promised 'sunlit uplands', I hope.
This week, Prime Minister Boris Johnson postponed Freedom Day from June 21 to July 19, 2021.
Although a vote on this passed comfortably on Wednesday, June 16 — 489 to 60 — the number of rebel MPs, mostly Conservative, increased compared with previous votes on coronavirus restrictions. This page shows who voted No.
Boris and Matt Hancock might want to rethink their dependence on the lefty scientists of SAGE, but will they?
SAGE are effectively running this nation … into the ground.
Chesham & Amersham by-election upset
In addition, on Thursday, June 17, the Conservatives lost a by-election in Chesham & Amersham in leafy Buckinghamshire, not far from London. It had been a safe Conservative seat since the 1970s. A journalist from the Financial Times tweeted that he was sure they would win it once again:
In reality, it was a hat made out of fabric. Jim Pickard took three small bites of it, washed down with water. Sensible, as it could have been made in the world's largest manufacturing country (no prizes for guessing correctly). H/T Guido Fawkes:
Now they have a Liberal Democrat MP, the lady pictured below standing next to party leader Ed Davey MP. The reply to the tweet blames the win on local opposition to a high speed railway (HS2) and to extending lockdown:
However, the Lib Dems never really opposed HS2:
The by-election took place because Dame Cheryl Gillan MP died on April 4. Despite a long term illness, she was an active participant in parliamentary debates until the end.
According to a Guido Fawkes reader, this was the vote tally on Thursday compared with 2019's general election:
2019 results:
Conservative 30,850
Lib Dems 14,627
Labour 7,166
2021 Votes:
Conservative 13,489
Lib Dems 21,517
Labour 622
The only consolation is that the Labour vote sank like a stone:
Coronavirus cases rise in Cornwall after G7 summit
The virus lives and is on the rise in Cornwall:
In addition to the G7 and half term, another factor could be the warm weather last Sunday, attracting people to beaches.
Guido Fawkes has maps and the figures (emphasis in the original):
Last week, both St. Ives and the Carbis Bay area had two positive cases respectively. Now, St. Ives has 36 cases, and Carbis Bay has 15. That's a 1,700% increase in the former, and a 650% rise in the latter…
One of Guido's readers replied that a hotel and university are responsible (emphases mine below):
Tosh. The rise in St Ives/Carbis Bay happened before G7 kicked off and was down to the staff in one hotel and is linked back to the plastic University at the top of Penryn.
Cases, however, are only positive tests. Not all should require hospitalisation.
Wednesday's vote in Parliament
On Wednesday, June 16, Matt Hancock opened the debate on coronaivirus restrictions in the House of Commons.
He said, in part:
Thanks to the protection of the vaccination programme, huge advances in treatments like dexamethasone, which was discovered a year ago today, and the resolve of the British people in following the rules that this House has laid down, we have been able to take the first three steps on our road map, removing restrictions and restoring colour to the nation, but we have always said that we would take each step at a time and look at the data and our four tests before deciding whether to proceed. The regulations before the House today put into effect our decision to pause step 4 on our roadmap until 19 July. Before outlining the regulations that will put this into effect, I would like to set out why we made this difficult but essential decision.
Unfortunately, there has been a significant change since we started on our journey down the road map in February. A new variant has given the virus extra legs, both because it spreads more easily and because there is some evidence that the risk of hospitalisation is higher than for the alpha variant, which was, of course, previously dominant in this country. The delta variant now accounts for 96% of new cases. The number of cases is rising and hospitalisations are starting to rise, too—they are up 48% over the past week. The number of deaths in England is thankfully not rising and remains very low, but, as I told the House on Monday, we do not yet know the extent to which the link between hospitalisations and deaths has been broken, so we propose to give the NHS a few more crucial weeks to get those remaining jabs into the arms of those who need them.
Mark Harper (Con) intervened:
Can I just ask my right hon. Friend what we expect to achieve in the four weeks? I think I am right in saying that there are 1.3 million people in priority groups one to nine who have yet to have a second dose of the vaccination. The good point is that that means we have vaccinated 96% of people in those groups, but I just wonder—after four weeks, I doubt that we will get to 100%, so there will still be a significant number of people in those groups not vaccinated with two doses, and at that point, there is still going to be some risk. My worry, and the worry of others, is that we are going to get to this point in four weeks' time and we will just be back here all over again extending the restrictions. That is what we are concerned about.
Hancock said he was sure that four weeks would be sufficient. He's said that before.
Steve Baker (Con) also intervened:
Is not the problem with the two-week checkpoint that it creates another moment of hope for people who still feel even these restrictions very acutely, and that if we create hope and then shift the goalposts again, people will continue to deepen their despair? What will he say to those people?
Hancock said the public understood the reasons for the delay.
After Hancock finished speaking, it was the turn of the Shadow Health Secretary Jonathan Ashworth (Lab) to respond.
Ashworth largely agreed with the Government's extension to Freedom Day, but he rightly posed questions, such as this one:
Will we continue wearing masks?
At which point, Desmond Swayne (Con), who wears a silk scarf instead of a mask, shouted:
No!
Steve Brine (Con), former Public Health minister, intervened, recalling a bad flu year:
The right hon. Gentleman is right: we had a battle royal with influenza in the first year that I was in the job, but the difference was that we did not have any non-pharmaceutical interventions. Our interventions were about the take-up of the vaccine—yes, for children as well as for adults, especially the vulnerable. One of our chief advisers, the deputy chief medical officer then, one Professor Chris Whitty, never suggested masks, let alone closing schools—just a really good roll-out of the flu vaccine. We lost 22,000 people that year. Never were those numbers rolled on BBC News; never did we know the R number, but there was a point where we accepted an element of risk in society. I guess that was the point of my earlier intervention on the hon. Gentleman: what element of risk is he prepared to accept? Because that is what it comes down to—our own mortality is part of the human condition.
Ashworth replied, in part:
I do not want to see it done by some of the wider restrictions and lockdowns that we have heard about. That is why I would be interested to know whether the Department has developed plans for restrictions this winter and whether the Secretary of State has been discussing that with Whitehall colleagues.
Mark Harper intervened again:
On the point about the restrictions, I know that those discussions are going on because I have seen documents from within Government with very detailed suggestions about what measures may continue. I asked the Secretary of State about this when he was in the Commons earlier this week, and he did not rule out bringing in restrictions this winter. That is partly why some Conservative Members are very concerned and why we are not going to vote for these regulations today. However, I want to take the right hon. Gentleman back to his comments on what Chris Hopson said about the fact that the NHS is very busy at the moment. There is a danger here. I am very sympathetic to colleagues who work in the NHS, who have done a fantastic job, but we cannot get to a point where we restrict and manage society in order to manage NHS waiting lists. That is not the right way round. The NHS is there to serve society. If we need to enable it to do that, we have to think of a way of doing it other than putting restrictions on the rest of society. That is not a sustainable or a desirable position, but it is the logical consequence of what Chris Hopson was saying earlier this month.
Here's the video, which begins with Ashworth sitting down to give way to Harper:
Ashworth replied, beginning with this:
Even though we will find ourselves in different Lobbies this evening, I think there is more in common between us than perhaps one might expect. I do not want restrictions to remain in place for any longer than they need to. I want to move to a system where we are trying to push down covid infection rates by, yes, rolling out vaccination as far and as fast as possible to everybody, but also putting in place the proper framework so that those who are ill or a contact of someone who has been ill with covid is able to isolate themselves.
He took more interventions from Conservative MPs, then concluded:
The House is being asked to extend these restrictions, but there are a number of pressing issues. First, many of us have been contacted by business people in our constituencies who are deeply concerned about the extension of these restrictions. For my constituency in Leicester, which has been living under a form of restrictions more severe than other parts of the country, other than perhaps parts of Greater Manchester, this has been particularly devastating. I hope that the Government will be putting in place full support for businesses such as mine in Leicester and Greater Manchester and elsewhere.
The second issue, which we have touched on a little bit, is whether these restrictions will ever end, or whether the Prime Minister has trapped us in Hotel California, where we can never leave. He has talked about 19 July as the terminus date, but the explanatory notes themselves say that the four tests will apply on 19 July, and that these four weeks will be used to gather more data.
Hancock said later on that July 19 is still the terminus date and that data would be examined in two weeks' time.
The general debate took off from there, with Sir Desmond Swayne (Con), the original rebel, the first to speak. He criticised SAGE and one of its members, Susan Michie, the Communist:
I never believed that it was proportionate, even from the outset, for Ministers to take such liberties with our liberty. I always thought that it was wrong for them to take our freedoms, even though they believed that they were acting in our best interests in an emergency, but by any measure that emergency has now passed and yet freedoms are still withheld and the Government will not allow us to assess for ourselves the risks that we are prepared to encounter in our ordinary, everyday lives. The Government do not trust the people whom they govern.
Many members of SAGE—a misnomer if ever there was one—have been out busily undermining public morale. One of them even shared her dystopian vision that we must all remain masked and distanced in perpetuity—a shocking, horrible prospect. The fact is that once the consequences of this virus in terms of their financial and health impacts have long been addressed, the moral impact will remain. The Government have set a disastrous precedent in terms of the future of liberty on these islands. I could understand it if we were a communist party, but this is the party that inherited the true wisdom of the Whig tradition. This is the party of Margaret Thatcher, who said that liberty was indivisible. This is the party that only recently elected a leader whom we believed was a libertarian. There is much on which we are going to have to reflect.
Here is the video of his remarks:
Smoking also came up in the debate:
Sir Charles Walker (Con), another early rebel, spoke. He wants a reform of SAGE. Excerpts follow:
I wish to try to be constructive about how we can improve SAGE. As you know, Mr Deputy Speaker, SAGE has huge power over our lives. It has power over whom we hug and hold. It has power over which businesses open and which businesses close. In essence, it has power over who keeps their job and who loses their job. We, too, in this place have great power, but our power is matched by accountability.
Accountability is very important in the exercising of power, so I want to suggest some reforms to SAGE—some quite technical reforms. First, there is a need for greater financial transparency from members of SAGE in line with that expected of Members of Parliament. For example, I think when we look at SAGE members, we should be able to see what their annual income is—not only from their substantive job, but from their pensions accrued or the pensions they might well be in receipt of. This is something that is freely available for all Members of Parliament. I think we should also know and constituents should know if they have any significant shareholdings in companies, in the same way that our constituents know if we have significant shareholdings in companies. We could also look at whether they get other forms of income—from rent, for example …
… in the case of young people, many SAGE experts say that young people should be working from home. We know that young people are now tied to their small kitchen table or in their bedroom in miserable environments—the new dark satanic mills—and working endless hours in appalling circumstances, because people with nice gardens and comfortable homes think that is what they should be doing.
There should also be far greater personal accountability. There should be no more, "Here is Sir Mark Walport—of SAGE, but here in a personal capacity". Nonsense! He is there because he is a member of SAGE. We should also have elections to SAGE, so we could see Sir Mark Walport, Professor Susan Michie, John Edmunds and regular talking heads in our TV studios challenged by people with a different perspective—people such as Professor Karol Sikora, Professor Paul Dolan, who is an expert on human behaviour and quality of life, and Professor Ellen Townsend, who has a huge interest in the welfare of children and adolescents who are now being plagued by anxiety and eating disorders …
So here it is: full financial disclosure from members of SAGE and full elections, or they advise the Government, and if they do not want to do that, but want to advise TV studios, they do that, but they do not do both.
Here is the video of his speech in full:
Graham Stringer (Lab), also a rebel, spoke next. He rightly said that MPs do not have enough scientific data to make an informed decision about restrictions. Excerpts follow:
As ever, it is an honour to follow the hon. Member for Broxbourne (Sir Charles Walker). On his interesting point about SAGE, we could do with full disclosure from the Government about all the facts that they have available to them on covid. In the Science and Technology Committee this morning, we were told that vaccinations have saved 14,000 lives. I have no doubt that that is an accurate figure, but there are many figures that have not been given. As we said the last time we debated this issue, only one side of the equation is given. Let me ask this question: how many lives have been lost in order to save capacity in the NHS? When it comes to looking at people untested and untreated for cancer, heart disease and other diseases, we will find that the figures are of a similar, if not greater, magnitude than the number of people who have died from covid …
There is a great deal more information that we require in order to make a rational decision about whether the lockdown should continue. I agree with the right hon. Member for New Forest West (Sir Desmond Swayne) that what we have here is the Government asking for emergency powers when there is no longer an emergency …
The Government have refused on a number of occasions to give out that information. They have run a campaign to scare people into accepting their decisions …
One of the things that has annoyed me most in the last 15 months is when the Prime Minister and the Secretary of State for Health and Social Care say, "We instruct you"—meaning the population—"to do various things," when there is nothing in the legislation that would give the Secretary of State or the Prime Minister the ability to instruct individuals. We live in a liberal democracy in which we pass laws that are enforced by the police, and then the courts make a decision if there is a prosecution, not one in which the Secretary of State acts like some kind of uniformed Minister of the Interior.
I will vote against the regulations today. We need a more direct debate on the issue and we need what Members have searched for—a straightforward comparison, with real statistics, of what risks everybody faces.
Steve Baker (Con) agreed with Mark Harper about society and the NHS:
I refer the House to the declarations that I have made relating to the Covid Recovery Group.
No one can deny the brilliance of the Government's—the NHS's—vaccination programme. By mid-April, the over-50s and the vulnerable had had their first vaccination, and overwhelmingly they have now had their second. That is reflected in the Office for National Statistics antibody data, which shows extraordinary levels for anyone over 50. Antibodies are there in that population, which is vulnerable to the disease.
That brings me to the best case that the Government could make for the regulations before the House, which is that the ability of the NHS to provide other healthcare could be compromised by admissions from a younger population, because a small percentage of a big number is still a big number. But the huge problem with that is that it concedes the point that our liberties can be used to manage the capacity of the NHS. I cannot concede that. As my right hon. Friend the Member for Forest of Dean (Mr Harper) said, that is not the way in which we should be going as a society. If the restrictions that we are extending had been proposed for that purpose in the past, we would never have accepted them.
In Wycombe, people have of course been dutifully washing their hands, covering their faces and keeping social distancing rules, yet early in this pandemic, I remember one dear, sweet, older lady was beside herself with anxiety at the thought of having to go about her ordinary life with her face covered, and look at us now, taking it for granted. This is not normal. This is the dystopia that I stood here and forecast on the day we went into lockdown …
One of the most important things that we have learned from Mr Cummings' leaked WhatsApp messages is that it seems that the Government have been significantly influenced by polling. I fear we have had a real doom loop here between polling and policy making, which has driven us into a disastrous position. We now must not tolerate lockdowns being perpetually on the table. We must not tolerate a situation going on where we and the police are unclear about what the law is and how it should be applied. Imagine that you can hug but not dance—what madness is this? We cannot tolerate a situation any more in which a Government social scientist told the author of the book "A State of Fear" that the Government had used unethical techniques of behavioural science to deliver a policy which he said, in his own words, "smacks of totalitarianism".
We have transformed this society for the worst. We have it put in place a culture and habits that will take years to shake off and that distance people from one another and diminish their quality of life and the quality of relationships that they have with one another. High streets are in danger of becoming haunted alleyways. We are in danger of hollowing out and destroying the entertainment industry—much of what makes life worth living. Today's vote will go through—it is a foregone conclusion—but as my right hon. Friend the Member for New Forest West (Sir Desmond Swayne) implied, if the Conservative party does not stand for freedom under the rule of law, in my view, it stands for nothing. We have got to have a turning point. We have got to recapture a spirit of freedom.
Mark Harper spoke later on, at which point the Labour benches were empty. It is important for Britons reading this post to look at what he has uncovered. The Government continue to be dishonest not only with MPs but also the public:
Well said!
Please also note the following about winter. Meanwhile, Democrat-run New York and California are now open:
May our merciful God help the UK out of this unholy mess.
My previous posts in this series covered Piers Morgan's pontifications and the new Hate Crime Bill in Scotland.
Today's post looks at the Sarah Everard vigil on Clapham Common on Saturday, March 13.
On March 3, 2021, 33-year-old Sarah Everard disappeared from the streets of south London while walking home from a friend's house. A week later a woman's remains were found in the eastern part of Kent. Because of the extraordinary nature of the case, the UK Government have since placed a D notice on coverage of the details which have emerged thus far.
The case moved women across the UK to express their grief.
Women were also angered when, last week, after Ms Everard was missing for six days, officers from London's Metropolitan Police advised women not to go out alone at night.
Interestingly, Mayor of London Sadiq Khan told a radio station that London's streets are not safe for women and girls:
The same advisory went out many years ago in England when Peter 'Yorkshire Ripper' Sutcliffe was on the prowl for his latest victim. Julie Bindel recalled her memories of that time in an article for The Spectator: 'Why are London police telling women to stay at home?'
Bindel wrote (emphases mine):
I moved to Leeds in 1979, during the hunt for serial killer Peter Sutcliffe. I was 17-years old and had been raised, as had most girls, being warned that our safety was our own responsibility. 'Don't go out alone at night', 'don't talk to strange men', 'cover your flesh if you don't want to get yourself raped'. Men were rarely told that they were to blame for the fact that we constantly looked over our shoulder whenever we were out alone in case a predator was looking to strike.
As a response to West Yorkshire police issuing what was effectively a curfew on women, feminists organised the first Reclaim the Night marches which occurred simultaneously across 12 English towns and cities, from Manchester to Soho.
Women on these marches carried placards reading 'No curfew on women — curfew on men' as they shouted about their anger at being kept off the streets — the supposedly public highways, after all — by the threat of male violence.
I recall feeling very angry at being told by police to 'stay indoors' and 'Do not go out at night unless absolutely necessary, and only if accompanied by a man you know.' Ironically, Sutcliffe himself gave the same advice to his sister.
Bindel provides other instances where police forces across England gave women the same advice.
She concludes:
Women should be able to go for a walk without fear or a male chaperone. We feel scared not because we are pathetic, weak creatures but because so many men target us. Feminism exists because women are sick and tired of being in danger in both the home and on the streets. They should be the ones to lose their freedom of movement, not us.
Perhaps Wales's First Minister Mark Drakeford read her article of March 10. Two days later he told the BBC's Charlie Stayt that he might consider a curfew on men in Wales:
Alternatively, perhaps Mark Drakeford saw Baroness Jones (Green) advocate such a measure the day before in the House of Lords:
Guido Fawkes saw a potential problem with that (emphasis in the original):
The Green Party also backs gender self-identification for all so Guido can already think of one loophole in Jenny's plan…
Some of Sarah Everard's friends had the idea of organising a vigil for her at Clapham Common, through which she walked on her way home on March 3. They decided to cancel it.
However, a vigil did take place there, at the bandstand, on Saturday, March 13. People could pay their respects and place flowers at the bandstand.
The Duchess of Cambridge went to pay her respects with a bouquet that afternoon.
As the sun set, what was a quiet day of reflection and grief turned into something else. Protesters gathered, as did the Metropolitan Police.
The BBC's Charlie Haynes tweeted:
Independent journalist Ahmed Kaballo tweeted his footage:
The London correspondent from the Washington Post was there and posted her footage:
Here is a photo:
Then police arrested a young woman. Reports say she is petite — 5'2″:
I am surprised that a woman of her small stature had to be held to the ground in order for an arrest to take place. Couldn't four policemen do that standing up?
Reports say she was later released, but the point still stands.
With coronavirus lockdown still in place, everyone who is everyone was at home. Those people saw it online or on the telly.
In the early hours of Sunday morning, March 14, the Met's Assistant Commissioner Helen Ball, who reports to Commissioner Cressida Dick — two women! — issued a statement, which says, in part:
"Around 6pm, more people began to gather close to the bandstand within the Common. Some started to make speeches from the bandstand. These speeches then attracted more people to gather closer together.
"At this point, officers on the ground were faced with a very difficult decision. Hundreds of people were packed tightly together, posing a very real risk of easily transmitting Covid-19.
"Police must act for people's safety, this is the only responsible thing to do. The pandemic is not over and gatherings of people from right across London and beyond, are still not safe.
"Those who gathered were spoken to by officers on a number of occasions and over an extended period of time. We repeatedly encouraged those who were there to comply with the law and leave. Regrettably, a small minority of people began chanting at officers, pushing and throwing items.
"After speaking with officers, the vast majority of people quickly left. Four arrests have been made for public order offences and for breaches of the Health Protection Regulations.
"Part of the reason I am speaking to you tonight is because we accept that the actions of our officers have been questioned.
"We absolutely did not want to be in a position where enforcement action was necessary. But we were placed in this position because of the overriding need to protect people's safety.
"Let me end by saying that across the Met, we review every single event that we police to see if there are lessons that can be learnt. This one will be no different."
The Sunday morning news shows were only hours away. Not surprisingly, this was a huge story.
The Safeguarding Minister (?!) told Sky's Sophie Ridge that the events were 'very upsetting':
The Victims' Commissioner told Ridge that police had made a bad situation worse:
The Met's Commissioner defended her men:
But the story and the emotion didn't go away. On Sunday, demonstrators gathered in Parliament Square to protest the Met's handling of the vigil.
Two other British cities held peaceful vigils. Birmingham's police worked well with organisers, as local MP Jess Phillips explained to the BBC. Glasgow held a quiet ribbon vigil. Elsewhere, such events took place online.
On Monday morning, Prime Minister Boris Johnson voiced his disapproval:
However, Boris voiced his support for Dame Cressida in her role (Guido Fawkes has the story and a video).
Guido Fawkes's cartoonist, Rich, posted his weekly cartoon:
The public, however, thought that the vigil should not have taken place, probably because of coronavirus restrictions:
A retired Metropolitan Police officer posed these questions:
On Monday afternoon in Parliament, Home Secretary Priti Patel gave a statement and paid tribute to Ms Everard:
"women and girls must feel safe while walking our streets", and cited the Domestic Abuse Bill which is going through the Lords this evening as the action the Government is continuing to take.
During the debate that followed, Sir Charles Walker said that what happened at the vigil was the fault of the overwhelming majority of MPs who voted for the Coronavirus Act 2020:
He said (emphases mine):
This House criminalised the freedom of protest. This House. Us. Not Dame Cressida. Not the Metropolitan Police. We did. We criminalised freedom to protest collectively. We are up to our eyeballs in this.
I couldn't agree more.
Walker wanted to amend the law that afternoon to allow protests again. That did not happen.
Tom Harwood, who writes for Guido Fawkes, asked whether police took advantage of a soft target:
Really difficult situations provoke a different response from the Met, such as last summer's protests. They walk away:
Incidentally, skin colour is irrelevant. Last autumn, the Met bought sandwiches for Extinction Rebellion who were occupying Smithfield Market.
On Monday night, Boris tweeted a statement about women's safety:
Even if the general public objected to the vigil, conservative and libertarian columnists took strong objection to the Met's handling of it as well as to the law against protests.
UnHerd posted 'The police have a woman problem'.
Conservative Woman featured 'Police at Sarah vigil were trying to enforce a rotten law'. They also posted 'I hate what is being done to my country'.
Spiked remembered the reason the vigil took place: 'This is not what Sarah would have wanted'.
The Leader of the House of Commons, Jacob Rees-Mogg, said on Thursday, March 18, that the coronavirus laws will most likely stay in place until the end of June, when the furlough programme expires.
That said, they will be debated next week.
In conclusion, illiberal laws bring illiberal — and inconsistent — enforcement.
Once again, coronavirus measures featured strongly in this week's debates in the House of Commons.
Yesterday's post explained that a compromise was reached over the proposed Brady Amendment and covered the subsequent debate on the renewal of the Coronavirus Act 2020.
In the end, only a handful of MPs voted against the extension. Congratulations to them and to the Liberal Democrats, all of whom voted No:
The Labour MPs were Dawn Butler, Kevan Jones, Rebecca Long-Bailey, John Spellar, Graham Stringer and Derek Twigg. I do have a particular admiration for Graham Stringer who adds lucidity in every discussion in which he participates. I've seen him in Select Committee hearings and he's brilliant.
Below is a review of coronavirus debates from the other days.
Monday, September 28
Steve Baker (Con) was in rebel mode on his way to the Commons that morning:
In the afternoon, Secretary of State for Health and Social Care Matt Hancock appeared at the despatch box for a debate on COVID-19 measures.
He received several interventions (interruptions).
Sir Edward Leigh (Con) was the first. He also mentioned Sir Graham Brady of the eponymous amendment (emphases mine below):
If the first duty of Government is to keep people safe, will the Secretary of State remember that the first duty of Parliament is to hold Government to account? I know that he wants to take public opinion with him, but will he therefore reassure us that he is also determined to take Parliament with him? In that respect, may I urge him to meet with my hon. Friend the Member for Altrincham and Sale West (Sir Graham Brady) and come to a compromise to ensure that, if there are further national lockdowns, Parliament will be fully involved in the process?
He agreed, but note the 'where possible' in his reply:
We are looking at further ways to ensure that the House can be properly involved in the process—in advance, where possible. I hope to provide the House with further details soon. I will take up the invitation to a further meeting with my hon. Friend the Member for Altrincham and Sale West (Sir Graham Brady), whom I have already met to discuss this matter, to see what further progress can be made. I hope that that, for the time being, satisfies my right hon. Friend.
Mark Harper and Steve Baker, both Conservatives, hit the nail on the head.
Harper said:
To develop the point made by my right hon. Friend the Member for Gainsborough (Sir Edward Leigh), I accept the points about scrutiny that the Secretary of State makes, but it is about not just scrutiny but the laws we are making. The laws that came in at midnight, for example, were 12 pages of laws, with lots of detail, criminal offences and duties not mentioned when they were set out in a statement last week. That includes duties on employers, directors and officers, with serious criminal penalties. We need to scrutinise the detail of the legislation before it comes into force and give our assent, and not, I am afraid, just allow the Secretary of State to put it into force by decree.
Hancock batted that away, as if it were nothing:
Of course, sometimes in this pandemic we have to move fast. Sometimes we have had to move fast, and we may need to do so again. The challenge we have in this House is how to ensure proper scrutiny while also being able, when necessary, to move fast in response to the virus. That is the challenge that collectively we all face.
Steve Baker dismissed that answer with facts but had to couch it, knowing how thin-skinned Hancock is:
I reassure my right hon. Friend that I am going to praise him later, but the Constitution Unit at University College London tweeted earlier about the regulations mentioned by my right hon. Friend the Member for Forest of Dean (Mr Harper) that
"this policy was briefed to the media 8 days ago. Was it really not possible to schedule proper, detailed parliamentary debate during that time, given the far-reaching consequences?"
It added:
"Given the current mood, it seems very likely MPs will ask this."
Well, I am asking. Surely it was possible, in eight days, to have the debate that my right hon. Friend has called for.
Hancock replied that both he and Prime Minister Boris Johnson had made statements about the new laws the week before.
Labour's John Spellar, who voted against the extension of the Coronavirus Act 2020, pressed Hancock on the issue:
It is nice to be informed, nice to be consulted and nice to be able to scrutinise, but in the end it is about who decides. Can the Secretary of State explain why he is so against Parliament's making the decision, even if he argues for urgency and immediacy —within two days, for example—to either confirm or revoke those regulations? Why is he against Parliament's being the one that finally decides on this? It is quite clear that this is not even being decided in Cabinet, but just by one or two Cabinet members. Let Parliament decide.
Hancock said he hoped to find a way forward.
Jonathan Ashworth, Shadow Health Secretary, replied on behalf of Labour.
This was an excellent debate, one worth reading in full. A few more highlights follow.
John Spellar pointed out that a vaccine would give no guarantees:
There has been much mention of the success of a vaccine, but, first, it is unclear when that is likely to be and, secondly, surely even if we have a vaccine, it will not be 100% effective.
Sir Desmond Swayne (Con) gave the best speech of the debate — a must-watch at just under two minutes:
He took exception to Chief Medical Officer Dr Chris Whitty and Chief Scientific Officer Sir Patrick Vallance's televised presentation the week before with a graph that strained credulity. They took no questions from the press. No government minister was present, either, even though they sat in front of a No. 10 backdrop.
Swayne rightly railed about it and them:
Less than a year ago, I celebrated what I thought was the election of a sceptical and liberal Conservative Administration. Now, I am left wondering if the Prime Minister has not been abducted by Dr Strangelove and reprogrammed by the SAGE over to the dark side.
The purpose of politicians is to impose a sense of proportion on science and not to be in thrall to it. I will make myself very unpopular, but I believe that the appearance of the chiefs last week should have been a sacking offence. When they presented that graph, it was with the caveat that it was not a prediction, but nevertheless it was clear that they presented it as a plausible scenario, with its 50,000 cases per day by mid-October based on the doubling of infections by the week. Not on one day since March have there been infections on a day that were double that of the same day of the week preceding—not once. Where did this doubling come from? What was their purpose in presenting such a graph? It was the purpose of the fat boy in "The Pickwick Papers":
"I wants to make your flesh creep."
It was "project fear". It was an attempt to terrify the British people, as if they had not been terrified enough.
I have been banging on about this since March, and with every criticism I have made, I have been told that the Government were relying on the best possible science. So I was delighted by the letter one week ago today with the nuanced criticism of Professors Heneghan, Gupta and Sikora. I believe that the Government now have to answer that criticism. I am glad that the consensus in the scientific community is broken and the critics are speaking out.

I do not underestimate for one moment the horrible nature of this disease and its post-viral syndrome, but in terms of the United Kingdom's killers, it is 24th in the league, accounting for only 1.4% of deaths. As a consequence, I believe the Government's policy has been disproportionate. By decree, they have interfered in our private and family lives, telling us whom we may meet, when we may meet them and what we must wear when we meet them. We have the cruelty of elderly people in care homes being disoriented, unable to see ​the faces of their loved ones or to receive a hug. We have the tsunami of deaths that we may experience shortly as a consequence of undiagnosed cancers and heart disease, and the discontinuation of clinical trials.
He praised Sweden's lack of lockdown and compared the Government's warning about Christmas celebrations to Cromwell, who, as Lord Protector, also banned the holiday:
All sorts of criticisms are levelled against the Swedish Government that, on examination of the data and comparing like for like, are without foundation. I certainly hold up the Swedish model as an alternative.
We have seen the eye-watering costs that we must now all face for a generation, having closed down our economy for all those months as a consequence of the Government's policy. We face the crushing of enterprises, the destruction of livelihoods, and unemployment among young people, all as a consequence of an overreaction. I understand that there is now some question as to whether students will be allowed to return from university at Christmas. I say most gently to the Minister that the last Administration that sought to restrain celebrations at Christmas was during the Commonwealth, when the Lord Protector was left musing in public whether, if he were to arm one in 10, that would be enough. How many marshals will be required?
I conclude by saying that the policy of the Government has been disproportionate in response to this threat. There may be a virus one day that threatens our very way of life, but this is not it, even if we are behaving as if it were.
In other news, people in England were deeply unhappy to discover that, while they are under 10 p.m. closing time for pubs and restaurants, Parliament's bar and restaurant were allowed to stay open past that hour.
Guido Fawkes reported that a U-turn took place. The exemption was initially made because both are considered as a 'workplace canteen', as sittings in both the Commons and the Lords occasionally run into the night. Now, at least, alcohol will not be served after the witching hour:
Tuesday, September 29
The 10 p.m. closing time for bars and restaurants in England has rankled both proprietors and the public to the extent that the Mojo Bar in Manchester has banned all MPs until the curfew is cancelled:
Guido Fawkes had more details (emphasis in purple mine):
After five days of the disastrous mandatory 10 pm closing time policy for bars, pubs, and restaurants, Mojo Bar in Manchester is taking matters into its own hands. Clearly fuming at the counterproductive curfew order imposed this week, the bar took to social media to share pictures of all MPs – declaring none of them will be served until the curfew is cancelled. Clearly the management know which strings to pull to get the attention of MPs…
Managing Director Martin Greenhow tells Guido that the eye catching policy came about "from frustration and fear". Before the curfew the bar had bounced back pretty strongly from lockdown, back up to 85% of normal turnover. After the curfew was imposed it's down to just 20%.
Good grief! Stop the madness.
The coronavirus restrictions in England became so complicated that ministers, including Boris, could not keep them straight any more.
Gillian Keegan, the Parliamentary Under Secretary of State for Apprenticeships and Skills, had a rough start in the morning on BBC Radio 4's Today:
Guido had more (emphases in the original):
… she was unable to clarify the newly-imposed rules in the northeast on meeting other families, squirming "no, I'm sorry I can't clarify that… no I don't know the answer to that question", claiming she couldn't answer the ever-increasingly complex regulation question because she's "not from the northeast". Mishal Husain correctly pointed out Keegan, as a minister, couldn't understand the new rules, what hope does the general population have of being able to stick to them…
Alok Sharma, Secretary of State for Business, Energy and Industrial Strategy, also appeared on BBC radio that morning. He took issue with their 'gotcha' tactics:
Boris, too, got tripped up around lunchtime. He was asked to clarify Gillian Keegan's answer on Today:
Guido reported:
Responding to a Channel 5 question, Boris said:
"Outside the areas such as the North East where extra measures have been brought in, it's six inside and six outside, in those areas such as the North East where extra tight measures have been brought in you should follow the guidance of local authorities, but it's six in a home or in hospitality but as I understand it, not six outside. That's the situation there."
Which is precisely the opposite of what the new restrictions say, as the Government announced last night:
"Measures will be brought into law restricting inter-household mixing in indoor settings, including pubs and restaurants"
So in indoor settings no household mixing. Outdoor can see household mixing. Something the PM got 180 degrees the wrong way round…
He quickly issued an erratum early in the afternoon:
Wednesday, September 30
In the debate on extending the Coronavirus Act 2020, another highlight was Conservative MP Charles Walker's speech. He was on fire:
He said:
I first thank the Secretary of State for everything he has done to get us to this stage tonight, but 90 minutes to debate the renewal of an Act that has fundamentally changed the nature of the relationship between the state and citizens is not good enough. If this is the portent of the promises to come, it is not good enough. I need, at some stage, more than three minutes to discuss the fundamental ​hardships that are going on in my constituency—the jobs that are being lost, the opportunities that are being lost, the young people struggling to find work, to get back to university and to come back from university. Ninety minutes is an utter, utter disgrace. It is actually disrespectful to this House and it is disrespectful to colleagues.
I am sorry, Secretary of State, if I sound—actually, I am not sorry that I am angry, because a lot of people in this place are angry. We want to see this virus beaten, of course we do, but it would be nice—just nice—if this House were shown some respect.
Charles Walker is the vice-Chairman of the 1922 Committee, which Sir Graham Brady chairs. It represents backbench Conservative MPs.
Walker's righteous anger has been building since September 10:
I note that Steve Baker did not vote against the extension of the Coronavirus Act 2020, despite a bold interview days before on Sky News.
Despite that, he still has his eye on the ball. He retweeted this from Italy:
And he's doing more interviews:
We really do need to reopen the economy in full — now.
Next week, I'll have a wrap-up of the final debates of the Brexit-oriented Internal Market Bill.
Last week proved to be another emotive and passionate one in the House of Commons with regard to coronavirus and Brexit.
This post concerns coronavirus.
On Monday, September 14, Prime Minister Boris Johnson's Rule of Six, which he announced on September 9, came into effect. It sounds rather Chinese.
It means that people living in England cannot meet in groups of greater than six, indoors or outdoors. If we do, according to him, we 'will be breaking the law'.
He also introduced a new platoon to keep us in line: COVID marshals, to remind us of existing coronavirus rules in England — 'hands, face, space'.
Recall that Boris said after the December 2019 election that we now have the People's Government. Hmm.
The UK government is copying a Belgian idea. The Rule of Six reduced their second spike.
Increasingly, Britons have been looking back at Sweden, which refused to lock down. Fraser Nelson is the editor of The Spectator. Chris Whitty is our Chief Medical Officer; in May, he said that coronavirus was harmless for most people and most of us would never get it:
Michael Gove MP, a Cabinet minister and Chancellor of the Duchy of Lancaster, made matters worse when he confirmed that under-12s were part of the Rule of Six, unlike in Scotland and Wales, where under-12s are not. With life getting back to normal as school has started again, this came as a blow to many families:
The Telegraph reported that the Cabinet was split on the proposals (emphases mine):
… one senior Tory source said that "half the Cabinet" had doubts about the so-called 'rule of six', and it was "pretty hard to find a Conservative member of Parliament who agrees with all of this".
The COVID marshals are also a problem for police and local councils:
Meanwhile, Mr Johnson's plan for coronavirus marshals to help enforce the six-person rule was unraveling as police derided them as "Covid Wombles" and councils said they were a "gimmick".
Downing Street admitted councils would not be given any money to pay for the marshals, suggesting volunteers could do the job, and said it would be up to individual local authorities to decide whether they actually wanted them.
It got worse, as curfews were mooted:
The Government has discussed going even further with new lockdown restrictions, and has drawn up "a well-developed proposal" for a nationwide curfew which was discussed at ministerial level.
My head spun.
Then the ministerial snitch crowd appeared on weekend news programmes to say that people must tell on their neighbours if they are seen to be violating the Rule of Six:
Political journalist Isabel Oakeshott rightly responded:
I couldn't agree more. This is supposed to be the People's Government, isn't it?
History will not look kindly on 2020 with regard to the measures taken to combat the virus:
I was wrong.
Home Secretary Priti Patel said that people should not even talk when they see friends in the street, even at a distance (audio here, thanks to Guido Fawkes, and there's video, too):
Yebbut, if you DO report what appears to be criminal activity, allegedly, the police do not want to know. Here is a printscreen of a set of comments on a Guido Fawkes thread. I call your attention to the last two. Police would rather pick on mums and their children. Ironically, that was posted on the anniversary of the Battle of Britain. Go figure.
A mild-mannered man from Buckingham called talkRADIO to say he would not comply with the Rule of Six because the Government had gone too far.
So did a lady from Brighton, saying that the Rule of Six was about:
control. They're trying to see how much they can get away with.
Another talkRADIO host, Julia Hartley-Brewer, had a go at Roy Lilley, former NHS Trust chairman. She said:
We are being scared into thinking we have to give up our civil liberties when that won't save lives. Being sensible will save lives.
The Telegraph's Salley Vickers wrote of the restrictions on her and her loved ones:
I would rather risk dying and have the joy of their company than lose that vital contribution to my own happiness.
With the festive season only several weeks away, the Daily Mail's Peter Hitchens told talkRADIO's Mike Graham that the Rule of Six has:
made Christmas an arrestable offence.
Another Daily Mail journalist, Bel Mooney, wrote an editorial for Conservative Woman saying that she was surprised at the amount of resistance she received when she wrote that she would be defying the Rule of Six at Christmas:
… in response to Matt Hancock's sudden, arbitrary and illogical 'rule of six' diktat, I wrote a strong opinion piece (at the request of my newspaper) headlined 'NO, NO, NO! I'm having Christmas for 14 – and no puffed-up Covid marshal will stop me'.
As you might expect, there was a huge response. I never look online, and am not on Twitter (I expect there was a lot of poison swilling around out there). I am talking about emails to me and the newspaper. What interested me was the fact that, if I am to be honest, the antis outnumbered the pros. I didn't expect that from Mail readers.
You can never tell with Mail readers, though. They're a tricky lot.
Oxford University's Professor Carl Heneghan and honorary research fellow Tom Jefferson wrote an article for The Spectator against the Rule of Six, saying that Boris must bin it:
At Oxford University's Centre for Evidence Based Medicine, we have spent years trawling through the scientific evidence on the effects of measures such as distancing on respiratory viral spread. We are not aware of any study pointing to the number six. If it's made up, why not five or seven? …
Northern Ireland has taken a more measured approach and not announced any changes to how many people can meet. These disagreements in policy reveal how decisions are being made without evidence. It seems that somebody in government sat in a cabinet office room and said six is a good idea and nobody disagreed …
The problems with policy stem from the current cabinet's vast inexperience: the Health Secretary has been in post for just over two years now; the PM and the Chief Medical Officer a year. The Joint Biosecurity Centre is overseen by a senior spy who monitors the spread of coronavirus and suppresses new outbreaks. Add to this mix the new chair of the National Institute for Health Protection, who similarly has little or no background in healthcare. Our leaders amount to little more than a Dad's Army of highly paid individuals with little or no experience of the job at hand.
This inexperience leads to rash decisions and arbitrary policies.
One example is that entire areas can be locked down if they have 50 cases per 100,000 people. Yet the recognised alert threshold for 'regular' acute respiratory infections is 400 cases per 100,000.
Lord Sumption, who has been speaking out against lockdown this year, said that the Rule of Six will be unenforceable. I hope he is right:
Tom Tugendhat (Tunbridge and Malling, Con) expressed his concerns about the new rule and rightly wanted MPs to vote on it and similar measures:
It's unlikely that the House of Lords can help, either. They already have a full schedule. We should thank Lord Lamont for raising the issue of consulting the public, however. 'SI' means 'statutory instrument':
Monday, September 14
Behind the scenes and well outside of Parliament, an email emerged dated May 23, wherein Chief Scientific Adviser Sir Patrick Vallance stated he had pushed the most for March's lockdown:
Guido Fawkes has the full text of the email. I am not sure how Sir Patrick thinks that a vaccine will achieve herd immunity, though.
In the first of the debates on the Brexit-related Internal Market Bill, Charles Walker MP (Broxbourne, Con) prefaced his comments by expressing his dismay about the Rule of Six, the lack of consultation with Parliament and the fining of Jeremy Corbyn's brother Piers at the anti-lockdown rally on Saturday, September 12.
Thank you, Charles Walker:
This is short and well worth watching:
Tuesday, September 15
Secretary of State for Health and Social Care Matt Hancock poled up to make a statement to MPs about the Rule of Six and testing.
Excerpts follow:
There are signs that the number of cases in care homes and the number of hospitalisations is starting to rise again, so last week we acted quickly, putting in place new measures—the rule of six, which came into force yesterday. We do not do this lightly, but the cost of doing nothing is much greater.
Testing also has a vital part to play. Everyone in this House knows that we are doing more testing per head of population than almost any other major nation, and I can tell the House that we have now carried out over 20 million tests for coronavirus in this country. As we expand capacity further, we are working round the clock to make sure that everyone who needs a test can get a test. The vast majority of people who use our testing service get a test that is close to home, and the average distance travelled to a test site is now just 5.8 miles —down from 6.4 miles last week; but the whole House knows that there are operational challenges, and we are working hard to fix them.
We have seen a sharp rise in people coming forward for a test, including those who are not eligible.
Jonathan Ashworth (Leicester South, Lab/Co-op), speaking for the opposition, said:
I am grateful for advance sight of the Secretary of State's answer. That was decent of him.​
Yesterday LBC revealed that there were no tests available in covid hotspots, including Rochdale, Pendle and Bradford. Over the weekend in Bolton, where infections are the highest in the country, a mobile testing centre failed to turn up. Meanwhile, in Bury hundreds queued for five hours for a test. In Walsall, a father with his sick child travelled 76 miles to an appointment in Wales, only to find on arrival that tests had run out. Increasing numbers of teachers and pupils are not in school. In hospitals, operations are cancelled while NHS staff are stuck in limbo, waiting for tests.
The Secretary of State blames increased demand, but when tracing consistently fails to reach 80% of contacts, when less than 20% of those with symptoms self-isolate properly and there is a lack of financial security, infections rise. When schools reopen and people return to workplaces and social distancing becomes harder, infections rise. Extra demand on the system was inevitable. Why did he not use the summer to significantly expand NHS lab capacity and fix contact tracing?
Just as demand is increasing, the ability to process tests is diminishing. Post-graduate students working in the Lighthouse labs are returning to university, so why did the Secretary of State not plan for the inevitable staff shortages in the Lighthouse labs? Those commercial pillar 2 labs, The Sunday Times revealed at the weekend, have a huge backlog of 185,000 tests. Thursday's data revealed that 65,709 test results were not returned by the end of the week. Care home residents now wait an average of 83 hours for their result. The Prime Minister promised us a 24-hour turnaround for results, so what is going on? What is the current backlog and what is the timeframe for clearing it?
We were promised a world-beating system, so why are we sending tests to Germany and Italy for processing? But, most importantly, people want to know when they will get a test and when this mess will be fixed. Today there will be thousands of ill people trying to book a test, only to be told none is available. When will people be able to book a test online again, or has the online booking system been deliberately disabled? When will ill people no longer have to travel hundreds of miles for a test that should be available on their doorstep? When will pupils and teachers out of school get access to testing, so they can get back to school? When will NHS staff have access to regular testing, so they can focus on their patients and not be sitting at home?
We are at a perilous moment. Imperial College estimates the virus is doubling every seven to eight days. We all want to avoid further restrictions or another national lockdown, but when testing and contact tracing break down, the growth of the virus cannot be tracked. The Prime Minister promised us whack-a-mole, but instead his mallet is broken. The Secretary of State is losing control of the virus; he needs to fix testing now.
Many MPs — from both Opposition and Conservative benches — said that their constituents could not get tests.
Even the Speaker of the House tweeted that his constituents were having similar problems:
The testing situation is shocking — as Terry-Thomas used to say in the Boulting Brothers films: 'An absolute shower!'
On the upside, the British coronavirus jobs situation is improving, thank goodness (more from Guido here):
Wednesday, September 16
Deputy Labour Leader Angela Rayner (Ashton-under-Lyne) stood at the Opposition despatch box for Prime Minister's Questions (PMQs), as Sir Keir Starmer was self-isolating:
She did a good job.
She began by saying:
Many people in the Chamber will think that the battle of Britain is today, but actually we marked the 80th anniversary of those veterans yesterday, and I want to put on record our thanks to all those who fought for our country in the past.
I want to start by reading to the Prime Minister a message that I have received from a man called Keir. Keir was not able to go to work today and his children could not go to school because his family had to wait for their coronavirus test results, despite the Prime Minister's promise of results within 24 hours. Keir was able to do the right thing and self-isolate and work from home, but other people are not in this position, and many of them are the very people who were getting us through this crisis, such as the care workers, who I used to work alongside before I was elected to this House. The Prime Minister once earned £2,300 an hour; can he tell us the average hourly rate of a care worker in this country?
Boris was singularly unimpressed, although he had a neutral expression on his face, even when discussing Starmer:
I congratulate the hon. Lady on her elevation. She speaks of the constituent Keir, and I can tell her that—allegedly, apparently—he has had a negative test, and I do not know quite why he is not here. But 89% of those who have in-person tests get them the next day, and we are working very fast to turn around all the test requests that we get. I think that most people looking at the record of this country in delivering tests across the nation will see that that compares extremely well with any other European country. We have conducted more testing than any other European country, and that is why we are able to deliver tests and results in 80% of cases where we know the contacts.
The hon. Lady asks about care homes, and I can tell the House that today we are launching the winter care home action plan. She is right to raise the issue of care homes, and we are concerned about infection rates in care homes, but we will do everything we can to ensure that care homes and their workers are protected.
On the hon. Lady's final point, I am proud that it is this Government who have instituted the national living wage to ensure that every worker in this country, including care home workers, is paid substantially more, thanks to the care and the work of the people of this country.
Boris listened attentively and responded sensitively to all the points that Angela Rayner raised until this point, which came several minutes in, when she said:
Infections are rising. The testing system is collapsing. When you are the Prime Minister, you cannot keep trying to blame other people for your own incompetence. We have the highest death toll in Europe, and we are on course for one of the worst recessions in the developed world. This winter, we are staring down the barrel of a second wave, with no plan for the looming crisis. People cannot say goodbye to their loved ones. Grandparents cannot see their grandchildren. Frontline staff cannot get the tests that they need. And what was the top priority for the covid war Cabinet this weekend? Restoring grouse shooting.
I suppose that is good news for people like the Prime Minister's friend who paid for a luxury Christmas getaway to a Caribbean island and funded his leadership campaign, and just so happens to own two grouse moor estates. So Prime Minister, is this really your top priority?
The Prime Minister answered:
While the Labour Opposition have been consistently carping from the sidelines throughout this crisis and raising, frankly, issues that are tangential, if not scare stories about what is going on, we are getting on with delivering for the British public. We are not only massively ramping up. She has not contested any of my statistics today about the extent to which this country is now testing more than any other European country.
She has not disputed the massive acceleration in our programme. [Interruption.] I will answer the substance of her question, thank you very much. We are getting on with delivering on the priorities of the British people: getting us through this covid crisis; delivering on making our country safer, bringing forward measures to stop the early release of dangerous sexual and violent offenders, which I hope she will support; strengthening our Union, which in principle Opposition Front Benchers should support; and building more homes across this country and more affordable homes across this country, which she should support. That is in addition to recruiting more doctors and more nurses, and building more hospitals.
I do not think anybody is in any doubt that this Government are facing some of the most difficult dilemmas that any modern Government have had to face, but every day we are helping to solve them, thanks to the massive common sense of the British people, who are getting on with delivering our programme and our fight against coronavirus. It is with the common sense of the British people that we will succeed, and build back better and stronger than ever before.
If only.
That day, news of an upcoming curfew in London emerged.
Apparently, the British people don't have much common sense, after all.
Currently, London has some of the fewest new coronavirus cases (i.e. positive tests, little hospitalisation):
Guido rightly wrote (emphases in the original here):
If this afternoon's splash from the Evening Standard is true, it is a step too far. The London director of Public Health England (yes, the organisation is still limping on for now, despite the Health Secretary announcing its abolition back in August) has issued a "curfew alert" to the capital through the newspaper, saying residents could face a mandatory curfew if Covid cases continue to rise. A ridiculous suggestion that should be forcefully opposed.
Shutting pubs, bars, restaurants, and just about everything else at an arbitrary hour will obviously do nothing to stop the spread of coronavirus. If anything, the move will be counter-productive – compressing the same number of customers into a shorter time and making social distancing harder still. Or pushing social gatherings into homes not bars, which are thought to be more likely to spread the virus. This no doubt ineffective PHE [Public Health England] nannying should have been dumped when the organisation was. The government need to remember there is a limit to people's compliance. This might just hit it.
As I write early on Tuesday, September 22, Boris is planning to bring in an England-wide curfew for pubs and restaurants on Thursday. As if the virus will know the difference between a 10 p.m. closing time versus the usual one of 11 p.m. The mind boggles.
Thursday, September 17
Matt Hancock appeared again with another update on coronavirus.
This time, it was about measures taken on lockdown in the North East of England. This includes strict adherence to household bubbles, table service only in hospitality venues and a curfew between 10 p.m. and 5 a.m.:
Once again, he was straining every sinew, an expression he has been using since March:
The battle against coronavirus is not over, and while we strain every sinew to spring free of its clutches, with winter on the horizon we must prepare, bolster our defences and come together once again against this common foe.
Then he announced upcoming plans to make everyone using A&E (Accident and Emergency) departments to make a booking! Good grief:
… we are working to get patients the right care in the right place, by expanding the role of NHS 111. During the peak of this pandemic, we saw millions of people using NHS 111, on the phone or online, to get the best possible advice on coronavirus, helping them to stay safe and, where possible, to stay out of hospital, where they could have unknowingly spread the virus. It is crucial that, ahead of winter, we use this window of opportunity to seek out what worked and build on it, so we provide a better service for patients and protect the NHS. Of course, no one will ever be turned away from our emergency departments in the most serious of cases; however, we have worked with the royal colleges, the NHS and others to develop a better, quicker and more clinically appropriate service for patients by using NHS 111 first.
This is how it works. We will invest £24 million to increase call-handling capacity and to make sure there are more clinicians on hand to provide expert advice and guidance, and we will build on our trials to make NHS 111 a gateway to the emergency care system, providing a first port of call for patients. In future, rather than having to queue in an emergency ward, we are testing that people should call NHS 111 first to book an appointment with whoever can give them the most appropriate care, whether it is a GP, a specialist consultant, a pharmacist, a nurse or community services. Of course if they need to go to the emergency department, NHS 111 will be able to book them into an appropriate time slot. We want to see this approach lead to shorter waiting times and better availability of appointments for patients. We will consult on how its performance is best measured, and, with successful pilots, we will roll out NHS 111 First to all trusts from December.
This is the bit that galled me the most:
The purpose of 111 First is to improve access, including in terms of inequalities in the NHS, by ensuring that people get the right treatment in the right place and easier access if they do need to go to an emergency department, because the emergency ​department will know that they are coming. It is commonplace now in almost every part of our life to let people know that we are coming. If we are going to do something as important as visit an emergency department, it will help both the patient seeking treatment and the NHS to let them know that they are coming first. That is the principle behind 111 First. It sits alongside 999, which anybody should call in a serious incident.
'People's government', my eye.
Nor is the NHS the people's health service.
If you have a serious injury, you or your loved ones could be losing life- or limb-saving time by calling 111 or 999.
Based on what I read during the March lockdown, calling 111 was life-threatening. Children calling on behalf of elderly parents were told, 'If your relative is not turning blue, do the best you can.'
Calling the ambulance service on 999 generally produced this result: 'We're overloaded. If you can take your relative to hospital yourself, please do so.'
Over the past few months, I have heard NHS senior executives give testimony to Select Committees. They do not want patients coming in to a hospital, to a GP surgery — anywhere on NHS property.
An absolute shower!
Speaking of absolute showers, Baroness Harding — Dido Harding, a former jockey and failed business consultant/corporate director — gave testimony to a Select Committee, the Commons Science and Technology Committee, led by Greg Clark MP (Tunbridge Wells, Con).
Wow. It was car-crash television on BBC Parliament.
Baroness Harding is, inexplicably, the director of NHS Test and Trace programme.
Greg Clark is no slouch. He pressed and pressed the same question. Did she not anticipate the increase of demand for tests after lockdown lifted?
Finally, she gave the answer.
The Independent reported:
Demand for coronavirus tests is three to four times the number available, the director of NHS test and trace has admitted.
Baroness Dido Harding, who told MPs there was capacity to carry out 242,817 tests a day, said the "sizeable" rise in demand had been unexpected.
Boris Johnson has pledged to raise capacity to 500,000 by next month – but Baroness Harding's estimates suggest that even that figure would not be enough to satisfy demand.
Even then:
despite images of queues outside Covid-19 drive-in centres, the testing tsar said: "I strongly refute that the system is failing."
She put the blame on SAGE …
Baroness Harding insisted current capacity had been based on modelling provided by the government's Scientific Advisory Group for Emergencies (Sage) and suggested that around a quarter of those seeking tests did not have symptoms.
… and the testing laboratories:
Quizzed by the committee chair and former Tory minister Greg Clark on the current issues in the system, she said that the "constraint" in the testing was in processing and laboratories.
On Friday, Sir Jeremy Farrar, a SAGE member and director of the Wellcome Trust, hit back.
The Telegraph reported:
Sir Jeremy Farrar, the director of the Wellcome Trust, who sits on the Government's Scientific Advisory Group for Emergencies, said the body had given "clear advice" that a fully functioning test, track and trace system should be in place …
Responding to her comments on social media, Sir Jeremy said he had personally warned that a growing testing crisis was looming.
"Interesting to be blaming Sage," he wrote on Twitter. "Has been clear, and in the advice, that the UK faced an inevitable increase in community transmission and cases after the summer and needed a fully functional and trusted test, track and trace in place."
Sir Jeremy posted his comments from a BBC interview with Andrew Marr in June, in which he warned of a "nasty rebound" if steps were not taken to improve testing. He also re-posted an article from May in which he warned that lifting restrictions was difficult even with a fully working testing programme in operation.
The testing crisis deepened on Friday when it emerged that children at four out of five schools are staying at home because they cannot get a test …
This coronavirus business will only get worse. Watch and wait.
Part 2 concerns the Brexit-related Internal Market Bill.