You are currently browsing the tag archive for the 'Chicago' tag.
Happy Thanksgiving to all my American readers … 
… wherever you might be experiencing lockdown.
I wish all of you a good day, however different it might be in 2020.
Lately, I've been watching Howie Carr every weekday on YouTube to find out how the election results are going.
Even now, Joe Biden is not yet president-elect. For the media, he is more like the president-select (all credit to Howie).
President Trump still occupies that spot, at least until January 2021, at least.
As I wrote this post, he rightly had a go at General 'Mad Dog' Mattis:
He highlighted Wisconsin's suspicious election results …
… and pointed out a fact about the 27 House races that notional experts said Republicans would lose. Republicans won all 27:
He rightly celebrated the Dow Jones Industrial Average reaching 30,000 for the first time in history. Never let it be said that this was Joe Biden's doing. It was Donald Trump's policies that made this beautiful record landmark possible.
This is the ninth stock market record in 2020 and the 48th of the Trump administration:
President Trump pardoned the Thanksgiving turkey, a tradition that began in the 1860s during Abraham Lincoln's administration when his son made friends with a turkey the Lincolns were planning to eat for Thanksgiving.
This year, a beautiful bird, Corn, came from Ames, Iowa, with his friend Cob — Corn and Cob, corncob — for the ceremony. They returned to Ames afterwards with the farmer who bred them:
Now back to Howie Carr, who also covers the latest coronavirus news on a daily basis.
Pity Americans who have to put up with Dr Anthony Fauci. Even Britons roll their eyes at his advice.
A disgusted English friend of mine scorned Fauci's 'don't kill Granny' advice. I shook my head at 'a quarter of a million deaths', which were revised downward drastically during the summer as being deaths with COVID and not of COVID. There's a big difference:
Back to the 'killing Granny' narrative — this is the other side of the story for many elderly with younger family members:
Too right.
Here's another choice morsel from Fauci:
I would love to know what Fauci is doing for Thanksgiving, but he doesn't have a Twitter account and it is too painful listening to his idiocy.
As I write on Tuesday, Howie has been reading out the American resistance to lockdowns and restrictions from news articles. These detail how the great and the good have been dictating, sometimes under penalty of law, how people like you and me should live our lives with an illness that has the same fatality rates as the flu. Note that this does not mean coronavirus is synonymous with flu.
Never mind Fauci. American governors have become more brazen and authoritarian with every passing day, no more so than at one of the sacrosanct, inviolable national holidays: Thanksgiving Day, which is celebrated this year on Thursday, November 26.
Let us make the rounds, coast to coast, to see what these governors have been doing, starting on what used to be known as the Eastern seaboard.
Massachusetts
Republican — actually, RINO — governor Charlie Baker (Joe Biden calls him Charlie Parker) has been issuing various prohibitions for ages.
This is his advice to the Commonwealth of Massachusetts (as it is officially known) for Thanksgiving, the kick-off to the holiday season, which ends in the US on New Year's Day. I enjoyed the response to Baker's advice — well said:
New York
Let's move somewhat south to New York State.
Howie Carr plays the best clips of Governor Andrew Cuomo.
Cuomo's monologues sound as if they are clips from horror movies until Howie says that they're the governor's pronouncements. Scary.
I don't have any of those audio clips, but Cuomo's tweets about Thanksgiving are unintentionally amusing.
Before I go there, however, let's look back to the beginning of the month, two days before the election on Tuesday, November 3.
There was a massive Trump car rally on the bridge named for his father, Mario Cuomo.
As far as I am concerned, the Governor Mario M Cuomo Bridge will always be the TAPPAN ZEE BRIDGE.
This was held in the rain. I embraced the enthusiasm and wished I could have been there:
The current Gov Cuomo, a Dem, as was his father, does not like the fact that President Trump has been able to announce two coronavirus vaccines:
On Friday, November 20, a group of business owners in Buffalo, upstate near Canada, told sheriffs and one or more notional health inspectors to get lost.
Gateway Pundit reported, in part, that the business owners were in a gym. Gyms are/were currently closed because of the Chi-vi (emphases mine below):
Business owners in Buffalo, New York fed up with Cuomo's authoritarian Covid lockdown orders asserted their Constitutional rights and kicked out sheriffs and "health inspectors" on Friday night.
50 business owners gathered inside of a shuttered gym in Buffalo, New York Friday night when two sheriffs and a so-called 'health inspector' showed up to harass the group in response to an "anonymous tip."
The business owners shouted down and kicked out the health inspector and the told the sheriffs to come back with a warrant.
Well done!
The story comes from the Buffalo News.
This brings us to Thanksgiving.
Cuomo warned New Yorkers to stay at home within their own households, so much so that the New York Post reported that there are big window decals with a photo of Cuomo snooping in people's homes, accompanied by an image of a turkey.
Interestingly, the company that makes the decals is also located in Buffalo:
One upstate company wants Gov. Andrew Cuomo to be the biggest turkey at your Thanksgiving dinner this year.
The Buffalo-based design firm Custom 716 is selling stickers of the governor's face that can be put on a window to make it look like Cuomo is peering inside — presumably to make sure not too many people are there to celebrate the holiday this year.
The sticker is a clear way of ripping Cuomo for demanding that New York families avoid gathering in large groups for the holiday out of fears of spreading COVID-19.
"Great for all gatherings, sure to get laughs, great for your business or your home!" they write about the $10 sticker on their firm's website.
"$10 and I will mail it to you for free, or pick up is available. Located in North Tonawanda, NY," the description reads, offering a promo code allowing customers to bypass the $8.05 shipping and handling fee.
Cuomo has been begging New Yorkers to spend Turkey Day alone, warning the coronavirus's rapid spread has increased in part thanks to small, indoor gatherings in recent months as the weather has turned slightly chillier.
"It's your family, it's your home, it's your table — these are all environments where you feel safe and that's the beauty of Thanksgiving," he said during a phone conference briefing with reporters Thursday.
"Your safe zone is not a safe zone, your safe zone is dangerous this year."
When you hear the audio of him saying that (thanks to Howie), it sends chills down the spine.
Fortunately:
politicians and law enforcement agents across the state … argue it's nearly impossible to enforce caps on indoor, private gatherings.
At the time, Cuomo included himself in that diktat:
However, a few days later, Andrew Cuomo announced big plans for a family get together. Hmm, interesting:
Here's a tweet, including a photo of the snoop decal from Buffalo. Note the 'for thee, but not for me' response from someone living in Governor Pritzker's fiefdom of Illinois (see below):
Howie Carr said on Tuesday, November 24 that Cuomo got so much blow back from New Yorkers that his family's plans for a communal turkey dinner changed. One of his daughters would not be attending (H/T Gateway Pundit):
Aww.
Also:
His daughter, wearing a tee shirt with 'New York tough' emblazoned across it, tweeted:
The Rochester Democrat and Chronicle reported:
New York Gov. Andrew Cuomo abruptly canceled his Thanksgiving plans Monday, less than two hours after revealing he planned to spend the holiday with his mother and two of his daughters.
During a radio interview Monday around 3:45 p.m., Cuomo revealed his "current plan" for the holiday: His 89-year-old mother, Matilda, and two of his three daughters, Michaela and Cara, are planning on joining him in Albany.
…By 5:30 p.m., Cuomo nixed the gathering entirely.
Good.
Hypocrisy is most unbecoming.
New Jersey
Just west of New York, across the Hudson River, New Jersey's governor Phil Murphy was accosted by angry diners when he was eating out with his family and appearing without a mask. New Jersey has had a particularly arduous lockdown.
Remember, Phil Murphy won't have to worry about where his next meal is coming from. The taxpayers are footing his bill:
Murphy, who, Howie Carr says, attended the same high school and college as Massachusetts's Charlie Baker, is still trying to frighten his state's residents:
His wife is at it, too:
I couldn't agree more about the gaslighting.
North Carolina
Moving several hundred miles south, North Carolina's Governor Roy Cooper approves of business closures in Greensboro:
On Monday, November 23, he issued a Thanksgiving sermonette on the 'stay at home' theme, most of which follows. Like the UK, he has a colour-based 'tier' designation:
With that sort of warning, what North Carolina resident could possibly want to go through with (gasp) a family or friend oriented Thanksgiving dinner?
Amazingly, people in North Carolina have not been able to attend church — or any sort of celebration — for nine months. He has the nerve to tell them to keep it up 'just a bit longer' — for November 2021. Good grief:
Governor Cooper has even better news for the run-up to Christmas:
Excellent response.
Illinois
Let's travel around 1,000 miles northwest to Illinois.
Governor JB Pritzker comes from a family of real estate moguls. As one would expect, he can escape Illinois, lovely as it is, to take a break at family properties elsewhere.
Last summer, he defied his own executive order to take part in a protest in Chicago. Pritzker is the man in the blue and white checked shirt in the second photo below:
More recently, Howie Carr said that Pritzker's immediate family have been spotted at their Florida farm which has horses that his children can ride. Howie, now a Florida resident, lives in the vicinity.
Hmm.
A Republican congressman from Illinois called out Pritzker:
Someone replied:
Fortunately, Pritzker's and Illinois's directives, such as these …
… are being ignored. Just look at Chicago's O'Hare airport:
Well done!
Gee, 20 years on, the TSA still have their checkpoint. Why didn't President Trump ever repeal the Patriot Act? 'There's a there there', no doubt.
For those Illinois residents who will not be travelling for Thanksgiving, there is no absolution if you live in Chicago. On November 15, a spokeswoman from Mayor Lori Lightfoot's office said, 'You are the problem; you are putting everyone at risk' (see the 11-second mark):
Yet, anecdotally, the vast majority of Chicagoans are wearing masks:
Speaking of masks:
Chicago — the Windy City — which is also darned chilly at this time of year, is pushing OUTDOOR dining in a TWO-sided tent!
You could not make this advice up:
As for Thanksgiving dinners, Chicago mayor Lori Lightfoot has cancelled them. She is pictured in the photo above with Governor Pritzker at a June 2020 protest. Note that CNN has not shown the official US COVID-19 death count, which is still at 'with' + 'of', as it was last summer:
Interestingly, during lockdown in April, Madame Mayor felt compelled to get her hair cut when she had told ordinary Chicagoans that hairdressing was non-essential. See the Daily Mail report from April 12, complete with photo of her with her hairdresser, no social distancing required.
Washington
Let's leave the Midwest for the West Coast, starting in the most northern state, Washington, home to Seattle, the site of much summer mayhem.
Governor Jay Inslee, who did not oppose said summer mayhem, is now telling Washington residents not to get together for Thanksgiving. This advert is unbelievable:
COVID-19 can find you everywhere! Woo-oo!
Inslee thanks Washington residents for not celebrating one of America's two most historic holidays this year. The reply is excellent:
Oregon
The state immediately south of Washington is Oregon.
There Governor Kate Brown is all in for the deadly coronavirus narrative, especially at Thanksgiving:
On Monday, November 23, she asked for Oregonians to snitch on each other at Thanksgiving.
Hot Air has the story, first reported in the Washington Times. Reporter Jazz Shaw says:
I guess nobody told Oregon Governor Kate Brown about the old rule regarding snitches and stitches. With the holidays fast approaching and an increasing number of citizens growing tired of government mandates forbidding them from gathering with friends and family to celebrate, Brown is concerned that people may simply ignore her orders and gather around the feast table anyway. So what's an autocratic executive to do? The answer is as simple as pumpkin pie. She'd like people to keep an eye out for large gatherings in their neighborhood and call the police if they see any suspiciously large, turkey-related activity going on. That's an idea that's sure to put everyone in the holiday spirit, right? (Washington Times)
This must be one of the snottiest adverts about family ever made. See what you think. A photo of the governor follows (she's not the one with the pink gloves):
Let us not forget that Portland has had mayhem going on since June. Every doggone night for months on end:
California
The most blatant nose-thumbing has come from California's governor Gavin Newsom, who with the co-operation of mayors and county officials has kept the Golden State under lockdown for most of the year, with most counties at the top two highest tier levels during that time.
The status holds true, if not worse, even now:
Meanwhile, Governor Newsom has been releasing prisoners sporadically because they are in danger of catching COVID-19. Forget about law-abiding citizens:
One used to think California voters were being silly in continuing to vote in Democrats.
However, in recent years, a growing number of Americans think that Democrats have won so many elections because of voter fraud:
With regard to the curfew, at least one protest took place. This is from Huntington Beach:
Protests last summer in the state were acceptable to most, but the anti-lockdown and anti-curfew ones attract comment. Fortunately, some can discern the truth:
Newsom has seemingly bought into the mask narrative, even though that policy has not improved his state's figures:
Exactly. Probably more adjusted statistics. We have them in the UK, too.
However, right now, more Californians are interested in Newsom's social life during lockdown:
With regard to masks …
No one cares that the Newsom family is self-isolating for a fortnight:
The tweets kept coming and coming:
Newsom isn't alone, it seems, in rule breaking. Is this the California state legislature? Yes, it is:
By the way, masks are probably not a good conversational topic for Thanksgiving. See this brief exchange:
But I digress.
The three-star French Laundry in Yountville (Napa Valley) is one of the world's most famous restaurants.
In the 1920s, it was used as a French steam laundry, hence the name.
In the 1970s, the then-mayor of Yountville Don Schmitt and his wife Sally turned the building into a restaurant.
In 1994, the French chef Thomas Keller bought the restaurant and made it into the legend it is today.
Friends invited Gavin Newsom to the French Laundry for a birthday celebration on November 6 during California's lockdown.
Talk about 'for me, but not for thee'.
The Daily Caller reported:
Photos show the maskless governor of California dining indoors at one of the highest rated restaurants in the world despite his restrictive coronavirus guidelines for the citizens of California.
Democratic California Gov. Gavin Newsom can be seen dining at the Michelin-starred French Laundry on the evening of November 6, according to photos obtained by Fox LA. The restaurant, located in California's Napa Valley, is considered "the pinnacle of California dining" and has been ranked the best restaurant in the world numerous times, according to various outlets.
Newsom has said the restaurant was outdoors, but FoxLA reported that the room's glass sliding doors had been closed, making the dinner party indoors. Newsom's office did not immediately respond to a request for comment from the Daily Caller News Foundation.
The group was so loud that customers complained:
"While we were there we realized there was a very loud party going on in a room 20 feet from us," the woman who took the photos told FoxLA. "It was a bit annoying since you're spending hard-earned money to go there. It got louder and louder and so they had some sliding glass doors that they were able to close, so then it was a closed-off room but you could still hear them with how loud they were."
She continued: "I just happened to look over and realize hey is that Gavin Newsom, who is that? And I did ask one of the waitresses and she confirmed it was, so I was able to take a couple of photos, I was able to document this especially since nobody was wearing a mask. It was a very large group of people shoulder to shoulder, something that he's always telling us not to do so yeah it was a bit annoying for sure."
Newsom has urged California residents to wear face masks "in between bites" at restaurants and announced Monday that California is "pulling an emergency brake" and mandating the most restrictive tier of coronavirus restrictions for more than two dozen California counties …
The governor also warned that he would announce more COVID restrictions Friday ahead of Thanksgiving.
Newsom apologized Tuesday for attending the dinner party, calling it a "bad mistake" and saying that he became uncomfortable after arriving when he realized that the group was larger than he expected, according to FoxLA.
…
But the woman who took the photos said Newsom did not appear uncomfortable.
"I was surprised because it didn't look like he was uncomfortable being there until the very end until people were looking at him and staring at him as he was leaving the room," she told FoxLA.
Not surprisingly, the dinner made a splash in California's media:
A few days ago, the California IBank had the nerve to tweet this. I applaud the reply:
That is so true.
Words fail me.
On Thanksgiving, when in doubt, eat more and add more butter.
I hope that those celebrating Thanksgiving can enjoy their dinner the best they can — with hearty gratitude. (Things could always be worse.)
Perhaps this is not a coincidence after all. Perhaps the financial calendar we received was printed or edited after November 8, 2016 to include this quote for January 2017:
"As long as you're going to be thinking away, think big."   (Donald Trump)
This photo from Jose Graterol Designs is an example of thinking big. It shows the company's decoration of the Mar-a-Lago ballroom for Trump's New Year's Eve do in Palm Beach.
This tweet shows the bar in the Trump International Hotel — the Old Post Office — in Washington DC. Mr and Mrs Reince Priebus are on the right in the photo.
Priebus later tweeted:
Trump tweeted:
It is encouraging to see God and blessings mentioned again in a New Year's political message.
Nigel Farage opened his greeting by saying that if one had put a £10 accumulator on both Brexit and a Trump victory, one would have won £24m! He is highly optimistic about 2017, however, he said we mustn't feel complacent after the British and American success in 2016:
Some supporters, such as this Latino in Florida, had an all-out New Year's Trumpfest.
One commentator for American Thinker wrote:
Happy New Year to you all. It's going to be a new day here in the nation's capital and, I hope, around the country and world.
Hers is an excellent article well worth reading in full. I will come back to it in an upcoming post.
One of the comments that followed expressed the significance of Trump's organising his cabinet away from Washington (emphases mine):
… Trump has already sent a message to the movers and shakers inside the beltway but I doubt if they caught it. The message is Trump has been wheeling and dealing from Trump Tower in New York which should send a chill down the spine of Washington, DC. Incorporated. The message is that everything inside the beltway is not that important after all … On January 20th Trump will be inaugurated and officialdom in DC will wish they had only Russian hackers with which to deal. Trump will use his office to force Congress to do their jobs for the first time in many years. Congress has spent the last 20 years doing the bidding of corporate America and it shows. Trump will also put the bureaucrats in their place. Trump will order a hiring freeze and massive tax cuts for individuals, businesses and corporations. I suspect that in a few short weeks Washington will get a wake up call and it won't be at 3 AM. All the fake news will be replaced with what those in Washington will view as earthshaking developments. The interlude after the election provided the main stream media and official Washington one last opportunity to redeem themselves. But the MSM and establishment couldn't resist showing their true colors for the last time. Now, it's Trump's turn.
However, Big Media do not understand. Ross Douthat, a regular columnist for The New York Times, still seems stumped by Trump's victory:
EVERY January I write a column exploring my faulty analysis and failed prophecies from the preceding year. After last year's installment, in which I explained how I had underestimated a certain celebrity tycoon, I received a note from Trump Tower — a clipping of the column, scrawled over with a markered note:
Thank you – Now I will work to get you to go a little bit further. Best wishes, Donald Trump.
A year has spun past since then, and whatever comes of the Trump presidency, he can claim at least one promise kept. That column described Trump as a remarkable political phenomenon who nonetheless could not win the Republican nomination, let alone become the president. Now just as he predicted, I must go further: Mea culpa, he could, he has, and I was wrong again.
But my error was different this year than last. In 2015 I underestimated the man himself: Before he descended the Trump Tower escalator into history, I had no idea that he had the savvy, the discipline, or the stamina to run an effective populist campaign.
By the time the actual primary voting began, though, I had a clear-enough handle on the nature of his populist appeal. What I misjudged in 2016 wasn't Trump; it was the strength of the institutional forces standing between him and the presidency …
… my intellect and experience were wrong, and Trump's Napoleonic intuitions were correct: The Republicans were all low-energy men underneath, and the liberal elites were as vulnerable to him as the Cameron Tories and Blairites were to Brexit.
Yes, this will be the running theme of 2017. And what was the end result? Trump trumped them all — and will continue to do so.
Sensible people in other countries will watch with interest.
More voters in Western countries — the French, the Dutch and, one hopes, the Germans — will want anti-globalist political leaders.
There is no guarantee that they will get them, but a rejection of the elites will become more popular this year.
Someone from south central Pennsylvania replied to Douthat:
Trump will not be gone in four years, he will be re-elected by a larger majority. The elites of both parties still don't understand that their constant fattening at the public trough while the middle class evaporated and the poor became poorer and lost hope was the reason Donald Trump was elected and will be President for eight years. There was a clear choice between Obama / Hillary's Socialist economic decay and America for the illegal aliens, vs Trump's vision of an"America for Americans" and a strong U. S./ economy to be achieved by cutting business taxes so businesses would repatriate overseas profits to the U. S., cutting taxes, getting rid of excess regulations stifling American businesses, discouraging the entry of illegal aliens, encouraging industry (NOT government!) to provide more good jobs by improving the economic climate, by NOT punishing job creators in the private sector. Mr. Trump's campaign was supported by the citizens of America's heartland and American patriots, many of whom came out to vote for the first time or switched parties because they were tired of the party of the "working man" being the party of the elites and the socially odd.
How true.
Returning to the Trump quote at the top of this post and the exhortation to think big, a reader of The Conservative Treehouse had this to say. Although I was already on my own in the 1980s, living and working far from home, this mirrors my own Trump experience, which I can voice openly only online:
I can remember Donald Trump very well, from when I was a young man – a teenager in the 1980s. It was a time when you could see the positive spirit in America. It dripped from everything. People were proud, the economy was strong – people had options and choices in their lives. Being successful was not a dirty word – and it seemed as if anyone could achieve it – through work. That was always what I was taught, and that seemed to me to be the American Dream.
Trump was well known then, and to me, he represented that simple dream. Yes, he had a little bit to get started with, but so do a lot of people. Not everyone, but a lot do. A lot squander their opportunities.
I liked Trump then, and I like him now. When I saw him then (which was more rare), he seemed soft-spoken, sensible, direct – and proud of his accomplishments. I never saw a reason why he shouldn't be. That's always been my take.
So – I always liked the Donald …
The Conservative Treehouse (CTH) has two excellent posts here and here. Be sure to read the comments which are packed with videos and pictures from Trump's campaign.
Trump pulled a blinder with his rallies. They were a political epiphany for many.
Trump risked his life and his health to reach as many Americans as he could.
One CTH reader recalled the horror of the cancelled rally in Chicago in March 2016:
I was for Trump from day one but this rally was a seminal moment for me. I stood in line for hours. I was way up front. I felt so happy to be there and was having a blast with the people around me. I could hardly wait to see Trump in person. It was going to be awesome! But it wasn't.
Instead of watching Trump speak I watched thugs rip signs out of peaceful peoples hands. I saw verbal/physical assaults and had to listen to those savages cheer when the rally was postponed. Afterwards I sat trapped in my car in the parking garage with my windows rolled up and doors locked while those scumbags blocked the exits. Then I had to drive past them flipping me off and throwing stuff at my car when the cops finally let us out two hours later. I had to endure all this simply because I wanted to hear a campaign speech. On the way home I made a solemn vow that I would do everything I could to get Trump elected and I never looked back …
I think it was during the second half of the primary (I can't remember) Trump said … "I will always tell you the truth". The first time he said this I burst out crying. I started to cry before I could figure out what the hell I was crying about. After years of being lied to by the other side and "our side" I was stunned. His words touched me.
I believed him. I still believe him.
MAGA and Happy New Year!!
There are people all over the West who still believe the lies from Big Media. I will begin exposing these soon, because some took place over the Christmas period.
To my fellow Britons, the French commentators I listen to on radio and anyone else who is 'scared' by a 'literal Hitler', stop paying so much attention to Big Media!
Look at other sources of news and analysis, too, if you truly are interested in what is happening politically in the United States: The Conservative Treehouse, The_Donald (independent), Hillary is 44 (an ex-Democrat from 2008) and No Quarter (another ex-Democrat from 2008, Trump-neutral but a former CIA man with excellent geopolitical analyses).
There isn't a more self-sacrificing man on the world stage today than Donald Trump. Time will bear this out. This is what we can expect in less than three weeks' time:
President-elect Trump is cutting short the usual inaugural parade and limiting the number of balls so he can hit the ground running.
That indicates to me he will start working the afternoon of his inauguration. The world can hardly wait.
The Trump transition begins. There's even a new website!
Warmest congratulations go to Kellyanne Conway, the Trumpwhisperer, who is the first woman to manage a victorious presidential campaign in the United States. She was responsible for refining Trump's stump speeches and for putting the kibosh on his excessive tweeting. No one else could do that! Furthermore, her internal polls were spot on. Conway is one tough tigress, make no mistake. She is also married, a mother of four and a practising Catholic.
Also noteworthy is that Hillary Clinton spent nearly twice as much money per vote as Trump and lost: $8.80 to $4.57. Trump has decisively proven you do not need big money to win an election!
President-elect Donald Trump and his wife Melania flew to Washington DC on Thursday, November 10 to meet with the Obamas as well as top Republican congressional leaders Paul Ryan and Mitch McConnell.
Vice President-elect Mike Pence was also in Washington. He met with his outgoing counterpart Joe Biden, in what Pence described as a 'warm reception'. Pence also had a telephone conversation with British Foreign Secretary Boris Johnson, who tweeted:
Just spoken to US VP-elect @mike_pence. We agreed on importance of the special relationship & need to tackle global challenges together
Trump's son-in-law — Ivanka's husband — Jared Kushner was also with the Trumps. During their private meetings, he spent time with White House chief of staff Denis McDonough, who gave him a tour of the Rose Garden. Kushner has been a close adviser to his father-in-law throughout the campaign and is expected to remain so after the inauguration.
Trump and Obama had a 90-minute discussion, far exceeding Trump's expectations.
Melania and Michelle shared tea together, discussed raising children and talked about what it is like to live in the White House.
The Mail has a great set of photos from the day.
Afterwards, Trump tweeted:
A fantastic day in D.C. Met with President Obama for first time. Really good meeting, great chemistry. Melania liked Mrs. O a lot!
Questions have been asked about the Trumps' entrance by a side door and the two couples not posing together for a photo in front of the White House. Things were different eight years ago with Bush 43 (i.e. 43rd president):
Breitbart had more on the matter:
White House Press Secretary Josh Earnest refused to explain the details of the decision but denied the story.
"Not true," he said, during the White House press conference, when asked about the report. He also denied that the lack of a photo opportunity had anything to do with First Lady Michelle Obama not wanting to be photographed with the Trump family. He argued that it was not a "snub" of the Trumps, but rather a different strategy of press access.
The press pool was allowed into the Oval Office on Thursday, to photograph Trump and Obama together after their 90-minute meeting. The two men met alone, with no staffers present.
But Obama snubbed the press by telling Trump not to answer any of their questions after the meeting.
"Here's a good rule. Don't answer any questions," Obama said to Trump after reporters shouted questions at the pair.
Despite the pleasantries exchanged between the two political foes, Earnest specified afterwards that Obama still believed that Trump was unsuitable to be president …
Earnest's remarks contrasted with Obama's welcome of Trump at the White House, promising to meet the standards set by President George W. Bush …
Earnest hinted that the White House might release a photo of the two couples meeting.
Independent Bernie Sanders pledged his support to Trump. The Daily Caller reported:
"Donald Trump tapped into the anger of a declining middle class that is sick and tired of establishment economics, establishment politics and the establishment media," Sanders said. "People are tired of working longer hours for lower wages, of seeing decent paying jobs go to China and other low-wage countries, of billionaires not paying any federal income taxes and of not being able to afford a college education for their kids – all while the very rich become much richer" …
In his statement Sanders went on to say: "To the degree that Mr. Trump is serious about pursuing policies that improve the lives of working families in this country, I and other progressives are prepared to work with him …"
The Democrats' wounds are still raw. Despite Big Media's attempted character assassination of Trump and the voter fraud — which is why his popular vote isn't higher — he prevailed once again. (Are we sick and tired of winning, ladies and gentlemen? Never!)
Business Insider reports that the Democratic Party is in disarray.
It looks very likely that the DNC will replace current interim chair Donna Brazile. A White House staffer yelled at her for being 'part of the problem' in Hillary Clinton's loss.
Politico reports:
No party leader calls have been set to map out a plan ahead, and no signal has come from the White House or from Clinton's team about what comes next. The phone lines were silent, only slowly picking up, and escalating to a fever pitch as the defeated nominee prepared her morning speech and interim DNC chairwoman Donna Brazile sat on the silent 9:00 Acela [train] from New York to Washington.
The Washington Post says that Minnesota Muslim congressman Keith Ellison or former Vermont governor Howard Dean are tipped to lead the DNC. The Huffington Post says Brazile could stay on until March, however, based on the aforementioned yelling:
Thursday's meeting shows at least some party officials want fresh blood at the top.
Early in the morning of Wednesday, November 9, Clinton's team had to get pervy John Podesta to address campaign workers. This is because Clinton had been weeping 'inconsolably', according to Ed Klein author of the recent book on the Clintons, Guilty As Sin. Klein appeared on a radio show later that morning and said:
"She couldn't stop crying.
"Her friend said — her female friend from way, way, back — said that it was even hard to understand what she was saying, she was crying so hard.
"This is Hillary we're talking about," Klein said.
Clinton appeared two hours later dressed like Batman's The Penguin in black and purple. Earlier, Podesta had told everyone to go home. Yet, after Hillary spoke, there was applause. I read somewhere that the delay allowed travel time for a new audience of those closest to her: big wigs.
The New York Times has highlights of her concession speech and Obama's remarks.
Before I go into detail on the protests — all previously organised, none are 'organic' (spontaneous) like Big Media are telling you — Sundance at The Conservative Treehouse has a theory about Obama/Clinton and the demonstrations and riots taking place:
If the ridiculous election protests continue again tonight, then President Obama has not called them off.  That means he and Clinton received no substantive assurances, and are worried about being held to account – prosecuted and investigated.
If the ridiculous election protest do not happen again tonight, then President Obama has called them off.  That means he and Clinton feel more comfortable they will not be held to account – prosecuted and investigated …
Ultimately the Machiavellian political gamesmanship then evolves toward how does Obama/Clinton "feel" about the success of their initial probing for terms.
Demonstrations and riots around the US continued the night of November 10.
After this post, I will be mentioning them as little as I can. They do not deserve the oxygen of publicity, to borrow Margaret Thatcher's phrase.
However, I do want everyone to understand what is happening here.
Americans should note that there are laws on riots — 18 U.S. Code § 2101 — as being criminal rather than examples of freedom of speech. In part:
(a) Whoever travels in interstate or foreign commerce or uses any facility of interstate or foreign commerce, including, but not limited to, the mail, telegraph, telephone, radio, or television, with intent—
(1) to incite a riot; or
(2) to organize, promote, encourage, participate in, or carry on a riot; or
(3) to commit any act of violence in furtherance of a riot; or
(4) to aid or abet any person in inciting or participating in or carrying on a riot or committing any act of violence in furtherance of a riot;
and who either during the course of any such travel or use or thereafter performs or attempts to perform any other overt act for any purpose specified in subparagraph (A), (B), (C), or (D) of this paragraph— [1]
Shall be fined under this title, or imprisoned not more than five years, or both.
I would not hold my breath expecting anyone to be prosecuted. However, after the inauguration, watch for this law to be enforced in future.
The demonstrators in Austin, Texas, who marched not far from the state capitol building, arrived by bus:
Not only that, but they were paid.
At least one ad appeared on Craigslist: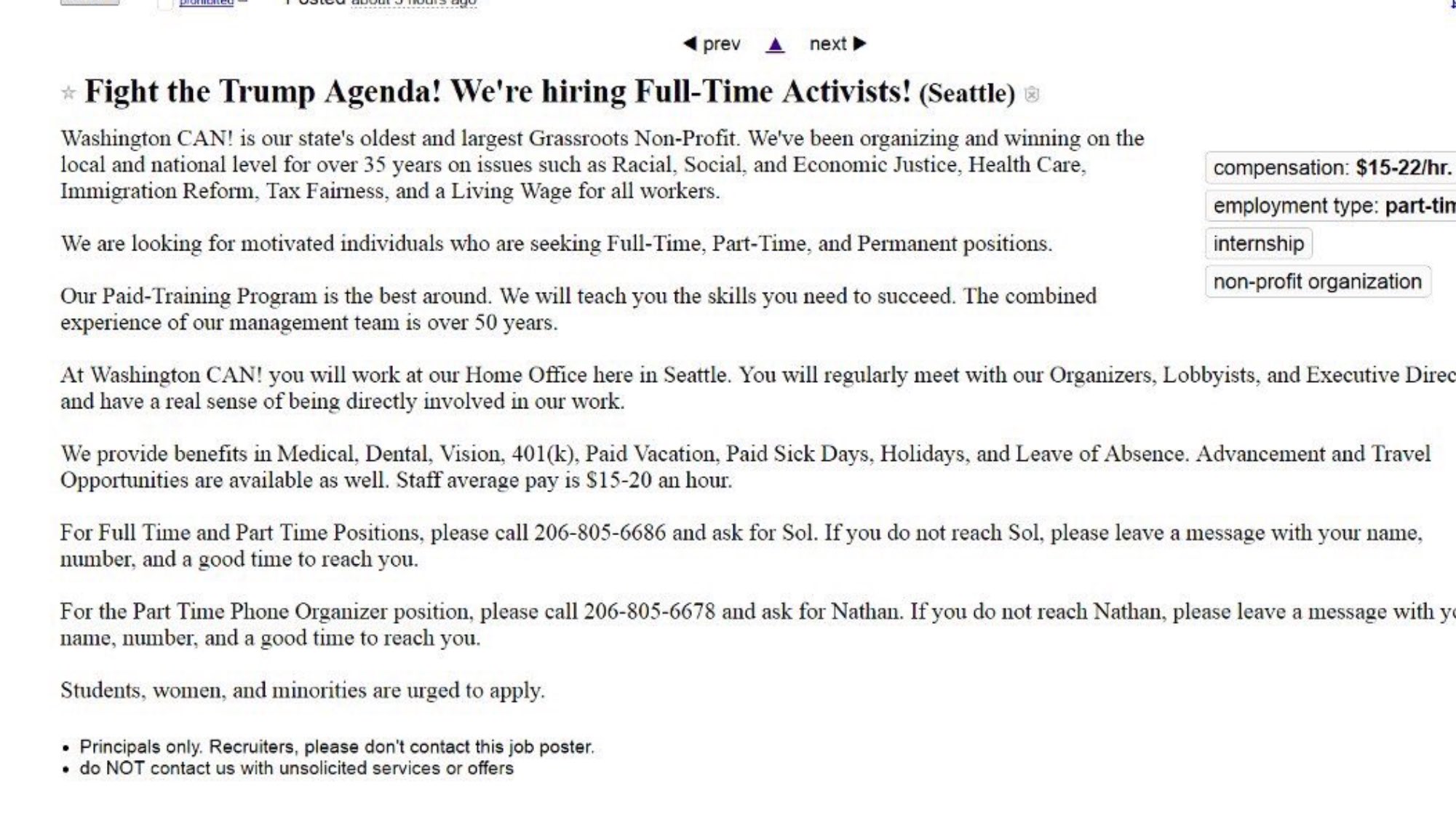 Here's another Craigslist ad, this one for Manhattan, from a European television network (I'm curious):
Earlier on November 10, a panellist on Fox and Friends actually asked if George Soros was funding these demos and riots. This is good, because Big Media never do this. In case the YouTube in the previous link is removed, The_Donald reproduced the exchange:
Brian: "There were no protests for Al Gore, there were no protests for John Kerry, there were no protests for Mitt Romney. What's going on?"
Steve: "Well, back then, George Soros wasn't funding these things. Is he behind this? Don't know!"
Many people say that when Soros dies, all this seditious activity — explained here in detail — will die with him. Not true. His children are every bit as committed to it as he is. One also appears to be involved with the Clinton Spirit Cooking dinners.
Breitbart reported that MoveOn.org — Soros's flagship activist organisation — has anti-Trump protests and riots going on all over America. Amazingly, people actually contribute to MoveOn.
A wide network of organisations affiliated with MoveOn are involved.
In March, after the cancellation of Trump's rally in Chicago, Independent Sentinel listed several groups allied with MoveOn and added:
The billionaire George Soros and other liberal donors bankroll a new $15 million campaign to mobilize Latinos and other immigrants this fall, hoping to channel outrage at  Donald J. Trump and other Republicans into a surge of votes for Democratic candidates in November …
And now that has failed on a national scale, they have today's violent protests, such as this riot in Portland, Oregon. (More here.) If these anarchists and maladjusted folks aren't driving sceptical Americans into the Trump — and gun — camp, I don't know who is.
Below is a list of planned protests from ANSWER (Act Now to Stop War and End Racism). You can also read more here:
Another group to watch for is Socialist Alternative, one of whose directors is a union man, born and bred in Britain, who has lived in Chicago for many years. They, too, have a list of demonstrations.
A number of the protesters are carrying professionally printed signs. One of The_Donald's contributors has seen some that read revcom.us on the bottom, indicating another Soros-funded communist organisation.
It also looks as if Aaron Black — featured in this James O'Keefe Project Veritas video about bird dogging (inciting Trump supporters to violence) — is part of the protest mix. He makes sure everyone is kitted out with signs and whatever else they need. He is supposed to be a background man and says no one should be able to easily identify him at protests.
On Chicago's West Side, a man was dragged out of his car at an intersection and was brutally assaulted. This post has a YouTube video of young men pulling a motorist out of his vehicle, beating him up, stealing items from his car — all abetted by a woman shouting instructions nearby. This tweet has a video of what happened next: the young men got into the car, the man was able to grab onto a door frame and they all sped off around the corner, with the man holding on for dear life. The Chicago Tribune caught up with him afterwards (photo at link). Emphases mine below:
David Wilcox, 49, said he was about to turn left from Kedzie Avenue to Roosevelt Road around 1 p.m. Wednesday when a black sedan pulled up and scraped the right side of his Pontiac Bonneville.
"I stopped and parked. And I asked if they had insurance, and the next thing that I knew they were beating the s— out of me," Wilcox said Thursday …
"They were beating me to have me let go of the car," Wilcox said. "The guy went to 70 and 80 mph. If I let go, I was dead. He slowed to 45. … He tried to push the door open. …So he stepped on it again.
"He stepped up back to 70 and 80, swerved again," Wilcox said. "The wheels on my side left the ground, up to 2 inches. … Then he slowed down. I was looking at oncoming traffic. He probably slowed to about 45. God was watching over for me. I rolled about five or seven times into the oncoming traffic lanes.
"There was a parole officer with a gun and bulletproof vest," he added. "He turned left, and he told me just sit down and wait for the police to come."
Wilcox filled out a police report, but no one was reported in custody Thursday afternoon. Police said they were investigating the beating and who made the "politically divisive" statements in the video.
I wonder if he got his car back. It should have DNA.
Pray for David Wilcox's recovery. He must be undergoing trauma, even if it doesn't show.
If that is not a hate crime, I do not know what is. They could have killed him, directly or indirectly. This got little to no coverage outside of Chicago!
In California, a female high school student near San Francisco was beat up by another classmate — also a girl — for supporting Trump online:
Cellphone video captured the moment a female student attacked sophomore Jade Armenio.
"This girl comes up to me and she said, 'Do you hate Mexicans?' and I was like, 'no,' and she said, 'You support Trump. You hate Mexicans.'"
Armenio says the girl hit her, threw her to the ground, pulled out her earrings and hair. She was left with a bloody nose and scratches and bruises …
The princip[al] of Woodside High School issued a statement that reads in part the recorded incident was investigated in conjunction with law enforcement and appropriate disciplinary action has been taken …
Armenio['s] parents say they are keeping her out of school until they know she'll be safe.
Let's pray for her, too.
Meanwhile, a story that did get nationwide coverage turned out to be false. A university student in Lafayette, Indiana, accused two Trump supporters of tearing off her hijab and stealing her wallet. Thankfully, she confessed to a lie. She should be charged:
The story made national headlines and was featured in The New York Times, The Huffington Post and other national media outlets. Messages of love and support were found all over UL Lafayette's campus after news of the attack spread.
It's unclear whether the student will face charges for filing a false police report.
In closing, here is an interesting exchange from 2013. The_Donald calls it 'the tweet that started it all':
You can't stump the Trump!
And, finally, a great summary of the past few weeks, also from The_Donald:
Protests aside, the next four years are going to be an exciting — and positive — time for all Americans. Trump has a Republican Congress and Senate to help him to restore the Great Republic. Outspoken radio show host Michael Savage says:
God's hand is all over this election.
I truly believe it is.
MAGA!
Jim Padar is a Chicago policeman who authors a blog, On Being a Cop, which I found out thanks to a reader's comment at Second City Cop. Officer Padar is a husband and father.
Padar provides vignettes of what a policeman experiences on the job. One of his posts, 'Ya don't wanna know', relates the story of two-year old Antoine which occurred just before Christmas one year:
It was a few days before Christmas and Mike and I were dispatched to Mount Sinai Hospital from morning roll call. Two year old Antoine Jarrett was DOA when his mother brought him in by fire ambulance. Child abuse was suspected. The Emergency Room staff was visibly disturbed and an intern angrily showed us to a private room where we examined the body of an emaciated two-year old boy lying on a gurney. In spite of death, his skin was grotesquely red. Mike and I looked quizzically at the doctor.
"Burns!" he was almost shouting. "From his shoulders to his feet, 95% of his body, second and third degree! His mother is with the beat officers in the police room."
Back at our office, mother told us that when she had returned home from work two days earlier, her boyfriend told her that Antoine had soiled himself and boyfriend washed him in the tub with hot water. Momma noticed the redness of his skin, but Antoine appeared to be sleeping. They put the toddler in a cardboard box next to their bed and he alternated between moaning and sleeping. When the moaning got bothersome, they would push the box further under the bed. For the next two days, Antoine had nothing to eat or drink as momma and boyfriend "waited for him to get better." This morning when he was totally unresponsive, they called the ambulance.
We handcuffed mother to the wall of the interrogation room and went to the residential hotel on West Jackson Boulevard where they lived. Boyfriend was sleeping, but he admitted us to the apartment and readily told us about "bathing" Antoine. When we ran the hot water, it was actually boiling and spitting steam as it partially filled the tub.
"He too ol' to be sh[—]in' hisself," explained boyfriend. "Da hot water teach him!"
Back at the area office the States Attorney Felony Review unit responded and took court reporter statements from both momma and boyfriend. They both seemed a bit bewildered that we thought they had done anything wrong.
"I brung him to da hospital," was momma's only defense.
Felony Review approved Murder charges against boyfriend and Child Endangerment against momma, the rationale being the mother's cooperation would be needed for a successful prosecution against boyfriend.
I missed supper at home that night, but I got there before the boys' bedtime. My two-year old raced across the room, narrowly missed the Christmas tree, and jumped into my arms. I gasped involuntarily as he wrestled with me. I wrestled to maintain my composure.
"Are you alright?" asked my wife as she stared at me from across the room.
I dropped my head and nodded silently as my son scrambled to get the upper hand.
"What happened?" she asked gently as she approached the two of us.
My voice was strained and hoarse, barely above a whisper:
"You don't wanna know, honey… you really don't wanna know."
Words fail me.
We read about other accounts of child abuse every day in the Western world, all of which no doubt leave us stupefied. In many of these cases, as in the story above, the adults do not think they have done anything wrong. Another feature of the majority of these news stories is the presence of a 'boyfriend' as perpetrator.
The sex must be irresistible — worthy of a child's death.
This is what happens when people worship at the altar of pleasure.
One of the Telegraph's young journos, Jon Swaine, recently wrote about the lengthy heat wave in the northeastern quadrant of the United States.
Murders, heat-related deaths and power outages plagued the region, from the Midwest to the East coast.
The header for his article ended with these words (emphases mine):
even being blamed for a spike in murders.
Well, yes, that's what happens during a heat wave in places which do not normally experience four to six months of hot weather every year.
Swaine and a number of commenters — so many that it seemed this rebuttal was apposite, even though they are unlikely to read it — missed the point entirely. Many said, 'There are plenty of hot places around the world with low crime rates' or 'I go to the hottest part of Spain every year and there's no problem.'
Summer heat and the northern United States
First, the clue is in the name: heat wave. Ditto crime wave. As if this needs explaining. Apparently it does. Wave denotes a temporary condition in this context: a spike or an uptick.
Second, it doesn't mean that crime never occurs the rest of the year. And, yes, for would-be or professional criminals, it's a year-round activity.
Third, show me someone who doesn't get testy when in a hot airless room in summer. Heaven forbid that Swaine should be at work when his office's air conditioning system ever goes down and the windows don't open or open only a few inches. He will find out jolly quick how miserable it is. Seeing that he is in Washington, DC, he should have a rough idea when he steps outside. Now, multiply those few hours or a working day by 10 or 14 24-hour periods, Mr Swaine, and see how you like it. Those were the summers I grew up with, and you can be sure a prolonged period of 24-hour heat in towns and cities which were normally cooler produced temporary negative effects in homes without air conditioning, still commonplace in my day. Babies cried more often, parents were irritable, children got severe whippings, men beat their wives and elsewhere — surprise — crime increased. One of my father's cousins used to listen to the police radio during the day. He would call my grandmother during every heat wave, saying it produced a flurry of calls; the dispatchers were busy calling their colleagues out to another address from morning to the middle of the night. This would continue until rain brought temperatures back to normal.
Fourth, heat can adversely affect northern urbanites who are substance abusers, hot tempered and/or prone to violence. This is just is a fact of urban life in parts of the United States which normally have somewhat cooler summer temperatures.  Living in the upper storeys of a block of council flats is no treat.  Your windows never open wide enough. There's rarely a breeze. Heat flows upward in a building.  You might have infants or young children who are hot and uncomfortable. You might be dealing with sobriety in 40º C (104ºF) temperatures because you've run out of money and are unable to score your next hit. Or there might be a family conflict which the heat exacerbates. Or a baby might be unwell from temperature extremes. Or the building is noisy. Or there's a gang score to settle and you're irritable enough to want to punch, knife or shoot someone — now. It's also too hot to have sex. The last thing you want is someone resting near you or too much physical exertion. Need I say more? The Swaines of this world and his commenters should feel free to use their imaginations. Air conditioning? I should cocoa.  I would love to see them stay in the inner city during a period like this and see how well they get on.
Fifth, there are different types of heat. In the northeastern quadrant of the United States, summer warmth brings with it a surfeit of humidity. If this were the dry heat of the western and southwestern US, it would no doubt be more tolerable, however, the humidity makes a bad situation worse. You perspire constantly. Your body is constantly hot, day and night. Yes, you can still live, but the area from your head to your shoulders feels as if there is a heater in it which exudes condensation. There is no relief. You crave coolness, especially when there is no breeze, which is common during these exceedingly hot periods.
Chicago's heat wave of 1995
The Chicago Tribune has a series of photographs of the city's memorable heat wave of 1995. Picture 4 shows a block of council flats ('housing project'). Look ma, no AC! Swaine would probably be surprised. Those people must have been miserable as all get out.  Today's residents no doubt are, too.
Also for Swaine and his readers' edification is the second photograph showing a policeman, completely spent.
This is not something to be taken lightly. More from the Chicago police in a moment. But first …
Received wisdom and history about crime and excessive heat
Again, this pertains only to regions which do not normally experience extremes of heat during the spring, summer and autumn months. To clarify: cities with extended warm seasons such as New Orleans, Miami, Phoenix, Marseille, Rio and Bangkok are excluded from this section.
There is a heat window for the northeastern quadrant of the US which produces an upsurge in violence. Below that, rates are as 'normal' as they can be. Above that level, people become too lethargic to murder although tension hangs heavily in the air.
Here is one useful comment following Swaine's article from Tom (July 9, 2012, 12:22 p.m.):
In an Alfred Hitchcock movie, it was postulated that 92 degrees Fahrenheit, 33.3 degrees Celsius, was the temperature most likely to promote murders … 
Those familiar with the Founding Fathers' Constitutional Convention in Philadelphia in 1776 will recall that the weather was very hot. The eponymous musical even includes a song entitled 'It's Hot As Hell In Philadelphia'. Numerous quarrels arose when they thrashed out the finer details of the fledgling republic. No doubt the heat exacerbated these.
A comment on an unofficial police blog from Chicago — Second City Cop — makes this prescient observation which those who grew up in the big city without air conditioning would appreciate. It was a maxim a child learned:
* SUMMER HOLIDAY + LUNAR ALERT + EXCESSIVE HEAT WARNING *
"100-degree weekend followed by FULL MOON TUESDAY JULY 3 followed by 100-degree 4th of July followed by another 100-degree weekend.
"Double-decker Death Sandwich."
Too many people live with air conditioning these days and are unaware of the real dangers of extreme heat in a Northern US city and the tension it produces.
Public holidays and full moons, as any policeman will tell you, only exacerbate the situation.
Another commenter on Second City Cop responded to the shootings from June 29 through July 4, 2012:
"Totals from Friday thru July 4th 11:59 PM: Total People shot is 81 including 17 Murders…"
What we really want is the total from Friday, June 29 ending 0001 hrs Monday, July 9.
Over 100 degrees at times during a 10-day period consisting of a weekend, then a full moon Tuesday, July 3, then the Fourth of July, then another hot weekend.
Should be REALLY impressive — and there will probably be a few extras Monday morning as well.
Chicago police on coping with 2012 and remembering 1995
This post, 'Building Heat = More Bodies', warns about temperatures exceeding 100°F for a few days in succession. This would make it the hottest heat wave since 1947. Although there might not be murders at this rate, physical discomfort and general tension will not have dissipated.
Interestingly, an early comment notes that the Chicago Police Superintendent Garry McCarthy — originally from New York — appears to have said there is no link between extreme heat and crime.
Now back to 1995. Most of the police comment as Anonymous, understandably. These comments concern deaths of the elderly and vulnerable. They also consider side-effects such as loss of water which occurs when residents open fire hydrants to cool off.
Warning — some details below might shock sensitive readers:
Remember back in 1995, the wagons lined up at the morgue, waiting to drop off???!!!
———-
I recall being in a line of as many as 11 Wagons waiting to drop off a body. If it wasn't already a "stinker", it was by the time you got your turn to get inside.
They also had a slew of refrigerated trailers to store the "overflow".
———-
"several hundred" deaths in 1995? Try approximately 750.
———-
I remember 1995, also I remember area One detectives going out on the deaths. Also there was no air conditioning in area One until a detective called [Michael] Sneed [a local investigative journalist], she reported it and the next day the air was turned on.
———-
Many bodies of mostly older people who were too afraid to even crack their windows because of the locals.
———-
It got really bad when all the electrical transformers started overheating and large areas of the city were without power.
———-
… if you think the homes … these morons crawl out of are air conditioned, then I have a bridge to sell you.
———-
Cfd [Chicago Fire Department] responded to over 3500 calls between midnight July 3rd and midnight July 4th [2012]! Stay safe to my brothers and sisters on the cpd [Chicago Police Department].
———-
For the young gel-heads on the job that dont know anything about nuthin, July 1995 had 2 weeks of upper 90s up to 106 degrees 'n' humid – stalled over Chgo. Day 'n' night.
———-
I was a wagonman back in 95 … Some days I had 2/3 bodies in the truck, sometimes waiting 4/6 hours in line at the morgue,then going back out to gather more souls.
———-
What about the ac in the first district [2012], been broken for weeks upstairs. Hotter inside than out.
———-
[1995] that was the time to get a way with a homicide. Suffocate some one elderly, the morgue was so screwed up, no one really was given an autopsy. What the heck. We had a woman who died in the heat wave, the me ruled death/natural/cardioid/heat related. The daughter called and accused the recently paroled brother. Claimed insurance job.
———-
… The human body is an absolute horror by about day 4.
———-
Exhausted morgue attendants in pink disposable scrubs, sitting by the dock with their heads in their hands.
105 degrees and 100% humidity …
Many are afraid to open windows because something will be immediately climbing in … I have hurt myself yanking and prying stuck windows open — and then who is going to shut it later?
Way to go is "shelter in place." … buy Grandma a 5000 BTU …
Happened near us in 1995. Daughter was going to pick up her mother to take her to the hairdresser. Mom was dead by then.
Hairdo can wait. Get an A/C, load it into your automobile, and get it over there. Like, right now.
———-
During the 1995 blast, plenty of houses and apartment buildings were without running water for a while if they were located on a high-point street like Narragansett, Ridge, etc. — these are former ancient lake shorelines. Water runs downhill, of course, and what you had downhill was a combination of people opening hydrants and Yuppies watering lawns and washing cars like it was double-urgent.
It all added up. Turn on the faucet and listen to the air sucking back into it…
———–
I remember going to check out the infamous 'suspicious odor' in that heat wave. After getting there the neighbors started to gather on the sidewalk right in front. We scoped out what was inside, got our cigars and told them they better get out of the way and that they'd want to stand far away.
Well, they didn't listen, and after we scraped this guy into a body bag we headed outside. Took about 4 seconds for people to start gagging, sputtering, and running …
Hope it doesn't get that bad again. All in all, it was a sad situation. Then I remember having to knock on doors to check on people for days on end in the sweltering heat.
———-
There is no reason to be flippant about heat waves. They are serious and can cause injury or death. They are no laughing matter.
Practical advice on staying cool in a hot house: For temporary relief, wet a hand towel or regular sized bath towel in cold water, wring well and drape over your head and shoulders. Repeat as necessary.
For my readers outside of the United States — in case you didn't know, Chicago elected a new mayor on February 22, 2011.
Rahm Emanuel, President Obama's former chief of staff, won the election with 55% of the vote.  Questions arose earlier in the campaign as to his eligibility, since Mr Emanuel was not a Chicago resident under the terms defined for a mayoral candidate.  (Today's 'campaign poster' comes courtesy of The Smoking Jacket.)
Mr Emanuel has long been known by insiders for his hot temper and by the man on the street for his charm.  During the Inauguration Day proceedings in 2009, he was snapped in the crowd thumbing his nose and laughing.  He also told the Administration to 'never let a crisis go to waste'.  Before becoming involved in politics, he was a ballet dancer.  As such, some his detractors have dubbed him Tiny Dancer and Ballerino.
However, no one denies that he knows how to work media and people to his advantage. Money flowed into his campaign coffers.  Second City Cop (language alert) tells us more about his war chest, said to have totalled $18m, and its contributors (emphases mine to highlight those living outside of Illinois) —
Here is a quick list of Rahm donors:
Shahid Khan : Pakistani from Champaign, Il, owner of Flex-n-Gate products and bidder on the St. Louis Rams — $100,000.00 (WT-!)
Blue Media LLC — $100,000.00 (huh?)
James Clark (Palm Beach, FL) $100,000
Donald Edwards (Chicago) $100,000
Fred Eychaner (Chicago, News Web CEO) $100,000 Hmmmmm?
David Geffen, record and film producer: $100,000
Donald Trump : $50,000
Steven Spielberg: $75,000
Diane and David Heller (Chicago) $200,000
Haim Saban, made Inspector Gadget and other cartoons: $300,000
The list goes on and on… I didn't know the mayor of Chicago was so important to the country.
$18,000,000.00 spent to get a job paying 165K?
You stupid people.
Good luck with your future …
And how many people turned out to vote?
Thirty-five-point-six percent voter turnout?
1.4 million registered voters;

35.6% means 498,400 people voted;

at last count, Rahm had 305,000 votes
Reader Bill puts this into perspective:
The facts here tell us a simple story;
The number of registered voters is vastly smaller than the number of eligible potential voters.
The number of registered voters who bother to vote is vastly smaller than the number of registered voters.
What does this tell us?
The vast majority of Chicagoans don't give a —- about who runs this town.
Which means this town is doomed.
It will be a new (yet very similar) Machine — the name given to the Chicago political system which makes New York's 19th century Tammany Hall corruption look tame and short-lived by comparison.  It's interesting that Toby Harnden from the Telegraph reports that the outgoing mayor's brother, William Daley, is President Obama's new Chief of Staff (Mr Emanuel's previous position).
So, the question is — why the large contributions from all and sundry?  Many wonder if Mr Emmanuel has his sights on the White House eventually.  In the meantime, contributors can curry favour for media contracts (Mr Clark founded Netscape and Blue Media is involved with Democratic Party work), films, massive construction projects and the like.
Yes, I understand that the Chicago Police (and firefighters, for that matter) are concerned about the future of their pensions.  Yes, I realise that Mr Emanuel's brother runs a Hollywood talent agency.  Still, does Rahm love the city or is he doing this as a stepping stone on the fertile Obama plain to great heights in the future?
Having said that, there were no other candidates who were not already cogs in the Machine.  There is no way out for Chicago.  Watch what happens to America's former Second City over the next decade.  Many see another Detroit on the horizon.
In closing, once again the media were complicit in 'bigging up' the Mayor-elect.  Leftist columnist E J Dionne fawns over him for the Washington Post:
One of my favorite (printable) Rahm quotations is his observation that the talk in his home when he was growing up led him to believe that the Democratic Party "was one of the 10 lost tribes of the Jewish faith." This primordial feeling allows him to understand every kind of Democrat …
Now, he will be the star …
More at the WaPo link … if you can bear it!
Do you live in or near the Windy City and want a day out in South Bend on Sunday, May 17?
Notre Dame alum Tom O'Toole, organiser of the POPE Project, has buses scheduled for his alma mater.  Register here if you would like transportation to the campus prayer vigil on South Quad which will take place simultaneously with Commencement. There are buses leaving from two Chicago locations. For those living in the outer suburbs, buses will be leaving from Central Catholic High School on Edgelawn Drive in Aurora. 
If you prefer a lunchtime venue on Friday, May 15, you can join a group at the Archdiocese of Chicago on Rush Street.  The meeting is scheduled for 12 noon.
POPE Project organisers emphasise that protests and vigils are to be peaceful and prayerful.
If you are unable to attend, the POPE Project welcomes your contributions.
For more information about the Notre Dame Commencement controversy, click here.