You are currently browsing the tag archive for the 'China' tag.
It's difficult winning against Andrew Neil, the longtime BBC political presenter who was the leading face of GB News for a month in 2021 and who currently has his own Friday evening show on Channel 4.
When it comes to grilling politicians, no one does it better than he.
Rishi Sunak agreed to subject himself to Neil's unfailing command of the facts. So far, Liz Truss — as did Boris Johnson — has not committed to the same.
Neil's interview
Sunak appeared with Neil on Friday, July 29, 2022, to put forth his case for becoming the next leader of the Conservative Party and, by extension, the United Kingdom's next Prime Minister.
Having watched the Q&A session, I thought that Rishi did a good job.
However, there was a real dissonance between what he said his policies involved and what Neil said they did.
As such, it made for awkward viewing. Who was telling the truth? I was left none the wiser.
At times, I was focusing on Neil's hair, which he has dyed a dark brown. His natural colour is ginger.
Rishi presented himself as the sensible, cautious candidate with regard to tax and the deficit:
Rishi defended raising taxes to fund the NHS. He did well in preventing his irritability from showing, but a vulnerability did slip out here:
Neil accused him of being 'consistently inconsistent' with regard to tax reform, but Rishi said that's how it works:
Hmm.
Neil asked Rishi about his wife's non-dom status. The former Chancellor gave a short reply, saying that she addressed it. This did not satisfy me, but then I don't have a vote in this contest:
Yes, there are family obligations here, it would seem. Those appear to involve his in-laws.
Neil was surprised at Rishi's answer about curbing the number of refugees. What Neil doesn't realise is that legal immigrants and their children take a much different view on migration than the British metropolitan elite.
Neil also managed to squeeze in Rishi's televised statement from his teenage years in 2001 in which he said he had no working class friends:
Neil concluded by reiterating that Liz Truss was still welcome to appear on his show.
I did not really know what to make of this half-hour broadcast.
Only the Mail had any commentary on it.
One article with more dialogue from the programme is 'Sunak is forced to deny he has shown a "lack of consistency" on VAT to Andrew Neil'.
An excerpt follows:
Veteran broadcaster Andrew Neil said Mr Sunak's approach of tightening fiscal policy risks recession in an interview on Channel 4.
The Tory leadership hopeful replied: 'No, if you look at what's happening around the world, it's inflation that is slowing economies down. It's rising interest rates that are already putting a brake on economic activity.
'And my concern is that I want to get to grips with inflation as quickly as possible because inflation makes everybody poorer. It erodes people's living standards.'
He also insisted his policy to hike national insurance thresholds was 'undoubtedly, objectively progressive' when Neil suggested it penalised workers.
'It's an entirely progressive measure,' Mr Sunak said. 'Raising thresholds means that those with the broadest shoulders contribute the most.'
The heated exchange resulted in Neil saying that the OECD has said that Mr Sunak's plans will result in a recession for the UK economy – which the former Chancellor disputed. 
It came as Mr Sunak sat down with the fearless interviewer Mr Neil on Channel Four – after frontrunner Liz Truss refused to do the same.
Mr Neil once again extended the hand to come on his show to the Foreign Secretary – saying the 'invitation is still open'.
The Southampton-born millionaire repeated his claims that tax rises were necessary for paying for Covid measures and said that he did not want to pass debt onto future generations.
He said that it would be the 'easiest thing in the world' to cut taxes to aide his leadership campaign but that he thought it was not the responsible thing to do.
Mr Neil hit out at Mr Sunak's wife's non-dom status which hit the papers earlier this year but the former Chancellor attempted to draw a line under the line of questioning, saying that he was the one running for office – not his partner.
The line of questioning made Mr Sunak visibly uncomfortable as he tried to move on from the scandal.
The tax cuts intended to fund the NHS were another line with Mr Neil used to attack Mr Sunak – as the interviewer quoted suggestions that the waiting lists on the NHS will reach 10 million in the next two years.
Mr Sunak attempted to distance himself from the Conservative's record on health after the fierce Scot tried to pin the NHS's problems on him – saying that he has left Government to change course on the NHS.
He added that he wanted to set up over 100 'elective surgery hubs' to bring down the backlog. 
Henry Deedes examined the optics of the interview: 'The ex-chancellor sat awkwardly, like a man about to undergo an enema'.
Excerpts follow:
We immediately saw Sunak sat behind a desk, his hands placed slightly awkwardly on top of each other. Across his mouth was smeared a distinctly uncomfortable grin. He looked like a man nervously waiting to undergo an enema …
Tax was the main topic, namely why Rishi as chancellor made us pay so much of it. Sunak said he wanted to pay down the cost of the pandemic rather than saddle our grandchildren with all that debt. 'I'd like to give people all these nice things – don't you think that'd make my life easier?' he pleaded.
Rishi kept calling Neil by his first name. Most of his replies began with a chummy 'look, Andrew'. Doubtless his spin doctors thought familiarity might soften the old brute. It didn't.
Neil kept coming at him over tax rises. A Bren gun with ceaseless ammunition. Pop, pop, pop. 
Why had he frozen the income tax threshold? Why had he left comfortable pensioners alone? Why were so many people paying the top rate? Unfortunately for Sunak, Neil is that rare thing in journalism – someone who actually understands economics …
Talk turned toward the NHS. Neil pointed out that waiting lists were up, despite the gazillions of pounds which get thrown at the Health Service every year. 'These are complex issues, Andrew,' Rishi mansplained.
Yes, yes, said Neil. But it had gotten worse on the Government's watch. 'Andrew, I left the Government,' pleaded Rishi. 
'Yes, but only a few days ago,' barked Neil. Sunak's answer to the NHS backlog was to set up a task force. Yes, that should do it!
There was mention of a recent video which surfaced of Sunak in which he told an interviewer he didn't know any working class people. 
Bit odd for someone who claims to come from such a modest background. 'I grew up working in my mother's pharmacy,' Sunak reasoned. 'We know all that,' sighed Neil witheringly.
He seemed to think Sunak's 'umble roots were a tad overplayed. Especially since he was schooled at Winchester. Neil's intellect of course was forged and honed at Paisley Grammar.
A brief tit-for-tat developed over Lady Sunak's non-dom tax status. 'I'm the one running for office, not my wife,' said Rishi. His voice lowered a bit at this point. He shot Neil a steely look as if to say 'Let's leave her out of this, shall we?' Respect.
We were now out of time. To be fair to Sunak he was still standing. But only just.
Incidentally, his opponent Liz Truss had given Neil's offer of an interview a wide swerve. 'Her choice, of course,' said Neil, voice laced with irritation. Chicken? Jolly wise, I'd say…
More scrutiny
Last week, Rishi's policies and personal life came under more scrutiny.
A Mail headline from April 24 resurfaced about his lavish Yorkshire home, which has a heated pool and will soon have a new gym and tennis courts. Incidentally, he has other homes, including a pricey mews house in London:

Just a little over a year ago, on July 2, 2021, Asia Financial reported that Rishi wanted more trade between the UK and China:
UK Chancellor of the Exchequer Rishi Sunak called for a "mature and balanced relationship" with China that helps British firms to exploit "the potential of a fast-growing financial services market with total assets worth £40 trillion" ($55 trillion) in a speech on Thursday July 1 …
Sunak set out alternative plans for an independent financial services policy for the UK and spent more time discussing opportunities in China than the US, which is the UK's most important bilateral partner.
He attempted to frame the opportunity to sell financial services to China within a context of maintaining principles such as openness and commitment to a rules-based order.
"Too often, the debate on China lacks nuance," Sunak said. "Some people on both sides argue either that we should sever all ties or focus solely on commercial opportunities at the expense of our values. Neither position adequately reflects the reality of our relationship with a vast, complex country, with a long history."
Sunak highlighted the appeal of China's financial services market for UK firms, as well as the need to cooperate on global issues like health, ageing, climate and biodiversity.
He seemed to effectively offer China the opportunity to agree different financial services terms with the UK than the EU, now that Brexit has arrived without a deal on mutual recognition of standards across Europe – which was the former target of "equivalence" of regulation.
Hmm. Interesting. His father-in-law's Infosys has an office in China.
A year later, on July 25, after China's Global Times endorsed him as the next Conservative Party leader, he walked back his support and claimed Liz Truss was the greater supporter of the Communist nation.
Guido Fawkes reported (red emphases his):
It's unsurprising, given his tacit endorsement from the Chinese propaganda arm Global Times, that Rishi has decided to go in hard on the country's security threat this morning. Declaring the Chinese Communist Party "the largest threat to Britain and the world's security and prosperity this century", Sunak attacks Liz for "[rolling] out the red carpet" and turning "a blind eye to China's nefarious activity and ambitions". He calls for a new NATO alliance to be set up to counter it the threat, and pledges to close all 30 Confucius centres, which teach Mandarin in the UK and are thought to be used as fronts by the Chinese intelligence services.
In response Team Truss returned fire last night, using Iain Duncan Smith to call the policy "surprising" and asking where Sinophobe Sunak has been for the last two years. Her team points to the above Sunak's endorsement by Global Times, and says he has been consistently soft on China …
In response, a Truss ally bluntly tells Guido that Sunak's team are "moronic", given not only was Truss responsible for childcare policy as an education minister, universities policy was run out of the business department at the time. David Willets was the BIS minister responsible, who – whilst yet to declare in this leadership election – has backed Sunak's tax rises. 
Guido also exposed the fact that the Artichoke Trust received £1,234,682 through Cultural Recovery Grants during the pandemic, when Rishi was Chancellor.
The Artichoke Trust puts out 'art' like this:
Clearly, not much scrutiny took place during the pandemic. No doubt, the Treasury were all in a rush to send out grants — taxpayers' money — to all and sundry.
On Tuesday, July 26, Rishi did a huge tax U-turn, imitating his rival Liz Truss.
Only days before, Rishi told Liz that it would be 'immoral' to lower taxes, yet, here he was at the beginning of last week reversing that to sound more like his rival:
Guido rightly asked why Rishi did not cut VAT on energy bills when he was Chancellor. Oddly, he now advocates the policy:
This is what the former Chancellor said in February 2022:
Guido has more on his February comments here.
On July 27, the Mail on Sunday had an article about his U-turn, saying he was 'under pressure' since the BBC debate of July 25 (emphases in purple mine):
This morning, Truss ally Kwasi Kwarteng, the Business secretary, welcomed Mr Sunak's 'late to the party' change on taxes.
He told Times Radio: 'I think he's under a lot of pressure. That's why we see all these statements: he was the person who said the VAT cut would disproportionately benefit rich families and now he's saying that a VAT cut on energy bills is the right thing.
'He was saying that tax cuts were a fairytale, now he is proposing an unfunded tax cut.
'There comes a time in campaigns when people are under a lot of pressure, he clearly felt under a lot of pressure in the debate and he wanted to get out on the front foot and interrupt Liz.'
But Transport Secretary Grant Shapps, an ally of Rishi Sunak, defended the former chancellor's plan. He rejected the suggestion that Mr Sunak is 'flip-flopping' and said the £4.3 billion policy is sensible as it would not add to inflation.
Put to him that it is a 'flip-flop', Mr Shapps said: 'If he hadn't produced £37 billion of support, about £1,200 to the hardest-up households already – if he hadn't done any of that and then suddenly did it then you would have a point.
'But he has, he has been providing all this support, now he is saying "Here's something that won't add to inflation that would save every person watching your programme £160 off their energy bills" – I think that's worthwhile.'
Last night No10 insiders told the Daily Mail that Mr Sunak's plan was something Boris Johnson tried to implement to ease the burden on consumers – but was blocked by his then chancellor.
'Boris begged him to do it – but he wouldn't budge', said the source. 'It's astonishing that he's now claiming it as his own policy.'
Meanwhile new polling shows that the rising cost of living and handling of the NHS could cost the Tories the most votes at the next election.
The Mail on Sunday's Anna Mikhailova pointed out that Rishi hardly had a long-term career in business, despite his own claims.
Nigel Farage picked up on her tweet and called Rishi 'a fraud':
Farage had elaborated on his GB News show the day before, Monday, July 25. He pointed out that Rishi included a clip of him in his campaign video on immigration. He doubted Sunak's sincerity on China and ended by saying, 'Well, I guess that leaves us with Liz Truss':
By July 27, the bookies gave Liz Truss an 83% chance of winning the leadership contest.
That night, Dan Wootton said that 'Fishy' Rishi's tax U-turn was 'too little, too late':
John Sergeant, who reported for the BBC for decades, said that the former Chancellor appeared 'rattled':
Political commentator Patrick O'Flynn said that many intelligent politicians weren't very good at politics, Rishi being a case in point:
On Thursday, July 28, Lord Ranger, a Rishi supporter, said that if the Conservative Party members do not choose the former Chancellor as leader, they are racists.
Dan Wootton responded by pointing out that this Conservative leadership contest has been the most diverse in history:
That includes Labour, too, by the way.
Wootton said, in part:
It was still only a matter of time before Team Rishi Sunak blamed his imploding campaign on racism.
Forget the fact that Kemi Badenoch was a surprise favourite among the party membership before being booted out by MPs for being too daring and different.
Forget the fact that Liz Truss is a woman who went to a Leeds comprehensive.
Nope, Sunak's failure is nothing to do with his big state/high tax agenda, which saw him increase our tax burden to the highest it's been in 70 years.
Nothing to do with his globalist posturing and desire to cosy up to China by making the Communist country our market of choice, as revealed in bombshell leaked Treasury documents reported in The Times today.
Nothing to do with the fact he backstabbed Boris Johnson – the man to whom he owes his career – plotting his leadership campaign, all the while pretending to be his loyal Chancellor.
No, no, no, no it's down to racism.
Conservative donor and Fishy Rishi supporter Lord Ranger told Indian news network Bharat Tak: "If people reject him, it will be a bad name for the party and the country because this will be perceived as racist.
"And so there is pressure on them to prove that here race does not matter.
"Calibre matters, and Rishi's calibre is above everyone. I am optimistic that people here will be fair and will not reject anyone on the basis of race."
Lord Ranger, I can assure you the Conservative members are not rejecting Rishi based on race.
They're rejecting him based on policies and a lack of loyalty too.
As my colleague and friend Calvin Robinson tweeted in response: "'Vote for me because I am brown,' is bad enough 'if you don't you're a racist' is even worse.
"This divisive, toxic rhetoric is straight from the Leftist guidebook on Critical Race Theory and should have no place in the Conservative Party or the government of this great nation."
Former Cabinet member Michael Gove's ex-wife Sarah Vine, who writes for the Daily Mail, said that Rishi stabbed Boris in the front:
On Friday, July 28, a Techne poll showed that Liz was gaining ground over Rishi:
That morning, Defence Secretary Ben Wallace put the boot into Rishi's decision to resign as Chancellor:
Wallace told Sky News:
Wallace: Let's look at that Friday afternoon – I think it was a Friday – what if the markets had crashed? What if the Home Secretary had done that and there was a terrorist attack? What would the public think, they would never forgive us for that… I don't think people needed to walk out, the public would see that as a government not thinking about the job in hand.
The multi-year settlement [for the Department of Defence] that we got was not what the Treasury had wanted, they wanted a one-year settlement – this was back in 2019 I think – and it was vital that we got a multi-year settlement, and the PM effectively asserted his authority and made all that to happen…
Interviewer: But Mr Sunak was not in support?
Wallace: Not that I remember.
Cut the right taxes like not proceed with corporation tax rises helps growth. When Rishi was Chancellor he cut entrepreneurial relief – he cut the relief we give to entrepreneurs who've invested in this country, invested in businesses – that's not a way to help create either wealth or indeed growth.
Wallace had more to say. He said that, as Secretary of State for Defence, he did not have the 'luxury' of resigning, a pointed barb at Rishi, who, he intimated, should have stayed on as Chancellor:
Wallace pledged his support for Liz Truss.
Meanwhile, Rishi's team claimed someone was leaking official documents:
Rishi allegedly asked Simon Case, the head of the civil service, to get involved.
Guido reported:
What leaks might Rishi be upset about? The Treasury documents which completely undermined his pledge to "scrap or reform EU laws in 100 days" is a strong bet. Earlier this month, just after promising to review all of the remaining 2,400 EU laws on the statute book, Bloomberg revealed the Treasury had – under Rishi's leadership – written to Liz Truss to claim that reforming EU taxes was desirable but probably not deliverable until 2026. Last time Guido checked, that wasn't quite within 100 days. Brexit Opportunities Minister Jacob Rees-Mogg even responded by claiming it was "a surprising promise as the Treasury under his leadership was insisting that taxation was exempt from the removal of EU law." What was it Rishi said about "fairytale promises"?
UPDATE: Now a spokesperson for Liz Truss says:
We condemn the leaking of Government documents and papers. Neither campaign condones leaks of material and will not use documents it receives. Furthermore, both campaigns will report any such leaks to the Cabinet Secretary who may take action directly, or via the Police, against the individuals involved in perpetrating such leaks or receiving and not reporting material. We understand leak investigations will be carried out without fear or favour.
Word around Whitehall is that Simon Case is livid, demanded both camps issue a statement and has called in police to investigate the China leaks.
On Saturday, July 30, things got worse for Team Rishi. He had to give away tickets to what had been a £20 per person hustings event:
Then, Tom Tugendhat, he of the military service, endorsed Liz Truss:
Oh, dear.
While all that was going on, staff at the Mail on Sunday (MoS) were preparing its copy.
Late on Saturday in one of the MoS pieces, Boris loyalist Nadine Dorries MP further reinforced the notion that Rishi is not a man of the people. She wrote about a tweet she'd sent out a few days before commenting on his expensive attire:
I wanted to highlight Rishi's misguided sartorial style in order to alert Tory members not to be taken in by appearances in the way that happened to many of us who served with the Chancellor in Cabinet. The assassin's gleaming smile, his gentle voice and even his diminutive stature had many of us well and truly fooled.
I wish to stress it's not the case that I believe a rich man or woman – even if their father-in-law is one of the richest men on an entire continent – cannot be Prime Minister of this great country. But they do have to possess good judgment, understand the lives of others, have empathy, compassion and know how to fill a car with petrol and pay for it at a till.
Rishi's father was a GP, his mother a pharmacist. He attended a public school where the annual fees are about £36,000. They were in the top two per cent income bracket of all earners in the UK. To describe his background as humble is yet another indication of poor judgment.
Rishi will never know what it is like to feel scared, broke and hopeless, without a safety net provided by wealthy parents. He has never had to lie awake at night, worrying about how to pay the bills. A bailiff will never knock on his door …
Too right.
Dorries said that Boris was not best pleased when he found out that Rishi is now pledging to cut VAT on energy bills, something she said Boris begged him to do as Chancellor:
… Rishi says he wants to cut VAT on energy bills. However, Boris had been pleading with him to introduce this measure for two years as the PM had been convinced that such a cut could provide immediate relief to families.
In a speech on Thursday, Boris commented with a hint of uncustomary sarcasm: 'Turns out it was easier than we thought!'
Rishi was the classic dog in the manger as Chancellor. Whenever Boris sought him out to discuss serious issues, Rishi was always polite but unforthcoming. Never a team player.
Another MoS article revealed photos of a young Rishi Sunak at an exclusive nightclub in London's fashionable Mayfair.
Reporter Michelle Bromley included photos, writing about the young man and his then-fiancée, now wife, the Infosys heiress Akshata Murty, who lived in California in 2008:
Despite living 5,400 miles apart, the couple regularly flew back and forth across the Atlantic.
These photographs show how they spent an evening with friends at the Whisky Mist nightclub in London.
Ms Murty is seen with a cocktail while Mr Sunak (who says he's teetotal and 'a total Coca-Cola addict') generously bought all the drinks that night for the couple's friends.
At the time, the club off Park Lane was popular with the young Prince Harry and celebrities such as Beyoncé and Leonardo DiCaprio. Many years later, Tesla tycoon Elon Musk met his second wife, actress Talulah Riley, there.
Whisky Mist was apparently named after an incident during which a tipsy Queen Victoria thought she'd spotted a stag in the fog from the window of Balmoral Castle.
Friends with Mr Sunak and his girlfriend that night recall how many of the guests were focused on Ms Murty because of her family's fabulous wealth.
Her father founded global IT giant Infosys.
Mr Sunak was described by a female reveller as 'the most attentive boyfriend you have ever seen' and as 'someone who would ask a lot of questions but not give too much away about himself'.
Not long before, he had been to Africa where he met some of Barack Obama's relatives. He was photographed with them while holding a copy of the future US president's book, Dreams From My Father: A Story Of Race And Inheritance.
The picture was posted on Mr Sunak's Facebook page. Mr Obama used his book as a primer to introduce himself to the American people as he campaigned in 2008 to become the first black US president.
Fourteen years on, the young Briton captivated by that book is campaigning to become Britain's first Prime Minister of Asian heritage – and of America's greatest ally.
Nadine Dorries is right. Rishi Sunak will never have to worry about anything significant in his life.
The Sunday Telegraph said that Conservative MPs criticised Dorries for retweeting a photoshopped image showing Rishi as Brutus wielding a knife at Johnson's Julius Caesar's back. The original tweet is at the link.
The MoS also reported that some of the MPs supporting Rishi have serious doubts about his campaign:
Conservative MPs backing Rishi Sunak have privately admitted 'It's over' as panic sets into his leadership campaign.
Insiders told The Mail on Sunday that some supporters were refusing to do campaigning events for the former Chancellor.
MPs are said to be getting cold feet after Defence Secretary Ben Wallace and former leadership rival Tom Tugendhat threw their support behind Liz Truss in quick succession.
However, other MPs backing Mr Sunak insisted he was doing well with Tory members, and said private polling showed Ms Truss's supporters had been easily convinced to switch their support to him.
As this week opened, Dan Wootton's Monday poll showed that GB News viewers thought that his tax U-turn was still too little, too late:
That polling ran while Rishi and Liz were at a hustings in Exeter, more about which tomorrow.
I hope the former Chancellor, whose mother owned a pharmacy, does not get anywhere near Downing Street, except as a visitor: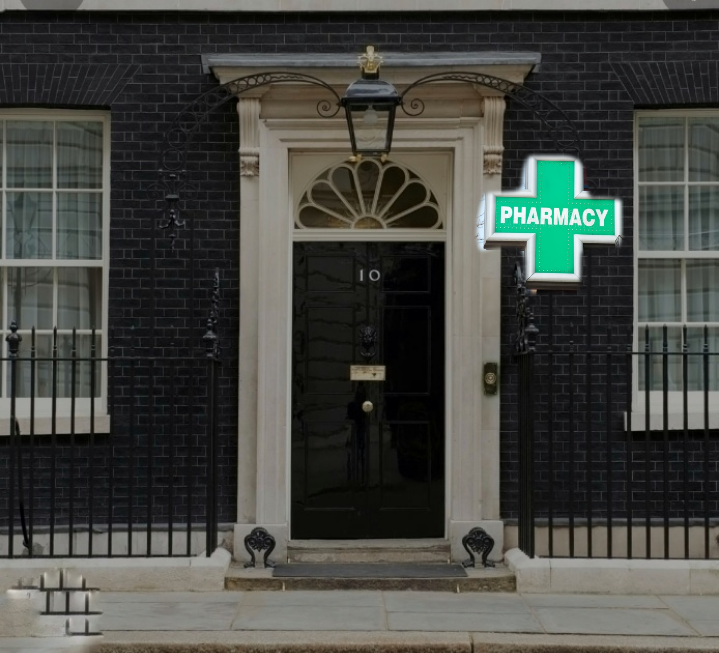 Why anyone wants Rishi to be the next occupant of No. 10 escapes me. Convince me — someone, anyone — why he should be our next Prime Minister.
Before I get into Thursday's voting results in the Conservative Party leadership contest, readers should note that Labour are no longer afraid of losing the next election.
Please, someone, bring back Boris:
The only candidate who could put the frighteners on Labour is Kemi Badenoch, who is excellent at the despatch box when facing the Opposition.
Thursday's vote result
Sir Graham Brady, chairman of the 1922 Committee of backbench Conservative MPs, announced yesterday's result promptly at 3 p.m.
Unfortunately, Suella Braverman had the lowest votes and had to drop out of the race. She had only 27 MPs backing her.
Going into the weekend, we have the following five candidates:
Guido Fawkes has a summary of Thursday's activity, excerpted below.
Rishi Sunak has received over 100 votes, but overall, he is not doing as well as candidates in past leadership elections:
Rishi is one of the weakest first-place candidates in recent Tory leadership elections, comparing leads in the second round of MP ballots:* … *Hat-tip: Tom Harwood
Penny Mordaunt's work ethic was slammed on Thursday. I covered Lord Frost's damning comments in yesterday's post.
Mordaunt also ran into trouble over past statements she has made on gender identity:
Ran into problems and heightened scrutiny over her trans stance, not least with a blow from newly-eliminated Suella Braverman, who accused her of not standing up for women when pushing for gender-neutral language in the ministerial maternity leave bill

Accused of lying about her trans stance by Team Truss
Kemi Badenoch is, happily, still in the race and is ahead of Tom Tugendhat, who is likely to be the next to be dropped when voting resumes on Monday.
Badenoch received 49 votes and Tugendhat 32, a decrease of five votes for him.
Early news on Friday
Much happened overnight, which I will review in recent campaign activity below.
Suella Braverman is now supporting Liz Truss.
There is likely to be increasing pressure put on Kemi Badenoch to bow out of the race. If anything, pressure should be brought to bear on Tom Tugendhat, who is in last place.
Guido calls our attention to three debates this weekend. One will be online and two will be televised (red emphases his, those in purple mine):
Today things get really interesting: it's debate time. So far candidates have taken lumps out of each other from their respective trenches, today they finally have to go over the top – a special metaphor just for Penny and Tom. Things kick off at ConservativeHome at 1pm, and continue over to Channel 4 at 19.30, where all candidates have confirmed their attendance. Followed by ITV on Sunday and Sky on Monday. 
Debates can make or break candidates at this stage, especially when there are a decent number of votes up for grabs and no one knows who's going to win. In 2019, one debate made Rory Stewart – securing his place in the next round – and the subsequent debate 24 hours later broke him, as he decided to get undressed live on air. In a sign of how febrile things are, even Rishi's agreed to join tonight's Channel 4 debate, an unedifying challenge the frontrunners are sometimes able to duck out of. Will some MPs finally have to recognise that their candidate makes Theresa May's public speaking look relaxed and charismatic? Guido looks forward to finding out…
Let's see what is going on with the various candidates.
Suella Braverman
Suella Braverman, Attorney General for England and Wales, is a committed Conservative, especially when it comes to social issues.
In 2019, along with Northern Ireland's DUP MPs and several other Conservative MPs, she voted to keep abortion illegal in Northern Ireland. However, the Government has since legalised abortion there.
Last Sunday, Danny Kruger, a thoughtful MP and Prue Leith's son, gave his reasons for backing Braverman:
Two days later, on July 12, a Conservative Home poll showed that Rishi Sunak would lose were Braverman the second remaining candidate on the ballot going to Party members:
Were Braverman up against Liz Truss, the vote would have been tied.
This was Braverman's platform — lower taxes, border control, no identity politics and commitment to the Conservatives' 2019 election manifesto:
What's not to like?
She also would have taken us out of the ECHR (European Convention on Human Rights), which is preventing us from deporting faux refugees and serious foreign criminals: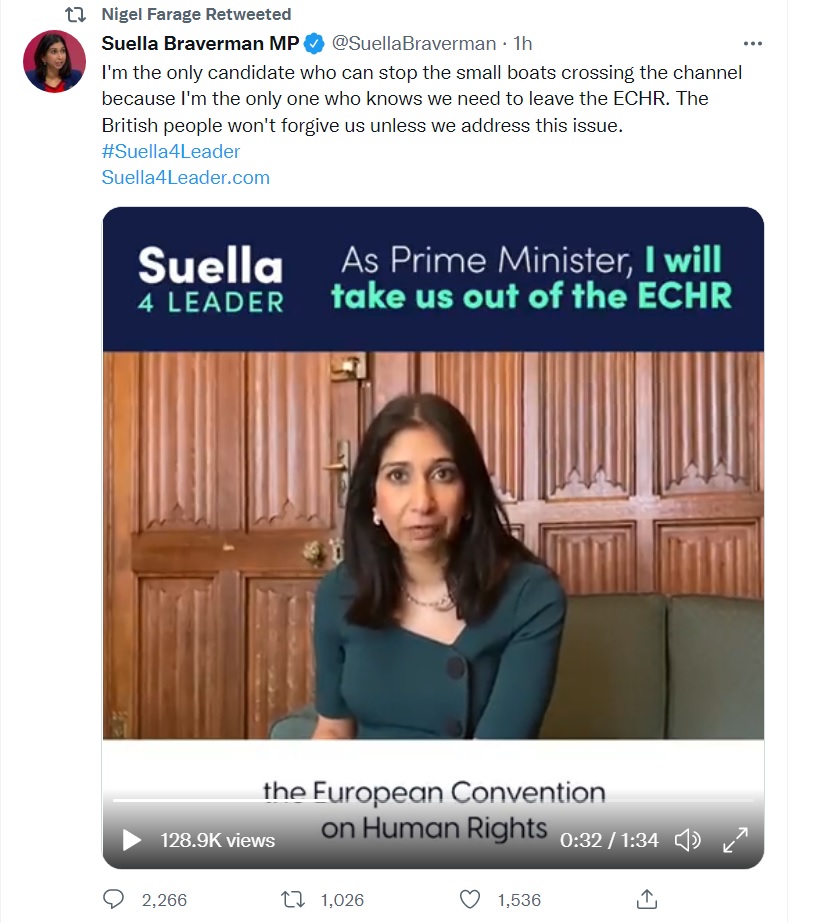 She refused to engage in 'blue on blue' sniping. Here she is with Kemi Badenoch, my other favourite:
Braverman was gracious in defeat:
She swiftly began a media round on Thursday afternoon.
Speaking to Tom Harwood of GB News, she expressed her gratitude for being able to run in the leadership contest, saying it was a real privilege. I agree that she would make an excellent Home Secretary:
She said that she sees both Rishi Sunak and Penny Mordaunt as being on the left. So true:
She criticised Penny Mordaunt's stance on gender identity and accused her of being a 'false Brexiteer':
In an interview with BBC Radio 4, Braverman pointed out that Hansard has a record of what Mordaunt has said in past debates on the Maternity Bill:
She told TalkTV's Tom Newton Dunn why she has decided to support Liz Truss:
I hope that whoever wins will retain Braverman in their Cabinet. She is a true asset to the Conservatives.
Rishi Sunak
Could the wheels be about to fall off for Rishi Sunak, our erstwhile Chancellor?
On Friday, July 15, news emerged that the Chinese government hopes Rishi will be our next Prime Minister:
Guido reported:
This morning Rishi Sunak has successfully won the leadership endorsement none of the candidates wanted: from the Chinese Government's propaganda outfit. Global Times has published an article entitled "China-UK ties 'might improve' with arrival of new PM"; subheading, "Most candidates are tough on Beijing, but 'pragmatic' one wins first round". In the piece, Beijing's mouthpiece notes concern that, despite Rishi winning among MPs, party members might vote for a rival candidate because of tax policy…
Former chancellor of the exchequer (finance minister) Rishi Sunak, the one candidate with a pragmatic view of developing balanced ties with China, has won the first round of voting by MPs.
When Sunak was the finance minister in July 2021, he used his annual Mansion House speech to insist that Britain should beef up its trading relationship with China
Apart from Sunak, almost all of the other candidates hold a very tough stance on China
As I write, mid-day, Guido is awaiting comment from Rishi's team.
In other news, Rishi is losing traction with the bookmakers. He's now in third place:
Guido tells us:
Rishi has fallen from hot favourite to his chances being third rated, with Penny as favourite and an overnight re-evaluation by punters seeing Liz move into the second favourite spot.
Allow me to repeat myself with the aforementioned Conservative Home poll from July 12. According to their readership, likely all Conservative Party members, Rishi could only beat Sajid Javid, who is no longer in the running and Tom Tugendhat, who is currently in last place:
Tom Tugendhat
I do not think that Tom Tugendhat's candidacy will last beyond Monday's vote.
I formed my opinion of him through his participation in House of Commons debates.
He is chair of the Foreign Affairs Committee.
Last August, he spoke about Biden's withdrawal from Afghanistan, where he served with the Army. His contribution gained him a round of applause, which is normally forbidden in Parliament:
America's back – back home.
In 2020, he wrote an editorial on terrorism for the Mail, calling for a return of treason laws, which Tony Blair got rid of:
In 2020, he was critical of China's lockdown policy:
Last year, when there was a suspicion that vaccine passports could be turned into digital identity cards, Tugendhat rightly opposed such a development. talkRADIO's Julia Hartley-Brewer interviewed him on the subject:
Tugendhat announced his candidacy for Conservative leadership on July 7, via an editorial for The Telegraph:
It seems to me that he makes more of his military career than perhaps he should. In one recent interview, he made himself out to be a general (H/T to my reader dearieme):
'What's the worst thing you've ever done?'
'Invaded two countries.'
Guido thinks so, too:
He has the relevant clip:
Anyway, his campaign, increasingly weak, calls for 'a clean start':
A clean start:
On July 8, the Sun featured a profile of him, including his French connection:
Tugendhat is married to Anissia Tugendhat (née Morel).
She is a French judge and civil servant and Tugendhat holds dual citizenship for France and Britain.
According to a tweet from journalist Richard Eden, the pair got engaged in 2013.
Together they have two children, a boy and a girl.
Tugendhat's mother Blandine de Loisne is also French.
Anissia comes from a family of diplomats and her brother has worked in the Foreign Ministry and the French embassy.
We did not know that before, did we? At least Tobias Ellwood told Parliament that he has dual US/UK nationality.
That's probably why he voted Remain in the 2016 Brexit referendum.
He would not be drawn on the subject of whether he regretted his vote. Probably not, then:
The public are suspicious. As he is currently in last place, MPs must be, too:
He launched his campaign on July 12. To calm his nerves, he had a crafty ciggie on the tiny balcony outside his office, forbidden on the parliamentary estate. This, in my opinion, is the only decent thing about him:
I hope he was smoking a Gauloise …
At his launch, he took only two questions from the media:
Perhaps he feared questions about his Frenchness, such as this one:
Candidates, including those running for a position as MP, should declare their nationality or nationalities:
———————————————————————————
I will have more on the leadership contest next week.
For now, I am looking forward to the debates. It will be interesting to see how Rishi and Tugendhat, both of whom are short, look next to Penny Mordaunt, much taller than either of them. Optics are important.
Yesterday's post introduced the ongoing Conservative Party leadership contest.
Today's post will discuss what happened on Wednesday and lead up to Thursday afternoon's vote, the result of which will appear tomorrow.
Before Wednesday's vote
Guido Fawkes wrote the following on the morning of Wednesday, July 13, before the first round of voting (red emphases his, purple ones mine):
Good morning. Six of the eight remaining Tory leadership candidates face an uphill battle throughout the day, as they attempt to reach the 30-MP threshold required in the first knockout round of the contest at 6pm. Rishi now has 48 backers, meaning he can basically sit back and relax for at least the next two rounds, though that hasn't stopped him adding Steve Barclay to his list of supporters this morning. Penny Mordaunt also has the 30 required. The other six, not so much…
All eyes are on Jeremy Hunt and Suella Braverman as the ones most likely not make it, though one of Hunt's backers told Guido last night they believe they have the requisite support. They also described rumours that Gavin Williamson is instructing Rishi backers to temporarily support other candidates like Hunt and Kemi, so Rishi doesn't have to face Liz in the final two, as utter rubbish, though members of other campaign teams believe it is absolutely happening. With Sajid, Shapps and Priti now out of the race, there are 30 newly floating MPs up for grabs…
News overnight includes a policy-light interview with Rishi in The Telegraph, who's trying to get the press back onside after yesterday's scenes at his campaign launch. He says he'll run the economy like Thatcher if he wins. Tom Tugendhat committed to spending 3% of GDP on defence last night.  Penny has used a Times op-ed to commit to supporting families as PM. Stay tuned for her campaign launch at 10.30 this morning…
And:
from now on candidates can also vote for themselves…
Candidates experienced highs and lows, as covered below.
Nadhim Zahawi
When Boris Johnson appointed Nadhim Zahawi as Chancellor of the Exchequer on July 5, it was remarked that he is the first Chancellor with facial hair in 65 years:
Before Harold Macmillan, we have to go back another few decades to find another bearded Chancellor:
Zahawi appears to be the man who convinced Boris that he should stand down as leader of the Conservative Party. On Thursday, July 7, the Daily Mail reported:
Boris Johnson will finally announce his resignation today – but is lining up a 'unity Cabinet' as he battles to stay in Downing Street for months longer.
The PM admitted defeat in the wake of a shattering intervention from Nadhim Zahawi, who was only appointed on Tuesday night following Rishi Sunak's departure. He told Mr Johnson that his situation is 'not sustainable'.
Two days later, on Saturday, news emerged that HMRC (Her Majesty's Revenue and Customs) were investigating Zahawi's tax situation. Hmm:
Zahawi said on a Sunday morning news programme that, if elected Party leader, he would release his tax returns. He complained of being set upon, something Boris knows only too well:
On Tuesday, July 12, he launched his campaign video in which he tells his life story. He arrived in England from Iran with his parents. He started school not knowing a word of English. Fast forward to the past two years and he was able to live his dream. He headed the coronavirus vaccine rollout and went on to become Education Secretary. Today, he is Chancellor. Amazing:
On Wednesday morning, he told LBC's Nick Ferrari that, if elected leader, he would give Boris a Cabinet post:
Guido has the video and concluded:
He's the second leadership contender to make such a pledge after Suealla Braverman. Clearly Zahawi sees some benefit in associating himself with Boris. A swift change of tone considering he was calling for Boris's resignation just a few days ago…
Agreed, but there is no way that a former Prime Minister would take a Cabinet post.
Later on Wednesday morning, someone hacked Zahawi's campaign website and redirected it to Penny Mordaunt's. Penny's website also seemed to have issues:
They are not the only ones, however, as Guido reported that Rishi Sunak's site is banned on the Parliamentary estate:
Website woes are a common theme throughout the leadership campaign, Rishi's site is blocked in Parliament as "insecure" and candidates have had their domain registration timings scrutinised. Turns out this stuff is hard to do right…
Jeremy Hunt
Conservatives either love or loathe Jeremy Hunt.
He served as Health Secretary and then as Foreign Secretary, until Boris sacked him in July 2019.
Hunt ran against Boris in the 2019 leadership contest. In one appearance during that campaign, he said his wife was Japanese. She quickly corrected him and reminded him that she is Chinese.
I wonder if he said that on purpose, because …
During the pandemic, as a backbencher, Hunt proposed Chinese-style lockdowns and mandatory vaccines for healthcare staff.
Nadine Dorries MP recalled a conversation with Hunt in July 2020:
On Christmas Day in 2021, the Mail reported that Hunt's wife presents Chinese state-sponsored television programmes, broadcast on Sky TV from London:
The wife of former Cabinet Minister Jeremy Hunt presents a TV show for China's state-run media that has been accused of 'whitewashing' the Communist Party's human rights abuses.
Lucia Guo, who has three children with the former Health Secretary and Foreign Secretary, appears on China Hour, a series broadcast on Sky TV that showcases Chinese culture to a UK audience.
It is made by the state-owned China International TV Corporation and British-based Dove Media, in partnership with the Communist regime's tourist office in London.
The programme has featured reports on the effectiveness of China's pandemic response and about the beauty of the Xinjiang region without mentioning it is the site of 're-education' camps for its persecuted Muslim Uighur population. 
Ms Guo, who is originally from the city of Xi'an in central China, hosts a feature on the show called Signature Flowers of China. 
It has been broadcast since September and is also available on YouTube.
Human rights campaigners at the US research institute Freedom House last year accused China Hour of being part of the Chinese Communist Party's international media web.
The programme has been praised in Beijing for its viewing figures while its reports on the pandemic have been credited with 'playing a unique role in communicating the Chinese narration of the epidemic to the world'.
On March 13, 2020, three days before the UK's first lockdown, Hunt wanted all British schools closed.
Although Hansard has all of Jeremy Hunt's contributions to parliamentary debates, in May 2022, he tried to walk back his promotion of Chinese-style pandemic measures.
Someone put this graphic together around May 21, a significant date for Hunt, as you will see below: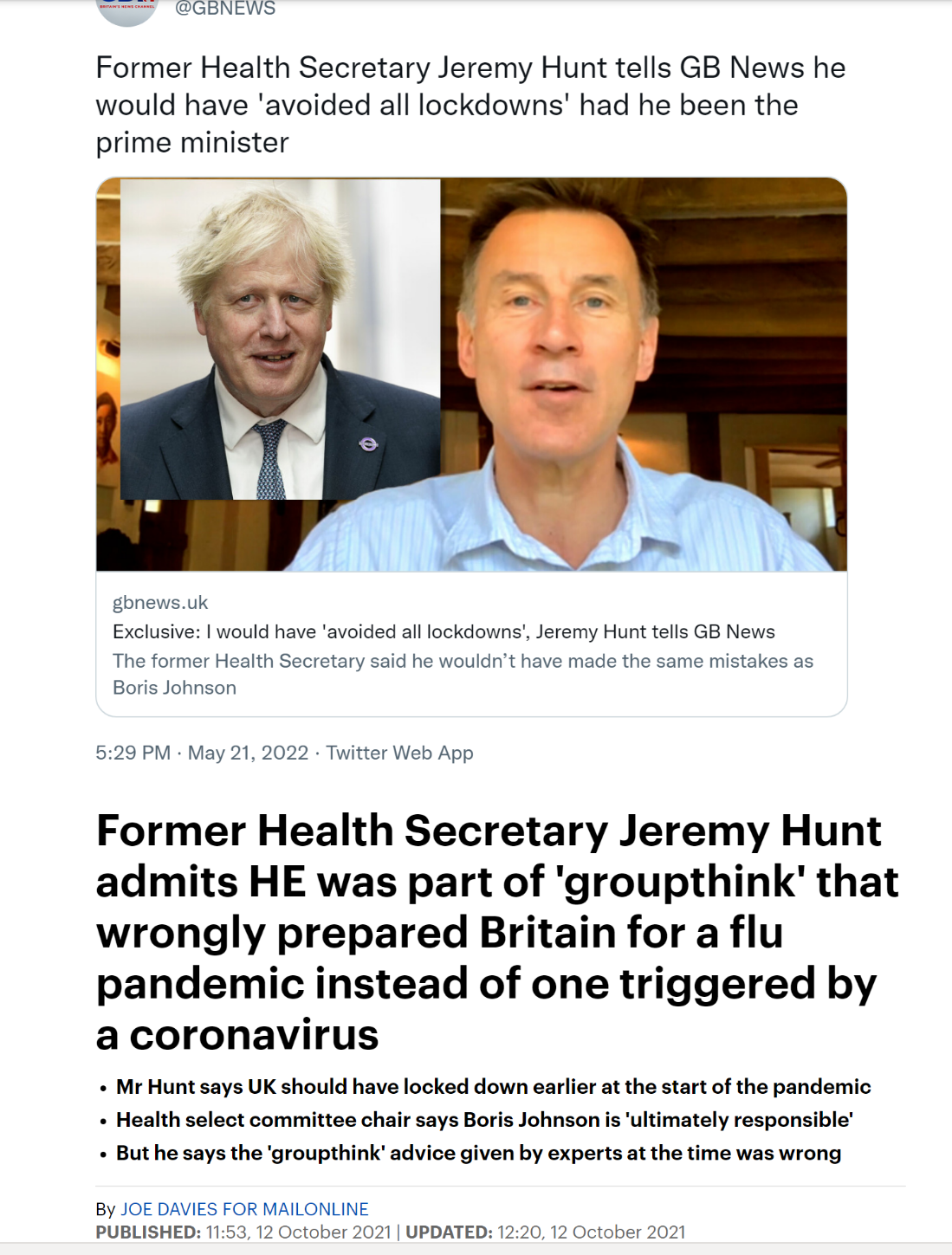 The next day, May 22, he appeared on Sophy Ridge's Sky News programme to say that he did not want to see a Conservative leadership contest:
Guido posted the video and this comment:
Maybe Hunt is one of these Tories who thinks it might be good to lose the next election? He could become leader of the opposition…
That day, a number of letters to the editor appeared in The Sunday Times. The week before, he had written an article for the paper outlining how he would reform the NHS.
A retired GP wrote the Times to point out that Hunt had ample time as Health Secretary some years before, yet he took no action:
What a nerve! Jeremy Hunt tells us "How I would fix the NHS" (News Review, last week) — but he was the longest-serving health secretary in British history and has a huge responsibility for the NHS being in this parlous state.
He did nothing to increase the capacity of our hospitals, which has resulted in ambulances queueing outside A&E departments, unable to discharge their patients. He pledged that by 2025 we would be self-sufficient in "homegrown" doctors, but a lack of planning has resulted in a huge shortage of NHS staff in all sectors. He went out of his way to alienate junior doctors, causing the unprecedented strike of 2014. He did nothing to integrate the NHS with social care.
This is the man who could replace the fool we now have as prime minister. Heaven help us.
One week later, on May 28, an article in the Mail suggested that Hunt had a plan to topple Boris:
Boris Johnson's Cabinet allies have accused supporters of former Health Secretary Jeremy Hunt of mounting a secret pub plot to oust the Prime Minister.
They suspect MPs who attended a dinner at an upmarket bar in West London called The Surprise last week were scheming to trigger a Tory leadership challenge.
The event, held the night before Sue Gray's report into Partygate was published, was hosted by Devon MP Mel Stride, a former campaign chief for Michael Gove who is seen by the Johnson camp as a rebel ringleader.
Also in attendance was long-serving Ludlow MP Philip Dunne, a key ally of Mr Hunt.
The article has two familiar names, in addition to Hunt's. Those MPs entered the current leadership contest:
Of the 16 MPs known to have been there and who voted in the 2019 leadership election, just three backed Mr Johnson.
Five backed Mr Hunt, who is widely expected to mount a leadership bid if a contest is called, while six supported Mr Gove, who is not expected to enter another contest …
Politicians at the dinner strongly denied they were scheming against Mr Johnson and accused his allies of 'paranoia'.
They pointed to the fact that Boris arch-loyalist Grant Shapps – who has himself been tipped as an outside bet for the leadership –addressed the meeting.
But a Cabinet ally of Mr Johnson said: 'Mel Stride is a Goveite looking for a new horse to hitch his wagon to. Many of the people he invited to the pub backed Gove or Hunt last time – including Dunne, who is running Hunt's latest bid.
'Any MP considering backing Hunt must be a masochist yearning for the kind of thrashing we sustained in 2017 and longing for the humiliation of a very long spell on the Opposition benches.
'Without Boris, we will be handing the next Election to a Labour-SNP coalition. But then, some of our pro-Remain MPs and those who think they were naturally destined for high office, are too bitter to care' …
Trade Minister Penny Mordaunt, considered a potential future Tory leadership contender, condemned behaviour at No 10 as 'shameful', telling the Portsmouth News she was 'angry' that people blocking 'reasonable requests to relax [Covid] restrictions, were at the same time ignoring the rules'.
I agree with whoever said that without Boris, the next election will go to a Labour-SNP coalition. Yet, here we are, sadly.
By June 6, the story of Hunt's yearning to be the next Conservative Party leader grew traction, especially with GB News presenters.
Neil Oliver threw his characteristic diplomacy away in this tweet:
Bev Turner shared a Hunt anecdote, wherein he advocated paying domestic staff low salaries:
Someone from Hong Kong confirmed the Chinese way of paying peanuts to domestic staff:
A Conservative Party member chimed in with disgust:
Adam Brooks, the publican who appears on Dan Wootton's show was grateful that Boris was at the helm during the pandemic:
Now let's look at what Jeremy Hunt told Nadine Dorries, Secretary of State for Digital, Culture, Media and Sport, back in July 2020:
Ben Leo, who works on Dan Wootton's show, tracked Hunt down in front of his house on July 9 to follow up. This is an excellent video. Readers won't be surprised to find out that Hunt said absolutely nothing:
Now let us fast forward to last weekend.
GB News viewers were aghast to find out that Esther McVey, an MP many of us admired up to that point, cast her support for Hunt, as did her husband Philip Davies:
Why would a no-nonsense, straight-talking Conservative back Jeremy Hunt?
The answer came on Sunday, July 10, when Hunt announced that, if elected leader, Esther McVey would become Deputy Prime Minister.
Guido posted the video:
She must be stupid if she believes that, I thought. It's like a would-be Romeo trying to seduce a girl. Promise her anything to get her to submit …
Just look at the man's eyes. He often looks like this:
Guido tweeted:
That's me done with McVey and Davies. I liked him, too. No longer.
On Monday, July 11, Dan Wootton warned that Conservative MPs could destroy the Party if either Rishi Sunak or Jeremy Hunt become leader:
He is not wrong in that assessment.
First round voting results
Sir Graham Brady, chairman of the 1922 Committee of Conservative backbench MPs, declared the results of the first round of voting shortly after 5 p.m.
Nadhim Zahawi, the new Chancellor, and Jeremy Hunt were eliminated from the contest:
Conservatives around the nation breathed a sigh of relief at Hunt's elimination from the race.
Perhaps Hunt should have taken a cue when the top of the bell he was ringing flew off, nearly hitting a bystander:
As for Zahawi, he posted a lengthy letter: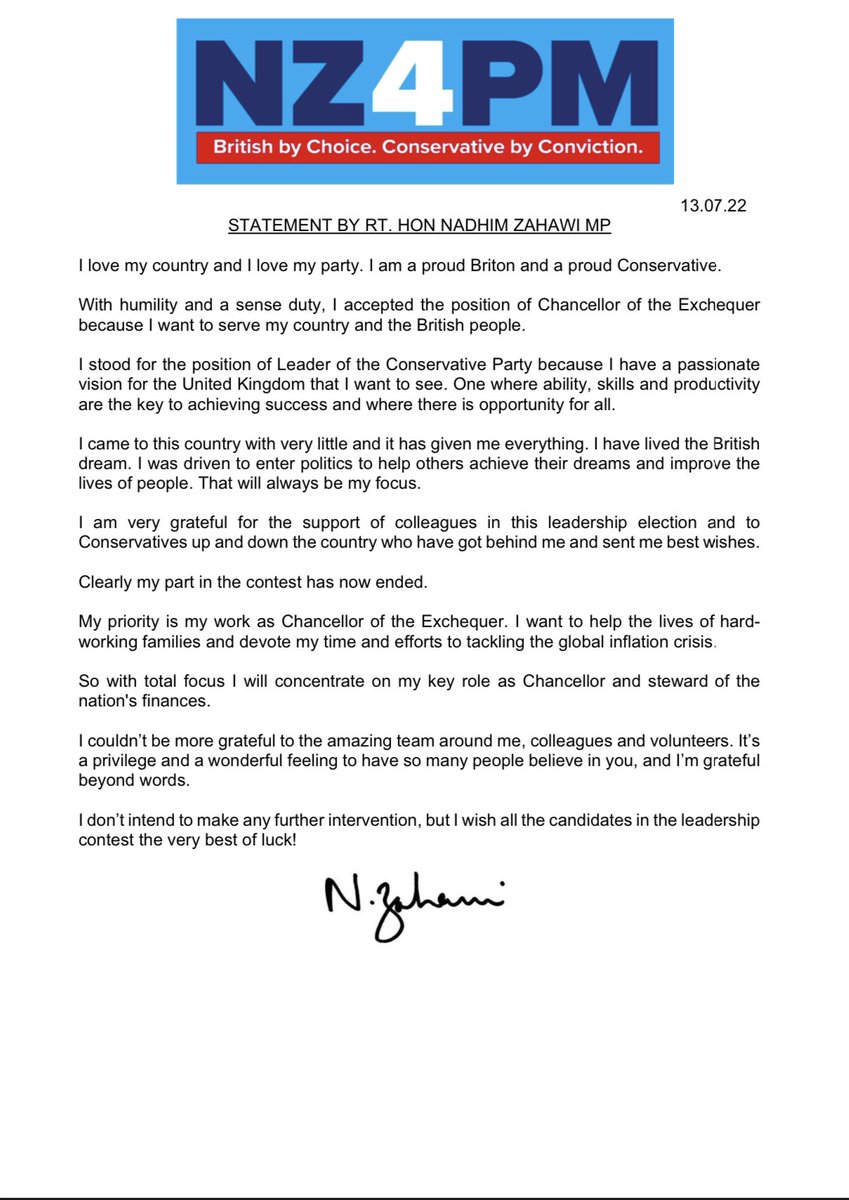 He has a lot on his plate, so perhaps it is best that he focuses on recovering some of the millions that fraudsters took during the pandemic. Those people stole taxpayers' money:
He should also do something about road fuel tax:
Meanwhile, Jeremy Hunt pledged his support for front runner Rishi Sunak:
And then there were six
As Wednesday closed, we were left with six candidates going into Thursday:
Kemi Badenoch, someone around whom most Conservatives could rally, had just over 50 MPs supporting her.
Tom Tugendhat, rather surprisingly, considering that he has a high profile, had fewer than 50.
Suella Braverman, another candidate who makes most Conservative Party members happy, has just over 40.
I think that Braverman and/or Tugendhat will lose on Thursday. Tugendhat is another one who deserves to go.
Guido summed up Wednesday's activity. Highlights follow.
Rishi Sunak could be losing momentum:
… After hogging the limelight with his campaign launch yesterday,

today he resumed being the punching bag of choice for all other candidates

.
Faced some

horrible polling from all quarters, which shows he basically stands no chance of winning among the members if he gets through to the final two

.
Penny Mordaunt did well:
A great day for Penny –

if she wins the contest, today will undoubtedly be viewed as the day she secured the victory

…
Received a major boost from

YouGov polling

that shows,

should she get through to the final two, she'd smash every other candidate

.

Remains a comfortable second among MP backers.
Liz Truss survives another day:
Vowed to halt green levies

Continued her campaign as

the 'Boris continuity candidate'

.
Suella Braverman is unlikely to make it through past Thursday's voting.
Kemi Badenoch does not want tax cuts but has gained support:
Continues to gain support

, not least with her former employers at The Spectator.
Kemi is also opposed to the current form of the dreaded Online Safety Bill, the debates on which could not be completed before summer recess, as the Northern Ireland Protocol Bill, quite rightly, took priority. There is also the debate on confidence in the Government on Monday, which should be interesting: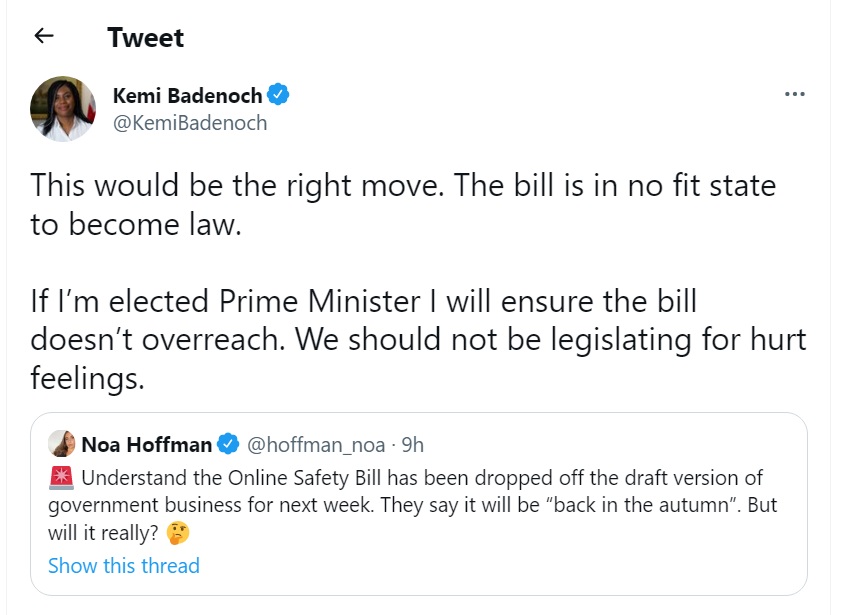 Thursday, before the vote
Guido summed up the state of play on Thursday, July 14. An excerpt follows:
In a few months' time, what will people remember of Jeremy Hunt's 2022 leadership campaign? Nothing, obviously. Seemingly just 18 MPs realised he was running one at all, which is odd as he needed 20 to get on the ballot in the first place. As Sky's Sam Coates asked last night: what exactly does Rishi gain from being endorsed by this competition's biggest loser? He certainly won't gain all of Hunt's supporters – many of them are now angry that Hunt went with Rishi, and not Tugendhat. Mind you, there was already anger towards Hunt from Team Penny, who endorsed him in 2019, as it was very clear he was never considering returning the favour this time around. Et tu, Jeremy…
Today should, in theory, be Truss's day in the spotlight. Her campaign launches bright and early in Smith Square, in two hours' time. They'll be delighted with The Mail splash this morning, which is blatantly campaigning for Liz and telling the right to unite behind her to defeat Rishi. The same front page carries a briefing from someone in the Truss camp accusing Penny of telling lies about her trans stance. Lord Frost has also just taken to the airwaves to slam Penny's record in government, saying she was so rubbish as his deputy he had to ask the PM to move her during the Northern Ireland negotiations…
Yes, this was a damning moment for Penny.
Guido has the video …
… and the quote:
To be honest I'm quite surprised that she is where she is in this leadership race. She was my deputy, notionally more than really, in the Brexit talks last year… I felt she did not master the detail that was necessary in the negotiations last year. She wouldn't always deliver tough messages to the European Union when that was necessary… she wasn't always visible. Sometimes I didn't even know where she was. I'm afraid this became such a problem that after six months I had to ask the Prime Minister to move her on… from the basis of what I saw I would have grave reservations about [Mordaunt].
Guido says that Lord Frost isn't the only one critical of her, either:
On Tuesday, CityAM published damning claims from Department for International Trade sources alleging Penny was "missing for months" as a trade minister and wasn't reliable – something Guido's ministerial sources later confirmed themselves…
As the day unfolded, Rishi tried to make his resignation and leadership candidacy appear sudden, failing to mention that he had his website domain registered in 2020:
On a lighter note, Tom Tugendhat will rue this photo of 'Tom a tart':
Oh, well, he's likely to be out by the end of the day, anyway.
It is unfortunate that so many members of the public cannot identify the next Conservative leader:
Meanwhile, among the party membership, here's the latest from Grantham & Stamford Conservative Association. I am surprised that Mordaunt is doing so well. At least Badenoch is in second place:
Today's vote began at 11:30 and closed at 3 p.m. All being well, I will have an analysis of the results tomorrow.
This is a follow-up to my post of Friday, February 4, on Prime Minister Boris Johnson's attempt to placate his fellow Conservative MPs.
After he met with MPs on Monday, January 31 following his statement on the Sue Gray party report, Boris committed himself to reforming the way Downing Street works.
Several MPs whom I've seen interviewed on television have said that Boris does not communicate with them at all. This is especially true for the Red Wall MPs from 2019.
Boris now has to woo every one of his backbench MPs or risk letters of no confidence from them about his premiership.
Sir Graham Brady MP chairs the 1922 Committee for Conservative MPs who are not in the Cabinet.
Disgruntled MPs send their no confidence letters to him. If he receives 54 such letters, he can hold a vote of no confidence among all Conservative MPs. Should the vote not go in Boris's favour, the MPs can run for party leadership. MPs select a short list of those candidates. The party members across the nation vote on the short list, and whoever wins would become the new Prime Minister.
With the resignation of five civil servants last Thursday and Friday, Boris realises he has to get moving — now.
On Friday, he sent a letter to backbench Conservative MPs telling them of his proposal to involve them more. He has asked them to engage with him in the process of re-establishing backbench policy committees:
Guido Fawkes posted about this development on Friday. Boris says he is now willing to communicate more with MPs (emphases mine):
… It is vital that we harness all the energy. experience, and insight from our Members of Parliament. This won't just help improve existing policy, it will help us deal with the many challenges we will face together in the future.
One of the ways I want to achieve this is by working with Sir Graham Brady MP, and colleagues on the Executive of the 1922 Committee, to re-establish backbench policy committees. I want these policy committees to play an important role in generating ideas and discussion and so I encourage colleagues from across the party to get involved.
Sir Graham Brady MP will write to you with specific details on how the process of forming these committees will work. For them to be a success it is vital that government departments and ministers engage with them properly, and I will ensure that the Cabinet understand the importance of taking them seriously. I will also ask Conservative Campaign HQ to link this work up with the work of the Conservative Policy Forum.
I understand the deep importance of engaging with colleagues in Parliament and listening to your views and that is why I want colleagues to have a direct line into 10 Downing Street. With the appointment of Andrew Griffith MP as Director of Policy we will provide whatever engagement and support is necessary to make this a success.
I promised change and that is what we will now deliver together.
However, it came too late for Aaron Bell who had already made up his mind to write to Sir Graham Brady. Bell had spoken up to Boris last Monday in Parliament about a family funeral he attended during lockdown. He asked if Boris took him for a fool for having obeyed all the rules:
Around the same time as Boris's letter reached MPs on Friday afternoon, Guido reported on Bell's letter. Some people replying to Guido's tweet say that he had allegedly submitted it in late January:
Bell wrote that he had consulted with his constituency's councillors and council candidates running in May's local elections. He says he wrote the letter on January 12 after that day's Prime Minister's Questions:
The Daily Mail gave the names of seven other MPs who have sent letters to Brady: Sir Gary Streeter, Anthony Mangnall, Andrew Bridgen, Peter Aldous, Tobias Ellwood, Douglas Ross (Scottish Conservative leader) and the long-serving Sir Roger Gale.
Former education minister Nick Gibb followed, filing his letter on Friday.
The Mail says that Brady could have received many more letters:
The true number of letters to have been submitted is thought to be several times higher the eight figure because most MPs do not publicly divulge writing to Sir Graham. 
The threshold for triggering a vote of no-confidence is currently set at 54 letters and many Tory MPs believe it is now 'inevitable' the figure will be reached.   
Mr Johnson's position in Number 10 is increasingly precarious and some Cabinet ministers believe there is a strong chance he will be forced to quit. 
One Cabinet minister told The Times: 'It feels like the end, it's all falling apart. It's 50/50 in my view at the moment' …

But a Cabinet minister told Politico: 'He promised action on Monday night and the action has begun. There's more planned. The restructuring is on its way. It will unfold over the next 48 hours. He'll move things up a gear and get some discipline.'
LBC's article on Bell's letter refers to what is known as the Pork Pie Plot, involving the new 2019 intake of Red Wall MPs who represent former Labour seats:
He is the latest Red Wall Conservative to turn on the PM amid what has been dubbed the Pork Pie Plot – so-called because one of the ringleaders hoping to oust Mr Johnson is reportedly Leicestershire MP Alicia Kearns, whose constituency includes Melton Mowbray, the town famous for baking the pastry.
Hmm. Alicia Kearns. I hope that is not true. She rather reminds me of the women MPs who turned against Theresa May over Brexit in 2019 and had the whip removed. They were not re-elected in the general election that year and faded into obscurity.
On Saturday, January 5, Downing Street announced changes at No. 10. The Welsh journalist Guto Harri (pron. 'Gitto Harry'), Boris's director of external affairs during the first four of his eight years as London mayor, will be joining the team:
Unfortunately, most conservative-minded people outside of London only know Harri — real name Guto Pritchard-Jones — for taking the knee during his brief tenure at GB News last summer on the day of the Euro final in solidarity with the England team. His co-presenter, Mercy Muroki, a staunch conservative, could not believe her eyes:
He was roundly criticised on Twitter and GB News never brought him back on air.
Harri's Wikipedia entry says:
On 13 July 2021 Harri took the knee on GB News to show support for the England football team's kneeling for anti-racism; following backlash from viewers, GB News suspended him indefinitely for failing to maintain the editorial standards expected by the network.[22][23] Shortly afterwards he resigned from GB News,[24] having written in The Sunday Times that the channel was "becoming an absurd parody" that was replicating cancel culture on the far right.[25][26]
In 2018, Harri lashed out at both Brexit and Boris:
Harri is a critic of Brexit.[17][18] After Johnson likened Prime Minister Theresa May's Chequers Brexit agreement to a "suicide vest" around the British constitution in September 2018,[19] Harri said: "Unfortunately he is now dragging us into a place where we think that we can joke about suicide vests and that we can be sexually incontinent. Somebody needs to take the spade out of his hand or it looks to me like he's digging his political grave." He also said Johnson had become "more tribal, and tribal within the tribe, so that he would now be—if he were to become leader—a hugely divisive figure".[20]
Hmm. Although that was two-and-a-half years ago, how can Boris have the confidence to welcome him to No. 10?
Some conservatives think that Boris hired him because he will be a dab hand at handling the media, lefty to lefty.
But there is something else, a link to Huawei. On Sunday, February 6, the Sun's political editor Harry Cole reported:
NEW No10 spin chief Guto Harri lobbied the Government on behalf of toxic Chinese tech giant Huawei, The Sun can reveal.
The controversial firm was banned from building the UK's 5G network in 2020 because of its links to the Chinese Communist Party and spying fears.
But top-level Whitehall sources have confirmed Mr Harri was directly involved in talks with senior ­officials trying to head off the landmark ban.
Last night Mr Harri resigned from Hawthorn Advisers to become Downing Street's Director of Communications.
The lobbying firm included Huawei as a major client in the two years that the former BBC journalist worked there. Sources say he had "a hands-on role".
Friends last night insisted there was no problem with his work for the Chinese company, due to its previous key role providing 3G and 4G coverage to the UK.
And a Downing Street source said: "This is separate to his new role in No10. This Government is committed to removing Huawei from UK 5G networks by 2027."
Labour will have a field day with this:
… Labour said: "We can't have the revolving door from lobbying to Government see potential ­national security issues arise."
Deputy leader Angela Rayner demanded answers.
I'm also concerned about Steve Barclay, one of the good guys, being able to handle three jobs: MP, Chancellor of the Duchy of Lancaster (formerly Michael Gove's role) and now Chief of Staff, integrating the new Office of the Prime Minister with the Cabinet Office.
Since everyone is putting names into the hat for the next Conservative Party leader, I'll add Steve Barclay's. He has the gravitas and the presence. He could win over the party faithful. You read it here first.
Boris, as ye sow, so shall ye reap. Good luck. You'll need it.
Sometimes things are not as they appear.
Badgering Boris Johnson to resign over the Downing Street parties during lockdown is an attempt to overturn Brexit.
It is also a sign of envy on the part of the journalists, most of whom are Remainers, attacking him verbally. What journalist — and Boris was one of them for many years — doesn't have an 'If I ruled the world' fantasy? Boris has achieved that dream. They have not.
Here is former Conservative MP Michael Heseltine, a prominent Remainer, saying that Boris's departure could reopen the possibility of re-entering the European Union:
It's misleading the house, it's misleading the people and it's misleading the whole country in a general election because if it were to be established that the PM has been lying then that is going to open a can of worms because very large numbers of people – now the majority of people – believe that the Brexit case was actually a pack of lies… now if he proves to be a liar – to the public, to parliament – what does that do for the very large numbers of people who think it is a catastrophic misjudgement to have severed our good relationships with our European neighbours.
Meanwhile, the general public doesn't care about the parties, especially his birthday party: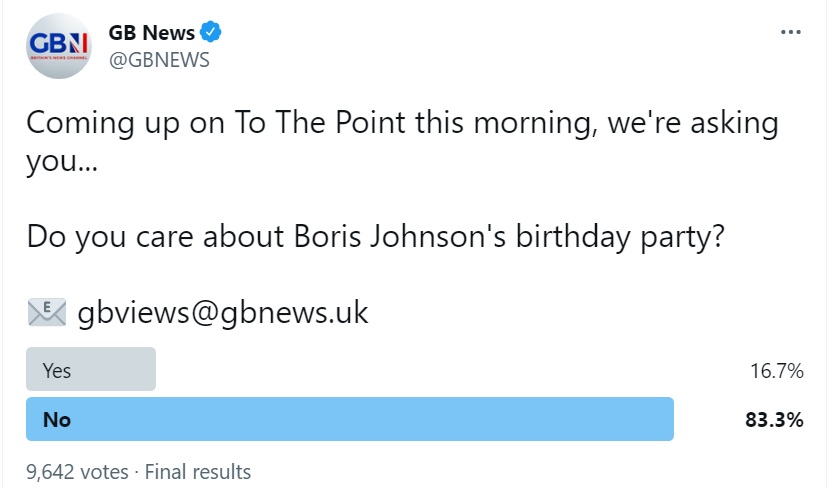 Police investigation
The eminent civil servant Sue Gray had been preparing a report on the Downing Street parties.
Then, the Metropolitan Police stepped in. On Tuesday, January 25, 2022, Commissioner Dame Cressida Dick told the London Assembly, headed by Mayor Sadiq Khan of the news. As such, the Met informed Sue Gray to issue only a summary report so as not to interfere with their own investigation.
GB News has a summary of the social events. Most but not all of them took place at Downing Street, nor did Boris attend all of them (emphases mine):
The Metropolitan Police will investigate a "number of events" alleged to have taken place in Downing Street, Commissioner Dame Cressida Dick has said.
Dame Cressida declined to say which alleged parties are being investigated, nor would she put a timeline on when officers could detail their findings.
The gatherings were already under investigation by senior official Sue Gray, and the Cabinet Office said her work continues.
Here is a list of the alleged gatherings, which in several cases have been admitted to.
– May 15 2020: Downing Street garden party …
– May 20 2020: BYOB garden party …
– June 19 2020: Birthday party for Boris Johnson …
– November 13 2020: Leaving party for senior aide …
– November 13 2020: Johnsons' flat party …
– November 25 2020: Treasury drinks …
– November 27 2020: Second staff leaving do …
– December 10 2020: Department for Education party …
– December 11 2020: Wine fridge delivered to Downing Street for staff's 'wine-time Fridays' …
Mr Johnson was said to have attended a "handful" of these gatherings.
– December 14 2020: Party featuring Tory London mayoral candidate Shaun Bailey and staff …
– December 15 2020: Downing Street quiz …
– December 16 2020: Department for Transport party …
– December 17 2020: Cabinet Office "Christmas party" …
– December 17 2020: Leaving drinks for former Covid Taskforce head …
– December 18 2020: Christmas party at Downing Street …
Mr Johnson's spokeswoman, Allegra Stratton, quit after being filmed joking about it with fellow aides at a mock press conference.
– Run-up to Christmas 2020 …
– April 16 2021: Drinks and dancing the night before the Duke of Edinburgh's funeral …
The Telegraph quoted a No 10 spokesman as saying Mr Johnson was not in Downing Street that day and is said to have been at Chequers.
Strangely, at the time, no one cared:
Now everyone does.
Downing Street has not helped. They are now denying there was a cake:
On January 25, the Paymaster General, Michael Ellis MP, drew the short straw and had to answer an Urgent Question (UQ) from Labour's deputy leader Angela Rayner (pictured in the top left photo):
This was the UQ:
To ask the Chancellor of the Duchy of Lancaster to make a statement on the status of the investigation into Downing Street parties following the statement from the Commissioner of the Metropolitan Police.
I felt very sorry for Ellis, who had to reply for the Chancellor of the Duchy of Lancaster, absent from the chamber. The transcript makes for grim reading.
Sir Edward Leigh, one of the first MPs to speak, tried to put things into perspective but to no avail:
When Europe stands on the brink of war and there is a cost of living crisis, can we please have a sense of proportion over the Prime Minister's being given a piece of cake in his own office by his own staff?
The verbal attacks were many and vicious.
Ellis was able to put one Scottish MP, Pete Wishart (SNP), in his place.
Wishart asked:
Does the Paymaster General not think that it would be a good idea to set up a police special operations unit room in No. 10 Downing Street, because, while the police are looking at this case, they could perhaps look at cash for honours, cash for access, personal protective equipment for pals, paid advocacy, breaking the ministerial code, and all the other general Tory badness?
Ellis responded:
I have to say that a quick Google analysis of the SNP would not be particularly edifying. Despite noises off, this Prime Minister is focused on what matters to the British people and it is right that those matters conclude in an orderly way.
On Friday, January 28, news emerged that the Met told Sue Gray not to publish her report in full:
That day, The Guardian reported that a comedian issued a fake Sue Gray report:
The comedian Joe Lycett, who apparently caused chaos and "mass panic" in government when he tweeted a fake version of Sue Gray's "partygate" report, has said his social media stunt was motivated by anger after the death of a close friend during the first lockdown.
Lycett tweeted a parody Gray report with a fake Cabinet Office letterhead, titled: "A summary of my main findings", captioning his tweet: "BREAKING: Leaked Sue Gray report reveals shocking abuse of rules. Hard to see how the PM can cling on after this."
He later shared a message that he said came "from someone who works for a cabinet minister. Source verified."
The message, purportedly from someone who works in parliament, read: "Your tweet this morning was read as an actual serious leak from Sue Gray's report. U had MP staff literally running around panicking from what it said. Panic dialling MPs like we need to discuss this right now."
On Saturday, January 29, Steven Swinford of The Times reported that Sue Gray was just putting the finishing touches on her report when the Metropolitan Police intervened.
Swinford's first sentence drew me in. It's hard not to like an article that begins with this:
Sue Gray had been looking forward to a holiday.
It is unclear why the Met intervened when they did:
The timing of her intervention is said to have surprised Gray and her team of investigators. She had been in discussions with the Met for weeks, sharing information as she went along. Yet the force had declined to get involved until the point when her report was almost completed and ready for publication …
"She's in a horrible position," a Whitehall source said. "The delay just creates an air of conspiracy. Sue's integrity is at risk here. If a partial report is produced it will look like she's been got at. She just wants a holiday, she feels like she's had enough of it. Very few people could do what she does but she just wants to be on the other side of this one."
Some think that the Met's intervention could be good news for Boris:
Johnson's critics and supporters agreed that the Met's intervention strengthened his position. One cabinet minister said: "Sue Gray cannot prejudice the Metropolitan Police's investigation. It would be insane if she went ahead and published the details. The longer this goes on, the more ridiculous it looks. The prime minister is out of the danger zone, the worst is over."
Or is he?
Sue Gray 'update'
On Monday, January 31, Sue Gray issued a summary — termed an 'update' — of her report.
Guido Fawkes has the update in full.
Gray concluded:
a number of these gatherings should not have been allowed to take place or to develop in the way that they did. There is significant learning to be drawn from these events which must be addressed immediately across Government. This does not need to wait for the police investigations to be concluded.
At 3:30, Boris addressed MPs (see full transcript of the session). He said that he was sorry and that changes would be made in Downing Street.
He concluded with this:
First, it is time to sort out what Sue Gray rightly calls the "fragmented and complicated" leadership structures of Downing Street, which she says
"have not evolved sufficiently to meet the demands"
of the expansion of No. 10. We will do that, including by creating an Office of the Prime Minister, with a permanent secretary to lead No. 10.
Secondly, it is clear from Sue Gray's report that it is time not just to review the civil service and special adviser codes of conduct, wherever necessary, to ensure that they take account of Sue Gray's recommendations, but to make sure that those codes are properly enforced. Thirdly, I will be saying more in the coming days about the steps we will take to improve the No. 10 operation and the work of the Cabinet Office, to strengthen Cabinet Government, and to improve the vital connection between No. 10 and Parliament.
Mr Speaker, I get it and I will fix it. I want to say to the people of this country: I know what the issue is. [Hon. Members: "No!"] Yes. [Hon. Members: "You!"] It is whether this Government can be trusted to deliver. And I say yes, we can be trusted—yes, we can be trusted to deliver. We said that we would get Brexit done, and we did. We are setting up freeports around the whole United Kingdom. I have been to one of them today that is creating tens of thousands of new jobs. We said we would get this country through covid, and we did. We delivered the fastest vaccine roll-out in Europe and the fastest booster programme of any major economy, so that we have been able to restore people's freedoms faster than any comparable economy. At the same time, we have been cutting crime by 14%, building 40 new hospitals and rolling out gigabit broadband, and delivering all the promises of our 2019 agenda, so that we have the fastest economic growth of the G7. We have shown that we have done things that people thought were impossible, and that we can deliver for the British people. [Interruption.] I remind those on the Opposition Benches that the reason we are coming out of covid so fast is partly because we doubled the speed of the booster roll-out.
I can tell the House and this country that we are going to bring the same energy and commitment to getting on with the job, to delivering for the British people, and to our mission to unite and level up across this country. I commend this statement to the House.
It did not go down well with the Opposition benches, nor some of the Conservative MPs.
Theresa May was deeply unhappy:
She said:
The covid regulations imposed significant restrictions on the freedoms of members of the public. They had a right to expect their Prime Minister to have read the rules, to understand the meaning of the rules—and, indeed, those around them him to have done so, too—and to set an example in following those rules. What the Gray report does show is that No. 10 Downing Street was not observing the regulations they had imposed on members of the public, so either my right hon. Friend had not read the rules, or did not understand what they meant—and others around him—or they did not think the rules applied to No. 10. Which was it?
The SNP's Westminster leader, Ian Blackford, followed the former Prime Minister. He cited two of Boris's contradictions and ended with this:
Nobody—nobody—believed him then, and nobody believes you now, Prime Minister. That is the crux. No ifs, no buts; he has wilfully misled Parliament.
Blackford broke two rules there. First, he said 'you'. Secondly, he said 'wilfully misled'.
The Speaker of the House, Sir Lindsay Hoyle, interrupted him:
Order. It would be acceptable to say "inadvertently misled the House", but "misled the House" is not acceptable. The right hon. Member must withdraw that comment.
Blackford doubled down, concluding:
… the public know that this is a man they can no longer trust. He is being investigated by the police. He misled the House. He must now resign.
The exchange between him and the Speaker continued for some time. Blackford refused to withdraw his remark.
At that point, the Speaker was ready to suspend him, but Blackford left voluntarily:
Order. Under the power given to me by Standing Order No. 43, I order the right hon. Member to withdraw immediately from the House—
Another MP said:
He has left anyway!
Here's the video:
Hoyle concluded:
It's all right; we do not need to bother. Let us move on.
Aaron Bell MP spoke later on. Although he is Conservative, he made a good point, asking if Boris was trying to make a fool of him for obeying the restrictions at a family funeral:
Not surprisingly, the Mirror (Labour) picked up on it:
Boris was at the despatch box for a little over two hours.
That evening, he met with a group of Conservative MPs, wherein he pledged to reform how Downing Street operates. Guido's colleague Christian Calgie said it went well:
Meanwhile, Labour MPs and the media hit the bar:
Incidentally, while Boris was giving his afternoon statement to Parliament, one of the bars there re-opened for business.
The next day, Mark Harper MP gave a good interview to Julia Hartley-Brewer at talkRADIO:
Labour's Chinese spy story ignored
In mid-January, news emerged that a Chinese operative had donated £500,000 over a period of several years to a Labour MP. Yet, apart from GB News, no one in the media was — or is — talking about that (Labour leader Sir Keir Starmer is pictured, not the MP involved):
Subplots
There are two important subplots running through this sorry saga: Boris's mention of Labour leader Keir Starmer's record as Director of Public Prosecutions (DPP) with regard to Jimmy Savile (a celebrity paedophile) and the revelation of ghastly text messages by members of London's Metropolitan Police, casting doubt on the force's investigation of the Downing Street parties.
Metropolitan Police
The Metropolitan Police are investigating the Downing Street parties, which is interesting, since the organisation said initially that they would not be doing so, as the events happened too long ago.
One wonders, however, how credible any investigation would be since Commissioner Dame Cressida Dick has come under fire for her leadership. Some constables in the Met have been texting violent and vicious messages that are misogynistic and hateful.
Although Dame Cressida cannot be expected to know everything that her constables are doing, these text messages could cast doubt on the credibility of the investigation.
Furthermore, it is interesting that Dame Cressida announced the Met's investigation of Downing Street at a meeting of the London Assembly, headed by the capital's mayor Sadiq Khan (Labour).
Sir Jimmy Savile
On Monday, January 31, Boris gave the House of Commons an update on Sue Gray's inquiry into the Downing Street parties.
The Metropolitan Police allowed the civil servant to write a summary report pending their own inquiry, which is still ongoing.
As such, there is no conclusion as to whether Boris should resign.
However, Labour and the other Opposition parties have been pushing for Boris to stand down for weeks now.
On Monday, in response to Boris's statement, Labour leader Sir Keir Starmer said:
Conservative Members can heap their reputation, the reputation of their party, and the reputation of this country on the bonfire that is the Prime Minister's leadership, or they can spare the country a Prime Minister totally unworthy of his responsibilities. It is their duty to do so. They know better than anyone how unsuitable he is for high office. Many of them knew in their hearts that we would inevitably come to this one day and they know that, as night follows day, continuing his leadership will mean further misconduct, cover-up and deceit. Only they can end this farce. The eyes of the country are upon them. They will be judged by the decisions they take now.
Boris replied:
There is a reason why the right hon. and learned Gentleman said absolutely nothing about the report that was presented by the Government and put in the Library of this House earlier today. That is because the report does absolutely nothing to substantiate the tissue of nonsense that he has just spoken—absolutely nothing. Instead, this Leader of the Opposition, a former Director of Public Prosecutions—although he spent most of his time prosecuting journalists and failing to prosecute Jimmy Savile, as far as I can make out—chose to use this moment continually to prejudge a police inquiry. That is what he chose to do. He has reached his conclusions about it. I am not going to reach any conclusions, and he would be entirely wrong to do so. I direct him again to what Sue Gray says in her report about the conclusions that can be drawn from her inquiry about what the police may or may not do. I have complete confidence in the police, and I hope that they will be allowed simply to get on with their job. I do not propose to offer any more commentary about it, and I do not believe that he should either.
The Speaker objected:
Boris's mention of Starmer's failure to get the Crown Prosecution Service (CPS) to investigate Savile ran all week long. Conservative MPs also objected to it. It is unclear why that is; after all these years, someone needed to speak up:
Boris's opponents call it a 'far-right conspiracy theory', although Starmer was in charge of the CPS at the time Savile's activities came to light. Starmer even issued an apology for the oversight at the time:
More recently, when Starmer ran for the Labour leadership, he said:
Hear me out: I had 8,000 staff for five years as the director of public prosecutions. And I acted, I hope, in the right way with them, which is when they had victories I celebrated victories on their behalf, I picked up awards on their behalves. When they made mistakes, I carried the can. I never turn on my staff and you should never turn on your staff… I will carry the can for mistakes of any organisation I lead.
Starmer's biography states he was responsible for all criminal prosecutions in England and Wales:
Leader of the House, Jacob Rees-Mogg rightly defended Boris's remark on Thursday, February 3:
In any event, that day, four Downing Street staffers resigned.
Munira Mirza, who had worked for Boris for 14 years — since he was Mayor of London — was the most prominent. The former policy chief said that she took strong objection to her boss's mention of Savile:
Guido posted part of Mirza's resignation letter:
I believe it was wrong for you to imply this week that Keir Starmer was personally responsible for allowing Jimmy Savile to escape justice. There was no fair or reasonable basis for that assertion. This was not the usual cut and thrust of politics; it was an inappropriate and partisan reference to a horrendous case of child sex abuse. You tried to clarify your position today but, despite my urging, you did not apologise for the misleading impression you gave.
In a second post, Guido said that Boris asked Mirza to hold off until he gave a briefing to the media. The briefing only caused her to confirm her resignation:
When the pool clip came without an apology, more of a clarification, she confirmed her resignation via an email which concluded:
Even now, I hope you find it in yourself to apologise for a grave error of judgement made under huge pressure. I appreciate that our political culture is not forgiving when people say sorry, but regardless, it is the right thing to do. It is not too late for you but, I'm sorry to say, it is too late for me.
The public do not understand what the problem is with the mention of Starmer's indirect failure to investigate Savile:
Furthermore, we all understand that Boris wasn't implying that Starmer was personally responsible. However, he was the head of the CPS, so he bore responsibility for it, as Boris told the media:
Let's be absolutely clear, I'm talking not about the Leader of the Opposition's personal record when he was DPP and I totally understand that he had nothing to do personally with those decisions. I was making a point about his responsibility for the organisation as a whole.
Too right.
One of Guido's readers summarised what Boris was saying in Parliament and to the press. It concerns double standards, wherein Starmer expects the Prime Minister to take responsibility for Downing Street activities but not for his own sins of omission at the CPS. This is a good get-out rationale from Guido's reader paraphrasing Boris:
I was not aware of event X being organised or taking place, and so while I apologise it happened under my watch and plan to change systems to avoid such events in future, it is not reasonable for me to resign over it. That is entirely consistent with the Leader of the Opposition's own behaviour while DPP over the Savile issue.
In any event, three more Downing Street staffers resigned after Mirza did, including Martin Reynolds, who issued the email about one of the parties, requesting that people bring their own alcoholic beverages:
It is unclear why the other three left. Some say that they are afraid of being investigated. Others say it was an excuse for Boris to clean house.
Of the three additional resignations, GB News reported:
Martin Reynolds is one of the most senior officials in No 10 but had largely avoided the limelight until the emergence of his email inviting colleagues to "socially-distanced drinks" during England's first coronavirus lockdown.
As Boris Johnson's principal private secretary, he played a key role advising the Prime Minister on a wide range of issues, but resigned from the role on Thursday alongside three other senior Downing Street aides …
Mr Johnson's former adviser Dominic Cummings previously said the influence wielded by the principal private secretary within Downing Street was not widely appreciated.
"The PPS exercises far more influence and actual power over many issues than Cabinet ministers," Mr Cummings said.
"He can nudge policy, he can nudge vital appointments (real power). He can and does walk into the PM's office and exclude all political people 'on security grounds'."
A leaked photograph of the Prime Minister and officials drinking in the No 10 garden on May 15 2020 – five days before the "bring your own booze" event that Mr Reynolds invited colleagues to – showed the PPS sitting at the same table as Mr Johnson …
Mr Reynolds offered his resignation on Thursday alongside Downing Street chief of staff Dan Rosenfield, hours after policy aide Munira Mirza and director of communications Jack Doyle both quit.
A No 10 spokeswoman said: "Dan Rosenfield offered his resignation to the Prime Minister earlier today, which has been accepted.
"Martin Reynolds also informed the Prime Minister of his intention to stand down from his role as principal private secretary and the Prime Minister has agreed to this.
"He has thanked them both for their significant contribution to government and No 10, including work on the pandemic response and economic recovery.
"They will continue in their roles while successors are appointed, and recruitment for both posts is under way."
As I write on Friday morning, an aide to Munira Mirza has also resigned:
Tom Harwood adds that Chancellor Rishi Sunak has been keeping his distance from the Prime Minister and did not defend the remark about Keir Starmer and the Jimmy Savile case.
One of the commenters makes an excellent point about civil servants finding the Savile remark more offensive than what happened to 60+ million people for … a virus:
Those people live in their own bubble.
Interestingly, Boris has appointed an MP rather than a civil servant to succeed Mirza. Andrew Griffith represents the Arundel constituency on the south coast of England. He seems to have a truly Conservative voting record.
Therefore, it seems as if Boris is cleaning house, which can only be a good thing for him. The civil servants do not seem to have been doing him many favours.
In more positive news for the Conservatives, Anna Firth won the by-election in Southend West, served by Sir David Amess until he was stabbed to death last October:
Because of the nature of Sir David's death, Labour and the Liberal Democrats did not put up candidates to run against Anna Firth, although minor political parties did.
Therefore, although she won 86% of the vote, only 24% of the electorate went to the polls.
The party debacle is far from over. This will run and run and run.
From the beginning of the coronavirus crisis, anyone who doubted Big Media's narrative was branded a conspiracy theorist.
Strangely, most of what notional conspiracy theorists spoke and wrote about in 2020 has come true.
Last week, I read two articles of interest about the virus, the New York Times (NYT) and China.
The NYT, China and the virus
On August 2, 2021, Ashley Rindsberg, the author of The Gray Lady Winked: How the New York Times' Misreporting, Distortions and Fabrications Radically Alter History, wrote an article for UnHerd: 'Did the New York Times stifle lab leak debate?'
What an eye-opener it is. Excerpts follow, emphases mine.
Rindsberg has done a lot of research into the history of the paper, nicknamed The Gray Lady in the United States.
He says that the paper's relationship with China has been going on for over a decade and explores its dubious ties with totalitarian regimes of the 20th century:
Researching and writing my new book, I discovered that the Times has a dark history of inadvertently helping authoritarian regimes with its reporting, including the Nazis, the Soviet Union and Fidel Castro.
In the case of China, this appears true to an alarming degree. For over a decade, the Times has nurtured a special relationship with the CCP — though we can only speculate as to whether this influenced its editorial output. Still, the Times certainly appeared unconcerned about the appearance of impropriety as it took millions of dollars from Chinese propaganda outlets, most prominently China Daily. In exchange for this badly needed revenue, the Times has published hundreds of "advertorials" written by Chinese propaganda outlets, including China Daily, which promote CCP messaging on the most serious topics, such as a double-page spread on the hotly contested Diaoyu Islands brazenly titled: "Diaoyu Islands Belong to China".
But the paper's advertising relationship with Chinese state outlets is only the visible part of the iceberg. In 2012, seeking to capitalise on China's burgeoning middle and upper classes, the Times launched a Chinese edition of its daily paper followed by the launch of a luxury lifestyle magazine. "The appetite for New York Times journalism in Chinese has never been stronger," a company press release stated at the time.
In investing so heavily in China, the Times unintentionally handed the rapacious CCP an editorial lever to sway coverage. The Times learned this first-hand when, in 2012, the CCP blocked Chinese access to the Times online in retaliation for an unfavourable article on the family finances of China's outgoing premier, Wen Jiabao. The Times set out on a year-long "lobbying" effort to restore coverage that included meetings with Xinhua, the parent of China Daily.
In early 2020, the lab leak hypothesis was roundly condemned in Big Media, especially the NYT.
Rindsberg leads us through the timeline and the narrative:
Of course, over the past year newspapers across the world have fallen for the CCP's distorted Covid-19 narrative. And there is no evidence to suggest that the CCP did put pressure on the Times. But when it came to the lab leak debate, the Times was relentless. Starting in early 2020, when little was known about the virus — and nothing about its origins — the Times adopted a stridently anti-lab leak stance. In its first report on the topic, a February 17, 2020 article covering comments made by Sen. Tom Cotton, the Times stigmatised lab leak as a "fringe theory". Once the story was published, its reporter took to Twitter to describe it as "the kind of conspiracy once reserved for the tinfoil hatters".
Only one week prior, another outlet made strikingly similar claims. In an editorial, the CCP-owned China Daily thundered that Cotton's decision to spread "malicious rumors" shows "how irresponsible some are in their haste to attack China". The Times, echoing China Daily, also cast the lab leak hypothesis as a "rumor".
Over the months, the Times's coverage grew even more strident — and more in line with Chinese propaganda. In February 2020, it gave a platform to zoologist Peter Daszak, publishing an opinion piece by him which claimed that the pandemic was caused by "road-building, deforestation, land clearing and agricultural development". Daszak argued that "discovering and sequencing" viruses like Covid-19 in labs like the one in Wuhan should be a priority.
The Times, which used Daszak as a key source in over a dozen articles, has never mentioned that Daszak's organisation funded the Wuhan lab, in particular research into bats and coronaviruses, a flagrant conflict of interest. Crucially, there was no mention of this when a reporter interviewed Daszak this February, following his return from a heavily criticised WHO investigation into the virus's origins. (Danszak later recused himself from the investigation because of the conflict of interest.)
But the Times also never revealed that Daszak was a favoured source for another outlet: China Daily. The state-owned media organisation, along with Xinhua and sister outlet Global Times, repeatedly quoted Daszak to assure readers of China's full cooperation in the search for the virus's origins — and to discredit the possibility of a lab leak.
The NYT's coverage was so supportive of China that Chinese publications began quoting it:
In April 2020, for instance, the Times published an article claiming the Trump Administration's investigation into a lab leak "has echoes of the Bush administration's 2002 push for assessments saying that Iraq had weapons of mass of destruction." Within minutes, a China Daily columnist retweeted the story and parroted its central claim.
With more information coming out about a possible lab leak, the NYT has changed tack:
Today, however, just as the tide is turning on the lab leak debate, so too is the Times's approach to the subject. Last summer, the Times abruptly ended its advertising relationship with Chinese state media outlets and scrubbed all trace of the advertorials from its archive. And in recent months, it has published a handful of articles quoting scientists who believe we should take seriously the prospect of a lab leak.
But does this excuse the paper's behaviour at the start of the pandemic?
I do not think so. The NYT is one of the world's most influential newspapers. Everyone takes what it says as gospel truth. It is hard to disagree with Ashley Rindsberg on his conclusion:
Only time will tell whether the lab leak hypothesis is true or false. But whatever the result, what a tragedy it would be if the Times's coverage delayed that verdict.
Lab leak update
On Friday, September 10, 2021, UnHerd posted the latest on a possible lab leak in Ian Birrell's article, 'Is this proof of lab leak lies?' Birrell is an award-winning foreign reporter and columnist.
Over the past several years, the United States, Britain's Peter Daszak and France were all involved at some point with the Wuhan labs.
Birrell tells us:
… we do know one thing now beyond debate: speculative "gain-of-function" experiments on mutant bat viruses were taking place in Wuhan laboratories.
This research, carried out in labs that did not have maximum level of biosafety, was increasing the infectivity of laboratory-created diseases by constructing chimeric coronaviruses — despite strong denial of such practices by the key Chinese scientists. And the bio-engineering was being funded by United States taxpayers — channelled through a charity run by a British scientist — despite similar denials from America's most senior public health officials that they supported such science fiction activities in Chinese labs.
This information was uncovered via freedom of information requests made in the United States by The Intercept, which is devoted to investigative reporting:
The Intercept obtained 900 pages of documents detailing two research grants in 2014 and 2019 from the National Institutes of Health (NIH) to EcoHealth Alliance. This is the charity headed by Peter Daszak, the controversial Briton who led efforts to squash "conspiracy theories" about a possible lab incident after spending years hunting viruses with Shi Zhengli, the now-famous "Batwoman" expert at Wuhan Institute of Virology (WIV).
While some of this information was already circulating, The Intercept was able to obtain updates on the relevant projects:
… these documents include the original proposals along with project updates, so significantly flesh out what we knew. They highlight how US funding bodies outsourced risky gain-of-function research to China, even over a three-year period between 2014 and 2017 when it was banned in their own nation. They also show, with new clarity, the kind of work taking place in secretive Wuhan labs. These disclosures fuel the mystery over the pandemic origins, while also sparking fresh concerns over top scientists in both China and the West who sought to suppress inquiries into the lab leak hypothesis.
The NYT had a role to play here in defending the Wuhan Institute of Virology (WIV):
A $3.1m grant, according to the documents, was awarded to understand "the risk of bat coronavirus emergence" through screening thousands of samples collected from the nocturnal creatures. This included a chunk of funding worth $599,000 for WIV. Bear in mind that three months ago, Shi, director of its Centre for Emerging Infectious Diseases, angrily protested over the world "pouring filth on an innocent scientist" when emphatically refuting that they carried out gain-of-function work. "My lab has never conducted or co-operated in conducting GOF experiments that enhance the virulence of viruses" she told the New York Times.
Birrell gives us the NIH's definition for 'gain of function' (GOF):
the term gain-of-function research describes a type of research that modifies a biological agent so that it confers new or enhanced activity to that agent.
The following are real life examples of GOF:
Analysis of these papers show US funds supported construction of new chimeric Sars-related coronaviruses, which combined a spike gene from one with genetic material from another — and then showed the resulting creation could infect human cells and mice engineered to display human-type receptors on their cells.
One new virus had increased pathogenicity over the original virus and three new viruses increased viral load in lung tissues up to ten thousandfold, which is most definitely "enhanced activity." As scientists pointed out to me, these results demonstrated increased pathogenicity of SARSr-CoVs with different spike proteins in humanised mouse models. And similar construction work was proposed to be done with another type of deadly pathogen — the Middle Eastern Respiratory Syndrome coronavirus, which first flared up in Jordan nine years ago after spilling over from camels and has since cropped up in 27 countries, causing 858 deaths.
Dr Fauci is also involved:
Anthony Fauci, the US infectious diseases expert and presidential adviser, insisted earlier this year that his country "has not ever and does not now fund gain-of-function research in the Wuhan Institute of Virology". His stance led to a furious clash in Congress with Senator Rand Paul, who gleefully tweeted after The Intercept published its article on the papers: "Surprise surprise – Fauci lied again. And I was right about his agency funding novel coronavirus research at Wuhan."
Paul was backed by Richard Ebright, the bio-security expert and professor of chemical biology at Rutgers University, who has long been a fierce critic of such work since he argues that the risks of creating new diseases in laboratories vastly outweigh any potential benefits. "The documents make it clear that assertions by Anthony Fauci and the NIH Director, Francis Collins that the NIH did not support gain-of-function research or potential pandemic pathogen enhancement at WIV are untruthful," he said.
Birrell discusses France's involvement with Wuhan:
Buried in the documents are two more intriguing details. First, the experimental work creating mutant chimeric coronaviruses was carried out at WIV's biosafety level 2 lab and then the work analysing them in humanised mice performed at the biosafety level 3 Wuhan University Center for Animal Experiment, not at the new maximum level 4 WIV lab built with French assistance. The cluster of labs at the university hospital, incidentally, includes a breeding centre that created at least 1,000 types of genetically engineered animals from mice to monkeys. So this means the details in the papers accord with a previous statement by Shi that their coronavirus research is "conducted in BSL-2 or BSL-3 laboratories" — although a level 2 lab has, some say, barely higher safety standards than a dental clinic and certainly few safeguards against an lethal airborne virus.
As for Daszak, while he defended China, his charity warned about viral infections from animals encountered in fieldwork:
… while Daszak has been condemning supposed conspiracy theories and defending his friends in China with whom he has collected thousands of samples, his own charity was pointing out the major risk of accidental infection faced by researchers when collecting such specimens in a project he led. "Fieldwork involves the highest risk of exposure to SARS or other CoVs, while working in caves with high bat density overhead and the potential for fecal dust to be inhaled. There is also some risk of exposure to pathogens …while handling bats, civets, rodents or other animals, their blood samples or their excreta."
Accidental viral infection via animals was another point mentioned early last year which the media summarily dismissed.
The story of the origins of COVID-19 continues to unfold.
I look forward to reading more in future and covering it here.
For several months now, Britain has been experiencing a supply chain problem with transport.
Detractors from the corporate world, such as IKEA, say that this is because of Brexit.
Wrong!
A shortage of lorry drivers is affecting deliveries worldwide.
Shipping problems have also been occurring.
On Thursday, September 9, Guido Fawkes posted an item whereby IKEA tried to blame the UK's transport problems on Brexit (emphases in the original):
In a recent BBC article on IKEA's supply shortages, the Swedish furniture giant went all in on blaming Brexit for their inventory issues:
"What we are seeing is a perfect storm of issues, including the disruption of global trade flows and a shortage of drivers, which have been exacerbated by the pandemic and Brexit."
However, IKEA tells a different story to EU countries, e.g. the Netherlands (emphases in purple mine):
The firm goes on to say that "10% of its stock, or around 1,000 product lines" have supposedly been affected by the Brexit-related shortage. In a separate statement given two days later to Dutch newspaper Dagblad van het Noorden, however, an IKEA spokesperson instead cited the exact same product shortage with a different excuse featuring one notable omission:
"There are major logistical problems worldwide. For example, there is a great scarcity of containers and container ships on important sea routes because the economic recovery from the corona pandemic is proceeding faster than expected. There are also congestion in ports due to the crowds and Chinese terminals were temporarily closed due to local corona outbreaks. Many IKEA products are made in China."
Both articles list the same 10% stock shortage figure, only one mentions Brexit.
Guido points out that the problem is global:
Remainers – and some parts of the media enjoying spinning the narrative on their behalf – are refusing to accept the lorry driver shortage is global: iron ore struggles to reach Australian ports; US petrol stations have run out of supplies after a 35,000 fall in lorry drivers; Asia reports a 20% fall in drivers …
Guido's article says that the only place where there is not a driver shortage is Africa.
Talk radio host Howie Carr has been talking about shortages and higher prices in the United States since the 2020 election. Lumber products had skyrocketed at the end of last year. Howie has also mentioned the petrol prices and shortages at the pump which started at the same time.
On August 21, 2021, Global Cold Chain News posted an excellent article on the European situation with regard to lorry drivers, including individual country profiles.
It puts paid to the misguided suggestions in the British commentariat that we should allow a few hundred thousand EU nationals to drive lorries for UK hauliers.
There are two reasons why such reasoning is faulty.
First, over six million EU nationals have been allowed by the Government to remain in the UK post-Brexit. If we cannot find our lorry drivers from among that group, then something is very wrong.
Secondly, as Global Cold Chain News explains, there are lorry driver shortages in most EU countries.
Excerpts follow, emphases mine:
Poland: According to Ti estimates, the shortage in Poland in 2020 is around 124,000 drivers. According to IRU, Poland is one of the most heavily impacted European countries and driver shortage in 2020 stands at around 37%.
Germany: Between 45,000 and 60,000 truck drivers are 'missing' in 2020 in the German market alone, according to the DSLV and BGL, and this number is only increasing. The IRU predicts a gap of 185,000 drivers by 2027 in Germany.
France: In 2019 it has been reported by several news outlets that France is experiencing a shortage of approximately 43,000 drivers.
Ukraine: The deficit of drivers in Ukraine in 2019 ranged from 12,000 to 120,000 depending on the region.
The article explains that HGV (heavy goods vehicle) shortages began years before coronavirus took hold — and, I would add, before Brexit:
The driver shortages have been affecting the global road freight market for around 15 years. The issue comes as the pool of truck drivers is contracting but demand for transport is rising. The COVID-19 pandemic has further exacerbated the already alarming issue of driver shortages as new drivers have been unable to train and take their tests and Covid restrictions make the job even less attractive.
Even before the pandemic a serious cause for concern in the industry, the lack of drivers in the road transport industry was at an all-time high, with many of its underlying issues being long-term challenges. Factors such as an aging workforce and insufficient numbers of new recruits, due to working conditions and image issues of the profession, have been plaguing the industry for many years.
The pandemic affected lorry drivers in the UK and the EU at its height in 2020. On France's talk radio station, RMC, a number of drivers rang in to complain that shower and toilet facilities at truck stops were closed. British drivers experienced the same inconveniences when delivering around the UK.
However, not every company is affected by product shortages.
Pub chain owner Tim Martin of Wetherspoons says that his supplies are at 2019 levels and that Brexit has not affected his business. In fact, it was strike action from a major brewer that caused a temporary shortage.
Guido Fawkes has the story:
Wetherspoon chairman Tim Martin has now pushed back to say these claims are all untrue. The reality is that beer supplies actually remain at 2019 (i.e. pre-pandemic) levels, and that the shortage of a few products over the last two weeks is the result of strike action from one major brewer. Martin added:
"There is clearly a shortage of HGV drivers, both in the UK and in mainland Europe- where, some reports say, there is a shortage of 400,000 drivers. Following the pandemic, there are supply chain issues in many other parts of the world also. In the light of the undoubted problems, it is important that the public is provided with accurate information. Factual inaccuracies and partisan Brexit politics will not assist in finding solutions."
Fake news about Brexit will not solve the transport problem.
Another factor is that another British organisation went on strike this year. The DVLA (Driver and Vehicle Licensing Agency), based in Wales, went on strike in August 2021, specifically the Drivers Medical Department. This is because coronavirus cases rose quickly at the DVLA site.
The strike has caused a backlog of delays surrounding licences and other driver certifications, including those for HGVs.
In conclusion, a number of factors are causing or exacerbating a shortage of HGV drivers — not only in Britain but around the world.
Ian Williams, a former foreign correspondent in Britain and the US as well as the author of Every Breath You Take: China's New Tyranny, wrote an article for The Spectator: 'China's Great Game in Afghanistan', which the magazine posted on August 22.
Although China will have to deal with the Taliban, with whom they have been negotiating, Joe Biden's withdrawal of troops will leave the door wide open for further expansion of the country's Belt and Road Initiative (BRI).
The BRI would be able to extend from China through Afghanistan directly to a BRI country, Pakistan.
Furthermore, last week, I wrote about China's plans for global expansion, with which a more established presence in Afghanistan will certainly help, especially with regard to minerals such as lithium and copper.
Ian Williams's article explains what could happen with a volatile mix of China, Pakistan and the Taliban (emphases mine):
Neighbouring Pakistan is the biggest recipient of China's BRI funds – it has received an estimated £45 billion splashed on roads, railways, ports and other infrastructure. Chinese diplomats talk of Afghanistan becoming an extension of this, with Pakistan also acting as a political conduit to the Taliban. Islamabad was the group's main backer when they were last in power, from 1996 to 2001, and harboured its leaders when out of power. But Islamabad's influence over the Taliban is often exaggerated, and Pakistan itself has been plagued by religious extremism and occasional violence. Last month, nine Chinese engineers working on a dam project were killed in a bus explosion in the Kohistan district of Pakistan.
Beijing fears instability on its doorstep more than anything else. Ironically, it has been one of the biggest beneficiaries of the stabilising presence of the US and its allies. Chaos in Afghanistan will threaten its projects in Pakistan and other central Asian states. It also fears a spill-over of radicalism into Xinjiang province, which shares a narrow border with Afghanistan, and where the repression of the Uyghur people and other Muslim minorities has been labelled as genocide by the United States and many other western politicians. Beijing has reportedly sought assurances from the Taliban that they will cut ties with the East Turkistan Liberation Movement (ETLM), which Beijing blames for attacks in Xinjiang (which the Uyghurs call East Turkistan).
While Uyghur militants have appeared in Afghanistan, most independent observers believe their number and influence is exaggerated by Beijing, which uses a very wide definition of terrorism to justify its clampdown. That said, it is not unreasonable to assume the Taliban takeover will inspire opposition – even armed resistance – to oppressive Chinese rule in Xinjiang. After all, the Taliban are a bunch of militant Islamists, and Beijing's actions across their shared border constitute an attempt to eradicate the culture and religion of an entire Muslim ethnic group and turn them into obedient Chinese citizens – the most comprehensive assault on Islam in the world today. Piles of BRI dollars have blinded Pakistan's prime minister Imran Khan to that reality, but even the most pragmatic of Taliban might not so easily be bought off.
However, it would appear that China, whilst cautious, has a plan to counter potential terror, including:
a hastily arranged joint 'anti-terrorism exercise' in neighbouring Tajikistan, which shares an 835-mile border with Afghanistan. Chinese and Tajik forces took to the hills outside the capital Dushanbe, while in a letter to his Tajik counterpart China's minster of public security said, 'The current international situation is changing and the regional counterterrorism situation is not optimistic.'
Also:
it does raise the question of whether chaos in Afghanistan could lead to the involvement of Chinese security forces there and in the region more broadly. In some ways this is already happening – the Tajikistan exercises are the latest example of this. Beijing already deploys what have been described as private security contractors to protect projects in Pakistan, although these groups are far more closely linked to the state than is the case with western contractors.
One cannot help but think of last year's reports on Joe and Hunter Biden's previous involvement with China. Did that involvement inform Joe's precipitous decision to withdraw from Afghanistan or was it just incompetence?
In any event, it could signal the decline of the United States as a superpower, just as the Soviet Union's withdrawal from Afghanistan in 1989 put paid to its superpower status. I truly hope that I am wrong with that assessment.
Yesterday's post covered the intractable situation in Afghanistan from Alexander the Great through to America's involvement as of 2018.
I ended with an article by Lawrence Sellin, a retired colonel in the US Army Reserve, who wrote an article for the Indian Center for Diplomatic Studies, 'China Moves into Afghanistan As Part of Its Global Expansion Mission'.
Lithium and other minerals
China's involvement in Afghanistan will become much deeper. The country's mineral deposits, lithium in particular, are much sought after. This is what the US withdrawal on August 15 means:
The tweeted article is by an Indian scientist, Ameya Paleja, writing for Interesting Engineering: 'With Taliban, Is China Eyeing Afghanistan's Mineral Deposits?'
Paleja writes (emphases mine):
The abrupt removal of the US forces has left a political vacuum that China seems eager to fill. The Week reported that Foreign Minister Wang Yi met a Taliban delegation earlier in July and the two have agreed on a bigger role for China in the "future reconstruction and economic development of the region."
China had made some inroads in mining projects in 2008 with a plan to mine copper out of what is believed to be the second-largest copper reserve in the world. However, progress on the project had been slow. Its next target could be the rare earth elements like lithium that China currently mines and exports from its mainland to fuel the electric transformation of transportation in the US and Europe.
Lithium-ion batteries are now ubiquitous in almost all electronic appliances and even working as storage systems for grids powered by renewable energies.  However, China would be happy to move the operations to another country, given the environmental risks entailed in the process. 
Therefore, it is curious that Joe Biden abruptly ended US involvement in Afghanistan, known to be the 'Saudi Arabia of lithium'.
Where was that expression coined? In the United States, by their own defence department:
Yet, for whatever reason, Ameya Paleja points out that the 2020 United States Geological Survey (USGS) report:
does not even mention Afghanistan in the list of global lithium reserves …
Newsweek invited Nigel Farage to write an editorial on Biden's perilous withdrawal from Afghanistan. Farage wrote about the lithium deposits:
A commentator on GB News this week said that China plays the long game. Western countries think four or five years ahead. China looks 10 to 20 years ahead.
In reading Farage's article, one might be forgiven for thinking that China started putting the pieces together some years ago, even before electric cars became a thing:
Afghanistan's lithium reserves were first identified during geological studies carried out in the 1980s by the Soviet Union. At that time, the discovery did not resonate with most people because demand for the mineral was fairly low. After the Americans arrived in Afghanistan 20 years ago, they sought to back up the work done decades earlier and, in 2007, the United States Geological Survey discovered vast deposits of iron, gold, copper, cobalt and lithium. This discovery remained largely unknown until 2010. Yet media reports from that year confirmed its significance to modern industry, saying that Afghanistan was on course to be one of the most important mining centers in the world. An internal Pentagon memo that was unearthed at the time even stated that the country could become the "Saudi Arabia of lithium." It should be noted that Joe Biden was vice president when that memo became widely known.
Almost 15 years after that survey, most of these mineral deposits remain unexploited as a result of the various problems which have overshadowed Afghanistan. Recently, however, rapidly rising commodity prices have proved just how vital lithium has become. This development makes Biden's irresponsible withdrawal from Afghanistan even more difficult to comprehend.
Farage discussed China's strategy in Africa, which clearly works for the continent's leaders:
Despite its great size, China is surprisingly short on many of the vital minerals it needs to support its modern industrial revolution. To date, its Belt and Road initiative has used Africa to ensure vital supplies for the future, successfully securing the rights to mineral mining in many countries in that continent. In return, African administrations receive revenue for opening up their countries to the Chinese. The fact that some individual African politicians seem to have become extremely wealthy very quickly in recent years is not a coincidence.
Therefore, he says, China can use the same strategy with the Taliban, despite the Uighur situation:
I predict that exactly the same thing will happen in Afghanistan. True, there will almost certainly have to be a compromise over the appalling treatment of the 12 million-strong Muslim Uighur minority living in Xinjiang, but I have no doubt that China and Afghanistan will reach an understanding. China is desperate to forge links with the Taliban in order to obtain Afghanistan's assets as quickly as possible.
Arguably, it has already begun to do so. It was announced this week that a Chinese consortium intends to reopen the Mes Aynak copper mine near Kabul, which is believed to contain some of the largest copper deposits in the world. The consortium, consisting of the state-owned China Metallurgical Group Corporation (MCC Group) and another Chinese company, Jiangxi Copper, was awarded a 30-year, $2.9 billion contract in 2008 but halted work because of the pandemic. According to an unnamed source at the state-owned Global Times "We would consider reopening [Mes Aynak] after the situation is stabilised and international recognition, including the Chinese government's recognition of the Taliban regime, take place."
Farage concludes:
Although guaranteeing the future availability and price of any commodity is difficult, in this particular situation one thing seems certain: the West's green revolution has been dealt a major blow. In strategic terms, this underlines the madness of Biden's withdrawal decision. Was the president poorly briefed, or simply not up to the job? Whatever the answer, the green revolution that has been planned by every G7 nation has suffered a setback. The blame can be laid squarely at the feet of blundering Joe Biden.
On Tuesday, August 17, Cynthia Chung of Canada's Rising Tide Foundation wrote an article for Strategic Culture: 'Afghanistan: Whatever the Future Brings, One Thing Is for Sure, Britain and the U.S. Should Stay Out'.
Chung wrote about the Chinese government's interest in the Wakhan Corridor, about which I wrote yesterday. It is a slim tongue-shaped piece of eastern Afghanistan that borders China. Among other projects:
Beijing is also building a major road through the Wakhan Corridor, which would connect China's westernmost province of Xinjiang to Afghanistan.
The Wakhan Corridor project is fraught with risk, but the Chinese have been negotiating with the Taliban since 2019. From what Chung reports, the Taliban might sacrifice any concern for the Uighurs for the good of Chinese investment:
… China has been undergoing negotiations with the Taliban since 2019.
The Wakhan Corridor is regarded as a rather risky endeavour having the potential to act as a corridor for terrorism rather than development.
Just a few weeks ago, Taliban spokesman Suhail Shaheen said in an interview that "China is a friendly country and we welcome it for reconstruction and developing Afghanistan…if [the Chinese] have investments, of course we will ensure their safety."
On the issue of whether the Taliban might support alleged Uyghur militants against China in neighboring Xinjiang, Shaheen responded, "We care about the oppression of Muslims, be it in Palestine, in Myanmar, or in China, and we care about the oppression of non-Muslims anywhere in the world. But what we are not going to do is interfere in China's internal affairs."
This may seem like empty talk meant to impress Beijing and earn more brownie points, but the Wakhan Corridor is narrow and will not be difficult to monitor. Thus Beijing is offering this in good faith but it is also an easy test to see how much substance is indeed behind such words, and the Taliban know this.
On July 28th, Taliban representatives met with Chinese officials in Tianjin. Chinese Foreign Minister Wang Yi stated "The Taliban in Afghanistan is a pivotal military and political force in the country, and will play an important role in the process of peace, reconciliation, and reconstruction there."
This is sending a clear message, that so long as the Taliban agrees to defend Afghanistan against terrorist groups such as al-Qaeda and serves to increase stability in the region, it will continue to have a seat at the negotiation table.
Trump's withdrawal plan had wide approval
President Donald Trump presented his plan for American withdrawal from Afghanistan on February 29, 2020: 'Agreement for Bringing Peace to Afghanistan'.
It placed a certain degree of trust in the Taliban to negotiate with the then-Afghan government.
It also met with wide approval from not only the UN Security Council but also Russia and China. Chung gives us an outline of Trump's strategy. It included:
provisions including the withdrawal of all regular American and NATO troops from Afghanistan, a Taliban pledge that they would oppose al-Qaeda in their zones of influence and open up talks with the Afghan government. This peace agreement was also supported by Russia, China, Pakistan and unanimously endorsed by the United Nations Security Council.
Under this peace agreement there was to be an initial reduction from 13, 000 to 8, 600 troops in July 2020, followed by a full withdrawal by May 1st 2021 if the Taliban kept its commitments during this downscaling of U.S. military presence.
This agreement looked promising under the Trump Administration, and it was thought that it would be possible to work with the Taliban in securing peace and stability in Afghanistan, to counter al-Qaeda, and to allow for American troops to finally leave a country they had been occupying for two decades. And again, this was a proposal that was supported by Russia, China, Pakistan and the UN Security Council.
Even Gen. Nick Carter, the UK chief of the General Staff stated in an interview, "I think that the Taliban is not the organization it once was, it is an organization that has evolved significantly in the 20 years that we have been there…They recognize that they need some political legitimacy and I would not be surprised if a scenario plays out that actually sees it not being quite as bad as perhaps some of the naysayers at the moment are predicting."
Trump was already discussing his plan the year before, in January 2019. On January 31, Senator Rand Paul (R-Kentucky) agreed, saying that it was not in any way 'precipitous'. Who at the time could have imagined Biden's precipitous move 17 months later?
The following day, February 1, Trump tweeted:
I inherited a total mess in Syria and Afghanistan, the "Endless Wars" of unlimited spending and death. During my campaign I said, very strongly, that these wars must finally end. We spend $50 Billion a year in Afghanistan and have hit them so hard that we are now talking peace …
However, the Senate disagreed with a proposed withdrawal. Jesse Kelly, a Marine Corps veteran, wrote about it on February 4 for The Federalist: 'Congress's Vote To Keep War In Afghanistan Sells Out American Soldiers'.
It began:
The U.S. Senate cannot agree on anything. They are so mired in partisan gridlock, a resolution declaring the sky to be officially the color blue would fail along party lines. But there is one thing and one thing only they agree on: 17 years of our troops dying in Afghanistan isn't long enough.
By a 68-23 margin, the Senate decided we haven't spilled enough blood, broken enough soldiers (mentally and physically), or spent enough money. All for a now-aimless conflict in a part of the world Americans don't even care about.
What began as an attempt to hunt down Osama bin Laden has now become a generational conflict where sons are patrolling the same areas as their fathers did. This no longer a war. This has become a hopeless mission to tame a part of the world that has never been and will never be tamed.
Afghanistan is a rugged, tribal nation with different interests than ours. As with so many parts of the world, the strong will rule over the weak there, and there is precious little America can do about that. That is why we're now resigned to negotiating a peace deal with the very Taliban we've been fighting for 17 years.
He cited three Founding Fathers, none of whom thought that America should be the world's policeman.
Kelly concluded:
Let us stop this. Let us revert back to an originalist foreign policy that lets America worry about America and Americans.
That's not isolationism, as America must remain ever vigilant and ready to take on the evils of this world should they threaten her interests. Instead, it's a foreign policy that focuses on neutrality, trade, and places high value on the life of the American soldier. Let us finally send neoconservative interventionalism to the death it wishes upon our troops.
With regard to the Senate vote, Rand Paul told Fox News:
He also suggested that it was time for the Senate to stop using US troops to further a prevailing narrative in politics and the media:
On September 7, Trump was ready to meet a Taliban delegation at Camp David, but the meeting fell through. He tweeted:
Unbeknownst to almost everyone, the major Taliban leaders and, separately, the President of Afghanistan, were going to secretly meet with me at Camp David on Sunday. They were coming to the United States tonight. Unfortunately, in order to build false leverage, they admitted to…
I don't know what the next tweet said.
On Thanksgiving Day that year, while the media accused him of being on holiday, Trump travelled to Afghanistan to meet with American troops:
He was at Bagram Airfield:
On February 20, 2020, just nine days before Trump issued his 'Agreement for Bringing Peace to Afghanistan,' Mike Pompeo and his negotiators met with the Taliban in Doha and arrived at an agreement to further the Afghan Peace Process:
How was this going to work? Trump said that the US would keep an eye on the Taliban:
Speaking at the White House, Mr Trump said the Taliban had been trying to reach an agreement with the US for a long time …
"I really believe the Taliban wants to do something to show we're not all wasting time," Mr Trump added. "If bad things happen, we'll go back with a force like no-one's ever seen."
The agreement, fragile though it was, was signed on Saturday, February 29, 2020:
Trump expressed his gratitude for the support he received from the UN and NATO. Dr Fauci is there because coronavirus press conferences in the United States had already begun:
On March 1, however, Afghanistan was reneging on the release of prisoners. President Ghani said at the time that the release was a decision for the Afghan government, not the United States.
Nevertheless, by March 9, US troops began going home. American Military News reported:
Hundreds of U.S. troops have begun withdrawing from Afghanistan in line with the U.S. commitments announced in the recent U.S.-Taliban peace deal.
American service members are leaving Afghanistan, with no troops planned to replace them in the country, the Associated Press reported Monday following conversations with an unnamed U.S. military official. The withdrawal comes even as uncertainty persists around the Taliban peace agreement, as well as political upheaval within the Afghan government.
On November 16, several days after the hotly-contested election, Senator Mitch McConnell (R-Kentucky) sided with Joe Biden and again said that Trump's plan was premature:
However, freshman senator Josh Hawley (R-Missouri) urged Trump to press ahead in his final weeks in the White House:
The Concerned Veterans for America also urged Trump to act before he left office:
Unfortunately, by January 2021, President Trump's hands were tied and, on Inauguration Day morning, as planned, he left the White House.
Biden and Afghanistan
On April 14, 2021, Joe Biden made an announcement about further troop withdrawals:
Biden said that he spoke with Obama and Bush before taking a decision:
The then-Afghan president Ashraf Ghani confirmed a conversation with Biden:
By July 8, however, the wheels were falling off the bus, even though Biden insisted there was no threat of Taliban takeover:
On July 9, the Taliban were already on their way to retaking control of Afghanistan, as you can see from this BBC map:
By the time Biden created chaos on August 14 and 15, the Taliban had triumphed.
More on Afghanistan to follow next week.