You are currently browsing the tag archive for the 'Chris Whitty' tag.
On Friday, January 4, news emerged that SAGE, the scientific and clinical group advising the Government on coronavirus, will no longer be meeting regularly.
Pictured on the left is Sir Patrick Vallance, chief scientific officer, and, on the right, Sir Chris Whitty, chief medical officer:
Guido Fawkes's post says (emphases in the original):
The pandemic is over and, rightly, SAGE is gone. Announced this afternoon, the freedom-hating advisory board will stop meeting regularly, though the government has placated hypochondriacs by promising they stand ready to reform. Like an epidemiological Take That…
SAGE met monthly from January 2020, though increasingly pushed for lockdowns and Covid measures, which when ignored by Boris proved massively surplus to requirement. The government has taken back control once again…
SAGE were the ones responsible for repeated lockdowns, the U-turn on masks and 'hysterical', as the Swedes put it, modelling. Here is one example: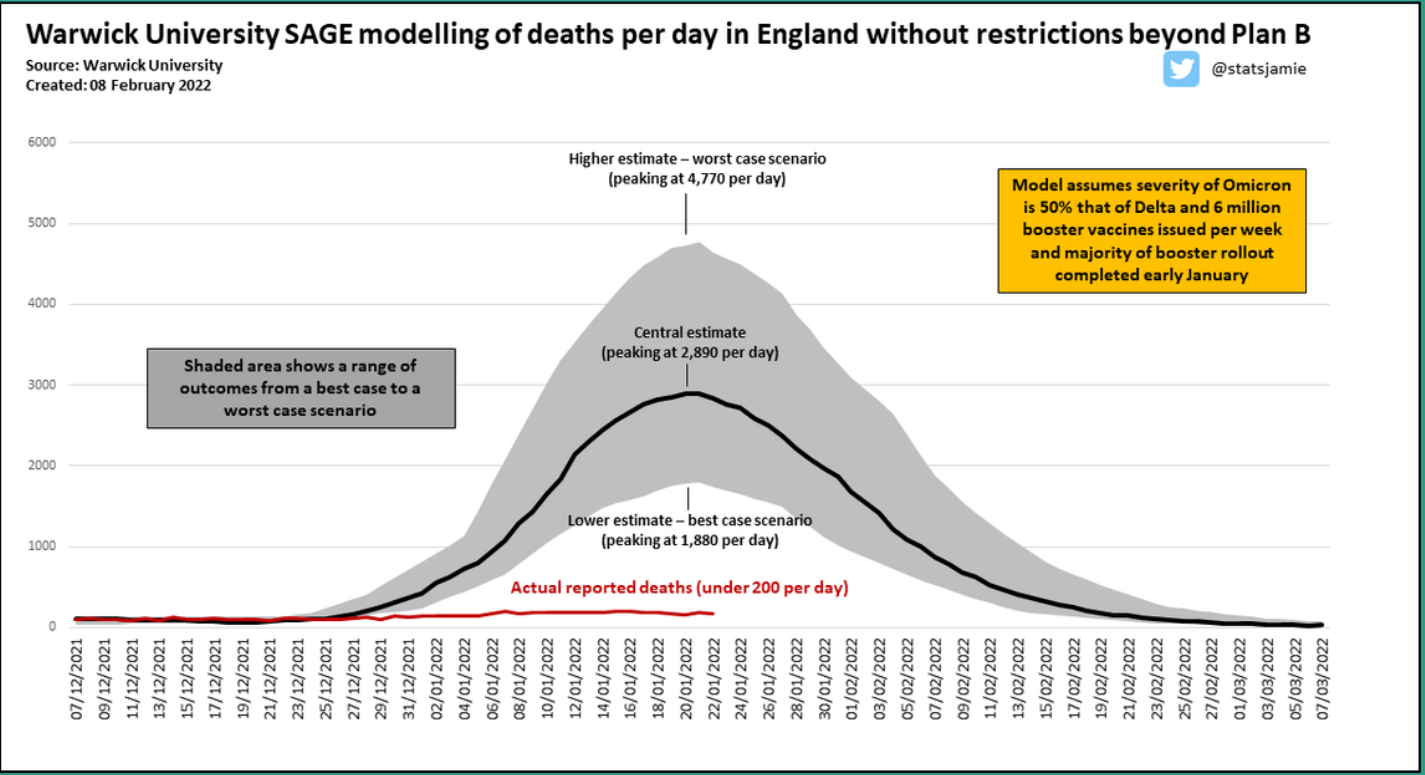 Shameful.
The Daily Mail reported (emphases mine):
The scientific advisory group, chaired by Sir Patrick Vallance and Sir Chris Whitty, 'stands ready' to reconvene if the virus rebounds.  
It marks another significant step in the return to normal and suggests even No10's famously cautious advisers recognise the worst of the pandemic is over.  
The influential panel – made up of 90 leading experts and officials – has met at least monthly since January 2020, and multiple times a week during surges. 
There had been growing calls for the group to be reviewed amid claims it held too much power over the Government and did not have enough diversity of opinion.   
Much of the criticism has been aimed at SAGE's pessimistic projections, most recently warning of up to 6,000 Omicron deaths per day this winter. It has also been accused of leaking proposals to the media in order to pressure ministers to back stricter measures. 
Sir Chris and Sir Patrick will continue to advise ministers on Covid, as will the UK Health Security Agency and Joint Committee on Vaccination and Immunisation (JCVI). 
It comes a week after Boris Johnson lifted all pandemic laws in England as part of his 'living with Covid' strategy, with free testing due to be axed next month. 
Conservative MP Steve Baker was generous in his assessment of the freedom-depriving scientific group:
We have seen that experts are only human too.
That said, he added:
As we now pick up the pieces after the collateral damage of lockdowns and restrictions, we see more clearly than ever before that we need competitive, multi-disciplinary expert advice with challenge. Boris ought to implement reforms now.
Indeed.
Even though most of us never heard of SAGE until two years ago, the committee has been around for well over a decade:
SAGE was initially set up to provide 'coherent, coordinated advice' on the science surrounding pandemics and other emergencies.
It was a little-known body before the Covid crisis, and had only occasionally been called upon to assist in decision making.
It first met in 2009 for the swine flu pandemic, and then in 2014 to advise on Ebola, in 2016 over Zika and in 2018 over the Salisbury poisoning.
The group met only once in 2019 amid concerns the Toddbrook Reservoir dam in Derbyshire would collapse.
But since the pandemic began it has convened meetings at least once a month, with the first held two weeks after the first cases of the virus emerged in Wuhan, China, in December 2019.
The group has met more frequently during fresh waves of the virus, convening eight meetings since Omicron emerged in late November. 
Other than Whitty and Vallance, we knew most about the SAGE subgroups SPI-M, the modellers, and SPI-B, the behaviourists:
SAGE meetings have a shifting membership drawn from a panel of about 90 scientists and medical experts. 
Dozens more sit on sub-groups, including controversial epidemiologist Professor Neil Ferguson, who was kept on as an adviser despite being forced to apologise for breaking lockdown rules during an affair with a married woman.
It is unclear how often the SAGE subcommittees will meet.   
My first inclination on seeing this news was that SAGE will now get involved in climate change.
I hope that the Ukraine situation has put paid to that.
I have some highly uncharitable things to say about SAGE.
GB News's Mark Dolan expressed his dissatisfaction with SAGE much better than I could in this well considered editorial at the weekend. He is right to say that SAGE caused damage to Britain that Vladimir Putin could only have dreamed of:
May we never see their like again. Somehow, sadly, I think we will.
Thanks to Prime Minister Boris Johnson, England is now the freest country in the Western world.
On Monday, February 21, Boris announced the lifting of the remaining coronavirus restrictions. Some of this began yesterday. However, much of the lifting comes into effect on Thursday, February 24, with the remainder finished by April 1.
He gave a statement to Parliament first, which he followed with a televised coronavirus briefing — press conference — at 7 p.m. that evening.
This was the nub of his statement to the House of Commons (emphases mine):
As we have throughout the past two years, we will continue to work closely with the devolved Administrations as they decide how to take forward their own plans. Today's strategy shows how we will structure our approach in England around four principles. First, we will remove all remaining domestic restrictions in law. From this Thursday, 24 February, we will end the legal requirement to self-isolate following a positive test, and so we will also end self-isolation support payments, although covid provisions for statutory sick pay can still be claimed for a further month. We will end routine contact tracing, and no longer ask fully vaccinated close contacts and those under 18 to test daily for seven days. We will also remove the legal requirement for close contacts who are not fully vaccinated to self-isolate. Until 1 April, we will still advise people who test positive to stay at home, but after that we will encourage people with covid-19 symptoms to exercise personal responsibility, just as we encourage people who may have flu to be considerate to others …
The testing, tracing and isolation budget in 2020-21 exceeded the entire budget of the Home Office; it cost a further £15.7 billion in this financial year, and £2 billion in January alone, at the height of the omicron wave. We must now scale this back.
From today, we are removing the guidance for staff and students in most education and childcare settings to undertake twice-weekly asymptomatic testing. And from 1 April, when winter is over and the virus will spread less easily, we will end free symptomatic and asymptomatic testing for the general public. We will continue to provide free symptomatic tests to the oldest age groups and those most vulnerable to covid. And in line with the practice in many other countries, we are working with retailers to ensure that everyone who wants to can buy a test. From 1 April, we will also no longer recommend the use of voluntary covid-status certification, although the NHS app will continue to allow people to indicate their vaccination status for international travel. The Government will also expire all temporary provisions in the Coronavirus Act 2020. Of the original 40, 20 have already expired and 16 will expire on 24 March. The last four, relating to innovations in public service, will expire six months later, after we have made those improvements permanent via other means.
Secondly, we will continue to protect the most vulnerable with targeted vaccines and treatments. The UK Government have procured enough doses of vaccine to anticipate a wide range of possible Joint Committee on Vaccination and Immunisation recommendations. Today, we are taking further action to guard against a possible resurgence of the virus, accepting JCVI advice for a new spring booster offered to those aged 75 and over, to older care home residents, and to those over 12 who are immunosuppressed. The UK is also leading the way on antivirals and therapeutics, with our Antivirals Taskforce securing a supply of almost 5 million, which is more per head than any other country in Europe.
Thirdly, the Scientific Advisory Group for Emergencies advises that there is considerable uncertainty about the future path of the pandemic, and there may of course be significant resurgences. SAGE is certain that there will be new variants, and it is very possible that those will be worse than omicron. So we will maintain our resilience to manage and respond to those risks, including our world-leading Office for National Statistics survey, which will allow us to continue tracking the virus in granular detail, with regional and age breakdowns helping us to spot surges as and where they happen. And our laboratory networks will help us understand the evolution of the virus and identify any changes in characteristics.
We will prepare and maintain our capabilities to ramp up testing. We will continue to support other countries in developing their own surveillance capabilities, because a new variant can emerge anywhere. We will meet our commitment to donate 100 million vaccine doses by June, as our part of the agreement at the UK's G7 summit to provide a billion doses to vaccinate the world over the next year. In all circumstances, our aim will be to manage and respond to future risks through more routine public health interventions, with pharmaceutical interventions as the first line of defence.
Fourthly, we will build on the innovation that has defined the best of our response to the pandemic. The vaccines taskforce will continue to ensure that the UK has access to effective vaccines as they become available, and has already secured contracts with manufacturers trialling bi-valent vaccines, which would provide protection against covid variants. The therapeutics taskforce will continue to support seven national priority clinical trial platforms focused on prevention, novel treatments and treatments for long-covid. We are refreshing our biosecurity strategy to protect the UK against natural zoonosis and accidental laboratory leaks, as well as the potential for biological threats emanating from state and non-state actors.
Building on the five-point plan that I set out at the UN and the agreements reached at the UK's G7 last year, we are working with our international partners on future pandemic preparedness, including through a new pandemic treaty; an effective early warning system or global pandemic radar; and a mission to make safe and effective diagnostics, therapeutics and vaccines available within the first 100 days of a future pandemic threat being identified. We will host a global pandemic preparedness summit next month.
The pandemic treaty concerns me. Will it supersede individual nations' laws and liberties?
Boris put the focus on common sense and personal responsibility. People took exception to his taking credit for restoring our liberties — 'they were ours all along' — but he was the one who took them away on March 23, 2020, at 8 p.m.:
Covid will not suddenly disappear, so those who would wait for a total end to this war before lifting the remaining regulations would be restricting the liberties of the British people for a long time to come. This Government do not believe that that is right or necessary. Restrictions take a heavy toll on our economy, our society, our mental wellbeing and the life chances of our children, and we do not need to pay that cost any longer. We have a population that is protected by the biggest vaccination programme in our history; we have the antivirals, the treatments and the scientific understanding of this virus; and we have the capabilities to respond rapidly to any resurgence or new variant.
It is time that we got our confidence back. We do not need laws to compel people to be considerate to others. We can rely on our sense of responsibility towards one another, providing practical advice in the knowledge that people will follow it to avoid infecting loved ones and others. So let us learn to live with this virus and continue protecting ourselves without restricting our freedoms. In that spirit, I commend this statement to the House.
I watched the Coronavirus Briefing at 7 p.m. and sincerely hope it would be the last one.
Boris was flanked by Sir Patrick Vallance, Chief Scientific Officer, and Sir Chris Whitty, Chief Medical Officer.
Boris spoke first, then we had Chris 'Next slide, please' Whitty's presentation. I do not understand why Downing Street couldn't have given him a clicker to advance the slides himself.
Listening to Whitty and Vallance, however, gave me a different impression. I wondered if I was alone:
Then I found a Guido Fawkes post, and one of his readers wrote:
Chris Whitty is literally stood there contradicting everything Johnson just said in Parliament. He is advising wearing face masks and self isolation. Emphasising this a 'gradual series of steps'.
Vallance emphasising the next variant could be more severe. I can't believe what I am hearing. It's quite clear they do not agree at all with the announcement. They still quite clearly want a very slow and gradual lifting of restrictions and mass surveillance testing all the way to summer with rapid lockdown again if we a get any rise in infections.
They need to be removed.
I agree that SAGE needs disbanding or a deep reorganisation. Everyone on it is in lockstep. SAGE needs a variety of voices from the medical establishment, with more libertarians. They exist. They just haven't been invited. It seems as if SAGE nominates its own members, all like-minded people.
I was most surprised to see Whitty say that the vaccine was good for pregnant women and their babies:
As expected, reporters were clearly unhappy with Boris's announcement. A few accused him of playing politics in order to keep his job.
Later that evening, Toby Young told Dan Wootton of GB News that journos have comfortable houses and gardens to enjoy. They don't need to worry about lockdowns or self-isolation:
On Monday, Wootton launched his own lockdown inquiry, which he says will be a recurring topic on his show for some time. He rightly blames the media for stoking fear every minute of the day:
Top oncologist Prof Karol Sikora agreed with Wootton about Project Fear:
Public health official Prof John Ashton and Dr Steve James, the unvaccinated consultant anaesthesiologist, joined Wootton. Having just returned from France, Ashton championed masks and asked what the problem was in wearing them. It doesn't seem he understands the full picture there:
Dr James said that he is not against vaccines. He supports those who want to take them:
Dr. Jay Bhattacharya told Wootton that 'lockdown' should become a 'dirty word':
Freedom Day feels a bit like Groundhog Day. We've been here before:
Still, let's hope it is definitive this time.
Thanks go to Boris but, more importantly, to the 101 rebel Conservative MPs who opposed an Omicron lockdown before Christmas. They put the frighteners on Boris — and with good reason.
The UK had another big weekend of news, which, as I said last week, is unusual, given that Christmas is just around the corner.
One of the big scoops was The Spectator's revelation as to why every SAGE scenario is based on a worst-case outcome.
Fraser Nelson, the magazine's editor, had an online exchange with Graham Medley from SAGE, which can be seen in his article, 'My Twitter conversation with the chairman of the Sage Covid modelling committee', which is a must-read.
Excerpts follow, emphases mine.
Medley is a professor at London School of Hygiene & Tropical Medicine (LSHTM). Last week, LSHTM published another alarming set of figures for the Omicron variant that, naturally, make the case for more lockdowns.
By contrast, JP Morgan came up with a different conclusion after looking at LSHTM's data:
JP Morgan had a close look at this study and spotted something big: all the way through, LSHTM assumes that the Omicron variant is just as deadly as Delta. 'But evidence from South Africa suggests that Omicron infections are milder,' JP Morgan pointed out in a note to clients.
JP Morgan concluded:
Bed occupancy by Covid-19 patients at the end of January would be 33% of the peak seen in January 2021. This would be manageable without further restrictions.
Fraser Nelson says:
So JP Morgan had shown that, if you tweak one assumption (on severity) then – suddenly – no need for lockdown.
Nelson went online to find out why LSHTM didn't do the same thing:
Medley seems to imply that the Government wants the worst case scenario:
Nelson says:
Note how careful he is to stay vague on whether any of the various scenarios in the Sage document are likely or even plausible. What happened to the original system of presenting a 'reasonable worse-case scenario' together with a central scenario? And what's the point of modelling if it doesn't say how likely any these scenarios are?
From what Prof Medley says, it's unclear that the most-likely scenario is even being presented to ministers this time around. So how are they supposed to make good decisions? I highly doubt that Sajid Javid is only asking to churn out models that make the case for lockdown. That instruction, if it is being issued, will have come from somewhere else.
He concludes that there is an ethical issue with SAGE's pronouncements:
Prof. Robert Dingwall, until recently a JCVI [Joint Committee on Vaccines and Immunisation] expert, has said that Medley's candour reveals "a fundamental problem of scientific ethics in Sage" – ie, a hardwired negativity bias. "The unquestioning response to the brief is very like that of SPI-B's behavioural scientists," he says and suggests that the Covid inquiry looks into all this.
At a time when we have just been given a new set of 'scenarios' for a new year lockdown it might be good if someone – if not Prof Medley – would clear up what assumptions lie behind the new 6,000-a-day-dead scenario, and if emerging information from South Africa about Omicron and its virulence have been taken into account. And how probable it is that a double-jabbed and increasingly boosted nation (with 95 per cent antibody coverage) could see this worst-case scenario come to pass.
In my view, this raises serious questions not just about Sage but about the quality of the advice used to make UK lockdown decisions. And the lack of transparency and scrutiny of that advice. The lives of millions of people rests on the quality of decisions, so the calibre of information supplied matters rather a lot – to all of us.
Too right.
I haven't believed SAGE at all, from the beginning. I am also still angry about how much taxpayers' money has been pumped in for a pandemic that needed a common sense solution in March 2020, such as, 'There are a lot of unknowns here. We will provide updates. However, we advise that anyone who feels sick to get a test then isolate at home for 10 days. Keep your distance from those outside your household. Keep your hands clean. Above all: use the same precautions you would in any potentially contagious environment.'
That's it in a nutshell. Not a lot more needed to be said.
But no.
We plebs couldn't have that. We cannot be trusted.
Chief Medical Officer Prof Chris Whitty implied that we do not know what we are talking about.
This video is from Whitty's appearance before a parliamentary Select Committee on Thursday, December 16. Dean Russell MP (Conservative) asked him whether the NHS risks prioritising the virus over cancer. While it might not be Dean Russell's view, this is a prevailing opinion among many members of the public.
Whitty wasted no time in shooting that down, saying that we do not understand 'health' and insisting that lockdowns helped to save the NHS, which would have collapsed otherwise. Along with Prof Gordon Wishart, I also beg to differ, but here is the exchange:
People are frustrated:
General practitioners are wrapped up in this, too:
Coronavirus has overtaken their surgeries. It was already nearly impossible to get an online appointment, never mind one in person. As of last week, GPs' priority from the Government is to dispense boosters:
No, pandemics are not a regular occurrence, but the NHS should be prepared to deal with one.
On Monday, December 20, Boris convened the Cabinet for a two-hour meeting to discuss the possibility of imposing a Christmas lockdown in England. Sir Patrick Vallance presented a doom-and-gloom scenario.
Bear in mind that Boris is skating on thin ice at the moment politically. A lockdown might have caused some of them to resign their Cabinet positions.
In the end, they decided not to go for a lockdown in England, at least over Christmas weekend:
Well, five of them did, at least.
Foreign Secretary Liz Truss had to leave early:

Guido Fawkes has more (red emphasis his, the purple one mine):
The Times and Telegraph have the most comprehensive write-ups, reporting Rishi, Steve Barclay and Grant Shapps were those leading the sceptics' charge. The Times reports Jacob Rees-Mogg had a prolonged argument with Vallance about their modelling, telling Boris to trust the people rather than the scientists. Truss, Kwarteng, Alister Jack, Nadhim Zahawi and Nigel Adams are all also reportedly sceptical about the threat of Omicron…
On the other side of the divide backing restrictions, according to The Telegraph, are (unsurprisingly) Javid and Gove; Nadine Dorries and Chief secretary to the Treasury Simon Clarke. We can only presume the PM also errs towards this group. There's set to be one more Cabinet before Christmas day that could still decide to recall MPs before New Year.
Katy Balls of The Spectator reports that this is the first time in ages that the Cabinet has been consulted on coronavirus policy:
So what happened in that meeting? 'Boris did a great job and encouraged a proper discussion and respected other views,' says one minister. 'He had quite a lot humility'. Michael Gove was, as usual, leading the arguments for more lockdown. But this was based on Sage forecasts of what might happen which have lost some credibility in the eyes of Cabinet members who were — for the first time in a while — genuinely being consulted.
Boris knows he's in trouble:
Several members of Johnson's Cabinet are vocally opposed to new restrictions. They argue that there needs to be clearer data before any restrictions are brought in – with whispers of resignations if Johnson pressed on without this. These members of government hope that more time will offer clarity that could show omicron is milder than previous variants.
Behind the scenes, the Chancellor is understood to have played a key role warning against rushing into decisions that could cost billions. Other ministers keen to see more modelling include Commons leader Jacob Rees-Mogg and Transport Secretary Grant Shapps ("although it was never quite clear what he was saying," I'm told.) Other ministers have been pressing on Johnson the idea of limiting any new measures to guidance.
But when Johnson emerged talking about the need to observe the data, and questions about Omicron's severity, he was using the language of those who opposed lockdown. They argue, in effect, that Sage models cannot be trusted as they are composed of hypotheticals – and that we need to wait for real-world data. The next few days of hospital data, it's argued, will tell us much about how severe Omicron is and if lockdown is needed. Data is emerging not just from South Africa (where cases now seem to be falling) but Denmark where Omicron has been found to be significantly less likely to put patients in hospital. At least some Sage modellers produced figures on the assumption that Omicron is no less likely to hospitalise or kill: one scenario talks about deaths peaking a day …
Johnson faces a parliamentary party filled with MPs vehemently opposed to any new restrictions and who could question his ability to lead as a result. When the Whips office sent a note around this afternoon telling MPs that the parliamentary away day has been cancelled, one messaged me to say:
'It's probably for the best. If we were all in one place for a few days, we could work out a successor'
But there are Tory MPs who believe action is required. One senior Tory concludes:
'This is a Prime Minister paralysed between science and his backbenchers. It's depressing.'
The Times reports on Leader of the House Jacob Rees-Mogg's words of wisdom. He, too, read Fraser Nelson's article. Good man:
Jacob Rees-Mogg, leader of the Commons, said the government should trust people to do the right thing rather than introduce further restrictions. He said many people had voluntarily changed their behaviour as the threat posed by Omicron became clear.
The prime minister said Rees-Mogg's argument was interesting but asked how he would justify his approach at a press conference. He said that as prime minister he had to look after everyone's health. Rees-Mogg is understood to have responded: "I would stand up and say I respect them for doing the right thing." The prime minister is said to have suggested that this would not be enough if the NHS were at risk of being overwhelmed.
Rees-Mogg is also understood to have criticised official modelling suggesting that without further action 3,000 Omicron patients a day could need a hospital bed. He asked if Johnson had read an article by Fraser Nelson, editor of The Spectator, questioning the assumptions behind the data.
Sir Patrick Vallance, the chief scientific adviser, is said to have responded directly to Rees-Mogg that the modelling had included scenarios where the Omicron variant was deemed less severe than the Delta variant.
If so, why did Vallance not present those data?
Boris made a brief announcement after the Cabinet meeting, saying that he is still keeping all options open after Christmas:
On Wednesday, December 22, Health minister Gillian Keegan told LBC's Nick Ferrari not make firm plans for New Year's parties because of ongoing 'uncertainty':
As people have been cancelling dinner reservations and reneging on trips to the pub, Chancellor Rishi Sunak has had to come up with a £1bn compensation plan for the hospitality sector, which amounts to £6000 per business. A nightclub owner says it's 'insulting'. I agree with the person replying — just drop any remaining restrictions:
When is this going to end?
Oh, well. At least we're not in the socialist nations of Scotland or Wales, where things have been far worse and continue so to be.
In the UK, coronavirus vaccine boosters progress apace.
This advert is showing at cinemas around the country. It features Prof Chris Whitty, Chief Medical Officer: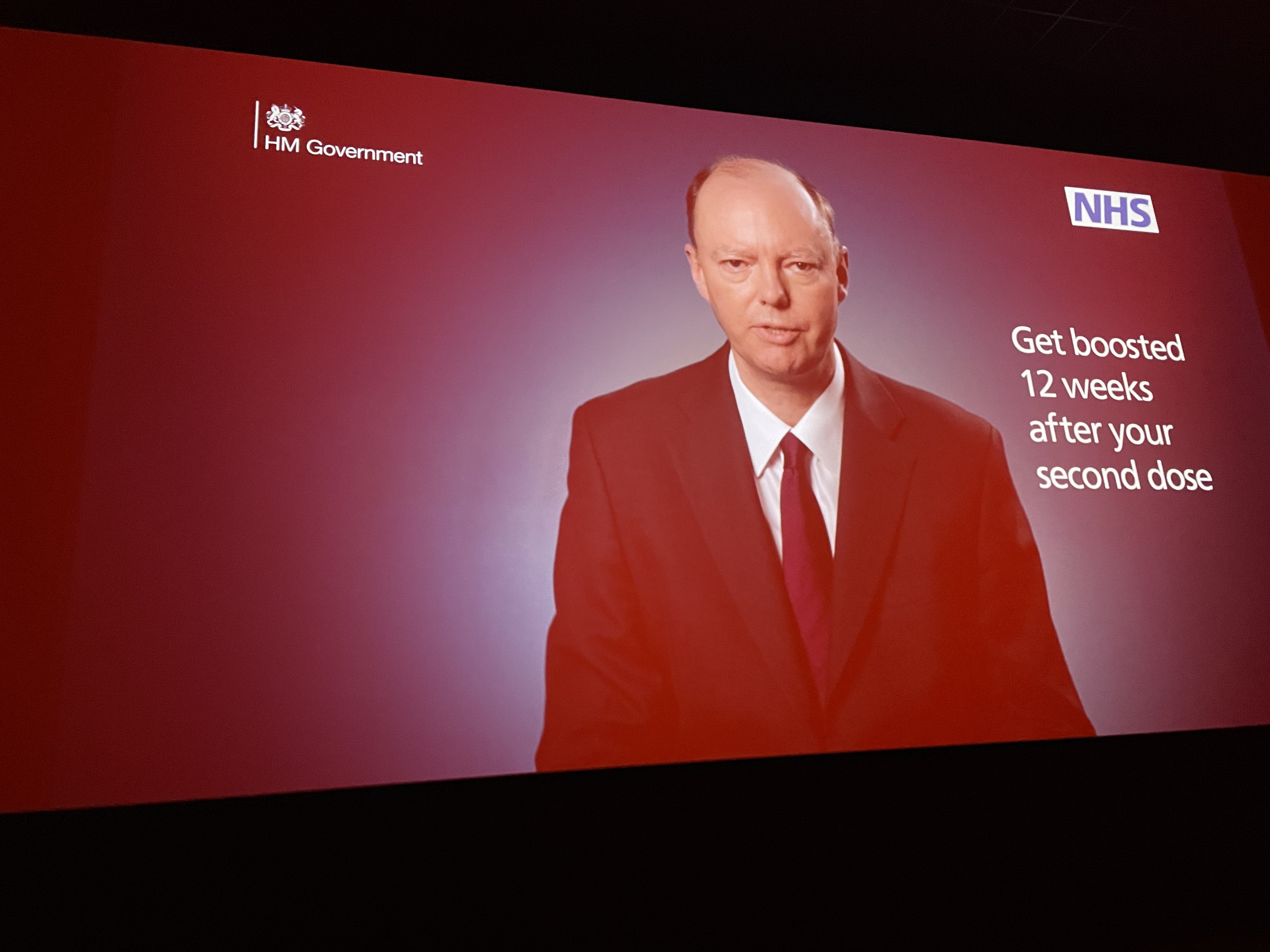 Scary.
It is reminiscent of 1984: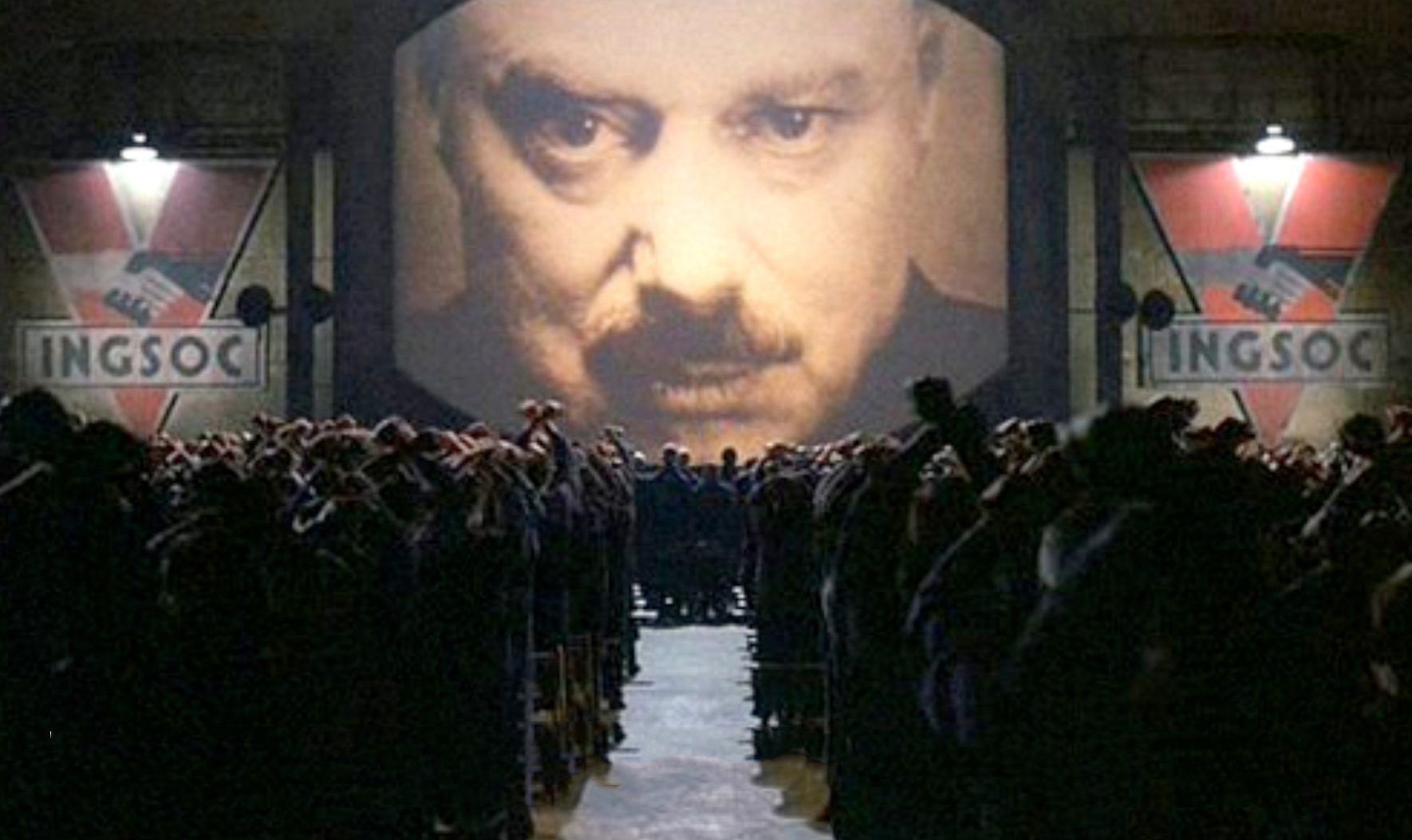 Someone else posted those images a few days ago.
Here's another: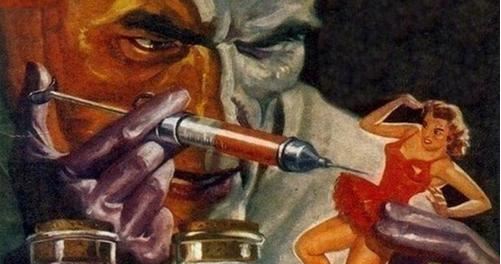 On Saturday, December 18, Neil Oliver of GB News interviewed Dr Robert W Malone about the vaccines and the boosters (33-43 minutes in):
Malone discusses his involvement in mRNA vaccine technology from its inception in the late 1980s and development into the 1990s. He now looks at these vaccines from a regulatory perspective.
He, along with a number of other physicians and scientists, e.g. Dr Pierre Kory, does not think that the coronavirus vaccines have been developed in a conventional manner.
Furthermore, he does not think they should be:
1/ given to children;
2/ given to people with normally functioning immune systems;
3/ mandated.
In other words, if he is correct, most of us reading this post should never have had the coronavirus vaccines or boosters.
Malone thinks that those should have been reserved only for the immuno-compromised, but admits that, even with that caveat, he's having second thoughts about that group as well.
Hmm.
In June, Linked In suspended his account for his views on the vaccines:
In 2022, the UK is likely to get legislation prohibiting 'hateful anti-vaccine' (MPs' words) articles and opinions. A few other countries already have such laws:
Note how the BBC fits in:
Congratulations to Neil Oliver and GB News for giving Dr Malone much needed air time.
It's been a week full of news, which is unusual right before Christmas. Yet, here we are.
Omicron death
The person who died with Omicron was an unvaccinated man in his 70s:
I, too, would like those questions answered.
The man's stepson called into Nick Ferrari's LBC show to say that he was a germophobe. He had everything delivered to his door and never left the house unless he had to post a letter:
Guido Fawkes has more (emphasis in the original):
Speaking to Nick Ferrari, the stepson of the man who died earlier this week claimed that he had been taken in by "conspiracy theories", and refused to take the vaccine despite being in his early 70s:
He thought it was a conspiracy. He was an intelligent man but it's all these different things you are getting from online and different media things… He wasn't vaccinated at all.
According to the latest figures, there are currently 15 people in hospital with Omicron, an increase of 5 since Tuesday…
Chris Whitty's Omicron projections
Earlier this week, Prime Minister Boris Johnson held a press conference with Chief Medical Officer Prof Chris Whitty and Chief Scientific Officer Prof Patrick Vallance.
Whitty predicted Armageddon with a chart showing unbelievably high projections of Omicron cases.
A good friend of mine said he hoped that chart would come back to bite Whitty in the proverbial. I couldn't agree more.
However, when Whitty appeared before the Health and Social Care Select Committee on Thursday, December 16, he changed his tune when giving evidence to MPs.
The Telegraph reported (emphases mine):
Britain may be "better off" with omicron than it was with the delta variant, thanks to the booster programme, Prof Chris Whitty has suggested.
Giving evidence at the Health and Social Care Select Committee, the Chief Medical Officer for England said that vaccines appeared to be holding up well against omicron and said boosters may even be preventing transmissibility and infection …
"It is possible that with a boost, we're better off with omicron than we are with two vaccines with delta for severe disease," he told MPs.
Prof Whitty said he was expecting omicron to cause an "impressive" rise in cases, which could lead to daily peaks in admission bigger than seen in the January wave, when hospitalisations hit nearly 40,000 a day.
However, he said that cases may begin to fall quickly and that a milder illness may mean people would stay in hospital for a short period, reducing the overall burden on the health service. Fewer people may also need intensive care, he added …
"I think most people think on the positive side, that there will be some preserved immunity, particularly on the non-antibody side, such as T-cells. Therefore it is likely someone who has one or two vaccines already will have some protection and with a booster considerably more protection against hospitalisation and death.
"It does look as if boosters restore some of the ability to actually reduce infection and transmission, at least for a period of time."
Then he told MPs that he was reluctant to give the public projection numbers, yet he did just that at this week's press conference:
"I have resisted putting forward projection numbers into the public domain because I don't think they are reliable and you can't put enough caveats on them."
We don't think they are reliable either, Prof Whitty.
Health and Security Agency's Omicron projections for England withdrawn
The UK Health and Security Agency also backtracked on their projections because of a change in public behaviour. I wonder:
If only they would lift Plan B …
… because it is really hurting the hospitality sector.
Michel Roux Jr has tweeted about his daughter Emily's London restaurant Caractère, which is suffering from a rash of sudden cancellations:
Her restaurant is not the only one. Omicron has everyone running scared.
But, what if it 'cases' did double every two days and what if we all caught Omicron? Would it confer herd immunity? We'll know if the following extrapolation is true by Twelfth Night:
The Queen cancels Windsor Castle pre-Christmas lunch
Because of the Omicron scare, our sovereign has cancelled her traditional pre-Christmas family lunch at Windsor Castle. ITV's Chris Ship reports:
South Africa, however, remains relatively relaxed about Omicron, as the Daily Mail's Dan Hodges points out. Note the reply, which shows Chris Whitty contradicting himself yet again. Either boosters help immunity or they don't. Which is it, Chris?
The elusive NHS GP can be seen — privately
Our NHS GPs have been elusive since last year. If you're lucky, you can get a telephone or an online appointment. Very few patients are able to see them in person.
However, if one goes private, one can see one's GP:
It looks as if the Mail on Sunday is investigating this situation. Good!
Killing off ivermectin as coronavirus prophylaxis
In more medical news, we discover how ivermectin was effectively killed off as a prophylaxis for coronavirus in the UK and the US.
Thanks to my reader dearieme for the Vox Day link, which leads to a World Tribune article summarising the incident from Robert Kennedy Jr's New York Times Bestseller, The Real Anthony Fauci: Bill Gates, Big Pharma, and the global war on Democracy and Public Health.
Excerpts follow:
Andrew Hill, PhD, is a senior visiting Research Fellow in Pharmacology at Liverpool University. He is also an advisor for the Bill and Melinda Gates Foundation and the Clinton Foundation. As a researcher for the WHO evaluating ivermectin, Hill wielded enormous influence over international guidance for the drug's use.
Hill had previously authored an analysis of ivermectin as a treatment for COVID-19 that found the drug overwhelmingly effective.
On Jan. 6 of 2021, Hill testified enthusiastically before the NIH COVID-19 Treatment Guidlelines Panel in support of ivermectin's use. Within a month, however, Hill found himself in what he describes as a "tricky situation." Under pressure from his funding sponsors, Hill then published an unfavorable study. Ironically, he used the same sources as in the original study. Only the conclusions had changed.
Shortly before he published, Dr. Tess Lawrie, Director of the Evidence-based Medicine Consultancy in Bath, England, and one of the world's leading medical research analysts, contacted Hill via Zoom and recorded the call (transcript below). Lawrie had learned of his new position and reached out to try to rectify the situation.
In a remarkable exchange, a transcript of which appears on pages 137 – 143 in Kennedy's book, Hill admitted his manipulated study would likely delay the uptake of ivermectin in the UK and United States, but said he hoped his doing so would only set the lifesaving drug's acceptance back by about "six weeks," after which he was willing to give his support for its use …
The two scientists discussed ivermectin's positive results in combating coronavirus:
… the number of preventable deaths incurred by such a delay would be staggering — as many as 504,000.
Hill declined being listed as Lawrie's head author on the paper with the positive results. Instead, he published the negative findings.
This is why he did so:
Four days before publication, Hill's sponsor Unitaid gave the University of Liverpool, Hill's employer $40 million. Unitaid, it turns out, was also an author of the conclusions of Hill's study …
… when pressed he admitted his sponsor, Unitaid, was an unacknowledged author of conclusions.
"Unitaid has a say in the conclusions of the paper. Yeah," he told Lawrie …
Dr. Pierre Kory, of the Front Line COVID-19 Critical Care Alliance, commented, "Andrew is apparently making a living now accusing the doctors and scientists who support ivermectin of medical fraud."
Regulatory acceptance of ivermectin did not delay only six weeks. Instead, almost a year later, it has still not been approved by health agencies in the United Kingdom or in United States. Instead The WHO, CDC, NIH, and FDA have suppressed the drug's use.
Instead, we are taking notional vaccines. Who knows what they are doing to our bodies?
Boris's daughter's name
Boris and Carrie Johnson have named their infant daughter Romy Iris Charlotte. She is shown with her brother Wilfred:
Romy is a 'rainbow baby' because she followed a miscarriage.
Best wishes to the Johnsons.
Conservatives lose safe seat for first time ever
In less cheery news for Boris, the Conservatives lost Owen Paterson's former North Shropshire constituency for the first time ever — nearly 200 years:
Paterson resigned a few weeks ago over sleaze allegations. He had a 23,000+ majority in the 2019 general election.
Failed candidate Neil Shastri-Hunt, who had been parachuted in from outside the constituency, said he planned to get some sleep and:
go and give my 8-week old a bit of a cuddle.
My commiserations to anyone who took this misguided betting advice:
The by-election took place on Thursday, December 16. The Liberal Democrats won by a landslide, as I thought they might:
Also note how low the vote for Labour was, despite party leader Sir Keir Starmer refusing to admit he is a socialist:
Conservative Party chairman Oliver Dowden MP admitted his party 'got a kicking' but added that such by-election results are not unusual when a Prime Minister is halfway through his or her term in office:
Therefore, this protest vote might be a one-off. Let us hope so.
However, in order for that to happen, Boris must be more of a Conservative and less of a Green Blairite.
Courier's employees throw parcels against wall
And last, but hardly least, we have distressing news about some Christmas home deliveries.
Hermes is the UK's worst courier company, but we have to put up with their delayed, sometimes damaged, deliveries.
A reporter from The Times did a brief stint with Hermes and found a group of disgruntled employees, some of whom threw parcels against a warehouse wall. The reporter is shown with his car boot open:
Hermes will investigate but says this is not typical behaviour of its employees. The company is at the bottom of the national delivery league table:
Meanwhile, I have been noting the rather downbeat Christmas notes we have received with our cards this year.
I hope that 2022 brings us far better tidings.
Christmas has arrived in England.
On Saturday, November 27, 2021, the Parliament Christmas tree arrived from Northumberland and is standing in New Palace Yard:
Here's the video of it being lifted and placed into position:
In other news, scaffolding around the Elizabeth Tower will be coming down over the next six weeks, revealing the newly restored Big Ben. The new colour scheme is actually the original from the Victorian era and will be more colourful:
Juxtaposed against this good news is the new coronavirus variant, Omicron.
Saturday press conference
Prime Minister Boris Johnson wasted no time in giving a press conference on Saturday evening, November 27 (start at 8:19), flanked by Sir Patrick Vallance and Prof Chris Whitty:
Ahh, just like the old days of the near-daily coronavirus briefings …
Boris announced preliminary measures; the return of face coverings came into effect on Tuesday, November 30. These are for the next three weeks (emphases mine):
So yesterday we took steps to protect the UK against the variant coming here from southern African countries – and earlier today added four more countries to the red list.
But we now need to go further and implement a proportionate testing regime for arrivals from across the whole world.
So we are not going to stop people travelling, I want to stress that, we're not going to stop people travelling, but we will require anyone who enters the UK to take a PCR test by the end of the second day after their arrival, and to self-isolate until they have a negative result.
Second, we need to slow down the spread of this variant here in the UK.
Because measures at the border can only ever minimise and delay the arrival of a new variant, rather than stop it altogether.
So in addition to the measures we are already taking to locate those who have been in countries of concern over the last ten days, we will require all contacts of those who test positive – with a suspected case of Omicron – to self-isolate for ten days, regardless of your vaccination status.
We will also go further in asking all of you to help contain the spread of this variant, by tightening up the rules on face coverings in shops and on public transport.
And third – and most importantly – we need to bolster our protections against this new variant.
We don't yet exactly know how effective our vaccines will be against Omicron, but we have good reasons for believing they will provide at least some measure of protection.
And if you are boosted – your response is likely to be stronger.
So it's more vital than ever that people get their jabs, and we get those boosters into arms as fast as possible.
So from today we are going to boost the booster campaign.
We are already planning to do 6 million jabs in England alone over the next three weeks.
The ten red list countries are all in southern Africa: South Africa, Namibia, Lesotho, Botswana, Eswatini (formerly Swaziland), Zimbabwe, Angola, Mozambique, Malawi and Zambia.
Omicron symptoms
Omicron's symptoms are slightly different to those of the previous variants.
On Monday, The Sun reported more, citing Dr Angelique Coetzee, chairwoman of the South African Medical Association. She also has her own private clinic in Pretoria and has seen Omicron patients:
"Their symptoms were so different and so mild from those I had treated before," she said.
"We had one very interesting case, a kid about six years old, with a temperature and a very high pulse rate, and I wondered if I should admit her. But when I followed up two days later, she was so much better.
"What we have to worry about is older, unvaccinated people. If they are not vaccinated, we are going to see many people with a severe form of the disease."
The Omicron strain, or B.1.1.529, is feared to be more transmissible and may be able to avoid vaccines.
It has 50 genetic mutations, most of which have been identified in previous variants, along with three brand-new changes.
Prof Lawrence Young, of Warwick Medical School, said: "This new variant is very worrying. It is the most heavily mutated version we have seen to date.
"This variant carries some changes we've seen previously in other variants but never all together in one virus. It also has novel mutations that we've not seen before.
"Some of the mutations that are similar to changes we've seen in other variants of concern are associated with enhanced transmissibility and with partial resistance to immunity.
"We need laboratory studies to determine whether the antibodies induced by current vaccines are able to block infection with this variant."
Today, another case of the super-strain was identified in the UK – bringing the total to three.
The person tested positive after travelling to Britain from southern Africa where the variant originated.
The individual is no longer in the UK, but the UK Health Security Agency (UKHSA) is carrying out urgent testing in areas they visited when they were likely to have been infectious.
This includes Westminster in central London, officials said.
Two of the original symptoms do not apply to Omicron: loss of smell/taste and breathing problems.
Reaction to restrictions
It is unclear how many people in England will comply with the face covering rules.
Richard Walker, the managing director of the Iceland supermarket chain, said that his staff will not be policing face coverings in their shops. Good man. Co-op have said the same thing with regard to their stores. Excellent news.
Saturday night's GB News commentators had much to say about the return of restrictions.
Mark Dolan said that we comply with restrictions, believing they will end, but, in fact, our compliance only makes them easier to reinstate at the whim of government. He says that Boris wants to be seen to be doing something and is invoking politics rather than science:
Neil Oliver had much more to say, noting: 'With that fear on the wane it was plainly time to cast another spell'. It's an excellent editorial worth reading and sharing:
Oliver says that science and freedom have been consigned to the dustbin over the past 19 months. Excerpts follow:
… Let me put it this way – for a while there, those scientists given the spotlight and the microphone had a good go at driving a single narrative. It almost, almost made sense for a while, in a twisted, not quite right, something funny going on there, sort of a way. Not anymore, though. Now the cracks are starting to show, the wheels coming off the state-sponsored wagon.
I've said all along that this would prove, when all was said and done, to be a tragic lesson in the hubris of some humans – the sort that wear white coats, or that like to give press conferences – which is to say overconfidence from those that said they had all the answers and that everyone else should just shut up and do what they're told. As the months go by, hubris seems more and more like the explanation for so much that has gone awry.
But enough about the virus – whatever it is, wherever it came from and whatever it's doing right now while I speak. Tragically, this process of unlearning science, forgetting, replacing true with false, did not begin with Covid-19. Strange to say, Covid is just a symptom of something much more dangerous – and that is the deliberate dismantling of so much that our ancestors learned and built and handed on to us, in trust. It enabled an acceleration of something we really should have been aware of for years – the taking apart of so much of the world of science and reason and enlightenment, by those who might have been expected and trusted to be its inheritors. Over the last few months, in their efforts to craft a narrative with the power to dupe the unwary, governments, scientists, academics and others have, at best, lost their way, and at worst they have knowingly vacated, walked away from the vast cathedral that has been the home of history, science, culture, beauty, indeed all that is good and worth preserving.
In their hell for leather scramble to grab and then secure powers previously undreamed of, our leaders and their advisors have turned their backs on decades, centuries in fact, of wisdom carefully acquired by the ancestors. Some of those that went before them – in the age of reason, the age of enlightenment – laid the foundations for the civilisation with which we have been blessed.
Those that came after built upon the foundations, carefully and painstakingly furthering our understanding of the world, and of our own species.
They learned many things – the ancestors – by observation, by careful development and application of the scientific method …
All of this learning and wisdom was raised up like a cathedral, or the grandest colosseum. But cathedrals and colosseums depend upon solid foundations. When the power of Rome waned, their great structures fell into disuse. The barbarians, for the most part hardly knew what to make of them, those towering edifices, and so ignored them as they fell into decline – amphitheatres, great bridges, viaducts, aqueducts, entire cities.
It is up to those of us who care to conserve and to maintain the wonders raised by our ancestors, to re-occupy the space made of reason and enlightenment and left vacant by those who have, on account of wishing to push a new ideology that mocks and seeks to undo the past, wandered away into the wilderness of the social justice warriors, of the so-called woke. They have turned their backs on so much that was learned after great effort and often at great cost. That grand and lofty space, that cathedral of our culture and our civilisation, is still there, at least for now, but it requires constant maintenance, and love. Those of us who care should go about the business of looking after the old place. Only then might we continue to benefit from the shelter it has long provided from the cold, confusing world outside.

The full two-hour long show is on YouTube:
The first 45 minutes are devoted to Oliver's editorial and a discussion about Omicron, coronavirus and the vanishing of civil liberties.
The next hour is reminiscent of the classic Oliver from his Coast days on the BBC. There is a new Yorkshire Atlantis, a coastal city that was washed away in a tidal storm in 1362. Sonar images have recently been done and more investigation will take place in the months to come. A number of the structures still exist, so this will be a fascinating discovery.
Another story concerns a farmer in Rutland who discovered a large Roman floor mosaic of the Greek legend, The Iliad, a rather rare cross-cultural find. Archaeologists have uncovered most of it, which is in a field.
From this, one can understand Neil Oliver's respect of our history and our past.
Let's not allow politicians and scientists to obliterate it or our freedoms for the sake of a virus that has a 99.9% recovery rate for the most part, even in the unvaccinated.
Most of the British population has now had their two injections, myself included.
However, in terms of efficacy, the jury is out.
Since the summer, we have been told that boosters will be required as soon as this autumn.
This is what a Guido Fawkes reader had to say, referring to the implementation of vaccine passports in Scotland:
… the vaccine does not prevent infection, re-infection or onward transmission of those vaccinated, so is utterly futile as a warranty of safety for entering any type of premises. Indeed it gives a false warranty about those things. The lurgy may still be lurking.
Indeed.
Remember back in 2020 when Drs Fauci and Walensky told us that the vaccines are 100% effective and that vaccinated people do not carry the virus?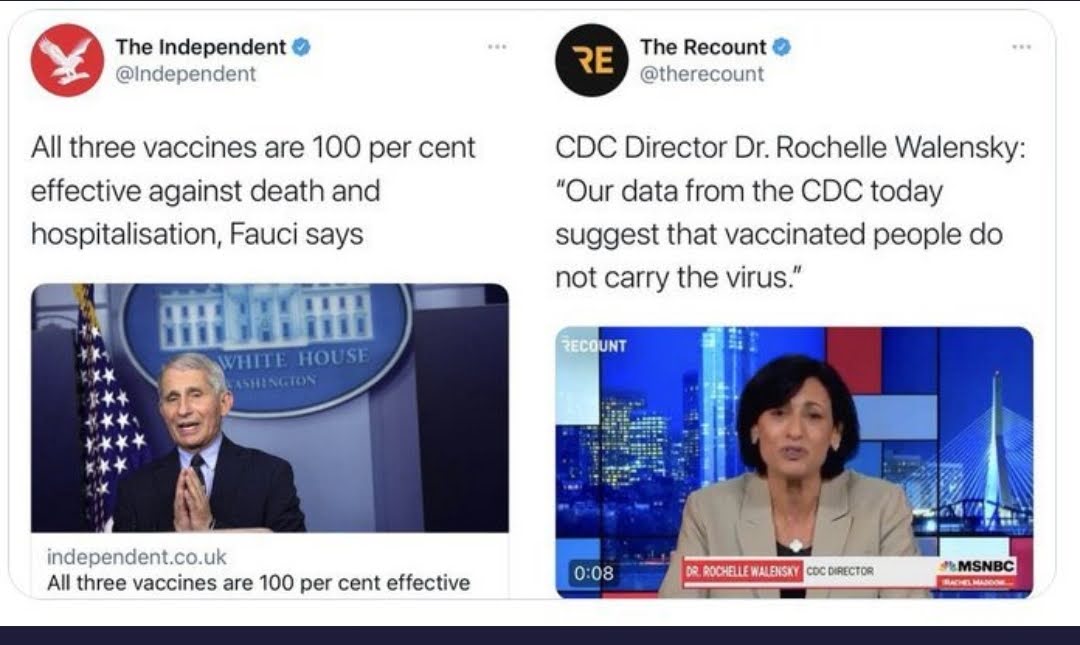 Not so, as we have discovered.
To make matters worse in this parlous state of affairs, the British public are now expected to help market vaccinations on social media. This campaign is called #ValuingVaccines: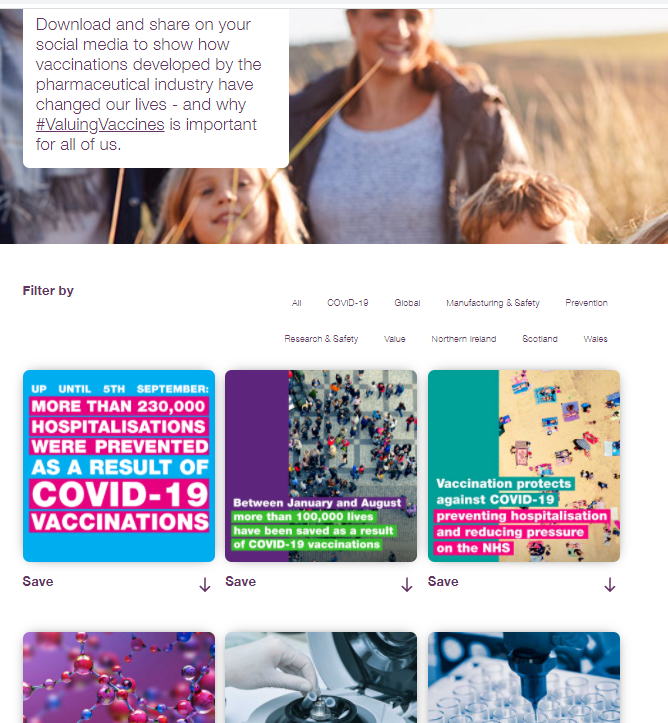 This is a photo of a letter to young Britons urging them to get vaccinated. What is missing from it? Any mention of health benefits: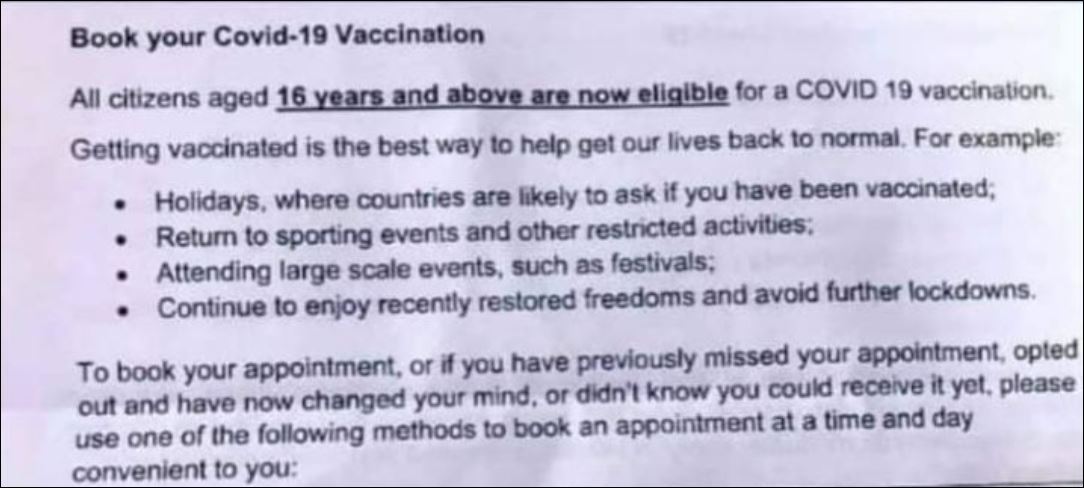 Note the mention of 'freedoms' in the last bullet point.
Here's a thought. Since when did our basic freedoms ever rely on getting a vaccine?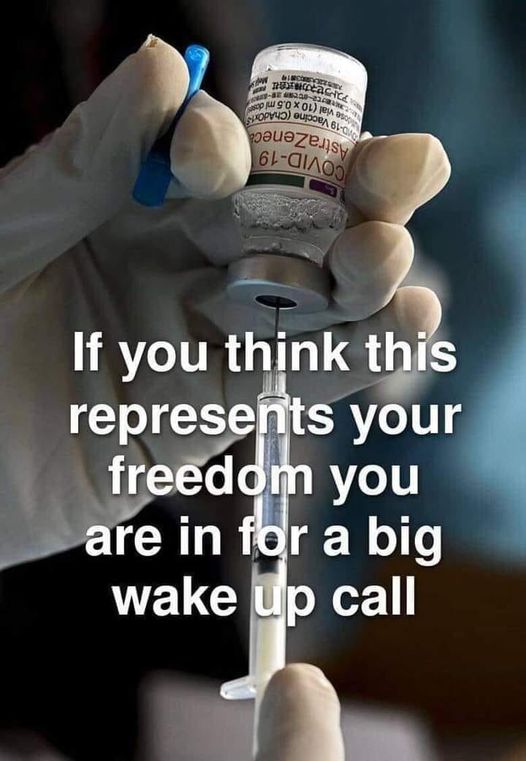 Also, minors eligible for the vaccine in the UK do not require their parents' consent. This is a mock-up of Chris Whitty, our chief medical officer. It's not far from the truth: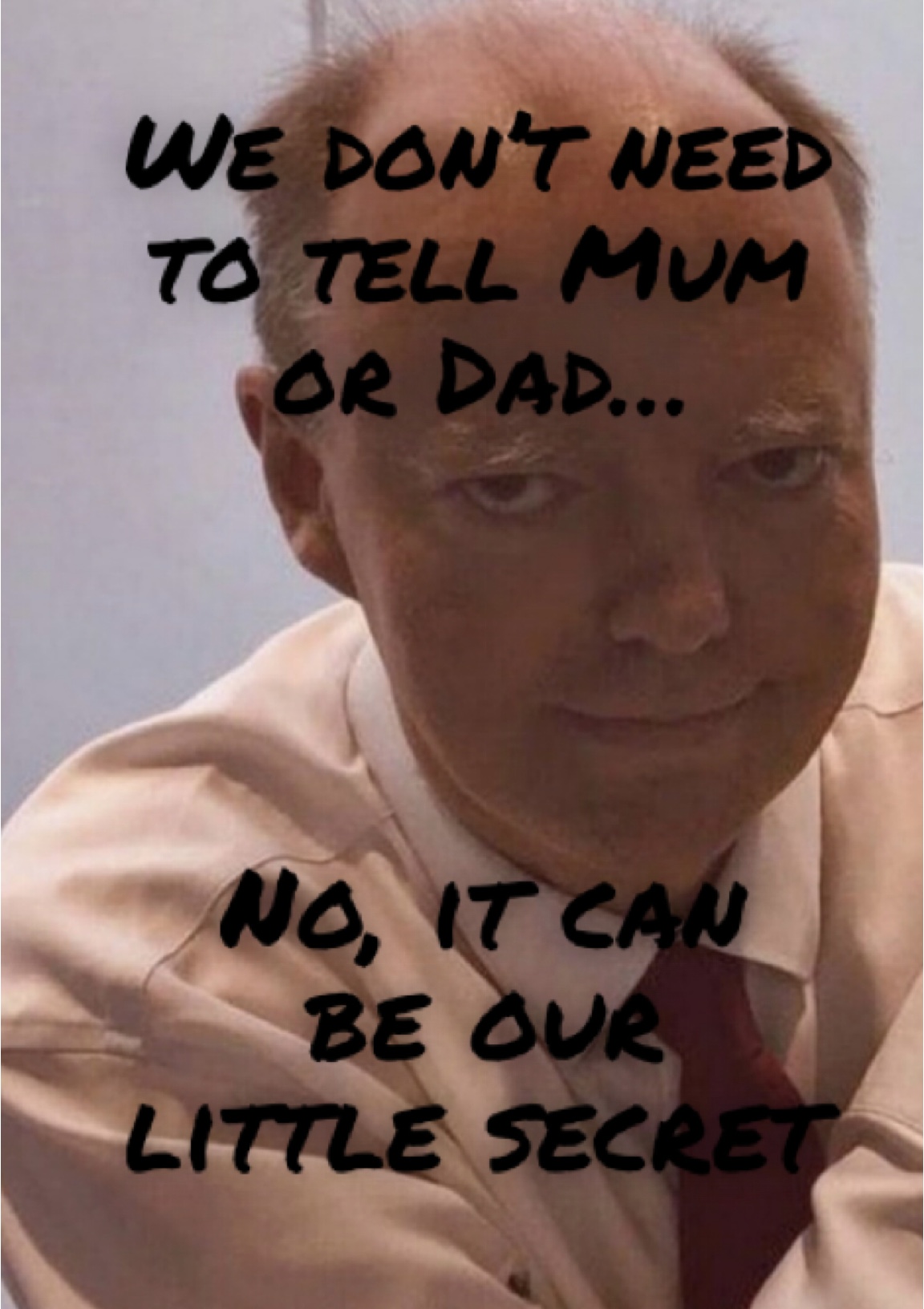 There are other issues with these notional vaccines.
One of them is the redefinition of the word 'vaccination', which has gone from disease prevention (I will always hold by the original and best) to producing immunity against a disease to the current protection from a disease. We've been had, folks, but most of my readers know that by now: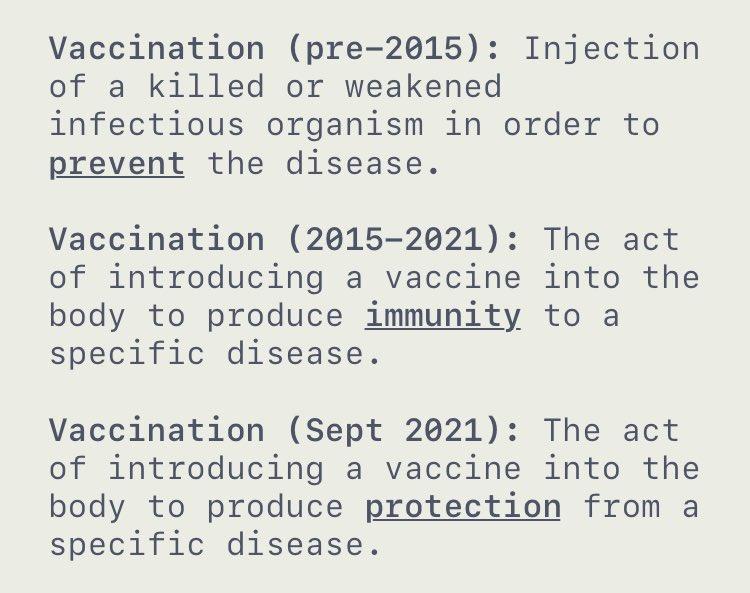 Now let's look at how long producing a vaccine has taken throughout history. With regard to coronavirus, we were told that vaccines take a lot less time these days. Perhaps. However, six months to market seems rather brief: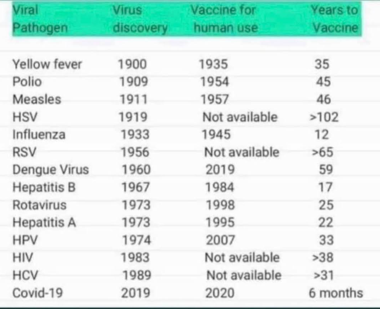 Now let's look at what six months to market has produced — a product that doesn't even work and could be injurious to one's health, if not fatal, depending on the individual. Some American youngsters have experienced heart problems after taking Pfizer or Moderna. The cure can be worse than the disease:

I am glad to see that 'vaccine' has quotation marks around it in this risk/benefit analysis: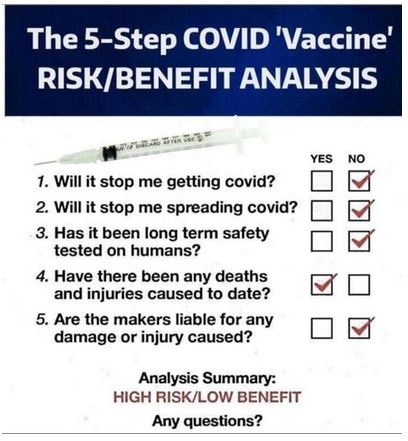 Our notional betters, including journalists, say that the unvaccinated are causing the vaccine to fail. Hmm. That's a new one: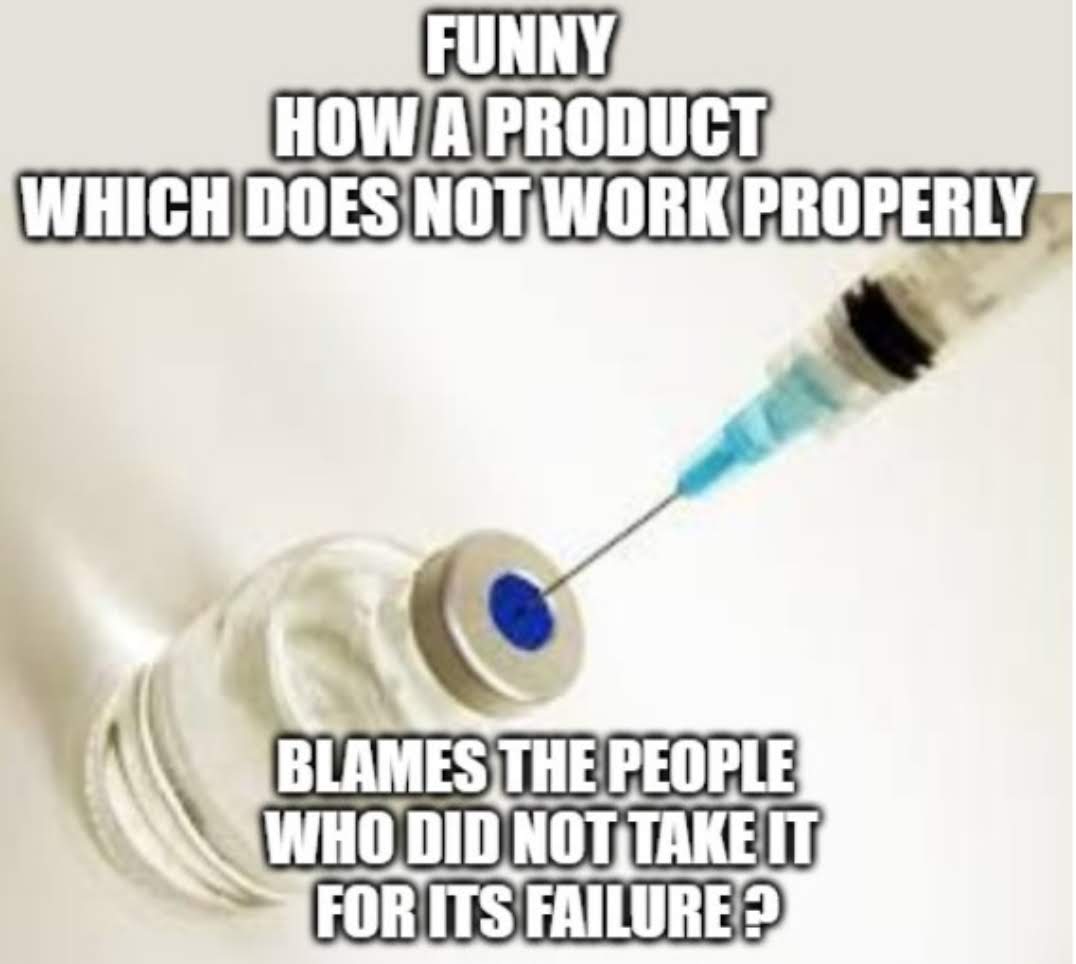 Now we have to worry about vaccine passports. France already requires them just to go to the supermarket. In other words, you cannot eat if you have not been vaxxed: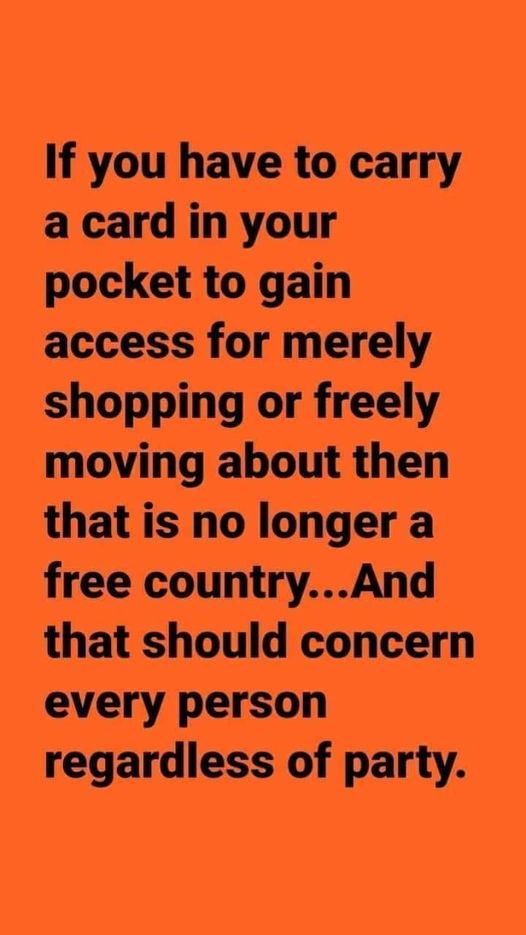 Speaking of supermarkets, here's Manchester mayor Andy Burnham, a former Labour MP, moaning about the lack of social distancing at Tesco. Yes, he named the chain. Yet, here's Burnham partying at Labour's conference this week as if it were the old days. The sheer hypocrisy of our leaders is mind-boggling:
But I digress.
Those are my thoughts on the coronavirus vaccines, a necessary evil if one wishes to go out again.
I would have liked to give credit to the people who created these images, which I found in various places online. My compliments to everyone involved.
This week, Prime Minister Boris Johnson postponed Freedom Day from June 21 to July 19, 2021.
Although a vote on this passed comfortably on Wednesday, June 16 — 489 to 60 — the number of rebel MPs, mostly Conservative, increased compared with previous votes on coronavirus restrictions. This page shows who voted No.
Boris and Matt Hancock might want to rethink their dependence on the lefty scientists of SAGE, but will they?
SAGE are effectively running this nation … into the ground.
Chesham & Amersham by-election upset
In addition, on Thursday, June 17, the Conservatives lost a by-election in Chesham & Amersham in leafy Buckinghamshire, not far from London. It had been a safe Conservative seat since the 1970s. A journalist from the Financial Times tweeted that he was sure they would win it once again:
In reality, it was a hat made out of fabric. Jim Pickard took three small bites of it, washed down with water. Sensible, as it could have been made in the world's largest manufacturing country (no prizes for guessing correctly). H/T Guido Fawkes:
Now they have a Liberal Democrat MP, the lady pictured below standing next to party leader Ed Davey MP. The reply to the tweet blames the win on local opposition to a high speed railway (HS2) and to extending lockdown:
However, the Lib Dems never really opposed HS2:
The by-election took place because Dame Cheryl Gillan MP died on April 4. Despite a long term illness, she was an active participant in parliamentary debates until the end.
According to a Guido Fawkes reader, this was the vote tally on Thursday compared with 2019's general election:
2019 results:
Conservative 30,850
Lib Dems 14,627
Labour 7,166
2021 Votes:
Conservative 13,489
Lib Dems 21,517
Labour 622
The only consolation is that the Labour vote sank like a stone:
Coronavirus cases rise in Cornwall after G7 summit
The virus lives and is on the rise in Cornwall:
In addition to the G7 and half term, another factor could be the warm weather last Sunday, attracting people to beaches.
Guido Fawkes has maps and the figures (emphasis in the original):
Last week, both St. Ives and the Carbis Bay area had two positive cases respectively. Now, St. Ives has 36 cases, and Carbis Bay has 15. That's a 1,700% increase in the former, and a 650% rise in the latter…
One of Guido's readers replied that a hotel and university are responsible (emphases mine below):
Tosh. The rise in St Ives/Carbis Bay happened before G7 kicked off and was down to the staff in one hotel and is linked back to the plastic University at the top of Penryn.
Cases, however, are only positive tests. Not all should require hospitalisation.
Wednesday's vote in Parliament
On Wednesday, June 16, Matt Hancock opened the debate on coronaivirus restrictions in the House of Commons.
He said, in part:
Thanks to the protection of the vaccination programme, huge advances in treatments like dexamethasone, which was discovered a year ago today, and the resolve of the British people in following the rules that this House has laid down, we have been able to take the first three steps on our road map, removing restrictions and restoring colour to the nation, but we have always said that we would take each step at a time and look at the data and our four tests before deciding whether to proceed. The regulations before the House today put into effect our decision to pause step 4 on our roadmap until 19 July. Before outlining the regulations that will put this into effect, I would like to set out why we made this difficult but essential decision.
Unfortunately, there has been a significant change since we started on our journey down the road map in February. A new variant has given the virus extra legs, both because it spreads more easily and because there is some evidence that the risk of hospitalisation is higher than for the alpha variant, which was, of course, previously dominant in this country. The delta variant now accounts for 96% of new cases. The number of cases is rising and hospitalisations are starting to rise, too—they are up 48% over the past week. The number of deaths in England is thankfully not rising and remains very low, but, as I told the House on Monday, we do not yet know the extent to which the link between hospitalisations and deaths has been broken, so we propose to give the NHS a few more crucial weeks to get those remaining jabs into the arms of those who need them.
Mark Harper (Con) intervened:
Can I just ask my right hon. Friend what we expect to achieve in the four weeks? I think I am right in saying that there are 1.3 million people in priority groups one to nine who have yet to have a second dose of the vaccination. The good point is that that means we have vaccinated 96% of people in those groups, but I just wonder—after four weeks, I doubt that we will get to 100%, so there will still be a significant number of people in those groups not vaccinated with two doses, and at that point, there is still going to be some risk. My worry, and the worry of others, is that we are going to get to this point in four weeks' time and we will just be back here all over again extending the restrictions. That is what we are concerned about.
Hancock said he was sure that four weeks would be sufficient. He's said that before.
Steve Baker (Con) also intervened:
Is not the problem with the two-week checkpoint that it creates another moment of hope for people who still feel even these restrictions very acutely, and that if we create hope and then shift the goalposts again, people will continue to deepen their despair? What will he say to those people?
Hancock said the public understood the reasons for the delay.
After Hancock finished speaking, it was the turn of the Shadow Health Secretary Jonathan Ashworth (Lab) to respond.
Ashworth largely agreed with the Government's extension to Freedom Day, but he rightly posed questions, such as this one:
Will we continue wearing masks?
At which point, Desmond Swayne (Con), who wears a silk scarf instead of a mask, shouted:
No!
Steve Brine (Con), former Public Health minister, intervened, recalling a bad flu year:
The right hon. Gentleman is right: we had a battle royal with influenza in the first year that I was in the job, but the difference was that we did not have any non-pharmaceutical interventions. Our interventions were about the take-up of the vaccine—yes, for children as well as for adults, especially the vulnerable. One of our chief advisers, the deputy chief medical officer then, one Professor Chris Whitty, never suggested masks, let alone closing schools—just a really good roll-out of the flu vaccine. We lost 22,000 people that year. Never were those numbers rolled on BBC News; never did we know the R number, but there was a point where we accepted an element of risk in society. I guess that was the point of my earlier intervention on the hon. Gentleman: what element of risk is he prepared to accept? Because that is what it comes down to—our own mortality is part of the human condition.
Ashworth replied, in part:
I do not want to see it done by some of the wider restrictions and lockdowns that we have heard about. That is why I would be interested to know whether the Department has developed plans for restrictions this winter and whether the Secretary of State has been discussing that with Whitehall colleagues.
Mark Harper intervened again:
On the point about the restrictions, I know that those discussions are going on because I have seen documents from within Government with very detailed suggestions about what measures may continue. I asked the Secretary of State about this when he was in the Commons earlier this week, and he did not rule out bringing in restrictions this winter. That is partly why some Conservative Members are very concerned and why we are not going to vote for these regulations today. However, I want to take the right hon. Gentleman back to his comments on what Chris Hopson said about the fact that the NHS is very busy at the moment. There is a danger here. I am very sympathetic to colleagues who work in the NHS, who have done a fantastic job, but we cannot get to a point where we restrict and manage society in order to manage NHS waiting lists. That is not the right way round. The NHS is there to serve society. If we need to enable it to do that, we have to think of a way of doing it other than putting restrictions on the rest of society. That is not a sustainable or a desirable position, but it is the logical consequence of what Chris Hopson was saying earlier this month.
Here's the video, which begins with Ashworth sitting down to give way to Harper:
Ashworth replied, beginning with this:
Even though we will find ourselves in different Lobbies this evening, I think there is more in common between us than perhaps one might expect. I do not want restrictions to remain in place for any longer than they need to. I want to move to a system where we are trying to push down covid infection rates by, yes, rolling out vaccination as far and as fast as possible to everybody, but also putting in place the proper framework so that those who are ill or a contact of someone who has been ill with covid is able to isolate themselves.
He took more interventions from Conservative MPs, then concluded:
The House is being asked to extend these restrictions, but there are a number of pressing issues. First, many of us have been contacted by business people in our constituencies who are deeply concerned about the extension of these restrictions. For my constituency in Leicester, which has been living under a form of restrictions more severe than other parts of the country, other than perhaps parts of Greater Manchester, this has been particularly devastating. I hope that the Government will be putting in place full support for businesses such as mine in Leicester and Greater Manchester and elsewhere.
The second issue, which we have touched on a little bit, is whether these restrictions will ever end, or whether the Prime Minister has trapped us in Hotel California, where we can never leave. He has talked about 19 July as the terminus date, but the explanatory notes themselves say that the four tests will apply on 19 July, and that these four weeks will be used to gather more data.
Hancock said later on that July 19 is still the terminus date and that data would be examined in two weeks' time.
The general debate took off from there, with Sir Desmond Swayne (Con), the original rebel, the first to speak. He criticised SAGE and one of its members, Susan Michie, the Communist:
I never believed that it was proportionate, even from the outset, for Ministers to take such liberties with our liberty. I always thought that it was wrong for them to take our freedoms, even though they believed that they were acting in our best interests in an emergency, but by any measure that emergency has now passed and yet freedoms are still withheld and the Government will not allow us to assess for ourselves the risks that we are prepared to encounter in our ordinary, everyday lives. The Government do not trust the people whom they govern.
Many members of SAGE—a misnomer if ever there was one—have been out busily undermining public morale. One of them even shared her dystopian vision that we must all remain masked and distanced in perpetuity—a shocking, horrible prospect. The fact is that once the consequences of this virus in terms of their financial and health impacts have long been addressed, the moral impact will remain. The Government have set a disastrous precedent in terms of the future of liberty on these islands. I could understand it if we were a communist party, but this is the party that inherited the true wisdom of the Whig tradition. This is the party of Margaret Thatcher, who said that liberty was indivisible. This is the party that only recently elected a leader whom we believed was a libertarian. There is much on which we are going to have to reflect.
Here is the video of his remarks:
Smoking also came up in the debate:
Sir Charles Walker (Con), another early rebel, spoke. He wants a reform of SAGE. Excerpts follow:
I wish to try to be constructive about how we can improve SAGE. As you know, Mr Deputy Speaker, SAGE has huge power over our lives. It has power over whom we hug and hold. It has power over which businesses open and which businesses close. In essence, it has power over who keeps their job and who loses their job. We, too, in this place have great power, but our power is matched by accountability.
Accountability is very important in the exercising of power, so I want to suggest some reforms to SAGE—some quite technical reforms. First, there is a need for greater financial transparency from members of SAGE in line with that expected of Members of Parliament. For example, I think when we look at SAGE members, we should be able to see what their annual income is—not only from their substantive job, but from their pensions accrued or the pensions they might well be in receipt of. This is something that is freely available for all Members of Parliament. I think we should also know and constituents should know if they have any significant shareholdings in companies, in the same way that our constituents know if we have significant shareholdings in companies. We could also look at whether they get other forms of income—from rent, for example …
… in the case of young people, many SAGE experts say that young people should be working from home. We know that young people are now tied to their small kitchen table or in their bedroom in miserable environments—the new dark satanic mills—and working endless hours in appalling circumstances, because people with nice gardens and comfortable homes think that is what they should be doing.
There should also be far greater personal accountability. There should be no more, "Here is Sir Mark Walport—of SAGE, but here in a personal capacity". Nonsense! He is there because he is a member of SAGE. We should also have elections to SAGE, so we could see Sir Mark Walport, Professor Susan Michie, John Edmunds and regular talking heads in our TV studios challenged by people with a different perspective—people such as Professor Karol Sikora, Professor Paul Dolan, who is an expert on human behaviour and quality of life, and Professor Ellen Townsend, who has a huge interest in the welfare of children and adolescents who are now being plagued by anxiety and eating disorders …
So here it is: full financial disclosure from members of SAGE and full elections, or they advise the Government, and if they do not want to do that, but want to advise TV studios, they do that, but they do not do both.
Here is the video of his speech in full:
Graham Stringer (Lab), also a rebel, spoke next. He rightly said that MPs do not have enough scientific data to make an informed decision about restrictions. Excerpts follow:
As ever, it is an honour to follow the hon. Member for Broxbourne (Sir Charles Walker). On his interesting point about SAGE, we could do with full disclosure from the Government about all the facts that they have available to them on covid. In the Science and Technology Committee this morning, we were told that vaccinations have saved 14,000 lives. I have no doubt that that is an accurate figure, but there are many figures that have not been given. As we said the last time we debated this issue, only one side of the equation is given. Let me ask this question: how many lives have been lost in order to save capacity in the NHS? When it comes to looking at people untested and untreated for cancer, heart disease and other diseases, we will find that the figures are of a similar, if not greater, magnitude than the number of people who have died from covid …
There is a great deal more information that we require in order to make a rational decision about whether the lockdown should continue. I agree with the right hon. Member for New Forest West (Sir Desmond Swayne) that what we have here is the Government asking for emergency powers when there is no longer an emergency …
The Government have refused on a number of occasions to give out that information. They have run a campaign to scare people into accepting their decisions …
One of the things that has annoyed me most in the last 15 months is when the Prime Minister and the Secretary of State for Health and Social Care say, "We instruct you"—meaning the population—"to do various things," when there is nothing in the legislation that would give the Secretary of State or the Prime Minister the ability to instruct individuals. We live in a liberal democracy in which we pass laws that are enforced by the police, and then the courts make a decision if there is a prosecution, not one in which the Secretary of State acts like some kind of uniformed Minister of the Interior.
I will vote against the regulations today. We need a more direct debate on the issue and we need what Members have searched for—a straightforward comparison, with real statistics, of what risks everybody faces.
Steve Baker (Con) agreed with Mark Harper about society and the NHS:
I refer the House to the declarations that I have made relating to the Covid Recovery Group.
No one can deny the brilliance of the Government's—the NHS's—vaccination programme. By mid-April, the over-50s and the vulnerable had had their first vaccination, and overwhelmingly they have now had their second. That is reflected in the Office for National Statistics antibody data, which shows extraordinary levels for anyone over 50. Antibodies are there in that population, which is vulnerable to the disease.
That brings me to the best case that the Government could make for the regulations before the House, which is that the ability of the NHS to provide other healthcare could be compromised by admissions from a younger population, because a small percentage of a big number is still a big number. But the huge problem with that is that it concedes the point that our liberties can be used to manage the capacity of the NHS. I cannot concede that. As my right hon. Friend the Member for Forest of Dean (Mr Harper) said, that is not the way in which we should be going as a society. If the restrictions that we are extending had been proposed for that purpose in the past, we would never have accepted them.
In Wycombe, people have of course been dutifully washing their hands, covering their faces and keeping social distancing rules, yet early in this pandemic, I remember one dear, sweet, older lady was beside herself with anxiety at the thought of having to go about her ordinary life with her face covered, and look at us now, taking it for granted. This is not normal. This is the dystopia that I stood here and forecast on the day we went into lockdown …
One of the most important things that we have learned from Mr Cummings' leaked WhatsApp messages is that it seems that the Government have been significantly influenced by polling. I fear we have had a real doom loop here between polling and policy making, which has driven us into a disastrous position. We now must not tolerate lockdowns being perpetually on the table. We must not tolerate a situation going on where we and the police are unclear about what the law is and how it should be applied. Imagine that you can hug but not dance—what madness is this? We cannot tolerate a situation any more in which a Government social scientist told the author of the book "A State of Fear" that the Government had used unethical techniques of behavioural science to deliver a policy which he said, in his own words, "smacks of totalitarianism".
We have transformed this society for the worst. We have it put in place a culture and habits that will take years to shake off and that distance people from one another and diminish their quality of life and the quality of relationships that they have with one another. High streets are in danger of becoming haunted alleyways. We are in danger of hollowing out and destroying the entertainment industry—much of what makes life worth living. Today's vote will go through—it is a foregone conclusion—but as my right hon. Friend the Member for New Forest West (Sir Desmond Swayne) implied, if the Conservative party does not stand for freedom under the rule of law, in my view, it stands for nothing. We have got to have a turning point. We have got to recapture a spirit of freedom.
Mark Harper spoke later on, at which point the Labour benches were empty. It is important for Britons reading this post to look at what he has uncovered. The Government continue to be dishonest not only with MPs but also the public:
Well said!
Please also note the following about winter. Meanwhile, Democrat-run New York and California are now open:
May our merciful God help the UK out of this unholy mess.
On Monday, June 14, Prime Minister Boris Johnson postponed Freedom Day from Monday, June 21 to Monday, July 19.
Quelle surprise!
Although the data for hospitalisations and deaths look better than ever thanks to the vaccine rollout, SAGE modelling shows that if figures of cases — positive tests — continue to increase 'exponentially', then we could be in for a big problem:
However, the reality is more like this:
Incredibly, Britons support the delay:
Protest at Downing Street
Earlier in the afternoon, when it became clear that Boris was going to delay England's reopening, a protest took place outside of Downing Street.
The BBC's Nick Watt got caught up in it on his way to the mid-afternoon press briefing for journalists. I have no idea why the crowd harassed him, but the Metropolitan Police did not seem bothered:
Coronavirus briefing
Boris held his televised coronavirus briefing at 6 p.m.
Boris should have had Matt Hancock, Secretary of State for Health and Social Care, go to Parliament first to make this announcement, then give his press conference. Hancock poled up in the House of Commons two hours after Boris's press conference. More on that below.
At the coronavirus briefing, Boris was accompanied by Sir Patrick Vallance and Prof Chris Whitty. Here are the highlights:
Sure, just as he announced June 21 would be a few months ago. I'll believe it when I see it.
Some restrictions have been lifted for weddings and funerals:
The delay is partly because of the Delta variant from India:
Sure thing, Chris. By July, there could be another variant:
Even though Boris is trying to keep us hopeful, there is no way we would open in two weeks' time instead of four:
This is because — as has been explained at previous coronavirus briefings — it takes four weeks for a full cycle of effects to complete before a decision can be made: cases, hospitalisations, deaths.
Keep in mind that our vaccination programme has been wildly successful. The elderly and vulnerable have had their second shot and 18-24 year olds are now invited to get their first inoculation.
The vaccines used thus far — AstraZeneca and Pfizer — are said to be highly effective against the virus, especially after two injections:
One of the three men said that we would have to 'learn to live with this virus'. We know that, fellas, so open up.
We know that people are going to die, just as they do from flu:
That's exactly what they said in April.
Labour are quite happy with an extension of restrictions. No surprise there:
Matt Hancock's statement in the House of Commons
Matt Hancock announced the delay in the Commons that evening at 8:30.
Once again, the Government evaded going to Parliament first, followed by the media and public.
The Speaker, Sir Lindsay Hoyle, was not happy. This is not the first time Hoyle has reprimanded Hancock:
Sir Lindsay said that he is ready to arrange a private meeting with the Prime Minister to discuss these continuing evasions of Parliament:
Hancock said:
That tweet is spot on. In March 2020, it was about 'squashing the sombrero' of hospital admissions, as Boris put it.
Then we had the rest of the list in that tweet.
Now it seems to be about zero COVID.
That's quite a leap.
Hancock's statement and the subsequent debate are available on Hansard. Excerpts follow. All MPs below are Conservative.
Jeremy Hunt MP, the chair of the Health and Social Care Committee and former Health Secretary, said (emphases mine):
May I start by saying that I totally agree with your expression of disappointment, Mr Speaker, that in a parliamentary democracy Parliament heard about this news after the media, and much as I respect my right hon. Friend it should be the Prime Minister who is here this evening?
I happen to support these measures and the caution the Government are showing, but may I suggest to my right hon. Friend that one of the reasons for the disappointment many people feel is the use of words like "irreversible"? Tonight, Sir Patrick Vallance said that we will be living with covid for the rest of our lives. If there is a vaccine-busting variant that threatens another 100,000 lives, these measures will not be irreversible, and we have a duty to be completely honest with people about the bumpiness of the road ahead. So may I urge the Health Secretary to be as cautious with the language we use as he rightly is with NHS bed capacity?
Mark Harper is one of the few MPs who wants England to open up now. He said:
Before I ask the Secretary of State my question, I should just say—as a former Government Chief Whip, it does not give me any great pleasure to do so—that I wholly associate myself with your remarks earlier, Mr Speaker. This statement should have been made to this House by the Prime Minister before it was made to the media. I hope that we do not see a recurrence of it and I wish you well in your meeting with him.
The Secretary of State has set out that it is not the Government's policy to get to zero covid—indeed, that is not possible. Can he say whether it is the Government's policy to maintain a low prevalence of this virus? If it is not, can he confirm the Prime Minister's sentiments today that 19 July is a terminus date, and can he rule out bringing back restrictions in the autumn and winter when we see an inevitable rise in what is a respiratory virus?
Hancock replied:
Well, it is not inevitable—I do not think it is inevitable. It may happen, but it is not inevitable because we also have the planned booster programme to strengthen further the vaccination response. But it is absolutely clear, based on all the clinical advice that I have seen, that a goal of eradication of this virus is impossible. Indeed, there is one part of this country that tried it for a bit in the summer and found it to be impossible. Therefore, we must learn to live with this virus and we must learn how we can live our normal lives with this virus, so I reflect the Prime Minister's words, which, of course, I concur with entirely, on 19 July. Our goal is to make sure that we get as much vaccination done between now and then—especially those second doses—to make sure that we can open up safely, even if there is a rise in cases, by protecting people from hospitalisation and especially from dying of this awful disease.
Steve Brine was, rightly, unhappy:
Last week, the Secretary of State told me:
"Our goal…is not a covid-free world…the goal is to live with covid".—[Official Report, 7 June 2021; Vol. 696, c. 678.]
Well, you could have fooled me, and many of our constituents. There is dismay out there tonight. The reopening of the wedding industry is not a meaningful reopening and I think it is cruel the way some are being misled. The Prime Minister and my right hon. Friend have been very clear today that 19 July is not a new "not before" date but an end to all this, so will the Secretary of State tell the country his assessment of risk and personal responsibility and whether he feels that as a country we remotely have that right at this time?
Hancock replied (in part):
Once we have the offer of a vaccine to everybody, and once we have protected and mitigated the large part of that risk, we do need to move back to a world based on personal responsibility. That is right, and that is where we intend to go. I think that we have made steps already in that direction in steps 1, 2 and 3. This country is freer than almost any other in Europe in terms of our economy and of our society. That is partly because of the very rapid vaccination effort here, but I hope that my hon. Friend can take from that the direction we intend to go.
Peter Bone made excellent points on the Government's disrespect for the Commons:
I am sure, Mr Speaker, that the Secretary of State for Health heard what you said at the beginning of this statement. May I ask the Secretary of State how we got ourselves into this position? He has been very good at coming to the House and making statements on covid, but on the biggest, most important day, the press were given an embargoed statement at 3 o'clock and the Prime Minister had a big showy press conference at 6, yet he could not be bothered to turn up until 8.30. This is a clear breach of the ministerial code. How did it happen? Who thought it was a good idea, and who actually broke the ministerial code?
Hancock had little to say in response but said he would continue answering questions.
Sir Geoffrey Clifton-Brown asked on what basis the decision to delay was made. Hancock said:
… Central to the judgment today is the fact that we are seeing a rise in hospitalisations, especially over the past week, and especially among those who are unvaccinated or have just had a single jab. Those people are not largely those who are unvaccinated out of choice; it is those who are unvaccinated because they have not yet had the opportunity because they are younger.
Until about a week ago, hospitalisations were basically flat. We thought that the link might have been completely broken between cases and hospitalisations or that it might be a lag. Sadly, hospitalisations then started to rise. For deaths, we have not yet seen that rise, which I am very pleased about; hopefully they will never rise, in which case the future will be much easier. It may still be that there is an element of it that is a lag, and we will be looking out for that very carefully over the couple of weeks ahead, but nevertheless our goal is to get those vaccines done in the five weeks between now and 19 July in order to make sure that this country is safe. I will commit to publishing anything further that we can that underpinned the decision, but I can honestly say to my hon. Friend that most of it is already in the public domain.
The morning after with talkRADIO's Julia Hartley-Brewer and guests
On Tuesday, June 15, Israel ditched its mask mandate:
They vaccinated quicker than the UK, which they could do as a much smaller country:
TalkRADIO's Julia Hartley-Brewer interviewed three interesting guests, whose videos are all worth watching.
Clearly frustrated by this delay, she asked her audience about their mood:
She opened her show with an editorial on selfishness, because many people say that her civil liberties stance is 'selfish'. She turned the tables on her accusers:
She interviewed David Paton, the Professor of Industrial Economics Nottingham University Business School. He has been running his own models and studying the national statistics since the early days of the pandemic last year.
This is his take. He observes that we are doing much better than SAGE models suggest:
He also told Julia that we are doing much better than the SAGE models purport:
Next up was Hugh Osmond, the founder of the Punch Taverns chain. He said that the medical experts wanted to remove all joy from our lives. He also pointed out that hundreds of pubs have closed because of the government's handling of the pandemic and that if the pub summer season is short this year, hundreds more will go to the wall by the end of 2021:
Julia's next guest was Mark Harper MP, chairman of the parliamentary Covid Recovery Group, quoted in the aforementioned Hansard excerpt. I agree with him in that these restrictions might never end:
He cannot understand why the Government is not more positive about the success of the vaccine rollout. He also discussed the negative fear-mongering from the media. Note the reply tweet which is spot on re the G7 get-togethers:
Julia's third guest in her coronavirus segment was barrister Francis Hoar, who has been anti-lockdown from the start:
Before his interview, he reiterated his concern about increased government control via a (Chinese style) social credit system:
He also retweeted the following:
This appears to be a quote from Sir Charles Walker MP (Conservative), who is also against lockdowns:
It is hard to disagree with him as the Government keeps moving the goalposts:
Francis Hoar told Julia Hartley-Brewer that Boris looked as if he had been taken hostage at last night's coronavirus briefing and that he is deeply concerned about the future of young people today because of continuing restrictions. He is very much a supporter of having our personal freedoms restored yesterday:
Conclusion
I really do hope that England reopens on July 19. I wanted the nation to reopen on June 21.
However, if it does not, then it is unlikely to reopen until Spring 2022. That could be June 2022.
My reasoning is as follows. September is the month when schools reopen, so that is a risk factor. Then comes flu season when coronavirus will worsen. The experts and the Government will say that we shouldn't have big Christmas celebrations at home, in the pub or in a restaurant because it's just too risky. Winter is always a bad time for illness, and we don't want to overburden the NHS, so we have to wait until sometime during the springtime.
Therefore, if reopening does not take place on July 21, 2021, then the next possible date is between mid-March (after the Cheltenham Festival, likely to be a 'pilot' event) and June 2022.
I hope I am wrong. I truly do.
Early in March 2020, my far better half and I were optimistic that Prime Minister Boris Johnson, his government and his advisers would not be too proscriptive about coronavirus restrictions.
In the end, they were, but the following timeline shows how quickly their thinking on herd immunity changed.
In light of Dominic Cummings's testimony to the Science and Technology Select Committee on Wednesday, May 26, and his lengthy Twitter thread prepared beforehand (continuing afterwards), I offer a short and a long version of what happened.
Short version
The Government denies that natural herd immunity — catching the virus — was ever government policy.
Yet, here is Sir Patrick Vallance, the UK's chief scientific adviser, at a coronavirus briefing on Thursday, March 12, 2020:
It seems that Cummings might have advised the government to backtrack and deny it was policy, however briefly:
As Cummings said on Wednesday, once he received numbers from an NHS specialist/mathematician who extrapolated scenarios on what could happen, the Government changed tack:
Long version
I haven't missed a single coronavirus briefing since they started in March 2020. As regular readers will know, I have been deep-diving into the pandemic since then.
February 2020
Lessons From The Crisis has an excellent article on how the herd immunity plan unfolded and changed. 'It's bizarre that this needs saying, but *of course* the UK had a Herd Immunity plan' is well worth reading.
It includes a capture of SAGE minutes from February 4, 2020, advocating that policies for influenza be followed. The article summarises this as follows (emphases in the original):
On the 4th of February, at the UK Scientific Advisory Group for Emergencies's fourth Covid meeting, influenza planning, with its assertions that spread was "inevitable"and halting the virus "a waste of resources" was adopted as the official recommendation- tragically this was about ten days before Chinese covid cases peaked, never return to their early 2020 levels …
The scientific consensus presented to ministers was: mass infection of the population was inevitable, a vaccine would not be available in time, so the only choices were about how to manage the mass infection of the population until the country had accumulated enough cases to get to herd immunity …
The alternative being attempted by governments elsewhere, trying to stop the disease from infecting the population, was regarded as folly; the UK government's scientific advisors were certain that countries attempting suppression would fail …
March 2020
In his testimony on Wednesday, Cummings claimed he broke rank with the Government on Wednesday, March 11:
Publicly, however, he was still on board with the Government plan:
Vallance gave his aforementioned briefing on herd immunity on March 12. This is what appeared afterwards:
This is a summary of an interview Vallance gave to Sky News the next day (full video here):
The Independent quoted a BBC interview with him on March 13:
Sir Patrick told the BBC that the advice the government is following for tackling coronavirus is not looking to "suppress" the disease entirely but to help create a "herd immunity in the UK" while protecting the most vulnerable from it.
Asked if there is a fear that clamping down too hard on its spread could see it return, Sir Patrick said: "That is exactly the risk you would expect from previous epidemics.
"If you suppress something very, very hard, when you release those measures it bounces back and it bounces back at the wrong time.
"Our aim is to try and reduce the peak, broaden the peak, not suppress it completely; also, because the vast majority of people get a mild illness, to build up some kind of herd immunity so more people are immune to this disease and we reduce the transmission, at the same time we protect those who are most vulnerable to it.
"Those are the key things we need to do."
That same day, SAGE's Professor John Edmunds also advocated natural herd immunity in this Channel 4 interview:
Nigel Farage was outraged by the policy:
The Lessons From The Crisis article says that the turning point happened almost immediately:
Partly in response to this outrage, the government changed course; Boris Johnson swapped strategies and began locking down the country just 3 days after the herd immunity plan became public, with new priorities built around suppressing the virus with blunt instruments such as lockdowns to buy time for building countermeasures- testing and tracing capacity, vaccines, treatments.
That is not to give Nigel Farage single-handed credit. The media also helped a lot, especially with frequent footage of what was happening in northern Italy at the time.
On Monday, March 16, Prof Neil Ferguson released his (spurious) numbers from Imperial College London, which changed the Government's policy. 
UnHerd reported on it the following day — 'Why the Government changed tack on Covid-19':
The Chief Scientific Adviser, Sir Patrick Vallance, Chief Medical Officer, Professor Chris Whitty, and the government's science adviser Dr David Halpern indicated that the government's strategy was to allow the virus to pass through the population, to allow individuals to "acquire herd immunity" at a delayed speed, while vulnerable groups were "cocooned." This strategy, however, was subsequently contradicted by health secretary Matt Hancock, who insisted that "herd immunity is not our goal or policy".
The quick reversals did not end there, as a ban was announced on mass gatherings just a day after the government's initial claims that it was not the right time for such measures. On Saturday, the government briefed select journalists on "wartime measures" to quarantine the elderly at home or in care homes, away from any contact with the rest of the population; earlier than such measures were expected to be announced.
Finally, it was revealed yesterday afternoon that the Prime Minister had decided to dramatically step up countermeasures, and switch entirely to a strategy of containment as a result of advice from an expert response team at Imperial College London, which concluded that the strategy of delay would likely cause "hundreds of thousands" of avoidable deaths.
The initial plans — to establish herd immunity based on research on social fatigue and assumptions that effective vaccines would not be developed — contradicted the guidance from the World Health Organisation (WHO), and the wealth of evidence in the fields of epidemiology, behavioural science and immunology, so it is unsurprising that countless experts have already questioned and criticised the strategy, including epidemiologists, immunologists, and behavioural scientists.
On Saturday, March 21, Alex Wickham from Buzzfeed summarised a tense and confused week inside No. 10, and the road to lockdown (emphases mine):
While the scientific debate was raging last week between experts, officials, and ministers in face-to-face meetings and over emails and text messages, Johnson's government was publicly insisting that the scientific advice showed the UK did not yet have to bring in more stringent measures to fight the virus.
Political aides tacitly criticised other countries who had taken more dramatic steps, claiming Britain was being "guided by the science" rather than politics.
Towards the end of last week, some ministers and political aides at the top of the government were still arguing that the original strategy of home isolation of suspect cases — but no real restrictions on wider society — was correct, despite almost every other European country taking a much tougher approach, and increasing alarm among SAGE experts.
The thought of months or even a year of social distancing was simply not feasible, some in Johnson's team still thought at that point. They continued to privately defend the controversial "herd immunity" approach outlined to the media by Vallance, even as other aides scrambled to claim the UK had never considered it to be policy.
And there was fury behind the scenes among members of Johnson's team at the likes of Rory Stewart and Jeremy Hunt, who had been publicly saying the government had got it wrong.
But data from Italy — presented to the government before it was published by experts at Imperial College on Monday — changed all that. Their report confirmed the earlier fears of the epidemiologists who had been calling for more drastic action.
On Monday, March 23 — the day Prime Minister Boris Johnson took away every Briton's civil liberties in five minutes by announcing the first lockdown — Byline Times posted a must-read article, 'COVID-19 SPECIAL INVESTIGATION: Part Three — Behavioural Scientists told Government to use "Herd Immunity" to Justify Business-As-Usual'.
SPI-B is our behavioural, or 'nudge', unit and is part of SAGE. Dr David Halpern, a SAGE member, runs the unit. This was allegedly their role in the herd immunity discussions:
A SPI-B document dated 4 March, which rejected the need for school closures, went on to refer to the medical concept of immunity. In a discussion about how the public might be confused about the disparity between the Government's approach of "not applying widescale social isolation at the same time as recommending isolation to at-risk groups", the document acknowledges disagreement within the SPI-B.
The document explains: "One view is that explaining that members of the community are building some immunity will make this acceptable. Another view is that recommending isolation to only one section of society risks causing discontent."
The idea of immunity does not come up elsewhere in the SAGE corpus. But, Professor Chris Whitty, the Government's Chief Medical Advisor, claimed that 20% of the population of Wuhan, China, had contracted the Coronavirus and acquired herd immunity. He believed that this explained why new cases had begun to fall in China. 
This flatly contradicted data from China showing that, by end of January, after the crisis had peaked, just under 95% of the Wuhan population remained uninfected by the virus. This was, therefore, nothing to do with herd immunity, but a result of China's emergency containment response. 
The UK Government, it seemed, had made a gamble: one that Dr Brian Ferguson, Director of Immunology at Cambridge University, described as "not scientifically based and irresponsible" because typically "Coronaviruses don't make long-lasting antibody responses".
Whether or not it was a specific goal of the Government, its network of behavioural science advisors had fielded herd immunity as a way of justifying to the public why the Government was not taking early action – despite having no scientific evidence behind the idea. 
Social media discussions on herd immunity began to appear:
On Tuesday, March 24, Byline Times posted another must-read article, 'The Coronavirus Crisis: Oxford Model Touting "Herd Immunity" was Promoted by PR Agency Tied to Ministry of Defence and Nudge Unit'.
Excerpts follow:
On 24 March, the Financial Times claimed that as much as half of the British population may have already been infected by the novel Coronavirus, according to a new model by Oxford University's Evolutionary Ecology of Infectious Disease group. 
The conclusion, according to the FT's science editor Clive Cookson, suggested that the country "had already acquired substantial herd immunity through the unrecognised spread of COVID-19 over more than two months". If true, this would vindicate the Government's "unofficial herd immunity strategy – allowing controlled spread of infection," he stated.
Although numerous epidemiologists and scientists had questioned the validity of the Oxford model – which had not been peer-reviewed – it was promoted to the press by a PR agency with ties to the Government, raising questions about how and why this model was published and disseminated at this time.
The draft paper, which was originally posted to Dropbox, included a disclaimer noting that its content was "not final" and could be "updated any time". The disclaimer also contained a contact point for journalists: "Contact for press enquiries: Cairbre Sugrue, cairbre@sugruecomms.com."
Dr Lewis Mackenzie, a Biotechnology and Biological Sciences Research Council Discovery Fellow, commented: "Why on earth has this been sent to the media via a third party PR company instead of the Oxford University press team? Seems very irresponsible to encourage reporting on this topic before the scientific community had a chance to comment and peer-review it."
When asked why its own press team did not release the study, Oxford University said: "All Oxford academics have freedom of expression regarding their areas of specialism, including communication through the media. It is therefore not uncommon for academics to make their own arrangements for contacting the press. The university cannot comment on individual arrangements that it is not party to."
Caibre Sugrue is the founding director of Sugrue Communications, a technology PR agency. He is also a non-executive advisory board member of 100%Open, an innovation consultancy – which has worked for several British Government agencies, including the UK Ministry of Defence's Defence, Science and Technology Laboratory (DSTL) and a leading charity which co-owns the Cabinet Office's Behavioural Insights Team (BIT) or 'nudge unit'.
This seems to be the first appearance of Prof Sunetra Gupta, later of The Barrington Declaration (a libertarian approach to coronavirus self-isolation), who works at Oxford University:
The original FT piece had claimed that, if substantial herd immunity had been achieved, restrictions could be removed sooner than expected. The article added: "Although some experts have shed doubt on the strength and length of the human immune response to the virus, Prof Gupta said the emerging evidence made her confident that humanity would build up herd immunity against COVID-19."
I contacted Professor Sun[e]tra Gupta, one of the co-authors of the study, to find out what this emerging evidence is. She did not respond to a request for comment. However, the model was reported worldwide and some commentators in both the US and UK used it to suggest that strong social distancing measures may be unnecessary …
Scientists are divided on the prospects for achieving herd immunity, but most agree that, while achieving it may be possible at some point, it is not clear how long it would last. In any case, whether or not it is achievable, the immediate focus should be on minimising fatalities.
By the end of the month, confusion among journalists reigned:
April 2020
In April, it appeared that dealing with coronavirus was becoming highly complex. Author Ian Leslie tweeted a considered an explanation from a Financial Times reader:
May 2020
Two months later, Sir Patrick Vallance denied that natural herd immunity was ever a plan:
Prof John Edmunds gave Channel 4 another interview, wherein he appeared to backtrack on his previous claims about herd immunity. The first video is from his March interview and the second from May:
I'll have more on the UK's approach to herd immunity next week.