You are currently browsing the tag archive for the 'Christmas' tag.
Queen Elizabeth II had a full diary of engagements, even into her 90s.
Much of this post illustrates how busy she was in December 2019 and February 2020, when she was 93 years old.
First, however, let us go back to 2010, when she was still handing out honours at Buckingham Palace.
Awards ceremony 2010
That year, the Queen awarded a milkman from Melton Mowbray in Leicestershire with an MBE — Member of the British Empire — medal for going beyond the call of duty.
Tony Fowler not only delivered milk and checked in on vulnerable customers but also foiled crimes during his daily deliveries.
On June 10, 2010, The Mail reported:
During his 19 years delivering milk, he has helped officers catch a string of criminals by keeping a look-out for suspicious behaviour, foiling burglaries, drug deals and car thefts. He also befriends the frail and elderly and provides whatever help he can.
'It's very humbling to be here and I regard this MBE as something for all milkmen,' he said, adding: 'I've done everything from helping to save people's lives to getting the lid off a jar of pickles for one of my older customers.'
However, this was no ordinary medal presentation. Tony Fowler insisted on receiving it wearing a cow suit and notified the Palace of his intentions:
Buckingham Palace did have advance warning that Tony Fowler wanted to dress up for the event.
… aides had done their best to dissuade him – and no doubt the Queen assumed he would comply.
Instead, Mr Fowler, 51, merely toned down his outfit slightly.
He relented somewhat and had a customer sew white patches on his suit so that it had a Friesian motif. The article has rather amusing photos. Fowler was pleased as punch.
The Queen smiled, too, in presenting him with his MBE medal (emphases mine below):
Afterwards the milkman insisted that his outfit had gone down well with the monarch, who is a keen farmer.
'She was a bit disappointed it wasn't a Jersey (costume) because that's her own cows at Windsor,' he quipped.
December 2019
2019 was a tumultuous year for Boris Johnson, who became Prime Minister in July that year, having been elected the new Conservative Party leader upon Theresa May's resignation over the Brexit impasse in the House of Commons.
Like his predecessor, Boris did not receive any co-operation, either. As a result, he prorogued — adjourned — Parliament in September that year, a move that the Supreme Court ruled illegal. When Parliament reopened, a State Opening of Parliament had to take place. The Queen dutifully presented her Government's statement of upcoming legislation.
However, Boris still did not receive any further co-operation on Brexit, so he called a general election for Thursday, December 12. Parliament was prorogued once again, and MPs hit the hustings to campaign.
Boris was still PM during that time and attended the reception for NATO leaders at Buckingham Palace on December 3, which the Queen hosted:
The Mail carried a full report, along with photos of a resplendent Melania Trump in a yellow cape and magenta dress with matching high heels.
At one point, the Queen gave Princess Anne a look. It later emerged that the reception was running somewhat late, and the Princess was attempting to keep it to time:
On December 12, the Conservatives won a stonking majority of 80. As it was a new House of Commons, another State Opening of Parliament had to take place.
Once again, the Queen dutifully complied.
Once again, barricades went up around Westminster early the following week on December 18:
The next day, October 19, the State Opening of Parliament took place.
Interestingly, our apolitical Queen wore colours approximating those of the Brexit Party when giving her speech about the Government's upcoming legislation, much the same as before:
No doubt it was just a coincidence.
According to The Guardian's John Crace, attendance from the House of Lords, where the monarch gives the speech, was thin on the ground. Most of the upper house voted Remain in June 2016:
Everywhere you looked in the Lords there were vast expanses of empty seats. Two Queen's speeches in as many months is at least one too many. Especially when the first one was just a political stunt that was never intended to be implemented. This time the peers were voting with their feet. Just 10 Labour lords could be bothered to pull out the ermine and take up their places.
There were rather more Tories, but still not enough to prevent the upper chamber from becoming an echo chamber …
Even the Queen was staging her own dirty protest at having her time wasted. Hell, didn't the government know that the last Thursday before Christmas was the day she traditionally headed off for Sandringham? This time she had given most of her retainers the day off, had dispensed with the state coach in favour of the company Rolls and just pulled on the shabby green coat that had been hanging by the door. Her face never broke from a scowl throughout. She couldn't have made her feelings any more plain.
The last line of the speech is always the best, as the monarch asks for God's guidance upon MPs and the Lords:
That was the last time the Queen participated in the State Opening of Parliament. Prince Charles led the next one.
As scheduled, the next day — December 20 — saw the Queen depart London for Sandringham for the Christmas holidays.
She took a commuter train:
I wonder how many people noticed.
Someone in the know explained that this particular journey by train was customary for the Queen, who had her own compartment:
Sandringham had its own protocol for Christmas holidays. The Queen did not allow unmarried couples, even when engaged, to stay there. When Prince William and Katherine were engaged, the future Duchess of Cambridge had to spend the holidays with the Middletons.
With Prince Harry, that all changed.
On December 23, The Mail reported:
Princess Beatrice has been given permission by the Queen to bring her fiance to Sandringham this year – and they will even accompany her to church on Christmas Day.
In a sign of solidarity with the beleaguered York family, the monarch has extended a coveted invitation to her Norfolk estate to Beatrice's partner, 36-year-old property tycoon Edoardo 'Edo' Mapelli Mozzi.
The gesture is also a sign of how the 93-year-old royal is moving with the times. 
Not so long ago it would have been unthinkable for the sovereign, who is also head of the Church of England, to have unmarried couples staying under her roof.
But, in 2017, convention was relaxed to allow Prince Harry to bring his then-fiancee Meghan Markle to stay at the Queen's estate for the festive season.
It is understood the Queen, like many senior royals, has felt desperately sorry for Beatrice, 31, who announced her engagement in September after a short romance but has seen her happiness overshadowed by the ongoing fallout from her father's friendship with convicted paedophile Jeffrey Epstein and his disastrous interview on BBC2's Newsnight programme.
February 2020
Two events from February 2020 illustrate the wide-ranging type of events the Queen attended.
On February 19, she opened a new dental premises in London, something Meghan Markle probably would have sneered at.
The Mail reported:
The Queen looked in an upbeat mood as she arrived to open the new premises of the Royal National ENT and Eastman Dental Hospital today.
The monarch, 93, cut a vibrant figure in a purple hat embellished with two bobbles, and a matching wool coat. 
Making a perfectly polished appearance, the royal wore her beloved pearl earrings, a touch of red lipstick, and matched her black Launer bag with a pair of low heeled court shoes. 
The Queen's appearance came after an insider claimed the Queen and senior officials have 'agreed' it is no longer tenable for Prince Harry and Meghan Markle to keep the word 'royal' in their 'branding'.
But the royal appeared in high spirits as she arrived in London to open the new dental hospital. 
Disembarking from her chauffeur-driven Rolls Royce, the royal greeted onlookers before being accompanied into the building. 
On February 25, the Queen delivered a top-secret address to MI5 to congratulate them on their efforts in fighting terrorism:
Coronavirus-related addresses
The Mail's Dan Wootton summarised the Queen's Christmas 2020 address, which focused on coronavirus. She had pre-recorded it earlier in the year, as usual, but it was apposite as we were in another lockdown:
Two months later, on February 26, 2021, the Queen told medical officials via Zoom that she was perplexed as to why Britons did not want to get their coronavirus jabs:
That was the point where I began to go off her, although she was still the best monarch we will ever know.
Guido Fawkes gave us this soundbite, part of what she said in the call (emphasis his):
The Queen has spoken out in favour of the jab, describing those refusing the Covid vaccine of failing "to think about other people rather than themselves". Presumably being anti-vaccine is now treason…
Guido was not wrong. The popular MP, Andrew Bridgen, who represents North West Leicestershire, was expelled from the Conservative Party last week for badgering the Government on the dangers of the vaccine and requesting a debate on the upcoming WHO treaty for future epidemics, which, frankly, could be anything.
Christmas 2021
The Queen's final Christmas was marked by an intruder at Windsor Castle on Christmas Day.
Prince Philip had died in April that year, and she never recovered from the loss of her husband, her best friend and confidant.
The Times had the story of the young intruder, hapless and ignorant in his socio-political zealotry. No one wanted to bring about reconciliation more sincerely than the Queen:
The father of a teenager suspected of breaking into Windsor Castle with a crossbow after allegedly vowing to assassinate the Queen in revenge for the Amritsar massacre of 1919 has said: "Something's gone horribly wrong with our son."
Jasbir Chail, 58, said that his son, Jaswant, 19, needed help after being detained under the Mental Health Act accused of scaling the walls of the castle on Christmas Day.
A video posted on social media the morning of the alleged attempt showed a masked figure saying his name was Jaswant Singh Chail, announcing the plot and making Star Wars references.
"I will attempt to assassinate Elizabeth, Queen of the royal family," a distorted voice is heard to say, according to The Sun. "This is revenge for those who have died in the 1919 Jallianwala Bagh massacre" …

Jaswant Chail has undergone a mental health assessment and is in the care of doctors while the police investigate the circumstances of the break-in. He was the fifth person to have breached security at Windsor in the past nine months.
The suspect was seen using a rope ladder to scale a metal fence, according to newspaper reports. The breach happened as the Queen, 95, prepared to greet the Prince of Wales and Duchess of Cornwall for festivities.
The Queen missed the Christmas Day service at St George's Chapel but sources said that it was a health precaution because of the coronavirus. Charles, Camilla, the Earl and Countess of Wessex and their children Lady Louise Windsor, 18, and Viscount Severn, 14, went to the service regardless of the security scare.
The Queen's Christmas speech was a ratings winner. None of us watching could have imagined it would be her last:
More than nine million people watched the Queen's message on Christmas Day, more viewers than for any other programme. The Queen reflected on the impact of the pandemic and a year of personal grief, saying that there was "one familiar laugh missing" after the Duke of Edinburgh died at the age of 99 in April. The speech was shown by the BBC, ITV and Sky …
"Christmas can be hard for those who have lost loved ones," she said in her annual message. "This year, especially, I understand why. In the months since the death of my beloved Philip I have drawn great comfort from the warmth and affection of the many tributes to his life and work. His sense of service, intellectual curiosity and capacity to squeeze fun out of any situation were all irrepressible. That mischievous, inquiring twinkle was as bright at the end as when I first set eyes on him."
The couple are believed to have met in 1939 during a visit by George VI and Queen Elizabeth to the Royal Naval College at Dartmouth, where Philip was an 18-year-old cadet. Princess Elizabeth, 13, was smitten at first sight.
"But life, of course, consists of final partings as well as first meetings," the Queen added, "and, as much as I and my family miss him, I know he would want us to enjoy Christmas. We felt his presence as we, like millions around the world, readied ourselves for Christmas."
The broadcast opened with an excerpt of the Queen's speech in 1997 at Banqueting House, marking her golden wedding anniversary, where she described Philip as "my strength and stay all these years", and included footage of special moments during their marriage.
Interestingly, the broadcast had been pre-recorded just the week before Christmas. Usually, it was several weeks earlier:
Saturday's message, recorded last week, was delivered from the White Drawing Room at Windsor alongside a photograph of the couple marking their diamond wedding anniversary in 2007 at Broadlands, Hampshire, where they had spent their honeymoon in 1947. The Queen wore her sapphire chrysanthemum brooch, which she also wore to mark their diamond anniversary and for a photocall during their honeymoon.
It was a moving address. I missed only one of the Queen's Christmas addresses in the past few decades, and that is because we were out of the country.
More to follow tomorrow.
Yesterday's post on 2 Thessalonians 1:5-10 referenced several of John MacArthur's sermons, one of which was 'The Vengeance of the Lord Jesus, Part 2' from January 19, 1992.
In it, he related a true story about his friend Spencer Nielsen, who was involved in the well-known Nielsen Report, which measures and analyses various types of data to help major corporations market themselves better.
Late in 1991, Nielsen received a complaint about the religious Christmas insert he had included with the December newsletter.
MacArthur takes up the story (emphases mine):
I have a friend, Spencer Nielsen. He writes "The Nielsen Report" … It's a very scholarly and esteemed newsletter, quoted often in The Wall Street Journal and other places. In the December mailing of his newsletter, Spencer included the gospel, as he likes to do around Christmas, to share that with all of these people. In response to that he receives letters. Here is one from an executive of Bell Atlantic, the phone company on the east coast. "Dear Mr. Nielsen, I am writing to voice my displeasure at receiving the religious material insert in my last issue. This is most inappropriate and detracts from the strength of each subject in a stand-alone manner. You should reevaluate this as a business practice. My guess is that most of your readers were put off by it." And the letter is signed.
This, he faxed to me, was his reply and he wanted to know if I thought this was a good reply. "Thank you for your December 30 letter. I was pleased to hear you noticed the Christmas message. Regarding your comment that it was inappropriate to include it in my newsletter, there is no such thing as an inappropriate time to talk about Jesus Christ. Each year I get an equal number of letters and phone calls thanking me or objecting to the Christmas message I send. Negative comments are generally because they consider it offensive. The message of Christ is offensive. Christ was crucified by people who considered Him offensive. He tells us we are all born sinners in need of salvation, that we must be washed clean by His blood, shed on a cross, that no one will get to heaven unless they come to the realization they are powerless to save themselves, that Christ died to redeem them from punishment they can't escape unless they accept Him as their Savior. That's all pretty offensive, but true. Over the centuries His disciples were stoned, beheaded, and tortured for simply confessing their belief in Him. So I consider myself fortunate in this age to be able to speak freely about Him without anyone being able to stop me. I don't mind the criticism as long as it brings anyone who is not saved to the realization it is necessary to make life's most important decision now, before it is too late. Sincerely," and he signs his name.
MacArthur says:
How can anyone who understands where history is going and what the end of it is take any other approach? If we understand that Jesus Christ is coming to deal out retribution to all those who know not God and obey not the gospel of our Lord Jesus Christ and that what awaits them is pain forever in a ruined condition, away from His presence and His glory for all eternity, it would seem to me that nothing could restrain us from compelling people to that realization, offensive or not. And I thank God for the faithfulness of Spencer and others who hold back nothing. God would be offended if we didn't warn the sinner.
2 Thessalonians 1:5-10 has the starkest description of the Second Coming outside of Revelation. Paul wrote it to comfort the Thessalonians who were faithful and loving in spite of persecution. Paul assured them that God would punish their persecutors.
MacArthur gives us insights as to how God will exact His divine retribution, including this description of hell:
Who is going to feel the retribution of God? Those who persecute Christians, who are part of a larger group who do not know God because they do not obey the gospel of the Lord Jesus.
How is this retribution meted out?  Back to verse 6, "After all, it is only just for God to repay with affliction."  That's how, with affliction, pain if you want another word, a synonym, pain.  If you want a good definition of thlibō, this is the term used here. It's used in the New Testament in other places. The best illustration of what it can encompass is in 2 Corinthians 7:5.  Paul says, "We came into Macedonia, our flesh had no rest, no relief, we were afflicted." There's the same word. "On every side," and here he defines it, "conflicts without, fears within, but God who comforts the depressed comforted us."  What is it?  It's affliction.  It's depression.  How is it defined?  Conflict on the outside, fear on the inside. That's why it's the word "pressure," "squeeze."  You're squeezed between the terrors on the outside and the terrors on the inside.  That's the punishment.  God is going to give you pain.  God's going to make you feel that pain, misery.  And that misery and pain with which He will afflict you is further described in verse 9, "And these will pay the penalty of eternal destruction."
Now here we find something that needs our attention: The word "eternal." This pain, this misery, this depression, this affliction is forever.  The word "eternal" is aiōn and it basically means a period of undefined length, age-long. However long the age is, that's how long this is.  The reason it's always translated "eternal" is because it is always associated with eternal things.  Seventy-five times aiōn is used in the New Testament. Out of seventy-five, only three refer to other than an endless duration. Only three times is this word used for other than an endless duration: Romans 16:25; 2 Timothy 1:9; Titus 1:2.  Seventy-two of the seventy-five mean an endless duration.  For example, it is used of God. God is aiōn. He is eternal, Romans 16:26.  In John 3:16 it is used of our time in heaven, or our period in heaven, which is eternal, forever.  Hebrews 5:9 it is used of our salvation, which is forever.  In Hebrews 9:12 of our redemption, which is forever, and on and on for 72 times; it must mean forever.  The coming age has no end, as God has no end, as we have no end, as salvation has no end.  It is not an abbreviated time, it is forever.
How is this vengeance and punishment going to come?  It's going to come as pain, pressure, affliction, conflict in…outside and fear inside crushing the person forever.  He calls it here "destruction," which adds another component, olethros.  The word means "ruin," ruin.  It has the idea not of annihilation, not of being obliterated and put out of existence, but the idea of the loss of all that makes life worth living.  It speaks of somebody who is ruined.  It would be a… It would be a condition perhaps best, most graphically articulated to you as a condition like the physical condition of a dying … patient.  You've seen them, skin and bones lying on a bed with sunken faces and hollow, glassy eyes, unable to move, racked with killing disease, tortured with excruciating agony, and unable to have the strength to even respond.  Only it is that same condition forever, never the relief of death.  You never die. You just experience the uselessness, the hopelessness, the emptiness of a life with no meaning, no value, no worth, no accomplishment, no purpose, no goal, no future, no change, no hope.  You're ruined forever.
The Lord Jesus had some terrifying things to say about this ruined existence.  He said it is an experience of fiery torment.  It is an experience that burns with a furious fire and yet gives no light to impenetrable darkness.  It is an experience of weeping and grinding of teeth in pain and frustration.  Soul and body are both ruined as far as worth and beauty are concerned.  Any vestige of the image of God is gone. Consuming worms eat but never die and are never satisfied.  The fire never goes out.  There is no escape.  And worst of all, there's no second chance.  That's what happens. God pays back and He pays back with pain and He pays back with pain that lasts forever, pain that renders a person absolutely useless, ruined forever.
Then there are two reasons given why this life is so terrible.  One, verse 9: "Away from the presence of the Lord."  Wherever this place is called hell, God isn't there.  There isn't a vestige of His presence there.  In fact, in Luke 16 … in the story … of Lazarus and the rich man, there is a great gulf fixed between the place where the blessed are and the place where the cursed are.  And that gulf separates the cursed from God and all that represents His presence.  Imagine an existence like that.  Imagine an existence in this kind of terrible, ruined, worthless, useless, purposeless, painful, eternal existence where there is no vestige of anything that connects with God. James 1:17, James said, "All good things come from God. All perfect things come from God."  There won't be any of them there, nothing good, nothing meaningful, nothing beautiful, nothing valuable, no joy, no peace, no love, nothing, no pleasure, nothing because God isn't there.  Jesus said it. In Matthew 7:23, He said, "Depart from Me." That's the point, "I don't know you, go out of My presence."  That's what hell is, it's away from the presence of the Lord.  There is nothing of God there, therefore there's no beauty, there's no joy, there's no pleasure, there's no purpose.  God isn't there.  You're gone, banished, exiled from God.
As Leon Morris says, "Those who oppose the things of God here and now are not engaged in some minor error."  This is not a minor error.  There's no fleshly sentiment that can alter the consequences to not knowing God and not obeying the gospel of the Lord Jesus.
Then Paul adds another feature of hell. Not only are they away from the presence of the Lord, but also they're away from the glory of His power.  That's a magnificent reality, you know, the glory of His power.  What does it mean?  It means visible splendor, His majesty, and the display of that majesty in power.  They'll never see that.  They'll never see that.  There will be nothing of the presence of God there. There will be nothing of the power of God there.  Nothing of His presence to comfort, nothing of His presence to give meaning, nothing of His presence to give beauty, pleasure, joy, peace, happiness, nothing of His presence to bring those things that make life worth living, and nothing of His glory and His splendor and His majesty and His power.
Your company?  The devil.  Your company?  His evil angels.  And yet an eternal loneliness.  Jesus is coming and He's bringing retribution.  He's bringing retribution.  Why?  It's just. It is just.  On whom?  Those who persecute Christians who belong to that larger order of people who do not know God because they do not obey the gospel of our Lord Jesus.  And how will the retribution come?  It will come with pain that is eternal that ruins them and they will live forever without any vestige of the presence of the Lord or any display of His glorious power through all eternity.  That's the coming of Jesus Christ.  That's what it means to the people who reject Christ.
Unbelievers will say, 'As I do not believe in God, I don't care about His presence or the loss thereof'.
However, suppose that the realisation of the lack of God's presence becomes crystal clear as one goes to meet Satan and his angels forever. In the first instance, following death, the condemned souls are in torment. After the Second Coming, they are reunited with their body in their second death. With the physical aspect, the torment increases.
There is no rest, mentally or physically.
Unlike cartoon depictions, there is no drinks trolley at 6 p.m. There is no fun, no beauty of any kind, nothing to lift the spirit. There aren't any relationships, either.
It's hard for us to imagine.
In closing, MacArthur reminds us:
John the Baptist didn't come along … and say, "It would certainly be wonderful if you would repent," he said, "Repent, or else."
Don't wait until it's too late.
May Benedict XVI's soul rest in peace with his Lord and Saviour.
Before going into little-known facts about the former Pontiff's life and influences, below are news items about his papacy (April 19, 2005 – February 28, 2013), reflecting his thoughts and attitudes towards Christianity.
World Youth Day 2005
In August 2005, Benedict addressed the young people attending World Youth Day. He hoped for ecumenism, not through plans and programmes, but through a deeper belief in Christ through the gifts of the Holy Spirit:
We cannot "bring about" unity by our powers alone. We can only obtain unity as a gift of the Holy Spirit. Consequently, spiritual ecumenism – prayer, conversion and the sanctification of life – constitute the heart of the ecumenical movement (cf. Unitatis Redintegratio, 8; Ut Unum Sint, 15ff., 21, etc.). It could be said that the best form of ecumenism consists in living in accordance with the Gospel. I see good reason for optimism in the fact that today a kind of "network" of spiritual links is developing between Catholics and Christians from the different Churches and ecclesial Communities: each individual commits himself to prayer, to the examination of his own life, to the purification of memory, to the openness of charity.
Address to young Poles
On May 27, 2006, Benedict addressed Polish youth in Krakow.
His address was excellent. It explored the notion of the family home, which can only exist in a house built upon faith in Christ. The allegories are wonderful:
… Jesus is here with us. He is present among the young people of Poland, speaking to them of a house that will never collapse because it is built on the rock. This is the Gospel that we have just heard (cf. Mt 7:24–27).
My friends, in the heart of every man there is the desire for a house. Even more so in the young person's heart there is a great longing for a proper house, a stable house, one to which he can not only return with joy, but where every guest who arrives can be joyfully welcomed. There is a yearning for a house where the daily bread is love, pardon and understanding. It is a place where the truth is the source out of which flows peace of heart. There is a longing for a house you can be proud of, where you need not be ashamed and where you never fear its loss. These longings are simply the desire for a full, happy and successful life. Do not be afraid of this desire! Do not run away from this desire! Do not be discouraged at the sight of crumbling houses, frustrated desires and faded longings. God the Creator, who inspires in young hearts an immense yearning for happiness, will not abandon you in the difficult construction of the house called life.
My friends, this brings about a question: "How do we build this house?" Without doubt, this is a question that you have already faced many times and that you will face many times more. Every day you must look into your heart and ask: "How do I build that house called life?" Jesus, whose words we just heard in the passage from the evangelist Matthew, encourages us to build on the rock. In fact, it is only in this way that the house will not crumble. But what does it mean to build a house on the rock? Building on the rock means, first of all, to build on Christ and with Christ. Jesus says: "Every one then who hears these words of mine and does them will be like a wise man who built his house upon the rock" (Mt 7:24). These are not just the empty words of some person or another; these are the words of Jesus. We are not listening to any person: we are listening to Jesus. We are not asked to commit to just anything; we are asked to commit ourselves to the words of Jesus.
To build on Christ and with Christ means to build on a foundation that is called "crucified love". It means to build with Someone who, knowing us better than we know ourselves, says to us: "You are precious in my eyes and honoured, and I love you" (Is 43:4). It means to build with Someone, who is always faithful, even when we are lacking in faith, because he cannot deny himself (cf. 2 Tim 2:13). It means to build with Someone who constantly looks down on the wounded heart of man and says: " I do not condemn you, go and do not sin again" (cf. Jn 8:11). It means to build with Someone who, from the Cross, extends his arms and repeats for all eternity: "O man, I give my life for you because I love you." In short, building on Christ means basing all your desires, aspirations, dreams, ambitions and plans on his will. It means saying to yourself, to your family, to your friends, to the whole world and, above all to Christ: "Lord, in life I wish to do nothing against you, because you know what is best for me. Only you have the words of eternal life" (cf. Jn 6:68). My friends, do not be afraid to lean on Christ! Long for Christ, as the foundation of your life! Enkindle within you the desire to build your life on him and for him! Because no one who depends on the crucified love of the Incarnate Word can ever lose …
My friends, what does it mean to build on the rock? Building on the rock also means building on Someone who was rejected. Saint Peter speaks to the faithful of Christ as a "living stone rejected by men but in God's sight chosen and precious" (1 Pet 2:4). The undeniable fact of the election of Jesus by God does not conceal the mystery of evil, whereby man is able to reject Him who has loved to the very end. This rejection of Jesus by man, which Saint Peter mentions, extends throughout human history, even to our own time. One does not need great mental acuity to be aware of the many ways of rejecting Christ, even on our own doorstep …
Dear friends, what does it mean to build on the rock? Building on the rock means being aware that there will be misfortunes. Christ says: "The rain fell and the floods came, and the winds blew and beat upon the house … " (Mt 7:25). These natural phenomena are not only an image of the many misfortunes of the human lot, but they also indicate that such misfortunes are normally to be expected. Christ does not promise that a downpour will never inundate a house under construction, he does not promise that a devastating wave will never sweep away that which is most dear to us, he does not promise that strong winds will never carry away what we have built, sometimes with enormous sacrifice. Christ not only understands man's desire for a lasting house, but he is also fully aware of all that can wreck man's happiness. Do not be surprised therefore by misfortunes, whatever they may be! Do not be discouraged by them! An edifice built on the rock is not the same as a building removed from the forces of nature, which are inscribed in the mystery of man. To have built on rock means being able to count on the knowledge that at difficult times there is a reliable force upon which you can trust.
My friends, allow me to ask again: what does it mean to build on the rock? It means to build wisely. It is not without reason that Jesus compares those who hear his words and put them into practice to a wise man who has built his house on the rock. It is foolish, in fact, to build on sand, when you can do so on rock and therefore have a house that is capable of withstanding every storm. It is foolish to build a house on ground that that does not offer the guarantee of support during the most difficult times. Maybe it is easier to base one's life on the shifting sands of one's own worldview, building a future far from the word of Jesus and sometimes even opposed to it. Be assured that he who builds in this way is not prudent, because he wants to convince himself and others that in his life no storm will rage and no wave will strike his house. To be wise means to know that the solidity of a house depends on the choice of foundation. Do not be afraid to be wise; that is to say, do not be afraid to build on the rock! …
Dear young friends, the fear of failure can at times frustrate even the most beautiful dreams. It can paralyze the will, making one incapable of believing that it is really possible to build a house on the rock. It can convince one that the yearning for such a house is only a childish aspiration and not a plan for life. Together with Jesus, say to this fear: "A house founded on the rock cannot collapse!" Together with Saint Peter say to the temptation to doubt: "He who believes in Christ will not be put to shame!" You are all witnesses to hope, to that hope which is not afraid to build the house of one's own life because it is certain that it can count on the foundation that will never crumble: Jesus Christ our Lord.
No more limbo
On April 20, 2007, the Catholic Church finally did away with the teaching of limbo, where the souls of unbaptised infants notionally went instead of going directly to be with the Lord. Reuters reported:
In a long-awaited document, the Church's International Theological Commission said limbo reflected an "unduly restrictive view of salvation".
The 41-page document was published on Friday by Origins, the documentary service of the U.S.-based Catholic News Service, which is part of the U.S. Conference of Catholic Bishops.
Pope Benedict, himself a top theologian who before his election in 2005 expressed doubts about limbo, authorized the publication of the document, called "The Hope of Salvation for Infants Who Die Without Being Baptised".
The verdict that limbo could now rest in peace had been expected for years. The document was seen as most likely the final word since limbo was never part of Church doctrine, even though it was taught to Catholics well into the 20th century.
Before that declaration, rumours had been circulating that Benedict had opposed the teaching of limbo when he was Prefect of the Congregation for the Doctrine of the Faith and Cardinal Joseph Ratzinger. Tradition in Action has the excerpt from the 1985 book, The Ratzinger Report, further excerpted as follows in his own words:
Limbo was never a defined truth of faith … Baptism has never been a side issue for faith; it is not now, nor will it ever be.
Fear from modernisers about Vatican II
In July 2007, Benedict stated that he wanted Latin Mass — the Tridentine Mass — to be more widely celebrated.
Modernisers — Vatican II supporters — were worried, as the Washington Post reported on July 21:
In making two controversial decisions this month — opening the door to wider celebration of the Latin Mass and asserting the Roman Catholic Church as the one true "church of Christ" — the Vatican insisted that no essential Catholic belief or practice had been changed.
Pope Benedict XVI and other Vatican officials stressed their decisions' coherence with the teachings of the Second Vatican Council, the international assembly that ushered in a series of reforms during the 1960s.
But the pope also made clear his conservative understanding of the council, stressing its continuity with the church's traditions, rather than the innovative and even revolutionary spirit that many believe the council embodied.
Some observers thus view the recent decisions as an effort by Benedict to correct misunderstandings of Vatican II and its teachings — an effort some say could undermine the council's legacy …
On July 7, Benedict issued a papal decree making it easier for priests to celebrate the Tridentine Mass, or Latin Mass, which had been the traditional form of the liturgy until Vatican II made Mass in local languages the norm.
In a letter to bishops accompanying his decree, Benedict dismissed any "fear that the document detracts from the authority of the Second Vatican Council."
Rather, the pope affirmed the "spiritual richness and theological depth" of the Missal — or text that guides the Mass — approved in the council's wake, which "obviously is and continues to be the normal form."
But Benedict also noted that the newer Missal had been widely misunderstood as "authorizing or even requiring creativity, which frequently led to deformations of the liturgy which were hard to bear."
Three days after that decree, the Vatican's Congregation for the Doctrine of the Faith decreed — with Benedict's approval — that the church established by Christ exists in its complete form only in the Catholic church, though other Christian denominations can be "instruments of salvation."
"The Second Vatican Council neither changed nor intended to change this doctrine," the Vatican explained, suggesting that any understanding to the contrary was due to "erroneous interpretation" …
The article explained that Benedict was of the continuity school, which says that both the traditional Mass and the Vatican II version can co-exist:
Interpreters of Vatican II have long been divided between those who stress the continuity of its teachings with traditional Catholic doctrine and those who characterize the council as a dramatic break with the past.
Benedict, who as the Rev. Joseph Ratzinger was deeply involved in the deliberations of the council, is a longstanding member of the continuity school.
2007 Advent address
Benedict gave an address to a general audience at the Vatican on December 19, 2007 about the meaning of Advent and of Christmas.
Excerpts follow, emphases mine:
Dear Brothers and Sisters,
In these days, as we come gradually closer to the great Feast of Christmas, the liturgy impels us to intensify our preparation, placing at our disposal many biblical texts of the Old and New Testaments that encourage us to focus clearly on the meaning and value of this annual feast day.
If, on the one hand, Christmas makes us commemorate the incredible miracle of the birth of the Only-Begotten Son of God from the Virgin Mary in the Bethlehem Grotto, on the other, it also urges us to wait, watching and praying, for our Redeemer himself, who on the last day "will come to judge the living and the dead" …
Each one of the invocations that implores the coming of Wisdom, of the Sun of justice, of the God-with-us, contains a prayer addressed by the people to the One awaited so that he will hasten his coming. However, invoking the gift of the birth of the promised Saviour also means committing ourselves to preparing his way, to having a worthy dwelling-place ready for him, not only in the area that surrounds us but especially within our souls.
Letting ourselves be guided by the Evangelist John, let us seek in these days, therefore, to turn our minds and hearts to the eternal Word, to the Logos, to the Word that was made flesh, from whose fullness we have received grace upon grace (cf. Jn 1: 14, 16).
This faith in the Logos Creator, in the Word who created the world, in the One who came as a Child, this faith and its great hope unfortunately appear today far from the reality of life lived every day, publicly or privately. This truth seems too great.
As for us, we fend for ourselves according to the possibilities we find, or at least this is how it seems. Yet, in this way the world becomes ever more chaotic and even violent; we see it every day. And the light of God, the light of Truth, is extinguished. Life becomes dark and lacks a compass. Thus, how important it is that we really are believers and that as believers we strongly reaffirm, with our lives, the mystery of salvation that brings with it the celebration of Christ's Birth!
In Bethlehem, the Light which brightens our lives was manifested to the world; the way that leads us to the fullness of our humanity was revealed to us. If people do not recognize that God was made man, what is the point of celebrating Christmas? The celebration becomes empty.
We Christians must first reaffirm the truth about the Birth of Christ with deep and heartfelt conviction, in order to witness to all the awareness of an unprecedented gift which is not only a treasure for us but for everyone. From this stems the duty of evangelization which is, precisely, the communication of this "eu-angelion", this "Good News" …
Reconciliation for Vatican II opponents
On January 24, 2009, Benedict reconciled four prominent Vatican II opponents to the Church, reversing a previous excommunication from years before:
In a gesture billed as an "act of peace," but one destined both to fire intra-Catholic debate about the meaning of the Second Vatican Council and to open a new front in Jewish/Catholic tensions, the Vatican today formally lifted a twenty-year-old excommunication imposed on four bishops who broke with Rome in protest over the liberalizing reforms of Vatican II (1962-65).
Ironically, news of the move came just one day before the 50th anniversary of the announcement by Pope John XXIII of his intention to call Vatican II.
The four bishops had been ordained in defiance of the late Pope John Paul II in 1988 by French Archbishop Marcel Lefebvre, whose Priestly Fraternity of St. Pius X clung to the old Latin Mass after Vatican II and also expressed deep reservations about both ecumenism and religious freedom. Lefebvre died in 1991.
The four prelates involved are Bernard Fellay, superior of the Fraternity of St. Pius X; Alfonso de Gallareta; Tissier de Mallerais; and Richard Williamson. Their legitimacy as bishops has never been in question, since under Catholic law, Lefebvre was a legitimately ordained bishop and hence any ordination he performed is considered "valid" but "illicit."
Advice about the 2008 economic crisis
At the end of February 2009, Benedict told Catholic clergy why the economic crisis of 2008 happened. The Cleveland Plain Dealer featured an editorial by Kevin O'Brien:
Pope Benedict XVI is soon to publish an encyclical commenting on the errors that have led the world to the current economic crisis.
In a public address last week to members of the Roman clergy, he tipped his hand, saying the church must denounce "fundamental mistakes that have been shown in the collapse of the great American banks."
He said the current global financial crisis is a result of "human avarice and idolatry that go against the true God and the falsification of the image of God with another god — Mammon."
Accept or reject the theological construction as you will, but few would disagree that human avarice is what started us down the progressively darkening alley that our financial institutions and our government travel today …
Regulations aren't enough. They never will be. What's really needed is something the government cannot compel: morality in the marketplace.
That's the fetter that capitalism needs. Oddly enough, it's the same fetter that government needs …
The solution to the clear problem of immorality in business is not to be found in government. The solution is in ourselves, and in moral standards that our declining culture has worked for 50 years to declare irrelevant.
The culture is wrong about that, but I'll bet the pope gets it right.
The encyclical, Caritas in veritate ("Love in Truth" or "Charity in Truth"), was signed on 29 June 2009 (the Feast of Sts. Peter and Paul) and released on 7 July 2009. The Pope criticised the economic system:
where the pernicious effects of sin are evident
and called for a renewal of personal morality and ethical responsibility.
The Church was always African
On March 19, 2009, Benedict went to Africa to address the Special Council of the Synod for Africa in Yaoundé (another copy here).
He discussed the history of the Church, which has its roots in Africa — not Europe:
Dear Cardinals,
Dear Brother Bishops,
It is with deep joy that I greet all of you here in Africa. A First Special Assembly of the Synod of Bishops was convoked for Africa in 1994 by my venerable predecessor, the Servant of God John Paul II, as a sign of his pastoral solicitude for this continent so rich both in promise and in pressing human, cultural and spiritual needs. This morning I called Africa "the continent of hope". I recall with gratitude the signing of the Post-Synodal Apostolic Exhortation Ecclesia in Africa here at the Apostolic Nunciature fourteen years ago on the Feast of the Exaltation of the Cross, 14 September 1995 …
Dear friends, at the beginning of my address, I consider it important to stress that your continent has been blessed by our Lord Jesus himself. At the dawn of his earthly life, sad circumstances led him to set foot on African soil. God chose your continent to become the dwelling-place of his Son. In Jesus, God drew near to all men and women, of course, but also, in a particular way, to the men and women of Africa. Africa is where the Son of God was weaned, where he was offered effective sanctuary. In Jesus, some two thousand years ago, God himself brought salt and light to Africa. From that time on, the seed of his presence was buried deep within the hearts of this dear continent, and it has blossomed gradually, beyond and within the vicissitudes of its human history. As a result of the coming of Christ who blessed it with his physical presence, Africa has received a particular vocation to know Christ. Let Africans be proud of this! In meditating upon, and in coming to a deeper spiritual and theological appreciation of this first stage of the kenosis, Africa will be able to find the strength needed to face its sometimes difficult daily existence, and thus it will be able to discover immense spaces of faith and hope which will help it to grow in God.
The intimate bond existing between Africa and Christianity from the beginning can be illustrated by recalling some significant moments in the Christian history of this continent.
According to the venerable patristic tradition, the Evangelist Saint Mark, who "handed down in writing the preaching of Peter" (Irenaeus, Adversus Haereses III, I, 1), came to Alexandria to give new life to the seed planted by the Lord. This Evangelist bore witness in Africa to the death of the Son of God on the Cross – the final moment of the kenosis – and of his sovereign exaltation, in order that "every tongue should confess that Jesus Christ is Lord, to the glory of God the Father" (Phil 2:11). The Good News of the coming of the Kingdom of God spread rapidly in North Africa, where it raised up distinguished martyrs and saints, and produced outstanding theologians.
Christianity lasted for almost a millennium in the north-eastern part of your continent, after being put to the test by the vicissitudes of history …
American convert receives sacraments at Vatican
On April 6, 2009, the National Catholic Register reported on a young wife and mother from California who received multiple sacraments from Benedict at the Easter Vigil Mass that year. Hers is a fascinating conversion story, but I have included only the beginning and end:
Heidi Sierras has been selected to represent North America and be baptized, confirmed, and receive first Communion from Pope Benedict XVI at the Easter Vigil in Rome.
Sierras didn't grow up with any particular faith background. Marriage first introduced her to the Catholic Church. Now, after 2 1/2 years of Rite of Christian Initiation of Adults preparation, the Ceres, Calif., mother of four will enter the Church during the Easter Vigil at St. Peter's Basilica in Rome. She recently spoke with Register senior writer Tim Drake about her anticipation for the trip and what led her to the Church …
'It's hard to describe how I feel. I feel very honored and amazed. It's hard to put into words how incredible this will be.
'My husband and two older children (my son, who is 11, and daughter, who is 9) will be traveling to Rome as well, and will receive Communion from the Pope. My daughter was to receive her first Communion in May. They allowed her to receive first Communion beforehand so that she could receive from Pope Benedict, as well.
'In addition, there will be 30 other people from our parish, St. Joseph's Catholic Church in Modesto, Calif., going to Rome, and the priest, as well. Because our priest will be gone for the Easter Vigil, our bishop is coming to our parish to baptize those who are coming into the Church. There will be 35 people coming into the Church. So, in some ways, everyone is going to benefit from us traveling to Rome.'
2009 Easter Vigil sermon
This is Benedict's sermon that Heidi Sierras heard at that Easter Vigil Mass, excerpted below:
During the Easter Vigil, the Church points out the significance of this day principally through three symbols:  light, water, and the new song – the Alleluia …
At the Easter Vigil, the Church represents the mystery of the light of Christ in the sign of the Paschal candle, whose flame is both light and heat.  The symbolism of light is connected with that of fire: radiance and heat, radiance and the transforming energy contained in the fire – truth and love go together.  The Paschal candle burns, and is thereby consumed:  Cross and resurrection are inseparable.  From the Cross, from the Son's self-giving, light is born, true radiance comes into the world.  From the Paschal candle we all light our own candles, especially the newly baptized, for whom the light of Christ enters deeply into their hearts in this Sacrament.  The early Church described Baptism as fotismos, as the Sacrament of illumination, as a communication of light, and linked it inseparably with the resurrection of Christ.  In Baptism, God says to the candidate:  "Let there be light!"  The candidate is brought into the light of Christ.  Christ now divides the light from the darkness.  In him we recognize what is true and what is false, what is radiance and what is darkness.  With him, there wells up within us the light of truth, and we begin to understand.  On one occasion when Christ looked upon the people who had come to listen to him, seeking some guidance from him, he felt compassion for them, because they were like sheep without a shepherd (cf. Mk 6:34).  Amid the contradictory messages of that time, they did not know which way to turn.  What great compassion he must feel in our own time too – on account of all the endless talk that people hide behind, while in reality they are totally confused.  Where must we go?  What are the values by which we can order our lives?  The values by which we can educate our young, without giving them norms they may be unable to resist, or demanding of them things that perhaps should not be imposed upon them?  He is the Light.  The baptismal candle is the symbol of enlightenment that is given to us in Baptism.  Thus at this hour, Saint Paul speaks to us with great immediacy.  In the Letter to the Philippians, he says that, in the midst of a crooked and perverse generation, Christians should shine as lights in the world (cf. Phil 2:15).  Let us pray to the Lord that the fragile flame of the candle he has lit in us, the delicate light of his word and his love amid the confusions of this age, will not be extinguished in us, but will become ever stronger and brighter, so that we, with him, can be people of the day, bright stars lighting up our time.
The second symbol of the Easter Vigil – the night of Baptism – is water.  It appears in Sacred Scripture, and hence also in the inner structure of the Sacrament of Baptism, with two opposed meanings.  On the one hand there is the sea, which appears as a force antagonistic to life on earth, continually threatening it; yet God has placed a limit upon it.  Hence the book of Revelation says that in God's new world, the sea will be no more (cf. 21:1).  It is the element of death.  And so it becomes the symbolic representation of Jesus' death on the Cross:  Christ descended into the sea, into the waters of death, as Israel did into the Red Sea.  Having risen from death, he gives us life.  This means that Baptism is not only a cleansing, but a new birth:  with Christ we, as it were, descend into the sea of death, so as to rise up again as new creatures.
The other way in which we encounter water is in the form of the fresh spring that gives life, or the great river from which life comes forth.  According to the earliest practice of the Church, Baptism had to be administered with water from a fresh spring.  Without water there is no life.  It is striking how much importance is attached to wells in Sacred Scripture.  They are places from which life rises forth.  Beside Jacob's well, Christ spoke to the Samaritan woman of the new well, the water of true life.  He reveals himself to her as the new, definitive Jacob, who opens up for humanity the well that is awaited: the inexhaustible source of life-giving water (cf. Jn 4:5-15).  Saint John tells us that a soldier with a lance struck the side of Jesus, and from his open side – from his pierced heart – there came out blood and water (cf. Jn 19:34).  The early Church saw in this a symbol of Baptism and Eucharist flowing from the pierced heart of Jesus.  In his death, Jesus himself became the spring.  The prophet Ezekiel saw a vision of the new Temple from which a spring issues forth that becomes a great life-giving river (cf. Ezek 47:1-12).  In a land which constantly suffered from drought and water shortage, this was a great vision of hope.  Nascent Christianity understood:  in Christ, this vision was fulfilled.  He is the true, living Temple of God.  He is the spring of living water.  From him, the great river pours forth, which in Baptism renews the world and makes it fruitful;  the great river of living water, his Gospel which makes the earth fertile.  In a discourse during the Feast of Tabernacles, though, Jesus prophesied something still greater:  "Whoever believes in me … out of his heart shall flow rivers of living water" (Jn 7:38).  In Baptism, the Lord makes us not only persons of light, but also sources from which living water bursts forth.  We all know people like that, who leave us somehow refreshed and renewed; people who are like a fountain of fresh spring water  …  Let us ask the Lord, who has given us the grace of Baptism, for the gift always to be sources of pure, fresh water, bubbling up from the fountain of his truth and his love!
The third great symbol of the Easter Vigil is something rather different;  it has to do with man himself.  It is the singing of the new song – the alleluia.  When a person experiences great joy, he cannot keep it to himself.  He has to express it, to pass it on.  But what happens when a person is touched by the light of the resurrection, and thus comes into contact with Life itself, with Truth and Love?  He cannot merely speak about it.  Speech is no longer adequate.  He has to sing.  The first reference to singing in the Bible comes after the crossing of the Red Sea.  Israel has risen out of slavery.  It has climbed up from the threatening depths of the sea.  It is as it were reborn.  It lives and it is free.  The Bible describes the people's reaction to this great event of salvation with the verse:  "The people … believed in the Lord and in Moses his servant" (Ex 14:31).  Then comes the second reaction which, with a kind of inner necessity, follows from the first one:  "Then Moses and the Israelites sang this song to the Lord …"  At the Easter Vigil, year after year, we Christians intone this song after the third reading, we sing it as our song, because we too, through God's power, have been drawn forth from the water and liberated for true life.

Catholicism 'a positive option'
In April 2009, Benedict said that the Catholic Church was 'a positive option':
"Christianity, Catholicism, is not a collection of prohibitions," the Pope said. "It is a positive option.
"It is very important that we look at it again because this idea has almost completely disappeared today.
"We have heard so much about what is not allowed that now it is time to say: we have a positive idea to offer."

2009 survey from the US
Benedict visited the United States in 2008.
On May 17, 2009, a poll of Americans' views of the then-Pope and moral issues was published. Despite the constant negative media coverage of his trip the previous year, a Knights of Columbus-Marist College survey showed that Americans in general and Catholics in particular had a positive view of Benedict.
By a nearly 3:1 margin — 4:1 among Catholics — Benedict was seen as being 'good for the Church'. Americans were eager to hear him speak on not only moral issues but also, and more importantly, his message of hope and love in Jesus Christ as Saviour.
Margaret Thatcher's 2009 visit
On May 27, 2009, former Prime Minister Margaret Thatcher visited the Vatican:
Margaret Thatcher met Pope Benedict XVI at the end of his weekly general audience today.
The 83-year-old former British prime minister, who led the country from 1979 to 1990, had earlier in the day laid flowers at the tomb of John Paul II.
An Anglican, it was Baroness Thatcher's second visit to the Vatican in less than two years, leading some to speculate whether she is thinking of joining the Church. During her previous trip, she also visited John Paul II's tomb to pay her respects. According to those who were with her at that time, she made it clear in her characteristically loud voice that it was thanks to John Paul that Soviet communism was brought down. 
Baroness Thatcher also met Paul VI back in June 1977.
Call to laity
On May 28, 2009, Benedict issued an appeal to Catholic laity for ministry:
The Pope called on the laity to become more aware of their role when he inaugurated Tuesday an ecclesial conference for the Diocese of Rome on "Church Membership and Pastoral Co-responsibility." The conference is under way through Friday.
"There should be a renewed becoming aware of our being Church and of the pastoral co-responsibility that, in the name of Christ, all of us are called to carry out …"
John Cardinal Newman beatified
On July 2, 2009, Benedict XVI announced that John Cardinal Newman would be beatified:
Cardinal Newman, the Anglican vicar who shocked Victorian Britain by converting to Roman Catholicism, is a step closer to becoming the first English saint for 40 years …
It follows the recognition by the Vatican of the healing of an American man with a severe spinal condition as a miracle which came about as a result of praying to the Cardinal.
A second miracle is needed to recognise Newman as a saint.
The beatification took place on September 19, 2010, during Benedict's visit to the UK.
A second miracle took place, and Pope Francis canonised John Henry Newman on October 13, 2019, in St Peter's Square. His feast day is on October 9 in the Catholic Church and on August 11, the day of his death, in the Anglican Church.
The Taliban warn Benedict
On July 5, 2009, the Taliban sent a warning to Pope Benedict:
The Taliban on Thursday threatened "harsh reprisals" if Pope Benedict XVI does not immediately intervene to stop Christians proselytising in Afghanistan.
In a message posted on their official website, the Taliban made the threat against the pope and Christians for spreading their faith.
The message followed video footage aired on Arabic satellite TV channel Al-Jazeera earlier this week apparently showing Christian soldiers proselytising outside the Afghan capital, Kabul, and handing out copies of the bible in Pashtun.
'One of the brightest Popes in history'
On September 25, 2009, a long-time Vatican spokesman gave his views on Benedict XVI:
Joaquin Navarro-Valls, who was the Vatican's official spokesman for 22 years, said in an interview that the Church currently has one of the brightest popes in history, and that one of the most unique aspects of Benedict XVI is his confidence in the rationality of individuals.
Navarro-Valls, who worked for almost two years with Benedict XVI, was interviewed by the Spanish daily El Mundo about his work at the Vatican and some aspects of the two Popes he served under.
Speaking about Benedict XVI, he said he considers him "the Pope with the largest and most brilliant personal bibliography in all of Church history. His conceptual wealth is fascinating. And I think people also outside the Catholic circles are aware of it. "
The former Vatican spokesman does not believe that the Holy Father is a cold person. "I would say the opposite. The manner in which he is moved—which is more frequent than believed—is to not react passionately in response to things," he said.
He also found that the most unique aspect of his Pontificate is his "confidence in the rationality of people, in their ability to seek the truth," and the great obstacle he faces is, "as he himself said a few days before he was elected pope, the dictatorship of relativism."
An Anglican take on Benedict
In October 2009, the Anglican Centrist took issue with Benedict's papacy. What seems to have rankled in particular was his creation of personal ordinariates which saw Anglican priests accepted into the Catholic Church:
The pope's decision to allow the Tridentine mass and the reinstatement of the leading figures of anti-Vatican II Roman Catholicism back into the fold may also be seen to be theologically and ecclesiologically connected to his decision to receive disgruntled Anglican clergy and laity into the Roman Catholic Church via the creation of personal ordinariates. The connection consists of Benedict's long-held antipathy for the conciliar/collegial vision of authority pointed to by Vatican II — and his long-held preference for the supremacy of papal authority. Benedict is the chief architect of the re-emphasis of central papal authority.
The debate between Cardinal Kasper and then Cardinal Ratzinger over the relationship between local and universal church — between local bishop and pope — which occurred some ten years ago — has clearly been decided in the election of Ratzinger to the throne. He is simply enforcing his top-down, centralized model of imperial authority for the papacy that Kasper and Vatican II opposed.
French support for Benedict's investigation into paedophilia scandals
On March 31, 2010, a varied group of French men and women signed a letter, 'Call to Truth', which supported Benedict's investigation into scandals involving priests and minors.
One would have thought that the media would have been relieved that a Pope wanted to investigate the scandals. Instead, they excoriated him for so doing.
Andrew Cusack reproduced the letter in English, available at the link, and introduced it as follows:
A number of prominent French men & women have written a 'call to truth' supporting Pope Benedict XVI in the current media storm and pedophilia scandal. As the Appeal's about page says, Pope Benedict XVI "is the first pope to address head-on, without compromise, the problem. Paradoxically, he is the subject of undermining and personal attacks, attacks relayed with a certain complacency on the part of the press".
The list of original signatories includes writers, essayists, literary critics, bloggers, professors, philosophers, businessmen, senators, members of parliament, mayors, publishers, actors, a Protestant minister, a Fields medal winner, and even a sexologist.
I will have more on Benedict XVI's papacy tomorrow. He was a holy man and very wise. I will never understand how and why the media despised him to the extent that they did.
December 26 in the UK and parts of the Commonwealth is Boxing Day.
The day, however, is the feast day of St Stephen, our first martyr, whose story is told in Acts 6 and 7:
The next posts have more about St Stephen's Day and Boxing Day:
December 26 — St Stephen's Day, Boxing Day and more (the money box, details on St Stephen and Good King Wenceslas (2017)
Here is a reminder that the Christmas season is not one day, but 12, as celebrated in the Church:
The Christmas season is 12 days long (2021, GB News)
GB News has done a spectacular job in discussing Christmas on its programmes, especially the Revd Calvin Robinson's hour-long special, A Message of Hope, filmed at the Brompton Oratory this year. For the second year running, Robinson has explored the Christian faith in light of the Christ Child. This video includes excellent carol renditions:
Highlights follow.
This is part of the Anglican deacon's introduction on the meaning of Christmas, which is one of hope and the greatest story ever told:
In these days, especially when Christianity is on a downward trend in the West, it is more important than ever that those of us who live in the developed world spread the Good News so that people really understand what Jesus came to earth to accomplish. Doctor Gavin Ashenden, now a Catholic, but formerly an Anglican priest and one of the late Queen's chaplains, explains more:
Ashenden told Neil Oliver on Christmas Eve that it is regrettable that Christianity, based on non-violence, is seen as such an easy touch for secularists:
Nonetheless, the message of Christianity's forgiveness and redemption still gets through. The Most Revd Robert Barron, a Catholic bishop from the United States, told Calvin Robinson how actor Shia LaBoeuf converted to Christianity. For him, knowing that God forgave his sins was a huge factor. The bishop gives a great summary of the effectual call. He says that God pursues and pursues those whom He has chosen, regardless of how awful our past trespasses were:
Religious Studies professor Dr John Milbank gave a lovely apologetic for Father Christmas, inspired by St Nicholas of Myra, a bishop, who gave anonymous gifts that saved people's lives. By giving gifts of gold to three young women's families, St Nicholas saved them from a life of prostitution. Milbank says it is good for young children to believe in Father Christmas and anonymous gifts. As they get older, he says, the belief in God's gifts of grace from heaven is an easier concept to appreciate and makes more sense to them:
One of the fascinating things about GB News's programmes over the past few days is the universality of Christmas celebrations in the UK. We are living proof that one does not need to be Christian in order to enjoy Christmas. I'm not talking about secularists but those of other faiths.
I have heard a Sikh, a Hindu — and now a Muslim — discuss how they celebrate Christmas. This imam, whose wife is from a non-Muslim background, says that their sons go to his in-laws' house on December 25. On Eid, his parents invite them over to celebrate that feast. This interview took place on the Christmas Day morning show. He said that, afterwards, he would be going to his in-laws for the day:
Neil Oliver also had a good editorial on his show about the meaning of Christmas. He began by discussing the Penlee Disaster, a 1981 shipwreck that took place near Mousehole, Cornwall. He described the selflessness of the men from Mousehole who rushed to the ship to rescue those on board. He then explored this selflessness in light of the Nativity story. He ended with a socio-political commentary:
An excerpt from his editorial follows (emphases mine):
I think about the Penlee lifeboatmen every year at this time. They say Greater love hath no man than this, but that he lay down his life for his friends. I say there is a greater love, and that it was revealed in the willingness of those eight Mousehole men who were ready to lay down their lives for people they had never met and would never know.
I often remind myself of the Penlee lifeboatmen, in fact, throughout the year – and I think about selfless acts of courage that declare in the strongest possible terms what it truly means to be human and alive. I think about what people are capable of, how much they have to give … and how much some of them WILL give. The Penlee lifeboatmen gave everything they had.
At Christmas we think about the birth of a child – Jesus Christ. He is God's gift to the world. Every child is a gift precious beyond description. It is also an act of immeasurable bravery by every woman who bears a child – because every child is, she knows, at the mercy of the world and every mother must understand, without needing to think about it, that her child is ultimately surrendered to life itself.
Mary gave birth to Jesus – the son of God – and even she would not be spared the ultimate loss. All our lives are forfeit – a debt that must be repaid, willingly or unwillingly.
Christmas is the time to think about all this – to think about what it means to give – and to acknowledge the meaning of the gift of the child … of every child.
The selfless courage of the Penlee lifeboatmen and the message of the Christmas story can be the antidote to much of the madness that is all around us now. It is a time to remember what we have, to value our loved ones and be thankful they are with us.
Rather than our hollow, spineless leaders, it is the courage and sacrifice of our fellow citizens that should capture and hold our attention, and not just now but all through the year.
It often feels like we are supposed to be focus all our attention on those who are not worthy. Those whose faces we see every day, the politicians in parliament, the leaders around the world, their preferred experts … whose names we hear over and over – they have nothing to give that is of any use to us now, that much as been made painfully obvious in recent years. I have long since stopped paying them any attention at all. Instead I look for heroes elsewhere.
We are supposed to believe our leaders mean to rescue us – from whatever Covid was, from the warmongers, from climate change, from the cost of lockdown crisis – but they had, and have, no such intentions as far as I can see. If they have plans to make anything better, it is certainly not our lives, or the lives of our children.
There is no cavalry coming to rescue us. If we are to be saved – and we surely will be – then we must look to one another for the necessary effort. We are more than capable of the task. We must save ourselves and each other by setting aside old broken ways, and finding new.
We should turn away from those who have failed us, lied to us, deceived us and left us to our fates and see that it is time to take the initiative, to shape and build something new, something untouched by those who have betrayed us and let us down.
Just because the help and leadership we need is not yet clearly in view … the seeds of it are there among us already, nonetheless. We must come to our own rescue in the year and years ahead because there's no one else.
The Christmas story tells us that 2000 and more years ago, a baby boy was born into poverty and into obscurity. During the 33 years of the life of the man he became, he was recognised for what he really was, his true value, by relatively few. He died as he had lived, in obscurity. He was executed for standing up to, and challenging, the establishment, but by his actions the world was changed for ever, for the better.
Sometimes the most obvious people change the world. At other times, it's the people the world does not notice, that the world thinks nothing of and so ignores, who end up making all the difference.
I hope and also trust that this is one of those times. I have no faith in the obvious, loud people with their hands on the levers of power. We will be saved by our own actions in defiance of those who care for us not a jot and who prioritise only those they serve – which is to say the already rich and the already powerful, the banks, the markets and the global corporations. I say we should ignore the whole lot of them.
Heres's the thing: together, right now, we already have everything we will ever need, which is to say each other. We can share food and warmth and light.
We are free people. It's Christmas and the Christmas message is that hope is here. Light in the dark.
Merry Christmas.
Incidentally, in 2022, December 25 is the seventh and final day of Hanukkah, which GB News also explored. It isn't often when these two religious feasts coincide:
Moving away from GB News, the Revd Giles Fraser, the vicar of St Anne's in Kew, west London, wrote an excellent editorial for The Telegraph. The paper has also included a list of religious belief in every county of England and Wales. Find out if yours is still Christian.
Of Christianity's influence on Western society, Fraser says:
So what, people may ask? Christianity has had its day. But, actually, Judeo-Christian assumptions have underpinned every aspect of life in the West for roughly the past thousand years, shaping the way we think about everything – from art to law, morality to freedom. Our constitution makes no sense without it; our intellectual traditions are incomprehensible without it; even the very idea of the secular is a Christian idea. 
It doesn't matter if you are a fully paid-up believer or not; it doesn't even matter if you dislike religion and consider yourself an atheist – if you are European, you probably still have a broadly Christian imagination. 
But, just like the fish who ask "What is water?" in David Foster Wallace's famous commencement address at his old college in 2005, some things can be so ubiquitous as to be almost invisible. We think in a Christian way even if we have abandoned any sort of specific belief. The very idea of human rights, for instance, is a classic example of a Christian perspective that has been secularised … 
… Indeed, the very act of cultural self-criticism that drives secularism is itself a Christian speciality. There is no more robustly self-critical book than the New Testament. The pious and priestly class are subjected to constant critique for their lack of understanding. The parable of the Good Samaritan is not just an encouragement to look after the vulnerable and stranded, it is a subversive dig at the failure of those who should have been first to help. The Samaritan is the New Testament's representative "other", disliked for being culturally and theologically different. To make a Samaritan the hero of the story is a withering critique of the established religious order. 
The Reformation was a perfect example of this permanent revolution from below – a religious self-critique that, to its proponents, attacked abuses of heteronomous power and relocated learning and authority to the people in the pews, spreading literacy to the ploughboy and fiery encouragement to the dispossessed.
Within education, family life, capitalism, pop music, the welfare state, no area of our common life has been untouched by these cycles of Christian renewal. Christian influence on Western culture cannot be simply measured by the number of virgins on display in the National Gallery, or the fact that you can't even begin to understand European literature without having first read the Bible.  
Nowhere will this be more evident than when King Charles is crowned next year. The Coronation is an inherently Christian ceremony. He will be anointed with oil in the same way that King David from Bethlehem was a thousand years before the first Christmas. Monarchy remains a religious business or it is nothing. The birth of the new king of Bethlehem, the king of kings, redefines monarchy as stripped of its power and glamour. Born in a shed with cattle as courtiers, this is authority without the armies. 
As the historian Tom Holland has argued in his brilliant exploration, Dominion, the story of the Christian engagement with the Roman empire is one of a clash of diametrically opposed systems. What attracted the young Holland to the Romans was all their glamour and cruelty. With Christianity, the weak triumph over the strong. The cross that was used by the Romans as an instrument of public humiliation turned into a universal symbol of human liberation. Which is why it will be the king who was crowned with thorns that will preside over the Coronation, not the history book king of the Roman eagle.
… I can only reflect that the story of God divesting himself of his celestial authority and coming amongst us as a vulnerable child has proved remarkably resilient, despite being banned, dismissed and ignored. 
And as the church places a small plaster representation of the baby into a pile of straw, hope is renewed. It is not hope as optimism, but hope as defiance: at the darkest time of the year, the light comes into the dark and the dark does not overcome it. No, we are not done yet. 
… Christmas is not about our love for Him but His love for us. And for that, Alleluia. Glory to the new born king. Happy Christmas.
Even though the UK is now a non-Christian country, according to the latest census, Christmas 2022 brought much considered thought from those who do acknowledge and believe that Jesus Christ is our Saviour and Redeemer.
Forbidden Bible Verses will appear tomorrow.
May I wish all my readers a very happy Christmas!
This is 'The Adoration of the Shepherds' by Anton Raphael Mengs (1728 – 1779).  He was a Protestant from Bohemia who later became a Catholic.  In 1754, he was appointed Director of the Vatican school of painting.  You can read more about his life here.
Christmas readings and exegeses
These posts of mine explore today's Lectionary readings as well as the Gospel and Epistle:
Readings for Christmas Day — Proper III (John 1:1-14)
Christmas Day — John 1:1-14 (with commentary from Matthew Poole)
Christmas Day: exegesis on the Epistle, Hebrews 1:1-12
Further reflections
The following posts explore our Saviour's birth further:
The Christmas story in Matthew's Gospel (hermeneutics)
The Christmas story in Luke's Gospel (hermeneutics)
Migdal Eder: the shepherds provide a biblical key to unlocking the Christmas story (Luke's Gospel, Micah, Genesis; Carl H Bloch's painting The Shepherds and The Angel, oil on copper, 1879)
And light shone into the darkness (Gospels of Matthew and John)
Compliments of the season to all my readers! (features Dr Paul Copan on the manger scene)
A Lutheran defence of Nativity scenes and crucifixes
Martin Luther on the birth of Jesus
Secular worries
Most of us get anxious at Christmas.
A 2022 survey by the British supermarket chain Tesco revealed the top 50 worries surrounding the season.
On November 22, Metro published the full list and this summary:
From keeping glasses topped up, to making sure everyone has a chair around the dinner table, Christmas Day can be fraught with issues.
And now, the nation has spoken and officially ranked the hardest things to master on the biggest day of the year.
Claiming the top spot was working out what to buy awkward family members, closely followed by wrapping awkward shaped objects, and getting the timings of Christmas dinner spot-on.
Special mention goes to the 11% who said making sprouts taste nice was the biggest festive challenge, and the 12% who struggled the most with faking enthusiasm for gifts. We've all been there.
Food woes featured several times on the list, with making sure the turkey isn't too dry, making good gravy, and producing perfect roasties all getting mentioned.
It seems Brits also struggle with spending time with certain family members, as people said it was hard not to put their foot in it with the in-laws and to not appear bored when talking to relatives.
Just remember: it's only one day. That will help to keep things in perspective.
Learn from previous Christmases: what can be prepared earlier or differently to cut down on stress? Why not cook the vegetables one day earlier and reheat them on the 25th?
In any event, have a wonderful day, come what may.
May God bless you all!
It's hard to know where to begin with this year's Christmas news, much of which is disappointing, to say the least.
That said, there is a bright Christmas message here, so please read on.
Scotland legislation latest
On Thursday, December 22, the Scottish Parliament — or Assembly, as I still call it — passed legislation for Gender Recognition Reform, specifically to grant Gender Recognition Certificates (GRCs).
The bill passed in the SNP-controlled government 86-39 with no abstentions. Only two Conservative MSPs voted for it. The rest were SNP (Scottish National Party), Scottish Greens (SNP coalition partners), Scottish Labour and Scottish Liberal Democrat MSPs.
The final contributions were largely made on the basis of feelings. Wednesday's transcript shows that every Conservative motion proposing greater controls over who can apply for a GRC and under what conditions was defeated. Debate had also taken place on Tuesday in an attempt to rush this through before Christmas break.
The Scottish Parliament thought this so important that it even cancelled their annual Christmas carol service, which, this year, was to feature Ukrainian refugees living just outside of Edinburgh.
A pro-independence — though not a pro-SNP — Scot who lives in England, the Revd Stuart Campbell, summed up the legislation in one of his Wings Over Scotland posts, 'On the hush-hush' (emphases mine):
The last few days have been perhaps the most turbulent in the entire history of the modern Scottish Parliament. Proceedings have been suspended repeatedly, members of the public thrown out and threatened with arrest, filibusters attempted, carol services cancelled, tempers frayed and sittings going on until the wee small hours.
All of this has happened in the service of the policy that the SNP has made its flagship priority for the last two years and more – the destruction not only of women's rights, but of the very CONCEPT of a woman …
So you'd imagine the party would have been tweeting about it constantly, keeping its supporters informed about all the dramatic events and the progress of the bill, if only to reassure them that they were determined to get it passed before the Christmas break come what may …
But there wasn't one solitary word about the thing it just spent three solid days forcing into law. And since it was a thing that most of its own voters, and indeed a huge majority of all Scots, were opposed to, readers might be forgiven for thinking that they just wanted it all kept as quiet as possible, as if they were ashamed.
We suspect, and very much hope, that their wish may not be granted.
The Revd Mr Campbell means that the Secretary of State for Scotland in Westminster might refuse to present the Bill for King's Assent. Let's hope so.
Another Wings over Scotland post explains what the Bill actually does:
… one of the most regressive, dangerous and frankly absurd pieces of legislation the modern world has ever seen. Last week, [First Minister Nicola Sturgeon's] government successfully managed to get the word 'woman' redefined from an adult human female to anyone to who has a piece of paper that says they are one.
Should obtaining this piece of paper involve a rigorous, measured process that takes psychological and criminal history into serious consideration and prioritises the safety of women and children, this would be permissible to the socially liberal. Alas though, the new GRA has shamelessly scrapped all safeguarding measures. For a man to legally become a woman now – and be entitled to access all female-only facilities, be it changing rooms or prisons, all he has to do is 'live as' a woman (whatever the hell that means) for three months followed by a three-month 'reflection period'.
TRA-adjacent politicians have nowhere to hide with this now. They can no longer deny that sex-based rights will be grievously compromised and that predators and fetishists now have ease of access to women (and children's) spaces, from bathrooms to sports teams.
In another post, Campbell linked to Tuesday's proceedings where a Conservative MSP tried to raise an amendment calling for greater scrutiny of sex offenders wishing to change gender. Unfortunately, 64 SNP/Green/Lib Dem MSPs voted it down. In 'The Disgraces of Scotland', Campbell wrote:
The events marked simply and unquestionably the most shameful and contemptible moment in the history of the Scottish Parliament since 1707.
1707 was the year when the Act of Union was established between England and Scotland.
He also pointed out that voting down the amendment resulted in:
ceding the moral high ground to the Scottish Conservatives …
Anyone who knows the Scots knows that anything Conservative is unpopular there. That said, the Scottish Conservatives are the official opposition party in Edinburgh.
It should be noted that anyone aged 16 1/2 and over can apply for a GRC. It would appear that no formal medical diagnosis will be required with this new legislation.
Campbell's readers have much to say on the matter. Some say this is a deleterious influence from American pressure groups. Others say that women will be in great danger.
Both are likely possibilities.
None of the MSPs supporting the Bill thinks that women will have any problem with sex offenders or deviants. However, a British substack begs to differ. 'This Never Happens' is a lengthy catalogue of gender-changers around the world who have committed horrific crimes, many of a sexual nature. Another site with a similar catalogue can be found here.
It is ironic that a woman is in charge of Scotland and she has overseen this legislation. In fact, she has supported it from beginning to end.
Scotland, like Canada, was such a beautiful country once upon a time. When I say 'beautiful', I'm referring to people. Another spirit — the devil — is moving through both nations.
One positive outcome is that the Scottish Conservatives can use this legislation to their advantage during the next election cycle. Unlike the SNP, Scottish Labour and Scottish Lib Dems, they alone voted en masse against it, showing that they are the true defenders of women and girls.
An UnHerd columnist, Joan Smith, says that this will come soon to England, should Labour win the next general election:
The man sitting next to you on a tram in Edinburgh, or turning up for a women-only swimming session, may self-identify as a woman — and the law will support him every step of the way. Centuries-old assumptions about what is real, about what people see in front of them, are being overturned. And it's coming to Westminster as well, if Sir Keir Starmer follows through on his proposal to 'update' the 2004 Gender Recognition Act.
We have less than two years before a Labour government comes to power, weighed down by promises to import the idiocy (I'm being polite here) of self-ID to the rest of the UK. Two years, in other words, to watch what happens when politicians reject biology, common sense and the imperative to protect women against male violence. 
In the meantime, prisons, hospitals and refuges outside Scotland will face the headache of what to do when a man with a Scottish Gender Recognition Certificate (GRC) — obtained with far fewer safeguards than elsewhere in the UK — demands access to women-only spaces. The prospect of expensive litigation is terrifying, but women's organisations on both sides of the border are already preparing for the fight of their lives.
So crazed are MSPs by this ideology that on Tuesday evening they voted down an amendment that would have placed barriers in the way of convicted sex offenders who seek to apply for a GRC, complete with a new female name. They even rejected an amendment — proposed by Michelle Thomson, an SNP MSP who has waived anonymity to reveal her own experience of being raped when she was fourteen years old — that would have paused the process of acquiring a certificate for men charged with sexual offences.
This is an extremely troubling development. Let's not forget that the SNP-Green government has pressed ahead with the legislation even after Lady Haldane's judgment established last week that a GRC changes someone's legal sex for the purposes of the 2010 Equality Act. Scottish women are now expected to accept that any man standing in front of them, waving a piece of paper, is a woman — even if they're in court and the man is accused of raping them. 
It's clear that a bill that was supposedly purely administrative has hugely expanded the number of individuals who can apply for a GRC, with catastrophic effects on women's rights.
The rest of the UK is about to find out what it's like living alongside a country in which observable sex no longer has any meaning. Welcome to Scotland, where the word 'woman' will now soon include any man who fancies it.
Conservatives in England and Wales can take heart from this for the general election in two years' time, pointing to their colleagues north of the border. Who are the great defenders of women and girls? It certainly won't be Labour.
Woman arrested for silent prayer
On December 6, a pro-life supporter from Worcestershire was arrested for praying silently in Birmingham in an exclusion zone around an abortion clinic.
Here is the video of her arrest:
A fundraiser is open for her:
BirminghamLive filed their report on Tuesday, December 20:
A woman has been charged with breaching an exclusion zone outside a Birmingham abortion clinic. Isabel Vaughan-Spruce, aged 45, from Malvern in Worcestershire, was arrested near the BPAS Robert Clinic in Kings Norton on December 6.
She was later charged with breaking a Public Space Protection Order, said by Birmingham City Council to have been introduced to ensure "people visiting and working there have clear access without fear of confrontation". Vaughan-Spruce will appear at Birmingham Magistrates' Court on February 2 next year.
A West Midlands Police spokesperson said: "Isabel Vaughan-Spruce, aged 45 from Geraldine Road, Malvern, was arrested on December 6 and subsequently charged on December 15 with four counts of failing to comply with a Public Space Protection Order (PSPO). She was bailed to appear at Birmingham Magistrates Court on February 2 2023."
The police must feel threatened by prayer, especially that of the silent sort.
On Friday, December 23, UnHerd 's Mary Harrington gave her thoughts on the arrest:
It's customary in these situations to decry the breach of liberal norms involved in arresting someone not for doing something wrong but merely thinking. But if, as I've suggested elsewhere, all politics is now post-liberal, that means it's once again explicitly the case that state power is aligned with a widely-shared moral order. 
This is a drum I've been banging for a little while, for contra the fond imaginings of some liberals we never really stopped ordering power to sacred values. After all, it's not really possible to have a functioning polity otherwise. This, I argued shortly before the pandemic, is why hate crime laws appeared a scant few years after the abolition of blasphemy laws: they are blasphemy laws. We've just updated what we considered blasphemous …
…  Vaughan-Spruce's arrest makes it clear that the zone surrounding an abortion centre is treated as sacred in a way that's evidently no longer meaningfully the case (at least as far as the European court is concerned) of a church. She is an activist and director of March for Life UK, and has been previously arrested for protesting against abortion. But this in no way diminishes the growing sense that the activity being protected is also increasingly treated as sacred …
We have sacralised autonomy to such an extent that laws uphold women's right to it, even at the cost of another radically dependent life. And the issue is growing ever more moralised, as evidenced by the fact that even thinking disapproving thoughts about this radical commitment to individual autonomy is now treated as blasphemous, in zones where its most extreme sacrifices are made. 
Wherever you stand on the practical issues surrounding abortion, this is indisputably a profound statement on the relative values we accord to freedom, care and dependency — one with profound ramifications for how we see the weak and helpless in any context. That the practice is taking on sacramental colouring, for a religion of atomisation, should give us all pause.
Indeed.
House of Lords Archbishop of Canterbury debate on asylum
On December 9, the House of Lords gave the Archbishop of Canterbury his annual debate. This year, the subject was the UK's asylum and refugee policy.
I hope that readers will understand if I do not excerpt his speech here. They are free to read it for themselves.
We have taken in a record annual number of illegal migrants crossing the Channel this year, expected to be over 50,000.
We have also taken in large numbers of legitimate refugees and asylum seekers. We have also given visas to many thousands of legal migrants this year, particularly from Africa and Asia, namely India and Hong Kong.
UnHerd had a good analysis of what Welby said and our current predicament:
The Archbishop says he aims to support action that would "prevent small boats from crossing the channel", but he also stresses that the UK is not taking many refugees and should take many more. 
Astonishingly, he dismisses the provision our country has made to welcome Hong Kong residents — well over 100,000 to date and many more to come — by saying "and that, by the way, is not asylum but financial visas". It may not involve an application for asylum as such, but it clearly involves flight from oppression. Welby also draws the wrong conclusion from the fact that developing countries host many more refugees than developed countries. This is much cheaper than settlement in the West and makes return more likely. Developed countries should help pay the costs, and the UK leads the way in this regard.
The control Welby claims to support does not presently exist. The small boats cannot safely be turned around in the Channel and France will not accept their immediate return. The Rwanda plan is a rational (if imperfect) attempt to address the problem, removing asylum-seekers to a safe third country, where they will be protected, yet the Archbishop decries the plan on the grounds that it outsources our responsibilities. This makes no sense, for the UK not only accepts that Rwanda must comply with international standards, but also commits to funding the protection of those who prove to be refugees. Welby asserts that the plan has failed to deter. Indeed, because it has not yet been tried at all. 
The UK has good reason to resettle in safe third countries those who enter unlawfully on small boats, which would discourage others from (dangerous) unlawful entry and restore control of our borders. The historic tradition on which the Archbishop relies is alive and well in the provision our government has made, with wide public support, for temporary protection for Ukrainians escaping Russian aggression and for resettlement of the new Huguenots, the Hong Kong residents seeking to escape the oppressive reach of the Chinese Communist state. 
Lord Lilley — former Conservative MP Peter Lilley — posed the conundrum of loving one's neighbour and not being able to accommodate everyone, especially those who arrive under false pretences:
This issue raises very difficult dilemmas for Christians. Being a very inadequate Christian myself, I take up the challenge from the most reverend Primate the Archbishop with trepidation: to try to formulate principles for governing our policy on asylum and migration. Not having direct access to the mind of God like the most reverend Primate the Archbishop, I seek those principles in the Bible.
I recall that our Lord said that the essence of Christianity is to love God and love our neighbour as ourselves. When asked who our neighbour is, he gave the parable of the good Samaritan, when a Samaritan helps a Jew—from which I deduce that our neighbour is not just the person next door to us and not necessarily a member of our own nation; it can be anyone. The first principle I therefore deduce is that, although charity begins at home, as a lot of my constituents used to tell me, it does not necessarily end at home. I am at one with the most reverend Primate the Archbishop on that.
Secondly, the Samaritan did what he practically could. We may be called on to help anyone we practically can, but we cannot help everyone. Again, the most reverend Primate the Archbishop recognised that and it is important that we recognise that our responsibilities are finite, in this respect.
Thirdly, when the Levite and the Jewish priest reached their destination, I have no doubt that they deplored how, owing to years of austerity, there had been insufficient spending on police and the health service to prevent the problem arising in the first place or to treat the person, instead of leaving it to the passing Samaritan. Therefore, my third principle is that, to be a good Samaritan, you have to give care, help and so on at your expense. We, as politicians, may have to take decisions on behalf of others but, in doing so, we should have consideration for the impact we are having on others and not imagine we are being virtuous when we do good at their expense.
The first principle is that charity begins at home, in how we treat people who have come to settle here. When I was a child, mass immigration into this country was just beginning. The parish in which I lived asked each family to link up with a migrant family, many of whom were lonely, isolated and, at worst, facing hostility. My family was linked up to a delightful Mauritian couple, whom we would invite to supper every few weeks. We became good friends. That was done by parishes across south London. I would love to hear from Bishops who have not yet spoken about what the churches are doing today to help integrate those who are here in our society and to be the good Samaritans to our neighbours from abroad.
But charity does not end at home. I pay tribute to those tens of thousands of people who opened their homes to families fleeing the bombing in Ukraine, while their menfolk remained to fight for their country. We should not imagine we are sharing in being good Samaritans if we throw open the doors of our country to everybody because, if we do that, we are doing good at others' expense. We are, in effect, saying that migrants, be they legal or illegal, asylum seekers or otherwise, through housing benefit and social housing, will have access to rented and social homes. We all have our own homes, so we will not be affected. Therefore, more young people will have to wait at home or live in cramp bed-sitters for longer, because of what we, as legislators, think we are doing generously, without taking the impact on others into account.
The second principle is that our neighbour can be anyone, but it cannot be everyone. Millions of people want to come here. Look at the impact of the green card system the Americans operate, when they make 30,000 visas to the US available to certain countries and say, "Anyone can apply; there is a ballot." Some 9% of the population of Albania applied when they heard about that being offered to them, as did 11% of the Armenian and 14% of the Liberian populations. These were only the people who heard about it and responded. The potential number who would like to come to America or Europe, if we open these so-called direct routes, would be enormous. Will we say to those who apply, at an embassy or some place abroad, that they would have the same legal rights, and opportunities to appeal or for judicial review if things are turned down? If so, potentially millions of people would join the queue. It would not shorten but lengthen it, so we have to restrict and to prioritise.
I submit to noble Lords that the priority should not be the boat people. They are not coming by boat from Basra, Somalia or Eritrea; they are coming from France, Belgium and Germany. Why are they coming here rather than staying in those safe countries? They are three or four times as likely to be rejected there. France, in the last year before the pandemic, forcibly repatriated 34,000 people. I find some strange double standards being applied here. There are no criticisms of France for being much stricter than us or of us for being much laxer than them, but one or the other must be the case.
I am coming to an end. If it is morally and legally right for the French to try to prevent people leaving their shores, and for us to pay and support the French in so doing, it should be morally and legally right for us to return them. If they cannot be returned, it is reasonable to try to deter them by saying, "If you come here, you will go to Rwanda. You always have the opportunity to stay in France." I submit that we do not always consider these opportunities.
Later on, the Archbishop of York, the Right Revd Stephen Cottrell, spoke, an excerpt of which follows. The transcript hardly does his indignation justice. He ripped right into Lord Lilley:
I say to the noble Lord, Lord Lilley, that everyone is our neighbour. Of course, we cannot take everybody, but that makes it even more important that we have a fair system for everyone.
Dehumanising language promotes fear. Threat of destitution is used as a deterrent. Children are treated as if they are adults. Yet in our own country, among our own people, in our churches, other faith groups and communities, some things have gone well, such as the Homes for Ukraine scheme, where many people have found a home, other family members have joined them, and people have been able to get work. This is really good.
But why has our response to people fleeing other conflicts been different? Currently, the definition of family in our asylum system would not allow someone to join their sibling even if they were the last remaining relative, and being able to work and contribute is a long way off. The tragedy of our system lies in its exceptionalism, meaning that people receive differential treatment usually because of their country of origin. That underpins the Nationality and Borders Act, and I fear that further legislative action will be the same.
But we could learn from what is happening in our communities. The noble Lord, Lord Lilley, asked us directly about integration. I do not know where to begin. In hundreds of parishes and schools, and in other faith communities up and down our country, that is what we are doing—in English language classes, in befriending and in teaching people. I would be the first to admit that there are lots of things about the Church of England that could be better, but that is something that we are doing, alongside others, and it shows the best of British.
We need a system that will simply provide safe and legal routes for everyone to have equal opportunities to apply for asylum. All I am saying is that I think that would be good for us, as well as for the people who are fleeing unimaginable conflict and evil.
Finally, when it comes to being able to work, the Church of England, alongside the Refugee Council and the Government's own Migration Advisory Committee, is a long-standing supporter of the Lift the Ban campaign.
I say all this—like many of us, I would wish to say more, but the most reverend Primate the Archbishop of Canterbury said most of it—as winter arrives, and it is cold, and a cost of living crisis will inevitably affect the British people's capacity to be hospitable. I say simply that a functioning asylum system is not a threat to our social cohesion as some fear or predict, but a dysfunctional, unfair one is.
As every small child knows at this time of the year, as the noble Lord, Lord Cormack, mentioned, Mary and Joseph came looking for somewhere to stay, but there was no room at the inn. Saying no, accusing those who are being hospitable of being naive, or passing the buck are easy, but saying yes, with a fair and equal system for everyone, opens up blessings for everyone.
A week later, Cottrell featured in an article in The Telegraph: 'Forgive my "predictable leftie rant" on asylum, says Archbishop of York'.
It seems he knew he was out of order with Lord Lilley, who deserved the same courtesy as the peers agreeing with the Archbishop. It was good for Lord Lilley to speak politely on behalf of the British public.
Britons are paying upwards of £7 million a day just to house those crossing the Channel.
GB News's Mark Steyn and his guest hosts have been covering the topic nearly every night:
Taxpayers are deeply upset, especially during our cost of living crisis, which is causing many to choose between food and fuel.
Combine that with taxpayers' personal expenses for Net Zero, and we are heading for disaster:
Red Wall Conservative MP Jonathan Gullis tried unsuccessfully to raise a Private Member's Bill to get illegal migrants to Rwanda sooner rather than later:
Hotels across England are being taken over by companies working for the Home Office to house the Channel-crossers:
Hospitality workers in those hotels are losing their jobs as the aforementioned companies install their own staff to manage them:
The December 22 show also featured the seemingly intractable problem:
Former Sun editor Kelvin MacKenzie then swung by to weigh in on how much migrants are costing Britons.
The Home Office — read 'civil servants' — must do something now.
It's obvious people are watching GB News, because they beat BBC News for the first time ever on December 14:
Onwards and upwards!
House of Commons recess debate
On Tuesday, December 20, the House of Commons held its Christmas recess debate.
Normally, these are rather jolly affairs where MPs air wish lists for their constituencies for the New Year. However, this year's contributions were rather grim, including those from Conservative MPs.
Once again, providentially, I tuned in at the right time to hear the member for Don Valley, Conservative MP Nick Fletcher. He closed his speech saying the following, the first part of which came as news to me:
Finally, Christian friends across the House tried to secure a Backbench debate on Christmas and Christianity, but by all accounts we were not successful. While I have this moment, I want to remind those in this place, and anyone who cares to watch, that although Christmas is celebrated in many ways across the world, the real reason is the birth of our saviour, Jesus Christ. He was sent as a saviour, and with the promise that whoever believes in him will have eternal life. I do not want anyone ever to forget that. Merry Christmas everybody.
Jim Shannon, a Democratic Unionist Party MP (i.e. from Northern Ireland), was one of the last MPs to speak. A devout Anglican — yes, they still exist — he gave a beautiful speech on the meaning of the season, most of which follows:
It is no secret that I love this time of year—I may have mentioned that a time or three in this House. There are so many things to love about Christmas: time with family; good food; fellowship; and, for me, the singing of an old Christmas carol as we gather in church. But the most wonderful thing about Christmas for me is the hope that it holds. I wish to speak this year about the Christ in Christmas, because, too often, we miss that. It would be good this year to focus on what Christmas is really all about. I ask Members to stick with me on this one.
The message of Christmas is not simply the nativity scene that is so beautifully portrayed in schools and churches throughout this country, but rather the hope that lies in the fact that the baby was born to provide a better future for each one of us in this House and across the world. What a message of hope that is; it is a message that each one of us needs. No matter who we are in the UK, life is tough. The past three years have been really, really tough—for those who wonder how to heat their homes; for those who have received bad news from their doctor; for those whose children have not caught up from the covid school closures; for those who mourn the loss of a loved one; for those who mourn the breakdown of a family unit; and for those who are alone and isolated. This life is not easy, and yet there is hope. That is because of the Christmas story. It is because Christ came to this world and took on the form of man so that redemption's plan could be fulfilled. There is hope for each one of us to have that personal relationship with Christ that enables us to read the scriptures in the Bible and understand that the creator, God, stands by his promises.
I want to quote, if I may, from four Bible texts. To know that
"my God will meet all your needs according to the riches of his glory in Christ Jesus."
That is from Philippians 4:19.
To trust that
"I am the Lord that heals you."
To believe that
"all things are possible."
That is Matthew 17:20.
We can be comforted by Psalm 147:3:
"He heals the brokenhearted, And binds up their wounds."
Isaiah 41:10 says:
"So do not fear, for I am with you; do not be dismayed, for I am your God. I will strengthen you and help you; I will uphold you with my righteous right hand."
The strength for today and bright hope for tomorrow come only when we understand who Christ is. One of my favourite Christmas passages is actually not the account of his birth, but the promise of who he is. We all know this:
"For to us a Child shall be born, to us a Son shall be given; And the government shall be upon His shoulder, And His name shall be called Wonderful Counsellor, Mighty God, Everlasting Father, Prince of Peace."
In a world where our very foundation seems to be shifting, how awesome it is to know that this our God is only a prayer away. A group of people come to the House of Commons two or three times a week, and pray for Parliament. I have to say how important it is to have those prayers.
As we think of this passing year—something that many of us do—we think about what has happened and perhaps look forward to 2023 with renewed hope for the future. I think we should look forward with hope; we have to do that. We should always try to be positive. In this passing year, my mind goes to the loss of Her Majesty the Queen. Many of us felt that so deeply, and yet her passing also carried the message of hope, because of Christ. I quoted this when we had the tributes to Her Majesty. It is important, I think, to put it on the record again.
The wonderful message that the Queen gave in one of her cherished Christmas messages—this one was in 2014—was crystal clear:
"For me, the life of Jesus Christ, the prince of peace, whose birth we celebrate today, is an inspiration and an anchor in my life."
That was Her Majesty talking.
"A role model of reconciliation and forgiveness, he stretched out his hands in love, acceptance and healing. Christ's example has taught me to seek to respect and value all people of whatever faith or none."
It is my firm belief that this true message of Christmas is what can bring hope and healing to a nation that can seem so fractured. When I look at the headlines, I sometimes despair, but that is also when I most enjoy my constituency work, and getting to see glimpses of community spirit and goodness that are done daily and yet are rarely reported. Her Majesty's speech in 2016 reflected that, when she said:
"Billions of people now follow Christ's teaching and find in him the guiding light for their lives. I am one of them because Christ's example helps me to see the value of doing small things with great love, whoever does them and whatever they themselves believe."
At that point, Conservative MP John Hayes intervened:
It is heart-warming and refreshing to hear the hon. Gentleman's plain and confident affirmation of his faith, and our faith too. By the way he speaks, he encourages all of us to reflect on the Judeo-Christian foundations on which our society and our civilisation are built, and I just wanted to thank him for that.
Jim Shannon thanked John Hayes before continuing:
The right hon. Gentleman is most kind. I am giving just a slight reminder of what Christmas is about. I think we all realise that, but sometimes it is good to remind ourselves of it. The example of Christ is one of humility, coming to the earth as a vulnerable baby, and of purpose, as we see the gold given that symbolises royalty, the frankincense to highlight his deity and myrrh to symbolise his purposeful death to redeem us all.
I am a strong advocate in this House for freedom of religion or belief, as the Leader of the House knows. She is always very kind; every week, when I suggest something that should be highlighted, she always takes those things back to the Ministers responsible. I appreciate that very much, as do others in this House. I am proud to be associated with that wonderful cause, and as long as God spares me I will speak for the downtrodden of my own faith and others. I speak for all faiths, because that is who I am, and so do others in this House with the same belief.
At the same time, however, like Her late Majesty, I am proud to be a follower of Christ. At this time of year I simply want the House to know the hope that can be found in Christ, not simply at Christmas, but for a lifetime. The babe of Bethlehem was Christ on the cross and our redeemer at the resurrection, and that gives me hope and offers hope for those who accept him and it.
From the bottom of my heart, Mr Deputy Speaker, I thank you in particular, since you have presided over this speech and the past few hours. I thank Mr Speaker and all the other Deputy Speakers, with all the things that are happening to them, the Clerks and every staff member in this place for the tremendous job they do and the graceful spirit in which everything has been carried out in the last year. I thank right hon. and hon. Members, who are friends all—I say that honestly to everyone.
I thank my long-suffering wife, who is definitely long-suffering, and my mum—
At that point, Shannon broke down in tears.
Leader of the House Penny Mordaunt stepped in quickly and graciously while Shannon composed himself:
The hon. Gentleman has often summed up how people feel, particularly at this time of year. I know he has had losses over the past few years, and he always manages to sum up the feeling of this House. Many Members in this debate have spoken about constituents or family they have lost, and we appreciate his bringing up these issues, as I appreciate all Members' doing so. There will be some people thinking about spending Christmas apart from family they are not able to see, or having suffered those losses. I thank him and we are all willing him strength as he continues his speech.
After a pause, Shannon resumed and concluded:
I thank the Leader of the House for that. I mentioned my long-suffering wife; we have been married 34 years, so she is very long-suffering, and that is probably a good thing, because we are still together. My mum is 91 years old and I suspect she is sitting watching the Parliament channel right now to see what her eldest son is up to and what he is saying, so again that is something.
I also thank my staff members. I told one of my Opposition colleagues last week that I live in a woman's world, because I have six girls in my office who look after me and make sure I am right …
Lastly, I thank my Strangford constituents, who have stuck by me as a councillor, as a Member of the Legislative Assembly and as a Member of Parliament in this House. This is my 30th year of service in local government and elsewhere. They have been tremendously kind to me and I appreciate them. I want to put on record what a privilege it is to serve them in this House and to do my best for them.
I wish everyone a happy Christmas, and may everyone have a prosperous, peaceful and blessed new year, as we take the example of Christ and act with humility and purpose in this place to effect the change that we all want and that is so needed in our nation—this great United Kingdom of Great Britain and Northern Ireland, always better together.
Mr Deputy Speaker Nigel Evans said:
Your mother and wife will be as proud of you as we all are, Jim. [Hon. Members: "Hear, hear!] As a person of faith, I thank you very much for putting the Christ back into Christmas in your speech. We come now to the wind-ups.
When acknowledging MPs' contributions in the debate, Penny Mordaunt said:
The hon. Member for Strangford (Jim Shannon) should never have to apologise for mentioning Christ in this place—especially at Christmas. We are in a place where the architecture is designed to turn our faces to God. I thank him for his Christmas message.
And, finally — best Christmas wishes to Mark Steyn
In closing, hearty Christmas wishes to Mark Steyn who is recovering from two successive heart attacks:
He is recovering in France but told viewers more on December 19. Incredibly, the first heart attack happened before he presented one of his nightly shows on the self-styled People's Channel. He presented it anyway. Wow:
The GB News host suffered the first one "without recognising" the symptoms, before hosting his show on The People's Channel.
Speaking on his current absence from GB News, Steyn said: "I'm too medicated to manage artful evasions.
"I had two heart attacks. Because I didn't recognise the first one, as such, the second one was rather more severe."
The experienced broadcaster spoke about the shocking ordeal, saying he "doesn't look right", looking back at images of himself presenting the Mark Steyn show during the first heart attack.
Speaking on SteynOnline, he said: "The good news is that the first one occurred when I was in London. If you get a chance to see that day's Mark Steyn Show, with hindsight, I don't look quite right in close-ups.
"By not recognising it as a heart attack, I deftly avoided being one of those stories we feature on the show every couple of nights about people in the UK calling emergency and being left in the street for 15 hours before an ambulance shows up.
"I had a second heart attack in France. With Audrey [his wife?] helping me in the ambulance, she told me I was 15 minutes from death."
The presenter also revealed he would remain in France over Christmas and New Year as he is unable to leave medical care and return to New Hampshire.
GB News viewers will be sending Mark every best wish for a speedy recovery — and a healthy, happy New Year! We look forward to seeing him on the airwaves soon!
The story goes that when the Swiss Reformer Zwingli said that Holy Communion was a mere symbol, an appalled Martin Luther observed that 'another spirit' was working through him, meaning the devil.
Sadly, we have had a lot of 'another spirit' news in 2022.
Let's get through that first in order to move on to other items.
'Another spirit' news
From the family structure to euthanasia, the devil never stops.
Canada's 'killing fields'
On December 16, the Mail had an excellent article about the many Canadians being urged to undergo euthanasia.
Canada's national euthanasia programme is called MAiD (Medical Assistance in Dying), but this is no comely lass, rather a killing machine of sorts, so much so that even the UN wants to call time on it (emphases mine):
… the progressive administration of Prime Minister Justin Trudeau now finds itself in the deeply embarrassing position of being attacked by human rights campaigners and the United Nations over MAiD. 
Three UN experts last year concluded the law appeared to violate the Universal Declaration of Human Rights. Euthanasia — from the Greek for 'good death' — is a means of release to people in unimaginable and incurable pain, especially if expected to die soon. 
This is how Canada's 'killing fields', as the Mail rightly says, entered the statute books:
Canada's Supreme Court dismissed as scaremongering fears of a 'descent down a slippery slope into homicide' when it overturned a ban on euthanasia in 2015, ruling that it was unconstitutional as it deprived people of dignity and autonomy. 
The following year, Canada's Parliament passed legislation allowing euthanasia, but only for people suffering from a terminal illness whose death was 'reasonably foreseeable'. 
Within five years, it became clear that Canada was, indeed, sliding down the slope when — again under pressure from the courts — MPs passed Bill C-7, which scrapped those criteria. 
From 2021, anyone suffering from an illness or disability that 'cannot be relieved under conditions' that he or she 'considers acceptable' can, with the approval of two doctors or nurse practitioners, get MAiD free. 
The patient must be found to be competent to make the decision and wait a minimum 90-day assessment period before death is provided. 
If a doctor refuses to sign off the request, patients can shop around for one who is more amenable. And unlike other countries, including Belgium and the Netherlands, where euthanasia is legal, Canadian patients are not required to have exhausted all treatment alternatives first. 
Last year, 96 per cent of MAiD applications were approved. 
Seeking to understand why so many in government and healthcare appear to be pushing MAiD enthusiastically, critics point to a 2017 study by the University of Calgary that estimated medically-assisted dying could reduce national healthcare spending by $139million a year (£83 million). 
The report noted that in some Canadian provinces, caring for patients in the last six months of life accounted for more than a fifth of healthcare costs.
This page from a MAiD pamphlet didn't come from the Mail, but its egregious typeface and presentation make such a death look harmless and normal: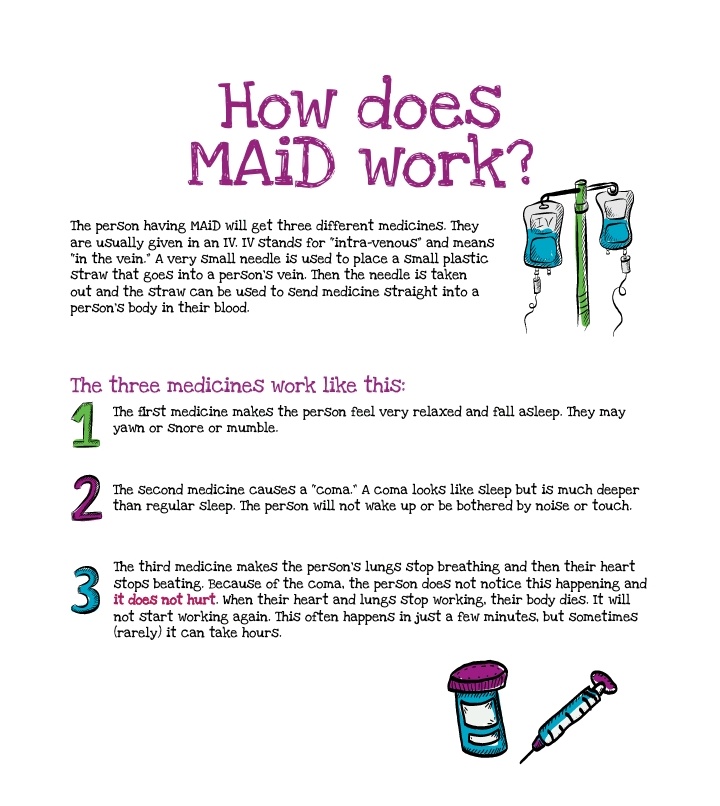 All manner of Canadians — totalling 10,000 in 2021 — have gone to their rest via MAiD. These are photo captions from the Mail where their stories are explored in greater detail. Note the financial reasons:
Michael Fraser, 55, was euthanised by his GP after he pleaded poverty
Wheelchair-bound Les Landry, 65, an ex-lorry driver from Medicine Hat, Alberta, is one of those seeking assisted suicide primarily for financial reasons 
Christine Gauthier, a paraplegic army veteran who competed in the 2016 Paralympics, told MPs how, after five years of trying to obtain a stairlift for her home, a Veterans Affairs official told her that if she was 'desperate', they could offer her MAiD
Here in the UK, both Houses of Parliament have been debating legislating for end of life choices. Some peers (Lords) and MPs (Commons) are all for the Canadian model, about which, it seems, they know very little:
In both Canada and the UK, euthanasia is defined as the act of deliberately ending a person's life to relieve suffering. 
It is often referred to as 'physician-assisted dying' or 'assisted dying' and is distinct from 'assisted suicide' which is helping someone to kill themselves by, say, obtaining lethal drugs for them. 
Just months after the House of Lords halted an attempt to legalise euthanasia in the UK, the Commons last week launched a new inquiry into assisted dying with 'a focus on the healthcare aspects', including the role of doctors, access to palliative care, criteria for eligibility and 'what protections would be needed to safeguard against coercion'. 
Successive UK governments have refused to legalise euthanasia but inquiry chairman [Conservative] Steve Brine MP said there was now 'real-world evidence' to look at from those countries where it is legal. 
What has also changed is that the British Medical Association, Britain's biggest doctors' union, took a landmark vote last year that ended its long- standing opposition to euthanasia. 
It is possible that even children will be able to request MAiD in 2023:
Many are deeply concerned by next spring's extension of MAiD to people with mental illnesses and — pending a parliamentary review — to 'mature minors' above the age of 12. 
MAiD has its critics among clinicians, but does it have enough of them?
This was the most apt description of the process:
Professor Tim Stainton, director of the Canadian Institute for Inclusion and Citizenship at the University of British Columbia, described Canada's law as 'probably the biggest existential threat to disabled people since the Nazis' programme in Germany in the 1930s'. 
It's hard to disagree.
Woe betide Canada. It used to be such a lovely country.
More dismantling of marriage
Two weeks ago, I featured news stories from November advocating that couples abandon the marital bed.
On December 15, The Guardian's Emma Brockes promoted living apart: 'Why are so many women living in separate homes from their partners and kids? Because it's a win-win situation'.
This is obviously for upper middle class types who can afford two homes:
The overheads on two households are eye-bleeding.
Even so, it's another slippery slope article.
As usual, this trend emanates from North America and was first trumpeted in the New York Times, where the devil seems to have a comfy home:
In the New York Times this week – sound the klaxon – a new trends piece drops on the growing numbers of women in the US who, post-pandemic, are opting to sustain the separate household model of marriage, established during lockdown by some families to reduce Covid transmissions, and proving so preferable to the norm, apparently, that they're in no hurry to reunite with their husbands.
It's well known that among straight couples, women initiate most divorces – by some reckonings 70% – and pushing for separate households is, I would imagine, a staging post towards this end for many of the numbers in this new trend. But for others, perhaps it really is a viable solution to the problem of loving your spouse but not wanting them underfoot all the sodding time.
How frightfully sad.
This began years before the pandemic:
What's new is the surge in those who still identify as married but live apart from their spouse; in the US, married couples maintaining separate households rose by a quarter between 2000 and 2019, and in 2021, that number sharply climbed again, according to the New York Times. It is estimated by the Census Bureau that 3.89 million Americans, or 2.95% of married couples, live apart. They even have a little acronym: Lat, or "living apart together".
The trend appears a likely result both of everyone being home for the past two-plus years and driving each other insane, and the fact that after lockdown ended, studies showed that men swiftly dropped the childcare and domestic work some had adopted during that period. Judging by case studies in the article, for some women, quarantining in a quiet, separate residence while their husbands shouldered the caretaking at home, struck them at the level of a revelation. For others, the fact that even a global pandemic did little to undermine – or in some cases, actively deepened – the division of labour at home along traditional gender lines had a straw-that-broke-it effect.
How utterly, utterly selfish.
New York Times crossword puzzle
As we're on the subject of the New York Times, here is their December 18 crossword puzzle. December 18 was the first night of Hanukkah, yet the paper produced a gamma-shaped puzzle. Hmm. Why?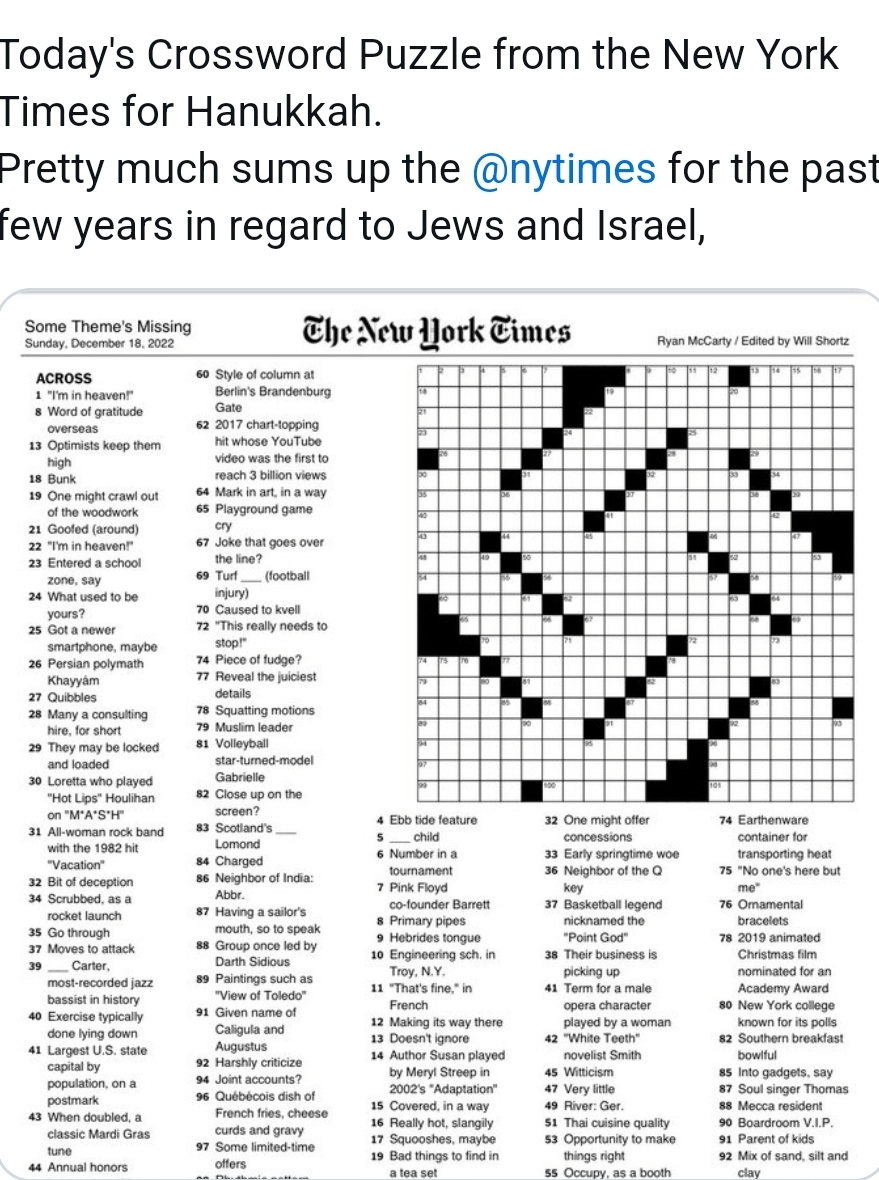 Despite complaints from prominent Jews around the world, the paper defended the puzzle's shape, saying:
'This is a common crossword design: Many open grids in crosswords have a similar spiral pattern because of the rules around rotational symmetry and black squares,' a Times spokesperson told DailyMail.com on Monday. 
Although Carlos Slim is the current owner, the famous Ochs-Sulzberger family are still in charge of content:
The paper is run by AG Sulzberger – the sixth member of the Ochs-Sulzberger family to serve The Times as publisher since the newspaper was purchased by Adolph Ochs in 1896. The family is of both German and Jewish ancestry. 
This is not the first time such a design has appeared:
A similar incident occurred in 2017, and at that time the newspaper responded in a tweet: 'Yes, hi. It's NOT a swastika. Honest to God. No one sits down to make a crossword puzzle and says, "Hey! You know what would look cool?"' 
One wonders.
Christian doctor told to attend 'boundaries' course
I was amazed to see a praying Christian physician, Dr Richard Scott, appear in The Telegraph on September 27.
His is such an old — and sad — story. It goes back to 2019 and has only now been resolved.
The 62-year-old was nearly struck off the medical register for praying by request with his patients in Kent. Someone complained, and you can guess the rest.
The article says:
A tribunal that could have taken away his right to practice was called off after a last-minute settlement with the NHS, but Dr Scott will have to attend a £500 one-day training course on "professional boundaries".
The tribunal was due to consider complaints relating to a telephone interview Dr Scott took part in on BBC Radio 4 in 2019 discussing his use of prayer in his practice.
On the radio programme he also said: "As a Christian doctor you have to ask yourself, who's your ultimate boss? And it's not the GMC [General Medical Council]. It's Jesus Christ."
He said he offered spiritual care to around one in 40 patients, and around 80 per cent of people offered prayer or religious support accepted the offer.
The tribunal was set to begin in Ashford on Monday to determine whether he could still be allowed to work as an NHS doctor.
He had previously been ordered to attend a three-day course costing £1,800 aimed at people who had been accused of sexual impropriety.
Dr Scott was not accused of sexual misconduct and refused to attend the course or undertake a psychiatric assessment. The GMC had twice ruled that the Christian doctor had not breached any of its guidelines.
Following the settlement with the NHS, Dr Scott will now take part in a one-day training course costing £500 relating to "professional boundaries". He said that he did try to "follow the General Medical Council guidelines and if you read them correctly, they allow you and encourage you to speak to patients about religion where it's relevant to their care".
"Some people are desperate for help and I can give any number of examples of people I've helped through spiritual care – which is done on my own time and fully consented." he added.
Andrea Williams, chief executive of the Christian Legal Centre, which supported Dr Scott, said: "Dr Scott is a highly experienced doctor whose life and career has been committed to serving his patients and community.
"He is loved and respected by his community which he has served for decades. His love for Jesus and dedication to his faith is also well known where he works and within the community.
"There is no evidence that Dr Scott's practice of praying with his patients has in any way interfered with his delivery of excellent medicine – in fact, quite the opposite."
NHS England has been contacted for comment.
That poor man. It's hard to imagine the stress he has been under for the past three years. I hope that he and his family have a blessed, relaxing Christmas this year.
House of Lords climate change paper
This month, the House of Lords published a paper on climate change — 'In our hands: behaviour change for climate and environmental goals'.
It's 140 pages long and a product typical of today's left-leaning peers, including a number of the Conservatives lurking there, too.
I've been reading the chapter called 'Behaviour change for climate and environmental goals', because this is what the average Briton will experience in the years to come via media bombardment.
Of course, the Lords worry about 'misinformation' and 'disinformation', meaning any evidence contrary to their Net Zero narrative.
This is from page 84 of the paper (page 86 in the PDF linked to above):
309. Several witnesses expressed concern about the spread of misinformation—incorrect or misleading information—and disinformation—deliberately deceptive information—related to climate change and the environment on social media. Carnegie UK described research carried out by the Institute for Strategic Dialogue (ISD), which compared the levels of engagement on social media platforms generated by reliable scientific organisations and climate sceptic actors respectively and found that the posts from the latter frequently received more traction and reach than the former. Carnegie UK explained:
"In the fortnight over which COP26 took place, sceptic content garnered 12 times the level of engagement of authoritative sources on the platform; and 60 per cent of the "sceptic" posts they analysed could be classified as actively and explicitly attacking efforts to curb climate change."530
310. Witnesses had several suggestions as to how misinformation and disinformation about climate change and the environment on social media could be tackled. Mr Smith suggested traditional broadcasters—like the BBC—must play an important role as "trusted sources" in a landscape of disinformation online. 531 Carnegie UK expressed concern that the Government's Online Safety Bill "does little to tackle climate change information", and proposed amendments to bring climate change disinformation into the scope of the draft Bill in a "proportionate manner".532
Pages 95 and 96 highlight the Conservative government's deficiences in bold text, paragraph after paragraph. Contrary to what the Lords say, this is a good thing.
Here are two sections, emphases theirs, from page 96 (page 98 of the PDF):
362. The public expect the Government to take a leadership role to enable behaviour change, but the Government's reticence to address key areas—such as what people eat, how we heat our homes, what we buy and how we travel—which is largely a result of a reluctance to be perceived as reducing freedom of choice, undermines individuals' willingness and ability to take action.
364. The Government should apply behavioural science to all its policies and initiatives. It should urgently review the Net Zero Strategy and policies and initiatives in place to deliver it and rectify where its six principles underpinning green choices are not being delivered.
Satan has obviously found a home on the cushy red benches of the Lords.
Good on the Conservative government in taking little to no action on this guff. Long may it remain so.
Starving mother struggles to feed children
This is another story that causes one to shake one's head in disbelief or despair.
It appeared on ITV News on Monday, December 19:
A mother-of-four from Bath says she is having to live off her children's leftovers because she no longer has enough money to pay for her own meals.
Victoria Walker will not be able to afford Christmas for her family as food prices continue to rise.
She rarely turns the heating on and tries not to eat so that her children can have food.
"Unless I really have to, I won't eat," she said. "I fill myself up with tea and coffee. I like the children to eat so I tend to have the leftovers."
Recently her 11-year-old daughter even started offering her pocket money to help buy food essentials like bread and milk.
She added: "It just makes me sad. It breaks my heart. Christmas is looking sad for me. I can't afford Christmas."
Victoria is receiving help from Action for Children, a charity created to help vulnerable children, young people and their families in the UK.
Unfortunately, the accompanying video, which can be seen at the link, undermines the mother-of-four's case for hunger.
ITV also showed her in their social media post about the story: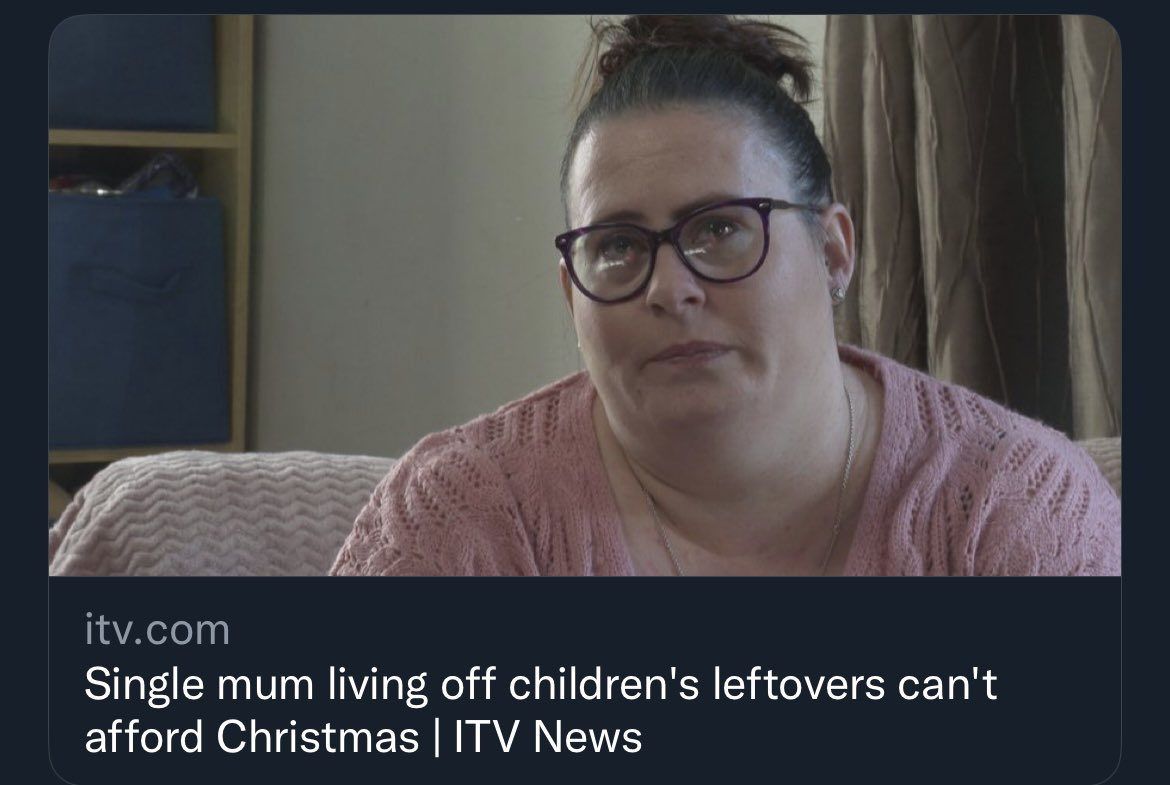 No further comment.
Political theatre: they're all friends, really
We mere mortals think that politicians from opposite sides of the spectrum oppose each other in real life.
However, the Queen's mourning period proved that what we see on television and read in the papers is nothing more than political theatre. I refer specifically to the gathering of hundreds of MPs, Prime Ministers and peers from past and present gathering to see King Charles take the Oath of Affirmation shortly after his mother died.
These men and women, whether Labour or Conservative, have a real rapport with each other.
On September 13, six days before Queen Elizabeth's funeral, The Telegraph's Tom Harris, a former MP himself, discussed the meeting of the Privy Council that day and featured a photo of former Prime Ministers Gordon Brown (Labour) and Boris Johnson (Conservative) sharing a laugh together.
Harris explained why this was not unusual:
Consider this: what if the Queen's death and preparations for her funeral were not forcing natural enemies to behave in public, but were allowing our political leaders the rare opportunity genuinely to enjoy each other's company? …
Cross-party friendships are always surprising to outside observers, though within Westminster's walls they are so common that they are rarely commented upon. True, the tea room, where most of the House of Commons gossip is shared, is strictly split up into party areas. But those demarcations are informal and there is much interchange and banter, including the sharing of tables by MPs of different parties.
The fact is that many MPs will feel more comfortable sitting in the smoking room after a late night vote, having a drink and sharing a joke with colleagues from the opposite party, than they will having a beer after a meeting of their local party. After all, outside those fraught occasions when constituency mergers and boundary changes are in prospect, an MP will see no rival when he gazes around the chamber of the Commons. Everyone there, by definition, already has a seat and is too concerned with holding onto theirs to cast envious eyes on their own.
It's a shame that friendships between MPs of opposition parties is the love that dare not speak its name. Only when tragedy rears its head do we catch a glimpse of those relationships. In a touching tribute to John Smith just a day after the Labour leader's unexpected death in 1994, John Major told of late night drinks in his study with his political rival, meetings which started off with drink singular and then progressed to the plural pretty quickly.
As an MP I would frequently join colleagues from different parties to sample Soho's various karaoke bars … These events were not unusual in themselves; what was unusual was how quickly, the day after, everyone once again sworn political enemies.
Ironic, then, that it is the speeches and barbs of the Commons and TV studio debates, not the joyful, slightly inebriated singing, that are the more performative. Constituents expect it. The first rule of Karaoke Club is that no one talks about Karaoke Club, not just because MPs can't be seen to be enjoying themselves during the week instead of keeping their heads down in the Commons library, but also because it just wouldn't do to be seen to be friends with the other side.
And, finally — Bruce Springsteen
On Monday, November 14, Bruce Springsteen cleared up a long-running argument — apparently — about the lyrics to his 1975 hit 'Thunder Road'.
The next day, The Telegraph reported:
The 73-year-old's fans have long disputed whether the opening line to 1975 hit Thunder Road begins with the slam of a screen door followed by "Mary's dress" either swaying or waving.
Knowing he would be asked about the crucial word during an appearance on US talk show The Tonight Show by host Jimmy Fallon on Monday, Springsteen arrived prepared with an original vinyl LP detailing the song's lyrics.
The Boss declared the LP had the lyrics incorrectly printed as "waves", adding that he had sung "sways" for nearly half a century …
The debate over the wording re-emerged on social media last year after two copies of the handwritten lyrics went to auction, one saying "sways" and the other "waves".
Springsteen's own publications also bear the hallmarks of confusion, with his 2016 autobiography Born to Run using "sways" and his website referring to "waves".
Jon Landau, Springsteen's manager and co-producer on Born to Run, said last year that the lyric was "sways" and that "any typos in official Bruce material will be corrected".
"That's the way he wrote it in his original notebooks," Landau said.
Good to know in case anyone starts a dispute about it after too much Christmas cheer.
More news to follow in the coming days.
We are now one week away from Christmas Day 2022.
Below are some of my posts on Christmas past and present.
The Octave of Christmas — O Antiphons
Centuries ago, it was usual for Christians to use the week before Christmas to contemplate our Saviour's birth through the O Antiphons, every one of which begins with 'O', e.g. O Emmanuel. Below is each one, complete with commentary on the relevant Bible verse. Some days have a second O Antiphon:
The O Antiphon for December 17 (2013)
The O Antiphon for December 17 (2014)
The O Antiphon for December 18 (2013)
December 18: a second O Antiphon for this day (2014)
The O Antiphon for December 19 (2013)
December 19: a second O Antiphon for this day (2014)
The O Antiphon for December 20
The O Antiphon for December 21
The O Antiphon for December 22
December 22: another O Antiphon for this day (2014)
The O Antiphon for December 23
December 23: another O Antiphon for this day (2014)
Today, they are used less often, which is a pity, as they help prepare us for the wondrous Christmas miracle of the Christ Child.
However, the good news is that some Anglican churches feature concerts early in Advent with classical music that explores the O Antiphons.
One was held at Great St Bartholomew in the City of London on Sunday, December 4:
An Episcopal cathedral in the United States also held an O Antiphon service at the end of November 2022:
There is still some piety left in the Anglican Communion, after all.
Interestingly, an Episcopal priest discovered a card from decades ago that needed to be filled in, whereby church members going away had to attest to having received Holy Communion elsewhere on Christmas. Fascinating:
Christmas carols
Below are the stories behind some of the world's most famous Christmas carols and some of the best renditions on video. I have included O Come, O Come, Emmanuel, as we are still in the final days of Advent. Carol of the Bells is Ukranian, by the way, particularly apposite for this year. May the good Lord bring them peace in 2013:
'God Rest Ye Merry, Gentlemen'
'I Heard the Bells on Christmas Day' (from Henry Wadsworth Longfellow's 'Christmas Bells')
'Good King Wenceslas' (for Boxing Day, St Stephen's Day)
The next two posts discuss how Jesus and angels are portrayed in carols:
Jesus's nature as depicted in Christmas carols
Angel imagery in Christmas carols (Dr Paul Copan on how the Bible portrays them)
Christmas traditions
The next few posts discuss Christmas traditions.
Some say the candy cane is pagan, but it has useful Christian symbols which explain our Lord's purpose in being among us on Earth:
Candy canes: useful for a Nativity lesson in Sunday School (Christian symbolism possibly unintentional — nonetheless, providential)
Christmas gifts — a history (and a Christian defence thereof)
The Christmas tree — a history (related to Christianity)
Christmas feasting and revelry (the rehabilitation of Christmas)
Christmas cards
Also revelatory is the history of the Christmas card, which will surprise readers who have not read these posts before:
Bizarre Christmas cards from the 19th century
Louis Prang — father of the American Christmas card
The Queen's speech
For those who miss our late Queen, below are two of her Christmas messages, one from 1957 and the other from 2020, when we were in lockdown in the midst of the pandemic:
The Queen's Christmas messages: 2020, 1957
Her Majesty is sorely missed.
—————————————————–
I hope that these posts give a fuller view of Christmas, which was not always the religious feast we assume it to be. By contrast, what we assume to be secular actually has Christian symbolism behind it.
It amazes me that people still need to be told what constitutes a happy romantic relationship. Even worse is an emerging trend for ditching the marital bed.
Signs of love
On Wednesday, November 23, The Times published the results of a Costa Coffee-sponsored poll of 2,000 adults who gave ten key signs that a romantic relationship is a lasting one. The conclusion follows:
The top ten signs of love
1. Regularly asking if your partner is OK — 58% of respondents
2. Always having each other's back — 56%
3. Saying "I love you" daily — 53%
4. Making time for intimacy — 50%
5. Telling your partner they look nice — 50%
6. Being able to sit in silence without awkwardness — 49%
7. Holding hands — 47%
8. Knowing how the other feels, without having to ask — 46%
9. Regular banter — 40%
10. Never going to bed until an argument is resolved — 39%
The first sign — 'regularly asking if your partner is OK' — is off-putting. I would go barmy if I were asked that. Maybe I'm too old or have been married too long.
I also disagreed with two that, thankfully, didn't get enough votes to make the Top 10:
Amid the challenges of modern dating, allowing your partner access to your mobile phone was a sign of true love for less than 20 per cent of respondents, while only 11 per cent said that it was shown by liking each other's posts on social media.
Good grief. Allowing someone else access to one's mobile phone is like giving them access to one's email account. What are people thinking? And who cares about liking each other's posts on social media? Again, I'm too old for such fripperies.
For me, in the budding stages of a relationship, this one is the most important:
6. Being able to sit in silence without awkwardness — 49%
If one can do that early on, it will last for the rest of the relationship.
In a well-established relationship, this one is the most important:
10. Never going to bed until an argument is resolved — 39%
This one comes as a close second:
9. Regular banter — 40%
It was heartening to read this statistic:
The study of 2,000 Britons commissioned by Costa Coffee showed that eight in ten of those in happy relationships believed love was the most important thing in the world.
The Times then followed up with an antidote to the survey. Stuart Heritage wrote about what really matters — to him, anyway — in a relationship (emphases mine):
If you have the strength to drag yourself away from your phone for long enough to say good morning to the person you've chosen to spend your life with, you must be in love. With that in mind, here's an alternative, much more accurate list of love's definitive hallmarks.
Taking the bins out before they overflow

Remembering your anniversary (the date, not the number of years)

Hanging out with their awful friends without being too outwardly hostile

Telling them when yesterday's underwear is poking out of their trouser leg

Eating in the same room together

a minimum of once a week

Coming up with the perfect insult but being self-aware enough not to say it out loud

Taking the things that have deliberately been left on the stairs to the top of the stairs

Remembering not to put the cast-iron pan in the dishwasher again

Knowing when to take the children away for a few hours

Daily eye contact

Not talking all through the start of a movie, leaving you both unsure of what the movie is about

Agreeing on the optimum temperature of a room

, instead of passive-aggressively wrestling with the thermostat when the other one isn't looking

Having sex all the way through without checking your phone
There were several more, but you get the idea.
One thing he did not put on his list is daily touching — lips, shoulders, hands — which is just as important as daily eye contact.
Again, it must be a generational thing, but I cannot imagine being intimate with someone and checking one's phone at the same time.
Ditching the marital bed
Around the same time the British survey appeared, The Times posted a report from their Paris correspondent Charles Bremner about an Ifop poll — 'Couples opt for separate rooms and less ooh-la-la':
A recent study found that 10 per cent of cohabiting couples sleep in different rooms and a further 6 per cent would like to but fear the consequences.
Young people are increasingly eschewing the same room. More 20 per cent of couples aged 65 and over sleep in separate rooms, the Ifop study found. Contrary to what might be assumed, however, the pandemic and its lockdowns did not accelerate the decline in sleeping together, Ifop said.
The French blame the Catholic Church for the marital bed. I've never heard of a crazier thing. What about every other country and culture?
For centuries, French couples were told by the church that their duty was to sleep in the same bed. But as Christian practices decline, increasing numbers are opting for separate rooms, with the blessing of experts who say there is no reason to feel guilty …
The shift reflects the fading of the obligation that was imposed by church and society since Thomas Aquinas decreed in the 13th century that "the couple must have their bed and their bed-chamber". The duty of the single bed, never observed by French aristocracy and royalty, was in full bourgeois force when Honoré de Balzac wrote in the 19th century, "The bed is all of marriage".
Yes, I am aware of separate bedrooms. The Queen and Prince Philip had their own rooms, and Downton Abbey had them, too.
However, how can one not want to sleep with one's nearest and dearest, barring severe or chronic medical problems? Maybe I'm too much of a romantic.
Experts are telling French couples not to feel guilty if they have or want to have separate sleeping arrangements:
Couples are now being told that while physical intimacy may suffer, "la chambre à part" does not necessarily mean failure and can be healthy. "It is not so natural to sleep with another person," Pascal Anger, a psychotherapist, said. "When you ask people if they feel good at night, they shrug and say 'not as good as all that," he told RMC radio.
What's unnatural about sleeping with the one you love? This all sounds rather selfish:
François de Singly, a sociologist, said: "Modern individuals want more and more to retain their personal identity without giving up the company of the other." Damien Léger, head of the Sleep Centre at the Hôtel-Dieu university hospital in Paris, said the tradition of bed-sharing is cultural, not natural. "It's not obvious for a lot of people," he said.
It sounds like some of the devil's finest work, especially when explained like this:
Advice has been coming from Jean-Claude Kauffmann, a sociologist and author of "A Bed for Two: The tender war", a noted book on sharing lives, in or out of wedlock. "Fifty years ago, the roles were well defined. You began life as a couple with marriage which meant sharing the same place," he said. "We're now in an era when you don't want to disappear as an individual… This phenomenon is being embraced as a new way of being a couple," he told Le Parisien newspaper.
My feelings will be well and truly hurt if that ever happens to me.
Snoring, probably the most common complaint, can be easily solved by rolling up the bed pillow underneath one's neck before going to sleep. With a down pillow it's comfy, and one breathes properly.
The Times offered another perspective. Alice-Azania Jarvis suggested separate duvets, saying she could appreciate the survey results:
I can relate. Or, at least, I could. For years I, too, was separation-curious. In the small hours, after yet another tug of war over the duvet, nothing was more appealing . . . but in the cold light of day, full sleep divorce seemed a step too far. Never mind the lack of intimacy: we live in central London and just don't have the space.
I know, from conversations with friends, that I am not alone. Which is why I'd like to share what has proved a life-changing, no exaggeration, solution. It won't insulate you from snoring (that's what earplugs are for) but neither will it necessitate the addition of an extra wing, nor the requisitioning of your home office. Crucially, it is almost totally free from unsexy housemate vibes. It is this: separate bedding.
I promise, it is magic. My husband and I discovered this happy fact long before we were married, after a tip-off from another couple. I admit, I was sceptical, and reluctant to introduce any more laundry into our lives. But that first night was a revelation — the freedom to hog my own duvet, the luxury of a full cocoon. My husband loved it too: aggressively possessive in sleep, I've been known to kick, hard.
We've never looked back. Over the years, this arrangement has evolved to accommodate our individual preferences: a sheet or very light duvet for me (no overheating), the full marshmallowy shebang for him. It looks a little strange, but we have a pleasing bedspread, and an elaborate selection of scatter cushions, which cover the worst sins.
Now that's the sort of advice worth reading and following.
The Christmas widow
At the same time the aforementioned surveys appeared an 'Anonymous author' first-person story showed up in The Telegraph: 'How did I become a Christmas widow?'
Surely, if one is married, one of the highlights of the year is spending Christmas together, right?
Not so for one husband, who prefers to be away from his wife and children for most of the day. I wonder what their sleeping arrangements are like.
She writes:
For the last four years I have become a Christmas widow. I have my children, aged 17 and 12, to keep me company but my usually attentive husband is nowhere to be seen. My children and I will eat a Christmas lunch – turkey and all the trimmings – without him. We'll watch the King's speech wondering when he'll get back. We'll play charades with no dad jokes to laugh at. 
At around 4pm my husband will come in, all smiles and laughter, re-heat his Christmas dinner and sit with it on a tray on his lap on the sofa. From this position, he'll regale us with all the selfless things he's done that day. 
For the past four years my husband has volunteered every Christmas in a homeless shelter. He stands behind a counter in a pinny handing out lunches to those in need. It's supremely ironic that he finds such fulfilment in this, because he never lifts a finger in our kitchen at home. 
Hmm.
She must be kicking herself:
I married my husband because I loved his big heart and unquenchable kindness. In fact, it was me who introduced him to this homeless shelter through a friend who also volunteers there.
This is where selflessness can go wrong:
I was proud of him at first but over the years he's become a boastful virtue-signaller whose do-goodery turns my stomach every Christmas. He goes on and on about it for the rest of the day and most of the Christmas week, telling all our friends and visitors of who he met and their troubles. I roll my eyes at girlfriends and relatives hoping he'll shut up. To be honest, it all bores me. 
Originally, the idea was that his design company would help make signs and leaflets for this charity, but he became more and more chummy with the organisers and slowly started to get more and more personally involved until we got to where we are now: he a virtue-signalling bore and me a Christmas widow.
According to her, he wants to get the children involved:
This year it's got even worse, as he has started asking our children to go with him. The eldest would never be up in time anyway, but I put my foot down about the youngest. He deserves a Christmas he can enjoy and remember, opening his presents, not serving up gravy to people he's never met before and who I believe might well have a host or problems he is too young to understand and not equipped to deal with. 

I understand what she's saying:
I long to have a relaxed Christmas lie-in with him, to exchange gifts, and hold his hand as the children open up the presents we've carefully picked out for them, watch our favourite Christmas films and perhaps even get a bit of help serving lunch. It's really not the same toasting your 12-year-old while the 17-year-old stares at their mobile phone.
I may come across as heartless. I may come across as selfish, but is it so wrong to want my husband home, present and there for our one special day of the year as a family?
However, he might be one of those people who doesn't like the home rituals of Christmas very much.
As the article is behind a paywall, I cannot read the comments to it.
This one has me torn. I can appreciate both points of view.
What do you think? Feel free to comment below.
The Second Sunday after Christmas Day is January 2, 2021.
The readings for Year C can be found here.
The Gospel is as follows (emphases mine):
John 1:(1-9), 10-18
1:1 In the beginning was the Word, and the Word was with God, and the Word was God.
1:2 He was in the beginning with God.
1:3 All things came into being through him, and without him not one thing came into being. What has come into being
1:4 in him was life, and the life was the light of all people.
1:5 The light shines in the darkness, and the darkness did not overcome it.
1:6 There was a man sent from God, whose name was John.
1:7 He came as a witness to testify to the light, so that all might believe through him.
1:8 He himself was not the light, but he came to testify to the light.
1:9 The true light, which enlightens everyone, was coming into the world.
1:10 He was in the world, and the world came into being through him; yet the world did not know him.
1:11 He came to what was his own, and his own people did not accept him.
1:12 But to all who received him, who believed in his name, he gave power to become children of God,
1:13 who were born, not of blood or of the will of the flesh or of the will of man, but of God.
1:14 And the Word became flesh and lived among us, and we have seen his glory, the glory as of a father's only son, full of grace and truth.
1:15 (John testified to him and cried out, "This was he of whom I said, 'He who comes after me ranks ahead of me because he was before me.'")
1:16 From his fullness we have all received, grace upon grace.
1:17 The law indeed was given through Moses; grace and truth came through Jesus Christ.
1:18 No one has ever seen God. It is God the only Son, who is close to the Father's heart, who has made him known.
My post on John 1:1-14, read on Christmas Day, can be found here.
Commentary for John 1:15-18 comes from Matthew Henry and John MacArthur.
John MacArthur tells us that these first 18 verses are a prologue. They explain the theology that we must understand and accept in order to know the true Jesus:
John opens his gospel with 18 verses that we would call a prologue – a prologue. This is John talking theologically. Starting in verse 19, he goes into the narrative part of it in which he starts to tell the story of Jesus' life in the world. And he goes into the statements that Jesus makes and the works that He does and the miracles He performs and gives us the wonderful story all the way to the cross and the resurrection. But in the opening prologue, he makes his thesis statement, and the statement in the opening prologue is that Jesus is God in human flesh, that He is the Creator of the universe who has become a part of His creation.
He is pure, eternal being who has become a man. That is John's message, that Jesus is not a created man, He is God in human flesh. And that, dear friends, that is the most essential doctrine in the Christian faith. That is it. And that is why there have been and continue to be so many heresies concerning Jesus Christ, concerning the essence or the nature or the person of Jesus Christ. This is the important doctrine in the Christian faith. It must be known, it must be believed, for someone to escape hell and enter heaven, that Jesus is God.
Summed up in four words at the beginning of verse 14, "The Word became flesh." The Word became flesh. That is the central truth of Christianity, that is the theme of John's gospel, and that is the required conviction for anyone who will escape hell, to understand that the Word became flesh.
Now, we've already learned in the opening thirteen verses that what that is saying is that the one, true, eternal God became human. That the infinite One became finite, that the eternal One entered time, that the omnipresent One became confined in the space of a human body, that the invisible One became visible. The true church of Jesus Christ has always believed that. It has always proclaimed that. It has always demanded that. Any other view of Christ is unacceptable – it is a damning heresy. This is the only view of Christ by which someone can escape hell and enter heaven. This is the reason John makes such a case out of the deity of Jesus Christ.
He gives his purpose in chapter 20, verse 31, at the end of his gospel. "These have been written" – everything in the gospel up to this point – "so that you may believe that Jesus is the anointed One, the Son of God, and that believing, you may have life in His name." The only way to have eternal life is by believing in Him, believing who He is, first of all, and what He has done.
So in His opening prologue, John talks about the nature of Jesus Christ. He introduces Him as "the Word." This is a metaphor which speaks of Christ as coming from God, as God revealing Himself, disclosing Himself, speaking. And he says, "The Word was in the beginning." In other words, He already existed when everything that began, began, which means He's eternal. He was with God, which means though He was God, He was at the same time distinct from God. He was with God and was God. That is Trinitarian. There is one God and yet three persons. Jesus is God and yet He is with God.
The theology here is profound. And in the beginning when everything came into existence that came into existence, He "was" – the verb "to be," pure being, He eternally existed. To prove that, everything that came into being came into being through Him, and without Him did not anything come into being that came into being – and that because He is life. He has life in Himself. He is the Creator. And the Creator whose eternal being, verse 5 says, came into the darkness of this world like a light. And that's how he introduces this incredible book, the arrival of the Light, the very life of God, the very Word of God, into the world.
Now, I think it would be safe to say that John was legitimately obsessed with this great foundational doctrine. And again I urge you, whenever anybody talks about religion and gets to Jesus, you want to focus right down on what Jesus they are talking about. Are they talking about the One who is the eternal God? The One who is the Creator who existed infinitely forever? Or are they talking about some other Jesus? John is obsessed with this.
John also wrote about those themes in his two letters, 1 and 2 John. John also wrote Revelation.
MacArthur explains:
… just to show you what was so much on his heart, turn to 1 John for a moment – 1 John – and John launches his epistle, and he's writing this epistle to believers to identify for them the marks of true salvation. And listen how he starts. He starts very much like he started his gospel. "What was from the beginning," that's Christ, who, when the beginning began, already existed because He's eternal.
"What was from the beginning, what we have heard, what we have seen with our eyes, what we have looked at and touched with our hands, namely the Word of Life – and the life was manifested." There is very parallel language. The eternal Word, life itself, manifested itself in the world, John said, and we saw it with our own eyes. And we looked at it, and we heard, and we touched Him with our hands. We've seen, he says in verse 2, we testify, we proclaim to you the eternal life – you could capitalize that, The Eternal Life, meaning the Son of God – which was with the Father and was manifested to us – and we've seen and we heard and we proclaim to you.
He can't get over this. John is absolutely blown away by the fact that he has heard, he has seen, he has looked deeply into the face of, and he has touched the Creator of the universe in a human form. I think this would be something to obsess about. That's where John is. And what we have seen and heard and touched, we declare to you so that, verse 3, you may have fellowship with us, so that you can come into the kingdom, believing in Him, and our fellowship is with the Father and with His Son Jesus Christ. And these are things we write, so that your joy may be made complete, because complete joy can only be found in knowing Him.
You know, John never got over it. You wonder why John refers to himself in his gospel, not by his name, but he calls himself "the disciple whom Jesus loved" or "the disciple who leaned on Jesus" because he never, ever could fathom the reality that this is the eternal Creator God, the one true God in human form, and He loves me, and He walks with me, and He talks with me, and I touch Him, and I fellowship with Him, and I can't get over it. This is the obsession of all of his writing.
John refers again to John the Baptist, who said that Jesus came after him in birth order but in eternal terms He comes first because He has been present before all creation (verse 15).
Matthew Henry's commentary says:
He is before me, is my first, [1.] In respect of seniority: he was before me, for he was before Abraham, John 8:58; John 8:58. Nay, he was before all things, Colossians 1:17. I am but of yesterday, he from eternity. It was but in those days that John Baptist came (Matthew 3:1), but the goings forth of our Lord Jesus were of old, from everlasting, Micah 5:2. This proves two natures in Christ. Christ, as man, came after John as to his public appearance; Christ, as God, was before him; and how could he otherwise be before him but by an eternal existence? [2.] In respect of supremacy; for he was my prince; so some princes are called the first; proton, "It is he for whose sake and service I am sent: he is my Master, I am his minister and messenger."
John the Apostle says that from the fullness of Jesus we have received grace upon grace (verse 16).
Henry gives us the various interpretations of 'grace upon grace':
1. We have received grace for grace. Our receivings by Christ are all summed up in this one word, grace; we have received kai charin—even grace, so great a gift, so rich, so invaluable; we have received no less than grace; this is a gift to be spoken of with an emphasis. It is repeated, grace for grace; for to every stone in this building, as well as to the top-stone, we must cry, Grace, grace. Observe,
(1.) The blessing received. It is grace; the good will of God towards us, and the good work of God in us. God's good will works the good work, and then the good work qualifies us for further tokens of his good will. As the cistern receives water from the fulness of the fountain, the branches sap from the fulness of the root, and the air light from the fulness of the sun, so we receive grace from the fulness of Christ.
(2.) The manner of its reception: Grace for grace—charin anti charitos. The phrase is singular, and interpreters put different senses upon it, each of which will be of use to illustrate the unsearchable riches of the grace of Christ. Grace for grace bespeaks, [1.] The freeness of this grace. It is grace for grace's sake; so Grotius. We receive grace, not for our sakes (be it known to us), but even so, Father, because it seemed good in thy sight. It is a gift according to grace, Romans 12:6. It is grace to us for the sake of grace to Jesus Christ. God was well pleased in him, and is therefore well pleased with us in him, Ephesians 1:6. [2.] The fulness of this grace. Grace for grace is abundance of grace, grace upon grace (so Camero), one grace heaped upon another; as skin for skin is skin after skin, even all that a man has, Job 2:4. It is a blessing poured out, that there shall not be room to receive it, plenteous redemption: one grace a pledge of more grace. Joseph-He will add. It is such a fulness as is called the fulness of God which we are filled with. We are not straitened in the grace of Christ, if we be not straitened in our own bosoms. [3.] The serviceableness of this grace. Grace for grace is grace for the promoting and advancing of grace. Grace to be exercised by ourselves; gracious habits for gracious acts. Grace to be ministered to others; gracious vouchsafements for gracious performances: grace is a talent to be traded with. The apostles received grace (Romans 1:5; Ephesians 3:8), that they might communicate it, 1 Peter 4:10. [4.] The substitution of New-Testament grace in the room and stead of Old-Testament grace: so Beza. And this sense is confirmed by what follows (John 1:17; John 1:17); for the Old Testament had grace in type, the New Testament has grace in truth. There was a grace under the Old Testament, the gospel was preached then (Galatians 3:8); but that grace is superseded, and we have gospel grace instead of it, a glory which excelleth, 2 Corinthians 3:10. Discoveries of grace are now more clear, distributions of grace far more plentiful; this is grace instead of grace. [5.] It bespeaks the augmentation and continuance of grace. Grace for grace is one grace to improve, confirm, and perfect another grace. We are changed into the divine image, from glory to glory, from one degree of glorious grace to another, 2 Corinthians 3:18. Those that have true grace have that for more grace, James 4:6. When God gives grace he saith, Take this in part; for he who hath promised will perform. [6.] It bespeaks the agreeableness and conformity of grace in the saints to the grace that is in Jesus Christ; so Mr. Clark. Grace for grace is grace in us answering to grace in him, as the impression upon the wax answers the seal line for line. The grace we receive from Christ changes us into the same image (2 Corinthians 3:18), the image of the Son (Romans 8:29), the image of the heavenly, 1 Corinthians 15:49.
John makes it clear that the Old Covenant was imperfect and only temporary. The law came from God via Moses but with the New Covenant in Jesus Christ we have grace and truth (verse 17).
Henry explains how excellent and unsurpassed the New Covenant is:
(1.) Its preference above the law of Moses: The law was given by Moses, and it was a glorious discovery, both of God's will concerning man and his good will to man; but the gospel of Christ is a much clearer discovery both of duty and happiness. That which was given by Moses was purely terrifying and threatening, and bound with penalties, a law which could not give life, which was given with abundance of terror (Hebrews 12:18); but that which is given by Jesus Christ is of another nature; it has all the beneficial uses of the law, but not the terror, for it is grace: grace teaching (Titus 2:11), grace reigning, Romans 5:21. It is a law, but a remedial law. The endearments of love are the genius of the gospel, not the affrightments of law and the curse. (2.) Its connection with truth: grace and truth. In the gospel we have the discovery of the greatest truths to be embraced by the understanding, as well as of the richest grace to be embraced by the will and affections. It is a faithful saying, and worthy of all acceptation; that is, it is grace and truth. The offers of grace are sincere, and what we may venture our souls upon; they are made in earnest, for it is grace and truth. It is grace and truth with reference to the law that was given by Moses. For it is, [1.] The performance of all the Old-Testament promises. In the Old Testament we often find mercy and truth put together, that is, mercy according to promise; so here grace and truth denote grace according to promise. See Luke 1:72; 1 Kings 8:56. [2.] It is the substance of all the Old-Testament types and shadows. Something of grace there was both in the ordinances that were instituted for Israel and the providences that occurred concerning Israel; but they were only shadows of good things to come, even of the grace that is to be brought to us by the revelation of Jesus Christ. He is the true paschal lamb, the true scape-goat, the true manna. They had grace in the picture; we have grace in the person, that is, grace and truth. Grace and truth came, egeneto–was made; the same word that was used (John 1:3; John 1:3) concerning Christ's making all things. The law was only made known by Moses, but the being of this grace and truth, as well as the discovery of them, is owing to Jesus Christ; this was made by him, as the world at first was; and by him this grace and truth do consist.
John ends his prologue by saying that no one has ever seen God the Father; it is only through God the Son that the Father becomes known (verse 18).
Henry interprets the verse as follows:
This was the grace and truth which came by Christ, the knowledge of God and an acquaintance with him. Observe,
(1.) The insufficiency of all other discoveries: No man hath seen God at any time. This intimates, [1.] That the nature of God being spiritual, he is invisible to bodily eyes, he is a being whom no man hath seen, nor can see, 1 Timothy 6:16. We have therefore need to live by faith, by which we see him that is invisible, Hebrews 11:27. [2.] That the revelation which God made of himself in the Old Testament was very short and imperfect, in comparison with that which he has made by Christ: No man hath seen God at any time; that is, what was seen and known of God before the incarnation of Christ was nothing to that which is now seen and known; life and immortality are now brought to a much clearer light than they were then. [3.] That none of the Old-Testament prophets were so well qualified to make known the mind and will of God to the children of men as our Lord Jesus was, for none of them had seen God at any time. Moses beheld the similitude of the Lord (Numbers 12:8), but was told that he could not see his face, Exodus 33:20. But this recommends Christ's holy religion to us that it was founded by one that had seen God, and knew more of his mind than any one else ever did.
This is why we cannot know God unless we believe in Jesus Christ. Only He can reveal the Father to us.
This is the wonder and awe of the Christmas story.
We are infinitely blessed that our Lord Jesus condescended to come to earth to be among us, sharing our human form but being all human and all divine, without sin from the beginning and forever more.
Forbidden Bible Verses will appear tomorrow.