You are currently browsing the tag archive for the 'Christmas' tag.
The Second Sunday after Christmas Day is January 2, 2021.
The readings for Year C can be found here.
The Gospel is as follows (emphases mine):
John 1:(1-9), 10-18
1:1 In the beginning was the Word, and the Word was with God, and the Word was God.
1:2 He was in the beginning with God.
1:3 All things came into being through him, and without him not one thing came into being. What has come into being
1:4 in him was life, and the life was the light of all people.
1:5 The light shines in the darkness, and the darkness did not overcome it.
1:6 There was a man sent from God, whose name was John.
1:7 He came as a witness to testify to the light, so that all might believe through him.
1:8 He himself was not the light, but he came to testify to the light.
1:9 The true light, which enlightens everyone, was coming into the world.
1:10 He was in the world, and the world came into being through him; yet the world did not know him.
1:11 He came to what was his own, and his own people did not accept him.
1:12 But to all who received him, who believed in his name, he gave power to become children of God,
1:13 who were born, not of blood or of the will of the flesh or of the will of man, but of God.
1:14 And the Word became flesh and lived among us, and we have seen his glory, the glory as of a father's only son, full of grace and truth.
1:15 (John testified to him and cried out, "This was he of whom I said, 'He who comes after me ranks ahead of me because he was before me.'")
1:16 From his fullness we have all received, grace upon grace.
1:17 The law indeed was given through Moses; grace and truth came through Jesus Christ.
1:18 No one has ever seen God. It is God the only Son, who is close to the Father's heart, who has made him known.
My post on John 1:1-14, read on Christmas Day, can be found here.
Commentary for John 1:15-18 comes from Matthew Henry and John MacArthur.
John MacArthur tells us that these first 18 verses are a prologue. They explain the theology that we must understand and accept in order to know the true Jesus:
John opens his gospel with 18 verses that we would call a prologue – a prologue. This is John talking theologically. Starting in verse 19, he goes into the narrative part of it in which he starts to tell the story of Jesus' life in the world. And he goes into the statements that Jesus makes and the works that He does and the miracles He performs and gives us the wonderful story all the way to the cross and the resurrection. But in the opening prologue, he makes his thesis statement, and the statement in the opening prologue is that Jesus is God in human flesh, that He is the Creator of the universe who has become a part of His creation.
He is pure, eternal being who has become a man. That is John's message, that Jesus is not a created man, He is God in human flesh. And that, dear friends, that is the most essential doctrine in the Christian faith. That is it. And that is why there have been and continue to be so many heresies concerning Jesus Christ, concerning the essence or the nature or the person of Jesus Christ. This is the important doctrine in the Christian faith. It must be known, it must be believed, for someone to escape hell and enter heaven, that Jesus is God.
Summed up in four words at the beginning of verse 14, "The Word became flesh." The Word became flesh. That is the central truth of Christianity, that is the theme of John's gospel, and that is the required conviction for anyone who will escape hell, to understand that the Word became flesh.
Now, we've already learned in the opening thirteen verses that what that is saying is that the one, true, eternal God became human. That the infinite One became finite, that the eternal One entered time, that the omnipresent One became confined in the space of a human body, that the invisible One became visible. The true church of Jesus Christ has always believed that. It has always proclaimed that. It has always demanded that. Any other view of Christ is unacceptable – it is a damning heresy. This is the only view of Christ by which someone can escape hell and enter heaven. This is the reason John makes such a case out of the deity of Jesus Christ.
He gives his purpose in chapter 20, verse 31, at the end of his gospel. "These have been written" – everything in the gospel up to this point – "so that you may believe that Jesus is the anointed One, the Son of God, and that believing, you may have life in His name." The only way to have eternal life is by believing in Him, believing who He is, first of all, and what He has done.
So in His opening prologue, John talks about the nature of Jesus Christ. He introduces Him as "the Word." This is a metaphor which speaks of Christ as coming from God, as God revealing Himself, disclosing Himself, speaking. And he says, "The Word was in the beginning." In other words, He already existed when everything that began, began, which means He's eternal. He was with God, which means though He was God, He was at the same time distinct from God. He was with God and was God. That is Trinitarian. There is one God and yet three persons. Jesus is God and yet He is with God.
The theology here is profound. And in the beginning when everything came into existence that came into existence, He "was" – the verb "to be," pure being, He eternally existed. To prove that, everything that came into being came into being through Him, and without Him did not anything come into being that came into being – and that because He is life. He has life in Himself. He is the Creator. And the Creator whose eternal being, verse 5 says, came into the darkness of this world like a light. And that's how he introduces this incredible book, the arrival of the Light, the very life of God, the very Word of God, into the world.
Now, I think it would be safe to say that John was legitimately obsessed with this great foundational doctrine. And again I urge you, whenever anybody talks about religion and gets to Jesus, you want to focus right down on what Jesus they are talking about. Are they talking about the One who is the eternal God? The One who is the Creator who existed infinitely forever? Or are they talking about some other Jesus? John is obsessed with this.
John also wrote about those themes in his two letters, 1 and 2 John. John also wrote Revelation.
MacArthur explains:
… just to show you what was so much on his heart, turn to 1 John for a moment – 1 John – and John launches his epistle, and he's writing this epistle to believers to identify for them the marks of true salvation. And listen how he starts. He starts very much like he started his gospel. "What was from the beginning," that's Christ, who, when the beginning began, already existed because He's eternal.
"What was from the beginning, what we have heard, what we have seen with our eyes, what we have looked at and touched with our hands, namely the Word of Life – and the life was manifested." There is very parallel language. The eternal Word, life itself, manifested itself in the world, John said, and we saw it with our own eyes. And we looked at it, and we heard, and we touched Him with our hands. We've seen, he says in verse 2, we testify, we proclaim to you the eternal life – you could capitalize that, The Eternal Life, meaning the Son of God – which was with the Father and was manifested to us – and we've seen and we heard and we proclaim to you.
He can't get over this. John is absolutely blown away by the fact that he has heard, he has seen, he has looked deeply into the face of, and he has touched the Creator of the universe in a human form. I think this would be something to obsess about. That's where John is. And what we have seen and heard and touched, we declare to you so that, verse 3, you may have fellowship with us, so that you can come into the kingdom, believing in Him, and our fellowship is with the Father and with His Son Jesus Christ. And these are things we write, so that your joy may be made complete, because complete joy can only be found in knowing Him.
You know, John never got over it. You wonder why John refers to himself in his gospel, not by his name, but he calls himself "the disciple whom Jesus loved" or "the disciple who leaned on Jesus" because he never, ever could fathom the reality that this is the eternal Creator God, the one true God in human form, and He loves me, and He walks with me, and He talks with me, and I touch Him, and I fellowship with Him, and I can't get over it. This is the obsession of all of his writing.
John refers again to John the Baptist, who said that Jesus came after him in birth order but in eternal terms He comes first because He has been present before all creation (verse 15).
Matthew Henry's commentary says:
He is before me, is my first, [1.] In respect of seniority: he was before me, for he was before Abraham, John 8:58; John 8:58. Nay, he was before all things, Colossians 1:17. I am but of yesterday, he from eternity. It was but in those days that John Baptist came (Matthew 3:1), but the goings forth of our Lord Jesus were of old, from everlasting, Micah 5:2. This proves two natures in Christ. Christ, as man, came after John as to his public appearance; Christ, as God, was before him; and how could he otherwise be before him but by an eternal existence? [2.] In respect of supremacy; for he was my prince; so some princes are called the first; proton, "It is he for whose sake and service I am sent: he is my Master, I am his minister and messenger."
John the Apostle says that from the fullness of Jesus we have received grace upon grace (verse 16).
Henry gives us the various interpretations of 'grace upon grace':
1. We have received grace for grace. Our receivings by Christ are all summed up in this one word, grace; we have received kai charin—even grace, so great a gift, so rich, so invaluable; we have received no less than grace; this is a gift to be spoken of with an emphasis. It is repeated, grace for grace; for to every stone in this building, as well as to the top-stone, we must cry, Grace, grace. Observe,
(1.) The blessing received. It is grace; the good will of God towards us, and the good work of God in us. God's good will works the good work, and then the good work qualifies us for further tokens of his good will. As the cistern receives water from the fulness of the fountain, the branches sap from the fulness of the root, and the air light from the fulness of the sun, so we receive grace from the fulness of Christ.
(2.) The manner of its reception: Grace for grace—charin anti charitos. The phrase is singular, and interpreters put different senses upon it, each of which will be of use to illustrate the unsearchable riches of the grace of Christ. Grace for grace bespeaks, [1.] The freeness of this grace. It is grace for grace's sake; so Grotius. We receive grace, not for our sakes (be it known to us), but even so, Father, because it seemed good in thy sight. It is a gift according to grace, Romans 12:6. It is grace to us for the sake of grace to Jesus Christ. God was well pleased in him, and is therefore well pleased with us in him, Ephesians 1:6. [2.] The fulness of this grace. Grace for grace is abundance of grace, grace upon grace (so Camero), one grace heaped upon another; as skin for skin is skin after skin, even all that a man has, Job 2:4. It is a blessing poured out, that there shall not be room to receive it, plenteous redemption: one grace a pledge of more grace. Joseph-He will add. It is such a fulness as is called the fulness of God which we are filled with. We are not straitened in the grace of Christ, if we be not straitened in our own bosoms. [3.] The serviceableness of this grace. Grace for grace is grace for the promoting and advancing of grace. Grace to be exercised by ourselves; gracious habits for gracious acts. Grace to be ministered to others; gracious vouchsafements for gracious performances: grace is a talent to be traded with. The apostles received grace (Romans 1:5; Ephesians 3:8), that they might communicate it, 1 Peter 4:10. [4.] The substitution of New-Testament grace in the room and stead of Old-Testament grace: so Beza. And this sense is confirmed by what follows (John 1:17; John 1:17); for the Old Testament had grace in type, the New Testament has grace in truth. There was a grace under the Old Testament, the gospel was preached then (Galatians 3:8); but that grace is superseded, and we have gospel grace instead of it, a glory which excelleth, 2 Corinthians 3:10. Discoveries of grace are now more clear, distributions of grace far more plentiful; this is grace instead of grace. [5.] It bespeaks the augmentation and continuance of grace. Grace for grace is one grace to improve, confirm, and perfect another grace. We are changed into the divine image, from glory to glory, from one degree of glorious grace to another, 2 Corinthians 3:18. Those that have true grace have that for more grace, James 4:6. When God gives grace he saith, Take this in part; for he who hath promised will perform. [6.] It bespeaks the agreeableness and conformity of grace in the saints to the grace that is in Jesus Christ; so Mr. Clark. Grace for grace is grace in us answering to grace in him, as the impression upon the wax answers the seal line for line. The grace we receive from Christ changes us into the same image (2 Corinthians 3:18), the image of the Son (Romans 8:29), the image of the heavenly, 1 Corinthians 15:49.
John makes it clear that the Old Covenant was imperfect and only temporary. The law came from God via Moses but with the New Covenant in Jesus Christ we have grace and truth (verse 17).
Henry explains how excellent and unsurpassed the New Covenant is:
(1.) Its preference above the law of Moses: The law was given by Moses, and it was a glorious discovery, both of God's will concerning man and his good will to man; but the gospel of Christ is a much clearer discovery both of duty and happiness. That which was given by Moses was purely terrifying and threatening, and bound with penalties, a law which could not give life, which was given with abundance of terror (Hebrews 12:18); but that which is given by Jesus Christ is of another nature; it has all the beneficial uses of the law, but not the terror, for it is grace: grace teaching (Titus 2:11), grace reigning, Romans 5:21. It is a law, but a remedial law. The endearments of love are the genius of the gospel, not the affrightments of law and the curse. (2.) Its connection with truth: grace and truth. In the gospel we have the discovery of the greatest truths to be embraced by the understanding, as well as of the richest grace to be embraced by the will and affections. It is a faithful saying, and worthy of all acceptation; that is, it is grace and truth. The offers of grace are sincere, and what we may venture our souls upon; they are made in earnest, for it is grace and truth. It is grace and truth with reference to the law that was given by Moses. For it is, [1.] The performance of all the Old-Testament promises. In the Old Testament we often find mercy and truth put together, that is, mercy according to promise; so here grace and truth denote grace according to promise. See Luke 1:72; 1 Kings 8:56. [2.] It is the substance of all the Old-Testament types and shadows. Something of grace there was both in the ordinances that were instituted for Israel and the providences that occurred concerning Israel; but they were only shadows of good things to come, even of the grace that is to be brought to us by the revelation of Jesus Christ. He is the true paschal lamb, the true scape-goat, the true manna. They had grace in the picture; we have grace in the person, that is, grace and truth. Grace and truth came, egeneto–was made; the same word that was used (John 1:3; John 1:3) concerning Christ's making all things. The law was only made known by Moses, but the being of this grace and truth, as well as the discovery of them, is owing to Jesus Christ; this was made by him, as the world at first was; and by him this grace and truth do consist.
John ends his prologue by saying that no one has ever seen God the Father; it is only through God the Son that the Father becomes known (verse 18).
Henry interprets the verse as follows:
This was the grace and truth which came by Christ, the knowledge of God and an acquaintance with him. Observe,
(1.) The insufficiency of all other discoveries: No man hath seen God at any time. This intimates, [1.] That the nature of God being spiritual, he is invisible to bodily eyes, he is a being whom no man hath seen, nor can see, 1 Timothy 6:16. We have therefore need to live by faith, by which we see him that is invisible, Hebrews 11:27. [2.] That the revelation which God made of himself in the Old Testament was very short and imperfect, in comparison with that which he has made by Christ: No man hath seen God at any time; that is, what was seen and known of God before the incarnation of Christ was nothing to that which is now seen and known; life and immortality are now brought to a much clearer light than they were then. [3.] That none of the Old-Testament prophets were so well qualified to make known the mind and will of God to the children of men as our Lord Jesus was, for none of them had seen God at any time. Moses beheld the similitude of the Lord (Numbers 12:8), but was told that he could not see his face, Exodus 33:20. But this recommends Christ's holy religion to us that it was founded by one that had seen God, and knew more of his mind than any one else ever did.
This is why we cannot know God unless we believe in Jesus Christ. Only He can reveal the Father to us.
This is the wonder and awe of the Christmas story.
We are infinitely blessed that our Lord Jesus condescended to come to earth to be among us, sharing our human form but being all human and all divine, without sin from the beginning and forever more.
Forbidden Bible Verses will appear tomorrow.
The Second Sunday after Christmas Day is January 2, 2021.
Readings for Year C follow. Emphases mine below.
First reading
Through the word of the Lord, Jeremiah assures the captives that God will restore them to their own land and in due course send them the Messiah, the fulfilment of all His promises to Israel.
Jeremiah 31:7-14
31:7 For thus says the LORD: Sing aloud with gladness for Jacob, and raise shouts for the chief of the nations; proclaim, give praise, and say, "Save, O LORD, your people, the remnant of Israel."
31:8 See, I am going to bring them from the land of the north, and gather them from the farthest parts of the earth, among them the blind and the lame, those with child and those in labor, together; a great company, they shall return here.
31:9 With weeping they shall come, and with consolations I will lead them back, I will let them walk by brooks of water, in a straight path in which they shall not stumble; for I have become a father to Israel, and Ephraim is my firstborn.
31:10 Hear the word of the LORD, O nations, and declare it in the coastlands far away; say, "He who scattered Israel will gather him, and will keep him as a shepherd a flock."
31:11 For the LORD has ransomed Jacob, and has redeemed him from hands too strong for him.
31:12 They shall come and sing aloud on the height of Zion, and they shall be radiant over the goodness of the LORD, over the grain, the wine, and the oil, and over the young of the flock and the herd; their life shall become like a watered garden, and they shall never languish again.
31:13 Then shall the young women rejoice in the dance, and the young men and the old shall be merry. I will turn their mourning into joy, I will comfort them, and give them gladness for sorrow.
31:14 I will give the priests their fill of fatness, and my people shall be satisfied with my bounty, says the LORD.
First reading – Catholic
This reading from the Book of Sirach contains the same message and themes as that from Jeremiah.
Sirach 24:1-12
24:1 Wisdom praises herself, and tells of her glory in the midst of her people.
24:2 In the assembly of the Most High she opens her mouth, and in the presence of his hosts she tells of her glory:
24:3 "I came forth from the mouth of the Most High, and covered the earth like a mist.
24:4 I dwelt in the highest heavens, and my throne was in a pillar of cloud.
24:5 Alone I compassed the vault of heaven and traversed the depths of the abyss.
24:6 Over waves of the sea, over all the earth, and over every people and nation I have held sway."
24:7 Among all these I sought a resting place; in whose territory should I abide?
24:8 "Then the Creator of all things gave me a command, and my Creator chose the place for my tent. He said, 'Make your dwelling in Jacob, and in Israel receive your inheritance.'
24:9 Before the ages, in the beginning, he created me, and for all the ages I shall not cease to be.
24:10 In the holy tent I ministered before him, and so I was established in Zion.
24:11 Thus in the beloved city he gave me a resting place, and in Jerusalem was my domain.
24:12 I took root in an honored people, in the portion of the Lord, his heritage.
Psalm
This is one of the Psalms of praise, the last ten in the Book of Psalms. It exhorts us to give glory to God for His omnipotence and His fidelity towards His people.
Psalm 147:12-20
147:12 Praise the LORD, O Jerusalem! Praise your God, O Zion!
147:13 For he strengthens the bars of your gates; he blesses your children within you.
147:14 He grants peace within your borders; he fills you with the finest of wheat.
147:15 He sends out his command to the earth; his word runs swiftly.
147:16 He gives snow like wool; he scatters frost like ashes.
147:17 He hurls down hail like crumbs– who can stand before his cold?
147:18 He sends out his word, and melts them; he makes his wind blow, and the waters flow.
147:19 He declares his word to Jacob, his statutes and ordinances to Israel.
147:20 He has not dealt thus with any other nation; they do not know his ordinances. Praise the LORD!
Psalm alternative — Catholic
This reading from the Wisdom of Solomon has the same themes of omnipotence and fidelity as the Psalm.
Wisdom of Solomon 10:15-21
10:15 A holy people and blameless race wisdom delivered from a nation of oppressors,
10:16 She entered the soul of a servant of the Lord, and withstood dread kings with wonders and signs.
10:17 She gave to holy people the reward of their labors; she guided them along a marvelous way, and became a shelter to them by day, and a starry flame through the night.
10:18 She brought them over the Red Sea, and led them through deep waters;
10:19 but she drowned their enemies, and cast them up from the depth of the sea.
10:20 Therefore the righteous plundered the ungodly; they sang hymns, O Lord, to your holy name, and praised with one accord your defending hand;
20:21 for wisdom opened the mouths of those who were mute, and made the tongues of infants speak clearly.
Epistle
In his greeting to the Ephesians, Paul praises God for sending us Jesus Christ, who enables our inheritance as adopted children of the Father.
Ephesians 1:3-14
1:3 Blessed be the God and Father of our Lord Jesus Christ, who has blessed us in Christ with every spiritual blessing in the heavenly places,
1:4 just as he chose us in Christ before the foundation of the world to be holy and blameless before him in love.
1:5 He destined us for adoption as his children through Jesus Christ, according to the good pleasure of his will,
1:6 to the praise of his glorious grace that he freely bestowed on us in the Beloved.
1:7 In him we have redemption through his blood, the forgiveness of our trespasses, according to the riches of his grace
1:8 that he lavished on us. With all wisdom and insight
1:9 he has made known to us the mystery of his will, according to his good pleasure that he set forth in Christ,
1:10 as a plan for the fullness of time, to gather up all things in him, things in heaven and things on earth.
1:11 In Christ we have also obtained an inheritance, having been destined according to the purpose of him who accomplishes all things according to his counsel and will,
1:12 so that we, who were the first to set our hope on Christ, might live for the praise of his glory.
1:13 In him you also, when you had heard the word of truth, the gospel of your salvation, and had believed in him, were marked with the seal of the promised Holy Spirit;
1:14 this is the pledge of our inheritance toward redemption as God's own people, to the praise of his glory.
Gospel
We have a reprise of the opening verses of John's Gospel from Christmas Day with the final verses from his prologue (verses 15-18), which also mention God's infinite grace as does Paul's letter to the Ephesians.
John 1:(1-9), 10-18
1:1 In the beginning was the Word, and the Word was with God, and the Word was God.
1:2 He was in the beginning with God.
1:3 All things came into being through him, and without him not one thing came into being. What has come into being
1:4 in him was life, and the life was the light of all people.
1:5 The light shines in the darkness, and the darkness did not overcome it.
1:6 There was a man sent from God, whose name was John.
1:7 He came as a witness to testify to the light, so that all might believe through him.
1:8 He himself was not the light, but he came to testify to the light.
1:9 The true light, which enlightens everyone, was coming into the world.
1:10 He was in the world, and the world came into being through him; yet the world did not know him.
1:11 He came to what was his own, and his own people did not accept him.
1:12 But to all who received him, who believed in his name, he gave power to become children of God,
1:13 who were born, not of blood or of the will of the flesh or of the will of man, but of God.
1:14 And the Word became flesh and lived among us, and we have seen his glory, the glory as of a father's only son, full of grace and truth.
1:15 (John testified to him and cried out, "This was he of whom I said, 'He who comes after me ranks ahead of me because he was before me.'")
1:16 From his fullness we have all received, grace upon grace.
1:17 The law indeed was given through Moses; grace and truth came through Jesus Christ.
1:18 No one has ever seen God. It is God the only Son, who is close to the Father's heart, who has made him known.
Tomorrow's post will examine the Gospel reading in depth.
New Year's Day is the feast day of our Lord's Circumcision and the Holy Name of Jesus.
The readings are the same regardless of Lectionary year.
There is more information about the stained glass depiction of the Circumcision here.
These posts have more detail about the Circumcision:
January 1 – Feast of the Circumcision of Christ (2010)
January 1: why Jesus was circumcised (2021)
New Year's Day: the Circumcision — and Naming — of Christ Jesus
The next post has more on the shepherds. They reared the lambs to be used in sacrifices at the temple. They lived and worked in a sacred place just outside of Bethlehem, Migdal Eder (Genesis 35:21):
Migdal Eder: the shepherds provide a biblical key to unlocking the Christmas story (Luke's Gospel, Micah, Genesis; Carl H Bloch's painting The Shepherds and The Angel, oil on copper, 1879)
The Gospel reading is as follows (emphases mine):
Luke 2:15-21
2:15 When the angels had left them and gone into heaven, the shepherds said to one another, "Let us go now to Bethlehem and see this thing that has taken place, which the Lord has made known to us."
2:16 So they went with haste and found Mary and Joseph, and the child lying in the manger.
2:17 When they saw this, they made known what had been told them about this child;
2:18 and all who heard it were amazed at what the shepherds told them.
2:19 But Mary treasured all these words and pondered them in her heart.
2:20 The shepherds returned, glorifying and praising God for all they had heard and seen, as it had been told them.
2:21 After eight days had passed, it was time to circumcise the child; and he was called Jesus, the name given by the angel before he was conceived in the womb.
Commentary comes from Matthew Henry and John MacArthur.
It is useful reminding ourselves of the preceding verses, Luke 2:8-14:
The Shepherds and the Angels
8 And in the same region there were shepherds out in the field, keeping watch over their flock by night. 9 And an angel of the Lord appeared to them, and the glory of the Lord shone around them, and they were filled with great fear. 10 And the angel said to them, "Fear not, for behold, I bring you good news of great joy that will be for all the people. 11 For unto you is born this day in the city of David a Savior, who is Christ the Lord. 12 And this will be a sign for you: you will find a baby wrapped in swaddling cloths and lying in a manger." 13 And suddenly there was with the angel a multitude of the heavenly host praising God and saying,
14 "Glory to God in the highest,
    and on earth peace among those with whom he is pleased!"[d]
John MacArthur explains what the second half of verse 14 means. We know it as 'peace to men of goodwill', however, it does not include all of mankind, only those of God's choosing:
It's a salvation peace that will belong only to those that God pleases to give it to.  This is a great and gracious eternal decree.  This involves the great doctrine of election, predestination.  Before the creation of the universe God chose to save some just because He was pleased to do it.  Angels, you see, are not rejoicing or glorifying God for what men have done or will do, but because of what God has done and will do.  It's not that God's salvation is a reward for those who have goodwill toward men, as the old translation says.  But salvation is a gracious gift to those to whom God chooses to have goodwill. On earth, the Messiah, Savior, the Christ, the Lord will bring salvation peace to those whom God pleases to save.
After the angels had left to return to heaven, the shepherds felt compelled to go to Jerusalem to see the 'thing' that had taken place, as the Lord revealed to them through the first angel and His glory shining around them (verse 15).
MacArthur tells us about the Greek word for 'thing':
It's literally the Greek term rhma, and it means "a word," or "a reality."  Let us see this reality.  They now understand that they have heard the word from God, that there's a reality and the reality is that the Savior has been born.  Now they can confirm it easy enough because the angel had said to them, you're going to find a sign, back in verse 12, you're going to find a baby wrapped in cloths and lying where? In a manger.  Now that's just an unheard of thing and very unusual, probably never happened. Nobody would put a baby in a feed trough in a stinking stable.  So that would verify that this was all true.  I mean, they had seen the angels and that was verification enough.  But they were going to get even more verification when in fact they found the child exactly where the angel said He would be, which meant this was not just an earthly situation going on, this was heaven and earth involved.  They believed the angel.
Matthew Henry's commentary notes the shepherds' certainty of the angel's message:
… observe, These shepherds do not speak doubtfully, "Let us go see whether it be so or no;" but with assurance, Let us go see this thing which is come to pass; for what room was left to doubt of it, when the Lord had thus made it known to them? The word spoken by angels was stedfast and unquestionably true.
They hurried and found, as the angel said, the Child lying in the manger, with Mary and Joseph watching over Him (verse 16).
MacArthur thinks the shepherds did a door-to-door search in Bethlehem, but Henry thinks the angel told them where to find Him:
They lost no time, but came with haste to the place, which, probably, the angel directed them to more particularly than is recorded ("Go to the stable of such an inn"); and there they found Mary and Joseph, and the babe lying in the manger.
I, too, prefer to believe that version of events.
When the shepherds saw the Holy Family, they told them about the heavenly message they received (verse 17), and all who heard it were amazed (verse 18), a favourite word of St Luke's, for it appears several times in his Gospel.
MacArthur says:
… it says in verse 18, "All who had heard it wondered of the things which were told them by the shepherds."  I mean, what it did create was a stir.  The word "wonder" is the word thaumaz, it's a… Thaumaz means to marvel, to be amazed.  And by the way, it's…it's common in Luke's gospel.  He likes that word and it's repeated again and again.  I mean, the things that Jesus did caused people to be amazed, they caused them to wonder, caused them to marvel.  I mean, that was pretty typical.  You see him use that word in chapter 4, chapter 8, chapter 9, chapter 11, chapter 20.  He uses it in chapter 24 and also in chapters 4 and 5 you get a similar kind of response.  Jesus caused people to be amazed.  There's no question about it.  He was an amazing person. They had never seen anybody like Him.
Henry elaborates on the scene at the manger:
The poverty and meanness in which they found Christ the Lord were no shock to their faith, who themselves knew what it was to live a life of comfortable communion with God in very poor and mean circumstances. We have reason to think that the shepherds told Joseph and Mary of the vision of the angels they had seen, and the song of the angels they had heard, which was a great encouragement to them, more than if a visit had been made them by the best ladies in the town. And it is probable that Joseph and Mary told the shepherds what visions they had had concerning the child; and so, by communicating their experiences to each other, they greatly strengthened one another's faith.
MacArthur shares that perspective of deep, abiding faith:
They heard it and they believed it, they believed it, the Spirit of God obviously having prepared their hearts … I felt that these men chosen to be the recipients of this divine message were probably true Jews, that is they were believing Jews not just secular Jews, that they truly believed in the true and living God, that they were no doubt among those looking for the redemption of Israel, waiting for their Messiah. They would have been genuine believers in the true God who had repented of their sin and had come to God and sought His grace; all of that because their hearts were so ready and their responses were so right.  And they heard the heavenly revelation and they believed it.  They believed the fact that Messiah, the Savior, and Christ, the Lord, had come.
MacArthur imagines the conversation between the shepherds and Mary and Joseph:
… they unfold the saga.  Well, um, um, and I can just hear them all vying for telling the story their way as Joseph and Mary tried to sit quietly and listen.  And it must have been wonderful confirmation for them as well, for any malingering doubts that might have been raised in their minds. And they told the story of how an angel came and an angel described one who had been born, good news of great joy, a Savior.  He is Christ the Lord.  And on and on, they told the whole story.  And then a whole host of angels came and there were angels everywhere, and they were bright and they were shining and they were praising God and thanking God.  And oh, it was incredible.
And as that story unfolded I think Joseph and Mary probably began to unfold some of their side of the details.  Well isn't that wonderful because, you know, an angel came to me, Joseph might have said.  And he told me not to worry about the fact that my virgin, betrothed, bride-to-be Mary was pregnant because the baby that was in her womb was put there by the Holy Spirit. She was not sinful. She was not unfaithful to me.  That she was going to have a child who would be Immanuel, God with us, God in human flesh and that He would be named Jesus because He would save His people from their sins.  And this all happened to me when I was deciding whether to divorce her or stone her to death.  And I had a dream and in that dream an angel of the Lord came to me and told me the whole thing.
And then Mary might have quietly said, and, you know, I had a visit from Gabriel and Gabriel came to me even though I am just a young girl and a virgin and said you're going to have a baby and that baby is going to be Son of David, Son of the Most High God, He's going to rule over a kingdom that will last eternally. And it all is beginning to come together.  And these shepherds, talk about being in on the scoop, they're in on it.
And at this particular point, it's Joseph and Mary and a handful of shepherds, and Zacharias and Elizabeth and they know about it, and really nobody else has the kind of inside information that these people have.
Luke says that Mary treasured all these words and pondered them in her heart (verse 19). Luke would repeat this later on in the same chapter, verse 51, which was in last Sunday's reading, when Jesus stayed behind after Passover at the age of 12 to listen to the teachers in the temple:
Then he went down with them and came to Nazareth, and was obedient to them. His mother treasured all these things in her heart.
Henry says that Mary's is a good example to follow:
She laid the evidences together, and kept them in reserve, to be compared with the discoveries that should afterwards be made her. As she had silently left it to God to clear up her virtue, when that was suspected, so she silently leaves it to him to publish her honour, now when it was veiled; and it is satisfaction enough to find that, if no one else takes notice of the birth of her child, angels do. Note, The truths of Christ are worth keeping; and the way to keep them safe is to ponder them. Meditation is the best help to memory.
The shepherds returned, glorifying and praising God for all they had seen, just as it was revealed to them (verse 20).
Henry says it would not matter if no one else believed them, because God would accept their thanks:
If others would not regard the report they made to them, God would accept the thanksgivings they offered to him. They praised God for what they had heard from the angel, and for what they had seen, the babe in the manger, and just then in the swaddling, when they came in, as it had been spoken to them. They thanked God that they had seen Christ, though in the depth of his humiliation.
Henry compares the manger scene with the Crucifixion, both of which reflected God:
As afterwards the cross of Christ, so now his manger, was to some foolishness and a stumbling-block, but others saw in it, and admired, and praised, the wisdom of God and the power of God.
Eight days later, Jesus was circumcised and (officially) named (verse 21), in accordance with Jewish law.
This was the first time His precious blood would be shed. The next time would be as He was crucified, the one sufficient sacrifice for the sins of the world and a ransom for many.
As He is the Son of God, He had no need for the rituals of man, even as laid out by His Father, however, Henry explains that Jesus was obedient to His Father at all times. His circumcision also made Him part of the Abrahamic covenant, bringing Him closer to mankind:
1. Though it was a painful operation (Surely a bloody husband thou has been, said Zipporah to Moses, because of the circumcision,Exodus 4:25), yet Christ would undergo it for us; nay, therefore he submitted to it, to give an instance of his early obedience, his obedience unto blood. Then he shed his blood by drops, which afterwards he poured out in purple streams. 2. Though it supposed him a stranger, that was by that ceremony to be admitted into covenant with God, whereas he had always been his beloved Son; nay, though it supposed him a sinner, that needed to have his filthiness taken away, whereas he had no impurity or superfluity of naughtiness to be cut off, yet he submitted to it; nay, therefore he submitted to it, because he would be made in the likeness, not only of flesh, but of sinful flesh, Romans 8:3. 3. Though thereby he made himself a debtor to the whole law (Galatians 5:3), yet he submitted to it; nay, therefore he submitted to it, because he would take upon him the form of a servant, though he was free-born. Christ was circumcised, (1.) That he might own himself of the seed of Abraham, and of that nation of whom, as concerning the flesh, Christ came, and who was to take on him the seed of Abraham, Hebrews 2:16. (2.) That he might own himself a surety for our sins, and an undertaker for our safety. Circumcision (saith Dr. Goodwin) was our bond, whereby we acknowledged ourselves debtors to the law; and Christ, by being circumcised, did as it were set his hand to it, being made sin for us. The ceremonial law consisted much in sacrifices; Christ hereby obliged himself to offer, not the blood of bulls or goats, but his own blood, which none that ever were circumcised before could oblige themselves to. (3.) That he might justify, and put an honour upon, the dedication of the infant seed of the church to God, by that ordinance which is the instituted seal of the covenant, and of the righteousness which is by faith, as circumcision was (Romans 4:11), and baptism is.
Henry says that our Lord's circumcision is a sign that we should baptise our children as infants:
And certainly his being circumcised at eight days old doth make much more for the dedicating of the seed of the faithful by baptism in their infancy than his being baptized at thirty years old doth for the deferring of it till they are grown up. The change of the ceremony alters not the substance.
In closing, most of my friends in the UK are, at best, agnostics. I know few believers here.
Many ask why they should believe in God through Jesus Christ: 'What has God done for me lately?'
MacArthur provides the answer, which is life eternal rather than earthly comfort:
… it's not that Jesus saves you from your meaninglessness, it's not that Jesus saves you from your anxiety, it's not that Jesus saves you from your poverty, it's not that Jesus saves you from your lack of fulfillment, it's not that Jesus saves you from your trouble.  Really there is no guarantee in this life that you're going to be rescued from any of those things.  Jesus saves you from the eternal wrath of God, that's the issue.  It's not that Jesus saves you from anything in this life in particular.  You may still struggle through all kinds of troubles and struggles and you may still have a measure of unfulfillment.  You may even find life to be less than you want it to be in this world, more painful than you can bear.  There's no guarantee that that will change in this life.
But Jesus came to save His people from their what? Sins, from the penalty of their sins, first of all, which is eternal hell, the wrath of God, the power of their sins by giving them the Spirit of God so they can be victorious over their sins even in this life, and finally the presence of sin, when we leave this world and enter His glory; that's the good news that He would save His people from their sins and therefore save them from the wrath of God which is eternal wrath in hell forever.  The wages of sin is death.  And that death is not just spiritual death or separation from God, but eternal death, separation from God forever in a place of torment and punishment.
The child was born to save us from the wrath of God. 
May all reading this be blessed on this first day of 2022.
Many years ago, Chicago's PBS station ran a late-night show on Saturdays featuring newspaper columnist Irv Kupcinet, who was its host.
Irv Kupcinet invited a variety of guests on to sit around a table for 90 minutes to discuss current events.
He mentioned 'the lively art of conversation' in every show. Despite the controversial topics, his guests managed to engage with him and each other in an intelligent and considered way. Perhaps that was because Kupcinet set the tone with his own conversational style. I could be wrong, but I don't recall anyone ever walking off the show or being told to calm down.
Nearly 50 years on, things have changed drastically.
We're at the point where we cannot discuss much, even around the relative safety of the dinner table.
On November 22, 2021, The Times's India Knight discussed this unfortunate state of affairs in 'Our children are losing the ability to argue'. She means making a reasoned, fact-based argument for or against something, e.g. climate change.
I fully appreciated her experience as a youngster, because it paralleled my own (emphases mine):
When I was growing up, the kitchen table was a place of frequent and sometimes shouty political and cultural debate. I would acquire an opinion, usually from something I'd read or watched but sometimes from someone I thought was cool, and then I would express it, often with half an eye to provocation, in the self-important teenage manner. I didn't have the sort of parents who smile vaguely and say, "That's nice, dear", so I would be expected to explain why my opinion was my opinion and to defend it as it was dismantled and sometimes demolished.
My father was excellent at that: 'If you're going to take a stance, you'll have to defend it a lot better than that. Come back with some facts.'
And I could also relate to India Knight's reaction as an adolescent:
I did occasionally go off to my room in a huff, there to boil with fury at the great injustice of not being given a standing ovation every time I aired a view. But eight times out of ten the conversation was lively and thought-provoking, even enlightening (because I was a child, and children know less than adults, having lived less life). The conversations/arguments were sometimes fiery, but because I was treated as an intellectual equal, I didn't feel belittled. I found it intriguing and satisfying to learn what the opposing point of view to mine was on any given topic, and why it was held. It taught me that people who hold different opinions from yours can still be clever, likeable and interesting; that they hold their views just as dearly as you hold yours, and that this is fine.
These days, I look back on my late parents' viewpoints on life and politics. I consider them geniuses, because I now hold those same perspectives.
However, today's adolescents and twenty-somethings really don't know how to put forward their side of an argument:
Woke young people are amazing. They do care about important things in a laudable way and are indeed awake to social justice. All that is great. But you really can't say anything any more. The kitchen table scenario I describe above is now often a fraught and tentative affair, involving many eggshells and much tiptoeing. The anxiety is all on the part of the parents. Even the gentlest, most thoughtful and cotton-woolly discussion can result in young people feeling aggressed and disrespected. The parent's only permissible answer to, "The sky is green," is, "Yes, that's right." This is never truer than in the context of gender, in which expressing the previously uncontroversial view that biology is real can instantly mark you out as a bigot, a fascist or a phobe.
Sometimes, too, big, insulting, very loaded accusations are chucked carelessly about by the children. As a result, many parents of teenagers I know — and by "many" I mean "nearly all" — feel it's just not worth the hassle of having these conversations. And, as a result of that, an awful lot of young people don't know how to argue their case when faced with views that differ from their own. They are able to air an opinion but not to defend it objectively or intellectually at any level.
India Knight says:
Parents must gird their loins and persevere, I think, in tiny, manageable increments. It is vital for children to understand that disagreement is not a personal attack, that holding a topic up to the light is not sinister and that saying, "You've just completely contradicted yourself, darling," isn't abusive.
I couldn't agree more, and if more parents, like hers and mine, did that, the world would be a better place.
Unfortunately, a growing number of adults are also unable to accept differing points of view.
Spiked's Brendan O'Neill discussed this sad phenomenon on GB News with Patrick Christys on Wednesday, December 22. He said that people are too afraid to say anything that goes against the accepted narrative. He's right:
That was an apposite interview just before Christmas, when Britons were preparing to host family and friends around the dinner table.
Earlier that day, another GB News host, Michelle Dewberry, explored the horrid nature of the division appearing between the vaccinated and the unvaccinated. Tony Blair called the unvaxxed 'idiots' and the Archbishop of Canterbury called them 'immoral'. Blair later walked back his use of 'idiots'. I'm not sure the Archbishop did likewise.
In any event, Michelle Dewberry discussed this divisive controversy at the beginning of her show (from 8:25 to 11:20):
There are many reasons why people are rightly suspicious of the vaccinations. I've had my two shots and the booster but fully understand why others don't want them. Most of those people can cogently explain their reasons for not doing so.
It is disappointing to see a former Prime Minister and the spiritual head of the Church of England labelling people with whom they disagree in such a parlous way. Were he alive, Irv Kupcinet would have been appalled.
Surely, they should be leading by example.
It is time to return to the lively art of conversation, but that also requires an ability to accept other perspectives, whether we're teens or grandparents.
We know where the blame lies. We have to try and stop damaging division and emotional arguments in the best way we can. Unfortunately, it is much easier said than done, and I do not have a solution.
For many, Christmas as they know it ended at midnight on December 26.
Most people will be heading back to work on Monday.
Yet, there is a reason for the old song The Twelve Days of Christmas, because that is how long the actual season is.
An Anglican priest of the High Church tradition explains to presenter Calvin Robinson in the following GB News video that, when many people think Christmas has ended, it has only just begun. This 45-minute programme, which includes carols from an Anglican church choir, explores the true religious meaning of the season. It's well worth watching:
Epiphany is on January 6, so there is still plenty of time to celebrate and contemplate our Saviour's birth until then.
Furthermore, we in the UK are blessed with a thoughtful Yuletide convention. Because Christmas Day fell on a Saturday this year, Monday, December 27, is a bank holiday. We get a long weekend of celebration and relaxation.
The Queen delivered her traditional address to the nation on December 25. This year, the theme was her loss of Prince Philip, who loved her dearly and was her best friend. The old film clips show her face light up when he joins her at various functions. It's a beautiful, spontaneous reaction. Our monarch said that she is looking forward to celebrating her Platinum Jubilee year in 2022:
The Queen always includes a Christian message. This year was one of enduring faith, one that promotes leadership:
Neil Oliver delivered a thoughtful Christmas message which will appeal to all, believers and non-believers alike. He reflects philosophically on the story of the Christ Child and the meaningful traditions that have emanated from it. This is a must-see:
Oliver also had a round-up of the Greatest Britons he interviewed in 2021. This will restore one's faith in humanity:
A few days ago, I wrote about the Revd William Pearson-Gee's impassioned video about keeping churches open during the Christmas period during the current coronavirus panic over Omicron. Watch his hands; the intensity is palpable:
Mr Pearson-Gee's Buckingham Parish Church has its own YouTube channel with all its main services.
Here is the church's Service of Nine Lessons and Carols for 2021:
The next video was one of their Christmas services which starts with a charming Christingle service and ends with the liturgy for Holy Communion. Mr Pearson-Gee includes Christmas prayers in the second service, making it all the more meaningful:
I hope that these videos, be they religious or secular, help us better appreciate the Christmas season.
Happy Christmas to my readers!
Readings for Proper III at Christmas can be found here.
The Epistle for Proper III follows (emphases mine):
Hebrews 1:1-4, (5-12)
1:1 Long ago God spoke to our ancestors in many and various ways by the prophets,
1:2 but in these last days he has spoken to us by a Son, whom he appointed heir of all things, through whom he also created the worlds.
1:3 He is the reflection of God's glory and the exact imprint of God's very being, and he sustains all things by his powerful word. When he had made purification for sins, he sat down at the right hand of the Majesty on high,
1:4 having become as much superior to angels as the name he has inherited is more excellent than theirs.
1:5 For to which of the angels did God ever say, "You are my Son; today I have begotten you"? Or again, "I will be his Father, and he will be my Son"?
1:6 And again, when he brings the firstborn into the world, he says, "Let all God's angels worship him."
1:7 Of the angels he says, "He makes his angels winds, and his servants flames of fire."
1:8 But of the Son he says, "Your throne, O God, is forever and ever, and the righteous scepter is the scepter of your kingdom.
1:9 You have loved righteousness and hated wickedness; therefore God, your God, has anointed you with the oil of gladness beyond your companions."
1:10 And, "In the beginning, Lord, you founded the earth, and the heavens are the work of your hands;
1:11 they will perish, but you remain; they will all wear out like clothing;
1:12 like a cloak you will roll them up, and like clothing they will be changed. But you are the same, and your years will never end."
Commentary comes from Matthew Henry and John MacArthur.
John MacArthur summarises the purpose of the Book of Hebrews, written for a Jewish audience of converts and those not yet converted. These Jews lived in the Diaspora, therefore, not in or near Jerusalem:
In the book of Hebrews, there is confidence and assurance to the Christian. In the book of Hebrews, there is warning to the intellectually convinced that he must receive Christ or his knowledge will damn him. And finally there is a convincing presentation to the unbelieving Jew who is not intellectually convinced that he indeed should be and should believe in Jesus Christ.
And thus, to do this, was Hebrews written. It is simply, then – mark it – a presentation of Christ, the Messiah, the author of a new covenant, greater than the old one that God had made in the Old Testament. Not that the old one was wrong, it was only incomplete.
Now, the theme of the book, then, is the superiority or the preeminence of Christ. That He is better than anything they've got. That He is better than anything that is. He's better than the Old Testament persons. He's better than the Old Testament institutions. He's better than the Old Testament rituals. He's better than the Old Testament sacrifices. He's better than everything.
The author of Hebrews — undetermined — says that God spoke to the Jewish ancestors in many and various ways through the prophets (verse 1).
Matthew Henry's commentary explains:
The order in which God spoke to men in those times that went before the gospel, those past times: he spoke to his ancient people at sundry times and in divers manners. (1.) At sundry times, or by several parts, as the word signifies, which may refer either to the several ages of the Old-Testament dispensation–the patriarchal, the Mosaic, and the prophetic; or to the several gradual openings of his mind concerning the Redeemer: to Adam, that the Messiah should come of the seed of the woman,–to Abraham, that he should spring from his loins,–to Jacob, that he should be of the tribe of Judah,–to David, that he should be of his house,–to Micah, that he should be born at Bethlehem,–to Isaiah, that he should be born of a virgin. (2.) In divers manners, according to the different ways in which God though fit to communicate his mind to his prophets; sometimes by the illapses of his Spirit, sometimes by dreams, sometimes by visions, sometimes by an audible voice, sometimes by legible characters under his own hand, as when he wrote the ten commandments on tables of stone.
However, in the last days, He spoke to us through His Son, His appointed heir of all things, through whom He also created the worlds (verse 2).
Henry tells us what this means:
II. God's method of communicating his mind and will under the New-Testament dispensation, these last days as they are called, that is, either towards the end of the world, or the end of the Jewish state. The times of the gospel are the last times, the gospel revelation is the last we are to expect from God. There was first the natural revelation; then the patriarchal, by dreams, visions, and voices; then the Mosaic, in the law given forth and written down; then the prophetic, in explaining the law, and giving clearer discoveries of Christ: but now we must expect no new revelation, but only more of the Spirit of Christ to help us better to understand what is already revealed. Now the excellency of the gospel revelation above the former consists in two things:–
1. It is the final, the finishing revelation, given forth in the last days of divine revelation, to which nothing is to be added, but the canon of scripture is to be settled and sealed: so that now the minds of men are no longer kept in suspense by the expectation of new discoveries, but they rejoice in a complete revelation of the will of God, both preceptive and providential, so far as is necessary for them to know in order to their direction and comfort. For the gospel includes a discovery of the great events that shall befal the church of God to the end of the world.
2. It is a revelation which God has made by his Son, the most excellent messenger that was ever sent into the world, far superior to all the ancient patriarchs and prophets, by whom God communicated his will to his people in former times. And here we have an excellent account of the glory of our Lord Jesus Christ.
(1.) The glory of his office, and that in three respects:– [1.] God hath appointed him to be heir of all things. As God, he was equal to the Father; but, as God-man and Mediator, he was appointed by the Father to be the heir of all things, the sovereign Lord of all, the absolute disposer, director, and governor of all persons and of all things, Psalms 2:6; Psalms 2:7. All power in heaven and earth is given to him; all judgment is committed to him,Matthew 28:18; John 5:22. [2.] By him God made the worlds, both visible and invisible, the heavens and the earth; not as an instrumental cause, but as his essential word and wisdom. By him he made the old creation, by him he makes the new creature, and by him he rules and governs both. [3.] He upholds all things by the word of his power: he keeps the world from dissolving. By him all things consist. The weight of the whole creation is laid upon Christ: he supports the whole and all the parts. When, upon the apostasy, the world was breaking to pieces under the wrath and curse of God, the Son of God, undertaking the work of redemption, bound it up again, and established it by his almighty power and goodness. None of the ancient prophets sustained such an office as this, none was sufficient for it.
MacArthur explains the Greek in the original manuscript:
"By whom also He made the worlds." That is, Christ is the agent through which God created the world; by – dia  – means through. The agency through which God created is Christ. John 1:3 says, "All things were made by Him; without Him was not anything made that was made." Jesus Christ is the agent of creation. Now, my friends, I've said this many times, and to me, it's a great single proof of who Jesus was. Jesus had the ability to create, and that set Him apart from man …
That establishes His absolute superiority over everything. He created everything material. He created everything spiritual. And man has stained His creation with sin, but Christ made it good originally, and even the creation, according to Romans 8, groans to be restored to what it knew in the beginning. Now, I want you to catch a little thought here, that's kind of hidden if you don't understand the Greek. At the end of verse 2, it says, "By whom also He made the worlds." The common Greek word for world is kosmos, but that is not the word that is here. The word that is here is aiōnas.
It does not mean the material world, it means the ages; it means the ages. And he is not saying that Jesus Christ is only responsible for the physical earth. He is saying that Christ is responsible for creating the very concepts of time, space, force, action, and matter. Christ is responsible for creating the whole universe of time and space; that's what he's saying. He does not use the word kosmos, restricting it to this earth, but He makes Christ the creator of the universe, of the ages, of all concepts, and bounds of existence. Christ made it all, every bit of it, without effort.
Christ is the reflection of God's glory and the exact imprint of God's very being, sustaining everything by His powerful word; when He reconciled us to the Father at the Crucifixion, He sat — and continues to sit — at His right hand (verse 3).
Henry tells us:
He that hath known the Son hath known the Father, John 14:7-43.14.9. For the Son is in the Father, and the Father in the Son; the personal distinction is no other than will consist with essential union. This is the glory of the person of Christ; the fulness of the Godhead dwells, not typically, but really, in him …
From the glory of his sufferings we are at length led to consider the glory of his exaltation: When by himself he had purged away our sins, he sat down at the right hand of the Majesty on high, at his Father's right hand. As Mediator and Redeemer, he is invested with the highest honour, authority, and activity, for the good of his people; the Father now does all things by him, and receives all the services of his people from him. Having assumed our nature, and suffered in it on earth, he has taken it up with him to heaven, and there it has the high honour to be next to God, and this was the reward of his humiliation.
The author of Hebrews then discusses Christ's superiority to the angels, which held a very high place in the Jewish mind of the day.
The author says that Christ is superior to the angels and the name He inherited is far superior to theirs (verse 4).
MacArthur explains why the author wrote that verse and the following three:
… their views had begun to wander from the basic Old Testament context, because of all the Talmudic writings and the rabbinical feelings and ideas, they began to wander off the main biblical points of angels. And they came up with some interesting views of angels, so that when the writer of Hebrews is writing, He is writing not only with a true backdrop of a biblical view of angels, but he's writing against a backdrop of the Jewish common concept of angels.
The author asks to which angels did God ever say "You are my Son; today I have begotten you"? Or again, "I will be his Father, and he will be my Son" (verse 5), which is pointing to the pre-eminence of Christ.
Henry looks at the language used in the ancient manuscript:
When it is said that Christ was made so much better than the angels, we are not to imagine that he was a mere creature, as the angels are; the word genomenos, when joined with an adjective, is nowhere to be rendered created, and here may very well be read, being more excellent, as the Syriac version hath it. We read ginesthe ho Theos alethes—let God be true, not made so, but acknowledged to be so …
1. It was said of Christ, Thou art my Son, this day have I begotten thee (Psalms 2:7), which may refer to his eternal generation, or to his resurrection, or to his solemn inauguration into his glorious kingdom at his ascension and session at the right hand of the Father. Now this was never said concerning the angels, and therefore by inheritance he has a more excellent nature and name than they.
2. It was said concerning Christ, but never concerning the angels, I will be to him a Father, and he shall be to me a Son; taken from Hebrews 2:7. Not only, "I am his Father, and he is my Son, by nature and eternal promanation;" but, "I will be his Father, and he shall be my Son, by wonderful conception, and this his son-ship shall be the fountain and foundation of every gracious relation between me and fallen man."
The author points out that when Christ came to earth, God said that the angels should worship him (verse 6), thereby making Him superior to them.
Henry says:
God will not suffer an angel to continue in heaven who will not be in subjection to Christ, and pay adoration to him; and he will at last make the fallen angels and wicked men to confess his divine power and authority and to fall before him. Those who would not have him to reign must then be brought forth and slain before him. The proof of this is taken out of Psalms 97:7, Worship him, all you gods, that is, "All you that are superior to men, own yourselves to be inferior to Christ in nature and power."
The author says that God makes His angels winds and, as His servants, flames of fire (verse 7).
Henry explains:
What does God say here of the angels? He maketh his angels spirits, and his ministers a flame of fire. This we have in Psalms 104:4, where it seems to be more immediately spoken of the winds and lightning, but is here applied to the angels, whose agency the divine Providences makes use of in the winds, and in thunder and lightnings. Observe, [1.] The office of the angels: they are God's ministers, or servants, to do his pleasure. It is the glory of God that he has such servants; it is yet more so that he does not need them. [2.] How the angels are qualified for this service; he makes them spirits and a flame of fire, that is, he endows them with light and zeal, with activity and ability, readiness and resolution to do his pleasure: they are no more than what God has made them to be, and they are servants to the Son as well as to the Father.
In the remaining verses, the author indicates the power and superiority of Christ over all creation.
His throne endures forever, the scepter of God's kingdom (verse 8).
Henry says the verse comes from Psalm 45:
… Psalms 45:6; Psalms 45:7, where God declares of Christ, First, His true and real divinity, and that with much pleasure and affection, not grudging him that glory: Thy throne, O God. Here one person calls another person God, O God. And, if God the Father declares him to be so, he must be really and truly so; for God calls persons and things as they are … Secondly, God declares his dignity and dominion, as having a throne, a kingdom, and a sceptre of that kingdom. He has all right, rule, authority, and power, both as the God of nature, grace, and glory, and as Mediator; and so he is fully adequate to all the intents and purposes of his mediatorial kingdom. Thirdly, God declares the eternal duration of the dominion and dignity of Christ, founded upon the divinity of his person: Thy throne, O God, is for ever and ever, from everlasting to everlasting, through all the ages of time, maugre all the attempts of earth and hell to undermine and overthrow it, and through all the endless ages of eternity, when time shall be no more. This distinguishes Christ's throne from all earthly thrones, which are tottering, and will at length tumble down; but the throne of Christ shall be as the days of heaven. Fourthly, God declares of Christ the perfect equity of his administration, and of the execution of his power, through all the parts of his government: A sceptre of righteousness is the sceptre of thy kingdom,Hebrews 1:8; Hebrews 1:8. 
As Christ has always hated wickedness and loved righteousness, God anointed Him with the oil of gladness beyond that of His companions (verse 9).
Henry explains:
2. This anointing of Christ was with the oil of gladness, which signifies both the gladness and cheerfulness with which Christ undertook and went through the office of Mediator (finding himself so absolutely sufficient for it), and also that joy which was set before him as the reward of his service and sufferings, that crown of glory and gladness which he should wear for ever after the suffering of death. 3. This anointing of Christ was above the anointing of his fellows: God, even thy God, hath anointed thee with the oil of gladness above thy fellows. Who are Christ's fellows? Has he any equals? Not as God, except the Father and Spirit, but these are not here meant. As man, however, he has his fellows, and as an anointed person; but his unction is beyond all theirs.
The author goes on to discuss Christ's eternal power.
In the beginning, He founded the earth and the heavens — the universe — are the work of His hands (verse 10).
Henry tells us:
He was not only above all things in condition, but before all things in existence; and therefore must be God, and self-existent. He laid the foundations of the earth, did not only introduce new forms into pre-existent matter, but made out of nothing the foundations of the earth, the primordia rerum–the first principles of things; he not only founded the earth, but the heavens too are the work of his hands, both the habitation and the inhabitants, the hosts of heaven, the angels themselves; and therefore he must needs be infinitely superior to them.
Earthly creation will perish like clothing, but Christ will remain (verse 11).
Like clothing, earthly creation can be rolled up and changed, but Christ will remain as He is, His years never ending (verse 12).
Henry elaborates:
This our visible world (both the earth and visible heavens) is growing old. Not only men and beasts and trees grow old, but this world itself grows old, and is hastening to its dissolution; it changes like a garment, has lost much of its beauty and strength; it grew old betimes on the first apostasy, and it has been waxing older and growing weaker ever since; it bears the symptoms of a dying world. But then its dissolution will not be its utter destruction, but its change. Christ will fold up this world as a garment not to be abused any longer, not to be any longer so used as it has been. Let us not then set our hearts upon that which is not what we take it to be, and will not be what it now is. Sin has made a great change in the world for the worse, and Christ will make a great change in it for the better … Christ is immutable. Thus the Father testifies of him, Thou remainest, thy years shall not fail. Christ is the same in himself, the same yesterday, and to-day, and for ever, and the same to his people in all the changes of time. This may well support all who have an interest in Christ under all the changes they meet with in the world, and under all they feel in themselves. Christ is immutable and immortal: his years shall not fail. This may comfort us under all decays of nature that we may observe in ourselves or in our friends, though our flesh and heart fail and our days are hastening to an end. Christ lives to take care of us while we live, and of ours when we are gone, and this should quicken us all to make our interest in him clear and sure, that our spiritual and eternal life may be hid with Christ in God.
MacArthur concludes with this prayer and a hope for unbelievers:
Let's pray. Father, we thank You for Jesus Christ, the superiorities that we've learned about tonight. Thank you that we're not worshipping a religious leader who was human. We're not worshipping some ethical teacher. We're worshipping Christ, Who is God the creator. And to think that He lives within us, and the person of the Spirit empowers us and loves us with a personal love, cares about us, sends His angels to minister to us, and Father, these things overwhelm us.
But God, having presented all these truths of Jesus Christ, our hearts shudder and shake to know that there will be some people who would turn away, and walk about of this place tonight neglecting the salvation that they've heard. Who would fail to take earnest heed to that which they have heard. Who would turn their back on Jesus Christ, and walk out into a night of sin. God, it's almost beyond belief. Lord, if Jesus Christ is God, as the Bible says, then He has a claim to lay on our lives. We're to receive Him, to believe in him as Lord and Savior.
And we pray to that end, Father, tonight, that there may be no one in this place who would leave not having a personal relationship with Jesus Christ. Some have come doubting, some have come questioning, some have come wondering whether it's all so. Father, may they be willing to put Jesus to the test, that He said, "If you really desire to know My will, you will know the truth." So, Father, we pray that the honest, seeking heart will be found by You, and open to receive Christ tonight.
May those of us as Christians see Him all the more beautiful, because we've seen what the writer has taught us in this marvelous chapter. May we be better equipped to witness for Christ, with more power and boldness, because we know the facts. Bless us as we close, we pray in Jesus' name. Amen.
May everyone reading this have a most blessed and joyful day.
On Sunday, December 19, 2021, the Revd Will Pearson-Gee gave a heartfelt extemporaneous sermon at his church in Buckingham, England, part of the Diocese of Oxford.
Last weekend, it was unclear whether some sort of Yuletide lockdown would be implemented in England, possibly including churches. In 2020, churches were closed for months. The Government deemed them to be 'non-essential services'. The Church of England hierarchy were complicit in that decision.
If lockdown were reimposed the way it had been last year, Mr Pearson-Gee clearly stated that he would not be playing that game again at Buckingham Parish Church.
This short must-see video went viral:
High Churchman Calvin Robinson responded:
I saw it on Wednesday, December 22, on GB News, thanks to Mark Steyn who was filling in for Nigel Farage. Steyn's introduction could be a sermon, too, as it directs us to the transcendent, the living God, something the Church of England should have done last year:
Steyn also interviewed Pearson-Gee (from 12:21 to 20:00). I highly recommend watching it:
The vicar said that Zoom worked well in the early months of the pandemic, but it was only ever a temporary solution.
Once churches were allowed to reopen, he said that the elderly spearheaded a renewed fellowship in the congregation.
He graciously did not criticise the Archbishop of Canterbury for last year's spiritual failings in the Church of England, saying that Justin Welby has a very hard job to do.
He also said that he knew Christians in Iraq who risked their lives going to worship, but they took that risk because their faith was so important:
If only we felt the same way.
Pearson-Gee has a lot going on at Buckingham Parish Church, including three different Sunday services — something to suit everyone's liturgical tastes:
His daughter helps him out with Twitter:
Was Will Pearson-Gee always a devout Christian?
No.
Incredibly, he returned to the Church after his first wife and son were killed in a car accident. Mark Steyn mentioned this after his interview with the vicar ended.
Such a tragic event would have put most people off church and God forever, but Pearson-Gee saw things differently.
In March 2014, he discussed his testimony with Premier Christianity. I would highly recommend that unbelievers and agnostics read about his journey of faith which led him to seek ordination.
Excerpts follow, emphases in purple mine:
It was back in 1996 that my world fell apart. My wife, Anna, had gone out with our two children, Eleanor (two) and Jamie (three). It was a really hot summer's day in July and she took them down to Bournemouth to the seaside.
On the way back (for reasons that we'll never know) her car crossed over the centre white line on a narrow bit of a road, and was hit head on by an articulated lorry carrying 40 tonnes of very large rocks. Anna and Jamie, who were on the same side of the car, were crushed and killed instantly. My daughter Eleanor, quite amazingly, was able to be removed from the car wreckage by a Royal Marine Officer travelling in the car behind. She was literally unmarked, which I've always thought was a little bit of a miracle considering the combined collision was about 90 miles an hour. But she survived. Obviously it was a devastating shock for me, but I had my little girl to look after.
I was confronted by their bodies in the mortuary some hours later. They were in quite a mess and it took the mortician a while to make them presentable for identification. They pulled back the white sheets and I ranted, and I screamed, and I wept. Then I looked at them, and I thought, 'This cannot be the end.' There was so much life, particularly in my little boy ? he was such a handful. I just couldn't believe it was the end of him and so I thought, 'Where have they gone? Where are they now?'
At the time I was definitely a 'nominal' Christian. I believed there was some higher power, some greater being beyond myself that I could call upon and might listen to me, but I really had no idea about God's character or whether he cared about me …
Then my eye was drawn to a very simple crucifix on the wall of the mortuary. It was a sign of the Christian faith to which I had been exposed since I was a child. It's like a penny dropped, and it suddenly became not just a cross, but a sign of hope for me. I then realised that if there was all this talk about resurrection and life after death, I needed to find out more about it. I managed to meet up with a Christian, also with my local vicar, and there was a Catholic priest who came into my life who had real expertise in helping people recover from child death. It was this cumulative effect that opened my eyes to the fact my wife and child were somewhere better, they were in heaven, and therefore if I wanted to see them again I needed to get myself right with God. That was a long process in itself.
This is why Pearson-Gee is not angry with God. It is an interesting perspective:
People sometimes ask me if I felt like blaming God. During my early time of grief, through counselling groups, I came across a lot of other people who were suffering and mainly they just blamed God. But to me it didn't make sense that God had just got out of bed one morning and said, 'Who am I going to strike down today?' … Where do you draw the line with him intervening and stopping things going on? In a way, you'd be expecting him to upturn the laws of nature every single nanosecond of the day around the world, and then what kind of world would we be living in? So I don't blame God.
I think God permitted that crash to take place, but 'in all things God works for the good', and I've really clung on to that. … in a funny sort of way the fact it has happened has brought me huge blessings … I've got a lovely wife, I've got three more kids including another son, I've got the most wonderful faith, my wife is a Christian. We know that whatever the world throws at us now, we have this wonderful eternal life waiting for us. Life is good. I know it's not always going to be great and there will be trials and tribulations, but following Jesus is just such an amazing adventure.
Pearson-Gee wrote a brief autobiography for the Buckingham Parish Church website, which is also interesting (emphases mine):
I arrived in Buckingham just in time for Easter 2010 having moved from Oxford where I did my theological training (at Wycliffe Hall) and served my curacy (at St Andrew's Church).
I enjoyed a full career in the Army serving all over the world as an infantry officer in the Coldstream Guards before leaving to join my brother's printing company where I spent 6 happy years.  During this time I started to go to a newly planted church which showed me something that I had never seen before: an Anglican church pulsating with life and growing in size and depth.  Intrigued, I became more and more involved in its incredibly exciting mission and began to sense that ordination might be what God wanted me to pursue.  I think I was the most surprised of all when I arrived at Wycliffe Hall to start my training!
He mentioned the fatal car accident, adding:
That dreadful event really did change my life in more ways that I could have imagined and illustrates the truth in Paul's words in Romans 8:28 "And we know that in all things God works for the good of those who love him, who have been called according to his purpose."  My story surrounding this tragedy is here if you'd like to read it – if you do, I hope you find it an encouragement. Also, here is an article in Christianity Magazine that tells the story.
I am now married to Lucia and between us we have 4 children – Eleanor from my first marriage – and 3 of our own. I must say that I feel a little like Job who lost so much but was then restored by the Lord and had even more. We even called one of our daughters Jemima (as did Job).
Jemima — Mimi — helps her father with Twitter.
This is what motivates Pearson-Gee's ministry:
I suppose what really motivates me in my ministry is sharing the good news that is Jesus Christ. It was this same, unchanging good news that pulled me out of the mire and gave me so much hope after my tragedy. I am passionate about making this good news accessible to everyone and will do all I can to make the Church (that is the people of God – Christians) welcoming to those who are – like I was once – lost.
That's so moving, especially as we approach Christmas.
————————————————————————————–
Normally, I would have ended the post there.
However, the next few posts will involve Christmas readings, so I will close with two secular news items.
The first concerns Northern Ireland, which will reimpose coronavirus restrictions on December 27. Sammy Wilson MP (DUP) is none too happy but turned his disappointment into a little take on 'Hark the Herald Angels Sing':
"Hark the herald angels ping," the East Antrim MP tweeted.
"Robin Swann won't let us do a thing. No more parties, work at home. In the streets you cannot roam
"Omni is far worse than the delta curse. Stay at home. Or they'll be far worse to come."
It upset a number of politicians in Northern Ireland, who branded him a 'moronic fool':
The second item is Neil Oliver's take on our covidian Christmas this year, wrapping lockdown and economic ruin into 'Twas the Night before Christmas and Dickens's A Christmas Carol. Wry, witty and pointed, it's worth watching:
With that — the spiritual and the secular — may I wish all my readers a very happy Christmas. May you be blessed despite State restrictions.
The UK had another big weekend of news, which, as I said last week, is unusual, given that Christmas is just around the corner.
One of the big scoops was The Spectator's revelation as to why every SAGE scenario is based on a worst-case outcome.
Fraser Nelson, the magazine's editor, had an online exchange with Graham Medley from SAGE, which can be seen in his article, 'My Twitter conversation with the chairman of the Sage Covid modelling committee', which is a must-read.
Excerpts follow, emphases mine.
Medley is a professor at London School of Hygiene & Tropical Medicine (LSHTM). Last week, LSHTM published another alarming set of figures for the Omicron variant that, naturally, make the case for more lockdowns.
By contrast, JP Morgan came up with a different conclusion after looking at LSHTM's data:
JP Morgan had a close look at this study and spotted something big: all the way through, LSHTM assumes that the Omicron variant is just as deadly as Delta. 'But evidence from South Africa suggests that Omicron infections are milder,' JP Morgan pointed out in a note to clients.
JP Morgan concluded:
Bed occupancy by Covid-19 patients at the end of January would be 33% of the peak seen in January 2021. This would be manageable without further restrictions.
Fraser Nelson says:
So JP Morgan had shown that, if you tweak one assumption (on severity) then – suddenly – no need for lockdown.
Nelson went online to find out why LSHTM didn't do the same thing:
Medley seems to imply that the Government wants the worst case scenario:
Nelson says:
Note how careful he is to stay vague on whether any of the various scenarios in the Sage document are likely or even plausible. What happened to the original system of presenting a 'reasonable worse-case scenario' together with a central scenario? And what's the point of modelling if it doesn't say how likely any these scenarios are?
From what Prof Medley says, it's unclear that the most-likely scenario is even being presented to ministers this time around. So how are they supposed to make good decisions? I highly doubt that Sajid Javid is only asking to churn out models that make the case for lockdown. That instruction, if it is being issued, will have come from somewhere else.
He concludes that there is an ethical issue with SAGE's pronouncements:
Prof. Robert Dingwall, until recently a JCVI [Joint Committee on Vaccines and Immunisation] expert, has said that Medley's candour reveals "a fundamental problem of scientific ethics in Sage" – ie, a hardwired negativity bias. "The unquestioning response to the brief is very like that of SPI-B's behavioural scientists," he says and suggests that the Covid inquiry looks into all this.
At a time when we have just been given a new set of 'scenarios' for a new year lockdown it might be good if someone – if not Prof Medley – would clear up what assumptions lie behind the new 6,000-a-day-dead scenario, and if emerging information from South Africa about Omicron and its virulence have been taken into account. And how probable it is that a double-jabbed and increasingly boosted nation (with 95 per cent antibody coverage) could see this worst-case scenario come to pass.
In my view, this raises serious questions not just about Sage but about the quality of the advice used to make UK lockdown decisions. And the lack of transparency and scrutiny of that advice. The lives of millions of people rests on the quality of decisions, so the calibre of information supplied matters rather a lot – to all of us.
Too right.
I haven't believed SAGE at all, from the beginning. I am also still angry about how much taxpayers' money has been pumped in for a pandemic that needed a common sense solution in March 2020, such as, 'There are a lot of unknowns here. We will provide updates. However, we advise that anyone who feels sick to get a test then isolate at home for 10 days. Keep your distance from those outside your household. Keep your hands clean. Above all: use the same precautions you would in any potentially contagious environment.'
That's it in a nutshell. Not a lot more needed to be said.
But no.
We plebs couldn't have that. We cannot be trusted.
Chief Medical Officer Prof Chris Whitty implied that we do not know what we are talking about.
This video is from Whitty's appearance before a parliamentary Select Committee on Thursday, December 16. Dean Russell MP (Conservative) asked him whether the NHS risks prioritising the virus over cancer. While it might not be Dean Russell's view, this is a prevailing opinion among many members of the public.
Whitty wasted no time in shooting that down, saying that we do not understand 'health' and insisting that lockdowns helped to save the NHS, which would have collapsed otherwise. Along with Prof Gordon Wishart, I also beg to differ, but here is the exchange:
People are frustrated:
General practitioners are wrapped up in this, too:
Coronavirus has overtaken their surgeries. It was already nearly impossible to get an online appointment, never mind one in person. As of last week, GPs' priority from the Government is to dispense boosters:
No, pandemics are not a regular occurrence, but the NHS should be prepared to deal with one.
On Monday, December 20, Boris convened the Cabinet for a two-hour meeting to discuss the possibility of imposing a Christmas lockdown in England. Sir Patrick Vallance presented a doom-and-gloom scenario.
Bear in mind that Boris is skating on thin ice at the moment politically. A lockdown might have caused some of them to resign their Cabinet positions.
In the end, they decided not to go for a lockdown in England, at least over Christmas weekend:
Well, five of them did, at least.
Foreign Secretary Liz Truss had to leave early:

Guido Fawkes has more (red emphasis his, the purple one mine):
The Times and Telegraph have the most comprehensive write-ups, reporting Rishi, Steve Barclay and Grant Shapps were those leading the sceptics' charge. The Times reports Jacob Rees-Mogg had a prolonged argument with Vallance about their modelling, telling Boris to trust the people rather than the scientists. Truss, Kwarteng, Alister Jack, Nadhim Zahawi and Nigel Adams are all also reportedly sceptical about the threat of Omicron…
On the other side of the divide backing restrictions, according to The Telegraph, are (unsurprisingly) Javid and Gove; Nadine Dorries and Chief secretary to the Treasury Simon Clarke. We can only presume the PM also errs towards this group. There's set to be one more Cabinet before Christmas day that could still decide to recall MPs before New Year.
Katy Balls of The Spectator reports that this is the first time in ages that the Cabinet has been consulted on coronavirus policy:
So what happened in that meeting? 'Boris did a great job and encouraged a proper discussion and respected other views,' says one minister. 'He had quite a lot humility'. Michael Gove was, as usual, leading the arguments for more lockdown. But this was based on Sage forecasts of what might happen which have lost some credibility in the eyes of Cabinet members who were — for the first time in a while — genuinely being consulted.
Boris knows he's in trouble:
Several members of Johnson's Cabinet are vocally opposed to new restrictions. They argue that there needs to be clearer data before any restrictions are brought in – with whispers of resignations if Johnson pressed on without this. These members of government hope that more time will offer clarity that could show omicron is milder than previous variants.
Behind the scenes, the Chancellor is understood to have played a key role warning against rushing into decisions that could cost billions. Other ministers keen to see more modelling include Commons leader Jacob Rees-Mogg and Transport Secretary Grant Shapps ("although it was never quite clear what he was saying," I'm told.) Other ministers have been pressing on Johnson the idea of limiting any new measures to guidance.
But when Johnson emerged talking about the need to observe the data, and questions about Omicron's severity, he was using the language of those who opposed lockdown. They argue, in effect, that Sage models cannot be trusted as they are composed of hypotheticals – and that we need to wait for real-world data. The next few days of hospital data, it's argued, will tell us much about how severe Omicron is and if lockdown is needed. Data is emerging not just from South Africa (where cases now seem to be falling) but Denmark where Omicron has been found to be significantly less likely to put patients in hospital. At least some Sage modellers produced figures on the assumption that Omicron is no less likely to hospitalise or kill: one scenario talks about deaths peaking a day …
Johnson faces a parliamentary party filled with MPs vehemently opposed to any new restrictions and who could question his ability to lead as a result. When the Whips office sent a note around this afternoon telling MPs that the parliamentary away day has been cancelled, one messaged me to say:
'It's probably for the best. If we were all in one place for a few days, we could work out a successor'
But there are Tory MPs who believe action is required. One senior Tory concludes:
'This is a Prime Minister paralysed between science and his backbenchers. It's depressing.'
The Times reports on Leader of the House Jacob Rees-Mogg's words of wisdom. He, too, read Fraser Nelson's article. Good man:
Jacob Rees-Mogg, leader of the Commons, said the government should trust people to do the right thing rather than introduce further restrictions. He said many people had voluntarily changed their behaviour as the threat posed by Omicron became clear.
The prime minister said Rees-Mogg's argument was interesting but asked how he would justify his approach at a press conference. He said that as prime minister he had to look after everyone's health. Rees-Mogg is understood to have responded: "I would stand up and say I respect them for doing the right thing." The prime minister is said to have suggested that this would not be enough if the NHS were at risk of being overwhelmed.
Rees-Mogg is also understood to have criticised official modelling suggesting that without further action 3,000 Omicron patients a day could need a hospital bed. He asked if Johnson had read an article by Fraser Nelson, editor of The Spectator, questioning the assumptions behind the data.
Sir Patrick Vallance, the chief scientific adviser, is said to have responded directly to Rees-Mogg that the modelling had included scenarios where the Omicron variant was deemed less severe than the Delta variant.
If so, why did Vallance not present those data?
Boris made a brief announcement after the Cabinet meeting, saying that he is still keeping all options open after Christmas:
On Wednesday, December 22, Health minister Gillian Keegan told LBC's Nick Ferrari not make firm plans for New Year's parties because of ongoing 'uncertainty':
As people have been cancelling dinner reservations and reneging on trips to the pub, Chancellor Rishi Sunak has had to come up with a £1bn compensation plan for the hospitality sector, which amounts to £6000 per business. A nightclub owner says it's 'insulting'. I agree with the person replying — just drop any remaining restrictions:
When is this going to end?
Oh, well. At least we're not in the socialist nations of Scotland or Wales, where things have been far worse and continue so to be.
It's been a week full of news, which is unusual right before Christmas. Yet, here we are.
Omicron death
The person who died with Omicron was an unvaccinated man in his 70s:
I, too, would like those questions answered.
The man's stepson called into Nick Ferrari's LBC show to say that he was a germophobe. He had everything delivered to his door and never left the house unless he had to post a letter:
Guido Fawkes has more (emphasis in the original):
Speaking to Nick Ferrari, the stepson of the man who died earlier this week claimed that he had been taken in by "conspiracy theories", and refused to take the vaccine despite being in his early 70s:
He thought it was a conspiracy. He was an intelligent man but it's all these different things you are getting from online and different media things… He wasn't vaccinated at all.
According to the latest figures, there are currently 15 people in hospital with Omicron, an increase of 5 since Tuesday…
Chris Whitty's Omicron projections
Earlier this week, Prime Minister Boris Johnson held a press conference with Chief Medical Officer Prof Chris Whitty and Chief Scientific Officer Prof Patrick Vallance.
Whitty predicted Armageddon with a chart showing unbelievably high projections of Omicron cases.
A good friend of mine said he hoped that chart would come back to bite Whitty in the proverbial. I couldn't agree more.
However, when Whitty appeared before the Health and Social Care Select Committee on Thursday, December 16, he changed his tune when giving evidence to MPs.
The Telegraph reported (emphases mine):
Britain may be "better off" with omicron than it was with the delta variant, thanks to the booster programme, Prof Chris Whitty has suggested.
Giving evidence at the Health and Social Care Select Committee, the Chief Medical Officer for England said that vaccines appeared to be holding up well against omicron and said boosters may even be preventing transmissibility and infection …
"It is possible that with a boost, we're better off with omicron than we are with two vaccines with delta for severe disease," he told MPs.
Prof Whitty said he was expecting omicron to cause an "impressive" rise in cases, which could lead to daily peaks in admission bigger than seen in the January wave, when hospitalisations hit nearly 40,000 a day.
However, he said that cases may begin to fall quickly and that a milder illness may mean people would stay in hospital for a short period, reducing the overall burden on the health service. Fewer people may also need intensive care, he added …
"I think most people think on the positive side, that there will be some preserved immunity, particularly on the non-antibody side, such as T-cells. Therefore it is likely someone who has one or two vaccines already will have some protection and with a booster considerably more protection against hospitalisation and death.
"It does look as if boosters restore some of the ability to actually reduce infection and transmission, at least for a period of time."
Then he told MPs that he was reluctant to give the public projection numbers, yet he did just that at this week's press conference:
"I have resisted putting forward projection numbers into the public domain because I don't think they are reliable and you can't put enough caveats on them."
We don't think they are reliable either, Prof Whitty.
Health and Security Agency's Omicron projections for England withdrawn
The UK Health and Security Agency also backtracked on their projections because of a change in public behaviour. I wonder:
If only they would lift Plan B …
… because it is really hurting the hospitality sector.
Michel Roux Jr has tweeted about his daughter Emily's London restaurant Caractère, which is suffering from a rash of sudden cancellations:
Her restaurant is not the only one. Omicron has everyone running scared.
But, what if it 'cases' did double every two days and what if we all caught Omicron? Would it confer herd immunity? We'll know if the following extrapolation is true by Twelfth Night:
The Queen cancels Windsor Castle pre-Christmas lunch
Because of the Omicron scare, our sovereign has cancelled her traditional pre-Christmas family lunch at Windsor Castle. ITV's Chris Ship reports:
South Africa, however, remains relatively relaxed about Omicron, as the Daily Mail's Dan Hodges points out. Note the reply, which shows Chris Whitty contradicting himself yet again. Either boosters help immunity or they don't. Which is it, Chris?
The elusive NHS GP can be seen — privately
Our NHS GPs have been elusive since last year. If you're lucky, you can get a telephone or an online appointment. Very few patients are able to see them in person.
However, if one goes private, one can see one's GP:
It looks as if the Mail on Sunday is investigating this situation. Good!
Killing off ivermectin as coronavirus prophylaxis
In more medical news, we discover how ivermectin was effectively killed off as a prophylaxis for coronavirus in the UK and the US.
Thanks to my reader dearieme for the Vox Day link, which leads to a World Tribune article summarising the incident from Robert Kennedy Jr's New York Times Bestseller, The Real Anthony Fauci: Bill Gates, Big Pharma, and the global war on Democracy and Public Health.
Excerpts follow:
Andrew Hill, PhD, is a senior visiting Research Fellow in Pharmacology at Liverpool University. He is also an advisor for the Bill and Melinda Gates Foundation and the Clinton Foundation. As a researcher for the WHO evaluating ivermectin, Hill wielded enormous influence over international guidance for the drug's use.
Hill had previously authored an analysis of ivermectin as a treatment for COVID-19 that found the drug overwhelmingly effective.
On Jan. 6 of 2021, Hill testified enthusiastically before the NIH COVID-19 Treatment Guidlelines Panel in support of ivermectin's use. Within a month, however, Hill found himself in what he describes as a "tricky situation." Under pressure from his funding sponsors, Hill then published an unfavorable study. Ironically, he used the same sources as in the original study. Only the conclusions had changed.
Shortly before he published, Dr. Tess Lawrie, Director of the Evidence-based Medicine Consultancy in Bath, England, and one of the world's leading medical research analysts, contacted Hill via Zoom and recorded the call (transcript below). Lawrie had learned of his new position and reached out to try to rectify the situation.
In a remarkable exchange, a transcript of which appears on pages 137 – 143 in Kennedy's book, Hill admitted his manipulated study would likely delay the uptake of ivermectin in the UK and United States, but said he hoped his doing so would only set the lifesaving drug's acceptance back by about "six weeks," after which he was willing to give his support for its use …
The two scientists discussed ivermectin's positive results in combating coronavirus:
… the number of preventable deaths incurred by such a delay would be staggering — as many as 504,000.
Hill declined being listed as Lawrie's head author on the paper with the positive results. Instead, he published the negative findings.
This is why he did so:
Four days before publication, Hill's sponsor Unitaid gave the University of Liverpool, Hill's employer $40 million. Unitaid, it turns out, was also an author of the conclusions of Hill's study …
… when pressed he admitted his sponsor, Unitaid, was an unacknowledged author of conclusions.
"Unitaid has a say in the conclusions of the paper. Yeah," he told Lawrie …
Dr. Pierre Kory, of the Front Line COVID-19 Critical Care Alliance, commented, "Andrew is apparently making a living now accusing the doctors and scientists who support ivermectin of medical fraud."
Regulatory acceptance of ivermectin did not delay only six weeks. Instead, almost a year later, it has still not been approved by health agencies in the United Kingdom or in United States. Instead The WHO, CDC, NIH, and FDA have suppressed the drug's use.
Instead, we are taking notional vaccines. Who knows what they are doing to our bodies?
Boris's daughter's name
Boris and Carrie Johnson have named their infant daughter Romy Iris Charlotte. She is shown with her brother Wilfred:
Romy is a 'rainbow baby' because she followed a miscarriage.
Best wishes to the Johnsons.
Conservatives lose safe seat for first time ever
In less cheery news for Boris, the Conservatives lost Owen Paterson's former North Shropshire constituency for the first time ever — nearly 200 years:
Paterson resigned a few weeks ago over sleaze allegations. He had a 23,000+ majority in the 2019 general election.
Failed candidate Neil Shastri-Hunt, who had been parachuted in from outside the constituency, said he planned to get some sleep and:
go and give my 8-week old a bit of a cuddle.
My commiserations to anyone who took this misguided betting advice:
The by-election took place on Thursday, December 16. The Liberal Democrats won by a landslide, as I thought they might:
Also note how low the vote for Labour was, despite party leader Sir Keir Starmer refusing to admit he is a socialist:
Conservative Party chairman Oliver Dowden MP admitted his party 'got a kicking' but added that such by-election results are not unusual when a Prime Minister is halfway through his or her term in office:
Therefore, this protest vote might be a one-off. Let us hope so.
However, in order for that to happen, Boris must be more of a Conservative and less of a Green Blairite.
Courier's employees throw parcels against wall
And last, but hardly least, we have distressing news about some Christmas home deliveries.
Hermes is the UK's worst courier company, but we have to put up with their delayed, sometimes damaged, deliveries.
A reporter from The Times did a brief stint with Hermes and found a group of disgruntled employees, some of whom threw parcels against a warehouse wall. The reporter is shown with his car boot open:
Hermes will investigate but says this is not typical behaviour of its employees. The company is at the bottom of the national delivery league table:
Meanwhile, I have been noting the rather downbeat Christmas notes we have received with our cards this year.
I hope that 2022 brings us far better tidings.
Friday's post provided the background to the current turmoil in Boris Johnson's Government.
This is where we left off — a GB News tweet from November 22, before further events occurred:
The Christmas party — or parties
Last week, news emerged of an alleged Christmas party held on December 18, 2020, at No. 10 Downing Street.
Somehow, it took most of 12 months for this news to appear.
It surfaced with a video of Allegra Stratton, who was rehearsing for her new — ultimately unfulfilled — role as a televised press secretary, although she did remain press secretary.
On Tuesday, December 7, ITV News was able to obtain this video of her rehearsing for a press conference involving a fictitious Christmas party. The press corps are senior No. 10 employees:
According to this rehearsal, which Stratton did not take too seriously, we are looking at a party that never took place.
However, when one watches the video, one wonders: did it or did it not happen?
Allegra Stratton laughed and slumped over the podium. Hardly a professional look.
The Sun reported (emphases mine):
Senior members of the PM's top team were filmed laughing and referring to "cheese and wine" in a mock press conference held by Allegra Stratton in the No9 briefing room …
In footage of the fake presser, obtained by ITV, one of the PM's advisers asked: "I've just seen reports on Twitter that there was a Downing Street Christmas party on Friday night, do you recognise those reports?"
Ms Stratton joked: "I went home!" before she paused to consider how to respond.
The aide added: "Would the prime minister condone having a Christmas party?"
Ms Stratton, who was due to lead daily political press briefings in the £2.5million press room before the plan was ditched earlier this year, laughed and replied: "what's the answer?"
Another No10 staffer popped up to say: "It wasn't a party, it was cheese and wine."
Ms Stratton added: "Is cheese and wine alright? It was a business meeting…"
Business meetings were allowed under the restrictions at that time, as The Times explains:
People were allowed to gather if it was reasonably necessary for work purposes, but that would not have included holding a party.
The government's advice from the time said: "Although there are exemptions for work purposes, you must not have a work Christmas lunch or party, where that is a primarily social activity and is not otherwise permitted by the rules in your tier."
The Telegraph's Christopher 'Chopper' Hope reported that Downing Street might have been exempt from the party rule because it was a Crown property. However, Guido Fawkes pointed out that the Queen wore a mask earlier this year at Prince Philip's funeral on the grounds of Windsor Castle:
No. 10 responded to the Christmas party allegations. ITV News's UK Editor Paul Brand tweeted:
By Thursday, December 9, 2021, The Times revealed a catalogue of seven Christmas parties allegedly taking place in or near Downing Street last year during a time when London was, for the most part, under lockdown.
Excerpts follow, emphases mine.
The Times reports:
Insiders said that the No 10 Christmas party on December 18 began early, with officials and political advisers gathering in the press office shortly after 6pm.
Over the course of the evening some people made speeches, enjoyed a cheese board, drank together and exchanged Secret Santa gifts. By the time it ended shortly before 2am, several of those present were said to be "rat-arsed".
A few rooms away Boris Johnson was working in his office, where after consulting once more with government scientists, he was coming to a critical realisation that Christmas, as planned, could no longer go ahead. Less than 24 hours later the prime minister broke the news that millions of people could not see friends and family over the festive period if they lived in other households …
At the time London was under Tier 3 restrictions, banning indoor mixing with a narrow exemption for people whose jobs required them to be at work in the office. Was Johnson aware of the event, which included some of his most senior aides and was held yards from his office? …
The Christmas party, however, was different. A source said it had been organised days in advance on WhatsApp and with a follow-up email.
Originally it was intended for members of the press office who work together in the same large room on the ground floor …
It was not, they said, a party that had been organised by senior members of staff or indeed political special advisers. But in the close world of Downing Street some members of Johnson's media team were also invited. The most senior members were understood to be involved in the preparations for the impending new Christmas restrictions.
Other parties were alleged to have taken place:
At another point in December, sources say, a Christmas quiz was held for officials and Conservative advisers working in Downing Street. Invitations were sent out by email, with people asked to organise themselves into teams of about six. Many wore novelty Christmas jumpers on the day. One source said that the quiz took place in the "control centre" established in 70 Whitehall by Dominic Cummings, who had left his role as one of Johnson's most senior advisers in November. Another source said that people stayed late drinking, and that there was much discussion the next day about the unexpectedly strong knowledge displayed by the victors.
No 10 sources were adamant that the quiz was "entirely virtual", and denied that it took place in 70 Whitehall, but conceded that some people may have participated from desks in communal offices …
One party allegedly took place at Conservative Party headquarters in central London:
Another event took place at CCHQ a few days before the Christmas party. At least two dozen party aides and volunteers, who had helped Shaun Bailey, the Tories' London mayoral candidate, held a "raucous" bash involving drinking, Christmas hats and dancing that went on late into the night. Things were said to have got so rowdy that a door was damaged. London was in Tier 2 restrictions, with a ban on indoor mixing and the rule of six applying outdoors.
Some parties allegedly took place in November 2020:
Government staff are also said to have held informal leaving dos in November, when England was in a full lockdown, to mark the departures of the senior Downing Street aides Lee Cain and Cleo Watson. Christmas parties were also held at the Cabinet Office and the Department for Education.
Those are the seven alleged parties.
The timing of this leak could not have been worse for the Government.
At PMQs on Wednesday, December 8, Boris insisted that the Cabinet Secretary Simon Case would investigate the alleged December 18 party, which was the only known one at the time.
This is how he responded to Labour's Sir Keir Starmer at the despatch box:
… I apologise for the impression that has been given that staff in Downing Street take this less than seriously. I am sickened myself and furious about that, but I repeat what I have said to him: I have been repeatedly assured that the rules were not broken …
I have asked the Cabinet Secretary to investigate exactly what happened, and I repeat that there will be consequences for those involved if the rules were broken.
I have been repeatedly assured that no rules were broken. I understand public anxiety about this and I understand public indignation, but there is a risk of doing a grave injustice to people who were, frankly, obeying the rules. That is why the Cabinet Secretary will be conducting an investigation and that is why there will be the requisite disciplinary action if necessary.
Starmer brought up the story of a woman who died in hospital over Christmas and her aggrieved daughter who was not allowed to see her because of coronavirus restrictions.
Boris responded:
The first thing to say is that, in common with everybody in this House, I extend my sympathies to Trisha and her family. I understand the pain of everybody who has suffered throughout this pandemic.
I know the implication that the right hon. and learned Gentleman is trying to draw: that the case that we are now investigating should somehow undermine public confidence in the measures that we are taking. I think that is the point he is trying to make, but I say to him that I think it is a great mistake to try to play politics with this issue, and I think that is what he is doing. I do not think the public do want to see confidence in the measures undermined. We are taking—[Interruption.] I think they can see the difference. We are taking the steps necessary to protect the public, above all by rolling out the vaccinations. Rather than focusing on the events of a year ago, that is what we are focusing on and that is what I think the public will understand.
On the one hand, one could say that this is still a sour grapes ploy to get Boris, who got Brexit done.
On the other hand, The Times reported that the news caused some Cabinet ministers and backbench Conservative MPs to distance themselves from the allegations, especially as they were not directly involved with the events:
On Tuesday Sajid Javid, the health secretary, volunteered to do a broadcast round the next day to push the booster campaign. After a video was leaked in which Allegra Stratton, then a spokeswoman for Johnson, joked about the party, Javid is said to have made clear he would not defend the No 10 position.
One minister told The Times that the talk in the Commons tea room was of more letters of no confidence in Johnson going into Sir Graham Brady, the leader of the 1922 Committee of backbench Conservative MPs. They said that the party looks "divided, hypocritical, out-of-control, out-of-touch and all the other things that voters despise" …
A succession of Conservatives went on the record with concerns. Douglas Ross, the leader of the Scottish Tories, suggested that Johnson should quit if it emerged that he knew about the party.
This is how some members of the public view the revelations. As seen last week by someone in England: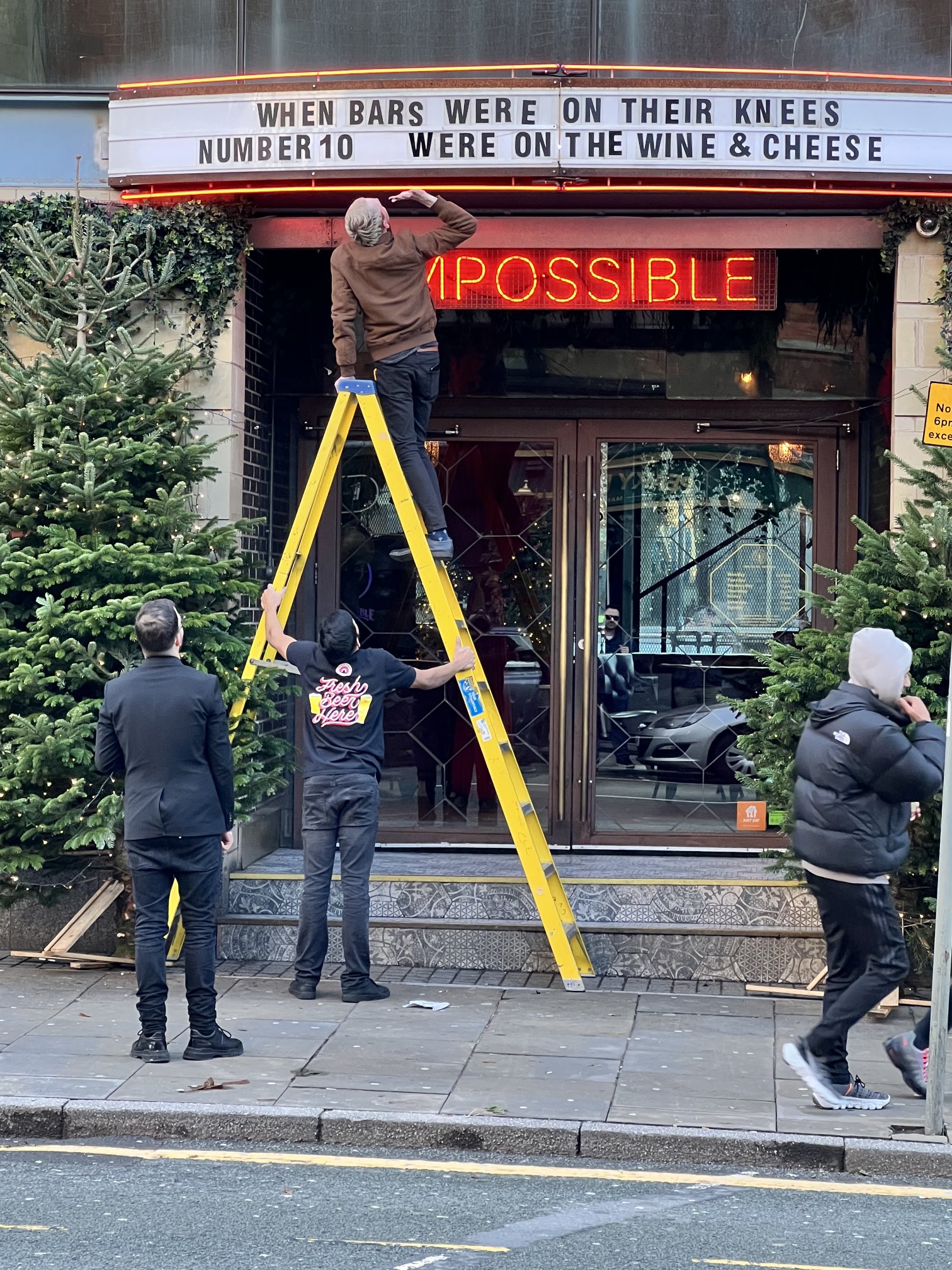 Allegra Stratton's resignation
Allegra Stratton, who appeared so insouciant a year earlier, tendered her resignation shortly after PMQs on Wednesday, December 8.
Tearful — or almost — she gave a brief statement to the press that afternoon:
Guido Fawkes quotes part of her statement:
My remarks seemed to make light of the rules, rules that people were doing everything to obey. That was never my intention. I will regret those remarks for the rest of my days and offer my profound apologies to all of you for them
[…]
To all of you who lost loved ones, endured intolerable loneliness and struggled with your business – I am truly sorry and this afternoon I have offered my resignation to Prime Minister.
This woman is media savvy and has a lot of important connections, shall we say. She'll get another job somewhere else by the New Year, most probably:
Allegra Stratton's televised daily press briefings, mimicking those of the White House, never saw the light of day. One wonders if someone informed on her after the aforementioned December 2020 dress rehearsal video:
She was never very good in No. 10, as our COP26 spokesperson, having explained at length why she didn't own an electric car and why people should join the Green Party! What planet is she on?
Further coronavirus restrictions for England
On the day of her resignation, the Daily Mail reported that No. 10 was desperately searching for the person who leaked Stratton's rehearsal video to ITV News.
But that was not all. Their article said that, in order to take the heat off the Christmas party story, Boris put England under Plan B — further coronavirus restrictions (masks, vaccine passports, travel quarantine) — in light of the Omicron variant, which he did on Wednesday, December 8, a few hours after PMQs and Allegra Stratton's resignation. What was — is — he thinking?
Within 24 hours of its broadcast, the toxic footage of No 10 staff giggling about a lockdown-busting party had detonated a bomb under the Government and led to the tearful resignation of its 'star' Allegra Stratton.
It also sparked an immediate hunt for the leaker, whose decision to pass the film to ITV News may even have prompted Boris Johnson to fast-track plans for tighter Covid restrictions.
So, Boris might have a Christmas party scandal on his hands from last year, therefore, in order to rectify that with the largest swathe of the British public — those living in England — he puts them under Plan B just before Christmas.
How is that a future vote winner?
Furthermore, Boris did not present the initiation of Plan B to Parliament first, which he should do. He had Health Secretary Sajid Javid present it to Parliament at the same time he was giving a press conference to the nation about it.
Wrong!
According to Parliamentary procedure, MPs must be allowed to debate and, if necessary, vote on these proposals before they are made public or enacted into law.
However, Boris has been doing this consistently since 2020 with coronavirus restrictions.
These restrictions will be in place by Monday, December 13. The Parliamentary debate and vote do not take place until Tuesday, December 14. Outrageous.
Omicron relatively weak, yet we have Plan B
As far as we know, Omicron is relatively mild:
Guido points out that the Government is going overboard about a variant whose symptoms resemble a common cold (emphasis in the original):
As the UK government hits the 'Plan B' button in a moment of epidemiological stringency, in the past 24 hours both the US Center for Disease Control and Prevention and the EU Medicine Agency have both said cases remain mild.
15 hours ago the CDC Chief said that of the more-than-40 people in the US have been infected with Omicron, "nearly all of them were only mildly ill" and the "the disease is mild". Just one person's been hospitalised.
… Meanwhile the UK government is preparing to hit the UK economy with a stay-at-home order, based on no hospitalisation or death data suggesting it's necessary.
In his press conference last Wednesday annoucing Plan B, to make things worse, Boris also said that we need to have 'a national conversation' as to whether the UK should implement mandatory vaccinations!
On December 9, The Telegraph's Andrew Lilico wrote (emphases mine):
… Omicron cases are currently doubling every two to two and a half days. Wearing a face mask in the cinema but not the pub isn't going to make a lot of difference to that.
If omicron is really going to grow as explosively as the Government suggests, Plan B isn't going to come remotely close to slowing it down or stopping it. Restricting people's lives in a way that makes no difference whatever to a problem is just as authoritarian as restricting people's lives when there is no problem at all. If the only point of restrictions is as a kind of virtual flag with "We're doing something" written on it, it'd be better not to restrict people's lives but instead to raise a literal physical flag saying that, outside 10 Downing Street …
There needs to be a high likelihood that some disaster will follow if restrictions are not imposed and a good chance that the restrictions would avert or at least mitigate that disaster.
The Government does not appear to believe it needs such a rationale. It seems to think that it's legitimate to restrict millions of people's lives on bases such as "on balance, that's wise" or "to reduce pressure on the NHS" (not to avoid its collapse – just to make life a bit easier). That is a serious departure that MPs of good conscience should vote against. Otherwise it would be legitimate to introduce a curfew every evening to "reduce pressure on the police" or restrictions every time a new flu strain is identified "just in case" it might lead to a pandemic …
We did our bit. We got vaccinated. That has meant that, since April, the infection fatality rate of Covid has only been perhaps 3 to 4 times that of flu. Covid will be with us forever, killing tens of thousands each year. But since April it has never again been possible for it to create the waves of 100,000 and more deaths at a time that we experienced last Winter and that would have been much worse had we not accepted restrictions from last Spring onwards.
… Everyone in the country was going to get delta over the next couple of years, as our immunity faded, unless we were willing to get boosters every few months forever. Why does it matter if we get omicron this Christmas instead? A vague sense that "Something must be done. This is Something. So let's do This." is not even close to an adequate basis on which to let Plan B proceed.
On Sunday evening, December 12, Boris gave a brief recorded address to those in the UK saying that there has been a 'surge' of hospital cases and that the coronavirus danger level has been ramped up to Stage 4 throughout the four nations. Again, he and his ministers just decided this with no input from MPs:
In a nutshell, this appears to be what is happening with Government policy and the media on Omicron:
That morning, Dr Susan Hopkins of the UK [England, actually] Health Security Agency was still among those experts waiting for something to happen with Omicron:
UPDATE — Monday, December 13: One patient in the UK has died 'with' Omicron.
Sadly, the Government and their scientists will consider that a success.
————————————————————————-
People living in England wonder whether Plan B will proceed to another full lockdown in 2022 as punishment for celebrating Christmas.
On Friday, December 10, The Telegraph's Julia Samuel said that, in light of the Christmas party allegations, the Government no longer has the moral authority to impose yet another lockdown:
It seems almost inconceivable and yet it's not. We could be headed for another lockdown, probably just after Christmas. No one really believes that the measures announced by Boris Johnson this week will stop the new Covid variant from spreading. The private reasoning of the officials recommending them and the ministers agreeing to them is that they need to prepare the public psychologically for the possibility of going back into lockdown …
They might tell us to stay at home, but they don't. They might have told us not to party, but Number 10 staffers clearly judged that since they had worked together in close quarters for weeks, a party couldn't really hurt. What stinks is not the logic of this decision; it's the rank hypocrisy of legislating for one thing and then doing another.
If the Government is considering another lockdown, then it needs to understand that it has exhausted consent for the type of policy it could enact before. It has no moral authority to ban fathers from being with their wives during childbirth or to confine people to their houses because an app says they shared a bus ride with a Covid case. If we are told to stay at home, it can only be conditional upon our nearest and dearest social obligations. If that makes enforcement difficult, so be it. Policing this mess fairly has been a fool's errand from the start …
With any luck, this will all end up with a dramatic anti-climax. Scientists are starting to sound increasingly confident that omicron hails Covid's transformation from a threat to a common cold.
By Christmas, we will know the score. But in the meantime, let's recognise the government's half-hearted and ineffective Covid measures for what they are: the start of a campaign to soften us up for another lockdown, if it's deemed necessary.
If that is what's coming down the track, we need to be clear: some things are too important to be sacrificed to Covid controls. The Government ought to recognise that and use the law sparingly.
But if it doesn't, people will have to use their own judgement and make decisions they can live with afterwards. We would only be following Number 10's example, after all.
Who can argue with that?
In Parliament, a rebellion has been brewing over the past week on coronavirus legislation. Although protest votes will not prevent Plan B from passing, they will send a signal to No. 10 that a growing number of Conservative backbench MPs are deeply unhappy.
More on that tomorrow.