You are currently browsing the tag archive for the 'church' tag.
The ongoing preoccupation and concern about how Anglican parishes will survive, especially in rural England, might be resolved soon.
On June 26, 2022, The Sunday Telegraph reported that wealthier parishes could be allowed to give more to poorer ones. The plan will be debated at the upcoming General Synod meeting in July (emphases mine):
Wealthy church dioceses will be allowed to share funds with their poorer neighbours under plans to be voted on by the Church of England.
The proposals, which have been submitted before the General Synod, the Church of England's legislative body, will mean that for the first time cash can be more evenly distributed.
The move would remove some barriers to dioceses sharing resources and comes amid concern about the viability of smaller, poorer and more rural parishes.
Why did that not happen sooner? It's common sense. In Paul's epistles, we read of his collection for the poor church in Jerusalem. The other churches he planted in Asia Minor and Macedonia gave generously, and he succeeded in presenting the donation to the struggling congregation in Jerusalem.
It will be left to the dioceses to decide if they wish to participate. Hmm. Based on previous diocesan splurging of money on rather useless 'initiatives', I do hope they will be generous towards their poorer congregations:
In papers published last week and submitted to the Synod for its conference in July, David White, deputy director of finance for National Church Institutions, said that his amendment would "in effect, enable a Diocesan Board of Finance to grant funds from its income account for use by other dioceses in the Church of England if it wished to do so" …
In May the archbishops admitted that they "got it wrong" by not prioritising rural parishes over city churches, as they announced funding worth £3.6 billion.
We shall see.
On June 23, Andrew Selous MP, the Second Church Estates Commissioner, answered a question from Labour MP Ben Bradshaw on putting more clergy into neglected parishes. I agree with the Revd Giles Fraser of St Anne, Kew, that Selous's response was far from reassuring:
Churches are struggling to obtain curates, as obtaining more clergy is not in their direct control:
The Save the Parish network will be meeting before the Synod members get together. I wish them all the very best. They have two champions in the Revds Giles Fraser and Marcus Walker, rector of St Bartholomew the Great in London:
Giles Fraser is enjoying his new assignment at the Parish Church of St Anne in southwest London:
He is out and about meeting fellow residents:
On a serious note, Fraser warns of the Lords Spiritual — serving Church of England bishops in the House of Lords — becoming irrelevant if the parish system breaks down:
In his recent article in UnHerd, he says:
… the bishops draw their moral authority from the fact that the Church of England operates a universal service provision. We serve in all communities, from the richest to the poorest, from cities to rural areas. The bishops are in fact well suited to the Lords because they connect it to every parish in the country — well, in England at least. And if there is a current threat to bishops in the Lords it comes not from the fact that they sometimes irritate the government with moral pronouncements — 'twas ever thus — but rather because the bishops are dismantling the source of their own authority. Armed with half-arsed MBAs, they want the Church to be run with increasingly centralised efficiency; inefficient parishes are being closed. As a result, the connection between the bishops and the parishes is being severed, and with it the source of their authority to sit in the legislature.
Fraser warns that this plays into secularists' hands:
The role of the bishops is to represent the whole country spiritually. On the whole, other faiths are glad of this particular role held by the Church of England. The National Secular Society and other troublemakers are keen to sow division among people of faith in order to argue that no one church should have legislative priority over another. But this is simply a ruse to dislodge religion from the public sphere. The Church of England is not a special interest group, it exists for all. Even, heaven help us, for secularists.
On that note, the Revd Stephen Heard is concerned about the single-minded political leanings of C of E clergy, starting with the archbishops. Their constant political pronouncements could be alienating the laity — and potential converts:
He cites an article from The Critic, 'The closing of the Episcopal mind', which provides bishops' opinions dating back to the 19th century, and concludes:
Given this deep uncertainty and debate as to the political implications of Christianity, total political consensus among its leadership makes me very uneasy. It alienates large swathes of lay Anglicans who, in perfectly good faith, come to conclusions that differ from the liberal-left consensus, and makes our mission as a broad national church harder. It belies a real lack of intellectual vibrancy and curiosity, and implies, by some curious happenstance, that the political spirit of a restless and secular age has magically aligned itself with the truths of the Christian religion … What providential perfection! And what an unlikely state of affairs all round.
Political causes have even entered into baptismal and confirmation vows in the Diocese of Oxford, which now requires a promise to uphold God's creation.
Marcus Walker rightly points out that this places Christ, the Person to whom we pledge our faithful allegiance, in second position:
He wrote an article about it for The Telegraph:
In it, he says:
Baptism and Confirmation are two of the most important steps a human being can make. I say this, I concede, as a clergyman, but what happens at these sacraments is not just a significant religious service, but an event that transforms a person's life, temporal and eternal.
This is why it's really important that the Church avoids putting barriers up that would discourage people from encountering this grace. It is difficult enough for the Church to persuade people that the Christian message is true (we've all seen the stats). Pushing away those who don't hold to the ideologies of the current bench of bishops is foolish in the extreme.
This week, the Bishop of Oxford has decided to add to the service of Baptism and Confirmation a new little exchange: "Will you strive to sustain the integrity of creation, and sustain and renew the life of the earth?" "With the help of God, I will." It is important to note that this is not a change to the actual baptismal vows. It's part of a rather naff "commissioning" that the new prayer book, Common Worship, allows at the end of these services. Nobody knows what happens if a candidate says "no", mostly because none of the other questions are controversial so this issue has not come up before.
At this point you might be saying, "but there's nothing controversial here either", and, if speaking entirely for myself, I would agree. You might also say that this seems pretty consonant with long-standing mainstream Christian and Anglican theology and this would be true.
But the question of how we engage with environmental concerns has become a major political issue recently, one controversial enough to have even caused long standing conservatives to reconsider their loyalty to the Crown in anger at the way some members of the Royal Family proselytise about "The Environment".
This is the only part of the service which engages directly with a live political discourse. We are not asked to pledge anything to do with poverty, international relations, race, or even loyalty to the Supreme Governor of the Church of England …
Walker acknowledges that the 1662 Book of Common Prayer (BCP) requires confirmands to pledge loyalty to the monarch and says that it is no longer used in today's confirmation ceremonies:
… to use it now would turn away any republican. It would cause those who don't think this country should have a monarch to have second thoughts about finding God. High Tory though I am, I would not want to stand before the Throne of Judgment and have held against me the souls I had turned away because of my politics.
Which means my advice to the Bishop of Oxford is not to mess with this liturgy; to those cheerleading the move to ask yourself what if the boot were on the other foot and you were being forced to assent to a political position you dissent from as a condition of baptism; to the Church to be grateful for anyone willing to commit themselves to Christ and to welcome them with open arms.
In closing, this guidance on sermon writing from 2017 is worthwhile reading. It could apply to any essay. Parts of it remind me of the Expository Writing course I took at university many moons ago.
This is called 'Good to Great: Turning a Decent Sermon into a Wonderful One':
It's excellent advice — and difficult to achieve, therefore, all the more worthwhile in the pursuit of 'good to great'.
As I was preparing yesterday's post on what Anglican priests think of the 1662 Book of Common Prayer, a lot more material came to the fore.
Trinity Sunday
As regular readers and churchgoers know, June 12, 2022 was Trinity Sunday.
At the Priory Church of St Bartholomew in London, it was also Confirmation Day for a blessed handful of the congregation.
The Revd Marcus Walker, St Bartholomew's vicar, is on the right of the photo below. The Bishop of London, the Right Revd Sarah Mulally, is in the centre:
Did you ever wonder why mitres are shaped with a point?
Our vicar told us on Pentecost Sunday — the week before Trinity — that mitres are shaped that way to suggest the tongues of fire that descended on the heads of the faithful on the first Pentecost, signifying the arrival of the Holy Spirit.
It is a pity that the Bishop chose to preach on The Shack in her sermon. Oh dear, oh dear, oh dear — no!
Not surprisingly, those preaching on Trinity Sunday dread it because it requires in some measure explaining the holy mystery of the Triune God. It is not unusual for a vicar to assign the sermon to an ordinand — trainee priest — who is a member of his congregation.
St Patrick used a shamrock. However, a Lutheran pastor in the United States uses an egg, which, in some ways, is even better. His sister, whom I cited in my post, wrote on another website (emphases mine below):
He set out 3 small bowls. He cracked an egg, separated the white from the yolk, placed them in 2 of the bowls, and the shell in the third. He then asked the children which was the egg (which of course brought out all kinds of interesting responses). He used this illustration to explain the Trinity. I think even the adults in the congregation were enlightened by his talk. The children certainly learned something that day.
Returning to St Bartholomew's, Marcus Walker exchanges thoughts with a Catholic in the Twitter below:
Walker is absolutely right.
The Revd Matthew Cashmore is the vicar of St Anselm's in Hayes, Middlesex, near Heathrow Airport. For centuries, it was a rural area. Now it is very much a part of Greater London. Its growth as an industrial suburb began in the mid-19th century with the arrival of the railway. In the 20th century, it was home to many industries, including player pianos, vinyl records, caravans, food manufacturing and aviation companies. Today, it is known for food, aviation and a number of Heathrow's hotels.
St Mary the Virgin Church is the oldest house of worship in Hayes, dating back to the 13th century.
St Anselm's was built in the 20th century but its name references the history of St Mary the Virgin, as Wikipedia explains:
St Anselm's Church was completed in 1929 to the design of architect Hubert Christian Corlette. Noted designer MacDonald Gill was responsible for the panelled ceiling. The church's foundation stone was laid on 13 May 1927 by Sir John Eldon Bankes. The east window is by James Powell and Sons of Whitefriars, London. The church was Grade II listed in November 2019.[58] St Anselm's is so-named because William Rufus (1056 – 1100) sent Archbishop (later Saint) Anselm of Canterbury (c.1033 – 1109) to stay in the manor house of St Mary's Church, as it was the nearest of the Archbishop's manors to Windsor, where William Rufus resided.[59][60]
William Rufus was the third son of William the Conqueror.
On to the present day, and Matthew Cashmore, like many other vicars, preached on the mystery of the Trinity. This is an excerpt from St Anselm's Trinity Sunday pew leaflet:
To try to figure out HOW this trinity of God works. We are human and modern humans attempt to understand the world through the lens of science and 'reason'.
The issue of course is that creation is rather more complex and difficult than we can understand.
We are not God and we are reaching and trying as hard as we can to understand things that He created and put into place.
It's just not possible.
This is not to say that we shouldn't try – that we shouldn't engage in trying to understand the the universe through science and 'reason'; but rather to accept that there are things that we can not neatly fit into categories of science that are central to how we exist in the universe.
We are not God.
Sometimes we need to accept that it is wiser to exist and simply appreciate and give thanks for what God has made – and our part in it.
Wise words indeed.
Mission work
I found out about St Anselm's via a tweet from a vicar whose tweets I posted yesterday.
The Revd Sarah Hancock, from Cheadle Hulme, Cheshire, posted the church's brilliant advert for a Mission Priest:
I can see why they have passed a Resolution. Going into rough pubs is probably not the sort of thing even today's women priests are up for.
Mission work also appeared in Cashmore's Trinity Sunday sermon, as he exhorted the congregation to think about ways in which they, too, can bring the Gospel to the unchurched. Excerpts follow:
In the name of the Father of the Son and of the Holy Spirit – Amen.
Today, as I'm sure you're all aware is Trinity Sunday. It's a day we call to mind the Holy Trinity and what that means to us today.
Trinity Sunday is an annual reminder of the simple command to live within the love and commandments of the Father, Son and Holy Spirit – and Jesus tells us how we discern how to do that …
… our faith is a felt faith. It is a faith that exists as much in our hearts and our stomachs as it does in our brains. The moment we forget that we lose the awesome breadth of what God has in store for us – we lose the ability to engage with what Jesus taught us – and we lose sight of what the Holy Spirit wants us to do in this life.
Now, I'm not saying we should leave our brains at the door when we come to church. What I am saying is that academic and intellectual exploration has to work alongside that gut feeling we all experience when we see the work of the Holy Spirit and that gentle warming of our heart we feel when we see the love of Jesus in action.
Our faith is a broad, complex and wonderful thing. It interacts with the world in a myriad of ways and people interact with us – and the faith they see in us – in a myriad of ways. 
We should be open to all those possibilities. 
The fact that somebody may want to talk to us about where the Trinity appears in scripture for example, is an opportunity to engage people about their faith. For us to crack open the Bible and talk them through the gospel of John and its rich description of the workings of the Father, Son & Holy Spirit. (so I suggest you take your pew sheet home and read around these chapters!)
Or it may be that people want to know what the practical outworking of the Trinity in our day to day lives is … or they may want to understand how our love of God the Father, Son & Holy Spirit makes us feel.
We need to be prepared to answer these questions in the real world. 
There are three things that I think any Christian should be ready to answer in the street.
How does God make you feel?

How does the Holy Spirit guide your daily life?

How has Jesus taught you to live a life more pleasing to God?
These questions form the heart of what we talk about in the world when we bring people to the love of Jesus – and in so doing – to the love of God and the Holy Spirit.
They are true because we experience them across the breadth of our lives and because we see them in scripture – the test of truth …
Our faith is an experienced faith.
It has to be lived out to be understood …
When we talk to people about God … We engage them with the truth of what we have seen, what we have learnt, what we have experienced in our day-to-day life with Jesus.
And we should be more prepared for it.
We should, each morning as we cross ourselves and say the Our Father – think with our brains, feel with our stomach, experience the joy of love in our heart, and ask ourselves – how can I go into the world today and bring somebody to Jesus.
How can we bring people to this church, this place and bring them to baptism – to a relationship that is earth shatteringly life changing with God the Father, God the Son, God the Holy Spirit?
It is up to each one of us to figure that out. Each one of us will bring a different gift, each one of us will bring different experiences and feelings, each one of us will have engaged with scripture in different ways and each one of us will reach somebody that another person cannot.
Nobody is beyond the love of God the Father, Son & Holy Sprit.
So, go out into the world my brothers and sisters and bring people to baptism, to this place, to a relationship with the Holy Trinity – because the only way to understand the Trinity – is to live inside its love.
Amen.
St Anselm's is a High Anglican church, therefore, it adopts some Catholic practices and pre-Vatican II vestments, such as this fiddleback chasuble in gold and blue:
I wish Fr Matthew all the best with his parish work and finding a Mission Priest.
Those interested in reading or watching more of his sermons can find them here.
I can also recommend the one for Pentecost Sunday, another inspiring call to mission:
Another vicar, the Revd Sam Charles Norton, is also concerned about spreading the Good News in the Church of England. He begins by going back to basics, with the Bible, writings of the early Church Fathers as well as Anglican clergy who helped to develop the Church of England in the 16th and 17th centuries when it was theologically at its best:
He says we have replaced doctrine with culture:
People should visit our churches if only for their beauty, as close to a glimpse of heaven as we have in this life:
Who knows where a church visit might lead?
Trivia
In closing, new members were installed into the Order of the Garter on Monday, June 13. This ceremony takes place every June.
This year, the Bishop of Worcester's brother was one of the newest members of this ancient Royal order. Tony Blair, unfortunately, was, too.
However, the interesting thing is that both the Bishop of Worcester — the Right Revd John Inge — and his brother, who is a Field Marshal, are the sons of butchers. Let no one say that modest parentage prohibits great achievements:
The Bishop is the Lord High Almoner, in charge of distributing alms to the poor. The office dates from 1103 and is a post in the Royal Households of the United Kingdom.
The last Lord High Almoner who was the son of a butcher was Cardinal Wolsey (1473-1530):
How marvellous to be parents of sons who went into the military and the Church!
The three-year Lectionary that many Catholics and Protestants hear in public worship gives us a great variety of Holy Scripture.
Yet, it doesn't tell the whole story.
My series Forbidden Bible Verses — ones the Lectionary editors and their clergy omit — examines the passages we do not hear in church. These missing verses are also Essential Bible Verses, ones we should study with care and attention. Often, we find that they carry difficult messages and warnings.
Today's reading is from the English Standard Version with commentary by Matthew Henry and John MacArthur.
Greeting
1 Paul, an apostle of Christ Jesus by the will of God,
To the saints who are in Ephesus, and are faithful[a] in Christ Jesus:
2 Grace to you and peace from God our Father and the Lord Jesus Christ.
————————————————————————————–
Today's post begins a brief exploration of Paul's letter to the Ephesians.
It will be brief, because most of its six chapters are in the Lectionary. As such, I will include the content of the chapters in each post, because it is such a beautiful letter about the Church.
Both Matthew Henry and John MacArthur say that this letter is a handbook for the Church. Also, Paul was divinely inspired to reveal certain mysteries about the Gospel and God's plan for the Church.
Furthermore, both commentators say that whether Paul actually addressed the book specifically to the Ephesians is in question. Some early commentaries omitted mentioning the church in Ephesus and had a blank space instead, suggesting it could have also been sent elsewhere. It could be argued that this letter was intended to apply to all the churches in Asia Minor.
Henry's commentary tells us how it was seen to be attached to Ephesus (emphases mine):
SOME think that this epistle to the Ephesians was a circular letter sent to several churches, and that the copy directed to the Ephesians happened to be taken into the canon, and so it came to bear that particular inscription. And they have been induced the rather to think this because it is the only one of all Paul's epistles that has nothing in it peculiarly adapted to the state or case of that particular church; but it has much of common concernment to all Christians, and especially to all who, having been Gentiles in times past, were converted to Christianity. But then it may be observed, on the other hand, that the epistle is expressly inscribed (Ephesians 1:1) to the saints which are at Ephesus; and in the close of it he tells them that he had sent Tychicus unto them, whom, in 2 Timothy 4:12, he says he had sent to Ephesus.
Paul wrote Ephesians from prison:
It is an epistle that bears date out of a prison: and some have observed that what this apostle wrote when he was a prisoner had the greatest relish and savour in it of the things of God. When his tribulations did abound, his consolations and experiences did much more abound, whence we may observe that the afflictive exercises of God's people, and particularly of his ministers, often tend to the advantage of others as well as to their own.
In addition to revealing mysteries of the Gospel and laying out a pattern for the Church, it is also theologically rich:
The apostle's design is to settle and establish the Ephesians in the truth, and further to acquaint them with the mystery of the gospel, in order to it. In the former part he represents the great privilege of the Ephesians, who, having been in time past idolatrous heathens, were now converted to Christianity and received into covenant with God, which he illustrates from a view of their deplorable state before their conversion, Ephesians 1:1-3; Ephesians 1:1-3. In the latter part (which we have in the Ephesians 4:1-6) he instructs them in the principal duties of religion, both personal and relative, and exhorts and quickens them to the faithful discharge of them. Zanchy [Italian Reformer Girolamo Zanchi, 1516-1590] observes that we have here an epitome of the whole Christian doctrine, and of almost all the chief heads of divinity.
In 1978, John MacArthur said that he used Ephesians as a guide to modelling the principles of his own Grace Community Church, founded in 1969:
All that I had ever dreamed a church could be came to crystallization in my mind as I studied Ephesians. It formed, for me, the whole pattern of the church: what it is, how it operates, everything just came together in the study of Ephesians.
The result of that study was I wrote a book entitled The Church, the Body of Christ. Those months that we spent studying Ephesians eight years ago – seven or eight years ago – were the months that formed the character of Grace Church in terms of its present dimensions of ministry.
Grace Community Church is a church built on the principles of the book of Ephesians. In those days, I suppose we maybe had 400 or 500 people who studied with us all the way through the book. And now, at this point, we've got 5,000 people, and so the elders felt there were a whole lot of folks who ought to know what Grace Church is built on. And so, we're going to study the book of Ephesians together.
I'm so excited about this because it's a book that I absolutely love. I've taught it many, many times in other situations, and the riches of this book are unlimited. Really, more than any other book in the Bible, I feel this book was the catalyst that launched Grace Church. And, people, if you're a part of Grace Church, you are a part of something that is indeed unusual, a church that has gone from 500 to 5,000 people in 9 years, a church where so many ministries have developed. It's just really an incredible thing, and it isn't due to one individual; it's due to the will of God, but it's due also to an understanding of the principles of the book of Ephesians, a very vital book.
When I think about how God has expanded this ministry, it just boggles my mind. We were talking the other day that the receipts, over the last two weeks, that have been given to Grace Church by you, God's people, for the ministry here are more than the entire year's giving of 1969. It's incredible what God has done.
He describes the book in more detail:
If you get a handle on the book of Ephesians, you – some people have called it the bank of the believer. This is your spiritual checkbook, and every time you write a check out of this bank, your funds are non-diminished. In other words, you can write checks on all the riches of God as often as you want, for as much as you want and never diminish the account. Isn't that nice? That's the book of Ephesians. It's a book about riches. It's a book about fullnesses. It's a book about being filled with things. It's a book about inheritance. It's a book that just tells us what we own in Christ. Some have called it the treasure house of the Bible …
You can draw out all you want, all the time, and never diminish your account. But you don't know that unless you understand the principles in the book of Ephesians.
So, you want to get the book of Ephesians and get it down good. It'll absolutely revolutionize your life … It will teach you who you are, how rich you are, and how you are to use those riches for God's glory …
God is unloading all of His riches in the book of Ephesians. The word "grace" is used 12 times, and the word "grace" means God's unmerited, undeserved kindness and favor. Grace is behind all of this lavishness that God pours out. So, the word "grace" is used 12 times. The word "glory" is used eight times. The word "inheritance" is used four times. The word "riches" is used five times. The words "fullness" and "filled" are used seven times. And the key to everything is because we are in Christ that all the fullness of the riches of the inheritance of the glory of His grace is ours. Do you see?
Because we are one with Christ in His Church, because we are redeemed, this incredible fullness is ours. Maybe the sum of it all is in chapter 3, "That you might be filled with all the fullness of God." It's just an incredible thought. That literally the believer can be filled with all the fullness of God Himself; that we would know the unsearchable riches of Christ; that we would be able to do exceeding abundantly above all we could ask or think according to the power that works in us.
You see, it's all such magnanimous, grandiose concepts: fullness, riches, inheritance, wealth, resources – all in the book of Ephesians. There are enough resources in heaven to cover all past debts, present liabilities, and future needs and still not diminish your account. That's God's plan …
So, the guarantee for the believer in all of this is where it says it's in Christ. And as secure as Christ is in the plan of God and in the love of the father, and as available as the resources of God are to Christ, so available are they to you. See? Because in our union with Christ, we become, according to Romans 8, joint – what? – heirs. And as Hebrews says, "He is not ashamed to call us brother." And, "He that is joined to the spirit" – 1 Corinthians 6:17 – or "joined to the Lord," rather – "is one spirit," so that we have what He has. We possess what He possesses; all His riches are at our disposal.
Peter calls it an inheritance that's laid away incorruptible and undefiled, reserved in heaven for us. That's Ephesians. Now, it's all in Christ. It's all because we're in Christ. And if you're not in Christ, you're poor; you're destitute; you're a pauper; you're a beggar. If you're in Christ, you're rich beyond all wild imagination. It's all based on Him. It's not anything we did; it's not anything we earned. It's all His.
So, this is your bankbook. This is the treasure house. This is where you check out your resources. And in the first – now watch it – in the first three chapters, he tells you what they are, and in the last three, he tells you how to use them. You've got to get it all. You've got to stay with us for the whole thing. You can't spend them if you don't know what they are; and if you know what they are, you got to know how to spend them.
So, the first three chapters, the theology of the rich believer; the practice in chapters 4 to 6. And there are other things that are involved, but that's just the main thing. Now, let me go a step further and turn the corner a little bit in your thinking. Just kind of file that category of riches related to Ephesians, and I want to talk about another dimension. It not only talks about our riches, but it talks about the whole idea that all this is ours because we're in the Church. Okay? It's all ours because we're in the Church …
Now, the book, then, discusses the Church. It discusses what the Church is, how the Church functions, how we function in the Church, and it discusses the riches of the Church …
The book of Ephesians presents the mystery of the Church. The mystery of the Church … it's been revealed to Paul.
… And what was it? That the Gentiles are fellow heirs of the same body, partakers of the promise in Christ by the Gospel. In other words, the hidden secret of the past was revealed to Paul. And what was it? It was that the Gentile and the Jew would be in one body in the Church. Now, stay with that; we're going to expand it a little bit.
Let's talk about how God reveals things. This will help you to understand this. There are three ways, basically, that I want to mention to you. Number one, there are some things God never tells anybody. Okay? God has some secrets that He never reveals to anybody any time. These are secrets. You just don't know them; I don't know them; nobody knows them. God doesn't reveal them. Deuteronomy 29:29 tells about these things. It says this, "The secret things belong unto the Lord our God: but the things which are revealed belong unto us and our children forever" …

Second category. God has some secrets that He reveals to special people all through history …
In Psalm 25:14, it says this, "The secret of the Lord is with them that fear Him; and He will show them His covenant." Proverbs 3:32 says, "His secret is with the righteous." Amos 3:7, "He reveals His secrets unto His servants." So, the righteous, the servants, the people of God, those that fear Him, they know His truth. Now, who are they? Believers. You and me. The fact of the matter is there are some things that nobody knows. The second part is there are some things that only believers know. We know things the unsaved don't know. Right? …
There's a third category I want you to get. There are some things which God keeps secret from everybody, for a period of time, and finally reveals to His special people in the New Testament. All right? Now don't get lost. Point one, God keeps some secrets permanently. Point two, He reveals some things to all His people through all history. Point three, He keeps some secrets through history until the New Testament and reveals them only to the New Testament people.
Do you know we know things that the Old Testament saints didn't know? That's right. The New Testament wasn't written yet. The New Testament is new truth for a new age, sacred secrets revealed by God. In fact, the Old Testament saints used to look to try to see what things meant. Read it in Peter's epistle. He says they were searching what this thing was they were writing. Do you know that the angels long to understand some of the things that we know such as the meaning of salvation? There are some things that God has kept secret through all history and finally just revealed in the New Testament. Now, these are the mysteries. These are the mustērion, the Greek word …
Now, by the way, the man who was given, for the most part, the job of revealing the mysteries was Paul the apostle. He was the mystery man. He was the one to whom God revealed the sacred secrets that had been hidden from the Old Testament saints.
So, these are the mysteries. So, when you see the word "mystery" in chapter 3, verse 3, it simply means a spiritual truth never before revealed but now revealed in the New Testament. New truth for a new age …
So, when Jesus talked, He talked in a way, when He was on earth, that His people would understand it, and the unbelieving would not, and He talked in parables. Right? So, they said to Him … "Why do you speak in parables?" And He said, "Because it is given unto you to know the mysteries of the kingdom of heaven, but to them it is not given." Again, the mysteries are something hidden that God reveals to His special people in the New Testament age …
Where does He reign now? In the heart of the believer. He is enthroned. In the kingdom, will there be peace? Yes. In the heart of the believer, is there peace that passes understanding? Yes. In the kingdom, Christ will dispense salvation. He has dispensed it in our lives now. In the kingdom there will be joy and happiness and blessing, and things will flourish, and so do they in the life of an obedient believer now. You see?
At this point, it is worth noting that yesterday's Gospel reading — for the Sixth Sunday of Easter (Year C) — pertains to this, particularly these verses from John 14, when Jesus was giving His final discourse to the Apostles after the Last Supper:
14:23 Jesus answered him, "Those who love me will keep my word, and my Father will love them, and we will come to them and make our home with them.
14:27 Peace I leave with you; my peace I give to you. I do not give to you as the world gives. Do not let your hearts be troubled, and do not let them be afraid.
Let us now move on to Ephesians 1, keeping those verses in mind. This is serendipitous.
Paul calls himself an apostle of Christ Jesus by the will of God and greets the congregation as saints who are faithful in Him (verse 1).
Henry has a splendid analysis of the verse:
Here is, 1. The title St. Paul takes to himself, as belonging to him–Paul, an apostle of Jesus Christ, c. He reckoned it a great honour to be employed by Christ, as one of his messengers to the sons of men. The apostles were prime officers in the Christian church, being extraordinary ministers appointed for a time only. They were furnished by their great Lord with extraordinary gifts and the immediate assistance of the Spirit, that they might be fitted for publishing and spreading the gospel and for governing the church in its infant state. Such a one Paul was, and that not by the will of man conferring that office upon him, nor by his own intrusion into it but by the will of God, very expressly and plainly intimated to him, he being immediately called (as the other apostles were) by Christ himself to the work. Every faithful minister of Christ (though his call and office are not of so extraordinary a nature) may, with our apostle, reflect on it as an honour and comfort to himself that he is what he is by the will of God. 2. The persons to whom this epistle is sent: To the saints who are at Ephesus, that is, to the Christians who were members of the church at Ephesus, the metropolis of Asia. He calls them saints, for such they were in profession, such they were bound to be in truth and reality, and many of them were such. All Christians must be saints; and, if they come not under that character on earth, they will never be saints in glory. He calls them the faithful in Christ Jesus, believers in him, and firm and constant in their adherence to him and to his truths and ways.
As ever, Paul stamps his apostolic authority on his work. MacArthur explains why he did so:
… this is the single credential that he lays out: "an apostle of Christ Jesus." Even though he stood outside the twelve—he was maybe overshadowed by them in some sense—he wants us to understand that he is a legitimate apostle. He does this with no vanity, no self-glory. In fact, he says, "I am what I am by the grace of God." He says, "We have received grace and apostleship," Romans 1:5.
But what do we know about his apostolic calling? When he called himself an apostle, four things were in view; let's look at them just briefly. First, his apostolic call. That is to say, it had to be directly from the Lord. An apostle was one called directly by the Lord Himself—as he was, on the Damascus Road. Only fourteen men were ever given this call: the twelve; Judas is out, Mathias is in, that makes the thirteenth; and Paul is the fourteenth. He had a divine calling. His life was interrupted on the Damascus Road; certainly the most dramatic calling of any apostle by Christ Himself—even the risen, exalted, ascended Christ.
The second thing that characterizes an apostle is that the notion of his identity is wrapped up in the One he represents. He belonged to Christ. He frequently refers to himself as a slave of Christ. This life was not his own; he was the possession of Christ, bought and paid for on the cross, so that he would say, "For me, to live is Christ."
Now apostle means "sent one." So here is one who has received a unique call personally from Christ, who belongs to Christ as a slave, for the sole purpose of fulfilling, thirdly, a commission. Apostolos means a sent one. His commission, in particular, was to the Gentiles.
The fourth element of it simply is to understand that he had power. An apostle is given delegated authority; he can speak for the one he represents. Even in the Jewish setting, the Sanhedrin was a supreme court of the Jews; and in matters of religion, they had authority over every Jew in the world. And when the Sanhedrin came to a decision about anything, and that decision as given then to the public, it was carried out by a messenger called an apostolos and taken to those who needed to hear it. When such an apostle of the Sanhedrin went out, he didn't go with his own message or his own authority—behind him was the authority of the supreme court of Israel.
So it was with Paul. He had authority granted to him by Christ. That authority was validated by signs and wonders and miraculous things, as God validated him as a true apostle by supernatural signs. Not only is he an apostle, but he is "an apostle of Jesus Christ by the will of God." This is double authority, from the Father and the Son. God sovereignly directed the work, specially equipped the apostle called the apostle, as did Christ Himself.
Again, although many translations mention the congregation at Ephesus, that was not the case in the earliest manuscripts:
"At Ephesus"—though this letter is directed to the Ephesians, and I think that's legitimately to whom Paul wrote it, there are no personal aspects in this letter. There are no references to local people or local events or local issues in this church. And in some ancient manuscripts there's a blank where it says, "who are at Ephesus"—"who are at blank." Where did such manuscripts come from, and why did that occur? We can't be certain, but many scholars believe that this was such a general letter that it was circulated to all the churches, not only in Ephesus and close by, but all through Asia Minor—the seven churches that are listed in the book of Revelation chapters 2 and 3. In Colossians, in fact, Paul refers to a letter from Laodicea. Some feel this might be that letter; we can't know that. But nonetheless, in some ancient manuscripts there's a blank there so that any church could fill its own name in, and it would be appropriate to them.
MacArthur gives us more information about Paul's imprisonment, which Henry dates as AD 61, and the other letters that he wrote during that time:
It's written from Rome. Paul is a prisoner during his third missionary tour. It's carried by Tychicus and Onesimus, along with Colossians and Philemon, to the churches and to Philemon.
MacArthur says that calling the congregation saints refers not only to their justification by faith through grace but also sanctification on their Christian journey:
… to show you that, 1 Corinthians chapter 1. And you might say of all the people who didn't act saintly, the Corinthians probably headed the list. But listen to how he begins 1 Corinthians: "Paul, called as an apostle of Jesus Christ by the will of God, and Sosthenes our brother, to the church of God which is at Corinth"—that's the whole church at Corinth—"to those who have been sanctified in Christ Jesus, saints by calling." If you're a saint, you're not only justified, you're in the process of being sanctified. And the Corinthians seem like some of the least sanctified saints—and yet that is how Paul describes them …
There are plenty of scriptures that indicate there's no such thing as justification without sanctification. One more comes to mind. Acts 26:18, Paul says his commission is to the Gentiles, to whom the Lord is sending him—verse 18, "to open their eyes so that they may turn from darkness to light and from the dominion of Satan to God"—that's conversion, and—" that they may receive forgiveness of sins and an inheritance among those who have been sanctified by faith in Me." When you put your faith in Christ, you're not only justified, you're sanctified; not perfectly sanctified, but you're on the path of sanctification.
So that, if you are a saint, you also can be designated faithful. That's why those go together: "to the saints who are faithful." What does that mean? Pistos, who are believers, who believe in Christ Jesus.
There [was] a movement years ago that I basically took on in The Gospel According to Jesus that said you could be a Christian and completely lose your faith, be an unbelieving believer. Not possible. True believers are justified and sanctified. They are saints who are faithful in Christ Jesus.
So Paul is writing this letter to those saints and faithful believers.
Paul wishes the Ephesians grace and peace from God the Father and His Son Jesus Christ (verse 2).
Henry explains:
The apostolical benediction: Grace be to you, c. This is the token in every epistle and it expresses the apostle's good-will to his friends, and a real desire of their welfare. By grace we are to understand the free and undeserved love and favour of God, and those graces of the Spirit which proceed from it; by peace all other blessings, spiritual and temporal, the fruits and product of the former. No peace without grace. No peace, nor grace, but from God the Father, and from the Lord Jesus Christ. These peculiar blessings proceed from God, not as a Creator, but as a Father by special relation: and they come from our Lord Jesus Christ, who, having purchased them for his people, has a right to bestow them upon them. Indeed the saints, and the faithful in Christ Jesus, had already received grace and peace; but the increase of these is very desirable, and the best saints stand in need of fresh supplies of the graces of the Spirit, and cannot but desire to improve and grow: and therefore they should pray, each one for himself and all for one another, that such blessings may still abound unto them.
MacArthur focuses on divine grace and divine peace:
First, grace—charis, the kindness of God toward undeserving sinners. Peace, eirēnē. Peace means peace with God, the peace of God, peace with each other. Those are the first blessings: grace and peace. Grace is the fountain; peace is the stream that flows from that fountain.
MacArthur summarises the next set of verses:
In verses 3 through 14, Paul gives one long sentence listing all the spiritual blessings in the heavenlies in Christ: election, sanctification, foreordination, adoption, acceptance, redemption, forgiveness, enrichment, enlightenment, inheritance, sealing, promise, on and on and on. Everything that is ours is laid out in that opening chapter. And, of course, from there you go through the whole treasure house of God's provision for His people: the treasures of grace, the treasures of glory, the treasures of Christ. In this chapter, running down through verse 14, you will see the work of the Father, you will see the work of the Son, and you'll see the work of the Spirit. And all of it has one purpose: verse 6, "to the praise of the glory of His grace"; verse 12, "to the praise of His glory"; verse 14, "to the praise of His glory."
Everything that happens in the life of the church is to the praise of His glory. It is all for His glory—and particularly, the praise of the glory of His grace, praise of the glory of His grace, as we saw in verse 6.
Henry tells us to look at the rest of the chapter as a combination of praises and prayers:
… though it may seem somewhat peculiar in a letter, yet the Spirit of God saw fit that his discourse of divine things in this chapter should be cast into prayers and praises, which, as they are solemn addresses to God, so they convey weighty instructions to others. Prayer may preach; and praise may do so too.
Here is the rest of the chapter:
Spiritual Blessings in Christ
3 Blessed be the God and Father of our Lord Jesus Christ, who has blessed us in Christ with every spiritual blessing in the heavenly places, 4 even as he chose us in him before the foundation of the world, that we should be holy and blameless before him. In love 5 he predestined us[b] for adoption to himself as sons through Jesus Christ, according to the purpose of his will, 6 to the praise of his glorious grace, with which he has blessed us in the Beloved. 7 In him we have redemption through his blood, the forgiveness of our trespasses, according to the riches of his grace, 8 which he lavished upon us, in all wisdom and insight 9 making known[c] to us the mystery of his will, according to his purpose, which he set forth in Christ 10 as a plan for the fullness of time, to unite all things in him, things in heaven and things on earth.
11 In him we have obtained an inheritance, having been predestined according to the purpose of him who works all things according to the counsel of his will, 12 so that we who were the first to hope in Christ might be to the praise of his glory. 13 In him you also, when you heard the word of truth, the gospel of your salvation, and believed in him, were sealed with the promised Holy Spirit, 14 who is the guarantee[d] of our inheritance until we acquire possession of it,[e] to the praise of his glory.
Thanksgiving and Prayer
15 For this reason, because I have heard of your faith in the Lord Jesus and your love[f] toward all the saints, 16 I do not cease to give thanks for you, remembering you in my prayers, 17 that the God of our Lord Jesus Christ, the Father of glory, may give you the Spirit of wisdom and of revelation in the knowledge of him, 18 having the eyes of your hearts enlightened, that you may know what is the hope to which he has called you, what are the riches of his glorious inheritance in the saints, 19 and what is the immeasurable greatness of his power toward us who believe, according to the working of his great might 20 that he worked in Christ when he raised him from the dead and seated him at his right hand in the heavenly places, 21 far above all rule and authority and power and dominion, and above every name that is named, not only in this age but also in the one to come. 22 And he put all things under his feet and gave him as head over all things to the church, 23 which is his body, the fullness of him who fills all in all.
Next week, I will look at Ephesians 2 and the first part of Ephesians 3.
Next time — Ephesians 3:13
On May 15, 2022, the Gospel reading for the Fifth Sunday of Easter (Year C) was from John 13, wherein Jesus gave the Apostles a new commandment at the Last Supper:
13:34 I give you a new commandment, that you love one another. Just as I have loved you, you also should love one another.
13:35 By this everyone will know that you are my disciples, if you have love for one another."
When I returned home from my local Anglican church that day, I read about two rather sad situations in the Church of England involving senior clergy.
The way the bishops handled these situations made me wonder how Christlike they are.
Loving each other the way Christ loves us demands a lot of concessions on our part, the very same that He showed towards His disciples, making allowances for human misunderstanding and weakness. Above all, He forgave those faults time and time again, with loving patience.
The Save the Parish network has been doing much heavy lifting in trying to get bishops to become more responsive to and respectful of parish churches across the country.
What follows are two examples of their efforts.
Cornwall
A conflict has been growing between Anglicans in Cornwall and their bishop, the Right Revd Philip Mounstephen, over the axeing of clergy, meaning the potential closure of historical churches in that beautiful county.
The Diocese of Truro prefers to spend money on administrative positions, as the following Save the Parish letter to the bishop makes clear:
The bishop sent back a terse reply, saying that, as the group had gone to the press with the story, he would not be meeting with them, as they had requested:
Given that you have taken this route I'm afraid I will not be offering you a meeting.
Rather, I encourage you to engage seriously in the On the Way process in your local community.
If you have continuing concerns these should best be raised in your PCC and by the normal synodical processes by which we work.
That sounds so petty and so corporate. Would our Lord have responded in such a cold and unforgiving way? Certainly not.
A Catholic chimed in to say that the same thing is going on in the Diocese of Plymouth. Very sad:
The Catholic Diocese of Plymouth is in serious decline and I wouldn't be at all surprised to learn that my Bishop (and the entire episcopate of England & Wales) and your Bishop are sharing & comparing notes on this planned 'reconfiguration'. Very best wishes to you in this.
Other Anglicans were also unhappy with the direction the C of E has taken over the past few years:
I agree with the next tweets that say the rot started around 30 years ago:
Without churches, how will the faithful gather together to worship? Please don't say via a Zoom call with self-consecrated sandwich bread and a glass of whatever juice or wine one has to hand. We are not Evangelicals.
Where is the Great Commission (Matthew 28) in this plan?
16 Then the eleven disciples went to Galilee, to the mountain where Jesus had told them to go. 17 When they saw him, they worshiped him; but some doubted. 18 Then Jesus came to them and said, "All authority in heaven and on earth has been given to me. 19 Therefore go and make disciples of all nations, baptizing them in the name of the Father and of the Son and of the Holy Spirit, 20 and teaching them to obey everything I have commanded you. And surely I am with you always, to the very end of the age."
Budget
Earlier this month, on May 11, the C of E issued its triennial budget, channelling £3.6 billion into parishes and social action.
Some people, like the Revd Giles Fraser, were happy but others wondered how much money would actually be going to parishes. Pictured is the Archbishop of Canterbury:
The Revd Marcus Walker of St Bartholomew in London, who chairs the Save The Parish network, was guardedly optimistic about the budget and its allocation to individual churches:
Interestingly, the Archbishops of Canterbury and York will not deliver the budget to the General Synod until July — with no vote.
Why wasn't it presented to them upon release?
Someone noted the irony and hypocrisy of the Archbishops going to the press to announce the budget. Hmm:
On May 12, the Archbishop of Canterbury announced that the hierarchy 'got it wrong' in ignoring parish churches, especially those in the countryside:
If it hadn't been for Save The Parish, would the hierarchy have admitted their mistake?
Would Jesus have ignored the humble faithful? No, certainly not. The people the disciples tried to shoo away, Jesus invited to approach Him. He never turned His back on anyone.
The Guardian's account of the budget emphasised its social action aspects (emphases mine):
The archbishop of Canterbury, Justin Welby, and the archbishop of York, Stephen Cottrell, admitted the C of E had been heavy-handed in concentrating funds on urban churches in recent years. "Allocating money in the past was perhaps, if we're honest, a bit too driven from the centre. Now we're trusting the dioceses much more," said Cottrell.
Rural parishes have complained that they have been starved of cash, which has been diverted to inner-city churches. As a result, churches have closed and clergy jobs have been lost, according to a campaign group, Save the Parish.
Welby said: "Over the last few years, the priority has been very much for the more heavily populated areas. Having listened carefully to what people were saying, this [funding] is for everyone, including the rural areas."
The core of the extra funding will be used for programmes that focus on young and disadvantaged people, deliver social action work, address racism and cut the church's carbon footprint.
It will support churches in the poorest areas of the country and fund more clergy in frontline ministries, including chaplaincies. "This funding will help the C of E raise its game in its service to the nation," said Cottrell.
The Telegraph's article focused more on individual parish churches, the ones that Save The Parish is concerned about:
The Church of England's Archbishops have admitted that they "got it wrong" by not prioritising rural parishes over city churches, as they announced new funding worth £3.6 billion …
In an online press conference, the Archbishop of Canterbury, the Most Rev Justin Welby, and the Archbishop of York, the Most Rev Stephen Cottrell, announced the plans and reiterated their commitment to rural church communities, saying that rural parishes "really matter" …
Furthermore, in December, figures from the Office for National Statistics revealed that the number of Christians in England is close to falling below 50 per cent for the first time, as atheists now account for more than a third of "faith" groups in an increasingly secular society.
Do we think the bishops and two archbishops care about that statistic? They should, given that they, too, must follow the Great Commission. It wasn't meant only for the Apostles.
The Archbishop of York, the Most Revd Stephen Cottrell said:
I don't think we don't need to be embarrassed by saying we've learned, we've listened. We've changed our mind. It's not that what was done in the past was bad and this is now good. It's: that was good and we think this is better.
The money which was distributed in this kind of way in recent years, was much more focused on populous areas. And of course populous areas, they really matter. But so do rural areas, and there's a lot of hidden rural poverty, and it just meant that they didn't meet the criteria. So we've changed the criteria and that's a good thing to do …
We do want to move to try to decentralise it a bit and work much more closely with dioceses and parishes.
I think the game changer has been that we've now much more clearly got a set of owned priorities as a church and that therefore provides the criteria for spending.
And it might be in very small ways in rural communities or in so-called larger ways.
It's the 'or' that bothers me in that sentence, but I could be reading too much into it. Why not say 'and' instead?
Save The Parish gave a level-headed response:
Following the press conference, Admiral Sir James Burnell-Nugent, of the Save the Parish campaign group, said: "We welcome the recognition of the pleading from Save The Parish and similar organisations that are fighting against cuts in clergy and the formation of mega-parishes.
"It is very pleasing that rural and small parishes will be able to apply for the new funding, having been deliberately excluded from the previous three-year round.
"The proof of the pudding will be whether these new funds are genuinely accessible in a way that eases the huge burden of the parish share which is a struggle for so many parishes."
I couldn't agree more.
Conclusion
The two illustrations above show how pharisaical the C of E senior clergy are.
They remind me of the Sanhedrin in the Gospels: haughtily lording their position over those they considered to be inferior — the faithful.
I do hope this new plan works out, but, on a wider note, senior clergy must really do better to be more Christlike in the way they deal with priests and laity.
The Revd Giles Fraser is a past Canon at St Paul's Cathedral and former Rector at the south London church of St Mary, Newington. He also writes for UnHerd and is author of Chosen.
He will soon be taking up a new post as Vicar of St Anne's in Kew, West London.
Fortunately, Fraser was able to stay at St Mary's for Easter, the Church's greatest feast, celebrating Christ's resurrection from the dead:
The object hanging over the altar is a pyx. It contains a consecrated host, representing the Body of Christ, as remembered from the Last Supper in the sacrament of Holy Communion:
The congregation bought a very special bottle of wine for him to consecrate at his last Communion service there. How fitting that the winemaker's surname is Le Moine — Monk:
These were members of St Mary's on Easter 2019:
St Mary's held a farewell party for him on Easter Day, April 17, 2022:
Then it was off to St Anne's in Kew Green. How wonderful to have a cricket pitch next door:
Fraser has met the vicar of St Luke's, also in Kew:
One wonders if they discussed Brexit:
In lighter matters, St Anne's new vicar is planning on learning the piano. He received many supportive comments to this tweet:
Note the sheet music: 'Holy, Holy, Holy', one of the grandest of hymns.
Fraser posted his thoughts about changing parishes for UnHerd: 'Have I abandoned my flock?'
It is a deeply moving account of faith, a church family and the challenges that ministry presents.
Excerpts follow, emphases mine.
He describes his final Easter at St Mary, Newington, damaged by the Germans in the Second World War:
When I celebrate Mass here for the final time, I need to remind myself that I am not abandoning people, because it's not all about me. The only real job of a priest is to point beyond him or herself to that God who, I believe, is the only true ground of lasting hope. In a funny way, I suspect my departure has helped focus that for some of the congregation …
On Easter Sunday, as dawn breaks over South London, I will light a fire in the crumbling remains of my old church, substantially redesigned by the Luftwaffe, yet unbowed. I will take that fire into church and the first of the day's baptisms will begin. Clouds of incense will pick up the light now streaming in through the window. The fire will be shared as everyone's candles are lit. I will cry. Hugs will be shared. The victory over death will be proclaimed.
Later, we will feast on Jollof rice, which is a kind of sacrament of community round these parts. That seems a perfect way to say goodbye. We will always be family.
That morning, Fraser baptised two adults and two children. Easter Sunday is the traditional day for group baptisms.
He had this to say about the sacrament, which involves sprinkling of water, symbolic of full immersion:
… like learning to swim, faith also involves the prospect of drowning. Baptism isn't a little bit of genteel water sprinkling. The imagery is one of death and rebirth. It's a simulated drowning. The old person is destroyed; the new one rises from the waters. Like Neo being unplugged from the Matrix and being reborn into a new reality. Evangelicals are not wrong when they speak of being born again. You can't fully plan for what that involves. At some level, you just have to take the plunge.
He discussed moving out, discarding old belongings, comparing it to a type of death, rather apposite for Holy Week, the culmination of which is Good Friday:
I have been the priest at St Mary, Newington for ten years. This Sunday, I am moving on. A new parish awaits. The skip is full of stuff I remember buying with much excitement, but now looks like pointless trash; the salvation promised by advertising and the shopping centre is so short-lived. And now the removal vans have been — and trashed more of our apparently precious belongings — there are further trips to the local tip, which is rather poignantly located next to the crematorium.
This is where things come when they have stopped working: our fridges and our bodies. The tip and the crem are Good Friday places. This is the wasteland, the valley of the shadow of death. Perhaps one day we should gather here, rather than in a lovely church, to experience the full existential desolation of the crucifixion. Golgotha, the site of the crucifixion, was itself a rubbish dump. A place of human landfill. This is where our dreams come to die.
I have never been especially threatened by atheism. For one thing, atheism is good for business: it helps maintain the tension. Indifference is the real enemy. But also because atheism is assigned a pivotal place in the Christian narrative. The period between 3pm on Friday and dawn on Sunday symbolises my own atheistic imaginings. When He is murdered by the Romans, all the expectation and excitement of Jesus-following is shown up as a terrible, embarrassing mistake. We were conned. He wasn't the new King after all. Might is right. Oh, I get atheism all right. It's an essential part of the cycle of Holy Week.
Then he discusses the Resurrection:
A wander around Kew Gardens, right next to my new church, reveals the natural world coming back to glorious life after the dead of winter. It's a wholly natural expression of deep Christian instinct: that there is life beyond death. That even death cannot keep life down.
The resurrection of Jesus is not magic. Not "a conjuring trick with bones", as the great Bishop David Jenkins once put it.
By the way, Jenkins's full quote was 'Well, it's certainly much more than just a conjuring trick with bones'.
Fraser continues:
It's an acknowledgement that a life rooted in the eternal will not remain under the heel of perpetual nothingness. Agreed, this is not an empirical statement. I have stepped outside what can be demonstrated naturally. The God I describe is beyond time and space, the author of all things, not one thing among others.
"Blah," go the atheists. But upon this "blah" I hang my whole life. The God who is there in the person of Jesus is the same one in whom everything moves and has their being. It's not that physical death doesn't happen. It's just that it doesn't mean what nihilists believe it means. Hope exists because God exists.
He expressed his concerns about leaving his congregation at St Mary, Newington, and remembered his arrival ten years ago. He left St Paul's under a cloud, having run into trouble after hosting Occupy London on the Cathedral grounds:
As I leave my old parish, I feel a terrible sense of abandoning my people. It was hard to start with. Ten years ago, I was parachuted in by the Bishop who took pity on me after my resignation from St Paul's Cathedral. Like all parishes, they wanted St Francis of Assisi with an MBA. What they got was a broken spirit, in hiding from the world. And to start with, many of them didn't much care for what they got.
I don't blame them really. I was a mess. Some of them left the church. But slowly we rebuilt and we bonded. Now they are my family, the water of baptism being thicker than the blood of biological relatedness. We have been through everything together: bereavements, deep disappointments, some of the happiest parties you can ever imagine, then the emotional desolation of lockdown. During my ten years here, some of the post-war estates have been demolished and new more expensive and private developments have taken their place. As gentrification spread, our congregation has become much younger and whiter …
Our new church intake looks very different. Apart from being younger and whiter, they were not raised in the faith. There were fewer infant baptisms for this generation. Here, faith is a choice not an inheritance. "I wish my parents had done this for me," said one of the new baptismal candidates. I understand this. Becoming a Christian is much harder to do as an act of choice, more fraught with anxiety.
The generation raised under the aegis of liberalism have to bear the weight of their own choices. This is problematic because to be in a church is to be a part of a family. The idea that you choose your family, choose to be baptised, seems to introduce a strange contractual aspect to this relationship, like taking out a mobile phone contract. I wonder if those "wanting more" in baptism preparation are, on some level, asking me for the small print. Is that how they see the Bible, I wonder? I hope I have helped to disabuse them of this idea.
He says that he doesn't have all the answers to people's problems, however, the church is where we bring the problems we cannot solve:
I don't have answers to many of the problems that people bring into this church. I can't solve the deep poverty that many experience, nor the broken relationships, nor the desperate sense that the world is not responsive to everyone's deepest needs. I am there to carry them, and they carry me. The church is where you can bring all the stuff that is impossible to solve. And there are advantages to this — it means that we are not frightened of all the stuff that cannot be remedied. We can carry failure. And we can only do this because, as I said before, hope exists because God exists.
I wish Giles Fraser well in Kew, with his ministry — and his piano lessons. I have a feeling he will really enjoy his new assignment and new pastime.
In 2017, John MacArthur preached a sermon on Galatians 4:19-20 called 'The Primary Importance of Sanctification'.
In addition to preaching well on the text, he also gave a discourse on why today's churches are so, well, awful, for lack of a better word.
The excerpt follows, emphases mine:
We talk a lot about the economy in America and the economy growing. You do understand, don't you, that the economy in America grows on massive self-interest, not on altruism, not on wanting to help others; it grows on massive self-interest. The church has bought into that as a way to appeal to those people who live for their own fulfillment. Churches then look and sound and feel like the world, and they advertise God as if He was a product that would satisfy your heart's desires. Carefully they avoid anything that condemns people, anything that convicts them, certainly anything that terrifies them, like the judgment of hell. They avoid anything that expects people to deny themselves, take up a cross, pursue with passion what is holy, pure, and good. And, again, even in churches where there's a strong emphasis on justification, and maybe a now and then emphasis on glorification, there is a strict avoidance of sanctification. This plays out all the time.
The church is supposed to look like Christ in the world. And rarely does a day go by that there isn't some blatant, gross sin and immorality attributed to someone in the media across the country, if not across the world, who is anything but Christlike. Faithful churches are always led by godly shepherds who lead their people away from the world, away from themselves to God, away from the fulfillment of their own desires, their own longings, to seek those things which are above, not things on the earth. The church is in a sad state.
Now, how did we get to this point? I don't want to belabor this, but this is a little bit of helpful history. Churches for centuries were theological, theological, and biblical. The Bible was the centerpiece, and the theology that the Bible taught established the convictions, and churches were God-centered.
It was even demonstrated architecturally. You go back a few generations, and when churches were built they were built to manifest a kind of transcendent perspective. They were tall, they were high; they wanted to demonstrate something that was above the earth. Some of you have visited those kinds of places where you look up, perhaps in some cases a hundred feet or more, and you see paintings and stained glass and things like that.
There was a sense in which when you went to church you were encountering God, and transcendence was important. It was God-centered, it was Christ-centered. And they trusted in the Holy Spirit for the growth of the church. I'll say that again. They trusted in the Holy Spirit for the growth of the church.
Churches opposed worldliness. They opposed sin categorically ... But even Protestant churches, even gospel-preaching churches had a sense of transcendence. There was a dignity about them. The music had a dignity. The way people conducted themselves had a dignity. The leadership carried themselves in a dignified fashion. One commentator I read this week said, "Modern pastors look like they buy their wardrobes at Forever 21." There was a loftiness. There was an ascendency. You came to hear from heaven. You came for an encounter with God.
New churches are not theological, they're not biblical; they are psychological, sociological. They have given up transcendence – a heavenly experience, for imminence – an earthly experience, to make it as much like what is familiar in the world as possible; to not make you think that you've stepped into any kind of different category, either in the style, the fashion, or anything else; make it as worldly, as flat as possible. It is man-centered. And though the names of Jesus and God are used, Jesus and God are like imaginary friends who give you what you want. Churches today trust in their growth techniques, not the Holy Spirit. They trust that by sucking in the world and redefining worship as a mindless musical stimulation while the people think only about their own desires, that somehow this is how you grow a church.
You can collect a crowd that way, but only the Holy Spirit can build a church. Vague spirituality has replaced sound doctrine. True holiness is not an issue, because that would be way too confrontive. You can't talk to people about self-denial, of giving up everything they long for, everything they think satisfies them, giving it all up in total self-denial for the sake of God; can't do that. This culture today has drunk too deeply of the wine of self-fulfillment for too long. They are drunk on it.
Attendance in a church and loyalty to a church is never related, it seems, to the love of the truth or the love of Christ, but always to the love of self: "I like what they do, it's my style; makes me feel good about me." You might say, "How did we get here?" We got here because ideas have consequence.
Sigmund Freud died in 1939. He was the father of psychoanalysis. His system was a system that rejected God. His system was a system that said man is the ultimate. And so he said, there is in every human being, what he called, the id. And the id is the real you, the authentic you. It's basically the complex out of which comes all your desires. And if you want to be who you are you've got to let your desires go. If you want to be an authentic person, you need to be you. Whatever you is, whatever the complex of your heart's desires are, you have to be able to fulfill them to be a healthy, authentic person. In other words, unleash your sinfulness.
Obviously, the most eager people to buy into that were young people, because young people haven't learned lessons in life about how living like that destroys you. So they're the fertile ground to sow those seeds. The most liberated sinners are the youngest, because they lack the restraints that come from the lessons of life, and so youth become the symbol of authenticity. Youthful, irresponsible desire is elevated to a noble level, and the perpetual adolescent is the most authentic person.
We see it in our culture. The heroes of this culture are so profoundly sinful and so proud about it, that it would be hard to track the record of their iniquitous behavior. But they're real; they're the real people. The church is a restrainer. The church is bondage. The church is full of hypocrites, people who dress up like we do because they're phonies and they are not authentic.
Over the years since Freud, this youthful authenticity movement has taken over the culture. Dramatically it made strides in the 1960s when, for the first time, the selfish, self-indulgent, immoral young person, hedonistic young person became the cultural hero: the hippies – sex, drugs, rock and roll. This is played out in songs like "I've Got To Be Me," "I Did It My Way." "And so if a church doesn't let me be me, I reject it."
This has reached severe proportions. An illustration: same-sex marriage. Homosexual people don't care about marriage – just mark it – they don't care about marriage, they just care about doing what they want to do. They don't care about marriage.
Why do they want same-sex marriage? They want it established by law for one reason: so that they can put those who are against that sin out of business. That's all they want; LGBTQ lobbying constantly for acceptance in the culture. It isn't that they want some kind of political acceptance, they want to make criminals out of the people who spell that out as sin. They want to criminalize Christianity. That's the only reason any of this is happening. They're free to do what they want, and they do it. But what bothers them is those who denounce that behavior as sin; they want to make us criminals. So we're in a tough spot.
The culture, mostly young people, is against us. In the '60s after the hippie movement, when immorality just broke loose, there were some kids who supposedly came to Christ; they became the Jesus people. They came to Southern California down to Orange County. There was a guy named Lonnie Frisbee who was leading that movement, who was secretly a homosexual and died of AIDS.
But Lonnie Frisbee had decided they needed to take their kids, that were meeting on the beach and baptizing in the Pacific Ocean, to church. So they went to Calvary Chapel in Orange County where Chuck Smith was pastor. Then it was a four square church, traditional church. And they all showed up on a few Sundays barefoot, long hair, irreverent, casual, with their own kind of music; and the leaders of the church said, "We've got to hold onto the young people. If we don't give them what they want they'll leave."
That was already being discussed a lot of places, because the hippie movement caught fire across America – the movement of rebellion against authority, responsibility, duty, expectation; rebellion against right, honor; it caught fire. So the church feared, "We're going to lose these people if we don't acquiesce." So for the first time when the Jesus people came to church, first time I can find in church history, the church began to redefine its own identity and worship based upon the wishes of a rebellious subculture. That definition started then and spread; started in California, spread clear across the country.
Prior to the '60s, nobody expected a church service to be rock concert. Nobody expected a church service to be entertainment. Nobody expected worship to be physical stimulation, emotional feelings without engaging your mind. Nobody expected church to be a manipulation of people's desires to fulfill their own self-styled identity. A church was a church, and it was a place where there was thoughtful, prayerful, biblical, sober-minded hearing from the Word of God, leading to conviction and edification and elevation. It was a heavenly encounter.
But to this modern generation of young people – serious, sober, thoughtful, scriptural preaching about God, and confrontation of sin, and a call to holiness, and a call to separate from the world and from iniquity is far too absolute and far too offensive. People who want to feel good about themselves the way they are don't want that, so the church caved in. The church caved in and gave them what they want. And now pastors continue to accommodate those same people – irresponsible, lazy, undisciplined rebels who want what they want – and the church, instead of confronting it, conforms to it. No preaching on sanctification, no preaching on holiness can be done in those environments; they'd empty the place.
This is the situation today. Strong preaching on holiness against worldliness, confronting the desires of the hearts of the "me" generation as sin from which they need to repent is a far cry from the trend.
How true.
I put this post together on Easter Day. What was the Archbishop of Canterbury's sermon about? The Resurrection? No. Justin Welby preached about the ungodliness of processing economic migrants crossing the English Channel from France to the UK — overwhelmingly single, young men without papers — in Rwanda. That is the Conservative government's plan which is scheduled to start in several weeks' time. It is an attempt to reduce the number of migrant crossings which went up from several hundred per annum a few years ago to 28,000+ in 2021.
In a further note on the Church of England, which illustrates what MacArthur is rightly condemning, a 30-something ordinand, GB News commentator Calvin Robinson, is unable to be formally ordained yet because he follows the Bible and is not conforming to the world. The C of E doesn't like biblical preaching. The C of E is one of the worldliest denominations around. However, many of us stick around because we love the Thirty-Nine Articles of Religion and, where we can find it, the liturgy of the 1662 Book of Common Prayer. We ignore everything and everyone else.
The channel's article on Robinson's struggle appeared on Holy Saturday:
When asked what reason the Church gave to him as to why they cancelled his curacy, Calvin added: "They said it would be too turbulent for me to be an ordained minister and have a public profile.
"The official line will be that there [are]n't enough curacies in London but that is nonsense as I have had several offers for title posts, but even then the Church says no.
"It's not about there not being enough space, it's purely politics."
In response to Calvin's comments, the Diocese of London told GB News: "In the Diocese of London, we have a limited number of curacies available each year that are considered on a case-by-case basis.
"We work with and support Ordinands throughout the discernment process to establish the right path for each person.
"In this instance, it was felt that there was no suitable option available that London could offer.
"Calvin continues to be a candidate sponsored for ordination. We continue to be willing to work with him to discern the right way forward, and we keep him in our prayers."
Last year, Calvin Robinson presented an hour-long programme, The Meaning of Christmas.
This year, he presented a similar programme on Easter, featuring classic hymns, a biblical viewpoint and interviews with clergy and laity discussing the meaning of the Crucifixion and Resurrection as well as what it was like living in our Lord's era under Roman rule:
I, too, will keep Calvin in my prayers for his future. He was a teacher for several years, and he would make a good priest. He'd be an ideal Archbishop of Canterbury.
One can only live in hope for the future.
Everyone laughed in 2019 when comic actor Volodymyr Zelenskyy was elected as Ukraine's president.
The following thread explains why he won:
Zelenskyy, 44, has a Law degree and speaks fluent English. Prior to entering politics at the most senior level, he starred in Ukraine's hit television show, Servant of the People, which he also created and produced.
The following clip comes with a bit of choice language which perfectly expresses his frustration as a teacher who, as a taxpayer, has to fund corrupt politicians. The teacher then runs for president of Ukraine — and wins. Life imitates art.
And, yes, Zelenskyy can dance, too:
His wife, Olena Zelenska, also 44, trained as an architect at university. However, she became a writer for his comedy troupe instead. As first lady, she has graced the cover of the Ukrainian version of Vogue twice.
The Zelenskyys met at university. They are parents to a son and a daughter.
Zelenska was initially opposed to her husband's intention of running for president, but, as the Daily Mail reports, gave up her objections and joined him on the campaign trail. She now accompanies him on his many engagements:
When her husband first told her of his plans to leave his career to run for president, she said publicly that she was 'aggressively opposed' to the 'project'.
And yet, when the time came for him to campaign, Olena dutifully appeared by his side for photo ops and campaign speeches. Now, less than three years after Zelensky's landside victory, the mother-of-two has fully embraced her role as a First Lady on the global stage. 
She accompanies her husband on his engagements and is forging her own career as a First Lady of action, using her influence and position to champion causes including childhood nutrition and gender equality. 
The couple visited Buckingham Palace in 2020, warmly received by the Duke and Duchess of Cambridge.
Today, while Zelenskyy is fearing for his life and fighting off the Russian Bear, his wife is busy keeping up Ukrainian resolve:
Now Olena is once again rising to the challenge and has remained a steadfast support of her husband in the face of Putin's aggressions. Despite being personally at risk, the couple have chosen to remain in Kyiv. 
Sharing a photo of the Ukrainian flag on Instagram on Friday, she wrote: 'My dear people! Ukrainians! I'm looking at you all today. Everyone I see on TV, on the streets, on the Internet. I see your posts and videos. And you know what? You are incredible!
'I am proud to live with you in the same country! It is said that many people are a crowd. This is not about us. Because many Ukrainians are not crowds. This is an army!
'And today I will not have panic and tears. I will be calm and confident. My children are looking at me. I will be next to them. And next to my husband. And with you. Love you! I love Ukraine!'
Yesterday she shared a photo of a baby born in a Kyiv bomb shelter, along with the rousing message: 'This was to take place in completely different conditions, under peaceful skies. It is what children should see.
'But the main thing is that despite the war, there were doctors and caring people on our streets next to her. She will be protected and defended.
'Because you are incredible, dear compatriots! In those two days, you all became an army. In the subway, bomb shelters, with children and pets (because you don't leave younger brothers either) – you do your job, you have time to take care of others, to help each other.
'Get together on social media to protect homes and help lonely neighbors. Offer your home to those who need shelter. You prepare food for the terrorists and sign up for it yourself. Donate blood for soldiers and victims. Report the movement of enemy vehicles.
'And, of course, you are helping the Armed Forces, which are fighting on all fronts. For days, you can spend "eSupport" money to help the army (this can be done in the "Action" application). We are the army, the army is us.
'And children born in bomb shelters will live in a peaceful country that has defended itself.'
In related news, Prime Minister Boris Johnson, who has spearheaded an international effort — yes, including the US — to help Ukraine, appeared at the Ukrainian cathedral in London's Mayfair on Sunday evening, February 27:
He lit a candle and gave a short, supportive address to the congregation:
The next two tweets have the content of his address:
When Boris finished, the Ukrainians gave him a standing ovation:
It is touching to see how much they appreciate Boris. I wish more Britons saw him in a better light.
That said, Boris's ratings have gone up this week, thanks to his action on Ukraine, no doubt. For the first time in a few months, he's back on level pegging with Labour's Keir Starmer:
On Wednesday, March 2, the Ukrainian ambassador was a guest in the House of Commons gallery for Prime Minister's Questions. After the Speaker of the House, Sir Lindsay Hoyle, told MPs of their guest, the whole House rose and gave the ambassador a standing ovation, accompanied by spontaneous applause — normally forbidden in the Chamber, although Sir Lindsay said that, on this occasion, it was certainly warranted:
Nearly every MP is wearing Ukrainian ribbons or a UK-Ukraine lapel pin.
This is a great image; I don't know who made it: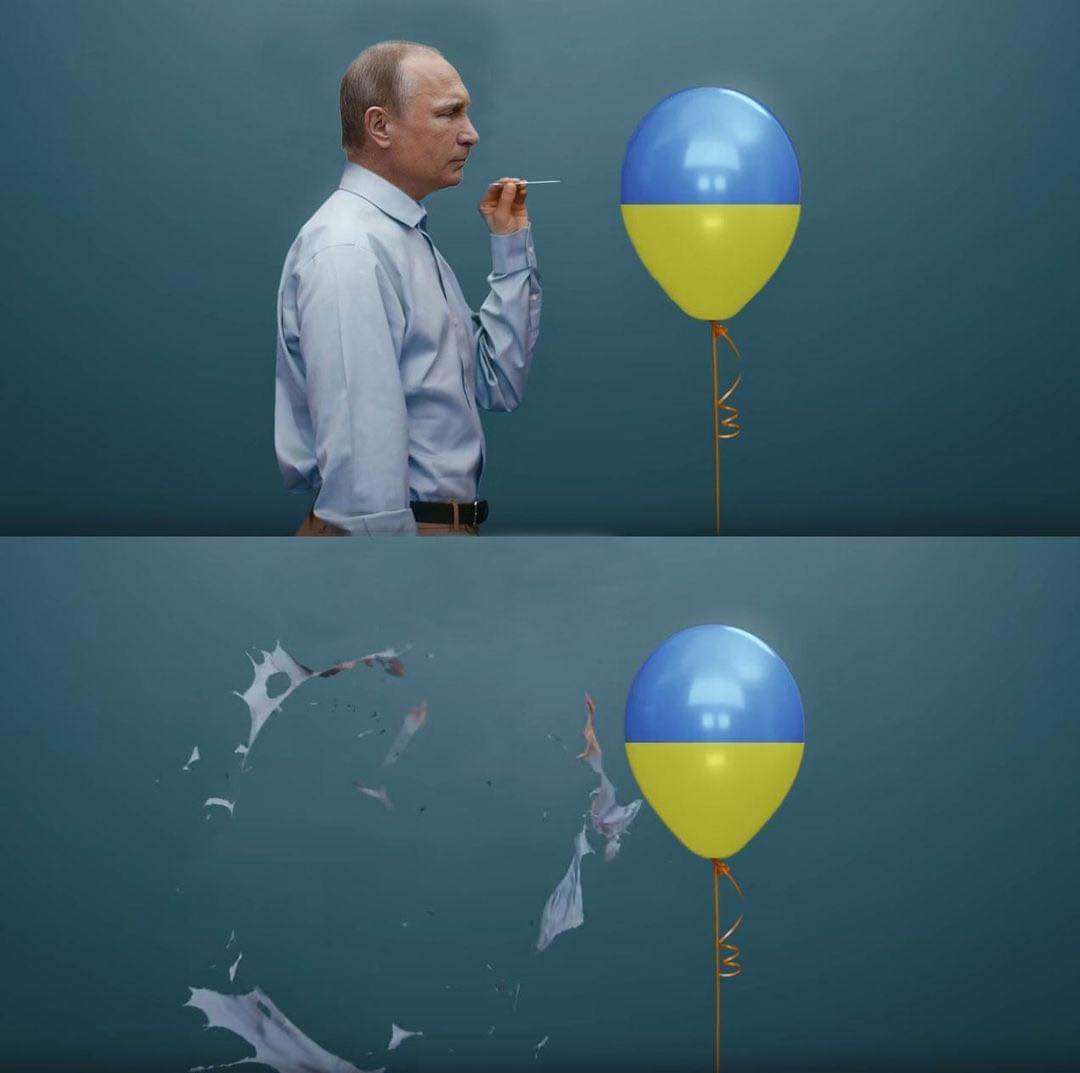 Together, let's hope that we can help Zelenskyy and his countrymen make Putin go pop.
My post of January 26 discussed the parlous state of the Church of England (CofE) today, covering events from the summer of 2021.
The CofE hierarchy and General Synod are looking for a way to 'do church' differently by seeking to close down our beautiful church buildings, some of which have been in existence since Norman times, i.e. the 11th century.
The plan is called Myriad.
Many clergy are just as angry as the laity. The laity put together a network called Save the Parish. My post last week left off at that point, which was July 2021.
I have a few more tweets to share from that month.
The Revd Marcus Walker from St Bartholomew's in London pointed out that, once the clergy and the church buildings have been sold, there isn't much left to the Church of England. In any event, this is OUR church, not the hierarchy's or the General Synod's:
Furthermore, it is wrong for priests to think like businessmen, viewing those in the pews as consumers:
On July 13, The Telegraph's Alison Pearson wrote, 'It's time to rebel — the Church of England is abandoning its flock'. Excerpts follow, emphases mine:
Lately, the Church of England has been hellbent on a course which is almost designed to cause distress to traditionally-minded vicars and parishioners: the lowly footsoldiers who do the flowers, run the choir and generally keep their beloved old church going while raising money to send a "Parish Offer" to fund the dioceses with their cloth-eared management jargon, their painfully woke initiatives and proliferating job titles like Mission Enablers and Director of Justice, Peace and Integrity of Creation, with hefty salaries to match.
Some of us were under the impression that the Director of Creation job was filled rather successfully over two thousand years ago. Having lost faith in the eternal verities, the CofE now makes stipendiary clergy redundant – some rural benefices of 10 churches have to share one vicar! – while lunging for relevance with lectures like the one immortally entitled The Church and the Clitoris. Er, it's been a while since I was a Sunday school teacher but isn't the G in "G-spot" supposed to stand for God?
In a nutshell, the things which most Britons still value about the CofE are about to be destroyed by the very people who are meant to be its custodians. Parish priests and regular worshippers are up in arms over the "Vision and Strategy" plan which was unveiled by the Archbishop of York at the General Synod at the weekend. The new "growth strategy" is called Myriad. It means getting rid of the clergy with their tedious theological knowledge about, you know, the Bible …
This is not a joke. Canon John McGinley explained: "Lay-led churches release the church from key limiting factors. When you don't need a building and a stipend and long, costly, college-based training for every leader of the church… then we can release new people to lead and new churches to form."
As a church warden, one of many to write movingly on this topic to the Telegraph's Letters Page, said: "Our incumbent vicar will be retiring soon. He will not be replaced. In return, for our generous Parish Offer, a church with a 1,400-year history will expect to have a clergy-delivered act of worship once every six weeks. I fear the end of worship is nigh. I will become a steward of an empty, soulless medieval building, haunted by the echoes and shadows of past congregations. What has the Church of England come to?"
Good question. Some vicars may be frightened into complicit silence, but they are deeply offended at being called "key limiting factors", while their loyal parishioners are sneered at as "passengers". Increasingly, prominent clergy like Marcus Walker and Giles Fraser are speaking out against the idiocy of pretending you can simply "plant" 10,000 lay churches without any proper structure or safeguarding measures. Let alone the worry of allowing over 12,500 listed buildings to fall into disuse while potentially permitting untrained shysters to instruct vulnerable people in the faith in their sitting rooms.
This is particularly important, as it relates to the cowardly closure of our churches during the first coronavirus lockdown in 2020:
What the hell are the Archbishop and bishops playing at? It is a bitter irony that those who have presided over the decline of the faith now indulge in this sort of displacement activity to distract attention from their own ineptitude and extravagance, indulging in empire-building while allowing the vast practical good done by the parishes to wither on the vine. During the pandemic, millions craved a place of reassurance, a slender handrail of belief to cling on to. Churches were the ideal refuge, but the Archbishop didn't fight to keep them open. A vital opportunity for spreading Jesus's teaching was lost.
I couldn't agree more.
Alison Pearson advises concerned parishoners what to do, mentioning Save the Parish:
What can we do? The clergy and the people do have a say and this is the moment for rebellion. We need to assist the parishes to withstand the assault from the dioceses which are better described as the "key limiting factors". You can go to savetheparish.com, which offers a number of ways to help. Write to your MP. Parochial Church Council consent is needed for the closure of churches – don't give it. The church building belongs to the parish, so does the vicarage, if they haven't sold it yet.
You can ringfence your parish assets and put them in a trust out of reach of the diocese. The Parish Share is voluntary – a "free-will offering" – so you definitely don't have to give it to a hierarchy that wants to starve your parish and its wonderful church of resources so that Ray and Brenda can host Holy Communion in their hot tub.
She concludes by quoting one of my favourite hymns, Dear Lord and Father of Mankind:
Dear Lord and Father of mankind, forgive their foolish ways. Reclothe us in our rightful mind, in purer lives thy service find, in deeper reverence, praise.
In August, George Carey, the former Archbishop of Canterbury, joined the revolt.
The Revd Peter Anthony directed disgruntled and disaffected Anglicans to an article by the Revd Giles Fraser, co-founder of UnHerd and former Canon of St Paul's Cathedral in London. Pictured below is the current Archbishop of Canterbury, Justin Welby:
Giles Fraser wrote:
A quiet but unmistakable rebellion is taking place within the Church of England, a groundswell of anger bubbling up from that most British of institutions: the Parish Church. And support for it shows no sign of waning.
"The current trajectory of our church is a huge mistake and the leadership is out of touch with ordinary churchgoers," George Carey, the former Archbishop of Canterbury, wrote yesterday. "It is time to rally the troops."
He was writing in support of the newly formed Save the Parish movement — a group I have been plotting with from its creation. And yes, that is a staggering thing for a former Archbishop to say about the current leadership.
Fraser outlines the problem which has pitted the laity and local vicars against the CofE Establishment — the plan to replace existing churches with home churches, thereby getting rid of clergy:
It is ordinary churchgoers and faithful church wardens who have looked after their churches for years, as well as clergy padding about in their parish, visiting the sick, burying the dead and administering the sacraments, who are most angry about this betrayal. It feels like we are in the middle of an aggressive corporate takeover.
If you flick through the jobs section of the Church Times, you can see this effect almost straight away. It used to be full of jobs for the Rector of This and the Vicar of That. But such vacancies have increasingly been replaced by people with unrecognisable and convoluted job descriptions. Now they advertise areas of responsibility that have little to do with parish ministry, answerable directly to a line manager somewhere in Church House.
Jobs that began as a way of supporting the mission of the parish are now being regarded as its cheaper replacement. The parish clergy are "limiting factors" and the people in the pews merely "passengers", as one senior Anglican clergyman put it last month.
No need for priests, or expensive theological education and the like. 10,000 new churches are imagined, led by lay people, not clergy. Many will not have a building, just a website. Many will meet on Zoom. It's not really what most of us would call a church. But if "the church is the people not the building", as goes the oft-heard mantra, then why not? There is certainly no need to worry about a leaky roof when you're only online …
… the idea that we would be more entrepreneurial and light of foot if we were to hand the keys over to the National Trust is an absolute fantasy.
"Pioneers" is what the Church's Head of Evangelism, Canon Dave Male, wants more of. Pioneers must be "freed up", he says. But the problem here is that the weight of parish commitments, even the building, is what keeps us from floating off into some abstract theological space. The parish is grounded, rooted in place and time.
Yes, the pandemic has left the church feeling the pinch financially — and there is much need for belt-tightening. But we have far too many Bishops for the number of churchgoers that we now have. Probably far too many Dioceses as well, each with its own set of managers and advisors. Save the Parish believes that in times when finances are hard, it is the front-line parishes that should be supported as a priority rather than directing funds away towards another new top-down initiative.
Too right.
The rot started as long ago as 1976! This is unbelievable:
In 1976, the central Church decided that the parish was an inefficient way of running things and brought the ownership of parish assets under the control of the Diocese, introducing a whole new layer of management to look after the parish's assets. From here on in, the Diocese began to have its own ideas about how best to spend a parish's assets. Vicarages were sold off. The clergy were paid from a central pot. And power shifted from the parishes to the Diocesan structures.
This is the result:
Last week, we gathered as Save the Parish for the first time in the ancient St Bartholomew's church in Smithfield. Alison Millbank, Canon Theologian from Southwell Cathedral, put the matter plainly: "the Church of England has totally capitulated to market values and managerialism… There has been a tendency to view the parish like some inherited embarrassing knick-knack from a great-aunt that you wish were in the attic."
The fightback, it's safe to say, has started. At the end of the event, Fr Marcus Walker, the Rector of St Bartholomew's, described Save the Parish as "the last chance to save the system that has defined Christianity in this country for 1000 years". He may not have been exaggerating.
Wow.
Fraser's article appeared on August 11.
On August 12, UnHerd generously, in my opinion, published a response by the Revd James Mumford, 'What the "Save the Parish" campaign doesn't understand'.
Mumford wants the Church to become more secular, something that I also posted about last week, with warnings from John MacArthur.
Mumford says, erroneously:
What is frustrating about the traditionalists is that they don't seem to be willing to make room for secular 21st century Brits. Father Marcus Walker, Rector of St. Bartholomew's in London, at the launch of Save the Parish dismissed 'a style of church set up in a cinema or bar or converted Chinese takeaway,' but this has the whiff of snobbery about it. It seems to suggest that people exist for the sake of the church, not the church for the sake of people. Jonah felt the same way about the Ninevites. He, not they, were engorged by the obliging whale.
Then there's the criticism that any ecclesial attempts to innovate, to do things differently, to experiment is, as academic Alison Milbank puts it, 'a capitulation to market values.' This, again, simply isn't true. The church is merely trying to reach as many souls as it can.
Jesus of Nazareth clearly saw his mission as a desacralizing one. Instead of hallowing one particular place in which to worship, Christ tells the Samaritan woman in John 4, 'a time is coming and has now come when the true worshippers will worship the Father in the Spirit and in truth, for they are the kind of worshipers the Father seeks.' It wasn't about stones any more, he taught, it was about people.
Jesus meant that it wasn't about the temple in Jerusalem anymore, because it had become a den of vipers. He never called for local synagogues to be closed. In fact, He preached in them (e.g. Nazareth, Capernaum).
The Revd Marcus Walker responded to Mumford's article, explaining his objection to the Church's purchase of a Chinese takeaway in Rochdale, Lancashire, for £5 million when there is a perfectly serviceable church nearby:
This will cost far more than £5 million. The Church will have to pay a lay team to run it:
Now I'm sure that Janie Cronin is wonderful & will make a great success of the Nelson Street Church. I know that there are wonderful examples of plants revitalising parishes gloriously. But I hope
will concede that my concerns are about this allocation of resources
A priest responded to the thread in just the right way:
Woah! Excuse me,

the church exists for the sake of Jesus Christ!

'The church exists for the sake of people', no it exists for the glory of God

.

The proposed reforms are essentially a mix of humanism and marketing

.
#SaveTheParish
Giles Fraser picked up on the thread:
Sure enough, a priest did challenge Marcus Walker:
Returning to the former Archbishop of Canterbury, George Carey, a few people blamed him for the current shift away from parish churches. Here is one of them:
Now, on to the present day. Churchgoers are deeply unhappy with the current Archbishop of Canterbury and the plan for fewer parish churches. This theologian has a way with words:
On August 19, Giles Fraser told The Telegraph's Planet Normal hosts, Alison Pearson and Tim Stanley, that the parish church takes in everyone who wants to attend, regardless of their personal or political persuasions, even though Brexit can be problematic at times:
As if things couldn't get any worse, on Thursday, October 14, an editorial appeared in The Times: 'Thanks to Church of England accounting, parishes are disappearing'.
It begins with this:
Last Saturday was a sad day for the Church of England. In Leicester diocese, the governing body voted in favour of a plan to fold 234 parishes into the embrace of 20 to 25 huge groups, called minster communities, by 2026. One in five local vicars will disappear, creating what sounds like a clerical car pool. "Thank you for calling the minster community help line. Press 1 for help with a very sick relative or friend. Press 2 for help with bereavement. Press 3 to arrange a funeral." This could be the future for the people of Leicester's historic parishes.
Those closures didn't necessarily need to happen:
An alternative option, to cut Leicester's diocesan administrative costs by 10 per cent, was rejected. The C of E behaves like a socialist republic: demanding increasing "tax" (parish share) from dwindling numbers of churchgoers, then spending too much of it on its own bureaucracy. Moreover, as The Times reported last month, in 2017-2020 it spent £248 million on "renewal and reform" projects that failed to increase church attendance.
The editorial says that only one person guarantees large donations — a priest:
Bureaucracy and waste deter donors. Yet Leicester hopes to increase giving by 2 per cent — how? The church's own studies show that donations correlate to numbers of paid clergy. The one identifiable Christian in the community is a priest in a dog collar. Grouping parishes empowers dioceses to sell parish-owned assets, incontinently using the capital to pay their own running costs, but it disincentivises donors. A 1,000-year-old system of independent parishes could be collapsed by short-term panic thinking and inadequate projections.
Furthermore:
The church's growth policy report, From Anecdote to Evidence, confirms what rural parishioners like me witness: that parish amalgamations and building sales establish a spiral of decline. Selling a parsonage signals "game over" and leaves a community unlikely to have a vicar again.
Ironically, Justin Welby said not so long ago that he supports the traditional parish model:
The Archbishop of Canterbury has said, "I am passionate that the parish is essential." In the Archbishop of York's current General Synod update GS2223 he calls for "priest and people working together". These exhortations from our spiritual leaders, the trend towards localism and the church's own empirical evidence are all being ignored.
Words and actions are two entirely different things. I despair.
Meanwhile, there is always the Save the Parish Network. May the grace of God be with them:
I hope to have more on this situation at a future date.
John MacArthur often laments the state of the Church today.
In May 1998, he gave a sermon on 2 Corinthians 13:1-2, which I cited in my post yesterday.
The sermon is called 'The Pattern of Sanctification, Part 1: Church Discipline'.
Whilst discussing the first two verses of 2 Corinthians 13, he also gave an excellent exposition of everything that is wrong in the Church today. Excerpts follow, emphases mine below.
Since 1998, the following has exploded in churches around the Western world. Around the end of the 20th century, church growth rose to prominence. Moving on to the 21st century, the last decade saw a rise in home churches. Online church services surfaced during the pandemic and became normalised. The Church of England hierarchy wants more online services and fewer church buildings, retaining them only in community 'hubs'. I do despair.
MacArthur points out the folly of it all:
Now, before we look at the text itself, I want to kind of get us into the importance of the subject and the importance of the attitude of the apostle Paul here by sharing with you perspective that I think exists in the Church today. Many people are concerned about the state of the Church. The condition of churches today have caused a myriad of seminars and conferences and books to be written. There are constant calls for renewal in the Church, for better understanding of the culture, for changing the style of the Church to fit the style of the '90s, replacing preaching of the Scripture with more interesting methodologies and technologies.
All across our country – in fact, all around the world there are these efforts being made to reinvent the Church. The fear is that the Church is not speaking to the time, people are not listening. The Church has somehow become irrelevant; it has become obsolete. Self-styled experts are saying that the future of the Church is in the balance, and the Church may not survive in the West if it doesn't become culturally relevant, if it doesn't learn how to package its message better, if it doesn't target felt needs, if it doesn't employ more popular and efficient communication devices that it currently uses.
All of this comes into focus in a new book that's just been out a couple of weeks. It's one of those books that you could pick up and read rather rapidly. I read it fairly rapidly; I couldn't put it down. It just kept compelling me to read. It was sort of like enjoying the pain, actually. It was like there's something redeeming in this self-flagellation that I'm going through, and I'm going to carry it all away to the end. The book pained me deeply, and every page added more to my pain, but I couldn't put it down because I was so startled by what the book was saying.
It is a book that calls for the Church to do what I just said: reinvent itself. And it says, on the cover of the book, "Today's Church is incapable of responding to the present moral crisis. It must reinvent itself or face virtual oblivion by mid twenty-first century." End quote.
So, the book says that if the Church doesn't reinvent itself, and put itself in better cultural relevance, it's going to go out of existence in 50 years. That statement alone was overwhelming for me. Do you mean to tell me that the eternal God who determined in the counsels of the Trinity, before the foundation of the world, before time began, who He would redeem and how He would gather His own to Himself and bring them to eternal glory is somehow going to find His whole plan coming unglued in the next 50 years? Do you mean to tell me that the Church which Jesus Christ purchased with His own blood is somehow going to escape His purposes for redemption and atonement? Do you mean to tell me that the Church which Jesus said He would build, and the gates of Hades could not prevail against it is somehow going to become victimized by its own inept[itude]? That is a brash and irresponsible statement, to say that if the Church doesn't reinvent itself, it'll face oblivion by the mid twenty-first century.
The only thing that could possibly obliterate the Church on earth by then would be the end of the age and the return of Jesus Christ and the glorification of the Church. That's a very irresponsible thing to say. And the author of the book fearing – and I think he probably genuinely fears that the Church might go out of existence – suggests that there are some ways to save the Church, and these are the suggestions. "Develop cyber churches, virtual churches on the Internet.
"Secondly, develop house churches which appeal to people because they have low control, low authority, and operate without historical tradition, I might add, or theology." "Eliminate congregational churches" – like this – "for more congenial, less confrontational, and more dispassionately interactive forums. Preachers must be replaced by presenters who have no notes and don't hide behind pulpits, and who generate a more positive response for their listeners.
"We must get rid of sermons, because one-sided communication is ineffective, and eliminate series and Bible exposition, because everybody's attendance is sporadic, and people really get irritated coming in and out of series that they can't consistently hear. So, we need to play to their sporadic attendance. And every sermon should be a unit in itself because most of the folks will miss the next two weeks before they decide to come back."
You say, "Well, where did he get those ideas?"
They were the result of a survey. If you ask unbelievers outside the Church what they want, you can get answers like that. If you ask unbelievers inside the Church what they want, you can get answers like that. If you ask believers in the Church, ignorant of Scripture, what they want, you can get answers like that. But if you were to survey biblically literate believers, you wouldn't get answers like that.
So, who is it that determines the character of the Church? You go to the lowest possible source. Unbelievers outside the Church, unbelievers inside the Church, or ignorant believers in the Church. What is the hope of the Church? Is this really it, if we can just disband congregational churches and develop a virtual church on the Internet, will that solve our problem? Will that dramatically affect the Church's ability to confront the moral crisis of our day, as if that were somehow our reason for existence? And it's not. Ours is not a moral agenda. Ours is a spiritual one.
Would it be better if we had presenters instead of preachers, and we got rid of pulpits, and got rid of sermon notes, and sat on stools, would that be the difference? And just sort of told stories?
Would it be better if instead of somebody preparing to preach a sermon and giving forth an exposition of Scripture we had a pooling of everyone's ideas? Would it be better if we never had any continuity in or sermons but had little units week in and week out? Would that really save the Church from virtual oblivion?
And by the way, are we the ones responsib[le for] sav[ing] the Church from going out of existence? Is that our job? That's all the result of a survey. You see, that's what people want. And what they want is what they should get. That's the basic thesis behind all of that.
Now, if you ask me what the Church needs, I don't need a survey. I just ask the Lord of the Church, and He's revealed it in His Word. And what the Church really needs is more consistent, faithful, clear theological exposition of the mind of God through the pages of Scripture. What it needs is better preaching, better sermons – and I may get in trouble for saying this – fewer small churches with ungifted, untrained, and unskilled preachers.
The Word must dominate the Church and bear its God-intended power and authority over all who hear. You see, the only way that the Church will ever effectively counter the crisis of our time – moral crisis, spiritual crisis – is when the Word of God is working powerfully in the Church – listen to what I say – to produce not information, but "holiness." There's the operative word, folks. Write that down somewhere; that's the theme of the message this morning.
You see, the hope of the Church and the impact of the Church is all connected to the purity of the Church. Holiness is the issue. When Jesus first addressed the Church in Matthew 18, the first time he ever said anything related to the Church, in that great sermon in Matthew 18:7, the first thing he said about it is this, "If somebody's in sin, go to him. If he doesn't listen, take two or three witnesses. If he doesn't listen, tell the church. And after the church has pursued him, if he still doesn't repent, throw him out; treat him like an outcast.
The first instruction our Lord ever gave to the CHURCH had to do with sin. In that very first sermon, Jesus said, "If you ever lead another believer into sin, you'd be better off if a millstone were put around your neck and you were drowned in the depths of the sea." The Lord of the Church is concerned about the purity of the Church. He's concerned about the holiness of the Church. Sin is the issue to the Lord of the Church, and it should be the issue for us. But I daresay you can go from conference to conference to conference, and book to book to book, and this is not the concern today. You won't hear talk about the holiness of the Church, the purity of the Church.
When I was at Moody this week, I spoke, and I basically said to them, "You know, I'm going to preach the sermon I've prepared for my own church on Sunday." I kind of tweaked it here and there a little bit. But I said to them what I'm going to say to you, because everybody's talking about church growth and how to grow your church and have a successful church in a flourishing ministry and more folks and church growth is a begin thing. And I said to them, "It may surprise you to hear this, but I really believe the single greatest contributor to the impact of our church, to the growth of our church, to the ministries of our church, to the effect of our church – the single greatest factor that exists – has existed through the years of Grace Community Church – the single greatest contributor to the influence, and the strength, and the growth of our church has been" – and I paused, and it got real quiet, and I said – "church discipline." And there was a pall over the meeting.
Church discipline. That is not normally considered a principle of church growth. Most people would assume, "If you want to kill a place, do that. Just start poking around in everybody's life and they'll split." Not the people who love righteousness. Not the people who hate sin. Not the people who want to honor God. Not the people who care about obedience. And that's the Church, isn't it? That's the true and redeemed Church.
It may surprise you to hear this. I believe that ignoring church discipline is the most visible and disastrous failure of the Church in our time. Because what it conveys is we aren't really concerned about – what? – sin. The Lord of the Church is concerned about sin. The apostle Paul was concerned about sin. It left him with a constant, unrelenting ache in his heart.
The problem with the Church is not that it's got bad methodology or bad technology. The problem with the Church is it's lost its interest in holiness. It's lost its interest in maintaining purity. Churches have become content to be fellowships of independent members with minimal accountability to God, and even less to each other …
The absence of church discipline – and I mean it's absolutely a foreign thing in churches – the absence of church discipline is a symptom of the moral decline, the theological indifference of the Church. It's a symptom, I believe, of a shallow commitment to Scripture. It's not as if the Bible is unclear on the subject. It couldn't be more clear. It is a lack of reverence for the Lord of the Church. It is saying, "Well, I know you're concerned about the holiness of the Church, but we're really not. We have other things to be concerned about." Church discipline is not an elective; it is not an option; it is a necessary an integral mark of true Christianity and life in the church.
And I say it again; the absence of church discipline is the most glaring evidence of the worldliness of the Church. And the worldliness of the Church is the reason for its impotence. And you can have all of the entertainment, and all the hoopla, and all the big crowds that you want and not impact the world. It's the purity of the Church; it's the holiness of the Church that is the cause of its power. The problem is the Church is unholy.
Even the idea of confession of sin is outdated in an age of moral relativism and moral ambiguity. The answer is not let's break up the congregation and produce less accountability; let's get down to house churches where we have less authority, less confrontation, more autonomy, more independence. The answer is not let's have more compassion; let's have a kinder, gentler church.
Albert Mohler, who's the president of Southern Seminary, writes – and I quote – "Individuals now claim an enormous zone of personal privacy and moral autonomy. The congregation, redefined as a mere voluntary association, has no right to intrude into this space. Many congregations have forfeited any responsibility to confront even the most public sins of their members." He says congregations are consumed with pragmatic methods of church growth and what he calls congregational engineering. And most churches just ignore the issues of sin.
Let us contrast that approach with that of St Paul:
Well, the apostle Paul wasn't that way. We're learning, at the end of the book here, about the faithful pastor's concerns. What is it that concerns a faithful pastor? What is it that concerns Paul? Well, he's giving us a summary of that, starting in chapter 12, verse 19, running all the way to chapter 13, verse 10. That whole section is a summation of what concerns Paul.
And we could sum it up in a word. He's concerned with the spiritual well-being of his flock. That's what he's concerned about. Corinth was a challenge. The city was gross in terms of its wickedness. People who came to Christ in that city were coming out of very immoral backgrounds. They brought some of that garbage into the church. He had to write to them 1 Corinthians to confront a long litany of iniquities that they were still engaging in, even though they were in the church and calling themselves believers.
Having sorted out those problems in the writing of 1 Corinthians, it wasn't long until false teachers had come, and along with false teachers came pride, and along with pride came more sin. And Paul could see the subsequent impotence of that unholy situation and the loss of testimony, the loss of evangelistic impact that would follow.
Paul knew that the problem in Corinth was not going to be whether they were culturally relevant or not. The false teachers criticized Paul for not having a relevant message, not taking into account the expectations of the Corinthians for what oratory ought to be because of what they were used to. They had criticized Paul because his person, his persona was unimpressive, and his speech was contemptible; he was a lousy communicator; he didn't speak in the venue that people were used to hearing. He didn't have all of the personal charm to woo the audience.
He had already addressed the issues that he didn't speak with men's wisdom, and he didn't come in the wisdom of the world to achieve divine purposes. He already had laid it down that he was going to come and speak the Word of God, and he believed the Word of God, and he believed the Word of God was the power. And behind that came this conviction and commitment to the fact that the church had to be holy. And what Paul feared in his church was error and sin. Either one of those destroys the church. Theological error, theological ignorance or inequity devastates the church.
I can think of very few pastors who would pursue Paul's route. Yet, it is the correct one for the Church.
There is the world, the slave to sin. And there is the Church, which teaches that the way to eternal life is through the repentance of sin, a turning around of ourselves and our worldly ways towards … holiness.
Do we notice how the more modern and relevant the Church becomes, the more people avoid it?
There is another problem and that is the use of churches as tools for evangelising. Evangelising is a necessary activity but, done properly, it takes place outside of the church service, not during it.
The church service is designed for worship of our Lord and the exposition of Scripture, not winning converts off the street.
How bad do things have to get before our clergy realise the error of their ways? Sadly, I fear this will drag on and on for decades.
Over the New Year, a few tweets from Anglican priests caught my eye.
The first is from the Revd William Pearson-Gee, vicar of Buckingham Parish Church, whose sermon about not closing church for coronavirus went viral on Sunday, December 19, 2021:
He has the following suggestions for 2022, which will serve us better than easily-broken resolutions:
The Revd Steve Collier encourages us to put away fear and embrace living:
As far as coronavirus is concerned, Mr Pearson-Gee would like a focus on meaningful data rather than scary statistics:
He was bemused by a panicked mother who drove her child from Kent to Milan for the vaccine:
On the deeply sad news that 400 Anglican churches have closed in England over the past decade alone, he made an unintentional yet inspired typo. He meant to say 'conversation':
I am pretty sure that the Church of England hierarchy is responsible for a number of those closures, as they advocate for online church and only a hub of actual buildings. Philistines! The laity are fighting back. We'll see who wins.
At least Mr Pearson-Gee's church is doing well:
People know that they need more human contact rather than online participation.
The Revd David Horrocks of Barkham Church in Wokingham …
… pointed out the late Revd John Stott's prediction 40 years ago about this sort of thing:
Stott also warned about the effect of television on children:
In closing, why do we persevere with our faith? Because our Lord and Saviour did. He set the example:
Jonathan Edwards, who was a Congregationalist, can teach us a few eternal truths from long ago. It's all in the Bible.
More's the pity that the Church of England isn't more rigorous in its seminary curriculum. At least Mr Horrocks reads a lot of solid theology books, such as this one by a Presbyterian, Sinclair Ferguson, in his own time:
There is a remnant of Anglican clergy who are truly devoted to Jesus Christ and, through Him, God the Father. We read so much about the irritating hierarchy and so little about the good local priests leading their flocks to light and truth.
I will pray that they continue to be faithful servants.