You are currently browsing the tag archive for the 'civil liberties' tag.
Before reading this, here are Parts 1, 2 and 3 of a series on coronavirus and lockdown.
It seems that the British silent majority were largely fine with obeying the rules that Boris Johnson's government set until the end of May.
By then, they began asking questions about the duration.
During the first two months of lockdown, they understood that the reasons were not to put too much pressure on the NHS.
However, as Boris and his ministers are taking only 'baby steps' (Boris's words) to release us, many wonder what the real plan is.
Rightly or wrongly, suspicion is rife:
There is also the question about the NHS and the need for treatment outside of COVID-19.
Those of us who watch the daily coronavirus briefings from the government can't help but notice the messaging, especially from Health Secretary Matt Hancock:
I missed this little titbit from the coronavirus briefing on Friday, June 5. Hancock said, 'As the NHS reopens'. Hmm:
Yet, Britons are still missing out on non-coronavirus NHS treatments that are urgent:
I couldn't agree more with this next observation from Prof Karol Sikora:
Then we have the unknown consequences of Big Data intrusions into our lives:
This is now climbing up the chain to stain Prime Minister Boris Johnson, the champion of his soi-disant 'Government of the People':
The goalposts have clearly shifted since Boris's stonking victory in December 2019:
Lockdown has now gone on too long:
Despite what the government and scientists say on the weekday coronavirus briefings, other statistics find their way through the established narrative:
Yet, part of the blame also lies with the proportion of the British public who are afraid of re-engaging with society the way they did before lockdown:
Those who are afraid can stay at home. Let the rest of us get back to real life.
This London Assembly member from the Brexit Party is spot on. Lockdown must end:
Social distancing will end up being a killer, too:
One hopes it doesn't come to this:
One wonders whether there is such a thing as conservatism any more:
Or is the WHO driving this? They must think we are stupid. Perhaps we are:
We will never be in a risk-free, virus-free world.
Ending on Boris, for now, this is something I missed. Then again, I don't listen to BBC Radio 4. Even if I had, I would have thought that Boris's father Stanley was voicing his own views, not his son's:
Boris is still better than his Labour counterparts — Jeremy Corbyn (then) and Keir Starmer (now).
However, his polling will take a dive unless he restores what he called the People's Government.
More tomorrow: coronavirus and the June riots.
See Parts 1 and 2 of this series before reading more about Britain's silent majority who are angry about lockdown.
At present, here we are, unable to shop, get our hair cut and must still practice two-metre social distancing. Masks are optional except on public transport:
Whether we are old or young, we are treated like dirt:
And what if this coronavirus were dirt, rather than a virus?
If that is true — and I'm not saying it is — what then?
It couldn't be, could it? After all, the First Minister of Northern Ireland, the DUP's Arlene Foster, has briefed the Queen on COVID-19:
But what about all the deaths in care homes and the lives lost?
What about people's businesses going to ground?
Thank goodness for the government's generous furlough, but …
And what about travel?
This is going to be dire:
No more on board delicious dining for you:
What if you cannot reasonably travel with a face covering?
What about everything else in life?
Who wants to live like that?
This is turning the apolitical into political activists:
Is this ever going to end?
If so, how?
Perhaps it is a giant reset.
After all, we are told this is (shudder) the 'new normal':
The 'new normal' could be green:
Didn't we all enjoy the bluer skies on those sunny May days? We could keep them. 'Fewer holidays for you', the government could say:
One does have to wonder about government advisors from the public sector:
These people do not encounter the everyday man or woman. They live in their own scientific, misanthropic bubble.
They do not care what happens to us. After all, they have a guaranteed salaries and gold-plated pensions.
To be continued next week.
Last week, a number of essays and interviews about lockdown appeared in Britain.
There are still people who think that it can be lifted as quickly as it was imposed in so many countries. As we have seen across much of the Free World, as it used to be called, lifting lockdown must be done in stages, otherwise, we might have a second spike in coronavirus cases.
Here in the UK, Prime Minister Boris Johnson followed the Swedish model until the evening of Monday, March 23, when he announced lockdown.
Was it because of Professor Neil Ferguson's (dodgy) numbers? Was it media pressure as they asked daily for a lockdown 'like Germany, like Italy'? In time, we will find out why. Perhaps Boris did not want to be labelled a mass murderer, as he surely would have, if he did not succumb.
Here are the British fatality figures from COVID-19 compared with other pandemics over the past 112 years: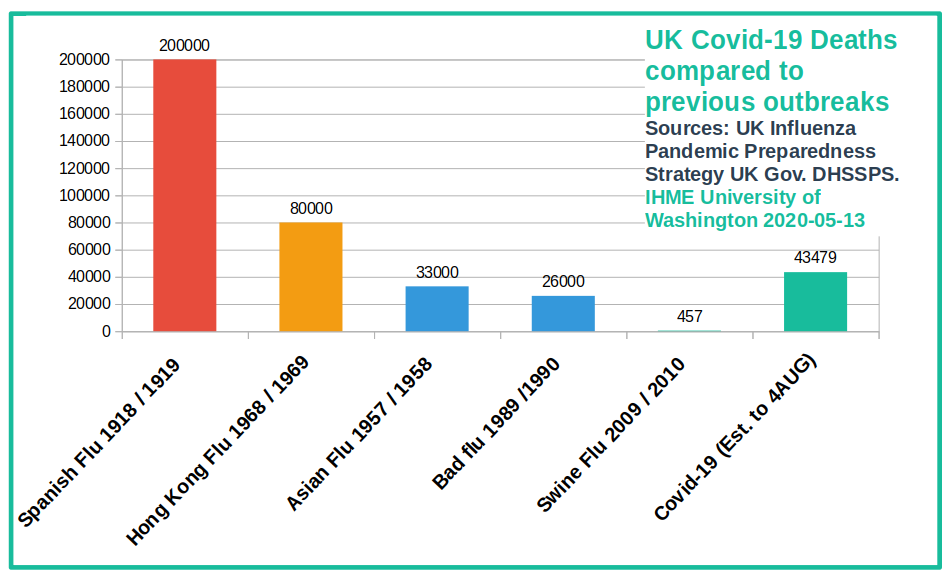 Did we lockdown in 1918 and 1919 for the Spanish Flu with 200,000 deaths when our population was smaller? No.
Did we do it for the Hong Kong flu in 1968 and 1969 with 80,000 deaths, again when the population was smaller than today? No.
Therefore, it makes little sense that we did so in 2020 with a larger UK population and 43,479 projected deaths.
Lionel Shriver, an American author (We Need to Talk about Kevin), who lives in the UK, provides current worldwide death statistics from other causes in 'This is not a natural disaster, but a manmade one', which she wrote for The Spectator on May 16. Emphases mine below:
For maintaining a precious sense of proportion, check out some other annual global fatalities: influenza, up to 650,000. Typhoid fever, up to 160,000. Cholera, up to 140,000. Malaria, 620,000 in 2017, almost all in Africa (so who cares, right?). In 2018, tuberculosis, developing treacherous antibiotic resistance, killed 1.5 million people. Why haven't we closed down the whole world for TB?
I couldn't agree more.
She expresses my deepest reservations here:
I am steeped in dread. I foresee months, if not years, of inane gesturing towards 'safety' that makes no appreciable difference to the nation's health, but does manage to 1) ruin everyone's enjoyment; 2) perpetuate the socially poisonous notion that one's neighbour is a threat to one's very life; 3) maintain an atmosphere of the extraordinary, in which the state may violate civil rights at will; 4) lay waste to what little might otherwise have remained of this country's economy. The lockdown has been bad enough. Post-lockdown could be worse.
Shriver understands. Forget 'science', this will be the reality:
With narrow profit margins, restaurants can't survive serving a fraction of their previous clientele. Half of all UK pubs are already kaput, and the other half will soon go under if lone customers self-isolate over their drinks like sullen alcoholics. Plenty of manufacturing won't function with employees so far apart. The arts are finished.
What she says about London is bang on the button:
West End theatres with audiences a third their former size will close. The Albert Hall is also looking at social-distancing bankruptcy, as well as considering the banning of intervals because the loos will have to be shut (sounds relaxing). The Royal Opera House's streaming of Swan Lake without a live audience makes no money.
Oh, and transport! In London, social distancing is expected to reduce Tube passenger numbers by 90 per cent. Five million people daily ride the Tube, or used to, so how are the other 4.5 million meant to get around? By bicycle. Right. Now, I can assure you that pre-Covid it was already a nightmare to cycle in the capital, as chocka with two-wheelers as the old Shanghai. But forget buses, allowed to carry 15 per cent of their previous ridership. We're told that to get into a sparsely populated lift, we may have to make a reservation on an app. But never fear. I guess we could always throw ourselves off the balcony instead. Why, with the masky, glovey, get-away-from-me future we're all facing, taking that shortest route to the pavement starts to appeal.
Then there is the 14-day quarantine of incoming air passengers from other countries. France is implementing the same policy and, oddly, the French think it's a good idea:
Worst of all, lest some sector somewhere still struggles back to solvency, we'll now order air passengers from abroad to 'quarantine' for a solid fortnight straight off the plane. Because passengers can promise to quarantine themselves in a particular location, this policy comes with obvious enforcement problems. Quarantines will either be roundly ignored (so what's the point?), or they'll require extravagant police resources to keep rapping on doors to ensure some visiting Canadian didn't nip out for a litre of milk. What this policy is guaranteed to achieve is the total devastation of both the British tourist industry and British airlines, especially since the business travel on which aviation depends will evaporate.
On Sunday, May 17, The Spectator posted another article: Claire Fox's 'My fears about the "new normal"'. It explores how we are beginning to view the return to freedom in England during our partial lockdown lift as well as at the resistance to lockdown lifting:
The present lifting of restrictions – despite being mild to the point of mealy-mouthed – is opposed with similar howls of caution; each minor freedom we are granted is treated as a dangerous act of rashness. This approach indicates a deeper estrangement from freedom than merely a pragmatic shrug of acceptance of short-term measures.
In this context, I fear that the 'new normal' will involve a new attitude to freedom. Already, culturally, you can feel a shift. I find myself grateful to be given access to public parks, to be allowed to take more exercise (when normally I would take none). Going to the shop for a non-essential birthday present last week, I was as furtive as a would-be criminal. And in all the discussions on post-Covid life, basic freedoms are treated as something that we need permission for: a piecemeal, rules-based, government allowance, handed down and punitively policed if we dare over-step the mark, whether it is by a clandestine meeting with mates or a sly assignation with a lover.
The left are more worried about lifting lockdown than conservatives are. Who gets nearly all the media attention? The left.
Fox rightly points out that we are going to have to wean ourselves off the overriding concern over COVID-19 deaths and start looking at what else has been going on in our society over the past two months: serious health conditions and suicide among them.
The tension between the left and conservatives reveals how each group views God-given liberties, which Western governments are supposed to defend. Instead, we are now experiencing discussions in the media about freedom versus safety. Fox says:
My nervousness is that for many the value du jour is safety rather than freedom.
The state's role in keeping its citizens safe has historically created familiar tensions in weighing freedom versus security. Most recently, civil liberties activists internationally raised concerns that policies introduced to keep people safe from the threat of jihadi terrorism have resulted in widescale illiberal incursions into the rule of law, privacy and free expression. But in dealing with Covid, there's an added element. When those who resist lifting lockdown cite what-if doomsday scenarios, they posit freedom itself as the enemy of safety: liberty itself is presented as threatening lives …
Is it really such a stark choice as: dead or safe? Alive or free? In fact, we owe our own freedoms to others who put their safety and lives on the line. Every freedom fighter – whether Hong Kong democracy activists, Kurdish fighters who defeated Isis, or those we remembered on the VE Day anniversary – all took on totalitarian states and risked their lives and safety in the fight for free societies.
…reorganising life around safety as an end goal feeds on subjective, free-floating feelings of insecurity and can rob us of the confidence to live free lives. And that is my greatest dread: that we lose the habit of living freedom. Like the apocryphal released prisoner who misses the routine and security of jail so much that he contrives to be re-arrested, is there a danger that we become institutionalised into withdrawing from the undoubted demands that freedom makes of us?
The government has made physical exercise almost mandatory during this lockdown. But freedom, too, is a muscle that needs to be exercised, or it will atrophy. But exercising freedom is no easy ride, and can be as painful metaphysically as the most strenuous workout. To exercise our freedom as autonomous citizens we have to make difficult decisions, use our judgement, live with the uncertainty of knowing there are no preordained outcomes. It's a risky business: we will invariably make mistakes that we'll be held responsible for; we will sometimes take the wrong road and have to live with the consequences, with no-one to blame but ourselves. Relieved of many of these dilemmas during this extraordinary period of having our liberty curtailed, it is perhaps understandable that many of us rather dread entering the fray of freedom.
Several weeks ago, I saw a BBC interview of a Chinese family coming out of lockdown. The mother said that they valued a draconian lockdown because the State was protecting their health. She said that safety trumped liberty (as much as can be had in China). How soon will it be until we have a sizeable number of Britons saying the same thing?
But who wants to be cooped up — accomplished in a five-minute announcement on television — when it robs our lives of meaning?
Fox concludes:
So if we are to have a 'new normal', can it aim to embed within it freedom's historic role as a virtue worth dying for, and make its clarion call the joyous rewards of a free society that makes life worth living. Being able to love who we want; read, write and think what we want; associate with who we want; vote for what we want – all this and so much more allows us to be agents of our own destiny, to write our own life story rather than being bit part characters in someone else's story.
If the Covid narrative insists on a new normal, let's ensure the script contains Goethe's quote that 'freedom and life are earned by those alone who conquer them each day anew'. Despite the grim tragedy of recent months, we need to make freedom central to the Covid storyline to ensure that there's at least some chance of a happy ending to this tragedy.
On May 17, the BBC interviewed a retired Justice of the Supreme Court, Lord Sumption, who offered similar, salient arguments against lockdown, which he said should be lifted now, as there is no need for it. He said that he has been obeying lockdown rules, because the law obliges it, but, if the pubs were open — even crowded ones — he would go to one. Similarly, he said, if theatres were open, he would attend a performance. He spoke of the many negatives of lockdown to health and civil liberties. At the end, the interviewer asked him what he had been doing during lockdown. He replied that he would not say because he did not want to be verbally attacked by the BBC!
This is definitely worth watching (eight minutes in length):
There was a time, back in early March, when I thought the Conservatives were on our side.
I hope I am wrong in doubting them. We'll see what happens in the weeks to come.
On Saturday, May 16, 2020, a fractious protest against Britain's coronavirus lockdown in Hyde Park ended with arrests.
Piers Corbyn, brother of former Labour leader Jeremy Corbyn, was one of the speakers:
Corbyn is well known in the UK for his subscription-only weather forecasts. He also believes that changes in the sun are responsible for climate change, not mankind.
He makes a convincing argument for it, too.
It seems he also makes a convincing argument for the rather odd 5G-coronavirus theory, because after he appeared in protest in Glastonbury recently, that town's council voted down 5G. David Kurten is a Brexit Party councillor serving on the Greater London Assembly:
However, although Piers Corbyn supports Brexit — as does his brother, allegedly — he is not a conservative.
This is what he thinks about coronavirus:
A Press Association reporter filmed what happened on Saturday, May 16, near Speaker's Corner:
The police were out in force (pun intended). Isn't there any crime fighting to do?
This was the scene from the centre of operations:
They social distanced by holding on to each other's vests.
Shoulder to shoulder distance was less clear:
The Guardian reported (emphases mine):
The brother of the former Labour leader Jeremy Corbyn was one of 19 protesters arrested on Saturday, as small demonstrations against the coronavirus lockdown took place across the country.
Protesters gathered on green spaces across the UK holding placards describing the lockdown rules as unlawful and claiming that the government measures were suppressing civil rights.
In Hyde Park, London, about 50 people defied social distancing guidelines to gather close together at Speakers' Corner holding placards with slogans including "anti-vax deserves a voice" and "freedom over fear".
Dozens of police officers, including some on horseback, patrolled the protest, issuing 10 on-the-spot fines and making 19 arrests.
Corbyn's brother, Piers, was taken away after using a megaphone to declare that 5G and the coronavirus pandemic were linked and branding the pandemic as a "pack of lies to brainwash you and keep you in order".
He also said "vaccination is not necessary" and that "5G towers will be installed everywhere", adding: "5G enhances anyone who's got illness from Covid, so they work together."
The article gave the reason for Piers Corbyn's and others' arrests:
Corbyn was taken away after declining to leave when asked by a police officer and refusing to give his details when asked.
A flyer advertising the protest called for "no to mandatory vaccines, no to the new normal, and no to the unlawful lockdown" …
Deputy Assistant Commissioner Laurence Taylor said: "With the easing of restrictions we fully expected open spaces to be busy this weekend.
"It was disappointing that a relatively small group in Hyde Park came together to protest the regulations in clear breach of the guidance, putting themselves and others at risk of infection.
"Officers once again took a measured approach and tried to engage the group to disperse.
"They clearly had no intention of doing so, and so it did result in 19 people being arrested, and a further 10 being issued with a fixed-penalty notice."
The protest attracted a mixed social group:
David Samson, 50, a finance worker, who attended the protests told the Press Association news agency: "I never thought I'd see in my generation the suppressing of civil rights [over a] fake virus. This is nothing compared to what's coming."
There was a large round of boos whenever protesters were arrested, and repeated shouts of "jail Bill Gates".
Another demonstrator, 62-year-old Catharine Harvey, said she was defying the rules to highlight the "devastation this lockdown has caused".
The shop owner said: "Developing countries will have no trade, no tourism. I have had to close my shop on Columbia Road flower market. The effects of the lockdown are far, far worse than the virus – mental health, domestic violence, shops are closed, theatres, cinemas, restaurants. It's unnecessary."
Protests also took place on the southern coast of England in Southampton:
A separate protest in Southampton saw about a dozen protesters gather on Southampton Common, holding placards saying "Stop the Lies", "Say no to tyranny" and "Fight 4 Freedom".
One protester, Dee, who did not wish to give her surname, said her job in the hair and beauty industry had been hit by the crisis. She said: "I am here because I am worried about civil liberties being taken away.
"Reading the Coronavirus Act that has gone through parliament, it seems there are changes being made which infringe our freedom. And I am worried the media has run away with the Covid-19 thing and blown it all out of proportion."
And in Belfast, where police monitored:
a crowd of about 20 people who had gathered in Ormeau Park to denounce the lockdown measures. Officers warned participants to socially distance and they complied. The gathering dispersed without incident after an hour.
Another took place in Glasgow:
… on Glasgow Green in Scotland, with estimates of about 40 to 50 people taking part. People at the event reportedly chanted "experts lie – people die", "don't listen to the media, listen to the people", "Nicola Sturgeon is a traitor" and "we are not livestock".
However, Britain was not the only European nation to see protests. They took place in other countries, too:
Demonstrations also took place across Europe. In Germany the death toll from the virus has been lower than most of its European neighbours with some lockdown measures already relaxed.
However, protests against the measures that Chancellor Angela Merkel insists are needed to slow down the outbreak have grown with demonstrations held for a second weekend.
I certainly hope that this is not the 'new normal'.
Personally, I think it is a bit late to protest lockdown. We're coming out of it now.
However, as it has often been said, attributed to Voltaire but probably more accurately to in Evelyn Beatrice Hall (pseud. S. G. Tallentyre) in the biography The Friends of Voltaire (1906):
I disapprove of what you say, but I will defend to the death your right to say it.
By now, surely, with all the freedom of 'lifestyle' we currently have, we can still assemble to speak our minds when necessary?
Perhaps not, in the 'new normal'. Heaven forfend.
On Sunday, May 10, Prime Minister Boris Johnson addressed the British public, giving them an update on the coronavirus lockdown.
More widespread testing has been in place since April. Thousands of new positive cases are appearing every day, thanks to the expanded testing system.
The devolved nations — Wales, Scotland and Northern Ireland — are testing at variable rates. According to charts that Guido Fawkes posted on May 11, Northern Ireland is far and away have the best testing rates (emphases in the original):
Using data from the regional public health authorities published on May 9 it would seem that Northern Ireland is way ahead of the other regions, it was testing at 10 times the rate of Scotland, which is testing at the lowest rate. England is testing for Covid at more than double the rate of Scotland…
How successful have the measures to reduce the number of cases been – when adjusted for population size? Wales had substantially more new cases compared to the other regions.
It is clear from the official figures that Scotland and Wales are doing less well when it comes to testing as well as suppressing the number of new cases.
It is clear that the coronavirus is still circulating, although less than before.
The British government is working with the devolved nations to implement pandemic policies that are largely uniform across the UK.
Boris's announcement on Sunday and press conference on Monday pertain to England.
Very little will change, other than that people who have not previously been working in essential industry sectors have been told they may return to work, provided they are healthy and can provide for child care, where necessary, and that the workplace is COVID-19 safe.
Those returning to work are advised to avoid public transport because of social distancing issues. Those who do need to use public transport have been encouraged to wear some sort of face covering over the nose and mouth.
Childcare in the home can resume, as can cleaning by a third party, provided social distancing can take place.
Grandparents and other relatives living outside the household must not visit family members inside the home.
One may visit one's parents outside their homes, provided there is social distancing. However, one cannot visit one's mother and father at the same time. One must pay a separate visit to one's mother, e.g. in the morning, and one's father later in the day.
This is quite absurd, but the government is 'following the science' from SAGE (Scientific Advisory Group for Emergencies).
More sports venues for exercise — golf courses, basketball courts, tennis courts — opened on Wednesday, May 13, with social distancing rules in place. Those in the same household may avail themselves of these venues at present.
Garden centres were allowed to reopen on Wednesday, May 13.
Further restrictions will be lifted when the R number reduces, but that will not be until June.
Any further lifting — encompassing beauty salons, barbers and hospitality — will not begin until July, provided R is where it should be.
Boris emphasised several times that re-opening various sectors is conditional. The dates are subject to change.
These are the updated messages from Sunday, May 10:
Essential home repairs from a workman, e.g. a plumber, can continue to go ahead as before. However, it would appear that non-essential work done by a third party inside one's home — nice-to-have painting and decorating — must wait.
These were the messages from the daily briefing, led by the Prime Minister, on Monday, May 11:
I found the FAQs on this new lockdown stage more useful than the main government document itself.
SAGE, advising the Prime Minister, are treating us as if we are lab rats.
That said, the PM agreed to lockdown and getting us out of it is one heck of a lot harder than it was getting us into it.
This is one of the worst social experiments of all time.
I know that Britain was far from being the only nation to go into coronavirus lockdown, but this will have lasting damage far beyond the lifespan of COVID-19.
We have been deprived of family, work and worship: the three pillars of Western society.
Pray God deliver us from evil.
Friday, May 8, 2020, was a national holiday in the UK to commemorate the 75th anniversary of VE Day.
It's a bittersweet commemoration.
The Allies fought for our freedom.
In the UK, we are still in lockdown for coronavirus.
Not a day has gone by when I haven't considered that all those freedoms fought for were taken from us on the evening of Monday, March 23, 2020. All it took was an announcement from Prime Minister Boris Johnson.
This is where we are:
We await Boris's announcement on Sunday, May 10, re lockdown.
This tweet is from the co-editor of Conservative Woman:
I find it hard to believe that Boris can credibly extend lockdown (which isn't saying he won't) …
… particularly in light of Prof Neil Ferguson's bogus numbers …
… and resignation from SAGE for having his mistress over — twice:
Boris told us his was to be the People's Government. I hope someone reminds him of that.
This was VE Day 2020, as Kathy Gyngell, the other co-editor of Conservative Woman, puts so aptly:
This letter to the editor comes from author Virginia Ironside, born a year before VE Day:
She nails it in the last paragraph.
The lockdown has shown there is an 'us' and a 'them'. Ferguson's lover said that lockdown was straining her marriage. Aww diddums. She lives in a £1.9m house. Imagine if she were living with an abusive husband on the 15th floor of a council block:
So, what hope have we?
I have never lost sight of this fact:
A German virologist agrees. (I'm ever thankful that peacetime brought Europe together.) I watched this interview, which is excellent:
Meanwhile, in Sweden:
And let's not forget the economic impact, the worst since 1706:
These facts make watching the late afternoon daily coronavirus briefing all the more painful.
Dominic Raab, Boris's First Secretary (deputy PM), was at the main lectern on Thursday, May 7:
One veteran of the Second World War, Captain Tom Moore, raised more than $28m for the NHS by walking around his garden 100 times. He uses a zimmerframe (walker), so this could not have been easy.
For his 100th birthday a few days ago, the Royal Air Force gave him his own personal flypast.
And now ITV made a documentary about his time in the war, which was shown on Friday:
God bless him. Many happy returns, Captain Tom!
Admittedly, the Western world, including the United States, has been in dire straits with the coronavirus lockdown.
Kentucky ran into trouble on Holy Saturday, April 11. Louisville's mayor wanted the licence plate numbers of drivers going to worship on Easter — April 12 — the greatest feast of the Church year, to be registered with the authorities:
The Daily Caller reported that the mayor was opposed (emphases mine):
A federal judge granted a restraining order against a Kentucky mayor who promised to record the license plates of Easter church goers, calling the order "unconstitutional."
U.S. District Court Judge Justin Walker granted the temporary restraining order (TRO) preventing Louisville Mayor Greg Fischer from blocking Easter drive-in-services at On Fire Church, the non-profit public interest law firm First Liberty Institute announced in a Saturday press release.
Judge Walker:
condemned Fischer's order in a memorandum opinion that compared the order to a report from the satirical publication, "The Onion."
"That sentence is one that this Court never expected to see outside the pages of a dystopian novel, or perhaps the pages of The Onion," Walker said.
"But two days ago, citing the need for social distancing during the current pandemic, Louisville's Mayor Greg Fischer ordered Christians not to attend Sunday services, even if they remained in their cars to worship –and even though it's Easter."
"The Mayor's decision is stunning," the opinion concludes. "And it is,'beyond all reason,' unconstitutional."
Yet, the Democrat governor of Kentucky agreed with the mayor of Louisville:
Democratic Kentucky Gov. Andy Beshear had announced that the state would enforce stay-at-home measure by recording the license plates of any person attending Easter services.
"This is a time and weekend, a whole week for multiple faiths, that is about faith. It's about knowing we have faced as people – as Christians, as Jews, as members of many faiths – many difficult, dark times, and we have prevailed," Beshear said Friday.
"We know that the weeks or the months ahead will be difficult. We know that there are going to be tougher days before there are easier days."
"This is the only way we can ensure that your decision doesn't kill someone else," Beshear added.
On April 10 — Good Friday — the US Senate Majority Leader Mitch McConnell (R-Kentucky) urged the mayor of Louisville to respect Easter worship, according to Kentucky Today:
The publication obtained a letter in which McConnell told Fischer that it is "important that we continue to respect and protect the constitutional rights of our citizens."
"When the government permits people in vehicles to gather in parking lots for secular purposes but prohibits them from doing so for religious purposes, it raises the specter that the government is singling religious people out for disfavored treatment," McConnell wrote, according to Kentucky Today.
"I believe churches should be following CDC guidelines on mitigating the transmission of COVID-19 and support temporary government regulations consistent with that guideline," he added. "Religious organizations share the national responsibility to right the disease's spread."
Unfortunately, Attorney General William Barr waited until after Easter to take action: more here.
There was a similar case in Mississippi:
Never mind that these people were sitting in their cars, not in pews:
Meanwhile:
Forget the video, see the second tweet, which has an important message from the prominent American trial attorney Robert Barnes. State governors cannot take away basic constitutional rights:
Think about it. The United States and the rest of the Western world are at an important crossroads here with regard to religious freedom and civil liberties.
Is it a case of 'just a few states across the pond' or is it all of us, regardless of where we live?
This is something to reflect upon in the coming weeks.
Before I get to coronavirus and the economy, here's a clip from Season 22 of The Simpsons. I read elsewhere that this was about the zika virus outbreak, but it hasn't aged a day. This is worth a watch for a laugh and for its uncanny accuracy:
Interesting, because:
It seems that humans can pass coronavirus to cats, but not vice versa.
I found that Simpsons clip in the replies to Newsmax's John Cardillo's tweet, which is bang on the button:
The same goes for every other nation doing a shutdown.
Coronavirus strategies adopted in most other countries — those with lockdowns — will prove fatal:
Everyone talking about 'wartime' and 'we must do our part' really needs to have the following graphic put in front of them for eight hours a day. Those idiots, especially among our notional betters, should be forced to memorise it:
Please pay special attention to the abortion number.
Then revisit the COVID-19 figure.
Even a healthcare worker agrees the shutdowns are harmful:
So does someone at 'high risk':
More here:
It's no wonder that people with two synapses rubbing together suspect that a) something is amiss or b) underfoot:
I'm disappointed in Donald Trump. I'm disappointed in Boris Johnson. As for other world leaders, I'm not surprised they plumped for a shutdown.
I don't often agree with Lord Sumption, but he nails it here:
This is what we're looking at with regard to shutdown length:
This is what Market-Ticker's Karl Denninger has to say on the matter:
He's got a set of coronavirus figures that he explains. I won't go into them here, but I do highly recommend you read them.
He concludes (all emphases in the original):
That's 50 days, approximately, or roughly two months.  In other words, roughly what they're talking about doing, right?
(For the pedantic folks that's not exact because there is some repression from already-infected in both of those sequences — but not a statistically significant amount, and it's a lot easier to follow without it.)
What did we get?  15 days (three viral infection cycles) worth of not doing it.
What do you think happens when you relax the lockdowns? R0 goes back to what it was because there's still no herd immunity.
The shutdowns will have been useless in eradicating coronavirus:
You have to get the last case in the entire country and isolate it.  You also have to prevent anyone from anywhere in the world from coming back in and re-infecting your population.  Which you can't and won't.  Only twice in the history of mankind has actual eradication been accomplished — one of which was smallpox, and that one came about by forced vaccination.  Smallpox was fatal about 30% of the time, there were many outbreaks before the vaccine was developed and while there were quarantines and forced isolation events actually preventing more outbreaks repeatedly failed until that vaccine became available and herd immunity was achieved.
Oh, and for comparison, smallpox had an R0 not too far removed from this virus — best estimates are that it was around 3.5 …
The premise that somehow "flattening the curve" means the total number of people will get this virus will be smaller is a lie.
There are exactly three ways that happens: 1) The virus is hard enough to get and easy enough to identify before contagion, which is what happened with SARS and made it possible to contain it; 2) There is a vaccine and thus we can use that to obtain herd immunity to suppress the effective R0 below 1.0 or; 3) Enough people get the virus that R0 is suppressed via natural herd immunity.
That's it.
If you suppress a virus with these measures you do not change this fact.  You only change timing, and in addition you take all the economic and social damage from those mitigation measures.  You do not change the total number of infections and, where medical interventions in the most-severe cases are ineffective 85-90% of the time, you also don't change outcomes either.
On April 3, Denninger covered the economic outlook. Be afraid, be very afraid:
Folks, there's now way to sugarcoat this: 30% of small businesses are gone.  They will never reopen.  We are not only destroying their cash flow the incessant prattle of fear has turned people against the premise of ever setting foot in a place where you may be within 6′ of another person — ever again.
If we do not stop that right now you could reopen every single bar and restaurant and they would have no customers.  It doesn't matter whether the sign reads "open" or "closed" if nobody comes through the door to spend money.  Loans, forgiven or not, do exactly nothing if there are no customers.
This threatens to be a problem that will not go away for a generation.  When the Depression came through it altered behavior for nearly 50 years.  This isn't that bad yet but it will end up that way if we don't cut this crap out right now.
Not in a month, not in three weeks, not at some indeterminate point when some model says it's ok, now.
Further, the collapse in health care I warned we were at risk of seeing is going to occur if we don't cut this crap out.  There will be little or no warning when that comes; a demand spike into collapsing employment in the sector, and thus no people to take care of you means you will die if you have an ordinary heart attack.
The only recourse — even though we're already in economic trouble — is to reopen for business:
Next month is going to print 10+ million jobs lost  The internals in this jobs report say it might print as high as 20 million.  It will break every record.  The only way to stop it is to reopen the economy right now and take whatever mitigating steps we can for those who are at high risk, which we know are identified — they are the deadly co-factors in the NY death data.  Specifically, those who have Diabetes, Lung Disease, Cancer, Immunodeficiency, Heart Disease, Hypertension, Asthma, Kidney Disease or Liver Disease, either singly or in combination, should self-isolate and not live with anyone who isn't willing to do so with them.  That means your groceries and such are ordered for pickup, you drive to the WalMart or wherever and the bags get loaded in the trunk, then you go back home.
Those people may also choose to take their chances and use HCQ as a prophylaxis.  It may work and it may not.  Some people cannot do so because of other drugs that interact badly with it, but the dose required for prophylaxis is likely similar to that for malaria, which is a once-a-week pill.  Will that stop all high-risk people from getting it and potentially dying?  Nope.  In fact it might not help much at all.  Some people will be forced off it by side effects.  We don't know.  But it's the best we have and the best we're going to have in the next few weeks, so you fight the war with the army you've got.  We cannot sit locked down for even another three to four weeks, and you know that claims is a lie; there's no date being given, the Administration already lied once and tripled its original claimed time while some governors have even issued orders all the way out into June already.
We now have governors, mayors and others that are literally placing people under house arrest — more than 3/4 of the nation's population is under such orders and some, including in Kentucky, are literally putting ankle bracelets on ordinary citizens to compel compliance.  Walton County in Florida just banned families from sitting in their yard on property they own.
This is not theoretical any more.  It is not a "inconvenience."  It has destroyed consumer confidence and if we don't cut it out now it will destroy a huge percentage of economic activity on a permanent basis.  You cannot fix this by handing people "money" that we do not have; more debt is the last thing this nation and its citizens need.
By June the economy will be a smoking hole in the ground from which we will not recover.  We will have so-ingrained people with fear that it will not matter what you do or when you do it.  That fear will last years, even decades and we absolutely must not have that happen.
Period.
We must keep people out of the hospitals that are high risk.  We cannot, as a society and economy, accept the path being put forward by people on the Gates' Foundations board and their models.  Their models, which are the predicate for every single one of the shutdowns thus far have already proved wrong in the case of NY; they claimed the city would need far more hospital beds and ICU beds than on this day are actually required.  In fact they're so far off they're laughable yet all the so-called "experts" are still setting policy with those models.  Remember, NY is the worst thus far in the US and yet the models predicted that by now it would be three times worse than it actually is.  There has only been an 0.4-0.5 change in transmission rates (from ~2.7-2.2) and that is consistent, within a tenth, between NY and nationally as a whole.
I understand the fear — it's palpable — this is a sniper attack; you can't see him but he can kill you without warning.
I get it.  It's why snipers scare the living hell out of people; a guy shooting at you who you can see is still scary, but much less-so than a gunshot that comes out of nowhere.
We must overcome the fear; we must stare it down and power through it.  We have no choice.
I fully agree. I always opposed the shutdowns, for economic and libertarian reasons in equal measure.
The statisticians advising our world leaders are dangerous characters. I'm rewording Mario Puzo's quote about a lawyer with a briefcase to say (emphasis mine):
A statistician with a spreadsheet can steal more than a thousand men with guns.
Who will make the first move to save the global economy? Donald Trump? (I think Boris Johnson will wait and see what the United States does.)
Please, President Trump, reopen for business by the end of April.
Today's coronavirus commentary comes from Twitter's Guillotine sales and Repair, a Hoosier (Indiana resident).
'Uncle Joe' Stalin would have been so pleased with all the lockdowns in Western nations:
Believe it!
As Guillotine sales and Repair says (emphases mine):
Don't delude yourself into thinking we're protected by the Constitution right now. While that should always be the case, know that right now, we're not.
He takes issue with a lawyer from Indianapolis. I'm not sure what the details are there, but the meme surely fits lockdown:
He discusses Americans' God-given rights, enshrined by the Founding Fathers in the Constitution:
YET:
The number of Americans filing for unemployment benefits shot up stratospherically on April 2.
Please note what he says:
This is the very real result of lockdowns, not only in the United States but also in other countries:
Yes, how did they do that? In the US, Democrat governors began locking down their states long before Republican-governed states did. They just took that decision.
Police are out enforcing, and, in some cases, not in a nice way, either:
I'll have more on the economic front tomorrow.
Last Monday, I excerpted parts of Peter Hitchens's column from the Mail on Sunday, March 22, 2020: 'Is shutting down Britain REALLY the right answer?'.
Yesterday, March 29, he wrote another column, this one about the coronavirus shutdown one week after: 'This Great Panic is foolish, yet our freedom is still broken and economy crippled'. His column has photos of what's been going on over the past seven days, including one of Derbyshire police telling a couple walking their dog in the remote hills that what they are doing is 'not essential'.
Emphases mine below.
He says he got a lot of verbal abuse for his March 22 column. Yet, he also received many messages of support.
That support comes from the silent majority whose voices are never heard on the news or even in their own communities. We must be quiet and follow the herd now.
He is right to say that things will get worse before they get better. On Monday evening, March 23, Boris announced an immediate lockdown. By Wednesday, March 25, the Coronavirus Bill passed the House of Lords.
Incidentally, I wrote this on Sunday, and a gale blew threw all day long. Temperatures took a dip. Although it was sunny, at least where I live, it was not good weather for walking around, even with restrictions. But I digress.
Hitchens predicts — probably rightly — that the government will have to tighten the screws just to reinforce its own misguided case:
I now suspect this dark season might get still worse before we see the clear, calm light of reason again. The greater the mistake we have made, the less willing we are to admit it or correct it. This is why I greatly fear worse developments in the coming few days.
When I predicted roadblocks in my column two weeks ago, which I did, I did so out of an instinct that we were entering on the craziest period of our lives since the death of Princess Diana. And now there are such roadblocks, officious, embarrassing blots on our national reputation.
But even I would not have dared to predict the mass house arrest under which we are all now confined.
He mentions a little known piece of legislation passed in 1984 (!) which he says was used to justify the lockdown:
I have found the origin of this bizarre Napoleonic decree – a few clauses in the Public Health (Control of Disease) Act 1984, which I confess I had not even heard of. It just goes to show how careful you have to be with the wording of the laws you pass.
Holy moly:
Perhaps we will emulate the French or Italian states, which have returned to their despotic origins and reduced their populations to a sort of cowering serfdom, barely able to step into the street.
I wonder whether there might also be restrictions on what can be said and published. I can see no necessary bar to this in the law involved.
Section 45 C (3) (c) of the Public Health (Control of Disease) Act 1984 (appropriately enough) is the bit that does it. Once the Health Secretary believes there is a threat to public health, he has – or claims to have – limitless powers to do what he likes, 'imposing or enabling the imposition of restrictions or requirements on or in relation to persons, things or premises in the event of, or in response to, a threat to public health'.
The former Supreme Court Judge Lord Sumption doubts that the Act can be used in this way and warns: 'There is a difference between law and official instructions. It is the difference between a democracy and a police state. Liberty and the rule of law are surely worth something, even in the face of a pandemic.'
Lord Sumption is generally a liberal hero, and he was invited to deliver last year's BBC Reith Lectures. But the Human Rights crowd have all melted away in the face of this outrage. So his warning was buried on Page 54 of The Times on Thursday, and Parliament, already supine, has slunk away after its craven acceptance of new attacks on liberty on Monday.
It will be interesting to see what our MPs have to say on April 22 when they reconvene in the House of Commons after Easter break.
Until then:
do not be surprised by anything. After last week, can we rule anything out?
The police are playing a bigger role in the North. Civilians are opting in to help, Hitchens says:
Humberside police are already advertising a 'portal' for citizens to inform on their neighbours for breaking the 'social distancing' rules.
If you think they won't get any takers, think again. Northamptonshire police have revealed that their control room has had 'dozens and dozens' of calls about people ignoring the order.
They said: 'We are getting calls from people who say, "I think my neighbour is going out on a second run – I want you to come and arrest them."'
… Others will have seen the films, taken by Derbyshire police drones, of lonely walkers on the remote, empty hills, publicly pillorying them for not obeying the regulations. It is genuinely hard to see what damage these walkers have done.
Meanwhile, in London, police are telling isolated sunbathers in search of natural Vitamin D — said to ward off coronavirus — not to lie on the grass in parks:
Most people will, by now, have viewed the online film of Metropolitan police officers bellowing officiously at sunbathers on Shepherd's Bush Green in London, energetically stamping out the foul crime of lying on the grass (would they have paid so much attention, two weeks ago, to a gaggle of louts making an unpleasant noise, or to marijuana smokers?).
Hitchens says this reminds him of his time in the Soviet Union:
… as a former resident of the USSR, I can tell you that this sort of endless meddling by petty authority in the details of life, reinforced by narks, is normal in unfree societies – such as we have now become for an indefinite period. It is, by the way, also a seedbed for corruption.
He turns his attention to the economy, specifically the generous coronavirus bail out for 95% of people living in Britain. How can Chancellor Rishi Sunak recoup the money? Only through higher taxes in the years to come.
This is what scares me and, as sure as night follows day, this WILL happen:
He will get this back from us as soon as we are allowed out again. Just you wait till you get the bill, in increased taxes, inflation and devastated savings.
Hitchens discusses the evidence supporting his arguments during what he calls the Great Panic:
… several powerful pieces of evidence have come to light, suggesting that the Great Panic is foolish and wrong.
… I do not claim to be an expert. But I refer to those who definitely are experts, who doubt the wisdom of what we are doing.
It is sad that far too little of this is being reported as prominently as it should be by our supposedly diverse and free media, especially the BBC, which has largely closed its mind and its airwaves to dissent. It is quite funny that a statue of George Orwell stands by the entrance to the BBC, bearing the inscription: 'If liberty means anything at all it means the right to tell people what they do not want to hear.' …

Now, if you want a scientist who does not support Government policy, the most impressive of these is Prof Sucharit Bhakdi. If you desire experts, he is one.
He is an infectious medicine specialist, one of the most highly cited medical research scientists in Germany. He was head of the Institute for Medical Microbiology at the Johannes Gutenberg University of Mainz, one of Germany's most distinguished seats of learning.
In a recent interview he had many uncomplimentary things to say about the shutdown policy being pursued by so many countries (there is a link on my blog to the interview, and a transcription).
But perhaps the most powerful was his reply to the suggestion that the closedown of society would save lives. He argued the contrary, saying this policy was 'grotesque, absurd and very dangerous'.
He warned: 'Our elderly citizens have every right to make efforts not to belong to the 2,200 [in Germany] who daily embark on their last journey. Social contacts and social events, theatre and music, travel and holiday recreation, sports and hobbies all help to prolong their stay on Earth. The life expectancy of millions is being shortened.'
He also gave this warning: 'The horrifying impact on the world economy threatens the existence of countless people.
'The consequences for medical care are profound. Already services to patients who are in need are reduced, operations cancelled, practices empty, hospital personnel dwindling.
'All this will impact profoundly on our whole society.
'I can only say that all these measures are leading to self-destruction and collective suicide because of nothing but a spook.'
Dr John Lee is another expert. He wrote an article for the Spectator on March 28 about the way Britain is handling coronavirus:
John Lee, a recently retired professor of pathology and a former NHS consultant pathologist, writes in The Spectator this weekend that by making Covid-19 a notifiable disease, the authorities may have distorted the figures.
'In the current climate, anyone with a positive test for Covid-19 will certainly be known to clinical staff looking after them: if any of these patients dies, staff will have to record the Covid-19 designation on the death certificate – contrary to usual practice for most infections of this kind.
'There is a big difference between Covid-19 causing death, and Covid-19 being found in someone who died of other causes.
Making Covid-19 notifiable might give the appearance of it causing increasing numbers of deaths, whether this is true or not. It might appear far more of a killer than flu, simply because of the way deaths are recorded.'
This, of course, explains why such an overwhelming number of Covid deaths, here and abroad, involve so-called 'underlying conditions', in fact serious, often fatal, diseases.
Take this into account whenever you hear official figures of coronavirus deaths.
Dr Lee adds, equally crucially: 'We risk being convinced that we have averted something that was never really going to be as severe as we feared.'
As Hitchens says, there are important lessons to be learnt from the Great Panic, especially those regarding civil liberties and a broken economy.
The question remains: will we learn those lessons?