You are currently browsing the tag archive for the 'civil liberties' tag.
Over the past several days, I have been digesting The Telegraph's series about the pandemic, The Lockdown Files.
Readers who missed them can catch up on my posts here, here, here, here and here. That last post, from March 8, 2023, discusses then-Health and Social Care Secretary Matt Hancock's desire to 'frighten the pants off people' with the Kent variant at the end of 2020. Top civil servant Simon Case agreed that behavioural change using fear and guilt was paramount. Masks, as many Covid sceptics suggested at the time, were the most visible means of compliance — or submission — to Government diktats.
Top oncologist reacts
On Thursday, March 9, The Telegraph published a post from the UK's top oncologist, Prof Karl Sikora: 'Lockdown supporters called me a killer — they should be disgusted with themselves' (emphases mine below):
Opposing the relentless raft of lockdown policies was a lonely and, at times, extremely unpleasant experience. Those of us who voiced concerns about effectively closing down a country were labelled as far-Right extremists who were happy to see millions perish to the disease. It was a disgrace, legitimised by low-grade politicians such as Matt Hancock who were far too interested in advancing their own public image. Thousands succumbed to the destructive, and often pointless, lockdown measures they pushed at every opportunity.
There will be no apologies from the baying lockdown mob – the damage has been done, the debate has mostly moved on and the inquiry may well become a total whitewash. The Telegraph's lockdown files have done a great service in partially halting that march. 
… Many of those voices are now totally silent on the thousands and thousands of non-Covid excess deaths related to lockdown delays and backlogs. I have no regrets in my opposition to a variety of lockdown policies and the language I used throughout the pandemic – I wonder if they can say the same?
We now know for sure that some decisions taken were based in PR and politics, rather than science and sense. When the Health Secretary is talking about "frightening the pants off everyone" with a new strain, those of us who voiced scepticism at the time about the language used can feel vindicated …
I'm desperate for a Covid inquiry whitewash to be avoided for one simple reason: this cannot be allowed to happen again. If we don't at least ask the questions, when another pandemic, or the threat of one, comes around, lockdown cannot be the go-to option. The advisers who made the past recommendations cannot be used ever again.
… Routine healthcare for non-Covid conditions was effectively shut down to millions for months on end, and now we have thousands and thousands of non-Covid excess deaths. What did they think would happen, honestly? 
My lockdown inbox was overflowing with desperate cancer patients whose treatment had been indefinitely postponed. I remember one case of a mother who had her chemotherapy cancelled, leading to her tragic death leaving behind three young children and a loving husband. And it's not just cancer: cardiac issues untreated, blood pressure out of control, strokes uncared for, other preventative measures forgotten and of course soaring obesity. The post-lockdown crisis is across all aspects of healthcare, physical and mental. That is for those lucky enough to receive any medical support or diagnosis at all. Others were told to stay home and that's exactly what they did – dying there without the care they needed and deserved.
To those of you who took a brave stand speaking out against various restrictions and policies – from me, a sincere thank you. We comprehensively lost the argument in the court of public opinion, but hopefully a small difference was made. I suspect the national mood may have significantly shifted over the last week. Sunlight is the best disinfectant after all, and spring is on the way.
That same day, Helia Ebrahimi, who had a mastectomy in 2022, told her story to the paper: 'They said I'd lose a breast and maybe my life — but the NHS made me wait four months':
In the UK, more than 5,500 women are diagnosed with invasive lobular carcinoma every year. But often their diagnoses are late. Sometimes too late. When it became clear how progressed my cancer was, my surgeon wanted to start treatment immediately. I was at The Royal Marsden in London, a standard bearer in cancer care that also benefits from charity funding. But even at the Marsden, the pressures on the NHS are inescapable. Especially last year, when the country was reeling from a Covid backlog and 327,000 people were on the cancer waiting list in England alone, with 34,000 people failing to get treatment within the Government target of 62 days – the worst backlog on record. Almost 10,000 people were still not receiving treatment within 104 days …
Ultimately, my husband and I decided we couldn't wait, so I used my work health insurance scheme to cover most of the cost. My surgeon from the Marsden still performed the operation but at a private hospital, with theatre space.
An article about the waiting list times also appeared in The Telegraph that day, 'Nearly half of cancer patients waiting too long for treatment, the worst on record':
More than 7,000 patients did not receive their first treatment within 62 days following an urgent GP referral, official figures for January show.
Only 54.4 per cent of patients with an urgent referral were seen within the target time, against a benchmark of 85 per cent – the lowest on records dating back to 2009 …
It comes after NHS bosses admitted this week cancer recovery targets are likely to be pushed back another year to March 2024.
The article has more statistics.
It is interesting that there is no mention of the pandemic or the lockdown of the NHS to patients such as these. Equally interesting is Prof Stephen Powis's response. Powis was also an adviser on pandemic policy:
Professor Stephen Powis, NHS national medical director, said there had been "no let-up" of pressures, with staff facing "significant levels of respiratory illness in hospital, which came at the same time as disruption from industrial action".
"Despite this, staff continued to deliver for patients, bringing down elective waits, treating more cancer patients and delivering more diagnostic tests for people than ever before," he said.
Instead, he points to possible upcoming strikes by junior doctors:
He added: "The NHS will not stop in its efforts to bring down 18 month waits for elective care and bring down the cancer backlog, but it is inevitable that if the upcoming junior doctors strikes happen they will have a significant impact on cancer care and routine operations that were scheduled to happen.
"As ever, we will do all we can to limit the impact to patients."
Early 2020: Persuading MPs through messaging
Going back to the start of 2020, chief Downing Street adviser Dominic Cummings and Matt Hancock thought that Boris Johnson's 2019 campaign director could get 'hawkish' Cabinet members on board with the pandemic measures. A full lockdown began on March 23, 2020.
On March 2, 2023, The Telegraph explains how the two did it in 'Dominic Cummings deployed election mastermind to reassure Cabinet hawks of public support for lockdown':
they set up a meeting between Cabinet ministers and Isaac Levido in April 2020.
Mr Levido, an Australian political strategist and protegee of the former Tory aide Sir Lynton Crosby, was recruited to Downing Street in March 2020 to improve the Government's Covid messaging.
He is credited with masterminding Mr Johnson's 2019 election victory three months earlier and is a close ally of Mr Cummings.
In a conversation between Mr Hancock and Mr Cummings on April 23 exactly one month after the imposition of the first lockdown, the former health secretary said his Cabinet colleagues should be told that more than half of voters either supported lockdown measures or thought they should be strengthened.
At that point, if we look at Boris's words from March, the two or three weeks 'to flatten the sombrero' would have meant that a lifting of lockdown was in sight. Not so. England remained in lockdown until July 4 that year, with a gradual loosening in between for construction workers and, in June, schools.
Not surprisingly, in April, some Cabinet members were ready to lift lockdown, for obvious reasons:
… the conversation took place as some ministers were beginning to make the case, often in anonymous briefings to newspapers, that keeping lockdown measures in place for too long would have serious consequences for the economy and society.
It was unclear what polling Hancock was using. In addition, Isaac Levido stayed on board only for a few months before pursuing his own interests:
It is unclear which polling Mr Hancock was referring to in his messages to Mr Cummings, but research from a Cambridge University team led by Prof Sir David Spiegelhalter in April 2020 showed 87 per cent of the public did believe lockdown should remain in place for at least another three weeks.
Mr Levido left Downing Street in July 2020 and founded Fleetwood Strategy, a public relations firm. He was later brought back into Conservative Campaign Headquarters (CCHQ) as a strategist during Nadhim Zahawi's tenure as chairman.
By late April, Mr Hancock had recently announced a testing capacity target of 100,000 swabs a day, and been criticised by Downing Street sources for an "irrational" and "arbitrary" approach to the pandemic.
"Hancock's not had a good crisis," one No10 source told The Telegraph at the time.
"The prime minister will say he has confidence in him, but it doesn't feel like that."
At this point, Boris was out of hospital recovering from his near-fatal bout of the virus. According to a WhatsApp message from Cummings shown in the article, he allegedly urged harmony:
"FYI Boris called a few people tonight to say — all these attacks [on] Matt, I want us to stick up for him etc," he said.
Cummings's approach to policy was similar to Hancock's:
On June 1, the day schools began to reopen from the first lockdown, he suggested enforcing mask-wearing on trains and buses.
"I think we shd make it legally compulsory to wear mask on public transport (with only eg small child/disabled etc exception). It's free, buys us some R, no real downside," he said.
Lee Cain, the Downing Street director of communications, replied: "We need to bottom out enforcement etc – if we are doing it PM can drop it on Wednesday."
The policy was announced three days later, and came into force on June 15.
How libertarian Boris became lockdown 'zealot'
On March 4, The Telegraph published 'How Boris Johnson veered from lockdown sceptic to zealot'.
The article explains how Cummings began to refer to the then-Prime Minister as 'the trolley'. In other words, like a shopping trolley with a wonky wheel, he careered all over the place with decision-making during the pandemic:
New evidence suggests Mr Cummings was at least partially right. In WhatsApp conversations with ministers and officials, Mr Johnson veered between lockdown sceptic and lockdown zealot, as he reacted to the ever-changing data and advice.
The former prime minister would sometimes introduce an idea, only to abandon his stance even when others agreed with him.
Mr Johnson's biggest internal conflict came over the three national lockdowns that were controversially imposed in 2020 and 2021.
A libertarian by nature, Mr Johnson repeatedly changed his mind over forcing people to stay at home depending on who he had been talking to …
In July 2020, Mr Johnson described the idea of a second lockdown as the "nuclear option". In Oct 2020, he described the idea as "the height of absurdity".
Yet in June 2020, when the country was still in the grip of the first national lockdown, Mr Johnson's attitude seemed to be different …
He has always denied that his brush with death changed his mind on government policy.
The article includes screenshots of WhatsApp exchanges during that time.
Later in 2020, Matt Hancock began to find Boris's vacillating exasperating:
At the end of Oct 2020, the then prime minister was wrestling with the decision of whether or not to put the country into lockdown for a second time.
At Prime Minister's Questions on Oct 21, in response to a question from Sir Keir Starmer, the Labour leader, Mr Johnson described a second lockdown as "the height of absurdity".
And on Oct 30, Mr Hancock was messaging Simon Case, the Cabinet Secretary, expressing exasperation that Mr Johnson appeared even more reluctant than Rishi Sunak, the then chancellor, to take tough measures.
Less than a week later, Mr Johnson introduced a second lockdown, saying: "Now is the time to take action, as there is no other choice."
It was claimed at the time that he had been "bounced" into announcing the lockdown after Michael Gove, the then Chancellor of the Duchy of Lancaster, was accused of leaking plans for the lockdown to the media before Mr Johnson had made up his mind.
England entered a third semi-lockdown on Monday, January 4, 2021. Pupils had returned to school that day only to be told by the end of it that schools were closed for the forseeable future.
Hospitality venues, having lost out on Christmas 2020 bookings, were also severely affected during that time. Some never recovered.
Nor, indeed, had a significant number of schoolchildren. Mental health problems exploded during and after lockdown.
Schoolchild kills himself
On March 4, Isabel Oakeshott, to whom Hancock gave 100,000 WhatsApp messages which form the basis of The Lockdown Files, told us about a tragic case of suicide in 'The dreadful consequences of Matt Hancock's lockdown scare tactics':
While Matt Hancock breezily discussed how to "frighten the pants off everyone" with a new strain, a boy called Mark was listening to the drumbeat towards another national lockdown grow louder in deepening despair.
It was December 2020, and the 15-year-old's life had already been turned upside down by the pandemic.
A few months earlier, his mother Anna Marie had decided that they should move house because they couldn't even go to the local park during the first lockdown.
She describes how over-zealous council officials had shut the playground, leaving her struggling to cope with Mark's little brother, a hyperactive five-year-old …
Now, the family was in a better place in the North East, but Anna Marie had been unable to get Mark into a new school.
With "home schooling" now an easy default, education authorities shrugged that he could just study for his GCSEs online.
Unable to play football during the first lockdown, he started putting on weight. When other children returned to school that autumn, he became increasingly isolated – and frightened.
As Mr Hancock and his acolytes plotted to use a new strain of coronavirus to terrify the population, that fear descended into paranoia. Mark became so scared of the virus that he would not even open his bedroom window.
"His nails were bitten to the bone. He was literally frightened of the air. He wore a mask everywhere," his mother says …
"We tried to keep the TV off, but we were being bombarded," she says, of the prophecies of doom relentlessly pumped out by an acquiescing media.
"Mark knew we were going into another lockdown. The fear was the thing that affected him most. He was disconnected; distant. I didn't know what to do."
In December 2021:
Almost exactly a year later, when most of the population had been vaccinated against Covid but the Omicron variant prompted yet another fear campaign, he told his mother he was popping out to the shops – and never returned.
His body was found by dog walkers three days later, hanging from a tree.
Though he had never talked of taking his own life, his family had been prepared for the worst, after discovering that he had searched the internet for how to tie a noose …
An intelligent child, Mark had hoped to study computer science when he left school. Instead, his education came to a juddering halt …
After the harrowing discovery on Christmas Eve, Mark was cremated. His mother and siblings took his ashes to Seaton Carew Beach near Hartlepool, a place Mark loved. They scattered the ashes over the sand dunes.
"He went off on the wind," Anna Marie says quietly.
Let not the lessons from this tragedy also blow away on the breeze.
"Frightening the pants off people" had truly dreadful consequences.
Oakeshott expresses thoughts I have had since March 2020 about Britons who had houses with gardens versus those who were trapped in flats along with our notional betters who were at the helm of this tragic decision-making:
Those responsible for "Project Fear" had no idea about the lives of people like Anna Marie and her children.
In their spacious houses, in leafy parts of London, with access to all the luxuries that made lockdowns quite tolerable for the better off, their own families were doing fine.
Hancock and his advisers were caught up in their own sense of heroism.
Mr Hancock and his advisers did not even try to imagine how the tactics they were gleefully discussing to achieve "proper behaviour change" would affect the most vulnerable in society.
Heady on the unprecedented power they had seized to control all our lives, they were caught up in the excitement of managing the day-to-day crisis and their own sense of heroism at their leading roles in the drama.
They were completely removed from the reality of lockdowns for those at the other end of the socio-economic spectrum.
Judging from the total absence of any discussion about collateral damage in their WhatsApp messages, they had zero interest in hearing about it either …
Is Simon Case pondering his future?
Cabinet Secretary Simon Case, who is also the head of the Civil Service, has come under criticism for his WhatsApp messages revealed in The Lockdown Files.
Case's messages show that he that he thought quarantining holidaymakers 'hilarious'. He also thought that fear and guilt were appropriate tools to get the British public to comply with pandemic policies.
Conservative MPs were unhappy with what they had read in The Telegraph. On Saturday, March 4, the paper published 'Tories accuse Simon Case of left-wing bias over Covid rules':
Britain's top civil servant has been accused of left-wing bias by senior Tories after he dismissed concerns about Covid rules as "pure Conservative ideology".
Simon Case is facing questions over his political impartiality and conduct during the pandemic, following the emergence of leaked WhatsApp messages obtained by The Telegraph.
On Saturday Rishi Sunak, the Prime Minister, was forced to declare that Mr Case, who is Cabinet Secretary and head of the Civil Service, retained his "confidence".
Mr Case's comment that Sir Alok Sharma, the then business secretary, opposed compelling hospitality venues to keep customers' details because of "pure Conservative ideology", have led to claims that he overstepped the mark of Civil Service impartiality.
At the time, Mr Case was the Downing Street permanent secretary in charge of the Civil Service response to Covid.
At various points during the pandemic, he appeared to side with Matt Hancock against other Cabinet ministers, including Mr Sunak, the then chancellor, who on one occasion he described as "going bonkers" over a policy that hospitality venues should keep customers' details for contact-tracing purposes. Mr Case added that Sir Alok would be "mad" to oppose it.
Elsewhere, the leaked messages show that he joked about passengers being "locked up" in "shoe box" rooms in quarantine hotels.
The criticism of Mr Case comes at a time when the Civil Service is facing increased scrutiny over its impartiality, after the decision of top mandarin Sue Gray to quit Whitehall and accept a job as Sir Keir Starmer's chief of staff.
Esther McVey, a former Cabinet minister, led the criticism of Mr Case's conduct, saying: "This is the highest civil servant in the land letting the cat out of the bag by suggesting that one of the most centrist of Conservative MPs was pursuing 'pure Conservative ideology' simply for questioning some of the lockdown rules.
"Leaving aside the fact that this is a Conservative government and so what would he expect from its ministers, if Mr Case thinks Alok Sharma was pursuing such a hard-line Conservative ideology it can only mean that he is yet another senior civil servant on the left wing of British politics."
She was joined by fellow former Cabinet minister Jacob Rees-Mogg who said the messages revealed that there was a desire from Mr Hancock and Whitehall officials to "lock us down and keep us locked down".
"They seem to have enjoyed taking control of people's lives," he said, adding that the messages between Mr Case and Mr Hancock show that "they criticised the Chancellor and anyone who is not in favour [of stricter measures], then they tried to marginalise them" …
A third former Cabinet minister said Mr Case's language is "inappropriate", adding that civil servants are "not there to make judgement on people's motivations. It just undermines people who are democratically elected. They are meant to be impartial, professional and objective".
And a fourth said: "Sue Gray is clearly not the only party political civil servant who doesn't like the Conservatives. She confirmed what many people thought – that the Civil Service is hostile to the Tory party. And this [Simon Case's messages] just underlines it."
However, civil servants also objected to what they have read about Case. One spoke to The Telegraph:
Jill Rutter, former Treasury mandarin, said she was surprised by the "casual callousness" of Mr Case's remarks.
"The interesting thing is who does Case think he is working for?" she said. "Does he think he is there as a neutral broker to get all the ministers to a view they can accept? Or does he know what the PM wants and is helping him to achieve that outcome? Or is he just trying to achieve Matt Hancock's objectives?" …

Case's remarks were one of the more surprising revelations from The Lockdown Files:
The Lockdown Files piled further pressure on Mr Case after a string of difficult news stories.
He faced questions over his apparent role in clearing a controversial £800,000 loan facility for Boris Johnson when he was prime minister and he was also criticised over the partygate affair.
In one exchange with Hancock, Case seemed to doubt Boris Johnson's honesty:

In another, from October 30, 2020, Case intimated that Boris — his boss — was seen to be untrustworthy:

By Monday, March 6, 2023, despite Rishi's expressed confidence in him, Cabinet ministers were calling for Case's departure for his 'level of indiscretion'. The Times had the story:
That day, The Financial Times had a story about Case on its front page, purporting that he was eyeing an 'early exit':
"I can't see how Simon Case survives this, especially if there are more messages of his directly slagging off other ministers," one senior Conservative backbencher told the Financial Times.
While friends of the cabinet secretary say that he has continued to receive support from his colleagues, he is also said to be "fed up".
Among Case's fellow officials, there is particular concern about his handling of "partygate", which centred on rule-breaking in Downing Street and Whitehall during Covid restrictions in 2020 and 2021.
One senior official said: "Simon didn't stand up for his own people over partygate," adding that junior staff were issued with fines for attending events happening on his watch.
Case has also drawn scrutiny for his knowledge of Johnson's personal financial relationship with the chair of the BBC and for the government's response to bullying allegations against Dominic Raab, the justice secretary.
Rishi Sunak's spokesman declined to comment on the WhatsApp messages. Downing Street said: "The cabinet secretary has the confidence of the prime minister and that has not changed."
An ally of Case said that they contained "casual language being used in a casual setting . . . There are a lot of Conservatives who dislike the civil service, but who can name only one civil servant." Another ally of Case said that his "original sin was being young and talented and promoted to that job before he was grey".
Another issue upsetting officials was the removal of Tom Scholar, the former permanent secretary of the Treasury, by Kwasi Kwarteng, who briefly served as chancellor in Liz Truss's shortlived government. This was regarded as inappropriate over-reach by ministers. Case, however, is known to be wounded by the implication that he failed to support Scholar.
And yet:
A Cabinet Office insider said they considered a departure this year very unlikely.
Another senior official said: "The charge sheet is now so long against him, the only interpretation can be that the PM probably doesn't want to get rid of him."
However, The Financial Times had pointed the finger at Case on January 31 this year in 'Simon Case: can the head of Britain's civil service survive?'
Although he is a career civil servant, Case took a break to work for Prince William. The Prince highly recommended him to Downing Street when Boris became Prime Minister.
It seems as if Case picked up courtier-type habits:
One serving senior official said: "He operates as a courtier. His writ doesn't run across Whitehall. He doesn't seem to be in key meetings with the prime minister." Another former permanent secretary in a major department said: "I don't think he has any credibility left and really he should go."
That said, he has his supporters:
… Case's supporters insist that he is determined to uphold standards and that he retains the confidence of Rishi Sunak, the prime minister. They also argue that he has given the "best possible advice" and point out his job was not always easy during the chaotic premierships of Johnson and Liz Truss.
In the last days of Truss's crumbling 44-day administration, he advised her to reverse parts of her disastrous "mini" Budget to stave off economic disaster, according to Downing Street insiders. They say he was also instrumental in coordinating with Buckingham Palace over arrangements for the Queen's funeral.
Case's supporters add that he hoped to serve at Sunak's right hand until at least the next election, expected in late 2024. "Cabinet secretaries tend to change after an election," said one.
Case became cabinet secretary and head of the civil service in September 2020 when Johnson sacked his predecessor, Sir Mark Sedwill, after only two years in the post.
Dominic Cummings, Johnson's former chief adviser, was instrumental in bringing Case in. At the age of 41 he had held a range of roles in Whitehall and had been Prince William's private secretary.
A series of scandals engulfed Johnson's premiership, ranging from the financing of his flat refurbishment and the partygate scandal over Covid-19 lockdown-breaking gatherings in Downing Street, to the appointments of Zahawi and Sharp, which reverberate today. Case, as the prime minister's most senior adviser, is inevitably in the line of fire.
The article goes on to enumerate the scandals.
Apparently, morale among civil servants began declining in 2022:
Case recognised the problem of falling morale last month in a memo to civil servants, saying that results from a staff survey were "heading in the wrong direction and show that you feel things have become worse".
Returning to March 6, The Telegraph published 'Simon Case branded "naive" by top civil servants over "embarassing" WhatsApp remarks':
Simon Case's WhatsApp messages, exposed by the Lockdown Files, reveal a "naivety" and "inexperience" that has damaged his reputation, current and former senior civil servants have said …
One former permanent secretary told The Telegraph that the messages showed "a certain naivety and to be honest inexperience", adding: "It will hurt his reputation."
The source said: "You should be a bit above the fray [as Cabinet Secretary]. I don't know why he engaged in those sorts of exchanges. He didn't need to."
A former civil servant who advised prime ministers during a decades long career in Whitehall is understood to have found the exchanges highly unusual in their political nature.
The concerns also stretch into the senior echelons of the current civil service, with some insiders noting the pronounced difference in tone of Mr Case's messages to senior scientific advisers such as Prof Sir Chris Whitty and Sir Patrick Vallance.
A senior Whitehall source told this newspaper of the Case messages: "They are really embarrassing. It is absolutely cringe-worthy. The things he was saying, the way he was saying them, the awful embarrassing chumminess of them all."
Mr Case and the Cabinet Office have not responded directly to the contents of the leaked messages sent by Mr Case …
Mr Case became the youngest ever Cabinet Secretary when he was appointed to the role in September 2020 under Boris Johnson.
He had never headed up a government department as a permanent secretary before taking up the position, breaking with the experience of many of his predecessors.
Mr Case is onto his third prime minister, having served as Cabinet Secretary to Mr Johnson, Liz Truss and now Mr Sunak.
Fraser Nelson, The Spectator's editor who also writes for The Telegraph, made some excellent points in 'Simon Case must take his share of the blame for chaotic lockdown decision-making':
When Simon Case was made the youngest-ever Cabinet Secretary, Matt Hancock sent a message congratulating him.
"I think 41 is a good age to be in these very big jobs," said the 41-year-old health secretary. By this time, both were wielding incredible power, overseeing the biggest suspension of civil liberties in peacetime.
The members of the "top team" WhatsApp group had started to see lockdown as a political campaign – with enemies to be identified, mocked and destabilised. The only person in the group in a position to lower the political temperature and insist upon sound government was Simon Case.
But The Lockdown Files show that, time and time again, he ended up as political as the politicians – in some cases, even more so. Some of the most outrageous comments on the files are his.
Like others, he started off quite moderate. But before too long he was revelling in the power to lock people up (saying he wished he could see "some of the faces of people coming out of first class and into a Premier Inn shoe box") and being just as gung-ho as the ministers he worked with. The civil servant became indistinguishable from the politicians …
His predecessor, Mark Sedwill, had clashed with Dominic Cummings about reshaping the Civil Service. Case, a former principal private secretary to David Cameron, had by then left the civil service and was working for Prince William.
He was called back to Whitehall to run the Government in a new, more buccaneering way: first in Number 10 and then running the whole show as Cabinet Secretary. There seemed to be an unspoken deal: Case would be given unprecedented power at a young age. In return, he'd be more likely than his predecessor to go with the political flow …
We know what other permanent secretaries might have done because they've made it public. Gus O'Donnell, who ran the Civil Service from 2005 to 2011, has pointed out the biggest architectural flaw.
Sage had far too much power, he says, and its reports should have been fed into a higher committee that would have made the decisions – not just on Covid, but factoring in economic and social damage. In other words, there would have been a cost-benefit analysis: a basic tool for public health interventions.
In The Lockdown Files, we see the prime minister appallingly served and briefed. Almost suspiciously so. At one stage, he is so in the dark about Covid's fatality rate that he misinterprets a figure by a factor of one hundred – thinking it's 0.04 per cent, not four per cent. It's easy to mock a Classics graduate for numeracy issues, but it raises another question.
He had Simon Case by his side: so why did Case not make sure the PM had all of these basic facts to hand? Or had Case, like Cummings, come to regard his boss as a "wonky shopping trolley" to be steered, rather than served? And if so, steered at whose direction? …

Simon Case could at least have addressed the abysmal state of Sage reports: opaque, confusing and – as it turned out in the omicron wave – staggeringly wrong. By then, JP Morgan ended up giving its clients far better Covid analysis than ministers were given by the UK Government, and these ministers (including Rishi Sunak) ended up phoning around contacts to find non-government (ergo, trustworthy) advice. Case presided over this shambles …
Prime ministers run the civil service, and they are ultimately responsible for any dysfunction. But Case should not have taken sides during the lockdown wars. He ought to have been on the side of basic government standards, of cost-benefit analyses and informed, properly-communicated decisions.
The Lockdown Files show that Britain ended up with a standard of decision-making far below what could or should have been. And for that, Case deserves his full share of the blame.
I will have a few more articles about Simon Case to share next week. Along with that comes political infighting over pandemic policy.
Fraser Nelson is right. This was an absolute shambles.
Karol Sikora is also right. This must never happen again.
Sunday, June 6, 2021, was the 77th anniversary of D-Day, the Longest Day: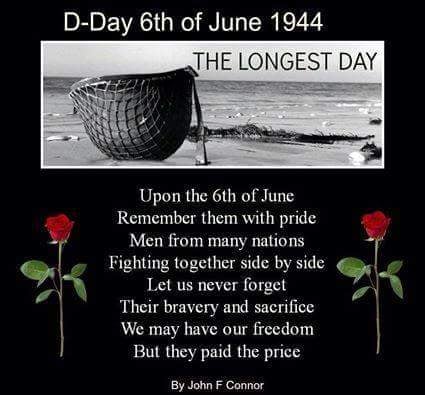 This map shows the landings in Normandy: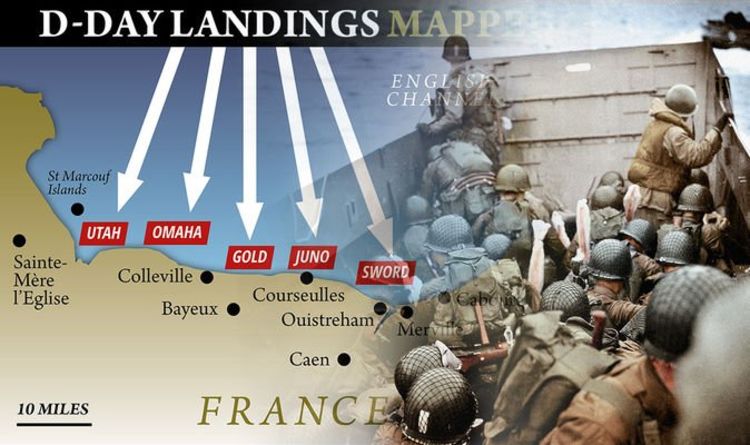 While preparing Sunday dinner, I listened to C-SPAN's Sunday morning show, broadcast on BBC Parliament. Sarah Rose, the author of D-Day Girls, was the guest. Her book is a novel, but she did a lot of historical research showing the intelligence work that women did behind the scenes as part of a carefully-managed international network.
The phone-in included many sons and daughters of Second World War veterans. Nearly all said that those veterans were, understandably, highly reluctant to talk about their war experiences. However, some said that their fathers or grandfathers opened up in their later years. One caller said that she has several hours of memories that she has recorded for posterity, particularly for younger family members.
With more and more of those veterans passing from this mortal coil, now is the time for children and grandchildren to record and catalogue those memories, if they can. One person who has done so is the author of Pacific Paratrooper, remembering Everett A Smith, their father. It's an excellent website, which also documents much history about the battles and conditions in the Pacific theatre. I am delighted to have the author as one of my regular readers.
We will always remember those heroic men and women:
Incidentally, the Houses of Parliament were bombed in 1941 and had to be reconstructed authentically in the 19th century manner. Both were faithfully restored. The next tweet shows the House of Commons:
Seventy-seven years later, we are still in the grip of the coronavirus crisis and a loss of freedom the troops involved in D-Day would have found unthinkable.
In Britain, former Prime Minister Tony Blair (Labour) appeared on The Andrew Marr Show to say that Britons who have had two vaccinations should be allowed greater freedoms, thereby creating a two-tier society:
If a Conservative had said that, Marr would have heaped criticism all over him or her.
It is mystifying that Tony Blair even gets airtime on this topic. He isn't in government, nor is his party.
It appears I am not alone, judging from the replies to this tweet:
On the topic of vaccines, Tony Blair has never said if his son Leo, born when he was in No. 10, had the MMR vaccine, which was highly controversial at the time. So, it was okay for him to refuse to give his son a vaccine that every other child born in Britain had/has to have. It is very difficult to get separate children's vaccines for measles, mumps and rubella. One imagines that Blair managed to get them for his son.
Tony Blair also wanted national ID cards. The debate raged for a few years in Parliament. Fortunately, nothing happened.
On Monday, Guido Fawkes's cartoonist Rich, recalling the ID card debate from the Blair years, posted this:
On the topic of vaccines, the Government is talking about giving them to children. Highly dangerous, one would have thought. The Telegraph's Bob Moran was moved to create this cartoon a week ago:
ITV's Good Morning Britain stoked the flames by asking whether the vaccinated should refuse to associate with the unvaccinated:
Fortunately, most Britons disagree with Good Morning Britain:
June 21 is supposed to be Freedom Day, according to the Government, with the caveat that full reopening of Britain will be based on data rather than dates.
It should come as no surprise that the Government could now backtrack on that date:
On June 1, we had no coronavirus deaths, but that did not make the news:
TalkRADIO host Julia Hartley-Brewer is fed up with the delays. In fact, as the chart below from Peston shows, the UK's actual coronavirus stats are much better than SAGE's models:
On June 3, Portugal, the only European country on the UK's green list for travel, was moved to the amber list, yet these charts tell a different story:
One suspects that it was only ever on the green list for the Champions League final in Porto:
Oddly, we had more freedom a year ago — with no masks and no vaccines — than we do now:
In Wales, First Minister Mark Drakeford (Labour) says that social distancing will not be disappearing any time soon:
Data for the UK should be available on June 14, at which point the Government will announce their decision regarding June 21:
The Government have paid for coronavirus advertising and COVID marshals, extending to 2022. Former London Assembly member David Kurten tweeted a reminder:
I, too, want my country back.
In Germany, scientists from Munich University say that lockdown had no effect on the virus spread:
Something is very wrong when, in a five-minute speech on television, a prime minister or a president can remove everyone's civil liberties at a stroke.
Monday, March 23, 2020, will be etched on my memory forever. That was the date of the UK's first lockdown.
D-Day. Freedom Day. What has happened to us — and for a 'pandemic' with fatality rates no worse than influenza? We are in a very bad way, not only in the UK, but also elsewhere in the West.
The Telegraph had two interesting articles on coronavirus at the weekend.
The first is 'Exclusive: UK vaccine passport plans to be scrapped'. I hope this is true.
Excerpts follow, emphases mine.
For months we have read that the Government is considering then dropping plans for a vaccine passport to be used for attending large events.
The Telegraph's article says:
Officials working on the review into Covid-19 status certification believe there is no chance the law will be changed to mandate their use within the UK.
"It's not a case of 'it's finely balanced'. It's not going to happen," said one well-placed government source close to the review. "Everyone says it's dead."
Israel's experience appears to have been a factor:
Michael Gove, the Cabinet Office minister overseeing the review, is yet to submit his recommendations to Mr Johnson. But sources close to both figures say they are instinctively reluctant to adopt the plans.
Furthermore, Israel, the country whose adoption of Covid-19 passports became the template studied closely by the UK (including a trip there from Mr Gove) will drop its "green pass" soon, because so many of its citizens are now vaccinated. That decision has been carefully noted by ministers.
However, it is still possible that the pass could become a consideration later in the year:
Government ministers may also choose to look again at Covid-19 passports for the autumn and winter, arguing that a sudden deterioration in the Covid situation could see the idea return.
It is also possible that companies might be able to mandate them, particularly for international travel:
A government update on the review in April said there was nothing stopping companies asking for proof of Covid-19 status before granting entry, providing they do not breach equalities laws.
Work on the NHS app, which is being converted to be able to show proof of a jab, negative test or antibodies, is likely to continue, given that it is being used for international travel.
The second Telegraph article is an editorial, 'How the state used behavioural science to scare a nation into submission'. The author, Laura Dodsworth, wrote a book, A State of Fear, a copy of which was sent to every MP:
donated by a group of concerned people and the Recovery campaign. In a letter to MPs, they described the book as 'essential reading' and questioned, as I do, the ethics of fear messaging and behavioural psychology.
Dodsworth rightly takes issue with Boris Johnson's former special adviser Dominic Cummings's view that the British people need to be controlled by Government:
Last week we learnt that Dominic Cummings believed the Covid-19 emergency would have benefitted from the "kingly authority" of data scientist, Marc Warner. This is exactly the style of authoritarian, top-down 'state knows best' style of government we need to move away from. It does not befit one of the cradles of democracy and the British people deserve better …
Back in 2019, Mr Cummings predicted "The future will be about experimental psychology, and data science." Well, the future is now. And the use of 'nudge' to encourage compliance with the rules has changed our lives and our relationships with each other, and irreversibly shifted the social contract between individuals and government.
However, this was already a topic over a decade ago, when Conservatives regained power in coalition with the Liberal Democrats, who are anything but liberal or democrats:
All of this was predicted in the report MINDSPACE: Influencing behaviour through public policy, a Cabinet Office discussion paper from 2010. It warned: 
"People have a strong instinct for reciprocity that informs their relationship with government – they pay taxes and the government provides services in return. This transactional model remains intact if government legislates and provides advice to inform behaviour. But if government is seen as using powerful, pre-conscious effects to subtly change behaviour, people may feel the relationship has changed: now the state is affecting 'them' – their very personality."
The nudge concept came, as most bad ideas do, from the United States, specifically the Obama administration.
Nonetheless, Prime Minister David Cameron instituted a 'nudge' unit at the heart of Government, known as SPI-B, which is part of SAGE. The 'B' stands for 'behaviour'. It has been working throughout the coronavirus crisis:
You could argue that frightening people to make them follow the rules during an emergency was in our best interests. But what about the opposing arguments that it affected our personalities, our mental health and our agency?
The insufficiently fearful were deliberately alarmed. Horror film styled advertising, laws to manage the minutiae of our daily lives, the most punitive fines since the Dark Ages, encouraging social conformity and the alarmist use of statistics were just some of the government's tactics during the pandemic, signalling their lack of trust in the public's ability to understand risk and behave sensibly.
Even children were not exempt from such blame. Indeed, they were explicitly targeted with messaging warning "Don't kill granny." This shocking slogan looks even more abhorrent given the allegations that the elderly were not tested before being transferred from hospital to care homes – who killed granny, exactly?
The next 'nudge' will probably involve climate change:
If you concede that behavioural science and the weaponisation of fear are acceptable tools for one crisis, will you accept them for the next? One recent report from a team at the University of Bath already shows how behavioural psychologists hope to segue from Covid to climate behaviour change while "habits are weakest and most malleable to change". 'Nudge' is likely to play a bigger part in future government attempts to transform us into model citizens.
One wonders how successful that will be, given that climate change is far from the greatest worry on Britons' minds at the moment.
It would be helpful to know exactly how much of our taxes go to maintaining the 'nudge' unit and the political persuasions of those working in it.
Sadly, Prince Philip, the Duke of Edinburgh, died on Friday, April 9, 2021, exactly two months short of his 100th birthday:
The Queen has lost her best friend. My deepest sympathies to her for the unimaginable loss of her long-time husband and daily confidant. My condolences also go to the Royal Family in their grief.
Young love
The couple first met in 1934, and began corresponding when the Prince was 18 and a cadet in the Royal Navy. Princess Elizabeth was 13 at the time.
She was smitten with him from the start.
Prince Philip served with distinction during the Second World War in the Mediterranean and Pacific fleets.
After the war ended, he could have had a stellar career in the Royal Navy. His superiors praised his clear leadership skills.
However, love intervened and the rest was history.
Born Prince Philip of Greece and Denmark, he renounced his foreign titles and took British citizenship before he and Princess Elizabeth were engaged. He took the surname of his maternal grandparents: Mountbatten.
He and Princess Elizabeth were engaged in July 1947. They married on November 20 that year. Shortly before the wedding, George VI gave him the titles of Duke of Edinburgh (created for him), Earl of Merioneth and Baron Greenwich.
Prince Philip remained in the Royal Navy until July 1951. He retired with the rank of Commander.
Royal succession — and surname
In January 1952, he and the Queen began a tour of the Commonwealth countries. They were in Kenya when news reached them that the Queen's father, George VI, died on February 6 that year.
Although she became Queen immediately upon her father's death, her coronation took place in 1953, as it had to be planned meticulously.
On Coronation Day, he knelt before her, clasped her hands and swore an oath of allegiance to her:
He also had to touch her crown and kiss her on the cheek.
He never had a constitutional role, nor was he ever formally given the title of Royal Consort. The courtiers did not like him, nor did they trust him. They believed his personality to be brash and unbecoming of the Royal household. They shut him out of as much decision making as possible.
When Elizabeth became Queen, the question about her family name arose. Prince Philip suggested that the Royal Family be known as the House of Edinburgh. Upon discovering that suggestion, Queen Mary, Elizabeth's grandmother, wrote to Prime Minister Winston Churchill, who advised the young monarch to issue a royal proclamation saying that the Royal Family would continue to be known as the House of Windsor.
In his inimitable style, Prince Philip complained privately:
I am nothing but a bloody amoeba. I am the only man in the country not allowed to give his name to his own children. [57]
The Queen did nothing until eight years later, in 1960, 11 days before she gave birth to Prince Andrew. She issued an Order in Council declaring that the surname of her and her husband's male-line descendants who are not styled as Royal Highness or titled as prince or princess would be Mountbatten-Windsor.
Pater familias
Prince Philip had to carve a role out for himself. He became the pater familias and, through the years, his role expanded to cover not only his four children but his grandchildren. He listened to their concerns, shared their joys and gave them advice. He knew everything that went on in their lives.
Although the public knew him for speaking as he saw — rather bluntly, on occasion — behind closed doors Prince Philip was known to be a warm, loving man.
He also favoured a more transparent Royal Family. According to the BBC, it was he who encouraged the Queen to make a multi-episode documentary on their daily lives, including those of their four children. It was broadcast in the late 1960s. I remember seeing it in the United States.
When Princess Diana died on August 31, 1997, Prince Philip was the one who kept an eye on the public mood that fateful week. He, the Queen and Princes William and Harry were at Balmoral in Scotland for their summer holiday. When the young princes wanted to attend church, their grandparents took them to the Sunday service on the day of their mother's death. Later in the week, it was Prince Philip who encouraged the boys to walk behind the funeral procession the following Saturday. He said:
If you don't walk, I think you'll regret it later. If I walk, will you walk with me? [93]
One cannot imagine what he thought of Prince Harry's departure for the United States to live a life separate from his closely knit family. I did read that the Royal Family shielded information about the Oprah interview from him.
John F Kennedy's funeral
Prince Philip was in Washington for John F Kennedy's funeral in 1963.
He had a friendly encounter with John Jr, who was still a toddler and known as John-John at the time. The child wondered where his father was, as he had no one with whom to play. The Prince stepped in to fill that gap. In 1965, the British government gave an acre of land at Runnymede to the United States for use as a memorial to JFK:
Funeral arrangements
Prince Philip was self-effacing and did not like a fuss to be made over him.
Therefore, the funeral arrangements will respect his wishes, which is rather convenient, as coronavirus restrictions are still in place. Up to 30 people will be allowed at his funeral, in line with legislation across the nation:
The funeral is scheduled to take place on Saturday, April 17:
It is interesting that Prince Harry will be able to attend when we have a 10-day quarantine in place for arrivals into the UK under coronavirus regulations.
The Sunday Mirror reported on Prince Harry's return to the UK:
He could also be released from quarantine if he gets a negative private test on day five, under the Test to Release scheme.
Given his status as a member of the Royal Family travelling to support the Queen, Harry might be considered exempt from travel restrictions.
Wow. It's nice to know we have a two-tiered quarantine system in place /sarc.
A championship boxer remembers the Prince
Former WBC Heavyweight Champion Frank Bruno MBE posted his memories of meeting Prince Philip. He is at the top left in the following photo:
An Anglican priest remembers the Prince
The Revd Peter Mullen, an Anglican priest, recalled his encounters with Prince Philip for Conservative Woman on April 10 in 'A personal recollection'.
He first met the Prince during his schooldays:
The first time I met the Prince was in connection with his Duke of Edinburgh's Award Scheme which gave a leg up to youngsters from what would now be called the less privileged parts of the country. He paid a visit to the Leeds branch of the Church Lads' Brigade of which, aged fourteen, I was a member. We were in the church hall making things. My task was to make a table lamp. I was hopeless at it.
The Duke got hold of my half-finished creation, held it up to one eye and said, 'I suppose this hole is where the flex goes?'
'I think so, Sir.'
'You think so? I was never any good at this sort of thing either!'
And he was off . . . 
As an adult, Mullen met him on more than one occasion thanks to the Honourable Company of Air Pilots. The Prince was its Grand Master. Mullen served as chaplain.
He recalls:
The Company gave a lunch for him to mark his 80th birthday and I recall how jovial he was, making light of his years: 'I believe I have lasted so long because you people are always toasting my good health, but I don't want to live to be a hundred. Things are dropping off already!'
At another luncheon one of our Liverymen who had his own port wine business presented the prince with Bottle Number One, the first fruits, so to speak. As he left, the duke handed the bottle to me: 'You have this, Peter. Our house floats on the bloody stuff.'
'Well, Sir, now I don't know whether to drink it or frame it.'
'Gerrit down ya neck!'
Prince Philip on MPs
Guido Fawkes came up with a good quote from one of the Prince's trips to Ghana. It concerns MPs. His Ghanaian hosts told him the country had 200 MPs. Prince Philip replied:
That's about the right number. We have 650 and most of them are a complete bloody waste of time.
Incidentally, Parliament will be recalled one day early from Easter recess. On Monday, April 12, MPs and Lords paid tribute to the Prince in their respective Houses:
That afternoon, the House of Commons reconvened to pay their tribute — from 2:30 p.m. until 10 p.m. (good grief).
Speaker Sir Lindsay Hoyle spoke first:
Prime Minister Boris Johnson had this to say:
Boris Johnson, who was invited to the funeral but declined so that another member of the Royal Family can attend, said that he would forego a pint when pub gardens reopen on April 12, out of respect for the Prince. Guido Fawkes, however, thinks that the Duke of Edinburgh would have wanted us to toast his memory, especially at a pub that bears his title in Brixton, south London:
Guido had a second tweet on the subject with another quote from the Prince:
Agreed.
Prince Philip on Australia
This is too funny. For those who are unaware, Australia was established as a place where Britain could send convicts. That was a long time ago, but the nation's original purpose was to serve as a prison: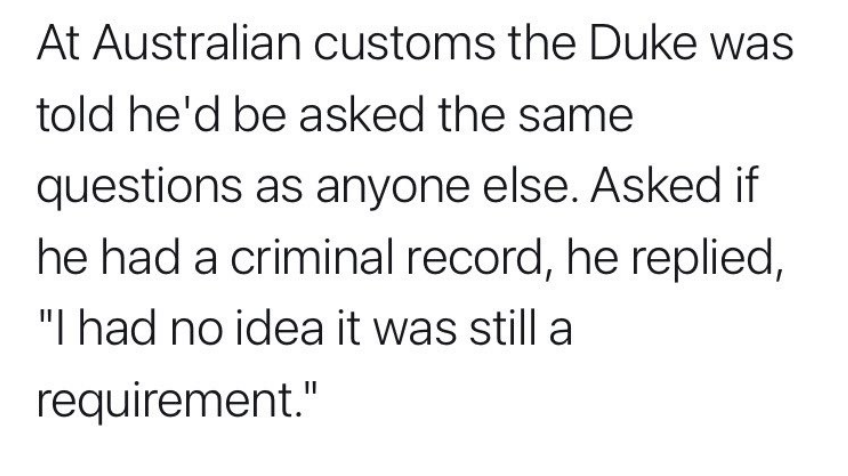 Prince Philip on civil liberties
On a serious note, the 12-minute interview below from 1984 is well worth watching, especially in the coronavirus era.
Prince Philip firmly supported the rights of the individual and believed that the state should serve the individual, not, as in our times, the other way around.
This is from a Thames Television programme originally broadcast on ITV:
I have posted the video below in case the tweets are deleted:
The Prince also said that certain subjects are out of bounds, such as the media and the NHS.
He said that the media are incapable of taking a joke about themselves and, as for the NHS, well, one cannot say anything against it. He didn't necessarily dislike the NHS but thought it was held in too high a regard. Nothing is perfect in this world.
We have been travelling a long road towards the point where we are at present: ruled by the media (they clamoured for coronavirus restrictions) and worship of the NHS. This is how Health Secretary Matt Hancock, Prime Minister Boris Johnson and SAGE have been able to rule our lives. It's been at least 40 years in the making.
BBC coverage on Friday
I was watching BBC Parliament early Friday afternoon, around 1:15, when the programme was interrupted by a broadcast from the BBC News Channel.
I checked the schedule an hour later, which said that the programme would last until 4 p.m. It was still going when I was preparing dinner at 5 p.m.
The final of MasterChef was to have been broadcast that night on BBC1. This was a clip from Thursday's programme:
Pictured are the hosts and judges, chef/restaurateur John Torode on the left and former greengrocer, now television presenter, Gregg Wallace on the right:
BUT:
The BBC News channel was simulcast all afternoon and all night long, not only on BBC Parliament but also on BBC1, to the dismay of MasterChef fans (myself included), and BBC2. BBC4 was suspended for the evening.
I read on social media that the BBC also broadcast continuous coverage of Prince Philip on their radio stations, including Radio 2, knocking out Steve Wright's drive-time show on Friday afternoon.
A friend of mine said that most of the BBC's employees were probably rubbing their hands with glee because it meant an early weekend for them. It's a cynical perspective that could well turn out to be true. We'll find out when someone writes his or her memoirs.
Everyone with a television set receives the BBC News channel. It comes into our homes at no extra charge. There was no need for the BBC to take over every channel for hours on end. By the way, if one had watched two hours of the Prince Philip coverage, as I did, one would have seen and heard everything in its entirety.
The BBC braced themselves for a plethora of complaints; they took the relevant page down on Sunday. Good. I am sure Prince Philip would have objected, too.
As much as I love the Queen, I hope they do not try this when her day comes. God willing, may it be long into the future.
Record-beating prince
Prince Philip established two records as consort to the Queen. He was the longest-serving royal consort in British history. He was also the longest-lived male member of the British royal family.
May he rest in eternal peace with his Maker.
May our gracious Lord grant the Queen, Defender of the Faith, His infinite peace and comfort in the months ahead. May He also bless the Royal Family during this difficult time.
My previous posts in this series covered Piers Morgan's pontifications and the new Hate Crime Bill in Scotland.
Today's post looks at the Sarah Everard vigil on Clapham Common on Saturday, March 13.
On March 3, 2021, 33-year-old Sarah Everard disappeared from the streets of south London while walking home from a friend's house. A week later a woman's remains were found in the eastern part of Kent. Because of the extraordinary nature of the case, the UK Government have since placed a D notice on coverage of the details which have emerged thus far.
The case moved women across the UK to express their grief.
Women were also angered when, last week, after Ms Everard was missing for six days, officers from London's Metropolitan Police advised women not to go out alone at night.
Interestingly, Mayor of London Sadiq Khan told a radio station that London's streets are not safe for women and girls:
The same advisory went out many years ago in England when Peter 'Yorkshire Ripper' Sutcliffe was on the prowl for his latest victim. Julie Bindel recalled her memories of that time in an article for The Spectator: 'Why are London police telling women to stay at home?'
Bindel wrote (emphases mine):
I moved to Leeds in 1979, during the hunt for serial killer Peter Sutcliffe. I was 17-years old and had been raised, as had most girls, being warned that our safety was our own responsibility. 'Don't go out alone at night', 'don't talk to strange men', 'cover your flesh if you don't want to get yourself raped'. Men were rarely told that they were to blame for the fact that we constantly looked over our shoulder whenever we were out alone in case a predator was looking to strike.
As a response to West Yorkshire police issuing what was effectively a curfew on women, feminists organised the first Reclaim the Night marches which occurred simultaneously across 12 English towns and cities, from Manchester to Soho.
Women on these marches carried placards reading 'No curfew on women — curfew on men' as they shouted about their anger at being kept off the streets — the supposedly public highways, after all — by the threat of male violence.
I recall feeling very angry at being told by police to 'stay indoors' and 'Do not go out at night unless absolutely necessary, and only if accompanied by a man you know.' Ironically, Sutcliffe himself gave the same advice to his sister.
Bindel provides other instances where police forces across England gave women the same advice.
She concludes:
Women should be able to go for a walk without fear or a male chaperone. We feel scared not because we are pathetic, weak creatures but because so many men target us. Feminism exists because women are sick and tired of being in danger in both the home and on the streets. They should be the ones to lose their freedom of movement, not us.
Perhaps Wales's First Minister Mark Drakeford read her article of March 10. Two days later he told the BBC's Charlie Stayt that he might consider a curfew on men in Wales:
Alternatively, perhaps Mark Drakeford saw Baroness Jones (Green) advocate such a measure the day before in the House of Lords:
Guido Fawkes saw a potential problem with that (emphasis in the original):
The Green Party also backs gender self-identification for all so Guido can already think of one loophole in Jenny's plan…
Some of Sarah Everard's friends had the idea of organising a vigil for her at Clapham Common, through which she walked on her way home on March 3. They decided to cancel it.
However, a vigil did take place there, at the bandstand, on Saturday, March 13. People could pay their respects and place flowers at the bandstand.
The Duchess of Cambridge went to pay her respects with a bouquet that afternoon.
As the sun set, what was a quiet day of reflection and grief turned into something else. Protesters gathered, as did the Metropolitan Police.
The BBC's Charlie Haynes tweeted:
Independent journalist Ahmed Kaballo tweeted his footage:
The London correspondent from the Washington Post was there and posted her footage:
Here is a photo:
Then police arrested a young woman. Reports say she is petite — 5'2″:
I am surprised that a woman of her small stature had to be held to the ground in order for an arrest to take place. Couldn't four policemen do that standing up?
Reports say she was later released, but the point still stands.
With coronavirus lockdown still in place, everyone who is everyone was at home. Those people saw it online or on the telly.
In the early hours of Sunday morning, March 14, the Met's Assistant Commissioner Helen Ball, who reports to Commissioner Cressida Dick — two women! — issued a statement, which says, in part:
"Around 6pm, more people began to gather close to the bandstand within the Common. Some started to make speeches from the bandstand. These speeches then attracted more people to gather closer together.
"At this point, officers on the ground were faced with a very difficult decision. Hundreds of people were packed tightly together, posing a very real risk of easily transmitting Covid-19.
"Police must act for people's safety, this is the only responsible thing to do. The pandemic is not over and gatherings of people from right across London and beyond, are still not safe.
"Those who gathered were spoken to by officers on a number of occasions and over an extended period of time. We repeatedly encouraged those who were there to comply with the law and leave. Regrettably, a small minority of people began chanting at officers, pushing and throwing items.
"After speaking with officers, the vast majority of people quickly left. Four arrests have been made for public order offences and for breaches of the Health Protection Regulations.
"Part of the reason I am speaking to you tonight is because we accept that the actions of our officers have been questioned.
"We absolutely did not want to be in a position where enforcement action was necessary. But we were placed in this position because of the overriding need to protect people's safety.
"Let me end by saying that across the Met, we review every single event that we police to see if there are lessons that can be learnt. This one will be no different."
The Sunday morning news shows were only hours away. Not surprisingly, this was a huge story.
The Safeguarding Minister (?!) told Sky's Sophie Ridge that the events were 'very upsetting':
The Victims' Commissioner told Ridge that police had made a bad situation worse:
The Met's Commissioner defended her men:
But the story and the emotion didn't go away. On Sunday, demonstrators gathered in Parliament Square to protest the Met's handling of the vigil.
Two other British cities held peaceful vigils. Birmingham's police worked well with organisers, as local MP Jess Phillips explained to the BBC. Glasgow held a quiet ribbon vigil. Elsewhere, such events took place online.
On Monday morning, Prime Minister Boris Johnson voiced his disapproval:
However, Boris voiced his support for Dame Cressida in her role (Guido Fawkes has the story and a video).
Guido Fawkes's cartoonist, Rich, posted his weekly cartoon:
The public, however, thought that the vigil should not have taken place, probably because of coronavirus restrictions:
A retired Metropolitan Police officer posed these questions:
On Monday afternoon in Parliament, Home Secretary Priti Patel gave a statement and paid tribute to Ms Everard:
"women and girls must feel safe while walking our streets", and cited the Domestic Abuse Bill which is going through the Lords this evening as the action the Government is continuing to take.
During the debate that followed, Sir Charles Walker said that what happened at the vigil was the fault of the overwhelming majority of MPs who voted for the Coronavirus Act 2020:
He said (emphases mine):
This House criminalised the freedom of protest. This House. Us. Not Dame Cressida. Not the Metropolitan Police. We did. We criminalised freedom to protest collectively. We are up to our eyeballs in this.
I couldn't agree more.
Walker wanted to amend the law that afternoon to allow protests again. That did not happen.
Tom Harwood, who writes for Guido Fawkes, asked whether police took advantage of a soft target:
Really difficult situations provoke a different response from the Met, such as last summer's protests. They walk away:
Incidentally, skin colour is irrelevant. Last autumn, the Met bought sandwiches for Extinction Rebellion who were occupying Smithfield Market.
On Monday night, Boris tweeted a statement about women's safety:
Even if the general public objected to the vigil, conservative and libertarian columnists took strong objection to the Met's handling of it as well as to the law against protests.
UnHerd posted 'The police have a woman problem'.
Conservative Woman featured 'Police at Sarah vigil were trying to enforce a rotten law'. They also posted 'I hate what is being done to my country'.
Spiked remembered the reason the vigil took place: 'This is not what Sarah would have wanted'.
The Leader of the House of Commons, Jacob Rees-Mogg, said on Thursday, March 18, that the coronavirus laws will most likely stay in place until the end of June, when the furlough programme expires.
That said, they will be debated next week.
In conclusion, illiberal laws bring illiberal — and inconsistent — enforcement.
Yesterday's post covered Piers Morgan's polemics, which cost him his job last week.
In the latter half of last week, Scotland passed what appears to be a draconian Hate Crime Bill, the subject of today's post on censorship in Britain.
Thanks to BBC Parliament, I saw some of the debate in the Scottish Parliament in Holyrood a few weeks ago. I was grateful to the Scottish Conservatives who raised many questions about the scope and the reach of the then-proposed legislation.
On March 10, 2021, the day before MSPs passed the legislation, Lucy Hunter Blackburn wrote an excellent article for Holyrood: 'Chilling effect: how the Hate Crime Bill threatens free speech'.
Excerpts follow, emphases mine.
The article begins with the wide ranging opposition the bill had received:
The bill has had an exceptionally difficult passage to date, prompting criticism from a range of organisations, including at various times the Faculty of Advocates, the Law Society, the BBC, the National Secular Society, the Catholic Church and a raft of writers and artists.
Much of the objection revolves around the precise definition of 'stirring up hatred' in Part 2 of the bill, particularly with the trans movement being active in Scotland. In fact, the article has a photo of trans rights activists to illustrate the point:
In particular, significant concerns remain in relation to issues around sex and gender identity, and the risk of furthering chilling effects in an area of debate that people are already afraid to enter.
The Scottish Government and some commentators have downplayed such worries, insisting that people will not be criminalised for making basic statements about the nature of sex and gender identity, in ordinary language.
A leading lawyer tweeted: "in my opinion of the bill (if enacted) it will not be criminal to criticise the government. Nor will it be criminal to say there are only two genders. Neither involves stirring up hate, or is threatening or abusive."
But the risks here are more subtle. And not for the first time, subtle risks are not being dealt with well in the process of making law, and seem to be least apparent to those least expecting to be affected.
The article looks at the language used in Part 2 of the legislation:
The bill as amended at Stage 2 requires that behaviour must be judged "abusive or threatening" by a "reasonable" person, and "intended to stir up hatred". None of these terms are further defined.
MSPs have taken the view that the meaning of all these words will be obvious, and they will "set a high bar".
Yet this overlooks the mass of evidence presented over the course of the passage of the bill that demonstrates what is hateful, abusive, and reasonable is substantially contested in the context of discussing sex and gender identity.
Even before this legislation was passed, women in Scotland were in danger of losing their jobs for expressing their opinions on the subject of sexual identity:
… women have already lost their jobs, and had their details recorded on police databases for asserting that sex matters.
This is probably how the legislation would work in practice:
In practice, a person will only have to find a police officer willing to entertain the idea that particular statements are intended to "abusive", to trigger an investigation into whether a group or individual intended to stir up hatred.
What might an investigation entail? Organisations representing journalists giving evidence to the committee spoke about the serious professional and personal disruption of having laptops and phones seized, for unknown periods.
It would be likely to mean police interviews. It would be a non-trivial experience, even if charges were not pursued. This [is] broadly what happened to veteran feminist politician Lidia Falcon in Spain, before the authorities decided she had no hateful intent.
Before contemplating the possibility of going to court, let alone the likelihood of receiving a conviction, the sole barrier to a large disruptive criminal justice system intervention in a person's life is, therefore, the application by the police of the "reasonable person" test of being "abusive".
Guessing how that might be applied if or when someone complains will now hang over people. How it is actually applied will be the difference between ordinary life and sudden, substantial disruption to that.
Earlier this year, MSPs attempted to bring in amendments to the Bill that would have protected freedom of speech, but the backlash outside of Holyrood was too great:
Following a social media backlash and accusations of transphobia, opposition MSPs and the Cabinet Secretary for Justice hastily withdrew all these amendments, and agreed to take a 'collaborative' approach to discussing a generic wording for a Stage 3 amendment on freedom of expression instead.
The justice secretary apologised for any hurt caused by singling out particular characteristics. The convener of the justice committee, Adam Tomkins, stated that he was "'alarmed and distressed and perhaps even, if I'm honest, a little afraid" by how this had played out.
In committee, the justice secretary refused to state that there are only two sexes.
More recently, Labour MSP Johann Lamont unsuccessfully attempted to bring in another amendment with a list of words that would not be considered threatening:
This includes asserting that sex is a physical, binary characteristic that cannot be changed, that terms such as 'man' and 'woman' refer to the characteristic of sex, and that a person's sex may be relevant to their experience.
On 5 March, the Equality Network and Scottish Trans Alliance circulated a briefing to all MSPs, advising voting against this amendment, describing such statements as sending a message that that "trans people's rights are open season for attack".
The article concludes:
If the bill is passed in the form the government is seeking, while it will not make certain types of statements about sex and gender identity criminal in themselves, the freedom to do so without risking at least serious disruption to life will now rest wholly on what frontline police officers decide in practice a "reasonable person" might judge "abusive" here.
Given the evidence presented to the parliament, and the passage of the bill to date, that feels like a very thin blue line, making Scotland look an increasingly hostile place for anyone who believes it is ever important to have the freedom to see, name and discuss the relevance of sex.
Later that day — March 10 — The Scottish Sun posted an article: 'Hate Crime Bill: Humza Yousaf faces anger as law gives protection for "cross-dressers" but not women'.
Humza Yousaf is Scotland's justice secretary.
The article says, in part:
The Justice Secretary's controversial law introduces an offence of "stirring up hatred" against groups with "protected characteristics" of race, religion, disability, transgender identity, sexual orientation and age – punishable by up to seven years in jail …
But Labour MSP Johann Lamont – backed by a list of other MSPs – were angry that the Bill does not provide protection for women, but does for cross-dressers.
Tonight, Ms Lamont said that the Scottish Government recently confirmed that they hold no data on cross dressers being a target of hate crime – despite collecting data on the characteristic from 2009.
However, she pointed out that women, goths, and homeless people are not covered by the Bill – despite plenty of evidence they have been targeted for serious offending. 
Ms Lamont told the Scottish Parliament: "The Cabinet secretary has talked about 'a man who is not a trans woman but wears a dress for a drag performance'. 
"The Equality Network has brought up the example of a man dressing up for a night out at the Rocky Horror Show, and also of men who cross dress for what they term 'emotional need'. 
"When women are would be likely to be recognised as cross dressers is obviously much less clear. 
"Why do we believe occasional hatred to crossdressers should be covered in this bill, but not hatred towards all the other groups I have mentioned, but most especially women."
In response, Mr Yousaf said: "In my view these amendments would limit the protections in the Bill and remove protections already provided within the existing definition of Transgender identity within the offence as aggravation by prejudice, Scotland Act 2009. 
"While ensuring existing protection is not lost which is a very important point indeed, people who cross dress are also included in the Bill because they experience hate crime." 
However, SNP and other MSPs rejected separate amendments that would have added sex to the protected characteristics, and also removed the protection for cross dressers from the Bill.
The move prompted outrage online with thousands of women posting the hashtag #iamthestorm in response to sex not being included.
One woman fumed: "Welcome to McGilead, a country so progressive that men on a stag do, wearing dresses, have more rights than actual women."
Another said: "Scotland, under the first female FM, has become a place where women discussing, challenging and debating issues regarding their sex is fast becoming a crime. They can't win the argument so they have made the argument a crime."
The pro-independence SNP lead Scotland's parliament. Nicola Sturgeon is First Minister.
Yet, not everyone in the SNP was on board with the law, including former deputy leader Jim Sillars:
Local and parliamentary elections will be taking place in May.
George Galloway, a Scot who moved back to his homeland from England to run for office, is part of the new political party, All(iance) 4 Unity, standing in direct opposition to the SNP, agreed with Jim Sillars:
The BBC reported that Scots are concerned about conversations they have in their own home:
Scottish Conservative MSPs Adam Tomkins and Liam Kerr have proposed amendments that they say will protect free speech in private – something the new law doesn't offer.
Their amendments are related to the so-called "dwelling defence" that already exists in relation to stirring up racial hatred.
Mr Tomkins – who is also convenor of Holyrood's justice committee – said his move to protect speech "wholly in private" is in line with the right to respect for privacy and a family life.
He told BBC Scotland: "I'm not seeking to insulate everything that happens in the home.
"But I am seeking to say there is a zone of privacy that is protected by European human rights law. We all have the right to respect for our private and family life.
"If something is happening wholly in private, with no public element at all, then it should be safeguarded from the Hate Crime Bill."
Mr Yousaf said: "If you are sitting round the dinner table having a debate about transgender identity and your view is that a man can't transition to a woman, that won't get you prosecuted.
"If your behaviour is found to be threatening or abusive by a reasonable person and it was intended to stir up hatred – and that can be proven beyond reasonable doubt – then you will be prosecuted."
The bill came up for final debate and successful vote on Thursday, March 11, having overrun from Wednesday. The debate can be viewed here.
Pete (Runrig) Wishart, an SNP MP in Westminster, seemed critical of the Conservatives, the only party opposing the legislation:
Would that other parties had opposed the bill:
The pro-independence site, Wings Over Scotland, strongly objected to the bill's passage. In 'The Wrecking Crew', the Rev Stuart Campbell, who founded the site, wrote:
For the last couple of years this site has been critical of the SNP's failure to make any sort of progress on independence. But this is far, far worse even than that. Because if they somehow miraculously achieved independence tomorrow, we'd be afraid to live in the Scotland they're creating.
Our country doesn't have a SINGLE political party remotely fit for government. Voters in May face a choice between the evil, the stupid, and the evil and stupid. And they can't even be angry about it, because even the politest anger is now a hate crime.
We wish we had a constructive course of action to suggest to you, folks. But we don't, because democracy has failed you. There is no way you can vote that will fix the ruins the SNP have made of Scotland. We cannot see a way forward. It is becoming nearly impossible to evade the conclusion that all is lost. Nicola Sturgeon has destroyed it.
The deputy editor of Country Squire magazine tweeted his objections to the bill:
Women are concerned that seeking the privacy of a ladies' restroom is under threat as a man who self-identifies as a woman will have more 'right' to use that facility than they:
Lily of St. Leonards posted on the ethical dilemmas in this legislation involving a potential confluence between a variety of hate categories. 'Humza's hate crimes' is well worth reading in full. On women, she says:
If I am taking off my clothes in the woman's changing area of a swimming pool and I see someone with male anatomy, am I allowed to politely ask them to leave? What if this person says, "I am a woman" and finds my attitude hateful, insulting and discriminatory? Will I be convicted of a hate crime in Scotland if I tell the person I don't believe it is possible for men to become women?
For female politicians on the left, however, the problem goes much deeper. Some have been the subject of truly hateful, obscene messages for not toeing the party line on sexual identity, as The Herald's Kevin McKenna pointed out on Sunday, March 14 in 'Hate Crime Bill: Do women's rights not matter to this authoritarian SNP?' He wrote:
The problem here though is that, judging by social media, the SNP has been hollowed out by a vociferous group of illiberal nasties who seem determined to view reasonably-expressed opinions – especially around gender – as evidence of hate speech.
A significant number of them also seem to derive pleasure from threatening women (never men), both online and in person. Joan McAlpine, the most prominent SNP critic of the Hate Crime proposals has had a target crudely drawn on her Twitter profile amidst explicit threats of sexual violence towards her. Other female members have left the party because their own complaints about similar treatment have been ignored by the leadership.
Joanna Cherry is an SNP MP at Westminster who has also been the subject of a vicious campaign:
I've previously been disobliging of several of Nicola Sturgeon's Labour predecessors but none would have scoured the floor of the swamp as she did a few weeks ago when she whistled up the bullies on the party's scarecrow wing before sacking Joanna Cherry from the front bench of her Westminster team.
Yesterday, at Edinburgh sheriff court a man pled guilty to sending Ms Cherry messages that were grossly offensive, menacing and included threats of sexual violence. The messages were sent days after the First Minister's intervention.
Ms Cherry says that allegations of transphobia made against her from within her own party "put a target on her back".
This week Ms Cherry was the only Scot named on a list of the 100 most inspirational women at Westminster. In the SNP, though, she is considered a pariah and has endured a two-year campaign of intimidation and bullying. This is a party where strong, talented women of independent minds are considered a threat rather than an asset. Its failure to make sex a protected characteristic in their Hate Crime Bill is the final proof – if any were still required – that the SNP does not take women's safety and wellbeing seriously.
Joanna Cherry has also been a QC (Queen's Counsel) since 2009:
Regular readers of McKenna's columns point out that his critical article could mark a turning point for the SNP:
Jamie Blackett, the leader of the new All for Unity (Alliance4Unity) party of which George Galloway is a member, says that this legislation creates a dangerous precedent:
As Lily of St Leonards notes in her aforementioned post:
Nothing should limit my right to write freely about any topic including even if other people find that writing hateful and insulting. Letting their perception of hatred limit my ability to write and speak freely means there is a special group of people living in Scotland who can in theory control what the rest of us say write and do. But it is mere prejudice that elevates these people above everyone else and it is disgraceful that the Scottish Parliament has in effect created a form of reverse Apartheid in Scotland.
This also means that teasing — called 'flyting' in Scotland — is out, as Iain Macwhirter pointed out in 'So what will independence be if SNP no longer protect freedom of speech?' for The Herald:
The abuse is, of course, an ironic form of affection, of bonding – a demonstration that your relationship is so strong that you can playfully abuse each other. But it's something that is almost impossible to explain in the age of social media and the tyranny of the literal. And with the SNP's Hate Crime Bill now passed into law, flyting is finally grounded.
He points out that hate crimes have already been covered under legislation for 11 years:
threatening and abusive behaviour is already illegal, not least under the 2010 Criminal Justice Act. Incitement to racial hatred is also illegal.
Existing legislation means that even a passer-by could notify the police:
You don't even have to be a "victim" yourself. Anyone who overhears something offensive can report a hate incident and the police will be required by law to record it. This will rarely lead to actual prosecution, but it carries a punishment nevertheless. The mere recording of a hate incident will hang around the neck of whoever is accused of it, and could be dredged up when they apply for jobs involving childcare or race relations.
It looks as if the only recourse will be the courts. Such an action has worked before:
Most ordinary SNP members are mystified as to why the Hate Crime Bill ever saw the light of day. It threatens to be even more perverse and indiscriminate than the Scottish Government's Offensive Behaviour at Football Act, which criminalised football supporters and had to be repealed in 2018. It is arguably worse than the named persons scheme, which sought to install a state guardian for every child, and was struck down by the UK Supreme Court because it infringed the European Convention on Human Rights.
All for Unity pledge to repeal the new legislation if they win a majority in May:
As Spiked noted:
Scotland is in serious trouble of becoming the land of the unfree.
Indeed.
It will be interesting to see how this plays out between now and May's local elections.
Retired Supreme Court Justice Lord Sumption has been a doughty opponent of lockdown since last year.
He has given many interviews during that time.
His most recent one was to Freddie Sayers of UnHerd, an excellent site which explores the world of ideas, history and current affairs.
I found out about Lord Sumption's interview via Guido Fawkes. On Friday, March 5, Guido posted an article about it as well as an ONS (Office for National Statistics) survey about over-80s breaking lockdown rules:
Guido's post says (emphases in the original):
Buried in the latest ONS data dump of Covid research is a remarkable – if logical – statistic. Just 33% of over 80s have not met with anyone indoors since having their jab, with 43% admitting to meeting with people other than their carers or support bubble after receiving the first dose. After two jabs, this explicit rule-breaking rises to 48%. Despite the widespread rulebreaking, hospitalisation and death rates amongst the age group are tumbling…
Cheeky octogenarians are not alone – spritely 72-year-old Lord Sumption yesterday made a splash by telling UnHerd that "sometimes the most public-spirited thing that you can do with despotic laws like these is to ignore them" – even claiming that a quiet campaign of "civil disobedience" has already begun …
With regard to the vaccine, most in this age group support it enthusiastically, despite the fact that 41% of the survey's participants experienced side effects after the first dose. Here are more ONS findings on that subject (emphases mine):
Of those who had experienced side effects and were still awaiting their second dose of a vaccine, 63% said the side effects would not affect their decision to get the second dose, and 35% were more likely to get the second dose.
Around 19 out of 20 over 80s (96%) would be very or somewhat likely to encourage others to get a COVID-19 vaccination.
Also:
Of over 80s who had received at least one dose of a COVID-19 vaccine, 49% reported that they had met someone who they do not live with, outdoors, since receiving their vaccination; 54% had left home to go shopping, and 45% had left home to participate in outdoor leisure activities.
In contrast, one in five (20%) people who had received at least one dose of a vaccine reported that they had not left home for any reason since receiving their vaccination.
The survey findings add background to what Lord Sumption, 72, told Freddie Sayers of UnHerd.
The video is 51 minutes long and requires concentration:
Note his tie, which has a motif of American flags from the Colonial era with 'We the People' printed on it. He also sits with his arms crossed much of the time to hide a physical ailment.
It looks as if they met in his office. Sayers must have been thrilled to resume in-person interviews, as he has had to do them remotely over most of the past year.
Many of the comments beneath the video are from Britons disappointed that Lord Sumption implied that the vaccine will be the only way forward at this point in returning to a normal life. To be fair to him, he did describe it as 'a regrettable step' and that 'people should be prepared to trust each other', instead (31:00-31:14). Also:
I recognise that most of my fellow citizens want coercive measures.
Unfortunately, I agree with him. There is no way out right now. It is doubtful that the vaccine will be made mandatory by law, but most adults won't be able to resume much of their prior lives without it. Many employers and businesses will require proof of vaccination. This is likely to also be true for package holidays and international travel.
Lord Sumption talked about how we arrived at this point. He said that the public were afraid of this pandemic and wanted protection from the government. The government protected the public and helped to reinforce the fear factor in their coronavirus briefings and other public statements. Hence, civil liberties went out the window. He said that once those are gone, it is very difficult to regain them, particularly as government ministers enjoy their new roles in controlling the population.
UnHerd has an article with notable quotes from the interview.
On the dangers of public fear, Lord Sumption said:
John Stuart Mill regarded public sentiment and public fear as the principal threat to a liberal democracy. The tendency would be for it to influence policies in a way that whittles away the island within which we are entitled to control our lives to next to nothing. That's what he regarded as the big danger. It didn't happen in his own lifetime; it has happened in many countries in the 20th century, and it's happening in Britain now.
He pointed out that the civil liberties we have taken for granted as being well established are, in fact, highly fragile. They can vanish at any time. To this end, he explained that democratic forms of government are but recent developments in the time line of history:
Democracy is inherently fragile. We have an idea that it's a very robust system. But democracies have existed for about 150 years. In this country, I think you could say that they existed from the second half of the of the 19th century — they are not the norm. Democracies were regarded in ancient times as inherently self-destructive ways of government. Because, said Aristotle, democracies naturally turn themselves into tyranny. Because the populace will always be a sucker for a demagogue who will turn himself into an absolute ruler…
Now, it is quite remarkable that Aristotle's gloomy predictions about the fate of democracies have been falsified by the experience of the West ever since the beginning of democracy. And I think one needs to ask why that is. In my view, the reason is this: Aristotle was basically right about the tendencies, but we have managed to avoid it by a shared political culture of restraint. And this culture of restraint, which because it depends on the collective mentality of our societies, is extremely fragile, quite easy to destroy and extremely difficult to recreate.
Allow me to add that this is why America's Founding Fathers established a republic, not a democracy. They feared eventual despotism. The establishment of the Electoral College was also intended to be a safeguard against demagoguery.
Freddie Sayers asked Lord Sumption how we got to the point where we consented to the government taking away our civil liberties when they had been held sacrosanct for so long.
Lord Sumption said that our stability as a society and as a nation relies on the support most citizens have towards national institutions. Once a large enough percentage of people begin to question those, everything is gradually thrown into doubt. Socio-political fissures develop and something or someone comes in to replace what citizens as a whole once respected and valued.
Sayers asked him how he became so outspoken on the government's coronavirus policies. He replied that no one else was stepping up to do so, therefore, he decided to speak up:
I would very much have preferred the kind of points that I have been consistently making for the last year to have been made by just about anybody else. Those colleagues or former colleagues who disapprove of what I've been doing have got a perfectly good point. But there are some issues which are so central to the dilemmas of our time, which are so important, where I think that you have to be prepared to stand up and be counted.
He reiterated his awareness that he is in a minority, however, that small minority from last year is now becoming a 'significant' minority.
He thinks the Coronavirus Act 2020 is an example of bad law. As such, he does not feel any moral obligation to obey it and advises each of us to do as we think best as individuals:
I feel sad that we have the kind of laws which public-spirited people may need to break. I have always taken a line on this, which is probably different from that of most of my former colleagues. I do not believe that there is a moral obligation to obey the law… You have to have a high degree of respect, both for the object that the law is trying to achieve, and for the way that it's been achieved. Some laws invite breach. I think this is one of them.
Politically, Lord Sumption describes himself as a 'small-l Liberal', which is classical liberalism — free market economy and small government — rather than what Americans define as 'liberal', meaning left-wing.  He served as a Justice of the Supreme Court under David Cameron's and Theresa May's Conservative governments.
He had this advice for Boris Johnson's government:
My first proposal is that governments should not treat information as a tool for manipulating public behaviour. They should be calmer than the majority of their citizens; they should be completely objective. My second lesson would be that governments dealing with scientific issues should not allow themselves to be influenced by a single caucus of scientists. They should always test what they are being told in a way that, for instance, judges test expert opinion by producing a counter expert, and working out which set of views stacks up best.
In other words, the government should stop ginning up fear and listen to scientists other than those on SAGE.
In closing, while watching the video and based on nothing at all, I had a recurring thought that Lord Sumption is an opera lover.
Afterwards, I looked up his Wikipedia entry. Amazingly, I found this:
An opera lover, he serves as a director of the English National Opera and as a governor of the Royal Academy of Music.[46]
I do wish Boris and Co. would meet with Lord Sumption, listen carefully to what he has to say, then act on his advice.
In closing, curtailment of civil liberties can extend to protests. There are the correct kind of protests, such as those in June 2020. Then there are the wrong type of protests.
This one was obviously in the latter category, because the organiser received a £10,000 fine:
Currently, the only places in the UK where a group of people can gather to discuss anything outside the home are the two Houses of Parliament.
An MP pointed that out last week.
As he said, that is wrong on so many levels.
Shortly after Joe Biden's inauguration, Fox News posted two interesting videos.
The first was one I never thought I would see. In fact, I hadn't even imagined it.
Laura Ingraham managed to get an interview with Glenn Greenwald, formerly of The Intercept, which he co-founded. Not so long ago, the publication told him to take a hike. They did not like that he opposed 'their' editorial line. Greenwald, although hardly a conservative, questioned current leftist narratives.
Glenn Greenwald is not a fan of Donald Trump, but even he can see that Big Media have clearly overstepped their bounds.
Laura Ingraham begins the segment with three minutes of Inauguration Day coverage contrasting 2021's with 2017's. Even Greenwald says he could barely stomach it:
He said that the media react in three ways: a) basic whining, b) complaining that the public can see through media lies and c) downright censorship.
Greenwald said that the public's
lack of trust will continue to worsen, undoubtedly.
Ingraham asked about the militarisation of Washington, DC. Greenwald posited that the media had to create a story that invoked fear — domestic terrorism — because talking about Joe Biden would have been too dull.
Ultimately, he said that the media want the people to be subservient to the elites and that is why they are
spinning these stories.
He also said that the Democrats want to bring in a
new War on Terror bill.
It would deal with what is perceived to be domestic terrorism:
all designed to entrench powers in their hands that we would otherwise agree they should never have.
Too true.
Tucker Carlson also discussed this on his show around the same time:
Glenn Greenwald said that Adam Schiff (D-California) has been trying to bring in a domestic terrorist threat bill since 2019.
Tucker Carlson introduced another Democrat legislator with the same intent in mind. His name is Rep. Brad Schneider (D-Illinois). No one outside of his constituency or state has ever heard of Brad Schneider. Tucker wonders who put Brad Schneider in charge of the First Amendment.
Tucker's video goes on with video clips of two other legislators who want to restrict the right to free speech and freedom of assembly, because Americans doing so — Americans with conservative values — are 'harming' other Americans.
Unbelievable.
Both videos are worth your time: 13 minutes in total.
Please watch and circulate.
Dems and their water carriers in the media do not have the Constitution in mind with these proposed laws.
Tucker, in particular, makes a valid and impassioned defence of the First Amendment. He read history at university, so he's not a 'media studies' kind of journalist.
America has always been the freest country in the world.
May the Great Republic always be so. May these censors and charlatans cease and desist from removing fundamental American rights from the people.
Yesterday's post introduced Neil Ferguson's interview with The Times, which the paper published on the evening of Christmas Day.
This was the biggest statement he made:
How Ferguson, he of the hopelessly outlandish — and false — predictions, could enter the fray on a worldwide pandemic using CCP methods beggars belief:
The other chilling statement made in the article was that lockdowns will be employed in future pandemics. That's because they worked so well, we had to have one long lockdown — under various guises — for the better part of nine months, not the promised two or three weeks:
Yet, Matt Hancock relies on what this man and SAGE members regurgitate every couple of weeks:
My prayer for 2021 is that divine providence shines a light on the evil that Ferguson, a NERVTAG member, SAGE and Matt Hancock have been perpetrating on the British people:
Thank heaven that Bosnia and Herzegovina ruled against an inhumane coronavirus programme. I hope that we do the same:
Someone also needs to have the guts to investigate Ferguson and the rest of them:
Let's look at The Times's article, which Science Editor Tom Whipple wrote: 'Professor Neil Ferguson: People don't agree with lockdown and try to undermine the scientists'.
Tom Whipple was absolutely gushing in his reporting, overlooking Ferguson's previous bogus predictions over the past 20 years of notional pandemics. Some of those predictions put a severe dent into British farming (emphases mine):
He moved from Oxford to Imperial as part of the country's leading infectious disease modelling group. They modelled the 2001 foot and mouth outbreak, as well as the 2009 swine flu outbreak, in which at one point, before better data came in, they estimated a "reasonable worst case scenario" of 65,000 deaths.
When he returned to advise the government once again, this projection, two orders of magnitude above the real total, was cited by his critics. So too was foot and mouth, where the cull of millions of cattle and sheep, partly on the basis of predictions about the disease, still causes deep bitterness among farmers.
Whipple at least calls lockdown 'a medieval intervention'. However, I would posit that, even in the Middle Ages, there were policies of sequestering the vulnerable and quarantining the sick, leaving the rest to work. People needed food and goods. Anyway, Ferguson describes how he embraced the CCP policy of overall lockdown:
In January, members of Sage, the government's scientific advisory group, had watched as China enacted this innovative intervention in pandemic control that was also a medieval intervention. "They claimed to have flattened the curve. I was sceptical at first. I thought it was a massive cover-up by the Chinese. But as the data accrued it became clear it was an effective policy."
Then, as infections seeded across the world, springing up like angry boils on the map, Sage debated whether, nevertheless, it would be effective here. "It's a communist one party state, we said. We couldn't get away with it in Europe, we thought." In February one of those boils raged just below the Alps. "And then Italy did it. And we realised we could."
Whipple gushed:
That realisation was a fulcrum in British history, and in the life of Professor Ferguson.
That 'fulcrum' meant poor health and/or imminent penury for millions of the rest of us.
This was Ferguson's outrageously erroneous prediction that prompted Britain's continuing lockdowns:
a quarter of a million Britons would die. If we wanted to stop that, he also projected, it would require extreme social distancing measures until a vaccine arrived.
Whipple's next sentence reads:
That was when he went from unknown epidemiologist to academic superstar.
That is incredibly disingenuous. Millions of Britons knew who he was from his previous predictions. Our celebrity astrologer Mystic Meg could have done better by staring into her crystal ball. She would not have advocated lockdown or masks, either.
Ferguson expressed his surprise that people would criticise him:
"It's bizarre," he says. "Particularly given that I've never been a public servant. We volunteer for scientific committees, we don't get paid anything." He says he has not read most of the coverage, but can't help hearing some of the criticism.
"Where it's been disappointing is if people start out from a viewpoint that they don't agree with lockdown, then try to undermine the science and scientists behind it. That hasn't been a pleasant experience."
Those statements puzzle me greatly.
His own track record speaks for itself, yet, his and SAGE's policies have been ruling all our lives for the better part of a year. He doesn't think people should criticise him because they are losing their livelihoods? Pure bunkum.
Whipple then goes into the assignation that Ferguson and his married mistress had during the springtime lockdown. The rest of us were holed up in our homes and she travelled across London for an afternoon's pleasure. My account of it is below. The title expressed my hope that this charlatan would be exposed and that we would be liberated. Alas, no:
Prof Neil Ferguson resigns: will coronavirus lockdown start ending in the UK now? (May 5)
Ferguson told Whipple that he had expected some sort of mercy, at least to be ignored. Why, oh why, did the media start digging into his private life? Oh, woe:
"I made some mistakes. I've been completely open in terms of saying they were mistakes. But, nevertheless, the fact that journalists were digging into my private life at that level of detail was not something I could ever imagine. That's not something you want to be on the end of.
"My wife and son and my partner had journalists on the doorstep. I was actually in my flat in London, they didn't know where I was. It was a very difficult time." He and Sir Patrick Vallance, the present chief scientific adviser, agreed he should step back from Sage work.
Unfortunately, NERVTAG — New and Emerging Respiratory Virus Threats Advisory Group — allowed him to stay, hence, his continuing participation in these illiberal restrictions upon our lives.
Returning to lockdown, this is a curious statement:
These days, lockdown feels inevitable. It was, he reminds me, anything but. "If China had not done it," he says, "the year would have been very different."
Yes, it would have gone on as normal, with Rishi Sunak's fantastic budget putting an end to austerity and giving us a better economy and hope for our post-Brexit transition future.
This month, the new variant — B.1.1.7, or B117, as it often appears — has caused more panic. Ferguson and his ilk have determined it is more infectious. However, it might also be less damaging to COVID-17 patients in hospital:
Nevertheless, Ferguson now wants even harsher measures:
he strongly implies that schools will have to shut in January, and even then the virus might evade lockdown.
Goodness knows what 'the virus might evade lockdown' might mean for Britons.
Whipple actually believes that Ferguson is some sort of scientific saviour. Good grief:
This is, I say, petrifying. It is also extremely interesting. Nowadays, it is orthodoxy that lockdown was right. In the next pandemic, we won't hesitate to use it. But as this new variant shows, lockdown does not always work.
However, it also seems as if our first lockdown, sold to us as 'flattening the sombrero', to borrow Boris Johnson's term, was done so on a false premise:
It was never guaranteed that lockdown would crush the curve. He is all too aware of this. "During late March, early April, we kept looking at the data as it came in. Was there any sign of hospital admissions and deaths hitting a peak? It was a very, very anxious time." We now know that when we got it to its lowest, R, the reproduction rate of the virus, hit 0.6. Lockdown worked. If the professor's modelling of the new variant is correct, it won't be so easy to control. In the same circumstances it could have a rate just over 1 and the pandemic would not have retreated.
Ferguson says to his critics:
It's clearly unfortunate that a minority of people almost don't like the idea that you can just have random bad things happen in the world, and want to attribute it to some malign plan.
Ferguson and his family are largely unscathed from the policies he helped to develop.
Two other sites that reported on this interview had pertinent insights.
NewsWars noted:
In the Christmas interview, the epidemiologist admitted "there is an enormous cost associated with" lockdowns, specifically the erosion of civil liberties.
However, thanks to the Chinese Communist Party's authoritarian measures, he said, "people's sense of what is possible in terms of control changed."
And how! A year ago, who could have imagined that the CCP would be indirectly controlling our health policy?
At UnHerd, Freddie Sayers wrote similarly (italics in the original):
He almost seems at pains to emphasise the Chinese derivation of the lockdown concept, returning to it later in the interview:
"These days, lockdown feels inevitable. It was, he reminds me, anything but. "If China had not done it," he says, "the year would have been very different.""
To those people who, still now, object to lockdowns on civil liberties principles, this will be a chilling reminder of the centrality of the authoritarian Chinese model in influencing global policy in this historic year.
Let us look at what Laura Perrins, ex-barrister and co-editor of Conservative Woman, a haven of common sense, has to say about said policies. Let's start with testing of schoolchildren, something likely to come in January, along with the current hue and cry to close schools again:
The Government, advised by SAGE, NERVTAG and other quangos — quasi-NGOs — have lied and lied and lied this year, culminating with Christmas:
In conclusion:
I could not agree more.
Pray that this scourge leaves us and other Western countries in 2021.
Freedom is never free.
Happy New Year.
As we approach 2021, a growing number of Europeans are sceptical about our governments' respective responses to coronavirus.
My guess is that people are becoming suspicious about the loss of their civil liberties, which was only supposed to last for two to three weeks, yet continues to this day — nine months on.
There is no end in sight as we face the possibility of another sharp, nationwide lockdown early in the New Year.
France
This was a major topic of discussion on RMC's Les Grandes Gueules today.
Vaccinations have reached saturation point in France, even though the programme has barely started. Perhaps the government was too slow in obtaining more doses at the outset:
Regardless, in France, as well as everywhere else, even the vaccinated will need to continue to wear masks — possibly even after their second BioNtech/Pfizer jab:
Of course, mass vaccination is the only way that a nation's economy can once again flourish. Recall that for most age groups — up to the 70+ cohort — the average death rate is around 0.05%:
In the meantime, the question arose over whether future lockdowns should be national or regional. (We've tried both recently in England and Wales. It doesn't seem to make much difference.) This educator says that we can't stay locked down for the next ten years — 'I'm horrified. We're in a world of madness":
The lawyer on the panel disagreed, saying that we need lockdowns until we get the all clear. Someone responded to the tweet casting doubt on government statistics, saying that lies are a way of dramatising the situation — Project Fear:
Listeners rang in to say that they were sceptical about lockdowns and mandatory vaccines. The lockdowns don't seem to work and there aren't enough data yet to show that the vaccines are reliable and safe, especially if they operate like the flu vaccine, meaning that one is still susceptible to getting coronavirus, albeit a milder form of it.
Spain
The Spanish government is considering whether to develop a list of residents who do not take the vaccine then circulate those names to other countries to restrict their movements.
British talk show host Maajid Nawaz of LBC warned that this is a very dangerous step for a nation to take. He said that, years ago, he was a prisoner of conscience in Egypt and found out how far the state can go in controlling one's life. The response to his video is quite telling:
Someone else replying said that Spain would not be able to circulate the list because of personal privacy laws under the Europe-wide GDPR regulations. Hmm, I wonder:
England
Maajid Nawaz had another excellent commentary on the futility of lockdowns. He said that only one person in the UK has put together a cost benefit analysis for public consumption and that only the Times has published it. Apparently, 500,000 lives are adversely affected among the general population and they are not COVID-19 'cases' or inpatients. He added that Government ministers have a lot of data they refuse to reveal to the public. I would go further and say they are not even revealing it to MPs. Matt Hancock lets nothing out in Parliament, only more fear-mongering messages, then expects MPs to approve more restrictions:
Simon Dolan, a businessman who has sued the Government over lockdown, points out that lockdown relies on asymptomatic transmission being true. However, yet another study shows that there is no truth behind asymptomatic transmission:
The latest study, which the JAMA published, focusses on household transmission:
On lockdown, Simon Dolan posits:
Yes, most probably.
But what about the lorry drivers stranded at Dover because Emmanuel Macron didn't want them coming into Calais unless they were tested? Only a tiny number tested positive:
It's no wonder people are sceptical.
In closing, I have been waiting for an ecological impact assessment on masks. Here it is:
Does anyone else find it odd that, given the alarm over coronavirus, no country has any HAZMAT bins for used masks? Shouldn't worn masks be considered hazardous waste?
It makes one wonder …
More to come.