You are currently browsing the tag archive for the 'climate change' tag.
On Friday, January 7, 2022, Nigel Farage wrote an editorial for The Telegraph: 'A revolt on the Right is brewing — and I'm ready to be part of it'.
Boris Johnson should be afraid, very afraid.
Nigel Farage's hour-long shows on GB News, broadcast every Monday through Thursday have examined every failing from Boris's Government. His audience ratings are excellent and I know people who will schedule their time in order to be able to watch it.
Farage is currently president of the Reform Party, which used to be the Brexit Party and, prior to that, UKIP. Businessman Richard Tice is the public face of the Reform Party.
This constant renaming is all a bit tiring, yet necessary.
In his editorial, Farage describes past general election campaigns and says that former Labour supporters have been voting either for his party or, most recently in 2019, for the Conservatives, therefore:
Once the generational link with the Labour Party was broken, switching became easy.
He then goes into a litany of Boris's failings, which, despite what No. 10 thinks, are important to a sizeable number of people who voted Conservative in 2019, especially those in Red Wall constituencies that Labour lost that year (emphases mine):
People lent their vote to Johnson in 2019 to break the Brexit logjam and to take back control of our borders because the immigration issue still matters to them. Yet just two years on, the volume of illegal Channel crossings has enraged these voters. The North East now houses 17 times as many asylum seekers as the South East, according to the Migration Observatory. The impact of this is plain for all to see. As the council house waiting list lengthens, there is a growing feeling that Johnson told voters what they wanted to hear about "taking back control" without really meaning it.

Such perceptions are electorally disastrous for any prime minister. Yet there is potentially an even bigger problem on the horizon. This year's massively increased gas and electricity bills are going to cause an enormous shock. Worse still, these large bills will coincide with tax rises. If Richard Tice can get the message through that 25 per cent of people's electricity bills is spent on green subsidies – and that the 5 per cent VAT energy rate has, despite promises, not been removed – then Reform UK will have its big chance.
The revolt on the Right ended the premierships of David Cameron and Theresa May. I founded Reform UK out of the Brexit Party, which had done its job successfully. For now, I am the party's president in a non-executive role, but I intend to increase the help that I'm giving to Richard Tice. Brexit has not been completed properly. The net zero strategy is placing our nation at a significant disadvantage. And the Channel crossings are humiliating Britain. 
I understand the disillusionment of Red Wall voters who thought Brexit would usher in a new politics. This has not happened. It's just more of the same – a metropolitan Tory chumocracy totally detached from the rest of the country. If Johnson wakes up to this, he can still save himself. I suspect, however, that the revolt on the right will cause another prime ministerial casualty.
Despite the old-style Conservative 'chumocracy', many of the Red Wall Conservative MPs are cut from different cloth. Most of them grew up in humbler circumstances and feel conservative to the depths of their being. They are actively interested in their constituencies and their constituents.
That is something Conservative-voting defectors to Reform should consider.
I enjoy watching Nigel Farage. He always brings up some new fact of which I was unaware.
However, the Reform Party is a spoiler party. I will be furious if, when the next election comes, Reform start sapping votes from the Conservatives, thereby returning Red Wall seats to Labour.
I do wonder on what side of the fence Reform actually sits. They make legitimate points but they have no chance at all in winning a seat in Parliament.
The most we can hope for is that Farage gets under Boris's skin so much that he will actually start acting like the Conservative Prime Minister most of England elected.
When I left off on Wednesday, Prime Minister Boris Johnson said that day that there was no public appetite for a referendum on whether the UK government should continue with its goal of Net Zero:
I would not be too sure about that. There is a petition on the UK government site requesting such a referendum:
Guido Fawkes's accompanying post says (emphases in the original):
Despite Boris's attempts to resist calls for another referendum, a petition calling for the government to hold a vote on whether to keep the 2050 net zero target has today reached 10,000 signatures – meaning that the government must formally respond. If the petition hits 100,000 signatures it will have to be debated in Parliament, so Boris may have to reconsider his stance yet. Re-ordering our society to achieve net zero is a massive change; one that has not yet been democratically endorsed. Let the politicians who want us to eat bugs, have cold showers, lukewarm heat pumped houses, higher energy bills and far more expensive foreign holidays, make their case!
Writing early Friday afternoon, I saw that over 12,000 people have signed it. The map showing signatures by constituency is quite interesting. Nearly every constituency has signed up in lesser or greater numbers. Only Glasgow North East had 0 signatures.
The British are not the only ones who are upset about what they have seen on the news about COP26. On Thursday, I listened to a lively — heated — debate on RMC, France's talk radio station, about the blatant hypocrisy on the part of the elites with their private jets and limos who want to legislate us into serfdom when we already have high enough taxes and other things on our minds.
Returning to the UK, it seems to me that half the public are pretty incensed by what they have witnessed this week via television in Glasgow.
Boris Johnson
YouGov's latest poll, taken between November 3 and 4, have shown a drop in popularity for the Conservatives. They are now only one percentage point ahead of Labour. It wasn't too long ago that Labour overtook them for a week in the polls.
Guido Fawkes attributes this to the resignation of a Conservative MP yesterday for allegedly promoting a firm paying him as a consultant, but, like some of Guido's readers, I think it has less to do with Owen Paterson and more to do with COP26, which is the straw that could break the camel's back:
Guido's post says, in part:
The 2.5% swing sees Labour up two points to 35% and the Tories down three to 36%, the smallest Tory lead for The Times since Rishi's social care tax rise in September. 22% of 2019 Tory voters are now undecided about who to vote for…
How did Boris become such an unabashed climate change spokesman? Was it only because he was hosting COP26? Or are there influencers, such as his wife Carrie, not to mention his father Stanley?
On October 21, Conservative Home posted a profile of the elder Johnson, 81: 'A serious environmentalist who, as COP26 looms, has at last made a convert of his son'.
Andrew Gimson, the author, tells us of Stanley's early life, his interests and the jobs he had during his career.
Excerpts follow, emphases mine:
There is scarcely an endangered animal for which Johnson has not campaigned, a senior environmentalist with whom he has not made common cause, and his efforts have been recognised by prizes awarded by Greenpeace, the World Wildlife Fund, the RSPCA and the RSPB among others …
In February 2016, Johnson became Co-Chairman of Environmentalists for Europe, a group set up to campaign for Britain to remain in the EU, and set out his case in a piece for ConHome in which he recalled how poor Britain's environmental performance was before 1973 …
… the tone is serious. Johnson's record as a committed environmentalist stretches back half a century. In 2017 he switched sides and accepted Brexit, but the environmentalism remains a constant.
On television, Stanley displays a jokey joviality, a characteristic Boris has adopted.
Andrew Gimson concludes:
Various characteristics have come down from Stanley to his eldest son, including an indefatigable, at times almost unhinged optimism; a compulsion to make every joke suggested by any given situation; and a fondness for the mannerisms of a stage Englishman, occasionally hard to distinguish from those of a cashiered major.
What lies behind such persistent frivolity? What is each of them hiding? The angry but lazy answer is nothing, which is one reason why the Prime Minister's chances of success have been so persistently underestimated.
In Stanley's case, there is the serious, long-term commitment to the environment, and as COP26 comes into view, he finds he has made a convert of his son.
On Tuesday, November 2, Boris flew back to London for a dinner with Telegraph journalists at the Garrick in Pall Mall, London:
Guido says (emphasis in the original):
Instead of wasting his time schmoozing celebrity swampies in Glasgow with the Prince of Wales, Leonardo DiCaprio and Stella McCartney, Boris was instead at a far more important and influential event: a reunion dinner party for Telegraph leader writers at the Garrick.
It's not the dinner or the private club that is irksome, but the fact that Boris flew back from Glasgow whilst telling the rest of us that we will have to lower our own standard of living.
The Mail's veteran columnist Richard Littlejohn wrote about the sheer hypocrisy of it all (emphases mine):
For the record, I have no problem with a few like-minded chaps getting together for Chateaubriand washed down with Chateauneuf du Pape.
I don't even care if Boris takes a private plane back from an international summit.
It's the stinking hypocrisy that sticks in my craw, the 'Do as I say, not as I do' arrogance of all this.
I couldn't give a monkey's about the double-standards of Joe Biden, Jeff Bezos, or any other of the preening global junketeers who turned up in Glasgow this week.
But I am extremely concerned about the behaviour of our Prime Minister and his Cabinet, who increasingly behave as if the rules they impose upon on the rest of us don't apply to them.
Boris has spent the week warning about climate change apocalypse. In pursuit of his insane Net Zero vanity project, he proposes to make us colder and poorer, change our diets and cut back on travel, especially foreign holidays.
After banging on about aviation and vehicle emissions destroying the planet, does he really think taking a private plane and a thirsty Range Rover to a jolly-up at an exclusive London club is a proper way to behave?
What kind of example does that set? If catching the train back from Glasgow meant missing a dinner with Lord Snooty and his pals, so what?
Sadly, this pattern of behaviour has become the norm among our ruling elite, ever since Boris's ex-sidekick Dominic Cummings flouted the Covid lockdown by driving to Durham.
Ministers exempted themselves from the travel ban and the need to self-isolate. On the pretext of combating global warming, the Tories' Cop26 champion Alok Sharma flew to no fewer than 30 countries, never once quarantining on his return to Britain.
Next month, it'll be two years since we gave Boris a thumping 80-seat majority. It should have been the start of a national renaissance under a popular, self-proclaimed libertarian PM.
Admittedly, the pandemic changed everything. But that is no excuse for what has happened subsequently. I've been asking friends and family who voted Tory in 2019, some for the first time, if they can name a single one of this Government's policies they actually support.
Other than getting Brexit done and sub-contracting the vaccine programme to Kate Bingham, most came up blank.
Somewhere along the line, a so-called Tory Government has completely lost the plot …
I could not agree more.
The Royal Family
After having read about COP26, a good friend of mine told me the other day that he would not be upset if the Royal Family disappeared into oblivion after the Queen departs this mortal coil:
At least with a president, we can get rid of him in four or five years.
I do not yet share my friend's sentiment, but this week's events have pushed me ever closer.
The Queen
Is the Queen coming out as an environmentalist, further honouring her late husband, Prince Philip, founder of the World Wildlife Fund?
Was it appropriate for her to give a statement via video about COP26? I'm of two minds about it. Then again, only those at the VIP reception at Kelvingrove Museum in Glasgow got to see it. The following article from the Mail has the transcript in a sidebar.
The Daily Mail reported on the reception, held on Monday, November 1:
Her Majesty, 95, told leaders 'to rise above the politics of the moment, and achieve true statesmanship.'
She went on to say that 'none of us will live forever' and 'we are doing this not for ourselves but for our children and our children's children, and those who will follow in their footsteps' as she urged leaders to reach decisive COP climate change deals. 
In her most personal speech ever, the monarch also paid tribute to Prince Philip and described how 'the impact of the environment on human progress' was a subject close to the heart of her 'dear late husband' – who in 1969 told an academic gathering: 'If we fail to cope with this challenge, all the other problems will pale into insignificance.'  
Was it appropriate for her to express her opinion on coronavirus vaccinations last Spring, intimating that those who did not get them were selfish and self-centred? That was bang out of order, in my opinion.
The Queen is now speaking out publicly on subjects that have traditionally been out of bounds for the Royal Family, the monarch in particular. One dreads to think what will be in her televised Christmas message this year.
Prince Charles
On Monday, I watched Prince Charles's brief speech at COP26.
As expected, he catastrophised, calling on everyone to adopt a 'war footing'.
The apple does not fall far from the tree. He is like his father in that respect.
As with his mother, is this the sort of thing he should be pontificating on in public? Climate change is highly political.
The Cambridges
The Duke of Cambridge — Prince William — has embraced environmentalism as, so it would appear, his wife, the Duchess, a.k.a. Kate.
The aforementioned Mail article gushed about her outfit, far out of reach for mere mortals:
Kate Middleton looked the picture of poise in a blue coat dress and navy heels as she walked alongside Prince William in a dapper suit at the arrival. 
Wearing her hair back in a low bun, the Duchess opted for a glamorous make-up look for the ceremony tonight where she was hosted Prince Charles, Camilla, Duchess of Cornwall and Boris Johnson as well as key members of the Sustainable Markets Initiative and the Winners and Finalists of the first Earthshot Prize Awards.
Her custom dress came from Eponine's SS20 collection and made from a double wool crepe fabric, the price is available on application but similar dresses cost around $3,278.
Meanwhile, Camilla, 74, opted for a teal Bruce Oldfield featuring buttons recycled from another outfit.
William and Kate's appearance comes just hours after royal couple, both 39, visited Alexandra Park Sports Hub in Dennistoun to meet with Scouts from and learn more about the group's' #PromiseToThePlanet campaign.
Meanwhile, the article says that Prince William had a laugh with Joe Biden, as did the Duchess of Cornwall — Camilla — with Angela Merkel.
The Cambridges will never have to worry about installing heat pumps. They will be able to live in warm rooms and enjoy hot baths or showers thanks to traditional boilers. Meanwhile, any member of the public foolish enough to go along with installing and running a heat pump will never be warm again, either while dressed or abluting. Heat pumps stop working at 4°C. Furthermore, installing one requires tearing up one's back garden at a cost of £12,000.
Conclusion
The world has changed. We have more inequality now than we did when Prince Charles was born after the Second World War.
UnHerd has a profile of the prince, which has quite a few sad anecdotes in it, and concludes with the world's changes over the past 70 years:
Charles never changes. But the world always does. When he was born in 1948, wars and revolutions had levelled everything. There was a 'Great Compression'; inequality was suppressed, by accident, bloodletting, and design. For 30 years there were high taxes, good novels, middle-class successes, and an operational meritocracy.
By the Nineties, Tory politicians in Britain could dream of a "classless" society. Charles was most-lambasted in this midlife period, not merely because of the "War of the Waleses", but because this socially democratic mood made the monarchy itself look ridiculous. "Who knows what fate will produce?" Diana said, ominously, at the time.
Fate dispatched her, then produced a vastly more unequal world. Meritocracy calcified into an aristocracy. It treats national and international institutions as outdoor relief for its favoured families. After Iraq, the financial crisis, and 2016, this elite, viewed from below, began to look like an Ancien Régime. With their fabulous wealth, estates, yachts, villas, servants, and elaborate sex lives, this class resembles the Windsors, just with stronger chins.
And those are the people who are going to tell us how to live our lives according to the new religion of climate change.
Bring on that Net Zero referendum! We need it!
Happy Bonfire Night to my British readers.
Yesterday's post was about the opening of COP26 in Glasgow and its attendant hypocrisy.
What our notional betters have done with coronavirus they will most certainly do with climate change.
Examples follow.
Coronavirus
On Monday, November 1, the day COP26 opened, Mark Dolan of GB News had an excellent editorial which bridged the gap between coronavirus and climate change tactics:
At around 5:15 in the full version of Dolan's editorial (just over ten minutes long), he tells us of the mask theatre used with public appearances of politicians. They wear them for the photo op — outdoors — then take them off when they go indoors. Similarly, social distancing is also ignored:
Yes, the elites are laughing at us: 'for thee but not for me'.
Climate change
Another commentator, Spiked's Brendan O'Neill, also says that the elites are laughing at us.
In writing about COP26 on Monday, he says (emphases mine):
It feels like the elites are just laughing in our faces now. So the other day we had the UK's chief scientific adviser, Patrick Vallance, saying everyone will have to eat less meat and fly less if we are going to get a handle on this climate-change thing. A little later it was reported that around 400 private jets will fly into COP26, carrying world leaders and big-business execs to the plush surrounds in which they'll wring their manicured hands over mankind's carbon crimes. Ordinary people are guilt-tripped for taking one poxy flight a year to escape the trials and vagaries of life in capitalist society for a couple of weeks, while those who quaff champagne on airplanes that it costs $10,000 an hour to hire out get to pose as hyper-aware defenders of poor Mother Nature.
He continues:
According to one report, the private jets landing in Glasgow will spew out around 13,000 tonnes of carbon. That's the same amount of CO2 that 1,600 Scots get through in a year … John Kerry, Joe Biden's climate envoy, will be in Glasgow to pull pained faces for the cameras over the possible heat death of the planet. Three months ago he flew in a private jet to Martha's Vineyard for Barack Obama's lavish 60th-birthday celebrations. It was the 16th private-jet jaunt his family had taken this year. Prince Charles, from one of his palaces, says COP26 is the 'last-chance saloon' for the planet. The royal family has collectively flown enough air miles over the past five years to get to the Moon and back. And then around the Earth's equator three times. In short: 545,161 miles. Reader, they're taking the piss.
O'Neill moves on to cars and Joe Biden:
Driving is viewed by greens, and by eco-virtuous political leaders like Sadiq Khan [London's mayor], as one of the stupidest, most Gaia-destroying activities indulged in by the plebs. The Home Counties irritants of Insulate Britain have been winning plaudits from the commentariat over the past few weeks for blocking the paths of such terrible eco-criminals as mums driving their kids to school and deliverymen trying to deliver food and other essentials. And yet there's Joe Biden in Rome for the G20 being whisked around in an 85-car convoy. His own armoured limousine, and its decoy version, generates 8.75 pounds of carbon per mile driven – 10 times more than normal cars. And greens want us to feel angry about the working-class bloke driving an HGV full of groceries and fuel? It's insane.
When he's done with Rome, Biden will fly to Glasgow in Air Force One. Four jets will accompany him. Combined, they'll emit an estimated 2.16million pounds of carbon over five days.
O'Neill gives us other examples:
This is getting ridiculous. People will be perfectly within their rights over the next few days to ask why it is that those who live in the lap of luxury, who jet to every corner of the globe, who experience more luxury in a week than most of us can expect in a decade, should get to hold forth on humanity's alleged suffocation of the planet with carbon and pollution. Like Joanna Lumley, famed, well-paid traveller of the planet, saying travel should be rationed. Or Dame Emma Thompson literally flying first-class from LA to London to take part in an Extinction Rebellion protest about the evils of CO2. Or Harry and Meghan attending a concert focusing on the 'urgent need' for climate action and then leaving on a private jet. What the green oligarchy lacks in moral consistency it more than makes up for with brass neck.
Ultimately, O'Neill concludes that, obvious hypocrisy aside, climate change has become the new orthodoxy of people rolling in money:
It's the perfect ideology for our at-sea elites. It allows them to magic up a sense of urgent moral purpose – they're saving the planet, no less! It lends itself beautifully, or, rather, terrifyingly, to the project of social engineering: lower your horizons, learn to live with less, reconceive of yourself as a destructive creature in need of top-down control rather than a creative being who might help to push humanity forward. It naturalises the limitations of capitalism, encouraging people to make their peace with austerity and downturn on the basis that economic growth is a bad, nature-exploiting idea. And it is a very difficult ideology to challenge. The marshalling of The Science to buoy up this ruling-class ideology means that anyone who questions it – anyone who demands more growth, more ambition, a bigger human footprint – can swiftly be written off as an anti-scientific scourge, as a 'denier' of the revealed truths of climatology. Its social engineering, its social control and its strict, censorious management of social aspirations are what make the green ideology so attractive to the new elites.
Oddly, the Left find this attractive. Then again, they have always been about control:
COP26 will help to consolidate this neo-aristocracy. And, bizarrely, the left will cheer it on. The left once said: 'We do not preach a gospel of want and scarcity, but of abundance… We do not call for a limitation of births, for penurious thrift, and self-denial. We call for a great production that will supply all, and more than all the people can consume.' (Sylvia Pankhurst.) Now it pleads with the super-rich to come up with more and more creative ideas for how to rein in the filthy habits and material dreams of the masses. What a disaster. It isn't climate change that poses the largest threat to humanity in the early 21st century. It's the bourgeoisie's loss of faith in its historic project, and its arrogant generalisation of that loss of faith into a new 'green' ideology we must all bow down before. A revolt against environmentalism is arguably the most necessary cause of our age. Who's in?
Well, we in the UK have just been silenced on any revolt.
Recently, The Telegraph ran two editorials proposing a referendum on climate change legislation from COP26. Today, November 3, Prime Minister Boris Johnson told the Commons at PMQs that there will be no referendum because the public haven't the appetite for it.
Disgusting
At the VIP reception in the centre of Glasgow on Monday evening — which prevented people living nearby from entering their own homes — we saw that there were no masks and no social distancing. But these people are super clean and elite, so it's okay for them.
Here's the Duchess of Cambridge — Kate — laughing as she holds a jar of larvae for livestock feed:
Hilarious. This is the sort of thing that they want us to eat for dinner, along with insects:
Last week, Boris went one step further. He told a classroom of nine-year-olds that humans could be used as animal food:
Guido Fawkes has the video and two quotes, the relevant one of which follows:
recycling "doesn't work", he "wouldn't put beetroot in lasagne", and even that "feeding human beings to animals" might be a decent idea.
One thing is certain: neither Kate nor Boris will ever be deprived of meat on their dinner plates.
As for the rest of us, the jury's out.
The elites despise us. They really do.
COP26? Oh, the hypocrisy of it all!
I watched the first hour of it on Monday, November 1 and nearly gagged but had to hear the actual speeches so that I would know exactly what the more prominent speakers actually said rather than read fake news regurgitations in the comment sections of the sites I read most frequently.
Air and limo travel: 'for me but not for thee'
The G20 summit in Rome closed on Monday, then it was time for the leaders to jet off to Glasgow for COP20.
While COP26 was scheduled to take place last year and couldn't go ahead because of the pandemic, it does seem as if these events, e.g. G20, could be better co-ordinated so that they took place in cities which are closer to each other.
But, you know, when it comes to our notional betters, no expense is spared. It's okay for them to fly then ride in limos all over the place, but it's not okay for us to go on a budget airline holiday with our family once a year:
In addition, Glaswegian women were made to walk down dark, unfamiliar thoroughfares while a COP26 VIP reception took place:
Let's take a closer look at the double standard that we, the great unwashed, are experiencing.
Ed Miliband MP
Ed Miliband used to lead the Labour Party. He is now in the Shadow (Opposition) cabinet.
On Sunday, October 31, he went on Andrew Marr's show on the BBC to object to Chancellor Rishi Sunak's lowering of passenger air duty on internal flights in the UK.
In fact, Miliband told Marr that domestic flights should be stopped 'as much as we possibly can'. However, in January 2020, Guido Fawkes revealed the MP's own air travel habits:
Guido's 2020 post said, in part (emphases mine below):
Last April, Guido reported on Ed Miliband's hypocrisy of constantly windbagging about the 'climate emergency' despite wracking up 19,000 air miles from his flights abroad, pumping out tonnes of carbon dioxide …
Green Ed's wracked up 12,000 air miles in 10 months – half the circumference of the globe.
Miliband is one of the North London elite who represents a working class city in the North of England, Doncaster. As one would expect, Miliband is more interested in promoting himself than Doncaster. This is what one of his constituents had to say:
Ed wants Britons to take the train, but that is not always possible within the United Kingdom, which includes Northern Ireland — and various islands:
One wonders if Miliband finally bought an electric car, the type of vehicle he insists the rest of us should have:
Miliband has complained about our rising energy prices which will be increasing by 20% per annum in 2022. However, he was the one who started the 'green tax' on energy when he was the energy secretary during Labour's last few years in power 10+ years ago:
Lorna Slater MSP
Another hypocrite is the Scottish Green MSP, deputy party leader Lorna Slater, originally from Canada.
She slammed G20 leaders for not going by train from Rome to Glasgow, which would have taken 28 hours:
However, Guido pointed out that, in 2019, Lorna Slater enjoyed a flight from Brussels to Sweden:
Couldn't she have gone by train?
As Guido points out:
According to Lorna's logic, Guido is outraged she didn't set an example by taking the 36-hour train from Glasgow Central via Euston, London St Pancras, Amsterdam and Berlin to Stockholm Central.
Joe Biden
As is customary for the leader of the free world, an American president has to have a ginormous motorcade for security purposes.
Apparently, in Rome, Joe Biden had to have more vehicles than usual because the city has social distancing laws during the coronavirus crisis. As such, he had an 85-car motorcade. The Daily Mail has the story along with numerous photos:
Biden at the upcoming environmental summit plans to tout $550 billion in new environmental programs in his Build Back Better framework, which he unveiled before jetting to Rome on Air Force One (another gas guzzler).
Here's the US motorcade leaving Edinburgh International Airport for Glasgow:
Here is his motorcade upon arrival in Glasgow:
Less hypocritical transport
Late last week and into the weekend, North West England and the South West of Scotland, including Glasgow, had a lot of heavy rain.
As a result, media reporters and other lesser beings found their trains from Euston to Glasgow Central cancelled:
CNN's Wolf Blitzer reports from … Edinburgh
Incredibly, CNN's veteran reporter, Wolf Blitzer, must have thought COP26 was taking place in Scotland's capital:
How does that happen?
Boris's opening speech
On Monday, as COP26 host, Prime Minister Boris Johnson was one of the first speakers welcoming everyone to the conference.
He laid out the purpose of this year's conference, which is to determine exactly how the Paris Agreement will work in practice:
The Daily Mail has a good summary of what he said:
The Prime Minister compared the situation facing the globe to the climax of a James Bond film where the hero has to thwart plans to blow up the planet.
But Mr Johnson said 'this is not a movie' and the 'doomsday device is real' as he urged his counterparts to do more to reduce harmful emissions.
The premier said the longer countries wait to take action then 'the higher the price when we are eventually forced by catastrophe to act'.
He said the world has 'long since run the clock down on climate change' and there is now just 'one minute to midnight', with action required immediately to prevent a global disaster.
The PM used his speech at the opening of the summit as a rallying cry to try to build momentum as he welcomed foreign leaders to Glasgow after securing only lukewarm climate commitments at the G20 summit in Rome over the weekend …
Mr Johnson pledged in his lunchtime speech to put another billion pounds into green finance – as long as the UK economy performs as expected in the coming years.
The PM repeated he wants global leaders to unveil steps on 'coal, cars, cash and trees' – the things he believes will make the most different in limiting temperature rises to 1.5 degrees.
Mr Johnson had set the tone as the G20 wrapped up last night by reading the riot act to his fellow world leaders, saying their promises on tackling climate change are starting to 'sound hollow'.
The PM said there are 'no compelling excuses for our procrastination' on reducing harmful emissions and action already taken amounts to 'drops in a rapidly warming ocean'.
Boris said that Glasgow was the site of the first steam engine, which James Watt invented. If I remember rightly from history class back in the mists of time, Britons called it the 'doomsday machine', because it was such a departure from anything anyone had known before.
In the event, it kicked off the Industrial Revolution which, despite its 'dark satanic mills' (William Blake), actually improved millions of people's lives not only in Britain but, with time, around the world:
As such, it seemed strange for Boris to refer to it at COP26. Was he inferring that Watt's steam engine was responsible for climate change?
Hmm. Look how GDP per capita has increased in England ever since the Industrial Revolution:
Tom Harwood of GB News nailed it, by pointing out how much Boris's views have changed:
This is what Boris wrote for The Telegraph in 2015, when we had a warm December. His editorial ends with this:
Scientists look at the data. But everyone else just looks at the weather – and it is the weather, therefore, that makes the psychological difference to the debate. Look at the recent summit in Paris, which ended in a good agreement to cut CO2, in contrast to the debacle at Copenhagen six years ago. What was the real difference? It was the weather. Paris was ridiculously warm for December. Six years ago, Copenhagen saw the biggest snowfalls anyone could remember. "Global warming?" everyone asked.
It is fantastic news that the world has agreed to cut pollution and help people save money, but I am sure that those global leaders were driven by a primitive fear that the present ambient warm weather is somehow caused by humanity; and that fear – as far as I understand the science – is equally without foundation.
There may be all kinds of reasons why I was sweating at ping-pong – but they don't include global warming.
Joe Biden and Boris — sleepy or just heads down?
The media are saying that Joe Biden fell asleep. It looks as if Boris did too.
Here are the photos and a video of Sleepy Joe:
The Queen's video message
In a recorded video message sent to the conference, the Queen expressed her wishes for COP26.
The message was aired on Monday evening at the aforementioned VIP reception in the centre of Glasgow.
She asked the world's leaders to rise above politics.
As ever, she had a photo on her desk that tied into the theme: a photo of Prince Philip surrounded by monarch butterflies.
The Mail's Robert Hardman reported:
Summoning the wisdom which comes with being the longest-serving head of state on the planet, the Queen distilled the monumental task facing this summit into just a few words.
'For more than 70 years, I have been lucky to meet and to know many of the world's great leaders,' she said.
'And I have perhaps come to understand a little about what made them special. It has sometimes been observed that what leaders do for their people today is government and politics. But what they do for the people of tomorrow – that is statesmanship.'
This was, she told them, their chance to be 'written in history books yet to be printed'. Big words from one who has already been written in to a few herself. But then the Monarch knows of what she speaks.
Though this was a speech she had wanted to make in person until her doctors decreed that it had to be delivered via video, it lost none of its punch. The poignancy of the setting only added to the power of her words.
There she was in the White Drawing Room at Windsor Castle, the same room in which delivered her historic address to a Covid-ravaged nation last year. At her side, was a favourite photo of the Duke of Edinburgh surrounded by butterflies during a 1988 visit to Mexico.
For years, she reminded us, she had watched him nurture a bright idea that turned in to a charity – the World Wildlife Fund – that, in turn, paved the way for so many of today's environmental organisations.
Between them, the couple had watched their eldest son and his eldest son embrace the same cause.
'I could not be more proud of them,' she said. And what was that on her lapel? Her much-loved butterfly brooch …
Another Mail article has more:
In her most personal speech to date, the monarch also paid tribute to Prince Philip and described how 'the impact of the environment on human progress' was a subject close to the heart of her 'dear late husband' – who in 1969 told a gathering: 'If we fail to cope with this challenge, all the other problems will pale into insignificance.'
The Queen's stern intervention, which was displayed on screens during a VVIP reception at Glasgow's Kelvingrove Museum, came hours after the Indian Prime Minister Narendra Modi pledged that India will target net-zero carbon emissions by 2070 – two decades later than the targets for the conference – disappointing many delegates.
It also comes after Boris Johnson kicked off the climate change summit by exhorting world leaders to back up their talk on climate change with action – warning it was 'one minute to midnight'.
A GB News panel thought that she had content and tone just right:
Archbishop of Canterbury apologises
The Anglican Communion is really into the impending doom and disaster of climate change.
To see that they are so wrapped up with the United Nations makes my skin crawl.
They sent a delegation to Glasgow:
Earlier on Monday, the Archbishop of Canterbury gave an interview to Radio 4's Today show. Later on, he had to apologise for his remarks in which he compared coming deaths from climate change to the Third Reich:
Coronavirus hypocrisy
As ever, delegates were expected to wear masks, but as the Daily Mail's photos show, world leaders took theirs off and defied social distancing.
How nice for the great and the good!
As for everyone else, it was masks or no admittance:
Public not interested
Thankfully, the general public are not interested in COP26. They have actual pressing issues with which to deal:
Guido's post says that a poll shows the British public are unwilling to shoulder the cost for any nonsense arising from COP26:
The lack of correlation between the BBC's output and what people want to read, and what it suggests about the British public's true feelings towards tackling climate change, seems to be backed up by a poll by Portland this morning. It found that while the public supports hypothetically punishing climate-damaging behaviour, or the government incentivising green behaviour, just 7% say "my family and me, and other families like me" should pay most of the cost. Just 36% are willing to pay more than £50 a month on top of existing bills to limit CO2 emissions.
I plan to feature more on climate change tomorrow.
In light of COP26 in Glasgow: in 1970, I did a science project in primary school on pollution in the US.
Yes, even then, damaging the planet was a hot topic.
Here is a timeline of the scare stories around the theme, which began in 1966: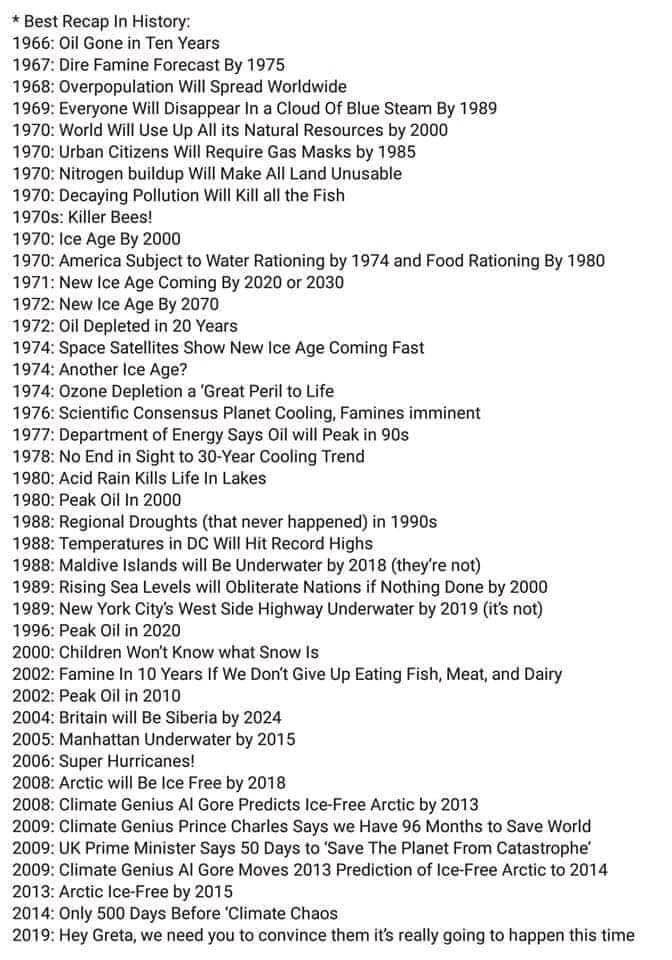 Yet, we are still here.
Our air is much cleaner than it was in the 1960s. More care is put into farming. More people around the world are able to eat meat on a regular basis. Antarctica has more ice. No city, island or nation is under water.
I could go on, but you get the idea.
Yesterday's post introduced COP26, to be held in Glasgow for two weeks, starting this coming Sunday.
Today's post looks at what British pundits think of the conference.
The British have had no end of preaching from Parliament on climate change. We have been told that we must scrap our gas boilers for inefficient heat pumps. We need to take fewer holidays, especially by air. We must stop eating so much meat. Schoolchildren are suffering from 'eco-anxiety', a word just added to one dictionary published in the UK.
The cost of all this 'greenery' leaves us with more anxiety. As with coronavirus, the cure is worse than the disease (emphases mine):
This week, Johnson unveiled his Net Zero strategy to turn Britain green by 2050 – but was warned by the Treasury that taxes and consumer costs could rise to cover the estimated £1trillion bill.
Meanwhile, our elites are flying around everywhere, Prime Minister Boris Johnson among them.
On October 24, the Mail on Sunday examined Boris's trips by air during May's local election campaign in England. Of course, as Prime Minister, his time is precious. However, to tell the rest of us that we have to watch our use of planes for annual holidays is simply hypocritical:
Boris Johnson has been accused of hypocrisy after it emerged he pumped out 21 tonnes of CO2 in just two weeks flying on his billionaire friend's private jet while lecturing about climate change.
The prime minister travelled more than 1,200 miles on JCB tycoon Lord Bamford's jet in the fortnight leading up to May's local elections.
At least two more journeys were made in the businessman's helicopter, according to The Sunday Mirror.
If he had travelled by train, Johnson would have used up a fraction of the CO2, while a car would take a year to produce the same emissions as the £47million Gulfstream jet spews out in just one hour.
It comes as the prime minister prepares to welcome global leaders to Glasgow for the Cop26 climate summit.
Last month, he called on his UN counterparts to 'blow out the candles of a world on fire' and tackle climate change together in a powerful speech in New York.
Greenpeace's chief scientist Dr Doug Parr said: 'Prime Ministerial actions have consequences far beyond those of any Hollywood star or royal, and Prime Ministerial hypocrisy is deeply corrosive of public trust.'
The flights on the Gulfstream G650 jet would have released around 21.2 tonnes of CO2, the third of a person's annual emissions …
To offset those journeys alone, 130 trees would have to be planted.
On the polling day for the local elections, Johnson appeared virtually at Germany's Petersberg Climate Dialogue where he urged leaders to propose more than 'hot air' to help prevent climate change.
He said: 'I'll be seeking commitments from the G7 members to use their voices and their votes, wherever and whenever possible to support the transition to net zero (carbon emissions), kickstart a green industrial revolution, and build economies that withstand whatever our changing climate throws at us.'
But the day after he stepped on to a private helicopter to open a Coventry school then boarded a private jet to the North East after the by-election win in Hartlepool.
Speaking of flights and climate change, the Mail's Dan Hodges had more that day on COP26:
The whole purpose of COP26 was meant to promote global environmental sustainability.
Instead, it is being turned into a catwalk for the green showboating of the global elite.
Or, in the case of Japan, showplaneing. Last week it emerged that a specially configured Boeing 777 had been flown 6,000 miles (without passengers) solely to see whether the pilots would prefer to use Prestwick or Edinburgh airports when the official Japanese delegation arrives.
It's also been announced that when the runway of choice has been chosen, special measures will be put in place to ensure arriving dignitaries can be whisked speedily to their destinations.
How nice for them!
It's less nice for commuters in and around Glasgow:
Unfortunately, COP26 has become so bloated that nearby roads will become gridlocked, so leaders will be ferried to their hotels along the Clyde Expressway, which has been turned into a VIP lane.
In addition to rail workers going on strike during the conference, bus workers are also expected to do the same:
The Unite union, with a commendable eye to the main chance, has announced that more than 1,300 bus workers will use the conference to go on strike over pay.
Dan Hodges thinks that Boris should cancel COP26, because a) the timing isn't right with coronavirus and b) it's too hypocritical:
Pressing ahead with COP26 while the globe is still struggling to contain Covid is the equivalent of forcing someone back into a burning building to carry on removing the asbestos.
Yes, the threat from global warming represents a real and present danger. But this morning, Covid and its economic impact are a more imperative one.
In order to tackle environmental challenges, people are going to be asked to make significant sacrifices.
And that will involve politicians – and the burgeoning green lobby and their sponsors – taking public opinion with them.
But instead of showing families that they have a plan for saving their planet, our leaders again seem intent on giving the impression they reside on an entirely different one.
COP26 is about to replace Davos as the event that most gratuitously frames the arrogance, hypocrisy and entitlement of the global ruling class.
Their gigantic jets will descend upon Prestwick.
And they will alight and tell us how we each need to reduce our global environmental footprint.
Their motorcades will speed along their exclusive expressway.
And they will get out, then inform us we have to do our bit by walking our kids to school. They will assemble for their plush banquet.
And after dessert and coffee, they'll retire to put the finishing touches to speeches that lecture us about eating sustainably.
Worst of all, they think no one will notice their green doublespeak.
That this grotesque 'do as I say, not as I do' grandstanding will pass everyone by amid a kaleidoscope of polar bears, Greta Thunberg and homilies about our grandchildren.
Which might actually be the optimum outcome.
As for us plebs on the sidelines:
… those concerned about where the next booster jab is coming from, or how they will cope with soaring fuel prices, will blink and miss this UN imitation of The Fyre Festival.
Because if they don't, those same people aren't going to be happy.
As I've written before, a dangerous disconnect is opening up.
Between those who believe that everyone has bought into their liberal, environmental consensus and those who want a recognition that we live in a complex world of competing priorities, not all of which revolve around the level of carbon emissions in 2050.
Neil Oliver, of the popular programme Coast and current host of a GB News weekend show, wrote a column for The Times last Sunday from the average Briton's point of view, especially during the coronavirus crisis. Scotland, incidentally, recently brought in vaccine passports:
Assorted world leaders together with thousands of hangers-on are coming to Glasgow to talk about how us proles have managed to set fire to planet Earth. Things are so bad here on the third rock from the sun that it will be nothing less than miraculous if anything other than a cinder is orbiting our star by the time they turn up, in their private jets and chauffeured cars, for two weeks of po-faced pontificating at the SECC.
That the Covid restrictions afflicting everyone else's life will be relaxed for the blow-ins should come as no surprise to anyone who's been paying any attention at all for the better part of the past two years. They won't need vaccine passports, for they are special while we are most certainly not. They have world-saving business to attend to while we have only lives to lead and more CO2-exhaling, dwindling food supply eating, resource-consuming weans to knock out from our overproductive loins.
A fleet of electric Jaguar Land Rover cars are at the disposal of the very best of them. It seems a day trip to Gleneagles may be on the agenda, but apparently limited charging ports at the luxury hotel and spa mean that generators dependent on the burning of old chip pan oil are to be sourced from elsewhere — on hand to top up the batteries and avoid any unwarranted delays for the panjandrums.
That all of the business of Cop26 could have been conducted via planet-sparing video calls will be apparent to anyone who has endured countless of same during the past months. Not one of the heads of state, far less any of the delegates, actually needs to move from his or her home office. All of the fossil fuel required for their journeys to Scotland might have remained unburnt, the atmosphere spared the release of all that carbon dioxide.
But no, as has so often been the case in recent, revelatory months, some animals' business is infinitely more important than that of others. Scum like us can remain at home and talk into computer screens, but those that matter really do have to travel for hundreds of thousands of collective miles so they might enjoy one another's company and thereby get so much more done.
Oliver then moves on to heat pumps, which are ruinously expensive for most people and do not work when the temperature falls below 4°C:
They don't work, they are ruinously expensive to install, require wholesale remodelling of houses — if not demolition and rebuilding from scratch — cost arms and legs to run, and deliver lukewarm water for tepid radiators and cold showers.
Boris and Carrie Antoinette in No 10 are presumed to think that heat pumps are absolutely the way ahead. Since we are the great unwashed after all and, as previously noted, it's already way too late for the likes of us to start showering anyway.
I am yet to read about our capo di tutti i capi and her husband revealing any imminent plans to lead by example and install, at their own expense, heat pumps of their own, but I freely admit that I do miss some headlines here and there.
There are so many excellent replies to the following tweet, that it's worth clicking on it and reading them. Here's one that mentions another bugbear of mine, meat eating:
I will be delighted when COP26 is over. I do not live anywhere near Glasgow but am eager to see a stop to this parliamentary pontificating over changing our behaviours to accommodate what might or might not be an improvement in climate.
All of these measures are a tax on the poor and middle class people.
The Conservative Party Conference took place in Manchester from Sunday, October 3 through Wednesday, October 6, 2021.
It was the first one since 2019, which was two months before their victory in the December 12 election that year.
UK in crisis
This year's conference took place during the ongoing petrol supply problems and shock record-breaking hikes in gas futures on Tuesday and Wednesday:
On top of that, on Wednesday, Reuters reported that the UK's petroleum regulator rejected Shell's plans to redevelop the Jackdaw gasfield in the North Sea (emphases in purple mine):
"We're disappointed by the decision and are considering the implications," a Shell spokesperson said.
It was unclear on what grounds the Offshore Petroleum Regulator for Environment and Decommissioning (OPRED) refused to approve the environmental statement for the field's development.
The Department for Business, Energy and Industrial Strategy, under whose umbrella OPRED operates, did not immediately reply to a request for comment.
Maddening.
The supply chain crisis for food continues. On Wednesday, The Times reported The National Pig Association warned retailers that 120,000 pigs would have to be slaughtered because of a lack of butchers. Some pig farmers are closing down altogether.
Some supermarkets are also suffering from empty shelves. Tesco, however, is bucking the trend. The Times reported that the supermarket chain is:
often highest up the pecking order when it comes to suppliers committing to make the business a priority …
Good for them.
Conference theme disappointing
The conference theme was … Build Back Better.
How awful.
Here it is draped across Central Station Manchester:
The Conservatives riffed on this in a Bake Off-style event. Pictured with Prime Minister Boris Johnson is Home Secretary Priti Patel:
Having listened to some of the speeches and read excerpts from others, they were all light in content. Most of them were pep rally or visionary statements rather than what plans Cabinet ministers have for the nation.
As The Telegraph's Madeline Grant wrote:
Never at a Tory Conference has so little been said, by so many, to so few.
Sunday, October 3
As the conference opened, rumours circulated about three unnamed Labour MPs thinking of crossing the aisle to the Conservatives, as the Mail on Sunday reported:
Guido Fawkes had more on the story (emphases in red Guido's):
… this is due to disillusionment with Starmer's leadership, with the MPs already having opened up "lines of communication" with Tory whips. In related news, a senior Labour MP was spotted by a co-conspirator chatting with two Mail on Sunday hacks and three senior Tory advisors at a conference bar last night…
The day's big event, according to The Spectator, was the drinks party that the 1922 Committee of backbenchers held, sponsored by ConservativeHome. Interestingly, a long-time Labour MP for north-west London — Barry Gardiner — was in attendance:
… the main focus of the night was the 1922 drinks with ConservativeHome in a room stuffed full of parliamentary talent and, for some reason, Barry Gardiner.
Strangely, Boris did not appear, leaving a gap which Chancellor of the Exchequer Rishi Sunak ably filled (video):
While Johnson was not scheduled to make an appearance here, Prime Ministers have traditionally done so in the past to pay tribute to their colleagues. His 'disappointing' absence – in the words of one disgruntled backbencher – left a vacuum for Sunak to fill, in a room full of MPs who will presumably one day decide who Johnson's successor should be.
The Chancellor leapt to the stage to tell fellow Tories about what he was most looking forward too at conference: Michael Gove dancing, the PM running in a full suit (not just a shirt) and 'machine like message discipline from every single one of you – and that means you too Cabinet.' He added that 'I've got your back' to anxious MPs in the room and that 'for the record I too am a low tax conservative' – welcome words for those party donors who Mr S[teerpike, columnist] understands attended a 'tense' meeting earlier at the Midland, amid considerable unease at the recent NI [National Insurance] hike.
In such circumstances, perhaps it's understandable that Boris would stay away.
According to The Telegraph, senior Conservatives have warned Boris not to dream up any more future tax hikes:
Earlier that day, Boris gesticulated wildly at the BBC's Andrew Marr, saying, 'You have no fiercer opponent to tax rises than me'. This probably means more tax rises are on the way:
The Spectator has more on the interview.
On tax hikes, Sir Desmond Swayne MP told talkRADIO's Julia Hartley-Brewer the raw truth. He added that lower taxes will enable greater economic growth:
Another event that Boris avoided was the one by the Tory Reform Group (TRG), which wants the Conservatives to move closer to the centre politically. They are Remainers. The Spectator reported:
Theresa May's former deputy Damian Green welcomed attendees …
Green, a mainstay of various causes on the left-ish wing of the party over the past two decades, told activists that it was their task to 'make sure that the voice of moderate conservatism, centre-right conservatism is as strong as possible within the party' – a job 'never more important than today because there are times when I slightly feel that it is only people like us that stop this party drifting back to being seen as the nasty party.' A tacit rejoinder to Priti Patel perhaps?
But then it was time for the speaker and the great white hope of Tory moderation. Tom Tugendhat, the chairman of the Foreign Affairs Select Committee, took to the stage to ecstatic applause and, like Green, was under no illusions about the awesome responsibility he and his One Nation caucus members share – to keep the Conservative party effectively sane …
There was also ample time for several potshots at the current Tory leader Boris Johnson, with whom Tugendhat is said to enjoy a wary relationship.
Foreign Secretary Liz Truss, tipped to be a future Party leader, also made the rounds that day (video):
The fringes were packed last night as Tory ministers did the rounds. Liz Truss, the darling of the free market think tanks, appeared at the Think Tent equipped with a magnificent blow dry and an applause-winning speech which castigated cancel culture as 'fundamentally wrong.' That and other jibes at identity politics in her conference address lead the Daily Mail this morning to ask whether she is in fact the new Mrs Thatcher.
Several reporters wrote about her new hairdo, which, to me, didn't look much different from the old one.
Returning to the mysterious Labour people who might want to change parties, here's Manchester mayor Andy Burnham, a former Labour MP, heaping praise on Michael Gove, the minister in charge of Boris's levelling up programme. Burnham spoke to Trevor Phillips on Sky News that morning. Hmm:
Neither Andy Burnham nor Barry Gardiner is a Conservative. Crossing the aisle for ideals they don't believe in seems a rather rash way of getting their own back at Keir Starmer.
Boris made four appearances at conference that day, including one for the Scottish Conservatives. Guido captured his wit along with audio:
The PM warned of a "crackpot coalition" between the SNP and Labour – "the only way they could" kick the Tories out.
He described the Labour conference as "a total rabble", saying it had the air to him of "a seriously rattled bus conductor" facing an "insurrection on the top deck of the bus", or the "captain of a Mediterranean cruise ship facing insurrection by a bunch of Somali pirates".
Douglas Ross MP/MSP also addressed Scottish Conservatives. As party leader in Scotland, he wants to position the party as that of the nation's working class. It's a good move, as The Spectator reported:
Like all good fables, Douglas Ross's speech at Tory conference had a beginning, middle and end. Act One detailed the many iniquities of the SNP, from their dysfunctional vaccine passport scheme to their Hate Crime Act, and most of all their agitation for Scotland to break away from the UK. Act Two took the sword to Labour, bemoaned its abandonment of working-class voters and its internal divisions over the constitution. Theirs was not the party to take on the SNP. Only one party was and it was the subject of Act Three, in which Ross deepened a theme begun under Ruth Davidson's leadership: the Scottish Conservatives as the party of the Scottish working-class.
He hit all the familiar notes about the SNP's failings in government, the ones that never seem to stick longer than two or three news cycles and are invariably forgotten about by the next election. He also hinted at an interesting theme that, if teased out carefully, could come into greater play. It is the perception, no longer wholly limited to unionists, that Nicola Sturgeon is a bit… off. Out of touch. Superior. Maybe even a bit of a snob.
In other news, last week, Labour's Angela Rayner called Conservatives 'Tory scum'. Feisty Dehenna Davison MP, representing Bishop Auckland as the constituency's first Conservative, had 'Tory Scum' badges made.
This harks back to 1948, when Aneurin 'Nye' Bevan said the Conservatives were 'lower than vermin'. Following that, the Conservatives formed the Vermin Club. Club member Margaret Roberts — who would become Margaret Thatcher — also had 'Tory Vermin' badges made, as Nigel Farage told Dehenna Davison on GB News:
Party chairman Oliver Dowden pledged that the Conservatives would do away with ugly new housing developments by strengthening planning laws.
He also assured the public that they would have turkeys for Christmas, referring to ongoing supply chain problems.
Monday, October 4
Monday opened with the latest ConservativeHome popularity poll.
Liz Truss is at the top. Other MPs pictured are (left to right) Defence Secretary Ben Wallace, Leader of the House Jacob Rees-Mogg, Chancellor Rishi Sunak and Education Secretary Nadhim Zahawi:
Guido analysed the results, excerpted below:
The turn round in her fortunes from last year when she was being tipped to be sacked from the Cabinet is quite something. Liz is one of the increasingly rare consistently free market voices around the Cabinet table…
Rishi Sunak is down by some 10 points and moves from second to fifth place. Rishi's tax hikes have clearly taken the gloss off him with the true blue believers. 
Grant Shapps [Transport] and Priti Patel are bumping along the bottom in barely positive approval territory. Shapps has been doing fairly well with the incredibly difficult transport brief. Patel is suffering because she has failed to do the seemingly impossible – stop the cross channel migrants. Tory activists are unforgiving, they don't want excuses, they want results.
It was the turn of Rishi Sunak to address the party faithful.
A rise in council tax would not go down well. Meanwhile, protesters pelted Sir Iain Duncan Smith MP with a traffic cone:
Some at conference are disappointed with Sunak, whose budget comes up in a few weeks' time. Steve Baker MP is pictured in the second tweet:
Boris was out and about in Greater Manchester. He spoke to an interviewer about policing and said that the Government needs to change its culture, which has become misogynistic, particularly in light of the Sarah Everard murder earlier this year, committed by … a policeman, who recently received a life sentence.
In other news, Justice Secretary Dominic Raab plans to reform UK human rights legislation and do away with the ties to EU human rights legislation we are still under.
With regard to the Labour mystery, Manchester's mayor, Andy Burnham, had a conversation with Levelling Up minister Michael Gove, whom he had praised the day before. The Mail reported that Burnham was also due to address Conservatives at a fringe event sponsored by Transport for the North the following day. Hmm.
The cervix question that appeared at Labour's conference was also brought up with Conservatives. Dominic Raab responded by bringing up both misogyny and misandry in a highly confused way (video):
Two MPs decided to have a bit of fun with the issue as they drove to Manchester together:
Guido recapped their amusing exchange:
Health-conscious Conservative MPs Marco Longhi and Lee Anderson don't want to fanny about when it comes to their well-being. Marco, according to their road-trip video, made sure to receive a cervix exam before heading to conference this week. Always better to be safe than sorry…
Why is it that no one ever asks if women have a prostate gland?
On the subject of health, Desmond Swayne told Julia Hartley-Brewer why he is firmly against vaccine passports:
Lord Frost (pictured on the right) threatened the EU over the post-Brexit trade issues with Northern Ireland. Outside of the conference, pig farmers protested over the inability to get their stock to market. Boris had said that government cannot solve every issue, referring to the supply chain problem. He also told British businesses to hike staff salaries, which did not go down well, either:
I think they should give the meat away. A lot of poor families would appreciate it.
Tuesday, October 5
Boris began the day with an interview to LBC's Nick Ferrari. Extinction Rebellion offshoot Insulate Britain had blocked some of Britain's roads for the ninth consecutive day.
Despite injunctions from Priti Patel's Home Office, their human blockades continue.
Boris told Ferrari they are 'irresponsible crusties' (video). The question remains whether Extinction Rebellion gets any Government funding:
Dominic Raab confirmed in his speech that he would be reform the Human Rights Act to free it from EU hackles.
Guido's post includes a quote and this summary:
They will detach it from the ECHR, enabling quicker deportations of convicted criminals and swifter action on domestic abusers …
Raab's successor at the Foreign Office, Liz Truss, confirmed a trip to India later this month, ahead of COP26 in Glasgow in November.
Guido had a chat with her:
Among other topics, the foreign secretary confided in Guido she was finding the new department's mandarins to be "a bit 'Yes, Minister'"…
Rishi Sunak addressed the Northern Powerhouse Leaders' Lunch.
Guido says:
Sunak claimed that there is a "new age of optimism" in the north thanks to Red Wall Tories, and heaped them with praise for "helping to change our party and change our country". "In me, you have a Chancellor who is going to be with you every step of the way," he added.
See? I told you these speeches were content-free.
Later in the day, he appeared at a fringe event where he was asked about the cost of Net Zero. This was his alarming answer:
Health Secretary Sajid Javid promised another reform of the NHS, which mostly involves digitisation. I can think of more pressing NHS concerns and agree with Guido:
… pouring in taxpayers' money without checking how it's being spent isn't enough. That cash needs to be put to good use. Reviewing the eye-watering pay packets of some NHS diversity managers would be a start…
The Telegraph's Christopher Hope interviewed Oliver Dowden, who is thinking about resurrecting the singing of the National Anthem at conference, calling it a 'splendid idea'.
Hope also took the opportunity to present Dowden with a 'Tory Scum' badge, which he put on and said he would wear for the duration of the interview. Hope suggested he wear it until the end of conference.
This video shows the badge exchange. Hope gives us more information on the aforementioned Vermin Club:
Guido says that the badges were most popular. Dehenna Davison had to order more:
Many conference-goers have spent the last couple of days asking Davison for one of her badges, only to be disappointed upon being told she'd run out. Good news however, after Davison put in an emergency order for 400 more given their popularity…
The most outrageous session of the day — and a British first — was an address by the Prime Minister's wife to Party faithful. No Prime Minister's spouse — we've had two husbands in that role — has ever made a party political address until now:
Never mind the subject matter: was it the right thing for Carrie Johnson to do — even if she is a very good public speaker? Boris watched from a distance.
Polling stable
I'll review Boris's closing speech in tomorrow's post.
Post-conference polling is stable. YouGov's was taken on Tuesday and Wednesday:
Sir Desmond Swayne explained to Julia Hartley-Brewer that Boris's popularity and the lack of ideas from the Opposition have buoyed the Conservatives:
What Government should do next
Health Secretary Sajid Javid needs to keep a gimlet eye on NHS spending, especially on things like this:
Guido says:
The NHS is recruiting a supplier to deliver "compassionate conversations training" to 14,000 front facing NHS staff in a publicly funded contract worth a mind-boggling £3 million. The contract tender, which was published yesterday and closes on 5 November 2021, says the aim is to equip NHS staff with "the skills they need to handle challenging situations with compassion whilst ensuring they feel able to look after their own wellbeing if needed". Guido assumed that doctors were already taught about the importance of a good bedside manner…
It's almost ludicrous to think that this weekend Javid promised a forensic review of the NHS's management and leadership whilst the NHS continues to recklessly splash cash on diversity roles. Just six months ago Guido revealed that the NHS was hiring eight more 'diversity, equality and inclusion managers' across the country, with salaries up to as much as a whopping £62,000. If Javid is going to cut down those waiting list times he needs to focus taxpayers' money on the clinical front line, not nonsense make-work contracts and diversity roles…
Guido says it is also time for Boris to reconsider the current Government moratorium on fracking:
If Boris wants to energise Britain, domestic gas production should be part of that mix; it would provide energy security when Britain's energy needs are being threatened by the Russians and the the French. Boris is now in a position to do something glorious, to stop pussy-footing around and leave no stone unturned or unfracked. So get on with it…
This is what Boris had to say on the subject while he was Mayor of London:
I won't be holding my breath on either of those propositions.
Tomorrow: Boris's keynote speech
The old adage 'No news is good news' couldn't be truer when it comes to inconvenient facts.
This thread from Alex Epstein, a New York Times bestselling author, examines the media interest shown when the Great Barrier Reef (GBR) is in decline — 'climate change' — but none whatsoever once it recovers:
Here is a selection of past New York Times headlines about the GBR:
The same holds true for The Washington Post:
The newspapers said that CO2 was to blame for the reef's bleaching, yet, as Epstein points out, the GBR is ancient, therefore, adaptable:
No, the media cannot change the narrative and admit they were wrong:
Epstein firmly believes that fossil fuels have their place. As he says, modern life could not exist without them:
Someday the truth will come out about this agenda, which is potentially harmful to humans.
This was an interesting exchange in reply to the thread, explaining that the reef regenerates when it is damaged:
It seems that, by not believing in God, we think that we are God, investing ourselves with an imagined ability to destroy the planet. What folly.
As we are made in His image, humans should not be made to suffer hardship, which the climate agenda surely will do if taken to its ultimate conclusion.