You are currently browsing the tag archive for the 'climate change' tag.
The ongoing preoccupation and concern about how Anglican parishes will survive, especially in rural England, might be resolved soon.
On June 26, 2022, The Sunday Telegraph reported that wealthier parishes could be allowed to give more to poorer ones. The plan will be debated at the upcoming General Synod meeting in July (emphases mine):
Wealthy church dioceses will be allowed to share funds with their poorer neighbours under plans to be voted on by the Church of England.
The proposals, which have been submitted before the General Synod, the Church of England's legislative body, will mean that for the first time cash can be more evenly distributed.
The move would remove some barriers to dioceses sharing resources and comes amid concern about the viability of smaller, poorer and more rural parishes.
Why did that not happen sooner? It's common sense. In Paul's epistles, we read of his collection for the poor church in Jerusalem. The other churches he planted in Asia Minor and Macedonia gave generously, and he succeeded in presenting the donation to the struggling congregation in Jerusalem.
It will be left to the dioceses to decide if they wish to participate. Hmm. Based on previous diocesan splurging of money on rather useless 'initiatives', I do hope they will be generous towards their poorer congregations:
In papers published last week and submitted to the Synod for its conference in July, David White, deputy director of finance for National Church Institutions, said that his amendment would "in effect, enable a Diocesan Board of Finance to grant funds from its income account for use by other dioceses in the Church of England if it wished to do so" …
In May the archbishops admitted that they "got it wrong" by not prioritising rural parishes over city churches, as they announced funding worth £3.6 billion.
We shall see.
On June 23, Andrew Selous MP, the Second Church Estates Commissioner, answered a question from Labour MP Ben Bradshaw on putting more clergy into neglected parishes. I agree with the Revd Giles Fraser of St Anne, Kew, that Selous's response was far from reassuring:
Churches are struggling to obtain curates, as obtaining more clergy is not in their direct control:
The Save the Parish network will be meeting before the Synod members get together. I wish them all the very best. They have two champions in the Revds Giles Fraser and Marcus Walker, rector of St Bartholomew the Great in London:
Giles Fraser is enjoying his new assignment at the Parish Church of St Anne in southwest London:
He is out and about meeting fellow residents:
On a serious note, Fraser warns of the Lords Spiritual — serving Church of England bishops in the House of Lords — becoming irrelevant if the parish system breaks down:
In his recent article in UnHerd, he says:
… the bishops draw their moral authority from the fact that the Church of England operates a universal service provision. We serve in all communities, from the richest to the poorest, from cities to rural areas. The bishops are in fact well suited to the Lords because they connect it to every parish in the country — well, in England at least. And if there is a current threat to bishops in the Lords it comes not from the fact that they sometimes irritate the government with moral pronouncements — 'twas ever thus — but rather because the bishops are dismantling the source of their own authority. Armed with half-arsed MBAs, they want the Church to be run with increasingly centralised efficiency; inefficient parishes are being closed. As a result, the connection between the bishops and the parishes is being severed, and with it the source of their authority to sit in the legislature.
Fraser warns that this plays into secularists' hands:
The role of the bishops is to represent the whole country spiritually. On the whole, other faiths are glad of this particular role held by the Church of England. The National Secular Society and other troublemakers are keen to sow division among people of faith in order to argue that no one church should have legislative priority over another. But this is simply a ruse to dislodge religion from the public sphere. The Church of England is not a special interest group, it exists for all. Even, heaven help us, for secularists.
On that note, the Revd Stephen Heard is concerned about the single-minded political leanings of C of E clergy, starting with the archbishops. Their constant political pronouncements could be alienating the laity — and potential converts:
He cites an article from The Critic, 'The closing of the Episcopal mind', which provides bishops' opinions dating back to the 19th century, and concludes:
Given this deep uncertainty and debate as to the political implications of Christianity, total political consensus among its leadership makes me very uneasy. It alienates large swathes of lay Anglicans who, in perfectly good faith, come to conclusions that differ from the liberal-left consensus, and makes our mission as a broad national church harder. It belies a real lack of intellectual vibrancy and curiosity, and implies, by some curious happenstance, that the political spirit of a restless and secular age has magically aligned itself with the truths of the Christian religion … What providential perfection! And what an unlikely state of affairs all round.
Political causes have even entered into baptismal and confirmation vows in the Diocese of Oxford, which now requires a promise to uphold God's creation.
Marcus Walker rightly points out that this places Christ, the Person to whom we pledge our faithful allegiance, in second position:
He wrote an article about it for The Telegraph:
In it, he says:
Baptism and Confirmation are two of the most important steps a human being can make. I say this, I concede, as a clergyman, but what happens at these sacraments is not just a significant religious service, but an event that transforms a person's life, temporal and eternal.
This is why it's really important that the Church avoids putting barriers up that would discourage people from encountering this grace. It is difficult enough for the Church to persuade people that the Christian message is true (we've all seen the stats). Pushing away those who don't hold to the ideologies of the current bench of bishops is foolish in the extreme.
This week, the Bishop of Oxford has decided to add to the service of Baptism and Confirmation a new little exchange: "Will you strive to sustain the integrity of creation, and sustain and renew the life of the earth?" "With the help of God, I will." It is important to note that this is not a change to the actual baptismal vows. It's part of a rather naff "commissioning" that the new prayer book, Common Worship, allows at the end of these services. Nobody knows what happens if a candidate says "no", mostly because none of the other questions are controversial so this issue has not come up before.
At this point you might be saying, "but there's nothing controversial here either", and, if speaking entirely for myself, I would agree. You might also say that this seems pretty consonant with long-standing mainstream Christian and Anglican theology and this would be true.
But the question of how we engage with environmental concerns has become a major political issue recently, one controversial enough to have even caused long standing conservatives to reconsider their loyalty to the Crown in anger at the way some members of the Royal Family proselytise about "The Environment".
This is the only part of the service which engages directly with a live political discourse. We are not asked to pledge anything to do with poverty, international relations, race, or even loyalty to the Supreme Governor of the Church of England …
Walker acknowledges that the 1662 Book of Common Prayer (BCP) requires confirmands to pledge loyalty to the monarch and says that it is no longer used in today's confirmation ceremonies:
… to use it now would turn away any republican. It would cause those who don't think this country should have a monarch to have second thoughts about finding God. High Tory though I am, I would not want to stand before the Throne of Judgment and have held against me the souls I had turned away because of my politics.
Which means my advice to the Bishop of Oxford is not to mess with this liturgy; to those cheerleading the move to ask yourself what if the boot were on the other foot and you were being forced to assent to a political position you dissent from as a condition of baptism; to the Church to be grateful for anyone willing to commit themselves to Christ and to welcome them with open arms.
In closing, this guidance on sermon writing from 2017 is worthwhile reading. It could apply to any essay. Parts of it remind me of the Expository Writing course I took at university many moons ago.
This is called 'Good to Great: Turning a Decent Sermon into a Wonderful One':
It's excellent advice — and difficult to achieve, therefore, all the more worthwhile in the pursuit of 'good to great'.
Continuing my series on Red Wall MPs and, most recently, Lee Anderson, this post gives his positions on various topics in British life.
Those who missed previous instalments can read about his adventures and opinions in Parts 1, 2, 3 and 4.
Rail strikes
This week, England has been crippled by a series of rail strikes, one every other day, which means that on the days there are no strikes, it is still fruitless trying to travel by rail.
On Monday, June 20, 2022, the House of Commons held a debate, Industrial Action on the Railway.
Lee Anderson was the last MP called to speak. He asked the following question of Grant Shapps, Transport Secretary (emphases mine):
This strike is a real kick in the teeth for hard-working taxpayers, who have dug deep over the past 18 months to keep this industry alive. Does my right hon. Friend agree that the Labour party—the spineless party opposite—should grow a backbone and condemn these strikes?
Grant Shapps replied:
That is an appropriate place to end. My hon. Friend is absolutely right. People have dug deep—that is exactly what they have done; it was £600 per household. People are furious. They paid out that money to make sure that nobody lost their jobs, and what thanks have they got? Where is the reward? Where is the "thank you" for keeping the railway going? It is a strike that will put people out of pay and hit people's pockets once again, and Labour Members cannot even find their way to say, "We condemn the strikes." It is a disgrace.
Immigration
On Wednesday, June 15, Home Secretary Priti Patel made a statement about the fact that the June 14 flight to Rwanda with scheduled deportees never took off. There were originally 37 people who were to be deported. Because of last minute legal delays, only a handful boarded the charter flight and, by 11 p.m., even they were taken off.
The Opposition parties hate the idea of sending illegals to Rwanda for processing. Strange that, as it is called the Switzerland of Africa.
Labour, the Lib Dems and Scotland's SNP have all said during debates about illegal migration that people can legitimately come to the UK from France. Such a statement implies that France is not a safe country.
In the June 15 debate, Migration and Economic Development Partnership with Rwanda, Lee Anderson asked Priti Patel:
Just when you think this place cannot get any dafter, you turn up and listen to the rubbish that the Opposition are coming out with today. Is the Home Secretary aware of the sniggering, smugness and delight shown on the out-of-touch Opposition Benches about the cancelled Rwanda flight? Will she please advise me? I need some travel advice—I am going away this summer. Is France a safe country to go to?
Priti Patel replied:
For the benefit of the British people, the public, I have in my hand just four pages with a list of Opposition Members making exactly that point with glee—basically wanting the policy to fail, condemning it and saying all sorts of things without coming up with alternative solutions.
My hon. Friend is absolutely right about France as a safe country. This is a fundamental principle of working with our colleagues more broadly—[Interruption.] Those on the Opposition Front Bench have already had their chance to speak. These are safe countries and there are people who are effectively picking to come to the UK. That is something we have to stop by going after the people smugglers and breaking up their business model.
Moral failings of Tony Blair versus Boris Johnson
Also on June 15, Boris Johnson lost his latest ethics adviser, Lord Geidt, who suddenly resigned.
This month, for whatever reason, Tony Blair became a member of the prestigious Order of the Garter, an honour the Queen decides independently.
On GB News, Patrick Christys asked a panel who was less ethical, Boris or Blair. Lee Anderson was one of the participants. He said that he had canvassed his constituents in Ashfield, Northamptonshire, and all said that Blair was less ethical. Anderson said there is no comparison between a Prime Minister being presented with cake and one who got us into a highly costly war in Iraq. The second tweet shows Blair with his spin doctor Alastair Campbell at the time:
The full discussion follows:
Labour
Anderson was a member of the Labour Party until 2018, when he switched to the Conservatives.
He has no praise for Labour MPs, especially Deputy Leader Angela Rayner. On May 22, she was angry with Chancellor Rishi Sunak for giving more aid to Ukraine.
The Daily Mail reported:
The party's deputy leader sparked outrage after she told the Chancellor on Twitter to 'do one' – a slang insult meaning 'get lost'.
The message was posted in response to a weekly No 11 newsletter from Mr Sunak, in which he detailed an additional £40 million of aid for Ukraine.
It is not the first time the senior Labour figure has landed herself in hot water for her remarks about those on the other side of the Commons. The former care worker resorted to calling senior Conservatives 'a bunch of scum, homophobic, racist, misogynistic, absolute pile of… banana republic… Etonian … piece of scum' in a foul-mouthed tirade at last year's Labour party conference.
Lee Anderson made his views known:
Lee Anderson, Tory MP for Ashfield, accused Ms Rayner of behaving pathetically after the latest controversial outburst.
He said: 'I don't know what it is about Angela Rayner and the Left that have it in for successful people running the country, surely it's much better for successful people who are successes in business to hold the purse strings of the country rather than somebody whose only claim to fame is dishing out insults.
'She is someone throughout her career who has made childish insults against Conservative politicians and now she's having a go at Rishi, who by the way is one of the most polite politicians you'll ever wish to meet. He's a real gentleman, regardless of your politics.'
Green energy policies
As is the case in most European countries, the prices of home fuel and petrol have gone through the roof.
On January 3, Nigel Farage asked Anderson for his views on what the UK should do. Anderson said that while it was imperative that we leave the planet in better shape for the next generation, he and his Ashfield constituents think that some of Boris's Net Zero policies need to be wound back. Furthermore, he wants us, rightly, to use our own energy sources during our transition period to Net Zero:
Two months later, Anderson appeared on Farage's Talking Pints segment of his show. They discussed the necessity of energy independence, which the UK can easily achieve. Instead, the Government prefers a policy of importing coal and gas from Russia:
You can see the full interview here, where Anderson says:
We should be selling gas to the rest of Europe!
The BBC
Anderson remains a firm supporter of Boris Johnson and wants him to be allowed to get on with his job. He accuses the BBC of conducting a witch hunt against the Prime Minister.
This interview took place the day after Boris survived a Conservative vote of confidence. Anderson laid his dislike of the BBC's tactics on the line. This is short, sharp and to the point:
Guido Fawkes wrote (emphases in the original):
Lee Anderson provided daytime fireworks as he confronted the BBC over anti-Boris bias live on the channel. He also called them "quite sad" over their refusal to let the Boris leadership question drop, accusing them of spearheading a witchhunt. Agree or not, it was great TV…
Not surprisingly, it was Guido's most popular post that day:
That night, the question of a BBC witch hunt popped up on Dan Wootton's GB News show:
Wootton invited Anderson on to discuss the issue with left-wing pundit Nina Myskow, who defended the BBC. Anderson said that his constituents supported Boris. He invited Myskow to speak with his constituents to hear their views. She replied, although not in this clip, that she never travels north of Selfridges:
Russia
On April 27, Anderson was disappointed not to have made the list of 287 MPs that Russia sanctioned.
He wrote a letter to the Russian ambassador to the UK to ask that his name be added to the list:
Crime
Lee Anderson has been outspoken against crime. I posted some of his perspectives last week.
During his candidacy in the autumn of 2019, he proposed creating forced labour camps for noisy council tenants:
After Winston Churchill's statue was desecrated in June 2020, during the pandemic and 'mostly peaceful' protests, Anderson gave a brief interview to a young independent reporter. He ended by saying:
You wouldn't be stood here today, young man, talking to me if it wasn't for Churchill.
On March 16, 2021, Anderson participated in the Crime Bill debate. Highlights follow:
Here's another, courtesy of Guido:
Ashfield's straight-talking MP Lee Anderson gave the Labour Party both barrels last night in the Crime Bill debate. Effusively supporting the Bill, no-nonsense Anderson took aim at what he sees as Labour's hypocritical positions:
I find it strange that Labour are talking about tougher sentences for crimes against women, yet in December they were trying to stop us deporting foreign rapists. One Labour MP said we should not deport these criminals in December as it was too close to Christmas. I disagree. I thought it was a great Christmas present.
Guido is fairly sure that the residents of Ashfield will be in overwhelming agreement. For such a short speech, many shots were fired – rounding off on some Labour politicians' attitude to the law…
Seven months later, his fellow Conservative MP Robbie Moore led a debate on the sexual exploitation of young girls by a certain demographic. Sadly, the 'grooming gang' phenomenon is growing to the extent that it is said to be present in every town in the UK.
Moore focused his attention on Bradford.
Guido points out that none of the three Labour MPs for Bradford bothered to show up for the debate.
Anderson contributed and, as one would expect, has strong views on what should happen to such politicians:
Away from the noise of the Budget, earlier this week Conservative MP Robbie Moore led a Commons debate on child sexual exploitation across Bradford, calling for a "Rotherham-style inquiry" into the scandal and claiming it had been "swept under the carpet" by the local authorities. Although the debate only attracted small number of MPs – none of the three Labour MPs for Bradford bothered to appear, despite two previously claiming they would – there was one booming voice lending his support to Moore's campaign: the Honourable Member for Ashfield, Lee Anderson. Asking Moore to give way twice so he could give the Chamber a piece of his mind, Anderson said:
The only way that we know the full scale of these vile crimes in Bradford is for a full Rotherham-style… investigation, and would he also agree with me that certain local politicians on the council, and the mayor, should hang their heads in shame.
Once this inquiry takes place, and we get to the bottom of this, and these grooming gangs are put away where they rightly belong in prison, then the next call will be these lazy politicians – and they need locking up too.
Even Moore sounded a bit surprised by Lee's fury…
Guido has the video:
Anderson's no-nonsense speech might have been partly due to his appointment to the Women and Equalities Committee in May 2021:
Guido wrote:
Guido learns that parliament's wokest committee – the Women and Equalities Committee – is to welcome two new, perhaps unexpected, members: Philip Davies and Lee Anderson. Philip Davies is making a, no doubt, welcome return after having served on it in 2016 – where he made headlines calling for the word "women" to be removed from the Committee's name. Lee Anderson is a co-conspirator favourite: from saying nuisance tenants should be forced to live in tents; to recently ranting that he's torn up his licence fee. Confirming the appointment, Lee told Guido:
The great women of Ashfield have been the backbone of my community for hundreds of years with barely any recognition.
Yes the men have worked down the pits and gone off to war but its our women that have kept everything together.
The women in communities like Ashfield need a voice in Parliament and anyone who knows me will tell you that I am a firm believer in better rights for women. I am a modern man with a modern outlook who is keen to speak up for the women in my community.
They deserve to be on a level playing field with us men which is not always the case. I will still open doors for women and give up my seat on public transport as I am a gentleman first and a politician second, but you can be assured that I will be fighting on all fronts for the women of Ashfield.
Both men will no doubt relish the appointments, which they richly deserve. Guido sends his warmest congratulations to the pair. Chapeau to the 1922 Committee on the wit and wisdom of their appointments.
Returning to politicians, on November 9, he had a go at convicted Labour MPs and recommended that they should work as a condition of their licence:
This morning in Parliament, straight-talking Lee Anderson told Deputy Prime Minister Dominic Raab exactly how he thinks the government should solve labour shortages:
Prisoners and ex-offenders out on licence should help fill the labour shortage and […] on release, all prisoners – including ex-Labour MPs – should be ready for work and starting work should be a condition of their licence.
Guido has the video:
Nutritious meals on the cheap
As I wrote in my third post on Lee Anderson, he took a lot of unnecessary stick in May 2022 for saying that people can make nutritious meals for only 30 pence per portion.
He revealed that he, too, had been a single parent for many years and lived scrimping and saving. He still got pilloried.
On May 26, however, the Mail profiled a partnered mother of three who makes meals for 29 pence a portion.
Was there any criticism of her from other media outlets, such as the BBC? No, there was not.
Such double standards. Such hypocrisy.
Conclusion
Regrettably, I have run out of Lee Anderson anecdotes.
He is my favourite MP. I would love to see him as the next Conservative leader, if not Prime Minister.
Sadly, that will not happen. He is not Establishment enough and never will be.
I hope that he is re-elected as MP for Ashfield and wish him all the best in his Parliamentary career.
We need more MPs like him.
A profile of another Red Wall MP will appear next week.
On the first Thursday in May 2022, the UK will hold local elections.
It is unclear how well the Conservative Party will do, given sudden cost of living increases across the board, all of which occurred on April 1. Oh, were that this an April Fool joke. Sadly, it is all too real.
On April 3, Tim Stanley recapped the Conservatives' self-inflicted wounds for The Telegraph: 'The nannying Tories face oblivion if they refuse to get their priorities straight'.
Excerpts follow, emphases mine, except for Guido Fawkes's posts below:
The same day the gas bill doubled, it snowed. Oh, and restaurants were mandated to list calorie counts on menus. After 12 years in office, the Tories have gone from trying to fix the state to trying to fix us, so we'll be less of a shivery, fat burden on the bureaucrats. Don't eat, they advise; don't fly, don't drive, avoid using the heating. In fact, it would be helpful if we could stop existing altogether. The NHS would look good on paper if no one used it, and we'd have a zero per cent failure rate in schools if no one ever sat an exam.
As MPs take a break from Parliament this week, the Tories need to dwell on what they have actually done and what there is to do. This all hinges upon the question of who they truly represent. Considering they were elected to clear up the economic mess left by Labour, it's a bummer to note that debt is higher than under Gordon Brown, the tax burden rising and living standards crashing. We cannot blame ministers for a pandemic or a war, it's true, but the Conservative Party's solutions are near-indistinguishable from New Labour's, and the alternatives rarely aired. Last week, I sat in on the Treasury Committee's "grilling" of Rishi Sunak and the two points I never heard made were "you are spending too much" and "how dare you take my constituents' money to do it". The anger is not there. No party in Westminster stands for the consumer.
It was heartening to see that Stanley shares my impressions of parliamentary debate — virtue signalling, for the most part, including from Conservative benches:
This is not merely a crisis of philosophy, it is undemocratic. MPs are supposedly elected to do what their constituents want, but too many of them, as soon as they arrive in Westminster, are absorbed into a culture that has a uniform idea of what voters need, a total plan for life that runs from reducing carbon to dropping enough weight to fit into a size six dress (even better if you're a fella!). Half the debates are toe-curlingly pious nonsense that does the electorate no benefit except to reassure them that their MP is spectacularly compassionate – and the more laws you pass, goes the logic, the more money we splash, the more compassionate they appear to be. Ergo, the most important metric for success in 2022 is how much the Treasury is spending, not the results.
It's maddening to contemplate that nothing is ever done about situations past and present that affect many Britons:
Where to begin? The Ockenden report has stated that more than 200 babies and nine mothers might have survived were it not for failings at the Shrewsbury and Telford Hospital Trust. During the lockdown, the Government allocated around £37 billion for the deeply inefficient Test and Trace project. It lost £4.9 billion in loan fraud. Not one police officer has been sacked in relation to the Rotherham child abuse scandal. And the same Home Office that struggles to kick out foreign-born criminals finds it strangely difficult to let in Ukrainian women and children.
And we're paying for this incompetence, while an independent body that Labour created years ago just gave all MPs a 2.7% pay rise:
You are paying for all this, and likely paying more thanks, despite [Rishi] Sunak's tinkering, to a combination of National Insurance changes and inflation dragging people into ever higher tax bands. The Chancellor, in his munificence, says he plans to cut income tax in 2024, which means the British government is now handing out IOUs. At the same time, he is also bunging us £200 to help with the electricity bills, a sum that the state will reclaim at a later date, which means it's also entered the habit of writing "UOMes". MPs are getting a wee grant of their own. Their salaries will rise by 2.7 per cent, or £2,212.
The Government has become more intrusive and we have less money in our pockets:
… thanks to Covid, the public sector has been calling the shots since 2020, while the burden of wealth and power has shifted decisively away from the individual. Does this feel like a freer society than 12 years ago? Or a happier one? Paranoia and suspicion are not only widespread but encouraged (adverts on the London Underground now warn against "staring"), and privacy is dead. I can remember when we were told to protect our data. Now, just to take a train to Belgium, I have to prove my vaccine status by downloading the NHS app, send it a photo of my driving licence and record a video of my face reciting a series of numbers. Do I trust the NHS will delete all this information once used? Bless you. I'd sooner invite a rabid fox to babysit the chickens …
Voters, in the eyes of far too many, are spreaders of disease or pollution (in the opinion of some of the old ladies who glue themselves to roads, we ought even to stop breeding), and pockets of money waiting to be tapped.
What is a truly conservative concept of government?
… the old-fashioned principle of offering us the best possible service at the lowest possible price …
Small government doesn't mean "no government" but more efficient government – more effective precisely because it limits itself to a narrower range of tasks at which it can excel. Drawing a line under the Trimalchio's feast of a Spring Statement, the Tories must spend the time they have before the next election peeling back the bureaucracy where it is not needed, passing the benefits on to the people who have been robbed to pay for it, and coming up with creative ways to encourage the private sphere to revive. I don't just mean conjuring up new markets in insurance or energy, but also unleashing culture and technology, faith and family, the very things that make life worth living.
Bravo!
Ultimately, Stanley says:
The paradoxical goal of conservative politics is to make politics less important in everyday life, and while it might sound hopelessly idealistic to expect powerful people to surrender power, unless the Tories try to reduce the state, they will eventually lose office altogether. The time will come when voters finally snap, and take it away.
Let us look at a few more news items on this subject.
A week or two ago, someone sent in a letter to The Telegraph illustrating how much the Government is taking in tax. This is an alarming practical example: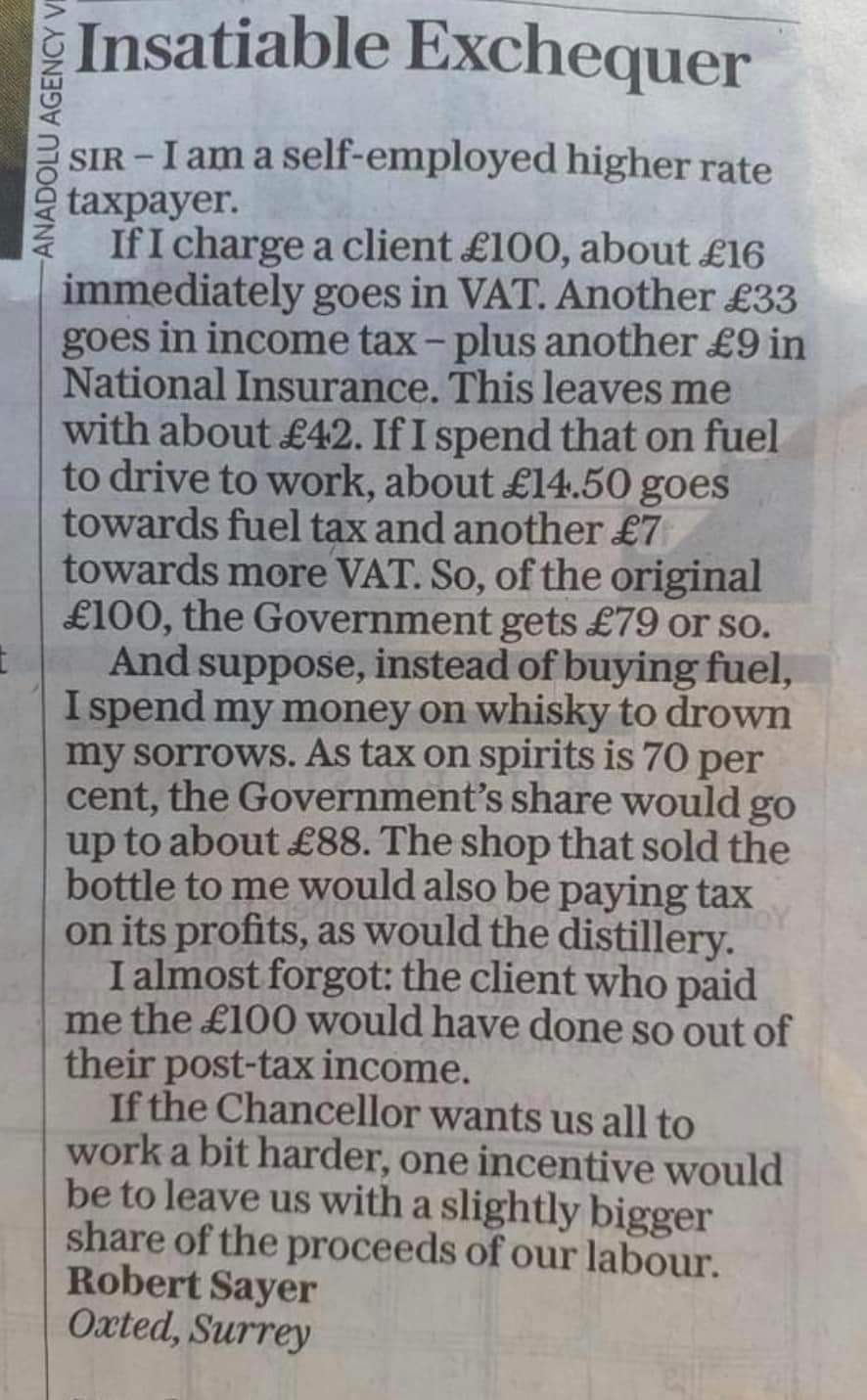 Now let's look at Net Zero, the Government's pet project, initiated by then-Prime Minister Theresa May.
This is a practical illustration of the folly of electric cars, written by conservative columnist and broadcaster Iain Dale for The Telegraph:
Back in November, I acquired an electric car, something I never thought I would do … I calculated it would save me thousands of pounds every year … 
On Friday night, I was invited to speak to Beverley and Holderness Conservatives. The main difference when you drive an electric car on a long journey is that you have to plan. In my old car, I could drive 600 miles without filling the tank, but if I ever nearly ran out of diesel there was always a petrol station around the corner.
The equivalent is not true if you have an electric car. You have to plan your journey using apps such as Zap-Map, which tell you where the charging points are, and whether they're being used, or working. I got to Beverley OK, having recharged the car at Donington Park services on the M1, which has a few charging points. Some motorway services don't have any.
The return journey proved to be a disaster. I left Beverley at 9am and arrived home in Kent at 7.45pm. A journey that should have taken four hours lasted an astonishing 10¾. It was a day completely wasted. The problem was that the three fast chargers in Beverley were either in use or didn't work. So I had to use slow chargers to get to the next fast charger, which was 50 miles away. Range anxiety is a real phenomenon. The whole time you're looking at the screen in front of you, wondering if you will run out of charge before you reach the next charger. And then what?
This week, [Transport Secretary] Grant Shapps announced a target of 300,000 more chargers across the country by 2030, the year when the Government says it will ban the sale of new petrol and diesel powered cars. Fatally, he's left it to local authorities to make sure the roll-out happens. Mark my words, it won't. Not without national direction.
My advice is this. If you only do relatively short journeys, then buying an electric car is a good decision. If you regularly travel more than 150 miles, it isn't. In my experience, the car manufacturers lie about the expected range. My electric car is supposed to do 298 miles. The reality is that it does 206, or 215 if the weather is warm. Caveat emptor.
In other news, the price of milk is set to rise by 50%. The Telegraph reports that crisis talks with EU and British dairy farmers took place in Brussels last week:
Rocketing costs from feed, fertiliser and fuel have stoked fears in the industry of a surge in milk prices not seen in decades.
The cost of four pints of milk will jump from around £1.15 to between £1.60 and £1.70, an increase of up to 50pc, according to Kite Consulting, the UK's leading adviser to dairy farmers.
Michael Oakes, the dairy board chair of the National Farmers' Union, agreed that milk prices will likely rise by as much as 50pc.
John Allen at Kite said a 30-year period of low milk price rises is "coming to an end now" as costs surge on multiple fronts. He expects a typical pack of butter to rise from £1.55 to more than £2.
He said: "What is of concern at present is processors are getting inflationary costs as well and also we are short of milk around the world."
Dairy industry bosses from the UK and elsewhere in Europe flew into Brussels at the end of last week with talks led by Eucolait, the continent's leading dairy industry group. Dairy processors, which act as a link between farmers and shops, are said to be deeply concerned about soaring costs both at farm level and further up the supply chain, as the war in Ukraine lifts key input costs …
UK dairy industry bosses have raised concerns over their costs to the Government, but officials at the Department for Environment, Food and Rural Affairs (Defra) are said to be merely in "listening mode" …
Mr Oakes, who is also a farmer, said: "I was paying about £7,000 for an artic [articulated lorry] load of fertiliser, and this year it's £28,000. It would have been a little bit less before Ukraine happened, but it made another big jump because we'd already seen higher gas prices, which have implications for fertiliser costs …
He added that feed costs have risen 60pc.
As if all that isn't enough to worry voters, we have the Online Safety Bill passing through Parliament. Guido Fawkes tells us what is happening as Ofcom, the communications regulator, prepares for the not-so-distant future:
Scary.
Guido's accompanying post says, in part:
According to Melanie Dawes, the newly-appointed CEO of Ofcom, the quango will increase headcount by 400 staff ahead of new powers to police the internet in the Online Safety Bill, which will be voted on in Parliament after Easter. That's a lot of censors…
Ofcom will have Putin-style powers to block websites from being seen in the UK if those sites fail to uphold their new legal duty of care to remove "harmful content". The definition of "harmful content", of course, will be a political question. Will questioning hurtling towards net-zero whilst millions are in energy poverty be deemed harmful content? …
Ofcom's Melanie Dawes told Times Radio:
We've got some tough and strong tools in our toolkit as a result of this legislation. And I think we need those. …These very strict and somewhat draconian kinds of sanctions are really only the sort of thing that you would expect to use as a serious last resort.
If you don't accept self-censorship and comply, your website will be blocked. Chilling.
Then we found out at the weekend that the civil servant in charge of ethics was at a lockdown party.
The Times's Patrick Maguire reported:
Were this a plot point in a satire, it would feel much too lazy for any self-respecting reader to get behind. But here we are: the official who was then in charge of ethics on Whitehall has been fined for her attendance at a lockdown-busting karaoke party.
As the first major name to have been revealed to have received a fixed penalty notice, Helen Macnamara — then the government's head of propriety and ethics, now in the business of neither as director of policy and corporate affairs at the Premier League — is surely a sign of things to come.
For confirmation of her attendance at a leaving do in the Cabinet Office in June 2020 — at a cost of £50 — is a sign that it wasn't just the junior, nameless and faceless who breached Covid restrictions at the heart of government over that fateful period, as Boris Johnson would much prefer to be the case.
Meanwhile, Scotland Yard is also said to have told people who attended a No 10 party on April 16 last year, the day before Philip's funeral, that they would be given fixed penalty notices: conclusive proof at last that the law was broken in Downing Street itself.
The PM did not attend either do, but the slow burn of revelations from the Met's investigation is hardly ideal, particularly with elections just over a month away.
"I have 65,000 constituents in west Wales, where I represent, and they are not shy in coming forward and expressing a view about this and a number of other subjects," Simon Hart, the Welsh secretary, told Sky News this morning.
"And throughout all of this saga of the Downing Street parties they have said one thing very clearly, and in a vast majority they say they want contrition and they want an apology, but they don't want a resignation."
The bigger risk, looking at the polls, is that they don't want to vote Tory…
However, there are two bright rays of sunlight in an otherwise cloudy day.
The first is that London's position as the second most important financial centre in the world is holding steady, as The Telegraph reported on Monday, April 4:
London remains Europe's dominant financial centre based on factors such as (relative) political stability, labour market flexibility, quality of life, infrastructure and innovation, a ranking by think tank Z/Yen Group found last week. It was ranked second only to New York globally, while Paris came in at 11th place.
The second is that Volodymyr Zelenskyy still appreciates all of Boris Johnson's efforts for Ukraine. He is contemptuous of Emmanuel Macron and Angela Merkel, as Guido reports:
Guido has the video of Zelenskyy praising Boris:
Zelenskyy's said the UK has "agreed on new defensive support for Ukraine. New package. Very, very tangible support," adding "Thank you Boris for the leadership! Historical leadership. I'm sure of it". 
It's too bad that Zelenskyy cannot campaign for Boris's Conservatives. They could use his help.
Last week, I posted a series on the effect of London's metropolitan elite on England's voters in 2015 and 2019.
Those who missed it can read Parts 1, 2 and 3.
On December 12, 2019, a surprising number of staunch Labour voters in the North and the Midlands lent their votes to the Conservatives for the first time.
Those constituencies in England that switched from Labour to Conservative either for the first time or for the first time in decades are known as the Red Wall.
The Conservative MPs who represent them are local people familiar with the issues that concern their constituents.
These MPs are a far cry from the Sir Bufton Tuftons from days of yore.
When the new intake took their seats in the House of Commons, spirits were high on Conservative benches as the UK exited the European Union.
In debates in January 2020, we heard them discuss the hopes they had for Boris Johnson's levelling up plan concerning rail, roads and industry.
What follows is what is on the minds of Red Wall voters and their MPs.
Tax
Five days before Chancellor Rishi Sunak presented his dynamic budget to the House on Wednesday, January 16, 2020, a pollster surveyed Red Wall voters for their views on taxation.
Guido Fawkes has a graph and summary of the poll results: 36% wanted cuts to council tax; 29% wanted cuts to income tax and 22% wanted cuts on fuel duty.
However, Guido found that the voters surveyed contradicted themselves (red emphases in the original):
According to Opinium Research for Lansons, 42% of the famed 'Red Wall' new Tory voters state the priority measure they would like to see for this afternoon is a rise in their take-home pay being introduced in the Budget – an income tax cut in other words. That is because 41% of the new Tory voters think taxes are too high and errr, 40% of the same new Tory voters think government spending is too low. Workington, we have a problem….
If the coronavirus is an economic hit on the scale of the credit crisis, a temporary halving of VAT to 10% would incentivise spending, immediately and effectively….
Sadly, because of coronavirus, most of Rishi's budget had to be binned.
Levelling up
In September 2020, Conservative MPs created a taskforce to level up, i.e. reduce regional inequalities between the North as well as the Midlands versus the South.
The BBC reported that these poorer constituencies now have Conservative MPs:
A report produced for the taskforce says Conservatives now hold more seats in the lowest paid areas than Labour …
In the 2019 election the Conservatives won a number of seats across the Midlands and the north of England previously considered to be Labour strongholds, also known as 'the red wall' …
Now this new group, the "levelling up taskforce" – which includes many of the new "red wall" MPs – is urging the government to set itself three key tests as part of its drive to reduce geographical inequality.
It says those areas that have seen the lowest growth in earnings, should see earnings rise faster than they have in recent years; areas with the worst unemployment rate should converge with the national average; and areas with the lowest employment rate should also catch up with the national average.
It also calls on the government to set out geographical analysis of how tax and spending changes impact different areas …
Analysis produced by the Onward think tank for the new group found that of the bottom quarter of seats in Britain with the lowest earnings, more are now held by the Conservatives (77) than Labour (74).
The following month, Northern Red Wall MPs formed a new group to ensure that Boris Johnson keeps his campaign promises:
The BBC reported:
… the 35-strong Tory group say they want to ensure the government delivers.
It includes several MPs who won seats in traditional Labour heartlands – the so-called "Red Wall" – at last year's general election.
Paul Howell, who won Tony Blair's old seat, in Sedgefield, Simon Fell, the MP for Barrow-in-Furness and Sara Britcliffe, who at 24 became the youngest Conservative MP when she won Hyndburn, in Lancashire, are among those who have signed up to the group provisionally named the Northern Research Group.
Ms Britcliffe said: "I don't need to join a group to speak up for Hyndburn but I have also the responsibility of making sure that we do deliver on our promise."
The group's leader Jake Berry, who has been the Conservative MP for Rossendale and Darwen since 2010, said it was not "about giving government a bad time".
He told BBC Radio 4's The Week in Westminster: "There are arguments that we collectively as northern MPs make together, to create a compelling case for the government to invest in the north".
These include "making sure that this government delivers on its promise to 'level up' the north, deliver that Northern Powerhouse and create wealth across the north of England," he added.
"We don't form a government unless we win the north."
Mr Berry is the former minister for Northern Powerhouse, which was set up by former Chancellor George Osborne to redress the North-South economic imbalance, and to attract investment into northern cities and towns.
The problem with levelling up is that some of the local councils most in need of funds are Labour-run. As I have been writing this post on Friday afternoon, February 25, 2022, I have heard Philip Davies, who represents Shipley, tell his fellow MPs that Bradford Council has not even put together a bid in order to get levelling up funds from the Government. Other Red Wall MPs had similar complaints.
This took place during a Private Members' Bill debate on the Local Authority Boundaries Bill, urging reviews of local council boundaries and making such changes easier. Kemi Badenoch, the minister representing the Government, said that the bill would need significant rewording in order to be considered. She will work with Robbie Moore, also a Red Wall MP, to revise his proposed legislation.
Bradford Council is not the only Labour council that has been under the spotlight.
In October 2020, another Red Wall MP, Chris Clarkson, made known his concerns about Andy Burnham, the Mayor of Manchester.
That brought about a furious backlash from Angela Rayner on the Labour benches. She allegedly called him 'scum' …
… and was given a dressing down by Deputy Speaker Dame Eleanor Laing.
Paying for coronavirus
In March 2021, a pollster asked Red Wall voters how they wanted the Government to handle the cost of coronavirus.
Most Red Wall voters opposed higher taxes, preferring lower spending instead:
Guido's accompanying post says:
Research from Public First's Rachel Wolf has revealed that when asked to choose between higher taxes, borrowing, or spending cuts, a plurality of the public back spending cuts over the other options. Tax rises are most popular with high social status white collar 'AB' voters, and least popular with working class 'DE' voters, who overwhelmingly back spending cuts. Working class constituents in the red wall aren't typical Islington socialists…
Also:
The other finding is that people are less opposed to taxes they think they don't have to pay, and more opposed to taxes they think they do have to pay. In reality this translates to taxes they have to pay directly. Any tax that is indirect on business still has an economic cost that is borne in the end by individuals, for example dividend taxes reduce your pension income, business rates and carbon taxes increase consumer prices. The more taxes are understood, the less popular they become.
True. We have tax rises coming, so there will be dissatisfaction in these constituencies.
Net Zero
Another plan that will not go down well is the drive to reach Net Zero. The cost is upwards of £1.5 trillion:
This tweet from 2021 encapsulates the thinking of Red Wall MPs (ignore Michael Fabricant, who was commenting on the wrong thread). Click on the image to see all the comments, especially from Jackie Doyle-Price, who mentions the metropolitan elite:
Minimum wage
In November 2021, Rishi Sunak presented a more sombre budget as the nation was still grappling with coronavirus.
One of the more positive points was his commitment to raising the national minimum wage.
On the face of it, it would seem to appeal to Red Wall voters. However, The Spectator's Patrick O'Flynn was less sure, asking if Sunak understood them properly. Raising the minimum wage does not lift those in more responsible positions. In fact, the latter have been earning less over recent years (emphases in purple mine):
In his recent Budget, the Chancellor committed the government to several eye-catching policies, including a big uplift in the minimum wage, these days rebranded as the 'national living wage'. But something that went unremarked upon was reaffirmation of a target of raising the minimum wage as a share of average pay.
A 6.6 per cent uplift this year would, said Sunak, keep the government 'on track for our target of two-thirds of median earnings by 2024.' Many Tory MPs beamed with happiness, no doubt thinking this would further bolster the working-class parts of their new electoral coalition. But will it?
According to the OECD, the UK minimum wage was worth 34 per cent of mean earnings and 41 per cent of median earnings in the year 2000. It has since risen steadily as a share of these averages, hitting 48 per cent of mean earnings and 58 per cent of median earnings in 2020.
Think about how this must feel to workers on roughly median earnings. Two decades ago they earned two-and-a-half times as much as minimum wage workers. Now they earn less than twice as much. By 2024, Sunak has decreed that minimum wage workers in entry level roles will be earning two-thirds of the amount that median earners do. This will represent a massive compression of wages within a single generation.
For those working people who put in a lot of effort in their schooldays compared to their more idle classmates, or who perhaps underwent apprenticeships on very low earnings at the start of their careers, this is highly unlikely to feel like progress.
When you consider the extra responsibilities higher-earning working class jobs typically entail compared to minimum wage roles – and the fact that various welfare entitlements may further reduce the net advantage – this government policy is coming close to rendering the entire hardworking ethos pointless.
This issue of earnings relativities between different grades of workers has long been a highly sensitive one in industrial relations, often more so than the level of raw pay per se. Indeed, it was the cause of countless strikes in the 1970s.
Instead of anticipating a celebratory mood among new working-class Tory voters, ministers should be on the lookout for restlessness and resentment. Indeed, the former Downing Street pollster James Johnson has already spotted the first stirrings of this in focus groups with participants grumbling that too much help is being directed to those at the very bottom.
Sunak has no parallel policy of ensuring that median earnings catch up as a proportion of the top 10 or 1 per cent of earners. In other words, his approach defies logic. Those in the modest middle of the pay scale have every reason to feel victimised …
One can't help feeling that Margaret Thatcher and her advisers had an altogether better innate understanding of what makes the ambitious working classes and lower middle classes tick than Boris Johnson's administration. Which is why her flagship policy of bringing in the right-to-buy their council houses at a discount scored an electoral bullseye with aspirational voters …
If Tory MPs in red wall seats think this policy is going to delight many of their constituents then I predict that they are about to be disabused of that notion.
It is still too early to tell what most Red Wall voters think of a rise in the minimum wage, but Patrick O'Flynn's arguments make sense.
Guido Fawkes agrees with O'Flynn and thinks that Red Wall voters would benefit from a reduction in basic income tax rates. Guido took issue with an article in Politico. 'UC' stands for Universal Credit:
Sleaze
In November 2021, the then-MP for North Shropshire, Owen Paterson, faced accusations of sleaze via his lobbying. He was forced to resign the seat he had long held. A Liberal Democrat won the by-election.
Some Conservative MPs tried to save Paterson from a 30-day suspension. However, Red Wall MPs were not among them. They objected to having a whipped vote to give Paterson a reprieve. Some voted against the Government, and rightly so.
The rest of the nation also disapproved. This was the beginning of low polling results for Conservatives. It wasn't long afterwards that Labour began leading in the weekly polls. They still do.
Not only did Red Wall MPs disapprove, so did their voters, as the Daily Mail explained:
Boris Johnson is struggling to contain mounting fury on Tory benches today as a poll laid bare the damage inflicted by his bungled effort to save ally Owen Paterson from punishment for lobbying.
Research by YouGov carried out in the wake of the dramatic Commons vote to suspend the standards system showed the Tory poll lead plunging by five points.
The party is now just one point ahead of Labour, after dropping from 39 per cent to 36 per cent in a week, while Keir Starmer has seen a boost to 35 per cent, according to the survey in The Times.
Education Secretary Nadhim Zahawi tried to cool the growing backlash among MPs this morning, admitting that the government 'made a mistake' in retrospectively tying Mr Paterson's case to wider reforms.
Meanwhile, a blame game is in full swing over who was responsible for the meltdown – which culminated last night when Mr Paterson resigned from the Commons after the PM cut him loose. His exit was made official this morning when he was appointed Steward and Bailiff of the Manor of Northstead – the traditional way for MPs to quit the House.
As well as a wave of anger about Mr Johnson's lack of judgment, many Tories have been pointing the finger at chief whip Mark Spencer, saying he should have realised that the tactic would not 'fly'. One MP told MailOnline that Mr Spencer had not done his job properly. 
'If the PM was told about the extent of disatisfaction then he wouldn't have pushed it,' they said. 'You could tell there was a problem because the whips were literally running around the Commons.'
Mr Johnson's media advisers are thought to have warned that the tactics were high-risk, but those pushing the political benefits of shoring up Mr Paterson and reforming the standards regime won the internal argument.  
The premier is said to be 'p****d off' that the crisis has distracted from the progress being made on climate change at the Cop26 conference in Glasgow. Senior MPs said he was also 'livid' about triumphalist interviews by Mr Paterson in which he claimed he would not change anything about his past behaviour. 
One Conservative MP who spoke to The Mail said:
'I had two marginal male MPs from Red Wall seats in tears looking at their social media feed, looking at their emails coming in after the vote, going 'what the hell have we done?'.'
… 'The chat on the WhatsApp groups is that the whips can stick their whipping up their a***. It's now every man for himself,' they said.
Chief Whip Mark Spencer recently became the new Leader of the House as Jacob Rees-Mogg moved to a new Cabinet position for Brexit opportunities.
Latest news
Many Red Wall MPs were incensed to learn of the Downing Street parties during lockdown.
Some began joining forces on January 18, 2021, when Boris apologised to Parliament:
As someone tweeted, this could have been about damage limitation for themselves:
Boris met with his own MPs that evening:
Lee Anderson is a former Labour councillor. He often confronts Labour benches with their own dismal record in local and national government.
The Red Wall MPs' plot to write letters of no confidence to Sir Graham Brady became known as the Pork Pie Plot, because their alleged leader, Alicia Kearns, represents Rutland and Melton. Melton Mowbray is home to England's famous pork pies.
Steven Swinford, The Times's political editor, spoke with a member of Cabinet who found the rebellion a disgrace:
The Red Wall plot to remove Boris Johnson – with Tory MPs meeting to discuss submitting letters – is not going down well in Cabinet
'It's pretty sickening. They were only elected because of him. Most of them are a load of —-ing nobodies. It's nuts'
Hmm:
With the current situation in Ukraine, the Pork Pie Plot seems like a long time ago. Then again, a week is a long time in politics.
The next thing Red Wall residents can look forward to is a Northern branch of Conservative Party Headquarters in Leeds, which is not part of the Red Wall, but it's close enough. Pictured is Party chairman Oliver Dowden MP:
Guido Fawkes wrote that this had been a promise from Government since 2020:
The Tories look set to imminently boost their red wall presence – and given recent polling, not a moment too soon. A party source tells Guido that their long-awaited Leeds campaign headquarters – first announced by Amanda Milling way back in September 2020 – is set to open in mere weeks …
… staff are already at work following a prolonged recruitment drive and the project will get up to full steam when work-from-home guidance is lifted. Another source suggested given recent events the party will be keen for the moment to be noticed by the media. Guido looks forward to Dowden's forthcoming ribbon-cutting…
I will have more on the Red Wall coming soon: profiles of those MPs with the most spark.
On Friday, January 7, 2022, Nigel Farage wrote an editorial for The Telegraph: 'A revolt on the Right is brewing — and I'm ready to be part of it'.
Boris Johnson should be afraid, very afraid.
Nigel Farage's hour-long shows on GB News, broadcast every Monday through Thursday have examined every failing from Boris's Government. His audience ratings are excellent and I know people who will schedule their time in order to be able to watch it.
Farage is currently president of the Reform Party, which used to be the Brexit Party and, prior to that, UKIP. Businessman Richard Tice is the public face of the Reform Party.
This constant renaming is all a bit tiring, yet necessary.
In his editorial, Farage describes past general election campaigns and says that former Labour supporters have been voting either for his party or, most recently in 2019, for the Conservatives, therefore:
Once the generational link with the Labour Party was broken, switching became easy.
He then goes into a litany of Boris's failings, which, despite what No. 10 thinks, are important to a sizeable number of people who voted Conservative in 2019, especially those in Red Wall constituencies that Labour lost that year (emphases mine):
People lent their vote to Johnson in 2019 to break the Brexit logjam and to take back control of our borders because the immigration issue still matters to them. Yet just two years on, the volume of illegal Channel crossings has enraged these voters. The North East now houses 17 times as many asylum seekers as the South East, according to the Migration Observatory. The impact of this is plain for all to see. As the council house waiting list lengthens, there is a growing feeling that Johnson told voters what they wanted to hear about "taking back control" without really meaning it.

Such perceptions are electorally disastrous for any prime minister. Yet there is potentially an even bigger problem on the horizon. This year's massively increased gas and electricity bills are going to cause an enormous shock. Worse still, these large bills will coincide with tax rises. If Richard Tice can get the message through that 25 per cent of people's electricity bills is spent on green subsidies – and that the 5 per cent VAT energy rate has, despite promises, not been removed – then Reform UK will have its big chance.
The revolt on the Right ended the premierships of David Cameron and Theresa May. I founded Reform UK out of the Brexit Party, which had done its job successfully. For now, I am the party's president in a non-executive role, but I intend to increase the help that I'm giving to Richard Tice. Brexit has not been completed properly. The net zero strategy is placing our nation at a significant disadvantage. And the Channel crossings are humiliating Britain. 
I understand the disillusionment of Red Wall voters who thought Brexit would usher in a new politics. This has not happened. It's just more of the same – a metropolitan Tory chumocracy totally detached from the rest of the country. If Johnson wakes up to this, he can still save himself. I suspect, however, that the revolt on the right will cause another prime ministerial casualty.
Despite the old-style Conservative 'chumocracy', many of the Red Wall Conservative MPs are cut from different cloth. Most of them grew up in humbler circumstances and feel conservative to the depths of their being. They are actively interested in their constituencies and their constituents.
That is something Conservative-voting defectors to Reform should consider.
I enjoy watching Nigel Farage. He always brings up some new fact of which I was unaware.
However, the Reform Party is a spoiler party. I will be furious if, when the next election comes, Reform start sapping votes from the Conservatives, thereby returning Red Wall seats to Labour.
I do wonder on what side of the fence Reform actually sits. They make legitimate points but they have no chance at all in winning a seat in Parliament.
The most we can hope for is that Farage gets under Boris's skin so much that he will actually start acting like the Conservative Prime Minister most of England elected.
When I left off on Wednesday, Prime Minister Boris Johnson said that day that there was no public appetite for a referendum on whether the UK government should continue with its goal of Net Zero:
I would not be too sure about that. There is a petition on the UK government site requesting such a referendum:
Guido Fawkes's accompanying post says (emphases in the original):
Despite Boris's attempts to resist calls for another referendum, a petition calling for the government to hold a vote on whether to keep the 2050 net zero target has today reached 10,000 signatures – meaning that the government must formally respond. If the petition hits 100,000 signatures it will have to be debated in Parliament, so Boris may have to reconsider his stance yet. Re-ordering our society to achieve net zero is a massive change; one that has not yet been democratically endorsed. Let the politicians who want us to eat bugs, have cold showers, lukewarm heat pumped houses, higher energy bills and far more expensive foreign holidays, make their case!
Writing early Friday afternoon, I saw that over 12,000 people have signed it. The map showing signatures by constituency is quite interesting. Nearly every constituency has signed up in lesser or greater numbers. Only Glasgow North East had 0 signatures.
The British are not the only ones who are upset about what they have seen on the news about COP26. On Thursday, I listened to a lively — heated — debate on RMC, France's talk radio station, about the blatant hypocrisy on the part of the elites with their private jets and limos who want to legislate us into serfdom when we already have high enough taxes and other things on our minds.
Returning to the UK, it seems to me that half the public are pretty incensed by what they have witnessed this week via television in Glasgow.
Boris Johnson
YouGov's latest poll, taken between November 3 and 4, have shown a drop in popularity for the Conservatives. They are now only one percentage point ahead of Labour. It wasn't too long ago that Labour overtook them for a week in the polls.
Guido Fawkes attributes this to the resignation of a Conservative MP yesterday for allegedly promoting a firm paying him as a consultant, but, like some of Guido's readers, I think it has less to do with Owen Paterson and more to do with COP26, which is the straw that could break the camel's back:
Guido's post says, in part:
The 2.5% swing sees Labour up two points to 35% and the Tories down three to 36%, the smallest Tory lead for The Times since Rishi's social care tax rise in September. 22% of 2019 Tory voters are now undecided about who to vote for…
How did Boris become such an unabashed climate change spokesman? Was it only because he was hosting COP26? Or are there influencers, such as his wife Carrie, not to mention his father Stanley?
On October 21, Conservative Home posted a profile of the elder Johnson, 81: 'A serious environmentalist who, as COP26 looms, has at last made a convert of his son'.
Andrew Gimson, the author, tells us of Stanley's early life, his interests and the jobs he had during his career.
Excerpts follow, emphases mine:
There is scarcely an endangered animal for which Johnson has not campaigned, a senior environmentalist with whom he has not made common cause, and his efforts have been recognised by prizes awarded by Greenpeace, the World Wildlife Fund, the RSPCA and the RSPB among others …
In February 2016, Johnson became Co-Chairman of Environmentalists for Europe, a group set up to campaign for Britain to remain in the EU, and set out his case in a piece for ConHome in which he recalled how poor Britain's environmental performance was before 1973 …
… the tone is serious. Johnson's record as a committed environmentalist stretches back half a century. In 2017 he switched sides and accepted Brexit, but the environmentalism remains a constant.
On television, Stanley displays a jokey joviality, a characteristic Boris has adopted.
Andrew Gimson concludes:
Various characteristics have come down from Stanley to his eldest son, including an indefatigable, at times almost unhinged optimism; a compulsion to make every joke suggested by any given situation; and a fondness for the mannerisms of a stage Englishman, occasionally hard to distinguish from those of a cashiered major.
What lies behind such persistent frivolity? What is each of them hiding? The angry but lazy answer is nothing, which is one reason why the Prime Minister's chances of success have been so persistently underestimated.
In Stanley's case, there is the serious, long-term commitment to the environment, and as COP26 comes into view, he finds he has made a convert of his son.
On Tuesday, November 2, Boris flew back to London for a dinner with Telegraph journalists at the Garrick in Pall Mall, London:
Guido says (emphasis in the original):
Instead of wasting his time schmoozing celebrity swampies in Glasgow with the Prince of Wales, Leonardo DiCaprio and Stella McCartney, Boris was instead at a far more important and influential event: a reunion dinner party for Telegraph leader writers at the Garrick.
It's not the dinner or the private club that is irksome, but the fact that Boris flew back from Glasgow whilst telling the rest of us that we will have to lower our own standard of living.
The Mail's veteran columnist Richard Littlejohn wrote about the sheer hypocrisy of it all (emphases mine):
For the record, I have no problem with a few like-minded chaps getting together for Chateaubriand washed down with Chateauneuf du Pape.
I don't even care if Boris takes a private plane back from an international summit.
It's the stinking hypocrisy that sticks in my craw, the 'Do as I say, not as I do' arrogance of all this.
I couldn't give a monkey's about the double-standards of Joe Biden, Jeff Bezos, or any other of the preening global junketeers who turned up in Glasgow this week.
But I am extremely concerned about the behaviour of our Prime Minister and his Cabinet, who increasingly behave as if the rules they impose upon on the rest of us don't apply to them.
Boris has spent the week warning about climate change apocalypse. In pursuit of his insane Net Zero vanity project, he proposes to make us colder and poorer, change our diets and cut back on travel, especially foreign holidays.
After banging on about aviation and vehicle emissions destroying the planet, does he really think taking a private plane and a thirsty Range Rover to a jolly-up at an exclusive London club is a proper way to behave?
What kind of example does that set? If catching the train back from Glasgow meant missing a dinner with Lord Snooty and his pals, so what?
Sadly, this pattern of behaviour has become the norm among our ruling elite, ever since Boris's ex-sidekick Dominic Cummings flouted the Covid lockdown by driving to Durham.
Ministers exempted themselves from the travel ban and the need to self-isolate. On the pretext of combating global warming, the Tories' Cop26 champion Alok Sharma flew to no fewer than 30 countries, never once quarantining on his return to Britain.
Next month, it'll be two years since we gave Boris a thumping 80-seat majority. It should have been the start of a national renaissance under a popular, self-proclaimed libertarian PM.
Admittedly, the pandemic changed everything. But that is no excuse for what has happened subsequently. I've been asking friends and family who voted Tory in 2019, some for the first time, if they can name a single one of this Government's policies they actually support.
Other than getting Brexit done and sub-contracting the vaccine programme to Kate Bingham, most came up blank.
Somewhere along the line, a so-called Tory Government has completely lost the plot …
I could not agree more.
The Royal Family
After having read about COP26, a good friend of mine told me the other day that he would not be upset if the Royal Family disappeared into oblivion after the Queen departs this mortal coil:
At least with a president, we can get rid of him in four or five years.
I do not yet share my friend's sentiment, but this week's events have pushed me ever closer.
The Queen
Is the Queen coming out as an environmentalist, further honouring her late husband, Prince Philip, founder of the World Wildlife Fund?
Was it appropriate for her to give a statement via video about COP26? I'm of two minds about it. Then again, only those at the VIP reception at Kelvingrove Museum in Glasgow got to see it. The following article from the Mail has the transcript in a sidebar.
The Daily Mail reported on the reception, held on Monday, November 1:
Her Majesty, 95, told leaders 'to rise above the politics of the moment, and achieve true statesmanship.'
She went on to say that 'none of us will live forever' and 'we are doing this not for ourselves but for our children and our children's children, and those who will follow in their footsteps' as she urged leaders to reach decisive COP climate change deals. 
In her most personal speech ever, the monarch also paid tribute to Prince Philip and described how 'the impact of the environment on human progress' was a subject close to the heart of her 'dear late husband' – who in 1969 told an academic gathering: 'If we fail to cope with this challenge, all the other problems will pale into insignificance.'  
Was it appropriate for her to express her opinion on coronavirus vaccinations last Spring, intimating that those who did not get them were selfish and self-centred? That was bang out of order, in my opinion.
The Queen is now speaking out publicly on subjects that have traditionally been out of bounds for the Royal Family, the monarch in particular. One dreads to think what will be in her televised Christmas message this year.
Prince Charles
On Monday, I watched Prince Charles's brief speech at COP26.
As expected, he catastrophised, calling on everyone to adopt a 'war footing'.
The apple does not fall far from the tree. He is like his father in that respect.
As with his mother, is this the sort of thing he should be pontificating on in public? Climate change is highly political.
The Cambridges
The Duke of Cambridge — Prince William — has embraced environmentalism as, so it would appear, his wife, the Duchess, a.k.a. Kate.
The aforementioned Mail article gushed about her outfit, far out of reach for mere mortals:
Kate Middleton looked the picture of poise in a blue coat dress and navy heels as she walked alongside Prince William in a dapper suit at the arrival. 
Wearing her hair back in a low bun, the Duchess opted for a glamorous make-up look for the ceremony tonight where she was hosted Prince Charles, Camilla, Duchess of Cornwall and Boris Johnson as well as key members of the Sustainable Markets Initiative and the Winners and Finalists of the first Earthshot Prize Awards.
Her custom dress came from Eponine's SS20 collection and made from a double wool crepe fabric, the price is available on application but similar dresses cost around $3,278.
Meanwhile, Camilla, 74, opted for a teal Bruce Oldfield featuring buttons recycled from another outfit.
William and Kate's appearance comes just hours after royal couple, both 39, visited Alexandra Park Sports Hub in Dennistoun to meet with Scouts from and learn more about the group's' #PromiseToThePlanet campaign.
Meanwhile, the article says that Prince William had a laugh with Joe Biden, as did the Duchess of Cornwall — Camilla — with Angela Merkel.
The Cambridges will never have to worry about installing heat pumps. They will be able to live in warm rooms and enjoy hot baths or showers thanks to traditional boilers. Meanwhile, any member of the public foolish enough to go along with installing and running a heat pump will never be warm again, either while dressed or abluting. Heat pumps stop working at 4°C. Furthermore, installing one requires tearing up one's back garden at a cost of £12,000.
Conclusion
The world has changed. We have more inequality now than we did when Prince Charles was born after the Second World War.
UnHerd has a profile of the prince, which has quite a few sad anecdotes in it, and concludes with the world's changes over the past 70 years:
Charles never changes. But the world always does. When he was born in 1948, wars and revolutions had levelled everything. There was a 'Great Compression'; inequality was suppressed, by accident, bloodletting, and design. For 30 years there were high taxes, good novels, middle-class successes, and an operational meritocracy.
By the Nineties, Tory politicians in Britain could dream of a "classless" society. Charles was most-lambasted in this midlife period, not merely because of the "War of the Waleses", but because this socially democratic mood made the monarchy itself look ridiculous. "Who knows what fate will produce?" Diana said, ominously, at the time.
Fate dispatched her, then produced a vastly more unequal world. Meritocracy calcified into an aristocracy. It treats national and international institutions as outdoor relief for its favoured families. After Iraq, the financial crisis, and 2016, this elite, viewed from below, began to look like an Ancien Régime. With their fabulous wealth, estates, yachts, villas, servants, and elaborate sex lives, this class resembles the Windsors, just with stronger chins.
And those are the people who are going to tell us how to live our lives according to the new religion of climate change.
Bring on that Net Zero referendum! We need it!
Happy Bonfire Night to my British readers.
Yesterday's post was about the opening of COP26 in Glasgow and its attendant hypocrisy.
What our notional betters have done with coronavirus they will most certainly do with climate change.
Examples follow.
Coronavirus
On Monday, November 1, the day COP26 opened, Mark Dolan of GB News had an excellent editorial which bridged the gap between coronavirus and climate change tactics:
At around 5:15 in the full version of Dolan's editorial (just over ten minutes long), he tells us of the mask theatre used with public appearances of politicians. They wear them for the photo op — outdoors — then take them off when they go indoors. Similarly, social distancing is also ignored:
Yes, the elites are laughing at us: 'for thee but not for me'.
Climate change
Another commentator, Spiked's Brendan O'Neill, also says that the elites are laughing at us.
In writing about COP26 on Monday, he says (emphases mine):
It feels like the elites are just laughing in our faces now. So the other day we had the UK's chief scientific adviser, Patrick Vallance, saying everyone will have to eat less meat and fly less if we are going to get a handle on this climate-change thing. A little later it was reported that around 400 private jets will fly into COP26, carrying world leaders and big-business execs to the plush surrounds in which they'll wring their manicured hands over mankind's carbon crimes. Ordinary people are guilt-tripped for taking one poxy flight a year to escape the trials and vagaries of life in capitalist society for a couple of weeks, while those who quaff champagne on airplanes that it costs $10,000 an hour to hire out get to pose as hyper-aware defenders of poor Mother Nature.
He continues:
According to one report, the private jets landing in Glasgow will spew out around 13,000 tonnes of carbon. That's the same amount of CO2 that 1,600 Scots get through in a year … John Kerry, Joe Biden's climate envoy, will be in Glasgow to pull pained faces for the cameras over the possible heat death of the planet. Three months ago he flew in a private jet to Martha's Vineyard for Barack Obama's lavish 60th-birthday celebrations. It was the 16th private-jet jaunt his family had taken this year. Prince Charles, from one of his palaces, says COP26 is the 'last-chance saloon' for the planet. The royal family has collectively flown enough air miles over the past five years to get to the Moon and back. And then around the Earth's equator three times. In short: 545,161 miles. Reader, they're taking the piss.
O'Neill moves on to cars and Joe Biden:
Driving is viewed by greens, and by eco-virtuous political leaders like Sadiq Khan [London's mayor], as one of the stupidest, most Gaia-destroying activities indulged in by the plebs. The Home Counties irritants of Insulate Britain have been winning plaudits from the commentariat over the past few weeks for blocking the paths of such terrible eco-criminals as mums driving their kids to school and deliverymen trying to deliver food and other essentials. And yet there's Joe Biden in Rome for the G20 being whisked around in an 85-car convoy. His own armoured limousine, and its decoy version, generates 8.75 pounds of carbon per mile driven – 10 times more than normal cars. And greens want us to feel angry about the working-class bloke driving an HGV full of groceries and fuel? It's insane.
When he's done with Rome, Biden will fly to Glasgow in Air Force One. Four jets will accompany him. Combined, they'll emit an estimated 2.16million pounds of carbon over five days.
O'Neill gives us other examples:
This is getting ridiculous. People will be perfectly within their rights over the next few days to ask why it is that those who live in the lap of luxury, who jet to every corner of the globe, who experience more luxury in a week than most of us can expect in a decade, should get to hold forth on humanity's alleged suffocation of the planet with carbon and pollution. Like Joanna Lumley, famed, well-paid traveller of the planet, saying travel should be rationed. Or Dame Emma Thompson literally flying first-class from LA to London to take part in an Extinction Rebellion protest about the evils of CO2. Or Harry and Meghan attending a concert focusing on the 'urgent need' for climate action and then leaving on a private jet. What the green oligarchy lacks in moral consistency it more than makes up for with brass neck.
Ultimately, O'Neill concludes that, obvious hypocrisy aside, climate change has become the new orthodoxy of people rolling in money:
It's the perfect ideology for our at-sea elites. It allows them to magic up a sense of urgent moral purpose – they're saving the planet, no less! It lends itself beautifully, or, rather, terrifyingly, to the project of social engineering: lower your horizons, learn to live with less, reconceive of yourself as a destructive creature in need of top-down control rather than a creative being who might help to push humanity forward. It naturalises the limitations of capitalism, encouraging people to make their peace with austerity and downturn on the basis that economic growth is a bad, nature-exploiting idea. And it is a very difficult ideology to challenge. The marshalling of The Science to buoy up this ruling-class ideology means that anyone who questions it – anyone who demands more growth, more ambition, a bigger human footprint – can swiftly be written off as an anti-scientific scourge, as a 'denier' of the revealed truths of climatology. Its social engineering, its social control and its strict, censorious management of social aspirations are what make the green ideology so attractive to the new elites.
Oddly, the Left find this attractive. Then again, they have always been about control:
COP26 will help to consolidate this neo-aristocracy. And, bizarrely, the left will cheer it on. The left once said: 'We do not preach a gospel of want and scarcity, but of abundance… We do not call for a limitation of births, for penurious thrift, and self-denial. We call for a great production that will supply all, and more than all the people can consume.' (Sylvia Pankhurst.) Now it pleads with the super-rich to come up with more and more creative ideas for how to rein in the filthy habits and material dreams of the masses. What a disaster. It isn't climate change that poses the largest threat to humanity in the early 21st century. It's the bourgeoisie's loss of faith in its historic project, and its arrogant generalisation of that loss of faith into a new 'green' ideology we must all bow down before. A revolt against environmentalism is arguably the most necessary cause of our age. Who's in?
Well, we in the UK have just been silenced on any revolt.
Recently, The Telegraph ran two editorials proposing a referendum on climate change legislation from COP26. Today, November 3, Prime Minister Boris Johnson told the Commons at PMQs that there will be no referendum because the public haven't the appetite for it.
Disgusting
At the VIP reception in the centre of Glasgow on Monday evening — which prevented people living nearby from entering their own homes — we saw that there were no masks and no social distancing. But these people are super clean and elite, so it's okay for them.
Here's the Duchess of Cambridge — Kate — laughing as she holds a jar of larvae for livestock feed:
Hilarious. This is the sort of thing that they want us to eat for dinner, along with insects:
Last week, Boris went one step further. He told a classroom of nine-year-olds that humans could be used as animal food:
Guido Fawkes has the video and two quotes, the relevant one of which follows:
recycling "doesn't work", he "wouldn't put beetroot in lasagne", and even that "feeding human beings to animals" might be a decent idea.
One thing is certain: neither Kate nor Boris will ever be deprived of meat on their dinner plates.
As for the rest of us, the jury's out.
The elites despise us. They really do.
COP26? Oh, the hypocrisy of it all!
I watched the first hour of it on Monday, November 1 and nearly gagged but had to hear the actual speeches so that I would know exactly what the more prominent speakers actually said rather than read fake news regurgitations in the comment sections of the sites I read most frequently.
Air and limo travel: 'for me but not for thee'
The G20 summit in Rome closed on Monday, then it was time for the leaders to jet off to Glasgow for COP20.
While COP26 was scheduled to take place last year and couldn't go ahead because of the pandemic, it does seem as if these events, e.g. G20, could be better co-ordinated so that they took place in cities which are closer to each other.
But, you know, when it comes to our notional betters, no expense is spared. It's okay for them to fly then ride in limos all over the place, but it's not okay for us to go on a budget airline holiday with our family once a year:
In addition, Glaswegian women were made to walk down dark, unfamiliar thoroughfares while a COP26 VIP reception took place:
Let's take a closer look at the double standard that we, the great unwashed, are experiencing.
Ed Miliband MP
Ed Miliband used to lead the Labour Party. He is now in the Shadow (Opposition) cabinet.
On Sunday, October 31, he went on Andrew Marr's show on the BBC to object to Chancellor Rishi Sunak's lowering of passenger air duty on internal flights in the UK.
In fact, Miliband told Marr that domestic flights should be stopped 'as much as we possibly can'. However, in January 2020, Guido Fawkes revealed the MP's own air travel habits:
Guido's 2020 post said, in part (emphases mine below):
Last April, Guido reported on Ed Miliband's hypocrisy of constantly windbagging about the 'climate emergency' despite wracking up 19,000 air miles from his flights abroad, pumping out tonnes of carbon dioxide …
Green Ed's wracked up 12,000 air miles in 10 months – half the circumference of the globe.
Miliband is one of the North London elite who represents a working class city in the North of England, Doncaster. As one would expect, Miliband is more interested in promoting himself than Doncaster. This is what one of his constituents had to say:
Ed wants Britons to take the train, but that is not always possible within the United Kingdom, which includes Northern Ireland — and various islands:
One wonders if Miliband finally bought an electric car, the type of vehicle he insists the rest of us should have:
Miliband has complained about our rising energy prices which will be increasing by 20% per annum in 2022. However, he was the one who started the 'green tax' on energy when he was the energy secretary during Labour's last few years in power 10+ years ago:
Lorna Slater MSP
Another hypocrite is the Scottish Green MSP, deputy party leader Lorna Slater, originally from Canada.
She slammed G20 leaders for not going by train from Rome to Glasgow, which would have taken 28 hours:
However, Guido pointed out that, in 2019, Lorna Slater enjoyed a flight from Brussels to Sweden:
Couldn't she have gone by train?
As Guido points out:
According to Lorna's logic, Guido is outraged she didn't set an example by taking the 36-hour train from Glasgow Central via Euston, London St Pancras, Amsterdam and Berlin to Stockholm Central.
Joe Biden
As is customary for the leader of the free world, an American president has to have a ginormous motorcade for security purposes.
Apparently, in Rome, Joe Biden had to have more vehicles than usual because the city has social distancing laws during the coronavirus crisis. As such, he had an 85-car motorcade. The Daily Mail has the story along with numerous photos:
Biden at the upcoming environmental summit plans to tout $550 billion in new environmental programs in his Build Back Better framework, which he unveiled before jetting to Rome on Air Force One (another gas guzzler).
Here's the US motorcade leaving Edinburgh International Airport for Glasgow:
Here is his motorcade upon arrival in Glasgow:
Less hypocritical transport
Late last week and into the weekend, North West England and the South West of Scotland, including Glasgow, had a lot of heavy rain.
As a result, media reporters and other lesser beings found their trains from Euston to Glasgow Central cancelled:
CNN's Wolf Blitzer reports from … Edinburgh
Incredibly, CNN's veteran reporter, Wolf Blitzer, must have thought COP26 was taking place in Scotland's capital:
How does that happen?
Boris's opening speech
On Monday, as COP26 host, Prime Minister Boris Johnson was one of the first speakers welcoming everyone to the conference.
He laid out the purpose of this year's conference, which is to determine exactly how the Paris Agreement will work in practice:
The Daily Mail has a good summary of what he said:
The Prime Minister compared the situation facing the globe to the climax of a James Bond film where the hero has to thwart plans to blow up the planet.
But Mr Johnson said 'this is not a movie' and the 'doomsday device is real' as he urged his counterparts to do more to reduce harmful emissions.
The premier said the longer countries wait to take action then 'the higher the price when we are eventually forced by catastrophe to act'.
He said the world has 'long since run the clock down on climate change' and there is now just 'one minute to midnight', with action required immediately to prevent a global disaster.
The PM used his speech at the opening of the summit as a rallying cry to try to build momentum as he welcomed foreign leaders to Glasgow after securing only lukewarm climate commitments at the G20 summit in Rome over the weekend …
Mr Johnson pledged in his lunchtime speech to put another billion pounds into green finance – as long as the UK economy performs as expected in the coming years.
The PM repeated he wants global leaders to unveil steps on 'coal, cars, cash and trees' – the things he believes will make the most different in limiting temperature rises to 1.5 degrees.
Mr Johnson had set the tone as the G20 wrapped up last night by reading the riot act to his fellow world leaders, saying their promises on tackling climate change are starting to 'sound hollow'.
The PM said there are 'no compelling excuses for our procrastination' on reducing harmful emissions and action already taken amounts to 'drops in a rapidly warming ocean'.
Boris said that Glasgow was the site of the first steam engine, which James Watt invented. If I remember rightly from history class back in the mists of time, Britons called it the 'doomsday machine', because it was such a departure from anything anyone had known before.
In the event, it kicked off the Industrial Revolution which, despite its 'dark satanic mills' (William Blake), actually improved millions of people's lives not only in Britain but, with time, around the world:
As such, it seemed strange for Boris to refer to it at COP26. Was he inferring that Watt's steam engine was responsible for climate change?
Hmm. Look how GDP per capita has increased in England ever since the Industrial Revolution:
Tom Harwood of GB News nailed it, by pointing out how much Boris's views have changed:
This is what Boris wrote for The Telegraph in 2015, when we had a warm December. His editorial ends with this:
Scientists look at the data. But everyone else just looks at the weather – and it is the weather, therefore, that makes the psychological difference to the debate. Look at the recent summit in Paris, which ended in a good agreement to cut CO2, in contrast to the debacle at Copenhagen six years ago. What was the real difference? It was the weather. Paris was ridiculously warm for December. Six years ago, Copenhagen saw the biggest snowfalls anyone could remember. "Global warming?" everyone asked.
It is fantastic news that the world has agreed to cut pollution and help people save money, but I am sure that those global leaders were driven by a primitive fear that the present ambient warm weather is somehow caused by humanity; and that fear – as far as I understand the science – is equally without foundation.
There may be all kinds of reasons why I was sweating at ping-pong – but they don't include global warming.
Joe Biden and Boris — sleepy or just heads down?
The media are saying that Joe Biden fell asleep. It looks as if Boris did too.
Here are the photos and a video of Sleepy Joe:
The Queen's video message
In a recorded video message sent to the conference, the Queen expressed her wishes for COP26.
The message was aired on Monday evening at the aforementioned VIP reception in the centre of Glasgow.
She asked the world's leaders to rise above politics.
As ever, she had a photo on her desk that tied into the theme: a photo of Prince Philip surrounded by monarch butterflies.
The Mail's Robert Hardman reported:
Summoning the wisdom which comes with being the longest-serving head of state on the planet, the Queen distilled the monumental task facing this summit into just a few words.
'For more than 70 years, I have been lucky to meet and to know many of the world's great leaders,' she said.
'And I have perhaps come to understand a little about what made them special. It has sometimes been observed that what leaders do for their people today is government and politics. But what they do for the people of tomorrow – that is statesmanship.'
This was, she told them, their chance to be 'written in history books yet to be printed'. Big words from one who has already been written in to a few herself. But then the Monarch knows of what she speaks.
Though this was a speech she had wanted to make in person until her doctors decreed that it had to be delivered via video, it lost none of its punch. The poignancy of the setting only added to the power of her words.
There she was in the White Drawing Room at Windsor Castle, the same room in which delivered her historic address to a Covid-ravaged nation last year. At her side, was a favourite photo of the Duke of Edinburgh surrounded by butterflies during a 1988 visit to Mexico.
For years, she reminded us, she had watched him nurture a bright idea that turned in to a charity – the World Wildlife Fund – that, in turn, paved the way for so many of today's environmental organisations.
Between them, the couple had watched their eldest son and his eldest son embrace the same cause.
'I could not be more proud of them,' she said. And what was that on her lapel? Her much-loved butterfly brooch …
Another Mail article has more:
In her most personal speech to date, the monarch also paid tribute to Prince Philip and described how 'the impact of the environment on human progress' was a subject close to the heart of her 'dear late husband' – who in 1969 told a gathering: 'If we fail to cope with this challenge, all the other problems will pale into insignificance.'
The Queen's stern intervention, which was displayed on screens during a VVIP reception at Glasgow's Kelvingrove Museum, came hours after the Indian Prime Minister Narendra Modi pledged that India will target net-zero carbon emissions by 2070 – two decades later than the targets for the conference – disappointing many delegates.
It also comes after Boris Johnson kicked off the climate change summit by exhorting world leaders to back up their talk on climate change with action – warning it was 'one minute to midnight'.
A GB News panel thought that she had content and tone just right:
Archbishop of Canterbury apologises
The Anglican Communion is really into the impending doom and disaster of climate change.
To see that they are so wrapped up with the United Nations makes my skin crawl.
They sent a delegation to Glasgow:
Earlier on Monday, the Archbishop of Canterbury gave an interview to Radio 4's Today show. Later on, he had to apologise for his remarks in which he compared coming deaths from climate change to the Third Reich:
Coronavirus hypocrisy
As ever, delegates were expected to wear masks, but as the Daily Mail's photos show, world leaders took theirs off and defied social distancing.
How nice for the great and the good!
As for everyone else, it was masks or no admittance:
Public not interested
Thankfully, the general public are not interested in COP26. They have actual pressing issues with which to deal:
Guido's post says that a poll shows the British public are unwilling to shoulder the cost for any nonsense arising from COP26:
The lack of correlation between the BBC's output and what people want to read, and what it suggests about the British public's true feelings towards tackling climate change, seems to be backed up by a poll by Portland this morning. It found that while the public supports hypothetically punishing climate-damaging behaviour, or the government incentivising green behaviour, just 7% say "my family and me, and other families like me" should pay most of the cost. Just 36% are willing to pay more than £50 a month on top of existing bills to limit CO2 emissions.
I plan to feature more on climate change tomorrow.