You are currently browsing the tag archive for the 'climate change' tag.
Anyone who missed previous entries in this series can find them here, here and here.
Every time I read about Prince Harry, I cannot help but think of the story of Jacob and Esau.
Mess of pottage
Esau sold his birthright for a mess of pottage (Genesis 25:29-34). Harry, too, sold his place in the Royal Family for ephemeral media coverage. Who knows what will happen to him in future years?
Like Jacob and Esau (Genesis 27:41), Princes William and Harry are embroiled in a feud, one which the current Prince of Wales is handling with dignity. All being well, in time, perhaps they will mend fences, as Jacob and Esau did (Genesis 33).
The expression 'mess of pottage' is still used today (emphases in purple mine):
A mess of pottage is something immediately attractive but of little value taken foolishly and carelessly in exchange for something more distant and perhaps less tangible but immensely more valuable. The phrase alludes to Esau's sale of his birthright for a meal ("mess") of lentil stew ("pottage") in Genesis 25:29–34 and connotes shortsightedness and misplaced priorities.
It seems pertinent because on January 20, 2023, The Telegraph featured an article, 'Meghan stays in the shadows as Prince Harry flies solo on Spare publicity blitz':
"We're like salt and pepper," Meghan opined in an interview. "We always move together" …
But, since Christmas, Prince Harry has been left to soak up the limelight alone.
As he embarked on an unprecedented publicity blitz to promote his memoir, Spare, this month, Meghan has remained below the radar – and sent a clear message: This is Harry's project, not mine …
While the Duchess has backed her husband to the hilt over this deeply personal outpouring, she was not quite the driving force behind the project that many have assumed.
Sources suggest that media-savvy Meghan was slightly more circumspect about the concept of a memoir and may have raised gentle concerns about whether it was the right move.
A January 23 article in the New York Post reported on the article:
Prince Harry's wife Meghan Markle had previously expressed worries that his recent bombshell memoir "Spare" could ruffle the wrong feathers.
The former actress, 41, had raised "gentle concerns" about the book, wondering if it was the "right move," sources recently told the Telegraph.
Meanwhile, on Saturday, January 21, The Express reported 'Royal Family news: Palace have "pulled a blinder" as Harry and Meghan "plan" destroyed':
The Royal Family have "pulled a blinder" by not publicly responding to the recent bombshell claims from Prince Harry and Meghan Markle, with an expert destroying the Sussex's "ill-conceived game plan" …
More than a week after Harry's book was released, both Buckingham Palace and Kensington Palace have yet to make any comment on the claimes made by the prince.
Edward Coram-James, a PR, reputation and crisis management expert and CEO of Go Up, claimed this shows the Royal Family had a strong "game plan" in place and were prepared for any such accusations, while blasting Harry and Meghan's strategy as "ill-conceived".
He told Express.co.uk: "What should the Royal Family do in response to these claims? In a word: nothing. They have pulled a blinder.
"The biggest mistake that they could make would be to respond to any of the allegations. They are simply not serious enough allegations to warrant them breaching their long held code of silence.
"Breaching that silence will imply guilt. Remaining silent gives an air of maturity and remaining above the fray.
"The Royal family have had a game plan and, unlike the Sussexes, whose game plan has appeared ill-conceived and often strayed from, the royals have toed the line throughout."
Mr Coram-James poured cold water over the accusations made by Harry in his book, adding the Royal Family have only taken a "mild bruising" and "never came close to being on the receiving end of any knock out blows".
He continued: "The Royal Family know that it will all blow over soon enough, as the news cycle moves on and today's news becomes old hat.
A scathing, painfully accurate Spare review
My reader Katherine sent in two articles from Dominic Green about Spare. Thank you, Katherine!
These are the best yet.
'The Tragedy of Prince Harry' is Dominic Green's scathing, painfully accurate review of the book for The Washington Free Beacon. I cannot commend it more highly to my readers. It's long and captivating from the start.
As such, I will excerpt it as briefly as possible:
This is not Prince Harry's autobiography. It is a biography of a character called "Prince Harry," assembled from conversations with the real Harry by a ghostwriter, J.R. Moehringer. It is to autobiography as one of those Philip Roth novels where the main character is called "Philip Roth" are to fiction, only less tedious. It is fascinating in its way, though not in the way the real Harry intends. It is a collaboration between two unequal partners, one an accomplished ventriloquist, the other believing that he has finally found his voice.
Harry recorded the audiobook, so he knows exactly what is in Spare. He wants us to know that animals give him spirit messages from the beyond. These are usually sent by his late mother Diana, Princess of Wales, who died violently in 1996, when Harry was 12 and his older brother William was 15. The messages begin when Harry is 14. He and William are on safari in Botswana, eating dinner in their tent, when a leopard appears. "Everyone froze," Harry says. "Except me."
"I took a step towards it. … I was thinking about Mummy. That leopard was clearly a sign from her, a messenger she'd sent to say, 'All is well. And all will be well.'"
The leopard lied. Harry is not well. He and William are traumatized by Diana's death. Their father, now Charles III, struggles to comfort them, and sends them to boarding school. Harry refuses to believe that Diana is dead. He tells himself that she is hiding in a Swiss chalet, and she comes to him in his dreams. Soon, Harry is binge-drinking and smoking weed. Smoking a fat one with his mates in a bathroom at Eton, perhaps Britain's top boarding school, Harry looks out on the moonlit grounds and meets his spirit animal …
Green provides the passage from Spare, which involves a fox. Harry sees it as a portent some years later:
In 2008, more than a decade later, Captain Harry Wales, now serving as a gunner on an Apache helicopter in Helmand Province, Afghanistan, is camped for the night, drinking hot chocolate and watching the radio. Around one in the morning, a flurry of messages about "Red Fox" come through …
Green gives us the relevant paragraphs then continues:
An Australian magazine had got hold of the story that Harry was in Helmand. He was a target for the Taliban, so his superiors decided to extract him, for his own safety and that of his fellow soldiers. At 24, his active military career was over. The Army made the "spare" a leader, and valued his talents. It gave him a purpose for the first time, and kept him busy enough to forget his sorrows.
The ensuing years see Harry floundering:
Nearly a decade will pass until he meets Meghan Markle in 2016. These are the lost years. The spirit animals fall silent, and Harry self-medicates. He drinks and smokes weed every day. He does coke, magic mushrooms, ayahuasca, and LSD in an effort to lift the veil of reality and stroke the lost leopard. He falls out of night clubs, too drunk to walk. He picks fights with photographers and his own bodyguard. He has panic attacks whenever he meets the public. He stays in Courteney Cox's house when she is away, drinks loads of tequila, takes loads of mushrooms, and hallucinates that her toilet is speaking to him.
Harry does not explain why Courteney Cox's talking toilet was a hallucination, but the spirit animals are real. At this point in his life, he cannot explain anything to himself. He is so overwhelmed with loss and grief that he cannot recall his mother. He is trapped in a "red mist," a rage that he directs at his feeble father Charles, his scheming stepmother Camilla, his cold, conformist brother William, and above all at the British press, which he blames for his mother's death.
Diana is a leopard, Harry is a fox. Charles is a cowardly lion. William has surrendered his "autonomy," so he doesn't get an animal at all. Kate is the bitch who takes William away from Harry. Alone, he unravels further. By 2013, he cannot control his panic attacks and agoraphobia.
Harry is tormented by the death of his mother, which seems to dictate his reality.
Green tells us the truth about Diana, a name that means 'huntress', yet the huntress turned into the hunted:
After divorcing Charles and leaving the royal security envelope, Diana fell in love with an Egyptian playboy, Dodi al-Fayed. It was a Fayed chauffeur who crashed that car in Paris, by speeding downhill into the underpass so fast that the Mercedes limo took off, hit one side of the underpass, then ricocheted across into a concrete pillar. Three of the four passengers died. The survivor was the bodyguard who, being a mere mortal, had worn his seatbelt.
Harry cannot name al-Fayed; he calls him "Mummy's friend." He does not mention that Diana dumped William and Harry in Scotland with the grandparents, so she could pursue her summer romance with Dodi. Nor does he mention Mummy's earlier lover, Dr. Hasnat Khan, whom she smuggled into the Kensington Palace apartment she shared with William and Harry. Like Oedipus, Harry is blind to Mummy's true nature. Diana manipulated the press, too. Before she was taken from Harry, she abandoned him.
Princess Diana was hunted by the jackals, but the Diana she was named for, the Greek goddess, was the huntress. She pursued fame in revenge for Charles's faithlessness, staging teary confessionals for the cameras and driving the pack of paps at him and his family. Charles retaliated with his own staged confessions. Harry now retaliates with his. The Windsors survived Edward VIII's dalliances with Wallis Simpson and Hitler. They survived Charles and Diana's war for public sympathy. They will survive Harry's assault, too. But will he?
Harry is sure that Meghan never 'googled' him and that it was just a sublime coincidence that she wore his mother's favourite perfume, but Green reminds us of the facts:
Meghan's childhood friend insists that Meghan was an avid reader of royal biographies, especially about Diana. Meghan was photographed outside Buckingham Palace when she visited London as a teenager. When William married Kate, Meghan blogged about the "pomp and circumstance surrounding the Royal Wedding," and the "endless conversations about Princess Kate."
A 2014 photo shows Meghan, sitting in an airport with her laptop, reading about Elizabeth II. In Tom Bower's recent book Revenge, Meghan's former business adviser Gina Nelthorpe-Cowne attests that Meghan told her, "I've googled Harry. I've gone deeply into his life." Harry tells us that he googles Meghan as he falls in love, but he insists that she, like Diana, is entering the royal circus as a naif. His first "marathon" Instagram session with her happens to fall on what would have been Diana's 55th birthday. Who is the naif here?
Harry has followed in his mother's sad footsteps:
Harry and Meghan flee from Britain because they believe that his family is colluding with the press against them …
For the first time, Harry must fend for himself. Like Diana, he has left the royals' state-funded and highly professional security envelope …
When their children are born, Diana is in the room too. At night, when Meghan and the kids are asleep, Harry slips out and gets high on his own. The clear night sky over Montecito reminds him of the stars over Africa. The Red Fox communes with the spirit of the leopard, but he is never safe. There is no clarity in this freedom. There is no real guidance, either. Meghan, his savior, is pushing him back into the limelight.
Harry must fund his family's security or risk bringing Diana's fate upon Meghan and his children. The only way to save them is to sacrifice himself: to sell his story, to seek out the hated camera, to sit with the hated journalists, to dissolve himself in the flashbulbs, to be lost forever in their refractions, and join his mother. "Keeping people tuned to the show, that was the thing."
Like Hamlet, Harry has now hoist himself on his own petard, the hot wind of his rage and resentment. Like Hamlet, he will fall on his own poisoned sword. Harry, his father's dim, damaged, delusional, doomed "darling boy," has sold his family and his soul. Meghan and Moehringer have served him on a platter, like a roast swan at a royal banquet. There is no return after this, only the final act of the tragedy.
On January 19, the Wall Street Journal published Green's article about Harry's personal beliefs and how they tie in with those of his contemporaries with regard to Christianity: 'Prince Harry's Pagan Progress'.
This, too, is excellent. Excerpts follow:
Harry's father, King Charles III, may be supreme governor of the Church of England, but when it comes to the inner life, Harry, who was born in 1984, is a typical millennial. Pew Research reported in 2010 that Americans 18 to 29 were "considerably less religious than older Americans." Twenty-six percent of millennials said they had no religious affiliation, and they were also less likely to pray every day than members of Generation X (41% vs. 54%). Yet the percentage of millennials claiming "absolute certainty" in God's existence (53%) wasn't far off the figures for baby boomers (59%) and Generation X (55%) when they were young.
For Harry's grandmother Elizabeth II, personal faith was indistinguishable from her constitutional duty. King Charles describes himself as a "committed Anglican Christian," and Harry says he set a "deeply religious" example and "prayed every night." Harry attended church regularly as a child, obligatory given the Windsor family's alliance with the church.
Harry was 12 when his mother died in a car crash in Paris. The Christian rites at her funeral in Westminster Abbey couldn't console him. His only regular contact with the Bible came when a teacher, punishing teenage misdemeanors, delivered "a tremendous clout, always with a copy of the New English Bible." This, Harry writes, "made me feel bad about myself, bad about the teacher, and bad about the Bible."
Instead, Harry turned to the animal world:
At around 15, Harry experienced a ritual induction into manhood. Guided by Sandy, a family retainer, he shot a stag. Sandy slit the dying animal's throat and belly and told Harry to kneel. "I thought we were going to pray," the prince writes. Instead, Sandy pushed Harry's head inside the carcass and held it there. "After a minute I couldn't smell anything, because I couldn't breathe. My nose and mouth were full of blood, guts, and a deep, upsetting warmth."
"So this," Harry tells himself, "is death." Yet he's ecstatic. "I wasn't religious," Harry writes, "but this 'blood facial' was, to me, baptismal." Finally, he has lived the "virtues" that had been "preached" to him since childhood. Culling the herd is being "good to Nature" and "good to the community." Managing nature is "a form of worship," and environmentalism is "a kind of religion" for his father. For the first time Harry feels "close to God."
This pagan rebirth carries strong symbolic overtones for Harry. Monarchy is a survival from the earliest times. So is the hunt, with its symbolic echoes of religion's roots in animal sacrifice and seasonal rites. The Windsors live in urban captivity, but their spiritual home is the Scottish Highlands, where the stag is the monarch of the glen. Diana shared her name with the Greek goddess of the hunt—and Harry writes that she was "hunted" to her death, the cameras still "shooting, shooting, shooting" as she lay trapped in the wreckage.
Green concludes:
Harry's narrative of resurrection bears formal resemblance to the Gospels, but its content owes more to Carl Jung, Joseph Campbell and the Californian gospel of self-care. His neopagan progress is that of many millennials—especially those who, like Harry, are white men with no college education. By 2017, Pew found that 38% of Americans 30 to 49 were "spiritual but not religious." Sixty-seven percent of the unchurched were "absolutely certain" of God's existence, and 24% "fairly certain." Fifty-seven percent prayed "at least daily," but 76% "never" participated in group study or prayer. Like Harry, they are solitary and syncretic, inward travelers with no direction home.
'Faustian bargain'
On January 9, UnHerd posted an article about Spare: 'Prince Harry's Faustian Bargain'.
Its author, Darran Anderson, says:
… The most telling line, which reaches towards the heart of the matter, comes back to the Faustian nature of fame and particularly the media's gaze and how that can distort, "After many, many years of lies being told about me and my family, there comes a point where, going back to the relationship between, certain members of the family and the tabloid press, those certain members have decided to get in the bed with the devil" … Again and again, in his recollections in interviews and writing, Prince Harry comes back to the media as a baleful destructive force in his life …
What is particularly illustrative and sympathetic about Prince Harry's relationship with fame is that it was not chosen. In the traditional Faustian transaction, the would-be genius or celebrity sells their soul, knowing that the cost is damnation and believing that the gains will be worth it. With the royals, fame is hereditary, which is as much of a curse as a blessing. The transaction is one-sided. No deal is made and yet the individual assumes precisely the same debt. In a world, even a country, where children are born into horrendous poverty and deprivation, it's difficult to have sympathy for someone born into immense privilege. Yet it is warranted, given that child we watched walking along forlorn at his mother's funeral did not choose any of this.
The problem is that Prince Harry is now a man and no longer a lost boy. Though he has chosen an arguably noble route of walking away from an environment that had shunned him, and he has the right to speak his mind and tell his own story, he has not walked away from fame. Sympathy, like any resource, is finite …
It is even more understandable to wish to escape the glare of the lens that played a part in the death of a beloved parent. Having chosen Meghan and America, Prince Harry had the chance to transcend fame and to effectively defeat the presence that has seemingly haunted his life. He could go semi-privately into any number of ventures. Harry was not, after all, a signatory to the Faustian pact. One of the most tragic aspects to what has been unfolding is not just the painful reality of a family schism, but rather that at the brink of escape, Harry decided to return to the table to sign the contract.
… The point where sympathy dissipates is with this issue of fame, the courting of it rather than the walking away. This is where the public's role in the Faustian bargain comes in. This is what differentiates celebrities from the rest of us, the point of departure, and the judgement can and may well be merciless. By aiming for the echo chamber of the terminally online and the patronage of the American establishment, the wider sympathy is lost. It is especially frustrating as the prince had a chance to get out.
Harry's case is not helped by a mixed tone of grievance and sanctimony. One moment, he is referring to the killing of Afghan militants as a game of chess, the next he is engaging in flagellation about his previous lack of social consciousness. At its worst, it seems distasteful and condescending, the opposite of a spiritual confessional. It undoes the undoubtedly brave work of speaking about trauma, autonomy, or even his right to speak. As George Orwell put it, "Autobiography is only to be trusted when it reveals something disgraceful", but here even the disgrace feels performative. It feels grubby and out of touch, both too intimate and too remote. It feels, in other words, like fame …
Summer of 2019: too much PDA
Returning to the summer of 2019, where I left off, articles were circulating about the inability of the couple to keep their hands off each other in public.
On August 11 that year, The Sun reported:
MEGHAN Markle and Prince Harry's friends have "stopped inviting" the couple to dinner parties because they "frown upon their PDAs", insiders have claimed.
According to the Mail on Sunday, the Duke and Duchess of Sussex make a point of sitting together at events – even if their host has seated them separately.
Meghan's excuse was that she finds dinner party etiquette:
too "exclusive" and "traditional".
Tough. You sit where your hosts seat you. In Britain, it often means splitting up couples at table to enliven conversation. No one with any manners minds that.
Harry's friends found his wife's American attitudes tiresome:
Along with ignoring the seating plans, insiders have also claimed that the Duchess is openly affectionate with her husband on these occasions which causes Harry's friends to "roll their eyes" at her "American ways".
What's more, Harry's inner circle has "stopped inviting her to dinner" over the "frowned upon" PDAs (public displays of affection) at the dinner table.
The Sun lays out dinner party etiquette for the uninitated. This would be useful for the Duchess:
While it might not seem like THAT big a deal to sit next to your partner at a party, the high society occasions Meghan and Harry have been attending ask guests to follow the three rules of "placement".
To avoid sounding too "common" or American, the first rule is that "placement" must be pronounced the French way which involves emphasising each of the three syllables.
The second rule dictates that couples should NOT sit together in case any affectionate behaviour puts others off their meal.
And in order to truly grasp the rules of "placement", guests must always sit where they have been asked to achieve the perfect, balanced high society table.
'Snubbing protocol'
And there was more.
Meghan wanted to hold Harry's hand when it was clearly not the done thing:
Shortly after she married into the Royal Family last year, Prince Harry refused to hold Meghan's hand at a royal event out of respect for The Queen.
Because she wore jeans to Wimbledon in 2019, she could not enter the Royal Box:
An insider claimed Meghan was a "nightmare" during the visit when her security guards infamously BANNED guests from taking photos of her and her casual attire meant she wasn't allowed to watch the action from the Royal Box.
They told The Times: "They couldn't invite her into the Royal Box because she was wearing jeans."
On August 19, the Mail reported on what the editor of Majesty, Ingrid Seward, had to say about the Sussexes' protocol breaches:
Ingrid Seward, editor of Majesty magazine, suggested that the Sussexes' attempts to move away from tradition might 'bother' the Duke of Cambridge, 35.
Appearing on Saturday's Channel 5's documentary William & Harry: Princes At War?, Ingrid suggested that Harry and Meghan had 'snubbed protocol' in a way that was unexpected from royals.
She said: 'I would think it might bother William a little bit, because he might see the way that Harry and Meghan do things as being detrimental to the business of the monarchy as a whole.'
The couple have faced a growing backlash over the summer over their privacy demands, including holding a top secret christening for son Archie and refusing to tell the public who his godparents are …
Critics have hit out at Meghan recently for 'considering herself more of an A-lister than a member of the royal family', after she selected a handful of celebrity friends for the cover of Vogue.
Speaking about Harry and Meghan 'snubbing protocol', Ingrid said: 'It wasn't done in a very royal way, or the way we'd come to expect.'
The 'eco-lecturers' and their private jet flights
Between August and September 2019, the Sussexes took several trips on private jets.
There is nothing wrong with that other than Prince Harry used one of those flights to deliver a lecture in Italy on how everyone had to cut back on air travel in order to save the environment.
On August 15, The Sun reported on Piers Morgan's disgust at the couple's hypocrisy. At the time, he was still co-presenting Good Morning Britain. The British public were also disgusted:
PIERS Morgan has criticised Meghan Markle and Prince Harry after they took a private jet to Ibiza for a six day break – despite the Duke warning of the "terrifying" effects of climate change.
The GMB presenter, who has previously criticised the couple, took to Twitter following the news where he made a dig at the Sussexes.
Sharing an article about their trip, he wrote: "Saving the planet, one private jet at a time."
Many were in agreement with Piers, dubbing the "eco-warrior" couple hypocrites following the holiday.
One wrote: "You're absolutely correct, virtue signalling and full hypocrisy!!"
Another agreed adding: "Utterly ludicrous! If you're going to take private jets, fine but then don't preach about climate change. Hopeless!" …
According to local reports Harry and Meghan flew to Ibiza with their son Archie Harrison to celebrate her 38th birthday on August 4.
The jet created seven times more C02 per person than any one of nine daily scheduled flights from London to the Spanish holiday isle.
Harry and Meghan, who took baby son Archie, landed in Ibiza on Tuesday last week – along with publicly-funded Met Police protection officers.
Five Spanish security officers then whisked them to their secluded luxury private villa.
The family returned to the UK on Monday.
It was the second time that the prince had used a private jet in two weeks after he flew to Sicily to attend the Google Camp to deliver a "barefoot speech" on saving the environment the week before.
But Harry has been accused of hypocrisy over his use of private jets following his speeches urging everyone to "take action" on climate change.
In a post on his SussexRoyal Instagram site in July, he wrote: "With nearly 7.7 billion people inhabiting this Earth, every choice, every footprint, every action makes a difference."
… Buckingham Palace refused to comment on the Ibiza trip.
On August 19, the Mail reported on another private jet trip, to Nice:
The Duke and Duchess of Sussex were embroiled in another hypocrisy row today after being pictured leaving the south of France over the weekend in a fourth trip by private jet in just 11 days.
Prince Harry and Meghan, who have been outspoken on environmental issues in recent months, generated an estimated seven times the emissions per person compared to a commercial flight when flying home from Nice.
Photographs of the royal couple and three-month-old Archie showed the family stepping on board the Cessna 680 Citation Sovereign jet on Saturday at about 3pm local time, having arrived in France three days earlier.
Royal experts said the British public do not want to be 'lectured on climate change by those who don't do follow their own advice', while MPs said the trips do not 'fit with their public image' they project as eco-warriors.
The couple are believed to have visited the £15million palatial home of Castel Mont-Alban owned by Sir Elton John and his husband David Furnish overlooking the Promenade des Anglais during their holiday to the French Riviera.
The trip to Nice came shortly after Harry and Meghan, who married in May last year, had returned by private jet to the UK from Ibiza after a six-night break on the Spanish island to mark the Duchess's 38th birthday.
Veteran royal watcher Phil Dampier gave his views about the anger of Britons about the flights and the Sussexes' behaviour as a whole:
They are not unique – other royals have taken private jets, but they have been criticised over the years as well.
I certainly don't believe they are getting a bad press because the British public are racist.
It is simply that people don't like to be lectured on climate change by those who don't do follow their own advice.
Some families slave away all year to afford one nice holiday and they shouldn't be made to feel guilty about harming the planet when Harry and Meghan are swanning about in luxury.
It's really sad to see all the goodwill that people had towards this couple disappear in such a short space of time.
They really need to understand quickly the damage they are doing and take steps to turn it around.
They could start by taking on some of the 1500 patronages of the Queen and Prince Philip, and get out there and do some run-of-the-mill royal jobs and shake a few hands.
Meghan gives the impression she wants to live like a Hollywood star protected by publicists, agents and lawyers and that's not how the royal family works.
It only survives because there is give and take and the public- who are paying for it – want it to succeed.
If they lose the public's support they are in trouble.
Sir Elton John stepped in to stop the turbulence, as it were.
The Mail reported:
Sir Elton John today confirmed he had paid for the Duke and Duchess of Sussex to fly to and from his £15million mansion in Nice by private jet for a holiday 'inside the safety and tranquillity of our home'.
The 72-year-old singer claimed he had ensured Prince Harry and Meghan's flights to and from the French Riviera last week were carbon neutral by making the 'appropriate contribution' to a carbon footprint fund.
That angered people all the more. Who among us can do that?
More flights followed until early September.
The Africa tour
That autumn, the Sussexes toured southern Africa, an official trip of goodwill towards the Commonwealth countries.
They left behind strained relations with their Palace staff.
Even Africa, a place the Queen thought the couple would enjoy, considering Harry's Sentebale charity was there, could not bring them happiness or escape:
While there, they gave an interview to ITV's Tom Bradby, who also interviewed Harry about Spare in January 2023. Where they are concerned, Bradby is more a friend than an objective reporter.
The interview with Bradby aired in October 2019, while the then-Duke and Duchess of Cambridge were touring Pakistan, another initiative to show goodwill towards the Commonwealth.
Valentine Low, author of 2022's Courtiers, wrote:
The first real intimation the public had that all was not well in Meghan's world came in October 2019, when ITV released a trailer for its documentary, Harry & Meghan: an African Journey. As Meghan spoke to Tom Bradby in a garden in Johannesburg, she spoke about how she had struggled with life in the spotlight as a newlywed and as a new mother. Almost as if she were trying to hold back tears, she said she had found it hard and added, "And also, thank you for asking, because not many people have asked if I'm OK. But it's a very real thing to be going through behind the scenes."
The trailer came out while William and Kate were on a tour of Pakistan. The resulting coverage inevitably overshadowed reporting of the last day of the Cambridges' tour. The Cambridge team was not happy and saw it as a deliberate attempt to knock the Cambridges out of the headlines. Relations between the two households became quite tense.
When the documentary came out, it also showed how far Harry and William had drifted apart. Asked by Bradby about the rift between him and William, Harry chose not to deny it, but said instead, "We are certainly on different paths at the moment, but I will always be there for him, as I know he will always be there for me."
William, back home after the Pakistan tour, appears to have been taken aback at such a stark portrayal of his brother and sister-in-law's unhappiness. He realised they were in crisis. The day after the documentary aired, William whatsapped his brother to ask if he could come and see him. This put Harry and Meghan into a spin. What should they do? Initially, Harry was in favour. Then he spoke to his brother again and asked him who he would tell. William explained that he would have to clear his schedule, which would mean telling his private secretary. At that point, Harry said don't come. He was so concerned that William's team would leak the visit to the press that he would rather they did not come than risk it getting into the papers. It highlighted once again the dysfunction at the heart of so many royal relationships and that members of the royal family so rarely pick up the phone and speak to each other directly.
The final months
The Times featured several excerpts from Valentine Low's Courtiers, one of which explained the time before the African tour through to the beginning of 2020:
As one senior source put it, when they gave an interview in the autumn to Tom Bradby of ITV News in South Africa "they had made it clear that they were finding it very difficult. They were anxious and excited to chart their own course, knowing that they had more flexibility as they were not in the line of succession."
Moves were already afoot to create their own website with the help of the American PR company Sunshine Sachs. The site was originally intended to promote their charitable foundation, but later to explain — when the time came — how they planned to branch out on their own.
As they took an extended break with their son, Archie, now eight months, in Canada, the negotiations over their plans began to take shape. Harry originally contacted the Prince of Wales just before Christmas about spending more time in North America but was told he needed to come up with a thought-out plan, the London Evening Standard reported. When he sent a draft proposal to Prince Charles early in the new year he was told more time was needed to think through the complex implications, particularly over funding.
A source told The Times: "It reached an impasse where his father said, 'We need to have these conversations in person. This is not something we can negotiate over email.'"
That much was agreed, but Harry also wanted to talk to his grandmother.
"He wanted to go and see the Queen," a source said. "He has been communicating with her on the phone throughout. He wanted to see her, not to negotiate with her but to talk to her grandson to granny, to say, 'This is how we have come to this.'" It was intended to be a gesture of respect, rather than an attempt to open negotiations with her.
He called her suggesting that he visit her at Sandringham when he returned home. "She says, 'Yes, love to see you, come and see me,'" the source said.
Then came what has been described as a "classic" move from the Palace.
"A message was conveyed: 'Oh, sorry, misunderstanding, she might have said she was available, but actually she is not available.'" Harry, it seemed, had fallen victim to family politics. The source said this was, in part, because the family were worried that he would use anything she said in their meeting as a negotiating tactic. Nothing, apparently, could have been further from the truth. But the result was that Harry was angry and upset at the rebuff.
By the time he and Meghan were back home, their press team was aware that The Sun was on to a story about their plans to spend more time in Canada. It prompted anxious negotiations between the Sussexes and the rest of the family about how to proceed. Should they sweat it out and say nothing, in the knowledge that such delicate negotiations are best conducted out of the public eye? Or should they release a statement and thereby try to set the agenda? The matter was taken out of their hands when the story appeared in Wednesday's paper under the headline "We're orf again".
Never fans of the tabloid press, Harry and Meghan were incandescent. "They were so angry," said the source.
The final instalment will come tomorrow.
What a sad story. It seems to get more desperate by the day and will not end well.
My better half and I know someone who owns an electric car.
He feels virtuous for so doing.
We wonder how he and his family are enjoying their EV, because on Friday, January 6, 2023, The Times journalist and food critic Giles Coren wrote about his own experience, 'Why I've pulled the plug on my electric car'.
It makes for illuminating reading.
Excerpts follow, emphases mine.
He described his and his family's New Year's Eve return from Cornwall in the car:
As I watch my family strike out on foot across the fields into driving rain and gathering darkness, my wife holding each child's hand, our new year plans in ruins, while I do what I can to make our dead car safe before abandoning it a mile short of home, full of luggage on a country lane, it occurs to me not for the first time that if we are going to save the planet we will have to find another way. Because electric cars are not the answer.
Yes, it's the Jaguar again. My doomed bloody £65,000 iPace that has done nothing but fail at everything it was supposed to do for more than two years now, completely dead this time, its lifeless corpse blocking the single-track road.
I can't even roll it to a safer spot because it can't be put in neutral. For when an electric car dies, it dies hard.
Coren bought his EV in 2020 and, like so many, made the purchase for environmental reasons.
Since then:
it has spent more time off the road than on it, beached at the dealership for months at a time on account of innumerable electrical calamities, while I galumph around in the big diesel "courtesy cars" they send me under the terms of the warranty.
He says he does not want his broken down car back once it's fixed:
I have asked the guys who sold it to me to sell it again, as soon as it is fixed, to the first mug who walks into the shop. Because I am going back to petrol while there is still time.
And if the government really does ban new wet fuel cars after 2030, then we will eventually have to go back to horses … The cars are useless, the infrastructure is not there and you're honestly better off walking. Even on the really long journeys. In fact, especially on the long journeys. The short ones they can just about manage. It's no wonder Tesla shares are down 71 per cent. It's all a huge fraud. And, for me, it's over.
Coren says that the mileage range is clearly not as stated, yet anyone who buys his car will find out soon enough:
He will be over the moon to learn that it has "a range of up to 292 miles". No need to tell him what that really means is "220 miles". Why electric carmakers are allowed to tell these lies is a mystery to me. As it soon will be to him.
Then there is the lack of sufficient working charge points:
He'll think he can just nip into a fuel station and charge it up again. Ho ho ho. No need to tell him that two out of three roadside chargers in this country are broken or busy at any one time. Or that the built-in "find my nearest charge point" function doesn't work, has never worked, and isn't meant to work.
Or that apps like Zap-Map don't work either because the chargers they send you to are always either busy or broken or require a membership card you don't have or an app you can't download because there's no 5G here, in the middle of nowhere, where you will now probably die.
Or that the Society of Motor Manufacturers said this week that only 23 new chargers are being installed nationwide each day, of the 100 per day that were promised (as a proud early adopter, I told myself that charging would become easier as the network grew, but it hasn't grown, while the number of e-drivers has tripled, so it's actually harder now than it was two years ago).
The only bright spot is making friends with strangers at petrol stations while waiting for a charge point:
There are, of course, plus sides to electric ownership. Such as the camaraderie when we encounter each other, tired and weeping at yet another service station with only two chargers, one of which still has the "this fault has been reported" sign on it from when you were here last August, and the other is of the measly 3kWh variety, which means you will have to spend the night in a Travelodge while your stupid drum lazily inhales enough juice to get home.
Together, in the benighted charging zone, we leccy drivers laugh about what fools we are and drool over the diesel hatchbacks nonchalantly filling up across the way ("imagine getting to a fuel station and knowing for sure you will be able to refuel!") and talk in the hour-long queue at Exeter services about the petrol car we will buy as soon as we get home.
Coren's car has caused marital tension:
We filled up [in Exeter] last week on the way back from Cornwall, adding two hours to our four-hour journey, by which time Esther wasn't speaking to me. She's been telling me to get rid of the iPace since it ruined last summer's holidays in both Wales and Devon ("If you won't let us fly any more, at least buy a car that can get us to the places we're still allowed to go!").
New Year's Eve 2022 was one that will be long remembered in the Coren household:
… as I inched off the dual carriageway at our turnoff, begging it to make the last mile, children weeping at the scary noises coming from both car and father: "Gearbox fault detected." CLUNK. WHIRRR. CRACK.
And dead. Nothing. Poached elephant. I called Jaguar Assist (there is a button in the roof that does it directly — most useful feature on the car) who told me they could have a mechanic there in four hours (who would laugh and say, "Can't help you, pal. You've got a software issue there. I'm just a car mechanic. And this isn't a car, it's a laptop on wheels.")
So Esther and the kids headed for home across the sleety wastes, a vision of post-apocalyptic misery like something out of Cormac McCarthy, while I saw out 2022 waiting for a tow-truck. Again.
How awful.
The other big environmental thing is heat pumps. We know another chap who has installed one at his home in the countryside. He has enough land to accommodate the installation. However, his house is rather large. I wonder what his wife and family think of a tepid house in the middle of winter.
There must be a better way. Meanwhile, these environmental innovations seem to be some of the devil's finest work.
Gosh, what a lot of news to cover in one post.
Admittedly, a few of these items are a bit old but fit in thematically.
Theresa May U-turns on support for Scottish gender reform legislation
I wrote yesterday about former Prime Minister Theresa May's support for Scotland's Gender Recognition Reform bill on Tuesday, December 27.
Within 24 hours she had made a U-turn, thankfully, although she did it through a spokeswoman.
On Wednesday, December 28, The Times reported (emphases mine):
In the wake of the interview the BBC issued a press release which stated: "On the subject of Scotland's proposed gender recognition laws, Ms May said she was disappointed the Westminster government wasn't supporting them."
Yesterday, however, a spokeswoman for the Maidenhead MP insisted that was not the case.
"As prime minister, Theresa launched a consultation looking at gender recognition laws with the aim of providing a more sensitive approach to transgender people, but she does not agree with Nicola Sturgeon's legislation and is particularly concerned about the consequences it could have for children in Scotland and across the UK," she said.
We can but hope that the Secretary of State for Scotland does not send the legislation for Royal Assent:
Immediately after MSPs voted in favour of the legislation Alister Jack, the Scottish secretary, threatened to invoke section 35 of the Scotland Act, which allows him to prevent the legislation from receiving royal assent.
Although gender recognition is devolved to Holyrood, the Equality Act — with which the new law will interact — is reserved to Westminster.
As nearly two-thirds of Scottish voters — even SNP supporters — think this legislation is a terrible idea, Westminster can show the 'Union dividend' in being 'better off together'.
Gas futures coming down
On Thursday, December 29, The Guardian had encouraging news about the price of natural gas futures in Europe:
European gas prices have dropped back to levels seen before the Ukraine war began in February, as fears of a gas crisis this winter ease.
The month-ahead European gas future contract dropped as low as €76.78 per megawatt hour yesterday — its lowest level in 10 months, data from Refinitiv shows.
As this chart shows, gas prices have fallen back from their surge in March, and again in the summer as European countries scrambled to fill their gas storage tanks.
Prices have dropped thanks to warmer-than-normal temperatures this winter, which have limited demand for gas, after the European Union successfully filled reserves to a peak of almost 96% in November.
Consumption reduction targets have also helped to limit demand, with the EU aiming to cut its gas consumption by 15%.
Earlier this week, 83.2% of EU gas storage was filled, data from industry body Gas Infrastructure Europe shows, still above the target of 80% set for the start of November.
Traders are confident that inventories will end winter at a very comfortable level with a very low risk of falling to critically low levels, says John Kemp, energy market analyst at Reuters.
UK gas prices have also dropped back from their highs earlier this year. The day-ahead gas price closed at 155p per therm yesterday, compared with 200p/therm at the start of 2022, and over 500p/therm in August.
The UK versus the EU
All year long in Parliament we've heard that the UK is 'broken' and that we should have stayed in the EU.
Polls have been published showing that Brexit voters have buyer's remorse. Well, they shouldn't have. We are much better off outside an unelected European Commission. Furthermore, EU countries are not doing substantially better than Blighty.
France
This week, I received the latest copy of Marianne, the French newsweekly. Part of its cover story headline, referring to the state of their nation, reads:
EN PANNE
meaning, 'out of order', 'not working'.
On Wednesday this week, The Spectator had an excellent article about our neighbour: 'All is not well in Macron's France':
In 2021, both World Bank and United Nations GDP (nominal) rankings have the UK at 5th and France 7th. International Monetary Fund estimates for 2022 show India overtaking the UK to claim the 5th spot for world GDP, but with France still 7th.
One may question the reliability of GDP as a comparator, but a host of other measures regularly show France worse off than the UK. Debt to GDP ratios show France at some 115 per cent, the UK 99.6 per cent. Meanwhile the Bank for International Settlements gives France's total public and private debt (non-financial) at 351 per cent; the UK at 271 per cent.
One can rightly point to France's present day lower inflation at 7.1 per cent (EU harmonised) compared to the UK's 10.7 per cent. But as French debt statistics above show, president Emmanuel Macron began forcing down domestic inflation by subsidising prices during his 2022 presidential election campaign. French unemployment at 7.4 per cent compares unfavourably with the UK's 3.4 per cent. Meanwhile France is the highest taxed OECD and EU state, leaving little margin for manoeuvre. Her balance of payments figures are as gloomy as the UK's, together with her flat economic growth.
While Britain's position is not rosy, France's is certainly no better. That is why recent predictions in a certain European press, not least in France, taken up by British elites, that the UK was descending into terminal decline has lost all proportion. If the French press enjoy a touch of schadenfreude at the expense of the old enemy, and French politicians are glad to distract from their own problems, the willingness of much of the British middle class to swallow the same view can only be explained by ingrained cultural habit aggravated by post-Brexit resentment. Today, with Macron utterly wedded to the EU project, France for British elites is ipso facto superior to Britain. Yet France's moral state is parlous.
Since the 2022 presidential and legislative elections Macron's centrist party has no overall majority. France is stalemated and drifting towards ever more radical politics. Macron's prime minister Élisabeth Borne, unable to command a majority in the National Assembly, struggles to get her business other than by the constitutional sleight of hand of article 49,3, which guillotines parliamentary debate. With the chamber split four ways the question remains as to whether Macron will eventually dissolve parliament. Opinion polls suggest this would be a gift to Marine Le Pen's party, already the single largest opposition party with 89 seats. France might then come to replicate the present radical right Italian government.
Socially and culturally French society is far from healthy. Other than worsening violence and lawlessness in the banlieues – conveniently out of sight of English elites' visits to France – the French model of assimilation and laïcité is being tested to destruction. Official Justice Ministry statistics for July 2021 show 24.6 per cent of the prison population as foreign (double the proportion in Britain).  The French Interior Minister publicly stated this summer that, although foreigners make up 7.4 per cent of the French population, they account for 19 per cent of all delinquency nationally, and that 48 per cent of arrested delinquents in Paris are foreigners, 55 per cent in Marseille, 39 per cent in Lyon.
… The general picture is of a France far from at ease with itself. The prospect of a member of France's ethnic minorities leading the country with no fuss in the near future, as has just happened in Britain, seems impossible.
And remember the cries of 'Brexit is bad' when the Paris stock exchange overtook London's in November?
I don't recall any mea culpas from the metropolitan elite once we resumed normal service ten days later:
Guido Fawkes posted (emphases his):
The London stock market has re-overtaken Paris's after falling behind for 10 days, with a lead of $63 billion. A 2.5% rally in the value of the pound led to the improvement, and morale booster, compared to a modest 0.7% improvement for the Euro …
Germany
While Remainers in Britain's metropolitan elite moan about food inflation, our friends in Germany have experienced similar price hikes.
On October 14, September figures for the UK showed that our grocery price inflation hit an all-time high of 13.9%.
Yet, JustFood reported that Germany's grocery price inflation also reached historic highs:
Inflation levels in Germany reached their highest levels in three decades in September with food prices rising 18.7% year on year, figures show.
In a continued squeeze on consumer pockets, inflation reached 10% – its highest level since the country's reunification in 1990, the federal statistical office said.
Consumers faced the sharpest rises in edible fats and oils, which were up by 49%. Dairy products and eggs increased by 29.1%, meat and meat products 19.5% and bread and cereals 18.5%.
Month-on-month comparisons show consumers paid 1.8% more for food in September than in August, with vegetables 3.9% more expensive and dairy products up by 2.2%.
The consumer price index for food in Germany, measured against a 2015 baseline of 100, stood at 135.4 year-on-year in September, compared to 121.1 overall.
The federal statistical office said the cost of energy was leading inflation but food also played a major role, with both contributing to an overall 10% rise in prices.
Without food and energy rises in the equation, the country's inflation rate is reduced by over half to 4.6%. The prices of all goods increased by 17.2% in September 2022 compared to 2021, but the prices of non-durable consumer goods, which include food and energy, increased by 23.3%.
We cannot blame German inflation on Brexit. As Conservative ministers rightly say at the despatch box, inflation is up all over Europe and the West.
UK to relax egg rules to line up with EU
Another thing we hear from Remainers, especially in the Houses of Parliament, is that British food regulations are weaker than the EU's!
Nothing could be further from the truth! Our food standards have been higher than the EU's for decades.
Anyone wanting up-to-date proof can read an article in Wednesday's Guardian — 'UK free-range egg rules could be relaxed in line with EU for avian flu outbreaks':
Free-range egg rules in the UK could be relaxed in response to the European Union preparing to overhaul regulations after the biggest avian flu outbreak on record.
Ministers are understood to be considering a change to the rules that would mean eggs laid by hens kept in barns for months on end could be classed as free range.
Currently, eggs cannot be classed as free range if birds are indoors for more than 16 weeks. Farmers have that grace period in both the EU and UK, which means eggs can still be labelled as free-range if a government-issued housing order for birds is in place up to 16 weeks.
Subsequently, labels need to be added to packaging making it clear that those are now classified as barn eggs.
Whitehall sources told the Daily Telegraph that the Department for Environment, Food and Rural Affairs (Defra) is considering changing the regulations in order to keep farmers competitive with Europe …
The European Commission put forward a proposal in September, which stated "where temporary restrictions have been imposed on the basis of EU legislation, eggs may be marketed as 'free-range' notwithstanding that restriction".
The proposal, which is awaiting approval by the European parliament, means eggs could be classed as free range even if hens are forced to spend months indoors due to government rulings.
In September, egg producers in the UK said it was essential that the government now followed suit to avoid British suppliers being undercut by EU imports.
Climate change
Climate change sceptics will be on the right side of history in time.
Guido Fawkes's readers posted about deforestation in this post.
One chap posted an article about the increasing need for balsa wood from Latin and South America for blades on wind farms. Apparently, indigenous communities have not been consulted: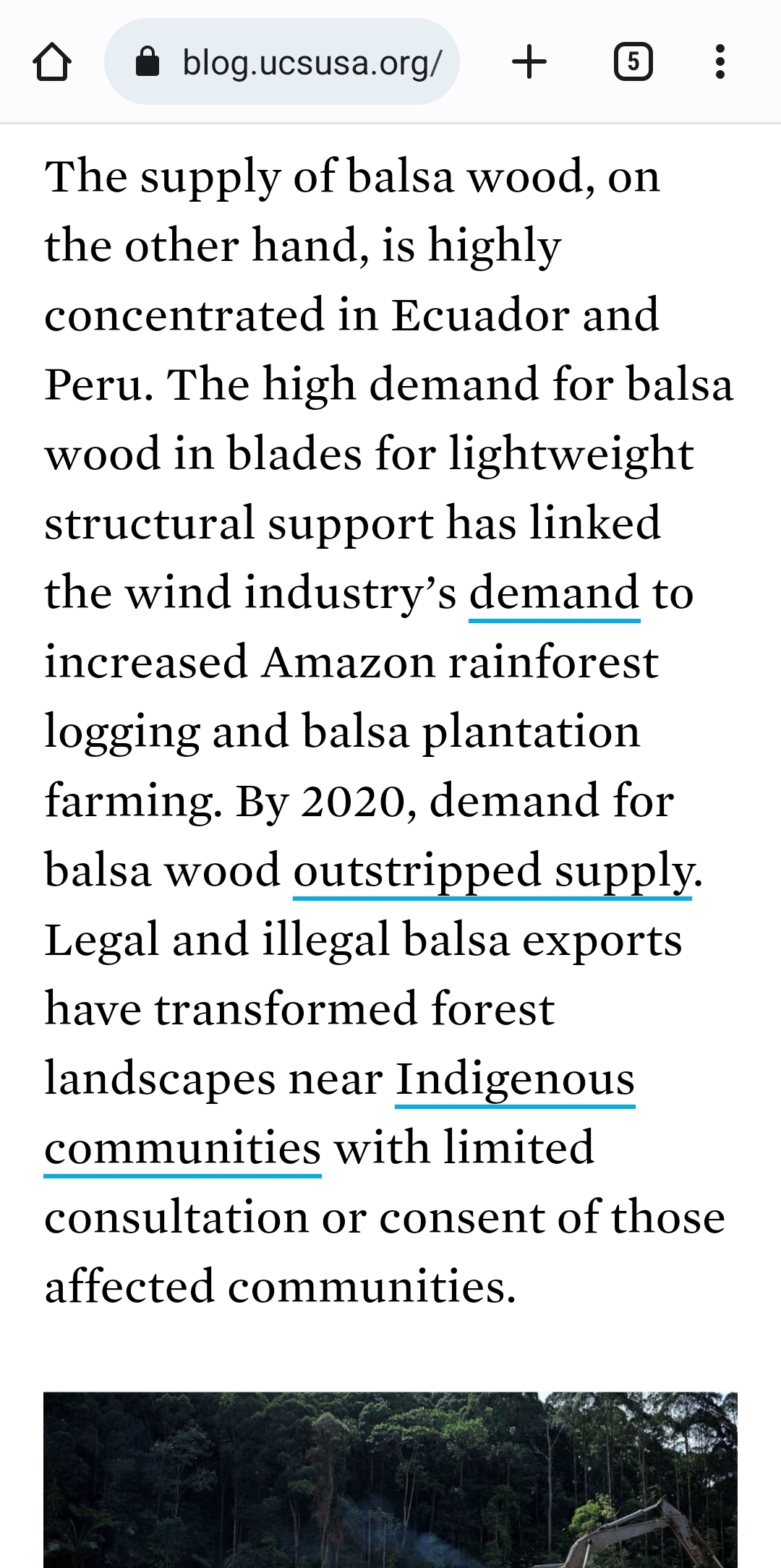 The article continues, stating that some companies are switching from balsa to oil byproducts, such as PET and PVC, or to cellulose: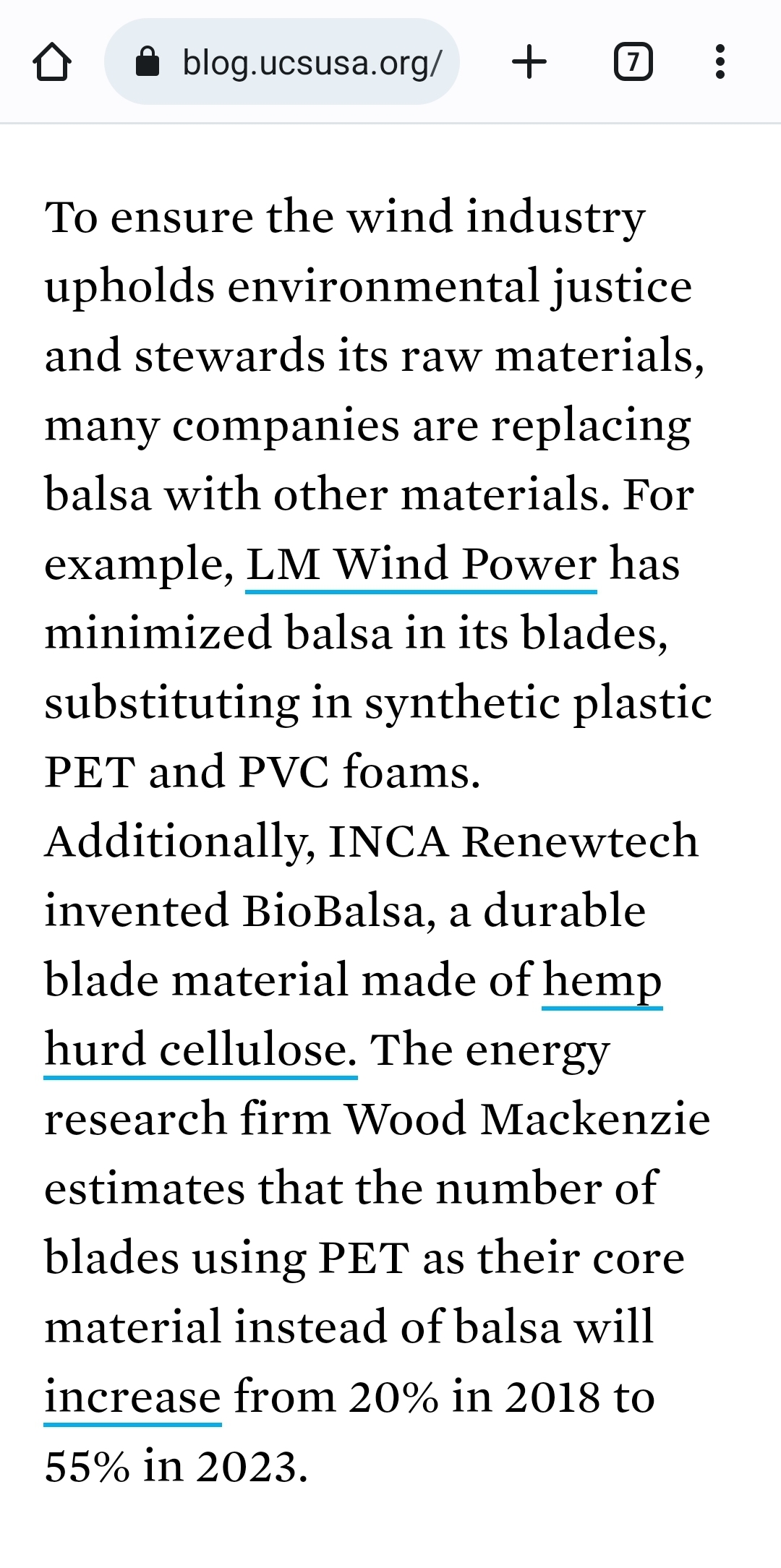 The man who posted the article pointed out:
BALSA is being replaced with PET and PVC (yep- crude oil) but are also experimenting with cellulose– which needs highly toxic chemicals to make.
Someone responded with this:
Synthetic PET usually uses food starch as a replacement for oil based derivatives. These divert food crops away from human and livestock consumption. They also encourage the use of GM crops and pesticides.
PVC production creates sodium chloride, which is a cause of acid rain.
The eco loons really didn't think this through.
Ultimately:
The eco l00ns NEVER think anything through.
And they hope we won't notice.
It's part of the reason why 'climate science is settled' and they refuse to debate.
You know how it goes.
Fracking bad – mining cobalt (even using young children) good.
You flying -bad- them flying- good.
On a similar note, an UnHerd article laments the loss of the hearth in 'Firewood will save the West'. The author, Paul Kingsnorth, lives in Ireland and has his firewood delivered to his home:
The Irish government is currently campaigning against households which burn turf or wood, the former on the grounds of CO2 emissions, and the latter on the grounds of air quality. As ever, the campaign is driven from Dublin, and mostly takes Dublin sensibilities into account. Rural households in Ireland have been burning turf and wood forever, with little significant impact on "air quality" — or at least, no impact comparable to that which Ireland's "Celtic Tiger" modernisation has had. Suddenly, though, the media is full of scientists armed with studies demonstrating how getting a fire going in your cottage in winter will lead to cancer and lung disease on a widespread scale.
That is nonsense. Until recently, Man had been surrounded by smoke for millennia.
Essentially, the Irish government, in line with other Western governments, wants to do away with fireplaces:
This new tilt against household fireplaces is not just an Irish phenomenon: it is suddenly popping up everywhere. Woodstoves are, curiously, becoming the number one air pollution villain. Never mind mass car use, accelerating air travel or industrial pollution. Never mind the emissions caused by the massive increase in Internet server farms, which within just a few years could be using up an astonishing 70% of this country's electricity. These days, if you want to demonstrate your social responsibility, you should be all aboard with the abolition of the traditional fireplace and its replacement with "green" alternatives.
He explains that the home hearth has been not only traditional but also atavistic throughout mankind's history. He cites the philosophical polymath John Michell (1933-2009):
The fireplace, whether our dessicated urban authorities know it or not, has a primal meaning, even in a world as divorced as ours from its roots and from the land.
In his short essay "Fireside Wisdom", the uncategorisable John Michell suggested that the "displacement of the hearth or fireplace" from the home was one of the many reasons for the craziness of the modern world which his life had been spent playfully exploring. The fireplace at the centre of the home, he wrote, was both an ancient practicality and a device of "cosmological significance" across cultures and time: "Conversation is directed into the fire while dreams and images are drawn out of it."
In the past, the act of sitting staring into the smoky fire with family or neighbours was the genesis of the folk tale and folk song which tied the culture together. Now we stare at digital fires hemmed into boxes manufactured by distant corporations who also tell us our stories. No song we can dream up around a real fireplace can compete with what these boxed fires can sell us. "Thus," wrote Michell, "the traditional cosmology is no longer represented by its domestic symbols, and a new, secular, restless, uncentred world-view has taken its place."
Focus, Michell explained, is "the Latin name for the central fireplace. The fire not only warms but, as a symbol, illuminates the corresponding images of a centre to each of our own beings and of a world-centre which is divine, eternal and unchanging." Lose your fires, and you literally lose your focus as a culture. In this context, a government spokesman telling his population, as one minister here recently did, that they should "get over" their "nostalgic" attachment to the hearth fire and install ground source heat pumps instead is more than just a nod to efficiency. It is an assault on what remains of the home and its meaning. It is an attack on the cultural — even the divine — centre.
Paul Kingsnorth posits that each move away from self-sufficiency, e.g. using one's own fireplace, puts us more under the control of government:
When you can no longer grow your own wood or cut your own turf to heat your own parlour, you are made that little bit more dependent on the matrix of government, technology and commerce that has sought to transmute self-sufficiency into bondage since the time of the Luddites. The justification for this attack on family and community sufficiency changes with the times — in 17th-century England, the enclosures were justified by the need for agricultural efficiency; today they are justified by the need for energy efficiency — but the attack is always of the same nature. Each blow struck against local self-sufficiency, pride and love of place weaves another thread into the pattern which has been developing for centuries, and which is almost complete now in most affluent countries …
In my lifetime, in my part of the world, the notion and meaning of "home" has steadily crumbled under external pressure until it is little more than a word. The ideal (post)modern home is a dormitory, probably owned by a landlord or a bank, in which two or more people of varying ages and degrees of biological relationship sleep when they're not out being employed by a corporation, or educated by the state in preparation for being employed by a corporation. The home's needs are met through pushing buttons, swiping screens or buying-in everything from food to furniture; for who has time for anything else, or has been taught the skills to do otherwise?
He refers to a 1980 manuscript, 'Family Work', by the American essayist Wendell Berry:
Like so much of Berry's work, it locates the centrepoint of human society in the home, and explains many of the failures of contemporary Western — specifically American — society as a neglect of that truth. The home, to Wendell Berry, is the place where the real stuff of life happens, or should: the coming-together of man and woman in partnership; the passing-down of skills and stories from elders; the raising and educating of children; the growing, cooking, storing and eating of food; the learning of practical skills, from construction to repair, tool-making to sewing; the conjuration of story and song around the fire …
Even back in 1980, Berry recognised that the home had become an "ideal" rather than a practical reality — precisely because the reality had been placed out of reach for many. What killed the home? Three things, said Berry: cars, mass media and public education. The first meant that both work and leisure could, for the first time in history, happen a long way from home. The second — "TV and other media" — have played a role, since the mid-20th century, in luring us all into a fantasy world of freedom from obligation, and a limitless, fun consumer lifestyle. "If you have a TV," writes Berry, "your children will be subjected almost from the cradle to an overwhelming insinuation that all worth experiencing is somewhere else and that all worth having must be bought." Finally, the school system is designed "to keep children away from the home as much as possible. Parents want their children kept out of their hair." Schools exist to train children to fit into individualistic, consumer societies; to internalise and normalise their ethics and goals, and to prepare for a life serving their needs.
I have to disagree with his disparagement of television, as my better half and I watch a lot of French programmes, food shows in particular. For us, it is a window into a culture we love very much. Were it not for television, we would have to visit France in person much more often. As it is, we can experience France from our sitting room and perfect our language skills while learning more about the world's finest cuisine.
Berry's solution is to make the home a welcoming, peaceful place for everyone living there:
… he suggested that we should "try to make our homes centres of attention and interest"; to make them as productive and nurturing as we can … you will see new possibilities begin to open up. You will see, in Berry's words, that "no life and no place is destitute; all have possibilities of productivity and pleasure, rest and work, solitude and conviviality that belong particularly to themselves", whether in the country, the city or the suburb. "All that is necessary," he suggests, is "the time and the inner quietness to look for them."
Television is a good thing
On the subject of television, a 104-year-old Australian woman told her grandson that it was probably the greatest development in her lifetime.
Lewis Isaacs wrote her story for The Guardian: 'My 104-year-old Nan's secret to a long life':
A life as long as hers can be hard to comprehend. Asked what the biggest change to the world she'd seen across her life was, Nan replied that it was television. Life when she grew up rarely extended past her suburb. Television connected the living room to the world.
How true! Well said, Nan!
The article has family photographs, too.
So what is Coral Isaacs's secret to longevity?
She says it comes down to genetics and finding the right partner. She was widowed more than 30 years ago and says the life she built with my Pop has supported her since. It helps to remember your pills, she adds, and to get up, shower and make your bed every day.
I suspect the truth about her endurance is something different though. Nan is determined to keep her eyes focused on the future. Even when the days are hard, she still looks forward.
I was hoping she would mention smoking a crafty cigarette or enjoying a daily digestif, but, sadly, no.
Churchill's cigar goes on sale
For a smoking story, we had to go to an auction house.
On Thursday, December 29, The Times reported that one of Winston Churchill's cigars is expected to fetch £3,000 at auction:
The former prime minister gave the Cuban cigar to an RAF doctor who helped him when he broke his leg in 1962.
The doctor's grandson has put the rare cigar up for sale with Hansons Auctioneers, which said it would be an "impressive item" for any Churchill collector. Charles Hanson, the owner, said: "We occasionally see Churchill cigar stubs that people have picked up after he dropped them. But to gain a whole cigar in such pristine condition, given as a gift in unusual circumstances, is special."
Churchill, who died in 1965 aged 90, was a lifelong smoker. While he was at boarding school, his mother learnt he had taken up smoking cigarettes and tried to bribe him to stop by promising him a pistol and a pony.
He switched to cigars after spending time in Cuba after his graduation from Sandhurst military academy, and friends, dealers and associates sent him regular deliveries of cigars from then on.
The circumstances are most Churchillian:
The auction house said the cigar under auction was given to an RAF squadron leader, Bertram AJ Barrow. Churchill fractured his femur while getting out of his bed at the Hotel de Paris in Monte Carlo, and was flown back to London on an RAF plane while in a waist-to-ankle plaster cast.
Barrow, the leader of the medical team, plucked up the courage to ask Churchill for one of his famous cigars.
For decades the treasured cigar was kept in a bedside drawer, but will now go under the hammer at on January 9 with an estimate of £2,000 to £3,000.
Barrow's grandson, Thomas Barrow, 33, an employment law adviser from London, said: "Bertram asked for a cigar as a keepsake, and Churchill advised that he could have 'one that he had been saving' — which was Cuban and still in its glass case."
What a story!
Conclusion
As my later grandmother-in-law, a lifelong Londoner, was fond of saying:
The old ways are the best.
I couldn't agree more.
Let's try to recapture them in 2023.
The story goes that when the Swiss Reformer Zwingli said that Holy Communion was a mere symbol, an appalled Martin Luther observed that 'another spirit' was working through him, meaning the devil.
Sadly, we have had a lot of 'another spirit' news in 2022.
Let's get through that first in order to move on to other items.
'Another spirit' news
From the family structure to euthanasia, the devil never stops.
Canada's 'killing fields'
On December 16, the Mail had an excellent article about the many Canadians being urged to undergo euthanasia.
Canada's national euthanasia programme is called MAiD (Medical Assistance in Dying), but this is no comely lass, rather a killing machine of sorts, so much so that even the UN wants to call time on it (emphases mine):
… the progressive administration of Prime Minister Justin Trudeau now finds itself in the deeply embarrassing position of being attacked by human rights campaigners and the United Nations over MAiD. 
Three UN experts last year concluded the law appeared to violate the Universal Declaration of Human Rights. Euthanasia — from the Greek for 'good death' — is a means of release to people in unimaginable and incurable pain, especially if expected to die soon. 
This is how Canada's 'killing fields', as the Mail rightly says, entered the statute books:
Canada's Supreme Court dismissed as scaremongering fears of a 'descent down a slippery slope into homicide' when it overturned a ban on euthanasia in 2015, ruling that it was unconstitutional as it deprived people of dignity and autonomy. 
The following year, Canada's Parliament passed legislation allowing euthanasia, but only for people suffering from a terminal illness whose death was 'reasonably foreseeable'. 
Within five years, it became clear that Canada was, indeed, sliding down the slope when — again under pressure from the courts — MPs passed Bill C-7, which scrapped those criteria. 
From 2021, anyone suffering from an illness or disability that 'cannot be relieved under conditions' that he or she 'considers acceptable' can, with the approval of two doctors or nurse practitioners, get MAiD free. 
The patient must be found to be competent to make the decision and wait a minimum 90-day assessment period before death is provided. 
If a doctor refuses to sign off the request, patients can shop around for one who is more amenable. And unlike other countries, including Belgium and the Netherlands, where euthanasia is legal, Canadian patients are not required to have exhausted all treatment alternatives first. 
Last year, 96 per cent of MAiD applications were approved. 
Seeking to understand why so many in government and healthcare appear to be pushing MAiD enthusiastically, critics point to a 2017 study by the University of Calgary that estimated medically-assisted dying could reduce national healthcare spending by $139million a year (£83 million). 
The report noted that in some Canadian provinces, caring for patients in the last six months of life accounted for more than a fifth of healthcare costs.
This page from a MAiD pamphlet didn't come from the Mail, but its egregious typeface and presentation make such a death look harmless and normal: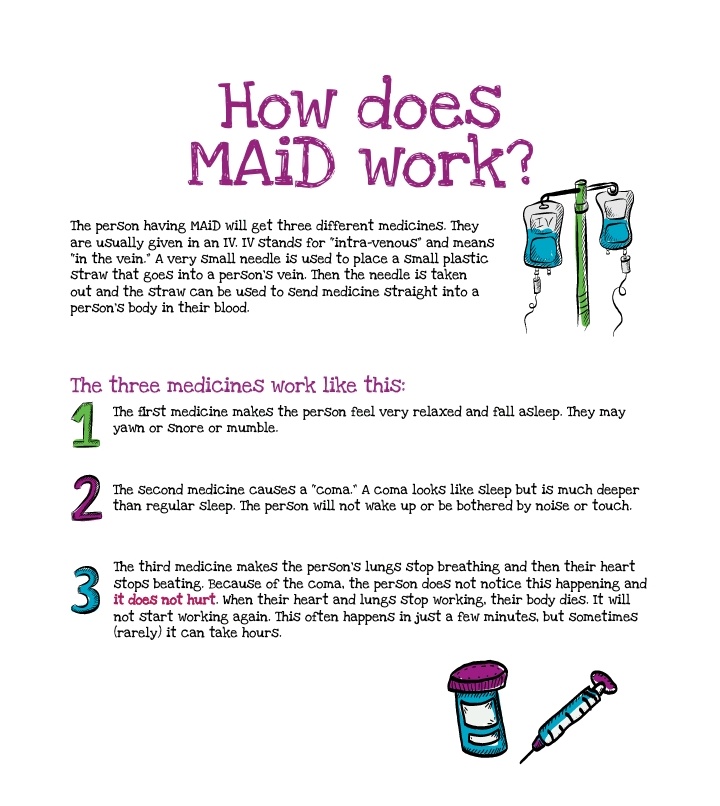 All manner of Canadians — totalling 10,000 in 2021 — have gone to their rest via MAiD. These are photo captions from the Mail where their stories are explored in greater detail. Note the financial reasons:
Michael Fraser, 55, was euthanised by his GP after he pleaded poverty
Wheelchair-bound Les Landry, 65, an ex-lorry driver from Medicine Hat, Alberta, is one of those seeking assisted suicide primarily for financial reasons 
Christine Gauthier, a paraplegic army veteran who competed in the 2016 Paralympics, told MPs how, after five years of trying to obtain a stairlift for her home, a Veterans Affairs official told her that if she was 'desperate', they could offer her MAiD
Here in the UK, both Houses of Parliament have been debating legislating for end of life choices. Some peers (Lords) and MPs (Commons) are all for the Canadian model, about which, it seems, they know very little:
In both Canada and the UK, euthanasia is defined as the act of deliberately ending a person's life to relieve suffering. 
It is often referred to as 'physician-assisted dying' or 'assisted dying' and is distinct from 'assisted suicide' which is helping someone to kill themselves by, say, obtaining lethal drugs for them. 
Just months after the House of Lords halted an attempt to legalise euthanasia in the UK, the Commons last week launched a new inquiry into assisted dying with 'a focus on the healthcare aspects', including the role of doctors, access to palliative care, criteria for eligibility and 'what protections would be needed to safeguard against coercion'. 
Successive UK governments have refused to legalise euthanasia but inquiry chairman [Conservative] Steve Brine MP said there was now 'real-world evidence' to look at from those countries where it is legal. 
What has also changed is that the British Medical Association, Britain's biggest doctors' union, took a landmark vote last year that ended its long- standing opposition to euthanasia. 
It is possible that even children will be able to request MAiD in 2023:
Many are deeply concerned by next spring's extension of MAiD to people with mental illnesses and — pending a parliamentary review — to 'mature minors' above the age of 12. 
MAiD has its critics among clinicians, but does it have enough of them?
This was the most apt description of the process:
Professor Tim Stainton, director of the Canadian Institute for Inclusion and Citizenship at the University of British Columbia, described Canada's law as 'probably the biggest existential threat to disabled people since the Nazis' programme in Germany in the 1930s'. 
It's hard to disagree.
Woe betide Canada. It used to be such a lovely country.
More dismantling of marriage
Two weeks ago, I featured news stories from November advocating that couples abandon the marital bed.
On December 15, The Guardian's Emma Brockes promoted living apart: 'Why are so many women living in separate homes from their partners and kids? Because it's a win-win situation'.
This is obviously for upper middle class types who can afford two homes:
The overheads on two households are eye-bleeding.
Even so, it's another slippery slope article.
As usual, this trend emanates from North America and was first trumpeted in the New York Times, where the devil seems to have a comfy home:
In the New York Times this week – sound the klaxon – a new trends piece drops on the growing numbers of women in the US who, post-pandemic, are opting to sustain the separate household model of marriage, established during lockdown by some families to reduce Covid transmissions, and proving so preferable to the norm, apparently, that they're in no hurry to reunite with their husbands.
It's well known that among straight couples, women initiate most divorces – by some reckonings 70% – and pushing for separate households is, I would imagine, a staging post towards this end for many of the numbers in this new trend. But for others, perhaps it really is a viable solution to the problem of loving your spouse but not wanting them underfoot all the sodding time.
How frightfully sad.
This began years before the pandemic:
What's new is the surge in those who still identify as married but live apart from their spouse; in the US, married couples maintaining separate households rose by a quarter between 2000 and 2019, and in 2021, that number sharply climbed again, according to the New York Times. It is estimated by the Census Bureau that 3.89 million Americans, or 2.95% of married couples, live apart. They even have a little acronym: Lat, or "living apart together".
The trend appears a likely result both of everyone being home for the past two-plus years and driving each other insane, and the fact that after lockdown ended, studies showed that men swiftly dropped the childcare and domestic work some had adopted during that period. Judging by case studies in the article, for some women, quarantining in a quiet, separate residence while their husbands shouldered the caretaking at home, struck them at the level of a revelation. For others, the fact that even a global pandemic did little to undermine – or in some cases, actively deepened – the division of labour at home along traditional gender lines had a straw-that-broke-it effect.
How utterly, utterly selfish.
New York Times crossword puzzle
As we're on the subject of the New York Times, here is their December 18 crossword puzzle. December 18 was the first night of Hanukkah, yet the paper produced a gamma-shaped puzzle. Hmm. Why?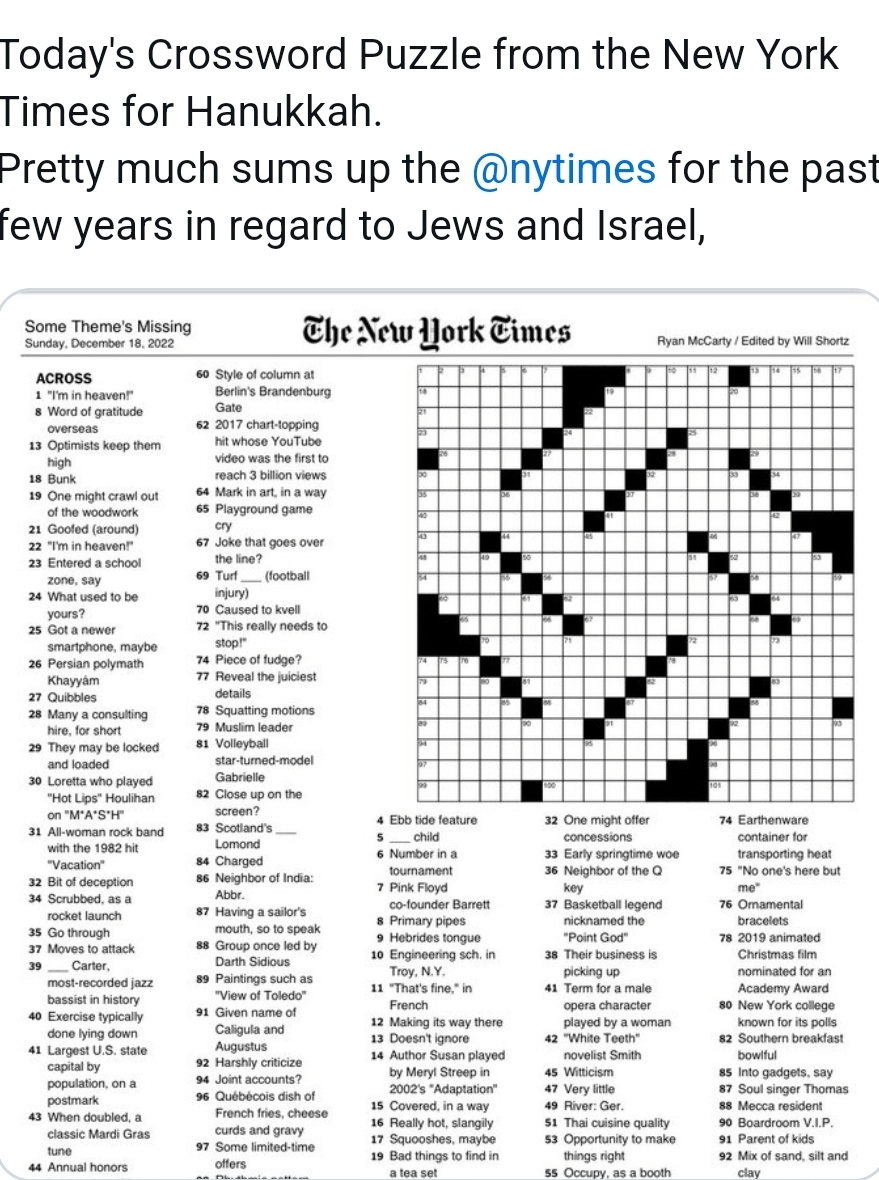 Despite complaints from prominent Jews around the world, the paper defended the puzzle's shape, saying:
'This is a common crossword design: Many open grids in crosswords have a similar spiral pattern because of the rules around rotational symmetry and black squares,' a Times spokesperson told DailyMail.com on Monday. 
Although Carlos Slim is the current owner, the famous Ochs-Sulzberger family are still in charge of content:
The paper is run by AG Sulzberger – the sixth member of the Ochs-Sulzberger family to serve The Times as publisher since the newspaper was purchased by Adolph Ochs in 1896. The family is of both German and Jewish ancestry. 
This is not the first time such a design has appeared:
A similar incident occurred in 2017, and at that time the newspaper responded in a tweet: 'Yes, hi. It's NOT a swastika. Honest to God. No one sits down to make a crossword puzzle and says, "Hey! You know what would look cool?"' 
One wonders.
Christian doctor told to attend 'boundaries' course
I was amazed to see a praying Christian physician, Dr Richard Scott, appear in The Telegraph on September 27.
His is such an old — and sad — story. It goes back to 2019 and has only now been resolved.
The 62-year-old was nearly struck off the medical register for praying by request with his patients in Kent. Someone complained, and you can guess the rest.
The article says:
A tribunal that could have taken away his right to practice was called off after a last-minute settlement with the NHS, but Dr Scott will have to attend a £500 one-day training course on "professional boundaries".
The tribunal was due to consider complaints relating to a telephone interview Dr Scott took part in on BBC Radio 4 in 2019 discussing his use of prayer in his practice.
On the radio programme he also said: "As a Christian doctor you have to ask yourself, who's your ultimate boss? And it's not the GMC [General Medical Council]. It's Jesus Christ."
He said he offered spiritual care to around one in 40 patients, and around 80 per cent of people offered prayer or religious support accepted the offer.
The tribunal was set to begin in Ashford on Monday to determine whether he could still be allowed to work as an NHS doctor.
He had previously been ordered to attend a three-day course costing £1,800 aimed at people who had been accused of sexual impropriety.
Dr Scott was not accused of sexual misconduct and refused to attend the course or undertake a psychiatric assessment. The GMC had twice ruled that the Christian doctor had not breached any of its guidelines.
Following the settlement with the NHS, Dr Scott will now take part in a one-day training course costing £500 relating to "professional boundaries". He said that he did try to "follow the General Medical Council guidelines and if you read them correctly, they allow you and encourage you to speak to patients about religion where it's relevant to their care".
"Some people are desperate for help and I can give any number of examples of people I've helped through spiritual care – which is done on my own time and fully consented." he added.
Andrea Williams, chief executive of the Christian Legal Centre, which supported Dr Scott, said: "Dr Scott is a highly experienced doctor whose life and career has been committed to serving his patients and community.
"He is loved and respected by his community which he has served for decades. His love for Jesus and dedication to his faith is also well known where he works and within the community.
"There is no evidence that Dr Scott's practice of praying with his patients has in any way interfered with his delivery of excellent medicine – in fact, quite the opposite."
NHS England has been contacted for comment.
That poor man. It's hard to imagine the stress he has been under for the past three years. I hope that he and his family have a blessed, relaxing Christmas this year.
House of Lords climate change paper
This month, the House of Lords published a paper on climate change — 'In our hands: behaviour change for climate and environmental goals'.
It's 140 pages long and a product typical of today's left-leaning peers, including a number of the Conservatives lurking there, too.
I've been reading the chapter called 'Behaviour change for climate and environmental goals', because this is what the average Briton will experience in the years to come via media bombardment.
Of course, the Lords worry about 'misinformation' and 'disinformation', meaning any evidence contrary to their Net Zero narrative.
This is from page 84 of the paper (page 86 in the PDF linked to above):
309. Several witnesses expressed concern about the spread of misinformation—incorrect or misleading information—and disinformation—deliberately deceptive information—related to climate change and the environment on social media. Carnegie UK described research carried out by the Institute for Strategic Dialogue (ISD), which compared the levels of engagement on social media platforms generated by reliable scientific organisations and climate sceptic actors respectively and found that the posts from the latter frequently received more traction and reach than the former. Carnegie UK explained:
"In the fortnight over which COP26 took place, sceptic content garnered 12 times the level of engagement of authoritative sources on the platform; and 60 per cent of the "sceptic" posts they analysed could be classified as actively and explicitly attacking efforts to curb climate change."530
310. Witnesses had several suggestions as to how misinformation and disinformation about climate change and the environment on social media could be tackled. Mr Smith suggested traditional broadcasters—like the BBC—must play an important role as "trusted sources" in a landscape of disinformation online. 531 Carnegie UK expressed concern that the Government's Online Safety Bill "does little to tackle climate change information", and proposed amendments to bring climate change disinformation into the scope of the draft Bill in a "proportionate manner".532
Pages 95 and 96 highlight the Conservative government's deficiences in bold text, paragraph after paragraph. Contrary to what the Lords say, this is a good thing.
Here are two sections, emphases theirs, from page 96 (page 98 of the PDF):
362. The public expect the Government to take a leadership role to enable behaviour change, but the Government's reticence to address key areas—such as what people eat, how we heat our homes, what we buy and how we travel—which is largely a result of a reluctance to be perceived as reducing freedom of choice, undermines individuals' willingness and ability to take action.
364. The Government should apply behavioural science to all its policies and initiatives. It should urgently review the Net Zero Strategy and policies and initiatives in place to deliver it and rectify where its six principles underpinning green choices are not being delivered.
Satan has obviously found a home on the cushy red benches of the Lords.
Good on the Conservative government in taking little to no action on this guff. Long may it remain so.
Starving mother struggles to feed children
This is another story that causes one to shake one's head in disbelief or despair.
It appeared on ITV News on Monday, December 19:
A mother-of-four from Bath says she is having to live off her children's leftovers because she no longer has enough money to pay for her own meals.
Victoria Walker will not be able to afford Christmas for her family as food prices continue to rise.
She rarely turns the heating on and tries not to eat so that her children can have food.
"Unless I really have to, I won't eat," she said. "I fill myself up with tea and coffee. I like the children to eat so I tend to have the leftovers."
Recently her 11-year-old daughter even started offering her pocket money to help buy food essentials like bread and milk.
She added: "It just makes me sad. It breaks my heart. Christmas is looking sad for me. I can't afford Christmas."
Victoria is receiving help from Action for Children, a charity created to help vulnerable children, young people and their families in the UK.
Unfortunately, the accompanying video, which can be seen at the link, undermines the mother-of-four's case for hunger.
ITV also showed her in their social media post about the story: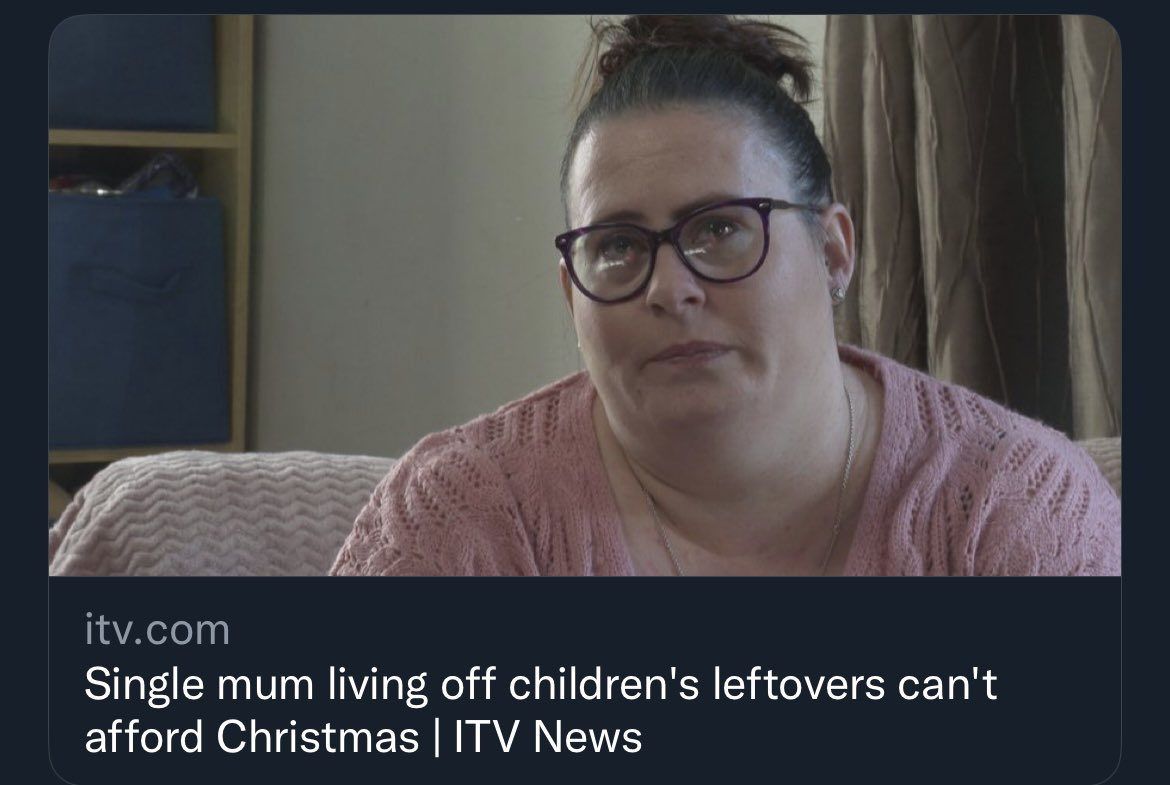 No further comment.
Political theatre: they're all friends, really
We mere mortals think that politicians from opposite sides of the spectrum oppose each other in real life.
However, the Queen's mourning period proved that what we see on television and read in the papers is nothing more than political theatre. I refer specifically to the gathering of hundreds of MPs, Prime Ministers and peers from past and present gathering to see King Charles take the Oath of Affirmation shortly after his mother died.
These men and women, whether Labour or Conservative, have a real rapport with each other.
On September 13, six days before Queen Elizabeth's funeral, The Telegraph's Tom Harris, a former MP himself, discussed the meeting of the Privy Council that day and featured a photo of former Prime Ministers Gordon Brown (Labour) and Boris Johnson (Conservative) sharing a laugh together.
Harris explained why this was not unusual:
Consider this: what if the Queen's death and preparations for her funeral were not forcing natural enemies to behave in public, but were allowing our political leaders the rare opportunity genuinely to enjoy each other's company? …
Cross-party friendships are always surprising to outside observers, though within Westminster's walls they are so common that they are rarely commented upon. True, the tea room, where most of the House of Commons gossip is shared, is strictly split up into party areas. But those demarcations are informal and there is much interchange and banter, including the sharing of tables by MPs of different parties.
The fact is that many MPs will feel more comfortable sitting in the smoking room after a late night vote, having a drink and sharing a joke with colleagues from the opposite party, than they will having a beer after a meeting of their local party. After all, outside those fraught occasions when constituency mergers and boundary changes are in prospect, an MP will see no rival when he gazes around the chamber of the Commons. Everyone there, by definition, already has a seat and is too concerned with holding onto theirs to cast envious eyes on their own.
It's a shame that friendships between MPs of opposition parties is the love that dare not speak its name. Only when tragedy rears its head do we catch a glimpse of those relationships. In a touching tribute to John Smith just a day after the Labour leader's unexpected death in 1994, John Major told of late night drinks in his study with his political rival, meetings which started off with drink singular and then progressed to the plural pretty quickly.
As an MP I would frequently join colleagues from different parties to sample Soho's various karaoke bars … These events were not unusual in themselves; what was unusual was how quickly, the day after, everyone once again sworn political enemies.
Ironic, then, that it is the speeches and barbs of the Commons and TV studio debates, not the joyful, slightly inebriated singing, that are the more performative. Constituents expect it. The first rule of Karaoke Club is that no one talks about Karaoke Club, not just because MPs can't be seen to be enjoying themselves during the week instead of keeping their heads down in the Commons library, but also because it just wouldn't do to be seen to be friends with the other side.
And, finally — Bruce Springsteen
On Monday, November 14, Bruce Springsteen cleared up a long-running argument — apparently — about the lyrics to his 1975 hit 'Thunder Road'.
The next day, The Telegraph reported:
The 73-year-old's fans have long disputed whether the opening line to 1975 hit Thunder Road begins with the slam of a screen door followed by "Mary's dress" either swaying or waving.
Knowing he would be asked about the crucial word during an appearance on US talk show The Tonight Show by host Jimmy Fallon on Monday, Springsteen arrived prepared with an original vinyl LP detailing the song's lyrics.
The Boss declared the LP had the lyrics incorrectly printed as "waves", adding that he had sung "sways" for nearly half a century …
The debate over the wording re-emerged on social media last year after two copies of the handwritten lyrics went to auction, one saying "sways" and the other "waves".
Springsteen's own publications also bear the hallmarks of confusion, with his 2016 autobiography Born to Run using "sways" and his website referring to "waves".
Jon Landau, Springsteen's manager and co-producer on Born to Run, said last year that the lyric was "sways" and that "any typos in official Bruce material will be corrected".
"That's the way he wrote it in his original notebooks," Landau said.
Good to know in case anyone starts a dispute about it after too much Christmas cheer.
More news to follow in the coming days.
On July 12, 2022, I posted about the plight of Dutch farmers, especially those who raise cattle.
Farmers in the Netherlands had been openly protesting for some time over the very real possibility that their government wanted to give up their land voluntarily so that it could be repurposed outside of farming. The EU says that there is a nitrogen problem which farming exacerbates.
I followed up with another post on the subject on August 29. Dutch farmers were still protesting, in vain.
Innovative farming methods
Throughout the past few centuries, the Dutch have shown themselves to be geniuses when it comes to trade and to farming.
Not everything they did a few hundred years ago was perfect in that respect, but, more recently, they have established themselves as the kings of cultivation in innovative ways.
On July 29, 2022, Jesse Rentoul wrote about their new innovations for the DutchReview: 'Farming for the future: why the Netherlands is the second largest food exporter in the world'.
Emphases mine below.
For a small country, the Netherlands punches far above its weight:
In 2021, Germany was the largest international consumer of Dutch bio-products (€26.3 billion), followed by Belgium (€12.1 billion), France (€8.6 billion), and the UK (€8.6 billion). 
Ornamental plants and flowers are the hottest export items for the Netherlands, raking in about €12 billion in 2021. Dairy products, eggs, meat, and vegetables profit over €25 billion combined. 
The Dutch have moved with the times and have been fully engaged in reducing carbon emissions for some time:
Innovation, in general, has always been a key part of Dutch culture and society and has really helped in developing more modernised farming methods in the lowlands. 
The R&D (research and development) expenditure in the Netherlands has more than tripled in the past 30 years, that's around 2% of the nation's GDP! So, no wonder the Dutch have a reputation for being innovative and forward-looking … 
Here are our three favourite examples, that also help the agriculture sector become more sustainable.
The University of Wageningen grew their first crop of locally grown Dutch bananas using an alternative soil composite made of coco peat and rock wool. The process makes sure no fungus makes its way into the product through bad soil, and overall creates a more efficient and effective banana growing process. 
Naturally, with a globally increasing demand for meat comes a constant need to feed livestock. Dutch company Nijsen/Granico produce about 90,000 tons of animal feed a year entirely from human food waste and thus creates a far more sustainable meat production circle. 
In 2018 we wrote about Rotterdam's new "floating farm". The entire farm will be sustainable, feeding their cows with leftovers from local restaurants, collected by electric-powered trucks from GroenCollect. 
The remaining feed needed will come from home-grown duckweed — how smart! Even the cow manure is collected and sold, making the floating farm quite sustainable.
It's no secret that the agriculture sector is one of the most problematic in terms of global emissions and climate change. That's why the Dutch made an oath that goes a little like this: "producing twice as much food using half as many resources". 
Since the turn of the century, many farmers have reduced dependence on water for key crops by as much as 90%. Dutch farmers have also almost completely eliminated the use of chemical pesticides in greenhouses. 
The article ends with the current situation with the government opposing the farmers:
… the Dutch government aims to cut its nitrogen emissions in half by 2030, farmers are among those most affected.
The high tensions between the government and the farmers are not making life easier for Dutch consumers, and the most recent clashes have brought increased attention to the impact of Dutch agriculture on the longevity of the planet. 
Nevertheless, the Dutch innovative culture might give the environmentally concerned some peace of mind. After all, the top-five agri-food companies in the world have bases in the Netherlands, so the way to global change is relatively short. 
Can the Dutch government wait? No, it cannot.
A Dutch lawyer, Eva Vlaardingerbroek, has been making regular appearances on GB News programmes and has also been on Tucker Carlson's show to talk about the farmers' plight. At the end of November, the government declared that it would make forcible purchases of 3,000 farms:
On November 28, The Telegraph reported:
The Netherlands is attempting to cut down its nitrogen pollution and will push ahead with compulsory purchases if not enough farms take up the offer voluntarily. 
Farmers will be offered a deal "well over" the worth of the farm, according to the government plan that is targeting the closure of 2,000 to 3,000 farms or other major polluting businesses.
Earlier leaked versions of the plan put the figure at 120 per cent of the farm's value but that figure has not yet been confirmed by ministers. 
"There is no better offer coming," Christianne van der Wal, nitrogen minister, told MPs on Friday. She said compulsory purchases would be made with "pain in the heart", if necessary. 
The Netherlands needs to reduce its emissions to comply with EU conservation rules and agriculture is responsible for almost half the nitrogen emitted in the proud farming nation. 
The Dutch environment agency has warned that native species are disappearing faster in the Netherlands than in the rest of Europe and that biodiversity is under threat. 
But the new plan looks set to reignite tensions with farmers over nitrogen reduction. 
Dutch farmers have staged mass protests, burnt hay bales, dumped manure on highways and picketed ministers' houses over the last three years. 
In 2019 a ruling by the Dutch Council of State meant every new activity that emits nitrogen, including farming and building, needs a permit.
That has prevented the expansion of dairy, pig and poultry farms, which are major sources of nitrogen from ammonia in manure mixed with urine. This can be harmful for nature when it washes into rivers and the sea. 
Last month, an army of thousands of tractors took to the roads in protest and caused the worst rush hour in Dutch history with 700 miles of jams at its peak. 
Farmers fear that the plan to slash emissions by 2030 will cost them their livelihoods, oppose any compulsory purchases and argue farming is unfairly targeted while other sectors such as aviation are not. 
Incredibly, at a time when more migrants are flowing into Europe from other continents, the Netherlands plan to use to reclaimed land for housing. How will millions more people eat?
The voluntary buyout scheme was "the only way to finally create opportunities for the construction of homes, the construction of new infrastructure and for projects to make the Netherlands more sustainable in the shortest possible time," said Ingrid Thijssen, chairman of VNO-NCW, an employers' federation in the Netherlands. 
Interestingly, similar plans implemented over the past 25 years have failed:
Last month, the Netherlands Assessment Agency said other buyout schemes over the last 25 years had failed to substantially cut the number of cattle. 
Maoism redux
Alexandra Marshall, the editor of the Australian online edition of The Spectator, notes that the Dutch plan has a Maoist whiff about it:
The Dutch Minister for Nitrogen, Christianne van der Wal, announced that 3,000 farms will be forced to sell their properties to the government for immediate closure after 'voluntary' measures failed.
Christianne van der Wal, who incidentally is a member of the Freedom and Democracy party, does not understand that if a person is offered two choices that both end with the government snatching their farm – there's nothing 'voluntary' about the outcome.
Chairman Mao did a similar thing in China during his 'Great Leap Forward' and it ended with citizens eating their children. His regime forced collectivised farming across China, promising that it was 'fairer' and more 'community-minded' than all that self-interested private agriculture.
Learning nothing from the deaths of 45 million Chinese, the Dutch Minister for Nitrogen moved closer to the limelight and allure of giddy, climate-worshipping reporters …
This is the villainous conclusion to the Dutch Net Zero scandal that forms part of an approaching global food shortage manufactured entirely by the United Nations and its unsustainable 'sustainability goals'. Other victims include Net Zero poster child Sri Lanka which collapsed earlier this year and was all-but erased from the Climate Cult hive mind …
The Dutch people are living through a nightmare pseudo 'nitrogen futures trading scheme' where farms are killed to allow the government to build '900,000 desperately needed homes with wind farms' without exceeding EU-mandated nitrogen emissions.
Who is going to feed all these people?
That's a problem for tomorrow. As for closing farms to improve 'biodiversity' – how's that biodiversity look in the middle of the 900,000 new homes? Or is that mostly concrete and steel…? Imagine being a farmer, dragged from green fields and told that the grey, lifeless city is the climate virtuoso …
This is not the first time that socialism, in one form or another, has been described as a disease that attacks weak minds – and our civilisation has certainly grown physically and intellectually lazy after generations of easy-living.
Can anyone say 'fascism'? It is the combination of government and corporate power acting in unison against a nation's citizens:
… Eco-fascism with a state religion.
A generation lacking morality and told to feel guilty about everything – including the colour of their skin – has found salvation in Climate Puritanism … They want to pass through the needle of social media approval and enter the Utopia of #ClimateJustice where everything is free.
They fail to realise that Climate Change is a death cult, ruled by demons and attended by corruption – of the Earth, of our wallets, and of our civilisation's future. After all, what ideology could be more evil than a one that denies the basic human rights of the individual and seeks power through ruin?
According to Tombstone, written by Yang Jisheng, Mao's Great Leap Forward proved that economically irrational policies are deadly. That a system of absolute power micromanaging agriculture, immune to criticism, and ignorant of its practical failings has the potential to inflict the worst suffering imaginable on society – even in nations blessed by natural resources.
'The insanity and ruthlessness of the Great Leap Forward and the Great Cultural Revolution were the result of that degeneration and the great "achievement" of the totalitarian system. The regime considered no cost or coercion too great in making the realisation of Communist ideals the supreme goal of the entire populace. The peasants bore the chief burden of realising these ideals: they shouldered the cost of industrialisation, of collectivisation, of subsidising the cities, and of the extravagant habits of officials at every level.'
Protest crackdown
Eva Vlaardingerbroek told Breitbart that these planned compulsory purchases are 'the Great Reset in full force', hellbent on controlling people by controlling their food supply:
Eva said the same thing on Megyn Kelly's podcast:
The elites will be just fine, while ordinary people starve, deprived of the nutrition they need:
The Dutch farmers staged another protest on December 1. Police and riot squads quickly stopped it:
This, apparently, is what Prime Minister Mark Rutte calls 'liberal democracy'.
I do despair and will be keeping the Dutch farmers in my prayers. May Providence prevail.
On Tuesday, November 1, former Prime Minister Boris Johnson gave an exclusive interview on Ukraine to Sky News's Mark Austin.
The video is here.
Boris gave the interview on the condition that it focused only on Ukraine.
The Daily Mail recapped the interview (emphases mine):
The former premier was speaking to Sky News when he was asked if he would like to return to the top role, and whether he had 'unfinished business'.
'You promised this was going to be about Ukraine,' he said. 'I harbour hopes of continuing to campaign for Ukraine and that is my priority.
'There are various other things that I'm doing but that is of course very dear to my heart.'
I'm not as optimistic as Boris is about Putin's holding back in Ukraine, so let's hope our former PM is correct:
In the interview, Mr Johnson claimed Russia would be plunged into a 'cryogenic economic freeze' if Vladimir Putin launched a 'crazy' nuclear strike on Ukraine.
In a warning to the Russian President about the consequences of escalating his barbaric war, the former prime minister insisted Mr Putin would suffer a 'total disaster'.
Mr Johnson told Sky News that Mr Putin would 'immediately tender Russia's resignation from the club of civilised nations' if he used nuclear weapons.
He insisted the Russian President would be further isolated among global nations by losing the 'tacit acquiesence' of countries across Africa, South America and Asia, as well as the 'patronage of the Chinese'.
The ex-PM also claimed Mr Putin's launching of a nuclear strike would see 'an absolutely hysterical reaction' in Russia itself.
Mark Austin asked Boris if he hadn't thrown away his most privileged opportunity to help Ukraine. Austin was talking about Partygate, which pressured Boris into resigning as Conservative Party leader and, as such, Prime Minister. Predictably, Boris gave him a bemused 'What are you talking about?' look, then said that his successor but one, Rishi Sunak, would carry on supporting the war-torn country. Boris also talked up the American aid being pledged, even if Republicans win the mid-terms this Tuesday.
With Boris on the backbenches now, Austin asked if he thought Rishi would give him a special role, perhaps as an envoy to Ukraine:
During the interview with Sky News, Mr Johnson was asked if he has spoken to Rishi Sunak about a 'possible role', with which he said: 'What I can do and what I will want to do is to continue to champion the cause of Ukrainian freedom, of a free sovereign, independent Ukraine. It is a great cause. I think it is a cause that has mobilised a phenomenal level of support across the UK.'
When pressed as to whether he would like 'a formal role', Mr Johnson said: 'I'm happy doing what I'm doing. I think, my job is to talk up what I think are the immediate needs of the Ukrainians,' adding that he will 'inevitably' return to the country.
Mr Johnson was also asked if he feels 'more appreciated on the world stage than he does domestically'.
Responding, he said: 'I have an absolute passionate belief that the war in Ukraine, Putin's act of aggression, is something that we shouldn't accept, we shouldn't tolerate.
'I think that I can continue to campaign for Ukraine out of office and that's what I'm going to do.'
The Mail has many more quotes from the interview.
One interesting thing is that Boris first became interested in Ukraine when he was Foreign Secretary under Theresa May. He said:
I was Foreign Secretary in 2016 and one of the first things I did was go to Ukraine and I remember talking to Ukrainians who had been fighting in Donbas and I remember going to see this great wall, with pictures of thousands and thousands of Ukrainian soldiers who've given their lives for the freedom and independence of their country, and I became very sympathetic to their cause.
I remember standing on that beautiful acropolis in Kyiv and talking about the possibility that Russia might be so insane as to take advantage of the fact that there was no security guarantee to Ukraine, because Ukraine was not given NATO membership and clearly it was a problem, and that is what we now have to fix.
COP27 came up. At the time Boris gave his interview, Rishi said he himself would not be going because he had more pressing business — the cost of living crisis — to resolve.
Boris received an invitation probably because he was the PM during COP26, held last year in Glasgow:
Yes as it happens, but that's not relevant to Ukraine… I was invited by the Egyptians so I'm very happy to go.
He is in Egypt for the conference as I write.
Boris showed his support for Rishi:
Mr Johnson also gave his backing to Mr Sunak, insisting the PM had 'a massive amount to do'.
'We've got to sort out a huge agenda – that's what's he's getting on with,' he said.
As for his own participation at COP27, Boris said:
I was at the Glasgow Cop – although it's become unfashionable to talk about it, was a fantastic global success.
'We did a huge amount of good for the planet, I want to talk a little bit about how I see things and how we see things in the UK.'
Rishi Sunak decided to attend COP27 after all and is also there, enjoying fine meat and dairy menu options such as these:
Note the beef on offer.
Remember, COP27 folks want plebs like you and me to eat … BUGS.
Boris has taken the stage at COP27 twice.
In a speech, he said that the United Kingdom's summer heat wave might have been responsible for was going on at Westminster (video here):
That's a bit of a stretch.
In that video, he also referred to 'pharaonic' climate events, indirectly referring to the Israelites' captivity in Egypt in the Bible.
Then he was interviewed by a reporter for The New York Times's Climate Forward (video here):
Supporting Rishi's attendance, he said:
Some will go weak and wobbly on zero, we can't have that…
Boris has his father Stanley whispering in one ear and his wife Carrie in the other about environmental issues. Meanwhile, the British are choosing between food and fuel this winter, but they do not care.
Just before the last Conservative leadership election last month, Boris gave a speech in Colorado. According to the rules owned by the Cabinet Office and administered by the Advisory Committee on Business Appointments (ACOBA) for former ministers of state and senior civil servants, one must wait at least three months after leaving office to take up an official appointment or employment. Speeches would fall under that category. Boris will have been handsomely paid for his time.
Now he is scheduled to speak for a second time within that three-month period, at Singapore in December:
On November 1, Guido Fawkes reported (emphases his):
The event is scheduled for December 2 in Singapore, where former US Vice President Dick Cheney is also expected to speak. This means Boris is still – by just a couple of days – within the three-month embargoed window of ACoBA's Business Appointment rules:
The Rules state that a minimum waiting period of three months from the date of leaving office to taking up an appointment or employment will be expected when the former official was a Cabinet Ministers or a Permanent Secretary or equivalent, and may also be applied to other applicants if ACOBA believes this to be warranted by the circumstances of the individual case.
When Guido pointed out Boris's first post-PM speech could be a potential breach, his team argued that ACoBA does allow for one-off gigs without them being signed off by Lord Pickles. A second, within the three months, doesn't help Boris's office's line of defence…
Well, Boris never thought that rules applied to him, anyway.
One wonders if we will ever see him on the backbenches again.
On October 23, when the latest Conservative leadership contest was going on, Boris's biographer, the redoubtable Tom Bower, appeared on GB News to say that he could earn a lot of money on the speaking circuit.
We recall that Boris was deeply concerned about money while he was PM, so this route must be appealing.
The Mail on Sunday quoted Bower as saying:
'He was on track to earn £5 million this year but if he wins this vote, eventually the sky's the limit,' said Mr Bower …
Mr Bower said Mr Johnson could easily match the estimated £100 million Tony Blair has made since quitting No 10 in 2007.
Also:
He has lined up a series of US speeches for up to £250,000 a time and signed a £1.5 million deal to write his memoirs, which will be put on hold should he return to No 10.
No wonder Boris decided not to pursue the leadership contest. He's quids in as it is. Why ruin a great opportunity? For him, as a speaker and a former journalist, this will be money for old rope. He could do this in his sleep.
For anyone wondering, Sir Graham Brady MP, chair of the 1922 Committee of Conservative backbenchers — the man who can make or break a Prime Minister — stated on Friday, November 4, that Boris did have the numbers needed for the contest:
Guido reported:
In news that will only surprise deranged Boris-haters, reamainiacs and conspiracists, Graham Brady has confirmed Boris did have the support to make the final round of the Conservative leadership contest. Speaking to the BBC, the Chairman of the 1922 Committee confirmed Boris had over 100 MP supporters and simply decided not to stand. If Boris had made the ballot, he almost certainly would have won…
As the officer responsible for the contest, and one who remained neutral throughout, Brady is the authoritative source on the matter. This only strengthens Boris's claims that his decision not to stand was motivated by concerns over party unity.
The coronation of Sunak has caused widespread discontent amongst Tory members, many of whom are now jumping ship to Reform UK. Not the ideal way to establish Conservative unity…
Agreed, but Sir Graham doesn't care about party unity, nor does Rishi, nor does Boris.
And, finally, just to dispel any lingeringn doubt about Boris's numbers, The Telegraph gave us Sir Graham's quote to the BBC:
Speaking to the BBC, Sir Graham – chair of the Tory party's 1922 Committee – said "two candidates" had reached the threshold, and "one of them decided not to then submit his nomination".
There you have it.
No doubt Boris will be watching Rishi's premiership with interest.
News events from the past ten days have been strange, indeed.
That they are happening all at the same time shows that truth is stranger than fiction.
This is like something out of a dystopian film.
Neil Oliver's editorial
On Saturday, July 2, Neil Oliver presented his weekly editorial on GB News:
He said that the supposed new world utopia is not working. He discussed possible Chinese social credit scores coming to the West and the increasing government control over our lives. He talked about racism from progressives towards their perceived 'wrong kind' of minorities who believe in conservatism, such as Justice Clarence Thomas on the overturning of Roe v Wade. He showed us the clip of Boris Johnson and Justin Trudeau joking about the size of their jets at a time when Western governments are discouraging their citizens from flying — anywhere. He looked at the hypocrisy of the Glastonbury music festival, with environmentalist youths leaving behind them a load of plastic rubbish all over the massive field where it was held. He talked about how people were increasingly unable to put food on the table and asked why this was in the 21st century, a time when we have never been so advanced as a society:
It makes no sense.
He said that the elites want:
the poor to become poorer, the hungry to become hungrier and the cold to become colder.
He concluded:
… here's the hardest pill to swallow: it's not supposed to make sense. This is planned, done on purpose. It's supposed to make us do what we are told. It's supposed to make us stop asking impertinent questions and just submit to The Man. It's supposed to divide us, one from another, until everyone feels alone. It's supposed to make us scared, angry, cold, hungry and sick to death. 
Sri Lanka
Sri Lanka has turned into a dystopia, the kind that Neil Oliver spoke of in his editorial.
The Express summarised the situation, caused by a debt crisis (emphases mine):
Unrest has been ongoing for several months over a debt crisis that has crippled the economy.
Reserves have been drained to minimum levels and the country has defaulted on several debts, meaning it is now struggling to secure essential imports like medicines and fuel.
The south Asian nation has been plagued by sky-high inflation, rolling blackouts and mile-long queues to secure essential goods.
Sporadic protests began in late March, but have since galvanised huge support from the wider public.
Last week, after months of shortages of nearly everything in the country, protesters stormed the presidential palace and the prime minister's residence, both of which are in the capital Colombo:
The homes of President Gotabaya Rajapaksa and Prime Minister Ranil Wickremesinghe have been occupied by local people furious with their leadership for throwing them into a staggering economic crisis …
They have since occupied the building, making themselves at home by using the pool and kitchen.
Sri Lankan police had attempted to use tear gas and water cannon to disperse the crowds, but they have remained defiant and are still refusing to leave.
The Express has several pictures of protesters occupying the presidential palace.
Although the president and prime minister have since resigned, protesters remain sceptical:
some are sceptical of the legitimacy of the resignations.
In a late-night announcement on Saturday, President Rajapaksa said he will step down on Wednesday.
But under Sri Lanka's constitution, his resignation can only formally be accepted when he resigns by letter to the Speaker, which has not happened yet.
Protesters have said they will continue to occupy official buildings until both have officially stepped down.
The country's political parties have resolved that, once both the president and the prime minister formally step down, the speaker would take the role of acting president before parliament votes for a new president on July 20.
On Monday, July 11, Dan Wootton discussed the situation, saying that much of the unrest had been sparked by green policymaking. The president's drive to turn Sri Lanka into an organic-only country with no fertiliser has led to widespread food shortages. The pertinent part is in the first minute and a bit of this video:
Dutch farmers
Meanwhile, another chilling news story emerged, this time from the Netherlands, that of farmers protesting against possible confiscation of their land.
This, too, bears out what Neil Oliver discussed on July 2.
The EU has decreed that nitrogen emissions must be cut. They blame farmers.
Dutch farmers have been protesting against their government's latest policy on nitrogen emission reductions, which, if Prime Minister Mark Rutte gets his way will put many of them out of business.
This was the scene on Friday, July 8:
Below are some of the replies to that tweet:
The Dutch, like most European peoples, are unarmed. The authorities prefer it that way:
Imagine if the government took away the land that you and generations before you had farmed, with either dairy cows or crops. It's unthinkable, but it is a real threat for these men and women:
In reality, there is no emissions problem in the Netherlands. This is about something else — control:
How interesting that the BBC hasn't covered it:
On July 7, Tucker Carlson interviewed the Dutch lawyer Eva Vlaardingerbroek, who is also a regular guest on GB News.
The Vigilant Fox has the video of her talking to Tucker as well as a transcript.
She said:
what this is about is the Dutch government stealing our farmers' land, and they're doing this under the guise of the made-up nitrogen crisis. And that is basically going to put most of these farmers completely out of business.
And thankfully, the Dutch farmers aren't having it. So they're going out in the streets, they're blocking distribution centers, they've blocked the high roads, they are fighting back! And they're right to do so; this is their life's work. They're really at their wit's end. They're devastated by what the government is doing, and it's very clear that the government is not doing this because of a nitrogen crisis, they're doing this because they want these farmers' land, and they want it to house new immigrants.
They also want it because the farmers are obviously standing in their way of The Great Reset plans that they have for us. Farmers are hard-working, God-fearing, and especially self-sufficient people that are just standing in the way of their globalist agenda. And it's driving a lot of these farmers even to something like suicide. So really, there's only one term that we can use for the things that our government and their Premier Mark Rutte is doing right now, and that is communism.
Scary.
Tucker, like most of us, tried to wrap his head around this:
So messing with the food supply tends to cause food crises and then famines. You're seeing this in the developing world, thanks to climate activism and the war in Ukraine. Are normal Dutch citizens who aren't farmers worried about what happens when you shut the farms down?
Eva said that the Dutch public understand what is happening:
Absolutely! They understand it. 'No farmers, no food,' and that's why the farmers have blocked these distribution centers because within a matter of a couple of hours, we saw that the supermarkets were empty, and ordinary citizens understand this.
She says the Dutch government either doesn't understand the consequences of what is happening or they really do want to destroy farming:
The problem is that the state doesn't seem to understand this, or it's what they want. And the police have responded in an incredibly violent way. So as you guys have seen, now, they have even shot at a 16 year-old-boy. These are not things that you should see in free Western countries, especially not targeted towards peaceful protesters, but it's happening.
She explained the red handkerchief she was wearing and said that similar nefarious events could happen in other Western nations:
Everyone around the world, and especially you in America, should be supporting our Dutch farmers because this could be happening to you. It's actually the very reason why I'm wearing this handkerchief right now. It's become the symbol of these farmers' resistance, and they're doing it so courageously, and they have the manpower to do it, so they really deserve your full support.
This Dutch farmer agrees with the assessment that the Dutch government wants the land. He says that it is in order to make the whole of the Netherlands one urban sprawl. You could not make this up:
It seems this is a World Economic Forum idea:
Eva gave an interview to Rebel News and confirmed the link with the WEF:
Once farmland is built on, it cannot easily be reclaimed for crops or grazing:
It sounds like fascism — corporations aligning with governments for control over the people:
Unfortunately, the British government — Conservative! — is trying the same thing in England by politely offering to buy farmers' land. Amazing, at a time when we have so little food security:
On Monday, June 11, Neil Oliver appeared on Dan Wootton's GB News show to discuss the unrest both the Netherlands and Sri Lanka.
Oliver said that Sri Lanka has also been affected by green policies which have been responsible for shortages plunging the country into crisis. He surmises that the governments have been told what to do. He doubts whether politicians will listen to the people and referenced Canada's trucker protests earlier this year as a case in point. Trudeau froze some protesters' bank accounts in response. Wootton responded by saying that the media were ignoring what has been going on in both Sri Lanka and the Netherlands. Oliver said that this will become so big in time that the media can no longer ignore it.
To be fair, the replies to this tweet do indicate that the BBC and Sky News have been covering these stories for the past few days.
Allow me to point out that the World Economic Forum had big plans for Sri Lanka, predicting an economic boom by 2025:
These green policies are hurting people, and it is time they were stopped:
On Monday, June 11, Patrick Christys of GB News spoke to Jeroen Van Maanen of the Dutch Dairy Farmers' Association. Van Maanen has been on GB News a lot over the past few days. He said that the government has different emissions targets, depending on the region. If this law is not stopped, he, for one, will not be able to continue farming. He also said that the government forbids using technological innovations to reduce emissions. Unbelievable. Like Eva, he stated that this is about the government buying land to house refugees:
Christys then spoke to energy analyst Andy Mayer, who said that misguided green policies are going to become problematic across Europe first, then other Western nations. Mayer said that the EU law on emissions originated in the UN. Like Tucker Carlson, Christys had a hard time wrapping his head around governments that seemingly wanted their farmers to go out of business. Mayer said that political leaders are so obsessed with reaching environmental targets that they are making terrible decisions. He said that the Netherlands exports £100m of farm products per year. Here in the UK we get a lot of produce from the Dutch all year round. Mayer says the grand plan is to have food in the West grown in other countries. Sheer madness, when we can see the result of this right now in Ukraine as Putin has prevented their grain from being harvested:
Returning to the Netherlands, it is heartening to see the farmers protest into the night:
Eva also spoke with Mark Steyn on Monday evening. Well done, GB News, for keeping this story going:
Shinzo Abe assassination
When it wasn't governments controlling their people, it was a madman settling an imagined score last week.
On Friday, July 8, Japan's former prime minister Shinzo Abe, 67, was campaigning for a political candidate in his party and was shot in the city of Nara:
He died soon afterwards:
What happened with security at the event?
Donald Trump's supporters remember how close he was to Abe:
Boris Johnson also admired Abe:
When Abe's death was announced, Boris sent a message of condolence in English and Japanese:
Abe had a long relationship with the UK. Here are photos of him with our past three Prime Ministers:
The gunman had served in the Japanese navy.
The Express reported:
A number of makeshift weapons were said to have been discovered at the home of Tetsuya Yamagami, 41, who was arrested after the attack.
The navy veteran was thought to have had improvised devices, including the one used in Friday's killing, by taping steel pipes together.
The gunman held Abe responsible for his (the gunman's) mother's bankruptcy. She happened to belong to South Korea's Unification Church, the Moonies, and gave them a large donation. The gunman believed that Abe had connections to the same group. Apparently, he thought that Abe somehow influenced his mother to give her large donation.
Hmm. There is no information about security at the event, only about it being heightened in the days that followed, culminating on July 10:
The assassination has shaken Japan – a country where political violence is rare and gun ownership tightly controlled.
Mr Abe was speaking during an event for his former party, the Liberal Democrats, ahead of upper house elections.
Security was heightened as voters went to the polls yesterday and party leaders avoided mingling with crowds during their final hours of campaigning.
Abe's traditional funeral ceremony, the tsuya, was held on Monday, July 11. It was a small gathering, led by his tearful widow Akie, 60, and attended by former prime ministers and American officials.
Boris Johnson's ousting
Finally, at the beginning of last week, Boris Johnson was abruptly and unexpectedly ousted as leader of the Conservative Party, although he remains Prime Minister for now.
On Saturday, July 10, Neil Oliver had a pertinent editorial on Boris, saying that our MPs do not care about us, we the people. We are in their way. We count for nothing in their eyes. He was appalled by the party atmosphere surrounding Boris's resignation and took exception with former Prime Minister John Major's suggestion that Boris should be removed immediately from No. 10. He also criticised another former Conservative MP, Michael Heseltine, for saying that, with Boris's departure, Brexit is now over. (Brexit was the largest plebiscite in British history.) He then went on to rightly criticise MPs for the damage done to British society with lockdown and Net Zero policies. They are now our masters, no longer our servants:
I will have more on what allegedly happened to Boris and profiles of Conservative MPs who are campaigning to succeed him as leader.
Dystopian events
That so many strange events could happen at the same time strikes me as dystopian.
I've never experienced a news cycle like last week's.
Let us hope this is not a regular occurrence.
The ongoing preoccupation and concern about how Anglican parishes will survive, especially in rural England, might be resolved soon.
On June 26, 2022, The Sunday Telegraph reported that wealthier parishes could be allowed to give more to poorer ones. The plan will be debated at the upcoming General Synod meeting in July (emphases mine):
Wealthy church dioceses will be allowed to share funds with their poorer neighbours under plans to be voted on by the Church of England.
The proposals, which have been submitted before the General Synod, the Church of England's legislative body, will mean that for the first time cash can be more evenly distributed.
The move would remove some barriers to dioceses sharing resources and comes amid concern about the viability of smaller, poorer and more rural parishes.
Why did that not happen sooner? It's common sense. In Paul's epistles, we read of his collection for the poor church in Jerusalem. The other churches he planted in Asia Minor and Macedonia gave generously, and he succeeded in presenting the donation to the struggling congregation in Jerusalem.
It will be left to the dioceses to decide if they wish to participate. Hmm. Based on previous diocesan splurging of money on rather useless 'initiatives', I do hope they will be generous towards their poorer congregations:
In papers published last week and submitted to the Synod for its conference in July, David White, deputy director of finance for National Church Institutions, said that his amendment would "in effect, enable a Diocesan Board of Finance to grant funds from its income account for use by other dioceses in the Church of England if it wished to do so" …
In May the archbishops admitted that they "got it wrong" by not prioritising rural parishes over city churches, as they announced funding worth £3.6 billion.
We shall see.
On June 23, Andrew Selous MP, the Second Church Estates Commissioner, answered a question from Labour MP Ben Bradshaw on putting more clergy into neglected parishes. I agree with the Revd Giles Fraser of St Anne, Kew, that Selous's response was far from reassuring:
Churches are struggling to obtain curates, as obtaining more clergy is not in their direct control:
The Save the Parish network will be meeting before the Synod members get together. I wish them all the very best. They have two champions in the Revds Giles Fraser and Marcus Walker, rector of St Bartholomew the Great in London:
Giles Fraser is enjoying his new assignment at the Parish Church of St Anne in southwest London:
He is out and about meeting fellow residents:
On a serious note, Fraser warns of the Lords Spiritual — serving Church of England bishops in the House of Lords — becoming irrelevant if the parish system breaks down:
In his recent article in UnHerd, he says:
… the bishops draw their moral authority from the fact that the Church of England operates a universal service provision. We serve in all communities, from the richest to the poorest, from cities to rural areas. The bishops are in fact well suited to the Lords because they connect it to every parish in the country — well, in England at least. And if there is a current threat to bishops in the Lords it comes not from the fact that they sometimes irritate the government with moral pronouncements — 'twas ever thus — but rather because the bishops are dismantling the source of their own authority. Armed with half-arsed MBAs, they want the Church to be run with increasingly centralised efficiency; inefficient parishes are being closed. As a result, the connection between the bishops and the parishes is being severed, and with it the source of their authority to sit in the legislature.
Fraser warns that this plays into secularists' hands:
The role of the bishops is to represent the whole country spiritually. On the whole, other faiths are glad of this particular role held by the Church of England. The National Secular Society and other troublemakers are keen to sow division among people of faith in order to argue that no one church should have legislative priority over another. But this is simply a ruse to dislodge religion from the public sphere. The Church of England is not a special interest group, it exists for all. Even, heaven help us, for secularists.
On that note, the Revd Stephen Heard is concerned about the single-minded political leanings of C of E clergy, starting with the archbishops. Their constant political pronouncements could be alienating the laity — and potential converts:
He cites an article from The Critic, 'The closing of the Episcopal mind', which provides bishops' opinions dating back to the 19th century, and concludes:
Given this deep uncertainty and debate as to the political implications of Christianity, total political consensus among its leadership makes me very uneasy. It alienates large swathes of lay Anglicans who, in perfectly good faith, come to conclusions that differ from the liberal-left consensus, and makes our mission as a broad national church harder. It belies a real lack of intellectual vibrancy and curiosity, and implies, by some curious happenstance, that the political spirit of a restless and secular age has magically aligned itself with the truths of the Christian religion … What providential perfection! And what an unlikely state of affairs all round.
Political causes have even entered into baptismal and confirmation vows in the Diocese of Oxford, which now requires a promise to uphold God's creation.
Marcus Walker rightly points out that this places Christ, the Person to whom we pledge our faithful allegiance, in second position:
He wrote an article about it for The Telegraph:
In it, he says:
Baptism and Confirmation are two of the most important steps a human being can make. I say this, I concede, as a clergyman, but what happens at these sacraments is not just a significant religious service, but an event that transforms a person's life, temporal and eternal.
This is why it's really important that the Church avoids putting barriers up that would discourage people from encountering this grace. It is difficult enough for the Church to persuade people that the Christian message is true (we've all seen the stats). Pushing away those who don't hold to the ideologies of the current bench of bishops is foolish in the extreme.
This week, the Bishop of Oxford has decided to add to the service of Baptism and Confirmation a new little exchange: "Will you strive to sustain the integrity of creation, and sustain and renew the life of the earth?" "With the help of God, I will." It is important to note that this is not a change to the actual baptismal vows. It's part of a rather naff "commissioning" that the new prayer book, Common Worship, allows at the end of these services. Nobody knows what happens if a candidate says "no", mostly because none of the other questions are controversial so this issue has not come up before.
At this point you might be saying, "but there's nothing controversial here either", and, if speaking entirely for myself, I would agree. You might also say that this seems pretty consonant with long-standing mainstream Christian and Anglican theology and this would be true.
But the question of how we engage with environmental concerns has become a major political issue recently, one controversial enough to have even caused long standing conservatives to reconsider their loyalty to the Crown in anger at the way some members of the Royal Family proselytise about "The Environment".
This is the only part of the service which engages directly with a live political discourse. We are not asked to pledge anything to do with poverty, international relations, race, or even loyalty to the Supreme Governor of the Church of England …
Walker acknowledges that the 1662 Book of Common Prayer (BCP) requires confirmands to pledge loyalty to the monarch and says that it is no longer used in today's confirmation ceremonies:
… to use it now would turn away any republican. It would cause those who don't think this country should have a monarch to have second thoughts about finding God. High Tory though I am, I would not want to stand before the Throne of Judgment and have held against me the souls I had turned away because of my politics.
Which means my advice to the Bishop of Oxford is not to mess with this liturgy; to those cheerleading the move to ask yourself what if the boot were on the other foot and you were being forced to assent to a political position you dissent from as a condition of baptism; to the Church to be grateful for anyone willing to commit themselves to Christ and to welcome them with open arms.
In closing, this guidance on sermon writing from 2017 is worthwhile reading. It could apply to any essay. Parts of it remind me of the Expository Writing course I took at university many moons ago.
This is called 'Good to Great: Turning a Decent Sermon into a Wonderful One':
It's excellent advice — and difficult to achieve, therefore, all the more worthwhile in the pursuit of 'good to great'.
Continuing my series on Red Wall MPs and, most recently, Lee Anderson, this post gives his positions on various topics in British life.
Those who missed previous instalments can read about his adventures and opinions in Parts 1, 2, 3 and 4.
Rail strikes
This week, England has been crippled by a series of rail strikes, one every other day, which means that on the days there are no strikes, it is still fruitless trying to travel by rail.
On Monday, June 20, 2022, the House of Commons held a debate, Industrial Action on the Railway.
Lee Anderson was the last MP called to speak. He asked the following question of Grant Shapps, Transport Secretary (emphases mine):
This strike is a real kick in the teeth for hard-working taxpayers, who have dug deep over the past 18 months to keep this industry alive. Does my right hon. Friend agree that the Labour party—the spineless party opposite—should grow a backbone and condemn these strikes?
Grant Shapps replied:
That is an appropriate place to end. My hon. Friend is absolutely right. People have dug deep—that is exactly what they have done; it was £600 per household. People are furious. They paid out that money to make sure that nobody lost their jobs, and what thanks have they got? Where is the reward? Where is the "thank you" for keeping the railway going? It is a strike that will put people out of pay and hit people's pockets once again, and Labour Members cannot even find their way to say, "We condemn the strikes." It is a disgrace.
Immigration
On Wednesday, June 15, Home Secretary Priti Patel made a statement about the fact that the June 14 flight to Rwanda with scheduled deportees never took off. There were originally 37 people who were to be deported. Because of last minute legal delays, only a handful boarded the charter flight and, by 11 p.m., even they were taken off.
The Opposition parties hate the idea of sending illegals to Rwanda for processing. Strange that, as it is called the Switzerland of Africa.
Labour, the Lib Dems and Scotland's SNP have all said during debates about illegal migration that people can legitimately come to the UK from France. Such a statement implies that France is not a safe country.
In the June 15 debate, Migration and Economic Development Partnership with Rwanda, Lee Anderson asked Priti Patel:
Just when you think this place cannot get any dafter, you turn up and listen to the rubbish that the Opposition are coming out with today. Is the Home Secretary aware of the sniggering, smugness and delight shown on the out-of-touch Opposition Benches about the cancelled Rwanda flight? Will she please advise me? I need some travel advice—I am going away this summer. Is France a safe country to go to?
Priti Patel replied:
For the benefit of the British people, the public, I have in my hand just four pages with a list of Opposition Members making exactly that point with glee—basically wanting the policy to fail, condemning it and saying all sorts of things without coming up with alternative solutions.
My hon. Friend is absolutely right about France as a safe country. This is a fundamental principle of working with our colleagues more broadly—[Interruption.] Those on the Opposition Front Bench have already had their chance to speak. These are safe countries and there are people who are effectively picking to come to the UK. That is something we have to stop by going after the people smugglers and breaking up their business model.
Moral failings of Tony Blair versus Boris Johnson
Also on June 15, Boris Johnson lost his latest ethics adviser, Lord Geidt, who suddenly resigned.
This month, for whatever reason, Tony Blair became a member of the prestigious Order of the Garter, an honour the Queen decides independently.
On GB News, Patrick Christys asked a panel who was less ethical, Boris or Blair. Lee Anderson was one of the participants. He said that he had canvassed his constituents in Ashfield, Northamptonshire, and all said that Blair was less ethical. Anderson said there is no comparison between a Prime Minister being presented with cake and one who got us into a highly costly war in Iraq. The second tweet shows Blair with his spin doctor Alastair Campbell at the time:
The full discussion follows:
Labour
Anderson was a member of the Labour Party until 2018, when he switched to the Conservatives.
He has no praise for Labour MPs, especially Deputy Leader Angela Rayner. On May 22, she was angry with Chancellor Rishi Sunak for giving more aid to Ukraine.
The Daily Mail reported:
The party's deputy leader sparked outrage after she told the Chancellor on Twitter to 'do one' – a slang insult meaning 'get lost'.
The message was posted in response to a weekly No 11 newsletter from Mr Sunak, in which he detailed an additional £40 million of aid for Ukraine.
It is not the first time the senior Labour figure has landed herself in hot water for her remarks about those on the other side of the Commons. The former care worker resorted to calling senior Conservatives 'a bunch of scum, homophobic, racist, misogynistic, absolute pile of… banana republic… Etonian … piece of scum' in a foul-mouthed tirade at last year's Labour party conference.
Lee Anderson made his views known:
Lee Anderson, Tory MP for Ashfield, accused Ms Rayner of behaving pathetically after the latest controversial outburst.
He said: 'I don't know what it is about Angela Rayner and the Left that have it in for successful people running the country, surely it's much better for successful people who are successes in business to hold the purse strings of the country rather than somebody whose only claim to fame is dishing out insults.
'She is someone throughout her career who has made childish insults against Conservative politicians and now she's having a go at Rishi, who by the way is one of the most polite politicians you'll ever wish to meet. He's a real gentleman, regardless of your politics.'
Green energy policies
As is the case in most European countries, the prices of home fuel and petrol have gone through the roof.
On January 3, Nigel Farage asked Anderson for his views on what the UK should do. Anderson said that while it was imperative that we leave the planet in better shape for the next generation, he and his Ashfield constituents think that some of Boris's Net Zero policies need to be wound back. Furthermore, he wants us, rightly, to use our own energy sources during our transition period to Net Zero:
Two months later, Anderson appeared on Farage's Talking Pints segment of his show. They discussed the necessity of energy independence, which the UK can easily achieve. Instead, the Government prefers a policy of importing coal and gas from Russia:
You can see the full interview here, where Anderson says:
We should be selling gas to the rest of Europe!
The BBC
Anderson remains a firm supporter of Boris Johnson and wants him to be allowed to get on with his job. He accuses the BBC of conducting a witch hunt against the Prime Minister.
This interview took place the day after Boris survived a Conservative vote of confidence. Anderson laid his dislike of the BBC's tactics on the line. This is short, sharp and to the point:
Guido Fawkes wrote (emphases in the original):
Lee Anderson provided daytime fireworks as he confronted the BBC over anti-Boris bias live on the channel. He also called them "quite sad" over their refusal to let the Boris leadership question drop, accusing them of spearheading a witchhunt. Agree or not, it was great TV…
Not surprisingly, it was Guido's most popular post that day:
That night, the question of a BBC witch hunt popped up on Dan Wootton's GB News show:
Wootton invited Anderson on to discuss the issue with left-wing pundit Nina Myskow, who defended the BBC. Anderson said that his constituents supported Boris. He invited Myskow to speak with his constituents to hear their views. She replied, although not in this clip, that she never travels north of Selfridges:
Russia
On April 27, Anderson was disappointed not to have made the list of 287 MPs that Russia sanctioned.
He wrote a letter to the Russian ambassador to the UK to ask that his name be added to the list:
Crime
Lee Anderson has been outspoken against crime. I posted some of his perspectives last week.
During his candidacy in the autumn of 2019, he proposed creating forced labour camps for noisy council tenants:
After Winston Churchill's statue was desecrated in June 2020, during the pandemic and 'mostly peaceful' protests, Anderson gave a brief interview to a young independent reporter. He ended by saying:
You wouldn't be stood here today, young man, talking to me if it wasn't for Churchill.
On March 16, 2021, Anderson participated in the Crime Bill debate. Highlights follow:
Here's another, courtesy of Guido:
Ashfield's straight-talking MP Lee Anderson gave the Labour Party both barrels last night in the Crime Bill debate. Effusively supporting the Bill, no-nonsense Anderson took aim at what he sees as Labour's hypocritical positions:
I find it strange that Labour are talking about tougher sentences for crimes against women, yet in December they were trying to stop us deporting foreign rapists. One Labour MP said we should not deport these criminals in December as it was too close to Christmas. I disagree. I thought it was a great Christmas present.
Guido is fairly sure that the residents of Ashfield will be in overwhelming agreement. For such a short speech, many shots were fired – rounding off on some Labour politicians' attitude to the law…
Seven months later, his fellow Conservative MP Robbie Moore led a debate on the sexual exploitation of young girls by a certain demographic. Sadly, the 'grooming gang' phenomenon is growing to the extent that it is said to be present in every town in the UK.
Moore focused his attention on Bradford.
Guido points out that none of the three Labour MPs for Bradford bothered to show up for the debate.
Anderson contributed and, as one would expect, has strong views on what should happen to such politicians:
Away from the noise of the Budget, earlier this week Conservative MP Robbie Moore led a Commons debate on child sexual exploitation across Bradford, calling for a "Rotherham-style inquiry" into the scandal and claiming it had been "swept under the carpet" by the local authorities. Although the debate only attracted small number of MPs – none of the three Labour MPs for Bradford bothered to appear, despite two previously claiming they would – there was one booming voice lending his support to Moore's campaign: the Honourable Member for Ashfield, Lee Anderson. Asking Moore to give way twice so he could give the Chamber a piece of his mind, Anderson said:
The only way that we know the full scale of these vile crimes in Bradford is for a full Rotherham-style… investigation, and would he also agree with me that certain local politicians on the council, and the mayor, should hang their heads in shame.
Once this inquiry takes place, and we get to the bottom of this, and these grooming gangs are put away where they rightly belong in prison, then the next call will be these lazy politicians – and they need locking up too.
Even Moore sounded a bit surprised by Lee's fury…
Guido has the video:
Anderson's no-nonsense speech might have been partly due to his appointment to the Women and Equalities Committee in May 2021:
Guido wrote:
Guido learns that parliament's wokest committee – the Women and Equalities Committee – is to welcome two new, perhaps unexpected, members: Philip Davies and Lee Anderson. Philip Davies is making a, no doubt, welcome return after having served on it in 2016 – where he made headlines calling for the word "women" to be removed from the Committee's name. Lee Anderson is a co-conspirator favourite: from saying nuisance tenants should be forced to live in tents; to recently ranting that he's torn up his licence fee. Confirming the appointment, Lee told Guido:
The great women of Ashfield have been the backbone of my community for hundreds of years with barely any recognition.
Yes the men have worked down the pits and gone off to war but its our women that have kept everything together.
The women in communities like Ashfield need a voice in Parliament and anyone who knows me will tell you that I am a firm believer in better rights for women. I am a modern man with a modern outlook who is keen to speak up for the women in my community.
They deserve to be on a level playing field with us men which is not always the case. I will still open doors for women and give up my seat on public transport as I am a gentleman first and a politician second, but you can be assured that I will be fighting on all fronts for the women of Ashfield.
Both men will no doubt relish the appointments, which they richly deserve. Guido sends his warmest congratulations to the pair. Chapeau to the 1922 Committee on the wit and wisdom of their appointments.
Returning to politicians, on November 9, he had a go at convicted Labour MPs and recommended that they should work as a condition of their licence:
This morning in Parliament, straight-talking Lee Anderson told Deputy Prime Minister Dominic Raab exactly how he thinks the government should solve labour shortages:
Prisoners and ex-offenders out on licence should help fill the labour shortage and […] on release, all prisoners – including ex-Labour MPs – should be ready for work and starting work should be a condition of their licence.
Guido has the video:
Nutritious meals on the cheap
As I wrote in my third post on Lee Anderson, he took a lot of unnecessary stick in May 2022 for saying that people can make nutritious meals for only 30 pence per portion.
He revealed that he, too, had been a single parent for many years and lived scrimping and saving. He still got pilloried.
On May 26, however, the Mail profiled a partnered mother of three who makes meals for 29 pence a portion.
Was there any criticism of her from other media outlets, such as the BBC? No, there was not.
Such double standards. Such hypocrisy.
Conclusion
Regrettably, I have run out of Lee Anderson anecdotes.
He is my favourite MP. I would love to see him as the next Conservative leader, if not Prime Minister.
Sadly, that will not happen. He is not Establishment enough and never will be.
I hope that he is re-elected as MP for Ashfield and wish him all the best in his Parliamentary career.
We need more MPs like him.
A profile of another Red Wall MP will appear next week.