You are currently browsing the tag archive for the 'CNN' tag.
The American actress Roseanne Barr has long been an advocate for children. Having worked in Hollywood for so long, she knows that many young stars have been molested and drugged.
She wants it stopped, which is one of the reasons she supports President Donald Trump.
On Passover — Saturday, March 31 — she tweeted:
President Trump has freed so many children held in bondage to pimps all over this world. Hundreds each month. He has broken up trafficking rings in high places everywhere. notice that. I disagree on some things, but give him benefit of doubt-4 now.
I happened to read it hours after it was posted. She did catch flak for it, and tweeted about Passover being synonymous with freedom from slavery. Unfortunately, she has taken both tweets down and is now focussing on her newly revived eponymous sitcom.
That day, CNN reported about that and an older Barr tweet in which she wanted to hear from Q because she had information to give (emphases mine):
"The Storm," as Newsweek, Mediaite and others have explained, alleges that high-profile Democrats and other famous people are involved in child sex-trafficking rings, and that Trump is breaking them up and arresting those involved in their operation. The theory has been traced to the online message board 4Chan, where an anonymous user known as "QAnon," or simply "Q," has propagated the theory.
Uh, keep up, CNN. Q has been on 8chan for some time now.
Anyway:
Twitter users concerned about Barr's involvement in such theories quickly pointed to past tweets by her that would further explain her involvement in the theory. In November, Barr tweeted, "Who is Q?" The Daily Beast reported. The actress added hours later, "tell Qanon to DM me in the next 24 hours."
Of course, many media outlets picked up on this, but Q provided the CNN link (message 1061):
What a coincidence.
https://www.cnn.com/2018/03/31/politics/roseanne-barr-conspiracy-tweets/index.html
Q
Many headlines were identical. How does that happen organically? It can't. I posted about Mockingbird last week, pointing out that someone researched the word for March 26, which was 'gamble'.
Someone on 8chan grabbed a screenshot from March 31:
Roseanne's eponymous — and highly popular sitcom — originally ran from 1988 to 1997. Nearly everyone I knew watched it. I tried, but it wasn't my cuppa. My late widowed mother never watched it, either.
For those living outside of the United States, these tweets give you an idea of the show and how happy millions of viewers are to see it return:
The new series premiered on Tuesday, March 27, 2018 with such phenomenal ratings that it was renewed for another series on March 30! In the meantime, Trump rang to congratulate her:
Think about how many Americans Roseanne reaches on television (and Twitter). Her returning character is a Trump supporter. Connecting the dots, we can see how many minds she can influence. As a Tablet magazine article pointed out:
… Roseanne is the first decent argument that Donald Trump has had in the culture business since he got elected. It's even more powerful coming from a comedian like Roseanne who, bless her soul, may be the single most important feminist symbol in America, relevant because she belongs not to the moneyed and privileged chattering vanguards but to the working class. Roseanne herself knows Trump, and appears to personally dislike him.
Wrong:
Continuing with the article:
But she's given him this arguably undeserved gift because she also agrees with him on several key issues, like trade and political correctness. She also understands that Trump plugs in to the frustrations of millions of Americans who've been getting shafted for nearly three decades now with neither Democrats nor traditional Republicans doing much to help them out.
Almost for certain, the success of the new season of Roseanne will lead many bien pensants to call the comedian a crackpot or worse …
Indeed:
Here's the exchange between Roseanne and the New York Times (Roseanne's responses in bold):
Considering that Trump opposes many of the principles that you and Roseanne Conner have stood for, how can you support him?
No, he doesn't, I don't think he does. I don't think so at all. I think he voices them quite well.
I'm thinking of abortion rights, same-sex marriage rights, labor protections —
He doesn't oppose same-sex marriage.
He doesn't favor it. He has not come out in favor of it.
He does. Yes, he does. He has said it several times, you know, that he's not homophobic at all.
What about labor union protections and blue collar workers, and
What do you mean, the — oh, let's not get into this.
[A representative for Ms. Barr interjected: "You don't have to get into it. We can move on."]
Well, you know, it's —
Yes, let's do.
A question people wonder about.
Well, I think working-class people were pissed off about Clinton and NAFTA, so let's start there. That's what broke all the unions and we lost all our jobs, so I think that's a large part of why they voted for Trump because they didn't want to see it continue, where our jobs are shipped away. So, it's more, why did people support shipping our jobs away?
Now, let's take this one stage further.
Although she won't tweet about Q anymore, Big Media have plastered it all over television and the internet that Roseanne Barr knows about Q.
How long before Q goes mainstream?
For that, we have the unwitting media and the very much plugged-in Roseanne Barr to thank.
Expect millions more red pills to be dispensed this year, which will make The Storm that much easier for many Americans to understand once it breaks.
In closing, here's a great quote from an 8channer:
If you told me in 1989 that Donald Trump, Roseanne Barr, and James Woods would save the world with what I knew as (NES/Atari260) hooked up to the phone line and a color TV…. I'd tell you that you were nuts.
yet here we are.
Indeed we are!
The hugely historic news of March 8, 2018, is that President Donald Trump will be meeting with North Korea's Kim Jong Un by May to discuss denuclearisation:
Earlier in the day, Trump met with a delegation from South Korea:
South Korea's national security adviser, Chung Eui-Yong, issued a statement through the White House, excerpted below:
7:11 P.M. EST
CHUNG: Good evening. Today, I had the privilege of briefing President Trump on my recent visit to Pyongyang, North Korea. I'd like to thank President Trump, the Vice President, and his wonderful national security team, including my close friend, General McMaster.
I explained to President Trump that his leadership and his maximum pressure policy, together with international solidarity, brought us to this juncture. I expressed President Moon Jae-in's personal gratitude for President Trump's leadership.
I told President Trump that, in our meeting, North Korean leader Kim Jong-un said he is committed to denuclearization. Kim pledged that North Korea will refrain from any further nuclear or missile tests. He understands that the routine joint military exercises between the Republic of Korea and the United States must continue. And he expressed his eagerness to meet President Trump as soon as possible.
President Trump appreciated the briefing and said he would meet Kim Jong-un by May to achieve permanent denuclearization.
This is some of the best news we could have hoped for. Of course, it will take time and a great deal of care, as General Jack Keane told Fox News's Lou Dobbs:
Senator Lindsay Graham issued the following statement:
Media reaction
Not surprisingly, Fox News was positive:
CNN's talking points yesterday revolved around pron (intentional typo) star Stormy Daniels and civilian Donald Trump about something that might or might not — she says it didn't — happen over a decade ago.
That said, there was some coverage:
The CNN jerks look like they did on Election Night in 2016:
This must have been a difficult moment:
Former Arkansas governor Mike Huckabee — father of press secretary Sarah Sanders and a former GOP presidential candidate reacted:
Yes, we are used to CNN's — and other media outlets — useless analysis and predictions:
Overseas reaction
On Friday, March 9, I listened to an excellent interview on RMC — French radio — on the political talk show, Les Grandes Gueules (The Big Mouths). Although all the commentators and both hosts are left-of-centre, only one said he was 'suspicious' of Trump's motives, i.e. a lead-in to war. Everyone else gave him credit — albeit reluctantly — for his willingness to negotiate. The final comment was from one of the panellists who said that it takes a tough man to negotiate with someone like Kim Jong Un. Dictators and tyrants, he said, listen only to force. It's true. The nearly unanimous conclusion was that Trump should be applauded in this instance (a big deal considering that Les Grandes Gueules, bar one, do not like Trump at all).
Trump received a huge compliment from Australia:
Q was right
Q was right in saying to watch the news this week. Q had been dropping his/their 'breadcrumbs' for some time now.
From February 15 (message 765):
Watch the water.
Q
Two photos have been circulating on 8chan's Q research boards. Someone there combined them. One is from Clinton's time in office (1990s) and the other is from March 5. Look at the water in the paintings behind those assembled. Also note that the North Korean — Kim's father (?) — and Clinton are sitting in the older photo but Kim Jong Un is standing in the newer one:
On March 6, someone posted the new photo. Q responded (message 846):
Water.
Why is this event BIG?
What does it signify?
Why is NK out of the news?
As The World Turns.
Q
That day's headline in some papers was about denuclearisation, based on South Korea's discussion with their northern neighbour. Someone on 8chan posted the New York Times headline about it. Q responded, indicating that North Korea is being watched from the sky (message 864):
Wait & see.
Re_read drops – you have more than you know.
Eyes in the SKY.
SUM of ALL FEARS //\\
Q
There are a few more Q messages about North Korea, but message 888 from March 9 indicates that things are moving forward in the right direction:
Thank you Kim.
Deal made.
Clowns out.
Strings cut.
We took control.
Iran next.
Q
By the way, this is a satellite photo of North Korea. Notice the near universal darkness contrasting with the light in South Korea:
How it happened
In a nutshell, Trump spent a lot of time last year discussing unfair trade policies with China, which is highly dependent on slave labour and natural resources from North Korea.
Trump wants to break the Chinese control over North Korea. He wants North Korea to trade with South Korea and Japan instead.
Trump also implemented tariffs on March 8 on foreign imports, except for those from Mexico and Canada. That would include Chinese steel. Whilst the US does not buy much steel directly from China, China sells a lot of their steel to other countries. The US then purchases steel from those nations.
There might have been a military operation that took place in North Korea late last year which, if true, could have disrupted their nuclear operations. On September 19, Business Insider reported:
Defense Secretary Jim Mattis hinted that the United States still had military options left for dealing with North Korea, but did not elaborate when asked for details Monday …
… according to Mattis, the Pentagon has a few tricks up its sleeve that wouldn't involve the decimation of Seoul.
When asked whether there was "any military option the US can take with North Korea that would not put Seoul at grave risk," Mattis responded, "Yes, there are, but I will not go into details" …

So what does Mattis have in mind? He wouldn't say, but he did let slip one interesting comment.
"Just to clarify, you said that there were possible military options that would not create a grave risk to Seoul," a reporter said later. "Are we talking kinetic options as well?"
"Yes, I don't want to go into that," Mattis said, agreeing that his closely held military option involved kinetic action, a euphemism to describe lethal military force.
The Last Refuge — Sundance from The Conservative Treehouse — explains the Trump Doctrine simply and clearly. This thread is about not only North Korea but worldwide strategies. Highly recommended reading. Excerpts follow, emphases mine:
3. Just because western media doesn't understand how President Trump executes a geopolitical strategy based on economic leverage, that doesn't mean adversaries are not fully aware of the effectiveness of the approach.
4. The Trump Doctrine has two avenues toward dealing with national security adversaries.
5. The first route is direct assignment of responsibility toward the enablers: see China for North Korea; The Gulf States for Qatar (Sunni extremism); Russia for Syrian terrorism (Assad); and Pakistan for Afghanistan (Taliban); as recent examples.
6. However, when the geopolitical threat stems directly from the enabler, and not the enabled, the Trump Doctrine has a distinctly different & far more encompassing, approach.
7. Route two goes through leveraging regional allies and partners. (TWO THREATS, China and Russia) See ASEAN and India for ¹China; and France, Poland, Baltic States for ²Russia.
8. In each case: China, Russia and Iran, unlike Western media, these powers assemble volumes of research to assist them in understanding the most likely sequence of events President Trump will take.
9. When we say volumes of research, we indeed mean hundreds of people researching and drafting position documents based upon every scintilla of every deal Donald J Trump has engaged in.
10. These states fully understand how President Trump intends to utilize economic leverage toward his next national security focus. As soon as President Trump mentions a strategy for a foe, all international adversaries immediately began road-mapping their defense.
16. For the North Korean problem, Japan, South-Korea and India are all economically leveraged against China by President Trump [via favorable trade and market access opportunities.]
18. The U.S. military is not the leverage, the military helps creates leverage. The leverage itself is economic. Financial interests are always the best leverage to use because inherent within the fundamental principles of economics is "self-interest".
20. Everyone knows the first North Korean missile test was conducted during Bill Clinton's presidency. That was over 20 years ago.
21. What President Trump was able to do with the approach he took with North Korea is jaw-droppingly smart. Stunningly so. Economic leverage works.
23. The review of the enhanced sanctions against N-Korea should be incorporated with the larger issue of policy toward the DPRK's enabler, China.
33. When it comes to the use of economic leverage to create U.S. national security outcomes, well, we are learning at the knee of an economic master player. The media will now do everything they can to stop people from realizing how effective President Trump is…
What to ignore from media this weekend
Please note that last point from The Last Refuge's Twitter thread.
The media will tell you this weekend that Trump is acting impulsively. That is untrue. He has known for decades about the dangers of nuclearisation and unfair trade. He said the same things then that he is now.
He discussed unfair trade on Oprah's show in the early 1980s and said he would run for president only if things got really bad. Well, by the grace of God, he's in the White House now:
In 1999, Britain's Channel 4 picked up an interview from NBC's Meet the Press wherein Trump discussed the dangers of North Korea's nuclear arsenal. We have Clinton to thank for that, by the way:
In conclusion, Trump has taken no impulsive decisions. He has known and understood the situation for many years.
—————————————————————————————-
In other news, the deadline for renegotiating DACA — Monday, March 5 — came and went with nary a peep from Democrats so desperate to maintain Obama's Dreamer plan.
On Wednesday, January 17, 2017, President Donald Trump announced his first ever Fake News Awards.
He did not announce them by voice, but RSBN did a great job going through every item:
On Monday, January 15, Politico quoted 'experts' — including Republicans — who said that Fake News Awards could violate White House and ethics rules.
That's rich. Big Media are violating ethics rules every day by reporting falsehoods lies.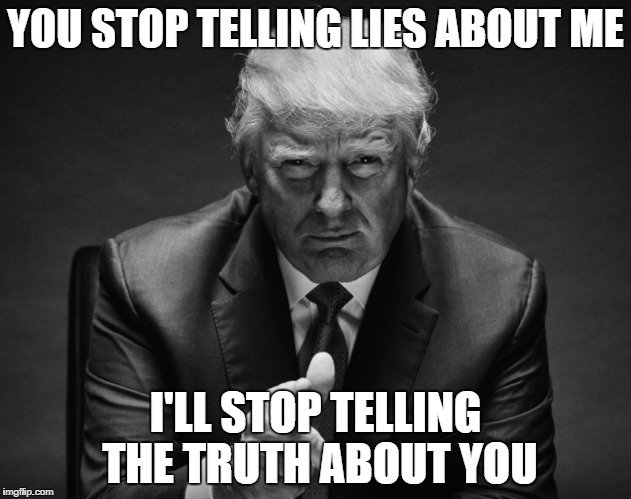 The president's tweet appeared later than scheduled. The Washington Post was quick to pounce before …
… and after …
But, once again, Fakey winner WaPo was wrong.
The GOP (Republican Party) page crashed from all the traffic:
This generated a greater American buzz than big-ticket award ceremonies:
Gateway Pundit reported (emphases mine):
Internet giants Google, Twitter and AOL publish the most popular trending subjects. And Wednesday night the most popular subject on all three sites was Trump's Fake News Awards.
Even the trendy celeb news site TMZ covered it:
President Donald Trump came through on presenting "The Fakies" … his 2017 Fake News Awards. He teased it up as "The Most Dishonest and Corrupt Media Awards of the Year" … and here are the HUGE winners (losers?) in his words. No shocker, CNN took the most trophies. 
The tweet below has a screenshot of the winners, as posted on Legal Insurrection:
The GOP rightly introduced the results — including sources — with this:
2017 was a year of unrelenting bias, unfair news coverage, and even downright fake news. Studies have shown that over 90% of the media's coverage of President Trump is negative.
That is true.
Paul Krugman discredited
How wrong could Paul Krugman be? This is what happens when personal bias obliterates objectivity:
Donald J Thump — of Thump: The First Bundred Days — tweeted:
Here's a page from the book, for children — and adults — alike:
Nothing for CNN's Acosta
CNN's Jim Acosta did not receive a Fakey:
He was told to leave after a press briefing in the Oval Office the other day in front of President Nursultan Nazarbayev of Kazakhstan.
Of course, Acosta paints himself to be a victim:
That was far from his first offence against Trump and his administration, which dates back to the post-election transition period in 2016.
Regarding this incident and Acosta's history, The Conservative Treehouse sums it up perfectly:
CNN Chief White House Correspondent Jim Acosta has a history of rude journalistic behavior and disrespect that has never before been allowed in the White House.
… the CNN journalist exhibited a level of disrespectful behavior that should lead to his White House press credentials being revoked permanently.
In a lesser offence, last year, Acosta insisted that CNN reports the truth:
This is how Big Media see themselves:
How public sees media
This is the most accurate description summing up the media:
Praying Medic has a good take on Big Media stories from the past year, starting at No. 12:
Someone replied with this item about MSNBC's Rachel Maddow:
Fake news remembered
Many of us remember not only the fake news but also the omissions from the news cycle in 2016:
Fake news can cost lives.
What will it take for these ridiculously overpaid so-and-sos to stop it?
The week of December 11, 2017 has been chock-a-block with news.
It's unlikely Big Media have reported the bulk of it. What follows are a few stories people might have missed.
The anti-Trump FBI 'insurance policy'
A series of text messages between FBI counterintelligence official Peter Strzok and his mistress, FBI lawyer Lisa Page were released on Tuesday, December 12. The Daily Caller reports (emphases mine):
Two FBI officials who worked on Special Counsel Robert Mueller's Russia investigation exchanged text messages last year in which they appear to have discussed ways to prevent Donald Trump from being elected president.
"I want to believe the path you threw out for consideration in Andy's office — that there's no way [Trump] gets elected — but I'm afraid we can't take that risk," FBI counterintelligence official Peter Strzok wrote in a cryptic text message to Lisa Page, an FBI lawyer and his mistress.
"It's like an insurance policy in the unlikely event you die before you're 40," Strzok wrote in the text, dated Aug. 15, 2016.
Andy is likely Deputy FBI Director Andrew McCabe.
Several congressional panels have been after these text messages since the beginning of December, when news emerged of their existence. However, Strzok was dismissed from the Mueller investigation four months ago.
The text messages, some of which The Daily Caller quotes, are anti-Trump. Some have four letter words. Most are cryptic:
"Maybe you're meant to stay where you are because you're meant to protect the country from that menace," Page wrote.
"I can protect our country at many levels, not sure if that helps," Strzok replied.
Like many of the exchanges, the full context of the message is not entirely clear.
Strzok also offered praise for Clinton while suggesting that he planned to vote for her.
In a March 2, 2016 text Strzok said he would likely vote for Clinton. In another exchange he wrote that if Trump won the Republican primary, Clinton would likely win the presidency.
On Wednesday, December 13, the Department of Justice inspector general, Michael Horowitz, released more information about the texts. The Daily Caller has more on the story. Horowitz received the text messages on July 20:
A week later, he met with Mueller and Deputy Attorney General Rod Rosenstein to inform them of the politically-charged texts.
Strzok was "immediately" removed from the investigation after Mueller was told of the texts.
Strzok, who then served as the FBI's No. 2 counterintelligence official, conducted many of the biggest interviews in the investigation, including with Clinton and her top aides, Huma Abedin and Cheryl Mills …
The FBI handed over those messages on July 20, 2017. After reviewing those exchanges, Horowitz expanded the investigation to include all of the text messages exchanged between Strzok and Page from Nov. 30, 2016 to July 28, 2017.
Horowitz's office received those messages on Aug. 10.
Strzok's departure from Mueller's team was reported by ABC News on Aug. 16. The network reported that Strzok had been placed in a job in the FBI's HR department.
The reason for Strzok's demotion remained a secret for nearly four months as the Justice Department and Mueller's office declined media and congressional requests for an explanation. The levy finally broke on Dec. 2, when The Washington Post and New York Times simultaneously reported the existence of the text messages.
A sample of the texts were released Tuesday night ahead of Rosenstein's testimony before the House Judiciary Committee …
Republicans on the House Judiciary Committee pressed Rosenstein on that text message, suggesting that Strzok was indicating that he planned to prevent Trump from being elected.
[Senator Charles] Grassley, who chairs the Senate Judiciary Committee, sent a letter to Rosenstein on Wednesday inquiring about the text message.
Rosenstein said Wednesday that the Justice Department and FBI plan to soon make Strzok available for an interview with the House Intelligence Committee.
Strzok's cryptic Aug. 2016 text [re the insurance policy] was sent just after he was handpicked to supervise the FBI's investigation into possible collusion between the Trump campaign and Russia.
Horowitz's letter leaves a few questions unanswered. For one, it is not clear whether Strzok sent politically-charged texts with anyone else. It is also not clear whether the messages contained in the second requested batch of Strzok texts contain any controversial remarks.
The Wall Street Journal has more (note final paragraph):
This is a developing story which has the potential for unveiling criminality — but ultimately:
Alabama special election
In a surprise upset, the Democrat candidate Doug Jones was elected to the Senate, defeating Roy Moore.
The background to the story is that Jeff Sessions vacated his Senate seat in Alabama to serve as Attorney General earlier this year. Sessions appointed Luther Strange to replace him. Alabama governor Kay Ivey directed that a special election take place. However, I read anecdotally that she did not need to hold a special election. Strange could have served until his term ran out.
In any event, Luther Strange ran against Judge Roy Moore in the Republican primary. Strange lost to Moore. Accusations of molesting a teenage girl in the 1970s — unproven — led by an attorney who tried to smear then-candidate Donald Trump in 2016 — dogged Moore. Even so, Moore did not have any get-out-the-vote programme, whereas Jones and the Democrats did. Moore then lost to Jones — but only by 1.5%.
Could this have been a case of voter fraud in a state that votes overwhelmingly Republican?
Rumours are circulating that out-of-state voters were brought into Alabama and driven around from polling station to polling station — a classic Democrat strategy that works.
The Republican Party — specifically Mitch McConnell, Senate Majority Leader — also refused to help Moore. McConnell's detractors refer to him as Turtle.
Imperator_Rex has a good analysis, excerpted below:
He concludes that Trump surely has a game plan in mind.
The 2018 mid-terms require Republicans like McConnell to shape up or ship out.
However, as Imperator_Rex says, McConnell and his ilk don't really care. They are all part of the Uniparty, so life continues for them much as before. Democrat dominance, especially when it comes to opposing Trump, is preferable to a Republican majority that might be persuaded to turn Trump policies into law.
Jones's election nearly puts the number of Democrat senators on a par with Republicans. Danger, Will Robinson, danger!
Message to the black electorate
On December 13, the Revd Leon Benjamin and his family were guests at the White House.
They are an example of the middle class families helped by Trump's proposed tax reform. Trump spoke about the tax plan, then invited the pastor to speak.
Pastor Benjamin had an important message, which began with:
To God be the glory!
Former Milwaukee sheriff David A Clarke expressed similar sentiments the day before:
Happy news
On Wednesday, December 13, First Lady Melania Trump participated in a charity drive for toddlers, the Marine Corps Reserve's Toys for Tots, at Joint Base Anacostia-Bolling in Washington, D.C.
Press Secretary Sarah Sanders received a verbal kicking after Thanksgiving from CNN's April Ryan, an annoying journo at the White House press briefings. Ryan criticised Sanders's pecan pies, accusing the press secretary of not having made them herself.
So (although the crusts look store-bought) …
Here's what happened on the day. Food really does bring people together:
Never mind that. Sarah's dad had a message for her:
This will be my last news-related item until after Christmas.
Yesterday, I wrote about the latest Project Veritas video in the American Pravda series wherein a longtime IT consultant for the New York Times discusses the paper's rampant Trump Derangement Syndrome.
During the 2016 presidential campaign, the NYT put out a lot of fake news about then candidate Donald Trump, including this gem from one year ago:
The information can be verified on the NYT's presidential election polling page.
Regular readers of the paper are aware that their journalists continue to publish fake news about President Donald Trump on a daily basis.
Not surprisingly, Trump is furious with news media but happy with public reaction:
Another prime purveyor of fake news is CNN.
Yesterday, they launched an advertising campaign to redeem themselves. This is not a very good ad …
… especially since it was lampooned hours later:
Looking back to 2016, what follows are a few CNN whoppers. The Conservative Treehouse has more. I have borrowed some of theirs (TheLastRefuge).
During primary season, CNN's Jake Tapper denied the network used a polling organisation called PPP. Yet, one of their articles cites PPP:
They were economical with the truth when it came to Trump's campaign speeches:
As the presidential campaign ramped up in the autumn, attention turned to Hillary Clinton.
Brooke Baldwin, a CNN presenter had a hard time believing Hillary's staff destroyed several mobile devices with hammers. Her request for a fact check backfired hilariously:
When WikiLeaks began releasing the Podesta emails weeks before the election in November, CNN's Chris Cuomo told viewers that it was illegal for Americans to view the emails. Only media had permission:
After the election, CNN began participating in the Russian collusion narrative. Note the disconnect between the headline and the story itself:
CNN are still lying. I have a load of CNN fake news links, but those will have to wait for another day.
On Tuesday, October 3, 2017, President Donald Trump and First Lady Melania Trump visited Puerto Rico, several days after Hurricane Maria struck the island.
The Trumps landed in the morning at Luis Muñiz Air National Guard Base, where Governor Ricardo Rosselló welcomed them:
The Trumps went immediately to a progress meeting involving the governor and his wife, FEMA, the military, other first responders and various mayors of cities in Puerto Rico. Here, President Trump greeted Carmen Yulín Cruz, the outspoken mayor of San Juan. Trump held his ground at the weekend with several tweets about her, including this:
She is the only mayor out of 78 to refuse to attend FEMA meetings. This was her first one. Governor Rosselló is on the right in the photo:
She wore stilettos. A comment on the First Lady, perhaps? Mrs Trump wore work boots in Puerto Rico — and flats on the flight — by the way:
Although Mayor Yulín was at the head table, she sat far away from the president, on the right:
The following clip does not show Mayor Yulín scowling, but features President Trump praising Governor Rosselló as a man who 'doesn't play games'. One can imagine that she did scowl at that:
She was upset that Trump said Puerto Rico had thrown off the national budget. He said it in a tongue-in-cheek way, but Yulín thought differently. Of course, she and CNN had to get together once again. Did you know that CNN brought her the 'we are dying' shirt?
The next day, she appeared on television in a new tee shirt:
I do not recall in my many hours of reading that Trump called Yulín either of those things.
White House Press Secretary Sarah Sanders discussed Mayor Yulín in her Press Briefing on Thursday, October 5 (emphases mine):
MS. SANDERS: The mayor of San Juan had that shirt saying "NASTY." What does this White House believe? The President went there; it was very controversial, his appearance there.
MS. SANDERS: Actually, it wasn't controversial.
Q Well, some people —
MS. SANDERS: It was actually widely praised, even by a Democrat governor. I think that it is sad that the mayor of San Juan chose to make that a political statement instead of a time of focusing on the relief efforts.
The President invited her to be part of that conversation. He specifically asked in the meeting where many were present, including a couple dozen other mayors who were very happy with the recovery efforts — the governor, the congresswoman. He opened the floor up for discussion, and she actually made zero comments. To me, that would have been the time and the place that she should have weighed in and asked for what she needed, and laid out what she was asking for for San Juan. She didn't.
Instead she chose to wait until the President left and then criticize him on TV, which I think is the wrong thing for her to do for her constituents. And I hope next time she's given the opportunity to help her constituents, she'll take it.
Geraldo Rivera of Fox News met up with President Trump later:
Trump spoke with him, mentioning that, coming from New York, he cares a great deal for Puerto Rico. He also thanked the federal agencies, military and first responders for the progress they have made in challenging conditions:
Afterwards, the Trumps toured the area around San Juan and spoke with the people they met.
They saw this supporter along the way:
Governor Rosselló took the Trumps to the Calvary Chapel in Guaynabo, not far from San Juan:
There, the president handed out supplies, including paper towels:
The president also talked with residents of Guaynabo:
The mayor expressed his gratitude:
Trump also spoke with residents of San Juan, who requested photo ops:
Unrelated to anything in particular, how did everyone end up with the same facial expression?
On another stop, President Trump comforted a serviceman:
The day concluded with a visit aboard the USS Kearsarge, where Trump received a further briefing — and met with Governor Kenneth Mapp of the Virgin Islands, whom I will cover in a separate post.
This was the first time Marine One has landed on the Kearsarge:
The Trumps also met with the Navy personnel and Marines aboard the ship:
The president pledged his continued support:
USNS Comfort arrived that day:
FEMA continued to hand out supplies:
Customs and Border Patrol were hard at work:
As a thank you for her support, the Resident Commissioner of Puerto Rico got to board Air Force One:
In closing, difficult recovery situations remain — click on the man cleaning his kitchen (top left):
New communications lines are being stolen (why??):
People are leaving the island:
Difficult questions also remain:
Even so, it seems as if many Puerto Ricans appreciate the president. This man says he is doing 'an awesome job':
This lady thanks God for President Trump and Vice President Pence:
Amen!
Next stop, Las Vegas in the aftermath of the Mandalay Bay massacre:
I will cover that next week.
There was much to read at the weekend from Puerto Rico in the aftermath of Hurricane Maria.
Therefore, this is a continuation of yesterday's post.
As I write on Tuesday afternoon (UK time), October 3, 2017, President Donald Trump and First Lady Melania Trump are on their way to Puerto Rico. A meeting with San Juan's mayor is on the agenda. The governor of the US Virgin Islands will be flying into Puerto Rico to meet with the president.
Media gaslighting
The American media will continue to gaslight:
Canadian media were at it, too:
But good things continue to happen
Puerto Rico's governor, Ricardo Rosselló has had high praise for the Trump administration's relief and rescue efforts.
On September 27, Breitbart posted a good article on the interviews he has given to American media.
This is worth noting (emphases mine):
the Associated Press reported on more praise and appreciation from Puerto Rico's governor. What especially stands out is Rosselló's praise for the administration's pro-active pre-planning, and the island's Resident Commission informing us that Puerto Rico has never received this kind of coordination before:
Rosselló and other officials praised the federal government for planning its response in detail before the storm hit, a contrast with what Puerto Rico has long seen as the neglect of 3.4 million Americans living in a territory without a vote in Congress or the electoral college.

"This is the first time we get this type of federal coordination," said Resident Commission Jenniffer Gonzalez, Puerto Rico's non-voting representative in Washington.
Pajamas Media has so much more, including a breakdown of the massive amount of supplies and resources already delivered.
Democrats are whistling in the wind
Yesterday's post showed a letter from Democrat legislators requesting an investigation into the Trump administration's handling of Maria in Puerto Rico.
Democrats are whistling in the wind with that one.
Because communications were down, photos from Puerto Rico started emerging only on Monday, September 25, five days after Maria struck. However, FEMA, the Coast Guard, the military were already there and/or in Washington, such as the Federal Communications Commission working with counterparts in Puerto Rico on communications issues:
Communications have been gradually coming back. With regard to mobile phones:
Florida takes in Puerto Ricans
On Wednesday, September 27, Puerto Rico's El Nuevo Día reported that Florida has been taking in tens of thousands — possibly up to 100,000 — of the island's residents:
"Everyone here in Florida has family in Puerto Rico, and every Puerto Rican has lost something on the Island, those Puerto Ricans are going to come and take refuge with their relatives. Personally, I have seven relatives who are coming to my house," said Florida State Representative Bob Cortés, who estimated a potential influx of 100,000 Puerto Ricans.
Among the measures being taken, Cortés mentioned that students arriving from Puerto Rico will not have to submit documents such as birth certificates, vaccination or credit transcripts in the 67 Florida school districts that agreed to offer such exemption.
In addition, they are coordinating efforts for the Florida Department of Health state to offer services to those who arrive without health coverage. Likewise, agreements were reached with firms such as Disney and Walmart to provide jobs to those migrating.
No information was given on where the arrivals would live. The three comments in Spanish following the article — likely to be from people on the mainland — were far from positive about this development.
A local television station from Jacksonville had an article on the subject, which stated that Florida's governor, Rick Scott:
has also called on Florida colleges and universities to offer in-state tuition for Puerto Rican students. Florida International University said Friday that it would do so for students from Puerto Rico and the U.S. Virgin Islands.
State Agriculture Commissioner Adam Putnam also announced that Puerto Rican students displaced by the hurricane can get free school meals through the National School Lunch Program.
"To any families fleeing Puerto Rico and coming to Florida, you will not have to worry about how you're going to pay for your child's school meals," Putnam said in a prepared statement.
Some see a cynical political opportunity here:
Life-saving drug supply appears good
One of Puerto Rico's main industries is pharmaceuticals, many of which are exported to the United States and other parts of the world. On Tuesday, September 26, Fortune reported:
The drug industry has a large presence in Puerto Rico with dozens of drug and device manufacturers operating on the island, including Abbott, Baxter, Merck, Novartis, and Pfizer thanks to a now expired federal tax incentive Section 936 that encouraged drug companies to move there.
The industry is critically important to Puerto Rico's economic recovery; it's responsible for nearly 90,000 jobs on the island. About a quarter of all pharmaceutical drugs exported from the U.S. are made in Puerto Rico.
Puerto Rico's drug manufacturing industry is also an essential supplier of pharmaceuticals and medical devices that thousands of U.S. hospitals and outpatient clinics use daily, including cancer drugs, immunosuppressants used by transplant patients, and devices needed for people with diabetes.
On Friday, September 29, Fox Business had this update:
While many residents of Puerto Rico continue to hang on without shelter, power, food and clean drinking water after being slammed by two massive hurricanes in less than a month, a lot of big pharmaceutical companies – who manufacture critical life-saving drugs on the island – are scrambling to ensure that drug shortages around the world don't happen as a result.
Earlier this week, FDA Commissioner Scott Gottlieb released a statement saying the agency is "very concerned" about the possibility of a drug shortage.
"Since Friday, we have undertaken swift and extensive efforts to prevent or limit the loss or shortage of multiple drugs critical to American patients due to the challenges related to refrigeration, storage and transportation. The agency has been working closely – throughout the weekend and into [Monday] – to relocate products in coordination with our federal and local government colleagues and pharmaceutical companies," Gottlieb said.
Fortunately, the recovery time could be quicker than anticipated:
FOX Business reached out to some of the top drug makers who manufacture on the island to see if shortages are imminent and what drugs are at risk.
Pfizer Inc. (PFE), one of the world's largest drug makers in oncology and cardiology, told FOX Business it has completed a preliminary assessment of its properties and only one of its three sites experienced minimal to moderate damage …
Eli Lilly and Co. (LLY), whose top drugs treat oncology, cardiovascular and diabetes, told FOX Business that its two manufacturing sites in Puerto Rico also suffered minimal damage, but it's not expected to hinder operations as infrastructure begins to recover.
"Our inventory strategy for products is designed to protect against this type of event and we see no product supply risk to global markets at this time," Tammy Hull, a spokesperson for Eli Lilly and Co., said.
Instead, the company said it's using its facilities as temporary shelter for some of its more than 1,100 employees on the island …
Novartis (NVS) said while it does not have manufacturing facilities in Puerto Rico, it is working closely with its partners, distributors and the government to maintain business and supply continuity.
Baxter (BAX), who markets and distributes more than 84 drugs in the U.S., said it's still in the process of trying to connect with its employees in Puerto Rico who work at the company's facility. But as it relates to product supply, the company made preparations in advance to ensure products wouldn't be affected …
That is good news, indeed.
Arecibo Observatory damage not as bad as thought

Hurricane Maria severely damaged the world's second-largest radio telescope, located at Arecibo Observatory:
On September 22, Space.com reported:
While the overall structure of the telescope is still standing, it sustained some pretty serious damage from Hurricane Maria, according to an update from the Universities Space Research Organization (USRA), which helps to operate the Arecibo Observatory.
One telescope operator at Arecibo managed to contact USRA officials Thursday (Sept. 21) via a short-wave radio transmission. National Geographic's Nadia Drake reports that Pennsylvania State University professor Jim Breakall spoke with the telescope operator, who was identified as Ángel Vazquez, and said staff members and their families were safe after sheltering at the facility. Vazquez also detailed some of the damage done to the iconic telescope. 
The article has technical details of the radio telescope.
On September 26, National Geographic reported that, while the telescope is inoperative, Arecibo Observatory is routinely stocked with food and running water, making it useful for local relief efforts:
More importantly, the observatory's staff sheltering on-site are safe, and the facility is in good enough condition to potentially serve as a local center for the U.S. Federal Emergency Management Agency, or FEMA, reports Arecibo deputy director Joan Schmelz.
Because of its deep water well and generator, the observatory has been a place for those in nearby towns to gather, shower, and cook after past hurricanes. It also has an on-site helicopter landing pad, so making sure the facility is safe in general is not just of scientific importance, but is also relevant for local relief efforts.
Better news emerged on September 29, when Science News reported that the iconic observatory might not be as badly damaged as first thought:
The observatory is conserving fuel, but plans to resume limited astronomy observations September 29, deputy director Joan Schmelz tweeted earlier that day. "#AreciboScience is coming back after #MariaPR."
But the direct whack still raises the issue of when – and even whether – to repair the observatory: Funding for it has repeatedly been on the chopping block despite its historic contributions to astronomy.
Let's hope it can be fully restored. The observatory has played a big role in research on gravitational waves and fast radio bursts of energy. More notably, in 1992, Arecibo identified the first planets outside the solar system.
Trump 'didn't botch' Maria response
Former US Navy Captain Jerry Hendrix gave an interview to Bloomberg on September 30.
Captain Hendrix said that Trump's White House and the Pentagon made 'smart preparations'.
Excerpts follow:
Now a senior fellow with the Center for a New American Security, Hendrix served for decades both on the high seas and in high-level staff jobs, including with the Chief of Naval Operations' Executive Panel and the Office of the Undersecretary of Defense for Policy's Irregular Warfare Quadrennial Defense Review. Few people know more about military history than Hendrix, who has degrees from Purdue, Harvard, the Naval Postgraduate School and a Ph.D. from Kings College in London. Little wonder that in 2012 was named the service's director of naval history.
Here is a lightly edited transcript of our discussion: 
…
TH: So, it seems like everybody has blasted Trump administration's response to the Puerto Rico crisis. Has that criticism been fair?
JH: No, I don't think so. First of all, there was a fair amount of anticipatory action that is not being recognized. Amphibious ships including the light amphibious carriers Kearsarge and Wasp and the amphibious landing ship dock Oak Hill were at sea and dispatched to Puerto Rico ahead of the hurricane's impact.
These are large ships that have large flight decks to land and dispatch heavy-lift CH-53 helicopters to and from disaster sites. They also have big well-decks — exposed surfaces that are lower than the fore and aft of the ship — from which large landing craft can be dispatched to shore carrying over 150 tons of water, food and other supplies on each trip. These are actually the ideal platforms for relief operations owing to their range of assets. The ships, due to their designs to support Marine amphibious landings in war zones, also have hospitals onboard to provide medical treatment on a large scale. That these ships were in the area should be viewed as a huge positive for the administration and the Department of Defense …
TH: Many critics feel that Florida and Houston had much better preparation before their storms hit this month. What could have been done better in advance in Puerto Rico, and what can be done in the rebuilding process to help minimize damage next time around?
JH: Puerto Rico is an island that suffers from its position in the middle of the Caribbean and its physical separation from the U.S. Its roads were in disrepair and its electrical grid was antiquated prior to the hurricane. The island has also suffered for years from ineffective local government and rising local territorial debt …
I will have a post on Trump's trip to Puerto Rico soon.
In the meantime, English speakers can follow local Puerto Rican news at the English version of El Nuevo Día.
I spent half the weekend following what was happening in Puerto Rico more than a week after Hurricane Maria devastated the island.
There has been more fact and fallacy in news coverage over recent days, since I last covered it on Friday, September 29, 2017.
Media strategy
As I wrote a few days ago, the media's — and Democrats' — strategy is to set up Hurricane Maria to be Trump's Katrina:
What follows is CNN's admission, referred to above in the second tweet, which the channel hoped would ruin President Donald Trump. General Honoré, interviewed below, took over the relief effort after Hurricane Katrina. The mayor referred to below is that of San Juan:
Two comments about the CNN interview.
First, I followed Katrina closely for weeks; I do not recall that General Honoré was lauded by anyone at the time, or afterwards.
Secondly, it is unlikely San Juan's mayor is living on a cot. I saw many photos and a few videos of her at the weekend. She looks very clean and has a change of clothes for her many photo opportunities.
Of course, CNN, the Dems and the rest of the Left will continue to push their twisted narrative, but some Americans are already tiring of it — and are particularly annoyed with the mayor of San Juan:
Note the Podemos sticker behind her!
We still don't know definitively where she got the tee shirt, although there is information on it below. Someone probably brought it over.
Democrat complaint
Below is a request from Democrat congressmen asking for an investigation into Trump's handling of Maria in Puerto Rico and the Virgin Islands. It is dated September 28:
Good luck with that. FEMA and the military can prove detailed plans were in place before Maria struck the US territories.
San Juan's mayor
Carmen Yulín Cruz is the mayor of Puerto Rico's capital, San Juan.
Last week, she commented favourably on relief efforts. She changed her tune at the weekend and gave an interview to CNN's Anderson Cooper, Gloria Vanderbilt's son and ex-CIA operative, in the tee shirt you see above:
Strangely, her Twitter feed has no videos or photos of her in the 'We are dying' shirt, but there are many other photo ops from the past few days.
Unlike President Trump, Mayor Yulín sees no need to help hand out supplies or lunches to her constituents:
Now, particularly note the following tweet. San Juan received supplies from the US government, but Yulin did not distribute them to the people of San Juan. She donated them to another community:
Fair enough. But there is more.
She then made it look as if Goya, the foods company, was the saviour. They probably planned all along to make a donation, which arrived soon after she gave FEMA supplies to Comerío:
Afterwards — standing in front of numerous pallets of Goya products — she gave the interview to Anderson Cooper in the SOS hat and 'We are dying' tee. In a press conference, wearing the same attire, she said:
I will do what I never thought I was going to do. I am begging, begging anyone who can hear us to save us from dying. If anybody out there is listening to us, we are dying, and you are killing us with the inefficiency.
On October 1, The Hill reported that Jose Fuentes, a former Attorney General for Puerto Rico, does not think much of Mayor Yulín:
The article says, in part:
Former Puerto Rico Attorney General Jose Fuentes on Sunday took aim at San Juan Mayor Carmen Yulín Cruz, accusing her of attacking President Trump and using hurricane relief efforts to lay the groundwork for a gubernatorial bid.
"The mayor of San Juan is a political hack," Fuentes said on CNN's "New Day."
Fuentes accused Cruz of making an about-face, saying she supported Trump until her political adviser suggested the idea of running for governor. 
Now, here's an interesting comment from Fuentes about the 'We are dying' tee shirt (emphases mine):
"She is singing the praises of the president until her political adviser, [Rep.] Luis Gutiérrez from Chicago, got there and brought her the t-shirts and said, 'Hey you want to run for governor, if she wants to run," he continued until the anchor cut him off, pointing to audio issues.
Wow — typical CNN response! Cut the audio, claiming technical issues. They have done that several times over the past year. Each time, a nugget of truth half comes out until CNN cuts the rest of someone's statement.
Mayor Yulín then took a swipe at Trump, who said that the government couldn't do everything. People would have to help each other, too. Again, she's not lifting a finger, only talking. Her caption is more fitting than she thinks:
In this ABC interview with George Stephanopolous from October 1, she backtracked on Trump a bit, saying she would meet with him if he requested it. He will be in Puerto Rico on Tuesday, October 3.
There is something else.
Yulín is the only mayor in Puerto Rico who is not actively working with FEMA:
The results can be harmful to people who have elected someone to be their mayor.
This is the Paineful Truth of the matter:
Geraldo Rivera
Geraldo's reports from Puerto Rico have been excellent. I feel I'm watching the young investigative reporter I remember from the early 1980s.
This is what he has to say:
Puerto Rico situation summed up
This eight-minute video from a Cuban immigrant really gets to the heart of the matter. This woman takes issue with Yulín, goes into the mayor's support of an FALN terrorist Obama freed and explains the issue with truckers getting supplies from the ports to towns and cities across the island. The teamsters have a grievance with the governor, some truckers cannot get to work but many others can. Some fuel is being sold on the black market. This lady says that everyone in Puerto Rico knows what is really going on:
On Friday, September 29, the International Brotherhood of Teamsters said they are looking for qualified volunteers to help with transport:
(WASHINGTON) – The International Brotherhood of Teamsters is working closely with Joint Council 16 in New York and the AFL-CIO to provide qualified volunteers to provide much needed support to the people of Puerto Rico. Teamsters Local Union 901 in San Juan, Puerto Rico, an affiliate of Joint Council 16, represents more than 2,000 working men and women across the island.
"Our fellow Americans in Puerto Rico are suffering under unimaginable conditions wrought upon them by Hurricane Maria," said Teamsters General President Jim Hoffa. "We are working to identify ways in which the union and our members can best assist those in need."
The Teamsters are joining with labor unions from across the nation to identify skilled workers to travel to Puerto Rico next week to provide much needed support in critical areas.
"This is a humanitarian crisis of epic proportions," said Teamsters International Vice President and Joint Council 16 President George Miranda. "It is imperative that we provide the manpower and financial support necessary to get Puerto Rico on the road to recovery."
"Tronquistas (Teamsters) are in the street working since the first day after the hurricane passed and we will continue working to bring peace back to our people," said Alexis Rodriguez, Secretary-Treasurer of Local 901. "The only goal of the Tronquistas is to raise Puerto Rico back up, stronger and better."
Alexis Rodriguez's name is on the listings for Local 901 in San Juan.
At the weekend, there were many mentions of a video with a Victor Rodriguez, the 'guy with no teeth', who is said to be the president of Frente Amplio de Camioneros. It is unclear where he fits into the picture.
A Facebook post by a Pedro Gonzalez says:
…este Sr se llama Víctor Rodríguez, es el presidente del frente amplio de camioneros. Ha dado instrucciones para q ningún camionero saque vagones de los puertos y mucho menos gasolina en P.R. A ti Victor, te hacemos responsable por el caos próximo a suceder en la Isla por tus caprichos políticos en contra del Gobierno de turno. Eres un narco político, un vividor y buscon. Con la necesidad del Pueblo puertorriqueño no se juega, so CHARLATÁN!
Gente compartan esto para que llegue a todos los puertorriqueños fuera y dentro de la isla!!
Translated, that says:
This is Mr. Víctor Rodríguez, he is the president of the broad front of truck drivers. He has instructed that no truck driver should remove wagons from ports and much less gasoline in P.R. To you Victor, we hold you responsible for the chaos next to happen on the Island for your political whims against the government in turn. You are a political narco, a vividor and buscon. With the need of the Puerto Rican people, we do not play, just CHARLATÁN!
People share this so that it reaches all Puerto Ricans outside and inside the island !!
The assumption that many online readers of various blogs and news sites made over the weekend is that Victor is from Local 901.
However, someone on Twitter pointed out that Victor is not a union official (see here and here).
Alexis is.
That said, Victor created a non-profit corporation called Frente Amplio Camioneros de Puerto Rico (F.A.C.) Inc. in 2003. It is still in operation.
The relationship between FAC and the union is unclear. But, there must be something, because Victor appeared on television last weekend. Hollywood LA News has the video, courtesy of a Facebook user. Hollywood LA News is under the impression that Victor is an official of Local 901, when he is not.
In any event, Victor said:
it's the diesel supply of which FEMA is in charge that's the problem and that their truck drivers have been ready to drive all along. One can discern the skepticism on the face of the interviewer, who then brings up the fact that authorities have put out a call for independent non-union drivers to volunteer because of a lack of people willing to do the work.
That's the point in the video after which Mr. Rodriguez bombastically started spouting curse words urging the people to pressure FEMA to release fuel and other supplies. By his side is the president of UTRA (Unión de Transporte y Ramas Anexas).
Puerto Ricans on social media are very critical. The top comment for this particular video is from a woman who says that no one is so ignorant to believe that FEMA is to blame for the mess. Others point out that the truckers are refusing to get in line for gasoline and are thus putting lives at risk.
There is more transport information and intrigue from other news sources in that article, so please take the time to read it.
Anyone who dares to volunteer to drive a lorry in Puerto Rico under these conditions can do so:
Overall, this is a highly complicated situation, one that only those who live in or are from Puerto Rico understand.
American media are not explaining it properly, so I would suggest hanging fire before committing to knee-jerk reactions.
Latest news developments
During the weekend, three-star general Jeffrey Buchanan arrived in Puerto Rico:
Governor Ricardo Rosselló gave an update on Sunday:
The Department of Defense has a summary of Rosselló's briefing. Highlights follow:
The number of DoD personnel deployed to help their fellow citizens in Puerto Rico jumped from around 4,600 to around 6,400 members, Gov. Ricardo Rossello said during a San Juan news conference today …
There are more than 720 gas stations open across the island. The island will receive more fuel in the coming days with close to a million barrels of diesel and half-a-million barrels of gasoline arriving on the island. This is important as diesel is needed to run generators providing electrical power for key infrastructure — such as hospitals — in areas where Maria knocked out the power grid …
"One of the main efforts that the DoD will take on is making sure that we can air supply food and water to those communities while we establish direct connection through the roads," Rossello said.
The governor said the commonwealth will increase the number of regional distribution centers from the current 11 to 25 or more. "The more of these we have throughout Puerto Rico, the easier it is to get food and water for these municipalities," he said. "DoD and FEMA and our government are working together so we can establish these locations and make sure food and water get distributed appropriately" …
The Navy's hospital ship USNS Comfort is expected to arrive at the island October 3 or 4 and will bring its 1,000-bed capability.
DoD personnel will establish a logistics effort for two areas on the island where more hospital support is needed, the governor said.
"The DoD will establish some alternative locations, those being in the southeastern part of the island and in the middle north of the island, so we can get patients to the hospital and the service that they need," Rossello said.
More tomorrow.
Last week, supporters of President Donald Trump had to endure much negativity.
There were the melées in Charlottesville and Boston, the media and others on the Left denouncing him, continued calls for his removal from office and so on.
Then there are the conversations that we have with people — friends and acquaintances. For my circle, Trump isn't sophisticated enough. One Englishman actually said to me just a few days ago:
Trump isn't very bright. He appeals only to the unsophisticated — like people in Boise, Idaho.
He was refuted pretty quickly on that one, let me tell you.
Anyway, with all of this rubbish going on, Trump's (previously) scheduled rally in Phoenix, Arizona on Tuesday, August 22, 2017 came at the perfect time.
The videos
Those interested can view everything — from supporters' interviews to the guest speakers to Trump's speech — below. Thank you, RSBN:
The following video from Fox 10 in Phoenix is of Trump's one hour and seventeen minute speech:
If you have never seen a Trump rally, it's worth watching. They're all good — and all on YouTube.
Arizona Republicans spoke as did Alveda King, Martin Luther King's niece who is very much pro-life.
The Rev Franklin Graham — Billy's son — opened proceedings with a prayer. (Alveda King is on the right in black and purple.) This really is an amazing prayer on so many levels. RSBN also pans the crowd so you can see how many thousands are there:
Speaking of crowds, someone did a great time lapse video of the queue of people waiting to get in to the Phoenix Convention Center. It was a hot day, with temps over 100° F (40°+ C). People get to Trump's evening rallies early in the morning and are outdoors all day long:
Trump tweeted that there were 15,000.
They were probably in line before Trump left Washington DC. Upon arrival in Arizona, Trump visited the US Border Protection and ICE teams in Yuma:
They told him about their daily work and the dangers they face. Trump discussed the visit in his speech.
Speech highlights
Although the teleprompter was up and running, Trump diverged from it with his trusty Sharpie-written notes and quotes. Trump is nearly always better without a teleprompter.
Trump began by thanking his supporters in Arizona and reminding them that he did his first ever rally there, during the Republican candidate debate season. He also thanked the speakers who preceded him.
He spent several minutes recapping his three statements about Charlottesville, which I covered here last week. N.B.: Although Trump did not say it, Charlottesville was a paid-for, false flag event on both sides.
Trump was amazed that the media did not mention he has 'a home there'. It is where Trump Winery is located.
He said that the media were to blame for stirring up division in America. He said they reported only parts of stories, particularly those related to him. They take selective quotes from his statements. He wondered if the media even liked America because they seem to be so against the interests of the American people.
He did give credit to Fox News, namely Fox and Friends (morning show) and Sean Hannity (late night show). He watches both:
He also said he did not like it when the media smeared his supporters:
He also said that there was a lot of news they never cover, such as America's failing education system and gang violence:
Between 32 and 35 minutes in, CNN and MSNBC shut off their cameras. Trump could see this, because their red camera lights went on. He mentioned it.
This is what happened at MSNBC. Notice the test pattern. (Surely, being a 'Trash Man' is a good thing. The trash man — dustman in the UK — removes rubbish.) Rachel Maddow wasn't sure yet what was going on:
Trump talked about his 1m+ new jobs which would help to unify the nation and end the current division. He said that he wanted prosperity for all:
Trump went on to review his many achievements during the first seven months of his presidency, which I've also written about.
Although his infrastructure project has started, some CEOs from his advisory panel resigned after Charlottesville, because they did not think his statements went far enough. He disbanded the group:
He criticised Congress (and the Senate) for failing to pass legislation to repeal Obamacare. He said he had not given up and also pledged the largest tax reform 'in 30 years':
The tweets below are reactions from the elitist neo-con never-Trumper Bill Kristol (Trump complimented General Kelly, moved from Homeland Security to Chief of Staff) and conservative pundit, the pro-Trump Laura Ingraham:
Trump rightly had a go at local governments and universities bowing to pressure from Antifa to have Confederate and other statues of past American leaders removed. He told them not to touch those of George Washington. Removal takes place in the middle of the night, incidentally:
Around this time:
Trump spoke about renegotiating NAFTA. The first round of talks took place at the end of last week and ran through the weekend:
He signalled that he was sick and tired of the advice from outsiders:
He had a few closing soundbites, including:
Trump then concluded his speech:
Reactions
As ever, Trump pleased his supporters.
A Canadian had a righteous blast at CNN's Jim Acosta. Thank you:
CNN responded with a programme about impeaching Trump featuring their usual leftist experts, Deep Staters and Democrats.
A New York City radio show host measured Trump's speech by noting the Left's hysteria. Responses mentioned the CNN feature about impeachment:
There was also this scandalous CNN commentary on black Trump supporters, including the Secretary of Housing and Urban Development, retired brain surgeon Dr Ben Carson:
Terrible. Now that is racist, even if Mr Boykin is himself black. That's CNN, folks.
Indeed it is.
NBC's White House reporter tweeted:
People at home were blown away:
You bet.
In closing, here's the verdict of Trump's longtime supporter, Pastor Mark Burns:
Amen, Pastor Burns. MAGA!