You are currently browsing the tag archive for the 'Conservative Party' tag.
Continuing my series on Red Wall MPs and, most recently, Lee Anderson, this post gives his positions on various topics in British life.
Those who missed previous instalments can read about his adventures and opinions in Parts 1, 2, 3 and 4.
Rail strikes
This week, England has been crippled by a series of rail strikes, one every other day, which means that on the days there are no strikes, it is still fruitless trying to travel by rail.
On Monday, June 20, 2022, the House of Commons held a debate, Industrial Action on the Railway.
Lee Anderson was the last MP called to speak. He asked the following question of Grant Shapps, Transport Secretary (emphases mine):
This strike is a real kick in the teeth for hard-working taxpayers, who have dug deep over the past 18 months to keep this industry alive. Does my right hon. Friend agree that the Labour party—the spineless party opposite—should grow a backbone and condemn these strikes?
Grant Shapps replied:
That is an appropriate place to end. My hon. Friend is absolutely right. People have dug deep—that is exactly what they have done; it was £600 per household. People are furious. They paid out that money to make sure that nobody lost their jobs, and what thanks have they got? Where is the reward? Where is the "thank you" for keeping the railway going? It is a strike that will put people out of pay and hit people's pockets once again, and Labour Members cannot even find their way to say, "We condemn the strikes." It is a disgrace.
Immigration
On Wednesday, June 15, Home Secretary Priti Patel made a statement about the fact that the June 14 flight to Rwanda with scheduled deportees never took off. There were originally 37 people who were to be deported. Because of last minute legal delays, only a handful boarded the charter flight and, by 11 p.m., even they were taken off.
The Opposition parties hate the idea of sending illegals to Rwanda for processing. Strange that, as it is called the Switzerland of Africa.
Labour, the Lib Dems and Scotland's SNP have all said during debates about illegal migration that people can legitimately come to the UK from France. Such a statement implies that France is not a safe country.
In the June 15 debate, Migration and Economic Development Partnership with Rwanda, Lee Anderson asked Priti Patel:
Just when you think this place cannot get any dafter, you turn up and listen to the rubbish that the Opposition are coming out with today. Is the Home Secretary aware of the sniggering, smugness and delight shown on the out-of-touch Opposition Benches about the cancelled Rwanda flight? Will she please advise me? I need some travel advice—I am going away this summer. Is France a safe country to go to?
Priti Patel replied:
For the benefit of the British people, the public, I have in my hand just four pages with a list of Opposition Members making exactly that point with glee—basically wanting the policy to fail, condemning it and saying all sorts of things without coming up with alternative solutions.
My hon. Friend is absolutely right about France as a safe country. This is a fundamental principle of working with our colleagues more broadly—[Interruption.] Those on the Opposition Front Bench have already had their chance to speak. These are safe countries and there are people who are effectively picking to come to the UK. That is something we have to stop by going after the people smugglers and breaking up their business model.
Moral failings of Tony Blair versus Boris Johnson
Also on June 15, Boris Johnson lost his latest ethics adviser, Lord Geidt, who suddenly resigned.
This month, for whatever reason, Tony Blair became a member of the prestigious Order of the Garter, an honour the Queen decides independently.
On GB News, Patrick Christys asked a panel who was less ethical, Boris or Blair. Lee Anderson was one of the participants. He said that he had canvassed his constituents in Ashfield, Northamptonshire, and all said that Blair was less ethical. Anderson said there is no comparison between a Prime Minister being presented with cake and one who got us into a highly costly war in Iraq. The second tweet shows Blair with his spin doctor Alastair Campbell at the time:
The full discussion follows:
Labour
Anderson was a member of the Labour Party until 2018, when he switched to the Conservatives.
He has no praise for Labour MPs, especially Deputy Leader Angela Rayner. On May 22, she was angry with Chancellor Rishi Sunak for giving more aid to Ukraine.
The Daily Mail reported:
The party's deputy leader sparked outrage after she told the Chancellor on Twitter to 'do one' – a slang insult meaning 'get lost'.
The message was posted in response to a weekly No 11 newsletter from Mr Sunak, in which he detailed an additional £40 million of aid for Ukraine.
It is not the first time the senior Labour figure has landed herself in hot water for her remarks about those on the other side of the Commons. The former care worker resorted to calling senior Conservatives 'a bunch of scum, homophobic, racist, misogynistic, absolute pile of… banana republic… Etonian … piece of scum' in a foul-mouthed tirade at last year's Labour party conference.
Lee Anderson made his views known:
Lee Anderson, Tory MP for Ashfield, accused Ms Rayner of behaving pathetically after the latest controversial outburst.
He said: 'I don't know what it is about Angela Rayner and the Left that have it in for successful people running the country, surely it's much better for successful people who are successes in business to hold the purse strings of the country rather than somebody whose only claim to fame is dishing out insults.
'She is someone throughout her career who has made childish insults against Conservative politicians and now she's having a go at Rishi, who by the way is one of the most polite politicians you'll ever wish to meet. He's a real gentleman, regardless of your politics.'
Green energy policies
As is the case in most European countries, the prices of home fuel and petrol have gone through the roof.
On January 3, Nigel Farage asked Anderson for his views on what the UK should do. Anderson said that while it was imperative that we leave the planet in better shape for the next generation, he and his Ashfield constituents think that some of Boris's Net Zero policies need to be wound back. Furthermore, he wants us, rightly, to use our own energy sources during our transition period to Net Zero:
Two months later, Anderson appeared on Farage's Talking Pints segment of his show. They discussed the necessity of energy independence, which the UK can easily achieve. Instead, the Government prefers a policy of importing coal and gas from Russia:
You can see the full interview here, where Anderson says:
We should be selling gas to the rest of Europe!
The BBC
Anderson remains a firm supporter of Boris Johnson and wants him to be allowed to get on with his job. He accuses the BBC of conducting a witch hunt against the Prime Minister.
This interview took place the day after Boris survived a Conservative vote of confidence. Anderson laid his dislike of the BBC's tactics on the line. This is short, sharp and to the point:
Guido Fawkes wrote (emphases in the original):
Lee Anderson provided daytime fireworks as he confronted the BBC over anti-Boris bias live on the channel. He also called them "quite sad" over their refusal to let the Boris leadership question drop, accusing them of spearheading a witchhunt. Agree or not, it was great TV…
Not surprisingly, it was Guido's most popular post that day:
That night, the question of a BBC witch hunt popped up on Dan Wootton's GB News show:
Wootton invited Anderson on to discuss the issue with left-wing pundit Nina Myskow, who defended the BBC. Anderson said that his constituents supported Boris. He invited Myskow to speak with his constituents to hear their views. She replied, although not in this clip, that she never travels north of Selfridges:
Russia
On April 27, Anderson was disappointed not to have made the list of 287 MPs that Russia sanctioned.
He wrote a letter to the Russian ambassador to the UK to ask that his name be added to the list:
Crime
Lee Anderson has been outspoken against crime. I posted some of his perspectives last week.
During his candidacy in the autumn of 2019, he proposed creating forced labour camps for noisy council tenants:
After Winston Churchill's statue was desecrated in June 2020, during the pandemic and 'mostly peaceful' protests, Anderson gave a brief interview to a young independent reporter. He ended by saying:
You wouldn't be stood here today, young man, talking to me if it wasn't for Churchill.
On March 16, 2021, Anderson participated in the Crime Bill debate. Highlights follow:
Here's another, courtesy of Guido:
Ashfield's straight-talking MP Lee Anderson gave the Labour Party both barrels last night in the Crime Bill debate. Effusively supporting the Bill, no-nonsense Anderson took aim at what he sees as Labour's hypocritical positions:
I find it strange that Labour are talking about tougher sentences for crimes against women, yet in December they were trying to stop us deporting foreign rapists. One Labour MP said we should not deport these criminals in December as it was too close to Christmas. I disagree. I thought it was a great Christmas present.
Guido is fairly sure that the residents of Ashfield will be in overwhelming agreement. For such a short speech, many shots were fired – rounding off on some Labour politicians' attitude to the law…
Seven months later, his fellow Conservative MP Robbie Moore led a debate on the sexual exploitation of young girls by a certain demographic. Sadly, the 'grooming gang' phenomenon is growing to the extent that it is said to be present in every town in the UK.
Moore focused his attention on Bradford.
Guido points out that none of the three Labour MPs for Bradford bothered to show up for the debate.
Anderson contributed and, as one would expect, has strong views on what should happen to such politicians:
Away from the noise of the Budget, earlier this week Conservative MP Robbie Moore led a Commons debate on child sexual exploitation across Bradford, calling for a "Rotherham-style inquiry" into the scandal and claiming it had been "swept under the carpet" by the local authorities. Although the debate only attracted small number of MPs – none of the three Labour MPs for Bradford bothered to appear, despite two previously claiming they would – there was one booming voice lending his support to Moore's campaign: the Honourable Member for Ashfield, Lee Anderson. Asking Moore to give way twice so he could give the Chamber a piece of his mind, Anderson said:
The only way that we know the full scale of these vile crimes in Bradford is for a full Rotherham-style… investigation, and would he also agree with me that certain local politicians on the council, and the mayor, should hang their heads in shame.
Once this inquiry takes place, and we get to the bottom of this, and these grooming gangs are put away where they rightly belong in prison, then the next call will be these lazy politicians – and they need locking up too.
Even Moore sounded a bit surprised by Lee's fury…
Guido has the video:
Anderson's no-nonsense speech might have been partly due to his appointment to the Women and Equalities Committee in May 2021:
Guido wrote:
Guido learns that parliament's wokest committee – the Women and Equalities Committee – is to welcome two new, perhaps unexpected, members: Philip Davies and Lee Anderson. Philip Davies is making a, no doubt, welcome return after having served on it in 2016 – where he made headlines calling for the word "women" to be removed from the Committee's name. Lee Anderson is a co-conspirator favourite: from saying nuisance tenants should be forced to live in tents; to recently ranting that he's torn up his licence fee. Confirming the appointment, Lee told Guido:
The great women of Ashfield have been the backbone of my community for hundreds of years with barely any recognition.
Yes the men have worked down the pits and gone off to war but its our women that have kept everything together.
The women in communities like Ashfield need a voice in Parliament and anyone who knows me will tell you that I am a firm believer in better rights for women. I am a modern man with a modern outlook who is keen to speak up for the women in my community.
They deserve to be on a level playing field with us men which is not always the case. I will still open doors for women and give up my seat on public transport as I am a gentleman first and a politician second, but you can be assured that I will be fighting on all fronts for the women of Ashfield.
Both men will no doubt relish the appointments, which they richly deserve. Guido sends his warmest congratulations to the pair. Chapeau to the 1922 Committee on the wit and wisdom of their appointments.
Returning to politicians, on November 9, he had a go at convicted Labour MPs and recommended that they should work as a condition of their licence:
This morning in Parliament, straight-talking Lee Anderson told Deputy Prime Minister Dominic Raab exactly how he thinks the government should solve labour shortages:
Prisoners and ex-offenders out on licence should help fill the labour shortage and […] on release, all prisoners – including ex-Labour MPs – should be ready for work and starting work should be a condition of their licence.
Guido has the video:
Nutritious meals on the cheap
As I wrote in my third post on Lee Anderson, he took a lot of unnecessary stick in May 2022 for saying that people can make nutritious meals for only 30 pence per portion.
He revealed that he, too, had been a single parent for many years and lived scrimping and saving. He still got pilloried.
On May 26, however, the Mail profiled a partnered mother of three who makes meals for 29 pence a portion.
Was there any criticism of her from other media outlets, such as the BBC? No, there was not.
Such double standards. Such hypocrisy.
Conclusion
Regrettably, I have run out of Lee Anderson anecdotes.
He is my favourite MP. I would love to see him as the next Conservative leader, if not Prime Minister.
Sadly, that will not happen. He is not Establishment enough and never will be.
I hope that he is re-elected as MP for Ashfield and wish him all the best in his Parliamentary career.
We need more MPs like him.
A profile of another Red Wall MP will appear next week.
My series on Red Wall MP Lee Anderson from Ashfield continues.
Those who missed the previous three instalments of his profile can read them here, here and here.
Lee Anderson nearly always has something useful to contribute to debates in the House of Commons.
He is also no stranger to controversy, either.
Ian Lavery MP
He has a particular dislike for Labour MP Ian Lavery, who used to head the National Union of Mineworkers (NUM), of which Anderson was once a member.
In Part 1, I introduced Anderson's animosity towards Lavery, which has to do with £165,000 that the Labour MP received years ago from the NUM. Anderson, like other NUM members, believes that Lavery should return the money to the miners.
On Wednesday, June 15, Anderson raised the matter of the money again during the debate about the upcoming nationwide rail strike.
Guido Fawkes has the story and the video:
It was Guido's most read and shared story of June 16:
Guido wrote (emphases in the original):
Another vintage Commons clash last night between Lee Anderson and Ian Lavery, with Anderson once again accusing Lavery of "stealing money" from the miners, and Lavery getting so upset he actually asked Deputy Speaker Nigel Evans to "protect" him from Anderson. Not a demand Evans took to kindly…
Anderson: Does he think that any Opposition Member who has received a donation from the RMT should put that money in a pot to help people who suffer during next week's rail strike? Does he also think that other MPs who have stolen money from the mineworkers—165 grand in the case of the hon. Member for Wansbeck (Ian Lavery) —should pay it back?
After eventually convincing Anderson to withdraw the remark, Evans turned his attention to Lavery:
Lavery: On a point of order, Mr Deputy Speaker. You have been in the Chair three times when the hon. Member for Ashfield (Lee Anderson) has made allegations. He withdraws his ridiculous remark and consistently comes back to say it again. As Deputy Speaker, you are not protecting the likes of myself. I need your protection.
Evans: Order. Do not make allegations against the Chair, ever. You saw how I treated Mr Anderson. You just leave it with me—I don't need lectures on how to do my job.
All this happening in the mother of all parliaments, rather than the school playground. At least it was entertaining…
Earlier this year, in the February 8 debate, Cost of Living and Food Insecurity, Anderson tried unsuccessfully to intervene in Lavery's contribution. One wonders if he was going to ask about Lavery's NUM money:
Lavery: I want to put some human context into this debate. I saw on social media this weekend a comment by a single parent. She said:
"It's difficult to imagine without experiencing it is how tiring being skint is. How you're so utterly consumed by financial hardship that it affects every decision you make on a daily basis. It takes up every thought and you can't escape. No wonder there is a mental health crisis".
Anderson: Will the hon. Gentleman give way?
Lavery: That comes from a single parent and it sets the tone for this debate. The country is badly fractured and, sadly, broken. Kids cannot eat and pensioners cannot eat, yet sales of luxury yachts have gone through the roof.
Anderson: Will the hon. Gentleman give way?
Lavery: And then we look at the other end of the political spectrum, where we see 14 million people in this country, the sixth richest economy on this planet, living in poverty.
Anderson: Will the hon. Gentleman give way?
Lavery: UK wages are at the lowest they have been and they are a 15-year standstill. Wages are gone and energy bills are going through the roof—I will come on to that. Poverty is a political choice. Hunger is a political choice. I am sick and tired of debates in this place where people from all parts are basically reducing hungry and cold families and individuals to mere balance sheet statistics—count them as human beings. The debate often gets dragged into whether this is absolute poverty or relative poverty.
Anderson: Will the hon. Gentleman give way?
Lavery: That does not matter to people who are suffering greatly in our communities. If they are sitting at the table with nothing to eat in the morning or at teatime at night, they are not aware of whether they are in abject poverty, absolute poverty, relative poverty or overall poverty. They might not even know that they are in poverty, but they know they are hungry. I think we will all probably have experienced being behind the person in the local newsagent who has the key to put £5 on their electricity bill—
Anderson: Will the hon. Gentleman give way?
Then things kicked off:
Deputy Speaker Nigel Evans: Order. I do not believe Mr Lavery is going to give way, so please save your voice for the rest of the speech. [Interruption.]
Order. What did the Member say?
Other MPs: He said, "Coward."
Deputy Speaker: Please withdraw that word.
Anderson: Mr Deputy Speaker, I am sure that the hon. Member is not a coward.
Deputy Speaker: Thank you.
Lavery: Mr Deputy Speaker, that has taken out a minute and a half of my time, but thank you very much for allowing me to continue. I am far from a coward, by the way …
Lavery finished his speech. Later in the debate, however, he raised a point of order about Anderson (emphases mine):
Lavery: On a point of order, Mr Deputy Speaker. I would like your advice about the intimidation that I seem to be getting from the Member for Ashfield (Lee Anderson). The last couple of times I have been in the Chamber, there have been some absolutely terrible remarks. I am sure you remember, Mr Deputy Speaker, the last time he had to return and apologise. How can this be stopped? How can we tackle it? If Members do not want to give way, they do not have to, but they should not suffer abuse as a result.
Deputy Speaker: I thank the hon. Gentleman for his point of order. I was in the Chair the very last time this happened. That is why I intervened to say that the hon. Gentleman was not giving way. I could not hear what the hon. Member for Ashfield said, because I was talking when he said it, and he then withdrew it. However, Mr Speaker made it absolutely clear at the beginning of today's sitting, after what happened on the streets of London yesterday, that we must all be temperate in the language we use, not only in the Chamber but outside it. I hope that all right hon. and hon. Members will take that on board before they stand up, and even when they make sedentary interventions, and that they are very temperate in the language they use.
Anderson then directed his interventions towards other Labour MPs.
One recommended collective bargaining. Anderson, who was a Labour Party member until 2018, intervened:
The hon. Gentleman mentions collective bargaining, but will he say how successful that was in the 1970s, when the lights were out?
True!
Another Labour MP recommended more nuclear power. Anderson said:
My hon. Friend talks about nuclear power. It is quite interesting, actually, because I wonder if he can recall that, in 1997, the Labour manifesto said, "We can see no economic case for the building of any new nuclear power stations." Does he think now, moving on 20-odd years, that they regret that?
Crime
Lee Anderson is, to paraphrase Tony Blair, 'tough on crime, tough on the causes of crime'.
On June 8, 2021, during the Police, Crime Sentencing and Courts Bill debate, he spoke frankly about the travelling community:
We have a big problem in Ashfield with the travelling community. They come two or three times a year. I did my own poll of about 2,000 constituents, and 95% agreed with me that the Travellers were creating a massive problem—crime was going up, pets were going missing, antisocial behaviour was going through the roof and properties were getting broken into. My constituents do not want them in our area anymore. That was a survey of 2,000 people, and that was the response from 95% of them. That evidence from my area is a bit more compelling than the petition the hon. Gentleman mentioned, which has probably been signed by 100,000 Travellers.
A Labour MP, Bambos Charalambous, said the problems in Ashfield arose because of inadequate housing provision.
Later on, Anderson said:
We have already established that in places where Traveller communities set up, such as Ashfield, crime goes up; we know that there is a direct correlation between Travellers being in the area and crime going up. Does the hon. Gentleman think that crime will come down if we have a permanent site in Ashfield?
Undeterred by the throwaway answers he was receiving, Anderson intervened once again in Charalambous's speech:
At the beginning, the hon. Gentleman made an interesting point about Romani Gypsies coming here more than 500 years ago, but the Gypsy encampments that we are talking about in places such as Ashfield are not the traditional, old-fashioned Gypsies sat there playing the mandolin, flogging lucky heather and telling fortunes. The Travellers I am talking about are more likely to be seen leaving your garden shed at 3 o'clock in the morning, probably with your lawnmower and half of your tools. That happens every single time they come to Ashfield. Does he agree that there is some confusion on the Opposition side as to who these people actually are?
Charalambous replied that there were many misconceptions about the various traveller communities, which were unhelpful.
Anderson made his final intervention a short time afterwards:
About five years ago, we had Travellers come to a car park in my village and they left a load of rubbish there, which cost the council over £1,000 to clean up. A few weeks later, they came back again, left another load of rubbish that cost another £1,000. I got that fed up with the local council that I hired a JCB and put two concrete blocks there, to stop the Travellers coming back and to keep the beauty spot tidy, and I got a £100 fixed penalty notice from my local Labour authority. Does the hon. Gentleman think that that was the right course of action?
Charalambous said that it was the local council's responsibility to take action, not individuals.
On May 11, 2022, after this year's Queen's Speech, MPs discussed the subject again in the Preventing Crime and Delivering Justice debate. The plan to send migrants to Rwanda was also announced that day.
Anderson delivered a speech on public protests, which have gone out of control over the past few years. At times, the police looked as if they are aiding and abetting the protesters:
Nobody should feel unsafe on the streets or in their home, which is why preventing crime is probably the most important part of this Queen's Speech. Each time we debate the subject in this place, the Labour party seems to side with the criminals. I am not sure why that is, but it seems to happen every single time. The Queen's Speech serves as a reminder to everyone that the Conservatives are the only party that is serious about law and order in the UK.
The vast majority of decent, hard-working people in this country will welcome the new public order Bill. Every week we see mindless people who have nothing better to do than wreak havoc on our streets, motorways and petrol stations. Frankly, the hard-working people of this country are fed up to the back teeth of these people disrupting lives and destroying property.
When I have been out and about, I have seen people gluing themselves to property, digging up lawns, throwing paint and performing zombie-like dances in the middle of the road with no regard for the decent, hard-working people of this country. [Interruption.] … These people have no regard for the decent, hard-working people of this country, and their guerrilla tactics are disrupting emergency workers and putting lives at risk. The public have had enough.
We were pretty good at handing out fines during lockdown. We dished out big fines, some justified and some not, and I hope the Government will consider handing out bigger fines to these public nuisances who think it is a good idea to damage petrol stations. I suggest a £10,000 fine, going up to 20 grand. That will teach them. Going back to their mum and dad with a 10 grand fine might be the deterrent they need.
Let us remind ourselves of what the Conservative party has been up to in government. We are recruiting 20,000 new police officers, and there are already more than 13,000 new police officers on our streets, making our streets safer. We have enshrined the Police, Crime, Sentencing and Courts Act 2022 in law, giving the police extra powers to prevent crime and keep dangerous criminals off our streets. The Act stops the automatic early release of dangerous, violent and sexual offenders, widens the scope of police powers such as stop and search, and places a legal duty on local authorities to work together with fire and rescue services, the police and criminal justice agencies. Labour voted against the Act, and I will tell the House what else Labour voted against: everything in the Act.
In Ashfield we are really benefiting from a Conservative Government. We have just had £550,000 from the safer streets fund, with which we are putting up CCTV in some really dodgy areas of my town. This will make women and young girls feel safe. There will be safe hotspots where they can reach out for help. It is wonderful news for one of the most deprived areas of my constituency. We are using the fund to put up new security gates to secure alleyways, which are antisocial behaviour hotspots. The funding is making residents feel safe in their own home. It is real action. On top of that, we have new police officers in the Operation Reacher teams in Eastwood and Ashfield, which are going out to take the most undesirable people off our streets and lock them up.
The police had always been a little frustrated that the sentencing has not been enough for these criminals, but we have sorted that with the 2022 Act. People will be locked up for longer, and so they should be. It makes people in Ashfield and Eastwood feel safer, it makes me feel safer and it makes my family feel safer. When these criminals are arrested and taken through the court system, it is only right that they should be put away for as long as possible to make us all feel safe.
Labour also has no ideas about the illegal crossings by dinghies and boats coming over the channel. Labour Members seem to be confused, as they do not know the difference between an economic migrant and a genuine asylum seeker, which is a shame. My constituents in Ashfield would put them right. If Labour Members come up to my Wetherspoons in Kirkby, my constituents will tell them the difference—they are pretty good at it.
An SNP MP intervened to say that the Home Office considers most of those coming illegally over the Channel as refugees.
Anderson replied:
I thank the hon. Lady for her intervention and I think that what she describes is the fault of the old, failing asylum system; when people get here, they know how to fill the forms out and they have these lefty lawyers who say, "Put this, this and this." So they fill the forms out and, hey presto, about 80% get asylum status, and it is wrong. It is a burden on the taxpayer, these people are abusing the system. It is a bit like some benefit cheats—they do it, don't they? They abuse the system, saying that they are disabled when they are not. [Interruption.] Yes, they do. Come on, let's be right about it.
Make no mistake: if that lot on the Opposition Benches got in power, perish the thought, this Rwanda plan would be scrapped within five minutes. They want to see open borders. They want to let anybody in. [Interruption.] However, I welcome the sensible comments on food bank use made by the hon. Member for St Helens North (Conor McGinn), who is not in his place. I would welcome any Opposition Member coming to visit my local food bank in Ashfield, where I help out on a regular basis. We have a great project in place at the moment.
You can read more about Anderson's food bank controversy in Part 3.
Free speech at universities
Last week, on July 12, Anderson participated in the debate on the Higher Education (Freedom of Speech) Bill. He rightly took strong exception to the metropolitan elite:
Now then, if we control what students in universities can listen to, we are controlling what they can think and the type of person they will become. That may work in places such as North Korea and, possibly, within the Labour party, but it has no place in our society. The Bill will strengthen free speech and academic freedom at universities. It is not the job of the Labour party or anybody else to control who we listen to. The champagne socialists, the Islington elite and the trade unions may agree with the Labour party, but most of the country do not. We fought and won a war to protect our freedoms, and freedom of speech, to my mind, is the most important freedom that we have.
Let us not forget that universities are there to supply our great country with scientists, mathematicians, doctors, lawyers, school teachers, nurses and so on, not to provide us with state-sponsored political activists who have only one opinion or one goal in life. Our young people should be able to flourish at university and be open to all kinds of debate. Let them make their own mistakes, form their own opinions and ask their own questions. We should not dictate who they can and cannot listen to.
By voting against this Bill, Labour is saying that our university students are not capable of making up their own minds. It is a bit like the Brexit debate when it told my residents in Ashfield and Eastwood that they were thick, they were stupid, they were racist and they did not know what they were voting for. Well, that ended well! It ended up with my standing here tonight.
We know that free speech is being shut down in universities in this country. Professor Jo Phoenix was due to give a talk at Essex University about placing transgender women in women's prisons. Students threatened to barricade the hall. They complained that Ms Phoenix was a transphobe who was likely to engage in hate speech. A flyer with an image of a gun and text reading "Shut the **** up" was circulated. The university told Ms Phoenix and the event was postponed.
What about the human rights lawyer Rosa Freedman, a radical feminist law professor, whose event was cancelled amid allegations of transphobia? She received a passive aggressive email from a University of Reading student who called her views on gender politics "problematic" and warned her to "choose her words carefully". Selina Todd, an Oxford University professor, had her invitation to a conference celebrating women withdrawn owing to pressure from trans activists who had threatened to disrupt the event.
It is a real shame that we have to legislate to allow free speech, but the biggest shame is that Labour Members will vote against the Bill and subsequently vote against free speech. Perhaps they should all come off Twitter, throw their Guardian newspapers away, leave the Tea Room, and get out there and speak to the millions of voters they lost at the last election. Let us have some free speech on the doorstep and perhaps that lot on the Opposition Benches will finally realise that they have nothing in common with the very people they expect to vote for them. Thank you very much, Mr Deputy Speaker; that is me done.
The next MP to speak was from Labour. That MP disliked being told he was against free speech. He ended by saying:
If this legislation were needed, I would support it, but I do not think that it is needed, because, as has already been said, the legislation is already in place. We know the reason why, because we have had it explained. We just had a great example of it from the hon. Member for Ashfield. This is actually about trying to use the so-called woke agenda in a political manner. It is amplifying the message, so we get a situation where anyone who dares to question what happens or who votes against this Bill tonight is said to be against freedom of speech.
Anderson intervened to say:
I thank the right hon. Gentleman for the important points that he is making in the Chamber tonight, but the most important thing I want to thank him for is mentioning the word "Ashfield". That is the first time ever in this Chamber that a Labour politician has mentioned the word "Ashfield", so I thank him for that.
Immigration
Lee Anderson likes hard-working immigrants but, along with most other Britons, objects to people coming to the UK illegally then complaining about living in three-star hotels with three square meals a day.
On July 19, 2021, during a Nationality and Borders Bill debate, he related the story of a man he once knew, Janis Bite, who came to the UK from Latvia:
Now then, Janis Bite was 13 years old and living in Latvia at the start of World War Two. Two years later, the Nazis came. Their request was simple: one male member from each family to go and fight the Russians. It was either Janis, his dad or his younger brother, so Janis went to the Russian front and witnessed the horrors of war in temperatures of minus 40.
When the war ended in 1945, Janis was classed as a displaced person—a refugee. Imagine that. He could not go back to Latvia, because he had been sent straight to Siberia and that is where they sent his dad, so Janis was given two more choices: the US or the UK. So he came to the UK to a small village in Derbyshire, where he and other refugees were housed in Nissen huts in army barracks. He did not complain or whinge or moan about the barracks or set fire to the barracks or make TikTok videos. In fact, they were so grateful to the UK that they all volunteered to work in the fields at local farms picking potatoes and other seasonal vegetables for no pay. Janis met a girl in the village, he fell in love and he later married. He worked hard all his life and had three sons, one of them being Alan in Ashfield. Janis loved his football. He became a British citizen and loved this country. He even went on to meet our Queen. Janis is no longer with us, but his story makes me feel incredibly proud of our great country and its willingness to help people from all over the world.
A Conservative MP asked Anderson if Janis Bite would have been affronted by the misguided, generous way the Home Office treats illegal immigrants.
Anderson responded:
I thank my right hon. Friend for his comments. That is absolutely right. I spoke to Janis's family last week in Ashfield, and they made exactly that point. I will feed that back to them when I get back to Ashfield this weekend.
We have always been a welcoming and tolerant country that has reached out to genuine refugees from all over the world, but just like Janis's family in Ashfield, most people in the UK do not accept that people travelling here from France in dinghies are genuine asylum seekers—[Interruption.] They are not genuine asylum seekers. We know that many of them have been trafficked with a clear instruction on how to claim asylum once they get here. That is because our asylum system is not fit for purpose, and this Bill stops that.
The Labour party and the Opposition want to bring back free movement. They dislike our points-based immigration system, and now they are going to vote against a Bill that protects our borders and helps us deport foreign murderers and rapists. They will always vote against the British people. This new Bill will ensure that people in genuine need, like Janis all those years ago, get the help they need, and the greedy lawyers and the human traffickers will be told, "No more." We owe it to people such as Janis who are suffering today to ensure that we have a fairer system that offers genuine refugees a safe haven. This Bill does that.
We have nothing to be ashamed of in this country. We are a kind, tolerant and welcoming country. That is proven by the number of people who risk their lives every single day to get here. If Janis's family can see that the current situation is unacceptable, surely the Opposition should see that too.
I give a massive thanks to the Home Secretary, who has stuck to her guns. She has listened to the British people and delivered. Opposition MPs want to travel into reality. I will offer this opportunity to all of you now sitting there now with those glazed expressions on your face: come down to Ashfield, come speak to some real people in my towns and villages, and the message you will get will be completely different from the message you are feeding into this House. I am here because of you lot and the attitudes you had in 2019. We are getting tough on crime, we are getting tough on immigration and we are getting tough on law and order.
Well said!
I'm still not finished with Lee Anderson's policy stances. More to come next week.
Of all the Red Wall MPs, Lee Anderson's star shines the brightest among true conservatives.
Those who missed the first two instalments of his profile can read them here and here.
Anderson-Bray latest
I left off with Anderson's exchanges with Steve Bray, who lives up to his surname. For years, he has been on the open spaces around Parliament, e.g. College Green, braying against Brexit. He appears to be crowdfunded. He is very loud and the police won't move him along. As for MPs taking action, not enough witnesses will come forward to corroborate his disturbances with them or with employees on the estate. After six or so years, he should really find a proper job.
The latest instalment in Bray-Anderson story took place on June 9, 2022:
Guido Fawkes has the story and the video (red emphases in the original):
The ongoing war of words between Red Wall Rottweiler Lee Anderson and Professional Loiterer Steve Bray has taken another dramatic turn. Yesterday, after Bray once again tried to confront Anderson on College Green, Lee bit back by asking "why haven't you been sectioned yet?". This, according to the London Economic, "sparked outrage"…
So much outrage that Shadow Mental Health Minister Rosena Allin-Khan demanded an immediate apology, claiming "MPs should not use mental health tropes when responding to criticism."
Now, following Allin-Khan's intervention, Anderson has offered a heartfelt apology. He tells Guido:
I will be apologising to the good people of London as it would appear Lord Bray has slipped through the net and quite clearly should be getting help.
Don't count on it…
No doubt, the story will run and run.
Food banks
One story the whole nation knows about is Lee Anderson's views on home cooking in light of food bank use.
One month ago, on Wednesday, May 11, a week after local elections, Anderson, who participates at his local food bank, said in Parliament:
There's not this massive use for food banks in this country. We've got generation after generation who cannot cook properly, they can't cook a meal from scratch, they cannot budget.
Guido has the video of his part in the Commons debate. Anderson invited any MP who wished to take him up on it an invitation to his local food bank in Ashfield. His food bank has a scheme whereby anyone who comes for food has to sign up to a budgeting course and a lesson in how to cook from scratch.
He rightly criticised the Labour MPs opposite for being out of touch and, fortunately, he said, out of power. Guido borrowed the motif from a popular BBC programme, Eat Well for Less:
Remember that, until 2018, Anderson was a card-carrying member of the Labour Party. He joined the Conservatives that year.
It is also worth saying that Anderson was hardly born with a silver spoon in his mouth. He grew up in a mining family and said in another parliamentary speech that Labour's poor education policies prevented him and his classmates from progressing in life. They all ended up working in the local mine when they left school.
Michelle Dewberry invited him on her show that evening to allow him to elaborate on his views. He told her that his mother and grandmother cooked from scratch every night.
In an interview with Dan Wootton (see below), he said that, for many years, he was a single parent, and also cooked fresh meals daily for his children.
Dewberry's segment is worth watching:
Anderson and other food bank staff brought in a local, award-winning chef to do a cook off. He participated in it. He said that people can make a batch of meals for only 30p a portion. I can believe it.
He described it to Michelle Dewberry (emphases mine):
We did a small project where we took some school children and we spent £50, we filled a trolley up, we had a local chef, an award-winning chef.
We went back to the college and invited four other MPs and we had a bake off, like a cook off.
We prepared I think it was about 1700 meals and we put them in a container and froze them, now that's enough to feed a family of five for about £50.
Now they're not massive piles that people get at the local carvery, but they were enough, they were nutritious, good value meals.
He also told her:
My position is, yes, we have to support some people but, in the meantime, instead of throwing money at everything, let's try and help people.
I couldn't agree more. It's not just food bank users who cannot — or won't — cook, it's also a lot of ordinary middle-class women. I'm nodding at the women who live on either side of me. There are countless more who rely on a) ready meals, especially the pricey ones from Marks & Spencer, and b) weekend roast lunches at the local carvery.
For a family of four — parents and two children — the sums add up pretty quickly, week after week.
The front pages from Thursday, May 12, were expectedly execrable, shouting that he was just another out of touch Conservative.
Metro is the free newspaper, available to all metropolitan commuters:
This was the headline from Labour's house organ, The Mirror:
The story made GB News shows again that evening.
Colin Brazier invited left-wing Tom Pollard and conservative Benjamin Loughnane to debate what Anderson said in Parliament:
Pollard, not surprisingly, said that the poor are going through some really rough times. True, but one of the cheapest ways of saving a bit more of dole money is by getting smart by cooking at home. There's nothing shameful about a hot dinner of a baked potato topped with hot baked beans. The potato can be done in the microwave and crisped up for 15 minutes in the oven. The beans can be poured out of the tin into a microwave-proof dish.
Loughnane said that he thought what Anderson said was well-intentioned and 'not malicious'. He agreed that there were other ways to help people rather than monetarily. He said that the controversial element was that a Conservative MP had said it. However, Loughnane said that Conservative policies haven't helped anyone's cost of living very much, especially the poor.
Later that evening, Dan Wootton used the Anderson controversy for his lead editorial. He featured clips from all the televisual media — ITV, BBC, Sky — and said that their left-wing claims were false. Wootton said that Anderson made a practical point about the lack of cooking and budgeting skills in today's households. He also played the full exchange from Parliament and explained that Anderson was a regular volunteer at the Ashfield food bank. He said that Anderson himself fed his two sons for 17 years by cooking from scratch:
Wootton interviewed Anderson later in the show:
Anderson said that there were also a lot of:
rich people who can't cook, either, and that's my whole point.
Wootton then went into Anderson's background. The MP said:
I did struggle. I had to sell my car and walk everywhere. I've been that single parent.
As for what he said in Parliament:
What I alluded to … is common sense. The media have just run amok with it, really.
He said that it is better for him, as someone who has experienced living on the edge, to say what he did rather than some of his colleagues 'who have been to Eton'.
Anderson said that food banks should be considered as a safety net not as a regular fixture in their lives. He supports people who are on hand to ask if those getting food parcels have problems with debt or money in general.
He added that he'd worked in his Citizen's Advice Bureau and was used to encountering these types of issues from the people he helped.
I still have more on Lee Anderson to come next week.
He's a no-nonsense, common-sense man who would make a great Prime Minister. It's just a shame that he would never get that chance in the current political climate of Islington, the London borough that rules Westminster.
The metropolitan elites have done this country no favours at all. Lee Anderson and other Conservative MPs from modest backgrounds are trying their best to reset the balance.
Saturday and Sunday, June 4 and 5, 2022, were a time of fun and frolic, ending the four-day Platinum Jubilee holiday.
As delightful as it was, unfortunately, the first news item on Monday morning was that Prime Minister Boris Johnson would undergo a vote of confidence early that evening.
Sir Graham Brady, the chairman of the 1922 Committee, the Conservative group of backbench MPs, made the announcement at 8 a.m.:
He gave a short press conference outside the Palace of Westminster:
Brady had already received 54 letters from Conservative backbenchers, the minimum number of no confidence letters needed — 15% of Conservative MPs — in order to trigger the vote:
He had received most of them before the Platinum Jubilee celebrations started. He probably has more than 54 letters; someone on GB News said that he had received 83.
Sir Graham arranged a time for Boris to have right of reply to his party's MPs, scheduled for 4 p.m.
GB News interviewed a number of Conservative MPs during the day. Those supporting Boris said that MPs calling for him to stand down are either Remainers, those who never liked him, those who never received a Cabinet post and those who fell out with him and were reshuffled from Cabinet. Some of the MPs falling into the last three categories voted for Brexit.
It's a pity that Boris's premiership has been far from perfect, unlike the resplendent appearance of the Duchess of Cambridge:
Most of the viewers writing into GB News are Boris supporters. This was the result of Dan Wootton's Monday night poll on whether Boris should lead the Conservatives into the next election (2023 or, more likely, 2024):
Jacob Rees-Mogg, former Leader of the House and current Minister for Brexit Opportunities, tweeted that rebel MPs should remember that voters elected Conservative MPs, i.e. Boris, therefore, for MPs to depose him implies that people's votes do not count. As such, Conservatives could lose the next election largely for that reason:
UPDATE — The 1922 Committee announced the result of the vote at 9 p.m. Boris has won but not by as big a margin as John Major in the 1990s or Theresa May a few years ago:
Speaking after Sir Graham Brady announced the vote result, Boris said that the Government can move on and focus on the things that 'really matter':
Jacob Rees-Mogg, a monarchist, no doubt thoroughly enjoyed the Platinum Jubilee weekend and tweeted a Telegraph editorial which said that the Queen has increased the UK's love of the monarchy:
Interestingly, the editorial is dated June 1, the day before the long weekend.
However, it was spot on, because Jubilees have united the nation like nothing else, other than the Olympics and Paralympics. This is why (emphases mine):
Since we have no national day in the United Kingdom, the four significant jubilees of the Queen's reign have each served to reassert a patriotism that is always present but only occasionally allowed to flourish.
People need events such as these to feel a sense of belonging beyond our immediate family, neighbourhood or region. To manifest itself through the Queen, rather than a nebulous concept of nationhood, makes it more personal – a relationship that is never possible between citizens and an elected politician.
While a proportion of her subjects will recall the reign of her father, or even her uncle and maybe her grandfather, for the vast majority of the population the Queen is the only head of state we have known – a constant companion through our entire lives, the still point in an often turbulent world.
In a statement in February to mark her accession, the Queen signed off as "Your Servant", which is how she has always seen herself. As the heir-presumptive in 1947, still not expecting to take the throne for many years, she gave a radio broadcast to declare: "My whole life, whether it be long or short, shall be devoted to your service and the service of our great imperial family to which we all belong."
Mercifully, it has turned out to be a long life and Her Majesty has more than lived up to the pledge she gave then …
With that, let us look at the Jubilee events of Saturday, June 4.
The Queen did not attend one of her favourite racing events, the Epsom Derby. She watched it on television instead:
The Princess Royal, Princess Anne, represented her mother at Epsom. I do wish Anne could succeed her. She does so much unsung work for charity — and we have no idea what she thinks about climate change:
Forty jockeys wore the Queen's silks in honour of her 70-year reign. She has met some of them:
Princess Anne was not the only member of the Royal Family representing the Queen in the UK that day.
Prince Edward and Sophie, Countess of Wessex, travelled to Northern Ireland for official engagements:
The following video shows the Queen on her previous visits to the province also known as Ulster:
The Cambridges had an equally busy day, especially the children.
The Countess of Cambridge, better known as Kate, made cupcakes with the children for a Sunday street party in Cardiff:
The family also visited Cardiff on Saturday:
In the evening, they attended the concert, the Platinum Party at the Palace:
Earlier, while in Cardiff, they were able to meet performers and planners for the Welsh contribution to the concert:
As happened during the Diamond Jubilee, the concert was a true son et lumière — sound and light — experience:
There was a terrific light show with drones. This bit with a corgi dropping a bone is amusing:
Although the Queen was in absentia, she opened the show with a brilliant comedy sketch she secretly recorded in March with Paddington Bear.
The Sunday Times has the story:
At 96, the Queen showed she has lost none of her humour, starring in a surprise televised sketch with the fictional bear from darkest Peru. The skit opened the Platinum Party at the Palace, a live concert at Buckingham Palace broadcast by the BBC.
It echoed the James Bond spoof at the opening ceremony of the 2012 London Olympics, in which she and her corgis appeared with the actor Daniel Craig at the palace, and the Queen later appeared to jump out of a helicopter and parachute into the stadium.
During her encounter with Paddington in the crimson drawing room at Windsor Castle, the Queen laughed as the clumsy bear caused chaos, accidentally depriving her of a cup of tea, glugging directly from the spout of the teapot and spraying her footman with cream from a chocolate éclair.
As he showed Her Majesty the marmalade sandwiches he stores under his red hat, the Queen prised open her black Launer handbag, confiding, "I keep mine in here," before closing her bag and wryly observing: "For later."
Paddington, who is created with CGI and voiced by the actor Ben Whishaw, congratulated the Queen on her historic reign, wishing her a "happy jubilee, Ma'am" and adding: "And thank you. For everything." The Queen replied: "That's very kind."
The Queen has worn Launer handbags since 1968. She awarded them with a Royal Warrant many years ago and visited their factory in 1992. A Launer is hardly a handbag in which one would store marmalade sandwiches.
The sketch had to segue perfectly into Queen's — the band's — performance:
Rosie Alison, of Heyday Films, which produced the two Paddington films and is making a third this year, said: "Filming Her Majesty's tea party with Paddington Bear was such an emotional day for the entire crew. All of us were in awe of the Queen's wit, warmth and radiant aura as she patiently engaged with a polite, clumsy but very well-intentioned bear. Of course, she shone, and put all of us at ease."
Mark Sidaway, executive producer of the BBC's Platinum Party at the Palace, said: "We were thrilled and honoured when we learnt Her Majesty had agreed to run with this touching yet joyful idea the team had come up with — although it was slightly nerve-racking ensuring it all blended seamlessly with the live performance from Queen."
One of my readers, Sylvia, sent in the link to a Mail article which has a link to the full video and terrific concert photos. Many thanks, Sylvia!
This version has the addition of the Monarch and Paddington Bear tapping their tea cups to Queen's opening number. We also get a glimpse of the crowd as it was at that moment:
Here are more scenes from the concert, which featured much musical talent from past and present, including Rod Stewart, Elton John, Duran Duran and Diana Ross. The following video shows more of the drone light displays, which were amazing:
At the concert, Princes Charles and William paid tribute to the Queen.
What follows comes from The Sunday Times report.
William spoke first:
Earlier in the evening, Prince William, 39, an ardent environmentalist, used his tribute to hail his grandmother's calls over the years to protect the planet and spoke of his "pride" that "my grandfather and my father have been part of those efforts". Sir David Attenborough also gave a tribute praising the royal family's commitment to conservationism.
Before William appeared on stage, the German composer Hans Zimmer and an orchestra performed a specially arranged version of the Planet Earth II Suite, followed by a performance by the Royal Ballet, as words from the Queen's 1989 Christmas message, focusing on the environment, were broadcast: "The future of all life on Earth depends on how we behave towards one another and how we treat the plants and animals that share our world with us. We share the Earth as human beings. All of us. And together as the nations of the world will leave it to our children and children's children. We must be kind to it for their sake."
William called his grandmother the Queen 'of hope':
A clip from the Queen's message to COP26 last year was also shown.
Charles said, in part:
Taking to the stage in front of Buckingham Palace, which was illuminated with images of the Queen personally chosen by Charles, the prince was cheered by a crowd of more than 20,000 as he addressed his mother, who was watching on television from Windsor Castle.
"Your family now spans four generations. You are our head of state. And you are also our mother … Looking back, we think of the countless state occasions that are milestones along this nation's road. And you will think of red boxes, filled with government papers, at the end of the day … We think of all you have done to make the Commonwealth such an important force for good. You continue to make history" …

"I know what really gets my mother up in the morning is all of you, watching at home.
"You have met us and talked to us. You laugh and cry with us and, most importantly, you have been there for us, for these 70 years. You pledged to serve your whole life — you continue to deliver. That is why we are here. That is what we celebrate tonight. These pictures on your house are the story of your life — and ours. So, your Majesty, that is why we all say thank you."
He ended his tribute by calling for "three cheers for Her Majesty".
Here is the video:
Members of the Royal Family were out in force. The Sussexes did not attend, however.
Many politicians also attended, including Boris and his wife Carrie, Labour's Sir Keir Starmer, Scotland's First Minister Nicola Sturgeon and her husband, the Welsh First Minister Mark Drakeford and the Mayor of London Sadiq Khan.
The weather in London held out for Saturday. However, all changed overnight.
I'll cover Sunday's Platinum Jubilee Pageant tomorrow.
Our Creator broke the mould when he made Lee Anderson.
Of all the Red Wall MPs, he is the most candid and colourful.
Lee Anderson represents his home constituency of Ashfield, Nottinghamshire, which, since its inception in 1955, has always had a Labour MP, except for a brief period between 1977 and 1979, when it had a Conservative MP because of a by-election.
Lee Anderson was Labour born and bred. He was a card-carrying Party member. He served as a local councillor for Ashfield's Huthwaite and Brierley ward from 2015 until 2018. He also actively campaigned for his parliamentary predecessor, Gloria De Piero, in 2015 and 2017.
De Piero decided not to run for re-election in 2019, having been Ashfield's MP for nine years at that point. Prior to entering politics, she was a presenter on ITV's breakfast show GMTV (as was) and is now a presenter on GB News at lunchtime.
Another famous Labour MP representing Ashfield was Geoff Hoon, who served between 1992 and 2010. He is a former Defence Secretary, Transport Secretary, Leader of the House of Commons and Government Chief Whip.
Returning to Lee Anderson, he was a strong supporter of Brexit and backed the Vote Leave campaign preceding the June 2016 referendum.
In 2018, he left Labour for the Conservative Party. In May 2019, he was elected as Conservative councillor for the Oakham ward in nearby Mansfield. It was a position he held until early 2021, when he resigned.
In December 2019's general election, he won Ashfield with a majority of 5,733 votes. An Independent candidate placed second, with Labour a distant third.
Maiden speech
Anderson gave his maiden speech on Monday, January 27, 2020 during an NHS funding debate.
Emphases in purple mine below.
As is customary, he paid tribute to his predecessor and pointed out that Nottinghamshire had voted Conservative:
I am bursting with pride as I stand here as the newly elected Member of Parliament for Ashfield, but I want to pay tribute to my predecessor, Gloria De Piero, who was the MP for Ashfield for nine years. I am sure everybody in the Chamber will agree that she was well respected on both sides of the House. I also want to pay respect to my seven colleagues in Nottinghamshire, who were all elected on the same day as me last month. They did a fantastic job …
Also customary is to praise one's constituency and throw in a few quips. Note that Anderson worked as a miner for some time, partly because of Labour's abysmal education policies:
Ashfield was once voted the best place in the world to live—by me and my mates one Sunday afternoon in the local Wetherspoons. It really is the best place. Ashfield is a typical mining constituency. To the south of the constituency we have Eastwood, birthplace of D.H. Lawrence, to the north we have Nuncargate, birthplace of our most famous cricketer, Harold Larwood, and further north we have Teversal, which is where D.H. Lawrence wrote probably his most famous novel, "Lady Chatterley's Lover"—a book I have read several times. We have many other great towns and villages in Ashfield, such as Sutton, Kirkby, Annesley, Selston, Jacksdale, Westwood, Bagthorpe and Stanton Hill, but the place that is closest to my heart in Ashfield is the place where I grew up, a mining village called Huthwaite.
Like with many villages, when I was growing up in the 1970s most of the men in Huthwaite worked down the pits. I went to a school called John Davies Primary School, and I was always told at school in the '70s, as many of us were, "Work hard, lad, do well, take the 11-plus, go to grammar school and you'll not have to go down the pit like your dad and your granddad and your uncles." Unfortunately, a couple of years before we were due to take our 11-plus, the Labour Government at the time withdrew it from our curriculum, so I was unable to go to grammar school, and none of our school went as a consequence of that. Just a few years later I was down the pit with my dad—working at the pit where my granddad and my uncles had worked. I did that for many years and I am sure my dad, who is watching this right now—a decent, hard-working, working-class bloke—did not want me down the pit. He wanted better for me, but that was taken away. I cannot help but think that, had children in my day had the chance to go to grammar school, they would have had more opportunities and probably a better life. Because I am telling you now, when I worked down those pits in Nottinghamshire, I worked with doctors, with brain surgeons, with airline pilots, with astronauts—with all these brilliant people who never a chance. The Prime Minister is quite right when he says that talent is spread evenly across this country but opportunity is not, and my constituency is living proof of that.
People of Ashfield are a straight-talking bunch—a bit dry, a wicked sense of humour, a bit sarcastic sometimes—but that is borne out of our tough industrial past. You have to remember that we were the people who dug the coal to fuel the nation. We were the people who sent our young people—our young men and women—to war to die for this country. We were the people who made the clothes that clothed the nation. And we were the people who brewed the beer that got us all persistently drunk every single weekend.
In 1993, under a Conservative Government, we reopened the Robin Hood line in Ashfield, and all through the county of Nottinghamshire, which created endless opportunities for passengers to travel for work, for play and for jobs. Standing here as a Conservative MP in 2020, I am proud to say that this Government are once again looking at extending our Robin Hood line to cover the rest of the county. They are also looking at reopening the Maid Marian line, which will again carry passengers to the most isolated and rural areas of our country. It is all well and good having good education and good training, but transport means just as much to the people in my community.
My friends, family and constituents have asked me every single day what it is like to be down here in Westminster. I say, "It's brilliant—amazing. We've got great staff—the doorkeepers." Every single person who works here has been absolutely brilliant to me. It is an amazing place. I have met all these famous people—I have met MPs, Lords and Ministers—but the best moment for me was last Wednesday night, when I got invited to Downing Street, to No. 10, for the first time ever in my life. I walked through that door and there he was, the man himself—Larry the Cat. [Laughter.] Told you we were funny.
I was born at the brilliant King's Mill Hospital in Ashfield. King's Mill was built by the American army during world war two to look after its injured service personnel. After the war, the American Government gave King's Mill Hospital—the buildings and equipment—to the people of Ashfield as a thank-you gift. What a wonderful gift that is from our American cousins—absolutely stunning. I cannot praise the current staff and management at King's Mill highly enough. They have really turned things around. Just 20-odd years after the American Government gave King's Mill Hospital to the people of Ashford, I was born there, and later my children were born there.
It is not just our hospital in Ashfield that means a lot to me; it is the fact that it has saved my wife's life for many, many years now. My wife was born with a condition called cystic fibrosis. She was not diagnosed until she was 18, and for anybody, to be told that they have cystic fibrosis is like getting an early death sentence. But undeterred, my wife—my beautiful wife—went to work for a year. She then went to university, she studied, she became a teacher and she taught for 10 years, until she got to her early 30s, when she could not really carry on any more and gave up work. All that time, our brilliant NHS staff looked after her and kept her alive—I cannot thank them enough—but things got really bad in her mid-30s and she had to go on the list for a double lung transplant. She was on that list for two years, and we had five false alarms before we finally got the call on 19 December 2016. The operation was 14 hours and she spent three days in critical care. I thank my lucky stars for our brilliant NHS. They looked after her, they have kept her alive, and last year she was elected as a Conservative councillor in our home town.
I am incredibly proud, and when people say that this party is a party of privilege, I say to them, "I'm privileged to be in this party."
Cost of living crisis
Two years later, Anderson was still firmly in the Conservative camp. In the January 11, 2022 debate on Household Energy Bills, he skewered Labour:
Now then, if Labour Members really wanted to help the poorest people in society, they would not come to this House with a motion to cut somebody's bill by £61 a year. There were Labour MPs drinking in the Terrace bar last night who spent more than that on a round of drinks.
Do I want VAT removed from our energy bills? Of course I do. Everybody does. That is why last week I signed a letter to the Chancellor, asking him to cut the VAT on bills. I also want the removal of levies on domestic energy, which are nearly a quarter of an electricity bill. That sort of saving is a real saving, which would make a real difference to the people in Ashfield and Eastwood, but of course there is not much of an appetite for that in this place as we strive to be net zero in record time.
No one disagrees with what we are trying to do to save the planet, but a lot of us are sat here on over 80 grand a year—and some people have second jobs—and we are telling poor people that they must pay more to heat their homes. Frankly, when it comes to heating homes, people do not care where their gas or electricity comes from, in the same way as they do not care where their petrol or diesel comes from when they go to fill up their cars. All people want is to be able to afford their bills—that is all.
Labour Members are trying to play politics with people's lives so that they can get a cheap social media clip saying, "The nasty Tories are voting against a cut in VAT." They rely on the great British public not knowing how the process works in this place. It is a pitiful way of conducting themselves.
Let us be honest, this is not a vote to help poorer people pay their bills. It is a vote to take over the Order Paper so the Opposition can return us to the disastrous days of a few years ago that almost cancelled Brexit. There is no doubt that people are struggling and the cost of living is increasing with the increase in fuel prices, but who is to blame for that increase? We cannot just blame the pandemic, as we are all to blame. Successive Governments have never taken this seriously. We closed all our pits and we do not produce gas like we used to. Both Conservative and Labour Governments, let us be honest, have ignored this for years.
I see Labour Members shaking their heads, but they are not really interested in helping people in places like Ashfield, which has been ignored for decades. Ashfield has had no investment at all, but so far under this Government we have had £70 million, two new schools coming and hopefully a new railway line. We have millions of pounds coming to Ashfield, and what is Labour's answer to levelling up Ashfield? A saving of £1 a week on energy bills. That is absolutely disgraceful, and Labour Members should hang their head in shame.
Labour and the SNP
Few MPs are as outspoken about Labour and Scotland's SNP as Lee Anderson.
On Tuesday, November 30, 2021 — St Andrew's Day — the Opposition Day debate was all about Boris. The Downing Street parties had just come to light: 'Conduct of the Right Hon. Member for Uxbridge and South Ruislip'.
As expected, Labour and the other opposition parties painted themselves whiter than white, including Annelise Dodds MP, who led the debate. She said, in part:
the current Prime Minister is, unfortunately, falling short, the Conservative Government are failing to get a grip, and working people are paying the price.
Anderson intervened:
The hon. Lady talks about honesty and integrity. Could she please confirm how many Labour MPs have ended up in the nick over the past 10 years?
Dodds brushed over the intervention, but Anderson was undaunted. He signalled the answer:
Here's Guido's video:
He also launched broadsides at the SNP, the Commons' third largest party. For months — and well over a year now — the SNP have refused to say what has happened to £600,000 from their donors. At first it was 'ring fenced' (their words), then it seemed to have gone into other funds. However, what actually was done with the money remains a mystery.
Anderson said:
On this happy St Andrew's Day I have had haggis, Irn-Bru and an SNP debate; I can recommend two out of the three any time of day.
Since arriving here in Parliament in 2019 it has always struck me that the SNP is just a one-trick pony, ignoring its own failings on health, education and the economy to put its own selfish case forward for independence. But it is losing the argument—we know that by the poll results—so SNP Members have adopted a new tactic: to besmirch the good name of our great Prime Minister. Maybe they should tell us where the missing £600,000 is and explain why senior members of their party stood down from its national executive committee earlier this year. Their own MPs are asking difficult questions yet the leadership remains silent. Maybe they should apologise to the people of Scotland for the state of their education system, which is failing thousands of Scottish children while they bang on about leaving the Union and rejoining the European Union. Maybe they should explain to the people of Scotland why, despite being in power for 13 years, they have the worst health statistics in the world. Frankly, they should be ashamed of themselves, instead of wasting parliamentary time on a pointless debate that will achieve nothing, and they should explain why after 13 years in power Scotland is going backwards.
A back-and-forth with SNP MP Marion Fellows followed. Fellows objected to Anderson's allegation about Scotland's health statistics.
He came back with this:
I might make a slight correction here: perhaps I should have referred to the drug deaths, which are the worst in the western world.
What we need to chat about is the Westminster leader of the SNP, the right hon. Member for Ross, Skye and Lochaber (Ian Blackford), who has been very quiet about the £270,000 he has rinsed from outside earnings since he was elected to Westminster in 2015. It would take the average worker in Scotland 11 years to earn that much money yet he stands over there every single Wednesday talking about poverty when his greedy snout is firmly in the trough; and remember this is on top—
He ended up having to apologise for mentioning another MP — Ian Blackford — in debate without his permission.
However, Anderson returned to Labour who previously mentioned they wanted the British military to turn into a gentle peace-keeping force:
I am going to stop picking on the SNP, because I want to talk about the massed ranks of the Labour party. I am struggling to see them at the moment. Despite pretending to be bothered, they could not be bothered to turn up today. They seem to think that there is a war raging in France at the moment and that it is acceptable for thousands of illegal migrants to cross our channel every single day. They really need to get a grip.
Another sign that the Labour party has lost the plot is that it wants to replace our armed forces with "human security services"—a shift from the classic armed forces to a gender balanced, ethnically diverse human security services tasked with dampening down violence. Imagine that, Madam Deputy Speaker: a peace-loving British tank—
Madam Deputy Speaker put a stop to Anderson's interventions and called on another MP.
One week later, on Wednesday, December 8, Anderson openly criticised Labour's Ian Lavery, MP for Wansbeck, former chairman of the Labour Party and, before he entered politics, former president of the National Union of Mineworkers. This was during a debate on Rail Investment and Integrated Rail Plan:
Guido Fawkes had the highlights and the video (red emphases in the original):
Lee Anderson returns to once again slap down misbehaving Labour MPs in the chamber … Lavery kept his jeering off-mic, interrupting Anderson's speech by calling him "a scab". Anderson returned the favour by reminding Lavery he could help miners get a "fair deal" by "handing back the £165,000 he stole from them"…
This relates to a news story from 2017. On October 20 that year, the BBC reported (bold emphasis in the original):
MP Ian Lavery received £165,000 from the 10-member trade union he ran.
We have learned this from the trade union regulator which has now released a report into Mr Lavery's actions as general secretary of the NUM Northumberland Area.
He will now face questions on his record over a number of disputed payments by the union he ran.
Mr Lavery, who is the chairman of the Labour Party, denies any wrongdoing.
Ian Lavery is a coming power in the land, Jeremy Corbyn's general election joint co-ordinator and chairman of the Labour Party. If the Conservatives fall, he's most likely destined for high office. But, perhaps, for one thing: his refusal to answer a simple question asked by BBC Newsnight last year: "Did you pay off the mortgage?" BBC Newsnight asked him nine times without getting a reply.
The answer, it turns out, is no. He didn't pay off his mortgage. The union of which he was general secretary for 18 years, the NUM Northumberland Area, paid it off and paid him much more besides.
Last year, both Jeremy Corbyn and the parliamentary watchdog cleared Mr Lavery. He denies any wrongdoing.
The reason we know more about Mr Lavery's peculiar mortgage arrangements is because the trade union regulator, the Certification Officer, Gerard Walker, examined the books after investigations by BBC Newsnight and the Sunday Times. Mr Lavery ran the NUM Northumberland Area for 18 years until he stepped down in 2010 to become the MP for Wansbeck.
The regulator's findings are available online …
I'll leave it to readers to get the rest of the story, which involved a lot of money over various periods in time.
Ian Lavery is still a big deal in Parliament.
This is what Lee Anderson said in the Integrated Rail Plan (IRP) debate:
Let us remember that until a few years ago, the red wall seats like Ashfield had several things in common. They had above-average deprivation, failing town centres, lower life expectancy, poor transport links and lower aspirations; but the main thing that places like Ashfield, Mansfield and Bolsover had in common was Labour MPs and Labour-run councils. What a shocking track record that is. [Interruption.] Rather than chuntering, Opposition Members should be ashamed of the legacy that they have left us new Conservative Members in places like Ashfield. [Interruption.] The hon. Member for Wansbeck (Ian Lavery) might want to concentrate on giving back the £165,000 that he stole from the miners on his own patch. He is an absolute disgrace.
What does this world-class plan mean for the people of Nottinghamshire? It means a high-speed line from the west midlands to the east midlands, providing direct high-speed rail services to Nottingham, Derby, Chesterfield, and Sheffield. Journey times from London to Nottingham will be cut by a third to just 57 minutes. Journey times from Sheffield to London will be cut by a quarter, to just 1 hour 27 minutes. Journey times from Nottingham to Birmingham will be cut by two thirds, to just 26 minutes. Even Labour in the north is backing the plan. According to the leader of Rotherham council, "It is a victory for common sense".
It is a pity that that lot have no common sense.
This is all good news. The Mayor of Doncaster welcomes the plan, and even the next Labour leader, the Mayor of Manchester, welcomes it. It would appear that the members of the parliamentary Labour party are out of touch with their friends in the midlands and the north, who back the IRP. It is a good job that Conservative MPs are sitting here today speaking out for the Labour voters of yesterday.
As the furore about the Downing Street parties raged, and despite Boris's apology to MPs in the chamber in mid-January, then-Conservative MP Christian Wakeford, who represents Bury, crossed the aisle just before Prime Minister's Questions on Wednesday, January 19, 2022 to sit with Labour MPs.
Anderson was disgusted. His former boss, Gloria De Piero, interviewed him for GB News:
I have much more to write about Lee Anderson, one of the most refreshing Conservative MPs we've had in ages.
To be continued …
To follow this series, it is helpful to read parts 1 and 2.
We left off on Sunday, May 8, 2022. That day, Labour leader Sir Keir Starmer had cancelled an appearance at an Institute for Government event on Monday in advance of the Queen's Speech on Tuesday.
Labour's campaign beer and curry event took place on April 30, 2021. The Sun made it public soon afterwards, but it did not get traction from other papers, namely The Telegraph and the Mail, until January 2022. Durham Constabulary only decided to really investigate it on Friday, May 6, 2022. Starmer took legal advice and cancelled his public appearance on Monday, May 9.
Journalists and pundits noted the length of time between the event, its wider coverage, the internal memo about the event leaked to the Mail on Sunday and Starmer's reaction to the press coverage it received. No one forgot Starmer's spending from December 2021 to May 2022 calling for Boris Johnson's resignation over Downing Street events:
With the shoe being on the other foot, Labour supporters wanted Starmer's event, held in Labour MP Mary Foy's Durham office, to disappear from the public consciousness. Didn't we know there was a war on in Ukraine? Didn't anyone care about the cost of living crisis? Suddenly, breaking coronavirus restriction rules was something no one should care about unless it had to do with Boris and Downing Street.
Mail on Sunday journalist Dan Hodges noted the hypocrisy:
A YouGov poll published on Monday showed that the public thought Starmer should stand down if he gets a fine:
Guido Fawkes has YouGov's breakdown of the public's opinion on both Starmer and Boris. Not surprisingly, more people think that Boris should resign. That said, Conservative voters are more forgiving of Starmer than are Labour voters. That's because most Conservatives believe in repentance.
Guido says a majority of the public think that Starmer broke the rules:
The general public is firmly of the view that Starmer should resign, at 46% agreeing versus 32% opposing. They also comfortably believe Starmer either did definitely or probably break the rules (54%) to probably didn't or definitely didn't (21%).
Guido conducted his own poll on Monday, May 9. Just under 50 per cent thought that the Labour leader — and Leader of the Opposition (LOTO) — should resign using the same standards that he applied to Boris:
Earlier on Monday, Starmer decided to issue a short statement to the media at 4 p.m. that day. By the time Guido closed his poll, there was a half hour left before that small, select event took place.
Guido's post on the poll says (emphases in the original):
With Sir Keir expected to make a statement on Beergate at 4pm today, Guido asked co-conspirators how they'd advise Starmer if they were by his side in the LOTO office over the weekend. Resign right away? Wait for the police investigation? Tough it out…?
Thousands voted, and it turns out readers are divided. Half (49.6%) think Starmer should resign at the podium today – given he called for Boris's resignation the moment the police launched their inquiry – 28.9% think he should resign only if fined, with a further 21.5% saying he should tough it out regardless of the police outcome. Guido's own view is that the latter choice is politically impossible given his approach to Partygate. Demanding Boris and Rishi resign over a birthday cake set the bar incredibly high for his own behaviour – a bar he hasn't met. If he's not going to resign today, then his only real option is to promise he'll go if Durham Police whack him with a fine…
Starmer invited only three journalists to hear his statement.
He said he would resign if fined.
Guido analysed that statement and said there was more to it than one might think:
Seeing as Charles — now Lord — Falconer is advising Starmer, Blairite tactics could come into play:
Sir Keir has just confirmed he will resign in the event of being given a fine, an unprecedented announcement from a Leader of Her Majesty's Loyal Opposition … Guido can see another obvious tactic at play from the pound shop Blair wannabee…
In 2007, when under investigation for the Cash For Honours scandal, Tony Blair's team warned the Metropolitan Police that the PM would have to resign if interviewed under caution, forcing them to back off under such immense political pressure:
Sources close to the inquiry said that there were difficult discussions before a political intermediary made senior detectives aware of the serious implications of treating the Prime Minister as a suspect.
"Make no mistake, Scotland Yard was informed that Mr Blair would resign as Prime Minister if he was interviewed under caution," said a source. "They were placed in a very difficult position indeed."
On Saturday, when Guido exclusively revealed Lord Falconer has been tasked with putting together out Sir Keir's legal defence, he didn't expect Blair's Justice Secretary to copy the tactic used by his old party boss so like-for-like. Unfortunately for Starmer one of his team accidentally explained the quiet bit out loud to ITV's Daniel Hewitt, briefing "it puts some pressure on Durham Police who are being leant on in one direction". Former DPP [Director of Public Prosecutions] Sir Keir knows a thing or two about letting police forces fudge an investigation and letting the culprit get away…
Hmm:
It will be interesting to see how a campaign team can justify alcohol at a notional working event, especially as a few overdid it:
Guido was referring to a Politico article by Alex Wickham, who wrote that he received no denials of the following account containing mentions of drunkenness:
On Tuesday, May 10 — Day 13 of Beergate — the Mail led with Starmer's alleged piling of pressure on Durham police:
That day, fallout followed Starmer's cosy Monday afternoon session with only three journalists.
The Sun's political editor Harry Cole was left out in the cold. 'Lobby' refers to the media:
Guido said this was but another episode in a long-running period in which Labour have not been transparent with the media:
Guido has been tracking this issue for some time:
Guido's campaign to get Labour to publish their shadow cabinet meetings with media proprietors and editors, as pledged following Leveson, seems to be going nowhere, despite repeated promises from Labour HQ to pull their finger out. Yesterday Labour's relationship with press transparency got colder, when Sir Keir invited just three tame broadcasters into the room, blocking any hacks who may have asked difficult questions from attending. GB News' Tom Harwood was told this was due to "limited space". Guido is old enough to remember when the Lobby was collectively outraged when only selected broadcasters were invited by Lee Cain [Boris's former Downing Street Director of Communications] for a briefing… 
Now Guido's spotted another press frontier on which Labour's dropping the ball: publishing press releases. Labour's website hasn't published a press release in over 40 days, the most protracted period of policy publishing paralysis since Starmer took over …
Perhaps not a good look when even the Labour-supporting press is starting to suggest Sir Keir needs some policies to win, not just claims of personal sainthood…
That day, YouGov published a new poll taken on May 5 and 6 that shows the Conservatives were one point below Labour. Other polls still show Labour in the lead, but here is YouGov's take:
Guido wrote:
Margin of error territory as the public no longer perceives Sir Keir as "Mr Rules". One poll so far so will be intrigued to see if this is a trend…
Prince Charles delivered the Queen's Speech that morning for the State Opening of Parliament.
In the afternoon, both the Commons and the Lords began separate debates on the 38 proposed bills in the Queen's Speech.
In the Commons, at least, the week-long debate, called the Humble Address, begins jovially, and it is an honour to be the MP selected to open it.
The lucky MP was Graham Stuart (Conservative), who represents Beverley and Holderness.
He cracked a joke about Keir Starmer as he reviewed Labour's dominance in the North of England prior to the Conservatives' breaking through the Red Wall in 2019 (emphases in purple mine):
Robert [Sir Robert Goodwill], of course, won selection in Scarborough. He then went on to overturn Lawrie Quinn's 3,500 majority, and was, I think, along with my hon. Friend the Member for Shipley (Philip Davies), the only Conservative candidate in the whole of the north of England to take a seat from the Labour party at that election. The Leader of the Opposition must wish it was so today. Instead the only thing opening up for him in the north is a police investigation. [Laughter.]
Guido has the video. Look at Starmer's painfully forced smile:
Stuart had another go when discussing the corruption in his constituency in the 18th and 19th centuries:
Obviously the law did change. Free beer and cash inducements were the electoral controversies then, rather than, say, beer and curry today. Never in the history of human conflict has so much karma come from a korma.
Some time later, it was Boris's turn to speak, introducing the important bills. Labour MPs intervened until he put a stop to them.
Of the energy bill, he said:
The energy Bill will create hundreds of thousands of new green jobs, taking forward this Government's energy security strategy—it is about time this country had one—with £22 billion—[Interruption.] Labour did not want a single nuclear power station. Come on, be honest. Look at them, the great quivering jellies of indecision that they are. Our £22 billion UK Infrastructure Bank is supporting the transition to net zero and vast new green industries, in which our United Kingdom will again lead the world.
Boris quickly moved on to the economy and the Channel crossings of illegal migrants, during which he added a quip:
We are using our new freedoms to control our borders, with a new plan for immigration so that we can fix our broken asylum system, tackle the illegal immigration that undermines the legal immigration that we support and crack down on the vile people smugglers. I know that the Leader of the Opposition—perhaps I should, in deference to his phrase, refer to him as the Leader of the Opposition of the moment—likes to claim he opposes these plans …

Guido has the video, which is much more entertaining than reading the transcript. Boris was at his best:
That evening, The Guardian reported that Labour MPs were already talking about a change in leadership. Speaking personally, so far, Wes Streeting is the strongest candidate they have:
The majority of shadow ministers said they were grimly resigned to Starmer's pledge – but said there were likely to be internal consequences. "I think once you start talking up the prospect of your own resignation you are on dangerous ground," one said.
Another veteran MP, a Starmer loyalist, said they suspected ulterior motives from some shadow cabinet members. "If you fancy Keir's job, this is win-win," they said.
Rule changes pushed through at last year's Labour conference mean a fifth of MPs must nominate any candidate for the party leadership in order for them to be put to a members' postal vote – a higher threshold than under Jeremy Corbyn's leadership and a move that was seen by those on the left as intending to disadvantage their candidates.
One MP said a snap leadership contest would put ascendant shadow cabinet ministers such as Wes Streeting, the shadow health secretary, in an advantageous position. "[Starmer's] disappearance now would obviously benefit the Blairite right – [the mayor of Greater Manchester, Andy] Burnham couldn't stand, Sadiq Khan [the London mayor] couldn't stand, Angela would be out of the picture for the same reason as Keir because if he goes on this she has said she will go too."
If both Starmer and Rayner are forced to resign, there is no obvious interim leader. The most senior members of Starmer's shadow cabinet – Rachel Reeves, the shadow chancellor; Yvette Cooper, the shadow home secretary; David Lammy, the shadow foreign secretary; Streeting; and Lisa Nandy, the shadow levelling up secretary – are all potential candidates in a contest. The party's national executive committee would have to vote to designate an alternative member of the shadow cabinet.
A source close to Starmer said he was relaxed about the ambitions of his shadow cabinet. "I don't think anyone is actively trying to undermine him. It says a lot about our party that there are so many potential candidates – look at the contrast again with the Tories. If people are ambitious, let them be."
An ally of Streeting said: "Wes was on the media batting for Keir three times over the weekend and into Monday. He's one of Keir's most loyal and vocal supporters. After a great set of a local election results there is everything to play for at the next general election thanks to Keir's leadership. This is no time for introspection."
Senior figures in the Labour leader's team are understood to have felt reluctant to advise Starmer he should raise the prospect of his own resignation.
On Wednesday, May 11, The Sun criticised Keir Starmer's response to the Queen's Speech. When responding to Boris on Tuesday, Starmer had no Labour policies to present. He merely criticised the Government at length and ended with this:
It does not have to be this way; it will not always be this way. A Labour Government would tackle the cost of living crisis head on, get Britain growing again after 12 years of failure, and improve public services so that they deliver for the people paying for them. A Labour Government would rise to the moment where this Government have badly failed.
The Sun's editorial, 'Holey agenda', said (bold in the original):
IS Keir Starmer chasing the wrong job?
He has no ideas anyone can detect, as his vacuous response to the Queen's Speech proves. He clearly thinks it's enough to be 'decent' and 'honourable'.
Tribal Labour voters may lap up his preening sanctimony. Millions of others prefer leaders with vision and drive.
You're auditioning for PM, Mr Starmer. Not Archbishop of Canterbury.
That day, digging around, Guido raised the matter of an early pandemic violation in Durham: that of Boris's then-adviser Dominic Cummings at Barnard Castle in the Spring of 2020.
Durham Constabulary said at the time that there was nothing to investigate. They also stated that they did not issue retrospective fines.
As punishment, Boris made Cummings hold a lengthy televised press conference to explain himself. It lasted well over an hour and was most peculiar. At the end, after having asked many questions, one by one, reporters and broadcasters walked up individually to Cummings's table to tell him what they thought of him.
Cummings's press conference was his public penance.
Then again, parts of it were theatre for the public, most of whom didn't know he is friends with many of those journalists, as is his wife. He addressed only one by his full name: Gary Gibbon from Channel 4 News.
Two years on with Starmer — and other Labour MPs in the frame — the Party's ire was rising in Durham.
Mary Foy MP, who hosted the Durham gathering in 2021, had written a lengthy letter to Boris on May 28, 2020 about Cummings, who is pictured below in the background. The letter beneath it is recent. It is from the leader of Durham's Labour Party to Red Wall Conservative MP Richard Holden, who had written to Durham Constabulary a few weeks ago to enquire as to whether they would investigate the 2021 Starmer event:
Mary Foy's letter would have been better addressed to Durham Constabulary. It was up to them, not Boris, to take action against Cummings.
However, Foy took issue with Boris's refusal to sack Cummings. In the event, he resigned a few months later for other reasons and was gone by the end of 2020.
Guido wrote about Foy's letter, which can be viewed in its entirety on his post:
Now that Sir Keir is feeling the heat from his boozy lockdown curry night, Labour MPs are bending over backwards to explain why their leader's Covid rule-breaking is somehow completely different to Boris's, and why it's right that Starmer remains in post provided he isn't fined. One particular MP who might have some trouble with this is none other than the Honourable Member for Durham, Mary Foy…
Foy is probably best known for hosting the Beergate bhuna session in her constituency office, laughing and drinking merrily with her colleagues while the country was still in stage two of lockdown. She then went on to scream at Richard Holden for his asking Durham Police to reinvestigate the event. It turns out, however, that when Durham Police announced they wouldn't fine Dominic Cummings over the infamous Barnard Castle trip, Foy had a few ideas about what should happen next. None of which involved Cummings keeping his job…
Here's what Foy wrote in a public letter to Boris after the Cummings story:
The vast majority of constituents who have contacted me have expressed the view that Mr Cummings' actions have been insensitive and unacceptable at best, and many feel that they warrant further investigation by the police.
While I understand today's decision by Durham Police to take no further action, many of the constituents who have written to me would like Mr Cummings to resign or be sacked. Clearly, whether you stick by him or not is a matter for you, but the perception from my constituents, and I would hazard a guess that this is a common view across the North East, is that you are currently putting the interests of your chief adviser above that of the people of the region and the country as a whole.
Even though Cummings received no fixed penalty, and the police decided they'd take no further action, Foy still took the time to write a two-page letter informing the Prime Minister how upset her constituents are, and politely suggested Cummings lose his job. Presumably her office is inundated with similar letters now, all demanding Sir Keir does the honourable thing…
Labourites criticised Times Radio's Lucy Fisher for mentioning Cummings and Starmer in the same tweet:
However, it would be wrong to think that Durham Constabulary never issued any fines — fixed penalty notices — for coronavirus violations.
On Thursday, May 12, The Times informed us of a fine Durham Constabulary issued to a bereaved woman in November 2020:
Some of Starmer's supporters have assumed that detectives would not issue a fixed-penalty notice because they decided not to take retrospective action against Dominic Cummings, the prime minister's former adviser.
However, the force's approach appeared to harden later in the pandemic and it issued a £10,000 fine to a woman who organised a balloon release in memory of her father-in-law, who died of Covid.
Vicky Hutchinson held the gathering on November 11, 2020, in a field opposite a church in Horden, Co Durham, where Ian Stephenson's funeral was due to take place a few days later. Her £10,000 fine was reduced to £500, based on her ability to pay, when she attended Peterlee magistrates' court on April 23 last year, a week before the Starmer incident.
A court report by The Northern Echo revealed that Hutchinson, in her mid-thirties, had urged friends and family to wear masks and stay socially distanced at the balloon release. It said that police did not attend the gathering of about 30 people and there was no disorder.
However, it appears that there was a retrospective investigation after a complaint. Durham police analysed a livestream video of the event before issuing the fine, the report said.
The approach to Hutchinson's case raises fresh questions about how the Durham force might handle the case of Starmer, who has denied wrongdoing …
Durham police did not respond to requests for comment.
Also on Thursday, Guido returned to Dominic Cummings, specifically what Keir Starmer said about the incident in 2020:
Guido has the quote:
Here's what he said of Cummings back in 2020 – before the police had even launched their investigation:
This was a huge test of the Prime Minister, and he's just failed that test. He hasn't sacked Dominic Cummings, he hasn't called for an investigation, and he's treating the British public with contempt… that's not a reasonable interpretation of the rules, and the Prime Minister knows it. One rule for the Prime Minister's advisers, another rule for everyone else… If I were Prime Minister, I'd have sacked Cummings.
One rule for the Prime Minister's advisers, another for Sir Keir…
And finally, London's Metropolitan Police confirmed that they have now issued more than 100 fines for Downing Street events. Neither Boris nor his wife Carrie received one in this tranche:
Guido wrote:
A month on from their last update on Partygate, paused thanks to the local elections, the Met's confirmed "more than 100″ fixed penalty notices have now been handed out. Downing Street say Boris has not received another fine…
Later that afternoon, GB News's Colin Brazier and his guests discussed the Met's issuing of fines to people who were at Downing Street gatherings.
It's a bit rich for Brazier's contributors to say that the Met want to channel their resources elsewhere. There are few police forces these days, including the Met, who want to investigate actual crime. This massive dispensing of fines also looks rather selective:
There is also the issue of double standards which irritate many members of the public:
Personally, I think the way the pandemic was handled was dystopian. I don't know what to think about these fines. Part of me wants to see all of them refunded and any related criminal record for violations erased.
On the other hand, it seems only right that, if Labour have done wrong, they, too, should be fined.
So far, only the Conservatives have been. The Met have made them look positively criminal. Well, that's par for the course in Labour-controlled London.
I'll update this in due course.
End of series
Yesterday's post reviewed events surrounding Labour leader Sir Keir Starmer and other MPs connected with 2021's campaign meeting, forbidden under that year's coronavirus rules:
Keir Starmer defended Labour's indoor beer and korma event by saying that no other venue was serving food.
Well, they were. However, the problem was that service was outdoors only at that time.
The hotel where Starmer was staying, the Radisson Blu, provided room service, but that would have precluded any other persons gathering in an individual's room.
On the evening of Election Day, Thursday 5, 2022, GB News's Dan Wootton interviewed Red Wall MP Richard Holden, who had written to Durham Constabulary about properly investigating the event:
Holden said that the students who took the videos and photos offered to give Durham police a statement, but their kind offer was refused.
Holden suggested that evidence was being suppressed. He also questioned the fact that people involved had forgotten their diary details for that day.
As for dining, Holden said that, in order to comply with the rules, he had been part of a group eating a fish and chips supper outdoors in Hartlepool in windy conditions.
On Friday, May 6, Durham Constabulary finally issued a statement saying they would investigate the event held on April 30, 2021:
Labour MP Emily Thornberry dismissed the news and said all would be 'fine':
The BBC reported that Durham Constabulary waited until after the election to make an announcement (emphases in purple mine):
The force initially decided that no offence had occurred on 30 April last year, but said it had since received "significant new information".
It added that it had delayed announcing the investigation until after Thursday's local elections.
Sir Keir said he was confident he hadn't broken any Covid rules.
He has faced criticism since he was filmed drinking a bottle of beer while in the constituency office of City of Durham MP Mary Foy.
Speaking to reporters on Friday, he said he had "stopped for something to eat" during meetings, and there was "no party".
"The police obviously have go their job to do – we should let them get on with it," he added.
Starmer took no questions on the matter:
Guido Fawkes resurrected a Starmer tweet from January 31:
Priceless:
The Telegraph's Madeline Grant made an eloquent observation …
… which received these replies:
Later that day, Guido posted about the concerns that Starmer's advisers had with the upcoming investigation:
Guido's post says that a journalist, Ava Evans, heard that Labour MPs would not be doing media rounds for a few days (emphases in the original):
Ava also reports that one Labour MP told her they would not be participating in any media interviews for the next few days, for fear of being asked to defend Sir Keir. His actions were "indefensible" she reports them as saying. Which explains why we are only seeing Emily Thornberry abasing herself in studios…
On Saturday morning, news emerged that Starmer was taking legal advice from Lord Falconer, Tony Blair's close friend who served as Lord Chancellor and Secretary of State for Justice from 2003 to 2007:
Guido reported on the development, an exclusive:
An extremely worried Keir Starmer has tasked Charlie Falconer with putting together a Beergate legal defence team. Labour lawyers have told Starmer that there is a 60% chance that he will escape a fine, however the fining of Sunak over a cake has spooked Starmer that he too could be fined over a beer and curry. The irony of the legal and political situation is exquisitely painful for the barrister politician.
Guido later added an update:
UPDATE: In another irony, Falconer has publicly opined on the situation of politicians breaching laws they voted for in the Guardian:
… true accountability means facing justice in a criminal court. But not in this case – a fixed penalty notice does not bring any sense of justice done to those who paid what was very often a high price for obeying the rules.
Which appears to be a demand that Boris be tried in court for his birthday cake….
One of Guido's readers wondered if Falconer's involvement presented a conflict of interest, given his strong opinions on the matter:
That isn't the only conflict of interest, either. There's also Durham's Police and Crime Commissioner, Joy Allen. Starmer campaigned for her and she won her election to that post:
The Mail on Sunday was able to obtain a leaked memo, Starmer's itinerary for April 30, 2021:
This was the paper's front page: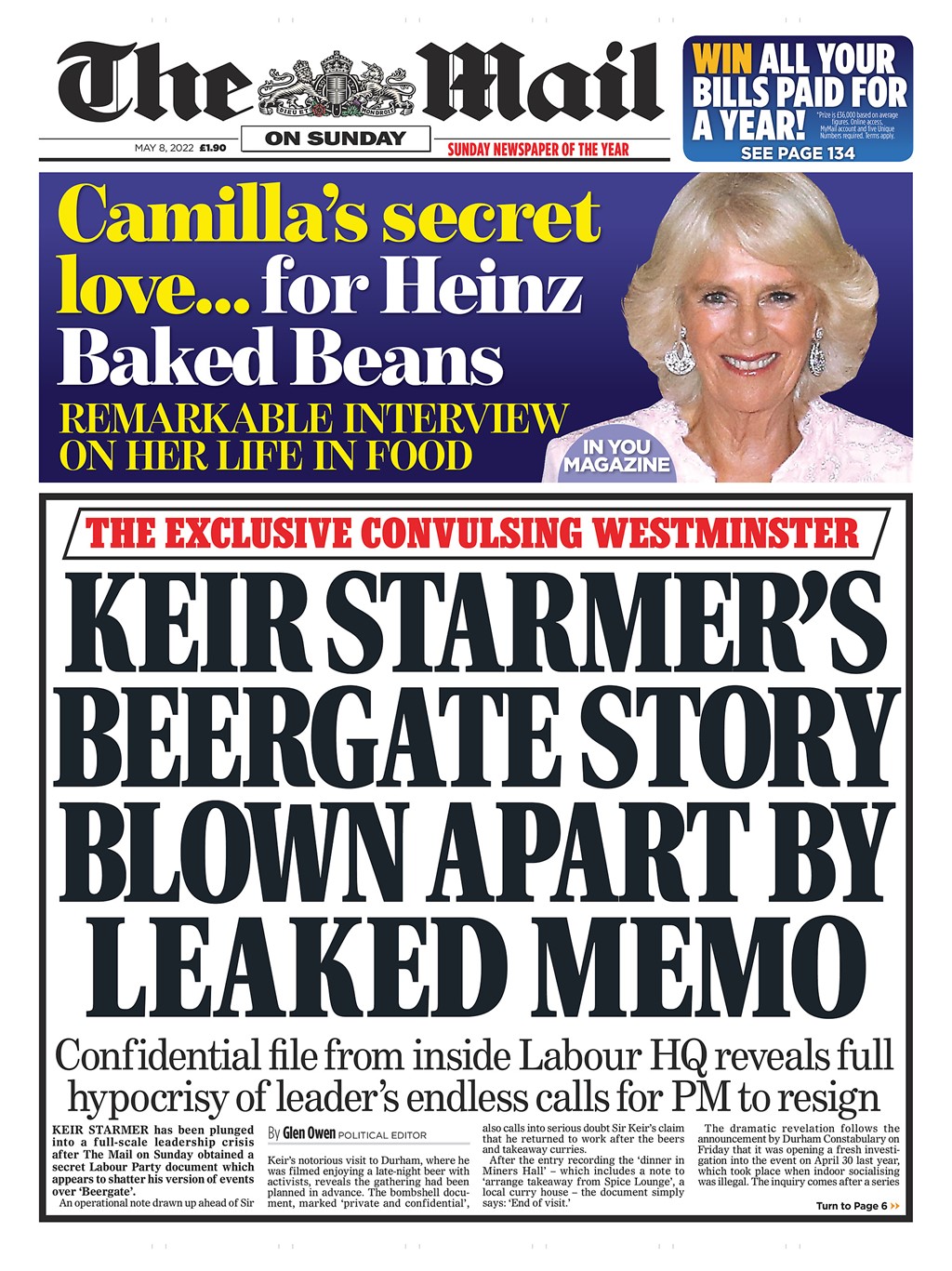 Glen Owen's exclusive for the MoS says:
The bombshell document, marked 'private and confidential', also calls into serious doubt Sir Keir's claim that he returned to work after the beers and takeaway curries.
After the entry recording the 'dinner in Miners Hall' – which includes a note to 'arrange takeaway from Spice Lounge', a local curry house – the document simply says: 'End of visit.'
Spice Lounge did not supply food for the event. Another curry house, The Capital, did.
The paper received the memo from a whistleblower. The itinerary reveals that Angela Rayner MP was scheduled to be present:
The memo – which was passed to this newspaper by a whistleblower – also further undermines Labour's claims that it made 'an honest mistake' when it denied that Deputy Leader Angela Rayner was at the event: it lists 'AR' alongside 'KS' as the two senior politicians anchoring the day's proceedings.
Labour had denied that this was a planned event, but the memo's existence proves that wrong:
… the note – a forward-planning logistics document which is referred to as an 'op note' – makes clear the beer and curries had been planned in advance.
The note says that after a day's campaigning in Hartlepool, Sir Keir's team were due to arrive at the Radisson Blu hotel in Durham at 6.31pm, leaving by 7pm to walk to the Miners Hall.
After recording clips for the media, the note says a 1hr 20mins slot was set aside for 'dinner in Miners Hall with Mary Foy', the local Durham MP. A side note reads: 'YS to arrange takeaway from Spice Lounge'. YS is the acronym for a member of Sir Keir's private office.
The Spice Lounge curry house was closed at the time, with callers being referred to the nearby Capital Indian restaurant. Last week, the Daily Mail spoke to one of the restaurant's delivery drivers, who said he had dropped off a 'big' order of food for at least 15 people, including four bags of curries, rice and naan bread …
The Mail on Sunday has established that the Radisson Blu was serving food when Sir Keir and his party checked in at 6.31pm and continued to do so until 9pm …
The document also refers to four members of the 'MPL' – Met Police Liaison – who were included in the trip, suggesting they are likely to have information useful to the investigation.
Also included on the op note is the line 'Covid Alert Level: National Lockdown', and 'important note: please maintain social distancing of 2m and wear face coverings whilst indoors at all time'.
The leaked document makes clear that Ms Rayner was to play a central role in the day's events …
A Labour source said: 'During a fast-moving campaign, the op note doesn't always keep up with events so it would be wrong to assume that activities occurred at the times originally planned. For example, it's been documented that the takeaway was late'.
This was Starmer's previous denial that the gathering had been planned:
The Sunday Times also had an incriminating article. A source told the paper that some staffers were there only to party and that no work was done afterwards. Pictured below is Mary Foy MP:
It is expected that the investigation will take between four and six weeks:
Allegedly, pictures from the event circulated on Twitter. Those have since been deleted.
Interesting, to say the least:
The aforementioned Sunday Times article said that the Durham Constabulary have opened a major incident room. Angela Rayner's presence appears to have triggered the investigation:
It was the discovery that Rayner had been at the event, despite Labour's original claims, that prompted Durham police to open their investigation. A source close to the force said: "It raises the question about what else we might not have been told the entire truth about."
Officers have set up a major incident room, and up to six detectives will spend the next four to six weeks looking at the potential lockdown breach. They are expected to use questionnaires — similar to the ones used by Scotland Yard to investigate Johnson and the Downing Street scandals — to interrogate those present at the event.
The force said, however, that it did not issue fines retrospectively. When Dominic Cummings was found to have made a 260-mile trip to Barnard Castle in 2020, the force said to take action against him would "amount to treating Mr Cummings differently from other members of the public".
It is unclear whether Scotland Yard's decision to issue retrospective fines over the Downing Street gatherings could force a change of stance.
Mary Foy said:
"Me and my team were working during a very busy period, including facilitating the leader's visit," she said. "I do not believe either I or my office broke any rules, and I will of course fully engage with any police investigation."
Dominic Raab, the Justice Secretary and Deputy Prime Minister, said:
"It's the rank double standards that drive people crazy," Raab told Sky News. "He needs to fess up and answer all of the holes in the account that he gave for that beer-and-curry event in Durham.
"Keir Starmer looks like, I'm afraid, someone who is engaged in complete hypocrisy, complete double standards and I don't think he is going to get past that until he gives a proper account of what happened in Durham."
Here's the video of Raab talking to Sky News:
Jacob Rees-Mogg MP, in charge of Brexit efficiency, told Channel 4's Andrew Neil that one should be extremely careful with hoisted petards:
He does have a way with words.
Guido took a look at what Lord Falconer might say in Starmer's defence:
That said, in February, The Mirror reported that Prime Minister Boris Johnson also hired lawyers over 'Partygate':
The Prime Minister has hired hot shot lawyers to deal with the Met's questions on Partygate.
The Mail reported that Starmer had cancelled his appearance on Monday, May 9, at an Institute for Government event in advance of the Queen's Speech on Tuesday.
Guido tweeted:
Guido's post says:
The public event was scheduled to have included questions from the press and public. This morning, when door-stepped outside his North London home by journalists, a grim faced Starmer refused to say anything and was bundled into a waiting Range Rover. Keir clearly realises that "the police have already investigated this matter and found nothing" will no longer work as a line.
The Institute for Government is funded by the billionaire David Sainsbury, a former Labour minister under Tony Blair, who has backed centrist Labour politicians financially in the past. A statement on the website says only that the event is cancelled, with no explanation given.
The cancellation made the front page of Monday's Daily Mail:
It was the start of another tense week for the Labour leader.
Meanwhile, Boris focused on the Queen's Speech and historic agreements between the UK, Sweden and Finland in case of Russian aggression as a knock-on effect of the Ukraine conflict.
More to follow tomorrow.
It came as no surprise that the Conservatives fared poorly in the 2022 local elections on Thursday, May 5.
England
In England, the major headline was that the Liberal Democrats lived up to their slogan of 'Winning here' for the first time in quite a while.
They were the big beneficiaries of English votes where local councillors stood this year (many councils held elections in 2021):
Labour's big wins were in London, where they won three longstanding Conservative councils for the first time: Westminster, Wandsworth and Barnet.
It will be interesting to see how these London boroughs fare under Labour. In Lambeth, council tax for a Band D property is £1,502 per annum. Under the Conservatives, Wandsworth's was £800 per annum. Guido has a photo of a street in each of those council areas, where one can see a discernable difference in low-spend, high service council delivery.
Here's a Twitter exchange on the subject, focusing on Wandsworth:
The Croydon Council mention is interesting. It went from Labour to Conservative on Thursday, something I thought I'd never see.
Outside of London, Labour had little traction, especially in Red Wall areas, with the exception of the newly created Cumberland council.
Guido Fawkes has a good analysis, excerpted below (emphases in the original):
Whilst it was obviously terrible for the Tories that they lost nearly 500 seats, now all the votes are in and the dust has settled, did Labour advance as the Tories retreated? They actually did relatively poorly.
Labour's electoral performance outside their M25 enclave saw them gain just 22 councillors across England. That's it. While the Tories' results were obviously weak – although not at their worst expectations – any attempts to spin the numbers will have to contend with the fact that the LibDems, the Greens, and even independent candidates gained more net seats than Labour. Labour's wins in London will be small beer when it comes to a general election …
Winning a net gain of just 22 councillors, and gaining control of the same number of councils as the LibDems, is not a strong showing. William Hague managed to do better in 2001, when the Tories won 120 seats and 5 councils – a consolation prize for getting pummelled in the general election the same day. 
Even within the capital, however, there are warning signs for Labour. While they pop champagne over wins in Westminster, Barnet, and Wandsworth, their losses in Croydon and Harrow to the Tories, and Tower Hamlets to Lutfur Rahman [Independent] should raise a few eyebrows. Losing Tower Hamlets to a man who was temporarily banned from office over corruption isn't exactly promising…
For the Conservatives, the most damaging losses were in previously loyal areas now called the Blue Wall, e.g. the Home Counties just outside of London, the south coast and parts of the West Country.
Late on Friday, The Guardian reported (purple emphases mine):
Boris Johnson's leadership is facing fresh peril after senior Conservatives blamed him for losing swaths of the party's southern heartlands to the Liberal Democrats and flagship London boroughs to Labour.
In a punishing set of local elections for the Tories, the party lost about 400 council seats, ceding control of Westminster and Wandsworth in London to Labour for the first time since the 1970s, and plunging to its worst position in Scotland for a decade.
Conservative MPs and council leaders questioned Johnson's leadership, demanding action to tackle the cost of living crisis and rebuild trust in the wake of the Partygate scandal after a damaging series of losses across the "blue wall" in Somerset, Kent, Oxfordshire and Surrey.
However, the scale of the Tory backlash was tempered by a mixed picture for Labour, which showed progress, but not enough yet to suggest a landslide for Keir Starmer in a general election. A BBC projection for a general election based on Friday's results put Labour on 291 seats, the Conservatives on 253, the Lib Dems on 31 and others on 75.
Labour had a very strong result in London and took some southern councils such as Worthing, Crawley and Southampton …
The Lib Dems also had a clearly successful election night in England, adding at least 189 seats. They took control of the new unitary authority in Somerset, previously a Tory stronghold, edged out the Conservatives in Portsmouth, and pushed them out of control in West Oxfordshire. The Greens also performed well, winning 81 seats – more than doubling their number of councillors – as voters also turned to independents and residents' associations.
Going back to Tuesday, May 3, Conservative Party chairman Oliver Dowden MP alleged that Labour and the Lib Dems had a 'pact', whereby Labour did not put forward a candidate in every council election, deferring to the Lib Dems in order to win against the Conservatives. This is because England uses FPTP (First Past The Post) voting.
Pictured are the Lib Dems' Ed Davey on the left and Labour's Keir Starmer on the right:
Guido has the story along with a video of a Lib Dem woman who confirms such a plan:
There are clearly tactical Lib-Lab stand downs going on around the country. Tory chairman Oliver Dowden claims that in the South West, Labour are standing candidates in 61% of seats compared to 97% in 2018. In the South East, Labour are standing candidates in 88% of seats compared to 99% in 2018.  In the North East, the LibDems are standing in just 56% of seats, down from 78% four years ago. Labour is standing in 99% of seats in the area. "These shifts", claims Dowden, "are far too substantial to be a mere coincidence". In response Starmer says "There is no pact, everybody knows there is no pact" …

This LibDem organiser in Cumbria gives the game away about what is happening at local level. Labour-supporting Neal Lawson and Clive Lewis have been arguing for years that an unfair 'First Past the Post' system splits the 'progressive vote' and prevents the 'progressive majority' from winning.
It stands to reason that the total left-of-centre vote will be split, given on average two candidates from Labour, the LibDems or the Greens are running against just one right-of-centre candidate in England.  According to new research from Electoral Reform Society front-group "Politics for the Many", in 43.8% of wards there is one Tory standing against candidates from all three of the progressive 'left' parties. In 35.5% of wards where there is one Tory candidate, there are two 'left' candidates. According to the research, in almost 3,000 council seats up for grabs, there are only 15 wards in the whole of England where there are more right-of-centre parties standing than left parties.
Labour and LibDem strategists know this; they are looking on these locals as a trust-building exercise and a dry run for the general election…
The Telegraph confirmed this pact on Friday, May 6:
If Sir Keir is to get the keys to Number 10, it may be thanks to a deal struck after election day with another party – which is why the Liberal Democrat performance on Thursday is so interesting.
Seven years ago, the party was all but wiped out as voters punished Nick Clegg for his coalition with David Cameron. The political toxicity has clung on in the years since then.
But there were signs of real green shoots for the Lib Dems on Thursday. Their victory in Hull, taking the council from Labour, was the stand-out early result. 
The relentless targeting of Blue Wall Tory seats – often in rural southern constituencies they believe have been "taken for granted" by the Conservatives – also achieved notable wins.
By now, Labour realisea that it is relatively easy for a Conservative area to go for the Lib Dems at some point, much more than it would be to vote in Labour candidates.
A good illustration of this is in St Albans, Hertfordshire, which, over the past several years, has gone from True Blue to Yellow-Orange, including their MP:
A lot of Lib Dem councils stay that way. This is largely because a) the Lib Dems know how to get out the vote and b) residents get to know the Lib Dem candidates better for that reason:
Conservatives would do well to study St Albans and find out where they've gone wrong.
On that note, one Conservative MP who does realise the value of getting out the vote is Bob Blackman, who has represented Harrow East since 2010.
On Sunday, May 8, he told GB News's The Political Correction that Harrow became a Conservative council on Thursday because he and other Conservatives went out once a week to canvass residents on council services. Their dogged determination worked.
Blackman says that, as far as he is concerned, the next election campaign has already begun, hence more canvassing. Other Conservative MPs should follow his example.
Devolved nations
Each of the devolved nations has a form of proportional representation rather than FPTP. This is why they are very much left-of-centre.
This is how the Single Transferable Vote works:
Wales
Welsh Labour were highly successful. In Wales, First Minister Mark Drakeford runs his nation's Labour Party, so there is no Keir Starmer influence.
As such, Welsh Labour wiped out the last council under Conservative control: Monmouthshire.
Scotland
Scottish Labour also performed well, placing the Conservatives in third place for the first time in ten years.
Nicola Sturgeon's Scottish National Party (SNP) remains the top party, however.
Late on Friday, the Daily Mail reported:
Nicola Sturgeon has said she is 'thrilled' with the results coming out of the local elections in Scotland after her party increased its share of councillors.
The leader of the SNP told Sky News that the results sent a 'clear message' to Boris Johnson and the Tories.
She said: 'We are the largest party in more councils today than we were yesterday – we've won the election and we've won the election by a country mile.
'I think it's the eighth consecutive election win under my leadership of the SNP or after 15 years in government so it is a stupendous result for the SNP and sends the clearest possible message to Boris Johnson and the Tories.'
She said the SNP was still the largest party in Glasgow, despite some Labour gains.
However Sir Keir's party came very close to taking the city council, adding five councillors for a total of 36.
The SNP, meanwhile, shed two seats for a total of 37.
Sturgeon said Labour benefited a lot from Tory's Partygate scandal, adding: 'Labour threw the kitchen sink at Glasgow… and yet they still can't defeat the SNP, so I think there's still some reflection perhaps needed on Labour's behalf.'
All councils up for election in Scotland have now declared their votes.
The SNP gained the most new councillors with 23, followed by the Lib Dems with 20 and Labour 19.
The Green Party gained 15 while the Conservatives lost a total of 61.
Northern Ireland
For the first time in its 101-year history, the Northern Ireland Assembly now has a Sinn Féin majority, even though 58% of the votes in that nation went to Unionist parties. Here's the UK's Deputy Prime Minister Dominic Raab (video here):
As with Wales and Scotland, Northern Ireland's Assembly is free to make its own laws in a number of areas. Oddly enough, that did not extend to abortion laws, which Westminster (the UK Government) imposed on the province by fiat in 2021:
But I digress.
Under the aforementioned Single Transferable Vote system, Sinn Féin won more first preference votes than did the Unionist parties.
This result propels Deputy First Minister Michelle O'Neill to First Minister. She has been Vice President of Sinn Féin for a few years now.
The Democratic Unionist Party (DUP), which had control previously, now refuses to form a coalition government — power-sharing executive — unless and until Boris Johnson's government rectifies the damaging anomalies in the post-Brexit Northern Ireland Protocol.
Until a power-sharing executive is formed, Michelle O'Neill cannot take up her duties as First Minister.
Most Britons associate Sinn Féin not only with past terrorism but also with Irish re-unification, which will surely be on the cards within the next five years.
On Thursday, the party played a blinder, as the Daily Mail reported last Friday:
Neither Sir Jeffrey Donaldson's party or the Ulster Unionists have yet agreed to join a power-sharing executive in which Sinn Fein would be able to nominate the First Minister. 
They have argued that a win for Sinn Fein would lead to a referendum on Irish reunification. But Sinn Fein has run its campaign on the cost-of-living crisis.
Conclusion
The Conservatives are only now reacting after the horse bolted months ago.
They should have been out campaigning over the past few weeks, MPs included.
Only now are they coming up with possible solutions which should have been discussed on the hustings.
On Friday, May 6, the Daily Mail reported that Boris Johnson is considering a summer reshuffle to tackle the cost of living crisis. Hmm.
Over the weekend, a number of Conservative MPs began asking the Government for tax cuts.
Chancellor Rishi Sunak promises to look 'at all the options'.
Good luck with that. There isn't much time before the 2024 elections.
Considering that Parliament is currently prorogued and that this past weekend was the May bank holiday, one would think that nothing political happened.
One would be very wrong indeed.
In fact, a Conservative MP stood down and Labour's indoor 2021 election campaign meeting in Durham attracted more attention.
Labour's 2021 do in Durham
My April 29 post has the background to Labour's 2021 election campaign do in Durham.
April 30 was its one year anniversary:
I couldn't agree more.
The Mail on Sunday's Dan Hodges agrees on Labour's hypocrisy:
Many Labour supporters say that the Durham do did not break any rules, however, it probably did. Below are the rules for the 2021 election campaign:
Furthermore, it is possible that, despite the fines (fixed penalty notices), the Downing Street gatherings did not break the rules, as the address is part of the Crown Estates.
On April 27, the Conservative Post published an article on the lefty activist QC (Queen's Counsel) advising senior civil servant Sue Gray in her report on the gatherings. The article says that they were perfectly legal (emphases in the original):
One might ask is this QC holding an almighty grudge?
Is this why Sue Gray / the Met Police haven't looked at section 73 of the Public Health (Control of Disease) Act 1984? Do they even know about it?
Surely a bipartisan advisor would have pointed out this important law of the land?
The Act clearly states that pandemic regulations, at all times, never applied to Crown Land (which includes No.10). 
Granted, one rule for them and another for the rest of us seems a bit unfair but it also makes sense.
Steven Barrett, a leading barrister at Radcliffe Chambers who read law at Oxford and taught law at Cambridge explains:
In the eighties lawmakers decided that it would be better to allow the government to function during any future national pandemic without having to worry about being caught up in quarantine regulations. The thinking was that by making the government effectively exempt in law, the government could continue to function.
In addition to the 1984 Act, there were also specific regulations that applied at the time of the alleged "parties" the Health Protection (Coronavirus, Restrictions) (All Tiers) (England) Regulations 2020.
According to these rules, gatherings were allowed in all public buildings, or parts of them 'operated by a business, a charitable, benevolent or philanthropic institution or a public body.'
So whatever happened in Downing Street was legal. 
How has a QC / Civil Service Advisor not made this clear to Sue Gray? If he had surely no-one at Downing Street would have received a fine at all.  
One would also have thought the Civil Service would check who is advising them.
Can someone let Sue Gray and the Met Police know please before any more incorrect fines are issued out? It's important rules of the land are adhered to. 
But, but … and it's a BIG BUT:
The matter came up in the House of Lords on December 14, 2021, shortly after the controversy broke. Good grief, that is now six months ago.
Baroness Jones of Moulsecoomb (Jenny Jones, Green Party) asked:
whether Number 10 Downing Street is a Crown property; and, if so, whether regulations made under the Public Health (Control of Disease) Act 1984 apply there.
Lord True, replying for the Cabinet Office, said that the regulations would have applied to Downing Street, despite its being part of the Crown Estates (emphases mine below, except for Guido Fawkes posts):
No 10 Downing Street is a Crown property. Regulations under the Public Health (Control of Disease) Act 1984 which relate to the activities of people, apply regardless of whether those activities took place on Crown property or not.
Hmm.
Back to Labour's Durham do, which has been trending online as Beergate and Currygate:
Durham Constabulary said a long time ago that there was nothing to investigate. Durham is a Labour area, so no surprise there.
However, the clamour over the weekend thanks to Conservative MP Richard Holden's letter to them was such that perhaps the police have decided to have another look.
On Tuesday, May 3, in an interview with BBC Radio 4's Martha Kearney, Keir Starmer refused to say (audio here):
This leads pundits to assume that Durham Constabulary might have been in touch:
Another development over the weekend was confirmation that Labour's deputy leader, Angela Rayner, was also in attendance.
Guido Fawkes posted the following on Friday, April 29:
After months of questioning, it can finally be confirmed Angela Rayner was present at Starmer's lockdown beer party in Durham. Despite refusals to confirm, video evidence dug out yesterday morning reveals Angie's attendance, who shared a chair with Sir Keir for a "Get out the vote rally"  on Facebook an hour before the video of Starmer's unlawful socialising was filmed. Oh. Dear.
Rayner can be heard saying "And being here at the Miners Hall in Durham, I've got to start with, you know, the past we inherit, the future we build." She and Starmer sit in front of a window identical to that Starmer was filmed through an hour later swigging beer, contrary to Covid rules.
Earlier this week, Guido forced a denial from local Police & Crime Commissioner Joy Allen, who said she wasn't present at the 'essential campaign event' after social media rumours began circulating that the female head seen at the bottom of the Starmer beer frame was hers.
Labour claim that there was no other place to go for food and drink, however:
Also:
On Sunday evening, May 1, Mark Dolan of GB News rightly took aim at Labour's sanctimonious and hypocritical posturing:
However, things weren't going well for the Conservatives, either.
Neil Parish stands down as MP
Neil Parish stood down as MP for Tiverton and Honiton in Devon after admitting he was looking at indecent images on his phone while in the Palace of Westminster.
He claimed that he had been searching for tractors on the first occasion and accidentally arrived at an indecent website. On the second occasion, he confessed that he deliberately visited the same website again.
I was somewhere between surprised and shocked. He always seemed like such a level-headed individual.
This video clip is from March 14, 2019, around the time I began watching BBC Parliament regularly. Tension about Brexit had been ramping up since January that year:
In June 2020, he led a debate on the BBC's axeing of local and regional political coverage:
More importantly, he had headed the Environment, Food and Rural Affairs Select Committee since 2015. He came from a farming family and left school at the age of 16 to help run his family's farm.
Last week, rumours had been circulating about a Conservative MP looking at indecent images during parliamentary proceedings.
On Friday, April 29, Guido reported that the Conservatives removed the whip from Parish:
The hunt is over: Neil Parish, the Conservative MP for Tiverton and Honiton, has lost the whip this afternoon after being revealed as the Commons' mystery porn viewer. Following conversations with the Whips' office today, Parish has reported himself to the Standards Committee of the House of Commons for investigation. The Tories had previously referred the claims to the Independent Complaints and Grievance Scheme, so Parish is now under investigation by both bodies…
A spokesperson from the Chief Whip's office said:
Having spoken to the Chief Whip this afternoon, Neil Parish MP is reporting himself to the Parliamentary Commissioner for Standards. Mr Parish has been suspended from the Conservative Whip pending the outcome of that investigation.
Guido included an interview Parish had given to GB News that afternoon. It was clear Parish had no intentions of resigning at that time:
I think the whips' office will do a thorough investigation and we will wait and see that result… I think you've got some 650 Members of Parliament in what is a very intense area, you are going to get people that step over the line. I don't think there's necessarily a huge culture here, but I think it does have to be dealt with, and dealt with seriously. And that's what the whips will do in our whips' office.
There was a time when someone could be sacked on the spot for looking at indecent images at work. Granted, this was in the private sector.
I knew of one such individual in the mid-1990s. His dismissal was also shocking, as he was the last person I would have expected to engage in such activity and was a senior manager who was very good at what he did.
However, it seems that such behaviour is becoming normalised, according to The Telegraph. It extends to viewing such things on public transport. Ugh.
Early on Saturday, The Telegraph posted an exclusive interview with Parish:
Suspended from his party and facing public ridicule, Mr Parish is at the centre of a maelstrom. But now that the accusation is "out in the open," Mr Parish said on Friday night, "it's almost as if a weight is lifted off me" …

Over the course of the interview, conducted in Mr and Mrs Parish's sitting room in front of a warm hearth, the MP confirmed he had referred himself to the parliamentary standards committee, apologised to his constituents, and suggested that, even if cleared, he might step down.
It was late on Friday night when The Telegraph called. The couple's eight-year-old labrador, Kitty, was dozing in front of the fire. Mr Parish, after a long day, was wearing a dressing gown. The MP is a farmer by trade, and the couple's home is the family farmhouse. Their sitting room is bedecked with books and family photos. It is typical for MPs embroiled in scandal to flee their homes, but the Parishes, who have two adult children and two grandchildren, have stayed put …
Earlier in the day, Mr Parish, 65, said he had opened pornographic material "in error", but he declined to give further details. Asked what happened, Mr Parish said: "I think it's all going to have to go through the inquiry, and then I will give them all the evidence I have, and it'll be for them to make the decision. And then I will make my mind up as to what I do, whether I remain in Parliament or whether I leave."
He had not spoken to the Prime Minister, he said. Asked if he had a comment for his constituents, Mr Parish said: "That I very much enjoy being their MP, I've worked very hard, and I will continue working for them. I apologise for the situation – the whip is withdrawn – but I am still their MP. And at the moment I'm still the chair of the Environment, Food and Rural Affairs select committee, and I take that job very seriously. And I will carry it on for as long as I have it."
Mr Parish faces an ignominious end to a 12-year parliamentary career in which he has won increasingly large majorities and worked on a broad set of issues within farming and rural affairs. Local elections are coming up and he is now seen as a liability, with fellow MPs calling for his resignation …
Mrs Parish, 66, said she had first learnt of the allegations from a journalist who rang her for comment. "I didn't know anything about it until he rang and said, 'Oh, you know what I'm ringing about…'
"I didn't know who was more embarrassed, actually, me or him!" said Mrs Parish. "Poor chap."
It seemed that the couple had discussed the matter between them and that it had been explained to Mrs Parish's satisfaction.
"Yes," said Mrs Parish, without hesitation.
"My wife is amazingly loyal and better than I deserve," said Mr Parish.
"That's for sure," said Mrs Parish, chuckling.
At the end of the interview, Mr Parish took a phone call from his brother, Rod. They chatted briefly, with Mr Parish thanking his brother for what sounded like a supportive call. Mr Parish, having swapped his dressing gown for a shirt and jacket, then politely assented to having his picture taken …
By Saturday afternoon, Parish had resigned:
People did not believe the tractor excuse …
… but there is good reason to accidentally see something indecent when searching for tractors:
Guido wrote:
Neil Parish has told the BBC he's quitting after being accused of watching porn on two occasions while performing his MP duties in Parliament. With bizarre detail he claims "the first time was accidental after looking at tractors, but the second time was deliberate". 
24,239 majority in his seat of Tiverton and Honiton. If this by-election ends up being remotely interesting, the Tories are in deep trouble…
A by-election upset in a similar constituency took place in the staunchly Conservative North Shropshire which now has a Liberal Democrat MP after Owen Paterson was forced to stand down late last year.
On May 1, The Sunday Times confirmed that two female MPs had seen Parish looking at indecent material online:
Parish, 65, said the first time he had watched pornography was accidental, insisting he had been looking at tractors on his mobile phone before straying onto a website with a "very similar name". He said he watched the video "for a bit, which I shouldn't have done".
On the second occasion, however, the married father of two admitted he had looked at porn deliberately while waiting to vote at the side of the chamber. "What I did was absolutely wrong," he told the BBC.
Parish, who chaired the Commons environment, food and rural affairs committee, issued a "full apology" to the two female MPs who had seen him watching the pornography, but insisted it was "not my intention to intimidate".
It marked a significant U-turn in 24 hours. At first he had defied calls to quit and said he would await the findings of a parliamentary investigation. A growing number of Conservative MPs made clear that his position was untenable, however, and that he should resign immediately rather than prolong the controversy days before the local elections on Thursday …
His departure means that the Conservatives are now facing the prospect of having to defend two by-elections in short succession.
Imran Ahmad Khan, who was elected MP for Wakefield in 2019, tendered his resignation last week after being convicted of sexually assaulting a teenage boy. Labour is widely expected to win back the seat.
Conservative Party insiders are also braced for a third by-election. They are awaiting the outcome of the investigation into David Warburton, who had the Tory whip withdrawn last month after it was alleged that he sexually harassed three women.
Although Parish's constituency has returned a Conservative at every election since its creation in 1997 — and the party has a majority of 24,000 — Tory insiders fear that it shares parallels with North Shropshire, the seat lost to the Liberal Democrats in December after the resignation of the disgraced MP Owen Paterson.
Last night a Lib Dem source said: "As we saw in North Shropshire, there is a real backlash against Boris Johnson from rural communities who are fed up with being taken for granted."
What a shame.
Also on Sunday, The Telegraph confirmed rural communities' disillusionment with the Conservatives. One woman running for the local council in North Frome, Somerset, says that locals are tearing down her campaign posters and handing leaflets back to her.
The paper refers to these communities and counties as the Blue Wall, historically Conservative areas:
The election is a key test for Boris Johnson, who is facing a difficult mid-term contest after months of criticism of his leadership from Tory quarters over partygate, tax rises and the cost of living crisis.
Many of the English council areas, including Somerset, Hertfordshire and Hampshire, are places the Conservatives have traditionally considered to be strongholds.
Now, they are increasingly thought of as part of the "Blue Wall" – containing millions of wavering Tory voters who are disgruntled with Mr Johnson and could "flip" to Labour or the Liberal Democrats …
Voters in Somerset demonstrate what strategists in all parties have identified – that there has been a shift away from the Conservatives among people who live in the countryside.
New research from Parliament's all-party group for rural business and the "rural powerhouse" suggests the Government has a "chronic under-appreciation for the economic and social potential of the countryside," and that businesses in rural areas are on average 18 per cent less productive than the country at large.
Many voters who have always lent the Tories their trust feel that southern rural areas have suffered at the expense of "levelling up" – the Government's plan to improve high streets and fortunes in neglected Northern areas traditionally represented by Labour.
Meanwhile, a Conservative promise to deliver next-generation broadband speed by 2025 is unlikely to be met, the parliamentary spending watchdog has said.
Countryside voters, who are often keen to protect the natural beauty of their homes, say plans to rip up the planning system to build more houses and erect new onshore wind farms are a direct attack on their way of life.
Paul Moody, an antiques dealer who lives near Shepton Mallet, said his faith in the Conservatives' commitment to the countryside is being challenged by "horrendous" new "T pylons" near his home and the threat of solar panels carpeting the fields.
"They march across the countryside and stand out all across the Somerset Levels" he said.
"I would prefer more nuclear power stations than ruining the countryside."
Answering a survey conducted for The Telegraph by Redfield and Wilton Strategies this week, just 19 per cent of voters said the Conservatives cared about rural areas, while 28 per cent said Labour did. Almost half of voters (46 per cent) say "levelling up" does not inspire them.
Other national polling shows Labour has increased its lead over the Conservatives by three points since April 12, when Mr Johnson was fined over lockdown-busting parties in Downing Street.
While ministers have repeatedly suggested that the public does not care about partygate and would prefer to see the Government focus on making domestic policy, Tory sources admit privately that the polling shows that idea is "for the birds".
It's all falling apart for Boris at the moment.
Ukraine loves Boris
On Tuesday, May 3, Boris made history by becoming the world's first leader to address Ukraine's parliament:
Also on Tuesday morning, he gave an interview to Left-leaning Susanna Reid on ITV's Good Morning Britain.
It did not go well …
… and not knowing who ITV's queen of breakfast television, Lorraine Kelly, is unforgiveable. She's only been on the network for over three decades:
Maybe the man has a point, but it still helps to play to the audience, most of whom probably stay tuned for Lorraine's show, which follows Good Morning Britain.
It's a shame that Ukraine's enthusiasm for Boris doesn't translate here at the moment, but I cannot blame Conservative voters for being disillusioned.
On Wednesday, April 27, at the last Prime Minister's Questions before prorogation, viewers saw Boris Johnson at his campaigning best, saying that Labour have no policy plan. They merely oppose the Conservative ones:
Perhaps this is why Labour are not fielding many candidates in the May 5 local election this year, preferring to leave the contest to the Liberal Democrats. The Chairman of the Conservative Party, Oliver Dowden MP, has written to Labour's Sir Keir Starmer for answers:
Of course, the Left say that the Brexit Party did the same thing in the 2019 general election, but the Brexit Party was acting as an anti-Conservative spoiler. At least one media outlet that year was the first to ask the party to stand down their candidates so that Conservatives would win, enabling Boris to get us out of the EU:
In any event, regardless of what party — whether Conservative or Liberal Democrat — wins council elections this year in crucial seats, the Tories should take note of what is happening on the ground and act on it in order to be better prepared for the general election in 2024.
Best of luck to the Conservatives, but I won't be holding my breath this year.