You are currently browsing the tag archive for the 'Conservative Party' tag.
There is much to cover in the aftermath of the EU elections held in the UK.
Hell certainly broke loose at the end of May, and I don't mean Theresa.
Labour
After many months, if not a year, of anti-Semitic slurs coming from some elements of the Labour Party, the EHRC (Equality and Human Rights Commission) finally took action:
During the BBC's programme about the EU election results on Sunday, May 27, Tony Blair's former spin doctor Alastair Campbell declared that he had voted for the Liberal Democrats, the largest Remain party. The Labour Party duly expelled him, then decided to review their decision:
Kate Hoey, on the other hand, has played her cards well as the most prominent Leave Labour MP since 2016. She believes that The Brexit Party deserves a seat at the negotiating table:
The Brexit Party
Nigel Farage is absolutely correct about Theresa May's 'deal', or treaty:
Meanwhile, party chairman Richard Tice, one of three newly-elected MEPs for the East of England region, isn't taking any nonsense:
On May 29, Westmonster reported:
Brexit Party chairman Richard Tice has issued a legal letter to an SNP MEP following allegations of money laundering were made in a Sky News interview on Monday.
Alyn Smith accused the Brexit Party of being "shysters" who were "a shell company for a money laundering front".
The interview which has been circulated across social media for the last 48 hours was brought to the attention of Tice whose solicitors have now issued Mr Smith with the following letter:
Conservative Party
The race continues for party leader, succeeding Mrs May.
The overall picture of the runners and riders shows gaps in their commitment to delivering Brexit:
Priti Patel has been committed to delivering a proper Brexit since 2016:
She also recognises the despair at grassroots level among the loyal, tireless volunteers:
It won't be long before we see how this develops for the Conservatives.
I hope true Leavers do well. More to come as the leadership contest narrows.
Out of all the possible future Conservative leaders, Boris Johnson is the best known.
The whole country knows his name.
They know his Sunday Telegraph editorials.
He was twice elected Mayor of London and might be the last Conservative mayor the city will see in a while because of demographic changes.
He also served as Secretary of State for Foreign and Commonwealth Affairs under Theresa May between July 2016 and July 2018.
Those who follow British politics know he flip-flops on various issues.
However, he makes good speeches and can withstand the slings and arrows from the opposition.
While Labour and trade unions want a general election, not due until 2022, Boris is the only one who can fend them off.
But, what about Brexit, should he become Prime Minister?
Veteran journalist Andrew Neil confirms that Boris, as he is popularly known, would renegotiate with the EU:
Sebastian Payne is the Whitehall correspondent for the Financial Times. His short Twitter thread is as follows:
Correct.
Such a stance would also bring some Brexit Party voters on board in a general election, should one be called before 2022.
However, there is a caveat. Earlier this year, Boris asked his constituents whether he should vote for Theresa May's deal when it came up for its third (unsuccessful) vote. His constituents told him not to compromise, yet he voted to approve May's withdrawal agreement. Hmm.
Now, it could be that if he becomes PM, he will have more resolve.
Whatever the case, at this juncture, Boris Johnson — like him or not — is probably the Conservatives' best chance for party leader and PM.
Comments temporarily off
Between Thursday, May 23 and Sunday, May 26, European voters let their leaders know what was on their minds.
The 2019 EU elections were quite the eye-opener, as nationalist parties and the Greens did very well indeed:
Like them or not, interesting trends emerged:
Italy
Matteo Salvini was thrilled:
France
Marine Le Pen's Rassemblement National (RN) — National Rally — edged past Emmanuel Macron's LREM — Renaissance — list:
Politico reported that Le Pen's party:
scored about 24 percent of the vote, compared with roughly 22.5 percent for Macron's centrist-liberal party, according to two initial projections.
United Kingdom
The biggest news came from the United Kingdom. The six-week old Brexit Party won nine out of ten regions.
The Telegraph reported (emphases mine):
The Brexit Party has won nine of the 10 regions to declare their results in the European elections, claiming 28 of 64 seats in the European Parliament. 
Nigel Farage's party came top in the North East, North West, East of England, Wales, West Midlands, East Midlands, Yorkshire & Humber, the South West and South East. 
This came largely at the expense of the Conservative Party. Theresa May's party have lost a huge share of the vote across all regions, so far losing 15 MEP seats to leave a total of three. The party is in fifth place, with its lowest vote share in a national election since they formed in 1834.
Good grief!
However, The Brexit Party is represented in 10 out of 10 regions, as this Scottish result came in early on Monday morning:
It seems that Nigel Farage's Brexit Party will now hold one more seat than Angela Merkel's CDU Party: 29 to 28!
Nigel Farage gave his MEP acceptance speech in Southampton, saying:
These are some of the regional results (click on image to enlarge):
Here are the other new Brexit Party MEPs.
Hearty congratulations, ladies and gentlemen!
What an amazing result!
Like the Conservatives, Labour also suffered. The Liberal Democrats received a lot of Remain votes from Labour voters, as did the Greens. In Scotland, the SNP took a substantial share of Labour votes.
You can read more about the EU election results on the BBC's website and at the Daily Mail.
On Friday, May 24, 2019, Prime Minister Theresa May announced that she would stand down as Conservative leader immediately and as Prime Minister once the Conservatives have elected a new leader.
The tension at No. 10 must have been palpable that morning, as the email with the text of her speech had no attachment. ITV's Robert Peston tweeted:
Nonetheless:
The Guardian, among other media outlets, has the full text of her speech (emphases mine below):
Ever since I first stepped through the door behind me as Prime Minister, I have striven to make the United Kingdom a country that works not just for a privileged few, but for everyone. And to honour the result of the EU referendum. Back in 2016, we gave the British people a choice. Against all predictions, the British people voted to leave the European Union.
I feel as certain today as I did three years ago that in a democracy, if you give people a choice you have a duty to implement what they decide. I have done my best to do that. I negotiated the terms of our exit and a new relationship with our closest neighbours that protects jobs, our security and our Union. I have done everything I can to convince MPs to back that deal. Sadly, I have not been able to do so.
I tried three times. I believe it was right to persevere, even when the odds against success seemed high. But it is now clear to me that it is in the best interests of the country for a new Prime Minister to lead that effort.
So I am today announcing that I will resign as leader of the Conservative and Unionist Party on Friday 7 June so that a successor can be chosen. I have agreed with the Party Chairman and with the Chairman of the 1922 Committee that the process for electing a new leader should begin in the following week. I have kept Her Majesty the Queen fully informed of my intentions, and I will continue to serve as her Prime Minister until the process has concluded.
It is, and will always remain, a matter of deep regret to me that I have not been able to deliver Brexit. It will be for my successor to seek a way forward that honours the result of the referendum. To succeed, he or she will have to find consensus in Parliament where I have not. Such a consensus can only be reached if those on all sides of the debate are willing to compromise.
For many years the great humanitarian Sir Nicholas Winton – who saved the lives of hundreds of children by arranging their evacuation from Nazi-occupied Czechoslovakia through the Kindertransport – was my constituent in Maidenhead. At another time of political controversy, a few years before his death, he took me to one side at a local event and gave me a piece of advice. He said, 'Never forget that compromise is not a dirty word. Life depends on compromise.' He was right.
As we strive to find the compromises we need in our politics – whether to deliver Brexit, or to restore devolved government in Northern Ireland – we must remember what brought us here. Because the referendum was not just a call to leave the EU but for profound change in our country. A call to make the United Kingdom a country that truly works for everyone. I am proud of the progress we have made over the last three years.
We have completed the work that David Cameron and George Osborne started: the deficit is almost eliminated, our national debt is falling and we are bringing an end to austerity. My focus has been on ensuring that the good jobs of the future will be created in communities across the whole country, not just in London and the South East, through our Modern Industrial Strategy.
We have helped more people than ever enjoy the security of a job. We are building more homes and helping first-time buyers onto the housing ladder – so young people can enjoy the opportunities their parents did. And we are protecting the environment, eliminating plastic waste, tackling climate change and improving air quality. This is what a decent, moderate and patriotic Conservative Government, on the common ground of British politics, can achieve – even as we tackle the biggest peacetime challenge any government has faced.
I know that the Conservative Party can renew itself in the years ahead. That we can deliver Brexit and serve the British people with policies inspired by our values. Security; freedom; opportunity. Those values have guided me throughout my career.
But the unique privilege of this office is to use this platform to give a voice to the voiceless, to fight the burning injustices that still scar our society. That is why I put proper funding for mental health at the heart of our NHS long-term plan. It is why I am ending the postcode lottery for survivors of domestic abuse. It is why the Race Disparity Audit and gender pay reporting are shining a light on inequality, so it has nowhere to hide. And that is why I set up the independent public inquiry into the tragedy at Grenfell Tower – to search for the truth, so nothing like it can ever happen again, and so the people who lost their lives that night are never forgotten.
Because this country is a Union. Not just a family of four nations. But a union of people – all of us. Whatever our background, the colour of our skin, or who we love. We stand together. And together we have a great future.
Our politics may be under strain, but there is so much that is good about this country. So much to be proud of. So much to be optimistic about. I will shortly leave the job that it has been the honour of my life to hold – the second female Prime Minister but certainly not the last. I do so with no ill-will, but with enormous and enduring gratitude to have had the opportunity to serve the country I love.
When she got to the last five words of her announcement, she choked up and abruptly turned around before re-entering No. 10:
Here is her statement in full (start at 1:28, sorry for the closeup of Peston):
Brexit defeated Theresa May:
The Sun's political editor observed:
Peston called it correctly:
This is important to remember over the next several weeks:
The new Prime Minister should be in place by the time Parliament begins its summer recess. The 1922 Committee is comprised of Conservative MPs and will oversee this process:
Then again … please note:
The Guardian has more (emphases in the original, those in purple mine):
Conservative party chairman Brandon Lewis and the vice-chairs of the 1922 Committee, Cheryl Gillan and Charles Walker, have issued a joint statement setting out the process for selecting a successor to Theresa May.
First they thank her for her service to the party as an activist, councillor, MP, a member of the shadow cabinet, party chairman, home secretary and, finally, prime minister.
"She embodies the finest qualities of public service and, with this decision, has once again demonstrated her strong sense of duty and devotion to the national interest," they say.
They set out the following –
The timetable to select a new leader has been decided by the executive of the 1922 committee after consultation with the party board, which includes representatives of the voluntary, parliamentary and professional party.

Nominations will close in the week commencing 10 June, before "successive rounds of voting

will take place until a final choice of candidates to put to a vote of all party members is determined".

"We expect that process to be concluded by the end of June, allowing for a series of hustings around the UK for members to meet and question the candidates, then cast their votes in time for the result to be announced before Parliament rises for the summer," they say.
So we should have a new prime minister by mid-July.
They conclude:
We are deeply conscious that the Conservatives are not just selecting the person best placed to become the new leader of our party, but also the next Prime Minister of the United Kingdom. That is a solemn responsibility, particularly at such an important time for our nation. We will therefore propose that the leadership election and hustings involve opportunities for non-members and people who may not yet vote Conservative to meet the candidates and put their questions to them too.
Peston points out that Graham Brady did not sign the 1922 Committee's letter, even though he is its chairman. It is possible that Brady wants to throw his hat into the ring as a contender:
I assume the reason the chairman of 1922 committee of Tory MPs Graham Brady hasn't signed letter setting out timetable for new leader and PM to be in place by 20 July is that he may well be a candidate to replace @theresa_may.
Soon afterwards:
By mid-afternoon:
Jeremy Hunt was the first to formally declare his own candidacy:
I doubt either of these men has a chance. The Conservatives must choose someone who can defeat Labour's Jeremy Corbyn, therefore, I predict Boris Johnson will be the next leader and PM.
May's predecessor tweeted his appreciation of her service. It did not go down well. One person remembered that he stood down as party leader the morning the referendum results were in — around 9:30 a.m. on Friday, June 24, 2016:
He gave an empathetic interview to the BBC later in the afternoon:
Let us spare a moment to recall Cameron's jaunty 'doo-doo-doo-doo-Right!' tune after he resigned:
Brexit is powerful, although, despite this tweet, not insurmountable:
I hope the new Spanish government's concerns turn out to be accurate (emphases mine):
The Spanish government has described May's decision to resign as "bad news", warning that it significantly raised the prospect of a hard Brexit, reports the Guardian's Madrid correspondent Sam Jones.
"A hard Brexit in these circumstance seems an almost unstoppable reality," the government's spokewoman, Isabel Celaá, said at a press conference on Friday afternoon.
Celaá said the announcement would disappoint all those "who want an orderly UK exit from the European Union". But she said that Spain had contingency measures in place and would do everything possible to "guarantee the best situation" for Spanish citizens and businesses in the UK.
A No Deal Brexit does not mean a disorderly exit from the EU. Plans have been in place for months to implement No Deal processes, as drawn up by civil servants in Whitehall. No Deal was ready for implementation well in advance of Friday, March 29, 2019.
Outside of Brexit, I believe Theresa May was a good prime minister.
As far as Brexit went, however, her downfall started when she presented her deal at Chequers in July 2018. The principal members of her Brexit team at the time resigned. It is rumoured that her 'deal' — a treaty — was developed in Berlin by one of her advisers. I have read at least one article about it, but would like to see another source before writing more.
Whoever the next Conservative leader is, I hope he or she is a committed Leaver and will toss the whole of May's deal into the long grass of history, where it belongs.
The lies from Britain's Remainers about Brexit's Leavers are quite incredible.
For the past three weeks, if not longer, Remainers have told Leavers they did not know what they were voting for in the 2016 Brexit referendum.
False!
Let's go back to when David Cameron was still Prime Minister.
This is what party leaders — Conservative, Lib Dem and Labour — had to say about the referendum. There would be only one:
Cameron summarised the process. Article 50 would be triggered promptly. In February 2016, he said: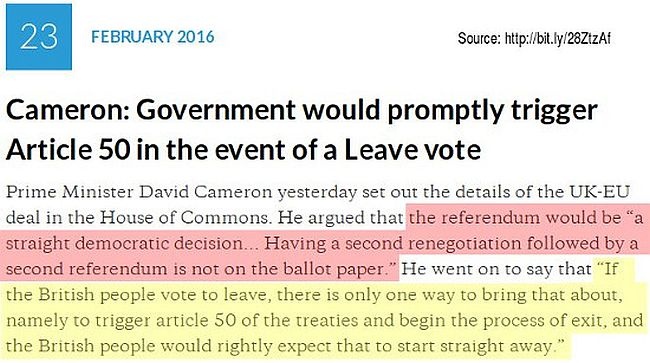 Leavers watched the televised debates.
They also researched sites other than Big Media. Guido Fawkes was one of them. Here Guido explains tariffs:

This was the referendum result on June 23, 2016 — 52%-48%:
David Cameron stood down as Prime Minister the morning of Friday, June 24.
Theresa May succeeded him a few weeks later.
In 2017, under May's premiership, a WTO Brexit was part of the Conservative Party manifesto for the general election held in June: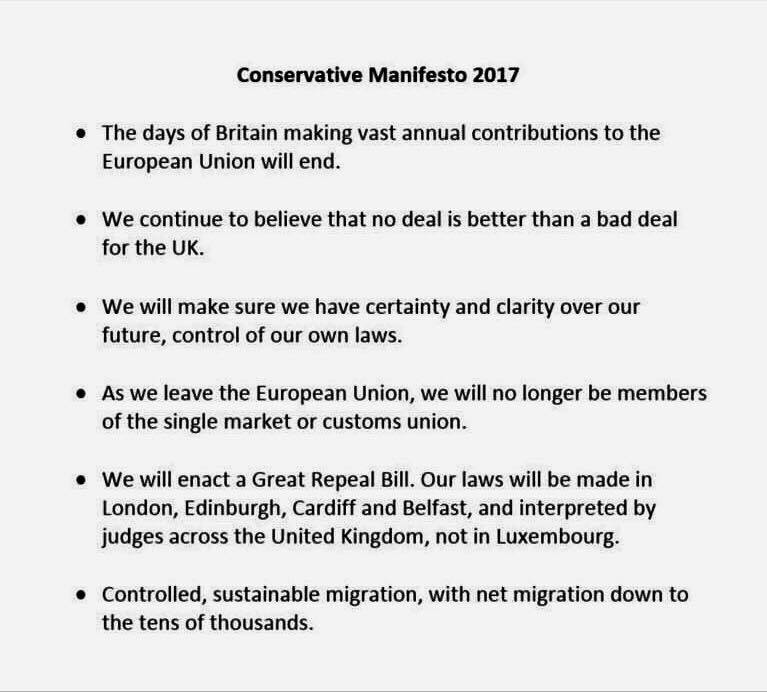 The Conservative Party manifesto excluded a halfway house Brexit with a foot in each camp. Leavers were told they would get a WTO Brexit: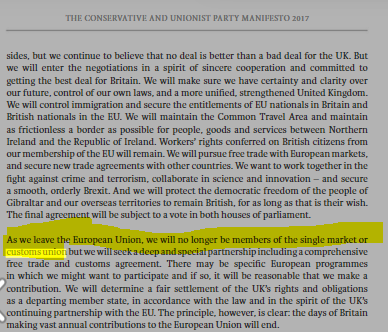 Before the election, Labour MP Yvette Cooper — whose Bill No. 5 blocking a parliamentary/government No Deal is now law — pledged to honour the Brexit mandate, which, incidentally, the Labour Party manifesto also supported. Note that she represents a Leave constituency: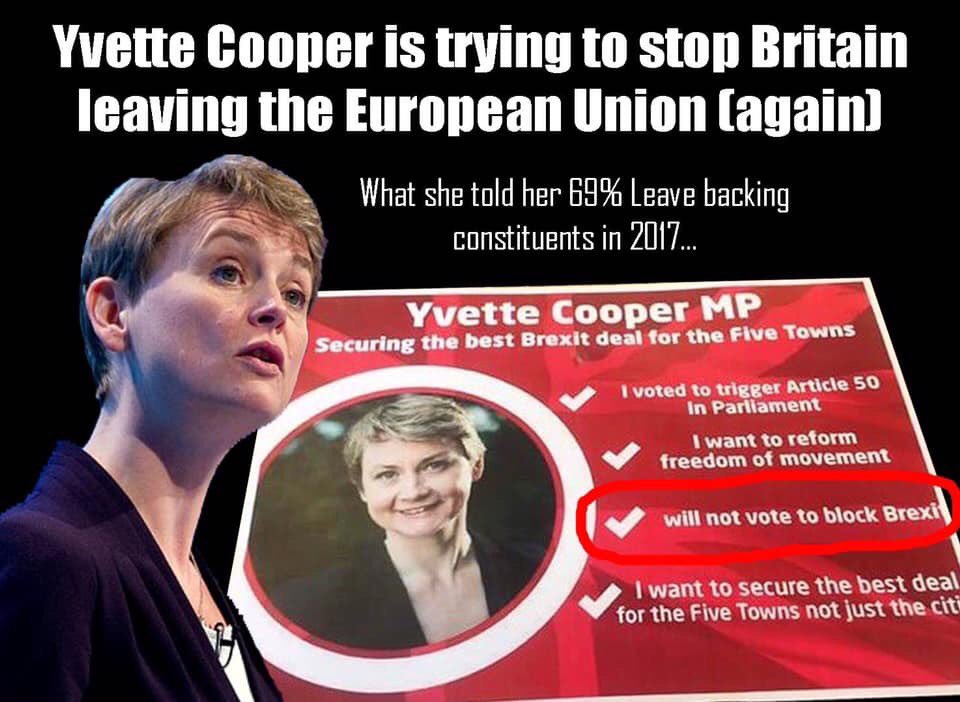 This is what Leavers voted for:
Fast forward to 2019, and who wants a second referendum — a 'People's Vote'? Remainers.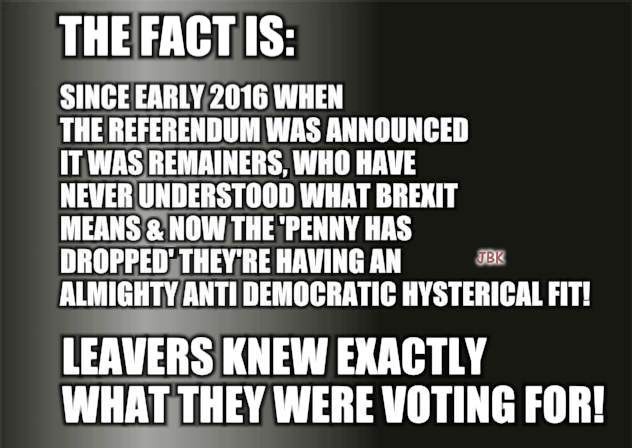 Remainers can rest comfortably knowing that their allies in both Houses — Commons and the Lords — will see to it that they get their wish.
Should Britain end up with a halfway house Brexit — heaven forfend — that is not what Leavers voted for in 2016.
Remainers can share the blame for that with their advocates: parliamentarians and peers alike.
At the most crucial point before the UK could be thrown out of the EU on April 12, 2019, with a No Deal, discussions since Friday have produced a stalemate.
The House of Lords was not much good reviewing the Cooper/Letwin Bill No. 5 at the end of last week. Old feuds erupted between hereditary appointments and subsequent political ones:
The Lords continued to debate this bill this afternoon.
Theresa May's negotiations with Jeremy Corbyn and the Labour Party got nowhere over the weekend. Talks continue this week.
Conservatives and other Leavers are deeply unhappy:
Labour MP Kate Hoey, a longtime Leaver, is also unhappy:
Brendan O'Neill of the libertarian site Spiked said:
On Sunday, April 7, an uncomfortable looking Theresa May made a statement from No. 10 about Brexit (nothing more than we know already):
Here's another version, closer to the truth:
Today, Leave Conservative MP Mark Francois will try to get a motion tabled for an indicative vote of no confidence against PM May.
Last December, a formal vote of no confidence took place in Parliament but failed. Another vote of no confidence cannot take place until December 2019.
However, Francois thinks that tabling an indicative vote of no confidence, whilst not binding, would send a message for May to stand down and for the EU to disregard another extension date from her.
This is likely to be unsuccessful, because the overwhelming majority of MPs are Remainers. They know that this is his way of attempting a No Deal by the end of the week.
In other news, an EU Exit and Trade Cabinet meeting took place today:
As I write, a Cabinet meeting was scheduled for later in the afternoon:
This is not what the 2016 referendum's 52% of Leavers voted for.
More anon.
It is increasingly apparent that PM Theresa May and her fellow Remainers do not care about the future of their own party.
Leave MP Michael Fabricant might be eccentric, but he speaks the truth:
It is unfortunate that every decent article and editorial in The Telegraph lies behind a paywall, however, at least one can still view the comments.
This one (4 Apr 2019 12:33PM) expresses the average Conservative voter's perspective on Brexit and the Party (emphasis in the original, those in purple mine):
I cannot recall a time when I have been more disgusted by, and ashamed of, the party I have voted for my entire life. 
I am 69 years old and was brought up in the North East, a massively Labour area, by strongly conservative parents.  The lessons and morality I learned from them have stayed with me for life.
I may be old, but I am neither stupid nor ignorant. I am university educated and world-travelled and ran my own small business for 30 years, employing staff and exporting my hand-made goods worldwide.  I knew very well what I was voting for when I voted 'leave' in the 2016 referendum, my main motivation was to regain our precious sovereignty and our 'British Spirit', a word I am struggling to define but I'm sure you get my meaning.  I am in no way prejudiced and welcome people of all shades, religions and nationalities to our Country.  The one thing I do ask is that immigrants make a life in this country and, whilst not forgetting their own heritage, they honour our native mores, lifestyle and laws.
It now seems that our constitutional, democratic values, backed by the Rule of Law, whilst largely unwritten, have been honoured for hundreds of years.  The way in which our current elected representatives in the House of Commons have, by tricks, lying, cheating and deceitful, mendacious behaviour overturned democracy and defied the Rule of Law.  This has started from the top, from the Prime Minister downwards.  How can the Cabinet, MPs of all stripes, behave themselves lawfully and democratically under these circumstances?  The answer is that under such leadership they cannot, and will not.
I never thought I would live to see this appalling day, when we are so grossly, and traitorously, betrayed by a CONSERVATIVE government.  It stinks, and the Conservatives will never, in my lifetime, be forgiven for leading us into rule by a foreign power. 
May God help us all.
It is unclear what PM May expects to get out of pushing her deal — which seems to be a treaty — and cosying up to Labour's Jeremy Corbyn except perhaps some sort of EU job. One thing is for certain. She has no future in the Conservative Party:
The Sun's article from Wednesday, April 3, 2019, is lengthy and informative. An excerpt follows, emphases mine:
The Sun has been told that 15 Brexiteer ministers are "on the edge" of also walking out – 10 junior ministers, five in the Cabinet.
One of those ministers said: "Many, many colleagues in government are just seething and a lot of us are on the edge now – some over a customs union, others over European Parliament elections.
"What's for sure is if she asks for a long extension next week it will mean mass resignations."
International Trade Secretary Liam Fox signalled last night he is one ready to quit if Mrs May watered down her red lines, telling MPs he is prepared to dump "none" of the party's manifesto promises.
A large group of Brexiteer ministers – known as the Pizza Club – met twice yesterday, including late last night in the Commons, to try to plot a way to stop Mrs May from softening Brexit further.
Among them were Commons Leader Andrea Leadsom – who hosted the meeting – Defence Secretary Gavin Williamson and Environment Secretary Michael Gove.
Last week, three Conservative MPs resigned ministerial positions, with one — Nick Boles — leaving the Party. Nigel Adams will continue as MP from the back benches as will Chris Heaton-Harris:
On May 2, many local councils will hold elections. Conservative Party associations are working hard to get out the vote, but, given the antics from their own MPs with Brexit, this is proving to be quite a challenge.
Compounding the issue is the prospect of another general election, as May's popularity continues to tank.
Brexit was supposed to be the great Conservative Party unifier. Instead, it is proving to be incredibly divisive.
What should voters think when the BBC's Andrew Neil takes down a Remainer Conservative MP — the Father of the House, no less — on live television? This shows how duplicitous Kenneth Clarke is in his push for a customs union. After so many years as an MP, he should know better. Consequently, astute Leavers are wondering why he is pushing for it:
This comment on Conservative Home is directed towards the Clarkes of this Parliament:
How about a survey of Conservative MPs.
1) How many of you think you can get re-elected to Westminster in the event of an emergency GE without the help of your Associations?
2) Given your goppingly ghastly way of trying to subvert Brexit by voting for it not to pass, how do you expect to motivate your party workers.
3) Why do you think you are worth being re-adopted and why shouldn't your members choose someone more inclined to support a proper Brexit?
4) Are you aware that of the Conservative membership, 3/4 are Brexiteers. 6/10 Labour constituencies voted to Leave 7/10 Conservative constituencies voted to leave – and if you were, WTF are you doing in Westminster?
I can tell the MPs that from the bottom to almost the top, that those who work for the MPs and councillors, including the councillors who are going to be most badly affected, that doing business with Corbyn is new low for the PM. She has to bloody well go.
May's attempted rapprochement with Corbyn is going to prove difficult for local Conservative members going from door to door, as Paul Goodman explains at Conservative Home:
"Don't go anywhere near Corbyn – or his supporters," Tory canvassers will be saying on the doorstep. To which voters will surely reply: "why not? Your own leader is."
In many areas, local canvassing for May 2 is not going well. Conservative Home's Harry Phibbs has been out and about getting reactions from Party association members. What follows are reactions from around the country.
In a strong Brexit area of the West Midlands:
… Conservatives are not going to switch to Labour or the Lib Dems. But a lot of Conservatives will abstain. Also, there are rumours of independents standing.
In a rural district:
I must emphasise that the problem is not just with Brexiteers. It is wider than that. It's down to trust and there is very precious little of it left. There is this dismay at the incompetence and the duplicity. People coming on and saying one thing one week and then doing the opposite the next week.
In a Labour-run local authority:
What is so infuriating is that we had been working hard to make gains. Now we will be lucky not to make losses. Labour locally is in a mess. But what is happening nationally is a very significant problem. The morale of our team is very low. If they are disillusioned then how can they expect to persuade others? People say why bother voting. We end up agreeing with them.
In a Conservative-run local authority:
We are supposed to be in a safe seat. But I don't think there are any safe seats. CCHQ is very complacent about that. The situation is very volatile. It's pretty dire at the moment, to be honest. But I think it could change.
In the South East:
It is extraordinarily bad. We have seriously considered stopping canvassing for the time being in case it does more harm than good. Could we be annoying people, winding them up? Over and over again people are saying they will 'never vote Conservative again.' I've been campaigning for several years now and I have never encountered this pure rage on the doorstep before.
A comment on the article supports all of the above:
All I can add is that as a small c and long standing Leave supporting independent candidate, campaigning hard to keep my seat, I am very grateful not to be a Tory right now. I don't think I could stand the abuse. Few people want to talk about local issues. It's mainly the failure to implement the Brexit they voted for and the subsequent denial of a democratic process that makes people so very angry.
A number of Conservative and swing Leave voters are likely to ditch the Party on May 2, even though local councillors have no part in the Brexit process. It's their way of making a protest statement.
CCHQ and PM May, as Party leader, should be asking themselves probing questions during these remaining weeks. However, it seems unlikely that they will. They live in the Westminster bubble, far removed from voters.
Before recapping to Wednesday's Brexit activity, anyone resident in Britain who wants the UK to Leave with No Deal on April 12 should sign this petition, which has only around 226,000 signatures:
Leave the EU Without a deal on April 12th.
The Government are right when they say that exiting the EU is the "will of the people"
Despite the best efforts of the political classes and media establishment the "silent majority" still wish to leave the EU.
If Mrs May's deal is rejected again we should leave the EU on April 12 with No deal.
Following on from yesterday's Brexit Chronicles instalment, while Prime Minister Theresa May met with Leader of the Opposition Jeremy Corbyn …
… Labour MP Yvette Cooper's Bill No. 5 designed to prevent No Deal and to extend Brexit negotiations for a long period of time passed the House.
As I write on Thursday afternoon, it is now in the House of Lords.
Speaker of the House John Bercow, a Remainer, was not wrong: the legislation did indeed pass the House in one day.
As Leaver Conservative MPs warned Remainers during the debate: act in haste, repent at leisure.
Remainer Conservative Oliver Letwin, spokesman for the bill, smiled superciliously at the warnings.
BrexitCentral has a short and sweet summary of Wednesday afternoon's debate.
QC (Queen's Counsel) Jolyon Maugham was incandescent:
Jo Maugham drafted his own replacement bill which closes the loopholes; whether Remainers will look at it is another question. Doubtful, at this point, if the Cooper-Letwin bill is already with the Lords.
Late last night, the third reading of Bill No. 5 passed — by one vote:
Guido Fawkes summed up the final moments after the vote. Rightly or wrongly, Conservative Leaver Mark Francois quoted our Lord, to the ridicule of Remainers:
Guido reported (emphases in the original):
Rampant Remainers succeeded in ramming an entire Bill through the House of Commons in under 6 hours yesterday – predictably the process was an utter shambles, MPs had no idea which amendments were which, report stage and a third reading debate were entirely skipped and the Bill was so poorly drafted in the first place that Jolyon almost had a meltdown …
After the hours of chaos, Yvette Cooper only succeeded in getting her Bill through by a single vote, 313-312. Any number of MPs have been singled out as the guilty party, 20 Tories including 17 former ministers either rebelled or abstained. Literally guilty Fiona Onasanya traipsed through the Aye lobby complete with electronic ankle tag…
Ultimately it changes little, May was always going to seek a longer extension at next week's European Council in the circumstances anyway. Conspiracy theories that May's Corbyn pitch is a trap or trick to run down the clock are operating in a parallel universe. Make no mistake, Number 10 is in total chaos and acting purely out of desperation now. May's long-term strategy was always to trigger an 11th hour crisis in the hope of bouncing MPs – she never for a minute anticipated that it would be so utterly out of her own control…
I was amazed that this MP was even allowed to vote. However, she is on the list of Independents who voted for Cooper's bill:
Guido reported:
… it turns out that Onasanya didn't just go through the aye lobby with her electronic angle tag, potentially in violation of her curfew. She was actually there fresh from yet another appearance in court…
One of her former caseworkers, Jan Goodenough, has taken Onasanya to tribunal over alleged disability discrimination. Goodenough told Cambridge County Court yesterday that she was unfairly treated by Onasanya and that promises were not kept over close access to a toilet at Onasanya's constituency office in Peterborough. The recall petition in Peterborough is still ongoing for several weeks. Her constituents should find out by Monday if their disgraced MP has fallen foul of the law again…
File under 'Developing', although I suspect it will not matter in the end.
Jo Maugham QC has more on the Cooper bill, citing a Downing Street spokesman who says that it could make No Deal more likely, even though it is specifically designed to prevent that outcome:
EU officials are watching British developments closely. This is what our EU liaison Michel Barnier had to say today:
It looks as if a Leave contingent in the Lords tried to filibuster the debate surrounding Bill No. 5:
How apposite that a peer by the name of Lord True speaks up for Leavers:
As this Leave supporter says, neither House has any idea how betrayed the 52% of referendum voters feel:
Contrary to what Remainers have been saying, most Leavers wanted a clear-cut No Deal on WTO terms.
Leavers knew that joining a Customs Union would make the UK a vassal state, being even further under the yoke of the EU with no vote and no veto in Brussels. That would be a worse outcome than remaining as a member of the EU, as we are now.
PM May's 'deal' is actually a treaty, which would be difficult to back out of.
If No Deal does not happen and none of the proposed options is palatable, a second referendum on Parliament's proposals is definitely in order. In that scenario, Remain would be the only sensible answer.
More next week.