You are currently browsing the tag archive for the 'Conservative Party' tag.
On Monday, I wrote about the UK's third anniversary on becoming free of the European Union.
Admittedly, Northern Ireland is still half-in and half-out, a problematic situation that is being negotiated.
I pointed out the sclerotic pace at which MPs are legislating to take full advantage of Brexit.
On February 1, UnHerd featured an article by Richard Johnson, a Labour Party member, and Lecturer in US Politics and Policy at Queen Mary University of London: 'Labour's lost love for Leave'.
Richard Johnson voted to Leave in 2016 and has no regrets.
Before going into Parliament's slow pace at reclaiming our sovereignty, he explains Labour's changing viewpoint on belonging to the EU (emphases mine):
Back in 2016, one in three people who voted Labour at the previous year's general election voted for Brexit. Today, polling for UnHerd shows that just 15% of Labour voters think the UK was right to leave. Of course, in those intervening years, there has been enormous churn in the Labour electorate, with sizeable defections by Labour Leavers at the last election to the Brexit Party and the Conservatives. Nonetheless, UnHerd's polling shows that support for Brexit has dropped significantly in Labour's historic heartlands in the North and Midlands.
In historical terms, this is a striking shift. For four decades, the Labour Party was the chief Eurosceptic party in British politics — far more so than the Conservative Party. Every Labour leader between Clement Attlee and Neil Kinnock had expressed opposition to joining (or support for leaving) the European Economic Community (EEC) at some point as a frontbench Labour MP. The first truly pro-European Labour leader was John Smith, who defied a three-line whip in 1972 to vote for the Conservatives' European Communities Act. Pro-Europeanism was viewed as a Right-wing project — an attempt to constitutionalise capitalist principles in ways that would curtail the power of socialist governments to plan their national economies as they saw fit.
Labour's perspective on the EU began to change in the 1980s:
In the late Eighties, Labour finally abandoned its opposition to EEC membership, though the change was driven more by a response to repeated domestic defeats than a principled embrace of the European project. The promise of a "social Europe" was regarded by many Labour MPs as a chimera, but it at least offered some alternative to Thatcherism. So the party came to accept supranational legal limits on British governments, hoping the EU could mitigate the excesses of Conservative rule.
Belonging to the EU meant that EU law applied, restricting the ability of both Conservatives and Labour to raise legislation that benefits the UK's interests. This also affected civil servants' work:
… this Mephistophelian deal meant placing limits on future Labour governments, too. Policy tools which had once been fundamental to previous governments' socialist programmes — trade policy, currency management, state aid and nationalisation, and capital and labour controls — were all sacrificed in exchange for the promise of minimum labour standards and regional development funds delivered through European institutions, rather than Whitehall.
Once we were in, we were in fully. Although Johnson is writing from a Labour perspective, the following attitudes also pertain to Conservative Remainer MPs, of which there are many:
Few outwardly advocated leaving the bloc, believing it to be too difficult or simply not politically feasible …
This is where we find ourselves today, six-and-a-half years after voting to leave in the 2016 referendum.
Parliamentarians have not had to legislate much since the 1970s. Civil servants haven't had to think about that, either. Hence the slow pace. It might require work, not only in the House of Commons but also in Whitehall:
Joining the EEC in 1972, for instance, took a variety of national powers out of the hands of the UK Government and, by extension, parliament. EU countries are constitutionally transformed from nation-states to member-states, as the Cambridge academic Chris Bickerton has explained. This means that a variety of policy instruments are removed from national governments altogether, or their implementation becomes contingent on the wishes of the European Commission or interpretations of the European Court of Justice (ECJ). Perhaps more obviously, EU membership is simply not compatible with a belief in socialist planning. At its core, the Single Market is designed to limit the power of national electorates to plan their own economies. Of course, a certain degree of national economic planning is permitted within EU membership, but it is conditional. Any time a national government takes a decision that is viewed as distorting the hallowed Single Market — which must be prioritised above all else — those policies are blocked …
… European judges have struck down labour practices that they claim impose onerous restrictions on business, as in the infamous cases Laval and Viking. The former limited Swedish trade unions insisting on higher working conditions for construction workers from Latvia who operated in Sweden. The latter prevented a Finnish transport union from taking action against Viking Line for reclassifying their workers under the flag of a lower-wage EU country to ignore Finnish collective bargaining. Because these judgements are based on judicial interpretation of fundamental EU treaty rights, no legislation, either at a national level or from MEPs, can overturn them.
As such, for 50 years, the UK government has had to rely on Brussels for legislation. It is no wonder that the nanny state has grown so much, particularly over the past 25 years. What else is there to legislate upon but personal behaviours?
Johnson points out that Labour have been as negligent as the Conservatives over embracing our new freedoms:
Indeed, there are so many areas of policy where Labour ought to have spent the last few years seriously thinking about the post-Brexit opportunities. How can we use procurement better now that we are out of the Single Market? … What would a socialist trade policy look like, once protection of continental European industries and agriculture is removed from the equation?
Instead, Labour has wasted the years since Brexit almost as much as the Tories have. Labour had stood on a manifesto in the 2017 election which promised to take the UK out of the EU, Single Market, and Customs Union. That election saw the biggest increase in its vote since the 1945 General Election and the only net gain in Labour seats since 1997. A majority of the seats Labour won in England were Leave-voting seats off the Tories …
Today, though … the reality is that Labour is still not making the case for Brexit on Labour terms. Virtually every time a Labour politician speaks about Brexit, it is framed as an attempt to mitigate the damage. Labour's underlying assumption is that Brexit has failed because the UK has diverged too much from the EU. A better Brexit is one closer to the EU. But, the reality is that the UK has not diverged enough from the limitations which EU membership placed on national economic planning.
The reason why?
For both main parties, it's too much like work, for MPs and civil servants alike: a parlous state of affairs.
January 31, 2023 marks the third anniversary of Brexit:
As I have written before, those parliamentary debates early in 2020 were splendid. Newly and re-elected Conservative MPs, giving the Government a majority of 80 thanks to Boris Johnson's 2019 'Get Brexit Done' campaign slogan, were full of optimism about how Britain could — and would — be transformed.
Unfortunately, the pandemic put paid to those dreams in mid-March. We couldn't move past it. Even now, we are still suffering financially from the decisions the Government made, forced to do so by Opposition MPs. If Boris had just not given into SAGE, we probably could have stuck to the Swedish policy of no lockdown and minimal restrictions, which would have saved us hundreds of billions of pounds. Then again, Boris got coronavirus and had to be hospitalised for a week in early April. He came back a different man. SAGE were able to exercise power over him.
Even in 2022, once England finally returned to normal, the Government seemed to be treading water. We had three Prime Ministers and four Chancellors of the Exchequer last year. Very little of the optimistic legislation from the 2019 manifesto got started. Instead, Net Zero seemed to take over. It was in the manifesto, but as the final point, not the main one. The Online Safety Bill is a piece of intrusive legislation. The Conservatives are only getting started on pushing legislation through to get rid of thousands of EU laws on our books. Taxes are at a 70-year high. We have tens of thousands of migrants crossing the Channel in small boats. The possibility of any real progress for the Brexit agenda between now and the end of 2024 or January 2025 looks dim.
That said, Guido Fawkes reminds us (emphases his):
… we've signed about 71 new trade deals, led the European response to Putin's war in Ukraine and saved countless British lives with an independent vaccine rollout. And that's without any politicians actually making a concerted effort to capitalise on independence…
Of course, there is always a dismal economic forecast with which to deal. We must remember that Brexit was never about the economy but taking back control of our own national destiny.
Still, here is the latest dismal economic forecast and the danger ahead for Brexit in late 2024 or early 2025:
… even today's IMF report on growth forecasts couldn't bring itself to attribute any faults in the UK economy to our decision to leave the bloc. Now preparations must be made to save Brexit from a Starmer-led Labour government…
Because the IMF is the IMF, its forecasts receive undue attention. It is important to look back on the IMF's track record. They did a terrible job in predicting 2022:
Guido points out:
The 'good' news is the IMF has upped its forecast for 2024, now predicting 0.9% growth from 0.6%. It is also worth bearing in mind the IMF's analysis isn't gospel; it underestimated 2021's growth by 2 points. Chancellor Jeremy Hunt is doing his best to remind everyone of that:
Short-term challenges should not obscure our long-term prospects — the U.K. outperformed many forecasts last year.
A number of these forecasts are shaped to comply with political narratives. One of Guido's readers commented (purple emphases mine):
Rather a lot of years ago, I worked with a fellow who had, in previous employment, worked at the Board of Trade. He told me that every month, their top guy would get together with some other top guy from the Treasury and they would concoct the monthly trade figures to broadcast to the media. T'was all mainly fiction, of course, depending on what political message was required. I doubt if anything much has changed in the intervening years.
Here is another forecast gone wrong: Germany's. Keep in mind that Germany is at the heart of the EU, so we cannot blame Brexit for their woes:
Going back to August 2022, Germany and France joined the UK in having either flat or negative GDP:
Opposition MPs of all flavours, except for Northern Ireland's DUP, tell us that if we were still an EU member country, we wouldn't have inflation.
Yet, on January 26, 2023, Euronews informed us that food prices continue to rise across the EU:
Food prices have continued to rise across Europe despite inflation dropping for a second consecutive month in December, according to data shared on Wednesday by Eurostat, the European statistics agency.
The inflation of food prices in the EU was 18.2 per cent, and 16.2 per cent in the eurozone in December, which is a slight decrease compared to November on average. But some basic food items like sugar, milk cheese and eggs, oils, and fats prices are still going up.
One month earlier, Euronews reported on the plight of French university students who were forced to use food banks:
20% of students in France live below the poverty line. Rising food prices and energy bills soaring are exacerbating their situation. And yet, France gives more financial aid to students than many other European countries …
The government has recently allocated 10 millions euros to support the associations that organise food distributions for students. A consultation between the governement and student unions on the reform of the student grant system is ongoing, but concrete change is not expected anytime soon.
Our Opposition MPs also tell us that if we were still part of the EU, we would not be experiencing the multi-sector strikes that have been plaguing us.
However, let us look at France. Today, January 31, Euronews reported:
A new wave of strikes on Tuesday to protest French government plans to raise the retirement age to 64 has already impacted transport links and electricity production. 
TotalEnegies says between 75% and 100% of workers at its refineries and fuel depots are on strike, while electricity supplier EDF said they're monitoring a drop in power to the national grid equivalent to three nuclear power plants. 
"Following the call for a strike, shipments of products from TotalEnergies sites are interrupted today but TotalEnergies will continue to ensure supplies to its service station network and its customers," the group's management said.
In EDF power stations, strikers reduced loads by "nearly 3,000 MW" on Monday night, but without causing any cuts, the company said.
Hundreds of thousands of workers are expected to take to the streets across France on Tuesday, for a second day of industrial action that unions hope will be even more massive than the first, earlier this month … 
The government had warned in advance of Tuesday's strike about likely disruption to France's transport network. 
In the Paris region the metro and local rail services are "very disrupted" say officials. Long distance TGV train services are also impacted, as are regional trains with intercity services almost at a standstill. 
Rail operator SNCF said only one in three high-speed TGV trains will operate on Tuesday while disruptions are also expected at French airports and on transnational rail services …
French doctors were on an extended strike on January 2: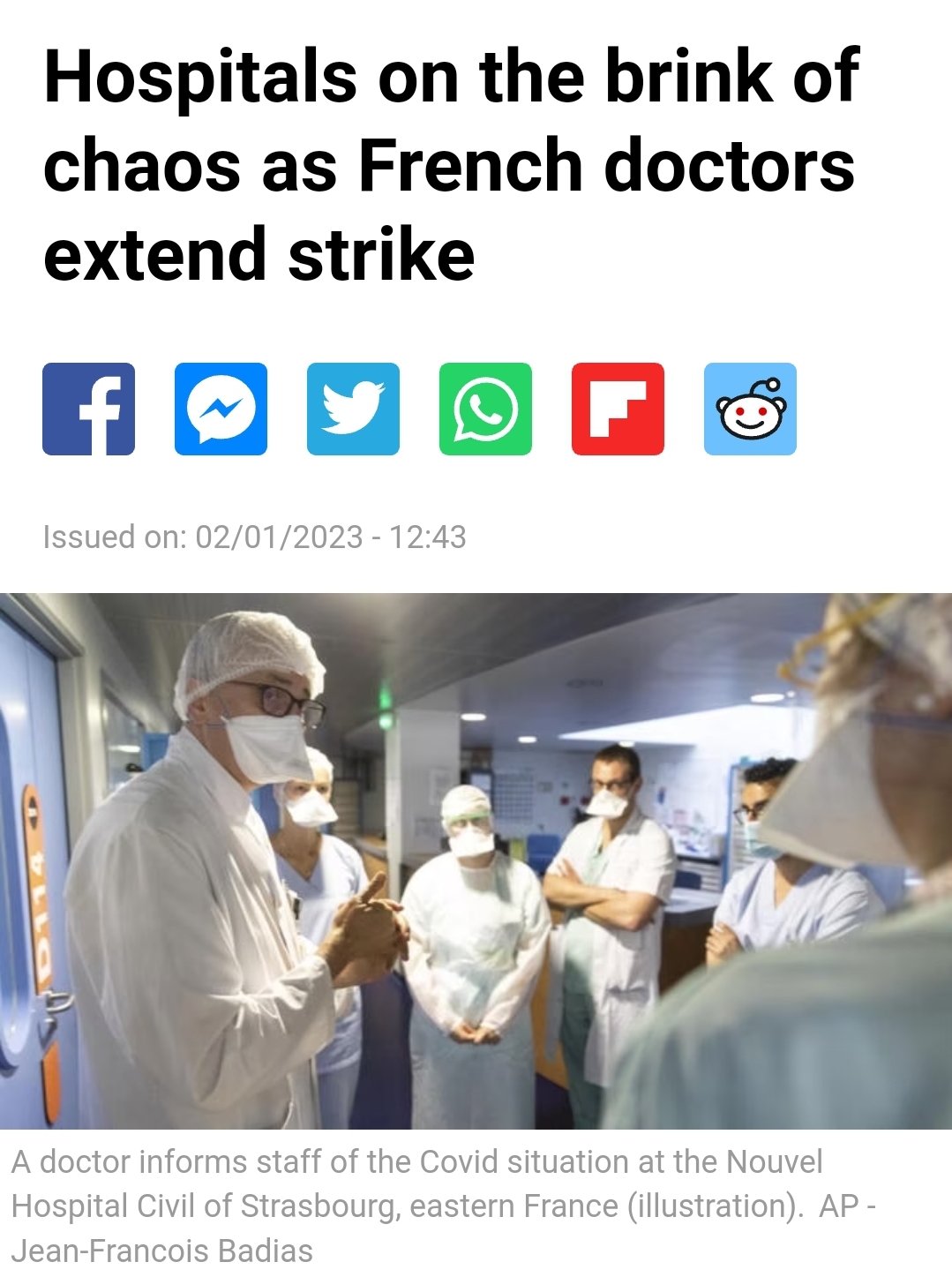 Then there is Ukraine. Nearly a year ago, Remainers told Leavers that Vladimir Putin would use Brexit to his advantage — an entirely erroneous talking point, as Boris was the first Western leader to champion Ukraine. If we had been part of the EU, he would not have been able to do so. By contrast, Germany was buying Russian gas and Italy was sending handbags to Russia:
Then there was the pandemic. In May 2022, the WHO published excess death statistics for 2020 and 2021. The UK had lower excess deaths than Spain, Italy and Germany, although France had fewer excess deaths than we did:
As for migration, France still has as much of a problem as we do, yet our Opposition MPs tell us that if we were still part of the EU, we would not have a Channel crossing issue.
On December 26, 2022, The Times reported that the French government opened the Château de Grignon to house them, which isn't too different to our policy, egregious as it is, of opening hotels to those coming nearly daily across the Channel:
A row has broken out in France over a government decision to shelter homeless families, notably migrants, on the estate of a Renaissance château …
Under a plan to provide shelter for the homeless during the winter, up to 200 people are to be housed in the château estate until March. The first 62, including 37 children, arrived this week.
Officially, they are classified as people of no fixed abode who have been sleeping rough. In practice, most are migrants unable to find shelter upon their arrival in France and often forced to live in squalid, makeshift camps around the Paris ring road.
In conclusion, EU nations share many of the major problems that the UK has.
Brexit has nothing to do with it. In fact, Brexit will probably help us get out of these issues more quickly than EU nations will.
Therefore, Happy Brexit Day! May many more follow!
On Wednesday, January 11, 2023, the outspoken Conservative MP Andrew Bridgen had the whip removed for remarks he tweeted about the coronavirus vaccines.
He now sits as an Independent.
Before going into that news, let us look at Bridgen's past history in Parliament.
Watchdog
Bridgen, who has represented North West Leicestershire since 2010, has always been a watchdog, in and out of Parliament.
Holding his own on Brexit
On April 8, 2019, when Theresa May and Parliament were at loggerheads on how to proceed with Brexit, Bridgen appeared on the BBC's Politics Live to say that most voters would prefer No Deal. He was the only Leave supporter on a panel of four. Everyone else was a Remainer, including the host, Jo Coburn. They piled in on Bridgen, but the MP was correct. He had cited a poll from YouGov which said that 44% of Britons preferred No Deal. By contrast 42% wanted to remain in the EU.
One month later, he rightly objected to MPs who wanted to have a customs union with the EU instead of a full exit:
The impasse in the House of Commons worsened as the months dragged on. On September 10, Bridgen supported Boris's prorogation, which ended up being overturned. He talked with talkRADIO's Julia Hartley-Brewer just before that prorogation:
In late November, The Sun tweeted an excellent video of Bridgen canvassing North West Leicestershire voters before the general election on December 12 that year. They had strong opinions on Brexit, Labour and Boris. Incidentally, North West Leicestershire is the happiest place to live in the East Midlands:
Pointing out 'modern slavery' in Leicester
In January 2020, Bridgen called to the Government's attention the working conditions at certain women's garment factories in Leicester. They would be considered sweatshops in the United States.
The city of Leicester is not in Bridgen's constituency, but he was concerned enough to call the companies out, directing a question to Kelly Tolhurst MP, the then-BEIS (Department for Business, Energy and Industrial Strategy) in Parliament:
Will the Minister agree to meet me to discuss the situation in Leicester, where I believe that approximately 10,000 people in the clothing industry are being paid £3 to £4 an hour in conditions of modern slavery?
Guido Fawkes reported that nothing was done until July that year, when Leicester showed unusually high rates of coronavirus (emphases in the original):
What happened at the meeting months ago?
The Labour Behind the Label campaign has a report out alleging there is evidence which indicates that conditions in Leicester's factories, primarily producing for Boohoo, are putting workers at risk of COVID-19 infection. Grim reading…
Leicester's rates remained high throughout the rest of 2020. By contrast, North West Leicestershire — Bridgen's constitutency — had the lowest rates in Leicestershire. On October 12, he debated the knotty problem of full lockdowns with talkRADIO's Julia Hartley-Brewer, who advocated sequestration of the vulnerable only:
Calling out West Midlands mayoral candidate
In the week before the 2021 local elections in England, he asked IPSA (the Independent Parliamentary Standards Authority) to investigate Labour MP Liam Byrne's alleged use of parliamentary expenses to fund his campaign for the mayoralty of the West Midlands. Byrne fired back that Bridgen put his own London accommodation on expenses, which is what every other MP, including Byrne, does. Then Byrne accused Bridgen of having one of the worst voting attendance records in Parliament. Byrne was wrong there, too, as records show that Bridgen voted 88% of the time, whereas Byrne voted only 63% of the time between 2010 and 2019.
Calling out the BBC
On May 21, 2021, Bridgen complained about the BBC in a tweet, saying that Britons are forced to pay for it, while the organisation shows inadequate accountability in the face of broadcasting scandals it hid under the carpet.
Objecting to coronavirus vaccine passports
On July 22, 2021, Bridgen told GB News that showing a vaccine passport upon entry to various places was 'unworkable', saying that most people were already vaccinated and that it would take too much extra time to check everyone's vaccine status:
2022 signalled big trouble ahead
In 2022, Andrew Bridgen became known as an MP with a reputation.
Initially, his letters of no confidence in previous Prime Ministers became clear, all the way from David Cameron's time through to Liz Truss:
However, later on, his relationship with his family's potato business would begin to bring matters to a head, affecting his standing as a Conservative MP.
On September 3, The Times reported (purple emphases mine):
A Conservative MP branded "dishonest" by a judge has been ordered to pay £800,000 and evicted from his luxurious country home after a dispute involving his family potato business.
Andrew Bridgen, 57, has spent years suing his family business, AB Produce, which supplies potatoes and other vegetables to catering companies and supermarkets.
In March, a High Court judge ruled that he "lied" under oath, behaved in an "abusive", "arrogant" and "aggressive" way, and was so dishonest that nothing he said about the dispute could be taken at face value.
The North West Leicestershire MP had accused the firm of forcing him out of a £93,000-a-year second job, which required him to attend a monthly board meeting. The judge found that, rather than being bullied out of the job as he alleged, Bridgen resigned in order to reduce the amount he might owe his first wife, Jackie, in divorce proceedings.
Judge Brian Rawlings also found that Bridgen pressured the police inspector in his parliamentary constituency to launch a costly one-year investigation into vexatious allegations against his estranged younger brother, Paul Bridgen, 55, who runs AB Produce, which is based in Derbyshire.
In a later judgment in June, which came to light only last week, the MP has been forced by the judge to vacate the Old Vicarage, a five-room property reportedly valued at about £1.5 million. He was given a final deadline of August 24 and Bridgen, his wife and their child complied with the deadline. It is not known where they now live …
Bridgen and his second wife, Nevena, 42, a Serbian blogger and former opera singer, had lived in the restored 18th-century home without charge since 2015. During this period, it is understood that he refused to pay rent, or bills for water and electricity, according to court filings.
Bridgen was told to pay in excess of £800,000 in legal costs to three shareholders at his family's firm, of which one is his brother, Paul, after bringing claims of unfair treatment. He could yet be ordered to pay £244,000 in rent arrears.
It is understood that Bridgen, who earns a basic salary of £84,144 as an MP, has paid the money he already owes, although the source of the funds is unknown and is likely to come under scrutiny …
Parliamentary rules stipulate that MPs who are declared bankrupt must step down if a bankruptcy restrictions order is made against them. He is also vulnerable to another referral to the parliamentary commissioner for standards as he failed to declare AB Produce as the entity paying his rent and utility bills.
According to the guide to the rules relating to the MPs' code of conduct, MPs must declare "taxable expenses, allowances and benefits such as company cars", as well as "financial support and sponsorship" and "gifts of property".
On November 3, Guido reported that the Commons Committee on Standards recommended that Bridgen be suspended from Parliament for five sitting days for the aforementioned controversy:
They also describe an email he sent to the Standards Commissioner Kathryn Stone as "completely unacceptable behaviour" as he 'sought assurance' about a rumour that Stone was shortly to be ennobled provided she arrived "at the 'right' outcomes when conducting parliamentary standards investigation[s]".
The full list of aggravating factors are as follows:
Mr Bridgen breached the rules of the House on registration, declaration and paid lobbying on multiple occasions and in multiple ways. (The Committee noted that each of these breaches could have led it to recommend a suspension from the service of the House);
Mr Bridgen has demonstrated a very cavalier attitude to the rules on registration and declaration of interests, including repeatedly saying that he did not check his own entry in the register;
Mr Bridgen is an established Member of the House, having been elected in 2010;
Mr Bridgen's email to the Commissioner called her integrity into question on the basis of wholly unsubstantiated and false allegations, and attempted improperly to influence the House's standards processes …
For Andrew's clarification, no you cannot submit a letter of no confidence in the Standards Committee…
But, by then, Bridgen had already turned his attention to the coronavirus vaccines, saying that, if there is an investigation in the EU Commission, there should be one in the UK, too:
On Tuesday, December 13, Bridgen was granted an adjournment debate in which he criticised the vaccines and cited Dr Aseem Malhotra, a cardiologist who saw his own father, a healthy man, die of unusual heart problems after taking one of the vaccines. Bridgen, like Malhotra, wanted the mRNA vaccines stopped and offered evidence as to why. As I wrote on December 22, Maria Caulfield, the Government minister and a practising nurse, did not approve of Bridgen's speech. Danny Kruger, another Conservative MP, supported Bridgen's statements, but Caulfield reiterated the Government's line on vaccines.
On Wednesday, December 28, the British Heart Foundation disparaged Bridgen's claims in the adjournment debate, which I also wrote about the following day.
2023 can make or break Bridgen
On Monday, January 9, 2023, Bridgen began the day by tweeting the link to a discussion about alleged lies told during the pandemic and the response to coronavirus:
Later that day, The Guardian reported that Bridgen had been suspended for five working days for lobbying and undeclared interests, matters unrelated to coronavirus:
The MP for north-west Leicestershire was found to have repeatedly broken the MPs' code of conduct by a cross-party committee, which endorsed findings from Kathryn Stone, the parliamentary commissioner for standards.
He was unsuccessful in an attempt to overturn the recommendation in December and a motion was approved by parliament on Monday.
The suspension is due to start on Tuesday 10 January, and will run for five sitting days.
Bridgen was found to have approached ministers and officials on behalf of a forestry company, Mere Plantations, that had given him a donation, a visit to Ghana and the offer of an advisory contract, a role that ended up being unpaid.
Two of the days were recommended by the committee for the breaches of rules on advocacy and interests. The other three days of suspension were advised in response to what the committee said was a "completely unacceptable" attempt by Bridgen to put pressure on Stone.
Bridgen attempted to appeal against the decision, criticising the investigation as "flawed" and arguing that it had not fully considered the motivations of the person who had made the initial complaint.
He argued that he was just helping a local company that worked with Mere, and that it was thus simply a "constituency interest" that brought him no personal benefits. The committee disagreed with this, saying the MP had breached lobbying rules.
The committee, chaired by the Labour MP Chris Bryant, found that Bridgen breached the rules "on multiple occasions and in multiple ways".
Meanwhile, Bridgen continued to sound the alarm about coronavirus vaccines.
On Tuesday afternoon, January 10, he tweeted a Project Veritas interview with a Pfizer scientist who alleges that they were aware that their vaccine was responsible for the unusual spike in cases of myocarditis. This is short, subtitled and well worth watching:
That afternoon, Bridgen tweeted a video featuring Dr Peter McCullough, who alleges that the vaccines are responsible for myocarditis cases and deaths. This, too, is a short video well worth watching:
On the morning of Wednesday, January 11, Bridgen retweeted a message from Dr Malhotra which included a video of Tucker Carlson and vaccine watchdog Robert F Kennedy Jr discussing the omerta on coronavirus vaccines:
Bridgen followed up with his own tweet about the alleged dangers of the vaccines, including a quote from Robert F Kennedy Jr:
Worse news than a five-day suspension came later that morning, after Bridgen had tweeted a cardiologist's comment that the global rollout of coronavirus vaccines will have been the worst human rights violation since the Holocaust. Bridgen later deleted the tweet, but other MPs saw it and strongly objected to it. Pictured along with Bridgen is Conservative MP Simon Clarke:
It then came to the attention of the Conservative Chief Whip Simon Hart, who withdrew the whip from the MP:
On Wednesday morning, Guido reported what Simon Hart had said in defending his decision:
Andrew Bridgen has crossed a line, causing great offence in the process. As a nation we should be very proud of what has been achieved through the vaccine programme. The vaccine is the best defence against Covid that we have. Misinformation about the vaccine causes harm and costs lives. I am therefore removing the Whip from Andrew Bridgen with immediate effect, pending a formal investigation.
However, that afternoon, the Daily Sceptic reported that a Jewish academic in Israel came to Bridgen's defence:
Andrew Bridgen, the British politician suspended as a Conservative MP over allegations of being anti-Semitic in a tweet criticising the Covid vaccines, has been defended by the Jewish Israeli academic whose article he linked to in the tweet in question.
Dr. Josh Guetzkow, a senior lecturer in criminology and sociology at the Hebrew University of Jerusalem, told the Daily Sceptic that as a Jew living in Israel he was "surprised" by the accusations against Mr. Bridgen, because "there is nothing at all anti-Semitic about his statement" …
John Mann, the Government's independent anti-Semitism adviser, was unequivocal, saying: "There is no possibility that Bridgen can be allowed to stand at the next election. He cannot claim that he didn't realise the level of offence that his remarks cause."
Prime Minister Rishi Sunak said that he "completely condemn[ed] those types of comments in the strongest possible terms".
"Obviously it is utterly unacceptable to make linkages and use language like that and I'm determined that the scourge of antisemitism is eradicated," he told the Commons on Wednesday …
However, Dr. Guetzkow, whose tweeted article details the alarming, recently-released analysis of vaccine adverse event data from the U.S. CDC, said this is a "tempest in a teapot".
"The hollow accusations against him only distract from genuine examples of anti-Semitism and ultimately hinder attempts to draw attention to them, much like the boy who cried wolf," he said.
It is clear from the statement by the Chief Whip that Mr. Bridgen's chief sin is to have criticised the vaccines. Mr. Hart's statement notably does not mention anti-Semitism, but rather says that Mr. Bridgen is having the whip removed for "misinformation about the vaccine", which "causes harm and costs lives", adding only that he had caused "great offence in process".
The allegations of anti-Semitism therefore appear to be just the opportunity party chiefs needed to mete out the punishment to the vaccine heretic …
Stop Press: Dr. Guetzkow has pointed out that Holocaust survivor Vera Sharav has been drawing parallels between the extreme and discriminatory public health measures during the pandemic and the Holocaust throughout the the last three years.
Rishi Sunak's comment came up during Wednesday's PMQs (Prime Minister's Questions), the first of 2023, which I watched on BBC Parliament.
One might well ask who asked the question.
None other than Matt Hancock, who has just returned from a short holiday in Turkey, which seemed to involve shopping.
The Daily Sceptic reported:
Matt Hancock, the disgraced lockdown Health Secretary, hit out at Mr. Bridgen's "disgusting, antisemitic, anti-vax conspiracy theories" at Prime Minister's Questions on Wednesday. He said the comments were "deeply offensive" and "have no place in this House or in our wider society".
Prime Minister Rishi Sunak replied that he joined Mr Hancock in "completely condemning those types of comments in the strongest possible terms".
In closing, the Daily Sceptic calls to readers' attentions Andrew Bridgen's qualifications:
Mr. Bridgen, who has a science background, has become Parliament's most vocal critic of the Covid vaccines. He thus made himself a big target for the pro-vaccine zealots who will have been looking for an excuse to punish and cancel him, and who have predictably leapt on the first 'offensive' thing they could find.
Wikipedia states that Bridgen studied genetics and behaviour at the University of Nottingham and graduated with a degree in biological sciences.
The Government does not want their big achievement of the past three years — the vaccine rollout, Europe's first — to be tainted in any way.
However, judging from the comments, Daily Sceptic readers are supportive of Andrew Bridgen and look forward to hearing more from him on the vaccines this year, which is more than can be said of Matt Hancock, who, as of December 28, was still searching for a celebrity agent to kickstart his new career in reality television.
—————————————————————————————————-
UPDATE — Guido Fawkes has reported Andrew Bridgen's statement on having lost the Conservative whip, complete with video:
The fact I have been suspended over this matter says a lot about the current state of our democracy, the right to free speech, and the apparent suspension of scientific method of analysis of medicines being administered to billions of people.
It's hard to know where to begin with this year's Christmas news, much of which is disappointing, to say the least.
That said, there is a bright Christmas message here, so please read on.
Scotland legislation latest
On Thursday, December 22, the Scottish Parliament — or Assembly, as I still call it — passed legislation for Gender Recognition Reform, specifically to grant Gender Recognition Certificates (GRCs).
The bill passed in the SNP-controlled government 86-39 with no abstentions. Only two Conservative MSPs voted for it. The rest were SNP (Scottish National Party), Scottish Greens (SNP coalition partners), Scottish Labour and Scottish Liberal Democrat MSPs.
The final contributions were largely made on the basis of feelings. Wednesday's transcript shows that every Conservative motion proposing greater controls over who can apply for a GRC and under what conditions was defeated. Debate had also taken place on Tuesday in an attempt to rush this through before Christmas break.
The Scottish Parliament thought this so important that it even cancelled their annual Christmas carol service, which, this year, was to feature Ukrainian refugees living just outside of Edinburgh.
A pro-independence — though not a pro-SNP — Scot who lives in England, the Revd Stuart Campbell, summed up the legislation in one of his Wings Over Scotland posts, 'On the hush-hush' (emphases mine):
The last few days have been perhaps the most turbulent in the entire history of the modern Scottish Parliament. Proceedings have been suspended repeatedly, members of the public thrown out and threatened with arrest, filibusters attempted, carol services cancelled, tempers frayed and sittings going on until the wee small hours.
All of this has happened in the service of the policy that the SNP has made its flagship priority for the last two years and more – the destruction not only of women's rights, but of the very CONCEPT of a woman …
So you'd imagine the party would have been tweeting about it constantly, keeping its supporters informed about all the dramatic events and the progress of the bill, if only to reassure them that they were determined to get it passed before the Christmas break come what may …
But there wasn't one solitary word about the thing it just spent three solid days forcing into law. And since it was a thing that most of its own voters, and indeed a huge majority of all Scots, were opposed to, readers might be forgiven for thinking that they just wanted it all kept as quiet as possible, as if they were ashamed.
We suspect, and very much hope, that their wish may not be granted.
The Revd Mr Campbell means that the Secretary of State for Scotland in Westminster might refuse to present the Bill for King's Assent. Let's hope so.
Another Wings over Scotland post explains what the Bill actually does:
… one of the most regressive, dangerous and frankly absurd pieces of legislation the modern world has ever seen. Last week, [First Minister Nicola Sturgeon's] government successfully managed to get the word 'woman' redefined from an adult human female to anyone to who has a piece of paper that says they are one.
Should obtaining this piece of paper involve a rigorous, measured process that takes psychological and criminal history into serious consideration and prioritises the safety of women and children, this would be permissible to the socially liberal. Alas though, the new GRA has shamelessly scrapped all safeguarding measures. For a man to legally become a woman now – and be entitled to access all female-only facilities, be it changing rooms or prisons, all he has to do is 'live as' a woman (whatever the hell that means) for three months followed by a three-month 'reflection period'.
TRA-adjacent politicians have nowhere to hide with this now. They can no longer deny that sex-based rights will be grievously compromised and that predators and fetishists now have ease of access to women (and children's) spaces, from bathrooms to sports teams.
In another post, Campbell linked to Tuesday's proceedings where a Conservative MSP tried to raise an amendment calling for greater scrutiny of sex offenders wishing to change gender. Unfortunately, 64 SNP/Green/Lib Dem MSPs voted it down. In 'The Disgraces of Scotland', Campbell wrote:
The events marked simply and unquestionably the most shameful and contemptible moment in the history of the Scottish Parliament since 1707.
1707 was the year when the Act of Union was established between England and Scotland.
He also pointed out that voting down the amendment resulted in:
ceding the moral high ground to the Scottish Conservatives …
Anyone who knows the Scots knows that anything Conservative is unpopular there. That said, the Scottish Conservatives are the official opposition party in Edinburgh.
It should be noted that anyone aged 16 1/2 and over can apply for a GRC. It would appear that no formal medical diagnosis will be required with this new legislation.
Campbell's readers have much to say on the matter. Some say this is a deleterious influence from American pressure groups. Others say that women will be in great danger.
Both are likely possibilities.
None of the MSPs supporting the Bill thinks that women will have any problem with sex offenders or deviants. However, a British substack begs to differ. 'This Never Happens' is a lengthy catalogue of gender-changers around the world who have committed horrific crimes, many of a sexual nature. Another site with a similar catalogue can be found here.
It is ironic that a woman is in charge of Scotland and she has overseen this legislation. In fact, she has supported it from beginning to end.
Scotland, like Canada, was such a beautiful country once upon a time. When I say 'beautiful', I'm referring to people. Another spirit — the devil — is moving through both nations.
One positive outcome is that the Scottish Conservatives can use this legislation to their advantage during the next election cycle. Unlike the SNP, Scottish Labour and Scottish Lib Dems, they alone voted en masse against it, showing that they are the true defenders of women and girls.
An UnHerd columnist, Joan Smith, says that this will come soon to England, should Labour win the next general election:
The man sitting next to you on a tram in Edinburgh, or turning up for a women-only swimming session, may self-identify as a woman — and the law will support him every step of the way. Centuries-old assumptions about what is real, about what people see in front of them, are being overturned. And it's coming to Westminster as well, if Sir Keir Starmer follows through on his proposal to 'update' the 2004 Gender Recognition Act.
We have less than two years before a Labour government comes to power, weighed down by promises to import the idiocy (I'm being polite here) of self-ID to the rest of the UK. Two years, in other words, to watch what happens when politicians reject biology, common sense and the imperative to protect women against male violence. 
In the meantime, prisons, hospitals and refuges outside Scotland will face the headache of what to do when a man with a Scottish Gender Recognition Certificate (GRC) — obtained with far fewer safeguards than elsewhere in the UK — demands access to women-only spaces. The prospect of expensive litigation is terrifying, but women's organisations on both sides of the border are already preparing for the fight of their lives.
So crazed are MSPs by this ideology that on Tuesday evening they voted down an amendment that would have placed barriers in the way of convicted sex offenders who seek to apply for a GRC, complete with a new female name. They even rejected an amendment — proposed by Michelle Thomson, an SNP MSP who has waived anonymity to reveal her own experience of being raped when she was fourteen years old — that would have paused the process of acquiring a certificate for men charged with sexual offences.
This is an extremely troubling development. Let's not forget that the SNP-Green government has pressed ahead with the legislation even after Lady Haldane's judgment established last week that a GRC changes someone's legal sex for the purposes of the 2010 Equality Act. Scottish women are now expected to accept that any man standing in front of them, waving a piece of paper, is a woman — even if they're in court and the man is accused of raping them. 
It's clear that a bill that was supposedly purely administrative has hugely expanded the number of individuals who can apply for a GRC, with catastrophic effects on women's rights.
The rest of the UK is about to find out what it's like living alongside a country in which observable sex no longer has any meaning. Welcome to Scotland, where the word 'woman' will now soon include any man who fancies it.
Conservatives in England and Wales can take heart from this for the general election in two years' time, pointing to their colleagues north of the border. Who are the great defenders of women and girls? It certainly won't be Labour.
Woman arrested for silent prayer
On December 6, a pro-life supporter from Worcestershire was arrested for praying silently in Birmingham in an exclusion zone around an abortion clinic.
Here is the video of her arrest:
A fundraiser is open for her:
BirminghamLive filed their report on Tuesday, December 20:
A woman has been charged with breaching an exclusion zone outside a Birmingham abortion clinic. Isabel Vaughan-Spruce, aged 45, from Malvern in Worcestershire, was arrested near the BPAS Robert Clinic in Kings Norton on December 6.
She was later charged with breaking a Public Space Protection Order, said by Birmingham City Council to have been introduced to ensure "people visiting and working there have clear access without fear of confrontation". Vaughan-Spruce will appear at Birmingham Magistrates' Court on February 2 next year.
A West Midlands Police spokesperson said: "Isabel Vaughan-Spruce, aged 45 from Geraldine Road, Malvern, was arrested on December 6 and subsequently charged on December 15 with four counts of failing to comply with a Public Space Protection Order (PSPO). She was bailed to appear at Birmingham Magistrates Court on February 2 2023."
The police must feel threatened by prayer, especially that of the silent sort.
On Friday, December 23, UnHerd 's Mary Harrington gave her thoughts on the arrest:
It's customary in these situations to decry the breach of liberal norms involved in arresting someone not for doing something wrong but merely thinking. But if, as I've suggested elsewhere, all politics is now post-liberal, that means it's once again explicitly the case that state power is aligned with a widely-shared moral order. 
This is a drum I've been banging for a little while, for contra the fond imaginings of some liberals we never really stopped ordering power to sacred values. After all, it's not really possible to have a functioning polity otherwise. This, I argued shortly before the pandemic, is why hate crime laws appeared a scant few years after the abolition of blasphemy laws: they are blasphemy laws. We've just updated what we considered blasphemous …
…  Vaughan-Spruce's arrest makes it clear that the zone surrounding an abortion centre is treated as sacred in a way that's evidently no longer meaningfully the case (at least as far as the European court is concerned) of a church. She is an activist and director of March for Life UK, and has been previously arrested for protesting against abortion. But this in no way diminishes the growing sense that the activity being protected is also increasingly treated as sacred …
We have sacralised autonomy to such an extent that laws uphold women's right to it, even at the cost of another radically dependent life. And the issue is growing ever more moralised, as evidenced by the fact that even thinking disapproving thoughts about this radical commitment to individual autonomy is now treated as blasphemous, in zones where its most extreme sacrifices are made. 
Wherever you stand on the practical issues surrounding abortion, this is indisputably a profound statement on the relative values we accord to freedom, care and dependency — one with profound ramifications for how we see the weak and helpless in any context. That the practice is taking on sacramental colouring, for a religion of atomisation, should give us all pause.
Indeed.
House of Lords Archbishop of Canterbury debate on asylum
On December 9, the House of Lords gave the Archbishop of Canterbury his annual debate. This year, the subject was the UK's asylum and refugee policy.
I hope that readers will understand if I do not excerpt his speech here. They are free to read it for themselves.
We have taken in a record annual number of illegal migrants crossing the Channel this year, expected to be over 50,000.
We have also taken in large numbers of legitimate refugees and asylum seekers. We have also given visas to many thousands of legal migrants this year, particularly from Africa and Asia, namely India and Hong Kong.
UnHerd had a good analysis of what Welby said and our current predicament:
The Archbishop says he aims to support action that would "prevent small boats from crossing the channel", but he also stresses that the UK is not taking many refugees and should take many more. 
Astonishingly, he dismisses the provision our country has made to welcome Hong Kong residents — well over 100,000 to date and many more to come — by saying "and that, by the way, is not asylum but financial visas". It may not involve an application for asylum as such, but it clearly involves flight from oppression. Welby also draws the wrong conclusion from the fact that developing countries host many more refugees than developed countries. This is much cheaper than settlement in the West and makes return more likely. Developed countries should help pay the costs, and the UK leads the way in this regard.
The control Welby claims to support does not presently exist. The small boats cannot safely be turned around in the Channel and France will not accept their immediate return. The Rwanda plan is a rational (if imperfect) attempt to address the problem, removing asylum-seekers to a safe third country, where they will be protected, yet the Archbishop decries the plan on the grounds that it outsources our responsibilities. This makes no sense, for the UK not only accepts that Rwanda must comply with international standards, but also commits to funding the protection of those who prove to be refugees. Welby asserts that the plan has failed to deter. Indeed, because it has not yet been tried at all. 
The UK has good reason to resettle in safe third countries those who enter unlawfully on small boats, which would discourage others from (dangerous) unlawful entry and restore control of our borders. The historic tradition on which the Archbishop relies is alive and well in the provision our government has made, with wide public support, for temporary protection for Ukrainians escaping Russian aggression and for resettlement of the new Huguenots, the Hong Kong residents seeking to escape the oppressive reach of the Chinese Communist state. 
Lord Lilley — former Conservative MP Peter Lilley — posed the conundrum of loving one's neighbour and not being able to accommodate everyone, especially those who arrive under false pretences:
This issue raises very difficult dilemmas for Christians. Being a very inadequate Christian myself, I take up the challenge from the most reverend Primate the Archbishop with trepidation: to try to formulate principles for governing our policy on asylum and migration. Not having direct access to the mind of God like the most reverend Primate the Archbishop, I seek those principles in the Bible.
I recall that our Lord said that the essence of Christianity is to love God and love our neighbour as ourselves. When asked who our neighbour is, he gave the parable of the good Samaritan, when a Samaritan helps a Jew—from which I deduce that our neighbour is not just the person next door to us and not necessarily a member of our own nation; it can be anyone. The first principle I therefore deduce is that, although charity begins at home, as a lot of my constituents used to tell me, it does not necessarily end at home. I am at one with the most reverend Primate the Archbishop on that.
Secondly, the Samaritan did what he practically could. We may be called on to help anyone we practically can, but we cannot help everyone. Again, the most reverend Primate the Archbishop recognised that and it is important that we recognise that our responsibilities are finite, in this respect.
Thirdly, when the Levite and the Jewish priest reached their destination, I have no doubt that they deplored how, owing to years of austerity, there had been insufficient spending on police and the health service to prevent the problem arising in the first place or to treat the person, instead of leaving it to the passing Samaritan. Therefore, my third principle is that, to be a good Samaritan, you have to give care, help and so on at your expense. We, as politicians, may have to take decisions on behalf of others but, in doing so, we should have consideration for the impact we are having on others and not imagine we are being virtuous when we do good at their expense.
The first principle is that charity begins at home, in how we treat people who have come to settle here. When I was a child, mass immigration into this country was just beginning. The parish in which I lived asked each family to link up with a migrant family, many of whom were lonely, isolated and, at worst, facing hostility. My family was linked up to a delightful Mauritian couple, whom we would invite to supper every few weeks. We became good friends. That was done by parishes across south London. I would love to hear from Bishops who have not yet spoken about what the churches are doing today to help integrate those who are here in our society and to be the good Samaritans to our neighbours from abroad.
But charity does not end at home. I pay tribute to those tens of thousands of people who opened their homes to families fleeing the bombing in Ukraine, while their menfolk remained to fight for their country. We should not imagine we are sharing in being good Samaritans if we throw open the doors of our country to everybody because, if we do that, we are doing good at others' expense. We are, in effect, saying that migrants, be they legal or illegal, asylum seekers or otherwise, through housing benefit and social housing, will have access to rented and social homes. We all have our own homes, so we will not be affected. Therefore, more young people will have to wait at home or live in cramp bed-sitters for longer, because of what we, as legislators, think we are doing generously, without taking the impact on others into account.
The second principle is that our neighbour can be anyone, but it cannot be everyone. Millions of people want to come here. Look at the impact of the green card system the Americans operate, when they make 30,000 visas to the US available to certain countries and say, "Anyone can apply; there is a ballot." Some 9% of the population of Albania applied when they heard about that being offered to them, as did 11% of the Armenian and 14% of the Liberian populations. These were only the people who heard about it and responded. The potential number who would like to come to America or Europe, if we open these so-called direct routes, would be enormous. Will we say to those who apply, at an embassy or some place abroad, that they would have the same legal rights, and opportunities to appeal or for judicial review if things are turned down? If so, potentially millions of people would join the queue. It would not shorten but lengthen it, so we have to restrict and to prioritise.
I submit to noble Lords that the priority should not be the boat people. They are not coming by boat from Basra, Somalia or Eritrea; they are coming from France, Belgium and Germany. Why are they coming here rather than staying in those safe countries? They are three or four times as likely to be rejected there. France, in the last year before the pandemic, forcibly repatriated 34,000 people. I find some strange double standards being applied here. There are no criticisms of France for being much stricter than us or of us for being much laxer than them, but one or the other must be the case.
I am coming to an end. If it is morally and legally right for the French to try to prevent people leaving their shores, and for us to pay and support the French in so doing, it should be morally and legally right for us to return them. If they cannot be returned, it is reasonable to try to deter them by saying, "If you come here, you will go to Rwanda. You always have the opportunity to stay in France." I submit that we do not always consider these opportunities.
Later on, the Archbishop of York, the Right Revd Stephen Cottrell, spoke, an excerpt of which follows. The transcript hardly does his indignation justice. He ripped right into Lord Lilley:
I say to the noble Lord, Lord Lilley, that everyone is our neighbour. Of course, we cannot take everybody, but that makes it even more important that we have a fair system for everyone.
Dehumanising language promotes fear. Threat of destitution is used as a deterrent. Children are treated as if they are adults. Yet in our own country, among our own people, in our churches, other faith groups and communities, some things have gone well, such as the Homes for Ukraine scheme, where many people have found a home, other family members have joined them, and people have been able to get work. This is really good.
But why has our response to people fleeing other conflicts been different? Currently, the definition of family in our asylum system would not allow someone to join their sibling even if they were the last remaining relative, and being able to work and contribute is a long way off. The tragedy of our system lies in its exceptionalism, meaning that people receive differential treatment usually because of their country of origin. That underpins the Nationality and Borders Act, and I fear that further legislative action will be the same.
But we could learn from what is happening in our communities. The noble Lord, Lord Lilley, asked us directly about integration. I do not know where to begin. In hundreds of parishes and schools, and in other faith communities up and down our country, that is what we are doing—in English language classes, in befriending and in teaching people. I would be the first to admit that there are lots of things about the Church of England that could be better, but that is something that we are doing, alongside others, and it shows the best of British.
We need a system that will simply provide safe and legal routes for everyone to have equal opportunities to apply for asylum. All I am saying is that I think that would be good for us, as well as for the people who are fleeing unimaginable conflict and evil.
Finally, when it comes to being able to work, the Church of England, alongside the Refugee Council and the Government's own Migration Advisory Committee, is a long-standing supporter of the Lift the Ban campaign.
I say all this—like many of us, I would wish to say more, but the most reverend Primate the Archbishop of Canterbury said most of it—as winter arrives, and it is cold, and a cost of living crisis will inevitably affect the British people's capacity to be hospitable. I say simply that a functioning asylum system is not a threat to our social cohesion as some fear or predict, but a dysfunctional, unfair one is.
As every small child knows at this time of the year, as the noble Lord, Lord Cormack, mentioned, Mary and Joseph came looking for somewhere to stay, but there was no room at the inn. Saying no, accusing those who are being hospitable of being naive, or passing the buck are easy, but saying yes, with a fair and equal system for everyone, opens up blessings for everyone.
A week later, Cottrell featured in an article in The Telegraph: 'Forgive my "predictable leftie rant" on asylum, says Archbishop of York'.
It seems he knew he was out of order with Lord Lilley, who deserved the same courtesy as the peers agreeing with the Archbishop. It was good for Lord Lilley to speak politely on behalf of the British public.
Britons are paying upwards of £7 million a day just to house those crossing the Channel.
GB News's Mark Steyn and his guest hosts have been covering the topic nearly every night:
Taxpayers are deeply upset, especially during our cost of living crisis, which is causing many to choose between food and fuel.
Combine that with taxpayers' personal expenses for Net Zero, and we are heading for disaster:
Red Wall Conservative MP Jonathan Gullis tried unsuccessfully to raise a Private Member's Bill to get illegal migrants to Rwanda sooner rather than later:
Hotels across England are being taken over by companies working for the Home Office to house the Channel-crossers:
Hospitality workers in those hotels are losing their jobs as the aforementioned companies install their own staff to manage them:
The December 22 show also featured the seemingly intractable problem:
Former Sun editor Kelvin MacKenzie then swung by to weigh in on how much migrants are costing Britons.
The Home Office — read 'civil servants' — must do something now.
It's obvious people are watching GB News, because they beat BBC News for the first time ever on December 14:
Onwards and upwards!
House of Commons recess debate
On Tuesday, December 20, the House of Commons held its Christmas recess debate.
Normally, these are rather jolly affairs where MPs air wish lists for their constituencies for the New Year. However, this year's contributions were rather grim, including those from Conservative MPs.
Once again, providentially, I tuned in at the right time to hear the member for Don Valley, Conservative MP Nick Fletcher. He closed his speech saying the following, the first part of which came as news to me:
Finally, Christian friends across the House tried to secure a Backbench debate on Christmas and Christianity, but by all accounts we were not successful. While I have this moment, I want to remind those in this place, and anyone who cares to watch, that although Christmas is celebrated in many ways across the world, the real reason is the birth of our saviour, Jesus Christ. He was sent as a saviour, and with the promise that whoever believes in him will have eternal life. I do not want anyone ever to forget that. Merry Christmas everybody.
Jim Shannon, a Democratic Unionist Party MP (i.e. from Northern Ireland), was one of the last MPs to speak. A devout Anglican — yes, they still exist — he gave a beautiful speech on the meaning of the season, most of which follows:
It is no secret that I love this time of year—I may have mentioned that a time or three in this House. There are so many things to love about Christmas: time with family; good food; fellowship; and, for me, the singing of an old Christmas carol as we gather in church. But the most wonderful thing about Christmas for me is the hope that it holds. I wish to speak this year about the Christ in Christmas, because, too often, we miss that. It would be good this year to focus on what Christmas is really all about. I ask Members to stick with me on this one.
The message of Christmas is not simply the nativity scene that is so beautifully portrayed in schools and churches throughout this country, but rather the hope that lies in the fact that the baby was born to provide a better future for each one of us in this House and across the world. What a message of hope that is; it is a message that each one of us needs. No matter who we are in the UK, life is tough. The past three years have been really, really tough—for those who wonder how to heat their homes; for those who have received bad news from their doctor; for those whose children have not caught up from the covid school closures; for those who mourn the loss of a loved one; for those who mourn the breakdown of a family unit; and for those who are alone and isolated. This life is not easy, and yet there is hope. That is because of the Christmas story. It is because Christ came to this world and took on the form of man so that redemption's plan could be fulfilled. There is hope for each one of us to have that personal relationship with Christ that enables us to read the scriptures in the Bible and understand that the creator, God, stands by his promises.
I want to quote, if I may, from four Bible texts. To know that
"my God will meet all your needs according to the riches of his glory in Christ Jesus."
That is from Philippians 4:19.
To trust that
"I am the Lord that heals you."
To believe that
"all things are possible."
That is Matthew 17:20.
We can be comforted by Psalm 147:3:
"He heals the brokenhearted, And binds up their wounds."
Isaiah 41:10 says:
"So do not fear, for I am with you; do not be dismayed, for I am your God. I will strengthen you and help you; I will uphold you with my righteous right hand."
The strength for today and bright hope for tomorrow come only when we understand who Christ is. One of my favourite Christmas passages is actually not the account of his birth, but the promise of who he is. We all know this:
"For to us a Child shall be born, to us a Son shall be given; And the government shall be upon His shoulder, And His name shall be called Wonderful Counsellor, Mighty God, Everlasting Father, Prince of Peace."
In a world where our very foundation seems to be shifting, how awesome it is to know that this our God is only a prayer away. A group of people come to the House of Commons two or three times a week, and pray for Parliament. I have to say how important it is to have those prayers.
As we think of this passing year—something that many of us do—we think about what has happened and perhaps look forward to 2023 with renewed hope for the future. I think we should look forward with hope; we have to do that. We should always try to be positive. In this passing year, my mind goes to the loss of Her Majesty the Queen. Many of us felt that so deeply, and yet her passing also carried the message of hope, because of Christ. I quoted this when we had the tributes to Her Majesty. It is important, I think, to put it on the record again.
The wonderful message that the Queen gave in one of her cherished Christmas messages—this one was in 2014—was crystal clear:
"For me, the life of Jesus Christ, the prince of peace, whose birth we celebrate today, is an inspiration and an anchor in my life."
That was Her Majesty talking.
"A role model of reconciliation and forgiveness, he stretched out his hands in love, acceptance and healing. Christ's example has taught me to seek to respect and value all people of whatever faith or none."
It is my firm belief that this true message of Christmas is what can bring hope and healing to a nation that can seem so fractured. When I look at the headlines, I sometimes despair, but that is also when I most enjoy my constituency work, and getting to see glimpses of community spirit and goodness that are done daily and yet are rarely reported. Her Majesty's speech in 2016 reflected that, when she said:
"Billions of people now follow Christ's teaching and find in him the guiding light for their lives. I am one of them because Christ's example helps me to see the value of doing small things with great love, whoever does them and whatever they themselves believe."
At that point, Conservative MP John Hayes intervened:
It is heart-warming and refreshing to hear the hon. Gentleman's plain and confident affirmation of his faith, and our faith too. By the way he speaks, he encourages all of us to reflect on the Judeo-Christian foundations on which our society and our civilisation are built, and I just wanted to thank him for that.
Jim Shannon thanked John Hayes before continuing:
The right hon. Gentleman is most kind. I am giving just a slight reminder of what Christmas is about. I think we all realise that, but sometimes it is good to remind ourselves of it. The example of Christ is one of humility, coming to the earth as a vulnerable baby, and of purpose, as we see the gold given that symbolises royalty, the frankincense to highlight his deity and myrrh to symbolise his purposeful death to redeem us all.
I am a strong advocate in this House for freedom of religion or belief, as the Leader of the House knows. She is always very kind; every week, when I suggest something that should be highlighted, she always takes those things back to the Ministers responsible. I appreciate that very much, as do others in this House. I am proud to be associated with that wonderful cause, and as long as God spares me I will speak for the downtrodden of my own faith and others. I speak for all faiths, because that is who I am, and so do others in this House with the same belief.
At the same time, however, like Her late Majesty, I am proud to be a follower of Christ. At this time of year I simply want the House to know the hope that can be found in Christ, not simply at Christmas, but for a lifetime. The babe of Bethlehem was Christ on the cross and our redeemer at the resurrection, and that gives me hope and offers hope for those who accept him and it.
From the bottom of my heart, Mr Deputy Speaker, I thank you in particular, since you have presided over this speech and the past few hours. I thank Mr Speaker and all the other Deputy Speakers, with all the things that are happening to them, the Clerks and every staff member in this place for the tremendous job they do and the graceful spirit in which everything has been carried out in the last year. I thank right hon. and hon. Members, who are friends all—I say that honestly to everyone.
I thank my long-suffering wife, who is definitely long-suffering, and my mum—
At that point, Shannon broke down in tears.
Leader of the House Penny Mordaunt stepped in quickly and graciously while Shannon composed himself:
The hon. Gentleman has often summed up how people feel, particularly at this time of year. I know he has had losses over the past few years, and he always manages to sum up the feeling of this House. Many Members in this debate have spoken about constituents or family they have lost, and we appreciate his bringing up these issues, as I appreciate all Members' doing so. There will be some people thinking about spending Christmas apart from family they are not able to see, or having suffered those losses. I thank him and we are all willing him strength as he continues his speech.
After a pause, Shannon resumed and concluded:
I thank the Leader of the House for that. I mentioned my long-suffering wife; we have been married 34 years, so she is very long-suffering, and that is probably a good thing, because we are still together. My mum is 91 years old and I suspect she is sitting watching the Parliament channel right now to see what her eldest son is up to and what he is saying, so again that is something.
I also thank my staff members. I told one of my Opposition colleagues last week that I live in a woman's world, because I have six girls in my office who look after me and make sure I am right …
Lastly, I thank my Strangford constituents, who have stuck by me as a councillor, as a Member of the Legislative Assembly and as a Member of Parliament in this House. This is my 30th year of service in local government and elsewhere. They have been tremendously kind to me and I appreciate them. I want to put on record what a privilege it is to serve them in this House and to do my best for them.
I wish everyone a happy Christmas, and may everyone have a prosperous, peaceful and blessed new year, as we take the example of Christ and act with humility and purpose in this place to effect the change that we all want and that is so needed in our nation—this great United Kingdom of Great Britain and Northern Ireland, always better together.
Mr Deputy Speaker Nigel Evans said:
Your mother and wife will be as proud of you as we all are, Jim. [Hon. Members: "Hear, hear!] As a person of faith, I thank you very much for putting the Christ back into Christmas in your speech. We come now to the wind-ups.
When acknowledging MPs' contributions in the debate, Penny Mordaunt said:
The hon. Member for Strangford (Jim Shannon) should never have to apologise for mentioning Christ in this place—especially at Christmas. We are in a place where the architecture is designed to turn our faces to God. I thank him for his Christmas message.
And, finally — best Christmas wishes to Mark Steyn
In closing, hearty Christmas wishes to Mark Steyn who is recovering from two successive heart attacks:
He is recovering in France but told viewers more on December 19. Incredibly, the first heart attack happened before he presented one of his nightly shows on the self-styled People's Channel. He presented it anyway. Wow:
The GB News host suffered the first one "without recognising" the symptoms, before hosting his show on The People's Channel.
Speaking on his current absence from GB News, Steyn said: "I'm too medicated to manage artful evasions.
"I had two heart attacks. Because I didn't recognise the first one, as such, the second one was rather more severe."
The experienced broadcaster spoke about the shocking ordeal, saying he "doesn't look right", looking back at images of himself presenting the Mark Steyn show during the first heart attack.
Speaking on SteynOnline, he said: "The good news is that the first one occurred when I was in London. If you get a chance to see that day's Mark Steyn Show, with hindsight, I don't look quite right in close-ups.
"By not recognising it as a heart attack, I deftly avoided being one of those stories we feature on the show every couple of nights about people in the UK calling emergency and being left in the street for 15 hours before an ambulance shows up.
"I had a second heart attack in France. With Audrey [his wife?] helping me in the ambulance, she told me I was 15 minutes from death."
The presenter also revealed he would remain in France over Christmas and New Year as he is unable to leave medical care and return to New Hampshire.
GB News viewers will be sending Mark every best wish for a speedy recovery — and a healthy, happy New Year! We look forward to seeing him on the airwaves soon!
Thus far, most of my series on Matt Hancock has focused on his handling of the coronavirus pandemic.
Those who missed them can catch up on parts 1, 2, 3 and 4.
Even though the vaccine was about to be distributed throughout the UK, people in England were frustrated by the restrictions which the Government had imposed indefinitely. Effectively, we had had a Christmas lockdown, with more restrictions that came in on Boxing Day. As I covered in my last post, even at the end of the year, Hancock could not say when they would be lifted.
This post covers the first half of 2021 with excerpts from Hancock's Pandemic Diaries as serialised in the Mail along with news I had collected during that time. Pandemic Diaries entries come from this excerpt, unless otherwise specified.
Vaccines and side-effects
Former Times journalist Isabel Oakeshott co-authored Pandemic Diaries. On December 7, The Spectator posted her impressions of Hancock and the pandemic.
This is what she had to say about the vaccine policy (emphases mine):
The crusade to vaccinate the entire population against a disease with a low mortality rate among all but the very elderly is one of the most extraordinary cases of mission creep in political history. On 3 January 2021, Hancock told The Spectator that once priority groups had been jabbed (13 million doses) then 'Cry freedom'. Instead, the government proceeded to attempt to vaccinate every-one, including children, and there was no freedom for another seven months. Sadly, we now know some young people died as a result of adverse reactions to a jab they never needed. Meanwhile experts have linked this month's deadly outbreak of Strep A in young children to the weakening of their immune systems because they were prevented from socialising. Who knows what other long-term health consequences of the policy may emerge?
Why did the goalposts move so far off the pitch? I believe multiple driving forces combined almost accidentally to create a policy which was never subjected to rigorous cost-benefit analysis. Operating in classic Whitehall-style silos, key individuals and agencies – the JCVI, Sage, the MHRA – did their particular jobs, advising on narrow and very specific safety and regulatory issues. At no point did they all come together, along with ministers and, crucially, medical and scientific experts with differing views on the merits of whole-population vaccination, for a serious debate about whether such an approach was desirable or wise.
The apparent absence of any such discussion at the top of government is quite remarkable. The Treasury raised the occasional eyebrow at costs, but if a single cabinet minister challenged the policy on any other grounds, I've seen no evidence of it.
In Hancock's defence, he would have been crucified for failing to order enough vaccines for everybody, just in case. He deserves credit for harnessing the full power of the state to accelerate the development of the Oxford/AstraZeneca jab. He simply would not take no or 'too difficult' for an answer, forcing bureaucratic regulators and plodding public health bodies to bend to his will. He is adamant that he never cut corners on safety, though the tone of his internal communications suggest that in his hurtling rush to win the global race for a vaccine, he personally would have been willing to take bigger risks. I believe he would have justified any casualties as sacrifices necessary for the greater good. Fortunately (in my view) his enthusiasm was constrained by medical and scientific advisers, and by the Covid vaccine tsar Kate Bingham, who was so alarmed by his haste that at one point she warned him that he might 'kill people'. She never thought it was necessary to jab everyone and repeatedly sought to prevent Hancock from over-ordering. Once he had far more than was needed for the initial target group of elderly and clinically vulnerable patients, he seems to have felt compelled to use it. Setting ever more ambitious vaccination rollout targets was a useful political device, creating an easily understood schedule for easing lockdown and allowing the government to play for time amid the threat of new variants. The strategy gave the Conservatives a big bounce in the polls, which only encouraged the party leadership to go further.
Now on to side-effects:
Given the unprecedented speed at which the vaccine was developed, the government might have been expected to be extra careful about recording and analysing any reported side-effects. While there was much anxiety about potential adverse reactions during clinical trials, once it passed regulatory hurdles, ministers seemed to stop worrying. In early January 2021, Hancock casually asked Chris Whitty 'where we are up to on the system for monitoring events after rollout' …
Not exactly reassuringly, Whitty replied that the system was 'reasonable' but needed to get better. This exchange, which Hancock didn't consider to be of any significance, is likely to be seized on by those with concerns about vaccine safety.
January 2021
On January 2, Hancock hoped to ease red tape allowing NHS physicians to come out of retirement to be part of the vaccination drive:
On January 3, The Conservative Woman's co-editor and qualified barrister Laura Perrins blasted the Government for keeping Britons under 'humiliating and undignified treatment':
Schools reopened in England on Monday, January 4. They closed again by the end of the day.
Monday, January 4:
Millions of children returned to school today, only to be told schools are closing again tomorrow. After sleeping on it, Boris agreed we have no choice but to go for another national lockdown.
On Thursday, January 7, Hancock appeared before the Health and Social Care Select Committee to answer questions about lockdown. He came across as arrogant, in my opinion:
A message from a friend tipping me off that straight-talking cricket legend Sir Geoffrey Boycott is very unhappy about the delay in the second dose. He's a childhood hero of mine, so I volunteered to call him personally to explain. I rang him and made the case as well as I could, but it was clear he was far from persuaded.
That morning, Guido Fawkes's cartoonist posted his ghoulish perspective on Hancock: 'A nightmare before vaccination'. It was hard to disagree:
A bunch of GPs are refusing to go into care homes where there are Covid cases. Apparently there are cases in about a third of care homes, meaning many residents aren't getting vaccinated. Evidently I was naive to think £25 a jab would be enough of an incentive. We may have to use the Army to fill the gap.
Not only is [Sir Geoffrey] Boycott in the Press having a go at me; now [former Speaker of the House of Commons] Betty Boothroyd is kicking off as well. Given that I personally ensured she got her first jab fast, it feels a bit rich. It's particularly miserable being criticised by people I've grown up admiring and went out of my way to help, but welcome to the life of a politician.
On Wednesday, January 13, Hancock still had no answer as to when restrictions would be lifted. Many of us thought he was enjoying his power too much:
Friday, January 15:
An extraordinary row with Pfizer bosses, who are trying to divert some of our vaccine supply to the EU!
When I got to the Cabinet Room, the PM practically had smoke coming out of his ears. He was in full bull-in-a-china-shop mode, pacing round the room growling.
What really riled him was the fact that only last night he was speaking to Pfizer CEO Albert Bourla, and Bourla made no mention of it! I was wary: when the PM is in this mood, he can really lash out. I knew I'd need to be as diplomatic as possible if I wanted to avoid getting caught in the crossfire.
Monday, January 18:
Pfizer has relented. Following a robust exchange between Bourla and the PM, lo and behold, they've located an 'emergency supply', which is now heading our way.
On Tuesday, January 19, Hancock got coronavirus and had to self-isolate. This was his second bout. The first one was earlier in 2020:
Julia Hartley-Brewer of talkRADIO posed an interesting question about re-infection and T-cells. Hmm:
[Social Care minister] Helen Whately wants to find a way of allowing indoor visits again. I'm hardline on this: we cannot have Covid taking off in care homes again.
Monday, January 25:
The EU health commissioner has tweeted that 'in the future' any company that produces vaccines in the EU will have to provide 'early notification' if they want to sell it to a third-party country. In other words, they'll need permission. Totally desperate stuff! They're doing it purely because they screwed up procurement.
Tuesday, January 26:
Today we reached a really grim milestone in the pandemic: more than 100,000 deaths in this country. So many people grieving; so much loss.
Wednesday, January 27:
A humiliating climbdown from the EU, who clearly realised their 'export ban' wouldn't end well. It followed frantic diplomacy on our side, plus our lawyers confirming that they wouldn't be able to block our supply anyway. What a ridiculous waste of time and energy.
Tonight I'm doing a night shift at Basildon Hospital [in Essex]. Front-line staff are still under horrendous pressure, and the best way for me to understand is to see it for myself.
Thursday, January 28:
The night shift has left me completely drained. I don't know how they do it day in and day out: heroic. I donned full PPE, and got stuck in, helping to turn patients and fetch and carry. In intensive care, I watched a man consent to being intubated because his blood oxygen levels weren't sustainable.
He spoke to the doctor, who said: 'We want to put a tube in, because we don't think you'll make it unless we do that.'
His chances of waking up were 50:50. He knew that. It was an unbelievably awful moment. He reluctantly agreed, and within a minute he was flat out on the ventilator. The doctor next to me said: 'I don't think we'll see him again.'
When my shift was over, I went down to the rest area. One of the registrars told me he'd just had to phone the wife of the patient to say he'd been intubated.
'We're doing this, we all know it's our duty, we're coping with a second wave — but we can't have a third,' he said. Then he burst into tears.
That day, an article appeared in Spiked about the Government's censorship of lockdown sceptics. 'Shouldn't we "expose" the government rather than its critics?' says:
It's true 'lockdown sceptics' have made mistakes. But the government's survival depends on none of us ever understanding that lockdown sceptics are not in charge – it is.
… they're gunning for people like Sunetra Gupta, the professor of theoretical epidemiology at Oxford University … 
Pre-Covid, I would estimate 97 per cent of the population couldn't have picked Matt Hancock out of a police line-up if he had just mugged them. So when he stood up in the House of Commons, last January, to state that 'the Chinese city of Wuhan has been the site of an outbreak of 2019-nCoV', there was no reason to doubt him when he said 'the public can be assured that the whole of the UK is always well-prepared for these types of outbreaks'. In February, he explained 'our belts and braces approach to protecting the public' and insisted that 'the clinical advice about the risk to the public has not changed and remains moderate'.
On 23 March, he made a complete volte-farce. (That was not a typo.) The 'risk to the public' wasn't 'moderate' at all. 'It is incredibly important that people stay more than two metres away from others wherever they are or stay at home wherever possible', he told the Today programme, adding those who weren't doing so were 'very selfish'. Four days later, Hancock tested positive for coronavirus. Seven days after that (3 April), he opened the Nightingale hospital ('a spectacular and almost unbelievable feat'), while 'blowing his nose' and not appearing 'to be at 100 per cent'. Two days after that, he threatened to change the rules again so that people who weren't ill couldn't go outside at all: 'If you don't want us to have to take the step to ban exercise of all forms outside of your own home, then you've got to follow the rules' …
We'll skip over Hancock's botching of track and trace, the dodgy private contracts he's had a hand in rewarding, how he breaks the rules he makes for us while cracking jokes about it, or his intervention into the debate about whether scotch eggs constitute a 'substantial meal'.
In the autumn of 2020, pubs could only open if they served a plate of food. Why, I do not know.
The article mentions Hancock's tears on Good Morning Britain as he watched the first two people get the first doses of the vaccine. Then:
Days later, all this 'emotion' had gone down well, so Hancock did more of it – in parliament – announcing that his step-grandfather had died of Covid-19. ('He was in a home and he had Alzheimer's – the usual story', Hancock's father told the Daily Mail. 'It was just a few weeks ago.')
'Beware of men who cry', Nora Ephron once wrote. 'It's true that men who cry are sensitive to and in touch with feelings, but the only feelings they tend to be sensitive to and in touch with are their own.' Was Hancock crying because he was devastated that his step-grandfather was not kept alive long enough to receive the vaccine (suffering from Alzheimer's – so it would not be a leap to fear – bewildered, confused, and very likely denied the comfort of the touch of anyone he loved for most of the year)? Or was it because the political survival of the Conservative government depends on being proved right about lockdown – and that depends on one thing: the vaccine …
Hancock told the Spectator that Covid-19 will never be eradicated. But he sees no reason for his extraordinary powers as health secretary to cease even if – by some miracle – it does. In late November, Hancock told a Commons health and science committee that he wants to end the British culture of 'soldiering on'. Having built a 'massive diagnostics capacity', he said, 'we must hold on to it. And afterwards we must use it not just for coronavirus, but everything. In fact, I want to have a change in the British way of doing things, where if in doubt, get a test. It doesn't just refer to coronavirus, but to any illness that you might have.'
The idea that we would continue to test, track and trace healthy people who have cold symptoms is so psychotic it's a struggle to understand whether the man is even aware of how many people weren't tested for cancer last year. The only hero in this context is Professor Sunetra Gupta. All she's done is express her fears that lockdown – long-term – will do more harm than good – which is what she believes. In China, Zhang Zhan was also worried that people were dying and the government didn't want anyone to know about it, so she tried her best to warn everyone in society that more people were going to die if nothing was done. If China had been honest about the outbreak from the start, maybe, just maybe, 100,000 lives would have been saved from Covid-19 here …
Maybe anyone who shares Gupta's fears are 'fringe cranks', but 'fringe cranks' have as much right to say what they think as anyone else. And especially when the government has stripped us of all our rights to do pretty much anything else, while refusing to reveal when – if ever – our rights will be returned. This isn't China. It's Britain. And we do things differently here. Or at least we used to – in those halcyon days when none of us had a clue who Matt Hancock was …
Scandalous behaviour by certain care home operators, who are unscrupulously using staff with Covid. Inspectors have identified no fewer than 40 places where this is happening.
Wow. I am shocked. It underlines why we need to make jabs mandatory for people working in social care. The PM supports me on this.
February 2021
Monday, February 1:
A YouGov poll suggests 70 per cent of Britons think the Government is handling the vaccine rollout well, while 23 per cent think we're doing badly. I forwarded it to [NHS England chief executive] Simon Stevens.
'Who the heck are the 23 per cent, for goodness' sake!!' he replied.
I don't know. Maybe the same 20 per cent of people who believe UFOs have landed on Earth? Or the five million Brits who think the Apollo moon landings were faked?
Thursday, February 4:
Tobias Ellwood [Tory MP] thinks GPs are deliberately discouraging patients from using vaccination centres so they get their jabs in GP surgeries instead. I'm sure he's right. That way, the GPs make more money.
On Saturday, February 6, The Telegraph reported that Hancock wanted to 'take control of the NHS'. Most Britons would agree that something needs to be done — just not by him:
On Sunday, February 7, The Express's Health and Social Affairs editor said a specialist thought that the Government was using virus variants to control the public. Many would have agreed with that assessment:
Monday, February 8:
We've now vaccinated almost a quarter of all adults in the UK!
I've finally, finally got my way on making vaccines mandatory for people who work in care homes.
Because of that, a lot of employees resigned from their care home posts and have gone into other work, especially hospitality.
A poll that day showed that the public was happy with the Government's handling of the pandemic. John Rentoul must have looked at the wrong line in the graph. Rishi Sunak, then Chancellor, came out the best for shaking the magic money tree:
On Tuesday, February 9, Hancock proposed 10-year jail sentences for people breaking travel restrictions. This referred to people travelling from 'red list' countries, but, nonetheless, pointed to a slippery slope:
The Conservative Woman's co-editor and qualified barrister Laura Perrins pointed out a logic gap in sentencing:
Spiked agreed with Perrins's assessment in 'Matt Hancock is behaving like a tyrant':
Health secretary Matt Hancock announced new, staggeringly authoritarian enforcement measures in the House of Commons today.
Passengers returning from one of the 33 designated 'red list' countries will have to quarantine in government-approved hotels from next week. Anyone who lies on their passenger-locator form about whether they have visited one of these countries faces imprisonment for up to 10 years. As the Telegraph's assistant head of travel, Oliver Smith, has pointed out, this is longer than some sentences for rape (the average sentence is estimated to be eight years).
In addition, passengers who fail to quarantine in hotels when required to do so will face staggering fines of up to £10,000.
This is horrifying. Of course, we need to take steps to manage the arrival of travellers from countries with high levels of infection, particularly since different variants of Covid have emerged. But to threaten people with a decade behind bars or a life-ruining fine for breaching travel rules is a grotesque abuse of state power.
During the pandemic, we have faced unprecedented attacks on our civil liberties. We have been ordered to stay at home and have been banned from socialising under the threat of fines. But this latest move is the most draconian yet …
… we have now reached the stage where a 10-year sentence is considered an appropriate punishment for lying on a travel form.
Matt Hancock is behaving like a tyrant.
Meanwhile, Hancock's fellow Conservative MPs wanted answers as to when lockdown would end. The Mail reported:
Furious Tories savaged Matt Hancock over a 'forever lockdown' today after the Health Secretary warned border restrictions may need to stay until autumn — despite figures showing the UK's epidemic is firmly in retreat.
Lockdown-sceptic backbenchers took aim at Mr Hancock when he unveiled the latest brutal squeeze aimed at preventing mutant coronavirus strains getting into the country …
… hopes the world-beating vaccine roll-out will mean lockdown curbs can be significantly eased any time soon were shot down today by Mr Hancock, who unveiled the latest suite of border curbs and warned they could last until the Autumn when booster vaccines will be available.  
As of Monday travellers from high-risk 'red list' countries will be forced to spend 10 days in 'quarantine hotels', and all arrivals must test negative three times through gold-standard PCR coronavirus tests before being allowed to freely move around the UK. Anyone who lies about whether they have been to places on the banned list recently will face up to 10 years in prison. 
The fallout continued the next day. See below.
Wednesday, February 10:
Meg Hillier [Labour MP], who chairs the Public Accounts Committee, has started an infuriating campaign accusing 'Tory ministers' of running a 'chumocracy' over PPE contracts. How pitifully low. I'm incandescent.
What Meg fails to acknowledge is that when the pandemic kicked off, of course we had to use the emergency procedure for buying, which allows officials to move fast and not tender everything for months.
And when people got in contact [about] PPE, of course we forwarded on the proposals for civil servants to look at.
Even the Labour Party were getting involved — it was a national crisis and these leads have proved invaluable.
[Shadow Chancellor] Rachel Reeves wrote to Michael Gove at the time, complaining that a series of offers weren't being taken up. Officials looked into her proposals, too.
I'm even more offended because I used to respect Meg. It's so offensive for a supposedly grown-up politician to bend the truth in this way.
Labour's Deputy Leader Angela Rayner was angry at the Conservatives. What else is new?
This story has not gone away. There was a debate about it in the Commons this month.
Fallout continued from February 9 over Hancock's never-ending lockdown.
His fellow Conservative, Sir Charles Walker MP, gave an interview saying that Hancock was 'robbing people of hope'. He was also appalled by the prospect of a 10-year prison term for travelling from a red list country:
With regard to lockdowns, recall that at the end of 2020, Hancock said that only the vulnerable needed vaccinating, then we could all, in his words, 'Cry freedom'. In the space of a few weeks, he had a change of tune:
Thursday, February 11:
So here we are, in the depths of the bleakest lockdown, with the virus still picking off hundreds of victims every week, and Test and Trace officials have been having secret talks about scaling back. Unbelievable!
I told them there was no way they should stand down any lab capacity, but I'm told they're getting a very different signal from the Treasury.
Friday, February 12:
The Left never ceases to amaze. The bleeding hearts who run North West London CCG (one of many health quangos nobody will miss when they're abolished) have taken it upon themselves to prioritise vaccinating asylum seekers. They have fast-tracked no fewer than 317 such individuals — 'predominantly males in their 20s and 30s'.
So, while older British citizens quietly wait their turn, we are fast-tracking people who aren't in high-risk categories and may not even have any right to be here?
Meanwhile, some of our vaccine supply has met an untimely end. I'd just reached the end of a tricky meeting when a sheepish-looking official knocked on my office door. He'd been dispatched to inform me that half a million doses of the active ingredient that makes up the vaccine have gone down the drain.
Some poor lab technician literally dropped a bag of the vaccine on the floor. Half a million doses in one dropped bag! I decided not to calculate how much Butter Fingers has cost us. Mistakes happen.
On February 22, CapX asked, 'Why isn't Matt Hancock in jail?'
It was about Labour's accusations about procurement contracts for the pandemic. The article comes out in Hancock's favour:
On Thursday, Mr Justice Chamberlain sitting in the High Court ruled that Matt Hancock had acted unlawfully by failing to to publish certain procurement contracts …
It is worth noting that there was no suggestion in Mr Justice Chamberlain's judgment that Matt Hancock had any personal involvement in the delayed publication. The judgment was made against the Health Secretary, but in his capacity as a Government Minister and legal figurehead for his Department, rather than as a private citizen. In fact, the failure to publish was actually on the part of civil servants in the Department who, in the face of the pandemic, saw a more than tenfold increase in procurement by value and struggled to keep up.
Indeed, on the Andrew Marr Show on Sunday, Mr Hancock did not apologise for the unlawful delays, saying it was "the right thing to do" to prioritise getting the PPE to the frontline rather than ensuring timely transparency returns. I wonder how many of those calling for Mr Hancock's imprisonment would rather he had published the contracts in the required timeframe even if it meant there was less PPE available for NHS workers.
As a general rule, we should be able to see how the Government spends our money, what it is spent on and to whom it is given. Transparency improves governance. It is right that the Secretary of State is under a legal duty to publish contracts such as those at the heart of this case. However, this case – and the way it has been reported – is likely to have a much more invidious impact than simply improving transparency in public procurement policy.
Opposition politicians and activists have attacked the Government with claims that it has been using procurement during the pandemic as a way to funnel money to its political supporters and donors. It is certainly true that the sums spent by the Government have been large, and have been spent quickly.
What is certainly not true is that Mr Justice Chamberlain in his judgment gave any credence to this line of attack. He accepted evidence from an official at the Department of Health and Social Care that the delay was due to increased volume in contracts and lack of staff. However, that has not stopped figures linking the judgment to the attack line, such as Shadow Health Secretary Jonathan Ashworth who tweeted that the delay was 'Cronyism'. In fact, there was no evidence to suggest that was so.
Vanishingly few people will read Mr Justice Chamberlain's judgment in full, or even in part. Most people will only see the headlines in the press. Coupled with tweets such as those by Mr Ashworth, the public at large is likely to come to the conclusion that a court has found against the Government for cronyism, when that is not the case. And this will likely fuel further resentment that the Cabinet are not serving decades behind bars.
Justice must be done and it must be seen to be done. Justice has been done in this case – the Secretary of State has been found to have acted unlawfully – but too many lack the ability and willingness to see.
Sunday, February 28:
A potentially dangerous new variant — which we think originated in Brazil — has been identified in the UK, but we can't find Patient Zero. Whoever it is failed to provide the correct contact details when they took their Covid test, so we don't know who or where they are. Cue a frantic search.
March 2021
Monday, March 1:
When a lab technician first spotted the new variant, we didn't even know which part of the country the positive test had come from. Since then, thanks to some fancy sequencing and a high-quality data system, we've been able to identify the batch of home-test kits involved, and narrowed it down to just 379 possible households. We're now contacting every single one.
Tuesday, March 2:
The net's closing. We now know that the PCR test was processed at 00.18hrs on Valentine's Day and went to the lab via a mailing centre in Croydon [south London].
Thursday, March 4:
Test and Trace have found Patient Zero! He was on the shortlist of 379 households and eventually returned calls from officials at 4 pm yesterday.
Apparently, he tried to register his test but got the details wrong. We now know his name and age (38) and that he has been very ill. He claims not to have left his house for 18 days.
This is extremely good news: assuming he's telling the truth, he has not been out and about super-spreading. What amazing detective work.
Friday, March 5:
Covid deaths have nearly halved within a week. The vaccine is clearly saving lives.
On Saturday, March 6, The Conservative Woman's Laura Perrins, a qualified barrister, pointed out that mandatory vaccinations — she was probably thinking of health workers — is 'criminal battery':
Wednesday, March 10:
Can you imagine if we hadn't bothered to set up a contact tracing system? And if we'd decided it was all too difficult and expensive to do mass testing? Would we ever have been forgiven if we'd failed to identify clusters of cases or new variants?
No — and rightly so. Yet a cross-party committee of MPs has come to the conclusion that Test and Trace was basically a gigantic waste of time and money. I felt the red mist descend.
Yesterday, we did 1.5 million tests — in a single day! No other European country has built such a capability.
Thursday, March 11 (see photo):
The Test and Trace row is rumbling on, as is a ridiculous story about me supposedly helping a guy who used to be the landlord of my local pub in Suffolk land a multi-million-pound Covid contract. As I've said ad nauseam, I've had nothing to do with awarding Covid contracts. I find these attacks on my integrity incredibly hurtful.
The story rumbles on in Parliament, including in a debate this month.
Oh well, at least [retired cricketer, see January's entries] Geoffrey Boycott is happy. He texted me to say he'd got his second dose. He seems genuinely grateful. I resisted the temptation to tell him that good things come to those who wait.
Tuesday, March 16:
To my astonishment, hotel quarantine is working. There's a weird new variant from the Philippines, but the two cases we've identified have gone no further than their Heathrow airport hotel rooms.
Wednesday, March 17:
Today was my son's birthday. We had breakfast together, but there was no way I could join the birthday tea with family. I hope to make it up to him — to all of them — when all this is over.
On Tuesday, March 23, the first anniversary of lockdown, Boris did the coronavirus briefing. Below is a list of all the Cabinet members who had headed the briefings in the previous 12 months. I saw them all:
On Wednesday, March 24, Hancock announced the creation of the sinister sounding UK Health Security Agency. SAGE member Dr Jenny Harries is at its helm:
Tuesday, March 30:
How did Covid start? A year on, we still don't really know, and there's still an awful lot of pussyfooting around not wanting to upset the Chinese.
No surprise to learn that the Foreign Office has 'strong views on diplomacy' — in other words, they won't rock the boat with Beijing and just want it all to go away.
Sometime in March, because magazine editions are always a month ahead, the publisher of Tatler, Kate Slesinger, enclosed a note with the April edition, which had Boris's then-partner/now-wife Carrie Symonds on the cover. It began:
As I write this letter, the Prime Minister has just announced an extension to the nationwide lockdown, to be reviewed at around the time this Tatler April issue goes on sale — an opportune moment for us to be taking an in-depth look into the world of Carrie Symonds, possibly the most powerful woman in Britain right now.
April
On April 5, a furious Laura Perrins from The Conservative Woman tweeted that Hancock's policies were 'absolute fascism', especially as we had passed the one year anniversary of lockdown and restrictions on March 23:
Note that lateral flow tests, as Hancock tweeted above, were free on the NHS. The programme continued for a year.
The civil service seems determined to kill off the Covid dogs idea, which is so much more versatile than normal testing and really worthwhile. The animals are amazing – they get it right over 90 per cent of the time – but officials are being very tricky.
We should have started training dogs months ago and then sending them to railway stations and other busy places, where they could identify people who probably have Covid so they can then get a conventional test.
Unfortunately, even though I've signed off on it, the system just doesn't buy it.
So far we've done a successful Phase 1 trial, but Phase 2, which costs £2.5 million, has hit the buffers. The civil service have come up with no fewer than 11 reasons to junk the idea.
That's one idea I actually like. It sounds great.
On Friday, April 16, someone posted a video of Hancock breezing into No. 10. He had his mask on outside for the cameras, then whisked it off once he entered. Hmm. The person posting it wrote, 'The hypocrisy and lies need to stop!'
That day, the BBC posted that Hancock had financial interests in a company awarded an NHS contract — in 2019:
Health Secretary Matt Hancock owns shares in a company which was approved as a potential supplier for NHS trusts in England, it has emerged.
In March, he declared he had acquired more than 15% of Topwood Ltd, which was granted the approved status in 2019.
The firm, which specialises in the secure storage, shredding and scanning of documents, also won £300,000 of business from NHS Wales this year.
A government spokesman said there had been no conflict of interest.
He also said the health secretary had acted "entirely properly".
But Labour said there was "cronyism at the heart of this government" and the party's shadow health secretary Jonathan Ashworth has asked the head of the civil service to investigate whether Mr Hancock breached the ministerial code.
Public contract records show that the company was awarded a place in the Shared Business Services framework as a potential supplier for NHS local trusts in 2019, the year after Mr Hancock became health secretary.
The MPs' register did not mention that his sister Emily Gilruth – involved in the firm since its foundation in 2002 – owns a larger portion of the shares and is a director, or that Topwood has links to the NHS – as first reported by the Guido Fawkes blog and Health Service Journal.
Labour leader Sir Keir Starmer said: "Matt Hancock has to answer the questions… He can't pretend that the responsibility lies elsewhere."
But he said he was "not suggesting" the health secretary had broken any rules.
Here's photographic proof of share ownership:
Saturday, April 17:
Prince Philip's funeral. The Queen sat alone in a pew, in widow's weeds and a black face mask. Looking at her in her grief, I felt an intense internal conflict, almost an anguish, between the overwhelming sense of duty I have had to save lives on the one hand and the painful consequences of my own decisions on the other. Out of duty, out of an abundance of caution, and to show leadership, the Queen took the most proper approach. It was humbling, and I felt wretched.
Monday, April 19:
The police rang to warn me that anti-vaxxers are planning a march on my London home. They suggested I liaise with [my wife] Martha so she can tell me if it's happening.
Great that they spotted it, but asking my wife to keep an eye out of the window while a baying horde descends on the family home is not exactly British policing at its finest. I asked for more support. Then I went home to make sure I was there if it kicked off, but there was no sign of anyone.
A policeman explained that the anti-vaxxers had posted the wrong details on social media so were busy protesting a few streets away. What complete idiots.
Thursday, April 22:
Boris has completely lost his rag over Scotland.
He's got it into his head that Nicola Sturgeon is going to use vaccine passports to drive a wedge between Scotland and the rest of the UK and is harrumphing around his bunker, firing off WhatsApps like a nervous second lieutenant in a skirmish.
He's completely right: Sturgeon has tried to use the pandemic to further her separatist agenda at every turn.
Now the Scottish government is working on its own system of vaccine certification, which might or might not link up with what's being developed for the rest of the UK.
On April 26, the vaccine was rolled out to the general population. Hancock is pictured here at Piccadilly Circus:
I cannot tell you how many phone calls and letters we got in the ensuing weeks. Not being early adopters of anything, we finally succumbed in early July, again a few months later and at the end of the year for the booster.
On April 29, Hancock and Deputy Medical Officer Jonathan Van-Tam had a matey vaccination session together, with 'JVT', as Hancock called him, doing the honours:
May
Saturday, May 1:
Another outright death threat today in my inbox that said simply: 'I am going to kill you.' Lovely. The threats from online anti-vaxxers are getting far more frequent and violent.
As a result, I'm now being assessed for the maximum level of government security.
Tuesday, May 4:
Today, I was out campaigning for the local elections in Derbyshire. Gina [Coladangelo, adviser] drove me up. My relationship with Gina is changing.
Having spent so much time talking about how to communicate in an emotionally engaged way, we are getting much closer.
On Wednesday, May 12, the London Evening Standard interviewed Hancock. 'Matt Hancock: Let's put our year of hell behind us' is more interesting now than it was then:
Matt Hancock today struck his most upbeat note yet on easing many of the remaining lockdown restrictions next month, with Britain set to be "back to life as normal" within a year.
The Health Secretary, who has been one of the most powerful voices arguing for lockdown to save thousands of lives, stressed that the Government would lay out the low risks of further Covid-19 infections if, as expected, it presses ahead with the final relaxation stage in June.
"Our aim on the 21st is to lift as many of the measures/restrictions as possible," he told the Standard's editor Emily Sheffield in a studio interview aired today for its online London Rising series to spur the city's recovery from the pandemic. "We've been putting in place all these rules that you'd never have imagined — you're not allowed to go and hug who you want," while adding he hadn't seen his own mother since July and he was looking forward to hugging her.
"I am very gregarious," he added, "and I really want to also get back to the verve of life. For the last year, we have had people literally asking ministers, 'Who can I hug?'"
Mr Hancock also criticised as "absolutely absurd" protests outside AstraZeneca's offices in Cambridge, where demonstrators have been calling for the pharmaceutical giant to openly licence its vaccine. He stressed that the Oxford/AstraZeneca jabs were already being offered to many countries "around the world" at cost price.
During the interview, for the business and tech section of London Rising, he admitted being too busy to keep a diary of the year's extraordinary events.
He also said he hadn't had time to help with the housework as he was "working full-time" on the pandemic and that he had spent more hours than he cared to remember in his home "red room" office, which went viral.
In a boost for going back to offices, he admitted that he was now back at Whitehall, adding: "I get most of my work done there."
… He also said he had not heard Mr Johnson say he was prepared to see "bodies pile high" rather than order another lockdown, a phrase the Prime Minister has denied using, saying: "No I never heard him talk in those terms." But he admitted there were very lengthy, serious debates and "my job is to articulate the health imperative".
He added: "By this time next year, large swathes of people will have had a booster jab. That means we'll be able to deal with variants, not just the existing strains, and I think we'll be back to life as normal."
In the interview, Mr Hancock also:
Warned that another pandemic hitting the UK was "inevitable"

and "we've got to be ready and more ready than last time. Hence, we are making sure we have got vaccines that could be developed in 100 days and the onshore manufacturing" and that health chiefs would be better equipped to defeat it …

Told how he hoped that England's Chief Medical Officer Professor Chris Whitty, his deputy Professor Jonathan Van-Tam, and chief scientific adviser Sir Patrick Vallance are "properly thanked" for their work

in steering the country through the crisis. Pressed on whether they should be elevated to the Lords, he said:

"That's a matter for Her Majesty the Queen"

…
Backed Boris Johnson, enjoying a "vaccines bounce" which is believed to have contributed to Tory success in the recent elections, to be Tory leader for a decade.
Indeed, the Queen did reward Whitty, Van-Tam and Vallance with knighthoods.
Boris seemed invincible at that point, until Partygate emerged in November that year. Someone was out to get him. They succeeded.
Four days later, on May 16, Wales Online reported 'Matt Hancock sets date for next lockdown announcement; he also says local lockdowns are not ruled out'. This is interesting, as he seemed to walk back what he told the Evening Standard:
Health Secretary Matt Hancock has confirmed the date for the next lockdown lifting announcement by the Government, but has said local lockdowns 'have not been ruled out'.
Speaking on Sky News this morning Mr Hancock said their strategy was to continue with the lockdown lifting roadmap as planned, but said they would be monitoring the data very closely.
He said there had been just over 1,300 cases of the Indian variant detected in the country so far, with fears it could be 50% more infectious than Kent Covid.
Mr Hancock said: "It is becoming the dominant strain in some parts of the country, for instance in Bolton and in Blackburn." But he said it has also been detected 'in much lower numbers' in other parts of the country …
He added: "We need to be cautious, we need to be careful, we need to be vigilant."
Asked if lockdown lifting could be reversed he said: "I very much hope not." but on local lockdowns he said: "We haven't ruled that out."
Mr Hancock said: "We will do what it takes to keep the public safe as we learn more about this particular variant and the virus overall."
The Health Secretary said an announcement on the next stage of lockdown lifting would be made on June 14 …
It was thought at the time that lockdown would be lifted on June 21.
Wednesday, May 26:
Dominic Cummings has told a select committee I should have been fired 'for at least 15-20 things, including lying to everybody on multiple occasions'.
Apparently I lied about PPE, lied about patients getting the treatment they needed, lied about this and lied about that.
Later, the PM called. 'Don't you worry, Matt. No one believes a word he says. I'm sorry I ever hired him. You're doing a great job — and history will prove you right. Bash on!'
I went to bed thinking, 'Thank goodness I kept vaccines out of Dom's destructive hands or that would have been a disaster like everything else he touched.'
I watched that session. Everyone was at fault except for Dominic Cummings. Anyone who presents himself in such a way is probably not all he seems.
Thursday, May 27:
When I got into work, I heard that the Prof [Whitty] had called my private office volunteering to support me in public if need be.
This spectacular vote of confidence meant the most.
Shortly before I headed home, [Defence Secretary] Ben Wallace sent a nice message asking if I was OK. 'The Cummings evidence can be summed up as the 'ramblings of a tw*t',' he said.
Also:
Of all the many accusations Dom Cummings has hurled at me, the media seem most interested in his claims that I lied about the arrangements surrounding hospital discharges into care homes at the beginning of the pandemic.
Annoyingly, it was only after this evening's [Downing Street] press conference that I received some very pertinent PHE [Public Health England] data. They analysed all the Covid cases in care homes from January to October last year and found that just 1.2 per cent could be traced back to hospitals.
The vast majority of infections were brought in from the wider community, mainly by staff.
Overall, England did no worse at protecting care home residents than many countries, and better than some — including Scotland, where [Nicola] Sturgeon's team has been responsible for decision-making. Regardless, the awfulness of what the virus did to people in care homes around the world will stay with me for the rest of my life.
That day, YouGov published the results of a poll asking if Hancock should resign. Overall, 36% thought he should and 31% thought he should remain in post:
Saturday, May 29:
Boris and Carrie got married at Westminster Cathedral. I'm not entirely sure how much the PM's mind was on his future with his beloved, though, because this afternoon he was busy texting me about the latest Covid data.
'Lower cases and deaths today. So definitely ne panique pas,' I told him.
Then again, perhaps he's just very good at multi-tasking and can examine infection graphs, pick bits of confetti off his jacket and give his new bride doe-eyed looks all at the same time.
Sunday, May 30:
'Keep going, we have seen off Cummings's bungled assassination,' Boris messaged cheerfully.
It was lunchtime and the PM didn't appear to be having any kind of honeymoon, or even half a day off.
Nevertheless, that day, the Mail on Sunday reported that the Conservatives were beginning to slip in the polls and had more on Cummings's testimony to the select committee:
The extraordinary salvo launched by Mr Cummings during a hearing with MPs last week appears to be taking its toll on the government, with a new poll suggesting the Tory lead has been slashed by more than half. 
Keir Starmer tried to turn the screw today, accusing Mr Johnson and his ministers of being busy 'covering their own backs' to combat the Indian coronavirus variant.
The Labour leader said 'mistakes are being repeated' as the Government considers whether to go ahead with easing restrictions on June 21.
'Weak, slow decisions on border policy let the Indian variant take hold,' he said.
'Lack of self-isolation support and confused local guidance failed to contain it.
'We all want to unlock on June 21 but the single biggest threat to that is the Government's incompetence' …
Mr Cummings, the Prime Minister's former adviser, told MPs on Wednesday that 'tens of thousands' had died unnecessarily because of the Government's handling of the pandemic and accused Mr Hancock of 'lying' about testing for care home residents discharged from hospital – a claim he denies. 
Separately, the Sunday Times highlighted an email dated March 26 from social care leaders warning Mr Hancock that homes were being 'pressured' to take patients who had not been tested and had symptoms.
Lisa Lenton, chair of the Care Provider Alliance at the time, told Mr Hancock managers were 'terrified' about 'outbreaks'.
'The following action MUST be taken: All people discharged from hospital to social care settings (eg care homes, home care, supported living) MUST be tested before discharge,' she wrote.
However, the government's guidance on testing was not updated until April 15.
Instructions issued by the Department of Health and the NHS on March 19 2020 said 'discharge home today should be the default pathway', according to the Sunday Telegraph – with no mention of testing …  
An insider told the Sun on Sunday on the spat between Mr Johnson and Mr Hancock: 'Boris returned from convalescence at Chequers when he heard the news. He was incensed. 
'Matt had told him point blank tests would be carried out. He couldn't understand why they hadn't been. For a moment he lost it with Matt, shouting "What a f***ing mess".
'At least three ministers told Boris Matt should be sacked.'
However, Mr Johnson refused to axe Mr Hancock reportedly saying that losing the health secretary during a pandemic would be 'intolerable'.  
Sir Keir said the situation in care homes had been a 'betrayal', adding: 'We may never know whether Boris Johnson said Covid "was only killing 80-year olds" when he delayed a second lockdown.
'What we do know is that the man charged with keeping them safe showed callous disregard for our elderly, as he overlooked the incompetence of his Health Secretary.'
June
Tuesday, June 1:
For the first time since last summer, there were no Covid deaths reported yesterday. We really are coming out of this.
Things might have looked good for Hancock at the beginning of the month, but the mood would sour rapidly.
England's 2021 reopening on June 21 looked as if it would not happen. Not surprisingly, members of the public were not happy.
On June 6, Essex publican Adam Brooks tweeted Hancock's words about personal responsibility back at him, calling him a 'liar':
Brooks, who owned two pubs at the time, followed up later, threatening that the hospitality industry would issue another legal challenge to coronavirus restrictions:
The next day, June 7, The Sun sounded the death knell for a reopening on June 21:
BRITS' holiday hopes have been dashed AGAIN as Matt Hancock warns that the new variants are the "biggest challenging" to our domestic freedom.
The Health Secretary told MPs that restoring international travel is an "important goal" – but is one that will be "challenging and hard."
Health Secretary Mr Hancock said the return to domestic freedom must be "protected at all costs".
It comes after he confirmed that over-25s in England will be invited to receive their Covid jabs from Tuesday as the Delta variant "made the race between the virus and this vaccination effort tighter".
Matt Hancock told the Commons this afternoon: "Restoring travel in the medium term is an incredibly important goal.
"It is going to be challenging, it's going to be hard because of the risk of new variants and new variants popping up in places like Portugal which have an otherwise relatively low case rate.
"But the biggest challenge, and the reason this is so difficult, is that a variant that undermines the vaccine effort obviously would undermine the return to domestic freedom.
"And that has to be protected at all costs."
The Health Secretary added: "No-one wants our freedoms to be restricted a single day longer than is necessary.
"I know the impact that these restrictions have on the things we love, on our businesses, on our mental health.
"I know that these restrictions have not been easy and with our vaccine programme moving at such pace I'm confident that one day soon freedom will return."
This comes as desperate Brits have flooded airports as they race against the clock to get back to the UK before Portugal is slapped onto the amber travel list.
The next day, nutritionist Gillian McKeith tweeted her disgust with Hancock:
On Wednesday, June 9, the Health and Social Care Select Committee, which former Health Secretary Jeremy Hunt headed, posed questions to Hancock in a coronavirus inquiry session:
On Thursday, June 10, The Guardian reported that Dominic Cummings would tell all about coronavirus as well as Brexit on his new Substack:
Dominic Cummings is planning to publish a paid-for newsletter in which subscribers can learn about his time inside Downing Street.
Boris Johnson's former top aide has launched a profile on Substack, a platform that allows people to sign up to newsletter mailing lists.
In a post on the site, Cummings said he would be giving out information on the coronavirus pandemic for free, as well as some details of his time at Downing Street.
However, revelations about "more recondite stuff on the media, Westminster, 'inside No 10', how did we get Brexit done in 2019, the 2019 election etc" will be available only to those who pay £10 a month for a subscription …
It follows Cummings taking aim at Boris Johnson, Matt Hancock, and the government in general as part of evidence given last month to the health and social care select committee and the science and technology committee.
Cummings, who left Downing Street after a behind-the-scenes power struggle in November last year, accused the health secretary of lying, failing on care homes and "criminal, disgraceful behaviour" on testing.
However, the parliamentary committees said Cummings's claims would remain unproven because he had failed to provide supporting evidence.
On Friday, June 11, Labour MP Graham Stringer — one of the few Opposition MPs I admire — told talkRADIO's Julia Hartley-Brewer that 'things went badly wrong' on Hancock's watch and that the Health Secretary should not have 'blamed scientific advice':
On Monday, June 14, talkRADIO's Mike Graham told listeners forced to cancel a holiday to sue Hancock, Transport Secretary Grant Shapps, SAGE and 'every single one of them, personally', otherwise 'they will think they've won':
[Lingerie tycoon] Baroness (Michelle) Mone has sent me an extraordinarily aggressive email complaining that a company she's helping isn't getting the multi-million-pound contracts it deserves.
She claims the firm, which makes lateral flow test kits, 'has had a dreadful time' trying to cut through red tape and demanded my 'urgent help' before it all comes out in the media.
'I am going to blow this all wide open,' she threatened.
In essence, she's not at all happy that a U.S. company called Innova has secured so many contracts while others 'can't get in the game'. She claims test kits made by the company she's representing, and by several others, have all passed rigorous quality control checks but only Innova is getting the business.
'This makes it a monopoly position for Innova, who to date have received £2.85 billion in orders,' she complained.
By the end of the email, she seemed to have worked herself into a complete frenzy and was throwing around wild accusations. 'I smell a rat here. It is more than the usual red tape, incompetence and bureaucracy. That's expected! I believe there is corruption here at the highest levels and a cover-up is taking place . . . Don't say I didn't [warn] you when Panorama or Horizon run an exposé documentary on all this.'
She concluded by urging me to intervene 'to prevent the next bombshell being dropped on the govt'. I read the email again, stunned. Was she threatening me? It certainly looked that way.
Her tests, I am told, have not passed validation — which would explain why the company hasn't won any contracts. I will simply not reply. I won't be pushed around by aggressive peers representing commercial clients.
In December 2022, Baroness Mone announced that she would be taking a leave of absence from the House of Lords. Her Wikipedia entry states:
Mone became a Conservative life peer in 2015. From 2020 to 2022, in a series of investigative pieces, The Guardian reported that Mone and her children had secretly received £29 million of profits to an offshore trust from government PPE contracts, which she had lobbied for during the COVID-19 pandemic. The House of Lords Commissioner for Standards and National Crime Agency launched investigations into Mone's links to these contracts in January 2022. Mone announced in December 2022 that she was taking a leave of absence from the House of Lords "to clear her name" amid the allegations.
Also that day came news that, after Parliament voted on coronavirus restrictions that week — June 21 having been postponed to July 19 — the NHS waiting list was much larger than expected. It was thought to be 5 million but was actually 12 million:
LBC reported:
The Health Secretary told the NHS Confederation conference that up to 12.2 million people are in need of elective procedures delayed due to the pandemic.
This includes 5.1m people already on waiting lists.
Health bosses believe there could be as many as 7.1m additional patients who stayed away from hospitals because of the risk of Covid-19.
Mr Hancock told the NHS conference that there is "another backlog out there" and that he expected the numbers to rise even further.
NHS leaders have warned the backlog could take five years to clear …
Prof Chris Whitty, England's chief medical officer, said the current wave of cases would "definitely translate into further hospitalisations".
On Saturday, June 19, a YouTube video appeared, which has since been deleted. These are my notes on it:
June 19, coronavirus: 24 mins in — Matt Hancock says unvaccinated will not receive health treatment if NHS is overwhelmed, also mentioned are Birmingham deaths, FOIA Pfizer vaccine information forwarded to Special Branch re Warwickshire and four Birmingham hospitals; Mark Sexton, ex police constable – YouTube.
I have no idea what ensued.
On Friday, June 25, Dominic Cummings posted this article on his Substack: 'More evidence on  how the PM's & Hancock's negligence killed people'.
It's quite lengthy, but begins as follows:
Below is some further evidence including a note I sent on 26 April regarding how we could shift to Plan B with a serious testing system.
It helps people understand what an incredible mess testing was and why care homes were neglected. Hancock had failed terribly. The Cabinet Office did not have the people it needed to solve the problem. Many were screaming at me that Hancock was failing to act on care homes and spinning nonsense to the Cabinet table while thousands were dying in care homes.
There are clearly errors in my note but the fact that *I* had to write it tells you a lot about how the system had collapsed. As you can see it is a draft for a document that needed to exist but didn't because Hancock had not done his job properly and was absorbed in planning for his press conference at the end of April, not care homes and a serious plan for test-trace.
The Sunday Times's Tim Shipman summed up the article with Boris Johnson's impressions of test and trace:
Returning to Hancock, it was clear that he would have to go, but no one expected his departure would be so dramatic.
To be continued tomorrow.
This week's news that former Health and Social Care Secretary Matt Hancock would be standing down as MP for West Suffolk at the next election was a joyful tiding, indeed.
Hancock is currently an Independent MP. The Conservative whip was withdrawn on November 1, 2002, when he accepted the invitation to appear on I'm A Celebrity … Get Me Out of Here, which takes place in the Australian jungle. Amazingly, he came third, getting further than Boy George did.
This week saw more Hancock news with the publication of his Pandemic Diaries, co-authored with former Times journalist, Isabel Oakeshott.
This series charts the rise and fall of the former Conservative MP, a principal protagonist in the coronavirus drama of 2020 and the first half of 2021.
Two Oxford medics give their verdict
On December 8, 2022, The Spectator featured an article from Drs Carl Heneghan and Tom Jefferson from the University of Oxford: 'The UK isn't learning the right lessons from lockdown'.
Both were sceptics during the pandemic, the type of medics Matt Hancock eschewed, as we will find out later on from the Pandemic Diaries.
Excerpts from Heneghan and Jefferson's article follow, emphases mine:
This month, the UK's Department of Health and Social Care published a Technical Report on the Covid-19 pandemic in the UK.
The report is a long 11-chapter document describing the UK's response and pointing out suggestions for dealing with future pandemics.
The report is described as 'independent', but the authors are public health civil servants and a handful of academics. Given that the authors were instrumental to a greater and lesser degree in implementing the catastrophes of lockdowns, this report is as independent as President Xi marking his own homework in China.
It is hard to reconcile some of the report's content with what we have written about in the past. For example, there is no mention of the misuse of PCR tests or of Britain's failure to follow the example of other countries, whose contact tracing systems were overwhelmed in days.
There is also no apology for the evidence-free mass testing programme, the segregation of healthy people, and the lack of identification of truly infectious cases.
I remember the early weeks of the pandemic, which entered totalitarian territory on Monday, March 23, 2020, with Boris's five-minute announcement on lockdown.
My far better half and I wondered then about the absurdity of contract tracing. Fortunately, neither of us has a smartphone, nor did we participate in any testing regime ever. We simply don't see that many people.
Heneghan and Jefferson's article states:
It would have been better if the report admitted that contact tracing is hugely challenging, that it would never have achieved its intended outcomes and was, therefore, a waste of £37 billion. This is something health officials in Lombardy, Italy had realised by the beginning of March 2020. The UK Parliament has also pointed out that the contract tracing programme had an 'unimaginable' cost.
Yet, Matt Hancock paraded it as being a fail-safe method of finding out about loads of infectious people.
Then there were the hospitalisations. Here is a little-known fact worth repeating again and again:
up to 40 per cent of 'hospital cases' were infections acquired in hospitals … suggesting that whatever 'protection' measures hospitals were taking did not work.
After that came the school closures, even when Government officials said that children were at low risk from coronavirus themselves but could still transmit it to older relatives. Hmm:
When it comes to the low risk to school children and teachers, the report portrays this as a tension between missing education and stopping transmission …
But school-age children had the lowest Covid risk, and we are now reaping the effects of this immunological segregation, with a whirlwind of influenza-like illnesses sweeping across the country. The costs to children socialising and the impact on their schooling are mere details in the report.
Heneghan and Jefferson point out that the report makes scant mention of the 7.2 million people on NHS waiting lists and the rise in excess deaths because of lockdown. Furthermore:
Our requests for the cause of the current excess in deaths have gone unanswered.
The footnotes and references in the report appalled them:
… the type of evidence cited in the report's footnotes and references is remarkable. It mainly relies on models, i.e. opinions formulated by those with a long history of getting it wrong or citing selective pieces of work.
They say that there should be no excuses for the lack of planning for the pandemic:
There is no mention of the need for proper planning to plug known gaps in the evidence. For example, suppose you need to know whether masks or other physical interventions work in the community, you prepare protocols for trials designed to find this out in a short time. In that case, you get prior ethical approval and fire the starter pistol when the WHO declares a pandemic or earlier.
There is plenty of precedent for this kind of preparation. That is what happened in 2009 with mock-up influenza pre-pandemic vaccines. So there can be no excuses here, just a disregard for crucial gaps in the evidence and a reluctance to address them. It is even easier in the case of non-pharmaceutical interventions (NPIs) as there are no regulators breathing down your neck.
As for crucial NPIs, such as mask wearing and lockdown, the report says:
It may never be possible fully to disentangle some of the effects of individual NPIs in this pandemic, as many were used together….
Observational studies on NPIs were often complicated by several potential confounders.
The medics conclude that nothing will change:
Due to the sheer number of interventions tried at any one time, we may never know what works, particularly if we also rely on low-quality observational studies – as we have done – to inform policy.
But none of this matters: it'll be more of the same next time.
Hancock champions Klaus Schwab
Matt Hancock entered Parliament in May 2010, when David Cameron became Prime Minister, ending 13 years of Labour government.
Hancock began his ministerial rise to in 2013 as a junior minister in what was then the Department for Business, Innovation and Skills. He was the UK's Anti-Corruption Champion from 2014 and 2015. He served as Minister for the Cabinet Office and Paymaster General between 2015 and 2016.
When Theresa May became Prime Minister, Hancock became Minister of State for Digital and Culture, now the Department for Digital, Culture, Media and Sport.
In that capacity, he delivered a speech praising Klaus Schwab's Fourth Industrial Revolution. He delivered the speech at the House of Commons to the All-Party Parliamentary Group (APPG) at the Fourth Industrial Revolution's (4IR's) autumn reception on October 16, 2017. Hancock introduced Klaus to the APPG.
The transcript is still available to read in full:
… the nature of the new technologies is that the changes we are experiencing today, are probably the slowest changes we will see over the rest of our lifetimes. If you don't much like change, I'm afraid I don't have so much good news.
Our task, in this building and around the world, is to make this technology, this change, work for humanity. And I'm profoundly confident we can. Because this technology is made by man, so it can be hewn to build a better future for mankind.
And I'm delighted to speak alongside so many impressive colleagues who really understand this, and alongside Professor Klaus Schwab who literally 'wrote the book' on the 4th Industrial Revolution. Your work, bringing together as you do all the best minds on the planet, has informed what we are doing, and I'm delighted to work with you.
For the 1st Industrial Revolution, the UK could claim to be the 'workshop of the world' – propelled by development of the steam engine, it reached its pinnacle in the mid-19th Century. But the UK has not had the monopoly on waves of industrialisation.
Now, in the fourth revolution, we are determined to use our strengths to play a leading part. By its nature the fourth industrial revolution is more collaborative than the first. And we will play our part …
… our Digital Strategy, embedded within the wider Industrial Strategy, sets out the seven pillars on which we can build our success. And inside that fits our 5G strategy, like a set of Russian Dolls.
Our Strategy covers infrastructure, skills, rules and ethics of big data use, cyber security, supporting the tech sector, the digitisation of industry, and digitisation of government. All these are important.
… today I am delighted to announce that we are launching the first £25m competition for 5G testbeds and trials projects. We already lead on the highly technical development of 5G standards through the international work of the University of Surrey and others.
Now we are looking for innovative projects to test the roll out of 5G to develop the UK's growing 5G ecosystem. We want projects that explore the real-world potential for 5G …
It will also support projects which explore ways of using 5G technology to address challenges in particular sectors, such as those faced in health and social care …
Earlier this year, the 'fourth industrial revolution' was not a very well-known term – at least before it became a central topic at the World Economic Forum. It recently made its way into an item on BBC Breakfast television – this shows we've probably started to reach critical mass.
It's a pleasure now to introduce the man who made the fourth industrial revolution a household phrase: Professor Klaus Schwab.
Hancock became Secretary of State for Health and Social Care under Theresa May in July 2018, when she promoted Jeremy Hunt, his predecessor, to Foreign Secretary. Hancock remained in post throughout the pandemic until he was caught on camera in a heavy embrace with his then-adviser, now girlfriend, in 2021, when social distancing restrictions were still in place.
Hancock returned to the Conservative backbenches on June 26, 2021, after The Sun published the photos. Hancock and his girlfriend immediately separated from their spouses and are still an item.
The run-up to the pandemic
Even before the pandemic, Hancock was opposed to people who questioned vaccines.
On Sunday, September 29, 2019, The Guardian reported that he wanted compulsory vaccinations for schoolchildren:
The government is "looking very seriously" at making vaccinations compulsory for state school pupils and has taken advice on how such a law could work, the health secretary has said.
Matt Hancock, a vehement critic of anti-vaccination campaigners, has previously suggested such a plan. Speaking at a fringe event at the Conservative party conference, he said he was "very worried" by falling vaccination rates, indicating the government could act soon.
"I've said before that we should be open-minded, and frankly, what I'd say is that when the state provides services to people then it's a two-way street – you've got to take your responsibilities, too," Hancock told the Q&A session hosted by the Huffington Post.
"So I think there's a very strong argument for having compulsory vaccinations for children when they go to school, because otherwise they're putting other children at risk.
"Then I'd want to make it very easy if the children do arrive at school not vaccinated, simply to get vaccinated, and make it the norm. But I think there's a very strong argument for movement to compulsory vaccination, and I think the public would back us."
He took aim at social media for spreading what he called 'anti-vaccine messages':
"It's unbelievable, I think, that Britain has lost its measles-free status, and it should be a real wake-up call. I think that the social media companies have got a lot to answer for, because they allow the spread of anti-vaccine messages.
"I will do whatever I can – the science is absolutely clear and settled on the importance of vaccination. And the worst thing is that if you don't vaccinate your child, and you can, then the person you're putting at risk is not only your child but it's also the child who can't be vaccinated for medical reasons."
He had already started thinking about compulsory vaccines in May that year:
Hancock first raised the idea of compulsory vaccinations in May, saying he did not wish to do it but might be forced to act if no other solutions to improve take-up rates could be found.
He said: "Those who have promoted the anti-vaccination myth are morally reprehensible, deeply irresponsible and have blood on their hands."
Confidence in the MMR vaccination seems to have dropped at least partly in response to social media misinformation and scare stories. The discredited claims of Andrew Wakefield, who in 1998 theorised that the jab was linked to autism, are widely circulated.
Wakefield was struck off the medical register in 2010 after suggesting a link between the MMR vaccine and autism.
He also seemed to be interested in social care at that time. On June 10, 2019, Care Home Professional reported:
Matt Hancock has pledged a £3.5bn cash injection to prop up the social care system as he kick-starts his campaign to become the UK's next prime minister.
In an interview with the Daily Mail, the Secretary of State for Health and Social Care said he would seek the extra funds in the next Spending Review …
The Health and Social Care Secretary described the current social care system as "unsustainable" and said there's a "whole number of injustices" affecting society's most vulnerable people.
"One of the biggest injustices is that for people who worked hard all their lives and have put money aside – the system penalises them and won't fund their care without them having to sell the house, whereas people who haven't put money aside get their care supported. I think this is very unfair," he added …
He wanted to see individuals funding their own social care by contributing to a personal fund:
He stressed that the payments could be made over many years of a working life.
The scheme, which would be made voluntary, would require all workers over 40 to contribute 2.5% of their wages.
"I'd like to see people encouraged to take it out when they get their first mortgage – that being the point where many people buy life insurance," the minister said.
The insurance scheme would do away with previous Conservative proposals to put a lifetime cap on care costs.
Cometh coronavirus, cometh the man — or not
We were only a fortnight into lockdown in the Spring of 2020, and already we could see Matt Hancock's true character.
The televised Coronavirus Updates appeared almost daily on the BBC, and he was in most of them.
On April 12 that year, The Mail on Sunday's Peter Hitchens wrote 'Matt Hancock is trying to run the UK like my 1950s prep school':
Until I started travelling in the Communist world, my main experience of living under tyranny was my time at a boarding school on the edge of Dartmoor, 60 years ago.
The headmaster, an enormous, booming man, had many fine qualities. But he was given to dreadful rages, which tended to strike late on Saturday afternoons.
He would throb with fury because some of the more loutish boys had left their games clothes on the changing room floor.
For some reason, he viewed this as a terrible crime closely related to murder. So he would summon us into the assembly hall, and harangue us as darkness fell outside.
The more we stood mulishly in front of him, saying nothing and with our eyes downcast, the angrier he became …
Collective punishments – a ban on eating toast, or the cancellation of a promised film show – would follow, along with more shouting and angry notices in red ink, threatening worse to come.
Most of us were guiltless of wrongdoing. But we were small, and he was huge. The staff seemed more scared of him than we were.
We were on a windswept hilltop miles from anywhere. We had no escape …
Hancock wanted to ban outdoor exercise because it was violating social distancing rules, hastily put into place:
I had thought such childish things were long over in my life. But a week ago I found that I was, once again, living at the mercy of an equally petulant would-be despot.
Matthew Hancock, Secretary of State for Health, went on national TV to threaten to ban outdoor exercise if people continued to break 'social distancing' rules.
From a Government that claims to be preserving life and health, this threat was literally mad.
Banning exercise for any length of time will lead to the deaths and illness of many thousands of currently healthy, older people who know that such exercise is vital to their physical and mental wellbeing.
Such exercise can easily be taken while maintaining the required distance from others.
The threat was a dictatorial one, of collective punishment of all for the wrongdoing of others.
This is illegal under Article 33 of the 1949 Geneva Conventions. A foreign occupier would not be allowed to do it.
Sunbathing and sitting on park benches also irked Hancock while the police were enjoying their newly-found powers over the public:
Mr Hancock also said it was 'quite extraordinary' that some people had spent the weekend sunbathing in public places despite it being against Government guidance.
Getting into his stride, he urged people not to sit down even for a minute on a park bench, saying those who disobeyed the rules were putting their own and others' lives at risk.
What is this nonsense? The words of Ministers and the words and actions of the police show a pointlessly bossy side to these measures – the attempted ban on Easter egg purchases, the sunbathing squad, alleged arrests of people for just buying wine and crisps, the lumpish threat by a police chief to search the baskets of shoppers.
Provided the people doing these things do not break the distancing rules, why are they wrong?
Sunbathing, for instance, probably reduces the risk of infection, and if people keep a proper distance apart, what on earth is wrong with it? Why shouldn't someone sit on a park bench?
Mr Hancock said: 'I say this to the small minority of people who are breaking the rules or pushing the boundaries: you are risking your own life and the lives of others and you're making it harder for us all.'
Hitchens, who spent years working in Communist countries, hit the nail on the head:
I sense something more going on here.
The Government are trying to get us to accept a far higher level of state intrusion in our lives than we have ever endured.
They are treating us as if we were unruly children. This is despite what I regard as a quite extraordinary willingness among the great majority to do as we are asked.
It has gone to their heads. They need to calm down, for the sake of all of us.
We are not children, this is not some 1950s prep school ruled by the swish of the cane, and Mr Hancock is not our headmaster.
Hitchens rightly questioned the number of deaths at that point, which were nothing unusual, coronavirus or not:
A week ago, at the daily official briefing, Dr Jenny Harries, the Deputy Chief Medical Officer, confirmed my point that many deaths with Covid are not necessarily from Covid. She said: 'These are Covid-associated deaths, they are all sad events, they would not all be a death as a result of Covid.'
What nobody says is how many are as a result of the virus.
Then, if you look at the Office for National Statistics weekly death charts, for week 13 of each year (the week which this year ended on March 27), you find some interesting things.
The total of deaths for that week in 2020 is higher than the five-year average for that time of year, which is 10,130. In fact, it is up to 11,141.
This is 1,011 more deaths than normal per week, 144 more deaths than normal per day, regrettable but not gigantic. Do these figures justify the scale of our reaction?
If you add up the total deaths for the first quarter of the year from respiratory diseases, the figure so far for 2020 (22,877) is less than those for 2013 (25,495), 2015 (28,969), 2017 (25,800), 2018 (29,898) and 2019 (23,336).
Again, is this event as exceptional as we are being told? If not, why the shutdown?
Obtaining PPE was a huge problem, and not only for the UK. France, along with other Western countries, was also scrambling to secure PPE. I know from having read Marianne, a French newsweekly.
PPE popped up regularly in parliamentary debates. Labour asked repeatedly what the Government was doing and to get on with the job.
However, people who knew what was going on in the NHS said that things weren't as bad as the Opposition benches made them out to be.
Sir Keir Starmer had only been Labour leader — succeeding Jeremy Corbyn — for a week or so in April. He was offended that Hancock told the NHS not to waste precious supplies:
However, those with connections inside the NHS said that a hoarding mentality was present and that there was an adequate provision of PPE:
On April 9, Hancock announced a testing lab in Milton Keynes, the Lighthouse Lab, a.k.a. the National Biosample Centre:
Meanwhile, many of us wanted an update on herd immunity.
On April 8, Guido Fawkes reported, complete with audio (emphases his):
As new modelling released by University College London (UCL) predicts the UK will pass the threshold for herd immunity by Monday (with 73.4% of the population protected either by vaccination or previous infection), Matt Hancock was quick to pour cold water on the findings during an interview with LBC's Nick Ferrari. Speaking this morning, Hancock said:
I was told by some scientists that we were going to have herd immunity in May, and then in June, and then after that […] what I prefer to do is watch the data. And so we've set out the road map, the road map is really clear, it is our route back to normal, we're on track to meet the road map, and that's our goal.
Pressed on why the government seemed keen to accept the pessimistic assumptions within the Imperial College data, yet sceptical of UCL's new study, Hancock – rather predictably – said:
I think we have taken the right course in plotting our way to freedom, and doing it carefully, because we want it to be irreversible. We have seen what happens when this virus gets going […] and we want to get out of this safely and irreversibly.
The 'data not dates' refrain feels less plausible with every passing day…
One Twitter user sounded the alarm:
When University College London, a respected establishment put out work saying we'll hit herd immunity by Monday and Matt Hancock immediately dismisses it You know darker forces are at work here. He's a member of Parliament that doesn't work for the people, he works for Gates.
On April 23, exactly two months into lockdown, Hancock was enjoying his power over the British people. Meanwhile, some of us were beginning to worry about the economic downside of keeping everyone at home.
The Mail reported that there was no end in sight:
Matt Hancock tonight insisted the coronavirus lockdown must stay until there is no risk of a second peak – as scientists warned the outbreak might not be fading.
The Health Secretary vowed not to compromise the national effort against the disease as Professor Jonathan Van-Tam told the daily Downing Street briefing that while hospital occupancy rates had dipped in in London the picture in other parts of the UK was 'more of a plateau'.
The figures – along with another 828 deaths being declared in the UK – add weight to the arguments of those who want to err on the side of caution despite the devastation being wreaked on the economy.
At this point, Boris Johnson had been released from St Thomas's Hospital from his near-death bout with the virus and was recuperating at Chequers. His wife Carrie, about to give birth to their first child, was with him.
Rifts were appearing as to how long lockdown should last:
Divisions have emerged between Cabinet 'doves' such as Mr Hancock and 'hawks' who believe the NHS has capacity and would prefer to loosen the draconian social distancing measures earlier.
The PM has intervened from his recuperation at Chequers to snuff out speculation about an imminent easing, with Downing Street making clear his priority is avoiding a 'second peak' in the outbreak.
There are reports Mr Johnson's inner circle has stopped using the phrase 'exit strategy' and instead wants to signal a 'next phase' of lockdown, with varying levels of restrictions set to continue for the rest of the year until the virus gets 'close to eradication' or a vaccine is found. Australia has successfully suppressed cases to very low numbers.
Scientists have been telling ministers behind the scenes that control of the outbreak is still so uncertain that even slight changes to the curbs on normal life could result in a disastrous flare-up.
Mr Hancock said tonight: 'We have been clear that we will not risk lives by relaxing the social distancing rules before our five tests have been met.
'First, that the NHS can continue to cope, second, that the operational challenges can be met, third, that the daily death rate falls sustainably and consistently, fourth, that the rate of infection is decreasing, and most importantly, that there is no risk of a second peak.'
The Mail included a photo montage of Cabinet members and this caption of where they stood on the issue:
How members of the cabinet are currently split over the ending of the lockdown. Mr Johnson (top left) and Matt Hancock (bottom left) are classed as 'doves'; Michael Gove, Liz Truss and Rishi Sunak (right, top-to-bottom) as 'hawks'; and Foreign Secretary Dominic Raab (top centre) is among those in the middle, with Gavin Williamson (centre) and Alok Sharma (centre bottom)
Senior Conservative MPs wanted an end to lockdown:
There is no prospect of lockdown measures being eased before the current period comes to an end on May 11.
However, some senior Tories have been pushing plans for an easing soon afterwards, pointing out that the NHS is still below surge capacity and could 'run hot' to limit the economic meltdown.
SAGE clearly wanted lockdown to continue:
Government scientists have been warning that the situation is currently so finely balanced that even marginal loosenings could have disastrous effects.
One Cabinet source told the Guardian the government's advisers on Sage had suggested any easing would push up the rate of transmission – known as R.
The source said: 'The scientists are very clear. There's no loosening of measures we can do that won't bring the R back over 1 …
'We did have an R of about 3. And we've driven that down. But even a small increase in transmission could put you above 1.'
The WHO were adamant that the Western world should remain locked down, even though some of those countries were already easing restrictions:
Dr Takeshi Kasai, the WHO regional director for the Western Pacific, said: 'This is not the time to be lax. Instead, we need to ready ourselves for a new way of living for the foreseeable future.'
He said governments must remain vigilant to stop the spread of the virus and the lifting of lockdowns and other social distancing measures must be done gradually and strike the right balance between keeping people healthy and allowing economies to function.
Despite concerns from health officials, some US states have announced aggressive reopening plans, while Boeing and at least one other American heavy-equipment manufacturer resumed production.
Elsewhere around the world, step-by-step reopenings are under way in Europe, where the crisis has begun to ebb in places such as Italy, Spain and Germany.
By the last week in April, questions were mounting.
On April 23, The Telegraph's Christopher Hope wondered why Hancock didn't take any questions from the media after that day's coronavirus briefing:
The next day, Hancock praised Muslims for their 'sacrifice' in not meeting daily for prayers during Ramadan, but had nothing to say to Christians who could not attend church on the holiest feast of the year, Easter, which remembers Christ's resurrection from the dead. Houses of worship were closed:
Hancock began wearing a prominent CARE lapel badge on television. By this time, he had pledged that a 'protective ring' had been placed around care homes, something he later denied saying.
People found the CARE badge risible.
James Kirkup, writing for The Spectator, defended the move:
Matt Hancock's badge for carers is a perfectly good idea. The mockery of it is in many cases shallow, ill-informed, revealing and hypocritical.
You don't need me to describe the badge or the mockery. Anyone with an internet connection and a glancing familiarity with what passes for 'news' these days is aware that the Health – and Social Care – Secretary announced that the Government is now backing a scheme that encourages social care staff to wear a green badge saying CARE.
Part of the aim is to give care workers the same sort of recognition, esteem and access to services – reserved shopping hours, for instance – as NHS workers.
This is reasonable, necessary and overdue. Part of the UK's social crisis lies in the social care workforce, which is too small and too transient. There are around 125,000 vacancies in social care at any moment, roughly eight per cent of the workforce. Turnover is around 30 per cent, double the average across the UK labour market.
Kings College London surveyed care workers and found that some said that teachers warned their children to do better in school, otherwise they'd end up working in care homes:
In a survey of care workers, the Kings' team found that it wasn't just society as a whole that looked down on care. It was care workers themselves. One of the most common phrases used by interviewees was 'I'm only a care worker'. Many reported that their children had been told if they don't work hard they would end up working in care. 'The lack of esteem has been internalised,' prof Manthorpe said. Our collective disregard for social care has left carers feeling worthless and keen to leave the sector, sometimes for jobs with equally poor wages.
The following year, after Hancock had urged all care workers to be vaccinated, a number of those who refused to do so were either fired or left for hospitality jobs.
John Pilger, writing for The Guardian, rightly predicted that a storm was brewing over PPE contracts and wasted money on testing:
A debate in Parliament took place just recently on the topic. Labour are still furious.
The prediction that came true
Former Conservative MEP Daniel Hannan, now Lord Hannan, predicted exactly what would happen as early as April 5. He was incredibly accurate.
The Express reported:
Economist Mr Hannan warned businesses would "topple like dominoes" if the lockdown remained in force until May, while pointing the finger at Public Health England for the failure to undertake a widespread programme of testing. The ardent Brexiteer, writing in The Sunday Telegraph, said the cost of the restrictions was hard to measure "but no less painful for that". He explained: "One of my university contemporaries, who has a history of mental health problems, has struggled terribly with confinement.
"A neighbour is facing the grimmest of hat-tricks: her business ruined, her house-move frozen and her cancer operation postponed.
"The village osteopath, who went from 300 patients a week to zero when the bans came in, has been forced into insolvency.
"Nationally, a million more people have been pushed on to benefits."
Mr Hannan also scoffed at the assertion stringent measures were required to minimise the number of people dying.
He said: "I am astonished by how many commentators duck these consequences by airily asserting that 'lives matter more than the economy'.
"What do they imagine the economy is, if not the means by which people secure their welfare?
"The economy is not some numinous entity that exists outside human activity; it is the name we give to transactions among people aimed at maximising their wealth, health and happiness."
If businesses – excluding those deemed likely to accelerate infections, such as nightclubs – were permitted to reopen next week, "we might yet escape the worst", he asserted.
However, he added: "If the prohibitions remain in force into May, businesses will topple like dominoes, and a decade of depression will ensue."
And so it came to pass.
To be continued next week.
My most recent post discussed Liz Truss's commitment to libertarianism and the part she played in her own downfall.
At the end, I mused whether she would still be in office were she a man. Having thought about it some more, I do believe that would have been the case. Truss has better morals than Boris Johnson and more integrity than Rishi Sunak. Furthermore, she is far more trustworthy than our de facto Prime Minister, Chancellor Jeremy Hunt. She has flaws. They have flaws.
It is curious that all of them, men, are given a pass. Truss, an honest woman, was not afforded that opportunity.
Let us look at who was out to finish Liz Truss's premiership.
The media
During the summer Conservative Party leadership campaign, most papers — right and left — came out in favour of Rishi Sunak.
Only the Daily Mail and The Telegraph consistently supported Truss. Truss also saw The Sun as a friendly paper, particularly its political editor Harry Cole.
Broadcast media also largely favoured Sunak. Only GB News supported Truss for the most part.
Why that was is unclear.
One could point to Truss's U-turns, evident as soon as the leadership campaign for Party members' votes started, but most of the media — print and broadcast — were already in the tank for Sunak when Conservative MPs were still voting in July.
On November 16, veteran columnist Andrew Gimson wrote about the media outlets covering Parliament, known as the 'lobby': 'Lobby journalism holds power to account. But it's often cruel, trivial — and unfair'.
Guido Fawkes liked what he had to say:
Gimson's article for ConservativeHome discussed the attacks on other Conservative ministers in Rishi Sunak's Cabinet. Suella Braverman, Home Secretary once again, is one of them and Justice Secretary/Deputy Prime Minister Dominic Raab is another.
Gimson says that journalists find their witch hunts as exhiliarating as blood sports (emphases mine):
Hunting is reckoned to improve the health of the fox population.
That is not, however, why people want to hunt them. They yearn to do so because it is a wonderful, exhilarating sport.
Forget for a moment any impulse to moralise. High-minded theories are all very well. Politics as actually practised is a blood sport.
Dominic Raab, Gavin Williamson and Suella Braverman are or were the most recent quarry, closely preceded by Liz Truss and Kwasi Kwarteng, before which a blond beast rampaged across the political landscape for three years with excited members of the Westminster lobby in close pursuit.
Four of the six were hunted down, while Raab and Braverman have so far (with intermissions) survived, but might at any moment find themselves once more in mortal danger.
The lobby is trained and ready at a moment's notice to follow any scent, no matter how faint, rival correspondents for different newspapers acting as a pack of hounds, each leaping at whichever politician is the hunted animal, drawing blood and emboldening the others to fresh frenzies of aggression …
It is impossible, if one is a lobby correspondent at Westminster, to stand aside from the full-blown crisis which rages, and any case, few experiences are more exhilarating than to be in at the death of a Prime Minister.
Every journalist, indeed everyone in the slightest bit interested in politics, will remember the first time he or she witnessed such a drama: in my case I was lucky enough in November 1990 to be in the Press Gallery to watch the fatal resignation speech delivered by Sir Geoffrey Howe, and 19 days later was in the crammed Committee Corridor on the evening it was announced amid almost unbearable excitement that Margaret Thatcher had fallen four votes – four votes! – short of beating Michael Heseltine by the necessary margin in the first round.
Such crises becomes all-consuming. You surrender yourself to the experience, and nothing else seems to matter. If you are a reporter, your news editor and editor demand constant reports from the front, and you want to distinguish yourself by revealing dramatic new charges, whether solid or flimsy, against the embattled minister, rather than just repeating what your rivals have said.
Such work requires the ruthless expertise to spot in an instant the two or three words in some dreary speech or answer which can be held to constitute a new development. The lobby are brilliant at this: they see the new angle, the incriminating admission, where a normal person would notice nothing.
News becomes an artificial commodity, an esoteric language only comprehensible to highly intelligent and practised correspondents, who translate it into the latest thrilling episode of a story which is intelligible to the dimmest of us, for it is as old as history: will the ruler live or die?
This question of life and death simplifies everything, and lends it a personal flavour. Does one like the look of whichever minister is just then being hunted, and hope he or she will get away? Or would one much rather see him or her bumped off?
The tyranny of the story extends to the comment pages. Leading articles and columns are written for or against the hunted person, most likely against, for it is much easier to write a vivid piece denouncing a politician for being disreputable than to compose a vivid defence.
In order to purify public life, the offending minister must be drummed out of it. Nothing which might serve this noble end is too cruel to be said; too piffling to be taken down and repeated.
Let the victim and his or her family cope as best they can. It would be wrong to spare them the full blast of public disgust. We find ourselves in a primitive world where human sacrifice is demanded; not in a rational one where events can be weighed and assigned their due importance, or unimportance …
There is a deep satisfaction to be derived from getting rid of a Prime Minister, so deep that we have in recent years got rid of three. For a short time, very short in the case of Liz Truss, we allow them to triumph, before restoring equality, for which all democracies have a deep yearning, by dragging them down with brutal abruptness to our own level …
What the lobby does, or helps Conservative politicians to do, is the modern version of an ancient and savage tradition. All else is forgotten while the tribe slays its chief.
And no tribe is better at slaying its chiefs than the Conservative Party.
Afterwards, some enemies of the prey express their empathy for the slain, such as Jenny Murray did for Truss on October 27 in The Mail. Murray's headline read 'I never expected to feel sorry for Liz Truss' and, upon closer inspection, she doesn't really feel sorry at all. She uses the piece to lick her own wounds after retiring from the BBC at the age of 70:
I was not sorry to see her go. Her short time in power was a disaster.
I'd known her professionally for a good few years and had often found her a bit weird with her oddly truncated speech patterns, bizarre facial expressions and apparent lack of emotional intelligence. She was no public speaker and I certainly never saw her as Prime Ministerial material.
In that I was right, but despite her self-serving, unapologetic final speech and her typically arrogant and selfish, 'Well at least I've been Prime Minister!' goodbye, I can't help sympathising with what she has to face next.
As an ordinary constituency MP, she'll join what I have dubbed, from bitter personal experience, the 'Once I Was Hot, But Now I'm Not,' club. I know she'll be asking herself, 'Who am I now?'
It's two years since I left the job that defined me for 33 years. I was Jenni Murray, presenter of Radio 4's Woman's Hour.
It had been my greatest ambition since childhood. I'd presented Newsnight and Today, but the moment I heard the announcer first say on Monday, September 14, 1987, 'And now Woman's Hour, with Jenni Murray' remains the most thrilling of my life.
I loved every minute of those 33 years and, unlike Liz Truss, I was not forced out of my position (though even when you leave a top job of your own volition, it doesn't stop others speculating). I made the choice to leave as my 70th birthday came and went.
So, nothing like Liz Truss after all. The rest of Murray's lengthy column is all about herself. Sickening.
On a positive note, I was surprised to read that Andrew Neil, normally a supporter of the status quo, supported Truss and Kwarteng's mini-budget just after it was announced in Parliament:
After 12 years of Tory government we finally get a Tory budget. Yesterday's not-so-mini-budget was a watershed event, taking the country in a new economic direction and creating clear blue water between government and opposition.
The Tory faithful couldn't quite believe it. Labour struggled to grapple with its implications. The political dividing lines will now be starker and fiercer than they've been for a generation.
No more tax rises by stealth (or, more recently, in plain sight). Or endless, futile tinkering with the minutiae of spending and taxation to give voters a false impression of constructive activity. Or the relentless doling out of taxpayers' dosh to whatever fashionable vested interests managed to catch ministers' attention.
Instead, Prime Minister Liz Truss and her Chancellor, Kwasi Kwarteng, junked all of that in favour of one overriding economic priority: higher economic growth. Many of the verities of Britain's economic establishment have been slaughtered in the process …
Scrapping next April's planned rise in corporation tax (on businesses' profits) won't win any popularity contests outside company boardrooms. But an essential part of Britain's post-Brexit future is surely to be a magnet for foreign investment. Whacking up the country's key business tax was a strange way of going about it …
New ways require new justifications. The Treasury estimates that abolishing the 45 per cent top rate of income tax will cost £2 billion a year.
This is a typically static official calculation. If it results in more top earners declaring their income in Britain, then it could soon more than pay for itself.
Ditto bankers' bonuses. The cap is a relic of EU regulation. Banks simply increased pay to compensate for reduced bonuses, thereby making their compensation costs more fixed and less flexible.
Frankfurt, Paris and Amsterdam have tried hard to lure our financial services away from the City since Brexit, with only limited success. Bonuses in those centres are still capped. London now has the advantage.
And, remember, with the new top rate of tax at an internationally competitive 40 per cent, every £1 million banker's bonus is £400,000 more for schools and hospitals …
… for more than a decade now I've watched chancellors take tough, painful decisions on tax and spending based on OBR borrowing forecasts that turned out to be huge over-estimates, so much so that in retrospect neither the tax rises nor spending cuts were necessary.
Indeed, as Truss attempts to take the country in a new, less orthodox direction, I'd argue that it's a blessing that she's been able to do so unencumbered by the OBR's dubious forecasting.
We'll get the OBR's latest workings in two months anyway, when it might have a better idea of what 2023 will look like. Nor are we entirely in the dark. The Treasury says the tax cuts and energy price cap measures will increase borrowing this year from £162 billion to £234 billion — an extra £72 billion.
The IFS thinks we'll still be borrowing £100 billion a year through the middle years of the decade.
These figures have spooked the markets. The pound continued its decline against the dollar after Kwarteng's statement and the yield (or interest rate) on short-term government debt rose to close to 4 per cent, making it a lot more expensive to borrow than only two years ago, when it was 0.4 per cent.
These are real constraints on the Government's ability to borrow even more. A falling pound merely fuels inflation, especially when it comes to imported energy, which is priced in dollars.
Interest rates are already rising. If excessive government borrowing forces them even higher, that will merely choke off the economic growth the Government so desperately seeks.
There's another factor at work here. The global currency and debt markets have had a 'down' on Britain for some time. It's not clear why. Britain's debt-to-GDP ratio is among the lowest in the G7 club of big economies. Our budget deficit is on a par with many other major economies. Economic growth is anaemic — as it is everywhere, from the Eurozone to America to China.
I suspect it's a Brexit hangover. The publications global market players read most closely include the New York Times, the Economist, the Financial Times and leading European papers such as Le Monde and the Frankfurter Allgemeine Zeitung. All — and others like them — have been relentlessly negative about Britain since the 2016 referendum …
It is said she's taking a great gamble. That's true. But sticking with the failed policies of the recent past was probably an even a bigger gamble. The stakes are certainly high.
If by this time next year the economy is still in the doldrums, then it's not just Truss who will be finished. So will any prospect of the Tories winning the next election.
Read it and weep. We are back to square one.
There is much that the media didn't tell us about the global picture of economic pandemonium.
Early in the week following Kwarteng's mini-budget, US mortgage rates went up to 7%:
The EU's average deficit is worse than the UK's: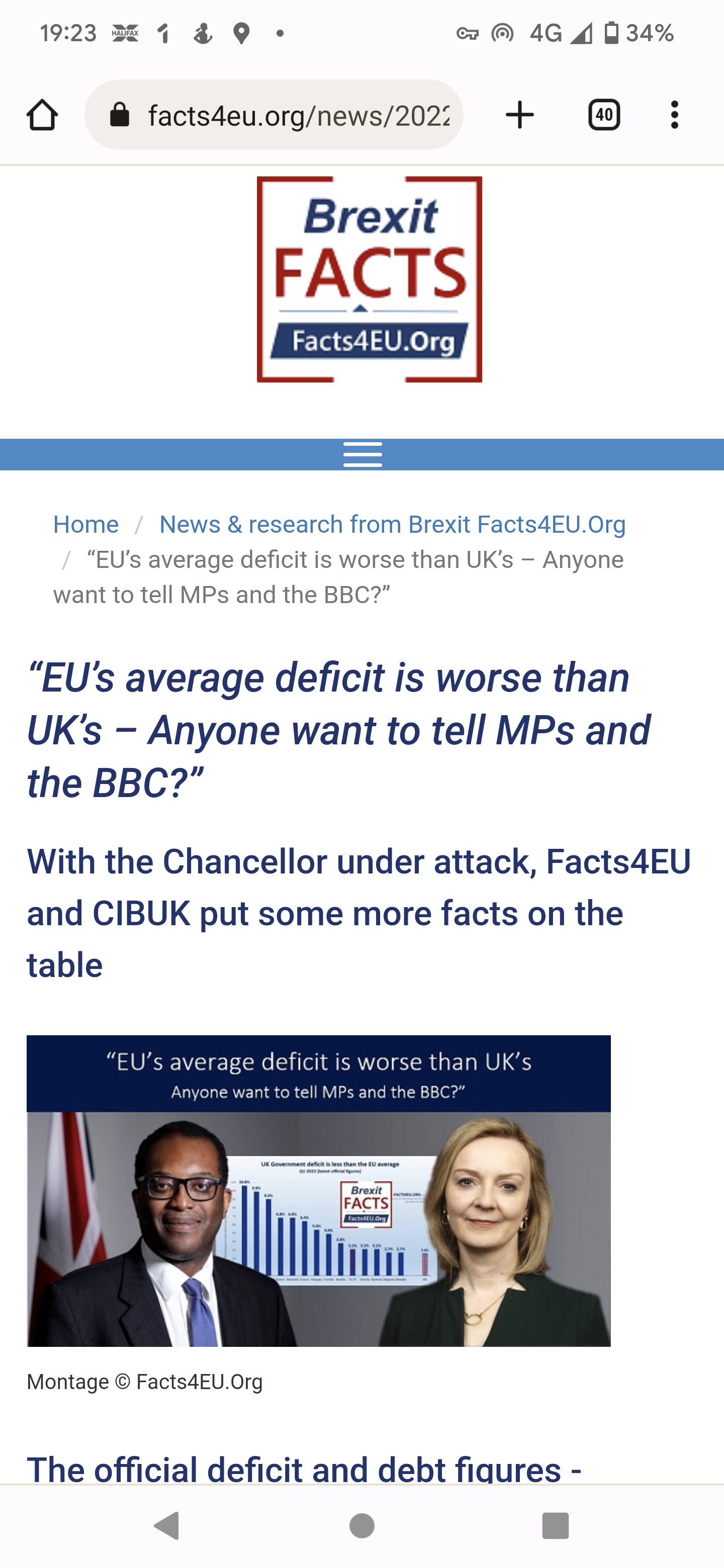 At the end of October, by which time Truss had gone, inflation in the Euro zone increased to 10.7% as growth slowed:
At the beginning of November, a Fed hike caused sterling to trade below £1.13 against the dollar:
And, finally, within three weeks of becoming Prime Minister, Rishi Sunak made new spending commitments, pledging billions to the world. This graphic appeared on November 7: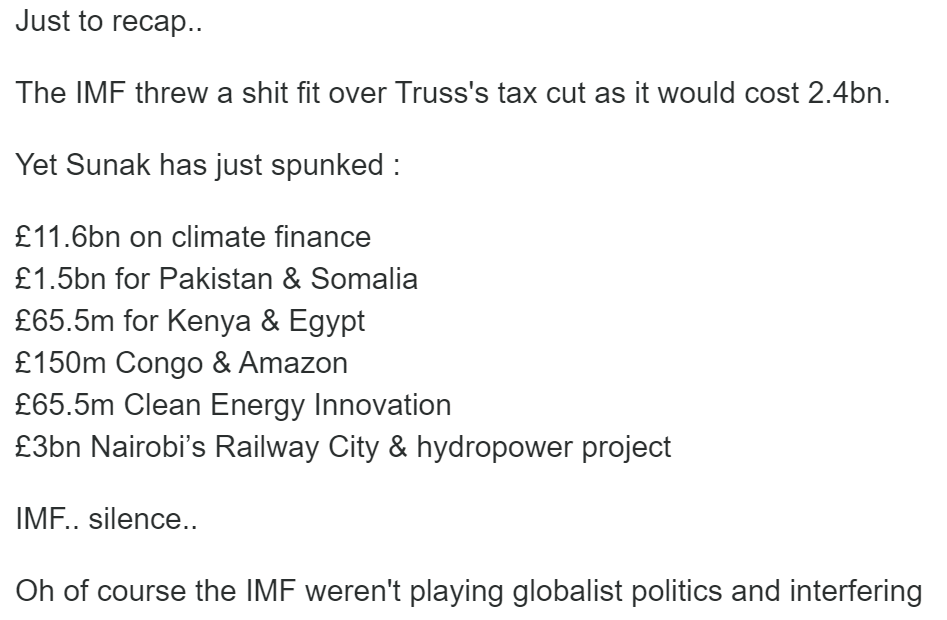 Objection from the media came none.
Conservative MPs
On October 20, in the immediate aftermath of Truss's stoic resignation, The Sun gave us the reaction from three Conservative MPs:
Responding to today's bombshell announcement, former minister and Red Wall poster boy Neil O'Brien tweeted: "The next PM must return to the national conservatism represented by our election winning 2019 manifesto and put us back on the side of normal working people."
If anyone was going to have done that, it would have been Truss, for whom Party members voted in the majority. Sunak and Hunt certainly aren't on the side of 'normal working people': tax 'em until the pips squeak.
Next up was Steve Baker, now an apologetic Northern Ireland Minister:
Brexit hardman Steve Baker urged colleagues that whatever the result, "we must accept and back the new Prime Minister".
Millions of us wish he had shown the same allegiance towards Truss.
The only one to say anything complimentary was Greg Hands, who served as an International Trade Minister:
He said:
A dignified exit as Prime Minister from Liz Truss. A difficult day for the country, the Party and for Liz personally.
She wasn't long as PM, but served at the Cabinet table longer than any of her three predecessors. She has long served the country – and I wish her very well.
At least Truss wasn't removed from the top table Chinese-style:
On October 27, one week after Truss's resignation, The Telegraph's Matthew Lynn said that backbench Conservatives just could not bring themselves to support Truss's economic plan, which Kwasi Kwarteng fronted.
In other words, Conservative MPs shy away from libertarianism, even though I think it would do the UK a lot of good:
The timing, to put it mildly, was unfortunate. It was a difficult transformation to pull off at the best of times, but against the backdrop of rising inflation and an out-of-control dollar, it was doubly difficult. 
Truss's programme did not have the necessary support within the Parliamentary Conservative Party either. Massive opposition from Labour, the Scottish Nationalists, and the Twitter mob was to be expected. 
But very few MPs were willing to support the plan, and without that backing it was always going to be hard to push through. Even before it got on to the genuinely difficult stuff – investment zones, planning reform, the green belt – the opposition was overwhelming. 
The Bank of England
Matthew Lynn points the finger of blame at the Bank of England (BoE):
… the real failure of Trussonmics may well have been the fault of the Bank of England. As Narayana Kocherlakota, a former President of the Minneapolis Fed, and now Professor of Economics at New York's Rochester University, argued in an opinion piece for Bloomberg this week, it was the Bank's failure to support the gilt market that killed the plan. 
"The way the Truss government collapsed should concern all who support democracy," he warned. 
In his Bloomberg article of October 26, Narayana Kocherlakota defended Truss and criticised the BoE:
Markets didn't oust Truss, the Bank of England did — through poor financial regulation and highly subjective crisis management.
… Truss won the leadership of the Conservative Party, which the UK electorate had voted into power, by promising a range of deep tax cuts and government spending increases. Whatever one might think of her policies, they were her mandate. I agree with the many observers who expected them to lead to higher inflation, higher interest rates and quite possibly higher unemployment. But such adverse outcomes take months and years to play out. Her government fell in a matter of weeks. How could this happen?
The common wisdom is that financial markets "punished" Truss's government for its fiscal profligacy. But the chastisement was far from universal. Over the three days starting Sept. 23, when the Truss government announced its mini-budget, the pound fell by 2.2% relative to the euro, and the FTSE 100 stock index declined by 2.2% — notable movements, but hardly enough to bring a government to its knees.
The big change came in the price of 30-year UK government bonds, also known as gilts, which experienced a shocking 23% drop. Most of this decline had nothing to do with rational investors revising their beliefs about the UK's long-run prospects. Rather, it stemmed from financial regulators' failure to limit leverage in UK pension funds. These funds had bought long-term gilts with borrowed money and entered derivative contracts to the same effect — positions that generated huge collateral demands when prices fell and yields rose. To raise the necessary cash, they had to sell more gilts, creating a doom loop in which declining prices and forced selling compounded one another.
The Bank of England, as the entity responsible for overseeing the financial system, bears at least part of the blame for this catastrophe. As a result of its regulatory failure, it was forced into an emergency intervention, buying gilts to put a floor on prices. But it refused to extend its support beyond Oct. 14 — even though its purchases of long-term government bonds were fully indemnified by the Treasury. It's hard to see how that decision aligned with the central bank's financial-stability mandate, and easy to see how it contributed to the government's demise.
The way the Truss government collapsed should concern all who support democracy. The prime minister was seeking to fulfill her campaign promises. She was thwarted not by markets, but by a hole in financial regulation — a hole that the Bank of England proved strangely unwilling to plug.
Two days before Truss resigned, Daniel Lacalle wrote an article for Mises Wire: 'The Bank of England Made Liz Truss a Scapegoat'.
Lacalle points out that economic turmoil was worldwide, something not reported widely in the British media. No surprise there:
I find it astonishing that not one of the so-called experts that have immediately placed the cause of the British market volatility on Liz Truss's budget have said anything about the collapse of the yen and the need for Bank of Japan intervention, which has been ongoing for two weeks.
Why did so many people assume the Truss minibudget was the cause of volatility when the euro, the yen, the Norwegian krone, and most emerging market currencies have suffered a similar or worse depreciation versus the US dollar this year? What about the bond market? This is the worst year since 1931 for bonds all over the world, and the collapse in prices of sovereign and private bonds in developed and emerging market economies is strikingly similar as those of the UK fixed income peers.
He blames British pension funds' liability-driven investing (LDI) strategies on the abuse of quantitative easing (QE) over the years. Who was in charge of that? The BoE.
Lacalle wrote while Truss was still Prime Minister:
British pension funds are not selling sovereign bonds because of lack of trust in this or another government's budget. They are selling negative-yielding sovereign bonds because they jumped wholeheartedly into the debt bubble created by artificially cheap money believing that central banks would keep fixed income prices elevated with constant repurchases.
British pension funds' unfunded liabilities are not a problem caused by the mini budget nor solely a UK problem. It was an enormous problem in 2019–20 disguised by insane currency printing. Unfunded global liabilities for state pension funds in the US were already $783 billion in 2021 and rose to $1.3 trillion in 2022 according to Reason Foundation. The funded ratio of state pensions was just 85 percent in 2021 and has fallen below 75 percent in 2022.
What happened in the years of negative rates and massive currency printing? Pension funds used liability-driven investing (LDI) strategies. Most LDI mandates used derivatives to hedge inflation and interest rate risk. And what happens when inflation kicks in and rates rise? "As interest rates have risen, the notional value of some of the derivatives held in LDI portfolios has fallen. The result: increased collateral calls. The speed at which rates have risen means some pension plans have had to liquidate portfolios to meet collateral calls" according to the Investment Association's latest report in September and Brian Croce at Pensions and Investment.
The total assets in LDI strategies almost quadrupled to £1.6 trillion ($1.8 trillion) in the ten years through 2021. Nearly two-thirds of Britain's defined benefit pension schemes use LDI funds, according to TPR and Reuters. Liz Truss and Kwasi Kwarteng are not to blame for this insanity. The policy of negative real rates and massive liquidity injection of the Bank of England is. Kwarteng and Truss are only to blame for believing that the party of policies of spending and printing defended by almost all mainstream Keynesian economists should work even when the music stopped …
Liz Truss and Kwasi Kwarteng are not to blame for the insanity of the past years or Rishi Sunak's ultra-Keynesian budgets. They are only to blame for believing that another dose of Keynesian deficit insanity would not harm.
Mr. Kwarteng's demise is just a casualty delivered by the modern monetary theory crowd and the monetary laughing gas city to justify that the problem was a ludicrous tax cut not years of currency printing and deficit increases.
What has happened in the UK or Japan is likely to happen soon in the eurozone, which accumulated more than twelve billion euro of negative-yielding bonds in the years of cheap money and reckless stimulus plans.
Liz Truss is not to blame for twenty years of monetary insanity and fiscal irresponsibility. She is to blame for a budget that increases spending without cutting unnecessary expenses.
The irony of it all is that the defenders of monster deficits and borrowing if it comes from bloating the size of government feel vindicated. It was the evil tax cuts!
The political analysis of the mini budget is astonishing. No one in the UK parliament sees any need to cut spending it seems, yet those expenses are consolidated and annualized, which means that any change in the economic cycle leads to larger fiscal imbalances as receipts are cyclical and, with it, more currency printing. The assumption that raising taxes will generate perennial annual increases in receipts no matter what happens to the economic cycle can only be defended by a bureaucrat.
Well, Rishi Sunak and Jeremy Hunt are those bureaucrats.
There are global players in pension fund management, BlackRock being one of them, as The Conservative Woman revealed on October 27:
BlackRock is heavily involved in the charity sector, managing over £4.5billion for more than 3,000 UK charities alone. 'Sustainability', food security and renewable energy rank very highly in their priorities in that sector.
The role of BlackRock in the recent selling off of derivatives by UK pension funds, said to be behind the triggering of a fall in sterling following the ill-fated Kwasi Kwarteng mini-Budget, is an intriguing one. BlackRock executives would defend their actions by stating they were merely protecting clients who were financially overcommitted in that sector and that pension fund managers ought to have known the risks involved in leveraged investment strategies in the first place, and that there is far more to that type of riskier investment than just following trends. Either way the political fallout was profound, triggering a chain of events which led to the fall of Prime Minister Liz Truss. BlackRock executive defends pensions strategy that fuelled UK crisis
Interestingly, Jeremy Hunt has appointed a BlackRock executive who is pro-Net Zero and anti-Brexit as one of his chief advisers:
A business with the financial resources of BlackRock will naturally attract well-connected people to its payroll. People such as Rupert Harrison, chief of staff to Chancellor George Osborne from 2006 to 2015. An opponent of Brexit, he tweeted in July 2017 that 'the rest of Europe is booming and we're not'.
Intriguingly, Harrison is now one of new Chancellor Jeremy Hunt's most senior advisers. On the surface, Hunt seemed to have been parachuted in from nowhere, having failed in two leadership elections and spending more than two years on the back benches, yet from the moment he was appointed he already had a highly expert team, including Harrison, ready to start at once and acting promptly with great self-assurance as though he knew he already had the backing of those who really matter.
However, Conservative Party members are unhappy with Hunt and Sunak's economic policy based on higher taxes, which are, in reality, much higher than they read on paper. This poll is from November 29:
Guido Fawkes wrote (emphases his):
The Tory membership doesn't support their own government's economic policy, according to the latest Conservative Home panel poll. Opposition stands at 48.78% and support at 41.87%. 9.35% don't know. 
It can't come as much surprise. As Rishi's supporters point out, he was warning of the consequences of Liz Truss's policies during the summer contest, and the membership still voted for Liz's low tax package. Support at 41.87 is actually 0.8% lower than Rishi received from the members during the summer…
Let us return to the BoE.
In the December 2022/January 2023 issue of The Critic, Jon Moynihan published 'How the Bank broke the Government', which refers to Narayana Kocherlakota's aforementioned article for Bloomberg and expands on the use of LDIs in pension fund management:
Kocherlakota's view was that the Bank of England was responsible for the crisis, through "poor financial regulation and highly subjective crisis management". Outside the UK chatterati, this view is widely supported.
The beef against the mini-budget was that it spooked the market. But virtually all of the policy announcements made by Kwasi Kwarteng on the day were not new; they had been pledged during the Truss campaign or — in the case of the energy price guarantee — confirmed shortly after her arrival in Downing Street. 
Sure, the mini-budget stated that clarifying how all the spending/lowered tax revenue would be paid for was to be put off until the later financial statement, due some weeks later. But the only new thing was the change to the top rate of income tax from 45 per cent to 40 per cent. 
Given the well-known dynamic impact of lowered tax rates, this change would arguably have been revenue neutral or even beneficial; even without any dynamic benefit, it could have cost at most £2 billion in tax revenue. That is a rounding error compared to the amounts already absorbed by the market and a fraction of the costs Rishi Sunak has accepted at COP 27 — to which the markets have reacted entirely complacently. It is just not credible to blame the mini-budget for the market turmoil.
Moynihan explains more about how LDIs work:
The prime obligation of a pension fund is to match its assets (the money it uses to make payments) to its liabilities (the payments it expects make to its pensioners over the years). For a fund to be as sure as it can that it will be able to pay its future pension liabilities, it buys assets whose coupons and maturity match its (actuarially expected) future pension payments.
So far, all well and good. The problem is with LDI funds. These, like so many pension funds these days, use gilts to accomplish that matching (in a popular meme of the past couple of decades, "gentlemen prefer bonds"). However, in addition the idea has been sold that they can goose up their returns a bit, to compensate for the low yields they are getting on their gilts. 
This little bit of extra profit is accomplished by borrowing some further money, short-term, and with it buying long, higher-yielding assets — either real assets, or derivatives. It's a well-known and always risky bet on interest rate movements; in some markets it's known as the "Carry Trade"; in the Japanese markets it's known as the "Widow Maker". It's entirely inappropriate for "safe" pension funds. 
If rates move against the bet, the bet sours. To cover the risk they are taking, the funds are required to give over their other assets (the gilts) as collateral to the bank that lent them the money. 
When the bet sours, the bank that lent them the money "calls the collateral", selling off the gilts in order to repay the borrowing … a wave of such sales can destabilise the gilts market and create a disorderly environment, as happened in late September 2022.

Some would say that the Bank of England should have known all of this and not allowed such risk to be taken by this huge market in LDI funds. Some would raise an eyebrow at the news that until the middle of 2022, the Bank of England itself held 100 per cent of its £5 billion pension fund in just one single LDI Fund, and therefore blithely seemed to believe it was OK for such risks to be taken (their 100 per cent recently was reduced to a scarcely less concerning 82 per cent).
For whatever reason, the Bank and other regulators did allow LDI funds to become more and more the fashion … The total value of liabilities hedged with LDI strategies was $1.8 trillion in 2021, around half of the total of LDI funds in the world, a sure sign that the Bank Of England had been far too lenient in allowing LDIs to flourish in the UK. That is Strike One.

Why then did the LDI funds start collapsing specifically in late September? It starts with the rapid appearance this year of inflation, caused in no small part — as the Bank has finally admitted — by the bank's excessive growth of the money supply in recent years. As inflation consequently shot up, so, all year, did gilt yields rise, putting increasing pressure on those rickety LDI funds. That is Strike Two against the BoE for its role in worsening inflation in the UK, leading to this instability.
Two days before Kwarteng delivered his mini-budget, Saxo Bank and Deutsche Bank correctly predicted a fall in sterling.
Saxo predicted:
"If the BoE fails to hike 75 basis points, let's shield our eyes for what is going to happen to the pound here." (They were predicting a fall in sterling, which duly happened. Low sterling leads to higher inflation leads to higher gilt yields.) 
Deutsche Bank said that the BoE needed a 'hawkish response'. It never materialised.
In the end:
Both Deutsche and Saxo were right. Only days after the Bank failed to step up to the 75 basis points mark, sterling momentarily dropped to $1.04, just as Deutsche had predicted — yet for reasons that remain to be explained, the drop was blamed on the mini-budget, not on the Bank's failure to sufficiently raise rates. The failure to raise rates enough, two days before the mini-budget, is Strike Three.
In addition, the BoE announced a fortnight-long programme of selling £40 billion of gilts, which ended in mid-October.
In other words, it moved from QE to QT, quantitative tightening.
Reuters noted the BoE was the first central bank to do that, at least in recent years. Bloomberg called the move 'historic' for the same reason:
In 2013, all it had taken was the Fed to announce it was doing less QE — not stopping, just doing less — for the markets to go into a "Taper Tantrum".
Ever since, most central banks have been cautious not to move too fast in shutting down their QE. But not the BoE. Why did it see itself as in a position to be the first in the world to take this very risky step, aware as they were that the mini-budget was about to be announced?
Not surprisingly, the markets responded:
… market participants move fast to get ahead: they quickly sell their own bonds before their value is hammered by the BoE sales. Yields immediately go up and the price of bonds immediately falls. Which is why it was — Strike Four — stupid for the central bank to announce its moves ahead of time: it's like the time that Gordon Brown announced he was selling all our gold, and the price collapsed so he made much less from the sale. But now the LDI pension funds started to get really hammered: as the market moved to dump gilts, the price of gilts fell and fell — this is still before the mini-budget — and collateral calls began to come thick and fast on the LDI funds.
The doom loop began:
And even more collateral calls then came in, and we were in an accelerating doom loop. All this was happening as the mini-budget was announced, and the lazy financial press, not seeing what had happened earlier, blamed the rout in the gilts market on the mini-budget. But it was started by the Bank of England's earlier decision to go full tonto QT. Strike Five.
Cue the headlines that Liz Truss 'crashed the economy', to borrow Labour's words, which they are still using in Parliament:
The Prime Minister is accused the following day of destroying the economy.
The BoE backtracked immediately, announcing it would move from QT back to QE:
The Bank of England, of course, immediately announces that it is not after all going to sell £40 billion of gilts — it is going to buy £60 billion of them — back from QT to QE in a blink of the eye. 
Of course, by then, it was too late for Truss and Kwarteng. Their collective goose was well and truly cooked:
… by now the gods of havoc have been unleashed. Truss's enemies in the Conservative party get to work, using the mini-budget narrative to undo the mini-budget, to oust the Chancellor, and finally to oust the Prime Minister herself. Job Done. 
The BoE defended its actions:
The post-mortem speech by the Bank's director for financial stability, entitled "Risks from leverage: how did a small corner of the financial industry threaten financial stability?" makes for interesting reading; in this telling, the Bank staved off a crisis from what, for anyone, would have been an unexpected direction, dealing more than adequately with the non-bank sector. If anything, the director claims, the UK was ahead of the curve!
As for the current Sunak-Hunt government, Jon Moynihan has also noted the presence of David Cameron's Chancellor and the former BlackRock executive:
George Osborne and Rupert Harrison, late of BlackRock, the UK's second largest provider of LDI funds, are now advising the new government.
Moynihan ends his article by pointing out that the BoE's governor, Andrew Bailey, has the nickname of 'Lullaby' because he tended to doze off during meetings in a prior position:
As head of the Financial Conduct Authority from 2016 to 2020, he saw first-hand the sort of shenanigans firms and funds will get up to if, pressed by smooth talking salesmen, they are given the freedom to act as they will.
It has been alleged that while in that role, Bailey "dozed off" during meetings over a pensions scandal. Now, the organisation he runs is accused of being asleep at the wheel on LDI pension funds, not to mention on inflation, the currency, the stability of markets.
It looks like the BoE's laxity led to the fall of a government:
All that led to the end of a government, in a way that will continue to reverberate, to the detriment of many people's view of democracy in this country, for decades to come.
What the British think
Only last week, on November 23, IPSOS published a poll saying that politicians are the least trustworthy of working Britons. Pictured alongside Rishi is a very young Piers Morgan when he edited The Mirror. Journalists have a trustworthiness rating of 29%, compared to politicians in general at 12%:
Guido has the full chart of occupations participants were asked to rank in order of trustworthiness:
Hardly unsurprisingly, public trust in politicians to tell the truth has fallen to its lowest level ever, according to the latest Ipsos poll. Just 12% of the public now trusts politicians to tell the truth, lower than advertising executives (14%) and government ministers (16%).
Unfortunately for journalists they don't fare much better, at just 29% – one percent above estate agents…
Nurses and doctors ranked the highest at 89% and 85%, respectively.
Television news readers ranked at 58%, above clergy/priests and the man in the street, both of which tied on 55%.
Conclusion
On November 22, roughly one month after Truss resigned, Dan Wootton did a follow up on GB News.
Nigel Farage told him:
Hunt was the coup. Sunak is little more than a puppet.
Wootton also interviewed Ranil Jayawardena, who served as Secretary of State for DEFRA, the Department of Environment, Food and Rural Affairs. He was very gracious and didn't want to get into any controversies. Wootton, who was a big Truss supporter, wanted to know how both of them were faring. He said that they were fine.
I'm including the nine-minute interview here just so you can hear Ranil Jayawardena's voice. He should record audio books in his retirement. Someone in the comments to the video said that he sounds like Boris. He sounds a thousand times better than Boris. This is received pronunciation, rarely heard today in such mellifluous tones:
The Liz Truss saga ends here.
I fear the worst, for the Conservative Party and for the British.
End of series
Yesterday's post discussed Liz Truss's dogged determination.
Today's entry looks at how determined she was to bring a refreshing libertarianism to Government.
On September 28, 2022, Jeremy Cliffe wrote a fascinating profile of Truss's love of free markets in the New Statesman: 'Liz Truss and the rise of the libertarian right'.
Of Kwasi Kwarteng's mini-budget of September 23, Cliffe points out (emphases mine):
… nothing in Truss's past was fundamentally incompatible with her proclaimed ideological commitment to a small-state, free-market model. And now, just three weeks into her tenure in No 10, it has been comprehensively buried. The unofficial Budget from her like-minded Chancellor, Kwasi Kwarteng, on 23 September, removed any remaining doubt by ushering in the biggest package of tax cuts since the Conservative chancellor Anthony Barber's expansionary "dash for growth" in 1972, and by targeting the benefit of those cuts overwhelmingly on the richest.
Far from popularity-chasing opportunism, this amounts to a huge experiment that, as the Conservative commentator Tim Montgomerie has put it, effectively treats Britain as a giant "laboratory" for economically libertarian ideas. The success or failure of that experiment will make or break Truss's government. Say what you like about the wisdom of this approach – and the markets have had their say – but it is absolutely not the method of a flip-flopper. Rather, it is that of a convinced member of a deep-rooted network of ideas, institutions and thinkers born on the shores of Lake Geneva over 75 years ago. It is impossible to understand the ideological zeal with which Truss and Kwarteng are pushing Britain towards the economic brink without understanding that network.
Cliffe goes on to present a summary of Friedrich Hayek's economic vision. I learned a lot, so am sharing that below.
Hayek and the Mont Pelerin Society
Over the centuries, many wonderful things originated in Switzerland. Libertarianism was no exception.
In 1947, in the aftermath of the Second World War, Friedrich Hayek invited a group of 39 economists, historians and philosophers to promote classical liberalism, which has nothing to do with left wing politics. In fact, what became the Mont Pelerin Society was — and is — actively opposed to Marxist and Keynesian economic policies promoted globally at that time.
The group met at the Hotel du Parc, now the Pelerin Palace, in the village of Le Mont-Pèlerin, which overlooks Lake Geneva. I have been to that part of the world, and it is sublime.
The Mont Pelerin Society still meets regularly, annually for regional meetings and every two years for a general meeting. In 1997, they met at the village's stunning Le Mirador Resort and Spa. In October 2022, they met in Oslo.
Cliffe describes the Society's goal:
Inspired by Hayek's warnings of a "road to serfdom" – as set forth in his 1944 book of that name – they were united in concern at the apparent march of international collectivism, in both its totalitarian (Soviet) and democratic (social democrat and New Deal) forms.
Afterwards, libertarian think tanks were founded in the United Kingdom and the United States which influenced the thinking of Margaret Thatcher and Ronald Reagan:
Over the subsequent decades members and associates of this group established successive generations of influential think tanks advancing anti-collectivist economics. In 1955, Antony Fisher founded the Institute of Economic Affairs in London (IEA). This would help inspire a second wave in the 1970s, including the Cato Institute and the Heritage Foundation in Washington DC and, in London, the Centre for Policy Studies (CPS) and the Adam Smith Institute (ASI). As the historian Daniel Stedman Jones puts it in his book Masters of the Universe: Hayek, Friedman, and the Birth of Neoliberal Politics, these transatlantic "ideological entrepreneurs" provided both a long-term incubator for such ideas and a bridge from high economic theory to applied policy practice. Both Reaganomics and Thatcherism would have been unthinkable without them.
Not all of these think tanks think alike. Some are socially conservative, while others are not. Some are geared towards academia, others towards politics. However, they agree on economic policy:
From the 1980s to the early 2000s came the next wave of more public-facing bodies such as Americans for Tax Reform and the TaxPayers' Alliance (TPA). Matthew Elliott, who worked at the former before returning to his native UK to found the latter in 2004, would also go on to help establish and lead the Vote Leave campaign in the run-up to the 2016 Brexit referendum.
These bodies are not homogeneous. Cato, for example, is classically libertarian on social issues like LGBT+ rights, whereas Heritage is hard-line conservative. There are also differences of approach. Mark Littlewood, the director of the IEA [Institute of Economic Affairs], who has known Truss since their student days – they both attended Oxford in the 1990s – differentiates between more "upstream" think tanks like his own, which are closer to academia and concentrate on disseminating ideas among opinion-forming elites, and more "downstream" organisations, which are focused on government policymaking (like the CPS) and shaping debate in the mass media (like the TPA).
One of Truss's tutors at Oxford, Marc Stears, says:
"Hayek's ideas are really important because of the underlying spirit that animates them: that there is no such thing as collective intelligence; the state does not know things and only individuals can really know things. That faith in the wisdom of the crowd, as expressed in price mechanisms, is very deeply ingrained."
He also points to a shared tendency to be patient, citing the Marxist philosopher GA Cohen's observation that the supply-side right has succeeded at "keeping the fires burning" even through periods in the political wilderness.
Stears himself leads a libertarian think tank:
Marc Stears tutored Truss when she was a PPE student at Oxford and today leads the Policy Lab at University College London. He notes that the more theoretical "upstream" parts of the libertarian think-tank spectrum have grown in significance as academia has tilted leftwards. "There are fewer centres in the big universities where these thinkers cluster," he told me. "So that makes the role of think tanks more important."
Cliffe points out the geographical proximity of think tanks in London and Washington DC:
The majority of these think tanks are clustered around Tufton Street, a Georgian terrace in Westminster, and Massachusetts Avenue, a long boulevard in Washington DC (a distinction being that "Mass Ave" is also home to think tanks of various other intellectual outlooks).
These two worlds have long been linked by transatlantic personalities criss-crossing between them. Prominent examples include Fisher (who founded the Atlas Network, a Washington-based umbrella organisation of international free-market think tanks), Edwin Feulner (a former IEA intern who co-founded Heritage) and Eamonn Butler (an ally of Feulner's who co-founded the ASI in London). Today they number Ryan Bourne – a Truss ally, formerly of the IEA and now at Cato; Daniel Hannan – a Brexiteer former MEP and founder of the Initiative for Free Trade (IFT); and Nile Gardiner – head of the Margaret Thatcher Center for Freedom at Heritage.
Today's economic libertarianism
The current Conservative government, whether under Boris Johnson, Liz Truss or Rishi Sunak, has some commitment to economic libertarianism. Sunak promoted freeports in 2019, which are slowly coming to fruition. Truss advocated investment zones, which are still going ahead, although they will be more focused on research.
Cliffe says:
Ideologically, the institutions and thinkers of this world share a common commitment to a low-tax, low-regulation, Anglo-Saxon social model, distinct from the social democratic "European" one. They tend to favour mechanisms for advancing that model, such as free-trade deals, "levelling down" state intervention, and demarcated zones pioneering extremely small-state government (variously referred to as "freeports", "investment zones" or "charter cities"). They instinctively prefer market-led solutions to collective problems, such as climate change, over state-led ones. Perhaps not unrelatedly, many of them draw on opaque funding from big private-sector interests. Cato, for instance, has received backing from corporations such as FedEx and Google, and, in the past, from the tobacco industry – which has also been a source of funding for both the IEA and ASI.
In the Britain of 2022 these instincts express themselves in a particular analysis of the state of the country. This, as Truss-ite thinkers explain, starts from the argument that British governments since Margaret Thatcher – Conservative as well as Labour – have become much too sentimental about the distribution and moral character of growth, and too little focused on raising the overall growth level. As Bourne puts it: "Liz Truss would not consider it a failure if she got the growth rate up significantly but not equally across regions."
It is not a politics of pursuing what is popular per se, but of letting "what works" (defined as whatever lifts the growth rate) speak for itself. "They won't be transactional about policies," Bourne says of Truss and Kwarteng. "It's the whole string of things. Incrementally, the patient might not like the medicine, but overall they will feel healthier and revived."
Truss's brand of libertarianism
I had no idea that Truss worked for a British think tank or that she had speaking engagements at the American ones.
Her interest began at Oxford, then continued in London:
Even during her student years in Oxford, recalls Marc Stears, Truss prided herself on defying intellectual convention. "Her primary characteristic was a love of controversy, quirkiness and idiosyncrasy… Her thinking was always intriguing and contrarian, if not always fully worked through." A brief flirtation with the Lib Dems is not entirely inconsistent with right-wing libertarianism (the party's Orange Book tendency has links with this world  too, and as a student Truss was also a member of the Hayek Society). "She definitely sat outside the prevailing social democratic orthodoxy even then," Stears says.
Truss worked in think-tank land herself before her election to parliament, serving as deputy director of Reform from 2008 to 2010, a period when the organisation was laying some of the intellectual foundations of the spending cuts and market-led approach to public services that would be introduced under David Cameron and George Osborne. "Cameron and Osborne may have been more Thatcherite where Truss is more Reaganite," notes Tim Bale of Queen Mary University of London, a historian of the Conservative Party. "But they shared the basic belief that the market should be the main force in economic life, the state as small as possible and the individual as large as possible."
Truss's Thatcherite tendencies became more apparent once she entered Parliament in 2010. However, Thatcherism means different things to different people:
Shared beliefs, yes, but with different degrees of intensity. In 2010, Truss typified a romantically Thatcherite intake of new Tory MPs who thought Cameron and Osborne were being too cautious about slashing the state.
"When you think that people's politicisation tends to take place in their teens and early twenties, it is perfectly understandable that MPs who had come of age around 1997 would equate past Conservative election victories with what they saw as Margaret Thatcher's uncompromising free-market ideology, rather than her more compromising reality," Bale says.
Truss rapidly became a figurehead for this generation. "Liz was the first convenor of the Free Enterprise Group," recalls Littlewood, referring to the establishment in 2011 of a cluster of like-minded Conservative MPs – which was effectively the IEA's parliamentary branch. "And Kwasi Kwarteng was the second."
Cliffe says there are other Conservative MPs committed to the free market, Priti Patel and Dominic Raab among them.
In 2017, Truss became Chief Secretary to the Treasury.
The following year, she began giving speeches in the United States:
A particularly notable speech was delivered at the Cato Institute in Washington in 2018. In it, Truss called for a new, small-state "Anglo-American dream" driven by an emergent generation of "market millennials" used to the freedoms of the app economy – "Uber-riding, Airbnb-ing, Deliveroo-eating freedom fighters", as she put it elsewhere. "Free enterprise is a hymn to individuality and non-conformity," she proclaimed to her Cato audience. "It's what allows the young to flower and the anti-establishment to flourish."
Bourne helped set up the speech. I put it to him that her argument ignores strong youth support for the likes of Jeremy Corbyn and Bernie Sanders. "It's a case of stated preference versus revealed preference," he said. "Liz's essential argument is that, in their actions, young people in both countries are very entrepreneurial, independent, and enjoy the fruits of a liberal, dynamic economy. She thinks there is a latent enthusiasm for markets if we can reform things in a direction that enables these people to fulfil their wants and needs, like starting companies and buying homes."
Her visits to the US engaged her interest in the Reagan years:
It was around this time that she became engrossed in books by the American historian Rick Perlstein on the making of the Reagan revolution.
Fast-forwarding to her appointment as Foreign Secretary in 2021, her commitment to libertarian ideals ran deeply:
… her ideology, rooted in the school of thought founded at Mont Pelerin, was long-established. "Her ideological disposition is towards the likes of Robert Mundell, Alan Reynolds and Arthur Laffer," says Bourne, "the original supply-side thinkers in the US who influenced the underpinnings of the Reagan administration. The basic idea is that monetary policy deals with inflation and that fiscal and especially tax policy has to deliver incentives for long-run growth."
Another inspiration is "Rogernomics" in 1980s New Zealand, when the Labour government's finance minister Roger Douglas slashed trade tariffs and non-tariff barriers and pioneered monetary policy targeting. (The legacy of that neoliberal experiment remains deeply divisive on the New Zealand left.)
Liz's libertarian allies
Cliffe discusses Prime Minister Truss's Cabinet and think tank allies:
… now she is Prime Minister, the supposed free-market outriders are finding themselves being outridden by the sitting government. Littlewood of the IEA marvels at the scope of the unofficial Budget. "I have long tried to fine-tune out criticism of Conservative governments for not being radical enough; now they're being more radical than even we are requesting." He cites the government's commitment to scrap all remaining EU law as an example. Even when the IEA and Truss disagreed, the closeness was evident; its criticism of her energy price cap promptly elicited an explanatory call from No 10.
Old Tuftonians hold many of the senior jobs in her government. "Matt Sinclair is the standout example," says Littlewood of Truss's chief economic adviser, formerly of the TPA. "He is steeped in this world." Ruth Porter, deputy chief of staff, is an IEA alumna. Sophie Jarvis, No 10's political secretary, was formerly at the ASI. "She will have hired and appointed people who are on board with her ideologically," agrees Bourne. With Kwarteng as Chancellor, as well as James Cleverly as Foreign Secretary and Jacob Rees-Mogg as Business Secretary, the major cabinet roles are held by true believers.
Free-market think tanks, like the IEA, that have long considered themselves to be outside the broad British consensus have used provocation and controversy to catch attention, shake things up and try to shift debates. Truss, observes Marc Stears of his former student, is now bringing that approach into government. "She loves this idea that the action is in the reaction, prodding and provoking people. The unofficial Budget was like going to a slightly mad libertarian think-tank report launch."
Stears said that Truss:
"actually wants to destabilise things. She thinks the prevailing order is wrong and there is a need to break things to rebuild."
Ryan Bourne and Mark Littlewood say that she would have wanted to increase personal freedoms by reducing the nanny state:
Bourne cites childcare, infrastructure, energy and housing (street votes on city planning decisions, for example) as possible focuses, as well as farming ("where there might be a quid pro quo where they scale back government support but relax regulations"). "And I expect this philosophy to apply to lifestyle freedoms, too," adds Littlewood. "Deregulating ads for sugary drinks, McDonald's advertising on the London Underground, that sort of thing."
Oh, if only she'd been allowed to do all those things.
Bourne had more to say:
"Her broad view is 'We have to show, not tell'," says Bourne. "We have to get on with free-market reforms and when they create results they create a baseline, and that wins hearts and minds." There are echoes of the Prime Minister's vision of "market millennials" here: that young people will come to recognise their small-state instincts when they feel the benefit of such politics put into action.
Cliffe has a message for his Labourite New Statesman readers and suggests how Labour can oppose Truss's ideas:
So far, her environment policies seem designed to serve the interests of big polluters rather than market insurgents in the green-energy sector; her deregulation push appears tailored to the interests of existing market insiders with big lobbying budgets; and her proposed tax cuts will certainly benefit the already rich, rather than the worst off. None of this is a "hymn to individuality and non-conformity". It is corporatism.
The challenge now for Liz Truss's opponents, both inside the Conservative family and on the left, is to engage with these tensions and use them to expose the contradictions of the great unruly experiment being rolled out from Downing Street. Because to do so is to contest what is really driving it; to have a chance of changing the public debate and building a solid foundation for a different and better national project. Bad ideas make a much more obvious and persuasive target than bad intentions.
I would say that has already been done. Sunak's government is very different to Truss's, especially with Chancellor Jeremy Hunt as de facto Prime Minister.
'Weird' Liz Truss
Shortly after Truss resigned as Prime Minister, The Guardian had an excellent profile of her: 'From fighter to quitter: the "weird" rise and fall of Liz Truss'.
Truth telling?
It would appear that Truss was somewhat economical with the truth about her education and that of previous Prime Ministers:
At her recent party conference, she spoke of herself as "the first prime minister of our country to have gone to a comprehensive school". The claim has been disproved by those who note that both Gordon Brown and Theresa May went to comprehensive schools. In any case, Truss has said that Roundhay School in Leeds "let down" children by teaching them "about racism and sexism" with "too little time spent making sure everybody could read and write".
Again, the notion that Roundhay, a consistently "outstanding" school, was unacademic has been strenuously contested, as has Truss's claim that her comfortable middle-class neighbourhood in Leeds was "at the heart of the red wall". Truss is not the first politician to massage her biography but she's unusual in attempting to establish her rightwing credentials by making her formative years seem more underprivileged than they were.
Political 'dynamo' at Oxford
The IEA's Mark Littlewood was complimentary about her commitment to politics at Oxford:
She became president of the university Liberal Democrats, and a member of the national executive committee of the party's youth and student wing. Also at Oxford and another Lib Dem activist was Mark Littlewood, now director general of the free market thinktank most associated with Truss's political outlook, the Institute for Economic Affairs (IEA). He remembers her as a "dynamo who exploded on to the political scene" …
"If you spent any more than three minutes in her company, you had no doubt at all about what she thought of the particular topic you might be discussing," Littlewood says.
Unlike her U-turning days as PM, she was sure of her convictions as a student:
For others, like Neil Fawcett, a fellow committee member of the Lib Dems' student national executive, this trait of certitude came across as dogmatic and unbending. "She always had very strong views on everything," he recalls. "Sometimes they were based on knowledge or experience but quite often they weren't. My main memory is that if she came up with something that simply wasn't going to work, and I was in a position where I had the experience to know that it wasn't going to work, she would still argue the case anyway.
"She was absolutely not for turning, whatever the evidence. I thought of that when I read about Treasury civil servants who have been completely ignored because she knew better."
She was more interested in debating and protesting than in canvassing:
She was more concerned to make a splash, he says, than to get things done. Littlewood suggests, in her defence, that Truss was not much interested in "delivering leaflets". Instead she spoke out against the monarchy at a Lib Dem conference, and protested against the BNP in Tower Hamlets.
Mark Littlewood says that Truss found the Liberal Democrats of the 1990s more libertarian than the Conservatives of that era:
Littlewood insists that the Lib Dems made more sense at the time to Truss because the Conservatives were authoritarian on civil liberties and Truss was primarily interested in personal freedom. This, he says, has been the constant in her political career.
"People say she was a Liberal Democrat and now she's a Tory. She was a remainer and became a Brexiter. She was a republican and she's a monarchist. But actually her overarching view of the world has always been a classical liberal one, that the state is too big and interfering in our lives," he says.
She joined the Conservatives in 1996 – when the "back to basics" morality campaign was still alive, if not very well – and 13 years later, it was her local Tory party that wanted to interfere in her life.
That would have been after her affair with a fellow sitting MP at the time. Some local Conservative association members wanted her deselected from her rural Norfolk seat, although that did not happen:
Several constituency association members, dubbed the "Turnip Taliban", objected, arguing that Truss had not disclosed the extramarital affair she had had with the Conservative MP Mark Field. A motion to cancel her candidature was defeated after the then-leader David Cameron came to Truss's aid.
'Weird'
Some of Truss's detractors told The Guardian that her interpersonal skills are 'weird':
The knowledge of the affair with Field has hung around Truss in a way that it probably would not have done with a male politician. There is a welter of parliamentary gossip and tall stories concerning Truss that MPs routinely refer to, off-the-record, although no one can ever name a source or witness. "She flirted with every man she comes across," says one (female) former Tory minister. "She almost even flirted with women." At the same time, so many of her colleagues and former colleagues – including the one who speaks of her flirting – report that she was unapproachable and, as another put it, "she doesn't have great interpersonal skills".
What most MPs agree that she has always had is ambition. Four years after entering parliament in 2010, she joined the cabinet as environment secretary. The most attention she received in the post came with a bizarrely emphatic speech she gave to the Tory party conference.
"We import two-thirds of our cheese," she told a bemused hall, "that is a disgrace." She spoke the last half of the sentence as if there were full-stops between each word, an oratorical choice that cemented the "weird" reputation.
When Theresa May became leader, she replaced Michael Gove with Truss as justice secretary and Lord Chancellor, making her the first woman to hold either post. One insider says that it was obvious that "she was an entirely unsuitable appointment for the job" …
Also:
When asked to describe Truss, two former Conservative government ministers both used the same word: weird. "She doesn't have any friends. She's just weird," one said. "She sits far too close to you," said another. "And when she talks to you, she keeps repeating your name. It's weird."
As Prime Minister:
While Truss may appear to possess an unshakeable self-confidence, many of her appointments spoke of insecurity, as well as debts that required paying. "Never forget that only 50 MPs voted for her in the first round of the leadership election," says one former minister, who puts Truss's ultimate triumph down to the fact that "she wasn't Rishi Sunak" …
"Oh, she's very clever," the former minister acknowledges, admonishing those who think otherwise. "She may not be great at understanding nuance, and her political antenna is not very good, but her political skill is in being a survivor."
A libertarian perspective: 'shambolic'
The IEA's Mark Littlewood did not seem to approve of the Truss-Kwarteng mini-budget:
Whatever is said of Truss, there can be no doubt that she inherited a difficult political and economic situation, with a cost of living crisis, the war in Ukraine, a huge national debt following the pandemic, and the forecast of a major recession.
But, says Littlewood, she played a bad hand badly. He remains bewildered about why she staked so much political capital on reducing the top rate of income tax. "Why select that as the hill you want to die on?"
Similarly, he doesn't understand why, if she was looking for tax reductions, she didn't cut VAT, which he argues would have been counter-inflationary and broadly progressive. He puts her undoing down to her tendency to rely on just a handful of trusted advisers, which may have worked when she was trade secretary, but not as PM. "That's when you need squadrons of very senior and experienced people advising you," he says.
Of course, squadrons of experienced people did advise her not to cut taxes – perhaps that's why she didn't consult them.
"I was utterly amazed by the complete inability to politically execute anything," Littlewood adds. "It was totally shambolic."
It makes you wonder what went on in all those IEA meetings, if Littlewood was taken so thoroughly by surprise.
The article notes the irony in a free-marketeer being brought down by market forces:
Whatever unfolds from here, hers has been a tale of almost classical hubris. In thrall for so many years to free enterprise, she seemed to expect as prime minister that the compliment would be repaid. Instead, she received from the hedge fund managers and bond traders she lionised an ignominious lesson in the most basic rule of capitalism: you can't buck the market.
'Weird' and friendless
According to Harry Cole and James Heale's Truss biography Out of the Blue, even she admitted that she was lacking.
On November 1, The Telegraph's Tim Stanley got a look at the book as it was a month ago, before publication:
… Harry Cole, political editor of the Sun, and James Heale, diary editor of the Spectator, have proven that hacks do our best work under pressure, adding two chapters on her 44-day premiership and cleverly turning a story of surprise victory into a well-researched tragedy of warnings ignored.
Even Ms Truss had her doubts about her suitability for No 10. I think I'd make a great PM, she once told a visitor to her office, the only problems are: "I am weird and I don't have any friends."
Others agreed with that assessment:
One special advisor recalled her "weird manner, where she has a glint in her eye and she thinks she's being edgy or naughty".
At the end of her premiership, she was pragmatic. And she does have some friends, after all:
"Politics is a blood sport," she told friends, "and I am the fox."
The 'pork markets' speech
In The Times, on Saturday, November 5, Cole and Heale gave us a preview of the book by discussing Truss's pork markets speech, which went viral this year, even though it didn't raise any eyebrows at the time. David Cameron was Prime Minister back then:
While Liz Truss was becoming more astute in Whitehall management, there is no escaping that her early days at Defra — the Department for Environment, Food and Rural Affairs — will be remembered for one thing only: the speech about apples, pork markets and cheese. The 2014 Conservative Party conference in Birmingham was the last chance for the faithful to gather before the widely expected election the following year.
With the polls pointing to a hung parliament, and fears of years more of coalition, it was red meat galore. George Osborne put the £100 billion annual benefits bill on notice, while David Cameron basked in some rare warmth from the membership after seeing off Alex Salmond and co in September's Scottish referendum. That week Truss picked a fight on two fronts. First, she declared war on the Hunting Act, and then she turned fire on her least favourite pudding: Angel Delight.
… it was the 1970s dessert that drew the minister's ire in a bizarre pre-conference intervention, most notably in The Times where she blamed the "new-fangled" instant pudding for the decline of Britain's orchards. "Apples are a symbol of a wider failure to take pride in and cultivate our own food," she wrote. Citing the fact that two thirds of UK orchards had been "ripped up in the past 60 years" and that Britain was importing "65 per cent of the apples we eat", Truss was on the warpath: "Consumers reach for easily made, new-fangled products such as Angel Delight or Instant Whip rather than make an apple crumble."
She continued the crusade from the podium in Birmingham, in her first speech to a conference as a cabinet minister: "At the moment, we import two-thirds of all of our apples. We import nine tenths of all of our pears. We import two thirds of our cheese." She continued, with now infamous emphasis: "That . . . is . . . a . . . dis . . . grace! From the apples that dropped on Isaac Newton's head to the orchards of nursery rhymes, this fruit has always been part of Britain, it's been part of our country. I want our children to grow up knowing the taste of a British apple, of Cornish sardines, of Herefordshire pears, of Norfolk turkey, of Melton Mowbray pork pies and, of course, of black pudding . . . I will not rest until the British apple is back at the top of the tree."
With only a few newspaper mentions, her speech went largely unnoticed.
However, she also mentioned 'pork markets', at which point her face strangely lit up, suggesting something more that wasn't there. By the end of the week, the BBC's satirical quiz show, Have I Got News For You (HIGNIFY), picked up the video:
Jennifer Saunders, the programme's host, mocked the environment secretary's facial gestures; responding to Truss's promise that, "In December, I'll be in Beijing opening up new pork markets", Paul Merton quipped: "She likes to enjoy herself on holiday, doesn't she?" Truss's least radical conference speech would become her most famous — as a meme and as a gif — and "that is a disgrace" a punchline of political jokes for years to come.
Recently, Truss said:
To be honest I didn't think it would get that much attention. So basically I hammed it up a bit too much.
Those who knew her at the time said that Truss's awkward delivery was a product of media training gone wrong:
Truss's friends would later confess she had been on a crash course for "corporate management presentational training" shortly before the speech. Reflecting on it eight years later, Kirsty Buchanan, a former adviser to Truss, told the BBC such training "plays into the worst elements of Liz's communication because it makes her more stilted — over-pronunciation and pausing is not her problem, it's the exact opposite. You need to loosen her up in speeches and get her to relax. In private when she's relaxed, she's articulate, sharp, witty, funny, engaging. Put her in front of a camera, until recently when she's grown in terms of confidence, she kind of clams up."
According to Matt Kilcoyne of the Adam Smith Institute think tank: "At the time in CCHQ [Conservative campaign headquarters] and No 10, they were doing training for ministers, trying to train them in a certain way. You saw that with the weird stance that they all took, standing with their legs apart."
A leading Tory sympathetic to Truss notes the difficulty in delivering a modern conference speech: "Addressing a conference hall while being told to address a headshot camera and speak to viewers at home: it's a difficult balancing act to get right, with speakers attempting to build a rapport with delegates while trying to deliver carefully crafted lines more suited to a party political broadcast or social media clip."
Nevertheless:
The reference to "pork markets" nevertheless raised eyebrows. One special adviser then working in another department says: "I think she was trying to be suggestive, it's all part of the whole naughty and weird act. I think because I've seen her be suggestive so many times, I assumed it was deliberate but it might just have been accidental."
Following the speech, allies admit Truss undertook more training to avoid a repeat of the mockery. Buchanan says: "There has clearly been a lot more work done on bringing the voice down and slowing down the pace of delivery."
Kwasi Kwarteng said:
I think it was a bit unfair . . . it was weird, the delivery people thought was a bit strange. The point she made was a fair point. But again she bounced back. She's totally resilient, totally focused and she learnt from Defra, she learnt from that experience.
She didn't let poor delivery deter her:
Undaunted, Truss threw herself back into her departmental work. An aide recalls: "There's a sort of delightfully Terminator quality to her: she just keeps going. And you know if you combine that with a very thick skin this will lead to this almost relentless optimism. It's quite a powerful force in politics."
Truss can laugh at 'pork markets' now:
One cabinet colleague notes that Truss can at least laugh about the speech: "The number of times that I've been in meetings with her and she's gone, 'That is a disgrace' and everyone chuckles because we all know what the reference is and she laughs along with us like, 'What the f*** was I doing?'" Truss says: "My daughter loves it, though, she plays it all the time."
Scottish Secretary helped Truss become PM
Perhaps one of the biggest revelations of Out of the Blue is that Alister Jack, the Scottish Secretary, helped Truss become PM.
On November 13, The Sunday Times featured a synopsis of how Jack dissuaded Truss from resigning as a Cabinet minister in September 2021.
Truss found out about a rise in National Insurance and told Boris Johnson about it. Then a newspaper report about the rise appeared from an unnamed Cabinet minister. The article quoted the minister as saying the rise would be:
morally, economically and politically wrong.
Boris did not want Truss to resign, so he enlisted Alister Jack's support in keeping her in place:
As a result one of the authors argues that she was able to spend a year at a senior level of the government positioned as the alternative to Rishi Sunak if Johnson lost his job …
Jack had become increasingly close to Johnson and was advising him on a cabinet reshuffle. The book says the Scottish MP contacted Truss to tip her off that she was in line for a significant promotion.
Jack told her to keep quiet about the National Insurance rise:
Jack called her and said: "Look Liz you're gonna get a massive job in two weeks' time, a massive job. You would be well advised to shut the f*** up."
Despite going on to raise concerns in cabinet, she did not comment publicly and, according to a Downing Street official "then sucked it up".
Truss then became Foreign Secretary:
With Truss duly being promoted shortly afterwards to the prestigious foreign secretary post, the authors say: "Perhaps Alister Jack's plan had worked after all; Truss did not resign."
Cole told The Sunday Times: "For fans of alternative history, the role Alister Jack played in the rise of Liz Truss is fascinating.
"Had he not convinced her to temper her attacks on Johnson and Sunak's national insurance rise in September 2021, perhaps she would have resigned. Or perhaps Boris would never have promoted her to foreign secretary to clip Sunak's wings and set up the battle to replace him a year later. Keeping her on board made her a contender as she spent a year basically being the alternative to Rishi if Boris did go down so it was clearly a key milestone in her tilt for the top job — and all that followed."
Currently, rumours have been circulating that Alister Jack will be in line for a peerage, perhaps from Liz Truss. Every Prime Minister is allowed a list of nominees for the House of Lords and Truss is no exception.
The end
After Truss resigned, Harry Cole gave an interview to Times Radio, summarising Truss's final week as Prime Minister. Too many things had gone wrong. She had to go. He ended by saying she was remarkably 'zen' about it all:
That fateful Wednesday of Suella Braverman's resignation coupled with the bungled vote on fracking and no Chief Whip brought Truss and her husband to a serious conversation that night, as the October 23 edition of the Mail on Sunday reported:
When Liz Truss finally accepted that her premiership was over, late on Wednesday evening, she went to the fridge in the No 10 flat and pulled out a bottle of sauvignon blanc to share with her husband Hugh.
She had just endured a torrid night in the Commons, where more than 40 of her MPs had failed to back her in a vote on fracking – leading to the astonishing sight of ministers pulling wavering Tories into the voting lobbies.
As she nibbled on a pork pie, the couple agreed that it was a matter of when, not if, she resigned.
One of the main considerations was the impact of the growing turmoil on their two teenage daughters.
Ms Truss then slept fitfully until 4.30am, when she started messaging aides for advice.
Later that morning, No 10 asked Sir Graham Brady, chairman of the 1922 Committee, to come in to see the Prime Minister.
When she asked if the situation was retrievable, he replied: 'I don't think so, Prime Minister.' The game was up …
Downing Street staff were in tears as Ms Truss prepared her resignation but she reassured them: 'Don't worry, I'm relieved it's over,' before adding, 'At least I've been Prime Minister.'
While newspaper reporters were putting together Truss stories, she was spending her final weekend as Prime Minister at Chequers, in leafy Buckinghamshire.
The Sunday Times reported that she held back-to-back parties:
Truss, 47, held a farewell party for ministers last night, and will thank close aides and their partners tonight …
Prime ministers are required to cover the cost of any private entertainment or party business they host at the residence.
A Times2 article told us what she allegedly served to guests:
One of Liz Truss's many leaving parties at Chequers this weekend featured a menu including bruschetta, pigs in blankets and smoked salmon pinwheels and that, right there, sums up this whole sorry mess.
Anyone who inflicts canapé carnage like that is quite obviously unfit for high office. Smoked salmon followed by a mini sausage followed by bruschetta is a recipe for digestive disaster.
It sounds pretty good to me.
The Mail on Sunday reported more Truss controversy to come involving:
a row over whether Ms Truss should be entitled to the annual £115,000 allowance afforded to ex-PMs after her stint in office lasted only six weeks.
She is also due to receive a £18,860 pay-out for her historically short time in office.
Her aforementioned adviser Kirsty Buchanan stuck the knife in:
Kirsty Buchanan, who was a special adviser to Ms Truss at the Ministry of Justice and who also worked in Downing Street under Theresa May, claimed the PM's reputation was 'in tatters'.
'The seeds of destruction were sown early as she shut out all but her closest allies and cocooned herself with those who shared her views,' Ms Buchanan wrote in the Sunday Times.
'With experience and institutional knowledge gone, dangerous groupthink and staggering naivety took hold at No 10.
'Hubris went unchecked when humility was required from an administration that did not earn its majority but inherited it.
'Politics was baked in a Petri dish, away from the political reality of the world outside.'
Ms Truss's former aide said it would take 'every ounce of her famed resilience' for the PM to 'bounce back from this humiliation'.
'I suspect, though, that it will be the humbling in the eyes of her daughters, of whom she is fiercely proud, which may hit Truss hardest,' she added.
Oh, dear. I hope Ms Buchanan was not one of Truss's guests at Chequers.
I still think that, had Truss been male, most people in power would have tolerated her mistakes and been supportive.
Tomorrow's post looks at the role the Bank of England and the media played in her downfall.
Yesterday's post looked at the new biography of Liz Truss, Out of the Blue.
Her life has been a fascinating one in many ways.
On Saturday, September 3, 2022, shortly before Conservative Party members elected Liz Truss as their leader, The Times published an excellent article complete with photos, 'Just where is Liz Truss from? Her incredible journey spans three countries and two continents'.
Excerpts follow, emphases mine.
Early years
Mary Elizabeth Truss was born in Oxford in 1975 to a couple who lived in Cowley, known for the Anglican religious order, the Cowley Fathers, and car making:
The Truss odyssey begins amid the rackety student townhouses of James Street in Cowley, Oxford. She was born on July 26, 1975 at the nearby John Radcliffe Hospital, the second of five children, to Priscilla, a nurse and teacher and John, a mathematics professor. Their first child, Matthew, died when he was a baby. James Street today is inhabited by a mixture of posh students and local families, with a dash of Cowley seediness thrown in.
Like many of the places where Truss grew up, the area is middle class, left-leaning and studenty, home to a variety of public sector workers and professionals on a budget.
A series of moves followed, all connected with John Truss's work:
When her father's junior research fellowship at Oxford University ended, he spent a couple of years as a teacher at King Charles I High School in Kidderminster [Worcestershire], where Truss's younger brother Chris was born in 1978. After that, he found employment at Paisley College of Technology in Renfrewshire, and in 1979 took the family on the long journey up the M6 to Glasgow. Truss was four at the time.
Handsome civic buildings aside, Paisley is a fairly down-at-heel town, its high street a parade of betting shops, tattoo parlours and discount stores. But leafy Low Road, where the Truss family lived, is a bourgeois haven of Range Rovers and birdsong nestled among council estates and main roads. The Trusses lived in two different houses on the street, one a capacious detached villa, the other a sturdy semi-detached. Her other two brothers, Patrick and Francis, were born in this period.
Liz attended West Primary School and once drew the short straw in having to play Margaret Thatcher in a mock election. Most Scots detest Conservatives, especially in the western half of the country:
"I ended up with zero votes," she recalled. "I didn't even vote for myself. Even at that age, we knew it was simply unpopular to be a Tory in the west of Scotland."
In her spare time, young Liz embraced her parents' left-wing politics and attended protests:
It was in Paisley that Truss's mother first introduced her to political activism, taking her on Campaign for Nuclear Disarmament marches with the local CND chapter, including the famous Greenham Common protests, which she attended as a seven-year-old. A picture from the Paisley Daily Express on October 23, 1985 shows a 10-year-old Liz with her mother and brother Chris proudly holding aloft a new Paisley CND banner, ahead of a planned protest trip to London. The article recounts how the family spent two weeks painstakingly making the flag.
Truss has recalled the DIY nature of her family's 1980s radicalism. "We did a number of things like marches, protests," she told an interviewer in 2014. "On one occasion when we went down to London in a bus we had made some nuclear bombs made out of carpet rolls — ours didn't quite work because it had floral wallpaper on it."
In 1987, John Truss got a new job as a visiting professor at Simon Fraser University in British Columbia. The year the family spent in Canada transformed Liz's life:
In July she posted a picture on Instagram of her class at Parkcrest Elementary School in Burnaby, a suburb of Vancouver, which also boasts the actor Michael J Fox as an alumnus. The caption read: "30 years ago I spent a year in Canada that changed my outlook on life #pioneerspirit #optimism."
Moving 6,000 miles across the world would be a challenge to any 12-year-old, but the wide-open spaces and artless optimism of western Canada appear to have invigorated Truss.
The Times was able to find a Canadian classmate of hers, Brenda Montagano, who now teaches at the school both women attended:
"I remember her accent and I remember her being very smart," Montagano recalled. "Now that I'm a teacher, I recognise that it's no small feat to change schools, never mind countries, at that age. She came in and was confident, chatty, tried to get to know everyone. She made her mark."
Upon returning to England, the Trusses settled in Roundhay, a suburb of Leeds:
the closest thing Truss and her brothers had to a permanent family home. It was a household of music lessons and political debate, books and board games, the latter of which Truss "had to win", her brother Francis once told Radio 4.
Roundhay was an affluent area in the 1980s and remains so now, with the villas that overlook the park selling for more than £1 million. As a teenager, Truss would play tennis here with her brothers and drink cider with schoolfriends. Although the constituency of Leeds East was still Conservative when the Trusses first moved there, Roundhay today is solidly middle-class Labour, with the tapas bars and bookshops to prove it.
Liz was highly critical of Roundhay on the campaign trail during the summer, denouncing its Labour element. The Roundhay ward is part of Leeds City Council, so perhaps that was what she referred to. She was also critical of Roundhay School, which she attended:
"All of my parents' friends worked in public sector jobs," Truss has recalled. "The teachers at my school were quite often card-carrying members of the Labour Party and it just was not part of the culture to approve of what the government was doing."
Truss is profoundly unpopular in Roundhay today. Beyond her politics, locals were outraged when she made disparaging remarks about Roundhay School, which is now a successful comprehensive (motto: "Courtesy, co-operation and commitment"), situated in a handsome redbrick building by the park.
"The reason I am a Conservative is that I saw kids at my school being let down in Leeds," Truss said during a debate with Rishi Sunak in July.
It's true that Roundhay was not a particularly good school in the late 1980s. "The fabric of the school was crap, really awful," said one Roundhay teacher who overlapped with Truss. "There were ceilings collapsing, water leaks, gas leaks. The GCSE pass rate would have been 40 per cent A-C."
It is possible that Truss thinks that more effort should have been made across the board. She was clearly a gifted student:
… the school improved markedly for sixth form and Truss reportedly received extra tuition along with other Oxbridge applicants, which helped her gain acceptance to Merton College, Oxford, to study philosophy, politics and economics (PPE).
Her years in Roundhay might not have been her best with regard to friendships:
On Ingledew Crescent, neighbours of John Truss, whose politics diverge considerably from his daughter's, have been asked to keep their views to themselves. Some are too furious to hold back though. "She's a lying b***h," said Louise, a long-time neighbour. "She told lies about our local school. She told lies about the assistance she was given. I despise the woman and I feel sorry for her father. It's not his fault"…
One pupil at Roundhay remembered Truss as "aloof" and a "loner".
The Oxford years
Going up to Oxford probably came as a relief for Liz Truss:
Like many bumptious high-achievers, it seems she found a more comfortable groove when she went to university in 1993. Even among Oxford colleges, the secluded, introspective Merton has a reputation for academic excellence. "For those of us from regional comprehensives, we'd often had to hide how clever we were," said one contemporary from her year at Merton. "But at Merton you could meet all these amazing people with similar interests. It was very liberating."
Oxford was a bastion of Conservatism in those days:
"I met Tories and [found] these people don't have two heads and they don't eat babies," she said of this experience.
That said, she joined the Liberal Democrats:
Unlike most of her Merton contemporaries, though, Truss threw herself into life outside the college, joining the university Liberal Democrat society and becoming its president in the spring term of 1995. Student politics seems to have provided the stage she had been looking for.
Truss's politics in the Oxford years were a typical Lib Dem mishmash. On social issues she still espoused the left-wing radicalism of her parents. During her speech to the Lib Dem party conference in 1994, made while she was still an Oxford student, she made an impassioned plea to abolish the monarchy.
Roger Crouch, who became president of the Lib Dem society the year after Truss, met her at a freshers' fair in which she was determined to carpet the party's entire stall with entreaties to legalise cannabis.
"Even at the time she was determined and willing to pick a fight and stand her ground," Crouch recalled. "She knew what she thought and was willing to defend it. She was determined, slightly eccentric and challenging. She had an acerbic sense of humour, which I think is why we got on."
The termcard for Truss's presidency of the society included events on the legalisation of drugs and prostitution. "She liked to challenge the orthodoxy, often a male orthodoxy," said Crouch, who is now a teacher.
Even so, she was too libertarian to remain a Liberal Democrat for long:
"Liz was always quite a libertarian Liberal Democrat," he says. Truss was also involved with the free-market Hayek Society at the university and Crouch recalls one particular discussion in which she advocated for the privatisation of lampposts. "I didn't see her as someone with a longer-term future in the Lib Dems," he said. "I think she would have found us quite annoying."
Liz and her boyfriends made the fringe student newspaper columns, one of which said:
Liz had mad ideas.
Her acceptance of a job with Shell also garnered criticism in the student gossip columns.
Life in London
Liz completed her studies in 1996 when John Major was Prime Minister, one year before Tony Blair's Labour landslide:
Truss migrated to London after college and the not-quite-northerner became an entrenched southerner. She worked as an economist for Shell and then Cable and Wireless, but she was quickly captivated by the siren call of Tory politics, baffling some of her university peers.
"We came out of Oxford and it was the summer of Euro 96 and Britpop," said her Merton contemporary. "Then Tony Blair got in. It was a breath of fresh air. The country was full of optimism. To then go and join the Conservative Party, I was like: 'How does that happen?' It was really perplexing."
It was at this time that politics took hold of Liz, even if she was not an immediate success. However, her tenacity saw her through:
In 1998, aged 23, Truss ran for a seat on Greenwich council, a Labour-leaning borough. She lost, and it would be a 12-year political slog before she eventually became MP for South West Norfolk.
Running alongside her in 1998 was Douglas Ellison, who later won a seat on the council. "She was definitely resilient," he recalled. "I don't know how many selection processes she went through. There was this enormous self-belief to keep on getting up in front of these audiences and voters to eventually try and get that break. She was a sucker for punishment."
Ellison wouldn't necessarily have expected her to become prime minister, but noticed her obvious political skill. "Her manner could be a bit matronly, but she was very good at working people," he said. "She's been very lucky in a sense. Sometimes it can be better to be lucky than talented."
Even though she never got a seat on Greenwich council, she settled in the borough, marrying her accountant husband Hugh O'Leary in 2000, at St Alfege church in Greenwich, just half a mile walk from their current home.
Her Oxford classmate Roger Crouch attended the reception:
It must have been a good one, because I can't really remember it.
The couple have two daughters:
Frances, 16, and Liberty, 13, who she says is looking forward to hosting sleepovers in Downing Street.
I hope Liberty acted quickly.
Hugh O'Leary
On Tuesday, September 6, after Liz became Prime Minister that day, the Daily Mail told us more about Hugh O'Leary, complete with lots of photos:
Liz Truss' 'true blue' husband watched proudly as the Tory leader was crowned Britain's third female Prime Minister.
Hugh O'Leary listened on as Ms Truss delivered her first Downing Street address on Tuesday, vowing to to create an 'aspiration nation' during her reign as the nation's 56th Prime Minister …
Mr O'Leary was also by her side when she won Tory leadership on Monday, marking the first high-profile joint appearance by a hitherto private couple.
Ms Truss, 47, described her 'dry-witted' accountant spouse as the 'love of my life' on Valentine's Day three years ago. She met Mr O'Leary at the Tory Party Conference in 1997 and said of their first date: 'I invited him ice skating and he sprained his ankle.' 
Mr O'Leary was born in 1974 and grew up in Allerton, Liverpool, before his family moved to Heswall, Wirral.
A former neighbour said 'Hugh was much more serious' than his two younger siblings and that 'he was very earnest and very quiet but a lovely boy,' the Times reported last week.
O'Leary, 48, became a chartered accountant after studying econometrics and mathematical economics at the London School of Economics (LSE). 
The couple started dating and married three years later, settling in Greenwich, South-East London. They have two daughters, Frances and Liberty. O'Leary has worked from home as a house-husband.
A close family friend, cookery writer Mallika Basu, said: 'They are a great team. Both are keen cooks and very good cooks. She does lovely roasts, he does a good curry.'
There was only one dark period, when Liz had an affair with a fellow Conservative MP. Fortunately, her marriage withstood the strain:
Only once has their relationship been rocked. In 2006, it was revealed Truss had been having an affair with married Tory MP Mark Field. Her marriage survived; his ended.
The only damaging moment came when Tory members in her Norfolk constituency complained they had been kept in the dark about the affair and tried to oust her. 
But they were defeated and Truss triumphed.
'I remember when the tabloid furore was roaring … both times, her friends locally rallied around,' a source told The Times. 
'There were a number of occasions when the two of them came to various parties and it was quite good to see that people were sympathising and rallying round, particularly when it was over her selection in 2009. It was extremely unfair the way that came up.
'I don't really know much about what went on but from my impression, they [O'Leary and Truss] have always been a really strong couple and I have never seen any real sign that it's had much of an impact.'
What her family think
The article said that Liz's father John was sad and furious about his daughter's Conservatism — and probably her ascent to No. 10:
Truss' left-wing academic father was apparently 'so saddened' at her metamorphosis from an anti-monarchist Lib Dem to a Tory that he finds it difficult to talk about it, according to reports. 
A former neighbour of maths professor John Truss claims he was 'sometimes furious' and could 'barely bring himself to speak about' her being a Conservative candidate when she first stood in 2005. 
His college, the University of Leeds, has also reportedly banned his colleagues from speaking about Truss as well, The Times reports …
In July, the Daily Express also alleged that the Foreign Secretary's relationship with her father has been impacted by her 'conversion to extreme right-wing politics' and he is really 'appalled' by it, a colleague said.
Another university source said: 'John is distraught at the policies his daughter is advocating in her bid to become PM.'
Also:
Another report claimed Professor Truss was 'so appalled' by his child's 'conversion to extreme Right-wing politics' that it had impacted their relationship.
We understand that this is considerably wide of the mark. It may be coincidence but we understand Prof Truss has spent part of the time that his daughter has been campaigning abroad in Finland.
'I think it's fair to say there is a diplomatic element to this,' says a source. Family figures have indicated to us that the move was almost certainly to avoid being a distraction to his daughter.
But if he has been dismayed by her transformation from the spirited girl in whom he proudly instilled a strong social conscience into the standard bearer for the Tory Right, he is not saying.
All the same it is worth noting Prof Truss, whose colleagues at Leeds have been ordered not to give interviews about him, declined to campaign for his daughter when she first stood for election in 2001. (Again it may be a coincidence but she was standing in a strongly Labour-supporting constituency.) An indication of how this must have been testing family bonds comes from Prof Truss's older brother Richard, a retired Church of England vicar who officiated when his niece married accountant, Hugh O'Leary, 22 years ago.
The Truss family, he said, had liberalism 'in its blood' adding: 'It must still be in her blood as well.'
He last saw his niece in March at a party to mark his 80th birthday.
He was, he says, 'touched' that the Foreign Secretary had flown in from overseas in order to be there. Of the family politics, he explained: 'My grandfather lived and died quite young but he used to turn up and campaign for the Liberals before the First World War, so it's kind of in our genes.'
His understanding of liberal, he says, is of being 'open and concerned for those who are in need'.
It is also why he hopes the girl he remembers as 'fun, very bright… questioning and determined' will do something to heal 'the division between people in poverty' as well as changing the Government's approach to immigration and refugees. 'I hope she might do something on both fronts,' he says.
Fortunately, Priscilla Truss supports her daughter:
The former neighbour also said that Truss' mother, nurse and teacher, Priscilla – who he spoke to before she was selected as a Tory candidate in 2005 – is backing her daughter.
'She said she was quite torn. She'd agonised over whether to support her because she was her daughter, or not to support her because she was a Tory,' he told The Times. 'In the end, she decided that family ties should win out.'
Liz's three brothers also support her:
Paradoxically for all this apparent family dissent, there is also considerable support for a politician whose list of jobs in government reads like a cut-out-and-keep guide to becoming PM: Under-secretary of state for childcare and education; Environment, Food and Rural Affairs Secretary; Justice Secretary and Lord Chancellor; Chief Secretary to the Treasury, International Trade Secretary; and finally heading the Foreign and Commonwealth Office.
Her three brothers, Chris, Patrick and Francis, turned out to support her at the final hustings at Wembley on Wednesday evening. As for her mother Priscilla, she has been a near constant presence as her daughter has criss-crossed the country seeking support.
'For the children, Priscilla has always been there for them,' says a family friend. 'They always knew that if they needed her she would be there.
'The fact is Liz is proud of her politics but she is also proud of her mother's political views, too.'
The article says that her mother's family's politics have been pivotal in shaping Liz's worldview:
If anything, it is from her mother's side of the family that we find the crucible of Liz Truss's convictions.
The roots of the Grasby family, Priscilla's maiden name, are deep in the rural landscape around Driffield, East Yorkshire. Priscilla's grandfather George fought in the Great War with the East Yorkshire regiment and lost a leg at the Battle of Passchendaele.
After the war, he married Mary and became a cobbler on Adelphi Street. Mike Kennie, who lived next door, said the old soldier's disability was no handicap and that he would 'often be climbing ladders outside the building.'
His father William was a shepherd and inn keeper. Today the pub he ran, The Ship Inn at Langtoft, is still in business. But the link came as a shock to the current publican Martin Weaver.
'Can you repeat that? Liz Truss, our probable next Prime Minister, is connected to this pub. I'm astonished.
'In fact I'm shocked. This has been a pub since the days of Queen Victoria but I never knew that Truss's great-grandfather was brought up here as a boy. I can't wait to tell the locals.'
The local Tory MP, Sir Greg Knight, looks forward to having a drink with Miss Truss in her great-grandfather's former home as a matter of urgency.
I hope he hurried.
Anyway:
'Why not? It's a great part of the countryside and I am pleased to learn of the family connection.' It was George who laid the foundation for the socially-upward Truss family. His son, also George, won a place to read classics at Queen's College, Oxford.
During World War II he served with the Army in India in an intelligence role. After the war he became a teacher, later a head of classics at Bolton School for 25 years. His daughter, Liz's mother, was one of his pupils.
According to one former pupil, the pipe-smoking Mr Grasby was very much a 'post-Second World War socialist'. It was into this Left-leaning family tradition that Miss Truss was born in 1975. An older brother Matthew died in infancy the previous year. Three brothers followed her.
Here's something we didn't know:
When Liz was two, they moved to Poland and then, when she was three to Paisley, where her father had been appointed a maths lecturer at Paisley College of Technology. She started at the West Primary School, where she recalls, discipline was still imposed with the leather strap for miscreants.
Liz's brothers talked about what it was like growing up with her. Let's begin with a neighbour's reminiscence:
… she revelled in her position as the only girl in a family of boys. 'Her brothers were very sporty and her parents active so there was always something going on,' says a Roundhay neighbour.
Youngest brother Francis said it was a very musical home: 'We'd do music practice every night because my dad's a very keen musician, and that was sort of enforced.' Recalling playing board games such as Cluedo and Monopoly, Francis said of his sister: 'My dad would say she cheated to win. She was someone who had to win. She created a special system to work out how she could win, and then if she was losing she might sort of disappear rather than lose.'
What her friends say
The paper reported that Liz's friends were on board with her candidacy as Party leader and had every confidence in her:
We have spoken to family, friends, foes and even former romantic partners. They all agree on one thing: the Liz Truss they know is brighter and far more intelligent than some of her leaden appearances on hustings and in interviews might have suggested.
There is, too, something of a chameleon character to her that manages to identify her with practically everyone. That, of course, may be her skill as a politician — she is after all the longest-serving Cabinet minister in recent times.
But as a one-time ally says: 'The key to understanding her is that she actually says what she believes.' What perhaps is even more bizarre is the contempt she has these days for liberal group-think.
The paper caught up with friends of hers from Roundhay:
While still at school she joined the youth branch of the Lib Dems. A fellow student was Kiron Reid and the two were photographed holding a party flag at a mass trespass at Twyford Down, Hampshire, in protest at then Home Secretary Michael Howard's Criminal Justice Bill clamping down on illegal raves.
Reid was also a friend of her then boyfriend, Wyn Evans, another Lib Dem supporter who was at Leeds Polytechnic.
Reid, who is still a party activist, told us: 'Liz always had a liberal social and economic view of the world. Am I surprised she's now a Tory?
'Well, even back then she was a huge fan of Mrs Thatcher which was not a commonly held position in the North of England. She regarded her as a strong woman leader.
'It was a long time ago and I was often drunk or hung over at Lib Dem conferences but she always argued her position strongly.
'Wyn and Liz went out with each other for at least a year, maybe 18 months or more.'
Mr Evans is clearly no longer a fan of his former girlfriend, tweeting in April: 'Biggest war in Europe for 75 years and our Foreign Secretary, in a major speech, can barely utter the word Europe. This is a speech of an isolated, detached nation still carrying notions of being a global power. Depressingly sad and woefully dangerous.'
A professor speaks
The Mail's article ends with the words of one of Liz's lecturers at Oxford:
Perhaps Marc Stears, one of her Oxford lecturers, offers the most intriguing insight on our next PM.
'That Truss appears to be on the cusp of becoming Prime Minister, rather than those candidates from central casting of PPE at Oxford, shows not only that I grossly underestimated her 25 years ago but also that the qualities our politics rewards have changed beyond recognition,' he says.
'Truss lacks the media elan of Tony Blair and David Cameron. She lacks the dogged determination of Gordon Brown or the patient, long-term vision of Margaret Thatcher.'
Then again, he will not be the first person to have underestimated Mary Elizabeth Truss.
Maybe the prof nailed it in saying she lacked a patient, long-term vision. Then again, with the Conservatives having lost two years' worth of policy making to the pandemic, time was against her.
Tomorrow's post looks at the New Statesman's fascinating profile of Liz Truss's brand of politics and The Guardian's analysis of her time in Parliament as well as Downing Street.