You are currently browsing the tag archive for the 'Conservative Party' tag.
Friday, November 29, 2019, began as a normal day in the general election campaign.
Tom Harwood, who works with Guido Fawkes, ably outlines what the political parties were up to until the afternoon, when a terror attack took place on London Bridge, effectively halting the campaign for 24 hours:
Guido's accompanying column received a lot of comments, including the following.
On Brexit, a reader quoted an MEP on the necessity of No Deal (emphases mine):
Ben Habib MEP: "There is perhaps only one way the Conservative Party could comply with its pledge to be out of Transition by the end of 2020 with a deal along the lines set out in its manifesto. That is if it is prepared to take the UK out of Transition without a deal. It remains as true today as it did in 2016 that, to get a good deal, the UK must be prepared to leave with no deal."
Labour pledged more madness. Only a few days after they promised to plant 2 billion — yes, you read that correctly — trees in Britain, they came up with a massive housing pledge. Another reader discussed Shadow Chancellor John McDonnell's plan:
John Mcd threw the kitchen sink in with his environmental pitch today not only Labour building more houses than their is bricks on the planet, every house will have solar panels and heat exchangers. No longer grasping, just saying anything because they just ignore the facts.
Another reader discussed what would happen if Labour's — McDonnell's — plans for corporations came to fruition:
McDonnell intends to steal 10% of a company's share capital and give it away. Either he steals existing capital or a company creates more shares. Either way the value of the company remains the same but now everyone's shares will be worth less either because there are more shares or the shares have been given to someone else. So, anyone paying into a Defined Contribution Pension Fund and there are millions doing just that, will suddenly find that their savings are worth a lot less than before the capital restructuring. Someone tell the voters.
Another comment examined the Liberal Democrats' Jo Swinson's perorations on climate change:
'Climate Change' – we can't "fight it by leaving the EU". 🤔
What won't we be able to do as an EU state in relation to climate change – that we otherwise can do as a member ?
Given the fact that China produces more C02 emissions that the EU Britain and the US combined – what is it that we are supposed to do ?
Has Swinson thought this through ? Or is it just a risible hollow slogan for yoghurt knitters in the middle classes ?
Someone pointed out what the 2017 terror attack — also on London Bridge — did to the Conservatives' chances days later in the June 8 election:
… the problem is that the Tories are allowing Labour and the others to constantly raise the NHS, climate, trust, WASPIs and everything else besides, in an effort to sideline the Brexit debate. And I'm worried that it's working! Tories need to get the agenda back on message ASAP. Also, I presume that I don't need to point out the disturbing similarity to the 2017 campaign in what we've witnessed unfold on London Bridge today, and that it signalled the beginning of the end for Theresa May's majority as soon as Labour used those atrocities to introduce reduced police numbers into the debate. I'm nervous. Very, very nervous!
That concerns me, too. However, Boris Johnson is not Theresa May. He's campaigning across the country every day.
Moving on to Twitter, someone pointed out that a fatal incident has occurred before each of the last three plebiscites in Britain:
Friday afternoon took a dark and bloody turn as events unfolded at London Bridge.
Cambridge University was holding a conference at Fishmongers' Hall near London Bridge. The subject of the conference was prisoner rehabilitation.
Attending the conference on day release wearing an electronic tag was 28-year-old Usman Khan, who, as the Press Association (PA) reports:
was a convicted terrorist released half-way through a 16-year prison sentence for a plot to bomb the London Stock Exchange.
Last Friday:
Usman Khan killed a man and a woman in the knife rampage on Friday afternoon and injured three other people, who are being treated in hospital.
The 28-year-old, who was on licence and wearing an electronic monitoring tag, was attending a conference on prisoner rehabilitation organised by University of Cambridge-associated Learning Together at Fishmongers' Hall and reportedly "threatened to blow up" the building.
Armed with two knives and wearing a fake suicide vest, Khan was tackled by members of the public before he was shot dead by police on London Bridge next to the Hall.
Video footage posted online shows Khan being taken to the ground as one man sprays him with a fire extinguisher and another, reportedly a Polish chef, lunges towards him with a narwhal tusk believed to have been taken from the wall inside the Hall.
Metropolitan Police Assistant Commissioner Neil Basu said he had been living in the Staffordshire area and that police were "not actively seeking anyone else" over the attack.
Why do police always say that? Often, in the weeks that follow, it turns out there was a plot involving more than one person, including some that had no prior police record but were aiders and abetters.
What about the attack that same day in the Netherlands? This is what happened in The Hague:
Returning to London Bridge, no doubt this is the first time many of us have heard of a narwhal tusk, but you can see below what they look like in nature on this species of whale, also known as the unicorn whale. The tusk protrudes from a canine tooth. The narwhal lives in Arctic waters.
A narwhal tusk was hanging in Fishmongers' Hall. A quick-thinking man deployed it against the terrorist:
Here's a dramatic video of events as they happened. The second tweet shows Fishmongers' Hall. One of the pikes shown below was used in subduing the terrorist:
Here is a video of what happened on London Bridge when the police arrived. Fishmongers' Hall is pictured in the second tweet:
Understandably, everyone would like to see the men who subdued the terrorist given an honour or reward of some sort. However, one of them was also a prisoner on day release, attending the Cambridge University conference. James Ford had committed a horrific murder in cold blood in 2003 and was given a life sentence in 2004. Hmm:
The Mirror reported:
James Ford, 42, was jailed for life in 2004 for the murder of 21-year-old Amanda Champion, who was found strangled with her throat cut in Ashford, Kent, in July 2003 …
… Ford found himself embroiled on the London Bridge attack as he helped bring down the knife man while out on day release from his life sentence.
Ford is understood to be in the final days of his sentence at HMP Standford Hill, an open prison in Kent.
It's believed Khan was tackled by ex-offenders inside Fishmongers' Hall – who had all been invited to a conference on rehabilitation.
Source say Khan began "lashing out" in a downstairs room of the hall but was grabbed by the conference-goers and bundled out of the front door as he tried to go upstairs.
Those who tackled Khan on the street were not ex-offenders.
Ford's victim's aunt Angela Cox has told how she was contacted yesterday by Kent Police who informed her Ford had been involved in the terror attack as a member of the public, reports the Mail.
Angela, 65, said she was "angry" Ford was out on day release after the horrific murder of her niece – who had the mental age of a 15-year-old.
She said: "He is not a hero. He is a murderer out on day release, which us as a family didn't know anything about. He murdered a disabled girl. He is not a hero, absolutely not.
"They let him out without even telling us. Any of my family could have been in London and just bumped into him."
Angela described how a police liaison officer had called her yesterday asking if she was aware of the London incident before revealing Ford had been captured on TV.
The still-heartbroken aunt said the officer told her "don't worry" before saying Ford was at the scene and "being classed as a hero".
Former factory worker Ford has never revealed his motive for killing Amanda.
At the time of his jailing, a judge told him: "What you did was an act of wickedness.
"You clearly have an interest in the macabre and also an obsession with death including murder by throat cutting."
On to people who should be classed properly as heroes, we have the Polish kitchen porter employed at Fishmongers' Hall who allegedly grabbed the narwhal tusk. By December 3, it transpired that Lukasz Koczocik was indeed one of the pursuers, but not the man brandishing the tusk. Lukasz was the man with the pike. The attacker stabbed him five times. Fortunately, the heroic kitchen worker was released from hospital on Saturday. He has been nominated for an official honour in Poland:
It seems the tusk got broken:
Not surprisingly, questions arose about the terrorist's early release:
As with Labour (1997-2010), the Conservative government has had its part to play in law and order failures:
You can see from the following that Usman Khan did not act alone in 2010. Several other men were involved, some released since their 2012 conviction:
On that basis, I do wonder if police did the right thing in saying they are not looking for other suspects at this time with regard to Friday's incident.
Again, what about the attack in the Netherlands that day? This RT article has one description of the suspect; Euronews has another. Dutch police said then there is no terrorist motive. On November 30, with a suspect in custody, they said it is 'too early to speculate' as they are investigating 'several scenarios'.
Perhaps these statements are meant to keep the public calm while police investigate further.
Yet, we find time and time again that terrorism is the motive and that, especially in France, more than one person is involved somewhere along the line.
Sentencing and law enforcement soundbites should be reviewed.
Cambridge University was not left unscathed Friday afternoon. Sadly, one of their employees, Jack Merritt, was the first fatality. My condolences go to his family and friends:
The Guardian reported:
Merritt worked as the course coordinator for Learning Together, a programme run by the University of Cambridge's institute of criminology which had been running a course at Fishmongers' Hall next to London Bridge on Friday.
Two people were killed and three were injured when 28-year-old Usman Khan launched a knife attack. Khan was arrested in December 2010 and released on licence in December 2018, wearing an electronic tag.
David Merritt posted on Twitter on Saturday: "My son, Jack, who was killed in this attack, would not wish his death to be used as the pretext for more draconian sentences or for detaining people unnecessarily."
His words came as Boris Johnson, said the system of automatic release from prison was flawed.
A second Cambridge graduate, Saskia Jones, 23, also died in the attack. My condolences to her family and friends at this difficult time.
This was the Prime Minister's column for the Mail on Sunday:
The early release of dangerous prisoners — terrorists, murderers and the like — needs a thorough rational, not emotional, discussion.
Many of us have been wanting this for several years.
If not now, when?
How many more people, including those who advocate for prisoners, will have to die?
On Friday, November 22, 2019, a special two-hour Question Time was broadcast.
Fiona Bruce, the show's host, moderated a discussion involving questions from a live audience put forward to the four main party leaders in half-hour segments.
The programme began with Jeremy Corbyn. Nicola Sturgeon of the SNP followed. The last two were Jo Swinson of the Liberal Democrats and Boris Johnson of the Conservative Party.
It was really sad to see that Boris Johnson's Conservatives are the only political party running on a pro-Brexit platform. Labour favour a watery Brexit with a second referendum. Jo Swinson said in a previous interview on ITV last week that in the (unlikely) event she became Prime Minister, she would revoke Article 50 all by herself on the first day. The SNP are all about Scottish independence and only the Scots can vote for them. They, too, oppose Brexit and would appeal to the EU to allow Scotland to join as a separate nation.
Who won?
On Saturday, November 23, The Express reported on a poll it conducted among readers. Not surprisingly, most participants thought that Boris won (emphases mine):
A total of 50 percent of people believed the Conservative leader stole the show, with less than a quarter of readers (23 percent) convinced Jeremy Corbyn won.
Of the 22,368 people who voted in the poll, 11,307 believed Boris Johnson won – versus just 4,816 people. who voted for Mr Corbyn.
Of the four candidates, Jo Swinson seemed the least popular, with just eight percent – 1,776 people – believing she won the debate.
In fact, more people said they didn't know who won – with this option being chosen by 1,924 people.
Coming third was Nicola Sturgeon, who teased a "less formal" arrangement with Labour to stop Brexit and end austerity, with 2,545 votes for the SNP leader.
One commenter, 'fitz', said the Prime Minister managed to "scrape through" after a tough start.
They said: "Boris had a tough job, but he scraped through ok at the end.
"I do not have any doubts that he will win the election with a modest majority of MPs who will support him."
I hope that proves to be the case.
Nicola Sturgeon
Nearly all the leaders received tough questions from the audience. Nicola Sturgeon seemed to receive fewer:
I was hoping someone would ask her more about Scotland being financially self-sufficient post-independence without English money provided through what is called the Barnett Formula and what plans she would have for a Scottish currency. The SNP believe they can continue to use the British pound!
But I digress.
Sturgeon was adamant that Scots alone could decide the fate of the Union, which has existed since 1707:
Sturgeon relaxed with a book on the way back to Scotland:
Jo Swinson
Jo Swinson got a verbal blast from a Brexit supporter. The Express reported on the exchange:
Catherine, the audience member, asked: "Is revoking Article 50 confirming to 17.4 million people that you think we're stupid and don't know what we voted for?"
The Lib Dem leader said: "You cannot accuse us of not being upfront about wanting to stop Brexit. We have been crystal clear about that from the very beginning.
"Not for one second do I think that means you or anyone like you is stupid. I think it means we disagree.
"I really want us to be in a situation in this country where we can disagree with each other, Catherine."
Ms Swinson continued: "That means that you want to leave, and I don't think that makes you a bad person.
"I want to remain in the EU and I hope you think that doens't make me a bad one."
The audience member shot back: "You can disagree with me but you lost.
"You don't get to keep disagreeing with me."
Well said, Catherine.
On Saturday morning, Chuka Umunna, former Labour MP, now a Lib Dem parliamentary candidate, was asked on a BBC radio programme about Swinson's Question Time performance and the Lib Dem's anti-Brexit policy. The Express reports:
Mr Umunna, who standing in the cities of London and Westminster constituency on December 12, insisted the Liberal Democrat position to revoke Article 50 was not a mistake, despite Ms Swinson facing a tough grilling by furious audience members on the special leaders debate last night. The Labour-turned-ChangeUK-turned-Lib Dem politician told BBC Radio 4's Today Programme: "No, there's been no mistake made on this policy."
Mr Umunna added: "It's absolutely clear – you can't save the NHS and address the issues in it at the same time as not seeking to stop Brexit, not least because 10 percent of our doctors come from the EU, and 7 percent of our nurses come from the EU."
What no one from any party has addressed is WHY we have so few British doctors and nurses these days. I do not have an answer myself.
Anyway, The Express article related another audience member's blast at Swinson on the Question Time special:
Ms Swinson faced yet another awkward encounter when another audience member branded the plan to stop Brexit "undemocratic".
An audience member said: "You are not saying we will go back to the people, you are unilaterally saying 'Revoke it.'
"It's undemocratic from somebody who wishes the last three and a half years had never happened."
A startled Ms Swinson responded by saying the Liberal Democrats had campaigned for a so-called people's vote for the past three years without getting the support in the House of Commons.
Swinson also received a grilling about her voting record when she was an MP in the Conservative-Lib Dem coalition government from 2010-2015. Swinson voted 'Aye' to more Conservative policies than Conservative MPs did during those years:
The woman asking that question was no ordinary member of the general public. To some viewers, her face seemed very familiar. They were not wrong. The woman is an actress:
That did not go down well with some viewers, and, in my humble opinion, rightly so:
Returning to Jo Swinson, the questions did no favours for the Lib Dems:
Jeremy Corbyn
Right at the outset, Jeremy Corbyn received a verbal smackdown from a long haired, bearded man:
Then, one of Corbyn's supporters chimed in:
Corbyn's position on Brexit has been rather nebulous, so, someone asked him about it:
This is what Corbyn said:
Boris Johnson
Boris confirmed to Fiona Bruce and the audience that he had been watching the programme backstage.
The Left have been hammering at Boris for an alleged lack of integrity. Yet, I cannot think of a single politician who has told the truth 100% of the time. Anyway:
As in the United States with the 2016 election, the Left are alleging that Russia interfered in the Brexit referendum campaign. Before Parliament was dissolved, Boris declined to release an official report about it, saying that, customarily, the Prime Minister reviewed such documents over a matter of weeks rather than days:
Someone brought up former Conservative MP, Dominic Grieve, a muckraking Remainer:
Boris got many more difficult questions.
He handled them well. Here he is on education:
And on Brexit:
Many of the questions and remarks were not fair, because he was not a sitting MP for most of the time the Conservatives have been in government. He was Mayor of London during several of those years, a fact that he put forward to the audience. He also said that he has been Prime Minister for only 120 days!
Overall, he managed a conversational tone with everyone, no matter how obnoxious they were:
Nearly everyone is upset over the blatant bias that Fiona Bruce and Mentorn Productions show on Question Time. Therefore, people overall — outside of Leftist activists — empathised with Boris, such as this journalist:
Boris also got a boost from this viewer:
And these:
The Prime Minister was gracious afterwards:
Conclusion
Outside of the usual bias, the Question Time Leaders Special was good, because it is probably be the only time in this election campaign when party leaders will take questions from a live audience.
For those who would like to read more about the programme as it happened, see the Daily Mail (here and here) as well as The Guardian.
If there weren't already a Magic Johnson, I would have given Boris that nickname.
Last week, Boris surged in a polling question that Survation fielded about the public's preferred Prime Minister:
Jeremy Corbyn (red, Labour) and Jo Swinson (yellow, Lib Dems) are trailing miserably. Good!
About that result, Guido Fawkes said (emphasis in the original):
Boris has taken an even more commanding lead in Survation's preferred Prime Minister polling. The PM is up six points on last month, with the Lib Dems crashing down to place Swinson behind Corbyn, who himself has fallen by two points.
This mirrors Deltapoll's findings over the weekend that saw the Lib Dems tumble five points to just 11%. Ironically the Tories are worried that if Swinson's party continues to plummet, the Remain vote won't be split enough to win back key targets in metropolitan places like London…
Even better!
Here are two results from the weekend.
One model predicts a clear Conservative majority — provided, I would caution, that those who go out on Thursday, December 12 vote True Blue — Conservative:
Two other polls show the Conservatives sailing ahead. Again, nothing happens unless Conservative voters go and vote True Blue on December 12:
But, hold on, here's a third, from Opinium. 'Blair territory' means a wipeout, as in 1997. Again, all depends on True Blue voters going out on December 12:
Going back to earlier in the month, on Tuesday, November 12, the Conservatives launched their first election video of the campaign. Given that this would have been scripted, Boris is a natural in front of the camera and makes this four-minute chat look spontaneous:
On Monday, November 18, a reliable commenter on Guido Fawkes had this to say about the Prime Minister (emphases mine):
One small problem with supranational empires such as the EU is that history tells us that they always, without exception, fail. The Roman Empire, Alexandra the Great, the Persian Empire, Genghis Khan, the Soviet Empire, Timur, the British Empire, the Third Reich, Napoleon, and so on. The reason they fail is because nationalism and patriotism are immensely powerful forces that cannot be overcome. No matter how much subjugation and assimilation is forced on people they will always fight against the imperialists.
A very good book about this effect is The Dream of Rome. It explains how even after hundreds of years of being Romans, with a united language, currency, government and legal system the people still fought and died to get their countries back. This book was written by Boris Johnson.
The very fact that the BBC hate Boris, portraying him as a bumbling idiot and doing everything they can to denigrate him is just brilliant for him. It proves that he is not an evil Globalist like they are.
Some people say that it is in the very nature of Boris that he is good at every job he is given, but it is only when he gets the top job that he excels. We saw this when he was a two term Mayor of London. He did the job brilliantly. The evidence for this is irrefutable, just look at the slow motion train wrecks of his predecessor, Ken Livingstone, and his successor, Sadiq Khan, who were both abject failures who failed to meet the challenges of the job. Those who were close to Boris during his tenure say that his especial brilliance was in putting teams together and getting them to work. Exactly what is needed from a leader in government.
Boris has amazing genes, both his parents are Oxford graduates who have achieved much with their lives. Boris too went to Oxford, winning a scholarship. He read Classics there, which is one of the most intellectually demanding courses and he was elected to be President of the Oxford Union. Boris speaks Latin, French and Italian fluently with good German and Spanish.
Then there are the books. Boris has eleven published books with a twelfth, on Shakespeare, due. His biography of Winston Churchill is especially incisive, readable and well thought of.
Boris is not how the Globalist press portray him. But then they are intellectual pygmies next to him, so he must give them a huge inferiority complex. He is the first true patriot we have had as Prime Minister since Margaret Thatcher. And he is almost certainly the best person in Britain for the job.
I fully agree.
Boris has genuine appeal and energy combined with self-effacement and humour. I met him once in 2001 when he was campaigning to become MP for Henley, a constituency in Oxfordshire that he represented very well indeed. Along with a friend of mine, I chatted with Boris for several minutes. He was humble, self-effacing and ineffably courteous, yet, resolute.
He has done much in his career, both as the editor of The Spectator — which has gone downhill since then — and as a politician.
He brought back a newish Brexit deal from Brussels. Everyone said it could not be done, but he did it. No one gives him credit for his time as Foreign Secretary under Theresa May. However, that post gave him an entry point for negotiating with the EU.
Let's have another couple of Stefan Rousseau's excellent photographs for the PA (Press Association) to lead us out in a positive mood:
Boris Johnson will seek to represent the country's best interests and I hope that the voters of his current constituency, Uxbridge & South Ruislip in west London, re-elect him as their MP, so that he can continue his quest as Prime Minister to put the Great back into Britain.
It is a pleasure to report that Sir Lindsay Hoyle is the new Speaker of the House:
Sir Lindsay, the Lancastrian
Sir Lindsay is the MP for Chorley in Lancashire. His election as Speaker means that his seat in Chorley is traditionally uncontestable, just as John Bercow's was in Buckingham. So, there is no point in Hoyle's constituents voting on December 12. Furthermore, the residents of Chorley, as was true for Buckingham, essentially have no MP to represent them:
Unlike a number of MPs, the new Speaker was a businessman before entering politics:
Rumour has it that the Speaker is empathetic towards Brexit:
On a personal, and sad, note, in his acceptance speech, he mentioned his late daughter:
Lindsay Hoyle declared his candidacy for Speaker shortly after John Bercow announced he would be standing down and retiring — probably because the Conservatives announced they would be fielding a candidate in Buckingham, a break with tradition:
Sir Lindsay enjoyed watching the Rugby World Cup final (England v South Africa) on Saturday:
Some compared that photo to Whistler's Mother:
As the Times is behind a paywall, I couldn't read the article. Even though the Speaker is Labour, my greatest concern is 'tone' policing. A few weeks ago, Bercow criticised Prime Minister Boris Johnson for replying to a strident Labour MP with the words 'humbug' and 'Surrender Act'. I hope that the new Speaker will use common sense, although I have seen him follow the Bercow line with Conservatives. We shall see.
As for his style, Hoyle seems to have been calm, cool and collected.
That said, in the past, during his time as a Deputy Speaker, he can restore order. The following clips are not in chronological order and the best part comes in the second half, from the time that Alex Salmond was still an SNP MP. A prolonged confrontation ensued:
Sir Lindsay said he would bring back the traditional Speaker's garb, but only on 'traditional days'. I have no idea what this means, other than the State Opening of Parliament, but we shall see in due course:
Guido Fawkes has the soundbite from Radio 4's Today Programme (emphases in the original):
New speaker Lindsay Hoyle told the Today Programme this morning that he will be bringing back the Speaker's wig and assorted regalia on big parliamentary occasions.
"On traditional days, of course. You have to wear dress that is suitable for that day."
Bercow's legacy being unwound piece by piece…
Speaker candidates reflected a new style, not Bercow's
In watching Monday's session, which began at 2:30 and ended around 9:50 p.m., I was struck at how many candidates for Speaker mentioned that they would speak less — and call on more backbenchers, not just the more prominent ones.
Surely, that was not John Bercow's style.
As I mentioned yesterday, the Father of the House, Kenneth Clarke, presided over the election for Speaker. He is retiring after over three decades as an MP. He was also Chancellor for the Exchequer under John Major and remains a Europhile:
He was the sort of MP one either loved or loathed:
During my Europhile years, I thought Ken Clarke was terrific. Once I began reading more about the European Commission and the goings-on in Brussels, I changed my mind. But I digress.
There were four rounds of voting on Monday, and the session started with all the candidates giving short and sweet speeches. A BBC Parliament pundit commenting on proceedings observed that when Bercow presented his candidacy ten years ago, he spoke for ten minutes!
This was the list of candidates. Only two are Conservative: Deputy Speaker Dame Eleanor Laing and Sir Edward Leigh. The others are Labour MPs. Sir Lindsay and Dame Rosie Winterton also entered the candidacy as Deputy Speakers.
My preferred candidate was Dame Eleanor, with Sir Lindsay as second choice:
Those watching at home hoped that Harriet Harman, the Mother of the House as she is the longest serving female MP, would fail dismally:
Ms Harman is on the left in the photo below:
Harman did not do very well in the first round of voting …
… but she survived for a second round, unlike Meg Hillier and Edward Leigh:
This is why the election took a long time:
Harriet Harman's votes decreased in the second round, and she withdrew. Dame Rosie Winterton, a pleasant Deputy Speaker, was automatically eliminated:
In the third round, Dame Eleanor was automatically eliminated. This is an interesting result, because Chris Bryant is actually an Anglican priest, although he has not had a clerical position for many years. He withdrew from parish life because of his homosexuality and got into politics instead, as he said on The Wright Stuff many years ago. However, Bryant certainly learned at seminary to speak effectively to the public. That is why I think he did so well:
Many of us hope that Dame Eleanor, if re-elected in December, will receive a nice position once Parliament reconvenes. In any event, she was Deputy Speaker on Tuesday afternoon after Sir Lindsay finished his first few hours as Speaker:
A fourth round of voting took place:
with Sir Lindsay emerging as the winner with 325 votes. Chris Bryant received 213.
He had cross-party support from the beginning:
A Conservative candidate lent his support after bowing out:
Unfortunately, I was unable to see Sir Lindsay's acceptance speech and what the two party leaders said to him. Every time I tuned into BBC Parliament, there was a recording of the House of Lords. By the time I tuned in again, the House — and new Speaker — were already in the House of Lords for the formal ceremony. Bad timing on my part, no doubt, but BBC Parliament's banner said to tune in at 9:20 p.m.
In the event, the result was in at 8:30. Henry Deedes of the Daily Mail wrote (emphases mine):
The result came just before 8.30pm. When it was announced, Sir Lindsay blew out his cheeks. Lisa Nandy (Lab, Wigan) patted his arm warmly. Nigel Evans and Caroline Flint shared the honours in dragging him to the chair. Outside, the bongs of Big Ben sounded again as the old bell was tested ahead of its appearance at Remembrance Sunday. Parliament is finally ringing the changes.
It is interesting that many people are now breathing an audible sign of relief that John Bercow is gone.
However, some journalists, such as Dan Hodges, had been doing so for a long time:
Tradition still applies
Certain traditions still apply for a new Speaker of the House.
From the Middle Ages until the Glorious Revolution in 1688-1689, the position of Speaker was to voice the concerns of Parliamentarians to the King. Often, they opposed the King, and the Speaker represented those views to the monarch.
Therefore, the role of Speaker was potentially dangerous. For those reasons, those elected did not always want to serve, so a tradition grew up around past Speakers being dragged up to the chair. The winning candidate also used to say that he was unable to fulfil the role, because they potentially risked their lives. I am not sure if Sir Lindsay said this. I have not seen any reports of it.
Here he is being dragged to the Speaker's chair after the Father of the House read the result:
You can see a photo on the left of him being dragged from the Labour benches:
Standing by the Speaker's chair, but not yet sitting in it, he said:
I will be neutral. I will be transparent.
This House will change but it will change for the better.
I stand by what I said, I stand firm, that I hope this House will be once again a great respected House, not just in here but across the world.
It's the envy and we've got to make sure that tarnish is polished away, that the respect and tolerance that we expect from everyone who works in here will be shown and we'll keep that in order.
The Prime Minister offered his congratulations. Some journalists view the word 'kindness' below as a dig at Bercow:
I believe you will also bring your signature kindness, kindness and reasonableness to our proceedings, and thereby to help to bring us together as a Parliament and a democracy.
Because no matter how fiercely we may disagree, we know that every member comes to this place with the best of motives, determined to solve, to serve the oldest Parliamentary democracy in the world.
And to achieve our goals by the peaceable arts of reason and debate invigilated by an impartial Speaker, which was and remains one of our greatest gifts to the world.
Also:
After long, happy years of dealing with you… whenever any of us is preparing to speak in this chamber, we all know there is a moment between standing up and when the Speaker calls you when your heart is in your mouth.
And in that moment of anxiety, about whether you're going to make a fool of yourself and so on, and indeed at the moment when we sit down amid deafening silence, the kindliness of the Speaker is absolutely critical to our confidence and the way we behave.
And Mr Speaker, over the years I have observed that you have many good qualities, and I'm sure you will stick up for backbenchers in the way that you have proposed, and I'm sure that you will adhere to a strict Newtonian concept of time in PMQs.
Jeremy Corbyn, leader of the opposition, said:
The job of Speaker is not just a ceremonial one. It is about the rights of backbenchers to be able to speak up.
It is about the power of Parliament to hold the government to account. That is the whole principle and point of a parliamentary democracy, that we have a strong Parliament that can hold the executive to account. And I know you will stand up for that principle because that is what you believe in.
Ceremony of Approbation in the House of Lords
The main ceremony came in the House of Lords, the ceremony of Approbation.
In absentia, the Queen had placed her seal on Sir Lindsay's election as Speaker. I do not know how they got it to the Palace so quickly, but someone who had been involved in a past Speaker's election told BBC Parliament that they had two parchments ready, each with the name of one of the final two candidates. The parchment with the name of the winner was immediately despatched to Buckingham Palace for the Queen's approval.
I wish I had a video to share of the ceremony in the House of Lords, because it was really rather grand.
Afterwards, the Speaker returned to the House, escorted by the Sergeant at Arms. MPs reconvened. The Speaker moved to adjourn for the day, receiving an enthusiastic number of 'Ayes'.
Historical notes
During the first round of voting, the panel on BBC Parliament discussed various Speakers from history as well as traditions regarding their dress.
The Archbishop of Canterbury could get involved with the appointment, or otherwise, of a Speaker:
Correct. I do not remember who that Speaker-elect was, nor the King, but it happened centuries ago.
The BBC Parliament panel also discussed the tradition of wigs and robes. Whilst both were commonplace as dress centuries ago, as time went on, although normal street attire approached what we know today, the wigs and robes stayed on to represent a particular office, e.g. judge, Speaker.
They also pointed out that the wig a Speaker wears is different to that of a judge. The same goes for the formal Speaker's robe with the gold trim, which a judge would not wear.
It seems that, for everyday wear, recent Speakers, from Betty Boothroyd in the 1990s to the present, have worn a judge's gown. Mrs Boothroyd did away with the wig as it was dirty, or so we heard on BBC Parliament. In reality, I suspect that Mrs Boothroyd did not want to ruin her elegant bouffant.
Incidentally, Mrs Boothroyd was in the Public Gallery yesterday. She celebrated her 90th birthday a few weeks ago. She has been our only woman Speaker thus far. More about her perhaps in another post.
Final note on Bercow
As for John Bercow, the Daily Mail reported that, earlier on Monday:
Mr Bercow formalised his departure from the Commons today by becoming 'Steward and Bailiff of the Manor of Northstead'.
That is the traditional way of standing down as an MP, as they are not allowed to resign from office directly. 
Conclusion
Already today — Tuesday — the Speaker chose backbenchers whom I have not seen before to speak.
The subsequent readings and Committee Stage of the long-awaited bill regarding compensation to victims of institutional child abuse in Northern Ireland decades ago have passed the House in the final hours of this Parliament, which comes to an end at 00:01 on November 6:
Looking ahead, I am hoping for great things in Parliament once it reconvenes on December 16.
Before I continue with the surprise ending the exiting Speaker of the House John Bercow received during an afternoon of nauseating tributes, this is what happened today in Parliament:
I'm writing this post before the session begins, but, note how late Monday sittings start — rarely before 2:30 p.m. Parliament does not meet on Fridays, either, so it's a nice long weekend for all concerned.
Also note that there will be no prayers from the chaplain, as the House of Commons is in transition with regard to clergy. The outgoing chaplain will be appointed as Bishop of Dover later this month. She is in the photo on the left in red. The newest Sergeant at Arms, originally from Nigeria, carries the mace:
Someone responding to the House of Commons tweet lamented that no prayers were being said:
I think a few Prayers are needed before the Election of a New Speaker Clearly none were said during the last election.
I agree.
Apparently, the new chaplain, a Catholic priest, has not yet started. However, I would have thought that Jacob Rees-Mogg, the Leader of the House, could have been in a position to say prayers.
Another issue looms. Bercow knew that an election was coming up on December 12, yet, he wanted his successor chosen now. Several MPs will not be standing for re-election, e.g. the Father of the House Kenneth Clarke, and many more, e.g. the Independents, risk losing their seats next month.
Therefore, it seems inappropriate for a departing House of Commons, led by an departing Father of the House to appoint a new Speaker. Parliament will be adjourning on November 6, by the way:
More on the new Speaker anon.
Now let's return to Thursday, October 31. Bercow was lapping up the afternoon session, which MPs completely devoted to him.
Never mind any pending legislation that has to be completed by the end of the day on Tuesday. One looming bit of legislation concerns compensation to victims of child abuse in religious and state-run care homes in Northern Ireland. I have heard the testimony from some of these men, now in their 50s and 60s, and it is harrowing.
Labour MP Kate Hoey has served her London constituency of Vauxhall for many years and will retire (unless she runs for the Brexit Party), but she is from Northern Ireland originally. She was appalled by Thursday afternoon's events:
Yes, Conservative MP Andrew Bridgen messed up Bercow's delightful punchbowl by demanding the truth about a crooked, longstanding Labour MP for Leicestershire, Keith Vaz. Vaz represents Leicester East and Bridgen North West Leicestershire.
What a surprise ending for Bercow.
A report — an investigation into Keith Vaz's activities — came out that day. Andrew Bridgen is holding it in his hand when he speaks. (You can see the name Keith Vaz on the cover.)
Bridgen told Bercow — 'Mr Speaker' — that he tried warning him about this in 2015. Bercow shot out of his chair and told Bridgen to sit down. Then he made out as if Bridgen was in the wrong: 'I cannot help him'; 'I fear he is beyond redemption'.
Interestingly, at this point, Bridgen had spoken for probably a total of two minutes. Bercow told him to sit down twice. As the video below shows, Bercow spoke for at least ten minutes. Near the end, Bercow gave him permission to speak for a third time but not 'to dilate' (go on at length):
Bridgen seized the opportunity, warning about public sentiment once the report on Vaz is released outside of Parliament:
Mr Speaker, to the fag end [cigarette butt] of your tenure, you are defending the indefensible and your very close relationship with the honourable Member in question [Vaz]. The House can come to its own conclusions. The Standards Committee has come to its own conclusions, and, Mr Speaker, the public will come to theirs. Thank you very much.
Political pundit Guido Fawkes put it this way:
At the end of the day, Bridgen tweeted and got a lot of compliments for speaking out:
The Mail on Sunday's Dan Hodges, who is the son of actress and former MP Glenda Jackson, agreed with Bridgen and the public. He got hammered for it:
However, not all comments were negative:
A Conservative MP also spoke up about Bercow's conduct during his tenure:
Nothing will happen. Bercow denied allegations of bullying members of his staff and, as I wrote last week, that's the end of the matter. Lucky for him. Yet, Bercow was the one telling Conservative MPs that they must be nice and moderate their language in Parliament when, in reality, it's the opposition who are the strident ones. More on that in another post.
Returning to Andrew Bridgen's short but sharp comments, let us look at the allegations about Keith Vaz, the Speaker's personal friend. Wikipedia tells us (emphases mine):
Vaz served as the Minister for Europe between October 1999 and June 2001. He was appointed a member of the Privy Council in June 2006. He was Chairman of the Home Affairs Select Committee from July 2007, but resigned from this role on 6 September 2016 after the Sunday Mirror revealed he had engaged in unprotected sexual activity with male prostitutes and had said he would pay for cocaine if they wished to use it. At the end of October 2016, Vaz was appointed to the Justice Select Committee; a parliamentary vote to block this development was defeated.[1]
The Mirror, incidentally, is a Labour-supporting newspaper.
Allegations about Vaz were published by the British Sunday Mirror tabloid in early September 2016. It was reported that he had engaged in unprotected sexual activity with male prostitutes and had told them he would pay for cocaine if they wished to use it. He told the prostitutes that his name was Jim and that he was an industrial washing machine salesman.[60] Vaz later apologised for his actions.[61][62] "It is deeply disturbing that a national newspaper should have paid individuals who have acted in this way", he said.[61][63] Vaz resigned as chair of the Home Affairs Select Committee on 6 September 2016.[64]
At the end of October 2016, Vaz was appointed to the Justice Select Committee, after he had put himself forward and was nominated by his party.[65] A House of Commons motion to block this development was defeated; they are rare on such an issue. According to Laura Hughes of The Daily Telegraph, Conservative Party whips told their MPs to vote for Vaz in the division to prevent a precedent being created of such appointments being rejected by MPs. Over 150 Conservative MPs voted in support of Vaz.[1] The Conservative MP Andrew Bridgen asked in the chamber of Vaz; "If the right honourable member for Leicester East found himself last month to be not fit to be chair of the Home Affairs Select Committee and the matters are unresolved, what makes him think that he is a fit and proper person this month?"[66]
The Parliamentary Commissioner for Standards, Kathryn Hudson, has previously announced an investigation into Vaz's conduct.[66] The Standards Commissioner's investigation was halted "for medical reasons" in December 2017.[67] The inquiry recommenced in March 2018[68] and, in October 2019, the inquiry recommended that he be suspended from Parliament for six months.[69][70] On 31 October, MPs voted in favour of the suspension.[71]
I agree with Diane Abbott below (if only this time), but, if Labour had any moral compass at all, they would not allow Vaz to stand for re-election:
On November 7, 2018, the BBC published an article by Newsnight's editor Chris Cook, 'How John Bercow keeps Keith Vaz's secrets'. The article says that Bercow is exercising 'parliamentary privilege'. Newsnight is a BBC weekday programme:
In the 17th century, England had a problem with laws on sedition. MPs could not speak freely about the king's policies for fear of judges. To solve that problem, we adopted a special guard against tyranny: "parliamentary privilege". Now, John Bercow, speaker of the House of Commons, has invoked it to stop Newsnight getting information about the behaviour of the MP Keith Vaz.
Bercow had the final say in the matter:
Mr Bercow has personally intervened and gone out of his way to bar Newsnight from asking the Information Commissioner or a judge to review the decision. We will not be able to overturn this decision, as journalists fought through the courts to get to see MPs' expenses.
The core legal text here is the 1689 Bill of Rights. It states: "the Freedome of Speech and Debates or Proceedings in Parlyament ought not to be impeached or questioned in any Court or Place out of Parlyament" …

This is perhaps the most important legal change in England that came from the 1688-9 coup, dubbed by supporters "the Glorious Revolution", when James II was replaced by the Dutch prince William of Orange and his wife Princess Mary. It is an important constitutional principle.
That is why MPs and peers can make allegations in the Commons or Lords without fear of libel law. When Lord Hain named Sir Philip Green as having obtained an injunction against the Daily Telegraph, he was deploying this right. Injunctions have no weight inside the walls of the debating chambers.
As Chris Cook explains, not everything is cut and dried in these matters, past and present. Recently, judges have had to intervene, as they did when the expenses scandal broke several years ago.
At the time Cook wrote the article, he focussed on Vaz's expenses rather than the prostitution angle. Cook and his team tried to use the Freedom of Information Act to get details of Vaz's trips abroad, but to no avail:
If the administration of MPs' expenses is not covered by privilege, why should the administration of committee trips be? MPs are involved – but they oversaw expenses too. Could knowing which travel agent booked tickets for MPs be a route to power for a would-be tyrant? What is the threat to free speech?
Some months ago, Mr Bercow personally made the argument that this paperwork was all covered by privilege. But I looked forward to a tribunal when this could be tested.
It all got heavy handed, as Bercow pulled out all the stops to prevent Newsnight from getting access to information about Vaz:
Normally, this sort of determination can be referred to the Information Commissioner and then to the tribunals and courts to judge whether that finding is fair. My judgment is, if they did that, I had a reasonable chance of winning.
I suspect Mr Bercow agreed. That would explain why he has now used an unusual personal power to block any appeals.
This week, I was notified he has issued a "certificate" under section 34(3) of the Freedom of Information Act. This is, in effect, a personal release veto.
These sorts of vetos are supposed to be used sparingly – an emergency reserve power to guard sacred spaces if courts get it wrong.
That is because their use means I have no rights of appeal. The Information Commissioner's view is that, since the certificate is genuine, that is the the end of the matter. Any appeal to the tribunals will automatically be discarded. I can ask a judge to review his decision, but it would entail looking at a decision taken by a parliamentary officer. That would hit privilege from another direction.
The net result is that the Speaker, who denies bullying, has made an order to hide information about the behaviour of his close personal friend, Keith Vaz, a man who also denies bullying – supposedly to protect MPs' freedom of speech.
And then he has gone out of his way to use a personal veto to make sure no-one could even consider reviewing that questionable decision.
You can understand why staff are so suspicious about whether MPs will ever let themselves be judged by outsiders when it comes to bullying and harassment.
I have no confidence that Bercow's conduct will be investigated, whether it concerns bullying, Brexit or Keith Vaz.
On a happier note, however, Andrew Bridgen hurried home to Leicestershire to end Thursday with what looks to have been an excellent curry:
More to follow on the new Speaker soon.
Thursday, October 31, 2019, was John Bercow's last day as Speaker of the House of Commons.
I listened to Parliamentary proceedings that day, as I wanted to be sure he was actually leaving. Based on the fulsome tributes from both Conservative and Labour MPs, it appears as if yesterday did indeed bring an end to the former Conservative's tenure as Speaker.
Prime Minister Boris Johnson gave him a witty, tongue-in-cheek tribute at Wednesday's PMQs (Prime Minister's Questions):
No doubt Bercow got Boris's asides, delivered with aplomb. MPs laughed at the back-handed compliments. To a stranger, they would have indeed sounded as positives. However, those of us watching at home got the jokes.
I had not noticed, but a number of MPs not standing for re-election on December 12 spoke on Wednesday. That was entirely at Speaker Bercow's discretion.
Interestingly, Kate Hoey, Labour's MP for Vauxhall and a firm Leave supporter, was not among them:
Many of us hope that Kate Hoey could run as a candidate for the Brexit Party (BXP):
She has always been a ladylike and eloquent MP, unlike many other women on the opposition benches who, quite frankly, sound like angry harpies:
Most of us do not like John Bercow because not only did he turn his back on the Conservative Party shortly after becoming Speaker, he also did his best to bring up motions that frustrated the Brexit process, from Theresa May's final months to now.
Behind the scenes, members of his staff accused him of harassment. No investigation took place. All he needed to do was to deny the accusations.
As I write on Thursday, I am listening to more MPs — many of whom are Conservatives — fawn over Bercow.
Bercow has a grace and favour accommodation, Speaker's House, in the Palace of Westminster. Unfortunately, it requires renovation, so his successor, to be elected on Monday, November 4, will not be able to move into it for another year. Could the works have been staged, particularly during the many lengthy recesses? Did he have any say in prolonging repairs? One wonders:
Guido Fawkes describes Speaker's House as follows (emphasis in the original):
The Speaker of the House of Commons doesn't just get the freedom to verbally abuse whoever he likes, he gets a very swanky pad in the heart of the Palace of Westminster, with staterooms, a bedroom designed for the monarch to stay in and a private gilded study. Lesser known about Bercow's pad is it also includes a private sectioned-off part of the Commons' Terrace as a private space to entertain guests outside. All paid for by the taxpayer of course.
Despite living in situ in the Palace of Westminster, Bercow took a roundabout route to work on his last day:
Guido Fawkes tells us about the Press Association (PA) record of the event along with a tweet:
John Bercow was pictured arriving at work this morning by PA in the kind of candid, natural shots that we all indulge in on our final day job commute.
The only flaw in his plan was that Bercow lives in Speaker's House… in the Palace of Westminster – meaning he had to first leave his place of work to be featured in the snaps heading back in – a 1627% longer journey. The whole thing is just a faked up performance for the cameras… perfectly appropriate ending.
That said, the PA had a good summary of his ten-year tenure as Speaker, excerpted below, emphases mine:
John Bercow has been no stranger to the limelight in more than 10 years in the Speaker's chair.
The one-time Conservative MP for Buckingham, with a high-profile Labour-supporting wife, has made a catalogue of unconventional comments since he took over the impartial role from Michael Martin.
He has survived attempts to remove him from the chair, including from former colleagues in the Tory party, revelations about his expenses and allegations of bullying, which he denied.
But it will perhaps be his interventions in the Brexit crisis, and the relish with which he seemed to make them, for which he will be best remembered.
Regular Parliament watchers may or may not miss his inimitable style, such as his bellowing shouts of "order" and "division, clear the lobby", but those quirks are what brought him international attention when the eyes of the world became fixed on the Commons throughout 2019.
As the Brexit debate raged and senior opposition figures played every trick in the parliamentary book to prevent the governments of Theresa May and Boris Johnson from pursuing their preferred policies, Mr Bercow drew the ire of hardline Eurosceptics for perceived bias.
After he allowed an amendment by Tory rebel Dominic Grieve to be voted on in January, he was labelled "Speaker of the Devil" by one newspaper, while the Daily Mail called him an "egotistical preening popinjay (who) has shamelessly put his anti-Brexit bias before the national interest – and is a disgrace to his office".
He voted Remain, discussing it candidly with a group of students, but in an interview with Italian newspaper La Repubblica denied this meant he had lost his impartiality.
"If I'm biased, I'm biased in favour of Parliament. Parliament being heard. Parliament having a right to speak. Parliament having time. Parliament being respected by the government of the day and indeed by the opposition," he said.
Since being elected as the 157th Speaker of the House of Commons in June 2009, he has delivered many caustic put-downs, earning him both loathing and appreciative laughter from MPs.
He had a fractious relationship with former Commons Leader, and now Business Secretary, Andrea Leadsom, after he was accused of calling her a "stupid woman".
Andrea Leadsom is far from being 'stupid', but that's Bercow.
Three weeks ago, Bercow travelled to Brussels to meet with his opposite number, the EU Parliament President David Sassoli:
The Speaker's role does not include government negotiations:
To think that October 31 was supposed to be our Brexit date. Of course, Bercow did not prevent this single-handedly, but, nonetheless, he helped:
On the Saturday, October 19 session, Bercow brought forward the Letwin Amendment, which stipulated that all Brexit legislation be voted on before Boris's new deal was approved. Its passage by MPs that day ensured that Boris had to send letters of extension to Brussels, in compliance with the Benn Act. January 31, 2020 is the new Brexit deadline:
The following day, one of his deputies, Conservative MP Dame Eleanor Laing, accused him of abusing his position:
The Mail on Sunday article states:
Dame Eleanor is one of nine MPs running to replace him, including fellow deputies Sir Linsday Hoyle and Dame Rosie Winterton.  
In another barely veiled attack on Mr Bercow, Dame Eleanor said the Speaker needed to 'set an example of dignified, respectful behaviour' and said: 'Aggression and arrogance are deplorable.' 
Mr Bercow's critics have frequently taken aim at what they see as a pompous, grandstanding style of managing the Commons. 
In a bizarre rant at Michael Gove last month he even brought the Cabinet minister's children into a row. 
The Speaker was back in the spotlight yesterday as the Commons assembled on a Saturday for the first time since the Falklands War in 1982. 
After Mr Johnson lost the crunch vote, the Speaker hinted he could block a Government attempt to bring another 'meaningful vote' on Monday. 
Jacob Rees-Mogg, the leader of the House of Commons, suggested the Government would bring the vote before introducing Withdrawal Agreement legislation this week.
But Mr Bercow has previously ruled that MPs cannot hold repeated votes on the same question. 
Citing a precedent dating back to 1604, he ruled in March that then-PM Theresa May could not bring the same withdrawal deal back to Parliament without changes.   
The ruling enraged Conservative MPs who accused him of sparking a 'constitutional crisis'. 
Two months earlier he had torn up precedent to allow a procedural vote which damaged Mrs May. 
'If we were guided only by precedent, manifestly nothing in our procedures would ever change,' he said at the time.      
Mr Bercow, previously a Conservative MP, took the chair in 2009 after Michael Martin resigned over the expenses scandal. 
The following week, Boris's deal did pass in Parliament, however, MPs opposed the Programme Motion for approving legislation, which they said had too short a timeframe. Hence, Boris's move for an election on December 12, which has now passed the House of Lords:
As for choosing Bercow's successor on Monday, I wish Dame Eleanor all the best:
The Health Secretary, Matt Hancock, made it known that he will be voting for her:
That said, many pundits say that it is now Labour's turn to sit in the chair. We shall see.
More next week.
UPDATE: A surprise ending (well, perhaps not so much to my British readers) awaits on Monday. It took place late during Thursday's proceedings and deserves its own post.
On September 28, 2019, President Trump discussed the 'single greatest scam' going on in politics today — the Left's relentless attacks on him and the American people.
Please watch this short video:
How true.
The comments in response to that tweet are hideous, to put it mildly.
Here in the UK, our Left is conducting similar co-ordinated attacks on Prime Minister Boris Johnson. I notice that they did not do this to Theresa May, possibly because they knew she would delay Brexit, which she effectively did.
Now we have a PM who wants us to exit by October 31.
Here is one American citizen pundit's view:
People aren't stupid. They see and understand what is going on.
DB Daily Update has a great article on the current parallels between the United States and Great Britain. It does seem as if there is a cold civil war going on in both our nations. Emphases mine below:
When this latest coup/impeachment effort crashes and burns in spectacular fashion, we can expect the forces aligned against Trump and his supporters to simply make up another false narrative and keep the coup going.
The same thing is happening right now in Britain, where Boris Johnson, the Prime Minister elected to complete the Brexit effort the voters approved three long years ago, is under a similar relentless assault by that country's deep state, disloyal lawmakers and fake news media. As I wrote in one of the earliest Campaign Updates way back in 2016, Brexit and Trump are essentially the same political movement, a movement that pits those who love their country and want it to remain a strong, independent nation against the forces of globalism and one-world-government.
The Brits who support Brexit have held firm through all that time and grown stronger. Trump's base of support has also held firm and grown larger. That base has remained unshakable not because they necessarily approve of every aspect of Trump's personal behavior, but because they understand what is at stake here, and whose side Trump is on.
Because at the end of the day in this tiresome Civil War, Trump is on the side of Americans and America. I don't know about the rest of you, but they won't ever wear me down.
That is all.
I'll close with comments from the aforementioned Praying Medic tweet that help explain why the British wanted a referendum on EU membership. These also indicate why Theresa May was never viciously attacked politically whilst she was PM:
As for Boris, only a couple of weeks ago the Shadow (Labour) Chancellor, the former Conservative Chancellor (under May) and Boris's own sister (!) claimed that No Deal backers stood to make financial gains.
At least one Government minister subsequently denounced this last week from the despatch box in Parliament.
Here is the report on the allegations from The Guardian dated Saturday, September 28:
The UK's most senior civil servant is under pressure to investigate Boris Johnson's financial backers following cross-party claims that unnamed individuals stand to benefit from the prime minister's willingness to pursue a no-deal Brexit.
John McDonnell, the shadow chancellor, has written to the cabinet secretary, Sir Mark Sedwill, asking if there may be a conflict of interest in Johnson's acceptance of support from hedge funds that could gain from an economic shock.
Earlier on Saturday, Philip Hammond, the former chancellor, suggested Johnson was pursuing the interests of financial backers set to gain from a no-deal Brexit, in a major escalation of tensions in the prime minister's own party.
Hammond said he was repeating a comment made last week by Rachel Johnson, the prime minister's sister.
The former chancellor was accused by senior Tories of attempting a "smear" without evidence. However, Hammond was supported on Saturday by a series of MPs from across the Commons.
"Johnson is backed by speculators who have bet billions on a hard Brexit – and there is only one option that works for them: a crash-out no-deal that sends the currency tumbling and inflation soaring," Hammond wrote in the Times.
Downing Street has refused to comment on the claim.
On October 1, Treasury Minister Simon Clarke accused John McDonnell of 'outlandish speculation' when the latter brought up the issue that day in Parliament:
Guido Fawkes has more (emphases in the original):
Making his debut at the dispatch box, the new Treasury Minister Simon Clarke confidently tore down McDonnell's absurd urgent question on short positions taken against the pound in the lead up to a possible no-deal Brexit. Something Guido and many others have comprehensively debunked before…
Clarke blasted the question as the shadow chancellor propagating myths and smears and claiming the conspiracy does little to cool tensions in Westminster at the moment. Playing Labour at their own game…
On a related note, at the weekend, it was rumoured in the media and by other Remainers that Boris could go to jail for pursuing a No Deal Brexit in violation of the recent Benn-Burt Act, a.k.a. the Surrender Bill, which stipulates that he must ask for an extension to the current Brexit deadline.
This is straight out of the Get Trump playbook.
More to follow anon.
Interestingly, whilst the Conservatives were at their annual party conference, the opposition benches were largely empty.
Strange. Last week, they voted against proroguing Parliament from Monday through Wednesday because they had serious work to get on with.
Or so they said.
As it turned out, only a handful of the diligent, hardworking opposition MPs showed up on those days.
On Tuesday, October 1, a Brexit-related session headed by George Eustice, the minister for DEFRA (Department for Environment, Food and Rural Affairs) covered the draft Common Agricultural Policy from July 24 which would be used for Brexit. The end of the debate is here. It's a pity that only the opposition agricultural ministers and a couple of other MPs attended:
On Wednesday, October 2, Foreign Minister Dominic Raab headed PMQs — Prime Minister's Questions — as Prime Minister Boris Johnson gave his rousing speech in Manchester to the party faithful.
That morning, the Labour Whips issued a directive to their MPs not to ask Urgent Questions that day:
It was even worse when the afternoon's proceedings began.
Recall — as if we could forget — that the opposition claim to be the champions of the vulnerable, especially women.
So, it was particularly galling to see that very few of them turned up for the second reading of the Domestic Abuse Bill:
Only a few Liberal Democrat MPs attended that afternoon. Labour produced more, but could have done much better.
Good grief.
Apparently, this bill and some others have been carried over post-Queen's Speech on October 14:
Therefore, if this is true, the opposition knew full well that they could have easily prorogued for three days during the Conservative Party Conference but chose not to out of sheer spite. Ditto the Supreme Court when they cancelled Boris's prorogation.
The main and most moving speech of the debate was that of Labour MP Rosie Duffield. Her testimony of a recent relationship is well worth sharing with your daughters or nieces.
Women cannot be too careful when getting involved in a long-term relationship. If this can happen to an MP, it can happen to anyone. Please watch:
This bill is Theresa May's. She brought it forward as a backbencher, therefore, before she became Prime Minister in 2016. How slowly the wheels of legislation turn.
Theresa May also gave an impassioned speech for the bill near the end.
Debate continues after October 14.
Attendance improved when Boris appeared on Thursday, October 3, to discuss a new proposal for Brussels, sent to Jean-Claude Juncker the day before:
Note the final paragraph about the Northern Ireland backstop on the first page: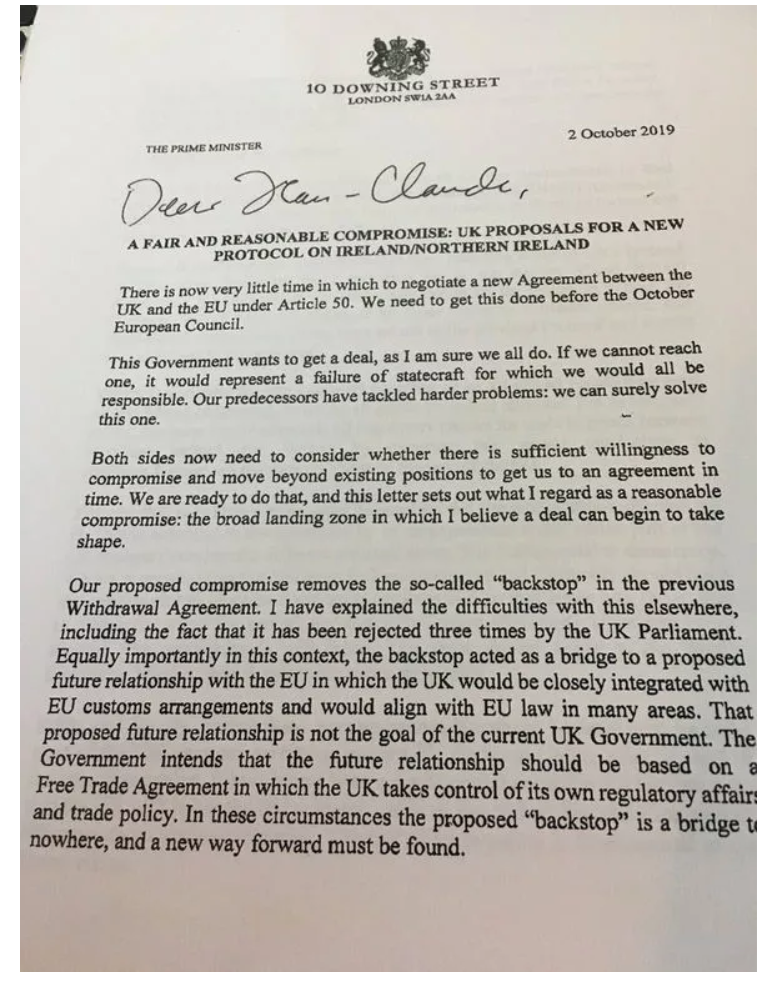 This is the European Commission's announcement about the letter (click on the image to enlarge text):
Many MPs who offered comments following Boris's address commented positively. Even most Remainers accepted the proposal, albeit with a request for more details, which will be forthcoming. Only two or three diehard Remainers spoke out against it.
Several MPs hoped that the EU commissioners were watching the positive reaction.
Guido Fawkes has more, including this video of Boris's speech:
Guido gives us the transcript of Boris's five elements concerning the abolition of the proposed backstop, the crux of the leaving date delay thus far (italics in the original):
In the first place all our actions are based on our shared determination to sustain the Belfast (Good Friday) Agreement, the fundamental basis of governance in Northern Ireland the protection of which is the highest priority of all.

And from this follows the second principle – namely that we shall of course uphold all the longstanding areas of co-operation between the UK and our friends in Ireland including the rights of all those living in Northern Ireland, North/South co-operation and the Common Travel Area, which predates both the Good Friday Agreement and the European Union itself.

Third, we propose the potential creation of a regulatory zone on the island of Ireland covering all goods, including agri-food. For as long as it exists, this zone would eliminate all regulatory checks for trade in goods between Ireland and Northern Ireland.

But fourth, unlike the so-called backstop, such a regulatory zone would be sustained with the consent of the people of Northern Ireland, as expressed through the Assembly and Executive. They will give their consent during the transition period as a condition for these arrangements entering into force. Thereafter, the Assembly will vote again every four years – and if consent were withheld, these arrangements would then lapse after one year.

Fifth, it has always been a point of principle for this government that at the end of the transition period, the UK should leave the EU Customs Union whole and entire restoring sovereign control over our trade policy and opening the way for free trade deals with all our friends around the world.
In short: no hard border between the Republic and Northern Ireland. Instead, there would be a regulatory zone covering all goods, including foodstuffs. Northern Ireland's Assembly and Executive would vote on the arrangements in the near future and every four years after that. (I do not know how that will work if Stormont is not sitting, but, no doubt, the government can find a way.)
I'm guardedly hopeful that Boris is onto something positive with this. It won't please Brexit Party members, but we were never going to get an absolute No Deal. I'm hoping that David Davis's Canada ++ arrangement can be revived. Theresa May insisted that his plans be superseded by her Withdrawal Agreement in July 2018, no ifs, ands or buts. Davis resigned as Secretary of State for Exiting the European Union on July 8 that year. It was all downhill from there.
Davis has not tweeted his reaction, but another staunch Leave MP, John Redwood, offered his thoughts on Boris's proposal:
Unfortunately, the Twitter replies to that were very angry, indeed.
It is essential to keep in mind that trade and other agreements will be in transition once we leave the EU.
It's not as if everything will change dramatically on November 1 (God willing) or whenever we leave.
The transition period is likely to last anywhere from two to four years, depending on negotiations.
As for prescription drug shortages, some of which are occurring now in the UK and being blamed on Brexit: several EU countries have been experiencing similar shortages of essential medication for several months now. France and the Netherlands are among those nations. We cannot blame Brexit for that.
Britain's Conservatives have had a highly successful party conference in Manchester.
They have had the highest attendance in 20 years, with many more young members showing up.
Conservatives seen as Party of Brexit
Voters now think that the Conservatives are definitely a party of Brexit, a dramatic turnaround since the days of Theresa May in April 2019, as a YouGov poll from October 1 shows:
Guido Fawkes writes (emphasis in the original):
New YouGov polling has revealed that more Leave voters now think that the Tory party is a pro-Brexit party in a direct contrast to the last time the question was asked. Back in April, Leave voters were found to be substantially more likely to think the Tories were actually anti-Brexit (40%) than pro-Brexit (23%). The more pro-Brexit the Tories are seen as, the higher their polling climbs…
Hearteningly for Tory strategists, the proportion of Brexit Party voters who see the Tories as anti-Brexit has collapsed from 65% to just 24%.
This exchange is representative of voters' perceptions:
One of Guido's readers provided an excellent analysis (emphases mine) and meme featuring Chancellor Sajid Javid, Home Secretary Priti Patel, Leader of the House Jacob Rees-Mogg and Foreign Secretary Dominic Raab:
The core Cabinet + Lynton Crosby + Dominic Cummings are driving policy in a very interesting way.
They are commissioning an unprecedented number of focus groups and private polls. They are scouring the social media. They will even be reading this comment (Hi!).
They then use this knowledge of what the public actually want to form policy and to craft the messages in their speeches, press releases and other output.
They are doing what a government should do. They have become the servants of the people.
This is why Boris says we are leaving, deal or no deal. He is 100% sure that this is what the vast majority want. And he knows how massively unpopular the Quislings are.
The other parties are just bumbling round in the dark with their blindfolds on.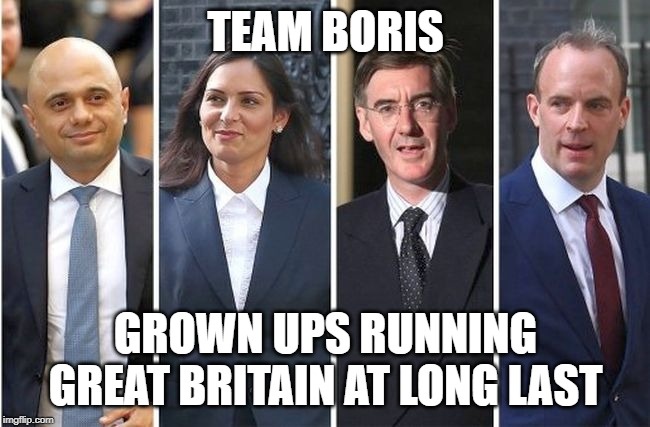 I don't know about 'grown ups' as much as a group of people who have the mettle to keep going, in spite of all obstacles, not least the daily nastiness from the Left. This went up near Manchester in nearby Salford just before Conference began on Sunday, September 29:
Boris best PM since Maggie
Many Britons have said anecdotally online that Prime Minister Boris Johnson is the best since Margaret Thatcher, who stood down in 1990. The following is something any Briton over 60 will tell you about when you ask about the 1970s and her party's defeat of Labour. She faced a national mess, one that affected everyone with regular power outages, strikes and so on:
Whilst it's early days, here are poll results from this week for Boris …
… and the Conservatives:
Conservatives — the party of the people and of diversity
From the introductory speech by the female chairperson of the conference until the end, the Conservative message was:
We don't care where you come from, but where you are going.
How true.
Under Boris Johnson, we have the most diverse Cabinet in British history.
Despite all their rhetoric on people and diversity, Labour's Shadow Cabinet barely comes close.
Labour are also under investigation on charges of anti-Semitism.
On Monday, September 30, a young Conservative Party member introduced the Chancellor of the Exchequer. Mercy Meroki is no fan of the Labour Party. She is currently studying at Oxford:
Now is a good time for people like me to find out how to pronounce the Chancellor's name:
He greeted his mother, who was in the audience. This is probably the first time Punjabi has been heard at a Conservative Party conference. I wonder about the Labour and Lib Dem conferences in that regard, too, though:
The biggest headline from the Chancellor's speech is a proposed abolition of inheritance tax, rightly viewed by Britons to be the most unfair:
The Party of Law and Order — Conservatives
I sincerely hope that Priti Patel can be a better Home Secretary than her predecessors Amber Rudd and Theresa May.
Her speech went down very well with conference attendees and people watching from home.
Whilst I applaud the addition of 20,000 more police from the PM and her, we have heard this before. For various reasons, it never happens.
I also question the Australian points system for future immigrants. Surely, there must be a better way, as an article from October 1 in The Guardian, 'Oxford professor's children refused visas to join her in UK'. This is what happens in the academic world, so heaven only knows what happens to others than senior executives or the very wealthy (emphases mine):
Dr [Amber] Murrey, an expert on social change in Africa, who has published widely and previously held positions at universities in Cairo, Massachusetts and Ethiopia, took up her post in Oxford last year. Without proof of residency she couldn't set up schooling or somewhere to live in advance, so the couple decided she should establish a base in Oxford before moving the family. While she has been returning to Cameroon to see her daughters and husband in the university holidays, she says this has been an emotional strain.
"It has been really hard, because I need to spend more time with my daughters but I am wary of being out of the UK for too long in case it jeopardises the terms of my tier 2 visa," she says.
The news has hit the family hard. Murrey says: "My nine-year-old had been so excited about her new school, and our apartment near a meadow. After I told her their visas had been denied she told me: 'I know why they rejected me, it's because I've been misbehaving this week, Mama'. We both cried very hard."
The Home Office rejection letters say that under immigration rules a child may only be given a visa if both parents are living together in the UK. This would be waived if the parent living here had sole responsibility for the children, or the other partner had died.
"This policy seems to operate under the guise of keeping families together, but it is splitting mine apart," Murrey says.
Ultimately the couple want the whole family to live together in Oxford, but Murrey says that right now they are just trying to "do what is best for our daughters".
She doesn't know whether she has been singled out as a risk because her husband is from Cameroon. "We have family members and friends there who have been rejected for British visas in the past," she says.
The Wellcome Trust, a health research charity, has evidence of around 100 cases in which academics, especially from African countries, have been refused visas to come to the UK for conferences, often for spurious reasons …
A young Canadian academic, who wished to remain anonymous, recently encountered a similar pop-up window when applying for a full-time lectureship that should have qualified her for a tier 2 visa at a London university.
"It said: 'It is highly unlikely that you would obtain permission to work in the UK on the basis of an offer for this … job. It is therefore recommended that you do not continue with your application'."
She says this felt like a sign saying: "foreigners go home". She blames the government rather than universities, but says that after a year of applying for jobs she is beginning to feel desperate.
Gareth Edwards, a senior geography lecturer at the University of East Anglia and co-founder of International and Broke, which campaigns against high visa costs for academics, says international academics are getting this sort of pop-up warning when applying for permanent lectureships. "Those jobs are most certainly eligible for sponsorship," he says.
Meanwhile, we've got illegals coming here on dinghies from the Dunkirk area. They have friends or family members pick them up in coastal arrival points in the UK to take them to their new home.
It seemed to be just a few cases last year, but LBC (radio) recently sent someone undercover to investigate, and it's a regular trafficking programme with dozens of people being smuggled across the Channel every night. On a slow day, only 20 to 25 go across. Normally, twice that many people make the crossing nightly, often with the blessing of the local gendarmerie. I will write about this in a separate post.
Immigration aside, the levels of crime on our streets are far different than they were 25 or 30 years ago. Crime used to make the national news. Now there are so many incidents that local newspapers cover them instead. So, on that basis, Priti Patel's policies — really Boris's, as he came up with them first — have been applauded:
And, ironically, before the Home Secretary spoke on the dais to formally announce this new commitment, security staff duly ejected a Conservative MP from an event at the International Lounge. Either he or his guest lacked the relevant pass to gain entry. They were then asked to leave the conference altogether:
The BBC reported:
A staff member guarding the door of the International Lounge said the incident was sparked by a disagreement.
"It was a small misunderstanding," the man said.
BBC Political Editor Laura Kuenssberg said the incident happened just before home secretary Priti Patel stood up to make a speech "trying to reclaim the Tories as the party of law and order".
A Greater Manchester Police spokesman said an attendee "attempted to enter the International Lounge area of the conference without the relevant pass".
"Security staff intervened and resolved the situation without any breach of security occurring," he added.
Also:
The incident led to a lockdown of part of the Manchester Central Convention Centre for about 20 minutes. The MP apologised "unreservedly".
A Conservative spokesman said: "The incident was totally unacceptable."
"Geoffrey has been asked to leave Conference and we are establishing all of the facts to see if further action is necessary," he added.
"We will always adopt a zero tolerance approach to any inappropriate behaviour towards our hardworking staff."
The Cotswolds MP said in a statement: "This was a minor verbal misunderstanding.
"The police have not contacted me at all. I am mortified that something so minor seems to have been blown out of all proportion and if anyone has been offended, I apologise unreservedly.
"I will co-operate with the party in any investigation."
Tweets show this incident caused concern:
Boris's speech — backing Britain
Of course, most reading this want to know what Boris said just before midday on Wednesday, October 2.
As one would expect, he was witty and to the point. As one reader of Guido Fawkes points out:
… Boris in a nutshell: HE CHEERS US UP.
True!
Others agreed:
Were any other former PMs there? No:
You can see Boris's speech in full, beginning at one hour and 36 minutes in:
Note his Brexit coloured tie.
He began by paying tribute to his predecessor, Theresa May. He also thanked the outgoing leader of the Scottish Conservatives, Ruth Davidson. Neither is a particular fan of his, but Boris did the right thing.
He then said:
We have so many reasons to feel confident about our country.
Finally. Having watched portions of the Lib Dem and Labour conferences, it was a relief to hear a party leader talking positively about Britain.
He referred to Labour as the:
anti-Semitic Marxists in Brighton last week.
Boris then wittily criticised Jeremy Corbyn for not voting for a general election. Corbyn, lest we forget, asked for one 35 times, no exaggeration. Boris put forward a motion twice in September, and Labour voted No. Then he went on to discuss the Supreme Court overruling the recent prorogation, which had Royal assent:
He brought up Brexit:
He rightly asked when any Conservative leader last spoke about capitalism:
The answer is Theresa May in 2017. Prior to that, David Cameron did at some point.
He spoke up for Britain and our nation's great innovations throughout history:
I'm fed up with being told our country can't do something when I passionately believe that it can.
He gave a shout out to the Commonwealth.
He praised Priti Patel for supporting law and order policies.
He called for London to elect Shaun Bailey as its next mayor.
He spoke about buses, his favourite vehicle.
He said that wind and solar energy were far more productive than originally claimed. It turns out his sister, Remainer Rachel, was sceptical. Boris picked up on it at the time in one of his Telegraph columns:
At the end, Boris received a standing ovation.
No one slept through his speech.
He did not use an autocue, either, which was refreshing.
'No disposable cups'
The comedy moment of the conference occurred on Tuesday, October 1.
Boris really wanted a cup of coffee, and a male aide handed him one. A female assistant quickly whisked it out of his hand.
Apparently, it was because it was in a disposable cup. I do think the Conservatives are taking this eco-thing a bit too far:
Watch Boris extend his hands, not quite believing what happened and not having any coffee. He's a good sport:
It reminded me of that Seinfeld episode, 'The Soup N@zi': 'No soup for you!'
Comedy gold.
Guido Fawkes reports (emphasis in the original):
After a slue of late night receptions with Tory members, Boris was denied his much needed caffeine hit this morning by his press team – all because it came in the wrong cup. When Number 10 Press Secretary Rob Oxley handed the Prime Minister a cup of coffee, it was swiftly snatched away by events aide Shelley Williams-Walker who scolded him saying "No disposable cups." Oxley was later spotted buying a KeepCup and a mug at the Tory Party conference shop…
UPDATE: Several hours later…
My observations
After Boris's speech, the Conservative Party Conference drew to a close for another year.
My brief observations follow, contrasting this to the two left-wing conferences.
First, everyone at the Conservative conference was tidy and well groomed. Most of the men wore jackets and ties.
Secondly, proceedings ran to time. Boy, did they ever.
Finally, everyone who spoke was articulate and delivered their speeches well.
Bravo!
Now, it's onwards and upwards to GET BREXIT DONE!
More news from last weekend will help put the Remainers' tricks into better context.
BBC bias — Andrew Marr Show
The flagship Sunday morning television news programme is the BBC's Andrew Marr Show.
On September 29, 2019, Marr interviewed Prime Minister Boris Johnson, followed by the Shadow (Labour's) Education Secretary Angela Rayner.
Boris could barely get a word in edgewise, whereas Marr let Rayner speak uninterrupted:
Language humbug
The topic of language used in the Commons on Wednesday, September 25, was still a huge issue for Remainers. The media storm continued into Monday.
Here's Gina Miller, who is leading anti-Brexit lawsuits:
Boris somehow made dirty words out of 'humbug' and 'surrender' for them last Wednesday evening.
So did Attorney General Geoffrey Cox earlier that day:
Guido Fawkes had this (emphasis in the original):
Attorney General, Geoffrey Cox, just gave one of the most barnstorming speeches Guido has seen in many years:
This parliament is a dead parliament. It should no longer sit. It has no moral right to sit on these benches… This parliament is a disgrace. They could vote 'no confidence' at any time, but they're too cowardly.
Guido has a feeling this one may go viral…
Indeed. Both the AG and the PM spoke eloquently — and wittily — getting their points across with aplomb.
On the other hand, at least one rebel Conservative used blunt language. Here's Dominic Grieve:
Grieve was on Robert Peston's ITV news show last Wednesday. It seems this is acceptable and non-hyperbolic language — as long as it comes from a Remainer:
A few days later, the Scottish equivalent of Gina Miller — another Remainer lawyer bringing similar lawsuits — let rip on the PM:
The women
As America's Left did with Donald Trump, Britain's Left — including notional Conservative Remainers — played up two news stories about Boris, involving women.
Jennifer Arcuri
This events in this story took place during Boris's time as Mayor of London. It is developing and could be politically motivated, especially as Boris and the current Mayor of London Sadiq Khan trade occasional verbal jabs with each other.
It is strange that no one outside the London political bubble has heard of Jennifer Arcuri until now, when a) we are on the Brexit countdown and b) the Conservative Party Conference was starting at the time this news broke.
From the BBC (emphases mine):
It is alleged businesswoman Jennifer Arcuri received favourable treatment due to her friendship with Mr Johnson.
The prime minister was referred by the Greater London Authority on Friday.
Mr Johnson has denied any impropriety, while a government source described the referral as "politically motivated".
The allegations regarding Mr Johnson's friendship with technology entrepreneur Ms Arcuri first emerged last weekend in the Sunday Times.
They refer to claims that Ms Arcuri joined trade missions led by Mr Johnson when he was mayor of London and that her company received several thousand pounds in sponsorship grants.
The Greater London Authority's monitoring officer – whose job it is to monitor the conduct of the mayor and other members – said it had written to the police watchdog, the Independent Office for Police Conduct (IOPC).
It said it had referred the PM to the IOPC "so it can assess whether or not it is necessary to investigate the former mayor of London for the criminal offence of misconduct in public office".
It added that it has recorded a "conduct matter" against Mr Johnson which happens when there is information that indicates that a criminal offence may have been committed.
But it does not mean that a criminal offence is proved in any way, the GLA's monitoring officer added.
"The IOPC will now consider if it is necessary for the matter to be investigated."
The reason the IOPC is involved is because the role of the mayor of London is also London's police and crime commissioner …
Responding to the referral, No 10 said: "The prime minister, as Mayor of London, did a huge amount of work when selling our capital city around the world, beating the drum for London and the UK.
"Everything was done with propriety and in the normal way."
Charlotte Edwardes
Charlotte Edwardes was a young columnist for The Spectator 20 years ago, at the time when Boris was the magazine's editor.
Last weekend, she wrote her maiden article for The Sunday Times about the time the 35-year-old editor squeezed her thigh around that time. Interestingly, Ms Edwardes's current boyfriend is the aforementioned Robert Peston, ITV's political editor. Timing is everything:
Not surprisingly, the story made the front page of The Sunday Times, which a proud Peston retweeted:
Both the social and the political angles merit explanation.
I remember reading about The Spectator's parties at this time. They were legendary. Many celebrities, authors, journalists and politicians hoped for invitations to the magazine's summer garden party and/or the Christmas lunch.
Writer Toby Young, who also wrote for the magazine when Boris was editor, remembers the atmosphere:
Toby Young might have overstated things a bit, but Boris did have a way with the ladies, so there is probably more than a germ of truth to that.
An 82-year-old lady rang The Jeremy Vine Show (Channel 5) to say she wouldn't mind an evening out with Boris. I do not think she is an outlier, either. Again, we should consider the timing of Miss Edwardes's revelation and wonder why she did not come forward sooner:
That tweet makes an excellent point about timing.
Here is more information:
Yes, there was a rumour that Edwardes's colleague, Mary Wakefield, was sitting on the other side of her and supposedly remembered that Boris touched her thigh, too.
Or, perhaps not.
Interestingly, Mary Wakefield is married to Dominic Cummings, the PM's chief adviser on Brexit:
The story annoys both Leavers and Remainers:
No. 10 denied the story, and Labour MP Paula Sherriff, who was the first to mention the late MP Jo Cox's name last Wednesday, offered Edwardes her moral support:
At the Conservative Party conference, the PM's father, former Conservative MEP Stanley Johnson, defended his son eloquently to Kay Burley of Sky News:
People at home were unimpressed:
Kay Burley isn't exactly blameless, though. You can see her red hair in the photo below from an old story:
The news story surrounding the photo is about Naomi Campbell's appearance at Uxbridge Magistrates Court in north-west London in 2008.
Naturally, reporters raced to get quotes from the model and photographers wanted photos. Mayhem ensued, as the Daily Mail reported on June 21 that year:
Sky News presenter Kay Burley clashed with a photographer during the mayhem when Naomi Campbell arrived at court yesterday.
The newscaster, 46, was apparently hit in the cheek by a camera – and was then seen with her hand around a photographer's throat.
Given the scrum, witness accounts differed:
There were suggestions that the photographer, Kirsty Wigglesworth from the Associated Press agency, had bumped into Miss Burley and injured her badly.
A witness said: 'We were walking in alongside Naomi and basically, Kay got whacked in the face by a photographer.
'Kay pushed back the photographer after she had her cheekbone smashed by this person. The photographer's aggressive behaviour was extraordinary.
But another witness, who saw the second half on the incident, said: 'Kay Burley had her hands around the photographer's neck. It was really, really vicious.
'The only way the photographer stopped her was by pulling her sunglasses off.
'She has got marks around her throat.' It is claimed that Miss Burley and the photographer were taken to one side by the police about the incident.
Remainer news
Whilst the Conservatives are at conference in Manchester, with some MPs flying back and forth to London via helicopter because opposition benches refused to adjourn for three days, Remainers have been busy elsewhere.
Not many opposition MPs attended Monday's afternoon session in the Commons. Speaker Bercow spent only a couple of hours before turning over the rest of the day's proceedings to a female Deputy Speaker.
Civil servants
Civil servants are under strain after summer holidays to deliver background work on Brexit. They complained of stress earlier in the year. They're lucky they do not work in the private sector:
Labour and Lib Dem views
Former Home Secretary Jack Straw says that, although he disapproves of Jeremy Corbyn's leadership …
… he will still vote Labour for tribal reasons.
Party before country … not surprising.
Liberal Democrat leader Jo Swinson plans to block Corbyn's possible ascendancy as temporary PM:
Rebel Conservative MPs
I am disappointed to read that David Gauke, now an Independent MP, spoke at the Conservatives' conference:
On Monday, September 30, Sky News reported that Gauke focussed on the language issue (emphases mine):
Ex-justice secretary David Gauke spoke at the Conservative conference in Manchester despite having been effectively expelled from the party – by having the Tory whip withdrawn – for voting against Boris Johnson on Brexit earlier this month.
He accused the prime minister of a "strategy that is about stoking resentment", with Mr Johnson having recently been criticised by opposition MPs for his use of language …
"Hence we have the language of surrender, of betrayal, of collusion. Because that feeds into a strategy that is about stoking resentment, nursing grievances, provoking anger.
"It means our politics becomes debased, it means the Conservative Party becomes a much more aggressive, much more confrontational, much more divisive party …
"And we cease to follow the traditions of our great leaders. We are no longer the party of Churchill, we are more the party of Trump."
Dominic Grieve poled up, too, although not as far as a podium. He says he received an unsettling message:
Reading out a message he received on his phone during the event, which he revealed read: "You are a foul traitor", Mr Grieve said: "This sort of atmosphere, which is being currently – I'm sorry to say it – but bluntly encouraged by the leader of the Conservative Party… is unacceptable behaviour and it is undermining our democracy and [will] smash it up.
"We will all have to live with the consequences – not only in our constituencies but our neighbourhoods and it will extend to each one of us."
Mr Grieve, who supports a second EU referendum and Remain, added he was "pleased" to have attended the Manchester conference despite having been advised by some not to go.
"Most people here have been rational, pleasant and engaged even when they've come up to disagree with me," he said.
Alistair Burt, another rebel — and the co-author of the Benn-Burt Bill, which attempts to thwart No Deal on October 31 — insisted he was still loyal to the party:
He revealed he recently chose not to stand at the next general election as he could not recommend a no-deal Brexit, which the government insists is still a possibility on 31 October, to his North East Bedfordshire constituents.
Describing how he has been a Conservative Party member for almost 50 years – but has now had the Tory whip withdrawn – Mr Burt added: "I was also parliamentary private secretary to two Conservative leaders: Michael Howard and Iain Duncan Smith.
"I stood behind Iain Duncan Smith at one of the most difficult times in the Conservative Party's history.
"I don't need any lessons on loyalty from anyone in telling me what to do for the Conservative Party in the future."
It's not as much about the Conservative Party, Mr Burt, as it is for the nation: the 52% of Britons who voted Leave on June 23, 2016.
More to come tomorrow.