You are currently browsing the tag archive for the 'Conservative Party' tag.
Before reading this, here are Parts 1, 2 and 3 of a series on coronavirus and lockdown.
It seems that the British silent majority were largely fine with obeying the rules that Boris Johnson's government set until the end of May.
By then, they began asking questions about the duration.
During the first two months of lockdown, they understood that the reasons were not to put too much pressure on the NHS.
However, as Boris and his ministers are taking only 'baby steps' (Boris's words) to release us, many wonder what the real plan is.
Rightly or wrongly, suspicion is rife:
There is also the question about the NHS and the need for treatment outside of COVID-19.
Those of us who watch the daily coronavirus briefings from the government can't help but notice the messaging, especially from Health Secretary Matt Hancock:
I missed this little titbit from the coronavirus briefing on Friday, June 5. Hancock said, 'As the NHS reopens'. Hmm:
Yet, Britons are still missing out on non-coronavirus NHS treatments that are urgent:
I couldn't agree more with this next observation from Prof Karol Sikora:
Then we have the unknown consequences of Big Data intrusions into our lives:
This is now climbing up the chain to stain Prime Minister Boris Johnson, the champion of his soi-disant 'Government of the People':
The goalposts have clearly shifted since Boris's stonking victory in December 2019:
Lockdown has now gone on too long:
Despite what the government and scientists say on the weekday coronavirus briefings, other statistics find their way through the established narrative:
Yet, part of the blame also lies with the proportion of the British public who are afraid of re-engaging with society the way they did before lockdown:
Those who are afraid can stay at home. Let the rest of us get back to real life.
This London Assembly member from the Brexit Party is spot on. Lockdown must end:
Social distancing will end up being a killer, too:
One hopes it doesn't come to this:
One wonders whether there is such a thing as conservatism any more:
Or is the WHO driving this? They must think we are stupid. Perhaps we are:
We will never be in a risk-free, virus-free world.
Ending on Boris, for now, this is something I missed. Then again, I don't listen to BBC Radio 4. Even if I had, I would have thought that Boris's father Stanley was voicing his own views, not his son's:
Boris is still better than his Labour counterparts — Jeremy Corbyn (then) and Keir Starmer (now).
However, his polling will take a dive unless he restores what he called the People's Government.
More tomorrow: coronavirus and the June riots.
See Part 1 in this series about the anger in Britain over lockdown.
One or two tweets below might have salty language. The rest do not.
There is much anger by a proportion of the population at the government:
MPs, except for one, are largely silent on the subject. Luckily, John Redwood has been an MP for decades. He might be our only hope:
Most are like Conservative MP Nadine Dorries, however. She was one of the first MPs to get coronavirus. Her aged mother, who also had it, helped her recover. I was sorry to see her tweet this:
Yesterday, I left off on masks. On Thursday, June 4, Transport Secretary Grant Shapps said they would be mandatory on all public transport in England. Health Secretary Matt Hancock repeated the order the following day:
Someone in the know saw this coming in April (never mind the reply):
This is so irrational. Earlier this year, the WHO advised against it:
Exactly.
I'm looking forward to the first lawsuit when someone is unable to breathe on public transport:
The above advice applies to England.
Wales, Northern Ireland and Scotland are on their own track.
However, Scotland is no better:
This is what they are doing in Singapore. Simon Dolan, incidentally, is suing the British government over lockdown. Good man:
It seems masks are only the beginning. In the UK, we haven't fully got off the ground with the track-and-trace app.
More from Simon Dolan about Singapore:
Track-and-trace is also getting up people's noses:
Then there's the R rate that SAGE and Chief Medical Officer Chris Whitty discuss daily on the coronavirus briefings:
But that's nothing compared to the wacky modelling from Imperial College's Prof Neil Ferguson which brought about lockdown:
Yet, at least one London hospital is ignoring masks and social distancing:
Shouldn't only the vulnerable be sheltered?
Picking up on the railway platform, here's the latest on international transport …
… and the latest on public conveniences:
Why doesn't any of this make sense?
Similar madness holds true for local buses:
Meanwhile, unlike protestors around the world complaining during coronavirus about the death of an American ex-convict thousands of miles away, when you're Piers Corbyn (pictured with the policewoman in a mask), an eccentric weather forecaster as well as the brother of the last Labour leader, and say that climate change is caused by the sun's activity and you're protesting lockdown with like-minded people, you can be arrested twice at Hyde Park in London:
The sheer hypocrisy of it all is mind boggling.
More tomorrow.
On Sunday, May 24, the Telegraph posted an article that brightened my day: 'Churches must be allowed to reopen, MPs demand in letter to PM'.
We haven't been able to attend church since the middle of March, which is also true for other houses of worship.
I am mystified as to why the House of Commons is able to social distance adequately, with alternate benches closed and designated seating, but religious leaders cannot be trusted to do the same in their places of worship.
Fortunately, 20 Conservative MPs wrote to Prime Minister Boris Johnson, expressing their incredulity that we can go to a supermarket but not to church (emphases mine):
Boris Johnson has been urged by a group of Conservative MPs to allow churches to open for prayer, weddings and funerals as soon as next month.
The 20 MPs, including former ministers and senior backbenchers, questioned why shoppers can go to a "busy supermarket" to buy food and drinks but worshippers in need of spiritual sustenance cannot currently pray in a largely empty church.
"Weddings (whether in the church porch or inside), christenings and other services are wanted; safely and soon", the MPs said. "Ten can gather in a crematorium yet one cannot be in a church."
The Government's Covid-19 recovery strategy published earlier this month put churches and other public places of worship in the same bracket as pubs and cinemas, and said that could not reopen until July 4 at the earliest.
It added that some of these venues may not be able to open even then because "it may prove difficult to enact distancing".
However, in a letter to the Prime Minister, a copy of which has been seen by The Telegraph, the MPs make clear that "many [of us] want further faster opening of churches and places of worship".
They said: "We ask for clear guidance, rules removed and discretion allowed as local faith leaders stay alert and make churches, chapels and places of prayer and worship available to the faithful. Everyone understands the value of appropriate social distancing and the obligation to avoid contamination" …
The letter was sent to Mr Johnson and his Parliamentary Private Secretary Andrew Bowie this weekend. It has been organised by Tory MP Sir Peter Bottomley. Other signatories include Tim Loughton and Sir Bob Neill as well as senior members of the influential backbench 1922 committee of Tory MPs such as the chairman Sir Graham Brady and executive officer Bob Blackman.
The group warned Mr Johnson that "the Cabinet and you know the strength of backbench feeling", and expressed concern that some places of worship might not even be able to open in July.
They said: "Even that may be extended by delay in publishing regulations, decisions by diocesan bishops and local circumstances.
Quoting a representative Catholic pastor, they tell Mr Johnson: "I ask you to put pressure on the Government for private prayer as soon as possible. Two-metre social distancing is easy (easier than in a supermarket) and sensible hygiene precautions can quickly be put in place.
"It seems odd that you can go for a walk, enter a busy supermarket, get on a bus, but cannot go to a large virtually-empty-for-much-of-the-time building."
They add: "We ask that our leaders, Government and church, especially the Church of England, together find reasonably safe ways to reopen our churches for prayer, for funerals even with limited congregations and for worship sooner than July."
That day, I heard an interview with the Archbishop of Canterbury on BBC News. He said he was more concerned about Mental Health Week at that time than reopening churches. It seemed an odd remark. Surely, church can help assuage mental health symptoms as those so afflicted can focus on faith, salvation and fellowship — especially during the coronavirus crisis:
At present, the Church of England has instructed clergy that they may go in to church to clean it — but not to pray! Daft.
The Archbishop of Canterbury films services in his kitchen:
However, the Bishop of London, the Right Revd Dame Sarah Mullally, a former nursing chief, disagrees …
… although she films sermons from her home:
Her flexible instruction, it seems, was a wise one, as some clergy were unhappy with Welby's wholesale closure:
Bishop Mullally, who was UK's chief nursing officer from 1999-2004, said priests could livestream services from within a church building if they could access it via an internal door from their home, or without leaving the curtilage of the church.
The Archbishop's wholesale ban upset priests who felt he does not have the right to order clergy who are answerable to their own bishops.
One said: "He's panicked and shut everything down," while another vicar who used Zoom to conduct a Palm Sunday for a 90-strong congregation and will do so again on Easter Sunday, said: "The whole situation is ridiculous".
That said, this Good Friday tweet appears to contradict that flexibility:
On Good Friday, London's St Bartholomew the Great filmed a service with priest and choir:
Hospital chapels are another area of contention, as this letter to the Times, from St Bartholomew's rector (shown in the above video), reveals. Click on the image to read the letter in full:
I like this priest. He's eager — and rightly so — to have his congregation return:
This is amazing (as in awful):
That brought another set of replies from a curate and a gentleman in Montreal:
I fully agree with the 'social service agency' sentiment.
The discussion returned to Mr Walker and a random Twitter user. This is great. I'm so glad the priest took this man on:
Excellent reply.
Whenever church opens, I hope there will be a new market for those who have begun praying at home — and perhaps watching online services — during the past several weeks:
Plans are already underway to work out methods for reopening London's Anglican churches whilst maintaining social distancing.
Last week, a number of essays and interviews about lockdown appeared in Britain.
There are still people who think that it can be lifted as quickly as it was imposed in so many countries. As we have seen across much of the Free World, as it used to be called, lifting lockdown must be done in stages, otherwise, we might have a second spike in coronavirus cases.
Here in the UK, Prime Minister Boris Johnson followed the Swedish model until the evening of Monday, March 23, when he announced lockdown.
Was it because of Professor Neil Ferguson's (dodgy) numbers? Was it media pressure as they asked daily for a lockdown 'like Germany, like Italy'? In time, we will find out why. Perhaps Boris did not want to be labelled a mass murderer, as he surely would have, if he did not succumb.
Here are the British fatality figures from COVID-19 compared with other pandemics over the past 112 years: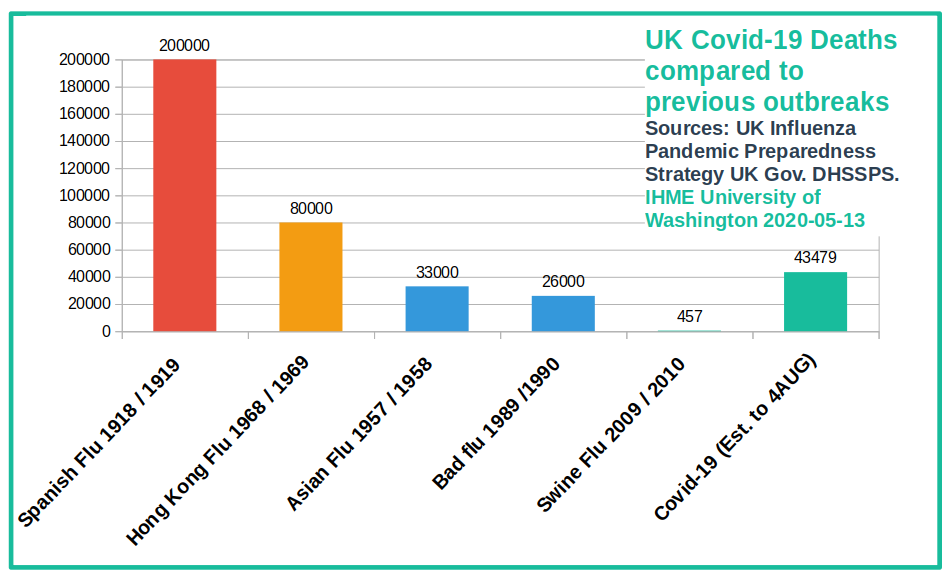 Did we lockdown in 1918 and 1919 for the Spanish Flu with 200,000 deaths when our population was smaller? No.
Did we do it for the Hong Kong flu in 1968 and 1969 with 80,000 deaths, again when the population was smaller than today? No.
Therefore, it makes little sense that we did so in 2020 with a larger UK population and 43,479 projected deaths.
Lionel Shriver, an American author (We Need to Talk about Kevin), who lives in the UK, provides current worldwide death statistics from other causes in 'This is not a natural disaster, but a manmade one', which she wrote for The Spectator on May 16. Emphases mine below:
For maintaining a precious sense of proportion, check out some other annual global fatalities: influenza, up to 650,000. Typhoid fever, up to 160,000. Cholera, up to 140,000. Malaria, 620,000 in 2017, almost all in Africa (so who cares, right?). In 2018, tuberculosis, developing treacherous antibiotic resistance, killed 1.5 million people. Why haven't we closed down the whole world for TB?
I couldn't agree more.
She expresses my deepest reservations here:
I am steeped in dread. I foresee months, if not years, of inane gesturing towards 'safety' that makes no appreciable difference to the nation's health, but does manage to 1) ruin everyone's enjoyment; 2) perpetuate the socially poisonous notion that one's neighbour is a threat to one's very life; 3) maintain an atmosphere of the extraordinary, in which the state may violate civil rights at will; 4) lay waste to what little might otherwise have remained of this country's economy. The lockdown has been bad enough. Post-lockdown could be worse.
Shriver understands. Forget 'science', this will be the reality:
With narrow profit margins, restaurants can't survive serving a fraction of their previous clientele. Half of all UK pubs are already kaput, and the other half will soon go under if lone customers self-isolate over their drinks like sullen alcoholics. Plenty of manufacturing won't function with employees so far apart. The arts are finished.
What she says about London is bang on the button:
West End theatres with audiences a third their former size will close. The Albert Hall is also looking at social-distancing bankruptcy, as well as considering the banning of intervals because the loos will have to be shut (sounds relaxing). The Royal Opera House's streaming of Swan Lake without a live audience makes no money.
Oh, and transport! In London, social distancing is expected to reduce Tube passenger numbers by 90 per cent. Five million people daily ride the Tube, or used to, so how are the other 4.5 million meant to get around? By bicycle. Right. Now, I can assure you that pre-Covid it was already a nightmare to cycle in the capital, as chocka with two-wheelers as the old Shanghai. But forget buses, allowed to carry 15 per cent of their previous ridership. We're told that to get into a sparsely populated lift, we may have to make a reservation on an app. But never fear. I guess we could always throw ourselves off the balcony instead. Why, with the masky, glovey, get-away-from-me future we're all facing, taking that shortest route to the pavement starts to appeal.
Then there is the 14-day quarantine of incoming air passengers from other countries. France is implementing the same policy and, oddly, the French think it's a good idea:
Worst of all, lest some sector somewhere still struggles back to solvency, we'll now order air passengers from abroad to 'quarantine' for a solid fortnight straight off the plane. Because passengers can promise to quarantine themselves in a particular location, this policy comes with obvious enforcement problems. Quarantines will either be roundly ignored (so what's the point?), or they'll require extravagant police resources to keep rapping on doors to ensure some visiting Canadian didn't nip out for a litre of milk. What this policy is guaranteed to achieve is the total devastation of both the British tourist industry and British airlines, especially since the business travel on which aviation depends will evaporate.
On Sunday, May 17, The Spectator posted another article: Claire Fox's 'My fears about the "new normal"'. It explores how we are beginning to view the return to freedom in England during our partial lockdown lift as well as at the resistance to lockdown lifting:
The present lifting of restrictions – despite being mild to the point of mealy-mouthed – is opposed with similar howls of caution; each minor freedom we are granted is treated as a dangerous act of rashness. This approach indicates a deeper estrangement from freedom than merely a pragmatic shrug of acceptance of short-term measures.
In this context, I fear that the 'new normal' will involve a new attitude to freedom. Already, culturally, you can feel a shift. I find myself grateful to be given access to public parks, to be allowed to take more exercise (when normally I would take none). Going to the shop for a non-essential birthday present last week, I was as furtive as a would-be criminal. And in all the discussions on post-Covid life, basic freedoms are treated as something that we need permission for: a piecemeal, rules-based, government allowance, handed down and punitively policed if we dare over-step the mark, whether it is by a clandestine meeting with mates or a sly assignation with a lover.
The left are more worried about lifting lockdown than conservatives are. Who gets nearly all the media attention? The left.
Fox rightly points out that we are going to have to wean ourselves off the overriding concern over COVID-19 deaths and start looking at what else has been going on in our society over the past two months: serious health conditions and suicide among them.
The tension between the left and conservatives reveals how each group views God-given liberties, which Western governments are supposed to defend. Instead, we are now experiencing discussions in the media about freedom versus safety. Fox says:
My nervousness is that for many the value du jour is safety rather than freedom.
The state's role in keeping its citizens safe has historically created familiar tensions in weighing freedom versus security. Most recently, civil liberties activists internationally raised concerns that policies introduced to keep people safe from the threat of jihadi terrorism have resulted in widescale illiberal incursions into the rule of law, privacy and free expression. But in dealing with Covid, there's an added element. When those who resist lifting lockdown cite what-if doomsday scenarios, they posit freedom itself as the enemy of safety: liberty itself is presented as threatening lives …
Is it really such a stark choice as: dead or safe? Alive or free? In fact, we owe our own freedoms to others who put their safety and lives on the line. Every freedom fighter – whether Hong Kong democracy activists, Kurdish fighters who defeated Isis, or those we remembered on the VE Day anniversary – all took on totalitarian states and risked their lives and safety in the fight for free societies.
…reorganising life around safety as an end goal feeds on subjective, free-floating feelings of insecurity and can rob us of the confidence to live free lives. And that is my greatest dread: that we lose the habit of living freedom. Like the apocryphal released prisoner who misses the routine and security of jail so much that he contrives to be re-arrested, is there a danger that we become institutionalised into withdrawing from the undoubted demands that freedom makes of us?
The government has made physical exercise almost mandatory during this lockdown. But freedom, too, is a muscle that needs to be exercised, or it will atrophy. But exercising freedom is no easy ride, and can be as painful metaphysically as the most strenuous workout. To exercise our freedom as autonomous citizens we have to make difficult decisions, use our judgement, live with the uncertainty of knowing there are no preordained outcomes. It's a risky business: we will invariably make mistakes that we'll be held responsible for; we will sometimes take the wrong road and have to live with the consequences, with no-one to blame but ourselves. Relieved of many of these dilemmas during this extraordinary period of having our liberty curtailed, it is perhaps understandable that many of us rather dread entering the fray of freedom.
Several weeks ago, I saw a BBC interview of a Chinese family coming out of lockdown. The mother said that they valued a draconian lockdown because the State was protecting their health. She said that safety trumped liberty (as much as can be had in China). How soon will it be until we have a sizeable number of Britons saying the same thing?
But who wants to be cooped up — accomplished in a five-minute announcement on television — when it robs our lives of meaning?
Fox concludes:
So if we are to have a 'new normal', can it aim to embed within it freedom's historic role as a virtue worth dying for, and make its clarion call the joyous rewards of a free society that makes life worth living. Being able to love who we want; read, write and think what we want; associate with who we want; vote for what we want – all this and so much more allows us to be agents of our own destiny, to write our own life story rather than being bit part characters in someone else's story.
If the Covid narrative insists on a new normal, let's ensure the script contains Goethe's quote that 'freedom and life are earned by those alone who conquer them each day anew'. Despite the grim tragedy of recent months, we need to make freedom central to the Covid storyline to ensure that there's at least some chance of a happy ending to this tragedy.
On May 17, the BBC interviewed a retired Justice of the Supreme Court, Lord Sumption, who offered similar, salient arguments against lockdown, which he said should be lifted now, as there is no need for it. He said that he has been obeying lockdown rules, because the law obliges it, but, if the pubs were open — even crowded ones — he would go to one. Similarly, he said, if theatres were open, he would attend a performance. He spoke of the many negatives of lockdown to health and civil liberties. At the end, the interviewer asked him what he had been doing during lockdown. He replied that he would not say because he did not want to be verbally attacked by the BBC!
This is definitely worth watching (eight minutes in length):
There was a time, back in early March, when I thought the Conservatives were on our side.
I hope I am wrong in doubting them. We'll see what happens in the weeks to come.
Medical experts from various governments around the world have told us that coronavirus is here to stay for the immediate future.
The UK, France and the US took additional steps this week to delay its spread.
I did not have time to write about those developments today, or my last two trips into London, so will delay those until next week.
For me — and for the government — the 2020 budget was the highlight of an otherwise rather grim week.
Budget speech
On Wednesday, March 11, Britain's new Chancellor of the Exchequer, Rishi Patel, delivered his first budget and the first one that the UK has had since the autumn of 2018.
Prime Minister and First Lord of the Treasury Boris Johnson appointed Rishi only four weeks ago. He is our first Hindu Chancellor.
Rishi's predecessor, Sajid Javid — the first Muslim Chancellor — has the sad distinction of having served the shortest period of time of any Chancellor in the past 50 years. He was asked to fire his special advisers, which he refused to do, so he resigned. Under normal circumstances, he would have delivered the 2019 budget last November 6; as an election was taking place on December 12, it was postponed to 2020. He came up with a budget, much of which Rishi Patel presented on Wednesday in the House of Commons.
Funds will go towards the work required after the ravages of the winter floods and, now, coronavirus:
On a subject that has been raging among left-wing women for the last few years in papers such as The Guardian, the Chancellor announced that tax on sanitary products will be abolished once the UK leaves the EU at the end of this year. Former Labour MP Paula Sherriff should be happy.
I watched the Chancellor's presentation, which was excellent, every bit as good as Ken Clarke's in the early 1990s and Dominic Lawson's in the late 1980s:
He even worked in a joke or two. When he announced that he would be removing VAT from books, he quipped about the Shadow Chancellor's — John McDonnell's — 'little-read' (little red) book on economics. Even McDonnell had to laugh:
The Chancellor ended a ten-year-long period of austerity under the Conservatives, freezing almost all existing duties, except for tobacco, and pledged spending hikes. Labour should be happy:
Analysis
Political pundit Guido Fawkes gave his view of the budget, 'Big State "One Nation Toryism" is Back', which refers to the Prime Minister's top adviser Dominic Cummings (emphasis in the original):
The headlines will focus on the £30 billion debt-fuelled stimulus package, "only" £12 billion of which is in response to the coronavirus. The coronavirus gives cover for the big state 'One Nation Toryism' that many in Downing Street have always wanted. Dominic Cummings is not a tax-cutting, free market loving, state shrinking, right-winger.
It appears that most voters who opted for Conservative candidates last December do not mind an increase in spending. David Jeffery, writing for UnHerd, examined the British Election Study which canvassed 32,177 participants who responded after last December's election.
As Jeffery, a lecturer in British Politics at the University of Liverpool, says, voters are saying No to the post-Brexit aspiration of making the UK Singapore-on Thames. Last December saw a surprising number of Labour constituencies going Conservative. Those previously impenetrable constituencies are known as the Red Wall.
One would think that this study would show a stark difference between Red Wall and more conventional Conservative voters. Not so.
Both groups are rather close — with minimal percentage differences (from less than one point to four points) — with regard to self-identifying on the political spectrum, concern for the working classes, spending and national debt. Jeffery concludes (emphases mine):
For all the talk of the Red Wall budget, Red Wall Conservatives are not so different from other Tories. Although they are slightly more wary of environmental regulation and take a more favourable view of redistribution, Conservative voters as a whole think austerity has gone too far, want to see more money spent on key services and accept that this means fewer tax cuts and no budget deficit. This is not what we're typically told Conservatives want, and with his first budget Sunak should show he's listening.
The Chancellor got that memo loud and clear.
Paul Goodman, who heads the website Conservative Home, says that the Chancellor adopted much of what Labour wanted in the budget. That said, the main difference is this:
… we're not in hoc to a hateful ideology; are more pragmatic; more business-friendly; more sensible; better – at least as politicians …
"A People's Budget from a People's Government," the Chancellor perorated. There you have it. Not a Thatcherite one from a Conservative one – or even a plan that is recognisably Tory at all, at least by the standard of recent years. The voice was the voice of Sunak, but the hands were those of Vote Leave.
John Glen MP (Salisbury), also writing for Conservative Home, provided more details about the intended spending plans this year. He said they are achievable:
The ambitious capital budget announced yesterday by the Chancellor can be achieved with relatively modest increases to the deficit as a percentage of GDP. And at a time of record low interest rates with no sign of increases on the horizon, it is an appropriate moment to avail ourselves of this opportunity to upgrade the country's infrastructure and to make the economy more productive.
We do not yet know what the full impact of coronavirus will be. But the Budget leaves us well prepared to tackle its short-term challenges as well as helps shape the long-term trajectory of the economy through capital investment and the reduction of regional imbalances.
And, finally, Robert Halfon MP (Harlow) wrote in his article for Conservative Home that we desperately need to start upgrading our 'social infrastructure':
The immediate goal? Aside from addressing the economic challenges presented by the coronavirus, there will be a commitment to 'level up' across the country. Manifesto pledges on rail, roads, energy, broadband and freeports; all are enormously welcome and will go some way to connecting left behind places to the opportunities that others routinely enjoy.
But, if this cash injection is to get the UK going again, we must also invest in 'social infrastructure'. It is the people of the UK that will bind physical infrastructure to economic growth, not the other way around.
In its broadest sense, social infrastructure is investment in people. In its most transformative form, it allows disadvantaged individuals to overcome entrenched social challenges and turn their lives around.
I had no idea the UK had so many social problems until I started watching BBC Parliament on a regular basis. Even Conservative MPs agree that additional money must be given to various social programmes for retraining, improving education and fighting drug addiction. Of course, the NHS comes into this equation, too.
Additional information
You can read the Budget in full here. My fellow Britons might wish to check out the Budget 2020 calculator to find out how they will be affected.
In another historic moment, Dame Eleanor Laing, the Chair of the Ways and Means Committee and Senior Deputy Speaker, was the first woman to preside over the budget presentation. In this short and interesting video she explains her role and the purpose of the budget presentation:
Afterwards, in giving the response for the opposition, Labour leader Jeremy Corbyn, looking characteristically grumpy, read his poorly-written text which referred to Ms Laing as Mr Speaker instead of Madam Deputy Speaker. Sad.
More on the coronavirus developments next week.
Six weeks on after the general election of December 12, 2019, the Labour Party fail to understand why they performed so poorly.
Theirs was the party's biggest election loss since 1935. Many constituencies in the north of England voted Conservative either for the first time or for the first time in decades.
Labour said they would enter a period of reflection to decide their way forward in their leadership election, the campaign for which is now underway. Voting takes place in April.
Ian Murray is a candidate for deputy leader:
At the weekend, there were two interesting Twitter exchanges with Conservatives. Their 80-seat majority gives a clear indication of the way voters want the nation to go: get Brexit done and improve the country.
But some Labourites are still angry.
Pat Glass is the former Labour MP for North West Durham. Judging by what you read below, you would think she lost to a young, brand new Conservative MP, Richard Holden, in December. However, she had already stood down for the 2017 general election.
Laura Pidcock, her successor, lost to Richard Holden in 2019.
Dehenna Davison is a new, energetic Conservative MP for neighbouring Bishop Auckland.
This is how the Twitter threads went. Pat Glass started them:
Richard Holden replied about the glaring inaccuracies in Glass's tweet:
The Chief Executive of Conservative Home chimed in:
Then there were these tweets:
The blocking caused confusion:
If other former Labour MPs are following this approach, it's hardly going to win voters back:
Just as well, really:
As you were, Labour. Carry on with the self-destruction.
It is tempting to refer to the day the UK is leaving the EU as an active partner as Brexmas.
The Sun coined the name during the 2019 election period in the run-up to Christmas. Today, however — the day it will actually take place — feels more like Brexmas to me.
That said, the suffix '-mas' is an ancient one referring to a Mass being said on an important feast day, e.g. Christmas and Michaelmas, the feast of St Michael (September 29).
The Wikipedia entry on Mass explains how the word entered common parlance centuries ago. From there, '-mas' was used for certain feast days:
The English noun mass is derived from Middle Latin missa. The Latin word was adopted in Old English as mæsse (via a Vulgar Latin form *messa), and was sometimes glossed as sendnes (i.e. 'a sending, dismission').[8] The Latin term missa itself was in use by the 6th century.[9] It is most likely derived from the concluding formula Ite, missa est ("Go; the dismissal is made"); missa here is a Late Latin substantive corresponding to classical missio.
Historically, however, there have been other explanations of the noun missa, i.e. as not derived from the formula ite, missa est. Fortescue (1910) cites older, "fanciful" etymological explanations, notably a latinization of Hebrew matzâh (מַצָּה) "unleavened bread; oblation", a derivation favoured in the 16th century by Reuchlin and Luther, or Greek μύησις "initiation", or even Germanic mese "assembly".[10] The French historian Du Cange in 1678 reported "various opinions on the origin" of the noun missa "mass", including the derivation from Hebrew matzah (Missah, id est, oblatio), here attributed to Caesar Baronius. The Hebrew derivation is learned speculation from 16th-century philology; medieval authorities did derive the noun missa from the verb mittere, but not in connection with the formula ite, missa est.[11] Thus, De divinis officiis (9th century[12]) explains the word as a mittendo, quod nos mittat ad Deo ("from 'sending', that which sends us towards God"),[13] while Rupert of Deutz (early 12th century) derives it from a "dismissal" of the "enmities which had been between God and men" (inimicitiarum quæ erant inter Deum et homines).[14]
But I digress!
This is how the week unfolded — rather quietly — considering that, at 11 p.m. GMT (12 a.m. on the Continent), the United Kingdom of Great Britain and Northern Ireland will become a non-participative member of the EU until our transition period is complete. We hope that will be at the end of December 2020.
Boris answers burning Brexit questions
Prime Minister Boris Johnson made time to answer several Brexit questions from the British public. This short video is as factual as it is entertaining.
Please watch:
British MEPs leave Brussels
The last British MEP (Member of the European Parliament) to attend an EU Council meeting was Chris Pincher on Tuesday, January 28:
Nigel Farage cleared his office:
On Wednesday, January 29, political pundit Guido Fawkes posted a run-down of the closing days of British MEPs' participation, 'The Final Day of Brexit'. They got one final vote that day, on the Withdrawal Agreement (emphases in the original):
Most importantly, MEPs will formally approve the Withdrawal Agreement this afternoon, marking the final legal hoop needed to jump through to secure Brexit on Friday. Remain MEPs will vote against the deal, failing to understand they're voting in favour of a no-deal exit…
MEPs' final day in Brussels will seemingly be occupied by a lot of singing; with a Green Party MEP planning to encourage a rendition of Auld Lang Syne after British MEPs' final vote, socialist MEPs meeting up for a family picture and a rendition of the EU's 'anthem', and MEP Magid Magid hosting a party in the Place du Luxembourg featuring live music and DJs. No word on whether, given it's their last day, MEPs will be signing each other's shirts…
The vote took place in the early evening:
The week before, the president of the European Council and the president of the European Commission signed the UK Withdrawal Agreement for the EU …
… and Prime Minister Boris Johnson signed it for the UK …
… therefore, it was recommended that the EU Parliament approve the Withdrawal Agreement:
Guy Verhofstadt's tweets
Over the past week, Guy Verhofstadt has tweeted about our exit. He is keeping the door open for our return.
I've also included a few replies to his tweets:
He waxed sentimental over a Liberal Democrat MEP:
Michel Barnier visits the Emerald Isle
The UK's chief negotiator representing the EU, Michel Barnier, spent Monday in the Republic of Ireland and Northern Ireland.
He visited Dublin first …
… then travelled north to Belfast:
Perhaps now is the moment to remind everyone that we will always be European. Our beef is with Brussels:
UK to become economic powerhouse?
According to The Express (article link in tweet), Barnier is worried that we could become an economic powerhouse, threatening the prosperity of EU member countries. British commenters say that he has only himself to blame:
Signs look good, at least at this juncture, particularly since the election on December 12:
Going back to Tuesday, January 21, The Express cited findings from the IMF at the time of the World Economic Forum in Davos. Provided our negotiations go well this year (emphasis in the original):
BRITAIN'S economy is set to power ahead after Brexit, outpacing the eurozone and other major European countries, the International Monetary Fund (IMF) has said.
The findings of two studies published by the the body show the UK is on track for two years of growth and is anticipated to outperform Germany, France and Italy. The economy is expected to expand by 1.4 percent this year and by 1.5 percent in 2021, it said. It marks an optimistic outlook for the UK's post-Brexit future after last year's growth was recorded at 1.3 percent.
Celebrations in the UK
Celebrations will be very low-key on January 31.
Big Ben silent
Unfortunately, Big Ben will not be bonging to mark our Brexit.
The historic bell is under renovation at present and unnamed 'Parliamentary officials' said it would cost £500,000. Boris and Conservative MP Mark Francois urged the public to stump up with private contributions. This they promptly did, raising £272,000. That still was not enough — I detect overall resistance from our notional betters here — so the money is going to the veteran's charity, Help for Heroes:
Lights and Union flags in London
On January 22, Guido Fawkes posted the government's plans to mark Brexit Night in central London (emphases in the original):
The Government has already announced its official plans to commemorate Britain leaving the EU at 11pm on 31st January, however a new victory has been won after minister Nigel Adams signed off on the Union Jack being flown down the Mall to celebrate Brexit. Her Majesty will be delighted given her support for the cause…
In addition to the Union Jack flying in Parliament Square, a light display in Downing Street and a countdown clock being projected against No. 10, new intake Tory MP, Dehenna Davison, has spoken of her delight at securing the victory, saying "After discussing this with the Minister multiple times over the past few weeks, I am delighted that he has today instructed officials to ensure the Union Jack is flown down the Mall on Brexit Day", also highlighting the minimal cost to the taxpayer from the move. Unlike getting Big Ben to bong again…
The flags went up on January 28:
British flags will be flown in Parliament Square.
A red, white and blue light display is expected to be shone on Westminster Palace.
The No. 10 digital countdown clock will be illumined in Downing Street.
New 50p coin
The new 50p commemorative Brexit coin, which was ready for our predicted exit on October 31, 2019, had to be melted down. That was quite expensive.
However, they have been reminted and began appearing this week:
More will appear beginning in March.
The text on the reverse of the coin includes the date January 31, 2020 and reads as follows:
A number of Remainers have tweeted their disapproval and said they would not accept them as change.
Radio presenter Julia Hartley-Brewer of TalkRADIO gave her own riposte to diehard Remainers pining for Brussels. Priceless:
Brexit Party celebration
The Brexit Party is holding a special celebration in Parliament Square between 9 and 11:15 p.m. All are welcome:
Brexit merchandise
There are at least three different types of Brexit-related merchandise on sale now.
Forman's smoked salmon
Lance Forman was a Brexit Party MEP then switched to the Conservative Party before December's election.
In real life, he runs his family's smoked fish business in East London, best known for smoked Scottish salmon. I have eaten Forman's fish before and it is excellent. His Brexit offer runs until February 29:
T-shirts
Leave.EU are selling commemorative Brexit t-shirts. Wear at your own risk.
They also have mugs:
Tea towel
The Conservative Party is offering a special tea towel with Boris's election slogan, 'Get Brexit done', in past tense:
————————————————————————-
Whatever way my fellow Britons choose to celebrate Brexit Day, I hope they have fun!
I will continue Brexit Chronicles until we are fully out of the EU.
Happy New Year!
Happy new decade!
I enjoy, albeit with trepidation at times, looking back at the decades I've lived through and charting the change from beginning to end.
O tempora, o mores!
1960s
In 1960, growing up in the United States, I remember that things were still quite formal. Most people took care in the way they spoke and in their appearance. They were careful to conduct their households in a respectable manner. By the middle of the decade, that began to change but not too noticeably.
By 1968, a social revolution was underway, including sexually. What was once private became public. Attire reflected that. Women began wearing skirts above the knee. Men's clothes became more form-fitting.
Sloppiness and drugs became fashionable with the advent of hippies. Even though they were a small minority, they received a lot of media coverage. A slogan connected with them — 'If it feels good, do it' — began to pervade society at large.
Cinema and television reflected this change.
At home, Americans moved from watching westerns to tuning into a zany comedy hour. In 1960, Gunsmoke was the most viewed programme. In 1969, it was Rowan and Martin's Laugh-In. Gunsmoke had moved to sixth place in the Nielsen ratings.
Film genres and themes also shifted. In 1960, the great epics were popular, with Spartacus the highest grossing film and Exodus coming third. Psycho was second. In 1969, while Butch Cassidy and the Sundance Kid was in the top slot, Midnight Cowboy was at No. 3, Bob & Carol & Ted & Alice was No. 6 and an X-rated movie, I Am Curious (Yellow) was No. 12. It would have been unthinkable in 1960 that an urban drama about homosexuality, a movie about swingers and one that was pornographic would have been so popular nine years later.
1970s
The cultural shift continued in the 1970s. American magazines and newspapers devoted many column inches to social drop-outs experimenting with communal living. Swingers were becoming popular in suburbia. Again, those were two small sub-groups of society, but everyone — even the most respectable — knew about these two phenomena.
Pop music got bolder, more sexualised. I remember in high school that we talked a lot about sex and could hardly wait to start dating so that we could experiment. Our parents wondered what was wrong with us. The idea of sin and the forbidden went out the window. 'If it feels good, do it' had spread to the middle classes. Previously forbidden carnal acts were encouraged as being completely 'natural'. This furthered the evolution of a shame-free society. Today, I read that some teenagers don't kiss on a first date; instead they engage in oral sex.
Interestingly, one of the most suggestive singers of the decade, Eric Carmen of the Raspberries, laments where this has led today:
I remember neighbours of ours getting divorced. The wife said that she could earn her own living now, thank you very much. The husband was heartbroken. We felt sorry for their two children. Until then, my family and I personally did not know any couples who got divorced. It just didn't happen to everyday individuals. However, divorce rates continued to rise and, these days, no one bats an eyelid.
More women started working. What began as a liberating elective would turn out to be a mandatory means of survival in marriage in the years that followed. Few of us knew that then, though.
Returning to music, it was a great decade for youngsters. FM radio produced rather excellent stations devoted to little known genres that never reached Top 40 AM stations. Through them, we discovered prog rock from Britain: Yes, Rick Wakeman, and Emerson, Lake and Palmer, to name but three musical greats. There were many more, too numerous to mention here.
Near the end of the decade we had disco. Saturday Night Fever was a huge box office hit and propelled John Travolta from television (Welcome Back Kotter) to cinema fame.
The most popular television sitcoms, such as Welcome Back Kotter, were all set in metropolitan areas. In terms of television in general, The Waltons was probably the only show with a rural setting.
Halfway through the decade, I spent a year in France, which was much quieter than the US socially and still quite formal, even though the more leftist state university students were generally unkempt and unwashed. In many respects, the country was a bridge between the 1960s and the 1970s in the nicest possible way.
1980s
Leaving university, I recall that many of my friends latched onto the Reagan zeitgeist and became conservatives.
They turned into their parents and lost the fun-loving verve they once had. I stayed single the longest, so was more acutely aware of a shift into respectability and suburban living.
I lived in a major US city then, earning my own way in life. For relaxation, I used to go to matinees at the weekend. The price of admission was cheaper and the cinemas were nearly empty, giving me the impression I had the big screen all to myself.
I saw a lot of world films in the first part of that decade, some from Brazil and Australia but mostly Britain and France. French film became a passion. Even one of the UHF television channels showed French films from the 1950s. Bliss.
As far as music was concerned, my favourite FM station played British and European singles apart from reggae on Sunday afternoons. More bliss.
Then, around 1986, something began to change. Although my favourite radio station stayed the same, the movie theatres weren't showing as many foreign films. Within a couple of years, they stopped showing them altogether. One of my lifelines had vanished, sadly. The American films that replaced them were not very good, either, so I stopped going to the cinema.
Everything became very one-dimensional. America, somehow, had lost the link with the zeitgeist of European culture, which it never recovered. It used to be that people in the 1960s and early 1970s made a two- or three-week trip to western Europe to see the historic sites they learned about in school. It was what we today would call a bucket list item.
Fortunately, by the end of the decade, employment events intervened — and further improved — for me.
1990s
Living in England, I realised that I had an insatiable appetite for history and politics. I learned a lot about both thanks to a gift subscription to The Spectator, which I had read about in English lit class in high school. It's been around since 1828.
In 1990s, my in-laws told me that Margaret Thatcher's time was up. She had become too full of herself. We had high hopes for John Major.
I remember the 1992 election, which Major won handily. I could not understand the rage of my female colleagues who expected Neil Kinnock to win. They stayed up all night drinking, waiting for a Labour government that never came. The next day, at work, they were hungover, tearful — and, above all, angry. Why did they think he stood a chance? Perhaps I had been reading too much of The Spectator, but I had no doubt that Major would continue as Prime Minister.
By 1997, most of us felt change was needed. The Conservative MPs on the front bench seemed like tired, bloated bureaucrats. None of them had an original idea. Most seemed to be lining their own pockets. I was most consterned by Health Secretary Virginia Bottomley, who started closing A&E (Accident and Emergency) services at local hospitals. What was she thinking?
When Tony Blair became Prime Minister in 1997, nearly everyone I knew rejoiced. Change was coming.
And how …
2000s
The first few years of Labour were fine. I was enjoying my work too much to pay any attention.
By 2005, I longed for a Conservative government, especially when Gordon Brown became PM with no general election.
After that, Labour became unbearable, banging on about people's personal lives and habits. The smoking ban came into force in the summer of 2007. Ministers assured us in television interviews that private members clubs and hotels would be exempt. No, not at all. It was a blanket ban everywhere.
It was during this decade that London elected its first mayor, Ken Livingstone. He served two terms and introduced the city-wide congestion charge for motor vehicles, which we called the Kengestion Charge. My colleagues at the time reminded me that, as head of the old GLA (Greater London Authority), he was known as Red Ken.
Boris Johnson succeeded him, also serving two terms. His administration made the streets tidy again and also lowered crime.
By 2006, I started looking more closely at the EU and the unelected bureaucrats in Brussels who seemed to rule our lives. I agreed with those disgruntled Britons who wanted a referendum on our membership.
Most of all, however, I was sick and tired of Labour, to the point of despair.
I also asked my far better half to cancel my gift subscription to the The Spectator, as it had changed its editorial line considerably after Boris Johnson left as editor. Although more people now read it, it is a former shadow of itself. I would not call it neither conservative nor traditional at all any more.
2010s
Hope came in the May 2010 general election.
The Conservatives had to form a coalition government with the Liberal Democrats. It was the David Cameron and Nick Clegg Show, but at least Labour were out of the picture after 13 years.
David Cameron referred to himself as the 'heir to Blair'. It took me some time to see it, but he was not wrong.
He set out to reform the Conservative Party and alienated older, faithful members in their local associations. CCHQ suddenly did not need their help.
On a broader level, Cameron will probably be best remembered for opening up marriage to same-sex couples and for offering us the EU referendum, billed by all parties as a 'once in a lifetime' choice which they all pledged to implement.
A number of televised debates took place in 2016. I watched them all. Some of my friends were less than convinced by the Leave proposition. The one clincher was Brexit The Movie, which is an hour-long eye-opener about the Brussels gravy train and better than any of the debates, no matter how good:
I stayed up until the early hours of the morning of Friday, June 24, 2016 to watch the result. When it was clear that Leave had won, I went to bed. The next day, my far better half and I woke up to Cameron resigning because he did not like the result. We had a celebratory lunch in London and went to a party that evening that had been planned months earlier. I remember the apprehension we both felt about sounding out the other party guests as to their views on the EU. We later discovered that were not alone. Finally, someone there broke the ice upon his arrival by exclaiming:
Is everybody HAPPY? I certainly am!
At that point, we were free to talk about Brexit.
Theresa May became Prime Minister later that summer.
Across the pond, another sea change was happening: Donald Trump's candidacy. It was even more of a shock when he won. A startled nation awoke to find that Hillary Clinton was not their president.
The conflicts about Brexit and Trump continue today. Opponents to both have grown ever more vehement.
On September 20, 2019, the British website Spiked issued a thought-provoking documentary on Trump and Brexit. It's 26-minutes long and well worth watching. To cover Brexit, their reporters interviewed residents of Southend-on-Sea in Essex. To cover the Trump phenomenon, they interviewed Pennsylvania journalist Salena Zito and residents of Erie, which was once a major industrial powerhouse in that state. It has fallen on very hard times, indeed:
The major theme running through both is, as they put it, 'change', which I believe they should have called 'self determination' and 'recovering the aspirational dream'.
One thing that struck me was the interview with the owner of a gym in Erie. He said that his father raised seven children on a janitor's salary:
You couldn't do that now.
Too right. Both parents now have to work — unlike in the 1960s — and few households can support more than two or three children.
People in Britain and the United States want to work and save more of their hard-earned cash. They also want good job opportunities for their children.
A fisherman in Southend said that, because of EU rules, he is restricted to an ever-smaller part of waters in which to fish. The number of fishing boats has continued to decline, he added, and the number of fisherman has also dropped dramatically. That is why he, and many others in Southend, voted Leave in 2016.
The decade closed with Boris Johnson's landslide victory on December 12. Historian David Starkey explores what this means for the nation in this 57-minute documentary from The Sun, ably conducted by a young reporter:
Starkey explores the evolution of Parliament since Victorian times, when it became the institution we know today. As many Northern constituencies flipped from Labour to Conservative, Starkey says that Boris's pledge to revitalise the North will mean little unless he espouses their values of patriotism, which, he says, has been a dirty word for many years.
He says that Boris could well become a figure like Charles II, who restored the monarchy beginning in 1660. Many of their personality traits are similar, he notes, particularly their penchant for bringing a nation together and reforming it at the same time. It is well worth watching when you have the opportunity.
There is much more to Starkey's interview than summarised here. He talks about the people of the North, Labour, Jeremy Corbyn, David Cameron, Tony Blair and, significantly, Benjamin Disraeli. Starkey hopes that the PM will study his Victorian predecessor's successes closely.
With that, I must close for now. There are many developments over the past 60 years that I have not mentioned. This is merely to give an idea about the direction that Western society took as the decades rolled on.
Welcome to 2020. Let's hope it brings many good tidings. I wish all of us the very best.
For my British readers, a documentary well worth watching is the BBC's Laura Kuenssberg's one on Brexit and Boris.
The Brexit Storm Continues: Laura Kuenssberg's Inside Story is very well made, indeed:
Laura gives us behind the scenes footage of herself with the press corps, her BBC colleagues and, best of all, leading Conservative and Labour politicians discussing Boris's first 100 days.
There is some amazing and interesting footage, including a few seconds of the Prime Minister's bare shins. He wears short socks. Perhaps it is time for Carrie Symonds to buy him a few pairs of knee-length ones for televised interviews.
It is obvious that the BBC loathe Boris and it looks as if Laura is no different. They were all rather nasty to top adviser Dominic Cummings at No. 10 in preparing for an interview with Boris.
Speaking more broadly, Laura seemed to think Boris was taking foolhardy gambles with Brexit and the election. Well, we know how the election turned out. We'll find out about Brexit in the New Year.
Contrary to the negative replies from Labour supporters to her tweet above, she is neither a Conservative nor a conservative. She's a canny journalist doing her job, and it's paying off. This documentary bears her name.
All of that aside, viewers will be able to see the offices of Jacob Rees-Mogg and Michael Gove as they welcome Laura for interviews. They will also be able to watch short exchanges with Steve Baker. I enjoyed the little snippet of the BBC trailing Baker and fellow MP Mark Francois after the Saturday, October 19 session in the House. As it was all a bit hard going, Baker asks Francois if he would fancy a drink. The cameras stop just before the two cross the road to repair to a pub.
I am not a BBC news fan, and I don't trust any of their reporters or presenters, but for anyone missing politics over the holiday period, this documentary is well worth watching.
Since the early hours of Friday morning, I have said many prayers of thanksgiving for Boris Johnson's overwhelming Conservative Party victory.
The new Conservative MP for Bishop Auckland, which has always voted Labour in living memory, spent the weekend giving thanks, too. God is good:
When I wake up now, this is one of my first thoughts:
This is another:
As is this. What a lovely scene of London, especially with the Christmas tree in the middle:
I am amazed at how the Conservatives were able to demolish the impenetrable 'red wall', as they called it, by winning in constituencies that had not voted Conservative ever or for a very long time. Their novice candidates beat long-standing Labour MPs.
This is incredible:
Ballots from St Ives were the last to arrive because of a storm:
This was the result (note the Father Christmas sweater):
Thursday's election result was truly historic, the best since Margaret Thatcher 40 years ago:
See how true blue the electoral map of England has become post-election (second tweet):
Guido Fawkes has more detail (emphases in the original):
The Tories lost seven seats to the SNP and one to Labour, but won enough new seats to make up for those and more, particularly in the Midlands, Wales, and the North. The one seat Labour managed to take off the Tories was typically metropolitan Putney…
Big names to lose their seats included:
Jo Swinson

Laura Pidcock

Dennis Skinner

Chris Williamson

Emma Dent Coad

Caroline Flint

David Gauke

Antoinette Sandbach

Dominic Grieve

Anna Soubry

Nigel Dodds

Zac Goldsmith
Luciana Berger, Chuka Umunna, and Sam Gyimah also failed to win new ones.
The Tories won so evenly across the country that Michael Gove was able to triumphantly declare in the Tories' victory event this morning that "Next year both the Durham Miners' Gala and the Notting Hill Carnival will take place in seats held by the Conservatives." The Tories won back Kensington which includes Notting Hill, and astonishingly Laura Pidcock was defeated in her seat of North West Durham…
Commiserations to Nigel Dodds and Zac Goldsmith. I will miss them. UPDATE (Dec. 17): Apparently, there could be plans to elevate Zac Goldsmith to the House of Lords, enabling him to keep his cabinet position.
Guido posted another list later that day, based on the BBC's research. This one concerns all the MPs who ran as independents, so some of the same names will appear. Explanatory notes in purple are mine:
Research by the BBC's Laurence Sleator has shown that all 18 MPs who defected in the last Parliament then stood again for this one failed in their endeavours to be re-elected to the House of Commons. Two even lost their deposits…
Liberal Democrat Losers
Angela Smith 

(ex-Labour)



Chuka Umunna 

(ex-Labour)



Phillip Lee 

(ex-Conservative)



Luciana Berger  

(ex-Labour)



Sarah Wollaston 

(ex-Conservative)



Antoinette Sandbach 

(ex-Conservative)



Sam Gyimah  

(ex-Conservative)



Independent Losers
Frank Field 

(ex-Labour; elderly, has served Birkenhead well over the years)



David Gauke 

(ex-Conservative)



Dominic Grieve 

(ex-Conservative)



Anne Milton

(ex-Conservative)



Chris Williamson (Lost deposit)

– ex-Labour



Ivan Lewis (Lost deposit)

– ex-Labour



Gavin Shuker 

(ex-Labour)



Roger Godsiff 

(ex-Labour)



Tigger Losers  (TIG — The Independent Group)

Anna Soubry 

(ex-Conservative)



Mike Gapes 

(ex-Labour)



Chris Leslie 

(ex-Labour)



Turns out voters don't take too kindly to party-hopping democracy dodgers when their time comes…
I'm sorry about Frank Field, but as far as the others in that list are concerned, good riddance. Many have commented online that this is evidence of 'draining the swamp'. True.
The ex-Conservative rebels, e.g. Dominic Grieve, David Gauke, Antoinette Sandbach and Anna Soubry, were so certain they would win. Ha!
The Press Association has a great recap of how the early hours of Friday morning unfolded. Note the SNP's Nicola Sturgeon making a fool out of herself when she found out that the then-Lib Dem leader Jo Swinson lost her Scottish constituency to the SNP. Shameful. Furthermore, the big-hitting Conservatives predicted to lose their seats WON. The media were WRONG:
Only Tom Harwood, 23, who works with Guido Fawkes, predicted a Conservative landslide. Guido posted a compilation of Harwood's appearances on the BBC's Newsnight where presenter Jo Coburn sneered dismissively, 'And we'll live happily ever after'. The media were wrong AGAIN.
Congratulations, Tom. Highly recommended viewing:
It was Tom's idea to use 'stonking' at Guido Fawkes in describing the Conservatives' majority. Now Boris is using the word, too, as did Sky News's Kay Burley and Labour's Ian Lavery:
Another point worth making is that we now have a record number of women MPs!
Before the election, media pundits said the rough and tumble of Parliament would be too much for them. The media were WRONG about this, too:
Here's another thing the media got WRONG: Boris Johnson was going to be turfed out of the last Parliament.
Let us look at Boris's Friday the 13th — an excellent day for him:
Late that morning, he went to Buckingham Palace, where the Queen invited him to form a new government:
Then he returned to 10 Downing Street:
Shortly after 3 p.m., he addressed the nation. This video is subtitled. The press await on the opposite side of the street:
This version from the Press Association (PA), also subtitled, is a bit longer:
Meanwhile:
WEDDING RING UPDATE (Dec. 21) — owner found, ring a family heirloom:
On Saturday, December 14, the PA reported that a grateful Boris was visiting some of the constituencies that had voted Conservative for the first time (emphases mine):
Boris Johnson will meet with newly-elected Conservative MPs as part of a celebratory victory lap after winning a "stonking mandate" at the General Election.
The Prime Minister secured an 80-seat majority and many of his gains came in Labour's heartland areas across the North and the Midlands.
Some areas, such as Bishop Auckland in the North East, had never elected a Tory MP before Thursday.
Mr Johnson, speaking outside Number 10, said he would "work round the clock" to repay the trust of those who "voted for us for the first time" – including those whose "pencils may have wavered over the ballot and who heard the voices of their parents and their grandparents whispering anxiously in their ears" …
Mr Johnson will make the first move to show newly-elected MPs that the concerns of their constituents will be heard with a visit on Saturday to some of those who overturned a Labour majority.
Later that day, the PA reported that Boris poled up in Sedgefield, Tony Blair's former constituency, which voted overwhelmingly Conservative:
Boris Johnson has vowed to repay the trust of former Labour supporters whose votes helped deliver him victory in the General Election.
The Prime Minister made a symbolic visit to Tony Blair's old Sedgefield constituency in County Durham – which fell to the Tories on Thursday night – to pledge his commitment to spreading opportunity across the country.
"We believe in giving opportunity to everyone," he told a crowd of cheering supporters and newly-elected MPs from the region packed into the local cricket club.
"We believe that talent is evenly distributed throughout our country, but opportunity is unfairly distributed.
"We are going to rectify that as a One Nation Conservative government, as a people's government, that is what we are going to do."
Sedgefield was one of a swathe of seats across the North, Midlands and north Wales in Labour's hitherto impregnable "red wall" to go blue as the Tories stormed to an 80-seat majority in the new House of Commons.
Sedgefield residents were over the moon:
We have a lot to look forward to once we 'get Brexit done', as Boris says, and begin trade negotiations. That said, I will not be buying chlorinated chicken, especially as free range British chicken is the real thing and so, so tasty. Let's hope our Conservative victory does augur a landslide victory for President Trump in 2020:
Today heralded a glorious return to Parliament!
Congratulations to Boris Johnson!
Congratulations to everyone in Britain who voted Conservative!
Congratulations to all Conservative MPs, especially the novices!
Onwards and upwards for what Conservatives are calling The People's Government!