You are currently browsing the tag archive for the 'coronavirus' tag.
Queen Elizabeth II had a full diary of engagements, even into her 90s.
Much of this post illustrates how busy she was in December 2019 and February 2020, when she was 93 years old.
First, however, let us go back to 2010, when she was still handing out honours at Buckingham Palace.
Awards ceremony 2010
That year, the Queen awarded a milkman from Melton Mowbray in Leicestershire with an MBE — Member of the British Empire — medal for going beyond the call of duty.
Tony Fowler not only delivered milk and checked in on vulnerable customers but also foiled crimes during his daily deliveries.
On June 10, 2010, The Mail reported:
During his 19 years delivering milk, he has helped officers catch a string of criminals by keeping a look-out for suspicious behaviour, foiling burglaries, drug deals and car thefts. He also befriends the frail and elderly and provides whatever help he can.
'It's very humbling to be here and I regard this MBE as something for all milkmen,' he said, adding: 'I've done everything from helping to save people's lives to getting the lid off a jar of pickles for one of my older customers.'
However, this was no ordinary medal presentation. Tony Fowler insisted on receiving it wearing a cow suit and notified the Palace of his intentions:
Buckingham Palace did have advance warning that Tony Fowler wanted to dress up for the event.
… aides had done their best to dissuade him – and no doubt the Queen assumed he would comply.
Instead, Mr Fowler, 51, merely toned down his outfit slightly.
He relented somewhat and had a customer sew white patches on his suit so that it had a Friesian motif. The article has rather amusing photos. Fowler was pleased as punch.
The Queen smiled, too, in presenting him with his MBE medal (emphases mine below):
Afterwards the milkman insisted that his outfit had gone down well with the monarch, who is a keen farmer.
'She was a bit disappointed it wasn't a Jersey (costume) because that's her own cows at Windsor,' he quipped.
December 2019
2019 was a tumultuous year for Boris Johnson, who became Prime Minister in July that year, having been elected the new Conservative Party leader upon Theresa May's resignation over the Brexit impasse in the House of Commons.
Like his predecessor, Boris did not receive any co-operation, either. As a result, he prorogued — adjourned — Parliament in September that year, a move that the Supreme Court ruled illegal. When Parliament reopened, a State Opening of Parliament had to take place. The Queen dutifully presented her Government's statement of upcoming legislation.
However, Boris still did not receive any further co-operation on Brexit, so he called a general election for Thursday, December 12. Parliament was prorogued once again, and MPs hit the hustings to campaign.
Boris was still PM during that time and attended the reception for NATO leaders at Buckingham Palace on December 3, which the Queen hosted:
The Mail carried a full report, along with photos of a resplendent Melania Trump in a yellow cape and magenta dress with matching high heels.
At one point, the Queen gave Princess Anne a look. It later emerged that the reception was running somewhat late, and the Princess was attempting to keep it to time:
On December 12, the Conservatives won a stonking majority of 80. As it was a new House of Commons, another State Opening of Parliament had to take place.
Once again, the Queen dutifully complied.
Once again, barricades went up around Westminster early the following week on December 18:
The next day, October 19, the State Opening of Parliament took place.
Interestingly, our apolitical Queen wore colours approximating those of the Brexit Party when giving her speech about the Government's upcoming legislation, much the same as before:
No doubt it was just a coincidence.
According to The Guardian's John Crace, attendance from the House of Lords, where the monarch gives the speech, was thin on the ground. Most of the upper house voted Remain in June 2016:
Everywhere you looked in the Lords there were vast expanses of empty seats. Two Queen's speeches in as many months is at least one too many. Especially when the first one was just a political stunt that was never intended to be implemented. This time the peers were voting with their feet. Just 10 Labour lords could be bothered to pull out the ermine and take up their places.
There were rather more Tories, but still not enough to prevent the upper chamber from becoming an echo chamber …
Even the Queen was staging her own dirty protest at having her time wasted. Hell, didn't the government know that the last Thursday before Christmas was the day she traditionally headed off for Sandringham? This time she had given most of her retainers the day off, had dispensed with the state coach in favour of the company Rolls and just pulled on the shabby green coat that had been hanging by the door. Her face never broke from a scowl throughout. She couldn't have made her feelings any more plain.
The last line of the speech is always the best, as the monarch asks for God's guidance upon MPs and the Lords:
That was the last time the Queen participated in the State Opening of Parliament. Prince Charles led the next one.
As scheduled, the next day — December 20 — saw the Queen depart London for Sandringham for the Christmas holidays.
She took a commuter train:
I wonder how many people noticed.
Someone in the know explained that this particular journey by train was customary for the Queen, who had her own compartment:
Sandringham had its own protocol for Christmas holidays. The Queen did not allow unmarried couples, even when engaged, to stay there. When Prince William and Katherine were engaged, the future Duchess of Cambridge had to spend the holidays with the Middletons.
With Prince Harry, that all changed.
On December 23, The Mail reported:
Princess Beatrice has been given permission by the Queen to bring her fiance to Sandringham this year – and they will even accompany her to church on Christmas Day.
In a sign of solidarity with the beleaguered York family, the monarch has extended a coveted invitation to her Norfolk estate to Beatrice's partner, 36-year-old property tycoon Edoardo 'Edo' Mapelli Mozzi.
The gesture is also a sign of how the 93-year-old royal is moving with the times. 
Not so long ago it would have been unthinkable for the sovereign, who is also head of the Church of England, to have unmarried couples staying under her roof.
But, in 2017, convention was relaxed to allow Prince Harry to bring his then-fiancee Meghan Markle to stay at the Queen's estate for the festive season.
It is understood the Queen, like many senior royals, has felt desperately sorry for Beatrice, 31, who announced her engagement in September after a short romance but has seen her happiness overshadowed by the ongoing fallout from her father's friendship with convicted paedophile Jeffrey Epstein and his disastrous interview on BBC2's Newsnight programme.
February 2020
Two events from February 2020 illustrate the wide-ranging type of events the Queen attended.
On February 19, she opened a new dental premises in London, something Meghan Markle probably would have sneered at.
The Mail reported:
The Queen looked in an upbeat mood as she arrived to open the new premises of the Royal National ENT and Eastman Dental Hospital today.
The monarch, 93, cut a vibrant figure in a purple hat embellished with two bobbles, and a matching wool coat. 
Making a perfectly polished appearance, the royal wore her beloved pearl earrings, a touch of red lipstick, and matched her black Launer bag with a pair of low heeled court shoes. 
The Queen's appearance came after an insider claimed the Queen and senior officials have 'agreed' it is no longer tenable for Prince Harry and Meghan Markle to keep the word 'royal' in their 'branding'.
But the royal appeared in high spirits as she arrived in London to open the new dental hospital. 
Disembarking from her chauffeur-driven Rolls Royce, the royal greeted onlookers before being accompanied into the building. 
On February 25, the Queen delivered a top-secret address to MI5 to congratulate them on their efforts in fighting terrorism:
Coronavirus-related addresses
The Mail's Dan Wootton summarised the Queen's Christmas 2020 address, which focused on coronavirus. She had pre-recorded it earlier in the year, as usual, but it was apposite as we were in another lockdown:
Two months later, on February 26, 2021, the Queen told medical officials via Zoom that she was perplexed as to why Britons did not want to get their coronavirus jabs:
That was the point where I began to go off her, although she was still the best monarch we will ever know.
Guido Fawkes gave us this soundbite, part of what she said in the call (emphasis his):
The Queen has spoken out in favour of the jab, describing those refusing the Covid vaccine of failing "to think about other people rather than themselves". Presumably being anti-vaccine is now treason…
Guido was not wrong. The popular MP, Andrew Bridgen, who represents North West Leicestershire, was expelled from the Conservative Party last week for badgering the Government on the dangers of the vaccine and requesting a debate on the upcoming WHO treaty for future epidemics, which, frankly, could be anything.
Christmas 2021
The Queen's final Christmas was marked by an intruder at Windsor Castle on Christmas Day.
Prince Philip had died in April that year, and she never recovered from the loss of her husband, her best friend and confidant.
The Times had the story of the young intruder, hapless and ignorant in his socio-political zealotry. No one wanted to bring about reconciliation more sincerely than the Queen:
The father of a teenager suspected of breaking into Windsor Castle with a crossbow after allegedly vowing to assassinate the Queen in revenge for the Amritsar massacre of 1919 has said: "Something's gone horribly wrong with our son."
Jasbir Chail, 58, said that his son, Jaswant, 19, needed help after being detained under the Mental Health Act accused of scaling the walls of the castle on Christmas Day.
A video posted on social media the morning of the alleged attempt showed a masked figure saying his name was Jaswant Singh Chail, announcing the plot and making Star Wars references.
"I will attempt to assassinate Elizabeth, Queen of the royal family," a distorted voice is heard to say, according to The Sun. "This is revenge for those who have died in the 1919 Jallianwala Bagh massacre" …

Jaswant Chail has undergone a mental health assessment and is in the care of doctors while the police investigate the circumstances of the break-in. He was the fifth person to have breached security at Windsor in the past nine months.
The suspect was seen using a rope ladder to scale a metal fence, according to newspaper reports. The breach happened as the Queen, 95, prepared to greet the Prince of Wales and Duchess of Cornwall for festivities.
The Queen missed the Christmas Day service at St George's Chapel but sources said that it was a health precaution because of the coronavirus. Charles, Camilla, the Earl and Countess of Wessex and their children Lady Louise Windsor, 18, and Viscount Severn, 14, went to the service regardless of the security scare.
The Queen's Christmas speech was a ratings winner. None of us watching could have imagined it would be her last:
More than nine million people watched the Queen's message on Christmas Day, more viewers than for any other programme. The Queen reflected on the impact of the pandemic and a year of personal grief, saying that there was "one familiar laugh missing" after the Duke of Edinburgh died at the age of 99 in April. The speech was shown by the BBC, ITV and Sky …
"Christmas can be hard for those who have lost loved ones," she said in her annual message. "This year, especially, I understand why. In the months since the death of my beloved Philip I have drawn great comfort from the warmth and affection of the many tributes to his life and work. His sense of service, intellectual curiosity and capacity to squeeze fun out of any situation were all irrepressible. That mischievous, inquiring twinkle was as bright at the end as when I first set eyes on him."
The couple are believed to have met in 1939 during a visit by George VI and Queen Elizabeth to the Royal Naval College at Dartmouth, where Philip was an 18-year-old cadet. Princess Elizabeth, 13, was smitten at first sight.
"But life, of course, consists of final partings as well as first meetings," the Queen added, "and, as much as I and my family miss him, I know he would want us to enjoy Christmas. We felt his presence as we, like millions around the world, readied ourselves for Christmas."
The broadcast opened with an excerpt of the Queen's speech in 1997 at Banqueting House, marking her golden wedding anniversary, where she described Philip as "my strength and stay all these years", and included footage of special moments during their marriage.
Interestingly, the broadcast had been pre-recorded just the week before Christmas. Usually, it was several weeks earlier:
Saturday's message, recorded last week, was delivered from the White Drawing Room at Windsor alongside a photograph of the couple marking their diamond wedding anniversary in 2007 at Broadlands, Hampshire, where they had spent their honeymoon in 1947. The Queen wore her sapphire chrysanthemum brooch, which she also wore to mark their diamond anniversary and for a photocall during their honeymoon.
It was a moving address. I missed only one of the Queen's Christmas addresses in the past few decades, and that is because we were out of the country.
More to follow tomorrow.
My post from Friday, April 28, 2023 discussed Queen Elizabeth II's family history and her way of handling politics and protocol.
That post mentioned her address to the nation about the coronavirus pandemic on Sunday evening, April 5, 2020.
Although London's streets were largely deserted because of the UK's national lockdown, the address appeared at Piccadilly Circus. At just 523 words, it was a remarkably effective balm for the nation:
I also mentioned that, a short while after the Queen's broadcast aired on television, Prime Minister Boris Johnson had to be taken to St Thomas' Hospital with coronavirus. He remained there the rest of that week, alarmingly close to death.
By the time the annual Falkland Islands' penguins march would have taken place on the Queen's birthday, April 21, Boris was recuperating at Chequers and his partner Carrie was about to give birth to their son Wilfred.
Unfortunately, the penguins march had to be called off that year, but this is a past video of what it looks like:
Political leaders
Because of the Queen's ultimate discretion, especially in politics, we do not know much of what she really thought of world leaders, but a few stories arose after her death in September 2022.
The Queen and her Prime Ministers
On Tuesday, April 7, 2020, the Queen sent a message to Boris's then-partner Carrie Symonds, later the third Mrs Johnson, with get well wishes for the then-Prime Minister:
Here is Sky News's coverage about the message. Note that the Royal correspondent is at home in her kitchen:
In 2022, after the Queen's death, a Royal historian commenting on GB News said that she had a particular fondness for Labour's Harold Wilson and that she thought that Tony Blair (also Labour) was just a bit too ambitious for her liking. Wilson always had an anecdote or observation that made her chuckle.
That was about the most information we could glean about the head of state who reigned over 16 PMs. They met weekly in person until the pandemic put an end to that, when a telephone call had to suffice.
In addition, every September, the Queen extended an invitation to her Prime Ministers and their wives to stay for a few days at Balmoral. This was true even for Boris's then-partner Carrie Symonds, as The Sun reported on August 18, 2019:
CARRIE Symonds is expected to meet the Queen at her Balmoral estate — where they will enjoy an informal barbecue.
Eco-campaigner Carrie will accompany her boyfriend PM Boris Johnson to the Scottish castle during the monarch's summer holiday.
The Queen traditionally invites Prime Ministers and their spouses to stay with her during early September.
And a source revealed Carrie was "expected to go" to Scotland next month, where she and Boris are also likely to have a formal dinner.
In previous years, PMs and their spouses have been invited to walk across the Royal Deeside estate and have even watched the Queen do the washing up.
French presidents
The morning after the Queen died in September 2022, France's talk radio channel RMC devoted two hours to discussing the British monarch and her 70-year reign.
The subject of French presidents arose. One of the expert panellists said that the Queen liked the socialist François Mitterand the best. She was sceptical of Charles de Gaulle and was relieved when Georges Pompidou entered the Elysée. The French president she really disliked was Jacques Chirac. Allegedly, she did not like his innuendos or the way he would sidle up to her. He got too physically close to her on more than one occasion, the expert said.
Nelson Mandela a firm favourite
It seems that South Africa's Nelson Mandela was the Queen's favourite leader, according to Royal historians appearing on GB News. The two apparently had a mutual arrangement whereby they rang each other up at any time of day or night.
Musical tastes
It has been said that the Queen enjoyed popular music more than a classical opus.
She was no doubt fond of Dame Vera Lynn's hit singles during the Second World War.
On July 28, 2016, the Queen gave the iconic singer, then 99 and still recording, another honour. The Telegraph reported:
Dame Vera Lynn, the Forces' sweetheart, has received her latest honour from the Queen in an investiture ceremony held at her village home.
The 99-year-old, whose songs brought hope during the darkest days of the Second World War, was made a Member of the Order of the Companions of Honour in the Queen's Birthday Honours list.
She could not make it to Buckingham Palace and received the accolade – for nearly eight decades of service to entertainment and charity – at an investiture ceremony at her home in Ditchling, near Brighton, on Wednesday.
Dame Vera, who turns 100 next March, said she was "truly delighted" to be made a Companion of Honour …
Led by Peter Field, the Lord Lieutenant of East Sussex, family friend Carola Godman Irvine, who is the county's deputy lord lieutenant, read the citation which saluted Dame Vera for being "the voice of hope" during the Second World War …
Her hits included We'll Meet Again, I'll Be Seeing You, Wishing and If Only I Had Wings. In 1941, she was handed her own regular radio programme, Sincerely Yours, giving her a peak-time evening audience …
In 2002, she founded cerebral palsy charity the Dame Vera Lynn Children's Charity, based in Billingshurst, West Sussex, which provides support and education for affected families.
She is involved with many other charities throughout the UK and beyond. She has received accolades throughout her life, including an OBE in 1969, a DBE in 1975, and in 1978 she was given the Freedom of the City of London.
In 2019, a tenor who performed for her said that the Queen enjoyed musicals. The Express reported:
US-based tenor Andrew McNeil made the revelations after he was asked to perform for Her Majesty at an intimate dinner. He was invited by the US ambassador Robert Johnson to sing and instantly asked Buckingham Palace for some hints as to what the Queen likes. The event was attended by around 20 people and in one of his songs Mr McNeil sang a duet with Kathryn Jenkins.
According to People Magazine, Mr McNeil said: "We reached out to the palace for her musical tastes, and her Lady in Waiting informed us she loves show tunes.
"Especially show tunes from 'Oklahoma'."
During the event Mr McNeil performed an array of tracks including 'Oh What a Beautiful Morning' and 'It Had to be You'.
However, I always wondered which group the Queen preferred: the Beatles or the Rolling Stones.
The November 2020 issue of the high society magazine Tatler might have the answer to that burning question.
An article about younger nobles pursuing careers in music, 'Heir bands' (p. 35), states (emphases mine):
Even the Queen has a good ear: 'I want to see the Rolling Stones,' she told Dirk Bogarde before Lord Christopher Thynne and Antonia Palmer's 1968 wedding, when the rockers played to a room of blue-blooded fans at the St James's Palace reception.
Television
Our first televisual monarch …
… was also known to relax at Balmoral watching some of the nation's favourite programmes.
On July 23, 2019, The Express revealed her personal preferences:
THE Queen makes an annual request for recordings of her favourite TV shows that await her when she ventures to Balmoral every summer.
Her private secretary sends a list of shows to the Special Services department at the BBC and they arrange for DVDs to be be made of their own shows and those from other stations. A senior courier was told by the Queen that ITV drama The Bill was her favourite while it was on air. An aide told The Sun: "The Queen likes them in the form of separate discs, although of course it would be easier to transfer them digitally.
"You might call that old-fashioned, but that's the way she prefers to do her viewing."
In 2010, when The Bill was cancelled after 2,425 episodes in 26 years, the monarch was said to be disappointed.
Despite enjoying the police drama, she is reported to have said she was not a fan of "those episodes where policemen get hurt".
Eastenders star Paul Nicholls claims he saw The Bill was a favourite: "I saw that list.
"Besides The Bill there was Keeping Up Appearances, Midsomer Murders, New Tricks, Last Of The Summer Wine and the complete Doctor Who."
The list of programmes is not the only tradition in place at Balmoral.
Queen Victoria started the tradition of having a bagpiper play under the monarch's window at 9am for 15 minutes every single morning.
Meanwhile, the current Queen began a tradition of inspecting the sandwiches given to guards according to another castle insider.
After her death, at least one Royal commentator said that the Queen's favourite programme was the London-based nightly serial, Eastenders.
Racing
The Queen probably knew the most about racing than anyone in Britain or Ireland.
She was one of the world's experts on bloodlines and breeding.
King Charles sold her race horses soon after her death.
So let's remember the glory days of the Queen at the races at Cheltenham Festival, which takes place in mid-March:
Fortunately, the Queen passed her love of horses on to Princess Anne and her daughter, Zara Phillips:
After Prince Philip's funeral in April 2021, the Queen wanted to be alone on her birthday, on the 21st of that month.
On April 19, The Mirror reported:
The Queen will mark her loneliest birthday – her first without husband Philip in seven decades – with video calls from family and a walk with her new puppies.
The monarch turns 95 on Wednesday, just four days after the Duke of Edinburgh's funeral, where the Queen was forced to sit alone and wear a face mask due to England's coronavirus lockdown rules.
She and the rest of the Royal Family will still be in an official two-week period of mourning for her late husband of 73 years, who died aged 99 on April 9.
The Queen is expected to have a video call with great-grandchildren Prince George, seven, Princess Charlotte, five, and Prince Louis, two – on Wednesday, and the royals have agreed a rota to visit her ahead of her birthday, sources told the Mirror.
She was seen going out for a drive alone in a green Jaguar on Sunday, and she reportedly stopped at one of her favourite spots for a quiet moment of reflection 24 hours after the service.
And it is expected that she will mark her birthday in a similar way as she continues to grieve Philip in private and prepares to resume royal engagements following the official mourning period.
The nation was moved by the heartbreaking image of the monarch sitting alone and wearing a face mask as she gazed at her late husband's coffin inside St George's Chapel at Windsor Castle on Saturday.
She will celebrate the first birthday of her reign without her husband just 12 days after the Duke of Edinburgh's death.
Another report from The Mirror said that the Queen was not in the mood to get involved with Harry and Meghan's melodrama:
The Queen isn't in the mood to host a family summit to address the feud with Prince Harry and Meghan Markle, a royal biographer claims.
Author Ingrid Seward said the monarch, who turns 95 this week, "hates confrontation" and her children have a tough time getting her to talk about "anything other than dogs or horses".
This week, she will mark the first birthday of her reign without her late husband Prince Philip.
His funeral was the first time Harry, 36, had met up with his family since his and wife Meghan Markle's explosive interview with Oprah Winfrey last month …
Ms Seward said any kind of family summit involving the Queen, at this stage at least, to address the Oprah interview and other issues at the heart of the rift would be unlikely.
She told the Times: "His (Harry's) grandmother will not be in the mood for it. She hates confrontation.
"The children have much difficulty getting the Queen to discuss anything other than dogs or horses.
"I remember Fergie telling me it took three weeks for them to try and get her to discuss their divorce. She kept saying 'Oh, I've got to take the dogs for a walk'."
The day before her birthday in 2021, the Queen lost a close friend from the racing world, Sir Michael Oswald.
On April 20, The Sun told us that he died on the day of Prince Philip's funeral:
Her Majesty's trusted racing adviser passed away from a long illness on April 17 aged 86.
Sir Michael looked after the Queen and Queen Mother's racing interests for almost 30 years.
He was regularly pictured next to the royal at racing events over the years.
Paying tribute, Sir Michael's wife Lady Angela, who was a lady-in-waiting to the Queen Mother, told Racing Post: "He always said he had the most wonderful job anybody could ever have had and that for all his working life he was simply doing what he would have done had he been a rich man who didn't have to work."
Sir Michael was born in Walton-on-Thames, Surrey, in 1934 and attended Eton and later King's College, Cambridge.
The racing enthusiast was then recruited as manager of the Royal Studs.
He worked for the Queen Mother from 1970 until 2002 before becoming Her Majesty's racing adviser after her death.
The expert was appointed Knight Grand Cross of the Royal Victorian Order (GCVO) in last year's New Year Honours list.
He fondly remembered his time working with the Queen and once gave an insight into her dry sense of humour.
Sir Michael had called aide Barry Mitford to let him know a horse the Queen owned called Harvest Song was running and it would be shown on TV in case the monarch wanted to watch it.
He said: "Barry got rather excited at this, asking will it win and should he have a flutter. I told him under no circumstances should he waste any money on it: that I had more chance of winning the 100m at the Olympics."
Incredibly, the 50-1 outsider won the race by five and a half lengths.
When Sir Michael later rang the Queen to ask if she'd watched the race, she replied: "Oh yes, and may I say that Barry is standing next to me. If I was you, I would find some dark glasses and a good disguise next time to come anywhere near this place."
Sir Michael's death is the second tragedy to hit the Queen after her beloved husband of 73 years passed away on April 9.
This is what happens as one ages, particularly into one's 90s. We see our friends go to their eternal rest.
More on the Queen will follow tomorrow.
Since the coronavirus pandemic abated, being able to attend church every Sunday is a joy to millions of Christians who were locked out of their churches during the second quarter of 2020.
Three years on, and the memory of not being able to observe Easter, the greatest feast of the Church year, in our houses of worship, still evokes sharp and sad memories, as can be seen in one of the The Conservative Woman's Easter 2023 posts, 'The Easter message of "Say no to lockdown"' and its many comments.
Here is but one exchange from the comments (emphases mine below).
The initial comment reads:
There can be no real healing in the church until the hierarchy admit closing their doors was an awful thing to do. A Light in the darkness? Not in March 2020 they weren't. They were a particularly bad darkness because they should have offered Christians solace but instead they were a part of the machine.
They must publicly repent, promise it will never happen again and that like Pastor Artur Pawlowski [in Canada] they will all go to prison sooner than obey such unjust laws.
Of course they will do no such thing, any more than the Cabinet ministers of the time will admit to being wrong, because God is not their real master.
The reply reads:
Worse than that, they kept those doors closed tight at Easter. That was the biggest sin. It wasnt just one denomination either, it was all the churches. That put all congregations into isolation. There was nowhere to meet as the strict house arrest policy of the time ensured it ( no one could meet up with another – remember that?). Together with the police arresting people for trying to buy Easter Eggs or lipstick or even just wearing a skirt to go for a walk. (Edit, only if you were a woman though).
The worst was, of course that Bozo Bojo didn't even order churches to close. They put themselves amongst the "Non-essential services". The fat controller had, at the time, excluded them.
When I look around, it seems to me that it was that which killed Christianity. The locking of people out of the House of God and the isolating of people so that "Church" in any guise (defined as where two or more gather together, in my name, there will I be also) could not operate.
Jesus may have risen but from 2020 onwards, the church was well and truly crucified and buried. They no longer even seem to hold true to the faith.
(I note that mo ques did not close. They carried on it seems. Quietly and no one said anything).
In late May 2020, the Church Times published a survey questionnaire to assess British Anglicans' views of locked churches. I wrote about it on June 8 that year.
In 2021, the results were posted online. On October 8 that year, Cambridge University Press published Ursula McKenna's 'Assessing the Church of England's Leadership Response to the Covid-19 Pandemic: Listening to the Voice of Rural Lay People' in the Journal of Anglican Studies.
Excerpts follow, beginning with this section from the abstract:
Of the 1460 rural lay people in England who took part in the Coronavirus, Church & You survey, 501 wrote further (sometimes detailed) comments on the back page (34 per cent participation rate). This study analyses the comments made by a subsection of these 501 rural lay people, specifically the 52 participants who voiced their views on how the Church of England's leadership responded during the first four months of the Covid-19 pandemic … Overall, rural lay people were disappointed with the response of church leadership to the first national lockdown. If these churchgoers are to be fruitfully reconnected with their churches after the pandemic, then leadership of the Church of England may need to hear and to take seriously their concerns.
The introduction gives us the directive from the Church of England the day after Boris Johnson imposed lockdown on Monday, March 23, 2020. However, as the comment above states, Boris did nothing about churches.
The Church of England did on Tuesday, March 24. This was part of the C of E's statement:
The archbishops and bishops of the Church of England have written collectively to clergy through their dioceses, urging them now to close all church buildings – other than when they are needed to keep a food bank running, but even then under strict limits. There will be no church weddings until further notice, funerals will not take place inside church buildings and the only baptisms will be emergency baptisms in a hospital or home.Footnote 2
The introduction continues:
Private prayer, including by priests, was no longer permitted in church buildings (churches were subsequently allowed to open for private prayer from 13 June 2020 and for congregational worship from 4 July 2020) …
A report published by the Centre for the Study of Christianity and Culture (CSCC), Churches, Covid-19 and Communities: Experiences, Needs and Supporting the Recovery, Footnote 6 lists a range of surveys and studies carried out by Christian organizations, other faith groups and non-faith organizations in just the first 12 months of the pandemic, all expressing a number of common concerns and difficulties.Footnote 7 Research carried out by CSCC,Footnote 8 which included surveys at three different points in time alongside qualitative interviewing, looked at three areas related to the closure of churches: the effects on the provision of social care, the exacerbation of the impact of Covid on individual and community well-being, and the impact of closure on the experience of grief and loss. Data from over 5500 respondents (mostly over the age of 60 and from rural villages or towns) who self-identified as 'church leaders', 'church members', and 'general public' provide evidence of responses reflecting 'deep frustration and anger about closure of churches',Footnote 9 with many church leaders and members expressing 'frustration at the limitations on their ability to serve communities'.Footnote 10
Another survey undertaken during the first national lockdown and from which the present study draws its data, the Coronavirus, Church & You survey, was designed to address a range of discrete but interrelated issues arising from the pandemic, from the national lockdown, and from the Church's national lock-up of churches. This survey has already been prolific in publishing its quantitative data …
Both the CSCC reportFootnote 22 and an earlier report by Nye and LobleyFootnote 23 draw attention to the perceptions of churchgoers in respect of national church leadership during the pandemic. The study by Nye and LobleyFootnote 24 draws on data from 288 Christians, the majority of whom were over 55 years of age, 57.5 per cent were Anglican and half resided in villages …
… older churchgoers aged 70 or over held a less positive attitude toward the national leadership. While 42 per cent of those under 60 considered that their denomination at the national level had responded well to the crisis, the proportion fell to 36 per cent of those aged 70 or over. While 43 per cent of the younger group considered that their denomination at the national level had done a good job of leading us in prayer, the proportion fell to 36 per cent in the older group.Footnote 28
The research aims section says:
It is against this background that the present study will draw on data collected as part of the Coronavirus, Church & You surveyFootnote 29 focusing on the views and experiences of lay people either living in rural areas or worshipping in rural churches, and exploring their perceptions of national church leadership during the first four months of the Covid-19 pandemic. While existing surveysFootnote 30 have highlighted national church leadership as an issue of concern, the current study will add detail to that concern by focusing more fully on identifying those aspects of national church leadership that rural lay people perceived to be most salient …
The Coronavirus, Church and You survey offered space for additional comments:
If you would like to write about your experiences in your own words, you can do so here, or include anything that we had not asked that you think we should have included.
The Cambridge assessment is based on those replies.
Most of those responses were negative:
Analysis of these data identified ten themes, including: lacking quality leadership, comparing with other Churches, becoming irrelevant, centralizing action, closing rural churches, neglecting rural people, neglecting rural clergy, marginalizing rural communities, using the kitchen table [in worship videos], and looking to the future.
Nearly everyone responding was over 50. I reckon that is because only older people bother to read carefully anymore, i.e. to discover there was more to the survey.
Excerpts follow:
I just think there should have been regular national encouragement and care from the Bishops of York and Canterbury. They appear to have been very quiet in the crisis rather than leading. (Male 50s)
Embarrassing lack of leadership from the Archbishops. Unsurprising, but embarrassing, nonetheless. (Female 50s)
Nationally the Church of England has seemed to be wholly absent at a time when the voice of the Church should have been transmitted loud and clear…. From my perspective there seems to have been a wholesale failure of leadership. The previous very high regard that I had for Archbishop Welby has evaporated. Where has he been? (Male 60s)
… The opportunity should have been taken to take space within national newspapers to proclaim the good news of Jesus Christ. That this has not been done is a disgrace. The C of E does not deserve to survive and probably won't. (Male 70s)
I feel quite angry that our archbishops, our diocesan bishop and local clergy have just meekly acquiesced to churches being closed … and aren't agitating to have them re-opened. (Female 70s)
Some respondents made comparisons with other denominations:
When making these comparisons, the visibility and response of the Roman Catholic Church, in particular, was frequently singled out as a contrast to the leadership actions of the Church of England which was viewed as timid and as showing a lack of courage or determination.
Responses follow:
The Roman Catholic Church seem to have done a better job and it is interesting that media seem to have mainly been interested in what the Roman Catholic Church, or humanists, have to say, rather than the Church of England, since it has closed churches and 'retreated'. (Male 50s)
The leadership provided at the top of the C of E during the pandemic has been pusillanimous. I am giving serious thought to joining our local URC [United Reformed Church, i.e. Methodists and Congregationalists]. (Male 70s)
Above all, the C of E had a golden opportunity to give prayerful leadership and was found lacking: the most inspirational, heartfelt and genuine words of spiritual comfort and belief have come from The Queen, not her churchmen. (Female 60s)
Some people said the C of E was becoming irrelevant as a result:
In the pandemic, the majority of the hierarchy of the C of E have yet again demonstrated their inability to understand the needs of humanity in pastoral as well as spiritual aspects. Closing churches … playing with online liturgies and generally avoiding most of the social and economic issues facing humankind (now highlighted by the pandemic). It is no surprise the C of E continues to decline/become irrelevant as it retreats to its ivory towers! (Male 60s)
The church, both nationally and locally, has become increasingly irrelevant during lockdown. It has failed to inspire, lead, nurture and care. Others, such as Captain Tom and Joe Wickes have captured the nation's hearts. The church has done nothing worthy of note apart from complain about lost income. (Male 50s)
Others were unhappy about the top-down approach:
Clergy and congregations should have been trusted to act sensibly, given their local circumstances, within the broad national guidelines, 'One size fits all' was neither necessary nor appropriate. (Male 70s)
As a church warden and regular churchgoer I did not feel that the church hierarchy gave us good spiritual support during the lockdown. Also, too many Bishops who don't appear to care for the grass roots of the Church. (Female 70s)
I am very disappointed with the leadership of the National Church, and I feel they have lacked courage, vision and faith in their incredibly slow reactions to the virus situation. At parish level we have done well, but no thanks to the diocese upwards! (Female 30s)
I have been deeply frustrated by the communications from central church (mostly nationally but also regionally) which have had a lot of 'can't do', often presented in an unhelpful way rather than allowing for each parish to make decisions based on their local practicalities and local needs. (Female 60s)
 There was a distinct impression that the C of E was more about social care than worship:
Disappointing church leaders didn't debate whether churches were an essential service, when bike shops, garages, hardware stores etc were regarded as 'essential'. (Male 70s)
I am outraged that the church authorities seem to have made no defence of the importance of worship. Popping to the shop for milk or a trip to the garden centre seem to have been deemed a higher priority than religious practice, and I have seen no evidence that the bishops disagree with that assessment. It has been disgraceful. (Male 30s)
Anglican Church overreacted by closing church buildings completely. This reinforced a sense that the church is now behaving as not much more than an extension of social care. (Male 60s)
Some pressed the need for individuals, even non-believers, to enter a church at a crucial time:
People in rural villages who are not churchgoers often perceive the parish church as 'their' church and may well not appreciate being locked out of it, particularly when they may feel a need for private devotion or prayer. (Male 70s)
I feel let down by the Church. Church leaders have at no time shown any interest in finding ways to open churches…. There is dismay within the non-church going community that the focal point of our village is closed at a time when it might have attracted more interest in communal worship. (Male 70s)
As churchwardens many of us could have supervised a couple of hours a day in our churches or more in some cases to allow people in, to light candles and pray while cathedrals are staffed and could have continued to open for individual prayer. To be allowed to go to off licences and supermarkets but not to church has been wrong. (Female 60s)
I am furious that the buildings have actually been locked. The shops are open so why did the C of E feel it necessary to lock churches? The Church has turned its back on the needs of those who mourn, the ill, and the dying at the very time when the Church was most needed. I have a terminal condition and am unable to go to the place where I find peace – I feel utterly abandoned. (Female 70s)
I feel so sad … and that the Church hierarchy seemed to step back from its flock, a missed opportunity to be a Presence in a time of great need. Feel let down. (Female 60s)
As an organist, I am particularly annoyed about the closure of our church buildings …. Early on in the lockdown, the Prime Minister said that you could travel to work if you absolutely cannot work from home, which, I believe, means that if I need to use the organ to practise a piece of music I am learning for a future event, I should be allowed to do so. However, the Church of England went one step further than the Government's advice and prohibited this possibility for me. I am also subsequently disappointed that, rather than appearing to lead the Church and wider community in spirituality and prayer through Holy Week and Easter, the Archbishop of Canterbury instead chose to spend time defending these actions at what is the most important season of the Church's year. (Male 30s)
The decision to ban priests from their own churches was simply wrong. It was understood as a firm directive and the Archbishop's attempt to finesse it later by saying that it was simply 'guidance' was unworthy. (Male 60s)
Some found Justin Welby's use of his kitchen table in an Easter worship video unsettling. I fully agree:
Why on earth did the Archbishop of Canterbury celebrate Easter in his kitchen, when there is a chapel in Lambeth Palace? Did he think he was being matey and 'down to earth'? No sense of spirituality. The Last Supper took place in an Upper Room, not Martha and Mary's kitchen! (Female 70s)
And as for the Easter service from Archbishop Welby's kitchen, I thought it trivialised one of the most important festivals in the church's calendar – why couldn't he alone have conducted that 'service' from a church? (Female 70s)
The Church of England has also not covered itself with any glory here either – hiding away in their kitchens trying to avoid any kind of blame as their major assets, their focal points around which their communities coalesce – the churches remain closed. Their priests barred from entering!!! (Male 60s)
Despite their scorn for the C of E leadership, respondents separated the C of E from their personal Christian faith:
My faith in Almighty God, our Creator, remains strong and firm, no thanks to the Church of England letting us down very badly, acting in an unnecessarily fearful and cautious manner – no trust in God that all will be well. In other words, when put to the test they failed. (Female 60s)
The assessment concludes:
Three conclusions emerge from these data analyses.
The first conclusion is that the rural lay people themselves took seriously the invitation and the opportunity offered by the back page of the quantitative survey. One third of the rural lay people (34 per cent) who participated in the survey took additional time to respond to the invitation …
The second conclusion is that the comments afforded rich additional insights into the theme of national church leadership among a sample of rural lay people. The themes identified by the analyses suggest that for this group of rural lay people these issues are important both for them personally and for the church. It is clear that these rural lay people were disappointed and frustrated with decisions taken at this time. In particular, they voiced concern about both the lack of any visible leadership, together with leadership that merely acquiesced to government policy as opposed to publicly challenging or asserting alternatives to that policy. The closure of churches was particularly hard to accept. This was seen as a managerial rather than a spiritual response …
… These data suggest that some churchgoers are becoming increasingly exasperated with the way in which they are being treated.
The third conclusion is that systematic attention given to the qualitative comments on the back page of quantitative surveys may be of proper benefit in shaping future research among churchgoers. The proper blend of qualitative and quantitative methods clearly enriches the science of congregation studies.
This was a useful study, particularly if, heaven forfend, this ever happens again. Will the C of E learn? I wonder.
Today's post concludes my long running series on The Telegraph's The Lockdown Files.
Those who missed it can read Part 1 of the conclusions.
All other posts in my series are on my Marxism/Communism page under The Lockdown Files.
MPs in the dark (cont'd)
In yesterday's post, I featured articles about several Conservative MPs who said that they had no idea the Government was suppressing evidence about coronavirus data and that what the WhatsApp messages revealed was shocking, considering Parliament was given so little time to debate pandemic policy measures.
Another MP in this category is David Davis.
On March 6, 2023, The Telegraph published 'Covid polling data used to shape decision-making still being kept secret, claims ex-minister' (emphases mine below):
The Government has been accused of failing to rapidly disclose Covid polling data that shaped decision-making during the pandemic.
In the wake of The Lockdown Files, David Davis, the former Cabinet minister, has called for the taxpayer-funded research – worth at least £1.5 million – to be made "easily accessible and comprehensible to the public" after ministers repeatedly refused his requests to publish the information in a near three-year transparency battle.
However, the Cabinet Office has insisted some of the data is already in the public domain …
Until April last year, ministers pushed back time and again against Mr Davis's requests for polling data to be put in the public domain on the grounds the information was still being used to shape policy, or would cost too much to publish.
Documents seen by The Telegraph show Mr Davis first submitted a Freedom of Information request in July 2020 seeking the cost and content of all polling conducted by the Cabinet Office, dating back to January that year …
After demanding an internal review and investigation by the Information Commissioner's Office, the former Cabinet minister turned to the parliamentary tools at his disposal – lodging a series of 20 written questions over 18 months.
In September, the government promised to release "evaluation reports" from a review of data held by the Cabinet Office – and wrote to the Public Administration and Constitutional Affairs Committee (PACAC) in December to say details from surveys by pollsters Kantar had been published online.
Oliver Dowden, the Chancellor of the Duchy of Lancaster, also said in his letter to William Wragg, the PACAC chairman, that further data tables from Ipsos were available "on request", while the National Institute for Health Research had published results from its own study.
But Mr Davis told the Commons on Monday he had not seen the data in question, while Mr Wragg said the notion the information had been made available to PACAC was "news to me".
The former Brexit secretary stressed that the details "must be made easily accessible and comprehensible to the public".
Asked for the whereabouts of the reports promised in September last year, the Cabinet Office pointed to the data referenced in the PACAC letter.
The following is an excerpt from David Davis's Point of Order raised on March 6, 2020:
… I kept pressing, and eventually, in April last year, I was told that a timetable for releasing the information would be available in the spring. That deadline came and went, so I tried again in September, when I was told that the data would be published by the end of the year. Now, three months into 2023, I have still not seen it. About an hour ago, a journalist was told by the Cabinet Office that it had been made available to the Public Administration and Constitutional Affairs Committee, whose Chairman, my hon. Friend the Member for Hazel Grove (Mr Wragg), is present; but I have not seen it.
Public money was used to obtain polling information relating to some of the biggest policy decisions in a generation. It must be made easily accessible and comprehensible to the public. May I seek your advice, Madam Deputy Speaker, on how the House can make the Government give it the data on the basis of which it appears to have created policy throughout the pandemic?
William Wragg intervened:
Further to that point of order, Madam Deputy Speaker. As my right hon. Friend prayed me in aid during his point of order, let me simply say that this is news to me, as Chair of the Public Administration and Constitutional Affairs Committee. I can certainly inform the House that the Committee has never received the data in any simple form, such as the questions that were asked and the answers that were received.
Deputy Speaker Rosie Winterton (Labour) responded, in part:
… if a Member has been told that information will be made available by a particular date, I would expect that commitment to be met. Knowing him as I do, I am sure that the right hon. Member will be assiduous in pursuing this matter, for example through parliamentary questions, and I hope he will receive helpful responses.
As for the point from the Chair of the Committee, I suspect that he may go back and request further information, but that is entirely up to him and his Committee.
Lockdown a big mistake, Sweden emerges best
Columnists from The Telegraph and elsewhere were deeply disappointed to see that Government officials ruined the British economy for political purposes and expedience.
Matt Hancock wanted to make himself look good. One of Boris's advisers said that England should side with Scotland on mask-wearing because having a conflict with Nicola Sturgeon would not be worth the trouble.
It's interesting to note that none of those three is in any leadership role in 2023. Boris's adviser resigned a long time before ago.
On March 4, The Telegraph's Allison Pearson posted 'Lockdown sceptics like me were demonised — but we were right':
… don't tell me thousands more would have died if we hadn't locked down because thousands more are dying because we had lockdown. Men and women in their thirties, forties and fifties with families; fit, younger people whom the virus could not harm, now presenting with incurable cancers. Will they be putting their names on the National Covid Memorial wall? They should.
Human beings have an astonishing capacity to forget, especially when something is embarrassing to look back on or when it makes us feel a bit stupid …
The biggest shock revealed by The Telegraph scoop is quite how often our leaders, who always claimed to be guided by "the science", were making decisions on the hoof.
Astonished, we read conversation after conversation where, it becomes clear, that decisions affecting the suffering of the elderly entombed in care homes, of children shut out of schools and playgrounds is filtered through the prism of something called "Comms".
So, when Boris Johnson asks his top team whether masks in schools are necessary, Chris Whitty, the Chief Medical Officer, replies: "No strong reason against in corridors etc, and no strong reason for. The downsides are in the classroom because of the potential to interfere with teaching."
But Lee Cain, the PM's director of Comms, is not happy. Scotland has just confirmed masks in schools so England is under pressure to follow suit lest Nicola Sturgeon gain the advantage. "Why do we want to have the fight on not having masks in certain school settings?" asks Cain …
The Lockdown Files reveal that Matt Hancock and other key players often had a callous disregard for everything except their own egos …
Children's wellbeing? Forget it. Hancock, we learn, launched a disgraceful "rearguard action" to close schools when Gavin Williamson, then-education secretary, was, to his credit, battling to keep them open … Keeping children out of education for another two months (until March 2021) turned out to be the real car crash …
Ironically, Downing Street had become a prisoner of the public's fear. That sense of dread which, as Laura Dodsworth points out in her definitive book, State of Fear, was itself created by government scientists "using a battery of weapons from distorted statistics, 'nudges' and misleading adverts on TV to control the public in order to make them comply with lockdown requirements". So people were convinced that Covid was a uniquely ruthless killer.
… The elderly were at risk of "just giving up" because they had been isolated for so long. Too bad. Hancock did nothing to alleviate the misery experienced by tens of thousands as they enacted a pitiful pantomime of intimacy through care-home windows and Perspex screens. (Visits to care homes and hospitals only returned to something like normality in July 2021 and, appallingly, many are still fortresses.) …
… as time went on, and the restrictions bit deeper, I began to shout at the TV during the Downing Street press briefings. Why did no one ask why having a "substantial meal" with alcohol in a pub protected you against Covid in a way that standing at the bar eating a bag of crisps did not? Robert Jenrick, the communities secretary at the time, explained that "a Cornish pasty on its own" would not constitute a substantial meal, "unless it came on a plate, to a table, with a side of chips or salad". This gave rise to one of the great dilemmas of the pandemic: The Scotch Egg Question. Food minister George Eustice said a scotch egg "probably would count" as a substantial meal, but a No 10 spokesman hastily over-ruled that deplorable, devil-may-care attitude, sternly insisting that "bar snacks do not count".
Grown men, our democratically elected representatives no less, actually said ludicrous things like that with a straight face. On the basis of no scientific evidence whatsoever. It was farcical.
The farce insulted our intelligence, but it was the cruelty I abhorred. Common sense and basic human decency had been overridden, leading to the isolation of the most vulnerable (the very people we were meant to be "saving"); so many lonely deaths, so many families damaged, so many self-harming teenagers. Every day, my Telegraph inbox filled up with devastating stories …
To speak out, however, was to be demonised as a "Covidiot" and worse. The Left of the Labour Party, still smarting from the recent defeat of Jeremy Corbyn, redirected all its fire-breathing zealotry into advancing the cause of "zero Covid", the better to undermine the hated Tories. I regularly found myself under attack, and trending (not in a good way) on Twitter. Once, it was for the heresy of suggesting that we should allow young people to get Covid and build up natural immunity which could then help protect their grandparents. Prior to the pandemic, that had been an uncontroversial precept of epidemiology. As Martin Kulldorff, former professor at Harvard Medical School and co-author of the Great Barrington Declaration, observed drily this week at a Covid hearing in the House of Representatives, "I guess we knew about it [natural immunity] since 430 B.C. – the Athenian plague – until 2020. And then we didn't know about it for three years, and now we know about it again."
I was naïve enough to be shocked when I discovered that a Conservative MP, Neil O'Brien, had set up (at the behest, it was alleged, of certain ministers) a McCarthyite website to monitor the work of journalists like me who took a sceptical attitude to lockdown. How could that be happening in a free society? While I undoubtedly got certain things wrong, especially in the early days, I was repulsed by the way that Matt Hancock assumed the moral high ground, bulldozing over any criticism of his own highly questionable decisions. Intoxicated by his new totalitarian powers. Mr Hancock, I felt, was getting away with murder …
The Covid Inquiry, which began this week [albeit not publicly], with a dismaying lack of lockdown sceptics among its "core participants" had better buck up its ideas, or else. (At first, the inquiry wasn't even going to consider the damage done to children, if you can believe it.
Anne Longworth, the Children's Commissioner, has not been included and there is still not a single witness from the hospitality sector.) If the Establishment was hoping for a whitewash, the Lockdown Files will make that very hard indeed …
The Lockdown Files are not a betrayal. They are a declaration of loyalty to the public which has the right to know.
May we never forget the stick that Isabel Oakeshott got for The Lockdown Files:
On March 18, The Telegraph published Daniel Hannan's 'The evidence is in. Lockdowns kill people — and the more you lock down, the more you kill':
… Britain was driven into abandoning its proportionate, cool-headed epidemic plan, not just by shrieking TV presenters, but by perverse incentives. Put simply, decision-makers knew that they would not get into trouble for excessive caution. They could blow away billions, bankrupt businesses, ruin children's education, and none of it would be a resigning matter. But make the slightest mistake the other way, and they would be done for.
Easy to say in hindsight? Maybe. But those of us who said it at the time were roundly denounced as granny murderers. In February 2020, I recalled the ridiculous forecasts that had accompanied bird flu and swine flu, and cautioned against panic: "Politicians, like most people, are bad at calculating risk, and almost every minister would rather be accused of over-reacting to a threat than of having done too little. There is a similar bias, albeit a less pronounced one, among the various medical advisory bodies".
Every time I criticised the lockdown – and this column was one of only three or four doing so in March 2020 – I would steel myself before pressing send. I knew that demanding a reopening was hugely unpopular. What if it also turned out to be wrong?
Yet the facts remained stubbornly at odds with the policies. As the disease spread from China, Chris Whitty pointed out that it was not dangerous enough to merit an acceleration of the vaccine approval process (no one, at this stage, was contemplating a UK lockdown).
"For a disease with a low (for the sake of argument 1 per cent) mortality a vaccine has to be very safe so the safety studies can't be shortcut," he messaged on February 29 2020. Reader, the mortality rate for Covid in this country never rose as high as 1 per cent.
Why, then, were we panicked? What happened to the original epidemic plan, which was to allow infections to seep gradually through the population so that hospitals would not be overwhelmed at any one moment?
The answer can be glimpsed in a message on March 8 from James Slack, Boris Johnson's calm and measured spokesman: "I think we're heading towards general pressure over why our measures are relatively light touch compared to other countries."
Too bloody right. And the pressure – cretinous rants from Piers Morgan, false rumours of hospitals being overrun, "Go Home Covidiots" signs – grew until, two weeks later, a prime minister who hated nannying with every bone in his body felt obliged to sentence the population to house arrest.
Could he have resisted that pressure? Other countries had already closed, 92 per cent of the electorate wanted to be confined and the scientific advisers, sniffing the wind, had switched to arguing for tougher measures.
But one country held out. Sweden, lacking its own pandemic plan, had adopted Britain's – and, unlike Britain, it did not crack under criticism. Sweden is our counterfactual, a laboratory quality control showing what would have happened here had we held our nerve. And the evidence it presents looks damning. A study has found that, from 2020 to 2022, Sweden had the lowest excess mortality rate in Europe.
That finding blows the case for lockdowns out of the water. In the early days of the pandemic, when the Government was being criticised for what looked like a high death rate (largely because it had sent NHS patients into care homes), ministers and medical advisers urged us to wait until all the evidence was in …
Judged by this metric, Britain did not do badly. Our overall excess death rate was behind Scandinavia, in line with Germany and the Netherlands, and ahead of most of southern and eastern Europe. But the real outlier was Sweden, which had the lowest excess mortality in Europe, and one of the lowest in the world, throughout 2020 and 2021.
During the pandemic, I assumed that Sweden would emerge with a slightly higher death rate, but a much stronger economy. Since poverty correlates with lower longevity, I expected that, over time, Sweden would see fewer deaths from other causes, so ending up healthier as well as wealthier. But I underestimated the lethal impact of the lockdowns themselves. Sweden did not just do better over time; it actually killed fewer people during the pandemic.
How did Britain's leaders respond to the evidence that they should have stuck to Plan A? They took it as a personal affront. Hancock referred in his messages to the "f***ing Sweden argument", and asked officials to "supply three or four bullet [points] of why Sweden is wrong".
But Sweden was not wrong, and no amount of desperate deflection about Norway also having a low death rate can disguise it. The horrible truth is that lockdowns killed people. Sweden had lots of coronavirus cases but relatively few excess deaths. Australia had few coronavirus cases, but a strict lockdown. It ended up with higher excess mortality than Sweden.
Are people ready to believe it? Are we prepared to admit that the disasters we are still experiencing – undiagnosed diseases, absenteeism, debt, lost education, price rises, mental health problems – were self-inflicted?
It seems not. We will go into the next crisis with the same skewed incentives. And all because, like so many Hancocks, we don't want to "imply we've been getting it wrong".
On March 22, The Telegraph published Madeline Grant's 'Nobody wants to confront the truth about lockdown':
… Even now, pro-lockdowners ignore the example of Sweden because its experience of Covid doesn't fit their mantra – "we had no choice". Justifications (but not opinions) have shifted with the evidence. When Sweden appeared to be doing badly, it was "because it failed to lock down". Now the data have moved in Sweden's favour, it's because "Sweden had an unofficial lockdown all along" [false]. The Telegraph's Lockdown Files exposed the self-fulfilling logic behind many decisions. Coercion became its own justification, as when Matt Hancock feared cutting isolation times would dilute the message and "imply we've been wrong". Whether you agree with lockdown or not, this is an appalling way to govern.
… Public readiness to allow so many basic functions of life – worship, exercise, social interaction – to be dismissed as "non-essential" suggests an inability to bear ordinary risks once inseparable from existence; expectations of a level of "security" unthinkable to previous generations. Even if we never lock down in precisely the same way again, a Rubicon has still been crossed.
So we didn't finish stronger or more united, we simply ended up with the cold truth that, for many of us, things we claim to value – freedom, the next generation, prosperity, mental wellbeing didn't really matter that much – at least not enough to fight for. When that becomes clear, there is little left for a society to coalesce around. All that remains are the fragments of those past illusions.
… Vital questions risk being lost along the way; about whether those laws were ever justified, and the incalculable damage they caused.
On March 23, UnHerd's Freddie Sayers, who is half-Swedish, asked 'Why doesn't Britain regret lockdown?'
He says:
… To the majority of people who believe lockdowns were right and necessary, the Covid era was no doubt distressing, but it need not have been cause to re-order their perception of the world. Faced with a new and frightening disease, difficult decisions were taken by the people in charge but we came together and got through it; mistakes were made, but overall we did what we needed to do.
For the dissenting minority, the past three years have been very different. We have had to grapple with the possibility that, through panic and philosophical confusion, our governing class contrived to make a bad situation much worse. Imagine living with the sense that the manifold evils of the lockdowns that we all now know — ripping up centuries-old traditions of freedom, interrupting a generation's education, hastening the decline into decrepitude for millions of older people, destroying businesses and our health service, dividing families, saddling our economies with debt, fostering fear and alienation, attacking all the best things in life — needn't have happened for anything like so long, if at all?
To those who place emphasis on good quality evidence, it has been particularly exasperating. In the early days of 2020, we had only intuitions — there was no real data as to whether lockdowns worked, as they had never been tried in this way. As millions tuned in to our in-depth interviews on UnHerdTV with leading scientists, we made sure to hear arguments in favour of lockdowns as well as against …
In the past year, however, we have for the first time been able to look at the Covid data in the round. Many of the countries which appeared to be doing "well" in terms of low levels of infections and deaths caught up in the second year — Norway ended up much closer to Sweden, while countries such as Hungary, which were initially praised for strong early lockdowns, have ended up with some of the worst death tolls in the world. Due to the peculiarly competitive nature of the lockdowns, the results were neatly tracked, allowing clear comparison between countries and regions. While we spent the first year arguing about deaths "with" Covid as opposed to deaths "from" Covid, all sides in this discussion have now settled on overall "excess deaths" as the fairest measure of success or failure: in other words, overall, how many more people died in a particular place than you would normally expect?
My view on these results is quite simple: in order to justify a policy as monumental as shutting down all of society for the first time in history, the de minimis outcome must be a certainty that fewer people died because of it. Lockdown was not one "lever" among many: it was the nuclear option. The onus must be on those who promoted lockdowns to produce a table showing a clear correlation between the places that enacted mandatory shutdowns and their overall outcome in terms of excess deaths. But there is no such table; there is no positive correlation. Three years after, there is no non-theoretical evidence that lockdowns were necessary to save lives. This is not an ambiguous outcome; it is what failure looks like.
If anything, the correlation now looks like it goes the other way. The refusal of Sweden to bring in a lockdown, and the neighbouring Scandinavian countries' shorter and less interventionist lockdowns and swifter return to normality, provide a powerful control to the international experiment. Three years on, these countries are at the bottom of the European excess deaths league table, and depending on which method you choose, Sweden is either at or very near the very bottom of the list. So the countries that interfered the least with the delicately balanced ecosystem of their societies caused the least damage; and the only European country to eschew mandatory lockdowns altogether ended up with the smallest increase in loss of life. It's a fatal datapoint for the argument that lockdowns were the only option.
So why, three years on, do most people not share this conclusion? Partly because most people haven't seen the evidence. Nor will they. The media and political establishment were so encouraging of lockdowns at the time that their only critique was that they weren't hard enough. They are hardly going to acknowledge such a grave mistake now. Nor do I expect the inquiry to ask the right questions: obfuscation and distraction will continue and mea culpas will never arrive.
But it can't all be put down to the media. Over that strange period, we were reminded of something important about human nature: when frightened, people will choose security over freedom. Endless opinion polls confirmed it, and politicians acted upon it. Tellingly, those constituencies most in favour of lockdowns in our polling are leafy and affluent — New Forest West, Bexhill, Henley, The Cotswolds. Perhaps some people even enjoyed it.
Meanwhile, the dissenting minority is not going anywhere. This new class of citizen is now a feature of every Western society: deeply distrustful of authority, sceptical of the "narrative", hungry for alternative explanations, inured to being demonised and laughed at. The dissident class skews young (it includes 39% of 25-34 year olds) and clusters around poorer inner-city neighbourhoods; it heads to alternative media channels for information. Its number was greatly increased over the lockdown era as those people lost faith in the way the world is run. They will continue to make their presence felt in the years to come.
As for me, the past three years have changed how I view the world. I feel no anger, simply a wariness: an increased sense of how fragile our liberal way of life is, how precarious its institutions and principles, and how good people, including those I greatly admire, are capable of astonishing misjudgements given the right atmosphere of fear and moral panic. In particular those years revealed the dark side of supposedly enlightened secular rationalism — how, if freed from its moorings, it can tend towards a crudely mechanistic world in which inhuman decisions are justified to achieve dubious measurable targets.
I hope there is no "next time", and that the political class will never again think nationwide lockdowns are a proper policy option in a liberal democracy. But if they do, I suspect the opposition, while still perhaps a minority, will be better organised.
On March 9, The Telegraph's Fraser Nelson, who also edits The Spectator, had more on Sweden's success in 'Britain may well repeat its lockdown blunders sooner than anyone thinks':
… The winner, with the smallest rise in "excess" deaths since the pandemic began, is Sweden.
For those who had accused the lockdown-rejecting Swedes of pursuing a "let it rip" policy that left people to die, this is all rather baffling …
Sweden had the unflappable Anders Tegnell as chief epidemiologist, who went all-out to argue against what he saw as populism: lockdowns that were not backed by science and could cause more harm than good. He never stopped arguing, giving television interviews while waiting on train platforms and publishing study after study. He won people over. Sweden ended up with middling Covid but among Europe's least economic damage and lowest increase in deaths. In an interview last week, Tegnell offered advice for his successor: "Have ice in your stomach."
… The science on Covid still isn't clear. On masks, on social distancing, even school closures – it's hard to say what difference they make to the spread of a virus. The UK hasn't commissioned a single high-quality study into what works and what doesn't. Even the excess deaths count is complicated – but Sweden is at or near the bottom, whichever way you cut it. But even now, no one seems very interested in the actual science, or learning lessons any time soon.
It's now 20 years since the boring old coronavirus mutated into a killer in the Sars epidemic. Asian countries updated their pandemic emergency plans – but Britain didn't, sticking with its flu-based approach. Are we seeing the same complacency yet again? We have now seen, in the Lockdown Files, much of what went wrong. We have also seen, in Sweden, what can go right. We will now see whether Rishi Sunak can put the two together.
The following day, The Telegraph reposted Nelson's February 23, 2022 article, 'Was Sweden right about Covid all along?'
It explains more about the psyche of the Swedes as a people:
To understand Sweden, you need to understand a word that's hard to explain, let alone translate: lagom. It means, in effect, "perfect-simple": not too much, not too little. People who are lagom don't stand out or make a fuss: they blend right in – and this is seen as a virtue.
Essays are written about why lagom sums up a certain Swedish mindset – that it's bad to stand out, to consider yourself better or be an outlier. That's why it's so strange that, during the lockdowns, Sweden became the world's defiant outlier.
Swedes saw it the other way around. They were keeping calm and carrying on: lockdown was an extreme, draconian, untested experiment. Lock up everyone, keep children out of school, suspend civil liberties, send police after people walking their dogs – and call this "caution"? Anders Tegnell, Sweden's state epidemiologist, never spoke about a Swedish "experiment". He said all along he could not recommend a public health intervention that had never been proven.
Tegnell also made another point: that he didn't claim to be right. It would take years, he'd argue, to see who had jumped the right way. His calculation was that, on a whole-society basis, the collateral damage of lockdowns would outweigh what good they do. But you'd only know if this was so after a few years. You'd have to look at cancer diagnosis, hospital waiting lists, educational damage and, yes, count the Covid dead.
The problem with lockdowns is that no one looks at whole-society pictures. Professor Neil Ferguson's team from Imperial College London admitted this, once, as a breezy aside. "We do not consider the wider social and economic costs of suppression," they wrote in a supposed assessment of lockdown, "which will be high." But just how high? And were they a price worth paying? …
… its people were incredibly cautious. But unlike Brits, they had a government that trusted them.
There were some Swedish diktats: a "rule of eight" was set up for a while. Bars, restaurants and cafes were all socially distanced and, at one point, had to close by 8.30pm. For a few weeks, Swedes even had vaccine passports. But that was about it: the rest was guidance, and it was followed.
What no statistic can convey is just how careful Swedes were; something that struck me whenever I'd visit. It was perfectly legal to meet up in bars and for a fika in a coffee shop, but most didn't. A friend of mine had a rule that she'd only ever meet friends outside – even in the Stockholm winter (she did this so much that she got frostbite). In summer last year, studies showed Swedes working from home more than in any other European country.
This kept Covid low, while the lack of rules allowed for people to use their judgement while minimising economic and social damage. Sweden's GDP fell by 2.9 per cent in 2020, while Britain's collapsed by 9.4 per cent.
The cost of the various Covid measures is best summed up by the debt mountain: an extra £8,400 per head in Britain, and £3,000 in Sweden.
Swedish schools kept going throughout, with no face masks. Sixth-formers and undergraduates switched to home learning, but the rest of Swedish children went to school as normal. That's not to say there weren't absences as the virus spread: it was common to see a third, at times even half of the class absent due to sniffles or suspected Covid. But there were no full-scale closures and, aside from some suspicions about minor grade inflation (the average maths grade sneaked up to 10.1, from 9.3), there is no talk in Sweden about educational devastation …
Pimlico Plumbers' Charlie Mullins recants on the vaccine
Charlie Mullins was, until recently, the owner of London's Pimlico Plumbers, the capital's best known plumbing outfit. He has since sold the company.
He still owned it during the pandemic and insisted that all of his many employees have the vaccine. In fact, he went so far as to say that no one — no one — should be walking around in public unless they had the vaccine.
On March 7, Mullins changed his tune after having read The Lockdown Files. He appeared on GB News that day to say that the British people were 'misled and lied to'. The second video has the content of what he said when he was pro-vaccine:
Better late than never. I wonder how many of his plumbers lost their jobs because they refused the jab.
He's the sort who probably would have agreed with the jailing of the Scarborough woman for coughing in February 2021: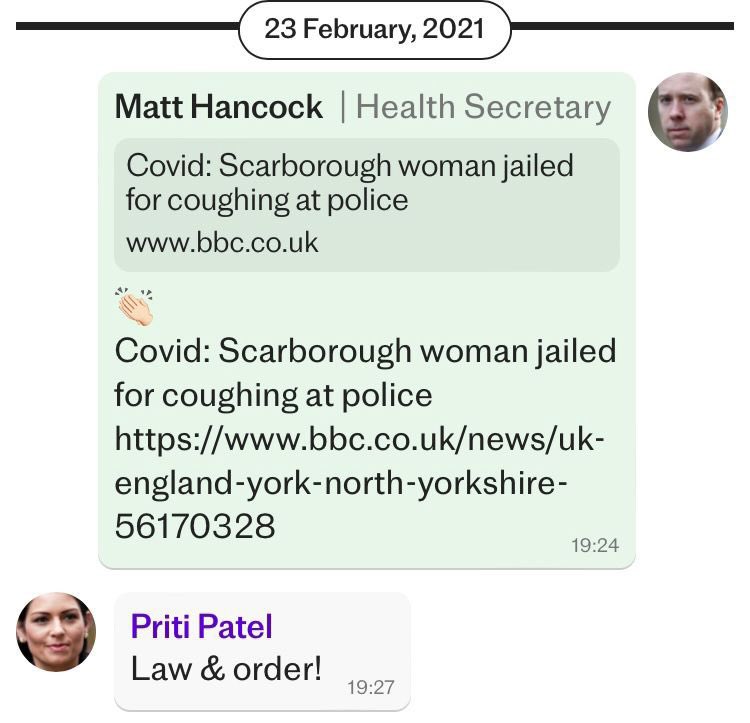 Shameful.
Don't mention China; meanwhile, Joe Biden and FBI are on the case of suspected virus origin
From the beginning of the pandemic, Matt Hancock, to his credit, was suspicious of the origins of the virus. He wanted to include that in his December 2022 book, Pandemic Diaries, but Downing Street refused.
On March 8, The Telegraph published 'Matt Hancock Covid memoirs censored over Wuhan lab leak comments':
Matt Hancock was censored by the Cabinet Office over his concerns that the Covid-19 pandemic began with a lab leak in Wuhan, the Lockdown Files reveals.
The former health secretary was told to tone down claims in his book because the Government feared it would "cause problems" with China.
Mr Hancock wanted to say that the Chinese explanation – that the virus being discovered close to a government science lab in Wuhan was coincidental – "just doesn't fly".
But, in correspondence from late last year and leaked to the Telegraph, the Cabinet Office told him that the Government's position was that the original outbreak's location was "entirely coincidental" .
It is the first time that the British position has been categorically stated. Mr Hancock was warned that to differ from this narrative, which resembles China's version of events, risked "damaging national security".
In his book, Pandemic Diaries, Mr Hancock also wanted to write that "Global fear of the Chinese must not get in the way of a full investigation into what happened" but this too was watered down …
The changes to the book were made by the Cabinet Office when Mr Hancock submitted his manuscript for review – a process all former ministers are expected to follow – last year. Once alterations were made, the book was signed off for publication by Simon Case, the Cabinet Secretary, on November 4 2022.
That same day, Hancock's co-author Isabel Oakeshott, to whom he gave his WhatsApp messages that form the basis of The Lockdown Files, noted that the FBI has since gone public with its suspicions in 'Upsetting China is the Government's biggest taboo, as I found out the hard way':
Sunak recently used his first foreign policy speech to declare that the "golden era" of relations between our two countries is over. Unfortunately, the panjandrums in the Foreign Office have yet to catch up, as the Cabinet Office's painstaking attempts to water down Matt Hancock's book about the pandemic expose.
Did Covid-19 originate in a Wuhan lab, a global centre for the study and storage of exactly the type of coronaviruses that led to the outbreak? The FBI is certainly warming to the theory. Just last week, the US intelligence agency said that was the most likely cause of the outbreak.
Choosing his words carefully, FBI director Christopher Wray declared that a "potential lab incident" was "most likely" to blame. Other intelligence agencies also struggle to believe that the proximity of the first known case to the world's leading coronavirus research laboratory – a place where samples are deliberately altered to make them more deadly to humans – is just happenstance.
As for Downing St? They won't go there. During tortuous negotiations between Hancock and the Cabinet Office over what he could and could not say in his Pandemic Diaries, officials let slip something quite extraordinary: that they believe the proximity of the Wuhan lab to the first recorded Covid outbreak is "entirely coincidental." They seem terrified of anyone saying otherwise.
On March 20, The Guardian reported that Biden ordered the release of intelligence relating to potential links between the virus and the Wuhan lab: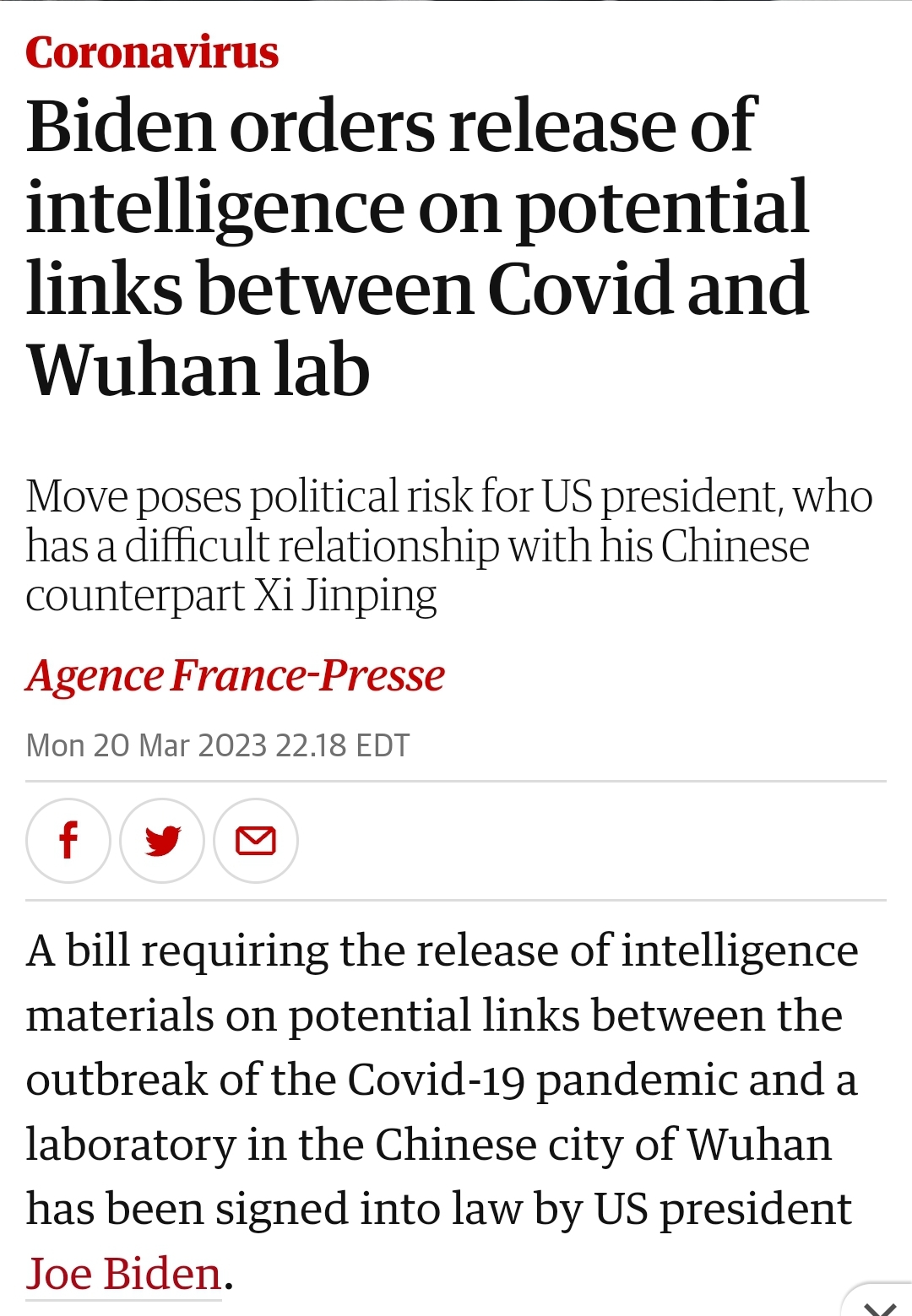 It was discussed on March 21 on GB News:
Conservative MPs have been eager to discuss this in more depth; The Telegraph covered their concerns two weeks before Biden ordered the American intelligence release.
Let us hope that Rishi is not reticent. His father-in-law has an important Infosys office in China.
Conclusion
The Telegraph did the UK a huge favour in publishing The Lockdown Files.
They confirmed all my suspicions in their marvellous 'read it and weep' articles.
Sadly, even friends of mine have criticised Isabel Oakeshott — 'that girl' — and say that everything will be properly dealt with during the inquiry. As if!
Then again, they were proponents of lockdown. And, yes, they live in a leafy place in the Home Counties with a huge garden where they plant their own vegetable supply. They didn't suffer one bit.
When will some people ever learn?
End of series
My lengthy look at The Telegraph's March 2023 series The Lockdown Files concludes today and tomorrow.
My most recent post examined the decline in the communications of British government officials and advisers: from professionalism to infighting.
What can we learn from The Lockdown Files? Several things.
Who else would have published the WhatsApps?
Just days after the first instalment of The Lockdown Files, MPs from the Digital, Culture, Media and Sport Sub-committee on Online Harms and Disinformation interviewed News UK chief operating officer David Dinsmore, Guardian head of news Nick Hopkins, Daily Mirror editor in chief Alison Phillips and DMG Media editor emeritus Peter Wright.
Press Gazette has a good recap of the session, available to view on Parliamentlive.tv.
Had The Telegraph not published the WhatsApps and their context, would any other newspaper have stuck its head above the parapet?
It seems unlikely there would have been such an in-depth examination elsewhere (emphases mine below):
Bosses at Sun and Times publisher News UK, Mail publisher DMG Media, the Mirror and The Guardian have indicated they would have published, or seriously considered publishing, Matt Hancock's Whatsapp messages …
Asked by Labour MP Kevin Brennan whether he would have published Hancock's messages, News UK [Murdoch's media empire] chief operating officer David Dinsmore initially said: "You'd need to ask the editors" …
Asked the same question Nick Hopkins, head of news at The Guardian, told the Digital, Culture, Media and Sport Sub-committee on Online Harms and Disinformation: "I think we would have considered it.
"We'd have looked at the material on its merits. I think we would have probably, if we were going to publish it, done it in a slightly different way."
Daily Mirror editor Alison Phillips, gave a more decisive answer, saying: "I mean, The Telegraph and Isabel Oakeshott do have an anti-lockdown agenda. We didn't – we were on the side of caution in terms of lockdowns.
"However, I do think those Whatsapp messages are in the public interest, and we would have used them."
DMG Media editor emeritus Peter Wright agreed: "I agree with Alison, I think they were very much in the public interest. We don't really know the exact nature of this nondisclosure agreement [binding Oakeshott], which you would have wanted to see.
"But I'm afraid it gives a unique insight into the way government works and how the government handled the pandemic.
"I wouldn't like to be in the position of having turned it away."
Wright did say however that he had some "qualms" about how the story was handled by The Telegraph.
How Government works
As DMG Media editor emeritus Peter Wright said above, The Lockdown Files showed us how the Government works.
On March 6, The Telegraph's Sherelle Jacobs had an excellent article on the subject, 'Like Watergate, The Lockdown Files show how the state really operates. It's chilling':
… perhaps the strongest parallel with Watergate is that our political class has lost its moral credibility. Regardless of one's take on whether No 10 went too far or not far enough in tackling Covid, surely everyone can agree that the state's operations seem suffused with humdrum nihilism. It is there in the amused crusades to "scare the pants" off people. It is in the deadpan mocking of holidaymakers locked up in quarantine ("hilarious"). It is in the remorseless dedication to "the narrative". And it is there in the constant references to public "compliance" as if the public were not self-possessing individuals, or even vulnerable citizens, but rather slaves to a bureaucratic machine.
To be fair, there is a whopping difference between Watergate and The Lockdown Files. The fact is that no crime was committed when the country locked down three times with a reckless disregard for the consequences. Ironically, the only breach of law occurred when members of the ruling class broke their own wretched Covid rules. Nor is there any whiff of a cover-up, save for the row over parties at No 10.
But that difference makes The Lockdown Files all the more disturbing. All excesses of state power that occurred during the pandemic were permitted within the realms of the Western political system; the sovereign may at any time suspend the rule of law for what it deems the greater good. The pandemic merely exposed the workings in extremis of liberal democracy.
The Lockdown Files reveal something even more chilling: namely how the people and the state are in lockstep, as we inch towards a new kind of authoritarianism …
But The Lockdown Files also show how zealously the state threw themselves into implementing draconian measures, once it had decided at HQ that lockdowns were the correct populist call. We have come to learn how Hancock conspired to "sit on" scientists, who he denounced as "wacky" or "loudmouth" for defying the official lines. We must digest the knowledge that civil servants insisted the "fear/guilt factor" was "vital" in "ramping up the messaging" during the dubious third lockdown. Just as unedifying is the revelation that, in the run up to this lockdown, politicians seized on a new variant as a tool to "roll the pitch with". Perhaps most galling is Patrick Vallance's advice that the Government should "suck up the media's miserable interpretation of scientific data" to then "overdeliver" in an atmosphere of cranked up fear.
The question is, how did we get into such a mess? My own view is that the rot at the top is reflective of moral angst below. Modern society is simply unable to grapple with the question of how to balance two things – bare life and quality of life. In that ethical vacuum, politicians can only plot, deflect and wage war for control of "the narrative".
… the Ancient Greeks had two different words for what we simply refer to as life: zoē (the biological fact of life) and bios (the way life is lived). The loss of the distinction reflects how modern society has come to prioritise survival over a life lived with meaning; and how Western governments, in their pursuit of power, come to "place biological life at the centre of… calculations".
This is a dilemma society simply refuses to confront. Journalists are more comfortable examining the parts than the whole. Thus they prefer to pick over Isabel Oakeshott's "betrayal" of Hancock than broach the greatest of philosophical questions. Those pro-lockdowners who are of a more reflective disposition prefer to cogitate on the supposed dark side of freedom than look in the eye humanity's inhuman face. On the other end of the spectrum are the Covid deniers who would rather pretend the virus never existed than admit that preserving a certain quality of life for children might mean allowing significant numbers of elderly deaths.
Not even the greatest living philosophers can show us the way out of the moral maze – and thus political dilemma of our time. Until we face up to this conundrum, we are stuck, and we are blind. And so when something like The Lockdown Files comes along and power shows us that it is both the jailer and the mirror – we will fail to truly see.
The leaders we possibly deserved
Taking Sherelle Jacobs's observations a step further, did we get the leaders we deserved because we cannot think critically and cannot distinguish between surviving and living?
Quite possibly.
The Telegraph's Tim Stanley explains a few practical truths in 'Matt Hancock was the lockdown champion Britain deserved':
… how … did this man of marginal ability and dubious character become health secretary? One answer is that when he took the job, in 2018, it wasn't considered very important. 
The health service was devolved and self-governing; Jeremy Hunt [current Chancellor], Matt's predecessor, limited his day-to-day responsibilities to wearing an NHS badge. Hancock's innovation was to take that badge and stick a rainbow flag on it (because when you're lying on a hospital trolley, bleeding to death, it's a comfort to know that the A&E you're not being treated in is inclusive and diverse).
We have to blame Brexit, too. Leavers, like me, were so obsessed with "getting it done" we were willing to park other issues, like health reform, and vote for a team that wasn't the best. But … Remainers must also take responsibility for opposing Brexit so doggedly that they pushed half the country into the arms of such incompetents. Matt was a Remainer, though it probably wasn't one of his convictions. He hasn't got any of those. Yet.
There's a running theme in the Lockdown Files of Westminster contempt for the so-called "hard-Right" of the Conservative Party, characterised as libertarian, even pro-virus. Enthusiasm for lockdown was about saving lives, absolutely; yet in the deepest recesses of our political id it was also Remainers' Revenge. Not in the sense of it being narrowly motivated by Brexit but because it allowed bureaucrats and experts who felt spurned by populism to re-flex their muscles – and a large number of Britons who felt discombobulated by the politics of the past few years (however they'd voted) to "take back control" via a giant reboot of culture and society. Lockdown was popular. Many people have never left it.
When Boris considered lifting some of the restrictions in the summer of 2020, he was warned that it would be "too far ahead of public opinion", which probably favoured tougher regulations for longer. One might speculate that Matt was the health secretary Britain deserved because he largely did what we wanted. A more thoughtful individual who questioned the science, moved cautiously and visibly U-turned on policies when they didn't work would not have provided the reassurance we craved …
This was the politician who, at the height of his career, opened an empty hospital [a Nightingale] that would never be used – a hollow man in the hollow ward, a saga that leaves one wondering how much of lockdown was necessary and how much was simply a bromide?
Continuing on the same themes is James Rogers, who wrote a March 6 article for Conservative Woman: 'Hancock circus masks Johnson's coup against democracy':
… it is clear that Hancock behaved as he did only because the Johnson government – which became a regime – enabled him. Whitehall had a clear strategy to do whatever it wanted; naysayers would be ignored and cast as paranoid trouble-makers.
The Johnson Regime seized extraordinary powers and escaped all scrutiny, save for castigation by Labour, the BBC and Guardian for being 'too slow to lock down'. They would not take their boots off the people's throats for 18 months, nor would they seek to pacify their minds; they treated us like farm animals, and sadly many of us behaved like sheep.
Fifteen years earlier, even Tony Blair's government acknowledged the need for parliamentary supervision of a government that had invoked emergency powers. When it updated the relevant legislation – Emergency Powers Act 1920 and Civil Defence Act 1948 – it passed the Civil Contingencies Act 2004 (CCA), which imposed a 'triple lock' of conditions that would bind an 'emergency government' to submit its strategies and diktats to parliament every 30 days. Not the Johnson Regime: it swept the CAA aside, and introduced the Coronavirus Bill.
The Johnson government had an 80-seat majority. There would have been no piece of reasonable legislation that it could not have got through. Instead, it chose to avoid parliamentary scrutiny, and govern by ministerial decree for 18 months. What occurred in spring 2020 was a brazen, ultra vires coup.
The justification by Michael Gove and Penny Mordaunt was bizarre. They stated that C-19 was an emergency that demanded bespoke legislation, but since there was sufficient time for it to be drafted, it was not appropriate to use the CCA which applied to immediate emergencies. However, by the same token, the situation was so 'urgent' that only one day could be spared for debating the Coronavirus Bill. (How was a 350-page Bill drafted in five days?)
Rogers raises several pertinent points for the official coronavirus inquiry, which was supposed to have started in March 2023, by the way. Hmm. How's that going? Answer there came none.
Some of his points follow:
1. The Johnson government ignored the Cabinet Office convention that for 'emergency powers' to be invoked, the nation had to be faced with a 'catastrophic emergency'. There was never any 'catastrophe', nor was there any 'emergency', nor any risk of such, only the semblance of such created by the government and MSM. Here is a link to ONS figures on C-19 fatalities in 2020. Deaths from C-19 with NO pre-existing condition (England) 4,169; (Wales) 294. That's fewer than 4,500, with an average age of 82.5 years.
2. The same convention holds that 'emergency powers' must be relinquished as soon as the reason for invoking them diminishes. The Johnson Regime held these powers until autumn 2021. Almost certainly, the government desired to maintain the 'emergency powers' so that it could push through the untested jabs with an 'emergency use authorisation'.
3. The government awarded itself £266billion of our money to spend as it saw fit, with no parliamentary scrutiny whatsoever. Matt Hancock was empowered to use our freedoms to promote his career and an unseen Cabinet Office agenda.
4. The government co-opted the MSM (with more than £500million of our money). They were told not to ask awkward questions at this 'vital time' and complied with enthusiasm.
5. In WWII it was a criminal offence to spread fear, negativity and a defeatist attitude. In 2020-21 it became government policy, one that was prosecuted with great intensity. I know of one person who was so alarmed in spring 2020 that she took her own life.
9. Then came the jabs. In browbeating, bullying and bribing the populace, the government behaved with contempt for medical ethics. It abandoned the principle of 'informed consent', and in mandating jabs for care workers (and attempting the same for NHS staff) the government acted illegally, contravening the Public Health Act 1984 s.45E.
10. Perhaps most worryingly, the government hobbled the courts. In 2020 Simon Dolan's applications for a judicial review of the government's actions were twice tossed out by our judges – the same judges who a year earlier had chastised Johnson's proroguing of the Commons in order to uphold the 'primacy of parliament'.
… What happened in 2020, 2021 and into 2022, can only be regarded as a coup, and it has been habit-forming, as Liz Truss and Kwasi Kwarteng can attest.
Now, in spring 2023, Johnson has walked, never to be held accountable, while the jackass Matt Hancock is being set up as the patsy. The Cabinet Office goons are still pulling the strings. They are giving us Hancock in the hope that if the common man sees his public execution, the government, indeed the whole establishment that brought us a 30-month nightmare, will not be pursued.
What is being released seems carefully controlled with the intention of provoking 'social outrage'. Hancock himself is clearly rattled, and has been demanding immunity from prosecution. However I doubt that anything that shows the Johnson Regime's policies were grossly unscientific will be released. Unless we are shown internal messages or documents that admit that lockdowns didn't work, masks were useless and vaccination was pointless because natural immunity trumped anything a jab could achieve, the 'Hancock Files' are essentially froth …
Hancock will get his comeuppance, I am sure, but the most pressing questions that need answering are: a) Why did the Johnson Regime execute a coup? b) Why was this consistently ultra vires conduct never scrutinised in parliament or by the press? If we do not insist on protecting our democracy, we will lose it – the World Health Organisation will see to that.
Interestingly, parts of the Coronavirus Act 2020 still remain — and would take primary legislation to repeal. Why?
'COVID-19 Response: Living with COVID-19' on the Government's website says:
There are a number of permanent provisions within the Coronavirus Act 2020 which would require new primary legislation in order to repeal. Some of these provisions are still necessary to support the recovery from the pandemic, including:
a. Section 11: Indemnity for health service activity: England and Wales.

This provision ensures that any gaps in indemnity cover for NHS clinical negligence do not delay or prevent ongoing care.

Without this, NHS Resolution would be unable to pay legitimate clinical negligence claims, leaving clinicians exposed to the full cost and patients without compensation.

b. Section 75(1): Disapplication of limit under section 8 of the Industrial Development Act 1982 (IDA).

This provision

ensures that the financial limits set out in section 8 of the IDA do not hinder the allocation of vital Government schemes for businesses such as the Help to Grow scheme, the Automotive Transformation Fund, and the Offshore Wind Manufacturing Investment Scheme (OWMIS).
The Government is committed to removing unnecessary provisions from the statute book as soon as possible and will look for opportunities to do so as the Government's legislative programme proceeds.
Once the Government has received the conclusions of the COVID-19 public inquiry, it will consider whether further changes to public health legislation are needed. The Public Health (Control of Disease) Act 1984 and any outstanding provisions in the Coronavirus Act 2020 would be in scope for this work.
The Government will also work with the Devolved Administrations [Wales, Scotland, Northern Ireland], who have used their specific powers within the Coronavirus Act during the pandemic, to help transition provisions into devolved legislation where necessary.
Also puzzling is what appears to be a further extension of the Coronavirus Act 2020 (Extension of Powers to Act for the Protection of Public Health) Order (Northern Ireland) 2023, 'laid before' the Northern Ireland Assembly — which has not met for many months — on March 23, 2023 and came into force the following day. It was signed by Peter May, 'A senior officer of the Department of Health'. How does that work? The Alteration of Expiry Date section says:
2. Section 48 of, and Schedule 18 to, the Coronavirus Act 2020 do not expire at the time when they would otherwise expire and expire instead on 24th September 2023.
MPs kept in the dark
Hope might lie in a group of Conservative MPs who are either lockdown rebels or did not receive requested information from the Government about the pandemic.
On March 5, The Telegraph posted 'Project Fear's "psychological warfare" must never be repeated, say lockdown rebels':
Sir Charles Walker, who was a leading member of the Covid Recovery Group of Conservative backbenchers, said that he was distressed by the leaked conversations.
"What makes me so angry is the evils and the psychological warfare we deployed against young people and the population, all those behavioural psychologists," he told The Telegraph.
"And there needs to be a reckoning. We need to understand and fully appreciate the damage that those sorts of campaigns did."
Sir Charles lamented Parliament going "missing in action" as most MPs waved through dozens of Covid restrictions with little debate.
He said: "Those voices that raised concerns were just othered. We were positioned as being anti-lockdown, Right-wing headbangers. And actually wanting to do the right thing isn't Right-wing.
"We did terrible things to youngsters. We did terrible things to a large number of people. We need to make sure we never do those things again" …

Craig Mackinlay, the Tory MP for South Thanet, added: "An artificial climate of fear was created, which has led to all the corollary outcomes that many of us, particularly in the Covid Recovery Group, were concerned about.
"Ongoing negative health issues, education issues – and not least the destruction of our economy, as one crackpot idea after another found its way onto the statute book."
Sir John Redwood, another member of the Covid Recovery Group, said the tactics ministers used "always backfire, they always mislead and they don't lead to good government".
Steve Baker, the Northern Ireland Office minister who led revolts against restrictions as a backbencher, retweeted 19 tweets he sent while lockdowns were in place.
His posts set out both the economic and mental health damage caused by restrictions and called for a new Public Health Act, including reform to modelling.
Esther McVey MP laid out her concerns for The Telegraph in 'The inconvenient questions the Covid inquiry must answer':
Who could have guessed that Matt Hancock's WhatsApp messages would be so revealing and painful? The Lockdown Files have laid bare the extent to which ministers, civil servants and scientists were allowing political machinations rather than the scientific evidence to drive the catastrophic moves to inflict lockdowns, masks and more on the nation. My hope now, as co-chair of the all-party parliamentary group on pandemic response and recovery, is that these revelations will prompt the kind of robust debate on Covid policies that we should have had in 2020-21.
One would hope that the official Covid inquiry would provide a platform for that discussion …
But I fear that interrogation may not happen. There is a major risk that we will end up with an inquiry that focuses disproportionately on small details, such as whether a lockdown should have happened a week earlier, rather than the untold damage done to the nation from the best part of two years of restrictions … 
Along with other MPs and peers, I have already urged Baroness Hallett, the chair of the inquiry, to consider a wider range of voices, in order to avoid it being a whitewash. The inquiry needs to go beyond the direct costs of the disease itself and quantify the losses from the unintended, but very real damage that Covid policy has done. It also needs to ask perhaps the least convenient question of all: should we have stuck to the original pandemic plan, which didn't advocate mass lockdowns?
Indeed, I still haven't heard a good answer to the question of why the Pandemic Preparedness Strategy 2011, which was revised in 2014, was seemingly discarded in 2020 without good reason. Lockdowns were never part of the plans or those of 27 other European countries, all of which were published by the European Centre for Disease Control on Feb 5, 2020 …
Moreover, we must not forget that the severity of the disease ended up being much lower than our politicians had made out …
The inquiry might also wish to ask, in light of the revelations in the Lockdown Files, why it seems that the system of government can be manipulated by a couple of overzealous ministers or officials. And it should analyse how much was done just for the sake of appearing to do something, leading to many unnecessary restrictions. These are not easy matters, but they made a great deal of difference when it mattered.
As one of only a handful of Tory MPs who has consistently spoken and voted against Covid restrictions, it has been quite obvious to me that our cure has been worse than the disease. The Covid inquiry should take views like mine seriously, but will it have the courage to do so? I once again urge Baroness Hallett to find the integrity and boldness she needs to assess the policy of lockdown and other mandates honestly and fully.
Jacob Rees-Mogg, who was Leader of the House during the pandemic — as such, a Cabinet member — said that he was unaware of evidence for a reduction in quarantine time.
'Jacob Rees-Mogg: We were denied evidence we needed to make anti-lockdown case' tells us:
Jacob Rees-Mogg has said he was never told that the Chief Medical Officer believed it would be possible to reduce the number of days people had to self-isolate after contact with a positive Covid case …
Reacting on GB News, Mr Rees-Mogg said that he would have argued in favour of a reduction had he known.
The former leader of the House of Commons said four senior ministers made all key Covid decisions and that other Cabinet colleagues were not shown the evidence they needed to make an anti-lockdown case.
Mr Rees-Mogg said: "I was in the Cabinet at the time and I didn't know that Chris Whitty was saying that we could perfectly safely reduce the quarantining period.
"Otherwise I would have been saying: 'Why aren't we doing this?'
"That wasn't what was being briefed to the Cabinet. We were getting briefed that the decision had been made, that it was going to remain; and then it was finally reduced under great pressure.
"The enthusiasm for locking people up was something that was not shared with the rest of the Cabinet – or the evidence!"
He said such decisions were made by a so-called quad of Boris Johnson, the former prime minister; Rishi Sunak, then the chancellor; Mr Hancock; and Michael Gove, then chancellor of the Duchy of Lancaster.
He added: "It was decided by the quad, and I think the then chancellor Rishi Sunak was making the case for easing lockdowns.
"When I spoke to Boris during this period, I was inevitably making the case for easing lockdowns, but I wasn't in the quad.
"There were Cabinet discussions but by the time we got to those discussions, most of those decisions had already been made. We had a pre-Cabinet briefing for those of us who weren't in the quad basically to tell us what had been decided" …
Liz Truss, another Cabinet member at the time, said the same thing last year.
The article continues:
Mr Rees-Mogg agreed with the suggestion that the lockdowns had a "calamitous" impact on the country's mental health and economy.
He said: "I agree. We must never do this again. When it first started, I was not in favour of emergency legislation. I was in favour of the Civil Contingencies Act, which has much greater parliamentary scrutiny, and happens on a UK-wide basis, rather than the devolved authorities.
"The devolved stuff was ridiculous. If you lived on the Welsh border and you went into Wales, you were at risk of being arrested. It caused great confusion. It should have been done on a UK-wide basis, and then it would have required very regular parliamentary votes, whereas we had six-monthly votes to decide whether to extend it or not."
The former Cabinet minister said he had no sympathy for Mr Hancock over the way the WhatsApp messages had come out.
"I think if you're in public life, you must expect that things about you come out into the public arena," he said …
"I'm very against the creeping privacy law – another thing we've got from the human rights courts – because I believe in freedom of speech, and if I've done something or I've said something, people should be entitled to report it.
"And bear in mind politicians spend most of their time – particularly if you look at the WhatsApp things of Matt Hancock – trying to get good impressions of themselves. It's only fair that when there's something critical, it's printed."
Asked whether all MPs are as obsessed with their appearance and how they come across as Mr Hancock, Mr Rees-Mogg said: "I think Matt takes it to an extreme.
"My view in government is that if you do the right thing, if you do a good job, you'll get good PR for it – and that's much more important than painting yourself orange, as some politicians do, to try to appear good."
The media and Project Fear
The media have much for which to answer from the fear that they reinforced day after day, with no contrarian voices. (GB News did not exist at the time.)
On March 4, The Telegraph's Janet Daley wrote, 'The BBC conspired in the campaign of fear that kept Britain locked up':
It wasn't about science, it was about politics. That was obvious as soon as the government began talking about following The Science as if it were a fixed body of revealed truth. Nobody who knows anything about science could say such a thing unless they were engaged in a deliberately misleading campaign of public coercion …
The mass public acceptance of these extraordinary diktats was, initially, not all that surprising. At its outset, this was classed as a temporary emergency. What's a few weeks (of what was exceptionally pleasant sunny weather) out of a lifetime if it serves to protect yourself and others – and, of course, the National Health Service? But it went on and on – and the longer it went on, the more the population appeared to accept it as a new normal. Even when the damage – especially to the young in both educational and psychological terms – was becoming clear, it went on. It is important to try to understand this …
What was most alarming was the alacrity with which the broadcast news media fell into line – with boundless enthusiasm – as they were given a key role in the day to day dissemination of government authority. As the medium through which the official information was conveyed – with, as we now know, often misleading modelling projections and outdated death figures – they went from being public service news media to what the BBC notably has always insisted it is not: state broadcasters. From disinterested journalism to Pravda in a single bound …
If this crisis was as severe as we were being told, wasn't it vitally important that every source of expertise was given a fair hearing? Or was the appearance of unity considered so vital that it overrode everything – even sometimes the facts? Perhaps the worst effect of all this uncritical coverage was that government ministers, having manipulated public opinion into a frenzy of anxiety and potential guilt, then found themselves trapped in the national mood they had created.
How could we not have seen the consequences coming? How could anyone who has raised children not have foreseen the damage that would likely result when developing infants, growing toddlers, and sensitive adolescents were deprived of all that essential contact with the unfamiliar world beyond their own homes? Let alone the hideous fate of those elderly patients who had to die alone and the interminable grief of their loved ones who were forced to miss the final moments and were even denied the comfort of a full funeral.
What on earth was everybody thinking?
Interestingly, that same day, The Times had testimony from educators at all levels about the deleterious changes that lockdown produced in primary school pupils to university students in 'Eerily quiet and sad: how lockdown affected students — by their teachers':
A primary school teacher reported that children had lost the most basic skills:
With so much time spent on screens, handwriting was a challenge: we gave them each a pot of Play-Doh and had "dough disco" sessions, where they squished the dough to music, in order to improve their motor skills sufficiently that they could start writing again. We still hold additional handwriting sessions weekly. Handwriting has become an issue nationally in schools since the pandemic …
In reception class we have placed a huge dressing-up box. If they want to be a princess, they have to do up the buttons on the dress. Ofsted has said that in many schools, children forgot how to eat with a knife or fork or struggled to dress themselves after the pandemic.
We had to re-teach our school expectations such as rules and manners. I wrote a set of behaviour scripts, right down to how to speak to a teacher at the school gate. We taught even the youngest to say "Good morning, how are you?" as a conversation opener.
The secondary school principal said that self-harm was on the rise and that literacy skills had declined:
We quickly noticed telltale signs that both boys and girls had been self-harming — we recorded a 300 per cent increase compared to before the pandemic. Many cut themselves still; my staff have been trained to spot the markers. We try to get help for them.
After two years, much of it spent alone at home on screens, their literacy levels were at rock bottom. We assessed our 1,200 pupils in 2022 and found that 11-year-olds had a reading age of nine. These kids did not have books in their houses during the pandemic. They may have been reading on screens — but that will have been with Instagram and Snapchat notifications pinging and disrupting their focus.
So, teaching the children to read has become our number-one task. I hired a reading tutor who still does nothing but teach reading over six weeks using the phonics system of sounding out letters, which is really the job of a primary school. If kids cannot read properly, every subject — science, maths, history — is beyond them. We soon saw a correlation between this illiteracy and dropping out of school, not turning up to lessons and behaving badly. If you are in a history class and you cannot read, you will kick off to avoid looking like an idiot …
One of the biggest concerns is the slump in the number of children turning up to school, even now. Instead of our pre-pandemic figure of 97 per cent of pupils attending school, the figure has dropped to the low 90s. There are children we struggle to get in even once a fortnight …
I am anxious myself — I am on Sertraline to cope with it. It was sparked by having the responsibility of trying to make the right decisions to keep my kids learning, to give them a future, while also keeping my staff and families safe. Last week as Matt Hancock's WhatsApp messages were revealed I felt sick at the thought that the politicians may not have been giving us accurate information to make the right choices. It makes me feel angry for the children and all they have lost.
The university professor says that his students are withdrawn and quiet:
By the time the Covid generation reached me in my university lectures and seminars, they were a shell of their former selves …
By the time they found their way into my first-year university lectures they were, compared to the students of old, unrecognisable.
Having spent their coming-of-age years online, sitting on Zoom calls and Microsoft Teams, they were now withdrawn and hunkered down. They were nothing like the passionate, vocal and highly engaged students I had become used to teaching for 20 years …
The net result of all this was a Covid generation who were eerily quiet, silent almost, and who often appeared to shun socialising and interacting with others. What used to be a thriving campus felt like a ghost town, while in my lectures and seminars students only rarely raised their hand to ask a question.
… to be honest, I think we've yet to see the full effects of the pandemic in higher education. Increasingly, across the country, there is growing chatter about much larger number of students simply dropping out from their studies, perhaps because they are struggling with the cost of living but also because they are struggling with the transition back to the post-Covid reality.
So, while the pandemic had a very visible impact on my world, it's also clear this impact still has a long way to run.
I will wrap up on The Lockdown Files tomorrow.
I bet the official inquiry won't come remotely close to what the series uncovered.
The Telegraph's Lockdown Files series revealed how professional-sounding WhatsApp messages descended into insecure infighting.
This became quite apparent when looking at Matt Hancock's online exchanges: parts 1, 2 and 3.
The paper's associate editor Camilla Tominey looked at this in 'How sober, professional WhatsApp conversations descended into chaos' (emphases mine):
… what is so striking about the March 2020 "countdown to disaster" is how considered the early conversations on Covid were compared to the cavalier nature of some of the later discussions that played out on the instant messenger app …
With positive cases spreading fast across China and the Pacific, Matt Hancock, the former health secretary, spent the last week of February working on an "action plan", setting up a WhatsApp group for quick communication between the Department of Health and Social Care (DHSC), Number 10, Prof Sir Chris Whitty, the Chief Medical Officer, and Sir Patrick Vallance, the Chief Scientific Adviser.
What is obvious from the early messages is the level of deference afforded to the Government's two top medical minds as Mr Johnson's then right-hand man Dominic Cummings, official spokesman James Slack, communications chief Lee Cain and Sir Chris Wormald, the permanent secretary of DHSC, grappled with how best to prepare the public for what was coming.
We know from later messages that, far from following the science, Sir Chris and Sir Patrick would go on to be overruled at various junctures – including on the testing of people going into care homes, the 14-day isolation period and the efficacy of face masks …
In the beginning:
There was no scaremongering talk of "frightening the pants off" the public, nor any notion that they should blindly follow governmental diktats without being given all the available information.
That didn't come until months later, when all the initial formality appeared to leave the online exchanges as the key protagonists seemingly grew rather too comfortable wielding untrammelled power over the lives and civil liberties of an entire nation.
By the time of the second and third lockdowns in late 2020 and early 2021, the decision-making was far less restrained as allegiances, obsessions and insecurities took over.
The need for evidential justification for the restrictions went by the wayside as choices were made for political expediency and public relations reasons rather than the sake of public health …
What the earliest WhatsApp messages show is that this was a group very much in thinking mode – until the groupthink set in.
Sir Jeremy Farrar, from SAGE to WHO
Yet, even in April 2020, cracks began to appear.
When the pandemic started, Sir Jeremy Farrar was a member of the Scientific Advisory Group for Emergencies (SAGE) and director of Britain's biggest medical research charity Wellcome Trust.
Today, Sir Jeremy is now chief scientist at the WHO, a post he took up at the beginning of March 2023.
'How Matt Hancock plotted to have "useless loudmouth" Covid scientist sacked' tells us a bit about how he moved onwards and upwards:
Ministers criticised by one of the world's most eminent scientists tried to have him sacked from the Government's Covid advisory committee, leaked messages reveal.
He:
was branded "worse than useless" by Matt Hancock who demanded of his permanent secretary: "Can we fire him?"
He also described Sir Jeremy … as "totally offside" and a "complete loudmouth" who "has little respect amongst the serious scientists".
The rest of Hancock's WhatsApp from April 20, 2020 reads:
He needs to be either inside the tent and onside, or outside and commentating. He adds no value internally
It appears that this was because Farrar spoke to the media without Hancock's permission:
Mr Hancock was already angry that Sir Jeremy had done an interview with Sophy Ridge on Sky News in which he had said: "I hope we would have a vaccine towards the end of this year" but warned of the difficulty of making sure it was safe and then able to be manufactured in billions of doses around the world that "is truly effective".
It is unclear what part of the Sky News interview so irritated Mr Hancock, but he sent a WhatsApp message to a special adviser at 9.18am on April 20, a day after the interview aired, questioning whether Sir Jeremy had been given permission to speak to the broadcaster.
It is unclear if there was any requirement of Sage members to do so.
Another sticking point at that time was testing:
On the day that he gave the Sky News interview, Lord Bethell told Hancock he had "after massive toing-and-froing" with Sir Jeremy and Professor John Newton, the Government's testing tsar, agreed on proposals to conduct a survey to test the public on past and present Covid infections.
But Sir Jeremy had raised his concern that the antibody tests in April 2020 were unlikely to be accurate.
In a message circulated to Mr Hancock and Lord Bethell, Sir Jeremy wrote of the tests: "They should not be believed. I have seen no data that shows any currently available rapid test would be useful or informative. Some are frankly dangerous. I appreciate this is not a message that is popular. I wish this was not true. But the RDTs [rapid detection tests] are currently a distraction. In months to come there maybe good RDTs – there are none today in my view and reading of the data."
Lord Bethell appeared to have been concerned at Sir Jeremy's stance. "Farar is being a total spanner in the works," he said in a message to Mr Hancock on April 19, adding: "But I think somehow he needs management. Either a Big Hug. Or a sharp talking to. But at the moment is q tricky."
On May 29:
Allan Nixon, another of Mr Hancock's advisers, messaged his boss on WhatsApp: "Jeremy Farrar going off the rails again", to which the health secretary replied: " He is definitely no10's problem not ours", before adding: "If asked about Farrar by No10, explain that we thought best to relieve him from his duties but were overruled…"
In August, Farrar:
had publicly questioned the Government's decision to shut down Public Health England (PHE) in August 2020, about six months into the pandemic.
Sir Jeremy … had condemned the proposal to scrap PHE in favour of a new organisation run by Mr Hancock's friend, Baroness Dido Harding, who had run the NHS Test and Trace programme …
He posted on Twitter early on August 19 2020: "Arbitrary sackings. Passing of blame. Ill thought through, short term, reactive reforms… Preempting inevitable public inquiry" and a link to a newspaper article reporting the axing of PHE.
He was also critical of Test and Trace.
Farrar, possibly unknowingly, managed to galvanise moves against him:
The social media post so infuriated ministers they orchestrated a ring round of Sir Jeremy's colleagues, including even Baroness Eliza Manningham-Buller, the then chair of the Wellcome Trust and the former head of MI5.
Lord Bethell, the health minister and one of Mr Hancock's closest friends, told Hancock: "He'll now know I've done a comprehensive ring round. This will irritate him but also warn him. I wonder if there is some sort of official route to talking to him?"
Sir Patrick Vallance, the Government's chief scientific adviser and chairman of the Sage committee, also became embroiled in the row after Mr Hancock asked: "Does [Sir Jeremy] bring any value at all to SAGE? I've never once heard him say anything useful at all" …

That day, August 19 2020, Mr Hancock sent a message to Sir Chris Wormwald, the permanent secretary in the Department of Health.
"We have to do something about Farrar. Can we fire him? This is completely unacceptable," wrote Hancock in a WhatsApp message. Sir Chris replied: "Would have to be Patrick V to fire him as it's SAGE. "
The next day, Mr Hancock raised his concern with Emma Dean, a special adviser, asking her to speak to Chris Whitty, the chief medical officer (CMO).
"Can you talk to CMO and see what we can do," asked Mr Hancock. Ms Dean replied: "Yes. What is your ask? Get rid or neutralise?" to which Mr Hancock responded: "Neutralise. Stop the defamation."
Later, Mr Hancock, clearly still irritated, said: "Why don't we kick him off SAGE? he brings nothing." Ms Dean said removing Sir Jeremy "would make him a martyr and would dine out on it very noisily" and advised against it.
On August 21 the issue over Sir Jeremy is still rankling and Lord Bethell tells Mr Hancock he had spoken to an eminent scientist "about handling Farrar".
Lord Bethell reports back to Mr Hancock he's been advised "dont talk to Manning Buller – she's ferocious and self-important, and would contrive to interpret a call as somehow interfering with Wellcome independence. He suggests I speak to Farrar directly, nicely explaining the challenge of outspoken external criticism when operating as a trusted advisor. I've put a call in, he didnt pick up. will update".
Five days later, Lord Bethell messaged Mr Hancock telling him he had spoken to eminent scientists about Sir Jeremy.
He also spoke with Baroness Manningham Buller: "Manning Buller said she agreed with him 100% and defended his right to say whatever he liked.
"I've called and texted JF but he hasn't replied. He'll now know I've done a comprehensive ring round. This will irritate him but also warn him. I wonder if there is some sort of official route to talking to him?"
The article says:
Mr Hancock's comments will raise serious concerns over the apparent attempts, behind the scenes, to undermine a senior scientist and member of Sage, the body that provided independent scientific advice on Covid to the Government.
It will also raise questions about ministers' response to public criticism from eminent scientists who were concerned by the handling of the pandemic.
Sir Jeremy wrote a book, which was published in July 2021:
Sir Jeremy says of the then health secretary: "Matt Hancock shoulders a responsibility for the PPE shortages and testing fiasco, among other failings, that contributed to the dreadful epidemics in care homes and hospitals."
In the book, Sir Jeremy also said Baroness Harding's appointment as chair of Test and Trace was a "grave error" and that "even worse" than PHE "being thrown under the bus" was the decision to put Baroness Harding in charge of the new body.
Dame Kate Bingham, vaccine tsarina
Thanks to The Lockdown Files, we found out more about Dame Kate Bingham, the first head of the UK's vaccine taskforce.
On March 5, The Telegraph published 'The hidden tensions between Matt Hancock and Kate Bingham, his vaccines tsar'. I prefer to call her the vaccines tsarina.
Back then, she was Kate Bingham. Her damehood came afterwards:
But Matt Hancock, then the health secretary, clashed with her over the rollout, including Dame Kate's refusal to back a plan to buy tens of millions of vaccines from India.
Advisers to Mr Hancock flagged up their concerns in Oct 2020 after Dame Kate gave an interview to the Financial Times in which she said that the vaccination of the entire population was "not going to happen". She explained: "We just need to vaccinate everyone at risk."
It is understood that she was following government policy at the time.
In leaked WhatsApp messages obtained by The Telegraph, Damon Poole, Mr Hancock's media special adviser, said: "This is unhelpful," and included with it a link to the article. 
Mr Hancock protested that he did not have a subscription and then said: "But is that Kate?… If so we absolutely need No10 to sit on her hard. She has view and a wacky way of expressing them & is totally unreliable. She regards anything that isn't her idea as political interference" …
Dame Kate was appointed chairman of the Vaccine Taskforce by Boris Johnson, the former prime minister. She answered to the Department for Business, Energy and Industrial Strategy (BEIS) …
Two days later, in a further sign of tensions, Mr Hancock and his advisers suspected Dame Kate of leaking vaccine rollout plans to The Economist magazine.
Mr Hancock asked Mr Poole on Oct 6 2020 if the leak was from the vaccines tsar. Mr Poole replied: "Well I don't know that for sure but I have some evidence to suggest it might have been. I.e – the fact she had a meeting yesterday with the journalist who has the leak. But it's an old NHS plan apparently, I've not seen the document yet."
Then there were her PR consultants:
A month later, The Sunday Times reported that Dame Kate had spent £670,000 on public relations consultants.
In a WhatsApp message to Mr Poole on Nov 7 2020, Mr Hancock admitted to being aware of the use of consultants but said he had not realised they were being paid for by the taxpayer.
Mr Hancock said: "Who the hell signed this off? … I knew she had these consultants. I was cross about them and asked for it to stop. But I had absolutely no idea taxpayers were paying for them. Unreal."
Mr Poole said the use of advisers was "bonkers" and "pretty appalling". At the time, BEIS said "specialist communications support was contracted by the Vaccine Taskforce for a time-limited period" and "in line with existing public sector recruitment practices".
It is understood that the communication consultants were contracted by BEIS to create a registry on the NHS website to recruit people onto clinical trials to test the vaccines.
Having previously agreed only to a short-term contract, Kate Bingham left in December 2020. By then, she and her team had been able to secure enough vaccine doses for the UK, so her job was finished.
Her deputy, Clive Dix, replaced her for a short time. I wrote about Dix on March 23, quoting his first-person article for The Telegraph where he said that Hancock was 'a headless chicken'. Dix left because of a problem in the manufacture of the required doses, and he did not wish to source vaccines from India as a substitute.
Returning to this article about Kate Bingham, however, we learn more about Hancock's view of Dix:
In Feb 2021 – at a time when the Government had earned plaudits over the vaccine rollout – Mr Hancock asked Nadhim Zahawi, then the vaccines minister, to arrange a meeting to explain to Dr Dix that "he knows to expect that I'm not going to give him executive authority but DO think he has a huge role".
Mr Zahawi reported back that Dr Dix is "all sorted". But two days later, on Feb 18 2021, the taskforce chairman told the minister he wanted to make a "personal decision" on whether the UK had enough vaccine doses or needed to procure more from India.
That prompted Mr Hancock to question whether Dr Dix might quit.
"He can't threaten to reisgn and continue in post. Either you accept the principle of ministerial decisions making, or you don't," Mr Hancock said in a message to Mr Zahawi.
Later that day, just after 11pm, Mr Hancock sent Mr Johnson a message accusing Dame Kate and Dr Dix of blocking the purchase of vaccines from the Serum Institute of India (SII) four months earlier in Oct 2020.
"Nadhim & I have got to the bottom of why we didn't get the SII doses when they were first offered in October," Mr Hancock told then prime minister.
"Turns out it was blocked by Kate & Clive Dix. That's why we kept getting b——t excuses. Thankfully it is nearly over the line now – but they've cost us six months on this one and the comms will need handling."
Boris messaged back:
Aha. I do remember asking Kate ages ago
I think she said it was all because the mhra [Medicines and Healthcare Products Regulatory Agency] wouldn't approve it fast enough
And by the time mhra had approved it we wouldn't need it
Hancock replied:
Yes. And it turns out it's because she and Dix didn't want to
The Telegraph spoke with Dame Kate, who said:
I stood down as chair of the VTF in December 2020 after serving for seven months having initially agreed to do it for six months. I left after deals had been made to secure vaccines, two of which were approved by then with one of these (Pfizer) being administered.
Before I left, the VTF had discussed buying vaccines from India but was persuaded against doing so as the VTF did not think the MHRA would be able to approve vaccines from India on the required timescale.
These vaccines had been funded by international organisations to provide vaccines to low-income countries, including India itself. The vaccines from India were originally intended for developing countries. The second half of the vaccine order from India that was placed in 2021 (after I left the VTF) was halted by the Indian government.
When it came to who to vaccinate, the advice was always determined by the JCVI and the vaccination policy that Matt Hancock and the Government were committed to at the time. I never questioned these – I only ever repeated government policy at the time in 2020. My role was to follow government policy not to create it. The VTF sought to procure vaccines based on the number of people that the JCVI and the Government advised should be vaccinated at that time in 2020.
BEIS contracted communications support to launch and drive sign-up to the NHS registry of clinical trials volunteers. 500,000 people signed up. This was critical to establishing that Covid-19 vaccines worked and were safe. I also participated in Covid 19 vaccine trials through this registry.
These WhatsApps suggest that Matt Hancock was not aware of the published and agreed government vaccine procurement policy, did not read the reports by and about the work of the Vaccine Taskforce, and did not understand the difference between complex biological manufacturing and PPE procurement.
When I stood down as chair, the VTF shared recommendations for the Government – one of which was that Government needs a pandemic adviser who understands the pandemic threat, science when it comes to viruses, bioengineering – what is involved in the development and manufacture of vaccines – and has relationships with industry to be called upon when needed. I have continued to call for this ever since. These WhatsApps starkly reveal the need for this.
The vaccine conspiracy theory
Remember back in 2020 when people said that Bill Gates was planning to put nanochips in the vaccines that would track everyone who had them?
The Lockdown Files had an article about that, too: 'Matt Hancock cracks joke about Bill Gates Covid conspiracy':
Matt Hancock joked that Bill Gates "owes me one" considering "how many people I'm getting his chips injected into". 
The then health secretary was hoping to get Microsoft billionaire Mr Gates's help in promoting an offer of UK expertise in identifying coronavirus variants when he made the quip in January 2021 …
On Jan 25, 2021 Damon Poole, Mr Hancock's media adviser, sent him a WhatsApp message asking him if he had spoken to Tedros Adhanom Ghebreyesus, the director general of the World Health Organisation, about the New Variant Assessment Platform (NVAP), which offered other countries UK expertise to detect and assess new variants around the world …
The European Union even issued lengthy advice on how to persuade people that the microchip plot was fiction …
Mr Gates did not, in the event, endorse the NVAP.
Dominic Cummings sets cat among pigeons
In 2021, Boris's former adviser, Dominic Cummings, who left Downing Street late in 2020, appeared before two parliamentary Select Committees. In his March appearance, he called Hancock's Department of Health and Social Care a 'smoking ruin'. In May, he accused Hancock of a number of failures as Health and Social Care Secretary.
In 2020, Hancock and other Cabinet members defended Cummings, who had broken lockdown rules by taking his wife and young child from London to Barnard Castle in County Durham and back. Cummings said that he had had problems with his eyesight on the day they came back.
'What Sunak and Hancock really thought of Dominic Cummings' tells us about the reaction to Cummings's appearance before the select committees.
On March 17, 2021, after Cummings first appeared before the select committees, Hancock WhatsApped his Spad (special adviser) Jamie Njoku-Goodwin:
How would you deal with this Cummings crap?
The Spad responded with some colourful language then ended his message with:
You went out and backed him over Barnard Castle, and he responds by briefing against you relentlessly, in private and now in public. He's a psychotherapist
*pyschopath [sic]
Hancock responded that he, not Cummings, called for the creation of the Vaccine Taskforce and appointed Kate Bingham, then ended with:
The vaccines have only been such a success because we kept Dom out of it while he caused chaos in Testing!
The Spad responded:
But best to rise above it
Hancock, still perturbed, messaged back, in part:
Why should I take this crap lying down
The Spad responded:
I suppose because until 6 months ago he could get you sacked
Hancock replied:
But he can't now
On May 26, after Cummings's appearance before the second select committee in May, in an exchange with Rishi Sunak, still Chancellor then, Hancock posited that Cummings wanted a job in 'the future Sunak administration', which was interesting.
Sunak replied:
Ha! Ironic given I haven't spoken to him since he left!
Hancock messaged:
It's just awful & stark reminder of how hard governing was
Sunak replied:
Yup. It was such a difficult time for all of us. A nightmare I hope we never ever have to repeat.
That day:
In a reference to Mr Cummings' widely ridiculed claim he had driven to Barnard Castle to test his eyesight, Mr Hancock WhatsApped an aide:
His insight is no better than his eyesight.
Rishi's Eat Out To Help Out scheme
Although I thought then-Chancellor Rishi Sunak's Eat Out To Help Out was a great plan in the summer of 2020, a lot of people disapproved of it, including those in Government.
Those who disapproved of helping out the hospitality sector, which, by that time, was on its knees, said that Rishi's plan would only drive up Covid cases.
Perhaps it did.
On March 4, The Telegraph published 'Rishi Sunak urged to "come clean" over flagship Eat Out To Help Out scheme':
Rishi Sunak is under pressure over his flagship Eat Out To Help Out scheme amid claims of a "cover up".
The Lockdown Files show Matt Hancock's disdain for the initiative and worry that it was contributing to the spread of the virus.
The scheme, which was aimed at encouraging the public to return to restaurants, formed part of a package of measures launched by Mr Sunak, the then chancellor, in the summer of 2020.
In August 2020, while the scheme was still operating, Mr Hancock mentioned his concerns about it in messages to Simon Case, the then Downing Street permanent secretary in charge of the Civil Service response to Covid. 
Mr Hancock told Mr Case that the scheme was driving up Covid cases in some of the worst hit areas and that the problems it was causing were "serious". But he added that he had "kept it out of the news".
The then health secretary said the Treasury had been informed about the "problems" the scheme was causing in Covid "intervention areas".
"We've been protecting them in the comms," he said, adding that "thankfully" it has not yet "bubbled up".
Eat Out to Help Out offered diners 50 per cent off food and non-alcoholic drinks on Mondays to Wednesdays in August, capped at £10 per head. The final total cost to the taxpayer was £849 million – far in excess of the £500 million original forecast by the Treasury.
The Prime Minister has now been urged to "come clean" about what he knew about the risks of the scheme and explain why "warnings were apparently ignored and evidence concealed" …
A study by Warwick University, published in October 2020, concluded that the scheme had "caused a significant rise in new infections… accelerating the pandemic into its current second wave".
Academics claimed the scheme contributed between eight and 17 per cent of new Covid infections at the time …
A Government source said: "Many European countries experienced an uptick in transmission at the same time as the UK, including those without similar schemes."
The Guardian has more on the Warwick study:
A working paper published by Thiemo Fetzer, an economics professor at Warwick University, found the initiative was closely linked to an increase in new cases during August and into early September. The paper found the virus spread more rapidly in areas with lots of participating restaurants and said the scheme might have "public health costs that vastly outstrip its short-term economic benefits".
Fetzer said on Saturday he had made a submission to the Covid-19 public inquiry and he considered the scheme should now be examined as part of the hearings. He said: "The second wave of the pandemic was seeded in the summer and eat out to help out contributed to that.
"It was only available on Monday, Tuesdays and Wednesday, so people shifted their dining patterns. It created crowded spaces."
He said the Treasury had dismissed his work, but had not provided any substantial evidence that the scheme did not cause a rise in infections. "They did not do a rigorous analysis," he said. In January 2021, the Treasury said its own analysis had shown that areas with a high take-up of the scheme had low subsequent Covid-19 cases. The Institute for Government said that analysis was "pretty thin" and did not engage properly with criticisms of the scheme.
Although this post finishes the WhatsApp revelations, I will follow up next week with reaction to The Telegraph's Lockdown Files.
Matt Hancock looms large in The Telegraph's Lockdown Files series which ended earlier this month.
For more background, see parts 1 and 2.
Matt Hancock latest
The series continues after an update on latest news about the UK's former Health and Social Care Secretary.
On Saturday, March 25, 2023, The Guardian reported that Hancock had been one of a handful of Conservative MPs caught in a prank set up by the left-wing activist group Led By Donkeys, 'Top Tory MPs ask for £10,000 a day to work for fake Korean company' (emphases mine):
The former chancellor, Kwasi Kwarteng, and former health secretary, Matt Hancock, agreed to work for £10,000 a day to further the interests of a fake South Korean firm after apparently being duped by the campaign group Led by Donkeys.
Kwarteng attended a preliminary meeting at his parliamentary office and agreed in principle to be paid the daily rate after saying he did not require a "king's ransom". When Hancock was asked his daily rate, he responded: "It's 10,000 sterling" …
The senior politicians have complied with all relevant rules and referred to their obligation to their constituents during preliminary meetings. The Led by Donkeys project, conducted with investigative reporter Antony Barnett, comes at a time when people face a cost of living crisis. The campaign group released a report on its investigation on Twitter on Saturday, with recorded undercover footage …
The purported firm that approached the politicians did not exist and had a rudimentary foreign website with fake testimonials. MPs have been warned by the Home Office to be on their guard against the "threat of foreign interference", and the group's investigation demonstrated the ease with which they seemed able to gain access to the MPs.
Led by Donkeys is understood to have approached 20 MPs from the Conservative party, Labour and Liberal Democrats after examining the outside earnings of MPs on the parliamentary register of interests. An email sent by the fake investment and consulting firm, Hanseong Consulting, said it wanted individuals for an international advisory board to "help our clients navigate the shifting political, regulatory and legislative frameworks" in the UK and Europe.
It said advisers would be required to attend six board meetings a year, with a "very attractive" remuneration package and "generous expenses" for international travel. Five MPs agreed to be interviewed on Zoom, with one who was clearly suspicious of the firm's credentials terminating the call. The MPs were interviewed by a woman purporting to be a senior executive, with a backdrop of the skyline of Seoul, the South Korean capital, at her office window …
In early March, Hancock agreed to an online meeting for the advisory role. The Telegraph had that week published his leaked cache of more than 100,000 WhatsApp messages, but he seemed relaxed for the meeting with the fake foreign firm. He said it had been "quite a busy week" but that March was the "start of hope".
"We were wondering, do you have a daily rate at the moment?" he was asked by the interviewer, posing as a senior business executive. "I do, yes," Hancock replied. "It's 10,000 sterling."
… Hancock is an independent MP after he had the whip suspended for taking part in I'm a Celebrity, for which he was paid £320,000, with Rishi Sunak's spokesperson saying at the time that "MPs should be working hard for their constituents".
Hancock said in the meeting that he followed the "spirit and letter" of parliamentary rules, and would also require additional approval for the role because he had been a minister, but outside interests were permitted. He said he was mindful of the responsibility to serve his constituents …
Led by Donkeys was established in 2018 as a campaign in response to Brexit. Its high-profile projects and satirical stunts have since included a spoof episode of the BBC show Line of Duty with Boris Johnson being interrogated by the anti-corruption AC-12 unit and painting the colours of the Ukrainian flag outside the Russian embassy in London.
A spokesperson for Hancock said: "The accusation appears to be that Matt acted entirely properly and within the rules, which had just been unanimously adopted by parliament. It's absurd to bring Mr Hancock into this story through the illegal publication of a private conversation. All the video shows is Matt acting completely properly."
Furthermore, Matt will be looking for a new job as he will not be standing again as an MP come the next general election.
Although I am not a defender of Hancock, former BBC presenter Jon Sopel is hardly in a position to take pot shots at him, considering that he, too, fancies filthy lucre, as Guido Fawkes revealed on Monday, March 27:
Days earlier, on March 18, The Mail's Richard Eden reported that Hancock's girlfriend and her estranged husband sold their South London house to Gordon Ramsay for several million pounds:
Should she ever tire of turning her boyfriend, Matt Hancock, into a TV star, Gina Coladangelo has a lucrative alternative career as a property tycoon.
I can disclose that she and her estranged husband, Oliver Tress, managed to sell their marital home to fiery TV chef Gordon Ramsay and his wife, Tana, for a staggering £7.5 million.
It's an astonishing price for the area of South London. Not only is it almost double the £3.8million that Gina and Tress paid in 2015, but it's £2.5 million more than the top price paid previously for any property in their street.
Zoopla had estimated its value as between £3.8 million and £4.6 million …
The sale, which Land Registry documents confirm went through in January, is all the more impressive as it comes when British property prices are predicted to plunge by ten per cent.
The five-bedroom Edwardian house is in one of London's most desirable areas. Ramsay, 56, and his wife, 48, bought it in their joint names from Gina and Tress, the founder of upmarket homeware and clothing chain Oliver Bonas.
Gina, 45, left Tress, 55, with whom she has three children, for former health secretary Hancock, 44, who competed in I'm a Celebrity . . . Get Me Out Of Here!.
Ramsay, who has an estimated fortune of £175 million, already owns a huge house, said to be worth £7 million, less than a mile away …
Last year, he, Tana and their five children were reported to have temporarily moved out after work began on a super-basement …
Tatler adds:
It is easy to see why Ramsay might need a new home. The chef announced at the start of the year that he and wife Tana are expecting their sixth child. On the Heart Breakfast show, the chef said that 'there's one more on the way' to join their five children: Megan, 25, twins Jack and Holly, 23, Tilly, 21, and Oscar, three. Holly recently featured as one of the most eligible singles at Tatler's Little Black Book party. According to Hello! magazine, the Ramsays are believed to have paid in cash for their new luxury pad; they also own a £6 million house in Cornwall and a mansion in Los Angeles. Gordon and Tana marked their 26th wedding anniversary very recently, having married in Chelsea in 1996.
On March 6, as The Lockdown Files were drawing to a close, The Telegraph reported, 'Matt Hancock cancelled after indiscreet WhatsApps "upset" travel industry':
A major international travel conference has axed Matt Hancock from its programme after The Telegraph revealed he had been highly critical of the travel sector during the pandemic.
The Institute of Travel and Tourism (ITT) confirmed that Mr Hancock will no longer be speaking at its annual conference in Doha, Qatar, saying that the messages uncovered by The Telegraph had caused upset to many in the travel industry.
Last week, as part of its Lockdown Files series, The Telegraph revealed that Mr Hancock and Simon Case, the country's most senior civil servant, shared jokes about those being forced to stay in quarantine hotel rooms during the pandemic …
The former health secretary was also highly critical of the airline and airports industry, describing them as being "totally offside" and "unhelpful", while Mr Case [top civil servant Simon Case] labelled them as "horribly self-serving" ...
In a statement to The Telegraph, Steven Freudman, chairman of the ITT, said that Mr Hancock had become a "major distraction".
He added: "We have over 25 distinguished speakers and it would have been unfair on them for the focus to have been solely on Matt Hancock."
The ITT annual conference is regarded as one of the sector's key annual events, with thousands of travel professionals and high-profile speakers from across the globe attending.
The initial decision to invite Mr Hancock as a speaker at the conference was widely criticised by sector figures even before The Lockdown Files revelations were published.
Industry figures told The Independent that they wanted the ITT to reconsider its decision, accusing Mr Hancock's policies of "destroying the sector" and resulting in thousands of travel jobs being lost …
Dr Freudman said: "The original invitation was issued in the hope that Matt Hancock would recognise the damage that he and his government caused the travel industry with its handling of the pandemic.
"We were also hoping that he might confirm that lessons had been learnt and that any future crises would be handled differently.
"However, his WhatsApp messages have upset many of us in the travel industry and his presence would clearly have been a major distraction."
The Telegraph has contacted Mr Hancock for comment.
That day, Hancock's lawyer appeared on GB News and was introduced as such. He responded vehemently that he did not want that detail mentioned. The presenter calmly read out the lawyer's email to GB News stating that he permitted them to describe him as Hancock's lawyer. The lawyer sheepishly responded that he forgot to type 'not'. Comedy gold:
Isabel Oakeshott describes The Telegraph 'bunker'
Hancock gave Oakeshott access to the 100,000 WhatsApp messages because she co-authored his book, Pandemic Diaries.
On Friday, March 24, she wrote an article for Tatler describing what working in seclusion with The Lockdown Files reporters was like at the beginning of 2023:
… The Daily Telegraph was the only newspaper that consistently challenged the lockdown agenda and had a track record of managing huge investigations in the public interest – famously exposing the MPs' expenses claims in a scandal that rocked Westminster in 2009. They immediately agreed to put a full team of top journalists on the project: The Lockdown Files. 
In a secure bunker, well away from the main newsroom, I worked alongside their reporters, filleting the messages: a team of eight or so, full time, for eight weeks. To avoid hackers, our computers were not connected to the internet. We worked from hard drives stored overnight in a safe. Anything printed was swiftly shredded. Nobody else came into the bunker, which, as the weeks went by, became increasingly unhygienic. Discarded takeaway containers, half-eaten packets of Colin the Caterpillar sweets, mouldy mugs and other detritus were strewn over every grubby surface. Hunched over our computers in a room with no windows, we were like lab rats in some dubious experiment, wracked by colds, coughs and – oh, the irony – Covid. By the week of publication, our core team had swelled to some 25 writers and digital news experts. The Daily Telegraph's newsroom was emptying out – leaving those who remained wondering where all their colleagues had gone. 
There was a curious voyeuristic pleasure in reading the banter between Government ministers and their aides – including some very flirty exchanges between two household names. Who was sending who the heart emojis and who was complimenting who on their sexy outfits? I'll leave it to your imagination. Suffice to say, they wouldn't be too happy if that news was in the public domain.
On Sunday, March 26, we got an answer about the heart emojis. Michael Gove sent them to Hancock:
Hancock responded, 'You have been true throughout'.
Gove explained to Sophy Ridge on Sky News that he agreed, particularly on that day, with Hancock's course of action. No surprise there. They're cut from the same cloth.
Guido Fawkes has the interview:
Oakeshott's article continues:
The WhatsApp from Matt Hancock came through at 1.20am: 'You have made a big mistake,' it said darkly – leaving me to imagine what punishment he had in mind. The following day, he released a furious statement, accusing me of 'massive betrayal'. Fair enough – I had breached his trust and would face plenty of questions about that decision. But did anyone outside the media bubble seriously doubt it was for the public good? The torrent of grateful messages from ordinary people, often with harrowing personal stories about their own suffering during lockdown, was answer enough for me … Dining in a mountain restaurant in the French Alps, my partner, Richard Tice [leader of the Reform Party], was surprised – and touched – to be passed a note by the waiter from a fellow diner who had recognised him. On the crumpled piece of paper were the words 'please thank Isabel'. 
Lord Sumption on Hancock: 'a fanatic'
On March 10, after The Lockdown Files came to an end, Lord Sumption, a former Supreme Court justice and guardian of civil liberties, wrote an editorial for The Telegraph: 'Matt Hancock was never a policy maker — he was a fanatic':
The 19th-century sage William Hazlitt once observed that those who love liberty love their fellow men, while those who love power love only themselves. Matt Hancock says that he has been betrayed by the leaking of his WhatsApp messages. But few people will have any sympathy for him. He glutted on power and too obviously loved himself.
Some things can be said in his favour. The Lockdown Files are not a complete record. No doubt there were also phone calls, Zoom meetings, civil service memos and the like, in which the thoughts of ministers and officials may have been more fully laid out …
Nevertheless, Hancock's WhatsApp messages offer an ugly insight into the workings of government at a time when it aspired to micromanage every aspect of our lives. They reveal the chaos and incoherence at the heart of government, as decisions were made on the hoof. They expose the fallacy that ministers were better able to judge our vulnerabilities than we were ourselves. They throw a harsh light on those involved: their narcissism, their superficiality, their hypocrisies great and small. Above all, they show in embarrassing detail how completely power corrupts those who have it.
… Even the most ardent lockdown sceptics accept that in extreme cases drastic measures may be required. But Covid-19 was not an extreme case …
No government, anywhere, had previously sought to deal with epidemic disease by closing down much of society. No society has ever improved public health by making itself poorer …
The fateful moment came when the government chose to go for coercion. This ruled out any distinction between the vulnerable and the invulnerable, because it would have been too difficult to police. It also meant that ministers began to manipulate public opinion, exaggerating the risks in order to justify their decision and scare people into compliance. So we had the theatrical announcement of the latest death toll at daily press conferences from Downing Street. Shocking posters appeared on our streets ("Look him in the eyes", etc). Matt Hancock announced that "if you go out, people will die".
The scare campaign created a perfect storm, for it made it more difficult to lift the lockdown …
Hancock was the chief peddler of the idea that everyone was equally at risk from Covid-19. This proposition was patently untrue, but it was useful because it frightened people. "It's not unhelpful having people think they could be next," wrote his special adviser, who knew his master's mind well. Other countries did not behave like this. In Sweden state epidemiologist Anders Tegnell was able to reassure his public that a lockdown was neither necessary nor helpful. Events have proved him right.
… Matt Hancock insisted on schoolchildren wearing masks in class in spite of scientific advice that it made little difference, because it was necessary to keep up with Nicola Sturgeon. When Rishi Sunak had the temerity to suggest that once the vaccine rollout started the lockdown should be relaxed, Hancock resisted. "This is not a SAGE call," he said, "it's a political call."
Once ministers had started on this course, there was no turning back. It is hard to admit that you have inflicted untold damage on a whole society by mistake. Hancock resisted shortening the 14-day quarantine period in spite of scientific advice that five days was enough, because he did not want to admit that the original policy had been wrong. Relevant evidence was simply shut out. His response to the success of Sweden's policies was not to learn from it but to dismiss it as the "f—ing Swedish argument". Having no grounds for rejecting the Swedish argument, he had to ask his advisers to find him some. "Supply three or four bullet [points] of why Sweden is wrong," he barked.
The adrenalin of power is corrosive. It was largely responsible for the sheer nastiness of the Government's response to criticism. Hancock lashed out at the least signs of resistance or dissent. He wanted internal critics sacked or moved. He suggested the cancellation of a learning disability hub in the constituency of an MP who intended to vote against the tier system. Ministers "got heavy" with the police to make them tougher on the public …
I'll get to the learning disability hub in a moment. Shameful, just shameful.
Lord Sumption's editorial continues:
There is no sign that Hancock either thought or cared about the wider consequences of his measures. He seems to have believed that there was no limit to the amount of human misery and economic destruction that was worth enduring in order to keep the Covid numbers down. Rishi Sunak is on record as saying that any discussion of the wider problems was ruled out in advance, and this is fully borne out by the WhatsApp messages. Any hint from Sunak or business secretary Alok Sharma that the cure might be worse than the disease provoked an explosion of bile but no actual answers.
Hancock fought tooth and nail to close schools and keep them closed. Deprived of many months of education, cooped up indoors and terrified by government warnings that they would kill their grandparents by hugging them, children suffered a sharp rise in mental illness and self-harm although they were themselves at no risk from Covid-19. Cancer patients were left undiagnosed and untreated. Old people, deprived of stimulation, succumbed to dementia in large numbers. Small businesses were destroyed which had taken a lifetime to build up. A joyless puritanism infected government policy. No travel. No wedding parties or funeral wakes. No hugs. Anyone who spoke up for a measure of decency or moderation in this surreal world was promptly slapped down as a "w—er".
Real policy-making is never black and white like this. It is always a matter of judgment, of weighing up pros and cons. In that sense, Matt Hancock was never a policy-maker. He was a fanatic.
Why did hitherto decent people behave like this? In Hancock's case, at least part of the answer is vanity. The crisis was good for his profile. He saw himself as the man of action, the Churchill of public health, the saviour of his people, earning the plaudits of a grateful nation. As early as January 2020, he was sharing a message from a sycophantic "wise friend" assuring him that a "well-handled crisis of this scale could propel you into the next league". He fussed over his tweets. He pushed his way in front of every press camera. He tried to divert the credit for the vaccines from Kate Bingham to himself. "I think I look great" is one of his more memorable messages.
Sumption says that Boris Johnson, his Cabinet and his advisers could not have restrained Hancock. Boris had no strategy, and the others were lacklustre:
Apart from Sunak and Gove, his Cabinet was probably the most mediocre band of British ministers for nearly a century. Collectively, they proved unable to look at the whole problem in the round. Their eyes were never on the ball. They were not even on the field. These are the lessons of this sorry business.
Blocking disability hub
Hancock did not tolerate Conservative MPs voting against his health policies during the pandemic.
On Tuesday, March 7, The Telegraph led with a story about James Daly MP from Bury North:
'Matt Hancock's plan to block funding for disabled children if MP opposed lockdown' tells us:
Matt Hancock discussed a plan to block funding for a new centre for disabled children and adults as a way of pressuring a rebel Tory MP to back new lockdown restrictions, The Lockdown Files show.
WhatsApp messages between Mr Hancock, the then health secretary, and his political aide show they discussed taking a plan for a learning disability hub in Bury, Greater Manchester, "off the table" if James Daly, the Bury North MP, sided against the Government in a key vote.
It came ahead of the vote on Dec 1, 2020 on the introduction of a toughened new local tiers system of restrictions for England.
The Telegraph has also obtained a WhatsApp message with an attached list of 95 Conservative MPs planning to vote against the tier system and detailing their concerns about it. 
The article has that list.
On November 20, 2020, Allan Nixon, one of Hancock's Spads (special advisers) WhatsApped his boss:
… Thoughts on me suggesting to Chief's spads that they give us a list of the 2019 intakes thinking of rebelling. Eg James wants his Learning Disability Hub in Bury – whips call him up and say Health team want to work with him to deliver this but that'll be off the table if he rebels
These guys' re-election hinges on us in a lot of instances, and we know what they want. We should seriously consider using it IMO
Hancock replied:
yes, 100%
James Daly only found out about this through The Lockdown Files:
Mr Daly – whose constituency is the most marginal in the UK mainland with a majority of just 105 – told The Telegraph he was "appalled" and "disgusted" that the disability hub, for which he had been campaigning, had been discussed as a way of coercing him into voting with the Government.
He said he had never been contacted by the Whips' Office and no threat to block the scheme had been made.
The conversation between Nixon and Hancock continued on December 1, 2020:
On the morning of the vote, Mr Hancock messaged his adviser to say: "James Daly is with us", but Mr Nixon responded with the caveat: "If extra hospitality support is forthcoming."
Later that day, Mr Nixon also forwarded his boss a new list of MPs who were undecided on the vote. In the event, Mr Daly voted against the Government, according to the parliamentary record.
In total, 55 Conservative MPs opposed the tiers system, forcing Mr Johnson to rely on Labour abstaining to get the measures through. It was, at the time, the biggest rebellion of the Johnson administration.
After revealing that he had not been contacted by the Whips' Office, Mr Daly said: "It sounds like the whips didn't bother."
The Bury North MP said he was surprised that the hub, which would allow specialists to coordinate activity under one roof, was even being threatened because "it never got dangled in the first place".
He added: "They were never proposing to give it to me. I still don't have it. Even though I have repeatedly campaigned for it, Hancock never showed the slightest bit of interest in supporting it. I had a number of conversations with Hancock at that time, but I can definitively say the hub was never mentioned.
"I think it is appalling. The fact that they would only give a much needed support for disabled people if I voted for this was absolutely disgusting."
Mr Daly had discussed the need for the centre with Mr Hancock in January 2020. In a post on his website about "how we improve health outcomes for all Bury North residents", he published a photograph of himself with the then health secretary. The hub, he said, would benefit "the most vulnerable in our community".
That afternoon, The Telegraph published 'Rishi Sunak rebukes Matt Hancock over plot to block disability funding':
Downing Street has rebuked Matt Hancock after it emerged that he had discussed a plan to block funding for a new disabled centre to pressure a Tory MP to back lockdown restrictions …
Asked whether this was not the way Rishi Sunak would like his ministers to operate, the Prime Minister's official spokesman said: "Of course. There are rules and guidelines which apply.
"I can't speak for the actions of a former government. I think you heard from the Prime Minister, who said it's important that the inquiry looks at all the issues in a complete way rather than relying on piecemeal bits of information.
"You will know that funding decisions are taken in line with strict guidelines to ensure value for money set out in the spending framework, and ministers' departments are held accountable for their decisions."
Allison Pearson: Hancock 'should be arrested'
After The Telegraph published No. 10's rebuke to Hancock, one of the paper's columnists, Allison Pearson, weighed in with 'Matt Hancock should be arrested for wilful misconduct in public office':
… Dismayingly, if not entirely unpredictably, it was the very restrictions Matt Hancock and his lockdown zealots told us were necessary to save the health service which have very nearly finished it off. "The NHS has collapsed anyway as a direct result of the lockdowns and the vast backlog they caused," says my source. Ironies don't come much more bitter than that …
Just when you think he has sunk as low as is humanly possible, he ponders using children with special educational needs as leverage ("yes 100%," enthused Hancock). By unhappy coincidence, I have just had an email from Rob, a father with an autistic son. This is what Rob wrote: "Lockdown sent him from a happy 14-year-old into a complete psychological breakdown. The fear of why everyone was wearing masks, the breaking of routine (so important for SEN children) and closing of schools. He was utterly terrified. The knock-on-effect for our family has been devastating. Thanks to anti-psych meds he's slowly getting there, but from the second lockdown onwards it's destroyed the fabric of our family to say nothing of our life savings being lost (self-employed). To read the WhatsApps in The Telegraph makes me so angry. Having the heartbreak of a disabled child made worse by self-aggrandising fools is almost too much to take. Administering psychiatric medicines to your child tends to focus the mind as to where the blame lies and it isn't with Isabel Oakeshott."
Well, there's another Hancock Triumph. A 14-year-old boy who successfully had the pants frightened off him. (Hope you feel proud of yourself, Matt.) Are Members of Parliament seriously not going to debate what we suspected, but now know for sure, was done quite deliberately to Rob's son and thousands of other vulnerable children, some of them no longer with us because they were scared into taking their own lives? …
As for Matt Hancock, he has lost the Whip and, unfortunately, can no longer be disciplined by the Conservative party. The slithy tove can – and must – be dragged before a Select Committee. Personally, I would like to see him in jail for the vast hurt he has caused.
Are there grounds for a prosecution of the former minister for misconduct in a public office? Did Matt Hancock "wilfully misconduct himself to such a degree as to amount to an abuse of the public's trust in the office holder without reasonable excuse or justification"? …
Now, that's what I call an Urgent Question.
Also of interest is 'Dominic Cummings takes "nightmare" swipe at Rishi Sunak and Matt Hancock'.
I hope to wrap up the rest of my review of The Lockdown Files tomorrow.
Yesterday's post introduced Matt Hancock's hunger for absolute control during the coronavirus debacle.
The story, with excerpts from The Telegraph's The Lockdown Files, continues after a brief interlude.
Giles Coren: 'we all broke the rules'
On the afternoon of Wednesday, March 22, broadcaster and Times columnist Giles Coren, son of the late humourist and Punch editor Alan Coren, gave a radio interview in which he said that 'we all broke the rules', meaning during the pandemic.
The subject arose as former Prime Minister Boris Johnson was taking his place at the parliamentary Privileges Committee hearing to defend himself over Partygate.
As a result, Giles Coren trended on Twitter — and not in a good way:
A few of the cleaner tweets follow:
However, this next tweet nails it. Giles Coren doesn't mean average Britons. He's referring to the media class and other privileged oafs:
Which brings me neatly to Matt Hancock.
Hancock wants immunity over care home deaths
On March 4, 2023, Chronicle Live recapped an article from the Mirror about a talk that the former Health and Social Care Secretary gave to a group of top-flight London lawyers about who was to blame for care home deaths (emphases mine):
Matt Hancock told a gathering of city lawyers he should be immune from court action over Covid blunders, The Mirror reports – just days before shocking WhatsApp messages he sent during the pandemic were published.
Mr Hancock said he should not be held personally responsible for failings during the fight against Covid-19, such as the Department of Health and Social Care's failure to safeguard care home residents, simply because he was Secretary of State. Instead he said that "HMG" – the whole Government – should take the blame.
This comes even as prominent campaigners call for the ex-minister to be prosecuted.
He was heard saying that he believes lawyers pursuing him personally "were chasing tabloid headlines". He was speaking to lawyers from firm Mishcon de Reya in a talk over his book, Pandemic Diaries, coming just months after his stint in the I'm A Celebrity jungle.
Mr Hancock has furiously denied claims that his leaked WhatsApp messages show he ignored Chief Medical Officer Chris Whitty's advice to test all people going into care homes.
His department's policy of discharging untested patients into them from hospital was ruled unlawful by the High Court in April in a case brought by Dr Cathy Gardner, who lost her father. At the time of the ruling, union GMB said the department had shown a "callous disregard" for care homes.
The messages leaked to the Daily Telegraph this week by Isabel Oakeshott, journalist and the co-author of Mr Hancock's memoir, show he thought committing to testing people coming into care homes from the community – including staff – didn't "add anything" and "muddies the waters" …
And 12 days ago he held an online question and answer session with top lawyers from Mishcon de Reya and told them it was wrong that a Secretary of State of a department should be held legally responsible for failures and it should be "HMG" instead. Currently, the defendant in any judicial review against a Government department has to be the Secretary of State.
But Mr Hancock said: "I don't think it's an appropriate use of the courts to essentially go chasing tabloid headlines. You know, 'Hancock broke the law' – I didn't break the law." In the Q&A, Mr Hancock also claimed to have "banned alcohol" in his department to stop his team being "more social".
Some of the leaked WhatsApp messages reveal then-aide Gina Coladangelo – who is now his partner – telling him there were drinks in the fridge to celebrate hitting his testing target in May 2020. She wrote, adding a beer glasses emoji: "Drinks cold in fridge at DH. Feel free to open before we are back."
A spokesperson for Mr Hancock confirmed he did not introduce a booze ban until the next January. Mr Hancock also blasted criticism of the Tories' bungled PPE procurement as "offensive" in the Q&A and justified writing off £12billion of PPE, most of it unusable, saying: "I'd rather save lives."
… Meanwhile, activist Gina Miller, leader of the True and Fair Party and who took the Government to court over Brexit, has written to Met Police Chief Sir Mark Rowley calling for Mr Hancock to be prosecuted.
She wrote: "The threshold has been met to investigate Mr Hancock for gross negligence manslaughter… a common law offence that carries a maximum of life imprisonment."
'Mr Vaccine'
As 2020 dragged on for many of us, Hancock was keen for his moment of glory, as The Telegraph related in 'Inside Matt Hancock's desperate bid to be known as 'Mr Vaccine"'.
Emphases mine below:
Matt Hancock feared he would not get credit for the UK's vaccine success and described the speeding up of the jabs rollout as a "Hancock triumph".
The former health secretary's WhatsApp messages show he fought to be the face of Britain's vaccine campaign at the height of the pandemic and became furious if he thought others were getting the credit.
And he was told by his media advisers that fronting Britain's vaccine programme would allow the press and public to "forgive" him for imposing lockdowns and that "politically" he must balance the two. 
However, the Department of Health and Social Care had to work with the Department of Business, Energy and Industrial Strategy (BEIS) on the vaccine procurement.
Hancock was unhappy:
Mr Hancock had already battled with his Cabinet colleagues over who should have overall control of the procurement strategy, and struck an uneasy compromise between the Department of Health and Social Care and the Department of Business, Energy and Industrial Strategy.
The announcement of the Pfizer vaccine made things worse for him:
In November 2020, the Department of Health caught wind that Pfizer was planning an imminent announcement that its vaccine was more than 90 per cent effective against Covid-19.
The Pfizer vaccine was the first to report its interim trial data and went on to be the first to be administered to the public in the UK the following month …
On hearing that the news was about to break, Mr Hancock bemoaned he was not live on camera and worried he would be overshadowed by Alok Sharma, the then business secretary.
The article has a screenshot of the WhatsApps he exchanged with adviser Damon Poole:
Pity I'm not up in the Commons!
I should do a clip
We should pump out the NHS doc
Do No10 know?
When Poole answered in the affirmative, Hancock was eager to do the media round the next morning:
I should DEFINITELY do the round tmrw
Just to reinforce the point, he messaged Poole again:
It MUST NOT be Alok!
On December 8, Hancock appeared on ITV's breakfast show, Good Morning Britain (GMB), to watch the first Britons, a man and a woman, both elderly, get their 'jabs':
… Mr Hancock gave one of his most memorable interviews of the pandemic …
Wiping a tear from his eye, he told the programme it had "been such a tough year for so many people" and he was relieved that people could at last "get on with their lives".
The lady was Margaret Keenan, aged 90 at the time. She received her jab in Coventry.
The man's name was William 'Will' Shakespeare. He was 81 at the time and has since died (nothing to do with the vaccine). When the presenter announced his name, it was hard to know whether Hancock was laughing at it or crying about his step-grandfather who died of Covid (more here).
The frames extracted from that moment don't exactly make for comfortable viewing. Thank goodness someone online captured them for posterity. Don't miss the caption: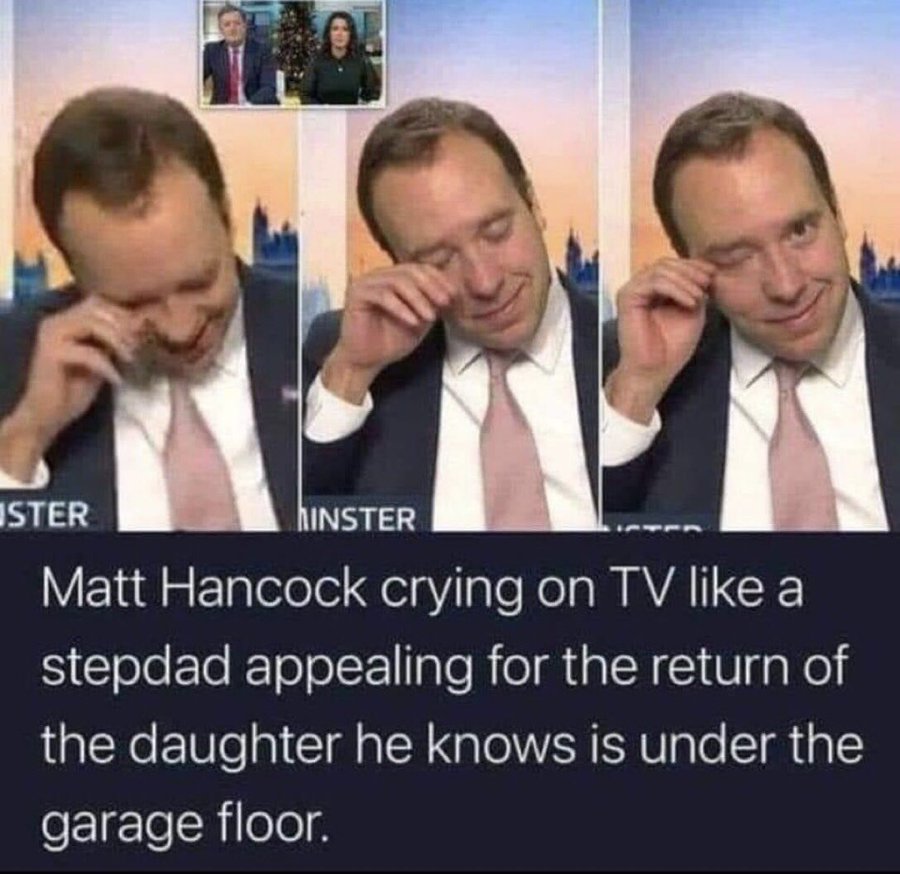 However, there was no immediate big media momentum for Hancock after those initial jabs, even though millions of people watch GMB.
On Boxing Day 2020, Damon Poole WhatsApped Hancock to ask if he had spoken with journalists from the Sunday papers. Poole did not like all the articles about the vaccine, which he called 'this vaccine spray'. As it was the day after Christmas, Hancock hadn't looked at the papers until he heard from Poole:
Now I've seen it. Sure it's not No10?
Poole replied:
I'm pretty sure it's them
MOS [Mail on Sunday]/Times/Tele[graph]
Hancock fired back:
The thing that p—–s me off is the Mail on Sunday links it to Rishi. What's that all about?
The first few days of 2021 proved no better for Hancock's desired media exposure. On January 7, Hancock asked Poole to send him the link to a Mail story with the headline 'Vaccine approval is finally cut from TWENTY days to five'. Poole sent him the link and added:
MHRA [Medicines and Healthcare Regulatory Agency] briefing [I'm] pretty sure
Hancock asked if that was true. Poole said he thought it was and sent him a link to a tweet of the Mail's front page:
Hancock replied:
I CALLED FOR THIS TWO MONTHS AGO. This is a Hancock triumph! And if it IS true we neeed [sic] to accelerate massively.
The Lockdown Files article continues:
The strategy of taking credit for the vaccine, and therefore the impact on lockdown restrictions, was eventually given its own slogan: "Own the exit."
The phrase is repeated several times between Mr Hancock and his aides in the months that followed.
Then, finally, there was success at last. On January 11:
… the day the official vaccine delivery plan was published, Mr Hancock sent Mr Poole screenshots of news articles about his announcement.
Hancock messaged Poole:
These shots are extraordinary. Positive coverage in the Sun AND Mail.
Poole replied:
Keep riding it through to spring – own the exit!
Well, Hancock owned his own exit that June. That's for sure.
'Headless chicken' over vaccines
Not everyone who worked with Hancock would call him 'Mr Vaccine'.
Clive Dix wrote a first-person article for The Telegraph about his experience, 'I worked with Matt Hancock on Covid vaccines – he's a headless chicken':
I worked with Matt Hancock the whole time I was at the Vaccine Taskforce and he was, without doubt, the most difficult of all the ministers because he didn't take time to understand anything.
He was all over the place, a bit like a headless chicken. He often made statements saying "we are going to do X and we want to let the world know about it", but we were dealing with an uncertain situation in bringing the vaccines forward.
The manufacturing process was brand new and any process like this is fraught with problems, which we need to fix as we go along, but normally you would spend two or three years stress-testing something like this.
Hancock was laying down timelines by saying things like "we will vaccinate the whole population", and these timelines drove his behaviour.
Hancock was upset when there was a problem with the AstraZeneca vaccine production:
When we said the AstraZeneca vaccine had manufacturing problems, that is when Hancock panicked. 
He didn't believe us. We were working night and day to make it work and he was turning around and saying: "I have said the UK population will all get vaccinated."
But we couldn't change the nature of the process and he didn't get that. He thought it was like procurement. That is where his behaviour came from. He panicked and that led to them going to India and taking vaccines that had been meant for the developing world.
I thought that ethically it was very wrong to take doses that it had been agreed would go to the developing world just to meet an arbitrary timeline. This is why I ended up resigning, because I could no longer advise a government that acted on these terms.
Nonetheless, the team pressed on with getting doses from India:
Here, we were taking 10 million doses from the developing world just to meet Hancock's timeline and it was a timeline that had just been plucked out of the air. We were still well ahead of the majority of the world, ministers should have been upfront and said that we can vaccinate everyone within a month, but we won't quite hit the timeline. They should have admitted that they were slightly wrong.
I couldn't stop them doing it, because it wasn't my job to make policy decisions about where we get the vaccine from. But I said if this is where you are, then I don't want to advise this government anymore. I didn't resign there and then, but I did resign in March 2021. I didn't want to disrupt the work.
It was all driven for the wrong reasons and then Hancock – rather than put his hands up – blamed the Vaccine Taskforce for stalling.
For him to be sending messages and saying Kate Bingham [head of the Vaccine Taskforce] was not reliable is appalling.
On October 4, 2020, Damon Poole WhatsApped Hancock a link to a Financial Times article: 'Less than half UK population to receive coronavirus vaccine, says task force head'.
Hancock replied that he didn't have a subscription to the paper, which is behind a paywall. He asked Poole:
… is that Kate?
When Poole responded in the affirmative, Hancock messaged back:
If so we absolutely need No10 to sit on her hard. She has view [sic] and a wacky way of expressing them & is totally unreliable. She regards anything that isn't her idea as political interference
Poole messaged back, agreeing, saying he'd had a 'blazing row' with her when he was working at No. 10.
Clive Dix resumes his story, alive with memories of Hancock:
We were working as hard as we could and he thought he could just come in and make a bold statement to the public and tell us that we have got to do it. I don't think he understood the process. He was a loose cannon.
Dix tells us more about how Health and Social Care worked with BEIS. Here, too, Hancock had to have his own way:
The taskforce sat in the Department for Business, Energy and Industrial Strategy (BEIS) and that is where the budget came from. We reported to Alok Sharma and then Nadhim Zahawi came in as vaccines minister. Hancock wanted to get involved and because he was secretary of state, Alok stepped aside.
He was using the vaccine to protect his reputation.
Dix, who was a volunteer, gives us an insight into the wider politics involved:
I had worked for nine months from 4am until midnight without any pay to do this.
It is certainly extraordinary to see how two-faced they are. They were all nice to me to my face but to see what they were saying to Boris Johnson was particularly unpleasant.
It reflects badly on Nadhim and all the civil servants who worked so hard to get this right. In my humble opinion, Hancock was actually the problem.
Hancock hoped to treat French Covid patients
Incredibly, during lockdown, Hancock wanted to appeal to French president Emmanuel Macron to allow his nation's coronavirus patients to be treated in the UK.
With the NHS under pressure, Hancock somehow thought he managed to find spare beds … for the French.
Don't get me wrong. I love the French as much as I love the British and the Americans, in no particular order. They're the three societies I know the best. But this was a step too far.
After all, the Government locked down the UK to save the NHS, right? So how was it that Hancock suddenly found spare beds, especially for patients from other countries?
Meanwhile, British patients with cancer, heart disease and other serious illnesses couldn't get a look in to a doctor, never mind a hospital.
The Telegraph's 'Matt Hancock's secret plan to import French Covid patients' says that, in November 2020:
Matt Hancock planned to bring French Covid patients to the UK for treatment during the second wave of the pandemic, despite national lockdown restrictions in force to protect the NHS.
Messages between the then health secretary, his advisers and Boris Johnson, then the prime minister, show he hoped to offer "spare" intensive care unit beds to Emmanuel Macron to help the French president deal with a major outbreak in his country in November 2020.
At that time, Britain was under a second national lockdown that was sold to the public as necessary to prevent the "medical and moral disaster" of an overwhelmed NHS.
But Downing Street and the Department of Health and Social Care created a secret plan to transfer Covid patients from the busiest French hospitals, bringing more cases of Covid to the UK.
However, that wasn't enough. Hancock also wanted to make the same offer to Italy. The article has screenshots of the relevant WhatsApp messages.
That aside, let's continue with France:
The plan is not thought to have ever been implemented, but Mr Hancock said: "We may need to make a similar offer to Italy," despite exponential increases in Britain's own case numbers.
On Nov 13, Mr Hancock shared with his top advisers a letter that he planned to send to Olivier Veran, the French health minister, offering to import French Covid patients to the UK for treatment.
"I have seen the pressure on your hospitals, and that some patients are being transferred abroad," the letter said. "We have our epidemic largely in the north of England, and some spare capacity in London and the south.
"We could provide some ICU beds to which you could transfer some patients. Would that be helpful to relieve pressure on your most affected regions? Our countries have always stood by each other in times of need."
By this point in the European second Covid wave, the UK was looking to Europe as case numbers exploded in France, Italy and Spain, with a second national lockdown imposed in an attempt to reduce transmission.
France had already been taken off the UK's travel corridor list, meaning that any person travelling to Britain from France was required to quarantine for 14 days or face a fine. By late November, France and Britain had similar rates of the virus, with around 275 cases per 100,000 people.
However, on October 31, Boris stated publicly that the UK had reached capacity:
In an address to the nation on Oct 31, Mr Johnson said that even in the south-west of England, where Mr Hancock had proposed housing French patients, "it is now clear that current projections mean they will run out of hospital capacity in a matter of weeks unless we act".
He said that if new measures were not imposed, the growth of Covid numbers would mean that "doctors and nurses would be forced to choose which patients to treat, who would get oxygen and who wouldn't", adding: "The overrunning of the NHS would be a medical and moral disaster beyond the raw loss of life.
"It is crucial to grasp that this general threat to public health comes not from focusing too much on Covid, but from not focusing enough, from failing to get it under control."
It should be noted that Hancock got this mad idea from a life peer and was immediately swept up by it:
An earlier WhatsApp conversation between Mr Hancock and Mr Johnson about the idea shows it originated with Lord Llewellyn of Steep, who was then serving as Britain's ambassador in Paris.
"I love this idea of Ed Llewellyn's to offer Macron (privately) to treat some of their cases where they have pressure on the health system," Mr Hancock wrote to Mr Johnson on Oct 2, 2020. "Because we have a regional problem we also have regional capacity in East Anglia (Cambridge?) or the SW."
Lord Llewellyn is now serving as the UK's ambassador to Italy. He is a former Downing Street chief of staff, serving in Number 10 under David Cameron.
The mind boggles.
That's enough Matt Hancock for one day.
Don't worry. There's more to come.
Soon.
Yesterday's post on The Telegraph's Lockdown Files series focused on top civil servant Simon Case and how Government ministers and advisers brought about the first lockdown in 2020 after pressure from the media.
Today's post looks at The Telegraph's revelations about the then-Secretary of State for Health and Social Care Matt Hancock.
He had a deep hunger for absolute control and brooked little opposition.
Grudge against NHS chief Simon Stevens
It is unclear exactly why Hancock bore a grudge against Simon Stevens, who headed the NHS at the time of pandemic and resigned in 2021. Stevens was later elevated to the Lords.
On March 4, The Telegraph published 'Matt Hancock's campaign to remove NHS chief revealed' (emphases mine):
Ministers tried to remove the head of the NHS just five days after the first Covid-19 case was detected in the UK.
The Lockdown Files reveal the animosity shown towards Lord Stevens of Birmingham, the chief executive of NHS England. 
Six months into the pandemic, Matt Hancock, the then health secretary, declared "removing SS [Simon Stevens] will be a massive improvement".
On another occasion, Mr Hancock was so visibly angered by the NHS chief that his own advisers warned him: "Simon needs a kick… don't make yourself look bad in the process".
The messages between ministers and officials disclose the lack of regard both in Downing Street and the Department of Health for Lord Stevens, despite widespread praise of his stewardship of the NHS for seven years. 
The private messages also appear at odds with the Government's support for the NHS during Covid, while belittling its boss behind the scenes.
Lord Stevens finally retired from the post in July 2021 and was made a life peer in recognition of his services to the NHS.
But the messages reveal that Mr Hancock and Dominic Cummings, Boris Johnson's chief adviser, were conspiring to get rid of him for at least 18 months before he finally stepped down.
Nine days after Chinese authorities first shared the genetic sequence of Covid-19, Mr Hancock messaged Mr Cummings explaining he was approaching Lord Ara Darzi, an eminent professor of surgery, to "persuade" Lord Stevens to quit.
The article has screenshots of various WhatsApp conversations, excerpted below.
On February 3, 2020, Dominic Cummings was eager for Stevens to leave and messaged Hancock:
We must get on with it now. Announce next week as part of reshuffle frenzy and it will all get lost in that
Cummings was out of luck. It did not happen.
In the early weeks of the pandemic in April 2020, Hancock seemed to be overly exercised by Stevens:
Mr Hancock criticised Lord Stevens in a Downing Street meeting, during which he was so visibly angered that his special adviser Allan Nixon remarked by WhatsApp: "You look like you're losing grip in front of No 10 by having a go at Simon like that. Simon needs a kick but don't make yourself look bad in the process."
Mr Hancock responded: "It's ok – he needs to know he is massively f——g up. And I'll tell the room what happened once the video is off."
Mr Nixon replied: "Ok but be aware from afar it looks like you're cracking under pressure."
The article states:
It's unclear precisely why Lord Stevens irritated Mr Hancock so much, but when he quit, NHS sources said his successor was likely to be someone "less outspoken and less willing to challenge Government".
Lord Stevens had clashed with successive Tory administrations over NHS funding, and The Lockdown Files also show clashes over tackling the virus and the rolling out of the vaccines.
Dentistry became an issue in May 2020:
Mr Hancock was again furious with Lord Stevens, this time over the NHS chief executive's issuing of guidance allowing dentists to reopen in June. Mr Johnson complained he had not been aware of the guidance being changed.
Boris WhatsApped Hancock:
I told Simon Stevens he should have warned us and he grovelled
Hancock replied:
I hit the roof with him. Unbelievable. Have you read the letter I've sent about the future of the NHS? We need to get cracking…
Their disagreement continued:
The files also contain text messages between Mr Hancock and Lord Stevens, in which they argue over whether the NHS chief executive had permission to make the announcement on dentists reopening, which the Government had wanted held back for its televised press conference.
In August, Hancock sent a message to Cummings about possible new legislation which would give government ministers more control over the NHS. It ended with this:
Removing SS will be a massive improvement — but we still need a Bill to do it properly.
In December 2020, Hancock and Stevens disagreed about the vaccine rollout:
Lord Stevens was angered in December 2020 about a claim being briefed to the media that millions of people were due to receive the jab by Christmas.
On December 13, he WhatsApped Hancock and a group of senior health officials and advisers:
There is no version of reality whereby "several million people will receive the vaccine before Christmas" so whoever briefed that might want to urgently undertake some course correction before that inevitably becomes clear
When Stevens announced his resignation in 2021, public pronouncements differed considerably from private conversations:
Even after Lord Stevens announced that he was stepping down, Mr Hancock continued to be irked by him.
The three health secretaries he had served alongside – Mr Hancock, Jeremy Hunt and Sajid Javid – had jointly signed a letter praising Lord Stevens.
The letter included a statement saying his "tireless efforts to improve patient safety, and secure access to innovative medicines like Orkambi, have had a huge impact on the lives of so many".
But after he was shown the letter, Mr Hancock – who had by then been forced to resign over an affair in his office – asked for the reference to the drug Orkambi to be removed. 
The NHS uses Orkambi in treating cystic fibrosis.
Hancock complained in a message to his Spad (special adviser) Allan Nixon. Nixon asked what he should say to Sajid Javid, Hancock's successor at Health and Social Care.
Hancock replied:
Because it was really you and me
He did make the move on opening up to more meds, but only did this one with huge arm twisting
How petty.
Hancock chose to save reputation over cutting quarantine
This was The Telegraph's front page on Monday, March 6, 2023:
He did not want to cut self-isolation time because it would:
imply we've been getting it wrong.
Clearly they had got it wrong.
Doesn't admitting a mistake show the measure of a person or an organisation, including a government? Personally, I respect that.
It would have been easy enough to rationalise, too. Hancock could have said that medical experts now know more about the virus, which the data from Test and Trace supported.
But no.
Hancock was too weak — and power-hungry — a man to admit a mistake.
Excerpts follow from that day's lead article, 'The leaked messages that reveal how Matt Hancock chose saving face over cutting Covid quarantine', which concerns England:
At points during the pandemic, more than 600,000 people a week who had been in close proximity to a Covid case were told to quarantine for 10 days.
In total, the policy resulted in more than 20 million people – a third of the entire population – being told to self-isolate, regardless of whether they had symptoms.
Now, WhatsApp messages seen by The Telegraph show that a proposal to replace that with five days of testing had been discussed as early as November 2020 – but was not put in place.
The Lockdown Files show that Matt Hancock, the then health secretary, was told by England's Chief Medical Officer [Chris Whitty] that they could change the policy in "favour of testing for 5 days in lieu of isolation". At that stage, the self-isolation period was 14 days.
But instead of taking Prof Sir Chris Whitty's advice, Mr Hancock rejected the idea – fearing that it would "imply we'd been getting it wrong".
Switching to a five-day testing regime would have transformed the way the country was able to operate during the pandemic.
A month after Sir Chris gave his advice, isolation was reduced to 10 days – a length which continued to wreak havoc on businesses and services.
Having heard every coronavirus briefing, I suspected this all along. It is good to see confirmation of it now.
Things got worse in 2021 with the 'pingdemic'. You couldn't make this up:
By the summer of 2021, so many people were sent automated "pings" by the NHS Test and Trace app telling them to stay at home that restaurants and other businesses were forced to close through lack of staff.
The app proved to be so sensitive that neighbours were being pinged through walls, causing large numbers of people to delete the app in frustration. The Government ended up having to exempt some key workers from self-isolating to prevent the NHS and critical food supply chains from collapsing.
Some relief came in August that year:
those who were under the age of 18 years and six months and those who were fully vaccinated no longer had to isolate if they were a close contact.
Self-isolation policies lasted nearly two years:
… it took until Feb 2022 for self-isolation guidance for contacts of positive Covid cases to be scrapped altogether, by which time NHS Test and Trace had cost the taxpayer around £26 billion.
Discriminatory quarantine exemptions proposed
In August 2020, a 14-day quarantine period was in place for Covid case contacts and travellers returning to the UK from abroad:
The policy caused havoc for holidaymakers and split up families for months, with most people unable to take an extra fortnight off work to quarantine on return.
On Aug 5, messages from the then health secretary to the "MH Top Team" WhatsApp group appear primarily concerned with the self-isolation restrictions placed on people returning to the UK from abroad, rather than those on close contacts of people infected with the virus. The group included his aides and officials from his private office.
Mr Hancock asked: "Where are we up to on test & release and also high net worth quarantine exemptions?"
Replying to this point, a senior civil servant said: "On test and release expecting update today – on high net worth BEIS [Department for Business, Energy and Industrial Strategy] lead but we've asked for it."
When Mr Hancock returned to the issue two weeks later, this time he asked only about the policy that applied to "high net worth" business people …
At this point Emma Dean, one of his aides, interjected to ask Mr Hancock to "clear" a quote on Leicester, which was only just being released from lockdown because of higher rates of the virus in the area … 
Having approved the statement, Mr Hancock returned to the issue at hand – lifting travel restrictions for "high net worth individuals". The former health secretary appeared surprised to hear that the policy had not been given the green light by the business department …
Ms Dean's concern that there might be a "comms risk" associated with the policy to release only wealthy business travellers from self-isolation proved to be correct.
When news leaked in November 2020 that the Government planned to exempt City dealmakers, hedge fund managers and company bosses flying to the UK from the 14-day quarantine rule, the public was furious …
… on Nov 17 2020, Mr Hancock did receive some scientific advice in favour of loosening restrictions on self-isolation for people contacted by NHS Test and Trace.
Mr Hancock, however, was worried about how the move would play out with the public.
I wonder. By then, he was clearly enjoying his control over the public.
On a related topic, another Telegraph article, 'Ministers feared "racist" label if they spoke about Covid spread', discusses the problem with locking down cities such as Leicester and some in the north of England. To make it look more equitable, nearby areas with low rates of infection were also locked down, which brought complaints from several MPs. The Government also worried about getting their messages across to areas with high minority populations.
Pingdemic 'crippled' economy
Also in March 6's Telegraph was an article by one of their business columnists, Matthew Lynn: 'Hancock's overzealous "pingdemic" crippled Britain's economy — and we're still paying the price'.
Hancock was not alone in developing policy, however, his was the face we saw most often, whether on television or at the despatch box. He had a huge role to play in the parlous state of the economy during and after the pandemic:
It was, for several months at least, the most dreaded sound in any factory, warehouse, shop or cafe. Ping. The NHS app notifying a colleague they had been in contact with someone who had tested positive for Covid-19. In a flash, workers would depart, and schedules would have to be hastily re-organised.
For months, businesses were barely able to operate normally, output collapsed, and a culture of absenteeism was created that the UK is still struggling with three years later.
And yet, it now appears the isolation rules were for some time far stricter than they needed to be. The "pingdemic" may have been unnecessary – and so too the damage to businesses that it caused …
In November 2020, during the second lockdown, the Chief Medical Officer advised first that 14 days of isolation was only marginally safer than 10 days, and that even that could be replaced with five days of daily testing. It was rejected by Matt Hancock, the then health secretary. 
In fairness, tweaks to the rules were made. In mid-December 2020, the 14-day rule was cut to 10. Then in August 2021, after the 'pingdemic' reached its height, the isolation rule was lifted if you were under 18 or fully vaccinated.
However, the important point is this: for a long stretch of 2021 we may not have needed such rigid isolation rules for contacts of those with Covid.
And yet at that time, it was already clear to everyone that isolation was having a devastating impact on the economy. It was hard enough for anyone to operate any kind of a business during the chaos of lockdown, with its bewildering mess of constantly changing rules on what you could and couldn't sell, to whom, and under what conditions.
To make a bad situation even worse, however, the pingdemic meant any kind of commercial operation was constantly crippled by staff shortages.
Looking back at the news stories from the time, businesses were pleading for something to be done …
 … very big companies could shift staff around so that at least their most crucial operations could continue.
Yet small companies didn't have that option, and with 20 per cent or more of their employees pinged, they often had no choice but to close down completely.
Isolation hit the productive heartlands of the economy – manufacturing, construction and distribution – hardest of all. And the smaller the business, the more it suffered …
First, the UK lost a huge amount of output. The near 10 per cent drop in GDP during the pandemic was the worst in British economic history.
… even if it was only a couple of percentage points that could have been saved, that would have made a huge difference to the final cost of Covid-19.
Next, it created a culture of absenteeism. If you wanted to take a few days off work, there was never an easier time. Simply report that you had been pinged and few questions would ever be asked. 
That has carried on, even after the virus has disappeared. The Office for National Statistics reports that days off for sickness are running at the highest level for more than a decade, while a more recent survey by Fruitful Research found a 29 per cent increase in absenteeism since the pandemic ended.
The UK already had a dreadful record on productivity, but the pandemic made it a whole lot worse.
Finally, we have been left with a legacy of debt. Companies had to borrow money or dip into their reserves to cope with closures, while the Government was forced to borrow far more to deal with higher costs on the back of lower tax revenues. It will take generations to pay all that back.
… We could have cut the time much earlier than we did and saved the economy a huge amount of pain.
I couldn't agree more.
I have been writing about the pandemic for three years now. You can read every entry on my Marxism/Communism page under Coronavirus. With each new post on the subject, I experience the same thoughts and emotions about how much the policies devised to notionally combat this virus caused havoc not only in the UK, but also other Western nations.
I will have more on Matt Hancock tomorrow. Some will wonder how much more there is to write about him. There is still more, so much more.