You are currently browsing the tag archive for the 'coronavirus' tag.
May this be the only time the State Opening of Parliament has to be so pared down.
In December 2019, the last time this ceremony took place, everything was normal, with peers, MPs and distinguished guests filling every available space.
My post from that year explains how the ceremony and the Queen's Speech — written by the Government — unfolds and concludes.
Tuesday, May 11, 2021, was the 67th occasion on which the Queen has opened Parliament. This was her first formal engagement since the death of Prince Philip:
Steeped in tradition, the State Opening brings together all three parts of Parliament: the House of Commons, the House of Lords and the Monarch.
Prince Charles accompanied the Queen, as he did in 2019. This was the first year that the Duchess of Cornwall attended.
Prince Charles and the Duchess of Cornwall, who are at Clarence House in St James, arrived by car at the Monarch's Entrance to the Palace of Westminster.
The Queen left Buckingham Palace by car and arrived a short time later.
Inside the House of Lords, the throne for the Queen's Consort — Prince Philip — had been removed and is in safekeeping. There was one throne and, off to the side, two plush chairs for Prince Charles and the Duchess of Cornwall.
Once the Queen enters the Palace of Westminster, the Union flag on top of the building is lowered and her standard is raised. Upon her departure, her standard is lowered and removed and the Union flag raised.
The Queen entered the House of Lords with Prince Charles. The Duchess of Cornwall walked behind them, socially distanced.
This video might be geo-localised, however, for those fortunate enough to see it, it has the whole ceremony. The Lords must wear their formal robes (a sign language version is also available):
Other participants must also wear ceremonial dress or robes for their office, including the Speakers of the Commons and the Lords:
These are the robes the Lords Spiritual — Church of England bishops — wear:
Here is the Speaker of the House of Commons along with his deputy speakers:
Yeoman warders from the Tower of London are part of the ceremony:
They are shown below in the Royal Gallery, which leads to the House of Lords:
On Tuesday, socially distanced MPs sat on one side and Lords on the other. Those who wished to attend submitted their names, and the requisite number of persons was chosen by lottery:
The Queen makes her entrance to the House of Lords via the Royal Gallery and exits in the same manner:
Here she is prior to giving her speech, awaiting the arrival of members of the House of Commons, summoned by Black Rod:
Normally, the speech is handed to her, but because of health restrictions, it was already sitting on the table next to her.
The transcript is available online:
To allow for flexibility, allowance is made for any additional legislation that might arise. One example of this from the previous parliamentary year was the infamous Coronavirus Act 2020, which is still in effect:
The Queen ends her speech with a blessing:
This is a summary of the new legislation:
In addition, there will be legislation on repealing the Fixed Term Parliament Act so that elections can be more easily called (rather than every five years), an anti-hate speech online law (Online Harms Bill) and a measure to introduce voter ID. Why we need voter ID, I have no idea; we receive electoral roll cards prior to every election. Those work perfectly well. There was only ONE case of voter fraud in 2019. Postal voting is a bigger cause of any electoral fraud.
Only a small number of MPs were allowed to be in the Lords chamber for the speech: Commons Speaker Sir Lindsay Hoyle, Prime Minister Boris Johnson, Leader of the House of Commons Jacob Rees-Mogg, Labour Leader Sir Keir Starmer and the party whips. Any other MPs showing up in person had to remain in the Commons chamber.
A new Lord Speaker was in attendance, Lord McFall (Labour) who succeeds the recently retired Lord Speaker, Lord Fowler, who returns to the Conservative bench in the chamber:
After the Queen delivers her speech and leaves, parliamentary business can begin.
Both Houses debate the contents — proposed legislation — of the Queen's Speech. The debate is called the Humble Address:
Once back in the House of Commons, the Serjeant at Arms replaces the mace and a new set of debates on future legislation can begin. The next two tweets explain the relationship between the Commons — the locus of legislation — and the Lords, who debate the proposed laws and suggest changes — amendments — before the various bills return to the Commons:
There is also the ceremonial matter in the Commons of the 'release' of an MP who, traditionally, is held at Buckingham Palace while the Queen's Speech takes place. This year it was Marcus Jones (Conservative), who is also Vice Chamberlain to Her Majesty's Household:
In addition to new legislation, there are three upcoming by-elections:
The SNP MP for Airdrie and Shotts, Neil Gray, has been elected to the Scottish Parliament. The Conservative MP for Chesham and Amersham died a few weeks ago; Cheryl Gillan had participated regularly in Commons debates until just before her death. Labour MP Tracy Brabin has just been elected as the first Mayor of West Yorkshire.
Speaking of by-elections, Tuesday was the day when Harlepool's new MP, Jill Mortimer (Conservative), took her oath of office:
She is probably the only MP in living memory who could not shake the Speaker's hand. However, depending on how long coronavirus restrictions are in place, she might not be the last:
Both Houses have changed their typeface for their call lists. Why? The old version is on the right — and has more gravitas:
Commons Speaker Sir Lindsay Hoyle has instituted a flag representing the House of Commons, which made its debut today and will fly every day when the House is in session. Hmmm:
In closing, today marks the sad anniversary of a Prime Minister who was assassinated in 1820:
Thank goodness such events have been rarities in Britain. Long may they remain so.
May the Lord guide both Houses through the new parliamentary year.
By the way, that's Jersey as in the Channel Islands, not New Jersey.
The 200th anniversary of Napoleon's death was May 5, 2021.
A solemn commemoration was held at Les Invalides in Paris:
A number of Metro and railway stations in Paris are named after Napoleon's victories:
French president Emmanuel Macron was always a keen student of history, particularly Napoleon.
Britain's Prime Minister Boris Johnson is also a keen student of history, especially of battles that took place in antiquity.
Now we have a post-Brexit situation. France is upset that their fishing boats cannot go in Jersey's waters.
Sky News explains the new post-Brexit rules (emphases mine):
French fishing crews are demonstrating as part of a row over post-Brexit fishing rights.
Under the Brexit trade deal, which came into force on 1 January, EU fishermen continue to have some rights to fish in UK waters as part of a transition period until 2026.
However, under the new rules, EU boats wanting to fish within 12 miles of the UK coast need to be licensed and prove they have a history of fishing in those waters in order to carry on operating.
This includes submitting evidence of their past fishing activities.
Jersey has not granted licences to some of the boats that have applied to fish in its waters.
Ian Gorst, the island's external relations minister, said of the 41 boats which sought licences under the new rules last Friday, all but 17 had provided the evidence required.
"The trade deal is clear but I think there has been some confusion about how it needs to be implemented, because we absolutely respect the historic rights of French fishermen to fish in Jersey waters as they have been doing for centuries," he said.
"I do think a solution can be found. I am optimistic that we can provide extra time to allow this evidence to be provided."
The French government has also expressed its anger at what it said were unilaterally-imposed conditions on the fishing licences, including the time French fishing vessels could spend in Jersey's waters.
Jersey said it had issued permits in line with the terms of the post-Brexit trade deal.
The Jersey Evening Post reported:
Don Thompson, president of the Jersey Fisherman's Association, said Jersey had been 'quite generous' in its licensing scheme and described France's response as an 'over-reaction'.
He said: 'The EU have signed up to the [post-Brexit] Trade and Co-operation Agreement which states that Jersey must recognise the extent of previous fishing in our waters. The restrictions on the new licences cover what the French were already doing in our waters and are only preventing them from expanding their fishing efforts, which is needed if we are going to have sustainability in our waters.
'A point that is being missed is that Jersey boats do not have licences to fish in French waters – we are restricted to our own territorial waters while they can use ours, if any restrictions are placed on their own.'
Mr Thompson also highlighted how the approved 41 French vessels had been given a licence for free and urged Jersey's government not to give in to the French.
'Our boats would be charged £250,000 if they were to have something similar. Our advice to ministers is that they should not capitulate to these intimidation and bullying tactics that are being used,' he said.
'If we do capitulate now then they are just going to do the same thing every time we try to apply some form of management to make our waters sustainable.'
An oyster farmer from Jersey, mentioned in the headline, disagreed.
France threatened to cut off the electricity supply to Jersey. They have since backed down. Jersey Electricity said that customers did not have to worry:
On the evening of May 5, Guido Fawkes posted:
A reader responded:
These were the headlines on May 6:
They are armed fisheries protection vessels, or river class ships:
I wonder if the Royal Marines will use their new jetpack technology (videos here and here). It enables a Royal Marine to fly up to 12,000 feet in the air and up to 80mph:
As I write, these were the developments on Thursday, May 6. HMS Tamar, recently repainted with 'dazzle' camouflage, set sail for Jersey that morning:
We're in 2021 and not 1588 (sinking of the Spanish Armada), but, even so, there is a frisson of excitement about this:
France responded by sending two of their ships:
Guido Fawkes has more on France's reaction:
Guido's post says (emphases in the original here):
The head of the joint Normandy-Brittany sea authority has declared they are "ready for war" and "can bring Jersey to its knees" as tensions continue to ramp up between the UK and France over Jersey at a dizzying pace. War with France can only help Boris's 10 point poll lead…
Responding to two navy vessels being sent by Britain to patrol the situation last night, Macron has retaliated by sending one of his own military boats, to join 100 French fishing vessels blockading the harbour. A French minister has said the country "won't be intimidated" by British manoeuvres …
A military historian posted a thread about French fishermen protesting in Jersey:
This morning, a Jersey resident re-enacted an ancient battle with the French. He did this in safety, far from the port. Talk show host Jeremy Vine demonstrated how the blockade of the port was unfolding:
It's hard to disagree with this:
Negotiations are now taking place on Jersey between their government and the French fishermen:
The Jersey Evening Post reported:
External Relations Minister Ian Gorst, said: 'We are meeting with French fishing leaders this morning to listen to their concerns regarding fishing rights. There are continuing extensive political and operational efforts with both our local fishing community and French fishing associations, their regional representatives in France, and both the UK and French governments, in order to resolve the current dispute and resume previous good relations.'
A number of Islanders have turned up to watch and police are at the scene.
Although the crews have been setting off flares, the protest has so far remained peaceful.
One French fisherman complained that France has to go through the EU first for any resolution:
That could explain why Charles-Henri Gallois, president of Génération Frexit, is using this disagreement as an argument for France to leave the EU. He says: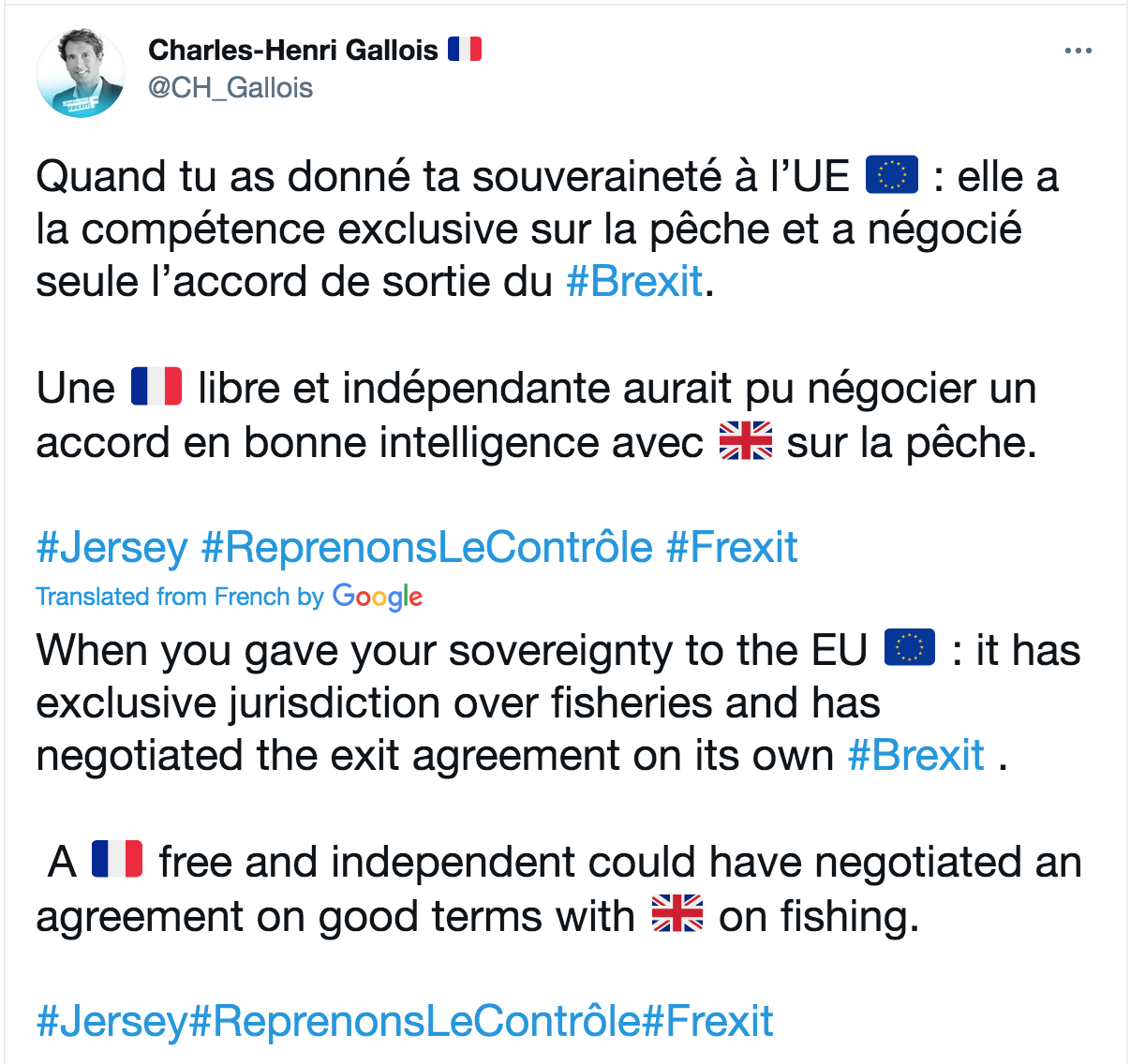 Here's his tweet, which met with an equally Frexit response:
Gallois also posted a link to an article in Les Echos, France's leading business newspaper, which says that the UK was able to handle their coronavirus vaccine rollout with 'great efficacy'. Gallois says that a free country which is independent is always more effective than one which is bureaucratic, slow and with divergent interests. He adds that, if one adds the totally antidemocratic aspect of the EU, one should not hesitate a single second to leave:
I wish Charles-Henri Gallois and Génération Frexit all the best in their pursuit of a France free from the EU.
Meanwhile, one wonders if the French are aware that today, Thursday, is England's local election day. As Guido says, this can only help Boris and the Conservatives.
UPDATE: IT ENDED BEFORE IT EVEN STARTED.
By dinnertime, the French fishermen had left Jersey:
Boris declared victory:
This is Guido Fawkes's version:
Guido reported:
The PM has hailed the end of the third battle of Jersey, understatedly calling the matter "resolved" after the 100 French fishing boats ran away earlier this afternoon.
The announcement comes as No. 10 says the two Royal Navy vessels will depart the island's waters in the coming hours, though will remain on standby in case Jersey once again finds itself in an hour of need. In the words of Maggie, just rejoice at that news, and congratulate our forces and the marines…
Many thanks to all involved in resolving this situation quickly. Even a small nuisance can be a lingering irritant if left to fester.
Thursday, May 6, 2021, could be a historic day for the constituency of Hartlepool in the North East of England.
Labour MP Mike Hill had to stand down earlier this year because of allegations of sexual harassment and victimisation. Voters will elect his replacement on Thursday.
The by-election is principally between an NHS physician, Dr Paul Williams (Labour), and Jill Mortimer (Conservative), a cattle farmer who lives in the North East but not in Hartlepool, something of which the media make much ado. Dr Williams is a former MP for nearby Stockton South (2017-2019) and lost his 2019 bid to Matt Vickers, a Conservative. He was also the CEO of the Hartlepool and Stockton Health GP Federation, which oversees 37 practices in Hartlepool and Stockton.
Hartlepool would be a significant, and one of the last, bricks in the Red Wall (historically Labour constituencies in the North) to fall to the Conservatives since the 2019 general election. The Conservative MPs representing the former Red Wall constituencies are from the North, know the issues and are willing to fight for the people they represent. In Parliament, they are no-nonsense, feisty and spiky. They do not hesitate to call out Labour on their lies.
Furthermore, Teesside, where Hartlepool is located, has a popular Conservative mayor, Ben Houchen, more about whom below.
Everyone wonders whether the constituency's new MP will be a Conservative, ending decades of consecutive Labour victories:
On May 3, this is what polling showed over time once Hill stood down:
Guido Fawkes reported (emphases in the original):
Expectations management by both Labour and the Tories sees them both privately spinning that it is on a knife edge that they fear they could lose or expect to lose respectively. Betting markets were neck and neck until a few weeks ago. Punters seem to think the Tories could steal it. A second visit to Hartlepool by the PM does suggest he is happy to own the outcome…
UPDATE: A recount shows this is the PM's third trip. Despite No. 10 doing expectation management, it sounds like Tories on the ground are gaining confidence …
Boris is being careful
Prime Minister Boris Johnson has been careful to manage Conservatives' expectations and to maintain the campaign momentum on the ground:
It was difficult for Liz Truss MP to contain herself in an interview with ITV News today:
What locals say
Guido Fawkes's readers have been giving their views of what has been happening in Hartlepool over the years.
One says (emphases mine):
Labour have done nothing for the north east especially Teesside. Remember when that slimeball Mandelson was parachuted in to Hartlepool to give him a safe seat? Great example of how Labour took their voters for granted (holding them in contempt more like) and no wonder they lost the red wall. The Tories are much more likely to deliver for this area and the locals know it. Boris has many faults but he realizes that the future of the Conservative Party rests in places like Hartlepool. Credit to him for recognizing this.
Another says:
This comment explains why the town voted Leave in the Brexit referendum:
… Hartlepool's trawler fleet devastated by the much bigger French and Spanish boats that destroyed our fisheries when we joined the EU, and the EU Commissioner NEIL KINNOCK [Labour] who refused to allow the government to supply British steel with cheap or free energy for the blast furnaces, and, of course, the EU edict that ordered the closure of the Tees shipyards in order to address over capacity in Europe, with the Labour party at the time saying the closures were the price we had to pay for European harmonisation.
That's why Hartlepool voted LEAVE, because the EU, not the Tories, ruined the region.
Tanya Gold went to Hartlepool for UnHerd and filed a report: 'How the Left lost Hartlepool'.
Incidentally, Hartlepool once made ships; it had 43 ship-owning companies in 1913. Now it has nothing.

She talked to the locals, one of whom is a pub landlord and an independent councillor. He said that the local council election is just as important as the parliamentary by-election:
There are two Hartlepools: the Headland ("The Heugh"), an ancient fishing village, and the newer West Hartlepool (Hartlepool means "stag pool"). I go to the Headland. There is a fabulous Norman church, St Hilda's, built on the site of a 7th century abbey, named for the patron saint of poetry. Its bells cannot be rung, due to weakness of the tower. What a metaphor! There are fine Georgian and Victorian houses on the sea, but they are crumbling, and in the gaps when others have fallen, modern housing: a history of English architecture, in mistakes …
I eat roast beef in the Cosmopolitan pub — the name is a gag — on the Headland, and I meet the landlord, the independent councillor Tim Fleming. Fleming says: "We've had enough of people just getting dumped on us, 'oh that's a safe seat, put him there'. It's the London Labour Party where it [the rot] started."
For Fleming, some voters have passed beyond despair to cynicism. "If you have a Tory up as mayor in Teesside [Ben Houchen] and a Tory in Hartlepool — all the Tories in all the towns they've took over — they might do [something] because they might be looking to build a new power base that's longer lasting than the one they've had. They've never had anything in the North so who knows? If he [Houchen] gets re-elected, there'll be nothing if we have a Labour MP and a Labour council in Hartlepool. No money will come here, never has done".
2019 election result
The Independent's John Rentoul points out that a Conservative victory on Thursday might be a logical eventuality. Note the number of their votes and the number of Brexit Party votes in 2019, when Labour's Mike Hill was elected:
Labour leader Sir Keir Starmer looked a bit worried in this interview with Sky News:
Mayoral election
The Conservatives have two popular mayors running for re-election on Thursday. Andy Street represents the West Midlands and, as mentioned above, Ben Houchen represents the Tees Valley. Their polling results look healthy:
On May 4, The Financial Times featured a profile of Ben Houchen: 'Tories' red wall shows no signs of crumbling on Teesside'. He is young, dynamic and gets things done in a part of England that has lost much of its proud industry: shipbuilding, steel making and fishing, to name but a few.
Excerpts follow:
As a close ally of Boris Johnson, Houchen's plans were unlocked when Johnson became prime minister in 2019. After freeport status was granted in the Budget in March, GE announced a new wind turbine factory on Teesside, creating 1,000 new roles. Although economists question the value of freeports, Houchen believes the status is vital for the area.
"People can talk about displacement, they can talk about additionality, GE were going to expand their factory in France if we didn't get the freeport . . . it has cost the exchequer nothing," he said. "If we can do what we want to deliver on that site, as well as across Teesside, you are getting dozens and dozens, if not hundreds, of new employers."
Houchen is up for re-election on May 6, when the 34-year-old hopes to gain a second term representing a conurbation of several of England's post-industrial towns. From Stockton to Middlesbrough, this corner of England once had deep connections to the opposition Labour party — ties that were cut when the region's heavy manufacturing industries entered inexorable decline.
In 2017, he delivered an electoral shock by winning the Tees Valley mayoralty for the Conservatives. His victory represented the first brick to be chipped out of the so-called "red wall": Labour's traditional heartland areas of England which have defected to the Tories over Brexit. Now he hopes to prove that the victory was not a one-off.
In 2017, he made an incredible campaign promise, which he kept:
His election pitch then was unconventional for a Tory: Houchen pledged to renationalise the small Teesside airport and reinstate more flights. If the plan failed, he would sell off the land to recoup the costs. It now has 18 flights a day, compared to two before, and with 1.4m passengers passing through its doors, is on track to turn a profit within a decade.
As part of the Conservatives' 'levelling up' agenda for the North, the Government has sent a lot of money to that part of England:
Chancellor Rishi Sunak chose the former railway town of Darlington in Tees Valley to be home for the Treasury's new northern economic campus. The government has also granted £52m for a carbon capture project as part of Teesside's burgeoning renewable sector.
Even Houchen's opponent, Labour's Jessie Joe Jacobs sounded discouraged, a situation not helped by the fact that she got coronavirus during the final days of the campaign:
Struck down with coronavirus in the final 10 days before polling day, Jacobs acknowledged the campaign has been difficult for Labour, given its wider decline in Teesside, and described the fight with Houchen as a "David and Goliath scenario".
The FT reporter went to Darlington to interview people there. One was particularly bullish on Boris:
Tony Law, a taxi driver waiting for customers, predicted Houchen would "win by a landslide" and praised his improvements to the area. He voted for him in 2017 and would back him again. "He's done a hell of a lot to change the area. He's clearly had an impact," he said.
Law felt the recent row about Johnson's use of donations to redecorate the Downing Street flat was irrelevant. "He deserves nice curtains given what he's been through with Covid. Boris has done a great job, especially with the vaccines."
The article ended with the Hartlepool by-election:
As well as the mayoralty, Tees Valley will be especially important on May 6 because of the Hartlepool by-election in the region. The town was such a Labour stronghold that the Conservatives did not target it in the 2019 election.
Were the Tories able to take it for the first time in 62 years, it would add credence to the view that a realignment among England's working class is taking place. According to a new YouGov poll this week, the Conservatives have a 19 point lead among working class voters.
The biggest danger for Labour is what one red wall Tory MP described as the "Houchen factor": voters will double tick to re-elect the mayor and Jill Mortimer to be Hartlepool's first Conservative MP. One of Labour's shadow cabinet ministers who has visited the seat cautioned that "it's not looking good".
It's hard to recall a local election as exciting as this one, especially with the Hartlepool by-election. I hope to have more later this week or early next week after the results are in and analysed.
One wonders if Labour leader Sir Keir Starmer has Conservatives on his PR team.
He certainly has not had a good campaign for his party's candidates in the run up to England's local elections on Thursday, May 6.
On Monday, April 19, he got off to a rocky start with a visit to a pub in Bath in the West Country, shortly after pubs were allowed to reopen for outdoor service after our winter lockdown. Publican — and Labour voter — Rod Humphris of The Raven gave Starmer a piece of his mind, saying that he did a lousy job of opposing the Government's coronavirus restrictions:
I have been a Labour voter my entire life. You have failed to be the Opposition … You have failed this country.
Pub customers must remain outdoors unless they need to use the loo. Humphris and other publicans could be doing better business if they were allowed to have customers indoors. He showed Starmer a chart with ONS statistics showing coronavirus is no longer the threat it was a year ago. He also gave the Labour leader a brief talk about other statistics on the harm lockdown has done to Britain, from children to the economy.
Starmer dismissed it and told Humphris he did not need any 'lectures' from him — then proceeded to enter the pub.
The nerve of Starmer. He knows the rules.
Humphris tried to push Starmer's security man away from the door but failed. The burly security man held on to Humphris on the staircase. Shouting about being assaulted, Humphris tried to break free. Meanwhile, Starmer was having a look around the pub's interior.
Humphris shouted:
Get out of my pub!
Somewhere along the line, Humphris's spectacles fell off. Starmer had them in his hand. On his way out the door, he quietly returned them to Humphris. Starmer and his two security men then left, telling people to get out of their way, adding a stern 'please'.
This is the electioneering video of the year — and the full version:
I've watched that video several times and would encourage others to see it at least once.
It paints a perfect portrait of what another Labour government would be like, barging in wherever they like with burly security detail.
Heaven forfend.
Rule No. 1 of pubgoing: the publican is in charge of his/her public house — 'My gaff, my rules'.
Here is the late Barbara Windsor as Peggy Mitchell, the publican on BBC's EastEnders, ordering customers to 'get out of my pub':
Meanwhile, elsewhere in England that day, Prime Minister Boris Johnson had a pleasant conversation with two pubgoers:
As questions mounted about Boris's Downing Street flat refurbishment, Starmer paid a visit to a John Lewis store to look at wallpaper last Thursday:
Guido Fawkes wrote (emphases in the original):
Guido's interested to see Starmer arrive at John Lewis this afternoon for a smug photoshoot amid flat-gate. It's undoubtedly a smirk-raising photo-op, though it's undermined by Starmer's own words at PMQs yesterday, who ranted at Boris:
This is a Prime Minister who, during the pandemic, was nipping out of meetings to choose wallpaper
Now the Tories are able to accuse Starmer of playing party politics, and doing so during a pandemic.
On Friday, May 30, the former Director of Public Prosecutions found himself trolled by a young Conservative in Manchester:
Guido Fawkes had the story:
He may have thought a trip to Labour's Manchester heartland would have been a safe choice after his infamous Bristol pub confrontation, however Sir Keir was once again caught out. Posing with Twitter user Jordan Hutchinson he smiled and gave a thumbs-up, only to have Hutchinson tell viewers "Vote Conservative". It's appropriate Starmer spent yesterday in John Lewis's home furnishings section, as it's looking curtains for him…
Jordan Peterson's video amused James Cleverly MP, Minister for Middle East & North Africa in the Foreign, Commonwealth & Development Office. A member of the public replied to say that Labour have only themselves to blame:
Starmer ended the week with a visit to a gym. Oh, dear. The late Margaret Thatcher was more adept with a handbag:
Actor and musician Laurence Fox of the libertarian Reclaim Party is running for Mayor of London. He posted an interesting video on May 1 showing Starmer and other Labour Party members, including at least one other MP, enjoying drinks together indoors, something we are not allowed to do at present because of the pandemic:
Laurence Fox stands by the video and his tweet:
Starmer's Labour seems to be all about rules for 'thee but not for me'. Who would want that, even at a local level?
The UK's local elections will take place on Thursday, May 6, 2021.
Labour have been casting shade on Prime Minister Boris Johnson during the past few weeks over his handling of the coronavirus crisis and the refurbishment of the Downing Street flat. As one would expect, the left-leaning media are having a field day.
On Wednesday, April 28, after Labour leader Sir Keir Starmer verbally attacked Boris at the despatch box during PMQs (Prime Minister's Questions), Boris let rip by listing all the Conservative government's achievements on Brexit and coronavirus over the past 16 months. The fact that he could rattle everything off in just under two minutes is impressive. Even better, it looks as if our pre-COVID Boris is back. The Conservative MP for West Bromwich East in the West Midlands tweeted:
Here are two more Conservative achievements:
The media are dead wrong when they say that 'Boris is on the ropes':
Here is a more recent poll, taken earlier this week:
Last weekend, the papers were full of stories about what Boris allegedly said before reluctantly announcing a third lockdown around Christmas. He denies having spoken these words, and Labour made a big deal about this earlier this week in Parliament. The public, however, view it in a more nuanced way:
Then we come to the refurbishment of the flat in Downing Street. It is alleged that Boris received funds from a Conservative Party donor to top up the statutory £30k maximum from the taxpayer. The public aren't that interested:
I've seen photographs of one of the redecorated rooms. It looks very Turkish, including the pictures. Although some might find a deep red patterned wallpaper with matching sofa agreeable, it's not the sort of room most people could stay in for long because it is too 'busy'. There is no solid pastel shade anywhere. The next occupant will be busy redecorating it, at taxpayers' expense, to look more neutral.
That has been the work of First Fiancée Carrie Symonds (the 'y' is a long 'i', as in 'Simon'), who does not strike most of us as a true Conservative. If Conservatives have any complaint, it's been that she seems to be running the Government via Boris.
Douglas Murray wrote a great article which appeared today in The Spectator: 'Carrie Symonds and the First Girlfriend problem'.
Unlike the United States, European countries have a tradition whereby leaders' spouses take a back seat where politics is concerned. They stay out of the limelight. This is probably the first time in living memory where a British partner of a Prime Minister has been involved in decision making.
Murray explains:
There is no getting around the fact that there is a problem with Carrie Symonds, which it is probably best to have out now.
In 2019 our Prime Minister came in with a significant and clear mandate. Covid has added significantly to his workload. But for many of us he seemed the perfect — even the only — man for the hour. Yet as that hour has gone on, problems of his own creation keep appearing. Too many of them originate from the sway — even terror — his younger companion seems to exert over him.
Carrie Symonds herself is a perfectly nice, intelligent person who successfully worked her way through Conservative campaign headquarters. But she is having too great an impact on the course of government. There are issues the Prime Minister avoids because she does not favour them. And there are others — principally green issues — which he appears to adopt to satisfy her. The feeling is growing that the First Girlfriend wants political power without the trouble of having to run for office, and to wield it without any resulting criticism. This is not a sustainable state of affairs …
It is not just policy she seeks to influence. The First Girlfriend seems to have a desire to be involved in all personnel issues. Her principal ambition seems to be for her friends to make up all the central control flanks around the Prime Minister. This was one of the main causes of Dominic Cummings's exit from Downing Street last year …
It seems no Carrie-related issue is ever too minor to distract the PM. Last year she made him stop a Cobra meeting at the height of the Covid crisis. The urgent cause was her demand that the PM make an official complaint to the Times newspaper over a story claiming that Carrie's affections for the couple's Jack Russell, Dilyn, had cooled in the year since the couple adopted him …
… the trap laid by Carrie and her defenders is clear. Say that Carrie has gained political influence only because of who her boyfriend is, and you will be accused of being envious of powerful, successful women who have made it in their own right. 'Carrie is an expert in politics,' one well-briefed source recently told the media. And she may well be. But that is not why she is sleeping in No. 10.
In the UK anyone who wishes to have political power should run for elected office. The emergent Office of First Lady is clearly a source of tension in Downing Street, and is already responsible for an unprecedented number of interventions in policy areas that affect our country. We hear nothing from the Prime Minister on issues he was elected on, and far too much on ones that Carrie happens to favour. The Prime Minister may have need of a First Girlfriend, but the country does not.
A year ago, I was wondering why Boris's priorities were changing. Was it because of coronavirus or Carrie?
Twelve months on, I have my answer.
As far as local elections go, however, the Carrie problem is unlikely to affect voters' opinions. Those determined to vote Conservative will carry on regardless of Carrie.
Many moons ago last century, I spent three happy holidays in Scotland.
My first was during my time at university, when I was studying on the Continent. I bought a souvenir, a dark green lambswool pullover from the Edinburgh Woollen Mill which was then located in the Royal Mile. Unfortunately, I had to throw it out recently, just weeks short of its 43rd birthday.
The Scots I met were hospitable and interesting, regardless of what they did for a living. On my trip in 1978, when a group of us were at a pub in Edinburgh, I asked them what they thought of the Queen. They all liked her. Did they ever want independence? No.
There was a long hiatus before I returned. In those intervening years, I contented myself by keeping abreast of their music in the 1980s. Fortunately, the radio station I listened to in the US played British music most of the time. Their other offering was reggae. Radio heaven.
In my humble opinion, 1983 was a banner year for Scottish bands.
My all time favourite has to be Aztec Camera, led by the highly talented and, at the time, a very young Roddy Frame, who has lived in London since the 1980s.
Their 1983 album High Land, Hard Rain is hard to fault. I have a few favourite tracks from that album, but my all-time favourite is 'Oblivious'. Roddy Frame's Spanish guitar riffs are superb. The best thing is that one can listen to this any time of day or night and enjoy it:
The band performed this live at Aston University, Birmingham, on 13 December 1983. This was broadcast on the BBC's Whistle Test On The Road on 16 December 1983.
Frame wrote the melody and the lyrics, which begin with this:
From the mountain tops
Down to the sunny street
A different drum is playing a different kind of beat …

Then there was Big Country, who, in 1983, had one Top 40 hit in the United States, 'In a Big Country', a rousing example of Celtic-influenced rock, complete with bagpipe riffs. This video comes from BBC's Top of the Pops:
Their attire reminds me of that of the schoolboys I saw on public transport every day when going to work: pullovers and baggy wide-wale corduroys. It was a nice look for an American city.
Then there was Runrig. Their 1983 hit was the anthem for Scottish independence, 'Alba' (pron. 'Al-i-ba'). The lyrics are in Scottish Gaelic, but this video has English subtitles:
This was filmed in Edinburgh: on Calton Hill and Arthur's Seat (or so it looks).
On my return trips to Scotland in the late 1980s, I bought three Runrig albums.
Now I am sorry I did.
One of their number, Pete Wishart, who plays keyboard in the video, is the longest serving SNP MP in Westminster. He was first elected MP in 2001.
I watch a lot more BBC Parliament than listen to music these days. Watching Wishart sneer in the House of Commons is too much. Whether it is for show or whether he really does dislike the English as much as it appears, I have no idea. Whatever the case, it vexes me that, even in a small way, I helped to put money in his pocket and bread on his table.
This brings me to the larger question of the SNP and their drive for Scottish independence, particularly as the UK has local elections coming up on Thursday, May 6, 2021.
On my stays along the east coast of Scotland, I never did meet anyone who supported independence.
Yet, the Scottish National Party, which was founded in 1934, has grown in popularity over the past two decades to become the largest Scottish political party in both Holyrood (Scotland's assembly in Edinburgh) and in Westminster (London, seat of the UK Parliament). In London, they have 44 MPs. By contrast, the Liberal Democrats have only 11.
Only Scottish voters can cast a ballot for the SNP.
The current SNP leader and First Minister is Nicola Sturgeon.
Before her, it was Alex Salmond, who served as an MP for 30 years, from 1987 to 2017.
Once I moved to the UK, I began watching Channel 4 News every night. I broke that habit many years ago. That said, they invariably had a news item on or interview with Alex Salmond. For whatever reason, he became quite the globetrotter, visiting China, the United States and Qatar. He also spoke at a UN Climate Change Conference in Copenhagen.
I could never understand how an MP whose party was not in government could be allowed to make all those trips. He was hardly a hanger-on, either. He met very powerful people, as one can see from the photos on his Wikipedia page.
His downfall came with the Scottish independence referendum in 2014. On September 18 that year, voters living in Scotland went to the polls. Disappointingly for the SNP, 55% voted to stay in the UK. It was a big deal at the time and, although the SNP deny it today, it was billed as a once-in-a-generation referendum. Salmond stood down as First Minister. His deputy was Nicola Sturgeon. She succeeded him.
Wikipedia summarises the referendum as follows (emphases mine):
Prominent issues raised during the referendum included what currency an independent Scotland would use, public expenditure, EU membership, and North Sea oil. An exit poll revealed that retention of the pound sterling was the deciding factor for those who voted No, while "disaffection with Westminster politics" was the deciding factor for those who voted Yes.[3]
For the past few years in the Commons, SNP MPs have been railing against 'this UK government' and have been talking a lot about a second referendum.
Few specifics have been published on a concrete plan for independence. One would think that, having failed to win in 2014, a solid proposition regarding currency, a central bank and trade is critical. However, none exists.
Alex Salmond, who is leading the new — and tiny — rival independence party Alba (pron. 'Al-i-ba'), is the only one who has even a rough outline of a plan involving a Scottish currency.
For the purposes of this election, however, the SNP are banking on a platform of coming out of the coronavirus crisis. Based on First Minister Nicola Sturgeon's track record so far — a steep decline in Scottish education standards and the most drug deaths of any European nation — it does not inspire confidence:
This pamphlet says that another independence referendum will be held once the coronavirus crisis is over:
That could be years away.
Others mention independence without adding 'after the crisis', such as this one:
There are two votes to be had in this election, which, in Scotland, are counted in a system of proportional representation, the D'Hondt method. There is a constituency ballot and a list ballot. I'll discuss this on another day. For now, it explains why the leaflets advise voting SNP on both ballots:
Here is another two-vote plea:
Then there are 'free stuff' policies such as these for bicycles. Given the parlous state of Scotland's rural roads, one hopes there will be a lot of money in this particular pot:
A universal basic income is also part of the SNP platform. For my readers who do not live in the UK, it is worth noting that taxpayers living in England forfeit some public money through the Barnett formula to help finance Scotland, Wales and Northern Ireland. There are also top-ups for certain expenditures, e.g. coronavirus programmes, which are called Barnett consequentials. This is a sore point for English taxpayers. A universal basic income — 'Minimum Income Guarantee' — at this stage is beyond the pale:
The SNP were very much against Brexit. Most Scots voted against it in the 2016 referendum. As such, the SNP would like for Scotland to join the EU as an independent nation. To some south of the border, the logic appears baffling (not my illustration):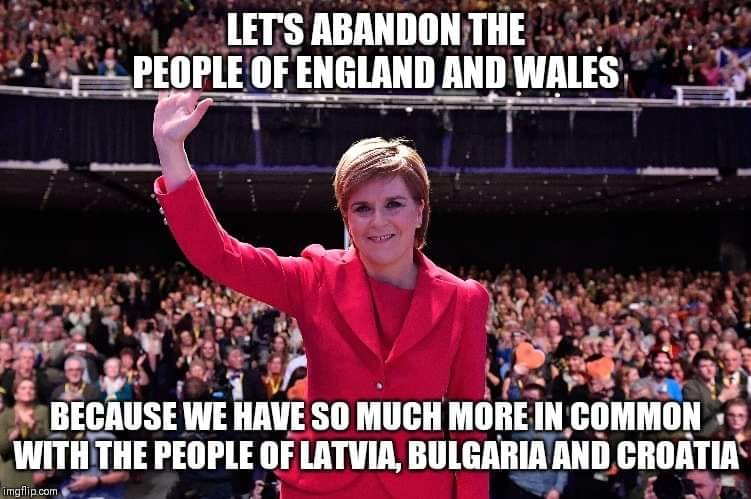 Even today, most regions of Scotland would still vote against independence. I was surprised to see that the Highlands, where one would expect independence fervour to be great, is still, albeit just, a majority No. The only Yes areas — the green ones — are around Glasgow and further east in Dundee. I picked this map up online today: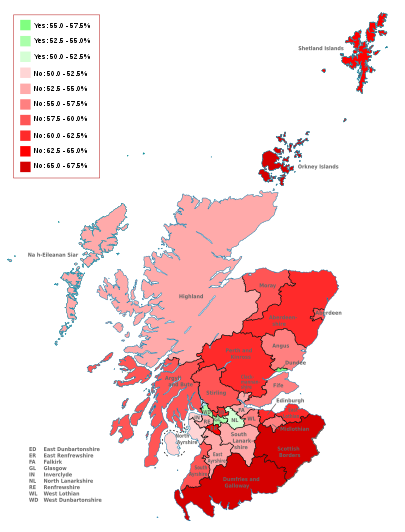 I am very much looking forward to the results of Scotland's election, which will not be available until May 7 or 8.
Meanwhile, a number of voters committed to independence are walking away from the SNP.
More about that in a future post.
Prince Philip's funeral took place at St George's Chapel, Windsor Castle, on Saturday afternoon, April 17, 2021.
Exactly two months earlier, he had been admitted to the King Edward VII Hospital in London, a private health care establishment where he went for minor ailments:
He then was transferred to St Bartholomew's, a specialist NHS hospital in London, for heart surgery. Afterwards, he was sent back to the King Edward VII to recuperate. He spent a month in hospital before being discharged:
Because of coronavirus restrictions, the Queen did not visit her husband. However, Prince Charles visited once. On March 18, The Express reported:
Prince Philip's 28-day hospital stay is the longest ever, and he was only visited by Prince Charles, likely due to ongoing COVID-19 restrictions.
The Prince of Wales visited his father during his first week in hospital, having made the 200-mile round trip to London from his Gloucestershire home, Highgrove.
Prince Philip has been treated for heart problems in the past, and this time, his stay isn't understood to be Covid related at all.
On April 11, after the Prince died, The Sun reported on the significance of that visit. Royal insider Andrew Morton wrote (emphases mine):
It was a meeting of vital importance, especially as visitors to the private King Edward VII's hospital were permitted to see patients only under "exceptional circumstances".
This private exchange clearly came under that heading as the future king emerged from their 30-minute conversation clearly upset and preoccupied.
It had been an emotional encounter — one where, it could be assumed, Philip outlined his final wishes to his eldest son.
The Duke, who had been the head of the family for as long as anyone could remember, was finally stepping down and bowing out.
Now it was Charles's time to step up to the plate and finally take over control of the first family.
Doubtless his father, who had the reputation for writing thoughtful letters to family members, set down his thoughts on paper beforehand …
Though Philip is remembered with enormous affection by the family — William and Harry call him The Stud in reference to a picture of their grandfather with his hair slicked back and wearing sunglasses — his relationship with his eldest son was never easy.
Princess Diana told me it was "very tricky, very tricky".
She recalled: "Prince Charles longs to be patted on his head by his father."
Once at home, the Prince appeared to be recovering, until he took a turn for the worse. On his better days, he took advantage of the occasional mild weather we enjoyed in southern England. On April 10, The Sun reported on his final weeks:
The Queen was by Prince Philip's bedside when her husband of 73 years passed away, with the Duke having spent his final days in "good form" reading in the sun, it was reported today.
The Duke of Edinburgh is believed to have spent his last few days reading and writing letters and sleeping in the sun weeks before his 100th birthday.
Despite officials at the Palace declined to "go into any specifics" about the Duke's passing, it is understood that his condition worsened overnight on Thursday with insiders warning that he had become "gravely ill".
However, any talk of whisking Prince Philip back to the hospital was reportedly dismissed by the Queen.
One well-placed source told the Telegraph: "He spent most of the four weeks he was in hospital trying to get home.
"They operated on his heart in a bid to give him a little longer, maybe with the 100th birthday in mind.
"But he didn't really care about that.
"He just wanted to be back in his own bed. There is no way he would have wanted to die in hospital."
According to reports, there had been no dramatic decline in Philip's health but it was gradual.
Staff said that the Duke was "on good form", still writing and reading letters earlier this week.
On warm days over the last few weeks, Philip would reportedly ask to sit in the sunshine with a rug over his legs and nod off.
The Prince wanted to be self sufficient to the end. He was livid when he first saw a wheelchair in his room:
One aide told the Daily Mail he insisted on bending to the floor and picking up his dropped reading glasses, saying "I'll do it" when a footman sprung forward.
And the Queen was said to be overheard saying he wouldn't use his hearing aid, which "means we have to shout", she noted.
Prince Philip was still reportedly dressing himself until recently and heading out of his room in a smart shirt and jumper on good days.
He would use a stick to walk around his rooms, and rarely allowed himself to be pushed in a wheelchair.
A royal source revealed when it was first put in his rooms he shouted: "Get that bl***y thing out of my sight".
In his last few weeks, the prince was well enough to still speak to family and close friends on the telephone but unlike the Queen, the Duke was not a fan of Zoom calls.
Days before the funeral, the Queen made a decision about attire for her sons and grandsons:
Meanwhile, hours of military rehearsal took place:
On Saturday, I watched the funeral coverage on Sky News. Alastair Bruce OBE, a senior British Army reservist, did an excellent job of commentary from start to finish. That video is now private, although a podcast exists, but the Royal Family channel has the funeral in full:
Sky News posted three minutes of highlights:
The Prince had been closely involved in 'every detail of planning' the ceremony, including the music and the readings.
Within the grounds of Windsor Castle, a procession took place with the Prince's casket placed on a Land Rover Defender he helped to design. The casket was draped in his own standard, or colours. In the video shot above, you can see the flag of Greece in one quadrant.
On the casket were a few items personal to him, such as his Royal Navy covering, and a naval sword that his father-in-law George VI gave him.
A carriage was also part of the procession, as the Prince enjoyed carriage racing. On the seat were his riding gloves and, it was said, sugar cubes for the horses.
Sky News reported:
A naval sword, gi[ven] to Philip by King George VI when he married Princess Elizabeth in 1947, was placed on top of the duke's coffin as it was carried into the chapel.
The coffin was also covered with a wreath, naval cap and the duke's personal standard.
It was one of several details which reflected the royal's naval career and lifelong association with the armed forces.
Philip designed his own custom-built Land Rover to carry the coffin at his funeral.
The modified Land Rover Defender TD5 130 chassis cab vehicle was unveiled two days before the service.
The duke first began the long-lasting venture to create the bespoke hearse in collaboration with Land Rover in 2003, the year he turned 82.
He made the final adjustments to the vehicle in 2019, the year he turned 98.
The Defender was made at Land Rover's factory in Solihull in 2003 and Philip oversaw the modifications, in collaboration with the company, throughout the intervening years.
The duke requested that the original Belize Green bodywork be switched to Dark Bronze Green, a colour used for many military Land Rovers.
Along the route, the men of the Royal Family and Princess Anne walked behind the Land Rover. The women, except for the Queen who was in the ceremonial Bentley, stood along the route, awaiting the procession.
The Queen rode with her lady-in-waiting Lady Susan Hussey, who did not attend the funeral, in order to keep the numbers to the state-required 30 persons during coronavirus restrictions:
Once at St George's Chapel, eight Royal Marines carried the Prince's casket up the steps. On the second landing, they stopped for the one-minute national silence at 3 p.m. Featured in this video is a clip of students from his alma mater Gordonstoun in Elgin, Moray (Scotland):
Although a lot of this video is about Prince Harry, Alan Jones of Sky News Australia said that Prince Philip's coffin was designed to be biodegradable:
Inside the chapel, various medals had been placed on velvet cushions on the altar. Sky's article says:
Military medals handpicked by the duke featured inside the chapel at his funeral.
Philip's chosen insignia, the medals and decorations conferred on him by the UK and Commonwealth countries – together with his Royal Air Force wings and Field Marshal's baton, were pre-positioned on nine cushions on the altar.
The duke also included insignia from Denmark and Greece – Order of the Elephant and Order of the Redeemer respectively – in a nod to his birth heritage as a prince of Greece and Denmark.
Insignia on display from across the Commonwealth included the Zanzibar Brilliant Star of Zanzibar, the Brunei Esteemed Family Order and the Singapore Order of Darjah Utama Temasek.
Insignia, orders, decorations and medals are a way of a country saying thank you and recognising someone's achievements.
The insignia were sewn in place at St James's Palace by two seamstresses using transparent fishing wire.
The Queen was met by the Dean of Windsor before the minute's silence. This is a photo of her before the rest of the Royal Family took their places. The Queen placed her handbag on the seat next to her, where her beloved husband sat on so many other occasions. Her brooch was a gift from the Prince:
Our hearts went out to the monarch, especially during this time of coronavirus restrictions:
Barrister Francis Hoar was livid:
The Duchess of Cambridge attracted much attention at the weekend for this filmic, yet unsettling, photograph. Note that a 'Karen' posted it! You could not make this up:
Members of the Royal Family were spaced apart in the chapel, sitting in their respective familial bubbles. Princes Harry and Andrew sat alone.
Three members of Prince Philip's family were also in attendance. They flew in from Germany and stayed with a mutual friend in Ascot, near Windsor. They left immediately after the funeral.
The Sun reported (photos at the link):
THREE of Prince Philip's German relatives will attend his funeral and are in isolation ahead of the service, it is claimed.
Two great-nephews and a cousin are said to be staying with a mutual friend in Ascot, Berkshire, so they can safely be there on Saturday.
Bernhard, Hereditary Prince of Baden, Prince Donatus, Landgrave of Hesse, and Prince Philipp of Hohenlohe-Langenburg are locked in a Covid-compliant bubble, the Daily Mail reports.
The Duke of Edinburgh allegedly made it clear he wanted his "blood" family to be included in his funeral arrangements.
Prince Philipp, 51, said in a statement from the house where he and his relatives remain isolated until the weekend: "It really is an incredible honour and we are all extremely touched and privileged to be included on behalf of the wider family."
Contrast the social distancing and self-isolation with the scene in London that afternoon. It doesn't make sense:
The ceremony had a lot of music, which the Prince himself chose:
You can read the Order of Service in its entirety here. The liturgy was in traditional language.
A choir of four, socially distanced in another part of the chapel, sang the hymns.
The service began with 'sentences', Bible verses:
I AM the resurrection and the life, saith the Lord: he that believeth in me, though he were dead, yet shall he live: and whosoever liveth and believeth in me shall never die.
John 11. 25-26
I KNOW that my redeemer liveth, and that he shall stand at the latter day upon the earth: and though after my skin worms destroy this body, yet in my flesh shall I see God: Whom I shall see for myself, and mine eyes shall behold, and not another.
Job 19. 25-27
WE brought nothing into this world, and it is certain we can carry nothing out. The Lord gave, and the Lord hath taken away; blessed be the name of the Lord.
1 Timothy 6. 7, Job 1. 21
Among others, the Prince chose the hymn I refer to as 'For Those in Peril on the Sea':
ETERNAL Father, strong to save,
Whose arm doth bind the restless wave,
Who bidd'st the mighty ocean deep
Its own appointed limits keep;
O hear us when we cry to thee
For those in peril on the sea.
O Saviour, whose almighty word
The winds and waves submissive heard,
Who walkedst on the foaming deep,
And calm amid its rage didst sleep:
O hear us when we cry to thee
For those in peril on the sea.
The first reading was one that only Prince Philip would have chosen:
Ecclesiasticus 43. 11-26 read by the Dean of Windsor
LOOK at the rainbow and praise its Maker; it shines with a supreme beauty, rounding the sky with its gleaming arc, a bow bent by the hands of the Most High.
His command speeds the snow storm and sends the swift lightning to execute his sentence. To that end the storehouses are opened, and the clouds fly out like birds.
By his mighty power the clouds are piled up and the hailstones broken small. The crash of his thunder makes the earth writhe, and, when he appears, an earthquake shakes the hills.
At his will the south wind blows, the squall from the north and the hurricane. He scatters the snow-flakes like birds alighting; they settle like a swarm of locusts. The eye is dazzled by their beautiful whiteness, and as they fall the mind is entranced.
He spreads frost on the earth like salt, and icicles form like pointed stakes. A cold blast from the north, and ice grows hard on the water, settling on every pool, as though the water were putting on a breastplate.
He consumes the hills, scorches the wilderness, and withers the grass like fire. Cloudy weather quickly puts all to rights, and dew brings welcome relief after heat.
By the power of his thought he tamed the deep and planted it with islands.
Those who sail the sea tell stories of its dangers, which astonish all who hear them; in it are strange and wonderful creatures, all kinds of living things and huge sea-monsters.
By his own action he achieves his end, and by his word all things are held together.
The second lesson was the story of Jesus and Martha discussing her brother Lazarus. This exchange took place before Jesus raised him from the dead:
John 11. 21-27 read by the Archbishop of Canterbury
MARTHA said to Jesus, "Lord, if you had been here, my brother would not have died. And even now I know that whatever you ask from God, God will give you." Jesus said to her, "Your brother will rise again." Martha said to him, "I know that he will rise again in the resurrection at the last day." Jesus said to her, "I am the resurrection and the life; he who believes in me, though he die, yet shall he live, and whoever lives and believes in me shall never die. Do you believe this?" She said to him, "Yes, Lord; I believe that you are the Christ, the Son of God, he who is coming into the world."
The choir sang the Lord's Prayer, a beautiful rendition.
A series of prayers read by the Dean of Windsor and the Archbishop of Canterbury followed, beginning with these:
The Archbishop of Canterbury shall say
O ETERNAL God, before whose face the generations rise and pass away, thyself unchanged, abiding, we bless thy holy name for all who have completed their earthly course in thy faith and following, and are now at rest; we remember before thee this day Philip, Duke of Edinburgh, rendering thanks unto thee-for his resolute faith and loyalty, for his high sense of duty and integrity, for his life of service to the Nation and Commonwealth, and for the courage and inspiration of his leadership. To him, with all the faithful departed, grant thy peace; Let light perpetual shine upon them; and in thy loving wisdom and almighty power work in them the good purpose of thy perfect will; through Jesus Christ our Lord. Amen.
The Dean of Windsor, Register of the Most Noble Order of the Garter, shall say
O LORD, who didst give to thy servant Saint George grace to lay aside the fear of man, and to be faithful even unto death: Grant that we, unmindful of worldly honour, may fight the wrong, uphold thy rule, and serve thee to our lives' end; through Jesus Christ our Lord. Amen.
GOD save our gracious Sovereign and all the Companions, living and departed, of the Most Honourable and Noble Order of The Garter. Amen.
O GOD of the spirits of all flesh, we praise thy holy name for thy servant Philip, Duke of Edinburgh, who has left us a fair pattern of valiant and true knighthood; grant unto him the assurance of thine ancient promise that thou wilt ever be with those who go down to the sea in ships and occupy their business in great waters. And we beseech thee that, following his good example and strengthened by his fellowship, we may at the last, together with him, be partakers of thy heavenly kingdom; through Jesus Christ our Lord. Amen.
Then came the military music, which included Pipe Major of The Royal Regiment of Scotland playing A Lament, followed by the Buglers of the Royal Marines, who sounded The Last Post, Reveille and, perhaps the most meaningful of all as a final message from the Prince to his family: Action Stations.
At the end, the choir sang the National Anthem:
Afterwards, the Queen returned to her private apartments in the Bentley.
Cars awaited the other royals, but Prince Charles gestured for them to drive on. The Mirror reported that this was perhaps a move to give younger members of the family time to spend chatting with Prince Harry.
The Queen's 95th birthday is Wednesday, April 21. The Mirror reported:
The widowed Queen went for a solo drive and stopped at one of her favourite spots for a moment of quiet reflection the day after Prince Philip's funeral, it is claimed …
She will celebrate the first birthday of her reign without her husband when she turns 95 on Wednesday, just four days after the funeral and 12 days after the Duke of Edinburgh's death.
Events will be shelved or toned down, as the Royal Family remains in mourning, and the Queen is likely to do the same things she did 24 hours after Philip's funeral at St George's Chapel at Windsor Castle.
On Sunday, the 94-year-old drove herself alone from the castle, where she has been shielding during the coronavirus pandemic, to her nearby Frogmore estate for some quiet reflection, the Daily Mail reported.
There, the monarch, who isn't required to have a driving licence, took in the cherry trees that are still in bloom and the spring flowers lining the banks of the ornamental lakes.
Sources told the newspaper that she is likely to spend her birthday in similar fashion – making the short drive alone to Frogmore to walk her new puppies, a dorgi named Fergus and a corgi named Muick.
Fergus is named after her uncle Fergus Bowes-Lyon, who was killed as he led an attack on the Germans during the First World War, while Muick (pronounced "Mick)" is named after Loch Muick on the Queen's Balmoral estate in Scotland.
My prayers go to the Queen for many more years of sentient life and for the Lord's peace and comfort upon her at this most difficult time.
As the BBC broadcast coverage of Prince Philip's life on Friday, April 9, the day of his death, the final of MasterChef was postponed.
It was shown on Wednesday, April 14, having been announced only the day before. Shown below are the judges, John Torode and Gregg Wallace:
Here they are with finalists Mike, Alexina and Tom:
Britain's foodies could barely contain themselves:
I don't often write about MasterChef, but this year's final was the best yet. I would challenge the pros in the US edition of Top Chef or the amateurs from MasterChef USA to come up with comparable dishes.
This video shows what the British amateurs cooked:
As ever, the programme began with brief biographies, complete with childhood photos, of each contestant. Their parents also participated in interviews.
Alexina
I've put up some inspirational dishes … It's my competition to lose.
She lives in south London:
We discovered that she is a graduate of the University of Cambridge — Jesus College, in fact:
Only social media followers, however, will know that she volunteers for The Food Chain in London. I recognise one well known chef and restaurateur in the photo, Allegra McEvedy, who is in the black and white blouse:
Mike
We knew early on in the series that one side of Mike's family is Italian.
In the following video, Mike's girlfriend describes how generous they are when it comes to serving dinner:
Mike, from Surrey, enjoys his espressos.
He explained that his grandmother taught him how to cook. He was fascinated watching her and imitated what she did in the kitchen:
Tom
Tom is from Newcastle and, before coronavirus struck, worked in a local restaurant as front of house.
He has always enjoyed cooking:
He often cooks for his parents.
The semi-final
The semi-final took place at London's Le Gavroche, which has two Michelin stars. I have eaten there and will never forget the dining experience. Here, Alexina reproduced a challenging Le Gavroche classic for owner Michel Roux Jr and his senior members of staff:
Michel Roux Jr was impressed with all three finalists, each of whom made some of the restaurant's most challenging dishes. In the next video, we see Mike first, then Alexina, followed by Tom:
Based on that episode, we could hardly wait for the final.
The final
Each of the finalists had to create and prepare three dishes.
Mike prepared a starter of scallop with romanesco, followed by sous-vide lamb with a lamb farce and sweetbread pithivier, served with an unctuous thyme and potato terrine. The jus, a gastrique, was perfect. For dessert, he paid homage to his grandmother with a take on tiramisu:
The tiramisu, in particular, looked mouth-watering:
Mike was disappointed that his pithivier burst on the bottom. Nonetheless, John and Gregg responded with superlatives about his dishes:
unctuous and sweet and sticky and absolutely yummy …
dreamy …
fruity sweetness but still with meatiness …
It's classic, opulent cooking and it's skilful.
Here's the video:
Alexina prepared a Malaysian crab soup with a peanut butter bread stick, a perfectly sautéed bavette of beef, and, as a nod to her grandmother, a rolled baked apple (one long strip), served with gin-soaked blackberries and a herby ice cream:
John and Gregg particularly liked the crab soup, an homage to her brother who loves peanut butter:
Then it was Tom's turn to present his final creative plates of food. This chap was a star from the start.
He prepared three oysters, each in a different style, including one which was deep fried in bread crumbs. He followed this with roast beef and beetroot. Dessert was a tangy lemon-yuzu tart with olive oil ice cream, accentuated with a pinch of salt:
Gregg had a deep food experience tasting it, especially the beef.
The tart and ice cream were works of genius. The tart had black olive meringue on top:
Viewers were bowled over by the quality and imagination of the food. Any of these meals could be served in a top restaurant. Tom's showed Michelin-star quality.
In the end, there could be only one winner, the 17th champion of MasterChef:
Everyone did brilliantly:
I wholeheartedly agree. I also think that all should have had a glass of champagne to share Tom's victory:
Tom enjoyed celebrating his win with John and Gregg. He also enjoyed speaking with his ecstatic mother on the phone, hence his reaction:
I wonder if Tom is back at work, now that lockdown has largely lifted:
Indeed.
Follow Tom on Twitter and browse his website for recipes.
I hope someone offers him a job really quickly. His talent is too good to waste. What a great end to lockdown that would be.
After a long winter lockdown that began on the evening of Saturday, December 19, 2020, England began reopening on Monday, April 12, 2021.
This was a bit like Groundhog Day. We saw the same scenes last June and July. The only difference was the weather:
Gyms
Let's get the serious business out of the way first, then we can have some fun.
Gyms were allowed to reopen their interiors to customers.
TalkRADIO broadcast from a pub in London on Monday morning and interviewed a gym owner from Surrey:
Barbers and hairdressers
While some rushed to the pub at midnight, others went to get their hair done:
Other customers waited until daylight:
It was the same further north:
Piers Morgan went to top-drawer stylist Daniel Galvin for his haircut:
Actor Daniel Brocklebank had a good Monday:
However, not everyone is in a rush to return for a Spring shearing. Some are enjoying the lockdown look:
Shops of the 'non-essential' variety
Department stores and other 'non-essential' shops were able to reopen.
Once again, it was a bright day for Primark. This was the scene in Birmingham's Bullring in the city centre:
Unfortunately, for Debenhams, where financial troubles started before the coronavirus crisis, it was a bittersweet day:
I'd never thought they would close. That leaves John Lewis as the last nationwide chain of department stores. How sad.
One record shop customer had a therapeutic experience:
Charity shops were also allowed to reopen:
Thank goodness. I have a few donations to make — all wrapped up pre-COVID.
Pubs and restaurants
Pubs and restaurants were allowed to reopen outdoors.
In some places, such as London's Soho, streets were closed to traffic in order to accommodate customers:
Pubgoers queued for a midnight opening. This was the scene in Coventry in the West Midlands:
In London, journalists from The Sun waited until their working day ended on Monday evening:
One wonders how many people used the paper's Beer Matt as a beer mat:
Renowned historian and author Simon Sebag Montefiore enjoyed coffee in London:
At the end of the day …
London's Evening Standard reported on Tuesday that the capital came 'back with a bang':
That's great to see.
Best of luck to everyone in the retail, beauty, gym and hospitality industry! May this be the last doggone lockdown!
Sadly, Prince Philip, the Duke of Edinburgh, died on Friday, April 9, 2021, exactly two months short of his 100th birthday:
The Queen has lost her best friend. My deepest sympathies to her for the unimaginable loss of her long-time husband and daily confidant. My condolences also go to the Royal Family in their grief.
Young love
The couple first met in 1934, and began corresponding when the Prince was 18 and a cadet in the Royal Navy. Princess Elizabeth was 13 at the time.
She was smitten with him from the start.
Prince Philip served with distinction during the Second World War in the Mediterranean and Pacific fleets.
After the war ended, he could have had a stellar career in the Royal Navy. His superiors praised his clear leadership skills.
However, love intervened and the rest was history.
Born Prince Philip of Greece and Denmark, he renounced his foreign titles and took British citizenship before he and Princess Elizabeth were engaged. He took the surname of his maternal grandparents: Mountbatten.
He and Princess Elizabeth were engaged in July 1947. They married on November 20 that year. Shortly before the wedding, George VI gave him the titles of Duke of Edinburgh (created for him), Earl of Merioneth and Baron Greenwich.
Prince Philip remained in the Royal Navy until July 1951. He retired with the rank of Commander.
Royal succession — and surname
In January 1952, he and the Queen began a tour of the Commonwealth countries. They were in Kenya when news reached them that the Queen's father, George VI, died on February 6 that year.
Although she became Queen immediately upon her father's death, her coronation took place in 1953, as it had to be planned meticulously.
On Coronation Day, he knelt before her, clasped her hands and swore an oath of allegiance to her:
He also had to touch her crown and kiss her on the cheek.
He never had a constitutional role, nor was he ever formally given the title of Royal Consort. The courtiers did not like him, nor did they trust him. They believed his personality to be brash and unbecoming of the Royal household. They shut him out of as much decision making as possible.
When Elizabeth became Queen, the question about her family name arose. Prince Philip suggested that the Royal Family be known as the House of Edinburgh. Upon discovering that suggestion, Queen Mary, Elizabeth's grandmother, wrote to Prime Minister Winston Churchill, who advised the young monarch to issue a royal proclamation saying that the Royal Family would continue to be known as the House of Windsor.
In his inimitable style, Prince Philip complained privately:
I am nothing but a bloody amoeba. I am the only man in the country not allowed to give his name to his own children. [57]
The Queen did nothing until eight years later, in 1960, 11 days before she gave birth to Prince Andrew. She issued an Order in Council declaring that the surname of her and her husband's male-line descendants who are not styled as Royal Highness or titled as prince or princess would be Mountbatten-Windsor.
Pater familias
Prince Philip had to carve a role out for himself. He became the pater familias and, through the years, his role expanded to cover not only his four children but his grandchildren. He listened to their concerns, shared their joys and gave them advice. He knew everything that went on in their lives.
Although the public knew him for speaking as he saw — rather bluntly, on occasion — behind closed doors Prince Philip was known to be a warm, loving man.
He also favoured a more transparent Royal Family. According to the BBC, it was he who encouraged the Queen to make a multi-episode documentary on their daily lives, including those of their four children. It was broadcast in the late 1960s. I remember seeing it in the United States.
When Princess Diana died on August 31, 1997, Prince Philip was the one who kept an eye on the public mood that fateful week. He, the Queen and Princes William and Harry were at Balmoral in Scotland for their summer holiday. When the young princes wanted to attend church, their grandparents took them to the Sunday service on the day of their mother's death. Later in the week, it was Prince Philip who encouraged the boys to walk behind the funeral procession the following Saturday. He said:
If you don't walk, I think you'll regret it later. If I walk, will you walk with me? [93]
One cannot imagine what he thought of Prince Harry's departure for the United States to live a life separate from his closely knit family. I did read that the Royal Family shielded information about the Oprah interview from him.
John F Kennedy's funeral
Prince Philip was in Washington for John F Kennedy's funeral in 1963.
He had a friendly encounter with John Jr, who was still a toddler and known as John-John at the time. The child wondered where his father was, as he had no one with whom to play. The Prince stepped in to fill that gap. In 1965, the British government gave an acre of land at Runnymede to the United States for use as a memorial to JFK:
Funeral arrangements
Prince Philip was self-effacing and did not like a fuss to be made over him.
Therefore, the funeral arrangements will respect his wishes, which is rather convenient, as coronavirus restrictions are still in place. Up to 30 people will be allowed at his funeral, in line with legislation across the nation:
The funeral is scheduled to take place on Saturday, April 17:
It is interesting that Prince Harry will be able to attend when we have a 10-day quarantine in place for arrivals into the UK under coronavirus regulations.
The Sunday Mirror reported on Prince Harry's return to the UK:
He could also be released from quarantine if he gets a negative private test on day five, under the Test to Release scheme.
Given his status as a member of the Royal Family travelling to support the Queen, Harry might be considered exempt from travel restrictions.
Wow. It's nice to know we have a two-tiered quarantine system in place /sarc.
A championship boxer remembers the Prince
Former WBC Heavyweight Champion Frank Bruno MBE posted his memories of meeting Prince Philip. He is at the top left in the following photo:
An Anglican priest remembers the Prince
The Revd Peter Mullen, an Anglican priest, recalled his encounters with Prince Philip for Conservative Woman on April 10 in 'A personal recollection'.
He first met the Prince during his schooldays:
The first time I met the Prince was in connection with his Duke of Edinburgh's Award Scheme which gave a leg up to youngsters from what would now be called the less privileged parts of the country. He paid a visit to the Leeds branch of the Church Lads' Brigade of which, aged fourteen, I was a member. We were in the church hall making things. My task was to make a table lamp. I was hopeless at it.
The Duke got hold of my half-finished creation, held it up to one eye and said, 'I suppose this hole is where the flex goes?'
'I think so, Sir.'
'You think so? I was never any good at this sort of thing either!'
And he was off . . . 
As an adult, Mullen met him on more than one occasion thanks to the Honourable Company of Air Pilots. The Prince was its Grand Master. Mullen served as chaplain.
He recalls:
The Company gave a lunch for him to mark his 80th birthday and I recall how jovial he was, making light of his years: 'I believe I have lasted so long because you people are always toasting my good health, but I don't want to live to be a hundred. Things are dropping off already!'
At another luncheon one of our Liverymen who had his own port wine business presented the prince with Bottle Number One, the first fruits, so to speak. As he left, the duke handed the bottle to me: 'You have this, Peter. Our house floats on the bloody stuff.'
'Well, Sir, now I don't know whether to drink it or frame it.'
'Gerrit down ya neck!'
Prince Philip on MPs
Guido Fawkes came up with a good quote from one of the Prince's trips to Ghana. It concerns MPs. His Ghanaian hosts told him the country had 200 MPs. Prince Philip replied:
That's about the right number. We have 650 and most of them are a complete bloody waste of time.
Incidentally, Parliament will be recalled one day early from Easter recess. On Monday, April 12, MPs and Lords paid tribute to the Prince in their respective Houses:
That afternoon, the House of Commons reconvened to pay their tribute — from 2:30 p.m. until 10 p.m. (good grief).
Speaker Sir Lindsay Hoyle spoke first:
Prime Minister Boris Johnson had this to say:
Boris Johnson, who was invited to the funeral but declined so that another member of the Royal Family can attend, said that he would forego a pint when pub gardens reopen on April 12, out of respect for the Prince. Guido Fawkes, however, thinks that the Duke of Edinburgh would have wanted us to toast his memory, especially at a pub that bears his title in Brixton, south London:
Guido had a second tweet on the subject with another quote from the Prince:
Agreed.
Prince Philip on Australia
This is too funny. For those who are unaware, Australia was established as a place where Britain could send convicts. That was a long time ago, but the nation's original purpose was to serve as a prison: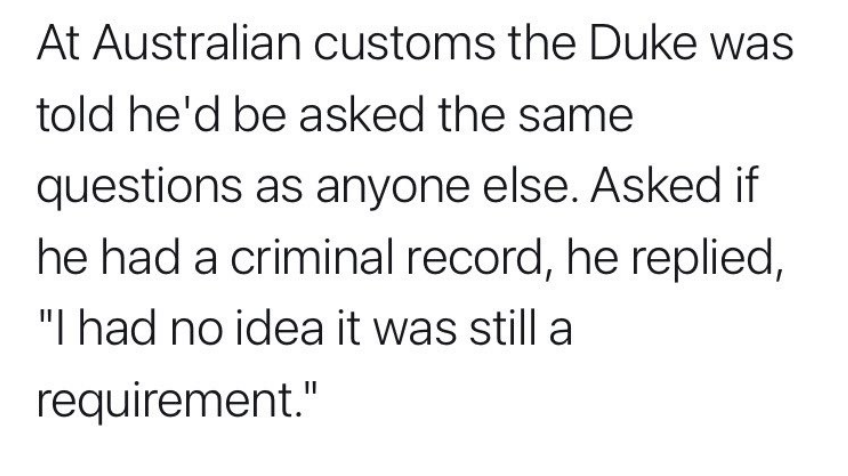 Prince Philip on civil liberties
On a serious note, the 12-minute interview below from 1984 is well worth watching, especially in the coronavirus era.
Prince Philip firmly supported the rights of the individual and believed that the state should serve the individual, not, as in our times, the other way around.
This is from a Thames Television programme originally broadcast on ITV:
I have posted the video below in case the tweets are deleted:
The Prince also said that certain subjects are out of bounds, such as the media and the NHS.
He said that the media are incapable of taking a joke about themselves and, as for the NHS, well, one cannot say anything against it. He didn't necessarily dislike the NHS but thought it was held in too high a regard. Nothing is perfect in this world.
We have been travelling a long road towards the point where we are at present: ruled by the media (they clamoured for coronavirus restrictions) and worship of the NHS. This is how Health Secretary Matt Hancock, Prime Minister Boris Johnson and SAGE have been able to rule our lives. It's been at least 40 years in the making.
BBC coverage on Friday
I was watching BBC Parliament early Friday afternoon, around 1:15, when the programme was interrupted by a broadcast from the BBC News Channel.
I checked the schedule an hour later, which said that the programme would last until 4 p.m. It was still going when I was preparing dinner at 5 p.m.
The final of MasterChef was to have been broadcast that night on BBC1. This was a clip from Thursday's programme:
Pictured are the hosts and judges, chef/restaurateur John Torode on the left and former greengrocer, now television presenter, Gregg Wallace on the right:
BUT:
The BBC News channel was simulcast all afternoon and all night long, not only on BBC Parliament but also on BBC1, to the dismay of MasterChef fans (myself included), and BBC2. BBC4 was suspended for the evening.
I read on social media that the BBC also broadcast continuous coverage of Prince Philip on their radio stations, including Radio 2, knocking out Steve Wright's drive-time show on Friday afternoon.
A friend of mine said that most of the BBC's employees were probably rubbing their hands with glee because it meant an early weekend for them. It's a cynical perspective that could well turn out to be true. We'll find out when someone writes his or her memoirs.
Everyone with a television set receives the BBC News channel. It comes into our homes at no extra charge. There was no need for the BBC to take over every channel for hours on end. By the way, if one had watched two hours of the Prince Philip coverage, as I did, one would have seen and heard everything in its entirety.
The BBC braced themselves for a plethora of complaints; they took the relevant page down on Sunday. Good. I am sure Prince Philip would have objected, too.
As much as I love the Queen, I hope they do not try this when her day comes. God willing, may it be long into the future.
Record-beating prince
Prince Philip established two records as consort to the Queen. He was the longest-serving royal consort in British history. He was also the longest-lived male member of the British royal family.
May he rest in eternal peace with his Maker.
May our gracious Lord grant the Queen, Defender of the Faith, His infinite peace and comfort in the months ahead. May He also bless the Royal Family during this difficult time.