You are currently browsing the tag archive for the 'coup' tag.
My most recent post discussed Liz Truss's commitment to libertarianism and the part she played in her own downfall.
At the end, I mused whether she would still be in office were she a man. Having thought about it some more, I do believe that would have been the case. Truss has better morals than Boris Johnson and more integrity than Rishi Sunak. Furthermore, she is far more trustworthy than our de facto Prime Minister, Chancellor Jeremy Hunt. She has flaws. They have flaws.
It is curious that all of them, men, are given a pass. Truss, an honest woman, was not afforded that opportunity.
Let us look at who was out to finish Liz Truss's premiership.
The media
During the summer Conservative Party leadership campaign, most papers — right and left — came out in favour of Rishi Sunak.
Only the Daily Mail and The Telegraph consistently supported Truss. Truss also saw The Sun as a friendly paper, particularly its political editor Harry Cole.
Broadcast media also largely favoured Sunak. Only GB News supported Truss for the most part.
Why that was is unclear.
One could point to Truss's U-turns, evident as soon as the leadership campaign for Party members' votes started, but most of the media — print and broadcast — were already in the tank for Sunak when Conservative MPs were still voting in July.
On November 16, veteran columnist Andrew Gimson wrote about the media outlets covering Parliament, known as the 'lobby': 'Lobby journalism holds power to account. But it's often cruel, trivial — and unfair'.
Guido Fawkes liked what he had to say:
Gimson's article for ConservativeHome discussed the attacks on other Conservative ministers in Rishi Sunak's Cabinet. Suella Braverman, Home Secretary once again, is one of them and Justice Secretary/Deputy Prime Minister Dominic Raab is another.
Gimson says that journalists find their witch hunts as exhiliarating as blood sports (emphases mine):
Hunting is reckoned to improve the health of the fox population.
That is not, however, why people want to hunt them. They yearn to do so because it is a wonderful, exhilarating sport.
Forget for a moment any impulse to moralise. High-minded theories are all very well. Politics as actually practised is a blood sport.
Dominic Raab, Gavin Williamson and Suella Braverman are or were the most recent quarry, closely preceded by Liz Truss and Kwasi Kwarteng, before which a blond beast rampaged across the political landscape for three years with excited members of the Westminster lobby in close pursuit.
Four of the six were hunted down, while Raab and Braverman have so far (with intermissions) survived, but might at any moment find themselves once more in mortal danger.
The lobby is trained and ready at a moment's notice to follow any scent, no matter how faint, rival correspondents for different newspapers acting as a pack of hounds, each leaping at whichever politician is the hunted animal, drawing blood and emboldening the others to fresh frenzies of aggression …
It is impossible, if one is a lobby correspondent at Westminster, to stand aside from the full-blown crisis which rages, and any case, few experiences are more exhilarating than to be in at the death of a Prime Minister.
Every journalist, indeed everyone in the slightest bit interested in politics, will remember the first time he or she witnessed such a drama: in my case I was lucky enough in November 1990 to be in the Press Gallery to watch the fatal resignation speech delivered by Sir Geoffrey Howe, and 19 days later was in the crammed Committee Corridor on the evening it was announced amid almost unbearable excitement that Margaret Thatcher had fallen four votes – four votes! – short of beating Michael Heseltine by the necessary margin in the first round.
Such crises becomes all-consuming. You surrender yourself to the experience, and nothing else seems to matter. If you are a reporter, your news editor and editor demand constant reports from the front, and you want to distinguish yourself by revealing dramatic new charges, whether solid or flimsy, against the embattled minister, rather than just repeating what your rivals have said.
Such work requires the ruthless expertise to spot in an instant the two or three words in some dreary speech or answer which can be held to constitute a new development. The lobby are brilliant at this: they see the new angle, the incriminating admission, where a normal person would notice nothing.
News becomes an artificial commodity, an esoteric language only comprehensible to highly intelligent and practised correspondents, who translate it into the latest thrilling episode of a story which is intelligible to the dimmest of us, for it is as old as history: will the ruler live or die?
This question of life and death simplifies everything, and lends it a personal flavour. Does one like the look of whichever minister is just then being hunted, and hope he or she will get away? Or would one much rather see him or her bumped off?
The tyranny of the story extends to the comment pages. Leading articles and columns are written for or against the hunted person, most likely against, for it is much easier to write a vivid piece denouncing a politician for being disreputable than to compose a vivid defence.
In order to purify public life, the offending minister must be drummed out of it. Nothing which might serve this noble end is too cruel to be said; too piffling to be taken down and repeated.
Let the victim and his or her family cope as best they can. It would be wrong to spare them the full blast of public disgust. We find ourselves in a primitive world where human sacrifice is demanded; not in a rational one where events can be weighed and assigned their due importance, or unimportance …
There is a deep satisfaction to be derived from getting rid of a Prime Minister, so deep that we have in recent years got rid of three. For a short time, very short in the case of Liz Truss, we allow them to triumph, before restoring equality, for which all democracies have a deep yearning, by dragging them down with brutal abruptness to our own level …
What the lobby does, or helps Conservative politicians to do, is the modern version of an ancient and savage tradition. All else is forgotten while the tribe slays its chief.
And no tribe is better at slaying its chiefs than the Conservative Party.
Afterwards, some enemies of the prey express their empathy for the slain, such as Jenny Murray did for Truss on October 27 in The Mail. Murray's headline read 'I never expected to feel sorry for Liz Truss' and, upon closer inspection, she doesn't really feel sorry at all. She uses the piece to lick her own wounds after retiring from the BBC at the age of 70:
I was not sorry to see her go. Her short time in power was a disaster.
I'd known her professionally for a good few years and had often found her a bit weird with her oddly truncated speech patterns, bizarre facial expressions and apparent lack of emotional intelligence. She was no public speaker and I certainly never saw her as Prime Ministerial material.
In that I was right, but despite her self-serving, unapologetic final speech and her typically arrogant and selfish, 'Well at least I've been Prime Minister!' goodbye, I can't help sympathising with what she has to face next.
As an ordinary constituency MP, she'll join what I have dubbed, from bitter personal experience, the 'Once I Was Hot, But Now I'm Not,' club. I know she'll be asking herself, 'Who am I now?'
It's two years since I left the job that defined me for 33 years. I was Jenni Murray, presenter of Radio 4's Woman's Hour.
It had been my greatest ambition since childhood. I'd presented Newsnight and Today, but the moment I heard the announcer first say on Monday, September 14, 1987, 'And now Woman's Hour, with Jenni Murray' remains the most thrilling of my life.
I loved every minute of those 33 years and, unlike Liz Truss, I was not forced out of my position (though even when you leave a top job of your own volition, it doesn't stop others speculating). I made the choice to leave as my 70th birthday came and went.
So, nothing like Liz Truss after all. The rest of Murray's lengthy column is all about herself. Sickening.
On a positive note, I was surprised to read that Andrew Neil, normally a supporter of the status quo, supported Truss and Kwarteng's mini-budget just after it was announced in Parliament:
After 12 years of Tory government we finally get a Tory budget. Yesterday's not-so-mini-budget was a watershed event, taking the country in a new economic direction and creating clear blue water between government and opposition.
The Tory faithful couldn't quite believe it. Labour struggled to grapple with its implications. The political dividing lines will now be starker and fiercer than they've been for a generation.
No more tax rises by stealth (or, more recently, in plain sight). Or endless, futile tinkering with the minutiae of spending and taxation to give voters a false impression of constructive activity. Or the relentless doling out of taxpayers' dosh to whatever fashionable vested interests managed to catch ministers' attention.
Instead, Prime Minister Liz Truss and her Chancellor, Kwasi Kwarteng, junked all of that in favour of one overriding economic priority: higher economic growth. Many of the verities of Britain's economic establishment have been slaughtered in the process …
Scrapping next April's planned rise in corporation tax (on businesses' profits) won't win any popularity contests outside company boardrooms. But an essential part of Britain's post-Brexit future is surely to be a magnet for foreign investment. Whacking up the country's key business tax was a strange way of going about it …
New ways require new justifications. The Treasury estimates that abolishing the 45 per cent top rate of income tax will cost £2 billion a year.
This is a typically static official calculation. If it results in more top earners declaring their income in Britain, then it could soon more than pay for itself.
Ditto bankers' bonuses. The cap is a relic of EU regulation. Banks simply increased pay to compensate for reduced bonuses, thereby making their compensation costs more fixed and less flexible.
Frankfurt, Paris and Amsterdam have tried hard to lure our financial services away from the City since Brexit, with only limited success. Bonuses in those centres are still capped. London now has the advantage.
And, remember, with the new top rate of tax at an internationally competitive 40 per cent, every £1 million banker's bonus is £400,000 more for schools and hospitals …
… for more than a decade now I've watched chancellors take tough, painful decisions on tax and spending based on OBR borrowing forecasts that turned out to be huge over-estimates, so much so that in retrospect neither the tax rises nor spending cuts were necessary.
Indeed, as Truss attempts to take the country in a new, less orthodox direction, I'd argue that it's a blessing that she's been able to do so unencumbered by the OBR's dubious forecasting.
We'll get the OBR's latest workings in two months anyway, when it might have a better idea of what 2023 will look like. Nor are we entirely in the dark. The Treasury says the tax cuts and energy price cap measures will increase borrowing this year from £162 billion to £234 billion — an extra £72 billion.
The IFS thinks we'll still be borrowing £100 billion a year through the middle years of the decade.
These figures have spooked the markets. The pound continued its decline against the dollar after Kwarteng's statement and the yield (or interest rate) on short-term government debt rose to close to 4 per cent, making it a lot more expensive to borrow than only two years ago, when it was 0.4 per cent.
These are real constraints on the Government's ability to borrow even more. A falling pound merely fuels inflation, especially when it comes to imported energy, which is priced in dollars.
Interest rates are already rising. If excessive government borrowing forces them even higher, that will merely choke off the economic growth the Government so desperately seeks.
There's another factor at work here. The global currency and debt markets have had a 'down' on Britain for some time. It's not clear why. Britain's debt-to-GDP ratio is among the lowest in the G7 club of big economies. Our budget deficit is on a par with many other major economies. Economic growth is anaemic — as it is everywhere, from the Eurozone to America to China.
I suspect it's a Brexit hangover. The publications global market players read most closely include the New York Times, the Economist, the Financial Times and leading European papers such as Le Monde and the Frankfurter Allgemeine Zeitung. All — and others like them — have been relentlessly negative about Britain since the 2016 referendum …
It is said she's taking a great gamble. That's true. But sticking with the failed policies of the recent past was probably an even a bigger gamble. The stakes are certainly high.
If by this time next year the economy is still in the doldrums, then it's not just Truss who will be finished. So will any prospect of the Tories winning the next election.
Read it and weep. We are back to square one.
There is much that the media didn't tell us about the global picture of economic pandemonium.
Early in the week following Kwarteng's mini-budget, US mortgage rates went up to 7%:
The EU's average deficit is worse than the UK's: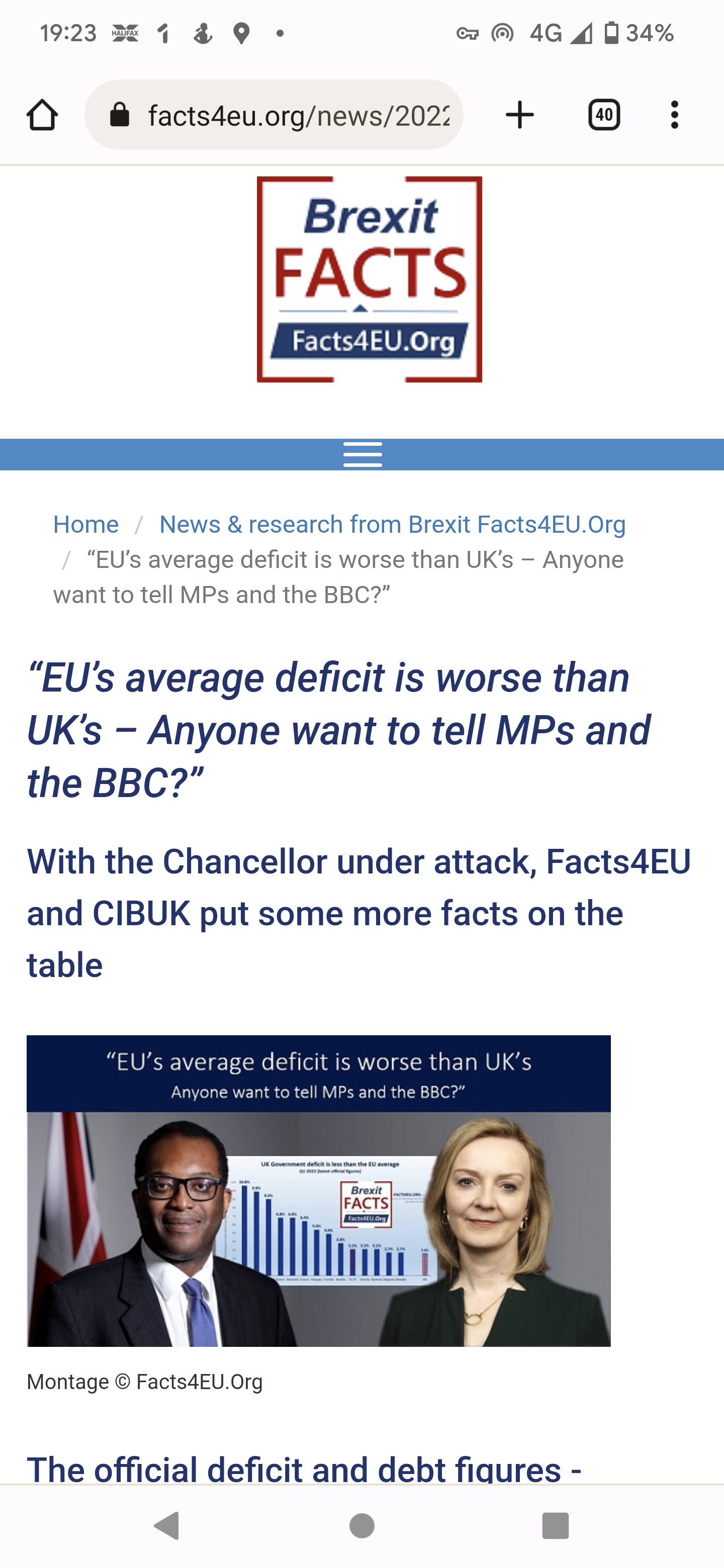 At the end of October, by which time Truss had gone, inflation in the Euro zone increased to 10.7% as growth slowed:
At the beginning of November, a Fed hike caused sterling to trade below £1.13 against the dollar:
And, finally, within three weeks of becoming Prime Minister, Rishi Sunak made new spending commitments, pledging billions to the world. This graphic appeared on November 7: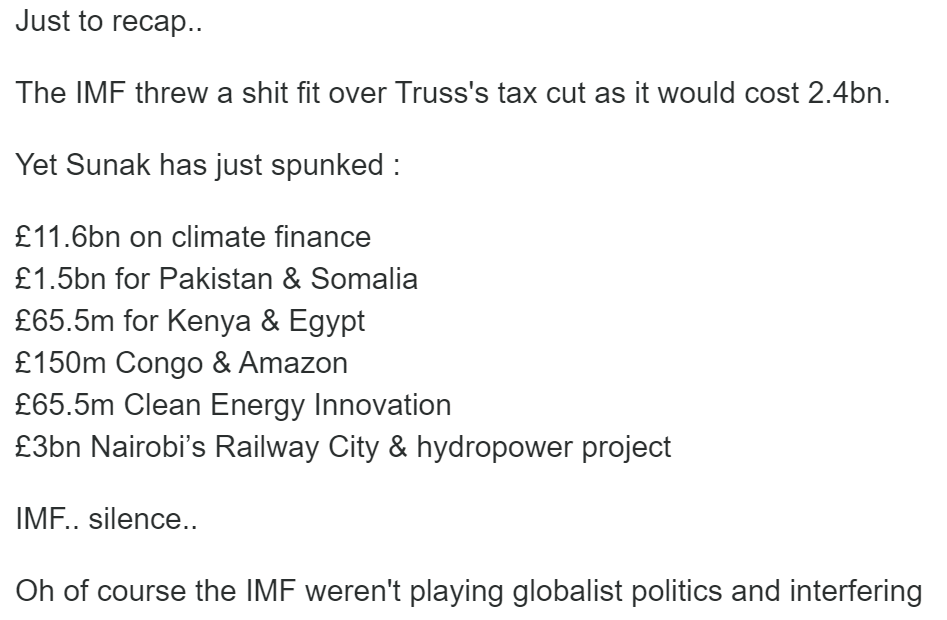 Objection from the media came none.
Conservative MPs
On October 20, in the immediate aftermath of Truss's stoic resignation, The Sun gave us the reaction from three Conservative MPs:
Responding to today's bombshell announcement, former minister and Red Wall poster boy Neil O'Brien tweeted: "The next PM must return to the national conservatism represented by our election winning 2019 manifesto and put us back on the side of normal working people."
If anyone was going to have done that, it would have been Truss, for whom Party members voted in the majority. Sunak and Hunt certainly aren't on the side of 'normal working people': tax 'em until the pips squeak.
Next up was Steve Baker, now an apologetic Northern Ireland Minister:
Brexit hardman Steve Baker urged colleagues that whatever the result, "we must accept and back the new Prime Minister".
Millions of us wish he had shown the same allegiance towards Truss.
The only one to say anything complimentary was Greg Hands, who served as an International Trade Minister:
He said:
A dignified exit as Prime Minister from Liz Truss. A difficult day for the country, the Party and for Liz personally.
She wasn't long as PM, but served at the Cabinet table longer than any of her three predecessors. She has long served the country – and I wish her very well.
At least Truss wasn't removed from the top table Chinese-style:
On October 27, one week after Truss's resignation, The Telegraph's Matthew Lynn said that backbench Conservatives just could not bring themselves to support Truss's economic plan, which Kwasi Kwarteng fronted.
In other words, Conservative MPs shy away from libertarianism, even though I think it would do the UK a lot of good:
The timing, to put it mildly, was unfortunate. It was a difficult transformation to pull off at the best of times, but against the backdrop of rising inflation and an out-of-control dollar, it was doubly difficult. 
Truss's programme did not have the necessary support within the Parliamentary Conservative Party either. Massive opposition from Labour, the Scottish Nationalists, and the Twitter mob was to be expected. 
But very few MPs were willing to support the plan, and without that backing it was always going to be hard to push through. Even before it got on to the genuinely difficult stuff – investment zones, planning reform, the green belt – the opposition was overwhelming. 
The Bank of England
Matthew Lynn points the finger of blame at the Bank of England (BoE):
… the real failure of Trussonmics may well have been the fault of the Bank of England. As Narayana Kocherlakota, a former President of the Minneapolis Fed, and now Professor of Economics at New York's Rochester University, argued in an opinion piece for Bloomberg this week, it was the Bank's failure to support the gilt market that killed the plan. 
"The way the Truss government collapsed should concern all who support democracy," he warned. 
In his Bloomberg article of October 26, Narayana Kocherlakota defended Truss and criticised the BoE:
Markets didn't oust Truss, the Bank of England did — through poor financial regulation and highly subjective crisis management.
… Truss won the leadership of the Conservative Party, which the UK electorate had voted into power, by promising a range of deep tax cuts and government spending increases. Whatever one might think of her policies, they were her mandate. I agree with the many observers who expected them to lead to higher inflation, higher interest rates and quite possibly higher unemployment. But such adverse outcomes take months and years to play out. Her government fell in a matter of weeks. How could this happen?
The common wisdom is that financial markets "punished" Truss's government for its fiscal profligacy. But the chastisement was far from universal. Over the three days starting Sept. 23, when the Truss government announced its mini-budget, the pound fell by 2.2% relative to the euro, and the FTSE 100 stock index declined by 2.2% — notable movements, but hardly enough to bring a government to its knees.
The big change came in the price of 30-year UK government bonds, also known as gilts, which experienced a shocking 23% drop. Most of this decline had nothing to do with rational investors revising their beliefs about the UK's long-run prospects. Rather, it stemmed from financial regulators' failure to limit leverage in UK pension funds. These funds had bought long-term gilts with borrowed money and entered derivative contracts to the same effect — positions that generated huge collateral demands when prices fell and yields rose. To raise the necessary cash, they had to sell more gilts, creating a doom loop in which declining prices and forced selling compounded one another.
The Bank of England, as the entity responsible for overseeing the financial system, bears at least part of the blame for this catastrophe. As a result of its regulatory failure, it was forced into an emergency intervention, buying gilts to put a floor on prices. But it refused to extend its support beyond Oct. 14 — even though its purchases of long-term government bonds were fully indemnified by the Treasury. It's hard to see how that decision aligned with the central bank's financial-stability mandate, and easy to see how it contributed to the government's demise.
The way the Truss government collapsed should concern all who support democracy. The prime minister was seeking to fulfill her campaign promises. She was thwarted not by markets, but by a hole in financial regulation — a hole that the Bank of England proved strangely unwilling to plug.
Two days before Truss resigned, Daniel Lacalle wrote an article for Mises Wire: 'The Bank of England Made Liz Truss a Scapegoat'.
Lacalle points out that economic turmoil was worldwide, something not reported widely in the British media. No surprise there:
I find it astonishing that not one of the so-called experts that have immediately placed the cause of the British market volatility on Liz Truss's budget have said anything about the collapse of the yen and the need for Bank of Japan intervention, which has been ongoing for two weeks.
Why did so many people assume the Truss minibudget was the cause of volatility when the euro, the yen, the Norwegian krone, and most emerging market currencies have suffered a similar or worse depreciation versus the US dollar this year? What about the bond market? This is the worst year since 1931 for bonds all over the world, and the collapse in prices of sovereign and private bonds in developed and emerging market economies is strikingly similar as those of the UK fixed income peers.
He blames British pension funds' liability-driven investing (LDI) strategies on the abuse of quantitative easing (QE) over the years. Who was in charge of that? The BoE.
Lacalle wrote while Truss was still Prime Minister:
British pension funds are not selling sovereign bonds because of lack of trust in this or another government's budget. They are selling negative-yielding sovereign bonds because they jumped wholeheartedly into the debt bubble created by artificially cheap money believing that central banks would keep fixed income prices elevated with constant repurchases.
British pension funds' unfunded liabilities are not a problem caused by the mini budget nor solely a UK problem. It was an enormous problem in 2019–20 disguised by insane currency printing. Unfunded global liabilities for state pension funds in the US were already $783 billion in 2021 and rose to $1.3 trillion in 2022 according to Reason Foundation. The funded ratio of state pensions was just 85 percent in 2021 and has fallen below 75 percent in 2022.
What happened in the years of negative rates and massive currency printing? Pension funds used liability-driven investing (LDI) strategies. Most LDI mandates used derivatives to hedge inflation and interest rate risk. And what happens when inflation kicks in and rates rise? "As interest rates have risen, the notional value of some of the derivatives held in LDI portfolios has fallen. The result: increased collateral calls. The speed at which rates have risen means some pension plans have had to liquidate portfolios to meet collateral calls" according to the Investment Association's latest report in September and Brian Croce at Pensions and Investment.
The total assets in LDI strategies almost quadrupled to £1.6 trillion ($1.8 trillion) in the ten years through 2021. Nearly two-thirds of Britain's defined benefit pension schemes use LDI funds, according to TPR and Reuters. Liz Truss and Kwasi Kwarteng are not to blame for this insanity. The policy of negative real rates and massive liquidity injection of the Bank of England is. Kwarteng and Truss are only to blame for believing that the party of policies of spending and printing defended by almost all mainstream Keynesian economists should work even when the music stopped …
Liz Truss and Kwasi Kwarteng are not to blame for the insanity of the past years or Rishi Sunak's ultra-Keynesian budgets. They are only to blame for believing that another dose of Keynesian deficit insanity would not harm.
Mr. Kwarteng's demise is just a casualty delivered by the modern monetary theory crowd and the monetary laughing gas city to justify that the problem was a ludicrous tax cut not years of currency printing and deficit increases.
What has happened in the UK or Japan is likely to happen soon in the eurozone, which accumulated more than twelve billion euro of negative-yielding bonds in the years of cheap money and reckless stimulus plans.
Liz Truss is not to blame for twenty years of monetary insanity and fiscal irresponsibility. She is to blame for a budget that increases spending without cutting unnecessary expenses.
The irony of it all is that the defenders of monster deficits and borrowing if it comes from bloating the size of government feel vindicated. It was the evil tax cuts!
The political analysis of the mini budget is astonishing. No one in the UK parliament sees any need to cut spending it seems, yet those expenses are consolidated and annualized, which means that any change in the economic cycle leads to larger fiscal imbalances as receipts are cyclical and, with it, more currency printing. The assumption that raising taxes will generate perennial annual increases in receipts no matter what happens to the economic cycle can only be defended by a bureaucrat.
Well, Rishi Sunak and Jeremy Hunt are those bureaucrats.
There are global players in pension fund management, BlackRock being one of them, as The Conservative Woman revealed on October 27:
BlackRock is heavily involved in the charity sector, managing over £4.5billion for more than 3,000 UK charities alone. 'Sustainability', food security and renewable energy rank very highly in their priorities in that sector.
The role of BlackRock in the recent selling off of derivatives by UK pension funds, said to be behind the triggering of a fall in sterling following the ill-fated Kwasi Kwarteng mini-Budget, is an intriguing one. BlackRock executives would defend their actions by stating they were merely protecting clients who were financially overcommitted in that sector and that pension fund managers ought to have known the risks involved in leveraged investment strategies in the first place, and that there is far more to that type of riskier investment than just following trends. Either way the political fallout was profound, triggering a chain of events which led to the fall of Prime Minister Liz Truss. BlackRock executive defends pensions strategy that fuelled UK crisis
Interestingly, Jeremy Hunt has appointed a BlackRock executive who is pro-Net Zero and anti-Brexit as one of his chief advisers:
A business with the financial resources of BlackRock will naturally attract well-connected people to its payroll. People such as Rupert Harrison, chief of staff to Chancellor George Osborne from 2006 to 2015. An opponent of Brexit, he tweeted in July 2017 that 'the rest of Europe is booming and we're not'.
Intriguingly, Harrison is now one of new Chancellor Jeremy Hunt's most senior advisers. On the surface, Hunt seemed to have been parachuted in from nowhere, having failed in two leadership elections and spending more than two years on the back benches, yet from the moment he was appointed he already had a highly expert team, including Harrison, ready to start at once and acting promptly with great self-assurance as though he knew he already had the backing of those who really matter.
However, Conservative Party members are unhappy with Hunt and Sunak's economic policy based on higher taxes, which are, in reality, much higher than they read on paper. This poll is from November 29:
Guido Fawkes wrote (emphases his):
The Tory membership doesn't support their own government's economic policy, according to the latest Conservative Home panel poll. Opposition stands at 48.78% and support at 41.87%. 9.35% don't know. 
It can't come as much surprise. As Rishi's supporters point out, he was warning of the consequences of Liz Truss's policies during the summer contest, and the membership still voted for Liz's low tax package. Support at 41.87 is actually 0.8% lower than Rishi received from the members during the summer…
Let us return to the BoE.
In the December 2022/January 2023 issue of The Critic, Jon Moynihan published 'How the Bank broke the Government', which refers to Narayana Kocherlakota's aforementioned article for Bloomberg and expands on the use of LDIs in pension fund management:
Kocherlakota's view was that the Bank of England was responsible for the crisis, through "poor financial regulation and highly subjective crisis management". Outside the UK chatterati, this view is widely supported.
The beef against the mini-budget was that it spooked the market. But virtually all of the policy announcements made by Kwasi Kwarteng on the day were not new; they had been pledged during the Truss campaign or — in the case of the energy price guarantee — confirmed shortly after her arrival in Downing Street. 
Sure, the mini-budget stated that clarifying how all the spending/lowered tax revenue would be paid for was to be put off until the later financial statement, due some weeks later. But the only new thing was the change to the top rate of income tax from 45 per cent to 40 per cent. 
Given the well-known dynamic impact of lowered tax rates, this change would arguably have been revenue neutral or even beneficial; even without any dynamic benefit, it could have cost at most £2 billion in tax revenue. That is a rounding error compared to the amounts already absorbed by the market and a fraction of the costs Rishi Sunak has accepted at COP 27 — to which the markets have reacted entirely complacently. It is just not credible to blame the mini-budget for the market turmoil.
Moynihan explains more about how LDIs work:
The prime obligation of a pension fund is to match its assets (the money it uses to make payments) to its liabilities (the payments it expects make to its pensioners over the years). For a fund to be as sure as it can that it will be able to pay its future pension liabilities, it buys assets whose coupons and maturity match its (actuarially expected) future pension payments.
So far, all well and good. The problem is with LDI funds. These, like so many pension funds these days, use gilts to accomplish that matching (in a popular meme of the past couple of decades, "gentlemen prefer bonds"). However, in addition the idea has been sold that they can goose up their returns a bit, to compensate for the low yields they are getting on their gilts. 
This little bit of extra profit is accomplished by borrowing some further money, short-term, and with it buying long, higher-yielding assets — either real assets, or derivatives. It's a well-known and always risky bet on interest rate movements; in some markets it's known as the "Carry Trade"; in the Japanese markets it's known as the "Widow Maker". It's entirely inappropriate for "safe" pension funds. 
If rates move against the bet, the bet sours. To cover the risk they are taking, the funds are required to give over their other assets (the gilts) as collateral to the bank that lent them the money. 
When the bet sours, the bank that lent them the money "calls the collateral", selling off the gilts in order to repay the borrowing … a wave of such sales can destabilise the gilts market and create a disorderly environment, as happened in late September 2022.

Some would say that the Bank of England should have known all of this and not allowed such risk to be taken by this huge market in LDI funds. Some would raise an eyebrow at the news that until the middle of 2022, the Bank of England itself held 100 per cent of its £5 billion pension fund in just one single LDI Fund, and therefore blithely seemed to believe it was OK for such risks to be taken (their 100 per cent recently was reduced to a scarcely less concerning 82 per cent).
For whatever reason, the Bank and other regulators did allow LDI funds to become more and more the fashion … The total value of liabilities hedged with LDI strategies was $1.8 trillion in 2021, around half of the total of LDI funds in the world, a sure sign that the Bank Of England had been far too lenient in allowing LDIs to flourish in the UK. That is Strike One.

Why then did the LDI funds start collapsing specifically in late September? It starts with the rapid appearance this year of inflation, caused in no small part — as the Bank has finally admitted — by the bank's excessive growth of the money supply in recent years. As inflation consequently shot up, so, all year, did gilt yields rise, putting increasing pressure on those rickety LDI funds. That is Strike Two against the BoE for its role in worsening inflation in the UK, leading to this instability.
Two days before Kwarteng delivered his mini-budget, Saxo Bank and Deutsche Bank correctly predicted a fall in sterling.
Saxo predicted:
"If the BoE fails to hike 75 basis points, let's shield our eyes for what is going to happen to the pound here." (They were predicting a fall in sterling, which duly happened. Low sterling leads to higher inflation leads to higher gilt yields.) 
Deutsche Bank said that the BoE needed a 'hawkish response'. It never materialised.
In the end:
Both Deutsche and Saxo were right. Only days after the Bank failed to step up to the 75 basis points mark, sterling momentarily dropped to $1.04, just as Deutsche had predicted — yet for reasons that remain to be explained, the drop was blamed on the mini-budget, not on the Bank's failure to sufficiently raise rates. The failure to raise rates enough, two days before the mini-budget, is Strike Three.
In addition, the BoE announced a fortnight-long programme of selling £40 billion of gilts, which ended in mid-October.
In other words, it moved from QE to QT, quantitative tightening.
Reuters noted the BoE was the first central bank to do that, at least in recent years. Bloomberg called the move 'historic' for the same reason:
In 2013, all it had taken was the Fed to announce it was doing less QE — not stopping, just doing less — for the markets to go into a "Taper Tantrum".
Ever since, most central banks have been cautious not to move too fast in shutting down their QE. But not the BoE. Why did it see itself as in a position to be the first in the world to take this very risky step, aware as they were that the mini-budget was about to be announced?
Not surprisingly, the markets responded:
… market participants move fast to get ahead: they quickly sell their own bonds before their value is hammered by the BoE sales. Yields immediately go up and the price of bonds immediately falls. Which is why it was — Strike Four — stupid for the central bank to announce its moves ahead of time: it's like the time that Gordon Brown announced he was selling all our gold, and the price collapsed so he made much less from the sale. But now the LDI pension funds started to get really hammered: as the market moved to dump gilts, the price of gilts fell and fell — this is still before the mini-budget — and collateral calls began to come thick and fast on the LDI funds.
The doom loop began:
And even more collateral calls then came in, and we were in an accelerating doom loop. All this was happening as the mini-budget was announced, and the lazy financial press, not seeing what had happened earlier, blamed the rout in the gilts market on the mini-budget. But it was started by the Bank of England's earlier decision to go full tonto QT. Strike Five.
Cue the headlines that Liz Truss 'crashed the economy', to borrow Labour's words, which they are still using in Parliament:
The Prime Minister is accused the following day of destroying the economy.
The BoE backtracked immediately, announcing it would move from QT back to QE:
The Bank of England, of course, immediately announces that it is not after all going to sell £40 billion of gilts — it is going to buy £60 billion of them — back from QT to QE in a blink of the eye. 
Of course, by then, it was too late for Truss and Kwarteng. Their collective goose was well and truly cooked:
… by now the gods of havoc have been unleashed. Truss's enemies in the Conservative party get to work, using the mini-budget narrative to undo the mini-budget, to oust the Chancellor, and finally to oust the Prime Minister herself. Job Done. 
The BoE defended its actions:
The post-mortem speech by the Bank's director for financial stability, entitled "Risks from leverage: how did a small corner of the financial industry threaten financial stability?" makes for interesting reading; in this telling, the Bank staved off a crisis from what, for anyone, would have been an unexpected direction, dealing more than adequately with the non-bank sector. If anything, the director claims, the UK was ahead of the curve!
As for the current Sunak-Hunt government, Jon Moynihan has also noted the presence of David Cameron's Chancellor and the former BlackRock executive:
George Osborne and Rupert Harrison, late of BlackRock, the UK's second largest provider of LDI funds, are now advising the new government.
Moynihan ends his article by pointing out that the BoE's governor, Andrew Bailey, has the nickname of 'Lullaby' because he tended to doze off during meetings in a prior position:
As head of the Financial Conduct Authority from 2016 to 2020, he saw first-hand the sort of shenanigans firms and funds will get up to if, pressed by smooth talking salesmen, they are given the freedom to act as they will.
It has been alleged that while in that role, Bailey "dozed off" during meetings over a pensions scandal. Now, the organisation he runs is accused of being asleep at the wheel on LDI pension funds, not to mention on inflation, the currency, the stability of markets.
It looks like the BoE's laxity led to the fall of a government:
All that led to the end of a government, in a way that will continue to reverberate, to the detriment of many people's view of democracy in this country, for decades to come.
What the British think
Only last week, on November 23, IPSOS published a poll saying that politicians are the least trustworthy of working Britons. Pictured alongside Rishi is a very young Piers Morgan when he edited The Mirror. Journalists have a trustworthiness rating of 29%, compared to politicians in general at 12%:
Guido has the full chart of occupations participants were asked to rank in order of trustworthiness:
Hardly unsurprisingly, public trust in politicians to tell the truth has fallen to its lowest level ever, according to the latest Ipsos poll. Just 12% of the public now trusts politicians to tell the truth, lower than advertising executives (14%) and government ministers (16%).
Unfortunately for journalists they don't fare much better, at just 29% – one percent above estate agents…
Nurses and doctors ranked the highest at 89% and 85%, respectively.
Television news readers ranked at 58%, above clergy/priests and the man in the street, both of which tied on 55%.
Conclusion
On November 22, roughly one month after Truss resigned, Dan Wootton did a follow up on GB News.
Nigel Farage told him:
Hunt was the coup. Sunak is little more than a puppet.
Wootton also interviewed Ranil Jayawardena, who served as Secretary of State for DEFRA, the Department of Environment, Food and Rural Affairs. He was very gracious and didn't want to get into any controversies. Wootton, who was a big Truss supporter, wanted to know how both of them were faring. He said that they were fine.
I'm including the nine-minute interview here just so you can hear Ranil Jayawardena's voice. He should record audio books in his retirement. Someone in the comments to the video said that he sounds like Boris. He sounds a thousand times better than Boris. This is received pronunciation, rarely heard today in such mellifluous tones:
The Liz Truss saga ends here.
I fear the worst, for the Conservative Party and for the British.
End of series
My most recent post on Liz Truss left off with the beginning of the end in her final week as Conservative Party leader.
Friday, October 14
Her sacking of Kwasi Kwarteng and installation of Jeremy Hunt as Chancellor on Friday, October 14, meant only one thing — her end was nigh:
Liz Truss's first Chancellor Kwasi Kwarteng: what he expected, what he got instead (October 13, 14)
Liz Truss and Kwasi Kwarteng illustrate that one DAY is a long time in politics (October 13, 14)
The Times's headline on the morning of the 14th said that Conservative MPs were already plotting to install Rishi Sunak and Penny Mordaunt in Truss's place. One of them would be Prime Minister and the other would be Chancellor or Foreign Secretary:
The article also said (purple emphases mine):
Truss and Kwasi Kwarteng, the chancellor, are expected within days to make a humiliating climbdown over corporation tax in an effort to calm the markets and see off a mounting revolt.
Indeed, that is what Truss announced at her disastrous press conference that afternoon. By then, Jeremy Hunt was already Chancellor:
It was hard to believe, especially as Ireland's corporation tax is half that: 12.5%. What is to stop businesses in Northern Ireland from moving south of the border?
Liz prefaced the announcement with:
This is difficult.
Guido Fawkes has the video and another quote preceding her announcement about corporation tax:
It is clear that parts of our mini-Budget went further and faster than markets were expecting… so the way we are delivering has to change…
He concluded (emphases his):
The mother of all U-turns…
Later in the afternoon, Wendy Morton, the Chief Whip, summoned Conservative MPs to an online call with the Deputy Prime Minister Thérèse Coffey.
One hundred of them dialled in. Coffey allegedly kept staring at her notes:
Saturday, October 15
Saturday's papers were scathing.
The Daily Mail asked, 'How much more can she (and the rest of us) take?'
The i paper led with 'Tory MPs tell Truss: "It's over"':
The Telegraph's Tom Harris wrote about the symbiotic relationship between the Prime Minister and the Chancellor from Margaret Thatcher's time to Truss's.
When that relationship goes wrong in a big way, it's nearly always bad news for the PM, although there are exceptions:
When a prime minister loses a long-serving chancellor and ally – as Margaret Thatcher did when Nigel Lawson walked out of her government in 1989 – the political ramifications are enormous. In Thatcher's case, that event signalled the beginning of her long defeat. When a prime minister loses a friend too, it becomes, as Liz Truss stated in her press conference, "not an easy" personal moment. 
Their closeness also makes it impossible for Truss to distance herself from the mess left at the Treasury. It is not clear which policy Kwarteng implemented that the prime minister was so unhappy with that she had to fire him. In 1989, Lawson resigned over his objection to the prime minister's reliance on her economic adviser, Sir Alan Walters, but there were already disagreements between Numbers 10 and 11 over whether Britain should join the European Exchange Rate Mechanism. 
[John Major's Norman] Lamont was fired over his handling of Britain's departure from the same institution. Javid resigned over personnel issues. Rishi Sunak's reasons for resigning were similar, though in his case the personnel issue involved the then prime minister himself.
In Jeremy Hunt, Liz Truss might be given a chance to form the kind of reassuring, mutually supportive – and, crucially, stable – relationship with her chancellor that good government demands. It would be foolish, however, to assume that when such a relationship breaks down, it is always the chancellor who is next to go.
The Telegraph's Camilla Tominey looked at the backbench Conservative MPs, wondering how Conservative they actually were. I was glad to see that she mentioned Alicia Kearns, who does not seem very Conservative to me.
Tominey's article shows that a significant number of Conservative backbenchers do not hold traditional Conservative Party values:
Never underestimate the Conservative Party's unparalleled ability to turn the gun on itself when coming under enemy fire. As the pot shots continued to rain thick and fast on Liz Truss's troubled premiership, what did the Tories decide to do? With Labour's help, they elected Alicia Kearns as chair of the Foreign Affairs Select Committee.
For those unfamiliar with Ms Kearns, she is the former Amnesty International activist who led the so-called "Pork Pie Plot" to oust Boris Johnson over partygate. Despite having been an MP for all of five minutes, the 34-year-old, who won the safe seat of Rutland and Melton in 2019 (hence the pork pie theme) decided that the Conservatives' wisest move was to remove the man who secured the party's biggest election win since 1987. Well, dip me in jellied pork stock and cover me in hot-crust pastry, that went swimmingly!
Having declared last year that she came into Parliament with "one legislative change I wanted to deliver, which was to ban conversion therapy", inexperienced Kearns now occupies one of the most influential posts in the House of Commons.
Her first intervention? Following hot on the heels of her fellow chair, Mel Stride, of outspoken Treasury select committee fame, she used a radio interview on Thursday night to urge the Prime Minister to reverse the tax-cutting measures in the mini-Budget.
I've got nothing personally against Ms Kearns – she is clearly a thoughtful and intelligent woman. But if she isn't for cutting tax, then what on earth is she doing in the Tory party, let alone now apparently in the running to enter a future Conservative Cabinet?
One former minister was this week quoted as saying: "Everything [the Government] are doing is everything that I don't believe in." Why, then, is that senior politician – apparently so opposed to spending controls and economic growth – not currently residing on Sir Keir Starmer's shadow front bench or drinking Remaineraid with Sir Ed Davey?
As former Brexit negotiator Lord Frost put it on Thursday: "There are too many … social democrats operating under Conservative cover."
It is one thing to be a broad church, but the Tories are currently taking on the mantle of a Blue Labour cult.
Not only are many of them perfectly comfortable with taxing people more, despite the tax burden being at its highest in 70 years, but they are also apparently as opposed to fracking as Ed Miliband. They seem to love the status quo and appear happy to watch Britain slowly sink into decline – along with their own party.
Tominey says that Liz Truss's platform was clasically Conservative, and so was the one upon which Alicia Kearns was elected.
These are the MPs who will determine the outcome of Brexit and the next election. Both are in peril.
Tominey rightly lays the blame at the feet of former PM David Cameron, a wet who wanted a different type of Conservative MP:
David Cameron's decision to introduce open primaries in the late 2000s, which saw wannabe MPs selected by non-members as well as members, was perhaps the most obvious mistake. The Conservatives ended up with "yellow" Tories in its ranks, such as Sarah Wollaston, who later defected to the Liberal Democrats.
Funnily enough, Sarah Wollaston is no longer an MP. Others like her, most of whom had the whip removed, were defeated or chose not to run in 2019.
This is the issue:
But more broadly, by inviting people with no background in Conservative politics to stand for Parliament, they ended up with people with no Tory backbone either. Holding successive snap elections only made the selection process less rigorous and open to people high on ambition and low on ideology.
This is a problem for the next general election. GEs depend upon local activists — party members — who are willing to canvass door-to-door:
We now have the Sunak squadders, calling for people to keep less of their wages, for businesses to pay more in corporation tax and for benefits to be linked to inflation, Corbyn-style …
Conservatives have become so detached from reality that they actually believe this will help them to win the next general election – even though it promises to prompt a mass walkout by the very grass-roots activists they rely on to run a campaign.
However, Tominey says that Rishi Sunak's coronavirus handouts have also altered the public perception of the role of the state. We can but see how this will play in 2024 or early 2025 when the next GE comes along.
Monday, October 17
On Monday, October 17, Leader of the House Penny Mordaunt had to stand in for Truss during a debate. Opposition MPs accused Truss of hiding under a desk.
Mordaunt had to deny that more than once, saying that Truss had a 'very genuine reason' for not being present.
I don't often feel sorry for Penny Mordaunt, but I did that day:
However, one Labour MP, Andrew Gwynne, tweeted that Liz Truss was the victim of a 'coup' — his word — and that Jeremy Hunt was the acting PM: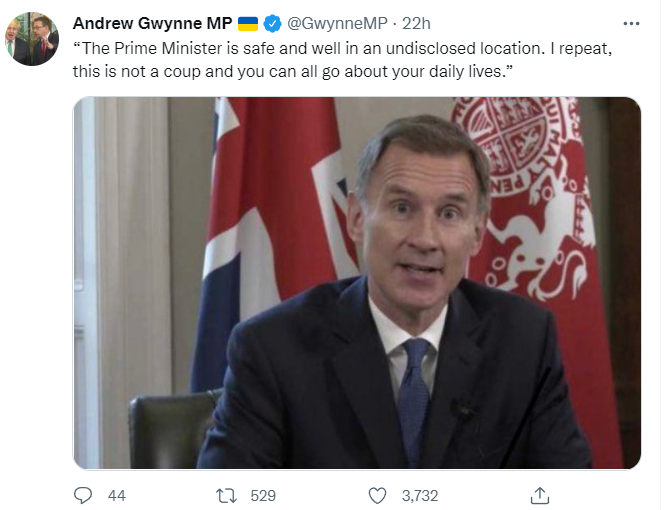 On Tuesday, October 18, The Times explained why Truss did not turn up at the despatch box the day before:
For much of the day Truss was conspicuous by her absence. She refused to respond to a question by Sir Keir Starmer in the Commons, prompting accusations from Labour that she was "frit". Penny Mordaunt, the leader of the Commons, answered questions in her stead. She said that the prime minister had "a very good reason" for her absence but refused to explain further, prompting misplaced speculation that Truss had resigned.
That reason for her absence turned out to be a meeting with Sir Graham Brady, the chairman of the backbench 1922 Committee. Sources said that the meeting was routine and had been arranged before Kwarteng's dismissal. But the issue of her leadership, and a potential revolt by Tory MPs, was said to have been discussed.
One source on the committee said there were a "number of views" on the way ahead but that there were concerns that an immediate move to defenestrate the prime minister could further destabilise the markets.
"The question is whether it is more damaging to create further uncertainty by getting rid of the prime minister when the chancellor [Hunt] appears to have settled the markets," said an MP on the committee.
Some Tory MPs believe that with the unravelling of her tax-cutting agenda and signature energy policy she is finished politically. Sir Charles Walker became the fifth Conservative MP to publicly call for her to go, saying her position was "untenable".
A senior Conservative source added: "It's the biggest unforced humiliation for a British government since Suez. Eden did the decent thing and resigned."
"The trouble is there is no consensus for who should replace her," said one former backer of Rishi Sunak. "And the last thing we need now is to be seen to be causing more uncertainty on the financial markets."
Monday night was grim.
On the subject of a coup, Nigel Farage agreed that Jeremy Hunt was in charge, and that this was a 'globalist coup':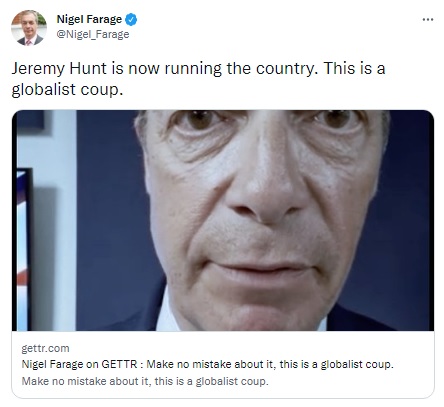 On his GB News show that night, Dan Wootton also said that there had been a coup. He agreed that the unpopular Hunt was in charge and that no one liked him, except for the Establishment. He said that if the Conservatives allowed this to continue, then they deserve to lose the next GE:

Truss surfaced to give an interview to the BBC's Chris Mason, wherein she apologised for the mini-budget. She said:
First of all, I do want to accept responsibility and say sorry for the mistakes that have been made. I wanted to act, to help people with their energy bills, to deal with the issue of high taxes, but we went too far and too fast. I have acknowledged that.
Tuesday, October 18
Tuesday's headlines were deeply discouraging for her. Nearly all had photos of her alongside Hunt:
The new biography of Truss, Out of the Blue, was not even ready for publication. Someone photoshopped the cover with a remainder sticker on it, saying, 'Reduced for quick sale — please just take it':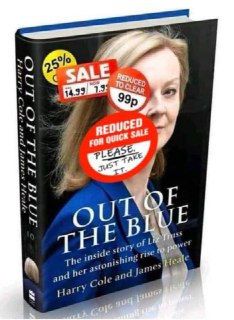 The Sun's political editor, Harry Cole, one of the book's co-authors, posted an article about the MPs plotting against her:
TORY plotters dubbed the "Balti Bandits" carved up Liz Truss's future last night over a korma and bhuna feast, The Sun reveals.
Leading rebel Mel Stride hosted more than a dozen "miserable" Conservative MPs in his large House of Commons office for an Indian takeaway – with the PM's fate also on the table.
Ex-Ministers John Glen, Nick Gibb, Mark Garnier and Shailesh Vara tucked into "lashings of curry and naan" ordered in by Mr Stride, alongside outspoken backbencher Simon Hoare. 
2019 intake MPs Angela Richardson and Simon Baynes were also said to have joined the "poppadum plot" – but sources say the meeting ended with "no credible solution" to their woes …
Contenders include ex-Chancellor Rishi Sunak, Defence Secretary Ben Wallace, new Chancellor Jeremy Hunt and Commons Leader Penny Mordaunt – but given the party is deeply split, the plotters admitted the chances of a rapid "coronation" of a new PM were "almost zero."
One attendee told The Sun: "the vast majority of attendees were Rishi Sunak supporters, but there were Penny people too. It was not a Rishi thing." 
On Tuesday evening, Truss had another group angry with her — her own supporters in the European Research Group, the pro-Brexit group of backbench Conservative MPs.
The Telegraph's Tim Stanley wrote about it, as he was there in the corridor for Truss's meeting with them:
Liz Truss launched her fightback at 6pm in Committee Room 11. The meeting was actually set for 5pm; Commons voting ran late so Mark Francois advised us hacks to go away and come back later, but I hung around on the suspicion that the moment we left, Liz would slip out of her hiding place in the roof of the lift and jog, unseen, into the Room …
These are the true believers: if they're angry at Liz for anything, it's for not keeping the mini-Budget …
What we saw of her on TV on Monday night, interviewed by Chris Mason, did not spark confidence as she uttered that dread word "sorry", thus accepting personal responsibility for blunders past and future. It is the mark of an "honest politician", she said, to admit mistakes. That's true, but it's also a dead giveaway for a not-very-good one, trying to turn a repeated error into a display of moral virtue. As Samuel Johnson might have said, "Honesty is the last refuge of the incompetent".
… She bobbed into view in a dark blue dress and black tights – fresh-faced, one suspects, from a good night's sleep. Instinctively, I stood: she might be a PM, but she's still a lady. I earnt a cheeky nod. Those who can't fathom the rise of Ms Truss haven't met her. She has a way of compromising you, of making you think you're on her side, and it's the most fun side of the room to be on.
The ERG roared as she entered. She entertained them behind a closed door for about 45 minutes. Then she left, followed by Mr Francois who told us it was "a very positive meeting".
The PM evidently spoke about Northern Ireland and her commitment to raising defence spending by the end of the decade, which is ambitious for a woman who could be out of office by Friday. And he noted that David Canzini, the clever political operative, was with her, an eminence so grise, none of us had noticed he'd gone in.
No 10 confirmed it: he was hired as of that morning.
Too little too late. That might have been Canzini's shortest job.
Wednesday, October 19
On Wednesday, October 19, Guido Fawkes posted that the Reform Party — formerly the Brexit Party — was climbing in the polls. The photo shows their chairman, businessman Richard Tice:
Guido's post said, in part:
Guido can reveal that in the 48 hours before close of play yesterday afternoon, the old Brexit Party received almost 1000 new £25 membership sign-ups. That new five-figure cash boost was joined by 300 members registering a new interest in standing as a party candidate at the next election. The first time the Tories dipped below Labour in the polls – September 2021 – Reform saw one in 10 Tory voters switching to them. Can they continue capitalising on Liz's woes? …

It's not just Reform benefitting from the dire state of No. 10. Last night the LibDems revealed five new donors, each giving £50,000 to the party, one of whom is a former Tory donor. While the last 36 hours have been calmer for Truss, it does feel like the ship has sprung one too many leaks to be repaired by a strong PMQs performance…
Wednesday was another fateful day. Home Secretary Suella Braverman resigned, then a confusing scene took place in the voting lobby over a division (vote) on fracking, which resulted in more chaos when it was unclear whether Wendy Morton had resigned as Chief Whip:
Liz Truss's final 24 hours: Suella Braverman's resignation, question over Whips' resignations (October 19)
Truss appointed Grant Shapps, former Transport Secretary, in Braverman's place:
Holy mole, guacamole!
Nigel Farage repeated 'coup' in his tweet about the news:
As with Hunt, Truss had to scrape the barrel.
The Telegraph reported that, like Hunt, Shapps was not a Truss supporter:
It is a remarkable turnaround for Mr Shapps, the transport secretary under Boris Johnson who went on to become a prominent supporter of Ms Truss's leadership rival Rishi Sunak.
Only on Monday night, Mr Shapps was telling a theatre audience that he believed Ms Truss had a "Mount Everest to climb" to remain in power.
"I don't think there's any secret she has a mountain, a Mount Everest to climb," he told Matt Forde's podcast. "What she needs to do is like threading the eye of a needle with the lights off."
Now he is one of her most senior ministers – and another example of the way a weakened Ms Truss is being forced to offer olive branches to the Sunak supporters she had previously shunned.
Not only was Mr Shapps questioning her chances of success until as early as this week – he was working proactively to get rid of her.
Mr Shapps has been viewed in Westminster as one of the leaders of the opposition to Truss's libertarian policies.
He spoke up at the Tory party conference in Birmingham earlier this month against her plans to scrap the 45p rate of income tax, and warned that Ms Truss had "10 days" to turn things around or MPs "might as well roll the dice and elect a new leader".
This is what the aforementioned Camilla Tominey was lamenting in Conservative MPs. Some of the recent ones have no appreciation of or allegiance to Conservative values. Shapps was a Cameronian MP.
The article also discussed Shapps's famous spreadsheets which appear to work as well as the 1922 Committee in making or breaking a Prime Minister:
The veteran MP – known by some as the "Duracell Bunny" for his enthusiasm – is also well-known for his "Star Wars" spreadsheet, with which he has spent the past few weeks recording the views of MPs on Ms Truss and her plans.
Mr Shapps used an earlier version of his famous spreadsheet to lead a rebellion against Theresa May, and also utilised its information to help guide Boris Johnson into Downing Street.
The spreadsheet is said to contain more than 6,000 historical "data points" from previous conversations with MPs.
It was rumoured that he had been in contact with Mr Johnson and Mr Sunak to see if they would join an effort to oust Ms Truss. And some rebel MPs claimed he had even offered himself up as a caretaker prime minister.
Let us not forget that Shapps himself is hardly a paragon of virtue:
… unfortunately for Mr Shapps, some elements of his past may make a shot at No 10 less than likely – not least the Michael Green saga.
This was an alter-ego he employed to enable him to run a series of get-rich-quick schemes on the internet while he was an MP.
Mr Shapps originally denied he had a second job, and threatened legal action against a constituent who said he had. But he was forced to admit practising business under a pseudonym in March 2015.
All this happened while he was Tory chairman, in charge of David Cameron's efforts to win the 2015 election.
He was demoted soon after to aid minister, and resigned from that role after claims he had ignored repeated allegations of bullying involving the Tories' youth organiser. It was said the alleged bullying, which took place on the party's RoadTrip 2015 campaign, may have caused one party member to commit suicide.
On Wednesday evening, Camilla Tominey reprised her warning about un-Conservative MPs and their takeover of the Government. She, too, used the word 'coup':
… the departure of Suella Braverman as home secretary speaks to a bigger problem for Liz Truss than sheer optics.
In sacking two key allies on the Right, only for them to be replaced by opponents more to the Left of the party, the Prime Minister is increasingly looking like the victim of a Conservative coup.
It is certainly ironic that the former home secretary, in post for just 43 days, first used that word to describe those who plotted against Ms Truss's original plan to link benefit to wages rather than inflation. 
With that, and most of her mini-Budget up in flames thanks to a rebellion by the moderates, Jeremy Hunt now appears to be the de facto Prime Minister.
He will now be joined by his fellow Sunakite Grant Shapps, who despite being rejected from Ms Truss's original cabinet, has now been appointed to replace Mrs Braverman at the Home Office.
Braverman, at one point, had headed the aforementioned European Research Group:
… her swift exit from one of the highest posts in public office will anger her European Research Group supporters.
It was only on Tuesday evening that Ms Truss was said to have charmed the backbench group of Eurosceptics with her honest, straight-talking approach.
They are unlikely to take kindly to their former chairman, a darling of the grassroots, being ejected in such unseemly fashion.
Mrs Braverman, a Conservative leadership candidate herself over the summer, received the longest standing ovation at the Tory Party conference two weeks ago.
Fortunately, Rishi Sunak re-appointed Braverman as Home Secretary. He probably realised he had to, in order to keep Party members on side.
Returning to Wednesday, October 19, The Telegraph posted an article stating that Conservative backbenchers were asking Labour for help in ousting Truss. Unbelievable:
Rebel Tories have been asking Labour MPs to help them overthrow Liz Truss, The Telegraph has been told.
Conservative backbenchers are growing increasingly frustrated with the Prime Minister's leadership, but currently lack any mechanisms to remove her given the one-year immunity she has from a no confidence vote.
As things stand, the only way to oust Ms Truss would be to change the rules – which is a decision that only the executive of the 1922 committee of backbenchers can make – or if she resigns of her own volition.
One Labour MP told The Telegraph: "Tories are speaking to us saying 'this is a complete nightmare and there is no way out'. We are being asked 'can't you do something about her?'"
The MP, who said their colleagues have reported similar experiences, said they were approached by one Red Wall MP whose constituency was in the north and another MP who is a member of the One Nation group of moderates …
A Labour source said: "There is very little Labour can do. Even a vote of no confidence doesn't have the constitutional standing that it used to. The Tory party are the ones that elected her, they need to get rid of her."
The paper's Michael Deacon wrote that Conservative MPs were entirely to blame for the mess. Furthermore, he said, they risked angering Party members, the campaigning activists, if they pushed ahead with a rule change saying that the members would no longer be able to vote for future Party leaders. The members elected Truss over Sunak in August:
This week, The Telegraph reported that Tory MPs want to bar members from voting in future leadership elections. Supposedly the reason is to speed up the process of choosing a leader. But this is blatantly a smokescreen. Quite plainly, MPs just want to prevent the members from landing them with another turkey like Truss.
Many members are appalled by this suggestion. And so they should be. Such a plan is not just arrogant and undemocratic, it's delusional. Because party members aren't to blame for the current mess.
Tory MPs are.
After all, who put Truss on the ballot paper in the first place? Tory MPs. No fewer than 113 of them, in fact. A third of the parliamentary party. Out of an initial field of 11 candidates for the leadership, Truss was the MPs' second favourite.
Unlike the MPs, however, the party members weren't allowed to choose between the initial field of 11. If they had been, it's extremely unlikely that they would have chosen Truss. They'd have been far more likely to choose Penny Mordaunt or Kemi Badenoch, to name just two. In fact, if the MPs had deigned to ask them, I suspect that the greatest number of members would have wanted their leader to be Boris Johnson – the person they chose to be leader in the first place.
The truth is, the members voted for Truss simply because they didn't want to vote for Rishi Sunak. In leadership contests, they're only ever given two candidates to choose from. And why? Because Tory MPs don't trust them. They fear that, if presented with a wide-open field, party members will choose the "wrong" candidate. Funny how things turn out.
All things considered, then, it seems clear that, if anyone should be barred from voting in leadership contests, it should be Tory MPs. In future, just leave it to the wiser judgment of the members instead.
That night, The Telegraph posted an article by Lord Frost saying that the Party was moving towards a status quo, if not anti-Brexit, stance, going all the way back to David Cameron's time as Prime Minister, with George Osborne as Chancellor and Philip Hammond in the same post under Theresa May:
… the Government is implementing neither the programme Liz Truss originally advocated nor the 2019 manifesto. It is going in a completely different direction. We are back to Osbornomics, the continuity Hammond view of the world. There is no shred of a mandate for this. It's only happening because the Truss Government messed things up more badly than anyone could have imagined, and enabled a hostile takeover by its opponents …
… the correct account of the past few weeks is the simplest. Truss tried to deliver worthwhile reforms and set the country onto a much-needed new direction. I supported this policy direction and still do. But it was rushed and bungled. The markets were spooked. The mistakes were opportunistically seized on by her opponents to undermine her leadership, to blame Brexit, and to stop the party getting out of the social democratic tractor beam of the past few years. And now, under pressure, the Prime Minister has reversed tack completely.
The risk now is that we lose for a generation the opportunity to do anything better. Every time the PM defends her approach, she denounces the policies on which she was chosen. The danger is that necessary and correct reforms are discredited.
Frost held that Truss was ultimately responsible for her own downfall.
As such, she had to go:
We are where we are. I am very sorry about it, because I had such high hopes. Whatever happens to her ministers or the stability of the Government in the next few days, Truss just can't stay in office for one very obvious reason: she campaigned against the policies she is now implementing. However masterfully she now implements them – and it doesn't seem that it will be very masterfully – it just won't do. She said she wouldn't U-turn, and then she did. Her fate is to be the Henry VI of modern politics – a weak figurehead, unable to control the forces around her, occasionally humiliated, and disposed of when she has become inconvenient. Better to go now.
As for her successor and the Party:
Then the party must do two things: avoid making the economic situation even worse by repeating the policies of the Cameron government in totally different circumstances; and recover some political legitimacy for carrying on – because in our system legitimacy does matter.
Thursday, October 20
After 44 days, Liz Truss resigned as Conservative Party leader on Thursday, October 20.
She served as Prime Minister for 50 days, beating George Canning's record of 118 days. Also a Conservative, he died of tuberculosis in 1827.
She remained PM until Rishi Sunak succeeded her:
Liz Truss's final 24 hours: Suella Braverman's resignation, question over Whips' resignations (October 19)
Liz Truss's final 24 hours: fallout over Braverman and Morton, no tears in exit speech (October 19, 20)
Rishi Sunak becomes Prime Minister: a momentous morning of historic significance (October 24, 25)
How Rishi Sunak won the Conservative Party leadership contest — part 1 (October 20, 21, 25)
How Rishi Sunak won the Conservative Party leadership contest — part 2 (October 21, 26, 27)
How Rishi Sunak won the Conservative Party leadership contest — part 3 (October 22-24, 27, 28)
On Thursday morning, The Telegraph posted a Planet Normal podcast in which Lord Frost said he could see Brexit being reversed:
In the wide-ranging discussion, Lord Frost also said that he could see a future where Brexit is reversed. 
"Brexit was about giving us the power to do things ourselves and to give responsibility back to British ministers, British governments. And they've shown that many of them are not up to the job in the last year or two."
"I can easily see a situation where Keir Starmer gets in. We drift back closer into the single market and go back into the Customs Union. And then everyone says why are we in these things where we don't get a say in them? Wouldn't it be better to be a member? So I can easily see how it could happen. And the way you stop it happening is to prove, while we have the levers of power, that we can do things differently and better. And at the moment we're not making a very good job of that, unfortunately."
Little did Truss know that, the day before, she had stood at the despatch box for her last PMQs:
She resigned early on Thursday afternoon. Thankfully, she didn't cry, unlike Theresa May, who broke down at the podium (Guido has the video):
Sterling began surging the second Truss finished her announcement:
In less than 24 hours, the Conservative Party website deleted her presence from their home page (Guido has the before and after screenshots):
It was a sad ending to a sad episode of British parliamentary history.
Next week, I will look at who, besides Truss herself, was also responsible for it.
Truss is currently spending time in her own constituency and has not yet appeared on the backbenches, an alien place for someone who had been a minister of state for most of her career.
While this is a change to the previous schedule of analysing Liz Truss's premiership, more about which next week, there are references below as to why hers and Kwasi Kwarteng's plan was the right one for the UK.
Chancellor Jeremy Hunt delivered his Autumn Statement — a Labourite Conservative budget — on Thursday, November 17, 2022.
Compared with Kwasi Kwarteng's fiscal event of September 23, this will be a disaster for most middle class Britons.
It was clear that Hunt designed this budget to placate the all-hallowed — for whatever reason — OBR (Office for Budget Responsibility) and the markets. Stability is their watchword. Growth, regardless of what Hunt said yesterday, plays little part in our economy for the foreseeable future.
Unlike Kwarteng's, which did focus on growth, Hunt's statement had little to no consideration of the British taxpayer in a cost of living crisis.
What Hunt said
Before going into Hunt's address, Guido Fawkes has a brief summary and the full detail from the Treasury, a 70-page document.
Below are excerpts from Hunt's Autumn Statement to the House of Commons (emphases mine):
… today we deliver a plan to tackle the cost of living crisis and rebuild our economy. Our priorities are stability, growth and public services. We also protect the vulnerable, because to be British is to be compassionate and this is a compassionate Conservative Government.
Remember when then-Chancellor Rishi Sunak told us we did not have to worry about the cost of borrowing and borrowing itself during the pandemic? Well, now we have to worry:
Most countries are still dealing with the fallout from a once-in-a-century pandemic. The furlough scheme, the vaccine roll-out and the response of the NHS did our country proud, but they all have to be paid for.
Hunt paid homage to the Bank of England and had a poke at Kwarteng for not doing so:
So the Bank of England, which has done an outstanding job since its independence, now has my wholehearted support in its mission to defeat inflation and I today confirm we will not change its remit. But we need fiscal and monetary policy to work together, and that means the Government and the Bank working in lockstep.
He delivered a deeper attack on Kwarteng:
I understand the motivation of my predecessor's mini-Budget and he was correct to identify growth as a priority, but unfunded tax cuts are as risky as unfunded spending, which is why we reversed the planned measures quickly. As a result, Government borrowing has fallen, the pound has strengthened and the OBR says today that the lower interest rates generated by the Government's actions are already benefiting our economy and public finances. But credibility cannot be taken for granted and yesterday's inflation figures show we must continue a relentless fight to bring it down, including a rock solid commitment to rebuild our public finances.
He bowed before the all-powerful OBR, whose forecasts have not been terribly accurate over the past few years. Let us see if these come true in the coming months:
Richard Hughes and his team at the OBR today lay out starkly the impact of global headwinds on the UK economy, and I am enormously grateful to him and his team for their thorough work. The OBR forecasts the UK's inflation rate to be 9.1% this year and 7.4% next year. It confirms that our actions today help inflation to fall sharply from the middle of next year. It also judges that the UK, like other countries, is now in recession. Overall this year, the economy is still forecast to grow by 4.2%. GDP then falls in 2023 by 1.4%, before rising by 1.3%, 2.6% and 2.7% in the following three years. The OBR says higher energy prices explain the majority of the downward revision in cumulative growth since March. It also expects a rise in unemployment from 3.6% today to 4.9% in 2024, before falling to 4.1%.
This is Hunt's strategy, with the blessing of the OBR and borrowing Sunak's morality from the August leadership campaign about leaving debts to the next generation:
I also confirm two new fiscal rules. The first is that underlying debt must fall as a percentage of GDP by the fifth year of a rolling five-year period. The second is that public sector borrowing over the same period must be below 3% of GDP. The plan I am announcing today meets both rules.
Today's statement delivers a consolidation of £55 billion, and means inflation and interest rates end up significantly lower. We achieve this in a balanced way. In the short term, as growth slows and unemployment rises, we will use fiscal policy to support the economy. The OBR confirms that, because of our plans, the recession is shallower and inflation is reduced. Unemployment is also lower, with about 70,000 jobs saved as a result of our decisions today. Then, once growth returns, we increase the pace of consolidation to get debt falling. This further reduces the pressure on the Bank to raise interest rates, because as Conservatives we do not leave our debts to the next generation.
So this is a balanced path to stability, tackling inflation to reduce the cost of living and protect pensioner savings, while supporting the economy on a path to growth. But it means taking difficult decisions.
Hunt then discussed the fiscal drag elements of the budget. Fiscal drag means drawing the unsuspecting into paying new and more tax:
I start with personal taxes. Asking more from those who have more means that the first difficult decision I take on tax is to reduce the threshold at which the 45p rate becomes payable from £150,000 to £125,140. Those earning £150,000 or more will pay just over £1,200 more in tax every year. We are also taking difficult decisions on tax-free allowances. I am maintaining at current levels the income tax personal allowance, higher rate threshold, main national insurance thresholds and the inheritance tax thresholds for a further two years, taking us to April 2028. Even after that, we will still have the most generous set of tax-free allowances of any G7 country.
I was amazed he could talk about 2028 with a straight face. By then, we will probably have a Labour government. Oh well, he's done their work for them.
Continuing on tax rises, he said:
I am also reforming allowances on unearned income. The dividend allowance will be cut from £2,000 to £1,000 next year, and then to £500 from April 2024. The annual exempt amount for capital gains tax will be cut from £12,300 to £6,000 next year, and then £3,000 from April 2024. Those changes still leave us with more generous allowances than countries such as Germany, Ireland, France, and Canada.
Because the OBR forecasts that half of all new vehicles will be electric by 2025, to make our motoring tax system fairer, I have decided that from then electric vehicles will no longer be exempt from vehicle excise duty. Company car tax rates will remain lower for electric vehicles, and I have listened to industry bodies and will limit rate increases to 1 percentage point a year for three years from 2025.
At least he kept one thing from Kwarteng's statement:
The OBR expects housing activity to slow over the next two years, so the stamp duty cuts announced in the mini-Budget will remain in place but only until 31 March 2025. After that, I will sunset the measure, creating an incentive to support the housing market, and the jobs associated with it, by boosting transaction during the period when the economy most needs it.
He won't even be Chancellor then.
Moving on to businesses:
I now turn to business taxes. Although I have decided to freeze the employers national insurance contributions threshold until April 2028, we will retain the employment allowance at its new higher level of £5,000. That means that 40% of all businesses will pay no NICs at all. The VAT threshold is already more than twice as high as the EU and OECD averages. I will maintain it at that level until March 2026.
Then came the windfall tax:
Can I just say that any such tax should be temporary, not deter investment and recognise the cyclical nature of energy businesses? So, taking account of that, I have decided that from 1 January until March 2028 we will increase the energy profits levy from 25% to 35%. The structure of our energy market also creates windfall profits for low-carbon electricity generation, so we have decided to introduce, from 1 January, a new, temporary 45% levy on electricity generators. Together, those measures will raise £14 billion next year.
Business rates have been a thorn in the side of those enterprises on our high streets. Here, it would seem, Hunt offered some relief:
Finally, I turn to business rates. It is an important principle that bills should accurately reflect market values, so we will proceed with the revaluation of business properties from April 2023, but I will soften the blow on businesses with a nearly £14 billion tax cut over the next five years. Nearly two thirds of properties will not pay a penny more next year and thousands of pubs, restaurants and small high street shops will benefit. That will include a new Government-funded transitional relief scheme, as called for by the CBI, the British Retail Consortium, the Federation of Small Businesses and others, benefiting around 700,000 businesses.
Then he turned to people on benefits, proving that Sunak's furlough scheme during the pandemic was more than adequate:
… I am proud to live in a country with one of the most comprehensive safety nets anywhere in the world. But I am also concerned that we have seen a sharp increase in economically inactive working-age adults of about 630,000 people since the start of the pandemic. Employment levels have yet to return to pre-pandemic levels, which is bad for businesses who cannot fill vacancies and bad for people missing out on the opportunity to do well for themselves and their families, so the Prime Minister has asked the Work and Pensions Secretary to do a thorough review of issues holding back workforce participation, to conclude early in the new year.
Alongside that, I am also committed to helping people already in work to raise their incomes, progress in work and become financially independent. So we will ask over 600,000 more people on universal credit to meet with a work coach so that they can get the support that they need to increase their hours or earnings. I have also decided to move back the managed transition of people from employment and support allowance on to universal credit to 2028, and will invest an extra £280 million in the DWP to crack down on benefit fraud and error over the next two years. The Government's review of the state pension age will be published in early 2023.
He then discussed foreign spending:
… I salute the citizens of another country right on the frontline … the brave people of Ukraine. The United Kingdom has given them military support worth £2.3 billion since the start of Putin's invasion, the second highest contribution in the world after the United States, which demonstrates that our commitment to democracy and open societies remains steadfast. In that context, the Prime Minister and I both recognise the need to increase defence spending. But before we make that commitment, it is necessary to revise and update the integrated review, written as it was before the Ukraine invasion. I have asked for that vital work to be completed ahead of the next Budget and today I confirm that we will continue to maintain the defence budget at at least 2% of GDP to be consistent with our NATO commitment.
I was pleased to hear that overseas aid will stay at 0.5%:
Another important international commitment is to overseas aid. The OBR's forecasts show a significant shock to public finances, so it will not be possible to return to the 0.7% target until the fiscal situation allows. We remain fully committed to that target, and the plans I have set out today assume that official development assistance spending will remain around 0.5% for the forecast period. As a percentage of GNI, we were the third highest donor in the G7 last year, and I am proud that our aid commitment has saved thousands of lives around the world.
Net Zero is still going ahead:
I also confirm that, despite the economic pressures, we remain fully committed to the historic Glasgow climate pact agreed at COP26, including a 68% reduction in our own emissions by 2030.
He discussed schools, beginning with those in England:
… we have risen nine places in the global league tables for maths and reading in the last seven years.
… as Chancellor I want to know the answer to one simple question: will every young person leave the education system with the skills they would get in Japan, Germany or Switzerland? So, I have appointed Sir Michael Barber to advise me and my right hon. Friend the Education Secretary on the implementation of our skills reform programme.
… Some have suggested putting VAT on independent school fees as a way of increasing core funding for schools, which would raise about £1.7 billion. But according to certain estimates, that would result in up to 90,000 children from the independent sector switching to state schools, giving with one hand only to take away with another.
So instead of being ideological, I am going to be practical: because we want school standards to continue to rise for every single child, we are going to do more than protect the schools budget—we are going to increase it. I can announce today that next year and the year after, we will invest an extra £2.3 billion per annum in our schools.
He has asked a former Labour MP, Patricia Hewitt, to help him reform the NHS. Oh, my days:
I have asked the former Health Secretary and chair of the Norfolk and Waveney integrated care system, Patricia Hewitt, to help me and the Health Secretary to achieve that by advising us on how to make sure that the new integrated care boards, the local NHS bodies, operate efficiently and with appropriate autonomy and accountability. I have also had discussions with NHS England about the inflationary pressures on their budgets.
More money will be pumped into the system:
With £3.3 billion for the NHS and £4.7 billion for social care, there is a record £8 billion package for our health and care system. That is a Conservative Government putting the NHS first.
Barnett consequentials, which come from the hard-pressed English taxpayer, will also increase:
The NHS and schools in Scotland, Wales and Northern Ireland face equivalent pressures, so the Barnett consequentials of today's decisions mean an extra £1.5 billion for the Scottish Government, £1.2 billion for the Welsh Government, and £650 million for the Northern Ireland Executive. That means more resources for the schools and hospitals in our devolved nations next year, the year after and every year thereafter.
A new energy strategy will be forthcoming from the Business Secretary.
These are Hunt's infrastructure commitments:
… today I can announce that I am not cutting a penny from our capital budgets in the next two years, and I am maintaining them at that level in cash terms for the following three years. That means that although we are not growing our capital budget as planned, it will still increase from £63 billion four years ago to £114 billion next year and £115 billion the year after, and will remain at that level—more than double what it was under the last Labour Government.
Smart countries build on their long-term commitments rather than discarding them, so today I confirm that because of this decision, alongside Sizewell C, we will deliver the core Northern Powerhouse Rail, HS2 to Manchester, East West Rail, the new hospitals programme and gigabit broadband roll-out. All these and more will be funded as promised, with over £600 billion of investment over the next five years to connect our country and grow our economy.
Our national Conservative mission is to level up economic opportunity across the country. That, too, needs investment in infrastructure, so I will proceed with round 2 of the levelling-up fund, at least matching the £1.7 billion value of round 1. We will also drive growth across the UK by working with the Scottish Government on the feasibility study for the A75, supporting the advanced technology research centre in Wales and funding a trade and investment event in Northern Ireland next year.
He is bringing devolution to England in the form of mayoralties:
Our brilliant [Conservative] Mayors such as Andy Street and Ben Houchen have shown the power of civic entrepreneurship. We need more of this inspirational local leadership, so today I can announce a new devolution deal that will bring an elected Mayor to Suffolk, and deals to bring Mayors to Cornwall, Norfolk and an area in the north-east to follow shortly. We are also making progress towards trailblazer devolution deals with the Greater Manchester Combined Authority and the West Midlands Combined Authority, and soon over half of England will be covered by devolution deals. Taken together, that £600 billion investment in our future growth represents the largest investment in public works for 40 years, so our children and grandchildren can be confident that this Conservative Government are investing in their future.
Hunt is altering the Truss-Kwarteng investment zones to be more in line with Michael Gove's aspirations for levelling up:
I will also change our approach to investment zones, which will now focus on leveraging our research strengths by being centred on universities in left-behind areas, to help to build clusters for our new growth industries. My right hon. Friend the Levelling Up Secretary will work with Mayors, devolved Administrations and local partners to achieve this, with the first decisions announced ahead of the spring Budget.
The Truss-Kwarteng energy support plan remains in place until the end of March 2023:
I pay tribute to my predecessor, my right hon. Friend the Member for Spelthorne (Kwasi Kwarteng), and to the former Prime Minister, my right hon. Friend the Member for South West Norfolk (Elizabeth Truss), for their leadership in this area. This winter, we will stick with their plan to spend £55 billion to help households and businesses with their energy bills—one of the largest support plans in Europe. From April, we will continue the energy price guarantee for a further 12 months at a higher level of £3,000 per year for the average household. With prices forecast to remain elevated throughout next year, this will mean an average of £500 of support for every household in the country.
There is more help for the most vulnerable:
At the same time, for the most vulnerable, we will introduce additional cost of living payments next year of £900 to households on means-tested benefits, £300 to pensioner households and £150 for individuals on disability benefit. We will also provide an additional £1 billion of funding to enable a further 12-month extension to the household support fund, helping local authorities to assist those who might otherwise fall through the cracks. For those households that use alternative fuels such as heating oil and liquefied petroleum gas to heat their homes, I am today doubling the support from £100 to £200, which will be delivered as soon as possible this winter. Before the end of this year, we will also bring forward a new targeted approach to support businesses from next April.
But I want to go further to support the people most exposed to high inflation. Around 4 million families live in the social rented sector—almost one fifth of households in England. Their rents are set at 1% above the September inflation rate, which means that on current plans they are set to see rent hikes next year of up to 11%. For many, that would just be unaffordable, so today I can announce that this Government will cap the increase in social rents at a maximum of 7% in 2023-24. Compared with current plans, that is a saving for the average tenant of £200 next year.
Labour started a commotion at this point. Hunt then announced a rise in the minimum wage:
This Government introduced—[Interruption.] I thought they cared about the most vulnerable! This Government introduced the national living wage, which has been a giant step in eliminating low pay, so today I am accepting the recommendation of the Low Pay Commission to increase it next year by 9.7%. This means that, from April 2023, the hourly rate will be £10.42, which represents an annual pay rise worth over £1,600 to a full-time worker. It is expected to benefit over 2 million of the lowest-paid workers in our country, and it keeps us on track for our target to reach two thirds of median earnings by 2024. It is the largest increase in the UK's national living wage ever.
Benefits will increase by the rate of inflation:
… today I commit to uprating such benefits by inflation, with an increase of 10.1%. That is an expensive commitment, costing £11 billion, but it means that 10 million working-age families will see a much-needed increase next year, which speaks to our priorities as a Government and our priorities as a nation. On average, a family on universal credit will benefit next year by around £600. To increase the number of households that can benefit from this decision, I will also exceptionally increase the benefit cap by inflation next year.
Finally, I have talked a lot about the British values of compassion, hard work, dignity and fairness, but there is no more British value than our commitment to protect and honour those who built the country we live in, so to support the poorest pensioners I have decided to increase pension credit by 10.1%, which is worth up to £1,470 for a couple and £960 for a single pensioner in our most vulnerable households, but the cost of living crisis is harming not just our poorest pensioners but all pensioners.
The triple-lock stays:
Because we have taken difficult decisions elsewhere today, I can also announce that we will fulfil our pledge to the country to protect the pension triple lock. In April, the state pension will increase in line with inflation, an £870 increase, which represents the biggest ever increase in the state pension. To the millions of pensioners who will benefit from this measure, I say: "Now and always, this Government are on your side."
Hunt did not receive a jubilant reception from Conservative MPs, some of whom had concerns.
Dr Liam Fox asked about quantitative easing and interest rates:
I congratulate my right hon. Friend on a balanced and skilful statement prioritising fiscal stability. He will be aware that some of us believe that the Bank of England maintained monetary conditions that were too loose for too long, but that it would also be a mistake to maintain monetary conditions that are too tight for too long. Can he therefore confirm that the anti-inflationary measures that he has taken today will mean that the pressure to raise interest rates will be minimised, and that there is a much greater chance that they will fall earlier than would otherwise have been the case?
Hunt replied:
My right hon. Friend is absolutely right to focus on this issue, because every 1% increase in interest rates is about £850 more on the average mortgage, so it is hugely important to families up and down the country. The OBR has said that the measures that we have taken today will mean that inflation is lower than it would otherwise have been. That means that the Bank of England is under less pressure to increase interest rates, which for reasons that he knows are such a worry for so many families.
Sir William Cash was concerned about the ever-increasing costs of the HS2 rail project:
My right hon. Friend argued for sound money and sound foundations. Would he be good enough to explain how it is that High Speed 2 will continue beyond Birmingham at a verifiable cost of at least £40 billion, when every independent report on HS2 condemns the project and confirms that phase 2 will make rail services to all west coast destinations north of Birmingham much worse? I ask him to make a clear commitment to keep this matter under review at all costs; it is in the national interest.
Hunt said:
My hon. Friend is right that the increases in the budget for HS2 are disappointing, but a strong economy needs to have consistency of purpose, and that means saying we will make sure that we are a better connected country. The lack of those connections is one of the fundamental reasons for the differences in wealth between north and south, which we are so committed to addressing. There is a bigger issue about the way that we do infrastructure projects: it takes too long, and the budgets therefore get out of control. We are just not very good at it, and we have to sort it out.
Theresa Villiers rightly asked how soon we could move to a lower-tax economy if the forecasts are wrong. For me, this was the question of the day:
I thank the Chancellor for the announcement on schools funding, which, as he knows, is something that I raised with him as being crucial. Can he also confirm that, if current forecasts about economic recovery and inflation prove to be overly pessimistic, we will move more quickly than he has announced today towards delivering a lower-tax economy?
Hunt was non-committal:
My right hon. Friend is an immensely experienced colleague. She is right to point out that there is always inaccuracy in any forecast, and there is always variation from fiscal event to fiscal event, so we keep all those decisions under review in the round. I think it is still important to have forecasts—that is better than not to have them—but we keep all those decisions under review.
Virginia Crosbie from Ynys Môn in Wales asked how soon the new nuclear programme would begin:
This Government's commitment to Sizewell C and large-scale nuclear is welcome, and it was noted that Labour's shadow Chancellor failed to mention nuclear. When will the launch of Great British Nuclear be announced, and will its scope include large-scale gigawatt nuclear at sites such as Wylfa in my constituency, as well as small modular reactors?
Hunt was encouraging:
There is no more formidable advocate for big nuclear investment on Ynys Môn than my hon. Friend. Indeed, when I went on a family holiday to Ynys Môn this summer, she tried to persuade me to visit the potential site of a nuclear power station with my children. I apologise that I did not take her up on the offer, but it shows her commitment. My right hon. Friend the Business Secretary will be making an announcement soon on things such as the launch of Great British Nuclear—I hope before Christmas, but if not just afterwards—because we want to crack on with our nuclear programme.
Richard Drax was concerned about the burden on the taxpayer, another excellent question:
I have huge sympathy for my right hon. Friend. We are facing severe financial challenges for the reasons he explained so well, but Members on both sides of the House are promising to spend billions and billions more pounds. I remind the House that it is the private sector, and hardworking people through their taxes, who pay for Government expenditure. Does my right hon. Friend agree that raising taxes on both risks stifling the growth and productivity that he and I both want, and that would counter the recession we are now in?
Hunt defended his budget:
My hon. Friend is right to make the case for a lightly taxed dynamic economy, and I would like to bring taxes down from their current level. We are faced with the necessity of doing something fast to restore sound money and bring inflation down from 11%, which is why we have made difficult decisions today. But yes, my hon. Friend is absolutely right: there is no future for this country unless we get back on the path to being a lower taxed economy.
Mark Pawsey asked about small businesses:
My constituents in Rugby and Bulkington will not enjoy the tough decisions that the Chancellor has had to make today, but they will understand the need for sound finances after the huge expenditure that the country has made on the pandemic and supporting people with their energy costs as a consequence of the war in Ukraine. They will also want to know that businesses will continue to invest to grow and to create jobs. Will he speak about the incentives that still exist for businesses to do exactly that?
Hunt pledged his support:
I am happy to do that. My hon. Friend is quite right to raise those issues. We are doing a lot of short-term things, including help with energy bills as well as business rates. As we move to a new business rates system, we are freezing the levels at which business rates can increase and introducing a 75% discount next year for retail, hospitality and leisure businesses. Fundamentally, as a Conservative Government, we know that we cannot flourish as an economy without flourishing small businesses, and we will back them to the hilt.
Greg Smith asked what Hunt was doing about reducing fuel duty:
I absolutely agree with my right hon. Friend when he talks about the inflationary pressures coming from the aftershocks of the pandemic and the war in Ukraine. We see that at the fuel pumps and, more significantly, our haulage and logistics sector sees it with the enormous level of taxation on diesel in particular driving inflation to get food and goods on to our shelves. As he prepares for the March Budget, will he look at the inflationary impact of fuel duty on top of the high cost of diesel and see whether we can reduce it?
Hunt said he was looking at the issue:
I assure my hon. Friend that I will absolutely do that. We have a little time, and I know that fuel duty is an important issue to him and many other colleagues.
March 2023 — fuel duty hike
Hunt's answer to Greg Smith on the fuel duty hike sounded reassuring, but GB News's economic editor Liam Halligan uncovered a planned fuel duty hike of 23% for March 2023 from the OBR forecast. It would be the first since 2011:
Here's Liam Halligan talking about it:
Forbes noticed it, too, bringing the news to an even wider international audience: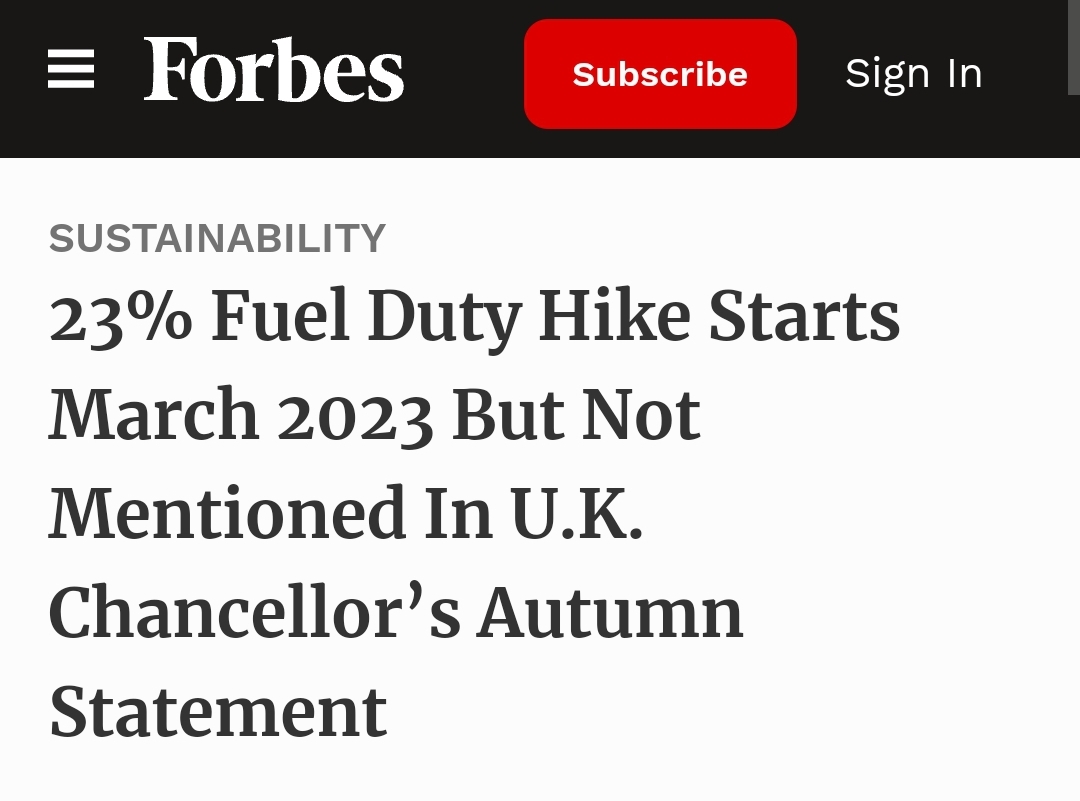 Fiscal drag
The Times had an article on the upcoming fiscal drag following Hunt's budget:
Disposable incomes, after adjusting for inflation, will fall by 4.3 per cent in 2022-23, which would be the largest fall since records began in the 1950s. It is set to be followed by the second largest fall — in 2023-24 — of 2.8 per cent.
… Despite the aspirations of Rishi Sunak to create a low-tax economy, Britain is on course for its biggest ever tax burden as hundreds of thousands of workers are dragged into higher income tax bands by the freezing of thresholds and allowances while businesses also face a jump in levies, including employment taxes.
The tax burden is set to rise to 37.5 per cent of GDP in the financial year ending 2025, reaching the highest level since records began shortly after the Second World War.
The level of taxation as a share of the national income will rise to 36.4 per cent of GDP this year and 37.4 per cent in the financial year ending 2024, breaking the previous record.
Recovery is not likely to begin until 2025, several months after the next general election. This is accurate only if Conservatives are still in power by then:
GDP is expected to rise by 4.2 per cent this year before falling by 1.4 per cent next year, only returning to pre-pandemic levels by the end of 2024. However, growth is expected to pick up to 2.6 per cent the following year and 2.7 per cent in 2026, following a recovery in real incomes, consumption and investment.
The Telegraph also had an article on fiscal drag:
Nearly a quarter of a million workers will be dragged into paying the 45p rate of income tax after Jeremy Hunt slashed the threshold at which it is charged.
The salary on which the additional rate is payable will be reduced from £150,000 to £125,140 effective next April, Chancellor Jeremy Hunt announced in the Autumn Statement, and frozen until 2028, forcing 232,000 workers into paying the top rate of tax for the first time and costing these quarter of a million taxpayers £620 on average, according to wealth manager Quilter.
The number of workers paying 45pc has more than doubled since the rate was first introduced in 2010 – rising from 236,000 to 629,000 today – as wage inflation has pushed more taxpayers into the highest income tax band.
Lowering the threshold will cost the 629,000 workers earning over £150,000 who are already impacted by the 45pc tax an additional £1,250 …
Just two months ago, then-Chancellor Kwasi Kwarteng promised that the top rate would be abolished altogether. But now the Government is hoping to earn £420m in 2023-24 by catching more taxpayers in the 45pc net, and almost double that – £855m – in 2027-28.
Neela Chauhan of accountancy firm UHY Hacker Young said the move was "a major attack" on higher earners.
She added: "It's going to bring in people into the upper rate who feel that they are far from being rich."
Tax firm RSM said that there are also unexpected consequences of slashing the additional-rate threshold and the Chancellor had opened the door to a new 67.5pc tax rate.
Taxpayers earning over £100,000 lose their personal allowance at a rate of £1 for every £2 of income.
This means for every £100 they earn between £100,000 and £125,140, a worker takes home just £40 – because £40 is lost to income tax and another £20 to the tapering of the personal allowance – creating a 60pc tax trap.
Dismal headlines
The Guardian has a breakdown of last Friday's front pages, which were bleak.
The Telegraph noted the austerity of George Osborne, Chancellor when the Conservative-Lib Dem coalition took over from in 2010, and the Labourite policies of his predecessor Gordon Brown. At the bottom of the page is an analysis from Lord Frost:
Lord Frost's analysis is pro-Truss/Kwarteng
Lord Frost points out that the OBR are predicting what Liz Truss did just a few weeks ago:
This was a very curious Autumn Statement. For the last month, we have been told that Britain needed to re-establish the confidence of the markets and put in place renewed fiscal discipline, supposedly so carelessly squandered by Liz Truss. "Eye-wateringly painful decisions" were coming for all of us …
… public spending will be at its highest since the 1970s and taxation the highest since the Second World War. Both only start to fall, gently, in the late 2020s, and then only because of some pretty heroic assumptions about growth. Indeed, under Liz Truss we were told that 2.5 per cent growth was impossible – yet the Office for Budget Responsibility (OBR) is predicting exactly that for 2025 and 2026.
How do we explain this?
To do so, I think, we have to go back to that extraordinary week in mid-October, when Truss's government blew up on the launch pad. 
She was levered out of Downing Street with the argument that she had been careless about the public finances, casual about fiscal discipline and had lost market confidence. An emergency correction was needed – tax rises or spending cuts, and probably both.
Yet on taking office, our current government will have found – as the OBR has now acknowledged – that we were already into a deepening recession. Tightening fiscal policy with growth collapsing and interest rates increasing globally would clearly have been an insane policy, one at variance with what virtually every economist would suggest. But, having destroyed the Truss administration for being insufficiently fiscally disciplinarian, the Government could hardly overtly change course itself.
That is why we got what we got. Keep growing spending, raise taxes now on unpopular groups, defer deficit reduction and everything else until 2025, and meanwhile talk a lot about austerity and discipline to disguise the reality that this is likely a similar fiscal policy to what Truss's would have been, just at higher levels of tax and spend. Then, after the election, if the Conservatives are still in power, it can all be looked at again …
… Taxes on business wreck investment and growth. Taxes on the (not very) rich destroy incentives. Britain's hard-won reputation for being a low tax country is permanently lost. And we all have less of our own money and are less free.
Another defence of Trussonomics
The Mail reminds us that the Truss plan was to cap energy prices for two years. Hunt has reduced this to the end of March 2023:
Average energy bills will rise to £3,000 a year from April as Chancellor Jeremy Hunt confirmed he was scrapping previous Government plans.
In his Autumn Statement to the House of Commons, Mr Hunt revealed changes to the 'Energy Price Guarantee' would leave Britons facing higher gas and electricity payments next year.
When former prime minister Liz Truss first announced the cost of living support in September, she outlined how average energy bills would be frozen at £2,500 a year for the next two years …
Delivering details of an altered plan today, Mr Hunt revealed the Energy Price Guarantee would now be set at a higher level of £3,000 a year for average households until April 2024.
Of course, those who use less energy at home might have less to pay:
The plan only caps the cost per unit that households pay, with actual bills still determined by how much is consumed.
Sarah Coles, senior personal finance analyst at Hargreaves Lansdown, said:
The fact that this comes on top of so many other price rises means life is going to get even tougher next spring.
More Trussonomics
The Spectator's editor Fraser Nelson wrote an analysis of the budget for The Telegraph, 'This could turn out to be the week that the Tories lost the next election'.
I noted above that some of what Hunt said points far into the future.
Fraser Nelson also observed that fact:
Suspiciously, almost all of this austerity is due to take place after April 2025, after the election. The Tory benches were very quiet during Hunt's speech, perhaps because they were piecing all this together. It was not just an Autumn Statement being written, but the next Conservative manifesto, too – with all the bad stuff saved for after the vote. Hardly the behaviour of a party expecting to win.
As one minister put it: "This was the day we lost the election." This is how some Tories see the Autumn Statement: a suicide note, wrapping a poison pill for a Keir Starmer government to swallow.
This is the alarming rate of borrowing today. Factor in the previous QE and the generous Sunak pandemic programmes when he was Chancellor:
Even now, the Government is borrowing £485 million a day – or £20,000 by the time you finish this sentence. It all needs to be repaid. And the interest we all have to pay for such debt is, broadly, treble what it was a year ago.
The new forecasts show a UK Government expecting to pay £484 billion in debt interest over the next five years – almost £300 billion more than was expected this time last year. This year alone it's £120 billion, twice last year's sum.
This extra £60 billion has had to come from somewhere. It's enough to double the size of the military, treble the police force or rebuild every school or hospital. But instead it is dead money, servicing an old debt – and things need to be squeezed to make room for it. For years, Tories wrote cheques, for HS2 and more, barely thinking about the cost. Now the bill has landed.
Nelson doesn't mention the number of times long-serving Conservative backbenchers warned Sunak over the past two years that the bill would come due, but I saw them in parliamentary debates being duly ignored. To Sunak, those men were mere Thatcherites, so last century. Rishi told us we could borrow with little consequence. Not so.
He created a lot of our current problems and campaigned in August that he would be the candidate to get us out of this situation.
Now he is No. 10, just as he wanted to be from the beginning:
Sunak can't be blamed for the debt interest. But he might have been expected to have better ideas of how to get out of the mess.
Of the Autumn Statement, Nelson writes:
Liz Truss said her message was "growth, growth, growth," but Sunak's seems to be "brace, brace, brace". A massive fiscal impact lies ahead, he says – and our mission is to recognise it, make our peace with it, and accept that talk about a low-tax future is futile. So his Autumn Statement did not kick-start a recovery. It was, instead, a requiem for growth.
Of the August leadership campaign, he reminds us:
During the leadership debate, Truss was asked what advice she would give to Sunak. Don't be so fatalistic, she told him. Don't go along with narratives of decline. She had a point. Groundless optimism ended her premiership very quickly, but groundless pessimism can also be deeply damaging.
Nelson wonders how a government can so quickly discount its people:
A million more Brits, for example, are expected to join the 1.7 million already claiming disability or health-related benefits over the next five years. They will, in turn, join the 3.5 million others on out-of-work benefits. Was it so unreasonable to hope that this number might go down, with people helped back to work? We've been promised a review into all this, but not much else.
Another assumption is that most of the 400,000 who have dropped out of the economy since the pandemic started, citing long-term sickness, will never work again. It's hard to find many other countries giving up so readily on such a stunningly large chunk of the population.
Is a uniquely British malady at work here? Or is the real problem a kind of Tory fatalism, where an exhausted governing party thinks the country is now too old, too sick or simply too workshy to get back to where it was in January 2020?
Many conservative voters said at the time that Rishi's furlough scheme was a bit too helpful — and we were paying for it.
Now we are paying even more for it.
Nelson concludes:
… the risk is that voters make up their mind now – and associate Toryism with chaos, broken promises and a general counsel of despair. Labour just needs to promise to do things better. As things stand, it's not a very high bar.
Feeling fleeced yet?
The Telegraph's editorial warned, 'Hard times ahead for British taxpayers':
Unlike the tumultuous response to Kwasi Kwarteng's unfunded growth measures in September, the market reaction was muted, which is precisely what Mr Hunt hoped for, even if the pound fell against the dollar amid forecasts of a year-long recession …
… benefits and the old age pension will rise in April by 10.1 per cent, the inflation rate in October.
This continues a trend of recent years whereby working people are expected to pay more in tax to protect social programmes that successive governments have been reluctant to reform. Although headline tax rates have not risen, the extended freeze on allowances at a time of double-digit inflation is a serious hit to the incomes of millions who will be dragged into higher bands. Some three million earners will pay income tax for the first time.
This year will see the sharpest fall in living standards on record, while the tax burden rises to its highest level as a share of GDP in decades. More than 47 per cent of national income will be spent in the public sector. In fact, spending will actually rise in real terms. The cuts are to planned budgets.
Rishi Sunak and Mr Hunt consider this social democratic approach to be fair and compassionate, closing off attack lines from Labour as a general election approaches. But there are consequences for the long-term well-being of the country if working people and businesses feel they are being fleeced to prop up failing public services and a benefit system in need of a drastic overhaul.
Essentially, the productive part of the economy is being squeezed to prop up the unproductive. The problem Mr Sunak faces is that, by 2024, the Conservatives will have been in office for 14 years and they need to offer voters a better slogan than "Labour will be worse". In fact, Labour would support many of the measures in the Autumn Statement, from loading more tax on the wealthy to increasing windfall taxes on the energy companies.
… ministers need to prepare for the worst and could proactively address the biggest drags on the economy, above all the NHS, social care and welfare benefits. The health service continues to soak up huge sums – with another £6 billion announced yesterday – and yet produces worse outcomes. Its shortcomings are causing problems throughout the economy, with treatment backlogs contributing to acute manpower shortages which the Government intends to fill by increasing immigration.
The Spectator's political editor James Forsyth, a close friend of Rishi Sunak's, explained in The Times why this recession is different to previous ones and why we need more people in the workforce. I hope his friend pays attention to this:
One bright spot amid the gloom is the unemployment rate, which is just 3.6 per cent, down from 3.8 per cent this year. This is close to historic lows. But even this glimmer is tarnished. The low unemployment number disguises how many people have left the labour force: one in five working-age Brits are economically inactive, meaning they are neither in work nor looking for it. More than five million are claiming out-of-work benefits.
The recession may last a year, perhaps two — but it will be different. Unemployment, as formally defined, won't exceed 5 per cent even during the worst of the downturn — in the 1980s it went into double digits. Seldom have there been more vacancies in the economy. It's an odd form of recession where almost anyone who wants a job can find one, but that's the situation we're in. Almost every month, the number of those not looking for work grows: it jumped by 169,000 in the three months to August. That is more than the population of Oxford.
This has consequences. The OBR thinks the cost of health and disability benefits will rise by £7.5 billion — quite a sum. A shrinking labour market is also one of the reasons why the Bank of England thinks potential growth is now a mere 0.75 per cent even in 2024-25. The Tories desperately need to get back to moving people from welfare into work — not just to reduce the welfare bill but also to boost the economy …
Alongside those not in work nor looking for it, there are 970,000 people on Universal Credit who are working very limited hours in an economy where employers are offering shifts. Hunt announced that about 600,000 of them will now be required to meet a work coach to try to increase their hours. This signals a return to Tory welfare reform …
… to ensure taxes don't need to keep going up indefinitely, two things are needed. The first is a renewed emphasis on public-sector reform. The Tory mantra used to be more for less from public services. But in recent years, it has felt like the opposite is the case. As the Institute for Fiscal Studies pointed out this week, the NHS has more money and more staff than it did before Covid yet is treating fewer people on the waiting list. This needs reversing if the tax burden is not to continue climbing ever higher.
The second is the economy needs to grow. Meat needs to be put on the bones of the growth agenda that Sunak and Hunt set out this week, with further incentives for businesses to invest.
After the debacle of the mini-budget, this autumn statement was always going to be about steadying the ship. Yet satisfying the markets is a necessary but not sufficient condition for a successful government. Sunak and Hunt must now deliver on public service reform, moving people from welfare into work and getting more out of the health and education budgets.
The Telegraph had more on the parlous state of the NHS, despite more taxpayer money being dumped into it, all for nought:
An analysis by the Institute for Fiscal Studies shows the health service in England carried out 600,000 fewer procedures in the first nine months of 2022, compared with the same period in 2019.
The NHS's budget rose from £123.7 billion in 2019-20 to £151.8  billion in 2022-23, with the extra funding tied to a target of increasing elective hospital activity by 30 per cent compared with pre-pandemic levels. This will not only be missed but matters have worsened. Why is no one being held to account?
Record sums have been poured in for years, yet there is now a waiting list of more than seven million patients. Working practices remain stuck in the past, with consultants complaining that hospitals are "like the Mary Celeste" at weekends, while most GP surgeries are only open on weekdays, pushing patients to overstretched A&E services.
The NHS unions are not helping in their demands for more money.
The article concludes:
There is something fundamentally wrong with the NHS which politicians must confront before it crashes and brings the rest of the economy down with it.
Hunt puts economic hope in migrants
It seems the OBR, a quango started by the Conservative Chancellor George Osborne and staffed by Labourites, has convinced Jeremy Hunt that he should increase our already heavy migration levels to boost the economy.
That's a left-wing idea that has never worked.
Home Secretary Suella Braverman will oppose that, but can she succeed? Only a few weeks ago, a 90-minute argument with Liz Truss and Hunt resulted in Braverman's resignation. Her security violations were a likely smokescreen for what really happened.
Jeremy Hunt is relying on a surge in net migration to more than 200,000 people per year to help deliver economic growth as he oversees a sharp rise in the tax burden to its highest ever peacetime level.
The Office for Budget Responsibility (OBR) predicted net migration – the numbers entering the UK minus those leaving – will be 224,000 next year, before gently declining to settle at 205,000 a year from 2026 onwards.
This is dramatically higher than the OBR's March estimate, when it predicted that net migration would be between 139,000 and 129,000 in the same years, some 80,000 lower.
It is also significantly higher than the long-term "ambition" of Suella Braverman, the Home Secretary, to reduce net migration to below 100,000 – similar to the target of Theresa May, one of her predecessors in the post.
The increase in migrant labour will help to buttress Britain's economy as Mr Hunt imposes higher taxes on earnings, jobs and investment. The OBR said that an increase in migration would help add to the potential size of the economy.
However, rising costs from tax are creating "growing disincentives to work", reduce business investment and depress wages, according to the OBR itself.
Business groups were even more damning. The Chancellor talked a lot about "hard work" and "fairness" in his Autumn Statement. But workers, entrepreneurs and businesses have been left to pick up the bill to keep Britain's welfare state on the road.
The OBR are being deeply irresponsible in advocating city-sized populations coming from abroad each year.
Where will these people live? How is our infrastructure — medical facilities, schools, water supply — increase to meet this demand year upon year?
Anyone travelling by Tube can pick up a copy of the Evening Standard to read about how many British twenty-somethings in London cannot find a room to rent. In many cases, there are 100 of them chasing every available room. The Standard interviews them. Their stories are heart-breaking. These young people are signed up to every rental app, to no avail.
Council tax increasing
On top of all of this, The Times reported that Hunt has given the green light to councils to increase council tax:
… the chancellor announced "more council tax flexibilities", enabling councils in England to raise council tax by 3 per cent a year (up from 2 per cent) from April 2023 and increase the adult social care precept by 2 per cent a year (up from 1 per cent) without having to hold a referendum — leaving councils free to raise the tax by up to 5 per cent next year.
Their article has charts of various council tax rates and offers this example:
If they decide to increase council tax by the full 5 per cent, council tax band D payments would rise by £115 from £2,300 to £2,415 a year in Rutland in the East Midlands — the local authority with the most expensive tax bills in England — while in Westminster in central London, the cheapest authority, they would increase by just £43 from £866 to £909 a year.
Short takes
The Telegraph has an article on winners and losers from the Autumn Statement. There are only two groups of winners: housebuyers and pensioners/benefits claimants.
The Guardian interviewed some of Hunt's constituents in leafy South West Surrey. They are unhappy with him as MP and are equally unhappy with the Government.
Guido Fawkes's sketchwriter summed up Hunt's announcement as follows:
What was the job of the day? To persuade the markets that all was under control. That debt-to-GDP would fall in reasonable time, that things would get back to normal in his cool, technocratic, managerial hands.
It's what we all need, to believe that someone knows how things work and that they know what they're doing. That there is such a thing as "sound money". That the great, communal hallucination of financial reality may be preserved.
In Guido's view, the Chancellor did exactly that. (Pound crashes, housing market collapses, the global financial architecture disappears into the Pacific Trench)
The readers' comments near the end of that post have to do with the raw deal Liz Truss got. Here's the exchange:
I find it impossible to believe that Liz Truss did so much damage in a couple of weeks with a mini budget which was never even enacted to require today's grotesque socialist budget. Hunt and Rishi must be following an ideological policy and using Truss as their excuse.
Yes, she's been made a convenient scapegoat by the WEF shills, to cover all their earlier and current mistakes and wrongdoings.
She went too far too fast and, by doing so, gave the one nation Tories and SunakHunts the opportunity to bring her down. The real villains are Sunak and Bailey [Bank of England governor] with their money printing and inflation denial. We are paying for their mistakes.
She didn't go too far too fast. That is the Conservative spin. The Socialist spin is that she crashed the economy. It was cautious and a promising start, a direction of travel being set, nothing more – except for that huge two year package on the gas bills which was pure socialism and not mentioned by anyone.
The true Conservative spin is that, as an experienced Cabinet minister, she didn't scan the political and financial hinterlands and underestimated the faux Conservative forces ranged against her. Once she u-turned she was done for.
On another of Guido's posts, a reader posited that this is all about reversing Brexit:
The champagne socialist billionaire Rishi Sunak and arch remainer narssisist Jeremy Hunt have nailed the final nails in the socialist party AKA as the Conservative party coffin. They will be wiped out at the next GE for a generation. They want to tank the economy and make everyone feel financial pain so they can say BREXIT didn't work. They will then seem to come to the rescue with every excuse on the planet and join us up first to the single market and customs union. Then kicking and screaming back into the EU. Why do you think they staged this remainer coup and got rid of Truss? The Truss budget of low tax, high wages, high growth, low government spend and the scrapping of the 2300-3000 EU laws retained on the UK statue book would have taken advantage of BREXIT and boosted the economy. They could not allow that to happen. They want to ditch plans to scrap the EU laws as that will make it harder to leave. They have folded on the NI Protocol and leaving the Jurisdiction of the ECHR. Why? Because they want to rejoin. We now are having forced on us a low wage, high tax, low growth, high government spend economy that will cripple most people financially and small businesses. Who wants to invest in the UK now?
On that note, another reader posted a photo of Hunt and Sunak sharing a laugh, with this fictitious caption:
Hunt: Told you you didn't need the support of the members.
Sunak: Yes, it was so easy to stab Truss in the back, too. Who needs democracy?
What taxpayers can do
All is not lost for taxpayers. There are ways to mitigate the effects from Hunt's statement.
Anyone who needs to cut back on food costs, protein in particular, should start eating eggs, which are cheap and the best source of protein around. Supposedly, they're in short supply, but I bought a dozen only yesterday.
The Telegraph has an excellent article on various egg preparations, whether sweet or savoury. It's well worth reading.
The paper also has a helpful article about what taxpayers can do to mitigate Hunt's raid on their money. Some will require advice from a financial planner. The most important tip is to get one's capital gains in order and start liquidating shares or funds to put into an ISA — a process called 'bed and ISA' — without exceeding the CGT thresholds. This has to be started well before the end of the 2022-23 tax year in April, when the current capital gains threshold of £12,300 expires and becomes £6,000 for one year, then £3,000 the year after that.
Good luck!
'No one is remotely indispensable'.
So were the words of Boris Johnson as he stood in front of Downing Street in the early afternoon of Thursday, July 7, 2022, to announce that he was standing down as Conservative leader. He said that he planned to stay on as Prime Minister until a new leader is chosen.
Boris's resignation speech
The Prime Minister's speech is just over six minutes long:
Knowing how quickly the leadership contests moved in 2016 (David Cameron to Theresa May) and in 2019 (May to Johnson), we are likely to see a new party leader in place before Parliament's summer recess. Regardless of what news outlets say, it no longer takes two or three months. The timing — i.e. summer resignations in all three cases — will accelerate because of recess.
Guido has the transcript of Boris's speech, excerpts of which follow (I've put in punctuation, paragraphs and emphases):
It is now clearly the will of the parliamentary Conservative party that there should be a new leader of that party and, therefore, a new Prime Minister and I have agreed with Sir Graham Brady, the chairman of our backbench MPs [the 1922 Committee], that the process of choosing that new leader should begin now and the timetable will be announced next week.
And I have today appointed a cabinet to serve – as I will – until a new leader is in place.
So I want to say to the millions of people who voted for us in 2019 – many of them voting Conservative for the first time — thank you for that incredible mandate, the biggest Conservative majority since 1987, the biggest share of the vote since 1979.
And the reason I have fought so hard for the last few days to continue to deliver that mandate in person was not just because I wanted to do so but because I felt it was my job, my duty, my obligation to you to continue to do what we promised in 2019, and of course I am immensely proud of the achievements of this government …
He went on to list Brexit, the coronavirus vaccine rollout, coming out of lockdown the earliest of any other Western nation and showing leadership with regard to Ukraine.
He clearly regretted that he had to stand down:
If I have one insight into human beings it is that genius and talent and enthusiasm and imagination are evenly distributed throughout the population but opportunity is not, and that is why we need to keep levelling up, keep unleashing the potential of every part of the United Kingdom. And if we can do that in this country, we will be the most prosperous in Europe.
And in the last few days I have tried to persuade my colleagues that it would be eccentric to change governments when we are delivering so much and when we have such a vast mandate and when we are actually only a handful of points behind in the polls, even in mid term after quite a few months of pretty unrelenting sledging, and when the economic scene is so difficult domestically and internationally. And I regret not to have been successful in those arguments and, of course, it is painful not to be able to see through so many ideas and projects myself.
But as we've seen at Westminster, the herd is powerful and when the herd moves, it moves and,
my friends, in politics no one is remotely indispensable.
And our brilliant and Darwinian system will produce another leader equally committed to taking this country forward through tough times, not just helping families to get through it but changing and improving our systems, cutting burdens on businesses and families and – yes – cutting taxes, because that is the way to generate the growth and the income we need to pay for great public services.
And to that new leader I say, whoever he or she may be, I will give you as much support as I can and, to you the British people, I know that there will be many who are relieved but perhaps quite a few who will be disappointed. And I want you to know how sad I am to give up the best job in the world, but them's the breaks.
I want to thank Carrie and our children, to all the members of my family who have had to put up with so much for so long. I want to thank the peerless British civil service for all the help and support that you have given, our police, our emergency services and, of course, our NHS who at a critical moment helped to extend my own period in office, as well as our armed services and our agencies that are so admired around the world and our indefatigable Conservative Party members and supporters whose selfless campaigning makes our democracy possible.
I want to thank the wonderful staff here at Number Ten and, of course, at Chequers and our fantastic protforce detectives – the one group, by the way, who never leak.
And, above all, I want to thank you the British public for the immense privilege you have given me.
And I want you to know that from now until the new Prime Minister is in place, your interests will be served and the government of the country will be carried on.
Being Prime Minister is an education in itself. I have travelled to every part of the United Kingdom and, in addition to the beauty of our natural world, I have found so many people possessed of such boundless British originality and so willing to tackle old problems in new ways that I know that even if things can sometimes seem dark now, our future together is golden.
Thank you all very much.
Boris delivered his speech in a normal, matter-of-fact way, which was good, especially given the circumstances.
Now that he has resigned from the Conservative leadership, some ministers are willing to come back into Government for the interim period.
As such, Boris held a Cabinet meeting at 3 p.m. today:
Those who read my post from yesterday will recall that I had not expected to cover this development until next week at the earliest.
However, yesterday afternoon into this morning was pure political carnage.
Wednesday, July 6
Junior ministerial resignations continued to pour in throughout the day, into the night.
Mid-afternoon, Boris held a second online meeting with Conservative MPs:
Guido has the story (emphases in red his):
In a sign of a continuing effort to hold on to his job, the PM has held a second meeting of Tory MPs in his parliamentary office, just 19 hours after his last meeting. Last night's turnout was said to be around 80 – today's turnout is said to have fallen to around 30. A loyalist MP spins that the PM was in a "buoyant mood and keen to get on with the job". Presumably he was just happy his PMQs slagging was over and done with…
Boris apparently pointed to polls narrowing to "about five points" and left his reduced coterie of supporters under no doubt that "he's going nowhere… no chance of stepping aside". We'll see what the 1922 Committee has to say about that this evening…
Guido's mole concluded that "Basically the current challenge is all about personality and not policy. It's a coup attempt before recess" The timetable observation is, at least, objectively correct…
At 3 p.m., Boris appeared for 90 minutes before the Liaison Committee, which is comprised of all the MPs who head Select Committees.
They grilled him on his performance and whether he would resign.
I've never seen anything like it. You can watch the proceedings using the link below:
These were the topics of discussion and the names of the MPs questioning him. Sir Bernard Jenkin chaired the session. Conservative MPs Tobias Ellwood and Jeremy Hunt might have their eyes on the leadership. Boris defeated Hunt in the 2019 contest:
All were brusque, including Bernard Jenkin, sadly.
That said, in May, Jenkin did write to the Leader of the House, Mark Spencer, to express his disappointment that some Government ministers were not appearing as scheduled before Select Committees:
The Liaison Committee were vipers. They were on the attack relentlessly.
Boris stood his ground. He reminded one MP that, in 2019, he had more than doubled the number of sitting Conservative MPs:
He also stated that he did not want another unnecessary general election when he had a clear mandate from the electorate to carry out. You can see how nasty Bernard Jenkin got in this short exchange:
Huw Merriman went so far as to send Sir Graham Brady, Chair of the 1922 Committee, a letter of no confidence during the session:
Meanwhile, Guido Fawkes and his team were busy updating Wednesday's list of resignations.
The 1922 Committee was — perhaps still is — considering a rule change allowing for more than a 12-month gap between votes of confidence in a Prime Minister. Pathetic.
Guido has the story (purple emphases mine):
There are some reports that the 1922 Committee may move in the next 24 hours-or-so to dispose of the PM. Bloomberg is reporting that "The Tory backbench 1922 Committee will meet at 5 p.m. Wednesday and will discuss changing the rules to allow another party-leadership ballot. If there is a majority opinion in favor, a ballot could be held as soon as next week." James Forsyth of the Spectator reports rule change or not, a senior committee member tells him "they now favour a delegation going to Johnson to tell him that it is over and that they will change the rules to allow another vote if he doesn't quit".
Guido's post has a list the 1922's executive members and whether or not they favour this rule change.
Later on, the 1922 decided not to change the rules — for now — because they will be holding their executive election on Monday, July 11:
Guido reported:
Surprisingly the 1922 executive has decided against changing the rules to allow a second vote of no confidence in the PM. Instead executive elections will go ahead on Monday, 2pm to 4pm. 
Critics of the prime minister are organising a slate of candidates who are expected to win a majority of places, given most backbenchers voted to oust Johnson in last month's vote. They are then expected to endorse a rule change.
During the afternoon, it was rumoured that the Chief Whip, Chris Heaton-Harris, was going to tell Boris that time was up.
Boris was hemhorrhaging support. The resignations were coming thick and fast from junior ministers. This is how it is done. The same thing happened when Labour wanted rid of Jeremy Corbyn as leader:
I used to like most of the Conservative MPs. Given what happened yesterday, I am not so sure anymore.
Those who have gone down in my estimation include former Equalities Minister Kemi Badenoch; Lee Rowley; Liam Fox; Red Wall MPs Dehenna Davison, Jacob Young and Jo Gideon; Ed Argar and former Welsh Secretary Simon Hart.
And that's not counting the rest of them that Guido has named, including those from Tuesday.
The only one I'm willing to give a pass to is Lee Anderson.
The hubris and hypocrisy got worse.
Attorney General Suella Braverman appeared on Robert Peston's show on ITV that night to announce her withdrawal of support for Boris. I really had expected better of her, especially as Peston has been anti-Boris for years. To add insult to injury, she went on to announce on his show that she would be running for leader:
Cabinet members visit Boris
Just before 5 p.m. a small Cabinet delegation visited Boris in Downing Street.
Guido wrote:
A Cabinet delegation of Nadhim Zahawi, Grant Shapps, Brandon Lewis, Simon Hart and Michelle Donelan are currently waiting in Downing Street to tell Boris the jig is up, and it's time for him to step down. Kwasi Kwarteng has also reportedly lost confidence. Beginning of the end…
Note Michelle Donelan's name in that list. Boris had just made her Education Secretary after Nadhim Zahawi moved into the Chancellor's role.
What did Michelle Donelan do? She resigned after 36 hours in the role:
Yes, of course, she got a pay out — one of £16,876.25:
The others got pay outs, too. I read that the total for ministers who resigned is over £120,000.
That's not a Conservative plan, by the way.
That's how the system works.
The caboose
Just before midnight, the final resignation of the day rolled in, that of Gareth Davies, making him the 35th that day. There were ten more from Monday as well as Michael Gove, summarily sacked. It's hard to disagree with the person comparing this to Trump:
Michael Gove
It was time for this duplicitous man to go. I never trusted him and never will.
When he turned from supporting Boris in the 2016 leadership campaign to start his own before supporting Theresa May, he stabbed him in both the front and the back.
One thing we have learned during Boris's premiership is that he — Boris — is one to forgive.
He made Gove part of his Cabinet in various high profile roles.
On Wednesday, Gove decided to tell Boris to resign:
Gove, most recently the Levelling Up minister, was conspicuous by his absence in the House of Commons. He missed Prime Minister's Questions:
News emerged at 9:30 that Boris sacked Gove — via a telephone call:
I will be very disappointed if Gove returns to a Government role. He is a Scot who, in my opinion, is too young at the age of 54 to appreciate the Union fully, and he does not have the Englishman's best interests at heart.
I've never heard him say anything about England other than to do away with English Votes for English Laws (EVEL) in 2021. As the then-Chancellor of the Duchy of Lancaster, he deemed it unnecessary in Parliament. It was a quick, quiet moment in the Commons. I do wonder why it went unchallenged by English MPs.
Yet, the English are the ones who have been overlooked the most over the past 25 years, beginning with Tony Blair, a quasi-Scot who pumped our Government and media full of many more Scots, e.g. Gordon Brown, to name but one. My apologies to Scottish readers, whom I admire greatly, but it is true.
Christian Calgie from Guido's team explains that Boris might have sacked Gove because, unlike the Cabinet secretaries who had descended upon him earlier, Gove allegedly told Boris to resign:
By the end of Wednesday, it became clear that Boris was not about to leave:
Guido reported:
Guido has had it confirmed by a PM ultra loyalist that Boris Johnson is not resigning tonight, and is understood to be planning a reshuffle. The news will spark further senior cabinet resignations…
According to reports, Boris sat down individual members of the Cabinet – including those involved in the coup – and cited his 2019 mandate, as well as the belief the government needs to spend the summer focusing on the economy and not a leadership election …
I watched four hours of analysis on GB News on Wednesday, beginning with Nigel Farage …
… and concluding with Dan Wootton, who had a great interview with Boris's father Stanley Johnson (see the 1 hour 15 mark, or, if the GB News clock shows, 10:21). Stanley is a big supporter of his son, which was heartening to see:
Thursday, July 7
Conservative ministers continued to resign en masse on Thursday morning, July 7.
Guido has a timeline of resignations and other events of the day.
Just before 9 a.m., Chancellor Nadhim Zahawi sent Boris a formal letter requesting his resignation.
Just after 9 a.m., Defence Secretary Ben Wallace — also thought to be a candidate for Conservative leader — tweeted MPs to say that they should make use of the 1922 Committee to get rid of Boris:
At 9:07 a.m., news emerged that Boris agreed to resign as Conservative Party leader. I agree that the next demand from the braying hypocrite hyenas in the media will be a call for a general election. Disgusting:
Guido reported:
Chris Mason has been told the PM has agreed with Graham Brady that he will resign, allowing a Tory leadership race to take place ahead of the Tory Party conference in October. A letter has been written. He'll quit as Tory leader today. Guido's frankly not sure how Boris can stay on for the summer with so many ministerial holes in his government…
Perhaps we can get by with fewer ministers, as someone said in Parliament this morning.
I hope that Boris's Cabinet meeting at 3 p.m. went well.
Not everyone has been happy with the coup so far. Former Conservative Prime Minister John Major is fuming. It's interesting he never reacted like that about David Cameron or Theresa May:
In brighter news, Boris's loyal friend from Ukraine rang him with his condolences and thanks:
1457: PM has spoken to Zelensky on the phone. Finished the call by praising him: "You're a hero, everybody loves you."
Yes, well, I wished our MPs loved Boris as much as President Zelenskyy does.
Ladies and gentlemen, this was a coup.
It was for a ridiculous reason, too: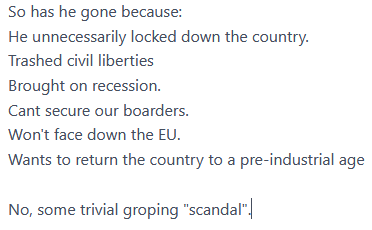 Don't forget: this was ALL ABOUT BREXIT.
More to follow next week.
The announcement from President Trump's campaign legal team from November 22 shocked many Sidney Powell supporters.
Many Trump and Powell supporters think that the US president's case for election redress is sunk.
Here is what is happening. My post from Monday, November 23, offers background, including the Trump team's announcement.
What Sidney Powell said
Sidney Powell issued her own statement afterwards. Her work is about 'We the People', as is L Lin Wood Jr's.
Powell's statement is as follows (emphasis in the original, those in purple mine):
I agree with the campaign's statement that I am not part of the campaign's legal team. I never signed a retainer agreement or sent the President or the campaign a bill for my expenses or fees.
My intent has always been to expose all the fraud I could find and let the chips fall where they may–whether it be upon Republicans or Democrats.
The evidence I'm compiling is overwhelming that this software tool was used to shift millions of votes from President Trump and other Republican candidates to Biden and other Democrat candidates.  We are proceeding to prepare our lawsuit and plan to file it this week.  It will be epic.
We will not allow this great Republic to be stolen by communists from without and within or our votes altered or manipulated by foreign actors in Hong Kong, Iran, Venezuela, or Serbia, for example, who have neither regard for human life nor the people who are the engine of this exceptional country.
#WeThePeople elected Donald Trump and other Republican candidates to restore the vision of America as a place of life, liberty and the pursuit of happiness.
You may assist this effort by making a non tax-deductible contribution to www.DefendingTheRepublic.org.  #KrakenOnSteroids"
Sidney Powell
What Trump's campaign lawyers are working on and what Sidney Powell is perfecting are two different issues.
The Trump realm cannot easily enter the Powell realm because that would complicate things unnecessarily.
REX, whom I've quoted before, albeit not recently, has this analysis as to why there is a pincer movement going on:
This is also a useful analysis. I am unfamiliar with the author, but what he says makes sense:
Rush Limbaugh and Howie Carr want more action
On Monday, November 23, Rush Limbaugh was disappointed that nothing was happening yet from either Team Trump or Sidney Powell.
The Daily Caller carried portions of the transcript from his show (emphases mine):
"You call a gigantic press conference like that, one that lasts an hour. And you announce massive bombshells, then you better have some bombshells, there better be something at that press conference other than what we got," he explained.
Limbaugh went on to say that a witness — even one whose identity was disguised — would have gone a long way toward bolstering the claims made by the president's team.
"But you don't — you can't — I talked to so many people who were blown away by it, by the very nature of the press conference," Limbaugh continued. "They promised blockbuster stuff, and then nothing happened. And that's just, that's not — well, it's not good. If you're going to promise blockbuster stuff like that, then there has — now, I understand. Look, I'm the one that's been telling everybody, this stuff doesn't happen at warp speed, light speed, the way cases are made for presentation in court. But if you're going to do a press conference like that, with the promise of blockbusters, then — then there has to be something more than what that press conference delivered."
Limbaugh concluded by saying that if the Trump team was going to make a case, it needed to be done quickly. "Time, of course is of the essence now, as it is speedily vanishing. So they're going to have to act fast," he said.
The Howie Carr Show, now a Newsmax programme, came on in the afternoon.
Howie couldn't get hold of Sidney Powell for another interview, but he did speak with Boris Epshteyn and Joe diGenova. The next few paragraphs are my potted summary of what they told Howie.
Boris Epstein, part of Trump's campaign legal team spoke to Howie. Epstein said ALL the states in question are still in play. He appeared during Howie's Newsmax hour. (Howie wears a jacket and tie during that portion of his broadcast.)
Epstein said they are tracking things very closely and said he wanted to reassure Newsmax viewers that everything is in hand and progressing as planned.
Joe diGenova was on Howie Carr's Newsmax hour after Boris Epshteyn. Joe diGenova said that there IS a two-pronged strategy in play. He said that Sidney Powell doesn't have any problem pursuing the voting machines angle while Team Trump pursues what went on in the polling stations with no Republican observers admitted or placed so far away that they couldn't see anything.
He confirmed what Boris Epshteyn said: ALL the questionable states were still in play that day (and this week).
Is President Trump worried about paying for recounts and/or audits in individual states? Based on 2016 and the four years of lefty turmoil that followed, his team were prepared and set money aside, especially as mail-in ballots were heavily promoted in all Democratic-controlled states or cities.
Trump knew his campaign would need to pay for recounts. That's $3 – 7 million per state. They have that covered.
For those who think Trump should take Al Gore's advice and concede, in 2000, when the hanging chad contest in Florida was in dispute, Gore didn't concede until December.
But I digress.
Back to Howie Carr. As an organised crime reporter for the Boston Herald for many years, he knows how the legal system can be manipulated. On Monday's show he asked whether Sidney Powell's legal standing would be questioned. On whose behalf could she credibly make her case? (After all, L Lin Wood Jr's case in Georgia got thrown out last week for lack of standing. He is going to appeal the decision.)
It turns out that Sidney Powell is a military lawyer. As today is still Thanksgiving Day, the ultimate American feast, here's the retweet:
Now for the original tweet:
She has been representing Gen Michael Flynn.
She has also put the frighteners on certain people involved with the voting machines:
Patience required — more information emerging
An American Thinker article by Andrea Widburg puts the election legal fight into perspective:
Currently, I believe that this election was marked by epic fraud.  You cannot convince me that Biden, who got five or six people to his rallies, as opposed to the 52,000 or so at Trump's rallies in Pennsylvania, ended with more votes than Obama.
Nobody ever said proving this fraud would be easy (or, sadly, even possible).  I'm treating its unfolding like an epic novel with a surprise ending …

So should the rest of us.
Imagine if we were on the legal team. We wouldn't have time to sleep — or contemplate our annual turkey dinner with all the trimmings.
For Team Trump, there is much to challenge. RedState has an article with dizzying detail about Georgia alone.
There are also these items:
Yet another witness has come out in Michigan, describing the same scenario as in Georgia:
This is in addition to the legal challenges going on not only in these states but a handful of others which produced dubious results.
As for Sidney Powell, more information emerges for her, including this:
I really hope this isn't true (a must see/read thread about Republicans and the voting machines).
Conclusion
Meanwhile, Donald Trump is:
Prayers continue for everyone involved in this historic battle for the future of the Great Republic.
The following video is likely to be the most important one you will watch this week:
Author and independent reporter Alex Newman explains in 30 minutes what is really happening in the United States after the election.
Please take time out of your schedule to view it.
Many Americans in power do not want President Trump to win re-election. This year was crucial in seeing that does not happen.
Hence the voter fraud that happened in several states last week.
The mass media narrative is important in keeping morale suppressed among Trump supporters.
There are various strands involved in seeing a coup succeed: government, intelligence agencies, the media, polling companies, those in charge of voting as well as big donors. Even if you already know this, it is worth watching him explain it in more detail.
Newman says that the legislatures in the states involved are mostly Republican and can take the decision not to accept their state's result given the unusual vote counts and the many reports from vote watchers on the ground. As such, they can appoint pro-Trump electors to the Electoral College.
Newman suspects that this dispute will linger for weeks. He says that things could get very bad during that time: reminiscent, he says, of the 1917 election in Russia which brought about the revolution there. Wealthy American donors and corporations at the time bankrolled the Russian Revolution. He says that what is going on in the US right now is not dissimilar.
Furthermore, he says, Trump must start getting rid of high-placed people in his administration: Bill Barr, Christopher Wray and Mike Esper (see update below). The first two are letting people who have committed serious crimes run around scot free.
The overall goal of people blocking Trump is to force him out of office. Newman says that some in the military are involved in the hope that they can turn the troops against the president.
Newman sees the possibility of greater violence in city streets while the election mess is being sorted out.
Newman has just come out with a new 167-page book — Deep State: The Invisible Government Behind The Scenes, which he says you can buy direct from the Liberty Sentinel website, of which he is a contributor. I do not see a link for buying the books, so perhaps the Contact page will be of use.
UPDATE — Monday, November 9 — President Trump fired Mark Esper:
Thank you to everyone who let me know via the comments.
Yesterday, I ran across four articles of interest.
The coup
The starting point is James Howard Kunstler's October 15 essay, 'Wait For It', which is about the ongoing American coup, the latest development being President Trump's conversation with the president of Ukraine and the Democrats' 'whistleblower' (emphases mine):
For one thing, he-she-it is not a "whistleblower" at all; was only labeled that via legalistic legerdemain to avoid revealing the origin of this affair as a CIA cover-your-ass operation. Did Mr. Schiff actually think he could conceal this figure's identity in a senate impeachment trial, when it came to that — for what else is impeachment aimed at? Anonymous sources are not admissible under American due process of law. Mr. Schiff must have missed that class in law school.
All of this hocus-pocus suggests to me that there is no "whistleblower," that it is a phantom confabulation of gossip threads that unraveled the moment Mr. Trump released the transcript of his phone call to Ukraine's president Zelensky, aborting Mr. Schiff's game plan. The ensuing weeks of congressional Keystone Kops buffoonery since then appears to conceal a futile effort by Mr. Schiff and his confederates to find some fall guy willing to pretend that he-she-it is the "whistleblower" …
One marvels at Rep. Schiff's tactical idiocy. But just imagine the panicked consternation it must be triggering among his Democratic colleagues. Notice that Mrs. Pelosi has been hiding out during this latest phase of the action. She may sense that there is nothing left to do but allow Mr. Schiff to twist slowly slowly in the wind, as he has hung himself out to dry. She should have known better since every previous declaration of conclusive evidence by Mr. Schiff over the past three years has proved to be false, knowingly and mendaciously so.
One also clearly senses that all the smoke-and-mirrors are a desperate attempt to divert attention from a soon-to-drop DOJ Inspector General's report which, by the way, will only be an overture to much more damaging action likely to come from Mr. Barr's proceeding. After all, IG Horowitz was not allowed under the rules to compel the testimony of persons outside the Department of Justice, which would now include Andrew McCabe, James Comey, and many others at the center of the RussiaGate prank …
That lame admission will not avail to protect him or the CIA, an agency that is behind the administrative civil war. It has been a rogue agency for a long long time, but may have finally overplayed its hand, along with the newer adjunct agencies that have been stitched onto it since 9/11/01 — the dark network that goes by the name Intelligence Community. So many shoes are ready to drop on them that the din might drown out all the John Philip Sousa marches ever played in the lobby at Langley, let alone the thin trilling of a fake whistleblower.
Apart from these fateful developments the prize for the week's most transparently disingenuous bit of media agitprop goes to Saturday's New York Times puff piece on former FBI Director Jim Comey, which actually sets him up for federal indictment on something like sedition or treason.
Did you notice that the photo-caption states: James Comey plans to spend the next 13 months working to drive President Trump from power. Oh, really? By what means, exactly? Single-handedly or with whom? And how did the strategy he kicked off in 2016 work out? In case Mr. Barr is looking for some way to attribute motive to the actions that he's investigating, he may need to seek no further. Also, consider that The New York Times and its editor-in-chief Dean Baquet, and publisher A.G. Sulzberger may be named as unindicted co-conspirators in the three-year campaign of sedition (freedom of the press, of course). Alert the shareholders.
I should emphasise that Jim Kunstler is not a Trump supporter, but even the Democrats' continuing attempts at getting a legitimately elected president out of office have been making him think a bit more about the coup.
The 'revolution in reverse'
The comments to Kunstler's article were as wide-ranging and fascinating as ever.
Someone linked to an October 10 essay on Tzarism.com called 'The Hi-Tech Traditionalist: A Revolution In Reverse: The Uprising Of The American Elites Against The American People'. The author, Dr Baruch Pletner, is a polyglot:
The Hi-Tech Traditionalist – Baruch Pletner is an entrepreneur, a scientist, an inventor, and a private pilot. He is passionate about education, the outdoors, and the war on globalism. Baruch holds a PhD degree from the Technion in Haifa, Israel and an MBA from Northeastern University in Boston.
He points out that the leftist revolution taking place in the United States is the inverse of what usually happens in an uprising:
The great Bolshevik revolutions of the last century in Russia, in China, and in Cuba all followed a familiar pattern: a group of young, energetic, endlessly corruptible, but not yet corrupt outsiders take on, in the name of the people, a tired corrupt establishment. A civil war ensues in which the people side with the revolutionaries because they (mistakenly) think that things can never be worse. Revolutionaries win, slaughter the establishment elites, and proceed to rob and enslave the people in even more outrageous fashion. Soon enough the old guard revolutionaries become every bit as corrupt as the ones they have replaced if not more so and the cycle repeats itself.
In America, the situation is rather farcically backwards. In America, the corrupt establishment elites have decided to stage a Bolshevik coup against the American people rather than the other way around. A Tsar fully in command of his own kingdom staging a coup against his own people is a bizarre development to say the least, and yet, here we are in 2019 America. Like always, there are reasons. First and foremost among them is the sheer scope of the nepotism and corruption of the American elites in business, government, technology, and the intelligence services. This scope has very likely far exceeded anything previously known in human history. Had the dimensions of the robbery perpetrated by the American ruling classes against the American people become widely known earlier, America could well have experienced a more typical revolution, one by the people against the elites.
There are other reasons, he says, which date from the late 1980s. Continuing on from the previous paragraph, he tells us:
Well aware of the possibility if not probability of such an outcome, the people who run America put in place a plan to make it all but impossible. The plan involved the gradually escalating erosion of the limits on government powers put in place by the Constitution with a parallel erosion in the God-given rights guaranteed every American by the same document. This was a fully bipartisan effort, put in place immediately after president Reagan departed office. It is sufficient to observe the exponential increase in government versus private sector employment in America from 1988 to 2019 to fully grasp this point. Stopping immigration from countries that have (or at least used to have) a tradition of personal freedom and limited government while throwing open the spigots for immigration from countries that have neither was the second part of the same plan. The destruction of family values and Christianity in America was the third.
Then there were the social, guilt-inducing conditioning of the majority of the American populace, who have no control over their skin colour. As such:
Americans allowed themselves to become squeezed out of well-paying jobs by the elites-induced trifecta of low and high-skilled immigration and automation, with nary a whisper in protest.
Then, he says, along came Donald Trump. In the eyes of the elite, President Trump must be stopped:
Trying to pin on Trump their own sins of sexual corruption, nepotism, embezzlement, etc. has not been a well-thought out strategy on the part of the American power elites simply because it enabled him to begin educating the American public as to the breathtaking scope of their own criminality. Now, on the verge of Trump's inevitable reelection, they are left with only one option: a coup d'etat against the American people, the American Constitution, and the American Republic itself.
Since the elites still very much permeate every hall of power in America, this is a one-off deal in which the rulers of a country set out to violently overthrow the very political structure of the country they are ruling, but, as they say, it is what it is. The cover may be different, but the playbook is the same, so we are already being exposed to the oldies but goodies of escalating agitprop (weaponized lies and propaganda), suppression of unwanted elements (cancel culture), and paid snitching (whistleblowing). Now we are entering into a new phase, that of secret trials with a predetermined outcome.
He means impeachment hearings, which he goes on to discuss, adding:
… what follows next will not be pretty. Having obtained an illegal impeachment that has no chance in the Senate, the powers that be in America will use this "impeachment" to force Trump off the 2020 ballot by any means possible, including things that now sound crazy like setting up a parallel Supreme Court having declared the Constitution illegitimate because it was written by white males some of whom supported slavery and ratified without African American and other minority votes.
Needless to say, such actions may well precipitate an armed conflict we know of as civil war, but that would not be an unexpected outcome for the elites. We know now that the American intelligence services all work for the elites and not for the people. They will fight on their side in the coming war. What we don't know is to what degree the armed forces have been infiltrated, especially the mid-level officer corps.
That is my concern, too.
The New York Times and Carlos Slim's fortune
Someone else responding to Kunstler's piece posted a 2015 Ann Coulter article for Townhall, 'Carlos Slim: The New York Times' Sugar Daddy'.
Ann Coulter observed the editorial shift in the New York Times since Carlos Slim rescued the failing newspaper in 2008.
Back in 2004—before the Times became Slim's pimp—a Times article stated: "Clearly . . . the nation's southern border is under siege."2 But that was before Carlos Slim saved the Times from bankruptcy. Ten years later, with a border crisis even worse than in 2004, and Latin Americans pouring across the border, the Times indignantly demanded that Obama "go big" on immigration and give "millions of immigrants permission to stay."
And, going back further to the Clinton administration, the NYT used to point out porous border problems:
In 1997—the pre-Slim days—the Times had editorialized: "Fighting illegal immigration is a difficult and important job. But Congress should do it in a way that will deter illegal entry at the border."39 Another editorial that year complained that the Immigration and Naturalization Service had "done a poor job of keeping out illegal aliens, deporting criminals [and] processing requests for asylum." This wasn't even Bush-bashing—Clinton was president!
Coulter explains how Slim makes his money off the American taxpayer, which involves much more than enlightened citizens buying copies of the New York Times:
One of the ways Slim makes money off of illegal immigration in the United States is by overcharging Mexicans to call home, especially during World Cup soccer season. Slim takes a percentage of all cell phone calls into Mexico—and Telmex's "interconnection rates" are astronomical. International roaming rates are 37 percent higher in Mexico than the average of all OECD countries.
But the main way illegal immigrants benefit Slim is through their remissions. Monopolistic pricing is of little value in a poor country. A monopoly on air in Burundi would not produce the world's richest man. Luckily for Slim, Mexico is located right next to one of the wealthiest nations in the world. The OECD estimates that Slim's suffocating telecommunications monopoly costs Mexican consumers $26 billion a year, with more than half of that coming from Slim gouging his customers. They would have $20 billion less to spend without 40 million Mexicans living in the United States.
According to the World Bank and the International Monetary Fund, Mexican immigrants or those of Mexican descent send at least $20 billion out of America back to their relatives in Mexico each year.29 No wonder immigrants are so reliant on welfare—they're sending so much of it out of the country! Twenty billion dollars is significantly more—about a quarter more—than the amount of money the United States sends to Mexico in direct foreign aid. The $20 billion being sent to immigrants' grandmothers in Chiapas is forever eliminated from the American economy—unavailable for investment in American companies, the purchase of American products, or hiring American workers. That's a cost of immigration that Americans are never told about.
These billions of dollars being drained out of the U.S. economy every year would be bad enough if the money were coming exclusively from cheap-labor employers like Sheldon Adelson. But it's worse than that. It comes from American taxpayers. Not only do taxpayers have to support Americans who lose their jobs to low-wage immigrant laborers, taxpayers support the immigrants, too. Seventy-five percent of immigrant families from Mexico are on government assistance.
Putting two and two together, we can more easily understand the New York Times's editorial line under Slim and the billionaire's desire to see more Mexicans enter the United States illegally:
That's why, in 2014, Slim was exhorting Mexican youth to cross illegally into the United States for jobs. The stated purpose of Obama's open defiance of American immigration laws was to avoid punishing "children" who were brought to the United States by their parents. Slim didn't care about that. (Then again, neither did Obama.) He just wanted more Mexicans working in America and sending dollars back to him. As the CEO of the "Carlos Slim Foundation" explained, "[O]ur goal is to reduce the access barriers for them to reach this potential . . . to build not just them but their families, so they're able to contribute to the economy"—i.e., the Mexican economy owned by Carlos Slim.
The 'invisible government'
Truthdig has an article by the Pulitzer Prize winning journalist Chris Hedges, 'Our Invisible Government', which is, in part, a book review of Stephen Kinzer's new book, Poisoner in Chief: Sidney Gottlieb and the CIA Search for Mind Control.
I will not be excerpting Hedges's article except for this:
Kinzer builds his book around Sidney Gottlieb, an elusive, quirky and powerful operative in the CIA who in his quest for mind control—something he and others in the CIA had convinced themselves the Soviets had mastered—oversaw medical experiments that had been originated by his German and Japanese collaborators. These experiments were coded-named Bluebird and later Artichoke, which Kinzer calls "one of the most violently abusive projects ever sponsored by an agency of the United States government." The torture sessions often permanently shattered the minds of his subjects. Victims were kidnapped (later this would be called "extraordinary rendition") and sent to clandestine centers around the globe—now known as "black sites"—or were picked from the prison population abroad and at home. Those forced into taking part in these experiments included impoverished African Americans at the Addiction Research Center in Lexington, Ky. Many of the victims were labeled "expendables," meaning they could be murdered after the experiments and disappeared. The corpses were usually burned. Anyone who was powerless, or could be made powerless, was a potential target. Mentally handicapped children at the Walter E. Fernald State School in Massachusetts, for example, were fed cereal laced with uranium and radioactive calcium and their induced sicknesses were monitored. Gottlieb oversaw the administering of LSD and other drugs to induce psychotic states at the federal prison in Atlanta and a youth correctional facility in Bordentown, N.J. None of his subjects consented to being a human guinea pig, and many ended up psychologically impaired for life. The Boston gangster James "Whitey" Bulger, being held in the Atlanta penitentiary, was told he would be part of an experiment on curing schizophrenia but then was surreptitiously given LSD nearly every day for 15 months. CIA scientists also conducted experiments on terminally ill patients at an annex of Georgetown University Hospital in Washington, D.C.
Gottlieb searched for years for a cocktail of drugs that, in Kinzer's words, would draw "prisoners away from their identities, induce them to reveal secrets, and perhaps even program them to commit acts against their will." It was a vain quest. But with each failure he and the CIA became ever more zealous, working closely with former German Gen. Walter Schreiber, the onetime surgeon general of the Nazi army who had "approved experiments at the Auschwitz, Ravensbrück, and Dachau concentration camps in which inmates were frozen, injected with mescaline and other drugs, and cut open so the progress of gangrene on their bones could be monitored." Kinzer adds that according to one American researcher, the experiments "usually resulted in a slow and agonizing death."
Gottlieb had a habit of secretly lacing the drinks of colleagues with LSD to see their reaction. Some never recovered. One of his victims was Frank Olson, a CIA scientist who was appalled by the brutal interrogations he witnessed and planned to resign from the CIA. Gottlieb and his secretive group of torturers and assassins were terrified Olson would go public. Olson was found dead in 1953 on a sidewalk in Manhattan after allegedly diving through a hotel window. His son Eric had his father's body exhumed in 1994 and turned over to James Starrs, a forensic pathologist at George Washington University in the District of Columbia. "Starrs had found no glass shards on the victim's head or neck, as might be expected if he had dived through a window," Kinzer writes. "Most intriguingly, although Olson had reportedly landed on his back, the skull above his left eye was disfigured."
"I would venture to say that this hematoma is singular evidence of the possibility that Dr. Olson was struck a stunning blow to the head by some person or instrument prior to his exiting through the window of room 1018A," Starrs concluded.
Starrs was later more emphatic: "I think Frank Olson was intentionally, deliberately, with malice aforethought, thrown out of that window."
As awful as that is, the rest of the article has details of even more gruesome and demonic 'experiments', which those interested may read at their leisure.
Conclusion
We have much to pray for in the coming months: the safety of Donald Trump and his family, the thwarting of evil deeds from our notional betters and the return of a moral society, which is the only way to conserve the freedoms we know in the West. Those, too, must be restored, with Big Government — the malicious Nanny State — being thrown out.
Also, please spare a prayer for Brexit. What has been going on in Parliament and the upper courts of law since Boris Johnson became Prime Minister has been chilling, to say the least.
President Trump had a busy schedule at the end of May 2019, which included a return trip to Japan.
This time it was a State Visit.
As he and First Lady Melania would be out of the country on Memorial Day weekend, they visited Arlington Cemetery before their departure:
On May 25, the first day of the State Visit to Japan, Trump met with that nation's business leaders, too many to list here:
Prime Minister Shinzo Abe and his wife Akie hosted the Trumps for dinner that night. Abe had not forgotten his guest's favourite dessert:
Abe was delighted to welcome back his friend:
The next day, the two world leaders played golf:
Their wives toured the Mori Building Digital Art Museum:
The QTree explained the significance of the following day's welcome by the new Emperor and Empress of Japan — a first for both couples:
… our President and FLOTUS become the first guests of Japanese Emperor Naruhito and Empress Masako at the Imperial Palace.
There are three components to the state visit: (1) The guest arrival and formal greeting by the Emperor and Empress. (2) The ceremonial anthems of both nations and the presentation of the imperial guard.  (3) A "state call" or discussion of diplomatic matters between the Emperor, Empress and their honored guests.
During the official state call component there is an exchange of gifts.
1) Formal greeting by the Emperor and Empress …

2) The ceremonial anthems of both nations and the presentation of the imperial guard.
The 'inside palace' greeting and introduction was not covered by international media. However, due to the significance of the visit (first of imperial era of Reiwa) it was broadcast on local Japanese media (below).
Body language and facial expressions can't be faked. They are all VERY PLEASED AND HONORED to meet one another. Such a proud moment for both nations.
(3) A "state call" or discussion of diplomatic matters between the Emperor, Empress and their honored guests in video below.
Then, there was the customary exchange of gifts. The Japanese emperor is an accomplished violin and viola player, as evidenced below in this video from 2007:
The accompanying press pool report states (emphases mine):
The President presented the Emperor an American-made viola in a custom case and a signed photo of American composer Aaron Copland. This vintage 1938 viola was handmade in Charleston, West Virginia. The President also presented the Emperor with a signed and framed photo of the President.
The First Lady presented the Empress with a custom White House desk set featuring a pen made of Harvard tree wood. The Empress herself studied Economics at Harvard. This fountain pen was handcrafted from a red oak tree that still stands in Old Harvard Yard. The First Lady also presented the Empress with a signed and framed photo of the First Lady.
The Emperor presented the President with a traditional Japanese pottery and porcelain bowl as well as a signed and framed photo of His Majesty the Emperor.
The Empress presented the First Lady with an ornamental Japanese lacquer box with traditional design as well as a framed and signed photo of Her Majesty the Empress.
Note: It is long-standing custom of the Imperial Palace that their Majesties the Emperor and Empress exchange signed, framed photographs with their guests on the occasion of a State Visit.
Afterwards, Trump and Abe held discussions on trade and security:
Their wives attended a cultural presentation:
Upon his return, Trump tweeted:
While the Trumps were in Japan, on May 25, actor Jon Voight tweeted:
The president faces the same threats as Lincoln did. He is in danger every day from people who desperately want to remove him from office, either by death or by impeachment. Speaker of the House Nancy Pelosi says Trump belongs in prison.
The Mueller Report left the door open to more scheming by Democrats.
The coup is not yet over.
Therefore, on May 30, the Revd Franklin Graham issued a national appeal for prayer for the president on Sunday, June 2:
That day, another friend of the president's explained to Fox News that this appeal had nothing to do with politics but the real fight of good versus evil:
Other pastors on social media had to remind their detractors that they had prayed for past presidents, too:
On Friday, May 31, a mass shooting took place in Virginia Beach. After golfing on Sunday, June 2, the president visited the Revd David Platt's McLean Bible Church in Virginia, where he joined congregants in praying silently for the victims of the shooting.
The New York Post reported:
While he did not talk during the service, Trump stood behind pastor David Platt as he offered a prayer for the 12 killed in Friday's mass shooting.
The president was there to "visit with the Pastor and pray for the victims and community of Virginia Beach," said Judd Deere, the White House's deputy press secretary.
Trump arrived at about 2:20 p.m. and his motorcade left a little over 15 minutes later.
DeWayne Craddock, 40, slaughtered 12 at Virginia Beach's municipal building Friday — just hours after quitting his job as a civil engineer.
In turn, Platt prayed for the president:
I do not know where Platt stands on his stance of private redistribution of wealth he was promoting back in 2012, but I am grateful that he prayed for President Trump.
Considering the prayers, the threats that the president endures daily and Jon Voight's comparison of him with Lincoln, it was amazing that he and the first lady went to Ford's Theatre that night for an awards presentation. Ford's Theatre was the site of Lincoln's assassination:
I am very glad I was out of the country at the time. Otherwise I would have been worried about his safety.
Yet, thankfully, God continues to watch over President Trump, who flew to London that night with the first lady and his family (apart from Barron).
More on that trip tomorrow.