You are currently browsing the tag archive for the 'coup' tag.
'No one is remotely indispensable'.
So were the words of Boris Johnson as he stood in front of Downing Street in the early afternoon of Thursday, July 7, 2022, to announce that he was standing down as Conservative leader. He said that he planned to stay on as Prime Minister until a new leader is chosen.
Boris's resignation speech
The Prime Minister's speech is just over six minutes long:
Knowing how quickly the leadership contests moved in 2016 (David Cameron to Theresa May) and in 2019 (May to Johnson), we are likely to see a new party leader in place before Parliament's summer recess. Regardless of what news outlets say, it no longer takes two or three months. The timing — i.e. summer resignations in all three cases — will accelerate because of recess.
Guido has the transcript of Boris's speech, excerpts of which follow (I've put in punctuation, paragraphs and emphases):
It is now clearly the will of the parliamentary Conservative party that there should be a new leader of that party and, therefore, a new Prime Minister and I have agreed with Sir Graham Brady, the chairman of our backbench MPs [the 1922 Committee], that the process of choosing that new leader should begin now and the timetable will be announced next week.
And I have today appointed a cabinet to serve – as I will – until a new leader is in place.
So I want to say to the millions of people who voted for us in 2019 – many of them voting Conservative for the first time — thank you for that incredible mandate, the biggest Conservative majority since 1987, the biggest share of the vote since 1979.
And the reason I have fought so hard for the last few days to continue to deliver that mandate in person was not just because I wanted to do so but because I felt it was my job, my duty, my obligation to you to continue to do what we promised in 2019, and of course I am immensely proud of the achievements of this government …
He went on to list Brexit, the coronavirus vaccine rollout, coming out of lockdown the earliest of any other Western nation and showing leadership with regard to Ukraine.
He clearly regretted that he had to stand down:
If I have one insight into human beings it is that genius and talent and enthusiasm and imagination are evenly distributed throughout the population but opportunity is not, and that is why we need to keep levelling up, keep unleashing the potential of every part of the United Kingdom. And if we can do that in this country, we will be the most prosperous in Europe.
And in the last few days I have tried to persuade my colleagues that it would be eccentric to change governments when we are delivering so much and when we have such a vast mandate and when we are actually only a handful of points behind in the polls, even in mid term after quite a few months of pretty unrelenting sledging, and when the economic scene is so difficult domestically and internationally. And I regret not to have been successful in those arguments and, of course, it is painful not to be able to see through so many ideas and projects myself.
But as we've seen at Westminster, the herd is powerful and when the herd moves, it moves and,
my friends, in politics no one is remotely indispensable.
And our brilliant and Darwinian system will produce another leader equally committed to taking this country forward through tough times, not just helping families to get through it but changing and improving our systems, cutting burdens on businesses and families and – yes – cutting taxes, because that is the way to generate the growth and the income we need to pay for great public services.
And to that new leader I say, whoever he or she may be, I will give you as much support as I can and, to you the British people, I know that there will be many who are relieved but perhaps quite a few who will be disappointed. And I want you to know how sad I am to give up the best job in the world, but them's the breaks.
I want to thank Carrie and our children, to all the members of my family who have had to put up with so much for so long. I want to thank the peerless British civil service for all the help and support that you have given, our police, our emergency services and, of course, our NHS who at a critical moment helped to extend my own period in office, as well as our armed services and our agencies that are so admired around the world and our indefatigable Conservative Party members and supporters whose selfless campaigning makes our democracy possible.
I want to thank the wonderful staff here at Number Ten and, of course, at Chequers and our fantastic protforce detectives – the one group, by the way, who never leak.
And, above all, I want to thank you the British public for the immense privilege you have given me.
And I want you to know that from now until the new Prime Minister is in place, your interests will be served and the government of the country will be carried on.
Being Prime Minister is an education in itself. I have travelled to every part of the United Kingdom and, in addition to the beauty of our natural world, I have found so many people possessed of such boundless British originality and so willing to tackle old problems in new ways that I know that even if things can sometimes seem dark now, our future together is golden.
Thank you all very much.
Boris delivered his speech in a normal, matter-of-fact way, which was good, especially given the circumstances.
Now that he has resigned from the Conservative leadership, some ministers are willing to come back into Government for the interim period.
As such, Boris held a Cabinet meeting at 3 p.m. today:
Those who read my post from yesterday will recall that I had not expected to cover this development until next week at the earliest.
However, yesterday afternoon into this morning was pure political carnage.
Wednesday, July 6
Junior ministerial resignations continued to pour in throughout the day, into the night.
Mid-afternoon, Boris held a second online meeting with Conservative MPs:
Guido has the story (emphases in red his):
In a sign of a continuing effort to hold on to his job, the PM has held a second meeting of Tory MPs in his parliamentary office, just 19 hours after his last meeting. Last night's turnout was said to be around 80 – today's turnout is said to have fallen to around 30. A loyalist MP spins that the PM was in a "buoyant mood and keen to get on with the job". Presumably he was just happy his PMQs slagging was over and done with…
Boris apparently pointed to polls narrowing to "about five points" and left his reduced coterie of supporters under no doubt that "he's going nowhere… no chance of stepping aside". We'll see what the 1922 Committee has to say about that this evening…
Guido's mole concluded that "Basically the current challenge is all about personality and not policy. It's a coup attempt before recess" The timetable observation is, at least, objectively correct…
At 3 p.m., Boris appeared for 90 minutes before the Liaison Committee, which is comprised of all the MPs who head Select Committees.
They grilled him on his performance and whether he would resign.
I've never seen anything like it. You can watch the proceedings using the link below:
These were the topics of discussion and the names of the MPs questioning him. Sir Bernard Jenkin chaired the session. Conservative MPs Tobias Ellwood and Jeremy Hunt might have their eyes on the leadership. Boris defeated Hunt in the 2019 contest:
All were brusque, including Bernard Jenkin, sadly.
That said, in May, Jenkin did write to the Leader of the House, Mark Spencer, to express his disappointment that some Government ministers were not appearing as scheduled before Select Committees:
The Liaison Committee were vipers. They were on the attack relentlessly.
Boris stood his ground. He reminded one MP that, in 2019, he had more than doubled the number of sitting Conservative MPs:
He also stated that he did not want another unnecessary general election when he had a clear mandate from the electorate to carry out. You can see how nasty Bernard Jenkin got in this short exchange:
Huw Merriman went so far as to send Sir Graham Brady, Chair of the 1922 Committee, a letter of no confidence during the session:
Meanwhile, Guido Fawkes and his team were busy updating Wednesday's list of resignations.
The 1922 Committee was — perhaps still is — considering a rule change allowing for more than a 12-month gap between votes of confidence in a Prime Minister. Pathetic.
Guido has the story (purple emphases mine):
There are some reports that the 1922 Committee may move in the next 24 hours-or-so to dispose of the PM. Bloomberg is reporting that "The Tory backbench 1922 Committee will meet at 5 p.m. Wednesday and will discuss changing the rules to allow another party-leadership ballot. If there is a majority opinion in favor, a ballot could be held as soon as next week." James Forsyth of the Spectator reports rule change or not, a senior committee member tells him "they now favour a delegation going to Johnson to tell him that it is over and that they will change the rules to allow another vote if he doesn't quit".
Guido's post has a list the 1922's executive members and whether or not they favour this rule change.
Later on, the 1922 decided not to change the rules — for now — because they will be holding their executive election on Monday, July 11:
Guido reported:
Surprisingly the 1922 executive has decided against changing the rules to allow a second vote of no confidence in the PM. Instead executive elections will go ahead on Monday, 2pm to 4pm. 
Critics of the prime minister are organising a slate of candidates who are expected to win a majority of places, given most backbenchers voted to oust Johnson in last month's vote. They are then expected to endorse a rule change.
During the afternoon, it was rumoured that the Chief Whip, Chris Heaton-Harris, was going to tell Boris that time was up.
Boris was hemhorrhaging support. The resignations were coming thick and fast from junior ministers. This is how it is done. The same thing happened when Labour wanted rid of Jeremy Corbyn as leader:
I used to like most of the Conservative MPs. Given what happened yesterday, I am not so sure anymore.
Those who have gone down in my estimation include former Equalities Minister Kemi Badenoch; Lee Rowley; Liam Fox; Red Wall MPs Dehenna Davison, Jacob Young and Jo Gideon; Ed Argar and former Welsh Secretary Simon Hart.
And that's not counting the rest of them that Guido has named, including those from Tuesday.
The only one I'm willing to give a pass to is Lee Anderson.
The hubris and hypocrisy got worse.
Attorney General Suella Braverman appeared on Robert Peston's show on ITV that night to announce her withdrawal of support for Boris. I really had expected better of her, especially as Peston has been anti-Boris for years. To add insult to injury, she went on to announce on his show that she would be running for leader:
Cabinet members visit Boris
Just before 5 p.m. a small Cabinet delegation visited Boris in Downing Street.
Guido wrote:
A Cabinet delegation of Nadhim Zahawi, Grant Shapps, Brandon Lewis, Simon Hart and Michelle Donelan are currently waiting in Downing Street to tell Boris the jig is up, and it's time for him to step down. Kwasi Kwarteng has also reportedly lost confidence. Beginning of the end…
Note Michelle Donelan's name in that list. Boris had just made her Education Secretary after Nadhim Zahawi moved into the Chancellor's role.
What did Michelle Donelan do? She resigned after 36 hours in the role:
Yes, of course, she got a pay out — one of £16,876.25:
The others got pay outs, too. I read that the total for ministers who resigned is over £120,000.
That's not a Conservative plan, by the way.
That's how the system works.
The caboose
Just before midnight, the final resignation of the day rolled in, that of Gareth Davies, making him the 35th that day. There were ten more from Monday as well as Michael Gove, summarily sacked. It's hard to disagree with the person comparing this to Trump:
Michael Gove
It was time for this duplicitous man to go. I never trusted him and never will.
When he turned from supporting Boris in the 2016 leadership campaign to start his own before supporting Theresa May, he stabbed him in both the front and the back.
One thing we have learned during Boris's premiership is that he — Boris — is one to forgive.
He made Gove part of his Cabinet in various high profile roles.
On Wednesday, Gove decided to tell Boris to resign:
Gove, most recently the Levelling Up minister, was conspicuous by his absence in the House of Commons. He missed Prime Minister's Questions:
News emerged at 9:30 that Boris sacked Gove — via a telephone call:
I will be very disappointed if Gove returns to a Government role. He is a Scot who, in my opinion, is too young at the age of 54 to appreciate the Union fully, and he does not have the Englishman's best interests at heart.
I've never heard him say anything about England other than to do away with English Votes for English Laws (EVEL) in 2021. As the then-Chancellor of the Duchy of Lancaster, he deemed it unnecessary in Parliament. It was a quick, quiet moment in the Commons. I do wonder why it went unchallenged by English MPs.
Yet, the English are the ones who have been overlooked the most over the past 25 years, beginning with Tony Blair, a quasi-Scot who pumped our Government and media full of many more Scots, e.g. Gordon Brown, to name but one. My apologies to Scottish readers, whom I admire greatly, but it is true.
Christian Calgie from Guido's team explains that Boris might have sacked Gove because, unlike the Cabinet secretaries who had descended upon him earlier, Gove allegedly told Boris to resign:
By the end of Wednesday, it became clear that Boris was not about to leave:
Guido reported:
Guido has had it confirmed by a PM ultra loyalist that Boris Johnson is not resigning tonight, and is understood to be planning a reshuffle. The news will spark further senior cabinet resignations…
According to reports, Boris sat down individual members of the Cabinet – including those involved in the coup – and cited his 2019 mandate, as well as the belief the government needs to spend the summer focusing on the economy and not a leadership election …
I watched four hours of analysis on GB News on Wednesday, beginning with Nigel Farage …
… and concluding with Dan Wootton, who had a great interview with Boris's father Stanley Johnson (see the 1 hour 15 mark, or, if the GB News clock shows, 10:21). Stanley is a big supporter of his son, which was heartening to see:
Thursday, July 7
Conservative ministers continued to resign en masse on Thursday morning, July 7.
Guido has a timeline of resignations and other events of the day.
Just before 9 a.m., Chancellor Nadhim Zahawi sent Boris a formal letter requesting his resignation.
Just after 9 a.m., Defence Secretary Ben Wallace — also thought to be a candidate for Conservative leader — tweeted MPs to say that they should make use of the 1922 Committee to get rid of Boris:
At 9:07 a.m., news emerged that Boris agreed to resign as Conservative Party leader. I agree that the next demand from the braying hypocrite hyenas in the media will be a call for a general election. Disgusting:
Guido reported:
Chris Mason has been told the PM has agreed with Graham Brady that he will resign, allowing a Tory leadership race to take place ahead of the Tory Party conference in October. A letter has been written. He'll quit as Tory leader today. Guido's frankly not sure how Boris can stay on for the summer with so many ministerial holes in his government…
Perhaps we can get by with fewer ministers, as someone said in Parliament this morning.
I hope that Boris's Cabinet meeting at 3 p.m. went well.
Not everyone has been happy with the coup so far. Former Conservative Prime Minister John Major is fuming. It's interesting he never reacted like that about David Cameron or Theresa May:
In brighter news, Boris's loyal friend from Ukraine rang him with his condolences and thanks:
1457: PM has spoken to Zelensky on the phone. Finished the call by praising him: "You're a hero, everybody loves you."
Yes, well, I wished our MPs loved Boris as much as President Zelenskyy does.
Ladies and gentlemen, this was a coup.
It was for a ridiculous reason, too: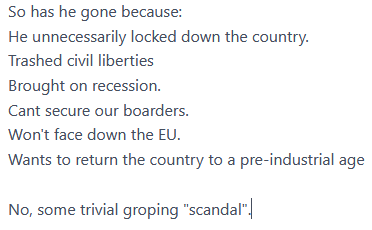 Don't forget: this was ALL ABOUT BREXIT.
More to follow next week.
The announcement from President Trump's campaign legal team from November 22 shocked many Sidney Powell supporters.
Many Trump and Powell supporters think that the US president's case for election redress is sunk.
Here is what is happening. My post from Monday, November 23, offers background, including the Trump team's announcement.
What Sidney Powell said
Sidney Powell issued her own statement afterwards. Her work is about 'We the People', as is L Lin Wood Jr's.
Powell's statement is as follows (emphasis in the original, those in purple mine):
I agree with the campaign's statement that I am not part of the campaign's legal team. I never signed a retainer agreement or sent the President or the campaign a bill for my expenses or fees.
My intent has always been to expose all the fraud I could find and let the chips fall where they may–whether it be upon Republicans or Democrats.
The evidence I'm compiling is overwhelming that this software tool was used to shift millions of votes from President Trump and other Republican candidates to Biden and other Democrat candidates.  We are proceeding to prepare our lawsuit and plan to file it this week.  It will be epic.
We will not allow this great Republic to be stolen by communists from without and within or our votes altered or manipulated by foreign actors in Hong Kong, Iran, Venezuela, or Serbia, for example, who have neither regard for human life nor the people who are the engine of this exceptional country.
#WeThePeople elected Donald Trump and other Republican candidates to restore the vision of America as a place of life, liberty and the pursuit of happiness.
You may assist this effort by making a non tax-deductible contribution to www.DefendingTheRepublic.org.  #KrakenOnSteroids"
Sidney Powell
What Trump's campaign lawyers are working on and what Sidney Powell is perfecting are two different issues.
The Trump realm cannot easily enter the Powell realm because that would complicate things unnecessarily.
REX, whom I've quoted before, albeit not recently, has this analysis as to why there is a pincer movement going on:
This is also a useful analysis. I am unfamiliar with the author, but what he says makes sense:
Rush Limbaugh and Howie Carr want more action
On Monday, November 23, Rush Limbaugh was disappointed that nothing was happening yet from either Team Trump or Sidney Powell.
The Daily Caller carried portions of the transcript from his show (emphases mine):
"You call a gigantic press conference like that, one that lasts an hour. And you announce massive bombshells, then you better have some bombshells, there better be something at that press conference other than what we got," he explained.
Limbaugh went on to say that a witness — even one whose identity was disguised — would have gone a long way toward bolstering the claims made by the president's team.
"But you don't — you can't — I talked to so many people who were blown away by it, by the very nature of the press conference," Limbaugh continued. "They promised blockbuster stuff, and then nothing happened. And that's just, that's not — well, it's not good. If you're going to promise blockbuster stuff like that, then there has — now, I understand. Look, I'm the one that's been telling everybody, this stuff doesn't happen at warp speed, light speed, the way cases are made for presentation in court. But if you're going to do a press conference like that, with the promise of blockbusters, then — then there has to be something more than what that press conference delivered."
Limbaugh concluded by saying that if the Trump team was going to make a case, it needed to be done quickly. "Time, of course is of the essence now, as it is speedily vanishing. So they're going to have to act fast," he said.
The Howie Carr Show, now a Newsmax programme, came on in the afternoon.
Howie couldn't get hold of Sidney Powell for another interview, but he did speak with Boris Epshteyn and Joe diGenova. The next few paragraphs are my potted summary of what they told Howie.
Boris Epstein, part of Trump's campaign legal team spoke to Howie. Epstein said ALL the states in question are still in play. He appeared during Howie's Newsmax hour. (Howie wears a jacket and tie during that portion of his broadcast.)
Epstein said they are tracking things very closely and said he wanted to reassure Newsmax viewers that everything is in hand and progressing as planned.
Joe diGenova was on Howie Carr's Newsmax hour after Boris Epshteyn. Joe diGenova said that there IS a two-pronged strategy in play. He said that Sidney Powell doesn't have any problem pursuing the voting machines angle while Team Trump pursues what went on in the polling stations with no Republican observers admitted or placed so far away that they couldn't see anything.
He confirmed what Boris Epshteyn said: ALL the questionable states were still in play that day (and this week).
Is President Trump worried about paying for recounts and/or audits in individual states? Based on 2016 and the four years of lefty turmoil that followed, his team were prepared and set money aside, especially as mail-in ballots were heavily promoted in all Democratic-controlled states or cities.
Trump knew his campaign would need to pay for recounts. That's $3 – 7 million per state. They have that covered.
For those who think Trump should take Al Gore's advice and concede, in 2000, when the hanging chad contest in Florida was in dispute, Gore didn't concede until December.
But I digress.
Back to Howie Carr. As an organised crime reporter for the Boston Herald for many years, he knows how the legal system can be manipulated. On Monday's show he asked whether Sidney Powell's legal standing would be questioned. On whose behalf could she credibly make her case? (After all, L Lin Wood Jr's case in Georgia got thrown out last week for lack of standing. He is going to appeal the decision.)
It turns out that Sidney Powell is a military lawyer. As today is still Thanksgiving Day, the ultimate American feast, here's the retweet:
Now for the original tweet:
She has been representing Gen Michael Flynn.
She has also put the frighteners on certain people involved with the voting machines:
Patience required — more information emerging
An American Thinker article by Andrea Widburg puts the election legal fight into perspective:
Currently, I believe that this election was marked by epic fraud.  You cannot convince me that Biden, who got five or six people to his rallies, as opposed to the 52,000 or so at Trump's rallies in Pennsylvania, ended with more votes than Obama.
Nobody ever said proving this fraud would be easy (or, sadly, even possible).  I'm treating its unfolding like an epic novel with a surprise ending …

So should the rest of us.
Imagine if we were on the legal team. We wouldn't have time to sleep — or contemplate our annual turkey dinner with all the trimmings.
For Team Trump, there is much to challenge. RedState has an article with dizzying detail about Georgia alone.
There are also these items:
Yet another witness has come out in Michigan, describing the same scenario as in Georgia:
This is in addition to the legal challenges going on not only in these states but a handful of others which produced dubious results.
As for Sidney Powell, more information emerges for her, including this:
I really hope this isn't true (a must see/read thread about Republicans and the voting machines).
Conclusion
Meanwhile, Donald Trump is:
Prayers continue for everyone involved in this historic battle for the future of the Great Republic.
The following video is likely to be the most important one you will watch this week:
Author and independent reporter Alex Newman explains in 30 minutes what is really happening in the United States after the election.
Please take time out of your schedule to view it.
Many Americans in power do not want President Trump to win re-election. This year was crucial in seeing that does not happen.
Hence the voter fraud that happened in several states last week.
The mass media narrative is important in keeping morale suppressed among Trump supporters.
There are various strands involved in seeing a coup succeed: government, intelligence agencies, the media, polling companies, those in charge of voting as well as big donors. Even if you already know this, it is worth watching him explain it in more detail.
Newman says that the legislatures in the states involved are mostly Republican and can take the decision not to accept their state's result given the unusual vote counts and the many reports from vote watchers on the ground. As such, they can appoint pro-Trump electors to the Electoral College.
Newman suspects that this dispute will linger for weeks. He says that things could get very bad during that time: reminiscent, he says, of the 1917 election in Russia which brought about the revolution there. Wealthy American donors and corporations at the time bankrolled the Russian Revolution. He says that what is going on in the US right now is not dissimilar.
Furthermore, he says, Trump must start getting rid of high-placed people in his administration: Bill Barr, Christopher Wray and Mike Esper (see update below). The first two are letting people who have committed serious crimes run around scot free.
The overall goal of people blocking Trump is to force him out of office. Newman says that some in the military are involved in the hope that they can turn the troops against the president.
Newman sees the possibility of greater violence in city streets while the election mess is being sorted out.
Newman has just come out with a new 167-page book — Deep State: The Invisible Government Behind The Scenes, which he says you can buy direct from the Liberty Sentinel website, of which he is a contributor. I do not see a link for buying the books, so perhaps the Contact page will be of use.
UPDATE — Monday, November 9 — President Trump fired Mark Esper:
Thank you to everyone who let me know via the comments.
Yesterday, I ran across four articles of interest.
The coup
The starting point is James Howard Kunstler's October 15 essay, 'Wait For It', which is about the ongoing American coup, the latest development being President Trump's conversation with the president of Ukraine and the Democrats' 'whistleblower' (emphases mine):
For one thing, he-she-it is not a "whistleblower" at all; was only labeled that via legalistic legerdemain to avoid revealing the origin of this affair as a CIA cover-your-ass operation. Did Mr. Schiff actually think he could conceal this figure's identity in a senate impeachment trial, when it came to that — for what else is impeachment aimed at? Anonymous sources are not admissible under American due process of law. Mr. Schiff must have missed that class in law school.
All of this hocus-pocus suggests to me that there is no "whistleblower," that it is a phantom confabulation of gossip threads that unraveled the moment Mr. Trump released the transcript of his phone call to Ukraine's president Zelensky, aborting Mr. Schiff's game plan. The ensuing weeks of congressional Keystone Kops buffoonery since then appears to conceal a futile effort by Mr. Schiff and his confederates to find some fall guy willing to pretend that he-she-it is the "whistleblower" …
One marvels at Rep. Schiff's tactical idiocy. But just imagine the panicked consternation it must be triggering among his Democratic colleagues. Notice that Mrs. Pelosi has been hiding out during this latest phase of the action. She may sense that there is nothing left to do but allow Mr. Schiff to twist slowly slowly in the wind, as he has hung himself out to dry. She should have known better since every previous declaration of conclusive evidence by Mr. Schiff over the past three years has proved to be false, knowingly and mendaciously so.
One also clearly senses that all the smoke-and-mirrors are a desperate attempt to divert attention from a soon-to-drop DOJ Inspector General's report which, by the way, will only be an overture to much more damaging action likely to come from Mr. Barr's proceeding. After all, IG Horowitz was not allowed under the rules to compel the testimony of persons outside the Department of Justice, which would now include Andrew McCabe, James Comey, and many others at the center of the RussiaGate prank …
That lame admission will not avail to protect him or the CIA, an agency that is behind the administrative civil war. It has been a rogue agency for a long long time, but may have finally overplayed its hand, along with the newer adjunct agencies that have been stitched onto it since 9/11/01 — the dark network that goes by the name Intelligence Community. So many shoes are ready to drop on them that the din might drown out all the John Philip Sousa marches ever played in the lobby at Langley, let alone the thin trilling of a fake whistleblower.
Apart from these fateful developments the prize for the week's most transparently disingenuous bit of media agitprop goes to Saturday's New York Times puff piece on former FBI Director Jim Comey, which actually sets him up for federal indictment on something like sedition or treason.
Did you notice that the photo-caption states: James Comey plans to spend the next 13 months working to drive President Trump from power. Oh, really? By what means, exactly? Single-handedly or with whom? And how did the strategy he kicked off in 2016 work out? In case Mr. Barr is looking for some way to attribute motive to the actions that he's investigating, he may need to seek no further. Also, consider that The New York Times and its editor-in-chief Dean Baquet, and publisher A.G. Sulzberger may be named as unindicted co-conspirators in the three-year campaign of sedition (freedom of the press, of course). Alert the shareholders.
I should emphasise that Jim Kunstler is not a Trump supporter, but even the Democrats' continuing attempts at getting a legitimately elected president out of office have been making him think a bit more about the coup.
The 'revolution in reverse'
The comments to Kunstler's article were as wide-ranging and fascinating as ever.
Someone linked to an October 10 essay on Tzarism.com called 'The Hi-Tech Traditionalist: A Revolution In Reverse: The Uprising Of The American Elites Against The American People'. The author, Dr Baruch Pletner, is a polyglot:
The Hi-Tech Traditionalist – Baruch Pletner is an entrepreneur, a scientist, an inventor, and a private pilot. He is passionate about education, the outdoors, and the war on globalism. Baruch holds a PhD degree from the Technion in Haifa, Israel and an MBA from Northeastern University in Boston.
He points out that the leftist revolution taking place in the United States is the inverse of what usually happens in an uprising:
The great Bolshevik revolutions of the last century in Russia, in China, and in Cuba all followed a familiar pattern: a group of young, energetic, endlessly corruptible, but not yet corrupt outsiders take on, in the name of the people, a tired corrupt establishment. A civil war ensues in which the people side with the revolutionaries because they (mistakenly) think that things can never be worse. Revolutionaries win, slaughter the establishment elites, and proceed to rob and enslave the people in even more outrageous fashion. Soon enough the old guard revolutionaries become every bit as corrupt as the ones they have replaced if not more so and the cycle repeats itself.
In America, the situation is rather farcically backwards. In America, the corrupt establishment elites have decided to stage a Bolshevik coup against the American people rather than the other way around. A Tsar fully in command of his own kingdom staging a coup against his own people is a bizarre development to say the least, and yet, here we are in 2019 America. Like always, there are reasons. First and foremost among them is the sheer scope of the nepotism and corruption of the American elites in business, government, technology, and the intelligence services. This scope has very likely far exceeded anything previously known in human history. Had the dimensions of the robbery perpetrated by the American ruling classes against the American people become widely known earlier, America could well have experienced a more typical revolution, one by the people against the elites.
There are other reasons, he says, which date from the late 1980s. Continuing on from the previous paragraph, he tells us:
Well aware of the possibility if not probability of such an outcome, the people who run America put in place a plan to make it all but impossible. The plan involved the gradually escalating erosion of the limits on government powers put in place by the Constitution with a parallel erosion in the God-given rights guaranteed every American by the same document. This was a fully bipartisan effort, put in place immediately after president Reagan departed office. It is sufficient to observe the exponential increase in government versus private sector employment in America from 1988 to 2019 to fully grasp this point. Stopping immigration from countries that have (or at least used to have) a tradition of personal freedom and limited government while throwing open the spigots for immigration from countries that have neither was the second part of the same plan. The destruction of family values and Christianity in America was the third.
Then there were the social, guilt-inducing conditioning of the majority of the American populace, who have no control over their skin colour. As such:
Americans allowed themselves to become squeezed out of well-paying jobs by the elites-induced trifecta of low and high-skilled immigration and automation, with nary a whisper in protest.
Then, he says, along came Donald Trump. In the eyes of the elite, President Trump must be stopped:
Trying to pin on Trump their own sins of sexual corruption, nepotism, embezzlement, etc. has not been a well-thought out strategy on the part of the American power elites simply because it enabled him to begin educating the American public as to the breathtaking scope of their own criminality. Now, on the verge of Trump's inevitable reelection, they are left with only one option: a coup d'etat against the American people, the American Constitution, and the American Republic itself.
Since the elites still very much permeate every hall of power in America, this is a one-off deal in which the rulers of a country set out to violently overthrow the very political structure of the country they are ruling, but, as they say, it is what it is. The cover may be different, but the playbook is the same, so we are already being exposed to the oldies but goodies of escalating agitprop (weaponized lies and propaganda), suppression of unwanted elements (cancel culture), and paid snitching (whistleblowing). Now we are entering into a new phase, that of secret trials with a predetermined outcome.
He means impeachment hearings, which he goes on to discuss, adding:
… what follows next will not be pretty. Having obtained an illegal impeachment that has no chance in the Senate, the powers that be in America will use this "impeachment" to force Trump off the 2020 ballot by any means possible, including things that now sound crazy like setting up a parallel Supreme Court having declared the Constitution illegitimate because it was written by white males some of whom supported slavery and ratified without African American and other minority votes.
Needless to say, such actions may well precipitate an armed conflict we know of as civil war, but that would not be an unexpected outcome for the elites. We know now that the American intelligence services all work for the elites and not for the people. They will fight on their side in the coming war. What we don't know is to what degree the armed forces have been infiltrated, especially the mid-level officer corps.
That is my concern, too.
The New York Times and Carlos Slim's fortune
Someone else responding to Kunstler's piece posted a 2015 Ann Coulter article for Townhall, 'Carlos Slim: The New York Times' Sugar Daddy'.
Ann Coulter observed the editorial shift in the New York Times since Carlos Slim rescued the failing newspaper in 2008.
Back in 2004—before the Times became Slim's pimp—a Times article stated: "Clearly . . . the nation's southern border is under siege."2 But that was before Carlos Slim saved the Times from bankruptcy. Ten years later, with a border crisis even worse than in 2004, and Latin Americans pouring across the border, the Times indignantly demanded that Obama "go big" on immigration and give "millions of immigrants permission to stay."
And, going back further to the Clinton administration, the NYT used to point out porous border problems:
In 1997—the pre-Slim days—the Times had editorialized: "Fighting illegal immigration is a difficult and important job. But Congress should do it in a way that will deter illegal entry at the border."39 Another editorial that year complained that the Immigration and Naturalization Service had "done a poor job of keeping out illegal aliens, deporting criminals [and] processing requests for asylum." This wasn't even Bush-bashing—Clinton was president!
Coulter explains how Slim makes his money off the American taxpayer, which involves much more than enlightened citizens buying copies of the New York Times:
One of the ways Slim makes money off of illegal immigration in the United States is by overcharging Mexicans to call home, especially during World Cup soccer season. Slim takes a percentage of all cell phone calls into Mexico—and Telmex's "interconnection rates" are astronomical. International roaming rates are 37 percent higher in Mexico than the average of all OECD countries.
But the main way illegal immigrants benefit Slim is through their remissions. Monopolistic pricing is of little value in a poor country. A monopoly on air in Burundi would not produce the world's richest man. Luckily for Slim, Mexico is located right next to one of the wealthiest nations in the world. The OECD estimates that Slim's suffocating telecommunications monopoly costs Mexican consumers $26 billion a year, with more than half of that coming from Slim gouging his customers. They would have $20 billion less to spend without 40 million Mexicans living in the United States.
According to the World Bank and the International Monetary Fund, Mexican immigrants or those of Mexican descent send at least $20 billion out of America back to their relatives in Mexico each year.29 No wonder immigrants are so reliant on welfare—they're sending so much of it out of the country! Twenty billion dollars is significantly more—about a quarter more—than the amount of money the United States sends to Mexico in direct foreign aid. The $20 billion being sent to immigrants' grandmothers in Chiapas is forever eliminated from the American economy—unavailable for investment in American companies, the purchase of American products, or hiring American workers. That's a cost of immigration that Americans are never told about.
These billions of dollars being drained out of the U.S. economy every year would be bad enough if the money were coming exclusively from cheap-labor employers like Sheldon Adelson. But it's worse than that. It comes from American taxpayers. Not only do taxpayers have to support Americans who lose their jobs to low-wage immigrant laborers, taxpayers support the immigrants, too. Seventy-five percent of immigrant families from Mexico are on government assistance.
Putting two and two together, we can more easily understand the New York Times's editorial line under Slim and the billionaire's desire to see more Mexicans enter the United States illegally:
That's why, in 2014, Slim was exhorting Mexican youth to cross illegally into the United States for jobs. The stated purpose of Obama's open defiance of American immigration laws was to avoid punishing "children" who were brought to the United States by their parents. Slim didn't care about that. (Then again, neither did Obama.) He just wanted more Mexicans working in America and sending dollars back to him. As the CEO of the "Carlos Slim Foundation" explained, "[O]ur goal is to reduce the access barriers for them to reach this potential . . . to build not just them but their families, so they're able to contribute to the economy"—i.e., the Mexican economy owned by Carlos Slim.
The 'invisible government'
Truthdig has an article by the Pulitzer Prize winning journalist Chris Hedges, 'Our Invisible Government', which is, in part, a book review of Stephen Kinzer's new book, Poisoner in Chief: Sidney Gottlieb and the CIA Search for Mind Control.
I will not be excerpting Hedges's article except for this:
Kinzer builds his book around Sidney Gottlieb, an elusive, quirky and powerful operative in the CIA who in his quest for mind control—something he and others in the CIA had convinced themselves the Soviets had mastered—oversaw medical experiments that had been originated by his German and Japanese collaborators. These experiments were coded-named Bluebird and later Artichoke, which Kinzer calls "one of the most violently abusive projects ever sponsored by an agency of the United States government." The torture sessions often permanently shattered the minds of his subjects. Victims were kidnapped (later this would be called "extraordinary rendition") and sent to clandestine centers around the globe—now known as "black sites"—or were picked from the prison population abroad and at home. Those forced into taking part in these experiments included impoverished African Americans at the Addiction Research Center in Lexington, Ky. Many of the victims were labeled "expendables," meaning they could be murdered after the experiments and disappeared. The corpses were usually burned. Anyone who was powerless, or could be made powerless, was a potential target. Mentally handicapped children at the Walter E. Fernald State School in Massachusetts, for example, were fed cereal laced with uranium and radioactive calcium and their induced sicknesses were monitored. Gottlieb oversaw the administering of LSD and other drugs to induce psychotic states at the federal prison in Atlanta and a youth correctional facility in Bordentown, N.J. None of his subjects consented to being a human guinea pig, and many ended up psychologically impaired for life. The Boston gangster James "Whitey" Bulger, being held in the Atlanta penitentiary, was told he would be part of an experiment on curing schizophrenia but then was surreptitiously given LSD nearly every day for 15 months. CIA scientists also conducted experiments on terminally ill patients at an annex of Georgetown University Hospital in Washington, D.C.
Gottlieb searched for years for a cocktail of drugs that, in Kinzer's words, would draw "prisoners away from their identities, induce them to reveal secrets, and perhaps even program them to commit acts against their will." It was a vain quest. But with each failure he and the CIA became ever more zealous, working closely with former German Gen. Walter Schreiber, the onetime surgeon general of the Nazi army who had "approved experiments at the Auschwitz, Ravensbrück, and Dachau concentration camps in which inmates were frozen, injected with mescaline and other drugs, and cut open so the progress of gangrene on their bones could be monitored." Kinzer adds that according to one American researcher, the experiments "usually resulted in a slow and agonizing death."
Gottlieb had a habit of secretly lacing the drinks of colleagues with LSD to see their reaction. Some never recovered. One of his victims was Frank Olson, a CIA scientist who was appalled by the brutal interrogations he witnessed and planned to resign from the CIA. Gottlieb and his secretive group of torturers and assassins were terrified Olson would go public. Olson was found dead in 1953 on a sidewalk in Manhattan after allegedly diving through a hotel window. His son Eric had his father's body exhumed in 1994 and turned over to James Starrs, a forensic pathologist at George Washington University in the District of Columbia. "Starrs had found no glass shards on the victim's head or neck, as might be expected if he had dived through a window," Kinzer writes. "Most intriguingly, although Olson had reportedly landed on his back, the skull above his left eye was disfigured."
"I would venture to say that this hematoma is singular evidence of the possibility that Dr. Olson was struck a stunning blow to the head by some person or instrument prior to his exiting through the window of room 1018A," Starrs concluded.
Starrs was later more emphatic: "I think Frank Olson was intentionally, deliberately, with malice aforethought, thrown out of that window."
As awful as that is, the rest of the article has details of even more gruesome and demonic 'experiments', which those interested may read at their leisure.
Conclusion
We have much to pray for in the coming months: the safety of Donald Trump and his family, the thwarting of evil deeds from our notional betters and the return of a moral society, which is the only way to conserve the freedoms we know in the West. Those, too, must be restored, with Big Government — the malicious Nanny State — being thrown out.
Also, please spare a prayer for Brexit. What has been going on in Parliament and the upper courts of law since Boris Johnson became Prime Minister has been chilling, to say the least.
President Trump had a busy schedule at the end of May 2019, which included a return trip to Japan.
This time it was a State Visit.
As he and First Lady Melania would be out of the country on Memorial Day weekend, they visited Arlington Cemetery before their departure:
On May 25, the first day of the State Visit to Japan, Trump met with that nation's business leaders, too many to list here:
Prime Minister Shinzo Abe and his wife Akie hosted the Trumps for dinner that night. Abe had not forgotten his guest's favourite dessert:
Abe was delighted to welcome back his friend:
The next day, the two world leaders played golf:
Their wives toured the Mori Building Digital Art Museum:
The QTree explained the significance of the following day's welcome by the new Emperor and Empress of Japan — a first for both couples:
… our President and FLOTUS become the first guests of Japanese Emperor Naruhito and Empress Masako at the Imperial Palace.
There are three components to the state visit: (1) The guest arrival and formal greeting by the Emperor and Empress. (2) The ceremonial anthems of both nations and the presentation of the imperial guard.  (3) A "state call" or discussion of diplomatic matters between the Emperor, Empress and their honored guests.
During the official state call component there is an exchange of gifts.
1) Formal greeting by the Emperor and Empress …

2) The ceremonial anthems of both nations and the presentation of the imperial guard.
The 'inside palace' greeting and introduction was not covered by international media. However, due to the significance of the visit (first of imperial era of Reiwa) it was broadcast on local Japanese media (below).
Body language and facial expressions can't be faked. They are all VERY PLEASED AND HONORED to meet one another. Such a proud moment for both nations.
(3) A "state call" or discussion of diplomatic matters between the Emperor, Empress and their honored guests in video below.
Then, there was the customary exchange of gifts. The Japanese emperor is an accomplished violin and viola player, as evidenced below in this video from 2007:
The accompanying press pool report states (emphases mine):
The President presented the Emperor an American-made viola in a custom case and a signed photo of American composer Aaron Copland. This vintage 1938 viola was handmade in Charleston, West Virginia. The President also presented the Emperor with a signed and framed photo of the President.
The First Lady presented the Empress with a custom White House desk set featuring a pen made of Harvard tree wood. The Empress herself studied Economics at Harvard. This fountain pen was handcrafted from a red oak tree that still stands in Old Harvard Yard. The First Lady also presented the Empress with a signed and framed photo of the First Lady.
The Emperor presented the President with a traditional Japanese pottery and porcelain bowl as well as a signed and framed photo of His Majesty the Emperor.
The Empress presented the First Lady with an ornamental Japanese lacquer box with traditional design as well as a framed and signed photo of Her Majesty the Empress.
Note: It is long-standing custom of the Imperial Palace that their Majesties the Emperor and Empress exchange signed, framed photographs with their guests on the occasion of a State Visit.
Afterwards, Trump and Abe held discussions on trade and security:
Their wives attended a cultural presentation:
Upon his return, Trump tweeted:
While the Trumps were in Japan, on May 25, actor Jon Voight tweeted:
The president faces the same threats as Lincoln did. He is in danger every day from people who desperately want to remove him from office, either by death or by impeachment. Speaker of the House Nancy Pelosi says Trump belongs in prison.
The Mueller Report left the door open to more scheming by Democrats.
The coup is not yet over.
Therefore, on May 30, the Revd Franklin Graham issued a national appeal for prayer for the president on Sunday, June 2:
That day, another friend of the president's explained to Fox News that this appeal had nothing to do with politics but the real fight of good versus evil:
Other pastors on social media had to remind their detractors that they had prayed for past presidents, too:
On Friday, May 31, a mass shooting took place in Virginia Beach. After golfing on Sunday, June 2, the president visited the Revd David Platt's McLean Bible Church in Virginia, where he joined congregants in praying silently for the victims of the shooting.
The New York Post reported:
While he did not talk during the service, Trump stood behind pastor David Platt as he offered a prayer for the 12 killed in Friday's mass shooting.
The president was there to "visit with the Pastor and pray for the victims and community of Virginia Beach," said Judd Deere, the White House's deputy press secretary.
Trump arrived at about 2:20 p.m. and his motorcade left a little over 15 minutes later.
DeWayne Craddock, 40, slaughtered 12 at Virginia Beach's municipal building Friday — just hours after quitting his job as a civil engineer.
In turn, Platt prayed for the president:
I do not know where Platt stands on his stance of private redistribution of wealth he was promoting back in 2012, but I am grateful that he prayed for President Trump.
Considering the prayers, the threats that the president endures daily and Jon Voight's comparison of him with Lincoln, it was amazing that he and the first lady went to Ford's Theatre that night for an awards presentation. Ford's Theatre was the site of Lincoln's assassination:
I am very glad I was out of the country at the time. Otherwise I would have been worried about his safety.
Yet, thankfully, God continues to watch over President Trump, who flew to London that night with the first lady and his family (apart from Barron).
More on that trip tomorrow.
At 5 p.m. on Friday, March 22, 2019, news emerged that special counsel Robert Mueller's report was complete, with no more indictments:
Attorney General William Barr wrote a letter to both houses of Congress:
This investigation has been a millstone around President Trump's neck since 2017.
Rep. Mark Meadows (R-North Carolina) said:
It was an expensive investigation:
The third paragraph in the following announcement details what it involved — all to no avail:
Imagine the disappointment:
Media and the coming downfall
The media were positive that President Trump was guilty of a criminal offence, as they watched the Mueller probe unfold involving:
More on this in a moment:
For now, let's look at three people on MSNBC.
Rachel Maddow
Rachel Maddow wasn't crying, but she came pretty close:
Mika Brzezinski
Morning Joe's Mika Brzezinski also had a close call with the tear ducts:
Chris Matthews
Chris Matthews, who once said he felt a tingle go up his leg during Obama's 2008 campaign, looked as if he was fighting back tears but spoke in anger. He was particularly upset the report was released at 5 p.m. on a Friday:
There is always the danger that a lie told long enough appears to be true:
There was also this gem in Chris's segment:
HE ADMITS they were "TARGETING" Trump! Listen about 2/3 the way through Apx 1 min into it he slips up & calls Pres. Trump "THE PERSON BEING TARGETED" and quickly corrected himself saying "the subject being investigated"
Ratings tank
On Wednesday, March 27, Breitbart's John Nolte reported on the tanking ratings for CNN and MSNBC (excerpts follow, emphases mine):
During the week of March 18, the far-left CNN lost almost 30 percent of an audience that is already minuscule …
On the credibility front, CNN chief Jeff Zucker tried to excuse his network's two-year deliberate deception about Trump colluding with the Russians by admitting on Tuesday that no one at CNN does investigative work.
Like we didn't already know that.
"We are not investigators," he told the far-left New York Times. "We are journalists, and our role is to report the facts as we know them, which is exactly what we did."
All Zucker did there was to confirm what we already knew: CNN acts as stenographers for the establishment, most especially the intelligence community, all of whom share CNN's left-wing agenda for the country.  The facts are that so-and-so told us this and so-and-so told us that, is not journalism. Journalism requires investigation and the risk of uncovering a truth that might be inconvenient to your own personal beliefs and still reporting that truth …
For the week of March 18, meaning prior to the release of the Mueller Report exonerating Trump from the Russia Collusion Hoax, CNN lost a jaw-dropping 24 percent of its total day viewers and 27 percent of its primetime viewers, when compared to this same week last year.
In the 25-54 age demo, which sets advertiser rates, CNN lost an astonishing 37 percent of total day viewers and 38 percent primetime viewers.
For comparison purposes, during this same week, Fox News increased its total day and primetime viewership by +8 and +2 percent, respectively.
MSNBC, CNN's competition for left-wing viewers, only lost 9 percent of its total day viewers and 15 percent of primetime viewers. In the 25-54 demo, MSNBC also took a huge loss in total day and primetime; 33 percent and 32 percent, respectively …
On Monday, during primetime, four of CNN's hours failed to break 700,000 total viewers: Jake Tapper (683,000), Wolf Blitzer (637,000 & 622,000), Erin Burnett (685,000).
MSNBC might see a ratings dip as it maneuvers in the post-Mueller world, but CNN was already in trouble, already in far-last place, and those wondering how CNN's ratings could possibly get any worse are about to find out.
With the Mueller probe wrung dry, Rachel Maddow's show definitely took a hit:
Not surprisingly, Trump tweeted about both networks' ratings:
Reactions from Democrats and their allies
Before the Mueller report was completed, the American public saw these now-familiar Democrats on television with nauseating regularity:
The Dems and their supporters will continue to press on with other anti-Trump talking points:
Assassination attempt
This attempted coup has roused radicals to take matters into their own hands. The latest was, thankfully, thwarted on Wednesday, March 27, on the border between West Virginia and Maryland:
Nancy Pelosi
Speaker of the House Nancy Pelosi (D-California) has put impeachment on the back burner for now:
Adam Schiff
Rep. Adam Schiff (D-California), who chairs the House Intelligence Committee and is one of the president's most constant critics, refuses to let go:
He commiserated with Rachel Maddow, but that was only momentarily:
A fellow House member, Dan Crenshaw (R-Texas), has strong words for him …
… as does journalist Paul Sperry:
On March 27, Fox News reported of Republicans' calls for Schiff's resignation:
Republicans are stepping up calls for House Intelligence Committee Chairman Adam Schiff to resign or give up his committee post for repeatedly pushing claims of collusion between President Trump's 2016 campaign and Russian operatives.
Now that Robert Mueller's probe has shown no evidence of collusion, White House adviser Kellyanne Conway has been the most vocal in calling for Schiff's resignation – telling "Fox & Friends" on Monday that the California Democrat "ought to resign today."
… While not going so far as Conway in calling for Schiff to leave office, House Minority Leader Kevin McCarthy, R-Calif., said that Schiff does owe "an apology to the American public" and should step down from his post as head of the intelligence committee.
"He owes an apology to the American public," McCarthy said. "There is no place in Adam Schiff's world or in Congress that he should be chair of the intel committee."
McCarthy added: "There is no way he could lead the intel committee and he should step back."
James Comey
On Sunday, March 24, former FBI director James Comey tweeted, and Senator Lindsey Graham (R-South Carolina) — chairman of the Senate Judiciary Committee — duly replied:
Sean Hannity also replied:
Yes Mr @Comey . Let's start with why did you sign off on the FISA warrant based on hrc lies in oct 2016. And in January 2017 say it's "unverified and salacious" ? Did you commit a fraud of the FISA court or lie to the President Elect you hated?
And, let's not forget a memo that Comey leaked in 2017:
Comey instructed his friend, Daniel Richman, to give the [New York] Times a memo he wrote about a conversation he had with Trump on Feb. 14, 2017. Comey claimed Trump asked him to shut down an investigation of former national security adviser Michael Flynn.
Comey's ploy worked, as Robert Mueller was appointed special counsel May 17, 2017.
What happens next?
It seems probable that President Trump will not let sleeping dogs lie. Nor should he.
On Wednesday, March 27, he gave an interview to Sean Hannity, his first since the Mueller report's completion (watch on YouTube):
President Trump, in an exclusive wide-ranging interview Wednesday night with Fox News' "Hannity," vowed to release the full and unredacted Foreign Intelligence Surveillance Act (FISA) warrants and related documents used by the FBI to probe his campaign, saying he wants to "get to the bottom" of how the long-running Russia collusion narrative began.
Trump told anchor Sean Hannity that his lawyers previously had advised him not to take that dramatic step out of fear that it could be considered obstruction of justice.
"I do, I have plans to declassify and release. I have plans to absolutely release," Trump said. "I have some very talented people working for me, lawyers, and they really didn't want me to do it early on. … A lot of people wanted me to do it a long time ago. I'm glad I didn't do it. We got a great result without having to do it, but we will. One of the reasons that my lawyers didn't want me to do it, is they said, if I do it, they'll call it a form of obstruction."
Trump added: "Frankly, thought it would be better if we held it to the end. But at the right time, we will be absolutely releasing."
Trump also accused FBI officials of committing "treason" — slamming former FBI Director James Comey as a "terrible guy," former CIA Director John Brennan as potentially mentally ill, and Democrat House Intelligence Committee Chairman Adam Schiff as a criminal.
He mentioned 'treason' more than once:
"It was treason, it was really treason," Trump said, referring to texts between former FBI Special Agent Peter Strzok and former FBI lawyer Lisa Page that discussed an "insurance policy" in the event of Trump's election.
"You had dirty cops, you had people who are bad FBI folks … At the top, they were not clean, to put it mildly." He said later, "We can never allow these treasonous acts to happen to another president."
Also:
"I think Brennan's a sick person, I really do," Trump said. "I believe there's something wrong with him, for him to come out of the CIA and act that way was so disrespectful to the country and to the CIA. He was not considered good at what he did. He was never a respected guy."
Looking back to 2016:
"When I said there could be somebody spying on my campaign, it went wild out there," Trump told Hannity. "They couldn't believe I could say such a thing. As it turned out, that was small potatoes compared to what went on. … Millions and millions [spent] on the phony dossier, and then they used the dossier to start things. It was a fraud, paid for by Hillary Clinton and the Democrats."
As for the mysterious tarmac meeting between Bill Clinton and Obama's attorney general Loretta Lynch during the summer that year, he said:
I had a lot of planes for a long time. I've never stopped the plane on the tarmac to let somebody on the plane. Bill Clinton said he was there to play golf, but I know the area very well. Arizona. It's a little warm at that time of year for golf, OK?
He also had a dig at his own former AG Jeff Sessions — and rightly so:
Trump also told Hannity "this all would not have happened" if Attorney General William Barr had been with his administration from the beginning.
I could not agree more!
However, without Mueller and Stumbling Block Sessions, the administration can move forward, and one congressman, dairy farmer Devin Nunes (R-California), is raring to go:
Onwards and upwards!
MAGA!
Last week, I wrote 'Senate Intelligence Committee: "no direct evidence of conspiracy between Trump campaign and Russia"'.
On Sunday, former FBI deputy director Andrew McCabe appeared for a half-hour on CBS's 60 Minutes in an interview with Scott Pelley.
McCabe is currently doing a book tour to promote The Threat: How the FBI Protects America in the Age of Terror and Trump.
On March 16, 2018, President Trump tweeted:
Two weeks earlier, Fox News reported that the Department of Justice's Inspector General (IG), Michael Horowitz, was expected to (emphases mine):
criticize former FBI Deputy Director Andrew McCabe for approving a leak of information about the Hillary Clinton investigation to The Wall Street Journal, The New York Times reported late Thursday.
According to the Times, which cited four people familiar with the investigation into the department's handling of the Clinton probe, McCabe will be censured for disclosing the investigation's existence to the Journal.
The Journal report in question, which was published Oct. 30, 2016, recounts a conversation in which McCabe sparred with a senior Justice Department official over an investigation into the Clinton Foundation. The Journal — which cited sources including "one person close to Mr. McCabe" — said McCabe insisted that the FBI should move forward with its investigation, while the Justice Department official expressed concern about its potential effect on the presidential election.
McCabe, a frequent target of President Donald Trump's ire, left his position as FBI deputy director in January and is scheduled to retire later this month. He had served for several months as acting director following Trump's firing last May of FBI Director James Comey.
Spokespeople for the Justice Department, the FBI and the inspector general had no immediate comment on the report Thursday evening …
Trump verbally attacked McCabe during the campaign and again as president because McCabe's wife, during a failed state Senate run, had accepted campaign contributions from the political action committee of then-Virginia Gov. Terry McAuliffe, a close Clinton ally.
David J Harris Jr and Real Clear Politics have more detail, dating from January 2018.
On March 14, a Fox producer for DoJ news tweeted:
On March 15, the Washington Examiner reported that McCabe was 'still holding on to his retirement':
Former FBI Deputy Director Andrew McCabe is holding onto his pension just days before he is set to officially retire.
McCabe was at the Justice Department to meet with Scott Schools, the most senior career attorney in the department, as well as other officials, for a majority of the afternoon Thursday, to make a case why he should be allowed to retire and not be fired.
Schools reports to Deputy Attorney General Rod Rosenstein, who in turn reports to Attorney General Jeff Sessions. The decision to fire McCabe before Sunday, and thus strip McCabe of his full pension and benefits, is in Sessions' hands.
The_Donald featured a fiery thread in response:
So, This Lying, Leaking, Lawless LOSER Is Pleading To The DOJ Today To Keep His Pension? WE, The Taxpaying Citizens Demand This CRIMINAL Receive NOTHING And Be INDICTED For His CRIMES!!
Then, the next day:
CBS News, in reporting McCabe's meeting the previous Friday pointed out:
If McCabe is fired, it is believed his only avenue of appeal would be to file a lawsuit to try to reclaim his pension.
Twitter exploded.
Rep. Adam Schiff (D-California) was indignant:
So was the former CIA director, directing his ire at President Trump:
Later that day, McCabe issued a lengthy statement (click on image to see it in full, also available at CNN):
His statement elicited this response:
.@JakeBGibson McCabe, you disgraced the oath you swore. You harmed the nation by your deceit. You took 1/2 million dollars for your wife's campaign from Hillary's guy, McAuliffe, the #FBI said you should be FIRED. You deserve it. #Cockroach
McCabe's lawyer also issued a statement. (Apparently, his lawyer — a former Inspector General for the DoJ — supported the current Inspector General's report until McCabe was implicated by it.)
The DoJ disagreed with McCabe and his lawyer:
I hope that FBI Director Christopher Wray received all of McCabe's documentation about the 2016 election.
There were also newsy snippets:
On March 17, The Hill, among other media outlets, noted that McCabe's weekend statement seemed to contradict James Comey's testimony from May 2017 about relaying sensitive information to the media.
News emerged that McCabe wrote memoranda of his conversations with President Trump and gave those to Robert Mueller. CBS reported that details of James Comey's firing were included.
Fox News correspondent Adam Housely said that McCabe's dismissal was a morale boost to FBI agents.
On March 18, TownHall posted an editorial, 'The Coming Collusion Bloodbath'. Nearly one year on, we could be at that point:
That Comey, McCabe, and others have practiced an obvious double standard in the email case of Hillary Clinton where ample evidence caused 106 of the case agents and attorneys working on the case to believe indictment would occur, and simultaneously going to such extraordinary measures through the assistance of essentially Hillary's campaign operation to attempt to thwart the outcome of the election is more than enough reason to go after them on a criminal basis alone.
That McCabe reportedly lied to the low key Inspector General, while attempting to send General Michael Flynn to prison for lying to the same FBI is of highest hypocrisy.
Before McCabe was fired, Reddit had censored discussions about his 'corruption issues'. Now that he was gone, they could be discussed freely once more.
Attention then turned to the McCabe's connections with Hillary Clinton. A New York radio host tweeted:
The following 2017 video resurfaced. It shows that McCabe had (still has?) a home in Chappaqua, New York, where the Clintons live (start at 5:00 in):
On April 13, Inspector General Horowitz issued his report:
Fox News explained:
The report, handed over to Congress on Friday and obtained by Fox News, looked at a leak to The Wall Street Journal about an FBI probe of the Clinton Foundation.
The report says that McCabe authorized the leak and then misled investigators about it, leaking in a way that did not fall under a "public interest" exception.
"[W]e concluded that McCabe's decision to confirm the existence of the CF investigation through an anonymously sourced quote, recounting the content of a phone call with a senior department official in a manner designed to advance his personal interests at the expense of department leadership, was clearly not within the public interest exception," the report says …
Sessions said that McCabe "made an unauthorized disclosure to the news media and lacked candor − including under oath − on multiple occasions."
James Gagliano, a retired FBI supervisory special agent said that, according to the IG's report, firing McCabe was the right thing to do. He says that whether you are a Marine or a special agent of the FBI, the same rules apply:
In May, FBI agents wanted to be subpoenaed in order to testify against Comey and McCabe:
Questions arose in Congress. The Gateway Pundit reported that Senate Judiciary Chairman Chuck Grassley (R-Iowa) wanted answers about the FBI's treatment of General Flynn.
Early in June:
Allegations arose about McCabe's involvement in the 302s (FBI reports) regarding General Flynn:
On September 6, the Washington Post reported that a grand jury had been investigating McCabe 'for months':
… an indication the probe into whether he misled officials exploring his role in a controversial media disclosure has intensified, two people familiar with the matter said.
The grand jury has summoned more than one witness, the people said, and the case is ongoing. The people declined to identify those who had been called to testify.
The presence of the grand jury shows prosecutors are treating the matter seriously, locking in the accounts of witnesses who might later have to testify at a trial. But such panels are sometimes used only as investigative tools, and it remains unclear if McCabe will ultimately be charged.
A spokesman for the U.S. attorney's office in D.C., which has been handling the probe, declined to comment.
Michael Bromwich, a lawyer for McCabe, said in a statement after this report was published online that he had been confident McCabe would not be charged, absent "inappropriate pressure from high levels of the Administration."
"Unfortunately, such pressure has continued, with the President targeting Mr. McCabe in numerous additional tweets," Bromwich said. The lawyer also raised questions about the timing of the news report on the grand jury.
ZeroHedge had more (emphases in the original):
Specifically, McCabe was fired for lying about authorizing an F.B.I. spokesman and attorney to tell Devlin Barrett of the Wall St. Journal – just days before the 2016 election, that the FBI had not put the brakes on a separate investigation into the Clinton Foundation, at a time in which McCabe was coming under fire for his wife taking a $467,500 campaign contribution from Clinton proxy pal, Terry McAuliffe. 
In order to deal with his legal woes, McCabe set up a GoFundMe "legal defense fund" which stopped accepting donations, after support for the fired bureaucrat took in over half a million dollars – roughly $100,000 more than his wife's campaign took from McAuliffe as McCabe's office was investigating Clinton and her infamous charities.
On September 17, Trump tweeted about the two FBI employees who were part of the group working against his presidency:
On September 18, the Gateway Pundit reported on the press release for McCabe's upcoming book, The Threat, mentioned above. The press release quoted McCabe as saying (emphases mine):
I wrote this book because the president's attacks on me symbolize his destructive effect on the country as a whole. He is undermining America's safety and security, and eroding public confidence in its institutions. His attacks on the most crucial institutions of government, and on the professionals who serve within them, should make every American stand up and take notice.
On September 21 came the first mention of reports that Rod Rosenstein offered to wear or joked about 'wearing a wire' for a meeting with Trump:
A few weeks earlier, President Trump had intended to declassify various unredacted documents. By September 22, he had backtracked. The DoJ advised him that declassification could harm the Mueller probe. In addition, US allies warned against declassification for security reasons. Trump instructed IG Horowitz to review them instead. Had Deputy Attorney General Rod Rosenstein any influence on Trump on this subject? Declassification would have been a huge risk for Rosenstein — and McCabe.
On September 27, the then-House Permanent Select Committee on Intelligence (HSPCI) Chairman Devin Nunes (R-California) said that he planned to release testimony from 70 or more witnesses who were interviewed in the HSPCI's own Trump-Russia probe. The Daily Caller reported:
Nunes said that between 70 and 80 percent of the transcripts do not contain classified information. The remaining transcripts would have to be reviewed by the office of the director of national intelligence. Nunes said that review process "would only take a matter of days."
Nunes and other House Republicans have also led a push to get President Donald Trump to declassify and release documents related to the FBI and Justice Department's collusion investigation.
It also transpired that McCabe and Rosenstein were feuding via the media. McCabe represented the faction that wanted to end Trump's presidency. Rosenstein represented the people currently at the DoJ and FBI.
Rosenstein was using the Washington Post to get his story out. McCabe was using the New York Times.
One example of this was when the Rosenstein-wear-a-wire story appeared in The New York Times:
On October 9, The Hill's John Solomon reported that Rosenstein was desperate to downplay the story. However, released testimony from former FBI lawyer James Baker indicated that this was no joke:
Baker's story lays bare an extraordinary conversation in which at least some senior FBI officials thought it within their purview to try to capture the president on tape and then go to the president's own Cabinet secretaries, hoping to persuade the senior leaders of the administration to remove the president from power.
Even more extraordinary is the timing of such discussions: They occurred, according to Baker's account, in the window around the firing of FBI Director James Comey. Could it be that the leaders of a wounded, stunned FBI were seeking retribution for their boss's firing with a secret recording operation?
I doubt this is the power that Congress intended to be exercised when it created the FBI a century ago, or the circumstances in which the authors of the 25th Amendment imagined a president's removal could be engineered.
This wasn't a president who was incapacitated at the time. He was fully exercising his powers — but in a way the FBI leadership did not like.
And that makes the FBI's involvement in the tape-record-then-dump-Trump conversations overtly political — even if Rosenstein believed the whole idea was farcical.
Also:
Keep in mind, this is the same FBI that, a few months earlier during the 2016 election, had its top counterintelligence agent Peter Strzok talking to Page — his lover and the top lawyer to McCabe — about using their official powers to "stop" Trump in the election and having an "insurance policy" against the GOP nominee. That insurance policy increasingly looks like an unverified dossier created by British intelligence operative Christopher Steele — a Trump hater himself — that was bought and paid for by the Democratic Party and Hillary Clinton's presidential campaign through their mutual law firm.
"You walk away from the Baker interview with little doubt that the FBI leadership in that 2016-17 time frame saw itself as far more than a neutral investigative agency but actually as a force to stop Trump's election before it happened and then maybe reversing it after the election was over," said a source directly familiar with the congressional investigation.
The following day, the Washington Post published an article outlining the tension between McCabe and Rosenstein. The FBI higher-ups did not like that Rosenstein had recommended in writing that President Trump fire James Comey. DoJ officials did not like that the FBI, McCabe in particular, opened an investigation on Trump immediately after Comey's departure. WaPo reported that the two quarrelled shortly after Robert Mueller was appointed — in front of him.
Rosenstein, incidentally, had allegedly already made his 'wear a wire' comment.
The subject of the meeting in question was whether Rosenstein or McCabe should recuse themselves from involvement in the Mueller probe:
Rosenstein wanted McCabe out of the Russia probe, and McCabe felt differently, arguing that it was the deputy attorney general, not the head of the FBI, who should step away from the case.
Although neither recused himself:
The McCabe-Rosenstein relationship has only worsened with time …
The Rosenstein-McCabe relationship has come under renewed scrutiny as lawmakers have demanded answers about memos written by McCabe and his then-senior counsel, FBI lawyer Lisa Page, about the discussions on May 16, 2017, in which McCabe wrote that Rosenstein suggested recording the president and discussed the 25th Amendment.
Rosenstein was due to meet that week with The House Judiciary and Oversight and Government Reform committees about the DoJ, but the meeting never happened.
On October 11, the Washington Examiner reported that the FBI was delaying publication of McCabe's book, The Threat. It would not appear until February 2019:
McCabe was fired by Deputy Attorney General Rod Rosenstein in March, less than 48 hours before his retirement day because of "allegations of misconduct" found by the Justice Department's Office of the Inspector General. McCabe, has disputed the IG report, and is now the subject of a grand jury inquiry.
According to the FBI's employment agreement, all disclosure of information must be reviewed and adhere to the FBI's "Prepublication Review Policy Guide," made official in 2015.
Although there is more to cover on McCabe, this is a good point at which to bring us to the present day.
On Monday, February 18, 2019, President Trump pulled no punches:
Is this the first time President Trump has tweeted the letters 't-r-e-a-s-o-n'?
Here's 'treason' again:
Trump was on fire:
We can only hope that the tables start turning soon.
Perhaps the new attorney general, Bill Barr, will set things in motion.
Bob Woodward, who, with his Washington Post colleague Carl Bernstein, exposed Watergate in the 1970s, recently completed a book on the Trump presidency.
The book is called Fear. Some of its content is dubious.
However, on Friday, September 14, 2018, Woodward gave an interview to Hugh Hewitt in which he said he spent two years looking for Trump-Russia collusion — and came up empty handed.
Real Clear Politics has the transcript of Woodward's exchange with Hewitt about President Trump's former White House attorney John Dowd, who, for better or worse, played it straight with special counsel Robert Mueller and his team (emphases mine):
HUGH HEWITT, HOST: Yeah, but I just think people who have been critical of you in the public, all they have to do is say hey, release my tapes, Bob, and we'll find out whether Gary Cohn said what he said, and John Dowd said what he said, and Rob Porter said what they said. Now let's get to the substance. I believe that if the president had actually read this book, and their team had read this book, they would not have attacked the book. They would have spun it differently, because there's a lot complimentary in this book, the most important of which is John Dowd firmly believes, the president's former lawyer, that the special counsel, Bob Mueller, has nothing. There's no collusion, there's nothing. It's all a play to get an 18 USC 1001 perjury trap, and that POTUS should never sit down. Is that a fair assessment of what John Dowd believes?
BOB WOODWARD, 'FEAR' AUTHOR: Oh, well, yeah, until we end. And finally, it, the point where Dowd resigns because he is convinced the president should not testify, Dowd concludes that Mueller had played him for a sucker, got all of the cooperation of 37 witnesses, a million pages-plus of campaign documents, 20,000 pages of White House documents. So in the end, as he says to the president, he said you were right. We can't trust Mueller.
HH: And I tell you, Bob Woodward, I read this book as a lawyer. I'm not a defense lawyer, although I was at Justice. Dowd got played badly. Do you agree?
BW: Well, but he is the one who decided on the strategy – total cooperation. We're going to let you, we're opening the door completely. And some of the most sensitive material was given to Mueller. He was delighted to have it. It is quite true that Dowd concluded from his own work, remember, he spent eight months on this intensely, time with Mueller, time with the White House people, time with Trump. And he didn't see anything there until the end.
HH: So let's set aside the Comey firing, which as a Constitutional law professor, no one will ever persuade me can be obstruction. And Rod Rosenstein has laid out reasons why even if those weren't the president's reasons. Set aside the Comey firing. Did you, Bob Woodward, hear anything in your research in your interviews that sounded like espionage or collusion?
BW: I did not, and of course, I looked for it, looked for it hard. And so you know, there we are. We're going to see what Mueller has, and Dowd may be right. He has something that Dowd and the president don't know about, a secret witness or somebody who has changed their testimony. As you know, that often happens, and that can break open or turn a case.
HH: But you've seen no collusion?
BW: I have not.
There's a coup going on.
Mueller will have to find something to pin on President Trump to justify his waste of taxpayers' money, which is probably by now into the double digits of millions of dollars right now. By last November, it was rumoured to have cost $5m already.
Mueller is all about saving his own reputation and destroying others', which he has done throughout his career. But, that's another topic for another day.