You are currently browsing the tag archive for the 'curfew' tag.
My previous posts in this series covered Piers Morgan's pontifications and the new Hate Crime Bill in Scotland.
Today's post looks at the Sarah Everard vigil on Clapham Common on Saturday, March 13.
On March 3, 2021, 33-year-old Sarah Everard disappeared from the streets of south London while walking home from a friend's house. A week later a woman's remains were found in the eastern part of Kent. Because of the extraordinary nature of the case, the UK Government have since placed a D notice on coverage of the details which have emerged thus far.
The case moved women across the UK to express their grief.
Women were also angered when, last week, after Ms Everard was missing for six days, officers from London's Metropolitan Police advised women not to go out alone at night.
Interestingly, Mayor of London Sadiq Khan told a radio station that London's streets are not safe for women and girls:
The same advisory went out many years ago in England when Peter 'Yorkshire Ripper' Sutcliffe was on the prowl for his latest victim. Julie Bindel recalled her memories of that time in an article for The Spectator: 'Why are London police telling women to stay at home?'
Bindel wrote (emphases mine):
I moved to Leeds in 1979, during the hunt for serial killer Peter Sutcliffe. I was 17-years old and had been raised, as had most girls, being warned that our safety was our own responsibility. 'Don't go out alone at night', 'don't talk to strange men', 'cover your flesh if you don't want to get yourself raped'. Men were rarely told that they were to blame for the fact that we constantly looked over our shoulder whenever we were out alone in case a predator was looking to strike.
As a response to West Yorkshire police issuing what was effectively a curfew on women, feminists organised the first Reclaim the Night marches which occurred simultaneously across 12 English towns and cities, from Manchester to Soho.
Women on these marches carried placards reading 'No curfew on women — curfew on men' as they shouted about their anger at being kept off the streets — the supposedly public highways, after all — by the threat of male violence.
I recall feeling very angry at being told by police to 'stay indoors' and 'Do not go out at night unless absolutely necessary, and only if accompanied by a man you know.' Ironically, Sutcliffe himself gave the same advice to his sister.
Bindel provides other instances where police forces across England gave women the same advice.
She concludes:
Women should be able to go for a walk without fear or a male chaperone. We feel scared not because we are pathetic, weak creatures but because so many men target us. Feminism exists because women are sick and tired of being in danger in both the home and on the streets. They should be the ones to lose their freedom of movement, not us.
Perhaps Wales's First Minister Mark Drakeford read her article of March 10. Two days later he told the BBC's Charlie Stayt that he might consider a curfew on men in Wales:
Alternatively, perhaps Mark Drakeford saw Baroness Jones (Green) advocate such a measure the day before in the House of Lords:
Guido Fawkes saw a potential problem with that (emphasis in the original):
The Green Party also backs gender self-identification for all so Guido can already think of one loophole in Jenny's plan…
Some of Sarah Everard's friends had the idea of organising a vigil for her at Clapham Common, through which she walked on her way home on March 3. They decided to cancel it.
However, a vigil did take place there, at the bandstand, on Saturday, March 13. People could pay their respects and place flowers at the bandstand.
The Duchess of Cambridge went to pay her respects with a bouquet that afternoon.
As the sun set, what was a quiet day of reflection and grief turned into something else. Protesters gathered, as did the Metropolitan Police.
The BBC's Charlie Haynes tweeted:
Independent journalist Ahmed Kaballo tweeted his footage:
The London correspondent from the Washington Post was there and posted her footage:
Here is a photo:
Then police arrested a young woman. Reports say she is petite — 5'2″:
I am surprised that a woman of her small stature had to be held to the ground in order for an arrest to take place. Couldn't four policemen do that standing up?
Reports say she was later released, but the point still stands.
With coronavirus lockdown still in place, everyone who is everyone was at home. Those people saw it online or on the telly.
In the early hours of Sunday morning, March 14, the Met's Assistant Commissioner Helen Ball, who reports to Commissioner Cressida Dick — two women! — issued a statement, which says, in part:
"Around 6pm, more people began to gather close to the bandstand within the Common. Some started to make speeches from the bandstand. These speeches then attracted more people to gather closer together.
"At this point, officers on the ground were faced with a very difficult decision. Hundreds of people were packed tightly together, posing a very real risk of easily transmitting Covid-19.
"Police must act for people's safety, this is the only responsible thing to do. The pandemic is not over and gatherings of people from right across London and beyond, are still not safe.
"Those who gathered were spoken to by officers on a number of occasions and over an extended period of time. We repeatedly encouraged those who were there to comply with the law and leave. Regrettably, a small minority of people began chanting at officers, pushing and throwing items.
"After speaking with officers, the vast majority of people quickly left. Four arrests have been made for public order offences and for breaches of the Health Protection Regulations.
"Part of the reason I am speaking to you tonight is because we accept that the actions of our officers have been questioned.
"We absolutely did not want to be in a position where enforcement action was necessary. But we were placed in this position because of the overriding need to protect people's safety.
"Let me end by saying that across the Met, we review every single event that we police to see if there are lessons that can be learnt. This one will be no different."
The Sunday morning news shows were only hours away. Not surprisingly, this was a huge story.
The Safeguarding Minister (?!) told Sky's Sophie Ridge that the events were 'very upsetting':
The Victims' Commissioner told Ridge that police had made a bad situation worse:
The Met's Commissioner defended her men:
But the story and the emotion didn't go away. On Sunday, demonstrators gathered in Parliament Square to protest the Met's handling of the vigil.
Two other British cities held peaceful vigils. Birmingham's police worked well with organisers, as local MP Jess Phillips explained to the BBC. Glasgow held a quiet ribbon vigil. Elsewhere, such events took place online.
On Monday morning, Prime Minister Boris Johnson voiced his disapproval:
However, Boris voiced his support for Dame Cressida in her role (Guido Fawkes has the story and a video).
Guido Fawkes's cartoonist, Rich, posted his weekly cartoon:
The public, however, thought that the vigil should not have taken place, probably because of coronavirus restrictions:
A retired Metropolitan Police officer posed these questions:
On Monday afternoon in Parliament, Home Secretary Priti Patel gave a statement and paid tribute to Ms Everard:
"women and girls must feel safe while walking our streets", and cited the Domestic Abuse Bill which is going through the Lords this evening as the action the Government is continuing to take.
During the debate that followed, Sir Charles Walker said that what happened at the vigil was the fault of the overwhelming majority of MPs who voted for the Coronavirus Act 2020:
He said (emphases mine):
This House criminalised the freedom of protest. This House. Us. Not Dame Cressida. Not the Metropolitan Police. We did. We criminalised freedom to protest collectively. We are up to our eyeballs in this.
I couldn't agree more.
Walker wanted to amend the law that afternoon to allow protests again. That did not happen.
Tom Harwood, who writes for Guido Fawkes, asked whether police took advantage of a soft target:
Really difficult situations provoke a different response from the Met, such as last summer's protests. They walk away:
Incidentally, skin colour is irrelevant. Last autumn, the Met bought sandwiches for Extinction Rebellion who were occupying Smithfield Market.
On Monday night, Boris tweeted a statement about women's safety:
Even if the general public objected to the vigil, conservative and libertarian columnists took strong objection to the Met's handling of it as well as to the law against protests.
UnHerd posted 'The police have a woman problem'.
Conservative Woman featured 'Police at Sarah vigil were trying to enforce a rotten law'. They also posted 'I hate what is being done to my country'.
Spiked remembered the reason the vigil took place: 'This is not what Sarah would have wanted'.
The Leader of the House of Commons, Jacob Rees-Mogg, said on Thursday, March 18, that the coronavirus laws will most likely stay in place until the end of June, when the furlough programme expires.
That said, they will be debated next week.
In conclusion, illiberal laws bring illiberal — and inconsistent — enforcement.
In case you've missed the earlier posts in this series, here they are: parts 1, 2, 3 and 4.
The best known of the minority MPs from David Cameron's premiership — 2010 to 2016 — is Rishi Sunak, who is Chancellor of the Exchequer.
He represents the Richmond constituency in Yorkshire.
Early years
Rishi Sunak's grandparents moved from the Punjab province of India to East Africa. Rishi's mother Usha was born in Tanzania. His father Yashvir was born in Kenya. Both are Hindus.
Both sets of grandparents migrated to the UK in the 1960s.
After marriage, Usha and Yashvir settled in Southampton, on the southern coast of England. Usha worked locally as a pharmacist. Yashvir was a general practitioner.
The couple have three children: Rishi, another son Sanjay, who is a psychologist, and a daughter Raakhi, who works on COVID-19 strategy for the Foreign, Commonwealth and Development Office.
Rishi Sunak went to the renowned public (private) school Winchester College, founded in 1382, where he was head boy and editor of the student newspaper.
He then went to Lincoln College, Oxford, where he graduated with a First in 2001 in PPE, which is nothing to do with hospital gowns, rather Philosophy, Politics and Economics. Whilst at Oxford, he did a brief stint at Conservative Campaign Headquarters.
During summer holidays he worked at a curry house in Southampton.
Sunak began his career at Goldman Sachs, where he worked as an analyst from 2001 to 2004.
He then decided to study for an MBA at Stanford University in California, where he met his wife, Akshata Murthy, the daughter of the Indian billionaire N. R. Narayana Murthy, the man behind Infosys. The couple married in 2005. Sunak, a Fulbright Scholar, completed his MBA in 2006.
Sunak and his wife settled in England and have two young daughters.
Prior to entering politics, Sunak worked for two hedge funds and was also the director of one of his father-in-law's companies, Catamaran Ventures.
Political career
Former Conservative Party leader William Hague represented Richmond, which has been a safe seat for the party for over a century.
Rishi Sunak was elected comfortably to his first term with a majority of 19,550 (36.2%). Once in Parliament, he was appointed to the Environment, Food and Rural Affairs Select Committee.
Sunak was also committed to Brexit and was an early advocate of free ports, having written a report on the concept in 2016, the year of the referendum.
In 2017, with Theresa May as Prime Minister, Sunak won re-election with an even greater majority of 23,108 (40.5%). In Parliament, he continued to support Brexit, voting for Theresa May's deal and against a referendum on a final withdrawal agreement in 2019.
That year, Theresa May stood down as PM. Sunak supported Boris Johnson in the ensuing leadership contest.
That autumn, during the general election campaign, he appeared on a television debate, representing the Conservatives:
I am sure Sunak did better than Iain Dale gave him credit for:
He also participated in a seven-way debate on ITV.
On December 12, Sunak further increased his margin of victory at the polls to 27,210 (47.2%).
The coronavirus Chancellor — and some inside scoops
Then, in February 2020, Prime Minister Boris Johnson replaced Sajid Javid with Rishi Sunak as Chancellor:
He gave his first budget less than a month later, on Wednesday, March 11, which I wrote about at the time.
The following Monday, March 16, Boris announced social distancing rules and the closure of pubs, restaurants and events venues. Rishi spoke at one of Boris's televised coronavirus briefings with news of a generous financial package:
Guido Fawkes posted the full video and remarked (emphasis in the original):
You wouldn't guess he's only been in the job for five weeks…
Full details are here. Sunak also issued a Twitter thread with a summary:
Then lockdown came a week later on Monday, March 23.
A few days later, Boris was struggling with his bout of coronavirus, as was Health Secretary Matt Hancock:
The Conservatives soared to record approval ratings in the polls:
Early in April, Boris was quietly rushed to St Thomas' Hospital in London. Rishi did another coronavirus briefing to reassure an anxious nation:
The well-spoken, gentle Sunak appealed greatly to the folks at home. The Independent did not like that one bit.
Society magazine Tatler began running articles on Sunak in March. They could see he would quickly become a cult personality.
On March 18, the magazine posted an article by Annabel Sampson, 'Everything you need to know about Britain's new Chancellor, Rishi Sunak'.
It begins with this (emphases mine):
The virtues of 39-year-old Rishi Sunak have been extolled many times over; for his charming demeanour, his razor sharp brain and his acute financial sense. Now the man who has come to be recognised as the 'Maharaja of the Dales', thanks to his Indian ancestry and Yorkshire home, has been appointed to the highest office in the country, to Boris Johnson's Cabinet in the role of the Chancellor of the Exchequer, the second biggest government job; and the second youngest person ever to take the position.
The appointment follows the 'Cabinet Reshuffle' that occurred in February when Savid Javid, the former Chancellor, resigned when he was asked to get rid – reportedly a request linked to Dominic Cummings – of his closest aides. Rishi Sunak's star has been rising for some time now, so his appointment to the position will have baffled few.
The article has several photos, including one of Sunak in the Yorkshire countryside and one with his dog, which resembles Boris Johnson's Welsh rescue pup, Dilyn.
Sunak and his wife had a traditional Indian wedding:
Rishi and Akshata were married in her hometown of Bangalore, in a two-day ceremony attended by 1,000 guests.
Akshata is a working mother:
Akshata runs her own fashion label Akshata Designs and is also a director of a venture capital firm founded by her father in 2010. Her designs are wonderful; she's been profiled by Vogue India and been credited for creating clothes that are 'vehicles to discovering Indian culture' – comprised of chic silhouettes with bold, Indian design.
Did we know that the Sunaks throw great parties? We do now:
With their combined wealth, they understandably have a generously sized home in Northallerton, North Yorkshire (in Sunak's constituency). The Daily Mail reports that their annual summer garden party is a county highlight; where uniformed staff loft around serving ice cold champagne and canapés (no doubt prepared by the prestigious Yorkshire Party Company).
Sunak is a natural at politics:
According to the Daily Mail, 'While many MPs stutter and trundle their way through their maiden speech in the Commons, Mr Sunak's at-ease manner provided a glimmer of what was to come'. One ally in parliament told the Telegraph: 'He's ferociously intelligent and thoroughly decent at the same time' …
He was one of the few Conservatives who were let loose on the air waves (14 times in total) and allowed to make public appearances during the election campaign last year. He has even been dubbed the 'Prime Minister-in-waiting', we'll see. His first big challenge was the March budget; and now he is juggling the unprecedented complexity of the impact of the coronavirus on the economy. The UK are in safe hands.
The article also has a photo of him supporting Yorkshire County Cricket at Edgbaston.
Early in July, Tatler's Ben Judah travelled to Sunak's home town of Southampton and reported his findings in 'Inside the world of Rishi Sunak'.
Naturally, Judah went to the curry house where Sunak worked during his summer holidays:
The kitchen at Kuti's Brasserie, not far from Southampton docks, was not the sort of place, in August 1998, you would have gone looking for a future hedge funder, son-in-law of a billionaire and Conservative chancellor.
That summer – the summer of the France 98 World Cup and the Omagh bombing – Kuti Miah, the eponymous restaurateur behind the curry house, went to have a word with one of his waiters. 'You're going to be someone, Rishi,' he said. The future UK chancellor flashed his famous smile. He was, adds Miah, 'a brilliant talker'. Rishi Sunak, then 18, was about to go to Oxford, but that holiday he waited tables for Miah, a close family friend, to earn some pocket money. 'I saw him grow up,' says Miah. 'His father used to bring him in his carry cot.'
Miah was fast friends with Yashvir and Usha Sunak, both Hindu Punjabis born in colonial Kenya and Tanzania respectively, whose parents had migrated from India. After India's independence, both families left East Africa for Southampton in the mid-to-late 1960s. Yashvir and Usha met in Britain and married. He became a local GP and she ran a pharmacy. They were 'brilliant conversationalists' and 'very strong believers' who 'worked very, very hard', according to Miah, who also recalls that they were 'passionately British'.
Rishi, the eldest of their three children, was cut from the same patriotic cloth. Not only did the young Sunak fall in love with the game of cricket, he fervently supported England over India at any opportunity. His career, too, has followed one of the most traditional and storied of England's paths to power. Like five chancellors of the exchequer before him, Sunak was schooled at the ancient and distinguished Winchester College; and like three of those same Wykehamist chancellors, he went on, as was expected, to study at Oxford.
The article includes a photo of Sunak with his wife and in-laws.
Ben Judah had met Rishi Sunak before, in 2015, just before the general election that year. They met up in Northallerton, North Yorkshire:
We were a long way from London – from where Sunak had been 'parachuted in' for the seat. During the interview, I had a distinct sense of being the only person in the cafe who knew that this slight man in a Barbour jacket was running for parliament. 'I tell this story when I'm out and about,' he said, coffee in hand, 'that you can come to this country with very little… My grandparents came with very little from a village in northern India, and two generations on, their grandson has this enormous privilege of running as a candidate for parliament. For my family, the route was education.'
Well said.
Sunak's candidacy in 2015 raised some eyebrows:
He was vying for a seat once presided over by Tory grandees William Hague and Leon Brittan. But I had spent days in Richmond and the surrounding area, reporting on the resentment his sudden arrival had stirred up among certain local Tory notables, who felt the seat in the Dales was rightfully theirs. 'There was a very acrimonious constituency battle,' claimed one source, with a lot of hostility to an outsider coming in.
Sunak's wife had also met with some resistance on the campaign trail, says Judah.
However, Sunak's father-in-law enthusiastically flew to England where he helped to campaign:
Sunak's billionaire father-in-law, NR Narayana Murthy, however, has been so enthusiastic about Sunak's parliamentary career that he'd flown in, and had even been leafleting on his behalf, wearing a Rishi sweatshirt. 'To be honest,' said Sunak in Costa Coffee that day, 'I think it's patronising to assume minorities should only run in minority seats.'
The article discusses Sunak's property profile:
On 7 May 2015, Sunak won, with more than 50 per cent of the vote (a Ukip vote of 15 per cent had appeared from nowhere). He put down roots in his new constituency of Richmond, North Yorkshire, augmenting a £10 million property portfolio (metropolitan digs in London – a Kensington mews house, a flat on Old Brompton Road – and a place in California) with a £1.5 million Georgian manor in Yorkshire set across 12 acres, including an ornamental lake. Here, he now entertains the constituency membership with lavish summer parties at which uniformed staff serve champagne and canapés. He has been repeatedly dubbed by newspapers the 'Maharajah of the Yorkshire Dales'.
The general public know less about those details. Nonetheless, Rishi Sunak has become a household name:
In a swift few years, Sunak has become known as many things: Dishy Rishi to the tabloids; one of the richest MPs in Westminster; the second-youngest-ever chancellor of the exchequer, presiding over a £350 billion package to boost the economy (the largest ever recorded in peacetime); and a former hedge funder whose profile has risen faster than stocks in a vaccine manufacturer.
However dazzling all of this is now, things were very different when Sunak entered Winchester College as an adolescent:
… Winchester would come at a price for the Sunaks. No sooner was he accepted than Rishi's good fortune immediately foundered: he missed out on the expected scholarship. Desperate not to let the opportunity go to waste, his parents decided to take on the high fees themselves, picking up extra work and making what the chancellor has called considerable 'sacrifices'. His brother would later follow.
One of his classmates discussed Sunak and described Winchester in the mid- to late 1990s:
Tim Johnson, now a lawyer, was in the boarding house next door. 'Rishi was a good chap, in boarding-school idiom,' he recalled. Sunak, he said, was a 'reasonable cricketer', who stood out in friendliness; and he was a solid, but never number one, student. 'Rishi was always expected to do something,' Johnson remembered. But exactly what, beyond Winchester, was vague. 'He was always expected to be head boy as he was clever enough, reasonable enough and well behaved enough.' This became Sunak's thing – hard work and attainment, becoming the first Winchester head of school from an Indian background.
Sunak was different to other sixth formers in Winchester: a lifelong nondrinker, he wasn't distracted by the allure of the pub. But there was something else that marked him out from the herd. He was a conservative in every sense: not only in his outlook and demeanour but in his religious attitudes, too – a practising Hindu who avoided beef. At school, where few boys were political, Sunak was clearly 'associated with the Tories', said Johnson. It was 1997, The Chemical Brothers were topping the charts and the mood was rebellious. Counterculture, New Labour and ripped jeans were in; the Conservatives were out. 'That wasn't his intellectual jam. Rishi didn't play that game,' Johnson explained.
'Everyone was chipper about it when Blair won,' Johnson said. But not Rishi. His family's story was closer to Margaret Thatcher's than that of his bourgeois Labourite classmates. Watching the early results of the landslide on election night 1997, Sunak sat down to write a gloomy article for the school magazine, The Wykehamist, lamenting the news. His main complaint: Europe. 'He revels in the label of a patriot,' he complained of Tony Blair, 'but has plans for the possible break-up of the United Kingdom and membership of an eventual European Superstate.' The seeds of Brexit were already in his mind.
'Already,' fretted Sunak, 'the New Labour rhetoric sounds worryingly pro-European and avid pro-Europeans are being sent to Brussels' …
Later, at Oxford, Sunak had a low profile, unlike his predecessor as MP, William Hague:
He was nothing like the young William Hague, who arrived at Oxford fêted and almost a Tory celebrity, or the young Boris Johnson, the blond beast who tore apart the Oxford Union. At Oxford, Sunak was a nobody, much like Tony Blair.
He continued to eschew strong drink:
Oxford acquaintances remember him as a nerdy teetotaller who was 'just very clearly going into business'. He would 'make this big thing' out of drinking Coke in the pub. 'Rishi was unknown to the student politicians, that gossipy overlapping world, who all knew each other,' said Marcus Walker, then-president of the Oxford University Conservative Association, now a clergyman. Sunak was never a member.
It is hard to remember how irrelevant and demoralised Tory circles felt after 1997, but some do recall Sunak as a 'Thatcherite' and 'Eurosceptic'. 'That was absolutely par for the course,' said Walker. 'If you were still a Tory after 1997, you were a Eurosceptic. That was all you had left.'
Nevertheless, Sunak did develop a network from his Winchester College and Oxford days. Graduates from Winchester are called Old Wykehamists:
These days, socially, Sunak has been placed by some in Westminster's Spectator set. He was best man to his lifelong friend and fellow Old Wykehamist James Forsyth, political editor of The Spectator, at Forsyth's politician-studded wedding in 2011, to Allegra Stratton, the national editor at ITV News – and gave what one guest recalled was 'one of the most touching best man's speeches I've ever heard'. (In fact, Stratton has recently announced she's leaving ITV News for a job with Sunak at the Treasury. Some have seen this as very Cameron-esque in its 'chumocracy'.)
Allegra Stratton, also a good friend of ITV's Robert Peston, now works for Boris Johnson as his notional press secretary, although she has not yet begun to give press briefings, probably because of coronavirus.
Imagine the son of immigrants having ties to Britain's two oldest — ancient — magazines: The Spectator and Tatler. Wow.
Tatler's Ben Judah also spoke with people who had worked with Sunak during his hedge fund days. They painted a similar character portrait of the Chancellor:
After two years in California completing a CV-topping MBA, he returned to London and Mayfair in 2006, where a new type of boutique finance was booming: hedge funds. He was hired by Sir Chris Hohn at The Children's Investment Fund (TCI). It was a dream job: a big role at an activist firm off Berkeley Square at the peak of their fame. 'He appears to have been trusted,' said a source. Indeed, Sunak was made a partner two years later. Contemporaries remember him ever-ready to meet and greet; a mixture of a junior, deputy and a bag carrier; the perfect foil to Hohn's bolshy swagger. 'Ridiculously nice.' 'Affable.' 'Approachable.' 'Charming.' These are the words that come up again and again among Mayfair types who knew Sunak. The charm was of a particular kind: 'There are two kinds of people at hedge funds,' said one source. 'Handsome and thin smooth-talkers who are always on the phone or going out to lunch with clients, getting them to part with their money. And then quants in the back room with their shirts buttoned up badly.'
Sunak was one of the smooth-talkers, his charm honed on calls to investors, getting them on board with whatever drastic moves the fund wanted to make. The kind of charm that prizes clarity and persuades people to part with their money. It worked: but hedge-fund charm is designed to hide as much as it reveals. The atmosphere at TCI was buccaneering and bold; it both led and profited from a controversial banking raid that eventually meant a £45.5 billion public bailout of the Royal Bank of Scotland. (The Treasury and TCI say Sunak was not involved in the deal.) He left when TCI split in 2009, and joined the breakaway hedge fund Theleme Partners. His new firm's reputation took a knock when its founder was revealed to have used a notorious tax avoidance scheme. The Labour Party researched Sunak's past during the 2019 election. 'But he was too little known for us to use it,' said one source …
His reasons for entering Parliament are equally obscure. Those who know him have different opinions as to why. One thing that everyone agrees on is his penchant for order:
Many in Westminster see his motivation as status. 'He's not an ideologue,' said one Tory source. 'He wanted to enter politics in that old-fashioned way, because it was seen as the good thing to do.' Good, as in socially ambitious. Whether that's true is another matter, because first came a stint at Policy Exchange, leading a unit researching black and minority ethnic attitudes. The scruffy but influential Conservative think tank world is seen as a de facto holding pen for future special advisers, but it was nonetheless an unexpectedly technical way into Westminster for someone with means.
Sunak quickly made an impression. 'He's got that Blair-like ability to hold your eye,' says Nick Faith, who worked with him there. Sunak cut a snappy figure amid slovenly suits. 'He's into his clothing.' His is not the fusty establishment Rees-Mogg or Nicholas Soames style, but more the wiry Emmanuel Macron look. Everything Sunak wears, many remarked, is immaculate, even at the end of a Treasury work day, and fits perfectly. Faith says that 'everything, from how Rishi dresses to how he structures his life, is very well organised'. Sunak's elegant house in London, with a touch of Indian decor, reflects that. 'Nothing is out of place. For someone with two small kids, that's quite an achievement.'
Having learned from his background in finance, Sunak also knows how and when to place his bets:
'His mind works in Excel,' said one City contemporary. But like all hedge funders, it also works in bets: and the two biggest bets that Sunak has made in his career have paid off spectacularly – Brexit and Boris. David Cameron knew the gravity of his predicament when Sunak came out for Leave. 'If we've lost Rishi, we've lost the future of the party,' he reportedly said. The same thing played out in reverse in June 2019 when Sunak came out for Boris in The Times with two other MPs during the party leadership elections. This was widely seen in Westminster as a decisive turning point: the one where Johnson won over 'the sensibles' and pivoted the backbenchers. The PM seems to agree: all three have been handsomely rewarded.
In Parliament, he keeps a low profile but, to those who know him, is loyal:
'He's unknown in parliament,' said one MP. 'He doesn't play the parliamentary game at all.' Tory Remainers are sceptical of him. 'It's Star Wars,' said one MP, referring to the chancellor's strange and classically 'geek-chic' hobby for minutely detailed models of spaceships and video games. 'Most of his political philosophy comes out of the Star Wars trade wars that are about the independence of various kingdoms from the Empire. He's not someone intellectual.' Loyalty has been his strongest suit. Sunak is a No 10 man. 'He's a grown-up,' said one MP. 'The only grown-up in Downing Street, despite him being 20 years younger than them.'
… At the height of tensions over Brexit last year, he was cheerfully going around Westminster saying he would back 'no deal' if push came to shove. He struck the right note, in the right place, at the right time. Tensions between Boris Johnson and Sajid Javid's teams exploded in February, when the then-chancellor resigned after refusing to fire his own special advisers and submit to an unprecedented joint team with Downing Street, effectively under the stewardship of Dominic Cummings. It was Sunak, with high skills and no clear agenda or faction behind him in parliament, whom Downing Street turned to. He quickly agreed to the joint team, once again becoming the perfect foil for an outsized boss. 
Even now, it's still too early to say whether Rishi Sunak will become a future leader of the Conservative Party and, as such, a possible prime minister. A week is a long time in politics.
When Boris's erstwhile special adviser Dominic Cummings broke coronavirus rules in travelling from London to Durham and back during Boris's time in hospital, Sunak tried to calm the ever-turbulent waters surrounding Cummings, who was never popular with the Remainer media. He tweeted this after Cummings's lengthy press conference in May:
In June, Sunak was tactful about the reopening of shops and businesses in Britain after the first coronavirus lockdown:
He also warned that his generous financial package could not go on indefinitely:
A few weeks later, in early July, pubs were allowed to reopen:
The Government launched the Enjoy Summer Safely campaign. Pictured below is Piccadilly Circus:
On July 8, he issued a Summer Economic Update, with financial help continuing (more here):
This included the launch of his Eat Out To Help Out plan, which lasted to the end of August:
A lot of Labour MPs didn't like the plan. I don't know why. Leftists own restaurants, too.
He cut VAT for the hospitality industry, too.
He also issued a detailed jobs plan, including an apprentice scheme:
Some men in the media were taking a shine to Dishy Rishi, including the leftist Owen Jones of The Guardian and Channel 5's Jeremy Vine:
At that time, the attention being given to Sunak and Boris Johnson got the better of Conservative MP Caroline Dineage, a Culture minister, who was questioned on masks, which were strongly suggested (mandatory only on public transport) but still optional in what now look like heady days. This was from a BBC interview:
… asked why the Prime Minister and Chancellor Rishi Sunak had not worn one in public, she snapped: "You'd have to ask the Prime Minister and the Chancellor that, with respect.
"But it is something that is advised and we keep it under review."
At the end of September 2020, the coronavirus crisis dragged on. Talk intensified about a winter lockdown.
On September 24, Sunak issued a Winter Economy Plan, about which I wrote at the time. When he presented it in the House of Commons, he advised all MPs to live 'without fear'.
By October 6, Sunak was being blamed for an uptick in coronavirus 'cases' (positive test results, not necessarily hospital admissions) for the Eat Out to Help Out scheme:
A US study, which did not cover Britain, showed that hospitality venues were shown to be responsible. However, the study did not cover workplaces or hospitals. Nonetheless, it is still a contentious point even to this day.
The Sun's Harry Cole rightly, in my opinion, defended the Chancellor's restaurant promotion.
Then talk of hospitality curfews emerged. Fellow Conservative MP Matt Vickers defended the Chancellor's Eat Out to Help Out programme, which had come to an end five weeks earlier.
The calls for a winter lockdown grew. The Chancellor rightly opposed them:
By then, more areas of England had moved into tiers, indicating more coronavirus cases. Sunak increased financial support to those cities and counties. He also offered more help to businesses, including the self-employed.
By November, some thought a storm was truly brewing between Boris and Rishi. Despite all the talk from the Government about people being able to meet loved ones at Christmas — for the first time in months, for many — a pessimistic undercurrent, which turned out to be accurate, seemed to be part of every news cycle.
Rumours circulated that Sunak was ready to resign. However, on November 1, the Daily Mail reported:
A source said there was a 'collective decision' to back a second lockdown, and that Mr Sunak 'accepted it' – and he did not threaten to resign, as some whispers around Westminster were suggesting yesterday.
The November lockdown was supposed to prevent a Christmas lockdown, but that was not to be. There was a brief re-opening before Christmas, and on December 19, the hammer fell once more.
Interestingly, the minority MPs in Cabinet shared Sunak's concerns.
By the middle of December, Sunak was clearly worried about how long the borrowing could go on. On Saturday, December 19, the day when Boris announced Christmas was cancelled, The Spectator reported what the Chancellor said about borrowing and quantitative easing (QE):
'Are you or anyone else going to guarantee me that, for the duration of this parliament, rates might not go back to 1 per cent?' he asks, pointing out that this almost happened in March, before the Bank of England started printing money to bring rates back down. 'There is this very large QE thing that's going on. No one has done that before. There are plenty of smart investors who are also thinking about the risks of inflation over the next 12 months. Because we are now so levered, small changes have huge cash implications. If I have to come up with £10-£20 billion a year in a few years' time because things have changed — well, that's a lot of money.'
To Sunak, it's not just an economic problem but a political one. 'If we [Tories] think borrowing is the answer to everything, that debt rising is fine, then there's not much difference between us and the Labour party,' he says.
The media criticised him for going to his constituency of Richmond for Christmas. To be fair, he did work while he was there, visiting a local hospital and a vaccine centre. He did not rush back to London.
On February 3, 2021, Sunak rightly accused scientists advising the Government of shifting the goalposts regarding lockdown:
This might be causing a rift in Boris's Cabinet:
On a brighter note, Time magazine has included Rishi Sunak on its list of 100 'emerging leaders'. On February 17, the Daily Mail reported:
Under the 'leaders' category, Chancellor Rishi Sunak landed a spot on the list, being described as the 'benevolent face of the government's response to the COVID-19 pandemic' by Times reporter Billy Perrigo.
The Chancellor's profile piece discussed the furlough scheme, describing how he approved 'large handouts' for people whose jobs had been affected by coronavirus.
The piece also paid respect to Sunak's Eat Out to Help Out scheme, which the magazine described as an attempt to 'revive the economy' by subsidizing dining out at restaurants.  
Although his profile acknowledges that Sunak bears more responsibility than most for his calls to ease lockdown restrictions, Time's profile for the Chancellor admits he has earned himself a 'legion of fans'.
Sunak's accompanying profile points to a YouGov poll showing him to be the nation's most popular politician and even tips him to be the bookmakers' favourite as the next Prime Minister.  
Again, a week is a long time in politics. We shall see about the future as and when it happens.
For now, Sunak is focussing on the budget, to be delivered on March 3. He is asking industry leaders for their thoughts.
Michelin-starred chef Gordon Ramsay was one of those leaders:
If Rishi Sunak ever tires of being an MP or Chancellor, a job in media awaits.
He is an excellent interviewer and researched Gordon Ramsay well. The 15-minute video is worth watching.
The list of minority Conservative MPs continues. All being well, more tomorrow.
As some of my readers know, I listen to RMC's one-of-a-kind French talk radio shows during the weekdays.
They are also televised in France on the RMCStory channel.
On Friday, October 16, 2020, Les Grandes Gueules (The Big Mouths) had a cracking three-hour show. It was shouty, characteristic of a traditional French dinner party. People can disagree, but when they kiss each other goodbye, they remain firm friends.
Interested Francophones can find the podcast here (the two 'play' options can be tempermental, but one of them will work).
Most of the show revolved around old and new coronavirus measures.
Most of these are only for certain cities.
By way of background, unrelated to RMC, Philip Turle, a correspondent for France24, explains in English that nine complaints have been filed and are being investigated about French ministers' involvement in the decisions taken on coronavirus earlier this year. He said these accusations will be difficult to prove, as it is a question of what they knew and when:
The newest one is a 9 p.m. curfew in Paris and eight other cities. Incidentally, 'curfew' comes from the French 'couvre-feu' ('cover fire', or, as we might better understand it, 'lights out'). The word appears in some of the tweets below.
Alain Marschall and Olivier Truchot, who also feature on RMC's parent station BFM-TV, led a very lively discussion with regular panellists who come from the general public.
Friday's panel featured a teacher, Barbara Lefebvre; a lawyer, Charles Consigny and the former president of Toulon's rugby club (RC Toulonnais), Mourad Boudjellal:
The first topic was, 'Are the French too submissive [with regard to coronavirus]?' A national poll showed that 62% supported a curfew, with 38% opposed. (The survey can be seen in some of the videos below.)
The show took its own poll. Participants thought that the French have been too submissive. New measures stipulate only six at a dinner party, a 9 p.m. curfew (unless you have a good excuse and/or proof), further restrictions on public celebrations and weddings:
The lawyer, Charles Consigny, thinks that the French government have overstepped their bounds with regard to their nation's constitution. Someone replied, directing Consigny's attention to Emmanuel Macron's stepdaughter, also a lawyer, who says that people need to sacrifice their civil liberties for the common good. Oh, dear:
Never mind Macron's stepdaughter, Typhaine Auzière.
Consigny said that people living in big cities are the worst hit by COVID-19 restrictions. They have been cooped up for much of the year, with only a few months of reprieve. Many live in flats, often with other people. What they face when they leave their homes is a police presence with the power to impose fines starting at €135.
Consigny finds it unbelievable that the French are not more up in arms about this situation.
Barbara Lefebvre, the teacher, spoke next. She pointed out that neither French MPs nor the French Senate had a proper debate about coronavirus legislation; it was rushed through and passed into law. For that reason, she found it 'staggering' that few French people have objected to this legislation:
Someone commented with a Machiavelli quote: 'He who controls people's fears becomes the master of their souls'. How true:
Mourad Boudjellal, the former president of Toulon's rugby club, said that the regulations are absolutely stupid. He wants the sick and vulnerable to be able to get medical care and attention whilst leaving healthy individuals free to live their lives. He said that France's elites are completely disconnected from reality. They do not understand how the average person lives. He was also shocked by a national poll showing that 90% of people living in France were willing to go along with the curfew, no questions asked.
That morning, on Tele-Matin, a popular morning current events show, alarm bells were ringing that Paris's health care system could be imminently stretched to its maximum, although the man in charge of the capital's hospitals thought there was some hope that the worst case scenario would not happen. Project Fear (see the Machiavelli quote above):
Barbara Lefebvre said that, if these new measures do not work, it is likely that Macron will impose another full lockdown.
Charles Consigny said that he follows general health advice seriously: no alcohol, no smoking, nutritious food, no unnecessary risks. That said, he asked why anyone would want a totally hygienic, doctor-driven, 'sad' life. To support his argument, he added that has spoken with his physician friends who say that, long term, these measures are too onerous for everyday life:
The French government also recommends working from home two to three days a week. Will this nonsense ever end?
Boudjellal said that dinner in a restaurant is where most business transactions take place. He said that this will be difficult for the foreseeable future:
I felt very sorry for the young woman at university who rang in to say that staying in her tiny dorm room between 9 p.m. and 6 a.m. was unbearable. Outside of being a good student, the rest of university life revolves around congregating in each other's rooms or in a common area to chat, study and make friends. I knew many people who never went to bars or parties and stayed on campus:
Consigny remarked that France was moving towards a 'Soviet' way of life, where the government control every activity. It is hard to disagree:
The video below shows culture minister Roselyne Bachelot's quotes about special dispensation for people attending cultural events. They must keep their tickets to show to authorities if questioned.
Lefebvre said that, even during the Second World War, the French could go to the theatre and to the cinema. She called the new health measures 'a joke'; they must stop:
Consigny gave a yuge shout out to President Trump, whom he fully supports and hopes will be re-elected next month. Consigny really admires Trump rallies and 'dreams' of being able to attend one. He said that Trump 'could teach the French a lesson' about freedom:
Lefebvre was concerned that lockdown measures were creating a nation of 'geeks', breaking up everyone's social lives and friendships. Yep:
Boudjellal pointed out that coronavirus statistics need to be properly interpreted. He acknowledged that it is a fatal disease, however, it is hardly the greatest cause of deaths. Yet, 'We're taking measures as if it were the greatest cause of mortality in a century!' Agree:
The panel also pointed out that it's not only the businesses the French see — bars, restaurants, theatres — that are affected. There are millions of people working behind the scenes who are out of work or have limited hours: cleaners, linen companies, taxi drivers. The list goes on.
Please, someone, make this nonsense stop, not only in France, Britain and the US, but everywhere else that has a Western philosophy towards life and love.
Once again, coronavirus measures featured strongly in this week's debates in the House of Commons.
Yesterday's post explained that a compromise was reached over the proposed Brady Amendment and covered the subsequent debate on the renewal of the Coronavirus Act 2020.
In the end, only a handful of MPs voted against the extension. Congratulations to them and to the Liberal Democrats, all of whom voted No:
The Labour MPs were Dawn Butler, Kevan Jones, Rebecca Long-Bailey, John Spellar, Graham Stringer and Derek Twigg. I do have a particular admiration for Graham Stringer who adds lucidity in every discussion in which he participates. I've seen him in Select Committee hearings and he's brilliant.
Below is a review of coronavirus debates from the other days.
Monday, September 28
Steve Baker (Con) was in rebel mode on his way to the Commons that morning:
In the afternoon, Secretary of State for Health and Social Care Matt Hancock appeared at the despatch box for a debate on COVID-19 measures.
He received several interventions (interruptions).
Sir Edward Leigh (Con) was the first. He also mentioned Sir Graham Brady of the eponymous amendment (emphases mine below):
If the first duty of Government is to keep people safe, will the Secretary of State remember that the first duty of Parliament is to hold Government to account? I know that he wants to take public opinion with him, but will he therefore reassure us that he is also determined to take Parliament with him? In that respect, may I urge him to meet with my hon. Friend the Member for Altrincham and Sale West (Sir Graham Brady) and come to a compromise to ensure that, if there are further national lockdowns, Parliament will be fully involved in the process?
He agreed, but note the 'where possible' in his reply:
We are looking at further ways to ensure that the House can be properly involved in the process—in advance, where possible. I hope to provide the House with further details soon. I will take up the invitation to a further meeting with my hon. Friend the Member for Altrincham and Sale West (Sir Graham Brady), whom I have already met to discuss this matter, to see what further progress can be made. I hope that that, for the time being, satisfies my right hon. Friend.
Mark Harper and Steve Baker, both Conservatives, hit the nail on the head.
Harper said:
To develop the point made by my right hon. Friend the Member for Gainsborough (Sir Edward Leigh), I accept the points about scrutiny that the Secretary of State makes, but it is about not just scrutiny but the laws we are making. The laws that came in at midnight, for example, were 12 pages of laws, with lots of detail, criminal offences and duties not mentioned when they were set out in a statement last week. That includes duties on employers, directors and officers, with serious criminal penalties. We need to scrutinise the detail of the legislation before it comes into force and give our assent, and not, I am afraid, just allow the Secretary of State to put it into force by decree.
Hancock batted that away, as if it were nothing:
Of course, sometimes in this pandemic we have to move fast. Sometimes we have had to move fast, and we may need to do so again. The challenge we have in this House is how to ensure proper scrutiny while also being able, when necessary, to move fast in response to the virus. That is the challenge that collectively we all face.
Steve Baker dismissed that answer with facts but had to couch it, knowing how thin-skinned Hancock is:
I reassure my right hon. Friend that I am going to praise him later, but the Constitution Unit at University College London tweeted earlier about the regulations mentioned by my right hon. Friend the Member for Forest of Dean (Mr Harper) that
"this policy was briefed to the media 8 days ago. Was it really not possible to schedule proper, detailed parliamentary debate during that time, given the far-reaching consequences?"
It added:
"Given the current mood, it seems very likely MPs will ask this."
Well, I am asking. Surely it was possible, in eight days, to have the debate that my right hon. Friend has called for.
Hancock replied that both he and Prime Minister Boris Johnson had made statements about the new laws the week before.
Labour's John Spellar, who voted against the extension of the Coronavirus Act 2020, pressed Hancock on the issue:
It is nice to be informed, nice to be consulted and nice to be able to scrutinise, but in the end it is about who decides. Can the Secretary of State explain why he is so against Parliament's making the decision, even if he argues for urgency and immediacy —within two days, for example—to either confirm or revoke those regulations? Why is he against Parliament's being the one that finally decides on this? It is quite clear that this is not even being decided in Cabinet, but just by one or two Cabinet members. Let Parliament decide.
Hancock said he hoped to find a way forward.
Jonathan Ashworth, Shadow Health Secretary, replied on behalf of Labour.
This was an excellent debate, one worth reading in full. A few more highlights follow.
John Spellar pointed out that a vaccine would give no guarantees:
There has been much mention of the success of a vaccine, but, first, it is unclear when that is likely to be and, secondly, surely even if we have a vaccine, it will not be 100% effective.
Sir Desmond Swayne (Con) gave the best speech of the debate — a must-watch at just under two minutes:
He took exception to Chief Medical Officer Dr Chris Whitty and Chief Scientific Officer Sir Patrick Vallance's televised presentation the week before with a graph that strained credulity. They took no questions from the press. No government minister was present, either, even though they sat in front of a No. 10 backdrop.
Swayne rightly railed about it and them:
Less than a year ago, I celebrated what I thought was the election of a sceptical and liberal Conservative Administration. Now, I am left wondering if the Prime Minister has not been abducted by Dr Strangelove and reprogrammed by the SAGE over to the dark side.
The purpose of politicians is to impose a sense of proportion on science and not to be in thrall to it. I will make myself very unpopular, but I believe that the appearance of the chiefs last week should have been a sacking offence. When they presented that graph, it was with the caveat that it was not a prediction, but nevertheless it was clear that they presented it as a plausible scenario, with its 50,000 cases per day by mid-October based on the doubling of infections by the week. Not on one day since March have there been infections on a day that were double that of the same day of the week preceding—not once. Where did this doubling come from? What was their purpose in presenting such a graph? It was the purpose of the fat boy in "The Pickwick Papers":
"I wants to make your flesh creep."
It was "project fear". It was an attempt to terrify the British people, as if they had not been terrified enough.
I have been banging on about this since March, and with every criticism I have made, I have been told that the Government were relying on the best possible science. So I was delighted by the letter one week ago today with the nuanced criticism of Professors Heneghan, Gupta and Sikora. I believe that the Government now have to answer that criticism. I am glad that the consensus in the scientific community is broken and the critics are speaking out.

I do not underestimate for one moment the horrible nature of this disease and its post-viral syndrome, but in terms of the United Kingdom's killers, it is 24th in the league, accounting for only 1.4% of deaths. As a consequence, I believe the Government's policy has been disproportionate. By decree, they have interfered in our private and family lives, telling us whom we may meet, when we may meet them and what we must wear when we meet them. We have the cruelty of elderly people in care homes being disoriented, unable to see ​the faces of their loved ones or to receive a hug. We have the tsunami of deaths that we may experience shortly as a consequence of undiagnosed cancers and heart disease, and the discontinuation of clinical trials.
He praised Sweden's lack of lockdown and compared the Government's warning about Christmas celebrations to Cromwell, who, as Lord Protector, also banned the holiday:
All sorts of criticisms are levelled against the Swedish Government that, on examination of the data and comparing like for like, are without foundation. I certainly hold up the Swedish model as an alternative.
We have seen the eye-watering costs that we must now all face for a generation, having closed down our economy for all those months as a consequence of the Government's policy. We face the crushing of enterprises, the destruction of livelihoods, and unemployment among young people, all as a consequence of an overreaction. I understand that there is now some question as to whether students will be allowed to return from university at Christmas. I say most gently to the Minister that the last Administration that sought to restrain celebrations at Christmas was during the Commonwealth, when the Lord Protector was left musing in public whether, if he were to arm one in 10, that would be enough. How many marshals will be required?
I conclude by saying that the policy of the Government has been disproportionate in response to this threat. There may be a virus one day that threatens our very way of life, but this is not it, even if we are behaving as if it were.
In other news, people in England were deeply unhappy to discover that, while they are under 10 p.m. closing time for pubs and restaurants, Parliament's bar and restaurant were allowed to stay open past that hour.
Guido Fawkes reported that a U-turn took place. The exemption was initially made because both are considered as a 'workplace canteen', as sittings in both the Commons and the Lords occasionally run into the night. Now, at least, alcohol will not be served after the witching hour:
Tuesday, September 29
The 10 p.m. closing time for bars and restaurants in England has rankled both proprietors and the public to the extent that the Mojo Bar in Manchester has banned all MPs until the curfew is cancelled:
Guido Fawkes had more details (emphasis in purple mine):
After five days of the disastrous mandatory 10 pm closing time policy for bars, pubs, and restaurants, Mojo Bar in Manchester is taking matters into its own hands. Clearly fuming at the counterproductive curfew order imposed this week, the bar took to social media to share pictures of all MPs – declaring none of them will be served until the curfew is cancelled. Clearly the management know which strings to pull to get the attention of MPs…
Managing Director Martin Greenhow tells Guido that the eye catching policy came about "from frustration and fear". Before the curfew the bar had bounced back pretty strongly from lockdown, back up to 85% of normal turnover. After the curfew was imposed it's down to just 20%.
Good grief! Stop the madness.
The coronavirus restrictions in England became so complicated that ministers, including Boris, could not keep them straight any more.
Gillian Keegan, the Parliamentary Under Secretary of State for Apprenticeships and Skills, had a rough start in the morning on BBC Radio 4's Today:
Guido had more (emphases in the original):
… she was unable to clarify the newly-imposed rules in the northeast on meeting other families, squirming "no, I'm sorry I can't clarify that… no I don't know the answer to that question", claiming she couldn't answer the ever-increasingly complex regulation question because she's "not from the northeast". Mishal Husain correctly pointed out Keegan, as a minister, couldn't understand the new rules, what hope does the general population have of being able to stick to them…
Alok Sharma, Secretary of State for Business, Energy and Industrial Strategy, also appeared on BBC radio that morning. He took issue with their 'gotcha' tactics:
Boris, too, got tripped up around lunchtime. He was asked to clarify Gillian Keegan's answer on Today:
Guido reported:
Responding to a Channel 5 question, Boris said:
"Outside the areas such as the North East where extra measures have been brought in, it's six inside and six outside, in those areas such as the North East where extra tight measures have been brought in you should follow the guidance of local authorities, but it's six in a home or in hospitality but as I understand it, not six outside. That's the situation there."
Which is precisely the opposite of what the new restrictions say, as the Government announced last night:
"Measures will be brought into law restricting inter-household mixing in indoor settings, including pubs and restaurants"
So in indoor settings no household mixing. Outdoor can see household mixing. Something the PM got 180 degrees the wrong way round…
He quickly issued an erratum early in the afternoon:
Wednesday, September 30
In the debate on extending the Coronavirus Act 2020, another highlight was Conservative MP Charles Walker's speech. He was on fire:
He said:
I first thank the Secretary of State for everything he has done to get us to this stage tonight, but 90 minutes to debate the renewal of an Act that has fundamentally changed the nature of the relationship between the state and citizens is not good enough. If this is the portent of the promises to come, it is not good enough. I need, at some stage, more than three minutes to discuss the fundamental ​hardships that are going on in my constituency—the jobs that are being lost, the opportunities that are being lost, the young people struggling to find work, to get back to university and to come back from university. Ninety minutes is an utter, utter disgrace. It is actually disrespectful to this House and it is disrespectful to colleagues.
I am sorry, Secretary of State, if I sound—actually, I am not sorry that I am angry, because a lot of people in this place are angry. We want to see this virus beaten, of course we do, but it would be nice—just nice—if this House were shown some respect.
Charles Walker is the vice-Chairman of the 1922 Committee, which Sir Graham Brady chairs. It represents backbench Conservative MPs.
Walker's righteous anger has been building since September 10:
I note that Steve Baker did not vote against the extension of the Coronavirus Act 2020, despite a bold interview days before on Sky News.
Despite that, he still has his eye on the ball. He retweeted this from Italy:
And he's doing more interviews:
We really do need to reopen the economy in full — now.
Next week, I'll have a wrap-up of the final debates of the Brexit-oriented Internal Market Bill.
This week, the UK government's scientific advisers and Prime Minister Boris Johnson said that new, stricter coronavirus measures would come into effect on Thursday, September 24.
On Monday morning, Chris Whitty and Sir Patrick Vallance presented their latest figures, which looked as if they must have come (once again) from Prof Neil Ferguson, they are that exaggerated. You can see the graph further down in my post:
This is utter madness, reminiscent of the WMD days when Tony Blair told us that a WMD could reach our shores within 45 minutes:
Their presentation, given against a No. 10 backdrop, had the purpose of preparing the public for Boris Johnson's announcements on Tuesday. They took no questions.
They showed graphs of where Spain and France are, with an uptick in 'cases'. Again, that means positive test results, most of which do not require hospitalisation.
Strangely enough, the Rule of Six only came in on Monday. Let's let it bed in for a few days, fellas, before taking more measures. They're doing exactly what they did in March, though. On March 16, new measures came in. On March 23, we had lockdown.
The Rule of Six is a Belgian tactic that SAGE thought would work in England. As such, they recommended it to the Government.
Perhaps this is the reason the two scientists did not mention Belgium once in their presentation:
I am glad someone will be tracking the progress of the projections over the next few weeks:
On Tuesday, Boris addressed Parliament and gave a short address that evening, televised to the nation.
In short:
– Pubs and restaurants must close by 10 p.m.
– They must offer table service only.
– All retail workers in hospitality settings must wear masks, along with customers, unless they are eating or drinking.
– Fines for breaking the Rule of Six or not wearing a face covering will result in an initial fine of £200, up from £100, for a first offence.
– Indoor five-a-side football matches have been banned.
– Wedding attendance has been reduced from 30 to 15; funeral attendance remains capped at 30.
– Police are allowed to call the military to fulfil office duties and/or to guard protected sites, leaving the police more capacity to fight crime.
– The plan to return a limited number of fans to sports stadia on October 1 is now postponed indefinitely.
The Daily Mail has a comprehensive article, including Boris's transcript, on the scathing reactions from police and business owners, particularly publicans. Sir Andrew Lloyd Webber said that this could sound the death knell for commercial theatre.
The Telegraph's Matt has this take on Army assistance:
The chances of that happening are very low:
The sad thing is that only five per cent of COVID-19 infections occur in a hospitality environment!
The Government and SAGE know this — yet they pressed on with restrictions!
The Daily Mail reported (emphases mine):
Public Health England data reveals that of the 729 outbreaks in the week to September 13, only five per cent occurred in food outlets such as restaurants and pubs – 45 per cent were in care homes, 21 per cent in schools and 18 per cent in places of work.
Wetherspoons founder Tim Martin said: 'The curfew doesn't even stand up to five minutes consideration by an intelligent person because if you look at the stats… there are relatively few transfers of infections in pubs.
Kate Nicholls, chief executive of trade body UK Hospitality, urged the Government to heed its own statistics because the curfew could take a sledgehammer to the industry which is already 'on its knees'.
She said this morning: 'People will think it's not that significant, but it really will have a big economic impact on jobs, not just on pubs, but also for cafes and restaurants.'   
Martin Wolstencroft, head of Arch Inspirations, which runs 17 bars and restaurants in Leeds, Manchester, York and Newcastle, said the curfew will not make it viable to open some of his venues.
Ironically, August was the month of discount lunches in Chancellor Rishi Sunak's successful initiative, Eat Out to Help Out, which the hospitality industry welcomed.
The Government's new restrictions will largely destroy any uplift participating restaurants received from it.
What on earth is going on?
Toby Young, who was at Oxford with Boris, says that something has changed — and not for the better. Note that Prince Charles approves of military intervention for climate change. Scary:
It's entirely possible that these ruinous measures have no basis in scientific fact, devastating people's livelihoods and families:
Conservative backbench MPs sounded off.
On Tuesday, Sir Desmond Swayne, who has commented both in and outside the House of Commons, tweeted:
His blog post states, in part:
Flu kills all year round – In the last weeks of July it killed 1000 of us (where Covid-19 killed only 200)- but it is seasonal: it certainly kills a lot more of us in the winter. Equally, we should stop talking about another wave of Covid-19 and instead, like flu, start expecting its annual season.
Having peaked in April Covid-19 abated over the summer. Inevitably it will get worse in winter. It may also be worse this winter than might otherwise have been the case. This is because we carried on with a number of restrictions on normal social life during the summer, reducing our ability to acquire and share herd immunity and wasting the opportunity provided by the weakest period for the virus.
My contention remains, as I have said many times over the last months, that our over-reaction to the disease has done much more lasting economic damage, and, counter-intuitively, even more damage to our health than the disease itself.
The current strategy merely kicks the can down the road. If the measures work and reduce the spread, the virus will simply reappear later.
Of course, we could be lucky and get a vaccine or a cure, or even 'moon-shot' daily tests to enable us to return to normality, but none of these are certain.
One day there may be a virus that threatens our whole way of life – but this isn't it, even if we are behaving as if it were.
Sir Desmond retweeted a neurologist's comment on the outrageous graph of projected 'cases' this autumn — in reality, positive tests:
Today, Sir Desmond gave an interview to the BBC about the continuing and questionable restrictions on civil liberties:
Richard Drax rightly predicted economic disaster, ruining the lives of millions:
Lucy Allan also spoke out on Twitter.
She tweeted Monday's graph from SAGE:
She rightly opposes putting everyone on restrictions when we should be protecting those most at risk:
She retweeted an open letter from Profs Sikora, Heneghan and several other leaders in British medicine:
She also called for the precise definition of a 'case':
That's probably why Whitty and Vallance didn't take questions.
Sir Edward Leigh also had a lot to say on this week's announcements:
He is rightly concerned about the blind faith we place in authority and the gradual erosion of civil liberties:
I couldn't agree more:
At least 1,000 people die in the UK every day.
Below are the causes of death per day in September.
Note where COVID-19 is: second from the bottom, dwarfed by heart disease and cancer.
There were nearly twice as many suicides than deaths from the Chi-vi: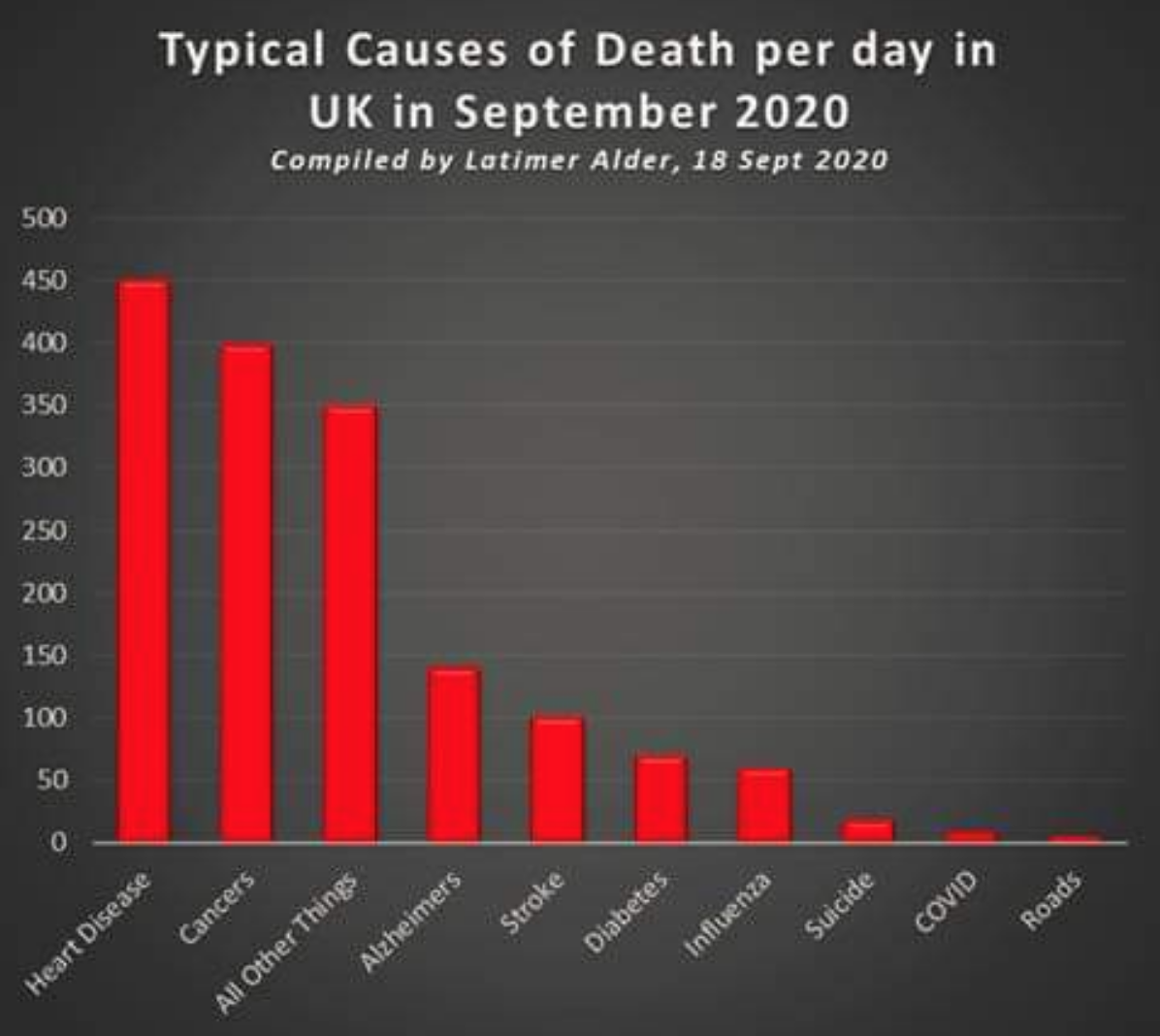 Steve Baker is also concerned about the restrictions bypassing Parliament:
Wow. Sir Graham Brady could pit a load of Tory rebels against the government. Good show:
The article from The Critic says:
Unless Matt Hancock finds a workable accommodation with Sir Graham Brady, the chairman of the 1922 Committee of Tory backbench MPs, the government faces the prospect of defeat next Wednesday when the Coronavirus Act 2020 comes up for its six-monthly renewal in the House of Commons.
The scale of backbench unhappiness is such that according to Steve Baker, who is working alongside Sir Graham, "the magic number was exceeded with 24 hours" of his beginning to canvas support for an insurrection among fellow Conservative MPs. Victory would require Labour and SNP MPs to seize on the opportunity to inflict a humiliating defeat on the government by voting with the Tory rebels. Indications increasingly suggest that this could happen. An increasingly dispirited Whips Office, which feels ignored and disrespected by Downing Street, is especially concerned at the sight of the former ERG "Spartans" leader, Baker, at Westminster furiously tapping away on his phone – a colliery canary of trouble ahead.
The government is equally concerned that the rebellion is being led by Sir Graham Brady, whose role as chairman of the 1992 Committee makes him the most authoritative channel of backbench opinion. In a sign of how seriously Downing Street management is taking the senior shop steward's challenge, on Monday evening the prime minister privately went to see the 1922's executive committee.
The primary complaint is that the government is using powers granted to it under the 1984 Public Health Act and 2020 Coronavirus Act to enact previously unconscionable measures without any prior debate in the Commons. Brady has condemned ministers who "have got into the habit of ruling by decree."
MPs were prepared to cede considerable authority to the government in March in a period of acute crisis when there appeared to be only weeks if not days to "flatten the sombrero" to save the NHS from being overwhelmed. But Boris Johnson's admission in his statement to Parliament today that the latest curtailments (which include further restrictions on hospitality opening hours and the number of people who can congregate at weddings, funerals and other public, private and sporting functions), would likely last at least six months has alerted MPs to the reality that government by decree may last until a vaccine is approved. If, indeed, a vaccine is approved. This is a war that will not be over by Christmas.
Far from persuading potential rebel MPs that a new crisis is looming, the performance of the government's chief medical and scientific officers, Chris Whitty and Sir Patrick Vallance, at their press conference yesterday has heightened consternation that the government is over-reliant on advice predicated upon worst case scenarios that is trumping competing economic and civil liberty considerations.
The likelihood of executive mission creep was foreseen back in March by David Davis and Steve Baker who pushed the government into adopting an amendment reducing from two years to six months the period in which the powers of the Coronavirus Act must be renewed by parliament. That renewal debate will now take place next Wednesday.
I remember that debate from March and also wondered if the Government were as good as their word.
Whilst they are unlikely to call for a wholesale repeal of the Coronavirus Act, Sir Graham Brady could call for a scrutiny clause appended to the Act so that every new statutory instrument connected to the legislation would have to go through Parliament first. To date, many of them have not. Therefore:
Rebels are pinning their hopes on this prospect. They may find a friend in the The Speaker, Sir Lindsay Hoyle, who has already made clear his intense irritation with Matt Hancock's disregard for informing parliament first of major legal changes like the "rule of six" and for the government's brusque imposition of restrictions in his own Chorley constituency …
The appeal of such a mechanism is obvious to Tory backbenchers concerned that laws are being made without scrutiny and are difficult to repeal. But there is no in-principle reason why Opposition parties need object to such a parliamentary safeguard either. Hence the likelihood of a rebellion having the numbers to succeed next Wednesday.
I can hardly wait.
Iain Duncan Smith is also airing his views. Note what he says and compare it to the death graph above:
Brexit better be more than BRINO, otherwise that prediction about the Conservatives could come true.
Former Brexit Party MEP and owner of England's greatest smoked salmon business, Forman's, said:
How true.
Unfortunately, at today's PMQs, Boris said that restrictions will continue until a vaccine is found! Dangerous.
Last week proved to be another emotive and passionate one in the House of Commons with regard to coronavirus and Brexit.
This post concerns coronavirus.
On Monday, September 14, Prime Minister Boris Johnson's Rule of Six, which he announced on September 9, came into effect. It sounds rather Chinese.
It means that people living in England cannot meet in groups of greater than six, indoors or outdoors. If we do, according to him, we 'will be breaking the law'.
He also introduced a new platoon to keep us in line: COVID marshals, to remind us of existing coronavirus rules in England — 'hands, face, space'.
Recall that Boris said after the December 2019 election that we now have the People's Government. Hmm.
The UK government is copying a Belgian idea. The Rule of Six reduced their second spike.
Increasingly, Britons have been looking back at Sweden, which refused to lock down. Fraser Nelson is the editor of The Spectator. Chris Whitty is our Chief Medical Officer; in May, he said that coronavirus was harmless for most people and most of us would never get it:
Michael Gove MP, a Cabinet minister and Chancellor of the Duchy of Lancaster, made matters worse when he confirmed that under-12s were part of the Rule of Six, unlike in Scotland and Wales, where under-12s are not. With life getting back to normal as school has started again, this came as a blow to many families:
The Telegraph reported that the Cabinet was split on the proposals (emphases mine):
… one senior Tory source said that "half the Cabinet" had doubts about the so-called 'rule of six', and it was "pretty hard to find a Conservative member of Parliament who agrees with all of this".
The COVID marshals are also a problem for police and local councils:
Meanwhile, Mr Johnson's plan for coronavirus marshals to help enforce the six-person rule was unraveling as police derided them as "Covid Wombles" and councils said they were a "gimmick".
Downing Street admitted councils would not be given any money to pay for the marshals, suggesting volunteers could do the job, and said it would be up to individual local authorities to decide whether they actually wanted them.
It got worse, as curfews were mooted:
The Government has discussed going even further with new lockdown restrictions, and has drawn up "a well-developed proposal" for a nationwide curfew which was discussed at ministerial level.
My head spun.
Then the ministerial snitch crowd appeared on weekend news programmes to say that people must tell on their neighbours if they are seen to be violating the Rule of Six:
Political journalist Isabel Oakeshott rightly responded:
I couldn't agree more. This is supposed to be the People's Government, isn't it?
History will not look kindly on 2020 with regard to the measures taken to combat the virus:
I was wrong.
Home Secretary Priti Patel said that people should not even talk when they see friends in the street, even at a distance (audio here, thanks to Guido Fawkes, and there's video, too):
Yebbut, if you DO report what appears to be criminal activity, allegedly, the police do not want to know. Here is a printscreen of a set of comments on a Guido Fawkes thread. I call your attention to the last two. Police would rather pick on mums and their children. Ironically, that was posted on the anniversary of the Battle of Britain. Go figure.
A mild-mannered man from Buckingham called talkRADIO to say he would not comply with the Rule of Six because the Government had gone too far.
So did a lady from Brighton, saying that the Rule of Six was about:
control. They're trying to see how much they can get away with.
Another talkRADIO host, Julia Hartley-Brewer, had a go at Roy Lilley, former NHS Trust chairman. She said:
We are being scared into thinking we have to give up our civil liberties when that won't save lives. Being sensible will save lives.
The Telegraph's Salley Vickers wrote of the restrictions on her and her loved ones:
I would rather risk dying and have the joy of their company than lose that vital contribution to my own happiness.
With the festive season only several weeks away, the Daily Mail's Peter Hitchens told talkRADIO's Mike Graham that the Rule of Six has:
made Christmas an arrestable offence.
Another Daily Mail journalist, Bel Mooney, wrote an editorial for Conservative Woman saying that she was surprised at the amount of resistance she received when she wrote that she would be defying the Rule of Six at Christmas:
… in response to Matt Hancock's sudden, arbitrary and illogical 'rule of six' diktat, I wrote a strong opinion piece (at the request of my newspaper) headlined 'NO, NO, NO! I'm having Christmas for 14 – and no puffed-up Covid marshal will stop me'.
As you might expect, there was a huge response. I never look online, and am not on Twitter (I expect there was a lot of poison swilling around out there). I am talking about emails to me and the newspaper. What interested me was the fact that, if I am to be honest, the antis outnumbered the pros. I didn't expect that from Mail readers.
You can never tell with Mail readers, though. They're a tricky lot.
Oxford University's Professor Carl Heneghan and honorary research fellow Tom Jefferson wrote an article for The Spectator against the Rule of Six, saying that Boris must bin it:
At Oxford University's Centre for Evidence Based Medicine, we have spent years trawling through the scientific evidence on the effects of measures such as distancing on respiratory viral spread. We are not aware of any study pointing to the number six. If it's made up, why not five or seven? …
Northern Ireland has taken a more measured approach and not announced any changes to how many people can meet. These disagreements in policy reveal how decisions are being made without evidence. It seems that somebody in government sat in a cabinet office room and said six is a good idea and nobody disagreed …
The problems with policy stem from the current cabinet's vast inexperience: the Health Secretary has been in post for just over two years now; the PM and the Chief Medical Officer a year. The Joint Biosecurity Centre is overseen by a senior spy who monitors the spread of coronavirus and suppresses new outbreaks. Add to this mix the new chair of the National Institute for Health Protection, who similarly has little or no background in healthcare. Our leaders amount to little more than a Dad's Army of highly paid individuals with little or no experience of the job at hand.
This inexperience leads to rash decisions and arbitrary policies.
One example is that entire areas can be locked down if they have 50 cases per 100,000 people. Yet the recognised alert threshold for 'regular' acute respiratory infections is 400 cases per 100,000.
Lord Sumption, who has been speaking out against lockdown this year, said that the Rule of Six will be unenforceable. I hope he is right:
Tom Tugendhat (Tunbridge and Malling, Con) expressed his concerns about the new rule and rightly wanted MPs to vote on it and similar measures:
It's unlikely that the House of Lords can help, either. They already have a full schedule. We should thank Lord Lamont for raising the issue of consulting the public, however. 'SI' means 'statutory instrument':
Monday, September 14
Behind the scenes and well outside of Parliament, an email emerged dated May 23, wherein Chief Scientific Adviser Sir Patrick Vallance stated he had pushed the most for March's lockdown:
Guido Fawkes has the full text of the email. I am not sure how Sir Patrick thinks that a vaccine will achieve herd immunity, though.
In the first of the debates on the Brexit-related Internal Market Bill, Charles Walker MP (Broxbourne, Con) prefaced his comments by expressing his dismay about the Rule of Six, the lack of consultation with Parliament and the fining of Jeremy Corbyn's brother Piers at the anti-lockdown rally on Saturday, September 12.
Thank you, Charles Walker:
This is short and well worth watching:
Tuesday, September 15
Secretary of State for Health and Social Care Matt Hancock poled up to make a statement to MPs about the Rule of Six and testing.
Excerpts follow:
There are signs that the number of cases in care homes and the number of hospitalisations is starting to rise again, so last week we acted quickly, putting in place new measures—the rule of six, which came into force yesterday. We do not do this lightly, but the cost of doing nothing is much greater.
Testing also has a vital part to play. Everyone in this House knows that we are doing more testing per head of population than almost any other major nation, and I can tell the House that we have now carried out over 20 million tests for coronavirus in this country. As we expand capacity further, we are working round the clock to make sure that everyone who needs a test can get a test. The vast majority of people who use our testing service get a test that is close to home, and the average distance travelled to a test site is now just 5.8 miles —down from 6.4 miles last week; but the whole House knows that there are operational challenges, and we are working hard to fix them.
We have seen a sharp rise in people coming forward for a test, including those who are not eligible.
Jonathan Ashworth (Leicester South, Lab/Co-op), speaking for the opposition, said:
I am grateful for advance sight of the Secretary of State's answer. That was decent of him.​
Yesterday LBC revealed that there were no tests available in covid hotspots, including Rochdale, Pendle and Bradford. Over the weekend in Bolton, where infections are the highest in the country, a mobile testing centre failed to turn up. Meanwhile, in Bury hundreds queued for five hours for a test. In Walsall, a father with his sick child travelled 76 miles to an appointment in Wales, only to find on arrival that tests had run out. Increasing numbers of teachers and pupils are not in school. In hospitals, operations are cancelled while NHS staff are stuck in limbo, waiting for tests.
The Secretary of State blames increased demand, but when tracing consistently fails to reach 80% of contacts, when less than 20% of those with symptoms self-isolate properly and there is a lack of financial security, infections rise. When schools reopen and people return to workplaces and social distancing becomes harder, infections rise. Extra demand on the system was inevitable. Why did he not use the summer to significantly expand NHS lab capacity and fix contact tracing?
Just as demand is increasing, the ability to process tests is diminishing. Post-graduate students working in the Lighthouse labs are returning to university, so why did the Secretary of State not plan for the inevitable staff shortages in the Lighthouse labs? Those commercial pillar 2 labs, The Sunday Times revealed at the weekend, have a huge backlog of 185,000 tests. Thursday's data revealed that 65,709 test results were not returned by the end of the week. Care home residents now wait an average of 83 hours for their result. The Prime Minister promised us a 24-hour turnaround for results, so what is going on? What is the current backlog and what is the timeframe for clearing it?
We were promised a world-beating system, so why are we sending tests to Germany and Italy for processing? But, most importantly, people want to know when they will get a test and when this mess will be fixed. Today there will be thousands of ill people trying to book a test, only to be told none is available. When will people be able to book a test online again, or has the online booking system been deliberately disabled? When will ill people no longer have to travel hundreds of miles for a test that should be available on their doorstep? When will pupils and teachers out of school get access to testing, so they can get back to school? When will NHS staff have access to regular testing, so they can focus on their patients and not be sitting at home?
We are at a perilous moment. Imperial College estimates the virus is doubling every seven to eight days. We all want to avoid further restrictions or another national lockdown, but when testing and contact tracing break down, the growth of the virus cannot be tracked. The Prime Minister promised us whack-a-mole, but instead his mallet is broken. The Secretary of State is losing control of the virus; he needs to fix testing now.
Many MPs — from both Opposition and Conservative benches — said that their constituents could not get tests.
Even the Speaker of the House tweeted that his constituents were having similar problems:
The testing situation is shocking — as Terry-Thomas used to say in the Boulting Brothers films: 'An absolute shower!'
On the upside, the British coronavirus jobs situation is improving, thank goodness (more from Guido here):
Wednesday, September 16
Deputy Labour Leader Angela Rayner (Ashton-under-Lyne) stood at the Opposition despatch box for Prime Minister's Questions (PMQs), as Sir Keir Starmer was self-isolating:
She did a good job.
She began by saying:
Many people in the Chamber will think that the battle of Britain is today, but actually we marked the 80th anniversary of those veterans yesterday, and I want to put on record our thanks to all those who fought for our country in the past.
I want to start by reading to the Prime Minister a message that I have received from a man called Keir. Keir was not able to go to work today and his children could not go to school because his family had to wait for their coronavirus test results, despite the Prime Minister's promise of results within 24 hours. Keir was able to do the right thing and self-isolate and work from home, but other people are not in this position, and many of them are the very people who were getting us through this crisis, such as the care workers, who I used to work alongside before I was elected to this House. The Prime Minister once earned £2,300 an hour; can he tell us the average hourly rate of a care worker in this country?
Boris was singularly unimpressed, although he had a neutral expression on his face, even when discussing Starmer:
I congratulate the hon. Lady on her elevation. She speaks of the constituent Keir, and I can tell her that—allegedly, apparently—he has had a negative test, and I do not know quite why he is not here. But 89% of those who have in-person tests get them the next day, and we are working very fast to turn around all the test requests that we get. I think that most people looking at the record of this country in delivering tests across the nation will see that that compares extremely well with any other European country. We have conducted more testing than any other European country, and that is why we are able to deliver tests and results in 80% of cases where we know the contacts.
The hon. Lady asks about care homes, and I can tell the House that today we are launching the winter care home action plan. She is right to raise the issue of care homes, and we are concerned about infection rates in care homes, but we will do everything we can to ensure that care homes and their workers are protected.
On the hon. Lady's final point, I am proud that it is this Government who have instituted the national living wage to ensure that every worker in this country, including care home workers, is paid substantially more, thanks to the care and the work of the people of this country.
Boris listened attentively and responded sensitively to all the points that Angela Rayner raised until this point, which came several minutes in, when she said:
Infections are rising. The testing system is collapsing. When you are the Prime Minister, you cannot keep trying to blame other people for your own incompetence. We have the highest death toll in Europe, and we are on course for one of the worst recessions in the developed world. This winter, we are staring down the barrel of a second wave, with no plan for the looming crisis. People cannot say goodbye to their loved ones. Grandparents cannot see their grandchildren. Frontline staff cannot get the tests that they need. And what was the top priority for the covid war Cabinet this weekend? Restoring grouse shooting.
I suppose that is good news for people like the Prime Minister's friend who paid for a luxury Christmas getaway to a Caribbean island and funded his leadership campaign, and just so happens to own two grouse moor estates. So Prime Minister, is this really your top priority?
The Prime Minister answered:
While the Labour Opposition have been consistently carping from the sidelines throughout this crisis and raising, frankly, issues that are tangential, if not scare stories about what is going on, we are getting on with delivering for the British public. We are not only massively ramping up. She has not contested any of my statistics today about the extent to which this country is now testing more than any other European country.
She has not disputed the massive acceleration in our programme. [Interruption.] I will answer the substance of her question, thank you very much. We are getting on with delivering on the priorities of the British people: getting us through this covid crisis; delivering on making our country safer, bringing forward measures to stop the early release of dangerous sexual and violent offenders, which I hope she will support; strengthening our Union, which in principle Opposition Front Benchers should support; and building more homes across this country and more affordable homes across this country, which she should support. That is in addition to recruiting more doctors and more nurses, and building more hospitals.
I do not think anybody is in any doubt that this Government are facing some of the most difficult dilemmas that any modern Government have had to face, but every day we are helping to solve them, thanks to the massive common sense of the British people, who are getting on with delivering our programme and our fight against coronavirus. It is with the common sense of the British people that we will succeed, and build back better and stronger than ever before.
If only.
That day, news of an upcoming curfew in London emerged.
Apparently, the British people don't have much common sense, after all.
Currently, London has some of the fewest new coronavirus cases (i.e. positive tests, little hospitalisation):
Guido rightly wrote (emphases in the original here):
If this afternoon's splash from the Evening Standard is true, it is a step too far. The London director of Public Health England (yes, the organisation is still limping on for now, despite the Health Secretary announcing its abolition back in August) has issued a "curfew alert" to the capital through the newspaper, saying residents could face a mandatory curfew if Covid cases continue to rise. A ridiculous suggestion that should be forcefully opposed.
Shutting pubs, bars, restaurants, and just about everything else at an arbitrary hour will obviously do nothing to stop the spread of coronavirus. If anything, the move will be counter-productive – compressing the same number of customers into a shorter time and making social distancing harder still. Or pushing social gatherings into homes not bars, which are thought to be more likely to spread the virus. This no doubt ineffective PHE [Public Health England] nannying should have been dumped when the organisation was. The government need to remember there is a limit to people's compliance. This might just hit it.
As I write early on Tuesday, September 22, Boris is planning to bring in an England-wide curfew for pubs and restaurants on Thursday. As if the virus will know the difference between a 10 p.m. closing time versus the usual one of 11 p.m. The mind boggles.
Thursday, September 17
Matt Hancock appeared again with another update on coronavirus.
This time, it was about measures taken on lockdown in the North East of England. This includes strict adherence to household bubbles, table service only in hospitality venues and a curfew between 10 p.m. and 5 a.m.:
Once again, he was straining every sinew, an expression he has been using since March:
The battle against coronavirus is not over, and while we strain every sinew to spring free of its clutches, with winter on the horizon we must prepare, bolster our defences and come together once again against this common foe.
Then he announced upcoming plans to make everyone using A&E (Accident and Emergency) departments to make a booking! Good grief:
… we are working to get patients the right care in the right place, by expanding the role of NHS 111. During the peak of this pandemic, we saw millions of people using NHS 111, on the phone or online, to get the best possible advice on coronavirus, helping them to stay safe and, where possible, to stay out of hospital, where they could have unknowingly spread the virus. It is crucial that, ahead of winter, we use this window of opportunity to seek out what worked and build on it, so we provide a better service for patients and protect the NHS. Of course, no one will ever be turned away from our emergency departments in the most serious of cases; however, we have worked with the royal colleges, the NHS and others to develop a better, quicker and more clinically appropriate service for patients by using NHS 111 first.
This is how it works. We will invest £24 million to increase call-handling capacity and to make sure there are more clinicians on hand to provide expert advice and guidance, and we will build on our trials to make NHS 111 a gateway to the emergency care system, providing a first port of call for patients. In future, rather than having to queue in an emergency ward, we are testing that people should call NHS 111 first to book an appointment with whoever can give them the most appropriate care, whether it is a GP, a specialist consultant, a pharmacist, a nurse or community services. Of course if they need to go to the emergency department, NHS 111 will be able to book them into an appropriate time slot. We want to see this approach lead to shorter waiting times and better availability of appointments for patients. We will consult on how its performance is best measured, and, with successful pilots, we will roll out NHS 111 First to all trusts from December.
This is the bit that galled me the most:
The purpose of 111 First is to improve access, including in terms of inequalities in the NHS, by ensuring that people get the right treatment in the right place and easier access if they do need to go to an emergency department, because the emergency ​department will know that they are coming. It is commonplace now in almost every part of our life to let people know that we are coming. If we are going to do something as important as visit an emergency department, it will help both the patient seeking treatment and the NHS to let them know that they are coming first. That is the principle behind 111 First. It sits alongside 999, which anybody should call in a serious incident.
'People's government', my eye.
Nor is the NHS the people's health service.
If you have a serious injury, you or your loved ones could be losing life- or limb-saving time by calling 111 or 999.
Based on what I read during the March lockdown, calling 111 was life-threatening. Children calling on behalf of elderly parents were told, 'If your relative is not turning blue, do the best you can.'
Calling the ambulance service on 999 generally produced this result: 'We're overloaded. If you can take your relative to hospital yourself, please do so.'
Over the past few months, I have heard NHS senior executives give testimony to Select Committees. They do not want patients coming in to a hospital, to a GP surgery — anywhere on NHS property.
An absolute shower!
Speaking of absolute showers, Baroness Harding — Dido Harding, a former jockey and failed business consultant/corporate director — gave testimony to a Select Committee, the Commons Science and Technology Committee, led by Greg Clark MP (Tunbridge Wells, Con).
Wow. It was car-crash television on BBC Parliament.
Baroness Harding is, inexplicably, the director of NHS Test and Trace programme.
Greg Clark is no slouch. He pressed and pressed the same question. Did she not anticipate the increase of demand for tests after lockdown lifted?
Finally, she gave the answer.
The Independent reported:
Demand for coronavirus tests is three to four times the number available, the director of NHS test and trace has admitted.
Baroness Dido Harding, who told MPs there was capacity to carry out 242,817 tests a day, said the "sizeable" rise in demand had been unexpected.
Boris Johnson has pledged to raise capacity to 500,000 by next month – but Baroness Harding's estimates suggest that even that figure would not be enough to satisfy demand.
Even then:
despite images of queues outside Covid-19 drive-in centres, the testing tsar said: "I strongly refute that the system is failing."
She put the blame on SAGE …
Baroness Harding insisted current capacity had been based on modelling provided by the government's Scientific Advisory Group for Emergencies (Sage) and suggested that around a quarter of those seeking tests did not have symptoms.
… and the testing laboratories:
Quizzed by the committee chair and former Tory minister Greg Clark on the current issues in the system, she said that the "constraint" in the testing was in processing and laboratories.
On Friday, Sir Jeremy Farrar, a SAGE member and director of the Wellcome Trust, hit back.
The Telegraph reported:
Sir Jeremy Farrar, the director of the Wellcome Trust, who sits on the Government's Scientific Advisory Group for Emergencies, said the body had given "clear advice" that a fully functioning test, track and trace system should be in place …
Responding to her comments on social media, Sir Jeremy said he had personally warned that a growing testing crisis was looming.
"Interesting to be blaming Sage," he wrote on Twitter. "Has been clear, and in the advice, that the UK faced an inevitable increase in community transmission and cases after the summer and needed a fully functional and trusted test, track and trace in place."
Sir Jeremy posted his comments from a BBC interview with Andrew Marr in June, in which he warned of a "nasty rebound" if steps were not taken to improve testing. He also re-posted an article from May in which he warned that lifting restrictions was difficult even with a fully working testing programme in operation.
The testing crisis deepened on Friday when it emerged that children at four out of five schools are staying at home because they cannot get a test …
This coronavirus business will only get worse. Watch and wait.
Part 2 concerns the Brexit-related Internal Market Bill.