You are currently browsing the tag archive for the 'D-Day' tag.
On Tuesday, June 14, 2022, Nigel Farage interviewed a 102-year-old D-Day American veteran in London.
This must-watch exchange took place on Farage's Talking Pints segment of his GB News show:
Steve Melnikoff took a Cunard cruise to the UK, accompanied by a younger man who helps him out on a daily basis.
Melnikoff said that, on the cruise ship, he spent his evenings ballroom dancing and had the photos to prove it.
It was amazing to see how young this man looks at 102. He's just days away from his 103rd birthday. He has no age spots and his skin is remarkably smooth.
Despite all the major things going wrong in the Western world today, older people look decades younger than they used to.
When I was growing up, people aged 50 and over definitely looked over the hill, no matter what their social class. We can no doubt ascribe better health care as a contributing factor to prolonged youth.
Another example of prolonged youth are the three Carry On female stars who reunited at a London restaurant on Sunday, June 12. The Daily Mail has a photo of them and reports:
The films were known for their saucy innuendos and drew millions of fans to cinemas in their heyday.
But former Carry On stars Jacki Piper, Valerie Leon and Anita Harris played it straight as they got together for a night out. The trio shared memories as they were pictured in a restaurant by their friend Barry Langford.
Miss Piper, 75, held onto 78-year-old Miss Leon's arm as they posed alongside Miss Harris, 80. Miss Leon and Miss Piper starred in 1970's Carry On Up The Jungle while Miss Harris played a nurse in 1967's Carry On Doctor.
They look fabulous, not a day over 55.
But I digress.
Returning to Steve Melnikoff, he said that the first thing he noticed in landing on Omaha Beach was the cold weather. Farage pressed him on what he really thought. Melnikoff replied that he might have been afraid, but he couldn't remember exactly.
Melnikoff said that he never talked about the war until decades later. It was the same with the soldiers with whom he served. He explained that, after the war, Americans were too busy working in factories in post-war rebuilding efforts.
Melnikoff was shot in the throat by Germans. Luckily, the shot missed his larynx. His comrade was fatally wounded and he managed to dress his friend's wound as best he could while waiting for help. Melnikoff was flown to England to recuperate in hospital. He has a big love for Britain as a result.
Farage asked Melnikoff what his greatest achievement was. Interestingly, he said that taking advantage of the GI Bill, through which he earned a bachelor's degree, improved the next three generations of his direct descendants, all of whom have university degrees. Well done!
He began returning to Omaha Beach around the Millennium and has made a few trips since. As for war memories, in the 1980s, he reunited with the man who was his sergeant. They met once a week for lunch and remembering their service together. The lunches stopped only when the sergeant died.
Melnikoff said that his secret to ageing was to always have a purpose in life and something to do. He said that he has a good genetic makeup and a positive outlook. His favourite pastime is golf. During his working life, he owned his own business.
Listening to him, one realises that he is sharp as a tack, unlike Joe Biden, whom he did not discuss.
Unlike Biden, one thing Melnikoff cannot be accused of is showing signs of dementia:
One thing that does concern Melnikoff is Russia's invasion of Ukraine, which he says reminds him of events in 1939 that led to the Second World War. This shorter clip is especially worth watching:
I wish Steve Melnikoff a happy 103rd birthday — and many happy returns!
Sunday, June 6, 2021, was the 77th anniversary of D-Day, the Longest Day: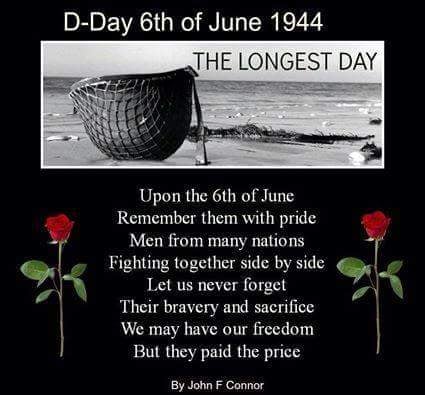 This map shows the landings in Normandy: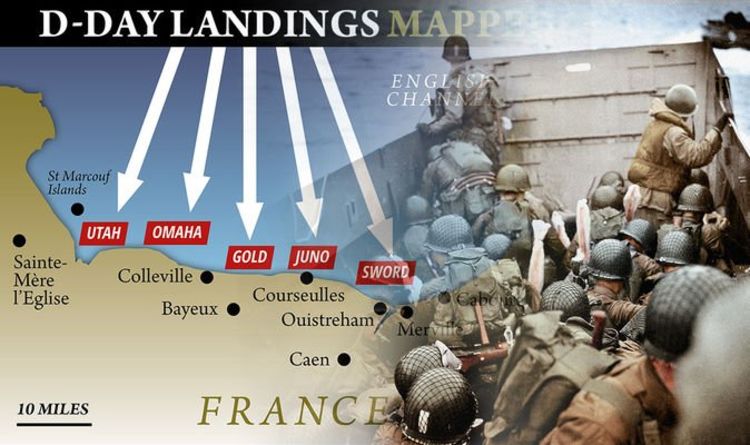 While preparing Sunday dinner, I listened to C-SPAN's Sunday morning show, broadcast on BBC Parliament. Sarah Rose, the author of D-Day Girls, was the guest. Her book is a novel, but she did a lot of historical research showing the intelligence work that women did behind the scenes as part of a carefully-managed international network.
The phone-in included many sons and daughters of Second World War veterans. Nearly all said that those veterans were, understandably, highly reluctant to talk about their war experiences. However, some said that their fathers or grandfathers opened up in their later years. One caller said that she has several hours of memories that she has recorded for posterity, particularly for younger family members.
With more and more of those veterans passing from this mortal coil, now is the time for children and grandchildren to record and catalogue those memories, if they can. One person who has done so is the author of Pacific Paratrooper, remembering Everett A Smith, their father. It's an excellent website, which also documents much history about the battles and conditions in the Pacific theatre. I am delighted to have the author as one of my regular readers.
We will always remember those heroic men and women:
Incidentally, the Houses of Parliament were bombed in 1941 and had to be reconstructed authentically in the 19th century manner. Both were faithfully restored. The next tweet shows the House of Commons:
Seventy-seven years later, we are still in the grip of the coronavirus crisis and a loss of freedom the troops involved in D-Day would have found unthinkable.
In Britain, former Prime Minister Tony Blair (Labour) appeared on The Andrew Marr Show to say that Britons who have had two vaccinations should be allowed greater freedoms, thereby creating a two-tier society:
If a Conservative had said that, Marr would have heaped criticism all over him or her.
It is mystifying that Tony Blair even gets airtime on this topic. He isn't in government, nor is his party.
It appears I am not alone, judging from the replies to this tweet:
On the topic of vaccines, Tony Blair has never said if his son Leo, born when he was in No. 10, had the MMR vaccine, which was highly controversial at the time. So, it was okay for him to refuse to give his son a vaccine that every other child born in Britain had/has to have. It is very difficult to get separate children's vaccines for measles, mumps and rubella. One imagines that Blair managed to get them for his son.
Tony Blair also wanted national ID cards. The debate raged for a few years in Parliament. Fortunately, nothing happened.
On Monday, Guido Fawkes's cartoonist Rich, recalling the ID card debate from the Blair years, posted this:
On the topic of vaccines, the Government is talking about giving them to children. Highly dangerous, one would have thought. The Telegraph's Bob Moran was moved to create this cartoon a week ago:
ITV's Good Morning Britain stoked the flames by asking whether the vaccinated should refuse to associate with the unvaccinated:
Fortunately, most Britons disagree with Good Morning Britain:
June 21 is supposed to be Freedom Day, according to the Government, with the caveat that full reopening of Britain will be based on data rather than dates.
It should come as no surprise that the Government could now backtrack on that date:
On June 1, we had no coronavirus deaths, but that did not make the news:
TalkRADIO host Julia Hartley-Brewer is fed up with the delays. In fact, as the chart below from Peston shows, the UK's actual coronavirus stats are much better than SAGE's models:
On June 3, Portugal, the only European country on the UK's green list for travel, was moved to the amber list, yet these charts tell a different story:
One suspects that it was only ever on the green list for the Champions League final in Porto:
Oddly, we had more freedom a year ago — with no masks and no vaccines — than we do now:
In Wales, First Minister Mark Drakeford (Labour) says that social distancing will not be disappearing any time soon:
Data for the UK should be available on June 14, at which point the Government will announce their decision regarding June 21:
The Government have paid for coronavirus advertising and COVID marshals, extending to 2022. Former London Assembly member David Kurten tweeted a reminder:
I, too, want my country back.
In Germany, scientists from Munich University say that lockdown had no effect on the virus spread:
Something is very wrong when, in a five-minute speech on television, a prime minister or a president can remove everyone's civil liberties at a stroke.
Monday, March 23, 2020, will be etched on my memory forever. That was the date of the UK's first lockdown.
D-Day. Freedom Day. What has happened to us — and for a 'pandemic' with fatality rates no worse than influenza? We are in a very bad way, not only in the UK, but also elsewhere in the West.
The Queen's Chrismas Day message to the nation was as thought-provoking as ever:
The Express has a transcript. Note that the Queen says that 2020 is the start of a new decade — not 2021, as pedants say (emphases mine):
as we all look forward to the start of a new decade, it's worth remembering that it is often the small steps, not the giant leaps, that bring about the most lasting change.
The new decade, beginning in a few days' time, is further confirmed on Twitter:
Contrary to what the media has reported this month, she kept family issues out of the speech.
On Christmas Eve, the Mail's Richard Kay wrote:
After so many broadcasts the Queen, of course, is comfortably familiar in front of the camera, but even so this year she will quite possibly deliver her most difficult, her most painful and perhaps, from the monarchy's point of view, her most crucial Christmas message ever.
Sure.
In reality, the Queen focussed on the notable anniversaries in 2019:
As a child, I never imagined that one day a man would walk on the moon. Yet this year we marked the 50th anniversary of the famous Apollo 11 mission.
As those historic pictures were beamed back to Earth, millions of us sat transfixed to our television screens, as we watched Neil Armstrong taking a small step for man and a giant leap for mankind – and, indeed, for womankind. It's a reminder for us all that giant leaps often start with small steps.
This year we marked another important anniversary: D-Day. On 6th June 1944, some 156,000 British, Canadian and American forces landed in northern France. It was the largest ever seaborne invasion and was delayed due to bad weather …
Since the end of the Second World War, many charities, groups and organisations have worked to promote peace and unity around the world, bringing together those who have been on opposing sides.
On that subject, The Express reported her words and what lay behind them:
"It was the largest ever seabourne invasion and was delayed due to bad weather.
"I well remember the look of concern on my father's face.
"He knew the secret D-Day plans but could of course share that burden with no one."
This subtle nod to her father also seems to reflect on the burden of loneliness which wearing the crown can entail at times.
Mentions of family were happy ones:
Two hundred years on from the birth of my great, great grandmother, Queen Victoria, Prince Philip and I have been delighted to welcome our eighth great-grandchild into our family.
The broadcast included a clip of Prince George stirring up Christmas pudding:
As Defender of the Faith in the United Kingdom, the Queen always mentions the Reason for the Season, dispensing pragmatic wisdom when speaking of our Lord:
Of course, at the heart of the Christmas story lies the birth of a child: a seemingly small and insignificant step overlooked by many in Bethlehem.
But in time, through his teaching and by his example, Jesus Christ would show the world how small steps taken in faith and in hope can overcome long-held differences and deep-seated divisions to bring harmony and understanding.
Many of us already try to follow in his footsteps. The path, of course, is not always smooth, and may at times this year have felt quite bumpy, but small steps can make a world of difference.
As Christmas dawned, church congregations around the world joined in singing It Came Upon The Midnight Clear. Like many timeless carols, it speaks not just of the coming of Jesus Christ into a divided world, many years ago, but also of the relevance, even today, of the angel's message of peace and goodwill.
It's a timely reminder of what positive things can be achieved when people set aside past differences and come together in the spirit of friendship and reconciliation. And, as we all look forward to the start of a new decade, it's worth remembering that it is often the small steps, not the giant leaps, that bring about the most lasting change.
And so, I wish you all a very happy Christmas.
The broadcast, which airs at 3 p.m. GMT every year, closed with the choir at Windsor Castle singing the famous carol, accompanied by a military band.
I wonder if outgoing Labour leader Jeremy Corbyn saw the speech, which he said was broadcast in the morning:
On Christmas Day at Sandringham in Norfolk, the Royal Family look forward to a church service and family lunch.
Normally, the Royal children do not attend the service. However, Princess Charlotte and Prince George made their first appearance this year (top photo on the left in the second tweet):
I hope that the Queen's cousin, Princess Alexandra, had a very happy birthday:
This year's Christmas speech by the Queen proved the media wrong once again. Why do we lean on their every word?
Instead, let us heed her words about small steps being significant in creating great transformation.
President Donald Trump and First Lady Melania Trump were in England and Normandy for commemorations of the 75th anniversary of D-Day.
The night before, he hosted Prince Charles and Camilla the Duchess of Cornwall for dinner at the US ambassador's residence in Regent's Park, London. The guests at his table were also in Portsmouth the following morning. Theresa May is on the right in the photo:
On Wednesday, June 5, the Royal Family's Twitter account summarised D-Day's importance:
Also:
The Allied landings on the Normandy beaches marked the start of a long and costly campaign to liberate north-west Europe from German occupation. #DDay75
This was the scene in Portsmouth, on England's south coast that day:
A short time later, veterans who had been involved 75 years ago began taking their seats:
The Queen, who served as a mechanic during the war, arrived:
This is a photograph for the history books:
Warm exchanges took place beforehand:
The Queen stood between Prince Charles and President Trump to watch the proceedings:
She addressed the crowd, referencing her father, George VI:
President Trump read then-President Franklin Delano Roosevelt's prayer for the troops:
D-Day veterans appeared on the dais to grateful applause.
Actress Celia Imrie (speaking in the next video) compered (emceed) the various performances:
The following ABC News video has the Portsmouth commemorations in their entirety:
The BBC has a set of photographs covering the day's events.
Afterwards, the Queen, Prince Charles and the Trumps met with veterans who so bravely served in D-Day operations:
Trump also met with British veterans as well as US Navy personnel based in England:
The Queen then bade farewell to the Trumps, who were leaving for Ireland, where the president met with the prime minister there that afternoon:
The Trumps went to Normandy the following day for D-Day ceremonies before returning to Ireland, then onwards to the United States.
The Q Tree has the Trumps' schedule after Portsmouth for the rest of June 5 (emphasis in the original):
2:50pm BST / 9:50am EST THE PRESIDENT and THE FIRST LADY depart Southsea Commons en route to Southsea Castle Landing Zone, Portsmouth, United Kingdom
2:55pm BST / 9:55am EST THE PRESIDENT and THE FIRST LADY arrive at Southsea Castle Landing Zone, Portsmouth, United Kingdom
3:05pm BST / 10:05am EST THE PRESIDENT and THE FIRST LADY depart Portsmouth, United Kingdom, en route to Southampton Airport, Southampton, United Kingdom, Portsmouth, United Kingdom
3:25pm BST / 10:25am EST THE PRESIDENT and THE FIRST LADY arrive at Southampton Airport, Southampton, United Kingdom
3:35pm BST / 10:35am EST THE PRESIDENT and THE FIRST LADY depart Southampton Airport en route Shannon Airport, Shannon, Ireland, Southampton, United Kingdom
~ U.K State Visit Concludes ~
4:50pm IST / 11:50am EST THE PRESIDENT and THE FIRST LADY arrive at Shannon Airport, Shannon, Ireland
5:00pm IST / 12:00pm EST THE PRESIDENT and THE FIRST LADY depart Shannon Airport en route to Shannon Airport Terminal, Shannon, Ireland
5:05pm IST / 12:05pm EST THE PRESIDENT and THE FIRST LADY arrive at Shannon Airport Terminal, Shannon, Ireland
5:15pm IST / 12:15pm EST THE PRESIDENT participates in a bilateral meeting with Prime Minister Taoiseach Leo Varadkar of Ireland, Shannon, Ireland
5:20pm IST / 12:20pm EST THE PRESIDENT participates in an expanded bilateral meeting with Prime Minister Taoiseach Leo Varadkar of Ireland, Shannon, Ireland
6:00PM IST / 1:00pm EST THE PRESIDENT and THE FIRST LADY depart Shannon Airport Terminal en route to Shannon Airport, Shannon, Ireland
6:05pm IST / 1:05PM EST THE PRESIDENT and THE FIRST LADY arrive at Shannon Airport, Shannon, Ireland
6:15pm IST / 1:15pm EST THE PRESIDENT and THE FIRST LADY depart Shannon, Airport, en route to Trump International Doonbeg Landing Zone, Doonbeg, Ireland, Shannon, Ireland
6:35pm IST / 1:35pm EST THE PRESIDENT and THE FIRST LADY arrive at Trump International Doonbeg Landing Zone, Doonbeg, Ireland
The Clare Champion featured their arrival:
At the end of Tuesday, Trump tweeted:
He and his entourage would fly from Ireland to Colleville-sur-Mer in the département of Calvados of Normandy the following morning.
Speaking of Normandy, two British veterans were preparing to re-enact their jumps from 1944. Here is one of them undergoing a refresher course:
This is what happened on Wednesday, June 6:
This is what the Trumps saw as they landed in France that morning:
The following is an excerpt of President Trump's speech on Omaha Beach:
The Q Tree has his speech in full on Omaha Beach, excerpted below (emphases mine). More than 60 surviving American D-Day veterans flew to France for this important anniversary. Many more Second World War military survivors also attended:
President Macron, Mrs. Macron, and the people of France; to the First Lady of the United States and members of the United States Congress; to distinguished guests, veterans, and my fellow Americans:
We are gathered here on Freedom's Altar. On these shores, on these bluffs, on this day 75 years ago, 10,000 men shed their blood, and thousands sacrificed their lives, for their brothers, for their countries, and for the survival of liberty.
Today, we remember those who fell, and we honor all who fought right here in Normandy. They won back this ground for civilization.
To more than 170 veterans of the Second World War who join us today: You are among the very greatest Americans who will ever live. You're the pride of our nation. You are the glory of our republic. And we thank you from the bottom of our hearts.
Here with you are over 60 veterans who landed on D-Day. Our debt to you is everlasting. Today, we express our undying gratitude.
When you were young, these men enlisted their lives in a Great Crusade — one of the greatest of all times. Their mission is the story of an epic battle and the ferocious, eternal struggle between good and evil.
On the 6th of June, 1944, they joined a liberation force of awesome power and breathtaking scale. After months of planning, the Allies had chosen this ancient coastline to mount their campaign to vanquish the wicked tyranny of the Nazi empire from the face of the Earth.
The battle began in the skies above us. In those first tense midnight hours, 1,000 aircraft roared overhead with 17,000 Allied airborne troops preparing to leap into the darkness beyond these trees.
Then came dawn. The enemy who had occupied these heights saw the largest naval armada in the history of the world. Just a few miles offshore were 7,000 vessels bearing 130,000 warriors. They were the citizens of free and independent nations, united by their duty to their compatriots and to millions yet unborn.
There were the British, whose nobility and fortitude saw them through the worst of Dunkirk and the London Blitz. The full violence of Nazi fury was no match for the full grandeur of British pride.
There were the Canadians, whose robust sense of honor and loyalty compelled them to take up arms alongside Britain from the very, very beginning.
There were the fighting Poles, the tough Norwegians, and the intrepid Aussies. There were the gallant French commandos, soon to be met by thousands of their brave countrymen ready to write a new chapter in the long history of French valor.
And, finally, there were the Americans. They came from the farms of a vast heartland, the streets of glowing cities, and the forges of mighty industrial towns. Before the war, many had never ventured beyond their own community. Now they had come to offer their lives half a world from home.
This beach, codenamed Omaha, was defended by the Nazis with monstrous firepower, thousands and thousands of mines and spikes driven into the sand, so deeply. It was here that tens of thousands of the Americans came …
One of those men in [Colonel George] Taylor's 16th Regiment was Army medic Ray Lambert. Ray was only 23, but he had already earned three Purple Hearts and two Silver Stars fighting in North Africa and Sicily, where he and his brother Bill, no longer with us, served side by side.
In the early morning hours, the two brothers stood together on the deck of the USS Henrico, before boarding two separate Higgins landing craft. "If I don't make it," Bill said, "please, please take care of my family." Ray asked his brother to do the same.
Of the 31 men on Ray's landing craft, only Ray and 6 others made it to the beach. There were only a few of them left. They came to the sector right here below us. "Easy Red" it was called. Again and again, Ray ran back into the water. He dragged out one man after another. He was shot through the arm. His leg was ripped open by shrapnel. His back was broken. He nearly drowned.
He had been on the beach for hours, bleeding and saving lives, when he finally lost consciousness. He woke up the next day on a cot beside another badly wounded soldier. He looked over and saw his brother Bill. They made it. They made it. They made it.
At 98 years old, Ray is here with us today, with his fourth Purple Heart and his third Silver Star from Omaha. Ray, the free world salutes you. Thank you, Ray.
Trump related a few more real life stories about what is known as the Longest Day, unimaginably harrowing. God was with the Allied troops.
Trump concluded:
The men behind me will tell you that they are just the lucky ones. As one of them recently put it, "All the heroes are buried here." But we know what these men did. We knew how brave they were. They came here and saved freedom, and then, they went home and showed us all what freedom is all about.
The American sons and daughters who saw us to victory were no less extraordinary in peace. They built families. They built industries. They built a national culture that inspired the entire world. In the decades that followed, America defeated communism, secured civil rights, revolutionized science, launched a man to the moon, and then kept on pushing to new frontiers. And, today, America is stronger than ever before.
Seven decades ago, the warriors of D-Day fought a sinister enemy who spoke of a thousand-year empire. In defeating that evil, they left a legacy that will last not only for a thousand years, but for all time — for as long as the soul knows of duty and honor; for as long as freedom keeps its hold on the human heart.
To the men who sit behind me, and to the boys who rest in the field before me, your example will never, ever grow old. Your legend will never tire. Your spirit — brave, unyielding, and true — will never die.
The blood that they spilled, the tears that they shed, the lives that they gave, the sacrifice that they made, did not just win a battle. It did not just win a war. Those who fought here won a future for our nation. They won the survival of our civilization. And they showed us the way to love, cherish, and defend our way of life for many centuries to come.
Today, as we stand together upon this sacred Earth, we pledge that our nations will forever be strong and united. We will forever be together. Our people will forever be bold. Our hearts will forever be loyal. And our children, and their children, will forever and always be free.
May God bless our great veterans. May God bless our Allies. May God bless the heroes of D-Day. And may God bless America.
The Q Tree has full coverage, including this 90-minute video of the day's commemorations:
This is NBC's video, which begins with an analysis of D-Day:
French president Emmanuel Macron also addressed the American veterans. I was in France at the time and watched part of his speech on BFMTV. It was highly evocative and really captured the idea of Americana. Whoever wrote it should get a pay rise. I was very moved by it. He spoke, as did Trump, of young soldiers from farms in the Midwest mixing with their comrades from Manhattan and New Jersey, writing their girlfriends farewell letters.
Afterwards, Macron shook hands with all the veterans and spoke with each individually. I'm not a Macron fan at all, but I have to give him credit for that.
Trump tweeted a short video recapping his day in Normandy:
This is the view of the Trumps' departure, returning to Ireland before flying back to Washington:
Reflecting on D-Day, someone online posted this excellent graphic from Gab:
We should be so grateful for everything that God has given us — especially peace and freedom in the Western world.
However, it would also be prudent to look at how we have squandered the opportunities for our young people in peacetime. The safe space generation is not equipped to deal with the horrors of life such as it is.
May the good Lord grant us the wisdom to get us out of a navel-gazing attitude towards one of genuine progress and ingenuity, such as that of the post-war years.
In closing, let us give thanks to the Greatest Generation for their immense courage and bravery.
The Royal British Legion, in their pamphlets and website, have much historical and personal remembrances about the Second World War as well as subsequent conflicts involving British servicemen.
It was only a few years ago that the last two old soldiers from the Great War went to their eternal rest. Both lived well beyond their centenaries.
Soon, it will be the turn of those veterans who fought at the Normandy Landings on D-Day. As my more regular readers know, a banquet will be held in St Paul's Cathedral for them. The BBC show Great British Menu has been running for several weeks. By now, we know the names of the chefs from around the country who will be preparing what everyone hopes will be a grand repast for these men and women who fought for our freedom.
The Royal British Legion site introduces D-Day as follows (emphases in the original):
The 70th anniversary of the D-Day landings is 6 June 2014. Those landings were pivotal in drawing the Second World War to a close as well as being one of the most ambitious attacks in military history.
Another page recalls how the day had begun to be planned as far back as 1941. In part:
After the defeat of most West European countries in 1940, only Britain remained fighting against Nazi Germany and its allies in Europe. Standing against the Nazi empire was one thing, being able to defeat her was another. Victory would only come if the Western Allies and the USSR fought in Europe itself. To do that, Britain, its Empire and Commonwealth and the US would have to cross the sea and land back into West Europe whilst the Soviet forces battled in Eastern Europe.The build up for that invasion took time.
The Legion also provides a list of 20 facts we should know about D-Day. These include:
1. D-Day is a term traditionally used by the Armed Forces for when an operation, such as an attack begins. The 'D' just stands for day – the day before D-Day was known as "D-1", and the day after D-Day was "D+1". Prior to June 1944, there would have been lots of D-Days. Now it is generally just used to refer to the allied attack in Normandy on 6 June 1944 and the start of Operation Overlord.
2. Operation Overlord was the codename given to the whole invasion of North West Europe. Governments and Armed Forces use code words to describe plans and operations to try and keep them secret or to stop different plans from being confused. Included in Operation Overlord was Operation Neptune which was the main part of the attack lasting from 6 June to 30 June 1944.
7. Normandy was chosen because it was the most unlikely spot. Although there were German beach defences there, they were not as strong as those at other areas. To get round the problem of attacking via a port, the Allies invented and then built temporary harbours – called Mulberry Harbours.
10. In Britain, in the build-up to D-Day (code named Bolero), the whole of the south of England resembled one large army camp. Civilian travel was restricted in some areas, as was diplomatic travel. Journalists were monitored and most troops were under constant training.
14. The Allied Forces landed troops along the Normandy coast, stretching approximately 25 to 30 miles in length. The area was divided up into 5 sections and given the codes of Utah, Omaha, Gold, Juno and Sword. The US troops landed at Utah and Omaha, the British at Gold and Sword and the Canadians at Juno.
18. Anne Frank wrote about D-Day in her diary on 6 June 1944 after hearing the news on a secret radio.
"This is D-Day, came the announcement over the British radio. The invasion has begun! According to the German news, British parachute troops have landed on the French coast. British landing craft are in battle with the German Navy, says the BBC.
"Great commotion in the 'Secret Annexe'! Would the long-awaited liberation that has been talked of so much but which still seems too wonderful, too much like a fairy-tale, ever come true? Could we be granted victory this year, 1944? We don't know yet, but hope is revived within us; it gives us fresh courage, and makes us strong again."
20. D-Day, 6 June 1944, was the largest amphibious (sea to land) invasion in the history of warfare. There hasn't been any operation as ambitious either before or since. In the months that followed D-Day, the Allies became bogged down in battles and German counter-attacks, but they were never forced back into the sea or removed from Normandy, making D-Day and the invasion of Normandy a huge success.
This pictorial from the French news site l'Internaute guides us through what happened on the day. (If you get an ad, just click on 'accéder immediatement au site'.)
Various thoughts are running through my mind right now. Thanksgiving that our troops were providentially guided, scepticism that we could accomplish this now, along with a prayer that we never have such a need again.
Thank you to British and other Allied forces for working together and keeping up the good fight which led to victory and peace in Europe. May we never forget their sacrifice.