You are currently browsing the tag archive for the 'Daily Mail' tag.
Those who missed the first two instalments of Prime Minister Boris Johnson's downfall can read them here and here.
Today's post will focus on Michael Gove.
Yesterday, I left off with Boris firing Gove in a telephone call.
Gove must have been stunned.
Yet, even he cannot deny that he and Boris got on well. Apparently, they knew each other at Oxford and were hardly best friends then.
2016 betrayal
As for more recent events, author and journalist Douglas Murray gives us a précis of Gove's parliamentary career in an article for UnHerd: 'Michael Gove's faultless prophecy'.
Unlike me, Murray is a Gove fan, but there are a few excerpts from his article worth exploring.
Gove has been in various Cabinet and ministerial positions since 2010, when we had a coalition government under David Cameron (Conservative) and Nick Clegg (Liberal Democrat).
Under Cameron in those years, Gove was in the Department for Education.
After Cameron's re-election in 2015 which gave the Conservatives a clear majority without the need for another coalition, Gove continued receiving appointments to various departments:
After the 2015 election, he became known in Whitehall for his mastery of his brief. Most ministers who go from portfolio-to-portfolio struggle to understand the complexities of just one of their jobs, let alone each of them in turn. Yet this is exactly what Gove did at Justice — even though he was there for less than a year — and in each of the cabinet positions he subsequently held.
He knew what way the wind was blowing with the 2016 Brexit referendum:
Before Gove chose to vote for "Leave", there were concerns that the Brexit campaign would suffer from being led by too few senior politicians: an operation with Chris Grayling and Bernard Jenkin as its figureheads was unlikely to inspire a democratic revolt. Gove recognised this — and while campaigning to leave the EU was entirely in keeping with the principles that defined his political career and the years in journalism that preceded it, it still took bravery for him to step up. It alienated Gove from much of his friendship group (not least the Camerons), and could have cost him dearly politically.
Cameron resigned as Party leader the morning after the referendum result, as if suffering from sour grapes because things didn't go his way. It was around 9:30 a.m., if I remember rightly.
A Conservative leadership contest resulted, which Theresa May won.
However, Boris and Gove were in the mix, too.
Murray describes the atmosphere not only in Parliament but in the country as well from June 24, the day of Cameron's resignation, throughout much of the summer. This period also turned Conservative voters against Gove (emphases mine):
The thing, though, that Gove was most right about, and for which he has been praised for the least, is the act which made him most infamous. It gave him a reputation for snakery. This was, of course, his decision in the immediate aftermath of the referendum to turn on Boris Johnson.
It is not easy to forget the febrile atmosphere of June 2016; every hour turned up enough news to last a month in normal times. But it was also a perilous time: people were genuinely afraid. Basic questions remained unanswered. Would EU citizens be allowed to remain in the UK? Who is running the country? Once David Cameron left office and his Chancellor, George Osborne, decided to punish the country further by disappearing completely, only the Governor of the Bank of England emerged to say anything on behalf of the nation. "We are all prepared for this," Mark Carney reassured the country. Yet it was a moment of maximal instability.
The Leave campaign "victory" press conference the morning after the referendum was like a funeral. Perhaps the news of David Cameron's political demise, and the looming Tory chaos that would follow, cast a pall over proceedings. Or perhaps it was the realisation of the task that lay ahead. In those uncertain hours, the one thing that seemed clear was that to the victor most go the spoils. Boris Johnson had led the Leave campaign and it seemed inevitable that he should become the leader of the Conservative Party and the Prime Minister …
But Michael Gove put a stop to all that. Over the weekend after Brexit, something changed. Some people claim that Gove suddenly had visions of his own ascent to a higher office … Or was it that, in the aftermath of the referendum, Gove watched Boris Johnson and saw a man who was fundamentally unfit for the role of Prime Minister?
Murray would disagree with my assessment, but Michael Gove really did stab Boris in the back that summer:
When Gove held a press conference in which he announced that he would not be leading Johnson's campaign for the leadership, he immediately assumed a new role in the public imagination. Suddenly, he was Gove the turncoat, Gove the assassin, Gove the backstabber. The Gríma Wormtongue of British politics. The party swiftly showed its disapproval.
Murray has left out a few details here. Gove ran for Party leader that year along with Andrea Leadsom and Theresa May.
Gove despatched Boris quickly. The referendum was held on June 23, and one week later, on July 1, this was the state of play, as Isabel Hardman reported in The Spectator:
As Michael Gove finished speaking, the bookmakers have reported that Andrea Leadsom has overtaken the Justice Secretary when it comes to betting on who will be the next Tory leader. Theresa May remains the favourite at 1/3, with Leadsom at 7/2 and Gove at 12/1.
Now of course the bookies are not clairvoyants and can get elections—and referendums—very wrong indeed. But these odds reflect the mood in the Tory party, which is currently registering a sense of disbelief that Michael Gove could do something like this. Many senior figures believe that the way he has turned on Boris Johnson is beyond the pale, and are preparing to back Andrea Leadsom, while I understand that a group of former Boris backers are considering declaring their support as a block for Leadsom on Monday too.
Leadsom had a good referendum campaign, performing well for the Leave side. Her key disadvantage is that she has never held a Cabinet role – though this is not down to lack of ability so much as it is down to George Osborne's personal dislike of her following criticisms she made of the Chancellor in 2012. He bears grudges, and exacts revenge by slowing down the careers of people who have angered him. Leadsom took much longer to make it into government than she should have done. But this disadvantage may be a little easier to shrug off now Gove has such a trust problem with his own party.
Boris's sister Rachel had much more to say in the Daily Mail on July 2: 'Michael Gove's wife Sarah Vine "detonated the Boris Johnson bomb" claims RACHEL JOHNSON'. Sarah Vine was, and still is, a Mail columnist.
Rachel tells us how Gove's candidacy unfolded with his wife's help:
It was funny ha-ha at first when she wrote in her column that she and her hubby Michael Gove would be running the country on a joint mandate.
'Given Michael's high-profile in the Leave campaign,' she wrote, 'that means he – we – are now charged with implementing the instructions of 17 million people. And that is an awesome responsibility.'
That royal 'we' between dashes was borderline bonkers enough, but it was followed by a leaked private email that ended up on the front pages because in it, Vine urged Gove to be his 'stubborn best', as he deployed his 'leverage' with his Brexit buddy Boris …
Nobody knew whether it had been leaked, or had misfired, but it was a bit whiffy and rum.
Even at that stage only the most crackpot conspiracy theorists could have guessed what was to come next in this multi-act, rolling, live-blogged Shakespearean tragedy.
Michael Gove knifed Boris Johnson in the back and in the front, pushed him under a bus, ran over him several times (thank you Piers Morgan for this image) and then declared he was running for the leadership himself.
This, coupled with the new arithmetic in terms of supportive MPs, meant that Gove's co-skipper was holed below the waterline and forced to abandon ship at his own launch.
Now we are where we are, as everyone keeps saying, and we know a bit more about where that is. 
Rachel gave us more insights into the real Michael Gove:
Brexit means Brexit. At some point Article 50 will be invoked. And never again listen to what a politician says. Watch what he or she does.
Gove was well known to be an ideological ninja, with his posters of Che Guevara and Chairman Mao on his wall, but when it came to the top job he was an avowed cleanskin. 
He had no leadership ambitions. After all, he'd said so many times: 'If anyone wants me to sign a piece of parchment in my own blood saying I don't want to be PM I'm happy to do that.'
'I'm not equipped to be PM. I don't want to be PM.'
'I am an inconceivable choice. I don't want to do it. I wouldn't do it. It wouldn't matter how many people asked me to do it,' etc, etc…
And then, on Thursday, he executed the most egregious reverse ferret and act of treachery in modern political history since… well, let's just say since Michael Gove backed Brexit against the wishes of his good friend David Cameron.
He did a lap of honour of the studios, saying to interviewers that friends had been begging him to do it and telling him: 'Michael, you'd be marvellous.'
'I'll explain to anyone who asks why I think I am the right person to be PM,' he said.
Then on Friday he delivered a substantial 5,000-word manifesto that he'd obviously prepared earlier, to be acclaimed on his new home, Twitter (he has come aboard with the handle @gove2016, so far following no one).
She went on to tell us that Gove had as his adviser Dominic Cummings, who was also part of the Leave campaign, masterminding proceedings in the background. However, the Goves and the Osbornes were closer:
OK, I accept that it was more likely detonated by the combined agency of his wife; his former adviser, Dominic Cummings; and also of course George Osborne, with whom the Goves maintain close contact. 
They are, indeed, due to go on family holiday ensemble this summer.
So of course it was inevitable, given this domestic scenario, for the Goves to dump a chap who is very much not numero uno assoluto with the Osbornes either. 
Think of the pressure from the wives to stick the knife in, get the job done, before the two families had to break bread over the prosecco and antipasti in Italy.
Rachel cited two longstanding Conservative MPs' reservations about Gove:
As it happens, Westminster suicide bomber is not a good look for anybody, which explains why many former Govistas – even one of the newspaper barons who supported him as recently as last week – are leaping on to the TM4PM (Theresa May for PM) bandwagon so fast.
As Michael Heseltine warned: 'I personally would keep an eye open for Gove. First he abandoned his friend David Cameron now Johnson has felt the blade.'
Ken Clarke has told Gove to fall on his sword and fast. The classical quotation that comes to mind in all this is not so much 'Et tu, Brute' but 'Those whom the Gods want to destroy, first they make mad.'
However much Gove tries to remind us what a nice, caring guy he is in his long leadership pitch, the 'signalling' around this personable and civilised candidate is, I'm afraid, that he's acted like a political psychopath run by his wife (Vine), an acknowledged sociopath (Cummings) and a lame duck Chancellor. 
And this Machiavelli still wants us to want him to be Prime Minister …
At his leadership launch, Michael denied his wife had urged him to run, denied he was giving Dom Cummings a job, but I don't necessarily take everything the most polite man in Parliament says on trust any more.
Rachel was and is a Remainer. And political people, whatever their stripe, often mix in the same circles, as she acknowledges of the Goves:
I like them. They are both lively company and huge fun. 
Indeed, we sometimes say that we must have supper soon, and perhaps we will, when the bleeding bodies of the fallen are removed from the smoking battlefield of this campaign.
Murray makes no mention of this intrigue but says that Gove might have been dismayed with Boris's seeming lack of gravitas:
… perhaps there really were things in the immediate aftermath of the referendum that persuaded him that Johnson was fundamentally unfit to lead the country; the weekend after the vote, as the country desperately looked around for a leader, Johnson decided it was the perfect time to host a "boozy barbecue" and a cricket match.
And why not celebrate? No one but no one in the media or politics on the Remainer side thought that 52% of the nation would vote Leave in the largest plebescite in British history.
In the end, Gove lost Conservative MPs' votes to Andrea Leadsom and Theresa May.
Afterwards, Leadsom said she could not understand why May did not want children. Leadsom got a lot of Party backlash for that. She stood down, leaving May as the last candidate standing.
As such, Conservative Party members did not have a vote that year.
Murray admits that no one ever forgot his hero's betrayal but says that Gove appeared to be a loyalist — on the surface, anyway, as far as I am concerned:
This cloud, by and large, has not left him. Only yesterday, one embittered newspaper columnist saw fit to describe Gove as "a conniving, reptilian politician". Is this really true? He did, after all, survive through Theresa May's premiership, and stuck loyally beside her when other people would not. He even entered Johnson's own cabinet, and excelled in the roles he held in that short-lived administration. And not only is he the only politician who has remained at cabinet level through this tumultuous decade and a half, but he is also one of the few people from Cameron's cabinet who is still in the House of Commons. Some lost out on the top prize and huffed off. Others whose abilities could have been of use to the country decided that the country did not deserve them — though various investment funds, as chance would have it, did.
A few days ago, Gove announced that he did not expect another role in the high echelons of government.
But did he really mean that?
It seems unlikely that Gove will actually remove himself from frontline politics. I read his announcement at the weekend as an act of cynical self-deprecation. Or perhaps a hint that he needs to simply "step back" for a bit.
Murray's conclusion is interesting:
In 2016, Gove didn't simply backstab Johnson; he issued a warning. It took the rest of the Parliamentary party and much of Britain another six years to decipher his warning: that when Johnson finally lumbers out of No 10, he will leave defeated and humiliated. Don't say we weren't warned.
The Goves' break-up
In June 2021, The Sun published photos of Matt Hancock and his female adviser in a tight clinch in his office at a time when social distancing was still in force. Hancock abruptly left his wife when the photos were published.
On July 2, the Goves announced they, too, would be divorcing, although for different reasons:
Guido Fawkes's post referenced Sarah Vine's Mail on Sunday column a week earlier on June 26:
This official announcement to the Press Association will surprise no one in SW1 where rumours have been rife for months. At one point Lobby hacks were asking the PM's spokesman under what roof was Michael Gove sleeping. Sarah Vine's article this week in the Mail on Sunday was not subtle.
While she did not mention her husband at all, she did write that politics can alter home life irrevocably, as in the case of the Hancocks:
The problem with the wife who has known you since way before you were king of the world is that she sees through your facade.
She knows your fears and your insecurities. She knows that, deep down inside, you are not the Master of the Universe you purport to be. And some people don't like to be reminded of that …
In the end, there are two types of politicians. Those who can walk away from power – and those who can't. And who will compromise everything for the sake of it.
How the Gove family found out about his sacking
On July 7, 2022, Sarah Vine wrote an article for The Mail about how she and the children found out that Boris sacked Michael.
Note that she is still friends with Rachel Johnson.
The news came via text messages as Sarah and the children were watching Love Island:
The teenagers and I were watching Love Island when the news broke — a text, to my son, from a mate: 'Is it true that Boris has fired ur dad?!'
A split second later, my phone also pinged. It was my friend Rachel (Johnson, Boris's sister): 'My bro has just fired your ex!!' Blimey, I thought. Even I wasn't expecting that.
They turned off the television to find out more:
'Get him on speakerphone, get him on speakerphone!' squealed my daughter. So we got him on speakerphone (Michael, not Boris). What on earth happened?
'Well,' he explained, 'The Prime Minister rang me a few minutes ago and told me it was time for me to step back. I said, respectfully, 'Prime Minister, if anyone should be stepping back, it is you.'
'Go on!' said my son, leaping off the sofa and punching the air.
'What are you going to do now?' I asked. 'Have a glass of wine and a slice of salami and see what tomorrow brings,' he replied.
What tomorrow brought, of course, was the Prime Minister's resignation, following the resignations of pretty much anyone of any consequence.
Vine was generous in her assessment of Boris's premiership but she, too, agreed with her husband that he just wasn't serious enough:
I still don't quite see what is to be gained, politically, from getting rid of him. There isn't a brilliant replacement waiting in the wings, and the country could really do without the disruption of a whole summer of rudderless government, or worse, a snap general election.
Especially since, as prime ministers go, he was not by a long shot the worst this country has seen.
He delivered Brexit, albeit imperfectly — but then after the horlicks Theresa May made of it, it was a miracle he managed it at all.
Like every other leader on the planet, he was blindsided by Covid — but handled the pandemic with bravery and vision, rolling out the vaccination programme at record speed, pulling the country out of lockdown as quickly as possible.
He was spot-on with the war in Ukraine, moving quickly to offer Britain's support against Russia.
On the big stuff, as the cliche goes, he was good. Better than good, actually. But in politics, that's not enough any more …
It's not enough to be a serious politician; you also have to be a serious human being. And the problem with Johnson is that he just isn't. That, ultimately, has been his downfall.
Everything that has gone wrong for him — the lockdown parties, the questionable donations, the dinners with oligarchs, the misguided loyalties, the tenuous grasp of the facts — it all stems from that.
Vine then tells us how angry Gove got with Boris when he was running for Mayor of London, a post he held for two terms, from May 2008 to May 2016:
At the time Boris was running for mayor of London, doing a round of fundraisers. My (now) ex-husband and I had been to one the night before, a dinner somewhere or other, where Boris was speaking.
It was a disaster. I remember he arrived late, delivered a thoroughly lackadaisical performance and left early, underwhelming the assembled, many of whom were astonished that such a man could even contemplate a life in politics. He seemed incapable of buttering a bread roll, let alone a room of donors.
The next day, Michael rang Boris and gave him both barrels. How dare he waste everyone's time and effort like that; didn't Boris realise how many people had put themselves out to organise that evening, for his benefit? It was embarrassing, it was rude — and, worst of all, it was irresponsible.
Boris was suitably contrite. 'Sorry, Gover, I hear you Gover,' was his response, deploying his customary bashful charm. It didn't wash. Michael hung up.
Despite being almost two decades ago, the incident sticks in my mind because a) I had never seen Michael so angry and b) it is emblematic of Johnson's biggest problem, one that lies at the root of all his troubles: he just can't take anything seriously.
She brought up Boris's childhood ambition of being 'king of the world', which I covered in Part 1.
Then she told us about his 2016 candidacy for leader of the Conservative Party:
Everyone was exhausted, but they threw themselves into it. Meetings, phone calls, speeches, media rounds — it was relentless. Boris was running to replace Cameron, Michael having decided — largely at my behest — not to.
There was support to be garnered, deals to be brokered — all the usual stuff that goes on in a leadership contest.
Everyone was going all out to get Boris elected. Except, it seemed, for one person: Boris. While the rest of the team were busting several guts, he appeared to have taken a leaf out of Cameron's book — and seemed to be mostly chillaxing.
He was supposed to meet so-and-so; he didn't. He was supposed to draft a letter; he didn't. Make a phone call; didn't happen. Oh, I'll do it in the morning, oh I left it at home. Not quite the dog ate my homework, but not far off. Sometimes he would just go AWOL, leaving the team scrabbling for excuses.
Everyone was taking things deadly seriously; Boris, meanwhile, seemed to think it was all just one big joke. 
Things finally came to a head when the team found him holed up at home in the countryside, flipping burgers, drinking rosé and playing cricket with his mates while the fate of Brexit — this thing that he had supposedly been so passionate about, that had brought down a government, that had overturned everyone's world order — hung in the balance.
That night, Michael walked through the front door ashen-faced. 'I've made a terrible mistake,' he said. 'Boris is a disaster.' And the rest, as they say, is history.
Michael paid a very heavy price — both politically and personally — for that judgment call. As we saw from this week's events, Boris never quite forgave him — and who can blame him. 
She left out the part where Gove then decided to throw his hat into the ring!
She still stands by her man in this respect:
It's hard to hear the truth about yourself at the best of times, even harder when it's from an old friend. As it was again this week when Michael told him the game was up.
In closing, Tim Loughton MP described Boris's sacking of Gove the best, even if he makes it sound as if it were done in person:
I think it was Michael Gove who went to Number 10 with the metaphorical bottle of whisky and the revolver – well, clearly Boris has downed the whisky and turned the revolver on Michael Gove.
Finally.
I do hope that Liz — or Rishi (we still have nine days to go) — forgets about Gove and moves ahead with fresher, newer talent in Cabinet: people who are actually in tune with what Britons are thinking.
Tomorrow's post will highlight other resignations from early July. I'll never forget keeping track of Guido's Twitter feed during that time.
Last weekend saw an Anglican news story make the papers: that of ordinand Calvin Robinson, who is effectively being prevented from taking Holy Orders in the Church of England.
Even though he is mixed-race black, he appears to be the 'wrong sort' of minority for the C of E: too biblical, too conservative, too traditional.
I wrote about him a month ago, when it was clear he was having problems securing a priestly placement, even though he had been offered one in central London at St Alban's in Holborn.
Background
In 2020, Calvin Robinson was a campaigner for Defund the BBC. Here he tells Dan Wootton, then a broadcaster on talkRADIO, that it was absurd for the BBC's Countryfile to suggest that people of colour would feel awkward in the countryside. Robinson said that he practically grew up in Sherwood Forest in Nottinghamshire:
He had more to say in September, when the BBC's A Question of Sport revamped its panel because of their skin colour. Robinson called for more diversity of thought and economic background instead, i.e. conservative working-class people:
Robinson worked as a schoolteacher and assistant principal before entering the seminary. He was also a school governor, so a well-rounded children's education remains important to him. On October 15, he took exception to radical 'theories' entering the British school system:
He had more to say a few days later when Parliament debated the subject. Kemi Badenoch MP is at the despatch box. The Opposition view her as the 'wrong sort' of minority woman:
He deplored the National Education Union's push for school closures early in 2021 because of the pandemic:
Shortly after he tweeted that, he had appeared on a BBC Sunday morning show, The Big Questions. His appearance brought reaction in the form of verbal insults from an activist and academic at Leeds Beckett University, more about whom below. On February 18, he wrote an article about it for the Mail:
… after I had appeared on the long-running BBC discussion show The Big Questions last Sunday morning, I saw a message on Twitter from Aysha Khanom, the founder and director of the Race Trust charity, which works with schools and universities and purports to promote 'racial equity'.
Aysha Khanom personally tweeted of me: 'Please somebody deal with this man!'
I found that menacing. I don't know exactly what she meant by it, but it echoes the sort of language that Tony Soprano would use when he wanted a rival rubbed out.
'Deal with' could easily be read as an incitement to violence.
But I shrugged it off. If I obsessed over every piece of abuse I receive through my phone, I would never think about anything else.
Shortly afterwards, though, the Race Trust Twitter account also attacked me — and this time it was less ambiguous.
'Calvin Robinson,' the tweet read, 'does it not shame you that most people see you as a house n****?'
I knew immediately that any decent person would find that language abhorrent. And sure enough, within 48 hours, Leeds Beckett University, which had worked closely in the past with the Race Trust, cut all ties and deleted Aysha Khanom's profile from its website.
For what it's worth, Race Trust now denies Aysha Khanom sent that second tweet. It claims it came from an anonymous employee without approval, and that this unnamed person has since been dismissed …
There was no apology to me for labelling me with a racist slur …
The sad truth is that many on the Left want to remove my freedom to speak independently.
To them, my skin colour means I am supposed to be part of a homogenous, faceless group, without a mind of my own.
But I am more than that. I am British, a Christian, a Midlander, a former computer programmer, a qualified teacher, a political adviser, a son and a brother.
I have many elements to my identity, and all these things have far more effect on how I see the world.
Above all, I believe in self-reliance and personal responsibility. I want to make the most of my life and refuse to see myself as oppressed or downtrodden …
After Oprah Winfrey's interview with the Sussexes aired, Robinson was dismayed that Meghan claimed the Archbishop of Canterbury married her and Harry privately in the garden when it was only a rehearsal. Robinson explains the C of E criteria for a wedding ceremony:
Robinson joined GB News as a panellist and presenter soon after its launch in the summer of 2021.
This appearance of his from August 2021 was excellent. In it, he defended traditional Christian values which have informed the UK's way of life for centuries:
Two weeks earlier, he reminded us that then-Health Secretary Matt Hancock resolutely said in November 2020 that the coronavirus vaccines would not be given to children. Robinson is opposed to children receiving the vaccine. Yet, by the time he posted this tweet, schoolchildren were receiving it. What a difference several months make:
On August 18, he was very generous in defending the free speech of the aforementioned academic at Leeds Beckett University who called him something offensive. He wrote an article for Spiked about her, saying:
It is for that reason that I haven't joined in the demands for academic Aysha Khanom to lose her job. Leeds Beckett University has cut ties with Khanom after an organisation she runs, the Race Trust, racially abused me on social media.
Earlier this year, I appeared on BBC One's The Big Questions to discuss the state of racism in the UK. I spoke about how I have been racially abused for not holding the 'correct' opinions. In response, the Race Trust tweeted: 'Does it not shame you that most people see you as a house negro?'
Khanom maintains that the 'house negro' tweet was not sent by her, though she accepts responsibility for it. Either she or someone at her organisation was clearly comfortable using such racist language in public. The good news is that the tweet was rightly challenged and 'ratioed' by the masses on Twitter …
In my eyes, what's most worrying about this incident is that Khanom's organisation was set up to promote this critical race theory view – or what it calls 'race literacy' – in schools and universities. Sadly, this is what passes for 'anti-racism' today. Is this really the kind of worldview we want to indoctrinate our young people into?
The rise of identitarian racism should definitely worry us, but we won't be able to challenge it openly if its defenders aren't free to express themselves.
On Remembrance Sunday last year, an asylum seeker attempted to bomb Liverpool Cathedral but set himself off at the nearby children's hospital instead. He had converted to Christianity. Pictured below is a man from his church who housed him for a while. Calvin voiced his opinion:
By early 2022, anyone not towing the media-Government line on coronavirus was anathema. Robinson was empathetic but frank with a university student who lost her friends because she dared to dissent:
Calvin Robinson anathema to C of E bishops
This brings us to the present, the past week, in fact.
On Friday, May 20, Robinson said on GB News that he had no choice but to leave the Church of England. He announced that he would be joining GAFCON, Global Anglican Future Conference, which is traditional in its teaching and practice.
The Mail on Sunday was already working on the story. A Mail+ article from Saturday, May 21, reported (emphases mine):
Internal emails obtained by The Mail on Sunday reveal that Archbishop of Canterbury Justin Welby asked to be shown examples of Mr Robinson's tweets amid mounting alarm within the Church over his criticism of 'bleeding-heart liberal vicars' and the Church's race policy.
In one, The Rt Rev Rob Wickham, Bishop of Edmonton, voiced his fears to senior church leaders after Mr Robinson insisted that Britain was not riven with racism. 'Calvin's comments concern me about denying institutional racism in this country,' he wrote.
Mr Robinson also claimed that the Bishop of London, the Rt Rev Sarah Mullally, lectured him about racism in the church, insisting that 'as a white woman I can tell you that the Church is institutionally racist'.
Mr Robinson, a former teacher who has trained for two years to become an ordained member of the clergy, has been told that plans for him to serve as a deacon at a parish in London have been axed.
Last night he described the decision as 'soul-destroying' and claimed it followed a 'sustained campaign' against him by the Bishop of Edmonton over his views, including on whether Britain and the Church were institutionally racist. 'These people are claiming they are institutionally racist, yet they are disregarding the opinion of an ethnic minority because it is not fitting their narrative,' he said.
In comments set to rock the Church's hierarchy, he questioned whether the Archbishop of Canterbury, who has claimed the Church is 'deeply institutionally racist', had a part in blocking his ordination.
'I would love to know how big a role the Archbishop had in it because he has certainly been a part of the conversation. He is the boss and the fact they have gone ahead and cancelled me suggests that he was happy with that.'
… The Church said last night there were only a few clergy positions in London and 'no suitable option' available in London for Mr Robinson, who became a trainee vicar – an ordinand – at St Stephen's House, a theological college at the University of Oxford, in October 2020.
Yet, Robinson had already been offered a post at St Alban's, Holborn.
I gave you his background above because that is what the bishops were examining:
The emails reveal that even before starting his studies, Mr Robinson's public comments were being scrutinised by church leaders. He claimed on ITV's Good Morning Britain in September 2020 that the Black Lives Matter movement was stoking racial tensions, adding: 'There are elements of racism in this country we need to stamp out, but while we are seeing everything as racist we are kind of undermining those racial issues we need to address.'
That day the Bishop of Edmonton emailed the Bishop of London, the Rt Rev Sarah Mullally, and a PR adviser to the Diocese of London to register 'concern' about Mr Robinson's denial of institutional racism in Britain. 'Calvin Robinson is not only a political commentator, but he's an ordinand and former teacher in this area,' he added. Despite the Church's view on racism, the Commission on Race and Ethnic Disparities concluded in March 2021 that Britain did not have a systemic racism problem. In November 2021 senior Church leaders received a complaint after Mr Robinson shared on social media a Daily Mail investigation that exposed how the Church gave official advice that being baptised could help failed asylum seekers stay in Britain.
It followed news that suicide bomber Enzo Almeni, who detonated a device at a hospital in Liverpool last year, was baptised there as a Christian in 2015. Mr Robinson, by then a GB News commentator, tweeted that 'misguided bleeding-heart liberal vicars could be complicit in recent terror attack', adding: 'Not to mention abuse of the Holy Sacrament of Baptism.'
Bishop Wickham criticised the 'highly irresponsible' comments in an email to Emma Ineson, assistant bishop to the Archbishops of Canterbury and York, and said they remained online after 27 migrants died in the English Channel. 'These are clear examples as to why, in my opinion, his ordination should be looked at very closely indeed,' he wrote. 'Calvin's Twitter feed is here. It is worth scrolling down.' He revealed the Archbishop of Canterbury had 'asked for examples of Calvin Robinson's tweets' and highlighted that Mr Robinson had also criticised the findings of the Church's anti-racism taskforce, which recommended quotas to boost the number of black and ethnic-minority senior clergy. Bishop Ineson said she would show the information to Archbishop Welby.
Mr Robinson was to be ordained as a deacon with a part-time role as assistant curate at St Alban's Church in Holborn, central London. But in February the Bishop of Fulham, the Rt Rev Jonathan Baker, told him the role was 'likely to prove problematic, and would not lead to a fruitful or happy formation for you in your early years in ordained ministry'. Mr Robinson offered to reduce his media work but was told he would still not be able to take up the proposed role because 'that moment had passed'.
The Bishop of London suggested he was stoking division:
At a meeting with Mr Robinson this month, Bishop Mullally insisted the decision was not about his politics, but because his 'presence' on social media and TV 'is often divisive and brings disunity'.
Robinson received support from a young Conservative MP, Tom Hunt:
Tory MP Tom Hunt backed Mr Robinson last night, saying: 'The message the Church seems comfortable to send out is that it's OK to propagate some political views but not others. Sadly, Church of England congregations will continue to decline as millions of Christians are alienated by its behaviour.'
The C of E prelates involved in deciding Robinson's fate as a future priest declined to comment:
The Archbishop of Canterbury and Bishops of Edmonton and London declined to comment. The Diocese of London said: 'We have a limited number of curacies available. In this instance, it is felt that there is no suitable option available that London can offer. We continue to be in conversation with Calvin, are willing to work with him to discern the right way forward, and we keep him in our prayers.'
The Mail on Sunday's article has this title: 'EXCLUSIVE: Not woke enough to be a vicar! Black political commentator Calvin Robinson who said Britain is NOT a racist country is BLOCKED from becoming a priest by a white bishop as a result'.
That title sums the situation up perfectly. Is not the bishops' attitude a racist one, as in 'We whites know better than you'?
Calvin tweeted the article:
The article is the same as Mail+'s, but it does include photos of the main players in this story.
The Mail kindly gave space for Robinson to respond beneath their article.
Excerpts follow:
Sitting in an ornate study in the Old Deanery – a 17th Century mansion house opposite St Paul's Cathedral – the Bishop of London put her hand on my arm and quietly said something that left me astounded.
'Calvin, as a white woman I can tell you that the Church IS institutionally racist,' the Rt Rev Sarah Mullally told me.
We had been discussing the Church's race policy, which I had been vocally objecting to for some time. The Bishop could not understand that as a black man, I simply did not share her – and the Church hierarchy's – view on this contentious issue.
The Archbishop of Canterbury, Justin Welby, has proclaimed that the Church of England is 'deeply institutionally racist' and called for 'radical and decisive' action. Last year an Anti-Racism Task Force recommended using quotas to boost the number of black and ethnic-minority senior clergy, introducing salaried 'racial justice officers' in all 42 dioceses and launching 'racial justice Sunday' once a year.
I fundamentally disagreed with this approach, which is based on a faith in divisive Left-wing Critical Race Theory, instead of the teachings of Christ. I believe it is divisive and offensive.
I have experienced plenty of racism in my life, but it has always been down to a minority of malicious individuals. I do not think the claim that either the Church, or wider society, is institutionally racist has ever been supported by robust evidence.
The Bishop of London's hushed condescension during our meeting made me realise that any dissent from the Church's ingrained view, which to me seems like nothing more than virtue-signalling, is not welcomed. The Church claims it wants to listen to the perspectives of minorities – well, I am one of them but it doesn't appear to want to hear my view because it also happens to be a conservative one.
For the past two years I have been training for ordination at St Stephen's House at the University of Oxford. I was due to begin a curacy at a lovely parish in Holborn, Central London, and within a year I hoped to be ordained a priest.
It takes a long time to acknowledge a call from God to serve as a priest, and it's a vocation that often involves the sacrifice of leaving behind a successful career. I gave up my career as an assistant headteacher and consultant for the Department for Education to throw myself into my theological studies.
He said that the role at St Alban's would have allowed him time to still appear on GB News and do other media work:
as an acknowledgment that I see my media work, which reaches a huge audience, as part of my calling and future ministry.
Another bishop was involved with deciding Robinson's fate, the Bishop of Fulham, also in London:
During a Zoom call, the Bishop of Fulham, the Rt Rev Jonathan Baker, told me that there had been 'a lot of turbulence' over some of the views I had expressed online and on TV. It was no secret that senior figures in the Church disliked me. I am after all a traditionalist – which means I do not believe in the ordination of women – and I have never been afraid to voice my criticism of the Church's drift away from what I, and many of its parishioners, think are its core values.
I did not expect everyone to agree with me, but what I did expect is the right to express my own opinions. I had always been taught that the Church of England was a broad church.
I later discovered that Church leaders in London appeared to have had deep misgivings about my ordination from the very beginning of my training – despite spending more than £20,000 of parishioners' money on sending me to study theology at Oxford.
Emails that I obtained via data-protection rules revealed that bishops at the very top of the Church had been closely scrutinising my public comments.
'His political agenda is I guess what you would call libertarian – anti-woke, anti-identity politics, Covid-sceptical,' the Bishop of Fulham wrote in one email. 'His tweets get him into trouble sometimes and there have been complaints to the Bishop of London that he shouldn't be ordained.'
Robinson rightly asks why, if the Church is institutionally racist, these white bishops have not tendered their resignations:
If the Church is institutionally racist, as the Archbishop of Canterbury insists, then why have he and other senior figures, including Stephen Cottrell, the Archbishop of York, and Sarah Mullally, the Bishop of London, not resigned? After all, they have all been bishops for years, which suggests they have been unable to solve the problem.
He warns that the C of E is entering apostasy. He is not wrong:
If you defend family values, the sanctity of marriage, all human life being sacred, or the fact that God made us male and female, you'll face opprobrium.
Something has gone wrong. The established Church is entering apostasy, and the faithful masses in the congregations and the hard-working clergy deserve better.
Fortunately, he has received much support from clergy and laity:
Since my ordination was blocked I've been contacted by clergymen and lay people up and down the country who have been sharing their stories of how they've been silenced by the Church for holding conservative views.
He confirmed that he will be joining GAFCON and explained why it is so heartbreaking for him to leave the C of E:
After becoming increasingly disillusioned, I recently decided to leave the Church of England and join a more orthodox institution, the Global Anglican Future Conference (GAFCON). Walking away from the Church of England has been heartbreaking.
People often quizzed me on why, if I was so troubled by its direction, I was also so determined to take holy orders in the Church of England. It was because, for me, the Church is the body of Christ and, perhaps naively, I thought I could help pull things back on track from within.
The Sunday Telegraph provided a few more details:
He had been training to become a priest at the University of Oxford for the past two years and was due to begin a curacy at a parish in Holborn, London, but was turned down for the role by the Bishop of Fulham, the Rt Rev Jonathan Baker, in February …
Mr Robinson submitted a subject access request (SAR) to the Church of England – asking the organisation for access to the personal information it held on him.
It was then that he discovered a series of internal emails between Church bosses raising concerns over his opinions on institutional racism in Britain …
In another email, the Bishop of Fulham writes: "I wanted a word about an ordinand, Calvin Robinson. You might be aware of him … "
Of the Bishop of London, he pointed out the irony of her insisting that the Church was institutionally racist:
Former teacher Mr Robinson added: "She was just ignorant. She accused me of being controversial so I said to her in a polite way that some of the things she says are controversial too – like the fact that she thinks the Church is institutionally racist. And then she turned around and said that.
"She was contradicting herself because in one instance she's saying the Church is racist and needs to listen to the lived experiences of ethnic minorities, but then she was refusing to listen to my lived experience as a black man because it didn't fit with her narrative."
On Sunday evening, he appeared on Mark Dolan's GB News show:
On Monday, May 23, The Times carried a report.
In it, we discovered that the Bishop of Edmonton's child or children attended the school where Robinson was an assistant principal:
Calvin Robinson has been blocked as a priest by the Church of England after the Right Rev Rob Wickham, the Bishop of Edmonton, privately warned church leaders against ordaining him. Robinson, a social commentator, was an assistant principal at a school where Wickham was a parent …
Robinson said that he was shocked to be told in February that his ordination was likely to be problematic. He applied under the Data Protection Act to see the information the church had on him.
He discovered that the Bishop of Edmonton had been reporting him to church leaders since he began his studies. Robinson went on Good Morning Britain in September 2020 to say that he was against Black Lives Matter because it was increasing racial tensions, and he believed that everyone in this country had an equal opportunity to succeed. The same day Wickham wrote to the Right Rev Sarah Mullally, the Bishop of London, to "bring it to your attention . . . Calvin Robinson is not only a political commentator, but he's an ordinand and former teacher in this area who has just started at St Stephen's House. Calvin's comments concern me about denying institutional racism in this country."
In December last year, Wickham wrote to the Right Rev Emma Ineson, Bishop to the Archbishop of Canterbury, and also to the Bishop of London. Wickham sent them some of Robinson's tweets, adding: "These are clear examples as to why his ordination should be looked at very closely."
Robinson said he felt "betrayed and a bit heartbroken" at Wickham's conduct. He said: "To hear that people are campaigning behind your back after you have given them all that you have got, I don't know how to put it into words."
Church sources said that Wickham's status as a parent at the school had no bearing on this matter.
Robinson rightly urges the C of E to return to the fundamentals of faith:
The TV pundit, who now works for GB News, accused the church of apostasy by "moving away from core tenets of the faith. They need to focus on scripture because that's the word of God."
He said that he had now joined the Global Anglican Future Conference and would be ordained to one of its parishes. "My hope is to attract all the people who feel the Church of England doesn't represent them because it is obsessed with woke issues."
The Diocese of London issued an updated statement:
A spokesman for the Diocese of London said: "We wish him well in the ministry he is now going to exercise."
On Monday evening, Douglas Murray's editorial for The Times appeared. It listed a modern litany of the C of E's preoccupation with race at the expense of everything else, including during the time when an African, the Right Revd John Sentamu, now retired, was Archbishop of York. Oh, the irony:
It is two years since Justin Welby, the Archbishop of Canterbury, gave a speech to the General Synod in which he apologised for the "institutional racism" of the Church of England. "I am sorry and ashamed," the archbishop said. "I'm ashamed of our history and I'm ashamed of our failure. There is no doubt when we look at our own church that we are still deeply institutionally racist."
It was a strange claim to make — not least because at the time the next most important bishop in the church was John Sentamu, the Archbishop of York.
Murray rightly points out the diversity among C of E clergy:
This fatal combination of ignorance and present-era preening seems to have become the tenor of the established church — and in no area so much as in the church's demands for clergy representation. As it happens, the Anglican communion has one of the most diverse bodies of clergy that any religious denomination could wish for. But the church has declared that it will continue to be racist until such a day as minority ethnic groups (or UKME as the acronym-laden C of E likes to call them) are over-represented among the clergy.
Even my church has had a minority vicar, who has since been promoted within the Church.
Murray then discussed Calvin Robinson's sad situation:
And in a way, here is revealed the modern Church of England's actual party political affiliation.
Having shut its doors throughout the Covid-19 crisis, the church now seems to be back with a new faith: an evangelical and dogmatic belief in its own iniquity and racism. Fail to go along with that belief and the church has no place for you.
So determined is the C of E about this new gospel that a church hierarchy of white people is even willing to bar a young black man from joining the clergy because he will not agree with their insistence that their own church is racist. It is a farce, certainly, but a tragedy, too — for a church that has need of talent, and an era that has need of institutions that are not principally intent on blowing themselves up.
On GB News Monday evening, presenter Dan Wootton chose the Bishop of Edmonton as his Union Jackass of the day. Good on the former Brexit Party MEP, the lady on the right, for nominating him:
Conclusion
Calvin Robinson is surely doing all the right things. That is why our pharisaical clergy have opposed his ordination.
May God continue to sustain Calvin with his grace. May our Lord Jesus continue to give him inner peace. And may the Holy Spirit continue to enhance his gifts of wisdom, fortitude and discernment.
I wish him all the best as he pursues a path to ordination.
Yesterday's post reviewed events surrounding Labour leader Sir Keir Starmer and other MPs connected with 2021's campaign meeting, forbidden under that year's coronavirus rules:
Keir Starmer defended Labour's indoor beer and korma event by saying that no other venue was serving food.
Well, they were. However, the problem was that service was outdoors only at that time.
The hotel where Starmer was staying, the Radisson Blu, provided room service, but that would have precluded any other persons gathering in an individual's room.
On the evening of Election Day, Thursday 5, 2022, GB News's Dan Wootton interviewed Red Wall MP Richard Holden, who had written to Durham Constabulary about properly investigating the event:
Holden said that the students who took the videos and photos offered to give Durham police a statement, but their kind offer was refused.
Holden suggested that evidence was being suppressed. He also questioned the fact that people involved had forgotten their diary details for that day.
As for dining, Holden said that, in order to comply with the rules, he had been part of a group eating a fish and chips supper outdoors in Hartlepool in windy conditions.
On Friday, May 6, Durham Constabulary finally issued a statement saying they would investigate the event held on April 30, 2021:
Labour MP Emily Thornberry dismissed the news and said all would be 'fine':
The BBC reported that Durham Constabulary waited until after the election to make an announcement (emphases in purple mine):
The force initially decided that no offence had occurred on 30 April last year, but said it had since received "significant new information".
It added that it had delayed announcing the investigation until after Thursday's local elections.
Sir Keir said he was confident he hadn't broken any Covid rules.
He has faced criticism since he was filmed drinking a bottle of beer while in the constituency office of City of Durham MP Mary Foy.
Speaking to reporters on Friday, he said he had "stopped for something to eat" during meetings, and there was "no party".
"The police obviously have go their job to do – we should let them get on with it," he added.
Starmer took no questions on the matter:
Guido Fawkes resurrected a Starmer tweet from January 31:
Priceless:
The Telegraph's Madeline Grant made an eloquent observation …
… which received these replies:
Later that day, Guido posted about the concerns that Starmer's advisers had with the upcoming investigation:
Guido's post says that a journalist, Ava Evans, heard that Labour MPs would not be doing media rounds for a few days (emphases in the original):
Ava also reports that one Labour MP told her they would not be participating in any media interviews for the next few days, for fear of being asked to defend Sir Keir. His actions were "indefensible" she reports them as saying. Which explains why we are only seeing Emily Thornberry abasing herself in studios…
On Saturday morning, news emerged that Starmer was taking legal advice from Lord Falconer, Tony Blair's close friend who served as Lord Chancellor and Secretary of State for Justice from 2003 to 2007:
Guido reported on the development, an exclusive:
An extremely worried Keir Starmer has tasked Charlie Falconer with putting together a Beergate legal defence team. Labour lawyers have told Starmer that there is a 60% chance that he will escape a fine, however the fining of Sunak over a cake has spooked Starmer that he too could be fined over a beer and curry. The irony of the legal and political situation is exquisitely painful for the barrister politician.
Guido later added an update:
UPDATE: In another irony, Falconer has publicly opined on the situation of politicians breaching laws they voted for in the Guardian:
… true accountability means facing justice in a criminal court. But not in this case – a fixed penalty notice does not bring any sense of justice done to those who paid what was very often a high price for obeying the rules.
Which appears to be a demand that Boris be tried in court for his birthday cake….
One of Guido's readers wondered if Falconer's involvement presented a conflict of interest, given his strong opinions on the matter:
That isn't the only conflict of interest, either. There's also Durham's Police and Crime Commissioner, Joy Allen. Starmer campaigned for her and she won her election to that post:
The Mail on Sunday was able to obtain a leaked memo, Starmer's itinerary for April 30, 2021:
This was the paper's front page: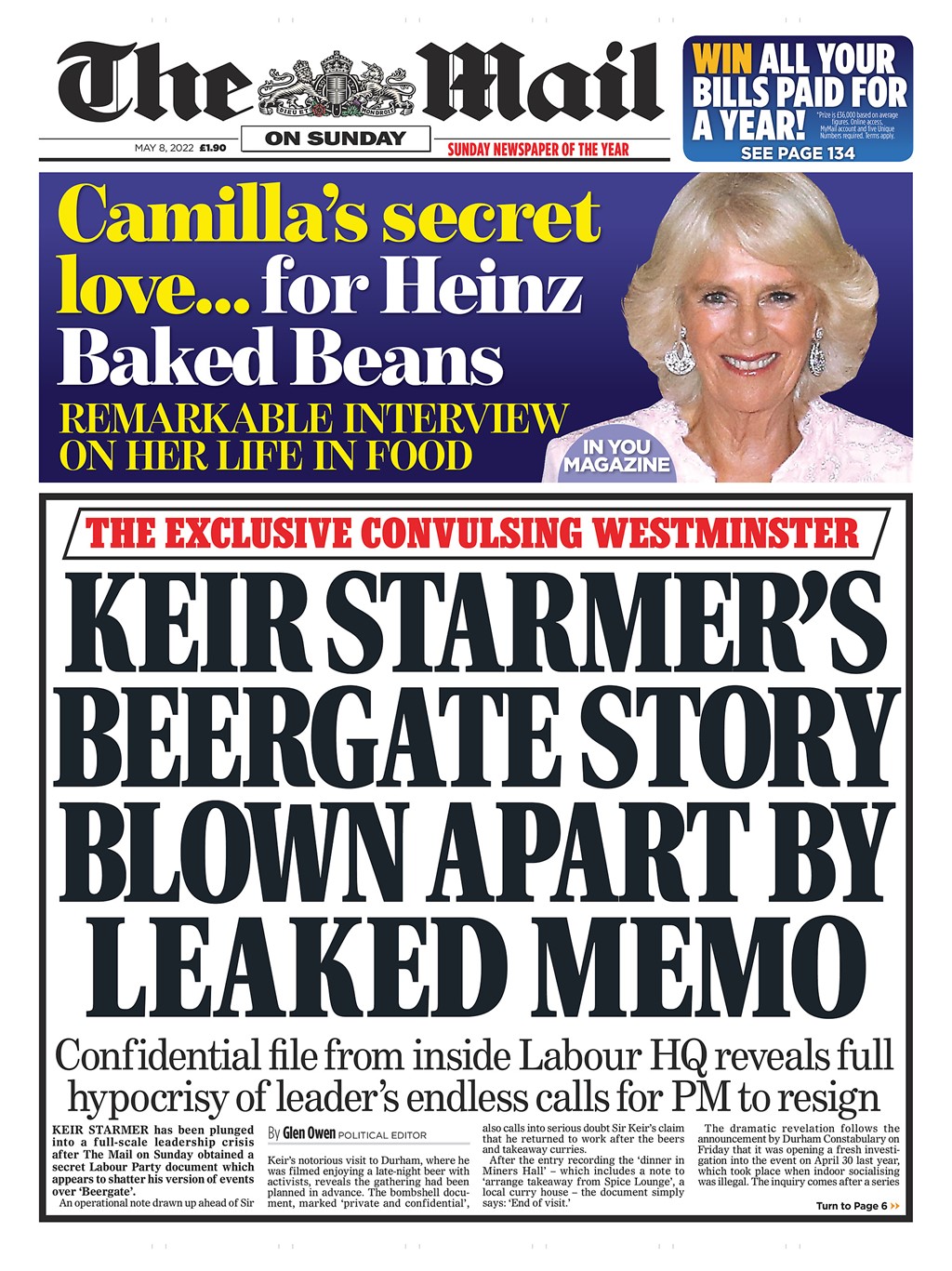 Glen Owen's exclusive for the MoS says:
The bombshell document, marked 'private and confidential', also calls into serious doubt Sir Keir's claim that he returned to work after the beers and takeaway curries.
After the entry recording the 'dinner in Miners Hall' – which includes a note to 'arrange takeaway from Spice Lounge', a local curry house – the document simply says: 'End of visit.'
Spice Lounge did not supply food for the event. Another curry house, The Capital, did.
The paper received the memo from a whistleblower. The itinerary reveals that Angela Rayner MP was scheduled to be present:
The memo – which was passed to this newspaper by a whistleblower – also further undermines Labour's claims that it made 'an honest mistake' when it denied that Deputy Leader Angela Rayner was at the event: it lists 'AR' alongside 'KS' as the two senior politicians anchoring the day's proceedings.
Labour had denied that this was a planned event, but the memo's existence proves that wrong:
… the note – a forward-planning logistics document which is referred to as an 'op note' – makes clear the beer and curries had been planned in advance.
The note says that after a day's campaigning in Hartlepool, Sir Keir's team were due to arrive at the Radisson Blu hotel in Durham at 6.31pm, leaving by 7pm to walk to the Miners Hall.
After recording clips for the media, the note says a 1hr 20mins slot was set aside for 'dinner in Miners Hall with Mary Foy', the local Durham MP. A side note reads: 'YS to arrange takeaway from Spice Lounge'. YS is the acronym for a member of Sir Keir's private office.
The Spice Lounge curry house was closed at the time, with callers being referred to the nearby Capital Indian restaurant. Last week, the Daily Mail spoke to one of the restaurant's delivery drivers, who said he had dropped off a 'big' order of food for at least 15 people, including four bags of curries, rice and naan bread …
The Mail on Sunday has established that the Radisson Blu was serving food when Sir Keir and his party checked in at 6.31pm and continued to do so until 9pm …
The document also refers to four members of the 'MPL' – Met Police Liaison – who were included in the trip, suggesting they are likely to have information useful to the investigation.
Also included on the op note is the line 'Covid Alert Level: National Lockdown', and 'important note: please maintain social distancing of 2m and wear face coverings whilst indoors at all time'.
The leaked document makes clear that Ms Rayner was to play a central role in the day's events …
A Labour source said: 'During a fast-moving campaign, the op note doesn't always keep up with events so it would be wrong to assume that activities occurred at the times originally planned. For example, it's been documented that the takeaway was late'.
This was Starmer's previous denial that the gathering had been planned:
The Sunday Times also had an incriminating article. A source told the paper that some staffers were there only to party and that no work was done afterwards. Pictured below is Mary Foy MP:
It is expected that the investigation will take between four and six weeks:
Allegedly, pictures from the event circulated on Twitter. Those have since been deleted.
Interesting, to say the least:
The aforementioned Sunday Times article said that the Durham Constabulary have opened a major incident room. Angela Rayner's presence appears to have triggered the investigation:
It was the discovery that Rayner had been at the event, despite Labour's original claims, that prompted Durham police to open their investigation. A source close to the force said: "It raises the question about what else we might not have been told the entire truth about."
Officers have set up a major incident room, and up to six detectives will spend the next four to six weeks looking at the potential lockdown breach. They are expected to use questionnaires — similar to the ones used by Scotland Yard to investigate Johnson and the Downing Street scandals — to interrogate those present at the event.
The force said, however, that it did not issue fines retrospectively. When Dominic Cummings was found to have made a 260-mile trip to Barnard Castle in 2020, the force said to take action against him would "amount to treating Mr Cummings differently from other members of the public".
It is unclear whether Scotland Yard's decision to issue retrospective fines over the Downing Street gatherings could force a change of stance.
Mary Foy said:
"Me and my team were working during a very busy period, including facilitating the leader's visit," she said. "I do not believe either I or my office broke any rules, and I will of course fully engage with any police investigation."
Dominic Raab, the Justice Secretary and Deputy Prime Minister, said:
"It's the rank double standards that drive people crazy," Raab told Sky News. "He needs to fess up and answer all of the holes in the account that he gave for that beer-and-curry event in Durham.
"Keir Starmer looks like, I'm afraid, someone who is engaged in complete hypocrisy, complete double standards and I don't think he is going to get past that until he gives a proper account of what happened in Durham."
Here's the video of Raab talking to Sky News:
Jacob Rees-Mogg MP, in charge of Brexit efficiency, told Channel 4's Andrew Neil that one should be extremely careful with hoisted petards:
He does have a way with words.
Guido took a look at what Lord Falconer might say in Starmer's defence:
That said, in February, The Mirror reported that Prime Minister Boris Johnson also hired lawyers over 'Partygate':
The Prime Minister has hired hot shot lawyers to deal with the Met's questions on Partygate.
The Mail reported that Starmer had cancelled his appearance on Monday, May 9, at an Institute for Government event in advance of the Queen's Speech on Tuesday.
Guido tweeted:
Guido's post says:
The public event was scheduled to have included questions from the press and public. This morning, when door-stepped outside his North London home by journalists, a grim faced Starmer refused to say anything and was bundled into a waiting Range Rover. Keir clearly realises that "the police have already investigated this matter and found nothing" will no longer work as a line.
The Institute for Government is funded by the billionaire David Sainsbury, a former Labour minister under Tony Blair, who has backed centrist Labour politicians financially in the past. A statement on the website says only that the event is cancelled, with no explanation given.
The cancellation made the front page of Monday's Daily Mail:
It was the start of another tense week for the Labour leader.
Meanwhile, Boris focused on the Queen's Speech and historic agreements between the UK, Sweden and Finland in case of Russian aggression as a knock-on effect of the Ukraine conflict.
More to follow tomorrow.
My last post on Labour's 2021 election campaign meeting in Durham is a week old.
The intrigue continues and so much more has happened.
It is important to reiterate that while many on social media say it did not break the coronavirus rules …
… there were specific rules for the 2021 election campaign, some of which differed from regulations for households.
Indoor campaign meetings were banned in 2021:
Let's recall how Labour told an untruth about Angela Rayner's not being at the April 30, 2021 event in Durham when she clearly was. Labour had to own up:
The Daily Mail reported that Labour claimed it was an honest mistake (emphases in purple mine):
Labour last night admitted it had lied about an event at which Sir Keir Starmer is alleged to have broken lockdown rules. 
In a sensational U-turn, Labour acknowledged that Angela Rayner was also at the event on April 30 last year at which Sir Keir was filmed enjoying a beer with officials at a time when indoor socialising was banned.
A Labour spokesman said last night: 'Angela was present.' A party source claimed the previous denials had been 'an honest mistake'. 
It directly contradicts assurances given to the Daily Mail over the past three months that Mrs Rayner was 'not there'. 
The admission came only after this newspaper confronted Labour officials with video evidence that Mrs Rayner had joined Sir Keir at an online rally for activists filmed in the Durham offices of Labour MP Mary Foy where the party leader was later seen drinking. 
The extraordinary revelation raises questions about whether Labour's deputy leader also broke lockdown rules.
Recall that, for months, Labour, including Sir Keir Starmer and Angela Rayner, have been braying for Boris Johnson to resign:
Incidentally, once given a fixed penalty notice (fine) for one of the Downing Street events, Boris paid his promptly as did Chancellor Rishi Sunak.
With regard to Durham, their only Conservative MP, Richard Holden, wrote to Durham Constabulary to enquire about Labour's indoor event.
Durham MP Mary Foy, who appears to have hosted the event in her office, took strong exception to Holden's letter. She accosted him in Parliament's Strangers' Bar at the end of April:
Guido Fawkes had the story (emphases in the original):
The pressures of beergate are obviously getting to Labour MPs more than they'd like to admit: Labour MP Mary Foy launched into a furious drunken tirade against Richard Holden in the Strangers' Bar on Tuesday night, after Holden asked Durham Police to reinvestigate Starmer for his lockdown beer drinking. Which isn't exactly surprising, given the infamous event took place in Foy's own constituency office…
Foy allegedly grabbed Holden's arm and hurled so much abuse at him that her staff had to pull her away. Having had a skinful, she growled "how dare you name me and my office in this?" as apologetic staffers tried to calm her down. A witness told the Daily Mail she was "feeling the pressure". Guido can't imagine this morning's revelations about Angela Rayner will do much to soothe her…
Holden threatened to take the matter to the Speaker unless she apologised the following morning. Lo and behold, on Wednesday morning Holden found "I unreservedly apologise for my behaviour on the terrace last night" in his inbox. Holden tells Guido she then went on to talk about how they could work together as Durham MPs …
The Daily Mail reported:
Three witnesses told the Daily Mail that Mary Foy vented her fury at Richard Holden on the Commons terrace on Tuesday night.
She is said to have verbally abused him for asking Durham Police to reopen the investigation into footage of the Labour leader having a beer with officials in her office on April 30, 2021.
Witnesses claim the City of Durham MP grabbed Mr Holden by the arm with both hands and tried to drag him across the terrace before staff restrained her.
Each witness said the former charity worker, 54, appeared to have been drinking heavily when the incident took place at around 10pm as MPs waited for late-night votes.
Goodness me. Being boozed up while waiting to vote on legislation? Unbelievable.
Anyway:
Mr Holden confirmed he had received a written apology from Mrs Foy the following morning. He said: 'Mary has apologised for her totally unacceptable, drunken behaviour on the terrace and I want to leave it at that.'
A Tory source said Mrs Foy's behaviour suggested the 'pressure is showing' on Labour as Durham Police face calls to finally launch a proper investigation into Sir Keir.
Mrs Foy declined to comment on the allegations when contacted yesterday and referred all questions to Labour's press office. A party source confirmed she issued a personal apology.
The source said the pair had been drinking together in a group where there was 'a bit of back and forth on politics generally'.
They added that it was 'incorrect' to say Mrs Foy had grabbed Mr Holden's arm, but did not comment on claims she was drunk.
But several witnesses said they were shocked by the ferocity of her tirade.
More happened that day, Friday, April 29.
BBC Breakfast's review of the newspapers left out the Daily Mail's aforementioned front page with Angela Rayner on it, although reporter Iain Watson later soft-pedalled Labour's claim that it was an honest mistake:
Guido rightly observed that the nation's broadcaster had not afforded the Conservatives such gracious treatment:
When they finally got around to discussing the exposé, political correspondent Iain Watson was at pains to emphasise Labour's absurd line that it was just an "honest mistake", incredibly kind framing Guido's sure Downing Street would not receive. The Metropolitan Police decided to U-turn and investigate No. 10's parties after months of media pressure; now Labour's been caught out, the establishment media is doing its best to downplay the rule-breaking. Labour must be thanking their lucky stars…
At lunchtime, Guido posted Sir Keir's detailed timeline, complete with photos and videos, up North in Hull and Durham:
At the end of the timeline, Guido reminded us of what Angela Rayner had said only a week earlier:
April 20, 2022: Angela Rayner is asked "If Keir Starmer, had been fined for the beer and sandwiches that he had or was perhaps it was just beer. Should he have resigned?" Rayner replies "If Keir Starmer had broken the law, then Yes."
This was the Mail's front page on Saturday, April 30. It was a newsy day, especially with disgraced now-former Conservative MP Neil Parish:
That was also the first anniversary of the event in Durham:
The next day, the Mail on Sunday called Starmer a hypocrite, something a Sky News presenter quizzed him about (video here):
Keir Starmer avoided the BBC that morning. Instead, one of his MPs, David Lammy, went on to chat with Sophie Raworth (videos here and here). By now, the public were catching on that Labour had been obfuscating for nearly five months:
On Tuesday, May 3, The Sun's political editor Harry Cole reported that Starmer's security detail from London's Metropolitan Police were in Durham on the night in question. Hmm:
Cole wrote, in part:
Witnesses suggest dozens of MPs and aides gathered at Miners' Hall, with the police car still there late into the evening.
One bystander who walked past at 11pm said: "The place was still lit up and busy and Keir's car was still outside."
The Sun has also revealed that £200 was spent on takeaway curry for dozens of MPs and aides at the bash.
That day, The Spectator's Patrick O'Flynn wrote that Starmer should be careful about his situation, given he has been running roughshod over Boris, clamouring constantly for his resignation:
… Starmer called for both Johnson and Sunak to quit over their fixed penalty notices despite knowing that the full truth about his own campaign-trail gathering had not come out.
For starters, Labour said its deputy leader Angela Rayner was not at the event when she was. This according to Starmer was a simple 'mistake' made in good faith. But has he ever conceded Johnson could have made simple mistakes in good faith about what constituted unlawful gatherings? Of course not …
Can Starmer be said to have 'come clean' about his own lockdown socialising? Hardly. He is still being evasive now about what exactly the 'work' was that his team supposedly returned to after beer and pizza had been consumed around 10 p.m. on a Friday night …
When Starmer was first questioned about beergate, back in January, he told the BBC's Sophie Raworth: 'If you're trying to persuade anyone that stopping to have some food when you're in the office all day working is a breach of the rules, it's just not going to wash.' Yet hasn't such thinking been at the heart of his own relentless attacks on Johnson?
Starmer the lawyer may think he has winning answers to these questions. Were he a better politician, he would see immediately that he does not. He has been hoisted by his own petard and may soon crash land against some particularly unforgiving ramparts.
The Mail's Stephen Pollard also posted an editorial on Starmer. Pollard, by the way, is a member of the Labour Party. However, he abhors the hypocrisy of Starmer's handling of the Durham event compared with his verbal harassment in the Commons of Boris and Rishi:
… the holes in his story get bigger by the day. Sir Keir also says he had no choice but to eat with his colleagues because he couldn't get a meal at the hotel he was staying in.
The Mail has shown this is nonsense – the hotel made a point of offering room service for law-abiding guests who were following the rules by eating alone in their room. Sir Keir could remove all doubt about the truth of his story if he gave a full account of what happened backed up by evidence. In the absence of such evidence, however, it looks to be no more and no less than a social meal and a drink with colleagues after work – and so not remotely 'necessary'. In other words, illegal under the Tier 2 rules.
The Chancellor, Rishi Sunak, was fined for turning up to a scheduled work meeting in the Cabinet room to find that a gathering was taking place, and not walking out. For that, Labour demanded his resignation. The hypocrisy is breathtaking.
Sir Keir plainly thinks he can keep saying nothing and the fuss will die down. But the one thing voters cannot stomach is a politician who lies – so Sir Keir needs to come clean. It is difficult to imagine why he would let this story fester if he really has done nothing wrong and can prove it by answering questions, so it may well be he is covering up his own lawbreaking.
If that is the case then – on his own merciless standards – surely he must resign.
Or does he believe that the rules don't apply to him?
Also on that day, we found out who took the videos and photos of the Durham event — students at Durham University. The Mail reported that the Met's vehicle piqued their curiosity:
Students who filmed the Labour leader drinking in the office of one of his MPs while indoor socialising was banned also photographed an unfamiliar black Land Rover Discovery parked outside.
If it was one of the official police protection vehicles issued to Sir Keir in his role as a senior politician, it would raise the prospect that officers guarding him can help definitively solve the questions which continue to swirl around the night's events.
One of the students who filmed the gathering at Durham Miners Hall on April 30 last year said: 'We had never seen a black Land Rover parked there before, it really stuck out. We took a picture of it because we were convinced it was the car in which he had been driven there.'
Last night a Metropolitan Police spokesman said: 'We do not comment on protection matters.' Labour did not respond to requests for comment.
Former Scotland Yard Commissioner Dame Cressida Dick was previously forced to defend officers on duty in Whitehall as questions were raised on how potentially lockdown-breaching gatherings were able to take place at a site with a heavy police presence.
Speaking in February, she said the officers were there to provide 'protective security' but refused to be drawn on 'anything they may have seen or heard'.
The Leader of the Opposition is one of a small number of senior politicians given round-the-clock protection by police …
Officers would know everywhere the 'principal' is going during a visit and have a rough idea of timings, a source said last night.
The Mail did not name the students, but Guido knew who one of them was back in January 2022:
On January 18, Guido revealed the student's identity once the images of the Durham event had reached The Sun, The Telegraph and The Mail:
… the person who snapped the incriminating footage – James Delingpole's son, Ivo – is just as angry with the Tories as anyone else. Taking to Instagram yesterday he reacted to the Mail's splash with pleasant surprise:
Bit strange to have a video I filmed… on the front cover of a newspaper. I didn't make any money from it and didn't send it to them, but glad the hypocrisy was outed nonetheless
However he followed up:
It was last year and just outside my university house… I hope this in no way helps the Prime Minister defend himself from critics, and that he gets no respite from the questioning and criticism [he] deserves …

But even that splash in three newspapers didn't stop Starmer. In fact, he doubled down, as we can see in this tweet from January 31:
Returning to last week, Wednesday, May 4, the day before the election, the Mail had the following front page on the seventh day of Beergate. Someone should write a song …
Starmer appeared on ITV1's Good Morning Britain that day. Susanna Reid and Richard Madeley interviewed him. Things did not go spectacularly well, even if Reid is left-of-centre politically:
Guido had the story and video:
For the seventh consecutive day, Starmer is battling the headlines over Beergate. This morning the Sun reports Starmer and Labour aides spent £200 on takeaway food on the night the infamous photo was taken – enough curry to feed 30 people for what Labour still insists was just a quick meal during important campaign work. That line is becoming increasingly untenable, as Starmer's appearance just now on Good Morning Britain attests…
Speaking to Susanna Reid and Richard Madeley, Starmer trotted out the boilerplate excuses Labour have been using for a week, much of which was irrelevant waffle about how many camera pieces he recorded that day. Not once did he deny reports it turned into a £200, 30-person feast …

He recorded some video messages on a laptop – doesn't require 30 people, beer and curry late on a Friday night to do that. When Susanna Reid asked why any of this was actually relevant, Starmer claimed:
We were on the road, at the end of the day, we were in the office preparing. Now, that evening, from memory, we were doing an online event for members… at some point, this was in the evening, everyone is hungry. A takeaway was ordered… in Durham all restaurants and pubs were closed.
Of course, that last part is untrue: hospitality reopened for outdoor service on April 12, and the Durham event took place on April 30. Still, at least Starmer confirmed the police haven't been in touch yet, something he couldn't say yesterday for some reason. If Starmer's finding all this scrutiny unnecessary, Guido would just remind him he called for Rishi to resign last month for singing 'happy birthday'. Or was that just pointless mudslinging?
Guido's tweet about Good Morning Britain had a response about why Labour might not have wanted to put Angela Rayner in the frame until they were forced to:
That day, the Mail's Andrew Pierce looked at the possible people helping Starmer obfuscate. We already know about Mary Foy MP and I covered Joy Allen, the head of Durham Constabulary, in a previous post. She was not at the event.
The others follow — Allen's deputy, the curry house and the other Labour MP for Durham:
PCC Allen's second-in-command is Nigel Bryson, who happens to be a long-standing friend of hers. They met, inevitably, through the Labour Party and she has attracted criticism for appointing him without advertising. Challenged over this failure to vet anyone else, she said: 'I've got somebody who knows everything about me as a candidate… I could go through the process but it would just be possibly going through the motions.' So that's all right then.
The Capital is one of Durham's finest Indian restaurants and this week it emerged its delivery driver had dropped off a '£200' feast for the gathering, including biryanis, tikka masalas, rice and naan breads. The driver initially told the Daily Mail there were '30 or so people' inside – but bizarrely later insisted he had no recollection of making the delivery.
Yet the curry house has been known to have friendly relations with Durham's Labour machine.
In May 2020, during the first lockdown, local MP Foy hailed it for supplying meals to NHS workers and posed for photographs with head chef Syed Islam.
Bordering Foy's constituency is North Durham, with MP Kevan Jones. He has also remained silent about the night in question – and this isn't surprising.
A leading figure in the local Labour community, Jones himself has broken lockdown laws – not once, but twice. The first breach came on May 7, 2020, when he took part in a group photo shoot in his constituency, promoting artwork in praise of the NHS. A noble cause – but the rules about socialising were clear. Jones committed another breach three days later.
A video shows him attending an indoor party for 100-year-old veteran Frederick Herron, allegedly attended by about 40 people. Who would begrudge a hero centenarian a fitting celebration? Nobody – except Starmer and Labour have consistently claimed that the law should have been upheld.
Asked yesterday about his lockdown breaches, Jones said he would 'rather not comment'.
The plot thickened and the intrigue continued.
More tomorrow, beginning with what the papers said on Election Day.