You are currently browsing the tag archive for the 'Daily Telegraph' tag.
Having watched BBC Parliament for the better part of three years, I can only conclude that today's Conservative MPs are a frustrating bunch.
Many of the older hands, who were elected when David Cameron was Prime Minister (2010-2016), seem more like Liberal Democrats. The Thatcher-era MPs who remain are what she would have called Wets.
Many commenters on conservative fora are at their wit's end. Their complaints are many. Why have Conservatives outdone Labour in economic policy? Why are odd subjects taught in our schools instead of the three Rs? Why can't police get a grip on real crime? Those are just a few of the questions Britons have.
On August 12, The Telegraph's Tim Stanley and Steven Edginton discussed British conservatism in one of their Off Script conversations. What is it? What should it be like?
This video is 51 minutes long and is well worth watching for frustrated conservatives. Don't be put off by the title. Immigration comes into the conversation only halfway through and only for a few minutes:
Tim Stanley makes excellent points, summarised below.
The most important thing to note is that conservatism changes over time. Benjamin Disraeli was a great Conservative Prime Minister, but his conservatism would not be applicable in our time. Harold Macmillan was another great Prime Minister of his day, succeeding Labour's Clement Attlee. He responded to the challenges of the postwar 1950s. His brand of conservatism would be irrelevant in our times. Similarly, Margaret Thatcher met the challenges of the late 1970s and the 1980s. Stanley said that invoking Thatcher at every turn today is not helping matters, because we often mis-remember things that she did. He said that some commentators have turned her into a punk libertarian, when she was anything but. He says she was a Conservative with a strong streak of free-will Methodism.
Of our two Conservative Party leadership candidates this year, he says that Rishi Sunak is a technocrat, with all that implies. Liz Truss is a child of the Thatcher years. Both became MPs during David Cameron's time as PM. They tend to think the way he does and only differ on the way they would handle tax cuts. In this area, Sunak adopts the early Thatcher strategy of delaying them. Truss adopts the strategy of her later years, when Nigel Lawson was Chancellor. On everything else, they are remarkably similar. It's a politically generational trait.
Stanley came to conservatism from Marxism and stood as a Labour candidate for Parliament when he was younger. He thinks that Truss's conversion from the Liberal Democrats to the Conservative Party is one she will not fall away from.
Stanley says that Kemi Badenoch, whom he admires greatly, is probably the only MP who studies social issues intently. He thinks she has watched a lot of Thomas Sowell videos on YouTube, because she quotes him a lot.
He thinks Badenoch could be a real agent for change if she ever becomes PM. He warns that few world leaders can effect change on their own. He cites Donald Trump, who could not fight off the Swamp. Our equivalent is called the Blob and is comprised of the same elements: the metropolitan elite and, intersecting as in a Venn diagram, the media and the civil service. Somehow, those groups need to be persuaded to change their minds over time in order for politics and society to improve.
Stanley says that today's Conservative MPs are ignoring two elements of British life that has seen us through the centuries: family and the Church. (Stanley is a practising Catholic.) He said that MPs must find a way of putting those front and centre into policy making discussions. (That's a pretty radical idea for a former Marxist.)
He also advocates consistency in policy positions. He cites Nigel Farage and Jeremy Corbyn as two excellent examples of that. Their opinions have not changed over the past few decades, he says, and this is what makes them popular among their respective supporters.
As for today's younger voters opting for Labour, he says that some will and some will not. He said that it all depends on how much impact today's economic and social issues are having on them. He cites the young generation of the late 1960s, most of whom still vote Labour. He says that their personal experience from that time was so strong that they never changed when they hit middle age. However, there are others who will move from a more left-wing to a conservative stance. Stanley himself and Liz Truss are two great examples of political conversion.
You'll probably want to know what Stanley thinks of our immigration mess. He says that we have dealt with EU migration well, but, as far as the Channel crossings are concerned, he compares them to a door that has all sorts of locks on it yet is kept open, serving no purpose at all. He suspects that most Conservative MPs don't mind the tens of thousands of young men arriving on our shores every year. If they did object, he says, they would have done something by now to stem the flow.
I highly recommend this video, because no one else I've heard has said the things that Tim Stanley has. I now view conservatism in a new way.
My series on Boris Johnson's downfall continues.
Those who missed them can catch up on Parts 1, 2, 3 and 4.
Also of interest are:
Developing news: how long can Boris last as PM? (July 5-6)
Boris stays as PM for now but stands down as Conservative leader: 'When the herd moves, it moves' (July 6-7)
On July 8, Bloomberg had an interesting article: 'Boris Johnson's Downfall: The Inside Story of How His Government Collapsed'.
It states:
This account of how the Johnson administration unraveled is based on conversations with senior members of his inner circle, cabinet ministers, political advisers, civil servants and Tory MPs who were present at the key moments and spoke to Bloomberg News on condition of anonymity.
The journalists who wrote it say (emphases mine):
… the man that Johnson's inner circle blame for his downfall is Rishi Sunak, the former chancellor, who triggered that final, frantic act that ultimately forced the prime minister to quit.
Boris, being a survivor, stayed true to character. He survived a Conservative MP vote of confidence held the Monday after the Queen's Platinum Jubilee celebrations the first weekend in June 2022. Then the Chris Pincher groping scandal broke, but he was not worried. In early July:
Johnson had spent last weekend largely ignoring the latest scandal raging around him.
There was another slew of allegations in the newspapers, this time related to what Johnson had known about the claims of sexual harassment against an MP who the prime minister had promoted to a senior party post. 
But Johnson had grown accustomed to riding out controversy, from his efforts in November to extricate an ally who breached lobbying rules, to the lockdown parties, the investigation into whether he misled Parliament and the resignation of his own ethics adviser.
His judgment, and that of his No. 10 team, was that revelations relating to his former chief whip Chris Pincher, damaging and unseemly though they were, did not pose an existential threat. 
That Sunday evening, July 3, Boris headed next door:
to Sunak's flat in No. 11 Downing Street for one of their regular weekend dinners.
Johnson's team had been wary of a potential leadership challenge from Sunak for months and suspected that he would already have moved against the prime minister if he hadn't been fined over lockdown parties himself.
That night was businesslike, focused on plans for a new economic strategy and a joint speech. Sunak briefly mentioned his unease at the handling of the Pincher situation, but people close to both men said the meeting was good-natured and there was no hint of the coming storm.
Meanwhile:
Elsewhere in London though, Health Secretary Sajid Javid was discussing his own concerns about the Pincher case with his own advisers and starting to think he might decide to resign.
The week began normally:
No. 10 remained bullish throughout Monday despite the growing furor as Javid watched and waited.
On Tuesday, a Cabinet meeting took place (Bloomberg has a photo of it). There were signs that things could unravel quickly:
… there were ashen faces around the Cabinet table on Tuesday morning as ministers gathered to discuss Sunak's plans for tackling rampant inflation. Johnson uber-loyalist [and Culture Secretary] Nadine Dorries told the room that the "dogs of hell" would be unleashed if Johnson was removed.
One Cabinet minister who spoke to Bloomberg that day warned that Johnson might be in real trouble. He had had an unspoken contract with the Conservative Party since surviving a confidence vote among his own MPs in early June, the minister said: he could remain in place only if the scandals stopped.
That compact had lasted barely a month.
Later that day:
Around 5 p.m., at a meeting in the prime minister's office in Parliament, Javid told Johnson he was resigning. Johnson felt the announcement an hour later could be weathered by appointing a strong replacement.
But nine minutes after Javid published his resignation, Sunak also quit. And this blow came without warning.
Suddenly, Johnson was facing a rout.
A person with knowledge of Javid's plans said that his team had had no meaningful contact with Sunak's advisers before the double resignation, but they suspect that the then-chancellor got wind of what was coming and accelerated his own plans. A person with knowledge of Sunak's thinking said there had been no collusion.
Sunak had worked in the Treasury for Javid when the latter was Chancellor from 2019 to February 2020. They were good friends.
The resignations became a game of whack-a-mole:
As the prime minister rushed to replace two key ministers, a wave of more junior officials announced that they too were abandoning his government.
Nadhim Zahawi became the new Chancellor and Steve Barclay succeeded Javid as Health Secretary:
Nadhim Zahawi and Steve Barclay were recruited late on Tuesday to solve the most immediate problem and Johnson's advisers believed that both men were determined to take their jobs seriously. They understood that they had buy-in from Zahawi, the chancellor, for a new tax-cutting agenda to be announced imminently, though a person close to Zahawi says he made no such commitment.
All the same, as Johnson and his advisers surveyed the damage on Wednesday morning, they could tell that the situation was critical. 
That's when [Levelling-Up Secretary Michael] Gove demanded his meeting. To Johnson's aides, the timing seemed designed to inflict maximum pain.
Boris sacked Gove later on Wednesday, the only firing he made. He did it via a telephone call.
At that point:
the number of officials quitting his government climbed past 50.
That evening must have been a long one for Boris:
He returned to No. 10 after 6 p.m. for a series of meetings with his senior ministers.
Chief Whip Chris Heaton Harris advised Johnson that he no longer had the numbers to prevent Tory MPs from removing him, but that he would remain loyal. Trade Secretary Anne-Marie Trevalyan and arch Brexiteer Jacob Rees-Mogg also made clear they would stay supportive. Deputy Prime Minister Dominic Raab told Johnson he would not resign, changing for a formal white-tie event and then leaving via a side entrance.
Other meetings were more difficult.
Home Secretary Priti Patel had an emotional and teary meeting with the premier where she told him he had to go. A spokesman for Patel wasn't able to comment on the details of the conversation. 
Transport Secretary Grant Shapps, who kept a spreadsheet of Johnson supporters, agreed that the numbers were against them. Policing minister Kit Malthouse delivered a long monologue about how it was over. An exasperated Johnson told Malthouse that if he was going to resign, he should just do it. 
Malthouse had worked for Boris ever since the latter was Mayor of London.
Also:
Welsh Secretary Simon Hart was the only one who threatened to quit, handing Johnson a resignation letter and telling him that if he was not gone by the morning it would be published.
The most difficult meeting was with Zahawi who looked visibly awkward, according to one witness, as he told the prime minister that he too thought he should quit. The meeting left Johnson's aides suspecting that Zahawi had simply been preparing for his own tilt at the top job.
Correct. Zahawi did not get far with his campaign.
The meetings lasted into the night:
Towards the end of the night, Johnson gathered his closest aides in his office to assess the damage.
No. 10 policy chief Andrew Griffith was the most determined to battle on, along with Nigel Adams, a minister and old friend of Johnson. Heaton Harris, the party enforcer, had accepted the situation but was staying in the bunker to the end.
Together they rehearsed arguments for and against resigning, as they briefed the media that he would not quit and appoint a new Cabinet. The reality was that no one was accepting jobs.
Political commentators, eager for Boris to go, compared him with Donald Trump:
Johnson told his team that he didn't want to spark a constitutional crisis by clinging to office.
"I can't do this," he told them. "It's all too ghastly. It's not me."
Eventually, he went to the Downing Street flat to see his wife and retire for the night:
As he went up the stairs to his Downing Street flat to see his wife, Carrie, the decision was becoming clear in his mind. Carrie did not advise him either way and insisted it had to be his own decision, according to a person with knowledge of the conversation.
On Thursday, July 7:
Johnson woke early on Thursday and drafted a resignation speech to read out to his staff at their 7.30 a.m. meeting.
He announced his resignation in front of No. 10 early that afternoon.
That evening, The Spectator team held their annual garden party, a major highlight of the political year. Something always happens and this one was no different:
Johnson's communications chief Guto Harri got into a blazing and public row with Gove adviser Josh Grimstone, who accused Harri of briefing against his boss.
A Sunak aide spotted Harri and went over for a hug. According to people present, a smiling Sunak, standing next to her, asked Harri: "Don't I get one?"
"You want a hug?" Harri said in disbelief, knowing that the former chancellor had made no contact with Johnson since his shock resignation. Harri had spent his week fighting to save the prime minister, Sunak was aiming to replace him, and in front of London's political elite, the two men shared an awkward embrace.
Guido Fawkes has more (Guto Harri is on the right and the magazine's Katy Balls is in the background):
His post says the argument went all the way back to Gove's desertion of Boris in the 2016 leadership election, leaving Boris out of the race that year (emphases in the original):
… Leadership candidates Rishi Sunak, Nadhim Zahawi and Tom Tugendhat worked the crowd. Later in the evening as things were winding down the Spectator's Katy Balls mischeviously introduced Josh Grimstone, the newly unemployed former Special Adviser to Michael Gove, to soon-to-be unemployed Guto Harri, the Prime Minister's Director of Communications. Josh definitely had something to communicate to Guto about Gove's late night sacking the night before…
Josh firmly protested that his boss had been loyal to the PM, that he personally loved Boris and that both Gove and himself had been nothing but loyal. He accused Guto of sacking Gove out of spite and attempting, unfairly, to make it look like Gove had been sacked for disloyalty. Guto was sceptical about Josh's protestations of innocence and insistence that his boss had been loyal. The toing and froing went on in front of a silently listening audience that included Guido, Tim Shipman and Steve Swinford. Neither of the protagonists backed down from their position. Grimstone said Guto's behaviour was a "f***ing disgrace".
Guto eventually retorted that it was Gove's fault that in 2016, when he betrayed Boris, the country was as a result put into 3 years of dismal turmoil under Theresa May. Guto's stance seemed to be that even if it was true that he had been loyal of late, Gove had it coming to him for the 2016 trauma that he inflicted on the party and country. Unresolved and unreconciled Grimstone broke off leaving hushed onlookers uncertain that the summary justice of last night was entirely justified by recent events. Guto seemed relaxed and satisfied that it was amends for the sin of the past. 
But that wasn't the only verbal dust-up that evening.
On the BBC's Question Time, Tony Blair's spin doctor Alastair Campbell and The Telegraph's Tim Stanley, who once ran for MP as a Labour candidate, argued about who was worse in terms of being economical with the truth, Tony Blair for the illegal war in Iraq or Boris Johnson with a piece of cake during lockdown. Campbell is on the left in the photo:
Guido has the video:
A few days later on July 11, Stanley wrote an article about it for The Telegraph: 'My TV encounter showed everything that is wrong with the Left':
I'm not a friend of Boris Johnson: my most recent contact was a Christmas card that I'm sure was signed by someone else. This didn't stop Alastair Campbell from calling me part of the same "corrupt class" on Question Time, a grim experience I didn't enjoy but my editor says I've got to address.
Around the five-minute mark, I was invited to give my take on Boris's resignation – and Campbell butted in with the first of many attacks on my profession and character. Afterwards, a producer said: "How long have you known Alastair?" I replied: "I've never met him before." Given how he spoke to me, many people assumed we had a feud going back decades.
No, he was just horrible, and the nastiness was camera ready. Campbell was nice as pie before the recording; he gave me a cheery goodbye after. My conclusion is that he's an act. When he launched his on-air assault, I was shocked and considered walking off; I couldn't take a whole hour of this. Instead, I pulled a one-liner out of the bag, noting that the Blair government took us into a war that cost thousands of lives, while Boris ate some cake.
The point was that Boris might have been chaotic, but it's often the best organised regimes that make the biggest mistakes.
The line was hardly Oscar Wilde; the audience was furious that I appeared to make light of the Downing Street parties. I thought my career was over, and was wondering if Lidl might be hiring. But what I couldn't see till I watched the show back was that Campbell shrugged away the reference to Iraq as if it were mundane. It was an ugly moment. By not bursting into tears, I think I came out better.
What irritates me about some people on the Left is that they talk about mental health and kindness yet they treat their opponents like dirt, not giving a damn how it might make them feel – and if a Conservative hits back, they act like we have crossed a line that doesn't apply to them …
And I wasn't trying to defend Boris on Question Time, just explain his thinking. I have my own views, of course; but in that format I try to put both sides of a story, so the audience can make up its mind. I often find that Left-wing panellists can't process this. They claim to be empathetic yet have zero interest in how other people think. It will be the Tory party that will produce the first non-white prime minister and how will the Left respond? They'll call them a "racist".
That night on Dan Wootton's GB News show, opinions about Boris's successor flew in thick and fast.
Former Conservative Home Secretary and later Brexit Party MEP Anne Widdecombe was adamant that the next Party leader be firmly committed to completing the Brexit process. We still have the Northern Ireland Protocol and French fishing difficulties to deal with:
Opinions swirled around the time it should take Boris to vacate Downing Street.
Someone in the know told the Daily Mail that Theresa May — a Remainer — should be caretaker PM. GB News reported:
While Mr Johnson is expected to stay on until Prime Minister, he could choose to relinquish his duties with immediate effect.
In which case an interim Tory leader would be appointed, who would in turn also become the caretaker Prime Minister.
And former Prime Minister Ms May, who held office between 2016 and 2019, could reportedly make a dramatic return to No.10.
A report in the Daily Mail said: "She knows the ropes and the security stuff, she's a party woman through and through, she's definitely not interested in standing for it herself and would be credible.
"She is uniquely placed."
Thank goodness that didn't happen.
Another Remainer, former Conservative Prime Minister John Major, apparently told the 1922 Committee, headed by Sir Graham Brady, to get rid of Boris pronto. Edwina Currie, a former MP who served with him in Parliament at the same time and who was Major's mistress between 1984 and 1988, said that the former PM was being 'a bit of a prat':
The 2021 Conservative candidate for Mayor of London, Shaun Bailey, agreed. He would have made a great mayor, by the way:
However, biographer Tom Bower explained that Boris and Carrie had no other home, therefore, he would stay at Downing Street until such time as the couple buy a house:
And what about Carrie?
A lot of conservatives blame her for Boris going off the boil with a libertarian-Conservative manifesto to focus on damagingly expensive Net Zero policies, never mind the gaudy refurbishment of the Downing Street flat, allegedly paid for by a Party donor.
The day Boris resigned, The Telegraph's Celia Walden wrote 'The Carrie conundrum: What next for the Prime Minister's wife?'
Over the past two years and 11 months our outgoing First Lady has certainly garnered criticism – some unfair, some fair. And already commentators are saying that Carrie "helped blow it for Boris". But it is surely her husband's sociopathic behaviour over the past few days, weeks and months – and what has been described not as Boris's downfall but his "clownfall" – that will have been most brand-damaging. So how easy will it be for Carrie to rid herself of that toxicity, and what next for the Prime Minister's wife? …
Before Carrie became involved with Boris, and his special brand of bedlam, the daughter of Matthew Symonds, co-founder of the The Independent, and lawyer Josephine McAfee was described as "controlled" and "confident".
Politics may have seemed a world away from the creative fields she immersed herself in at the University of Warwick – where she studied theatre and art history – but after a stint working for Zac Goldsmith, who was MP for Richmond at the time, Carrie moved on to the Conservative party's press office, where she quickly rose through the ranks, working on her future husband's re-election campaign, when he ran for Mayor of London in 2012, before becoming the youngest director of communications for the party at just 29.
That a woman who forged a career in the business of public perception – and was credited with taking charge of the Prime Minister's image (and weight) after they first got together in 2019 – could go on to make the series of missteps Carrie made at No 10 remains baffling today.
It may always have been strenuously denied that the PM's wife played any part in the prioritising of dogs over humans for evacuation from Afghanistan, but it was without a doubt the First Lady who oversaw No 10's controversial maximalist redesign. It was she who picked out the infamous gaudy wallpaper estimated to cost £840 a roll and, as I write, Twitter is alive with memes about the one "burning question" that remains: "Now that the Prime Minister has finally resigned what happens to Carrie's gold wallpaper?"
Because of this, reports that the Johnsons planned to build a £150,000 treehouse for their son at Chequers (but were stopped when police raised security concerns) prompted some to interpret this as "yet more Carrie". Which might have been unfair. But then there was Carrie's involvement in partygate.
The Sue Gray inquiry was told that it was she who was keen to throw a party during the first lockdown and "offered to bring cake" – so these cannot be written off as "sexist", "misogynistic" slurs along with the rest. And while other First Wives have been busy out in Ukraine, shaking Zelensky's hand, Carrie has been notably low profile in recent months, presumably acting on advice from spin doctors.
… according to Craig Oliver, former director of politics and communications for David Cameron: "Leaving No 10 could be the making of Carrie. She's an intelligent woman, interested in a lot of issues. Being the PM's wife has an inevitable chilling effect on what you can do and say. She'll now be free to speak her mind." 
Lord Ashcroft, whose biography, First Lady: Intrigue at the Court of Carrie and Boris Johnson, was published in March, describes Carrie as "an impressive person – with a high-level career in politics and a record of campaigning on animal rights and the environment". Another political writer, meanwhile, assures me that any toxicity will be shrugged off with characteristic ease both by Boris and his wife. "He will be a very successful ex-Prime Minister. His star quality is shoulders above any of the others and he will become very rich on the back of it. So very shortly, everything will settle down, and she will be glad to have left the fishbowl."
… although Carrie is clearly a political animal, it seems likely that she'll choose to concentrate next on animal rights campaigning, perhaps deepening her involvement with The Aspinall Foundation, for whom she has worked as head of communications since 2021 – which in itself is in a period of transition. Every PR knows that charity work is the best "brand rehab" there is, and her passion for the cause isn't in doubt.
We can but see.
There was more to come with Mr and Mrs Johnson: their belated wedding celebration, which they weren't able to have earlier because of the pandemic.
More to come tomorrow.
At the weekend, it seemed as if more and more people began waking up to the fact that coronavirus policies of lockdowns and forced 'vaccines' did more harm than good.
Sweden was right
First, let's go back to the end of July 2022 to an article in City Journal: 'The WHO Doesn't Deserve the Nobel Peace Prize'.
Its author, John Tierney, says that if anyone merits the Nobel it's Anders Tegnell, the state epidemiologist of Sweden.
Excerpts follow, emphases mine:
While the WHO and the rest of the world panicked, he kept calm. While leaders elsewhere crippled their societies, he kept Sweden free and open. While public-health officials ignored their own pre-Covid plans for a pandemic—and the reams of reports warning that lockdowns, school closures, and masks would accomplish little or nothing—Tegnell actually stuck to the plan and heeded the scientific evidence.
Journalists pilloried him for not joining in the hysteria, but he has been proven right. In Sweden, the overall rate of excess mortality—a measure of the number of deaths more than normal from all causes—during the pandemic is one of the lowest in Europe. Swedish children kept going to school and did not suffer the learning loss so common elsewhere. Swedish children and adults went on with their lives, following Tegnell's advice not to wear masks as they continued going to schools, stores, churches, playgrounds, gyms, and restaurants. And fewer of them died than in most of the American states and European countries that delayed medical treatments, bankrupted businesses, impoverished workers, stunted children's emotional and cognitive growth, and stripped their citizens of fundamental liberties.
If it hadn't been for Tegnell and a few other heretics in places like Florida, we would not have clear evidence to prevent a similar catastrophe when the next virus arrives …
Tegnell was aided by another worthy candidate to share the Nobel, Johan Giesecke, who had formerly held Tegnell's job and served during the pandemic as an advisor to the Swedish public health agency. Decades earlier, he had recruited Tegnell to the agency because he admired the young doctor's willingness to speak his mind regardless of political consequences …
Politicians in Sweden were ready to close schools, too, but Tegnell and Giesecke insisted on weighing costs and benefits, as Tegnell had done in a 2009 article reviewing studies of school closures during pandemics. The article had warned that the closures might have little or no effect on viral spread and would cause enormous economic damage, disproportionately harm students and workers in low-income families, and create staff shortages in the health-care system by forcing parents to stay home with young children. Given all those dangers, plus early Covid data showing that schoolchildren were not dangerously spreading the virus, Tegnell and Giesecke successfully fought to keep elementary schools and junior high schools open—without masks, plastic partitions, social distancing, or regular Covid tests for students …
The virus would eventually spread to other countries despite their lockdowns and mask mandates, Tegnell warned in July 2020 as he advised his colleagues and critics to take the long view. "After next summer," he said, "then I think we can more fairly judge what has been good in some countries and bad in other countries."
Sure enough, by summer 2021, Sweden was a different sort of "cautionary tale." Without closing schools or locking down or mandating masks, it had done better than most European countries according to the most meaningful scorecard: the cumulative rate of excess mortality. Critics of Tegnell's strategy were reduced to arguing that Sweden's rate was higher than that of several other nearby countries, but this was a weak form of cherry-picking because two of those countries—Norway and Finland—had also avoided mask mandates and followed policies similar to Sweden's after their lockdowns early in the pandemic …
With the possible exception of the Great Depression, the lockdowns were the costliest public-policy mistake ever made during peacetime in the United States. The worst consequences of lockdowns have been endured by people in the poorest countries, which have seen devastating increases in poverty, hunger, and disease. Yet the WHO has refused to acknowledge these errors and wants to change its pandemic planning to promote more lockdowns in the future. It has even proposed a new global treaty giving it the power to enforce its policies around the world—thereby preventing a country like Sweden from demonstrating that the policies don't work.
The last thing the WHO deserves is encouragement from the Nobel jurors. The prize should reward those who protected the lives and liberties of millions of citizens during this pandemic, and whose work can help protect the rest of the world during the next pandemic …
Now let's move on to last weekend's news and views.
Lockdown and excess deaths
On Friday, August 19, The Telegraph's Camilla Tominey discussed lockdown, the effective closure of the NHS and excess British deaths in 'Lockdown fanatics can't escape blame for this scandal'.
She began with the story of Lisa King, a bereaved widow whose husband died an agonising death at home because he was not allowed to see his GP:
The father of two, 62, did not catch coronavirus. He died on October 9, 2020 because he was repeatedly denied a face-to-face GP appointment during the pandemic – only to be told that an urgent operation to remove his gallbladder had been delayed because of spiralling NHS waiting lists.
His sudden death, in agonising pain, was completely avoidable.
As Mrs King told me at the time: "To the decision makers, he is nothing more than 'collateral damage', but to me, he is the love of my life."
Tominey points out that several doctors and journalists in the UK opposed lockdown but were told in no uncertain terms how hateful they were:
… we were accused of being mercenary murderers intent on prioritising the economy ahead of saving lives.
Scientists who dared to question the severity of the restrictions were, as Lord Sumption put it at the time, "persecuted like Galileo". Falsely branded "Covid deniers" simply for questioning some of the "science" that was slavishly followed, they were subjected to appalling online abuse by a bunch of armchair experts who claimed to know better.
Two years later, those who objected to lockdowns and an effective closure of the NHS, all the way down to GP practices, have been proven right:
… they were right to raise their concerns in the face of pseudo-socialist Sage groupthink.
Official data now suggests that the effects of lockdown may be killing more people than are currently dying of Covid.
An analysis by the Daily Telegraph's brilliant science editor Sarah Knapton (another figure who was pilloried for questioning the pro-lockdown orthodoxy) has found that about 1,000 more people than usual are dying each week from conditions other than coronavirus.
Figures released by the Office for National Statistics (ONS) on Tuesday showed that excess deaths are 14.4 per cent higher than the five-year average, equating to 1,350 more deaths than usual in the week ending August 5. Although 469 deaths were linked to Covid, the remaining 881 have not been explained. Since the start of June, the ONS has recorded almost 10,000 more deaths than the five-year average – about 1,086 a week – none of them linked to coronavirus. This figure is more than three times the number of people who died because of Covid over the same period – 2,811.
The Department of Health and Social Care (DHSC) has asked for an investigation into the data amid concern that the deaths are linked to delays and deferment of treatment for conditions such as cancer, diabetes, and heart disease …
The horror stories are everywhere you look: from people dying needlessly at home like Mr King, to elderly patients waiting 40 hours for ambulances, to cancer sufferers now dying because they didn't get appointments during lockdown, or didn't want to be a burden.
It's tempting to blame this on the NHS being in urgent need of reform – and that's surely part of the explanation. We all know how staff shortages – again, exacerbated by the pandemic – are crippling the system.
But this isn't simply a result of a lack of resources. Healthcare spending has risen sharply as a percentage of GDP in recent years.
The nettle that needs to be grasped is that these figures suggest that the country is facing a growing health crisis that has been caused by our overzealous response to the pandemic – scaremongering policies that kept people indoors, scared them away from hospitals and deprived them of treatment.
These excess deaths may well turn out to be a direct consequence of the decision to lock down the country in order to control a virus that was only ever a serious threat to the old and the vulnerable.
Had a more proportionate approach been taken, akin to Sweden's, then would we be in this mess right now? Perhaps only a government inquiry will be able definitively to answer that question, but what's certain now is the debate over the severity of lockdown was never about the economy versus lives – as pro-shutdown fanatics would have it – but over lives versus lives …
Lest we forget that in the last quarter of 2020, the mean age of those dying with and of Covid was estimated to be 82.4 years, while the risk of dying of it if you were under 60 was less than 0.5 per cent. Who wouldn't now take those odds compared to being diagnosed with cancer, circulatory or cardiovascular related conditions and being made to wait months for post-pandemic treatment?
None of this has come as a surprise to those running organisations like the British Heart Foundation or the Stroke Foundation, which had predicted a sharp rise in deaths because "people haven't been having their routine appointments for the past few years now" …
The World Health Organisation said at the time that the Great Barrington Declaration "lacked scientific basis", but nearly three years on from the start of the pandemic there has been precious little analysis of whether the raft of Covid restrictions either served the collective good – or actually saved lives in the round – compared with the lives that are now being lost as a result.
These numbers aren't just statistics – they are people's husbands, wives, brothers, sisters, daughters and sons. The appalling truth is that a lot of these people would probably still be here today were it not for the lockdowns; lockdowns which seemingly did little to stop tens of thousands of people dying of Covid in the UK.
We stayed at home to "protect the NHS". It turns out the NHS isn't there now to protect us.
The ambulance waits are a horrorshow. This is going on throughout the UK. Scotland and Wales experienced long waiting times before England did.
This photo shows a recurring scene outside a London hospital and explains the situation. Ambulances are backed up because the patients inside cannot be accommodated in the hospital:
Here's a chart of the UK's excess deaths this year:
Blame belongs on both sides of political spectrum
Who can forget how the media, especially the BBC, ramped up Project Fear over the past two years?
Although the media don't legislate, judging from the response to the pandemic, they heavily influence what our MPs do.
So, who is to blame?
Someone thinks it is Michael Gove, who was the Chancellor of the Duchy of Lancaster from 2019 until September 2021. He was also a Minister for the Cabinet Office at the same time.
talkRADIO host Julia Hartley-Brewer says Gove bears a lot of the blame for coronavirus policy. Interesting:
What about the Left? Labour's Keir Starmer held Wales's First Minister Mark Drakeford as a paragon of wisdom during the pandemic. Drakeford's government made 'non-essential' shops close and supermarkets put tape over the aisles the Welsh were forbidden to shop in. That meant they could not buy greeting cards, party favours, toys, books or shoes. That's only a partial list, by the way. That lasted for a few months.
Following Drakeford's example, Keir Starmer wanted earlier and longer lockdowns in England. So did other Labour MPs.
They voted for every Government restriction in Westminster. Boris must have been relieved.
However, this brings up the definition of 'liberal'. How I wish that we had not adopted this American perversion of the word. 'Liberal' in its original definition is akin to 'libertarian'. It certainly isn't 'leftist'.
Rapper and podcast host Zuby brought up the subject last Saturday:
Here comes the conflict of blaming, because both sides of the House of Commons voted in unison on pandemic policy:
Vaccine harm
Then there is the vaccine harm done to young hearts via myocarditis.
Dr Aseem Malhotra is opposed to vaccines being given to children. Here he links to a study from Thailand about the adverse effect a second Pfizer dose can have on one in six teenagers:
Apparently, the Thailand study did not get much publicity at home:
Neil Oliver's editorial on coronavirus
On Saturday, Neil Oliver delivered an excellent opening editorial on pandemic policy, which he said should be a sacking or resigning offence:
He rightly pointed out that those responsible feel no remorse.
Dan Wootton's coronavirus hour
Dan Wootton had a blockbuster coronavirus hour in the first half of his GB News show on Monday, August 22. It was marvellous:
His opening Digest was brilliant:
The transcript is here:
The damage, both to our health, our economy and our future way of life, has been obvious to me since the first national lockdown was imposed in March 2020, following the playbook of communist China.
My overarching mission on this show has been to have the important conversations about the most damaging public health policy of all time, which the vast majority of the media, the establishment and our so-called leaders want to avoid at almost any cost.
This was my opening night monologue on the first night of this channel in June 2021 that, at the time, sparked total outrage from all the usual suspects, who campaigned to see me reprimanded by Ofcom for daring to question the efficacy of lockdowns on a national news channel.
I said then: "Lockdowns are a crude measure. Mark my words, in the years to come we will discover they have caused far more deaths and devastation than the Government has ever admitted.
"They should be wiped from the public health playbook forever more. But, tragically, the doomsday scientists and public health officials have taken control.
"They're addicted to the power and the Government are satisfied its 15-month-long never-ending scare campaign has suitably terrified the public into supporting lockdowns.
"But if we don't fight back against this madness, some of the damage will be irreversible."
It was always going to take some time to get the devastating statistics to back-up the idea that a policy of lockdowns was catastrophically wrong – but it was obvious to me what was just around the corner.
Those statistics are now coming in thick and fast; the conclusions are unavoidable and undeniable.
This striking front page of the Daily Telegraph, suggesting the effects of lockdown may now be killing more people than are dying of Covid, should be leading every news bulletin in the country.
Here's the front page to which he refers:
He discussed the statistics I cited above and rightly pointed out that The Telegraph is the only media outlet (besides GB News) talking about it:
Instead, our dramatic excess death toll is virtually ignored by the BBC, ITV News and Sly News, which used to trumpet Covid death figures on an almost hourly basis …
The officials who terrified the public on a daily basis, backed up by a crazed media and gutless politicians, have blood on their hands.
A small group of honourable folk – many of whom now appear regularly on this show, like Professor Karol Sikora – shouted from the rooftops that delays and deferment of treatment for a host of conditions like cancer, strokes, diabetes and heart disease were going to be responsible for thousands upon thousands of deaths in years to come.
We tried to warn people and wake up the rest of the population, while being dismissed as Covidiots, deniers and the anti-vaxx brigade.
And yet, there's still no apology. Still no acceptance of a gigantic error.
In fact, the same irresponsible and evil idiots who got us into this mess want lockdowns, mass vaccination and muzzling to return this winter.
We cannot and will not rest until the true damage of lockdowns is exposed and accepted so we learn the mistakes of our recent history.
A panel discussion followed:
Cardiologist Karl Sikora gave his view and found it astonishing that health experts, including former SAGE member, behaviourist Susan Michie, whom they did not name, want everlasting masks and lockdowns:
Susan Michie, by the way, has just taken up a plum job with the WHO. Says it all, really.
Neil Oliver told Wootton that he was not optimistic about no future lockdowns, which is one of Liz Truss's proposed policies:
And, finally, the Fairbrass brothers from Right Said Fred presented their scepticism over coronavirus policies. They've lost a few gigs because of it but also picked up a new set of fans:
Conclusion
This past weekend really gave me a lot of encouragement about examining coronavirus policies more closely.
For once, it seemed as if a lot of news items and editorials hit at the same time.
I do hope this augurs well for the future.
For me, the Conservative Party leadership contest is over.
I could be wrong, but it looks as if Liz Truss will be measuring curtains for No. 10 in a few weeks' time.
Barring anything unforeseen, this will be my last report on the contest until early September.
Telegraph hustings at Cheltenham
On Thursday, August 11, The Telegraph presented a Conservative Party hustings at the Cheltenham racecourse in Gloucestershire.
The paper's Camilla Tominey moderated the event.
She asked Liz Truss about her barbed exchange with TalkTV's Tom Newton Dunn earlier last week:
Camilla: Are you happy with the press this week? Because you've had a bit of a go at us.
Liz: Well, I had a go at Tom Newton Dunn, but you're asking much sounder questions Camilla.
Camilla: Thank you!
Guido has the video, in which Liz tells Camilla that she would like more questions about trade deals:
Here is the video of the hustings in full:
Viewers were given the opportunity to vote for their preferred candidate online in a poll for the paper. It appeared that people could vote more than once:
Even before the hustings began, Rishi was in the lead. Hmm:
The Telegraph featured an article highlighting readers' opinions.
It is a shame that so many Britons have forgotten the comparative 'more'. There were only two candidates, therefore, saying 'most' — implying three or more — was clearly wrong.
One of Rishi's supporters thought he could beat Labour:
Having just watched both candidates, it's not too difficult to accept that Rishi Sunak was the most inspiring. Indeed, in contrast to his wooden adversary, he gave a rousing speech. I wonder how many members watched and are open-minded enough to ditch Liz Truss? She would lose to Labour in two years' time. Sunak at least gives us a chance.
Another said Liz was 'weak':
Liz Truss's yes and no round showed her to be very weak: no dramatic reform of the BBC, no cap on immigration, keeping net zero, no dramatic reduction to the size of government. She is no Tory candidate.
Another branded her 'useless':
Liz Truss cannot answer a question properly. She is useless. At least Rishi Sunak is willing to tell some home truths even if people don't want to hear it.
However, Liz's supporters thought that she offered a fresh approach.
One said (emphases mine):
I'm beginning to like Liz Truss more and more. She's a radical democrat determined to confront the anti-democratic 'establishment'. If she wins, hers will be a revolution supported by the democratic majority in the UK.
Another said she has foresight:
Whoever wins the leadership contest, one thing is for certain – Rishi Sunak will lose the next general election. Liz Truss at least has a better chance of seeing off Labour and the Lib Dems. She has more foresight than Rishi Sunak, where he is telling the Tory members more of the same is right, where at least Liz Truss is offering a choice of something different. Time will tell if she's right.
Another said that Rishi looked too managerial:
Watching this debate reminded me of a typical departmental meeting. Rishi Sunak is the over-keen middle manager trying to impress the boss and climb the greasy pole. Liz Truss is the experienced old hand who just gets on with the job.
Yes, interesting comment, that. Who is Rishi's boss? His Infosys father-in-law?
Telegraph columnists weighed in with their verdicts.
Seasoned veteran Janet Daley noted that, while the candidates differed on strategy, they are both committed to Conservative values:
The substantive disagreement came through as clearly as I have ever heard it. Rishi believes that inflation is the greatest danger and that our primary obligation is to pay down the national debt to create a sound economy. 
Liz insists that the more serious threat is impending recession which would be made more likely by increasing taxes which would depress investment and entrepreneurialism. That's it. This was an argument about strategy rather than outcome.
Apart from that, their philosophies and values were remarkably similar. They are both sincere in their commitment to post-Thatcher Conservative values which they defined in almost identical ways: pride in the country and its values, the importance of education in providing opportunity and equality and, above all, creating the possibility for aspiration and social mobility. For all the supposed acrimony in this contest, they could certainly serve in each other's Cabinets.
She said that the candidates' ease of presentation depended on the format:
The opening statement went to Rishi who was rather manically charismatic but charming, where Liz looked uncomfortable and stiff.
But in the conversational mode with Camilla Tominey, Liz came through as relatable and convincingly thoughtful. She looked much happier talking to a person than to a large audience. Rishi seemed perfectly at home with a crowd, turning round repeatedly to make sure to address the whole room. It made him appear confident – perhaps too much so.
There was something of the conceited sixth former about him – as there has been all along.
Tim Stanley thought that Camilla Tominey came out on top.
He picked up on Liz's line about wheat fields being turned into solar farms:
Fields that should be stuffed with wheat, she said, are now planted with solar panels – and "it's one of the most depressing sights in Britain".
Oh, I can think of far worse. Such as an email from British Gas.
He prefers Rishi's stage presence but says that Liz's policies are more interesting:
The curious thing is that Rishi still looks like the frontrunner. He's got the best ad, energy and endorsers: Hague, Lilley, Lawson and the ghost of Lord Salisbury. But it's Liz who with every appearance gets more interesting. No election before 2024, she said; no windfall taxes because profit is a good thing.
In the end:
For my money, the winner of this one was The Telegraph, because it had the best presenter thus far. Camilla for PM.
Ross Clark thought that Rishi was losing ground:
He couldn't understand, he told us, why he was perceived not to be 'Brexity' enough. Both claims fell flat. No-one clapped or cheered when he tried to establish his Brexit credentials.
Moreover, Sunak's strongest suit – his warmth as a public speaker – no longer seemed quite the asset it was in earlier debates. He tried to up the tempo – with the result that he began to lose gravitas …
Clark said that Liz is developing policies as she gradually moves through the hustings:
For her part, Truss concentrated on trying to resolve the policy weaknesses which led, for example, to last week's embarrassment over regional pay boards. It was a strategy that seemed to pay off in Cheltenham. She came across as someone who is thinking carefully on policy – even though she is still lacking many answers.
Her biggest weakness was failing to answer what immediate steps she would take to help people with energy bills over the next few months; she sketched over the issue and rushed ahead onto longer-term policies such as fracking – which might be right but are not going to help people over the next few months.
In the one-to-one section of the hustings it became clear that Rishi's team is better at filling to front rows of these events with his own cheering supporters. But you sense that the rest of the audience are more interested in what Truss has to say, because she remains by far the most likely victor.
Patrick O'Flynn said that Liz's ideas for defeating the Liberal Democrats, who have been winning Conservative by-elections, topped Rishi's style over substance:
Her pledge about bringing back a special unit in CCHQ to mastermind a fightback against the Yellow Peril – the Lib Dems, with whom she enjoyed a youthful infatuation – may not have raised the roof but certainly had the wise owls in the crowd nodding sagely. Her claim that she could best beat the Liberals because she knew all about their old tricks was stretching things a bit, but then so was Sunak's attempt to be passionate about having funded "the dualling of the A417".
If this were a knife-edge contest then Sunak's slick display and his whooping fans could have conjured the illusion of him being the candidate with most momentum. And fair play to him for insisting again that he will not quit the contest prematurely. But he is so far behind on points that he would have needed a knockout blow to revive his chances and he came nowhere near that.
The paper also reported that, although things looked normal on stage, once the cameras were off:
things were frostier, with the candidates clearly avoiding crossing one another's path as they walked off stage towards their dressing rooms.
The Guardian's political editor, Toby Helm, was also in Cheltenham to assess the mood before and after the hustings:
As Conservative party members filed into the latest leadership hustings at a baking hot Cheltenham racecourse, very few among this important electorate seemed enthused by the two-way race.
Neither of the runners – foreign secretary Liz Truss nor ex-chancellor Rishi Sunak – excited much Tory passion, nor seemed the subject of heavy betting. Some of those who attended, and who will decide the identity of the new prime minister, suggested they had come along out of duty, to choose the least worst option on offer …
Lucy Coxall, a project manager for a London design company, who had travelled from Wiltshire, said she was genuinely undecided and irritated at media reports that Truss had it in the bag already. "It is ridiculous to suggest it is already over. I really want to hear what the candidates have to say," she said.
Caroline Baldwin, who runs a property business with her husband, said she was leaning to Truss but not firmly, while Jude Walker, who used to vote Labour, but had switched to the Tories a few years ago because she liked Boris Johnson, seemed to wish the dethroned PM could carry on, as she arrived to assess the qualities of his potential successors.
Ned Bowron, who runs an outside events business and is deputy chair of membership and fundraising for Stroud Conservatives, said he too was leaning in the Truss direction but was open to persuasion by Sunak, while Bob Griffin, who runs an export business, preferred Truss on the evidence thus far.
Two hours of speeches and interrogation later, many views had changed. Some undecideds had made up their minds, some decideds had switched allegiances, while others had just hardened their opinions in the direction they were already leaning. Strikingly, the movement was by no means all – or even predominantly – towards the hot favourite Truss.
The previously agnostic Coxall had decided to plump decisively for Sunak on the basis of what she had seen and heard. "I was much more convinced by Rishi and thought he had an answer for everything on the economy," she said afterwards. "He presented himself with energy. He sounded so much more progressive and had so much more of a vision for the future. Everything from Liz was short-term thinking." If Truss were to become prime minister, Coxall believes the Tories will have less chance of victory at the next general election.
Griffin, on the other hand, had become more convinced that Truss was the right choice after the meeting: "What she was trying to sell me was a genuine 'to do list' while what he was selling was 'Rishi Sunak for prime minister'."
Both Bowron and Baldwin, however, had gone from preferring Truss to thinking better of Sunak than they had before. "Liz's financial plans seemed, well, rather unbudgeted and rather worrying," said Bowron. "I am pretty sure I will vote for Rishi now. I think he is a safer pair of hands. Liz doesn't seem to understand that those who most need help don't pay tax and yet she is going on about tax cuts." Baldwin was also concerned that Truss's tax plans would not help the most needy. "I was leaning to her but now I am not sure," she said.
Boris
Boris returned from his holiday early last week and is now house-hunting.
On Monday, August 15, the Mail reported that he is looking for an abode in Dulwich Village, south London:
Boris Johnson appears to be taking notes from a former Prime Minister, as he looks to buy a house in the same south London suburb Margaret Thatcher moved to after she left No 10 Downing Street.
The outgoing Prime Minister, 58, will be leaving his role next month and has started house-hunting for a new marital home in Dulwich Village with wife Carrie, 34, and the couple's two children.
Before moving into Number 10 in 2019, Mr and Mrs Johnson bought a property overlooking Brunswick Park in Camberwell, south London.
That townhouse is now listed for sale for £1.6million, £400,000 more than they paid for it.
Not short of cash, the couple's reported budget of £3million should be more than sufficient, as properties in the leafy village have sold £1,820,887 on average in the past year, according to Zoopla.
Margaret Thatcher, however, did not stay in Dulwich Village for long:
Margaret Thatcher moved to Dulwich Village after being ousted in 1990, buying a house with her husband Dennis for £400,000.
However the Iron Lady lasted just a year in the village before moving back to a more central location in London.
Discussions on GB News at the weekend showed that Boris was still popular with the public, especially among newly-minted Red Wall Conservatives.
They liked the spark and verve he brought to the 2019 general election. They appreciated the attention he gave them.
They said that neither Truss nor Sunak seemed to be in touch with ordinary people.
The irony is that Boris isn't anymore in touch with them than either of the two leadership candidates. He just knows how to speak to people — and fire up their imaginations. He's the best campaigner the Conservative Party will have for decades.
There hasn't been any more mention of whether a special ballot will go out to Conservative members with his name on it. The petition, with nearly 20,000 signatories, was a great idea but it didn't go anywhere at CCHQ, which would have had to change the rules.
On Tuesday, August 9, one of the petition's campaigners, David Bannerman, a former Conservative MEP, told Nigel Farage that he was supporting Liz Truss:
Farage, as one would expect, presented the Conservatives as losers, saying that the public would never forgive them for the cost of living crisis.
Boris, in his detractors' minds, is somehow supposed to take care of the crisis when everyone who is anyone is on holiday at the moment.
On Monday, August 8, Scotland's Westminster leader, Ian Blackford (SNP), demanded that Boris 'come out of hiding' and recall Parliament:
Interestingly, Ian Blackford was on holiday in the western United States at the time, enjoying sights such as the Grand Canyon. Guido Fawkes has his full itinerary. Blackford did not fly home until August 6, at the earliest.
Also interesting is that, by the time Blackford issued his demand, Boris had already returned to London:
Here's Tony Blair's spinmeister Alastair Campbell also baying for Boris and saying that former Labour PM Gordon Brown should be in charge:
Voters will not care what Campbell or Blackford think. Gordon Brown piped up, too, but a lot of conservatives and Conservatives still back the former Party leader.
On Sunday, August 14, The Guardian reported:
This weekend, with less than three weeks to go before voting ends, Truss is way ahead of Sunak, according to opinion polls of the Tory membership.
Today's survey of 570 Conservative members, by Opinium, for the Observer, gives Truss a 22-point lead. She is on 61% to Sunak's 39% ….
Where this latest poll is perhaps most intriguing is in the lack of enthusiasm it shows for either Truss or Sunak among those who must choose the next leader of the party and country after September 5. This is evident when those with a vote in the contest are offered the choice of either Truss or Sunak, against the theoretical option of Johnson remaining leader and prime minister. Asked who they would prefer in No 10 – Johnson or Truss – 63% of Conservative members said they would prefer to keep Johnson while only 22% would rather have Truss. When the offer is Johnson staying on, versus Sunak taking over, 68% say Johnson and just 19% Sunak. Chris Curtis of Opinium says sellers' remorse is setting in as far as Johnson is concerned. "It could be down to people forgetting how bad things got, or a lack of appetite for the replacements," he said.
But it is hardly encouraging for the eventual winner to know that three times as many of their party's own voters would now prefer to have the previous leader than either of them to fight for a fifth consecutive Tory win at the next general election. Inside the hustings at Cheltenham, there were cheers for Truss and Sunak in equal measure. But there was deep uncertainty – and plenty who were unimpressed.
On Saturday, August 13, Jacob Rees-Mogg, former Leader of the house and current minister for Brexit opportunities and government efficiency, told MPs Esther McVey and Philip Davies, her husband, that Boris would not be returning to Downing Street.
The Telegraph reported that Rees-Mogg, a Boris loyalist, said:
life just isn't like that.
Despite Boris's hints at a return during his final PMOs …
… Rees-Mogg told the two MPs:
that it was not "realistic" to think that Mr Johnson could make a return to Downing Street …
"Nobody's come back having lost the leadership of the party since Gladstone," Mr Rees-Mogg replied. "And I just don't think in modern politics, the chance of coming back is realistic.
"Lots of people think they're going to be called back by a grateful nation which is why Harold MacMillan waited 20 years before accepting his peerage… Life just isn't like that."
It's time to let Boris get on with the rest of his life after September 5.
We won't have seen the last of him, but it will be in a different guise.
This week, I hope to write about the events that led to Boris's downfall.
On the first Thursday in May 2022, the UK will hold local elections.
It is unclear how well the Conservative Party will do, given sudden cost of living increases across the board, all of which occurred on April 1. Oh, were that this an April Fool joke. Sadly, it is all too real.
On April 3, Tim Stanley recapped the Conservatives' self-inflicted wounds for The Telegraph: 'The nannying Tories face oblivion if they refuse to get their priorities straight'.
Excerpts follow, emphases mine, except for Guido Fawkes's posts below:
The same day the gas bill doubled, it snowed. Oh, and restaurants were mandated to list calorie counts on menus. After 12 years in office, the Tories have gone from trying to fix the state to trying to fix us, so we'll be less of a shivery, fat burden on the bureaucrats. Don't eat, they advise; don't fly, don't drive, avoid using the heating. In fact, it would be helpful if we could stop existing altogether. The NHS would look good on paper if no one used it, and we'd have a zero per cent failure rate in schools if no one ever sat an exam.
As MPs take a break from Parliament this week, the Tories need to dwell on what they have actually done and what there is to do. This all hinges upon the question of who they truly represent. Considering they were elected to clear up the economic mess left by Labour, it's a bummer to note that debt is higher than under Gordon Brown, the tax burden rising and living standards crashing. We cannot blame ministers for a pandemic or a war, it's true, but the Conservative Party's solutions are near-indistinguishable from New Labour's, and the alternatives rarely aired. Last week, I sat in on the Treasury Committee's "grilling" of Rishi Sunak and the two points I never heard made were "you are spending too much" and "how dare you take my constituents' money to do it". The anger is not there. No party in Westminster stands for the consumer.
It was heartening to see that Stanley shares my impressions of parliamentary debate — virtue signalling, for the most part, including from Conservative benches:
This is not merely a crisis of philosophy, it is undemocratic. MPs are supposedly elected to do what their constituents want, but too many of them, as soon as they arrive in Westminster, are absorbed into a culture that has a uniform idea of what voters need, a total plan for life that runs from reducing carbon to dropping enough weight to fit into a size six dress (even better if you're a fella!). Half the debates are toe-curlingly pious nonsense that does the electorate no benefit except to reassure them that their MP is spectacularly compassionate – and the more laws you pass, goes the logic, the more money we splash, the more compassionate they appear to be. Ergo, the most important metric for success in 2022 is how much the Treasury is spending, not the results.
It's maddening to contemplate that nothing is ever done about situations past and present that affect many Britons:
Where to begin? The Ockenden report has stated that more than 200 babies and nine mothers might have survived were it not for failings at the Shrewsbury and Telford Hospital Trust. During the lockdown, the Government allocated around £37 billion for the deeply inefficient Test and Trace project. It lost £4.9 billion in loan fraud. Not one police officer has been sacked in relation to the Rotherham child abuse scandal. And the same Home Office that struggles to kick out foreign-born criminals finds it strangely difficult to let in Ukrainian women and children.
And we're paying for this incompetence, while an independent body that Labour created years ago just gave all MPs a 2.7% pay rise:
You are paying for all this, and likely paying more thanks, despite [Rishi] Sunak's tinkering, to a combination of National Insurance changes and inflation dragging people into ever higher tax bands. The Chancellor, in his munificence, says he plans to cut income tax in 2024, which means the British government is now handing out IOUs. At the same time, he is also bunging us £200 to help with the electricity bills, a sum that the state will reclaim at a later date, which means it's also entered the habit of writing "UOMes". MPs are getting a wee grant of their own. Their salaries will rise by 2.7 per cent, or £2,212.
The Government has become more intrusive and we have less money in our pockets:
… thanks to Covid, the public sector has been calling the shots since 2020, while the burden of wealth and power has shifted decisively away from the individual. Does this feel like a freer society than 12 years ago? Or a happier one? Paranoia and suspicion are not only widespread but encouraged (adverts on the London Underground now warn against "staring"), and privacy is dead. I can remember when we were told to protect our data. Now, just to take a train to Belgium, I have to prove my vaccine status by downloading the NHS app, send it a photo of my driving licence and record a video of my face reciting a series of numbers. Do I trust the NHS will delete all this information once used? Bless you. I'd sooner invite a rabid fox to babysit the chickens …
Voters, in the eyes of far too many, are spreaders of disease or pollution (in the opinion of some of the old ladies who glue themselves to roads, we ought even to stop breeding), and pockets of money waiting to be tapped.
What is a truly conservative concept of government?
… the old-fashioned principle of offering us the best possible service at the lowest possible price …
Small government doesn't mean "no government" but more efficient government – more effective precisely because it limits itself to a narrower range of tasks at which it can excel. Drawing a line under the Trimalchio's feast of a Spring Statement, the Tories must spend the time they have before the next election peeling back the bureaucracy where it is not needed, passing the benefits on to the people who have been robbed to pay for it, and coming up with creative ways to encourage the private sphere to revive. I don't just mean conjuring up new markets in insurance or energy, but also unleashing culture and technology, faith and family, the very things that make life worth living.
Bravo!
Ultimately, Stanley says:
The paradoxical goal of conservative politics is to make politics less important in everyday life, and while it might sound hopelessly idealistic to expect powerful people to surrender power, unless the Tories try to reduce the state, they will eventually lose office altogether. The time will come when voters finally snap, and take it away.
Let us look at a few more news items on this subject.
A week or two ago, someone sent in a letter to The Telegraph illustrating how much the Government is taking in tax. This is an alarming practical example: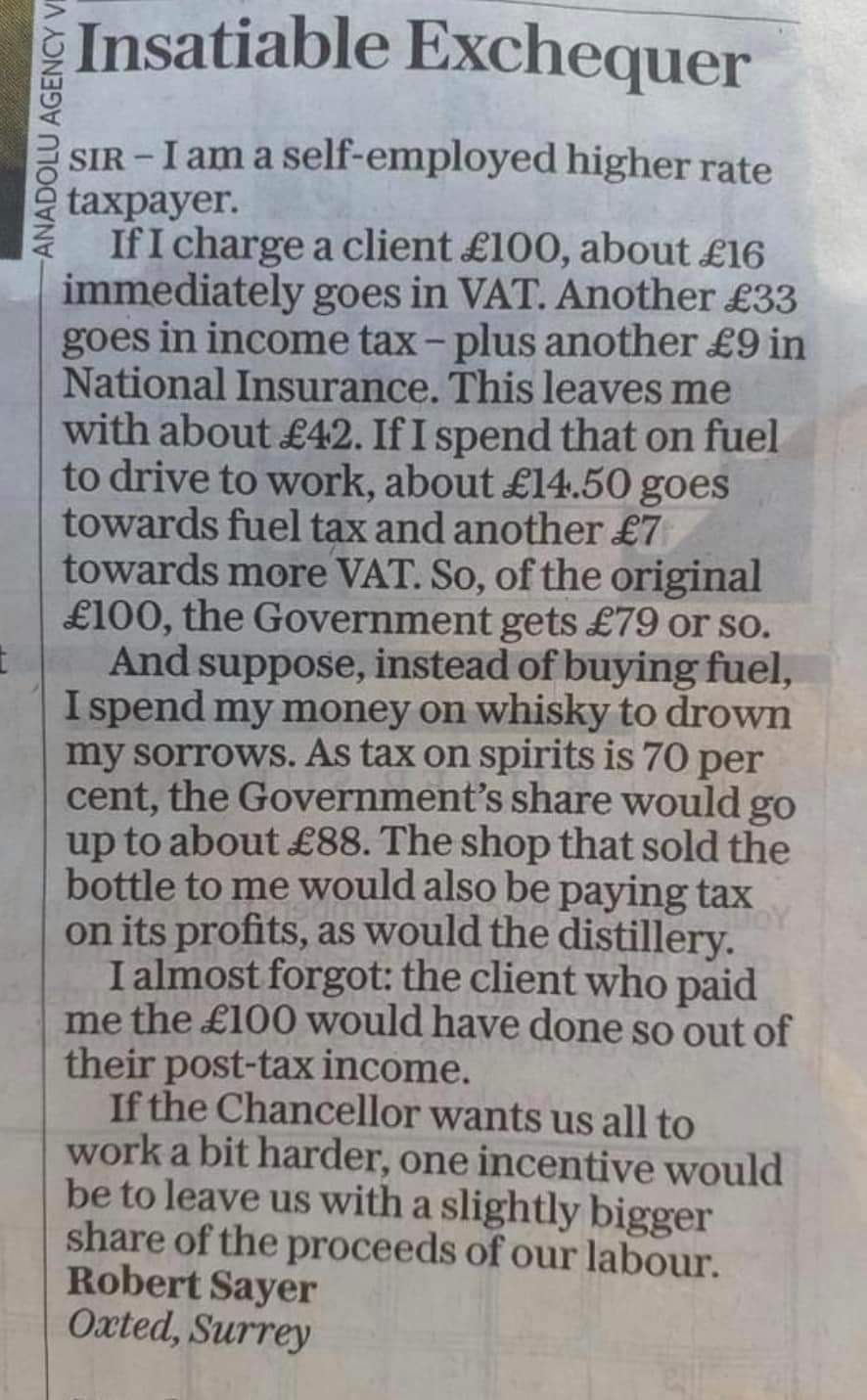 Now let's look at Net Zero, the Government's pet project, initiated by then-Prime Minister Theresa May.
This is a practical illustration of the folly of electric cars, written by conservative columnist and broadcaster Iain Dale for The Telegraph:
Back in November, I acquired an electric car, something I never thought I would do … I calculated it would save me thousands of pounds every year … 
On Friday night, I was invited to speak to Beverley and Holderness Conservatives. The main difference when you drive an electric car on a long journey is that you have to plan. In my old car, I could drive 600 miles without filling the tank, but if I ever nearly ran out of diesel there was always a petrol station around the corner.
The equivalent is not true if you have an electric car. You have to plan your journey using apps such as Zap-Map, which tell you where the charging points are, and whether they're being used, or working. I got to Beverley OK, having recharged the car at Donington Park services on the M1, which has a few charging points. Some motorway services don't have any.
The return journey proved to be a disaster. I left Beverley at 9am and arrived home in Kent at 7.45pm. A journey that should have taken four hours lasted an astonishing 10¾. It was a day completely wasted. The problem was that the three fast chargers in Beverley were either in use or didn't work. So I had to use slow chargers to get to the next fast charger, which was 50 miles away. Range anxiety is a real phenomenon. The whole time you're looking at the screen in front of you, wondering if you will run out of charge before you reach the next charger. And then what?
This week, [Transport Secretary] Grant Shapps announced a target of 300,000 more chargers across the country by 2030, the year when the Government says it will ban the sale of new petrol and diesel powered cars. Fatally, he's left it to local authorities to make sure the roll-out happens. Mark my words, it won't. Not without national direction.
My advice is this. If you only do relatively short journeys, then buying an electric car is a good decision. If you regularly travel more than 150 miles, it isn't. In my experience, the car manufacturers lie about the expected range. My electric car is supposed to do 298 miles. The reality is that it does 206, or 215 if the weather is warm. Caveat emptor.
In other news, the price of milk is set to rise by 50%. The Telegraph reports that crisis talks with EU and British dairy farmers took place in Brussels last week:
Rocketing costs from feed, fertiliser and fuel have stoked fears in the industry of a surge in milk prices not seen in decades.
The cost of four pints of milk will jump from around £1.15 to between £1.60 and £1.70, an increase of up to 50pc, according to Kite Consulting, the UK's leading adviser to dairy farmers.
Michael Oakes, the dairy board chair of the National Farmers' Union, agreed that milk prices will likely rise by as much as 50pc.
John Allen at Kite said a 30-year period of low milk price rises is "coming to an end now" as costs surge on multiple fronts. He expects a typical pack of butter to rise from £1.55 to more than £2.
He said: "What is of concern at present is processors are getting inflationary costs as well and also we are short of milk around the world."
Dairy industry bosses from the UK and elsewhere in Europe flew into Brussels at the end of last week with talks led by Eucolait, the continent's leading dairy industry group. Dairy processors, which act as a link between farmers and shops, are said to be deeply concerned about soaring costs both at farm level and further up the supply chain, as the war in Ukraine lifts key input costs …
UK dairy industry bosses have raised concerns over their costs to the Government, but officials at the Department for Environment, Food and Rural Affairs (Defra) are said to be merely in "listening mode" …
Mr Oakes, who is also a farmer, said: "I was paying about £7,000 for an artic [articulated lorry] load of fertiliser, and this year it's £28,000. It would have been a little bit less before Ukraine happened, but it made another big jump because we'd already seen higher gas prices, which have implications for fertiliser costs …
He added that feed costs have risen 60pc.
As if all that isn't enough to worry voters, we have the Online Safety Bill passing through Parliament. Guido Fawkes tells us what is happening as Ofcom, the communications regulator, prepares for the not-so-distant future:
Scary.
Guido's accompanying post says, in part:
According to Melanie Dawes, the newly-appointed CEO of Ofcom, the quango will increase headcount by 400 staff ahead of new powers to police the internet in the Online Safety Bill, which will be voted on in Parliament after Easter. That's a lot of censors…
Ofcom will have Putin-style powers to block websites from being seen in the UK if those sites fail to uphold their new legal duty of care to remove "harmful content". The definition of "harmful content", of course, will be a political question. Will questioning hurtling towards net-zero whilst millions are in energy poverty be deemed harmful content? …
Ofcom's Melanie Dawes told Times Radio:
We've got some tough and strong tools in our toolkit as a result of this legislation. And I think we need those. …These very strict and somewhat draconian kinds of sanctions are really only the sort of thing that you would expect to use as a serious last resort.
If you don't accept self-censorship and comply, your website will be blocked. Chilling.
Then we found out at the weekend that the civil servant in charge of ethics was at a lockdown party.
The Times's Patrick Maguire reported:
Were this a plot point in a satire, it would feel much too lazy for any self-respecting reader to get behind. But here we are: the official who was then in charge of ethics on Whitehall has been fined for her attendance at a lockdown-busting karaoke party.
As the first major name to have been revealed to have received a fixed penalty notice, Helen Macnamara — then the government's head of propriety and ethics, now in the business of neither as director of policy and corporate affairs at the Premier League — is surely a sign of things to come.
For confirmation of her attendance at a leaving do in the Cabinet Office in June 2020 — at a cost of £50 — is a sign that it wasn't just the junior, nameless and faceless who breached Covid restrictions at the heart of government over that fateful period, as Boris Johnson would much prefer to be the case.
Meanwhile, Scotland Yard is also said to have told people who attended a No 10 party on April 16 last year, the day before Philip's funeral, that they would be given fixed penalty notices: conclusive proof at last that the law was broken in Downing Street itself.
The PM did not attend either do, but the slow burn of revelations from the Met's investigation is hardly ideal, particularly with elections just over a month away.
"I have 65,000 constituents in west Wales, where I represent, and they are not shy in coming forward and expressing a view about this and a number of other subjects," Simon Hart, the Welsh secretary, told Sky News this morning.
"And throughout all of this saga of the Downing Street parties they have said one thing very clearly, and in a vast majority they say they want contrition and they want an apology, but they don't want a resignation."
The bigger risk, looking at the polls, is that they don't want to vote Tory…
However, there are two bright rays of sunlight in an otherwise cloudy day.
The first is that London's position as the second most important financial centre in the world is holding steady, as The Telegraph reported on Monday, April 4:
London remains Europe's dominant financial centre based on factors such as (relative) political stability, labour market flexibility, quality of life, infrastructure and innovation, a ranking by think tank Z/Yen Group found last week. It was ranked second only to New York globally, while Paris came in at 11th place.
The second is that Volodymyr Zelenskyy still appreciates all of Boris Johnson's efforts for Ukraine. He is contemptuous of Emmanuel Macron and Angela Merkel, as Guido reports:
Guido has the video of Zelenskyy praising Boris:
Zelenskyy's said the UK has "agreed on new defensive support for Ukraine. New package. Very, very tangible support," adding "Thank you Boris for the leadership! Historical leadership. I'm sure of it". 
It's too bad that Zelenskyy cannot campaign for Boris's Conservatives. They could use his help.
No Briton in any position of influence likes President Donald Trump.
That outlook extends to 99% of the British middle classes.
Throughout Russia's invasion of Ukraine, I couldn't help but think that, were President Trump still in the White House, Putin never would have dared to try it.
Finally, a British journalist has spoken up, saying the same thing.
Enter The Telegraph's Tim Stanley, a never-Trumper, who wrote 'Trump was right on Russia. He could have been its deterrent', published on Monday, March 7.
Excerpts follow, emphases mine:
Donald Trump is like one of those Roman emperors who everyone hated at the time but historians later admit was prophetic …
… Putin took Crimea in 2014, under Obama, and invaded Ukraine in 2022, under Biden, so it's reasonable to guess that this invasion wouldn't have happened under Trump because it didn't.
Trump says this is because he told Putin he was ready to drop a bomb on Moscow ("he sort of believed me like 5 per cent or 10 per cent – that's all you need"), which is embarrassing if a lie and terrifying if true, but it does fit with the substantive record of his administration.
This is a good contrast between the Obama and Trump administrations:
Obama resisted sending lethal aid to Ukraine; Trump did so. From 2017-19, the Trump administration carried out 52 policy actions against Russia, ranging from sanctions to military action against Putin's client Bashar al-Assad. When Assad used chemical weapons under Obama, America did not reply with force. When he tried the same trick under Trump, Trump hit a Syrian airbase with 59 tomahawk missiles. Separately, US commandos engaged directly with Syrian soldiers and Russian mercenaries. The details were classified but the President bragged about it at a fundraiser.
Trump was also right about NATO:
Trump called out the bad; he mocked the pretensions of the good. At the 2018 Nato summit, he demanded that his allies spend more on the military and pointed out that they were buying energy from the very country, Russia, that they expected America to protect them from. The West wasn't just sanctimonious, it was cheap and greedy, and its decadence was sapping its deterrence.
Contrary to what Trump haters say, he wanted NATO members to stump up their fair share of cash to keep it going. The US was — and still is — overwhelmingly funding NATO, although Germany has been doing better. Britain is in second place, after the US.
Although labelled as an isolationist, Trump went to the troubled areas and leaders of the world no other US president wanted to get involved with. He attempted to broker a deal with North Korea. He succeeded in the Middle East, with influential Arab countries and Israel. For all of his bellicosity, which these leaders respected, he was a man of peace, not war.
Stanley says:
Trump, despite being labelled an isolationist, stood in a long line of Republicans who asserted the best way to avoid a fight is to signal to your opponent that if they lay one finger on you, you'll break their nose.
Stanley mentions the parlous state of affairs with Biden and other Western leaders:
… does anyone doubt that Biden's incompetent withdrawal from Afghanistan encouraged Russia to try its luck? Weakness escalates tensions; politicians typically try to extricate themselves from the resulting crises through over-reaction – to bomb North Vietnam or surge troops in Iraq – and now there is talk of imposing a no-fly zone over Ukraine. If we don't do it, says Zelensky, we are complicit in the murder of citizens. His anger is righteous. But the same Westerners who tell us Putin is insane and desperate can't then advise us to risk nuclear war with him. When a house is on fire, we try to put it out: we don't show our solidarity by burning down the whole street.
Stanley points out that Trump did not have time for idealism:
Another common notion is that the Ukrainians are defending the universal principle of "democracy", when what they're really fighting for is their homes. That's a noble cause and we're right to back them, but Trump regarded such ideological abstractions as artificial, expensive and best avoided. All nations are in competition, he would argue, regardless of political system, and their goals are shaped by history and geography. Russia wants, and will always want, a buffer zone to the West. Trump had no problem with that, in theory, and it was a mistake to needle Moscow with the threat of Nato extension.
On Russia's invasion of Ukraine, Stanley rightly concludes:
Given the obvious blow to Pax Americana that the invasion has inflicted, it's hard to imagine that a second-term Trump would have tolerated it.
Too right!
Personally, I doubt that Trump will run again in 2024, although he might.
If he doesn't, I hope that the Republican candidate adopts a similar position of toughness.
It's the only language some world leaders understand.
On Monday, February 28, 2022, The Telegraph released the findings of their Freedom of Information request concerning modelling that SAGE and other scientists in the UK used to promote the case for 2020's initial lockdown.
The Telegraph reported (emphases mine):
Scientists did not have accurate Covid case numbers, and were unsure of hospitalisation and death rates when they published models suggesting that more than 500,000 people could die if Britain took no action in the first wave of the pandemic, it has emerged.
On March 16 2020, Imperial College published its "Report 9" paper suggesting that failing to take action could overwhelm the NHS within weeks and result in hundreds of thousands of deaths.
Before the paper, the UK coronavirus strategy was to flatten the peak rather than suppress the wave, but after the modelling was made public, the Government made a rapid u-turn, which eventually led to lockdown on March 23.
However SPI-M (Scientific Pandemic Influenza Group on Modelling) minutes released to the Telegraph under a Freedom of Information request show that by March 16, modellers were still "uncertain" of case numbers "due to data limitations".
The minutes show that members were waiting for comprehensive mortality data from Public Health England (PHE) and said that current best estimates for the infection fatality rate, hospitalisation rates, and the number of people needing intensive care were still uncertain.
They also believed that modelling only showed "proof of concept" that lockdowns could help, and warned that "further work would be required".
The team was also encouraged to look for collaborators and resources outside of the infectious diseases network.
Well, that never happened. They stayed within their closely knit group and never ventured outside of it for data sources from other scientists and clinicians.
For the millions of us around the world who had been looking at the data from the Diamond Princess cruise ship in Asia and thinking that coronavirus was no big deal, it was a shock to find that those data had not been considered in the Government's strategy.
Those waiting for a certain hapless modeller's name to appear need wait no longer:
Imperial College held a press briefing about its model on the afternoon of March 16, and on the same day, Boris Johnson ordered the public to avoid pubs, restaurants and non-essential contact and work from home if possible.
At the briefing, Prof Ferguson told journalists that the new conclusions had been reached because "the last few days" had provided "refinements" in the estimates of intensive care demand and hospital surge capacity.
But the minutes now show that SPI-M did not believe the data were complete …
Minutes from the following day, March 17, also show that the Department of Health wanted to know whether Prof Neil Ferguson had referenced other papers in the Imperial model.
And both Imperial and the London School of Hygiene and Tropical Medicine (LSHTM) were asked to renew modelling ahead of a Sage meeting on March 18 which would "include reviewing the commonality of assumptions" and look specifically at a London lockdown, where cases were rising more quickly.
All of Neil Ferguson's predictions, going back to the Millennium, have been wildly wrong. How the Government could not have questioned these figures is beyond me. To make matters worse, the modelling went around the world, including to the US and to Sweden.
Good grief. What a global shambles.
Furthermore, Ferguson couldn't even keep to the rules himself, having visited his mistress who lived on the other side of London to him and his wife.
These modelling inaccuracies went on through 2021. The article has more, but, in short, the minutes recorded that blame for incomplete data belonged to NHS Test and Trace on one occasion, to NHS England on another and Public Health England (PHE) on a third.
Last year, the Government planned to lift the post-Christmas lockdown on June 21 but waited another month. Modellers:
did not use the most up-to-date figures, which was criticised by MPs at the Science and Technology Select Committee.
That means that June 21's Freedom Day could have gone ahead! Instead, we had to wait until July.
Two scientists who have never been invited to share their views on coronavirus with SAGE or the modellers told The Telegraph what they thought. Prof Carl Heneghan and Dr Tom Jefferson are colleagues at the University of Oxford:
Prof Carl Heneghan, the director of the centre for evidence based medicine (CEBM) at the University of Oxford, said: "This has always concerned me about the modelling. Throughout the two years there has been systematic error, consistent over-estimation and a tendency to go directly to the media with conclusions, without validation or peer review.
"It's clear from the SPI-M minutes there were issues with the data, it wasn't robust. And it shows that they should have been looking for additional outside expertise.
"What concerns me is if we don't fix these problems we will end up being bounced back into restrictions or end up spending money in ways that detracts from the healthcare problems at hand."
… Dr Tom Jefferson of the CEBM at Oxford branded the early pandemic modelling "irresponsible".
"They should have said 'I'm sorry, we do not have the data," he said. "Any forecast based on limited data is just a guess, it's unethical and reckless, and we can now see the consequences of this behaviour with people dying because of the destruction of our services."
One of the people just as upset, if not more so, with Neil Ferguson and the other modellers is the MP for the Isle of Wight, Bob Seely.
He has been sounding off on this in Parliament for a few months now. My guess is that he wants modelling to be included in the UK's coronavirus inquiry.
He told The Telegraph:
The arguments for and against lockdown are complex, but what is becoming clear is that the evidence that the Government saw was incomplete and potentially inaccurate.
This is a national scandal. No question about it. The data that petrified politicians was inaccurate.
The Daily Mail also covered this story. The blue sidebar discusses Ferguson's modelling:
The scientific paper published by Professor Ferguson and his colleagues on the Imperial College COVID-19 Response Team was credited for persuading Boris Johnson's Government to ramp up their response to the coronavirus.
The paper, released on March 17, and titled Impact of non-pharmaceutical interventions (NPIs) to reduce COVID19 mortality and healthcare demand, predicted that the Government's original plan to 'mitigate' the outbreak instead of trying to stop it could have led to a quarter of a million people dying.
Using data from Italy and China, the scientists predicted how different Government measures would have different impacts on the outbreaks. 
If no action at all had been taken against the coronavirus it would have claimed 510,000 lives, the team's report said. Had the Government stuck with their strategy of trying to 'mitigate' the spread – allowing it to continue but attempting to slow it down – with limited measures such as home isolation for those with symptoms this number would be roughly halved to 260,000. 
If the strictest possible measures are introduced, the number of deaths over a two-year period will fall below 20,000, the scientists said.
Even reading those numbers in a newspaper report is dumbfounding. They do not make sense.
Returning to Bob Seely, he first started mentioning Ferguson's modelling on December 14, 2021, when MPs were asked to vote on a few new coronavirus measures, including a Christmas lockdown in England because of Omicron, already known to be mild. Fortunately, 101 Conservative rebels voted against the lockdown. As news was emerging about Boris's Christmas party during the previous year's seasonal lockdown and the fact that the Conservatives were tanking in the polls, another year of Yuletide misery would not have gone down well with the public.
This is what Bob Seely said on December 14, 2021, when Health Secretary Savid Javid was at the despatch box during the debate:
I strongly support getting vaccinated. I had my booster jab two weeks ago. I thank all Islanders who are engaged in the vaccination process in my constituency. I congratulate the Government on an ambitious booster programme. When it comes to the vote tonight, I will accept and trust what they say on face masks and on the daily tests, which seem infinitely more sensible than locking people down in hotels. I will not support them on passports or mandatory jabs. Threatening the jobs of 73,000 NHS staff seems an odd way to support the NHS.
I want to raise a wider issue with those on the Front Bench, which has somewhat coloured my judgment. I have heard nothing to reassure me on the following points. I am fed up with dubious forecasts and ridiculous extrapolations the kind of which many hon. Members have talked about. Academics—I am not quoting myself—have talked about Imperial College London's forecast being "hysterical", "inflated", "consistently over-confident", "lurid", "flawed" and "spectacularly wrong". What do the Government have to say about the incredibly questionable extrapolations that they have used?
I am tired of all the leaks. It was leaked that omicron could kill 75,000. It could, but it may not. All these doomsday forecasts, leaked at critical moments, erode public trust.
Thirdly, we are told we have to follow the science. Of course we have to follow the science, but it is a misleading statement as science is shaped by the inputs and by the desired outcome. For example, we had 70 pages of evidence from Scotland on vaccine passports, but there was no evidence to support their value for uptake, so why are we introducing them? We are doing so because of the precautionary principle. That is not science.
One of the most disturbing things is the lack of context for the statistics that have been used. Was that to increase knowledge or to increase fear? My right hon. Friend the Member for New Forest West (Sir Desmond Swayne) said that between 500 and 1,000 people die each day in this country, and people die of flu all the time. It is about putting this information in context, and I fear that the result of too much of this has been to scare people, especially the old and now the young. They are petrified of covid without taking account of more genuine and potentially more damaging threats such as the appalling impact on education.
I will vote against the Government on two of the motions tonight, but my decision to do so has been coloured by the past 18 months of policy, which we need to improve.
On January 5, 2022, Boris Johnson gave Parliament an update on the Omicron variant's effect on health in England.
Seely said:
I congratulate the Prime Minister on his balanced approach, unlike that of others in this House. There is increasing concern among epidemiologists, modellers, oncologists and scientists about the use of modelling and forecasts. Among the comments are that the forecasts we may have been using over the past two years are "almost hysterical," "lurid," "spectacularly wrong," "consistently overconfident" and "substantially inflated." Those comments are from scientists, not journalists or politicians. Does the Prime Minister trust the modelling he is getting, and will the Government consider an inquiry into the use of modelling and forecasts, many of which have been found to be unrelated to reality?
Boris did not like that one bit. I saw the debate.
He replied:
It is important for everybody to understand the limitations of models; they are not forecasts, but mathematical projections based on the data the modellers currently have, particularly when it came to Omicron, about the severity of the disease. That is why, when we feed assumptions about severity that are excessive into the models, we get results that are excessive; that is what my hon. Friend is driving at. Some of the models or calculations are much closer to what is happening now, and models are useful and cannot be dispensed with as we need to have projections, and we in this House should not in any way try to undermine or attack the independent scientists, whose independence is absolutely vital for our ability to handle this disease.
Oh, please!
On January 18, Seely led a motion at a Select Committee chaired by Sir Edward Leigh MP:
I beg to move,
That this House has considered forecasting and modelling during covid-19.
This was a rather heated debate, not so much by Conservatives but by the left-wing MPs responding to Seely's lead contribution.
Excerpts follow:
… Thanks to some questionable modelling that was poorly presented and often misrepresented, never before has so much harm been done to so many by so few based on so little questionable and potentially flawed data.
I believe that the use of modelling is pretty much getting to be a national scandal. That is not just the fault of the modellers; it is how their work was interpreted by public health officials and the media—and yes, by politicians, including the Government, sadly. Modelling and forecasts were the ammunition that drove lockdown and created a climate of manipulated fear. I believe that that creation of fear was pretty despicable and unforgivable. I do not doubt that modelling is important or that there has been some good modelling, but too often it has been drowned out by hysterical forecasts. I am not, as Professor Ferguson implied, one of those with an "axe to grind". I do, however, care about truth and believe that if someone influences policy, as the modellers and Imperial College London have done, they should be questioned. Frankly, they have not been questioned enough.
Above all, I want to understand why Government, parts of the media and the public health establishment became addicted to these doomsday scenarios, and then normalised them in our country with such depressing and upsetting consequences for many. I do not pretend to be an expert; I am not. I defended my own PhD at the end of last year, but it is not in epidemiology and I do not pretend to be particularly knowledgeable about that. But depending on time—I know others want to come in as well—I will quote from 13 academic papers and 22 articles authored by a total of approximately 100 academics.
Seely went into Neil Ferguson's history of poor modelling over the past 20+ years, which had disastrous results for British farmers in earlier epidemics, then the greater populace during coronavirus:
This is a story of three scandals, and the first one took place 21 years ago. In 2001, we faced the foot and mouth emergency. We reacted drastically by slaughtering and burning millions of animals, and farmer suicides and bankruptcies followed. That policy was allegedly heavily influenced by Imperial College modelling and Professor Ferguson. Since foot and mouth, two peer-reviewed studies examined the method behind that particular madness. I quote from them now to show there are practical and ethical questions over modelling going back two decades.
In a 2006 paper, and I apologise for these wordy, long titles, titled "Use and abuse of mathematical models: an illustration from the 2001 foot and mouth disease epidemic in the United Kingdom"—they are not that catchy—the authors confirmed that Ferguson's model
"probably had the most influence on early policy decisions"
and
"specifically, the introduction of the pre-emptive contiguous culling policy".
That is

the mass slaughter of animals near infected farms

. The authors said that the consequences were "severe" and
"the models were not fit for the purpose of predicting the course of the epidemic"
—not a good start. They remain "unvalidated". Their use was "imprudent" and amounted to
"the abuse of predictive models".
Devastatingly, the authors wrote
"The UK experience provides a salutary warning of how models can be abused in the interests of scientific opportunism."
It is difficult to find a more damning criticism of one group of scientists by another.
A 2011 paper, "Destructive tension: mathematics versus experience—the progress and control of the 2001 foot and mouth disease epidemic in Great Britain"—bit of a mouthful—by four academics said the models that supported the culling policy were "severely flawed" and based on flawed data with "highly improbable biological assumptions". The models were
"at best, crude estimations that could not differentiate risk".
That is not a very good "at best". At worst, they were "inaccurate representations".
Sadly, the paper said, impatience for results
"provided the opportunity for self-styled 'experts', including some veterinarians, biologists and mathematicians, to publicise unproven novel options."
Some of the scientific work—some of it modelling, some of it not, with some modelling by Ferguson and some not—was cited as "unvalidated" and "severely flawed", with inaccurate data on "highly improbable assumptions" leading to "scientific opportunism". Is anybody reminded of anything more recent that would suggest the same?
I scroll forward 20 years. As with foot and mouth, with covid we had a nervous Government presented with doomsday scenarios by Imperial—the 500,000 dead prediction—that panicked them into a course of profound action with shocking outcomes. After the lockdown had gone ahead, Imperial publicised on 8 June a study by, I think, seven of them arguing the justification for lockdown. It claimed that non-pharmaceutical interventions saved more than 3 million lives in Europe. Effectively, Imperial marked its own homework and gave itself a big slap on the back.
That work is now being challenged. Because of time, I will quote only a small selection. In a paper entitled, "The effect of interventions on COVID-19", 13 Swedish academics—Ferguson ain't popular in Sweden, I can tell Members that much—said that the conclusions of the Imperial study were not justified and went beyond the data. Regensburg and Leibniz university academics directly refuted Imperial College in a paper entitled "The illusory effects of non-pharmaceutical interventions on COVID-19 in Europe", which said that the authors of the Imperial study
"allege that non-pharmaceutical interventions imposed by 11 European countries saved millions of lives. We show that their methods involve circular reasoning. The purported effects are pure artefacts, which contradict the data. Moreover, we demonstrate that the United Kingdom's lockdown was both superfluous and ineffective."
I am not saying that this stuff is right; I am just saying that there is a growing body of work that is, frankly, taking apart Imperial's. Remember, we spent £370 billion on lockdown that we will never get back. I could continue with other quotes, but I think Members get the flavour.
Moreover, a substantial number of other papers now question not Imperial per se but the worth generally of lockdowns. A pre-print article by four authors, "Effects of non-pharmaceutical interventions on COVID-19: A Tale of Three Models", said:
"Claimed benefits of lockdown appear grossly exaggerated."
In another paper, three authors found no clear, significant benefit of lockdowns on case growth in any country. Other papers continue that theme. I will quote one more, on adults living with kids. Remember: we shut schools because we were scared that kids would come home and infect older people, who would then die. This paper, in The BMJ, found
"no evidence of an increased risk of severe COVID-19 outcomes."
We shut down society and schools just in case, doing extraordinary harm to people's lives, especially young people. I am not a lockdown sceptic, as Ferguson casually describes some of his critics, but I am becoming so. Do you know why, Sir Edward? Because I read the evidence, and there is a growing body of it. In fact, there is one quote that I did not read out. There was a study of lots of countries that had lockdowns and lots that did not, and the data was inconclusive.
The third element of the scandal is the recent modelling. Swedish epidemiologists looked at Imperial's work and compared it with their own experience. Chief epidemiologist Anders Tegnell said of Imperial's work that
"the variables…were quite extreme…We were always quite doubtful".
Former chief epidemiologist Johan Giesecke said Ferguson's model was "almost hysterical". In the House of Lords, Viscount Ridley talked of a huge discrepancy and flaws in the model and the modelling. John Ioannidis from Stanford University said that the "assumptions and estimates" seemed "substantially inflated".
There was a second example last summer. In July 2021, the good Professor Ferguson predicted that hitting 100,000 cases was "almost inevitable". He told the BBC that the real question was whether we got to double that or even higher. That is where the crystal ball starts to fail: we got nowhere near 200,000, and we got nowhere near 100,000. There was nothing inevitable about Professor Ferguson's inevitability, and his crystal ball must have gone missing from the start. In The Times, he blamed the Euros for messing up his modelling because—shock horror—people went to pubs a lot to watch the games during the competition. When the tournament finished—shock horror—they did not. That seems to be the fundamental problem: where reality comes up against models, reality steamrollers them because models cannot cope with the complexity of real life. To pretend that they can and even that they are useful, when so many of them have proved not to be, is concerning.
Ferguson is only one of many people in Independent SAGE especially, but also SAGE, who did not cover themselves in glory. Raghib Ali—a friend of my hon. Friend the Member for Wycombe (Mr Baker), who I am delighted is present—is one of the heroes of covid. He noted that many left-wing SAGE members
"repeatedly made inaccurate forecasts overestimating infections".
Very often, they were falsely described on the BBC.
After a brief intervention of thanks from another Conservative MP, Seely continued, mentioning another member of SAGE who seemed to appear regularly on the BBC:
Just for the record, the communist Susan Michie, who is quoted quite often by the BBC, is not a medical doctor, a virologist or an epidemiologist. She is a health psychologist, so why on earth is she talking about epidemiology?
The third scandal took place this winter. Imperial, the London School of Hygiene and Tropical Medicine and others—I think they included Warwick—predicted 5,000 daily covid deaths, with 3,000 daily deaths as the best-case scenario. They were hopelessly inaccurate, and at this point the tide really begins to turn. Dr Clive Dix, a former vaccine taskforce head, said:
"It's bad science, and I think they're being irresponsible. They have a duty to reflect the true risks, but this just headline grabbing."
As I say, the tide is turning. Oncology professor Angus Dalgleish describes Ferguson's modelling as "lurid predictions" and "spectacularly wrong". The great Carl Heneghan, another scientist who has emerged with great credit for his honesty and fairness of comment, says:
"it's becoming clearer all that ministers see is the worst-case scenario".
Professor Brendan Wren says:
"Dodgy data and flawed forecasts have become the hallmarks of much of the scientific establishment"—
what a damning quote!—
"which has traded almost exclusively in worst-case scenarios…this must stop now."
I agree.
I will wind up in the next two to three minutes—I will speak for no longer than 15 minutes because other people wish to get in, and I am always mindful of that. What is the result of all this? The result, as UCL's Professor Francois Balloux notes, is a
"loss of trust in government and public institutions for crying wolf."
That is just it. We have had hysterical forecasts, models taken out of context, and worst-case scenarios normalised.
In the Army, there is something called the most dangerous course of action, and there is something called the most likely course of action. To sum up in one sentence how we got this wrong, we have effectively taken the most dangerous course of action and collectively—the politicians, media, scientists and health professionals—presented that as the most likely course of action, but it was not. Why did politicians say, "Follow the science" as a way of shutting down debate, when we know that science is complex and that our outputs are dependent on our inputs? It was down to public-health types, whose defensive decision making would only ever cost other people's jobs, other people's health, other people's sanity, other people's education and other people's life chances.
We know that the Opposition supported lockdown from the word go, but a little more opposing might have been helpful. The BBC and the Guardian have been salivating at state control and doomsday scenarios. Against this tsunami of hysteria and fear, thank God for The Spectator, The Telegraph and, yes, the Daily Mail for keeping alive freedom of speech and putting forward an alternative, which is now being increasingly scientifically vindicated. I accept that lockdown was understandable at first—I get that—but I believe the continuation of lockdown after that first summer was an increasingly flawed decision.
In wrapping up, I have some questions. To Professor Ferguson and the doomsday modellers: why are so many of your fellow academics disputing your work and your findings? To the BBC, as our state broadcaster: why did you so rarely challenge Ferguson, SAGE or Independent SAGE? Why did we misrepresent experts, and why did the BBC allow itself to become the propaganda arm of the lockdown state? To the Government: how could we have been so blinkered that we thought that following the science meant shutting down scientific debate? Why did we never use other datasets in contexts with the British people, or even in contexts in which these profound and enormous decisions were made? Why did we think that it was in our nation's interests to create a grotesque sense of fear to manipulate behaviour? SAGE and Independent SAGE kept on getting it wrong. To the public health types, I quote from Professor Angus Dalgleish again:
"Flailing around, wallowing in hysteria, adopting impractical policies and subverting democracy, the Chief Medical Officer is out of his depth. He has to go if we are ever to escape this nightmare."
He is not a journalist; he is an oncologist—a senior oncologist.
Twice in 20 years, we have made some pretty profound and significant errors of judgment, using modelling as a sort of glorified guesswork. I suggest respectfully to the Government that, after foot and mouth and covid, never again should they rely on dubious modelling, regardless of the source and regardless of the best intent. I am sure that Imperial and all these other people do the best that they can, and am very happy to state that publicly. However, why has so much of their work been described—and I will use the words of other academics—as "unvalidated", "flawed", "not fit for purpose", "improbable", "almost hysterical", "overconfident", "lurid", "inflated", "pessimistic", "spectacularly wrong", "fraudulent" and as "scientific opportunism"?
On January 26, the Daily Mail published his speech as an article, which was a great idea. Only political geeks, myself included, watch Parliament in action. This is information the public need to know.
I read the comments following the article. This one caught my eye:
The only accurate data analysis of Covid19 remains the Diamond Princess incident where an entire population were analysed and it showed that Covid19 was not the severe threat to all population that it was made out to be and even more interesting now is that if you rerun the incident again yet pressure that cruise ship population was vaccinated, you get statistically the same results.
Hmm.
To think that millions of 'ordinary' people knew about the Diamond Princess early in 2020, yet very few 'important' people ever brought it up in the media — or in political settings.
It's no wonder that many of us think that we were severely taken advantage of over the past two years.
On Thursday, January 13, 2022, Lord Frost, who resigned as Brexit negotiator last December, gave an interview to The Telegraph in which he accused the UK Government of 'covid theatre'.
Another reason for his resignation was his disagreement with the Net Zero policy, which most households will not be able to afford:
In the video below, which is subtitled, Lord Frost why he objects to the most restrictive of the Government's coronavirus policies — lockdowns, masks, working from home and vaccine passports:
Good on him for objecting to what he described last month as Boris's 'direction of travel'. Many Conservatives agree but were sorry to see him go. He was a doughty negotiator, although Northern Ireland is still a sticking point with the EU.
Foreign Secretary Liz Truss has been appointed as Lord Frost's replacement, adding Brexit negotiations to her long list of responsibilities.
Tomorrow's post will feature a UK coronavirus roundup.
2016 marks The Daily Telegraph's 150th birthday. Its original name was The Daily Telegraph & Courier.
At the time of its launch in June 29, 1855, the telegraph had just been invented. It was the newest technological development and made a great name for a newspaper of the time.
Christopher Howse examined the paper's letters to the editor through the centuries: 19th, 20th and 21st. His article is a must-read for history buffs.
When the paper started, London had no sewer system. This was the Telegraph's first cause. Thanks to the pressure the paper put on Parliament, Peter Bazalgette began working on designing the capital's extensive and efficient network, still in place today.
The letters to the editor reflected the gravity of the crisis. Howse explains:
Michael Faraday, the scientist, had taken a steamer from London Bridge to Hungerford Bridge and published his findings: that the whole river was "a real sewer". In the Telegraph, Mr [Francis] Francis [a celebrity of the day] retorted rather impatiently that "everyone who has been on the Thames, or seen it, or smelt it, has known the state of it for years".
Subsequent worries of the British public were, surprisingly, similar to those of today — policing, pub hours and public transport (emphases mine):
readers began inundating the paper with questions like: "Where are the police?" (They often ask the same question today.) They demanded that pubs should stay open longer on Sundays, that an elephant called Jumbo should be saved from export to the United States, that street muggers who garrotted pedestrians by night should be dealt with severely, that omnibuses should be made roomier, that sea-bathers should emulate the ancient Greeks in unashamed nudity. All this was while Victoria was consolidating her Empire and WG Grace [cricketer] was benefiting from 100,000 shillings donated as a testimonial by readers.
I was shocked to read that muggers garrotted their victims.
Similarly surprising was the rough reputation Green Park (and St James Park) had — and would continue to have for the next century — until after the Second World War:
A man troubled by prostitutes wrote indignantly on November 17 1855 under the nom-de-plume "A Pedestrian": "It is my business every evening to cross the Green Park, being the nearest way to Piccadilly from Westminster. I am constantly annoyed by prostitutes who frequent the paths as soon as it becomes dusk."
Two things are notable in his letter. One is that Victorians were not at all too prim to discuss prostitution in a family newspaper. Second, poor old Mr Pedestrian's troubles with prostitutes clearly came in for much mockery. "I have complained to the Police till I am tired of doing so, the only answer I get being: 'Then you should go another way'."
People often wrote using pseudonyms, especially when voicing concerns over crime:
A year later [1856], burglary in Hampstead was the problem, and a letter appeared on November 6 under the same headline: "Where are the police?" Using the name "A Constant Reader", in a way that letter-writers are not allowed to do in the present day, the author of the letter averred that "within the last few weeks no less than two or three burglaries have been committed in this hitherto quiet and rural district, and, as usual, no police-constable was within hail at the time".
A case of daylight assault was described in that year by another reader, from Marylebone, known only as "WA". A friend had taken a shortcut to Edgware Road in London via Chapel Street ("one of the lowest streets in London," according to WA).
"When she arrived at about the middle of this street, she was seized hold of by a man in a flannel jacket. She immediately requested him to leave her alone or she should give him into the custody of a policeman. Instead of complying, the man tried, with all his force, to drag her down a court, and she cried out to some persons standing by to assist her. Instead of their doing so they seemed to admire the scene. She appealed for help, protesting that she knew nothing of the man, but without avail. This scuffling must have occupied some time, as her clothes were partly torn from her body. During the struggle she kept crying out for the police, but none was forthcoming."
Wow. The Victorians were no different to us.
Howse takes the reader through letters on another Telegraph campaign — unfortunately unsuccessful — saving Jumbo the elephant from being taken to the United States by Barnum and Bailey. He looks at correspondence from Oscar Wilde, T S Eliot and Kingsley Amis. In the intervening decades, people wrote about swimsuits, working women, public transport and summer heat.
Of course, the majority of the letters would have been about politics, war and the economy.
However, Howse's article paints a social portrait of Telegraph readers' concerns, mostly forgotten in history books. It's a revelation. It serves as proof of Ecclesiastes 1:9:
What has been is what will be,
    and what has been done is what will be done,
    and there is nothing new under the sun.