You are currently browsing the tag archive for the 'Dan Hodges' tag.
Yesterday's post looked back at Liz Truss's leadership campaign during the latter half of August 2022.
As September started, most ordinary conservatives were happy to know that Liz was likely to be the next Party leader.
On September 3, the veteran journalist Janet Daley wrote an empathetic column about her for The Telegraph, 'Ignore conventional wisdom: the new prime minister is not doomed'.
CCHQ — Conservative Party headquarters — had not yet finished counting the members' votes, but Daley thought that people would give Liz their support in the face of the cost of living crisis (emphases mine):
Given that virtually everyone in the country accepts that the current dilemma is both desperately urgent and, in the short term, utterly hopeless, Liz Truss will begin her premiership with the lowest possible expectations and, given the inherent fair mindedness of the British population, even a little sympathy …
Whether Daley realised it or not at the time, she hit the proverbial on the head in the second paragraph:
Standing up in the House – or better, at that podium in Downing Street – to address a nation that has been terrified out of its wits by predictions of the devastation that is to come, will look like an act of singular bravery and resolve. Most of the country, apart from sworn partisan enemies (the most pathologically vicious of whom are inside her own party), will be willing her to succeed in whatever terms success can be measured, against the impossible odds. She will not have a honeymoon as such, but she can gain points for rigorous resolve and determination – especially if she seems to be in touch with the justifiable fears of real people. That will be the key to it. Every word, every pronouncement, every policy will have to be communicated with infinite humaneness: genuine compassion for the impact that this crisis is having on daily life and future prospects …
Although this was Daley's prediction at the time, this is how things played out with most fair-minded voters:
Ordinary people who do not have an ideological dog in the fight know that this is uncharted territory. What disagreements there are – and will continue to be – over the right way to proceed will be accepted as reasonable argument and not necessarily discrediting to the sitting government providing that it remains proactive and committed.
I particularly liked the next bit, which posited that, as the year went on, things might turn out to be less gloomy than forecast during the summer:
… there is the possibility of some good (or less bad) news in the coming months. What if the combined efforts and ingenuity of the Western economies produce more optimistic projections for energy subsistence sooner than was expected? Already we hear that gas storage in Europe is exceeding expectations and, as a result, commodity prices are beginning to fall.
However, Daley, for all her brilliance, did not foresee the savage attack from Liz's fellow MPs.
North of the border, Scotland's First Minister Nicola Sturgeon was still seething that Liz had called her an 'attention seeker' during the campaign:
During her premiership, Liz never did contact Nicola Sturgeon.
On Monday, September 5, these were the main news stories. We could rely on The Independent for negative stories about our new Prime Minister: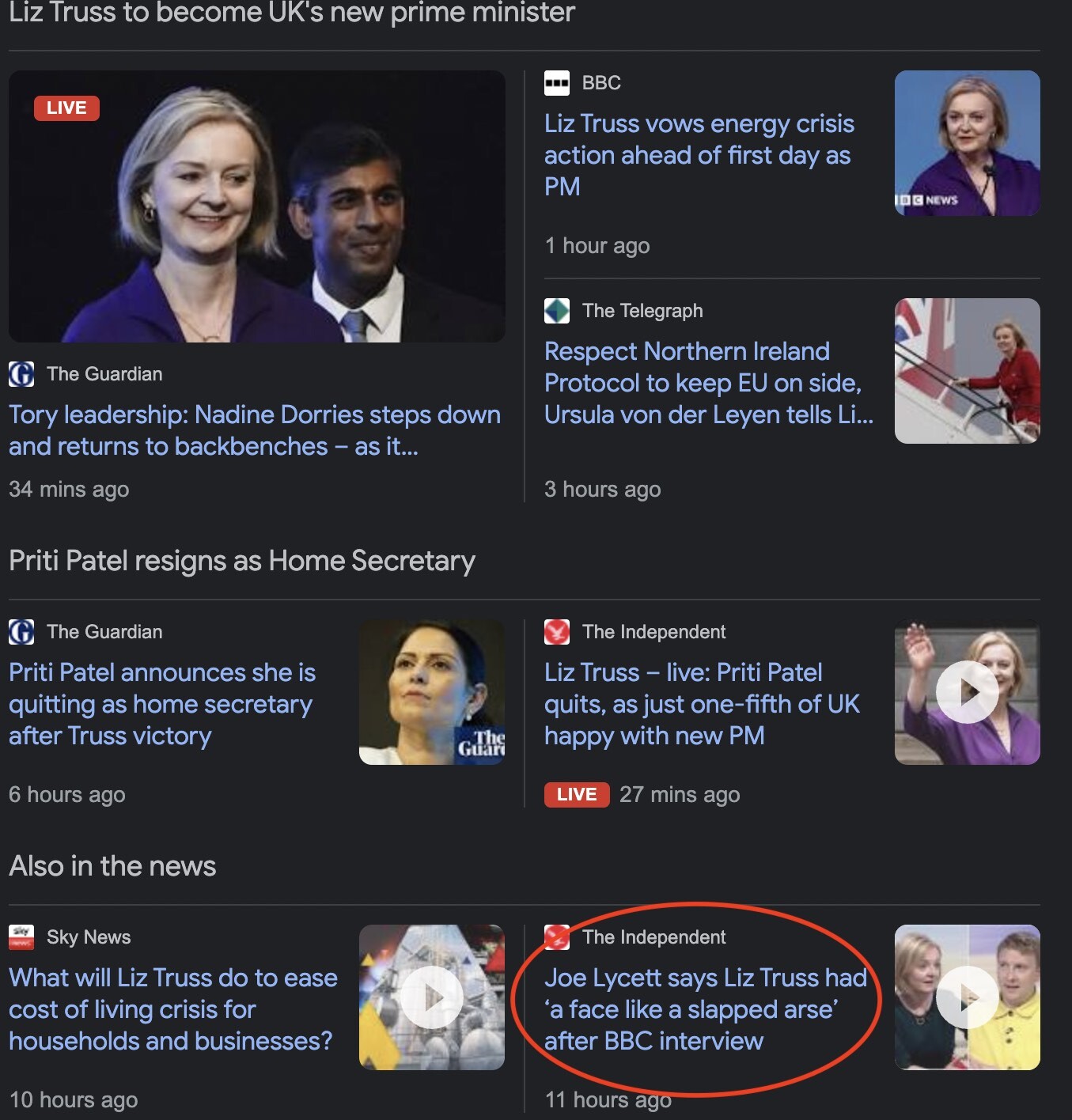 The Mail on Sunday's Dan Hodges was thrilled. He had predicted Liz's ascendancy on Boxing Day 2021:
His article says that Liz's rise began when she replaced Dominic Raab as Foreign Secretary. During his time in post, he said that all ministers (MPs) serving under him were to be called Junior Ministers (JMs) rather than Ministers. The MPs were none too happy with that move.
Then, when Biden's sudden withdrawal from Afghanistan took place in mid-August 2021, Raab was on holiday in the Mediterranean with his family. Boris replaced him with Liz:
On her first day in the job, she issued a note to her officials ordering the JM designation be dropped.
'Liz gets it,' a Minister said. 'She knows how to treat her colleagues properly. It's one of the reasons she's been so successful.'
Spectacularly successful. 2021 has been Liz Truss's year …

She's now in charge of masterminding the final fraught stages of Britain's EU exit.
And – were Boris to suddenly fall beneath a heavily laden wine-and-cheese platter – favourite to replace him in No 10 Downing Street.
At the time Hodges had written his article, Boris was becoming more embroiled in Partygate allegations, which had begun in November 2021.
We thought that Boris had a diverse Cabinet. It was nothing like Liz's, however:
The Mail reported:
Ms Truss is expected to make long-term ally Kwasi Kwarteng chancellor, with Suella Braverman moving to the Home Office and James Cleverly to the Foreign Office.
If selected, Mr Kwarteng would be the fourth non-white chancellor in a row, directly following Sajid Javid, Rishi Sunak and Nadhim Zahawi.
And Ms Braverman would become the third minority home secretary, after Priti Patel and Mr Javid. 
Mr Cleverly, currently the Education Secretary, would become the first ever non-white foreign Secretary.
Cleverly continues in post today under Rishi Sunak, as does Kemi Badenoch, International Trade Secretary and Minister for Women and Equalities:
Would the media — our diversity champions — give her, our third female Conservative PM, any credit? Never:
On a related note, Liz gave us a Health and Social Care Secretary with a fondness for cigars, the likes of which we had not seen since Kenneth Clarke in the 1990s. Here is Thérèse Coffey, one of her close friends, pictured at a Spectator summer party a few years ago:
However, just as important were the people no longer in Cabinet. This is worth noting. Some said later that this is where Liz's premiership became unstuck, that she should have held on to some opponents:
There is expected to be a clear out of Rishi Sunak and his supporters after a bitter blue-on-blue campaign in which he seems almost certain to be defeated.
Into the political wilderness too will go Michael Gove, after serving under the three previous PMs. Dominic Raab, the First Secretary of State, and Boris Johnson himself, are expected to return to the backbenches. Both have question marks over whether they can hold on to their seats at the next election.
I think she did the right thing. We'd seen enough of all of them over the past three years and, in Gove's case, much longer than that.
They would not have been friendly:
Other backbench Conservative MPs were unfriendly, too:
Rishi was unaccustomed to being on the backbenches, and his first opportunity to participate in a debate came that Tuesday afternoon. Guido Fawkes reported:
Backbencher Rishi Sunak making a debate intervention today on "unavoidably small hospitals":
Thank you for accommodating me at a late stage in this debate. I hadn't planned on speaking but this morning I saw the order paper and it turns out I had more time on my hands than I anticipated.
Tuesday's Mail pointed out the Conservatives have had three women PMs. Labour have had none, not even a female Party leader:
We were also entering a new generation of PMs who were younger than we:
Liz's supporters in the media were hopeful:
James Johnson's Politico article said:
The main qualities the public look for from their leaders in the 2020s are honesty, strength and authenticity. It will require care and calibration, but Truss has a path to come closer to these than Starmer.
If she stands in Downing Street on Tuesday and levels with the public about the challenge ahead and tells them to judge her on results in two years' time she will not only create a reputational shield for herself but also have the opportunity to make a novel mark on the public — many of whom will be tuning into her for the first time — as someone who gives it to them straight.
Some have suggested that her more libertarian instincts and views, such as decrying a focus on redistribution, make her unelectable. But voters, especially those new Tory converts in the Red Wall, value consistency — a quality they feel is so lacking in modern politicians — as much as an individual policy position. Focus group attendees praise Thatcher and Blair when asked if there are any politicians they admire not because they agreed with them on everything, but because they felt they held beliefs and stuck with them.
One of Truss' biggest applause lines in one of the early debates was that she is not the slickest media performer, but she gets things done. If she successfully harnesses that sentiment, the ideological gap between her and the public on specific issues or an awkward communication style may matter less …
It could all come undone, of course. Moments in the summer would have been similarly disastrous for Truss in a live election campaign environment. The calibre of her team will be crucial …
There is a pathway for the Conservative Party. If followed, the optimistic scenario for Liz Truss is underpriced.
Like the aforementioned Janet Daley, James Johnson underestimated the opposition on the Conservative backbenches.
After flying back from Aberdeen, the closest airport to Balmoral, Liz gave her first address as Prime Minister. Heavy downpours punctuated the afternoon. The weather, combined with London's rush hour traffic, delayed her. The rain let up long enough for her to give her speech, in which she borrowed a line from Churchill, 'Action this day'. Her husband, Hugh O'Leary, stood on the sidelines:
Liz's first call to a foreign leader was to Volodymyr Zelenskyy to reassure him that the UK would continue to support Ukraine:
One of her economic advisers, Gerard Lyons, was confident that a low-tax economic plan would help to stave off recession:
The cost of living crisis made Wednesday's papers, September 7. These front pages show Liz's husband:
The Telegraph borrowed words from her speech, 'We can ride out the storm':
Wednesday saw Liz's first Prime Minister's Questions (PMQs). This is the full half hour:
She managed to lob a few witty grenades Keir Starmer's way.
To roars of applause from Conservatives, Liz pointed out that there is nothing new about a Labour leader wanting tax rises:
Guido noted that the comment painted Starmer the same colour as his predecessor, the very left-wing Jeremy Corbyn (emphases his):
It only took a free marketeer PM to bring out Starmer's inner Corbynite…
Directing her aim at both Starmer and Corbyn, she asked aloud why Labour can't find a leader who lives outside of north London, home of the metropolitan elite. She also wondered why there had been no female Labour Party leaders (video):
After PMQs ended, Guido said that Liz's Cabinet was more diverse than Labour's shadow team, although you cannot see that in the photo that he posted. He calculated:
… up to seven BAME members: 23% of the total. 
By Guido's reckoning, Labour's shadow cabinet has six ethnic minority members, or a mere 20%.
Meanwhile, Labour continue thrashing the Tories on gender and state school educations. All completely irrelevant, but nonetheless, interesting to note …
That evening, The Telegraph analysed Liz's first full day as PM.
Madeline Grant provided a sketch of PMQs:
Therese Coffey, radiating gung-ho enthusiasm, looked ready to crack out another celebratory cigar. A dazed Suella Braverman wandered into the Chamber via the Westminster Hall route used by most MPs, then remembered she is Home Secretary now and hot-footed it to the "VIP entrance" at the back.
Notable by their absence were Rishi Sunak, and, predictably, Boris Johnson, though Sajid Javid was there …
A huge roar enveloped Liz Truss as she sashayed in, looking sleek in a blue pantsuit – shades of Keeley Hawes in the Bodyguard. The Tory troops, clearly desperate for things to go well, cheered raucously no matter what she said or did. Yet again beating Labour in the identity politics stakes seemed to have sparked particular joy. When Sir Keir Starmer congratulated Truss on her appointment, a Tory backbencher snarled "3-nil!". James Cleverly, the Foreign Secretary, brandished three fingers and jabbed them in the air.
Theresa May also congratulated Truss on becoming Britain's third female prime minister. "Why does she think it is that all three female prime ministers have been Conservative?", she asked. Truss positively beamed at her. "I look forward to calling on her advice," she said. (Oh no).
"There does seem to be an extraordinary inability of the Labour Party to find a female leader," continued Truss, "or indeed a leader who doesn't come from north London." The Tory hordes roared at this, and even Starmer repressed a chuckle.
Her presentation was as wooden as ever:
But her replies were assured, refreshingly direct. There were even a few one-word answers – no to a windfall tax, for instance – a quasi-mythical event in Westminster. It was almost as if the sphinx was at the despatch box. All of this seemed to flummox Keir Starmer, who is more used to spending PMQs trying to prise answers out of Boris Johnson – occasionally wincing as if pulling out his own teeth with a pair of rusty pliers.
Truss's true-blue rhetoric seemed to bring out Starmer's inner Corbyn too. He railed against "excess profits" with the wild-eyed conviction of a politburo member sounding off about Kulaks. "Same old Tories… There is nothing new about the Tory fantasy of trickle-down economics", he scoffed.
The Times's Quentin Letts noted Liz's calm demeanour:
The Tory benches mooed when they saw her but once Truss started answering questions, the composure was striking. Most of all it was the slower pace that one noticed, and the evaporation of most of the performance-venom that tarnished the late Johnson era. Where Boris used to gabble, Truss spoke slowly. The voice, which seems to emanate from near the tip of her nose, was clear. It may pink a little, like a novice musician's recorder, but it is strong enough to cut through a full Commons …
Truss referred to "my chancellor" and "my new health secretary". She was asserting her power. There wasn't a quiver visible in her fingers and she maintained a consistent tempo, andante rather than allegretto. Talking slowly makes you sound more authoritative and means you need not say so much. Helen Hayes (Lab, Dulwich & West Norwood) essayed a zinger. Would the government's response to some report be published by the end of the year? "Yes," said Truss, and she slowly, serenely resumed her seat, suffused with calmness. One should not over-interpret this performance. PMQs debuts usually go well. But the story is not quite conforming to the catastrophists' narrative.
Returning to The Telegraph's articles, Daniel Martin told us that Liz wanted proper dress in Downing Street:
The Prime Minister has made it clear she wants to re-introduce a dress code, with officials told to wear shirts and ties as part of a new, more formal style of government …
One government source said Ms Truss had made her views plain when she arrived back to Admiralty House from her victory party in the City of London, the night before she became Prime Minister.
The source said: "This is all born from Liz coming back from winning and telling the staff in Admiralty House that ties were back."
We also found out that she wanted a leaner operation:
Ms Truss has also ordered a wider operational shake-up at Downing Street, including a new economic unit whose role is to help her take on "Treasury orthodoxy".
She has brought in Matthew Sinclair, the former director of the TaxPayers' Alliance, as her chief economic adviser …
In a bid to strengthen the relationship between Ms Truss and her most important ministers, new offices are being created in Downing Street for both Wendy Morton, the new chief whip, and Thérèse Coffey, the Deputy Prime Minister.
An aide told The Spectator: "We've blown up the No 10 floor plan", saying the idea is to create a leaner, nimbler operation.
Allister Heath was fully behind Liz and her plans:
I'm optimistic about the Truss Government. Yes, of course, nobody can possibly know how well it will do – whether it will outwit the Blob to push through genuine improvements. But it is absurd to state, almost as self-evident fact, that it is bound to collapse, that it cannot last even two years, based in part on an insulting dismissal of the credibility and intellect of all of the members of the new Government.
It is astonishing that pundits with no understanding of economics dismiss the Prime Minister's ability in this area: she actually worked as an economist for Shell (ideal in the current climate) and as an economic director for Cable and Wireless. The first accountant ever in No 10 – she holds the qualification from the Chartered Institute of Management Accountants – she is more financially literate and comfortable with complex policy matters than almost all of those who patronise her. The fact that she is reflexively written off as lightweight, a dilettante even, is more a reflection of the bizarrely misogynistic and classist minds of some of her more extreme critics than of any objective reality.
Kwasi Kwarteng, the Chancellor, holds a PhD in economic history from Cambridge, perhaps the ideal qualification for the moment; his War and Gold and Ghosts of Empire remain timely. Thérèse Coffey, Truss's deputy, is another PhD: in her case, in chemistry, showing how much more intelligent she is than the ignoramuses who hate her.
Suella Braverman, the Home Secretary, is an extremely competent, bright and personable lawyer who drives the Left crazy. Kemi Badenoch holds degrees in engineering and law, and is fiendishly clever. Jacob Rees-Mogg, with his background in finance, is the perfect pick for Business (and Energy), given the technical and intellectual complexity of his mission. Kit Malthouse, the Education Secretary, another accountant, has experience running a medium-sized business; Chris Philp, the Chief Secretary, has a degree in physics.
The list goes on. Of course, some ministers are weaker than others, but the average quality is a great improvement on many past governments. Matthew Sinclair, one of Truss's advisers, is the best free-market economist of his generation in Britain today.
The paradox is that it is a policy that I'm uncomfortable with that is likely to send the Government's poll ratings surging, discrediting its Leftist critics. Truss's energy plan is rightly a big bazooka; it is regrettable that, for a variety of practical and political reasons, she appears to have decided to freeze all energy bills, rather than to opt for targeted subsidies to small firms and the bottom half of earners. The Government's bill will be at least 5 per cent of GDP, with enormous potential liabilities. This is the biggest welfare programme in British history, one that helps the well-off as much as the needy.
But we are where we are. The Government felt that an alternative, non-universal plan could not be targeted correctly, that the cliff-edge from means testing would be too extreme, that the public's allergy to high prices had become too toxic. Truss feared she would be destroyed on arrival if she didn't go for broke. Her gambit is that the scale of this intervention will cripple the Left: it's a statist umbrella protecting her free-market reforms …
Our new Prime Minister likes economic growth, not merely because she values material prosperity, but because she buys into the very idea of progress, of improvement. Boris Johnson agreed in theory, but didn't understand what to do. Unlike Theresa May, Truss is inherently anti-Malthusian: her Chancellor talks of growing the economy, rather than arguing about how to redistribute a stagnant pie, the vanishing "proceeds of growth" taken for granted by David Cameron.
Yes, Truss will address our immediate crisis via costly, short-term policies. But she's deadly serious about principled long-term measures to accelerate the economy by boosting energy output, housebuilding, private investment, scientific innovation and entrepreneurship. It will be tough, but the Twitter Lefties are entirely wrong to be betting so emphatically against her.
The Telegraph's main editorial compared her to Margaret Thatcher:
Opinion polls indicate that Labour's windfall levy is popular, but Ms Truss is right to identify the flaws in this approach. Her declaration that we cannot tax our way to higher growth could have been uttered by the first woman prime minister 30 years ago.
Balancing short-term expediency with long-term economic requirements will require skill and determination. Ms Truss has set out her position and is clearly intent on sticking to her guns, even if the polls are tempting her to abandon them. It was an encouraging start.
The Mail provided us with short takes from the more left-of-centre broadcasters, who also thought Liz did a great job at PMQs. These were not her natural allies.
The BBC's Chris Mason noted:
As Prime Minister's Questions finished, there appeared to be a warm, one-on-one brief chat between Liz Truss and Keir Starmer.
I think Starmer said "well done" to his opponent: all party leaders regularly acknowledge that PMQs is a tough gig …
It felt less personal, much less theatrical and more ideological …
TalkTV's Tom Newton Dunn said:
Liz Truss is not a legendary orator, and some Tory MPs lived in terror at the thought of her robotic despatch box style.
But that was a very strong debut …
The Mail had several more comments, so I will end with this one from the i newspaper's Richard Vaughan:
If Liz Truss's aim for her first PMQs was to kill the usual heat and rancour in the Commons chamber, then she succeeded. It was a solid, no-frills performance.
… Ms Truss's arrival onto the front bench was greeted with cheers, but it was by no means a deafening welcome by backbenchers to their new leader – perhaps a portent of things to come.
On the evidence of her no-nonsense opening appearance in her new role, they would be wise not to underestimate her. Her next trick will be to try and inspire those on the benches behind her.
Aye, there's the rub.
To be continued tomorrow.
Considering that Parliament is currently prorogued and that this past weekend was the May bank holiday, one would think that nothing political happened.
One would be very wrong indeed.
In fact, a Conservative MP stood down and Labour's indoor 2021 election campaign meeting in Durham attracted more attention.
Labour's 2021 do in Durham
My April 29 post has the background to Labour's 2021 election campaign do in Durham.
April 30 was its one year anniversary:
I couldn't agree more.
The Mail on Sunday's Dan Hodges agrees on Labour's hypocrisy:
Many Labour supporters say that the Durham do did not break any rules, however, it probably did. Below are the rules for the 2021 election campaign:
Furthermore, it is possible that, despite the fines (fixed penalty notices), the Downing Street gatherings did not break the rules, as the address is part of the Crown Estates.
On April 27, the Conservative Post published an article on the lefty activist QC (Queen's Counsel) advising senior civil servant Sue Gray in her report on the gatherings. The article says that they were perfectly legal (emphases in the original):
One might ask is this QC holding an almighty grudge?
Is this why Sue Gray / the Met Police haven't looked at section 73 of the Public Health (Control of Disease) Act 1984? Do they even know about it?
Surely a bipartisan advisor would have pointed out this important law of the land?
The Act clearly states that pandemic regulations, at all times, never applied to Crown Land (which includes No.10). 
Granted, one rule for them and another for the rest of us seems a bit unfair but it also makes sense.
Steven Barrett, a leading barrister at Radcliffe Chambers who read law at Oxford and taught law at Cambridge explains:
In the eighties lawmakers decided that it would be better to allow the government to function during any future national pandemic without having to worry about being caught up in quarantine regulations. The thinking was that by making the government effectively exempt in law, the government could continue to function.
In addition to the 1984 Act, there were also specific regulations that applied at the time of the alleged "parties" the Health Protection (Coronavirus, Restrictions) (All Tiers) (England) Regulations 2020.
According to these rules, gatherings were allowed in all public buildings, or parts of them 'operated by a business, a charitable, benevolent or philanthropic institution or a public body.'
So whatever happened in Downing Street was legal. 
How has a QC / Civil Service Advisor not made this clear to Sue Gray? If he had surely no-one at Downing Street would have received a fine at all.  
One would also have thought the Civil Service would check who is advising them.
Can someone let Sue Gray and the Met Police know please before any more incorrect fines are issued out? It's important rules of the land are adhered to. 
But, but … and it's a BIG BUT:
The matter came up in the House of Lords on December 14, 2021, shortly after the controversy broke. Good grief, that is now six months ago.
Baroness Jones of Moulsecoomb (Jenny Jones, Green Party) asked:
whether Number 10 Downing Street is a Crown property; and, if so, whether regulations made under the Public Health (Control of Disease) Act 1984 apply there.
Lord True, replying for the Cabinet Office, said that the regulations would have applied to Downing Street, despite its being part of the Crown Estates (emphases mine below, except for Guido Fawkes posts):
No 10 Downing Street is a Crown property. Regulations under the Public Health (Control of Disease) Act 1984 which relate to the activities of people, apply regardless of whether those activities took place on Crown property or not.
Hmm.
Back to Labour's Durham do, which has been trending online as Beergate and Currygate:
Durham Constabulary said a long time ago that there was nothing to investigate. Durham is a Labour area, so no surprise there.
However, the clamour over the weekend thanks to Conservative MP Richard Holden's letter to them was such that perhaps the police have decided to have another look.
On Tuesday, May 3, in an interview with BBC Radio 4's Martha Kearney, Keir Starmer refused to say (audio here):
This leads pundits to assume that Durham Constabulary might have been in touch:
Another development over the weekend was confirmation that Labour's deputy leader, Angela Rayner, was also in attendance.
Guido Fawkes posted the following on Friday, April 29:
After months of questioning, it can finally be confirmed Angela Rayner was present at Starmer's lockdown beer party in Durham. Despite refusals to confirm, video evidence dug out yesterday morning reveals Angie's attendance, who shared a chair with Sir Keir for a "Get out the vote rally"  on Facebook an hour before the video of Starmer's unlawful socialising was filmed. Oh. Dear.
Rayner can be heard saying "And being here at the Miners Hall in Durham, I've got to start with, you know, the past we inherit, the future we build." She and Starmer sit in front of a window identical to that Starmer was filmed through an hour later swigging beer, contrary to Covid rules.
Earlier this week, Guido forced a denial from local Police & Crime Commissioner Joy Allen, who said she wasn't present at the 'essential campaign event' after social media rumours began circulating that the female head seen at the bottom of the Starmer beer frame was hers.
Labour claim that there was no other place to go for food and drink, however:
Also:
On Sunday evening, May 1, Mark Dolan of GB News rightly took aim at Labour's sanctimonious and hypocritical posturing:
However, things weren't going well for the Conservatives, either.
Neil Parish stands down as MP
Neil Parish stood down as MP for Tiverton and Honiton in Devon after admitting he was looking at indecent images on his phone while in the Palace of Westminster.
He claimed that he had been searching for tractors on the first occasion and accidentally arrived at an indecent website. On the second occasion, he confessed that he deliberately visited the same website again.
I was somewhere between surprised and shocked. He always seemed like such a level-headed individual.
This video clip is from March 14, 2019, around the time I began watching BBC Parliament regularly. Tension about Brexit had been ramping up since January that year:
In June 2020, he led a debate on the BBC's axeing of local and regional political coverage:
More importantly, he had headed the Environment, Food and Rural Affairs Select Committee since 2015. He came from a farming family and left school at the age of 16 to help run his family's farm.
Last week, rumours had been circulating about a Conservative MP looking at indecent images during parliamentary proceedings.
On Friday, April 29, Guido reported that the Conservatives removed the whip from Parish:
The hunt is over: Neil Parish, the Conservative MP for Tiverton and Honiton, has lost the whip this afternoon after being revealed as the Commons' mystery porn viewer. Following conversations with the Whips' office today, Parish has reported himself to the Standards Committee of the House of Commons for investigation. The Tories had previously referred the claims to the Independent Complaints and Grievance Scheme, so Parish is now under investigation by both bodies…
A spokesperson from the Chief Whip's office said:
Having spoken to the Chief Whip this afternoon, Neil Parish MP is reporting himself to the Parliamentary Commissioner for Standards. Mr Parish has been suspended from the Conservative Whip pending the outcome of that investigation.
Guido included an interview Parish had given to GB News that afternoon. It was clear Parish had no intentions of resigning at that time:
I think the whips' office will do a thorough investigation and we will wait and see that result… I think you've got some 650 Members of Parliament in what is a very intense area, you are going to get people that step over the line. I don't think there's necessarily a huge culture here, but I think it does have to be dealt with, and dealt with seriously. And that's what the whips will do in our whips' office.
There was a time when someone could be sacked on the spot for looking at indecent images at work. Granted, this was in the private sector.
I knew of one such individual in the mid-1990s. His dismissal was also shocking, as he was the last person I would have expected to engage in such activity and was a senior manager who was very good at what he did.
However, it seems that such behaviour is becoming normalised, according to The Telegraph. It extends to viewing such things on public transport. Ugh.
Early on Saturday, The Telegraph posted an exclusive interview with Parish:
Suspended from his party and facing public ridicule, Mr Parish is at the centre of a maelstrom. But now that the accusation is "out in the open," Mr Parish said on Friday night, "it's almost as if a weight is lifted off me" …

Over the course of the interview, conducted in Mr and Mrs Parish's sitting room in front of a warm hearth, the MP confirmed he had referred himself to the parliamentary standards committee, apologised to his constituents, and suggested that, even if cleared, he might step down.
It was late on Friday night when The Telegraph called. The couple's eight-year-old labrador, Kitty, was dozing in front of the fire. Mr Parish, after a long day, was wearing a dressing gown. The MP is a farmer by trade, and the couple's home is the family farmhouse. Their sitting room is bedecked with books and family photos. It is typical for MPs embroiled in scandal to flee their homes, but the Parishes, who have two adult children and two grandchildren, have stayed put …
Earlier in the day, Mr Parish, 65, said he had opened pornographic material "in error", but he declined to give further details. Asked what happened, Mr Parish said: "I think it's all going to have to go through the inquiry, and then I will give them all the evidence I have, and it'll be for them to make the decision. And then I will make my mind up as to what I do, whether I remain in Parliament or whether I leave."
He had not spoken to the Prime Minister, he said. Asked if he had a comment for his constituents, Mr Parish said: "That I very much enjoy being their MP, I've worked very hard, and I will continue working for them. I apologise for the situation – the whip is withdrawn – but I am still their MP. And at the moment I'm still the chair of the Environment, Food and Rural Affairs select committee, and I take that job very seriously. And I will carry it on for as long as I have it."
Mr Parish faces an ignominious end to a 12-year parliamentary career in which he has won increasingly large majorities and worked on a broad set of issues within farming and rural affairs. Local elections are coming up and he is now seen as a liability, with fellow MPs calling for his resignation …
Mrs Parish, 66, said she had first learnt of the allegations from a journalist who rang her for comment. "I didn't know anything about it until he rang and said, 'Oh, you know what I'm ringing about…'
"I didn't know who was more embarrassed, actually, me or him!" said Mrs Parish. "Poor chap."
It seemed that the couple had discussed the matter between them and that it had been explained to Mrs Parish's satisfaction.
"Yes," said Mrs Parish, without hesitation.
"My wife is amazingly loyal and better than I deserve," said Mr Parish.
"That's for sure," said Mrs Parish, chuckling.
At the end of the interview, Mr Parish took a phone call from his brother, Rod. They chatted briefly, with Mr Parish thanking his brother for what sounded like a supportive call. Mr Parish, having swapped his dressing gown for a shirt and jacket, then politely assented to having his picture taken …
By Saturday afternoon, Parish had resigned:
People did not believe the tractor excuse …
… but there is good reason to accidentally see something indecent when searching for tractors:
Guido wrote:
Neil Parish has told the BBC he's quitting after being accused of watching porn on two occasions while performing his MP duties in Parliament. With bizarre detail he claims "the first time was accidental after looking at tractors, but the second time was deliberate". 
24,239 majority in his seat of Tiverton and Honiton. If this by-election ends up being remotely interesting, the Tories are in deep trouble…
A by-election upset in a similar constituency took place in the staunchly Conservative North Shropshire which now has a Liberal Democrat MP after Owen Paterson was forced to stand down late last year.
On May 1, The Sunday Times confirmed that two female MPs had seen Parish looking at indecent material online:
Parish, 65, said the first time he had watched pornography was accidental, insisting he had been looking at tractors on his mobile phone before straying onto a website with a "very similar name". He said he watched the video "for a bit, which I shouldn't have done".
On the second occasion, however, the married father of two admitted he had looked at porn deliberately while waiting to vote at the side of the chamber. "What I did was absolutely wrong," he told the BBC.
Parish, who chaired the Commons environment, food and rural affairs committee, issued a "full apology" to the two female MPs who had seen him watching the pornography, but insisted it was "not my intention to intimidate".
It marked a significant U-turn in 24 hours. At first he had defied calls to quit and said he would await the findings of a parliamentary investigation. A growing number of Conservative MPs made clear that his position was untenable, however, and that he should resign immediately rather than prolong the controversy days before the local elections on Thursday …
His departure means that the Conservatives are now facing the prospect of having to defend two by-elections in short succession.
Imran Ahmad Khan, who was elected MP for Wakefield in 2019, tendered his resignation last week after being convicted of sexually assaulting a teenage boy. Labour is widely expected to win back the seat.
Conservative Party insiders are also braced for a third by-election. They are awaiting the outcome of the investigation into David Warburton, who had the Tory whip withdrawn last month after it was alleged that he sexually harassed three women.
Although Parish's constituency has returned a Conservative at every election since its creation in 1997 — and the party has a majority of 24,000 — Tory insiders fear that it shares parallels with North Shropshire, the seat lost to the Liberal Democrats in December after the resignation of the disgraced MP Owen Paterson.
Last night a Lib Dem source said: "As we saw in North Shropshire, there is a real backlash against Boris Johnson from rural communities who are fed up with being taken for granted."
What a shame.
Also on Sunday, The Telegraph confirmed rural communities' disillusionment with the Conservatives. One woman running for the local council in North Frome, Somerset, says that locals are tearing down her campaign posters and handing leaflets back to her.
The paper refers to these communities and counties as the Blue Wall, historically Conservative areas:
The election is a key test for Boris Johnson, who is facing a difficult mid-term contest after months of criticism of his leadership from Tory quarters over partygate, tax rises and the cost of living crisis.
Many of the English council areas, including Somerset, Hertfordshire and Hampshire, are places the Conservatives have traditionally considered to be strongholds.
Now, they are increasingly thought of as part of the "Blue Wall" – containing millions of wavering Tory voters who are disgruntled with Mr Johnson and could "flip" to Labour or the Liberal Democrats …
Voters in Somerset demonstrate what strategists in all parties have identified – that there has been a shift away from the Conservatives among people who live in the countryside.
New research from Parliament's all-party group for rural business and the "rural powerhouse" suggests the Government has a "chronic under-appreciation for the economic and social potential of the countryside," and that businesses in rural areas are on average 18 per cent less productive than the country at large.
Many voters who have always lent the Tories their trust feel that southern rural areas have suffered at the expense of "levelling up" – the Government's plan to improve high streets and fortunes in neglected Northern areas traditionally represented by Labour.
Meanwhile, a Conservative promise to deliver next-generation broadband speed by 2025 is unlikely to be met, the parliamentary spending watchdog has said.
Countryside voters, who are often keen to protect the natural beauty of their homes, say plans to rip up the planning system to build more houses and erect new onshore wind farms are a direct attack on their way of life.
Paul Moody, an antiques dealer who lives near Shepton Mallet, said his faith in the Conservatives' commitment to the countryside is being challenged by "horrendous" new "T pylons" near his home and the threat of solar panels carpeting the fields.
"They march across the countryside and stand out all across the Somerset Levels" he said.
"I would prefer more nuclear power stations than ruining the countryside."
Answering a survey conducted for The Telegraph by Redfield and Wilton Strategies this week, just 19 per cent of voters said the Conservatives cared about rural areas, while 28 per cent said Labour did. Almost half of voters (46 per cent) say "levelling up" does not inspire them.
Other national polling shows Labour has increased its lead over the Conservatives by three points since April 12, when Mr Johnson was fined over lockdown-busting parties in Downing Street.
While ministers have repeatedly suggested that the public does not care about partygate and would prefer to see the Government focus on making domestic policy, Tory sources admit privately that the polling shows that idea is "for the birds".
It's all falling apart for Boris at the moment.
Ukraine loves Boris
On Tuesday, May 3, Boris made history by becoming the world's first leader to address Ukraine's parliament:
Also on Tuesday morning, he gave an interview to Left-leaning Susanna Reid on ITV's Good Morning Britain.
It did not go well …
… and not knowing who ITV's queen of breakfast television, Lorraine Kelly, is unforgiveable. She's only been on the network for over three decades:
Maybe the man has a point, but it still helps to play to the audience, most of whom probably stay tuned for Lorraine's show, which follows Good Morning Britain.
It's a shame that Ukraine's enthusiasm for Boris doesn't translate here at the moment, but I cannot blame Conservative voters for being disillusioned.
As I discussed in Parts 1 and 2 last week, it is no accident that the Conservatives won the general elections of 2015 and 2019 thanks to the left-leaning metropolitan elite.
In 2015, this is what people wanted from MPs (emphases mine):
Here's what we require of our politicians:
(1) honesty
(2) probity
(3) the ability to listen to their constituents
(4) the ability to put the needs of their constituents before the interests of big business, the aristocracy or the establishment.
Tick all four boxes and I don't care where you were born, where you were schooled or where you live. The problem is finding anybody who'll tick those boxes.
The comment came from a Guardian article from May 20, 2015 on the metropolitan elite. It was published two weeks after the general election, which David Cameron won comfortably.
In my first two instalments of this series, I posted several comments from the article.
Here is one more of note, remarking that the metropolitan elite are driving Labour supporters into voting Conservative, or Tory:
The left just suffered the biggest defeat in a generation. A left largely run– in fact almost exclusively run- by university educated professional metropolitan people or "metropolitan elites".
You would have thought this would be a time for humility a moment of reflection on why they lost. Nope, just back to banging the same drum we were right everyone else was wrong. This is the kind of attitude that drives people into the arms of the Tory party, the under current of contempt for the people the left claim to speak out for.
And you call other people narrow minded.
It's this astonishing hubris which will drive the left into the ground over the coming years. If this election hasn't taught them a lesson nothing will.
By December 12, 2019, those two comments proved to be prophetic.
Something revolutionary happened: the transformation of the Red Wall (former Labour) seats, or constituencies, in England.
That transformation gave Prime Minister Boris Johnson a most unexpected 80-seat majority in the House of Commons.
It was so stunning that it caught the eye of at least one American commentator:
On Friday, December 13, the day after the election, the Daily Mail reported:
Boris Johnson hailed the political 'earthquake' that has given him a 'mandate to get Brexit done' today as he marched his new blue-collar Tory army towards a staggering election landslide.
After laying waste to Labour's 'red wall' of Leave-backing strongholds, the PM said he had been given a 'powerful' vote of confidence by the British people and vowed to 'rise to the challenge' …
In England the Conservatives polled 47.1 per cent to Labour's 34.3 per cent, and in Wales they were supported by an impressive 36.1 per cent.
By contrast Mr Corbyn [Jeremy Corbyn, Labour leader] looks to have stewarded his party to its worst performance since 1935 and plunged it into a seething civil war – despite his allies vainly claiming earlier that high turnout might have helped him pull off a surprise. 
In an address to staff at CCHQ afterwards, Mr Johnson said: 'We must understand now what an earthquake we have created. 
'The way in which we have changed the political map in this country. 
'We have to grapple with the consequences of that. We have to change our own party. We have to rise to the level of events. We have to rise to the challenge that the British people have given us.' 
The Conservatives pulled off a massive coup by securing the symbolic swing constituency of Workington, overturning a 3,000 majority to triumph by 4,000 votes with a 10 per cent swing. 
They also overturned an 8,000 majority to rip the former mining area of Blythe Valley in Northumberland from Labour's grip for the first time ever. The party's candidate won by 700 votes after securing an incredible 10.2 per cent swing in what was theoretically only 85th on the target list. 
There were jaw-dropping gains in Bishop Auckland – which had never elected a Conservative MP in 134 years – and Tony Blair's old stronghold of Sedgefield.
Left-wing 'Beast of Bolsover' Dennis Skinner was ejected from the seat he has held since 1970, as Mr Johnson flipped huge swathes of the country from deep red to Tory blue.  
Other fortresses to fall included Leigh, Darlington, Wakefield, Stockton South, Redcar – which saw a 15.5 per cent swing – Peterborough, Wrexham and the Vale of Clywd. 
As the political map was redrawn in a few tumultuous hours, places like Jarrow, Houghton & Sunderland South, Sunderland Central, and Newcastle Upon-Tyne Central saw enormous movements from Labour to the Conservatives – although the party clung on. 
A pattern was emerging of Brexit Party candidates draining votes from Labour in its northern heartlands, while Tory support held steady …

After the Blythe Valley result was declared, flabbergasted ex-chancellor George Osborne said: 'We never thought we'd get Blythe Valley …
'There's a Conservative candidate in Hexham who I heard a couple of days ago saying 'we are going to win Blythe valley' and I thought he was always a bit optimistic, this guy. But he was right and that is a pretty spectacular win.' 
Ian Levy, the mental health worker who won the seat for the Tories, said in his victory speech: 'I would like to thank Boris.' 
The first big Labour scalp claimed by the Tories was shadow environment secretary Sue Hayman, who lost Workington. 
Labour's Gareth Snell predicted his own defeat ahead of the result in another former stronghold, Stoke-on-Trent Central, saying: 'I'm going to lose badly and this is the start of 20 years of Tory rule.' 
All the Tory Remainer rebels who stood as independents, including David Gauke and Dominic Grieve, failed to win seats.
And Labour defectors to the Lib Dems Chuka Umunna and Luciana Berger fell short. 
Former Labour MP John Mann was correct when he said that his party had lost because they did not listen to their supporters. This is from The Sun:
Mr Mann said the Labour leader had "arrogantly" taken for granted Labour voters in the Red Wall of its traditional strongholds in the North and Midlands …
He said what happened in his old seat of Bassetlaw, a Labour seat since 1935 that now has a Tory MP, sums up what he claimed was the "arrogance" of those around Corbyn.
"They didn't let a local candidate stand, they then removed candidate that was selected, they imposed their own Corbynite candidate and he got humiliated – incredibly predictable.
"That sums up their arrogance – they've taken working class voters in the North and Midlands for granted."
Mr Mann said it was time for Labour to start listening and to elect a leader who understands the party's traditional voters.
"People have made their mind up and if Labour doesn't learn their lesson, the Labour party might as well not exist," he said.
"It's going to require a leader that understands where people are coming from and understands the issues and then starts talking to those people.
"If that doesn't go Labour is finished as a political force in this country and it needs a leader who understands that."
Very true. It is unclear as to whether Sir Keir Starmer is that leader.
Former Labour party member and current Mail on Sunday columnist Dan Hodges — the son of actress and former Labour MP Glenda Jackson — predicted a strong Conservative majority, even though pollsters had not. Hodges said, 'Labour lost because the Corbynites hated working Britain':
On Tuesday, December 17, a new electoral map appeared. Its caption says, 'The "Red Wall" is now a pile of rubble':
From the start, many of the Red Wall MPs showed how different they are from the conventional Conservative backbenchers. They are feisty, prepared to speak out and have a good memory for Labour disasters — local, regional or national.
Some of these new MPs grew up on council estates. None has an Oxbridge degree. Some were the first in their families to attend university.
Some have prior experience of running a business. Similarly, others worked in the private sector. Unlike the metropolitan elite, they did not go into politics or the civil service straight from university.
One thing has been clear from 2019 onward: they want to help their constituents by responding to their needs and concerns. Furthermore, they are local — not parachuted in from London.
One of the Red Wall MPs, Ben Bradley, who represents Mansfield — and was elected in the 2017 general election — explained why the Conservatives won so handily:
Bradley says that Labour have turned their attention from working for a living to giving handouts to their constituents, something that a lot of Britons don't want to see happen. Bradley is correct, because this is the line that Labour take in Parliament — nothing about jobs, only money:
Bradley is correct to say that people want hope — and, may I add, the dignity that goes with being self-sufficient in working for a living:
He also points out that Labour criticised Leavers in the Brexit referendum:
Bradley concludes by saying the Conservatives have a lot of work ahead of them to hold onto these votes:
The Red Wall seats defined a new source of Conservative support, more evidence that the English are moving away from Labour. A 2021 Intelligence Squared debate put forward the following proposal (H/T to one of my readers):
'We've lost the trust of working people.' Those were the words of Labour leader Keir Starmer in early May, neatly summing up the reason his party lost the Hartlepool by-election as well as many of the local elections across the country. Labour MP Khalid Mahmood promptly quit the front bench, complaining that the party has been captured by 'a London-based bourgeoisie'. Former Labour prime minister Tony Blair joined in the chorus of despair, saying that the party is being 'defined by the "woke" Left'. Labour, it is clear, is now completely out of touch with its traditional voters – older, working-class people without degrees, who live in small towns and industrial heartlands and want to see a more robust defence of their country, its history and culture. They feel Boris Johnson and the Tories better understand their values and concerns. Without the support of these voters Labour can never win power again.
Although Labour have been more popular in the polls over the past three months with Boris's lockdown parties at Downing Street, there is still no guarantee that people will actually vote for them in the next general election.
Voters should not forget this photo from June 2, 2020, showing Keir Starmer and his deputy Angela Rayner:
Millions of us would do well to remember that photo in future. Bookmark it and save it for the day when the next general election is declared in a couple of years' time.
Although this series ends here, I will have a separate set of posts on the most dynamic Red Wall MPs.
Stay tuned. They don't do boredom.
Yesterday's post introduced COP26, to be held in Glasgow for two weeks, starting this coming Sunday.
Today's post looks at what British pundits think of the conference.
The British have had no end of preaching from Parliament on climate change. We have been told that we must scrap our gas boilers for inefficient heat pumps. We need to take fewer holidays, especially by air. We must stop eating so much meat. Schoolchildren are suffering from 'eco-anxiety', a word just added to one dictionary published in the UK.
The cost of all this 'greenery' leaves us with more anxiety. As with coronavirus, the cure is worse than the disease (emphases mine):
This week, Johnson unveiled his Net Zero strategy to turn Britain green by 2050 – but was warned by the Treasury that taxes and consumer costs could rise to cover the estimated £1trillion bill.
Meanwhile, our elites are flying around everywhere, Prime Minister Boris Johnson among them.
On October 24, the Mail on Sunday examined Boris's trips by air during May's local election campaign in England. Of course, as Prime Minister, his time is precious. However, to tell the rest of us that we have to watch our use of planes for annual holidays is simply hypocritical:
Boris Johnson has been accused of hypocrisy after it emerged he pumped out 21 tonnes of CO2 in just two weeks flying on his billionaire friend's private jet while lecturing about climate change.
The prime minister travelled more than 1,200 miles on JCB tycoon Lord Bamford's jet in the fortnight leading up to May's local elections.
At least two more journeys were made in the businessman's helicopter, according to The Sunday Mirror.
If he had travelled by train, Johnson would have used up a fraction of the CO2, while a car would take a year to produce the same emissions as the £47million Gulfstream jet spews out in just one hour.
It comes as the prime minister prepares to welcome global leaders to Glasgow for the Cop26 climate summit.
Last month, he called on his UN counterparts to 'blow out the candles of a world on fire' and tackle climate change together in a powerful speech in New York.
Greenpeace's chief scientist Dr Doug Parr said: 'Prime Ministerial actions have consequences far beyond those of any Hollywood star or royal, and Prime Ministerial hypocrisy is deeply corrosive of public trust.'
The flights on the Gulfstream G650 jet would have released around 21.2 tonnes of CO2, the third of a person's annual emissions …
To offset those journeys alone, 130 trees would have to be planted.
On the polling day for the local elections, Johnson appeared virtually at Germany's Petersberg Climate Dialogue where he urged leaders to propose more than 'hot air' to help prevent climate change.
He said: 'I'll be seeking commitments from the G7 members to use their voices and their votes, wherever and whenever possible to support the transition to net zero (carbon emissions), kickstart a green industrial revolution, and build economies that withstand whatever our changing climate throws at us.'
But the day after he stepped on to a private helicopter to open a Coventry school then boarded a private jet to the North East after the by-election win in Hartlepool.
Speaking of flights and climate change, the Mail's Dan Hodges had more that day on COP26:
The whole purpose of COP26 was meant to promote global environmental sustainability.
Instead, it is being turned into a catwalk for the green showboating of the global elite.
Or, in the case of Japan, showplaneing. Last week it emerged that a specially configured Boeing 777 had been flown 6,000 miles (without passengers) solely to see whether the pilots would prefer to use Prestwick or Edinburgh airports when the official Japanese delegation arrives.
It's also been announced that when the runway of choice has been chosen, special measures will be put in place to ensure arriving dignitaries can be whisked speedily to their destinations.
How nice for them!
It's less nice for commuters in and around Glasgow:
Unfortunately, COP26 has become so bloated that nearby roads will become gridlocked, so leaders will be ferried to their hotels along the Clyde Expressway, which has been turned into a VIP lane.
In addition to rail workers going on strike during the conference, bus workers are also expected to do the same:
The Unite union, with a commendable eye to the main chance, has announced that more than 1,300 bus workers will use the conference to go on strike over pay.
Dan Hodges thinks that Boris should cancel COP26, because a) the timing isn't right with coronavirus and b) it's too hypocritical:
Pressing ahead with COP26 while the globe is still struggling to contain Covid is the equivalent of forcing someone back into a burning building to carry on removing the asbestos.
Yes, the threat from global warming represents a real and present danger. But this morning, Covid and its economic impact are a more imperative one.
In order to tackle environmental challenges, people are going to be asked to make significant sacrifices.
And that will involve politicians – and the burgeoning green lobby and their sponsors – taking public opinion with them.
But instead of showing families that they have a plan for saving their planet, our leaders again seem intent on giving the impression they reside on an entirely different one.
COP26 is about to replace Davos as the event that most gratuitously frames the arrogance, hypocrisy and entitlement of the global ruling class.
Their gigantic jets will descend upon Prestwick.
And they will alight and tell us how we each need to reduce our global environmental footprint.
Their motorcades will speed along their exclusive expressway.
And they will get out, then inform us we have to do our bit by walking our kids to school. They will assemble for their plush banquet.
And after dessert and coffee, they'll retire to put the finishing touches to speeches that lecture us about eating sustainably.
Worst of all, they think no one will notice their green doublespeak.
That this grotesque 'do as I say, not as I do' grandstanding will pass everyone by amid a kaleidoscope of polar bears, Greta Thunberg and homilies about our grandchildren.
Which might actually be the optimum outcome.
As for us plebs on the sidelines:
… those concerned about where the next booster jab is coming from, or how they will cope with soaring fuel prices, will blink and miss this UN imitation of The Fyre Festival.
Because if they don't, those same people aren't going to be happy.
As I've written before, a dangerous disconnect is opening up.
Between those who believe that everyone has bought into their liberal, environmental consensus and those who want a recognition that we live in a complex world of competing priorities, not all of which revolve around the level of carbon emissions in 2050.
Neil Oliver, of the popular programme Coast and current host of a GB News weekend show, wrote a column for The Times last Sunday from the average Briton's point of view, especially during the coronavirus crisis. Scotland, incidentally, recently brought in vaccine passports:
Assorted world leaders together with thousands of hangers-on are coming to Glasgow to talk about how us proles have managed to set fire to planet Earth. Things are so bad here on the third rock from the sun that it will be nothing less than miraculous if anything other than a cinder is orbiting our star by the time they turn up, in their private jets and chauffeured cars, for two weeks of po-faced pontificating at the SECC.
That the Covid restrictions afflicting everyone else's life will be relaxed for the blow-ins should come as no surprise to anyone who's been paying any attention at all for the better part of the past two years. They won't need vaccine passports, for they are special while we are most certainly not. They have world-saving business to attend to while we have only lives to lead and more CO2-exhaling, dwindling food supply eating, resource-consuming weans to knock out from our overproductive loins.
A fleet of electric Jaguar Land Rover cars are at the disposal of the very best of them. It seems a day trip to Gleneagles may be on the agenda, but apparently limited charging ports at the luxury hotel and spa mean that generators dependent on the burning of old chip pan oil are to be sourced from elsewhere — on hand to top up the batteries and avoid any unwarranted delays for the panjandrums.
That all of the business of Cop26 could have been conducted via planet-sparing video calls will be apparent to anyone who has endured countless of same during the past months. Not one of the heads of state, far less any of the delegates, actually needs to move from his or her home office. All of the fossil fuel required for their journeys to Scotland might have remained unburnt, the atmosphere spared the release of all that carbon dioxide.
But no, as has so often been the case in recent, revelatory months, some animals' business is infinitely more important than that of others. Scum like us can remain at home and talk into computer screens, but those that matter really do have to travel for hundreds of thousands of collective miles so they might enjoy one another's company and thereby get so much more done.
Oliver then moves on to heat pumps, which are ruinously expensive for most people and do not work when the temperature falls below 4°C:
They don't work, they are ruinously expensive to install, require wholesale remodelling of houses — if not demolition and rebuilding from scratch — cost arms and legs to run, and deliver lukewarm water for tepid radiators and cold showers.
Boris and Carrie Antoinette in No 10 are presumed to think that heat pumps are absolutely the way ahead. Since we are the great unwashed after all and, as previously noted, it's already way too late for the likes of us to start showering anyway.
I am yet to read about our capo di tutti i capi and her husband revealing any imminent plans to lead by example and install, at their own expense, heat pumps of their own, but I freely admit that I do miss some headlines here and there.
There are so many excellent replies to the following tweet, that it's worth clicking on it and reading them. Here's one that mentions another bugbear of mine, meat eating:
I will be delighted when COP26 is over. I do not live anywhere near Glasgow but am eager to see a stop to this parliamentary pontificating over changing our behaviours to accommodate what might or might not be an improvement in climate.
All of these measures are a tax on the poor and middle class people.