You are currently browsing the tag archive for the 'Dan Wootton' tag.
Many GB News viewers will have been deeply disappointed that Mark Steyn has left GB News over the channel's alleged attempts to make him liable for any Ofcom fines resulting from his show for talking about coronavirus vaccines.
Yesterday's post discusses that and has a variety of Mark's output for the channel, with plenty on people who suffered adverse effects from said vaccines.
Today's post continues with more content from his excellent show.
Don't mention the vaccines (continued)
I covered a lot of Steyn's segments on the coronavirus vaccines yesterday.
Here are others I had bookmarked.
On June 16, 2022, Steyn rightly took issue with a Scottish Parliament member who sent a derisory tweet about people posing questions about the vaccines. Apparently, John Mason MSP has form:
Steyn was committed to covering the coronavirus vaccine issue because no other channel was. He discussed this with Dan Wootton on July 4:
In this clip from the same interview, he says that he isn't going anywhere because he enjoys the editorial freedom that GB News allows its presenters:
It's a shame that the channel seems to be changing tack. It would be disappointing indeed if its other presenters were muzzled accordingly. That said, Dan Wootton was the only other presenter to talk about the pandemic on a regular basis, and I haven't heard him do that for several months now.
On July 13, Steyn had a remarkable show about Britons who were either victims of the vaccine or whose relatives died from it. It was one of the best programmes I've seen in some time:
Here is the full hour-long video:
Highlights follow.
At the time, the British government was only just starting to pay out to vaccine victims. The Government only give £120,000 lump sum if the vaccine is the cause of death on the coroner's report or if a living person has been 60% disabled as a result. A Conservative MP, Sir Christopher Chope, was given an adjournment debate on the matter, because payouts were painfully slow.
It was a shame that the House of Commons benches were nearly empty when he spoke. Then again, nearly all MPs think the vaccines have been a godsend. This is why the Government have been suppressing any opposing views and monitoring prominent social media accounts, as Big Brother Watch uncovered last week. Accordingly, Ofcom are all over this on the airwaves, hence GB News's skittishness over broadcasting such stories, as Mark Steyn had been doing so fearlessly.
Mark began by celebrating the first person to receive Government compensation:
That person is Vikki Spit, whose fiancé died from the vaccine. They were a rock'n'roll duo who loved each other deeply:
The mother and wife of NHS doctor Stephen Wright mourned on air:
GB News presenter Neil 'the Coast guy' Oliver joined Mark. He's sitting on the right in the video:
Michelle Dewberry, whose weeknight show is on at 6 p.m., also joined Mark:
Dan Wootton, who was also interested in every aspect of the pandemic debacle at the time, thanked him on his show, which followed at 9 p.m.:
As the response to this tweet indicates, only GB News was covering this topic:
Now they have pretty much stopped, falling into line with every other news outlet.
As you can see in the following video, the victims were young — thirty-somethings:
On July 27, Professor Richard Ennos joined Mark to discuss the excess deaths from the beginning of the pandemic to the present. He said that the early deaths were comprised of elderly people. Increasingly, the age cohort has been decreasing to include much younger Britons:
On August 8, Steyn interviewed Alex Antic, Senator for South Australia, about the commonality of Western countries to link politics with science. So many nations did the same thing at the same time. No one is allowed to ask questions about pandemic policies:
On Tuesday, August 16, Mark welcomed Dr Aseem Malhotra to the show. Dr Malhotra, a cardiologist, was a big supporter of coronavirus vaccines in the beginning but changed his mind. Later in the year, his healthy father, a physician in his 70s, took the vaccine and died.
You can find the video at this GB News link. The accompanying article says, in part (emphases mine):
A leading consultant cardiologist who was one of the first people in the UK to take two doses of the Covid-19 vaccine and promote them on television has called for an end to all remaining vaccine mandates.
Dr Aseem Malhotra has written an open letter to Prime Minister Boris Johnson and US President Joe Biden calling for the immediate release of the raw data from Pfizer's original Covid-19 vaccine trial.
Speaking exclusively to GB News' Mark Steyn show, Dr Malhotra said: "When the vaccines were first released we were told they were 95% effective against infection.
"This is not true. This is based on relative risk reduction. In absolute terms, they provided 0.84 percent protection which means only one in 119 people would be protected from infection.
"This statistic was the pretence under which vaccine mandates were implemented.
"The latest data reveals that once infected there is no significant difference in transmission rates between the vaccinated and unvaccinated, which makes any scientific case for mandates illegitimate.
"As newer and thankfully, less lethal, mutated strains became dominant, any protection against infection at the very least became less effective and likely completely ineffective, even if there is some significant (as yet to be fully determined in absolute individual terms) protection against serious illness and death" …
Dr Malhotra also wrote: "Rather than encourage transparent debate about the true benefits and potential harms of the Covid vaccine as new evidence emerges, those that encourage more critical thinking and adding to the database of relevant knowledge are smeared."
This comes in light of investigative journalist Paul Thacker's investigation into Pfizer's trial data published in the British Medical Journal (BMJ) last year being branded "false information" by independent fact-checkers …
Dr Malhotra argues "global vaccine mandates for Covid-19 must stop until we have the full data on efficacy of all available vaccines."
Writing in praise of Dr Malhotra's findings, Dr Amir Hannan said "[Dr Malhotra] raises some important questions about the validity of the assertions made, asking for all data to be made available so that an in depth analysis can be developed and proper conclusions identified to help restore trust in doctors, the pharmaceutical industry, the research community, the regulatory bodies, the press and governments."
Dr Malhotra's letter has been published in the European Scientist.
Pfizer/BioNTech have been contacted for comment.
On September 2, Dr Matthew Sweet, who appears on the BBC, took issue with Steyn and proved to be a thorn in his side. Steyn mentioned him frequently in the autumn:
On October 4, feminist author Naomi Wolf, who received her doctorate from Oxford University, appeared on Steyn's show to say that she had been pointing out menstrual abnormalities from the vaccine since 2020:
On October 11, Mark interviewed Robert Roos MEP, Vice-Chair of the European Conservatives and Reformists group, one of the MEPs who questioned Pfizer directors about their vaccine. One of the directors intimated that they had no real data to say that the vaccines would stop transmission of the virus. Roos wants to know more, because in some EU countries, unvaccinated people could not go to the supermarket and people lost their jobs because the vaccine was mandated. Overall, the social cost was too great for an ineffective jab:
On Monday, February 6, 2023, Robert Roos voiced his concerns in the European Parliament, stating that, for the most part, parliamentary questions about the effect of pandemic measures on EU citizens were not posed, either in Brussels or in individual member countries' parliaments:
On October 29, 2022, The Conservative Woman's Kathy Gyngell, who was no stranger to the Steyn show, called our attention to his October 27 show, beginning at the 35-minute mark:
She went so far as to include a transcript, which can be found here.
The segment Kathy Gyngell points to is an interview with Mark Sharman, who, during his career, headed the News and Sport division at ITV as well as being the Director of News at Sky.
Sharman made a documentary about the vaccines, Safe and Effective: A Second Opinion. He posted it on YouTube.
Steyn said:
And so Mr Sharman's documentary has just been taken down at YouTube for the following reasons. Big exclamation – 'Medical Misinformation. YouTube doesn't allow claims about Covid-19 vaccinations that contradict expert consensus from local health authorities or the World Health Organisation.' Ooh! No contradicting the World Health Organisation. Mark Sharman joins me now. Mark, as I said, you've been in British broadcasting for a very long time. Have you ever just had a piece of work, such as your documentary, just – boom! – vaporise in the way that YouTube just did it to you?
Sharman replied:
MARK SHARMAN: No, not at all. Mark, I'm not surprised that it's been cut, but as an old-school journalist who believes in reporting both sides of a story, I'm dismayed about what's happening. You know, we are being controlled. The narrative on many, many things is being controlled, and the evidence is growing. I mean, the governments, the Big Pharma companies, Big Tech media companies, they've all decided what the line is and they're sticking to that line come what may. And as you showed earlier in the programme, there are more and more pieces of research from around the world which proves there is something seriously wrong with these vaccines, they're clearly not totally safe and effective. They're clearly not safe, and that don't appear to be effective. And all we're asking for, Mark, is some proper open scientific debate. You know, if there's something wrong, it should be looked at and stopped before more people are hurt …
Sharman echoed other findings exposed on Steyn's show:
You know, there have been 25,000 excess deaths in this country since April. Across Europe, the death rates, excess death rates, are running at 16 per cent higher than usual. And strangely, they're higher in the countries that have been most vaccinated. The authorities come up with all kinds of reasons, including lockdown and the heatwave and changing your bed or whatever. But they won't put the vaccine injury on the list. Now, any investigator worth his salt is going to look at every suspect, if only to rule them out. And there is absolutely no excuse whatsoever to not put vaccine injury on that list. And as I said before, I'm not on one side or the other, I would just love to see a proper open debate where somebody can look at what is happening to these vaccine-injured and deaths around the world. You know, there are other questions as well about the whole reproductive system, but that's another matter. But again, reports are coming in that should be causing concern to the authorities, but they resolutely won't listen, and won't debate it, and cut scientists off and have cut our film off. By the way, it was just about to hit a million views on YouTube alone. And it's interesting that it's been three weeks and not been touched.
More at the link.
On February 6, 2023, The Conservative Woman posted a brief notice about the demise of the Mark Steyn Show. They, too, found the news on Guido Fawkes, as had I:
This is more than 'a shame because he beat Piers Morgan', as Guido puts it. It is a terrible loss for us all and not just all at TCW, but for the country. It is a tragedy for free speech that his style of fearless, moral and uncompromising broadcasting has been brought to an abrupt end. For a year he threw light on dark, he ridiculed the shameless, for a year he raised our hopes that sanity, reason and truth might prevail. Now he is gone and it is shocking and sad. That is how we feel at TCW.
Hundreds of comments followed their post, nearly all of which lamented Steyn's departure.
Professor Norman Fenton was also very sorry to learn that one of GB News's best hosts had left:
However, there might be hope. Bev Turner, who hosts the channel's weekday mid-morning show, is also concerned about coronavirus vaccine safety.
On Monday, February 6, she interviewed a lady from UsForThem, which campaigns for the right of children not to have a vaccine mandate. Molly Kingsley says that the group has won a claim against Pfizer on marketing the vaccine without presenting the risks involved:
Grooming gangs
Another no-go area where only Steyn ventured in depth involved grooming gangs, which have been operating around England for decades.
Samantha Smith, a grooming gang victim who blossomed into an articulate young woman, lives in Telford, Shropshire. She appeared often on Steyn during the summer, then she got a visit from the police on July 6:
Although other channels might say that grooming gangs are in the past — e.g. Oldham, Rotherham — they are still taking advantage of young girls:
On July 11, she returned to London to speak with Mark about her ordeal with the police. The first tweet has an accompanying article:
Here is the full video:
Would that the police had been so interested when she was undergoing sexual abuse from local predators.
In July, the Conservative Party race to replace Boris as leader was in full flow. On July 13, Samantha tweeted that over 1,000 girls have been sexually abused and exploited in Telford alone — a more urgent matter:
On August 10, The Mail+ gave her a voice in a first-person article about her years of abuse:
An excerpt follows:
For years, between the ages of five and 14, I was abused by successive men who left a devastating legacy.
As my life fell apart, I found myself homeless by the age of 16, and there were many nights when I would lie there — racked by visceral self-loathing — wishing I would simply disappear.
How could I not hate myself?
Of course, I had tried to seek help. I eventually reported my abuse and was interviewed by a police child sexual exploitation team. But they did absolutely nothing to bring my abusers to justice.
In fact, I was made to feel unworthy of help or support, as though the abuse I experienced was my fault. My social workers even spelled it out. 'Your behaviour and actions have led you to where you are today,' they told me.
Isolated as I was, I had no idea that I was not alone, but one of more than a thousand children in Telford who had been sexually exploited over decades while the police and youth workers whose job it is to protect us not only failed to act but all too often blamed us as the architects of our own trauma.
Indeed, that's not just my opinion, but the conclusive judgment of a devastating independent report issued last month following an extensive three-year inquiry into sexual exploitation and abuse in my home town stretching back to the seventies.
The authors' verdict could not have been more damning, concluding that generations of children had been subjected to unnecessary suffering because of the abject failures of West Mercia Police, their wilful neglect damning children to years of unnecessary suffering and cruelty.
In some cases, like that of 16-year-old Lucy Lowe, victims were murdered by their abusers.
Echoing conclusions drawn by investigations into similar scandals in Rotherham, Rochdale and Oxford, the report laid bare the scale of systemic failures, highlighting how many perpetrators — predominantly Asian men — were not investigated because of nervousness about appearing racist.
Meanwhile the largely working-class white victims were treated as no-hope cases who were destined to fall into a life of crime, branded 'troublemakers' or even 'child prostitutes' by police. Teachers and social workers were found to have been actively dissuaded from reporting abuse, while offenders were 'emboldened' as police efforts to stop them were scaled down 'to virtual zero'.
It is little wonder the report has been greeted with widespread fury and disgust. My reaction was one of bittersweet vindication — and an anger that reduced me to tears.
Much of the inquiry focused on gang-related cases but many — as I experienced — were perpetrated by individual men.
And while my case was not one of those featured in the report, I am one of hundreds of victims of child sexual abuse and grooming in Telford whose suffering was brushed under the carpet as part of a deeply engrained cover-up culture.
Even now, it is hard to confront the scale of abuse in the leafy Shropshire town I once called home which — on the outside at least — is a world away from the former mining communities that have more commonly been associated with child sexual abuse scandals.
Statistics do not lie, however: while incidents of child sexual abuse number 7.9 per 10,000 nationwide, in Telford that figure jumps to 16.4.
Samantha also appeared on Steyn's October 27 show, just before the aforementioned documentary maker Mark Sharman appeared.
Sharman praised her eloquence when talking to Steyn:
You know, if there's something wrong, it should be looked at and stopped before more people are hurt. And interesting listening to Samantha talk previously – and by the way, what a wonderful spokesperson she is for victims of sexual abuse – but there are real parallels there. You know, the vaccine injured and the public in general don't seem to be as important as the authorities. They'd rather protect their own line and their own story than look at what's going on. You know, it just isn't right.
No, it isn't right.
Kudos to Mark Steyn for discussing this regularly. Until I saw Samantha, I had no idea that this had even been going on in Telford!
More to come
Steyn also had regular segments on other topics, which I shall cover on Friday.
Stay tuned …
Previous instalments in my series on Harry and Meghan can be found here, here, here and here.
I left off at the end of 2019, with The Sun publishing a story on the Sussexes imminent extended visit to Canada, which enraged the Duke and Duchess:
On December 21 that year, Sky News reported:
Harry and Meghan's spokeswoman ended speculation over their whereabouts by confirming the couple and their seven-month-old son Archie are spending their six-week Christmas break in the country Meghan called home for seven years.
"The decision to base themselves in Canada reflects the importance of this Commonwealth country to them both," she said.
"The Duke of Sussex has been a frequent visitor to Canada over many years, and it was also home to The Duchess for seven years before she became a member of the Royal Family.
"They are enjoying sharing the warmth of the Canadian people and the beauty of the landscape with their young son."
The duchess lived in Toronto before joining the Royal Family as the popular US drama Suits, in which she starred in, was filmed in the Canadian city.
Harry and Meghan were famously pictured in Toronto in 2017 at the Invictus Games.
The Sussexes are likely to have spent the US Thanksgiving celebrations on 28 November with the duchess' mother Doria Ragland.
Prince Harry's grandmother, the Queen, is said to be supportive of the Sussexes' plan to take a long break and not join the rest of the Royal Family at Sandringham on Christmas Day.
The Duke and Duchess of Cambridge have previously spent Christmas with Kate's parents in Berkshire instead of with the Queen.
Harry's grandfather, Prince Philip, 98, was taken to hospital in London on Friday from Sandringham for treatment for a pre-existing condition, Buckingham Palace said.
The Queen had just arrived at the Norfolk estate for her Christmas break after the State Opening of Parliament on Thursday …
By Christmas Eve, the Mail reported that the Royal Family wanted the couple to return home in light of Prince Philip's stay in hospital:
Prince Harry and Meghan Markle have been urged by Royal family members to return from abroad to spend Christmas in the UK, as Prince Philip spends a fourth night in hospital …
It comes after a family Christmas card of the royal couple smiling in front of a Christmas tree, with Archie's adorable face staring down the camera lens, was revealed.
On December 28, news emerged in the UK that:
THE Duke and Duchess of Sussex have registered the trademarks for hundreds of products with their Sussex Royal brand.
That same day, Blind Gossip posted 'The Big Plan':
Think back to a few months ago when we talked about the baby.
Our married couple was oddly reluctant to let the public see the baby, citing concerns over safety and a desire to bond privately.
We told you that wasn't true. Plenty of their family members have managed to keep their children safe and secure over many generations while meeting their obligations as public figures.
We told you that the couple was actually trying to keep sightings of the baby rare while they figured out how to monetize the situation… without the rest of the family finding out.
They bungled that scenario.
However, it's now full steam ahead with The Big Plan!
What is The Big Plan?
To brand and monetize everything.
You are now seeing that plan being put into motion. And if you question what they are doing, you will be met with anger, misdirection, and insistence that their motives are pure.
We hid the baby because… Privacy! Motherhood!
We take private planes and stay in posh private digs because… Environment! Wellness!
We isolate ourselves from 99% of our family and surround ourselves with celebrities because… Family! Safety!
We are engaging our own outside lawyers and PR team because… Protection! Charity!
How dare you question our motives!
See how that works?
Fortunately, the Queen put paid to Sussex Royal on February 18, 2020, as the Mail reported:
The Duke and Duchess of Sussex must drop their 'Sussex Royal' label after deciding to step down as working royals.
Following lengthy and complex talks, the Queen and senior officials are believed to have agreed it is no longer tenable for the couple to keep the word 'royal' in their 'branding'.
Harry and Meghan have spent tens of thousands of pounds on a new Sussex Royal website to complement their hugely popular Instagram feed.
They have also sought to register Sussex Royal as a global trademark for a range of items and activities, including clothing, stationery, books and teaching materials. 
In addition, they have taken steps to set up a new charitable organisation: Sussex Royal, The Foundation of the Duke and Duchess of Sussex.
It has now been made clear that they will need to 're-brand'.
Returning to December 2019 and January 2020, Harry was eager to work out some sort of arrangement for his and Meghan's future with the then-Prince Charles. Charles told his son that such things had to be done in person, not via email. Prior to that, Harry had contacted the Queen, who said she would be happy to meet with him until it turned out her diary was full.
Various excerpts in this post come from investigative-turned-royal reporter Valentine Low and his 2022 best-seller, Courtiers. Royal insider Lady Colin Campbell said on GB News a few weeks ago that Low's book must be the definitive one he had so much access to the people who run the Palace.
On a personal note, I read all of Valentine Low's work when he wrote for the London Evening Standard around the Millennium. Low left no stone unturned in his lengthy exposés, and it is good to see that he continues to doggedly investigate his subject matter.
Another book I would recommend is Tom Bower's 2022 best-seller Revenge, which concerns the Sussexes lives. It, too, is packed with detail. Again on a personal note, I read his biography of the late Robert 'Bob' Maxwell in the 1990s. Maxwell died an unresolved mysterious death on his yacht. Maxwell was larger than life, both physically and figuratively. Bower's biography was a page-turner, from start to finish.
I sent both Courtiers and Revenge as Christmas gifts in 2022. I commend them to my readers.
'Cornered, misunderstood, deeply unhappy'
Valentine Low's excerpt, which The Times published on September 25, 2022, explains what happened between December 2019 and January 2020 (emphases mine):
The current set-up was not working for them, and they wanted to go and live in North America. Harry seemed to be under the impression that they could just sort it out by email before he and Meghan got back to London on January 6. The reply they got, however, was that this would require a proper family conversation. They were also told that the first date that the family would be available was January 29. It is not clear if this inflexibility was on the part of Charles, who was due to be in Davos, or that this was the response of his long-time private secretary Clive Alderton, pulling the strings. Either way, from the Sussex point of view, this went down incredibly badly. It fed into the narrative that they were not being taken seriously by the palace machinery, or by the rest of the family.
Harry had tried to speed up matters by arranging to see his grandmother alone before he left Canada. However, the message was conveyed to him that the Queen had been confused about her diary, and was no longer available. Harry was incensed, because it was not true: the courtiers had got in the way, it seemed, because they saw the meeting with the Queen as an attempt to pick the Queen off before Harry started talks with the rest of the family. As one source put it, "There was a danger that a private conversation could be interpreted very differently by two people."
And so it turned out with other conversations concerning the Sussexes, leaving the Queen to state that 'some recollections may vary'.
Harry considered travelling directly to Sandringham to see his grandmother:
He eventually dropped the idea, but it was a sign of his frustration that he even contemplated such a move.
Royal diaries opened up early in January 2020:
Given that the couple announced their plans to stand down on January 8, and the royal family met to discuss it all five days later on January 13 — the so-called Sandringham summit — it seems that the family diary was rather more flexible than originally appeared.
Harry and Meghan could be maddening, of course; they had already infuriated the royal family by pushing out their Megxit announcement on January 8 with the minimum of notice when all the talks had been about issuing a joint statement. But the palace also showed the sort of initial inflexibility that was always guaranteed to infuriate them. Harry and Meghan felt cornered, misunderstood and deeply unhappy. If the rest of the institution failed to appreciate that, even if their demands were unreasonable, the departure negotiations were never going to end happily. It is uncontroversial to suggest that the Sussexes would regard the talks as a failure. They wanted to find a compromise whereby they could live part of the year abroad but carry out some royal duties at home. No such compromise was found. Instead, they lost their royal duties, their patronages, Harry's military affiliations, their security, their income from the Prince of Wales and, for official purposes anyway, their HRH titles. They pretty much lost everything, except for the freedom to do exactly what they want.
This is what I meant yesterday by the mess of pottage.
The courtiers were busy:
In the immediate aftermath of the Sussex bombshell on January 8, when the Queen said she wanted all four households to "work together at pace" to find a workable solution, Edward Young, the Queen's private secretary, was with the Queen at Sandringham. The first negotiations took place in Clarence House — Charles's home ground — over the following four days, with the private secretaries and communications secretaries from the four households all trying to find a way to make the Sussexes' dreams a reality. They gathered in Alderton's office, a sunny first-floor room where paintings from the Royal Collection sit alongside photographs of Alderton's own family. Young would join the talks on the phone from Norfolk, but for the first few days it was Alderton who was leading the discussions. (Later, they would all have talks at Buckingham Palace.) Simon Case, Prince William's private secretary, who is now cabinet secretary, also played a pivotal role. "He was talking to both sides," said a source.
The people sitting around the table went through five different scenarios, which ranged from Harry and Meghan spending most of their time being working members of the royal family, but having a month a year to do their own thing, to them spending most of their time privately, but doing a select number of royal activities. There was, according to more than one source, a positive atmosphere in the room: they wanted to find a solution. At one stage, Alderton made the point that if they could get this right, they would be solving a problem for future generations of the royal family who were not in the direct line of succession.
Ultimately, the Queen decided that the couple could not be both in and out of the Royal Family:
By the end of the week, the five scenarios had been worked through. The view from the palace establishment was that, however much time Harry and Meghan spent away from royal duties, anything they did would reflect on the institution. That meant that the normal rules about royal behaviour would apply. They should not act or take decisions in order to gain financial or other material benefits for themselves, their family, or their friends.
But the Sussexes wanted their freedom: freedom to make money, freedom to dip their toes into American politics. There was no way for the two sides to reach an agreement on that point. Crucially, it was the Queen who took the view that unless the couple were prepared to abide by the restrictions that applied to working members of the royal family, they could not be allowed to carry out official duties. One source said: "There was a very clear view: you can't be in and out. And if you've got such clarity of view, it's very difficult to say, 'Why don't we go 10 per cent this way instead of 20 per cent?' " Compromise was off the table, removed by the Queen.
Low wonders whether the courtiers could have handled the situation 'differently', but it seems the previous paragraph would say that they could not have done so. The Queen took the final decision — and the right one, in the estimation of most Britons.
Mismatched expectations
It would appear that Meghan thought she would be the star of the Royal Family, whereas the Palace, rightly, expected her to slot into her role as the Duchess of Sussex.
Low found empathisers with both sides then adds his view:
One former palace insider believes the way the developing crisis was handled was "incompetent beyond belief". They said: "I think Meghan thought she was going to be the Beyoncé of the UK. Being part of the royal family would give her that kudos. Whereas what she discovered was that there were so many rules that were so ridiculous that she couldn't even do the things that she could do as a private individual, which is tough . . . It just required the decision-makers to sit around a table and say, 'OK, what are we going to do about this? What do you need to feel better? And what can we give?' "
There is, however, another view: that nothing could have ever saved the situation. The two sides were just too far apart. Another palace source, who has been critical of the Queen's private secretary Edward Young in the past, said: "I think that it was an impossible task. I think in Meghan and the household, you had two worlds that had no experience of each other, had no way to relate to each other, had no way to comprehend each other. And Meghan was never going to fit in that model and that model was never going to tolerate the Meghan who Meghan wanted to be. So I think that it was inevitable that they would not be able to work together. I don't think there's anything Edward could have done about that that other members of the royal family would have accepted."
Both things are probably true. There was a collective failure on the part of those who work for the royal family to recognise that there was a serious problem, to flag it up, and to try to do something about it. There were no high-level discussions any time in the first eight months of 2019 — when Meghan was later to say that she had suicidal thoughts and the first clues were emerging that the Sussexes were plotting an escape — about the nature of their unhappiness and what could be done about it.
But even if that had happened, I do not believe that it would have solved the problem. Their grievances were too deep-rooted, and the distance between what the Sussexes wanted and what the royal family felt able to give was just too great. Perhaps the best that could have happened is that the divorce could have been handled without all the acrimony that followed the events of January 2020. One thing is definitely true, however. If there were any failings, they were during the first year or so of Harry and Meghan's marriage.
There is one final thought on this, and it comes from a surprising source, someone who knows Harry well but remains upset about what Harry and Meghan did. Their view is that perhaps the Sussexes' departure was not the untrammelled disaster that so many think it was. "There is a part of me that thinks Meghan did Harry the greatest kindness anyone could do to him, which was to take him out of the royal family, because he was just desperately unhappy in the last couple of years in his working life. We knew he was unhappy, but we didn't really know what the solution would be. She came along and found the solution."

Dear, oh dear.
The Sussexes ignored staff advice
In an article from January 10, 2020 for The Times, written as the formal separation took place, Low tells us what was going on between the Sussexes and their staff before the couple sent out their statement:
This reveals how Harry has his own sense of the truth:
There was talk of putting out a statement — not the one that was eventually released but a blander version merely confirming that talks were taking place, and giving none of the detail about their plans to become financially independent and to split their time between Britain and North America.
Once more, Harry spoke to the Queen. Versions of how the conversation went differ. According to one narrative she made it clear that he should not go public with his plans. However, a source close to Harry told The Times: "He certainly thinks she said it was fine."
His closest advisers did not think it was fine. Both Sara Latham, the couple's communications secretary, and Fiona Mcilwham, their private secretary, argued strongly against putting out a bombshell statement without consulting the other members of the family. Harry and Meghan, however, were determined to press ahead.
The other royal households were given the statement shortly after 6pm on Wednesday. Ten minutes later it was sent out to the world.
It seems that the Duke and Duchess hadn't listened to their staff on other occasions:
Harry and Meghan's closest advisers are a devoted team who believe in the values, aims and ambitions espoused by the duke and duchess. But that does not mean that their advice is always listened to: and it also does not mean that some of them are not anxious about their future as the couple carve out their new role.
It also does not mean all of them have been involved in the plans. The Sussexes' website, sussexroyal.com, was created by Made by Article, a Canadian company, without input from their Buckingham Palace press team. Instead much of the content, criticised for inaccuracies, was created by the couple with Sunshine Sachs, a PR company in New York.
The Sussexes' most senior advisers are Sara Latham, their communications secretary, and Fiona Mcilwham, their private secretary, both appointed in the past year. Until last year the couple's household was part of Kensington Palace, home of the Duke and Duchess of Cambridge, and they were a closely knit team and funded by the Prince of Wales.
Then came the falling out and the decision for the Sussexes to set up on their own. In theory they are answerable to the Buckingham Palace team, but in reality they operate as a separate fiefdom. Most staff costs are paid for by the Duchy of Cornwall, but communications staff under Ms Latham are paid for by the sovereign grant.
Public unhappy
Low then explores the view of the general public in January 2020, which was quite negative, especially as their money went towards the refurbishment of Frogmore Cottage, where the Sussexes lived for only a short while:
… the announcement that the Duke and Duchess of Sussex aimed to be financially independent has raised questions about their future income. The duke has personal wealth — the money left to him by his mother, Diana, Princess of Wales — but is supported by money from his father and public cash.
In the narrow streets that surround Windsor Castle, locals grumbled at the cost of a recent renovation to the couple's residence, Frogmore Cottage, which sits in the castle grounds. Taxpayers paid £2.4 million to renovate the grade II listed building, into which the pair moved nine months ago. Jess Hunter, 28, manager of the Queen Charlotte pub, said: "It seems a bit rich to then turn around and walk away from it all. I like Meghan but she knew what she was getting into when she married Harry. If you don't want to be a princess, don't marry a prince."
About 32 per cent of people thought the decision would "damage" the royal family, while 49 per cent did not. "He's a normal human being and he's wanting to carve out a little bit of space for his new family to grow in," added Michael Smith, 52, a prison officer. "It's what his mother would have wanted."
The Sussex Survivors' Club

The Times featured another excerpt from Low's book on September 24, 2023.
It gives examples of how unaccustomed courtiers are to incivility — and so should they be. It is hard to imagine what they went through from 2018 to early 2020.
Low takes us back to 2018, when he was part of the press pack on the couple's South Pacific tour:
It is normally a standard part of a royal tour, the moment when the royals venture to the back of the plane, where the media sit, to say hello and have a chat. But the tour of the South Pacific by the Duke and Duchess of Sussex in 2018 was different …
… Harry had looked out of sorts. His relations with the media pack had been prickly and strained. Where Meghan smiled, always putting on her best face whenever she was on show, Harry glowered. On the five-hour flight back from Tonga to Sydney, his press handlers promised that he would come and thank the media for being there. It was only after the plane had landed that the couple finally appeared.
I remember the scene well. Harry looked like a sulky teenager, Meghan stood behind him, smiling benignly. Her only contribution was a comment about how much everyone must be looking forward to Sunday lunch at home. Harry sounded rushed, as if he couldn't wait to get back into the first-class cabin. "Thanks for coming," he said, "even though you weren't invited."
This was spectacularly rude — and incorrect. The media had been invited to cover the tour. Later, Harry's staff told him how badly his remarks had gone down. He replied: "Well, you shouldn't have made me do it." Harry's petulant behaviour revealed much about the couple's deteriorating relationship with their own staff.
So bad did things eventually become that Harry and Meghan's team would later refer to themselves as the Sussex Survivors' Club. The core members were Sam Cohen, whom the Queen had personally asked to step in as private secretary and who worked for the couple from after their wedding until the end of their South Africa tour in September 2019; Sara Latham, the former Freuds PR managing partner, hired in 2019 to be in charge of communications; and assistant press secretary Marnie Gaffney. Sources say the team came up with a damning epithet for Meghan: a "narcissistic sociopath". They also reportedly said on repeated occasions: "We were played."
Fast forward to the Oprah interview in March 2021, and all close advisers' support was forgotten:
Meghan takes pains to highlight the difference between the Queen and those who surrounded her. In Meghan's account, they were the people who refused to help when she was in her hour of greatest need. They were the ones who "perpetuate falsehoods" about her.
Watching Meghan describe how she considered ending her life in the year after her marriage was an uncomfortable experience. And yet a succession of perfectly decent people, all of whom believed in Meghan and wanted to make it work, came to be so disillusioned that they began to suspect that even her most heartfelt pleas for help were part of a deliberate strategy that had one end in sight: her departure from the royal family. They believe she wanted to be able to say 'Look how they failed to support me'.
Sam Cohen, who had 17 years' experience of working at the Palace, would frequently say to Edward Young, the Queen's private secretary, and Clive Alderton, Charles's private secretary, that if it all went wrong, the Palace needed evidence of the duty of care it had shown to Harry and Meghan. The duty of care was crucial. "[Sam] was a broken record with them on that," said a source.
But by the time of the Oprah interview, everything the Palace had done to support the couple — including giving them a team that would have done anything to help them succeed — was forgotten.
Instead, Meghan was able to point out all the times the institution had failed her. One of them was when she says she went to the head of HR, where she was given a sympathetic hearing but sent on her way. This was inevitable: HR is there to deal with employee issues, not members of the royal family. Meghan would presumably have known that, so what was she doing there? Laying a trail of evidence, would be the cynical answer.
Another former staff member goes even further. "Everyone knew that the institution would be judged by her happiness," they say. "The mistake they made was thinking that she wanted to be happy. She wanted to be rejected, because she was obsessed with that narrative from day one."
Courtiers are unaccustomed to untoward behaviour:
Part of the problem, according to one source, was that everyone in the Palace was too genteel and civil: "When someone decides not to be civil, they have no idea what to do. They were run over by her, and then run over by Harry."
The situation was not helped by Harry and Meghan's deteriorating relationship with Alderton and Young. "As things started to go wrong," a source told royal biographer Robert Lacey, "Meghan came to perceive Young as the inflexible, bureaucratic figure who summed up what was with the BP [Buckingham Palace] mentality, and the feeling was mutual. Young really came to dislike Meghan's style." Harry was just as dismissive of the two senior courtiers as Meghan. An insider said: "He used to send them horrible emails. So rude."
Meghan's secrecy
If Meghan criticised the courtiers, she was not exactly above criticism herself.
She used secrecy to her advantage:
When Harry and Meghan went to Canada for their six-week break in November 2019, their escape plans were already laid, amid the greatest secrecy. Meghan would not even tell their nanny, Lorren, where they were going. According to one source, she did not know where they were going until the plane — a private jet — was in the air.
Shortly before the end of the year, Meghan confided in a member of her staff that the couple were not coming back. The rest of the team did not find out until they held a meeting at Buckingham Palace at the beginning of January 2020. They found it hard to accept they were being dumped just like that. Some of them were in tears. "It was a very loyal team," said one.
Money, money, money
By the end of March 2020, Meghan was allegedly panicking about money:
On March 31, The Express reported:
Meghan Markle and Prince Harry agreed to pay back the money spent for the refurbishment of Frogmore Cottage into the Royal Purse as part of their deal with the Queen. As part of their bid for independence from the Royal Family, the Duke and Duchess of Sussex said they want to become financially separate from the Queen and will be looking for new sources of income. Meghan last week was confirmed to have struck up a deal with Disney to narrate their latest documentary Elephant but the Duchess donated the money as the project was filmed before she and Harry announced their departure from the Royal Family.
A royal insider claimed Meghan is terrified because of the financial pressure they are now under and suggested the Duchess has ordered Prince Harry to find a job.
Speaking to US tabloid National Enquirer, the anonymous source said: "This debt is a blow to their ambitious plan to become freewheeling billionaires in the world.
"Meghan is terrified that her dreams of being a Hollywood queen will be destroyed by this financial nightmare and she is insisting that Harry make a move and resolve the crisis."
The insider however noted the lack of previous working experience could make the search for a new job difficult for the Duke of Sussex.
That is too funny. On a serious note, we see again the mess of pottage looming large.
Harry's lack of work experience led him to dish the dirt on the world's most famous royals. I hope he's happy.
Ending on the present day — January 2023 — it is rumoured that Harry might be offered a contract to be a television commentator in the US on his father's May 6 coronation.
On January 25, The Express reported:
Prince Harry has been tipped to skip King Charles III's coronation after two US broadcasters allegedly approached the Duke of Sussex to commentate on the ceremony. The Duke's potential coronation role was first tipped in this weekend's Sunday Express where TV companies were suggested to be attempting to lure him to join their media teams. Harry's relationship with his father and the Royal Family has been frosty after a series of digs levelled at the institution in recent months. Royal correspondent Charles Rae said the couple may still be invited to attend the ceremony but suggested Prince Harry may instead opt to strike a deal with US TV channels to act as a commentator and stay in the US …
Speaking on behalf of Spin Genie, Rae added: "There are also rumours that Harry has been offered a lot of money by two broadcasters to commentate on the Coronation …
Networks CBS and NBC are believed to have approached the Duke to get him joining their reporting team in the lead-up to the coronation.
The Venn diagram: Diana
The intersection of the Venn diagram linking Harry and Meghan is clearly Princess Diana.
On August 4, 2021, at the time the Duchess turned 40, her half-sister Samantha told GB News's Dan Wootton how obsessed Meghan was with the princess:
Here's the full video, just under 20 minutes long. In it, Samantha discusses how difficult it is to love someone who has caused so much hurt, her disappointment that Meghan has not contacted their ailing father and her book about the Duchess:
As for Harry, Prince Charles's and Princess Diana's chef at Kensington Palace, Darren McGrady, says that William and Harry had very different personalities (see at the 1:25 mark).
He says that one day Diana entered the kitchen after the boys had just been in — a favourite place for them to go — and said:
You know, the boys are so different. William's deep, like his father, and Harry is just an airhead like me.
What more can I say? Nothing.
Cottage pie
In closing, Darren McGrady prepares cottage pie the authentic way. The recipe dates from the 1700s.
There is a note early on in the video that says shepherd's pie is made with lamb and cottage pie is made with beef, something non-Brits do not realise.
It is also called cottage pie because it was for peasants. Peasants lived in cottages.
But I digress.
Cottage pie was a favourite of Wills and Harry. Perhaps one day, in the years to come, they might enjoy it again together.
End of series
Following on from Wednesday's post, I have a few bookmarks about the Duke and Duchess of Sussex which are worth exploring in light of Prince Harry's new book, Spare.
As Harry portrays his situation, nothing the Royal Family gave him was ever good enough. Let's look back and see what was said at the time.
I will end the post with analyses of Spare for readers' weekend viewing.
Nottingham Cottage
We know from Spare that he thought Nottingham Cottage — Nott Cott — in the grounds of Kensington Palace, was not an adequate home for him, either single or married.
A Daily Mail article from August 22, 2016, 'Eugenie's moving in to Kensington Palace with William, Harry and Kate', shows us the full palace layout and where everyone lived at the time. What a delightful enclave for family members, young and old alike.
This is what Richard Kay wrote about Diana's former apartment and Nott Cott (emphases mine):
It is Margaret's four-storey residence, which also has an eight-car garage, that is now home to William, Kate and their children Prince George, three, and Princess Charlotte, one.
William's decision to return to his childhood home, the source of memories much happier than those of his late mother, triggered the regeneration. It followed a period of soul-searching and house-hunting.
Clarence House, where until his wedding he had shared an apartment with Harry, was briefly considered until his stepmother, the Duchess of Cornwall, loftily declared: 'There's no room here.'
Then there was St James's Palace next door — but William was said to find it 'rather gloomy'.
The only other option was Buckingham Palace, but imagine the upheaval — and the angst for Prince Charles — had the popular William set up home in his grandmother's official residence.
'It would have suggested a very dangerous message: that the Queen was apparently endorsing her grandson as her successor,' says a courtier.
Kensington Palace was where William really wanted to live with Kate. But he drew the line at returning to his mother's old flat, Apartments 8 and 9, because, according to Princess Michael, of the 'ghosts' of Diana. (Margaret's old flat is said to have a ghost, incidentally — a woman in a blue dress.)
After Diana's death, her apartment was stripped to the bare floorboards. Even the light fittings were removed.
For a decade it was left as a shell before being split into offices for charities, as well as providing a home for the head of the Army, General Sir Richard Dannatt, the Chief of the General Staff.
Thus William and Kate's first marital home — KP's Nottingham Cottage (where Harry now lives) — was of modest proportions. Self-contained, cosy and private, it was formerly the home of Prince Philip's private secretary, Brigadier Sir Miles Hunt-Davis, and his wife Gay.
Two years later and, after a £4.5 million taxpayer-funded refit, they were ensconced in Apartment 1a, Princess Margaret's old home.
So, Nott Cott was of modest proportions, yet it was William and Kate's first home after they married. Harry makes it sound as if it were an insult that he and Meghan were expected to live there as newlyweds.
By the way, Kensington Palace is home to more than members of the Royal Family:
The 50-plus residents include senior courtiers, military figures, domestic staff and even a few members of the public, who pay the market rent for accommodation.
In return, they get 24-hour armed police security, their own telephone exchange and a team of gardeners and craftsmen to maintain the palace, which was adapted for royal use by Sir Christopher Wren.
… Clearly, with so many Royals and VIPs, the security — which we have purposely not highlighted in our graphic — is world-class.
At the time it was built, 'KP' was in the countryside:
Originally a Jacobean mansion, KP was bought in 1689 for the princely sum of 18,000 guineas by William III. Suffering from chronic asthma, he hoped to benefit from the Kensington air, which was cleaner than in the city centre, and commissioned Sir Christopher Wren to make it a home fit for a king.
Queen Victoria resisted moves to turn it into a national gallery. And despite similar attempts in this century — part of Prince Charles's plan to streamline the Royal Family — Victoria's descendants still live there today.
Here is a little-known fact about the palace and Princess Margaret's apartment:
… for Diana, haunted by unhappiness, it came to be 'more prison than palace'. Princess Margaret's decline from being a vibrant party-goer — and party-giver — was marked by her loneliness, rattling around a 22-room apartment after her divorce from the Earl of Snowdon …
… after a £4.5 million taxpayer-funded refit, they [William and Kate] were ensconced in Apartment 1a, Princess Margaret's old home.
Veteran palace staff have jokingly wondered whether repairs included the replacement of a loose-fitting drain cover outside the front door.
According to Margaret's former chauffeur David Griffin, Diana drove over the cover if she had a late-night assignation because the route was not covered by CCTV cameras. He said: 'Whenever the Princess heard the cover clanking late at night, she knew it was Diana and would peer out. It usually meant Diana didn't want anyone to see who she was bringing home.'
2017 — engagement year
2017 turned out to be the year that would change Harry's life permanently.
It is no wonder that the Queen thought that Harry's future would include Africa. Here he was in October that year with the co-founding patron of the charity, Sentebale — 'Forget me not'. The charity is in memory of Princes Harry and Seeiso's late mothers:
In November 2017, Harry and Meghan announced their engagement.
On January 24, 2018, Vanity Fair explored how the couple met. Note that no sooner had he slipped a ring on her finger than a television film was in the making (original emphases in bold):
Well, it is looking like they are going to have to hire an extra fact-checker or two for the forthcoming Prince Harry–Meghan Markle Lifetime movie, as the details relating to the pair's "origin story" grow increasingly . . . complex.
Let's recap: in November, on the day their engagement was announced, the shimmering couple sat down for a joint interview with the BBC, where they were asked how they met. (In their case, the circumstances of their meeting—given the very separate spheres, not to mention continents, they each occupied—held special intrigue.) Meghan and Harry explained they had been set up by a mutual friend—but, just as it appeared Harry might let slip the friend's name, Meghan cut him off, and said they would try to maintain "her" privacy. Yes, her!
Of course, this clue had the British press off to the races …
The press came up with several names, all of which turned out to be wrong. Finally, the matchmaker's name emerged:
But now E! News has come along and . . . added a new dimension to the mystery … the outlet claims that it can confirm that the actual "real heroine of this love story" is Violet von Westenholz (whose name had also been bandied about back in November). Who is she? Well, her father is a baron and friend of Prince Charles, and she has, according to E!, "been in Harry's trusted inner circle of friends for years." (Curiously, Violet's younger sister, Victoria, had once been romantically linked to Harry, in fact.)
Harry had been concerned about finding the right woman:
E! offers this pretty amusing sourcing about Harry's state of mind before meeting Markle, which touches on . . . the possibility of his using Tinder: "Harry was having a really hard time finding anyone. It's hard enough finding someone new to date. He can hardly go on Tinder or a dating app like normal people, but to meet someone that you actually connect with, that was proving to be almost impossible. It was something he had confided in his closest friends about; he was ready to meet someone but it was so hard to actually find the right person."
It was at about this point when von Westenholz encountered—yes—a star of USA's Suits with a lifestyle blog named Meghan Markle. The two reportedly "became friends through Violet's P.R. work" with Ralph Lauren. E! says that Markle had "been a part of the London social scene for a while," and that, with the knowledge that Harry was looking for love, as it were, Violet put two and two together and let Harry know "she might just have the perfect girl for him."
Von Westenholz has, unsurprisingly, not responded to E!'s request for comment about her role in the relationship.
At the bottom of the article is one of the engagement photos. Why does Harry have a problem with the placement of his right hand? He always looks as if he's trying to hide something with it. Two fingers are often out in a horned gesture. Perhaps his therapist could explore that a bit more with him. It might unlock secrets of his psyche.
The Markles speak out
Members of the Markle family spoke out in the weeks before the wedding on May 19, 2018.
On May 2, the Mail featured an article on the April 26 letter that Thomas Markle Jr sent to Prince Harry. He wrote it on yellow lined office pad stationery, the sort that is available everywhere in the United States. Markle shared it with In Touch magazine.
Excerpts from 'Meghan Markle's brother warns Prince Harry to cancel royal wedding' follow:
Elder sibling Thomas Markle Jr has warned the 33-year-old royal to ditch the May 19 union with the 'Suits' actress.
Mr Markle slammed the American star, insisting that 36-year-old Meghan is a 'jaded, shallow, conceited woman that will make a joke of you and the royal family heritage.' 
The letter, shared with In Touch magazine reads: 'As more time passes to your royal wedding, it became very clear that this is the biggest mistake in royal wedding history.'
'Meghan Markle is obviously not the right woman for you.
'I'm confused why you don't see the real Meghan that the whole world now sees.
'Meghan's attempt to act the part of a princess like a below C average Hollywood actress is getting old.'
The 51-year-old, who is from Oregon in the US, then went on to claim that their father went into debt in order to support Markle's acting dream and is still struggling financially. 
He also claims that their father was not invited to the wedding …
Mr Markle accused his sibling of turning her back on the family and said she is 'falsely' trying to portray herself as the new Princess Diana.
He told the Daily Mirror: 'She's clearly forgotten her roots. It's torn my entire family apart. Meg likes to portray herself as a humanitarian, a people's person and a charitable person but she is none of those things to her family.
'She is giving the greatest ­performance of her life. She is acting phoney. I've read that Meg wants to be like Diana. 
'Diana was worshipped by everyone in the world. She was loved for the right reasons.
'That's what Meg wants, but I don't think that's going to happen. She's not genuine like Diana.'
Mr Markle has not seen his sister since 2011 when the pair – and Meghan's film producer ex Trevor Engleson, 41 – attended the Los Angeles funeral of their grandmother, Doris. 
However, Markle Jr was not without his own notoriety:
Markle believes that his brushes with the law may have embarrassed his half sister who is avoiding him. 
He was in the news at the start of the year when he was thrown in jail for two days for a drunken brawl with his fiancee Darlene Blount on New Year's Eve. 
Last year Markle was also arrested for brandishing a gun at his fiancee during another drunken fracas, although the charges were later dropped.
He blamed his behaviour on struggling to cope with the extra pressure and scrutiny he and the rest of his family have faced since Meghan's royal engagement.
New title for Harry
On the big day, Saturday, May 19, 2018, the BBC reported that the Queen conferred upon her grandson a title that had not been used since 1749:
Prince Harry has been given a Scottish title by the Queen.
He will be the third Earl of Dumbarton – a title that has strong military connections and one not used since 1749.
On her marriage, Meghan Markle has become the Countess of Dumbarton.
The title goes back to the time of King Charles II:
The first to hold the title was George Douglas, a younger son of the first Marquess of Douglas, who was created Earl of Dumbarton in 1675.
A Scottish nobleman and soldier, George was given the title by Charles II in recognition of his military service.
On George's death at St German-en-Laye in France, the title passed to his son, also called George, who became the second Earl of Dumbarton.
The title became extinct when the second earl died in 1749, meaning it has not been used in more than 260 years.
Dumbarton has historical significance dating back to the Dark Ages:
Dumbarton, on the north bank of the River Clyde, to the west of Glasgow was founded in the fifth century and was once the capital of the ancient Kingdom of Strathclyde.
It is the site of a volcanic rock on which stands Dumbarton Castle. During its long history, the castle has been both a royal residence and a fortress.
Dumbarton was a Royal Burgh between 1222 and 1975.
Mary Queen of Scots was kept at the castle as a young child for several months in 1548 for her safety before she embarked for France to become the bride of the Dauphin, the young French prince.
The wedding
In the days preceding the wedding, many Britons will recall the effusive, if not over-the-top, headlines.
The BBC televised the wedding in full. I watched the sermon from Bishop Curry, the President of the Episcopal Church in the United States. Then I watched the couple exchange vows. I remember there was something about that I didn't like.
Although the ceremony took place in St George's Chapel at Windsor Castle, there were many American elements to it, as the BBC reported:
It was a traditional wedding – the dress, the bridesmaids, the vows, the hymns. And it was very, very different.
The Palace made it clear in a stream of announcements that they wanted a different kind of wedding.
But it was the service that marked this out as a modern, diverse wedding for a modern, diverse couple: the Kingdom Gospel choir setting toes tapping, a young black cellist, and a breathtaking address from Bishop Curry, the President of the Episcopal Church.
Every royal wedding is a chance for the Royal Family to relaunch and reinvent. There may have been trouble in the week before the wedding. But that is in the past.
This wedding was about the future, a different future for the Royal Family.
And how. Little did we realise it at the time.
The article had a summary of highlights. The BBC omitted mentioning that Prince Charles walked his new daughter-in-law down the aisle, as Thomas Markle Sr had been too ill to attend:
The wedding service combined British tradition with modernity and the bride's African-American heritage.
The Most Rev Bishop Michael Curry, the president of the US Episcopal Church, gave an address, the Rt Rev David Conner, Dean of Windsor, conducted the service and the Archbishop of Canterbury, the Most Rev Justin Welby, officiated.
"There's power, power in love," said Bishop Curry, who was invited to speak by Ms Markle.
"If you don't believe me think about a time when you first fell in love. The whole world seemed to centre around you and your beloved."
In a fiery, passionate speech, he also referenced the African-American spiritual song Down by the Riverside, which was sung by slaves, and when he realised he had gone on too long, he told his audience he had better wrap up as "we gotta get you all married!"
Indeed.
Also:
Lady Jane Fellowes, the sister of Prince Harry's late mother, Diana, Princess of Wales, gave a reading from the Song of Solomon.
Karen Gibson and The Kingdom Choir performed Ben E King's soul classic Stand By Me during the service.
As the bride and groom signed the register, 19-year-old cellist Sheku Kanneh-Mason – who won the 2016 BBC's Young Musician – performed three pieces by Faure, Schubert and Maria Theresia von Paradis.
He was accompanied by musicians from the BBC National Orchestra of Wales, the English Chamber Orchestra and the Philharmonia.
The gospel choir also performed Etta James' uplifting version of Amen/This Little Light of Mine as the newlyweds left the chapel.
Afterwards, the couple went into Windsor:
After the service, the duke and duchess travelled through Windsor along a route lined by tens of thousands of well-wishers.
The Royal Borough of Windsor and Maidenhead said more than 100,000 people visited the town on Saturday.
The celebrations
Guests seemed to be divided up into two groups for two different celebrations.
The first was the Queen's luncheon for the happy couple:
All 600 guests were invited to a lunchtime reception at St George's Hall, hosted by the Queen. The best man, the Duke of Cambridge, acted as compere.
Guests were treated to a performance by Sir Elton John and were served langoustine canapes, Windsor lamb, and champagne and pistachio macaroons. Instead of a formal sit-down dinner, food was served in bowls.
If I were hosting, I would have put my foot down re bowls. Formal or not, it's an extraordinary occasion. Eat off a plate.
Then again, remember Harry's words before the wedding: 'Whatever Meghan wants, Meghan gets'?
Here is a photo of the elderflower and lemon cake:
Royals, celebrities and sports stars attended. The article has a partial list.
As it was not a state event, there were no politicians, only former Prime Minister John Major, who had been:
a special guardian on legal matters to Princes William and Harry after the death of their mother …
Members of the public were invited into the Castle grounds to see the newlyweds. There were 1,000 in all, most of whom were charity workers.
Then came the evening reception, which Prince Charles hosted at Frogmore House, which, in time, became the couple's home:
On Saturday evening, the newlyweds are celebrating with 200 close friends and family at a private reception less than a mile from Windsor Castle at Frogmore House, hosted by Prince Charles.
Ms Markle was expected to break with tradition for royal brides and make a speech at the event.
No taxpayers' money was spent:
The Royal Family will pay for the wedding, including the service, music, flowers and reception.
On Monday, May 21, The Sun reported on Meghan's speech.
The bride's mother Doria Ragland, 61, attended, as we remember, and wore a beautiful Givenchy outfit. Both she and her daughter had a most positive view of the Royal Family:
MEGHAN Markle declared "I have found my Prince" as she made a romantic speech to her new husband hours after joining the Royal Family.
The Duchess of Sussex bravely took the microphone to profess her love for Prince Harry– while thanking his family for "welcoming" her at the Royal Wedding reception.
In the speech, the US actress particularly singled out the Prince of Wales, just hours after her new father-in-law walked her down the aisle in the wedding of the year.
She is said to have a "special bond" with Prince Charles, grateful of his kindness to her and her mother during the huge change in her life.
Meghan's mum Doria Ragland, 61, was the bride's only family member on her big day after Meghan's dad Thomas Markle dropped out due to health issues …
According to one source, the Duchess of Sussex expressed her gratitude to Prince Charles at how welcoming he had been to both herself and her mum.
They told the Daily Mail: "She has been so touched by how welcoming the Prince of Wales has been. So is her mother.
"Honestly, they are touched beyond belief. It was important to her to make a point of thanking him publicly, although, of course, he knows privately how she feels."
Another source told the newspaper: "It is often said that he always wanted a daughter and I think he has been really moved by how well they have got on.

"There is definitely a connection there. Meghan's mother means more to her than anything, so it was lovely to see the way he was so welcoming to Doria too."
The evening reception took place in:
a £300,000 glass marquee in the grounds of Windsor Castle paid for by Prince Charles.
Harry's dad left guests in stitches with a speech about changing his nappy, while the groom delighted everyone when he referred to Meghan as his "wife".
Jubilant guests were later treated to an incredible firework display that could be seen for miles around Windsor as the Royal Wedding was brought to a close.
The Sun said that, earlier, Thomas Markle Jr retracted the sentiments he had penned in his aforementioned letter to Harry:
… he has now backtracked on his scathing comments – branding it a "moment of madness".
There was a bit on the clothes:
The loved-up pair gazed at each other during the ceremony, with Meghan wowing in her spectacular gown by designer Clare Waight Keller of Givenchy.
She teamed it with a dazzling Mary Diamond Bandeau tiara – lent to her by the Queen.
The article made one mention of:
star-studded guests that had gathered at the couple's reception at Frogmore House on Saturday night.
That was because there was another article about them and much more to read about this special day, including, but not limited to, the following:
Harry's friends' hurt feelings
However, not everyone who thought they would get an invitation to the evening bash received one.
On May 21, Katie Nicholl, Vanity Fair's royal reporter, had quite the list in 'Some of Prince Harry's Old Friends Were "a Bit Surprised" to Not Be Invited to the Evening Wedding Reception' (bold emphases in the original). This is why I think there were two groups of guests:
While George Clooney was the last man standing at Prince Harry and Meghan Markle's wedding party and James Corden had guests in stitches with his hilarious jokes, some of Harry's oldest pals were left wondering why they hadn't been invited to the party of the decade. Below, a few of the old friends who didn't make the cut.
While she was at the wedding and afternoon reception at Windsor Castle, Violet von Westenholz wasn't at the evening party. Having played cupid—it was von Westenholz who gave Harry Meghan's number after suggesting they meet—von Westenholz was notable by her absence. Perhaps she had double-booked, as she was seen at the wedding of Harry's old chum Ed Watson to Cara-Louise Pratt later in the evening.
While Harry generously extended wedding invitations to his exes (he thought it was the right thing to do, according to one of his pals), neither Chelsy Davy nor Cressida Bonas got a golden ticket to the bash. Though reports claimed Davy was there, a family friend told Vanity Fair that she didn't get an invite to the party, despite speaking to Harry in a tearful phone call last week. "It was their final call, a parting call in which they both acknowledged Harry was moving on. Chelsy was quite emotional about it all, she was in tears and almost didn't go to the wedding. In the end, she went and promised Harry she wouldn't try and gatecrash the party."
There was also no invite to either the wedding or the reception for Harry's old party chum Natalie Pinkham. The prince has known Sky Sports presenter Pinkham for more than 10 years and they stay in regular touch. "Natalie was a bit surprised not to be there," said a source who knows them both. "She and Harry still talk so it was a surprise for her not to be invited at all."
Another society nose out of joint was that of Astrid Harbord, one of the prince's oldest friends, who has a reputation for being a party girl but wasn't at the party of the decade. Harry's old army pal James Blunt and his wife, Sofia Wellesley, were also left off the elite evening guest list. "Some of Harry's pals were a bit surprised not to get the golden ticket to the evening party," said a society friend. "There was actually another wedding that weekend that a lot of them were invited to, so they got to have fun in any case."
Prince Charles's 70th birthday charity party
On Tuesday, May 22, 2018, the Queen held a garden party for the then-Prince Charles in honour of his 70th year.
He was born on November 14, 1948, but, beginning with the garden party, special celebrations and exhibits marked his birthday year.
A bee plagued Harry during the speech he gave in honour of his father. Meghan stuck her tongue out. (Why?)
The Sun reported, complete with many photos of the new bride:
MEGHAN Markle was left giggling as her new husband tried to swat away a bee as he gave a birthday speech for his dad.
The US actress couldn't help but smile as Prince Harry was buzzed by the insect during a 70th birthday bash for Prince Charles.
At one stage the playful royal even seemed to stick her tongue out as her new hubby struggled with the persistent pest – a flashback to Christmas Day when she did the same at Sandringham.
Prince Harry had been speaking about his dad's "selfless drive to affect change" to the garden party crowd at Buckingham Palace when he was forced to swat away the insect …
But as he tried to go on, the 33-year-old interrupted himself – waving a bee away and saying: "sorry, that bee really got me."
While many in the crowd laughed, none were more amused than Meghan.
The new royal burst out laughing, leaning forward as she was overcome with giggles at her new husband's mishap.
She also exchanged smiles with Prince Charles and Camilla as they chuckled at the insect's ill-timed interruption.
The second-in-line to the throne appeared to be slightly embarrassed by his son's praise during his speech, bashfully tapping his cane on the floor as Prince Harry addressed the crowd.
Meghan today seemed comfortable with her in-laws as she attended her first official event as a royal.
That sentence reads a bit oddly with the addition of 'today', as if she had been uncomfortable in the past. Hmm.
Analysis of Spare
Moving on five years to the present day, we see a different Duke and Duchess of Sussex.
Dan Wootton, who writes for the Daily Mail and hosts a two-hour GB News show every Monday through Thursday, has devoted the week to discussing Spare as well as Harry's interviews.
On Monday, January 9, his column began as follows:
If the Queen Consort Camilla is 'dangerous' and a 'dragon' for working with the British free Press to improve her reputation, then Prince Harry and Meghan are themselves dragon slayers.
We've now had to sit through hours of a grim fantasy created by the embittered Sussexes, most recently outlined in painful softball interviews by their BFF Tom Bradby on ITV in the UK and woke US media allies Anderson Cooper on CBS and Michael Strahan on ABC.
The fairy tale goes that this selfless and altruistic couple were forced to smash relations with their British royal relatives and flee the country because of a vicious briefing campaign launched against them, even seeing the Press conspire with the institution and senior members of the Royal Family to drive out such a popular pair.
That narrative is deranged.
It's a hypocritical invented account designed by snivelling Harry and fake Meghan to avoid taking any account for their own behaviour, including credible claims of bullying against staff by the American diva.
Well, I've had enough of media figures tiptoeing around what we all know are falsehoods.
If Harry and Meghan claim briefing the tabloid Press is some sort of unforgivable 'crime' undertaken by Charles, Camilla, William and Kate, then they are just as guilty.
How do I know? Well, I was on the receiving end of such briefings by the Sussexes' own communications team during my years covering Meghan's time in the Royal Family as I broke a series of now infamous scoops, from Tiaragate, the bitter rivalry between Kate and Meghan, and, ultimately, Megxit.
On Tuesday, he had just finished reading Spare. Wootton holds nothing back in his analysis, which begins with this:
… I needed to take a wash after reading what is without doubt the most pathetic, self-serving and tone-deaf autobiography ever because of the number of vitriolic and deeply personal swipes he takes at his own flesh and blood.
No one is safe.
Not even the late Queen, who Prince Harry paints as cold, detached and old-fashioned, rather than a monarch desperately trying to hold her wayward family together for the good of the institution.
What's so disturbing is that, even when describing his version of events in such an obviously one-sided manner, it was still clear to me that Harry is in the wrong about almost every menial gripe for which he opines.
While his father King Charles and brother Prince William are, unsurprisingly given their role, far from perfect, they are left at the end of their tether by Harry's pig-headed intransigence, especially once he is so heavily influenced by a cabal of woke psychotherapists and Hollywood yes men working in cahoots with his controlling wife Meghan Markle.
Harry has spent the past two years claiming all he wanted was support from the Royal Family.
But Spare makes plain when they tried to offer help and solutions, it was never good enough for the Sussexes, who want everything their own way all the time …
Predictably, having broken a number of damaging scoops about the Sussexes, often accepting briefing from Harry and Meghan's staff, as I revealed in my column here yesterday, I come in for a pasting, being described as 'a sad little man' for first revealing the story of Megxit.
Just like much of the fiction and fantasy in Spare, Harry gets it all wrong again though, incorrectly claiming I was 'likely working in concert with the Palace, whose courtiers were determined to get ahead of us and spin the story'.
Harry admits he went to the late Queen with the information that I was about to break the story, in order for the Sussexes to release a statement to scoop me, despite the fact I'd given them over a week's notice already by that point.
Here are Dan's shows from Tuesday, Wednesday and Thursday this week. Monday's seems to have disappeared, for whatever reason.
Tuesday, January 10:
Wednesday, January 11:
Thursday, January 12. This one has a video about the Elizabeth Arden cream Harry used on an intimate part of his anatomy to relieve frostbite. He then says that it reminded him of his mother, which creeped out the two men on Dan's panel:
You can fast forward through the adverts, of which there are many.
Watch early to avoid disappointment.
I will have more on the Sussexes next week.
My most recent post discussed Liz Truss's commitment to libertarianism and the part she played in her own downfall.
At the end, I mused whether she would still be in office were she a man. Having thought about it some more, I do believe that would have been the case. Truss has better morals than Boris Johnson and more integrity than Rishi Sunak. Furthermore, she is far more trustworthy than our de facto Prime Minister, Chancellor Jeremy Hunt. She has flaws. They have flaws.
It is curious that all of them, men, are given a pass. Truss, an honest woman, was not afforded that opportunity.
Let us look at who was out to finish Liz Truss's premiership.
The media
During the summer Conservative Party leadership campaign, most papers — right and left — came out in favour of Rishi Sunak.
Only the Daily Mail and The Telegraph consistently supported Truss. Truss also saw The Sun as a friendly paper, particularly its political editor Harry Cole.
Broadcast media also largely favoured Sunak. Only GB News supported Truss for the most part.
Why that was is unclear.
One could point to Truss's U-turns, evident as soon as the leadership campaign for Party members' votes started, but most of the media — print and broadcast — were already in the tank for Sunak when Conservative MPs were still voting in July.
On November 16, veteran columnist Andrew Gimson wrote about the media outlets covering Parliament, known as the 'lobby': 'Lobby journalism holds power to account. But it's often cruel, trivial — and unfair'.
Guido Fawkes liked what he had to say:
Gimson's article for ConservativeHome discussed the attacks on other Conservative ministers in Rishi Sunak's Cabinet. Suella Braverman, Home Secretary once again, is one of them and Justice Secretary/Deputy Prime Minister Dominic Raab is another.
Gimson says that journalists find their witch hunts as exhiliarating as blood sports (emphases mine):
Hunting is reckoned to improve the health of the fox population.
That is not, however, why people want to hunt them. They yearn to do so because it is a wonderful, exhilarating sport.
Forget for a moment any impulse to moralise. High-minded theories are all very well. Politics as actually practised is a blood sport.
Dominic Raab, Gavin Williamson and Suella Braverman are or were the most recent quarry, closely preceded by Liz Truss and Kwasi Kwarteng, before which a blond beast rampaged across the political landscape for three years with excited members of the Westminster lobby in close pursuit.
Four of the six were hunted down, while Raab and Braverman have so far (with intermissions) survived, but might at any moment find themselves once more in mortal danger.
The lobby is trained and ready at a moment's notice to follow any scent, no matter how faint, rival correspondents for different newspapers acting as a pack of hounds, each leaping at whichever politician is the hunted animal, drawing blood and emboldening the others to fresh frenzies of aggression …
It is impossible, if one is a lobby correspondent at Westminster, to stand aside from the full-blown crisis which rages, and any case, few experiences are more exhilarating than to be in at the death of a Prime Minister.
Every journalist, indeed everyone in the slightest bit interested in politics, will remember the first time he or she witnessed such a drama: in my case I was lucky enough in November 1990 to be in the Press Gallery to watch the fatal resignation speech delivered by Sir Geoffrey Howe, and 19 days later was in the crammed Committee Corridor on the evening it was announced amid almost unbearable excitement that Margaret Thatcher had fallen four votes – four votes! – short of beating Michael Heseltine by the necessary margin in the first round.
Such crises becomes all-consuming. You surrender yourself to the experience, and nothing else seems to matter. If you are a reporter, your news editor and editor demand constant reports from the front, and you want to distinguish yourself by revealing dramatic new charges, whether solid or flimsy, against the embattled minister, rather than just repeating what your rivals have said.
Such work requires the ruthless expertise to spot in an instant the two or three words in some dreary speech or answer which can be held to constitute a new development. The lobby are brilliant at this: they see the new angle, the incriminating admission, where a normal person would notice nothing.
News becomes an artificial commodity, an esoteric language only comprehensible to highly intelligent and practised correspondents, who translate it into the latest thrilling episode of a story which is intelligible to the dimmest of us, for it is as old as history: will the ruler live or die?
This question of life and death simplifies everything, and lends it a personal flavour. Does one like the look of whichever minister is just then being hunted, and hope he or she will get away? Or would one much rather see him or her bumped off?
The tyranny of the story extends to the comment pages. Leading articles and columns are written for or against the hunted person, most likely against, for it is much easier to write a vivid piece denouncing a politician for being disreputable than to compose a vivid defence.
In order to purify public life, the offending minister must be drummed out of it. Nothing which might serve this noble end is too cruel to be said; too piffling to be taken down and repeated.
Let the victim and his or her family cope as best they can. It would be wrong to spare them the full blast of public disgust. We find ourselves in a primitive world where human sacrifice is demanded; not in a rational one where events can be weighed and assigned their due importance, or unimportance …
There is a deep satisfaction to be derived from getting rid of a Prime Minister, so deep that we have in recent years got rid of three. For a short time, very short in the case of Liz Truss, we allow them to triumph, before restoring equality, for which all democracies have a deep yearning, by dragging them down with brutal abruptness to our own level …
What the lobby does, or helps Conservative politicians to do, is the modern version of an ancient and savage tradition. All else is forgotten while the tribe slays its chief.
And no tribe is better at slaying its chiefs than the Conservative Party.
Afterwards, some enemies of the prey express their empathy for the slain, such as Jenny Murray did for Truss on October 27 in The Mail. Murray's headline read 'I never expected to feel sorry for Liz Truss' and, upon closer inspection, she doesn't really feel sorry at all. She uses the piece to lick her own wounds after retiring from the BBC at the age of 70:
I was not sorry to see her go. Her short time in power was a disaster.
I'd known her professionally for a good few years and had often found her a bit weird with her oddly truncated speech patterns, bizarre facial expressions and apparent lack of emotional intelligence. She was no public speaker and I certainly never saw her as Prime Ministerial material.
In that I was right, but despite her self-serving, unapologetic final speech and her typically arrogant and selfish, 'Well at least I've been Prime Minister!' goodbye, I can't help sympathising with what she has to face next.
As an ordinary constituency MP, she'll join what I have dubbed, from bitter personal experience, the 'Once I Was Hot, But Now I'm Not,' club. I know she'll be asking herself, 'Who am I now?'
It's two years since I left the job that defined me for 33 years. I was Jenni Murray, presenter of Radio 4's Woman's Hour.
It had been my greatest ambition since childhood. I'd presented Newsnight and Today, but the moment I heard the announcer first say on Monday, September 14, 1987, 'And now Woman's Hour, with Jenni Murray' remains the most thrilling of my life.
I loved every minute of those 33 years and, unlike Liz Truss, I was not forced out of my position (though even when you leave a top job of your own volition, it doesn't stop others speculating). I made the choice to leave as my 70th birthday came and went.
So, nothing like Liz Truss after all. The rest of Murray's lengthy column is all about herself. Sickening.
On a positive note, I was surprised to read that Andrew Neil, normally a supporter of the status quo, supported Truss and Kwarteng's mini-budget just after it was announced in Parliament:
After 12 years of Tory government we finally get a Tory budget. Yesterday's not-so-mini-budget was a watershed event, taking the country in a new economic direction and creating clear blue water between government and opposition.
The Tory faithful couldn't quite believe it. Labour struggled to grapple with its implications. The political dividing lines will now be starker and fiercer than they've been for a generation.
No more tax rises by stealth (or, more recently, in plain sight). Or endless, futile tinkering with the minutiae of spending and taxation to give voters a false impression of constructive activity. Or the relentless doling out of taxpayers' dosh to whatever fashionable vested interests managed to catch ministers' attention.
Instead, Prime Minister Liz Truss and her Chancellor, Kwasi Kwarteng, junked all of that in favour of one overriding economic priority: higher economic growth. Many of the verities of Britain's economic establishment have been slaughtered in the process …
Scrapping next April's planned rise in corporation tax (on businesses' profits) won't win any popularity contests outside company boardrooms. But an essential part of Britain's post-Brexit future is surely to be a magnet for foreign investment. Whacking up the country's key business tax was a strange way of going about it …
New ways require new justifications. The Treasury estimates that abolishing the 45 per cent top rate of income tax will cost £2 billion a year.
This is a typically static official calculation. If it results in more top earners declaring their income in Britain, then it could soon more than pay for itself.
Ditto bankers' bonuses. The cap is a relic of EU regulation. Banks simply increased pay to compensate for reduced bonuses, thereby making their compensation costs more fixed and less flexible.
Frankfurt, Paris and Amsterdam have tried hard to lure our financial services away from the City since Brexit, with only limited success. Bonuses in those centres are still capped. London now has the advantage.
And, remember, with the new top rate of tax at an internationally competitive 40 per cent, every £1 million banker's bonus is £400,000 more for schools and hospitals …
… for more than a decade now I've watched chancellors take tough, painful decisions on tax and spending based on OBR borrowing forecasts that turned out to be huge over-estimates, so much so that in retrospect neither the tax rises nor spending cuts were necessary.
Indeed, as Truss attempts to take the country in a new, less orthodox direction, I'd argue that it's a blessing that she's been able to do so unencumbered by the OBR's dubious forecasting.
We'll get the OBR's latest workings in two months anyway, when it might have a better idea of what 2023 will look like. Nor are we entirely in the dark. The Treasury says the tax cuts and energy price cap measures will increase borrowing this year from £162 billion to £234 billion — an extra £72 billion.
The IFS thinks we'll still be borrowing £100 billion a year through the middle years of the decade.
These figures have spooked the markets. The pound continued its decline against the dollar after Kwarteng's statement and the yield (or interest rate) on short-term government debt rose to close to 4 per cent, making it a lot more expensive to borrow than only two years ago, when it was 0.4 per cent.
These are real constraints on the Government's ability to borrow even more. A falling pound merely fuels inflation, especially when it comes to imported energy, which is priced in dollars.
Interest rates are already rising. If excessive government borrowing forces them even higher, that will merely choke off the economic growth the Government so desperately seeks.
There's another factor at work here. The global currency and debt markets have had a 'down' on Britain for some time. It's not clear why. Britain's debt-to-GDP ratio is among the lowest in the G7 club of big economies. Our budget deficit is on a par with many other major economies. Economic growth is anaemic — as it is everywhere, from the Eurozone to America to China.
I suspect it's a Brexit hangover. The publications global market players read most closely include the New York Times, the Economist, the Financial Times and leading European papers such as Le Monde and the Frankfurter Allgemeine Zeitung. All — and others like them — have been relentlessly negative about Britain since the 2016 referendum …
It is said she's taking a great gamble. That's true. But sticking with the failed policies of the recent past was probably an even a bigger gamble. The stakes are certainly high.
If by this time next year the economy is still in the doldrums, then it's not just Truss who will be finished. So will any prospect of the Tories winning the next election.
Read it and weep. We are back to square one.
There is much that the media didn't tell us about the global picture of economic pandemonium.
Early in the week following Kwarteng's mini-budget, US mortgage rates went up to 7%:
The EU's average deficit is worse than the UK's: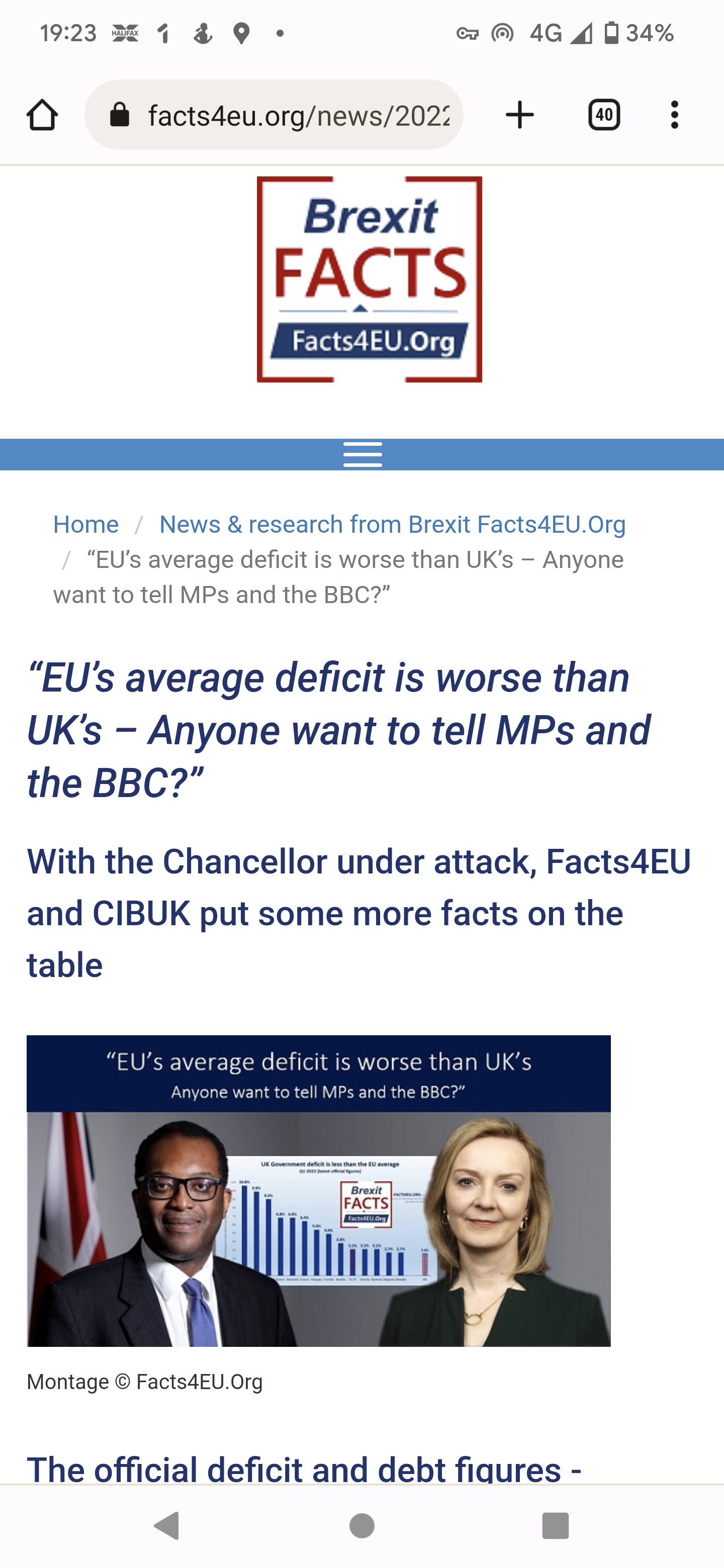 At the end of October, by which time Truss had gone, inflation in the Euro zone increased to 10.7% as growth slowed:
At the beginning of November, a Fed hike caused sterling to trade below £1.13 against the dollar:
And, finally, within three weeks of becoming Prime Minister, Rishi Sunak made new spending commitments, pledging billions to the world. This graphic appeared on November 7: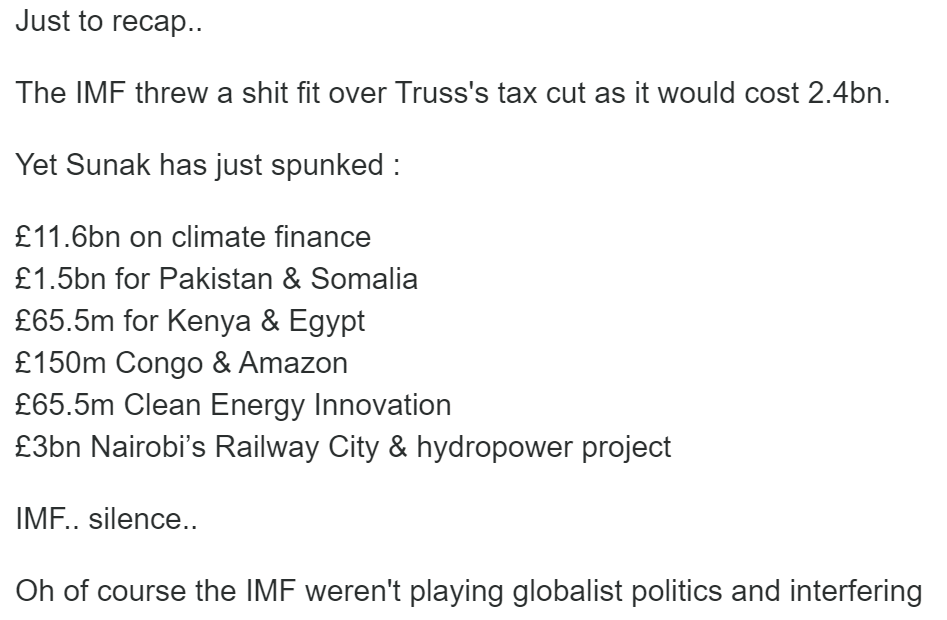 Objection from the media came none.
Conservative MPs
On October 20, in the immediate aftermath of Truss's stoic resignation, The Sun gave us the reaction from three Conservative MPs:
Responding to today's bombshell announcement, former minister and Red Wall poster boy Neil O'Brien tweeted: "The next PM must return to the national conservatism represented by our election winning 2019 manifesto and put us back on the side of normal working people."
If anyone was going to have done that, it would have been Truss, for whom Party members voted in the majority. Sunak and Hunt certainly aren't on the side of 'normal working people': tax 'em until the pips squeak.
Next up was Steve Baker, now an apologetic Northern Ireland Minister:
Brexit hardman Steve Baker urged colleagues that whatever the result, "we must accept and back the new Prime Minister".
Millions of us wish he had shown the same allegiance towards Truss.
The only one to say anything complimentary was Greg Hands, who served as an International Trade Minister:
He said:
A dignified exit as Prime Minister from Liz Truss. A difficult day for the country, the Party and for Liz personally.
She wasn't long as PM, but served at the Cabinet table longer than any of her three predecessors. She has long served the country – and I wish her very well.
At least Truss wasn't removed from the top table Chinese-style:
On October 27, one week after Truss's resignation, The Telegraph's Matthew Lynn said that backbench Conservatives just could not bring themselves to support Truss's economic plan, which Kwasi Kwarteng fronted.
In other words, Conservative MPs shy away from libertarianism, even though I think it would do the UK a lot of good:
The timing, to put it mildly, was unfortunate. It was a difficult transformation to pull off at the best of times, but against the backdrop of rising inflation and an out-of-control dollar, it was doubly difficult. 
Truss's programme did not have the necessary support within the Parliamentary Conservative Party either. Massive opposition from Labour, the Scottish Nationalists, and the Twitter mob was to be expected. 
But very few MPs were willing to support the plan, and without that backing it was always going to be hard to push through. Even before it got on to the genuinely difficult stuff – investment zones, planning reform, the green belt – the opposition was overwhelming. 
The Bank of England
Matthew Lynn points the finger of blame at the Bank of England (BoE):
… the real failure of Trussonmics may well have been the fault of the Bank of England. As Narayana Kocherlakota, a former President of the Minneapolis Fed, and now Professor of Economics at New York's Rochester University, argued in an opinion piece for Bloomberg this week, it was the Bank's failure to support the gilt market that killed the plan. 
"The way the Truss government collapsed should concern all who support democracy," he warned. 
In his Bloomberg article of October 26, Narayana Kocherlakota defended Truss and criticised the BoE:
Markets didn't oust Truss, the Bank of England did — through poor financial regulation and highly subjective crisis management.
… Truss won the leadership of the Conservative Party, which the UK electorate had voted into power, by promising a range of deep tax cuts and government spending increases. Whatever one might think of her policies, they were her mandate. I agree with the many observers who expected them to lead to higher inflation, higher interest rates and quite possibly higher unemployment. But such adverse outcomes take months and years to play out. Her government fell in a matter of weeks. How could this happen?
The common wisdom is that financial markets "punished" Truss's government for its fiscal profligacy. But the chastisement was far from universal. Over the three days starting Sept. 23, when the Truss government announced its mini-budget, the pound fell by 2.2% relative to the euro, and the FTSE 100 stock index declined by 2.2% — notable movements, but hardly enough to bring a government to its knees.
The big change came in the price of 30-year UK government bonds, also known as gilts, which experienced a shocking 23% drop. Most of this decline had nothing to do with rational investors revising their beliefs about the UK's long-run prospects. Rather, it stemmed from financial regulators' failure to limit leverage in UK pension funds. These funds had bought long-term gilts with borrowed money and entered derivative contracts to the same effect — positions that generated huge collateral demands when prices fell and yields rose. To raise the necessary cash, they had to sell more gilts, creating a doom loop in which declining prices and forced selling compounded one another.
The Bank of England, as the entity responsible for overseeing the financial system, bears at least part of the blame for this catastrophe. As a result of its regulatory failure, it was forced into an emergency intervention, buying gilts to put a floor on prices. But it refused to extend its support beyond Oct. 14 — even though its purchases of long-term government bonds were fully indemnified by the Treasury. It's hard to see how that decision aligned with the central bank's financial-stability mandate, and easy to see how it contributed to the government's demise.
The way the Truss government collapsed should concern all who support democracy. The prime minister was seeking to fulfill her campaign promises. She was thwarted not by markets, but by a hole in financial regulation — a hole that the Bank of England proved strangely unwilling to plug.
Two days before Truss resigned, Daniel Lacalle wrote an article for Mises Wire: 'The Bank of England Made Liz Truss a Scapegoat'.
Lacalle points out that economic turmoil was worldwide, something not reported widely in the British media. No surprise there:
I find it astonishing that not one of the so-called experts that have immediately placed the cause of the British market volatility on Liz Truss's budget have said anything about the collapse of the yen and the need for Bank of Japan intervention, which has been ongoing for two weeks.
Why did so many people assume the Truss minibudget was the cause of volatility when the euro, the yen, the Norwegian krone, and most emerging market currencies have suffered a similar or worse depreciation versus the US dollar this year? What about the bond market? This is the worst year since 1931 for bonds all over the world, and the collapse in prices of sovereign and private bonds in developed and emerging market economies is strikingly similar as those of the UK fixed income peers.
He blames British pension funds' liability-driven investing (LDI) strategies on the abuse of quantitative easing (QE) over the years. Who was in charge of that? The BoE.
Lacalle wrote while Truss was still Prime Minister:
British pension funds are not selling sovereign bonds because of lack of trust in this or another government's budget. They are selling negative-yielding sovereign bonds because they jumped wholeheartedly into the debt bubble created by artificially cheap money believing that central banks would keep fixed income prices elevated with constant repurchases.
British pension funds' unfunded liabilities are not a problem caused by the mini budget nor solely a UK problem. It was an enormous problem in 2019–20 disguised by insane currency printing. Unfunded global liabilities for state pension funds in the US were already $783 billion in 2021 and rose to $1.3 trillion in 2022 according to Reason Foundation. The funded ratio of state pensions was just 85 percent in 2021 and has fallen below 75 percent in 2022.
What happened in the years of negative rates and massive currency printing? Pension funds used liability-driven investing (LDI) strategies. Most LDI mandates used derivatives to hedge inflation and interest rate risk. And what happens when inflation kicks in and rates rise? "As interest rates have risen, the notional value of some of the derivatives held in LDI portfolios has fallen. The result: increased collateral calls. The speed at which rates have risen means some pension plans have had to liquidate portfolios to meet collateral calls" according to the Investment Association's latest report in September and Brian Croce at Pensions and Investment.
The total assets in LDI strategies almost quadrupled to £1.6 trillion ($1.8 trillion) in the ten years through 2021. Nearly two-thirds of Britain's defined benefit pension schemes use LDI funds, according to TPR and Reuters. Liz Truss and Kwasi Kwarteng are not to blame for this insanity. The policy of negative real rates and massive liquidity injection of the Bank of England is. Kwarteng and Truss are only to blame for believing that the party of policies of spending and printing defended by almost all mainstream Keynesian economists should work even when the music stopped …
Liz Truss and Kwasi Kwarteng are not to blame for the insanity of the past years or Rishi Sunak's ultra-Keynesian budgets. They are only to blame for believing that another dose of Keynesian deficit insanity would not harm.
Mr. Kwarteng's demise is just a casualty delivered by the modern monetary theory crowd and the monetary laughing gas city to justify that the problem was a ludicrous tax cut not years of currency printing and deficit increases.
What has happened in the UK or Japan is likely to happen soon in the eurozone, which accumulated more than twelve billion euro of negative-yielding bonds in the years of cheap money and reckless stimulus plans.
Liz Truss is not to blame for twenty years of monetary insanity and fiscal irresponsibility. She is to blame for a budget that increases spending without cutting unnecessary expenses.
The irony of it all is that the defenders of monster deficits and borrowing if it comes from bloating the size of government feel vindicated. It was the evil tax cuts!
The political analysis of the mini budget is astonishing. No one in the UK parliament sees any need to cut spending it seems, yet those expenses are consolidated and annualized, which means that any change in the economic cycle leads to larger fiscal imbalances as receipts are cyclical and, with it, more currency printing. The assumption that raising taxes will generate perennial annual increases in receipts no matter what happens to the economic cycle can only be defended by a bureaucrat.
Well, Rishi Sunak and Jeremy Hunt are those bureaucrats.
There are global players in pension fund management, BlackRock being one of them, as The Conservative Woman revealed on October 27:
BlackRock is heavily involved in the charity sector, managing over £4.5billion for more than 3,000 UK charities alone. 'Sustainability', food security and renewable energy rank very highly in their priorities in that sector.
The role of BlackRock in the recent selling off of derivatives by UK pension funds, said to be behind the triggering of a fall in sterling following the ill-fated Kwasi Kwarteng mini-Budget, is an intriguing one. BlackRock executives would defend their actions by stating they were merely protecting clients who were financially overcommitted in that sector and that pension fund managers ought to have known the risks involved in leveraged investment strategies in the first place, and that there is far more to that type of riskier investment than just following trends. Either way the political fallout was profound, triggering a chain of events which led to the fall of Prime Minister Liz Truss. BlackRock executive defends pensions strategy that fuelled UK crisis
Interestingly, Jeremy Hunt has appointed a BlackRock executive who is pro-Net Zero and anti-Brexit as one of his chief advisers:
A business with the financial resources of BlackRock will naturally attract well-connected people to its payroll. People such as Rupert Harrison, chief of staff to Chancellor George Osborne from 2006 to 2015. An opponent of Brexit, he tweeted in July 2017 that 'the rest of Europe is booming and we're not'.
Intriguingly, Harrison is now one of new Chancellor Jeremy Hunt's most senior advisers. On the surface, Hunt seemed to have been parachuted in from nowhere, having failed in two leadership elections and spending more than two years on the back benches, yet from the moment he was appointed he already had a highly expert team, including Harrison, ready to start at once and acting promptly with great self-assurance as though he knew he already had the backing of those who really matter.
However, Conservative Party members are unhappy with Hunt and Sunak's economic policy based on higher taxes, which are, in reality, much higher than they read on paper. This poll is from November 29:
Guido Fawkes wrote (emphases his):
The Tory membership doesn't support their own government's economic policy, according to the latest Conservative Home panel poll. Opposition stands at 48.78% and support at 41.87%. 9.35% don't know. 
It can't come as much surprise. As Rishi's supporters point out, he was warning of the consequences of Liz Truss's policies during the summer contest, and the membership still voted for Liz's low tax package. Support at 41.87 is actually 0.8% lower than Rishi received from the members during the summer…
Let us return to the BoE.
In the December 2022/January 2023 issue of The Critic, Jon Moynihan published 'How the Bank broke the Government', which refers to Narayana Kocherlakota's aforementioned article for Bloomberg and expands on the use of LDIs in pension fund management:
Kocherlakota's view was that the Bank of England was responsible for the crisis, through "poor financial regulation and highly subjective crisis management". Outside the UK chatterati, this view is widely supported.
The beef against the mini-budget was that it spooked the market. But virtually all of the policy announcements made by Kwasi Kwarteng on the day were not new; they had been pledged during the Truss campaign or — in the case of the energy price guarantee — confirmed shortly after her arrival in Downing Street. 
Sure, the mini-budget stated that clarifying how all the spending/lowered tax revenue would be paid for was to be put off until the later financial statement, due some weeks later. But the only new thing was the change to the top rate of income tax from 45 per cent to 40 per cent. 
Given the well-known dynamic impact of lowered tax rates, this change would arguably have been revenue neutral or even beneficial; even without any dynamic benefit, it could have cost at most £2 billion in tax revenue. That is a rounding error compared to the amounts already absorbed by the market and a fraction of the costs Rishi Sunak has accepted at COP 27 — to which the markets have reacted entirely complacently. It is just not credible to blame the mini-budget for the market turmoil.
Moynihan explains more about how LDIs work:
The prime obligation of a pension fund is to match its assets (the money it uses to make payments) to its liabilities (the payments it expects make to its pensioners over the years). For a fund to be as sure as it can that it will be able to pay its future pension liabilities, it buys assets whose coupons and maturity match its (actuarially expected) future pension payments.
So far, all well and good. The problem is with LDI funds. These, like so many pension funds these days, use gilts to accomplish that matching (in a popular meme of the past couple of decades, "gentlemen prefer bonds"). However, in addition the idea has been sold that they can goose up their returns a bit, to compensate for the low yields they are getting on their gilts. 
This little bit of extra profit is accomplished by borrowing some further money, short-term, and with it buying long, higher-yielding assets — either real assets, or derivatives. It's a well-known and always risky bet on interest rate movements; in some markets it's known as the "Carry Trade"; in the Japanese markets it's known as the "Widow Maker". It's entirely inappropriate for "safe" pension funds. 
If rates move against the bet, the bet sours. To cover the risk they are taking, the funds are required to give over their other assets (the gilts) as collateral to the bank that lent them the money. 
When the bet sours, the bank that lent them the money "calls the collateral", selling off the gilts in order to repay the borrowing … a wave of such sales can destabilise the gilts market and create a disorderly environment, as happened in late September 2022.

Some would say that the Bank of England should have known all of this and not allowed such risk to be taken by this huge market in LDI funds. Some would raise an eyebrow at the news that until the middle of 2022, the Bank of England itself held 100 per cent of its £5 billion pension fund in just one single LDI Fund, and therefore blithely seemed to believe it was OK for such risks to be taken (their 100 per cent recently was reduced to a scarcely less concerning 82 per cent).
For whatever reason, the Bank and other regulators did allow LDI funds to become more and more the fashion … The total value of liabilities hedged with LDI strategies was $1.8 trillion in 2021, around half of the total of LDI funds in the world, a sure sign that the Bank Of England had been far too lenient in allowing LDIs to flourish in the UK. That is Strike One.

Why then did the LDI funds start collapsing specifically in late September? It starts with the rapid appearance this year of inflation, caused in no small part — as the Bank has finally admitted — by the bank's excessive growth of the money supply in recent years. As inflation consequently shot up, so, all year, did gilt yields rise, putting increasing pressure on those rickety LDI funds. That is Strike Two against the BoE for its role in worsening inflation in the UK, leading to this instability.
Two days before Kwarteng delivered his mini-budget, Saxo Bank and Deutsche Bank correctly predicted a fall in sterling.
Saxo predicted:
"If the BoE fails to hike 75 basis points, let's shield our eyes for what is going to happen to the pound here." (They were predicting a fall in sterling, which duly happened. Low sterling leads to higher inflation leads to higher gilt yields.) 
Deutsche Bank said that the BoE needed a 'hawkish response'. It never materialised.
In the end:
Both Deutsche and Saxo were right. Only days after the Bank failed to step up to the 75 basis points mark, sterling momentarily dropped to $1.04, just as Deutsche had predicted — yet for reasons that remain to be explained, the drop was blamed on the mini-budget, not on the Bank's failure to sufficiently raise rates. The failure to raise rates enough, two days before the mini-budget, is Strike Three.
In addition, the BoE announced a fortnight-long programme of selling £40 billion of gilts, which ended in mid-October.
In other words, it moved from QE to QT, quantitative tightening.
Reuters noted the BoE was the first central bank to do that, at least in recent years. Bloomberg called the move 'historic' for the same reason:
In 2013, all it had taken was the Fed to announce it was doing less QE — not stopping, just doing less — for the markets to go into a "Taper Tantrum".
Ever since, most central banks have been cautious not to move too fast in shutting down their QE. But not the BoE. Why did it see itself as in a position to be the first in the world to take this very risky step, aware as they were that the mini-budget was about to be announced?
Not surprisingly, the markets responded:
… market participants move fast to get ahead: they quickly sell their own bonds before their value is hammered by the BoE sales. Yields immediately go up and the price of bonds immediately falls. Which is why it was — Strike Four — stupid for the central bank to announce its moves ahead of time: it's like the time that Gordon Brown announced he was selling all our gold, and the price collapsed so he made much less from the sale. But now the LDI pension funds started to get really hammered: as the market moved to dump gilts, the price of gilts fell and fell — this is still before the mini-budget — and collateral calls began to come thick and fast on the LDI funds.
The doom loop began:
And even more collateral calls then came in, and we were in an accelerating doom loop. All this was happening as the mini-budget was announced, and the lazy financial press, not seeing what had happened earlier, blamed the rout in the gilts market on the mini-budget. But it was started by the Bank of England's earlier decision to go full tonto QT. Strike Five.
Cue the headlines that Liz Truss 'crashed the economy', to borrow Labour's words, which they are still using in Parliament:
The Prime Minister is accused the following day of destroying the economy.
The BoE backtracked immediately, announcing it would move from QT back to QE:
The Bank of England, of course, immediately announces that it is not after all going to sell £40 billion of gilts — it is going to buy £60 billion of them — back from QT to QE in a blink of the eye. 
Of course, by then, it was too late for Truss and Kwarteng. Their collective goose was well and truly cooked:
… by now the gods of havoc have been unleashed. Truss's enemies in the Conservative party get to work, using the mini-budget narrative to undo the mini-budget, to oust the Chancellor, and finally to oust the Prime Minister herself. Job Done. 
The BoE defended its actions:
The post-mortem speech by the Bank's director for financial stability, entitled "Risks from leverage: how did a small corner of the financial industry threaten financial stability?" makes for interesting reading; in this telling, the Bank staved off a crisis from what, for anyone, would have been an unexpected direction, dealing more than adequately with the non-bank sector. If anything, the director claims, the UK was ahead of the curve!
As for the current Sunak-Hunt government, Jon Moynihan has also noted the presence of David Cameron's Chancellor and the former BlackRock executive:
George Osborne and Rupert Harrison, late of BlackRock, the UK's second largest provider of LDI funds, are now advising the new government.
Moynihan ends his article by pointing out that the BoE's governor, Andrew Bailey, has the nickname of 'Lullaby' because he tended to doze off during meetings in a prior position:
As head of the Financial Conduct Authority from 2016 to 2020, he saw first-hand the sort of shenanigans firms and funds will get up to if, pressed by smooth talking salesmen, they are given the freedom to act as they will.
It has been alleged that while in that role, Bailey "dozed off" during meetings over a pensions scandal. Now, the organisation he runs is accused of being asleep at the wheel on LDI pension funds, not to mention on inflation, the currency, the stability of markets.
It looks like the BoE's laxity led to the fall of a government:
All that led to the end of a government, in a way that will continue to reverberate, to the detriment of many people's view of democracy in this country, for decades to come.
What the British think
Only last week, on November 23, IPSOS published a poll saying that politicians are the least trustworthy of working Britons. Pictured alongside Rishi is a very young Piers Morgan when he edited The Mirror. Journalists have a trustworthiness rating of 29%, compared to politicians in general at 12%:
Guido has the full chart of occupations participants were asked to rank in order of trustworthiness:
Hardly unsurprisingly, public trust in politicians to tell the truth has fallen to its lowest level ever, according to the latest Ipsos poll. Just 12% of the public now trusts politicians to tell the truth, lower than advertising executives (14%) and government ministers (16%).
Unfortunately for journalists they don't fare much better, at just 29% – one percent above estate agents…
Nurses and doctors ranked the highest at 89% and 85%, respectively.
Television news readers ranked at 58%, above clergy/priests and the man in the street, both of which tied on 55%.
Conclusion
On November 22, roughly one month after Truss resigned, Dan Wootton did a follow up on GB News.
Nigel Farage told him:
Hunt was the coup. Sunak is little more than a puppet.
Wootton also interviewed Ranil Jayawardena, who served as Secretary of State for DEFRA, the Department of Environment, Food and Rural Affairs. He was very gracious and didn't want to get into any controversies. Wootton, who was a big Truss supporter, wanted to know how both of them were faring. He said that they were fine.
I'm including the nine-minute interview here just so you can hear Ranil Jayawardena's voice. He should record audio books in his retirement. Someone in the comments to the video said that he sounds like Boris. He sounds a thousand times better than Boris. This is received pronunciation, rarely heard today in such mellifluous tones:
The Liz Truss saga ends here.
I fear the worst, for the Conservative Party and for the British.
End of series
My most recent post on Liz Truss left off with the beginning of the end in her final week as Conservative Party leader.
Friday, October 14
Her sacking of Kwasi Kwarteng and installation of Jeremy Hunt as Chancellor on Friday, October 14, meant only one thing — her end was nigh:
Liz Truss's first Chancellor Kwasi Kwarteng: what he expected, what he got instead (October 13, 14)
Liz Truss and Kwasi Kwarteng illustrate that one DAY is a long time in politics (October 13, 14)
The Times's headline on the morning of the 14th said that Conservative MPs were already plotting to install Rishi Sunak and Penny Mordaunt in Truss's place. One of them would be Prime Minister and the other would be Chancellor or Foreign Secretary:
The article also said (purple emphases mine):
Truss and Kwasi Kwarteng, the chancellor, are expected within days to make a humiliating climbdown over corporation tax in an effort to calm the markets and see off a mounting revolt.
Indeed, that is what Truss announced at her disastrous press conference that afternoon. By then, Jeremy Hunt was already Chancellor:
It was hard to believe, especially as Ireland's corporation tax is half that: 12.5%. What is to stop businesses in Northern Ireland from moving south of the border?
Liz prefaced the announcement with:
This is difficult.
Guido Fawkes has the video and another quote preceding her announcement about corporation tax:
It is clear that parts of our mini-Budget went further and faster than markets were expecting… so the way we are delivering has to change…
He concluded (emphases his):
The mother of all U-turns…
Later in the afternoon, Wendy Morton, the Chief Whip, summoned Conservative MPs to an online call with the Deputy Prime Minister Thérèse Coffey.
One hundred of them dialled in. Coffey allegedly kept staring at her notes:
Saturday, October 15
Saturday's papers were scathing.
The Daily Mail asked, 'How much more can she (and the rest of us) take?'
The i paper led with 'Tory MPs tell Truss: "It's over"':
The Telegraph's Tom Harris wrote about the symbiotic relationship between the Prime Minister and the Chancellor from Margaret Thatcher's time to Truss's.
When that relationship goes wrong in a big way, it's nearly always bad news for the PM, although there are exceptions:
When a prime minister loses a long-serving chancellor and ally – as Margaret Thatcher did when Nigel Lawson walked out of her government in 1989 – the political ramifications are enormous. In Thatcher's case, that event signalled the beginning of her long defeat. When a prime minister loses a friend too, it becomes, as Liz Truss stated in her press conference, "not an easy" personal moment. 
Their closeness also makes it impossible for Truss to distance herself from the mess left at the Treasury. It is not clear which policy Kwarteng implemented that the prime minister was so unhappy with that she had to fire him. In 1989, Lawson resigned over his objection to the prime minister's reliance on her economic adviser, Sir Alan Walters, but there were already disagreements between Numbers 10 and 11 over whether Britain should join the European Exchange Rate Mechanism. 
[John Major's Norman] Lamont was fired over his handling of Britain's departure from the same institution. Javid resigned over personnel issues. Rishi Sunak's reasons for resigning were similar, though in his case the personnel issue involved the then prime minister himself.
In Jeremy Hunt, Liz Truss might be given a chance to form the kind of reassuring, mutually supportive – and, crucially, stable – relationship with her chancellor that good government demands. It would be foolish, however, to assume that when such a relationship breaks down, it is always the chancellor who is next to go.
The Telegraph's Camilla Tominey looked at the backbench Conservative MPs, wondering how Conservative they actually were. I was glad to see that she mentioned Alicia Kearns, who does not seem very Conservative to me.
Tominey's article shows that a significant number of Conservative backbenchers do not hold traditional Conservative Party values:
Never underestimate the Conservative Party's unparalleled ability to turn the gun on itself when coming under enemy fire. As the pot shots continued to rain thick and fast on Liz Truss's troubled premiership, what did the Tories decide to do? With Labour's help, they elected Alicia Kearns as chair of the Foreign Affairs Select Committee.
For those unfamiliar with Ms Kearns, she is the former Amnesty International activist who led the so-called "Pork Pie Plot" to oust Boris Johnson over partygate. Despite having been an MP for all of five minutes, the 34-year-old, who won the safe seat of Rutland and Melton in 2019 (hence the pork pie theme) decided that the Conservatives' wisest move was to remove the man who secured the party's biggest election win since 1987. Well, dip me in jellied pork stock and cover me in hot-crust pastry, that went swimmingly!
Having declared last year that she came into Parliament with "one legislative change I wanted to deliver, which was to ban conversion therapy", inexperienced Kearns now occupies one of the most influential posts in the House of Commons.
Her first intervention? Following hot on the heels of her fellow chair, Mel Stride, of outspoken Treasury select committee fame, she used a radio interview on Thursday night to urge the Prime Minister to reverse the tax-cutting measures in the mini-Budget.
I've got nothing personally against Ms Kearns – she is clearly a thoughtful and intelligent woman. But if she isn't for cutting tax, then what on earth is she doing in the Tory party, let alone now apparently in the running to enter a future Conservative Cabinet?
One former minister was this week quoted as saying: "Everything [the Government] are doing is everything that I don't believe in." Why, then, is that senior politician – apparently so opposed to spending controls and economic growth – not currently residing on Sir Keir Starmer's shadow front bench or drinking Remaineraid with Sir Ed Davey?
As former Brexit negotiator Lord Frost put it on Thursday: "There are too many … social democrats operating under Conservative cover."
It is one thing to be a broad church, but the Tories are currently taking on the mantle of a Blue Labour cult.
Not only are many of them perfectly comfortable with taxing people more, despite the tax burden being at its highest in 70 years, but they are also apparently as opposed to fracking as Ed Miliband. They seem to love the status quo and appear happy to watch Britain slowly sink into decline – along with their own party.
Tominey says that Liz Truss's platform was clasically Conservative, and so was the one upon which Alicia Kearns was elected.
These are the MPs who will determine the outcome of Brexit and the next election. Both are in peril.
Tominey rightly lays the blame at the feet of former PM David Cameron, a wet who wanted a different type of Conservative MP:
David Cameron's decision to introduce open primaries in the late 2000s, which saw wannabe MPs selected by non-members as well as members, was perhaps the most obvious mistake. The Conservatives ended up with "yellow" Tories in its ranks, such as Sarah Wollaston, who later defected to the Liberal Democrats.
Funnily enough, Sarah Wollaston is no longer an MP. Others like her, most of whom had the whip removed, were defeated or chose not to run in 2019.
This is the issue:
But more broadly, by inviting people with no background in Conservative politics to stand for Parliament, they ended up with people with no Tory backbone either. Holding successive snap elections only made the selection process less rigorous and open to people high on ambition and low on ideology.
This is a problem for the next general election. GEs depend upon local activists — party members — who are willing to canvass door-to-door:
We now have the Sunak squadders, calling for people to keep less of their wages, for businesses to pay more in corporation tax and for benefits to be linked to inflation, Corbyn-style …
Conservatives have become so detached from reality that they actually believe this will help them to win the next general election – even though it promises to prompt a mass walkout by the very grass-roots activists they rely on to run a campaign.
However, Tominey says that Rishi Sunak's coronavirus handouts have also altered the public perception of the role of the state. We can but see how this will play in 2024 or early 2025 when the next GE comes along.
Monday, October 17
On Monday, October 17, Leader of the House Penny Mordaunt had to stand in for Truss during a debate. Opposition MPs accused Truss of hiding under a desk.
Mordaunt had to deny that more than once, saying that Truss had a 'very genuine reason' for not being present.
I don't often feel sorry for Penny Mordaunt, but I did that day:
However, one Labour MP, Andrew Gwynne, tweeted that Liz Truss was the victim of a 'coup' — his word — and that Jeremy Hunt was the acting PM: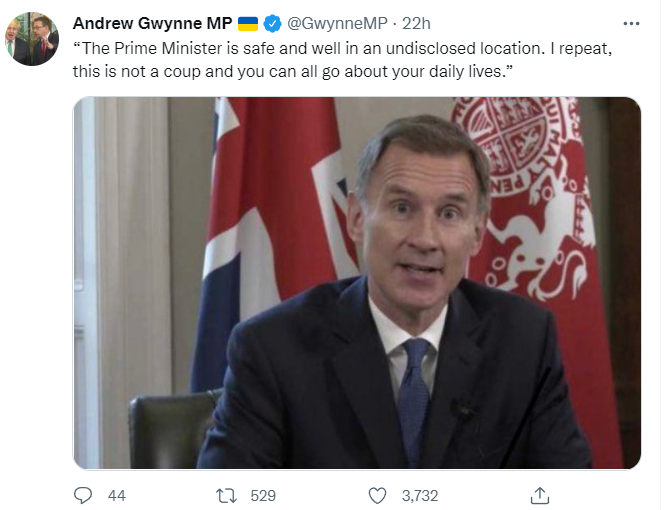 On Tuesday, October 18, The Times explained why Truss did not turn up at the despatch box the day before:
For much of the day Truss was conspicuous by her absence. She refused to respond to a question by Sir Keir Starmer in the Commons, prompting accusations from Labour that she was "frit". Penny Mordaunt, the leader of the Commons, answered questions in her stead. She said that the prime minister had "a very good reason" for her absence but refused to explain further, prompting misplaced speculation that Truss had resigned.
That reason for her absence turned out to be a meeting with Sir Graham Brady, the chairman of the backbench 1922 Committee. Sources said that the meeting was routine and had been arranged before Kwarteng's dismissal. But the issue of her leadership, and a potential revolt by Tory MPs, was said to have been discussed.
One source on the committee said there were a "number of views" on the way ahead but that there were concerns that an immediate move to defenestrate the prime minister could further destabilise the markets.
"The question is whether it is more damaging to create further uncertainty by getting rid of the prime minister when the chancellor [Hunt] appears to have settled the markets," said an MP on the committee.
Some Tory MPs believe that with the unravelling of her tax-cutting agenda and signature energy policy she is finished politically. Sir Charles Walker became the fifth Conservative MP to publicly call for her to go, saying her position was "untenable".
A senior Conservative source added: "It's the biggest unforced humiliation for a British government since Suez. Eden did the decent thing and resigned."
"The trouble is there is no consensus for who should replace her," said one former backer of Rishi Sunak. "And the last thing we need now is to be seen to be causing more uncertainty on the financial markets."
Monday night was grim.
On the subject of a coup, Nigel Farage agreed that Jeremy Hunt was in charge, and that this was a 'globalist coup':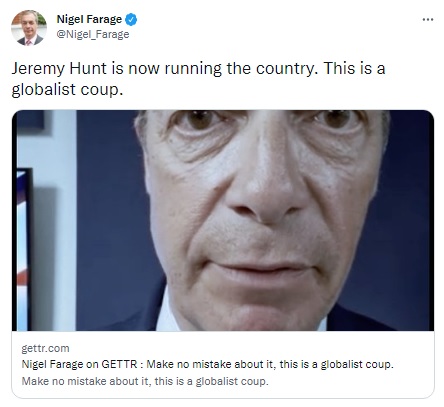 On his GB News show that night, Dan Wootton also said that there had been a coup. He agreed that the unpopular Hunt was in charge and that no one liked him, except for the Establishment. He said that if the Conservatives allowed this to continue, then they deserve to lose the next GE:

Truss surfaced to give an interview to the BBC's Chris Mason, wherein she apologised for the mini-budget. She said:
First of all, I do want to accept responsibility and say sorry for the mistakes that have been made. I wanted to act, to help people with their energy bills, to deal with the issue of high taxes, but we went too far and too fast. I have acknowledged that.
Tuesday, October 18
Tuesday's headlines were deeply discouraging for her. Nearly all had photos of her alongside Hunt:
The new biography of Truss, Out of the Blue, was not even ready for publication. Someone photoshopped the cover with a remainder sticker on it, saying, 'Reduced for quick sale — please just take it':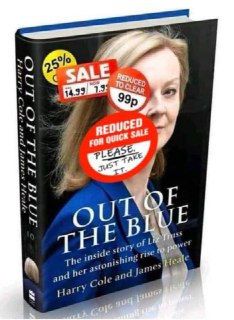 The Sun's political editor, Harry Cole, one of the book's co-authors, posted an article about the MPs plotting against her:
TORY plotters dubbed the "Balti Bandits" carved up Liz Truss's future last night over a korma and bhuna feast, The Sun reveals.
Leading rebel Mel Stride hosted more than a dozen "miserable" Conservative MPs in his large House of Commons office for an Indian takeaway – with the PM's fate also on the table.
Ex-Ministers John Glen, Nick Gibb, Mark Garnier and Shailesh Vara tucked into "lashings of curry and naan" ordered in by Mr Stride, alongside outspoken backbencher Simon Hoare. 
2019 intake MPs Angela Richardson and Simon Baynes were also said to have joined the "poppadum plot" – but sources say the meeting ended with "no credible solution" to their woes …
Contenders include ex-Chancellor Rishi Sunak, Defence Secretary Ben Wallace, new Chancellor Jeremy Hunt and Commons Leader Penny Mordaunt – but given the party is deeply split, the plotters admitted the chances of a rapid "coronation" of a new PM were "almost zero."
One attendee told The Sun: "the vast majority of attendees were Rishi Sunak supporters, but there were Penny people too. It was not a Rishi thing." 
On Tuesday evening, Truss had another group angry with her — her own supporters in the European Research Group, the pro-Brexit group of backbench Conservative MPs.
The Telegraph's Tim Stanley wrote about it, as he was there in the corridor for Truss's meeting with them:
Liz Truss launched her fightback at 6pm in Committee Room 11. The meeting was actually set for 5pm; Commons voting ran late so Mark Francois advised us hacks to go away and come back later, but I hung around on the suspicion that the moment we left, Liz would slip out of her hiding place in the roof of the lift and jog, unseen, into the Room …
These are the true believers: if they're angry at Liz for anything, it's for not keeping the mini-Budget …
What we saw of her on TV on Monday night, interviewed by Chris Mason, did not spark confidence as she uttered that dread word "sorry", thus accepting personal responsibility for blunders past and future. It is the mark of an "honest politician", she said, to admit mistakes. That's true, but it's also a dead giveaway for a not-very-good one, trying to turn a repeated error into a display of moral virtue. As Samuel Johnson might have said, "Honesty is the last refuge of the incompetent".
… She bobbed into view in a dark blue dress and black tights – fresh-faced, one suspects, from a good night's sleep. Instinctively, I stood: she might be a PM, but she's still a lady. I earnt a cheeky nod. Those who can't fathom the rise of Ms Truss haven't met her. She has a way of compromising you, of making you think you're on her side, and it's the most fun side of the room to be on.
The ERG roared as she entered. She entertained them behind a closed door for about 45 minutes. Then she left, followed by Mr Francois who told us it was "a very positive meeting".
The PM evidently spoke about Northern Ireland and her commitment to raising defence spending by the end of the decade, which is ambitious for a woman who could be out of office by Friday. And he noted that David Canzini, the clever political operative, was with her, an eminence so grise, none of us had noticed he'd gone in.
No 10 confirmed it: he was hired as of that morning.
Too little too late. That might have been Canzini's shortest job.
Wednesday, October 19
On Wednesday, October 19, Guido Fawkes posted that the Reform Party — formerly the Brexit Party — was climbing in the polls. The photo shows their chairman, businessman Richard Tice:
Guido's post said, in part:
Guido can reveal that in the 48 hours before close of play yesterday afternoon, the old Brexit Party received almost 1000 new £25 membership sign-ups. That new five-figure cash boost was joined by 300 members registering a new interest in standing as a party candidate at the next election. The first time the Tories dipped below Labour in the polls – September 2021 – Reform saw one in 10 Tory voters switching to them. Can they continue capitalising on Liz's woes? …

It's not just Reform benefitting from the dire state of No. 10. Last night the LibDems revealed five new donors, each giving £50,000 to the party, one of whom is a former Tory donor. While the last 36 hours have been calmer for Truss, it does feel like the ship has sprung one too many leaks to be repaired by a strong PMQs performance…
Wednesday was another fateful day. Home Secretary Suella Braverman resigned, then a confusing scene took place in the voting lobby over a division (vote) on fracking, which resulted in more chaos when it was unclear whether Wendy Morton had resigned as Chief Whip:
Liz Truss's final 24 hours: Suella Braverman's resignation, question over Whips' resignations (October 19)
Truss appointed Grant Shapps, former Transport Secretary, in Braverman's place:
Holy mole, guacamole!
Nigel Farage repeated 'coup' in his tweet about the news:
As with Hunt, Truss had to scrape the barrel.
The Telegraph reported that, like Hunt, Shapps was not a Truss supporter:
It is a remarkable turnaround for Mr Shapps, the transport secretary under Boris Johnson who went on to become a prominent supporter of Ms Truss's leadership rival Rishi Sunak.
Only on Monday night, Mr Shapps was telling a theatre audience that he believed Ms Truss had a "Mount Everest to climb" to remain in power.
"I don't think there's any secret she has a mountain, a Mount Everest to climb," he told Matt Forde's podcast. "What she needs to do is like threading the eye of a needle with the lights off."
Now he is one of her most senior ministers – and another example of the way a weakened Ms Truss is being forced to offer olive branches to the Sunak supporters she had previously shunned.
Not only was Mr Shapps questioning her chances of success until as early as this week – he was working proactively to get rid of her.
Mr Shapps has been viewed in Westminster as one of the leaders of the opposition to Truss's libertarian policies.
He spoke up at the Tory party conference in Birmingham earlier this month against her plans to scrap the 45p rate of income tax, and warned that Ms Truss had "10 days" to turn things around or MPs "might as well roll the dice and elect a new leader".
This is what the aforementioned Camilla Tominey was lamenting in Conservative MPs. Some of the recent ones have no appreciation of or allegiance to Conservative values. Shapps was a Cameronian MP.
The article also discussed Shapps's famous spreadsheets which appear to work as well as the 1922 Committee in making or breaking a Prime Minister:
The veteran MP – known by some as the "Duracell Bunny" for his enthusiasm – is also well-known for his "Star Wars" spreadsheet, with which he has spent the past few weeks recording the views of MPs on Ms Truss and her plans.
Mr Shapps used an earlier version of his famous spreadsheet to lead a rebellion against Theresa May, and also utilised its information to help guide Boris Johnson into Downing Street.
The spreadsheet is said to contain more than 6,000 historical "data points" from previous conversations with MPs.
It was rumoured that he had been in contact with Mr Johnson and Mr Sunak to see if they would join an effort to oust Ms Truss. And some rebel MPs claimed he had even offered himself up as a caretaker prime minister.
Let us not forget that Shapps himself is hardly a paragon of virtue:
… unfortunately for Mr Shapps, some elements of his past may make a shot at No 10 less than likely – not least the Michael Green saga.
This was an alter-ego he employed to enable him to run a series of get-rich-quick schemes on the internet while he was an MP.
Mr Shapps originally denied he had a second job, and threatened legal action against a constituent who said he had. But he was forced to admit practising business under a pseudonym in March 2015.
All this happened while he was Tory chairman, in charge of David Cameron's efforts to win the 2015 election.
He was demoted soon after to aid minister, and resigned from that role after claims he had ignored repeated allegations of bullying involving the Tories' youth organiser. It was said the alleged bullying, which took place on the party's RoadTrip 2015 campaign, may have caused one party member to commit suicide.
On Wednesday evening, Camilla Tominey reprised her warning about un-Conservative MPs and their takeover of the Government. She, too, used the word 'coup':
… the departure of Suella Braverman as home secretary speaks to a bigger problem for Liz Truss than sheer optics.
In sacking two key allies on the Right, only for them to be replaced by opponents more to the Left of the party, the Prime Minister is increasingly looking like the victim of a Conservative coup.
It is certainly ironic that the former home secretary, in post for just 43 days, first used that word to describe those who plotted against Ms Truss's original plan to link benefit to wages rather than inflation. 
With that, and most of her mini-Budget up in flames thanks to a rebellion by the moderates, Jeremy Hunt now appears to be the de facto Prime Minister.
He will now be joined by his fellow Sunakite Grant Shapps, who despite being rejected from Ms Truss's original cabinet, has now been appointed to replace Mrs Braverman at the Home Office.
Braverman, at one point, had headed the aforementioned European Research Group:
… her swift exit from one of the highest posts in public office will anger her European Research Group supporters.
It was only on Tuesday evening that Ms Truss was said to have charmed the backbench group of Eurosceptics with her honest, straight-talking approach.
They are unlikely to take kindly to their former chairman, a darling of the grassroots, being ejected in such unseemly fashion.
Mrs Braverman, a Conservative leadership candidate herself over the summer, received the longest standing ovation at the Tory Party conference two weeks ago.
Fortunately, Rishi Sunak re-appointed Braverman as Home Secretary. He probably realised he had to, in order to keep Party members on side.
Returning to Wednesday, October 19, The Telegraph posted an article stating that Conservative backbenchers were asking Labour for help in ousting Truss. Unbelievable:
Rebel Tories have been asking Labour MPs to help them overthrow Liz Truss, The Telegraph has been told.
Conservative backbenchers are growing increasingly frustrated with the Prime Minister's leadership, but currently lack any mechanisms to remove her given the one-year immunity she has from a no confidence vote.
As things stand, the only way to oust Ms Truss would be to change the rules – which is a decision that only the executive of the 1922 committee of backbenchers can make – or if she resigns of her own volition.
One Labour MP told The Telegraph: "Tories are speaking to us saying 'this is a complete nightmare and there is no way out'. We are being asked 'can't you do something about her?'"
The MP, who said their colleagues have reported similar experiences, said they were approached by one Red Wall MP whose constituency was in the north and another MP who is a member of the One Nation group of moderates …
A Labour source said: "There is very little Labour can do. Even a vote of no confidence doesn't have the constitutional standing that it used to. The Tory party are the ones that elected her, they need to get rid of her."
The paper's Michael Deacon wrote that Conservative MPs were entirely to blame for the mess. Furthermore, he said, they risked angering Party members, the campaigning activists, if they pushed ahead with a rule change saying that the members would no longer be able to vote for future Party leaders. The members elected Truss over Sunak in August:
This week, The Telegraph reported that Tory MPs want to bar members from voting in future leadership elections. Supposedly the reason is to speed up the process of choosing a leader. But this is blatantly a smokescreen. Quite plainly, MPs just want to prevent the members from landing them with another turkey like Truss.
Many members are appalled by this suggestion. And so they should be. Such a plan is not just arrogant and undemocratic, it's delusional. Because party members aren't to blame for the current mess.
Tory MPs are.
After all, who put Truss on the ballot paper in the first place? Tory MPs. No fewer than 113 of them, in fact. A third of the parliamentary party. Out of an initial field of 11 candidates for the leadership, Truss was the MPs' second favourite.
Unlike the MPs, however, the party members weren't allowed to choose between the initial field of 11. If they had been, it's extremely unlikely that they would have chosen Truss. They'd have been far more likely to choose Penny Mordaunt or Kemi Badenoch, to name just two. In fact, if the MPs had deigned to ask them, I suspect that the greatest number of members would have wanted their leader to be Boris Johnson – the person they chose to be leader in the first place.
The truth is, the members voted for Truss simply because they didn't want to vote for Rishi Sunak. In leadership contests, they're only ever given two candidates to choose from. And why? Because Tory MPs don't trust them. They fear that, if presented with a wide-open field, party members will choose the "wrong" candidate. Funny how things turn out.
All things considered, then, it seems clear that, if anyone should be barred from voting in leadership contests, it should be Tory MPs. In future, just leave it to the wiser judgment of the members instead.
That night, The Telegraph posted an article by Lord Frost saying that the Party was moving towards a status quo, if not anti-Brexit, stance, going all the way back to David Cameron's time as Prime Minister, with George Osborne as Chancellor and Philip Hammond in the same post under Theresa May:
… the Government is implementing neither the programme Liz Truss originally advocated nor the 2019 manifesto. It is going in a completely different direction. We are back to Osbornomics, the continuity Hammond view of the world. There is no shred of a mandate for this. It's only happening because the Truss Government messed things up more badly than anyone could have imagined, and enabled a hostile takeover by its opponents …
… the correct account of the past few weeks is the simplest. Truss tried to deliver worthwhile reforms and set the country onto a much-needed new direction. I supported this policy direction and still do. But it was rushed and bungled. The markets were spooked. The mistakes were opportunistically seized on by her opponents to undermine her leadership, to blame Brexit, and to stop the party getting out of the social democratic tractor beam of the past few years. And now, under pressure, the Prime Minister has reversed tack completely.
The risk now is that we lose for a generation the opportunity to do anything better. Every time the PM defends her approach, she denounces the policies on which she was chosen. The danger is that necessary and correct reforms are discredited.
Frost held that Truss was ultimately responsible for her own downfall.
As such, she had to go:
We are where we are. I am very sorry about it, because I had such high hopes. Whatever happens to her ministers or the stability of the Government in the next few days, Truss just can't stay in office for one very obvious reason: she campaigned against the policies she is now implementing. However masterfully she now implements them – and it doesn't seem that it will be very masterfully – it just won't do. She said she wouldn't U-turn, and then she did. Her fate is to be the Henry VI of modern politics – a weak figurehead, unable to control the forces around her, occasionally humiliated, and disposed of when she has become inconvenient. Better to go now.
As for her successor and the Party:
Then the party must do two things: avoid making the economic situation even worse by repeating the policies of the Cameron government in totally different circumstances; and recover some political legitimacy for carrying on – because in our system legitimacy does matter.
Thursday, October 20
After 44 days, Liz Truss resigned as Conservative Party leader on Thursday, October 20.
She served as Prime Minister for 50 days, beating George Canning's record of 118 days. Also a Conservative, he died of tuberculosis in 1827.
She remained PM until Rishi Sunak succeeded her:
Liz Truss's final 24 hours: Suella Braverman's resignation, question over Whips' resignations (October 19)
Liz Truss's final 24 hours: fallout over Braverman and Morton, no tears in exit speech (October 19, 20)
Rishi Sunak becomes Prime Minister: a momentous morning of historic significance (October 24, 25)
How Rishi Sunak won the Conservative Party leadership contest — part 1 (October 20, 21, 25)
How Rishi Sunak won the Conservative Party leadership contest — part 2 (October 21, 26, 27)
How Rishi Sunak won the Conservative Party leadership contest — part 3 (October 22-24, 27, 28)
On Thursday morning, The Telegraph posted a Planet Normal podcast in which Lord Frost said he could see Brexit being reversed:
In the wide-ranging discussion, Lord Frost also said that he could see a future where Brexit is reversed. 
"Brexit was about giving us the power to do things ourselves and to give responsibility back to British ministers, British governments. And they've shown that many of them are not up to the job in the last year or two."
"I can easily see a situation where Keir Starmer gets in. We drift back closer into the single market and go back into the Customs Union. And then everyone says why are we in these things where we don't get a say in them? Wouldn't it be better to be a member? So I can easily see how it could happen. And the way you stop it happening is to prove, while we have the levers of power, that we can do things differently and better. And at the moment we're not making a very good job of that, unfortunately."
Little did Truss know that, the day before, she had stood at the despatch box for her last PMQs:
She resigned early on Thursday afternoon. Thankfully, she didn't cry, unlike Theresa May, who broke down at the podium (Guido has the video):
Sterling began surging the second Truss finished her announcement:
In less than 24 hours, the Conservative Party website deleted her presence from their home page (Guido has the before and after screenshots):
It was a sad ending to a sad episode of British parliamentary history.
Next week, I will look at who, besides Truss herself, was also responsible for it.
Truss is currently spending time in her own constituency and has not yet appeared on the backbenches, an alien place for someone who had been a minister of state for most of her career.
After the gloomy opening of the Conservative Party Conference this year, dominated by U-turns, rebels and division, I promised good news.
Liz Truss's closing speech
Prime Minister Liz Truss gave an excellent closing speech and, despite the train strike that day, the conference hall in Birmingham appeared to be filled.
Her speech is 36 minutes long, but it went by very quickly indeed:
I watched a bit of GB News on Wednesday afternoon. One of their reporters interviewed Party members leaving conference. Nearly all said that they were 'pleasantly surprised' and reassured by what the new Prime Minister had to say.
Writing for The Telegraph, veteran journalist Patrick O'Flynn concluded, 'Liz Truss might just have rescued her premiership' (emphases in purple mine):
Strip away the depressing context surrounding Ms Truss's speech, of backbench rebellions and media pile-ons, and what we heard and saw was a well-crafted address that attempted to place her culturally on the side of "normal working people" – especially in the private sector. More notably, she has positioned herself firmly against an "anti-growth coalition" whose members she characterised as being driven from north London town houses to BBC studios to preach "more tax, more regulation, more meddling".
"They don't understand the British people. They don't understand aspiration," she said, adding: "The real heroes are the people who go out to work, take responsibility and aspire to a better life for themselves and their families and I am on their side."
This was an attempt to glue back together an old alliance between a female prime minister and her natural supporters: that which existed between Margaret Thatcher and "our people". So was a key message towards the end of the speech. Not the grandiose "the lady is not for turning" which had after all been made untenable by the U-turn on top rate tax, but the more sober phrase "we must stay the course".
Guido Fawkes has the transcript, excerpted below.
Truss began by thanking Andy Street, the Conservative mayor of Birmingham, which is the United Kingdom's second largest city. She praised Teesside's mayor, Ben Houchen, as he transforms the North East of England.
She acknowledged that we are in difficult days:
Together, we have mourned the death of Queen Elizabeth II, the rock on which modern Britain was built.
We are now in a new era under King Charles III.
We are dealing with the global economic crisis caused by Covid and by Putin's appalling war in Ukraine.
In these tough times, we need to step up.
I am determined to get Britain moving, to get us through the tempest and put us on a stronger footing as a nation.
I am driven in this mission by my firm belief in the British people.
She said she would not meddle in our personal affairs but resolve the concerns that unite us:
… I'm not going to tell you what to do, or what to think or how to live your life.
I'm not interested in how many two-for-one offers you buy at the supermarket, how you spend your spare time, or in virtue signalling.
I'm not interested in just talking about things, but actually in doing things.
What I'm interested in is your hopes and fears that you feel every day.
Can you get a good job locally?
Is it safe to walk down the high street late at night?
Can you get a doctor's appointment?
I know how you feel because I have the same hopes and fears.
I want what you want.
I have fought to get where I am today.
I have fought to get jobs, to get pay rises and get on the housing ladder.
I have juggled my career with raising two wonderful daughters.
I know how it feels to have your potential dismissed by those who think they know better.
She then related an anecdote from her childhood, which may over-40s will recognise:
I remember as a young girl being presented on a plane with a "Junior Air Hostess" badge.
Meanwhile, my brothers were given "Junior Pilot" badges.
It wasn't the only time in my life that I have been treated differently for being female or for not fitting in.
It made me angry and it made me determined.
Determined to change things so other people didn't feel the same way.
This I did not know:
I stand here today as the first Prime Minister of our country to have gone to a comprehensive school.
She gently reminded her audience that the Government has already addressed the fuel price crisis. The cap is £2,500:
Let's remember where we were when I entered Downing Street.
Average energy bills were predicted to soar above £6,000 a year.
We faced the highest tax burden that our country had had for 70 years.
And we were told that we could do nothing about it.
I did not accept that things had to be this way.
Around that point, two protesters waved a Greenpeace banner (Guido has the video):
They would have had to sign up to be Party members in order to get in, just as the protesters did who infiltrated the Party leadership hustings in July and August.
Conservative men quickly took the banner away. The women had a spare to unfurl. That too, was swifly removed.
Truss quipped:
Now later on in my speech my friends I am going to talk about the anti-growth coalition.
But I think they arrived in the hall a bit too early, they were meant to come later on.
We will get onto them in a few minutes.
She paused while security removed the women from the conference hall.
She concluded on the fuel price cap:
We made sure that the typical household energy bill shouldn't be more than around £2,500 a year this winter and next.
We followed up with immediate action to support businesses over the winter.
We are determined to shield people from astronomically high bills.
So much so, that we are doing more in this country to protect people from the energy crisis than any other country in Europe.
Our response to the energy crisis was the biggest part of the mini-Budget.
Later, she borrowed one of Michelle Obama's phrases from the 2008 presidential campaign:
We need to fund the furthest behind first.
And for too long, the political debate has been dominated by the argument about how we distribute a limited economic pie.
Instead, we need to grow the pie so that everyone gets a bigger slice.
That is why I am determined to take a new approach and break us out of this high-tax, low-growth cycle.
She also used John McCain's 'my friends' in addressing the audience, more than the transcript references. That, too, came from the 2008 presidential campaign:
When the government plays too big a role, people feel smaller.
High taxes mean you feel it's less worthwhile working that extra hour, going for a better job or setting up your own business.
That, my friends, is why we are cutting taxes.
We have already cut Stamp Duty, helping people on the housing ladder – especially first-time buyers.
We are reversing the increase in National Insurance from next month.
We are keeping corporation tax at 19%, the lowest in the G20.
We are helping 31 million working people by cutting the basic rate of income tax …
The fact is that the abolition of the 45p tax rate became a distraction from the major parts of our growth plan.
That is why we are no longer proceeding with it.
I get it and I have listened.
She reiterated pledges for post-Brexit and post-pandemic Britain.
She made a good point about Western complacency, something I have been saying for years:
One of the reasons we are facing this global crisis is because collectively the West did not do enough.
We became complacent.
We did not spend enough on defence.
We became too dependent on authoritarian regimes for cheap goods and energy.
And we did not stand up to Russia early enough.
We will make sure this never happens again.
She pledged continued support for Ukraine, which earned her a standing ovation.
Then it was time for her to talk about the anti-growth coalition — the metropolitan elite — which was lengthy. This was her opening:
I will not allow the anti-growth coalition to hold us back.
Labour, the Lib Dems and the SNP…
…The militant unions, the vested interests dressed up as think-tanks…
…The talking heads, the Brexit deniers and Extinction Rebellion and some of the people we had in the hall earlier.
The fact is they prefer protesting to doing.
They prefer talking on Twitter to taking tough decisions.
They taxi from North London townhouses to the BBC studio to dismiss anyone challenging the status quo.
From broadcast to podcast, they peddle the same old answers.
It's always more taxes, more regulation and more meddling.
Wrong, wrong, wrong.
Guido has the video:
She praised our unsung heroes:
My friends, does this anti-growth coalition have any idea who pays their wages?
It's the people who make things in factories across our country.
It's the people who get up at the crack of dawn to go to work.
It's the commuters who get trains into towns and cities across our country.
I'm thinking of the white van drivers, the hairdressers, the plumbers, the accountants, the IT workers and millions of others up and down the UK.
The anti-growth coalition just doesn't get it.
This is because they don't face the same challenges as normal working people.
She concluded:
We cannot give in to those who say Britain can't grow faster.
We cannot give in to those who say we can't do better.
We must stay the course.
We are the only party with a clear plan to get Britain moving.
We are the only party with the determination to deliver.
Together, we can unleash the full potential of our great country.
That is how we will build a new Britain for a new era.
A strong cross-party coalition, helped powerfully by the media, is clearly trying to do away with Truss's premiership.
These were her YouGov ratings before her speech:
Keep in mind that YouGov was founded by former Chancellor, Nadhim Zahawi, who was caretaker during the leadership contest over the summer.
Guido wrote:
If memory serves Guido correctly, [former Labour leader] Jeremy Corbyn managed a minus 60 net approval rating at his worst. Liz has a net approval rating of minus 59. Guido is told it is the lowest rating ever recorded of a Conservative Party leader. Her speech today needs to be the beginning of a turnaround.
Borrowing from the 1960s protest tune: all we are say-ing, is give Truss a chance …
Truss, with the help of Party whips, has finally been able to complete the rest of her parliamentary appointments.
Guido said:
The Government's reshuffle is finally coming to a close, as appointments to a number of Parliamentary Private Secretary (PPS) positions gave been confirmed. Co-conspirators will recall the whips had been experiencing some difficulty in recruiting enough parliamentary bag-carriers, though they have now managed to fill each position. Even if the vast majority are eager 2019ers…
The Government also seems to have granted whips greater individual responsibility for departments, with specific roles also listed. If recent trends are anything to go by, the government could use all the help to party discipline it can muster.
Having mustard keen 2019 MPs in on the act can only be a good thing. Most of them are from Red Wall seats, so their minds will be focused on growth and other Truss objectives, many of which dovetail with their own.
Other high points — Foreign Secretary Cleverly and Home Secretary Braverman
Other well-received speeches came from Foreign Secretary James Cleverly and Home Secretary Suella Braverman, both of whom appeared on Tuesday, October 4.
Here is a short clip from James Cleverly's speech:
Cleverly's speech is at the 2:05:00 mark in this video. Braverman's comes before, beginning at 1:35:00:
Suella Braverman said many of the same things that her predecessor Priti Patel did as Home Secretary. We can but wait and see what happens.
One of the big problems in processing migrants without papers, such as those who come across the Channel in dinghies, is that they are hard to trace to their true countries of origin.
Another issue is that many in the civil service who are assigned to the Home Office are pro-immigration. Patel tried her best to counter them, but they stood firm, citing EU laws under which we are still beholden. The Brexit process continues. There wasn't enough time to renegotiate everything we should have, e.g. the Dublin Agreement. As we are no longer in the EU, we are no longer subject to that agreement whereby migrants have to apply for asylum in the first safe country they are in — in our case, France. We have to draw up a new agreement along the same lines, which will require EU co-operation.
On top of that, during Theresa May's time as PM, a modern slavery law came into force in the UK. In short, anyone claiming to have been a modern slave is automatically allowed to stay here. No proof is required.
With that burden, we can also add human rights charities and their lawyers who effectively scuppered the first UK flight to Rwanda last summer. It never happened. Everyone's case was challenged before take-off, leaving an empty aircraft.
Euronews reported on that part of Braverman's speech:
In a Tuesday evening speech at the Conservative Party's autumn conference in Birmingham, immigration minister Suella Braverman said that people who arrive by unauthorised means should not be allowed to claim asylum in the UK and she doubled down on contentious plans to send some asylum-seekers on a one-way trip to Rwanda.
However, Braverman acknowledged that a legal challenge to the policy means it's unlikely anyone will be deported to the east African country this year. 
"We need to find a way to make the Rwanda scheme work," said Braverman.
"We cannot allow a foreign court to undermine the sovereignty of our borders," she continued, to cheers and applause from the audience.
"A few months ago the European Court of Human Rights in Strasbourg did just that. By a closed process, with an unnamed judge, and without any representation by the UK. A European Court overruled our Supreme Court. And as a result our first flight to Rwanda was grounded. We need to take back control."
She didn't say how the government intends to 'take back control'. The European Court of Human Rights is not part of the EU, and membership is not affected by Brexit …
Braverman said many migrants were "leaving a safe country like France and abusing our asylum system," adding that she wanted to work more closely with French authorities "to get more out of our partnership."
"We've got to stop the boats crossing the Channel," she said, to more applause.
So far this year, 30,000 migrants have crossed the Channel:
The one advantage that Braverman has over Patel is that she is a lawyer, so she will be finely attuned to legal turns of phrase.
Those interested can read more of her views in this article from The Telegraph.
Quentin Letts, The Times's political sketchwriter, concluded:
the day belonged to Braverman. As bids for popularity go, it wasn't particularly subtle or cerebral. Effective, though.
Proper membership cards make comeback
In an eco-friendly move under Boris Johnson, the Conservative Party began issuing paper certificates instead of plastic membership cards.
Thankfully, those days are over, for lifetime Party members at least:
Guido reports:
Tory party Chair Jake Berry has just confirmed the return of plastic membership cards for lifetime Tory members, replacing the much-maligned 'membership certificates' introduced by Amanda Milling back in 2020. At the time, Milling introduced the paper certificates to save the environment, or something like that. Even MPs were upset; Michael Fabricant complained the certificate wouldn't fit in his trinket box of membership cards and hair clips. Jane Stevenson pointed out they could just be made of card instead. Now the debate has been put to rest – Berry's bringing the real deal back, having just revealed the move at a fringe event this morning. Expect to see the cards' triumphant return from January.
That ends the positive conference news.
Kwarteng's U-turn U-turn U-turn
Chancellor Kwasi Kwarteng did a third U-turn on bringing forward his more detailed fiscal event plans.
It appears that he will be going ahead with presenting them to Parliament on November 23 after all:
Or is it October 23?
Mel Stride, who supported Rishi Sunak in the leadership contest and heads the Treasury Select Committee, says that it will be October 23. So did the Financial Times, apparently. They, too, supported Sunak.
Hmm. I sense mischief making.
Guido reports:
Except Kwasi later insisted on GB News that it definitely wasn't moving:
'Shortly' is the 23rd. People are reading the runes […] it's going to be the 23rd.
"People reading the runes" in this case including the Chair of the Treasury Select Committee. Liz herself later said it's coming in November, and Treasury Civil Servants were told in a team meeting this morning that anything to the contrary was just "press speculation". Guido understands, however, that the people reading the runes are onto something: the Treasury is still considering adjusting the date after all…
Kwasi must stick to his guns and stop the U-turns.
Rebel, rebel …
The rebels were active throughout the conference.
Michael Gove
On Wednesday's Dan Wootton Tonight show on GB News, panellists were split on whether Sunak-supporting Michael Gove should have the whip removed.
The Daily Express's Carole Malone said that Truss should have given Gove a Cabinet post so that he would have made less mischief. However, Wootton countered by saying that Gove always undermines the Prime Ministers he has worked for in Cabinet.
Someone who wasn't on the show and thinks Gove should have the whip removed is Nigel Farage. I fully agree with him. We saw the trouble that rebel Conservatives made for Theresa May and Boris Johnson in 2019 over Brexit. David Gauke was one of them. Boris had the whip removed and we did not see him again after the 2019 general election; his Conservative association deselected him:
Grant Shapps
Grant Shapps, another Sunak supporter, has been working in tandem with Michael Gove to thwart Truss's leadership.
He has made no secret of his threat to go to Sir Graham Brady, chairman of the 1922 Committee, with a letter of no confidence — not only from himself but other MPs:
On Tuesday, October 4, he told Times Radio:
I want Liz to succeed. So I'm hoping that she can turn us around, I think there is a window of opportunity for her to do it. I'm cheering her on, if you like, to succeed. Y'know, in the end I don't think members of parliament, Conservatives, if they see the polls continue as they are, are going to sit on their hands. A way would be found to make that change. You know, it's important, not for members of parliament, but for the country, still two years to go to another election, that we have good, stable, sensible, smart government in place doing things that are required for the people in this country. So of course that could happen. In the meantime, I hope Liz can turn this around.
'A way would be found' means urging Brady to change the rules whereby a PM could be ousted sooner than 12 months of assuming the Party leadership.
Shapps had the gall to suggest Truss had ten days to turn around her leadership!
Nadine Dorries
Nadine Dorries was the Secretary of State for Digital, Culture, Media and Sport while Boris was PM.
When he stood down as party leader, she was gutted. She had at least one defender:
She stayed loyal beyond the end of his premiership, perhaps embarrassingly so: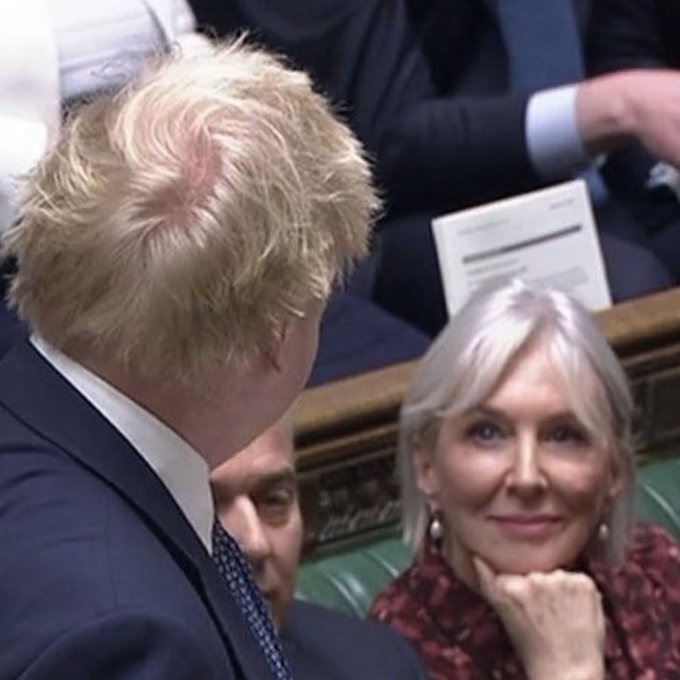 She had a lot to say when he stood down as Party leader:
In the end, she didn't run for Party leadership:
Dorries resigned from Cabinet on Tuesday, September 6. Boris was in his final hours as PM that day, when he and Truss flew separately to Balmoral to see the Queen.
Guido posted Dorries's letter to Boris, commenting:
She added that while Liz had offered her the chance to continue, she's stepping down anyway.
She is now unhappy that her Online Safety Bill might be kicked into the long grass. Millions of us certainly hope so. It is deeply embedded in censorship, principally the 'legal but harmful' clause.
On Monday, October 3, Dorries said that Truss should hold a general election. Utter madness, all because her censorship legislation is up for cancellation. Even madder is the fact that she was a Truss supporter.
The Spectator had the story:
To inspire one Nadine Dorries tweet may be regarded as a misfortune, to inspire two looks like carelessness. Less than 24 hours after the former Culture Secretary criticised Truss for appearing to blame her Chancellor for the 45p tax debacle, she's back at it again. Frustrated by Truss's decision to junk much of the Johnson agenda from 2019, the high priestess of online harms took to her favourite medium of Twitter to write:
Widespread dismay at the fact that 3 years of work has effectively been put on hold. No one asked for this. C4 sale, online safety, BBC licence fee review – all signed off by cabinet all ready to go, all stopped. If Liz wants a whole new mandate, she must take to the country.
The repeated criticisms are all the more interesting, given the importance of Dorries and other Johnson loyalists in ensuring that Truss made the final two earlier this summer. Dorries was something of an unruly attack dog, savaging Truss's opponent Rishi Sunak at ever opportunity …
Guido posted Dorries's tweet …
and wrote:
We appear to be at the "everybody losing their mind" stage of Conservative Party conference a day early.
The next day, she seemed to walk back what she said by citing Boris's support of Truss. This is a clip of her interview with LBC radio's Iain Dale:
Embarrassing.
Benefits rebels
Truss-backer Sir Iain Duncan Smith is now opposing her in wanting benefits increased in line with inflation:
Guido has the video:
Iain Duncan Smith has added his voice to the chorus of rebels piling on Liz to raise benefits with inflation. Speaking at a ConservativeHome fringe the former Work and Pensions Secretary argued giving to the poorest was a more efficient way of going for growth, as they would spend it quicker. He's had a quick change in tune since backing Liz for leader…
That sounds very cynical, indeed.
Kemi Badenoch
Trade Secretary Kemi Badenoch, the popular Party leadership candidate for British voters, openly opposed Truss's bid for even more migration.
It is hard to disagree with Badenoch. Even so, as a Cabinet minister, perhaps she should have held back from expressing them publicly.
She aired her views on Sunday evening:
At the IEA/TPA DrinkTanks reception last night, guest of honour Kemi Badenoch openly rebuked the PM's plans to let in more immigrants to boost growth. The Trade Secretary ignored any sense of collective responsibility as she told the assembled free marketeers:
Simply taking in numbers to boost GDP while GDP per capita falls is not the right way to do that. We need to look again at resolving our productivity issues and that means using capital better, not just getting cheaper and cheaper labour.
Kemi's brazen and deliberate speech last night all but confirmed The Times' article on Sunday reporting major Cabinet divisions over the plan, with Kemi and Suella Braverman at odds with the PM's preferred free market solution. Like Liz, Guido doesn't have a problem with skilled, legal immigration, it is the illegal immigration which is concerning. It seems Tory Cabinet ministers aren't even pretending to play happy families anymore…
45% tax rate rebels
Prominent Conservative Cabinet members disagree with Truss and Kwarteng over their Sunday night U-turn on abolishing the 45% upper tax rate.
Home Secretary Suella Braverman seemed to accuse Conservative MPs of forcing the change in plan, going so far as to claim it was 'a coup':
Guido has a photo of Braverman, along with Jacob Rees-Mogg and Simon Clarke, two other Cabinet members who want the upper rate abolished:
Simon Clarke agrees with Braverman's assessment of 'a coup':
Guido has more:
Jacob Rees-Mogg was also quick to voice his disappointment at the scrapped cut at a fringe event this afternoon, although he claimed to recognise the politics of the move. This all comes in the context of public cabinet battles over benefits, and Penny Mordaunt's attacks on government comms. Meanwhile backbench agitators continue briefing out plans to rebel, with some now even claiming they're holding "crisis" talks about Liz's leadership. Truss has been PM for 28 days. Not quite the honeymoon period she would've hoped for…
Wow. For Jacob Rees-Mogg to speak out about his disappointment is surprising. He is normally respectful of parliamentary boundaries and procedure.
There is a way to get rid of this tax rate. I will have more on that next week.
James Cleverly warns Cabinet rebels to 'shut up'
In much the same way that Welsh Secretary Robert Buckland did, Foreign Secretary James Cleverly warned Cabinet rebels to 'shut up':
On Wednesday, October 5, Guido reported:
James Cleverly has diplomatically warned Cabinet colleagues to shut up after yesterday's day of chaos, in which collective responsibility broke down on everything including the 45p u-turn, immigration numbers and uprating benefits in line with inflation. Speaking on the BBC this morning ahead of Liz's big speech, the foreign secretary warned:
All Cabinet colleagues ultimately are going to have to abide by collective responsibility… I think it's always better and easier to feed ideas, particularly when you're in government and have access to the Chancellor and the PM, feed your ideas directly into the centre of the system…
On TimesRadio he also implied yesterday's comments from Braverman, Mordaunt and Clarke – among others – were inappropriate. Guido hears Cleverly's speechwriter had to edit a swear word out of the Foreign Secretary's speech earlier this week; we can only imagine how many expletives Cleverly wanted to use in response to yesterday's farce…
Conclusion
Here endeth the news about the Conservative Party Conference.
MPs must give Truss a chance. She has gone through the hardest beginning to her premiership of any PM in known history.
She deserves time to lead us. With everyone against her, she must be doing something right.
She is representing British voters' interests. That is only right and fair.
This is the penultimate instalment of Boris Johnson's downfall.
Earlier ones can be found here: parts 1, 2, 3, 4 and 5.
Before I get to the heart of the matter, one of Boris's former aides, Cleo Watson, wrote about her time in Downing Street for the September 2022 issue of the high society magazine Tatler: 'Exclusive: how PM's former aide had to "nanny" him through lockdown'.
Cleo Watson tells the story of how she went from working on Obama's 2012 campaign to the Vote Leave one that preceded the 2016 Brexit referendum. As she worked with Dominic Cummings on the latter, he asked her if she would like to work at Downing Street when Boris became Prime Minister.
She accepted but had no idea what fate awaited her. Who knew then about the pandemic, which she had to get Boris through: frequent coronavirus testing, recovering from his near-death viral experience with nourishing drinks rather than Diet Coke and putting up with his silly, schoolboy jokes.
Then there was Dilyn, his and Carrie's Welsh rescue terrier, which they acquired in 2019. Dilyn never was properly house-trained and left little surprises in Downing Street and at the prime ministerial weekend retreat, Chequers.
Watson has just finished writing her first novel, Whip!, a fictionalised account of what life is like in Downing Street. It is scheduled to be published in 2023.
One thing that struck me is just how pervasive Dominic Cummings was during his time there.
She describes what the penitential press conference he had to give in May 2020 after his forbidden trip to County Durham during lockdown was like (emphases mine):
Dom's 'eye test' itself led to moments of strange humour as we struggled to respond to the public anger it caused. Remember his press conference in the rose garden? What you didn't see was the group of advisers loitering behind the cameras, clutching ourselves with worry. Dom's natural sunny attitude …
'Sunny attitude'? Surely some sarcasm there, methinks:
… seemed to be waning, so halfway through I took to standing directly in his eyeline, bent over like a tennis linesman, gesticulating for him to sit up straight and, if not smile, be tolerant and polite when responding to the repetitive questions being fired at him.
She left around the same time as Cummings, in November 2020:
As so many in politics know, the end comes sooner or later – generally sooner, if you're employed by this prime minister. (Although I suppose he's had karma returned with interest recently.) The end for me came in November 2020, about two weeks after Dom's hurried departure.
These were her final moments with Boris:
The PM had been isolating after his latest 'ping' and he and I finally reunited in the Cabinet room, where we had an exchange that I am sure may have been familiar to many of his girlfriends. Him: 'Ho hum, I'm not sure this is working any more.' Me: 'Oh, OK, you seem to be trying to break up with me. I'll get my things.' Him: 'Aargh… I don't know… yes, no, maybe… wait, come back!' I suppose it went a little differently. He said a lot of things, the most succinct being: 'I can't look at you any more because it reminds me of Dom. It's like a marriage has ended, we've divided up our things and I've kept an ugly old lamp. But every time I look at that lamp, it reminds me of the person I was with. You're that lamp.' A lamp! At least a gazelle has a heartbeat. Still, he presumably knows better than most how it feels when a marriage breaks up.
So I left No 10 – without a leaving party, contrary to what has been reported. What actually happened is that we agreed to go our separate ways and I went to the press team to say goodbye. The PM, unable to see a group of people and not orate, gave a painful, off-the-cuff speech to a bewildered clutch of advisers and I left shortly after.
More work followed, then came a holiday in Barbados:
I was asked to work on the COP26 climate change summit (quite cleansing for the brand after Vote Leave and Johnson's No 10), which took place in Glasgow in November 2021. It was a brutal year, no less dogged by Covid than the previous one, and I was lucky enough to top it off with a recovery holiday in Barbados in December.
The sun, the sea, the cocktail bar… Welcome to paradise. Except something was off. I couldn't put my finger on it, but whenever I was indoors at Cobblers Cove, the lovely hotel my husband, Tom, and I were staying at, I had a strange, uneasy feeling that I'd been there before. Where had I seen muted green print on jolly green print on rattan before? The place had been revamped by none other than Lulu Lytle, of the Downing Street flat fame.
Downing Street stays with a person, not unlike memories of an ex:
It's often the way that looking at a period of your life later on can frame it as much happier than it really was. It's like remembering the good times with an ex. You'll smell or hear something that nearly knocks you over with a wave of nostalgia and before you know it, you're thinking: 'I wonder what they're doing now…'
I'm very fortunate in that I know exactly what they're doing and what I'm missing out on. Yes, you get the chance to serve the country and on an individual level you can change people's lives. But there is also the constant work that gets gobbled up by the news cycle. The gut-busting effort behind every speech that flops. The policy that gets torn to shreds. The constant lurk of an MP rebellion. From the moment you're awake, you're on your phone(s).
These days I'll be walking my dog (far too big to be used as a handheld prop now) and delighted – literally delighted – to be picking up after him rather than dealing with the latest catastrophe I can see playing out just a couple of miles away.
I've weaned myself off my phone, cancelled my newspaper subscriptions and studiously avoided social media. I've really understood what burnout means. It has taken months to recover …
Now on to the final weeks of Boris and his wife Carrie.
The thing that sticks most in my mind is that awful — and awfully expensive — refurb of the Downing Street flat.
The next occupant will want to rip it all out and start again with something quiet and tasteful.
Boris must have thought he would be there for years. Otherwise, why would he have agreed to it?
Another disappointment for them must have been not being able to use Chequers for their big wedding party.
The couple married in 2021 at Westminster Cathedral (Catholic), but because of coronavirus restrictions, could have only a small number back to Downing Street to celebrate.
They had looked forward to having a big party at Chequers. Unfortunately, once Boris resigned as Party leader, he became a caretaker PM and was refused permission.
Fortunately, Lord and Lady Bamford of construction equipment manufacturer JCB fame lent their sprawling Gloucestershire estate to the Johnsons:
On Wednesday, July 27, GB News reported:
The Prime Minister and his wife are said to be planning on hosting family and friends at 18th-century Daylesford House, in Gloucestershire, this weekend.
A huge white marquee topped with bunting had been erected in the property's expansive grounds on Wednesday, with staff going in and out amid apparent party preparations.
Owned by Lord Bamford, the Grade I-listed mansion has been found as a replacement to Chequers – where the Johnsons had originally planned to host the party.
The Tory peer, chairman of construction equipment manufacturer JCB, has donated millions to the Conservative Party …
Lord Bamford is covering at least some of the cost of the party, the Mirror reported, quoting unnamed sources.
No 10 declined to comment on the "private matter".
The Johnsons decided on a unique celebration.
Reporters from The Mail were on hand earlier on Saturday, July 30, to find out more:
Guests at Boris and Carrie Johnson's wedding party are set to dine in style on South African street food at the Cotswolds retreat of Tory mega-donor Lord Bamford today.
Caterers from eco-friendly BBQ eatery Smoke and Braai were spotted setting up shop on the grounds at Daylesford House on Friday in advance of the fanfare.
Around 200 guests including a dozen Conservative MPs will gather at the idyllic, Gloucestershire Grade I-listed mansion for drinks from 5.30pm.
Grass-fed locally sourced meat will be the mainstay of the food menu in line with Mrs Johnson's well-known commitment to green causes, The Telegraph reported.
At least three street food outlets were pictured arriving at the gorgeous countryside manor house on Friday afternoon, with helicopters heard amassing above …
Daylesford House is the 18th-century home of Lord Bamford, 76, the founder of construction giant JCB and one of the Conservative party's most prolific donors.
The billionaire Bamfords, who gave £4million to the party in the run-up to the 2019 general election, after handing £100,000 to the Vote Leave campaign, stepped in to fill hosting duties after furore surrounded the Johnsons' prior plans to hold their wedding party at Chequers.
Lady Bamford and Carrie, in particular, joined forces to orchestrate today's proceedings, the newspaper reported.
The South African street food menu is set to include lime and mint-infused pineapple, skin-on fries, cherry wood-smoked pork with honey and mustard slaw, and Aberdeen Angus ox cheeks.
South Africa's answer to the barbecue, a braai is typically the setting for an hours-long cookout in which all are welcome. 
The Telegraph told us that Steve Bray, the braying anti-Brexit chap from College Green near Parliament, was a short distance away. The article has a photo of him.
Caterers and entertainers could not miss him:
… they were greeted by Steve Bray, an activist known as the "Stop Brexit Man", who had positioned himself at one of the entrances holding a banner which read: "Corrupt Tory Government. Liars, cheats and charlatans. Get them out now."
The article told us more about the menu:
Rum punch is also available to guests, as well as barbecue chicken and beef with salad. Handmade ice-cream from a family run dairy farm in the Peak District is also being served, adding to the laid back atmosphere at Daylesford House, Gloucestershire …
Mrs Johnson is thought to have worked closely with Lady Bamford to organise the event and set the theme of a South African-style barbecue laid on by Corby-based Smoke and Braai, with the 200 guests served from eco-friendly street food trucks amid hay bale benches.
On the menu is grass-fed British beef braai boerewors rolls, masa corn tortilla tacos, smoked barbacoa lamb and what was described as "ancient grain salad" …
Adding to the festival atmosphere, for dessert there is ice-cream courtesy of Dalton's Dairy, a family-run dairy farm in the Peak District which produces handmade ice creams, including wild strawberries and cream, pineapple, and amaretto and black cherry.
The guest list included MPs, singers and millionaires:
The guests, who include several Conservative MPs, began to arrive at the estate at around 5pm. Australian actress and singer Holly Valance, who is married to British property developer Nick Candy, was also pictured arriving at the estate in a Rolls Royce.
Mr Johnson's younger sister, Rachel Johnson, was seen arriving via the back entrance, as did the Prime Minister's father, Stanley Johnson, who arrived alongside a female companion.
Nadine Dorries and Jacob Rees-Mogg were also among the first guests to arrive.
Other politicians in attendance included Ben Wallace, the Defence Secretary; Jake Berry, who previously served as minister for the Northern Powerhouse; Amanda Milling, the MP for Cannock Chase; and John Whittingdale, the former culture secretary.
More elusive and camera shy guests preferred to arrive by helicopter, landing on a helipad positioned in the grounds of the estate. They were then ferried to the garden party in a black Range Rover.
The Mail on Sunday had more, complete with lots of photographs:
Boris and Carrie Johnson danced the night away at their festival-style wedding party in the Cotswolds last night, with the bride wearing a £3,500 dress that was rented for £25. 
Carrie opted to stick to her sustainable fashion principles with the dress by designer Savannah Miller, the older sister of actress Sienna.
The floor-length, halter-neck gown named Ruby has an original price tag of £3,500 but is available for a day rate of £25 on London-based website Wardrobe HQ, which Carrie, 34, has been using for more than three years.
Meanwhile, the festivities started with Boris joining Carrie on the dancefloor for their first dance to Neil Diamond's Sweet Caroline – chosen because Carrie's full first name is Caroline. 
They were joined by friends and family at the picturesque venue that sits within 1,500 acres and boasts stunning amenities including a heart-shaped orchard, painstakingly manicured gardens, an 18th century orangery and a luxurious pool. 
For anyone wondering if this Daylesford is related to the eponymous organic food brand, it is, indeed:
Lady Carole Bamford OBE, became famous for launching Daylesford Organic Farm, based in the private village but with farm shops across London.
Daylesford House, which is just a mile from Lord and Lady Bamford's organic farm of the same name, boasts 1,500 acres of manicured gardens including pristine lawns, an 18th-century orangery and a secret garden – complete with octagonal swimming pool, shell grotto and alfresco pizza oven.
The article had more on the Bamfords and their involvement with the Conservative Party:
Downing Street has refused to comment on the occasion, stating it does not discuss private events which do not involve taxpayer funds or ministerial declarations.
Beyond cash handouts, the Tories have also benefited from repeated press conferences staged at JCB's Staffordshire headquarters.
Boris Johnson made his headline-grabbing Brexit stunt at the factory as part of his general election bid in 2019.
The global digger manufacturer paid him £10,000 just three days before he smashed through a brick wall in a JCB digger.
Beyond politics, the Bamfords hold sway with a long list of British elites, including their friends the Prince of Wales and Duchess of Cornwall.
Lady Bamford, whose precise age is unknown, sits on JCB's board of directors and was awarded in OBE in 2006 for services to children and families.
A former air hostess, Lady Bamford OBE married Sir Anthony in 1974.
They have four children and a haul of houses around the world in addition to a prolific car collection worth tens of millions of pounds.
The article beneath it, by Adam Solomons, had more about Steve Bray's presence. One photo shows a policeman seemingly asking him to leave. Bray alleged that his friend was arrested:
So-called 'Stop Brexit Man' Steve Bray flouted the tight guest list for Boris and Carrie Johnson's wedding party to conduct a solo protest yesterday after a friend and fellow campaigner was allegedly arrested nearby.
Photographer Sylvia Yukio Zamperini was taken away in a police car after turning up close to opulent party venue Daylesford House, Gloucestershire, Mr Bray claimed.
In a Facebook post this evening, he wrote: 'I was supposed to meet Sylvia […] but she called me. She was searched by Police.
'A police van and car passed me 20 minutes ago. She was crying and waving frantically from the back of the car. She's been arrested.'
He added in a subsequent tweet: 'Police using dirty tactics.'
Gloucester Constabulary did not respond to a MailOnline request for clarification or comment this afternoon.
The notorious Parliament demonstrator put out an appeal for urgent legal help on Sylvia's behalf.
Ms Yukio Zamperini has been Bray's right-hand woman throughout years of noisy campaigning in and around the parliamentary estate over the past six years.
Describing herself as a 'proud European', she often shoots footage of Bray's flags and banners.
Sylvia travelled to the gorgeous Cotswolds wedding venue from Birmingham, with Steve commuting from London. 
They were supposed to meet close to Daylesford House, but Sylvia had reportedly already been arrested. 
Bray also posted a video in which he spoke to a local police officer, who'd warned him that loud amplifiers set up to disrupt the party would be confiscated.
The unidentified officer, who Bray's followers noted was polite and respectful, said he was giving 'Stop Brexit Man' a 'pre-pre-warning' in the event he tried to sabotage the postponed wedding party.
The infamous campaigner tells the policeman: 'Look what these guys have done to our lives. I don't care if it's a wedding party.'
Guido Fawkes has a video of Boris and Carrie dancing to Sweet Caroline, which young Wilf interrupted. Carrie picked him up and swayed from side to side. Of Boris, Guido says:
Some questionable dad dancing moves from Boris there.
On August 6, The Telegraph's Gordon Rayner had more in 'Inside Boris and Carrie Johnson's secret wedding party':
The bride wore a gold mini dress, the groom wore a baggy cream suit and the guests wore expressions of mild bemusement.
At the Prime Minister's wedding celebration, Sweet Caroline had been chosen for the first dance as a romantic tribute to Caroline Johnson, better known as Carrie – but her husband seemed to think he was at an England football match, where the song has become a fan favourite.
His dad-dancing at the couple's wedding celebration last weekend was more "let's all have a disco", as sports crowds chant, than "how can I hurt when holding you", in the words of Neil Diamond's song.
The moment, however, was entirely in keeping with the eccentricity of the whole event, held in the middle of a field where guests had no escape from the speeches, the South African street food or the bitching about Rishi Sunak.
It featured slut-drops, congas, rum punch, hay bales, a steel band and Jacob Rees-Mogg, but without an actual wedding for the guests to attend, it was an event that appeared not to know quite what it was trying to be …
The Prime Minister, who had worn a charcoal suit on what was his third wedding day last year, struggled to pull off the Man From Del Monte look, wearing a cream suit with trousers that needed taking up and a jacket that appeared too long for his body.
Mrs Johnson, 34, had greeted guests earlier in the day wearing a £3,500 halter-neck Ruby wedding gown by Savannah Miller, the designer, which she had rented for £25 a day. However, by the time the first dance happened at 8.30pm, she had changed into a shimmering gold mini dress with a plunging neckline that was more disco diva than blushing bride.
Neither she nor the 58-year-old Prime Minister looked comfortable dancing in front of their guests. They may have been relieved when their two-year-old son Wilfred, dressed in a navy blue sailor suit, toddled across to them halfway through the dance and became the centre of attention, as he was twirled around on the hips of his parents …
The event officially ended at 11.30pm, although many guests, with long journeys home, had already left by then.
Ms Johnson said the party was held in "a magical flower-filled field", but other guests whispered that the party had the vibe of a failed pop festival, complete with portable lavatories …
Before the dancing, the guests were treated to a succession of speeches, starting with Ms Johnson, followed by Carrie Johnson – whose words were "full of affection" for her husband – and finishing with the Prime Minister himself, who stood with one hand in his trouser pocket and the other clutching A4 sheets of notes.
In a defiant and typically joke-filled speech, Mr Johnson told his guests that he had received "masses of letters to resign, mostly from my closest family", according to The Times.
He went on: "There are many opportunities, which lead to disasters, and disasters can lead to new opportunities, including to opportunities for fresh disasters."
He also described the mass ministerial resignations that forced him to resign as: "The greatest stitch-up since the Bayeux Tapestry."
The guest list was light on parliamentarians, partly because so many of them had turned on the Prime Minister only days before. Only the most ultra-loyal Johnsonites received an invitation.
As a former head of communications for the Conservatives, Mrs Johnson knows all about messaging. She was keen to put the word out that her dress was rented, because she is keen to promote sustainable fashion, and that the food on offer was eco-friendly because the catering firm buys its ingredients from local farmers.
But the messaging was somewhat undermined by the reality of the event. Guests arrived in a steady stream of Range Rovers, Rolls-Royces and other gas guzzlers, with some even arriving by helicopter.
By choosing to hold their party in such a rural location, the couple ensured that it had the largest possible carbon footprint. In only a matter of weeks, though, worrying about political mis-steps will cease to be much of a concern for them.
The party — especially with Bray's presence — would make a great film for television. You could not make this up.
On August 2, Telegraph reporter Rosie Green poured cold water on Carrie's renting of dresses. I'm including this as a caution for women thinking it's a failsafe solution: 'Renting a dress sounds like a good idea — until you face the logistics'.
She went through the process herself, which sounds tiresome:
I book appointments at the places offering "trying on" services (Front Row, Harrods and Selfridges) and let them know which dresses I would like to road test.
At the My Wardrobe HQ pop up concession at Harrods, although the manager was friendly and helpful, disappointingly only one of the four pieces I had requested was there. Then the dress I had loved on screen wouldn't do up. Hmm.
Thankfully I found another wonderful gown by the same designer which fits beautifully (the same size weirdly). But at £1,861 to buy and with a long train that looked perfect for stepping on I was worried about incurring damage. Another dress I loved had a broken zip …
I leave for my next appointment at Front Row to meet one of its founders and to try on a selection of dresses, but when I arrive at the showroom she is not there and the doors are locked. I am stumped. I can't get through on the phone. I later discovered she had her handbag snatched by a man on a motorbike. Front Row confirms they'll send the dresses to my home instead. In the meantime, I get a message from Selfridges saying my requested dress (the only one on the website I found suitable) is not available as it is being repaired. Hmm.
I head home to Oxfordshire a little dispirited. So I start delving deeper into By Rotation and discover that they act as a middle man between the renter and the owner. This means the clothes are kept by their owners and so effectively you are reliant on Sandra from Surrey or Carla from Cheshire posting you their gown. This makes me very nervous.
There's more, so I'll skip to the chase:
Then, on the day I'm expecting the My Wardrobe dress to arrive, I'm told I have to pick it up from Harrods. I have a minor heart attack. I tell them I live in Oxfordshire and not only is it impractical but the cost of the return train ticket to London would be more than the rental. They arrange for it to be couriered and it arrives the morning of the event.
According to UPS the Front Row dresses are stuck at the depot. Then they are officially AWOL. Renting has not been stress free. Buying my dress is now feeling like a much more attractive proposition …
… my advice if you're planning to rent would be to get your choices a few days before you need them. Try them on first, and always have a back-up plan.
Would I hire a wedding dress this way, like Carrie did? No way. My nerves couldn't take it.
On another cautionary note, provocative dance moves can prove difficult as one ages.
Guido Fawkes found a 2018 Celebrity Big Brother clip with Boris's sister Rachel boasting about how Liz Hurley taught her one of these dance moves then demonstrating it.
Unfortunately for Rachel, 56, things didn't go so well with it at her brother and sister-in-law's party, as she wrote in her Spectator diary of August 6:
The Season has ended and – apart from The Spectator's summer bash of course – the two bang-up parties of July were discos in the Cotswolds. They do things differently there. At Jemima Goldsmith's I danced so hard in high heels with a selection of her handsome young swains that I suspect the double hip replacement will be sooner rather than later. At Carrie and Boris's Daylesford wedding do in a magical flower-filled field we all busted out our best moves. I was taught the slut-drop by Liz Hurley years ago in Nick Coleridge's party barn in Worcestershire. She demonstrated how to collapse to the floor like a broken deckchair on the count of three. My problem at Daylesford was getting up again – not a challenge shared by my sister-in-law. She could win a Commonwealth gold hands-down in this particular high-risk dance move. I'd kicked off my shoes (to save on physio bills later) but still ripped off a big toenail during the conga. Conclusion: I can no longer slut-drop but I can still name-drop for Britain till the cows come home.
Sometimes I feel as if I live in another world.
Anyway, by early August, the party was over for Boris.
Although he surpassed Theresa May's tenure at No. 10 on August 5 …
… Boris faces a hearing by the parliamentary Privileges Committee in September, led by Labour's Harriet Harman.
Note that Boris's opposite number, Keir Starmer, gets away with multiple violations. Yet, Boris will be quizzed on whether he knowingly — rather than accidentally — misled Parliament over a piece of cake in a Tupperware container:
To make matters worse, Conservative MP Bernard Jenkin is on that committee. He is not one of Boris's biggest fans:
The topic came up on Dan Wootton's GB News show on August 8. Nearly 75% of his viewers thought the committee hearing would be a witch hunt:
Panellist Christine Hamilton agreed:
Boris's supporters among the general public were eager to get his name on the Conservative Party leadership ballot along with Liz Truss's and Rishi Sunak's. The fight on that still continues. The best they can hope for now is a change in the Conservative Party rules. I will have more on that in a separate post. The feeling for Boris continues to run deeply among many voters.
On Friday, August 12, a reporter asked Boris why he was not taking calls from Rishi Sunak:
Boris said:
That's one of those Westminster questions that doesn't change the price of fish…
He quickly deflected to move the discussion towards resolving the cost of energy crisis and said that the future would be very bright.
On Saturday, August 13, Jacob Rees-Mogg, Minister of State for Brexit Opportunities and Government Efficiency, gave an interview on GB News to two of his fellow Conservative MPs, Esther McVey and her husband Philip Davies.
In this segment, he explains why Boris has always had his support, dating back to 2016. His only criticism is that the Government could have handled the economy better post-pandemic:
As for Boris coming back as PM, Rees-Mogg said it was highly unlikely. The Telegraph reported:
"Nobody's come back having lost the leadership of the party since Gladstone," Mr Rees-Mogg replied. "And I just don't think in modern politics, the chance of coming back is realistic.
"Lots of people think they're going to be called back by a grateful nation which is why Harold MacMillan waited 20 years before accepting his peerage… Life just isn't like that."
Rees-Mogg also explained why Boris was hounded out of office:
In the interview, Mr Rees-Mogg claimed that Mr Johnson's downfall was partly the result of anti-Brexit campaigners – even though a number of Brexiteer MPs, such as Steve Baker, called for his resignation.
Mr Rees-Mogg said: "There's a lot of people who resent the fact we left the European Union. And therefore to bring down the standard bearer of Brexit was a triumph for them."
In August, Boris and Carrie took a summer holiday in Slovenia.
He no sooner returned than he jetted off again, this time to Greece, for reasons to be explored tomorrow.
My series on Boris Johnson's downfall continues.
Those who missed them can catch up on Parts 1, 2, 3 and 4.
Also of interest are:
Developing news: how long can Boris last as PM? (July 5-6)
Boris stays as PM for now but stands down as Conservative leader: 'When the herd moves, it moves' (July 6-7)
On July 8, Bloomberg had an interesting article: 'Boris Johnson's Downfall: The Inside Story of How His Government Collapsed'.
It states:
This account of how the Johnson administration unraveled is based on conversations with senior members of his inner circle, cabinet ministers, political advisers, civil servants and Tory MPs who were present at the key moments and spoke to Bloomberg News on condition of anonymity.
The journalists who wrote it say (emphases mine):
… the man that Johnson's inner circle blame for his downfall is Rishi Sunak, the former chancellor, who triggered that final, frantic act that ultimately forced the prime minister to quit.
Boris, being a survivor, stayed true to character. He survived a Conservative MP vote of confidence held the Monday after the Queen's Platinum Jubilee celebrations the first weekend in June 2022. Then the Chris Pincher groping scandal broke, but he was not worried. In early July:
Johnson had spent last weekend largely ignoring the latest scandal raging around him.
There was another slew of allegations in the newspapers, this time related to what Johnson had known about the claims of sexual harassment against an MP who the prime minister had promoted to a senior party post. 
But Johnson had grown accustomed to riding out controversy, from his efforts in November to extricate an ally who breached lobbying rules, to the lockdown parties, the investigation into whether he misled Parliament and the resignation of his own ethics adviser.
His judgment, and that of his No. 10 team, was that revelations relating to his former chief whip Chris Pincher, damaging and unseemly though they were, did not pose an existential threat. 
That Sunday evening, July 3, Boris headed next door:
to Sunak's flat in No. 11 Downing Street for one of their regular weekend dinners.
Johnson's team had been wary of a potential leadership challenge from Sunak for months and suspected that he would already have moved against the prime minister if he hadn't been fined over lockdown parties himself.
That night was businesslike, focused on plans for a new economic strategy and a joint speech. Sunak briefly mentioned his unease at the handling of the Pincher situation, but people close to both men said the meeting was good-natured and there was no hint of the coming storm.
Meanwhile:
Elsewhere in London though, Health Secretary Sajid Javid was discussing his own concerns about the Pincher case with his own advisers and starting to think he might decide to resign.
The week began normally:
No. 10 remained bullish throughout Monday despite the growing furor as Javid watched and waited.
On Tuesday, a Cabinet meeting took place (Bloomberg has a photo of it). There were signs that things could unravel quickly:
… there were ashen faces around the Cabinet table on Tuesday morning as ministers gathered to discuss Sunak's plans for tackling rampant inflation. Johnson uber-loyalist [and Culture Secretary] Nadine Dorries told the room that the "dogs of hell" would be unleashed if Johnson was removed.
One Cabinet minister who spoke to Bloomberg that day warned that Johnson might be in real trouble. He had had an unspoken contract with the Conservative Party since surviving a confidence vote among his own MPs in early June, the minister said: he could remain in place only if the scandals stopped.
That compact had lasted barely a month.
Later that day:
Around 5 p.m., at a meeting in the prime minister's office in Parliament, Javid told Johnson he was resigning. Johnson felt the announcement an hour later could be weathered by appointing a strong replacement.
But nine minutes after Javid published his resignation, Sunak also quit. And this blow came without warning.
Suddenly, Johnson was facing a rout.
A person with knowledge of Javid's plans said that his team had had no meaningful contact with Sunak's advisers before the double resignation, but they suspect that the then-chancellor got wind of what was coming and accelerated his own plans. A person with knowledge of Sunak's thinking said there had been no collusion.
Sunak had worked in the Treasury for Javid when the latter was Chancellor from 2019 to February 2020. They were good friends.
The resignations became a game of whack-a-mole:
As the prime minister rushed to replace two key ministers, a wave of more junior officials announced that they too were abandoning his government.
Nadhim Zahawi became the new Chancellor and Steve Barclay succeeded Javid as Health Secretary:
Nadhim Zahawi and Steve Barclay were recruited late on Tuesday to solve the most immediate problem and Johnson's advisers believed that both men were determined to take their jobs seriously. They understood that they had buy-in from Zahawi, the chancellor, for a new tax-cutting agenda to be announced imminently, though a person close to Zahawi says he made no such commitment.
All the same, as Johnson and his advisers surveyed the damage on Wednesday morning, they could tell that the situation was critical. 
That's when [Levelling-Up Secretary Michael] Gove demanded his meeting. To Johnson's aides, the timing seemed designed to inflict maximum pain.
Boris sacked Gove later on Wednesday, the only firing he made. He did it via a telephone call.
At that point:
the number of officials quitting his government climbed past 50.
That evening must have been a long one for Boris:
He returned to No. 10 after 6 p.m. for a series of meetings with his senior ministers.
Chief Whip Chris Heaton Harris advised Johnson that he no longer had the numbers to prevent Tory MPs from removing him, but that he would remain loyal. Trade Secretary Anne-Marie Trevalyan and arch Brexiteer Jacob Rees-Mogg also made clear they would stay supportive. Deputy Prime Minister Dominic Raab told Johnson he would not resign, changing for a formal white-tie event and then leaving via a side entrance.
Other meetings were more difficult.
Home Secretary Priti Patel had an emotional and teary meeting with the premier where she told him he had to go. A spokesman for Patel wasn't able to comment on the details of the conversation. 
Transport Secretary Grant Shapps, who kept a spreadsheet of Johnson supporters, agreed that the numbers were against them. Policing minister Kit Malthouse delivered a long monologue about how it was over. An exasperated Johnson told Malthouse that if he was going to resign, he should just do it. 
Malthouse had worked for Boris ever since the latter was Mayor of London.
Also:
Welsh Secretary Simon Hart was the only one who threatened to quit, handing Johnson a resignation letter and telling him that if he was not gone by the morning it would be published.
The most difficult meeting was with Zahawi who looked visibly awkward, according to one witness, as he told the prime minister that he too thought he should quit. The meeting left Johnson's aides suspecting that Zahawi had simply been preparing for his own tilt at the top job.
Correct. Zahawi did not get far with his campaign.
The meetings lasted into the night:
Towards the end of the night, Johnson gathered his closest aides in his office to assess the damage.
No. 10 policy chief Andrew Griffith was the most determined to battle on, along with Nigel Adams, a minister and old friend of Johnson. Heaton Harris, the party enforcer, had accepted the situation but was staying in the bunker to the end.
Together they rehearsed arguments for and against resigning, as they briefed the media that he would not quit and appoint a new Cabinet. The reality was that no one was accepting jobs.
Political commentators, eager for Boris to go, compared him with Donald Trump:
Johnson told his team that he didn't want to spark a constitutional crisis by clinging to office.
"I can't do this," he told them. "It's all too ghastly. It's not me."
Eventually, he went to the Downing Street flat to see his wife and retire for the night:
As he went up the stairs to his Downing Street flat to see his wife, Carrie, the decision was becoming clear in his mind. Carrie did not advise him either way and insisted it had to be his own decision, according to a person with knowledge of the conversation.
On Thursday, July 7:
Johnson woke early on Thursday and drafted a resignation speech to read out to his staff at their 7.30 a.m. meeting.
He announced his resignation in front of No. 10 early that afternoon.
That evening, The Spectator team held their annual garden party, a major highlight of the political year. Something always happens and this one was no different:
Johnson's communications chief Guto Harri got into a blazing and public row with Gove adviser Josh Grimstone, who accused Harri of briefing against his boss.
A Sunak aide spotted Harri and went over for a hug. According to people present, a smiling Sunak, standing next to her, asked Harri: "Don't I get one?"
"You want a hug?" Harri said in disbelief, knowing that the former chancellor had made no contact with Johnson since his shock resignation. Harri had spent his week fighting to save the prime minister, Sunak was aiming to replace him, and in front of London's political elite, the two men shared an awkward embrace.
Guido Fawkes has more (Guto Harri is on the right and the magazine's Katy Balls is in the background):
His post says the argument went all the way back to Gove's desertion of Boris in the 2016 leadership election, leaving Boris out of the race that year (emphases in the original):
… Leadership candidates Rishi Sunak, Nadhim Zahawi and Tom Tugendhat worked the crowd. Later in the evening as things were winding down the Spectator's Katy Balls mischeviously introduced Josh Grimstone, the newly unemployed former Special Adviser to Michael Gove, to soon-to-be unemployed Guto Harri, the Prime Minister's Director of Communications. Josh definitely had something to communicate to Guto about Gove's late night sacking the night before…
Josh firmly protested that his boss had been loyal to the PM, that he personally loved Boris and that both Gove and himself had been nothing but loyal. He accused Guto of sacking Gove out of spite and attempting, unfairly, to make it look like Gove had been sacked for disloyalty. Guto was sceptical about Josh's protestations of innocence and insistence that his boss had been loyal. The toing and froing went on in front of a silently listening audience that included Guido, Tim Shipman and Steve Swinford. Neither of the protagonists backed down from their position. Grimstone said Guto's behaviour was a "f***ing disgrace".
Guto eventually retorted that it was Gove's fault that in 2016, when he betrayed Boris, the country was as a result put into 3 years of dismal turmoil under Theresa May. Guto's stance seemed to be that even if it was true that he had been loyal of late, Gove had it coming to him for the 2016 trauma that he inflicted on the party and country. Unresolved and unreconciled Grimstone broke off leaving hushed onlookers uncertain that the summary justice of last night was entirely justified by recent events. Guto seemed relaxed and satisfied that it was amends for the sin of the past. 
But that wasn't the only verbal dust-up that evening.
On the BBC's Question Time, Tony Blair's spin doctor Alastair Campbell and The Telegraph's Tim Stanley, who once ran for MP as a Labour candidate, argued about who was worse in terms of being economical with the truth, Tony Blair for the illegal war in Iraq or Boris Johnson with a piece of cake during lockdown. Campbell is on the left in the photo:
Guido has the video:
A few days later on July 11, Stanley wrote an article about it for The Telegraph: 'My TV encounter showed everything that is wrong with the Left':
I'm not a friend of Boris Johnson: my most recent contact was a Christmas card that I'm sure was signed by someone else. This didn't stop Alastair Campbell from calling me part of the same "corrupt class" on Question Time, a grim experience I didn't enjoy but my editor says I've got to address.
Around the five-minute mark, I was invited to give my take on Boris's resignation – and Campbell butted in with the first of many attacks on my profession and character. Afterwards, a producer said: "How long have you known Alastair?" I replied: "I've never met him before." Given how he spoke to me, many people assumed we had a feud going back decades.
No, he was just horrible, and the nastiness was camera ready. Campbell was nice as pie before the recording; he gave me a cheery goodbye after. My conclusion is that he's an act. When he launched his on-air assault, I was shocked and considered walking off; I couldn't take a whole hour of this. Instead, I pulled a one-liner out of the bag, noting that the Blair government took us into a war that cost thousands of lives, while Boris ate some cake.
The point was that Boris might have been chaotic, but it's often the best organised regimes that make the biggest mistakes.
The line was hardly Oscar Wilde; the audience was furious that I appeared to make light of the Downing Street parties. I thought my career was over, and was wondering if Lidl might be hiring. But what I couldn't see till I watched the show back was that Campbell shrugged away the reference to Iraq as if it were mundane. It was an ugly moment. By not bursting into tears, I think I came out better.
What irritates me about some people on the Left is that they talk about mental health and kindness yet they treat their opponents like dirt, not giving a damn how it might make them feel – and if a Conservative hits back, they act like we have crossed a line that doesn't apply to them …
And I wasn't trying to defend Boris on Question Time, just explain his thinking. I have my own views, of course; but in that format I try to put both sides of a story, so the audience can make up its mind. I often find that Left-wing panellists can't process this. They claim to be empathetic yet have zero interest in how other people think. It will be the Tory party that will produce the first non-white prime minister and how will the Left respond? They'll call them a "racist".
That night on Dan Wootton's GB News show, opinions about Boris's successor flew in thick and fast.
Former Conservative Home Secretary and later Brexit Party MEP Anne Widdecombe was adamant that the next Party leader be firmly committed to completing the Brexit process. We still have the Northern Ireland Protocol and French fishing difficulties to deal with:
Opinions swirled around the time it should take Boris to vacate Downing Street.
Someone in the know told the Daily Mail that Theresa May — a Remainer — should be caretaker PM. GB News reported:
While Mr Johnson is expected to stay on until Prime Minister, he could choose to relinquish his duties with immediate effect.
In which case an interim Tory leader would be appointed, who would in turn also become the caretaker Prime Minister.
And former Prime Minister Ms May, who held office between 2016 and 2019, could reportedly make a dramatic return to No.10.
A report in the Daily Mail said: "She knows the ropes and the security stuff, she's a party woman through and through, she's definitely not interested in standing for it herself and would be credible.
"She is uniquely placed."
Thank goodness that didn't happen.
Another Remainer, former Conservative Prime Minister John Major, apparently told the 1922 Committee, headed by Sir Graham Brady, to get rid of Boris pronto. Edwina Currie, a former MP who served with him in Parliament at the same time and who was Major's mistress between 1984 and 1988, said that the former PM was being 'a bit of a prat':
The 2021 Conservative candidate for Mayor of London, Shaun Bailey, agreed. He would have made a great mayor, by the way:
However, biographer Tom Bower explained that Boris and Carrie had no other home, therefore, he would stay at Downing Street until such time as the couple buy a house:
And what about Carrie?
A lot of conservatives blame her for Boris going off the boil with a libertarian-Conservative manifesto to focus on damagingly expensive Net Zero policies, never mind the gaudy refurbishment of the Downing Street flat, allegedly paid for by a Party donor.
The day Boris resigned, The Telegraph's Celia Walden wrote 'The Carrie conundrum: What next for the Prime Minister's wife?'
Over the past two years and 11 months our outgoing First Lady has certainly garnered criticism – some unfair, some fair. And already commentators are saying that Carrie "helped blow it for Boris". But it is surely her husband's sociopathic behaviour over the past few days, weeks and months – and what has been described not as Boris's downfall but his "clownfall" – that will have been most brand-damaging. So how easy will it be for Carrie to rid herself of that toxicity, and what next for the Prime Minister's wife? …
Before Carrie became involved with Boris, and his special brand of bedlam, the daughter of Matthew Symonds, co-founder of the The Independent, and lawyer Josephine McAfee was described as "controlled" and "confident".
Politics may have seemed a world away from the creative fields she immersed herself in at the University of Warwick – where she studied theatre and art history – but after a stint working for Zac Goldsmith, who was MP for Richmond at the time, Carrie moved on to the Conservative party's press office, where she quickly rose through the ranks, working on her future husband's re-election campaign, when he ran for Mayor of London in 2012, before becoming the youngest director of communications for the party at just 29.
That a woman who forged a career in the business of public perception – and was credited with taking charge of the Prime Minister's image (and weight) after they first got together in 2019 – could go on to make the series of missteps Carrie made at No 10 remains baffling today.
It may always have been strenuously denied that the PM's wife played any part in the prioritising of dogs over humans for evacuation from Afghanistan, but it was without a doubt the First Lady who oversaw No 10's controversial maximalist redesign. It was she who picked out the infamous gaudy wallpaper estimated to cost £840 a roll and, as I write, Twitter is alive with memes about the one "burning question" that remains: "Now that the Prime Minister has finally resigned what happens to Carrie's gold wallpaper?"
Because of this, reports that the Johnsons planned to build a £150,000 treehouse for their son at Chequers (but were stopped when police raised security concerns) prompted some to interpret this as "yet more Carrie". Which might have been unfair. But then there was Carrie's involvement in partygate.
The Sue Gray inquiry was told that it was she who was keen to throw a party during the first lockdown and "offered to bring cake" – so these cannot be written off as "sexist", "misogynistic" slurs along with the rest. And while other First Wives have been busy out in Ukraine, shaking Zelensky's hand, Carrie has been notably low profile in recent months, presumably acting on advice from spin doctors.
… according to Craig Oliver, former director of politics and communications for David Cameron: "Leaving No 10 could be the making of Carrie. She's an intelligent woman, interested in a lot of issues. Being the PM's wife has an inevitable chilling effect on what you can do and say. She'll now be free to speak her mind." 
Lord Ashcroft, whose biography, First Lady: Intrigue at the Court of Carrie and Boris Johnson, was published in March, describes Carrie as "an impressive person – with a high-level career in politics and a record of campaigning on animal rights and the environment". Another political writer, meanwhile, assures me that any toxicity will be shrugged off with characteristic ease both by Boris and his wife. "He will be a very successful ex-Prime Minister. His star quality is shoulders above any of the others and he will become very rich on the back of it. So very shortly, everything will settle down, and she will be glad to have left the fishbowl."
… although Carrie is clearly a political animal, it seems likely that she'll choose to concentrate next on animal rights campaigning, perhaps deepening her involvement with The Aspinall Foundation, for whom she has worked as head of communications since 2021 – which in itself is in a period of transition. Every PR knows that charity work is the best "brand rehab" there is, and her passion for the cause isn't in doubt.
We can but see.
There was more to come with Mr and Mrs Johnson: their belated wedding celebration, which they weren't able to have earlier because of the pandemic.
More to come tomorrow.
Yesterday's post, 'The Western world is changing, from coronavirus to climate change', discussed the outrage that Britons felt on reading Rishi Sunak's revelations in The Spectator about the UK's coronavirus policy:
Rishi, Liz Truss's rival in the Conservative Party leadership contest, did not do himself any favours. If he hoped to garner votes from the Party's coronavirus sceptics, he was mistaken.
From March 2020 to the present, any sceptics voicing an opinion were thrown under the bus, such as Bev Turner, who featured in yesterday's post.
On Thursday, August 25, the day that the ex-Chancellor's revelations were published, another sceptic, GB News's Dan Wootton, aired his views:
Wootton rightly took issue with Rishi's claim that the wrongful promotion of the SAGE scientists to an all-powerful level was wrong and that he should have changed it.
After all, next to Prime Minister Boris Johnson, the Chancellor is the next most powerful position in the Government. Yet, Rishi stayed quiet — for two years. Only now has he said anything.
He did nothing. Yes, he could have changed the course of events but did not:
At the end of that night's show, the Union Jackass nominees — prominent names in the news cycle for dumb things — were Boris Johnson for flying to Ukraine again instead of visiting the Channel to see migrants being escorted in, Nicola Sturgeon for saying she will always be British in spite of pushing for a second Scottish independence referendum and Rishi Sunak for not resigning or doing anything about our damaging coronavirus policy. Wootton chose Rishi Sunak:
Another coronavirus sceptic, Robert Taylor, wrote for The Telegraph about his own experience over the past two years and Rishi's revelations (purple emphases mine):
 … Take a bow, Rishi Sunak.
I had to do a double take when I saw the reports. For those long lockdown months, nobody in government, let alone the Cabinet, was prepared to say any such thing. It was left to a few courageous journalists and scientists to take on the overwhelming force of the lockdown fanatics, with police fining people for sitting on park benches and neighbours eagerly shopping each other like this was some authoritarian country.
The brave few kept the flag of personal freedom alive. That really is no exaggeration. And they paid heavily for it. On social media the abuse was intense. You don't care about lives! they snarled. You're murderers! they claimed. And in the mainstream, things weren't much better. You're a "small, disproportionately influential faction," moaned a Guardian Leader, that "denies the virulence of the virus". Thanks for that.
One MP, Neil O'Brien, took it upon himself to publicly discredit any sceptic, declaring "they have a hell of a lot to answer for". No, you do Mr O'Brien, for stifling free debate, along with certain mainstream news outlets for failing over a two-year period to examine whether lockdown might cause more harm than good …
But while I welcome and applaud Sunak's intervention, I also have a question. He was second only to the Prime Minister for power and influence, and lockdown was the most consequential, freedom-destroying government initiative since the war. He had severe doubts about it. So why didn't he resign? Yes, it would have been another headache for Boris. But given the massive consequences of the wrong strategy, didn't he owe it to the British people?
It's tragedy upon tragedy. Okay, it's a relief to hear that someone in the heart of government had the guts to challenge the dangerous group-think. But it's cold comfort to millions of children whose schooling was irreparably damaged along with their long-term prospects, and to patients who only discover now that they have cancer, diabetes or heart disease, and to those who were denied the chance simply to hug lonely, dying relatives.
For all these lockdown victims, Sunak's words come two years too late.
Publican Adam Brooks tweeted the article, which didn't get any replies in support of the former Chancellor:
However, earlier that day, two former Government advisers weighed in against Rishi: Dominic Cummings and Lee Cain.
Cummings blasted Rishi. The trolley in the tweet is Cummings's symbol for Boris, who veers off in all directions like a supermarket trolley:
Then he had a go at The Spectator's editor Fraser Nelson who conducted the interview with Rishi. Recall that Cummings's wife, Mary Wakefield, writes for the magazine:
Guido had a post on Cummings and Cain:
But, wait. Wasn't Rishi a friend of Cummings?
Guido's post says, in part (emphases his):
Whilst many sources disagree with some of Rishi's more lockdown-sceptic policy views, his criticism of the decision-making process by which those policies were reached are more widely supported. Lee Cain and Dominic Cummings, however, are not playing ball…
Former comms director Lee Cain argues that whilst he is a "huge admirer" of Rishi, "his position on lockdown is simply wrong. It would have been morally irresponsible of the govt not to implement lockdown in spring 2020."
Dominic Cummings is, characteristically, less diplomatic. Taking on Twitter he says, "the Sunak interview is dangerous rubbish, reads like a man whose epicly bad campaign has melted his brain & he's about to quit politics. Also pins blame *unfairly* on
 & others". A very rare defence of Boris. He ominously promises more blogging on the topic later…
I checked Cummings's Twitter account, but he hasn't posted anything more on the subject.
He defends his former boss here because he, too, wanted lockdown, even though he sneaked off to County Durham with his family one weekend during the first one in Spring 2020. He got rumbled, and, as penance, Boris made him give an agonising televised press conference about it. Cummings left Downing Street later in November that year.
Professor John Edmunds, a prominent SAGE member, pointed out that it was not SAGE's remit to do a cost-benefit analysis of lockdown. That would have been the responsibility of the Chancellor and the Treasury:
So, Conservative Party members should elect Rishi Sunak as their next leader when he couldn't be bothered to do a cost-benefit analysis during the pandemic? The Treasury has a lot of civil servants. That would have been part of their job. If only someone had asked them to do it:
GB News had a good article with reaction from Government advisers, including scientists:
Boris Johnson's former communications chief, Lee Cain, dismissed Mr Sunak's assessment of the situation, saying he is "simply wrong" …
He said No 10, the Treasury and Department of Health and Social Care "met multiple times daily and discussed the trade-offs".
Mr Cain added: "We all knew lockdown was a blunt instrument that had many downsides but in a world without vaccinations it was the best option available."
… A No 10 spokesman said: "At every point, ministers made collective decisions which considered a wide range of expert advice available at the time in order to protect public health."
Prof Graham Medley, a member of Sage, said: "Government have the power, so if one member of Cabinet thinks that scientific advice was too 'empowered' then it is a criticism of their colleagues rather than the scientists.
"The Sage meetings were about the science, not the policy options, and the minutes reflect the scientific consensus at the time."
… Another scientist who contributed advice to the Government during the pandemic said Mr Sunak's comments "are very misleading as they suggest that he was alone in thinking about the wider impact of lockdown on schools and other social impacts".
The source said the SPI-B group, which investigated behavioural impacts, and other advisers spent a lot of time examining the issues around school closures.
"If the former chancellor was arguing against school closures he would have found plenty of evidence to support his case from the very group of scientists he now appears to be criticising," the source said.
On Friday, August 26, Prime Minister Boris Johnson gave an interview in which he discussed the controversy. GB News reported:
Boris Johnson said he is "very confident" the Government made the "right" decisions about lockdowns.
The Prime Minister was asked to address the comments made by his former chancellor during a visit to South West London Elective Orthopaedic Centre in Surrey …
Speaking to broadcasters at the orthopaedic centre , Mr Johnson said if the Government did not lock the country down during the pandemic, "the delays for cardiac, the delays for hips, the delays for cancer treatment, or the other procedures that people care about" would have been "even greater".
He added: "I'm just giving you my view, which is that the… about the decision to try to stop the spread of Covid, and with all the things that we did.
"Of course, the inquiry will have to look at those decisions. I'm very confident that they were the right ones. I just want to remind people of the logic because I think there's a bit of… it all gets turned upside down.
"People say, 'Oh, well, it was because of the lockdowns that people's health was impaired'. Actually, the purpose of using those methods, imperfect though they were, to restrict the spread of Covid, was to reduce the huge numbers in the NHS.
"Forty-thousand people at one stage occupying beds in the NHS because of Covid, and therefore, to reduce the numbers of patients with other complaints, other sicknesses, other needs, who were displaced by Covid, and are now coming back into the NHS. That was the purpose of what we were doing."
Unfortunately, lockdown has made the NHS worse. We still cannot see a GP. The A&E wards are full, even early in the evenings on a weekday. Six million patients are awaiting various medical procedures.
Lockdown was the worst thing we could have done. I know the UK is not in an isolated position here, but we should have been better at this.
Rishi Sunak could have come up with a cost-benefit analysis during those two years, yet he never did.
And he's running to be our next Prime Minister?
It turns out that Conservative Party members are asking the same question. On Saturday, August 27, The Telegraph featured an article: 'The moment Rishi Sunak knew his leadership dream was over'.
It had nothing to do with The Spectator interview, but with remarks he made earlier in the month during the hustings in Eastbourne, on the south coast:
It was when Rishi Sunak mentioned California for the third time in less than 10 minutes that his campaign team realised it was all over.
On stage at the Conservative leadership hustings in Eastbourne on Aug 5, Mr Sunak answered a question about the career he would choose as a young graduate by reflecting on the "culture" of enterprise he saw while living on the West Coast between 2004 and 2006.
"I think it's incredibly inspiring and empowering," he said. "If I was a young person, I'd want to go and do something like that."
But back at his campaign headquarters in Holborn, Central London, his strategists were far from inspired.
Staff felt his focus on California showed he was out of touch and summed up his failure to win over grassroots Tory members as polls showed members backing Liz Truss by more than two to one.
"People started to say that it wasn't going to happen now and he wasn't connecting with voters in the room," a source on the campaign told The Telegraph.
"He kept talking about California and tech. It became an open secret within the campaign that he wasn't going to win. That hustings was the point things really took a turn as everyone started to realise that."
Just as well, really.
All this talk of California? He must be wondering how he'll get his Green Card back.
Knowing Rishi and his in-laws' connections, he'll find a way.