You are currently browsing the tag archive for the 'Daniel Hannan MEP' tag.
This week's news that former Health and Social Care Secretary Matt Hancock would be standing down as MP for West Suffolk at the next election was a joyful tiding, indeed.
Hancock is currently an Independent MP. The Conservative whip was withdrawn on November 1, 2002, when he accepted the invitation to appear on I'm A Celebrity … Get Me Out of Here, which takes place in the Australian jungle. Amazingly, he came third, getting further than Boy George did.
This week saw more Hancock news with the publication of his Pandemic Diaries, co-authored with former Times journalist, Isabel Oakeshott.
This series charts the rise and fall of the former Conservative MP, a principal protagonist in the coronavirus drama of 2020 and the first half of 2021.
Two Oxford medics give their verdict
On December 8, 2022, The Spectator featured an article from Drs Carl Heneghan and Tom Jefferson from the University of Oxford: 'The UK isn't learning the right lessons from lockdown'.
Both were sceptics during the pandemic, the type of medics Matt Hancock eschewed, as we will find out later on from the Pandemic Diaries.
Excerpts from Heneghan and Jefferson's article follow, emphases mine:
This month, the UK's Department of Health and Social Care published a Technical Report on the Covid-19 pandemic in the UK.
The report is a long 11-chapter document describing the UK's response and pointing out suggestions for dealing with future pandemics.
The report is described as 'independent', but the authors are public health civil servants and a handful of academics. Given that the authors were instrumental to a greater and lesser degree in implementing the catastrophes of lockdowns, this report is as independent as President Xi marking his own homework in China.
It is hard to reconcile some of the report's content with what we have written about in the past. For example, there is no mention of the misuse of PCR tests or of Britain's failure to follow the example of other countries, whose contact tracing systems were overwhelmed in days.
There is also no apology for the evidence-free mass testing programme, the segregation of healthy people, and the lack of identification of truly infectious cases.
I remember the early weeks of the pandemic, which entered totalitarian territory on Monday, March 23, 2020, with Boris's five-minute announcement on lockdown.
My far better half and I wondered then about the absurdity of contract tracing. Fortunately, neither of us has a smartphone, nor did we participate in any testing regime ever. We simply don't see that many people.
Heneghan and Jefferson's article states:
It would have been better if the report admitted that contact tracing is hugely challenging, that it would never have achieved its intended outcomes and was, therefore, a waste of £37 billion. This is something health officials in Lombardy, Italy had realised by the beginning of March 2020. The UK Parliament has also pointed out that the contract tracing programme had an 'unimaginable' cost.
Yet, Matt Hancock paraded it as being a fail-safe method of finding out about loads of infectious people.
Then there were the hospitalisations. Here is a little-known fact worth repeating again and again:
up to 40 per cent of 'hospital cases' were infections acquired in hospitals … suggesting that whatever 'protection' measures hospitals were taking did not work.
After that came the school closures, even when Government officials said that children were at low risk from coronavirus themselves but could still transmit it to older relatives. Hmm:
When it comes to the low risk to school children and teachers, the report portrays this as a tension between missing education and stopping transmission …
But school-age children had the lowest Covid risk, and we are now reaping the effects of this immunological segregation, with a whirlwind of influenza-like illnesses sweeping across the country. The costs to children socialising and the impact on their schooling are mere details in the report.
Heneghan and Jefferson point out that the report makes scant mention of the 7.2 million people on NHS waiting lists and the rise in excess deaths because of lockdown. Furthermore:
Our requests for the cause of the current excess in deaths have gone unanswered.
The footnotes and references in the report appalled them:
… the type of evidence cited in the report's footnotes and references is remarkable. It mainly relies on models, i.e. opinions formulated by those with a long history of getting it wrong or citing selective pieces of work.
They say that there should be no excuses for the lack of planning for the pandemic:
There is no mention of the need for proper planning to plug known gaps in the evidence. For example, suppose you need to know whether masks or other physical interventions work in the community, you prepare protocols for trials designed to find this out in a short time. In that case, you get prior ethical approval and fire the starter pistol when the WHO declares a pandemic or earlier.
There is plenty of precedent for this kind of preparation. That is what happened in 2009 with mock-up influenza pre-pandemic vaccines. So there can be no excuses here, just a disregard for crucial gaps in the evidence and a reluctance to address them. It is even easier in the case of non-pharmaceutical interventions (NPIs) as there are no regulators breathing down your neck.
As for crucial NPIs, such as mask wearing and lockdown, the report says:
It may never be possible fully to disentangle some of the effects of individual NPIs in this pandemic, as many were used together….
Observational studies on NPIs were often complicated by several potential confounders.
The medics conclude that nothing will change:
Due to the sheer number of interventions tried at any one time, we may never know what works, particularly if we also rely on low-quality observational studies – as we have done – to inform policy.
But none of this matters: it'll be more of the same next time.
Hancock champions Klaus Schwab
Matt Hancock entered Parliament in May 2010, when David Cameron became Prime Minister, ending 13 years of Labour government.
Hancock began his ministerial rise to in 2013 as a junior minister in what was then the Department for Business, Innovation and Skills. He was the UK's Anti-Corruption Champion from 2014 and 2015. He served as Minister for the Cabinet Office and Paymaster General between 2015 and 2016.
When Theresa May became Prime Minister, Hancock became Minister of State for Digital and Culture, now the Department for Digital, Culture, Media and Sport.
In that capacity, he delivered a speech praising Klaus Schwab's Fourth Industrial Revolution. He delivered the speech at the House of Commons to the All-Party Parliamentary Group (APPG) at the Fourth Industrial Revolution's (4IR's) autumn reception on October 16, 2017. Hancock introduced Klaus to the APPG.
The transcript is still available to read in full:
… the nature of the new technologies is that the changes we are experiencing today, are probably the slowest changes we will see over the rest of our lifetimes. If you don't much like change, I'm afraid I don't have so much good news.
Our task, in this building and around the world, is to make this technology, this change, work for humanity. And I'm profoundly confident we can. Because this technology is made by man, so it can be hewn to build a better future for mankind.
And I'm delighted to speak alongside so many impressive colleagues who really understand this, and alongside Professor Klaus Schwab who literally 'wrote the book' on the 4th Industrial Revolution. Your work, bringing together as you do all the best minds on the planet, has informed what we are doing, and I'm delighted to work with you.
For the 1st Industrial Revolution, the UK could claim to be the 'workshop of the world' – propelled by development of the steam engine, it reached its pinnacle in the mid-19th Century. But the UK has not had the monopoly on waves of industrialisation.
Now, in the fourth revolution, we are determined to use our strengths to play a leading part. By its nature the fourth industrial revolution is more collaborative than the first. And we will play our part …
… our Digital Strategy, embedded within the wider Industrial Strategy, sets out the seven pillars on which we can build our success. And inside that fits our 5G strategy, like a set of Russian Dolls.
Our Strategy covers infrastructure, skills, rules and ethics of big data use, cyber security, supporting the tech sector, the digitisation of industry, and digitisation of government. All these are important.
… today I am delighted to announce that we are launching the first £25m competition for 5G testbeds and trials projects. We already lead on the highly technical development of 5G standards through the international work of the University of Surrey and others.
Now we are looking for innovative projects to test the roll out of 5G to develop the UK's growing 5G ecosystem. We want projects that explore the real-world potential for 5G …
It will also support projects which explore ways of using 5G technology to address challenges in particular sectors, such as those faced in health and social care …
Earlier this year, the 'fourth industrial revolution' was not a very well-known term – at least before it became a central topic at the World Economic Forum. It recently made its way into an item on BBC Breakfast television – this shows we've probably started to reach critical mass.
It's a pleasure now to introduce the man who made the fourth industrial revolution a household phrase: Professor Klaus Schwab.
Hancock became Secretary of State for Health and Social Care under Theresa May in July 2018, when she promoted Jeremy Hunt, his predecessor, to Foreign Secretary. Hancock remained in post throughout the pandemic until he was caught on camera in a heavy embrace with his then-adviser, now girlfriend, in 2021, when social distancing restrictions were still in place.
Hancock returned to the Conservative backbenches on June 26, 2021, after The Sun published the photos. Hancock and his girlfriend immediately separated from their spouses and are still an item.
The run-up to the pandemic
Even before the pandemic, Hancock was opposed to people who questioned vaccines.
On Sunday, September 29, 2019, The Guardian reported that he wanted compulsory vaccinations for schoolchildren:
The government is "looking very seriously" at making vaccinations compulsory for state school pupils and has taken advice on how such a law could work, the health secretary has said.
Matt Hancock, a vehement critic of anti-vaccination campaigners, has previously suggested such a plan. Speaking at a fringe event at the Conservative party conference, he said he was "very worried" by falling vaccination rates, indicating the government could act soon.
"I've said before that we should be open-minded, and frankly, what I'd say is that when the state provides services to people then it's a two-way street – you've got to take your responsibilities, too," Hancock told the Q&A session hosted by the Huffington Post.
"So I think there's a very strong argument for having compulsory vaccinations for children when they go to school, because otherwise they're putting other children at risk.
"Then I'd want to make it very easy if the children do arrive at school not vaccinated, simply to get vaccinated, and make it the norm. But I think there's a very strong argument for movement to compulsory vaccination, and I think the public would back us."
He took aim at social media for spreading what he called 'anti-vaccine messages':
"It's unbelievable, I think, that Britain has lost its measles-free status, and it should be a real wake-up call. I think that the social media companies have got a lot to answer for, because they allow the spread of anti-vaccine messages.
"I will do whatever I can – the science is absolutely clear and settled on the importance of vaccination. And the worst thing is that if you don't vaccinate your child, and you can, then the person you're putting at risk is not only your child but it's also the child who can't be vaccinated for medical reasons."
He had already started thinking about compulsory vaccines in May that year:
Hancock first raised the idea of compulsory vaccinations in May, saying he did not wish to do it but might be forced to act if no other solutions to improve take-up rates could be found.
He said: "Those who have promoted the anti-vaccination myth are morally reprehensible, deeply irresponsible and have blood on their hands."
Confidence in the MMR vaccination seems to have dropped at least partly in response to social media misinformation and scare stories. The discredited claims of Andrew Wakefield, who in 1998 theorised that the jab was linked to autism, are widely circulated.
Wakefield was struck off the medical register in 2010 after suggesting a link between the MMR vaccine and autism.
He also seemed to be interested in social care at that time. On June 10, 2019, Care Home Professional reported:
Matt Hancock has pledged a £3.5bn cash injection to prop up the social care system as he kick-starts his campaign to become the UK's next prime minister.
In an interview with the Daily Mail, the Secretary of State for Health and Social Care said he would seek the extra funds in the next Spending Review …
The Health and Social Care Secretary described the current social care system as "unsustainable" and said there's a "whole number of injustices" affecting society's most vulnerable people.
"One of the biggest injustices is that for people who worked hard all their lives and have put money aside – the system penalises them and won't fund their care without them having to sell the house, whereas people who haven't put money aside get their care supported. I think this is very unfair," he added …
He wanted to see individuals funding their own social care by contributing to a personal fund:
He stressed that the payments could be made over many years of a working life.
The scheme, which would be made voluntary, would require all workers over 40 to contribute 2.5% of their wages.
"I'd like to see people encouraged to take it out when they get their first mortgage – that being the point where many people buy life insurance," the minister said.
The insurance scheme would do away with previous Conservative proposals to put a lifetime cap on care costs.
Cometh coronavirus, cometh the man — or not
We were only a fortnight into lockdown in the Spring of 2020, and already we could see Matt Hancock's true character.
The televised Coronavirus Updates appeared almost daily on the BBC, and he was in most of them.
On April 12 that year, The Mail on Sunday's Peter Hitchens wrote 'Matt Hancock is trying to run the UK like my 1950s prep school':
Until I started travelling in the Communist world, my main experience of living under tyranny was my time at a boarding school on the edge of Dartmoor, 60 years ago.
The headmaster, an enormous, booming man, had many fine qualities. But he was given to dreadful rages, which tended to strike late on Saturday afternoons.
He would throb with fury because some of the more loutish boys had left their games clothes on the changing room floor.
For some reason, he viewed this as a terrible crime closely related to murder. So he would summon us into the assembly hall, and harangue us as darkness fell outside.
The more we stood mulishly in front of him, saying nothing and with our eyes downcast, the angrier he became …
Collective punishments – a ban on eating toast, or the cancellation of a promised film show – would follow, along with more shouting and angry notices in red ink, threatening worse to come.
Most of us were guiltless of wrongdoing. But we were small, and he was huge. The staff seemed more scared of him than we were.
We were on a windswept hilltop miles from anywhere. We had no escape …
Hancock wanted to ban outdoor exercise because it was violating social distancing rules, hastily put into place:
I had thought such childish things were long over in my life. But a week ago I found that I was, once again, living at the mercy of an equally petulant would-be despot.
Matthew Hancock, Secretary of State for Health, went on national TV to threaten to ban outdoor exercise if people continued to break 'social distancing' rules.
From a Government that claims to be preserving life and health, this threat was literally mad.
Banning exercise for any length of time will lead to the deaths and illness of many thousands of currently healthy, older people who know that such exercise is vital to their physical and mental wellbeing.
Such exercise can easily be taken while maintaining the required distance from others.
The threat was a dictatorial one, of collective punishment of all for the wrongdoing of others.
This is illegal under Article 33 of the 1949 Geneva Conventions. A foreign occupier would not be allowed to do it.
Sunbathing and sitting on park benches also irked Hancock while the police were enjoying their newly-found powers over the public:
Mr Hancock also said it was 'quite extraordinary' that some people had spent the weekend sunbathing in public places despite it being against Government guidance.
Getting into his stride, he urged people not to sit down even for a minute on a park bench, saying those who disobeyed the rules were putting their own and others' lives at risk.
What is this nonsense? The words of Ministers and the words and actions of the police show a pointlessly bossy side to these measures – the attempted ban on Easter egg purchases, the sunbathing squad, alleged arrests of people for just buying wine and crisps, the lumpish threat by a police chief to search the baskets of shoppers.
Provided the people doing these things do not break the distancing rules, why are they wrong?
Sunbathing, for instance, probably reduces the risk of infection, and if people keep a proper distance apart, what on earth is wrong with it? Why shouldn't someone sit on a park bench?
Mr Hancock said: 'I say this to the small minority of people who are breaking the rules or pushing the boundaries: you are risking your own life and the lives of others and you're making it harder for us all.'
Hitchens, who spent years working in Communist countries, hit the nail on the head:
I sense something more going on here.
The Government are trying to get us to accept a far higher level of state intrusion in our lives than we have ever endured.
They are treating us as if we were unruly children. This is despite what I regard as a quite extraordinary willingness among the great majority to do as we are asked.
It has gone to their heads. They need to calm down, for the sake of all of us.
We are not children, this is not some 1950s prep school ruled by the swish of the cane, and Mr Hancock is not our headmaster.
Hitchens rightly questioned the number of deaths at that point, which were nothing unusual, coronavirus or not:
A week ago, at the daily official briefing, Dr Jenny Harries, the Deputy Chief Medical Officer, confirmed my point that many deaths with Covid are not necessarily from Covid. She said: 'These are Covid-associated deaths, they are all sad events, they would not all be a death as a result of Covid.'
What nobody says is how many are as a result of the virus.
Then, if you look at the Office for National Statistics weekly death charts, for week 13 of each year (the week which this year ended on March 27), you find some interesting things.
The total of deaths for that week in 2020 is higher than the five-year average for that time of year, which is 10,130. In fact, it is up to 11,141.
This is 1,011 more deaths than normal per week, 144 more deaths than normal per day, regrettable but not gigantic. Do these figures justify the scale of our reaction?
If you add up the total deaths for the first quarter of the year from respiratory diseases, the figure so far for 2020 (22,877) is less than those for 2013 (25,495), 2015 (28,969), 2017 (25,800), 2018 (29,898) and 2019 (23,336).
Again, is this event as exceptional as we are being told? If not, why the shutdown?
Obtaining PPE was a huge problem, and not only for the UK. France, along with other Western countries, was also scrambling to secure PPE. I know from having read Marianne, a French newsweekly.
PPE popped up regularly in parliamentary debates. Labour asked repeatedly what the Government was doing and to get on with the job.
However, people who knew what was going on in the NHS said that things weren't as bad as the Opposition benches made them out to be.
Sir Keir Starmer had only been Labour leader — succeeding Jeremy Corbyn — for a week or so in April. He was offended that Hancock told the NHS not to waste precious supplies:
However, those with connections inside the NHS said that a hoarding mentality was present and that there was an adequate provision of PPE:
On April 9, Hancock announced a testing lab in Milton Keynes, the Lighthouse Lab, a.k.a. the National Biosample Centre:
Meanwhile, many of us wanted an update on herd immunity.
On April 8, Guido Fawkes reported, complete with audio (emphases his):
As new modelling released by University College London (UCL) predicts the UK will pass the threshold for herd immunity by Monday (with 73.4% of the population protected either by vaccination or previous infection), Matt Hancock was quick to pour cold water on the findings during an interview with LBC's Nick Ferrari. Speaking this morning, Hancock said:
I was told by some scientists that we were going to have herd immunity in May, and then in June, and then after that […] what I prefer to do is watch the data. And so we've set out the road map, the road map is really clear, it is our route back to normal, we're on track to meet the road map, and that's our goal.
Pressed on why the government seemed keen to accept the pessimistic assumptions within the Imperial College data, yet sceptical of UCL's new study, Hancock – rather predictably – said:
I think we have taken the right course in plotting our way to freedom, and doing it carefully, because we want it to be irreversible. We have seen what happens when this virus gets going […] and we want to get out of this safely and irreversibly.
The 'data not dates' refrain feels less plausible with every passing day…
One Twitter user sounded the alarm:
When University College London, a respected establishment put out work saying we'll hit herd immunity by Monday and Matt Hancock immediately dismisses it You know darker forces are at work here. He's a member of Parliament that doesn't work for the people, he works for Gates.
On April 23, exactly two months into lockdown, Hancock was enjoying his power over the British people. Meanwhile, some of us were beginning to worry about the economic downside of keeping everyone at home.
The Mail reported that there was no end in sight:
Matt Hancock tonight insisted the coronavirus lockdown must stay until there is no risk of a second peak – as scientists warned the outbreak might not be fading.
The Health Secretary vowed not to compromise the national effort against the disease as Professor Jonathan Van-Tam told the daily Downing Street briefing that while hospital occupancy rates had dipped in in London the picture in other parts of the UK was 'more of a plateau'.
The figures – along with another 828 deaths being declared in the UK – add weight to the arguments of those who want to err on the side of caution despite the devastation being wreaked on the economy.
At this point, Boris Johnson had been released from St Thomas's Hospital from his near-death bout with the virus and was recuperating at Chequers. His wife Carrie, about to give birth to their first child, was with him.
Rifts were appearing as to how long lockdown should last:
Divisions have emerged between Cabinet 'doves' such as Mr Hancock and 'hawks' who believe the NHS has capacity and would prefer to loosen the draconian social distancing measures earlier.
The PM has intervened from his recuperation at Chequers to snuff out speculation about an imminent easing, with Downing Street making clear his priority is avoiding a 'second peak' in the outbreak.
There are reports Mr Johnson's inner circle has stopped using the phrase 'exit strategy' and instead wants to signal a 'next phase' of lockdown, with varying levels of restrictions set to continue for the rest of the year until the virus gets 'close to eradication' or a vaccine is found. Australia has successfully suppressed cases to very low numbers.
Scientists have been telling ministers behind the scenes that control of the outbreak is still so uncertain that even slight changes to the curbs on normal life could result in a disastrous flare-up.
Mr Hancock said tonight: 'We have been clear that we will not risk lives by relaxing the social distancing rules before our five tests have been met.
'First, that the NHS can continue to cope, second, that the operational challenges can be met, third, that the daily death rate falls sustainably and consistently, fourth, that the rate of infection is decreasing, and most importantly, that there is no risk of a second peak.'
The Mail included a photo montage of Cabinet members and this caption of where they stood on the issue:
How members of the cabinet are currently split over the ending of the lockdown. Mr Johnson (top left) and Matt Hancock (bottom left) are classed as 'doves'; Michael Gove, Liz Truss and Rishi Sunak (right, top-to-bottom) as 'hawks'; and Foreign Secretary Dominic Raab (top centre) is among those in the middle, with Gavin Williamson (centre) and Alok Sharma (centre bottom)
Senior Conservative MPs wanted an end to lockdown:
There is no prospect of lockdown measures being eased before the current period comes to an end on May 11.
However, some senior Tories have been pushing plans for an easing soon afterwards, pointing out that the NHS is still below surge capacity and could 'run hot' to limit the economic meltdown.
SAGE clearly wanted lockdown to continue:
Government scientists have been warning that the situation is currently so finely balanced that even marginal loosenings could have disastrous effects.
One Cabinet source told the Guardian the government's advisers on Sage had suggested any easing would push up the rate of transmission – known as R.
The source said: 'The scientists are very clear. There's no loosening of measures we can do that won't bring the R back over 1 …
'We did have an R of about 3. And we've driven that down. But even a small increase in transmission could put you above 1.'
The WHO were adamant that the Western world should remain locked down, even though some of those countries were already easing restrictions:
Dr Takeshi Kasai, the WHO regional director for the Western Pacific, said: 'This is not the time to be lax. Instead, we need to ready ourselves for a new way of living for the foreseeable future.'
He said governments must remain vigilant to stop the spread of the virus and the lifting of lockdowns and other social distancing measures must be done gradually and strike the right balance between keeping people healthy and allowing economies to function.
Despite concerns from health officials, some US states have announced aggressive reopening plans, while Boeing and at least one other American heavy-equipment manufacturer resumed production.
Elsewhere around the world, step-by-step reopenings are under way in Europe, where the crisis has begun to ebb in places such as Italy, Spain and Germany.
By the last week in April, questions were mounting.
On April 23, The Telegraph's Christopher Hope wondered why Hancock didn't take any questions from the media after that day's coronavirus briefing:
The next day, Hancock praised Muslims for their 'sacrifice' in not meeting daily for prayers during Ramadan, but had nothing to say to Christians who could not attend church on the holiest feast of the year, Easter, which remembers Christ's resurrection from the dead. Houses of worship were closed:
Hancock began wearing a prominent CARE lapel badge on television. By this time, he had pledged that a 'protective ring' had been placed around care homes, something he later denied saying.
People found the CARE badge risible.
James Kirkup, writing for The Spectator, defended the move:
Matt Hancock's badge for carers is a perfectly good idea. The mockery of it is in many cases shallow, ill-informed, revealing and hypocritical.
You don't need me to describe the badge or the mockery. Anyone with an internet connection and a glancing familiarity with what passes for 'news' these days is aware that the Health – and Social Care – Secretary announced that the Government is now backing a scheme that encourages social care staff to wear a green badge saying CARE.
Part of the aim is to give care workers the same sort of recognition, esteem and access to services – reserved shopping hours, for instance – as NHS workers.
This is reasonable, necessary and overdue. Part of the UK's social crisis lies in the social care workforce, which is too small and too transient. There are around 125,000 vacancies in social care at any moment, roughly eight per cent of the workforce. Turnover is around 30 per cent, double the average across the UK labour market.
Kings College London surveyed care workers and found that some said that teachers warned their children to do better in school, otherwise they'd end up working in care homes:
In a survey of care workers, the Kings' team found that it wasn't just society as a whole that looked down on care. It was care workers themselves. One of the most common phrases used by interviewees was 'I'm only a care worker'. Many reported that their children had been told if they don't work hard they would end up working in care. 'The lack of esteem has been internalised,' prof Manthorpe said. Our collective disregard for social care has left carers feeling worthless and keen to leave the sector, sometimes for jobs with equally poor wages.
The following year, after Hancock had urged all care workers to be vaccinated, a number of those who refused to do so were either fired or left for hospitality jobs.
John Pilger, writing for The Guardian, rightly predicted that a storm was brewing over PPE contracts and wasted money on testing:
A debate in Parliament took place just recently on the topic. Labour are still furious.
The prediction that came true
Former Conservative MEP Daniel Hannan, now Lord Hannan, predicted exactly what would happen as early as April 5. He was incredibly accurate.
The Express reported:
Economist Mr Hannan warned businesses would "topple like dominoes" if the lockdown remained in force until May, while pointing the finger at Public Health England for the failure to undertake a widespread programme of testing. The ardent Brexiteer, writing in The Sunday Telegraph, said the cost of the restrictions was hard to measure "but no less painful for that". He explained: "One of my university contemporaries, who has a history of mental health problems, has struggled terribly with confinement.
"A neighbour is facing the grimmest of hat-tricks: her business ruined, her house-move frozen and her cancer operation postponed.
"The village osteopath, who went from 300 patients a week to zero when the bans came in, has been forced into insolvency.
"Nationally, a million more people have been pushed on to benefits."
Mr Hannan also scoffed at the assertion stringent measures were required to minimise the number of people dying.
He said: "I am astonished by how many commentators duck these consequences by airily asserting that 'lives matter more than the economy'.
"What do they imagine the economy is, if not the means by which people secure their welfare?
"The economy is not some numinous entity that exists outside human activity; it is the name we give to transactions among people aimed at maximising their wealth, health and happiness."
If businesses – excluding those deemed likely to accelerate infections, such as nightclubs – were permitted to reopen next week, "we might yet escape the worst", he asserted.
However, he added: "If the prohibitions remain in force into May, businesses will topple like dominoes, and a decade of depression will ensue."
And so it came to pass.
To be continued next week.
Before discussing the latest developments among the candidates for Conservative Party leader, let's look at the weather here in England.
The weather presenters have been going on for a week about how hot it's going to get here. From the beginning, they forecasted 40°C temps, roughly 100°F. Weather maps have been given a deep red colour, as if we're going to burn alive.
Monday and Tuesday were going to be the hottest days of the week. Monday's high was 38°C, reported in only five places, two of which were airports, so I discount those.
The other three were Cambridge University Botanical Gardens, Cavendish, Suffolk and a village called Sancton Downham.
One of Guido Fawkes's readers posted a photo of the Cambridge location, which makes it suspect. The first photo shows the area when the weather station was first installed. The photo on the right shows what the area looks like today: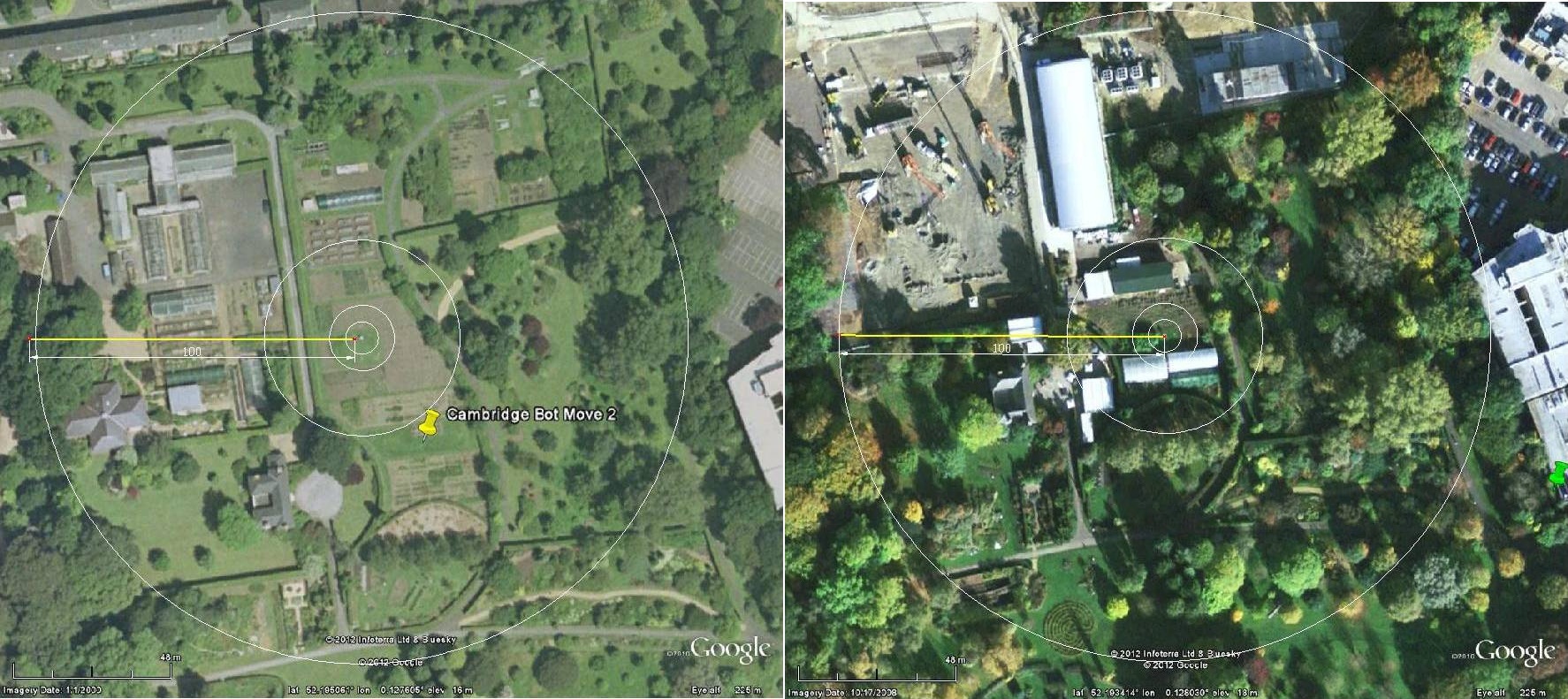 Guido's reader commented (emphases in purple mine):
… the siting of Stevenson screens is crucial when recording temperature change. As I type the Cambridge station is now recording the highest temperature in the UK but it has been surrounded by new buildings which invalidates its scientific accuracy. It certainly must not be used to claim all time highs.
The unit and sensors should also be positioned in open space away from any nearby potential sources of heat such as buildings, airports and brick walls, where free circulation of air can occur, and over a natural surface, grass is recommended as other surfaces such as concrete can cause significant error leading to all time high temperatures being recorded inaccurately.
Was it warm yesterday? Yes.
Was it pleasant? Of course. I did some heavy duty gardening.
I do not understand why the British panic over summer temperatures, especially since most of them go to scorching hot climes on holiday. This graphic sums it up well: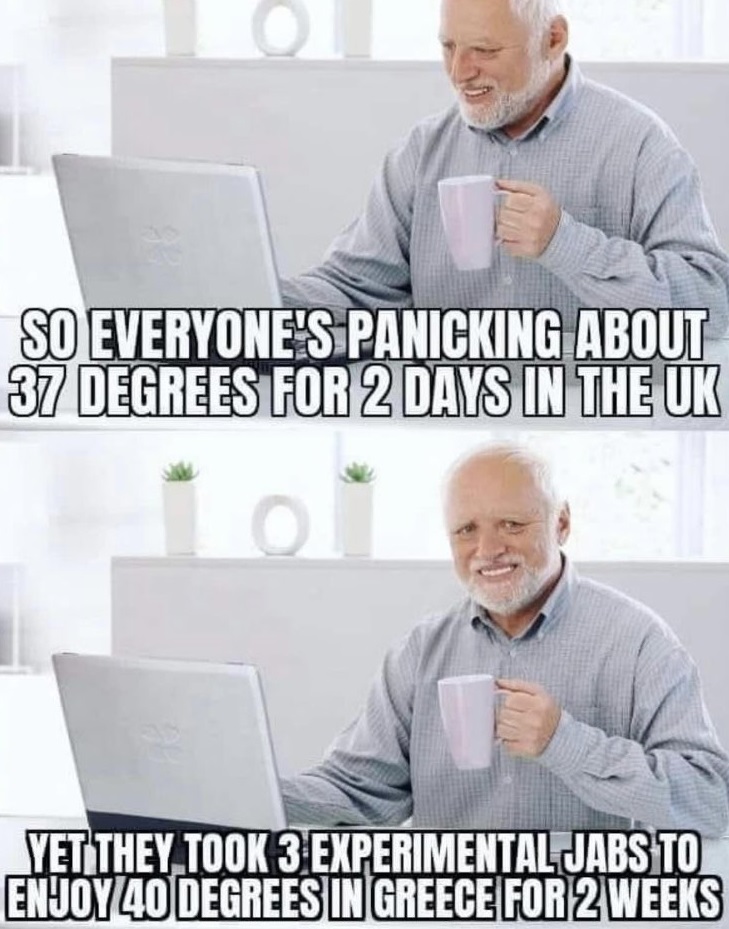 It's hard not to agree with this university lecturer, who wonders how ever created an Empire when we are such Moaning Minnies about heat. Were the British made up of sterner stuff in the 18th and 19th centuries? Perhaps so:
Now on to the Conservative Party leadership contest.
Monday's vote: Tugendhat's out
Conservative MPs voted again on Monday, July 18, 2022.
Tom Tugendhat, our Army superhero, was eliminated from the contest:
Was this his mode of transport home?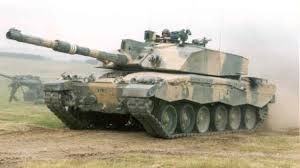 Here's Tom in an Army sweater:
He made a video thanking his supporters:
Guido Fawkes gives us Tom's main statement:
I have been overwhelmed by the response we have received across the country. People are ready for a clean start and our party must deliver on it and put trust back into politics.
No doubt the ladies at Mumsnet enjoyed it:
The final four
Going into Tuesday, these were the final four candidates:
Guido has Monday's vote tally. Results went down as well as up (red emphases his):
Rishi Sunak – 115 (+14)

Penny Mordaunt – 82 (-1)

Liz Truss – 71 (+7)

Kemi Badenoch – 58 (+9)

Tom Tugendhat – 31 (-1)

OUT
Penny's lost support, Kemi is still in contention. Liz is now second favourite at the bookies. All to play for…
Guido had more analysis later in the day:
Whilst tonight's leadership vote-off is unsurprising in that sense, the way the votes have gone for the remaining candidates are much more interesting.
Penny has gone down one vote, totally stalling. While she still leads Liz Truss, this trajectory will kill her momentum. Kemi has done very well; gaining nine backers to Truss's seven. While tonight's result in terms of eliminating Tugendhat may have been predictable, the remaining results make the final two more uncertain than ever. Though Rishi is now guaranteed a space in the final two…
The next vote took place on Tuesday afternoon. I will have an analysis of the results on Wednesday.
Conservative Party members see things differently
After Conservative MPs whittle their choices down to two candidates, the Party will send ballots out to members to vote for their choice, with a new leader — and new Prime Minister — to be in place by September 5, when Parliament reconvenes.
Note the latest polling from the Grantham and Stamford Conservative Association, which I featured last week. Kemi Badenoch was — and is — still in the lead. Rishi Sunak comes in a rather distant third:
Guido says:
The slick Rishi machine has to move the dial with the membership in a big way…
Rishi Sunak
Rishi is in a bit of a pickle, which gives Labour a lot of ammunition should he be our next Prime Minister.
The pandemic turned a lot of Britons into supporters of big state government, as Lord Hannan points out:
On May 26, the then-Chancellor announced a handout of £400 to all households in order to help them with rising energy costs:
The financial support has now been distributed.
Is it a good plan? Guido reported on the reaction from various think tanks.
The one from Taxpayers' Alliance resonated with me most:
The TaxPayers' Alliance isn't impressed either, claiming the move is "little more than the government taking with one hand and giving with the other". Chief Executive John O'Connell said:
Taxes are the single biggest bill families face and these huge handouts will see politicians hoovering up the incomes of struggling taxpayers, creating a cost of government crisis. If the chancellor wants to boost growth and help households, he can deliver both right now by bringing forward the planned income tax cut and slashing costly levies on energy bills.
But that was not all.
Rishi outlined other plans, altogether resulting in a £15bn bailout:
Guido has a summary:
As expected, Rishi has fired up the money printer once again to combat inflation. The Treasury claims it'll cost £15 billion, with £5 billion a year supposedly coming from the newly-announced windfall tax "energy profits levy". Here's what to expect:
Windfall tax on oil and gas companies.

Projected to raise £5 billion a year.
One-off 'cost of living payment' of £650 to approximately 8 million means-tested households.

 Two lump sum payments directly to bank accounts.
Households already receiving winter fuel allowance will also get a one-off payment of £300.
Those on disability payments will also get of £150.

Many of those in receipt of this payment will also be eligible for the £650 sum, bringing their total support to £800.
Universal grant of £400 to all households.

 Doubling the £200 energy bill loan, and turning it into a full grant.
Rishi boasted when making the announcement that his plan is more generous than that proposed by Labour's Rachel Reeves. The levy will raise £5 billion a year, and this will cost £15 billion. The difference will have to be financed by borrowing repaid by taxpayers…
People were shocked.
Labour won this round.
In Parliament, Shadow Chancellor Rachel Reeves said:
We pushed for the windfall tax. They've adopted it.
We said the buy now pay later scheme was wrong. Now they've ditched it.
This government is out of ideas, out of touch and out of time.
When it comes to the big issues facing the country, Mr Speaker, the position is now clear:
We lead. They follow.
Former Labour leader Jeremy Corbyn, who was Boris's opponent in the 2019 general election, was also pleased:
This was Jeremy Corbyn's plan in Labour's 2019 manifesto. It included a windfall tax:
Taxes in Britain are now at a 70-year high. Who was Prime Minister then? Labour's Clement Attlee:
Lord Hannan, a former MEP, fears this will be a permanent development. He might well be right, unfortunately:
The plan made two front pages:
Cabinet members reacted the following day, including Jacob Rees-Mogg:
According to The Times, Rees-Mogg raised concerns in Cabinet yesterday, suggesting "the package would be better funded by reducing government spending on infrastructure projects." The paper puts BEIS Secretary Kwasi Kwarteng in this camp as well, with him telling allies he's particularly concerned by BP's announcement that it's reviewing its plans to invest in the North Sea. Guido agrees with the anonymous cabinet minister who said "The politics of this is just so bad. We voted against it, we marched the whole party up the hill and are now taking them back down again. It looks like we're being dictated to by Labour"…
Conservative MP John Redwood said that taxation does not equal prosperity:
On May 28, Lord Hannan wrote an excellent editorial for The Telegraph, 'The Tories have almost wholly given up on conservative principles. What a tragic waste'.
Excerpts follow:
The Tories have almost wholly given up on conservative principles. They used to argue that lower taxes stimulate growth and so lead, in the long run, to higher revenue; that countries, like families, should live within their means; that individuals spend their money more wisely than state bureaucrats; that arbitrary and complicated taxes are as much a deterrent to investment as high taxes. Not any more …
When George Osborne imposed a one-off tax on energy firms in 2011, the Treasury Red Book predicted that it would bring in £2 billion. Instead, oil companies cut their North Sea investments and tax revenues fell.
Again, Johnson and Sunak know this. As recently as three months ago, the Chancellor was telling us that the "obvious impact of a windfall tax would be to deter investment". Both men understand that the only way out of our present predicament is through growth. Both understand that the way to achieve higher growth is to cut spending, scrap regulations, remove trade barriers, and ensure sound money. But these things are usually unpopular in the short term, and that seems to be their chief consideration.
We are thus in a negative feedback loop. When voters see the Conservatives, supposedly the party of fiscal responsibility, spraying cash around, they conclude that there must be plenty of depth left in the Government's reservoir. When they see a Tory Chancellor promising to bring in extra revenue by hiking corporation tax – despite the experience of cutting corporation tax rates from 2011 and seeing revenues surge – they naturally believe him. All this then heaps pressure on ministers to spend even more …
It was all so unnecessary. Outside the EU, Britain could have become freer and more competitive. We had a Conservative Government with an 80-seat majority, for Heaven's sake. We could have scrapped Brussels regulations, flattened and simplified taxes, embraced global markets, slimmed the civil service, decentralised powers and broken cartels. We could, in short, have made this the most attractive place in the world to do business.
Yes, the pandemic was an unforeseeable distraction – though, even then, some reforms could have been pursued. But nearly a year has passed since the end of the restrictions in Britain, and it is now depressingly clear that there is no plan to make use of our opportunities. After all their talk of buccaneering Britain, our leaders have shied away from almost every difficult economic decision. What a waste. What a tragic, needless waste.
Of course, Nadhim Zahawi is our current Chancellor. For how long remains to be seen. However, it will be difficult for him or his successor to roll back on Rishi's plan. Labour won't allow it. Either way, it will play to Labour's advantage between now and the next general election.
Let us look at more recent developments.
When Rishi resigned as Chancellor, the press gathered outside the Sunak mews house in Kensington, London.
The Infosys heiress Mrs Sunak, in the tradition of other politicians, brought reporters mugs of tea:
One reporter expressed his appreciation:
Boris Johnson had only just stood down as Party leader when Rishi declared his candidacy to succeed him. Note that Channel 4's poll participants still wanted Boris to stay in No. 10:
'Ready for Rishi' launched on July 8, complete with a video on his family's arrival in Southampton on the southern coast of England. Rishi was born there:
Not surprisingly, Rishi's promo did not include this clip from a 2001 documentary he participated in as a student at Winchester, one of the nation's top public (very private) schools. This is from the BBC's Middle Classes: Their Rise and Sprawl, shown in March 2001.
Rishi glibly says he doesn't know any working class people. His father looks on admiringly:
Bim Afolami MP, who is one of Rishi's supporters, defended his friend's quick launch. Afolami said that all the video clips were there for his team to sort through and compile in 24 hours. Afolami said that it was not unusual that Rishi arranged for his campaign website in …. 2020:
Staunch Boris loyalist Nadine Dorries told Dan Wootton on GB News that Rishi was able to launch his campaign because he wasn't at work:
Wootton asked whether Rishi was 'too duplicitous' to be PM:
Ninety-two per cent of those responding to his poll said YES:
Patrick Christys added to the doubt that many have about Sunak, from the timing of his campaign launch to his Boris backstabbing:
At the launch of the candidates' contest, the public reacted negatively to Rishi.
One person was incredulous that both Boris and Rishi received Fixed Penalty Notices for Partygate, yet Boris had to resign only for Rishi to run as his successor:
Another predicts that the Conservatives will lose the next general election. The Opposition will fire too much ammunition Rishi's way:
This chap objects to all of the top candidates:
I will leave it there for now.
More to come tomorrow, including an analysis of Tuesday's vote.
In case anyone missed them, here are Parts 1, 2, 3 and 4 of this series about the British public's suspicion over the continuing coronavirus lockdown.
The June protests vexed Britons who were trying to do the right thing: staying at home and social distancing when outdoors.
All of a sudden, that flew out the window. Protesters had pride of place, yet, the rest of us still had to obey the social distancing guidelines.
That rankled, especially as we had been told we were selfish because we wanted to hug our loved ones who didn't live with us. Think of grandparents and grandchildren.
What about people who just needed to get outdoors in the fresh air by themselves?
What about children who longed to see their friends? This former barrister and co-editor of Conservative Woman nails it:
And what about the people who freaked out over a very limited reopening of schools on Monday, June 1?
What about the average law-abiding person?
Yes, those people are 'the problem'. We are made to feel guilty through no fault of our own.
The frustrating hypocrisy of it all:
Then we had Piers Morgan taking issue with Boris's top adviser for trying to care for his little boy and with Labour MP Barry Gardiner for attending the demonstrations. Yet, Piers applauded his own son for taking part in the protests:
But I digress.
There was no social distancing during the protests. In fact, some police officers in London were assaulted.
However, even though Health Secretary Matt Hancock advised that the rules be kept in place over the weekend of June 6 and 7:
… the lack of social distancing was acceptable:
It was for a cause.
Health 'experts' said so — 1,200 of them, in fact:
Tucker Carlson had an excellent editorial on this on Friday, June 5. Anyone complaining about social distancing and protests is 'the problem', not the protesters and rioters. Well worth a watch. You could not make this up:
But what about the people told to leave London parks because they were sunbathing by themselves? What about Piers Corbyn who was arrested twice for advocating against lockdown? Where were the Metropolitan Police during the protests? On hand, but either taking a knee or standing by doing nothing:
Boris didn't do anything, either. We have a Home Secretary. He could have got in touch with her.
This is what he issued on Saturday, June 6, the day of yet another protest in London over an American who died on home soil in Minneapolis, Minnesota:
'The evils of fascism'. Don't make me laugh, Prime Minister.
Things were no better in Northern Ireland …
… or Scotland, where thousands were expected to attend a protest on Glasgow Green:
The Labour leader, Sir Keir Starmer, was a bit slow on the riots. Didn't he know that American cities were being destroyed and shops across the country looted? President Trump never stopped peaceful assembly:
Anyway, there is some good news in all of this. More people in the public eye have noticed that continuing lockdown in the UK is a bad idea:
Unfortunately, a number of 'senior figures' from the NHS do not see it that way, primarily because of the close proximity of protesters in early June. That is not the fault of the British public and is likely to make them even angrier. They were not among the protesters. They are eager to get back to work.
In fact, said 'senior figures' will probably make the British public all the more suspicious about the protests. Were they timed to prevent lifting of lockdown? We'll never know.
In any event, this concludes this series with a few key points to keep in mind:
It's going to be a long, hot, tense summer here in the UK.
See Part 1 in this series about the anger in Britain over lockdown.
One or two tweets below might have salty language. The rest do not.
There is much anger by a proportion of the population at the government:
MPs, except for one, are largely silent on the subject. Luckily, John Redwood has been an MP for decades. He might be our only hope:
Most are like Conservative MP Nadine Dorries, however. She was one of the first MPs to get coronavirus. Her aged mother, who also had it, helped her recover. I was sorry to see her tweet this:
Yesterday, I left off on masks. On Thursday, June 4, Transport Secretary Grant Shapps said they would be mandatory on all public transport in England. Health Secretary Matt Hancock repeated the order the following day:
Someone in the know saw this coming in April (never mind the reply):
This is so irrational. Earlier this year, the WHO advised against it:
Exactly.
I'm looking forward to the first lawsuit when someone is unable to breathe on public transport:
The above advice applies to England.
Wales, Northern Ireland and Scotland are on their own track.
However, Scotland is no better:
This is what they are doing in Singapore. Simon Dolan, incidentally, is suing the British government over lockdown. Good man:
It seems masks are only the beginning. In the UK, we haven't fully got off the ground with the track-and-trace app.
More from Simon Dolan about Singapore:
Track-and-trace is also getting up people's noses:
Then there's the R rate that SAGE and Chief Medical Officer Chris Whitty discuss daily on the coronavirus briefings:
But that's nothing compared to the wacky modelling from Imperial College's Prof Neil Ferguson which brought about lockdown:
Yet, at least one London hospital is ignoring masks and social distancing:
Shouldn't only the vulnerable be sheltered?
Picking up on the railway platform, here's the latest on international transport …
… and the latest on public conveniences:
Why doesn't any of this make sense?
Similar madness holds true for local buses:
Meanwhile, unlike protestors around the world complaining during coronavirus about the death of an American ex-convict thousands of miles away, when you're Piers Corbyn (pictured with the policewoman in a mask), an eccentric weather forecaster as well as the brother of the last Labour leader, and say that climate change is caused by the sun's activity and you're protesting lockdown with like-minded people, you can be arrested twice at Hyde Park in London:
The sheer hypocrisy of it all is mind boggling.
More tomorrow.
The past seven days in Britain have proven further the old adage that a week is a long time in politics.
Last Saturday, September 7, Conservative MP Amber Rudd (Hastings and Rye) resigned from Prime Minister Boris Johnson's cabinet. Her resignation is not a huge loss, as she is a Remainer, however, the optics were potentially damaging to the new PM.
She was upset about the 21 Conservative MPs who had the whip removed last week. (The PM's brother Jo had resigned from Cabinet days before for the same reason.) Fair enough. However, she allegedly told The Sunday Times about her resignation before she notified the PM, according to Buzzfeed's Alex Wickham:
On Monday, September 9, talk revolved around Boris's 'unfair' prorogation. A few weeks ago, Conservative MEP Daniel Hannan reminded us of the facts:
Before prorogation took place, however, former Conservative-now-rebel MP Dominic Grieve put forward a Humble Address procedure in Parliament on Monday afternoon. He wants every detail of correspondence behind prorogation as well as the emergency Brexit procedures contained in Project Yellowhammer. The Guardian has this summary of this extraordinary measure with regard to prorogation correspondence (emphases mine):
Grieve's demand for the release of all written and electronic contact about the temporary suspension of Parliament and Operation Yellowhammer documents since July 23 to be released was approved by MPs by 311 votes to 302 on Monday.
It asked for all correspondence and communications, formal or informal, including WhatsApp, Telegram, Signal, Facebook Messenger, private email accounts, text messages, iMessage and official and personal mobile phones connected to the present Government since July 23 relating to prorogation.
It listed key individuals of Mr Johnson's Government, including senior adviser Dominic Cummings and director of legislative affairs Nikki da Costa.
Grieve was Attorney General just a few years ago, so, apparently, this move is legal, even though one wonders about the legality of requesting private correspondence given EU data protection rules. An update follows below.
That was followed by Speaker of the House John Bercow's announcement that he would be relinquishing his post by October 31. A standing ovation from Opposition MPs followed, at which point most Conservative MPs left the chamber. Then, a 90-minute verbal floral tribute followed to the Remainer from a variety of Opposition MPs, also Remainers. And these are the people who complain they lack adequate time to debate Brexit!
That evening, as MPs continued to sit in session, the PM once again put forward his motion to hold a general election. His prior attempt had been defeated a week earlier.
Once again, Boris was defeated. Those who voted Aye were in the majority, but he needed two-thirds of all sitting MPs to vote for it.
Still, no one can rightly call him a dictator.
Recalcitrant MPs should have listened to Gina Miller. This is probably the one time I agree with her — and that is only with the second sentence in this tweet:
Gina's case on illegal prorogation was rejected, but it goes before the Supreme Court next week on appeal. Former Conservative PM John Major (pictured in the background) piggybacked his own anti-prorogation case onto Miller's:
It's a bit rich for Sir John to complain about Boris's prorogation:
Around the time Parliament was preparing for prorogation, a poll was released saying that the British public do not want another extension to Brexit:
In the early hours of Tuesday morning, all hell broke loose in the House of Commons.
Black Rod, the Lady Usher in the House of Lords and Queen's representative for the prorogation ceremony, entered the House. She was there to prorogue Parliament and summon all MPs to the House of Lords where they had to listen to a very long list of all the achievements of their Parliament. It took ages.
I stayed up to watch everything on BBC Parliament, but the following video has better views of a few other scenes in the Commons. The noise that Opposition MPs made was terrible. Then, a vexed Black Rod, who stood on the red line designating the governing party's boundary in the House, glared at the Speaker as he made some great peroration, to borrow the word he uses against those with whom he disagrees. He then barked at two Conservative MPs telling him to get on with it and leave the chamber. One Labour MP climbed on top of Speaker Bercow to prevent him leaving!
This video is around six and one half minutes long and is well worth watching:
Here is a potted version with subtitles of the proceedings:
It was part of Bercow's job to silence the chamber and allow Black Rod to speak.
Here are a few more scenes:
The 'SILENCED' signs were rich, considering these MPs are thwarting Brexit at every turn. A Leave supporter did a nice Photoshop of the Speaker's chair:
All of the MPs were supposed to follow Black Rod to the House of Lords, but only the Conservatives and a handful of Opposition MPs did.
The rest stayed behind to film themselves in the Commons — not allowed — and to sing songs, such as The Red Flag!
The Labour MP crawling on top of Bercow was re-enacting a similar prorogation scene in Parliament from 1629:
After Bercow returned from the House of Lords, he received a second standing ovation, largely from the Opposition:
On Wednesday, September 11, The Guardian reported that Cabinet minister Michael Gove wrote Dominic Grieve in response to his aforementioned Humble Address procedure requesting private correspondence on prorogation. The government — rightly — will not hand over said documents:
A letter from Michael Gove addressed to former Attorney General Dominic Grieve states that the request would breach the rights of those named in the communications – including civil servants and special advisers.
This is an unprecedented, inappropriate, and disproportionate use of [the Humble Address] procedure. To name individuals without any regard for their rights or the consequences of doing so goes far beyond any reasonable right of Parliament under this procedure.
These individuals have no right of reply, and the procedure used fails to afford them any of the protections that would properly be in place. It offends against basic principles of fairness and the Civil Service duty of care towards its employees.
Excellent move, excellent reasoning.
However, the government did release more information about Operation Yellowhammer, which looks a lot like what we saw reported in the media earlier this year in anticipation of the original March 29 departure date:
We have enough to go on at this time. Why release procedures that could compromise national security?
Michael Gove explained that Yellowhammer details what to do in a worst case scenario. Those scenarios might never happen. They are contingency plans:
That day, three Scottish Appeal Court judges declared that the PM's prorogation is unlawful, as they believe it is intended to stymie Parliament:
The case goes to the UK's Supreme Court next week. The Guardian reported:
The three judges, chaired by Lord Carloway, Scotland's most senior judge, overturned an earlier ruling that the courts did not have the power to interfere in the prime minister's political decision to prorogue parliament.
Lawyers acting for 75 opposition MPs and peers argued Johnson's decision to suspend parliament for five weeks was illegal and in breach of the constitution, as it was designed to stifle parliamentary debate and action on Brexit.
The judges failed to issue an interdict, or injunction, ordering the UK government to reconvene parliament, prompting a row over whether the decision meant MPs could go back to the House of Commons.
The court issued an official summary of its decision declaring the prorogation order was "null and of no effect", but Carloway said the judges were deferring a final decision on an interdict to the UK supreme court, which will hold a three-day hearing next week.
Conservative MP Nigel Evans reiterated the PM's position:
A hypocritical Labour MP showed up alone for PMQs (Prime Minister's Questions) late that morning, following the Scottish judges' declaration. Too bad he did not spend that energy in a vote for a general election:
On Thursday, a High Court judge in Belfast dismissed a legal challenge against a No Deal Brexit. A BBC article says:
One of the three cases brought was by the victims' campaigner Raymond McCord who plans to appeal the decision.
The court heard arguments that a no-deal would have a negative effect on the peace process and endanger the Good Friday Agreement.
But the judge said the main aspects of the case were "inherently and unmistakeably political".
Lord Justice Bernard McCloskey also excluded a challenge against the suspension of Parliament because the issue formed the "centrepiece" of proceedings in England and Scotland.
As the week draws to a close, a reporter for The Times (paywall) says that the EU regrets alliances with Labour and other Remainers over their incoherent policies on Brexit. Labour's Keir Starmer is on the left in the photo, with party leader Jeremy Corbyn on the right:
As far as the government's negotiations in the EU, Boris has made a largely favourable impression, although his negotiator David Frost is seen to be driving a hard bargain in some areas. This thread comes from the Director of the Centre for European Reform, who confirms that, to date, no firm proposals have been presented to the EU. That said, he says some EU nations believe that Boris wants to make a deal before October 31:
Elsewhere in Brussels news, Guy Verhofstadt's wine from his estate in Tuscany is reportedly very good. Perhaps that was what he poured in this documentary clip about the EU's Brexit Steering Group:
On Monday, September 16, the PM will meet over lunch for Brexit talks with Jean-Claude Juncker in Luxembourg.
More to follow anon as this sorry saga continues.
The truth about Remainers wanting Britain to stay in the European Union continues to emerge.
The result is that British voters have become very angry — even Remainers and the normally apathetic.
People are angry because of the false promises those on both sides of the aisle made three years ago:
News items
Late last week, a number of news interviews and articles exposed the continued, wilful intransigence of Remain MPs calling for 'compromise', 'coming together' and so on — all in a concerted effort to block not only Brexit but also a general election.
Spiked's Brendan O'Neill appeared on Sky Australia on September 4 to discuss Hilary Benn's European Union (Withdrawal) (No.6) Bill and the failed vote on a general election:
Meanwhile, in Britain that day, former Conservative MP Michael Portillo rightly said that the 2016 referendum was never about Deal or No Deal. The voter responding to him also remembers then-PM David Cameron's words correctly:
Brexit Party MEP Dr David Bull said the same on David Vine's Channel 5 morning talk show. On Friday, September 6, he responds to a Remainer panellist saying that Leave 'was based on a lie':
Nor did any of the Leave campaigners say it would be easy:
Well said, Portillo! No leading figure campaigning for Brexit *ever* mentioned a deal of any kind! Nobody said we'd be getting a great, quick, easy deal! Nobody said we'd have to have a deal in order to enjoy the exact same benefits of being the EU! These are all Remoaner lies!
On Thursday, September 5, news emerged that former Conservative MPs, from whom the Party whip had been withdrawn last week, plan to stand as Independent MPs in the next general election. They are Remainers:
The Sun reported not only on the rogue MPs but also on other developments going on at the heart of Prime Minister Boris Johnson's government (emphases mine):
They are Philip Hammond, David Gauke, Dominic Grieve, Ed Vaizey, Sam Gyimah, Alistair Burt, Steve Brine, Caroline Nokes, Antoinette Sandbach, Rory Stewart, Margot James and Stephen Hammond.
Even if the rebels fail to win them, the move could split the Tory vote and hand the seats to opposition parties, diminishing the PM's chances of a majority.
It came as Sir John Major last night demanded the PM reinstate the 21 rebels – and sack controversial aide Dominic Cummings in an extraordinary attack.
The former PM said it defied belief the Tory MPs had been booted out for failing to "parrot the views of a Prime Minister influence by a political anarchist".
Former Attorney General and rebel leader Mr Grieve told The Sun last night that his decision to stand "depends on the circumstances of the election".
But Mr Grieve added: "I'm certainly of the view that pulling out of politics during the biggest crisis in recent history would be the wrong thing to do …"
… The development comes as Sajid Javid became the latest senior Tory to join the spiralling Cabinet revolt against the expulsions.
Asked if there was a road to redemption for them, the Chancellor told LBC: "I would hope so. I would like to see them come back at some point" …
It wasn't good news for Labour that day, either, as voters in Grimsby, in North East Lincolnshire, told BBC Radio 4 that they could not countenance the idea of Jeremy Corbyn as Prime Minister. Grimsby is a Labour stronghold and has elected a Labour MP consistently since 1945: 74 years!
The Express has the story about the fishing town that also voted overwhelmingly to Leave in 2016. Some residents are considering voting for the Brexit Party:
Speaking to BBC Radio 4's Today programme, one local said: "Labour are out, I think.
"I would definitely say Labour would be gone. Their position on Brexit is not very clear and that's probably why they're going to be in trouble.
"They'll be seen as the worst of the parties because at least the Lib Dems have come out and said, 'this is our position.' Everyone knows the Tory position with Johnson and people.
"I feel Labour is still sort of in the middle and Corbyn's not going to be, probably, the world's best prime minister" …
And another local appeared to echo the sentiment, saying: "It's difficult when you've been a paid-up Labour member for years and now we're really struggling to think, 'I don't really want to vote for them.'
"Where does your vote go? We could be Liberals but Conservatives, no. Because if you look at the Conservatives at the top at the minute, they don't have to worry about what challenges or financial challenges Brexit would bring because they're all very rich."
Other locals also signalled they would be willing to switch their vote to the newcomer Brexit Party led by Nigel Farage, whose candidates snatched at least one seat in each constituency at the European parliamentary elections in May – including one seat in Scotland.
A man said: "I was talking to my friend earlier and he said he'd vote Farage.
"Actually, that's quite a possibility. I'm thinking about it and my friends are, too."
Boris's call to the voters
On Thursday, September 5, Boris updated the voters, explaining what their choice is now, given last week's events in the House of Commons. The short video has subtitles:
An MP speaks
This video clip shows Conservative MP Nigel Evans defending the voters who, in good faith, ticked the Leave box in 2016. What a pity he spoke to nearly empty benches on both sides:
A Conservative MEP sums up
The eloquent MEP Daniel Hannan sums up the current Brexit deadlock — and prorogation — as follows:
A Labour MP for Leave gets threatened
Kate Hoey, Labour MP for Vauxhall (South London), has been an ardent Leave campaigner from the beginning. After her re-election in 2017, she decided not to stand again as a Labour MP in the next general election.
Last week, she voted with the Government against Hilary Benn's 'Surrender' bill:
She also received the following email, which looks as if it came from a bot. Nonetheless, it carries a nasty threat. She received support from the aforementioned Dr David Bull. Language alert:
Labour Leave tweets
Labour Leave point out the hypocrisy of Remainer MPs. 'SM' is Single Market and 'CU' is Customs Union:
In fact, SM + CU is worse than Remain. We would have no sovereignty — or EU vote.
I am glad to see they took exception to Remain MPs' extreme characterisations of Leavers last week:
The British speak out — 'bigger than Brexit'
It is telling that the British public are now clearly angry about the way Parliament has treated them.
This is now bigger than Brexit. It is about how we are governed.
Some Remainers understand what is happening and want MPs to carry out the referendum result.
So do some who were formerly apathetic about politics in general.
The Remainers
This former Remainer is irked by the People's Vote (FBPE) — second referendum — brigade:
The awakened apathetics
This is a great tweet — followed by similar replies:
Teachers are angry
These are more replies to the man's tweet about his apathetic wife.
These are important because they are about teachers, most of whom voted to Remain. Yet, even they can see that what's happening is greater than Brexit. This is about how we are governed, full stop:
Conclusion
The British are ready now for a general election.
Some of us have had two elections this year: local (not everywhere) and for the EU Parliament.
Yes, we were sick of going to the polls so frequently, especially for an EU election, but, based on last week's antics, we are looking forward to casting our vote.
Consider it a People's Vote, or a second referendum. It serves the same purpose.