You are currently browsing the tag archive for the 'David Cameron' tag.
My most recent post on Liz Truss left off with the beginning of the end in her final week as Conservative Party leader.
Friday, October 14
Her sacking of Kwasi Kwarteng and installation of Jeremy Hunt as Chancellor on Friday, October 14, meant only one thing — her end was nigh:
Liz Truss's first Chancellor Kwasi Kwarteng: what he expected, what he got instead (October 13, 14)
Liz Truss and Kwasi Kwarteng illustrate that one DAY is a long time in politics (October 13, 14)
The Times's headline on the morning of the 14th said that Conservative MPs were already plotting to install Rishi Sunak and Penny Mordaunt in Truss's place. One of them would be Prime Minister and the other would be Chancellor or Foreign Secretary:
The article also said (purple emphases mine):
Truss and Kwasi Kwarteng, the chancellor, are expected within days to make a humiliating climbdown over corporation tax in an effort to calm the markets and see off a mounting revolt.
Indeed, that is what Truss announced at her disastrous press conference that afternoon. By then, Jeremy Hunt was already Chancellor:
It was hard to believe, especially as Ireland's corporation tax is half that: 12.5%. What is to stop businesses in Northern Ireland from moving south of the border?
Liz prefaced the announcement with:
This is difficult.
Guido Fawkes has the video and another quote preceding her announcement about corporation tax:
It is clear that parts of our mini-Budget went further and faster than markets were expecting… so the way we are delivering has to change…
He concluded (emphases his):
The mother of all U-turns…
Later in the afternoon, Wendy Morton, the Chief Whip, summoned Conservative MPs to an online call with the Deputy Prime Minister Thérèse Coffey.
One hundred of them dialled in. Coffey allegedly kept staring at her notes:
Saturday, October 15
Saturday's papers were scathing.
The Daily Mail asked, 'How much more can she (and the rest of us) take?'
The i paper led with 'Tory MPs tell Truss: "It's over"':
The Telegraph's Tom Harris wrote about the symbiotic relationship between the Prime Minister and the Chancellor from Margaret Thatcher's time to Truss's.
When that relationship goes wrong in a big way, it's nearly always bad news for the PM, although there are exceptions:
When a prime minister loses a long-serving chancellor and ally – as Margaret Thatcher did when Nigel Lawson walked out of her government in 1989 – the political ramifications are enormous. In Thatcher's case, that event signalled the beginning of her long defeat. When a prime minister loses a friend too, it becomes, as Liz Truss stated in her press conference, "not an easy" personal moment. 
Their closeness also makes it impossible for Truss to distance herself from the mess left at the Treasury. It is not clear which policy Kwarteng implemented that the prime minister was so unhappy with that she had to fire him. In 1989, Lawson resigned over his objection to the prime minister's reliance on her economic adviser, Sir Alan Walters, but there were already disagreements between Numbers 10 and 11 over whether Britain should join the European Exchange Rate Mechanism. 
[John Major's Norman] Lamont was fired over his handling of Britain's departure from the same institution. Javid resigned over personnel issues. Rishi Sunak's reasons for resigning were similar, though in his case the personnel issue involved the then prime minister himself.
In Jeremy Hunt, Liz Truss might be given a chance to form the kind of reassuring, mutually supportive – and, crucially, stable – relationship with her chancellor that good government demands. It would be foolish, however, to assume that when such a relationship breaks down, it is always the chancellor who is next to go.
The Telegraph's Camilla Tominey looked at the backbench Conservative MPs, wondering how Conservative they actually were. I was glad to see that she mentioned Alicia Kearns, who does not seem very Conservative to me.
Tominey's article shows that a significant number of Conservative backbenchers do not hold traditional Conservative Party values:
Never underestimate the Conservative Party's unparalleled ability to turn the gun on itself when coming under enemy fire. As the pot shots continued to rain thick and fast on Liz Truss's troubled premiership, what did the Tories decide to do? With Labour's help, they elected Alicia Kearns as chair of the Foreign Affairs Select Committee.
For those unfamiliar with Ms Kearns, she is the former Amnesty International activist who led the so-called "Pork Pie Plot" to oust Boris Johnson over partygate. Despite having been an MP for all of five minutes, the 34-year-old, who won the safe seat of Rutland and Melton in 2019 (hence the pork pie theme) decided that the Conservatives' wisest move was to remove the man who secured the party's biggest election win since 1987. Well, dip me in jellied pork stock and cover me in hot-crust pastry, that went swimmingly!
Having declared last year that she came into Parliament with "one legislative change I wanted to deliver, which was to ban conversion therapy", inexperienced Kearns now occupies one of the most influential posts in the House of Commons.
Her first intervention? Following hot on the heels of her fellow chair, Mel Stride, of outspoken Treasury select committee fame, she used a radio interview on Thursday night to urge the Prime Minister to reverse the tax-cutting measures in the mini-Budget.
I've got nothing personally against Ms Kearns – she is clearly a thoughtful and intelligent woman. But if she isn't for cutting tax, then what on earth is she doing in the Tory party, let alone now apparently in the running to enter a future Conservative Cabinet?
One former minister was this week quoted as saying: "Everything [the Government] are doing is everything that I don't believe in." Why, then, is that senior politician – apparently so opposed to spending controls and economic growth – not currently residing on Sir Keir Starmer's shadow front bench or drinking Remaineraid with Sir Ed Davey?
As former Brexit negotiator Lord Frost put it on Thursday: "There are too many … social democrats operating under Conservative cover."
It is one thing to be a broad church, but the Tories are currently taking on the mantle of a Blue Labour cult.
Not only are many of them perfectly comfortable with taxing people more, despite the tax burden being at its highest in 70 years, but they are also apparently as opposed to fracking as Ed Miliband. They seem to love the status quo and appear happy to watch Britain slowly sink into decline – along with their own party.
Tominey says that Liz Truss's platform was clasically Conservative, and so was the one upon which Alicia Kearns was elected.
These are the MPs who will determine the outcome of Brexit and the next election. Both are in peril.
Tominey rightly lays the blame at the feet of former PM David Cameron, a wet who wanted a different type of Conservative MP:
David Cameron's decision to introduce open primaries in the late 2000s, which saw wannabe MPs selected by non-members as well as members, was perhaps the most obvious mistake. The Conservatives ended up with "yellow" Tories in its ranks, such as Sarah Wollaston, who later defected to the Liberal Democrats.
Funnily enough, Sarah Wollaston is no longer an MP. Others like her, most of whom had the whip removed, were defeated or chose not to run in 2019.
This is the issue:
But more broadly, by inviting people with no background in Conservative politics to stand for Parliament, they ended up with people with no Tory backbone either. Holding successive snap elections only made the selection process less rigorous and open to people high on ambition and low on ideology.
This is a problem for the next general election. GEs depend upon local activists — party members — who are willing to canvass door-to-door:
We now have the Sunak squadders, calling for people to keep less of their wages, for businesses to pay more in corporation tax and for benefits to be linked to inflation, Corbyn-style …
Conservatives have become so detached from reality that they actually believe this will help them to win the next general election – even though it promises to prompt a mass walkout by the very grass-roots activists they rely on to run a campaign.
However, Tominey says that Rishi Sunak's coronavirus handouts have also altered the public perception of the role of the state. We can but see how this will play in 2024 or early 2025 when the next GE comes along.
Monday, October 17
On Monday, October 17, Leader of the House Penny Mordaunt had to stand in for Truss during a debate. Opposition MPs accused Truss of hiding under a desk.
Mordaunt had to deny that more than once, saying that Truss had a 'very genuine reason' for not being present.
I don't often feel sorry for Penny Mordaunt, but I did that day:
However, one Labour MP, Andrew Gwynne, tweeted that Liz Truss was the victim of a 'coup' — his word — and that Jeremy Hunt was the acting PM: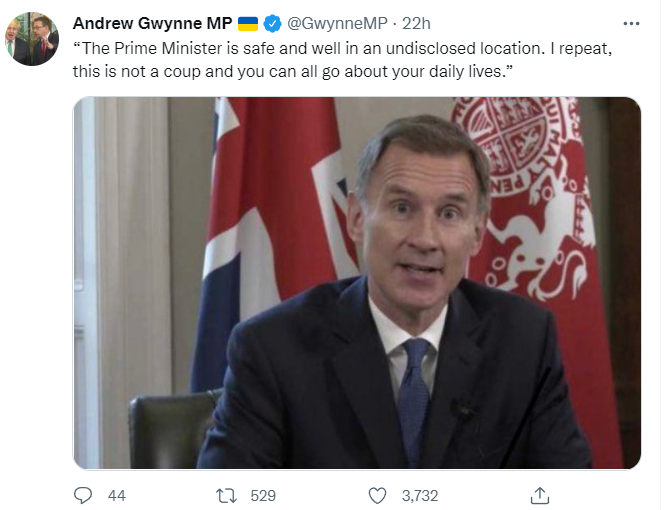 On Tuesday, October 18, The Times explained why Truss did not turn up at the despatch box the day before:
For much of the day Truss was conspicuous by her absence. She refused to respond to a question by Sir Keir Starmer in the Commons, prompting accusations from Labour that she was "frit". Penny Mordaunt, the leader of the Commons, answered questions in her stead. She said that the prime minister had "a very good reason" for her absence but refused to explain further, prompting misplaced speculation that Truss had resigned.
That reason for her absence turned out to be a meeting with Sir Graham Brady, the chairman of the backbench 1922 Committee. Sources said that the meeting was routine and had been arranged before Kwarteng's dismissal. But the issue of her leadership, and a potential revolt by Tory MPs, was said to have been discussed.
One source on the committee said there were a "number of views" on the way ahead but that there were concerns that an immediate move to defenestrate the prime minister could further destabilise the markets.
"The question is whether it is more damaging to create further uncertainty by getting rid of the prime minister when the chancellor [Hunt] appears to have settled the markets," said an MP on the committee.
Some Tory MPs believe that with the unravelling of her tax-cutting agenda and signature energy policy she is finished politically. Sir Charles Walker became the fifth Conservative MP to publicly call for her to go, saying her position was "untenable".
A senior Conservative source added: "It's the biggest unforced humiliation for a British government since Suez. Eden did the decent thing and resigned."
"The trouble is there is no consensus for who should replace her," said one former backer of Rishi Sunak. "And the last thing we need now is to be seen to be causing more uncertainty on the financial markets."
Monday night was grim.
On the subject of a coup, Nigel Farage agreed that Jeremy Hunt was in charge, and that this was a 'globalist coup':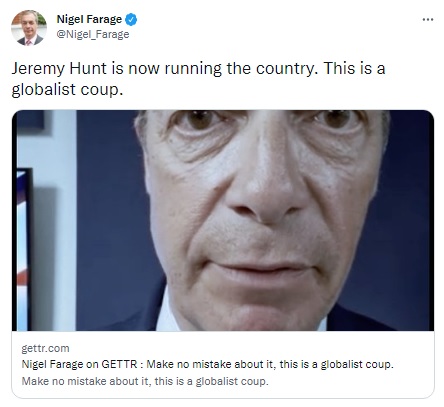 On his GB News show that night, Dan Wootton also said that there had been a coup. He agreed that the unpopular Hunt was in charge and that no one liked him, except for the Establishment. He said that if the Conservatives allowed this to continue, then they deserve to lose the next GE:

Truss surfaced to give an interview to the BBC's Chris Mason, wherein she apologised for the mini-budget. She said:
First of all, I do want to accept responsibility and say sorry for the mistakes that have been made. I wanted to act, to help people with their energy bills, to deal with the issue of high taxes, but we went too far and too fast. I have acknowledged that.
Tuesday, October 18
Tuesday's headlines were deeply discouraging for her. Nearly all had photos of her alongside Hunt:
The new biography of Truss, Out of the Blue, was not even ready for publication. Someone photoshopped the cover with a remainder sticker on it, saying, 'Reduced for quick sale — please just take it':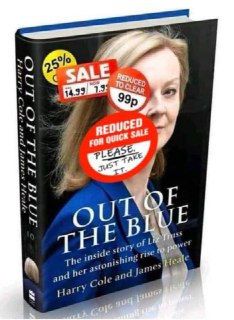 The Sun's political editor, Harry Cole, one of the book's co-authors, posted an article about the MPs plotting against her:
TORY plotters dubbed the "Balti Bandits" carved up Liz Truss's future last night over a korma and bhuna feast, The Sun reveals.
Leading rebel Mel Stride hosted more than a dozen "miserable" Conservative MPs in his large House of Commons office for an Indian takeaway – with the PM's fate also on the table.
Ex-Ministers John Glen, Nick Gibb, Mark Garnier and Shailesh Vara tucked into "lashings of curry and naan" ordered in by Mr Stride, alongside outspoken backbencher Simon Hoare. 
2019 intake MPs Angela Richardson and Simon Baynes were also said to have joined the "poppadum plot" – but sources say the meeting ended with "no credible solution" to their woes …
Contenders include ex-Chancellor Rishi Sunak, Defence Secretary Ben Wallace, new Chancellor Jeremy Hunt and Commons Leader Penny Mordaunt – but given the party is deeply split, the plotters admitted the chances of a rapid "coronation" of a new PM were "almost zero."
One attendee told The Sun: "the vast majority of attendees were Rishi Sunak supporters, but there were Penny people too. It was not a Rishi thing." 
On Tuesday evening, Truss had another group angry with her — her own supporters in the European Research Group, the pro-Brexit group of backbench Conservative MPs.
The Telegraph's Tim Stanley wrote about it, as he was there in the corridor for Truss's meeting with them:
Liz Truss launched her fightback at 6pm in Committee Room 11. The meeting was actually set for 5pm; Commons voting ran late so Mark Francois advised us hacks to go away and come back later, but I hung around on the suspicion that the moment we left, Liz would slip out of her hiding place in the roof of the lift and jog, unseen, into the Room …
These are the true believers: if they're angry at Liz for anything, it's for not keeping the mini-Budget …
What we saw of her on TV on Monday night, interviewed by Chris Mason, did not spark confidence as she uttered that dread word "sorry", thus accepting personal responsibility for blunders past and future. It is the mark of an "honest politician", she said, to admit mistakes. That's true, but it's also a dead giveaway for a not-very-good one, trying to turn a repeated error into a display of moral virtue. As Samuel Johnson might have said, "Honesty is the last refuge of the incompetent".
… She bobbed into view in a dark blue dress and black tights – fresh-faced, one suspects, from a good night's sleep. Instinctively, I stood: she might be a PM, but she's still a lady. I earnt a cheeky nod. Those who can't fathom the rise of Ms Truss haven't met her. She has a way of compromising you, of making you think you're on her side, and it's the most fun side of the room to be on.
The ERG roared as she entered. She entertained them behind a closed door for about 45 minutes. Then she left, followed by Mr Francois who told us it was "a very positive meeting".
The PM evidently spoke about Northern Ireland and her commitment to raising defence spending by the end of the decade, which is ambitious for a woman who could be out of office by Friday. And he noted that David Canzini, the clever political operative, was with her, an eminence so grise, none of us had noticed he'd gone in.
No 10 confirmed it: he was hired as of that morning.
Too little too late. That might have been Canzini's shortest job.
Wednesday, October 19
On Wednesday, October 19, Guido Fawkes posted that the Reform Party — formerly the Brexit Party — was climbing in the polls. The photo shows their chairman, businessman Richard Tice:
Guido's post said, in part:
Guido can reveal that in the 48 hours before close of play yesterday afternoon, the old Brexit Party received almost 1000 new £25 membership sign-ups. That new five-figure cash boost was joined by 300 members registering a new interest in standing as a party candidate at the next election. The first time the Tories dipped below Labour in the polls – September 2021 – Reform saw one in 10 Tory voters switching to them. Can they continue capitalising on Liz's woes? …

It's not just Reform benefitting from the dire state of No. 10. Last night the LibDems revealed five new donors, each giving £50,000 to the party, one of whom is a former Tory donor. While the last 36 hours have been calmer for Truss, it does feel like the ship has sprung one too many leaks to be repaired by a strong PMQs performance…
Wednesday was another fateful day. Home Secretary Suella Braverman resigned, then a confusing scene took place in the voting lobby over a division (vote) on fracking, which resulted in more chaos when it was unclear whether Wendy Morton had resigned as Chief Whip:
Liz Truss's final 24 hours: Suella Braverman's resignation, question over Whips' resignations (October 19)
Truss appointed Grant Shapps, former Transport Secretary, in Braverman's place:
Holy mole, guacamole!
Nigel Farage repeated 'coup' in his tweet about the news:
As with Hunt, Truss had to scrape the barrel.
The Telegraph reported that, like Hunt, Shapps was not a Truss supporter:
It is a remarkable turnaround for Mr Shapps, the transport secretary under Boris Johnson who went on to become a prominent supporter of Ms Truss's leadership rival Rishi Sunak.
Only on Monday night, Mr Shapps was telling a theatre audience that he believed Ms Truss had a "Mount Everest to climb" to remain in power.
"I don't think there's any secret she has a mountain, a Mount Everest to climb," he told Matt Forde's podcast. "What she needs to do is like threading the eye of a needle with the lights off."
Now he is one of her most senior ministers – and another example of the way a weakened Ms Truss is being forced to offer olive branches to the Sunak supporters she had previously shunned.
Not only was Mr Shapps questioning her chances of success until as early as this week – he was working proactively to get rid of her.
Mr Shapps has been viewed in Westminster as one of the leaders of the opposition to Truss's libertarian policies.
He spoke up at the Tory party conference in Birmingham earlier this month against her plans to scrap the 45p rate of income tax, and warned that Ms Truss had "10 days" to turn things around or MPs "might as well roll the dice and elect a new leader".
This is what the aforementioned Camilla Tominey was lamenting in Conservative MPs. Some of the recent ones have no appreciation of or allegiance to Conservative values. Shapps was a Cameronian MP.
The article also discussed Shapps's famous spreadsheets which appear to work as well as the 1922 Committee in making or breaking a Prime Minister:
The veteran MP – known by some as the "Duracell Bunny" for his enthusiasm – is also well-known for his "Star Wars" spreadsheet, with which he has spent the past few weeks recording the views of MPs on Ms Truss and her plans.
Mr Shapps used an earlier version of his famous spreadsheet to lead a rebellion against Theresa May, and also utilised its information to help guide Boris Johnson into Downing Street.
The spreadsheet is said to contain more than 6,000 historical "data points" from previous conversations with MPs.
It was rumoured that he had been in contact with Mr Johnson and Mr Sunak to see if they would join an effort to oust Ms Truss. And some rebel MPs claimed he had even offered himself up as a caretaker prime minister.
Let us not forget that Shapps himself is hardly a paragon of virtue:
… unfortunately for Mr Shapps, some elements of his past may make a shot at No 10 less than likely – not least the Michael Green saga.
This was an alter-ego he employed to enable him to run a series of get-rich-quick schemes on the internet while he was an MP.
Mr Shapps originally denied he had a second job, and threatened legal action against a constituent who said he had. But he was forced to admit practising business under a pseudonym in March 2015.
All this happened while he was Tory chairman, in charge of David Cameron's efforts to win the 2015 election.
He was demoted soon after to aid minister, and resigned from that role after claims he had ignored repeated allegations of bullying involving the Tories' youth organiser. It was said the alleged bullying, which took place on the party's RoadTrip 2015 campaign, may have caused one party member to commit suicide.
On Wednesday evening, Camilla Tominey reprised her warning about un-Conservative MPs and their takeover of the Government. She, too, used the word 'coup':
… the departure of Suella Braverman as home secretary speaks to a bigger problem for Liz Truss than sheer optics.
In sacking two key allies on the Right, only for them to be replaced by opponents more to the Left of the party, the Prime Minister is increasingly looking like the victim of a Conservative coup.
It is certainly ironic that the former home secretary, in post for just 43 days, first used that word to describe those who plotted against Ms Truss's original plan to link benefit to wages rather than inflation. 
With that, and most of her mini-Budget up in flames thanks to a rebellion by the moderates, Jeremy Hunt now appears to be the de facto Prime Minister.
He will now be joined by his fellow Sunakite Grant Shapps, who despite being rejected from Ms Truss's original cabinet, has now been appointed to replace Mrs Braverman at the Home Office.
Braverman, at one point, had headed the aforementioned European Research Group:
… her swift exit from one of the highest posts in public office will anger her European Research Group supporters.
It was only on Tuesday evening that Ms Truss was said to have charmed the backbench group of Eurosceptics with her honest, straight-talking approach.
They are unlikely to take kindly to their former chairman, a darling of the grassroots, being ejected in such unseemly fashion.
Mrs Braverman, a Conservative leadership candidate herself over the summer, received the longest standing ovation at the Tory Party conference two weeks ago.
Fortunately, Rishi Sunak re-appointed Braverman as Home Secretary. He probably realised he had to, in order to keep Party members on side.
Returning to Wednesday, October 19, The Telegraph posted an article stating that Conservative backbenchers were asking Labour for help in ousting Truss. Unbelievable:
Rebel Tories have been asking Labour MPs to help them overthrow Liz Truss, The Telegraph has been told.
Conservative backbenchers are growing increasingly frustrated with the Prime Minister's leadership, but currently lack any mechanisms to remove her given the one-year immunity she has from a no confidence vote.
As things stand, the only way to oust Ms Truss would be to change the rules – which is a decision that only the executive of the 1922 committee of backbenchers can make – or if she resigns of her own volition.
One Labour MP told The Telegraph: "Tories are speaking to us saying 'this is a complete nightmare and there is no way out'. We are being asked 'can't you do something about her?'"
The MP, who said their colleagues have reported similar experiences, said they were approached by one Red Wall MP whose constituency was in the north and another MP who is a member of the One Nation group of moderates …
A Labour source said: "There is very little Labour can do. Even a vote of no confidence doesn't have the constitutional standing that it used to. The Tory party are the ones that elected her, they need to get rid of her."
The paper's Michael Deacon wrote that Conservative MPs were entirely to blame for the mess. Furthermore, he said, they risked angering Party members, the campaigning activists, if they pushed ahead with a rule change saying that the members would no longer be able to vote for future Party leaders. The members elected Truss over Sunak in August:
This week, The Telegraph reported that Tory MPs want to bar members from voting in future leadership elections. Supposedly the reason is to speed up the process of choosing a leader. But this is blatantly a smokescreen. Quite plainly, MPs just want to prevent the members from landing them with another turkey like Truss.
Many members are appalled by this suggestion. And so they should be. Such a plan is not just arrogant and undemocratic, it's delusional. Because party members aren't to blame for the current mess.
Tory MPs are.
After all, who put Truss on the ballot paper in the first place? Tory MPs. No fewer than 113 of them, in fact. A third of the parliamentary party. Out of an initial field of 11 candidates for the leadership, Truss was the MPs' second favourite.
Unlike the MPs, however, the party members weren't allowed to choose between the initial field of 11. If they had been, it's extremely unlikely that they would have chosen Truss. They'd have been far more likely to choose Penny Mordaunt or Kemi Badenoch, to name just two. In fact, if the MPs had deigned to ask them, I suspect that the greatest number of members would have wanted their leader to be Boris Johnson – the person they chose to be leader in the first place.
The truth is, the members voted for Truss simply because they didn't want to vote for Rishi Sunak. In leadership contests, they're only ever given two candidates to choose from. And why? Because Tory MPs don't trust them. They fear that, if presented with a wide-open field, party members will choose the "wrong" candidate. Funny how things turn out.
All things considered, then, it seems clear that, if anyone should be barred from voting in leadership contests, it should be Tory MPs. In future, just leave it to the wiser judgment of the members instead.
That night, The Telegraph posted an article by Lord Frost saying that the Party was moving towards a status quo, if not anti-Brexit, stance, going all the way back to David Cameron's time as Prime Minister, with George Osborne as Chancellor and Philip Hammond in the same post under Theresa May:
… the Government is implementing neither the programme Liz Truss originally advocated nor the 2019 manifesto. It is going in a completely different direction. We are back to Osbornomics, the continuity Hammond view of the world. There is no shred of a mandate for this. It's only happening because the Truss Government messed things up more badly than anyone could have imagined, and enabled a hostile takeover by its opponents …
… the correct account of the past few weeks is the simplest. Truss tried to deliver worthwhile reforms and set the country onto a much-needed new direction. I supported this policy direction and still do. But it was rushed and bungled. The markets were spooked. The mistakes were opportunistically seized on by her opponents to undermine her leadership, to blame Brexit, and to stop the party getting out of the social democratic tractor beam of the past few years. And now, under pressure, the Prime Minister has reversed tack completely.
The risk now is that we lose for a generation the opportunity to do anything better. Every time the PM defends her approach, she denounces the policies on which she was chosen. The danger is that necessary and correct reforms are discredited.
Frost held that Truss was ultimately responsible for her own downfall.
As such, she had to go:
We are where we are. I am very sorry about it, because I had such high hopes. Whatever happens to her ministers or the stability of the Government in the next few days, Truss just can't stay in office for one very obvious reason: she campaigned against the policies she is now implementing. However masterfully she now implements them – and it doesn't seem that it will be very masterfully – it just won't do. She said she wouldn't U-turn, and then she did. Her fate is to be the Henry VI of modern politics – a weak figurehead, unable to control the forces around her, occasionally humiliated, and disposed of when she has become inconvenient. Better to go now.
As for her successor and the Party:
Then the party must do two things: avoid making the economic situation even worse by repeating the policies of the Cameron government in totally different circumstances; and recover some political legitimacy for carrying on – because in our system legitimacy does matter.
Thursday, October 20
After 44 days, Liz Truss resigned as Conservative Party leader on Thursday, October 20.
She served as Prime Minister for 50 days, beating George Canning's record of 118 days. Also a Conservative, he died of tuberculosis in 1827.
She remained PM until Rishi Sunak succeeded her:
Liz Truss's final 24 hours: Suella Braverman's resignation, question over Whips' resignations (October 19)
Liz Truss's final 24 hours: fallout over Braverman and Morton, no tears in exit speech (October 19, 20)
Rishi Sunak becomes Prime Minister: a momentous morning of historic significance (October 24, 25)
How Rishi Sunak won the Conservative Party leadership contest — part 1 (October 20, 21, 25)
How Rishi Sunak won the Conservative Party leadership contest — part 2 (October 21, 26, 27)
How Rishi Sunak won the Conservative Party leadership contest — part 3 (October 22-24, 27, 28)
On Thursday morning, The Telegraph posted a Planet Normal podcast in which Lord Frost said he could see Brexit being reversed:
In the wide-ranging discussion, Lord Frost also said that he could see a future where Brexit is reversed. 
"Brexit was about giving us the power to do things ourselves and to give responsibility back to British ministers, British governments. And they've shown that many of them are not up to the job in the last year or two."
"I can easily see a situation where Keir Starmer gets in. We drift back closer into the single market and go back into the Customs Union. And then everyone says why are we in these things where we don't get a say in them? Wouldn't it be better to be a member? So I can easily see how it could happen. And the way you stop it happening is to prove, while we have the levers of power, that we can do things differently and better. And at the moment we're not making a very good job of that, unfortunately."
Little did Truss know that, the day before, she had stood at the despatch box for her last PMQs:
She resigned early on Thursday afternoon. Thankfully, she didn't cry, unlike Theresa May, who broke down at the podium (Guido has the video):
Sterling began surging the second Truss finished her announcement:
In less than 24 hours, the Conservative Party website deleted her presence from their home page (Guido has the before and after screenshots):
It was a sad ending to a sad episode of British parliamentary history.
Next week, I will look at who, besides Truss herself, was also responsible for it.
Truss is currently spending time in her own constituency and has not yet appeared on the backbenches, an alien place for someone who had been a minister of state for most of her career.
On Friday, September 23, 2022, just four days after the Queen's funeral, Chancellor Kwasi Kwarteng delivered a 'fiscal event' designed to kick start the British economy.
In the days leading up to the fiscal event, so-called because it wasn't a full budget, the media and Labour were clamouring for it. However, the nation was in mourning for the late monarch and, accordingly, Parliament was in recess.
Conservative critics — i.e. Brexit critics — asked, 'Where's Liz? Where's the Chancellor? Something must be done!'
Parliament reconvened on that Friday to hear Kwarteng deliver a big, bold and beautiful economic plan, which included the abolition of the 45% upper tax rate.
Even Nigel Farage approved, going back in history to Margaret Thatcher's time as PM:
What happened? The same critics blasted Kwarteng and Prime Minister Liz Truss for their rather Thatcherite plan, designed to reverse the nation's economic course since the Labour days of the early Millennium under Gordon Brown to the present Conservative government:
Small-c conservatives hoped that Boris Johnson would have done this, but it was too big to take on. With the flak Truss and Kwarteng caught, it now appears that Johnson probably feared it would dent his popularity. That's only my guess, but it makes sense.
Mortgage rate fears
I went to a small local event on Saturday, September 24. Before it began, one woman of pensionable age asked, 'Has anybody seen the news today? I didn't have time to look. Has the economy crashed yet?' It was clear she was angry. Other people in attendance responded with jokes about supply-side economics.
Throughout the week, it was nothing but doom and gloom, even on GB News, which offered few correctives. The Labour Party conference took place last week, which did not help.
I went to the shops on Wednesday, September 28. On my walk, I overheard an estate agent talking to an older couple about their mortgage rate fears as a result of the fiscal event. The media had sent out ominous messages about rising interest rates. The estate agent told the couple that the turbulence would be short term and that it was taking place all over Europe — which is true.
On Thursday, September 29, the BBC's Question Time aired. One young woman stoked fears about a hike in interest rates on mortgages, claiming — claiming — that hers was going up to over 10%: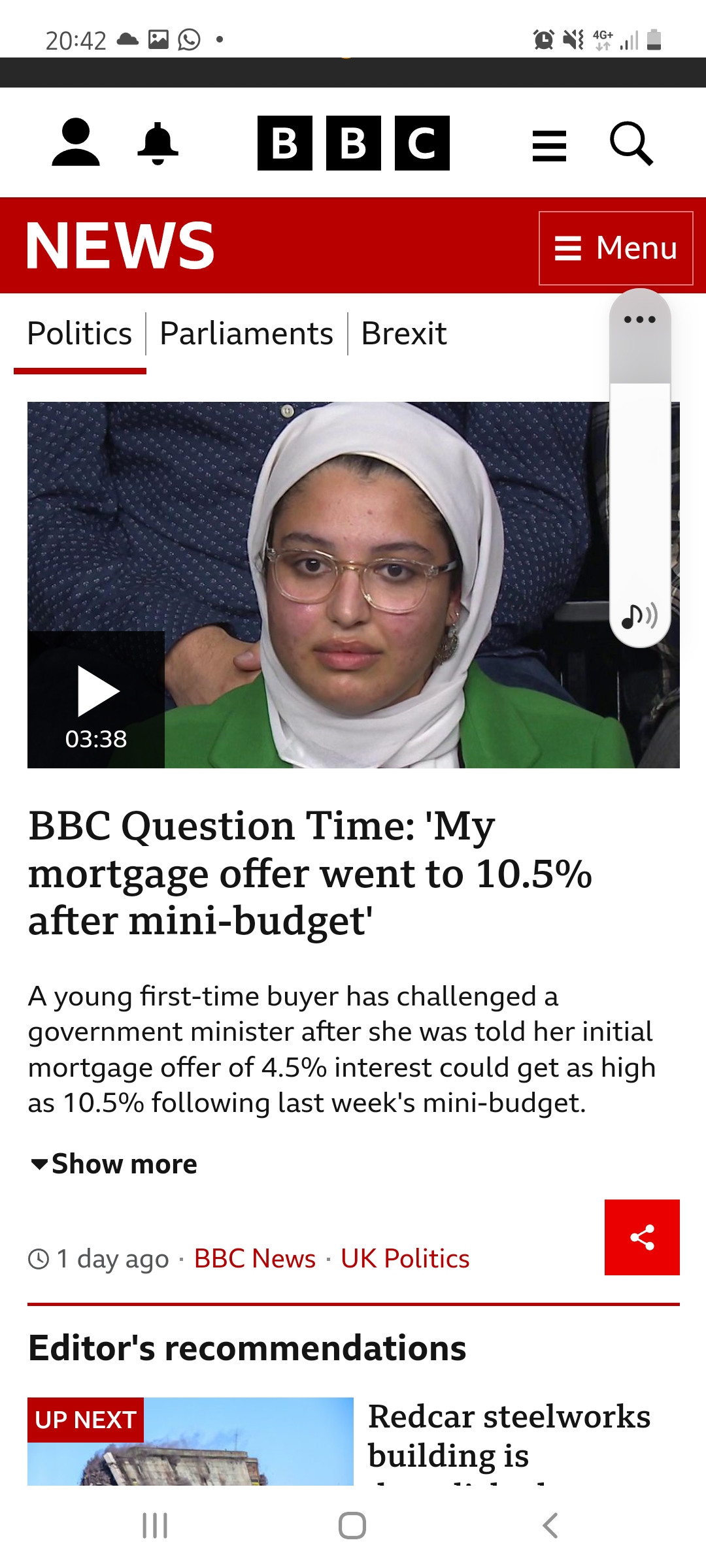 But was this claim true?
Apparently, the claim is false: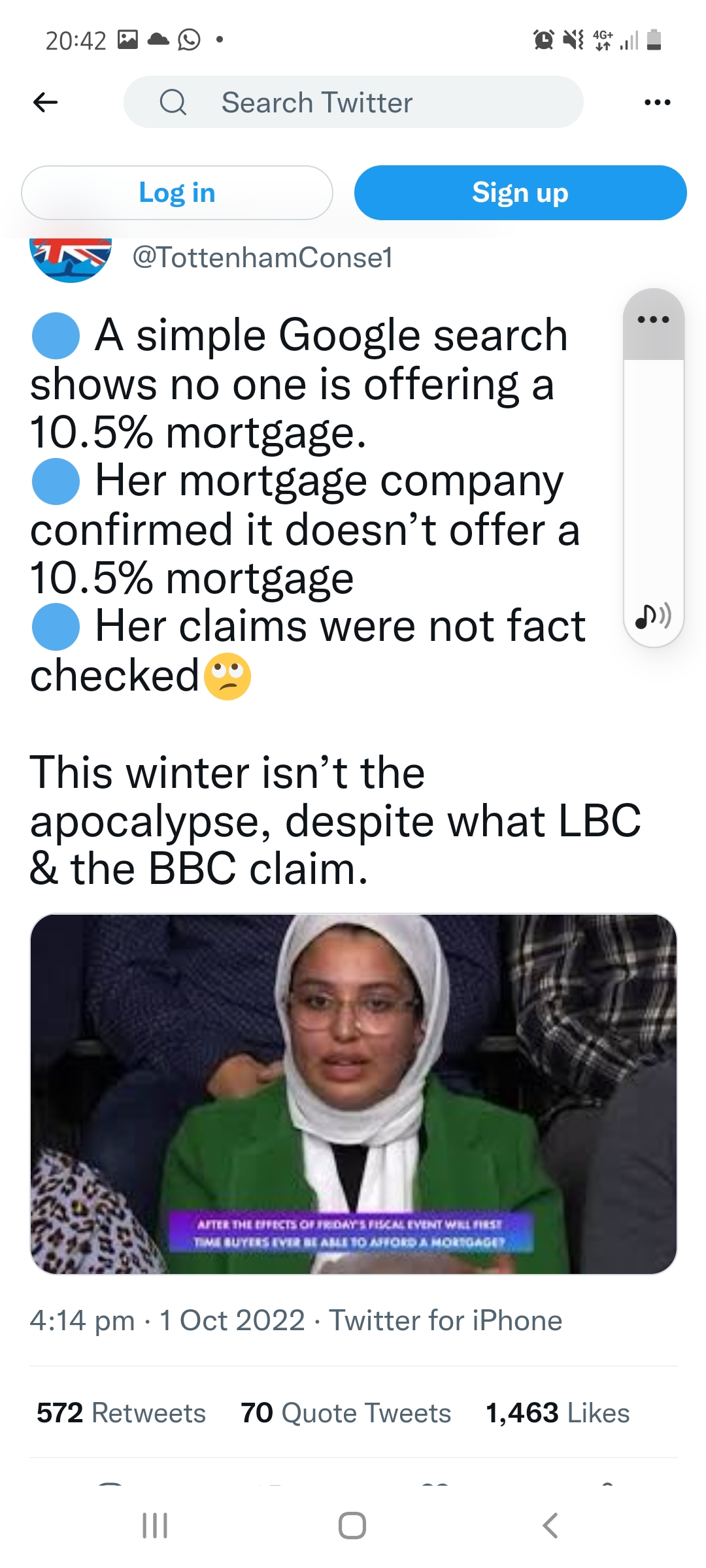 Skipton Building Society said they had not offered a 10%+ mortgage rate for many years: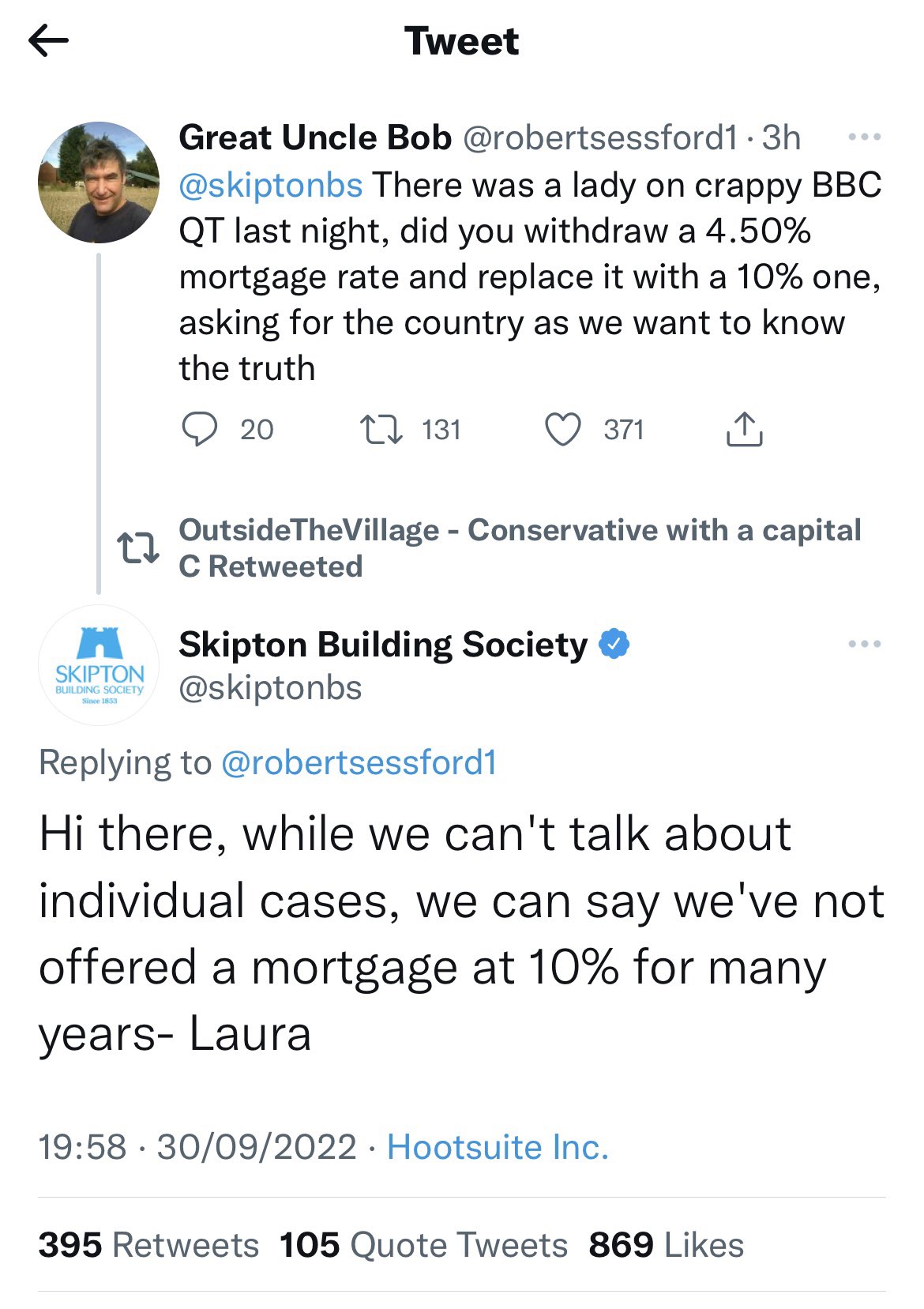 Once again, the Left — including the media — took charge of the Conservative narrative. They're still at it.
Conservative Party conference opens
On Sunday, October 2, the Conservative Party conference began in the UK's Second City, Birmingham, once our industrial capital:
Penny Mordaunt MP, Leader of the House of Commons, paid an excellent tribute to our late Queen, which was followed by a minute's silence and the singing of the National Anthem.
Having seen the first few speeches on GB News, the mood from the MPs speaking was upbeat. However, the mood in the conference hall was sombre.
Rishi Sunak and several of his supporters, prominent MPs, did not attend. Sunak said he wanted to be absent so that Truss 'could own the moment'. Ouch.
Boris Johnson also sent in his regrets.
Earlier that day, Truss appeared on Laura Kuenssberg's Sunday show on BBC1.
Kuenssberg asked her about the abolition of the 45% tax rate. Truss said that was Kwarteng's decision. Oh, dear. Guido Fawkes has the video:
Because the fiscal event had to be done quickly, Truss and Kwarteng did not consult other Cabinet members.
Also, because it was such a departure from the norm, it appeared shocking to Britons expecting more of the same. Truss told Kuenssberg that she and the Chancellor could have communicated it better (see video):
Truss rightly pointed out that 'optics' — rather than reality — dominated the fiscal event:
In the video, Kuenssberg ended by saying that optics were terribly important, implying that they make just as much of an honest representation as does reality. Oh, my days!
Returning to the Conservative Party conference opening day, Michael Gove stuck his oar in, saying that tax cuts are not conservative.
Whaaat?
Former Conservative MP Michael Portillo explained on his GB News show that Gove became an MP during David Cameron's time as Prime Minister and, therefore, has a different take on economics.
The economy wasn't the only issue on MPs' minds. Other of Truss's leadership rivals in this summer's contest for PM were not happy.
As is common with party conferences, smaller events took place outside of the main venue.
Last week, Truss said she would like to see more immigration, something that won't please folks who voted Conservative for the first time in 2019.
On Sunday evening, Trade Secretary Kemi Badenoch — the MP whom conservatives deeply admire — attacked Truss's immigration plans:
Guido has the story, which reveals rifts in the Party (emphases his):
If Liz Truss thought the furore over the 45p rate would distract attention from MPs rebelling on other policy areas, Guido's sorry to disappoint her. At the IEA/TPA DrinkTanks reception last night, guest of honour Kemi Badenoch openly rebuked the PM's plans to let in more immigrants to boost growth. The Trade Secretary ignored any sense of collective responsibility as she told the assembled free marketeers:
Simply taking in numbers to boost GDP while GDP per capita falls is not the right way to do that. We need to look again at resolving our productivity issues and that means using capital better, not just getting cheaper and cheaper labour.
Kemi's brazen and deliberate speech last night all but confirmed The Times' article on Sunday reporting major Cabinet divisions over the plan, with Kemi and Suella Braverman at odds with the PM's preferred free market solution. Like Liz, Guido doesn't have a problem with skilled, legal immigration, it is the illegal immigration which is concerning. It seems Tory Cabinet ministers aren't even pretending to play happy families anymore…
Also that evening, Leader of the House Penny Mordaunt spoke at a small gathering to complain — rightly — about poor Conservative communication over policy making:
She made her views known at an event called 'Conservatives in Communication'.
Sadly, Guido points out:
… host Adam Honeysett-Watts had to tell the crowd to shut up and listen. Unfortunately, most of the attendees were far more interested in guzzling free booze and chatting to each other.
Meanwhile, Truss addressed a group of Conservatives, explaining the need for growth — now. She, too, said that Party communications are lacking:
She is not wrong, and she has to make up for the past two years, consumed by dealing with the pandemic.
The second day of conference brings U-turn on 45% tax rate
Did Michael Gove, the Scot who wants to become PM, exercise his influence once again?
Nothing against Scots, but their politicians do seem to think that people need to be micro-managed, which Gove does, and that we should continue a globalist agenda in, well, nearly everything.
For the first time in years, Gove is not in Cabinet.
That said, he has never supported PMs he has served, going all the way back to David Cameron. This comment comes from one of Guido's readers (purple emphases mine):
Cameron, don't forget Cameron. Gove mortally wounded him too with Brexit. I don't disagree with Gove supporting Brexit obviously but the way he went about it was like a serpent to someone who called him his friend. His whole front line career has been poisonous towards the sitting leader.
At 7:17 a.m., Guido tweeted that Truss and Kwarteng were backing down on abolishing the 45% tax rate:
Kwarteng said he would still be going ahead with the rest of the fiscal event policy.
That U-turn will empower Gove and the Left — again, media included — to control the narrative even more.
Baroness Thatcher would have been so disappointed:
And I know what Thatcher would have done with Gove: withdrawn the Party whip.
Guido says that the reversal came about on Sunday evening and that The Sun had the exclusive:
After The Sun broke the exclusive of conference late last night, the Lobby's just been informed that the government will now not be going ahead with the 45p rate abolition, with a u-turn expected to be announced within the next hour. Just yesterday the press were briefed that Kwasi was to tell conference "We must stay the course. I am confident our plan is the right one."
This morning the course has not been stayed – it has been re-directed in another direction altogether. Kwasi's statement:
From supporting British business to lowering the tax burden for the lowest paid, our Growth Plan sets out a new approach to build a more prosperous economy. However, it is clear that the abolition of the 45p tax rate has become a distraction from our overriding mission to tackle the challenges facing our country. As a result, I'm announcing we are not proceeding with the abolition of the 45p tax rate. We get it, and we have listened. This will allow us to focus on delivering the major parts of our growth package. First, our Energy Price Guarantee, which will support households and businesses with their energy bills. Second, cutting taxes to put money back in the pockets of 30 million hard-working people and grow our economy. Third, driving supply side reforms – including accelerating major infrastructure projects – to get Britain moving.
The move came after crisis talks yesterday between the PM and Chancellor; their hands forced by Tory MPs continuing to state on the record they couldn't vote for the plans, despite an open warning from [new Party chairman, MP] Jake Berry that they'd lose the whip. Gove was at the forefront of the rebellion…
Guido's cartoonist came up with this:
It is unclear how much of this has to come up for a vote in Parliament in order to proceed.
However, it is becoming apparent that a significant number of MPs have not united behind Liz Truss:
If enough Conservative MPs rebel in a vote, the Government could collapse. A collapse could trigger an imminent general election (GE). With the way things are, Labour could win and form a coalition with the other Opposition parties. That would be a disaster, particularly in voting reform if they push through a vote for 16-year-olds and immigrants to vote in a GE. Furthermore, they would probably also want some type of proportional representation to replace the centuries-old first-past-the-post.
Of course, the alternative is that Conservative MPs have another leadership contest, but that would look as if they were incompetent. One MP suggested that Conservative Party members be locked out of that vote altogether, which would anger them deeply.
An hour after Kwarteng announced the U-turn, he was on BBC Radio 4 with Conservative-loathing Nick Robinson. This is so sad:
Then Kwarteng went on Nick Ferrari's LBC breakfast show. Ferrari pressed him to say 'no more U-turns' but the Chancellor repeated, 'I've said what I've said'. Guido has the video:
As a result of the U-turn, the markets were no longer predicting a 6% rise in interest rates, but something slightly lower — 5.5% and 5.75%. Guido is right in saying this is an emotional response:
Sterling was also slightly up, but not hugely:
In closing, let's return to Gordon Brown, who succeeded Tony Blair as PM — without an election, I might add.
Conservative MP Gillian Keegan put the blame squarely on Brown in an interview with Times Radio on Monday morning.
Guido has the story:
Foreign Office Minister Gillian Keegan was spot on when she told Times Radio this morning that the top rate of tax was a political time bomb left behind by Gordon Brown:
I always knew that it was going to be a political problem. I mean, let's be honest, this was a political trap that was set by Gordon Brown in the dying days of his role as PM, right. And I paid the 50% tax. I was in business then. And I remember how devastating it was because actually, it meant you were paying about 65% tax. And there's something in your mind, which is like, really, you know, only 35% for me? And I'm doing all these hours. I was a business person, then it was set as a political trap…. In theory it [the top rate of tax] should never have been there.
There is something immoral about the government taking the majority of your income in tax. It is also a disheartening disincentive; reversing this spiteful tax is the correct policy, though this might perhaps be the wrong time. Getting rid of a political tax that was only set up by Gordon Brown when he knew he was likely to be ousted –to hurt the Tories rather than raise revenue – was the right thing to do. Even the IFS' Paul Johnson thinks in revenue terms "It might plausibly cost nothing at all". The tax was not about raising revenue – it was about political positioning.
Back in Fife, Brown will be rocking in his chair laughing that his tax booby trap, announced only weeks before he left office, and which was expected to cause problems for his successor David Cameron, has finally exploded in the face of a Tory Chancellor. The fuse wire on Brown's time bomb turned out to be 12 years long…
Truss and Kwarteng have learned a lot in the past month.
I do hope that they have learned something from their baptism by fire, especially Truss, for whom I have the greatest empathy. The Queen's death delayed her getting off the ground running. Then when she was finally able to do something, the media attacked her even more for it. Now the Party's MPs are angry with her. Some have already submitted no confidence letters to Sir Graham Brady of the 1922 Committee. The polls have been tanking. Two show voters giving Labour a 30% lead in the polls, something not seen for decades.
No one has even given Truss or the Chancellor a chance.
I will continue to pray for hers and Kwarteng's success against all odds.
They are doing the right thing …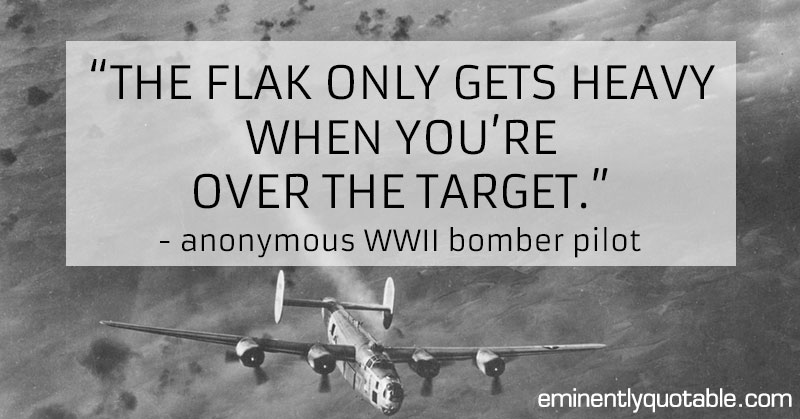 … which is why they are being attacked mercilessly.
Having watched BBC Parliament for the better part of three years, I can only conclude that today's Conservative MPs are a frustrating bunch.
Many of the older hands, who were elected when David Cameron was Prime Minister (2010-2016), seem more like Liberal Democrats. The Thatcher-era MPs who remain are what she would have called Wets.
Many commenters on conservative fora are at their wit's end. Their complaints are many. Why have Conservatives outdone Labour in economic policy? Why are odd subjects taught in our schools instead of the three Rs? Why can't police get a grip on real crime? Those are just a few of the questions Britons have.
On August 12, The Telegraph's Tim Stanley and Steven Edginton discussed British conservatism in one of their Off Script conversations. What is it? What should it be like?
This video is 51 minutes long and is well worth watching for frustrated conservatives. Don't be put off by the title. Immigration comes into the conversation only halfway through and only for a few minutes:
Tim Stanley makes excellent points, summarised below.
The most important thing to note is that conservatism changes over time. Benjamin Disraeli was a great Conservative Prime Minister, but his conservatism would not be applicable in our time. Harold Macmillan was another great Prime Minister of his day, succeeding Labour's Clement Attlee. He responded to the challenges of the postwar 1950s. His brand of conservatism would be irrelevant in our times. Similarly, Margaret Thatcher met the challenges of the late 1970s and the 1980s. Stanley said that invoking Thatcher at every turn today is not helping matters, because we often mis-remember things that she did. He said that some commentators have turned her into a punk libertarian, when she was anything but. He says she was a Conservative with a strong streak of free-will Methodism.
Of our two Conservative Party leadership candidates this year, he says that Rishi Sunak is a technocrat, with all that implies. Liz Truss is a child of the Thatcher years. Both became MPs during David Cameron's time as PM. They tend to think the way he does and only differ on the way they would handle tax cuts. In this area, Sunak adopts the early Thatcher strategy of delaying them. Truss adopts the strategy of her later years, when Nigel Lawson was Chancellor. On everything else, they are remarkably similar. It's a politically generational trait.
Stanley came to conservatism from Marxism and stood as a Labour candidate for Parliament when he was younger. He thinks that Truss's conversion from the Liberal Democrats to the Conservative Party is one she will not fall away from.
Stanley says that Kemi Badenoch, whom he admires greatly, is probably the only MP who studies social issues intently. He thinks she has watched a lot of Thomas Sowell videos on YouTube, because she quotes him a lot.
He thinks Badenoch could be a real agent for change if she ever becomes PM. He warns that few world leaders can effect change on their own. He cites Donald Trump, who could not fight off the Swamp. Our equivalent is called the Blob and is comprised of the same elements: the metropolitan elite and, intersecting as in a Venn diagram, the media and the civil service. Somehow, those groups need to be persuaded to change their minds over time in order for politics and society to improve.
Stanley says that today's Conservative MPs are ignoring two elements of British life that has seen us through the centuries: family and the Church. (Stanley is a practising Catholic.) He said that MPs must find a way of putting those front and centre into policy making discussions. (That's a pretty radical idea for a former Marxist.)
He also advocates consistency in policy positions. He cites Nigel Farage and Jeremy Corbyn as two excellent examples of that. Their opinions have not changed over the past few decades, he says, and this is what makes them popular among their respective supporters.
As for today's younger voters opting for Labour, he says that some will and some will not. He said that it all depends on how much impact today's economic and social issues are having on them. He cites the young generation of the late 1960s, most of whom still vote Labour. He says that their personal experience from that time was so strong that they never changed when they hit middle age. However, there are others who will move from a more left-wing to a conservative stance. Stanley himself and Liz Truss are two great examples of political conversion.
You'll probably want to know what Stanley thinks of our immigration mess. He says that we have dealt with EU migration well, but, as far as the Channel crossings are concerned, he compares them to a door that has all sorts of locks on it yet is kept open, serving no purpose at all. He suspects that most Conservative MPs don't mind the tens of thousands of young men arriving on our shores every year. If they did object, he says, they would have done something by now to stem the flow.
I highly recommend this video, because no one else I've heard has said the things that Tim Stanley has. I now view conservatism in a new way.
On Thursday afternoon and evening, I watched GB News's wall-to-wall commentary on the Queen's Platinum Jubilee. It has been excellent.
GB News is available worldwide, live and on video.
Nigel Farage was in London for Trooping the Colour and said that the parade and the enthusiasm of everyone he met elsewhere was very moving, indeed:
Retired Royal correspondent Michael Cole, who had watched the Coronation in 1953 as a little boy on his family's brand new television set, told Farage that he felt the same way:
Continuing on from Thursday's post on the Platinum Jubilee, likely to be a one-off event in British history, here is the marvellous flypast that took place after Trooping the Colour:
That evening, the Queen symbolically set off the beacon lighting around the UK and Commonwealth nations:
This video shows how the lighting unfolded at Windsor Castle …
… and here we can see them lit up around the world:
On Friday morning, June 3, a Service of Thanksgiving for the Queen's 70-year reign took place at St Paul's Cathedral in the City of London.
The evening before, Buckingham Palace announced that the Queen would not be attending, having suffered 'discomfort' after Trooping the Colour. She made a second appearance on the balcony to acknowledge the military personnel and officers participating.
However, the BBC commentators told us that she was watching the broadcast as it unfolded on television.
Interestingly, Queen Victoria arrived for her Diamond Jubilee at St Paul's Cathedral in 1897 only to find out that she could not exit her carriage because of ill health. When everyone inside found out, they all — clergy included — went outside to conduct the service there:
The Times's Valentine Low wrote the following about Elizabeth II:
The Queen may not have been able to take part in the Trooping the Colour ceremony on Horse Guards, but she takes her role as Colonel-in-Chief very seriously. Her decision to make that extra appearance was prompted by the same motivation that saw her make a last-minute appearance at the opening of the Elizabeth line: her unwavering sense of duty.
The Queen will be extremely disappointed at not going to St Paul's. She has a sincere religious belief, and takes her role as head of the Church of England seriously too …
For the moment, the jubilee remains all about the Queen: wherever she is.
Personally, I would have had the Service of Thanksgiving at St George's Chapel at Windsor Castle. The Queen returned to the castle after lunch with the Royal Family following Trooping the Colour.
The Sussexes attended the lunch at Buckingham Palace. They did not appear on the balcony as they are not working members of the Royal Family.
However, once at Windsor, where Archie and Lilibet stayed while their parents were in London, the Queen finally got to meet her newest great-grandchild:
The Daily Mail article has the order of the Service of Thanksgiving, which was traditional and dignified in all the best Church of England ways. Why can't more C of E services be like that?
St Paul's Cathedral also has the Order of Service as it was printed for those attending:
Crowds had gathered outside by 6 a.m. in the limited space Paternoster (Our Father) Square affords:
Attending these services as invited guests or military guard requires a bladder of steel and optimum decorum. Waiting for everyone to arrive takes longer than the actual service.
Today's service welcomed as guests the charity sector, military cadets, Girl Guides, Boy Scouts, Commonwealth dignitaries, the military, politicians past and present as well as the extended Royal Family.
The public sector were there, too:
Outside were a military guard as well as military representatives from the Commonwealth nations. They had to stand perfectly still as the guests filed into the cathedral.
Here is another set of guards inside:
Musicians played traditional music. The Royal Marines provided the brass accompaniment. The Royal Air Force played the closing fanfare introducing the National Anthem, which concluded the service. Everyone sang his/her heart out. I've never heard anything like it:
Former Prime Ministers were in attendance: Sir John Major, Tony Blair, Gordon Brown and David Cameron. Brown and Cameron brought their respective wives, Sarah and Samantha.
Members of the Cabinet, including Defence Secretary Ben Wallace, Foreign Secretary Liz Truss and Home Secretary Priti Patel, attended.
Opposition leaders Sir Keir Starmer and Sir Ed Davey were there, along with Scotland's First Minister Nicola Sturgeon and her husband.
London Mayor Sadiq Khan and his wife also attended.
Prime Minister Boris Johnson got a huge and prolonged cheer when he arrived at the cathedral, accompanied by wife Carrie.
These photos show Boris and Carrie in the main photo. On the top right are the Camerons and on the bottom right are the Blairs, Tony and Cherie:
The only others who got louder cheers were the Sussexes …
… and the Cambridges:
I have read media reports that the Johnsons and the Sussexes were booed. I watched the proceedings on television. What I heard were most definitely cheers for both couples.
A royal expert commenting on the service said that, where the Queen is concerned:
nothing happens by chance.
Therefore, we can conclude that the fact that the Sussexes arrived by private car and got their own mini-procession down the aisle of St Paul's was an instruction from the Queen (see second tweet):
The couple sat near the front, next to Princesses Beatrice and Eugenie, who were with their husbands.
The minor Royals arrived in a large black coach (bus). It took ages for them to file in, as they shook hands with a long line of Anglican clergy, including the Bishop of London, the Right Revd and Right Hon Dame Sarah Mulally, who had a lucrative career prior to entering the priesthood.
The clergy wore elaborate crimson and gold copes which were created for George V's Silver Jubilee service in 1935. Most of them looked as good as new.
Yeoman Warders (Beefeaters) from the Tower of London stood behind them. They were on official duty guarding those inside the cathedral.
You can see both below:
Prince Edward and the Duchess of Wessex brought along their children. I really like Sophie. So does the Queen:
Prince Charles and the Duchess of Cornwall were the last to arrive:
By now, readers might be wondering who the gentleman wearing ermine is.
He is the Lord Mayor of London — the City of London, that is. This is a rotating one-year position and the new Lord Mayor assumes his responsibilities beginning every autumn at the Lord Mayor's Show, a parade in the City, which is the oldest part of London and still serves as the financial district.
The Lord Mayor of London is in charge of the City and, in that district, is second in power only to the Queen. Therefore, Prince Charles is subordinate to him while within those boundaries.
For centuries, until the Great Fire of 1666, that part of London was the capital, outside of Westminster, which was some distance away.
Everyone lived and worked there unless they had responsibilities at the heart of government in Westminster, which was most easily accessed by boat along the Thames.
Everywhere else that is now very much a part of the capital was a rural suburb until a few hundred years ago.
From that, we can better understand the importance of the Lord Mayor of London's historical role.
The Lord Mayor has several swords, now ceremonial, that he uses. However, each sword has its own role. Today's was the sword of state. If the Queen had been in attendance, he would have worn his most important sword.
The Lord Mayor's assistant also carries a sword and wears a mink hat for ceremonial occasions:
You can see him outside the cathedral, hands resting on the sword, just immediately to the left of the main entrance:
Returning to the service, these chairs were for Prince Charles and the Duchess of Cornwall:
Prince William and the Duchess of Cambridge sat right next to them in ordinary chairs:
Here is a view of what the congregation saw — the main altar, the choirmaster and the men and boys choir:
Boris Johnson delivered the New Testament reading, Philippians 4:4-9, which one can imagine that the Queen selected personally, as it truly gave us a message about our present circumstances and the transition of the monarchy. We are to think on higher things — and not worry:
Rejoice in the Lord always; again I will say, Rejoice. Let your gentleness be known to everyone. The Lord is near. Do not worry about anything, but in everything by prayer and supplication with thanksgiving let your requests be made known to God. And the peace of God, which surpasses all understanding, will guard your hearts and your minds in Christ Jesus. Finally, beloved, whatever is true, whatever is honourable, whatever is just, whatever is pure, whatever is pleasing, whatever is commendable, if there is any excellence and if there is anything worthy of praise, think about these things. Keep on doing the things that you have learned and received and heard and seen in me, and the God of peace will be with you.
The Archbishop of York, the Right Revd Stephen Cottrell, gave the sermon, as the Archbishop of Canterbury has coronavirus, along with Prince Andrew.
The Archbishop of York's sermon began with a brief discourse on how seriously the Queen took her Christian duties and ended on a lighter note with references to her favourite pastime, horse racing, particularly apposite as the Derby is on Saturday. Her Majesty is not expected to attend:
Children from the Commonwealth took turns in giving the prayer intercessions.
After the service, guests went to the Guildhall for lunch:
Meanwhile, Britons up and down the land gathered for street parties:
Thankfully, it was another reasonable day in London, dry and partly cloudy.
On Saturday evening, another spectacular concert in the style of those for the Golden and Diamond Jubilees will take place in front of Buckingham Palace.
On Sunday, a celebratory pageant will take place in the same location.
I plan to have more posts next week on the importance of the Queen's 70-year reign as well as the many social and political changes during that time.
Yesterday's post examined Britain's metropolitan elite and the unwitting effect they had on the 2015 general election, handing the Conservative Prime Minister David Cameron another term with a clear majority of seats, surpassing the magic number of 326 to end up with 331!
At that point, Cameron no longer needed the Liberal Democrats in coalition. The Conservatives were fully in charge.
David Cameron
Cameron fulfilled two Conservative pledges:
1/ To resolve the 1977 West Lothian Question and EVEL — English Votes for English Laws — the Government made a change to a standing order in Parliament so that:
a new law could no longer be imposed only on England by a majority of all MPs if a majority of English MPs were opposed. However, a proposed new law could still be vetoed by a majority of all MPs even if a majority of English MPs were in favour. 
This was abolished in 2021, a move with which I disagreed and instigated by a Scot, Levelling Up Minister Michael Gove, whom I do not trust at all. His reasoning was that the measures:
had "added complexity and delay to the legislative process" and that their removal would allow all MPs to be represented equally.[9]
I watched that debate. Why should another nation have its MPs 'represented equally' where English laws are concerned? English MPs cannot vote on another nation's laws.
That said, so far, Scotland's SNP MPs are careful to leave their benches when laws for England and Wales are debated.
2/ A referendum on leaving the European Union was scheduled for June 23, 2016. Fifty-two per cent of British voters opted for Brexit.
Although he said that he would abide by the referendum result, David Cameron resigned on Friday, June 24, that year at 9:30 a.m.
He and his wife Samantha honestly did not think the British would vote to leave. According to some news reports, Samantha spent much of the night in tears while watching the returns come in.
Theresa May
Theresa May became Conservative leader and Prime Minister in the summer of 2016.
Having previously branded the Conservatives 'the nasty party' at an annual party conference a few years before, she had big plans to improve opportunities for everyone living in Britain.
Although she was a Remainer, she pledged to abide by the referendum result. She appointed good Conservative MPs to her Brexit team, and Boris Johnson became Foreign Secretary.
The Opposition benches said that she had no mandate, so she held a general election in June 2017. Two trusted aides told her that polling showed that the Conservatives would do well. Furthermore, the controversial Jeremy Corbyn was Labour leader. It sounded as if May and her party were shoo-ins. In the end, there was a hung Parliament and May brokered a confidence and supply arrangement with Northern Ireland's Democratic Unionist Party (DUP), led by Arlene Foster at the time.
Things began to unravel further in the summer of 2018. May's Brexit team had come up with a sensible, considered plan to leave the EU. May held a meeting at Chequers, the prime ministerial weekend estate, to discuss the plan. Unbeknownst to her colleagues, she had a compromise plan ready to discuss which superseded the Brexit team's plan. She told her ministers that if they did not agree to her compromise plan, later rumoured to have been developed with German input from someone working for Angela Merkel, they were free to leave the country estate at their own expense. It was shocking and resulted in several resignations from the Brexit team. Boris Johnson resigned as Foreign Secretary.
By January 2019, May could get nowhere in Parliament with Brexit votes, even with her compromise. I began watching BBC Parliament in earnest at that time and haven't stopped. We really do have a load of virtue-signalling troughers from the metropolitan elite in both Houses. But I digress.
On May 24, 2019, Theresa May announced that she would resign as Conservative Party leader on June 7. That triggered a leadership election by the party members. May stayed on as PM until July 24, the day after Boris Johnson became the new leader of the Conservatives. Today, May serves on the backbenches, representing the constituency of Maidenhead, a delightful Home Counties town bordering the Thames.
Boris Johnson
Boris gave his first speech at the despatch box, all guns blazing. I watched it on television. He had a go at Labour, alleging that one of their MPs had been involved in corruption while serving on the Greater London Assembly many years before. A PM couldn't get better than this.
However, Brexit was the major issue, and he was presiding over the hung Parliament from the 2017 election, with Arlene Foster's DUP providing confidence and supply to Conservative policies. Try as he might, Boris could get nowhere with the Opposition benches.
Brexit negotiations with the EU resumed on August 28, 2019, the same day that Boris attempted to prorogue (adjourn) Parliament from September 10 to October 14. He claimed that the prorogation would cover all the party conferences normally held during that time. However, court cases arose in the Supreme Court in England, presided over by Baroness Hale, she of the spider brooch (Guido's story involves a later controversy, unrelated to the prorogation):
'Spiderwoman' Hale's decision forced Parliament to reconvene on September 3. It will come as no surprise that attempting to get Brexit votes through the House of Commons became even more difficult. On September 4, the Benn Act, a bill to block a no-deal Brexit passed. At that point, Boris proposed a motion to hold a general election on October 15. It failed to command two-thirds approval from MPs.
In addition, several Remainer Conservative MPs had the party whip removed at that time, which made matters worse. Although some had the whip restored, the Conservatives no longer had a working majority.
As a result, Parliament was dissolved in October 2019, with an election called for December 12 that year.
What voters thought
Whether Leavers or Remainers, more people began paying close attention to the goings-on in Parliament.
Leavers knew that, while Boris was flawed, he was on their side with regard to getting Brexit done. After delay upon delay in Parliament from June 2016 to October 2019, that was all that mattered.
Remainers wanted a second referendum to confirm (ahem) the first vote. In other words, they wanted to overturn the 2016 vote.
Leavers felt increasingly betrayed by Parliamentarians. However, Brexit was also beginning to have an effect on their personal lives: relationships broke down, family feuds began and working life became strained.
England was becoming a highly divided and divisive place, exacerbated by print and broadcast media alike. Leavers felt alienated and betrayed.
The fallout between 2015 and 2019
I'm returning briefly to the comments left on the 2015 Guardian article I cited yesterday: 'The metropolitan elite: Britain's new pariah class', which appeared on May 22, two weeks after the general election.
What people felt about the metropolitan elite did not change in the four years that followed. Voters were disappointed.
One Guardian commenter remembered the unity during the Thatcher era as the Iron Lady began closing mines (emphases mine):
We have a situation amongst the majority of the "lower classes" which is this:
If you dare to offer a "lefty" opinion you are automatically assumed to be a rich metro elite type, with no experience of the real world.
If you dare to offer a "right" opinion you are immediately branded a racist, ignoramus.
Does no one else see the division this has caused?
Remember when the gay rights groups went to help the miners? Can you imagine that happening today? – They'd be sniping at each other over these perceived differences, instead of recognising their similarities and fighting together against a common enemy.
We are all exactly where they want us, and until we recognise that- the real elite have won and will carry on winning- regardless of what colour they pin to their (old boys) ties.
Another went back further in time, putting forward post-war Prime Minister Clement Attlee as a man of duty:
… the most effective Labour Prime Minister by far was Clement Attlee: the son of a well-off London solicitor, educated at Haileybury and Oxford, served with distinction as a junior officer in WW1 and reached the rank of Major. Though not a patrician, you'd hardly have called him a man of the people, and I suspect that he would have felt under no obligation to put on glottal stops or pretend that he liked football (though he had actually played it in his youth).
The point is that perhaps aided by attending Haileybury – the public school that specialised in training boys up for the Indian Civil Service – he had an intense, deeply ingrained sense of his duty to the nation and particularly to the less well-off part of it, which carried him through all the vicissitudes of setting up the Welfare State in a bankrupt, exhausted country with an empire to get rid of. He knew what had to be done, and he was determined to do it, and what focus groups or the media thought about it was of no consequence to him.
… where there is no vision the people perish. Without a thoroughgoing analysis of the state we're in and a thought-through programme for putting it right, such as it had in 1945, Labour is simply wasting its own time and everyone else's and might as well shut up shop now.
People dislike when MPs are not local, especially when a well-heeled Londoner represents a disadvantaged Northern constituency:
It's ridiculous that these parachuted-in pillocks can hold office in northern constituencies when many of them will secretly smirk about it being "grim up north" every time they're sat in some trendy London wine-bar.
Someone had a solution to candidate selection:
We need to stop north-London PPE [Philosophy, Politics and Economics] graduates from pretty much automatically getting into Westminster. Anyone who's interested in being a politician does that PPE degree, then works for a think-tank or as a political advisor then a junior minister and so on.
Candidates should be elected from people who live in individual constituencies, who have done proper jobs and who genuinely wish to fight for their communities. In this system George Osborne, Nick Clegg and Ed Miliband would not be able to stand in northern constituencies; they'd have to run in the cities and towns where they actually lived. Generally speaking, that would mean a borough of London – Oh, wait Chukka Umunna and Ed Miliband live in the same borough? Tough! Only one of them can stand for Labour. What's that; several of the Tory cabinet live in the same town in rural Oxfordshire? Oh dear, only one of them can stand. And in order to prevent parachuting candidates in, they'd have to live there for at least five years prior to being selected.
The whole political system in this country lacks any legitimacy. The people who are affected the most by politics are the people who are the least engaged in it …
This issue also affects London. One person wrote about Labour's David Lammy:
Lammy is my MP and I like him, but I do have a slight problem: according to the Tory leaflet through the door pre-election, he doesn't live in Tottenham, his constituency, he lives in Crouch End, which is rather met-elity itself. Not to mention giving the option of a state secondary school you'd actually want your kids to go to.
If the Tories were lying I apologise.
One reader understood why people resented the metropolitan elite:
I totally get the hatred of the "metropolitan elite". The assumption that you, as someone who is not a member of that class, will have no idea what they are talking about whether it is art, literature, politics, whatever and, by extension, you are an idiot. It's bloody infuriating!!
It's essential for the media not to leave London:
Aside from John Harris I know of no other Guardian columnist that sets foot out of London – or even North London.
Tell a lie – Polly [Toynbee] is in Brighton for her Arts Festival.
That's the nature of metropolitan elites – write about those less well-off but be sure never to meet any.
Also:
Metropolitan elite means people living in London who are unnatural and out of touch with the rest of the country. This is nothing new. The medieval word for a Londoner was "cock's egg"' (cockney) which also described something unnatural and out of touch.
I did not know that!
Other readers noted the petty, controlling interference that the metropolitan elite display:
Different people will have different reasons for disliking the ME. One of these must surely be the neopuritanism they espouse, which means you're always looking over your shoulder worrying whether you've exhibited the wrong attitude, e.g. insufficient enthusiasm about gay marriage or a penchant for Top Gear.
On that topic:
Metropolitan elite who work in media, government, academia, charities, and NGOs from the National Trust to Oxfam and the Royal Society. These tend to coalesce on gay marriage, "safe" places, "islamophobia" issues, pro-EU sentiment, pro-Obama and catastrophic climate change. Just watch the BBC for any length of time.
Another said:
I personally feel this miring of everything in semantics does little to describe the current rot in UK politics. It would be better to use a historical example – I personally think referring to these people as "The Marie Antoinette Class" is more appropriate. It illustrates just how out of touch they really are with the current reality of life for British working people.
Even worse, they don't really seem to be British at heart:
What has happened (maybe?) is that the elite in the UK (England specifically) has become more like other countries – urban and bourgeois, rather than rural and aristocratic – and without the aspiration to ennoble themselves that the previous industrial bourgeois had (by marrying their wealth into the old order's titles). What we have now is a class of educated professional people who share urban liberal-middle-class values that are much more like those of their equivalents in other European countries than they are many of their own compatriots.
Another reader also noticed the lack of Britishness:
One explanation could be that many young educated people in Europe were brought up to feel European (or even global) than from a particular country or region. Programs like ERASMUS and the increasing cheapness and availability of travel have opened up the horizons of many smart and educated individuals. This is definitely causing a class divide with those who remain rooted and patriotic. Combine that with the growing phenomenon of elitism in all societal institutions (you need a degree to do anything these days), then you inevitably get more of group A in all positions of power.
I can't tell whether this is a good thing (or even inevitable) or not. The "metropolitan elite" would probably find themselves thinking that they are better than group B, who are quagmired in small mindedness and petty issues. Then you have group B, made up largely of working class people, who are feeling disenfranchised and silenced (the elite would probably condescendingly refer to it as "feeling left behind"). It's like a soft Russian revolution, and look what happened that time when they let their "betters" look after them. I think a healthy society needs to always listen to both sides, whenever you start thinking "you know best" and ignore the plebs who "don't know any better", well, then you get the Star Wars prequels.
Globalism alienates:
There is hardly any difference in the political parties communications, only semantics. The nation state is dying and Universalism is taking over through the multinational corporations & global organisations.
One reader gave us the education profiles of the main political players of 2015 and the Labour years:
They are all cut from the same cloth…a ll that differentiates them is how they divvy up and pork barrel the the trolls tax contributions.
Cameron: Philosophy, Politics and Economics (PPE) at Brasenose College, Oxford
Miliband: Corpus Christi College at the University of Oxford, and the London School of Economics
Clegg: University of Cambridge, the University of Minnesota, College of Europe
Farage: Dulwich College, a public school (private), and stockbroker….
Mandelson: Philosophy, Politics and Economics at St Catherine's College, Oxford
Blair: St John's College, Oxford…and various private schools
Brown: University of Edinburgh, History (as the son of CoS [Church of Scotland] Minister he is definitely middle class)
The list is not exclusive…….but the stench is unmistakable……
At least voters know where they stand with the Conservatives:
This is why the Tories won the election. So the PM is posh and privileged. He knows it and we know it.
Someone complimented Cameron's approach to EVEL:
What people object to, at a gut level, is getting a clever-dick, hypocritical answer to their concerns.
For example, Labour's position on EVEL is transparently self-serving and relies on a lot of chin-scratching about complicated constitutional niceties. In contrast Cameron's proposition, that it is only fair for England to have self-determination on the same issues which Scotland does, is an uncomplicated statement of a simple principle, even if it is of course equally self-serving.
So people see Labour as putting self-interest first and talking down to them about constitutions, on the one hand, and on the other they see Cameron espousing a simple principle which they see as being on their side.
It's no surprise Labour end up on the wrong side of so many arguments.
Interestingly, someone brought up Boris:
Londoners are not much interested in the politics of power, influence, wealth and class envy. For many, social justice might mean the mortgage paid off so they can fund their care home one day. Love him or hate him, Boris Johnson recognised and tapped into this and that's why they voted Boris Johnson Mayor. Twice. London actually gave an early indicator for the national mood.
Labour, on the other hand, cannot relate to most people. The second sentence gave me a chuckle:
I am still angry that Ed wasn't able to put his view across more forcefully.
He is very fond of the third chapter of The Working Classes And Their Struggle For A Cohesive Understanding Of Dialectical Materialism Within A Framework Of Sonambulant Artifice And Prolapsed Thinking and yet people still didn't think he understood what life is like on a Council estate or in a factory.
It beats me.
Someone else agreed, saying that Labour were interested only in themselves:
Labour's metropolitan political class – and believe me, they are ABSOLUTELY the worst, an utter ideological and moral vacuum compared to, say, the Lib Dems or the centrist strain of the Tory Party – are utterly without allegiance to anyone but their own caste.
What voters want(ed)
One reader provided a profile of the ideal MP:
Here's what we require of our politicians:
(1) honesty
(2) probity
(3) the ability to listen to their constituents
(4) the ability to put the needs of their constituents before the interests of big business, the aristocracy or the establishment.
Tick all four boxes and I don't care where you were born, where you were schooled or where you live. The problem is finding anybody who'll tick those boxes.
Little did that person know that a bevy of Conservative candidates could tick those boxes in 2019.
To be continued next week.
By chance, last week I read an article from May 20, 2015 in The Guardian about the general election result earlier that month: 'The metropolitan elite: Britain's new pariah class'.
Labour lost, leaving the metropolitan elite scratching their heads and wondering why.
Zoe Williams's article has three pages of comments, which are illuminating. The general public revealed why Conservatives won not only in 2015 but even more convincingly with an 80-seat majority in 2019.
Of course, in between those two elections was the one held in 2017, whereby Prime Minister (PM) Theresa May barely scraped by with a slim majority which caused her major problems in getting Brexit legislation passed in the first half of 2019. She resigned during the summer, and Boris Johnson became party leader, thereby succeeding her as PM. He held an election on December 12 that year, primarily to break the Brexit deadlock. It was one of the best things he ever did.
What is the metropolitan elite?
Zoe Williams, who has been writing for The Guardian for decades, defines the metropolitan elite through interviews with other people which makes up the article.
The characteristics that tie the metropolitan elite together are working in London, living in an upper-middle class bubble, going to a public (private boarding) school; having an Oxford degree (especially in Philosophy, Politics and Economics); making a close network of friends from school and university; finding employment in politics, the civil service, law, the media and academia. They ensure their children follow the same route.
No one's definition is perfect. Each needs another element added to it.
Williams concludes that an exact definition doesn't really matter, because it is fluid, but the reality is that this group has caused the ethos of Parliament to change through the years (emphases mine):
The meaning of "metropolitan elite" is not fixed. It will change in the mouth of whoever says it, and it will take on the shape of the person to whom, for whatever combination of reasons, it is thrown at and sticks. But the anger is real: parliament, as the last century understood it, represented the people to the state. Parliament now represents the state to the people. And maybe "metropolitan" is a way to say that, and to give it a face.
Background to the 2015 election
Below is a summary of the highlights of the 2015 election.
Conservatives and Liberal Democrats
David Cameron was PM at the time, part of a coalition government with the Lib Dems. Nick Clegg was deputy PM.
Clegg ran as the Lib Dem candidate as he was party leader at the time.
Cameron was getting a lot of heat about holding a Brexit referendum. Nigel Farage, leader of UKIP at the time, piled on the pressure. Referenda are not a British thing and Cameron could have happily ignored it were it not for the fact that a Conservative victory depended upon granting voters a Brexit referendum.
There was also much talk at the time about English Votes for English Laws, or EVEL: the inappropriateness of allowing Scottish MPs to vote on English laws when English MPs have not been able to vote on Scottish laws since devolution in 1999. MPs from Wales and Northern Ireland can also vote on English laws, but the issue mainly concerns Scotland, since many laws apply equally to England and Wales. EVEL — arising from the West Lothian Question of 1977 — was another issue Cameron had to address in the campaign. As such, it became part of the Conservative manifesto that year.
Labour
Ed Miliband was Labour's leader at the time.
Emily Thornberry
The snobbish aspect of the metropolitan elite, which Labour embodies so well, came to light during the World Cup in 2014. Emily Thornberry MP experienced a combination of bemusement and outrage upon seeing that someone would have the audacity to display St George's flags, representing England, outside their home. What's more, there was a white van parked in the driveway. Oh, the horror!
She tweeted a photo of the house and captioned it: 'Image from #Rochester'
The offending home was in Rochester, Kent, where a by-election was being held in November that year. The owner of the house said that he put three St George's flags up during the World Cup and decided to leave them flying from an upstairs window.
On November 14, the BBC reported that Thornberry resigned from the shadow front bench as a result of the tweet (bold in the original here):
Emily Thornberry has resigned from Labour's front bench after sending a tweet during the Rochester and Strood by-election which was branded "snobby".
The shadow attorney general apologised for the message, which showed a terraced house with three England flags, and a white van parked outside.
UKIP said she had "sneered, and looked down her nose at a white van in Strood with the cross of St George on it".
Labour leader Ed Miliband was "angry" at her, a senior figure told the BBC.
The resident of the house, Dan Ware, said Ms Thornberry – the MP for Islington South and Finsbury – was a "snob".
"I've not got a clue who she is – but she's a snob," he told the Sun. "We put the flags up for the World Cup (in 2014) and will continue to fly them."
Even today, everyone who loves England remembers Thornberry's attitude towards our nation's flag. Ed Miliband was right to have been angry at the time. It must have lost Labour votes in certain constituencies:
The Independent had more:
Three hours later she apologised, after Ed Miliband intervened and the Labour leader made it "very clear" that he believes people should be able to fly the England flag without feeling ashamed.
Following her resignation, Labour has revealed that Thornberry had spoken to Mr Miliband a second time.
"Ed and Emily had a second conversation. She thought the right thing to do was to resign. Ed agreed," the source said.
Her tweeted apology received strong reactions, among them the following:
Simon Danczuk, who was the Labour MP for Rochdale at the time, could see the elitist London-centric outlook at work:
Everyone will know exactly what she meant by that comment. I think she was being derogatory and dismissive of the people. We all know what she was trying to imply.
I've talked about this previously. It's like the Labour party has been hijacked by the north London liberal elite and it's comments like that which reinforce that view.
In the end, Mark Reckless won the by-election which was held because he wanted to change party affiliation from Conservative to UKIP. Nigel Farage had told him to do the right thing by asking his constituents. Reckless became the second UKIP MP to serve in the House of Commons when he joined Douglas Carswell that year. Carswell also had to hold a by-election in his constituency before Farage would allow him into UKIP.
Ed Miliband
Returning to Labour, a month before the by-election, Ed Miliband proposed a mansion tax, aimed primarily at Londoners.
However, a Londoner from Dartmouth Park in Kentish Town, Dan Carrier, wrote an article for The Guardian in October 2014, saying that not everyone living in a house in North London was necessarily wealthy: 'My house in the middle of Ed Miliband's street'.
It so happens that Ed Miliband and his family moved into the street where Mr Carrier grew up. In 2014, his parents still lived in the same house and he had the good fortune to be able to buy a home just a few doors down.
The Carriers and the Milibands are two very different classes of people:
In many ways our road is a typical London street: a mixture of Victorian terraces, some grand double-fronted villas and a postwar apartment block. More recently, however, it has had national media attention, prompted by the arrival a few years ago of Ed Miliband and his family. When they decamped from Primrose Hill, the move produced a swathe of articles describing my neighbourhood as a place of leafy-lefty-intellectual-middle-class types. The road I grew up on, and moved back to, has become shorthand for the gentrification of north London. The gap between the property haves and have-nots has never been starker, and housing is set to be a defining issue of the next general election. Ours is just one street, but it could be anywhere in the capital.
Carrier described many of his neighbours, who were working- or middle-class, hardly of the metropolitan elite. As such, a mansion tax would have been devastating:
Under the proposed system, many of Ed's neighbours could face large bills.
The newcomers, however, were flush with cash:
One recently arrived couple, both on six-figure salaries, asked not to be named. Being able to buy a property in this neighbourhood these days, it seems, is enough to single you out for unwanted attention.
They say they moved here because of "the large houses, and the fact it's not chi-chi like Hampstead or Primrose Hill. You see neighbours at the weekends, they're not all out at their country homes. You don't see Fortnum's vans pull up." Dartmouth Park is not yet Mayfair, in other words – not a comparison my parents' generation would have felt compelled to make. "It feels like a real street, with real people."
In the end, there was no mansion tax because Labour lost the election, thankfully.
By the way, Ed's house has two kitchens in it. One is for the nanny and the children. The other is for Ed and his wife.
Ed Miliband could have taken some advice on the PR front. The lesser of his campaign sins was jamming a bacon sandwich into his mouth, further proof that no one should be photographed eating. The greater sin, however, was imitating Moses by erecting a stone listing five Labour Party goals, dubbed the Ed Stone. Oh, my, how we laughed at such hubris.
The election was held on Thursday, May 7.
Miliband resigned as Labour Party leader on Friday, May 8, a position he had held since September 2010.
By May 10, the Ed Stone was nowhere to be seen.
That day, The Guardian reported:
A case of champagne is among the rewards being offered by tabloids and rightwing pundits in return for the whereabouts of the so-called "Ed Stone".
The 10 commandments-style tablet, engraved with five promises and unveiled in the final days before the election, was meant to symbolise how Ed Miliband would keep his pledges and restore trust in politics.
But the gimmick was perhaps the greatest gift Miliband gave to his opponents – and the mockery shows no signs of letting up even after his resignation and the quiet disappearance of the stone.
An 8ft 6in-high, two-ton limestone hulk is not the easiest thing to hide. But the stone, which was rumoured to have cost up to £30,000, is proving remarkably elusive and Labour sources are staying tight-lipped.
The Mail has offered a case of champagne to any reader who has information that "leads to the discovery of the Ed Stone". The Sun has set up a dedicated "Ed Stone hotline" for tips about the stone's whereabouts.
But without any apparent success in locating the real thing, the Sun also offered its readers a chance to win a full-size replica of "the Labour loser's laughable slab".
It was only on January 16, 2016, that we found out what happened to the slab. The Guardian reported:
The Ed Stone was broken up shortly after the general election, it has been revealed, putting an end to eight months of speculation about its whereabouts.
Two party officials, speaking on condition of anonymity, told Bloomberg News that the stone had been destroyed in the weeks following 7 May 2015.
Shortly before the election, David Cameron tweeted that there would be chaos with Ed Miliband (pictured with Ed Balls on the left):
Miliband is still an MP.
The Ed Stone might not have survived, but one of his lasting legacies as Energy Minister from Labour's time in power has: the green levy on home heating fuel, which is more than the VAT. The Conservatives should scrap the levy. Perhaps they will when the cost of gas for the home reaches breaking point and people get sufficiently irritated with Net Zero.
I wrote two posts about the 2015 election. In the second, I wrote about the 'historic upset the pollsters missed':
Even the most accurate poll — the exit poll — slightly underestimated the final total. The Conservatives won a clear majority of seats, surpassing the magic number of 326 to end up with 331!
David Cameron no longer needed a coalition government.
Today, Nick Clegg works in California for Facebook and has just received a huge promotion as president of global affairs for parent company Meta, taking on some of Mark Zuckerberg's former responsibilities.
What the public thought
In 2015, the public made it abundantly clear that they preferred a Conservative government.
The readers' responses to Zoe Williams's article about the metropolitan elite made some excellent points. I read them all.
One person said that the Conservatives' policies appeal more to the average Briton:
The election was won by the Tories less because they represent the views of more people than any other party than because their policies offended fewer people than those of any other party. The widespread and insidious disenchantment with politicians stems from this disconnect and it just happens that at the moment the Tory message is marginally less unpopular than a whole range of unpopular messages – probably because the Tory demographic is a currently a bit wider than that of Labour.
Another said that Labour had deserted the working class for the middle class:
A large section of the working class of this country still can't box their way out of this ingrained deference to the ruling class. The existence of the royal family and the institution of the monarchy is the guarantor of that deference. But they do not feel the same deference to the 'metropolitan elite' and this fact has been nicely used by right wing media to undermine urban liberalism and split the working class vote. The Labour party will have difficulty fighting its way out of this conundrum so long as they exclude working class representatives in favour of middle-class ones, black or white.
The working class feel ignored:
Labour are more and more removed from working class people … The divide is growing -hence the growth in UKIP in traditional labour areas. The metropolitan elite – useless Ed is one of them – have failed to understand and address the concerns of their traditional voting base in far too many areas.
Someone said that the Labour Party was synonymous with the metropolitan elite:
If the Labour Party (or the metropolitan elite that provides it`s talking heads) thinks that simply stealing the Conservatives`s clothes or repositioning themselves on Europe is going to work – forget it. At the moment the terms "Labour Party" and "metropolitan elite" are interchangeable and are synonymous with what us plebs would call "being out of touch". Can the Labour Party learn how to talk to us again?….They`d better, and quickly because at present we`re all listening to the Tories and UKIP …
Another reader said the same thing:
I say this as a northern working class boy …
Until we have a left wing party led and organised by the working class, I'm a Tory. All you people still voting Labour when these people are in charge of the party are fools – they've tricked you into believing they represent you, but actually you're just useful to them to legitimise their marginal differences compared to their blue friends in the next street.
Two people even had a go at Zoe Williams:
Zoe Williams. Godolphin and Latymer School, Oxbridge, lives in Camberwell, brays, wrote a tedious feminist piece about why she married the father of her kids after a decade as if anyone cared, spouts by-numbers liberal-lefty discourse every week in the Graun.
I don't loathe the metropolitan elite. It's just a shame there are so many of them clogging up the national media, the political scene, academia, the arts, public policy, etc. when they represent such an infinitesimal cadre of people. So much for the 'diversity' they so often chirrup about.
Also:
YOU, Zoe W, are most certainly a member of that elite. How else do you get on What The Papers Say on Sky television?
This comment seemed to unknowingly say the most about what would happen in December 2019. Britain was — and is — becoming more nationalistic, but not as a Union, only as separate parts:
Events in Scotland and the victory of the SNP and the rise of UKIP, particularly in Northern heartlands, have raised questions about the leadership of a working class party by a group of North London academics and politicians. However the real event is the battle of ideas about what a Labour Party should represent as the North London hegemony over policy has dissolved. The Blairites are in the news on the TV every day attempting to solve the problem of hegemony by a return to the centre. Both the SNP and UKIP have shown that there is no way back as both Scotland and large swathes of England are staunch nationalist. The rest of England, with the collapse of Lib Dems, is dark and lite tint blue Tory, and as such a distinct Englishness has temporarily been established. This Englishness is different from that of the UKIP North and certainly different from that of the Scottish nationalism of the SNP. The hegemonic moment of North London has in the words of Tom Nairn come face to face with the break up of Britain. Dr. Eamon O'Doherty
And, lo, it turned out to be …
More to come tomorrow.
It would be difficult to overstate how much England has been stomped on over the past 30 years and more.
Britons are told that England does not exist; it is merely a collection of regions.
The English are told there is 'no appetite' for an English Parliament.
Britons are taught in school to ignore and even hate England.
Right now, I am looking at one of my high school textbooks, an anthology. Its title? England in Literature.
I read it in a class called 'English', oddly enough.
England is the only nation of the four in the United Kingdom without its own Parliament, which many of us living here would love to have, just as the other three nations have their own assemblies. However, our notional betters have told us that this would be impossible. Years ago, it was reported there was 'no appetite' for it. Yet, the people living in England have never been asked to vote on such a proposition, unlike the inhabitants of Scotland, Wales and Northern Ireland.
Now, to borrow an English expression, we have a spanner in the works: the continued success of England in Euro 2020.
On July 4, the Telegraph's Nick Timothy wrote an opinion piece: 'England has been denied the voice it deserves by elites who would rather Englishness didn't exist'.
It has this subtitle:
England has its own unique and complex identity, and it should have a parliament of its own, too
I couldn't agree more, although, these days, part of me thinks it would add a layer of bureaucracy and expense. That said, it would be worth the price.
For the past few weeks, England football fans have been singing the 1996 hit song Three Lions (Football's Coming Home) written by comedians David Baddiel and Frank Skinner, with music by the Lightning Seeds. Recalling England's World Cup win 30 years earlier, it was written for the 1996 European Championships:
Nick Timothy encapsulates the mood of England supporters perfectly:
The football fans singing "it's coming home!", while anxiously anticipating the pain of another England disappointment, manage to reconcile two seemingly contradictory English traits: boisterous triumphalism and private self-doubt.
The way the English feel about not only football but the nation itself is at loggerheads with elites who live in this part of our Sceptred Isle.
Timothy elaborates (emphases mine):
… the English do have traits and tendencies, just like any other nationality. And yet, for many English elites, England's identity is something best denied. It is, they believe, too dangerous, too embarrassing, or too exclusive. Even those now debating what they call "Englishness" are doing so, they admit, with reluctance.
Among them, a common contrivance is to pretend that English culture is, as one commentator puts it, "thin", an identity that "has arisen not because of a positive movement to adopt the identity, but scorn for other forms of collective belonging". Another pundit asks, "what is England now, other than sports teams and Shakespeare?"
Englishness is very different to that of the distinct identities of the other three nations that make up the United Kingdom, but those who wish to suppress it are doing so successfully, thus far:
They seem to hope that if "Englishness" must be appeased, they can make sure that whatever follows is an elite-led project in which they can keep everything civilised.
I am not sure exactly where 'civilised' would be violated were Englishness to be celebrated. For years, we have been told to avoid any national pride, unlike the Welsh and the Scots. It is perfectly acceptable for nationally-oriented political parties such as Plaid Cymru and the Scottish National Party (SNP) to exist. Yet, no such party currently exists in England.
Elites in England fear we would break out in violence. Perhaps this is a leftover from the tiny pockets of extremists from the 1970s and early 1980s. Those groups have since faded into history and hardly speak for 99.9% of the population of England which, today, is highly diverse, particularly in our big cities. However, it is not as if the other nations of the UK don't have their extremist groups, although Wales might be an outlier there.
Looking back further, England has her own undeniable history and culture, as Timothy points out:
England is the mother of parliaments. It is the land of Shakespeare and Dickens, Elgar and Holst, the Beatles and Stones, the Cotswolds and Cumbrian hills, London and Liverpool, Oxford and Cambridge. It is Stonehenge and St Paul's, football and cricket, the local church and village pub, Isaac Newton and Isambard Kingdom Brunel.
It is cream teas and Cheddar cheese, a pint of bitter and a cup of tea, farms and factories, honest coppers and straight judges. It is the Wars of the Roses and the Reformation, Roundheads and Cavaliers, rebellions and strikes, Industrial Revolution and a Glorious Revolution. It is the home of Magna Carta, Locke and Burke, Churchill and Attlee, and long lines of kings and queens …
From philosophy to science, inventions to the arts, English culture is rich with significance.
Therefore:
It is needlessly destructive to ignore, denigrate or misrepresent it.
Sharing a common identity, as promoted in Scotland and Wales, can be healthy:
Shared identity is what allows us to recognise familiarity in strangers, and that familiarity, psychologists attest, encourages trust and solidarity and the willingness to make sacrifices for others. You and I might never have met, but we have language, places, habits, customs and shared history, culture and stories to help us to trust one another. This shared national identity means we can look beyond the narrower identities – racial, religious, regional, whatever – that can divide us.
The only time the English can truly celebrate their identity is when it comes to national sports teams — football, primarily, but also rugby and cricket. Contrary to what the elites say about national identity, it works remarkably well:
The English football team is multiracial and at ease with itself. The cricket team – who are world champions – are multiracial and multi-religious. And as the football song shows, it is collective memories ("'cause I remember…") and our shared attachment to place ("it's coming home") that bring us together.
One aspect of the display of national identity during football tournaments is the flag. For England, this is the flag of St George, a red cross on a white background. The only time it is even vaguely acceptable in the eyes of the elites is during this time.
Through the past 30 years, England football fans have draped large ones outside the windows of their homes or flown smaller ones from their cars or vans. Ironically, in a year in which England has been so successful in football, I have only seen two or three so far. Perhaps those who used to fly the flag have been psychologically intimidated over the years by talking heads on the media.
Nick Timothy says it wasn't always this way:
In the 1966 World Cup final, England fans held up the Union Flag; by the 1996 European Championships semi-final – played before Scottish devolution – England fans were flying the cross of St George without causing a stir.
Moving back to the original subject of an English parliament, Timothy points out the problem of not having one. The issue is that MPs from the devolved governments can end up determining English legislation:
Devolution to Scotland and Wales but not to England means Scottish, Welsh and Northern Irish voters decide the government of England. A UK government elected by mainly English voters thinking of issues that are devolved elsewhere makes no sense to Scotland, Wales and Northern Ireland. If one day we end up with a UK government elected with no English majority, but expected to determine policies in England that are devolved elsewhere, we will face a constitutional crisis.
"English votes on English laws" does not resolve this issue.
In fact, the Chancellor for the Duchy of Lancaster, Michael Gove, who is Scottish, plans to abolish English votes on English laws, known as EVEL.
A June 16 post from a Scottish site, Jaggy.blog, explains how EVEL came to be:
The newly revealed plan by the Cabinet Office Minister, Michael Gove, to scrap English Votes for English Laws will be welcomed by fellow Unionists who felt this 'Evel' act rubbed salt in Scottish rebels' wounds after the 2014 referendum. Actually, it was more of a desperate ploy by David Cameron to counter the threat of UKIP before he could work up the courage to call a referendum on EU membership.
It would seem that the reason Gove is planning to revoke EVEL is because the Conservatives have a majority of 78 in the House of Commons, thereby enabling them to overrule any opposition from the SNP, the third largest party in Parliament.
Gove's move is seen as something that would preserve the Union. This I personally doubt, but here is the reasoning:
Zealously spearheading the UK Government's efforts to save the Union, Mr Gove told The Times today that Evel has outlived its usefulness:
Ultimately, it's a convention which arose out of a set of circumstances after the 2014 [Scottish independence] referendum, where you had a coalition government and so on. We've moved on now, so I think it's right to review where we are on it. The more we can make the House of Commons and Westminster institutions work for every part of the UK and every party in the UK, the better.
The less said about Michael Gove, the better. His reasoning is illogical, but he won't care. He has no love for England, either.
Would the SNP be able to restrain themselves and not vote on English laws? Back in the 1990s, it used to be a matter of honour whereby they would not do so. After all, English MPs cannot vote on Scottish laws, because that legislation has been handled in Holyrood since 1999.
Therefore, as Nick Timothy says, the only way to resolve this is by creating an English Parliament:
… there can be no return to the unitary state of old. The only sustainable remaining solution is an English parliament and English government within a federal UK, supported by a political culture that respects and cherishes pride in England and shows a more serious commitment to the government of England's regions. We have a lot to take pride in, and as the football team is showing, there are many more shared memories – of triumph, hopefully, rather than disaster – still to be made.
Sadly, a shared culture and geography is unlikely to make that happen anytime soon.
For now, we must lie back and consider the Three Lions — and the possibility that they could win Euro 2020.
In closing, there is nothing shameful about England or the English. They have given me the best years of my life.
On Wednesday, June 23, 2021 — the five year anniversary of the Brexit referendum — The Spectator had a good article about how wrong Project Fear's predictions were.
Excerpts from 'Five of the worst Remain predictions five years on' follow (emphases mine).
The sources for these are then-Chancellor George Osborne, the banks, an international accounting firm, then-Prime Minister David Cameron and the EU's Donald Tusk.
George Osborne
George Osborne and the Treasury peddled three Project Fear disasters: impoverished households, huge job losses and what The Spectator calls a 'punishment budget'.
On households, using Treasury figures, he predicted that each household in Britain would be poorer by £4,300 in 2030. Even the Remainer BBC had a problem with that. Their fact check said that the figure was:
questionable and probably not particularly helpful.
In reality, the opposite has happened:
records from the Office for National Statistics (ONS) show in the five years since that real disposable income per head has risen from £5,177 in the second quarter of 2016 to £5,354 at the end of 2020. 
On the jobs front, Treasury figures predicted 500,000 job losses across Britain.
In reality, early in 2020, before coronavirus hit, the employment rate was at a record high:
a million jobs were added by the time Covid hit, with the employment rate for those aged between 16 to 64 rising from 74.5 per cent in June 2016 to 76.6 per cent in January 2020 – the highest level since 1971.
Before the 2016 referendum, Osborne told BBC Radio 4's Today programme that the UK would leave the EU with no economic plan, therefore, a punishment budget of higher taxes and public spending cuts would have to be implemented.
In reality, after Cameron resigned at 9:30 a.m. on June 24, 2016, Osborne left his post as Chancellor. Philip Hammond, his successor, said that no such budget would be implemented.
As a result:
Hammond's first budget was described as a 'low-key package' that increased national insurance contributions for the self-employed and enjoyed stronger-than-expected tax receipts since the EU referendum. Britain even finished the year as one of the fastest growing economies in the G7.
The banks
Goldman Sachs predicted a British recession by early 2017.
Nomura and Credit Suisse predicted falls in GDP: 1.3% and 1%, respectively.
JP Morgan predicted that Scotland would leave the Union and create their own currency.
In reality, Scotland is still yearning to break free with no plan on how to do it:
with the British economy growing up until the first quarter of 2020 when Covid struck with 1.7 per cent annual GDP growth in both 2016 and 2017 followed by 1.3 per cent in 2018 and 1.4 per cent in 2019.
Big accounting firm
PricewaterhouseCoopers predicted a loss of up to 100,000 financial services jobs.
EY (Ernst & Young) came closer to the true figure:
Rivals EY estimated last month that PWC's figure had overestimated such losses by a factor of nine, with just 7,600 going overseas as of March 2021.
Donald Tusk and David Cameron
The EU's Donald Tusk predicted the loss of:
Western political civilization in its entirety.
David Cameron predicted a Third World War.
In reality:
it appears that the greater threat to the EU is in fact its own leaders, given the ongoing debacle of the vaccine rollout in the face of public dismay. Western political civilisation meanwhile has somehow remained intact.
Ordinary citizens — the 52% who voted to Leave — can discern the situation on the ground better than the experts — our notional betters — can.
Thanks again to all Britons who voted Leave on that rainy, miserable day five years ago.
We're out and, together as a Union, we are putting the 'Great' back into Britain. Our coronavirus vaccine rollout has been spectacular, surpassing the EU's by a country mile. More great accomplishments for us lie ahead.
When it comes to the EU, better out than in.
The coronavirus lockdown has certainly contributed to the rising ratings for BBC Parliament and parliamentlive.tv.
More people are tuning in and the BBC have restyled the chyron on their screen to make it more user friendly. We now know what the debate topic is as soon as we tune in.
However, ratings for televised coverage of Parliament began climbing in 2015, when David Cameron was Prime Minister.
On February 12, 2016, Total Politics reported (emphases mine, apart from the italics):
BBC Parliament has reported a record high of an average of two million viewers a month for the first time ever in 2015.
This is an increase of 150,000 viewers each month on the 2014 figures – and it marks the first time the BBC's dedicated parliamentary channel has broken the two million viewers per month threshold.
The channel has more live coverage than ever before and covers proceedings from Westminster, the European parliament, the Welsh and Northern Ireland Assemblies and the Scottish Parliament.
BBC Parliament controller Peter Knowles told TP:
"Providing more live coverage of the key political debates and discussions has meant that during 2015, a dramatic year in politics, we've seen a surge in people using BBC Parliament to follow proceedings.
"New camera positions are also giving our coverage a fresh feel as this parliamentary term is now in full flow."
Apparently the new camera angles, brought in last year, represent the first such change since 1989. According to a BBC spokesman, the new camera angles "bring audiences closer to the key exchanges, debates and votes".
So much for the public being turned off by politicians…
In 2020, in a review of the 2017-2019 Parliament under Theresa May's premiership and with John Bercow as egotistical Speaker of the House, The Institute for Government stated:
Members of the public can now view parliamentary proceedings on a variety of platforms. Run by the parliamentary Digital Service, parliamentlive.tv is the most comprehensive source of parliamentary video and audio, publishing recordings of all events – including meetings of select committees – taking place in public.[24] The site allows members of the public to watch events live, access video on demand and search archive footage going back to December 2007. It is also possible to download clips from parliamentlive.tv – with nearly one thousand clips downloaded on average each week between 5 March 2018 and 30 December 2019. These clips are often shared by MPs, interest groups and political parties on social media. BBC Parliament also carries live coverage of key parliamentary activity.
Parliamentary tensions over Brexit were a massive driver of viewers for Parliamentlive.tv. 
Average daily viewer numbers increased over 150% from 6,552 per day in 2017 to 16,607 per day in 2019. BBC Parliament also saw record viewing figures – the only BBC TV channel experiencing an increase in viewers. An average of one million adults tuned into the channel for at least three minutes each week during 2019, with viewing figures exceeding two million in several key weeks. One commentator described the channel as "the ratings hit that's Big Brother meets 24 – with added Bercow".[25]
Controversial and compelling Brexit debates continued when Boris Johnson became Prime Minister.
On Wednesday, September 4, 2019, the Radio Times reported:
BBC Parliament hit an all-time ratings high on Tuesday as Boris Johnson suffered his first defeat as Prime Minister, with MPs voting to take control of the House of Commons in order to force a vote on a bill that will prevent a no deal Brexit.
Some 1.5m viewers tuned in across the course of the day, marking the biggest 24 hours for the channel on record.
The drama in Westminster continues into Wednesday, as opposition parties and Tory rebels lead a debate on Labour politician Hilary Benn's bill to block a no deal Brexit …
The channel is providing live coverage from the House of Commons throughout the ongoing Brexit crisis, and it is captivating the nation – even drawing viewers away from the beloved Great British Bake Off, which aired its latest episode on Channel 4.
The Radio Times article included two tweets, the first of which is from British television's most famous money pundit, Martin Lewis:
Last year:
Even on less contentious days, the debates can be absorbing, such as a recent closing debate about the threat to driving tests in High Wycombe, Buckinghamshire, not far from London. I watched it while preparing dinner when it aired, and it was compelling. Mail on Sunday columnist Dan Hodges, who is actress/former MP Glenda Jackson's son, tweeted:
Once one starts watching Parliament in action, it is difficult to stop. We get to know the MPs and predict what they will say. With coronavirus, we have the added bonus of seeing what the interiors of their houses look like.
The day's order papers are on the PARLY and House of Commons Twitter feeds:
The most recent development in broadcasting from the Houses of Parliament is a new fit-for-purpose gallery, which Speaker of the House Sir Lindsay Hoyle visited on Tuesday, March 2, 2021:
In a further development, Chancellor for the Exchequer Rishi Sunak will be giving the first-ever press conference about the budget on national television following his statement in Parliament on March 3. Guido Fawkes has more:
After presenting his budget in the House of Commons on Wednesday, the Chancellor will scarper over to No. 10 to take questions on it from the public and journalists from 5pm. The televised event will be the first of its kind on Budget Day …
More on that and the budget tomorrow.
In case you've missed the earlier posts in this series, here they are: parts 1, 2, 3 and 4.
The best known of the minority MPs from David Cameron's premiership — 2010 to 2016 — is Rishi Sunak, who is Chancellor of the Exchequer.
He represents the Richmond constituency in Yorkshire.
Early years
Rishi Sunak's grandparents moved from the Punjab province of India to East Africa. Rishi's mother Usha was born in Tanzania. His father Yashvir was born in Kenya. Both are Hindus.
Both sets of grandparents migrated to the UK in the 1960s.
After marriage, Usha and Yashvir settled in Southampton, on the southern coast of England. Usha worked locally as a pharmacist. Yashvir was a general practitioner.
The couple have three children: Rishi, another son Sanjay, who is a psychologist, and a daughter Raakhi, who works on COVID-19 strategy for the Foreign, Commonwealth and Development Office.
Rishi Sunak went to the renowned public (private) school Winchester College, founded in 1382, where he was head boy and editor of the student newspaper.
He then went to Lincoln College, Oxford, where he graduated with a First in 2001 in PPE, which is nothing to do with hospital gowns, rather Philosophy, Politics and Economics. Whilst at Oxford, he did a brief stint at Conservative Campaign Headquarters.
During summer holidays he worked at a curry house in Southampton.
Sunak began his career at Goldman Sachs, where he worked as an analyst from 2001 to 2004.
He then decided to study for an MBA at Stanford University in California, where he met his wife, Akshata Murthy, the daughter of the Indian billionaire N. R. Narayana Murthy, the man behind Infosys. The couple married in 2005. Sunak, a Fulbright Scholar, completed his MBA in 2006.
Sunak and his wife settled in England and have two young daughters.
Prior to entering politics, Sunak worked for two hedge funds and was also the director of one of his father-in-law's companies, Catamaran Ventures.
Political career
Former Conservative Party leader William Hague represented Richmond, which has been a safe seat for the party for over a century.
Rishi Sunak was elected comfortably to his first term with a majority of 19,550 (36.2%). Once in Parliament, he was appointed to the Environment, Food and Rural Affairs Select Committee.
Sunak was also committed to Brexit and was an early advocate of free ports, having written a report on the concept in 2016, the year of the referendum.
In 2017, with Theresa May as Prime Minister, Sunak won re-election with an even greater majority of 23,108 (40.5%). In Parliament, he continued to support Brexit, voting for Theresa May's deal and against a referendum on a final withdrawal agreement in 2019.
That year, Theresa May stood down as PM. Sunak supported Boris Johnson in the ensuing leadership contest.
That autumn, during the general election campaign, he appeared on a television debate, representing the Conservatives:
I am sure Sunak did better than Iain Dale gave him credit for:
He also participated in a seven-way debate on ITV.
On December 12, Sunak further increased his margin of victory at the polls to 27,210 (47.2%).
The coronavirus Chancellor — and some inside scoops
Then, in February 2020, Prime Minister Boris Johnson replaced Sajid Javid with Rishi Sunak as Chancellor:
He gave his first budget less than a month later, on Wednesday, March 11, which I wrote about at the time.
The following Monday, March 16, Boris announced social distancing rules and the closure of pubs, restaurants and events venues. Rishi spoke at one of Boris's televised coronavirus briefings with news of a generous financial package:
Guido Fawkes posted the full video and remarked (emphasis in the original):
You wouldn't guess he's only been in the job for five weeks…
Full details are here. Sunak also issued a Twitter thread with a summary:
Then lockdown came a week later on Monday, March 23.
A few days later, Boris was struggling with his bout of coronavirus, as was Health Secretary Matt Hancock:
The Conservatives soared to record approval ratings in the polls:
Early in April, Boris was quietly rushed to St Thomas' Hospital in London. Rishi did another coronavirus briefing to reassure an anxious nation:
The well-spoken, gentle Sunak appealed greatly to the folks at home. The Independent did not like that one bit.
Society magazine Tatler began running articles on Sunak in March. They could see he would quickly become a cult personality.
On March 18, the magazine posted an article by Annabel Sampson, 'Everything you need to know about Britain's new Chancellor, Rishi Sunak'.
It begins with this (emphases mine):
The virtues of 39-year-old Rishi Sunak have been extolled many times over; for his charming demeanour, his razor sharp brain and his acute financial sense. Now the man who has come to be recognised as the 'Maharaja of the Dales', thanks to his Indian ancestry and Yorkshire home, has been appointed to the highest office in the country, to Boris Johnson's Cabinet in the role of the Chancellor of the Exchequer, the second biggest government job; and the second youngest person ever to take the position.
The appointment follows the 'Cabinet Reshuffle' that occurred in February when Savid Javid, the former Chancellor, resigned when he was asked to get rid – reportedly a request linked to Dominic Cummings – of his closest aides. Rishi Sunak's star has been rising for some time now, so his appointment to the position will have baffled few.
The article has several photos, including one of Sunak in the Yorkshire countryside and one with his dog, which resembles Boris Johnson's Welsh rescue pup, Dilyn.
Sunak and his wife had a traditional Indian wedding:
Rishi and Akshata were married in her hometown of Bangalore, in a two-day ceremony attended by 1,000 guests.
Akshata is a working mother:
Akshata runs her own fashion label Akshata Designs and is also a director of a venture capital firm founded by her father in 2010. Her designs are wonderful; she's been profiled by Vogue India and been credited for creating clothes that are 'vehicles to discovering Indian culture' – comprised of chic silhouettes with bold, Indian design.
Did we know that the Sunaks throw great parties? We do now:
With their combined wealth, they understandably have a generously sized home in Northallerton, North Yorkshire (in Sunak's constituency). The Daily Mail reports that their annual summer garden party is a county highlight; where uniformed staff loft around serving ice cold champagne and canapés (no doubt prepared by the prestigious Yorkshire Party Company).
Sunak is a natural at politics:
According to the Daily Mail, 'While many MPs stutter and trundle their way through their maiden speech in the Commons, Mr Sunak's at-ease manner provided a glimmer of what was to come'. One ally in parliament told the Telegraph: 'He's ferociously intelligent and thoroughly decent at the same time' …
He was one of the few Conservatives who were let loose on the air waves (14 times in total) and allowed to make public appearances during the election campaign last year. He has even been dubbed the 'Prime Minister-in-waiting', we'll see. His first big challenge was the March budget; and now he is juggling the unprecedented complexity of the impact of the coronavirus on the economy. The UK are in safe hands.
The article also has a photo of him supporting Yorkshire County Cricket at Edgbaston.
Early in July, Tatler's Ben Judah travelled to Sunak's home town of Southampton and reported his findings in 'Inside the world of Rishi Sunak'.
Naturally, Judah went to the curry house where Sunak worked during his summer holidays:
The kitchen at Kuti's Brasserie, not far from Southampton docks, was not the sort of place, in August 1998, you would have gone looking for a future hedge funder, son-in-law of a billionaire and Conservative chancellor.
That summer – the summer of the France 98 World Cup and the Omagh bombing – Kuti Miah, the eponymous restaurateur behind the curry house, went to have a word with one of his waiters. 'You're going to be someone, Rishi,' he said. The future UK chancellor flashed his famous smile. He was, adds Miah, 'a brilliant talker'. Rishi Sunak, then 18, was about to go to Oxford, but that holiday he waited tables for Miah, a close family friend, to earn some pocket money. 'I saw him grow up,' says Miah. 'His father used to bring him in his carry cot.'
Miah was fast friends with Yashvir and Usha Sunak, both Hindu Punjabis born in colonial Kenya and Tanzania respectively, whose parents had migrated from India. After India's independence, both families left East Africa for Southampton in the mid-to-late 1960s. Yashvir and Usha met in Britain and married. He became a local GP and she ran a pharmacy. They were 'brilliant conversationalists' and 'very strong believers' who 'worked very, very hard', according to Miah, who also recalls that they were 'passionately British'.
Rishi, the eldest of their three children, was cut from the same patriotic cloth. Not only did the young Sunak fall in love with the game of cricket, he fervently supported England over India at any opportunity. His career, too, has followed one of the most traditional and storied of England's paths to power. Like five chancellors of the exchequer before him, Sunak was schooled at the ancient and distinguished Winchester College; and like three of those same Wykehamist chancellors, he went on, as was expected, to study at Oxford.
The article includes a photo of Sunak with his wife and in-laws.
Ben Judah had met Rishi Sunak before, in 2015, just before the general election that year. They met up in Northallerton, North Yorkshire:
We were a long way from London – from where Sunak had been 'parachuted in' for the seat. During the interview, I had a distinct sense of being the only person in the cafe who knew that this slight man in a Barbour jacket was running for parliament. 'I tell this story when I'm out and about,' he said, coffee in hand, 'that you can come to this country with very little… My grandparents came with very little from a village in northern India, and two generations on, their grandson has this enormous privilege of running as a candidate for parliament. For my family, the route was education.'
Well said.
Sunak's candidacy in 2015 raised some eyebrows:
He was vying for a seat once presided over by Tory grandees William Hague and Leon Brittan. But I had spent days in Richmond and the surrounding area, reporting on the resentment his sudden arrival had stirred up among certain local Tory notables, who felt the seat in the Dales was rightfully theirs. 'There was a very acrimonious constituency battle,' claimed one source, with a lot of hostility to an outsider coming in.
Sunak's wife had also met with some resistance on the campaign trail, says Judah.
However, Sunak's father-in-law enthusiastically flew to England where he helped to campaign:
Sunak's billionaire father-in-law, NR Narayana Murthy, however, has been so enthusiastic about Sunak's parliamentary career that he'd flown in, and had even been leafleting on his behalf, wearing a Rishi sweatshirt. 'To be honest,' said Sunak in Costa Coffee that day, 'I think it's patronising to assume minorities should only run in minority seats.'
The article discusses Sunak's property profile:
On 7 May 2015, Sunak won, with more than 50 per cent of the vote (a Ukip vote of 15 per cent had appeared from nowhere). He put down roots in his new constituency of Richmond, North Yorkshire, augmenting a £10 million property portfolio (metropolitan digs in London – a Kensington mews house, a flat on Old Brompton Road – and a place in California) with a £1.5 million Georgian manor in Yorkshire set across 12 acres, including an ornamental lake. Here, he now entertains the constituency membership with lavish summer parties at which uniformed staff serve champagne and canapés. He has been repeatedly dubbed by newspapers the 'Maharajah of the Yorkshire Dales'.
The general public know less about those details. Nonetheless, Rishi Sunak has become a household name:
In a swift few years, Sunak has become known as many things: Dishy Rishi to the tabloids; one of the richest MPs in Westminster; the second-youngest-ever chancellor of the exchequer, presiding over a £350 billion package to boost the economy (the largest ever recorded in peacetime); and a former hedge funder whose profile has risen faster than stocks in a vaccine manufacturer.
However dazzling all of this is now, things were very different when Sunak entered Winchester College as an adolescent:
… Winchester would come at a price for the Sunaks. No sooner was he accepted than Rishi's good fortune immediately foundered: he missed out on the expected scholarship. Desperate not to let the opportunity go to waste, his parents decided to take on the high fees themselves, picking up extra work and making what the chancellor has called considerable 'sacrifices'. His brother would later follow.
One of his classmates discussed Sunak and described Winchester in the mid- to late 1990s:
Tim Johnson, now a lawyer, was in the boarding house next door. 'Rishi was a good chap, in boarding-school idiom,' he recalled. Sunak, he said, was a 'reasonable cricketer', who stood out in friendliness; and he was a solid, but never number one, student. 'Rishi was always expected to do something,' Johnson remembered. But exactly what, beyond Winchester, was vague. 'He was always expected to be head boy as he was clever enough, reasonable enough and well behaved enough.' This became Sunak's thing – hard work and attainment, becoming the first Winchester head of school from an Indian background.
Sunak was different to other sixth formers in Winchester: a lifelong nondrinker, he wasn't distracted by the allure of the pub. But there was something else that marked him out from the herd. He was a conservative in every sense: not only in his outlook and demeanour but in his religious attitudes, too – a practising Hindu who avoided beef. At school, where few boys were political, Sunak was clearly 'associated with the Tories', said Johnson. It was 1997, The Chemical Brothers were topping the charts and the mood was rebellious. Counterculture, New Labour and ripped jeans were in; the Conservatives were out. 'That wasn't his intellectual jam. Rishi didn't play that game,' Johnson explained.
'Everyone was chipper about it when Blair won,' Johnson said. But not Rishi. His family's story was closer to Margaret Thatcher's than that of his bourgeois Labourite classmates. Watching the early results of the landslide on election night 1997, Sunak sat down to write a gloomy article for the school magazine, The Wykehamist, lamenting the news. His main complaint: Europe. 'He revels in the label of a patriot,' he complained of Tony Blair, 'but has plans for the possible break-up of the United Kingdom and membership of an eventual European Superstate.' The seeds of Brexit were already in his mind.
'Already,' fretted Sunak, 'the New Labour rhetoric sounds worryingly pro-European and avid pro-Europeans are being sent to Brussels' …
Later, at Oxford, Sunak had a low profile, unlike his predecessor as MP, William Hague:
He was nothing like the young William Hague, who arrived at Oxford fêted and almost a Tory celebrity, or the young Boris Johnson, the blond beast who tore apart the Oxford Union. At Oxford, Sunak was a nobody, much like Tony Blair.
He continued to eschew strong drink:
Oxford acquaintances remember him as a nerdy teetotaller who was 'just very clearly going into business'. He would 'make this big thing' out of drinking Coke in the pub. 'Rishi was unknown to the student politicians, that gossipy overlapping world, who all knew each other,' said Marcus Walker, then-president of the Oxford University Conservative Association, now a clergyman. Sunak was never a member.
It is hard to remember how irrelevant and demoralised Tory circles felt after 1997, but some do recall Sunak as a 'Thatcherite' and 'Eurosceptic'. 'That was absolutely par for the course,' said Walker. 'If you were still a Tory after 1997, you were a Eurosceptic. That was all you had left.'
Nevertheless, Sunak did develop a network from his Winchester College and Oxford days. Graduates from Winchester are called Old Wykehamists:
These days, socially, Sunak has been placed by some in Westminster's Spectator set. He was best man to his lifelong friend and fellow Old Wykehamist James Forsyth, political editor of The Spectator, at Forsyth's politician-studded wedding in 2011, to Allegra Stratton, the national editor at ITV News – and gave what one guest recalled was 'one of the most touching best man's speeches I've ever heard'. (In fact, Stratton has recently announced she's leaving ITV News for a job with Sunak at the Treasury. Some have seen this as very Cameron-esque in its 'chumocracy'.)
Allegra Stratton, also a good friend of ITV's Robert Peston, now works for Boris Johnson as his notional press secretary, although she has not yet begun to give press briefings, probably because of coronavirus.
Imagine the son of immigrants having ties to Britain's two oldest — ancient — magazines: The Spectator and Tatler. Wow.
Tatler's Ben Judah also spoke with people who had worked with Sunak during his hedge fund days. They painted a similar character portrait of the Chancellor:
After two years in California completing a CV-topping MBA, he returned to London and Mayfair in 2006, where a new type of boutique finance was booming: hedge funds. He was hired by Sir Chris Hohn at The Children's Investment Fund (TCI). It was a dream job: a big role at an activist firm off Berkeley Square at the peak of their fame. 'He appears to have been trusted,' said a source. Indeed, Sunak was made a partner two years later. Contemporaries remember him ever-ready to meet and greet; a mixture of a junior, deputy and a bag carrier; the perfect foil to Hohn's bolshy swagger. 'Ridiculously nice.' 'Affable.' 'Approachable.' 'Charming.' These are the words that come up again and again among Mayfair types who knew Sunak. The charm was of a particular kind: 'There are two kinds of people at hedge funds,' said one source. 'Handsome and thin smooth-talkers who are always on the phone or going out to lunch with clients, getting them to part with their money. And then quants in the back room with their shirts buttoned up badly.'
Sunak was one of the smooth-talkers, his charm honed on calls to investors, getting them on board with whatever drastic moves the fund wanted to make. The kind of charm that prizes clarity and persuades people to part with their money. It worked: but hedge-fund charm is designed to hide as much as it reveals. The atmosphere at TCI was buccaneering and bold; it both led and profited from a controversial banking raid that eventually meant a £45.5 billion public bailout of the Royal Bank of Scotland. (The Treasury and TCI say Sunak was not involved in the deal.) He left when TCI split in 2009, and joined the breakaway hedge fund Theleme Partners. His new firm's reputation took a knock when its founder was revealed to have used a notorious tax avoidance scheme. The Labour Party researched Sunak's past during the 2019 election. 'But he was too little known for us to use it,' said one source …
His reasons for entering Parliament are equally obscure. Those who know him have different opinions as to why. One thing that everyone agrees on is his penchant for order:
Many in Westminster see his motivation as status. 'He's not an ideologue,' said one Tory source. 'He wanted to enter politics in that old-fashioned way, because it was seen as the good thing to do.' Good, as in socially ambitious. Whether that's true is another matter, because first came a stint at Policy Exchange, leading a unit researching black and minority ethnic attitudes. The scruffy but influential Conservative think tank world is seen as a de facto holding pen for future special advisers, but it was nonetheless an unexpectedly technical way into Westminster for someone with means.
Sunak quickly made an impression. 'He's got that Blair-like ability to hold your eye,' says Nick Faith, who worked with him there. Sunak cut a snappy figure amid slovenly suits. 'He's into his clothing.' His is not the fusty establishment Rees-Mogg or Nicholas Soames style, but more the wiry Emmanuel Macron look. Everything Sunak wears, many remarked, is immaculate, even at the end of a Treasury work day, and fits perfectly. Faith says that 'everything, from how Rishi dresses to how he structures his life, is very well organised'. Sunak's elegant house in London, with a touch of Indian decor, reflects that. 'Nothing is out of place. For someone with two small kids, that's quite an achievement.'
Having learned from his background in finance, Sunak also knows how and when to place his bets:
'His mind works in Excel,' said one City contemporary. But like all hedge funders, it also works in bets: and the two biggest bets that Sunak has made in his career have paid off spectacularly – Brexit and Boris. David Cameron knew the gravity of his predicament when Sunak came out for Leave. 'If we've lost Rishi, we've lost the future of the party,' he reportedly said. The same thing played out in reverse in June 2019 when Sunak came out for Boris in The Times with two other MPs during the party leadership elections. This was widely seen in Westminster as a decisive turning point: the one where Johnson won over 'the sensibles' and pivoted the backbenchers. The PM seems to agree: all three have been handsomely rewarded.
In Parliament, he keeps a low profile but, to those who know him, is loyal:
'He's unknown in parliament,' said one MP. 'He doesn't play the parliamentary game at all.' Tory Remainers are sceptical of him. 'It's Star Wars,' said one MP, referring to the chancellor's strange and classically 'geek-chic' hobby for minutely detailed models of spaceships and video games. 'Most of his political philosophy comes out of the Star Wars trade wars that are about the independence of various kingdoms from the Empire. He's not someone intellectual.' Loyalty has been his strongest suit. Sunak is a No 10 man. 'He's a grown-up,' said one MP. 'The only grown-up in Downing Street, despite him being 20 years younger than them.'
… At the height of tensions over Brexit last year, he was cheerfully going around Westminster saying he would back 'no deal' if push came to shove. He struck the right note, in the right place, at the right time. Tensions between Boris Johnson and Sajid Javid's teams exploded in February, when the then-chancellor resigned after refusing to fire his own special advisers and submit to an unprecedented joint team with Downing Street, effectively under the stewardship of Dominic Cummings. It was Sunak, with high skills and no clear agenda or faction behind him in parliament, whom Downing Street turned to. He quickly agreed to the joint team, once again becoming the perfect foil for an outsized boss. 
Even now, it's still too early to say whether Rishi Sunak will become a future leader of the Conservative Party and, as such, a possible prime minister. A week is a long time in politics.
When Boris's erstwhile special adviser Dominic Cummings broke coronavirus rules in travelling from London to Durham and back during Boris's time in hospital, Sunak tried to calm the ever-turbulent waters surrounding Cummings, who was never popular with the Remainer media. He tweeted this after Cummings's lengthy press conference in May:
In June, Sunak was tactful about the reopening of shops and businesses in Britain after the first coronavirus lockdown:
He also warned that his generous financial package could not go on indefinitely:
A few weeks later, in early July, pubs were allowed to reopen:
The Government launched the Enjoy Summer Safely campaign. Pictured below is Piccadilly Circus:
On July 8, he issued a Summer Economic Update, with financial help continuing (more here):
This included the launch of his Eat Out To Help Out plan, which lasted to the end of August:
A lot of Labour MPs didn't like the plan. I don't know why. Leftists own restaurants, too.
He cut VAT for the hospitality industry, too.
He also issued a detailed jobs plan, including an apprentice scheme:
Some men in the media were taking a shine to Dishy Rishi, including the leftist Owen Jones of The Guardian and Channel 5's Jeremy Vine:
At that time, the attention being given to Sunak and Boris Johnson got the better of Conservative MP Caroline Dineage, a Culture minister, who was questioned on masks, which were strongly suggested (mandatory only on public transport) but still optional in what now look like heady days. This was from a BBC interview:
… asked why the Prime Minister and Chancellor Rishi Sunak had not worn one in public, she snapped: "You'd have to ask the Prime Minister and the Chancellor that, with respect.
"But it is something that is advised and we keep it under review."
At the end of September 2020, the coronavirus crisis dragged on. Talk intensified about a winter lockdown.
On September 24, Sunak issued a Winter Economy Plan, about which I wrote at the time. When he presented it in the House of Commons, he advised all MPs to live 'without fear'.
By October 6, Sunak was being blamed for an uptick in coronavirus 'cases' (positive test results, not necessarily hospital admissions) for the Eat Out to Help Out scheme:
A US study, which did not cover Britain, showed that hospitality venues were shown to be responsible. However, the study did not cover workplaces or hospitals. Nonetheless, it is still a contentious point even to this day.
The Sun's Harry Cole rightly, in my opinion, defended the Chancellor's restaurant promotion.
Then talk of hospitality curfews emerged. Fellow Conservative MP Matt Vickers defended the Chancellor's Eat Out to Help Out programme, which had come to an end five weeks earlier.
The calls for a winter lockdown grew. The Chancellor rightly opposed them:
By then, more areas of England had moved into tiers, indicating more coronavirus cases. Sunak increased financial support to those cities and counties. He also offered more help to businesses, including the self-employed.
By November, some thought a storm was truly brewing between Boris and Rishi. Despite all the talk from the Government about people being able to meet loved ones at Christmas — for the first time in months, for many — a pessimistic undercurrent, which turned out to be accurate, seemed to be part of every news cycle.
Rumours circulated that Sunak was ready to resign. However, on November 1, the Daily Mail reported:
A source said there was a 'collective decision' to back a second lockdown, and that Mr Sunak 'accepted it' – and he did not threaten to resign, as some whispers around Westminster were suggesting yesterday.
The November lockdown was supposed to prevent a Christmas lockdown, but that was not to be. There was a brief re-opening before Christmas, and on December 19, the hammer fell once more.
Interestingly, the minority MPs in Cabinet shared Sunak's concerns.
By the middle of December, Sunak was clearly worried about how long the borrowing could go on. On Saturday, December 19, the day when Boris announced Christmas was cancelled, The Spectator reported what the Chancellor said about borrowing and quantitative easing (QE):
'Are you or anyone else going to guarantee me that, for the duration of this parliament, rates might not go back to 1 per cent?' he asks, pointing out that this almost happened in March, before the Bank of England started printing money to bring rates back down. 'There is this very large QE thing that's going on. No one has done that before. There are plenty of smart investors who are also thinking about the risks of inflation over the next 12 months. Because we are now so levered, small changes have huge cash implications. If I have to come up with £10-£20 billion a year in a few years' time because things have changed — well, that's a lot of money.'
To Sunak, it's not just an economic problem but a political one. 'If we [Tories] think borrowing is the answer to everything, that debt rising is fine, then there's not much difference between us and the Labour party,' he says.
The media criticised him for going to his constituency of Richmond for Christmas. To be fair, he did work while he was there, visiting a local hospital and a vaccine centre. He did not rush back to London.
On February 3, 2021, Sunak rightly accused scientists advising the Government of shifting the goalposts regarding lockdown:
This might be causing a rift in Boris's Cabinet:
On a brighter note, Time magazine has included Rishi Sunak on its list of 100 'emerging leaders'. On February 17, the Daily Mail reported:
Under the 'leaders' category, Chancellor Rishi Sunak landed a spot on the list, being described as the 'benevolent face of the government's response to the COVID-19 pandemic' by Times reporter Billy Perrigo.
The Chancellor's profile piece discussed the furlough scheme, describing how he approved 'large handouts' for people whose jobs had been affected by coronavirus.
The piece also paid respect to Sunak's Eat Out to Help Out scheme, which the magazine described as an attempt to 'revive the economy' by subsidizing dining out at restaurants.  
Although his profile acknowledges that Sunak bears more responsibility than most for his calls to ease lockdown restrictions, Time's profile for the Chancellor admits he has earned himself a 'legion of fans'.
Sunak's accompanying profile points to a YouGov poll showing him to be the nation's most popular politician and even tips him to be the bookmakers' favourite as the next Prime Minister.  
Again, a week is a long time in politics. We shall see about the future as and when it happens.
For now, Sunak is focussing on the budget, to be delivered on March 3. He is asking industry leaders for their thoughts.
Michelin-starred chef Gordon Ramsay was one of those leaders:
If Rishi Sunak ever tires of being an MP or Chancellor, a job in media awaits.
He is an excellent interviewer and researched Gordon Ramsay well. The 15-minute video is worth watching.
The list of minority Conservative MPs continues. All being well, more tomorrow.