You are currently browsing the tag archive for the 'David Davis' tag.
Tuesday, July 5, 2022 proved to be a memorable day for Boris Johnson for all the wrong reasons.
Last weekend, details emerged of Conservative MP Chris Pincher's inebriated groping of another man at the Carlton Club in London's St James. The Carlton Club is the private members club for Conservatives. Chris Pincher had been a Government minister and Deputy Chief Whip.
Lest anyone think the furore about Chris Pincher and blaming Boris for it is about cleaning up government, the end goal remains: get rid of Boris because Boris represents Brexit.
Chris Pincher
Chris Pincher has been a Conservative MP since 2010, the year David Cameron became Prime Minister.
Theresa May gave him his first ministerial role, that of Comptroller of the Household, in 2017. A few months later, she appointed him Treasurer of the Household, the next move up from Comptroller of the Household. In 2018, he then became Deputy Chief Whip, which is a role given by the Chief Whip, not the Prime Minister.
Boris Johnson gave Pincher other ministerial roles. I watched him at the despatch box regularly as Minister of State for Europe and the Americas and Minister of State for Housing. In February 2022, he once again became Treasurer of the Household, a Boris appointment, and Deputy Chief Whip, a Chief Whip appointment.
Then the Carlton Club scandal broke, with Pincher freely admitting in writing what he had done. He has had the Conservative Party whip removed, although he remains an MP for now.
The question from Boris's enemies is how much blame should the Prime Minister carry.
It looks to me as if it all started with Theresa May, especially as he resigned his 2017 appointment as Comptroller of the Household when sexual misconduct allegations involving MPs swirled into a scandal that year. Pincher was accused of misconduct at the time by then-MP Tom Blenkinsop and Olympic rower Alex Story.
Shortly afterwards, in January 2018, Pincher became Deputy Chief Whip, so the Whip's office is partly responsible, too.
On July 5, the veteran journalist and columnist Charles Moore explained in The Telegraph how the Whips Office selection process works (purple emphases mine):
The coverage of the row about Chris Pincher, the allegedly groping and confessedly drunk former deputy chief whip, suffers from a false premise. It is said that Boris Johnson appointed him. This is true only in a formal sense. I feel that lobby [press corps] journalists should have made this clear.
This custom is not just a reflection of the fact that any prime minister pays less attention to junior appointments than to Cabinet-level ones. It is also – and mainly – because the whips are a law unto themselves. The idea is that they will know best how to achieve the necessary geographical and ideological spread to look after all sections of the party. The Chief Whip is therefore free – "100 per cent" in the words of one former chief to me – to appoint whoever he thinks fit. This seems sensible: how on earth would a prime minister know that level of detail about who's who in the parliamentary party? Backbenchers would be suspicious of a whips' office filled with a prime minister's favourites.
Each prime minister sees the government chief whip's list before it is announced and is free to comment on it, but the chief decides. So Boris Johnson would have been breaking the unwritten rules if he had either forbidden or insisted on Mr Pincher's appointment. If it can be shown that he did the latter, he is in a bit of trouble on the issue. If not, then not.
Lord McDonald
Until July 5, I had never heard of the life peer Baron McDonald of Salford, or Simon to his friends.
Lord McDonald was the Permanent Under-Secretary to the Foreign and Commonwealth Office between 2015 and 2020.
On July 5, he wrote to Kathryn Stone OBE, the Parliamentary Commissioner for Standards for the House of Commons.
Guido Fawkes posted a copy of the letter, which takes issue with a BBC report of complaints made against Pincher and says that, indeed, allegations had been raised against the MP in 2019.
Two brief excerpts of his letter follow.
In the summer of 2019, after Pincher received his first ministerial appointment (at the Foreign and Commonwealth Office) under Boris Johnson:
… a group of officials complained to me about Mr Pincher's behaviour. I discussed the matter with the relevant official at the Cabinet Office … An investigation upheld the complaint; Mr Pincher apologised and promised not to repeat the inappropriate behaviour. There was no repetition at the FCO before he left seven months later.
The BBC had changed the text of their present-day article about whether Boris knew or not.
Lord McDonald's letter says:
Mr Johnson was briefed in person about the initiation and outcome of the investigation. There was a "formal complaint". Allegations were "resolved" only in the sense that the investigation was completed; Mr Pincher was not exonerated. To characterise the allegations as "unsubstantiated" is therefore wrong.
I am aware that it is unusual to write to you and simultaneously publicise the letter. I am conscious of the duty owed to the target of an investigation but I act out of my duty towards the victims. Mr Pincher deceived me and others in 2019 …
He tweeted the text of his letter:
Hmm.
Could there be any bad blood between McDonald and Boris?
Downing Street claims that Boris forgot about the investigation into Pincher.
A commenter on Guido's post about this claim makes pertinent points:
I find it strange that the criticism is of the appointment of Pincher as Deputy Chief Whip in February. He wasn't promoted from the backbenches, he was already a minister in the Dept of Levelling Up. If he was unsuitable for ministerial office in Feb, he must have been unsuitable in Jan, so why the focus on the Feb appointment?
Lord MacDonald is another nasty CS mandarin in the Philip Ruttnam mould. His letter is very carefully phrased but disingenuous. If he was unhappy for Pincher to continue as a minister in the FCO for seven months after the 2019 complaint, what did he do about it? If he was content with the arrangement, then clearly the matter was indeed resolved.
Pincher was first appointed to the Whips' Office by Theresa May. Is anyone in the MSM questioning her judgement?
Gordon Rayner's Telegraph article, 'Lord McDonald: The former civil servant who "never saw eye to eye" with Boris Johnson' has an account of what happened between the peer and Boris, the then-Foreign Secretary during Theresa May's premiership:
A former civil servant publicly accusing a Prime Minister of lying is a rare event, but Baron McDonald of Salford is unlikely to have had any pangs of guilt about calling out the man who effectively ended his career.
During his time as Boris Johnson's Permanent Under-Secretary at the Foreign Office, Lord McDonald – or Sir Simon, as he was then – was suspected by Mr Johnson of running a spying operation and orchestrating damaging leaks about the then foreign secretary.
Mr Johnson believed that media stories accusing him of being lazy and failing to attend properly to his red boxes of ministerial papers were being briefed by Lord McDonald's department. When the Foreign Office merged with the Department for International Development, Mr Johnson, by then Prime Minister, saw to it that Lord McDonald was squeezed out.
So when he had the chance to expose Mr Johnson's Downing Street operation for what he says is a lie over the Chris Pincher affair – an undeniably important intervention – he is unlikely to have spent much time wrestling with his conscience.
Does Brexit enter into this? You bet it does:
"They never saw eye to eye," said one former minister. "Simon never made a secret of the fact that he was a strong Remainer and he has always had big issues with Brexit."
Another insider said:
"So it does feel a little bit as though Simon has been waiting three years to get his revenge, and has finally had his chance, notwithstanding the fact that what he says may well be true."
Lord McDonald took early retirement in September 2020. Since then, he has spoken freely:
In March last year Lord McDonald, 61, was interviewed by the think tank UK In a Changing Europe, when he said he was one of three senior civil servants on a Downing Street "s— list" who were "all for the high jump".
He said that he was "one of those that were soaked" by former Downing Street adviser Dominic Cummings' threat of a "hard rain" falling on Whitehall …
Mr Johnson softened the blow by giving Lord McDonald a peerage, not an automatic appointment for retiring civil servants. But it has not prevented him from criticising the Prime Minister since then.
So now we know.
It is unlikely that Gordon Rayner's article will be getting any traction in the media. Will GB News pick it up? I hope so.
McDonald's letter sends Conservative MPs flying in all directions
Note that McDonald tweeted his letter at 7:30 a.m., just the right time to dictate the news narrative for the day.
And so it proved.
For those in the political bubble, BBC Radio 4's Today show is required listening.
Guido has a summary of what happened. Deputy PM and Justice Secretary Dominic Raab gave an interview, followed by Lord McDonald (emphases in the original):
… Following ex-Foreign Office Permanent Secretary Sir Simon McDonald's bombshell letter this morning, Dominic Raab had the task once again of spinning the latest unsustainable No.10 line to the press. Through plenty of coughing and spluttering, Raab insisted on the Today Programme that 
Aside from the Westminster rumour mill, any allegation that had resulted in formal disciplinary action… whilst there was inappropriate behaviour [from Pincher], it didn't trip the wire into disciplinary action… the individual who made the complaint did not want formal disciplinary action taken.
Just minutes later, McDonald appeared on Today himself to once again take a sledgehammer to No.10's line that Boris wasn't briefed on Pincher's behaviour in person in 2019, and Raab's claims that since no "further disciplinary action" was taken, the matter was resolved:
I disagree with that, and I dispute the use of the word 'resolved'… the complaint was upheld… Number 10 have had five full days to get the story correct, and that still has not happened… it's sort of telling the truth and crossing your fingers at the same time and hoping people aren't too forensic in their subsequent questioning.
In a matter of hours, the line has gone from "it's not true" to "the PM didn't know of any formal complaints". Chaos.
In Downing Street that morning, a Cabinet meeting took place. Why cameras were allowed, I have no idea. What a silly thing to do, especially when all hell was breaking loose:
At lunchtime in the House of Commons, Michael Ellis, Minister for the Cabinet Office, had to answer an Urgent Question (UQ) from Labour's Deputy Leader Angela Rayner about what Boris knew of Pincher:
This is the most succinct quote from Ellis:
As I have articulated, there was an exercise in the Foreign and Commonwealth Office on the matter, which I believe went on for several weeks. I need to confirm the details, because I had insufficient time to do so this morning, but as I say, there was an exercise, and it concluded to the satisfaction of all involved. That was within the Department and, it appears to me, before the Prime Minister was made aware.
One of Guido's readers sums the matter up as follows:
1. Pincher's conduct in 2019 was investigated and did not result in disciplinary action in 2019.
2. Independent advice was sought from Simon McDonald and the Cabinet Office propriety and ethics team, which also did not result in any form of disciplinary action.
3. The victim in 2019 DID NOT WANT aany disciplinary action against Pincher.
4. Pincher's appointment to government had followed all set procedures, including oversight by an independent QC. Until this point, as Pincher had kept a clean disciplinary record up, there was no reason to block his appointment to government.
Boris would have no grounds to refuse Pincher's appointment as there were no official disciplinary action against him up to that point, which is in line with the rules set out in Westminster.
All this drama over whether Boris knew of Pincher's indescretions would not have changed anything in terms of his appointment to government as he had satisfied all the requirements in terms of pedigree (appointed by two PMs and vetting).
The Opposition benches were full for Ellis and the UQ.
Watching at home, I nearly applauded when Peter Bone got his chance to speak:
Recently, at a Brexit opportunities debate here, there were no Liberal Democrats and virtually no Labour Members. The only time they turn up here is to bash Boris. Does my right hon. and learned Friend think that our constituents in Northamptonshire, which we both represent, are more concerned about an MP they have never heard about, or the biggest tax reduction in decades, which will happen tomorrow?
Ellis replied:
My hon. Friend hits the nail on the head, as usual. As he points out, Labour Members have made frequent requests for business in this House to be about not what our constituents primarily care about, but personalities. They do not raise the issue of policies, because when they do, they lose. Instead, they focus on personalities, and that has been the drive of the past six months.
Guido covered MPs' reaction to the events of the day:
Number 10's spin operation today after the McDonald letter has, unsurprisingly, gone down like a cup of cold sick with the Tory benches, including amongst Boris loyalists. Guido's spoken to several MPs following the lobby briefing and Michael Ellis's Urgent Question response, and they all agreed it was a "disaster". One said it was "the last days of Rome"…
There were also raised eyebrows – and that's putting it mildly – over No.10's decision to allow cameras in to the Cabinet meeting this morning …
Where, one might ask, is the counter-attack? What is Downing Street doing to get on the front foot? What is CCHQ doing? MPs who are hardcore supporters of the Prime Minister are fed up. Trying to push the "biggest tax cut" talking point today won't work to set the agenda when you put up the same taxes only a few months ago. If the government wants to shift the media's focus on to the economy, what will they do that Starmer won't? Tory MPs want a sense of purpose and direction, rather than constantly ricocheting at the hands of the media from one minor negative process story to another, that the general public doesn't really care about… 
Chancellor and Health Secretary resign
Worse was to come later that afternoon.
Health Secretary Sajid Javid tendered his resignation, followed by Chancellor Rishi Sunak minutes later.
Some pundits say there was no connection between the resignations.
Others say that the two men are friends and agreed on a plan.
GB News covered the resignations and analysis all evening long. It was a good move. The shows were excellent.
In other news, Theresa May was at the opera with her husband Philip and friends:
Returning to GB News, the resignations happened just before Nigel Farage's show at 7 p.m. Not surprisingly, Farage thinks that Boris should resign, something he has said many times before and will continue to say for weeks, if not months:
Farage used Guido's video of that day's Cabinet meeting:
Discussion continued on Mark Steyn's show at 8 p.m. By the end of the show one hour later, Boris had appointed Steve Barclay as the new Health Secretary:
Dan Wootton came on at 9 p.m.:
By the time his show was halfway through, Nadhim Zahawi became the new Chancellor of the Exchequer. The conversation between him and Boris in No. 10 was a long one. Apparently, Zahawi was eager to relinquish his role as Education Secretary and really wanted the No. 11 job. Michelle Donelan is the new Education Secretary, having been Minister of State for Higher and Further Education from 2020 to 2022.
Boris deflected a crisis within three hours.
Guido has an ongoing list of other Cabinet resignations, which are, as I write, for minor posts. Red Wall MP Jonathan Gullis, once a staunch Boris supporter, was among that number. It should be noted that the main Cabinet appointees are still in place.
Unfortunately, during that time, Lord Frost, usually a voice for sanity, fell for the McDonald bait. He wrote an article for The Telegraph, 'It is time for Boris Johnson to go':
I resigned from the Government on a matter of principle. On Tuesday, Sajid Javid and Rishi Sunak did the same. Other Cabinet Ministers now need to consider whether they are truly happy with the current direction of travel.
Boris Johnson's place in history is secure. He will be one of the past century's most consequential prime ministers. If he leaves now, before chaos descends, that reputation is what will be remembered. If he hangs on, he risks taking the party and the Government down with him. That's why it is time for him to go. If he does, he can still hand on to a new team, one that is determined to defend and seek the opportunities of Brexit, one that is able to win the next election convincingly. That is in the Conservative Party's interest, in Leave voters' interest, and in the national interest. It needs to happen.
PMQs on July 6 could have been worse. It was more of the same from the Opposition. On the Conservative benches, which were packed, only Tim Loughton, Gary Sambrook and David Davis (once again) rebelled, all saying that Boris should resign.
After PMQs, Sajid Javid was granted a statement about his resignation. Boris remained seated behind the despatch box. Javid put a big emphasis on 'integrity'. He said that, for him, 'loyalty and integrity' were at loggerheads over the past few months, hence his resignation. He could no longer defend the indefensible, from Partygate to Pincher, especially to his constituents. He told his former Cabinet colleagues that not doing 'something' — i.e. resigning — would look bad. Boris left immediately afterwards to jeers of 'Byeee, Boooris' from the Opposition benches.
Lee Anderson withdraws support
In an unexpected development, Red Wall MP Lee Anderson has withdrawn his support for Boris:
Guido has the full text of Anderson's letter, excerpted below:
With A Heavy Heart.
I have remained loyal to the Prime Minister since being elected in 2019.
However my position has changed over the past few days since the incident which led to the Deputy Chief Whip losing the party whip …
I do not hold a position I can resign from so the only thing I can do is make my feelings known to my constituents and party members. This statement may upset some people and I am sure some people will be delighted with the demise of our PM but I have a job to do and I must do it with a clear conscience.
My focus has always been my constituents many of whom are friends, family and neighbours and my loyalty to them is paramount.
Finally, I will do all I can to make sure our party wins the next election to form a Government of low taxation and who will be tough on illegal immigration as I feel we could have done better, that said the thought of a Labour Government terrifies me so please keep the faith.
I hope that explains my position.
Perhaps he will throw his hat into the ring when the leadership contest begins in due course.
Meanwhile, Conservative voters are fuming
At home, Conservative voters are perplexed by the actions of what is supposed to be an orderly, no-nonsense Government. Most do not know who Chris Pincher is. They are interested in what Boris and his team are doing to improve our lives which, at the moment, isn't much.
This is what we have at present, ably stated by a Guido Fawkes reader:
Yesterday's post recapped the horrific murder of Sir David Amess MP on October 15, 2021.
Today's will cover more about this much admired man's personal character and political causes.
Posthumous victory: Southend-on-Sea now a city
I was delighted to learn at dinner time last night that the Queen granted Southend-on-Sea city status. Sir David must have mentioned Southend at least once a week in Parliament. He had long campaigned for it and made 115 references to it. Here he is with his two French bulldogs, one of which is Vivienne. He was due to participate with her in the Westminster Dog of the Year charity event on October 28:
The GB News article says that Prime Minister Boris Johnson made the announcement to MPs on Monday, October 18 (emphases mine):
The Prime Minister has notified the House of Commons that the Queen has agreed to confer city status upon Southend in tribute to Sir David Amess who was recently killed.
MPs cheered in the Commons as the Prime Minister announced Southend "will be accorded the city status it so clearly deserves".
Mr Johnson said: "As it is only a short time since Sir David last put that very case to me in this chamber, I am happy to announce that Her Majesty has agreed that Southend will be accorded the city status it so clearly deserves …
That 'short time' was probably last Thursday, October 14:
In a three-hour debate on Monday, preceding a service of remembrance at St Margaret's, the Parliamentary church next to Westminster Abbey, Boris noted that Amess was never an MP interested in climbing the greasy pole to a Cabinet or party leadership position:
"That Sir David spent almost 40 years in this House, but not one day in ministerial office, tells everything about where his priorities lay."
Boris Johnson, opening tributes to Sir David Amess, told the House of Commons: "The passing of 72 hours has done little to numb the shock and sadness we all felt when we heard of the tragic and senseless death of Sir David Amess.
"This House has lost a steadfast servant, we've lost a dear friend and colleague, and Julia and her children have lost a loving husband and devoted father.
"Nothing I or anyone else can say can lessen the pain, the grief, the anger they must feel at this darkest of times."
Returning to Southend-on-Sea, having city status will help to increase its profile and encourage outside investment, as the leader of the city's council explains below. Incidentally, having a cathedral, the traditional marker of an English city, is no longer necessary. City status is now a symbolic designation:
On Friday night, this Southend business owner said that Amess was dedicated to making his town a city:
Everything I know about Southend I learned from David Amess's contributions in the House of Commons:
'Community man'
There are MPs and there are MPs.
Sir David was the type of MP who will be sorely missed by his constituents, who called him a 'community man'. GB News interviewed several over the weekend, some of whom were in tears or close to it, including men, such as this Leigh-on-Sea councillor:
This councillor from Southend says that Sir David, whose mother lived to the age of 104, used to throw parties for constituents over 100 years old. He also used to ask about local issues in Southend and resolve them with the help of councillors:
Another councillor remembers that Sir David would check on certain constituents to see if they had transport for important meetings, probably related to issues of theirs he was dealing with as an MP. The man says that Sir David would personally drive those constituents to the places they needed to go. And, yes, there were right to life issues he campaigned for:
The Chairman of Leigh-on-Sea council recalls Sir David's selflessness:
This lady from Leigh-on-Sea, the Essex town where Sir David was stabbed to death (17 times), discusses his dedication to his constituency. Like many other people, she had the pleasure of meeting him at work in nearby Southend:
As was the case with other people GB News interviewed, a man interviewed (at 2:35 in the next video) said that people used to see Amess in the local Lidl, where he took time to chat with fellow shoppers. The man said that he did not vote for him but said that the MP was always available and accessible to everyone:
Vigil Mass
On Friday evening, the Revd Jeffrey Woolnough conducted a vigil Mass at St Peter's Catholic Church in Eastwood, Leigh-on-Sea.
This is the church the Amess family attend.
The video below has a few photos from the Mass. Starting at the 40-second point, notice how traditional it is. The priest stands with his back to the people, as in days of yore. He also wears a short chasuble that is very pre-Vatican II, a fiddleback. How fortunate for the Amess family to have found such a church:
At 1:50 in the video above, two ladies expressed their grief on Friday night following the vigil Mass. One of them said that Amess 'knew everybody'. As was the case with other people GB News interviewed, one of ladies said that people used to see him in the supermarket.
GB News was on hand to cover the Mass:
A service at Saint Peter's Church in Eastwood Lane, close to where Sir David was killed, was held on Friday evening to remember him – where he was described by a priest as "Mr Southend".
The church fell silent as Father Jeffrey Woolnaugh paid tribute to the Conservative MP and invited his constituents to remember him.
He placed a photograph of Sir David at the front of the church, and said: "This liturgy is one I was not expecting to lead today.
"The whole world grieves. In this Mass we pray for the repose of the soul of dear David.
"Have you ever known Sir David Amess without that happy smile on his face? Because the greeting he would always give you was that happy smile.
"He carried that great east London spirit of having no fear and being able to talk to people and the level they're at. Not all politicians, I would say, are good at that."
Around 80 people attended the service and listened as Father Woolnough recounted his own memories of Sir David.
He said: "When you can speak to your MP and you can talk and get on like a house on fire, that's when you can talk to them later about things that are important to your area.
"What can we say? He died doing the thing he loved, meeting his constituents, his local people."
Father Woolnough added that his constituents could "count on" Sir David, and said: "He was always available. We don't have the words tonight.
"Dear Sir David, rest well."
The priest also said that Amess's smile is ingrained on everyone's hearts:
On Saturday night, a secular candlelit vigil took place near where Sir David was murdered. The Daily Mail has many moving photographs of the gathering.
Biography
Most Britons think that all Conservatives were born with a silver spoon in their mouths.
Not so.
David Amess was born in humble circumstances in London's East End.
The Telegraph recounted his life:
David Anthony Andrew Amess was born on March 26 1952 in working-class Plaistow, East London, to James Amess, an electrician, and Maud, née Martin, a dressmaker. As Amess recalled, "we were very poor and lived in a small terraced house with no bathroom, an outside toilet and a tin bath hanging on the wall". In 2014 he would compile and publish a pamphlet, Party of Opportunity, containing short biographies of Tory MPs with working-class origins.
David's mother was a Roman Catholic who brought him up in the faith and he remained a staunch Catholic throughout his life, his commitment reflected in his opposition to abortion and to the broadening of LGBT rights. "Confession," he once said, "is very important to me."
He attended St Antony's Junior School, Forest Gate, where he was "often in classes of 50, and the teachers still gave us excellent tuition and kept order to a high standard", and St Bonaventure's Grammar School, Newham, where he remembered being "quite bossy and pushy" and was rumoured to have once hit a fellow pupil over the head with a bicycle pump.
Until the age of five, Amess said, he had the nickname of "Double Dutch" on account of a bad stutter: he could not make the sounds "st" or "the" and saw a speech therapist for three years, which also had the effect of virtually eliminating his Cockney accent.
He had a varied career prior to entering politics:
He took a degree in Economics and Government at Bournemouth College of Technology. Then, after 18 months' teaching at a primary school ("I specialised in teaching children who were described as ESN"), and a short stint as an underwriter, he became a recruitment consultant.
One wonders if he met his wife Julia while he was an underwriter:
In 1983 he married Julia Arnold, a former underwriter, who survives him with their four daughters and a son.
Margaret Thatcher was Prime Minister during Amess's early years in politics:
A dedicated Thatcherite, Amess contested the safe Labour seat of Newham North West in 1979, and in 1982 became a councillor in the London borough of Redbridge.

During those years, Essex went from electing Labour MPs to Conservative ones. The county is still Conservative-dominated in Parliament.
In the 1980s and 1990s, the media coined expressions for Essex voters, many of whose families had been moved out of London after the Second World War had ended. The next generation of voters became known collectively as 'Basildon man' and 'white van man'.
Amess rode the crest of that wave, as The Sun's Trevor Kavanagh explains:
Basildon was the first constituency he served, beginning in 1983:
When the incumbent Tory MP for Basildon, the Right-wing Harvey Proctor, moved to safer Billericay for the 1983 general election, Amess was chosen to fill his shoes and was duly elected. Three years later he stood down from the council to concentrate on his Westminster seat.
Basildon was regarded as a bellwether seat, and when Amess won it again in 1992, albeit with a tiny majority, it provided the first indication that despite the pundits, and the triumphalism of Labour's leader Neil Kinnock, the Tories were on course for a fourth successive election victory. He would later describe his campaign in a short pamphlet entitled 1992: Against All Odds! (2012).
Boundary changes prior to the 1997 general election meant that Basildon was almost certain to go Labour, so Amess decided to look elsewhere, and in 1995 was selected to fight Southend West after the retirement of Paul Channon. Returned to Westminster again, he held the seat until his death.
Amess focused on his constituents, first and foremost:
Assiduous and likeable, Amess built a strong personal following by concentrating on constituency issues: the Guardian's Andrew Rawnsley once suggested that the secret of his electoral success was that "he never completed a sentence without mentioning his constituency".
This was also reflected away from Parliament:
Amess … was a lifelong supporter of West Ham United, and also followed Basildon United …
Even after he left Basildon, he still returned to visit, as this former Basildon councillor remembers:
He had many accomplishments with regard to charity, earning him a knighthood. He:
was knighted in 2015 and received several awards for his contributions in parliament, including the Animal Welfare and Environment Champion award of the 2011 Dods Charity Champion Awards, and the "Outstanding Achievement Award" at the same event the following year, in recognition of his lifetime commitment to charitable work.
This was how the newly knighted Sir David celebrated:
He did not always follow the Conservative line in Parliament:
… he incurred the wrath of many fellow Conservatives by consistently voting to ban foxhunting and hare coursing (though he was in favour of capital punishment), and supporting numerous other animal welfare campaigns.
Many MPs will remember his staunch support of Brexit, however.
They will also remember him for supporting animal causes and an end to fuel poverty:
The most significant of these were the Protection Against Cruel Tethering Act (1988), and the Warm Homes and Energy Conservation Act (2000) …
The animal-related Act, supported by the NFU, banned the tethering of "any horse, ass or mule under such conditions or in such manner as to cause that animal unnecessary suffering".
The second piece of legislation, following on from the death of a constituent from cold, required the Secretary of State to "publish and implement a strategy for reducing fuel poverty". The measure was credited with pushing fuel poverty to near the top of the political agenda, contributing to a dramatic fall in the problem in England from 5.1 million households in 1996 to 1.2 million in 2004.
Another cause that Amess supported, thanks to a Leigh-on-Sea constituent, Carla Cressy, was that of endometriosis. 
The Telegraph has the story:
"I first approached Sir David Amess when I'd just found out I had endometriosis five years ago," says Carla Cressy, 30, an accounts manager from Leigh-on-Sea. "I didn't know much about it, and realised there was very little awareness, support and education around it. He's my local MP so I visited him at his surgery. I had no expectations of what would happen. I just knew I wanted to share my story with him, about how I'd suffered with endometriosis for an entire decade before I was diagnosed.
"He was so lovely – genuinely concerned and upset about what I'd been through. He said we need to do something about it, and he then really did. He went above and beyond to champion this community like a beacon of light. It was incredible. I am devastated that he's gone."
This is what happened:
"Sir David recognised the significant impact endometriosis could have, and really wanted to make a difference to help those with the disease," says Emma Cox, CEO of Endometriosis UK, a charity that was working closely with an All-Party Parliamentary Group (APPG) that Sir David set up in 2018 to raise awareness in Parliament of the condition …
One of Sir David's goals when he created the APPG was for the government to provide education on endometriosis in schools. It's something the group achieved over a year later, meaning menstrual wellbeing is now included on the English curriculum. "We made so much progress together," says Cressy, who worked closely with Sir David on the campaign. "He really has changed so many lives, including my own."
One of Sir David's upcoming tasks, had he lived, was to ask for further research funding, as a Labour MP explains:
"He really wanted that debate," says Labour MP Emma Hardy, vice-chair of the APPG on endometriosis. "We'd published a report last year, collecting evidence from women around the country with their experience of endometriosis, and Sir David wanted to draw attention to our recommendations."
Their key goals are to reduce the time it takes for people to be diagnosed, ensure GPs have enough information to make them aware of the condition, raise public awareness, and fund more research into non-invasive ways of diagnosis …
"The main thing that comes from women is not being listened to, not being believed, taking ages to be diagnosed and then when they are, there's not much change. Sir David wanted to change that. Endometriosis isn't party politics, but he was really passionate about trying to do something about this condition. I don't want him to be remembered as the person this tragedy happened to, but the person who worked so hard to improve the lives of people with endometriosis. We can't replace him, but I hope we can find another Conservative MP to champion his work and continue with the APPG."
This GB News video covers Sir David's public life from the time he entered politics:
MPs paid respects
On Friday afternoon, Union flags were lowered to half-mast over government buildings, including No. 10:
On Saturday morning, prominent Conservative and Labour MPs laid flowers near the Methodist church hall where Sir David was murdered:
Government whips have reminded MPs that there is an Employee Assistance Programme for anyone among them who wants counselling after Sir David's senseless murder.
Everyone, regardless of party affiliation, was deeply sorry to lose this man:
This was because he befriended MPs from both sides of the aisle and found ways to work constructively with them:
One of the things I found moving in watching and reading these tributes was the recollection made by more than one MP, regardless of party affiliation, on his befriending of new Parliamentarians. He introduced himself, asked how they were getting on and enquired if they had any issues with which he could help.
Conservative MPs
These are some of the Conservative MPs' tributes, beginning with Boris's:
Long-time friend David Davis paid tribute to Amess's career of service, rather than ambition:
Stuart Anderson remembers Amess helping him settle into the job:
Andrew Rosindell, another Essex MP, lamented the loss of his oldest friend in the Commons:
Another long-time friend, David Jones, called him 'frankly irreplaceable':
I agree with Mike Wood. Forthcoming Adjournment debates will never be the same. That said, Southend is now a city:
The folks running PARLY agree on the adjournment debates, during which Sir David addressed more issues than Southend:
Labour
Party leader Sir Keir Starmer emphasised Amess's Christian faith and the fact that he was well liked across the House:
Hilary Benn remembered Amess's dogged campaigning and dedication:
Siobhain McDonagh will forever connect Amess with Southend, and who can blame her?
Steve McCabe will remember Amess's cheerful nature:
John Cryer was a former neighbour:
Liberal Democrat
The most moving tribute, however, came from Lembit Öpik, a former Liberal Democrat MP, who spoke to Mark Dolan on GB News Saturday night:
The former MP was so moved that he had to sit down and recover after that interview. Mark Dolan's producer was with him during that time.
Conclusion
It was serendipitous that the Gospel reading for Sunday, October 17, was about service (Mark 10:35-45):
10:42 So Jesus called them and said to them, "You know that among the Gentiles those whom they recognize as their rulers lord it over them, and their great ones are tyrants over them.
10:43 But it is not so among you; but whoever wishes to become great among you must be your servant,
10:44 and whoever wishes to be first among you must be slave of all.
10:45 For the Son of Man came not to be served but to serve, and to give his life a ransom for many."
What apposite verses for Sir David Amess, who gave his all in service to his constituents.
May his place in Heaven be an exalted one.
This week, the UK government's scientific advisers and Prime Minister Boris Johnson said that new, stricter coronavirus measures would come into effect on Thursday, September 24.
On Monday morning, Chris Whitty and Sir Patrick Vallance presented their latest figures, which looked as if they must have come (once again) from Prof Neil Ferguson, they are that exaggerated. You can see the graph further down in my post:
This is utter madness, reminiscent of the WMD days when Tony Blair told us that a WMD could reach our shores within 45 minutes:
Their presentation, given against a No. 10 backdrop, had the purpose of preparing the public for Boris Johnson's announcements on Tuesday. They took no questions.
They showed graphs of where Spain and France are, with an uptick in 'cases'. Again, that means positive test results, most of which do not require hospitalisation.
Strangely enough, the Rule of Six only came in on Monday. Let's let it bed in for a few days, fellas, before taking more measures. They're doing exactly what they did in March, though. On March 16, new measures came in. On March 23, we had lockdown.
The Rule of Six is a Belgian tactic that SAGE thought would work in England. As such, they recommended it to the Government.
Perhaps this is the reason the two scientists did not mention Belgium once in their presentation:
I am glad someone will be tracking the progress of the projections over the next few weeks:
On Tuesday, Boris addressed Parliament and gave a short address that evening, televised to the nation.
In short:
– Pubs and restaurants must close by 10 p.m.
– They must offer table service only.
– All retail workers in hospitality settings must wear masks, along with customers, unless they are eating or drinking.
– Fines for breaking the Rule of Six or not wearing a face covering will result in an initial fine of £200, up from £100, for a first offence.
– Indoor five-a-side football matches have been banned.
– Wedding attendance has been reduced from 30 to 15; funeral attendance remains capped at 30.
– Police are allowed to call the military to fulfil office duties and/or to guard protected sites, leaving the police more capacity to fight crime.
– The plan to return a limited number of fans to sports stadia on October 1 is now postponed indefinitely.
The Daily Mail has a comprehensive article, including Boris's transcript, on the scathing reactions from police and business owners, particularly publicans. Sir Andrew Lloyd Webber said that this could sound the death knell for commercial theatre.
The Telegraph's Matt has this take on Army assistance:
The chances of that happening are very low:
The sad thing is that only five per cent of COVID-19 infections occur in a hospitality environment!
The Government and SAGE know this — yet they pressed on with restrictions!
The Daily Mail reported (emphases mine):
Public Health England data reveals that of the 729 outbreaks in the week to September 13, only five per cent occurred in food outlets such as restaurants and pubs – 45 per cent were in care homes, 21 per cent in schools and 18 per cent in places of work.
Wetherspoons founder Tim Martin said: 'The curfew doesn't even stand up to five minutes consideration by an intelligent person because if you look at the stats… there are relatively few transfers of infections in pubs.
Kate Nicholls, chief executive of trade body UK Hospitality, urged the Government to heed its own statistics because the curfew could take a sledgehammer to the industry which is already 'on its knees'.
She said this morning: 'People will think it's not that significant, but it really will have a big economic impact on jobs, not just on pubs, but also for cafes and restaurants.'   
Martin Wolstencroft, head of Arch Inspirations, which runs 17 bars and restaurants in Leeds, Manchester, York and Newcastle, said the curfew will not make it viable to open some of his venues.
Ironically, August was the month of discount lunches in Chancellor Rishi Sunak's successful initiative, Eat Out to Help Out, which the hospitality industry welcomed.
The Government's new restrictions will largely destroy any uplift participating restaurants received from it.
What on earth is going on?
Toby Young, who was at Oxford with Boris, says that something has changed — and not for the better. Note that Prince Charles approves of military intervention for climate change. Scary:
It's entirely possible that these ruinous measures have no basis in scientific fact, devastating people's livelihoods and families:
Conservative backbench MPs sounded off.
On Tuesday, Sir Desmond Swayne, who has commented both in and outside the House of Commons, tweeted:
His blog post states, in part:
Flu kills all year round – In the last weeks of July it killed 1000 of us (where Covid-19 killed only 200)- but it is seasonal: it certainly kills a lot more of us in the winter. Equally, we should stop talking about another wave of Covid-19 and instead, like flu, start expecting its annual season.
Having peaked in April Covid-19 abated over the summer. Inevitably it will get worse in winter. It may also be worse this winter than might otherwise have been the case. This is because we carried on with a number of restrictions on normal social life during the summer, reducing our ability to acquire and share herd immunity and wasting the opportunity provided by the weakest period for the virus.
My contention remains, as I have said many times over the last months, that our over-reaction to the disease has done much more lasting economic damage, and, counter-intuitively, even more damage to our health than the disease itself.
The current strategy merely kicks the can down the road. If the measures work and reduce the spread, the virus will simply reappear later.
Of course, we could be lucky and get a vaccine or a cure, or even 'moon-shot' daily tests to enable us to return to normality, but none of these are certain.
One day there may be a virus that threatens our whole way of life – but this isn't it, even if we are behaving as if it were.
Sir Desmond retweeted a neurologist's comment on the outrageous graph of projected 'cases' this autumn — in reality, positive tests:
Today, Sir Desmond gave an interview to the BBC about the continuing and questionable restrictions on civil liberties:
Richard Drax rightly predicted economic disaster, ruining the lives of millions:
Lucy Allan also spoke out on Twitter.
She tweeted Monday's graph from SAGE:
She rightly opposes putting everyone on restrictions when we should be protecting those most at risk:
She retweeted an open letter from Profs Sikora, Heneghan and several other leaders in British medicine:
She also called for the precise definition of a 'case':
That's probably why Whitty and Vallance didn't take questions.
Sir Edward Leigh also had a lot to say on this week's announcements:
He is rightly concerned about the blind faith we place in authority and the gradual erosion of civil liberties:
I couldn't agree more:
At least 1,000 people die in the UK every day.
Below are the causes of death per day in September.
Note where COVID-19 is: second from the bottom, dwarfed by heart disease and cancer.
There were nearly twice as many suicides than deaths from the Chi-vi: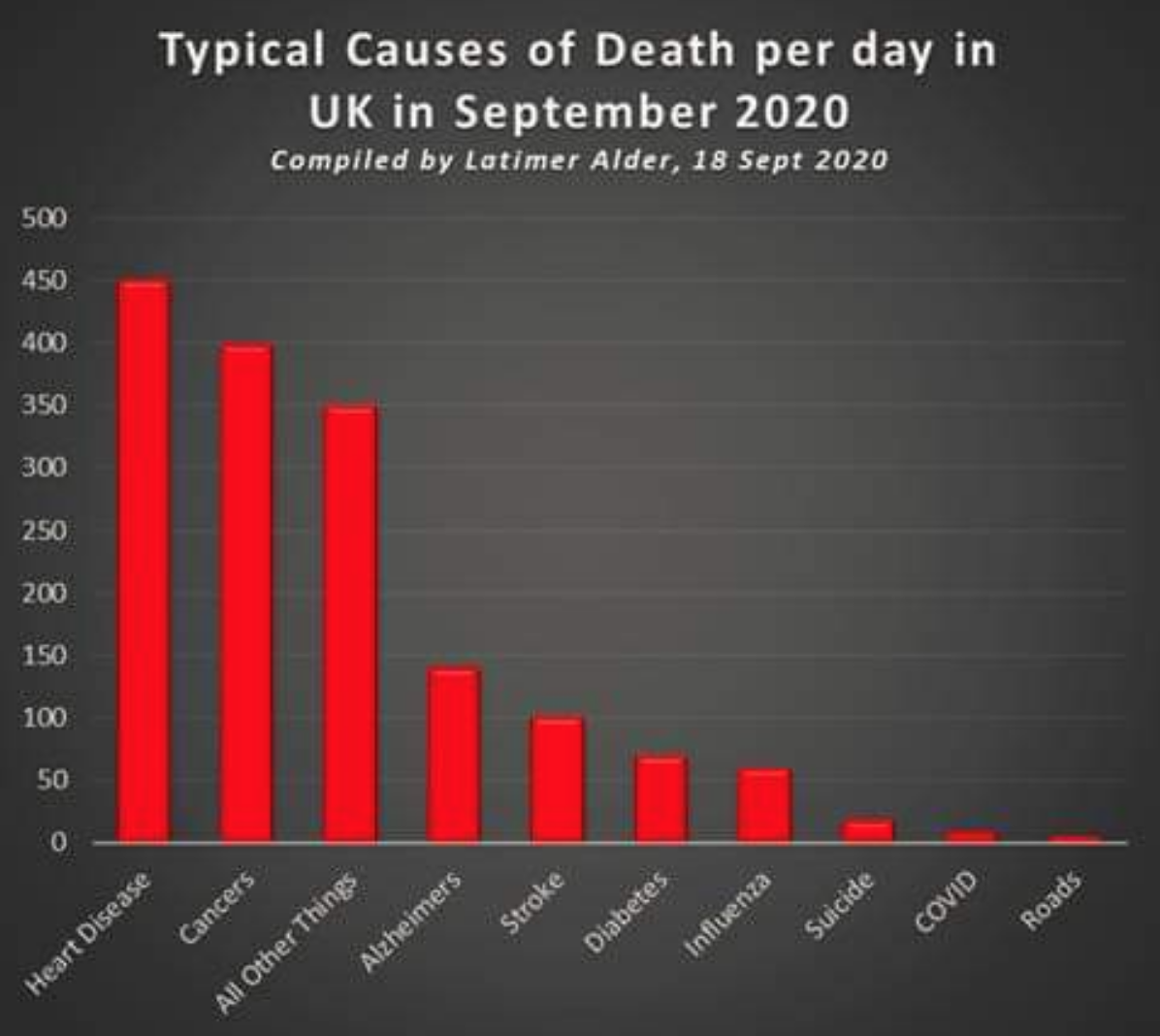 Steve Baker is also concerned about the restrictions bypassing Parliament:
Wow. Sir Graham Brady could pit a load of Tory rebels against the government. Good show:
The article from The Critic says:
Unless Matt Hancock finds a workable accommodation with Sir Graham Brady, the chairman of the 1922 Committee of Tory backbench MPs, the government faces the prospect of defeat next Wednesday when the Coronavirus Act 2020 comes up for its six-monthly renewal in the House of Commons.
The scale of backbench unhappiness is such that according to Steve Baker, who is working alongside Sir Graham, "the magic number was exceeded with 24 hours" of his beginning to canvas support for an insurrection among fellow Conservative MPs. Victory would require Labour and SNP MPs to seize on the opportunity to inflict a humiliating defeat on the government by voting with the Tory rebels. Indications increasingly suggest that this could happen. An increasingly dispirited Whips Office, which feels ignored and disrespected by Downing Street, is especially concerned at the sight of the former ERG "Spartans" leader, Baker, at Westminster furiously tapping away on his phone – a colliery canary of trouble ahead.
The government is equally concerned that the rebellion is being led by Sir Graham Brady, whose role as chairman of the 1992 Committee makes him the most authoritative channel of backbench opinion. In a sign of how seriously Downing Street management is taking the senior shop steward's challenge, on Monday evening the prime minister privately went to see the 1922's executive committee.
The primary complaint is that the government is using powers granted to it under the 1984 Public Health Act and 2020 Coronavirus Act to enact previously unconscionable measures without any prior debate in the Commons. Brady has condemned ministers who "have got into the habit of ruling by decree."
MPs were prepared to cede considerable authority to the government in March in a period of acute crisis when there appeared to be only weeks if not days to "flatten the sombrero" to save the NHS from being overwhelmed. But Boris Johnson's admission in his statement to Parliament today that the latest curtailments (which include further restrictions on hospitality opening hours and the number of people who can congregate at weddings, funerals and other public, private and sporting functions), would likely last at least six months has alerted MPs to the reality that government by decree may last until a vaccine is approved. If, indeed, a vaccine is approved. This is a war that will not be over by Christmas.
Far from persuading potential rebel MPs that a new crisis is looming, the performance of the government's chief medical and scientific officers, Chris Whitty and Sir Patrick Vallance, at their press conference yesterday has heightened consternation that the government is over-reliant on advice predicated upon worst case scenarios that is trumping competing economic and civil liberty considerations.
The likelihood of executive mission creep was foreseen back in March by David Davis and Steve Baker who pushed the government into adopting an amendment reducing from two years to six months the period in which the powers of the Coronavirus Act must be renewed by parliament. That renewal debate will now take place next Wednesday.
I remember that debate from March and also wondered if the Government were as good as their word.
Whilst they are unlikely to call for a wholesale repeal of the Coronavirus Act, Sir Graham Brady could call for a scrutiny clause appended to the Act so that every new statutory instrument connected to the legislation would have to go through Parliament first. To date, many of them have not. Therefore:
Rebels are pinning their hopes on this prospect. They may find a friend in the The Speaker, Sir Lindsay Hoyle, who has already made clear his intense irritation with Matt Hancock's disregard for informing parliament first of major legal changes like the "rule of six" and for the government's brusque imposition of restrictions in his own Chorley constituency …
The appeal of such a mechanism is obvious to Tory backbenchers concerned that laws are being made without scrutiny and are difficult to repeal. But there is no in-principle reason why Opposition parties need object to such a parliamentary safeguard either. Hence the likelihood of a rebellion having the numbers to succeed next Wednesday.
I can hardly wait.
Iain Duncan Smith is also airing his views. Note what he says and compare it to the death graph above:
Brexit better be more than BRINO, otherwise that prediction about the Conservatives could come true.
Former Brexit Party MEP and owner of England's greatest smoked salmon business, Forman's, said:
How true.
Unfortunately, at today's PMQs, Boris said that restrictions will continue until a vaccine is found! Dangerous.
Before I get to the main story, October has been Theresa May's best month this year.
Her birthday was October 1:
During the extraordinary parliamentary session of Saturday, October 19, 2019, she stood firm with Boris on his new Brexit deal. That was principled, considering that David Cameron didn't stand with her when she was PM. In fact, he resigned as the MP for Witney (Oxfordshire):
She gave an excellent speech that day:
Now, let us cast our minds back to 1961. Theresa Brasier was nearing her fifth birthday. Her parents, the Revd Hubert Brazier and Zaidee 'Mary' Brasier, played host to a 16-year-old German teenager from Bonn that summer at the vicarage in Church Enstone, Oxfordshire.
On July 24, 2019, Detlev J Piltz wrote a fascinating article about his four weeks with the Brasiers for The Oldie magazine, outstanding reading for anyone over the age of 40. He learned invaluable lessons about the English during his time in the Cotswolds.
Excerpts follow, emphases mine.
The Brasiers took young Detlev everywhere:
The four weeks I spent there enriched my life. Not only did I improve my schoolboy English and become more fluent, but the family took me with them on their shopping trips in their plush Morris Minor, usually to Chipping Norton.
On Sundays, the family and I attended the village church together. We all went to watch the motor racing at Silverstone, picnicked in the country, and the vicar showed me Oxford University and explained about its colleges.
He especially appreciated his time with the vicar:
What impressed me most were the many conversations that the Reverend Hubert, to call him by his first name, then in his mid-forties, carried on with a rather wet-behind-the-ears teenager.
The vicar, as folk in the village referred to him, was a good-hearted soul: clever, educated, helpful and gentle, yet quite clear about his moral and ethical principles. Perhaps this was also partly due to his slight stoop which, as he himself put it, had focused his concentration more on the spiritual than on the physical.
The parishioners – who visited us, or whom we visited – and the congregation in church always displayed an aura of love and devotion, but also respect, for their vicar.
I still admire him today for how he and his wife managed the not-so-easy duties of an English country clergyman. During my stay, I also learned something about Englishness and even about the English class system, although this knowledge was more sensed and intuited than consciously understood.
The Brasiers had just purchased a television set. A Test Match between England and Australia was being broadcast, so the vicar explained the rules of cricket to Detlev. Detlev also learned a lesson about the English. Only they can criticise their country. Foreigners cannot.
This is very true — and anyone coming here should remember it. It's just how things are:
He straightforwardly concluded that the Australians would win, as they were both bowling and batting better than the English, an assessment with which I dutifully agreed.
This proved to be a mistake. My host took me to one side and explained, 'You are quite right, Detlev. Australia is playing better than England. But perhaps I can give you a piece of advice for the future. As a foreigner, you would do well not to say so. Leave it to us.'
In a few words, the vicar had borne out a rule of English interaction with foreigners, summarised succinctly by George Orwell, 'We spend our lives in abusing England but grow very angry when we hear a foreigner saying exactly the same things.'
Fortunately, comments in the opposite direction are allowed. If a foreigner praises certain features of England, the English are pleased, although they will immediately play down the merits of what has been admired and claim that it is actually not so great.
The bishop of the diocese visited the Brasiers on the last Sunday that Detlev was there. The couple made a point of impressing upon the young German the importance of manners:
something they had never previously done.
They told him to stay silent unless the bishop spoke to him:
I was also kindly advised not to engage the bishop in conversation myself, but to wait until he spoke to me, and to address him as 'Bishop', rather than Mr Johnson, or whatever his name might be.
They impressed upon him the finer points of tea drinking — always two cups:
a single cup was deemed impolite, as not enough; three cups were considered impolite, as too many.
Detlev did not like the special tea that Mrs Brasier served but refrained from commenting until later. It was probably Lapsang Souchong, a smoky tea:
'It was Chinese tea,' the vicar's wife explained. When I asked why it was different from the tea we otherwise always drank, I heard for the first time in my life that it was 'because of the bishop'.
The high point of his visit was when he accompanied the Brasiers to the local landowner's for tea. Detlev had a keen interest in historic Royal Navy battles. When they arrived at Sir John's house, Detlev could not contain his enthusiasm:
When we arrived in the entrance hall of the large and rather grand residence, I spotted on the opposite wall a painting of a scene from the 1916 Battle of Jutland, details of which were well known to me.
Without thinking, I stopped in front of the picture and said, 'Oh, the famous manoeuvre of crossing the T [when a line of warships crosses in front of a line of enemy ships at right angles] by Admiral Jellicoe.'
Sir John treated his guests to tea and scones. Then he turned his attention to the young German:
Afterwards, Sir John asked me how I recognised the scene in the picture, and I told him about my interest in the Royal Navy. He signalled to me to follow him and we entered a room full of English naval memorabilia.
It transpired that Sir John had fought in the Battle of Jutland. For nearly a whole hour, he described the events and his role. I was eager to know whether he had known the English admirals, Jellicoe and Beatty, personally. It was an hour suffused with mutual affection between old and young, with never a word out of place, and certainly no nationalistic undertones. I remember it clearly and vividly to this day.
On the way home, Mrs Brasier expressed her disappointment that Sir John had not spent more time with them. The vicar responded:
Well, it may be years since he had such an admirer, let alone such a young one – and, by the way, he can do whatever he thinks fit.
Detlev's stay with the Brasier family fostered in him a lifelong love of England.
In 2015, he and his wife visited the Cotswolds and passed through Church Enstone, where they stopped.
Detlev Piltz did not want to bother the present occupants of the vicarage, but he asked at the church what happened to the Brasiers:
… in the church, someone showed us a roll of past vicars, and there was the name of 'my' vicar, and his dates in office, from 1959 to 1971.
Piltz thought nothing more about it until the following year, which featured that momentous summer of the Brexit referendum and David Cameron's immediate resignation, which was completely unnecessary but was perhaps for the better, given his Remainer views.
Lo, Theresa May won the Conservative leadership contest that summer:
The candidacy of Theresa May spawned widespread reporting about her background and early life. And only then did it become clear to me how small the world really can be.
For the idyllic village in the Cotswolds was Church Enstone, and the vicar and his wife were Hubert and Zaidee Brasier, although he always called her Mary. Sadly, I then learned that Hubert Brasier had been killed in a car accident in 1981, and his wife died the following year.
And I also learnt what had happened to their young daughter. She was called Theresa – today known to every Englishman and woman as Prime Minister Theresa May.
I thought that was such a terrific anecdote.
People have either made fun of Theresa May or criticised her mercilessly. We still don't know what fully took place between her people and Angela Merkel's regarding Brexit. Certainly, May's downfall began when she put forward that London-Berlin Brexit deal in July 2018 at Chequers, when her own Brexit team, lead by David Davis, was putting together a proper exit plan (Canada ++), working together with Michel Barnier from the EU. May told a shocked assembly of her own ministers that it was her deal or the highway. The Evening Standard reported that she told ministers they could pay for their own transport back to London if they wanted to leave early. Brexit minister David Davis tendered his resignation afterwards as did Boris Johnson, who was Foreign Minister at the time.
My, how much water has passed under the dam since then. I hope that our former PM continues to vote in support of our present one, Boris Johnson.
I regret to report that our new exit deadline is January 31, 2020.
Interestingly, whilst the Conservatives were at their annual party conference, the opposition benches were largely empty.
Strange. Last week, they voted against proroguing Parliament from Monday through Wednesday because they had serious work to get on with.
Or so they said.
As it turned out, only a handful of the diligent, hardworking opposition MPs showed up on those days.
On Tuesday, October 1, a Brexit-related session headed by George Eustice, the minister for DEFRA (Department for Environment, Food and Rural Affairs) covered the draft Common Agricultural Policy from July 24 which would be used for Brexit. The end of the debate is here. It's a pity that only the opposition agricultural ministers and a couple of other MPs attended:
On Wednesday, October 2, Foreign Minister Dominic Raab headed PMQs — Prime Minister's Questions — as Prime Minister Boris Johnson gave his rousing speech in Manchester to the party faithful.
That morning, the Labour Whips issued a directive to their MPs not to ask Urgent Questions that day:
It was even worse when the afternoon's proceedings began.
Recall — as if we could forget — that the opposition claim to be the champions of the vulnerable, especially women.
So, it was particularly galling to see that very few of them turned up for the second reading of the Domestic Abuse Bill:
Only a few Liberal Democrat MPs attended that afternoon. Labour produced more, but could have done much better.
Good grief.
Apparently, this bill and some others have been carried over post-Queen's Speech on October 14:
Therefore, if this is true, the opposition knew full well that they could have easily prorogued for three days during the Conservative Party Conference but chose not to out of sheer spite. Ditto the Supreme Court when they cancelled Boris's prorogation.
The main and most moving speech of the debate was that of Labour MP Rosie Duffield. Her testimony of a recent relationship is well worth sharing with your daughters or nieces.
Women cannot be too careful when getting involved in a long-term relationship. If this can happen to an MP, it can happen to anyone. Please watch:
This bill is Theresa May's. She brought it forward as a backbencher, therefore, before she became Prime Minister in 2016. How slowly the wheels of legislation turn.
Theresa May also gave an impassioned speech for the bill near the end.
Debate continues after October 14.
Attendance improved when Boris appeared on Thursday, October 3, to discuss a new proposal for Brussels, sent to Jean-Claude Juncker the day before:
Note the final paragraph about the Northern Ireland backstop on the first page: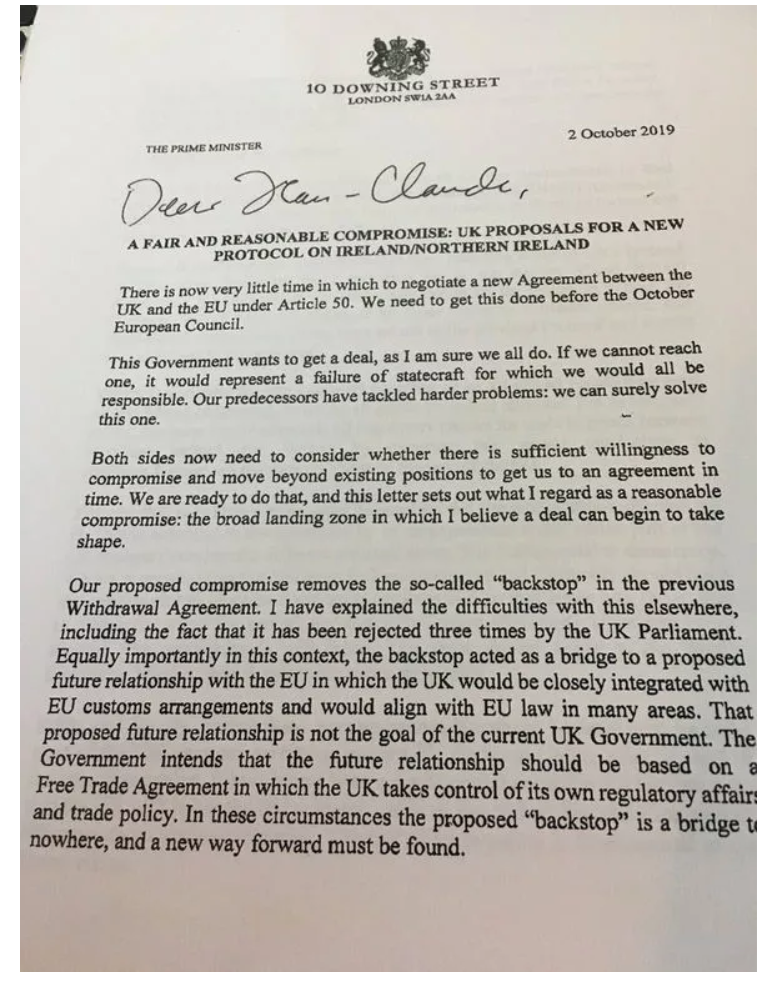 This is the European Commission's announcement about the letter (click on the image to enlarge text):
Many MPs who offered comments following Boris's address commented positively. Even most Remainers accepted the proposal, albeit with a request for more details, which will be forthcoming. Only two or three diehard Remainers spoke out against it.
Several MPs hoped that the EU commissioners were watching the positive reaction.
Guido Fawkes has more, including this video of Boris's speech:
Guido gives us the transcript of Boris's five elements concerning the abolition of the proposed backstop, the crux of the leaving date delay thus far (italics in the original):
In the first place all our actions are based on our shared determination to sustain the Belfast (Good Friday) Agreement, the fundamental basis of governance in Northern Ireland the protection of which is the highest priority of all.

And from this follows the second principle – namely that we shall of course uphold all the longstanding areas of co-operation between the UK and our friends in Ireland including the rights of all those living in Northern Ireland, North/South co-operation and the Common Travel Area, which predates both the Good Friday Agreement and the European Union itself.

Third, we propose the potential creation of a regulatory zone on the island of Ireland covering all goods, including agri-food. For as long as it exists, this zone would eliminate all regulatory checks for trade in goods between Ireland and Northern Ireland.

But fourth, unlike the so-called backstop, such a regulatory zone would be sustained with the consent of the people of Northern Ireland, as expressed through the Assembly and Executive. They will give their consent during the transition period as a condition for these arrangements entering into force. Thereafter, the Assembly will vote again every four years – and if consent were withheld, these arrangements would then lapse after one year.

Fifth, it has always been a point of principle for this government that at the end of the transition period, the UK should leave the EU Customs Union whole and entire restoring sovereign control over our trade policy and opening the way for free trade deals with all our friends around the world.
In short: no hard border between the Republic and Northern Ireland. Instead, there would be a regulatory zone covering all goods, including foodstuffs. Northern Ireland's Assembly and Executive would vote on the arrangements in the near future and every four years after that. (I do not know how that will work if Stormont is not sitting, but, no doubt, the government can find a way.)
I'm guardedly hopeful that Boris is onto something positive with this. It won't please Brexit Party members, but we were never going to get an absolute No Deal. I'm hoping that David Davis's Canada ++ arrangement can be revived. Theresa May insisted that his plans be superseded by her Withdrawal Agreement in July 2018, no ifs, ands or buts. Davis resigned as Secretary of State for Exiting the European Union on July 8 that year. It was all downhill from there.
Davis has not tweeted his reaction, but another staunch Leave MP, John Redwood, offered his thoughts on Boris's proposal:
Unfortunately, the Twitter replies to that were very angry, indeed.
It is essential to keep in mind that trade and other agreements will be in transition once we leave the EU.
It's not as if everything will change dramatically on November 1 (God willing) or whenever we leave.
The transition period is likely to last anywhere from two to four years, depending on negotiations.
As for prescription drug shortages, some of which are occurring now in the UK and being blamed on Brexit: several EU countries have been experiencing similar shortages of essential medication for several months now. France and the Netherlands are among those nations. We cannot blame Brexit for that.
This past week was another disappointing one in Parliament, to say the least.
The vaunted date of departure from the EU — Friday, March 29, 2019 — came and went with no change in Britain's EU membership. For those who voted Leave in the June 23, 2016 referendum, it was a sad day indeed. Journalist Tim Montgomerie's tweet of a man crying summed up the situation perfectly:
Conservative MP Bill Cash correctly assessed the situation, sadly, to no avail:
Another prominent Conservative MP, David Davis, also spoke up. He resigned from Theresa May's Brexit team last summer because of her faulty plan drawn up at Chequers (the prime ministerial weekend residence). This plan, her plan which has now had three unsuccessful meaningful votes (MV3 was on Friday), appeared out of the blue. She forced her Brexit team to accept her plan rather than No Deal. Hence, Davis's and others' resignations from her Brexit team.
Davis confirms that the referendum result is being ignored but could still be saved if enough MPs do the 'right thing':
David Davis is a great MP, and it is a shame that he will never be party leader. That is probably because he a) has a discernible moral compass and b) is outside the Oxbridge clique that dominates today's party politics in Britain.
Whilst he did end up voting for Theresa May's (Chequers) Plan on Friday, he did so hoping that Britain would leave the EU that day, as scheduled.
In recent weeks, Prime Minister May has changed her tune from 'No deal is better than a bad deal (hers)' to 'My deal or no deal'.
In the aforementioned editorial for The Sun, Davis wrote (emphasis in the original, those in purple mine):
THE Prime Minister's Withdrawal Agreement has been voted down three times. It's had more comebacks than Frank Sinatra …
Despite this I voted for it twice but with great reluctance as the alternative is so much worse.
If unreconciled Remainers in Parliament are allowed to hijack negotiations, we will get Brexit in name only, or no Brexit at all.
It's a terrible state of affairs and I wish the Government had had the courage to maintain the possibility of a No Deal exit.
It would have given leverage to our negotiating position and delivered a better deal.
Frankly what we face now is a crisis of democracy. Record numbers of Britons voted in their droves to leave the EU.
Subsequently both the main parties and others, too, promised at the 2017 General Election that we would leave on time and exit the single market and customs union.
Now that is threatened. Those who wish to thwart Brexit have captured Parliament and will exert a terrible price by forcing the UK to remain in the customs union in complete contradiction of their election manifestos.
It is a mystery why May did not push for a No Deal on World Trade Organization terms. That was what Leave voters had in mind when they cast their ballots in 2016: a clean break with the EU and full autonomy for the UK.
Last Sunday, I wrote that MPs would be voting on alternative measures to a no deal Leave plan or Theresa May's in the last week of March. These are called indicative votes.
None of the indicative votes from Wednesday, March 27 passed, making the churning Brexit waters much murkier:
Except for Motions B (No Deal) and O (Contingent preferential arrangements), those are all bad proposals. Revocation — Motion L — overturns the referendum result. Confirming Parliament's decision by public vote — Motion M — similarly would overturn the referendum result. The customs union proposals would cost the UK more in loss of autonomy than full EU membership. They would also be costly financially, especially compared with the trade benefit we would receive in turn:
According to David Davis, PM May will not enact anything that does not resemble Brexit:
We can only hope that this continues to be the case as we enter April.
As Davis explains in his Brexit Central article of March 27 (emphases mine):
The British people knew exactly what they were voting for – and they rightly expect Parliament to deliver it.
And the more that the people hear that they did not know what they voted for, the more their opinion crystallises. We need only look at yesterday's ComRes poll, which shows the largest yet recorded support for a no-deal Brexit. Over 40% of people believe we should leave on WTO rules, a number that grows every week. The idea that Leave voters did not vote to leave the Customs Union or the Single Market has no grounding in fact. It is patronising, and dismissive of their views.
So the Prime Minister is right to listen to Parliament, but she is also right to rule out any options that do not meet the democratic decision of the British people. Yesterday's ComRes poll showed that a clear majority of people believe that attempts by Remain-supporting MPs and other Establishment figures to block Brexit were undermining the UK's negotiation position. More than half believe that if MPs go against the 2016 decision it will irreversibly damage democracy. So the Prime Minister's first democratic duty is to the electorate directly, to deliver a proper Brexit as soon as practically possible.
In the final analysis, the Prime Minister is the servant, not of Party, nor of Parliament, but of the people, and that should be her guiding principle throughout the Brexit process. Otherwise the British people will lose faith in their democracy, and the United Kingdom will face its Trump moment.
'Trump moment' is a dog-whistle, as most Britons believe that to be the worst thing that could ever happen in British politics.
The indicative votes are set to be debated on Monday, April 1. How apposite.
More on Brexit will follow in the days ahead.
Forbidden Bible Verses will appear on Monday.