You are currently browsing the tag archive for the 'David Davis' tag.
This week, the UK government's scientific advisers and Prime Minister Boris Johnson said that new, stricter coronavirus measures would come into effect on Thursday, September 24.
On Monday morning, Chris Whitty and Sir Patrick Vallance presented their latest figures, which looked as if they must have come (once again) from Prof Neil Ferguson, they are that exaggerated. You can see the graph further down in my post:
This is utter madness, reminiscent of the WMD days when Tony Blair told us that a WMD could reach our shores within 45 minutes:
Their presentation, given against a No. 10 backdrop, had the purpose of preparing the public for Boris Johnson's announcements on Tuesday. They took no questions.
They showed graphs of where Spain and France are, with an uptick in 'cases'. Again, that means positive test results, most of which do not require hospitalisation.
Strangely enough, the Rule of Six only came in on Monday. Let's let it bed in for a few days, fellas, before taking more measures. They're doing exactly what they did in March, though. On March 16, new measures came in. On March 23, we had lockdown.
The Rule of Six is a Belgian tactic that SAGE thought would work in England. As such, they recommended it to the Government.
Perhaps this is the reason the two scientists did not mention Belgium once in their presentation:
I am glad someone will be tracking the progress of the projections over the next few weeks:
On Tuesday, Boris addressed Parliament and gave a short address that evening, televised to the nation.
In short:
– Pubs and restaurants must close by 10 p.m.
– They must offer table service only.
– All retail workers in hospitality settings must wear masks, along with customers, unless they are eating or drinking.
– Fines for breaking the Rule of Six or not wearing a face covering will result in an initial fine of £200, up from £100, for a first offence.
– Indoor five-a-side football matches have been banned.
– Wedding attendance has been reduced from 30 to 15; funeral attendance remains capped at 30.
– Police are allowed to call the military to fulfil office duties and/or to guard protected sites, leaving the police more capacity to fight crime.
– The plan to return a limited number of fans to sports stadia on October 1 is now postponed indefinitely.
The Daily Mail has a comprehensive article, including Boris's transcript, on the scathing reactions from police and business owners, particularly publicans. Sir Andrew Lloyd Webber said that this could sound the death knell for commercial theatre.
The Telegraph's Matt has this take on Army assistance:
The chances of that happening are very low:
The sad thing is that only five per cent of COVID-19 infections occur in a hospitality environment!
The Government and SAGE know this — yet they pressed on with restrictions!
The Daily Mail reported (emphases mine):
Public Health England data reveals that of the 729 outbreaks in the week to September 13, only five per cent occurred in food outlets such as restaurants and pubs – 45 per cent were in care homes, 21 per cent in schools and 18 per cent in places of work.
Wetherspoons founder Tim Martin said: 'The curfew doesn't even stand up to five minutes consideration by an intelligent person because if you look at the stats… there are relatively few transfers of infections in pubs.
Kate Nicholls, chief executive of trade body UK Hospitality, urged the Government to heed its own statistics because the curfew could take a sledgehammer to the industry which is already 'on its knees'.
She said this morning: 'People will think it's not that significant, but it really will have a big economic impact on jobs, not just on pubs, but also for cafes and restaurants.'   
Martin Wolstencroft, head of Arch Inspirations, which runs 17 bars and restaurants in Leeds, Manchester, York and Newcastle, said the curfew will not make it viable to open some of his venues.
Ironically, August was the month of discount lunches in Chancellor Rishi Sunak's successful initiative, Eat Out to Help Out, which the hospitality industry welcomed.
The Government's new restrictions will largely destroy any uplift participating restaurants received from it.
What on earth is going on?
Toby Young, who was at Oxford with Boris, says that something has changed — and not for the better. Note that Prince Charles approves of military intervention for climate change. Scary:
It's entirely possible that these ruinous measures have no basis in scientific fact, devastating people's livelihoods and families:
Conservative backbench MPs sounded off.
On Tuesday, Sir Desmond Swayne, who has commented both in and outside the House of Commons, tweeted:
His blog post states, in part:
Flu kills all year round – In the last weeks of July it killed 1000 of us (where Covid-19 killed only 200)- but it is seasonal: it certainly kills a lot more of us in the winter. Equally, we should stop talking about another wave of Covid-19 and instead, like flu, start expecting its annual season.
Having peaked in April Covid-19 abated over the summer. Inevitably it will get worse in winter. It may also be worse this winter than might otherwise have been the case. This is because we carried on with a number of restrictions on normal social life during the summer, reducing our ability to acquire and share herd immunity and wasting the opportunity provided by the weakest period for the virus.
My contention remains, as I have said many times over the last months, that our over-reaction to the disease has done much more lasting economic damage, and, counter-intuitively, even more damage to our health than the disease itself.
The current strategy merely kicks the can down the road. If the measures work and reduce the spread, the virus will simply reappear later.
Of course, we could be lucky and get a vaccine or a cure, or even 'moon-shot' daily tests to enable us to return to normality, but none of these are certain.
One day there may be a virus that threatens our whole way of life – but this isn't it, even if we are behaving as if it were.
Sir Desmond retweeted a neurologist's comment on the outrageous graph of projected 'cases' this autumn — in reality, positive tests:
Today, Sir Desmond gave an interview to the BBC about the continuing and questionable restrictions on civil liberties:
Richard Drax rightly predicted economic disaster, ruining the lives of millions:
Lucy Allan also spoke out on Twitter.
She tweeted Monday's graph from SAGE:
She rightly opposes putting everyone on restrictions when we should be protecting those most at risk:
She retweeted an open letter from Profs Sikora, Heneghan and several other leaders in British medicine:
She also called for the precise definition of a 'case':
That's probably why Whitty and Vallance didn't take questions.
Sir Edward Leigh also had a lot to say on this week's announcements:
He is rightly concerned about the blind faith we place in authority and the gradual erosion of civil liberties:
I couldn't agree more:
At least 1,000 people die in the UK every day.
Below are the causes of death per day in September.
Note where COVID-19 is: second from the bottom, dwarfed by heart disease and cancer.
There were nearly twice as many suicides than deaths from the Chi-vi: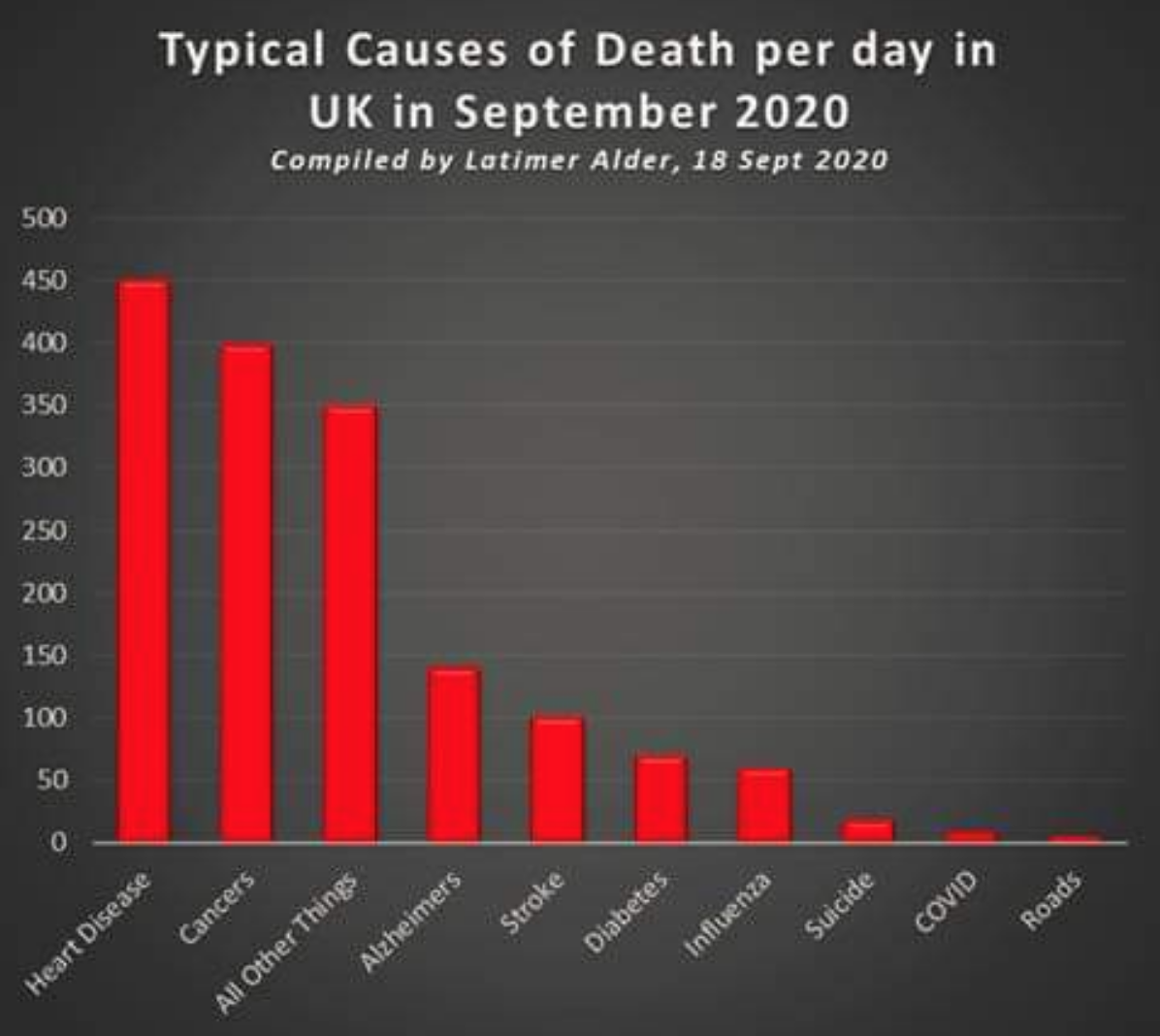 Steve Baker is also concerned about the restrictions bypassing Parliament:
Wow. Sir Graham Brady could pit a load of Tory rebels against the government. Good show:
The article from The Critic says:
Unless Matt Hancock finds a workable accommodation with Sir Graham Brady, the chairman of the 1922 Committee of Tory backbench MPs, the government faces the prospect of defeat next Wednesday when the Coronavirus Act 2020 comes up for its six-monthly renewal in the House of Commons.
The scale of backbench unhappiness is such that according to Steve Baker, who is working alongside Sir Graham, "the magic number was exceeded with 24 hours" of his beginning to canvas support for an insurrection among fellow Conservative MPs. Victory would require Labour and SNP MPs to seize on the opportunity to inflict a humiliating defeat on the government by voting with the Tory rebels. Indications increasingly suggest that this could happen. An increasingly dispirited Whips Office, which feels ignored and disrespected by Downing Street, is especially concerned at the sight of the former ERG "Spartans" leader, Baker, at Westminster furiously tapping away on his phone – a colliery canary of trouble ahead.
The government is equally concerned that the rebellion is being led by Sir Graham Brady, whose role as chairman of the 1992 Committee makes him the most authoritative channel of backbench opinion. In a sign of how seriously Downing Street management is taking the senior shop steward's challenge, on Monday evening the prime minister privately went to see the 1922's executive committee.
The primary complaint is that the government is using powers granted to it under the 1984 Public Health Act and 2020 Coronavirus Act to enact previously unconscionable measures without any prior debate in the Commons. Brady has condemned ministers who "have got into the habit of ruling by decree."
MPs were prepared to cede considerable authority to the government in March in a period of acute crisis when there appeared to be only weeks if not days to "flatten the sombrero" to save the NHS from being overwhelmed. But Boris Johnson's admission in his statement to Parliament today that the latest curtailments (which include further restrictions on hospitality opening hours and the number of people who can congregate at weddings, funerals and other public, private and sporting functions), would likely last at least six months has alerted MPs to the reality that government by decree may last until a vaccine is approved. If, indeed, a vaccine is approved. This is a war that will not be over by Christmas.
Far from persuading potential rebel MPs that a new crisis is looming, the performance of the government's chief medical and scientific officers, Chris Whitty and Sir Patrick Vallance, at their press conference yesterday has heightened consternation that the government is over-reliant on advice predicated upon worst case scenarios that is trumping competing economic and civil liberty considerations.
The likelihood of executive mission creep was foreseen back in March by David Davis and Steve Baker who pushed the government into adopting an amendment reducing from two years to six months the period in which the powers of the Coronavirus Act must be renewed by parliament. That renewal debate will now take place next Wednesday.
I remember that debate from March and also wondered if the Government were as good as their word.
Whilst they are unlikely to call for a wholesale repeal of the Coronavirus Act, Sir Graham Brady could call for a scrutiny clause appended to the Act so that every new statutory instrument connected to the legislation would have to go through Parliament first. To date, many of them have not. Therefore:
Rebels are pinning their hopes on this prospect. They may find a friend in the The Speaker, Sir Lindsay Hoyle, who has already made clear his intense irritation with Matt Hancock's disregard for informing parliament first of major legal changes like the "rule of six" and for the government's brusque imposition of restrictions in his own Chorley constituency …
The appeal of such a mechanism is obvious to Tory backbenchers concerned that laws are being made without scrutiny and are difficult to repeal. But there is no in-principle reason why Opposition parties need object to such a parliamentary safeguard either. Hence the likelihood of a rebellion having the numbers to succeed next Wednesday.
I can hardly wait.
Iain Duncan Smith is also airing his views. Note what he says and compare it to the death graph above:
Brexit better be more than BRINO, otherwise that prediction about the Conservatives could come true.
Former Brexit Party MEP and owner of England's greatest smoked salmon business, Forman's, said:
How true.
Unfortunately, at today's PMQs, Boris said that restrictions will continue until a vaccine is found! Dangerous.
Before I get to the main story, October has been Theresa May's best month this year.
Her birthday was October 1:
During the extraordinary parliamentary session of Saturday, October 19, 2019, she stood firm with Boris on his new Brexit deal. That was principled, considering that David Cameron didn't stand with her when she was PM. In fact, he resigned as the MP for Witney (Oxfordshire):
She gave an excellent speech that day:
Now, let us cast our minds back to 1961. Theresa Brasier was nearing her fifth birthday. Her parents, the Revd Hubert Brazier and Zaidee 'Mary' Brasier, played host to a 16-year-old German teenager from Bonn that summer at the vicarage in Church Enstone, Oxfordshire.
On July 24, 2019, Detlev J Piltz wrote a fascinating article about his four weeks with the Brasiers for The Oldie magazine, outstanding reading for anyone over the age of 40. He learned invaluable lessons about the English during his time in the Cotswolds.
Excerpts follow, emphases mine.
The Brasiers took young Detlev everywhere:
The four weeks I spent there enriched my life. Not only did I improve my schoolboy English and become more fluent, but the family took me with them on their shopping trips in their plush Morris Minor, usually to Chipping Norton.
On Sundays, the family and I attended the village church together. We all went to watch the motor racing at Silverstone, picnicked in the country, and the vicar showed me Oxford University and explained about its colleges.
He especially appreciated his time with the vicar:
What impressed me most were the many conversations that the Reverend Hubert, to call him by his first name, then in his mid-forties, carried on with a rather wet-behind-the-ears teenager.
The vicar, as folk in the village referred to him, was a good-hearted soul: clever, educated, helpful and gentle, yet quite clear about his moral and ethical principles. Perhaps this was also partly due to his slight stoop which, as he himself put it, had focused his concentration more on the spiritual than on the physical.
The parishioners – who visited us, or whom we visited – and the congregation in church always displayed an aura of love and devotion, but also respect, for their vicar.
I still admire him today for how he and his wife managed the not-so-easy duties of an English country clergyman. During my stay, I also learned something about Englishness and even about the English class system, although this knowledge was more sensed and intuited than consciously understood.
The Brasiers had just purchased a television set. A Test Match between England and Australia was being broadcast, so the vicar explained the rules of cricket to Detlev. Detlev also learned a lesson about the English. Only they can criticise their country. Foreigners cannot.
This is very true — and anyone coming here should remember it. It's just how things are:
He straightforwardly concluded that the Australians would win, as they were both bowling and batting better than the English, an assessment with which I dutifully agreed.
This proved to be a mistake. My host took me to one side and explained, 'You are quite right, Detlev. Australia is playing better than England. But perhaps I can give you a piece of advice for the future. As a foreigner, you would do well not to say so. Leave it to us.'
In a few words, the vicar had borne out a rule of English interaction with foreigners, summarised succinctly by George Orwell, 'We spend our lives in abusing England but grow very angry when we hear a foreigner saying exactly the same things.'
Fortunately, comments in the opposite direction are allowed. If a foreigner praises certain features of England, the English are pleased, although they will immediately play down the merits of what has been admired and claim that it is actually not so great.
The bishop of the diocese visited the Brasiers on the last Sunday that Detlev was there. The couple made a point of impressing upon the young German the importance of manners:
something they had never previously done.
They told him to stay silent unless the bishop spoke to him:
I was also kindly advised not to engage the bishop in conversation myself, but to wait until he spoke to me, and to address him as 'Bishop', rather than Mr Johnson, or whatever his name might be.
They impressed upon him the finer points of tea drinking — always two cups:
a single cup was deemed impolite, as not enough; three cups were considered impolite, as too many.
Detlev did not like the special tea that Mrs Brasier served but refrained from commenting until later. It was probably Lapsang Souchong, a smoky tea:
'It was Chinese tea,' the vicar's wife explained. When I asked why it was different from the tea we otherwise always drank, I heard for the first time in my life that it was 'because of the bishop'.
The high point of his visit was when he accompanied the Brasiers to the local landowner's for tea. Detlev had a keen interest in historic Royal Navy battles. When they arrived at Sir John's house, Detlev could not contain his enthusiasm:
When we arrived in the entrance hall of the large and rather grand residence, I spotted on the opposite wall a painting of a scene from the 1916 Battle of Jutland, details of which were well known to me.
Without thinking, I stopped in front of the picture and said, 'Oh, the famous manoeuvre of crossing the T [when a line of warships crosses in front of a line of enemy ships at right angles] by Admiral Jellicoe.'
Sir John treated his guests to tea and scones. Then he turned his attention to the young German:
Afterwards, Sir John asked me how I recognised the scene in the picture, and I told him about my interest in the Royal Navy. He signalled to me to follow him and we entered a room full of English naval memorabilia.
It transpired that Sir John had fought in the Battle of Jutland. For nearly a whole hour, he described the events and his role. I was eager to know whether he had known the English admirals, Jellicoe and Beatty, personally. It was an hour suffused with mutual affection between old and young, with never a word out of place, and certainly no nationalistic undertones. I remember it clearly and vividly to this day.
On the way home, Mrs Brasier expressed her disappointment that Sir John had not spent more time with them. The vicar responded:
Well, it may be years since he had such an admirer, let alone such a young one – and, by the way, he can do whatever he thinks fit.
Detlev's stay with the Brasier family fostered in him a lifelong love of England.
In 2015, he and his wife visited the Cotswolds and passed through Church Enstone, where they stopped.
Detlev Piltz did not want to bother the present occupants of the vicarage, but he asked at the church what happened to the Brasiers:
… in the church, someone showed us a roll of past vicars, and there was the name of 'my' vicar, and his dates in office, from 1959 to 1971.
Piltz thought nothing more about it until the following year, which featured that momentous summer of the Brexit referendum and David Cameron's immediate resignation, which was completely unnecessary but was perhaps for the better, given his Remainer views.
Lo, Theresa May won the Conservative leadership contest that summer:
The candidacy of Theresa May spawned widespread reporting about her background and early life. And only then did it become clear to me how small the world really can be.
For the idyllic village in the Cotswolds was Church Enstone, and the vicar and his wife were Hubert and Zaidee Brasier, although he always called her Mary. Sadly, I then learned that Hubert Brasier had been killed in a car accident in 1981, and his wife died the following year.
And I also learnt what had happened to their young daughter. She was called Theresa – today known to every Englishman and woman as Prime Minister Theresa May.
I thought that was such a terrific anecdote.
People have either made fun of Theresa May or criticised her mercilessly. We still don't know what fully took place between her people and Angela Merkel's regarding Brexit. Certainly, May's downfall began when she put forward that London-Berlin Brexit deal in July 2018 at Chequers, when her own Brexit team, lead by David Davis, was putting together a proper exit plan (Canada ++), working together with Michel Barnier from the EU. May told a shocked assembly of her own ministers that it was her deal or the highway. The Evening Standard reported that she told ministers they could pay for their own transport back to London if they wanted to leave early. Brexit minister David Davis tendered his resignation afterwards as did Boris Johnson, who was Foreign Minister at the time.
My, how much water has passed under the dam since then. I hope that our former PM continues to vote in support of our present one, Boris Johnson.
I regret to report that our new exit deadline is January 31, 2020.
Interestingly, whilst the Conservatives were at their annual party conference, the opposition benches were largely empty.
Strange. Last week, they voted against proroguing Parliament from Monday through Wednesday because they had serious work to get on with.
Or so they said.
As it turned out, only a handful of the diligent, hardworking opposition MPs showed up on those days.
On Tuesday, October 1, a Brexit-related session headed by George Eustice, the minister for DEFRA (Department for Environment, Food and Rural Affairs) covered the draft Common Agricultural Policy from July 24 which would be used for Brexit. The end of the debate is here. It's a pity that only the opposition agricultural ministers and a couple of other MPs attended:
On Wednesday, October 2, Foreign Minister Dominic Raab headed PMQs — Prime Minister's Questions — as Prime Minister Boris Johnson gave his rousing speech in Manchester to the party faithful.
That morning, the Labour Whips issued a directive to their MPs not to ask Urgent Questions that day:
It was even worse when the afternoon's proceedings began.
Recall — as if we could forget — that the opposition claim to be the champions of the vulnerable, especially women.
So, it was particularly galling to see that very few of them turned up for the second reading of the Domestic Abuse Bill:
Only a few Liberal Democrat MPs attended that afternoon. Labour produced more, but could have done much better.
Good grief.
Apparently, this bill and some others have been carried over post-Queen's Speech on October 14:
Therefore, if this is true, the opposition knew full well that they could have easily prorogued for three days during the Conservative Party Conference but chose not to out of sheer spite. Ditto the Supreme Court when they cancelled Boris's prorogation.
The main and most moving speech of the debate was that of Labour MP Rosie Duffield. Her testimony of a recent relationship is well worth sharing with your daughters or nieces.
Women cannot be too careful when getting involved in a long-term relationship. If this can happen to an MP, it can happen to anyone. Please watch:
This bill is Theresa May's. She brought it forward as a backbencher, therefore, before she became Prime Minister in 2016. How slowly the wheels of legislation turn.
Theresa May also gave an impassioned speech for the bill near the end.
Debate continues after October 14.
Attendance improved when Boris appeared on Thursday, October 3, to discuss a new proposal for Brussels, sent to Jean-Claude Juncker the day before:
Note the final paragraph about the Northern Ireland backstop on the first page: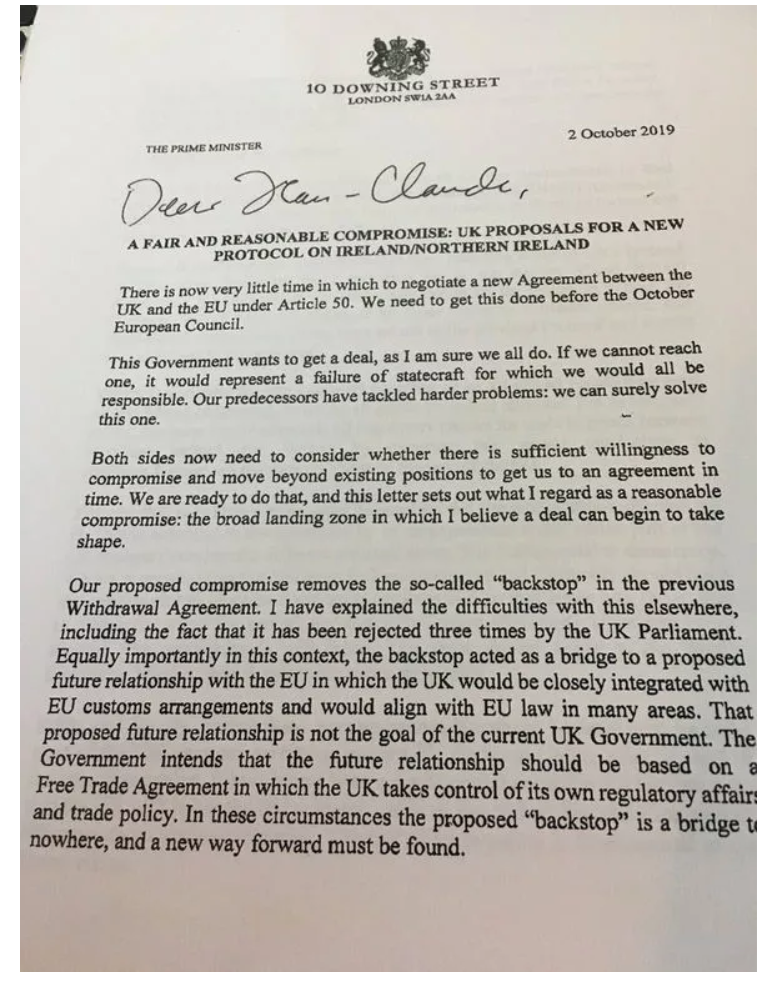 This is the European Commission's announcement about the letter (click on the image to enlarge text):
Many MPs who offered comments following Boris's address commented positively. Even most Remainers accepted the proposal, albeit with a request for more details, which will be forthcoming. Only two or three diehard Remainers spoke out against it.
Several MPs hoped that the EU commissioners were watching the positive reaction.
Guido Fawkes has more, including this video of Boris's speech:
Guido gives us the transcript of Boris's five elements concerning the abolition of the proposed backstop, the crux of the leaving date delay thus far (italics in the original):
In the first place all our actions are based on our shared determination to sustain the Belfast (Good Friday) Agreement, the fundamental basis of governance in Northern Ireland the protection of which is the highest priority of all.

And from this follows the second principle – namely that we shall of course uphold all the longstanding areas of co-operation between the UK and our friends in Ireland including the rights of all those living in Northern Ireland, North/South co-operation and the Common Travel Area, which predates both the Good Friday Agreement and the European Union itself.

Third, we propose the potential creation of a regulatory zone on the island of Ireland covering all goods, including agri-food. For as long as it exists, this zone would eliminate all regulatory checks for trade in goods between Ireland and Northern Ireland.

But fourth, unlike the so-called backstop, such a regulatory zone would be sustained with the consent of the people of Northern Ireland, as expressed through the Assembly and Executive. They will give their consent during the transition period as a condition for these arrangements entering into force. Thereafter, the Assembly will vote again every four years – and if consent were withheld, these arrangements would then lapse after one year.

Fifth, it has always been a point of principle for this government that at the end of the transition period, the UK should leave the EU Customs Union whole and entire restoring sovereign control over our trade policy and opening the way for free trade deals with all our friends around the world.
In short: no hard border between the Republic and Northern Ireland. Instead, there would be a regulatory zone covering all goods, including foodstuffs. Northern Ireland's Assembly and Executive would vote on the arrangements in the near future and every four years after that. (I do not know how that will work if Stormont is not sitting, but, no doubt, the government can find a way.)
I'm guardedly hopeful that Boris is onto something positive with this. It won't please Brexit Party members, but we were never going to get an absolute No Deal. I'm hoping that David Davis's Canada ++ arrangement can be revived. Theresa May insisted that his plans be superseded by her Withdrawal Agreement in July 2018, no ifs, ands or buts. Davis resigned as Secretary of State for Exiting the European Union on July 8 that year. It was all downhill from there.
Davis has not tweeted his reaction, but another staunch Leave MP, John Redwood, offered his thoughts on Boris's proposal:
Unfortunately, the Twitter replies to that were very angry, indeed.
It is essential to keep in mind that trade and other agreements will be in transition once we leave the EU.
It's not as if everything will change dramatically on November 1 (God willing) or whenever we leave.
The transition period is likely to last anywhere from two to four years, depending on negotiations.
As for prescription drug shortages, some of which are occurring now in the UK and being blamed on Brexit: several EU countries have been experiencing similar shortages of essential medication for several months now. France and the Netherlands are among those nations. We cannot blame Brexit for that.
This past week was another disappointing one in Parliament, to say the least.
The vaunted date of departure from the EU — Friday, March 29, 2019 — came and went with no change in Britain's EU membership. For those who voted Leave in the June 23, 2016 referendum, it was a sad day indeed. Journalist Tim Montgomerie's tweet of a man crying summed up the situation perfectly:
Conservative MP Bill Cash correctly assessed the situation, sadly, to no avail:
Another prominent Conservative MP, David Davis, also spoke up. He resigned from Theresa May's Brexit team last summer because of her faulty plan drawn up at Chequers (the prime ministerial weekend residence). This plan, her plan which has now had three unsuccessful meaningful votes (MV3 was on Friday), appeared out of the blue. She forced her Brexit team to accept her plan rather than No Deal. Hence, Davis's and others' resignations from her Brexit team.
Davis confirms that the referendum result is being ignored but could still be saved if enough MPs do the 'right thing':
David Davis is a great MP, and it is a shame that he will never be party leader. That is probably because he a) has a discernible moral compass and b) is outside the Oxbridge clique that dominates today's party politics in Britain.
Whilst he did end up voting for Theresa May's (Chequers) Plan on Friday, he did so hoping that Britain would leave the EU that day, as scheduled.
In recent weeks, Prime Minister May has changed her tune from 'No deal is better than a bad deal (hers)' to 'My deal or no deal'.
In the aforementioned editorial for The Sun, Davis wrote (emphasis in the original, those in purple mine):
THE Prime Minister's Withdrawal Agreement has been voted down three times. It's had more comebacks than Frank Sinatra …
Despite this I voted for it twice but with great reluctance as the alternative is so much worse.
If unreconciled Remainers in Parliament are allowed to hijack negotiations, we will get Brexit in name only, or no Brexit at all.
It's a terrible state of affairs and I wish the Government had had the courage to maintain the possibility of a No Deal exit.
It would have given leverage to our negotiating position and delivered a better deal.
Frankly what we face now is a crisis of democracy. Record numbers of Britons voted in their droves to leave the EU.
Subsequently both the main parties and others, too, promised at the 2017 General Election that we would leave on time and exit the single market and customs union.
Now that is threatened. Those who wish to thwart Brexit have captured Parliament and will exert a terrible price by forcing the UK to remain in the customs union in complete contradiction of their election manifestos.
It is a mystery why May did not push for a No Deal on World Trade Organization terms. That was what Leave voters had in mind when they cast their ballots in 2016: a clean break with the EU and full autonomy for the UK.
Last Sunday, I wrote that MPs would be voting on alternative measures to a no deal Leave plan or Theresa May's in the last week of March. These are called indicative votes.
None of the indicative votes from Wednesday, March 27 passed, making the churning Brexit waters much murkier:
Except for Motions B (No Deal) and O (Contingent preferential arrangements), those are all bad proposals. Revocation — Motion L — overturns the referendum result. Confirming Parliament's decision by public vote — Motion M — similarly would overturn the referendum result. The customs union proposals would cost the UK more in loss of autonomy than full EU membership. They would also be costly financially, especially compared with the trade benefit we would receive in turn:
According to David Davis, PM May will not enact anything that does not resemble Brexit:
We can only hope that this continues to be the case as we enter April.
As Davis explains in his Brexit Central article of March 27 (emphases mine):
The British people knew exactly what they were voting for – and they rightly expect Parliament to deliver it.
And the more that the people hear that they did not know what they voted for, the more their opinion crystallises. We need only look at yesterday's ComRes poll, which shows the largest yet recorded support for a no-deal Brexit. Over 40% of people believe we should leave on WTO rules, a number that grows every week. The idea that Leave voters did not vote to leave the Customs Union or the Single Market has no grounding in fact. It is patronising, and dismissive of their views.
So the Prime Minister is right to listen to Parliament, but she is also right to rule out any options that do not meet the democratic decision of the British people. Yesterday's ComRes poll showed that a clear majority of people believe that attempts by Remain-supporting MPs and other Establishment figures to block Brexit were undermining the UK's negotiation position. More than half believe that if MPs go against the 2016 decision it will irreversibly damage democracy. So the Prime Minister's first democratic duty is to the electorate directly, to deliver a proper Brexit as soon as practically possible.
In the final analysis, the Prime Minister is the servant, not of Party, nor of Parliament, but of the people, and that should be her guiding principle throughout the Brexit process. Otherwise the British people will lose faith in their democracy, and the United Kingdom will face its Trump moment.
'Trump moment' is a dog-whistle, as most Britons believe that to be the worst thing that could ever happen in British politics.
The indicative votes are set to be debated on Monday, April 1. How apposite.
More on Brexit will follow in the days ahead.
Forbidden Bible Verses will appear on Monday.