You are currently browsing the tag archive for the 'David Gauke' tag.
This is the final instalment in my series about minority MPs from today's modern Conservative Party.
Previous posts can be found here: parts 1, 2, 3, 4, 5 and 6.
This post looks at the new intake of MPs in the December 12, 2019 election during Boris Johnson's premiership.
Saqib Bhatti (Meriden)
Saqib Bhatti represents Meriden in the West Midlands.
The ancient town of Meriden — known as Alspath in the Domesday Book — was historically considered to be the 'centre of England', until the 20th century, when an Ordnance Survey proved that claim to be incorrect.
Before he entered Parliament, Bhatti was well known in the West Midlands for being president of Greater Birmingham Chambers of Commerce, a position he resigned upon becoming an MP. His philosophy is that business is a force for good. For his efforts, he received an MBE (Member of the Order of the British Empire) in the 2020 New Year Honours.
Bhatti was born in the West Midlands town of Walsall to Pakistani parents. His father founded a firm of chartered accountants, Younis Bhatti & Co. Saqib Bhatti serves on its board of directors.
Bhatti read Law at the London School of Economics, graduating with an LLB (Hons). He began working for Deloitte in 2007 as a chartered accountant and financial auditor. In 2010, he left to work for his father's firm.
He is married and lives in the affluent village of Dorridge in the West Midlands.
Bhatti says that his father is his greatest inspiration (emphases mine below):
The biggest influence on me is my father who moved to the UK in the 60s in pursuit of the 'Great British Dream', he taught me the values of hard work, integrity and determination which have driven my life so far. [6]
Bhatti's predecessor in Parliament was the redoubtable Dame Caroline Spelman, who had been Meriden's MP since 1997.
He paid tribute to her in his maiden speech, delivered on Wednesday, February 26, 2020:
He said:
My predecessor, Dame Caroline Spelman, was a mightily impressive colleague and friend to many in the House. During her 22-year career, she held a number of important positions, such as party chairperson, several shadow Cabinet positions, Second Church Estates Commissioner and Secretary of State for Environment, Food and Rural Affairs. She did all of these with distinction, while demonstrating an unrelenting dedication to her constituents—a dedication that I hope to emulate. I am sure the whole House will join me in congratulating her son David, who last month rowed across the Atlantic with a friend as part of the Talisker challenge and broke the world record.
He spoke of Meriden, which he still considers to be the centre of England:
My constituency takes its name from the village of Meriden, known as Alspath in the Domesday Book. It originally made up part of Lady Godiva's estate and, as many Members of this House will know, Lady Godiva rode through the streets of Coventry naked in protest against her husband's tax rises. Mr Deputy Speaker, I have a lot in common with Lady Godiva—[Laughter.] I do not know why they are all laughing: I love horses and, like Lady Godiva, I am a big advocate of low taxation. However, I am going to wait for the Budget this time, before I decide to what degree and how I protest any new taxes.
In the Domesday Book, Meriden was known as the true centre of England. That was until the early 2000s, when an over-zealous team at the Ordnance Survey decided that the centre of England was in fact in the constituency of my hon. Friend the Member for Bosworth (Dr Evans), but since I am not a bitter man and I do not hold a grudge, Mr Deputy Speaker, let me tell you why Meriden is still the beating heart of this country …
Meriden is unique and picturesque. It has more than 300 listed buildings and is steeped in history. It contains idyllic villages such as Hampton in Arden, Knowle, Dorridge, Catherine-de-Barnes, and Balsall Common, to name just a few. They capture the true character of the great British countryside like nowhere else, despite what my hon. Friend the Member for Runnymede and Weybridge (Dr Spencer) earlier tried to tell the House. Meriden is home to Birmingham airport and the National Exhibition Centre. It has rail links to every part of the country, and will soon be home to a certain high-speed rail link and interchange station. It has a Jaguar Land Rover plant, the prestigious Blythe Valley business park, and Birmingham business park, which houses names such as Oracle, Arup, and Rolls-Royce, as well as new market disrupters such as Gymshark.
Saqib Bhatti ended his speech with a call for unity as MPs debated leaving Europe for the last time that year:
There is no "leave" or "remain", Mr Deputy Speaker; there is only our great global Britain—the Britain that says it does not matter where somebody was born, where they come from, what they believe, who they love, or what anyone else says they are capable of achieving. Instead, as long as they share our values of respect, hard work, and they stand up for what is right, they can achieve anything. We live and serve in the best country in the world. Unwavering in our commitment to our values, we have remained faithful to our vision for a better world, and we have always stood tall and firm in the face of adversity.
We must now hold that vision more closely and dearly than ever before. As we embark on the final leg of our journey to new-found independence, it is now that we must remember our old friends and seek out new ones. It is now that we must speak up and act for those facing persecution and oppression across the world, and we must take seriously the threats to our environment and society. We must remember everything that we have in common, and everything that unites us. We must dare to believe.
Claire Coutinho (East Surrey)
Claire Coutinho was born and bred in London.
She represents East Surrey, a constituency just south of the capital.
Her parents are Christians who emigrated from Goa in the late 1970s. Her father Winston is a retired anaesthetist. Her mother Maria is a GP.
Coutinho attended the oldest independent school for girls in Greater London, James Allen's Girls' School, in Dulwich.
Afterwards, she read mathematics and philosophy at Exeter College, Oxford.
Upon graduation, she worked for four years at Merrill Lynch in the emerging markets equity team.
She took a two-year break in 2012 to devote herself to food. She started a literary-themed supper club, the Novel Diner, then appeared on the British version of The Taste in 2014. Nigella Lawson chose Coutinho for her team; unfortunately, the future MP was the second to be eliminated.
Coutinho worked for a conservative think tank, the Centre for Social Justice, and an industry group, the Housing and Finance Institute. She then returned to the corporate world, taking a position as Corporate Responsibility Manager with KPMG.
By then, the prospect of a Brexit referendum beckoned. David Cameron promised one in 2015, and it took place on June 23, 2016. Coutinho, passionate about leaving the EU, took a position as a special adviser to the Government so that she could help to deliver Brexit 'from the inside'. She worked first for Parliamentary Secretary to the Treasury Julian Smith and then for Rishi Sunak when he was Chief Secretary to the Treasury.
East Surrey has been a safe Conservative seat since 1918. Coutinho's predecessor was Sam Gyimah, who was a strong Remainer. He had the Conservative whip removed for his anti-Brexit votes in 2019 and subsequently became a Liberal Democrat. (Gyimah is now working once again at Goldman Sachs, his first employer.) Coutinho was selected to be the Conservative candidate on November 11, 2019, one month before the election. She won with a comfortable majority of 24,040 (40.3%).
Coutinho gave her maiden speech in Parliament on Wednesday, January 15, 2020:
She paid tribute to her predecessor, as is customary:
I am proud to be here representing the beautiful constituency of East Surrey. I begin by paying tribute to my predecessor, Sam Gyimah. We have more in common than representing East Surrey: we are both the children of immigrant doctors, and I, too, am 5 feet 4½ inches. Although we may have slightly different views on Brexit, I know he is passionate about the prosperity of this country, which both our families now call home. I am sure the House will agree that he made many important contributions in this place as Childcare Minister, as Prisons Minister and as Universities Minister.
She spoke about her constituency, which is mandatory:
East Surrey is known for its local beauty. There are four local nature reserves, eight sites of special scientific interest and over a third of the constituency is in an area of outstanding natural beauty or of great landscape value. Those who walk through the North Downs or the High Weald are met with chalk downs, rolling hillsides, lowland meadows and woodlands …
She talked about her time working for Rishi Sunak, who, at the time, was just a few weeks away from becoming Chancellor of the Exchequer:
I had the considerable pleasure of working with the Chief Secretary to the Treasury, my right hon. Friend the Member for Richmond (Yorks) (Rishi Sunak), on the 2019 spending review, which saw record investment in schools, in the police and in the NHS. Now I am on the other side of the table, I wholeheartedly and unreservedly welcome the increased funding, particularly where those funds might land in East Surrey. I will be working hard to make sure that the initial groundwork of that national announcement makes a meaningful difference to classrooms, GP surgeries and police officers on the ground.
Coutinho closed with a tribute to her grandmother, who was her role model and inspiration:
I would like to mention my grandmother, who may be the single greatest emblem of Conservative values I know. She was a teacher in India who, in my memory, took her fashion lead firmly from the Queen. She raised seven children with little in terms of resources, but with a strong sense that you can achieve the impossible with hard work and determination. Her children were doctors, teachers and grade 8 musicians who are now scattered all across the globe. If she could see me here today, in "the noblest government in the world," I am sure she would tell me to work hard, to be determined and to achieve the impossible.
Hear, hear!
Darren Henry (Broxtowe)
Darren Henry is the MP for Broxtowe in Nottinghamshire.
Born in Bedford, he is the first Conservative MP of West Indian origin. His father Harry is from Jamaica and his mother Gloria is from Trinidad.
He and his wife are the parents of twins.
His predecessor for Broxtowe was Anna Soubry, who like the aforementioned Sam Gyimah, had the Conservative whip removed for not supporting Brexit in 2019. It is unclear what she is doing at the moment.
Henry had a long career in the Royal Air Force, which he discussed in his maiden speech of Thursday, June 25, 2020. I saw it on the day. It was excellent:
He gave his speech during not only Armed Forces Week but also Windrush Week, marking the 72nd anniversary of the arrival of the ship, the Empire Windrush.
Excerpts follow:
I would like to pay tribute to my predecessor as the Member for Broxtowe, Anna Soubry. I may not have agreed with all that she said in this place, but I wish to set on record my acknowledgement of the good work she did for Broxtowe and for her constituents. I wish to thank her for her efforts on improving access at Beeston railway station. I admire her strong will and her determination to do what she felt was best for Broxtowe and for this country, and I wish her the best of British.
This week is the 72nd anniversary of the arrival of the Empire Windrush. The people of the Windrush generation came to Britain to help rebuild our great country, and my parents were among them. Dad, Harry, is from Jamaica, and Mum, Gloria, from Trinidad. Like many of that too long ignored generation, they worked hard to make a good life here. Dad worked double shifts, and Mum worked all day in a factory. They saved; they bought a house. They were ambitious, and they prospered. We were a traditional British working-class family: hard working, loyal, fiercely patriotic—and Conservative.
Opposition Members claim Windrush as their own, as if it is obvious that immigrants are somehow obliged morally and practically to be Labour supporters. Well, my family were not, and I am not. I stand here as evidence of what immigrants and their children can achieve in what my parents called the land of opportunity. I am proud to be the first Conservative MP of West Indian heritage—black, British with all my heart, immensely proud of my West Indian heritage and Conservative to my fingertips.
Before coming to this place, I spent 26 years in the Royal Air Force. Like others here, I knew that service to my country was the right and dutiful career for me. On my first day in the RAF, I had a splendid Afro hairstyle, and now, because of weeks of lockdown, I am delighted —my Afro is coming back!
The armed forces are known for getting things done, and that is what I will do for the people of Broxtowe. At Chilwell station, also known as Chetwynd barracks, we have seen service personnel assisting efforts to tackle the covid-19 pandemic as part of Op Rescript. As it is Armed Forces Week and Veterans Day today, I hope that this message is heard loud and clear by my fellow veterans: "If you are driven by public service, as I am, stand up and serve your community again."
His special personal interests are the NHS and mental health:
During my election campaign, I pledged to support investment in our local hospitals as part of my six-point plan for Broxtowe. This is a cause that is close to my heart. My wife Caroline spent 25 weeks out of her 34-week pregnancy in hospital. It is to Caroline and the NHS staff at Nottingham City Hospital that I say thank you for the blessing that is my twin children …
Parents do their best for their children. As the father of two children with autism, I recognise that those in Broxtowe who are on the autistic spectrum or suffer with mental health conditions have found it particularly difficult being cooped up during lockdown. In normal times, getting mental health support is a struggle. I am convinced that it does not have to be this way. The Government's planned reform of the Mental Health Act 1983 must ensure that people subject to the Act receive better care and have a much greater say in that care. I will continue to fight to secure the needs of vulnerable people in Broxtowe. They will not be forgotten.
He also praised the various corporations in his constituency, such as Boots the Chemists and Fred Hallam, the grocers.
He ended by saying:
… Broxtowe will have a thriving future.
I will work to make that vision a reality for the people of Broxtowe—my constituency; my people. To paraphrase D. H. Lawrence, a local lad made good, I will be still when I have nothing to say; when genuine passion moves me, I will say, and say it hot.
Outstanding.
Imran Ahmad Khan (Wakefield)
Imran Ahmad Khan represents the constituency of Wakefield in West Yorkshire, which includes his home town, the Cathedral city of Wakefield.
He was born there in Pinderfields Hospital, where both his parents worked. His father, who emigrated from modern-day Pakistan, was a consultant dermatologist. His mother, who is English, was a State Registered Nurse and midwife. Her mother worked at the hospital as a staff sister. Her husband was a miner.
Khan attended the independent Silcoates School. Afterwards, he studied the Russian language at the Pushkin Institute in Moscow before earning a bachelor's degree in war studies from King's College London.
He worked for the United Nations as a special assistant for political affairs in Mogadishu and became a counter-terrorism expert. His brother, Karim Ahmad Khan QC, is an assistant secretary-general of the United Nations.
His other brother, Khalid Ahmad Khan, is a lawyer based in Oman, won the Middle East General Counsel of the Year Award in 2017 and was named one of the most influential lawyers in the Middle East in Legal 500's GC Powerlist 2019.[27][28][29]
Imran Ahmad Khan gave his maiden speech on Monday, January 13, 2020:
Excerpts follow.
Khan's predecessor was the well known Labour MP Mary Creagh. He won in 2019 largely because of his strong pro-Brexit stance:
As an Ahmadi Muslim belonging to a peace-loving minority community that suffers vicious persecution, discrimination and oppression in many parts of the world, I see perhaps more clearly than most the deep and enduring importance of core British values such as compassion, tolerance and fairness, especially at a time when those values are perceived as under threat in many parts of our world. We must continue to be a beacon of thoughtful, respected and innovative thinking born of years of accumulated learning and practice.
Before I launch into the rich history of Wakefield, one with which my own family story is intertwined, I want to pay tribute to my predecessor. In 2005 Mary Creagh became the first woman elected to represent Wakefield, a tenure that was to last for 14 years. I am not sure if the House is aware, but before Mary and I first met, she propelled me to new heights—approximately 13,000 feet. On a bright November morning last year, after reading Mary's comments in The Yorkshire Post about her incoming Tory opponent being parachuted in, I put the protestations of my friends and family aside and performed a parachute jump. This had not been on any bucket list of mine, but it definitely got the adrenalin flowing, so thank you, Mary.
Later that day, with my feet firmly on the ground, I met Mary for the first time. We were both appearing on a BBC Radio Leeds drivetime debate, and I turned up still resplendent in my true blue jumpsuit. Mary accepted it with good grace, and during this first encounter set out her stall as a calm, concise and experienced advocate.
That first meeting was in one of Wakefield's many good schools: Queen Elizabeth Grammar School. It was QEGS where my eldest brother went to school, and it is the arch rival of my own alma mater, Silcoates. QEGS is an independent school that has actively championed and supported its local state sector rivals, including the outstanding Pontefract College, and was a willing participant in the assisted places scheme. As the radio programme came to an end, the pupils in the audience immediately gravitated towards Mary. This was an example of the interest and affection that many constituents in Wakefield have for her.
I, like Mary, contend with a hearing impairment, something she referenced in her own maiden speech. Wakefield has within its dynamic business community a company that is currently accessing research funding to investigate tinnitus, a hearing condition for which there are more than a million GP referrals each year. This project has multiple international partners, including industry, government and academia.
I would also like to pay special tribute to Mary's time and contribution while working on overseas aid and development. This resonates with me a lot owing to my previous work at the United Nations and elsewhere abroad. Our overseas aid and development is testament to British compassion, and it can be leveraged as a powerful agent for, and a real measure of, Britain's reach and influence around the world. Mary was a public servant, and I hope she is able to continue her work in other places. Wakefield is fortunate to have had such a worthy Member of Parliament.
He discussed Wakefield's ancient history:
Edward the Confessor had an estate in Wakefield, hundreds of years after it was first settled by the Anglo-Saxons and Vikings. In J. S. Fletcher's "Nooks & Corners of Yorkshire"—a very good read—he describes Wakefield as the principal town along the banks of the Calder, and it has figured in history to no small extent. Indeed, it is just over 560 years ago to the day, on 30 December 1460, that Richard Neville, Duke of York, and his son Thomas met their deaths at the battle of Wakefield. The Lancastrians, led by Lord Clifford, defeated the Yorkists, only to suffer a major reverse months later in Britain's bloodiest battle, at Towton, a site just down the road. Wakefield became yet another battlefield almost 200 years later, during the English civil war, when the parliamentarian forces fought an engagement with the royalists. Although I now find myself a parliamentarian, Madam Deputy Speaker, I confess to you to always having sympathised, in the round, with Cavaliers.
According to an old English ballad, Wakefield can claim fame as the location for some of Robin Hood's shenanigans. It was at Stanley, later part of Wakefield's deep historical roots in the coalmining industry, that Robin and his band of freebooters had their infamous encounter with the pinder of Wakefield. The pinder was a nominated townsman of Wakefield who went toe to toe with Robin and his merry men after they goaded him by trespassing with stray animals on Wakefield land. Robin was so impressed by the pinder's nerve and prowess that he invited him to join his outlaw band. This may be a legend, Madam Deputy Speaker, but it aptly captures some of the characteristics of the proud, honest and plain-speaking constituents of Wakefield, and their continued willingness to fight for their rights. I humbly submit that when you come to visit our city, Madam Deputy Speaker, you keep your flock of geese under control—or perhaps even consider leaving them at home.
He praised the innovative companies in Wakefield, paying tribute to the aforementioned one investigating tinnitus:
… my constituency and the wider business community has within it other companies involved heavily in fields that may surprise some Members. There is a company working on supercomputer-generated models for predicting adverse weather patterns … There are also companies that are pioneering and improving new methods of high-tech manufacturing and recycling harmful plastics. I want to see these companies thrive, not only with their spirit of innovation but by employing skilled young people born and educated in the local area. Throughout my campaign, I heard the voices of hard-working parents who want the best for the most important thing in their lives: their children. I want to help to carry the torch, already lit by the individuals and organisations in my constituency, to foster confidence, aspiration and achievement.
He concluded:
Madam Deputy Speaker, I thank you and Members present for listening to this maiden speech of mine. I owe my sincere thanks to the people of Wakefield, whom I am proud to serve. I seek a purposeful and confident future for our United Kingdom wherein people's hopes and aspirations are realised and great achievements recorded—a future as brilliant as our past is glorious.
I last heard Imran Ahmad Khan speak earlier this week. He is always worth listening to, not only for his eloquence but also for his instructive speeches.
Gagan Mohindra (South West Hertfordshire)
Gagan Mohindra is the MP for the affluent constituency of South West Hertfordshire, within an easy commuting distance to London.
Mohindra's predecessor was David Gauke, who, like Anna Soubry and Sam Gyimah, had the Conservative whip removed for voting against Brexit in 2019. Gauke ran as an Independent against Mohindra. He has returned to working at Macfarlanes, a large law firm, where he is their head of policy.
Mohindra was born in England in 1978 to parents who emigrated from Punjab, India. He was raised as a Hindu.
He read mathematics at King's College London and worked in finance upon graduation. He later founded the Chromex Group, where he worked until 2015.
He then entered local and county politics in Essex and is the president of the Essex Conservatives.
In Parliament, he is a member of the Public Accounts Committee.
His wife is a privacy lawyer.
Unfortunately, I could not find a video of Mohindra's maiden speech on Tuesday, March 17, 2020.
Excerpts follow:
… I would like to start by paying tribute to my predecessor, the right hon. David Gauke. During his 14 and a half years of public service, David was a dedicated Member of Parliament, and he was highly respected by his constituents and colleagues alike. He was fiercely intelligent and famously cool under pressure. However, during the 2019 general election, the public got to know another side of David: his wicked sense of humour, which was already well known to his friends in this House. As I fought the election, I found I had to overcome the appeal of not one Gauke, but two, as Gauke senior, Jim, went viral in David's videos. David ran one of the most engaging campaigns to be found during the general election, and I commend his enthusiasm and passion. Despite the difficult circumstances of his fighting against his former party, it was a civilised battle and I thank him for that.
As to David's political career, he was a heavyweight of the Conservative Government over the last decade. He held many senior roles, including Chief Secretary to the Treasury, Secretary of State for Work and Pensions and, finally, Secretary of State for Justice. As I have said before, in different times we may well have been colleagues, and I would have been proud to work alongside him. I thank David for his commitment to the residents of South West Hertfordshire, and wish him, Rachel and the rest of his family well in their future endeavours …
He spoke of his constituency and his constituents:
My constituency offers an embarrassment of riches, from its historical market towns, such as Tring, to the Chiltern hills, which are rightly classed as areas of outstanding natural beauty. Further south lies the Colne Valley Regional Park, which is known as the first taste of countryside west of London and comprises some 60 lakes, among woodland, canals and farmland. You can pass many a peaceful afternoon walking here, or visiting the famous aquadrome, where you can water-ski, canoe or sail to your heart's content.
Behind the thriving Berkhamsted High Street are found the ruins of Berkhamsted castle. It was in Berkhamsted that William the Conqueror received the surrender of the Crown of England in 1066. The castle was then built to assert control over the key supply route through the Chiltern hills from London to the Midlands. It is a constituency heaped with history, some of which cannot be retold, like the activities of Northwood HQ. I would like to take this opportunity to thank our armed services for continuing to keep us safe.
The visual beauty of my constituency is only outdone by the warmth and good nature of my constituents. Nowhere in the country better represents the open-minded, tolerant, progressive nature of the United Kingdom than South West Hertfordshire, and I am so grateful that I have been so warmly welcomed. Of course, there are also a number of local concerns and issues to which I will devote my energies. For our commuters, the issues of unreliable rail and underground transport are a repeated source of frustration. There is a lack of access to affordable housing, a concern that has to be balanced against the desire to protect the green belt and character of the area. There are pockets of poverty in a mostly affluent area, resulting in associated social issues, including crime. Of course, we also have many excellent schools in my constituency, including Merchant Taylors' School and Berkhamsted School, but we need to ensure that good education is accessible for all, not only the affluent.
He fully supports the Government's manifesto policy of 'levelling up':
… I am dyslexic, so I understand the frustrations posed by learning difficulties, but I must acknowledge that I have also had the benefit of many advantages. I understand that, like many of us in this place, I have been blessed with the good fortune to have self-belief and ambition nurtured in me, both in the home and in the wider environment, from my earliest days. Many in our society are not afforded this most essential of luxuries, and the impact, compounded of course, by other inequalities, is far-reaching. I am passionate about our commitments, as a Government, to do our part to ensure that aspiration and self-belief are not luxury items. That, to me, is the true meaning of levelling up. I look forward to seeing more and more faces in this House who represent our great country in all its guises.
Conclusion
It is always a delight — and an education — to hear the perspectives from our new Conservative MPs on BBC Parliament.
Long may they prosper in serving their constituents — and the United Kingdom.
End of series.
More news from last weekend will help put the Remainers' tricks into better context.
BBC bias — Andrew Marr Show
The flagship Sunday morning television news programme is the BBC's Andrew Marr Show.
On September 29, 2019, Marr interviewed Prime Minister Boris Johnson, followed by the Shadow (Labour's) Education Secretary Angela Rayner.
Boris could barely get a word in edgewise, whereas Marr let Rayner speak uninterrupted:
Language humbug
The topic of language used in the Commons on Wednesday, September 25, was still a huge issue for Remainers. The media storm continued into Monday.
Here's Gina Miller, who is leading anti-Brexit lawsuits:
Boris somehow made dirty words out of 'humbug' and 'surrender' for them last Wednesday evening.
So did Attorney General Geoffrey Cox earlier that day:
Guido Fawkes had this (emphasis in the original):
Attorney General, Geoffrey Cox, just gave one of the most barnstorming speeches Guido has seen in many years:
This parliament is a dead parliament. It should no longer sit. It has no moral right to sit on these benches… This parliament is a disgrace. They could vote 'no confidence' at any time, but they're too cowardly.
Guido has a feeling this one may go viral…
Indeed. Both the AG and the PM spoke eloquently — and wittily — getting their points across with aplomb.
On the other hand, at least one rebel Conservative used blunt language. Here's Dominic Grieve:
Grieve was on Robert Peston's ITV news show last Wednesday. It seems this is acceptable and non-hyperbolic language — as long as it comes from a Remainer:
A few days later, the Scottish equivalent of Gina Miller — another Remainer lawyer bringing similar lawsuits — let rip on the PM:
The women
As America's Left did with Donald Trump, Britain's Left — including notional Conservative Remainers — played up two news stories about Boris, involving women.
Jennifer Arcuri
This events in this story took place during Boris's time as Mayor of London. It is developing and could be politically motivated, especially as Boris and the current Mayor of London Sadiq Khan trade occasional verbal jabs with each other.
It is strange that no one outside the London political bubble has heard of Jennifer Arcuri until now, when a) we are on the Brexit countdown and b) the Conservative Party Conference was starting at the time this news broke.
From the BBC (emphases mine):
It is alleged businesswoman Jennifer Arcuri received favourable treatment due to her friendship with Mr Johnson.
The prime minister was referred by the Greater London Authority on Friday.
Mr Johnson has denied any impropriety, while a government source described the referral as "politically motivated".
The allegations regarding Mr Johnson's friendship with technology entrepreneur Ms Arcuri first emerged last weekend in the Sunday Times.
They refer to claims that Ms Arcuri joined trade missions led by Mr Johnson when he was mayor of London and that her company received several thousand pounds in sponsorship grants.
The Greater London Authority's monitoring officer – whose job it is to monitor the conduct of the mayor and other members – said it had written to the police watchdog, the Independent Office for Police Conduct (IOPC).
It said it had referred the PM to the IOPC "so it can assess whether or not it is necessary to investigate the former mayor of London for the criminal offence of misconduct in public office".
It added that it has recorded a "conduct matter" against Mr Johnson which happens when there is information that indicates that a criminal offence may have been committed.
But it does not mean that a criminal offence is proved in any way, the GLA's monitoring officer added.
"The IOPC will now consider if it is necessary for the matter to be investigated."
The reason the IOPC is involved is because the role of the mayor of London is also London's police and crime commissioner …
Responding to the referral, No 10 said: "The prime minister, as Mayor of London, did a huge amount of work when selling our capital city around the world, beating the drum for London and the UK.
"Everything was done with propriety and in the normal way."
Charlotte Edwardes
Charlotte Edwardes was a young columnist for The Spectator 20 years ago, at the time when Boris was the magazine's editor.
Last weekend, she wrote her maiden article for The Sunday Times about the time the 35-year-old editor squeezed her thigh around that time. Interestingly, Ms Edwardes's current boyfriend is the aforementioned Robert Peston, ITV's political editor. Timing is everything:
Not surprisingly, the story made the front page of The Sunday Times, which a proud Peston retweeted:
Both the social and the political angles merit explanation.
I remember reading about The Spectator's parties at this time. They were legendary. Many celebrities, authors, journalists and politicians hoped for invitations to the magazine's summer garden party and/or the Christmas lunch.
Writer Toby Young, who also wrote for the magazine when Boris was editor, remembers the atmosphere:
Toby Young might have overstated things a bit, but Boris did have a way with the ladies, so there is probably more than a germ of truth to that.
An 82-year-old lady rang The Jeremy Vine Show (Channel 5) to say she wouldn't mind an evening out with Boris. I do not think she is an outlier, either. Again, we should consider the timing of Miss Edwardes's revelation and wonder why she did not come forward sooner:
That tweet makes an excellent point about timing.
Here is more information:
Yes, there was a rumour that Edwardes's colleague, Mary Wakefield, was sitting on the other side of her and supposedly remembered that Boris touched her thigh, too.
Or, perhaps not.
Interestingly, Mary Wakefield is married to Dominic Cummings, the PM's chief adviser on Brexit:
The story annoys both Leavers and Remainers:
No. 10 denied the story, and Labour MP Paula Sherriff, who was the first to mention the late MP Jo Cox's name last Wednesday, offered Edwardes her moral support:
At the Conservative Party conference, the PM's father, former Conservative MEP Stanley Johnson, defended his son eloquently to Kay Burley of Sky News:
People at home were unimpressed:
Kay Burley isn't exactly blameless, though. You can see her red hair in the photo below from an old story:
The news story surrounding the photo is about Naomi Campbell's appearance at Uxbridge Magistrates Court in north-west London in 2008.
Naturally, reporters raced to get quotes from the model and photographers wanted photos. Mayhem ensued, as the Daily Mail reported on June 21 that year:
Sky News presenter Kay Burley clashed with a photographer during the mayhem when Naomi Campbell arrived at court yesterday.
The newscaster, 46, was apparently hit in the cheek by a camera – and was then seen with her hand around a photographer's throat.
Given the scrum, witness accounts differed:
There were suggestions that the photographer, Kirsty Wigglesworth from the Associated Press agency, had bumped into Miss Burley and injured her badly.
A witness said: 'We were walking in alongside Naomi and basically, Kay got whacked in the face by a photographer.
'Kay pushed back the photographer after she had her cheekbone smashed by this person. The photographer's aggressive behaviour was extraordinary.
But another witness, who saw the second half on the incident, said: 'Kay Burley had her hands around the photographer's neck. It was really, really vicious.
'The only way the photographer stopped her was by pulling her sunglasses off.
'She has got marks around her throat.' It is claimed that Miss Burley and the photographer were taken to one side by the police about the incident.
Remainer news
Whilst the Conservatives are at conference in Manchester, with some MPs flying back and forth to London via helicopter because opposition benches refused to adjourn for three days, Remainers have been busy elsewhere.
Not many opposition MPs attended Monday's afternoon session in the Commons. Speaker Bercow spent only a couple of hours before turning over the rest of the day's proceedings to a female Deputy Speaker.
Civil servants
Civil servants are under strain after summer holidays to deliver background work on Brexit. They complained of stress earlier in the year. They're lucky they do not work in the private sector:
Labour and Lib Dem views
Former Home Secretary Jack Straw says that, although he disapproves of Jeremy Corbyn's leadership …
… he will still vote Labour for tribal reasons.
Party before country … not surprising.
Liberal Democrat leader Jo Swinson plans to block Corbyn's possible ascendancy as temporary PM:
Rebel Conservative MPs
I am disappointed to read that David Gauke, now an Independent MP, spoke at the Conservatives' conference:
On Monday, September 30, Sky News reported that Gauke focussed on the language issue (emphases mine):
Ex-justice secretary David Gauke spoke at the Conservative conference in Manchester despite having been effectively expelled from the party – by having the Tory whip withdrawn – for voting against Boris Johnson on Brexit earlier this month.
He accused the prime minister of a "strategy that is about stoking resentment", with Mr Johnson having recently been criticised by opposition MPs for his use of language …
"Hence we have the language of surrender, of betrayal, of collusion. Because that feeds into a strategy that is about stoking resentment, nursing grievances, provoking anger.
"It means our politics becomes debased, it means the Conservative Party becomes a much more aggressive, much more confrontational, much more divisive party …
"And we cease to follow the traditions of our great leaders. We are no longer the party of Churchill, we are more the party of Trump."
Dominic Grieve poled up, too, although not as far as a podium. He says he received an unsettling message:
Reading out a message he received on his phone during the event, which he revealed read: "You are a foul traitor", Mr Grieve said: "This sort of atmosphere, which is being currently – I'm sorry to say it – but bluntly encouraged by the leader of the Conservative Party… is unacceptable behaviour and it is undermining our democracy and [will] smash it up.
"We will all have to live with the consequences – not only in our constituencies but our neighbourhoods and it will extend to each one of us."
Mr Grieve, who supports a second EU referendum and Remain, added he was "pleased" to have attended the Manchester conference despite having been advised by some not to go.
"Most people here have been rational, pleasant and engaged even when they've come up to disagree with me," he said.
Alistair Burt, another rebel — and the co-author of the Benn-Burt Bill, which attempts to thwart No Deal on October 31 — insisted he was still loyal to the party:
He revealed he recently chose not to stand at the next general election as he could not recommend a no-deal Brexit, which the government insists is still a possibility on 31 October, to his North East Bedfordshire constituents.
Describing how he has been a Conservative Party member for almost 50 years – but has now had the Tory whip withdrawn – Mr Burt added: "I was also parliamentary private secretary to two Conservative leaders: Michael Howard and Iain Duncan Smith.
"I stood behind Iain Duncan Smith at one of the most difficult times in the Conservative Party's history.
"I don't need any lessons on loyalty from anyone in telling me what to do for the Conservative Party in the future."
It's not as much about the Conservative Party, Mr Burt, as it is for the nation: the 52% of Britons who voted Leave on June 23, 2016.
More to come tomorrow.
The 2019 Conservative Party conference began on Sunday, September 29.
As has been the case for the past few years, it is taking place in Manchester.
Guido Fawkes has the perfect caption:
I reported on Friday that MPs voted NOT to adjourn during these three days, despite the fact that the House of Commons did not meet for the Liberal Democrat and the Labour Party conferences. A great many Leavers fear that mischief could be afoot during the Conservatives' absence.
The Mail on Sunday reported that No. 10 Downing Street is investigating possible 'foreign collusion' on the part of Remainer MPs. It was the paper's front page story (click here and here for easier reading, as well as the website link to the article):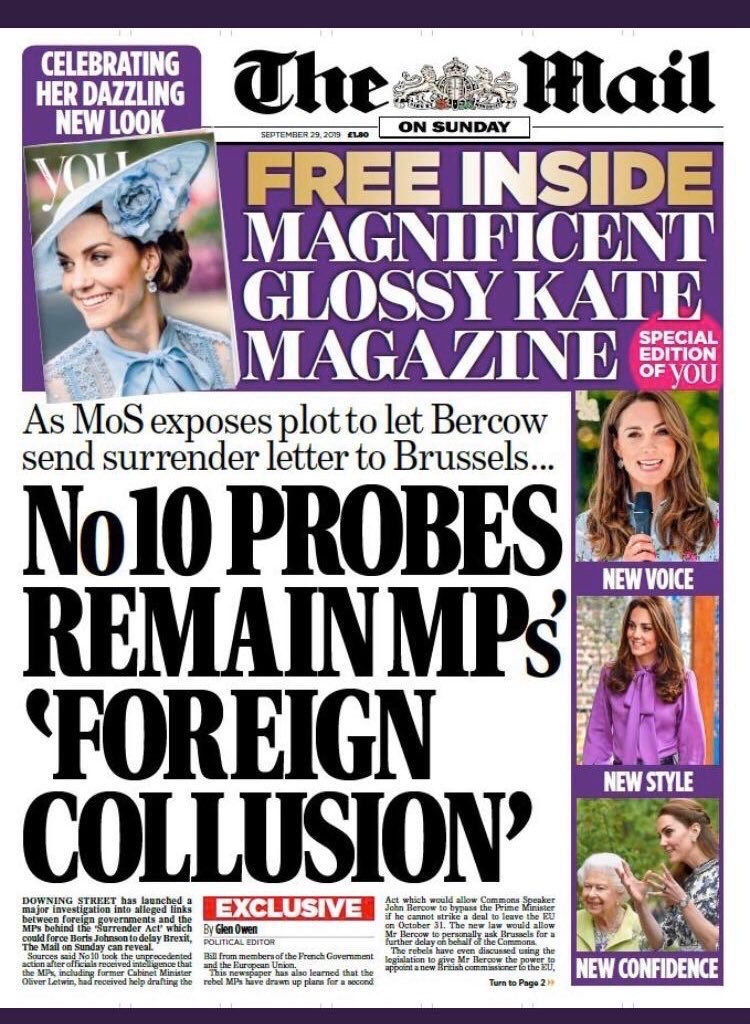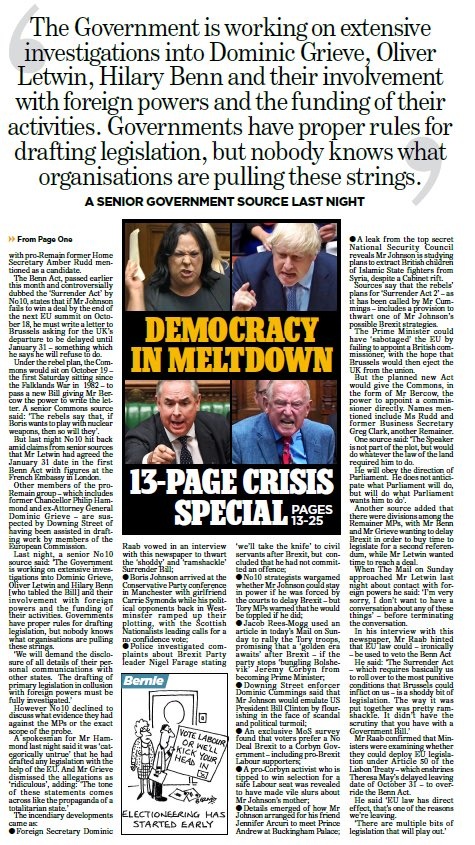 I am not sure whether anything quite like this has ever happened on this scale in Britain. It certainly hasn't in modern history, meaning the last century, at least.
If true, this is serious stuff, especially if Speaker of the House John Bercow can get involved acting as the Prime Minister. What the heck?
I did not know this about sedition. If true, sedition is not a crime anymore in the UK. Good grief. How can that be?
Note that we are talking about turncoat Conservatives here, those who have had the party whip withdrawn and are now classified as Independent MPs.
David Gauke is now an Independent MP. I agree that these are serious accusations, but he appears to be digging a hole for himself:
Hmm, with all the complaints from last week, which ran into the weekend, about Boris Johnson's language, one wonders:
As if that isn't bad enough, Labour's Jeremy Corbyn convened a meeting with the Liberal Democrats' Jo Swinson on Monday to put forward a VONC — Vote of No Confidence — against Boris Johnson. Nicola Sturgeon, the leader of the Scottish National Party (SNP), is herself not an MP but has MPs representing the party in the House of Commons. Talks are continuing:
And, the Labour vote for 16-year-olds could be scheduled during the Conservatives' absence. It is doubtful that Speaker Bercow would stop it. This is the Shadow (Labour's) Education Secretary Angela Rayner. She was on Andrew Marr's BBC show on Sunday:
As for Speaker Bercow, Guy Verhofstadt really likes him:
Bercow might be standing down at the end of October, but he can wreak a lot of havoc before then.
The other big question at the weekend was whether Boris would feel compelled to resign. The media were full of scaremongering stories. I hope this is true:
The flowchart below looks accurate:
A majority of the British public backs Boris.
Lord Ashcroft conducted a poll on Brexit for the Mail on Sunday:
My latest research, published today, looks at the fundamentals: how voters have reacted to the drama not just of the past few weeks but the years since the EU referendum, and how this week's events fit into the longer story.
For many people, and not just among those who backed Leave in the increasingly distant 2016 referendum, that story is one of frustration and failure – or, worse, deliberate actions to delay Brexit for as long as possible or stop it altogether.
Here is a key graphic from the poll: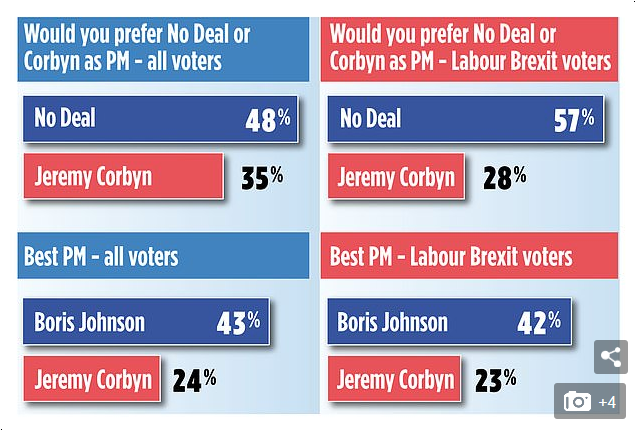 It is hard to know what to make of it all.
One thing is for sure. Even though opposition MPs are whining about the absence of democracy, their masks have slipped.
We now know they do not care one jot for 17.4m Britons who voted to Leave in 2016 — and won: 52% to 48%.
More on the latest Brexit and Boris developments to follow tomorrow.