You are currently browsing the tag archive for the 'David GH Frost' tag.
Yesterday's post introduced the ongoing Conservative Party leadership contest.
Today's post will discuss what happened on Wednesday and lead up to Thursday afternoon's vote, the result of which will appear tomorrow.
Before Wednesday's vote
Guido Fawkes wrote the following on the morning of Wednesday, July 13, before the first round of voting (red emphases his, purple ones mine):
Good morning. Six of the eight remaining Tory leadership candidates face an uphill battle throughout the day, as they attempt to reach the 30-MP threshold required in the first knockout round of the contest at 6pm. Rishi now has 48 backers, meaning he can basically sit back and relax for at least the next two rounds, though that hasn't stopped him adding Steve Barclay to his list of supporters this morning. Penny Mordaunt also has the 30 required. The other six, not so much…
All eyes are on Jeremy Hunt and Suella Braverman as the ones most likely not make it, though one of Hunt's backers told Guido last night they believe they have the requisite support. They also described rumours that Gavin Williamson is instructing Rishi backers to temporarily support other candidates like Hunt and Kemi, so Rishi doesn't have to face Liz in the final two, as utter rubbish, though members of other campaign teams believe it is absolutely happening. With Sajid, Shapps and Priti now out of the race, there are 30 newly floating MPs up for grabs…
News overnight includes a policy-light interview with Rishi in The Telegraph, who's trying to get the press back onside after yesterday's scenes at his campaign launch. He says he'll run the economy like Thatcher if he wins. Tom Tugendhat committed to spending 3% of GDP on defence last night.  Penny has used a Times op-ed to commit to supporting families as PM. Stay tuned for her campaign launch at 10.30 this morning…
And:
from now on candidates can also vote for themselves…
Candidates experienced highs and lows, as covered below.
Nadhim Zahawi
When Boris Johnson appointed Nadhim Zahawi as Chancellor of the Exchequer on July 5, it was remarked that he is the first Chancellor with facial hair in 65 years:
Before Harold Macmillan, we have to go back another few decades to find another bearded Chancellor:
Zahawi appears to be the man who convinced Boris that he should stand down as leader of the Conservative Party. On Thursday, July 7, the Daily Mail reported:
Boris Johnson will finally announce his resignation today – but is lining up a 'unity Cabinet' as he battles to stay in Downing Street for months longer.
The PM admitted defeat in the wake of a shattering intervention from Nadhim Zahawi, who was only appointed on Tuesday night following Rishi Sunak's departure. He told Mr Johnson that his situation is 'not sustainable'.
Two days later, on Saturday, news emerged that HMRC (Her Majesty's Revenue and Customs) were investigating Zahawi's tax situation. Hmm:
Zahawi said on a Sunday morning news programme that, if elected Party leader, he would release his tax returns. He complained of being set upon, something Boris knows only too well:
On Tuesday, July 12, he launched his campaign video in which he tells his life story. He arrived in England from Iran with his parents. He started school not knowing a word of English. Fast forward to the past two years and he was able to live his dream. He headed the coronavirus vaccine rollout and went on to become Education Secretary. Today, he is Chancellor. Amazing:
On Wednesday morning, he told LBC's Nick Ferrari that, if elected leader, he would give Boris a Cabinet post:
Guido has the video and concluded:
He's the second leadership contender to make such a pledge after Suealla Braverman. Clearly Zahawi sees some benefit in associating himself with Boris. A swift change of tone considering he was calling for Boris's resignation just a few days ago…
Agreed, but there is no way that a former Prime Minister would take a Cabinet post.
Later on Wednesday morning, someone hacked Zahawi's campaign website and redirected it to Penny Mordaunt's. Penny's website also seemed to have issues:
They are not the only ones, however, as Guido reported that Rishi Sunak's site is banned on the Parliamentary estate:
Website woes are a common theme throughout the leadership campaign, Rishi's site is blocked in Parliament as "insecure" and candidates have had their domain registration timings scrutinised. Turns out this stuff is hard to do right…
Jeremy Hunt
Conservatives either love or loathe Jeremy Hunt.
He served as Health Secretary and then as Foreign Secretary, until Boris sacked him in July 2019.
Hunt ran against Boris in the 2019 leadership contest. In one appearance during that campaign, he said his wife was Japanese. She quickly corrected him and reminded him that she is Chinese.
I wonder if he said that on purpose, because …
During the pandemic, as a backbencher, Hunt proposed Chinese-style lockdowns and mandatory vaccines for healthcare staff.
Nadine Dorries MP recalled a conversation with Hunt in July 2020:
On Christmas Day in 2021, the Mail reported that Hunt's wife presents Chinese state-sponsored television programmes, broadcast on Sky TV from London:
The wife of former Cabinet Minister Jeremy Hunt presents a TV show for China's state-run media that has been accused of 'whitewashing' the Communist Party's human rights abuses.
Lucia Guo, who has three children with the former Health Secretary and Foreign Secretary, appears on China Hour, a series broadcast on Sky TV that showcases Chinese culture to a UK audience.
It is made by the state-owned China International TV Corporation and British-based Dove Media, in partnership with the Communist regime's tourist office in London.
The programme has featured reports on the effectiveness of China's pandemic response and about the beauty of the Xinjiang region without mentioning it is the site of 're-education' camps for its persecuted Muslim Uighur population. 
Ms Guo, who is originally from the city of Xi'an in central China, hosts a feature on the show called Signature Flowers of China. 
It has been broadcast since September and is also available on YouTube.
Human rights campaigners at the US research institute Freedom House last year accused China Hour of being part of the Chinese Communist Party's international media web.
The programme has been praised in Beijing for its viewing figures while its reports on the pandemic have been credited with 'playing a unique role in communicating the Chinese narration of the epidemic to the world'.
On March 13, 2020, three days before the UK's first lockdown, Hunt wanted all British schools closed.
Although Hansard has all of Jeremy Hunt's contributions to parliamentary debates, in May 2022, he tried to walk back his promotion of Chinese-style pandemic measures.
Someone put this graphic together around May 21, a significant date for Hunt, as you will see below: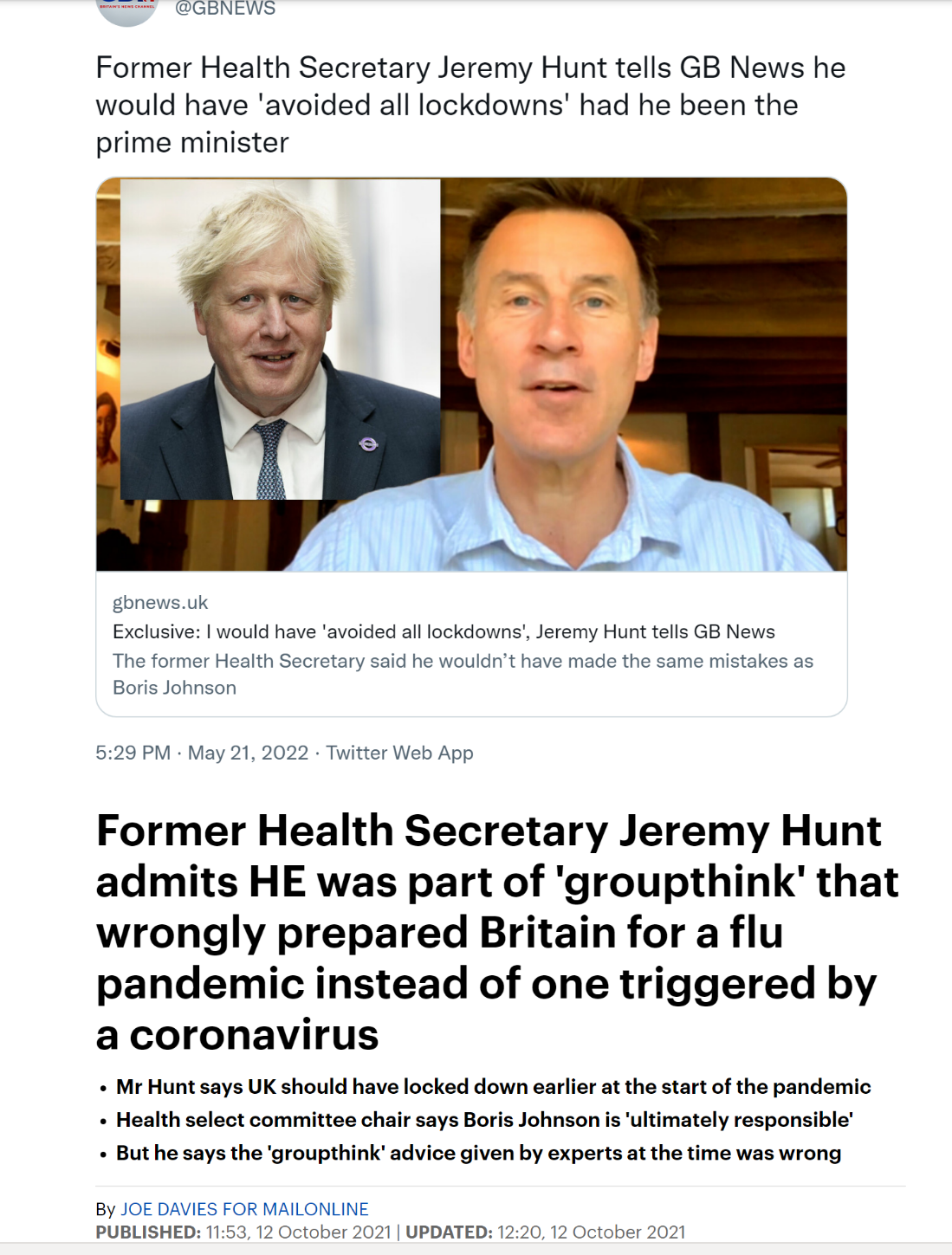 The next day, May 22, he appeared on Sophy Ridge's Sky News programme to say that he did not want to see a Conservative leadership contest:
Guido posted the video and this comment:
Maybe Hunt is one of these Tories who thinks it might be good to lose the next election? He could become leader of the opposition…
That day, a number of letters to the editor appeared in The Sunday Times. The week before, he had written an article for the paper outlining how he would reform the NHS.
A retired GP wrote the Times to point out that Hunt had ample time as Health Secretary some years before, yet he took no action:
What a nerve! Jeremy Hunt tells us "How I would fix the NHS" (News Review, last week) — but he was the longest-serving health secretary in British history and has a huge responsibility for the NHS being in this parlous state.
He did nothing to increase the capacity of our hospitals, which has resulted in ambulances queueing outside A&E departments, unable to discharge their patients. He pledged that by 2025 we would be self-sufficient in "homegrown" doctors, but a lack of planning has resulted in a huge shortage of NHS staff in all sectors. He went out of his way to alienate junior doctors, causing the unprecedented strike of 2014. He did nothing to integrate the NHS with social care.
This is the man who could replace the fool we now have as prime minister. Heaven help us.
One week later, on May 28, an article in the Mail suggested that Hunt had a plan to topple Boris:
Boris Johnson's Cabinet allies have accused supporters of former Health Secretary Jeremy Hunt of mounting a secret pub plot to oust the Prime Minister.
They suspect MPs who attended a dinner at an upmarket bar in West London called The Surprise last week were scheming to trigger a Tory leadership challenge.
The event, held the night before Sue Gray's report into Partygate was published, was hosted by Devon MP Mel Stride, a former campaign chief for Michael Gove who is seen by the Johnson camp as a rebel ringleader.
Also in attendance was long-serving Ludlow MP Philip Dunne, a key ally of Mr Hunt.
The article has two familiar names, in addition to Hunt's. Those MPs entered the current leadership contest:
Of the 16 MPs known to have been there and who voted in the 2019 leadership election, just three backed Mr Johnson.
Five backed Mr Hunt, who is widely expected to mount a leadership bid if a contest is called, while six supported Mr Gove, who is not expected to enter another contest …
Politicians at the dinner strongly denied they were scheming against Mr Johnson and accused his allies of 'paranoia'.
They pointed to the fact that Boris arch-loyalist Grant Shapps – who has himself been tipped as an outside bet for the leadership –addressed the meeting.
But a Cabinet ally of Mr Johnson said: 'Mel Stride is a Goveite looking for a new horse to hitch his wagon to. Many of the people he invited to the pub backed Gove or Hunt last time – including Dunne, who is running Hunt's latest bid.
'Any MP considering backing Hunt must be a masochist yearning for the kind of thrashing we sustained in 2017 and longing for the humiliation of a very long spell on the Opposition benches.
'Without Boris, we will be handing the next Election to a Labour-SNP coalition. But then, some of our pro-Remain MPs and those who think they were naturally destined for high office, are too bitter to care' …
Trade Minister Penny Mordaunt, considered a potential future Tory leadership contender, condemned behaviour at No 10 as 'shameful', telling the Portsmouth News she was 'angry' that people blocking 'reasonable requests to relax [Covid] restrictions, were at the same time ignoring the rules'.
I agree with whoever said that without Boris, the next election will go to a Labour-SNP coalition. Yet, here we are, sadly.
By June 6, the story of Hunt's yearning to be the next Conservative Party leader grew traction, especially with GB News presenters.
Neil Oliver threw his characteristic diplomacy away in this tweet:
Bev Turner shared a Hunt anecdote, wherein he advocated paying domestic staff low salaries:
Someone from Hong Kong confirmed the Chinese way of paying peanuts to domestic staff:
A Conservative Party member chimed in with disgust:
Adam Brooks, the publican who appears on Dan Wootton's show was grateful that Boris was at the helm during the pandemic:
Now let's look at what Jeremy Hunt told Nadine Dorries, Secretary of State for Digital, Culture, Media and Sport, back in July 2020:
Ben Leo, who works on Dan Wootton's show, tracked Hunt down in front of his house on July 9 to follow up. This is an excellent video. Readers won't be surprised to find out that Hunt said absolutely nothing:
Now let us fast forward to last weekend.
GB News viewers were aghast to find out that Esther McVey, an MP many of us admired up to that point, cast her support for Hunt, as did her husband Philip Davies:
Why would a no-nonsense, straight-talking Conservative back Jeremy Hunt?
The answer came on Sunday, July 10, when Hunt announced that, if elected leader, Esther McVey would become Deputy Prime Minister.
Guido posted the video:
She must be stupid if she believes that, I thought. It's like a would-be Romeo trying to seduce a girl. Promise her anything to get her to submit …
Just look at the man's eyes. He often looks like this:
Guido tweeted:
That's me done with McVey and Davies. I liked him, too. No longer.
On Monday, July 11, Dan Wootton warned that Conservative MPs could destroy the Party if either Rishi Sunak or Jeremy Hunt become leader:
He is not wrong in that assessment.
First round voting results
Sir Graham Brady, chairman of the 1922 Committee of Conservative backbench MPs, declared the results of the first round of voting shortly after 5 p.m.
Nadhim Zahawi, the new Chancellor, and Jeremy Hunt were eliminated from the contest:
Conservatives around the nation breathed a sigh of relief at Hunt's elimination from the race.
Perhaps Hunt should have taken a cue when the top of the bell he was ringing flew off, nearly hitting a bystander:
As for Zahawi, he posted a lengthy letter: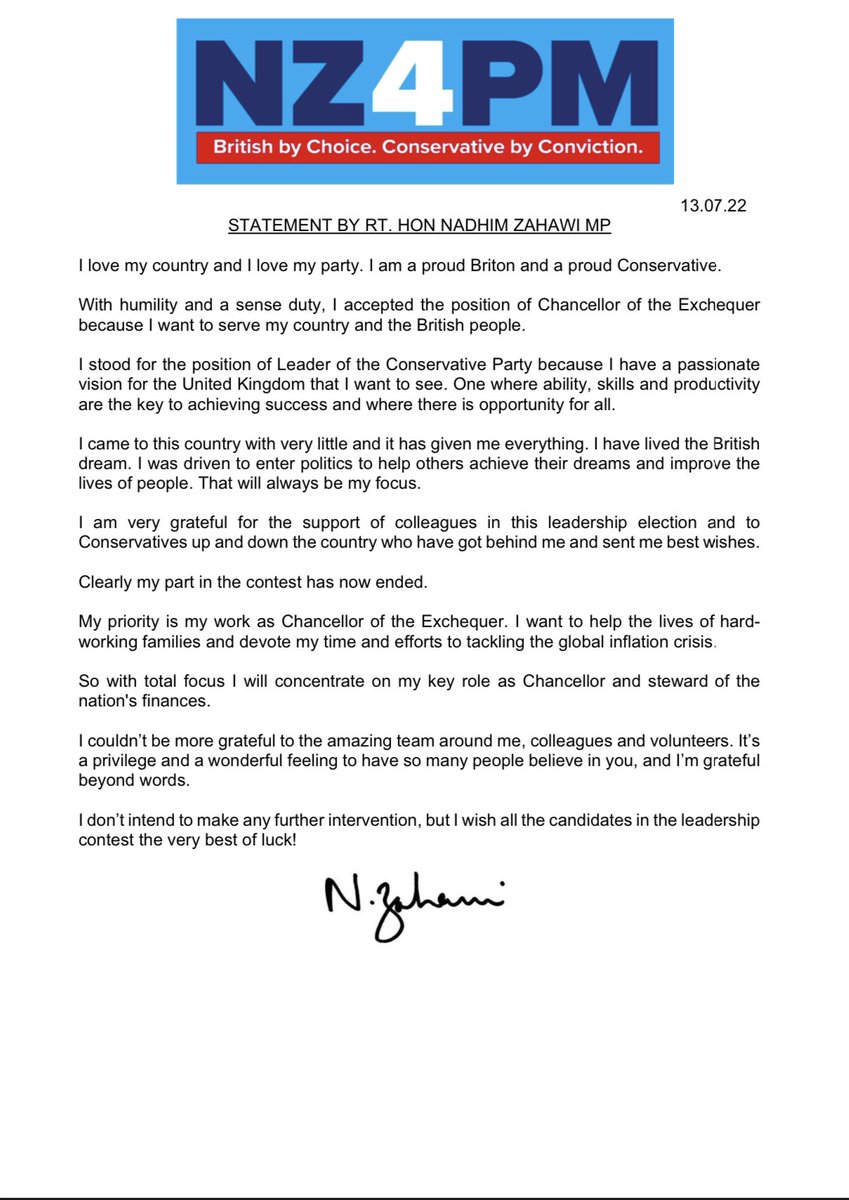 He has a lot on his plate, so perhaps it is best that he focuses on recovering some of the millions that fraudsters took during the pandemic. Those people stole taxpayers' money:
He should also do something about road fuel tax:
Meanwhile, Jeremy Hunt pledged his support for front runner Rishi Sunak:
And then there were six
As Wednesday closed, we were left with six candidates going into Thursday:
Kemi Badenoch, someone around whom most Conservatives could rally, had just over 50 MPs supporting her.
Tom Tugendhat, rather surprisingly, considering that he has a high profile, had fewer than 50.
Suella Braverman, another candidate who makes most Conservative Party members happy, has just over 40.
I think that Braverman and/or Tugendhat will lose on Thursday. Tugendhat is another one who deserves to go.
Guido summed up Wednesday's activity. Highlights follow.
Rishi Sunak could be losing momentum:
… After hogging the limelight with his campaign launch yesterday,

today he resumed being the punching bag of choice for all other candidates

.
Faced some

horrible polling from all quarters, which shows he basically stands no chance of winning among the members if he gets through to the final two

.
Penny Mordaunt did well:
A great day for Penny –

if she wins the contest, today will undoubtedly be viewed as the day she secured the victory

…
Received a major boost from

YouGov polling

that shows,

should she get through to the final two, she'd smash every other candidate

.

Remains a comfortable second among MP backers.
Liz Truss survives another day:
Vowed to halt green levies

Continued her campaign as

the 'Boris continuity candidate'

.
Suella Braverman is unlikely to make it through past Thursday's voting.
Kemi Badenoch does not want tax cuts but has gained support:
Continues to gain support

, not least with her former employers at The Spectator.
Kemi is also opposed to the current form of the dreaded Online Safety Bill, the debates on which could not be completed before summer recess, as the Northern Ireland Protocol Bill, quite rightly, took priority. There is also the debate on confidence in the Government on Monday, which should be interesting: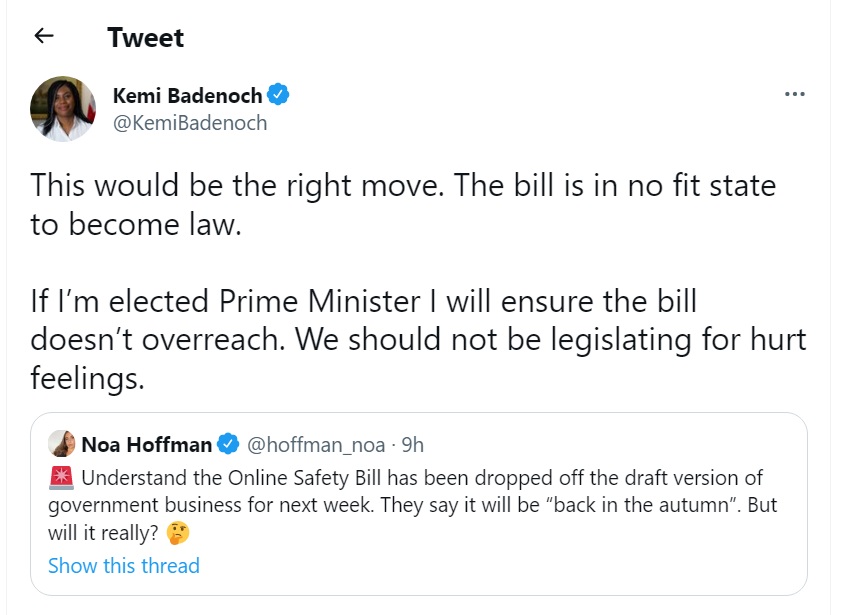 Thursday, before the vote
Guido summed up the state of play on Thursday, July 14. An excerpt follows:
In a few months' time, what will people remember of Jeremy Hunt's 2022 leadership campaign? Nothing, obviously. Seemingly just 18 MPs realised he was running one at all, which is odd as he needed 20 to get on the ballot in the first place. As Sky's Sam Coates asked last night: what exactly does Rishi gain from being endorsed by this competition's biggest loser? He certainly won't gain all of Hunt's supporters – many of them are now angry that Hunt went with Rishi, and not Tugendhat. Mind you, there was already anger towards Hunt from Team Penny, who endorsed him in 2019, as it was very clear he was never considering returning the favour this time around. Et tu, Jeremy…
Today should, in theory, be Truss's day in the spotlight. Her campaign launches bright and early in Smith Square, in two hours' time. They'll be delighted with The Mail splash this morning, which is blatantly campaigning for Liz and telling the right to unite behind her to defeat Rishi. The same front page carries a briefing from someone in the Truss camp accusing Penny of telling lies about her trans stance. Lord Frost has also just taken to the airwaves to slam Penny's record in government, saying she was so rubbish as his deputy he had to ask the PM to move her during the Northern Ireland negotiations…
Yes, this was a damning moment for Penny.
Guido has the video …
… and the quote:
To be honest I'm quite surprised that she is where she is in this leadership race. She was my deputy, notionally more than really, in the Brexit talks last year… I felt she did not master the detail that was necessary in the negotiations last year. She wouldn't always deliver tough messages to the European Union when that was necessary… she wasn't always visible. Sometimes I didn't even know where she was. I'm afraid this became such a problem that after six months I had to ask the Prime Minister to move her on… from the basis of what I saw I would have grave reservations about [Mordaunt].
Guido says that Lord Frost isn't the only one critical of her, either:
On Tuesday, CityAM published damning claims from Department for International Trade sources alleging Penny was "missing for months" as a trade minister and wasn't reliable – something Guido's ministerial sources later confirmed themselves…
As the day unfolded, Rishi tried to make his resignation and leadership candidacy appear sudden, failing to mention that he had his website domain registered in 2020:
On a lighter note, Tom Tugendhat will rue this photo of 'Tom a tart':
Oh, well, he's likely to be out by the end of the day, anyway.
It is unfortunate that so many members of the public cannot identify the next Conservative leader:
Meanwhile, among the party membership, here's the latest from Grantham & Stamford Conservative Association. I am surprised that Mordaunt is doing so well. At least Badenoch is in second place:
Today's vote began at 11:30 and closed at 3 p.m. All being well, I will have an analysis of the results tomorrow.
Tuesday, July 5, 2022 proved to be a memorable day for Boris Johnson for all the wrong reasons.
Last weekend, details emerged of Conservative MP Chris Pincher's inebriated groping of another man at the Carlton Club in London's St James. The Carlton Club is the private members club for Conservatives. Chris Pincher had been a Government minister and Deputy Chief Whip.
Lest anyone think the furore about Chris Pincher and blaming Boris for it is about cleaning up government, the end goal remains: get rid of Boris because Boris represents Brexit.
Chris Pincher
Chris Pincher has been a Conservative MP since 2010, the year David Cameron became Prime Minister.
Theresa May gave him his first ministerial role, that of Comptroller of the Household, in 2017. A few months later, she appointed him Treasurer of the Household, the next move up from Comptroller of the Household. In 2018, he then became Deputy Chief Whip, which is a role given by the Chief Whip, not the Prime Minister.
Boris Johnson gave Pincher other ministerial roles. I watched him at the despatch box regularly as Minister of State for Europe and the Americas and Minister of State for Housing. In February 2022, he once again became Treasurer of the Household, a Boris appointment, and Deputy Chief Whip, a Chief Whip appointment.
Then the Carlton Club scandal broke, with Pincher freely admitting in writing what he had done. He has had the Conservative Party whip removed, although he remains an MP for now.
The question from Boris's enemies is how much blame should the Prime Minister carry.
It looks to me as if it all started with Theresa May, especially as he resigned his 2017 appointment as Comptroller of the Household when sexual misconduct allegations involving MPs swirled into a scandal that year. Pincher was accused of misconduct at the time by then-MP Tom Blenkinsop and Olympic rower Alex Story.
Shortly afterwards, in January 2018, Pincher became Deputy Chief Whip, so the Whip's office is partly responsible, too.
On July 5, the veteran journalist and columnist Charles Moore explained in The Telegraph how the Whips Office selection process works (purple emphases mine):
The coverage of the row about Chris Pincher, the allegedly groping and confessedly drunk former deputy chief whip, suffers from a false premise. It is said that Boris Johnson appointed him. This is true only in a formal sense. I feel that lobby [press corps] journalists should have made this clear.
This custom is not just a reflection of the fact that any prime minister pays less attention to junior appointments than to Cabinet-level ones. It is also – and mainly – because the whips are a law unto themselves. The idea is that they will know best how to achieve the necessary geographical and ideological spread to look after all sections of the party. The Chief Whip is therefore free – "100 per cent" in the words of one former chief to me – to appoint whoever he thinks fit. This seems sensible: how on earth would a prime minister know that level of detail about who's who in the parliamentary party? Backbenchers would be suspicious of a whips' office filled with a prime minister's favourites.
Each prime minister sees the government chief whip's list before it is announced and is free to comment on it, but the chief decides. So Boris Johnson would have been breaking the unwritten rules if he had either forbidden or insisted on Mr Pincher's appointment. If it can be shown that he did the latter, he is in a bit of trouble on the issue. If not, then not.
Lord McDonald
Until July 5, I had never heard of the life peer Baron McDonald of Salford, or Simon to his friends.
Lord McDonald was the Permanent Under-Secretary to the Foreign and Commonwealth Office between 2015 and 2020.
On July 5, he wrote to Kathryn Stone OBE, the Parliamentary Commissioner for Standards for the House of Commons.
Guido Fawkes posted a copy of the letter, which takes issue with a BBC report of complaints made against Pincher and says that, indeed, allegations had been raised against the MP in 2019.
Two brief excerpts of his letter follow.
In the summer of 2019, after Pincher received his first ministerial appointment (at the Foreign and Commonwealth Office) under Boris Johnson:
… a group of officials complained to me about Mr Pincher's behaviour. I discussed the matter with the relevant official at the Cabinet Office … An investigation upheld the complaint; Mr Pincher apologised and promised not to repeat the inappropriate behaviour. There was no repetition at the FCO before he left seven months later.
The BBC had changed the text of their present-day article about whether Boris knew or not.
Lord McDonald's letter says:
Mr Johnson was briefed in person about the initiation and outcome of the investigation. There was a "formal complaint". Allegations were "resolved" only in the sense that the investigation was completed; Mr Pincher was not exonerated. To characterise the allegations as "unsubstantiated" is therefore wrong.
I am aware that it is unusual to write to you and simultaneously publicise the letter. I am conscious of the duty owed to the target of an investigation but I act out of my duty towards the victims. Mr Pincher deceived me and others in 2019 …
He tweeted the text of his letter:
Hmm.
Could there be any bad blood between McDonald and Boris?
Downing Street claims that Boris forgot about the investigation into Pincher.
A commenter on Guido's post about this claim makes pertinent points:
I find it strange that the criticism is of the appointment of Pincher as Deputy Chief Whip in February. He wasn't promoted from the backbenches, he was already a minister in the Dept of Levelling Up. If he was unsuitable for ministerial office in Feb, he must have been unsuitable in Jan, so why the focus on the Feb appointment?
Lord MacDonald is another nasty CS mandarin in the Philip Ruttnam mould. His letter is very carefully phrased but disingenuous. If he was unhappy for Pincher to continue as a minister in the FCO for seven months after the 2019 complaint, what did he do about it? If he was content with the arrangement, then clearly the matter was indeed resolved.
Pincher was first appointed to the Whips' Office by Theresa May. Is anyone in the MSM questioning her judgement?
Gordon Rayner's Telegraph article, 'Lord McDonald: The former civil servant who "never saw eye to eye" with Boris Johnson' has an account of what happened between the peer and Boris, the then-Foreign Secretary during Theresa May's premiership:
A former civil servant publicly accusing a Prime Minister of lying is a rare event, but Baron McDonald of Salford is unlikely to have had any pangs of guilt about calling out the man who effectively ended his career.
During his time as Boris Johnson's Permanent Under-Secretary at the Foreign Office, Lord McDonald – or Sir Simon, as he was then – was suspected by Mr Johnson of running a spying operation and orchestrating damaging leaks about the then foreign secretary.
Mr Johnson believed that media stories accusing him of being lazy and failing to attend properly to his red boxes of ministerial papers were being briefed by Lord McDonald's department. When the Foreign Office merged with the Department for International Development, Mr Johnson, by then Prime Minister, saw to it that Lord McDonald was squeezed out.
So when he had the chance to expose Mr Johnson's Downing Street operation for what he says is a lie over the Chris Pincher affair – an undeniably important intervention – he is unlikely to have spent much time wrestling with his conscience.
Does Brexit enter into this? You bet it does:
"They never saw eye to eye," said one former minister. "Simon never made a secret of the fact that he was a strong Remainer and he has always had big issues with Brexit."
Another insider said:
"So it does feel a little bit as though Simon has been waiting three years to get his revenge, and has finally had his chance, notwithstanding the fact that what he says may well be true."
Lord McDonald took early retirement in September 2020. Since then, he has spoken freely:
In March last year Lord McDonald, 61, was interviewed by the think tank UK In a Changing Europe, when he said he was one of three senior civil servants on a Downing Street "s— list" who were "all for the high jump".
He said that he was "one of those that were soaked" by former Downing Street adviser Dominic Cummings' threat of a "hard rain" falling on Whitehall …
Mr Johnson softened the blow by giving Lord McDonald a peerage, not an automatic appointment for retiring civil servants. But it has not prevented him from criticising the Prime Minister since then.
So now we know.
It is unlikely that Gordon Rayner's article will be getting any traction in the media. Will GB News pick it up? I hope so.
McDonald's letter sends Conservative MPs flying in all directions
Note that McDonald tweeted his letter at 7:30 a.m., just the right time to dictate the news narrative for the day.
And so it proved.
For those in the political bubble, BBC Radio 4's Today show is required listening.
Guido has a summary of what happened. Deputy PM and Justice Secretary Dominic Raab gave an interview, followed by Lord McDonald (emphases in the original):
… Following ex-Foreign Office Permanent Secretary Sir Simon McDonald's bombshell letter this morning, Dominic Raab had the task once again of spinning the latest unsustainable No.10 line to the press. Through plenty of coughing and spluttering, Raab insisted on the Today Programme that 
Aside from the Westminster rumour mill, any allegation that had resulted in formal disciplinary action… whilst there was inappropriate behaviour [from Pincher], it didn't trip the wire into disciplinary action… the individual who made the complaint did not want formal disciplinary action taken.
Just minutes later, McDonald appeared on Today himself to once again take a sledgehammer to No.10's line that Boris wasn't briefed on Pincher's behaviour in person in 2019, and Raab's claims that since no "further disciplinary action" was taken, the matter was resolved:
I disagree with that, and I dispute the use of the word 'resolved'… the complaint was upheld… Number 10 have had five full days to get the story correct, and that still has not happened… it's sort of telling the truth and crossing your fingers at the same time and hoping people aren't too forensic in their subsequent questioning.
In a matter of hours, the line has gone from "it's not true" to "the PM didn't know of any formal complaints". Chaos.
In Downing Street that morning, a Cabinet meeting took place. Why cameras were allowed, I have no idea. What a silly thing to do, especially when all hell was breaking loose:
At lunchtime in the House of Commons, Michael Ellis, Minister for the Cabinet Office, had to answer an Urgent Question (UQ) from Labour's Deputy Leader Angela Rayner about what Boris knew of Pincher:
This is the most succinct quote from Ellis:
As I have articulated, there was an exercise in the Foreign and Commonwealth Office on the matter, which I believe went on for several weeks. I need to confirm the details, because I had insufficient time to do so this morning, but as I say, there was an exercise, and it concluded to the satisfaction of all involved. That was within the Department and, it appears to me, before the Prime Minister was made aware.
One of Guido's readers sums the matter up as follows:
1. Pincher's conduct in 2019 was investigated and did not result in disciplinary action in 2019.
2. Independent advice was sought from Simon McDonald and the Cabinet Office propriety and ethics team, which also did not result in any form of disciplinary action.
3. The victim in 2019 DID NOT WANT aany disciplinary action against Pincher.
4. Pincher's appointment to government had followed all set procedures, including oversight by an independent QC. Until this point, as Pincher had kept a clean disciplinary record up, there was no reason to block his appointment to government.
Boris would have no grounds to refuse Pincher's appointment as there were no official disciplinary action against him up to that point, which is in line with the rules set out in Westminster.
All this drama over whether Boris knew of Pincher's indescretions would not have changed anything in terms of his appointment to government as he had satisfied all the requirements in terms of pedigree (appointed by two PMs and vetting).
The Opposition benches were full for Ellis and the UQ.
Watching at home, I nearly applauded when Peter Bone got his chance to speak:
Recently, at a Brexit opportunities debate here, there were no Liberal Democrats and virtually no Labour Members. The only time they turn up here is to bash Boris. Does my right hon. and learned Friend think that our constituents in Northamptonshire, which we both represent, are more concerned about an MP they have never heard about, or the biggest tax reduction in decades, which will happen tomorrow?
Ellis replied:
My hon. Friend hits the nail on the head, as usual. As he points out, Labour Members have made frequent requests for business in this House to be about not what our constituents primarily care about, but personalities. They do not raise the issue of policies, because when they do, they lose. Instead, they focus on personalities, and that has been the drive of the past six months.
Guido covered MPs' reaction to the events of the day:
Number 10's spin operation today after the McDonald letter has, unsurprisingly, gone down like a cup of cold sick with the Tory benches, including amongst Boris loyalists. Guido's spoken to several MPs following the lobby briefing and Michael Ellis's Urgent Question response, and they all agreed it was a "disaster". One said it was "the last days of Rome"…
There were also raised eyebrows – and that's putting it mildly – over No.10's decision to allow cameras in to the Cabinet meeting this morning …
Where, one might ask, is the counter-attack? What is Downing Street doing to get on the front foot? What is CCHQ doing? MPs who are hardcore supporters of the Prime Minister are fed up. Trying to push the "biggest tax cut" talking point today won't work to set the agenda when you put up the same taxes only a few months ago. If the government wants to shift the media's focus on to the economy, what will they do that Starmer won't? Tory MPs want a sense of purpose and direction, rather than constantly ricocheting at the hands of the media from one minor negative process story to another, that the general public doesn't really care about… 
Chancellor and Health Secretary resign
Worse was to come later that afternoon.
Health Secretary Sajid Javid tendered his resignation, followed by Chancellor Rishi Sunak minutes later.
Some pundits say there was no connection between the resignations.
Others say that the two men are friends and agreed on a plan.
GB News covered the resignations and analysis all evening long. It was a good move. The shows were excellent.
In other news, Theresa May was at the opera with her husband Philip and friends:
Returning to GB News, the resignations happened just before Nigel Farage's show at 7 p.m. Not surprisingly, Farage thinks that Boris should resign, something he has said many times before and will continue to say for weeks, if not months:
Farage used Guido's video of that day's Cabinet meeting:
Discussion continued on Mark Steyn's show at 8 p.m. By the end of the show one hour later, Boris had appointed Steve Barclay as the new Health Secretary:
Dan Wootton came on at 9 p.m.:
By the time his show was halfway through, Nadhim Zahawi became the new Chancellor of the Exchequer. The conversation between him and Boris in No. 10 was a long one. Apparently, Zahawi was eager to relinquish his role as Education Secretary and really wanted the No. 11 job. Michelle Donelan is the new Education Secretary, having been Minister of State for Higher and Further Education from 2020 to 2022.
Boris deflected a crisis within three hours.
Guido has an ongoing list of other Cabinet resignations, which are, as I write, for minor posts. Red Wall MP Jonathan Gullis, once a staunch Boris supporter, was among that number. It should be noted that the main Cabinet appointees are still in place.
Unfortunately, during that time, Lord Frost, usually a voice for sanity, fell for the McDonald bait. He wrote an article for The Telegraph, 'It is time for Boris Johnson to go':
I resigned from the Government on a matter of principle. On Tuesday, Sajid Javid and Rishi Sunak did the same. Other Cabinet Ministers now need to consider whether they are truly happy with the current direction of travel.
Boris Johnson's place in history is secure. He will be one of the past century's most consequential prime ministers. If he leaves now, before chaos descends, that reputation is what will be remembered. If he hangs on, he risks taking the party and the Government down with him. That's why it is time for him to go. If he does, he can still hand on to a new team, one that is determined to defend and seek the opportunities of Brexit, one that is able to win the next election convincingly. That is in the Conservative Party's interest, in Leave voters' interest, and in the national interest. It needs to happen.
PMQs on July 6 could have been worse. It was more of the same from the Opposition. On the Conservative benches, which were packed, only Tim Loughton, Gary Sambrook and David Davis (once again) rebelled, all saying that Boris should resign.
After PMQs, Sajid Javid was granted a statement about his resignation. Boris remained seated behind the despatch box. Javid put a big emphasis on 'integrity'. He said that, for him, 'loyalty and integrity' were at loggerheads over the past few months, hence his resignation. He could no longer defend the indefensible, from Partygate to Pincher, especially to his constituents. He told his former Cabinet colleagues that not doing 'something' — i.e. resigning — would look bad. Boris left immediately afterwards to jeers of 'Byeee, Boooris' from the Opposition benches.
Lee Anderson withdraws support
In an unexpected development, Red Wall MP Lee Anderson has withdrawn his support for Boris:
Guido has the full text of Anderson's letter, excerpted below:
With A Heavy Heart.
I have remained loyal to the Prime Minister since being elected in 2019.
However my position has changed over the past few days since the incident which led to the Deputy Chief Whip losing the party whip …
I do not hold a position I can resign from so the only thing I can do is make my feelings known to my constituents and party members. This statement may upset some people and I am sure some people will be delighted with the demise of our PM but I have a job to do and I must do it with a clear conscience.
My focus has always been my constituents many of whom are friends, family and neighbours and my loyalty to them is paramount.
Finally, I will do all I can to make sure our party wins the next election to form a Government of low taxation and who will be tough on illegal immigration as I feel we could have done better, that said the thought of a Labour Government terrifies me so please keep the faith.
I hope that explains my position.
Perhaps he will throw his hat into the ring when the leadership contest begins in due course.
Meanwhile, Conservative voters are fuming
At home, Conservative voters are perplexed by the actions of what is supposed to be an orderly, no-nonsense Government. Most do not know who Chris Pincher is. They are interested in what Boris and his team are doing to improve our lives which, at the moment, isn't much.
This is what we have at present, ably stated by a Guido Fawkes reader:
Despite receiving more brickbats this week, Prime Minister Boris Johnson is still standing as Parliament enters its February recess.
Former PM John Major had a go at Boris about Brexit in a speech he gave to the Institute for Government this week. Like another former PM, Theresa May — still a serving MP — Major is a staunch Remainer.
Writing for The Spectator, historian Nigel Jones discussed the Blob (our Swamp) on Thursday, February 11, 2022 (emphases mine throughout except for Guido Fawkes's posts):
Still fighting their neverendum certain Blobbers, so used to having things go their way for the past half century, view the man who brought us Brexit as the one who betrayed the favourite cause of his caste. For that alone he must be punished. They seek not only Johnson's removal from office but his total humiliation …
The Mays and the Majors of this world, uniting with the legions of the left who have always loathed Johnson, cannot bear it that someone who sums up in his rumpled and hitherto popular persona all that they are not, is, after all the ordure that they have poured over him, like Elton John: still standing. After weeks of sustained bombardment with the most vicious projectiles his enemies can muster, the object of their righteous wrath is still withstanding the siege from the Downing Street bunker, even belting out 'I will survive!'
… And those such as Johnson's former editor Max Hastings, who has predicted the PM could be gone within weeks, could yet be proven wrong. But if Boris does go he will not have been brought down in a flood of booze but by the bile of 'the Blob' against the black sheep who dared, by accident or design, to stray from the flock.
The Spectator's Katy Balls says Boris is succeeding because he is buying himself time, putting forward his 'red meat' policies to win back MPs and those souls who voted Conservative in 2019:
After a difficult few weeks, Boris Johnson has made it to parliamentary recess. Given few expect a no confidence vote to be held during recess, time away from parliament gives the Prime Minister much-needed breathing space. After the seemingly never-ending parade of partygate stories, there have been times when MPs were sceptical he would make it this far.
Instead, the Prime Minister has succeeded in buying himself time — talking down would-be plotters and rushing out a string of red meat announcements to keep the right of his party on side. The announcement this week that all Covid restrictions could end a month early is a prime example of this. When MPs return from recess, Johnson will unveil his plan for living with the virus — which will include the guidance rather than law (self-isolation is expected to become just advice) and reduced access to tests.
Boris made his liberating announcement about lifting coronavirus restrictions to the House of Commons on Wednesday, February 9:
Guido Fawkes wrote:
Boris in the Chamber just now announcing that the final Covid restrictions, including the legal requirement to self-isolate after a positive test, are likely to be lifted after the February recess. The "living with Covid" plan will be revealed on 21st February. A full month ahead of schedule…
February 24 could be our third liberation day. We already had Independence Day on July 4, 2020, followed by Freedom Day on July 19, 2021 and now this. Let's hope it is permanent.
In any event, the announcement made two front pages on Thursday, February 10, with the Daily Mail being more positive about this world leading move than The Star. I can empathise with both:
When SAGE's scientists and the unions object, we know Boris is on the right track. Boris didn't even bother consulting the former, as The Mail reported:
Unions are already digging their heels in after Boris Johnson revealed he intends to ditch all remaining Covid laws within a fortnight as a poll revealed that three in four workers ground down by almost two years of lockdowns and restrictions want to continue with self-isolation.
Unison, Britain's largest union serving more than 1.3million members from swathes of the public sector, has accused the Prime Minister of going 'too far, too soon', insisting that the virus 'hasn't disappeared' — despite a raft of data suggesting the worst is now over.
SAGE scientists have also warned of the 'dangers' of the PM's plan to make England the first country in the world to scrap all Covid rules, after it emerged Mr Johnson had not discussed it with the committee which is now infamous for its gloomy predictions about the pandemic.
Boris appears to be placing more weight on what is actually happening rather than alarming data projections from SAGE:
The resistance comes despite Covid infections falling consistently, with even the gloomiest surveillance study now accepting that the country's outbreak has peaked — mirroring the official numbers.
The milder nature of Omicron, coupled with sky-high immunity, mean the NHS never came under the levels of pressure that No10's experts feared would happen, with hospitalisations and deaths both now in freefall.
People with fragile health should note that they will be free to continue self-isolating. That freedom is an individual choice rather than a mandate by law.
The same goes for masks.
Boris is no doubt trying to encourage the socialist governments in Wales and Scotland to do the same thing:
The announcement annoyed the devolved governments in Scotland and Wales – with Nicola Sturgeon's administration calling it a publicity stunt to divert from the Partygate scandal that has left the PM fighting for his job.
The First Minister did this afternoon pledge to ditch face masks in Scotland's classrooms from February 28 — keeping them in communal areas — but says she will wait for expert advice before following Boris's lead on any other rules.
The Scottish Government is unlikely to go as far as dropping all rules when it publishes its strategy for living with Covid in the months ahead on February 22. The plans will be debated by MSPs, meaning any changes could be several weeks behind England. The Scottish Government is even set to extend its Covid powers until September 24.
Conservatives applauded Boris's move:
Lord Frost, who dramatically quit Cabinet partly in protest at draconian curbs, was among the senior Tories praising the move. 'The PM's plan to end all Covid restrictions a month early is the right thing to do & is extremely welcome. I hope the government will also make clear we will not go down the road of coercive lockdowns ever again,' he tweeted.
Tory MPs last night insisted that lockdowns should never be deployed again. 'I am glad to see the emphasis on learning to live with Covid,' said Bob Seely, who represents the Isle of Wight …
David Jones, a former Cabinet minister, welcomed the 'very positive' news, adding: 'The PM deserves credit for this. We have locked down for too long and we now need a commitment that we will not lock down again, save for in the most exceptional of circumstances.'  
Steve Baker hit the nail on the head. The lifting of restrictions is meaningful only if Boris reforms the Public Health Act of 1984 — and, may I add, scraps the Coronavirus Act of 2020:
Former minister Steve Baker added: 'I welcome this announcement but we are not out of the woods until the Public Health Act has been reformed, we have new rules for better modelling, competitive, multi-disciplinary expert advice and wellbeing-based cost-benefit analysis covering the costs of lockdowns and restrictions. There is much to do!'
Earlier this week, Boris made another reshuffle involving the Cabinet Office and Downing Street, in line with the preliminary recommendations from Sue Gray's report on Boris's lockdown parties on January 31. Boris had met with Conservative MPs that evening:
Guido's accompanying post reads in part:
It could be "imminent".
Guido was also first to reveal the PM won over swathes of support from wavering MPs by promising to massively up their involvement in No. 10's policy-making, saying he liked Graham Brady's suggestion of 1922-organised MP policy committees.
In a sign of how the day had played out, in the evening Birmingham 2019 MP Gary Sambrook put out a gushing tweet about the PM:
Guido understands he's now withdrawn his letter of no confidence to Graham Brady. After the vaccine rollout and Brexit, the new shadow whipping operation has to be one of the most impressive things Boris's No. 10 has managed to organise…
On Tuesday, February 8, GB News gave us the details on the reshuffle:
Jacob Rees-Mogg will be the minister responsible for "Brexit opportunities" in the first move confirmed as part of Boris Johnson's reshuffle.
The shake-up of the ministerial team follows the appointment of Stephen Barclay as the Prime Minister's chief of staff and comes as Mr Johnson seeks to relaunch his administration following the partygate row.
Mr Rees-Mogg, previously the Leader of the House of Commons, will still sit at the Cabinet table in his new role as Minister for Brexit Opportunities and Government Efficiency …
Former Chief Whip Mark Spencer has been confirmed as the new Leader of the House of Commons to replace the vacant role left by Jacob Rees-Mogg.
Mark Spencer has been the MP for Sherwood since 2010 and has previously been Deputy Leader of the House of Commons.
Stuart Andrew has been appointed as Minister of State (Minister for Housing) in the Department for Levelling Up, Housing and Communities; he has been the MP for Pudsey since 2010, he has most recently been a deputy whip.
Chris Heaton-Harris has been confirmed as the Government's new Chief Whip; he has served as MP for Daventry since 2010, he had most recently been Minister of State for Europe and is famed in Westminster for his use of Twitter to post one-liner jokes.
James Cleverly MP will become Minister of State (Minister for Europe) in the Foreign, Commonwealth and Development Office as part of the shake-up of the Government frontbench, Downing Street said.
Wendy Morton MP to be a Minister of State in the Department for Transport.
Rt Hon Christopher Pincher MP to be Treasurer of HM Household (Deputy Chief Whip).
Samantha Jones, the Prime Minister's adviser on the NHS and social care, has been appointed as the new No 10 permanent secretary and chief operating officer, Downing Street said.
Samantha Jones, who is a civil servant, is a former NHS trust executive.
She helped develop the plan to reduce hospital waiting lists, but it did not go down well in Parliament this week when Health Secretary Sajid Javid announced it. Even Conservative MPs thought it was weak, especially as a record high of 6.1 million patients are awaiting surgery or other medical procedures.
Samantha Jones will be both an interim No 10 permanent secretary and its COO, both new posts, as The Telegraph reported on February 9:
Boris Johnson has appointed a former NHS trust executive who advises him on health policy to the newly created position of No 10 permanent secretary.
In the latest move to shake-up his inner circle, the Prime Minister announced that Samantha Jones will take the role for six months on an "interim" basis.
Ms Jones had been Mr Johnson's expert adviser on NHS transformation and social care, meaning she helped craft the newly announced plan to bring down NHS waiting lists.
The former nurse and NHS veteran will also hold the title of Chief Operating Officer for Downing Street as she helps shape the new civil service structure being created for the Prime Minister.
There was another appointment, that of Stuart Andrew MP as Levelling Up Minister:
Andrew Griffith, one of the MPs who was reshuffled in the first week of February, laid out his plans as Boris's new Director of Policy:
You would not know it from the media headlines, but families want to hear about our plans to grow employment, tackle the NHS backlog, control our borders, make their streets safer, bring down the cost of living and return rapidly to the point when we can cut taxes to let everyone keep more of their own money – all policies that are rooted in strong Conservative values.
As the Prime Minister's Director of Policy, these are my top priorities together with delivering the tangible opportunities from Brexit that will allow our economy to be more competitive and the reform of government to deliver better public services. Whilst the Policy Unit's remit is to advise the Prime Minister across the widest breadth of government policy, we will be unafraid to ruthlessly focus on the key issues. It is ultimately outputs that matter.
Elected in 2019, he is far from the Sir Bufton Tufton brand of Conservative MP and has been against the EU since John Major's time as PM:
From a comprehensive school in south-east London, I was the first in my family to go to university, where campaigning to keep the UK out of the Exchange Rate Mechanism turned me into a lifelong Conservative.
Jacob Rees-Mogg went further, asking Sun readers for suggestions on which EU regulations should be rolled back in the UK:
The opportunities in front of us are immense. Huge parts of our economy are no longer regulated by the EU.
Before Brexit, many of my constituents would write to me to complain about regulations that burdened them daily.
From farmers to electricians, on so many issues I had to tell them that even as an MP I could not help to solve their problems, as these rules were set by the EU, not the British Parliament.
Thanks to Brexit, that has all changed. Sun readers can hold their MPs accountable, as the buck truly stops with them …
You are the ones who know the red tape binds your hands, and to do my job I need your wisdom. Ronald Reagan rightly said: "The nine most terrifying words in the English language are, 'I'm from the Government, and I'm here to help'." This needs to be turned on its head: Britain needs The Sun readers' help instead.
I implore you all to write to me with the regulations you want abolished — those which make life harder for small businesses, which shut out competition, or simply increase the cost of operating. Through thousands of small changes, we can enact real economic change — which means The Sun's readers will feel a real Brexit bonus in their pockets and in their lives  every day.
WRITE TO ME: Jacob Rees-Mogg, House of Commons, London SW1A 0AA
EMAIL: jacob.reesmogg.mp@parliament.uk
In other news, the UK economy grew 7.5% in 2021:
Guido has the quote from the ONS:
 Darren Morgan, ONS: 
"Despite December's setback, GDP grew robustly across the fourth quarter as a whole with the NHS, couriers and employment agencies all helping to support the economy," he said.
"Overall, GDP in December was in line with its level in February 2020, before Covid-19 struck, while in the fourth quarter as a whole, it was slightly below that of the fourth quarter in 2019."
People are trying to cast shade on this achievement, but even The Spectator, hardly pro-Boris, has a compliment for his administration. Today, Katy Balls pointed out:
With prices soaring, interest rates rising and the cost of living crisis growing more acute by the day, we could do with some more positive news: and this morning's GDP update has played a small part in providing it.
Despite suffering the largest economic contraction in 300 years in 2020 – and taking the biggest economic hit in the G7 – Britain had the fastest growing economy in the G7 last year, boosting its GDP by 7.5 per cent.
It's still a mixed story: looking at where the UK economy is now compared with pre-pandemic levels, it ranks average within the G7. But with one of the steepest hills to climb back to recovery, the UK's relatively fast growth enabled the economy to get there several months before it was forecast to do so …
… while the economy did take a slight hit at the end of last year, it did not fall back below pre-pandemic levels. Britain can still boast that it made a full economic recovery – and hopefully recoup December's losses fairly quickly, given how quickly fears about Omicron's severity were put to bed.
Finally, with local elections coming up in May, Boris will be doing what he does best — campaigning around England (with one stop in Wales):
Guido notes that not all of Boris's destinations will be holding an election this Spring, but the PM needs to turn things around for the Conservatives:
Boris has spent a lot of time on the road recently. Almost every day he seems to show up at another school, building site, or hospital somewhere outside SW1 – in just the last 5 weeks, he's made 10 trips across the UK. Coincidentally, 7 of those trips happen to be in seats which are holding local elections in May …
With Labour and much of the media hammering away at Partygate since December inside the Westminster bubble, Boris obviously knows his best chance of turning things around is to get back into campaign mode. It is what he does best, after all…
Although Labour are still ahead in the polls, an amazing reversal that began when the Downing Street parties during lockdown came to light, a pollster from Savanta ComRes thinks that it will be easier for Boris to win his 2019 voters back than it will be for Starmer to encourage them to vote Labour:
This is what Savanta ComRes uncovered from their latest focus group — Starmer isn't capturing their collective imagination, so Boris is still in with a chance:
I will have more next week on Boris's attempt to survive at No. 10.
On Saturday, December 18, 2021, Lord Frost resigned as the UK Government's chief Brexit negotiator.
He cited his dissatisfaction with Boris Johnson's 'political direction':
Most Conservatives were in shock at the news. He was among the top-rated Cabinet members and was negotiating Brexit as well as could be expected, given the nature of the EU in Brussels:
Lord Frost had been in a Brexit negotiating post for two and a half years. He became a full Cabinet member on March 1, 2021, at which point he became Britain's chief negotiator, taking over from Michael Gove, who was then Chancellor of the Duchy of Lancaster.
Guido Fawkes has the text of Frost's acceptance of the Cabinet position:
I am hugely honoured to have been appointed Minister to take forward our relationship with the EU after Brexit. In doing so I stand on the shoulders of giants and particularly those of Michael Gove, who did an extraordinary job for this country in talks with EU over the past year.
Frost was sworn into the House of Lords on September 8 as Baron Frost of Allenton in the County of Derbyshire. Because of coronavirus, wearing ermine has been optional:
The most intractable part of Brexit has been — and continues to be — the EU's holding Northern Ireland hostage. Goods from Great Britain cannot get through, such as English oak trees, which the Province wants to plant for the Queen's Platinum Jubilee in 2022. British Christmas cards were taxed last year, according to EU rules. The transport of medicines is a much more serious problem.
Guido Fawkes has the full text of Lord Frost's resignation letter and Boris's reply.
This is the main highlight, wherein the peer mentions his 'concern about the current direction of travel', particularly with coronavirus lockdowns. Interestingly, he thinks that Brexit 'is now secure':
Although Lord Frost had tendered his resignation the week before, according to the Mail on Sunday, and had agreed to stay on until January, he changed his mind and left Government with immediate effect, after the Mail on Sunday leaked his impending departure a week before. See the end of the first paragraph of his letter below:
The story made the Mail on Sunday's front page on December 19. Frost also objected to, quite rightly, to tax hikes and green policies, neither of which is Conservative:
The article clearly worried some Conservative MPs. Sam Coates from Sky News tweeted a bit of their WhatsApp exchange.
Theresa Villiers wrote:
Very worrying that Lord Frost has gone.
Andrew Bridgen replied:
Worrying? It's a disaster. Lord Frost was concerned about the policy direction of the Gov. So are most of the Conservative backbenchers.
Marcus Fysh said, in part:
Frost is a hero and 100% right on this.
The day he resigned, The Spectator posted the text of Frost's speech to the Centre for Policy Studies, 'Britain needs low taxes and no vaccine passports'. Excerpts follow:
We can't carry on as we were before and if after Brexit all we do is import the European social model we will not succeed. We have not successfully rolled back the frontiers of the European Union from Britain with Brexit, only to import that European model after all this time …
It is all too easy to get captured by the interest groups and the lobbies. We don't have time for that. The world is not standing still. No-one owes us a living. Earning one is now fully in our own hands. The formula for success as a country is well known. Low taxes – I agree with the Chancellor, as he said in his Budget speech, our goal must be to reduce taxes.
Light-touch and proportionate regulation, whatever our policy objectives. Free trade – of course – simultaneously increasing consumer choice while reducing consumer costs. Ensuring competition stops complacency – keeping our economy fit and responsive to innovation and progress abroad.
And personal freedom and responsibility. Unavoidably, we have had a lot of state direction and control during the pandemic. That cannot and must not last for ever, and I am glad that it is not. I am very happy that free Britain, or at least merry England, is probably now the free-est country in the world as regards covid restrictions. No mask rules, no vaccine passports – and long may it remain so.
The Mail on Sunday's editorial explained why Frost's departure is a serious blow not only for the UK but also for Boris's premiership (emphases mine):
Lord Frost, the Brexit Minister, is the opposite of a career politician. He is a distinguished diplomat with a long record of skilled negotiation who gave his talents to Boris Johnson in the hope of getting Brexit done, successfully and to the benefit of this country.
He is a serious and substantial figure, a genuine patriot who believes in Britain …
He transformed the Brexit talks, symbolising a new, unapologetic and frankly patriotic approach by getting our negotiating team to wear Union Flag badges.
His approach was so unlike the feeble and defeatist attitudes of so much previous British contact with the EU that Brussels realised it was for once dealing with serious opponents, with an iron determination to stand up for ourselves …
But his departure is less to do with the continuing problems of sorting out the details of our new relationship with the Continent and more to do with the PM's conduct of the Covid crisis.
With his usual sharp perception, Lord Frost has decided that he has had enough of the Government's increasingly European-style approach to the pandemic.
Lord Frost has been among the strongest voices in Cabinet in favour of keeping the country open and for avoiding more legislative controls to deal with the disease. He is believed to have objected in principle to the idea of 'vaccine passports'. He is also thought to have been disillusioned by the latest resort to regulations.
This is all of a piece with his more general disenchantment with the whole policy direction of the Government in recent months – especially on tax rises and the green-driven preoccupation with the target of 'net zero' CO2 emissions.
This view meshes with his public statements, disagreeing with the European-style high- tax high-spend economic model recently embraced by the Chancellor. Lord Frost believes that such a policy, whatever the excuse for it may be, is unlikely to deliver the benefits of Brexit. These are serious objections from a serious man.
Boris Johnson, who understands very well the value of figures such as Lord Frost, needs to heed what he says, and soon. The Covid crisis has caused the Government to wander very far from the principles on which it was so decisively elected. And, while it is easy to read too much into bad by-election results, it would be very unwise for Mr Johnson to brush the North Shropshire defeat aside.
It is because he has failed to deliver what his supporters want that they are now prepared to shift their votes elsewhere. For the moment, protests of this kind are just a warning, as Lord Frost's departure is a warning.
But if these danger signals go unheeded in the year ahead, the Government will face a much more serious defection and its future could be in real danger.
The Sun's article was along the same lines, signposting danger for Boris, who was already sinking in the polls at the time:
Lord Frost's walk-out will intensify the pressure on Mr Johnson's faltering leadership — and will be particularly painful as he was his "Brexit brother in arms" …
A Downing Street source said: "This is a proper kick in the balls for Boris and the team.
"Frostie hated the Covid restrictions and higher taxes — but vaccine passports was the final straw."
The hammer blow came as Boris planned his fightback after his worst week in charge.
Senior allies have told him heads must roll if he is to cling on to power …
Cabinet big guns have said they will stand by the PM.
A source said yesterday: "We all need to pull together. We need the whips to make it clear that there is no other option than to stick with Boris."
The Spectator said that Frost's departure was worse for Boris than the recent Shropshire by-election loss, which saw the Liberal Democrats take over a long-standing Conservative constituency:
On December 19, Boris wasted no time in appointing Foreign Secretary Liz Truss as Frost's replacement:
Guido reported that Truss will be primarily responsible for the Northern Ireland Protocol negotiations and that Chris Heaton-Harris will become her deputy:
The Foreign Secretary is to become lead negotiator with the EU on the Northern Ireland Protocol, following the departure of Lord Frost.
Liz Truss will take over Ministerial responsibility for the UK's relationship with the European Union with immediate effect.
She will become the UK's co-chair of the Partnership Council and the Joint Committee, and will lead the ongoing negotiations to resolve the problems arising from the current operation of the Northern Ireland Protocol.
Chris Heaton-Harris will become Minister of State for Europe and will deputise for the Foreign Secretary as necessary on EU Exit and the Protocol.
Nikki da Costa, Former Director of Legislative Affairs at No 10, posted an incisive Twitter thread explaining how hard Lord Frost worked on Brexit negotiations, despite all the obstacles. He remained cool-headed and diplomatic throughout:
At that point, I will add that, having seen the Lords grill Lord Frost when he answered their questions, they gave him a very hard time. Not surprising, when most of them are Remainers, but he really did not need the extra aggravation.
Nikki da Costa concludes:
On December 20, The Spectator took a closer look at what Frost wanted out of negotiations concerning Northern Ireland. Henry Hill, who wrote the article and works for Conservative Home, concluded that the Government didn't have the nerve to go through with his plans:
Whether Frost speaks out or not, this speaks to a deeper political problem for the government. Frost could only ever be as muscular as Johnson was prepared to allow him. Thus, over the past couple of months, we have gone from a very robust line about triggering Article 16 — the mechanism that allows either side to suspend the Protocol — to the most recent news that actually, maybe the government's red line about the jurisdiction of the ECJ wasn't quite so red after all.
According to Dominic Cummings, Frost and his team did have a proper strategy for invoking Article 16 and using it to secure the reforms required to safeguard the integrity of the British state. But they knew the government didn't have the bottle for it. And following the departure of most of the rest of the Prime Minister's original Vote Leave team, they were also isolated within government.
Even accepting that Cummings has an axe to grind, that seems perfectly plausible. Johnson's overall approach to the Union has been wildly erratic. One might plausibly favour either a more conciliatory 'four nations' strategy or a more muscular approach to unionism. The government has instead lurched haphazardly between the two.
Boris's lurching, as the article puts it, seems to be affecting other areas of government policy:
It's the same story on pretty much every important area where the Tories should be pursuing structural change. Ambitious planning reform has been abandoned. Detailed proposals for reforming the courts have been sidelined in favour of disinterring David Cameron's 'British Bill of Rights'. I couldn't even tell you if this ministry has an education reform policy.
Time and again, Johnson has proven that his 'fight or flight' instinct is stuck on 'flight'. He's a talented campaigner with an uncommon knack for connecting with voters, at least until recently. But he isn't going to fight to the last for the things he believes in because neither fighting nor believing things are major parts of his political character.
That day, LBC (radio) interviewed Lord Frost, who said that being a Cabinet minister involves supporting Government policies, something he no longer felt he could do, hence his resignation (H/T Guido):
On January 8, 2022, the Mail reported that Lord Frost supports Boris as Prime Minister but thinks he has the wrong advisers. He also hit out at 'woke warriors', stifling public debate. How true — on both counts:
Boris Johnson must reset his Government along traditional Conservative lines if he is to avoid defeat at the next General Election, his former Cabinet Minister Lord Frost warns today.
In his first interview since his sensational resignation as Brexit Minister last month, Lord Frost calls on Mr Johnson to revitalise the country with 'free markets, free debate and low taxes' and to 'set the direction of travel' to appeal to ordinary voters.
He says that the course change is essential for the party 'if we're going to get out of this little trough and win the Election in a couple of years' time' …
Lord Frost makes clear he does not want Mr Johnson to stand down, but to change his policies – and the people around him.
'What I think we need to do is be clearer about the direction of travel, clearer about how we're going to get there. And I think the PM should trust his instincts a bit more,' he says, before criticising the No 10 operation.
'The PM has a right, when he wants something to happen, for the levers that he pulls to actually produce something. And he has the right to the best possible advice around him.
'So I think there needs to be machinery changes and there probably need to be some different voices around him to make sure that he gets the best possible advice.'
Setting out a manifesto for post-Brexit Britain, Lord Frost says: 'I think we need to focus on rebuilding the nation and be proud of our history.
'We need to get the country going economically again and that means free markets, free debate and low taxes. People need to look at this country and think, yes, something is changing here. You've got to set the direction of travel …
His intervention comes after Tory MPs were shaken by a poll in last week's Mail on Sunday showing a Labour lead of 16 per cent in the 'Red Wall' seats seized by Mr Johnson in the 2019 Election, which are critical to his chances of winning the next one.
Lord Frost says: 'I saw the polling and it doesn't look good. I don't think the Red Wall is so different to the rest of the country. What people want is their own lives to get better. They want control of their lives and to be prosperous' …
'It isn't about just, "Is this tax increase justifiable or not?" It's about the big-picture things we are trying to do and why.'
That includes the 'policing of people's opinions' by 'woke warriors' and mounting 'Twitter pile-ons' targeting those with opposing opinions.
'It really worries me it's becoming difficult to advocate certain positions that have been reasonable in public debate in the past,' Lord Frost says.
'All of Western history is about free debate, intellectual inquiry, the ability to take the conclusions where you find them.'
… Despite the many problems afflicting the Government, Lord Frost still believes that Mr Johnson will be Prime Minister this time next year, if he gets 'the right sort of support'.
Lord Frost refuses to name his preferred successor to Mr Johnson, although he believes that Brexit is safe in the hands of Ms Truss, who has taken over his portfolio …
How would he define 'Johnsonist Conservatism'?
'Good question. It's about a 'can do' attitude – he is relentlessly optimistic and positive about this country, which is a good thing, and he's right to be. I think his fundamental views about the world and politics are good ones.
'I look back to the speech he gave at party conference in 2018 about tax cuts.
'That was a good speech and I think we could get back to that.' 
Lord Frost expanded on his views in this January 21 interview with Mark Steyn on GB News, which is well worth watching:
With the controversy over Boris's Downing Street parties still a subject of daily debate, pending civil servant Sue Gray's report, on January 27, Frost said in The Sun that we should not condemn the Prime Minister until the facts are made available.
I am glad that he brought the PM's critics' hatred of Brexit into the mix, because that's what is really at the heart of the matter:
Sue Gray's report must be published and judgments must be made.
Her report may provide evidence to condemn the Prime Minister. 
Or it may turn out, as so often before, that his critics have allowed their dislike of Brexit, or of Boris Johnson personally, to blind them to the facts.
For my part, I think the Prime Minister of this country should have the right to be believed — unless there is clear contrary evidence. 
That is why the Gray report is so important. 
MPs will have to draw their own conclusions from it. 
On January 31, Lord Frost ruled out a return to Downing Street as an adviser.
The Telegraph's political editor tweeted:
Frost had tweeted:
I hope that Boris gets the message. He needs the proper help — and fast.
On Thursday, January 13, 2022, Lord Frost, who resigned as Brexit negotiator last December, gave an interview to The Telegraph in which he accused the UK Government of 'covid theatre'.
Another reason for his resignation was his disagreement with the Net Zero policy, which most households will not be able to afford:
In the video below, which is subtitled, Lord Frost why he objects to the most restrictive of the Government's coronavirus policies — lockdowns, masks, working from home and vaccine passports:
Good on him for objecting to what he described last month as Boris's 'direction of travel'. Many Conservatives agree but were sorry to see him go. He was a doughty negotiator, although Northern Ireland is still a sticking point with the EU.
Foreign Secretary Liz Truss has been appointed as Lord Frost's replacement, adding Brexit negotiations to her long list of responsibilities.
Tomorrow's post will feature a UK coronavirus roundup.
The Conservative Party Conference took place in Manchester from Sunday, October 3 through Wednesday, October 6, 2021.
It was the first one since 2019, which was two months before their victory in the December 12 election that year.
UK in crisis
This year's conference took place during the ongoing petrol supply problems and shock record-breaking hikes in gas futures on Tuesday and Wednesday:
On top of that, on Wednesday, Reuters reported that the UK's petroleum regulator rejected Shell's plans to redevelop the Jackdaw gasfield in the North Sea (emphases in purple mine):
"We're disappointed by the decision and are considering the implications," a Shell spokesperson said.
It was unclear on what grounds the Offshore Petroleum Regulator for Environment and Decommissioning (OPRED) refused to approve the environmental statement for the field's development.
The Department for Business, Energy and Industrial Strategy, under whose umbrella OPRED operates, did not immediately reply to a request for comment.
Maddening.
The supply chain crisis for food continues. On Wednesday, The Times reported The National Pig Association warned retailers that 120,000 pigs would have to be slaughtered because of a lack of butchers. Some pig farmers are closing down altogether.
Some supermarkets are also suffering from empty shelves. Tesco, however, is bucking the trend. The Times reported that the supermarket chain is:
often highest up the pecking order when it comes to suppliers committing to make the business a priority …
Good for them.
Conference theme disappointing
The conference theme was … Build Back Better.
How awful.
Here it is draped across Central Station Manchester:
The Conservatives riffed on this in a Bake Off-style event. Pictured with Prime Minister Boris Johnson is Home Secretary Priti Patel:
Having listened to some of the speeches and read excerpts from others, they were all light in content. Most of them were pep rally or visionary statements rather than what plans Cabinet ministers have for the nation.
As The Telegraph's Madeline Grant wrote:
Never at a Tory Conference has so little been said, by so many, to so few.
Sunday, October 3
As the conference opened, rumours circulated about three unnamed Labour MPs thinking of crossing the aisle to the Conservatives, as the Mail on Sunday reported:
Guido Fawkes had more on the story (emphases in red Guido's):
… this is due to disillusionment with Starmer's leadership, with the MPs already having opened up "lines of communication" with Tory whips. In related news, a senior Labour MP was spotted by a co-conspirator chatting with two Mail on Sunday hacks and three senior Tory advisors at a conference bar last night…
The day's big event, according to The Spectator, was the drinks party that the 1922 Committee of backbenchers held, sponsored by ConservativeHome. Interestingly, a long-time Labour MP for north-west London — Barry Gardiner — was in attendance:
… the main focus of the night was the 1922 drinks with ConservativeHome in a room stuffed full of parliamentary talent and, for some reason, Barry Gardiner.
Strangely, Boris did not appear, leaving a gap which Chancellor of the Exchequer Rishi Sunak ably filled (video):
While Johnson was not scheduled to make an appearance here, Prime Ministers have traditionally done so in the past to pay tribute to their colleagues. His 'disappointing' absence – in the words of one disgruntled backbencher – left a vacuum for Sunak to fill, in a room full of MPs who will presumably one day decide who Johnson's successor should be.
The Chancellor leapt to the stage to tell fellow Tories about what he was most looking forward too at conference: Michael Gove dancing, the PM running in a full suit (not just a shirt) and 'machine like message discipline from every single one of you – and that means you too Cabinet.' He added that 'I've got your back' to anxious MPs in the room and that 'for the record I too am a low tax conservative' – welcome words for those party donors who Mr S[teerpike, columnist] understands attended a 'tense' meeting earlier at the Midland, amid considerable unease at the recent NI [National Insurance] hike.
In such circumstances, perhaps it's understandable that Boris would stay away.
According to The Telegraph, senior Conservatives have warned Boris not to dream up any more future tax hikes:
Earlier that day, Boris gesticulated wildly at the BBC's Andrew Marr, saying, 'You have no fiercer opponent to tax rises than me'. This probably means more tax rises are on the way:
The Spectator has more on the interview.
On tax hikes, Sir Desmond Swayne MP told talkRADIO's Julia Hartley-Brewer the raw truth. He added that lower taxes will enable greater economic growth:
Another event that Boris avoided was the one by the Tory Reform Group (TRG), which wants the Conservatives to move closer to the centre politically. They are Remainers. The Spectator reported:
Theresa May's former deputy Damian Green welcomed attendees …
Green, a mainstay of various causes on the left-ish wing of the party over the past two decades, told activists that it was their task to 'make sure that the voice of moderate conservatism, centre-right conservatism is as strong as possible within the party' – a job 'never more important than today because there are times when I slightly feel that it is only people like us that stop this party drifting back to being seen as the nasty party.' A tacit rejoinder to Priti Patel perhaps?
But then it was time for the speaker and the great white hope of Tory moderation. Tom Tugendhat, the chairman of the Foreign Affairs Select Committee, took to the stage to ecstatic applause and, like Green, was under no illusions about the awesome responsibility he and his One Nation caucus members share – to keep the Conservative party effectively sane …
There was also ample time for several potshots at the current Tory leader Boris Johnson, with whom Tugendhat is said to enjoy a wary relationship.
Foreign Secretary Liz Truss, tipped to be a future Party leader, also made the rounds that day (video):
The fringes were packed last night as Tory ministers did the rounds. Liz Truss, the darling of the free market think tanks, appeared at the Think Tent equipped with a magnificent blow dry and an applause-winning speech which castigated cancel culture as 'fundamentally wrong.' That and other jibes at identity politics in her conference address lead the Daily Mail this morning to ask whether she is in fact the new Mrs Thatcher.
Several reporters wrote about her new hairdo, which, to me, didn't look much different from the old one.
Returning to the mysterious Labour people who might want to change parties, here's Manchester mayor Andy Burnham, a former Labour MP, heaping praise on Michael Gove, the minister in charge of Boris's levelling up programme. Burnham spoke to Trevor Phillips on Sky News that morning. Hmm:
Neither Andy Burnham nor Barry Gardiner is a Conservative. Crossing the aisle for ideals they don't believe in seems a rather rash way of getting their own back at Keir Starmer.
Boris made four appearances at conference that day, including one for the Scottish Conservatives. Guido captured his wit along with audio:
The PM warned of a "crackpot coalition" between the SNP and Labour – "the only way they could" kick the Tories out.
He described the Labour conference as "a total rabble", saying it had the air to him of "a seriously rattled bus conductor" facing an "insurrection on the top deck of the bus", or the "captain of a Mediterranean cruise ship facing insurrection by a bunch of Somali pirates".
Douglas Ross MP/MSP also addressed Scottish Conservatives. As party leader in Scotland, he wants to position the party as that of the nation's working class. It's a good move, as The Spectator reported:
Like all good fables, Douglas Ross's speech at Tory conference had a beginning, middle and end. Act One detailed the many iniquities of the SNP, from their dysfunctional vaccine passport scheme to their Hate Crime Act, and most of all their agitation for Scotland to break away from the UK. Act Two took the sword to Labour, bemoaned its abandonment of working-class voters and its internal divisions over the constitution. Theirs was not the party to take on the SNP. Only one party was and it was the subject of Act Three, in which Ross deepened a theme begun under Ruth Davidson's leadership: the Scottish Conservatives as the party of the Scottish working-class.
He hit all the familiar notes about the SNP's failings in government, the ones that never seem to stick longer than two or three news cycles and are invariably forgotten about by the next election. He also hinted at an interesting theme that, if teased out carefully, could come into greater play. It is the perception, no longer wholly limited to unionists, that Nicola Sturgeon is a bit… off. Out of touch. Superior. Maybe even a bit of a snob.
In other news, last week, Labour's Angela Rayner called Conservatives 'Tory scum'. Feisty Dehenna Davison MP, representing Bishop Auckland as the constituency's first Conservative, had 'Tory Scum' badges made.
This harks back to 1948, when Aneurin 'Nye' Bevan said the Conservatives were 'lower than vermin'. Following that, the Conservatives formed the Vermin Club. Club member Margaret Roberts — who would become Margaret Thatcher — also had 'Tory Vermin' badges made, as Nigel Farage told Dehenna Davison on GB News:
Party chairman Oliver Dowden pledged that the Conservatives would do away with ugly new housing developments by strengthening planning laws.
He also assured the public that they would have turkeys for Christmas, referring to ongoing supply chain problems.
Monday, October 4
Monday opened with the latest ConservativeHome popularity poll.
Liz Truss is at the top. Other MPs pictured are (left to right) Defence Secretary Ben Wallace, Leader of the House Jacob Rees-Mogg, Chancellor Rishi Sunak and Education Secretary Nadhim Zahawi:
Guido analysed the results, excerpted below:
The turn round in her fortunes from last year when she was being tipped to be sacked from the Cabinet is quite something. Liz is one of the increasingly rare consistently free market voices around the Cabinet table…
Rishi Sunak is down by some 10 points and moves from second to fifth place. Rishi's tax hikes have clearly taken the gloss off him with the true blue believers. 
Grant Shapps [Transport] and Priti Patel are bumping along the bottom in barely positive approval territory. Shapps has been doing fairly well with the incredibly difficult transport brief. Patel is suffering because she has failed to do the seemingly impossible – stop the cross channel migrants. Tory activists are unforgiving, they don't want excuses, they want results.
It was the turn of Rishi Sunak to address the party faithful.
A rise in council tax would not go down well. Meanwhile, protesters pelted Sir Iain Duncan Smith MP with a traffic cone:
Some at conference are disappointed with Sunak, whose budget comes up in a few weeks' time. Steve Baker MP is pictured in the second tweet:
Boris was out and about in Greater Manchester. He spoke to an interviewer about policing and said that the Government needs to change its culture, which has become misogynistic, particularly in light of the Sarah Everard murder earlier this year, committed by … a policeman, who recently received a life sentence.
In other news, Justice Secretary Dominic Raab plans to reform UK human rights legislation and do away with the ties to EU human rights legislation we are still under.
With regard to the Labour mystery, Manchester's mayor, Andy Burnham, had a conversation with Levelling Up minister Michael Gove, whom he had praised the day before. The Mail reported that Burnham was also due to address Conservatives at a fringe event sponsored by Transport for the North the following day. Hmm.
The cervix question that appeared at Labour's conference was also brought up with Conservatives. Dominic Raab responded by bringing up both misogyny and misandry in a highly confused way (video):
Two MPs decided to have a bit of fun with the issue as they drove to Manchester together:
Guido recapped their amusing exchange:
Health-conscious Conservative MPs Marco Longhi and Lee Anderson don't want to fanny about when it comes to their well-being. Marco, according to their road-trip video, made sure to receive a cervix exam before heading to conference this week. Always better to be safe than sorry…
Why is it that no one ever asks if women have a prostate gland?
On the subject of health, Desmond Swayne told Julia Hartley-Brewer why he is firmly against vaccine passports:
Lord Frost (pictured on the right) threatened the EU over the post-Brexit trade issues with Northern Ireland. Outside of the conference, pig farmers protested over the inability to get their stock to market. Boris had said that government cannot solve every issue, referring to the supply chain problem. He also told British businesses to hike staff salaries, which did not go down well, either:
I think they should give the meat away. A lot of poor families would appreciate it.
Tuesday, October 5
Boris began the day with an interview to LBC's Nick Ferrari. Extinction Rebellion offshoot Insulate Britain had blocked some of Britain's roads for the ninth consecutive day.
Despite injunctions from Priti Patel's Home Office, their human blockades continue.
Boris told Ferrari they are 'irresponsible crusties' (video). The question remains whether Extinction Rebellion gets any Government funding:
Dominic Raab confirmed in his speech that he would be reform the Human Rights Act to free it from EU hackles.
Guido's post includes a quote and this summary:
They will detach it from the ECHR, enabling quicker deportations of convicted criminals and swifter action on domestic abusers …
Raab's successor at the Foreign Office, Liz Truss, confirmed a trip to India later this month, ahead of COP26 in Glasgow in November.
Guido had a chat with her:
Among other topics, the foreign secretary confided in Guido she was finding the new department's mandarins to be "a bit 'Yes, Minister'"…
Rishi Sunak addressed the Northern Powerhouse Leaders' Lunch.
Guido says:
Sunak claimed that there is a "new age of optimism" in the north thanks to Red Wall Tories, and heaped them with praise for "helping to change our party and change our country". "In me, you have a Chancellor who is going to be with you every step of the way," he added.
See? I told you these speeches were content-free.
Later in the day, he appeared at a fringe event where he was asked about the cost of Net Zero. This was his alarming answer:
Health Secretary Sajid Javid promised another reform of the NHS, which mostly involves digitisation. I can think of more pressing NHS concerns and agree with Guido:
… pouring in taxpayers' money without checking how it's being spent isn't enough. That cash needs to be put to good use. Reviewing the eye-watering pay packets of some NHS diversity managers would be a start…
The Telegraph's Christopher Hope interviewed Oliver Dowden, who is thinking about resurrecting the singing of the National Anthem at conference, calling it a 'splendid idea'.
Hope also took the opportunity to present Dowden with a 'Tory Scum' badge, which he put on and said he would wear for the duration of the interview. Hope suggested he wear it until the end of conference.
This video shows the badge exchange. Hope gives us more information on the aforementioned Vermin Club:
Guido says that the badges were most popular. Dehenna Davison had to order more:
Many conference-goers have spent the last couple of days asking Davison for one of her badges, only to be disappointed upon being told she'd run out. Good news however, after Davison put in an emergency order for 400 more given their popularity…
The most outrageous session of the day — and a British first — was an address by the Prime Minister's wife to Party faithful. No Prime Minister's spouse — we've had two husbands in that role — has ever made a party political address until now:
Never mind the subject matter: was it the right thing for Carrie Johnson to do — even if she is a very good public speaker? Boris watched from a distance.
Polling stable
I'll review Boris's closing speech in tomorrow's post.
Post-conference polling is stable. YouGov's was taken on Tuesday and Wednesday:
Sir Desmond Swayne explained to Julia Hartley-Brewer that Boris's popularity and the lack of ideas from the Opposition have buoyed the Conservatives:
What Government should do next
Health Secretary Sajid Javid needs to keep a gimlet eye on NHS spending, especially on things like this:
Guido says:
The NHS is recruiting a supplier to deliver "compassionate conversations training" to 14,000 front facing NHS staff in a publicly funded contract worth a mind-boggling £3 million. The contract tender, which was published yesterday and closes on 5 November 2021, says the aim is to equip NHS staff with "the skills they need to handle challenging situations with compassion whilst ensuring they feel able to look after their own wellbeing if needed". Guido assumed that doctors were already taught about the importance of a good bedside manner…
It's almost ludicrous to think that this weekend Javid promised a forensic review of the NHS's management and leadership whilst the NHS continues to recklessly splash cash on diversity roles. Just six months ago Guido revealed that the NHS was hiring eight more 'diversity, equality and inclusion managers' across the country, with salaries up to as much as a whopping £62,000. If Javid is going to cut down those waiting list times he needs to focus taxpayers' money on the clinical front line, not nonsense make-work contracts and diversity roles…
Guido says it is also time for Boris to reconsider the current Government moratorium on fracking:
If Boris wants to energise Britain, domestic gas production should be part of that mix; it would provide energy security when Britain's energy needs are being threatened by the Russians and the the French. Boris is now in a position to do something glorious, to stop pussy-footing around and leave no stone unturned or unfracked. So get on with it…
This is what Boris had to say on the subject while he was Mayor of London:
I won't be holding my breath on either of those propositions.
Tomorrow: Boris's keynote speech
Boris Johnson is now into his third year as Prime Minister.
On Wednesday and Thursday, September 15 and 16, he reshuffled some of his cabinet and ministerial posts, signalling that he is more than halfway through his premiership. In other words, this will be the major reshuffle to lead the Conservatives into the next general election.
I hope that Boris does not go for a 2023 election, unless it is late in the year. The coronavirus crisis will have put much of the Conservative manifesto agenda on hold for two years. As such, not much has been accomplished to date, as Andrew Neil, who recently resigned from GB News, says:
Boris has appointed more Leave ministers as well as more minority and female ministers, which will not matter to most small-c conservatives:
Highlights of the reshuffle follow.
Dominic Raab no longer Foreign Secretary
It looks as if dithering over Afghanistan while holidaying in Crete has finished Dominic Raab's days as Foreign Secretary. He had to do the walk of shame after his demotion:
That said, Boris has found a new job for him as Justice Secretary.
Raab will also continue to be Deputy Prime Minister, a role he handled extremely well in April 2020, when Boris was hospitalised with coronavirus.
Defence Secretary Ben Wallace defended his fellow MP and the move in an interview with BBC Breakfast:
Wallace said of Raab: "Dominic is by trade a lawyer, he started his life in the Foreign Office as a human rights lawyer and he's gone to the Ministry of Justice, which is actually a very, very important role and a role he desperately understands."
Liz Truss becomes new Foreign Secretary
Former Trade Secretary Liz Truss replaces Dominic Raab as Foreign Secretary, with Anne-Marie Trevelyan taking her place.
Post-Brexit, Truss has made various trade deals with other nations, notably Australia and Japan.
She also remains minister for women and equalities.
Truss is popular with grassroots conservatives and her name has often been mentioned as a future party leader and Prime Minister.
She succeeded not only in trade but also in refusing wokery in 2020 …
… and in 2021, as Guido Fawkes reported on June 16 (emphases mine):
Liz Truss tells Times Radio most people aren't interested in the culture war…
"My role as equality minister is to make sure everybody in Britain is treated equally regardless of their sex, their sexuality and their race. What we have seen over the past few years is the development of identity politics where there has been division created. People are described as being members of a group rather than for their own personal, individual humanity and dignity… We have just launched for example a big data project looking where are the gaps in education, employment and enterprise across the country, and how we can fix those. That is the approach we need to take… I think some of the identity politics we have seen focus on symbolism over real results has been divisive… I think most people aren't interested in this so–called culture war, what they're interested in is, "Am I being given a fair chance? Do I have a good chance of getting a job? Am I treated fairly by public services?" And that's why I think our equality agenda should focus on, those bread and butter issues that are of concern to everyone in the country."
She is consistently among the most popular of the Cabinet members. This survey is from March 2021:
She can even ably dodge camera equipment during an interview:
Nadine Dorries moves from Health and Social Care to Culture Secretary
In what is hoped to please grassroots small-c conservative voters, Nadine Dorries now heads Digital, Culture, Media and Sport (DCMS), replacing Oliver Dowden, who, as new co-chairman of the Conservative Party, will formulate a strategy for the next general election.
Most of these grassroots supporters are fed up with the BBC. Will Dorries take on Auntie Beeb?
I do not put much stock in that possibility. Resurrecting Dorries's tweets from several years ago are no indication of her current willingness to oppose the BBC on anything much:
The BBC have just appointed a firmly left-wing executive editor of BBC News, Jess Brammar. At least one Conservative MP, Brendan Clarke-Smith, was unhappy about the possibility of her appointment back in August:
I will not be holding my breath for Dorries to take her on, although others in the left-wing and anti-Brexit political establishment are angry about Dorries's appointment, as Guido Fawkes reports; he has screenshots of her past tweets (emphasis in the original):
She's been in the job for 17 hours and is already annoying all the right people… 
John Whittingdale returns to backbenches
I have doubts about Dorries because one of the DCMS ministers, John Whittingdale, was supposed to take on the BBC in 2016 and never did. He also washed his hands of removing free TV licences for most over-75s, saying it was a decision for the BBC. Is this why he got the sack?
During the Euro 2020 soccer tournament this year, Whittingdale told Kay Burley of Sky News that travel restrictions were lifted for 'important' people associated with the matches:
Speaking on Sky News, John Whittingdale was asked why players, officials and others coming to London for the Euros final on 11 July should be allowed in without self-isolating.
He said: "We've always said that for some people who are important, players, for instance …"
The presenter, Kay Burley, interrupted him, saying: "So people who want to go on holiday are not important. Is that what you're saying?"
Whittingdale's last pronouncement, standing in for his boss Oliver Dowden, was about a proposed mandate to make all BBC and ITV output 'distinctively British'. That was on September 16. It will be interesting to see whether Nadine Dorries will insist on it.
Newsnight argument over Dorries
Nadine Dorries was the subject of an argument between Conservative MP Charles Walker and former Conservative MP, Remainer Anna Soubry, who lost her seat in December 2019.
By the way, this was Anna Soubry with Nigel Farage either just before or just after the Brexit referendum in June 2016: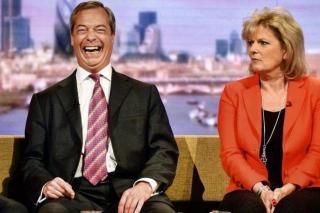 But I digress.
The discussion between Soubry and Charles Walker took place on the BBC's Newsnight on September 15:
Here's the video, with Labour MP Peter Kyle sitting at the desk with presenter Emily Maitlis:
Guido Fawkes has the highlights:
Nadine Dorries provided the biggest clash, as the eternally bitter Soubry ranted that her appointment "actually says everything that's wrong and rotten about this prime minister's stewardship of this country". Charles Walker had some thoughts:
"Nadine Dorries has been a health minister, a minister of state, at an incredibly difficult time for the department of health; has been an extremely good minister for mental health; and really to come onto this programme and just trash her like that is just not a very nice thing to do to be perfectly honest"
Responding to Soubry's claim that people don't really care about reshuffles in the real world, Walker pointed out "Why is it the lead story on Newsnight, and why are you appearing on Newsnight?" Why indeed…
However, there is a personal reason why Anna Soubry is angry with Nadine Dorries.
On July 1, 2016, one week after David Cameron stood down as Prime Minister and Conservative Party leader because of the Brexit referendum result, tensions were running high not only in the Commons but also among the public.
Soubry went out near Parliament to address her fellow Remain supporters. Dorries tweeted that Soubry was under the influence. Soubry demanded that Dorries retract the tweet. The Times has the full story, which ends with this:
Update (25.07.2016): Following publication of this article, Nadine Dorries MP has withdrawn her tweet about passing Anna Soubry MP leaving the bar before she attended a rally of Remain supporters in central London. Ms Soubry has confirmed that she had not drunk any alcohol before speaking at the event.
Another reason why I am doubtful about Nadine Dorries is because she did not question the Government's coronavirus restrictions when she was at Health and Social Care. Does she really believe everything she hears? Here she responds to Conservative Woman's co-founder Kathy Gyngell. Dorries and her mother had the virus at the same time, and her mother recovered first. Even so, not questioning lockdown earns her a black mark from me:
At least she supported Brexit.
Michael Gove moves to Housing, no longer Chancellor of the Duchy of Lancaster
Michael Gove, who is in the process of a divorce and was a recent party boy in an Aberdeen nightclub, is no longer the Chancellor of the Duchy of Lancaster.
Stephen Barclay, formerly Chief Secretary to the Treasury, replaces him in that post. Simon Clarke replaces Barclay in the Treasury role.
Michael Gove replaces Robert Jenrick at the Ministry of Housing, Communities and Local Government and is in charge of Boris's 'levelling up' agenda.
A first attempt at a new acronym for the department has produced DULL:
Guido reports on the problems with acronyms for government departments in general:
The Sun's Harry Cole reports the initial proposal for a new "Department for the Union and Levelling Up" is no longer a flyer after realisations its acronym, 'DULU', sounds too much like "Dull". It's a shame a change was needed, given it was pointed out yesterday that Michael Gove the first MHCLG Secretary with all the letters of the department in his name…
Guido will leave it up to cleverer minds to work out an acronym that includes all the letters of Gove's new remit (MHCLG + Union + Levelling Up + Elections) though it's not the worst reshuffle acronym problem encountered by a PM. As Alan Johnson recounts, in 2005 Tony Blair came up with a plan to rename the department for Trade and Industry as the "Department of Productivity, Energy, Industry and Science". Thankfully Johnson was used to it by that point however – he'd already been Minister for Higher Education and Lifelong Learning, and headed up the Sexual Health Advisory Group…
Although this looks like a demotion for Gove, it involves a hefty budget with pan-govermental reach, something that should definitely appeal to him:
New Education Secretary
Nadhim Zahawi, formerly in charge of the coronavirus vaccine rollout, is the new Education Secretary, replacing Gavin Williamson, who likely got the sack because of the school exams fiasco during the coronavirus crisis.
Zahawi has achieved the British dream, having arrived in the UK as a child refugee who could not speak English:
Other appointments
Guido Fawkes has full reshuffle information for September 15 and 16.
Some MPs have transferred to other departments:
Others will be returning to the backbenches:
Jesse Norman tweeted that he was happy to return to the backbenches:
The new role for Nigel Adams is said to be a 'fixer' appointment in order to get things done:
More information and analysis can be found at The Guardian, The Telegraph, GB News , The Spectator and The Times (here, here and here).
House of Lords
Reshuffles can affect the House of Lords, too.
Fortunately, two of the stars there are still in place.
Baroness Evans
Baroness Evans, composed and competent, will remain as Leader of the House of Lords.
Lord Frost
Lord Frost will remain Cabinet Office Minister for Europe, in charge of EU negotiations and changes to relevant legislation:
On September 16, Guido wrote about Frost's plans to rid the UK of EU laws (emphases in the original):
Lord Frost has announced the government's plans to finally capitalise on the freedoms of Brexit and remove the "special status" of all individual EU laws still on the UK's statute books. There are also plans to invest heavily artificial intelligence, transport, and farming over the Parliament. Now if we just pair deregulation with lower taxes we may actually get somewhere…
Speaking on the reforms this afternoon, Lord Frost said:
"From rules on data storage to the ability of businesses to develop new green technologies, overbearing regulations were often conceived and agreed in Brussels with little consideration of the UK national interest.
"We now have the opportunity to do things differently and ensure that Brexit freedoms are used to help businesses and citizens get on and succeed."
Lord Frost will begin with a review of so-called "retained EU law" – the huge amount of EU legislation still on the UK's statute books; removing its special status so it's no longer a distinct category of UK domestic law, and ensuring all courts have the full ability to depart from EU case law. He describes it as finalising the process of "restoring this sovereign Parliament". There's a reason he's popular with the Tory membership…
Guido's post has more detail, much of which involves digitalising everything from share (stock) certificates and driving licences.
Hmm. I hope that when his proposals reach MPs that they are not taken too far. First, not everyone is online. Secondly, think of the hacking opportunities this could provide. Finally, and perhaps most importantly, digitalisation can lead quickly to establishing a Chinese-style social credit score.
One thing I did like was this:
Permitting the voluntary printing of the Crown Stamp on pint glasses and reviewing the EU ban on markings and sales in imperial units and legislating in due course, none of which were possible within the EU.
Robert Peston's misguided predictions
Sometimes, it is better to wait for the final outcome rather than tweet silly predictions:
On September 16, Guido noted witheringly of ITV's Robert Peston:
While yesterday may not have been great for Dominic Raab, at least he can take solace in the fact he had a better reshuffle than Robert Peston. ITV's senile senior political reporter spent all day tweeting every thought process, speculation and briefing with the acumen and insight of a first-year politics student.
Guido's article lists Peston's tweets. Perhaps ITV should buy him a new crystal ball.
Conclusion
I still think that most Conservative MPs are half-hearted. It's a shame that Boris did not promote any of the 2019 intake, especially the feisty ones from the North of England.
Fortunately, last week's horrible poll results have been reversed. Participants were polled during the reshuffle days of September 15 and 16:
Onwards and upwards to Boris's promised 'sunlit uplands', I hope.
Last week at this time, Prime Minister Boris Johnson was preparing for the G7 summit at Carbis Bay in Cornwall.
Prior to that, meetings between G7 foreign ministers and finance ministers took place earlier in London.
This is the family photo of the foreign ministers from their meeting in May. The eighth man is an EU representative:
One of the outcomes of the finance ministers' meetings in early June was a tax on profits from the largest multinational tech giants, to be continued when the G20 meet in July:
Joe Biden
It was amazing to see Joe Biden last the full course of the G7, especially without Kamala Harris hovering over him:
I am still puzzling over this photo of Dr Jill prepping for the G7 and the text 'United States government official'. She is the First Lady, not a government official:
Joe Biden successfully triggered a post-Brexit storm around the EU trading arrangements with Northern Ireland, which are crucial to maintaining the peace agreement between that part of the UK and the Republic of Ireland:
Biden's opinion is important, because the UK wants to make a trade deal with the US, which would have been much easier were President Trump still in the White House:
Nigel Farage rightly tweeted:
The sad truth is that no one in government cares about Trump. Boris has made it pretty clear in Parliament that he prefers dealing with Biden.
On Thursday, June 10, the US and the UK signed The New Atlantic Charter to promote common interests between the two nations, including technology, health pandemics and climate change.
The original Atlantic Charter was signed by Winston Churchill and Franklin D Roosevelt in 1941.
This new charter is hardly as ground breaking as the original.
The Daily Mail reported:
The major focus of Mr Johnson and Mr Biden's new charter is defeating the coronavirus crisis and preventing further global health crises.
To achieve these goals, the two men agreed to 'scale up joint work on genomic sequencing and variant assessments' and to work together on a new global surveillance system.
This will see the UK Health Security Agency's new Centre for Pandemic Preparedness establishing a working relationship with its US counterpart, the proposed National Center for Epidemic Forecasting and Outbreak Analytics.
The new charter states: 'We recognise the catastrophic impact of health crises, and the global good in strengthening our collective defences against health threats.
'We commit to continuing to collaborate to strengthen health systems and advance our health protections, and to assist others to do the same.
Mr Johnson said: 'While Churchill and Roosevelt faced the question of how to help the world recover following a devastating war, today we have to reckon with a very different but no less intimidating challenge – how to build back better from the coronavirus pandemic.'
While the men met, Carrie Johnson, young Wilfred Johnson and Jill Biden took a walk along the beach. That evening, the Bidens enjoyed a drink at the Tregenna Castle Hotel in St. Ives.
On Sunday, June 13, the Bidens left Cornwall and were guests of the Queen at Windsor Castle where they enjoyed tea together. The Express has more.
On Monday and Tuesday, Biden met with NATO leaders and held a private meeting with the president of Turkey, Tayyip Erdogan.
The Bidens flew to Geneva on Tuesday night. On Wednesday, Biden met with Vladimir Putin in Geneva.
Sausage war
On the topic of Biden's beef over Northern Ireland, he wants the UK to move closer to the EU and had the diplomat at the American Embassy in London issue Boris with a démarche, a reprimand normally reserved for enemy nations.
On Wednesday, June 9, the Telegraph reported:
Joe Biden ordered US officials to rebuke Boris Johnson for jeopardising the peace process in Northern Ireland due to its stand-off with the European Union, it emerged on Wednesday night.
In a significant diplomatic intervention which now threatens to overshadow the G7 summit in Cornwall, America's most senior diplomat in Britain told the Brexit minister Lord Frost that the UK's stance on the Northern Ireland Protocol was "inflaming" tensions in Ireland and Europe.
Yael Lempert is said to have issued Lord Frost with a demarche – a formal diplomatic reprimand – at a meeting on June 3 in London, during which she relayed to him the US President's "great concern" over the UK's approach to the protocol, which was established to prevent a hard Irish border.
The protocol is causing difficulty in shipping sausages, hence 'sausage war'. You could not make this up.
Lord David Frost is attempting to negotiate with the EU:
During "frank" discussions in London, the Brexit minister Lord Frost said he would not rule out acting unilaterally to prevent a ban on the sale of British sausages in the province from coming into force at the end of the month.
It came despite Maros Sefcovic, the European Commission vice-president, warning that the EU could ultimately suspend parts of the Brexit trade deal and hit British products with tariffs should the UK choose to extend the grace period on chilled meats.
In a clear show of defiance, one insider involved in the joint committee that oversees the Northern Ireland Protocol told The Telegraph: "David very clearly said he wasn't taking that off the table."
Lord Frost also rebuffed EU calls for the UK to solve the row by signing up to a Swiss-style veterinary agreement which would require it to follow the bloc's food safety rules as they change over time in a process known as "dynamic alignment".
Over the years, British food and veterinary standards have become more strict than those of the EU, so it is no surprise that Lord Frost is sticking to his guns.
The démarche from the United States upset the DUP leader in Northern Ireland — Edwin Poots — and some Conservative MPs in Westminster.
On Thursday, June 10, the Daily Mail reported:
New DUP leader Edwin Poots laid into Joe Biden today after the US president intervened in Northern Ireland politics with a rebuke for Boris Johnson over the EU 'sausage war'.
Hardliner Mr Poots accused the Democrat of trying to drive 'a coach and horses through the Good Friday Agreement' that guarantees sectarian peace in Northern Ireland.
The US President instead used his diplomats to express 'great concern' over the conflict centred on post-Brexit trade rules agreed last year by both sides, which the UK is now seeking to change, the Times reported today.
The UK is now at loggerheads with the EU over rules governing the import of chilled goods like sausages into Ulster under the Northern Ireland Protocol agreed six months ago.
The US is said to have issued a 'demarche' to Britain, an official diplomatic censure not normally used against allies, especially those as close as the two nations.
The United States was said to have 'strongly urged' Britain to 'stay cool' and reach an agreement, even if that meant making 'unpopular compromises'.
The White House tried to row back from the row today, insisting the bust-up had been overplayed, but not before the president was branded 'senile' by a Tory Brexiteer …
… an anonymous Tory MP told Politico: 'America should remember who their allies are… unfortunately he's (Biden) so senile that he probably won't remember what we tell him anyway.
'Unless an aide is listening I'm not sure he's going to remember for very long.'
The Express had more from anonymous Conservative MPs:
One told Express.co.uk: "The cognitive decline of the American President appears to mirror the decline of the special relationship.
"I don't actually believe this is Biden doing this.
"He's lost the plot again. Somebody is pulling his strings because he's senile and just hasn't got it – if he ever had it."
Another angry Conservative told this website the US was picking fights with the wrong people.
They said the Biden administration had issued a rebuke to the UK, one of America's oldest allies, quicker than it had taken action against Iran or China.
"He's talking to the wrong people on this one I'm afraid," the MP said.
The Gateway Pundit picked up on the story:
Joe Biden's first trip abroad is turning into an utter disaster as the senile sock puppet offends our closest allies and endangers the peace process in Northern Ireland with his incompetent dementia …
On June 10, the Prime Minister and Biden met privately at St Michael's Mount, a 17th-century castle on an island just off the coast of Cornwall.
The Daily Mail reported that Boris downplayed the disagreement:
Boris Johnson tonight insisted Joe Biden did not rebuke him over the Northern Ireland situation during their first face-to-face talks – as the White House tried to cool a furious row.
The PM revealed that the US president avoided reading the riot act over the Brexit standoff when they met in Cornwall this afternoon.
But he said there is 'common ground' between the UK, America and the EU that solutions must be found to the Northern Ireland protocol issues.
The Express quoted him as saying:
So it's a relationship, you can call it the 'deep and meaningful relationship', whatever you want, the 'indestructible relationship'.
It's a relationship that has endured for a very long time, and has been an important part of peace and prosperity in Europe and around the world.
Emmanuel Macron's gaffe
Emmanuel Macron ruffled British feathers when he said that Northern Ireland was not part of the United Kingdom.
The Express reported on Macron's reaction to the sausage war:
Britain has been left frustrated by the EU's implementation of the mechanism, warning excessive customs checks are having a detrimental impact on trade between Britain and Northern Ireland.
During talks with Mr Macron at the G7 summit, Boris Johnson tried to explain the problems with the Protocol, comparing it to the hypothetical introduction of checks on goods between Toulouse and Paris.
Mr Macron responded by saying there was a difference because Northern Ireland is a separate country to the rest of the UK.
The comments enraged Boris Johnson and led to Foreign Secretary Dominic Raab blasting the EU for a lack of "respect".
According to the newspaper, Macron also threatened a reset of British and French relations:
Emmanuel Macron was among the leaders who visited Cornwall this week for the G7 summit. Mr Macron told Prime Minister Boris Johnson the two countries had common interests, but ties could only improve if he kept his word on Brexit. One source told the Guardian: "The president told Boris Johnson there needed to be a reset of the Franco-British relationship. This can happen provided that he keeps his word with the Europeans."
Meanwhile, Carrie Johnson took Brigitte Macron and Jill Biden to a performance at the Minack Theatre. Mrs Macron wore espadrilles.
The Queen's reception
On Friday, June 11, the Queen held a reception at the futuristic green Eden Project for G7 leaders and their spouses. Prince Charles (pictured) and the Duke and Duchess of Cambridge also attended:
A family photo was taken, where the Queen cracked a joke:
She also hosted G7 leaders in 1977. Among them was Justin Trudeau's father, Pierre, on the far left in the photo below. Valery Giscard d'Estaing and the Queen engaged in conversation. It is unclear why the Queen Mother and Jimmy Carter were holding hands:
Other members of the Royal Family also attended this year's reception.
The Queen has met nearly every US president since Dwight D Eisenhower. The only one she never met was Lyndon B Johnson.
The Duchess of Cambridge took Jill Biden for a visit to Connor Downs Academy, a primary school in Hayle:
Jill Biden revealed that she knows Prince Harry well, thanks to the Invictus Games.
In a separate event, the Duchesses of Cambridge and Cornwall accompanied the Queen to an event in St Austell, where the monarch cut a cake with a ceremonial sword. This video is a must:
Lighter moments
The G7 security costs were eye-watering:
In addition, the Daily Mail reported that the Royal Navy's giant new aircraft carrier sailed past the summit venue where the G7 leaders are staying to prove Britain's power.
A beach party was held on Saturday, June 12. The weather was good:
The G7 family photo this year was socially distanced because of coronavirus:
Elbow bumps replaced handshakes:
However, social distancing disappeared for the flypast by the Red Arrows:
Conclusion
The G7 summit ended on Sunday, June 13.
The French tried to clarify Macron's remark about Northern Ireland:
Boris announced that the UK would build back better in a 'gender neutral', possibly even 'more feminine', way.
The nations' leaders also agreed to counter China's belt and road policy:
Meanwhile, the sausage war rages on.
The next big British event will be COP26, to be held in Glasgow in November 2021.
While much of the UK is in some sort of coronavirus lockdown — England is now in the new Tier 5 — let's cast our minds back to Christmas Eve 2020.
An imminent announcement was rumoured by news channels from the early morning.
Christmas Eve morning — in our household, at least — provided more excitement than Christmas Day, particularly since our area were in Tier 4 at the time, forbidding anything but the briefest of visits.
As December 24 unfolded, there was no final trade agreement enabling the United Kingdom to terminate the Brexit transition phase, scheduled to end at 11:59 p.m. Brussels time, on December 31.
Mid-afternoon, Sky News announced that there would be no statement that day. We stayed tuned in, which was just as well, because a short time later, they changed tack and said that that EU Commission president Ursula von der Leyen and British Prime Minister Boris Johnson would be making separate statements about a deal having been struck.
Amazingly, as Sky News announced there would be no announcement, this independent journalist called it correctly. Well done:
Guido Fawkes's team, who run the best British political website, had been primed for this from the week before. Tom Harwood went the furthest and had worn his Merry Brexmas jumper (pullover sweater) in their news wrap up video on December 18:
Around 3 p.m., Ursula von der Leyen made her announcement from Brussels. Boris made his from No. 10. While Ursula and our chief EU negotiator Michel Barnier were downbeat, Boris was positively euphoric:
His tie had a fish motif:
Fishing was the sticking point that caused the delay to an agreement being reached:
In the end:
Leavers are very grateful to Lord David GH Frost for his tireless efforts in negotiating on the UK's behalf. Words cannot describe how hard he has worked on our behalf:
This was Boris's announcement about the new trade deal with the EU beginning on January 1, 2021. Guido Fawkes has a written summary (ignore the photo, which was not one from December 24):
It was on as even terms as possible. Both von der Leyen and Barnier acknowledged that we were 'tough' in our negotiations. Good.
Michel Barnier is in the first video:
Michel Barnier spoke after von der Leyen. Thank you, Michel:
Here he says that the UK has chosen to leave the European Union and the single market. The new agreement is the basis of a new partnership, one that is fair and equitable:
The woman on the right in that photo moderated the session, which included a press conference.
More highlights follow.
Journalist Dave Keating has an excellent thread, which he introduced with the reference to white smoke appearing at the Vatican when there is a new pope:
Boris's usual critics doubted the 'Canada-style' description, until they began analysing the text. Some admitted on air and in print that it was, indeed, a Canada-style agreement.
The Telegraph had more on the agreement:
Boris sent a three-page letter to each MP and peer.
Contrary to what Boris said, the agreement was 1,246 pages long. Annexes and footnotes probably accounted for the extra length. You can read the full text here, using the links at the bottom of that page:
I couldn't agree more with the poll results.
I also fully agree with the PM that Brexit dragged on long enough:
Agree.
We will always be European.
We love our European friends and family.
However, the EU construct, as it evolved from a common trading area to a common army (developing) and lack of national autonomy, were steps too far for 52% of the British public. Here's a case in point: the EU Parliament — individual MEPs — won't even be voting on this deal until early 2021. We left at the last minute of 2020. This proves further that the only EU decisions that matter come from the EU Commission.
After the announcement of the new EU-UK trade agreement, reactions poured in.
First, here's a reaction from a member of the general public, a Leaver. I felt the same way:
Nigel Farage — without whom we never would have had a referendum (thanks again, Nigel!) — approved, even though the deal isn't perfect:
David Cameron, who was PM at the time of the July 23, 2016 referendum, said:
Theresa May, Cameron's successor and MP for Maidenhead, who ended up resigning over her poor handling of Brexit within Parliament, must have tweeted this through gritted teeth:
Conservative MP Mark Harper was unique in thanking Lord David GH Frost — Barnier's British counterpart — who negotiated so well. Harper — one of the good guys — said that he would look forward to reading through the agreement over Christmas ahead of the December 30 vote.
Another Conservative MP, Chris Heaton-Harris, said, that contrary to negative reports circulating in the media, no MP objected to studying the agreement over Christmas.
The leaders of the devolved nations — Scotland, Wales and Northern Ireland — also reacted to the news.
Scotland's Nicola Sturgeon said that Brexit is happening 'against Scotland's will' and issued yet another plea for Scottish independence.
Another socialist, Mark Drakeford, the First Minister — Prif Weinidog — of Wales, offered a more balanced assessment. Perhaps he recalled that most Welsh voters wanted Brexit. Drakeford said that it wasn't the deal hoped for (probably not enough links with the EU) but was workable.
Northern Ireland's First Minister, Arlene Foster (DUP), said that, provisionally, the agreement looked like 'good news' and issued a full statement on it.
Kate Hoey, the former Labour MP for Vauxhall (London) and the current Baroness Hoey of Lylehill and Rathlin in the County of Antrim, was a staunch supporter of Brexit and was one of the main Leavers in 2016 on the public stage. Even though her heart is in Northern Ireland, her homeland, she participates actively in the House of Lords. She had this to say about the agreement:
Her friends at Labour Leave were equally relieved:
Emmanuel Macron, France's petit président, played the tough guy. In one tweet, he said that European unity and firmness paid off; the agreement with the UK had to protect France's citizens, fishermen and producers. He assured them that this was the case, pointing towards a Europe that is sovereign and strong. In a second tweet, he thanked Michel Barnier for his tenacity and engagement in defending European interests and unity. He also said that, thanks to von der Leyen, European solidarity showed its force.
That evening, Boris posted his Christmas message. The first half is about coronavirus. The second part is about Brexit:
That day, all 52% of us wanted to focus on was this great achievement — a happy one, brightening a coronavirus-dominated Christmas:
The second day of Brexmas will follow tomorrow.