You are currently browsing the tag archive for the 'David Kurten' tag.
My most recent post on Liz Truss examined her first two weeks in office as Conservative Party leader and Prime Minister, from September 6th through the 16th.
Things had started out so well. Ironically, Jeremy Hunt, who is now Chancellor, told ITV's political editor Robert Peston on September 7 that Truss would be 'formidable'. An amazing endorsement from someone who was her natural ally:
Hmm. Did he know anything at that point? We'll probably never know.
On September 20, The Sun's political editor Harry Cole was delighted to announce his and James Heale's book on Truss, Out of the Blue, which later had to have hastily written chapters added to it:
Yes, it is still coming out by Christmas — November 24, to be precise:
King Charles and COP27
Liz saw King Charles on Sunday, September 18, the day before the Queen's funeral. It was not their usual day to meet, but the Royal Family went into private mourning until the end of September:
On Saturday, October 1, The Times reported that Liz had asked the King not to attend COP27, which ran between November 6 and 18, despite an invitation from the organisers.
This was a good move, in my opinion, as climate change, or whatever it's being called this week, has turned highly political.
The article said (emphases mine):
The King, a passionate environmental campaigner, has abandoned plans to attend next month's Cop27 climate change summit after Liz Truss told him to stay away.
He had intended to deliver a speech at the meeting of world leaders in Egypt.
Had she remained PM, Liz would not have attended, either:
Truss, who is also unlikely to attend the Sharm el-Sheikh gathering, objected to the King's plans during a personal audience at Buckingham Palace last month.
There were no hard feelings between the Palace and No. 10:
… a Downing Street source claimed the audience had been cordial and there had "not been a row".
No doubt he was expecting it:
A senior royal source said: "It is no mystery that the King was invited to go there. He had to think very carefully about what steps to take for his first overseas tour, and he is not going to be attending Cop."
They said the decision was made on the government's advice and was "entirely in the spirit of being ever-mindful as King that he acts on government advice".
In the end, the King held a reception at Buckingham Palace for world leaders before they flew to the summit. In light of that, this was rather interesting:
Charles is still determined to make his presence felt there, and how he will do that is "under active discussion". A senior royal source said: "Just because he is not in physical attendance, that doesn't mean His Majesty won't find other ways to support it."
A source who knows Charles said he would be "personally disappointed" to miss it and was "all lined up to go", with several engagements planned around his Sustainable Markets Initiative (SMI) which aims to persuade businesses to invest in environmentally friendly initiatives.
Public v parliamentary opinion
In late September, a poll showed that Truss was ahead of Labour's Keir Starmer in Red Wall seats, boosting the Conservatives by eight points:
Admittedly, that was before Kwasi Kwarteng's fiscal event, or mini-budget, of Friday, September 23.
That said, I will go out on a limb and say that most conservative voters thought that Kwarteng's — Truss's — plan was the right one. My better half and I thought it was refreshingly libertarian.
However, Conservative MPs vehemently disagreed with the public and started writing in to Sir Graham Brady, the chairman of the 1922 Committee, the all-powerful group that Margaret Thatcher dubbed 'the men in grey suits'.
On September 26, the Northern Echo reported:
A former Tory minister MP has told Sky News the new Prime Minister is "f*****" and the party are already looking to bring her down following Friday's mini-budget.
The MP said: "They are already putting letters in as they think she will crash the economy. The tax cuts don't matter as all noise anyway – mainly reversing back to the status quo this year …
Another Tory MP told the broadcaster that Friday's announcement – which included reversing a 1.25% hike in National Insurance – had been a "s***show".
Note that MPs were siding with the Bank of England. Very establishmentarian of them:
"The issue is government fiscal policy is opposite to Bank of England monetary policy – so they are fighting each other. What Kwasi [Kwarteng] gives, the Bank takes away."
The mood among Conservative 'wets', to borrow Thatcher's name for such weaklings, only escalated.
At Liz's one — and only — appearance before the 1922 Committee on Thursday, October 13, Robert Halfon, a wet, told Truss she had 'trashed the past ten years'.
Liz Truss was accused by a senior MP of trashing "the last ten years" of Conservative government as her party turned on its new leader over the mini-budget.
Robert Halfon, a former minister who chairs the education select committee, unleashed a furious attack on her financial measures, saying they disproportionately benefited the wealthy and meant she had abandoned "workers' conservatism".
Anything but, however:
According to an MP present, Halfon told Truss in a meeting of the 1922 Committee of backbenchers — her first as prime minister — that "in the last ten years we had the living wage, a focus on apprenticeships and skills", contrasting that with "bankers' bonuses, benefits cuts and now cuts to affordable housing targets".
His intervention came after Truss tried to assuage Conservative MPs by saying she had "shielded families and businesses from bills of up to £6,000 this winter and for the winter ahead, while Labour has no plan beyond the next six months".
The meeting did not go well. Halfon seemed to voice other MPs' concerns:
… a Tory MP who has been in the Commons for more than a decade said: "It was the worst 1922 I've ever been to." They added: "With each tough question she looked like she'd had the wind knocked out of her — the 31st of October could finish her off on the basis of the reception she got in that room."
Halloween — who schedules these things? — was supposed to be the day Kwasi was going to set out more detail behind his fiscal event. Liz's friend and neighbour in Greenwich was on hand to support her:
Thérèse Coffey, the deputy prime minister, told reporters outside the 1922 meeting that the chancellor would meet MPs before presenting his medium-term plan on Halloween, stressing that engagement was key.
In the event, Truss had to sack Kwarteng and appoint (ahem) the aforementioned Jeremy Hunt as Chancellor. He delivered his shocking budget on Thursday, November 17, to Prime Minister Rishi Sunak's approval. Sunak nodded several times during the presentation.
Returning to The Times's article of October 13, what other wets said presaged the future:
Even those who back the prime minister expect some sort of climbdown. One MP said: "She will have to unwind everything fiscal in the statement. They have to backtrack. There is no alternative. They've done it on the 45p and they'll have to do it on the rest.
"Then if we are still 20 points behind in the polls we will have to change leader. We are cold-blooded like that."
Another admitted there was "definitely still a big split between her and the Rishi [Sunak] side of the party". Asked if Truss would have to perform another U-turn, they said: "Ultimately, I suppose it depends if she's leveraged into that position by our own party, but it's all by those with 20,000 majorities."
Hmm … Hmm.
However, one Rishi Sunak supporter — Esther McVey — is deeply unhappy over his Chancellor's budget:
On Tuesday, November 22, McVey rightly tore the budget apart in ConservativeHome, saying that Hunt's tax rises are 'socialist measures' that are 'punishing Conservative voters':
… It wasn't helped by the Chancellor's statement being such a pendulum swing from the Liz Truss / Kwasi Kwarteng mini budget. People went from thinking they were getting their taxes cut to seeing them hiked.
The Autumn Statement was clearly an over-correction to that mini-budget. Going from one extreme to the other is hardly reassuring for people. A middle ground was needed: an acceptance of Conservative principles, with a costed plan and the accompanying narrative to reassure the markets.
Instead, Hunt delivered his statement with a doom and gloom that would have appropriate were the country on the brink of financial collapse. However, despite some serious challenges, things are not so dire that we had to have such excessive medicine.
For instance, the ten-year gilt yield – the interest rate the Government must pay on a new decade-long loan – was 3.14 per cent, whereas, even before the notorious mini-Budget in late September, that same yield was much higher at 3.49 per cent.
Britain is no more indebted than other comparable countries. Our national debt (albeit too high) stands at 97 per cent of GDP, whereas France, Canada and the US stands at 115 per cent, 116 per cent and 132 per cent respectively. Across the G7, only Germany has lower levels of government debt than the UK.
So when I stood up in the House of Commons at PMQs the day before the budget and said –
Given that we have the highest burden of taxation in living memory, it is clear that the Government's financial difficulties are caused by overspending and not due to undertakings. Does the Deputy Prime Minster therefore agree, if the government has got enough money to proceed with HS2 at any cost then it has sufficient money not to increase taxes, if however, it has so little money it has to increase taxes (which is the last thing for a conservative government to do) then it doesn't have sufficient money for HS2 [High Speed Rail 2]?
So can I gently urge the Deputy Prime Minister not to ask Conservative MPs to support any tax rises, unless and until, this unnecessary vanity project is scrapped, because I for one won't support them.
– it was to remind everyone there are better choices for our Conservative government than hiking up taxes.
In fact, given that unprecedented tax burden, any self-respecting Conservative would instinctively know that the answer is to spend less. Dropping HS2 – an out-of-date white elephant, costing north of £150 billion which (as Andrew Gilligan revealed on my show on GB News) the Ministers themselves know will deliver less economic benefit than the cost of it – would have been an ideal place to start. That would certainly have been more desirable than increasing taxes on hard-working families who are already feeling the severe pain of higher energy prices and increased mortgage payments.
If a Conservative government with a sizeable majority – in a time of financial pressure – won't cut public expenditure to start living within our means, then when on earth will that ever happen? …
Parliament is debating Jeremy Hunt's budget this week. In Monday's proceedings, a number of Conservative MPs spoke out against it.
Liz's U-turn on windfall tax
On October 12, two days before she sacked her friend and neighbour Kwasi Kwarteng, she appeared to do a U-turn on 'no new taxes' by allowing an announcement for a new levy on green energy firms.
Her ally, then-Business (BEIS) Secretary Jacob Rees-Mogg, defended the move and claimed it was not a windfall tax:
Guido Fawkes reported (emphases his):
The government has announced a new plan to impose a multi-billion pound levy on green energy firms to fund support to consumers. Renewable and nuclear electricity generators in England and Wales will now have their revenues capped after windfall tax-hating Liz Truss seemingly bowed to pressure to limit profits. The announcement came from BEIS last night, which is calling the new policy a "Cost-Plus-Revenue Limit" and spinning that it isn't in any way a windfall tax "as it will be applied to 'excess revenues' as opposed to profits". If it walks like a tax, swims like a tax and quacks like a tax…
The latest backtracking on free market values by the government comes just 41 days after Liz Truss told party members at the London husting that they could read her lips, and there would be no new taxes under her leadership …
On Today this morning, Rees-Mogg tried performing a Jedi mind trick, saying "this is not a windfall tax…this is rationalising the market"…
Despite the government's denial that the new revenue limit is a tax, the boss of RWE – the third biggest renewable power generator in Britain – has told The Times the move "is a de facto 'windfall tax' on low-carbon generators that, if not designed and implemented correctly, could have severe negative consequences for investment in the renewable and wider energy market and so for the energy transition."
Guido warned that Labour's support for the new levy is not a good sign:
Ed Miliband welcoming the policy with open arms should give the government sufficient pause for thought before it buys its own spin…
The mystery of Liz signing UK up to EU's PESCO
Early in October, Liz did a strange thing, considering she is a staunch Brexit supporter.
She attended the first ever meeting of the European Political Community in Prague. The European Political Community is Emmanuel Macron's brainchild.
This group is made up of EU member countries, yet, somehow Liz got an invitation. No one knows for certain.
However, she went.
She met with Macron on Thursday, October 6, in an effort to get the Channel dinghy crossing issue resolved.
GB News reported:
Liz Truss hailed Emmanuel Macron as a "friend" on Thursday, as the two countries signalled that a new agreement could be close to tackle small-boat crossings in the Channel.
The pair met at the first summit of the European Political Community in Prague, a gathering pushed for by the French president.
There, the pair said they looked forward to "an ambitious package of measures this autumn" to address issue of migration across the Channel.
And in a sign that Ms Truss hopes to improve relations with Mr Macron, she had no hesitation in labelling him a "friend", just weeks after refusing to do so …
Mr Macron later suggested it was a "problem" if Britain could not call itself a friend of France.
But Prime Minister Ms Truss adopted a different tone ahead of a meeting with Mr Macron in Prague on Thursday.
She told broadcasters: "I work very, very closely with President Macron and the French government and what we're talking about is how the UK and France can work more closely together to build more nuclear power stations and to make sure that both countries have energy security in the future.
"We're both very clear the foe is Vladimir Putin, who has through his appalling war in Ukraine threatened freedom and democracy in Europe and pushed up energy prices which we're now all having to deal with."
Asked if he was then a friend, Ms Truss said: "He is a friend."
The bi-lateral meeting between the two leaders, which took place towards the end of the day, appeared to signal some progress on the issues of migration and energy, both areas Ms Truss had raised as priorities ahead of the summit.
"Thank you for being here," Mr Macron told the PM when they met.
It also emerged that the two countries have agreed to hold a joint summit next year to "take forward a renewed bilateral agenda", in a further sign of the desire for warmer relations between the two countries.
On migration, a joint statement said the leaders "agreed to deepen cooperation on illegal migration within the bounds of international law, to tackle criminal groups trafficking people across Europe, ending in dangerous journeys across the Channel".
But the big, and secret, news was that Liz had signed the UK up to the EU's PESCO — Permanent Structured Co-operation — which is a military initiative.
Nigel Farage announced the move on his GB News show as soon as he had heard.
On Friday, October 7, The Express said that the move could affect British armed forces by dragging them into an EU army:
The Prime Minister has been warned not to allow the UK to be dragged into an EU Army by accident after she signed a military deal this week at Emmanuel Macron's European Political Community (EPC) summit in Prague. The decision to go into part of the PESCO has alarmed some Brexiteers who fear it could undermine the UK's sovereignty.
Former defence minister Sir Gerald Howarth, a leading Brexiteer has led the campaign to resist joining PESCO for many years.
He said: "This is very serious and we must be very careful. The issue around PESCO is that the structures are permanent.
"We must not sign up to anything which undermines our sovereignty and where we do not have a veto.
"Second, we must not do anything that undermines NATO. If we have learnt anything over the last few months is that we need NATO for the defence of western values and Europe against our enemies which at the moment is clearly Russia."
Even if this has to do with Ukraine, and enables us to move troops and military equipment more easily, it still raises questions:
At the EPC meeting on Thursday, the EU member states voted unanimously to allow the UK to join the the mobility project that would allow the UK to move troops and military equipment more quickly.
The UK Government decided to enter the strand in case Britain is called upon as a NATO ally to defend the Baltic states from a Russian invasion.
However, staunch Brexiteer Mark Francois MP was relaxed about it:
One senior Brexiteer, former Armed Forces Minister, Mark Francois, who now chairs the powerful group of Tory Brexiteers the European Research Group (ERG), said he believes that the move was the right one.
He said: "As we are outside the EU, we can opt in to individual PESCO projects if they have merit and looking at how we could speed up reinforcing the Baltic States from the UK, across internal EU borders, may well have military advantages.
"However, it is NATO that remains the bedrock of our security, especially in deterring further Russian adventurism and we should never forget that."
On October 9, David Kurten, a former London Assembly member and founder of the Heritage Party, said that signing the UK up to PESCO was a betrayal of Brexit:
One month ago, the aforementioned Sir George Howarth appeared on Farage to say that we still do not know what part of PESCO Liz signed us up to. He was clearly concerned, saying that the implications could be important, especially as none of the countries involved has a veto. The EU calls all the shots:
Today, one month on, we are none the wiser about our involvement in PESCO.
Someone must know what's going on. In fact, a lot of people probably do know.
Liz's final week
All of Liz's opponents, whether on the right or the left, told us that Liz and Kwasi, joined at the hip politically, had to go.
Project Fear started as soon as Kwasi delivered his mini-budget on September 23.
On September 27, Bloomberg told us that UK markets had lost $500 billion in combined value since Liz Truss became PM. Really?
'Investor confidence' means international markets, ergo part of the Establishment.
Also at that time, former Conservative Chancellor George Osborne, who served under David Cameron, stuck the boot in.
On September 29, a comment from an UnHerd reader appeared in response to one of their articles, beginning with 'Is this the end for Liz Truss?':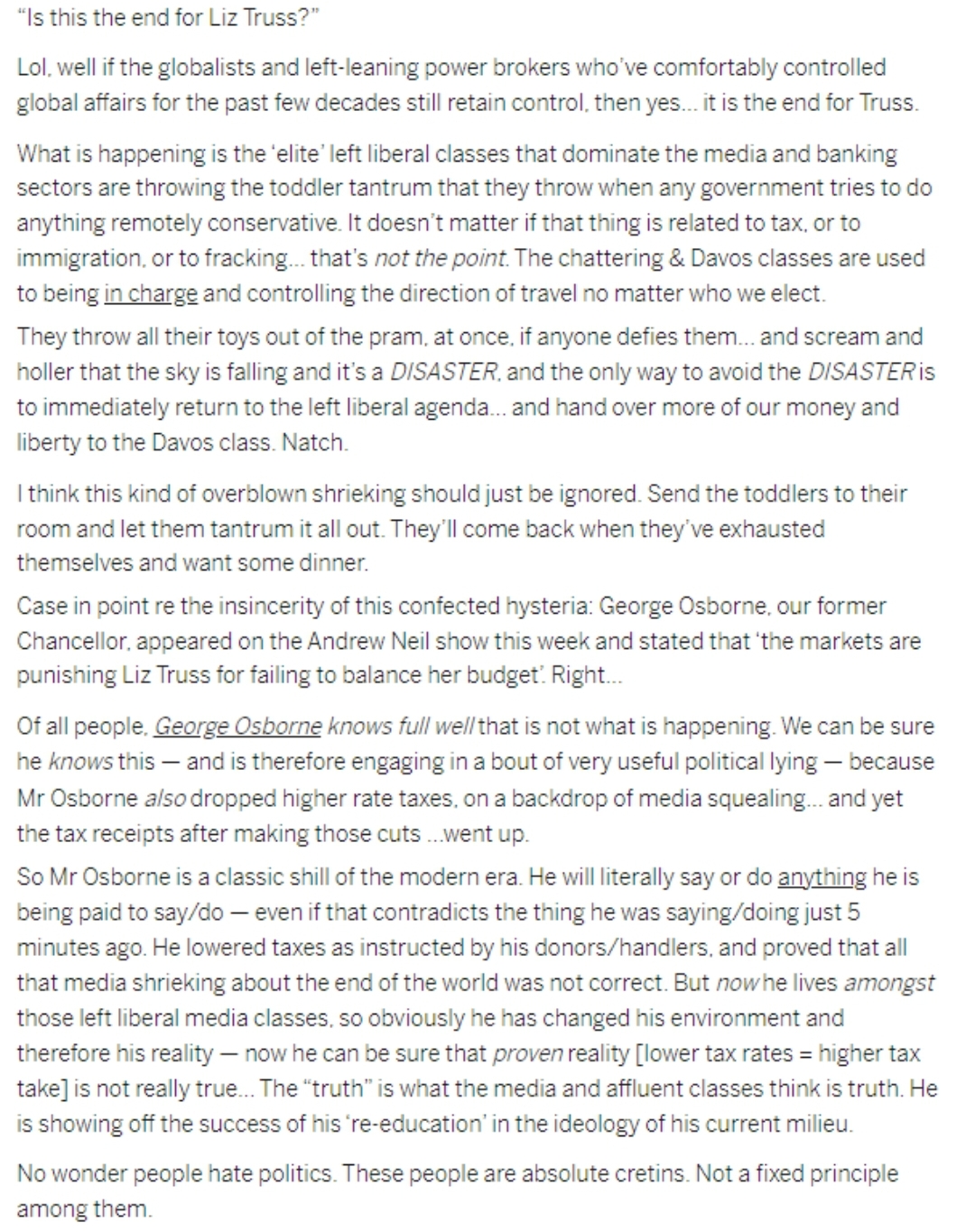 Osborne features heavily in it. The reader quotes him saying, 'The markets are punishing Liz Truss for failing to balance her budget'.
The UnHerd reader says:
Right.
Of all people, George Osborne knows full well that is not what is happening. We can be sure he knows this — and is therefore engaging in a bout of very useful political lying — because Mr Osborne also dropped higher rate taxes [the 50% rate], on a backdrop of media squealing … and yet the tax receipts after making those cuts … went up.
So Mr Osborne is a classic shill of the modern era …
As to whether Liz would have to go, the reader supplies the answer at the top of his message:
… well, if the globalists and left-leaning power brokers who've comfortably controlled global affairs for the past few decades still retain control, then yes … it is the end for Truss …
… It doesn't matter if that thing is related to tax, or to immigration, or to fracking … that's not the point. The chattering and Davos classes are used to being in charge and controlling the direction of travel no matter who we elect.
Speaking of such people, on Wednesday, October 12, King Charles greeted Liz with, 'Dear, oh dear', while the press were still there to record it for posterity:
What did he know and when?
The beginning of the end came two days later on Friday, October 14, when Liz sacked Kwasi and appointed (ahem) Jeremy Hunt as Chancellor. This was the shortest and most painful press conference — she only took four questions — in living memory. She looked like a rabbit in the headlamps or a hostage being forced at gunpoint to read out a message:
As soon as she announced it, we knew Hunt was, at that point, the de facto Prime Minister.
Hours later, The Telegraph reported:
Mr Hunt, a former foreign secretary, took the helm at the Treasury following the sacking of Kwasi Kwarteng over the mini-Budget fiasco. Ms Truss turned to him even though the pair have strongly disagreed on economic policy.
Mr Hunt, also an ex-health secretary, endorsed Rishi Sunak for the Tory leadership after being voted out of the race in July, saying: "This is the wrong time for populist crowd-pleasing and the right time for honesty."
He will hold huge power over a weakened Prime Minister, raising the likelihood that much of her growth plan will now be axed. Allies said that he would act as her "chief executive".
Mr Hunt ran for the Conservative leadership on a platform of slashing corporation tax to 15 per cent to boost growth but also opposed cuts to personal levies such National Insurance and income tax, with which Ms Truss still intends to press ahead.
His appointment was announced moments before the Prime Minister unveiled her U-turn on corporation tax at a press conference. She ditched what had been a core leadership pledge, meaning the rate companies pay on their profits will go up from 19 to 25 per cent in April. It means she has reverted to the plan put in place by Mr Sunak when he was chancellor.
Quelle surprise!
Conservative Party members had voted Liz Truss in largely on her economic policy.
The elites took out her Chancellor. Soon afterwards, they came for her in the form of Conservative MPs and the 1922 Committee. It was a grand game of political chess, not seen since Margaret Thatcher was removed from office in 1990.
To be continued on Friday.
Sunday, June 6, 2021, was the 77th anniversary of D-Day, the Longest Day: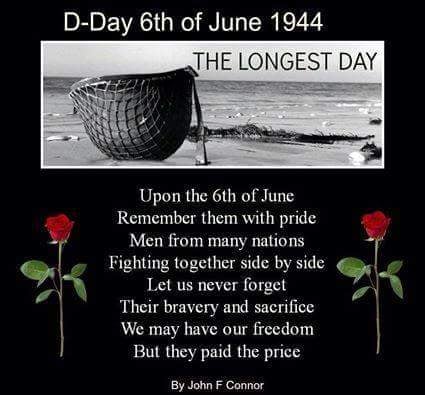 This map shows the landings in Normandy: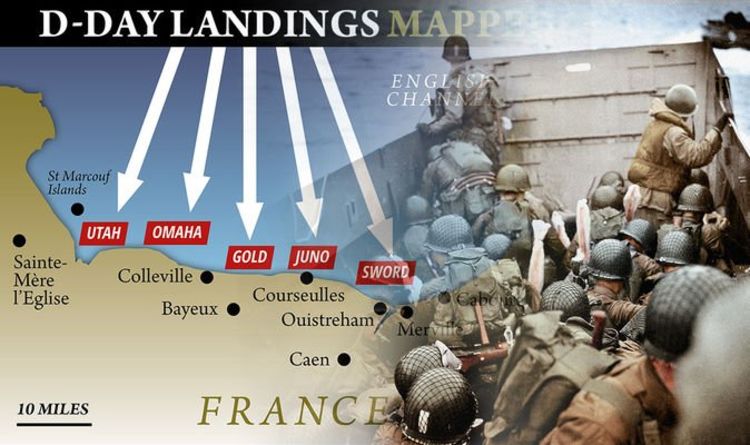 While preparing Sunday dinner, I listened to C-SPAN's Sunday morning show, broadcast on BBC Parliament. Sarah Rose, the author of D-Day Girls, was the guest. Her book is a novel, but she did a lot of historical research showing the intelligence work that women did behind the scenes as part of a carefully-managed international network.
The phone-in included many sons and daughters of Second World War veterans. Nearly all said that those veterans were, understandably, highly reluctant to talk about their war experiences. However, some said that their fathers or grandfathers opened up in their later years. One caller said that she has several hours of memories that she has recorded for posterity, particularly for younger family members.
With more and more of those veterans passing from this mortal coil, now is the time for children and grandchildren to record and catalogue those memories, if they can. One person who has done so is the author of Pacific Paratrooper, remembering Everett A Smith, their father. It's an excellent website, which also documents much history about the battles and conditions in the Pacific theatre. I am delighted to have the author as one of my regular readers.
We will always remember those heroic men and women:
Incidentally, the Houses of Parliament were bombed in 1941 and had to be reconstructed authentically in the 19th century manner. Both were faithfully restored. The next tweet shows the House of Commons:
Seventy-seven years later, we are still in the grip of the coronavirus crisis and a loss of freedom the troops involved in D-Day would have found unthinkable.
In Britain, former Prime Minister Tony Blair (Labour) appeared on The Andrew Marr Show to say that Britons who have had two vaccinations should be allowed greater freedoms, thereby creating a two-tier society:
If a Conservative had said that, Marr would have heaped criticism all over him or her.
It is mystifying that Tony Blair even gets airtime on this topic. He isn't in government, nor is his party.
It appears I am not alone, judging from the replies to this tweet:
On the topic of vaccines, Tony Blair has never said if his son Leo, born when he was in No. 10, had the MMR vaccine, which was highly controversial at the time. So, it was okay for him to refuse to give his son a vaccine that every other child born in Britain had/has to have. It is very difficult to get separate children's vaccines for measles, mumps and rubella. One imagines that Blair managed to get them for his son.
Tony Blair also wanted national ID cards. The debate raged for a few years in Parliament. Fortunately, nothing happened.
On Monday, Guido Fawkes's cartoonist Rich, recalling the ID card debate from the Blair years, posted this:
On the topic of vaccines, the Government is talking about giving them to children. Highly dangerous, one would have thought. The Telegraph's Bob Moran was moved to create this cartoon a week ago:
ITV's Good Morning Britain stoked the flames by asking whether the vaccinated should refuse to associate with the unvaccinated:
Fortunately, most Britons disagree with Good Morning Britain:
June 21 is supposed to be Freedom Day, according to the Government, with the caveat that full reopening of Britain will be based on data rather than dates.
It should come as no surprise that the Government could now backtrack on that date:
On June 1, we had no coronavirus deaths, but that did not make the news:
TalkRADIO host Julia Hartley-Brewer is fed up with the delays. In fact, as the chart below from Peston shows, the UK's actual coronavirus stats are much better than SAGE's models:
On June 3, Portugal, the only European country on the UK's green list for travel, was moved to the amber list, yet these charts tell a different story:
One suspects that it was only ever on the green list for the Champions League final in Porto:
Oddly, we had more freedom a year ago — with no masks and no vaccines — than we do now:
In Wales, First Minister Mark Drakeford (Labour) says that social distancing will not be disappearing any time soon:
Data for the UK should be available on June 14, at which point the Government will announce their decision regarding June 21:
The Government have paid for coronavirus advertising and COVID marshals, extending to 2022. Former London Assembly member David Kurten tweeted a reminder:
I, too, want my country back.
In Germany, scientists from Munich University say that lockdown had no effect on the virus spread:
Something is very wrong when, in a five-minute speech on television, a prime minister or a president can remove everyone's civil liberties at a stroke.
Monday, March 23, 2020, will be etched on my memory forever. That was the date of the UK's first lockdown.
D-Day. Freedom Day. What has happened to us — and for a 'pandemic' with fatality rates no worse than influenza? We are in a very bad way, not only in the UK, but also elsewhere in the West.
On Saturday, September 26, 2020, another anti-lockdown protest took place in Trafalgar Square and at Speaker's Corner in Hyde Park.
The media have showed protesters charging the police, with the police reacting violently, eventually dispersing the crowd and shutting down the protest.
The crowd were of all ages and races. The middle class people attending were nicely dressed, as is evidenced in the images below.
Many people from all walks of life are questioning the Government's handling of the coronavirus crisis:
Yet, with selective editing, newscasts made protesters look like crazed fanatics.
One person who read a protester's account in The Sun shared it in a comment on one of Guido Fawkes's posts. I can't hyperlink it because Guido's commenting software does not have that facility. Here is the comment, left in its original state (emphases mine below):
OT. Just read the following c0mment from a sun reader on yesterday's pr0test. So far I've not seen one MSM news report telling the truth.
I would just like to let you know what happened yesterday at the mass demonstrations in London yesterday – to counter the lies and distortions that were published yesterday in the Mainstream media. We were there from 11am and watched as Trafalgar Square got more and more full, up to capacity which was 35,000 and not the 15,000 reported by the media.
The rally began with a one minute silence for the police man who died on Friday. 35,000 people observed it without a sound. There was a big round of applause for the police. Not mentioned anywhere in the medias shameful coverage of this event.
There were 2 hours of talks with no trouble. Many were at two previous rallies and the question was raised did any previous attendee get ill from Covid-19 by attending. There was silence. As none did. Just as followed the much larger BLM marches when the virus was much more prevalent.
Then as soon as a well-respected German doctor began speaking, who represents a group of 1,000 medical experts and doctors worldwide speaking against the Lockdown, the police moved in confiscated equipment and with raised batons attacked the crowd, many of whom were sitting down. This was a coordinated attack on peaceful protestors.  A large group were sitting on the floor and the police stomped over them. The police attacked peaceful elderly demonstrators as Save our Rights UK FB. People were batoned in the face. in the mainstream media the videos they show, show protestors moving towards the police.
Here is Dr Heiko Schöning, who travelled to England from Germany, giving an interview some time before he spoke. The video ends with his arrest, which took place later that day.
If I were the Metropolitan Police Commissioner, I would be very embarrassed indeed.
Oops, look. YouTube removed a very intelligent interview. Only the past two minutes covered Dr Schöning's arrest:
He spoke in his home country, in Berlin, a few weeks ago with no problem, even though his perspective on coronavirus probably differs from Angela Merkel's. He was still in custody on Sunday. Good grief:
David Kurten, a Brexit Party member of the London Assembly who has just founded the Heritage Party, commented:
As of Sunday it appears as if he was still being held but not charged with any offence (?!):
Police finally released the good doctor from custody on Sunday afternoon (!). He was quick to comment, rightly frustrated that his phone and computer had been confiscated. He said that a book, Corona, False Alarm, had been translated from German into English recently. (He is not one of the authors; Karina Reiss PhD, an associate professor in biology, biochemistry, infection and inflammation, co-wrote it with Dr Sucharit Bhakdi.) He thinks that was the trigger for his arrest. He says that this is a 'plandemic' and goes back to the bank crash of 2008, where TPTB were just 'biding their time' for a reprise in order to create chaos:
Thank goodness he can return home.
Yet, Dr Schöning committed no crime, unlike the person who vandalised Churchill's statue in London:
It took quite a while before the defacer of Churchill's statue was arrested:
Now on to those attending the protest.
At the 43-second point in the next video, a man is escorting a young woman away from the police. She looked as if she were about to throw up. Hmm, looks as if something's gone wrong and possibly not by her own making:
After allegedly roughing up a 59-year-old man carrying an American colonial Don't Tread on Me flag in Hyde Park, police allegedly laughed at him:
Fully agree about the shocking murder in cold blood of the police sergeant. My deepest condolences to his family and friends.
Back to protests, however. It's hard to disagree with those who say we have seen two-tiered policing on display over the past few months:
It seems that way. Contrast Saturday's protest with a police-escorted one from June. Talk about double standards:
Kathy Gyngell, editor of Conservative Woman, attended Saturday's protest. This is her report, excerpted:
As I approached Trafalgar Square from Whitehall, it seemed almost too quiet. I even wondered for a moment if the rally was happening. Then I knew it still was. For, arriving within the Square, I found thousands of people quietly and respectfully listening to a speech, as I then tweeted.
All ages were there, all races, classes, colours and creeds – and many, many young people.
'Look at this', I messaged a friend with this picture, 'compared with the crazy disruptive XR that the police did nothing about for weeks.'
By contrast with the positive gaiety and smiling police faces I witnessed day after day trying to get through XR's massive disruption of Trafalgar Square earlier this year, I felt a lowering police presence. I did notice and wonder about the armed police poised menacingly between the columns of the neo-classical National Gallery frontage looking down on the crowd.
Nor were they there, it later became obvious, to protect the speakers or the organisers. 
I moved through the crowd chatting to different friendly people – who was speaking, who was next on? Everyone was straining to see and hear. But no one could have missed the event's organisers' repeated stress on the importance of the rally's peaceful credentials. Though they really didn't need to. The atmosphere was warm, wonderful and good-humoured. The placards said it all – with so few but such apposite words:
Democracy not Dictatorship; No Gestapo Policing; When Tyranny Becomes Law; Fear is Contagious so is Hope; In the Name of Public Health – Hitler Said the Same; Take the Masks Off – Smell the Bullshit; We do not Consent; We are the 99 Per Cent; We Are Being Gaslit; Matt Hancock can go Vaxx himself. 
I felt proud to be British again. It felt the best of how British people are; in a great tradition of British questioning of authority.
Soon I was singing along to 'We are the 99 per cent' and more words I cannot repeat here – hard to hear anyway because there was so much laughter. 
Then it got serious again with a rather long and worthy speech about the need for world or free trade (I couldn't make it out) which decided me to do a final survey of the crowd before setting off home. More young people. All races. All good-humoured.
As I reached the south-west corner of the Square I saw police by their motorbikes were donning helmets. 
Heading on towards Pall Mall, I saw that grim faced masked police in vans were beginning to pull out from a side street parking. In my innocence I thought this over-manned convoy was off back to base because with no trouble and relatively few people they were just not needed.
How mistaken I turned out to be. It was not till I got home that I found to my horror from the news that far from going back to base this must have been the start of their mobilising against the crowd. Which indeed they did. Officers determined to disperse the crowd, penned it in. Protesters and police were hurt.
Who authorised them to pen the crowd in? There was no need – there was no overspill into surrounding streets. And why did the police not regard this crowd with the same tolerance they did with the recent BLM protests? …

As a friend who was there to the bitter end reported back to me: 'It was an amazing day but so tarnished by the police at the end. I feel deeply shocked by the way they stormed in. It was totally unnecessary and quite worrying in our democracy that this is how a peaceful demonstration is treated. It's made the whole situation all the more worrying, I feel. It did feel amazing however to be surrounded by people not willing to accept this so-called New Normal.'
The Metropolitan Police tweeted about the protest on Saturday, before the event. The photos in the reply were from that afternoon. Note the lady in the tweed suit (lower right hand corner):
Here's a close-up of her and a contrasting photo of police from early in the summer at a violent protest, proving two-tiered policing:
Let's get a closer look at the contrast between June and September:
This video shows what happened to that lady. A policeman punched her in the stomach and she was thrown to the ground:
I hope that lady and other attendees will be all right and were able to get prompt medical attention.
However, an alternative version of the lady's actions, implying she was a crisis actress — possibly for the police — is here, part of a thread.
Whether she was a playing a bit part or not, Saturday afternoon proved to be an abject lesson on how to deliberately reverse a peaceful protest.
Anna Brees, a former journalist for both the BBC and ITV, interviewed honest, hard-working people at the protest who have genuine concerns about their livelihoods under the Coronavirus Act 2020. They are not actors. Many are first-time 'protesters'. They attended in good faith, to make their views heard peacefully:
This is what the Mayor of London had to say:
Terrible. Just terrible.
I remember nearly 30 years ago when one could ask a bobby on the beat for directions and have a pleasant exchange with him.
Back then, our police — including London's Met — were the best in the world for fairness and courtesy.
We have been hearing throughout the coronavirus crisis that British policing is 'by consent'. Historically, that has been true.
Those were the days — long gone, it seems, in some contexts.
How sad.
In case anyone missed them, here are Parts 1, 2, 3 and 4 of this series about the British public's suspicion over the continuing coronavirus lockdown.
The June protests vexed Britons who were trying to do the right thing: staying at home and social distancing when outdoors.
All of a sudden, that flew out the window. Protesters had pride of place, yet, the rest of us still had to obey the social distancing guidelines.
That rankled, especially as we had been told we were selfish because we wanted to hug our loved ones who didn't live with us. Think of grandparents and grandchildren.
What about people who just needed to get outdoors in the fresh air by themselves?
What about children who longed to see their friends? This former barrister and co-editor of Conservative Woman nails it:
And what about the people who freaked out over a very limited reopening of schools on Monday, June 1?
What about the average law-abiding person?
Yes, those people are 'the problem'. We are made to feel guilty through no fault of our own.
The frustrating hypocrisy of it all:
Then we had Piers Morgan taking issue with Boris's top adviser for trying to care for his little boy and with Labour MP Barry Gardiner for attending the demonstrations. Yet, Piers applauded his own son for taking part in the protests:
But I digress.
There was no social distancing during the protests. In fact, some police officers in London were assaulted.
However, even though Health Secretary Matt Hancock advised that the rules be kept in place over the weekend of June 6 and 7:
… the lack of social distancing was acceptable:
It was for a cause.
Health 'experts' said so — 1,200 of them, in fact:
Tucker Carlson had an excellent editorial on this on Friday, June 5. Anyone complaining about social distancing and protests is 'the problem', not the protesters and rioters. Well worth a watch. You could not make this up:
But what about the people told to leave London parks because they were sunbathing by themselves? What about Piers Corbyn who was arrested twice for advocating against lockdown? Where were the Metropolitan Police during the protests? On hand, but either taking a knee or standing by doing nothing:
Boris didn't do anything, either. We have a Home Secretary. He could have got in touch with her.
This is what he issued on Saturday, June 6, the day of yet another protest in London over an American who died on home soil in Minneapolis, Minnesota:
'The evils of fascism'. Don't make me laugh, Prime Minister.
Things were no better in Northern Ireland …
… or Scotland, where thousands were expected to attend a protest on Glasgow Green:
The Labour leader, Sir Keir Starmer, was a bit slow on the riots. Didn't he know that American cities were being destroyed and shops across the country looted? President Trump never stopped peaceful assembly:
Anyway, there is some good news in all of this. More people in the public eye have noticed that continuing lockdown in the UK is a bad idea:
Unfortunately, a number of 'senior figures' from the NHS do not see it that way, primarily because of the close proximity of protesters in early June. That is not the fault of the British public and is likely to make them even angrier. They were not among the protesters. They are eager to get back to work.
In fact, said 'senior figures' will probably make the British public all the more suspicious about the protests. Were they timed to prevent lifting of lockdown? We'll never know.
In any event, this concludes this series with a few key points to keep in mind:
It's going to be a long, hot, tense summer here in the UK.
Before reading this, here are Parts 1, 2 and 3 of a series on coronavirus and lockdown.
It seems that the British silent majority were largely fine with obeying the rules that Boris Johnson's government set until the end of May.
By then, they began asking questions about the duration.
During the first two months of lockdown, they understood that the reasons were not to put too much pressure on the NHS.
However, as Boris and his ministers are taking only 'baby steps' (Boris's words) to release us, many wonder what the real plan is.
Rightly or wrongly, suspicion is rife:
There is also the question about the NHS and the need for treatment outside of COVID-19.
Those of us who watch the daily coronavirus briefings from the government can't help but notice the messaging, especially from Health Secretary Matt Hancock:
I missed this little titbit from the coronavirus briefing on Friday, June 5. Hancock said, 'As the NHS reopens'. Hmm:
Yet, Britons are still missing out on non-coronavirus NHS treatments that are urgent:
I couldn't agree more with this next observation from Prof Karol Sikora:
Then we have the unknown consequences of Big Data intrusions into our lives:
This is now climbing up the chain to stain Prime Minister Boris Johnson, the champion of his soi-disant 'Government of the People':
The goalposts have clearly shifted since Boris's stonking victory in December 2019:
Lockdown has now gone on too long:
Despite what the government and scientists say on the weekday coronavirus briefings, other statistics find their way through the established narrative:
Yet, part of the blame also lies with the proportion of the British public who are afraid of re-engaging with society the way they did before lockdown:
Those who are afraid can stay at home. Let the rest of us get back to real life.
This London Assembly member from the Brexit Party is spot on. Lockdown must end:
Social distancing will end up being a killer, too:
One hopes it doesn't come to this:
One wonders whether there is such a thing as conservatism any more:
Or is the WHO driving this? They must think we are stupid. Perhaps we are:
We will never be in a risk-free, virus-free world.
Ending on Boris, for now, this is something I missed. Then again, I don't listen to BBC Radio 4. Even if I had, I would have thought that Boris's father Stanley was voicing his own views, not his son's:
Boris is still better than his Labour counterparts — Jeremy Corbyn (then) and Keir Starmer (now).
However, his polling will take a dive unless he restores what he called the People's Government.
More tomorrow: coronavirus and the June riots.