You are currently browsing the tag archive for the 'David Kurten' tag.
Sunday, June 6, 2021, was the 77th anniversary of D-Day, the Longest Day: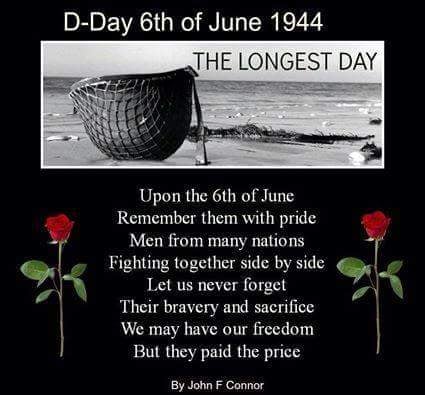 This map shows the landings in Normandy: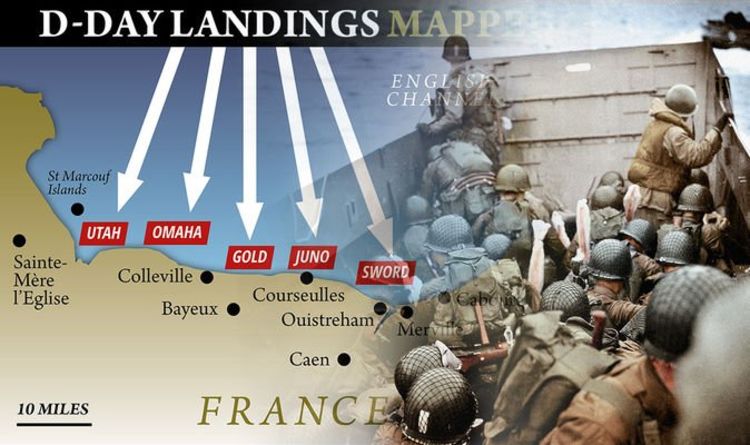 While preparing Sunday dinner, I listened to C-SPAN's Sunday morning show, broadcast on BBC Parliament. Sarah Rose, the author of D-Day Girls, was the guest. Her book is a novel, but she did a lot of historical research showing the intelligence work that women did behind the scenes as part of a carefully-managed international network.
The phone-in included many sons and daughters of Second World War veterans. Nearly all said that those veterans were, understandably, highly reluctant to talk about their war experiences. However, some said that their fathers or grandfathers opened up in their later years. One caller said that she has several hours of memories that she has recorded for posterity, particularly for younger family members.
With more and more of those veterans passing from this mortal coil, now is the time for children and grandchildren to record and catalogue those memories, if they can. One person who has done so is the author of Pacific Paratrooper, remembering Everett A Smith, their father. It's an excellent website, which also documents much history about the battles and conditions in the Pacific theatre. I am delighted to have the author as one of my regular readers.
We will always remember those heroic men and women:
Incidentally, the Houses of Parliament were bombed in 1941 and had to be reconstructed authentically in the 19th century manner. Both were faithfully restored. The next tweet shows the House of Commons:
Seventy-seven years later, we are still in the grip of the coronavirus crisis and a loss of freedom the troops involved in D-Day would have found unthinkable.
In Britain, former Prime Minister Tony Blair (Labour) appeared on The Andrew Marr Show to say that Britons who have had two vaccinations should be allowed greater freedoms, thereby creating a two-tier society:
If a Conservative had said that, Marr would have heaped criticism all over him or her.
It is mystifying that Tony Blair even gets airtime on this topic. He isn't in government, nor is his party.
It appears I am not alone, judging from the replies to this tweet:
On the topic of vaccines, Tony Blair has never said if his son Leo, born when he was in No. 10, had the MMR vaccine, which was highly controversial at the time. So, it was okay for him to refuse to give his son a vaccine that every other child born in Britain had/has to have. It is very difficult to get separate children's vaccines for measles, mumps and rubella. One imagines that Blair managed to get them for his son.
Tony Blair also wanted national ID cards. The debate raged for a few years in Parliament. Fortunately, nothing happened.
On Monday, Guido Fawkes's cartoonist Rich, recalling the ID card debate from the Blair years, posted this:
On the topic of vaccines, the Government is talking about giving them to children. Highly dangerous, one would have thought. The Telegraph's Bob Moran was moved to create this cartoon a week ago:
ITV's Good Morning Britain stoked the flames by asking whether the vaccinated should refuse to associate with the unvaccinated:
Fortunately, most Britons disagree with Good Morning Britain:
June 21 is supposed to be Freedom Day, according to the Government, with the caveat that full reopening of Britain will be based on data rather than dates.
It should come as no surprise that the Government could now backtrack on that date:
On June 1, we had no coronavirus deaths, but that did not make the news:
TalkRADIO host Julia Hartley-Brewer is fed up with the delays. In fact, as the chart below from Peston shows, the UK's actual coronavirus stats are much better than SAGE's models:
On June 3, Portugal, the only European country on the UK's green list for travel, was moved to the amber list, yet these charts tell a different story:
One suspects that it was only ever on the green list for the Champions League final in Porto:
Oddly, we had more freedom a year ago — with no masks and no vaccines — than we do now:
In Wales, First Minister Mark Drakeford (Labour) says that social distancing will not be disappearing any time soon:
Data for the UK should be available on June 14, at which point the Government will announce their decision regarding June 21:
The Government have paid for coronavirus advertising and COVID marshals, extending to 2022. Former London Assembly member David Kurten tweeted a reminder:
I, too, want my country back.
In Germany, scientists from Munich University say that lockdown had no effect on the virus spread:
Something is very wrong when, in a five-minute speech on television, a prime minister or a president can remove everyone's civil liberties at a stroke.
Monday, March 23, 2020, will be etched on my memory forever. That was the date of the UK's first lockdown.
D-Day. Freedom Day. What has happened to us — and for a 'pandemic' with fatality rates no worse than influenza? We are in a very bad way, not only in the UK, but also elsewhere in the West.
On Saturday, September 26, 2020, another anti-lockdown protest took place in Trafalgar Square and at Speaker's Corner in Hyde Park.
The media have showed protesters charging the police, with the police reacting violently, eventually dispersing the crowd and shutting down the protest.
The crowd were of all ages and races. The middle class people attending were nicely dressed, as is evidenced in the images below.
Many people from all walks of life are questioning the Government's handling of the coronavirus crisis:
Yet, with selective editing, newscasts made protesters look like crazed fanatics.
One person who read a protester's account in The Sun shared it in a comment on one of Guido Fawkes's posts. I can't hyperlink it because Guido's commenting software does not have that facility. Here is the comment, left in its original state (emphases mine below):
OT. Just read the following c0mment from a sun reader on yesterday's pr0test. So far I've not seen one MSM news report telling the truth.
I would just like to let you know what happened yesterday at the mass demonstrations in London yesterday – to counter the lies and distortions that were published yesterday in the Mainstream media. We were there from 11am and watched as Trafalgar Square got more and more full, up to capacity which was 35,000 and not the 15,000 reported by the media.
The rally began with a one minute silence for the police man who died on Friday. 35,000 people observed it without a sound. There was a big round of applause for the police. Not mentioned anywhere in the medias shameful coverage of this event.
There were 2 hours of talks with no trouble. Many were at two previous rallies and the question was raised did any previous attendee get ill from Covid-19 by attending. There was silence. As none did. Just as followed the much larger BLM marches when the virus was much more prevalent.
Then as soon as a well-respected German doctor began speaking, who represents a group of 1,000 medical experts and doctors worldwide speaking against the Lockdown, the police moved in confiscated equipment and with raised batons attacked the crowd, many of whom were sitting down. This was a coordinated attack on peaceful protestors.  A large group were sitting on the floor and the police stomped over them. The police attacked peaceful elderly demonstrators as Save our Rights UK FB. People were batoned in the face. in the mainstream media the videos they show, show protestors moving towards the police.
Here is Dr Heiko Schöning, who travelled to England from Germany, giving an interview some time before he spoke. The video ends with his arrest, which took place later that day.
If I were the Metropolitan Police Commissioner, I would be very embarrassed indeed.
Oops, look. YouTube removed a very intelligent interview. Only the past two minutes covered Dr Schöning's arrest:
He spoke in his home country, in Berlin, a few weeks ago with no problem, even though his perspective on coronavirus probably differs from Angela Merkel's. He was still in custody on Sunday. Good grief:
David Kurten, a Brexit Party member of the London Assembly who has just founded the Heritage Party, commented:
As of Sunday it appears as if he was still being held but not charged with any offence (?!):
Police finally released the good doctor from custody on Sunday afternoon (!). He was quick to comment, rightly frustrated that his phone and computer had been confiscated. He said that a book, Corona, False Alarm, had been translated from German into English recently. (He is not one of the authors; Karina Reiss PhD, an associate professor in biology, biochemistry, infection and inflammation, co-wrote it with Dr Sucharit Bhakdi.) He thinks that was the trigger for his arrest. He says that this is a 'plandemic' and goes back to the bank crash of 2008, where TPTB were just 'biding their time' for a reprise in order to create chaos:
Thank goodness he can return home.
Yet, Dr Schöning committed no crime, unlike the person who vandalised Churchill's statue in London:
It took quite a while before the defacer of Churchill's statue was arrested:
Now on to those attending the protest.
At the 43-second point in the next video, a man is escorting a young woman away from the police. She looked as if she were about to throw up. Hmm, looks as if something's gone wrong and possibly not by her own making:
After allegedly roughing up a 59-year-old man carrying an American colonial Don't Tread on Me flag in Hyde Park, police allegedly laughed at him:
Fully agree about the shocking murder in cold blood of the police sergeant. My deepest condolences to his family and friends.
Back to protests, however. It's hard to disagree with those who say we have seen two-tiered policing on display over the past few months:
It seems that way. Contrast Saturday's protest with a police-escorted one from June. Talk about double standards:
Kathy Gyngell, editor of Conservative Woman, attended Saturday's protest. This is her report, excerpted:
As I approached Trafalgar Square from Whitehall, it seemed almost too quiet. I even wondered for a moment if the rally was happening. Then I knew it still was. For, arriving within the Square, I found thousands of people quietly and respectfully listening to a speech, as I then tweeted.
All ages were there, all races, classes, colours and creeds – and many, many young people.
'Look at this', I messaged a friend with this picture, 'compared with the crazy disruptive XR that the police did nothing about for weeks.'
By contrast with the positive gaiety and smiling police faces I witnessed day after day trying to get through XR's massive disruption of Trafalgar Square earlier this year, I felt a lowering police presence. I did notice and wonder about the armed police poised menacingly between the columns of the neo-classical National Gallery frontage looking down on the crowd.
Nor were they there, it later became obvious, to protect the speakers or the organisers. 
I moved through the crowd chatting to different friendly people – who was speaking, who was next on? Everyone was straining to see and hear. But no one could have missed the event's organisers' repeated stress on the importance of the rally's peaceful credentials. Though they really didn't need to. The atmosphere was warm, wonderful and good-humoured. The placards said it all – with so few but such apposite words:
Democracy not Dictatorship; No Gestapo Policing; When Tyranny Becomes Law; Fear is Contagious so is Hope; In the Name of Public Health – Hitler Said the Same; Take the Masks Off – Smell the Bullshit; We do not Consent; We are the 99 Per Cent; We Are Being Gaslit; Matt Hancock can go Vaxx himself. 
I felt proud to be British again. It felt the best of how British people are; in a great tradition of British questioning of authority.
Soon I was singing along to 'We are the 99 per cent' and more words I cannot repeat here – hard to hear anyway because there was so much laughter. 
Then it got serious again with a rather long and worthy speech about the need for world or free trade (I couldn't make it out) which decided me to do a final survey of the crowd before setting off home. More young people. All races. All good-humoured.
As I reached the south-west corner of the Square I saw police by their motorbikes were donning helmets. 
Heading on towards Pall Mall, I saw that grim faced masked police in vans were beginning to pull out from a side street parking. In my innocence I thought this over-manned convoy was off back to base because with no trouble and relatively few people they were just not needed.
How mistaken I turned out to be. It was not till I got home that I found to my horror from the news that far from going back to base this must have been the start of their mobilising against the crowd. Which indeed they did. Officers determined to disperse the crowd, penned it in. Protesters and police were hurt.
Who authorised them to pen the crowd in? There was no need – there was no overspill into surrounding streets. And why did the police not regard this crowd with the same tolerance they did with the recent BLM protests? …

As a friend who was there to the bitter end reported back to me: 'It was an amazing day but so tarnished by the police at the end. I feel deeply shocked by the way they stormed in. It was totally unnecessary and quite worrying in our democracy that this is how a peaceful demonstration is treated. It's made the whole situation all the more worrying, I feel. It did feel amazing however to be surrounded by people not willing to accept this so-called New Normal.'
The Metropolitan Police tweeted about the protest on Saturday, before the event. The photos in the reply were from that afternoon. Note the lady in the tweed suit (lower right hand corner):
Here's a close-up of her and a contrasting photo of police from early in the summer at a violent protest, proving two-tiered policing:
Let's get a closer look at the contrast between June and September:
This video shows what happened to that lady. A policeman punched her in the stomach and she was thrown to the ground:
I hope that lady and other attendees will be all right and were able to get prompt medical attention.
However, an alternative version of the lady's actions, implying she was a crisis actress — possibly for the police — is here, part of a thread.
Whether she was a playing a bit part or not, Saturday afternoon proved to be an abject lesson on how to deliberately reverse a peaceful protest.
Anna Brees, a former journalist for both the BBC and ITV, interviewed honest, hard-working people at the protest who have genuine concerns about their livelihoods under the Coronavirus Act 2020. They are not actors. Many are first-time 'protesters'. They attended in good faith, to make their views heard peacefully:
This is what the Mayor of London had to say:
Terrible. Just terrible.
I remember nearly 30 years ago when one could ask a bobby on the beat for directions and have a pleasant exchange with him.
Back then, our police — including London's Met — were the best in the world for fairness and courtesy.
We have been hearing throughout the coronavirus crisis that British policing is 'by consent'. Historically, that has been true.
Those were the days — long gone, it seems, in some contexts.
How sad.
In case anyone missed them, here are Parts 1, 2, 3 and 4 of this series about the British public's suspicion over the continuing coronavirus lockdown.
The June protests vexed Britons who were trying to do the right thing: staying at home and social distancing when outdoors.
All of a sudden, that flew out the window. Protesters had pride of place, yet, the rest of us still had to obey the social distancing guidelines.
That rankled, especially as we had been told we were selfish because we wanted to hug our loved ones who didn't live with us. Think of grandparents and grandchildren.
What about people who just needed to get outdoors in the fresh air by themselves?
What about children who longed to see their friends? This former barrister and co-editor of Conservative Woman nails it:
And what about the people who freaked out over a very limited reopening of schools on Monday, June 1?
What about the average law-abiding person?
Yes, those people are 'the problem'. We are made to feel guilty through no fault of our own.
The frustrating hypocrisy of it all:
Then we had Piers Morgan taking issue with Boris's top adviser for trying to care for his little boy and with Labour MP Barry Gardiner for attending the demonstrations. Yet, Piers applauded his own son for taking part in the protests:
But I digress.
There was no social distancing during the protests. In fact, some police officers in London were assaulted.
However, even though Health Secretary Matt Hancock advised that the rules be kept in place over the weekend of June 6 and 7:
… the lack of social distancing was acceptable:
It was for a cause.
Health 'experts' said so — 1,200 of them, in fact:
Tucker Carlson had an excellent editorial on this on Friday, June 5. Anyone complaining about social distancing and protests is 'the problem', not the protesters and rioters. Well worth a watch. You could not make this up:
But what about the people told to leave London parks because they were sunbathing by themselves? What about Piers Corbyn who was arrested twice for advocating against lockdown? Where were the Metropolitan Police during the protests? On hand, but either taking a knee or standing by doing nothing:
Boris didn't do anything, either. We have a Home Secretary. He could have got in touch with her.
This is what he issued on Saturday, June 6, the day of yet another protest in London over an American who died on home soil in Minneapolis, Minnesota:
'The evils of fascism'. Don't make me laugh, Prime Minister.
Things were no better in Northern Ireland …
… or Scotland, where thousands were expected to attend a protest on Glasgow Green:
The Labour leader, Sir Keir Starmer, was a bit slow on the riots. Didn't he know that American cities were being destroyed and shops across the country looted? President Trump never stopped peaceful assembly:
Anyway, there is some good news in all of this. More people in the public eye have noticed that continuing lockdown in the UK is a bad idea:
Unfortunately, a number of 'senior figures' from the NHS do not see it that way, primarily because of the close proximity of protesters in early June. That is not the fault of the British public and is likely to make them even angrier. They were not among the protesters. They are eager to get back to work.
In fact, said 'senior figures' will probably make the British public all the more suspicious about the protests. Were they timed to prevent lifting of lockdown? We'll never know.
In any event, this concludes this series with a few key points to keep in mind:
It's going to be a long, hot, tense summer here in the UK.
Before reading this, here are Parts 1, 2 and 3 of a series on coronavirus and lockdown.
It seems that the British silent majority were largely fine with obeying the rules that Boris Johnson's government set until the end of May.
By then, they began asking questions about the duration.
During the first two months of lockdown, they understood that the reasons were not to put too much pressure on the NHS.
However, as Boris and his ministers are taking only 'baby steps' (Boris's words) to release us, many wonder what the real plan is.
Rightly or wrongly, suspicion is rife:
There is also the question about the NHS and the need for treatment outside of COVID-19.
Those of us who watch the daily coronavirus briefings from the government can't help but notice the messaging, especially from Health Secretary Matt Hancock:
I missed this little titbit from the coronavirus briefing on Friday, June 5. Hancock said, 'As the NHS reopens'. Hmm:
Yet, Britons are still missing out on non-coronavirus NHS treatments that are urgent:
I couldn't agree more with this next observation from Prof Karol Sikora:
Then we have the unknown consequences of Big Data intrusions into our lives:
This is now climbing up the chain to stain Prime Minister Boris Johnson, the champion of his soi-disant 'Government of the People':
The goalposts have clearly shifted since Boris's stonking victory in December 2019:
Lockdown has now gone on too long:
Despite what the government and scientists say on the weekday coronavirus briefings, other statistics find their way through the established narrative:
Yet, part of the blame also lies with the proportion of the British public who are afraid of re-engaging with society the way they did before lockdown:
Those who are afraid can stay at home. Let the rest of us get back to real life.
This London Assembly member from the Brexit Party is spot on. Lockdown must end:
Social distancing will end up being a killer, too:
One hopes it doesn't come to this:
One wonders whether there is such a thing as conservatism any more:
Or is the WHO driving this? They must think we are stupid. Perhaps we are:
We will never be in a risk-free, virus-free world.
Ending on Boris, for now, this is something I missed. Then again, I don't listen to BBC Radio 4. Even if I had, I would have thought that Boris's father Stanley was voicing his own views, not his son's:
Boris is still better than his Labour counterparts — Jeremy Corbyn (then) and Keir Starmer (now).
However, his polling will take a dive unless he restores what he called the People's Government.
More tomorrow: coronavirus and the June riots.