You are currently browsing the tag archive for the 'death' tag.
On Monday, November 15, 2021, Winston Churchill's niece, Clarissa Eden, the Countess of Avon, died at the age of 101.
The Times published an obituary. What a fascinating life she led.
Excerpts follow, emphases mine.
A life well lived
Anne Clarissa Spencer-Churchill was born in London on June 28, 1920. She was the daughter of Jack Spencer-Churchill, Winston Churchill's younger brother, and grand-daughter of former Chancellor of the Exchequer Randolph Churchill. Her mother was Lady Gwendoline ("Goonie") Bertie, a daughter of the 7th Earl of Abingdon. According to The Times, the Earl's family thought that Lady Gwendoline married beneath herself, because Jack, even though he was a Major from the Great War, earned his living as a stockbroker, something that true gentlemen did not do in that era.
Perhaps they were not wrong. Money was tight, so much so that Jack's family lived with Winston's in South Kensington, overlooking the Natural History Museum.
Childhood holidays were spent at Blenheim itself and later at Churchill's home, Chartwell in Kent. They also included visits to Normandy where family friend Consuelo Vanderbilt, formerly Duchess of Marlborough, lived.
Clarissa had two older brothers. Despite her mother's devoted attention to her, she grew up to be independently minded. She left a fashionable Essex boarding school, Downham, because she felt she did not fit in with the other girls.
At the age of 16, her family sent her to Paris to study art. This was the beginning of her adulthood and sent the tone for her life over the next several years:
There she was taken up by the younger members of the embassy staff, including Fitzroy Maclean. At 17, she had her first love affair, visited nightclubs run by White Russians and saw Josephine Baker dance clad only in a circlet of bananas. It was no surprise that when she returned to London she found her contemporaries to be lacking in sophistication. In imitation of Marlene Dietrich, she had a man's suit made. Deborah Mitford, her fellow debutante, recalled the blue-eyed Clarissa as having "a whiff of Garbo" about her.
By the time the Second World War broke out, Clarissa had moved from London to Oxford, attracting the attention of men:
There she unofficially attended philosophy lectures and persuaded AJ Ayer to give her tutorials. "She was a don's delight," Lady Antonia Fraser recalled. Her circle included Lord David Cecil and Isaiah Berlin, who told her how as a small boy in Russia he had buried his mother's pearls in the snow to save them from the Bolsheviks.
She inspired a fictional character called Emmeline:
The composer and writer Lord Berners, a noted wit — a notice at the top of a folly on his estate read: "Members of the public commit suicide here at their own risk" — left a portrait of her as the heroine of his novel Far From the Madding War.
Emmeline, who has "hair reminiscent of a cornfield at daybreak", looks like "a nymph in one of the less licentious paintings of Fragonard". She is not the sort of girl to whom one makes improper suggestions without encouragement. Reflecting on their acquaintance at the time, and on his more humble origins, the historian Raymond Carr noted: "I got no encouragement."
The Times has a photo of her as a young woman, stately looking with fine, yet angular, features, so characteristic of the British upper class.
Clarissa's life as a young adult, The Times says, resembled that of Anthony Powell's series of novels, A Dance to the Music of Time. I've read all of them and recommend them to anyone interested in British society. What held true then still holds true today.
Anthony Powell became one of her friends along with many others in the arts. There were also two spies, who came to be infamous:
Other names of the era who flow through her memoir include Cyril Connolly, Cecil Beaton, Greta Garbo, Orson Welles, Peter Brook, Lucian Freud, John Pope-Hennessy, Emerald Cunard, Nancy Mitford, Moura Budberg, the Marchesa Casati and Donald Maclean, the spy, who danced with her.
She worked with Guy Burgess at the Ministry of Information after a spell decoding messages at the Foreign Office.
Working for the Government during the war was not without its glamour:
Clarissa was at the time living on the top floor of the Dorchester hotel in central London, which had cheap rates during the Blitz; in the next room was Churchill's daughter-in-law, Pamela. When she later got a flat, she shared it briefly with the writer Elizabeth Bowen after she had been bombed out of hers. And when she made parts for submarines, she found herself on the production line next to Lillie Langtry's daughter.
After the war ended, Clarissa went to work for film maker Alexander Korda, who made the iconic movie The Third Man:
Clarissa Churchill worked as a writer for Vogue and in the publicity department of Korda Films, then producing The Third Man. Subsequently, she joined a magazine owned by George Weidenfeld, Contact, persuading Elizabeth David, then little known, to contribute recipes to it.
Her life changed forever when she met Conservative politician Anthony Eden, remembered for the Suez Crisis of 1956.
During the war, he was the Secretary of State for the Foreign Office from 1940 to 1945. The two did not meet until after the war, however.
Eden's first marriage had collapsed. He was single when they made each other's acquaintance:
Despite their close relations to Churchill, the pair had not met properly until soon after the war. Eden was living as a bachelor, his first wife, Beatrice, finally having left their troubled marriage after the death in 1945 in Burma of their elder son, an RAF pilot.
They had a common interest — art:
"Like many Englishmen, he hadn't known intimacy," Clarissa observed of the Eton-educated Eden, whose mother had been beautiful but selfish. They brought happiness to each other, sharing a love of art and, arguably, a political outlook. "I'm not really a Conservative," he told her, "I'm an old-fashioned Liberal." A more certain influence was that "he offered me a taste of another side of life", far removed from the more bohemian circles in which she moved.
Eden was 23 years older than his girlfriend. Some of Clarissa's admirers disapproved of the relationship, especially when it resulted in marriage:
Indeed, their engagement in 1952 had astonished their two very different sets of friends …
… betraying their lack of worldliness, both were surprised by the excitement that their wedding generated. The crowds who gathered outside the register office at Caxton Hall in Westminster were almost as large as those for Elizabeth Taylor's marriage there a few months earlier. The reaction of others, however, was less friendly.
Evelyn Waugh, who had been in love with Clarissa, wrote her an intemperate letter (after lunch at White's) about the state of her soul — she had been raised a Roman Catholic. Duff Cooper, another disappointed admirer of hers, confided to his diary his view that Anthony Eden had no friends and his only interest was in becoming the Tories' leader.
Clarissa's cousin Randolph Churchill, who in the press had repeatedly attacked Eden, his father's political heir, said at the wedding reception that he would give her two years to "knock him into shape" before recommencing his criticisms. He kept his word.
Eden's health was poor. Shortly after he and Clarissa married, he had a serious problem with his gall bladder, which took some time to resolve. He nearly died:
Stomach pains that he had had for some time were, at Clarissa's prompting, found to require an operation in 1953 on his gall bladder. When this was botched, it necessitated two more, the last in America and with Eden close to death.
A bad health experience so soon after marriage drives some couples apart. Not so with the Edens, who became ever closer. Clarissa's infertility was the next blow. Yet again, their love grew for each other to the extent that Clarissa stopped seeing many of the friends she made as a young adult during this period:
He recovered but the experience of nursing him, Clarissa recalled, "bound us together in a situation of emotional dependence". It perhaps promoted a siege mentality in both of them, and it was a further sadness that Clarissa was unable to have children after a miscarriage in 1954. She admitted that she had never had women friends with whom she exchanged confidences. After her marriage, she lost touch with her other friends, dismissed by her husband as "café society".
The couple spent their spare time alone with each other. By now, Eden's star was in the ascendant; he was a popular Foreign Secretary. He was irked that his rival, Prime Minister Winston Churchill, did not stand aside to allow him to lead the Conservative Party and enter No. 10:
Clarissa emphasised her disinclination to cultivate strategic friendships by retreating alone with her husband as often as possible to her cottage, Rose Bower, near Salisbury. These were halcyon days for Anthony Eden as foreign secretary. His diplomacy saved Europe's fledgling defence pact and brought peace to Indo-China, and in 1954 he was made a Garter knight. Yet he became increasingly irked by Churchill's disinclination to step aside for him — a dozen times a date was set and then revoked — with Clarissa feeling bound to side with her husband against her uncle. The couple were not mollified by the gift of Dorneywood in Buckinghamshire as an official residence, arriving to find its late owner's much-used hairbrushes still on their dressing table.
A general election took place in 1955. Anthony Eden finally became Prime Minister. The Edens were Britain's most sought-after couple outside of the Queen and Prince Philip:
When in May 1955 she walked into Downing Street with her husband Anthony, the newly elected prime minister, the wind could not have stood fairer for them. After the young Queen and Prince Philip, they were the most glamorous and powerful couple in the land.
Lady Eden was only 34, her youth and good looks a refreshing contrast to the exhaustion exuded by the previous premier, her octogenarian uncle Sir Winston Churchill. Sir Anthony Eden was 23 years older than his wife yet still handsome, a natural performer in the new age of television, and genuinely popular. Foreign secretary during the war years and since 1950, he had just become the first leader of a government in a century to increase its majority.
The UK does not have a position of 'first lady'. That said, some wives of prime ministers do undertake improvements in No. 10 Downing Street. Mrs Eden was one of them, although her first goal of refurbishment was thwarted by the shortage of government funds post-war. She settled on the catering instead:
After moving in, she planned a refurbishment that would have restored much of the original interior, but this fell victim to cutbacks. She had more success with the bland official catering. At one dinner she heard John Foster Dulles, the US secretary of state, bet a fellow guest that he could predict exactly what each course would be. That he had to pay out showed the potential strengths of the team that she and Eden made.
Anthony Eden had one immediate drawback, which was his relationship with the press. Churchill knew how to feed reporters stories. His successor did not.
This might have influenced press coverage of the Suez crisis in 1956, which ended his premiership:
This lack of support in the press may not have influenced Anthony Eden's thinking when in July 1956 President Nasser of Egypt abruptly nationalised the Suez Canal, hitherto owned by Britain and France. But it meant there was less sympathy when, come November, Eden's response misfired. After a secret agreement with France, British troops were sent to regain control of the canal on the pretext of halting fighting between Egypt and the other conspirator, Israel. Yet Eden was forced to withdraw humiliated when the Americans, describing Britain's actions as colonial, threatened to impose oil sanctions and began to sell sterling.
Eden's policy had sharply divided public opinion and Lady Eden was curious enough to attend a rally in Trafalgar Square against the invasion, although she walked away after being recognised. She herself placed much of the blame on Harold Macmillan, then foreign secretary. He had told Eden that President Eisenhower would not demur at an attempt to oust Nasser, and she thought that he had then exaggerated the gravity of the measures announced by Washington.
It was Macmillan who gained the prime ministership when in December 1956 Eden's health gave way under the strain.
After leaving Downing Street, the Edens travelled to Jamaica and New Zealand for his health purposes:
He tried first to remedy it with a stay of three weeks at Goldeneye, Ian Fleming's house in Jamaica, Fleming's wife, Ann, being a friend of Lady Eden's. When the break failed to improve matters, and with support for him failing in the cabinet and the Conservative Party, he resigned on January 10. He and Lady Eden then sailed for New Zealand. Over the horizon with them disappeared Britain's remaining pretensions to be a world power, and the tradition of reposing trust in the ruling class; among the Edens' stewards aboard the Rangitata was a young trades union activist named [future Labour MP] John Prescott.
Upon their return to England, the Edens settled in Wiltshire. Clarissa devoted herself to gardening. Her husband bred pedigree Hereford cattle.
In 1961, the former Prime Minister became the 1st Earl of Avon. His wife became Countess of Avon, or Lady Avon.
The Earl died in 1977 and his surviving son from his first marriage, Nicholas Eden, who was working in Margaret Thatcher's government at the time, became the 2nd Earl of Avon. Nicholas died of AIDS in 1985 and, as there was no heir, the title of Earl of Avon died with him.
After her husband's death, Lady Avon divided her time between Oxfordshire and London. She was careful to preserve her husband's memory and guarded about guests referring to the Suez Crisis:
All the while she continued to guard her husband's memory with what her acquaintances regarded as characteristic vigour and her friends as her essential integrity.
At one lunch party when a guest referred in embarrassed and halting tones to "the events of 1956", she said firmly: "We call it Suez at this end of the table."
On November 16, Conservative History posted photos of Lady Avon and one of Greta Garbo. Lady Avon had captioned each one (click on the image to see them in full):
Final interview
In 2018, when Lady Avon was 98, she gave her final interview to Spear's, a financial investment magazine.
The magazine's then-editor Alec Marsh met with the Countess in her Bryanston Square home in Marylebone, central London:
Three tall windows overlook the square, and the sage-green walls of what she calls a 'salon' are coated with beautiful artworks, including one painting by the French cubist Marie Laurencin that catches my eye. 'It's a painting that my husband liked,' Lady Avon explains. 'He had a very good eye. He was always buying paintings.' Was that something he had in common with Churchill? 'My uncle didn't have a good eye,' she chuckles genially. 'He did painting; they were quite nice. But he wasn't an aesthete, but my husband certainly was.'
That year, Churchill was the most popular Briton. A film of his life as Prime Minister during the Second World War, Darkest Hour, was playing in the cinemas:
Like millions of others, she has seen Darkest Hour and was enthralled by it – including Gary Oldman's portrayal of her uncle. Would Churchill, I ask, be surprised by the public adoration being heaped upon him today, more than seven decades after the moment of his greatest triumph? 'I don't think so,' she says shrewdly, 'because by the end of his life he was very great, wasn't he? It would be very difficult not to realise that he would be remembered.' Would he be pleased about it? 'Yes he would, of course.' She smiles. 'Naturally.'
Alec Marsh asked what her impressions of her uncle were. Before he became Prime Minister during the war, he had largely failed at several points in his career:
We all think we know something of her uncle, but how does she describe him? 'That's very tricky,' she starts, 'because I always knew him as a great man who hadn't been appreciated. Most of my [early] life he was a failure. He was out of a job, out of work and not right in anything he believed in. He was in exile, so to speak. Going to Chartwell [the Churchills' home in Kent] before the war was going to a place in exile – a place where people were not doing anything. It was all rather frustrating and sad.'
She described her frequent visits to see her uncle when he was PM and she was working in the Foreign Office decoding documents:
'There was always a crisis, a tension, but one knew that that's what he lived on; the fuel that got him going. Which it did with any good politician,' she adds, noting that the same was true for her husband. Did Churchill wear the pressure with equanimity? 'Oh yes. Of course,' she insists, as though nothing else would be possible. 'Certainly.' How did he cope? 'I don't know. But he had always done it.' Did he drink too much? 'No, not more than most men,' she fires back.
I ask about her wartime visits to Chartwell: 'I didn't particularly like it, but it was interesting always because Winston was so interesting,' she recalls. 'One always wanted to know what he was thinking and doing.' Whatever the house itself lacked in aesthetic quality ('Have you ever seen it?' she asks), its host more than made up for its architectural shortcomings. 'It was just him,' Avon states emphatically. 'One went and there was him and nothing else. They had the lunch or whatever it was, and he would talk and one would listen; that was the important part.
'But he was not interested in what anybody else had to say,' Avon recalls, laughing fondly. That said, she insists that he was 'very polite'. 'If somebody famous was at lunch he would listen to them, but on the whole he didn't pay any attention to anybody.'
Was he entertaining company, I ask; funny? 'He was certainly witty…' And somewhat terrifying at times? 'Not in the least, no. But,' she breaks into laughter, 'I could see he was terrifying, but not to me, no.' Avon also recalls that he was 'very conscious about things like nieces and nephews'.
Marsh asked what her abiding memories of her uncle were:
All these years on, how does she remember him? 'He was exceptional, certainly,' she punctuates this with a frank chuckle. 'I think I realised he was very great in spite of the fact that everyone kept telling one that he was.' She raises her eyebrows. 'I did realise that he was exceptional. You couldn't not.' The greatest prime minister of the twentieth century? 'Who was greater?' she answers.
Then he ventured into present-day issues:
What does she think Winston would make of modern Britain? Lady Avon looks over towards the tall windows momentarily. 'Not much,' she chirps. 'I don't know. He was very, very old-fashioned in his approach to life.' That comment sits a moment; the quiet of the square seeps into the salon.
Where would Churchill be on Brexit, I ask? 'I think he would probably not [be] very much for staying in Europe,' she announces after some consideration. 'But he was a good politician,' she adds, 'so I don't know what he would have said.' Which is rather a good answer when you think about it.
Then questions turned towards her late husband and the Suez Crisis:
… I wonder how he saw it all; was he proud of his career?
'I suppose so,' she replies doubtfully. 'Absolutely.' Does she think people have the wrong sense of Suez – that it was a mistake? There's a long pause. 'A mistake because it took place at all?' she asks. 'I don't know,' she states at last. (At the time she famously said that she 'felt as if the Suez Canal was flowing through my drawing room'.) I wonder if memories of this crisis have fallen prey to time, as she explains: 'I'm not good at politics, I'm afraid.' I'm still not sure as the silence of Bryanston Square returns.
How would Eden have liked to be remembered? 'You mean as a success or failure?' she responds. 'Certainly [he] was a success at the beginning,' she says, referring to his three spells as foreign secretary – covering ten years between 1935 and 1955 – before the disappointing period of highest office. 'At the end, I suppose not. I never thought about it,' she adds absently. She reaches forward to the plate and nudges a biscuit towards me. 'Have that one,' she says.
While being photographed for the article, she asked Marsh about his tie. So many British ties represent private club membership and other associations:
'What does your tie represent?' asks Lady Avon, looking over. It's decorative, I say. 'That's disappointing. Right,' she chirps, addressing Greg. 'Where am I looking?'
May Lady Avon rest in peace.
Yesterday's post recapped the horrific murder of Sir David Amess MP on October 15, 2021.
Today's will cover more about this much admired man's personal character and political causes.
Posthumous victory: Southend-on-Sea now a city
I was delighted to learn at dinner time last night that the Queen granted Southend-on-Sea city status. Sir David must have mentioned Southend at least once a week in Parliament. He had long campaigned for it and made 115 references to it. Here he is with his two French bulldogs, one of which is Vivienne. He was due to participate with her in the Westminster Dog of the Year charity event on October 28:
The GB News article says that Prime Minister Boris Johnson made the announcement to MPs on Monday, October 18 (emphases mine):
The Prime Minister has notified the House of Commons that the Queen has agreed to confer city status upon Southend in tribute to Sir David Amess who was recently killed.
MPs cheered in the Commons as the Prime Minister announced Southend "will be accorded the city status it so clearly deserves".
Mr Johnson said: "As it is only a short time since Sir David last put that very case to me in this chamber, I am happy to announce that Her Majesty has agreed that Southend will be accorded the city status it so clearly deserves …
That 'short time' was probably last Thursday, October 14:
In a three-hour debate on Monday, preceding a service of remembrance at St Margaret's, the Parliamentary church next to Westminster Abbey, Boris noted that Amess was never an MP interested in climbing the greasy pole to a Cabinet or party leadership position:
"That Sir David spent almost 40 years in this House, but not one day in ministerial office, tells everything about where his priorities lay."
Boris Johnson, opening tributes to Sir David Amess, told the House of Commons: "The passing of 72 hours has done little to numb the shock and sadness we all felt when we heard of the tragic and senseless death of Sir David Amess.
"This House has lost a steadfast servant, we've lost a dear friend and colleague, and Julia and her children have lost a loving husband and devoted father.
"Nothing I or anyone else can say can lessen the pain, the grief, the anger they must feel at this darkest of times."
Returning to Southend-on-Sea, having city status will help to increase its profile and encourage outside investment, as the leader of the city's council explains below. Incidentally, having a cathedral, the traditional marker of an English city, is no longer necessary. City status is now a symbolic designation:
On Friday night, this Southend business owner said that Amess was dedicated to making his town a city:
Everything I know about Southend I learned from David Amess's contributions in the House of Commons:
'Community man'
There are MPs and there are MPs.
Sir David was the type of MP who will be sorely missed by his constituents, who called him a 'community man'. GB News interviewed several over the weekend, some of whom were in tears or close to it, including men, such as this Leigh-on-Sea councillor:
This councillor from Southend says that Sir David, whose mother lived to the age of 104, used to throw parties for constituents over 100 years old. He also used to ask about local issues in Southend and resolve them with the help of councillors:
Another councillor remembers that Sir David would check on certain constituents to see if they had transport for important meetings, probably related to issues of theirs he was dealing with as an MP. The man says that Sir David would personally drive those constituents to the places they needed to go. And, yes, there were right to life issues he campaigned for:
The Chairman of Leigh-on-Sea council recalls Sir David's selflessness:
This lady from Leigh-on-Sea, the Essex town where Sir David was stabbed to death (17 times), discusses his dedication to his constituency. Like many other people, she had the pleasure of meeting him at work in nearby Southend:
As was the case with other people GB News interviewed, a man interviewed (at 2:35 in the next video) said that people used to see Amess in the local Lidl, where he took time to chat with fellow shoppers. The man said that he did not vote for him but said that the MP was always available and accessible to everyone:
Vigil Mass
On Friday evening, the Revd Jeffrey Woolnough conducted a vigil Mass at St Peter's Catholic Church in Eastwood, Leigh-on-Sea.
This is the church the Amess family attend.
The video below has a few photos from the Mass. Starting at the 40-second point, notice how traditional it is. The priest stands with his back to the people, as in days of yore. He also wears a short chasuble that is very pre-Vatican II, a fiddleback. How fortunate for the Amess family to have found such a church:
At 1:50 in the video above, two ladies expressed their grief on Friday night following the vigil Mass. One of them said that Amess 'knew everybody'. As was the case with other people GB News interviewed, one of ladies said that people used to see him in the supermarket.
GB News was on hand to cover the Mass:
A service at Saint Peter's Church in Eastwood Lane, close to where Sir David was killed, was held on Friday evening to remember him – where he was described by a priest as "Mr Southend".
The church fell silent as Father Jeffrey Woolnaugh paid tribute to the Conservative MP and invited his constituents to remember him.
He placed a photograph of Sir David at the front of the church, and said: "This liturgy is one I was not expecting to lead today.
"The whole world grieves. In this Mass we pray for the repose of the soul of dear David.
"Have you ever known Sir David Amess without that happy smile on his face? Because the greeting he would always give you was that happy smile.
"He carried that great east London spirit of having no fear and being able to talk to people and the level they're at. Not all politicians, I would say, are good at that."
Around 80 people attended the service and listened as Father Woolnough recounted his own memories of Sir David.
He said: "When you can speak to your MP and you can talk and get on like a house on fire, that's when you can talk to them later about things that are important to your area.
"What can we say? He died doing the thing he loved, meeting his constituents, his local people."
Father Woolnough added that his constituents could "count on" Sir David, and said: "He was always available. We don't have the words tonight.
"Dear Sir David, rest well."
The priest also said that Amess's smile is ingrained on everyone's hearts:
On Saturday night, a secular candlelit vigil took place near where Sir David was murdered. The Daily Mail has many moving photographs of the gathering.
Biography
Most Britons think that all Conservatives were born with a silver spoon in their mouths.
Not so.
David Amess was born in humble circumstances in London's East End.
The Telegraph recounted his life:
David Anthony Andrew Amess was born on March 26 1952 in working-class Plaistow, East London, to James Amess, an electrician, and Maud, née Martin, a dressmaker. As Amess recalled, "we were very poor and lived in a small terraced house with no bathroom, an outside toilet and a tin bath hanging on the wall". In 2014 he would compile and publish a pamphlet, Party of Opportunity, containing short biographies of Tory MPs with working-class origins.
David's mother was a Roman Catholic who brought him up in the faith and he remained a staunch Catholic throughout his life, his commitment reflected in his opposition to abortion and to the broadening of LGBT rights. "Confession," he once said, "is very important to me."
He attended St Antony's Junior School, Forest Gate, where he was "often in classes of 50, and the teachers still gave us excellent tuition and kept order to a high standard", and St Bonaventure's Grammar School, Newham, where he remembered being "quite bossy and pushy" and was rumoured to have once hit a fellow pupil over the head with a bicycle pump.
Until the age of five, Amess said, he had the nickname of "Double Dutch" on account of a bad stutter: he could not make the sounds "st" or "the" and saw a speech therapist for three years, which also had the effect of virtually eliminating his Cockney accent.
He had a varied career prior to entering politics:
He took a degree in Economics and Government at Bournemouth College of Technology. Then, after 18 months' teaching at a primary school ("I specialised in teaching children who were described as ESN"), and a short stint as an underwriter, he became a recruitment consultant.
One wonders if he met his wife Julia while he was an underwriter:
In 1983 he married Julia Arnold, a former underwriter, who survives him with their four daughters and a son.
Margaret Thatcher was Prime Minister during Amess's early years in politics:
A dedicated Thatcherite, Amess contested the safe Labour seat of Newham North West in 1979, and in 1982 became a councillor in the London borough of Redbridge.

During those years, Essex went from electing Labour MPs to Conservative ones. The county is still Conservative-dominated in Parliament.
In the 1980s and 1990s, the media coined expressions for Essex voters, many of whose families had been moved out of London after the Second World War had ended. The next generation of voters became known collectively as 'Basildon man' and 'white van man'.
Amess rode the crest of that wave, as The Sun's Trevor Kavanagh explains:
Basildon was the first constituency he served, beginning in 1983:
When the incumbent Tory MP for Basildon, the Right-wing Harvey Proctor, moved to safer Billericay for the 1983 general election, Amess was chosen to fill his shoes and was duly elected. Three years later he stood down from the council to concentrate on his Westminster seat.
Basildon was regarded as a bellwether seat, and when Amess won it again in 1992, albeit with a tiny majority, it provided the first indication that despite the pundits, and the triumphalism of Labour's leader Neil Kinnock, the Tories were on course for a fourth successive election victory. He would later describe his campaign in a short pamphlet entitled 1992: Against All Odds! (2012).
Boundary changes prior to the 1997 general election meant that Basildon was almost certain to go Labour, so Amess decided to look elsewhere, and in 1995 was selected to fight Southend West after the retirement of Paul Channon. Returned to Westminster again, he held the seat until his death.
Amess focused on his constituents, first and foremost:
Assiduous and likeable, Amess built a strong personal following by concentrating on constituency issues: the Guardian's Andrew Rawnsley once suggested that the secret of his electoral success was that "he never completed a sentence without mentioning his constituency".
This was also reflected away from Parliament:
Amess … was a lifelong supporter of West Ham United, and also followed Basildon United …
Even after he left Basildon, he still returned to visit, as this former Basildon councillor remembers:
He had many accomplishments with regard to charity, earning him a knighthood. He:
was knighted in 2015 and received several awards for his contributions in parliament, including the Animal Welfare and Environment Champion award of the 2011 Dods Charity Champion Awards, and the "Outstanding Achievement Award" at the same event the following year, in recognition of his lifetime commitment to charitable work.
This was how the newly knighted Sir David celebrated:
He did not always follow the Conservative line in Parliament:
… he incurred the wrath of many fellow Conservatives by consistently voting to ban foxhunting and hare coursing (though he was in favour of capital punishment), and supporting numerous other animal welfare campaigns.
Many MPs will remember his staunch support of Brexit, however.
They will also remember him for supporting animal causes and an end to fuel poverty:
The most significant of these were the Protection Against Cruel Tethering Act (1988), and the Warm Homes and Energy Conservation Act (2000) …
The animal-related Act, supported by the NFU, banned the tethering of "any horse, ass or mule under such conditions or in such manner as to cause that animal unnecessary suffering".
The second piece of legislation, following on from the death of a constituent from cold, required the Secretary of State to "publish and implement a strategy for reducing fuel poverty". The measure was credited with pushing fuel poverty to near the top of the political agenda, contributing to a dramatic fall in the problem in England from 5.1 million households in 1996 to 1.2 million in 2004.
Another cause that Amess supported, thanks to a Leigh-on-Sea constituent, Carla Cressy, was that of endometriosis. 
The Telegraph has the story:
"I first approached Sir David Amess when I'd just found out I had endometriosis five years ago," says Carla Cressy, 30, an accounts manager from Leigh-on-Sea. "I didn't know much about it, and realised there was very little awareness, support and education around it. He's my local MP so I visited him at his surgery. I had no expectations of what would happen. I just knew I wanted to share my story with him, about how I'd suffered with endometriosis for an entire decade before I was diagnosed.
"He was so lovely – genuinely concerned and upset about what I'd been through. He said we need to do something about it, and he then really did. He went above and beyond to champion this community like a beacon of light. It was incredible. I am devastated that he's gone."
This is what happened:
"Sir David recognised the significant impact endometriosis could have, and really wanted to make a difference to help those with the disease," says Emma Cox, CEO of Endometriosis UK, a charity that was working closely with an All-Party Parliamentary Group (APPG) that Sir David set up in 2018 to raise awareness in Parliament of the condition …
One of Sir David's goals when he created the APPG was for the government to provide education on endometriosis in schools. It's something the group achieved over a year later, meaning menstrual wellbeing is now included on the English curriculum. "We made so much progress together," says Cressy, who worked closely with Sir David on the campaign. "He really has changed so many lives, including my own."
One of Sir David's upcoming tasks, had he lived, was to ask for further research funding, as a Labour MP explains:
"He really wanted that debate," says Labour MP Emma Hardy, vice-chair of the APPG on endometriosis. "We'd published a report last year, collecting evidence from women around the country with their experience of endometriosis, and Sir David wanted to draw attention to our recommendations."
Their key goals are to reduce the time it takes for people to be diagnosed, ensure GPs have enough information to make them aware of the condition, raise public awareness, and fund more research into non-invasive ways of diagnosis …
"The main thing that comes from women is not being listened to, not being believed, taking ages to be diagnosed and then when they are, there's not much change. Sir David wanted to change that. Endometriosis isn't party politics, but he was really passionate about trying to do something about this condition. I don't want him to be remembered as the person this tragedy happened to, but the person who worked so hard to improve the lives of people with endometriosis. We can't replace him, but I hope we can find another Conservative MP to champion his work and continue with the APPG."
This GB News video covers Sir David's public life from the time he entered politics:
MPs paid respects
On Friday afternoon, Union flags were lowered to half-mast over government buildings, including No. 10:
On Saturday morning, prominent Conservative and Labour MPs laid flowers near the Methodist church hall where Sir David was murdered:
Government whips have reminded MPs that there is an Employee Assistance Programme for anyone among them who wants counselling after Sir David's senseless murder.
Everyone, regardless of party affiliation, was deeply sorry to lose this man:
This was because he befriended MPs from both sides of the aisle and found ways to work constructively with them:
One of the things I found moving in watching and reading these tributes was the recollection made by more than one MP, regardless of party affiliation, on his befriending of new Parliamentarians. He introduced himself, asked how they were getting on and enquired if they had any issues with which he could help.
Conservative MPs
These are some of the Conservative MPs' tributes, beginning with Boris's:
Long-time friend David Davis paid tribute to Amess's career of service, rather than ambition:
Stuart Anderson remembers Amess helping him settle into the job:
Andrew Rosindell, another Essex MP, lamented the loss of his oldest friend in the Commons:
Another long-time friend, David Jones, called him 'frankly irreplaceable':
I agree with Mike Wood. Forthcoming Adjournment debates will never be the same. That said, Southend is now a city:
The folks running PARLY agree on the adjournment debates, during which Sir David addressed more issues than Southend:
Labour
Party leader Sir Keir Starmer emphasised Amess's Christian faith and the fact that he was well liked across the House:
Hilary Benn remembered Amess's dogged campaigning and dedication:
Siobhain McDonagh will forever connect Amess with Southend, and who can blame her?
Steve McCabe will remember Amess's cheerful nature:
John Cryer was a former neighbour:
Liberal Democrat
The most moving tribute, however, came from Lembit Öpik, a former Liberal Democrat MP, who spoke to Mark Dolan on GB News Saturday night:
The former MP was so moved that he had to sit down and recover after that interview. Mark Dolan's producer was with him during that time.
Conclusion
It was serendipitous that the Gospel reading for Sunday, October 17, was about service (Mark 10:35-45):
10:42 So Jesus called them and said to them, "You know that among the Gentiles those whom they recognize as their rulers lord it over them, and their great ones are tyrants over them.
10:43 But it is not so among you; but whoever wishes to become great among you must be your servant,
10:44 and whoever wishes to be first among you must be slave of all.
10:45 For the Son of Man came not to be served but to serve, and to give his life a ransom for many."
What apposite verses for Sir David Amess, who gave his all in service to his constituents.
May his place in Heaven be an exalted one.
On Tuesday, October 12, 2021, Sir David Amess MP (Conservative), posted the following tweet promoting his upcoming constituency surgery in Leigh-on-Sea, Essex:
These surgeries are an opportunity for constituents to present their problems to their MP. They might be seeking help with schooling, crime or health, among other things. Meetings are face-to-face, one-on-one. One's MP then cuts through bureaucracy to achieve a successful resolution to the problem.
It seems this type of in-person connection between a member of the public and an elected constituency politician is unique to the UK. Long may it continue.
Two days later, Sir David posted a photo of himself and the Emir of Qatar. Amess was the chairman of the All-party Parliamentary Group fostering good relations between Britain and Qatar:
That same day, the MP for Southend West tweeted his gratitude for the government aid to Southend-on-Sea, no longer a smallish, seaside resort, but a town with a population of 160,000. Sir David has been campaigning tirelessly in Parliament for it to have city status. Winter fuel poverty was another of his big causes:
Little did he realise those would be his final tweets.
Just before noon on Friday, October 15, I was watching a heart-warming segment on GB News about the Westminster Dog of the Year charity event, to be held on October 28 in Victoria Tower Gardens, London. Isabel Oakeshott was interviewing Matt Vickers MP (Conservative) and his dog Karen. Karen was paying attention to the conversation. As soon as it turned to dog-napping, she began barking.
The public can vote up for their favourite MP-dog pairing until October 27. Sir David had already registered with his French bulldog Vivienne. Recently, he said:
If I am feeling down, the dog lifts my spirits as she is always pleased to see me and she makes me smile.
Little did I know watching the GB News segment with Matt Vickers and Isabel Oakeshott that Sir David was minutes away from his last breath.
Amess's last meeting was a Zoom call about the Children's Parliament, which pairs up an MP with a young member of the public. The meeting ended at 12:02 p.m.
At 12:05, Sir David was gasping his final breaths, having been stabbed multiple times in the church hall.
It was just moments after midday on Friday when Sir David Amess had his last appointment.
Richard Hillgrove, a PR professional, shared a call with Amess to discuss the Children's Parliament, an event where kids are matched with members of parliament to debate the important issues of the day.
As usual, the MP for Southend West was firing on all cylinders, full of buzz and ideas for the event: the running order, the voting system, what software they should use. Hillgrove's daughter, Lola, 11, had been matched with Amess, who visited her at school so they could have their picture taken.
Hillgrove says he ended the Zoom call at 12.02pm, so that Amess could host a constituency surgery at the Belfairs Methodist Church in Leigh-on-Sea. It was his final farewell. By 12.05pm, Amess had been stabbed to death.
A few minutes later, Hillgrove saw the first reports of the murder on television. "I didn't even realise it was Sir David at first," he recalled. "I was absolutely horrified, every minute that came passed seemed like an hour, the longer it went, the more concerning it got."
Eventually the unimaginable news filtered through. Lola came home from school in tears. "I was honoured to have known him," said Hillgrove. "He was such an inspiration, his engagement was incredible. He made sense of a crazy world."
The events of Friday afternoon have pierced the quiet provincial calm of Leigh-on-Sea, leaving the tight-knit Essex community fearful and furious. A deep, heavy sadness hangs over this seaside town. Yesterday, the flower bins were empty at the Co-op on Eastwood Road, just 100 yards from where Amess was stabbed 17 times by a 25-year-old man. Every tulip, rose and pansy had been scooped up and deposited at the tribute for the man alternately known as "Sir David" or simply "Dave".
The Telegraph reported that Amess's staff, women, witnessed his horrifying murder. Paramedics from an air ambulance worked in vain for two hours trying to stabilise him:
Sir David was attacked seconds later, stabbed repeatedly in front of his horrified staff.
… Sir David's wounds were so many and severe that paramedics were unable to stabilise him sufficiently for a transfer to hospital. After two hours of vain struggle to stem his injuries, the air ambulance took off empty.
The Telegraph spoke with the aforementioned Richard Hillgrove:
Mr Hillgrove recalled how, during their conversation, Sir David had periodically glanced to his right.
He assumes this was towards trusted assistant, Rebecca Hayton, upon whom Sir David, not being the most technologically savvy parliamentarian, relied for help when making video calls.
It was she who witnessed at close quarters the full ferocity of the knife attack, running from the Belfairs Methodist Church hall screaming. Her screams alerted Sir David's other assistant, Julie Cushion, who was positioned in the church hall lobby.
Shortly after the attack, Stephan Aleyn, a former Southend Conservative councillor, spoke to Ms Cushion.
"She is in absolute bits," he said. "What she saw is going to stick with her for the rest of her life.
"It was a normal surgery and they were assisting Sir David in helping his constituents.
"Julie and Rebecca thought this man was just another constituent who needed help from their MP, when suddenly he launched his attack on Sir David.
"For anyone to witness that sort of shocking, unprovoked assault is awful. It was a lovely, normal, sunny day – then this."
After stabbing Sir David several times, his assailant sat down next to his body, making no effort to evade police, it has emerged.
A Southend Conservative Party source said: "One of Sir David's office staff was in the hall with him, and it now appears that after attacking Sir David, this man sat down and waited for police to arrive. It's absolutely chilling."
The article says that 999 calls were made at 12:05 p.m. Police, including an armed response unit, and the air ambulance responded immediately. The suspect went quietly with the police:
The 25-year-old suspect was detained inside the church hall and led out to a police van. A knife was recovered.
Amess's staff must have also contacted a Catholic priest he knew. The Revd Jeffrey Woolnough showed up shortly afterwards and asked police to be admitted to administer Last Rites — or Extreme Unction, as it used to be known. However, he was refused entry:
He was denied entry, however, and so stood on the street with another man reciting the rosary. He described it as a "great disappointment" for a Roman Catholic not to be able to receive the last rites.
"It was remarkably calm by the time I arrived," Fr Woolnough told The Telegraph.
"I prayed from outside and I just hope David received those. I know he would have done, because any prayer said that is sincere is received by the recipient.
"I was praying the rosary – it's a half hour prayer going through all of those intentions, asking that whatever was going on in there, for God's will to be done. That's all I could pray at that point in time."
I did not know until he died that Sir David was a devout Catholic, but, given his serene demeanour, sincere smile and gentle wit, it does not surprise me that he was a churchgoer.
The Spectator's Melanie McDonagh, also a devout Catholic, expressed her displeasure with the police response regarding Last Rites:
It's not known whether Sir David was alive when the priest arrived at the scene, but he still should have been there. Nothing should come between a dying man and the mercy of the Church. Of course the police were dealing with a tremendously difficult situation and would have been shocked and confused – how could they not have been? – but it doesn't excuse this failure of judgment, which we can assume stems from a failure of training.
Essex Police sent The Spectator a statement, which says, in part:
As with any police incident, it is of the utmost importance that we preserve the integrity of a crime scene and allow emergency services to tend to those in need. A cordon is put in place to secure and prevent contamination of the area. Access into a scene is at the discretion of the investigating officers. This is a fundamental part of any investigation to ensure the best possible chance of securing justice for any victim and their family.
McDonagh says that the priest was 'an emergency service'. I cannot disagree:
The most troubling element of the statement is that the police wanted to 'allow the emergency services to tend to those in need.'
A priest is an emergency service. In the case of Sir David, the priest was someone who could help see him into the next world, not just keep him in this one. You don't have to share a belief in the efficacy of confession to go along with this; you just need a very elementary knowledge of and respect for the faith to refrain from standing between a confessor and a dying man. As for the reference to the 'emergency services administering potentially life-saving treatment,' Catholic priests are used to operating together with medics for precisely this reason.
You might like to know that Essex police recently engaged in that exercise in cultural conformity, Hate Crime Awareness Week. Perhaps in future, some awareness of Christianity might be part of the training.
Monsignor Kevin Hale, who knew Sir David, told GB News how Catholicism informed the MP's life. Amess's mother was a Catholic and she brought him up in the faith:
Monsignor Hale said that Sir David had grown up in the East End of London and attended St Bonaventure's Roman Catholic School in Newham. It is a secondary school for boys.
The Right Revd Stephen Cottrell, the Anglican Archbishop of York, lived for a time in Amess's constituency and paid a warm, faith-filled tribute to his former MP and friend in The Telegraph:
It was said of Sir David Amess that though he had opponents, he didn't have enemies. As we come to terms with the horror of his murder on Friday, this is a distinction worth pondering.
I think of David Amess as a friend. Leigh-on-Sea is my home town and, for ten glorious years as Bishop of Chelmsford, part of the diocese I served. We often met: in parliament, but usually in his constituency, Southend West.
He was, as we have heard over the weekend, a dedicated, zestful, persevering constituency MP. He loved Southend, as I do. He rooted for it. He exemplified that vital, but overlooked, root of our democracy that Members of Parliament may get elected on a party ticket, but, once elected, serve everyone …
David Amess was a kind man. The word kind is related to the word kin. When we are kind to someone, it doesn't mean we necessarily agree with them, or even like them, but that we recognise a kinship, a common humanity and treat them accordingly; or as we sometimes say, "treat them in kind".
David's robust kindness came from his Christian faith. He was a devout Christian, a Roman Catholic. But the idea that we human beings belong to one another and have a responsibility to each other is not self-evident. Observation of our behaviour and attitudes shows us the opposite. Our worst desires can be seen everywhere, leading us to separation, fuelled by selfishness, and bearing fruit in hatefulness and the possession of each other.
The picture of humanity that God gives us in Jesus Christ offers something else. In this regard, perhaps the most radical words Jesus ever spoke are the ones most of us know and many of us say every day: "Our Father." In saying these words we don't just acknowledge we belong to God, we acknowledge our belonging to each other as kith and kin …
David Amess, the friend with whom I sometimes disagreed, had the same values and the same vision. It shaped his life and it is what made him such a loved and effective constituency MP and an exemplar of what our democracy can be.
He was always very kind to me. He supported the Church. He cared. He liked to build coalitions of goodwill so that people could work together. Kindness and kinship, it turns out, gets things done.
My heart goes out to his wife and family and the constituents of Southend West. I am praying for them …
David Amess didn't wear his faith on his sleeve. He wore it in his heart. That's the best place for it. It means it runs through your very being.
Late on Friday, the Metropolitan Police's Counter Terrorism Command took over the case from Essex Police:
Early on Saturday, October 16, it was established that the suspect is a Briton of Somali parentage.
The Mail on Sunday reported that the BBC's home affairs correspondent, Dominic Casciani, downplayed the suspect's parental origins:
The BBC's home affairs correspondent was accused yesterday of trying to downplay the suspect's reported Somali origins …
Although every national newspaper with the exception of the Financial Times mentioned that the suspect had Somali 'origins', 'heritage' or 'descent' yesterday, Casciani appeared to wrestle with the issue on Radio 4's Today programme.
Presenter Nick Robinson asked him: 'The suspect is a British citizen, but he's also of Somali origin. Is that regarded as significant?'
Casciani replied: 'The Somali element – erm, no. The reason why some reporters have established this fact is that there has been some misreporting …'
Twelve hours earlier, he had tweeted: 'We have learnt from official sources that detectives have established the individual is a UK national, seemingly of Somali heritage. We report this in the interests of accuracy' …
The BBC says Casciani 'focuses on stories relating to law, order, society and belonging – including immigration, ethnicity'.
The Telegraph reported on the Met's discoveries made on Saturday. The suspect lived in London, far from Sir David's constituency:
On Saturday, officers from the Metropolitan Police's counter-terrorism team, which is leading the investigation into his death, were searching three addresses in London – at least two of which were believed to be in the east of the capital. One search had ended but the others remained ongoing on Saturday night. The suspect, a British national of Somali origin, is thought to have acted alone and travelled by train from his north London home to Essex to carry out the attack.
The Daily Mail told us that the suspect lives among at least one celebrity in London, the rest of his neighbours clearly well-heeled, and might have spent a week planning the bloody attack:
Ali, who is thought to have been targeted by the Government's anti-terror Prevent programme, may have lived in Sir David's Southend West constituency in Essex in the past.
His most recent residence is believed to be in London. Officers have been carrying out searches at three addresses.
The security services are providing assistance to Scotland Yard, which is leading the investigation. Last night, detectives were granted a warrant of further detention, allowing them to keep Ali in custody until Friday.
Police officers were yesterday standing guard outside the North London council house where Ali lives. It is in a street of £2 million three-storey townhouses where the late actor Roger Lloyd Pack, who played Trigger in Only Fools And Horses, used to live.
That day, news emerged that Sir David had received a menacing threat just days before his murder. However, police believe that the two events are unconnected, according to The Telegraph:
The threat to the veteran MP was made in the past few days and reported to police …
It is understood that Essex Police received a report of the threat, but they are not connecting it with Friday's attack.
John Lamb, the former Mayor of Leigh-on-Sea and a close colleague of the murdered MP, said Sir David had received the "upsetting" threat in the past few days …
Mr Lamb said it had been Sir David's idea to hold his surgeries in places like the Methodist church, so he could be more accessible to his constituents, rather than in the local Conservative Party offices in Southend.
It is understood this came despite concerns being expressed by some of his staff over the potential security risk at more open venues.
Mr Lamb said: "Sir David used to hold them at the Conservative Association, but that made it hard for older people to see him so around a year ago he started going out into the community. He didn't want to hide away, he wanted to be visible and accessible. He told me: 'I want them to be able to see me in their local area'.
Before this, the last time an MP was murdered was in June 2016, just days before the Brexit referendum. A white male fatally stabbed Labour MP Jo Cox outside her own surgery. He was said to have had mental health problems, aggravated by the threat of eviction. His mother was also in poor health. That is not in any way to excuse his horrific crime of murdering a young wife, mother and MP. However, at the time, the media said the motive was because he was pro-Brexit and she was not.
Sir David, along with every other MP, was deeply affected by her death. He mentioned it and attendant security issues in his 2020 book, In Ayes and Ears: A Survivor's Guide to Westminster, published last November.
He wrote:
The British tradition has always been that Members of Parliament regularly make themselves available for constituents to meet them face to face at their surgeries. Now advice has been given to be more careful when accepting appointments. We are advised to never see people alone, we must be extra careful when opening post and we must ensure that our offices are properly safe and secure. In short, these increasing attacks have rather spoilt the great British tradition of the people openly meeting their elected politicians.
He also said that he had to check the locks on his property and that certain 'nuisance' (his word) members of the public occasionally showed up outside his home. Other MPs have installed CCTV cameras on their properties.
Jo Cox's sister, Kim Leadbeater, is now an MP in her former constituency, Batley & Spen. She tweeted her condolences:
The Emir of Qatar also sent a message of sympathy. Last week, he and Sir David were discussing Afghanistan refugees who are currently living in Qatar, awaiting settlement in other countries:
On Sunday, October 17, the father of the suspect in custody spoke. The Sunday Times reported:
The father of the suspected killer of Sir David Amess said he had been left "traumatised" by his son's arrest after the stabbing of the veteran Tory MP.
Harbi Ali Kullane, a former adviser to the prime minister of Somalia, confirmed that his British-born son, Ali Harbi Ali, 25, was in custody. Kullane said that anti-terrorist police from Scotland Yard had visited him.
Speaking at his sister's home in north London last night, Kullane said: "I'm feeling very traumatised. It's not something that I expected or even dreamt of."
The suspect was a "self-radicalised" lone operative known to counterterrorist police, according to Whitehall sources. He is believed to have been referred to Prevent, the government's deradicalisation programme, before allegedly stabbing Amess on Friday …
Investigators are examining the theory that he was radicalised online during lockdown.
Officers were yesterday granted a further warrant to detain him until Friday under terrorism laws. Scotland Yard said that early inquiries had uncovered "a potential motivation linked to Islamist extremism".
Amess, 69, an MP for almost 40 years, was a devout Roman Catholic who was guided in his daily life by his strong faith …
Intelligence sources said the suspect had not been on the radar of MI5, which is monitoring more than 3,000 people who it is feared could be plotting a terrorist attack. However, he is believed to be one of thousands of extremists who have been referred to the voluntary Prevent programme after displaying potentially disturbing behaviour such as inflammatory postings on social media.
More than 6,000 people were referred by police and other agencies to the programme in the year ending March 31, 2020.
By the way, referral to the Prevent programme does not include monitoring by police and/or security services.
That day, the Amess family issued a statement thanking the public for their messages of support and urged the Government to grant Southend-on-Sea city status.
Sir David Amess's family have said that achieving city status for Southend would be a way of paying tribute to a "patriot and man of peace".
In their first public comments since the MP's murder, his family thanked people for the "wonderful, wonderful tributes paid to David following his cruel and violent death. It truly has brought us so much comfort."
Amess, 69, was married with five children and in a statement tonight they said: "The support shown by friends, constituents and the general public alike has been so overwhelming. As a family it has given us strength."
They urged people "to set aside their differences and show kindness and love to all" so that some good might come from their father's death. His family said there was "still so much David wanted to do" insisting: "This is not the end of Sir David Amess MP. It is the next chapter and as a family we ask everyone to support the many charities he worked with."
They cited his efforts to raise money for a statue of Dame Vera Lynn and said: "Closer to home, David was working hard for Southend to gain city status. In his memory, please show your support for this campaign."
As I write on Monday, no known motive for Sir David's gruesome murder has emerged.
Some of his friends believe it was because he was a devout Catholic. I'm not sure about that. I did not know he was one until he died, and I'm a political junkie and frequent viewer of BBC Parliament.
A radical Islamist preacher says it was because Sir David was pro-Israel, as the MP had been an honorary secretary of the Conservative Friends of Israel since 1998.
However, let us not forget Qatar and the current tensions in Somalia.
In Monday's Times, speculation arose over whether Amess was murdered because he headed the APPG fostering relations between the UK and Qatar. Qatar supports the current regime in Somalia:
Meanwhile, members of the public are calling for those voting for the Westminster Dog of the Year to choose Sir David and Vivienne as a fitting posthumous tribute to the tireless yet cheerful MP, who will be sorely missed.
I will have more on Sir David's life in tomorrow's post.
My deepest condolences go to the Amess family, Sir David's staff and his many friends. May the good Lord grant them His infinite grace and comfort in the days and months ahead.
Eternal rest grant unto your servant David, O Lord, and let perpetual light shine upon him. May his soul and all the souls of the faithful departed rest in your eternal mercy and peace. Amen.
As I write, Prime Minister Boris Johnson is on holiday in Spain.
He, his wife Carrie and their young son Wilfred left for Lord Goldsmith's holiday villa after the Conservative Party Conference ended on Wednesday, October 6.
It is a well-deserved break. His stay in Cornwall in August lasted 24 hours before he had to return to Downing Street to deal with the fallout from Joe Biden's abrupt withdrawal from Afghanistan.
Despite Britain's crises of fuel and food, he needed a break before Parliament resumes next week.
However, a pivotal personal event also occurred during this time: the death of his mother, Charlotte Johnson Wahl, whose funeral was held on September 28.
A Remainer campaigner sent a nasty tweet asking who was in charge of the Government:
Boris's sister replied:
Boris has not taken any bereavement leave until now.
However, with every lamented death comes new life. Carrie Johnson will be giving birth again in a few weeks' time, which will be a consolation to the Prime Minister.
Budding artist
Charlotte Maria Offlow Fawcett was born in 1942 in Oxford to Frances (née Lowe) — 'Bice' — Fawcett.
Her father, James Fawcett, was a barrister. Three decades later, Sir James Fawcett assumed the presidency of the European Commission for Human Rights.
Years later, Charlotte described her childhood family and friends as 'rich socialists'. She never voted Conservative, although she told Boris that she did vote 'Leave' in the 2016 Brexit referendum.
Charlotte's mother, Bice, was close friends with a woman from another prominent family, Elizabeth Pakenham. Elizabeth and her husband had a baby girl, Rachel.
In a tribute to her friend which she wrote for The Times, Rachel Billington said (emphases mine):
In May 1942 our mothers, Bice Fawcett and Elizabeth Pakenham, both had babies in Oxford and walked our prams side by side. Her family, the Fawcetts, were clever, artistic and international; the Pakenhams were political and literary. Charlotte and I were fat little girls together, waving our Peace in Europe flags and trying to keep up with our siblings. She ended up with four siblings, while I had seven. When both families were in London, I was jealous of music in her house and the sense of an intellectual world beyond my grasp. And she was jealous of my rumbustious life, with a house in the country and horses. Not that she had any wish to ride.
Rachel Billington says that Charlotte attended Catholic school and said her prayers every night, kneeling at her bedside. This religious education might well have imparted the wisdom she gave to Boris, who remembers her talking about 'the equal value of every human life'.
The Fawcetts moved to the United States for a time. Billington recalls:
When her family went to live in America and her youngest brother acquired an American accent, I realised she inhabited a wider world.
The family returned to England. By then, Charlotte was interested in painting and pursued her artistry at Oxford, the university that Billington also attended. Charlotte was reading English:
At Oxford, her intensity was reflected in her small college room where the objects were ordered as if already in a painting. She was painting and drawing complicated faces and patterns. Her essays were remarkably short and there was never anything regurgitated from "further reading". She discovered her views from the text and from her imagination.
Meeting Stanley at Oxford
Charlotte met her first husband, Stanley Johnson, at Oxford.
In a 2015 interview, she recalled how they met at a university dinner:
… she told Tatler magazine in 2015: 'I was engaged to somebody called Wynford Hicks, who was extraordinarily beautiful to look at but actually quite boring.
'Anyway, [after the dinner] Stanley sent me a note asking if he could come to tea and go for a walk.
'So a few days later we went for a walk and he suddenly said, 'Love is sweet. Revenge is sweeter far. To the Piazza. Ah ha ha har!", which made me laugh so much I fell in love with him.'
When he earned a scholarship to study in America, Charlotte accompanied him. They married in 1963 and their first child, Alexander Boris, was born a year later.
Billington explained his middle name. Stanley and Charlotte were on holiday in Mexico City at the time:
The name Boris, incidentally, arose when they ran out of money at the airport on the way to New York where Charlotte was to have the baby, and an impatient passenger in the queue offered to pay what they needed. "That's terrific," Stanley said gratefully, "We'll call the baby after you if it's a boy. What's your name?" "Boris," answered the gentleman. In fact it is our prime minister's second name; while he was at Eton Alexander was dropped in its favour.
However, Boris is still known to his nearest and dearest, Billington included, as Al or Alexander.
Charlotte painted a portrait of her son as a young boy, who grew up with shoulder-length hair:
The casually dressed, floppy-haired boy looks up from his painting. He is relaxed but serious, his complexion fair.
The Johnsons returned to England for a time. Charlotte and Rachel resumed their friendship:
Nothing seemed impossible to this glittering couple and Charlotte returned to resume her degree with Stanley and Alexander while also pregnant with her daughter Rachel. Through these perambulations and my own, Charlotte and I remained close; I was Al's godmother and later Charlotte was my eldest son, Nat's. Friendship was very important for Charlotte and she had the kind of loving warmth that made even newer friends bond to her for life. And tell her their stories and listen to their jokes and laugh. Lots of laughter.
It seems likely that Charlotte named her daughter Rachel in honour of her friend.
Charlotte completed her degree at Oxford as the first married female undergraduate at her college, Lady Margaret Hall.
Ruined marriage
Stanley received a transfer back to the US to work at the World Bank in Washington DC.
Billington was also in the US, working for ABC television in New York.
She remembers meeting up with her friend, the mother of four:
With the Johnsons living in Washington, where Stanley was working at the World Bank, enjoying a highly sociable life, plus now having four children, it seemed extraordinary that Charlotte's painting life could continue. Yet when I visited from New York where I was working for ABC TV, she still had the energy to go down to Rehoboth Beach [Delaware] and bebop with the rest of us.
In the 1970s, the Johnsons' marriage began to break down once the family returned to London.
The Mail alleges:
Mrs Johnson Wahl had an unhappy marriage to Boris' father Stanley, who was accused of breaking her nose in the 1970s.
Charlotte's mental state disintegrated, to the point where she had to be admitted to the Maudsley Hospital in London.
Billington visited her:
… suddenly I was visiting my brilliant friend in the Maudsley Hospital suffering from the problems that pressure and an obsessional nature can bring, properly called obsessive compulsive disorder. While the children ran round in the garden, Charlotte and I talked and I discovered that every day she was painting for hours at a time. Eventually, nearly 80 paintings were exhibited in the hospital, terrifying pictures of people in despair, agony or just misery. Yet also implying hope in the vibrant beauty of the colours and quite often a kind of wry humour, as if saying, "This is my life at the moment."
The Times obituary notes:
She had already become "extremely phobic . . . terrified of all forms of dirt". Eventually she had a breakdown and spent eight months at the Maudsley hospital in south London as a patient of Hans Eysenck, the influential psychologist.
While Charlotte was in the Maudsley, Stanley was transferred to Brussels. He took the children with him.
Charlotte discussed the difficult marriage in a 2008 interview:
"My husband and I were not making each other happy, to put it mildly. It was ghastly, terrible," she told the Daily Telegraph in 2008, tears filling her bespectacled eyes. "The children used to come over from Brussels to see me in hospital. They'd run down the passage and it was sickeningly painful because then they'd go away again. It took me a long time to recover."
Once Charlotte recovered, she was able to move to Brussels and, during holidays, welcome guests at the family farm in Exmoor in Devon. Billington remembers her stays with the Johnsons:
As Charlotte recovered, the family moved to Brussels, but when they were in England I would join them in the house on Exmoor that Stanley inherited from his father. It was a glorious cold comfort farm, but friends, if they survived the long pot-holed driveway, were fed hugely and taken on challenging treks that usually included river swimming and mountain climbing. Well, hills. It was hard for Charlotte to paint there, yet the pictures of her children and her friends' children prove she was still managing. I have three from that period.
The renowned journalist and author Tom Bower has written a biography of Boris, The Gambler. The Mail's obituary of Charlotte recaps how Stanley treated her:
A biography of the Prime Minister claimed her marriage became 'irredeemably fractured' due to her husband's 'neglect and philandering'.
The Gambler, by Tom Bower, alleged that doctors spoke to Stanley 'about his abuse' while the couple's children were told a car door had hit their mother's face.
The most shocking claim was that in the 1970s Stanley hit the Prime Minister's mother in a domestic violence incident that broke her nose and left her requiring hospital treatment.
Mr Bower describes Stanley's first marriage, to Mr Johnson's mother Charlotte, as violent and unhappy, quoting her as saying: 'He broke my nose. He made me feel like I deserved it.'
It was claimed that the incident took place in the 1970s when Mrs Johnson Wahl was suffering from obsessive compulsive disorder and had 'flailed' at Stanley, who broke her nose when 'flailing back'.
Stanley, now 81, is said to have deeply regretted the incident and denied he had been violent on any other occasion.
By the end of the decade, the couple separated. They divorced in 1979.
Billington lived five minutes away from Charlotte, once she separated and could really throw her energies into painting:
After her separation from Stanley, paintings poured out from her flat at the top of a large building in Elgin Crescent in Notting Hill, London, happily just five minutes' walk from me.
The Mail says Charlotte refused financial support from Stanley:
After moving to a flat following her divorce, she refused to accept money from her ex-husband and made a living selling paintings. She later recalled she was 'very hard up'.
Dr Nick Wahl, second husband
Charlotte found happiness with her second husband, Dr Nick Wahl, an American professor. They married in 1988.
The Times obituary tells us how they met in 1982 and summarises their life together:
… she met Nick Wahl, an American academic. "We were at a dinner party in Brussels given by [the diplomat] Crispin Tickell and Nick asked could he see my paintings," she told Tatler. "He was on a trial separation from his wife. There was an immediate connection. I flew out to see him and he came to see me. There were an incredible number of crossings of the Atlantic." They married in 1988, by which time her youngest son was in his final year at Eton, and lived on Washington Square, New York. Wahl died from cancer in 1996 and she returned to London, settling in Notting Hill in a flat that, according to one visitor, resembled "an Aladdin's cave with exotic carpets, a dolls' house, flowers, cherubs on the wall and oil paintings everywhere, including several of the flaxen-headed children".
Billington recalls those years:
That was a great period of creativity that was reinforced by her marriage to Nick Wahl and a double life in London and Washington Square, New York where Nick was professor at the university. It gave her a chance to play with the Manhattan skyline and the sardine tin of the subway to dazzling effect, sometimes on giant canvases. In London, she modestly remarked, "I just paint what I see", but Elgin Crescent had never looked so dramatic. My son Nat snapped up one, which I visit just to see what she made of a fairly ordinary London street.
As her beloved children grew up and made their own paths, and she no longer had the constant responsibilities of motherhood, I saw a painter at the peak of her powers. Now when I visited Manhattan, we ate out for every meal, feeling young and independent, both of us with four adored children, but free to do what we wanted. She painted, I wrote, and of course Charlotte had a whole lot of fascinating New York friends.
Unfortunately, around the time Charlotte met her second husband, she was diagnosed with Parkinson's disease. That was in 1982, when she was only 40 years old.
Her quality of life diminished until 2013, when she underwent state of the art treatment in London.
The Times obituary says:
A cocktail of drugs helped to slow the progress of the disease, but the quality of her life was impeded. "The worst thing is a terrible stiffness," she said. "When you want to walk you can't — you freeze and your feet become attached to the ground." In 2013 she achieved something of a medical breakthrough when Ludvic Zrinzo at the National Hospital in Bloomsbury introduced two electrodes into her brain and linked them to a battery in her chest. "It means I don't jerk any more and I can go to the cinema and the theatre again. It's bliss," she said.
Political opposites
The Mail's obituary states that Charlotte was amazed to be the mother of four children who are all Conservatives:
She was described in a 2015 article in the Evening Standard as 'left-wing'.
Boris Johnson's sister, Rachel, said in the article, about two-party families, 'We are a very mixed-race family politically and my father tends to marry socialists.
She later described her mother as 'the only red in the village when we lived on Exmoor'. And she herself once admitted that she had never voted Conservative, despite two of her sons being Tory MPs.
She told the Radio Times in 2015: 'I find it extraordinary that I should have married a Tory and have four Tory children.
'I've never voted Tory in my life. My parents were very socialist – rich socialists with three cars and two houses, but they were socialists in the days when that happened' …
Along with Boris Johnson, she was also the mother of former Conservative MP Jo Johnson, journalist Rachel Johnson, and entrepreneur Leo Johnson.
The Prime Minister's son Wilfred was her 13th grandchild.
Charlotte had several exhibitions of her paintings, and she sold many. She was also commissioned to paint celebrity portraits, which were equally well received.
May Charlotte Johnson Wahl rest in peace. Hers was a life well lived. Most importantly, she was able to overcome adversity.
Sources:
'Boris Johnson's mother Charlotte Johnson-Wahl dies "suddenly and peacefully" at the age of 79', Daily Mail (includes family photos)
'Charlotte Johnson Wahl was my best friend', The Times
'Charlotte Johnson Wahl, the prime minister's mother, dies aged 79', The Times
It used to be that vaccines prevented infection.
Coronavirus has changed all that. The double-vaxxed are ending up infected:
Andrew Doyle, who hosts Free Speech Nation for GB News, has it, and he's taken his shots.
ITV's Robert Peston, also double-vaxxed, has it, too:
Peston was supposed to be in Aberdeenshire in Scotland but had to cancel:
I hope he recovers soon.
Meanwhile, in the UK, the debate rages on as to whether children over the age of 12 should receive the vaccine and whether older adults should have a booster shot this autumn.
British supporters of vaccines for children say that such programmes in the United States and France have been highly successful. Hmm.
Dr Robert W Malone is an American physician as well as an inventor of mRNA vaccines and RNA as a drug. He directs his readers to an article in LifeSiteNews about possible coercion being used in high schools:
Meanwhile, the WHO is urging countries wishing to vaccinate their children to donate those doses to Covax instead for wider use around the world. The reply to this tweet includes a statement from Britain's JCVI (Joint Committee on Vaccines and Immunisation) which recommended against children's vaccinations on Friday, September 3:
The WHO also disagrees with booster shots in Western countries, again recommending donating those doses to poorer countries:
The UK also wants to roll out vaccine passports by the end of the month. If we can catch the virus despite two jabs, what is the point? It seems as if we are all back at Square One, only that we are susceptible to milder cases rather than death.
Speaking of deaths, the UK figures for 2021 are on a par with other years since the vaccine rollout began. I saw this graphic on another site with no attribution. Note the bright green line up to Week 33: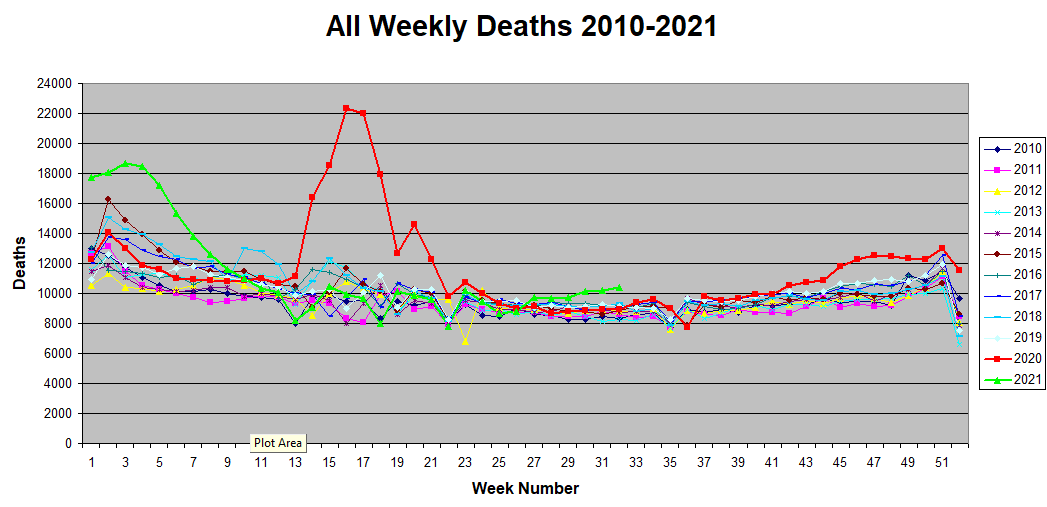 Moving to poorer countries now, not every nation has shown signs of infection or deaths:
Dr Malone says that Peru had a preventive programme of giving its citizens doses of ivermectin until a new president scrapped it. At that point, fatal infections began rising dramatically:
Since the pandemic began, ivermectin for humans has been taken off the market in several Western countries or is restricted on a prescription-only basis for certain conditions, excluding the virus. In many first-world countries, ivermectin is now used solely on animals for various diseases. The current formulation is made for their consumption.
Yet, in Peru and Africa, the formulation for humans is still available. It is inexpensive and is used to cure a variety of diseases as the following Twitter thread about Africa tells us.
The countries in blue are where ivermectin is used on humans. Note the differences in coronavirus cases and deaths:
Ivermectin, sold under the trade name Mectizan, is used to treat river blindness, a common and highly painful disease. It is not unusual to see people with a pair of eyebrow tweezers on a chain around their necks. Among other things, river blindness inflames the eyelash follicles. The only way to relieve the intense pain is to carefully pluck the offending eyelash. It is an ongoing pain until the disease is cured:
The Japanese have looked at sub-Saharan data and have recommended ivermectin to the government as a treatment for coronavirus:
It seems that the Japanese government rejected the use of ivermectin in combatting coronavirus. The updated statistics for Africa are in the second tweet:
Another big supporter of ivermectin is Karl Denninger of The Market Ticker.
On December 18, 2020, he wrote that by giving Americans two tablets of ivermectin, coronavirus could be stopped in one week in the United States. Two tablets in total is all it would take (emphases in the original):
… Why the hell are you not only letting them get away with it but willing to stand in line and take a not-fully-tested shot when a $2 alternative that does the same thing and has been proved safe over more than 30 years of time is available, and it also has a remarkable record of preventing serious disease and death.   This has been known for months.
We can stop Covid-19 in ONE WEEK.
One.  Not five, six, eight or ten as promised by Dr. Redfield with his "masks" who, I remind you, lied.  Covid-19 did not stop even though he got what he wanted.
The science and the CDC's own data says this will work in ONE WEEK.
And the risk if it doesn't work as the science and math says it will?
STATISTICALLY NONE; the drug in question has had over 3.5 billion doses dispensed worldwide and, on the data, is safer than Tylenol and the number of pills you must take is two.
Not two per day.
Two.
Ivermectin will receive broad media coverage only when it's too late. What a pity.
Most of us know instinctively that the Taliban have not changed.
Unfortunately, our leaders probably do not.
A few days ago, a musician was murdered and women's voices have been banned from the airwaves.
On Sunday, August 29, the Times reported on both (emphases mine):
Taliban fighters have shot dead an Afghan folk singer after it outlawed music and women's voices on television and radio in the bellwether province of Kandahar, laying the ground for a nationwide ban in an echo of the brutal Islamist regime of 20 years ago.
When the Taliban come calling, it's not for a friendly chat:
Fawad Andarabi was dragged from his home and shot in the head in the village of Andarab, north of Kabul on Friday, his family said. The murder has provoked an outcry and fuelled fears of a return to the repressive regime of the 1990s since Taliban fighters overran Kabul two weeks ago.
Andarabi was famed for playing the ghichak, a bowed lute, to accompany folk songs about the mountains that surrounded his home, which lies near the Panjshir Valley, the last bastion of resistance to the Taliban takeover.
I wrote about the Panjshir Valley, the home of the new National Resistance Front, on Wednesday, August 25, two days before Fawad Andarabi's murder. No doubt, this will give the resistance movement added momentum:
Masoud Andarabi, the former interior minister, condemned the singer's murder. "Taliban's brutality continues in Andarab. Today they brutally killed folk singer, Fawad Andarabi who simply was bringing joy to this valley and its people," he wrote on Twitter. "As he sang here 'our beautiful valley . . . land of our forefathers' will not submit to Taliban brutality."
As for 'female sounds' on television and radio:
The order from Kandahar also confirms fears that women will be forced out of the media and off the airwaves, crushing a vital opportunity for educated, professional women that has flowered in the 20 years since the first Taliban regime was overthrown …
One female reporter in the province said: "The Taliban's ban of female journalists from TV and radio is not a surprise for me. It was expected as the Taliban started stopping women from work in media, banks, activism and other jobs before they took Kabul. Today, no female presenter or anchor were seen on TV in Kandahar. It's very sad. I know many female journalists who are in hiding or have fled. There is no space left at all for working women in Afghanistan."
How terribly sad.
I wonder if the Taliban will still allow kite flying, which they had banned until Western troops began their occupation.
An American author and physician, Dr Khaled Hosseini, who was born in Afghanistan, even wrote a book about it. The Kite Runner developed into a play and a film. Hosseini says the plot is fiction, but it does draw on other Afghans' memories of growing up under a regime of religious brutality, including male sexual assault.
It looks as if the bad old days are here again. Perhaps they never truly disappeared, despite the West's best efforts.
A developing situation in the coronavirus saga revolves around a possible link between vaccination uptake and new variants, not to mention deaths from the virus.
Dr Luc Montagnier
On May 19, 2021, LifeSiteNews reported that the Nobel Prize winning virologist Dr Luc Montagnier has alleged that mass vaccinations are creating variants which could be fatal. Emphases mine below:
French virologist and Nobel Prize winner Luc Montagnier called mass vaccination against the coronavirus during the pandemic "unthinkable" and a historical blunder that is "creating the variants" and leading to deaths from the disease.
"It's an enormous mistake, isn't it? A scientific error as well as a medical error. It is an unacceptable mistake," Montagnier said in an interview translated and published by the RAIR Foundation USA yesterday. "The history books will show that, because it is the vaccination that is creating the variants."
In another interview, he discussed antibody-dependent enhancement, or ADE:
Many epidemiologists know it and are "silent" about the problem known as "antibody-dependent enhancement," Montagnier said.
"It is the antibodies produced by the virus that enable an infection to become stronger," he said in an interview with Pierre Barnérias of Hold-Up Media earlier this month.
He alleges that vaccinations are driving ADE:
While variants of viruses can occur naturally, Montagnier said that vaccination is driving the process. "What does the virus do? Does it die or find another solution?"
"It is clear that the new variants are created by antibody-mediated selection due to the vaccination."
He also said that:
Vaccinating during a pandemic is "unthinkable" and is causing deaths, the winner of the 2008 Nobel Prize in Medicine for discovery.
LifeSiteNews posted this video in the article:
Here is a simple definition of ADE:
A physician, Dr Robert W Malone, inventor of mRNA vaccines and RNA as a drug, agrees with Montagnier's assessment:
A farmer also agrees. He says that unvaccinated people could not be creating new variants. Someone replying references Marek's disease, which comes about when chickens are vaccinated:
Dr Malone explains ADE, which most likely occurs during the waning phase of vaccine immune responses. This might explain the need for a booster shot:
He says that the coronavirus vaccine trials did not take ADE into account:
No one is talking about ADE, yet it could be highly significant, for the worse:
Public Health England report
At the weekend, the media reported that a booster programme for people living in England is planned for this autumn, possibly as early as September, for those who are aged 50 and over.
Malone tweeted about a paper from Public Health England (PHE) linking vaccinations and coronavirus deaths:
The Simpson Post has a summary of PHE's paper:
The UK government agency Public Health England published a report on Friday that officials who are trying to push the Covid-19 vaccine upon the rest of the world do not want people to see. Data contained within their report revealed people who have received the Covid-19 vaccine are more vulnerable to the Delta variant than those who have not been vaccinated. Their briefing titled "SARS-Cov-2 variants of concern and variants under investigation in England," investigated every variant of covid-19 that is currently known. The information contained in the report showed that people who received the covid-19 shot are more than three times likely to die than those who have not received the vaccine.
Out of 117 people who died over a time period of four weeks, 73 of them had received the covid-19 vaccine. That means 63 percent of those who died from the Delta variant had been vaccinated. Information within the chart that can be found on pages 13 and 14 of the report revealed that one of the people who died received their first dose of the covid-19 vaccine within three weeks of when they died. 19 of them had been vaccinated more than three weeks before they died. 50 of the people who died during the four week time span had received both doses of the covid-19 vaccine.
The Conversation has more about vaccines, variants and the possibility of ADE occurring. As a reminder, the Delta variant originated in India and the Lambda in Peru:
A risk assessment released by Public Health England in July concedes there's not yet enough information on Lambda to know whether infection increases the risk of severe disease.
The risk assessment also recommends ongoing surveillance in countries where both Lambda and Delta are present be implemented as a priority. The aim would be to find out whether Lambda is capable of out-competing Delta.
With ongoing high levels of transmission of the coronavirus, there's a continued risk of new variants emerging. The Lambda variant again highlights the risk of these mutations increasing the ability of SARS-CoV-2 to infect cells or disrupt existing vaccines and antibody drugs.
The WHO will continue to study Lambda to determine whether it has the potential to become an emerging risk to global public health and a variant of concern.
It would be nice if England's health experts and politicians would come clean on the need for booster shots. I've watched every single coronavirus briefing and none of the above has been mentioned, ever.
There is speculation that a third shot — i.e. booster — might cause ADE to kick in. Again, this is a developing situation, but our betters must have an idea of what could happen to us, none of it good.
Time is short today, so here are a few brief takes on coronavirus.
The young
I was appalled to see this video of an infant undergoing a PCR test. What are parents and medical staff thinking?
Why would a tiny baby need to undergo such a test? Yes, I agree that the procedure could cause an infection or, worse, damage. The barrier between the brain and back of the nose must be extremely delicate in such a young child.
The old
Allegedly, last October, Prime Minister Boris Johnson sent the following message expressing scepticism about a winter lockdown in England. I agree with all of what he says. Barrister Francis Hoar makes a valid point about deaths of/with coronavirus. At the time Boris made this statement, our PCR cycle threshold was >35, thereby picking up anything and everything:
It is true that, in England, at least, the average age for the elderly dying from the virus is greater than the average life expectancy.
I do wish Boris had had the nerve to 'recalibrate' and avoid a winter-to-spring lockdown. He resisted, but, as usual, SAGE got to him, it would seem.
This topic came up in the comments to an article on Conservative Home about Boris.
One reader wrote (emphases mine):
A reply to the comment pointed out the truth about winter respiratory diseases:
I am 82 years old. Pneumonia was always called "the old man's friend."
Vaccine passports
Despite the Government denying it for the past seven months, it looks as if coronavirus passports are coming to England.
There is speculation that they will be required at the annual Conservative Party conference this coming autumn in Manchester at the Midland Hotel:
Guido Fawkes says:
The Mail reports the Tories' September conference in Manchester is set to require Covid passports, in a blow to any libertarian MPs hoping to attend. While most of conference is quite far away from nightclubbing scenes, no doubt photos of a packed Midland's bar would attract online ire …
Yesterday the Telegraph reported one prominent Tory rebel MP said he suspects if Boris does force them "significant numbers of Conservative MPs and activists will refuse to attend."
I hope libertarian-minded Conservatives do boycott this. This policy would set a dangerous precedent for civil liberties. It's a narrow step from a vax passport to a digital ID.
The Mail's article reports that the insider said:
'Some MPs might not like it, but all the polling suggests the public are quite strongly in favour of Covid passports,' they said.
'That looks to be truer for the older generations who are more at risk, and might be wanting to come along.'
On their heads be it.
Appalling.
Weeks ago, the UK government announced that June 21 could well be Freedom Day, with confirmation coming on June 14.
This week, not surprisingly, the government and SAGE began backtracking.
Matt Hancock's testimony
Yesterday, Matt Hancock gave four and a half hours' worth of testimony to the Health and Social Care Select Committee.
Today, Friday, June 11, talkRADIO's Julia Hartley-Brewer picked up on the same lockdown point as I did in my post. They will not hesitate to use it again:
The vaccines minister Nadhim Zahawi defended Matt Hancock's claim that there was never a PPE shortage. Good grief. I watched the debates in Parliament at the time. There definitely WAS a PPE shortage (and not just in the UK):
Dominic Cummings, Prime Minister Boris Johnson's former special adviser and Matt Hancock's nemesis, surfaced as expected:
SAGE
Members of SAGE and Independent SAGE want lockdown to stay.
SPI-M is SAGE's modelling committee, the one with all the dodgy numbers:
Publican Adam Brooks makes an excellent point, although he meant to write 'without culpability'. The modellers will continue to rake in their salaries:
Here's another tweet about the dodgy data modelling — disgraceful:
To top it off, card-carrying Communist Susan Michie, a behavioural psychologist and member of SAGE's SPI-B committee, says that masks and social distancing should be with us forever:
Michie gave the interview to Channel 5 News (the Daily Mail has more):
Carl Vernon analyses it:
Now, Michie is backtracking:
On April 24, the Daily Mail posted a profile of Susan Michie by Peter Hitchens. Excerpts follow (emphases mine):
The super-rich Communist Susan Michie is so militant that her fellow Marxists once searched her baby's pram for subversive literature.
They lifted the tiny infant out of the way, to check that the future Professor of Psychology was not smuggling ultra-hardline propaganda into a crucial conference.
No wonder that fellow students at Oxford a few years before had called her 'Stalin's nanny'.
The 1984 pram-searching incident, disclosed in 2014 by a far- Left website called The Weekly Worker, is far from being the oddest thing about this interesting person.
The oddest thing about her is that she is a senior adviser to Boris Johnson's Tory Government, a regular participant in the official Sage committee and the SPI-B committee, which have had such influence over the handling of Covid.
Yet despite, or perhaps, because of being very wealthy indeed, she has been a fervent Communist since 1978, and still clings to the Hammer and Sickle long after the collapse of her creed's regimes from East Berlin to Moscow.
Her favourite place in the world is Havana, infested with secret police spies and one of the last tottering strongholds of Leninist rule.
It is quite possible to argue that Britain has undergone a revolution in the past year: a cultural revolution in which we have put health and safety above liberty in an astonishing way; a political revolution in which Parliament has become an obedient rubber-stamp and opposition has evaporated, while Ministers rule through decrees; and an economic revolution in which millions of previously independent people have become wholly dependent on the state for their wellbeing.
Perhaps, then, we should look for some revolutionaries. For what an opportunity they have been given by the Covid crisis.
Widespread fear of a mysterious plague led millions to seek safety in the arms of the state. But was this just a natural reaction, or was there any encouragement?
A now-notorious document was issued in March 2020 by Sage, called 'Options for increasing adherence to social distancing measures'. It concluded that we were not yet frightened enough.
It said: 'A substantial number of people still do not feel sufficiently personally threatened.' So we needed to be scared a bit more. It recommended: 'The perceived level of personal threat needs to be increased among those who are complacent, using hard-hitting emotional messaging.'
Well, most of us can recall such messaging. Wherever can it have come from?
The Government, supposedly led by a liberty-loving conservative, deployed intense and repeated propaganda, about the overwhelming of the NHS. It united us around a sort of worship of care workers.
It cleverly portrayed quarantine measures, from house arrest to mask-wearing, as selfless and generous, so making nonconformists and dissenters appear stupid, selfish and mean …
Susan Michie has not responded to my requests for an interview, either directly to her email or through the press office of University College London, where she works. So I cannot say whether her lifelong belief in Communism, apparently inherited from her equally militant scientist parents and shared with her ex-husband, the former Jeremy Corbyn aide Andrew Murray, has had any influence on her advice.
Hitchens says that Michie advocates a zero-COVID policy, which means we'll die in penury from permanent lockdown and be told by the state — Chinese style — when we can leave the house:
Vaccines reduce illness, and hence death rates, for all variants. Most young and healthy people are safe from Covid-19, and always have been. Most of the old are now protected from serious illness via the vaccine.
But can it overwhelm the idealists – Utopians in fact – of Zero Covid, a well-organised and active lobby who believe that the virus needs to be eliminated completely?
Susan Michie seems to be a supporter of this idea. On July 30, 2020, she tweeted: 'To get people out & about, schools back, workplaces open, economy recovering we need #ZeroCOVID.'
On February 24, perhaps recognising that Zero Covid might put some people off, she tweeted: ' 'Maximum suppression' seems to be a good way of expressing the goal of ZeroCOVID (without getting side tracked into wilful or other misinterpretation).'
Where does this desire for elimination of the virus actually lead? Many people have praised China's response to Covid. But in reality China still has Covid outbreaks, and responds to them with measures of extraordinary ruthlessness.
It has also used Covid to speed up and strengthen its worrying 'social credit' system, which puts everyone under surveillance, rewards conformity and punishes misbehaviour by denying access to the small joys of life.
Freedom is conditional, and the gift of the state and the Communist Party. In Peking, which is virtually Covid-free, citizens must use a smartphone to scan a QR code for every mode of transport. Contact-tracing is constant.
Anyone who leaves or arrives in the city must be tested. As David Rennie, Peking bureau chief of The Economist, recently observed: 'It's very hard to know where Covid containment starts and a Communist police state with an obsession with control kicks in.'
The government
The Indian variant is being used as the excuse for not reopening on Freedom Day, June 21:
Julia Hartley-Brewer has exposed the government's new zero-COVID strategy:
It is thought that restrictions on weddings could be lifted:
Adam Brooks has this to say about Freedom Day:
Travel is still a no-no:
Conclusion
I could write more, but knowing that a Communist is controlling our behaviour and is advising a Conservative government makes me nauseous.
Therefore, in conclusion, there is no good reason for the government to refuse to reopen the nation on June 21. Deaths, even from 2020, are still average. This year, so far, they are below average:
We will find out the government's latest excuse on Monday, June 14. More to follow.
In 2021, the Fifth Sunday in Lent is March 21.
This particular Sunday in Lent is the beginning of the short season of Passiontide.
The readings for Year B in the three-year Lectionary are below:
Readings for the Fifth Sunday in Lent — Year B
The Gospel reading is as follows (emphases in bold mine):
John 12:20-33
12:20 Now among those who went up to worship at the festival were some Greeks.
12:21 They came to Philip, who was from Bethsaida in Galilee, and said to him, "Sir, we wish to see Jesus."
12:22 Philip went and told Andrew; then Andrew and Philip went and told Jesus.
12:23 Jesus answered them, "The hour has come for the Son of Man to be glorified.
12:24 Very truly, I tell you, unless a grain of wheat falls into the earth and dies, it remains just a single grain; but if it dies, it bears much fruit.
12:25 Those who love their life lose it, and those who hate their life in this world will keep it for eternal life.
12:26 Whoever serves me must follow me, and where I am, there will my servant be also. Whoever serves me, the Father will honor.
12:27 "Now my soul is troubled. And what should I say–' Father, save me from this hour'? No, it is for this reason that I have come to this hour.
12:28 Father, glorify your name." Then a voice came from heaven, "I have glorified it, and I will glorify it again."
12:29 The crowd standing there heard it and said that it was thunder. Others said, "An angel has spoken to him."
12:30 Jesus answered, "This voice has come for your sake, not for mine.
12:31 Now is the judgment of this world; now the ruler of this world will be driven out.
12:32 And I, when I am lifted up from the earth, will draw all people to myself."
12:33 He said this to indicate the kind of death he was to die.
Commentary for today's exegesis comes from Matthew Henry and John MacArthur.
Jesus spoke these words after his triumphal entry into Jerusalem, which we remember on Palm Sunday.
He had raised Lazarus, Mary and Martha's brother, from the dead just a few days beforehand and spent time with them, His good friends.
Now He is in Jerusalem for Passover and His imminent death on the Cross.
Jews from across the Ancient World went to Jerusalem for Passover. The city would have been unbelievably crowded and noisy.
John tells us that Greeks went up to Jerusalem for the feast (verse 20). John MacArthur surmises that they were Gentiles. However, Matthew Henry thinks they were Hellenic Jews.
Either explanation works. Some Gentiles became Jews and were known as 'men of God' if they worshipped with the Jews and followed Mosaic law but stopped short of circumcision.
Henry's commentary provides more detail on Gentiles who believed in the God of Israel:
Some think they were Jews of the dispersion, some of the twelve tribes that were scattered among the Gentiles, and were called Greeks, Hellenist Jews but others think they were Gentiles, those whom they called proselytes of the gate, such as the eunuch and Cornelius. Pure natural religion met with the best assistance among the Jews, and therefore those among the Gentiles who were piously inclined joined with them in their solemn meetings, as far as was allowed them. There were devout worshippers of the true God even among those that were strangers to the commonwealth of Israel. It was in the latter ages of the Jewish church that there was this flocking of the Gentiles to the temple at Jerusalem,–a happy presage of the taking down of the partition-wall between Jews and Gentiles. The forbidding of the priests to accept of any oblation or sacrifice from a Gentile (which was done by Eleazar the son of Ananias, the high priest), Josephus says, was one of those things that brought the Romans upon them, War 2. 409-410. Though these Greeks, if uncircumcised, were not admitted to eat the passover, yet they came to worship at the feast. We must thankfully use the privileges we have, though there may be others from which we are shut out.
A group of Greeks approached Philip and asked to see Jesus (verse 21).
We do not know why they approached Philip in particular, but there are possibilities to consider.
Henry says that a lot of Gentiles lived in Galilee. (This is one of the reasons the Jews from Judea disliked Galilee. It was not pure enough for them.)
Henry tells us:
Some think that they had acquaintance with him formerly, and that they lived near Bethsaida in Galilee of the Gentiles and then it teaches us that we should improve our acquaintance with good people, for our increase in the knowledge of Christ. It is good to know those who know the Lord. But if these Greeks had been near Galilee it is probable that they would have attended Christ there, where he mostly resided therefore I think that they applied to him only because they saw him a close follower of Christ, and he was the first they could get to speak with. It was an instance of the veneration they had for Christ that they made an interest with one of his disciples for an opportunity to converse with him, a sign that they looked upon him as some great one, though he appeared mean.
'Mean' there is a synonym for 'humble'.
MacArthur gives us more information:
There were more Gentiles in Galilee, a lot more than in Judea.  Between Judea and Galilee was the area called Decapolis of ten cities, which were Gentile populations.  So there were a lot of interactions with Gentiles in Galilee.  It may well have been that they knew Philip from business, from activity in Galilee.  By the way, Philip and Andrew are both Greek names, not Hebrew names, and so maybe there was some familiarity there.  We don't really know. 
Philip went to tell his brother Andrew of the request and both told Jesus (verse 22).
John doesn't say whether Jesus met with the Greeks, but MacArthur says:
We can assume that because in John 6:37, He said, "Him that comes to me, I will never turn away," right?  Never cast out.  There would be no reason to assume He didn't receive them. 
Jesus began speaking to the crowd of His imminent death, saying that 'the hour had come' for 'the Son of Man to be glorified' (verse 23).
MacArthur says that the words 'Son of Man' would have meant something significant to the crowd, who would have learned Scripture through oral tradition:
The hour has come for the Son of Man to be glorified.  Why would that ignite a firestorm?  Because "Son of Man" is a Messianic term found in Daniel 7.  In Daniel 7 – and they are familiar with that passage – you have the opening verses of Daniel 7 identify all the powers of the world, all the great nations: Babylon, Medo-Persia, all of the great powers of the world.  It shows how corrupt they are, how beastly they are.  They are represented in beastly image.  All of the sudden, onto the scene in this vision in Daniel 7 comes the Son of Man, and He has power and dominion and authority, and He crushes all His enemies, and He sets up His kingdom.
So when He said, "Son of Man" and by the way, it even says, "The Son of Man will be glorified in His kingdom and establish it forever and ever," that's Daniel 7.  So when they hear that, I suppose there would have been some kind of cheer coming from somewhere.
Jesus gave them an analogy of a single grain, which isn't much use unless it dies, having been planted in the ground to grow as a fruitful plant (verse 24).
MacArthur says the crowd would have been shocked by the notion that the prophesied Son of Man was going to die:
He has to say, "Truly, truly," because this just can't really be true.  This is too shocking. 
"Truly, truly, I say to you, unless a grain of wheat falls into the earth and dies, it remains alone; but if it dies, it bears much fruit."  What?  There can't be a kingdom unless I die.  There can't be a kingdom unless I die.  There can't be anybody in a kingdom unless I die.  There can't be any conquering unless I die.  The divine … timetable has come, the hour has come for Him to be glorified, the Son of Man to be glorified, but He will be glorified not in triumphant conquering, but in substitutionary death.
He didn't come to smash His way to an earthly kingdom or earthly empire.  He turned their conquest dreams into visions of death, and He did it with an analogy.  He explains it such a graphic way.  As long as a seed remains in the granary, it is preserved by its outside shell.  Only when the seed is put in the soil does it begin to decompose and rot away, and when the shell decomposes and rots away, the life inside begins to flourish.  It gives life to a huge plant, which produces more seeds and more seeds and on and on it goes. 
Jesus continued with another statement that His audience must have found shocking: those attached to their current life will lose it and those who hate their life will live forever (verse 25).
Henry explains:
[1.] See here the fatal consequences of an inordinate love of life many a man hugs himself to death, and loses his life by over-loving it. He that so loves his animal life as to indulge his appetite, and make provision for the flesh, to fulfil the lusts thereof, shall thereby shorten his days, shall lose the life he is so fond of, and another infinitely better. He that is so much in love with the life of the body, and the ornaments and delights of it, as, for fear of exposing it or them, to deny Christ, he shall lose it, that is, lose a real happiness in the other world, while he thinks to secure an imaginary one in this. Skin for skin a man may give for his life, and make a good bargain, but he that gives his soul, his God, his heaven, for it, buys life too dear, and is guilty of the folly of him who sold a birth-right for a mess of pottage.
[2.] See also the blessed recompence of a holy contempt of life. He that so hates the life of the body as to venture it for the preserving of the life of his soul shall find both, with unspeakable advantage, in eternal life. Note, First, It is required of the disciples of Christ that they hate their life in this world a life in this world supposes a life in the other world, and this is hated when it is loved less than that …
Jesus then spoke of service. Anyone who follows Him must serve Him and those who serve Him will be honoured by God (verse 26).
Henry says:
The Greeks desired to see Jesus (John 12:21), but Christ lets them know that it was not enough to see him, they must serve him. He did not come into the world, to be a show for us to gaze at, but a king to be ruled by. And he says this for the encouragement of those who enquired after him to become his servants. In taking servants it is usual to fix both the work and the wages[;] Christ does both here.
Jesus spoke of His personal state. He was troubled, yet He must fulfil what He came to do: die for our sins (verse 27).
People think that Jesus was a good man who lost in life, that He was supposed to be a temporal king bringing justice to the oppressed. No, His death was His mission in order for us to be reconciled to God.
MacArthur explains:
This is why He came, and through His death much spiritual fruit would come.  He understood that He had come to die.  From His birth, He had been called Jesus because He would save His people from their sins.  He knew that salvation was to be through His death.  He knew He was God's chosen sacrifice.  The Son of Man has come to seek and to save the lost.  Yes, but how?  Has come to give His life a ransom for many.  He was born to die a sacrificial death.  He knew that.  This was not a surprise.  This isn't a good plan gone wrong.  This is the plan.  
Revelation 13:8 says, "He was the Lamb slain from before the foundation of the world."  Before He ever came into the world, He knew He would come into the world to be slain.  Peter tells us He was the sacrifice to God who would redeem His people with His blood and that this sacrifice was pre-determined from the foundation of the world.  He appeared to accomplish what had been planned.  The cross and the subsequent resurrection from the dead is the theme of Scripture.  The cross and the subsequent resurrection is the great theme of Scripture. 
In many powerful ways, the death of the Lord Jesus Christ reigns over all other issues in Scripture.  When you go to the Old Testament, you're struck very soon by the reality of sacrifice.  It happens early in the third chapter of Genesis.  As you flow through the Scripture, sacrifice goes on through the whole Old Testament. It goes on all the way into the New Testament until 70 A.D.  None of those lambs, none of those millions of goats or lambs or bulls could ever take away sin, but they all pictured one who would: the Lamb of God.
It is important to discuss the word 'troubled', which MacArthur explains:
What does the word "troubled" mean?  It's a Greek word tarassō, tarassō.  It literally means "to shake or to stir up."  That's what you would use if you were doing something in the kitchen.  You'd use that word.  But it had figurative significance as well.  In a figurative sense, it could be translated anguish.  He was anguished.  He was agitated.  He was deeply disturbed.  He was upset.  He was unsettled. 
Sometimes it can be translated terrified, frightening, horrified.  A very strong word, very strong word.  It's so strong that it's used, for example, in Matthew 2:3 of the troubling of Herod, who was so profoundly troubled by the thought that a king was being born in Bethlehem, that he ordered his men to go there and massacre every baby boy/child in the area.  That's being seriously troubled when you become a mass murderer. 
It's the same word used in Matthew 14:26 for the attitude of the disciples when they see Jesus walking on the water.  Some of the translations say they were terrified.  It's a highly disturbing emotion.  It is the word that is used to describe Zacharias the priest when an angel came to him in Luke 1 to tell him that he and Elizabeth who were barren and in their 80s certainly, had never been able to have children.  An angel comes and announces that they will have a son, and Zacharias is terrified by an angel.  Angels didn't appear to people. 
It is the same word used to describe the attitude of the disciples who were in the upper room the night of the resurrection, Luke 24:38, and Jesus comes through the wall with the door being shut, stands in their midst.  It says they're terrified.  Jesus actually used this word on Thursday night in the upper room with His disciples when He said in John 14:1, "Stop letting your heart be troubled."  How can He be troubled?  How can He be so agitated?  How can He be so distressed?  Isn't He less than a martyr?  Why this distress?  Many martyrs seem calm facing death.  Why is this going on?  Was this weakness in Him?  Was this sin?  No, no … 
Listen, His trouble came not from anticipating physical suffering, but anticipating divine wrath, spiritual suffering. That was a terrifying reality. Though the nails must have gone through His hands and feet thousands of times as He thought about it, the agony of the sinless Son of God was not that He would be nailed, but that He would be judged by the wrath of God. Not that He would be stained with blood, but that He would be condemned for sins He did not commit, the sins of all who would ever believe. Those tortured His soul with a fierceness.
Let me tell you something, if He didn't become troubled by that, He wouldn't be God. God should be troubled by the prospect of bearing sin. The Son of God should be troubled by the prospect of divine wrath and alienation from His eternal Father. Yes, He's troubled, but it's not the physical part that troubles Him. It's the spiritual reality.
Jesus asked His Father to glorify His name. A voice came from Heaven saying that His name was be glorified and would be again (verse 28).
MacArthur interprets this for us:
… when the Father says in verse 28, "I have both glorified it," He means throughout your whole ministry I have put My power and glory on display through You. "And will glorify it again," meaning I will glorify My name through your death. I did it through your life. I will do it in your death. I did it through your life. I will do it in your death.
It must have been an incredible moment for the crowd. Some said the divine voice was an angel and others said it was thunder (verse 29).
Both would have been applicable in a scriptural sense, although those who thought it was thunder might have had a spiritual bypass:
You can understand why they were saying those kinds of things.  This is the mixed crowd, which would be some Jews, maybe still the Greeks who came to Jesus.  Maybe, of course, including leaders in the temple.  They were trying to figure out what had just happened.  They had no capacity to know the voice of God or hear the voice of God, and they weren't about to acknowledge the voice of God if He did speak.
Thunder, often in the Old Testament, is the voice of God.  Exodus 19, "God thundered."  Second Samuel 22:14, "The Lord thundered from heaven and uttered His voice."  Job 37:5, "God thunders with His voice wondrously."  You see that also in Psalm 18, Psalm 29.  Job 40:9, "Can you thunder with a voice like His?"  So thunder was associated with the voice of God, but for them, this was just a weather event.  They weren't thinking of it in a divine way.  Then for the others, it was an angelic event, which gets a little closer to reality, but in both cases, they missed the point.
Again, the natural man understands not the things of God, right?  Jesus says to them, "You don't get the truth, and because I speak the truth, you don't understand what I'm saying."  Remember that back in chapter 8?  So they have a way to explain it that is short of the reality.  The bottom line is that God had spoken, and God had validated, authenticated, affirmed the death of His Son. 
Jesus confirmed that it was a divine voice, because He said that it came for the crowd's sake, not for His (verse 30).
Henry explains:
Why it was sent (John 12:30): "It came not because of me, not merely for my encouragement and satisfaction" (then it might have been whispered in his ear privately), "but for your sakes." (1.) "That all you who heard it may believe that the Father hath sent me." What is said from heaven concerning our Lord Jesus, and the glorifying of the Father in him, is said for our sakes, that we may be brought to submit to him and rest upon him. (2.) "That you my disciples, who are to follow me in sufferings, may therein be comforted with the same comforts that carry me on." Let this encourage them to part with life itself for his sake, if they be called to it, that it will redound to the honour of God. Note, The promises and supports granted to our Lord Jesus in his sufferings were intended for our sakes. For our sakes he sanctified himself, and comforted himself.
Then, Jesus changed His tone from troubled to triumphant. His death would be a judgement of the world, and it would vanquish Satan (verse 31).
MacArthur provides this analysis:
Now, rather than viewing the suffering of sin-bearing on the cross, He focuses on the salvation through that suffering and He turns from being troubled in verse 27 to words that are triumphant in verse 31.  He goes from troubled to triumph.  He states the consequence of His death, the accomplishment of the cross, the mystery of the cross unfolded in three massive far-reaching statements. 
Number one, "The judgment is on the world."  Number two, "The ruler of this world will be cast out."  Number three, "And I, if I am lifted up from the earth will draw all men to Myself."  These are sweeping, far-reaching realities.  He goes from that very personal, intimate agony of verse 27 to this global, historical reality of verses 31 through 32.  Three anticipated accomplishments in the cross.  Number one, the world was judged.  The world was judged.  Sin's empire was judged.  Sin's system was judged.  The crisis had come.  The probation of the world was over.  The doom was sealed by the rejection and murder of the Son.  This flips the whole event on its head. 
The Jewish people thought they had judged Him.  In reality, He had not only judged them, but He had judged the entire world.  They thought that they had brought Him into their court and rendered their verdict on Him.  In reality, He had brought them into His court and rendered His verdict on them.  The cross would condemn and judge the world, meaning the Jewish people who rejected Him, the leaders who condemned Him, Judas who betrayed Him, the Roman soldiers who mocked and executed Him, Pilate who sentenced Him, the whole society of evil men alienated from God who crucified Him.  And extending beyond that, all the world of people who are caught up as children of Satan in an anti-God, anti-Christ attitude.
What looked like the judgment of Christ was, in fact, the judgment of the world because at the cross, He won the victory and was ascended and at the right hand of the Father became the Lord and Judge of all.  The whole Christ-rejecting world was judged by the cross of Christ.  The verdict is in.  The sentence is waiting.  Every time a person dies, that sentence is executed, but for the whole world, that sentence will be fully executed in the day that He appears a second time to judge, Acts 17:31.  The world said, "We tried Christ and judged Him."  How wrong they were.  He condemned the world.  The world, every man in it from now on, is condemned.  They're born condemned to death unless they repent and embrace Christ.
Second thing, massive effect: the ruler of this world will be cast out.  Who's that?  Satan, the prince of the power of the air, the ruler of this world.  Satan was dethroned at Calvary.  Again, this is a reversal of what you might think.  It looked like Satan won.  It looked like Satan triumphed, and the devils of hell thought there was a triumph.  Satan had conquered Christ at Calvary, but in reality, Christ had crushed his head, dealt him the deathblow.  Now, Satan fights from death row.  He is a vanquished enemy.  He had nothing on Christ.  He has nothing on us.  He is a conquered, defeated foe. 
Jesus further confirmed His triumph by saying that when He is lifted up from the earth, He will draw all people to Himself (verse 32). That means Jew and Gentile alike.
The words 'lifted up' were known in His era as a synomym for crucifixion. MacArthur says:
"And I, if I am lifted up from the earth," if I am crucified. That's what that means. He's not talking about preachers lifting Him up, which we should do. He's not talking about people who should point to the cross and lift up Christ, which we should do. That's not what this is about. He is saying, "If I am crucified, I will draw all men to myself." All men, meaning all Jews, Gentiles, people from every tongue, tribe, nation of the planet. I will draw them all to myself. He, at the cross, provides the work by which all can be saved. Children of God from all over the world.
John says that this was how Jesus described His imminent death (verse 33).
We know that 'lifted up' meant crucifixion, because after Jesus spoke, people asked Him how this could be (John 12:34):
So the crowd answered him, "We have heard from the Law that the Christ remains forever. How can you say that the Son of Man must be lifted up? Who is this Son of Man?"
MacArthur says that this was the turning point, which would continue through the days that followed, the events of which we remember during Holy Week:
Ah, this is a turning, folks.  On Monday, they were hailing Him as the Messiah.  That begins to go downhill on Tuesday when He attacks the temple.  It's really going downhill now because they all know He is saying, "I will be crucified," and they are saying, "Wait a minute.  The Son of Man?" that Old Testament term from Daniel chapter 7, the Son of Man, the Messianic term.  "The Son of Man is to remain forever."  And they were right about that.  He is the everlasting Father in Isaiah 9.  He has an everlasting kingdom in Daniel 7.  So who is this Son of Man who will be crucified?
Because they don't understand Isaiah 53, they don't believe Isaiah 52.  They don't understand Daniel 9, that He would be cut off, Zechariah 12:10, that He would be pierced.  They only see a Messiah who sets up an everlasting kingdom, and so the cross, Paul says 1 Corinthians 1 is to the Jews a what?  Stumbling block, stumbling block.  "What Son of Man is this?"  So we're starting down from Monday to Friday pretty fast, aren't we?  This is Wednesday, maybe even Thursday.  By Friday, they're convinced this man needs to die.  Perhaps, they didn't even think about the fact that in His crucifixion, He was fulfilling exactly what He said.  This is the scope of the death of Christ in His own simple words before the cross.  Staggering.
I hope this explains more about Christ's death. The Crucifixion was no sign of loss, rather, it was one of victory over sin and our reconciliation with God through our Saviour's ultimate, all-sufficient sacrifice. Jesus came among us to give us eternal life.