You are currently browsing the tag archive for the 'death' tag.
It used to be that vaccines prevented infection.
Coronavirus has changed all that. The double-vaxxed are ending up infected:
Andrew Doyle, who hosts Free Speech Nation for GB News, has it, and he's taken his shots.
ITV's Robert Peston, also double-vaxxed, has it, too:
Peston was supposed to be in Aberdeenshire in Scotland but had to cancel:
I hope he recovers soon.
Meanwhile, in the UK, the debate rages on as to whether children over the age of 12 should receive the vaccine and whether older adults should have a booster shot this autumn.
British supporters of vaccines for children say that such programmes in the United States and France have been highly successful. Hmm.
Dr Robert W Malone is an American physician as well as an inventor of mRNA vaccines and RNA as a drug. He directs his readers to an article in LifeSiteNews about possible coercion being used in high schools:
Meanwhile, the WHO is urging countries wishing to vaccinate their children to donate those doses to Covax instead for wider use around the world. The reply to this tweet includes a statement from Britain's JCVI (Joint Committee on Vaccines and Immunisation) which recommended against children's vaccinations on Friday, September 3:
The WHO also disagrees with booster shots in Western countries, again recommending donating those doses to poorer countries:
The UK also wants to roll out vaccine passports by the end of the month. If we can catch the virus despite two jabs, what is the point? It seems as if we are all back at Square One, only that we are susceptible to milder cases rather than death.
Speaking of deaths, the UK figures for 2021 are on a par with other years since the vaccine rollout began. I saw this graphic on another site with no attribution. Note the bright green line up to Week 33: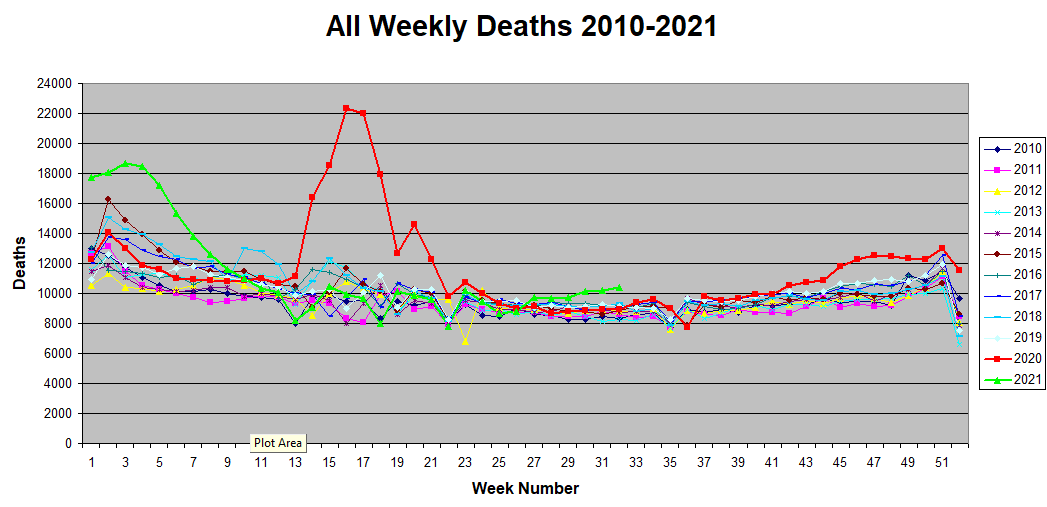 Moving to poorer countries now, not every nation has shown signs of infection or deaths:
Dr Malone says that Peru had a preventive programme of giving its citizens doses of ivermectin until a new president scrapped it. At that point, fatal infections began rising dramatically:
Since the pandemic began, ivermectin for humans has been taken off the market in several Western countries or is restricted on a prescription-only basis for certain conditions, excluding the virus. In many first-world countries, ivermectin is now used solely on animals for various diseases. The current formulation is made for their consumption.
Yet, in Peru and Africa, the formulation for humans is still available. It is inexpensive and is used to cure a variety of diseases as the following Twitter thread about Africa tells us.
The countries in blue are where ivermectin is used on humans. Note the differences in coronavirus cases and deaths:
Ivermectin, sold under the trade name Mectizan, is used to treat river blindness, a common and highly painful disease. It is not unusual to see people with a pair of eyebrow tweezers on a chain around their necks. Among other things, river blindness inflames the eyelash follicles. The only way to relieve the intense pain is to carefully pluck the offending eyelash. It is an ongoing pain until the disease is cured:
The Japanese have looked at sub-Saharan data and have recommended ivermectin to the government as a treatment for coronavirus:
It seems that the Japanese government rejected the use of ivermectin in combatting coronavirus. The updated statistics for Africa are in the second tweet:
Another big supporter of ivermectin is Karl Denninger of The Market Ticker.
On December 18, 2020, he wrote that by giving Americans two tablets of ivermectin, coronavirus could be stopped in one week in the United States. Two tablets in total is all it would take (emphases in the original):
… Why the hell are you not only letting them get away with it but willing to stand in line and take a not-fully-tested shot when a $2 alternative that does the same thing and has been proved safe over more than 30 years of time is available, and it also has a remarkable record of preventing serious disease and death.   This has been known for months.
We can stop Covid-19 in ONE WEEK.
One.  Not five, six, eight or ten as promised by Dr. Redfield with his "masks" who, I remind you, lied.  Covid-19 did not stop even though he got what he wanted.
The science and the CDC's own data says this will work in ONE WEEK.
And the risk if it doesn't work as the science and math says it will?
STATISTICALLY NONE; the drug in question has had over 3.5 billion doses dispensed worldwide and, on the data, is safer than Tylenol and the number of pills you must take is two.
Not two per day.
Two.
Ivermectin will receive broad media coverage only when it's too late. What a pity.
Most of us know instinctively that the Taliban have not changed.
Unfortunately, our leaders probably do not.
A few days ago, a musician was murdered and women's voices have been banned from the airwaves.
On Sunday, August 29, the Times reported on both (emphases mine):
Taliban fighters have shot dead an Afghan folk singer after it outlawed music and women's voices on television and radio in the bellwether province of Kandahar, laying the ground for a nationwide ban in an echo of the brutal Islamist regime of 20 years ago.
When the Taliban come calling, it's not for a friendly chat:
Fawad Andarabi was dragged from his home and shot in the head in the village of Andarab, north of Kabul on Friday, his family said. The murder has provoked an outcry and fuelled fears of a return to the repressive regime of the 1990s since Taliban fighters overran Kabul two weeks ago.
Andarabi was famed for playing the ghichak, a bowed lute, to accompany folk songs about the mountains that surrounded his home, which lies near the Panjshir Valley, the last bastion of resistance to the Taliban takeover.
I wrote about the Panjshir Valley, the home of the new National Resistance Front, on Wednesday, August 25, two days before Fawad Andarabi's murder. No doubt, this will give the resistance movement added momentum:
Masoud Andarabi, the former interior minister, condemned the singer's murder. "Taliban's brutality continues in Andarab. Today they brutally killed folk singer, Fawad Andarabi who simply was bringing joy to this valley and its people," he wrote on Twitter. "As he sang here 'our beautiful valley . . . land of our forefathers' will not submit to Taliban brutality."
As for 'female sounds' on television and radio:
The order from Kandahar also confirms fears that women will be forced out of the media and off the airwaves, crushing a vital opportunity for educated, professional women that has flowered in the 20 years since the first Taliban regime was overthrown …
One female reporter in the province said: "The Taliban's ban of female journalists from TV and radio is not a surprise for me. It was expected as the Taliban started stopping women from work in media, banks, activism and other jobs before they took Kabul. Today, no female presenter or anchor were seen on TV in Kandahar. It's very sad. I know many female journalists who are in hiding or have fled. There is no space left at all for working women in Afghanistan."
How terribly sad.
I wonder if the Taliban will still allow kite flying, which they had banned until Western troops began their occupation.
An American author and physician, Dr Khaled Hosseini, who was born in Afghanistan, even wrote a book about it. The Kite Runner developed into a play and a film. Hosseini says the plot is fiction, but it does draw on other Afghans' memories of growing up under a regime of religious brutality, including male sexual assault.
It looks as if the bad old days are here again. Perhaps they never truly disappeared, despite the West's best efforts.
A developing situation in the coronavirus saga revolves around a possible link between vaccination uptake and new variants, not to mention deaths from the virus.
Dr Luc Montagnier
On May 19, 2021, LifeSiteNews reported that the Nobel Prize winning virologist Dr Luc Montagnier has alleged that mass vaccinations are creating variants which could be fatal. Emphases mine below:
French virologist and Nobel Prize winner Luc Montagnier called mass vaccination against the coronavirus during the pandemic "unthinkable" and a historical blunder that is "creating the variants" and leading to deaths from the disease.
"It's an enormous mistake, isn't it? A scientific error as well as a medical error. It is an unacceptable mistake," Montagnier said in an interview translated and published by the RAIR Foundation USA yesterday. "The history books will show that, because it is the vaccination that is creating the variants."
In another interview, he discussed antibody-dependent enhancement, or ADE:
Many epidemiologists know it and are "silent" about the problem known as "antibody-dependent enhancement," Montagnier said.
"It is the antibodies produced by the virus that enable an infection to become stronger," he said in an interview with Pierre Barnérias of Hold-Up Media earlier this month.
He alleges that vaccinations are driving ADE:
While variants of viruses can occur naturally, Montagnier said that vaccination is driving the process. "What does the virus do? Does it die or find another solution?"
"It is clear that the new variants are created by antibody-mediated selection due to the vaccination."
He also said that:
Vaccinating during a pandemic is "unthinkable" and is causing deaths, the winner of the 2008 Nobel Prize in Medicine for discovery.
LifeSiteNews posted this video in the article:
Here is a simple definition of ADE:
A physician, Dr Robert W Malone, inventor of mRNA vaccines and RNA as a drug, agrees with Montagnier's assessment:
A farmer also agrees. He says that unvaccinated people could not be creating new variants. Someone replying references Marek's disease, which comes about when chickens are vaccinated:
Dr Malone explains ADE, which most likely occurs during the waning phase of vaccine immune responses. This might explain the need for a booster shot:
He says that the coronavirus vaccine trials did not take ADE into account:
No one is talking about ADE, yet it could be highly significant, for the worse:
Public Health England report
At the weekend, the media reported that a booster programme for people living in England is planned for this autumn, possibly as early as September, for those who are aged 50 and over.
Malone tweeted about a paper from Public Health England (PHE) linking vaccinations and coronavirus deaths:
The Simpson Post has a summary of PHE's paper:
The UK government agency Public Health England published a report on Friday that officials who are trying to push the Covid-19 vaccine upon the rest of the world do not want people to see. Data contained within their report revealed people who have received the Covid-19 vaccine are more vulnerable to the Delta variant than those who have not been vaccinated. Their briefing titled "SARS-Cov-2 variants of concern and variants under investigation in England," investigated every variant of covid-19 that is currently known. The information contained in the report showed that people who received the covid-19 shot are more than three times likely to die than those who have not received the vaccine.
Out of 117 people who died over a time period of four weeks, 73 of them had received the covid-19 vaccine. That means 63 percent of those who died from the Delta variant had been vaccinated. Information within the chart that can be found on pages 13 and 14 of the report revealed that one of the people who died received their first dose of the covid-19 vaccine within three weeks of when they died. 19 of them had been vaccinated more than three weeks before they died. 50 of the people who died during the four week time span had received both doses of the covid-19 vaccine.
The Conversation has more about vaccines, variants and the possibility of ADE occurring. As a reminder, the Delta variant originated in India and the Lambda in Peru:
A risk assessment released by Public Health England in July concedes there's not yet enough information on Lambda to know whether infection increases the risk of severe disease.
The risk assessment also recommends ongoing surveillance in countries where both Lambda and Delta are present be implemented as a priority. The aim would be to find out whether Lambda is capable of out-competing Delta.
With ongoing high levels of transmission of the coronavirus, there's a continued risk of new variants emerging. The Lambda variant again highlights the risk of these mutations increasing the ability of SARS-CoV-2 to infect cells or disrupt existing vaccines and antibody drugs.
The WHO will continue to study Lambda to determine whether it has the potential to become an emerging risk to global public health and a variant of concern.
It would be nice if England's health experts and politicians would come clean on the need for booster shots. I've watched every single coronavirus briefing and none of the above has been mentioned, ever.
There is speculation that a third shot — i.e. booster — might cause ADE to kick in. Again, this is a developing situation, but our betters must have an idea of what could happen to us, none of it good.
Time is short today, so here are a few brief takes on coronavirus.
The young
I was appalled to see this video of an infant undergoing a PCR test. What are parents and medical staff thinking?
Why would a tiny baby need to undergo such a test? Yes, I agree that the procedure could cause an infection or, worse, damage. The barrier between the brain and back of the nose must be extremely delicate in such a young child.
The old
Allegedly, last October, Prime Minister Boris Johnson sent the following message expressing scepticism about a winter lockdown in England. I agree with all of what he says. Barrister Francis Hoar makes a valid point about deaths of/with coronavirus. At the time Boris made this statement, our PCR cycle threshold was >35, thereby picking up anything and everything:
It is true that, in England, at least, the average age for the elderly dying from the virus is greater than the average life expectancy.
I do wish Boris had had the nerve to 'recalibrate' and avoid a winter-to-spring lockdown. He resisted, but, as usual, SAGE got to him, it would seem.
This topic came up in the comments to an article on Conservative Home about Boris.
One reader wrote (emphases mine):
A reply to the comment pointed out the truth about winter respiratory diseases:
I am 82 years old. Pneumonia was always called "the old man's friend."
Vaccine passports
Despite the Government denying it for the past seven months, it looks as if coronavirus passports are coming to England.
There is speculation that they will be required at the annual Conservative Party conference this coming autumn in Manchester at the Midland Hotel:
Guido Fawkes says:
The Mail reports the Tories' September conference in Manchester is set to require Covid passports, in a blow to any libertarian MPs hoping to attend. While most of conference is quite far away from nightclubbing scenes, no doubt photos of a packed Midland's bar would attract online ire …
Yesterday the Telegraph reported one prominent Tory rebel MP said he suspects if Boris does force them "significant numbers of Conservative MPs and activists will refuse to attend."
I hope libertarian-minded Conservatives do boycott this. This policy would set a dangerous precedent for civil liberties. It's a narrow step from a vax passport to a digital ID.
The Mail's article reports that the insider said:
'Some MPs might not like it, but all the polling suggests the public are quite strongly in favour of Covid passports,' they said.
'That looks to be truer for the older generations who are more at risk, and might be wanting to come along.'
On their heads be it.
Appalling.
Weeks ago, the UK government announced that June 21 could well be Freedom Day, with confirmation coming on June 14.
This week, not surprisingly, the government and SAGE began backtracking.
Matt Hancock's testimony
Yesterday, Matt Hancock gave four and a half hours' worth of testimony to the Health and Social Care Select Committee.
Today, Friday, June 11, talkRADIO's Julia Hartley-Brewer picked up on the same lockdown point as I did in my post. They will not hesitate to use it again:
The vaccines minister Nadhim Zahawi defended Matt Hancock's claim that there was never a PPE shortage. Good grief. I watched the debates in Parliament at the time. There definitely WAS a PPE shortage (and not just in the UK):
Dominic Cummings, Prime Minister Boris Johnson's former special adviser and Matt Hancock's nemesis, surfaced as expected:
SAGE
Members of SAGE and Independent SAGE want lockdown to stay.
SPI-M is SAGE's modelling committee, the one with all the dodgy numbers:
Publican Adam Brooks makes an excellent point, although he meant to write 'without culpability'. The modellers will continue to rake in their salaries:
Here's another tweet about the dodgy data modelling — disgraceful:
To top it off, card-carrying Communist Susan Michie, a behavioural psychologist and member of SAGE's SPI-B committee, says that masks and social distancing should be with us forever:
Michie gave the interview to Channel 5 News (the Daily Mail has more):
Carl Vernon analyses it:
Now, Michie is backtracking:
On April 24, the Daily Mail posted a profile of Susan Michie by Peter Hitchens. Excerpts follow (emphases mine):
The super-rich Communist Susan Michie is so militant that her fellow Marxists once searched her baby's pram for subversive literature.
They lifted the tiny infant out of the way, to check that the future Professor of Psychology was not smuggling ultra-hardline propaganda into a crucial conference.
No wonder that fellow students at Oxford a few years before had called her 'Stalin's nanny'.
The 1984 pram-searching incident, disclosed in 2014 by a far- Left website called The Weekly Worker, is far from being the oddest thing about this interesting person.
The oddest thing about her is that she is a senior adviser to Boris Johnson's Tory Government, a regular participant in the official Sage committee and the SPI-B committee, which have had such influence over the handling of Covid.
Yet despite, or perhaps, because of being very wealthy indeed, she has been a fervent Communist since 1978, and still clings to the Hammer and Sickle long after the collapse of her creed's regimes from East Berlin to Moscow.
Her favourite place in the world is Havana, infested with secret police spies and one of the last tottering strongholds of Leninist rule.
It is quite possible to argue that Britain has undergone a revolution in the past year: a cultural revolution in which we have put health and safety above liberty in an astonishing way; a political revolution in which Parliament has become an obedient rubber-stamp and opposition has evaporated, while Ministers rule through decrees; and an economic revolution in which millions of previously independent people have become wholly dependent on the state for their wellbeing.
Perhaps, then, we should look for some revolutionaries. For what an opportunity they have been given by the Covid crisis.
Widespread fear of a mysterious plague led millions to seek safety in the arms of the state. But was this just a natural reaction, or was there any encouragement?
A now-notorious document was issued in March 2020 by Sage, called 'Options for increasing adherence to social distancing measures'. It concluded that we were not yet frightened enough.
It said: 'A substantial number of people still do not feel sufficiently personally threatened.' So we needed to be scared a bit more. It recommended: 'The perceived level of personal threat needs to be increased among those who are complacent, using hard-hitting emotional messaging.'
Well, most of us can recall such messaging. Wherever can it have come from?
The Government, supposedly led by a liberty-loving conservative, deployed intense and repeated propaganda, about the overwhelming of the NHS. It united us around a sort of worship of care workers.
It cleverly portrayed quarantine measures, from house arrest to mask-wearing, as selfless and generous, so making nonconformists and dissenters appear stupid, selfish and mean …
Susan Michie has not responded to my requests for an interview, either directly to her email or through the press office of University College London, where she works. So I cannot say whether her lifelong belief in Communism, apparently inherited from her equally militant scientist parents and shared with her ex-husband, the former Jeremy Corbyn aide Andrew Murray, has had any influence on her advice.
Hitchens says that Michie advocates a zero-COVID policy, which means we'll die in penury from permanent lockdown and be told by the state — Chinese style — when we can leave the house:
Vaccines reduce illness, and hence death rates, for all variants. Most young and healthy people are safe from Covid-19, and always have been. Most of the old are now protected from serious illness via the vaccine.
But can it overwhelm the idealists – Utopians in fact – of Zero Covid, a well-organised and active lobby who believe that the virus needs to be eliminated completely?
Susan Michie seems to be a supporter of this idea. On July 30, 2020, she tweeted: 'To get people out & about, schools back, workplaces open, economy recovering we need #ZeroCOVID.'
On February 24, perhaps recognising that Zero Covid might put some people off, she tweeted: ' 'Maximum suppression' seems to be a good way of expressing the goal of ZeroCOVID (without getting side tracked into wilful or other misinterpretation).'
Where does this desire for elimination of the virus actually lead? Many people have praised China's response to Covid. But in reality China still has Covid outbreaks, and responds to them with measures of extraordinary ruthlessness.
It has also used Covid to speed up and strengthen its worrying 'social credit' system, which puts everyone under surveillance, rewards conformity and punishes misbehaviour by denying access to the small joys of life.
Freedom is conditional, and the gift of the state and the Communist Party. In Peking, which is virtually Covid-free, citizens must use a smartphone to scan a QR code for every mode of transport. Contact-tracing is constant.
Anyone who leaves or arrives in the city must be tested. As David Rennie, Peking bureau chief of The Economist, recently observed: 'It's very hard to know where Covid containment starts and a Communist police state with an obsession with control kicks in.'
The government
The Indian variant is being used as the excuse for not reopening on Freedom Day, June 21:
Julia Hartley-Brewer has exposed the government's new zero-COVID strategy:
It is thought that restrictions on weddings could be lifted:
Adam Brooks has this to say about Freedom Day:
Travel is still a no-no:
Conclusion
I could write more, but knowing that a Communist is controlling our behaviour and is advising a Conservative government makes me nauseous.
Therefore, in conclusion, there is no good reason for the government to refuse to reopen the nation on June 21. Deaths, even from 2020, are still average. This year, so far, they are below average:
We will find out the government's latest excuse on Monday, June 14. More to follow.
In 2021, the Fifth Sunday in Lent is March 21.
This particular Sunday in Lent is the beginning of the short season of Passiontide.
The readings for Year B in the three-year Lectionary are below:
Readings for the Fifth Sunday in Lent — Year B
The Gospel reading is as follows (emphases in bold mine):
John 12:20-33
12:20 Now among those who went up to worship at the festival were some Greeks.
12:21 They came to Philip, who was from Bethsaida in Galilee, and said to him, "Sir, we wish to see Jesus."
12:22 Philip went and told Andrew; then Andrew and Philip went and told Jesus.
12:23 Jesus answered them, "The hour has come for the Son of Man to be glorified.
12:24 Very truly, I tell you, unless a grain of wheat falls into the earth and dies, it remains just a single grain; but if it dies, it bears much fruit.
12:25 Those who love their life lose it, and those who hate their life in this world will keep it for eternal life.
12:26 Whoever serves me must follow me, and where I am, there will my servant be also. Whoever serves me, the Father will honor.
12:27 "Now my soul is troubled. And what should I say–' Father, save me from this hour'? No, it is for this reason that I have come to this hour.
12:28 Father, glorify your name." Then a voice came from heaven, "I have glorified it, and I will glorify it again."
12:29 The crowd standing there heard it and said that it was thunder. Others said, "An angel has spoken to him."
12:30 Jesus answered, "This voice has come for your sake, not for mine.
12:31 Now is the judgment of this world; now the ruler of this world will be driven out.
12:32 And I, when I am lifted up from the earth, will draw all people to myself."
12:33 He said this to indicate the kind of death he was to die.
Commentary for today's exegesis comes from Matthew Henry and John MacArthur.
Jesus spoke these words after his triumphal entry into Jerusalem, which we remember on Palm Sunday.
He had raised Lazarus, Mary and Martha's brother, from the dead just a few days beforehand and spent time with them, His good friends.
Now He is in Jerusalem for Passover and His imminent death on the Cross.
Jews from across the Ancient World went to Jerusalem for Passover. The city would have been unbelievably crowded and noisy.
John tells us that Greeks went up to Jerusalem for the feast (verse 20). John MacArthur surmises that they were Gentiles. However, Matthew Henry thinks they were Hellenic Jews.
Either explanation works. Some Gentiles became Jews and were known as 'men of God' if they worshipped with the Jews and followed Mosaic law but stopped short of circumcision.
Henry's commentary provides more detail on Gentiles who believed in the God of Israel:
Some think they were Jews of the dispersion, some of the twelve tribes that were scattered among the Gentiles, and were called Greeks, Hellenist Jews but others think they were Gentiles, those whom they called proselytes of the gate, such as the eunuch and Cornelius. Pure natural religion met with the best assistance among the Jews, and therefore those among the Gentiles who were piously inclined joined with them in their solemn meetings, as far as was allowed them. There were devout worshippers of the true God even among those that were strangers to the commonwealth of Israel. It was in the latter ages of the Jewish church that there was this flocking of the Gentiles to the temple at Jerusalem,–a happy presage of the taking down of the partition-wall between Jews and Gentiles. The forbidding of the priests to accept of any oblation or sacrifice from a Gentile (which was done by Eleazar the son of Ananias, the high priest), Josephus says, was one of those things that brought the Romans upon them, War 2. 409-410. Though these Greeks, if uncircumcised, were not admitted to eat the passover, yet they came to worship at the feast. We must thankfully use the privileges we have, though there may be others from which we are shut out.
A group of Greeks approached Philip and asked to see Jesus (verse 21).
We do not know why they approached Philip in particular, but there are possibilities to consider.
Henry says that a lot of Gentiles lived in Galilee. (This is one of the reasons the Jews from Judea disliked Galilee. It was not pure enough for them.)
Henry tells us:
Some think that they had acquaintance with him formerly, and that they lived near Bethsaida in Galilee of the Gentiles and then it teaches us that we should improve our acquaintance with good people, for our increase in the knowledge of Christ. It is good to know those who know the Lord. But if these Greeks had been near Galilee it is probable that they would have attended Christ there, where he mostly resided therefore I think that they applied to him only because they saw him a close follower of Christ, and he was the first they could get to speak with. It was an instance of the veneration they had for Christ that they made an interest with one of his disciples for an opportunity to converse with him, a sign that they looked upon him as some great one, though he appeared mean.
'Mean' there is a synonym for 'humble'.
MacArthur gives us more information:
There were more Gentiles in Galilee, a lot more than in Judea.  Between Judea and Galilee was the area called Decapolis of ten cities, which were Gentile populations.  So there were a lot of interactions with Gentiles in Galilee.  It may well have been that they knew Philip from business, from activity in Galilee.  By the way, Philip and Andrew are both Greek names, not Hebrew names, and so maybe there was some familiarity there.  We don't really know. 
Philip went to tell his brother Andrew of the request and both told Jesus (verse 22).
John doesn't say whether Jesus met with the Greeks, but MacArthur says:
We can assume that because in John 6:37, He said, "Him that comes to me, I will never turn away," right?  Never cast out.  There would be no reason to assume He didn't receive them. 
Jesus began speaking to the crowd of His imminent death, saying that 'the hour had come' for 'the Son of Man to be glorified' (verse 23).
MacArthur says that the words 'Son of Man' would have meant something significant to the crowd, who would have learned Scripture through oral tradition:
The hour has come for the Son of Man to be glorified.  Why would that ignite a firestorm?  Because "Son of Man" is a Messianic term found in Daniel 7.  In Daniel 7 – and they are familiar with that passage – you have the opening verses of Daniel 7 identify all the powers of the world, all the great nations: Babylon, Medo-Persia, all of the great powers of the world.  It shows how corrupt they are, how beastly they are.  They are represented in beastly image.  All of the sudden, onto the scene in this vision in Daniel 7 comes the Son of Man, and He has power and dominion and authority, and He crushes all His enemies, and He sets up His kingdom.
So when He said, "Son of Man" and by the way, it even says, "The Son of Man will be glorified in His kingdom and establish it forever and ever," that's Daniel 7.  So when they hear that, I suppose there would have been some kind of cheer coming from somewhere.
Jesus gave them an analogy of a single grain, which isn't much use unless it dies, having been planted in the ground to grow as a fruitful plant (verse 24).
MacArthur says the crowd would have been shocked by the notion that the prophesied Son of Man was going to die:
He has to say, "Truly, truly," because this just can't really be true.  This is too shocking. 
"Truly, truly, I say to you, unless a grain of wheat falls into the earth and dies, it remains alone; but if it dies, it bears much fruit."  What?  There can't be a kingdom unless I die.  There can't be a kingdom unless I die.  There can't be anybody in a kingdom unless I die.  There can't be any conquering unless I die.  The divine … timetable has come, the hour has come for Him to be glorified, the Son of Man to be glorified, but He will be glorified not in triumphant conquering, but in substitutionary death.
He didn't come to smash His way to an earthly kingdom or earthly empire.  He turned their conquest dreams into visions of death, and He did it with an analogy.  He explains it such a graphic way.  As long as a seed remains in the granary, it is preserved by its outside shell.  Only when the seed is put in the soil does it begin to decompose and rot away, and when the shell decomposes and rots away, the life inside begins to flourish.  It gives life to a huge plant, which produces more seeds and more seeds and on and on it goes. 
Jesus continued with another statement that His audience must have found shocking: those attached to their current life will lose it and those who hate their life will live forever (verse 25).
Henry explains:
[1.] See here the fatal consequences of an inordinate love of life many a man hugs himself to death, and loses his life by over-loving it. He that so loves his animal life as to indulge his appetite, and make provision for the flesh, to fulfil the lusts thereof, shall thereby shorten his days, shall lose the life he is so fond of, and another infinitely better. He that is so much in love with the life of the body, and the ornaments and delights of it, as, for fear of exposing it or them, to deny Christ, he shall lose it, that is, lose a real happiness in the other world, while he thinks to secure an imaginary one in this. Skin for skin a man may give for his life, and make a good bargain, but he that gives his soul, his God, his heaven, for it, buys life too dear, and is guilty of the folly of him who sold a birth-right for a mess of pottage.
[2.] See also the blessed recompence of a holy contempt of life. He that so hates the life of the body as to venture it for the preserving of the life of his soul shall find both, with unspeakable advantage, in eternal life. Note, First, It is required of the disciples of Christ that they hate their life in this world a life in this world supposes a life in the other world, and this is hated when it is loved less than that …
Jesus then spoke of service. Anyone who follows Him must serve Him and those who serve Him will be honoured by God (verse 26).
Henry says:
The Greeks desired to see Jesus (John 12:21), but Christ lets them know that it was not enough to see him, they must serve him. He did not come into the world, to be a show for us to gaze at, but a king to be ruled by. And he says this for the encouragement of those who enquired after him to become his servants. In taking servants it is usual to fix both the work and the wages[;] Christ does both here.
Jesus spoke of His personal state. He was troubled, yet He must fulfil what He came to do: die for our sins (verse 27).
People think that Jesus was a good man who lost in life, that He was supposed to be a temporal king bringing justice to the oppressed. No, His death was His mission in order for us to be reconciled to God.
MacArthur explains:
This is why He came, and through His death much spiritual fruit would come.  He understood that He had come to die.  From His birth, He had been called Jesus because He would save His people from their sins.  He knew that salvation was to be through His death.  He knew He was God's chosen sacrifice.  The Son of Man has come to seek and to save the lost.  Yes, but how?  Has come to give His life a ransom for many.  He was born to die a sacrificial death.  He knew that.  This was not a surprise.  This isn't a good plan gone wrong.  This is the plan.  
Revelation 13:8 says, "He was the Lamb slain from before the foundation of the world."  Before He ever came into the world, He knew He would come into the world to be slain.  Peter tells us He was the sacrifice to God who would redeem His people with His blood and that this sacrifice was pre-determined from the foundation of the world.  He appeared to accomplish what had been planned.  The cross and the subsequent resurrection from the dead is the theme of Scripture.  The cross and the subsequent resurrection is the great theme of Scripture. 
In many powerful ways, the death of the Lord Jesus Christ reigns over all other issues in Scripture.  When you go to the Old Testament, you're struck very soon by the reality of sacrifice.  It happens early in the third chapter of Genesis.  As you flow through the Scripture, sacrifice goes on through the whole Old Testament. It goes on all the way into the New Testament until 70 A.D.  None of those lambs, none of those millions of goats or lambs or bulls could ever take away sin, but they all pictured one who would: the Lamb of God.
It is important to discuss the word 'troubled', which MacArthur explains:
What does the word "troubled" mean?  It's a Greek word tarassō, tarassō.  It literally means "to shake or to stir up."  That's what you would use if you were doing something in the kitchen.  You'd use that word.  But it had figurative significance as well.  In a figurative sense, it could be translated anguish.  He was anguished.  He was agitated.  He was deeply disturbed.  He was upset.  He was unsettled. 
Sometimes it can be translated terrified, frightening, horrified.  A very strong word, very strong word.  It's so strong that it's used, for example, in Matthew 2:3 of the troubling of Herod, who was so profoundly troubled by the thought that a king was being born in Bethlehem, that he ordered his men to go there and massacre every baby boy/child in the area.  That's being seriously troubled when you become a mass murderer. 
It's the same word used in Matthew 14:26 for the attitude of the disciples when they see Jesus walking on the water.  Some of the translations say they were terrified.  It's a highly disturbing emotion.  It is the word that is used to describe Zacharias the priest when an angel came to him in Luke 1 to tell him that he and Elizabeth who were barren and in their 80s certainly, had never been able to have children.  An angel comes and announces that they will have a son, and Zacharias is terrified by an angel.  Angels didn't appear to people. 
It is the same word used to describe the attitude of the disciples who were in the upper room the night of the resurrection, Luke 24:38, and Jesus comes through the wall with the door being shut, stands in their midst.  It says they're terrified.  Jesus actually used this word on Thursday night in the upper room with His disciples when He said in John 14:1, "Stop letting your heart be troubled."  How can He be troubled?  How can He be so agitated?  How can He be so distressed?  Isn't He less than a martyr?  Why this distress?  Many martyrs seem calm facing death.  Why is this going on?  Was this weakness in Him?  Was this sin?  No, no … 
Listen, His trouble came not from anticipating physical suffering, but anticipating divine wrath, spiritual suffering. That was a terrifying reality. Though the nails must have gone through His hands and feet thousands of times as He thought about it, the agony of the sinless Son of God was not that He would be nailed, but that He would be judged by the wrath of God. Not that He would be stained with blood, but that He would be condemned for sins He did not commit, the sins of all who would ever believe. Those tortured His soul with a fierceness.
Let me tell you something, if He didn't become troubled by that, He wouldn't be God. God should be troubled by the prospect of bearing sin. The Son of God should be troubled by the prospect of divine wrath and alienation from His eternal Father. Yes, He's troubled, but it's not the physical part that troubles Him. It's the spiritual reality.
Jesus asked His Father to glorify His name. A voice came from Heaven saying that His name was be glorified and would be again (verse 28).
MacArthur interprets this for us:
… when the Father says in verse 28, "I have both glorified it," He means throughout your whole ministry I have put My power and glory on display through You. "And will glorify it again," meaning I will glorify My name through your death. I did it through your life. I will do it in your death. I did it through your life. I will do it in your death.
It must have been an incredible moment for the crowd. Some said the divine voice was an angel and others said it was thunder (verse 29).
Both would have been applicable in a scriptural sense, although those who thought it was thunder might have had a spiritual bypass:
You can understand why they were saying those kinds of things.  This is the mixed crowd, which would be some Jews, maybe still the Greeks who came to Jesus.  Maybe, of course, including leaders in the temple.  They were trying to figure out what had just happened.  They had no capacity to know the voice of God or hear the voice of God, and they weren't about to acknowledge the voice of God if He did speak.
Thunder, often in the Old Testament, is the voice of God.  Exodus 19, "God thundered."  Second Samuel 22:14, "The Lord thundered from heaven and uttered His voice."  Job 37:5, "God thunders with His voice wondrously."  You see that also in Psalm 18, Psalm 29.  Job 40:9, "Can you thunder with a voice like His?"  So thunder was associated with the voice of God, but for them, this was just a weather event.  They weren't thinking of it in a divine way.  Then for the others, it was an angelic event, which gets a little closer to reality, but in both cases, they missed the point.
Again, the natural man understands not the things of God, right?  Jesus says to them, "You don't get the truth, and because I speak the truth, you don't understand what I'm saying."  Remember that back in chapter 8?  So they have a way to explain it that is short of the reality.  The bottom line is that God had spoken, and God had validated, authenticated, affirmed the death of His Son. 
Jesus confirmed that it was a divine voice, because He said that it came for the crowd's sake, not for His (verse 30).
Henry explains:
Why it was sent (John 12:30): "It came not because of me, not merely for my encouragement and satisfaction" (then it might have been whispered in his ear privately), "but for your sakes." (1.) "That all you who heard it may believe that the Father hath sent me." What is said from heaven concerning our Lord Jesus, and the glorifying of the Father in him, is said for our sakes, that we may be brought to submit to him and rest upon him. (2.) "That you my disciples, who are to follow me in sufferings, may therein be comforted with the same comforts that carry me on." Let this encourage them to part with life itself for his sake, if they be called to it, that it will redound to the honour of God. Note, The promises and supports granted to our Lord Jesus in his sufferings were intended for our sakes. For our sakes he sanctified himself, and comforted himself.
Then, Jesus changed His tone from troubled to triumphant. His death would be a judgement of the world, and it would vanquish Satan (verse 31).
MacArthur provides this analysis:
Now, rather than viewing the suffering of sin-bearing on the cross, He focuses on the salvation through that suffering and He turns from being troubled in verse 27 to words that are triumphant in verse 31.  He goes from troubled to triumph.  He states the consequence of His death, the accomplishment of the cross, the mystery of the cross unfolded in three massive far-reaching statements. 
Number one, "The judgment is on the world."  Number two, "The ruler of this world will be cast out."  Number three, "And I, if I am lifted up from the earth will draw all men to Myself."  These are sweeping, far-reaching realities.  He goes from that very personal, intimate agony of verse 27 to this global, historical reality of verses 31 through 32.  Three anticipated accomplishments in the cross.  Number one, the world was judged.  The world was judged.  Sin's empire was judged.  Sin's system was judged.  The crisis had come.  The probation of the world was over.  The doom was sealed by the rejection and murder of the Son.  This flips the whole event on its head. 
The Jewish people thought they had judged Him.  In reality, He had not only judged them, but He had judged the entire world.  They thought that they had brought Him into their court and rendered their verdict on Him.  In reality, He had brought them into His court and rendered His verdict on them.  The cross would condemn and judge the world, meaning the Jewish people who rejected Him, the leaders who condemned Him, Judas who betrayed Him, the Roman soldiers who mocked and executed Him, Pilate who sentenced Him, the whole society of evil men alienated from God who crucified Him.  And extending beyond that, all the world of people who are caught up as children of Satan in an anti-God, anti-Christ attitude.
What looked like the judgment of Christ was, in fact, the judgment of the world because at the cross, He won the victory and was ascended and at the right hand of the Father became the Lord and Judge of all.  The whole Christ-rejecting world was judged by the cross of Christ.  The verdict is in.  The sentence is waiting.  Every time a person dies, that sentence is executed, but for the whole world, that sentence will be fully executed in the day that He appears a second time to judge, Acts 17:31.  The world said, "We tried Christ and judged Him."  How wrong they were.  He condemned the world.  The world, every man in it from now on, is condemned.  They're born condemned to death unless they repent and embrace Christ.
Second thing, massive effect: the ruler of this world will be cast out.  Who's that?  Satan, the prince of the power of the air, the ruler of this world.  Satan was dethroned at Calvary.  Again, this is a reversal of what you might think.  It looked like Satan won.  It looked like Satan triumphed, and the devils of hell thought there was a triumph.  Satan had conquered Christ at Calvary, but in reality, Christ had crushed his head, dealt him the deathblow.  Now, Satan fights from death row.  He is a vanquished enemy.  He had nothing on Christ.  He has nothing on us.  He is a conquered, defeated foe. 
Jesus further confirmed His triumph by saying that when He is lifted up from the earth, He will draw all people to Himself (verse 32). That means Jew and Gentile alike.
The words 'lifted up' were known in His era as a synomym for crucifixion. MacArthur says:
"And I, if I am lifted up from the earth," if I am crucified. That's what that means. He's not talking about preachers lifting Him up, which we should do. He's not talking about people who should point to the cross and lift up Christ, which we should do. That's not what this is about. He is saying, "If I am crucified, I will draw all men to myself." All men, meaning all Jews, Gentiles, people from every tongue, tribe, nation of the planet. I will draw them all to myself. He, at the cross, provides the work by which all can be saved. Children of God from all over the world.
John says that this was how Jesus described His imminent death (verse 33).
We know that 'lifted up' meant crucifixion, because after Jesus spoke, people asked Him how this could be (John 12:34):
So the crowd answered him, "We have heard from the Law that the Christ remains forever. How can you say that the Son of Man must be lifted up? Who is this Son of Man?"
MacArthur says that this was the turning point, which would continue through the days that followed, the events of which we remember during Holy Week:
Ah, this is a turning, folks.  On Monday, they were hailing Him as the Messiah.  That begins to go downhill on Tuesday when He attacks the temple.  It's really going downhill now because they all know He is saying, "I will be crucified," and they are saying, "Wait a minute.  The Son of Man?" that Old Testament term from Daniel chapter 7, the Son of Man, the Messianic term.  "The Son of Man is to remain forever."  And they were right about that.  He is the everlasting Father in Isaiah 9.  He has an everlasting kingdom in Daniel 7.  So who is this Son of Man who will be crucified?
Because they don't understand Isaiah 53, they don't believe Isaiah 52.  They don't understand Daniel 9, that He would be cut off, Zechariah 12:10, that He would be pierced.  They only see a Messiah who sets up an everlasting kingdom, and so the cross, Paul says 1 Corinthians 1 is to the Jews a what?  Stumbling block, stumbling block.  "What Son of Man is this?"  So we're starting down from Monday to Friday pretty fast, aren't we?  This is Wednesday, maybe even Thursday.  By Friday, they're convinced this man needs to die.  Perhaps, they didn't even think about the fact that in His crucifixion, He was fulfilling exactly what He said.  This is the scope of the death of Christ in His own simple words before the cross.  Staggering.
I hope this explains more about Christ's death. The Crucifixion was no sign of loss, rather, it was one of victory over sin and our reconciliation with God through our Saviour's ultimate, all-sufficient sacrifice. Jesus came among us to give us eternal life.
On Wednesday, January 27, 2021, Prime Minister Boris Johnson held a televised coronavirus briefing, announcing that the number of COVID-19 deaths in the UK had reached 100,000.
He pronounced it 'a grim milestone'.
A friend of mine living in France thinks that the British must be dropping like flies from coronavirus. Who could blame her, given not only the reporting in the media but also the Government's own disingenuous narrative?
It was known by the summer of 2020 that British deaths were recorded as COVID-19 even if the primary cause was a longer, underlying disease. If the deceased had a positive COVID-19 test result in the month before death, COVID-19 was one of the causes on the death certificate. Even when COVID-19 was shown as a secondary or tertiary cause of death, the death was counted as a COVID-19 fatality.
This situation led to the question of death 'of' or 'with' coronavirus. Dying 'of' coronavirus would mean that COVID-19 was the primary cause of death. Dying 'with' it would mean that it was another factor, but not the primary cause, which could have been cancer, heart disease or Alzheimer's.
Conservative Woman had an article about this: 'Why the "grim milestone" of 100,000 Covid deaths is nonsense' wherein James Delingpole helpfully pointed to another article and set of statistics explaining his position:
… I heartily recommend this most excellent deep-dive by Simon Elmer of Architects for Social Housing. (Which is where you'll find those ONS charts I mentioned near the beginning). It covers things like the dubious way the government calculates its Covid deaths (such as the fact that even if you die of cancer or Alzheimer's or anything else, it still gets whacked down as Covid if it's within 28 days of one of those dodgy, oversensitive PCR tests); and the way influenza, historically a reliable annual culler of the old and infirm, has mysteriously vanished from the statistics, almost as if – imagine! – thousands of flu deaths are now being misrepresented as Covid deaths.
Before I go there, here is a chart with data from ONS — the Office for National Statistics — showing that 2020's deaths were not unusual. The last time they were that high was in 2008. The graph, which charts deaths from 1960 to 2020, is not mine. I found it at Lockdown Sceptics in a comment:
Now on to Simon Elmer's 'Lies, Damned Lies and Statistics: Manufacturing the Crisis' at Architects for Social Housing. It is a long and thorough post with a table of contents.
Simon Elmer begins, in part, with this:
As always — although we appear to have forgotten it along with everything else we knew about the world in which we live — the old adage about 'lies, damned lies and statistics' holds true to this greatest of all lies, the manufacturing of the coronavirus crisis. What I want to do in this article, in contrast, is look at the figures for the mortality rates, places and causes of death in England in 2020 that are slowly being published by the Office for National Statistics in 2021, and discuss what they can tell us about what really happened last year. The figures aren't conclusive, as the changes to disease taxonomy, protocols for filling in death certificates, criteria for recording deaths, and the flawed testing programme mean we'll never know how many people actually died from COVID-19 in the UK in 2020; but if we analyse these figures accurately and in their context, it is possible to see some way through the deception to the reality they conceal.
The first section — '1. Laying the Foundations' — begins with the recording of deaths last year from the pandemic onwards. The author includes a screenshot of a death certificate illustrating my earlier point about causes of death:
Elmer explains how recording of deaths changed last year:
Given these five changes, 1) to disease taxonomy, 2) to the criteria for attributing a death to COVID-19, 3) to identifying the underlying cause of death on a death certificate, 4) to identifying infection with SARS-CoV-2, and 5) to identifying the clinical presence of COVID-19 — all but one of which were in place before the end of March, 2020 — how do we establish how many people actually died of COVID-19 in the UK or, to the contrary, how many deaths from cancer, heart disease, dementia, diabetes, influenza and the other primary causes of death in the UK have been incorrectly diagnosed and/or recorded as 'COVID-19 deaths'?
The second section — '2. Competing Causes of Death' — elaborates further and includes illustrative charts:
In July 2020, the Office for National Statistics published data on 'Pre-existing conditions of people who died with COVID-19'. To qualify as such, a pre-existing health condition must appear on the death certificate either below COVID-19 in Part 1, and therefore in the causal chain leading to death, or in Part 2, and therefore as a contributing cause to death, if COVID-19 is mentioned in Part 1. Alternatively, if COVID-19 is mentioned in Part 2 of the death certificate, a pre-existing health condition must appear as the underlying cause of death in Part 1.
Following these definitions, the ONS reported that, of the 50,335 deaths attributed to COVID-19 in England and Wales between March and June 2020, 45,859, 91.1 per cent, had at least one pre-existing health condition, with a mean average of 2.1 conditions for those aged 0 to 69 years of age and 2.3 for those aged 70 years and over. The accompanying dataset recorded that, in the 4 months between March and June 2020, the most common 'main' pre-existing health condition recorded on death certificates in England and Wales was dementia and Alzheimer's disease, with 12,869 deaths constituting 25.6 per cent of all deaths attributed to COVID-19.
By a 'main' pre-existing condition the ONS means the condition that is most likely to cause death in the absence of COVID-19. How they derive this is complicated, and I won't go into it here; but they take their lead from the World Health Organisation's rules for identifying the 'underlying cause' of death, which as we have seen have been changed to ensure that COVID-19 always appears on death certificates in this category, and in doing so excludes everything appearing above Part 1.
After dementia and Alzheimer's disease, ischaemic heart diseases — meaning those causing stroke through a blood clot or other blockage — were the next most common, with 5,002 death certificates recording it as the 'main pre-existing health condition' constituting 9.9 per cent of all deaths attributed to COVID-19. This was followed by influenza and pneumonia, which were present as the main condition on 4,582 death certificates. Of the 50,335 deaths attributed to COVID-19, 4,476 had no main pre-existing health condition on the death certificate, just 8.9 per cent of the total.
But that's not all. When recording all pre-existing health conditions, their presence on the death certificates of 'COVID-19 deaths' is even higher, with 13,840 deaths attributed to COVID-19 having dementia and Alzheimer's disease also listed, 11,029 deaths having influenza and pneumonia, and 9,820 having diabetes.
However, in the middle of 2020, the ONS stopped recording pre-existing conditions that could have caused death (emphases mine):
… since July no other data on the pre-existing health conditions, main and common, of people whose deaths have been officially attributed to COVID-19 has been published by the Office for National Statistics. I've written to the ONS to ask when they will update their records, and they responded that they are hoping to do so in February 2021. Why they stopped doing so in July I will leave to you to judge; but when these figures are published I shall add them to this article.
The third section — '3. Evidence for Lockdown Deaths' — explores what happened as the National Health Service became the National Covid Service, stopping or slowing procedures for non-coronavirus diseases. This gives a monthly rundown on the detrimental impact of not treating people with heart conditions and cancer. The conclusion is that lockdown and the focus of the NHS on coronavirus has been dangerous for millions of people:
… policies which are not only having a devastating impact on the lives of nearly 68 million people but, according to these reports, have already caused the deaths of tens of thousands of UK citizens and will continue to kill tens of thousands more, for as long as these restrictions are imposed by the Government, enforced by the police and complied with by the public.
The next section — '4. Recovering the Dead' — explains why we will never know the true number of people who died from coronavirus.
With regard to deaths in care homes since March 2020:
… there were 26,202 excess deaths in care homes over the same period. Here, however, 20,574 were attributed to COVID-19, largely on the say-so of the private companies running the homes and without a corroborating medical diagnosis, leaving 5,628 excess deaths. That's a total of 41,861 deaths above the 5-year average unaccounted for.
… in April 2020, the Care Quality Commission, the regulator of health and social care in England, introduced what it called a 'new way' to understand whether COVID-19 was 'involved in the death' of someone in a care home. This merely requires a statement from the care home provider that COVID-19 was 'suspected' as the cause of death, and which 'may or may not' correspond to a medical diagnosis, a positive RT-PCR test result for SARs-CoV-2, or even be reflected in the death certificate. It's by this criteria that 20,574 deaths in care homes were attributed to COVID-19 in 2020.
The author reaches the following conclusion:
… given that the deceased are now gone, and their falsified death certificates are all we have left of the causes of their deaths, how can we find evidence for the manufacture of tens of thousands of 'COVID-19 deaths' from their cremated and buried bodies? This is the task of reparation and remembrance with which any true account of 2020 must begin if it is to recover the truth about their deaths from the lies in which they have been shrouded.
The fifth section looks at mortality rates in the UK since 1941 and has accompanying statistics and charts with ONS data.
The next section — '6. What Happened to the Excess Deaths?' — states:
Given the deliberate inaccuracy of the criteria for attributing a death to COVID-19, largely dependent upon a positive test using an RT-PCR test at thresholds where it can identify so-called 'cases' of COVID-19 from fragments of dead coronavirus, it is almost impossible that these thousands of 'lost' deaths, and the thousands more caused by lockdown, have not been misdiagnosed and/or incorrectly recorded as 'COVID-deaths'. But how do we corroborate this thesis with facts?
On 14 January, Public Health England published its analysis of ONS figures on deaths over a shorter timeframe, between 21 March, 2020 and 1 January, 2021, the period under which England has been under various degrees of lockdown restrictions. These show that, even with the WHO's instructions to medical practitioners that COVID-19 must always be listed as the 'underlying cause' of death, a total of 7,511 excess deaths in which other health conditions were listed as such were recorded as 'COVID-19 deaths'.
… deaths from heart diseases, cerebrovascular diseases, other circulatory diseases, dementia and Alzheimer's disease, urinary diseases, liver diseases, and from causes other than COVID-19, numbered 11,013 over the 5-year average; yet 5,057 of these were listed as 'COVID-deaths'. Even when deaths from the underlying cause were below the 5-year average, as they were for cancer, acute respiratory infections, chronic lower respiratory diseases, other respiratory diseases and Parkinson's disease, 2,454 deaths were still registered as 'COVID-19 deaths'.
Nearly 75 per cent of excess deaths in which dementia and Alzheimer's disease were listed as the underlying cause were still recorded as 'COVID-19 deaths'; over 41 per cent of excess deaths from urinary diseases; nearly 40 per cent of excess deaths from cerebrovascular diseases; 41 per cent of excess deaths disease from other circulatory diseases; 33 per cent of excess deaths from heart diseases; and 31 per cent of excess deaths from liver diseases. While over 50 per cent of excess deaths from all other causes other than COVID-19 were still recorded as COVID-19 deaths.
We should remember that, if COVID-19 had been listed as the 'underlying cause' on any of these death certificates, they would all have been recorded as 'COVID-19 deaths' by the Office for National Statistics; yet for all these other underlying causes their appearance on the death certificate wasn't enough to overcome the changes to the ONS criteria for compiling statistics on mortality in the UK. If not quite proof, this is further evidence of a deliberate and very successful attempt to falsify the official tally of 'COVID-19' deaths.
How could this have happened?
The most logical answer to that question is the changes to disease taxonomy, protocol on completing death certificates, criteria for attributing a death to COVID-19, the false positives produced by the RT-PCR testing programme, and the equation of such a positives with symptoms of COVID-19. To this end, the guidelines for death certification from the World Health Organisation about what defines a COVID-19 death are decisive: 'A death due to COVID-19 may not be attributed to another disease (e.g. cancer)'. Given these changes — which unlike the deaths from COVID-19 truly can be called 'unprecedented' — we'll never know how many people actually died of the disease; but these figures give us some indication of the percentage of deaths misdiagnosed as such. What we do know is that, throughout 2020 and into 2021, the British Heart Foundation, the Institute of Cancer Research, the Alzheimer's Society, the British Medical Journal and other organisations monitoring the nation's medical treatment, health and mortality have all recorded and predicted huge increases in deaths from the withdrawal and reduction of medical care under lockdown restrictions.
The final section has conclusions.
While coronavirus has to be taken seriously, 2020 seems to be the first year in living memory when the general public were forced to pay attention to human mortality, even if the death rates are well within the norm for any given year:
In 2004, for example, the rate of mortality (1,163.0 per 100,000 of the population) was as high above what it was in 2020 (1,043.5) as last year was above 2019 (925.0), which had the lowest rate ever. The year before that, 2003, it was even higher (1,232.1). So the exaggerated claims of an unprecedented rise in mortality rate from 2019 to 2020 is not borne out by the facts. What was different was how, after a period of sustained fall, this rise on overall mortality was explained to a public previously unaware of mortality rates, and what this suddenly increased awareness of our mortality has been used to justify.
The vast majority of the people dying have been elderly:
84 per cent of the deaths attributed to COVID-19 in 2020, over 68,000 deceased, were of people aged 70 years and over. 61 per cent were aged 80 years and over, the average life expectancy in the UK. Around 90 per cent had at least one pre-existing health condition, with most having two.
It is not surprising.
Nor did lockdown help the elderly dying of other causes:
To put these figures into context, in 2020 there were 9,189,000 people aged 70 years and over in the UK, and 412,408 of them, 4.48 per cent, died of causes not attributed to COVID-19. 0.7 per cent of them officially died of COVID-19. It wouldn't take much to push a population of such elderly and frail people into a life-threatening situation. Lock them up for months on end. Deny them human contact on pain of arrest and fines they couldn't hope to pay. Withdraw medical treatment. Quarantine their carers. Terrorise them with propaganda about a civilisation-ending disease. Order them to stay at home and avoid the contact of other people like the plague. Tell them hospitals standing empty are on the verge of being overwhelmed. Turn medical centres into places to fear, the breeding grounds of a deadly new disease. That should be more than enough. It has been more than enough. Then, change the medical protocol and criteria for identifying and recording the cause of their deaths, and against all the evidence against its fitness for such use, employ a medically meaningless test to turn traces of a virus that presents no threat to 80 per cent of the population into proof of infection and cause of death. This is how a crisis has been manufactured. This is how a virus is being used to justify the programmes and regulations of the UK biosecurity state.
Simon Elmer says that the UK Government has no qualms about prolonging this dire state of affairs:
The truth is that there was never a question of whether this Government would impose another lockdown on the UK in 2021. Lockdown isn't a consequence of the failure of coronavirus-justified programmes and regulations: it's the product of their success in implementing the UK biosecurity state. After a brief summer recess under the system of tiered restrictions, the following winter will see the lockdown of the UK imposed again under newly notifiable diseases from new viruses and new strains, new protocols for certification and new criteria for deaths, the new medical categorisation of new cases which, like the present ones, present little or no threat to public health, but which like it will be used to enforce new technologies, new programmes and new regulations. This is the 'New Normal' we were promised, and it's being built on a foundation of lies, damned lies and statistics.
Sometimes, things are not what they seem.
The 100,000+ coronavirus deaths in the UK are but one example.
Further reading — ONS statistics:
Annual deaths and mortality rates, 1938 to 2020 (provisional)
Coronavirus (COVID-19) Infection Survey, UK: 29 January 2021
Britain's coronavirus hero, Sir Captain Tom Moore, 100, died in hospital in England on Tuesday, February 2, 2021.
He entered hospital with pneumonia but, sadly, contracted coronavirus whilst there:
It proved fatal for the centenarian who tirelessly raised tens of millions of pounds for the NHS and, in the process, became a Guinness World Record fundraiser (see photo):
Bedford Hospital issued the following statement:
His family were more than satisfied with the care he received in Bedford Hospital.
Guido Fawkes posted their statement in its entirety:
It is with great sadness that we announce the death of our dear father, Captain Sir Tom Moore.
We are so grateful that we were with him during the last hours of his life; Hannah, Benjie and Georgia by his bedside and Lucy on FaceTime. We spent hours chatting to him, reminiscing about our childhood and our wonderful mother. We shared laughter and tears together.
The last year of our father's life was nothing short of remarkable. He was rejuvenated and experienced things he'd only ever dreamed of.
Whilst he'd been in so many hearts for just a short time, he was an incredible father and grandfather, and he will stay alive in our hearts forever.
The care our father received from the NHS and carers over the last few weeks and years of his life has been extraordinary. They have been unfalteringly professional, kind and compassionate and have given us many more years with him than we ever would have imagined.
Over the past few days our father spoke a great deal about the last 12 months and how proud he felt at being able to leave behind the growing legacy of his Foundation.
We politely ask for privacy at this time so we can grieve quietly as a family and remember the wonderful 100 years our father had.
Thank you.
Sir Captain Tom Moore received many warm tributes:
It was on July 17, 2020, that the Queen bestowed a socially-distanced knighthood upon him at Windsor Castle.
Prime Minister Boris Johnson issued a statement expressing his condolences:
The British Army posted a short video remembering one of their most energetic veterans:
The Royal Navy issued a final naval wish:
The Royal Air Force expressed condolences:
The Ministry of Defence also issued a statement:
The Americans also expressed their condolences:
I found out about Captain Sir Tom Moore's death on BBC Parliament:
Last Spring, the 99-year-old veteran raised money for the NHS by walking around his garden 100 times in anticipation of his upcoming birthday. He had no idea how his efforts would capture the nation's imagination:
He far surpassed his initial £1000 goal tens of millions of times over:
He completed his 100th lap of his garden well in time for his birthday (click on tweet to see video):
When he turned 100, he received a memorable flypast from pilots based at RAF Coningsby. It featured a Hawker Hurricane and a Spitfire of the Royal Air Force's Battle of Britain Memorial Flight (click on tweet to see video):
On VE Day last year, ITV showed a documentary of Sir Captain Tom's memories of his wartime service in Burma.
When Dame Vera Lynn died last year, he said that her beautiful songs kept up his morale:
On New Year's Eve in London, he was celebrated in the capital's fireworks display:
Now he can rejoin his beloved Pamela, who predeceased him:
In closing, here is Captain Sir Tom Moore reading from his book, One Hundred Steps, with his grandson. Note how he wanted everything to be perfect, a lesson many of us can learn, myself included:
As he was so fond of saying:
Tomorrow will be a good day.
Eternal rest grant unto him, O Lord, and let perpetual light shine upon him. May his soul and all the souls of the faithful departed, through the mercy of God, rest in peace. Amen.
This week, the UK government's scientific advisers and Prime Minister Boris Johnson said that new, stricter coronavirus measures would come into effect on Thursday, September 24.
On Monday morning, Chris Whitty and Sir Patrick Vallance presented their latest figures, which looked as if they must have come (once again) from Prof Neil Ferguson, they are that exaggerated. You can see the graph further down in my post:
This is utter madness, reminiscent of the WMD days when Tony Blair told us that a WMD could reach our shores within 45 minutes:
Their presentation, given against a No. 10 backdrop, had the purpose of preparing the public for Boris Johnson's announcements on Tuesday. They took no questions.
They showed graphs of where Spain and France are, with an uptick in 'cases'. Again, that means positive test results, most of which do not require hospitalisation.
Strangely enough, the Rule of Six only came in on Monday. Let's let it bed in for a few days, fellas, before taking more measures. They're doing exactly what they did in March, though. On March 16, new measures came in. On March 23, we had lockdown.
The Rule of Six is a Belgian tactic that SAGE thought would work in England. As such, they recommended it to the Government.
Perhaps this is the reason the two scientists did not mention Belgium once in their presentation:
I am glad someone will be tracking the progress of the projections over the next few weeks:
On Tuesday, Boris addressed Parliament and gave a short address that evening, televised to the nation.
In short:
– Pubs and restaurants must close by 10 p.m.
– They must offer table service only.
– All retail workers in hospitality settings must wear masks, along with customers, unless they are eating or drinking.
– Fines for breaking the Rule of Six or not wearing a face covering will result in an initial fine of £200, up from £100, for a first offence.
– Indoor five-a-side football matches have been banned.
– Wedding attendance has been reduced from 30 to 15; funeral attendance remains capped at 30.
– Police are allowed to call the military to fulfil office duties and/or to guard protected sites, leaving the police more capacity to fight crime.
– The plan to return a limited number of fans to sports stadia on October 1 is now postponed indefinitely.
The Daily Mail has a comprehensive article, including Boris's transcript, on the scathing reactions from police and business owners, particularly publicans. Sir Andrew Lloyd Webber said that this could sound the death knell for commercial theatre.
The Telegraph's Matt has this take on Army assistance:
The chances of that happening are very low:
The sad thing is that only five per cent of COVID-19 infections occur in a hospitality environment!
The Government and SAGE know this — yet they pressed on with restrictions!
The Daily Mail reported (emphases mine):
Public Health England data reveals that of the 729 outbreaks in the week to September 13, only five per cent occurred in food outlets such as restaurants and pubs – 45 per cent were in care homes, 21 per cent in schools and 18 per cent in places of work.
Wetherspoons founder Tim Martin said: 'The curfew doesn't even stand up to five minutes consideration by an intelligent person because if you look at the stats… there are relatively few transfers of infections in pubs.
Kate Nicholls, chief executive of trade body UK Hospitality, urged the Government to heed its own statistics because the curfew could take a sledgehammer to the industry which is already 'on its knees'.
She said this morning: 'People will think it's not that significant, but it really will have a big economic impact on jobs, not just on pubs, but also for cafes and restaurants.'   
Martin Wolstencroft, head of Arch Inspirations, which runs 17 bars and restaurants in Leeds, Manchester, York and Newcastle, said the curfew will not make it viable to open some of his venues.
Ironically, August was the month of discount lunches in Chancellor Rishi Sunak's successful initiative, Eat Out to Help Out, which the hospitality industry welcomed.
The Government's new restrictions will largely destroy any uplift participating restaurants received from it.
What on earth is going on?
Toby Young, who was at Oxford with Boris, says that something has changed — and not for the better. Note that Prince Charles approves of military intervention for climate change. Scary:
It's entirely possible that these ruinous measures have no basis in scientific fact, devastating people's livelihoods and families:
Conservative backbench MPs sounded off.
On Tuesday, Sir Desmond Swayne, who has commented both in and outside the House of Commons, tweeted:
His blog post states, in part:
Flu kills all year round – In the last weeks of July it killed 1000 of us (where Covid-19 killed only 200)- but it is seasonal: it certainly kills a lot more of us in the winter. Equally, we should stop talking about another wave of Covid-19 and instead, like flu, start expecting its annual season.
Having peaked in April Covid-19 abated over the summer. Inevitably it will get worse in winter. It may also be worse this winter than might otherwise have been the case. This is because we carried on with a number of restrictions on normal social life during the summer, reducing our ability to acquire and share herd immunity and wasting the opportunity provided by the weakest period for the virus.
My contention remains, as I have said many times over the last months, that our over-reaction to the disease has done much more lasting economic damage, and, counter-intuitively, even more damage to our health than the disease itself.
The current strategy merely kicks the can down the road. If the measures work and reduce the spread, the virus will simply reappear later.
Of course, we could be lucky and get a vaccine or a cure, or even 'moon-shot' daily tests to enable us to return to normality, but none of these are certain.
One day there may be a virus that threatens our whole way of life – but this isn't it, even if we are behaving as if it were.
Sir Desmond retweeted a neurologist's comment on the outrageous graph of projected 'cases' this autumn — in reality, positive tests:
Today, Sir Desmond gave an interview to the BBC about the continuing and questionable restrictions on civil liberties:
Richard Drax rightly predicted economic disaster, ruining the lives of millions:
Lucy Allan also spoke out on Twitter.
She tweeted Monday's graph from SAGE:
She rightly opposes putting everyone on restrictions when we should be protecting those most at risk:
She retweeted an open letter from Profs Sikora, Heneghan and several other leaders in British medicine:
She also called for the precise definition of a 'case':
That's probably why Whitty and Vallance didn't take questions.
Sir Edward Leigh also had a lot to say on this week's announcements:
He is rightly concerned about the blind faith we place in authority and the gradual erosion of civil liberties:
I couldn't agree more:
At least 1,000 people die in the UK every day.
Below are the causes of death per day in September.
Note where COVID-19 is: second from the bottom, dwarfed by heart disease and cancer.
There were nearly twice as many suicides than deaths from the Chi-vi: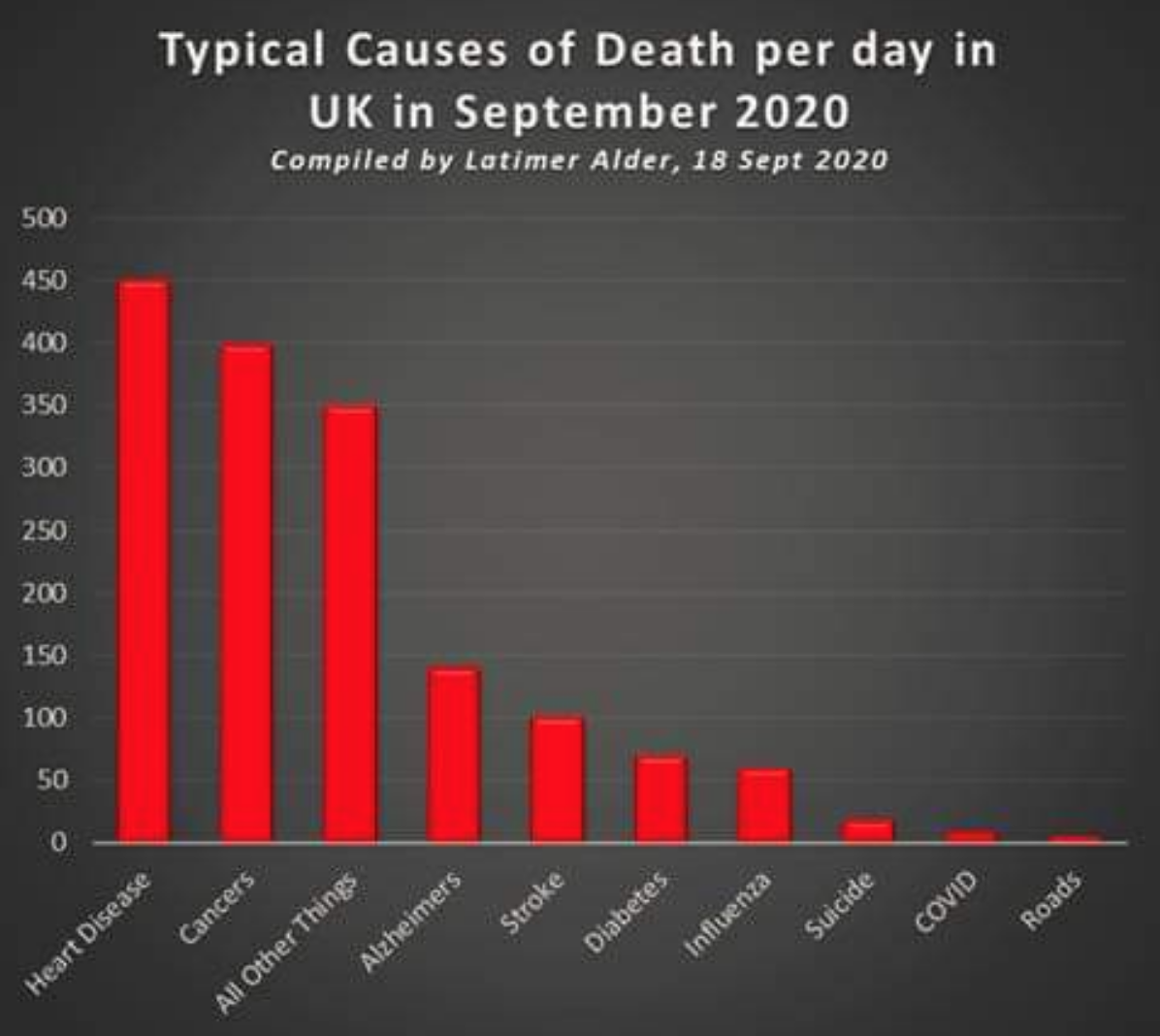 Steve Baker is also concerned about the restrictions bypassing Parliament:
Wow. Sir Graham Brady could pit a load of Tory rebels against the government. Good show:
The article from The Critic says:
Unless Matt Hancock finds a workable accommodation with Sir Graham Brady, the chairman of the 1922 Committee of Tory backbench MPs, the government faces the prospect of defeat next Wednesday when the Coronavirus Act 2020 comes up for its six-monthly renewal in the House of Commons.
The scale of backbench unhappiness is such that according to Steve Baker, who is working alongside Sir Graham, "the magic number was exceeded with 24 hours" of his beginning to canvas support for an insurrection among fellow Conservative MPs. Victory would require Labour and SNP MPs to seize on the opportunity to inflict a humiliating defeat on the government by voting with the Tory rebels. Indications increasingly suggest that this could happen. An increasingly dispirited Whips Office, which feels ignored and disrespected by Downing Street, is especially concerned at the sight of the former ERG "Spartans" leader, Baker, at Westminster furiously tapping away on his phone – a colliery canary of trouble ahead.
The government is equally concerned that the rebellion is being led by Sir Graham Brady, whose role as chairman of the 1992 Committee makes him the most authoritative channel of backbench opinion. In a sign of how seriously Downing Street management is taking the senior shop steward's challenge, on Monday evening the prime minister privately went to see the 1922's executive committee.
The primary complaint is that the government is using powers granted to it under the 1984 Public Health Act and 2020 Coronavirus Act to enact previously unconscionable measures without any prior debate in the Commons. Brady has condemned ministers who "have got into the habit of ruling by decree."
MPs were prepared to cede considerable authority to the government in March in a period of acute crisis when there appeared to be only weeks if not days to "flatten the sombrero" to save the NHS from being overwhelmed. But Boris Johnson's admission in his statement to Parliament today that the latest curtailments (which include further restrictions on hospitality opening hours and the number of people who can congregate at weddings, funerals and other public, private and sporting functions), would likely last at least six months has alerted MPs to the reality that government by decree may last until a vaccine is approved. If, indeed, a vaccine is approved. This is a war that will not be over by Christmas.
Far from persuading potential rebel MPs that a new crisis is looming, the performance of the government's chief medical and scientific officers, Chris Whitty and Sir Patrick Vallance, at their press conference yesterday has heightened consternation that the government is over-reliant on advice predicated upon worst case scenarios that is trumping competing economic and civil liberty considerations.
The likelihood of executive mission creep was foreseen back in March by David Davis and Steve Baker who pushed the government into adopting an amendment reducing from two years to six months the period in which the powers of the Coronavirus Act must be renewed by parliament. That renewal debate will now take place next Wednesday.
I remember that debate from March and also wondered if the Government were as good as their word.
Whilst they are unlikely to call for a wholesale repeal of the Coronavirus Act, Sir Graham Brady could call for a scrutiny clause appended to the Act so that every new statutory instrument connected to the legislation would have to go through Parliament first. To date, many of them have not. Therefore:
Rebels are pinning their hopes on this prospect. They may find a friend in the The Speaker, Sir Lindsay Hoyle, who has already made clear his intense irritation with Matt Hancock's disregard for informing parliament first of major legal changes like the "rule of six" and for the government's brusque imposition of restrictions in his own Chorley constituency …
The appeal of such a mechanism is obvious to Tory backbenchers concerned that laws are being made without scrutiny and are difficult to repeal. But there is no in-principle reason why Opposition parties need object to such a parliamentary safeguard either. Hence the likelihood of a rebellion having the numbers to succeed next Wednesday.
I can hardly wait.
Iain Duncan Smith is also airing his views. Note what he says and compare it to the death graph above:
Brexit better be more than BRINO, otherwise that prediction about the Conservatives could come true.
Former Brexit Party MEP and owner of England's greatest smoked salmon business, Forman's, said:
How true.
Unfortunately, at today's PMQs, Boris said that restrictions will continue until a vaccine is found! Dangerous.
There were so many insights on coronavirus last week that I couldn't fit them all in.
On Friday, I summarised Michael P Senger's article about China's role in the coronavirus crisis.
More information follows:
Rather sagely, a lady replied:
As did another:
The day before, there was the confession from a Facebook whistleblower about online political persuasion:
The article, dated September 14, features quotes from former Facebook data scientist Sophie Zhang.
The article states (emphases mine):
The 6,600-word memo, written by former Facebook data scientist Sophie Zhang, is filled with concrete examples of heads of government and political parties in Azerbaijan and Honduras using fake accounts or misrepresenting themselves to sway public opinion. In countries including India, Ukraine, Spain, Brazil, Bolivia, and Ecuador, she found evidence of coordinated campaigns of varying sizes to boost or hinder political candidates or outcomes, though she did not always conclude who was behind them.
"In the three years I've spent at Facebook, I've found multiple blatant attempts by foreign national governments to abuse our platform on vast scales to mislead their own citizenry, and caused international news on multiple occasions," wrote Zhang, who declined to talk to BuzzFeed News. Her LinkedIn profile said she "worked as the data scientist for the Facebook Site Integrity fake engagement team" and dealt with "bots influencing elections and the like."
She added:
I have personally made decisions that affected national presidents without oversight, and taken action to enforce against so many prominent politicians globally that I've lost count.
The BuzzFeed article continues:
The memo is a damning account of Facebook's failures. It's the story of Facebook abdicating responsibility for malign activities on its platform that could affect the political fate of nations outside the United States or Western Europe. It's also the story of a junior employee wielding extraordinary moderation powers that affected millions of people without any real institutional support, and the personal torment that followed.
"I know that I have blood on my hands by now," Zhang wrote.
According to the article, Facebook allegedly delayed taking action on the following:
It took Facebook's leaders nine months to act on a coordinated campaign "that used thousands of inauthentic assets to boost President Juan Orlando Hernandez of Honduras on a massive scale to mislead the Honduran people." Two weeks after Facebook took action against the perpetrators in July, they returned, leading to a game of "whack-a-mole" between Zhang and the operatives behind the fake accounts, which are still active.
In Azerbaijan, Zhang discovered the ruling political party "utilized thousands of inauthentic assets… to harass the opposition en masse." Facebook began looking into the issue a year after Zhang reported it. The investigation is ongoing.
Zhang and her colleagues removed "10.5 million fake reactions and fans from high-profile politicians in Brazil and the US in the 2018 elections."
In February 2019, a NATO researcher informed Facebook that "he'd obtained Russian inauthentic activity on a high-profile U.S. political figure that we didn't catch." Zhang removed the activity, "dousing the immediate fire," she wrote.
In Ukraine, Zhang "found inauthentic scripted activity" supporting both former prime minister Yulia Tymoshenko, a pro–European Union politician and former presidential candidate, as well as Volodymyr Groysman, a former prime minister and ally of former president Petro Poroshenko. "Volodymyr Zelensky and his faction was the only major group not affected," Zhang said of the current Ukrainian president.
Zhang discovered inauthentic activity — a Facebook term for engagement from bot accounts and coordinated manual accounts— in Bolivia and Ecuador but chose "not to prioritize it," due to her workload. The amount of power she had as a mid-level employee to make decisions about a country's political outcomes took a toll on her health.
After becoming aware of coordinated manipulation on the Spanish Health Ministry's Facebook page during the COVID-19 pandemic, Zhang helped find and remove 672,000 fake accounts "acting on similar targets globally" including in the US.
In India, she worked to remove "a politically-sophisticated network of more than a thousand actors working to influence" the local elections taking place in Delhi in February. Facebook never publicly disclosed this network or that it had taken it down.
The BuzzFeed article reports that Facebook's spokesperson Liz Bourgeois said:
It's highly involved work that these teams do as their full-time remit. Working against coordinated inauthentic behavior is our priority, but we're also addressing the problems of spam and fake engagement. We investigate each issue carefully, including those that Ms. Zhang raises, before we take action or go out and make claims publicly as a company.
BuzzFeed says that it did not reproduce Ms Zhang's full text because it contains personal information.
The article added:
In her post, Zhang said she did not want it to go public for fear of disrupting Facebook's efforts to prevent problems around the upcoming 2020 US presidential election, and due to concerns about her own safety. BuzzFeed News is publishing parts of her memo that are clearly in the public interest.
"I consider myself to have been put in an impossible spot – caught between my loyalties to the company and my loyalties to the world as a whole," she said. "The last thing I want to do is distract from our efforts for the upcoming U.S. elections, yet I know this post will likely do so internally."
Zhang said she turned down a $64,000 severance package from the company to avoid signing a nondisparagement agreement. Doing so allowed her to speak out internally, and she used that freedom to reckon with the power that she had to police political speech.
"There was so much violating behavior worldwide that it was left to my personal assessment of which cases to further investigate, to file tasks, and escalate for prioritization afterwards," she wrote.
That power contrasted with what she said seemed to be a lack of desire from senior leadership to protect democratic processes in smaller countries. Facebook, Zhang said, prioritized regions including the US and Western Europe, and often only acted when she repeatedly pressed the issue publicly in comments on Workplace, the company's internal, employee-only message board.
"With no oversight whatsoever, I was left in a situation where I was trusted with immense influence in my spare time," she wrote. "A manager on Strategic Response mused to myself that most of the world outside the West was effectively the Wild West with myself as the part-time dictator – he meant the statement as a compliment, but it illustrated the immense pressures upon me."
A former Facebook engineer who knew her told BuzzFeed News that Zhang was skilled at discovering fake account networks on the platform.
The second half of the article is also worth reading — and circulating.
Michael P Senger, the author of the article I cited on Friday, tweeted coronavirus-related news about Pennsylvania's continued lockdown:
Note that China was mentioned.
The title of Stacy Rudin's article for the American Institute for Economic Research (AIER) is 'Federal Court Holds "Stay at Home" Orders and Mandatory Business Closures Unconstitutional'.
Excerpts follow, emphases mine:
For six months, Americans in 43 states have lived under unprecedented executive orders restricting freedoms as basic as whether they can work, leave their homes, and expose their faces in public. These mandates are not duly enacted laws — they are orders issued by one of the three branches of government. They constitute a system of one-person rule — something none of us expected could ever happen in the United States — and no one, apart from the 43 newfound state dictators, is sure when it will expire.
Today, after six months of this, a Pennsylvania Federal Court in Butler County v. Wolf reviewed the indefinite "emergency" restrictions imposed by the executive branch of Pennsylvania government, declaring limitations on gathering size, "stay-at-home orders," and mandatory business closures unconstitutional. Refusing to accept the alleged need for a "new normal," the Court stated that an "independent judiciary [is needed] to serve as a check on the exercise of emergency government power."
About time. The Judicial Branch is coming to save us.
The article is worth circulating. It goes into American history, beginning with the Constitution in the 18th century and citing President Lincoln in the 19th.
The Pennslyvania Federal Court stated:
There is no question that our founders abhorred the concept of one-person rule. They decried government by fiat. Absent a robust system of checks and balances, the guarantees of liberty set forth in the Constitution are just ink on parchment.
Furthermore:
In times of crisis, even a vigilant public may let down its guard over its constitutional liberties only to find that liberties, once relinquished, are hard to recoup and that restrictions — while expedient in the face of an emergency situation — may persist long after immediate danger has passed.
The AIER article went on to say:
We cannot allow our freedom to become "ink on parchment." Many of our governors seek to do just that — they won't even designate an endpoint to their "emergency" powers. When does the "emergency" end? This should be easy to say — X number of deaths per million, X number of deaths over X number of weeks — yet they will not say it. They want us to live under the constant threat of house arrest and livelihood deprivation, even though all we ever agreed to was a two-week effort to "flatten the curve." We never agreed to an indefinite or permanent "new normal," or to do whatever our wise governor dreams up and declares necessary to "eliminate infections."
The article thanked Judge Stickman, speaking for the Pennsylvania Federal Court:
Thank you, Judge Stickman, for recognizing our predicament, and for taking the first step towards restoring our freedom today by reminding those with authoritarian leanings that "governors cannot be given carte blanche to disregard the Constitution for as long as the medical problem persists." The response to an emergency cannot undermine our system of constitutional liberties, or the system of checks and balances protecting those liberties. Liberty before "governor-guaranteed safety" — this is the American way, famously stated by Benjamin Franklin: "Those who would give up essential liberty, to purchase a little temporary safety, deserve neither liberty nor safety."
Pennsylvania's Governor Wolf appeared to back down (italics in the original):
Incredibly, Governor Wolf responded that his stay-at-home orders are "not actually orders at all, but merely recommendations," and that they are constitutional because they do not "shock the conscience."
Yet, the article's author says:
I'm willing to bet that Pennsylvania citizens would beg to differ.
The Court's decision stated that large populations were never quarantined (some local populations, e.g. St Louis, were during the Spanish Flu).
Not only that, the judges traced the origin of the virus to China:
In analyzing the constitutionality of "lockdowns," the Court first traced the origin of the concept to its source — Wuhan, China — and recognized that population-wide lockdowns are "unprecedented in American law." Even during the Spanish Flu, the deadliest pandemic in history by far, "nothing remotely approximating lockdowns were imposed." Although the United States has faced many epidemics and pandemics, "there have never previously been lockdowns of entire populations — much less for lengthy and indefinite periods of time." Quarantines are legally recognized, but refer to the isolation of sick people and those known to have been directly exposed to sick people. They are statutorily limited to the duration of the incubation period of the disease — a period which Governor Wolf's "lockdown" plainly exceeded.
Not only have lockdowns never been imposed in American history, but they are not even mentioned in recent pandemic management guidance offered by the Centers for Disease Control and Prevention ("CDC"). In its 2017 guidelines for managing pandemics, the CDC recommends numerous protective measures such as hand washing, limited-duration school closures, and cancellations of mass gatherings, but nothing "even approximating the imposition of statewide (or even community-wide) stay at home orders or the closure of all ['non-essential'] businesses." Even for pandemics of "Very High Severity," the CDC recommends only voluntary isolation of sick persons and their household members. "This is a far, far cry from a statewide lockdown such as the one imposed by [Governor Wolf's] stay-at-home order."
The article goes on to discuss small and medium business issues, which are of primary importance today. The court decided, in their own words (emphasis here in the original):
The Constitution cannot accept the concept of a 'new normal' where the basic liberties of the people can be subordinated to open-ended emergency mitigation measures. Rather, the Constitution sets certain lines that may not be crossed, even in an emergency. Actions taken by Defendants crossed those lines. It is the duty of the Court to declare those actions unconstitutional.
In related news Daniel Levitt, who works for tech firms in Silicon Valley, tweeted:
Ah, but increased testing is taking care of that issue. Hmm.
A podcast host from Ohio found that the WHO never stated that quarantine stopped influenza. Coronavirus is not influenza, yet it seems to share some of the same characteristics. Even more interesting is that, with the presence of COVID-19, influenza — the big worry of the cold weather season — seems to have disappeared south of the Equator.
Interesting:
It's all a bit of a mystery, but Kyle Lamb goes on to answer questions:
Does Kyle Lamb know more than our respective chief scientific officers? Perhaps. Perhaps not. In any event, he has gone further by probing the subject, which is more than our chief scientific officers have done.
Meanwhile, in the UK, an NHS GP pleads with Prime Minister Boris Johnson to change course on lockdowns. Here's yet another newspaper article mentioning a time period of a fortnight (yawn).
I pity the remaining vulnerable, especially the elderly. Click the image to see the article in full:
I could not agree more.
Message to the NHS: get on with it! You've had since May.

Since the summer, England's Nightingale Hospitals have been stood down for lack of use:
What will happen? A repeat of March and April?
My head is spinning at the prospect.
Once again, private care will turn out to be no better:
Good grief.
Then there is the matter of testing.
This thread is about the North East of England. The author is Professor of Industrial Economics Nottingham University Business School and states clearly that he is expressing his own views:
Sunderland is in the latest coronavirus hotspot area.
Understandably, residents are anxious to get PCR tests.
Yet, the queue was two miles long at the local testing centre:
The queues are for people who have booked a test:
It's the same in London, as per Tom Copley, the Deputy Mayor of London for Housing. Again, you need a code (obtained online) in order to get a test:
After all these months, this is unbelievable, especially from a notionally Conservative government.
As Tim Worstall said on September 17:
You've had 6 months to get testing sorted out. It's possible to do basic tests – basic note – for £1 a piece with reagent dosed paper hankies.
Also:
… seriously, why do we give, or have taken from us, 35% of everything to a structure that can't even manage this?
I could not agree more.
In closing, Dr Li-Meng Yan, a physician and virologist who also holds a PhD, is a Chinese whistleblower who worked at a WHO lab in Hong Kong. She is now out of the country in a secret location but has given at least two interviews in the past week.
The first was on Friday, September 11, on ITV's Loose Women, a lunchtime chat show in Britain:
She explained that she had access to a lot of secret information about COVID-19 and could no longer keep quiet, even if it meant losing her social credit score, which she did. She said she had been warned at the outset 'not to cross the line' because 'she could be disappeared'. She said that the Chinese government deleted everything about her that had appeared online. One wonders if her bank account was also frozen. It happens.
She told the show's panel that the virus was engineered in a lab and that it is not a natural virus.
She said that the Chinese government has downplayed her role in Hong Kong and is discrediting her.
The panel asked her why China would do such a thing and she replied that she had no insight into the government's 'evil thinking', then added that whatever they did 'worked': meaning — although she left this unstated — illness, death, panic, lockdown and economic damage.
I am glad that Loose Women interviewed her, because the show gets good ratings. Consequently, a lot of women in Britain will have found out more about the Chi-vi, as I call it.
On Tuesday, September 15, she appeared on Fox News's Tucker Carlson Tonight, to present the same details:
Tucker wasn't quite sure what to think. He acknowledged he does not have the scientific background to probe further.
A tip of the hat to my cyberfriend Wolf for the next part of this story.
Dr Yan, along with three other researchers, published a scientific paper on Monday, September 14: 'Unusual Features of the SARS-Cov-2 Genome Suggesting Sophisticated Laboratory Modification Rather Than Natural Evolution and Delineation of Its Probable Synthetic Route'.
This is the introduction (emphases mine):
Yan, Li-Meng; Kang, Shu; Guan, Jie; Hu, Shanchang
The COVID-19 pandemic caused by the novel coronavirus SARS-CoV-2 has led to over 910,000 deaths worldwide and unprecedented decimation of the global economy. Despite its tremendous impact, the origin of SARS-CoV-2 has remained mysterious and controversial. The natural origin theory, although widely accepted, lacks substantial support. The alternative theory that the virus may have come from a research laboratory is, however, strictly censored on peer-reviewed scientific journals. Nonetheless, SARS-CoV-2 shows biological characteristics that are inconsistent with a naturally occurring, zoonotic virus. In this report, we describe the genomic, structural, medical, and literature evidence, which, when considered together, strongly contradicts the natural origin theory. The evidence shows that SARS-CoV-2 should be a laboratory product created by using bat coronaviruses ZC45 and/or ZXC21 as a template and/or backbone. Building upon the evidence, we further postulate a synthetic route for SARS-CoV-2, demonstrating that the laboratory-creation of this coronavirus is convenient and can be accomplished in approximately six months. Our work emphasizes the need for an independent investigation into the relevant research laboratories. It also argues for a critical look into certain recently published data, which, albeit problematic, was used to support and claim a natural origin of SARS-CoV-2. From a public health perspective, these actions are necessary as knowledge of the origin of SARS-CoV-2 and of how the virus entered the human population are of pivotal importance in the fundamental control of the COVID-19 pandemic as well as in preventing similar, future pandemics.
ZeroHedge posted excerpts from the paper, which is way above my pay grade. The article ends with a reminder from ZeroHedge that they were suspended from Twitter months ago for alleging the same theory:
As a reminder, Zero Hedge was banned from Twitter on Jan 31 for making just this allegation, following a hit-piece written by an alleged pedophile (who was later fired for plagiarism) and countless so-called "scientists" screaming that our take was fake news and nothing but propaganda. Five months later Twitter admitted it had made a mistake, stating "we made an error in our enforcement action in this case."
Speaking of Twitter, on September 15, ZeroHedge also reported that Dr Yan's Twitter account was quickly suspended, days after she created it this month (emphases in the original):
On Sunday afternoon we asked how long before the twitter account of the "rogue" Chinese virologist, Dr. Li-Meng Yan, who yesterday "shocked" the world of establishment scientists and other China sycophants, by publishing a "smoking gun" scientific paper demonstrating that the Covid-19 virus was manmade, is "silenced."
We now have the answer: less than two days. A cursory check of Dr Yan's twitter page reveals that the account has been suspended as of this moment …
If Yan was wrong, why not just let other scientists respond in the open to the all too valid arguments presented in Dr. Yan's paper? Isn't that what "science" is all about? Why just shut her up?
Because if we have already crossed the tipping point when anyone who proposes an "inconvenient" explanation for an established "truth" has to be immediately censored, then there is little that can be done to salvage the disintegration of a society that once held freedom of speech as paramount …
We hope Twitter will provide a very reasonable and sensible explanation for this unprecedented censorship.
Indeed.
Back now to the contents of the paper that Dr Yan co-authored.
US Army Colonel Lawrence Sellin (Ret.) explained it in layman's terms for the Gateway Pundit: 'Dr. Lawrence Sellin: The Unequivocal Evidence Chinese Scientist Dr. Li-Meng Yan Provides Proof COVID-19 was Created by China's Military'.
Dr Sellin gives us the overview, which is still scientific (emphases in the original):
China has claimed that a bat coronavirus named RaTG13 is the closest relative to the COVID-19 virus, but RaTG13 is not actually a virus because no biological samples exist. It is only a genomic sequence of a virus for which there are now serious questions about its accuracy.
Dr. Yan suggests that RaTG13 may have been used to divert the world's attention away from the true source of the COVID-19 pandemic.
She claims that the COVID-19 virus originated in laboratories overseen by China's People's Liberation Army, using bat coronaviruses ZC45 and/or ZXC21 collected from Zhoushan, China and used as the viral "backbone" for genetic engineering.
Those bat coronaviruses were originally isolated and characterized between July 2015 and February 2017 under the supervision of the Third Military Medical University (Chongqing, China) and the Research Institute for Medicine of Nanjing Command (Nanjing, China).
The article goes on to explain how the receptor binding motif (RBM), which defines the coronavirus' ability to bind to the specific human angiotensin converting enzyme-2 receptor (ACE2) underwent genetic manipulation.
That critical segment of the COVID-19 virus is bounded by two "restriction sites" not found in any related bat coronaviruses, which allow researchers to easily splice, that is, cut and paste components of other viruses into the viral backbone.
The presence of those restriction sites is a known marker for genetic manipulation.
Furthermore, the COVID-19 virus contains a furin polybasic cleavage site with an amino acid sequence of proline-arginine-arginine-alanine or PRRA that facilitates membrane fusion between the virus and the human cell and widely known for its ability to enhance pathogenicity and transmissibility.
Such a sequence is not found in any other related bat coronavirus and, so far, there is no natural evolutionary pathway identified that could explain the appearance of that PRRA segment.
In contrast, techniques for the artificial insertion of such a furin polybasic cleavage site by genetic engineering have been used for over ten years.
Dr. Yan and her colleagues note that the two arginine amino acids in that PRRA segment are coded by the nucleotide sequence CGG-CGG, which rarely appears in tandem and strongly suggests that this furin cleavage site is the result of genetic engineering.
In addition, the presence of a "FauI" restriction site at the furin polybasic cleavage site is also an indication of genetic manipulation.
Goodness me. We have these scientific allegations and all the UK government is thinking of is a second lockdown.
It is sad that we will not be reading or hearing about this paper in the media. Once again, please circulate the links with family and friends. Thank you.