You are currently browsing the tag archive for the 'Denmark' tag.
Following on from yesterday's UK news in brief, the fallout continued into the weekend.
The Opposition
Some viewers of parliamentary proceedings thought that last Wednesday's PMQs was tense.
Guido Fawkes said that Boris looked 'rattled' as Keir Starmer asked Boris some difficult questions:
Boris came across rather rattled at PMQs today as a calm Keir Starmer attacked the PM on a number of topics, including why Allegra Stratton resigned, Rwanda and his reported comments about the BBC during last night's 1922 meeting.
When questioned by Labour's Keir Starmer, at one point, Boris said:
He must be out of his tiny mind!
Guido has the video:
The day before, in responding to Boris's second apology for the fine — for pedants, fixed penalty notice — for a Downing Street gathering, Starmer took the opportunity to mention a constituent of Michael Fabricant, the Conservative MP for Lichfield, who thought there should be a bar in Downing Street (see yesterday's post).
Guido Fawkes has the story.
This is what Starmer said (emphases mine throughout, except for Guido's in red):
This morning I spoke to John Robinson, a constituent of the hon. Member for Lichfield, and I want to tell the House his story.
When his wife died of covid, John and his family obeyed the Prime Minister's rules. He did not see her in hospital; he did not hold her hand as she died. Their daughters and grandchildren drove 100 miles up the motorway, clutching a letter from the funeral director in case they were questioned by the police. They did not have a service in church, and John's son-in-law stayed away because he would have been the forbidden seventh mourner. Does the Prime Minister not realise that John would have given the world to hold his dying wife's hand, even if it was just for nine minutes? But he did not, because he followed the Prime Minister's rules—rules that we now know the Prime Minister blithely, repeatedly and deliberately ignored. After months of insulting excuses, today's half-hearted apology will never be enough for John Robinson. If the Prime Minister had any respect for John, and the millions like him who sacrificed everything to follow the rules, he would resign. But he will not, because he does not respect John, and he does not respect the sacrifice of the British public. He is a man without shame.
When I heard that, I couldn't imagine what Starmer was going to say about Fabricant. Fortunately, he said nothing about the MP. Starmer used the constituent's story to make a point about Boris's breaking the rules during coronavirus restrictions.
However, it is not the done thing to interfere in or visit someone else's constituency without letting the relevant MP know.
Guido discovered that John Robinson had his unfortunate lockdown experience published in The Guardian's letters page on April 14. His letter reads much the way Starmer presented it to the Commons, although it ended with this:
Johnson flouted his own laws and rules. He partied his way through them. Am I angry? Anger doesn't even touch the sides of how I feel about this pathetic excuse for a man, and I suspect that the majority of us little people share my views, will never forget and will never forgive.
Even so, it seems to me that Starmer had some nerve to contact him.
Fabricant appeared on GB News on Wednesday, April 20. He said:
The saddest thing of all, I think, is the way Keir Starmer and other politicians have chosen to weaponise the personal tragedies endured by people like John Robinson and you know I would have thought, actually, that was pretty beneath them.
Me, too.
Imagine if a Conservative MP had done that. Labour would have banged on about it for weeks, if not months.
Migration and the Rwanda policy
The Archbishop of Canterbury used his Easter 2022 sermon to rail against the Home Office's plan to transfer illegal immigrants, especially those crossing the English Channel from France, to Rwanda for processing.
The Archbishop may also take issue with Denmark, which is pursuing the same policy. We pipped them to the post, but, apparently, Rwanda can capably deal with any number of migrants and for more than one country:
Guido reminded readers that the EU were also considering Rwanda as far back as 2019:
An awkward moment this morning for all the lefty hacks and opposition MPs who've turned their noses at the government's illegal migrant plans, as Denmark has announced it is also now outlining plans to send adult asylum seekers to Rwanda. The Archbishop of Canterbury will need to have a lie-down…
In a statement released this morning, Danish Immigration Minister Mattias Tesfaye confirmed the country has entered discussions with the Rwandan government:
Our dialogue with the Rwandan government includes a mechanism for the transfer of asylum seekers… [the deal will] ensure a more dignified approach than the criminal network of human traffickers that characterises migration across the Mediterranean today …
In 2019 then-European Commissioner Neven Mimica also announced a similar plan for the EU:
While in #Rwanda, happy to announce a 10M€ project to support efforts of the Government to receive and provide protection to about 1500 #refugees and asylum-seekers who are currently being held in detention centres in #Libya.
When the PM announced the Rwanda policy he predicted many other countries will soon follow suit – this is much sooner than expected though…
Our deal with Rwanda isn't due to start for another few weeks, but it's already had an effect on the Channel-crossers, as some Red Wall MPs have noticed:
Correct, but it's working before it's even started.
Bassetlaw's MP tweeted:
The Daily Mail article about migrant men in France is a must-read:
Standing beside a row of shabby, small shelters amid a hum from massive industrial units and passing lorries, Hamid Karimi, 34, sums it up: 'I'm not going to the UK if afterwards I'm sent to Rwanda. I'm staying here. I'm not going to Rwanda.'
Others in the group nod in agreement. Referring to the Prime Minister, one jokes: 'Johnson go to Rwanda!'
Boris Johnson has said the scheme drawn up by Home Secretary Priti Patel will serve as a 'very considerable deterrent' – and that appears to be the case here.
Announcing the Rwanda scheme on April 14, the PM said tens of thousands of asylum seekers who arrive in the UK by 'irregular routes', such as small boats or hiding in lorries, will be sent 4,000 miles to the African nation.
Arrivals will be processed and screened in the UK, with those deemed suitable flown to Rwanda on planes chartered by the Government. 
They will be then given accommodation and the opportunity to apply for asylum there – but cannot return to the UK. The change in tack from Hamid and his fellow Iranians is one adopted by many migrants in northern France since the announcement.
A few miles away, near another camp in Calais, a group of mostly Sudanese men told of their fear of being beaten or even killed if they are sent to Rwanda.
'We came from Africa – we don't want to go back,' said Mohammed Noor, 34. 'Nobody wants to go to Rwanda. If I go, I will finish my life. In Rwanda I won't get a good life. I have come here for Europe and for the UK.'
… The Government wants the first flights to leave next month. Channel crossings have continued in their hundreds since the announcement, but early indications show that numbers are in decline. On April 14, 562 crossed in small boats. On Tuesday, the figure was 263.
It is too early to say if the apparent decline is a result of the plan, but ministers will certainly hope so. They say the policy is intended to 'take back control of illegal immigration' and undermine people traffickers who profit from it. 
The decline continues:
Yes, it is possible that the weather — wind — could have been a factor, but the Mail's article supports the premise that the deterrent is working.
However, Home Secretary Priti Patel has run into trouble with civil servants — 'mandarins' — assigned to her department. They do not want to implement the Rwanda plan:
Guido has an exclusive on the 'rebellion', complete with screenshots of anonymous tweets from upset civil servants:
Home Office civil servants used an officially organised online consultation this afternoon to discuss the recently-announced Rwanda policy, asking how to potentially block the move, comparing themselves to Nazis "only obeying orders", proposed going on strike and questioned how to deal with their mental health in light of the policy. It shows conclusive evidence of the scale of left-wing opposition facing Patel and the government from within the civil service. It follows news from the weekend that Patel had to issue a ministerial direction to force the policy through …
This is the scale of opposition Priti Patel is facing at the moment from the enemies within, despite her and her fellow ministers being the only people in the department with democratic mandates. While Jacob Rees-Mogg and Simon Clarke are publicly promising to cull the number of civil servants, Guido can see a very obvious place the start…
On April 21, The Guardian reported that Matthew Rycroft, permanent secretary to the Home Office, attempted to reassure civil servants that they will not be breaking international law or be guilty of racism if they send migrants with unsuccessful refugee status claims to Rwanda:
Amid growing anger from the department's workforce, Matthew Rycroft, the permanent secretary, faced questions at an online staff meeting asking if the home secretary's policy of giving people a one-way ticket to Kigali was racist, while others demanded to know if the new policy was within international law.
Rycroft told staff they had to implement ministers' decisions, and reminded them of the civil service's neutral role, sources said.
The scheduled online meeting was held the day after it emerged that Home Office staff had threatened to strike and had drawn comparisons to working for the Third Reich over Patel's plan.
One source said Rycroft was "bullish" about the government's claim that the nationality and borders bill would not have to be passed into law before the policy could be implemented.
The article says that Rycroft did not sign off the plan initially, hence, as Guido wrote, Patel's ministerial direction to do so:
It emerged on Sunday that Rycroft had refused to sign off Patel's plans, claiming that he could not be sure it would provide value for money to the taxpayer. However, sources said he was "fully supportive" of the policy in the online meeting while flanked by other officials. He criticised leaks of the questions posed by staff, saying it was a breach of the civil service code.
This is the principal sentence from the ministerial direction:
I am therefore formally directing you as Accounting Officer to take forward this scheme with immediate effect, managing the identified risks as best you can.
Brendan Clarke-Smith, the Conservative MP for Bassetlaw, tweeted his empathy for the Home Secretary:
On Monday, April 26, during Home Office questions in Parliament, Marco Longhi, Conservative (and Red Wall) MP representing Dudley North, asked for the Rwanda plan to proceed. Tom Pursglove MP assured him that it would.
The human traffickers must be stopped. By the way, Labour have no alternative plan. They just don't like this one:
There is another wrinkle to this saga. Guido reports that the Home Office is fending off criticism that some journalists were not allowed to be part of the press corps on the Government's recent trip to Rwanda:
Guido's post says, in part:
Guardian, Mirror and Financial Times hacks are complaining in Press Gazette that they were "blocked" from attending Priti's Rwanda trip this month, with the Guardian going as far as to accuse the Home Office of trying to "avoid public scrutiny" …
Strangely, however, Guardian hacks were actually invited on the trip… their reporter just happened to fall ill right before leaving.
The Guardian put forward a substitute journalist, but the Home Office declined the offer.
Ultimately, only so many reporters can go:
Guido's departmental co-conspirator says the whole row is "silly", as they can't offer tickets to everyone, everywhere, at all times. They also point out how both the BBC and PA were on-hand throughout the entire trip – so those that couldn't attend could get straight wire copy. In fact, even the picture used in the Press Gazette report came from PA…
It's 'get Boris' time
It is becoming painfully obvious for those who voted Conservative in 2019 that the police are not applying the coronavirus rules equally.
As I have said before, Prime Minister Boris Johnson is the only government leader in the UK to receive a fixed penalty notice for his birthday 'party' — if you can call a 10-minute gathering of staff and a closed Tupperware container of cake a party.
Chancellor Rishi Sunak also received a fixed penalty notice for being at the same gathering.
Meanwhile, no one in Wales, Scotland or Northern Ireland has received anything more than a polite reminder from the police.
So, let's look at Labour.
In May 2021, we had a local election in England along with regional elections in Wales and Scotland. We will be having local elections this May as well, including a regional election in Northern Ireland.
Going back to last year, there were coronavirus-specific campaign requirements and restrictions. Pictured is Labour leader Keir Starmer at the Labour offices in Durham at the end of April 2021:
On May 1, 2021, The Sun reported on Starmer's visit:
LABOUR have dismissed an election 'booze row' after Sir Keir Starmer enjoyed a beer after a day on the campaign trail.
He was seen mixing with party workers in a constituency office in Durham on Friday night …
Tory co-chair Amanda Milling said: "Keir Starmer has continually and rightly called for people to follow the rules designed to keep us safe, but it's now in question whether he is following them himself.
"People will rightly be asking questions about this."
But a Labour source tonight said: "This is pathetic. The Tories' clearly haven't read their own rules."
The local police concluded that there was nothing to investigate. Last weekend, some people wondered whether Durham's Police and Crime Commissioner was present at the gathering:
Richard Holden, the Red Wall MP who represents Durham North, wrote to the Chief Constable of the Durham Constabulary to ask whether the coronavirus restrictions during the campaign had been followed in this particular instance:
Last Sunday morning, Starmer told the BBC's Sophie Raworth that he had nothing more to add about the gathering.
On Monday, April 25, Guido contacted the press officer for Durham Police and Crime Commissioner Joy Allen. The response he received did not put the matter to rest in his opinion:
Following Holden's letter, multiple social media users began questioning whether Durham Police and Crime Commissioner Joy Allen – a longstanding Starmer supporter – was at the event, and whether that could have played a role in the police force's decision to find in the Labour leader's favour. Following the rumours, Guido contacted her press office…
The Office of the Durham Police and Crime Commissioner has been informed that neither Joy Allen, the then candidate for Durham PCC, or Nigel Bryson, attended the event involving Kier [sic] Starmer during his visit to Durham at the last local election.
Leaving aside the phrase "has been informed" rather than a first-person denial, Guido's intrigued by the formal implication this is being considered a local election event, rather than a business meeting. As the rules stated at the time, campaigners could only go indoors "to meet the committee room organiser in order to collect election literature or drop off telling slips…"
It is against the law to meet socially indoors with anyone not in your household or support bubble.
Did Starmer's own Police and Crime Commissioner just accidentally dob him in?
Nothing more will happen. Apart from Richard Holden's constituency, Durham is Labour, through and through.
Meanwhile, Keir Starmer is deeply disappointed that London's Metropolitan Police will not issue further fixed penalty notices until after local elections in early May:
What does the average Briton think about what has been dubbed 'partygate'? A co-presenter of GB News's The Political Correction said on Sunday that people were tired of hearing about it:
If we're fed up with it, imagine the confusion in Ukraine where, believe it or not, a Times reporter asked a woman there what she thought about Boris's birthday party plight.
On Monday, April 25, Guido reported:
From today's Times:
The details of Carrie Johnson's birthday cake "ambush" were explained to them slowly, and when they understood the full extent of the scandal, they said they did not much care.
"Niet. niet." Raisa said. "I don't know about this birthday party. That seems to be normal human behaviour. But he was the first man who stood with us and helped us in our struggle. He is the best, I tell you, the best, the best, the best."
Conclusion
Opposition MPs have been railing against Boris since he became Prime Minister in 2019, generally attaching some superlative such as 'worst' to their opinions.
Veteran reporter and broadcaster Colin Brazier, who presents an excellent show on GB News, suggests that we could always have had a worse leader. What about Oliver Cromwell, who was born on April 25, 1599?
Local elections take place on Thursday, May 5. We'll see what the fallout looks like then.
On March 14, 2016, it emerged that 53% of the French would welcome a referendum on their membership of the European Union.
The Independent reported:
Given the opportunity to vote, French opinion divided between 44 per cent saying they would stay and 33 per cent saying they would leave, with the rest unsure.
The figures appear to show that a possible referendum in France would be not dissimilar to the race in the UK, where latest polls show a narrow lead for the "In" camp …
France is the EU nation that wants Brexit the most. Only 56% of the French want us to remain in the EU. Some perceive our renegotiations poorly, but others are interested (positively) to see what might happen.
By contrast, 73% of Germans would like to see us remain and 79% of the Irish do.
Among Swedes, that figure drops somewhat to 67%.
On March 14, EurActiv reported on the same figures. With regard to Britain (emphases mine):
"The British referendum is a laboratory for other referendums in Europe," commented Anand Menon, professor of European politics at King's College London, quoted in French daily Le Monde.
You bet — which is why Menon added:
Such trivialisation could produce devastating effects.
If only. The European project with all its anonymity, bureaucracy, legislation and waste truly deserves to unravel, country by country.
After the French, the Swedes are the next group most wanting a referendum (49%). More than a third (37%) would like to leave.
All these figures come from a study produced by the University of Edinburgh. The study's authors caution that we should not conflate the desire for a referendum with euroscepticism.
It is interesting that many in France and Sweden think that Brexit would not affect us economically. In fact:
In both France and Sweden, there were also more people who think the UK economy would do better outside of the EU although the most common response in both countries is that Brexit would make no difference.
Five weeks later, EurActiv reported on a Swedish poll by Sifo showing that, if the UK votes Brexit, 36% of Swedes would also vote to leave (33% would vote to remain), nearly matching the University of Edinburgh's:
"If there's going to be a 'Brexit', then this would raise so many questions related to the impact on the EU and the Swedish membership," said Göran von Sydow, a political scientist and researcher at the Swedish Institute for European Political Studies (SIEPS).
So, Swexit (my word — you read it here first) could be a real possibility.
Furthermore, if the Swedes follow us in holding a referendum, other northern European countries will surely follow:
… in Denmark, where the Danish People's Party is the second-biggest in the parliament, the party's spokesperson for EU affairs Kenneth Kristensen Berth said Brexit would automatically force Denmark to reconsider its own membership.
Not least since Denmark mainly joined the EU together with the UK back in 1973 because Britain was its biggest export market at the time.
The Spectator's Fraser Nelson has a good article accompanied by graphs which explain the Swedish perspective on the matter. He rightly observes:
This throws open a fascinating new line of argument for Leave. What if those voting to leave, far from being isolationist, are pioneers of a new globally-minded alliance of countries who are fed up with having to discriminate against non-European goods, services and people? Might a vote to leave put Britain at the forefront of a new internationalism: one based on genuine co-operation and respect for sovereignty?
And the Remain camp can, of course, say that Britain would be voting not just to leave the EU but to smash the whole thing. The collapse of the EU would be bound to bring horrid uncertainty: would we wish that upon our neighbours?
All told, Jean-Claude Juncker should – by now – be wishing that he had given David Cameron the deal that he wanted. The PM's demands were modest, came with a firm democratic mandate – and one would have given him a valuable weapon to use in this debate. A deal granting a looser alliance with Britain and our northern European friends (imagined in Andrew Marr's Brexit novel Head of State) would have made an 'in' vote a certainty.
People like Jean-Claude Juncker are the reason why many Britons will vote for Brexit. Juncker and Co's arrogance is unsurpassed.
First, Brexit. Then, all being well, Swexit, Dexit (also coined here) and, perhaps, Frexit. The possibilities are awesome*!
*traditional sense of the word
Today's news has more on the migration crisis, including an update on Alexandra Mezher, who was fatally stabbed in Mölndal, Sweden, earlier this week.
United Kingdom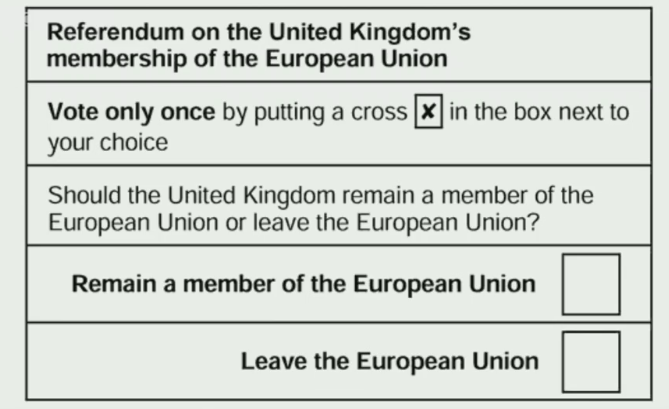 Whilst more than a few of us were relieved to read that our longed-for referendum on EU membership will be held in 143 days, we have other hurdles to overcome before then.
(Photo credit: Mike Smithson, PoliticalBetting.com Twitter feed)
I mentioned on January 25 that the question of bringing in refugee 'children' troubles some British teachers and social workers who are already working with those who arrived last year. They say that some refugee 'children' are of majority age, yet are in contact — whether in the classroom or in care homes — with minors. Children are therefore at risk in these situations by being in close proximity to young adult males.
The post also explained that, a week ago, a British QC (Queen's Counsel) ruled that Britain will have to accept three teenagers and a mentally-ill 26-year-old from Syria currently in Calais whilst their case for asylum is being decided.
Today, Thursday, January 28, the Express reported that 'unaccompanied child refugees' could be arriving in the UK soon.
The Save the Children charity have pleaded with the British government to accept 3,000 children. This number would be on top of the 20,000 refugees the UK has pledged to take in between now and 2020.
The scheme would involve taking the children directly from refugee camps near Syria, with input from the Office of the United Nations High Commissioner for Refugees (UNHCR).
On top of this, the Express tells us that 'unaccompanied child refugees' currently elsewhere in Europe will be allowed to come to Britain if they have relatives here.
Sweden
The age of 'unaccompanied child refugees' should concern us.
Today, via the Daily Mail, the Express reported that Chiméne Mezher, mother of brutally murdered Alexandra, who died on Monday, January 25, said some these 'children' at the refugee youth home where her daughter worked are actually adults (emphases mine):
Alexandra knew how to handle children including violent ones. But those she was working with were big powerful guys – she could see it in their eyes and their bodies. 
A few were maybe under 18, but the rest were older, maybe 23 or 24.
The article went on to say that Alexandra was on duty alone the night she died. Working night shifts alone has been standard practice at the youth home.
A colleague had rung Alexandra a few hours before she left home for work to say that one of the centre's kitchen knives was missing.
Mrs Mezher said that the employees did not report the missing knife because they were afraid of their superiors.
To date, the head of the company Alexandra worked for has not visited the Mezher family to express sympathy and discuss the tragedy.
Alexandra was stabbed in the back and thigh by a 15-year-old resident shortly before 8 a.m. on January 25.
Mrs Mezher is wondering where her family's future lies:
We left Lebanon [25 years ago] to escape the civil war, the violence and the danger. We came to Sweden where it was safe, to start our family. But it is not safe any more.
It is not surprising she has come to that conclusion:
The family has criticised politicians for the rise in immigration in Mölndal, a suburb of Gothenburg, where 8,000 migrants have arrived in less than a year. 
4,000 of the migrants are unaccompanied children.
Let us hope the British government does not put their citizens in a similar situation.
In other news
The Netherlands: Last week, a violent clash took place in the town of Geldermalsen over a proposed refugee centre. Townspeople planned a peaceful demonstration against plans to house 1,500 asylum seekers in the community of 27,000 people. The quiet protest was soon hijacked by violent outsiders, police said. However, on January 22, Geldermalsen's mayor cancelled plans for the centre, admitting that she should have consulted with residents first and that she had acted too quickly.
Germany: Assyrian Christian asylum seekers now living in the town of Saarlouis informed the police of a jihadi whom one recognised as a man who terrorised his neighbourhood in Syria. The Christian said the man stopped him several times at the local checkpoint when the two were still in Syria. The man also has an active Facebook page. The Christians duly informed the police. However, under German law, no arrest can be made until the man commits an offence. Some of the Christians now want to leave Germany, because, in the event of an IS attack there, they will be the first to be targeted.
Denmark: Whilst the Geldermalsen storm was brewing, the Danish council in Randers made pork a mandatory menu offering in day care centres and schools. The councillors said this is to preserve 'food traditions' and continue to put pork at the forefront of the Danish diet. However, halal meat, vegetarian dishes and foods for diabetics will continue to be available.
The history of the Christmas tree dates back to the ancient world and is not as straightforward as we might believe.
(Photo credit: Hope Christmas Trees)
Pre-Christian winter foliage

The practice of decorating one's home with greenery during the winter was widespread in the ancient world near the Mediterranean and the lands that would become Europe.
At winter solstice, Egyptians used to bring green date palm leaves into the home to symbolise life over death.
Romans celebrated the shortest day of the year by honouring Saturnus, the god of agriculture. They decorated their homes with greenery. Those who displayed laurel leaves did so in honour of their emperor.
Much further north, Druids in ancient Britain used evergreen branches in their winter solstice rituals and placed the boughs over their doors to ward off evil spirits. They also regarded holly and mistletoe as symbols of eternal life.
Other ancient peoples in Europe cut down fir trees and planted them in boxes inside their homes during this time.
Christianity's effect
Once Christianity began to spread, some early theologians told their followers to discontinue the practice of displaying greenery in mid-winter because it was a pagan practice.
In the 2nd century, Tertullian objected equally to displaying laurel leaves in honour of the Roman emperor:
Let them over whom the fires of hell are imminent, affix to their posts, laurels doomed presently to burn: to them the testimonies of darkness and the omens of their penalties are suitable. You are a light of the world, and a tree ever green. If you have renounced temples, make not your own gate a temple.
Later, around 700, the missionary Boniface — later canonised — was spreading the Gospel message in what is now Germany, where the people worshipped Thor. In Geismar, Boniface chopped down the Oak of Thor where human sacrifices were made and worship took place. The stories differ as to what happened next. One says that a fir tree sprung up in its place, causing the missionary to think it was a providential sign that the evergreen should be a Christian symbol. Another version says that Boniface pointed the people to a fir tree which he said symbolised the Holy Trinity because of its triangular shape as well as the love and mercy of God.
Paradise trees
During the Middle Ages, Christmas Eve was the feast day of Adam and Eve.
Churches used to feature dramas as part of Christmas worship. The plays tied in biblical themes and linked the Creation story to the Nativity. Churches had as backdrops 'paradise trees', which were draped with fruit.
By the end of the Middle Ages, the plays were no longer performed in church but out in the open air. Not surprisingly, these outdoor performances soon turned into rowdy, drunken events.
When the Reformation took root in the 16th century, many places banned the plays from the public square and the trees from churches. People began to put up paradise trees in their homes instead. These displays were called paradises even when they were simple boughs.
People decorated their paradises with round pastry wafers to symbolise the Eucharist. This developed into the tradition of decorating trees with sweet biscuits and the near-universal use of round ornaments.
The Reformation
The use of Christmas trees was controversial from the time of the Reformation through to the mid-19th century.
Legend tells us that Martin Luther had one in his home, although Christianity Today says this has little basis in fact. My Lutheran readers are welcome to tell me more in the comments.
The story has it that, in 1500, Luther was walking through a wood on Christmas Eve. The snow shimmering on the boughs of the fir trees moved him to bring a small evergreen in to his home for his children. He decorated it with candles which he lit in honour of Christ's birth.
The tradition of Christmas greenery continued and returned to church sanctuaries. In the 17th century, however, some Lutheran ministers made their dislike for it known. Johann von Dannhauer said these displays distracted from Jesus Christ, the true evergreen tree.
Trees displayed in church often had a wooden pyramid of candles standing next to them. The candles represented families or individuals who belonged to the church. Later these pyramids were placed on the tree itself. It sounds like quite a fire hazard, but this gave us the tradition of a tree with lights.
In the early United States, Dutch and German immigrants brought the Christmas tree tradition with them. Hessian troops who had helped to fight in the Revolution also made the festive trees popular.
That said, the Puritans in New England banned all Christmas celebrations and decorations. Schools and commerce ran as usual on December 25.
American displays of trees in churches sometimes courted controversy. In 1851, a minister in Cleveland, Ohio, had to defend placing a tree in his church. He nearly lost his job.
The 19th century
In England, the Georgian kings from the House of Hanover carried on their displays of Christmas trees. German immigrants to England did so, too. However, the public resented the German Monarchy and wanted nothing to do with such traditions.
It was only with the popularity of Queen Victoria that the Christmas tree tradition spread across the country. Her consort Prince Albert, of German descent, set up a grand tree at Windsor Castle for the family in 1841. At this time, presents were hung on the branches where possible.
Elsewhere, members of the European nobility popularised the tradition. In 1808, Countess Wilhelmine of Holsteinborg lit the first Christmas tree in Denmark. Although unaware of the Countess's experience at that time, Hans Christian Andersen wrote The Fir Tree in 1844. Princess Henrietta of Nassau-Weilburg introduced the Christmas tree to Vienna in 1816. It wasn't long before all Austrians had one. In France, the Duchesse d'Orléans had a tree in her home in 1840. The Russian royal family also had a Christmas tree.
In the United States, civic leaders were unhappy with the way that Christmas Day turned into revelry. Clement Moore's 1822 poem, known today as "'Twas the Night Before Christmas", and other similar works helped to change the nature of Christmas to a family-oriented celebration focussed on the home.
In 1851, a farmer in the Catskills (New York) named Mark Carr loaded two ox sledges with evergreen trees and took them to New York City. He sold every one of them.
20th century and later developments
By 1900, one in five American families had a Christmas tree.
By 1920, nearly all American households had one.
A decade later, during the Depression, tree growers were unable to sell fir trees to companies for landscaping. There just wasn't enough money for that type of thing. Nurserymen decided to convert their businesses into Christmas tree farms. They soon discovered that the public preferred cultivated trees for their symmetrical shape.
Today, Christmas trees are big business. Ordering them online requires purchasing in November to avoid disappointment. For those who prefer artificial ones, aerosol pine sprays give that unforgettable scent of Yuletide cheer.
Whatever we choose to display, it seems that displaying greenery is an atavistic part of winter celebrations and the anticipation of new life. For believers, that new life is the Infant Jesus.
The worried well are, by and large, Westerners overcome by health fears.
Many of these fears are driven by preventive health programmes — interventions — present not only in doctors' offices but places of employment.
Denmark's puzzling statistics
Some of these can actually harm one's health. My reader from The Last Furlong has a report from Denmark which says that their public health programmes have actually increased the number of hospitalisations, oddly, after the country's smoking ban in 2007. Soon afterward:
the number of hospital admissions exploded.
By 2012, there were
a staggering 1.33 million annual hospital admissions – it was 150,000 more compared to 2006, or 13% more. This is double the rate of increase compared to the corresponding period before the smoking law.
Is this a mere coincidence? Or are Danes fretting more about their health?
Another curious increase is in the number of Danish patients admitted for heart disease, which increased between 2006 and 2012. Surely, with healthier lifestyles being mandated, this should have continued to decline.
Then there is the public health intervention encouraging people to exercise more. The result is that more Danes, especially women, have been admitted to hospital for joint and bone fractures caused by the perceived need for rigorous physical workouts in the name of better health.
The plan to reduce medical expenses by means of patronage has not worked as intended. The "healthy" Denmark, on the contrary, has been a regular disease factory.
The figures make a total failure of the idea that the state should interfere in people's lifestyle to prevent disease.
Preventive [medicine] makes healthy people sick – and pharmaceutical companies happy.
Preventive interventions dubious
Huffington Post has an interesting article on preventive medicine by Allen Frances, Professor Emeritus at Duke University. Dr Frances begins with a quote from Aldous Huxley:
Medical science is making such remarkable progress that soon none of us will be well.
Isn't that the truth!
Frances says (emphases mine):
The evidence is compelling that we in the developed countries (especially the US) are overtesting for disease, overdiagnosing it, and overtreating. Wasteful medical care of milder or nonexistent problems does more harm than good to the individual patient, diverts scarce medical resources away from those who really need them, and is an unsustainable drain on the economy.
Westerners, especially Americans, might have noticed that screening advice and frequency has changed over the years. One example is prostate cancer screening:
It used to be recommended that men of a certain age be tested yearly. It is now recommended that the test not be done at all unless a man has a family history or other special risk factors.
Why the big change? Definitive long term studies prove that the test doesn't save lives and instead ruins them by triggering invasive interventions with painful complications. Screening is usually too late to stop fast spreading tumours and too good at identifying slow growing ones that don't count and are better left alone. If they live long enough, the majority of men will develop an incidental and benign prostate cancer before they die from something else. Picking up these tumours early causes great grief for no return.
But, surely, early screening encourages disease prevention? Frances disputes that line of thinking:
The reality is that getting there too early misidentifies too many people who are not really at risk and then subjects them to needless and harmful tests and treatments.
Along with that is the psychological stress not only for the patient but for his nearest and dearest.
As for the radiation from certain tests, he tells us:
If we do enough CT scans we can find structural abnormalities in just about everyone. But most findings are incidental and don't have any real clinical meaning. Paradoxically, lots of otherwise healthy people will get dangerous cancers from the CT radiation that served no useful purpose.
Other questionable procedures
Dr Kenny Lin is a family physician and public health professional who practises medicine in the Washington, DC, area. He teaches at Georgetown University School of Medicine, Uniformed Services University of the Health Sciences, and the Johns Hopkins University Bloomberg School of Public Health. His website is called Common Sense Family Doctor.
He advocates a cautious, informed approach to batteries of medical tests.
With regard to routine blood tests:
In 2007, I co-authored an editorial in the journal American Family Physician about this topic. We wrote:
"'Big-ticket' tests [such as CT (Computed tomography) scans and MRIs] are easy targets for those seeking to reduce waste in health care. But what about the seemingly innocuous practice of performing routine tests such as a complete blood count (CBC) or urinalysis? … These tests would be useful only if they provided additional diagnostic information that would not otherwise be obtained during a history and physical examination. In fact, large prospective studies performed in the early 1990s concluded that these tests rarely identify clinically significant problems when performed routinely in general outpatient populations. Although the majority of abnormal screening test results are false positives, their presence usually mandates confirmatory testing that causes additional inconvenience, and occasionally physical harm, to patients."
Don't misunderstand me. There are certain situations in which targeted screening tests can provide valuable information for the early detection of diseases. To learn more about which tests are recommended for your or your family members, I recommend that you visit the excellent website Healthfinder.gov. But the next time you go to a doctor's office and he or she proposes to check some "routine blood work," be sure to ask what these tests are for and what would happen if any of them turn out to be positive, so that you can make an informed choice about what's right for you.
As for mammography:
the only reliable measure of a screening test's superiority is whether or not it leads to fewer deaths. For 3D mammography, there's absolutely no proof that it does.
I recognize that for women or loved ones of women who believe their lives to have been saved by mammography, no amount of scientific evidence that I or anyone else can marshal will change their minds …
So how can we counter the prevailing narrative of the Task Force [recommending fewer mammographies] as a group of cold-hearted scientists who are more concerned about population-level data than the individual lives of the women we love? We can tell the human story of the guideline developers – half of whom are women over the age of 40 who have personally faced the mammography decision at some point themselves – but we can do much more than that. We can tell a representative story of the hundreds of thousands (or millions, perhaps) of women who experienced serious emotional or physical harm as a result of screening mammography …
He goes on to recount a case that Dr Louise Aronson wrote about for the Journal of the American Medical Association. Mammogram results for this patient, Elizabeth, revealed 'gross' abnormalities. Not surprisingly, she was called back for more mammograms over the next few weeks. She was beside herself with worry as was her family. She could barely concentrate at work and that year the family Thanksgiving gathering was sombre, to say the least. Aronson wrote:
Meanwhile, her physicians were at war: based on the x-ray films, the radiologists argued she had metastatic cancer with a less than 50% chance of 5-year survival, while her surgeons, based on the biopsy pathology, contended she had a rare, mostly benign condition. Fortunately, the surgeons were right. Still, sorting that out took weeks, and because the condition was associated with increased cancer risk, they insisted on bilateral surgery to remove all of the suspicious areas. So Elizabeth's mammogram didn't find cancer, but it did lead to the permanent mutilation of her breasts, huge medical bill copays, significant lost time from work, months of extreme stress, and ongoing anxiety about her disfigurement and risk of cancer.
Was it worth it?
Then there are the CT scans for lung cancer. These are just as contentious as mammograms. Many of Dr Lin's readers fiercely defend them, however, his post warns that the risks may outweigh the benefits in some cases:
1. The risk of developing cancer from the CT scan itself isn't trivial. A recent analysis published in the Archives of Internal Medicine found that a single chest CT scan exposed patients to the radiation equivalent of more than 100 chest X-rays, and that at age 60, an estimated 1 in 1000 women or 1 in 2000 men would eventually develop cancer from that single scan. (Participants in the lung cancer screening study actually underwent three consecutive annual CT scans.)
2. False alarms are extremely common. In the NCI's lung cancer screening study, researchers found that 1 in 3 patients had at least one false-positive result after undergoing two CT scans. Of those patients, 1 in 14 needed an invasive lung biopsy to be sure they were cancer-free.
3. Even if screening catches lung cancer early, there's no guarantee your prognosis will be better. This is due to "overdiagnosis," or the unnecessary diagnosis of a condition (typically cancer) that will never cause symptoms in a patient's lifetime, either because it's so slow-growing or the patient dies from some other cause … because there's no way of knowing at the time of diagnosis if a lung cancer will be fatal, inevitably many patients will be needlessly subjected to the side effects of treatment.
4. Finally, it's highly likely that a CT scan for lung cancer will find some other abnormality that will require further investigation. You might think this is a good thing, but studies show that most of these abnormalities turn out to be false alarms, too …
Finally, there are the private screening companies that send you a nice letter about the package of tests they can perform on you. The target market is the 50+ age group, and, even here in the UK, we receive such solicitations.
1. "Blocked arteries" / stroke screening is most likely a carotid ultrasound scan, which doesn't help because most patients with asymptomatic carotid artery blockages will not suffer strokes. Although the screening test is "non-invasive and painless," the confirmatory test, angiography, is not (it actually causes a stroke in a small number of patients) and unnecessary carotid endarterectomy can lead to death.
3. "Hardening of the arteries in the legs," or screening for peripheral vascular disease with an arterial-brachial index, hasn't been proven to prevent heart attacks but will certainly lead to many false positive results.
He discusses three other tests of dubious value and concludes:
In a nutshell, that's why companies like Life Line have no business portraying these services as "preventive health screenings," in my church or any other community setting. (I've sent an e-mail to my pastor recommending that they be dis-invited for the reasons I've outlined above.) It's one thing to draw blood for a cholesterol test and take someone's blood pressure (which will cost a whole lot less than $149), and quite another to offer these other procedures which are, at the very least, a waste of money and quite possibly harmful.
Solutions to excessive testing
Dr Frances makes the following recommendations, excerpted below:
Tame and shame Big Pharma. Stop the direct to consumer advertising that is allowed only in the US and New Zealand. Prohibit all Pharma contributions to professional associations and consumer groups. Regulate and make transparent all the marketing ploys used to mislead doctors. Force the publication of all clinical research trial data.
Recognize that all existing medical guidelines that define disease thresholds and make treatment recommendations are suspect. They have been developed by experts in each field who always have an intellectual conflict of interest (and often enough also have a financial conflict of interest) that biases them toward overdiagnosis and overtreatment in their pet area of research interest …
Employers, insurance companies, and government payors should be smarter consumers of health services and should stop paying for tests and treatments that do more harm than good and are not cost effective.
 Consumers should be smarter consumers and not buy into the idea that more is always better.
 Medical journals need to be more skeptical of the medical research enterprise and should look toward the harms, not just the potentials, of each new purported advance.
He concludes by reminding us that there are many really ill people who cannot get the healthcare they need and deserve.
Big Pharma, he says, is every bit as big a monster as Big Tobacco. On that point, I would disagree. Big Pharma is much more dangerous than 'Big Tobacco' — I use the term advisedly — will ever be.
Big Pharma probably kills more people around the world than tobacco. If statistics were honest, we could find out the truth. Unfortunately, we'll have to wait a few more decades. By then, tobacco will no doubt be back in style!
Yesterday's post covered retired and renowned French researcher Professor Philippe Even's debunking of the danger of second-hand smoke.
Today's post looks at French Professor Robert Molimard's views on second-hand smoke 'studies' and what he calls 'manipulation'. He also has a warning about the way which Tobacco Control frame their rhetoric.
Dr Molimard is on the faculty of the University of Paris medical school and has worked in tobacco research for decades. In 2008, he wrote a short paper published by Elsevier Masson SAS entitled 'The European Report "Lifting the Smokescreen": Epidemiological Study or Manipulation?'
Although the data in 'Lifting the Smokescreen' concern France, the report has been pivotal in ramping up across-the-board smoking bans in quick succession in several European countries over the past few years. Molimard's conclusion is that:
the number of estimated deaths in the field where restrictive laws might be applied and justified is so low that it makes you wonder what the the true aim of this report is, and what conflicts of interest are hidden behind it.
In the body of his critical analysis about 'Lifting the Smokescreen', Molimard explains:
the announcement of 5863 deaths, quickly rounded off to 6000 in the media by the official tobacco experts, henceforth made environmental tobacco smoke a very serious public health problem.  Urgent drastic measures were therefore justified …
However, although the majority of the French public benefits from these measures, minimally in the form of comfort, the legislative consequences of this report upset considerably the lifestyles, the culture and the livelihoods of many others.  Well aware of the severe tobacco dependence, we can be rightfully concerned about the counterproductive effects in our battle against tobacco, particularly the risk to intensify the smoker's defensive mechanisms as it pertains to their identity.  It is still too early to evaluate the adverse effects and the impact on the benefits/deficiencies ratio of these measures.  Consequently, I found it a necessity to analyze the report in an effort to assess the pertinence of its conclusions. 
He points out that the report's authors redefined passive smoking to include not only non-smokers but smokers smoking and inhaling second-hand smoke (emphases mine):
Inhaling smoke produced by their own tobacco is however inherent to the risks they take as active smokers.  To measure the passive ratio of their mortality under the pretense that they do not only inhale their smoke directly but also the smoke laden air of the room in which they smoke, seems artificial and particularly specious.  This considerably extended vision of the definition, insidious since it is not discussed, gives good reason to question the objectivity of this report. 
The report's authors arrived at 5,863 deaths per annum in France directly attributed to passive smoking. Other European nations quickly seized on this figure — rounded up to 6,000 — in their own anti-tobacco efforts. Indeed, I heard the 6,000 figure mentioned in the British media many times, as in, 'Six thousand Britons die every year from passive smoking'. The hysteria ensued; although I no longer watch much television, partly for this reason, it's probably still used with the shock reserved for war crimes.
And yet, the table which Molimard reproduces from Table 3 of the report (see his Table 1), shows that every passive smoker's relative risk whether they are at home or at work is well under 3.0, the usual level at which researchers begin to work more seriously on causality.
However, the authors of the report started to apply this low coefficient not only to non-smokers but to smokers as well.  As Molimard points out, no distinction was made as to duration of exposure or to the frequency of active smoking taking place. Some smokers, e.g. a friend of mine living in Europe, only smoke a few cigarettes a day, in the evening after dinner. Some non-smokers were only exposed to minimal second-hand smoke in certain establishments, e.g. restaurants. The report does not appear to make any distinction for these variables.
Taking the considerably low coefficient of risk and lack of nuanced variables into account, Molimard notes that of this and other studies:
In fact, the reliability of extrapolations from the data available, often derived from questionnaires and surveys, is far from guaranteed.  For Europe, it finds a relative risk of 1.31 (CL95 %: 1.24-1.52), but as low as 1.15 (1.03-1.28) for North America.  Is it then surprising that passive smokers endure the same kind of risk as current smokers?  We can even suppose that the risks are similar in the case of intense exposure. However, they are relatively low in their entirety.  The level of exposure is variable and difficult to quantify.  The size of apartments for example, can play a determinant role in accounting for the differences between continents.  On the other hand, some well conducted studies stand out in the results of the meta studies.  For instance, the Europeans multicentric IARC study did not find any evidence of significant harm for neither childhood exposure (OR=0.78; CL95%: 0.64–0.96), nor for spousal exposure (OR = 1.16 ; 0.93–1.44), or workplace exposure : (OR = 1.17 ; 0.94–1.45).  For restaurants specifically, no harmful effects were found (OR = 1.03 ; 0.82–1.29).  It only found significant effects for intense workplace exposures combined with daily exposures over a long number of years (OR = 2.07 ; 1.33–3.21) (3).  Similarly, Hill et al. (4) found no increased risk for lung cancer or respiratory ailments in a new prospective study of two cohorts of never-smokers.  Only the incidence of vascular accidents were slightly increased (RR = 1.01 and 1.35, depending on the date and the gender of the cohort.  The paradox of this finding is that we would have expected to find that passive smoking would essentially be causing respiratory problems.  As it pertains to cardiovascular complications, the findings tend to suggest that a factor other than the direct smoke inhalation comes into play.  For instance, smokers tend to make atherogenic food choices that might be shared with their spouses (5).  As far as myocardial infarction is concerned, a cohort study found no increased risk in relation to passive smoking (6).
He adds that we cannot even be sure how many smokers there are in each European country, as these data are tallied by various polling companies with as many varied results. For France, he explains:
Yet we do have data for France.  For the same year [2002], the WHO was reporting 27% smoking prevalence, a[n] INPES-IPSOS survey 30.4% for the 15 – 75 year bracket (10), the CSA Institute for the Eurobarometer 44%!  This is very revealing of the nature of the foundations this report was built on! 
He also writes:
Deaths of non-smokers as defined by the report are now down to 1114 deaths.  Fortunately however, the legislation does not apply to private home smoking yet, although the Association for Smoking and Health (ASH) is beginning to lobby at least the U.S. government for such measures.  It would therefore apply to the 107 annual deaths corresponding to workplace exposure only, of which a mere six pertain to the hospitality sector. 
But we never heard about 1,114 non-smoking deaths — and this would also require clarification. Nor did we ever hear that 107 deaths (again requiring clarity) were workplace-related. Nor that only six of those deaths were in the hospitality sector. Yet, all restaurants, bars, pubs and almost all hotels in Europe are now non-smoking. The hotel rooms do not have to be, but heaven forbid the chambermaid comes to do the chocolates-on-the-pillow routine at night whilst you're there smoking a cigarette preparing to go out for the evening.  The horror! 'You're killing me with that cigarette!' (I've witnessed it myself in France.)
So, why the discrepancy? Why the lack of clarity? Molimard tells us:
Is it not scandalous that a European Conference organized by those who wrote the report, at which ministers and the European Commission participated, was sponsored by two international giants of the pharmaceutical industry, who market smoking cessation products, Niquitin* and Zyban* (GSK), Nicorette* and Champix* (Pfizer), that have succeeded to obtain coverage by medical insurance (50 EU a year per smoker), all the while continuing to market over the counter medication?  Their lobby groups are very active and efficient indeed!  Wouldn't this basically constitute an indignant manipulation?  A report that cares very little for scientific integrity doesn't make one too confident as to the way subsequent criticisms will be treated.
The whole industry's morality is profit oriented.  The tobacco industry's deviations have been rightly denounced and condemned [for] decades.  Curiously, the pharmaceutical industry, has changed its [nomenclature] to the more flattering  ''Entreprises du médicament'' (The Medication Companies) and now benefits from a suggestive angelic aura and the noble image of some savior prince on his white horse.  Clearly their lobby groups infiltrate decision makers at many levels.  Is it not high time we started restraining their behavior?
Molimard warns against heavy-handedness about tobacco, as the smoker ends up taking the brunt:
We should justifiably worry that purely restrictive laws, advocated on biased bases, are going to set off the identity defensive mechanisms of smokers which would only result in the exact opposite direction of the official goals we are striving to attain, as explained in the experimental psychology studies (16, 17).  Such policies tend to make us lose focus of the reality that it is the smoker who is the true victim of tobacco and that he deserves more attention than hostility. 
Well, yes, and that's why I'm speaking out, although I do not consider myself a victim any more than a compulsive biscuit eater considers himself a victim of an international corporation renowned for its sweet treats or that a beer drinker considers himself the victim of a brewery or that a consumer considers himself the victim of a supermarket chain. However, like the biscuit eater, beer drinker (for now) and supermarket shopper, I would like to be left in peace — in my case, to have a quiet gasper in public without people going berserk.
In 2010, Molimard presented a paper at Paris's Sainte Anne Hospital. The paper was called 'Truths, Lies and beliefs in regards to addiction', which CAGE Canada translated. Two paragraphs in particular stood out:
The big fraud in the tobacco issue was none other than the publication of the 1988 Surgeon General Report entitled "Nicotine Addiction''. This fraud is incomprehensible unless one sees the link with the launch of the nicotine gum. The major premise of the Report seems to be a syllogism that states: "Tobacco products cause a powerful addiction'' The minor premise is: "Tobacco contains a neurotropic poison – nicotine''. Hence follows the conclusion: "Therefore nicotine is responsible for the addictiveness of tobacco''. But there is no evidence that allows us to draw such a conclusion. A host of other assumptions are possible, and there are even major arguments to oppose it, such as the fact that no cases of nicotine dependence have ever been documented when this substance was used in isolation, as was already established long before the "Medication Enterprises" began marketing nicotine as a form of medication. This duplicity is more than amazing when you consider how common it is for addicts to experiment with the purified extracts of their plants of choice. Since no formal evidence of dependence to pure nicotine has yet to be produced, the conclusion that nicotine alone is addictive is not a syllogism, but rather, pure sophistry.
And yet, against all scientific rigor, this fallacy was implanted through repetition, hammered in as an unassailable truth, all with the support of health authorities and politicians. Thus the famous Fagerström test in the AFSSAPS good practice recommendations, continues to be called ''test for nicotine dependence''. Yet not one of its 6 items even refers to it. This is simply a test for cigarette dependence and we would have no objection if it were referred to as such. Is this a minor detail? No, it is clearly an intentional mistake, extremely serious in its consequences both intellectually and scientifically. Because having arbitrarily decided that nicotine alone explains tobacco dependence and having it engrained in the minds of doctors, the authorities and the public, any research on the other possible factors of this dependency is now excluded in advance and a vast new market is made available for commercial exploitation by the pharmaceutical industry.
Going back to Molimard's earlier questioning of the actual numbers of French smokers and my mention of their deaths as being Britain's as well, Danish journalist and songwriter Klaus Kjellerup carried a piece in 2009 on Molimard called 'French expert: Secondhand smoke is not dangerous' (emphases in the original — those in violet are mine). I've smoothed out some of the syntax below:
France's leading tobacco researcher and smoking cessation specialist throughout his career, professor emeritus Robert Molimard, has again spoken out sharply against the European anti-tobacco lobby, including the Danish Heart Association. He accuses the lobby for gross manipulation to get the politicians to adopt smoking bans in the EU countries, including in Denmark.
Again, about the aforementioned report which he criticised, Molimard said:
"This report is a simple lie," writes Molimard – "it's manipulation. We have artificially increased the number of passive smoking-related deaths by 426% in order to make passive smoking a public health problem. The report is created for the sole purpose of enabling the adoption of the smoking ban – and it's even sponsored by the giants in the pharmaceutical industry that sells smoking cessation medicine, "he thunders in the document …
Molimard explains how passive smoking have been made dangerous by simple manipulation of figures in the report: "It has always been the case that the risk of passive smoking was defined by consensus of science as "a non-smoker's risk of exposure to others' smoke. " But it has this report changed – it also includes smokers' exposure to secondhand smoke from their cigarettes. This spin has only brought the estimated death toll in France up from 1114 deaths to 5863. "
… "The smoking ban in all restaurants, cafes, bars and clubs in France, the report reasoned with only 6 deaths," writes Molimard.
As far as Denmark is concerned:
The Danish figures, however, blown up even more than the French, as shown in the table, "All work places", which curiously indicates 137 Danish deaths against 107 French.
This is another manipulation: For unclear reasons, namely, the report assumes that 85% of Danes were exposed to passive smoking at work before the ban ( the report's page 25) – while the figure for other European countries was only between 20% and 34%. It is obviously not true – smoking in Danish workplaces have not been more widespread than in other countries.
The high 85% exposure to passive smoking in Denmark is even used in all the Eastern European countries in the report because they had no figures from those countries.
There is yet another example of one country's data not only being erroneously calculated but then applied to countries which have no data of their own to hand!
The absurdity and sheer criminality of it all. It is criminal to deny people a roof over their heads, steady employment and a day out at the beach or in a park simply because they smoke. Some might not smoke at work. Some might only smoke in the evenings or at weekends. Yet, every time a smoker stumps up for tobacco, he is funding these spurious advocacy groups for his own demise and, indirectly, Big Pharma.
But it's not just smokers. Many more — non-smoking — taxpayers in countries with state health services are also funding these programmes with their spurious science and unknown ulterior motives. Their taxes also pay for this rubbish.
Back to Denmark's actual figures of secondhand smoke risk, about which Kjellerup writes:
If you have to clean the report for this apparent manipulation of figures, one must instead use professor Molimard's method and calculate the Danish risk from French population (which is 12 times larger than Denmark). Then see the report dødrisiko at Danish workplaces like this:
Risk nonsmokers DK, all workplaces: (107: 3): 12 = 2.9 deaths annually
Risk nonsmokers DK, serving the entire industry: (6: 3): 12 = 0.16 deaths per year
It is, according to the report's methodology the risk that the smoking ban on Danish hotels, bars, restaurants and cafes, to protect staff against – one death every six years – and it should be noted that the risk of diseases such as lung cancer that occurs in 1 or 2 out of 100,000 non-smokers after 40-60 years of constant exposure to passive smoking – statistically speaking.
So few deaths annually are called normal: Zero risk. Although the risk of almost 3 deaths at all Danish workplaces are not risk at a size that no authority has previously "protected" its citizens against – and certainly not with such a consistent virulence, as it has happened with the smoking ban.
Here, too, Molimard warned about draconian smoking bans:
As a doctor I will combat diseases caused by smoking, but I strongly oppose this policy. It is not aimed at reducing tobacco harmfulness of smoking and addiction, but against the victims: Smokers. Every time a smoker lights a cigarette, he feels not only guilty when he thinks about how much money he spends on tobacco, and that he may die prematurely from smoking – no, he is now accused of being a murderer of his neighbor or his non-smoking spouse. 
Smokers need to escape this debt – and indeed, some weak personalities quit smoking. But strong personalities will not tolerate such an attack on their identity, and they would rather smoke more.
The fact is that the Irish health authorities now recognize that the number of smokers has increased in Ireland from 27% to 29% following the Irish ban.
Molimard, 80, is still working on studying tobacco risk in his cessation department which he founded in 1985. He is a strong supporter of smokeless tobacco. He has no connections with tobacco companies — either financial or moral (the latter a French criterion for assessing potential conflicts of interest).
Not surprisingly, Molimard's outspokenness has found little to no exposure in the press.
It's worth noting that Molimard still has empathy for smokers:
Smokers have a right to smoke. Smoking helps them through life, relieve their anxiety and give them joy. A ban seems quite inhumane to me. I am deeply concerned about the rising tide of obstacles that rise up against freedom.
(Graphics credit: Pro-choice Smoking Doctor)
Tomorrow: Another tobacco researcher speaks out