You are currently browsing the tag archive for the 'dessert' tag.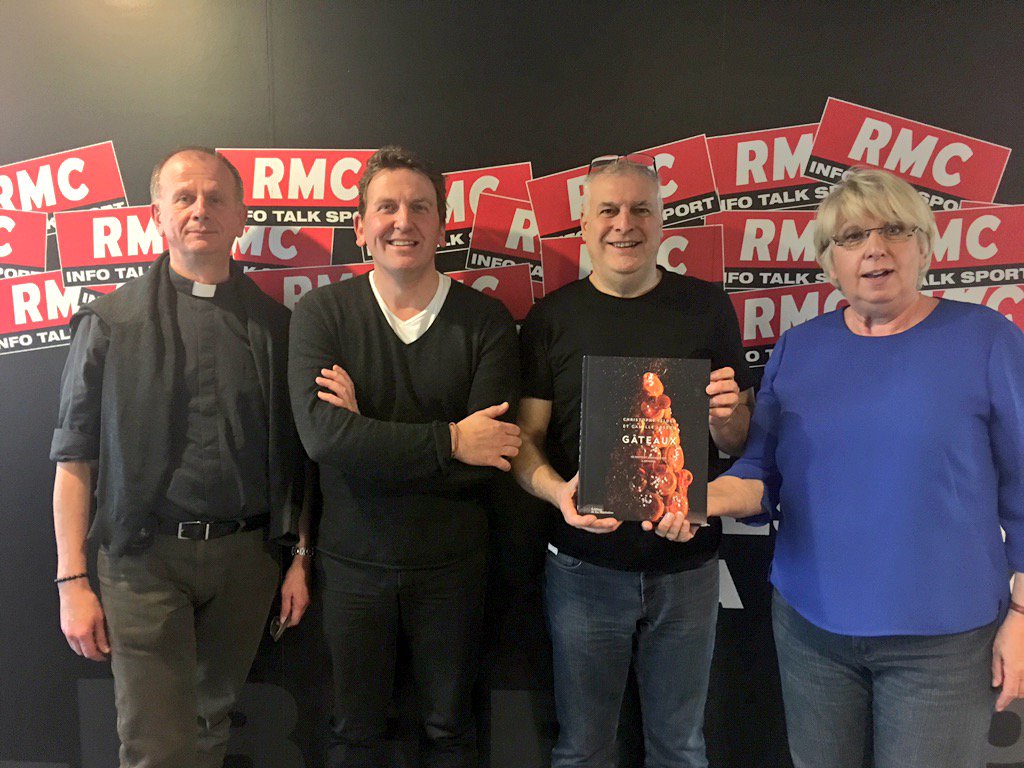 As a maître pâtissier, Christophe Felder is Alsace's pastry king.
On Christmas Eve 2015, he was the special guest on RMC's Les Grandes Gueules (Les GG), a three-hour radio news and current affairs talk show with a group of regulars from social workers to cheese makers to judges. The panellists change daily, yet, after a while, one feels as if one knows them well.
Felder is in the v-neck in the photo from Les GG's Twitter feed. Around him are panellists Père Patrice Gourrier, educator Etienne Liebig (holding Felder's latest book Gâteaux ['Cakes']) and businesswoman Claire O'Petit. The hosts, Alain Marschall and Olivier Truchot, are not in frame.
Les GG are in the process of interviewing famous French chefs. On New Year's Eve, Philippe Conticini appeared on the show. Like Conticini, Felder baked a cake. Or is that, 'Felder baked a cake and Conticini did, too'? (I'm moving backward with the interviews.)
Felder wrote one of my favourite books, Patisserie: Mastering the Fundamentals of French Pastry. If anything approximates a 'bible' of desserts, with each step of every recipe accompanied by a colour photograph, this is it.
SpouseMouse bought our copy in 2013 from Amazon.co.uk, however, it appears now that only Amazon in the US has it. If you are living in Britain, you can sign on to Amazon UK, then go through to the US site and order it — provided the seller ships to Britain. If you are ordering it as a gift, have it sent directly to the recipient, otherwise, postage is going to cost a fortune. (Photo credit: Amazon.com)
I have tried several of the recipes and each one worked the very first time! You will be able to make all your favourite French cakes, tarts, biscuits, macarons and chocolates — including decorations and glazes — in no time. Recipes are grouped by category — types of pastry, cakes, macarons — and so on. Each category's set of recipes is ranked from easy to difficult. You can comfortably work your way through each chapter and progress as you go. The book is very heavy and one should handle it with care, because the paper and cardboard binding is not the best.
It makes a perfect gift for a family member or friend who wants to be able to bake what they see in French pastry shop windows. The lucky recipient will never need another dessert cookbook.
Now on to the show! (Translations mine below.)
Rants galore
During the first segment the panellists ranted about all their pastry pet peeves. I got the impression the hosts were a bit embarrassed, but that's the nature of the show.
That said, everything kicked off very early.
No sooner had they introduced Felder and the gloves were off, not against him but the French pastry situation in general.
Etienne Liebig was angry that so many small shops no longer make their own croissants and macarons but buy them from large companies that make these items on an industrial scale. He does not like paying '€1.30 for something that costs 30 cents' and isn't even made on the premises.
Felder countered that the same thing happens in a restaurant. How many buy cash-and-carry desserts? How many make their own ice cream? Much of it is bought elsewhere. This is why I ask for a cheese plate or, where available in the UK, a savoury.
Claire O'Petit said she is a competent cook when it comes to savoury dishes, which she can easily adjust for taste and texture, but when it comes to dessert, she feels frustrated, as if she has no chance of success. She later said that Felder's recipes look achievable and that she wouldn't need to 'waste an hour of reading' to understand them.
Père Gourrier announced that he is gluten intolerant:
So, what's out there for me? Everything has flour in it. I can't eat it.
Felder suggested a dacquoise, made with ground almonds and (left unsaid) meringue.
Gourrier was unimpressed:
I'm not about to start making meringues.
He then asked:
When is someone going to come out with a gluten-free croissant?
The break and the cake
Then there was a commercial break and everyone, except the priest, tucked into the cake.
By the time the next segment started, O'Petit was very quiet. One of the hosts remarked on it and asked if she was enjoying every mouthful.
Gourrier interjected:
I'm having a fine time just sitting here watching all of you tuck in.
Felder's advice to young hopefuls
Like Conticini, Felder was accustomed to the food trade. Conticini's parents ran a Michelin-starred restaurant. Felder's father was a successful baker in Alsace.
Unlike Conticini, who believes that young people should pass their baccalauréat, Felder says that any adolescent who is serious about baking or pastry should become an apprentice at the age of 15.
He believes that is a good age because romantic attachments haven't yet formed:
Later on, they're reluctant to move 300 kilometres away for a career. They have a girlfriend and get too attached.
(Most pastry apprentices and chefs are men, hence the girlfriend reference.)
Felder had worked for his father by the age of 14 and, the following year, 1979, he was apprenticed to the Litzer-Vogel pâtissiers in Strasbourg, where the head pâtissier was very elderly yet went to work every day.
He told les GG that, unlike cookery school, this work — which includes training — doesn't cost parents anything. Furthermore, as an added bonus, their children can bring earned money home.
Also:
By the age of 17, they're quite good.
And so it proved in Felder's case. At that tender age, he had won his first gold medal at the Foire européenne de Strasbourg.
Felder's trajectory
Felder moved to Paris where he worked for Fauchon, makers of luxury breads and pastries near the church of La Madeleine in the 8th arrondissement. He then worked for Guy Savoy, who ran a Michelin-starred restaurant in the upmarket 16th arrondissement. (By 2002, Savoy had earned his third Michelin star, which he still retains today. He has since opened his own restaurants in Las Vegas and Singapore.)
In 1988, Felder began working at the prestigious Hotel Crillon as a pastry chef. He stayed there for 15 years.
Incidentally, when he first started, there was no air conditioning in the Crillon's pastry kitchen. He described the near impossibility and frustration of making croissants with butter melting in front of him. (Butter needs to be firm for puff pastry, the stuff of which these delights are made.)
Return to Alsace
These days, Felder is based in Alsace.
He prefers it, especially for his young apprentices. He and his staff train and mentor them. Having families nearby makes it easier for everyone:
In Paris, you can feel a bit lost. You need money for rent, you don't really know anyone and it can be a bit overwhelming.
In Alsace, our apprentices live nearby and can work more flexible hours. They can come in early and go home late.
It's also helpful to get to know their parents. We have discussions with them. Some say, 'My child is a bit excitable'. Such conversations help us to manage a situation and guide the apprentices.
Hard work
Felder spoke a lot about hard work in the pastry kitchen.
He cited a young apprentice of his who asked why Felder was 'punishing' him. Felder replied that there was no punishment — that was the nature of the job:
Sure, there are a great many shared moments, but there is also a lot of pressure every day.
And not everyone can handle that pressure.
Dessert evolution
The panel asked about the continuous change in French desserts.
Felder explained that, in the old days, sugar and fat were used as preservatives. These days, with near-universal refrigeration and modern cooking methods, we can buy products with much more fresh fruit as well as less fat and sugar.
In addition to owning his own business, Felder also works for a firm in Japan, which is interested in anticipating the next dessert trends. The Japanese are fascinated to find that French techniques remain classic yet move with the times. Felder helps this company determine how that is done and develop new recipes accordingly.
Conclusion
Most of us — younger or older — are not fit for a pastry kitchen.
As Felder says, you're on your feet all day. The atmosphere is demanding. It requires a lot of stamina, self-discipline and patience.
Working in a pastry kitchen will be unsuitable for many, but most pastry chefs want — and feel obliged to — pass knowledge on to the next generation and to the general public.
Christophe Felder is one of them.
For that, many of us are grateful.
As my regular readers will know, in 2015, I wanted to learn more French techniques for cooking and baking.
During a two-week stay last June in France, I watched Christophe Michalak's Dans la peau d'un chef (DPDC), which is an excellent programme featuring home cooks vying to see who can make the best dish assigned by either Michalak or one of his guest chefs. The winner receives €1,000 and can continue to compete the following day. These two posts feature short videos from DPDC:
Decorating fruit tarts — the French touch (Christophe Michalak)
Piping whipped cream — the French touch (Christophe Michalak)
One of the guest chefs on DPDC was Philippe Conticini, who owns Pâtisserie des Rêves ('Pastry of Dreams') in Paris. Since he began his career in the 1980s, he has won many awards from a Michelin star from his days as a restauranteur, following in his parents' footsteps, to honours from the French government. He also appears as a guest judge on a number of cookery shows, including the French version of The Great British Bake Off — Le meilleur pâtissier. (Photo credit: Sortiraparis.com)
Married and father of a 14-year old daughter, Conticini is evolving his recipes to make the classics lighter and more flavoursome. Over the past several years, he has been experimenting successfully with his hot and cold technique which helps to produce spongier cakes with better rise. Dorie Greenspan's Madeleine recipe is one example; Conticini taught her how to employ his hot and cold technique. Proust would have loved them!
Although he needs a walking stick, Conticini continues to work. He nearly died in 2010, afflicted with an illness that put him into a coma for 18 months. Since then, he has problems with his right hand and has had to learn to work with his left.
On New Year's Eve, he gave an interview to RMC's Les Grandes Gueules ('The Big Mouths'), where he discussed his work and created a cake just for them. One of the panellists pronounced it 'sublime'. What follows is a summary of what Conticini said.
Popularity of baking
Conticini says that television shows have done much to enhance the profile of baking, likening the phenomenon to sport. The more sport is televised, the more people are interested. It is the same with baking.
Wherever he goes, Conticini is met with all sorts of questions from the public about ingredients, measurements and quality of the end product. He thinks this is because people are engaging with cookery shows.
Advice to young people
Conticini is softly spoken and mild mannered. Yet, he had firm advice for would-be apprentices:
Absorb instruction like a sponge — and, even better, be quiet.
All renowned chefs expect — and want — to transmit their knowledge to the next generation. Conticini is no exception, and, like his peers, expects his apprentices to remain silent and listen to what he has to say — then follow through as told.
He said that many who interview are sure they know how to bake a croissant until the time comes and they cannot. Hence the need for on-the-job training — learning by doing.
Conticini said there is no substitute for a good apprenticeship. Cookery school can teach you only so much. You have to know what the actual working environment is like, whether it is a restaurant or a pastry kitchen. The main problem is that there are fewer bakeries in France to meet demand.
He says that young people should definitely finish secondary school and pass their baccalauréat, the equivalent of an American high school diploma. Then they can go on to decide what sort of restaurant/catering course to take and gain on-the-job experience at the same time.
Technical recipe development
Along with other great chefs, Conticini is focussing on reducing fats and sugars without compromising taste and textures.
This involves understanding the molecular structures of mousses and cakes. He gave a detailed description of how he has made his cream fillings lighter by replacing fat with air and gelatin, both of which, oddly, give a better structure and enhanced flavour.
One of RMC's panellists said it was like listening to a NASA engineer. Conticini said that, in a sense, he is an engineer because there are many technical aspects to creating new methods in pastry making.
Another panellist countered, 'Surely you are an artist, first and foremost'. He replied that he was not an artist at all. There are precise techniques and measurements to master. Whilst there is creativity, all of that comes from understanding the underlying basics and knowing how to employ them.
After the November 2015 attacks
Conticini said that sales took a hit after the Paris attacks last November.
Footfall is also down. Yet, online sales have increased. People are hesitant about going into Paris.
That said, Christmas was a busy time. Sixty employees started fulfilling orders at 10 p.m. on December 23. They worked through the night to have cakes and pastries ready for pick up on Christmas Eve.
His customers have been asking for the more classic pastries since November 13. He surmises that remembering one's childhood through sweet favourites provides a measure of comfort.
The future
Although Conticini occasionally has overseas assignments, he has no plans to open shops in foreign countries. He wants to be near his wife — his childhood sweetheart — and daughter before she grows up and leaves home.
In September 2015, he opened a cookery school featuring short classes which teach the basics of understanding flavours and making pastries to the general public.
He is convinced that anyone can make good desserts provided they have the right instructions. He promised to send Les Grandes Gueules the recipe for the cake he brought them.
Ultimately, he wants to transmit his knowledge as broadly as possible.
Les Grandes Gueules have had other recent interviews with French chefs. More will follow here. You'll find much of what they say is similar, with sharing knowledge and a generous spirit coming first and foremost.
I will have links to this series on my Recipes / Health / History page under 'Great chefs'.
Now that the holidays are around the corner, it's time to start planning not only menus but shortcuts in food preparation.
One easy way to add a pleasantly noticeable citrus taste to pies and tarts is to sprinkle a cooled pie crust — already baked blind — with 12 to 15 strands of orange, lemon or lime zest.
Top the tart with your usual filling and return to the oven to bake or chill, depending on the recipe.
You will be amazed at how such a small addition of zest can add so much flavour!
I found out about this by accident when, making ham glaze, I found a bit of unused orange zest. A happy accident, one which I now share with you!
My Amaretto sauce serves two purposes. Save two tablespoons of it for my Amaretto cake (next recipe post).
For now, though, enjoy it over crêpes. Easy to make when you haven't much else in the house!
It's also simple to make when you need a 'plate to pass' for a family gathering or a potluck supper. I keep my sauce in a sterilised glass jar with a lid (larger mayonnaise jars work well). Glass enhances the flavour of any sauce and washes up more easily than plastic.
Disclaimer: I have no personal or financial interest in the two drinks brands connected with this recipe. They are the products which have worked best for me over the years.
My thanks to Dr Gregory Jackson of Ichabod for the graphic.
Churchmouse's Amaretto sauce
(4-6 servings — save the leftover two tablespoons; 10 – 15 minutes total — preparation and cooking time)
Ingredients:
8 oz. (230 g) brown sugar
4 oz. (110 g) white sugar
1 medium orange or 2 clementines, sectioned and roughly broken into pieces — no pulp or rind
1/4 – 1/3  cup (60 – 80 ml) Amaretto
1 tsp almond essence
4 oz. (110 g) butter
Method:
1/ Combine all ingredients into a saucepan (preferably with a lip for easier pouring) and place on medium heat, bringing mixture to a boil.
2/ DO NOT STIR!
3/ Once up to a boil, let it boil for six or seven minutes until sugar granules are completely dissolved. At this point, you can stir. If the mixture scrapes in the pan or sounds gritty, continue to boil for another minute or two.
4/ When mixture is smooth and no longer grainy, turn the heat off and remove pan from the heat.
5/ Save as a sauce for the crêpes.
Churchmouse says: Some readers might be concerned about alcohol. The content should burn off completely, leaving only an intense almond flavour, however — if or when in doubt, don't!
VARIATION: If you don't have Amaretto but have some old Southern Comfort in the back of the drinks cabinet, use that with vanilla essence instead of almond flavouring. As it ages, Southern Comfort acquires a wonderfully syrupy flavour and texture — perfect for crêpes.
Crêpes
(6 servings of two pancakes each; 60 to 90 minutes total — preparation and cooking time)
Ingredients:
8 oz. (230 g) plain flour
1 tbsp sugar
Pinch of salt
4 eggs
14 oz. (400 ml) milk combined with 6 oz. (177 ml) water
2 tbsp butter + another teaspoon or two to refresh the pan later
You will need a good whisk, a 4 oz. soup ladle, a heavy-bottomed 10″ (25 cm) diameter crepe pan, a long metal spatula and aluminium foil for best results.
Method:
1/ Preheat crêpe pan over medium heat. This might take several minutes. Meanwhile, you can make the crêpe batter.
2/ Combine flour, sugar and salt into a large bowl and make a well.
3/ Break the two eggs into the well.
4/ Whisk the eggs with the dry ingredients slowly at first, then more quickly to get any larger lumps out of the batter.
5/ Add the milk and water mixture a little at a time. Keep whisking to get as many smaller lumps out as you can. A few smaller lumps at the end are all right. These will cook out as you fry the crêpes.
6/ Add the butter to the crêpe pan and let it melt completely.
7/ Pour the 2 tbsp of butter into the crêpe batter and whisk well until combined.
8/ Take your soup ladle and fill it most of the way up so that it has approximately 3 oz. of batter in it. In other words, leave a 1/2″ (1.3 cm) rim at the top.
9/ Pour the ladleful of batter carefully into the crêpe pan. Start from the centre and ladle the rest around it. Swirl the batter around the pan slowly until it reaches the edges.
Churchmouse says: The first crêpe takes the longest to cook. Be prepared for a three- to four-minute cooking time.
10/ In the meantime, get a large plate and your aluminium foil. You will need 12 sheets.
11/ The crêpe is ready to turn over when several lumps (about the size of a chocolate chip) begin appearing at the bottom of the pan and the edge of the crêpe has a lot of tiny bubbles which have burst. Carefully stick the edge of the spatula underneath part of the edge. If the crêpe pulls away from the pan easily, you can carefully but quickly flip the crêpe to the other side for another minute or so to finish cooking.
12/ The other side of the crêpe is finished when it also gets small lumps in the middle. When you think it is done, carefully insert the spatula under the crêpe and lift it. If it is a golden brown, it is finished.
13/ You should be able to slide the crêpe off the pan onto the plate easily. Cover it completely with a sheet of aluminium foil, wrapping any foil edges underneath the plate.
14/ Repeat steps 8 – 13 for subsequent crêpes. These will take less and less time to cook, so stand by and be ready to flip crêpes and remove them to the plate as necessary.
15/ If you need to regrease the pan, do so after every third or fourth crêpe by adding a small amount of butter — 1/4 to 1/2 teaspoon — and swirling it around the pan until melted. Pour any excess back into the batter.
16/ Always cover the last crêpe with aluminium foil. They will stay warm for a dinner party or you can leave them on the countertop overnight to refrigerate the next day. Crêpes will stay fresh for at least three days if you keep them refrigerated after the first several hours.
17/ Serve two crêpes per person, folding into quarters (into half, then half again), topping them with a tablespoon or two of Amaretto sauce and whipped cream or vanilla ice cream. Alternatively, you can fill with ice cream and fold them lengthwise like the French do and top with sauce and whipped cream or ice cream.
18/ If you need to reheat them, put them in a slow oven for 10 minutes and serve. You can reheat the jar of sauce in the microwave — with the lid off — at 20 second bursts until warmed through.